This motorcycle has now sold.
I'm putting up my (the Motofomo) 2016 Suzuki GSX1300R Hayabusa for sale. I love this bike, and will miss it dearly, but it's time to part ways.
Here's the rub:
~9500 km
Yoshimura R-77 Slip-ons ($2,431 value)
Dyno tune — 190 hp rear wheel (per previous owner)
LED headlights ($100 value, see here for installation details)
Helibars — gives it a slight rise and pull-back on the bars, making the riding position just like the 2021+ 3rd gen Hayabusa ($300 value)
Condition: Near perfect. Some tiny scratches from the previous owner's kids, some branch dragged across some part of it, but I think they'd all buff out (I never even tried as I could barely see them / photograph them).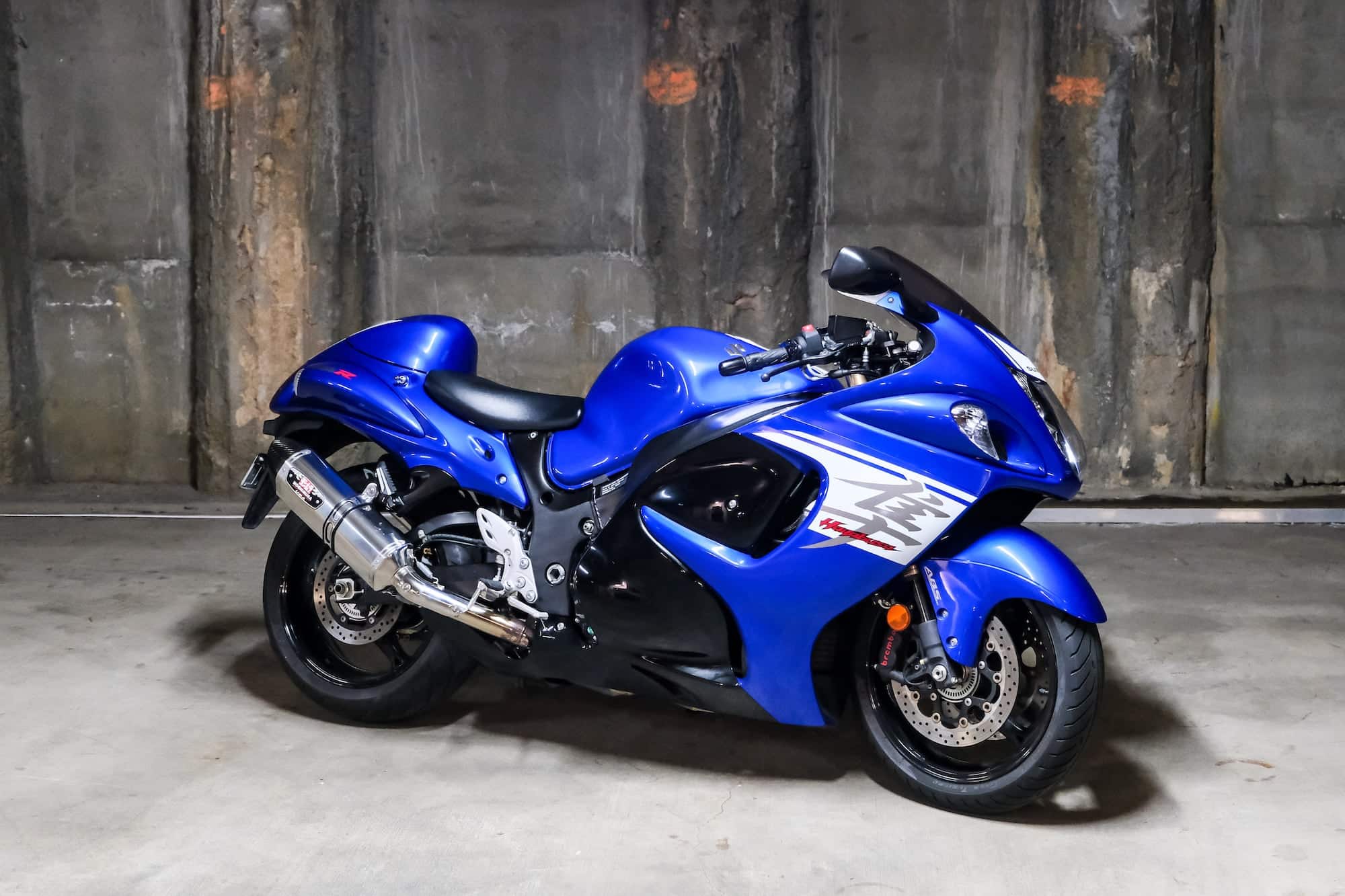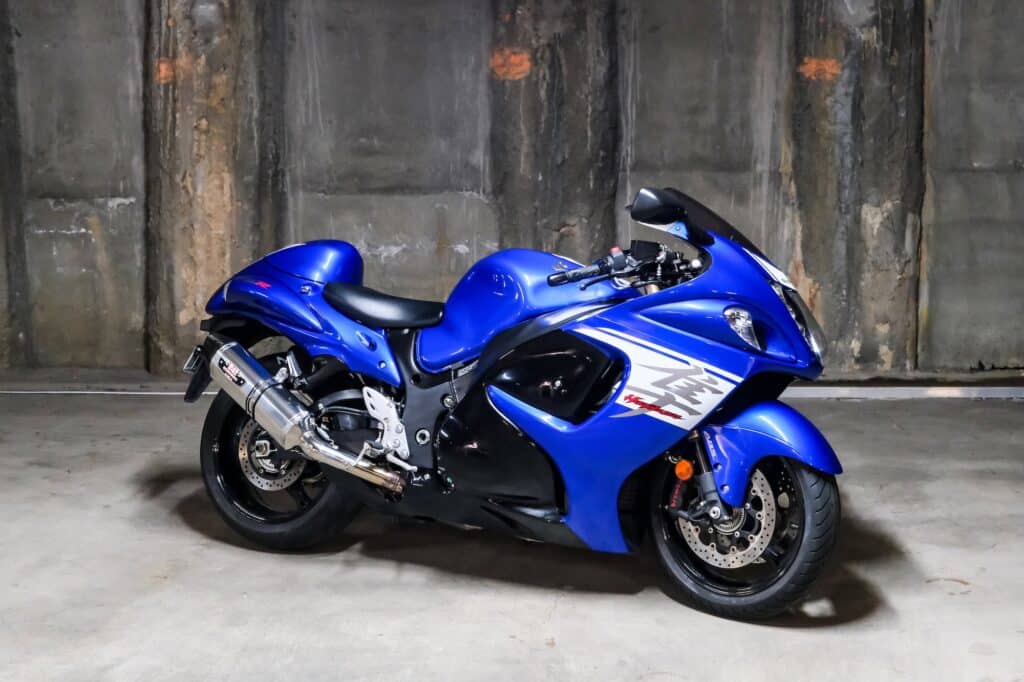 Price includes GST.
Does not include safety certificate or registration. However, you can legally drive it to your home or a mechanic for the registration stuff — see here (you do NOT need an unregistered vehicle permit).
It has all the features you'd expect from a 2nd gen Hayabusa, including Brembo brakes with ABS, fully adjustable suspension, and a hump for the rear seat (so you can register it as a single seater).
The Suzuki Hayabusa for sale is currently in storage at Autohouse Storage so test rides are not possible. They will help with hand-over, of course.
Are you obsessed with motorcycles?
Well, I am. That's why I created this site — as an outlet. I love learning and sharing what others might find useful. If you like what you read here, and you're a fraction as obsessed as I am, you might like to know when I've published more. (Check the latest for an idea of what you'll see.)
About this 2nd gen Suzuki Hayabusa
If you're looking for a Suzuki Hayabusa for sale, then they need no introduction. But just in case you're not aware, here's a brief guide!
In short, the Hayabusa has existed since 1999. A very brief chronology is:
Gen 1 was 1999-2007. These had a slightly smaller 1298 cc engine, but the ones that set the world speed records for road motorcycles, so they're hardly slow. Some of the 1999 to 2000 ones had no speed limiters (limiting them to 300 km/h… they could get to 315 or so
Gen 2 was 2008 to 2020. These have a bigger 1340 cc engine that makes more power. But only from 2013-2020 had Brembo brakes with ABS. All bikes from 2013 to 2020 are the same in engine and features, and differ only in colour schemes.
Gen 3 is 2021 onward. It has actually the same engine as the last gen, but a lot more electronics (things like cruise control and an IMU with cornering ABS / traction control).
In short, if you see a 2013 motorcycle or a 2020 motorcycle, know that they're exactly the same as this 2016 — just a different year and colour.
Personally, I like this colour scheme a LOT for Suzuki. It's an iconic Suzuki colour!
See my complete buyer's guide to the Suzuki Hayabusa.
About my Hayabusa for sale
I love my Hayabusa. In fact, this is my second. It might be my last for a while, but I loved every bit of owning it — the intrigue, the look, the feel of riding it.
The Hayabusa is special because it's good at low speeds (seriously, it's awesome for commuting), looks badass, and is a total pussycat when riding it around every day. But it's also a beast and loves to help you climb the speedometer to infinity.
I sold my first Hayabusa because I thought it was too heavy. I missed it, and bought this one two months later.
Now I'm selling this for one main reason — I'm going to be overseas for a while. That's why it's in storage. I'd rather spend the money on renting bikes while travelling.
Photo gallery
How to buy it
Currently the Hayabusa is registered to my company.
If you're interested in buying my Hayabusa for sale, contact me.