I'm putting my 2017 BMW R nineT for sale.
This has now sold.
2017 BMW R nineT
8500 km
Full service records
MCCruise electronic cruise control installed ($1500 + 8 hours labour)
Excellent condition
Currently registered, but selling unregistered.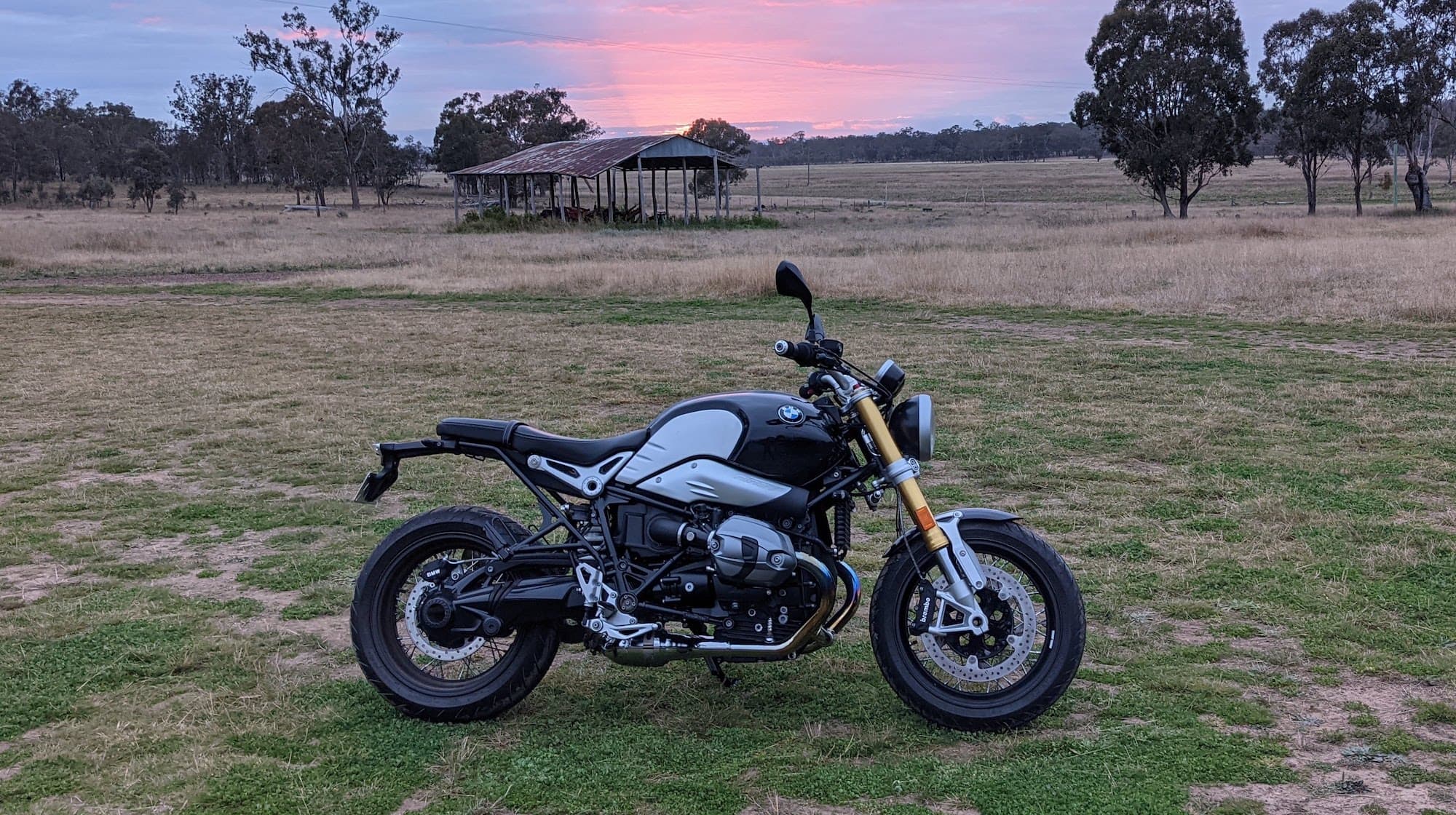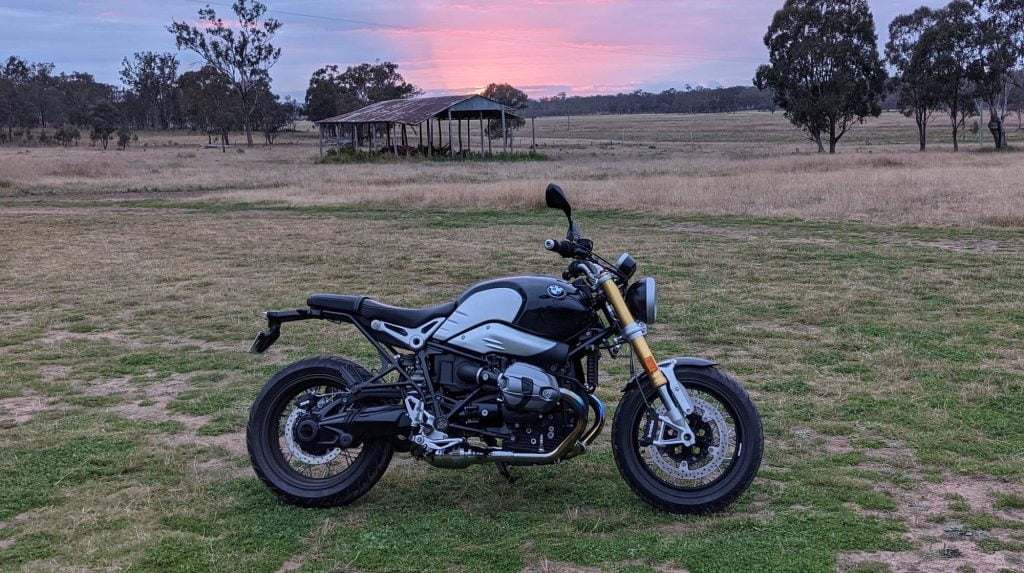 I'll have had this bike for a couple of years now and ridden it in all kinds of situations over about 5000 km. I've had the tank off to install a cruise control system, spent $1300 in repairs (dry rear main seal — from it sitting), done one full service, and even ridden it up from Brisbane to Cairns, though I shipped it back as it was a little bit of a boring ride.
Are you obsessed with motorcycles?
Well, I am. That's why I created this site — as an outlet. I love learning and sharing what others might find useful. If you like what you read here, and you're a fraction as obsessed as I am, you might like to know when I've published more. (Check the latest for an idea of what you'll see.)
About the BMW R nineT in General
The BMW R nineT is a modern classic bike. It's instantly timeless. There are no few other bikes on the market that have air/oil cooling, a shaft drive, and this much power.
Plus, it's a bike that I always turn around and look at when I've parked it. It brings a LOT of visceral joy.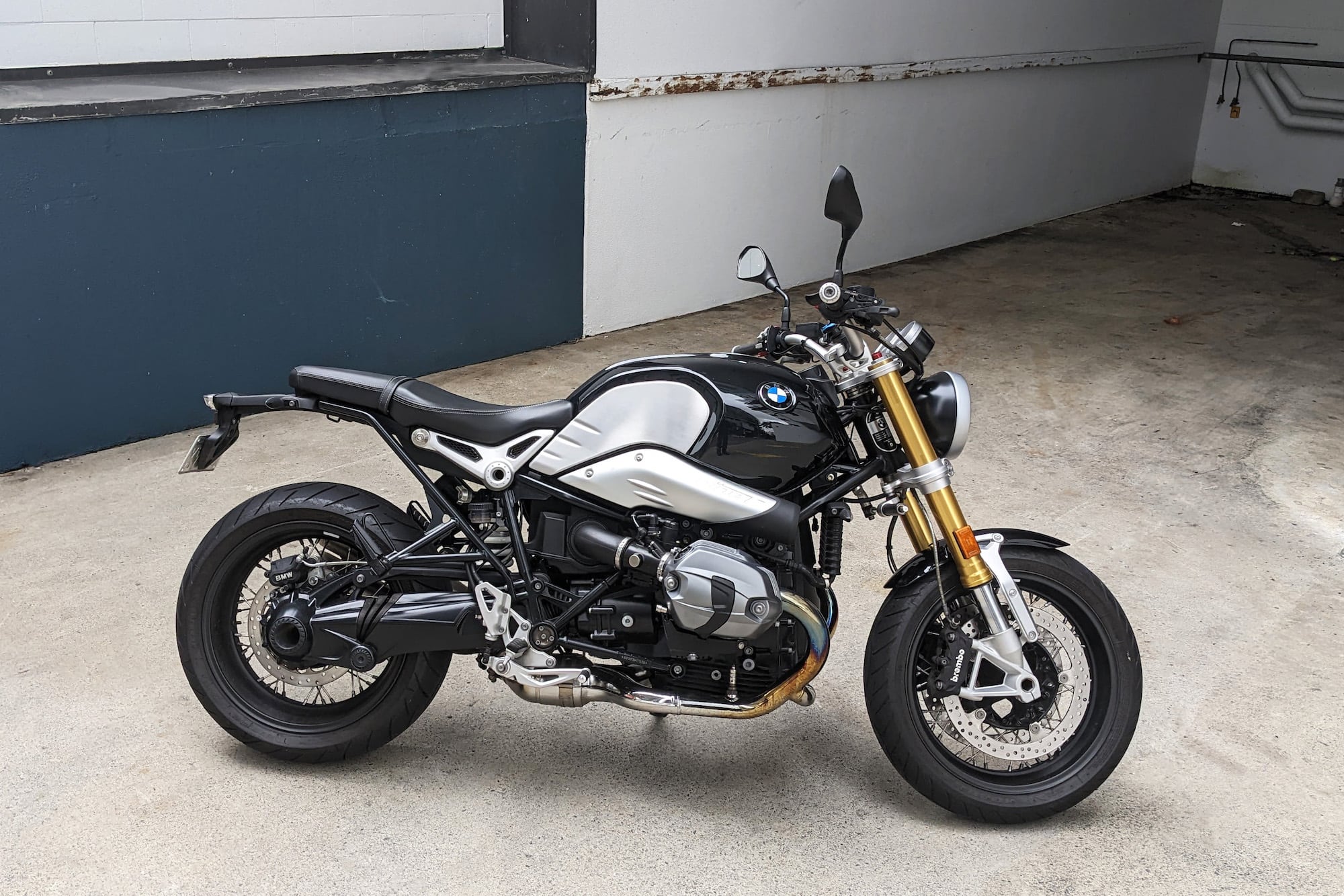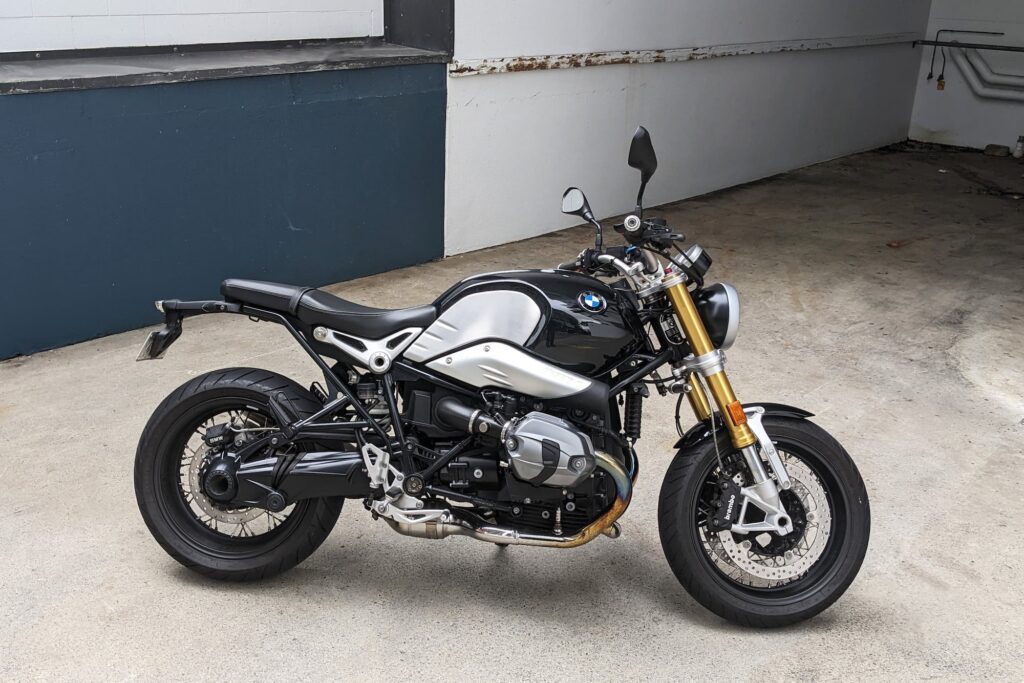 Here are all the things I like about the BMW R nineT and why I bought it, and things I look for in bikes in general
Dials, rather than a TFT display
Air/oil-cooling (not liquid cooling)
A shaft drive
Dry clutch with a bit of a mechanical grab
No rider aids other than ABS
Fully adjustable but non-active suspension
This much power
Standard exhaust that sounds this good
Basically the R nineT is as "retro" a sportbike as you can get. It competes with bikes like the Kawasaki Z900RS, Triumph Speed Twin, Ducati Monster 937, and Yamaha XSR900 on style — but those are all chain-driven liquid-cooled bikes. They're just so different!
The closest you'll get to the R nineT is some bikes from Moto Guzzi's line-up. But they're all much lower power, closer to being a cruiser. (But very cool, don't get me wrong; I've got to try some.)
The BMW R nineT is not what I'd called a "refined" bike. It's a little brutish. It bucks and rears, and the rear wheel likes to hop out. This bike doesn't have a slipper clutch — you'll have to rev match! But all this makes for a very engaging ride, even when just blasting around in everyday conditions.
About My 2017 BMW R nineT for sale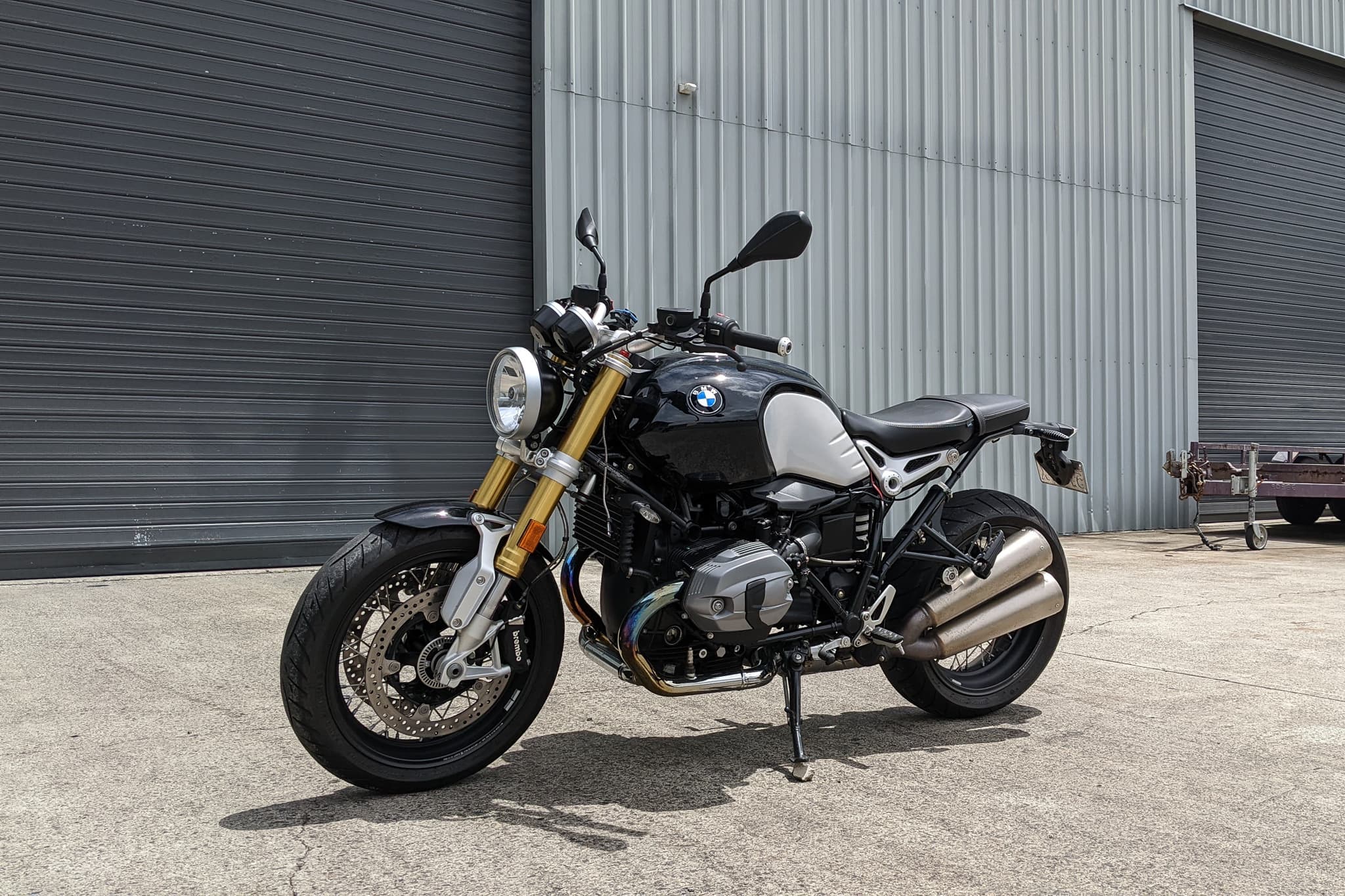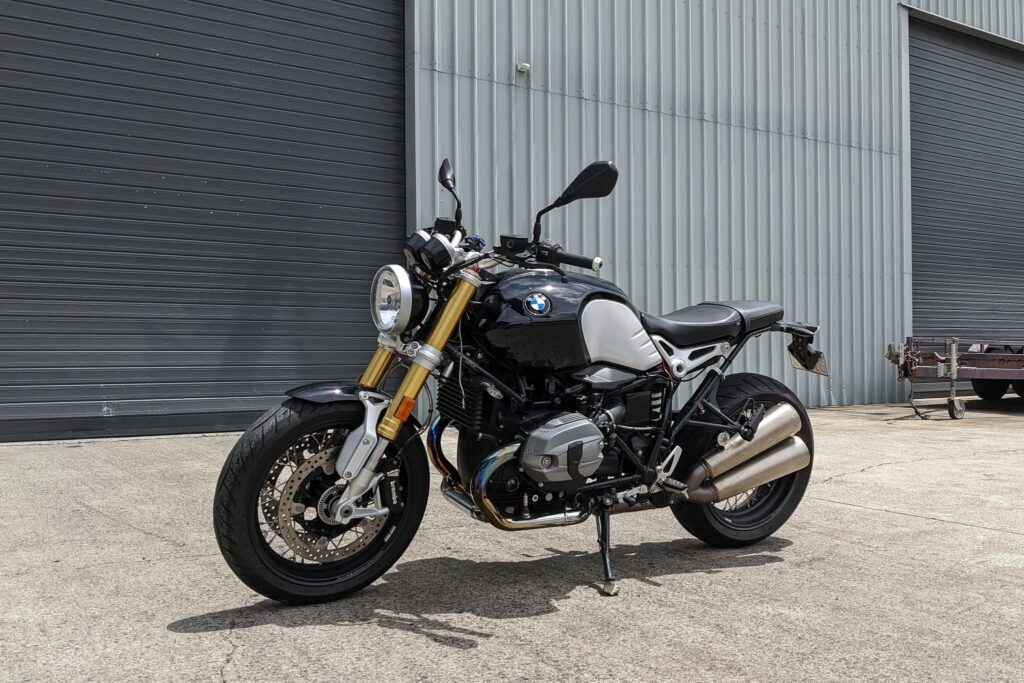 Here's a bit about this R nineT in particular — the 2017 model, not the "Pure" or "Scrambler".
The original BMW R nineT was made in 2014.
The 2014-2016 models look the same, but their suspension was much lower spec — it lacked any adjustability.
The R nineT from 2017 has fully adjustable suspension at the front and partly adjustable suspension at the rear. This makes it a much more sporty bike than its predecessors. I find it really comfortable on twisting roads, highways — you name it! There's never a time when I've thought the suspension couldn't keep up, and that's definitely a thought I've had about many other modern bikes (that seem undersprung, usually, and tend to dive in corners/heavy braking).
See the full BMW R nineT Buyers Guide for information on all the models and variants.
Don't confuse this with a "Pure". The Pure has very basic suspension and just one gauge, not even a tachometer.
Nor is it a "Scrambler", which I know is quite popular. But nor is the Scrambler really a "Scrambler", any more than this would be — they'd both need a guard for the oil cooler, a sump guard, and some protection for the suspension. (And even still, the Scrambler has only a single gauge and still very basic suspension, like the Pure).
The engine is the same across the BMW R nineT line. In stock form, this bike makes about 81 kW (110 bhp) at peak, but it's not a bike you ride at full throttle a lot. The wonderful thing is the torque curve is basically flat from 2000 to 7000 rpm. The clutch is a dry clutch that doesn't have a back torque limiter, so sporty upshits take more finesse… which makes everything more fun.
Still, it's a fast bike. I bought it intending to slow down, and yet… let's just say that it's still up to the rider to make that decision.
The boxer engine sounds awesome. The Akrapovič exhaust has a great amount of bark to it — it's just what I'd want an aftermarket unit to sound like. A climbing revs, the R nineT sounds like a WWII-era war plane.
Apart from the $1500 MCCruise Cruise Control unit, it's stock.
This bike is essentially in showroom condition. It may have some hairline scratches from general riding, but it's nothing I've noticed, and it's something a detail would buff out.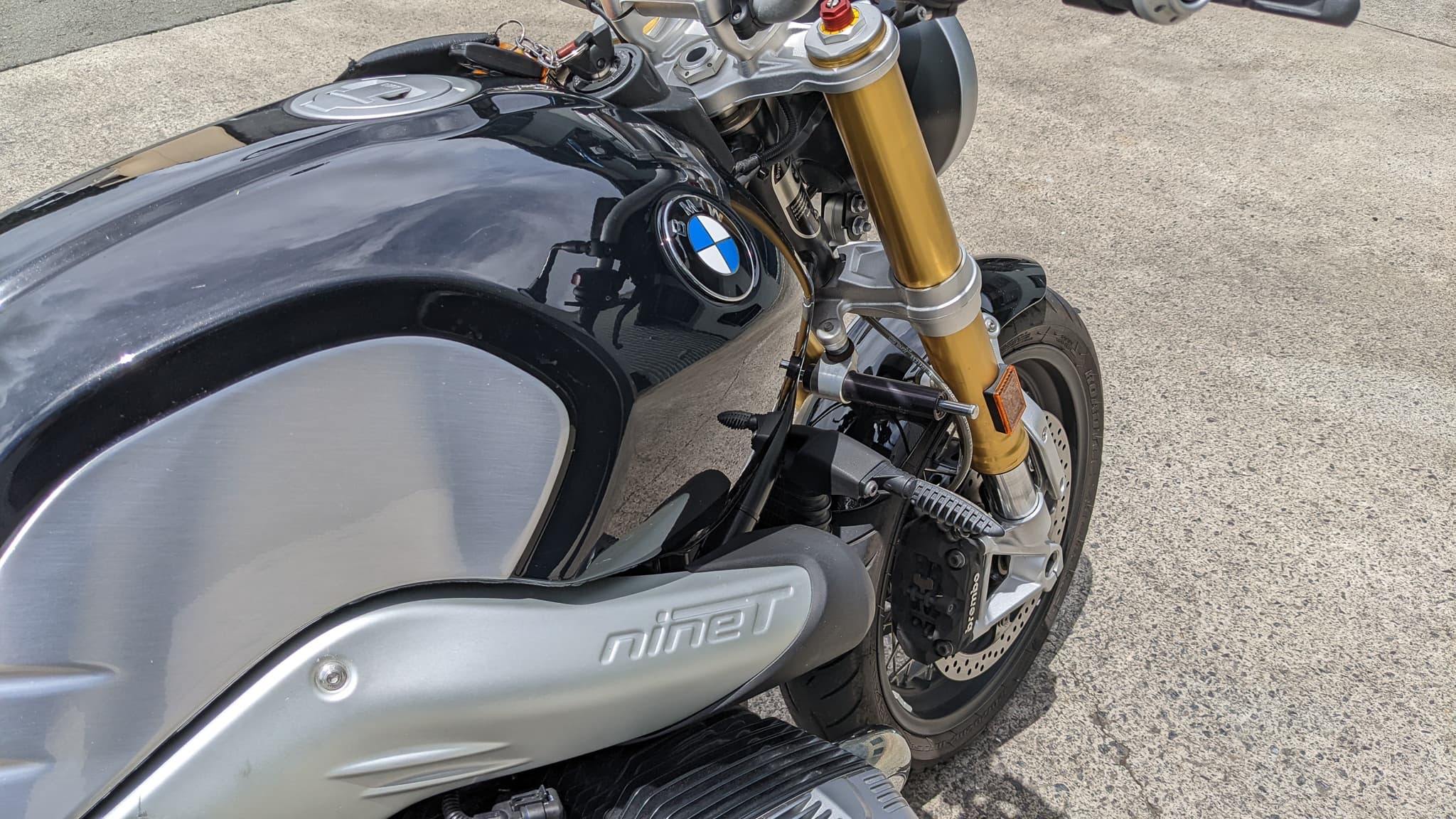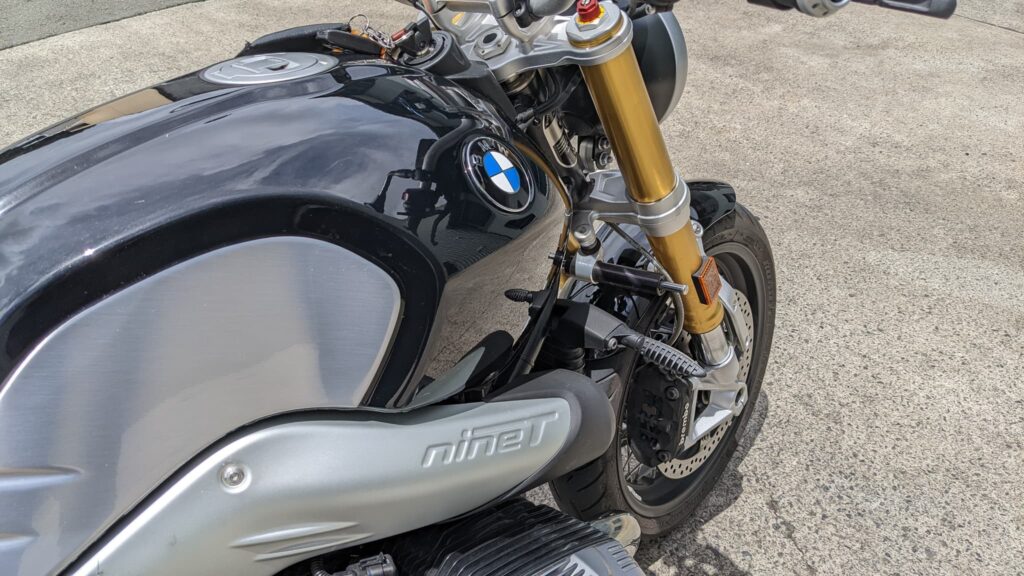 About the MCCruise Cruise Control
I spent $1500 on a MCCruise Cruise Control system and installed it myself. It took about 8 hours of labour, plus many days of troubleshooting — it turns out MCCruise hadn't properly coded the controller for this generation of R nineT, not realising the coding would be different. (See here for more details.)
MCCruise cruise control units are awesome. They're full electronic, which means that they control the speed whether you're on an incline or downhill, and they don't lose speed like a throttle lock. MCCruise is an Australian company with tons of history.
See more here:
I considered selling the MCCruise unit separately from my BMW R nineT for sale, but it's non-trivial to remove.
About this Price
The price for my BMW R nineT for sale is good. See this search on Bikesales for comparison. Lowest price comparables as of now (late 2022):
2020 model with 6500 km for 17,995 in Victoria from a dealer — unregistered price, would be more with on-road costs. This is a good price, but it doesn't have the cruise control unit mine has (at least $1500 value, before installation)
2019 model with 3000 km for $19,950 in Victoria, registered, with saddlebags
2019 model with 9000 km for $20,000 from a private seller in Western Australia
I have reduced the cost for mine given I'm selling it while overseas and am selling it unregistered.
The 2017-2020 model is identical to this, which is why I include them. Of course more recent models sound better, but they're exactly the same.
Find me a reasonable comparable and I'll match it! (Or you can go buy that one…)
In terms of the engine, the 2017 BMW R nineT is the same as every model before and after it, so you don't really gain anything that way by buying earlier or later models.
The 2014-2016 model has more basic suspension, and also a different console. But it's the suspension that distinguishes the 2017-2020 model. So only look from 2017 onward.
The 2021+ BMW R nineT has the same engine and suspension, but you get more rider aids — a six axis IMU and cruise control. However, they're around $27,000 on the road — quite a bit more expensive.
By buying this bike, you buy basically the same bike as the 2021 model in terms of aesthetics, engine, suspension, and brakes, but you miss out on the six-axis IMU. However, you pay a lot less, too. For some people who don't necessarily need or want an IMU, this is a good deal.
So — Why is my BMW R nineT For Sale?
I tend to go through a lot of bikes. It's weird, because I love the R nineT, but I also know my time is up with it in Australia.
The main reasons reasons I'm listing my BMW R nineT for sale are:
I'm overseas for a year (at least)
I'm getting a little frustrated with road riding in Australia and plan on doing more road riding in Europe and the US. In Australia, I'm going to start going off-road.
I have two bikes in storage, and that's silly while I'm so far away. I'm keeping the other one as it's harder to replace (a now out-of-production Suzuki Hayabusa Gen 2)… though I may change that decision, too. It'll likely become an awesome track bike for me.
Basically, I love this bike, but it's not the ideal one for the way and the places where I ride.
Logistics of the sale
I'm currently overseas with no plans to return to Australia until November 2023. I can take phone calls as needed. But because it's in storage, it's hard to organise test rides and things.
Contact me and we'll talk more.
More pictures of my BMW R nineT for sale
Here are some more pictures of my BMW R nineT for sale.