Not too powerful, not too weak. Not light, but not heavy. Not a show-winner, but not ugly. And not a dirt bike, but not incapable off-road. The Aprilia Tuareg 660 is Aprilia's attempt at trying to placate everyone, and make a bike that can go anywhere. And it isn't half bad.
Below is a host of information about the Tuareg 660 that might be useful for prospective buyers (including myself), including an overview of the bike, controls, maintenance information, and more.
The Aprilia Tuareg 660 uses a 659cc liquid-cooled DOHC parallel twin engine with a 270/450-degree firing order. It's a tried-and-true format, with the same basic engine used in the Aprilia RS 660, but tuned more for mid-range torque rather than top-end power.
Despite de-tuning, the Tuareg 660's engine still makes a respectable (for its capacity) 80 hp (59 kW) at 9250 rpm, with torque arriving lower than on its siblings, with 52 ft-lb (70 Nm) peaking at 6500 rpm.
The Tuareg 660 is quite different to its siblings the RS 660 and Tuono 660 — more than just in engine tuning and riding position. The frame is designed to carry heavier loads and withstand larger shocks, the suspension is longer travel, and the wheels are off-road sized with a 21-inch front wheel.
Note: Motofomo is reader-supported. If you buy some of the products that we link to, we may earn an affiliate commission, which otherwise goes to the marketplace (e.g. Amazon).
Are you obsessed with motorcycles?
Well, I am. That's why I created this site — as an outlet. I love learning and sharing what others might find useful. If you like what you read here, and you're a fraction as obsessed as I am, you might like to know when I've published more. (Check the latest for an idea of what you'll see.)
About the Aprilia Tuareg 660
The Aprilia Tuareg 660 is Aprilia's entrant into the thriving "middleweight" adventure motorcycle market. There have been middleweight adventure bikes for a long time (once upon a time, all bikes were what we'd now consider to be "middleweight"), but for a while, they were outclassed by bigger ones. Recently, though, there has been a crop of high-spec middleweights from a number of manufacturers.
The Aprilia Tuareg 660 is based on the same engine platform as the other 660 bikes from Aprilia, the Aprilia RS 660 and Tuono 660. It's the "same platform" in that it has the same bore, stroke, and displacement. It's a 659 cc liquid-cooled parallel twin with four valves per cylinder and dual overhead camshafts.
But there's quite a bit that's different about the Tuareg compared to the Tuono and RS — this isn't just a re-skinning exercise.
For starters, the engine in the Tuareg 660 has been retuned, with a drop in peak power of around 20% vis-a-vis the Tuono or RS. The goal of this is for more midrange torque. Aprilia achieved this not just by applying a tune, but also by changing the camshaft lift, increasing the length of the intake ducts and changing the filter casing to facilitate removing the air filter. Aprilia also adjusted the exhaust system for low-rpm response. All this was of course done with an engine map to suit.
The result of those adjustments is that the Aprilia Tuareg 660 reaches peak torque of 52 ft-lb (70 Nm) at just 6500 rpm, with 75% of that peak being available at 3000 rpm and 85% at 4500 rpm. The Tuono / RS 660, by contrast, make a little less torque (49 ft-lb / 67 Nm), and higher up in the rev range (8500 rpm). But they're not short on low-end torque, just not quite as optimised for it.
Despite the detuning, the Tuareg 660's motor still has a high 13.5:1 compression ratio. It still needs premium fuel! As far as I can tell, there's no anti-knock sensor to retard ignition in case of low-grade fuel. However, the manual doesn't warn against low-grade fuel, while it does warn against ethanol content of over 10%.
Aprilia also changed the gearing on the Tuareg 660 vis-a-vis the Tuono / RS. They shortened the first gear ratio, and changed the front sprocket to a 15-tooth one from 17 as on the other 660 bikes. The goal of both these was to increase low-speed control and to maximise throttle response.
Even if you changed the gearing on a Tuono 660 for example, it'd be a lot harder to change the first gear ratio for the purpose of off-road adventure riding at low speeds.
The Aprilia Tuareg 660, being a dual-sport adventure motorcycle, has a very different suspension and wheel setup to its sportier siblings.
The front suspension is a Kayaba 43mm upside-down fork that's fully adjustable. That much is to be expected, but it also has a rather generous suspension travel of 240mm. The rear fully adjustable Kayaba monoshock also gives the rear wheel 240mm of travel.
And the wheels are a traditional spoked 21/18 adventure bike setup, but with tubeless tyres. No prying off tires in the middle of nowhere to patch a tube. Hooray! (But also, that can help sometimes, if you really ding up your rim…)
While the frame is designed to carry heavier loads, the Aprilia Tuareg 660's subframe is welded to the main frame, rather than attached as a separate part. This means that crashes that ding up the subframe would risk writing off the motorcycle, which would be unnecessary on a motorcycle where it were replaceable.
To keep Aprilia Tuareg 660's engine cool with its high compression ratio of 13.5:1, there's both a radiator AND a water-oil heat exchanger, interestingly (other motorcycles tend to skip on the latter, or to use a separate oil radiator).
Some of the tech that makes the Aprilia Tuareg 660 usable as an everyday motorcycle include
Ride modes
A quickshifter (optional)
Cornering lights
Automatic high beams
Self-cancelling turn signals
Full LED lighting
A colour TFT display
However, the Tuareg 660 lacks an IMU, so there's no cornering ABS or TC. This is not a huge deal for a middleweight, but it's an active omission, given that both the Tuono 660 and RS 660 have it (it's optional on the Tuono).
Given that the Tuareg 660 is not cheap despite its capacity, it does give buyers pause and wonder whether they should go for a more premium alternative like the Ducati DesertX. (Of course, more goes into choosing an adventure motorcycle than simply what's the "most premium".)
See here for a list of motorcycles with an IMU and cornering ABS.
The Aprilia Tuareg 660 sets a high bar for middleweight adventure bikes. But all that comes with a price to pay — it's roughly double what you'd pay for a budget Kawasaki KLR650.
Aprilia Tuareg 660 Specifications
Here are the core specifications for the Aprilia Tuareg 660, along with some notes.
| Item | Specs | Notes |
| --- | --- | --- |
| Engine type | Parallel twin, 270-degree crank, DOHC, 8-valve | These are all the rage lately |
| Capacity | 659 cc | Mid-capacity for a high-spec bike |
| Compression ratio | 13.5:1 | |
| Peak power | 80 hp (59 kW) @ 9250 rpm | |
| Peak torque | 52 ft-lb (70 Nm) @ 6500 rpm. | Lower peak torque rpm than its siblings |
| Fuel requirement | Premium (95 RON) | |
| Transmission | 6 speed, chain drive | |
| Front suspension | 43mm Kayaba inverted, 240mm travel, fully adjustable | |
| Rear suspension | Kayaba monoshock, fully adjustable, 240mm travel | |
| Front brakes | 300mm double disc brake, Brembo 30/32 caliper | |
| Wet weight | 204 kg / 450 lb | Quite light |
| Ride aids | Cruise control, TC, slipper clutch | No IMU / cornering ABS |
Core specs of the Aprilia Tuareg 660
There are currently no other variants of the Aprilia Tuareg 660.
Using the Aprilia Tuareg 660's Screen and Controls
When assessing any motorcycle, I like to have an overview of the interface and the important controls — things like cruise control, rider aids, and adjusting rider settings.
The Tuareg 660 has a TFT display, cruise control, and an optional (and frequently chosen) quickshifter.
There are three main buttons to use to control the Tuareg 660's options
The cruise control / TC button on the left handlebar
The ride mode switch block on the right handlebar, and
The menu switch block on the left handlebar
On the left handlebar, the button at the top is the cruise / TC button.
To turn cruise control on, push the button to the left. Then push it to the left again to set your speed. (You can only use cruise in 3rd gear or above.)
To turn speed up and down, bump the toggle up and down.
When cruise control is not on, that button changes your traction control settings (TC 1-4, or off). You can do this on the fly. To turn ATC off on the fly, you take it down to one, then hold the button down and it turns off on the display.
On the right hand side, the switch near your thumb area is the ride mode button. You can hit that button on the fly between off-road, individual, explore, and urban. (Off-road and individual are configurable.)
To de-activate ABS
Use the right button to go into off-road mode.
In off-road mode, hold the right button to deactivate ABS.
Note that ABS is re-activated every time you turn the bike off and on, and every time you change mode.
Most of the complexity of the controls are in navigating the options on the scree using the left switch cluster.
You use the control buttons on the left handlebar to scroll between items, scrolling up and down. You have to be at a stop to use the menus.
Whatever mode your screen is in, you navigate through various meter modes (Trip A / B, Heated grip info, Tire pressure info, phone, media etc.) with the right button.
To reset any item (e.g. the trip meter), you hold the left button.
To go into settings, hold the right button when at a standstill. This is where you can change the user code, the display settings, service interval, shift light, emergency brake flasher (a European requirement), and other similar settings.
To change a setting, you use the right arrow on the item you've highlighted.
There's a lot more detail, but it's probably best explained as "poke around while the bike is at a standstill".
Aprilia Tuareg 660 Service Intervals
Below I'm including a bunch of maintenance / reference information fo the Aprilia Tuareg 660. This is useful for not just prospective buyers, but also for people renting them for a period or even those who own them.
Overall, the Aprilia Tuareg 660 has 6200 mile / 10000 km or annual service intervals at which you have to change the oil, the oil filter, and do a series of checks on the motorcycle.
The major service interval for the Tuareg 660 is every 12400 miles / 20000 km, at which point you should change the spark plugs and air filter, and inspect the valve clearances.
If you're riding your Tuareg 660 off-road a lot (which is what it's made for! At least partly) then you should service many things more frequently, including the chain at least, and also the air filter, oil, and components that might be degraded by dust, wet conditions, or just hard usage.
Aprilia also recommends replacing the fork oil regularly. See the maintenance schedule for more details.
Aprilia Tuareg 660 Maintenance Schedule
The below information comes from our sister website, maintenanceschedule.com.
Below is a clarified version of the maintenance schedule from the manual.
It's separated into
A daily maintenance checklist
A periodic maintenance schedule with major items like oil changes, and
An annual service checklist
There are also separate sections below on chain maintenance.
Daily Inspection Checklist
This is the daily inspection checklist for the Aprilia Tuareg 660. Do this before every ride.
Many of these items you'd naturally do by starting to ride, e.g. confirming that the lights, brakes, and clutch work. But you should specifically check the fluid levels periodically.
Aprilia Tuareg 660 Pre-ride / Daily checks
Brake discs & brake pads (front and rear) — Check wear
Tyres – Check pressure/wear. Remove any foreign objects from treads.
Engine oil — Check and/or top-up.
Controls (throttle, brake lever, clutch lever) — Check that they function correctly
Steering — Check that the steering turns freely and is smooth with no play or slackening
Side stand — Check that it snaps back into position smoothly
Fuel tank — Check level, and check circuit for leaks
All lights and switches — check function
Aprilia Tuareg 660 Pre-ride checks
Major Items Maintenance Schedule
Below is the service schedule of major items for the Aprilia Tuareg 660.
Notes:
Observe the earlier of time-based or distance-based service intervals.
Keep following it in the pattern shown beyond the end of the maintenance schedule.
If you ride your motorcycle aggressively or in untoward conditions (e.g. off-road or in mud, rain, or on dirty roads, in stop-start traffic, or in cold weather without giving it time to warm up), you may have to service your bike more often.
The service manual has the items in an unintuitive order. The order below makes more sense intuitively, e.g. with things grouped together, and "things to replace" more up the top.
km x 1000
1
10
20
30
40
mi x 1000
0.6
6.2
12.4
18.6
24.9
Every
Regular maintenance checklist — Perform (see below)
✓
✓
✓
✓
✓
Year
Engine oil (Castrol Power 1 10W-50), and discharge plug gasket — Replace
✓
✓
✓
✓
✓
Year
Engine oil filter — Replace (HF138RC)
✓
✓
✓
✓
✓
Year
Air filter — Inspect
✓
✓
More often if riding off-road
Air filter — Replace (P-AP6S22-01)
✓
✓
Spark plugs — Replace (MR9DI-7)
✓
✓
Valve clearance — Inspect / Adjust
✓
✓
Head cover gasket — Inspect for leaks
✓
✓
Drive system — Inspect for wear
– Front sprocket
– Rear sprocket
– Chain slider
– Chain tensioner roller
✓
✓
✓
✓
Rear shock absorber — Inspect
– Bearings
– Linkage mechanisms
✓
✓
Year, or more often if riding off-road
Fork oil — Replace
✓
4 years. Replace earlier if riding off-road
Fork oil seals — Inspect
✓
✓
Brake fluid — Replace (Castrol DOT 4)
2 years
Flywheel cover cap o-ring — Inspect
✓
✓
Fork plug o-ring — Inspect
✓
Coolant — Replace
2 years
Coolant drain screw aluminium gasket — Replace
2 years
Aprilia Tuareg 660 maintenance schedule
Regular Maintenance Checklist
Below is the regular maintenance checklist. Follow this list of items at every service per the schedule above.
Aprilia Tuareg 660 Regular Maintenance Checklist
[Dealers] Use the Aprilia diagnosis tool to conduct a full diagnosis
Motorcycle set up — Inspect
Vehicle general operation — Inspect
Clutch cable — Lubricate (Protect all cable life)
Lubricate every year. Check more often if riding off-road
Steering bearings — Check play
Brake systems — Check function
Brake fluid — Inspect level
Engine oil filler plug o-ring
Wheel bearings / wheels — Check
More often if riding off-road
Cooling system — Inspect condition and for leaks
Coolant — Inspect level and condition
Safety switches (stand, stop, clutch, extra negative stroke, gas control) — Check function
Headlight aiming
(Check more often if riding off-road.)
Nut/bolt tightness (See some torque specs below)
Aprilia Tuareg 660 regular maintenance
Aprilia Tuareg 660 Drive Train Maintenance
Check and clean, adjust, or replace (if necessary) the Tuareg 660's chain, every 1000 km (600 mi).
Service the chain more often if riding it in the wet, in dirt, or off-road — i.e. if you're using the Tuareg 660 as an adventure bike. Aprilia recommends you halve the maintenance intervals if riding your bike off-road.
To measure the chain slack of the Tuareg 660, measure the total vertical deflection of the bottom section of the chain, from 320mm / 12.6 inches from the centre of the rear axle.
Aprilia Tuareg 660 Target Chain Slack: 48 mm (1.89 inches)
Aprilia recommends that you take the motorcycle to the dealer to adjust the chain, but it's something that any competent home mechanic can do. To adjust the clearance, follow this procedure:
Loosen the rear axle and the lock nuts. (For the axle you need a 26mm socket)
Adjust the lock nuts evenly (paying attention to the markers) until the target chain slack is met.
Tighten the lock nuts (moderately tight) and the axle nuts (120 Nm / 88 lb-ft)
Tire Sizes and Pressures
Below are the rim and tire sizes, as well as recommended tire pressures for the Tuareg 660.
The Tuareg 660 runs an adventure-ready 21-18 front-rear tire setup. Note that the tires are tubeless.
Wheel
Wheel size
Tire size
Recommended tire pressure
Front
2.15 x 21 spoked
90/90-21 M/C 54V
Rider only: 2 bar / 200 kPa / 29 psi
Rider + passenger: 2.2 bar / 200 kPa / 32 psi
Off-road: 2 bar / 200 kPa / 29 psi
Rear
4.25 x 18 spoked
150/70-R18 M/C 70V
Rider only: 2.5 bar / 250 kPa / 36 psi
Rider + passenger: 2.7 bar / 270 kPa / 39 psi
Off-road: 2 bar / 200 kPa / 29 psi
Wheel / tire sizes and pressures for the Tuareg 660
Of course, adjust tire pressures to suit your style of riding.
Tightening Torque specs
Below are torque specs that are publicly available. These come from the service manual.
| Item | Nm | lb-ft |
| --- | --- | --- |
| Engine oil drain bolt | 20 | 15 |
| Front axle nut | 65 | 48 |
| Front wheel safety pin screws | 10 | 7 |
| Front brake calipers | 50 | 37 |
| Rear axle nut | 120 | 88 |
Tightening torque specs for the Aprilia Tuareg 660
Alternatives to the Aprilia Tuareg 660
While the Aprilia Tuareg 660 is already a popular bike, it has a ton of company in the segment of middleweight adventure motorcycles. Here they are below, in alphabetical order (in case you're wondering why the Tuareg 660 is first… it's because Aprilia starts with "A"!)
See more at our buyer's guide to middleweight adventure motorcycles.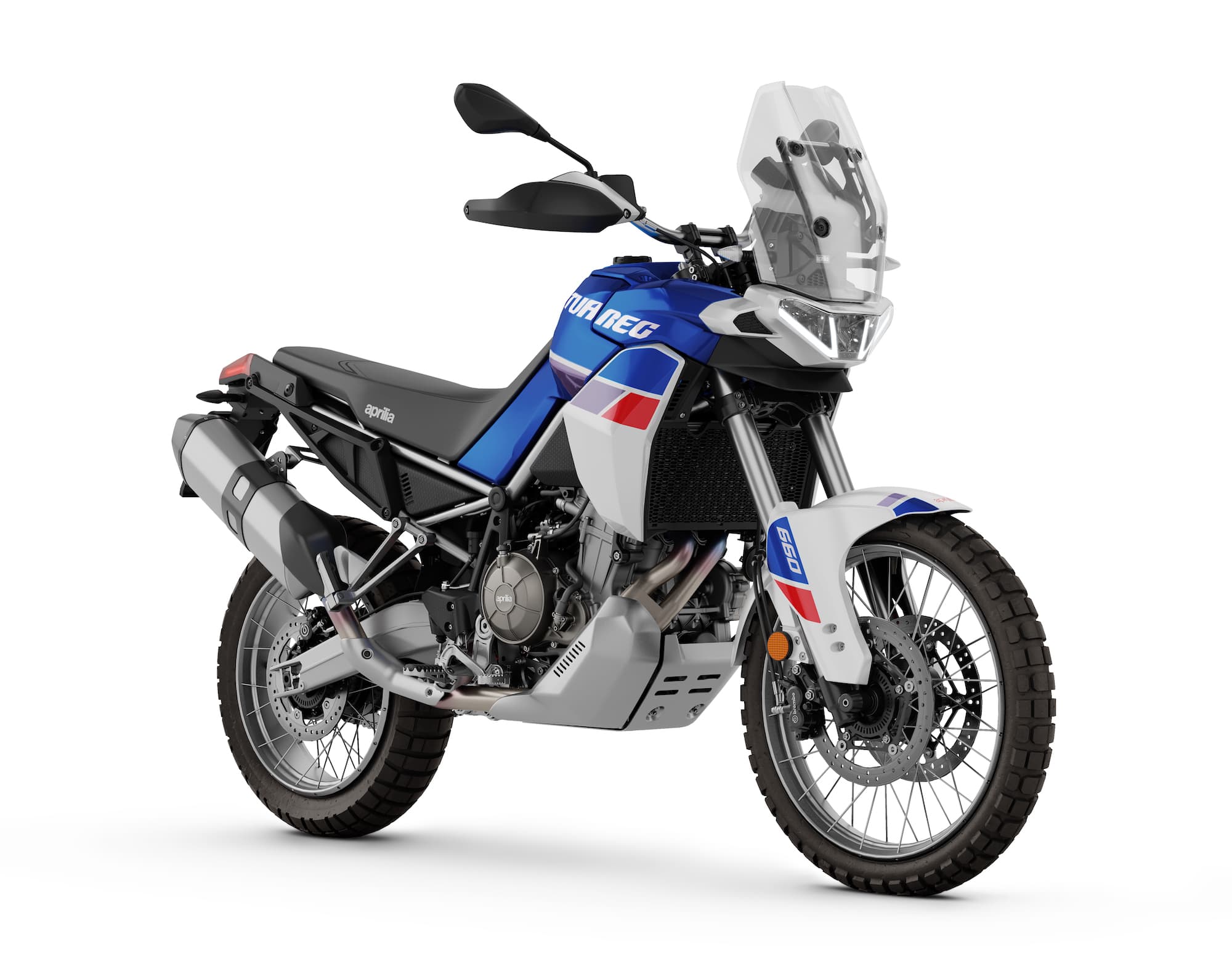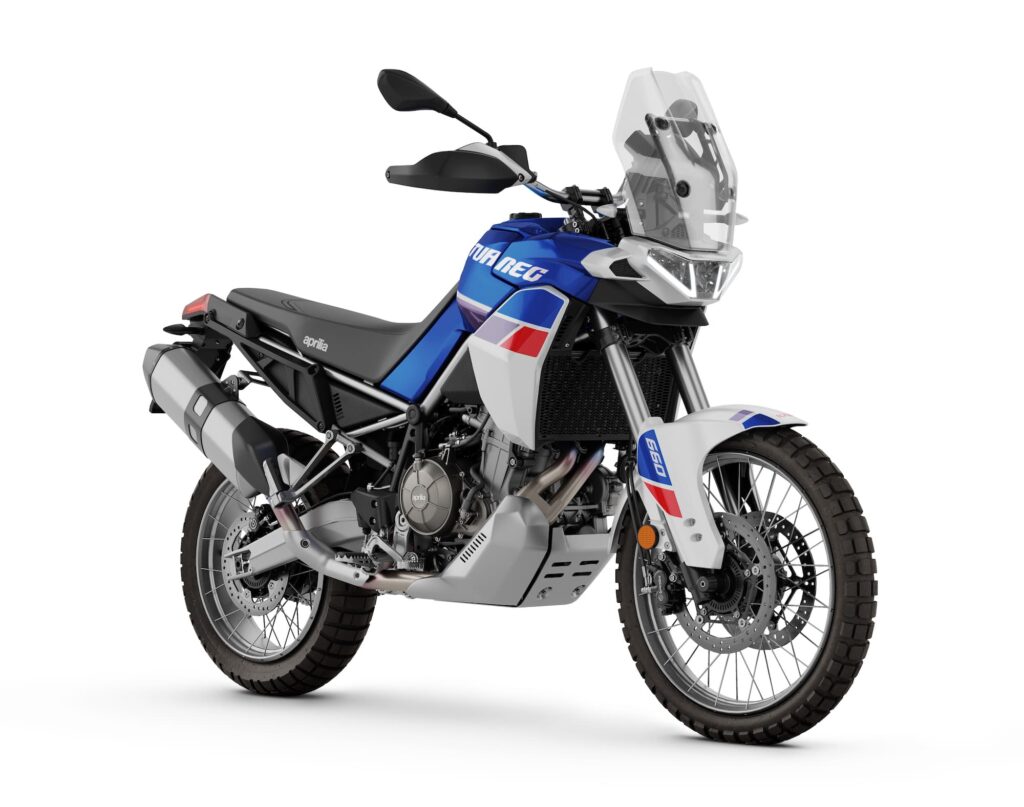 The Aprilia Tuareg 660 (one of the Aprilia 660 line) is a 2022 model. It uses Aprilia's basic platform that powers the RS and Tuono street/sport bikes, but the engine is de-tuned for mid-weight power. The Tuareg 660 is quite high-spec, with cruise control and high-end ride gear (but lacking an IMU), moderately powered (with a peak of 60 kW / 80 hp at 6500 rpm, and light weight for its class.
The BMW F 850 GS is a do-everything vehicle that many seasoned riders like more than the 1250 GS for its versatility. It's powered by a spicey 853 cc parallel twin with a 270-degree crank that tops out at 66 kW / 90 hp at 8000 rpm. It comes with the kitchen sink of tech, including optional dynamic suspension.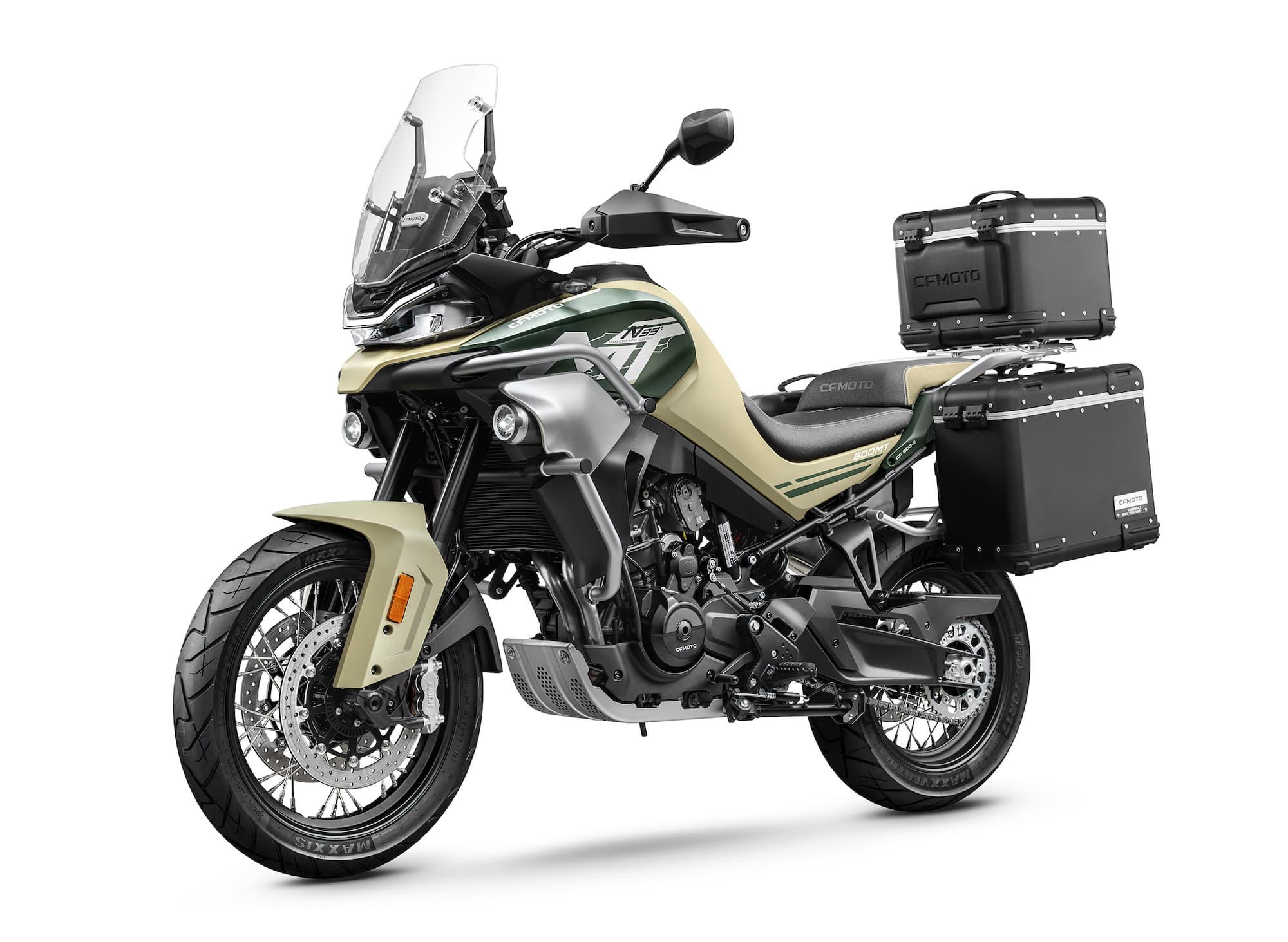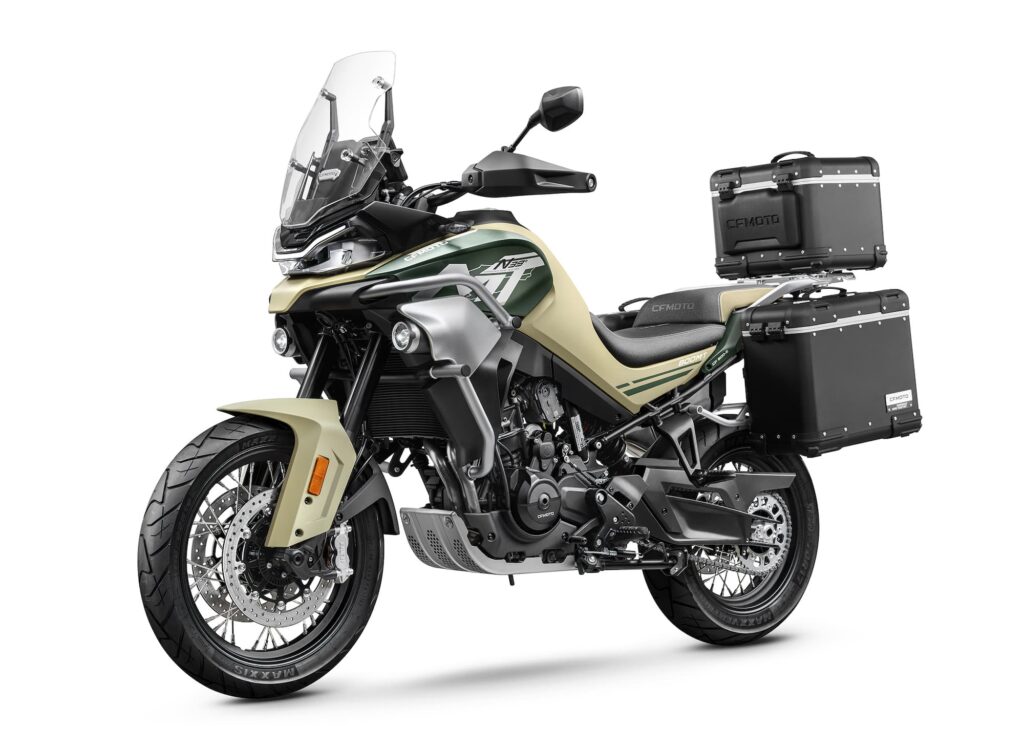 The CFMOTO Ibex 800 / 800MT is a middleweight adventure tourer powered by KTM's 799 cc parallel twin that they stopped using in western markets for a few years. The CFMOTO bike comes loaded with tech, including cruise and an IMU, and its engine is no slouch.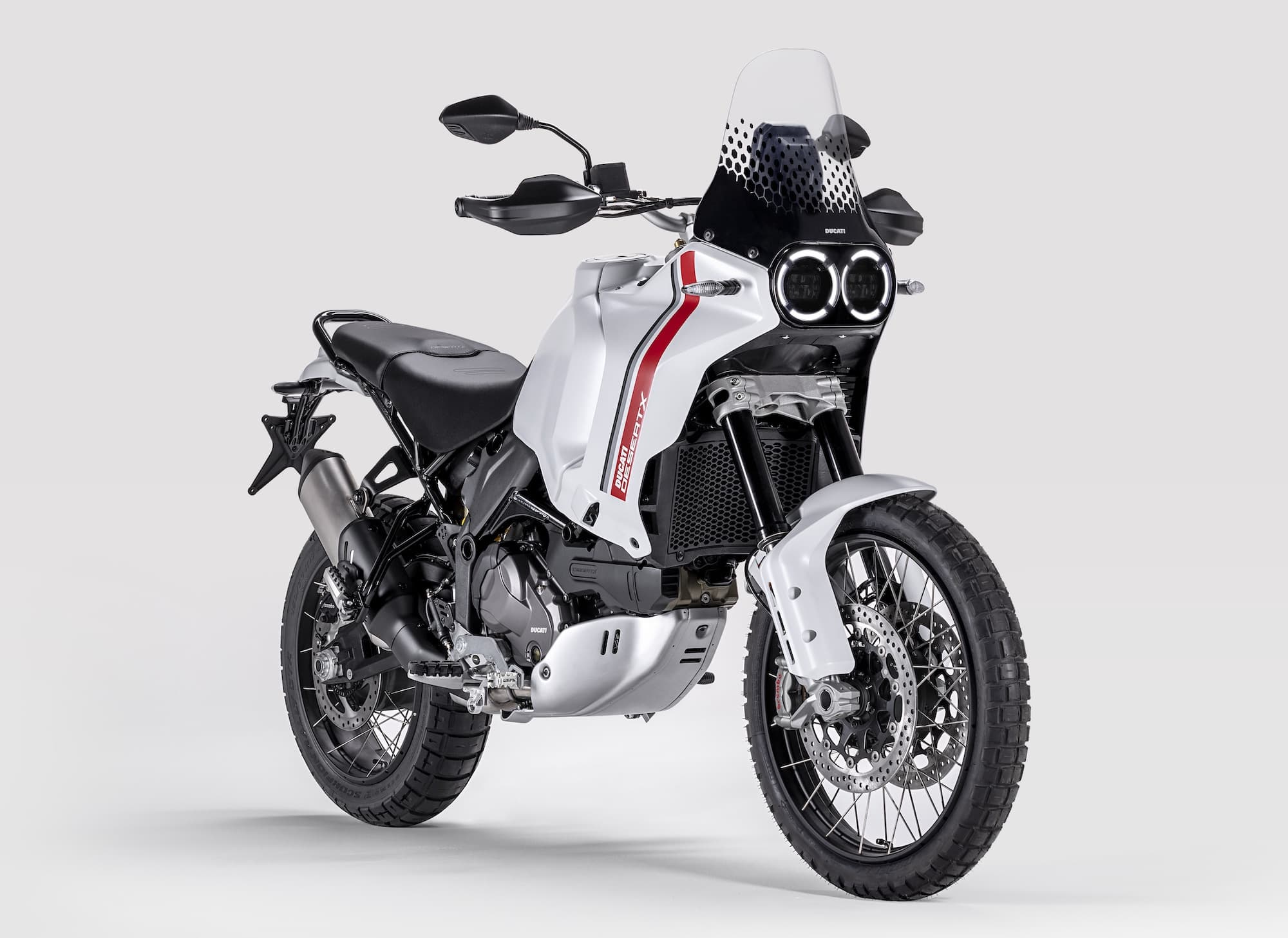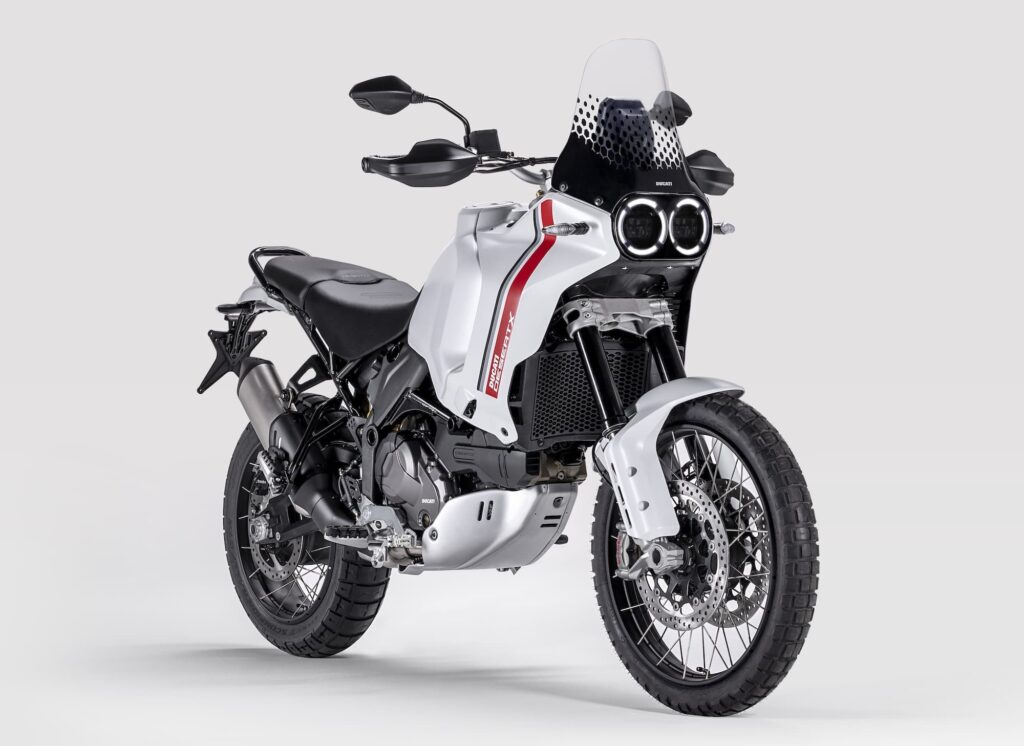 The Ducati DesertX is an offroad sporty adventure tourer based on the 937 cc Testastretta-11 degree engine that Ducati uses in many of its motorcycles, from the Supersport to the Multistrada V2. The DesertX has a 21-inch front rim, long-travel suspension, the full suite of ride aids, and killer good looks.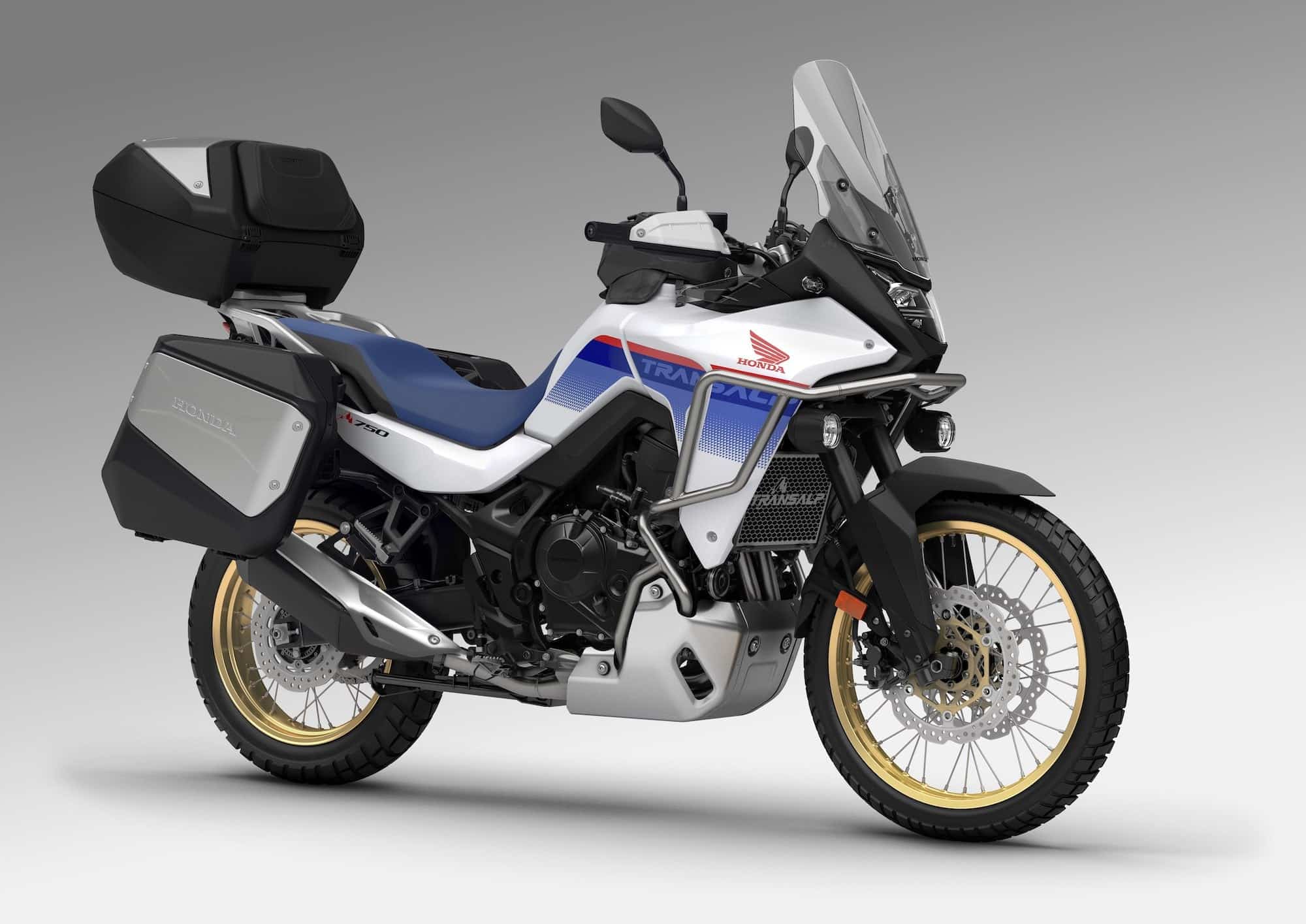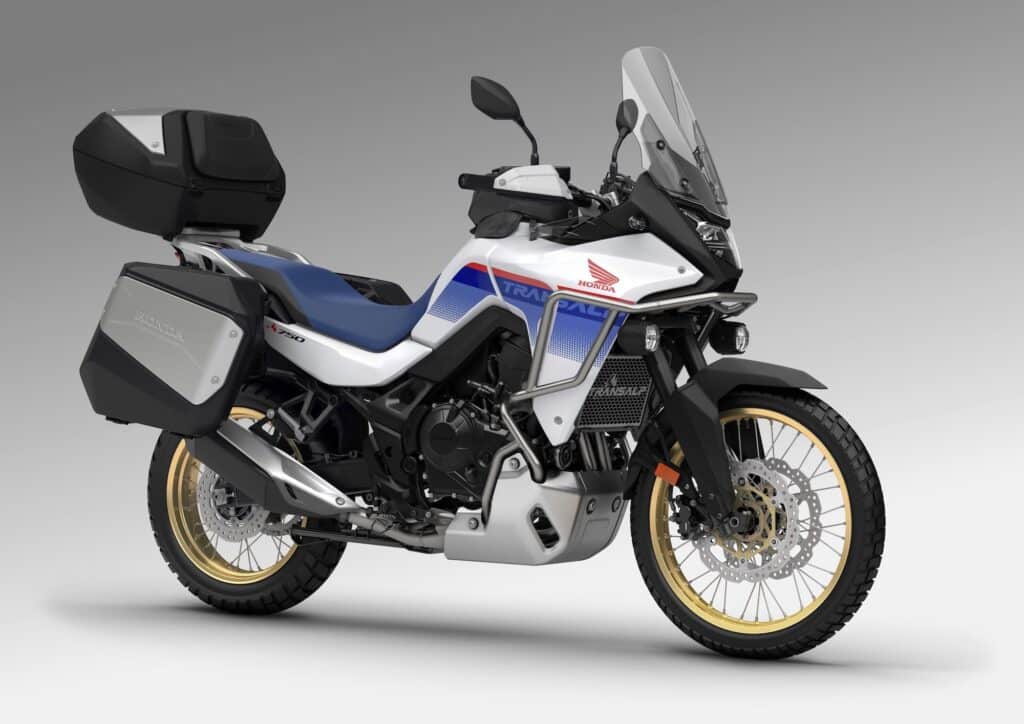 The Honda XL750 Transalp is a rebirth of the Transalp brand, which had expired a decade prior with the Transalp 700, a motorcycle veering more towards being a commuter. The XL750 Transalp has a new motor, a 755-cc parallel twin, and enough goodies (medium-long travel suspension, a 21-inch front wheel) to give it mixed use pretention, without being a dedicated dirt bike.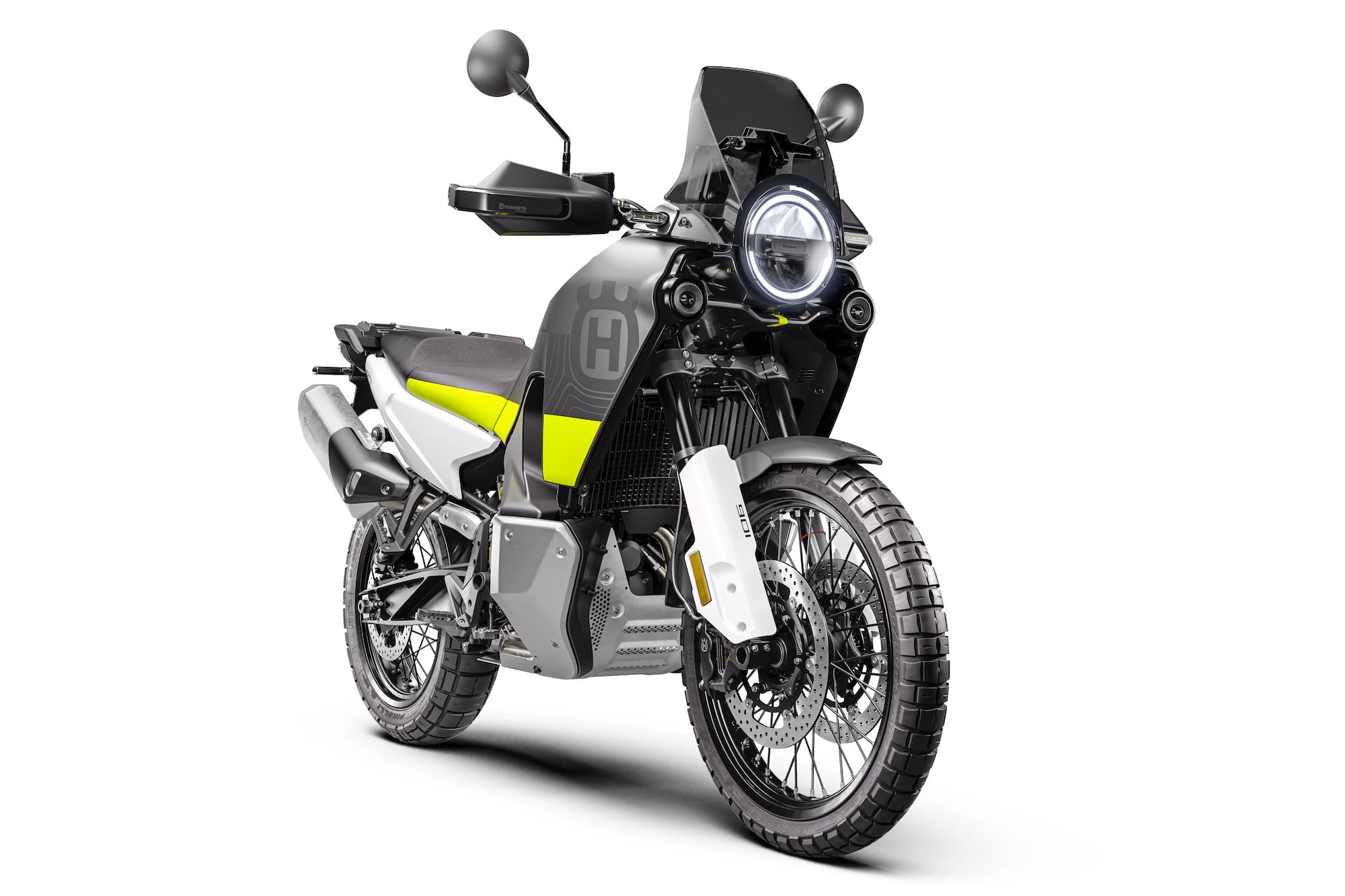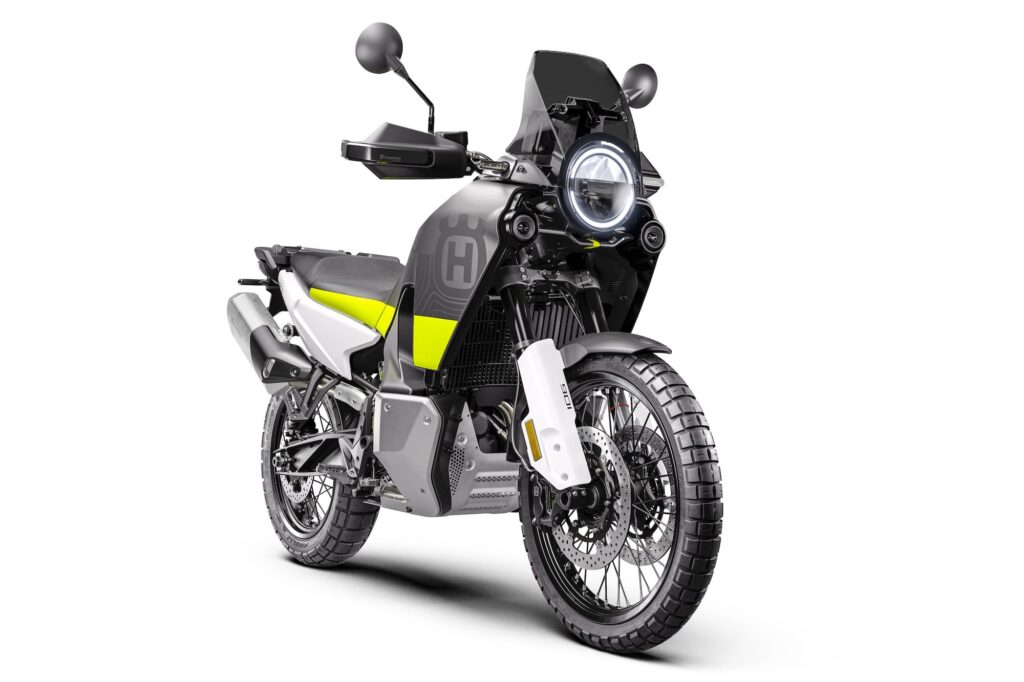 The Husqvarna Norden 901 is based on the same platform as the KTM 890 Adventure R, an 889 cc parallel twin with a 270-degree crankshaft. It has great specs, with long-travel (even longer in the Explorer edition), fully adjustable suspension, and ever ride aid you can think of. Plus, it looks cool.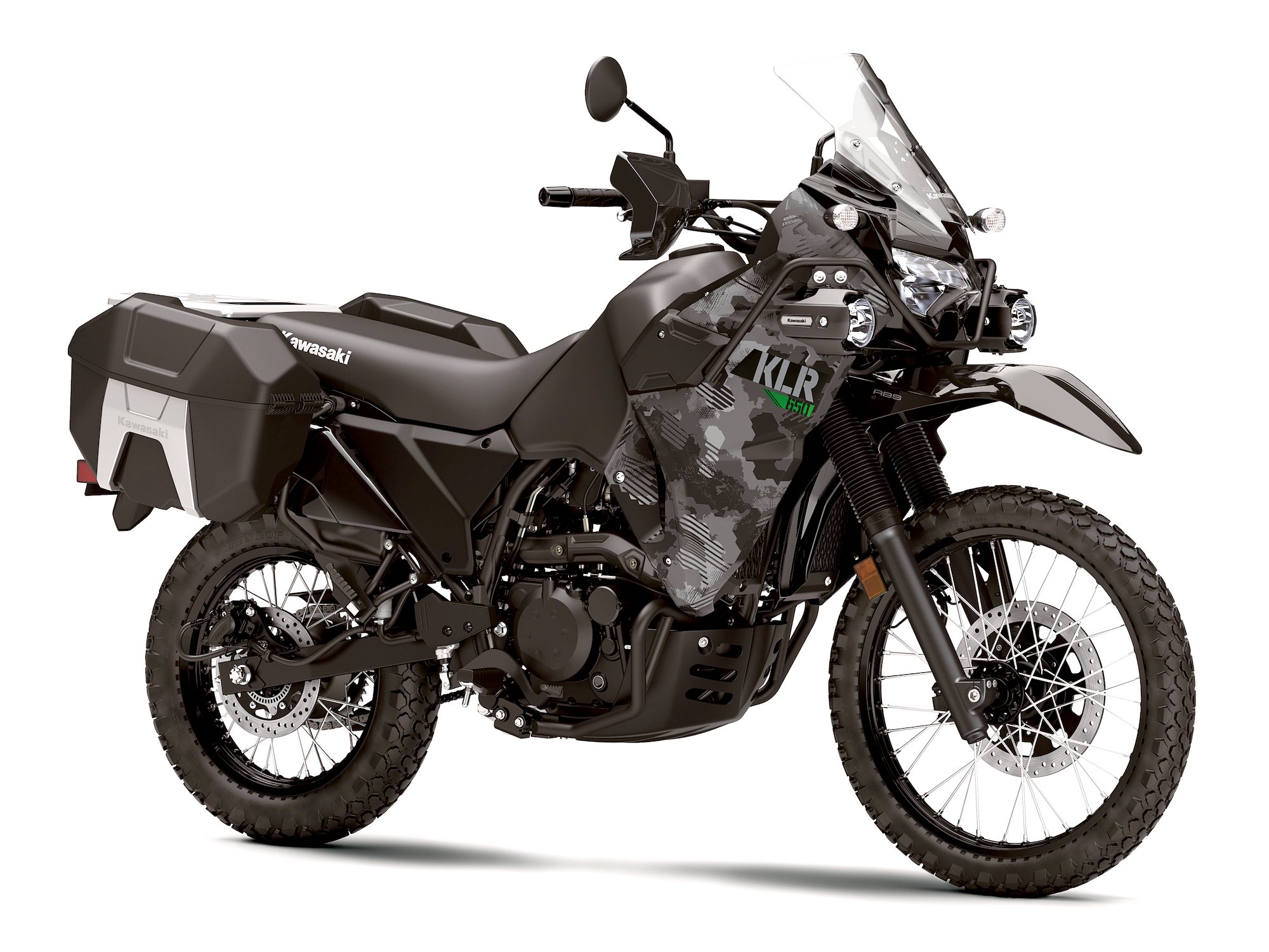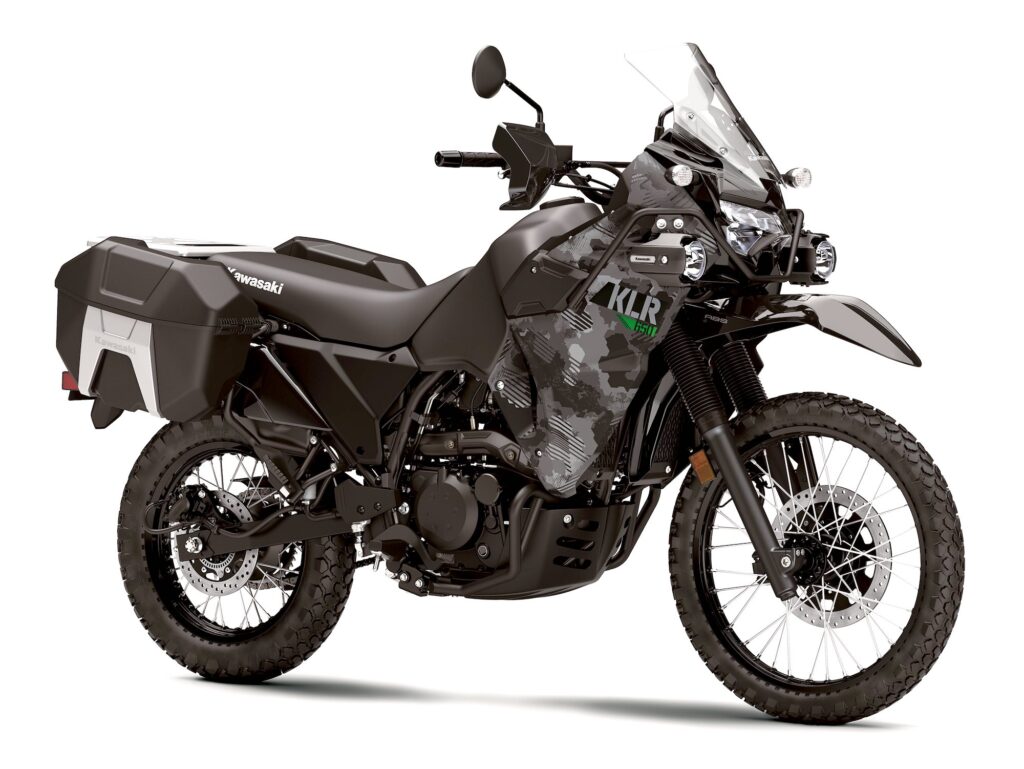 Kawasaki updated its iconic single-cylinder, low-power but unbreakable adventure motorcycle, the KLR650, for 2021 with fuel injection, ABS, and a digital display. It's still the same cheap, back-to-basics adventurer that will get you anywhere and back, though not too quickly.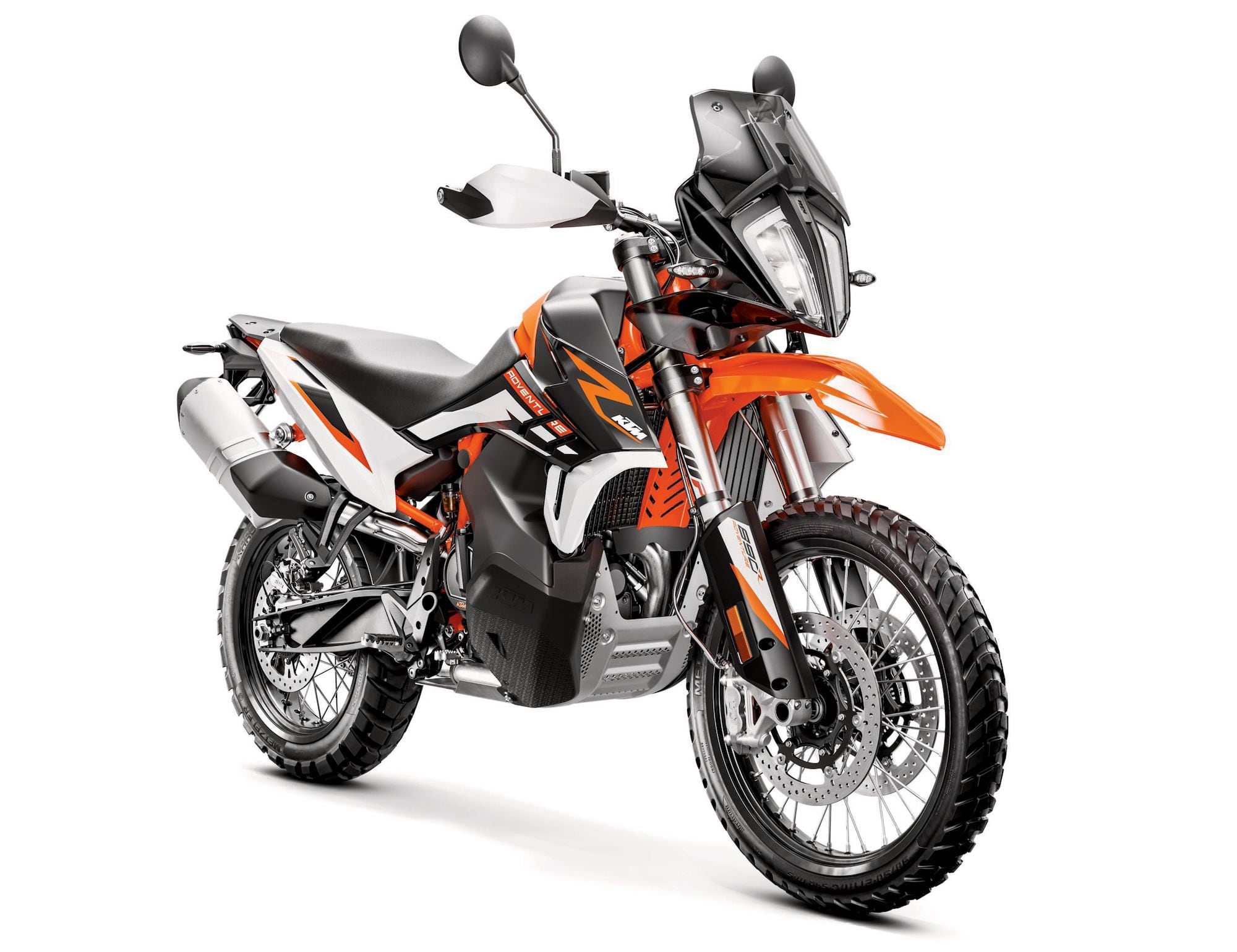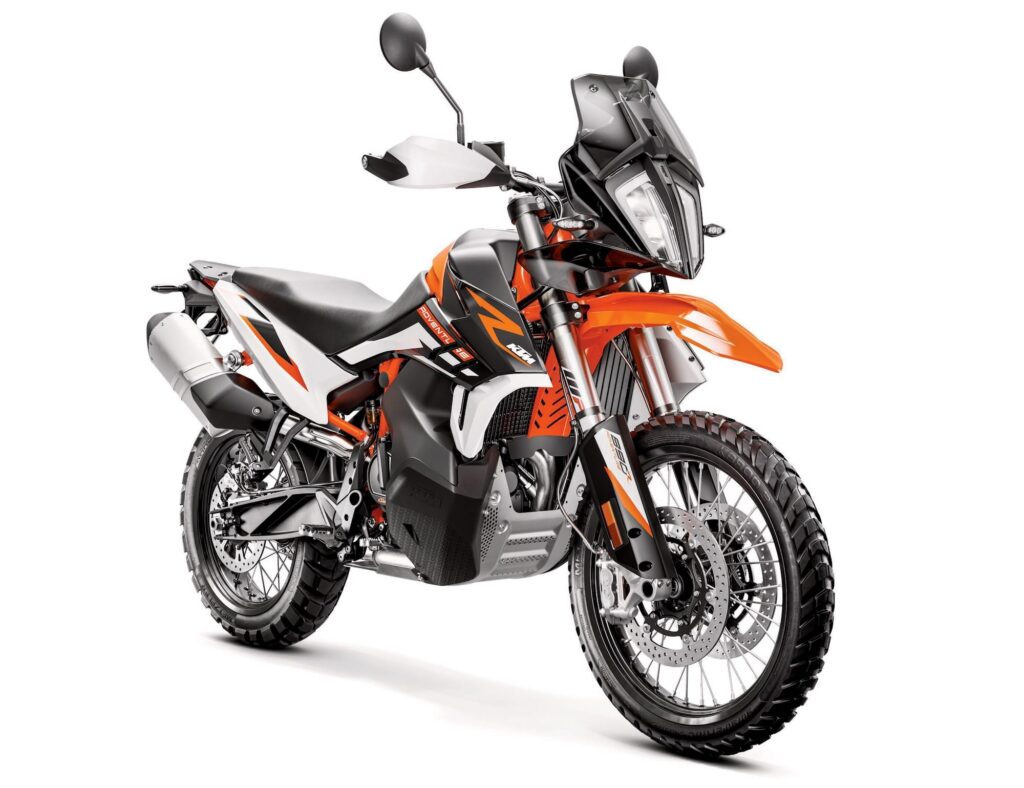 The KTM 890 Adventure R is the "Excitement" factor in the middleweight adventure motorcycle series. It has a sparkling 889 cc parallel twin (shared with the Husqvarna Norden 901), very long-travel suspension (longer than the non-R), and every kind of ride aid you can think of. Despite that, it's one of the lighter bikes in the range (though not by much).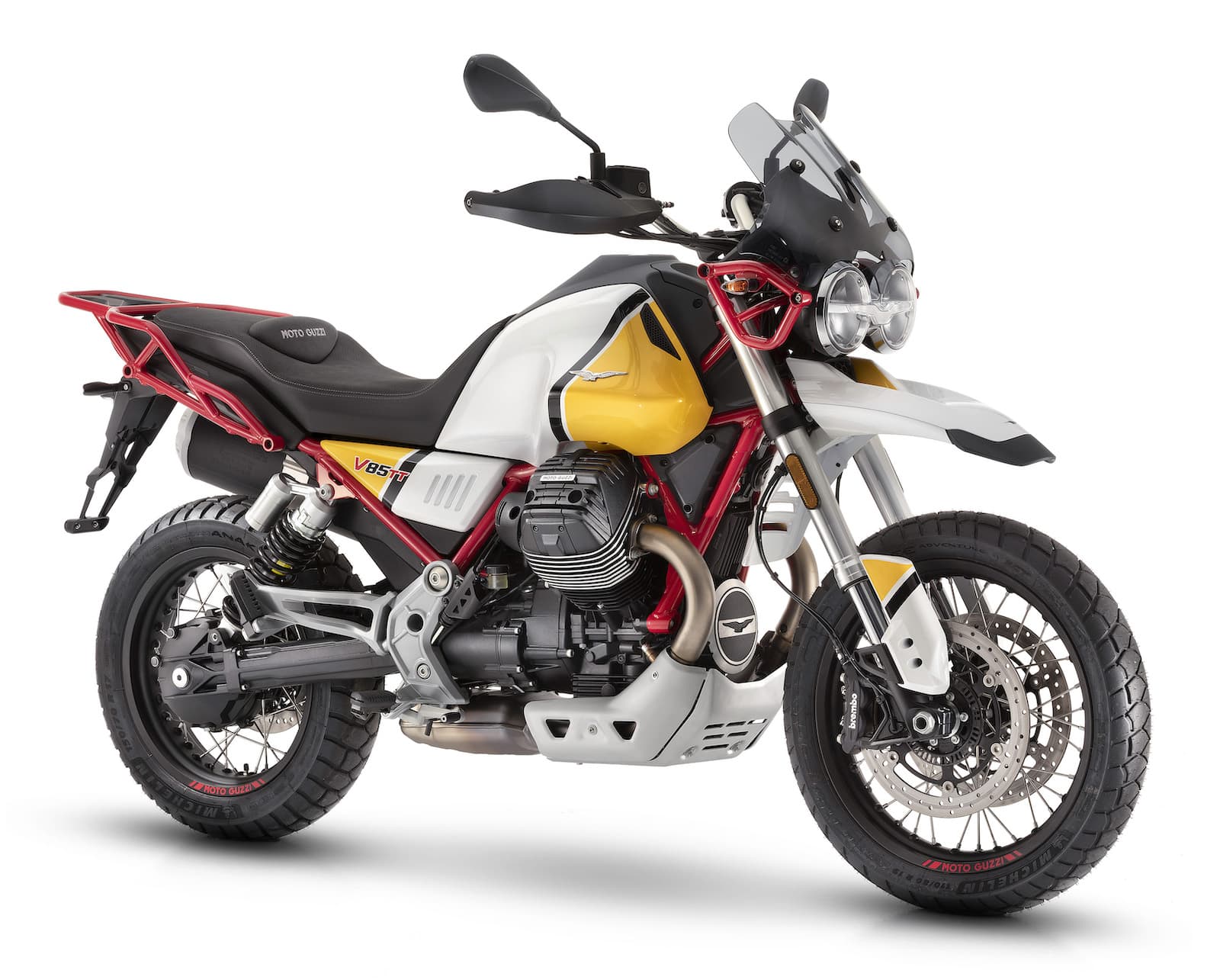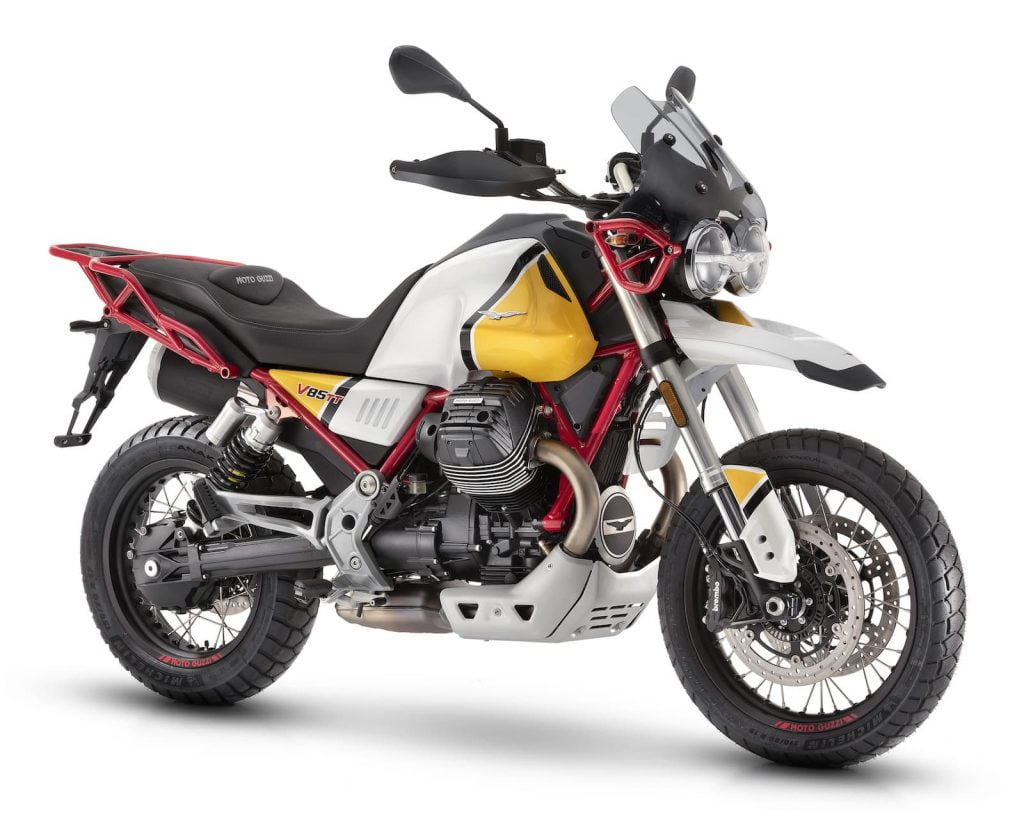 The Moto Guzzi V85 TT is an oddball bike, but it deserves to be included as it's just so interesting. It's powered by an air/oil-cooled longitudinal V-twin powering a shaft drive — this is the one you want if you don't want to be lubing your chain! It lacks many ride aids, but it's very big on character and style.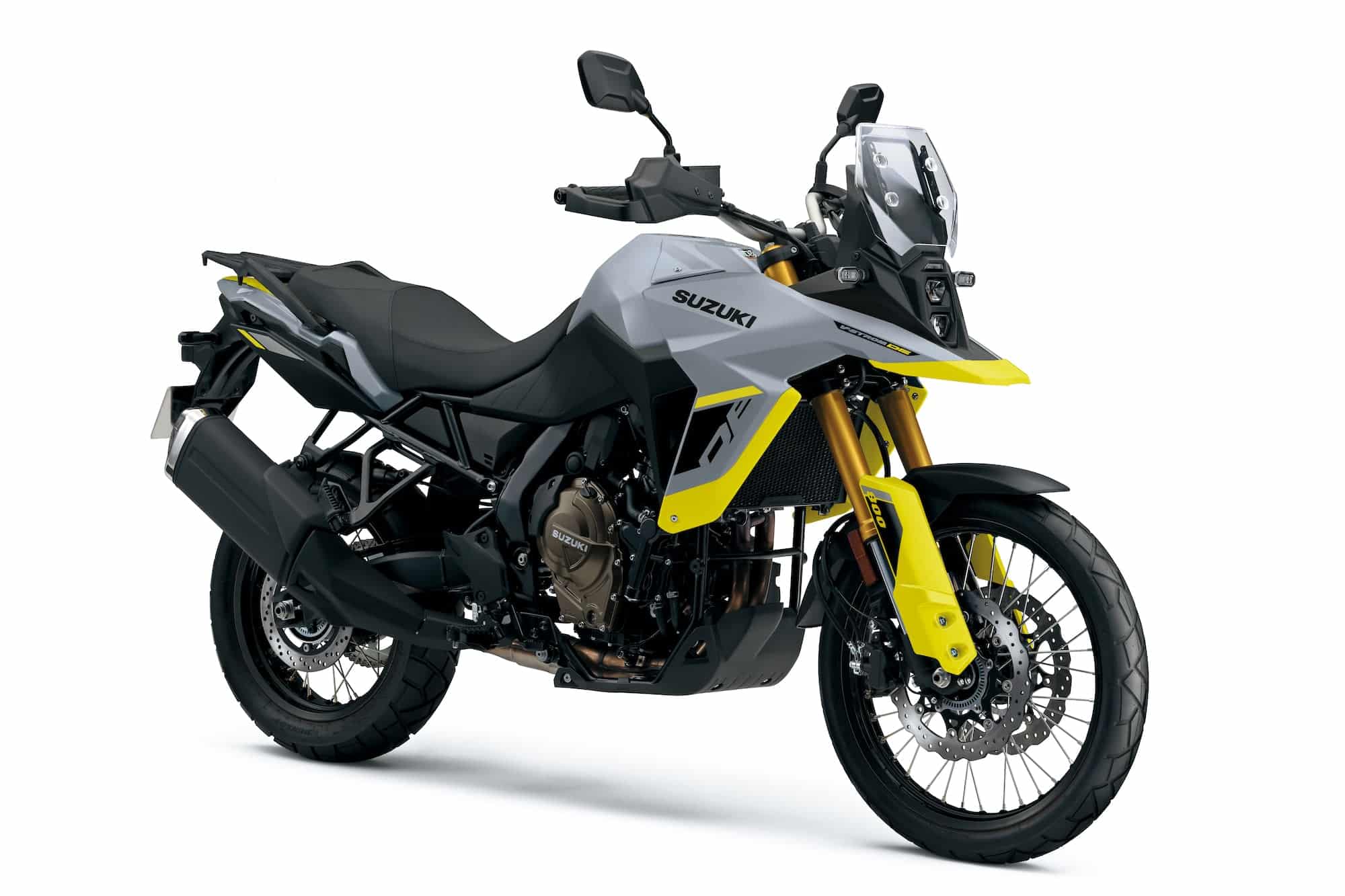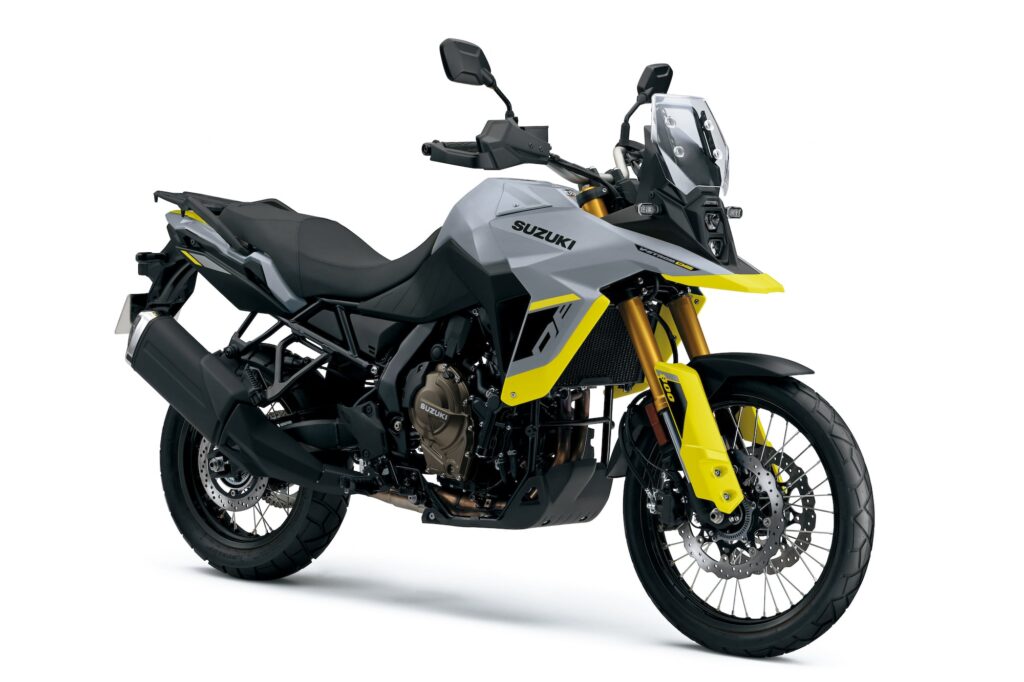 Suzuki updated their V-Strom for 2023 with the V-Strom 800DE, though it co-exists with the V-Strom 650XT (for now). The 800DE uses the same new sporty 776cc parallel twin as the GSX-8S, ditching the V engine associated with the series, and also earned a 21-inch front wheel, similar to its big sibling, the V-Strom 1050DE.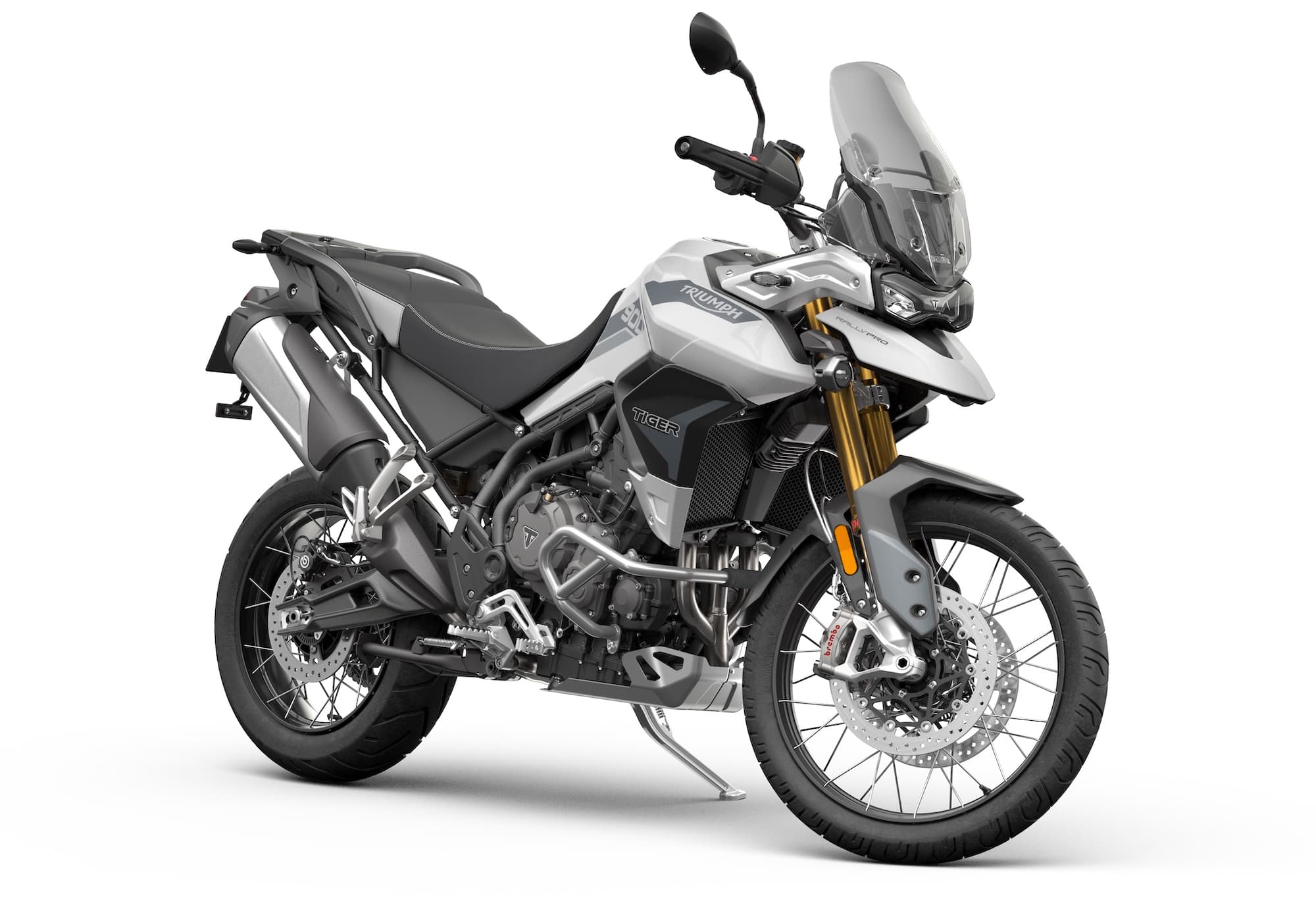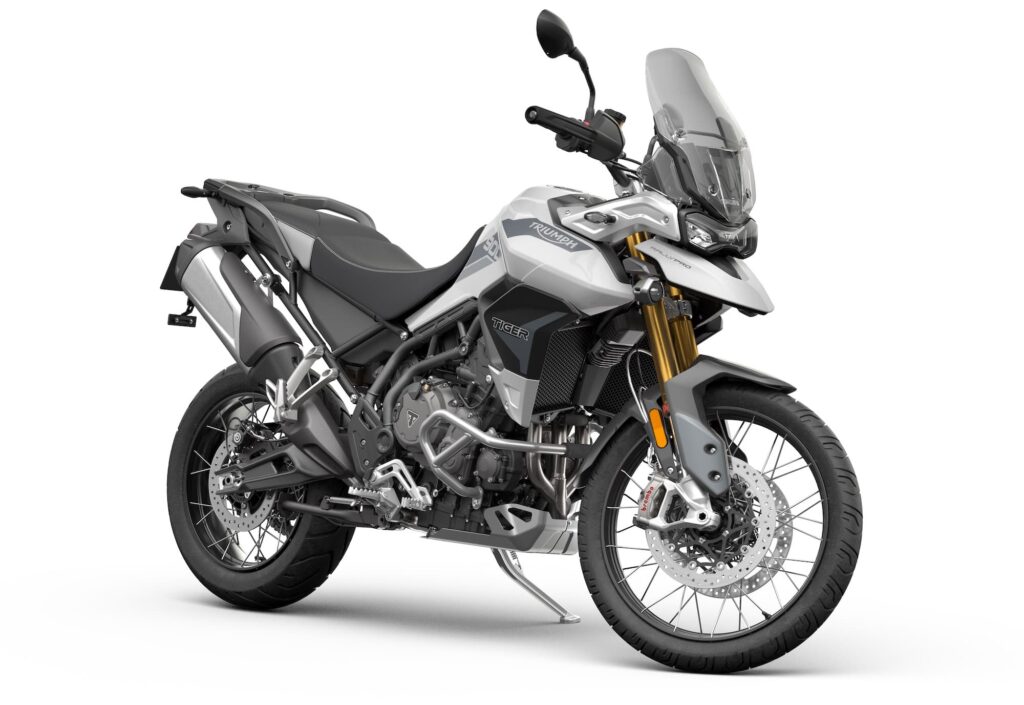 The Triumph Tiger 900 Rally Pro is the only middleweight adventurer to use a three-cylinder engine. The 900 Rally Pro is an update to the Triumph Tiger 800XE, but the 900 engine has a different, lower, more rumbling character. Aside from that, this is the same old luxury middleweight adventure bike, with every ride aid on the market available.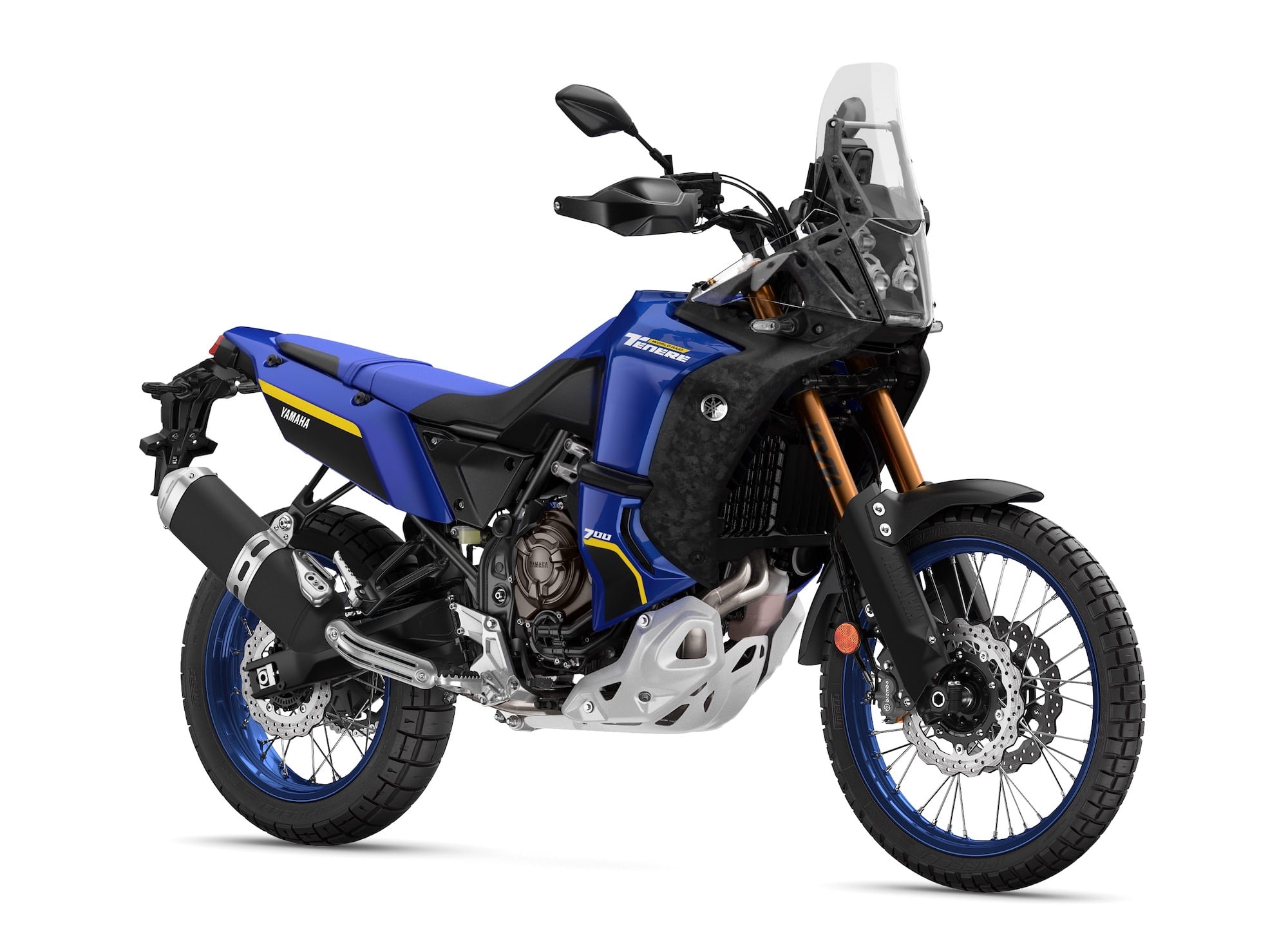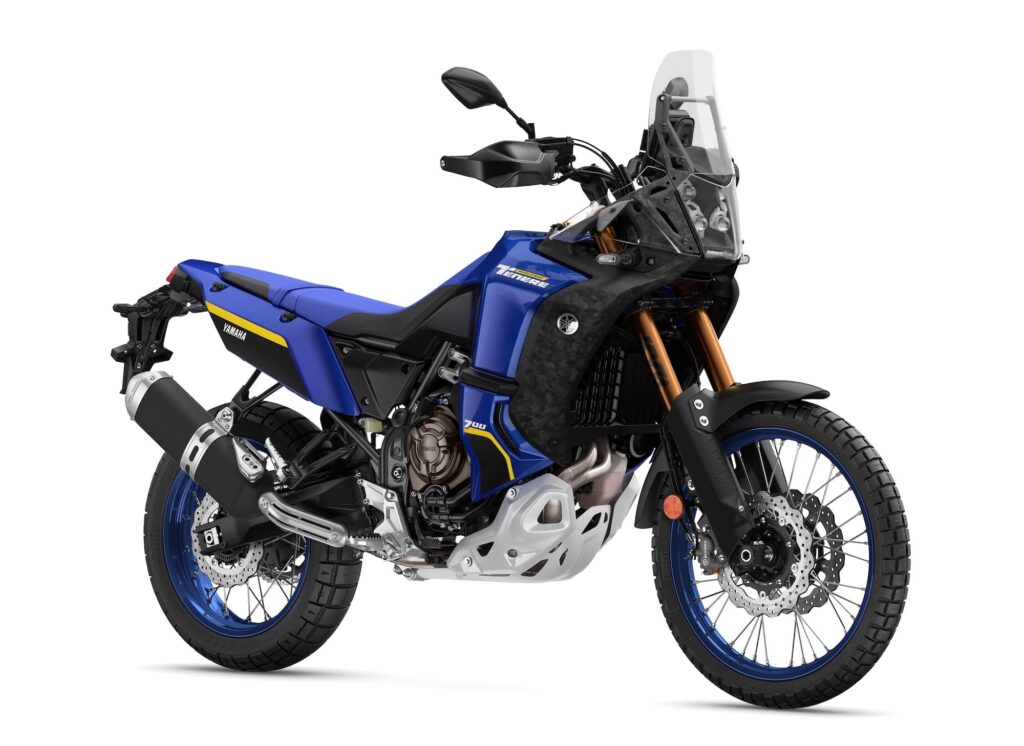 The Yamaha Ténéré 700 is an already-iconic middleweight adventure tourer, powered by the CP2 motor, a character-rich parallel twin we first saw in the Yamaha FZ-07. Yamaha blessed the T7 with an all-new chassis, long suspension (even longer in the World Raid edition), and classic good looks from the previous Ténéré 660. The Yamaha Ténéré 700 hasn't got much tech in it, but that doesn't stop people from loving it.
Other Related Motorcycles
If you're interested in the Aprilia Tuareg 660, you're probably also considering other motorcycles with the Aprilia 660 motor, the RS and the Tuono. Here they are below.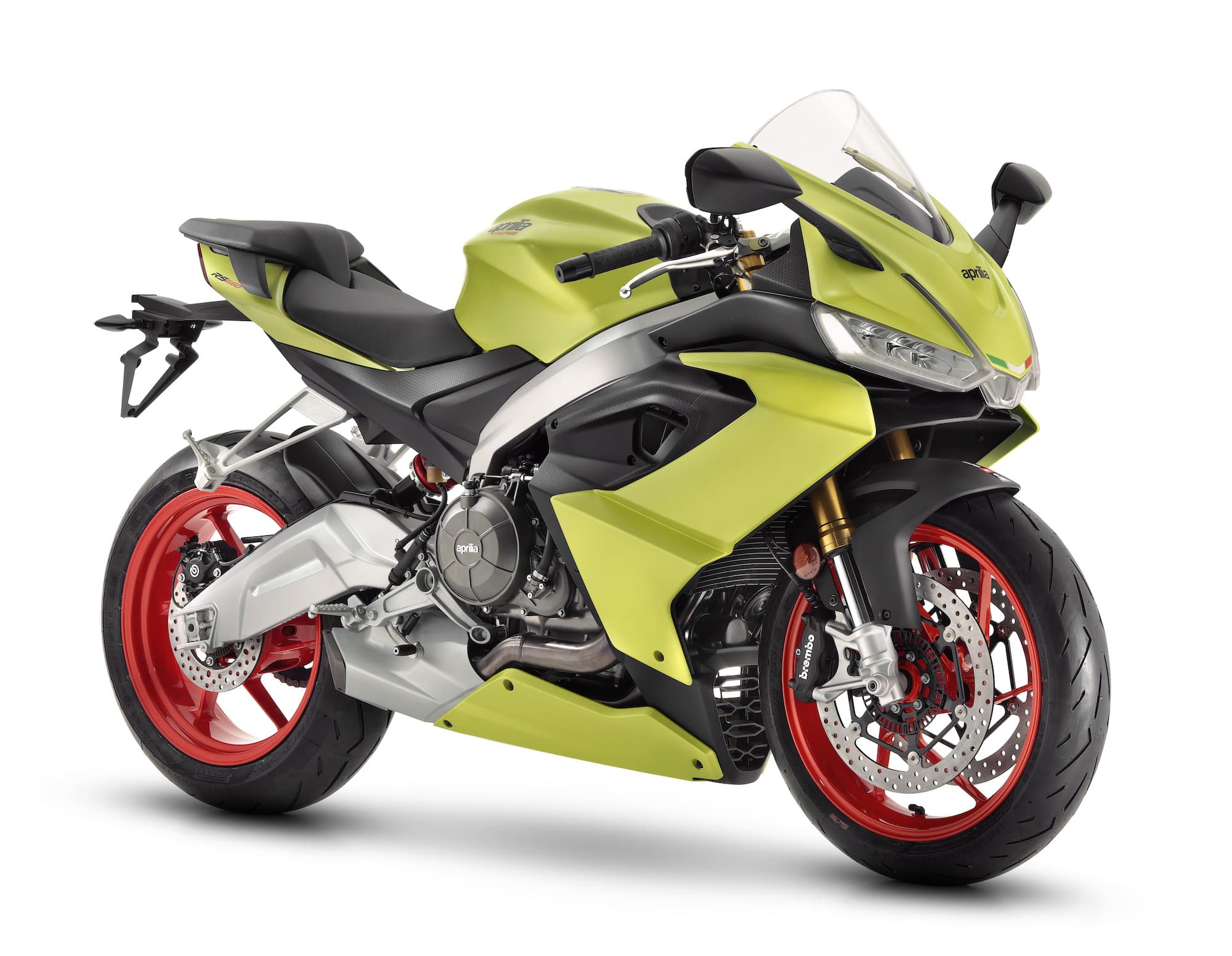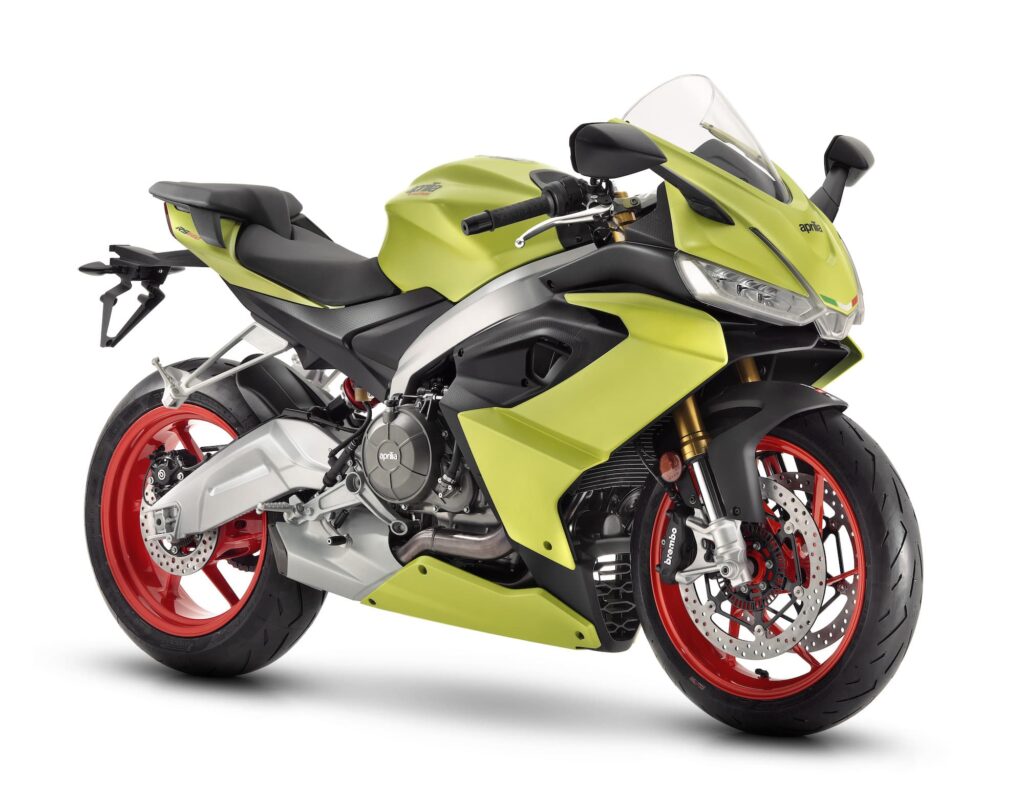 The Aprilia RS 660 is the premium middleweight sportbike with the 660 engine. It straddles a number of sectors. Its engine is compact, but it makes a spritely 100 hp at peak. It's high-spec, with cornering ABD and cruise control, but it's lightweight, with a ridiculously low 183 kg kerb weight. And it's a sport bike, but the clip-ons aren't too low. Also, don't worry, it comes in colours other than "Acid Gold".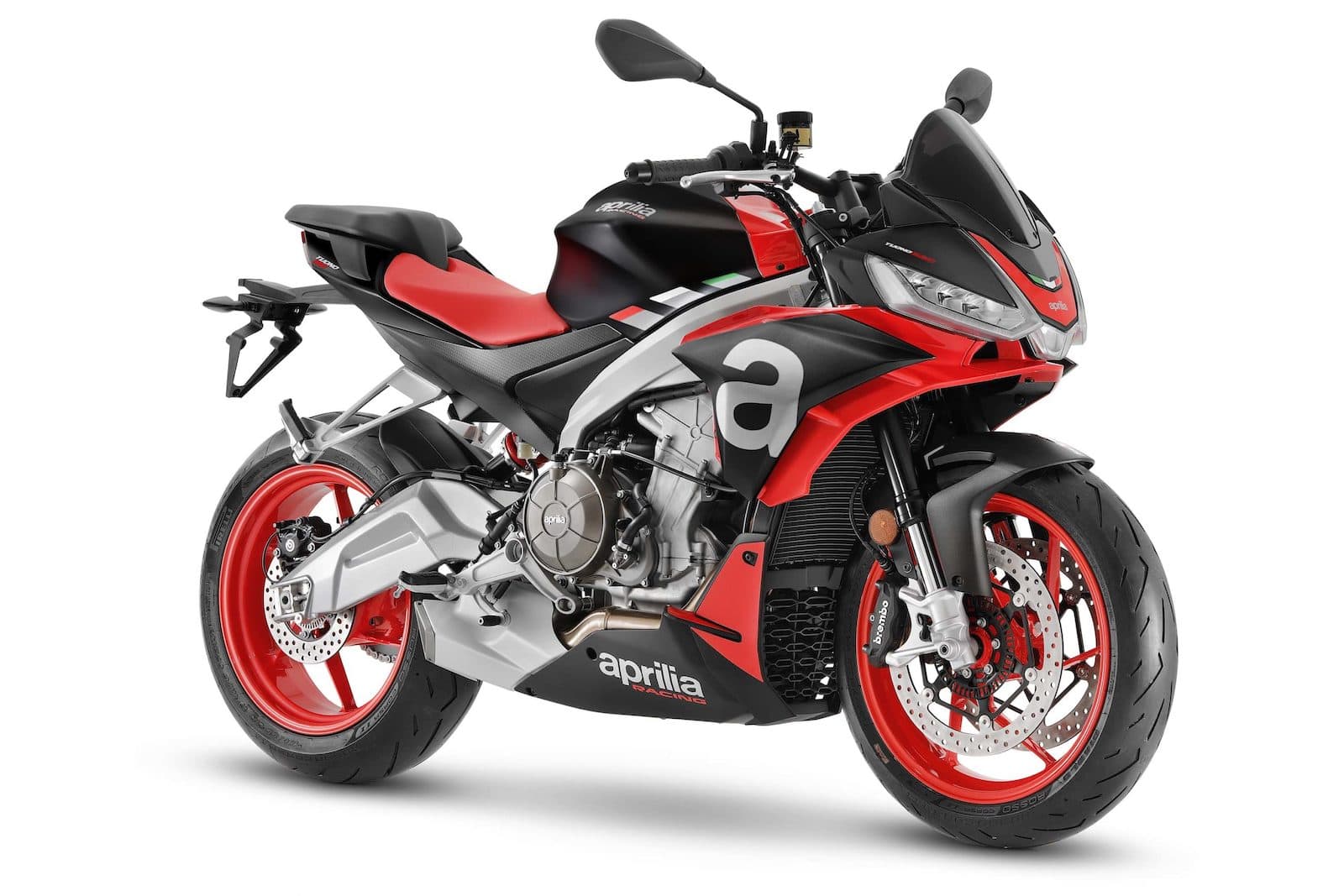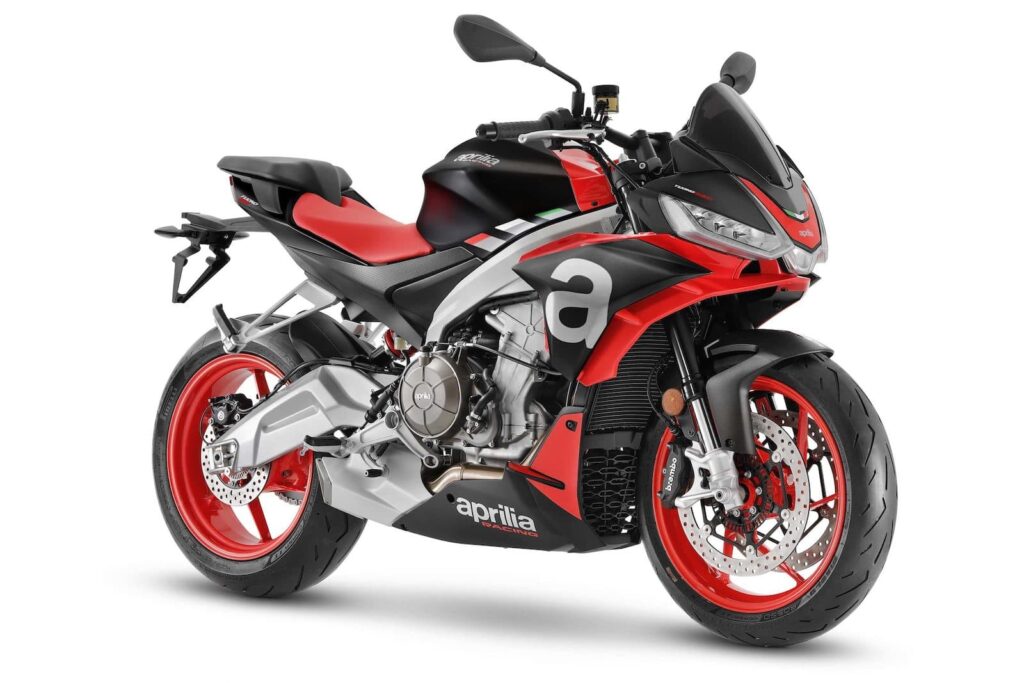 The Aprilia Tuono 660 is essentially a RS 660 with handlebars. It still has a fairing, so you can't call it "naked". Power output, gearing, and most features are the same. But notably, the Tuono has an optional quickshifter and IMU, two things that are standard on the RS 660. But cruise control is still standard.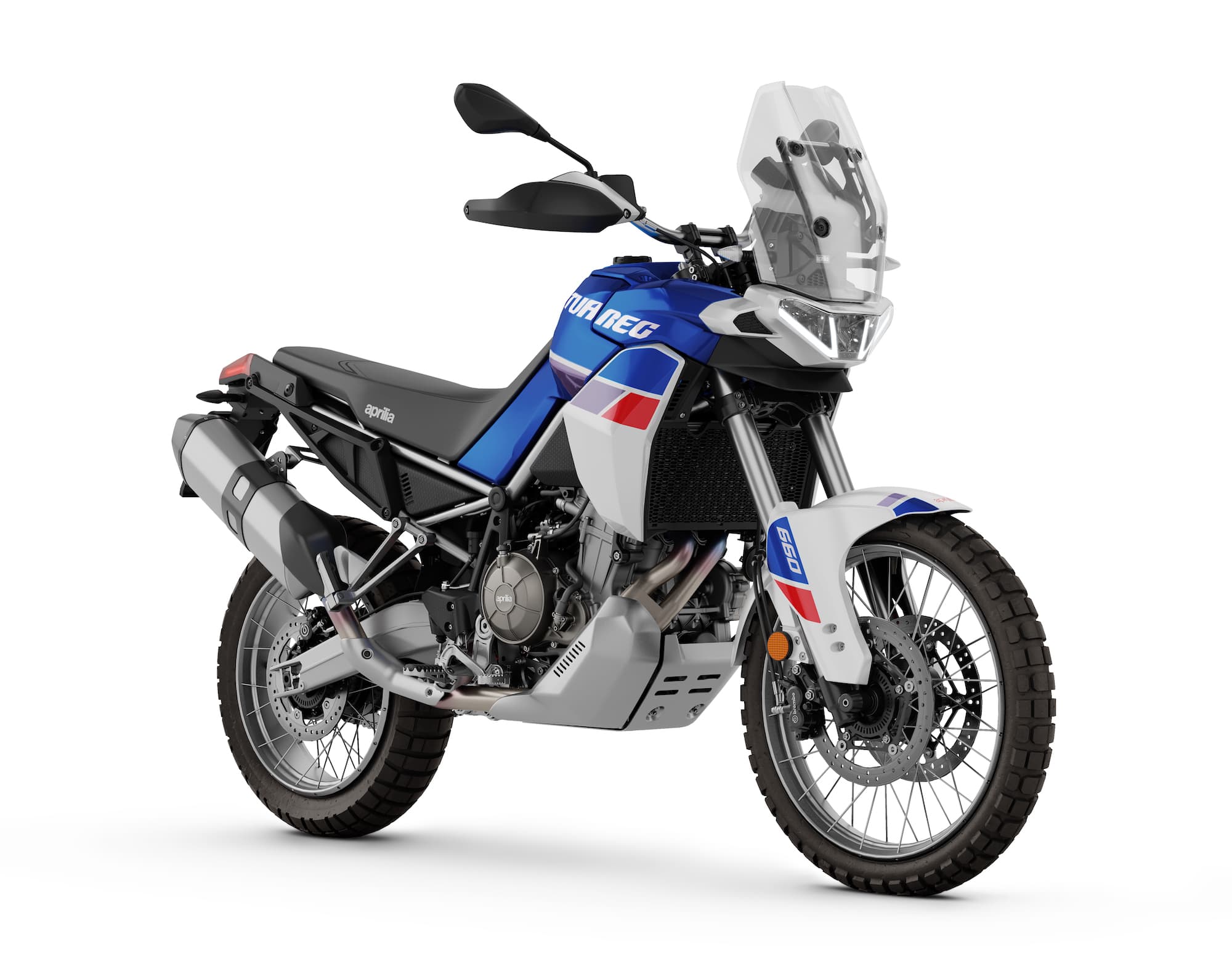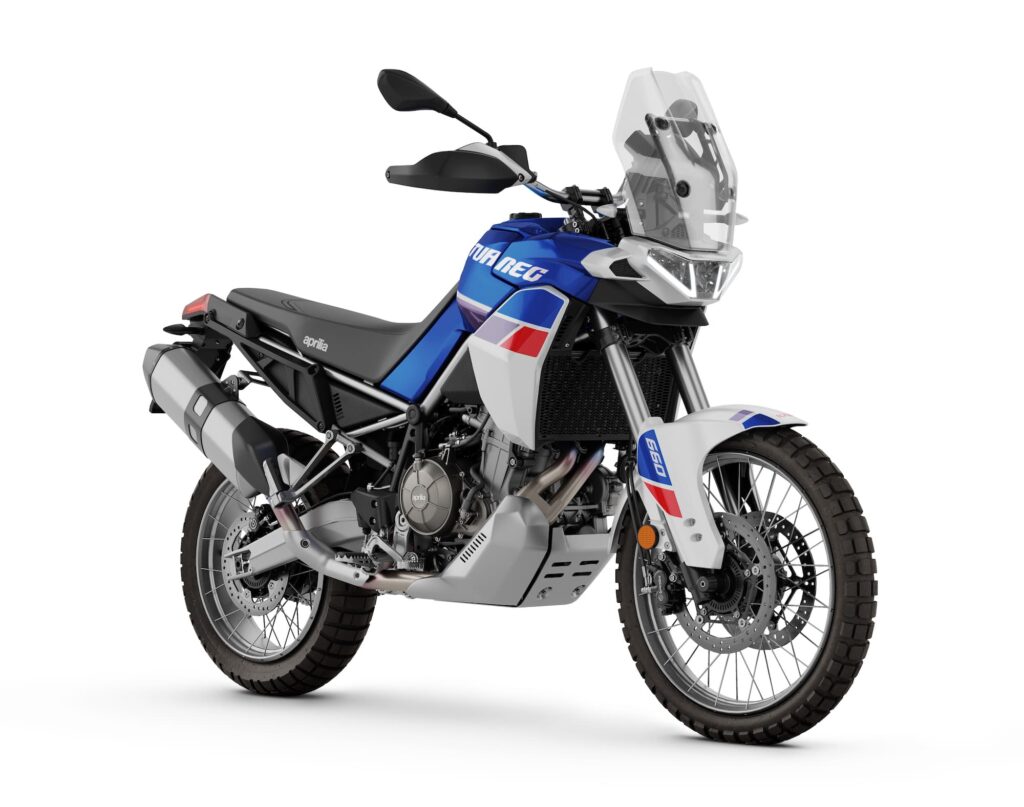 The Aprilia Tuareg 660 is almost entirely different from the RS and the Tuono. It has the same engine, but it's de-tuned for more mid-range. The chassis is different, designed to be more durable and to withstand heavier load and shocks. And speaking of shocks, the front and rear suspension is different, as are the wheels, with a 21/18-inch tire combo. On the Tuareg, cruise control is standard, the quick shifter is optional, and you can't get an IMU.
See our guide to the Aprilia 660 line-up here.
Reference — Owner's Manual for the Aprilia Tuareg 660
The information above came from a mix of from the service manual for the Aprilia Tuareg 660 as well as the owner's manual and press kits.
You can download the manual for your Tuareg from Aprilia's site (but only if you have a motorcycle registered to your name). And a service manual is available for purchase.