Being currently without motorcycle (having sold my last one before going travelling in a 4×4 camper to capitalise on the very high prices in 2020 in Australia), I can't stop reading the news about what's coming in 2021 and thinking about the best motorcycles of 2021… for me.
So, these aren't the fastest, the biggest, or the torque-iest. They're not even the most expensive motorcycles. These are what I think will be the best motorcycles of 2021 to throw a leg over and ride the snot out of.
Are you obsessed with motorcycles?
Well, I am. That's why I created this site — as an outlet. I love learning and sharing what others might find useful. If you like what you read here, and you're a fraction as obsessed as I am, you might like to know when I've published more. (Check the latest for an idea of what you'll see.)
Best Motorcycles of 2021 — Overview
We live in a day when there are very few — if any — "bad" motorcycles. But there are always some that stand out from the rest and which I'm particularly most excited about.
If you're a subscriber to my blog then you're probably a motorcyclist. And we might even share some values!
The things I really like are
Bikes that aren't overpowered (but can still rev and aren't choked) — you'll find a bunch of middleweights in this guide that you can actually see the redline on without being in jail, or being dead.
Bikes that look great… that's why I publish a "best looking motorcycles" guide. Aesthetics are important.
New style directions… bikes that don't slavishly hawk trends of the past (e.g. "low-revving cruisers with V-twins"), and try something new
Bikes with technology like cornering ABS and cruise control
Each of the motorcycles below has something special about it that makes me really excited to try them and just maybe own one of them. (If I don't pick up another ancient warhorse, that is.)
Here they are… the most exciting, most interesting motorcycles of 2021.
Honda Rebel 1100 — A fully-loaded cruiser with a p-twin
What makes the 2021 Rebel 1100 interesting:
Detuned 86hp (64kW) parallel twin (with a 270 degree crank) from the Africa Twin that produces 72 lb-ft (100 Nm) of torque under 5,000 rpm
221 kg wet weight (487 lb)
Cruise control… apt for a cruiser
Even comes with DCT if you want!
Basically, the Rebel 1100 looks like an insanely fun, accessible motorcycle, putting the 1100 motor (that reviewers LOVE for its low-down torque) into a cool chassis — but leaving in things like cruise control and electronic ride aids to make it a do-everything bike.
The Rebel 1100 is a serious contender for the next bike I own new. The only thing holding me back is that it doesn't look the absolute bee's knees, unlike the shockingly good-looking but much older-tech Suzuki M109R for example.
On the other hand, it sure does look easy on the knees!
The Rebel 1100 is priced at $9,299 in the US, so I expected it to sell for around $13,000 ride-away here in Australia, based on looking at prices of other models Honda sells and the multipliers they use, but in the end Honda priced it at around $18,500, which makes it much less compelling in Australia. That money buys you a lot of other options…
2021 Aprilia RS 660 — A Street-able Middleweight Sportbike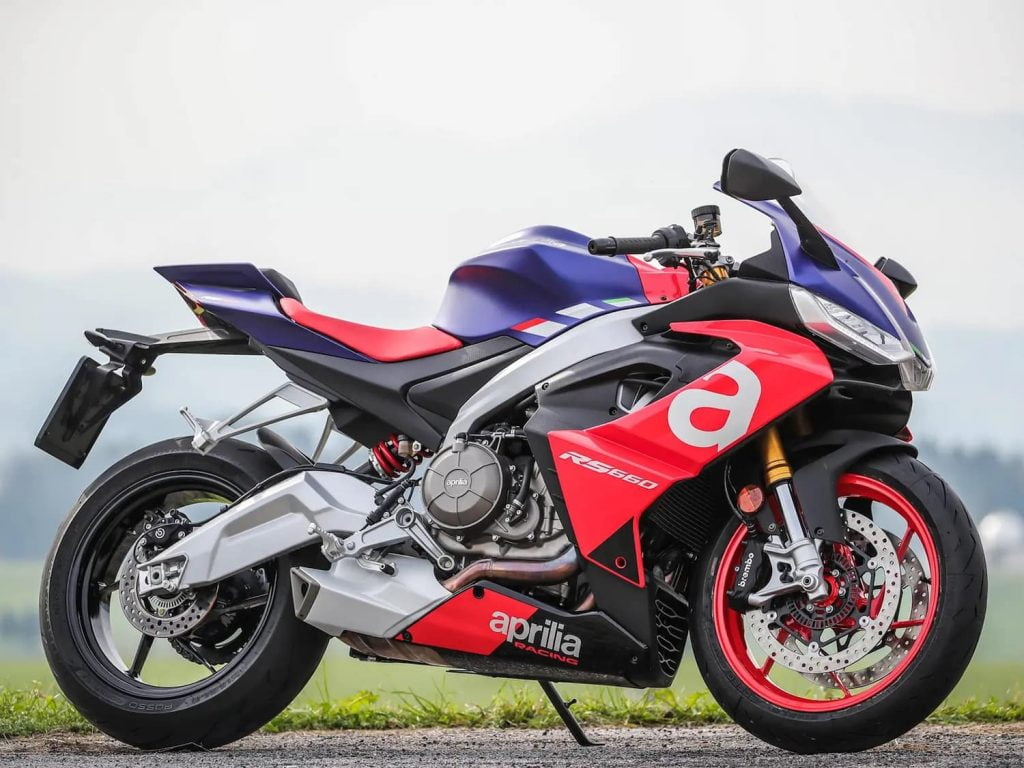 What makes the 2021 Aprilia RS660 one of the best motorcycles of 2021:
A middleweight sports bike for the masses
659cc parallel twin with 270-degree crank — all the character of a V-twin + ease of maintenance (only one head) of a parallel twin
Not so-extreme riding position — the bars aren't too low and the pegs aren't too high (it's still no sport-tourer though)
Very street-usable 100 hp (63.5 kW)
Cool features for sports bikes like cruise control and a six-axis IMU
I really like motorcycles like the Honda CBR650R that have usable amounts of power, approachable riding position, and all the style of the litre-bikes by the same manufacturer. I'm still mad at Honda for not bringing the full-power CBR650R to Australia after I left the sunny shores of California!
But the Aprilia RS660 is even more. It's a parallel twin with 270-degree crank — loads of character — and this one is packed with tech that the CBR650R lacks.
The RS660 is an Aprilia though, so be prepared to pay a bit extra both for the initial purchase as well as for maintenance.
See here for our full take on the Aprilia RS 660.
Triumph Trident — An entry-level triple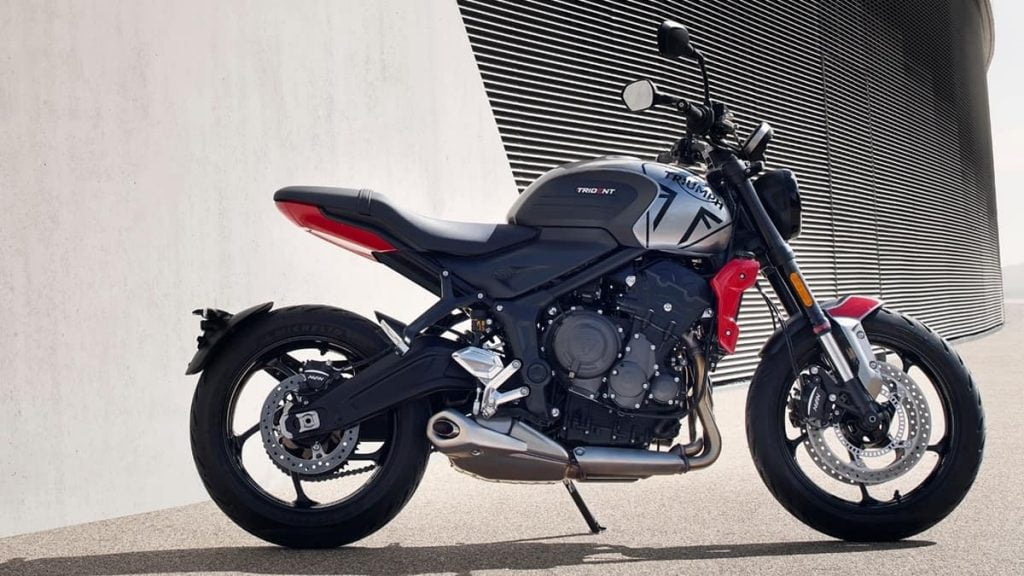 Entry-level (or "accessible") 660cc three-cylinder engine (a "triple") producing 80 hp (60 kW) — very usable!
Lightweight — 189 kg fully fuelled
ABS and traction control (no cornering ABS)
Optional quickshifter
"Entry-level" is one of those definitions that damns amazing motorcycles into oblivion. The Triumph Trident is at risk of that. Eight horsepower? Pish posh! But we forget that amazing sportbikes of the past, like the Ducati 900SS — the subject of the epic article The Song of the Sausage Creature — also made just that, 80 hp (or thereabouts).
Other middleweight "entry-level" bike the Suzuki SV-650 got some competition with the 2016 Yamaha MT-07, the new hooligan favourite with its quietly raucous CP2 engine. Now, the Triumph Trident is going to give the MT-07 a run for its money.
It's easy to market a triple: all the character of a twin, and all the smoothness of a four. It doesn't matter that twins these days are smooth and fours can have a lot of character (anyone who wants to argue with that needs to ride an MT-10). And a quickshifter just brings more fun to the party.
My only qualm with the new Trident: it looks a bit functional, like it forgot to put on its fairing.
Yamaha MT-09 SP (and Tracer)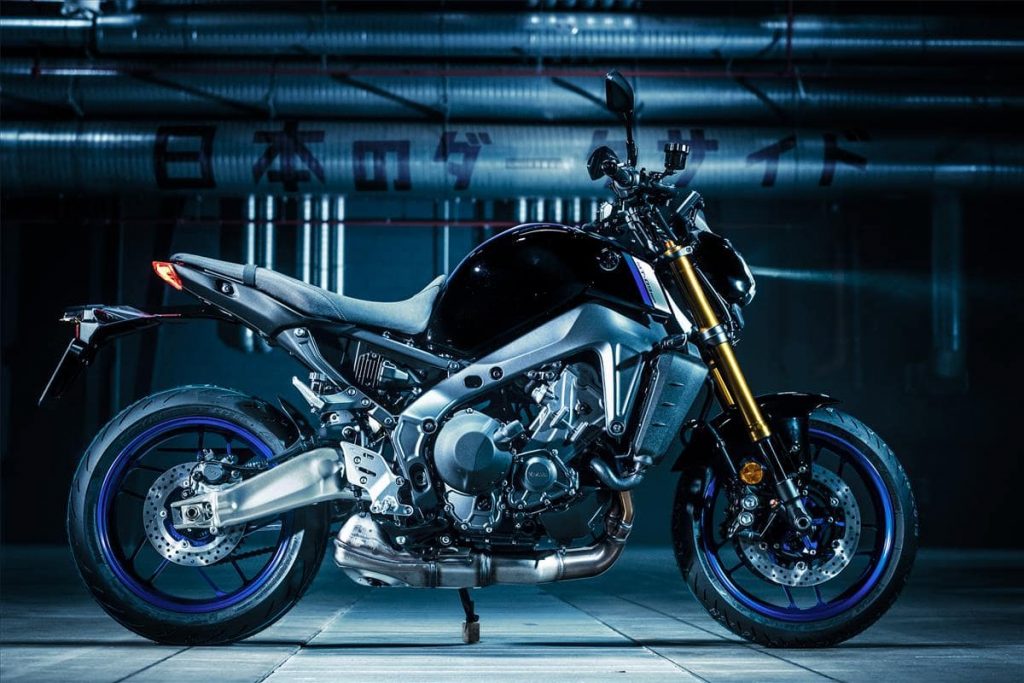 What makes the 2021 Yamaha MT-09 SP interesting…
The only "middleweight" sports bike with cruise control and a six-axis IMU. (The non-SP version doesn't have cruise.)
Bigger (than the 2020 MT-09) 889cc three-cylinder (triple) engine, bringing torque figures 1,500 rpm earlier (and peak power/torque slightly higher)
Öhlins rear shock, fully adjustable Kayaba forks (the standard SP only has semi-adjustable)
Super light-weight 189 kg wet weight
All versions of the 2021 Yamaha MT-09 get the IMU and bigger engine, but only the SP version gets cruise control and the better suspension front and rear.
I've always liked the MT-09. Yes, people complain it's twitchy unless it's in B-mode… but ride-by-wire helps smooth that out.
The thing that really seals the deal for me is stuff like cornering ABS and cruise control on a naked. Not even the MT-10 has cornering ABS! (Though it does have cruise.) And only a few nakeds have cruise — and they're top-spec bikes, like my (recently departed) S1000R and the Tuono.
The 2021 MT-09 Tracer (also known as the Tracer 900) gets all this, too.
Ducati Multistrada V4
What makes the Ducati Multistrada V4 one of the best motorcycles of 2021…
Radar-guided Cruise Control (as a quite expensive option)
Ducati V4 Granturismo 1158 cc engine producing a (frankly, ridiculous) 168 hp
No more desmodromic valves… say it isn't so??
The Ducati Multistrada V4 is big, expensive, and really powerful. So, it's not a motorbike that I'm likely to own or ride. It'll basically just make riding too easy! Yes, it'll do everything, but I have personal limits on my "fun" budget, and also, I find that riding such well-equipped bikes sometimes is uninspiring. It won't force me to be a better rider.
But I wanted to mention the Multistrada V4 because it's the first motorcycle I've ever seen to offer radar-guided cruise control. BMW will offer this as well, soon.
The 2021 Multistrada V4 will also have a rear-facing radar to warn you about fast approaching traffic, and also to act as a blind spot detector.
Yes, on top of that, the Multistrada V4 is the first Ducati Multistrada with the V4 engine, first introduced in the Panigale V4. I was also interested to see that Ducati has ditched desmodromic valves in the Multistrada V4 and now I don't know what Ducati means anymore!
Kawasaki Ninja ZX-25R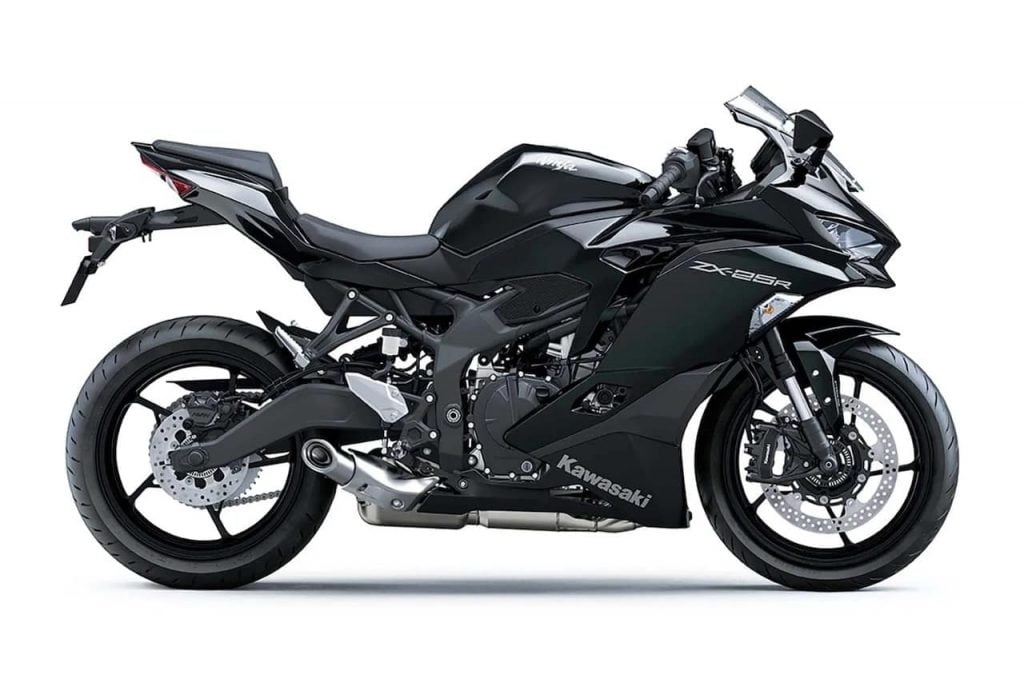 What makes the 2021 Kawasaki ZX-25R interesting…
Return of the four-cylinder screamers (sub-250cc, four-cylinder motorcycles with 40+hp and high redlines)
50+ hp at over 15,000 rpm (44hp in Japan)
Lightweight (though not as light as it could have been) at < 182 kg wet weight
Not a crazy sports position (kind of old-school sports; modern "sport touring")
Quick shifter
ABS and traction control
Redlines at 17,000 rpm
For once, the models released outside Japan will be the best ones! Europe and Australia-delivered models of the ZX-25R will make over 50hp at the crank.
One thing I'm really impressed by is that even though it's a sporty motorcycle, the clip-on handlebars aren't too low and the pegs aren't too high. So, it won't be as cramped as your typical track bike.
I also like that I'll be able to go above 10,000 rpm in third and fourth gears without going to jail. Unlike… well, unlike anything in the 600cc class or above (where 1st gear is all I'll get to use in that rev range).
Honourable mentions
I wanted to include the 2021 Honda CBR600RR in the list of most exciting motorcycles of 2021. I do love middleweight sports bikes, and Honda really upped the ante by adding an IMU and cornering ABS.
But I didn't add the CBR600RR because
It's not even available in the US or in Europe because it doesn't meet their emissions regulations / wasn't marketable, and is super expensive in other places. (In Australia, it costs more than a Yamaha YZF-R1 or BMW S 1000 RR.)
I'm a dials guy, I don't love TFTs.
It's a high-revving 600, producing its peak power at 14,000 rpm. Great for the track; not really useful anywhere else other than the 1% of the time you're up there in revs.
Basically, the CBR600RR would be my #1 new motorcycle pick for the track, but it isn't a motorcycle that I'm excited to own.
Another motorcycle I'm giving a miss on this list is the 2021 Ducati Monster.
These are the updated models of the water-cooled, wet-clutch small-body monster (smaller than the big one, anyway).
The Ducati Monster is a great bike. Always has been, and the older air-cooled ones (especially the 1100 Evo) remain some of my favourite motorcycles of all time.
But there's nothing that new about the new 2021 Ducati Monster apart from a few things it has given up or changed aesthetically, and a few things it has gained electronically. To me, it's less exciting than some of the more game-changing models of the past.
(Don't get me wrong, I'd love every minute of riding one!)