Update 31 Oct 2022: Sold again.
Update 12 September 2022: This BMW R 1200 S is for sale again. The owner, who bought it for himself as a present for his cancer going into remission, ultimately succumbed. His wife would like it to go to a good home.
He took care of a few things while it was in his ownership. It's in the same condition as below, but with 53000 km (5000 km in the last two years), and its service records are up to date. Contact me if you're interested and I'll put you in touch with the seller. It's in Gold Coast, Australia.
Here's a bit more about the R 1200 S below.
---
In early 2020, I regretfully put my "Colgate" BMW R 1200 S up for sale. The motorbike sold for the list price to the first person who showed up — a nice gentleman who drove up from Gold Coast. He bought it as a present for himself for recovering his health.
Here's the first photo I took of it — on my own ride back home from 1200 km away — I had bought it in Liverpool, Australia.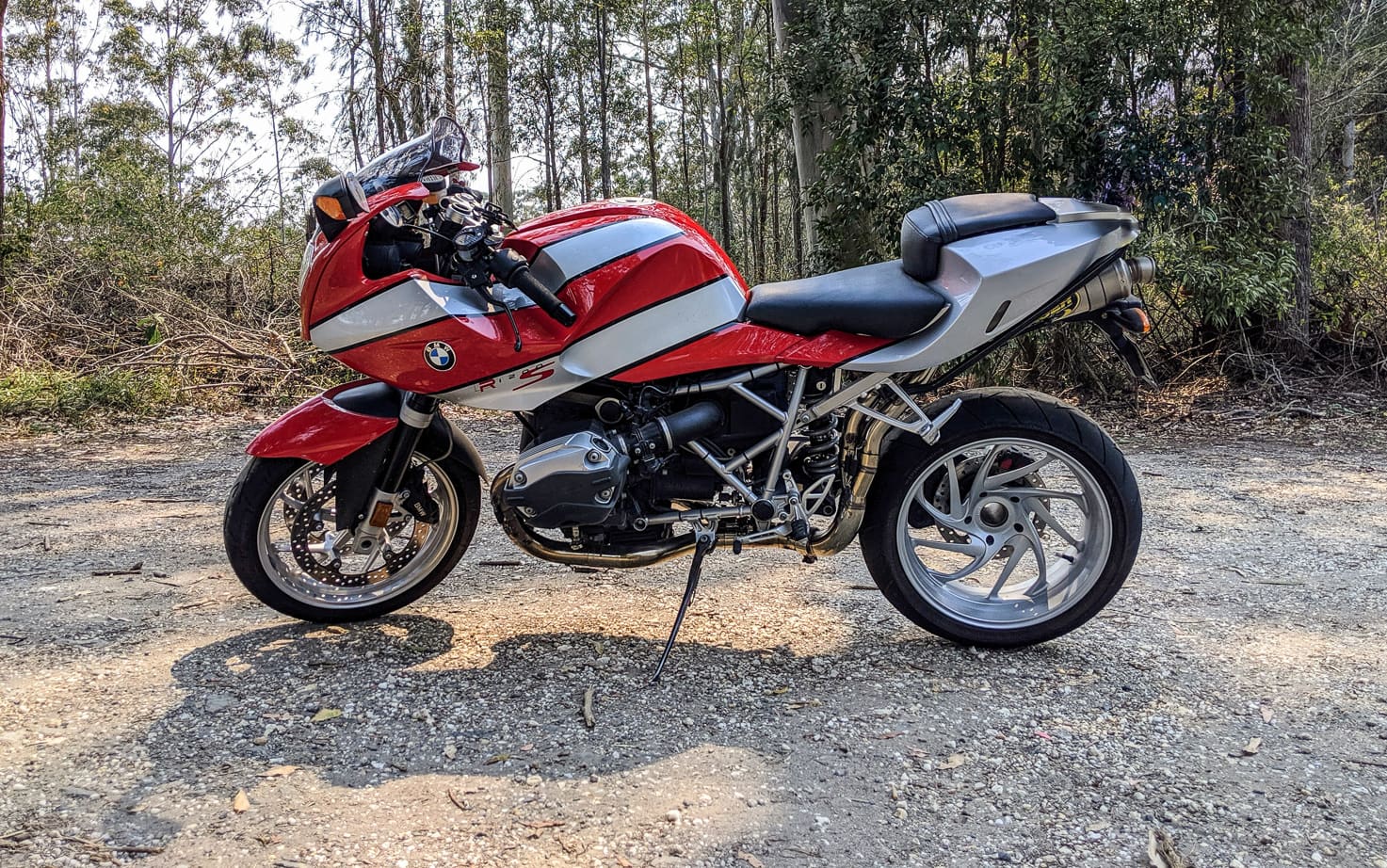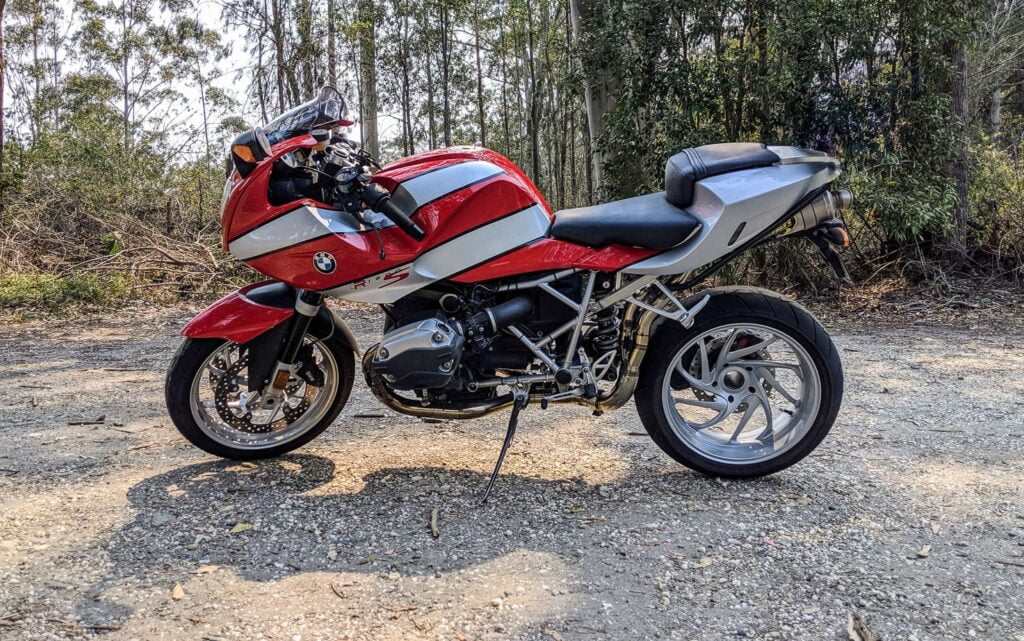 Are you obsessed with motorcycles?
Well, I am. That's why I created this site — as an outlet. I love learning and sharing what others might find useful. If you like what you read here, and you're a fraction as obsessed as I am, you might like to know when I've published more. (Check the latest for an idea of what you'll see.)
About the BMW R 1200 S in general
In general, the BMW R 1200 S is a very unique machine. In some ways, it's like the BMW equivalent of the Ducati SportClassic — a bike that now sells for around twice the price of the R 1200 S.
The R 1200 S is a sportbike that's comfortable with an air/oil-cooled boxer engine of the "Hexhead" generation. This was the single overhead cam (before the "Camhead") motor. In the R 1200 S, the 1170 cc boxer was tuned for 122 PS (121 bhp or 90 kW) at 8250 rpm with a redline of 8800 rpm — very high for an engine that's not water-cooled!
Even though it shares the same motor as the R 1200 GS, in the R 1200 S the boxer is tuned for more high-end power. So it does suffer a little in low-end torque, but only if you're looking for that.
Here's a full review I did of the R 1200 S after owning one for a while.
It's really a wonderful bike — sedate at low speeds, and torquey at high speeds. The amount of power it puts out is quite high for an oil-cooled twin! For comparison, the modern BMW R NineT (like the R NineT Racer) motorcycles put out 110 hp.
About My BMW R 1200 S
In a nutshell, here are the details on THIS BMW R 1200 S:
52000 km; I bought it with 47,000 kms, took care of some small things. The current owner kept the service up to date.
Full service history – all service done at BMW dealerships; I changed the alternator belt myself. Last full service Nov 2021 (including oil, valves)
Both keys (including the master key)
Even comes with the standard tool kit!
Full Laser exhaust system (over $2,000 value)
Power Commander III with tune — the previous owner didn't just whack on the exhaust! ($500+ installed)
Shaft drive
Heated comfort grips (it does get cold in winter… maybe in the morning anyway)
Single-sided swing-arm
Immaculate condition bodywork
Rear rack ($500 installed)
Engine is a 1170cc boxer twin that's fuel injected and puts out 130 hp at the rear wheel in current tune.
I've ridden this slow, fast, long, and short distances. I think it's awesome. I get compliments on it. It's beautiful, very well treated, and has a wonderful gentle character.
What makes this R 1200 S Special?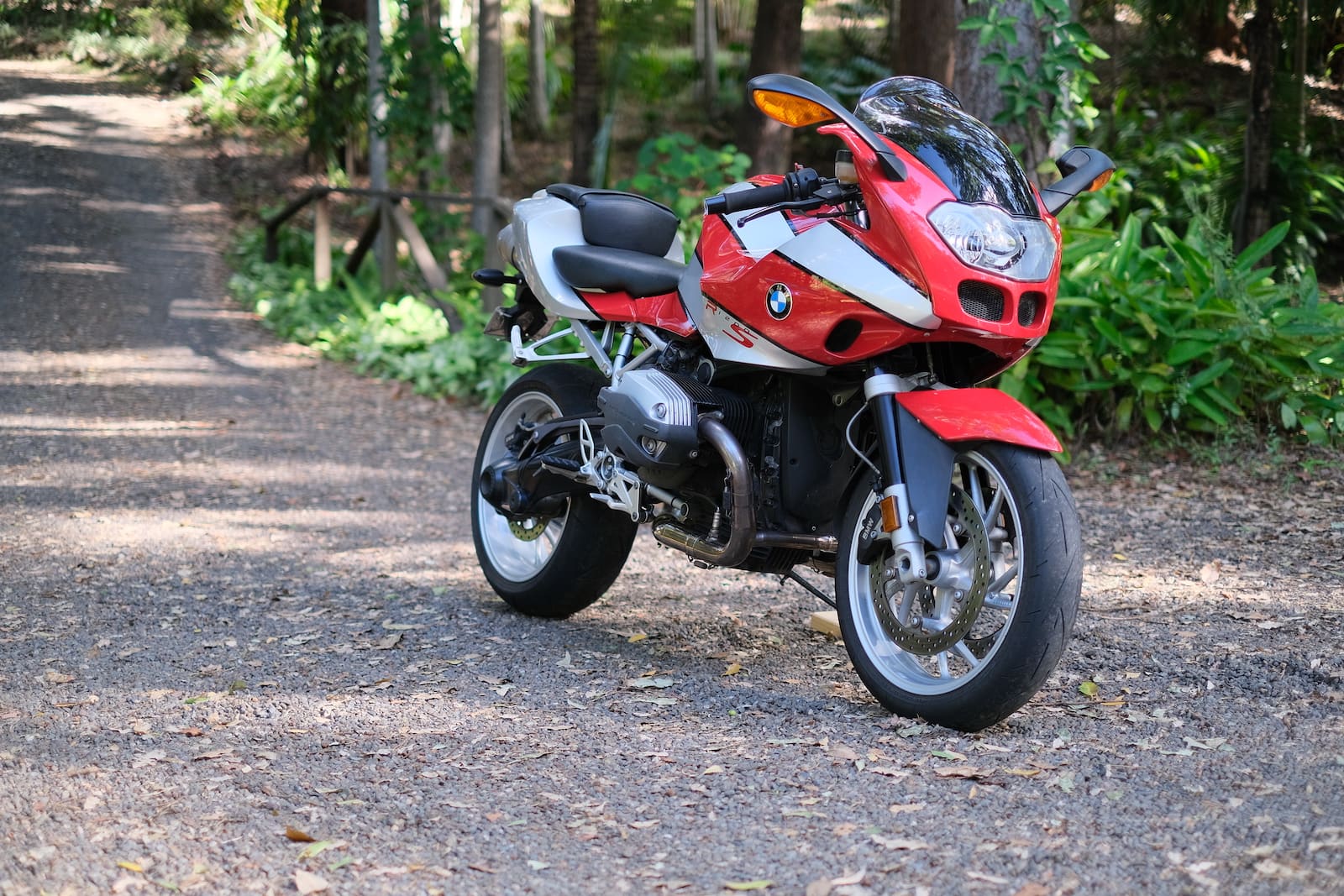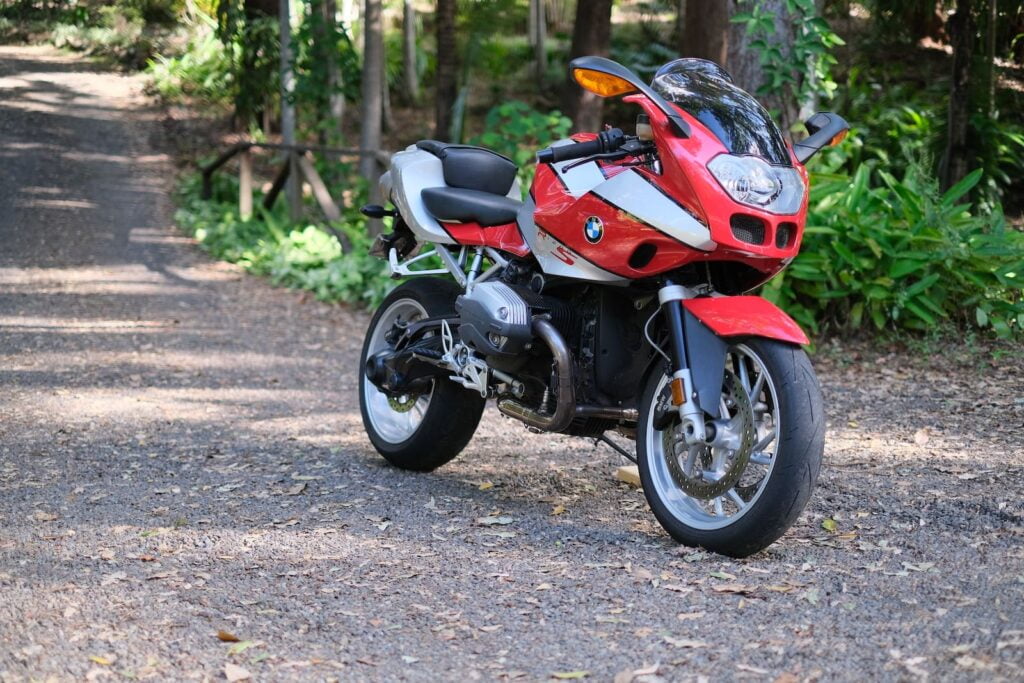 There are very few BMW R 1200 S motorcycles on the road. And very, very few in Australia.
On top of that, the "Colgate" colour scheme looks gorgeous in person. It's hard to convey in photos, but that paint gleams like it's new. It's thick and rich. Yes, some design elements of the bike (like the headlight) look dated, but apart from that, a lot of the bike is very unique.
There are, to be fair, some more advanced models of the R 1200 S. Some models came with Öhlins suspension, and then there's the BMW HP2 Sport that is lighter and just racier overall. But those bikes are more rare and even more expensive.
Here are a few things that make the R 1200 S unique:
It's a sport bike… but it has a shaft drive. You don't have to constantly lube the chain.
It has a healthy amount of power… but it's air/oil-cooled. No big radiator that might get nicked by rocks or corrode. No water pump that might fail. No coolant to change.
It has a single-sided swing arm… but it's not an expensive Ducati or a relatively heavy VFR800. Raging good looks!
Great handling… but Telelever front suspension, which means it will hold stable as you're braking into corners. Easy handling, and no (or much less) helmet "clank" as you brake.
It's old… but still looks really interesting. You get a LOT of looks from biker guys.
It has really beautiful white-faced dials and a digital display. In a year of TFTs, having a nice set of dials is a rarity.
If you like that combination of rare features, you might really like the BMW R 1200 S.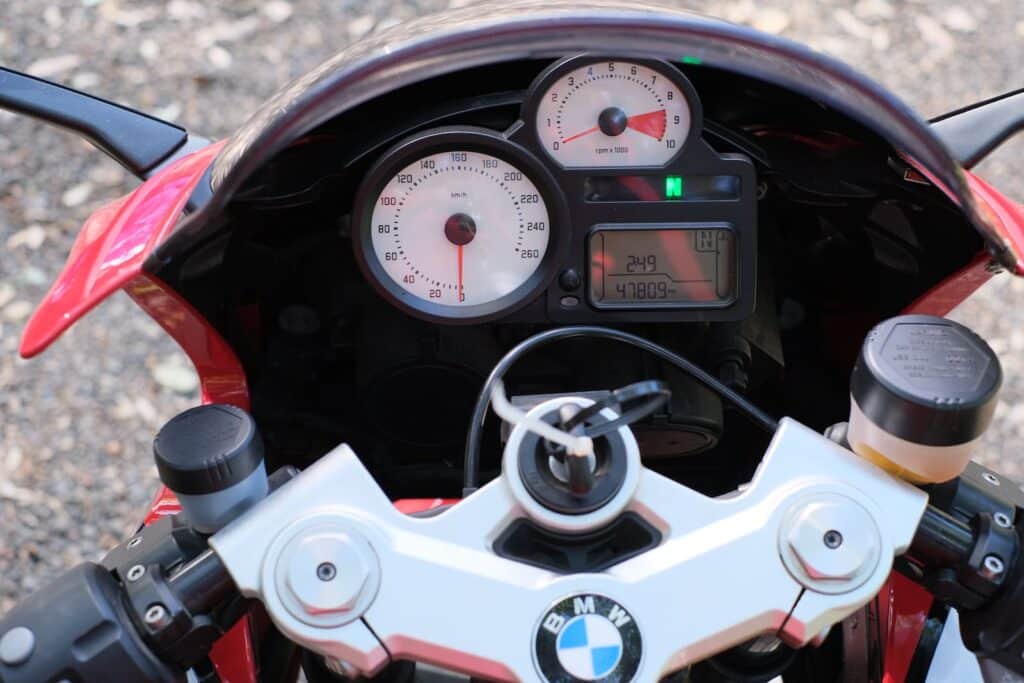 The 1170 cc platform is pretty well known among mechanics, by the way. This is a "Hexhead" engine (BMW mechanics will know) and was used on the BMW R 1200 GS of the day, as well as many other bikes of the 2000s. So it's not a rare engine for which you'll struggle to find parts.
Riding a boxer sportbike is quite interesting. It's a moderately low-revving engine, which means it's possible to be doing high speeds without the motor sounding like it's complaining. It lets you build up to 120 or 130 km/h without even thinking about it.
This low-revving nature makes it great for a track or for spirited riding in country roads where speed limits are high. (The subsequent owner did in fact take it to a number of track days.)
What happened after I sold it?
The person who bought it from me, whose estate is selling it, bought it for himself as a present to himself for beating cancer — though he didn't know at the time that it would come out of remission.
He was a really nice guy and stayed in touch with me. He took it for a few track days to Morgan Park. In a couple of years of ownership though, in part due to illness, he put on 5000 km onto it (still a good amount mind you).
The owner was a very careful person and took excellent care of all his things. I'm sure it's in better visual condition than when I owned it! It also had a full service done, including the valves.
However he passed away recently (Sep 2022) and so his family would like this bike to go to a good home.
Why I sold the BMW R 1200 S — and do I miss it?
I didn't even really want to sell the BMW R 1200 S. I always loved it, though I never really fell in love with it.
The problem with motorcycles is that while in theory, you can never own too many… in practice, I'm only one person and have to divide up my riding between multiple bikes. Meanwhile, I only ride a couple to a few times a week, as I have other priorities. So it seems like a waste to have motorcycles that don't get ridden. That's why I try not to own too many (generally, one workhorse, and one project).
The nice thing about motorcycles is I'm rarely disappointed in any machine I buy. I can have fun with anything on two wheels — even a 150cc Jawa in the back-roads of Africa.
I replaced my BMW R 1200 S with a Ducati 1098S Superbike. I eventually sold that too. Missing the R 1200 S' easy nature, I ended up on a bike with similar comfort levels — a Hayabusa.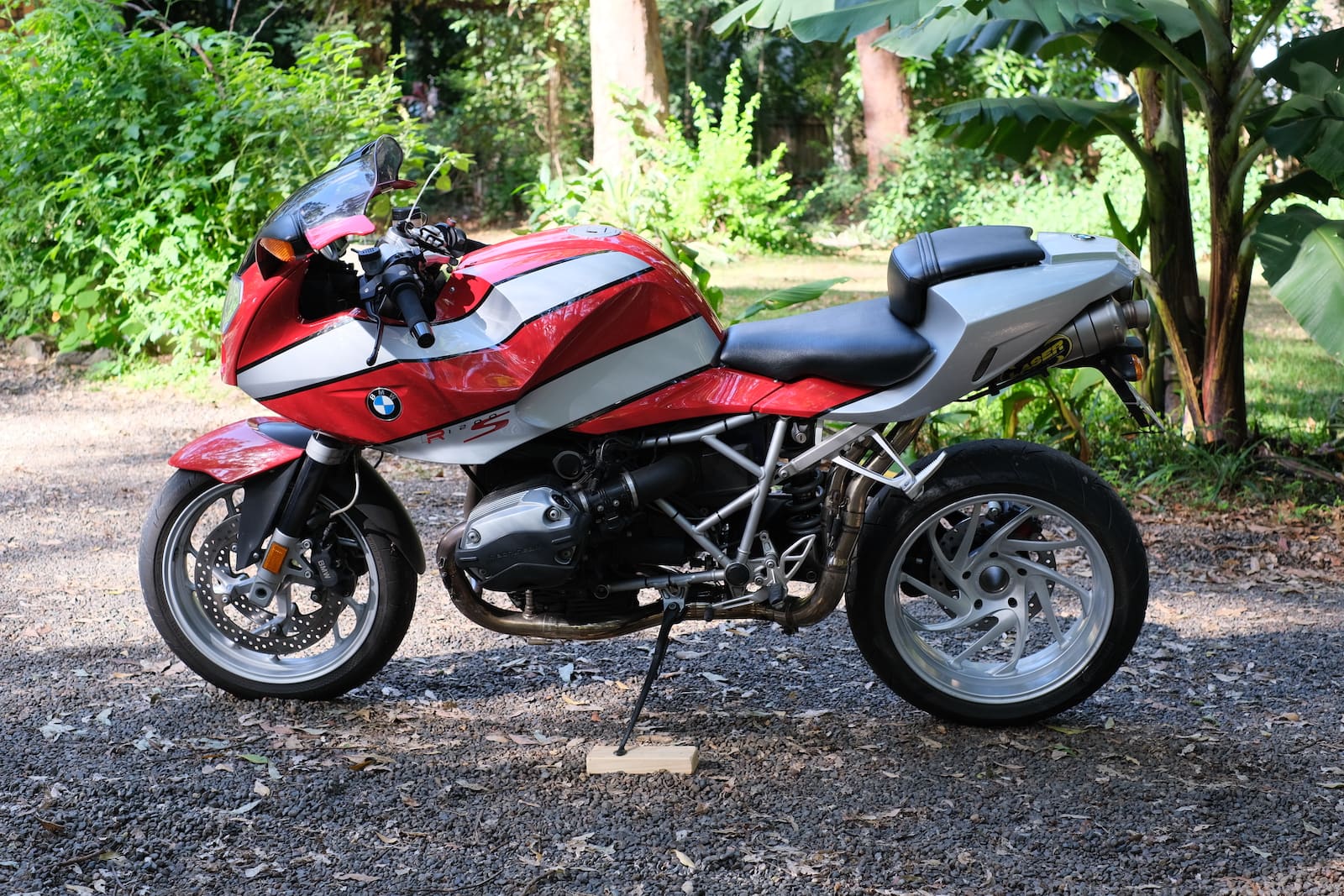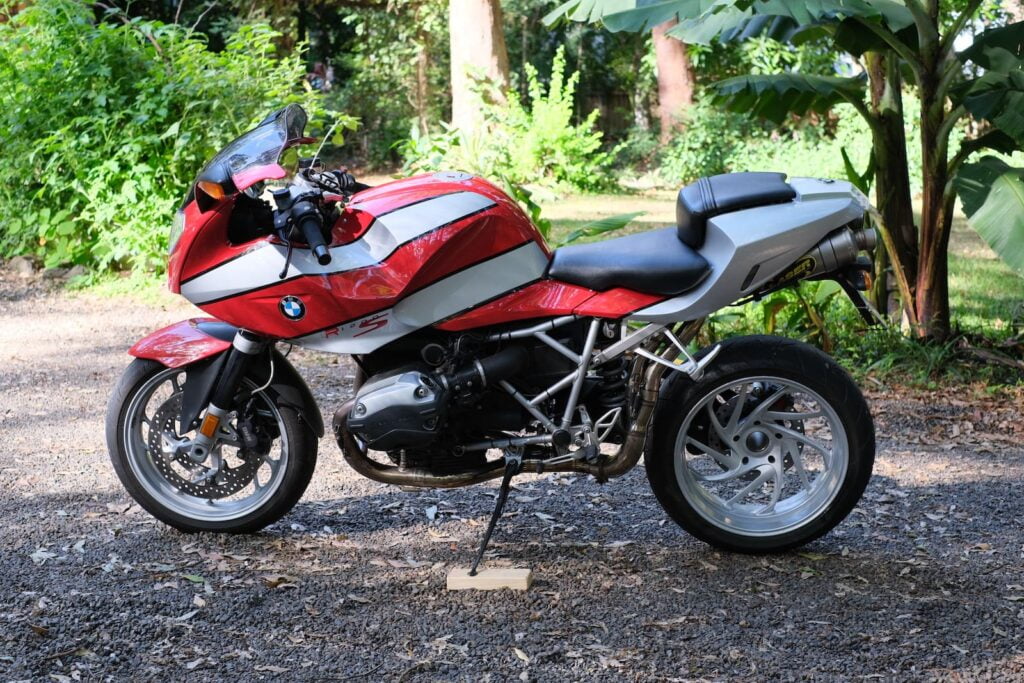 A lot of people warned me that I'd miss the BMW R 1200 S. I've since kept my eye on them. I nearly bit the bullet with this one, for example
In part, it's definitely true that I miss it. I really miss its character, its road presence, and how lovely it was to look at.
I learned a few things by owning this bike. I learned that I really like a sport touring riding position — I find it quite comfortable. Yes, I occasionally have to stretch out my legs. But it's more comfortable for me than an upright bike, on which sometimes my legs feel more bent. That's what put me on to the Hayabusa, for example.
I also learned that I really like grip puppies! They keep my hands tingle-free, even when on a big vibrating twin.
On the other hand, I realised that sometimes, a motorcycle can be too sedate. The BMW R 1200 S lacks the frantic nature that the 1098S, or my later Suzuki Hayabusa 2nd gen had. That bike awoke the animal within me. Every ride was a rush. I loved it. I gave it up because it was going to kill me, though — it was just too impractical.
So things I learned that are important to me in a motorcycle, after riding the BMW R 1200 S, are:
An animal-like character
Lighter weight, good handling (the R 1200 S handled very well for its weight though)
ABS and a few safety features to keep me alive
Comfortable leg position
Probably less than 100 hp…
There are a lot of bikes that fit the bill though. The journey of finding out what it'll be is the fun part, for me!