Earlier this year I bought a Ducati 900SS to scratch an itch I had always had. And now I have a Ducati 900SS for sale (it's now sold).
The one I bought was 1998, which was the first of the fuel-injected series — and came after the 1991-1997 carburettor-fed series that was the feature of the epic article The Song of the Sausage Creature.
The bike was originally in Lismore, NSW. It was owned by a nice guy who had two bikes and realising he never rode one of them.
There are a few things about this ad that caught my attention.
Look at the seller's description:
"Selling my Ducati. It has just had a full service i.e. new oil, filters, timing belts, valve clearance, new battery, new Dunlop 016 R Pro tyres, new 1-inch rise clip on handlebars , has Termignoni exhaust & is tuned to suit. New steering bearings, runs well, comes with original exhausts & clip-ons. Bike is in fair condition for the year model. Comes with 2 original keys and tool kit."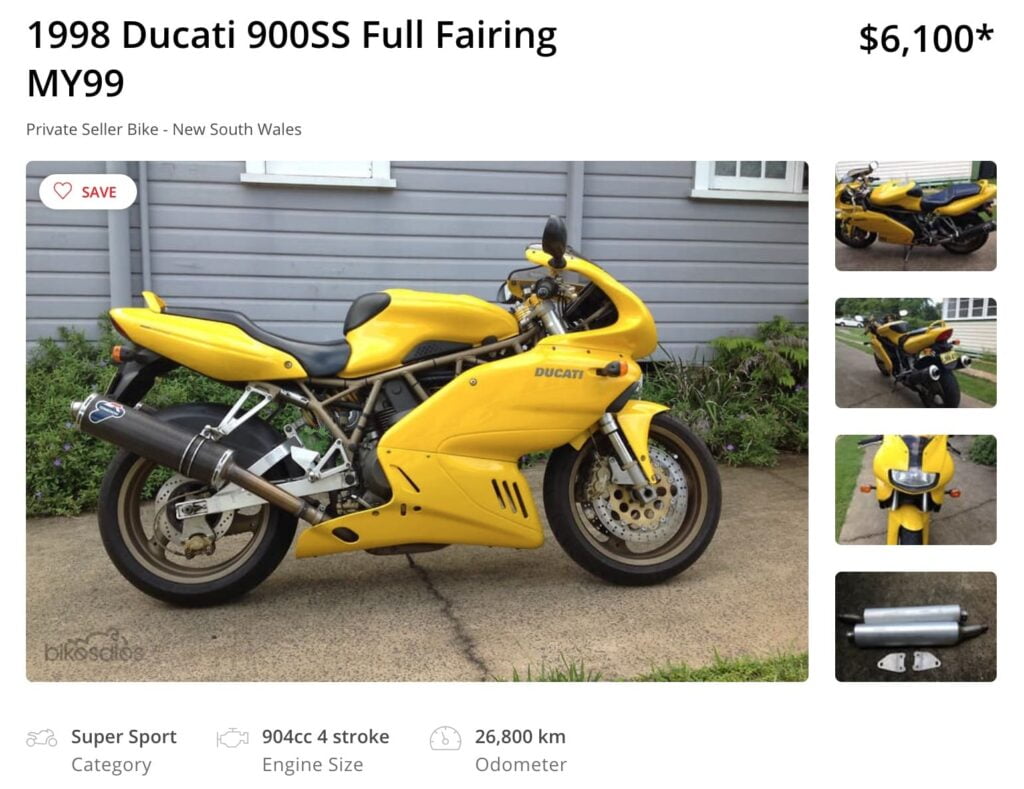 This description ticks every single box I could ask for from a used motorcycle AND from a used Ducati.
This includes
Expensive Ducati valve maintenance done recently — if not done, this is $300 of parts and a whole day or two in the garage (for the relatively inexperienced) plus a decent chance of borking it. This means no more belt inspection until 30,000 kms, and the next valve adjustment/belt change at 36,000 km.
A Termignoni exhaust system WITH a tune — it's the right exhaust for a Ducati, and so many people bung on an exhaust without every tuning it
Original keys and tool kit, plus comes with the original parts — signs of an owner that cares!
Often I say you're buying the previous owner, not the motorcycle. The language above shows that this is a good previous owner to buy.
Well I bought that bike, rode it home, took it to the hills a few times and ultimately decided I didn't like it. So I put it up for sale (it's now sold).
Are you obsessed with motorcycles?
Well, I am. That's why I created this site — as an outlet. I love learning and sharing what others might find useful. If you like what you read here, and you're a fraction as obsessed as I am, you might like to know when I've published more. (Check the latest for an idea of what you'll see.)
A bit about the Ducati 900SS
The Ducati 900SS is, by the way, a pretty sweet bike.
It has a similar engine to the Ducati Monsters of the same era, though a few years ahead — this one had fuel injection (Ducati Monsters didn't get fuel injection until the year 2000).
A few important specs of the 900SS:
58 kW (80 hp) engine 904cc Desmodue engine, with power that's just right for fanging it along back-country roads without the constant impulse to go over 150 km/h (it has a top speed of well over 200 km/h if that's your bag)
197kg wet weight — under 200kg is right for me in a sportbike!
Fuel injection — nothing wrong with carburettors, but injectors don't need to be rebalanced or tuned or adjusted for altitude
A fairly early redline of 8,000 rpm — this isn't a motorcycle you have to rev to the moon to get into the powerband
The crazy thing is that despite the lower power of the SS series compared to the 996/998 motorcycles of the time (see my guide to Ducati superbikes of the period), the riding position is still plenty aggressive!
They're aggressive, but not AS aggressive as the other sports bikes. They're much more suitable to long-distance riding — many use them as tourers, preferring their power delivery to that of the Ducati ST series.
However, like many Ducatis, the SS series gets hot and unwieldy in traffic. They're not technically great commuters.
To be honest — it was the earlier SS that was the REAL classic. But in my opinion, this one is a looker, too.
In 2018, I nearly bought this fully restored Ducati 900 SS and I still kind of regretted it. I thought — wouldn't it be great to have the grunty but not excessive powertrain of the Ducati Monster, in a sport-touring bike with clip-ons?
Why I sold the Ducati 900SS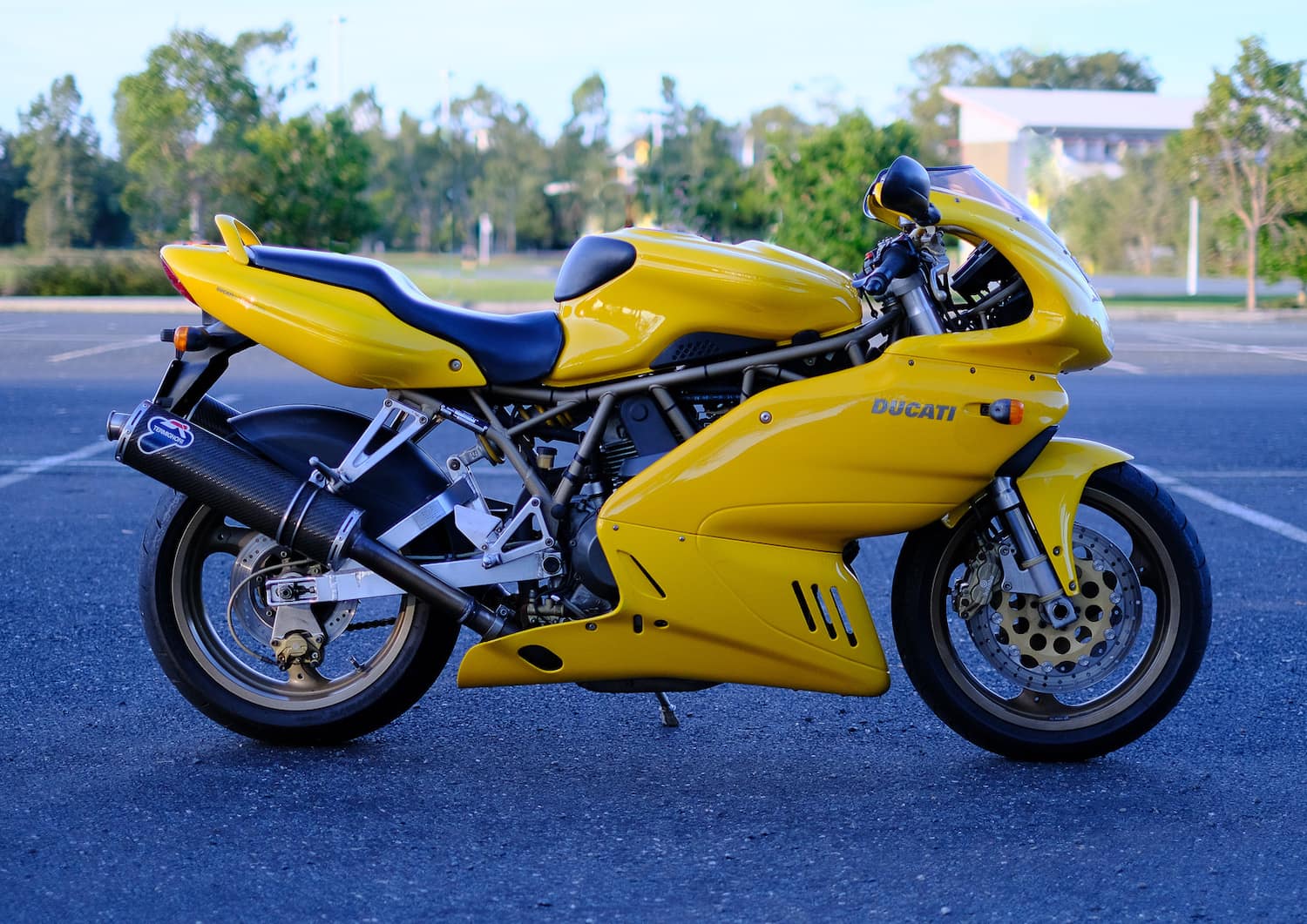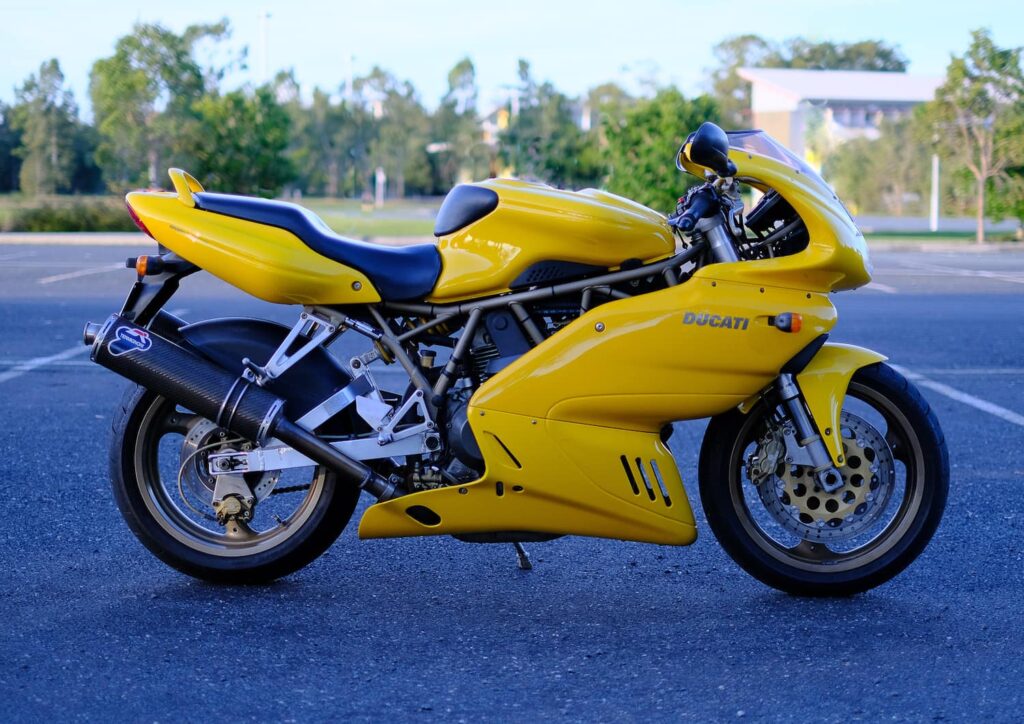 I'll put up a whole review of the 900SS, but in a nutshell:
It wasn't powerful enough for the riding position
It didn't sound… incredible. I've had Ducatis that sounded much meaner than this. I'm not sure why this was the case. Maybe it needed a valve job (i.e. it hadn't really been done)
It had a weird flat spot around 4,000 rpm
It started to give me trouble — I had to replace the crankshaft position sensor
I didn't find the handling particularly inspiring (probably needed new fork oil at least)
I just didn't fall in love with it!
I've fall in love with other bikes, and I'm starting to know how I'm supposed to feel on a first ride.
The thing I loved most about the 900SS was how easy it was to work on. I very quickly could access things like the bulbs, batteries, fuses and relays without having to hunt around. I found it far easier than my 1098S of the time.