I can't buy this one myself, but someone should. Look at it!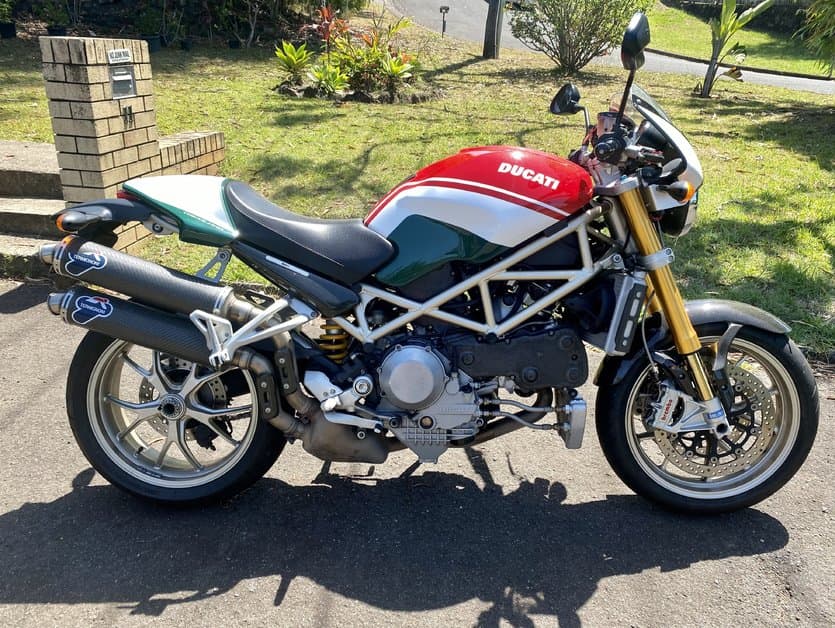 This Ducati S4RS Tricolore for sale is posted on Netrider, one of Australia's bigger (maybe the biggest) motorcycle forums.
Are you obsessed with motorcycles?
Well, I am. That's why I created this site — as an outlet. I love learning and sharing what others might find useful. If you like what you read here, and you're a fraction as obsessed as I am, you might like to know when I've published more. (Check the latest for an idea of what you'll see.)
About this Ducati Monster S4RS Tricolore
This example of the S4RS Tricolore was listed for sale by Kez Across on Oct 2 2021, and the list price then was A$17000 ($12000 USD these days).
For that price you get
A Ducati Monster S4RS Tricolore with 36000 km
Just had belts and full desmo service done. This is due every 12000 km / 7500 miles on these motors, so it's right on schedule.
Termignoni mufflers
New chain and sprockets, crank angle sensor (these tend to fail on these older Ducatis), and new coils and plugs
New tyres
A Queensland safety certificate (which means it's roadworthy and can be road registered)
All in, that's quite a lot for an ageing motorcycle.
You can usually get a Ducati Monster S4Rs or S4R Testastretta for about 2/3 this price, but the Tricolore colour scheme makes it worth more. The standard S4RS or S4R Testastretta bkes still look nice, but lack the colour scheme of the tricolore.
About the Ducati Monster S4RS Tricolore generally
For those of you not really aware of the SR4S Tricolore and its value, you can check out my guide to the Ducati S4 range.
Sixty five of these Ducati Monster S4RS Tricolores were sold in Australia, out of 959 globally. This makes this a very unique motorcycle.
This one was a personal import by the previous owner, though, so it's on top of the original 65.
In a nutshell, this is a Ducati Monster but with a superbike engine. The Ducati Monster S4RS has the 998cc desmodromic liquid-cooled L-twin from the Ducati 999. It's detuned very slightly, but probably not enough considering you're sitting much more upright.
The engine makes peak power of 88.8 kW (119 bhp) at 9250 rpm, and max torque of 96.9 Nm (71.4 ft-lb) at 7500 rpm.
The Ducati Monster S4RS Tricolore comes in a very special paint scheme which is hard to find in original condition.
Other things that make the S4R and S4R range special are
A single-sided swing-arm (this became more common later on the Monsters)

Fully adjustable suspension (not all Monsters had this)
Brembo P4.34 radially mounted calipers up front
That up-swept exhaust
These are very unique bikes. After the S4 range, Ducati replaced these liquid-cooled Monsters with superbike engines with the Ducati Streetfighter series. Much more aggressive, but still cool.
Maintaining the Ducati S4RS is where the dream falls apart for many. You have to open up the belt covers to replace the timing belts every two years (which often comes around more often than the 24000 km / 15000 miles, as owners of special bikes like these often have more than one machine in the garage), and you have to check the valve clearances every 12000 km / 7500 miles.
The annoying thing about valve clearances on these earlier Ducatis is that usually at least one is out of spec, and that means changing shims — a laborious task. It's expensive, or time consuming.
See here for more about maintaining the Ducati Monster S4RS.
But if you're willing to put up with the tribulations of owning a Ducati Monster, then you're going to have a very visceral, wonderful motorcycle.
More photos of this S4RS Tricolore
Here are a couple more pics of the beautiful Ducati Monster S4RS Tricolore that the author took.