After six months with my Honda CBR600F4i, it's time to put it up for sale as I look for the next adventure. This one is really hard to advertise. Every time I look at it, ride it, or write about it I think… how could I sell it!
Unless I've marked this post as [sold], it's still available.
Here are the details in brief:
16,000 km (Mostly in the last two years between me and the p.o.)
Fully restored
$5,500 o.n.o. including safety certificate & six months registration
Southbank, Brisbane, Australia
This is a real classic bike. A comfortable sportbike, or a sporty commuter. It is a pussycat at low revs and very easy to commute on, and absolutely rips once you open it up past 8,000 rpm, making 110hp to carry its sub-200kg wet weight.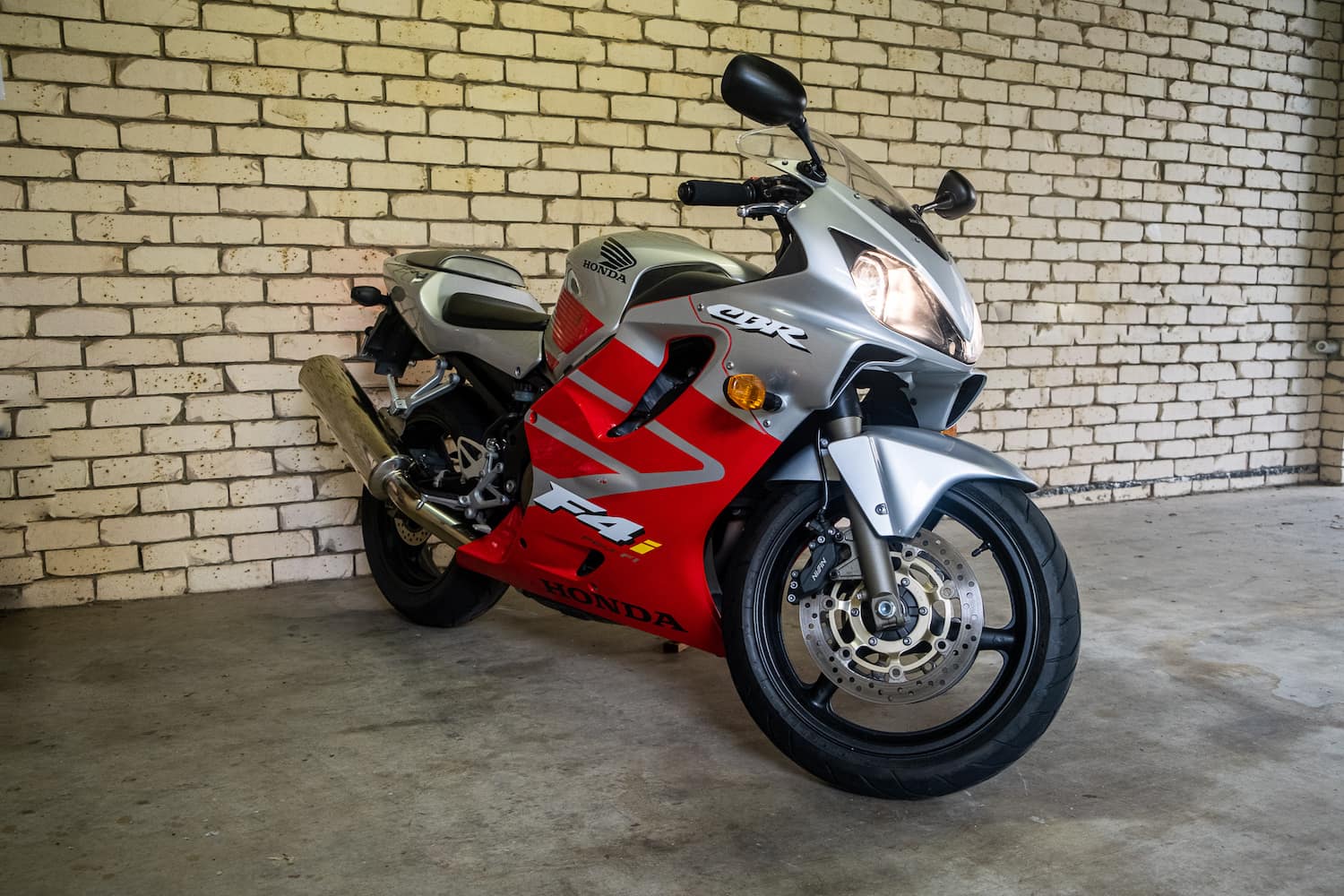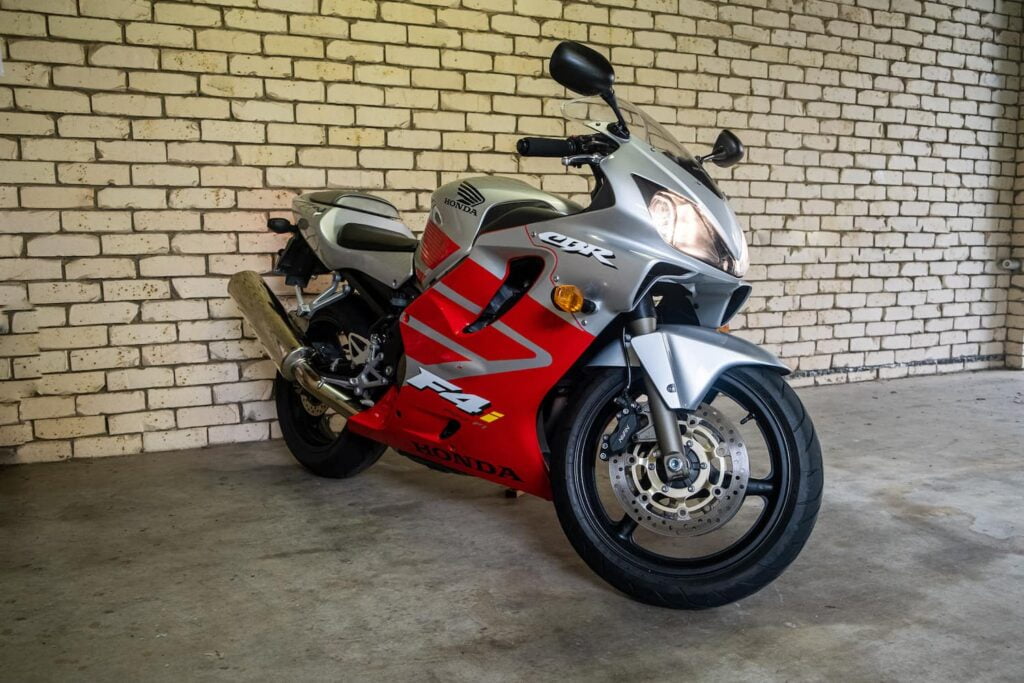 This bike is totally stock and comes with two keys, the original owner's manual, and toolkit.
I bought it because I was bikeless for one horrible day (I had sold my last bike before going on a trip, then came back from that trip). This was a bike I had always wanted and it was up for sale. Just needed some work on the forks and new tyres.
Are you obsessed with motorcycles?
Well, I am. That's why I created this site — as an outlet. I love learning and sharing what others might find useful. If you like what you read here, and you're a fraction as obsessed as I am, you might like to know when I've published more. (Check the latest for an idea of what you'll see.)
What makes the CBR600F4i special?
Firstly, everyone should ride a 600cc sportbike at least once in their life. They're epic!
There's a lot they all have in common — around 100-130hp, mostly above 9,000 rpm, and a sub-200kg weight.
So the CBR600F4i is in that ballpark. But what makes it a little different is that it's comfortable. The handlebars are a little higher, and the footpegs are a little more forward.
The result is a sportbike that's actually pleasant to commute on. I still wouldn't do 10-hour days on it, but a few hours (with breaks) is pretty fun.
The closest thing to the CBR600F4i these days is a CBR650R if you get it uncorked. Even then, that's a more sedate bike — the clip-on handlebars are more splayed out and the engine isn't quite as willing. But it does come with ABS and a fancier dash, so there are some pros to the situation.
2001 Honda CBR600F4i service history
The fairings, exhaust, all lights and controls are original. It's over 20 years old and hasn't been serviced regularly in that time (it was stored for a long portion of it), but here's it's recent history:
August 2020 — Oil and filter, radiator coolant, and brake/clutch fluid changed
Jan 2021 — New tyres (Pirelli Angel GT, sport-touring tyres) — currently with ~2000 km on them
Feb 2021 — Fork rebuild including new stanchions, seals, fluid. Suspension professionally tuned at Ride Dynamics.
May 2021 — Braided brake lines installed with new fluid (Nippon Performance)
June 2021 — Tank cleaned and flushed (Nippon performance)
Blemishes — it has a few cosmetic ones, all small. These look line stone chips from commuting/highway riding. But nothing major. Overall it presents well.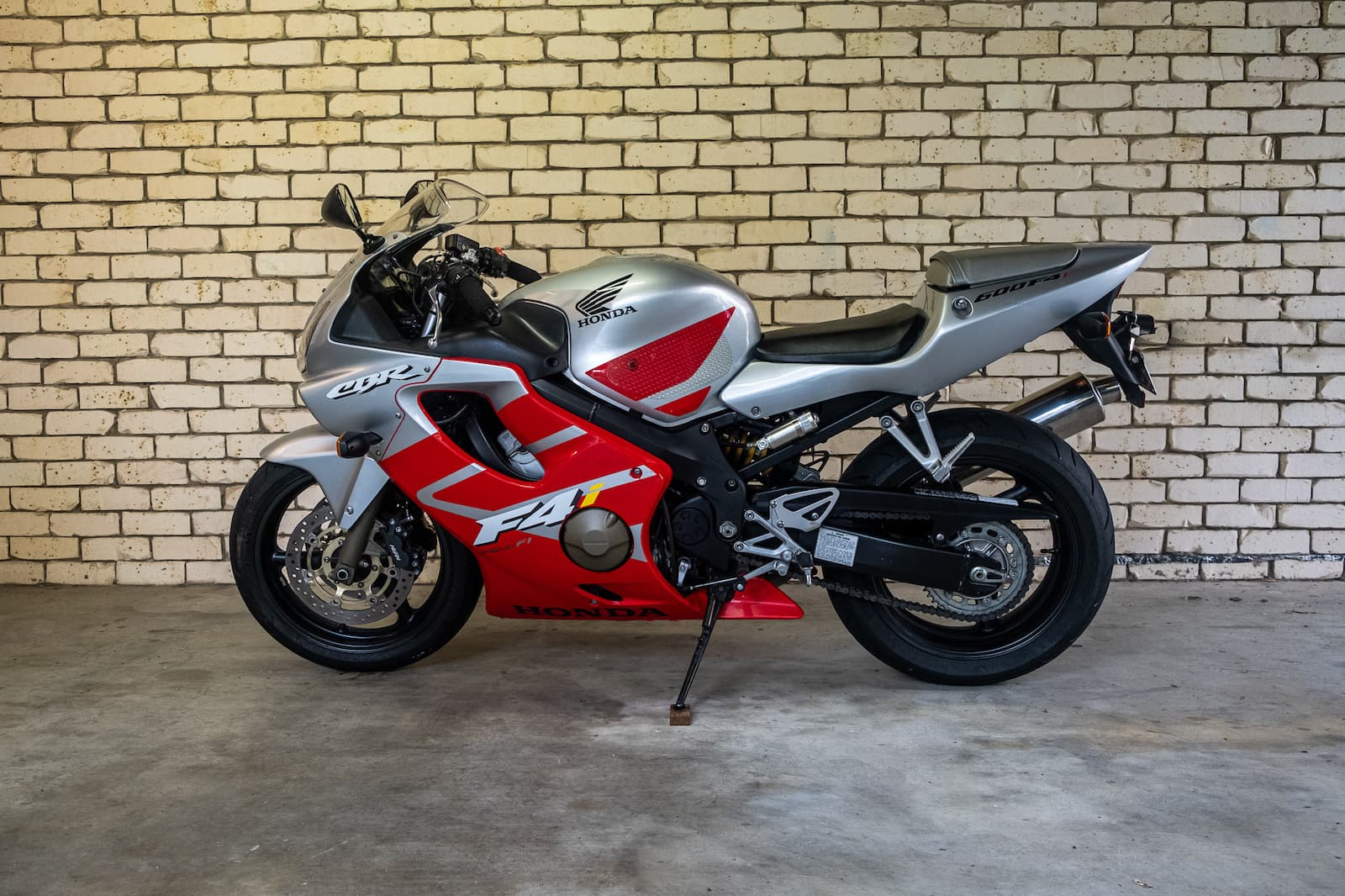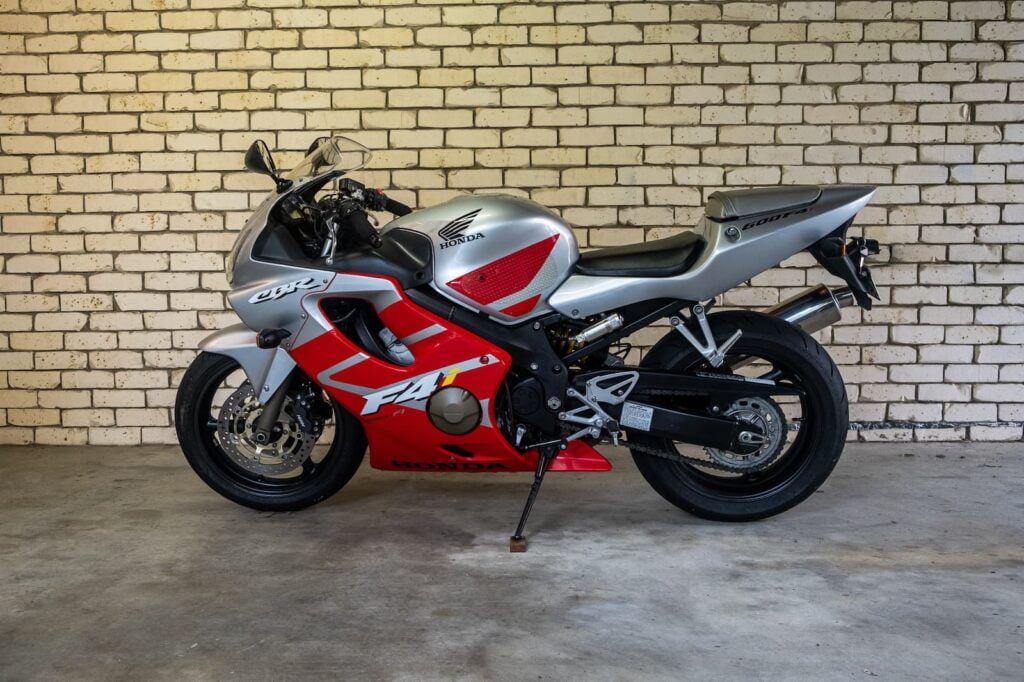 Why is this bike so low mileage? It was bought in 2001 as a retirement gift and then put away. That's how the tank got a little fouled on the inside and why the forks pitted.
Many other bikes like this are high-mileage (50,000+km), or have been heavily involved in stunt work. This one has not.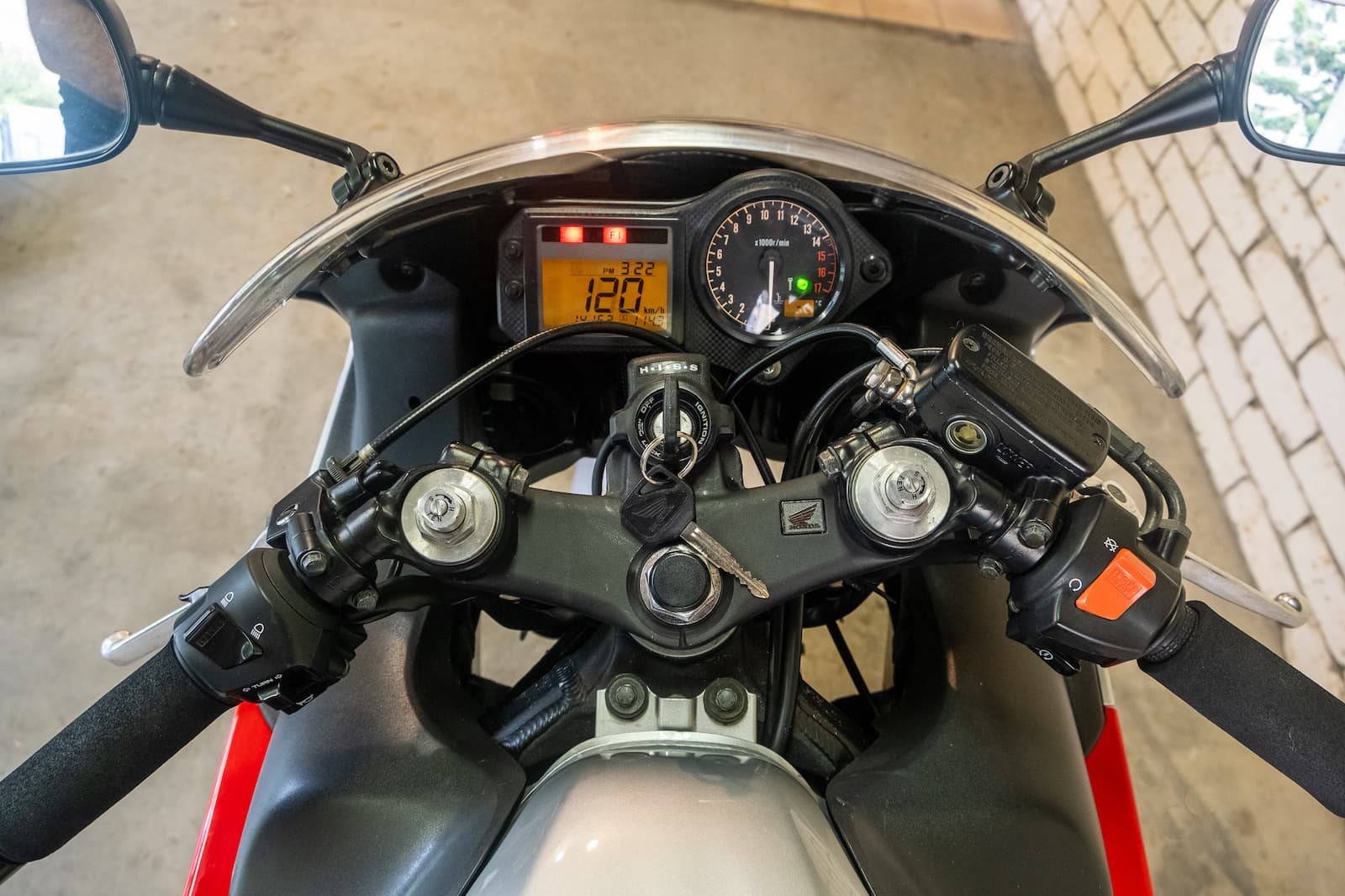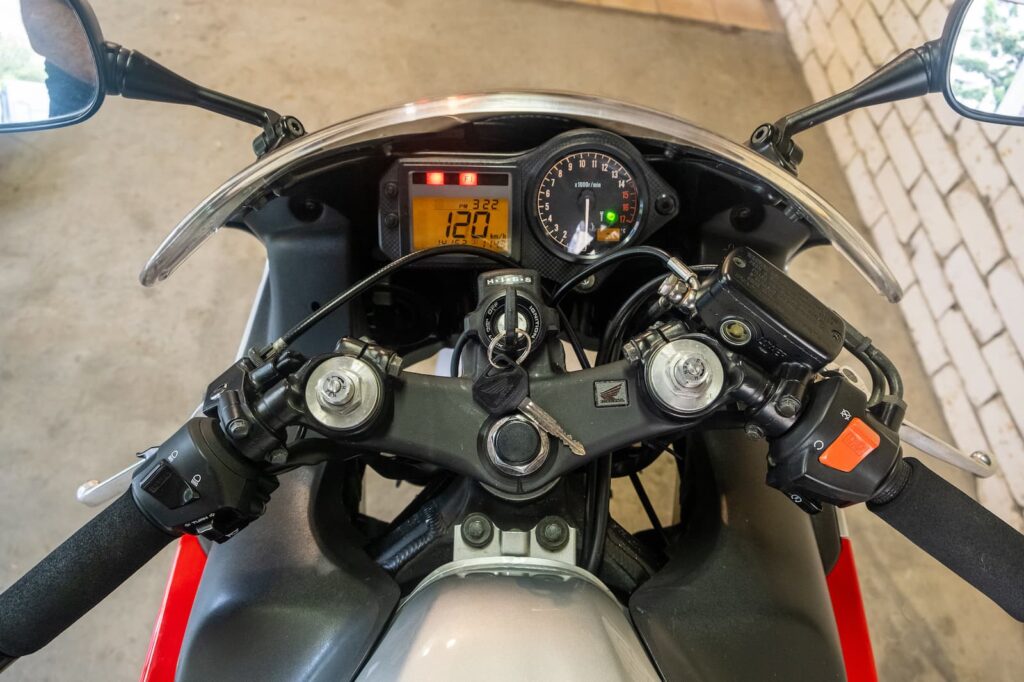 If you want to know more about why the CBR600F4i is a great bike, read my full review and buyers guide here.
Otherwise, contact me using the form below.