This is a series of resources on the Honda XL750, compiled from press releases, the owner's manual, and online forums. When the service manual becomes available, more information will come from there.
Honda launched the XL750 Transalp in late 2022 for the 2023 model year. It's a middleweight adventure motorcycle based on a 755 cc liquid-cooled parallel twin motor with a 270-degree crankshaft. It runs a 11.0:1 compression ratio, and manages to push out an impressive 67.5 kW (92 hp) at 9500 rpm, even when running on standard unleaded (91 RON).
The Honda XL750 Transalp is a long-awaited replacement for the last Transalp (700), which was discontinued over a decade prior. The new XL750 shares a motor with the concurrently released Honda CB750 Hornet.
I compile information like this on motorcycles to help current and prospective motorcycle owners (including myself!). Below you can find information on the maintenance schedule and service intervals, as well as parts you need for a standard service, guidelines for basic services like oil changes, drivetrain maintenance, and torque specs.
Note: Motofomo is reader-supported. If you buy some of the products that we link to, we may earn an affiliate commission, which otherwise goes to the marketplace (e.g. Amazon).
Are you obsessed with motorcycles?
Well, I am. That's why I created this site — as an outlet. I love learning and sharing what others might find useful. If you like what you read here, and you're a fraction as obsessed as I am, you might like to know when I've published more. (Check the latest for an idea of what you'll see.)
About the 2023 Honda XL750 Transalp
The Honda Transalp is a mixed use adventure bike. It's not a road-only bike, but nor is it a dedicated adventurer. Instead, it's meant to do a bit of both.
The XL750 Transalp takes over from the XL700 Transalp that Honda discontinued around a decade prior. The XL700 Transalp had veered a little towards being a road motorcycle, a lot like the Suzuki V-Strom 650 of the time, with a 19-inch front wheel. But for the modern Transalp, Honda has brought back the 21-inch wire-spoke wheel. Ready to crawl over some rocks!
A notable new innovation on the XL750 Transalp is the engine. Previous versions of the Transalp all used V-twins. But the modern one uses a 755 cc parallel twin with a 90-degree crankshaft — a popular configuration, the same as that used in Suzuki's concurrently released V-Strom 800DE.
The engine is already a hit with everyone who has tried it. It is revvy, torquey, and makes just the right amount of power, with a peak of 67.5 kW (92 hp) at 9500 rpm. This also means that it'll be available in A2 license form, for those who are impatient in the UK or continental Europe.
The engine is a Unicam design, which means it has just one camshaft driving the four valves per cylinder. The intake valves are driven directly, while the exhaust valves are driven by a rocker arm.
The Honda XL750 Transalp uses the same frame and engine as the new CB750 Hornet. But the riding position, suspension, and wheels make it feel like a very different motorcycle.
It's designed to be at home on the road but to also be comfortable doing mild off-roading. Think of it like a Jeep — unless you custom spec it for serious adventure, it's not going to climb over rocks, but in base trim it'll be totally happy taking you far from the highways.
To help you ride off the beaten track, there's a "gravel" ride mode that reduces traction control and ABS intervention to a minimum. You can also turn them off in a "user" mode, which lets you slide around.
The XL750 Transalp is just a mid-spec bike. It's not expensive, but the gear fitted to it is also not the fanciest.
The Showa fork up front is inverted, but non-adjustable. And the monoshock at the rear is just preload adjustable.
There are twin brake discs up front, but they just have two-piston calipers on each. Of course, I think that's totally within spec for this kind of bike, which you're not likely to take to the track or ride aggressively on roads (are you? I don't know, maybe you are…)
Maybe the only fly in the ointment for the Honda XL750 Transalp is the limited 17-litre tank. Adventures won't go very far. Unless, of course, you fit an aftermarket tank, which I think will come out very soon.
Honda XL750 Transalp Specifications
Here are the core specifications for the Honda XL750 Transalp, along with some notes.
| Item | Specs | Notes |
| --- | --- | --- |
| Engine type | Parallel twin, 8 valves, 270-degree crank, "Unicam" | Same as the also new-for-2023 CB750 Hornet |
| Capacity | 755 cc | |
| Bore x stroke (mm) | 87.0 x 63.5 | |
| Compression ratio | 11.0:1 | |
| Fuel requirement | 91 RON (Regular) | Hooray, regular fuel! |
| Peak power | 67.5 kW (92 hp) @ 9500 rpm | |
| Peak torque | 75 Nm / 53 ft-lb @ 7250 rpm | |
| Transmission | 6-speed, chain | |
| Front suspension | 43 mm SFF-CA, 200 mm travel | Only preload adjustable |
| Rear suspension | Monoshock, 190 mm travel | Only preload adjustable |
| Front brakes | 2 x 282 mm wave discs, 2-piston calipers | |
| Wet weight | 208 kg / 459 lb | |
| Ride aids | TC, ride modes, optional QS | No IMU |
Honda XL750 Transalp Specs
Using the Honda XL750 Transalp's Screen and Controls
When assessing any motorcycle, I like to have an overview of the interface and the important controls.
The Honda XL750 Transalp has a TFT display that's operated by the switches on the left handlebar.
There are three core switches:
A function (fn) switch, and
An up-down-left-right switch.
A mode switch (to the left) to change riding mode.
Here are a few basic guidelines:
Use the right direction to shift into setting mode.
To go back in the hierarchy, press left.
To return, hit the function button, or do nothing for 30 seconds, or restart the bike.
There are five standard riding modes: Sport, Standard, Rain, Gravel, and User. Each riding mode can configure power output, engine brake output, torque control level, and ABS level. On Gravel mode, ABS is off; you can also set it to "off" for user mode.
Honda XL750 Transalp Service Intervals
Like many liquid-cooled Honda motorcycles, the Honda XL750 Transalp has 8000 mi / 12000 km or annual service intervals, at which the oil should be changed and a bunch of other things inspected.
Honda recommends you change the air filter and oil filter less often, per the schedule below.
The Honda XL750 Transalp has major valve service intervals of every 16000 miles / 24000 km — but with no time-based component. But they only recommend you change the spark plugs every 32000 miles / 48000 km.
Since the XL750 Transalp is a mixed-use adventure motorcycle, you should expect to service the air filter, chain, and oil more regularly if you're riding in dusty or rainy conditions. So make sure you pack some chain lube with you!
You also need to refresh the brake fluid and coolant regularly — see details in the schedule below.
Honda XL750 Transalp Maintenance Schedule
Below is a clarified version of the maintenance schedule of the maintenance schedule from the manual.
It's separated into
A daily maintenance checklist
A periodic maintenance schedule, and
An annual service checklist
There are also separate sections below on chain maintenance.
Daily Inspection Checklist
This is the daily inspection checklist for the Honda XL750 Transalp. Do this before every ride.
Many of these items you'd naturally do by starting to ride, e.g. confirming that the lights, brakes, and clutch work. But you should specifically check the fluid levels periodically.
Below is the list of pre-ride maintenance items to check on your XL750 Transalp. You should also do these as part of regular service.
If you're on a trip, do these checks before every day of riding.
Honda XL750 Transalp pre-ride maintenance
Check engine oil level.
On longer trips (where doing signifcant mileage daily) — Check drive chain lubrication condition and slack.
Check throttle free play (about 3 mm), smoothness and return.
Check clutch system (engagement, free play — target 10-20 mm / 0.4-0.8 in)
Check brake fluid level. Top up as necessary (Honda DOT 4)
Check tire condition, pressure and wear.
Check the drive chain tension and lubrication (Motul chain paste)
See below notes on drive chain tension
Check brake pads thickness and replace if necessary (Minimum thickness: 1mm)
Check coolant level, and top up if necessary (Honda coolant)
Check lights, horn, and indicators, making sure they work properly
Make sure side stand and center stand (if fitted) operates smoothly
Regular maintenance for the Honda XL750 Transalp
Major Items Maintenance Schedule
Below is the service schedule of major items for the Honda XL750 Transalp.
Notes:
Observe the earlier of time-based or distance-based service intervals.
Keep following it in the pattern shown beyond the end of the maintenance schedule.
If you ride your motorcycle aggressively or in untoward conditions (e.g. off-road or in mud, rain, or on dirty roads, in stop-start traffic, or in cold weather without giving it time to warm up), you may have to service your bike more often.
Honda recommends you get a skilled mechanic to service the wheels, tyres, and steering head bearings.
km x 1000
1
12
24
36
48
mi x 1000
0.6
8
16
24
32
Every
Standard maintenance checklist (see below) — Perform
✓
✓
✓
✓
✓
Year
Engine oil — Change (Pro Honda GN4 10W-30)
✓
✓
✓
✓
✓
Year
Oil filter — Change
✓
✓
✓
Air filter — Replace
✓
✓
More often if riding in dusty / wet conditions
Spark plugs — Inspect
Target gap: 0.8-0.9 mm / 0.03-0.04 in
✓
Spark plugs — Replace (NGK
SILMAR8A9S)
✓
Valve clearances — Inspect / Adjust
✓
✓
Secondary Air Supply System — Inspect
✓
✓
Evaporative Emission Control System
✓
✓
Brake fluid – Replace (Honda DOT 4)
2 years
Radiator coolant — Replace
3 years
Honda XL750 Transalp Maintenance Schedule
Honda XL750 Transalp Service Checklist
Below is the list of what to check on your Honda XL750 Transalp for regular service.
Be sure to also include the checks in the daily maintenance checklist above.
Some of these items are not explicitly required to be part of the annual check, but they're very easy (e.g. look at the drive chain slider), so they're included for simplicity.
Honda XL750 Transalp Service Checklist
[Dealer] Honda diagnostic system — Run test
Wheels / Spokes / Tires — Inspect for condition every 6000 km / 4000 miles (between services) and every year.
Drive chain slider — Inspect (Check it hasn't reached the minimum wear line)
Fuel lines — Inspect for condition and correct routing
Engine idle speed — Check
Target idle speed: 1300 +/- 100 rpm
Cooling system — Check for leaks / correct routing
Brake system — Check
Brake light switch — Check
Headlight aim — Check
Crankcase breather — Check / Clean
Front suspension — Check for smooth operation, and pitting / wear / leaks
Rear suspension — Check for smooth operation, and pitting / wear / leaks
Nots, bolts, and fasteners — Check for tightness / security
Steering head bearings — Check / adjust tightness
Service interval setting — Reset using onboard controls (this is user serviceable)
Honda XL750 Transalp Service Checklist
Honda XL750 Transalp Drive Train Maintenance
It's important to maintain your chain on a motorcycle like the XL750 Transalp, as on any chain-driven motorcycle, but particularly one that you will use off-road or on dirt roads, as the chain can take a beating.
Use a good-quality chain lubricant like Motul chain paste (which is very portable!), or a Motul chain care kit which comes with a couple of handy tools to maintain the chain.
Honda recommends you follow the following chain maintenance schedule:
Chain maintenance item
Every
Check drive chain lubrication condition, lubricating if necessary
600 mi / 1000 km
Check drive chain slack, adjusting if necessary
Target slack: 50-55 mm
600 mi / 1000 km
Chain maintenance — Honda XL750 Transalp
Notes:
Do these items (checking/adjusting slack, and checking/applying lubrication) more often if you ride your motorcycle in dusty or rainy conditions.
Always lubricate the chain after washing the motorcycle's chain area.
Chain slack on the XL750 Transalp is measured differently from most motorcycles. To measure chain slack on the XL750 Transalp, measure the distance between the upper part of the drive chain and the end of the drive chain slider.
Make sure the motorcycle is in neutral, on a level surface, on its kickstand, and with no luggage or anything on it.
Pull the upper half of the drive chain up, and check the slack between the drive chain and the swing-arm at the end of the slider.
Target chain slack for the XL750 Transalp: 50-55 mm (2.0-2.2 in)
If the slack is out of spec, you need to adjust it. The owner's manual doesn't specify this method. But the general procedure to adjust chain slack on any motorcycle with a double-sided swing-arm is to
Loosen the rear axle
Loosen the lock nuts for the chain slack adjusters
Turn the adjusters equally, making sure alignment is kept by looking at the markers on either side, until the target chain slack is reached
Re-tighten the axle, then re-tighten the adjusters.
Tire Sizes and Pressures
The Honda XL750 Transalp ships with mixed use adventure tires, either Metzeler Karoo Street or Dunlop Mixtour A. But you might opt for either more road-oriented or more blocky adventure-focused tires.
Below are the wheel sizes, tire sizes, and the recommended tire pressures (optimising for longevity).
Note that the XL750 ships with tube type tires.
| Wheel | Tire size | Tire pressure (cold) |
| --- | --- | --- |
| Front | 90/90-21 MC 54H | 225 kPa / 2.25 bar / 33 psi |
| Rear | 150/70 R 18 M/C 70H | 250-280 kPa / 2.5-2.8 bar / 36-41 psi |
Honda XL750 Transalp tire sizes and pressures
Alternatives to the Honda XL750 Transalp
While the Honda XL750 Transalp is likely to be a popular bike, it has a ton of company in the middleweight adventure segment. Here they are below.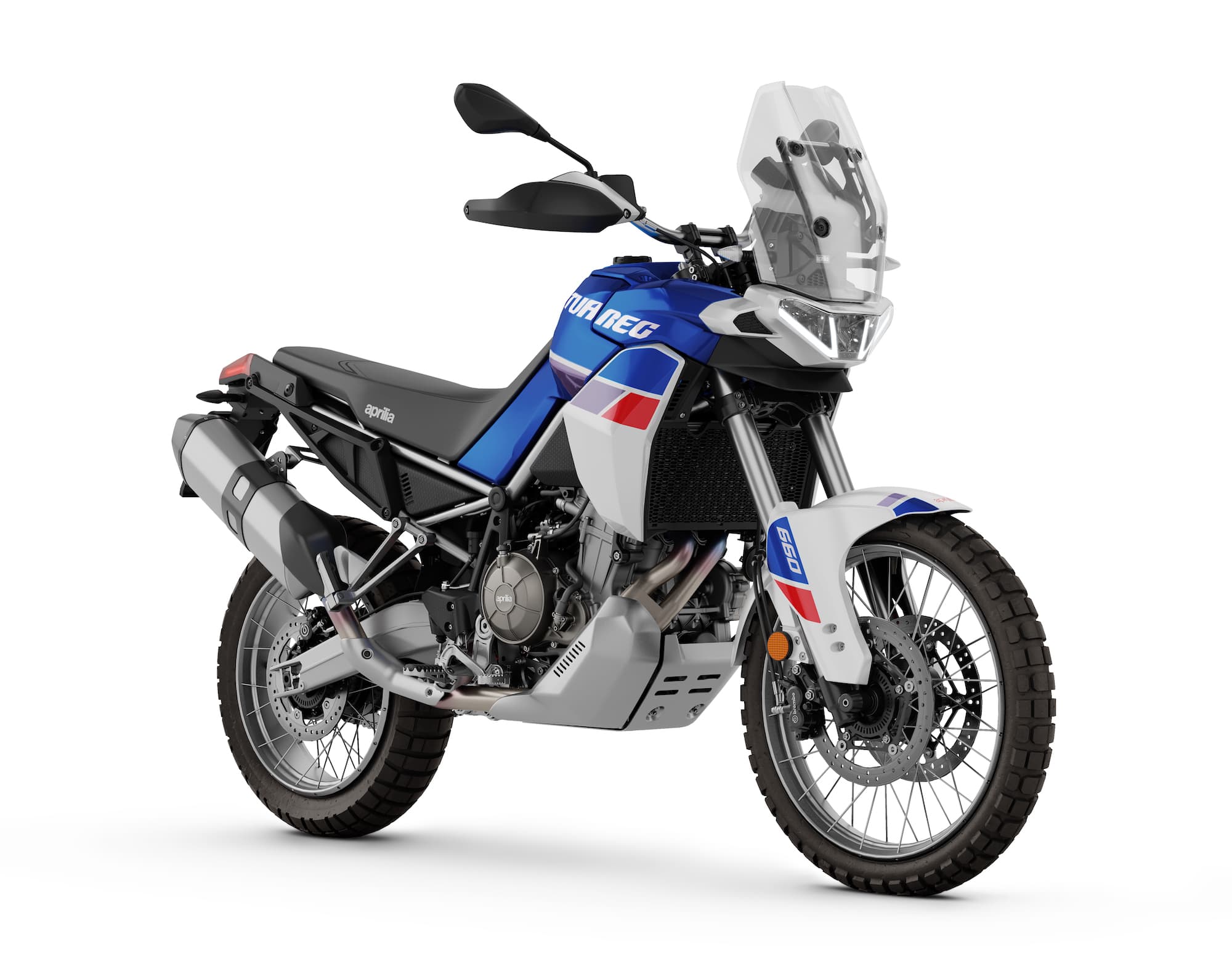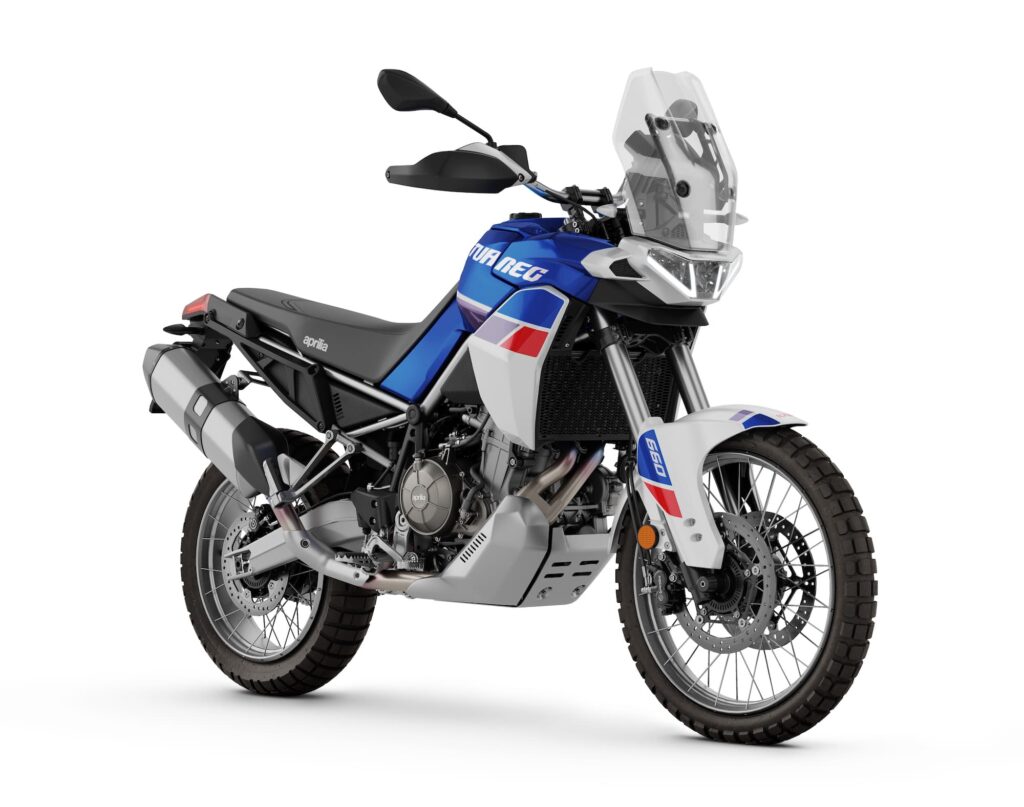 The Aprilia Tuareg 660 (one of the Aprilia 660 line) is a 2022 model. It uses Aprilia's basic platform that powers the RS and Tuono street/sport bikes, but the engine is de-tuned for mid-weight power. The Tuareg 660 is quite high-spec, with cruise control and high-end ride gear (but lacking an IMU), moderately powered (with a peak of 60 kW / 80 hp at 6500 rpm, and light weight for its class.
The BMW F 850 GS is a do-everything vehicle that many seasoned riders like more than the 1250 GS for its versatility. It's powered by a spicey 853 cc parallel twin with a 270-degree crank that tops out at 66 kW / 90 hp at 8000 rpm. It comes with the kitchen sink of tech, including optional dynamic suspension.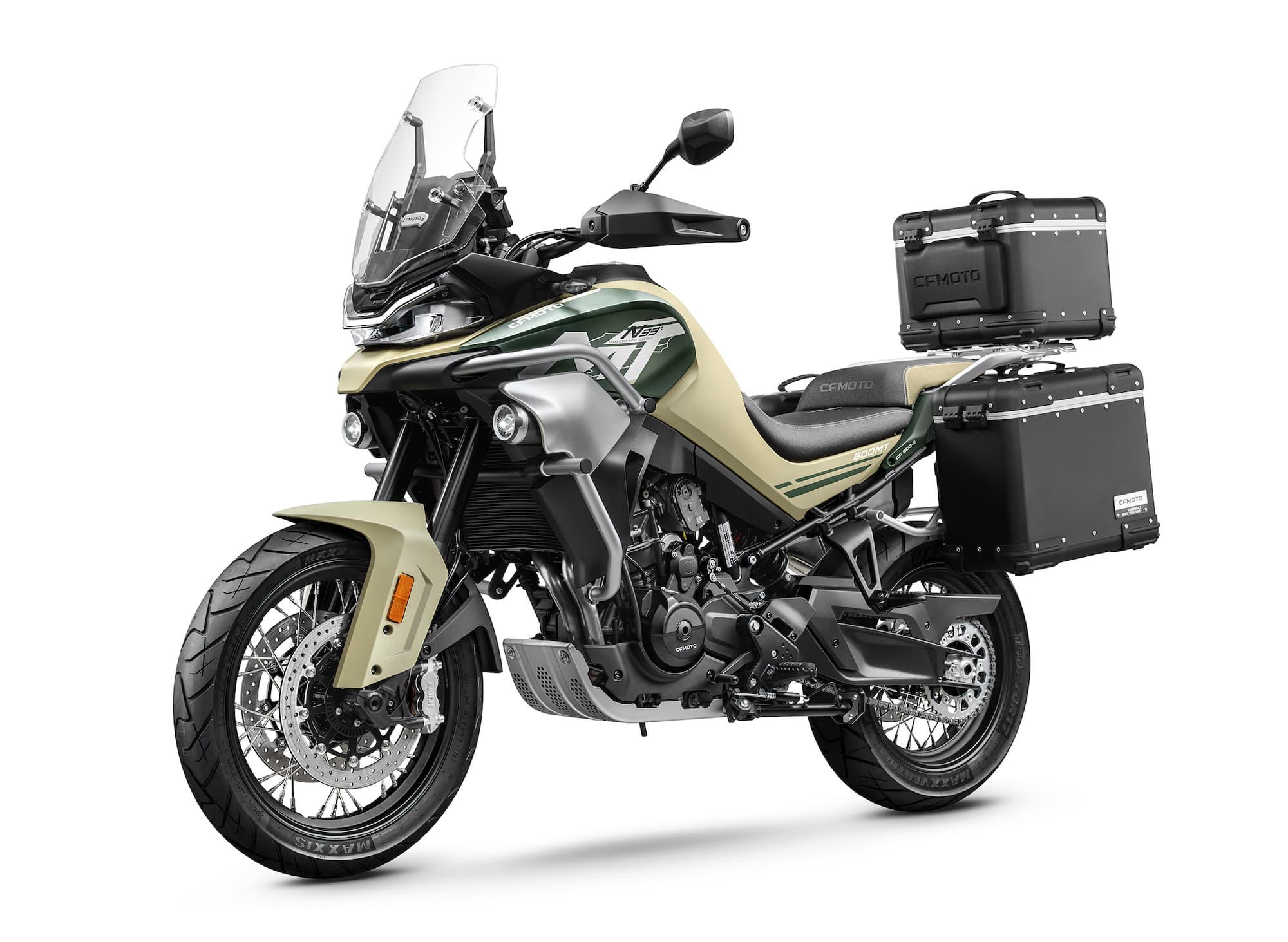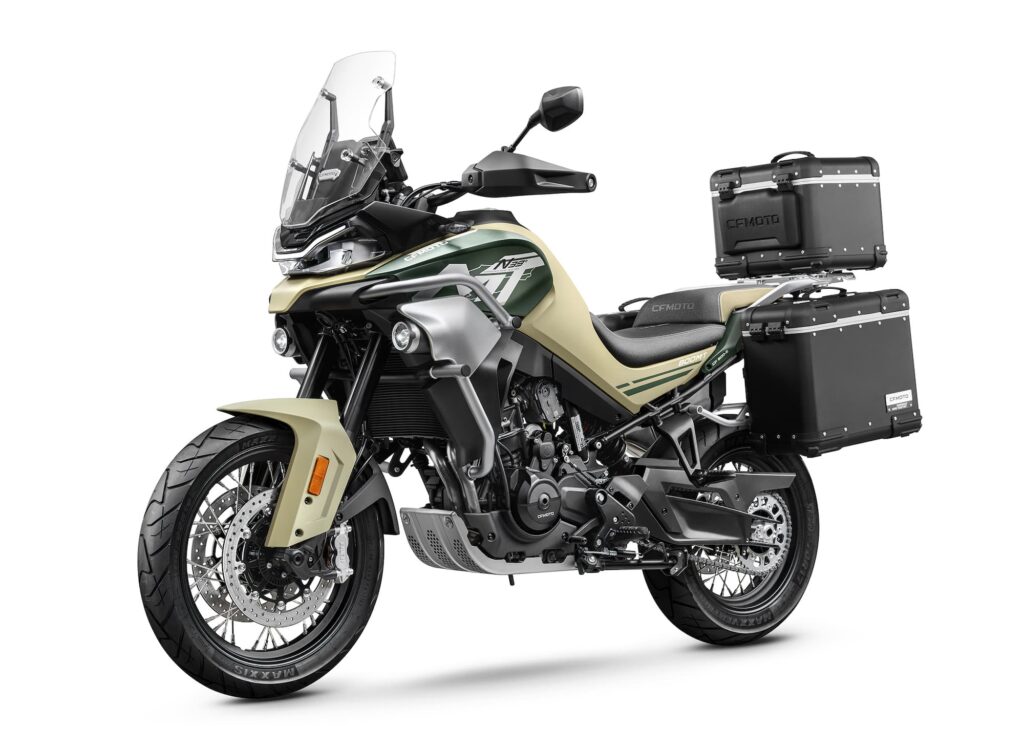 The CFMOTO Ibex 800 / 800MT is a middleweight adventure tourer powered by KTM's 799 cc parallel twin that they stopped using in western markets for a few years. The CFMOTO bike comes loaded with tech, including cruise and an IMU, and its engine is no slouch.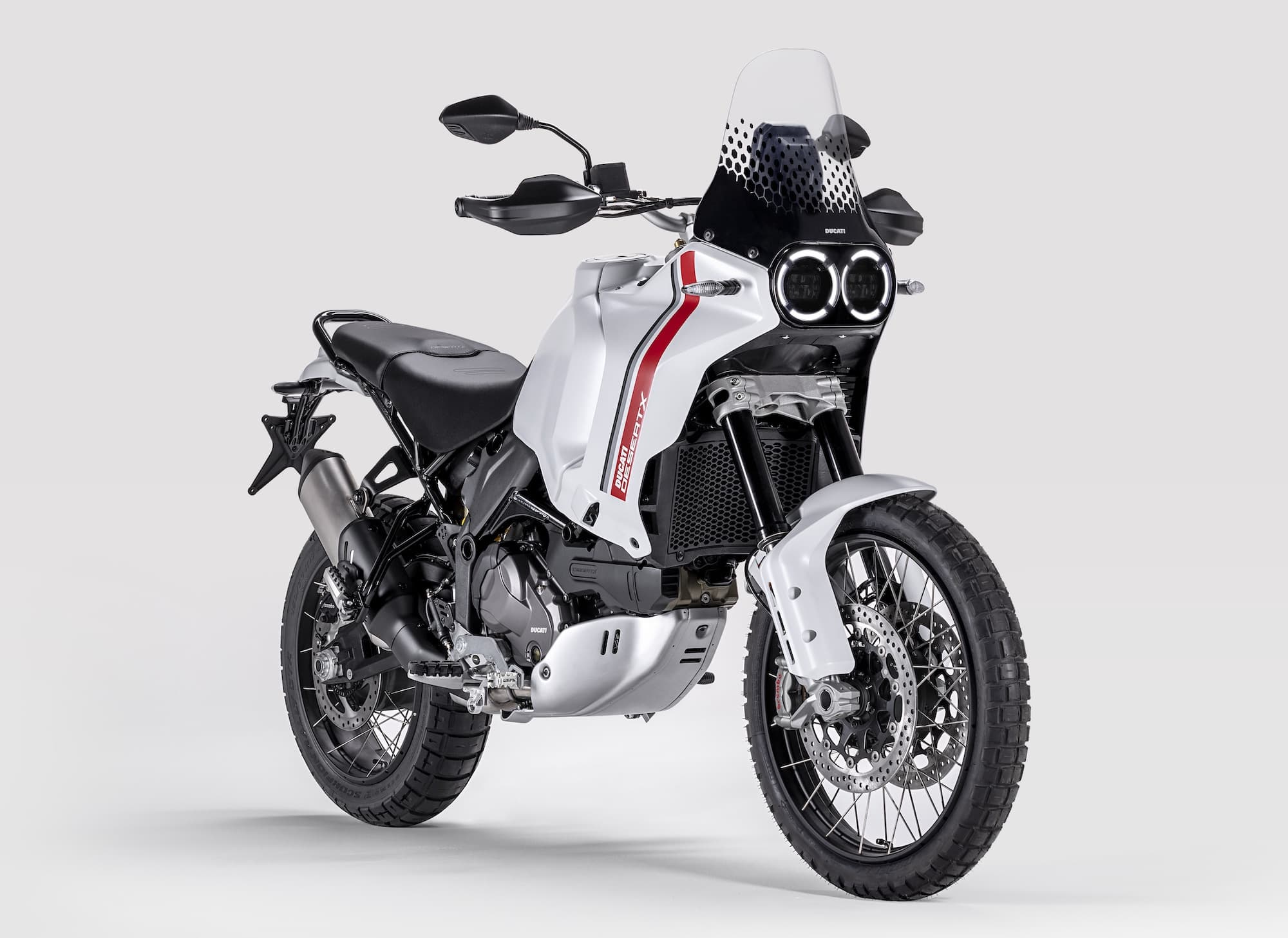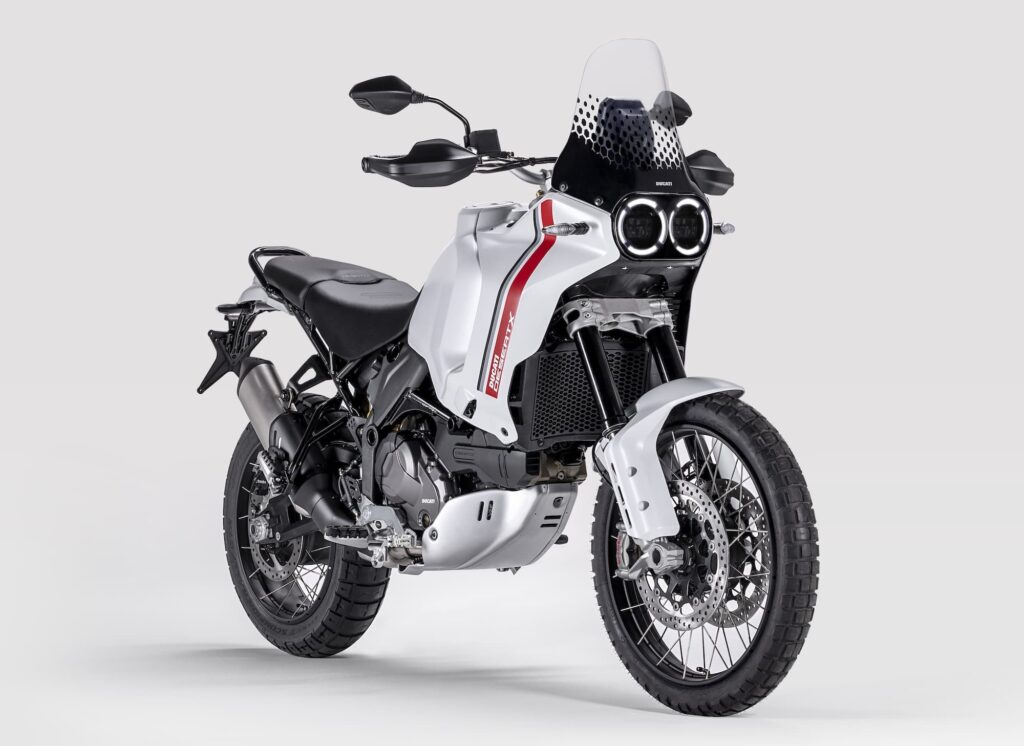 The Ducati DesertX is an offroad sporty adventure tourer based on the 937 cc Testastretta-11 degree engine that Ducati uses in many of its motorcycles, from the Supersport to the Multistrada V2. The DesertX has a 21-inch front rim, long-travel suspension, the full suite of ride aids, and killer good looks.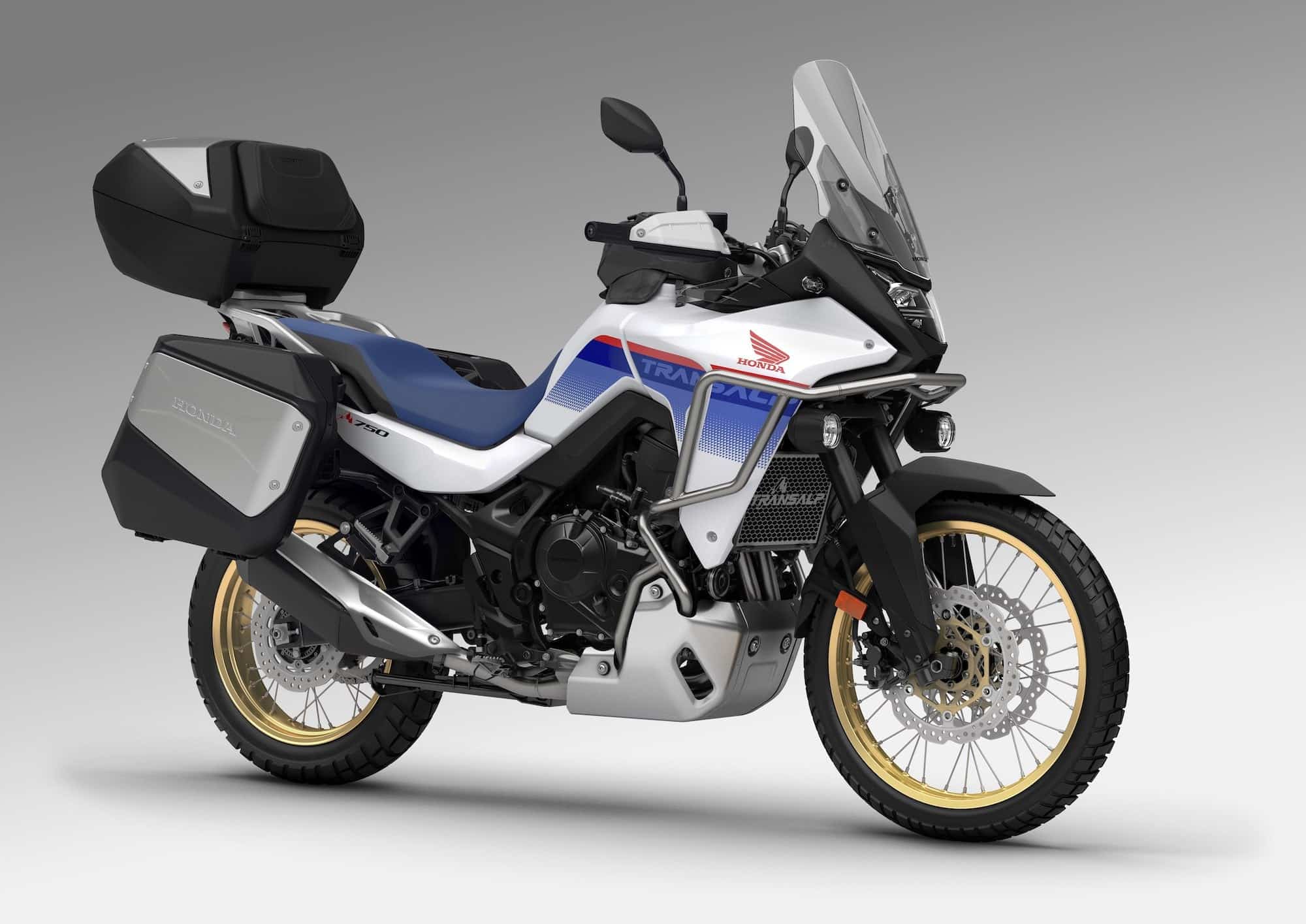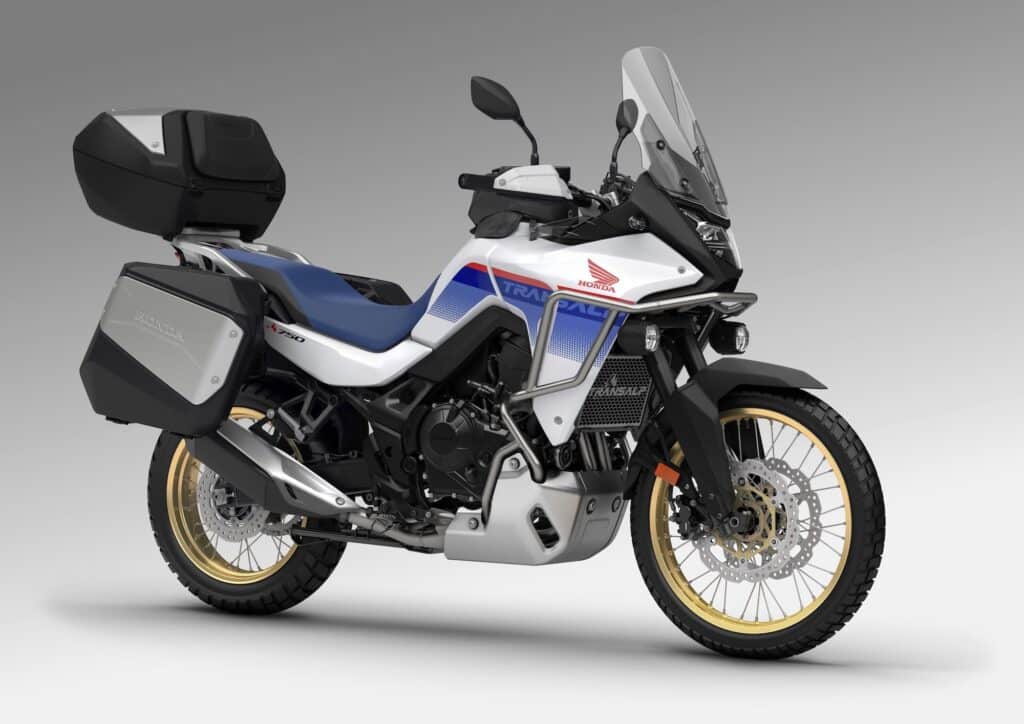 The Honda XL750 Transalp is a rebirth of the Transalp brand, which had expired a decade prior with the Transalp 700, a motorcycle veering more towards being a commuter. The XL750 Transalp has a new motor, a 755-cc parallel twin, and enough goodies (medium-long travel suspension, a 21-inch front wheel) to give it mixed use pretention, without being a dedicated dirt bike.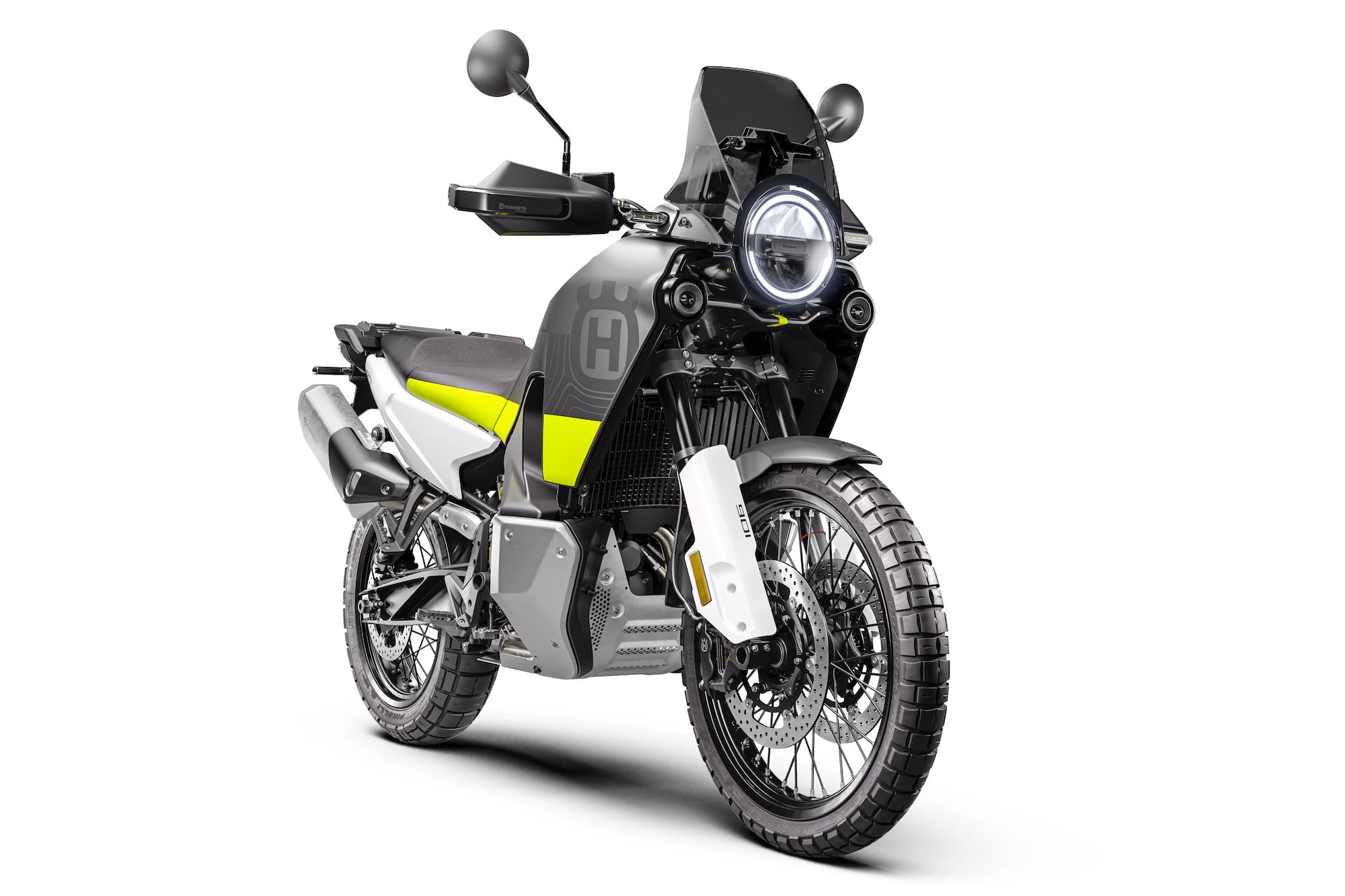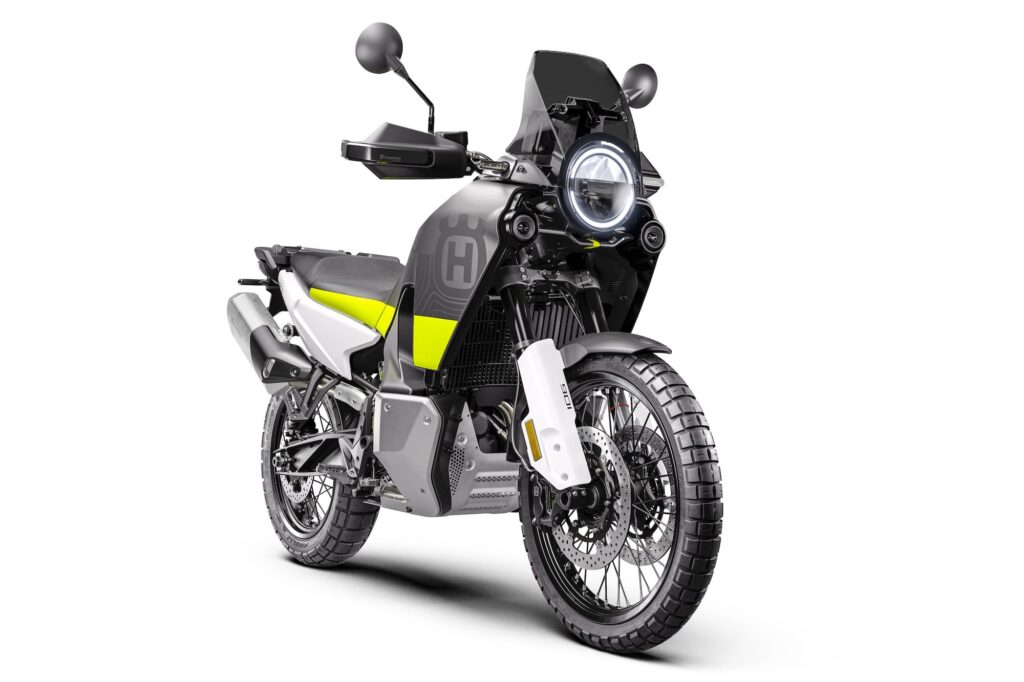 The Husqvarna Norden 901 is based on the same platform as the KTM 890 Adventure R, an 889 cc parallel twin with a 270-degree crankshaft. It has great specs, with long-travel (even longer in the Explorer edition), fully adjustable suspension, and ever ride aid you can think of. Plus, it looks cool.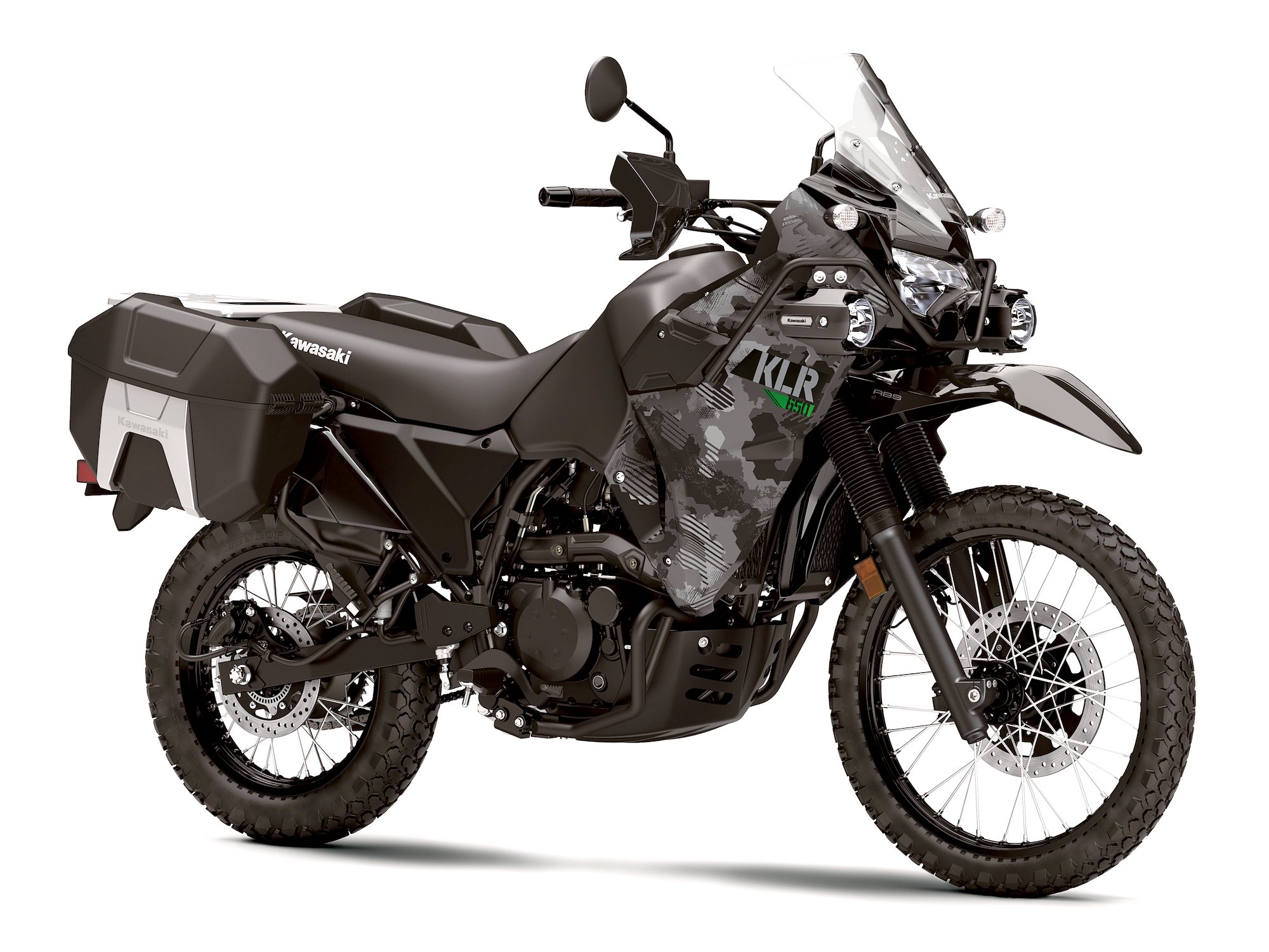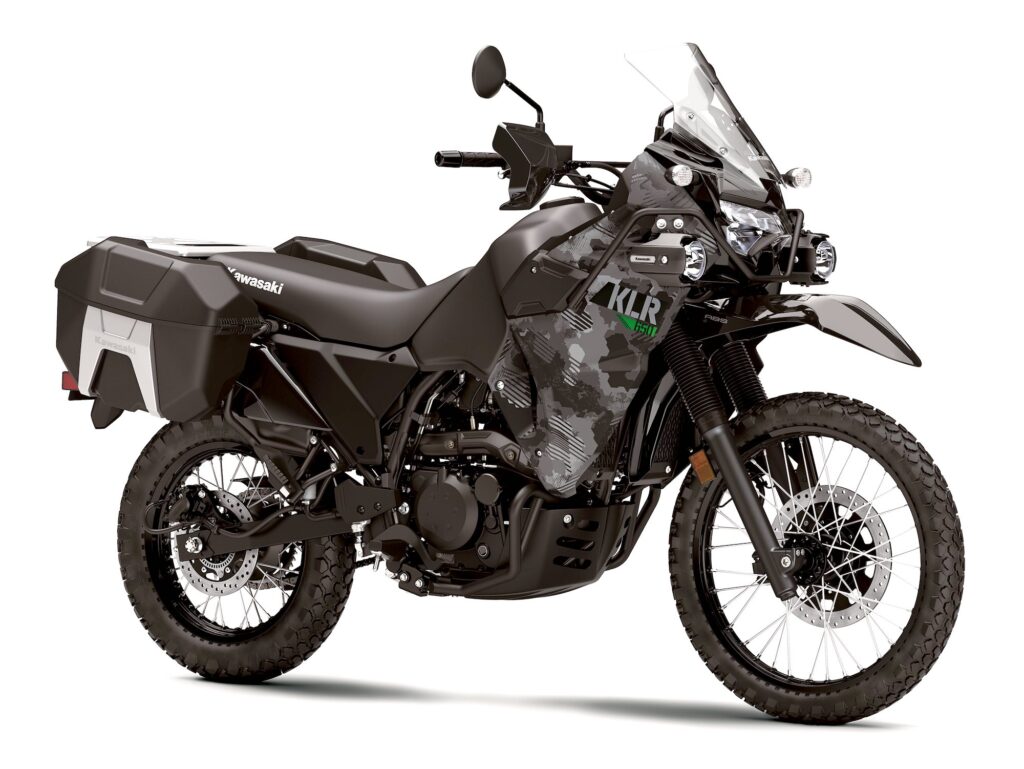 Kawasaki updated its iconic single-cylinder, low-power but unbreakable adventure motorcycle, the KLR650, for 2021 with fuel injection, ABS, and a digital display. It's still the same cheap, back-to-basics adventurer that will get you anywhere and back, though not too quickly.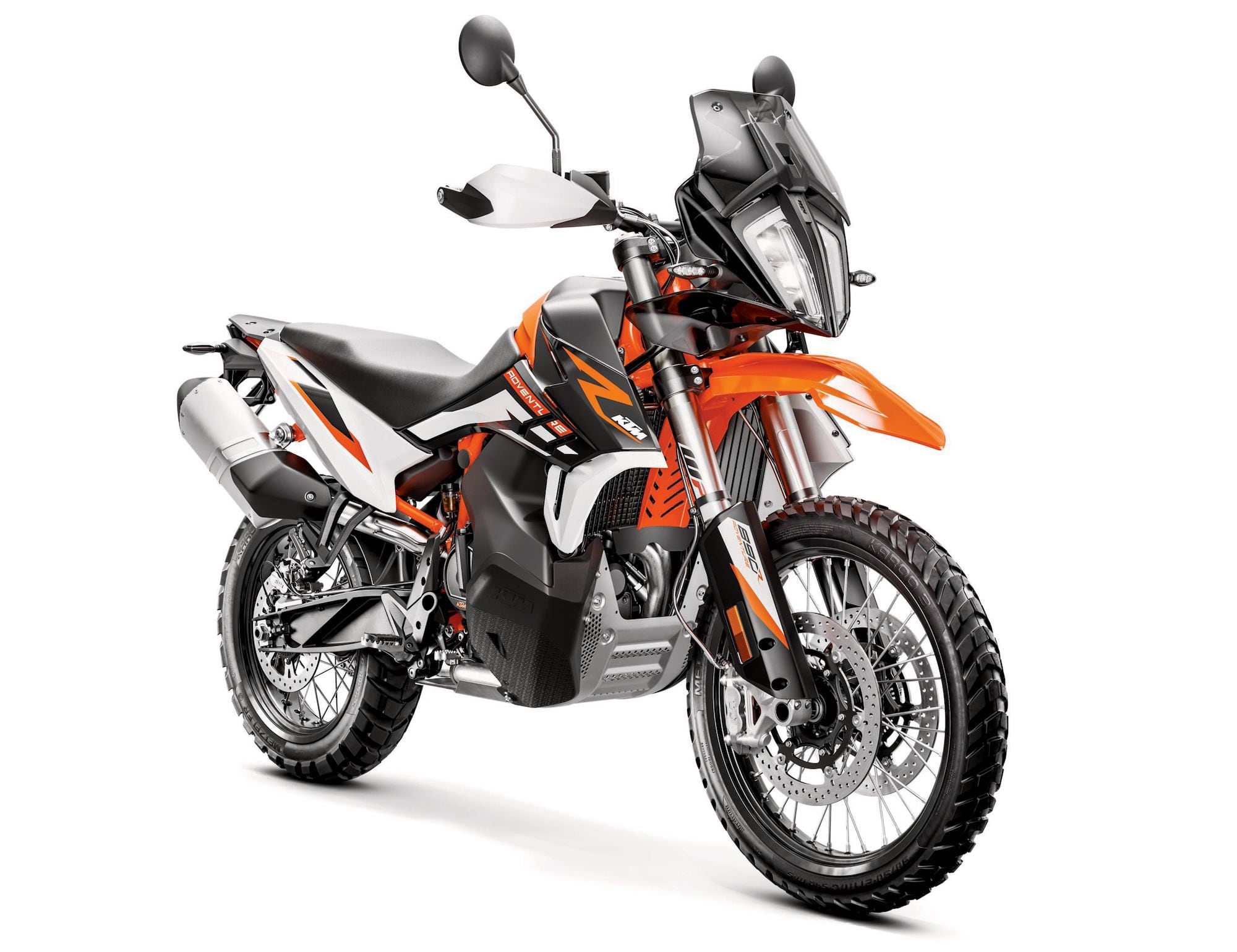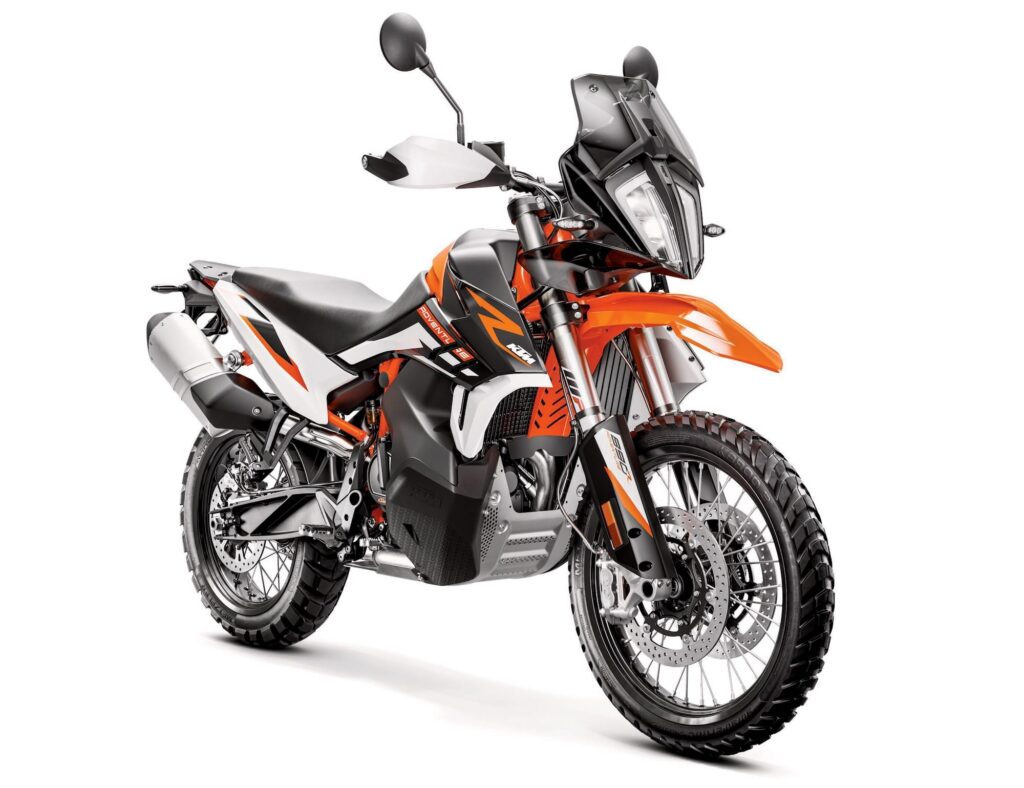 The KTM 890 Adventure R is the "Excitement" factor in the middleweight adventure motorcycle series. It has a sparkling 889 cc parallel twin (shared with the Husqvarna Norden 901), very long-travel suspension (longer than the non-R), and every kind of ride aid you can think of. Despite that, it's one of the lighter bikes in the range (though not by much).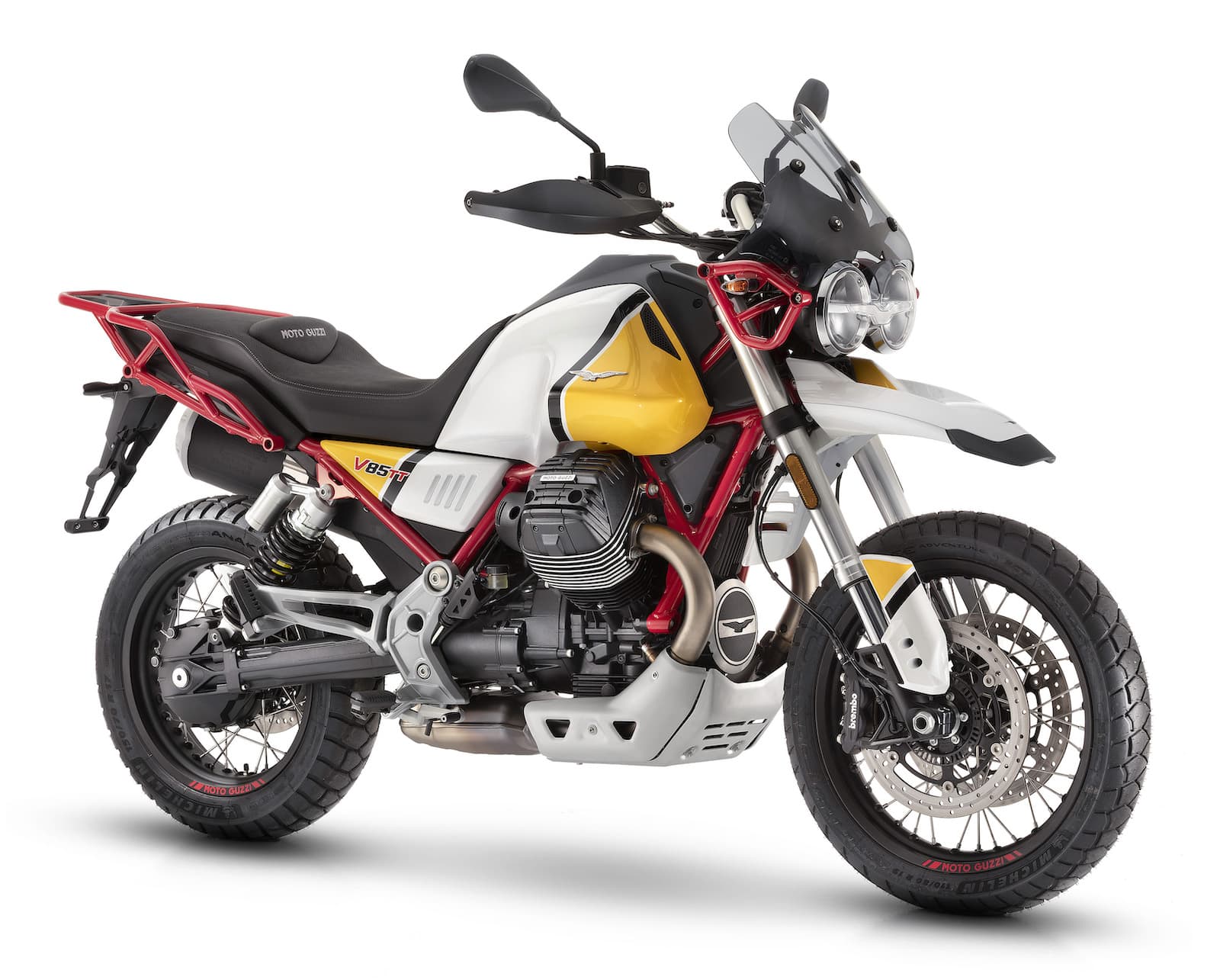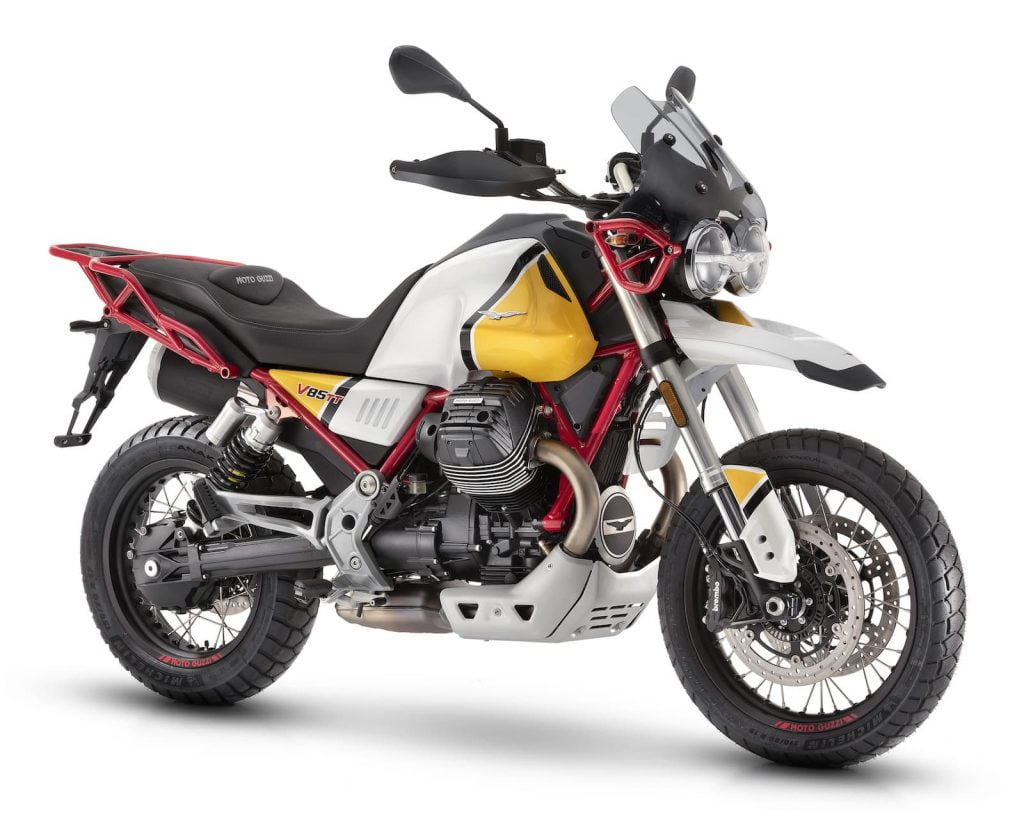 The Moto Guzzi V85 TT is an oddball bike, but it deserves to be included as it's just so interesting. It's powered by an air/oil-cooled longitudinal V-twin powering a shaft drive — this is the one you want if you don't want to be lubing your chain! It lacks many ride aids, but it's very big on character and style.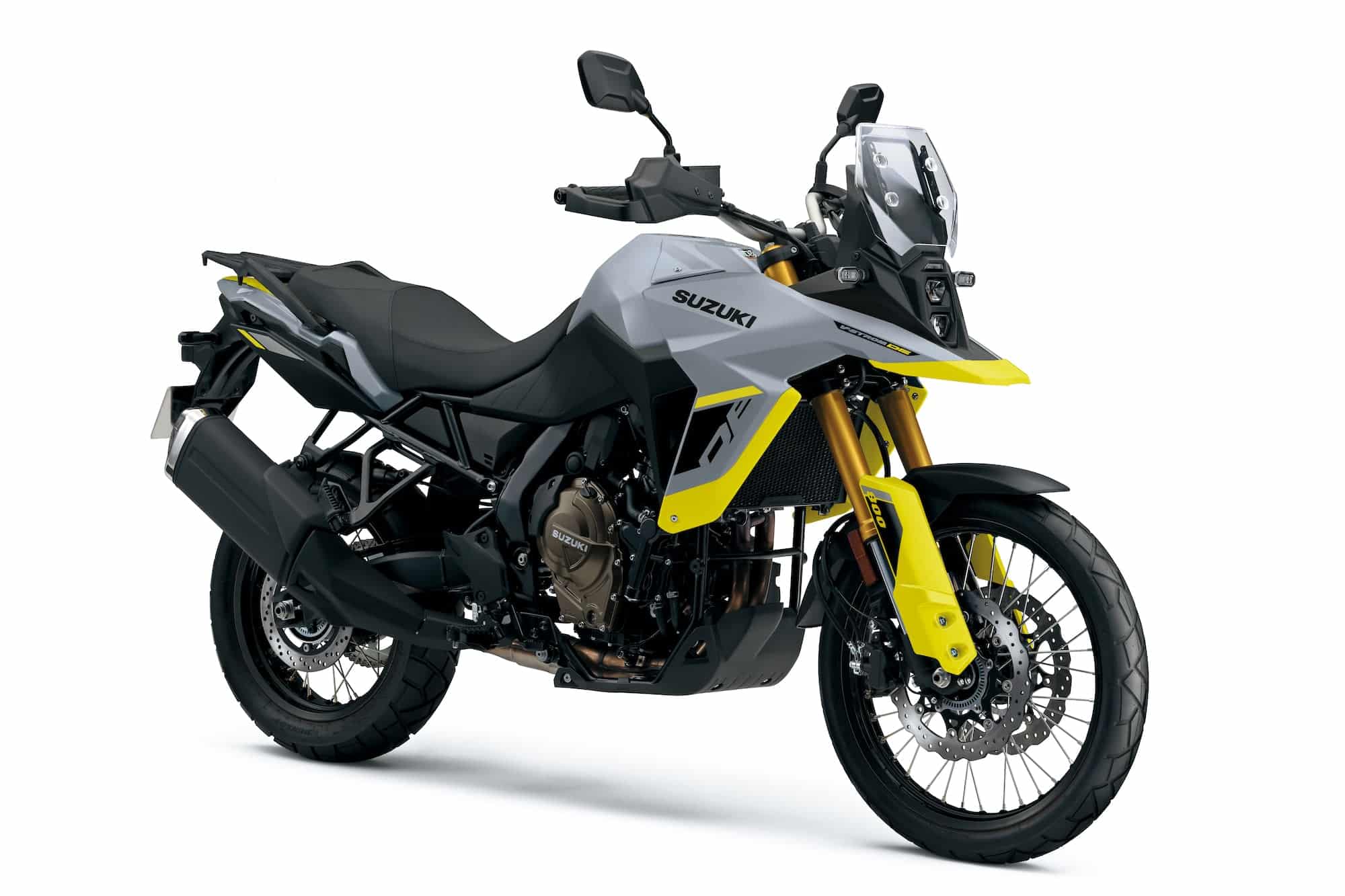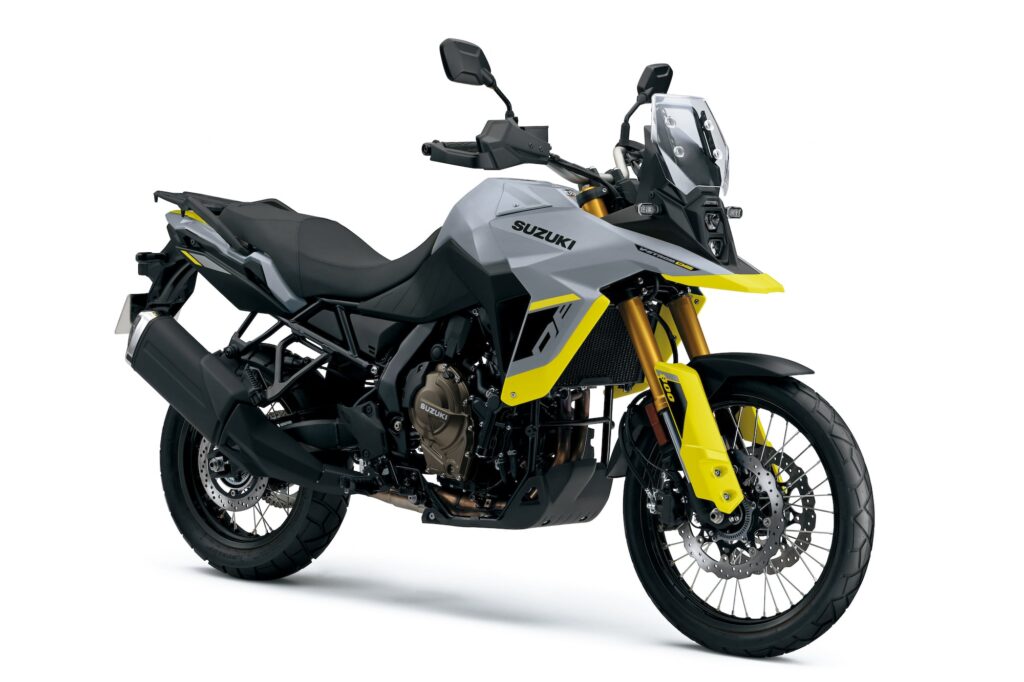 Suzuki updated their V-Strom for 2023 with the V-Strom 800DE, though it co-exists with the V-Strom 650XT (for now). The 800DE uses the same new sporty 776cc parallel twin as the GSX-8S, ditching the V engine associated with the series, and also earned a 21-inch front wheel, similar to its big sibling, the V-Strom 1050DE.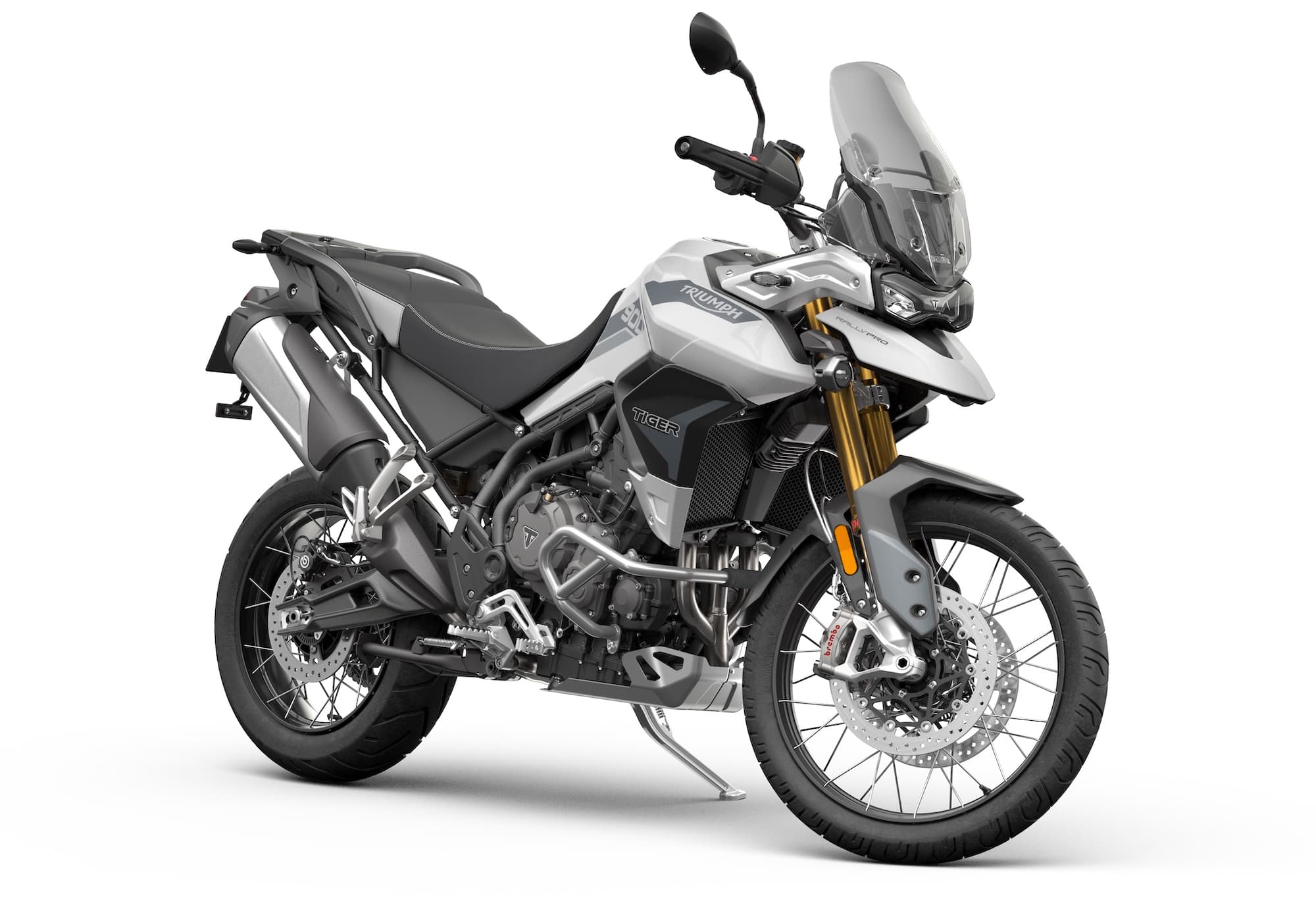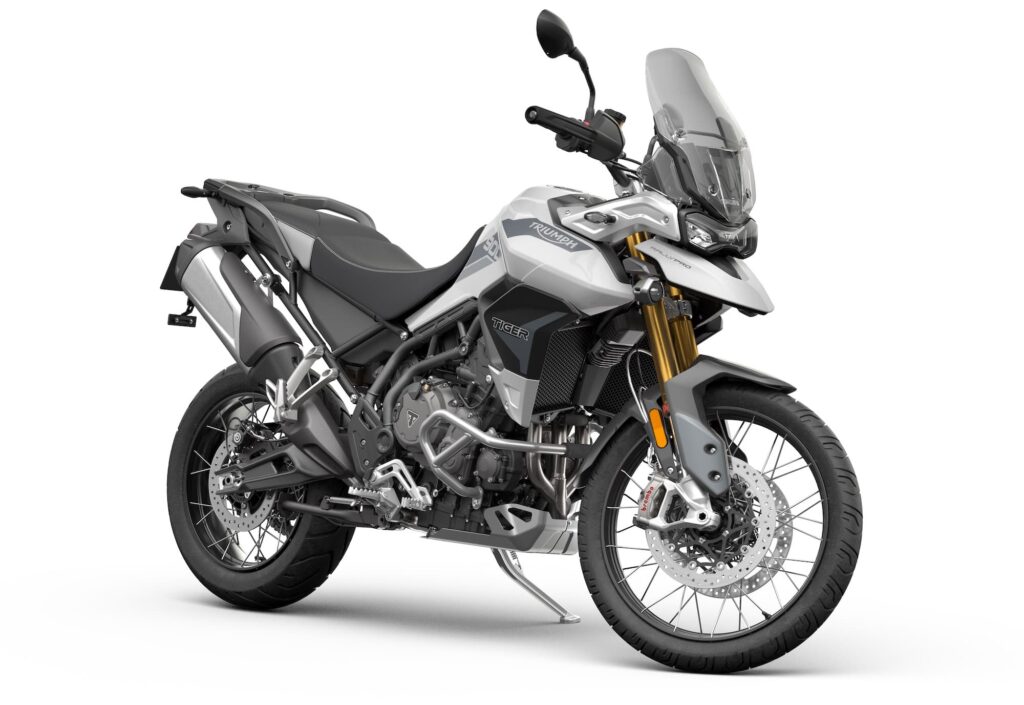 The Triumph Tiger 900 Rally Pro is the only middleweight adventurer to use a three-cylinder engine. The 900 Rally Pro is an update to the Triumph Tiger 800XE, but the 900 engine has a different, lower, more rumbling character. Aside from that, this is the same old luxury middleweight adventure bike, with every ride aid on the market available.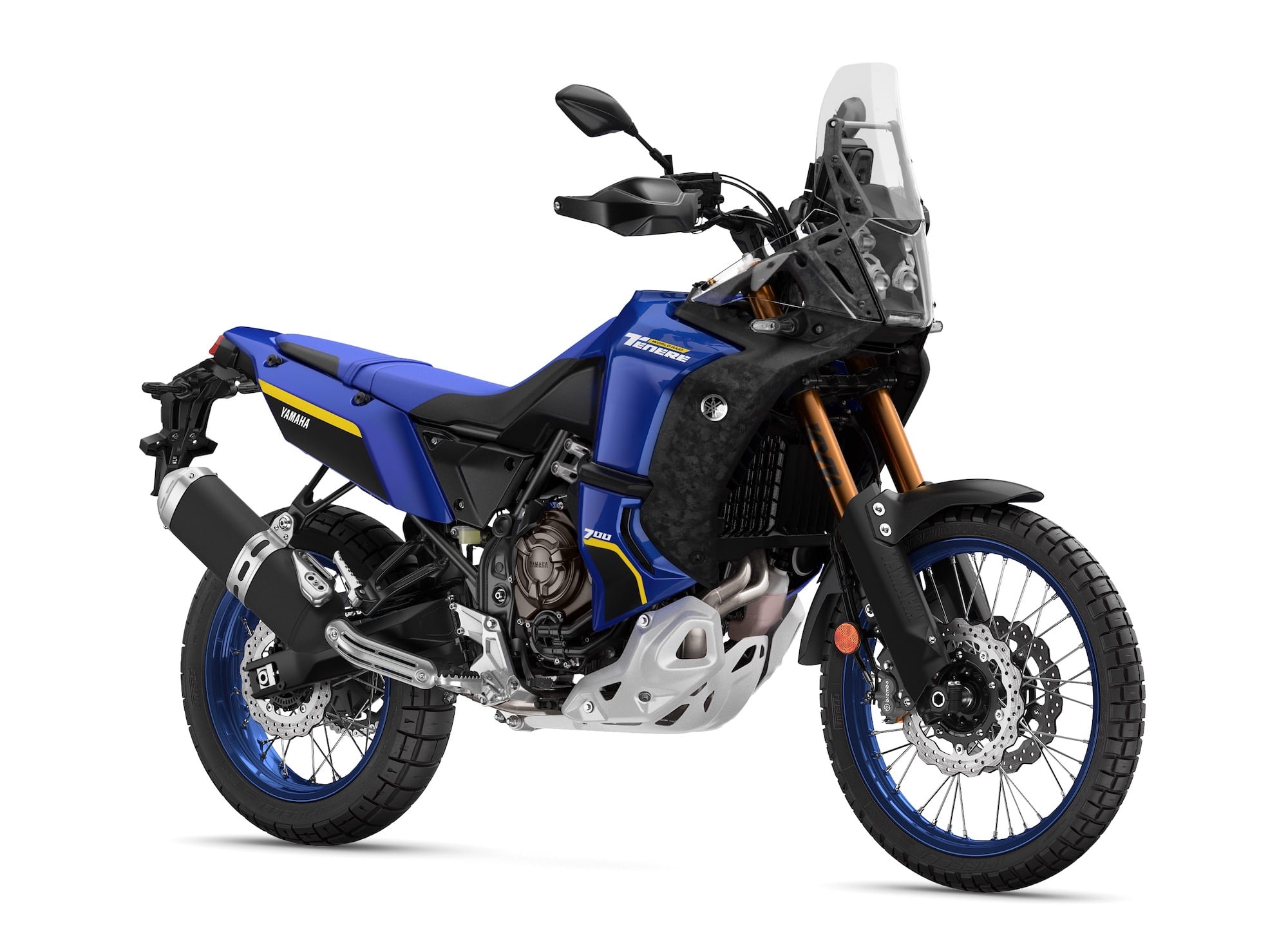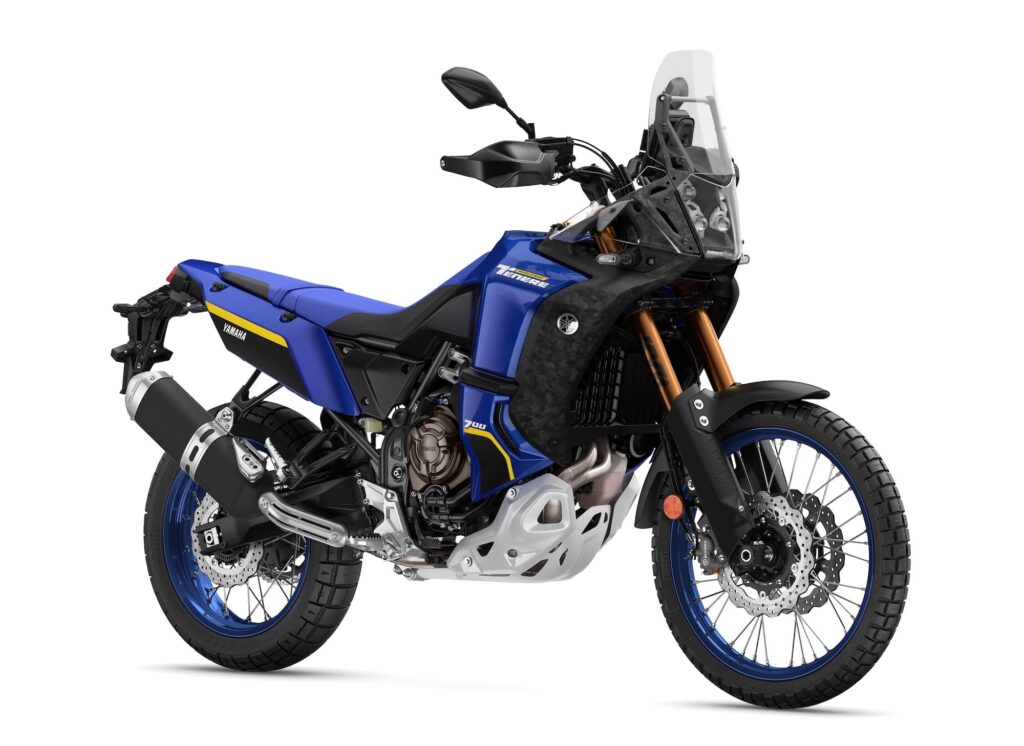 The Yamaha Ténéré 700 is an already-iconic middleweight adventure tourer, powered by the CP2 motor, a character-rich parallel twin we first saw in the Yamaha FZ-07. Yamaha blessed the T7 with an all-new chassis, long suspension (even longer in the World Raid edition), and classic good looks from the previous Ténéré 660. The Yamaha Ténéré 700 hasn't got much tech in it, but that doesn't stop people from loving it.
Other Related Motorcycles
If you're interested in the Honda XL750 Transalp, you're probably also considering other motorcycles with the same motor. In this case, the only other motorcycle at present is the Honda CB750 Hornet.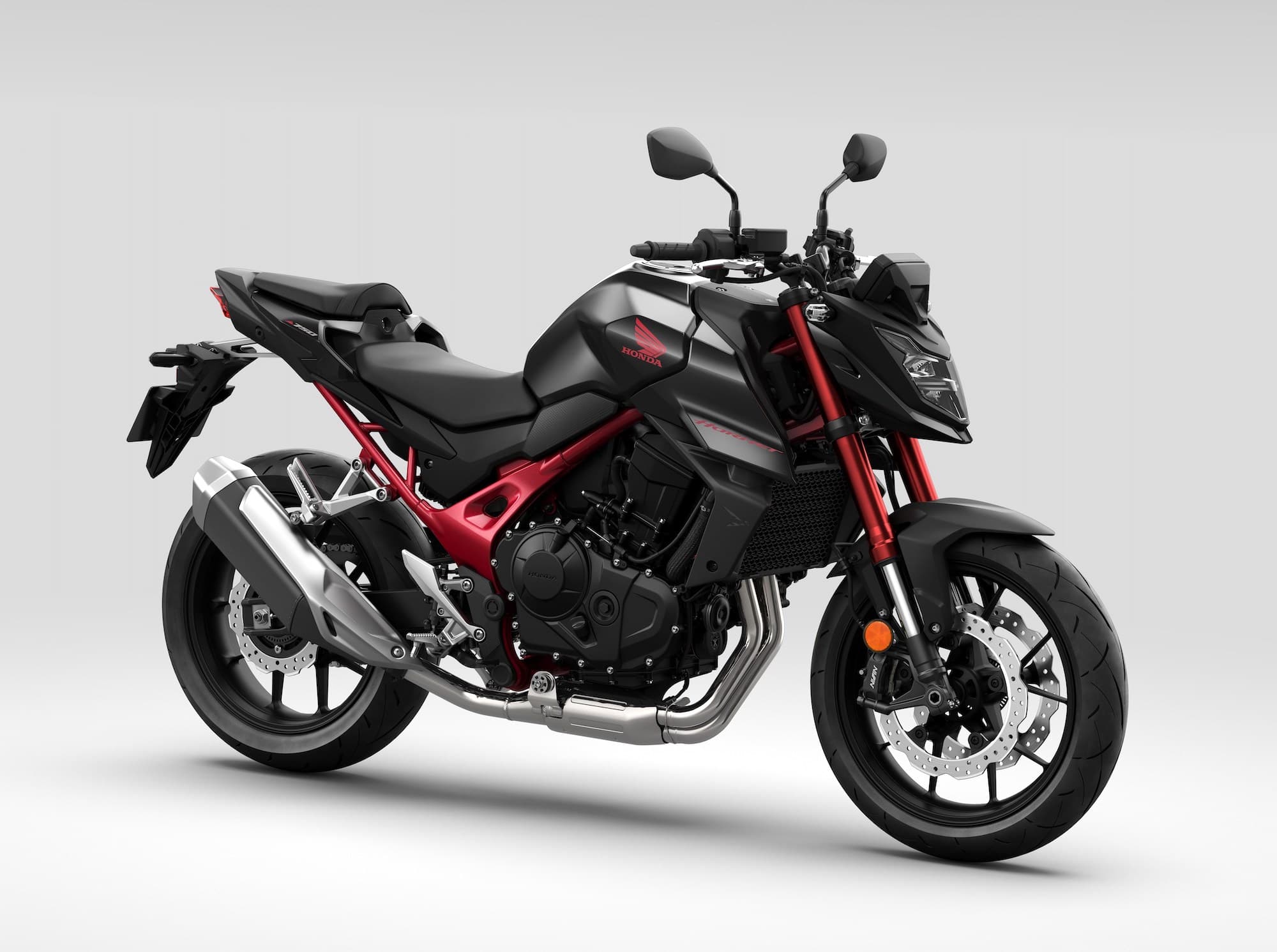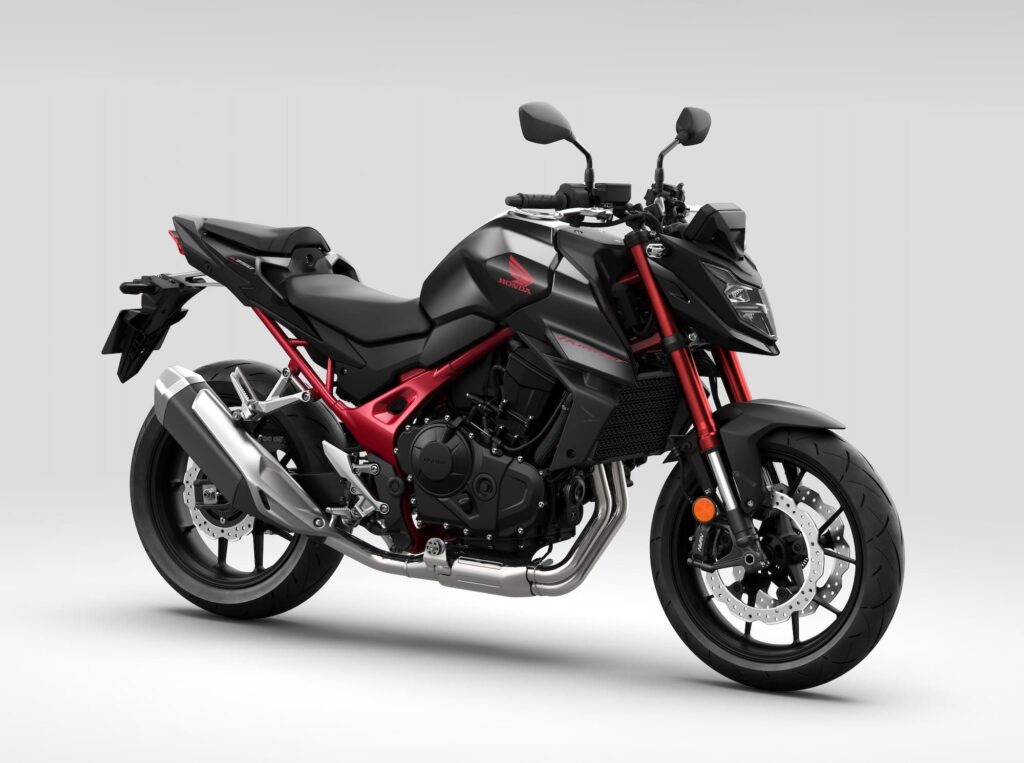 The Honda CB750 Hornet is a re-imagining of the Hornet brand that was most recently an inline four-cylinder naked sport motorcycle.
The modern CB750 has a parallel twin. While it's higher spec than the inline-four Hornet in every way, and has sharper, modern styling, a parallel twin always has a very different feel. It competes more with the likes of the modern Ducati Monster 937, the Suzuki GSX-8S, and other middleweight naked sport motorcycles.
Reference — Owner's Manual for the Honda XL750 Transalp
The above information came from a mix of the owner's manual, service manual, press releases, and forum information for the Honda XL750 Transalp.
Below you can see some screenshots for the Transalp.
You can also download the owner's manual from here.
Below is an archive copy of the owner's manual in English. You can either browse it here or download it.