This is a series of resources on the Kawasaki Ninja 400, compiled from press releases, the owner's manual, the service manual, and online forums.
Kawasaki launched the Ninja 400 in 2018 as an update to the Ninja 300. It's more powerful and it's lighter.
The Ninja 400 is powered by a 399cc liquid-cooled parallel twin engine with four valves per cylinder and dual overhead cams. It runs a modest 11.5:1 compression ratio, making a beginner-friendly but still feisty peak power of approximately 33 kW / 45 hp at 10000 rpm. Final drive is via a six-speed box and chain.
The Kawasaki Ninja 400 is a sibling to the Kawasaki Z400, which shares the same fundamental underpinnings, but has them in a naked format.
The Ninja 400 is still an entry-level bike but is the kind of bike many people find themselves downsizing to and having the time of their lives on it. It's a great track bike, and a competent everyday commuter.
Note: Motofomo is reader-supported. If you buy some of the products that we link to, we may earn an affiliate commission, which otherwise goes to the marketplace (e.g. Amazon).
Are you obsessed with motorcycles?
Well, I am. That's why I created this site — as an outlet. I love learning and sharing what others might find useful. If you like what you read here, and you're a fraction as obsessed as I am, you might like to know when I've published more. (Check the latest for an idea of what you'll see.)
About the Kawasaki Ninja 400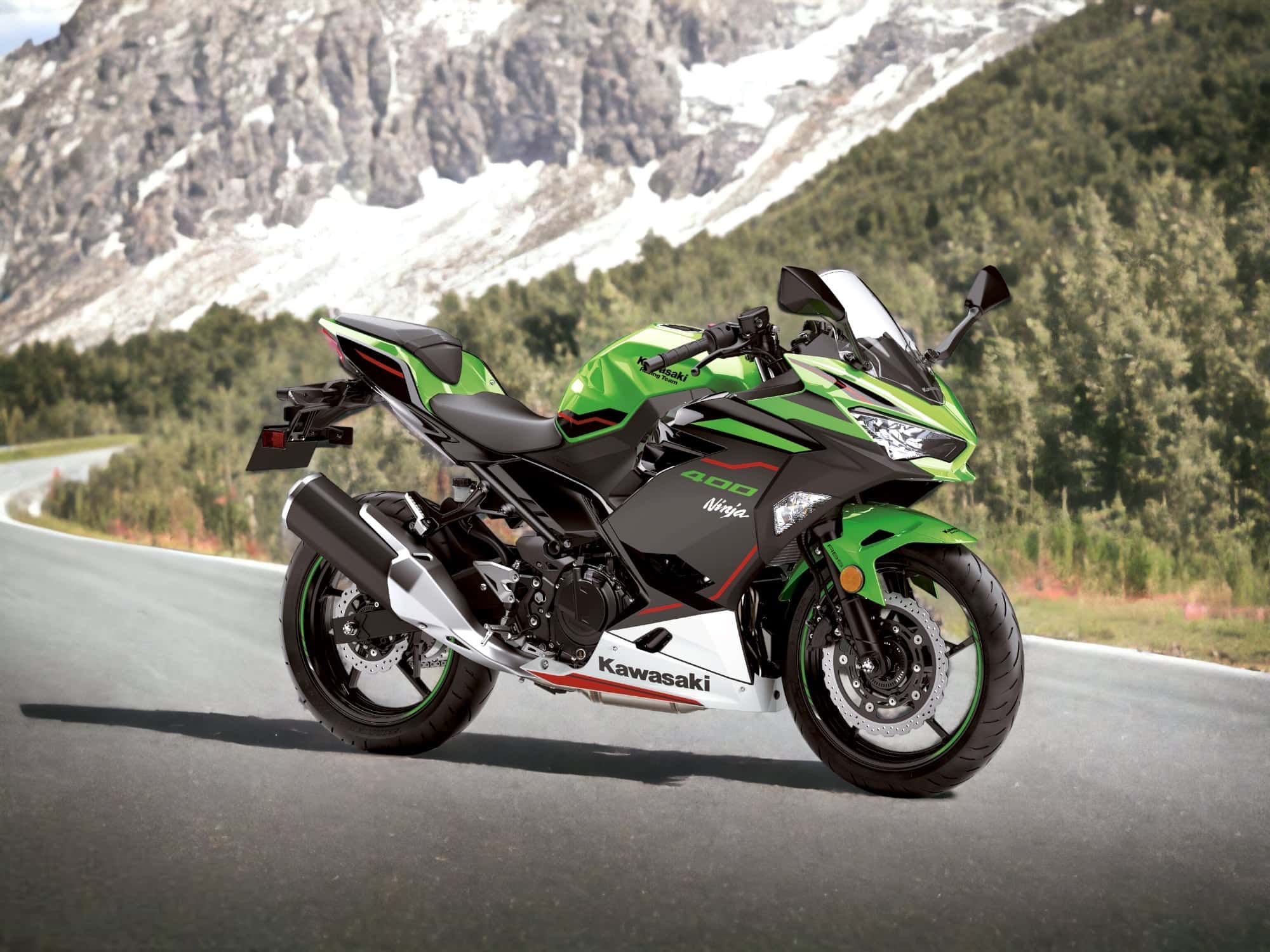 Kawasaki released the Kawasaki NInja 400 in late 2017 for the 2018 model year.
Kawasaki released it as an update to the Ninja 300, which itself was a more advanced version of the widely appreciated Ninja 250. People already loved the 250 and 300 as great starter bikes — so the Ninja 400, with more power and less weight, while still under the 400 cc threshold (critical in Japan in particular), was a shoe-in.
The Kawasaki Ninja 400 is powered by a 399cc liquid-cooled parallel twin engine. It's not the most thrilling sounding engine in base trim, partly due to the smaller capacity, and partly due to emissions restrictions on noise. It doesn't quite match the exuberant growl of the Yamaha MT-07's CP2 engine.
But don't judge a book by its cover. The Kawasaki Ninja 400 more than makes up for it with its lively revving engine and its eagerness to climb through the revs to high RPMs. That's how you differentiate it from bikes like the Honda CBR500R. Even though the spec sheets might suggest they're on a similar footing, the Ninja's performance overshadows the CBR500R's, which tends to lose steam just as the Ninja 400 is hitting its stride.
The Kawasaki Ninja 400 is mostly billed as a beginner's entry into sport bikes, but with a few tweaks, it's a competent entry-level track bike. It's particularly good at tackling more compact circuits where expansive straights don't necessarily favor larger bikes. This is because the Ninja 400 is very light, at only xxx kgs / lbs.
If you want to take your Ninja 400 to the track, the first tweak people usually make is to the suspension. People modify the front suspension with gold valve emulators or cartridges, and often replace the rear shock.
The Ninja 400 is no less capable as a daily rider. It has a comfortable riding position with elevated clip-on style handlebars, sparing you from being hunched over the fuel tank. It looks like a sport bike, but it feels like an everyday ride.
The Kawasaki Ninja 400 comes standard with ABS in most markets or for just a few extra bucks, is economical on fuel, and requires minimal maintenance. Regular service intervals are every 12,000 km (or 7,500 mi) and typically involve an oil change and a thorough inspection.
The Ninja 400's practicality and fun ride have made it a popular choice among riders transitioning away from superbikes who are still after an exhilarating experience. It is a bona fide rider's bike, fitting for the appropriate roads.
Maintaining the Ninja 400 is a breeze: keep the fluids replenished, check the valves, occasionally replace the brake pads and chain, and it'll keep running like a champ.
Kawasaki Ninja 400 Specifications
Here are the core specifications for the Ninja 400, along with some notes. While you can't just ride a spec sheet, this will give you some insight into its performance.
| Item | Specs | Notes |
| --- | --- | --- |
| Engine type | Liquid-cooled parallel twin, 180-degree crankshaft, 8v / twin cam | |
| Capacity | 399 cc | |
| Bore x stroke (mm) | 70 x 51.8 mm | |
| Compression ratio | 11.5:1 | Requires 87 PON / 91 RON fuel ("Regular" unleaded) |
| Peak power | 36 kW / 49 hp @ 10000 rpm | |
| Peak torque | 38 Nm / 28 lb-ft @ 8000 rpm | |
| Transmission | 6-speed, chain | |
| Front suspension | 41mm conventionl fork, non-adjustable | |
| Rear suspension | Bottom-link Uni-Trak, gas-charged shock, adjustable preload | |
| Front brakes | 1 x 310mm disc, 2-piston caliper | |
| Wet weight | 166 kg / 366 lb | |
| Ride aids | ABS (optional in US) | |
Kawasaki Ninja 400 specs
Using the Kawasaki Ninja 400's Screen and Controls
The Ninja 400 is pretty easy to use. There's no cruise control, no ride by wire, and no power modes!
Use the top button to switch between the odometer, Trip A, and Trip B. Hold the button down to reset the trip distances.
Use the bottom button to switch between instant mileage, average mileage, and range. Hold the button down to reset the figure.
Push both buttons together and hold them to adjust the clock. Lower button changes between hours and minutes, and upper button changes the figure. Hold the buttons together again to confirm.
Ninja 400 Service Intervals
Overall, the basic service interval for the Kawasaki Ninja 400 is either every 7600 miles (12000 km) OR ever year. At any of those periods, change the oil and filter, and check the schedule to see what you need to adjust inspect, lubricate, or replace.
The major valve clearance inspection interval for the Ninja 400 is a generous 15000 miles / 24000 km. The Ninja 400's parallel twin engine is easy to service, too, as there's just one cylinder head, and no need to drop the oil to do a valve service.
The Ninja 400 has a liquid-cooled engine, so make sure you keep the coolant fresh, along with the brake fluid.
Kawasaki Ninja 400 Maintenance Schedule
The below information comes from our sister website, maintenanceschedule.com. This is a clarified version of the maintenance schedule of the maintenance schedule from the manual.
It's separated into
A periodic maintenance schedule, and
An annual service checklist
There are also separate sections below on chain maintenance.
Major Items Maintenance Schedule
Below is the service schedule of major items for the Kawasaki Ninja 400.
Notes:
Observe the earlier of time-based or distance-based service intervals. E.g. change the oil every 7600 miles or year.
Keep following it in the pattern shown beyond the end of the maintenance schedule.
If you ride your motorcycle aggressively or in untoward conditions (e.g. off-road or in mud, rain, or on dirty roads, in stop-start traffic, or in cold weather without giving it time to warm up), you may have to service your bike more often.
In the original manual for the Ninja 400, some items are mentioned as "dealer inspection". Things like checking the idle speed or the coolant level. However, the bike is easy to service — it's up to you if you want to take it to a dealer or not.
| km x 1000 | 1 | 12 | 24 | 36 | 48 | |
| --- | --- | --- | --- | --- | --- | --- |
| mi x 1000 | 0.6 | 7.6 | 15.2 | 22.8 | 30.4 | Every |
| Perform annual inspection (see below list) | ✓ | ✓ | ✓ | ✓ | ✓ | Year |
| Engine oil — Replace (Kawasaki 10W-40 Engine oil) | ✓ | ✓ | ✓ | ✓ | ✓ | Year |
| Oil filter — Replace (HF303RC) | ✓ | ✓ | ✓ | ✓ | ✓ | Year |
| Spark plug (NGK LMAR9G) — Replace | | ✓ | ✓ | ✓ | ✓ | |
| Air cleaner element — Replace (K&N KA-4018) | | ✓ | ✓ | ✓ | ✓ | More often if riding in dust / off-road |
| Valve clearances — Inspect / Adjust | | | ✓ | | ✓ | |
| Idle speed — Inspect | ✓ | ✓ | ✓ | ✓ | ✓ | |
| Engine vacuum synchronization — Check | | ✓ | ✓ | ✓ | ✓ | |
| Fuel filter — Replace | | | ✓ | | ✓ | |
| Fuel hose — Replace | | | | | | 5 years |
| Evaporative emission control system (if fitted) | | | ✓ | | ✓ | |
| Coolant, coolant hoses, and O-rings — Replace all | | | | ✓ | | 3 years |
| Air suction system — Inspect | | ✓ | ✓ | ✓ | ✓ | |
| Drive chain wear — Inspect | | ✓ | ✓ | ✓ | ✓ | |
| Drive chain guide wear — Inspect | | ✓ | ✓ | ✓ | ✓ | |
| Brake fluid (front and rear) — Replace (Castrol DOT 4) | | | ✓ | | ✓ | 2 years |
| Brake hoses — Replace | | | | | | 4 years |
| Rubber parts of brake master cylinder and caliper – Replace | | | | | ✓ | 4 years |
| Rear suspension — Lubricate | | | ✓ | | ✓ | |
| Steering stem bearings — Lubricate | | | ✓ | | ✓ | 2 years |
Kawasaki Ninja 400 Maintenance Schedule
Standard Annual Service Checklist
Below is the list of maintenance items for the Kawasaki Ninja 400 — things to check / lubricate every service (per the schedule above). Basically, do these at every service.
Kawasaki Ninja 400 Annual Inspection Checklist
Throttle control system — Inspect (play, smooth return, and no drag)
Brake system — Inspect function
Brake operation (effectiveness, play, no drag)
Brake fluid level — Check / top-up (Castrol DOT 4)
Brake pad wear (not as critical at break-in)
Inspect more often if riding in dusty / wet conditions, or aggressively
Brake light switch operation — Check
Fuel system — Inspect (no leaks, kinks, damaged hoses)
Cooling system — Inspect (no leaks, kinks)
Coolant level — Inspect, top up as necessary (Zerex G05)
Clutch operation — Inspect (play, engagement, disengagement)
Wheels and tires — Check condition (no dents, damage)
Wheel bearings — Check for damage / looseness
Tire air pressure — Check / adjust (See specs below)
Suspension system — Check for leaks, smooth operation
Not required at break-in service
Steering play — Check for smooth operation, no notchiness
Electrical system — Check all lights, signals, and switches work
Chassis parts — Lubricate
Bolts, nuts, and fasteners — Check condition, tighten as necessary
Kawasaki Ninja 400 Annual Inspection checklist
Maintaining Your Chain on the Kawasaki Ninja 400
It's important to maintain your chain on the Ninja 400, as on any chain-driven motorcycle. Use a good-quality chain lubricant like Motul chain paste, or a Motul chain care kit which comes with a couple of handy tools to maintain the chain.
Kawasaki recommends you follow the following chain maintenance schedule:
| Chain maintenance item | Every |
| --- | --- |
| Check drive chain lubrication condition, lubricating if necessary (Motul chain paste) | 400 mi / 600 km |
| Check drive chain slack, adjusting if necessary (see below) | 600 mi / 1000 km |
Chain maintenance — Kawasaki Ninja 400
Notes:
Do these items (checking/adjusting slack, and checking/applying lubrication) more often if you ride your Ninja 400 in dusty or rainy conditions.
Always lubricate the chain after washing the motorcycle.
Checking Chain Slack
To check chain slack, follow the guidelines below.
To measure chain slack, put the motorcycle on its side stand on a flat surface, with no load on it.
Push up and down on the chain and measure the maximum deflection of the chain.
Target chain slack for the Kawasaki Ninja 400: 20-30 mm (0.8-1.2 in)
If the slack is out of spec, you have to adjust it.
Adjusting Chain Slack
To adjust chain slack:
Remove the cotter pin and loosen the axle nuts.
Loosen the left and right chain adjuster locknuts.
Turn the lock nuts evenly to loosen or tighten the chain slack. If you can't tighten it enough, then the chain is worn and has to be replaced.
Tighten the adjuster locknuts.
Tighten the axle nut (98 Nm / 72 lb-ft torque)
Re-check the slack to make sure it's still within spec after tightening everything up.
Tire sizes and pressures for the Ninja 400
The manual specifies the following tire sizes, pressures, and brands (that it ships with, though people rarely stick with them).
Stock, the Ninja 400 ships with Dunlop Sportmax GPR tires, but you can fit any street/sport hoops to it.
| Tyre | Size | Tire pressure (cold) |
| --- | --- | --- |
| Front | 110/70R17 M/C 54H | 200 kPa/28 psi |
| Rear | 150/60R17 M/C 66H | 225 kPa/32 psi |
Kawsaki Ninja 400 tires and tire pressures
Alternatives to the Kawasaki Ninja 400
The Kawasaki Ninja 400 is an awesome motorcycle — lightweight, reliable, and versatile.
But if you're looking at it, you're likely looking at one of the other motorcycles in the same class of entry-level sport bikes.
The Honda CBR500R is a highly versatile, capable, attractive, and reliable everyday sport motorcycle, based on the indomitable 471 cc parallel twin that powers a range of Honda motorcycles.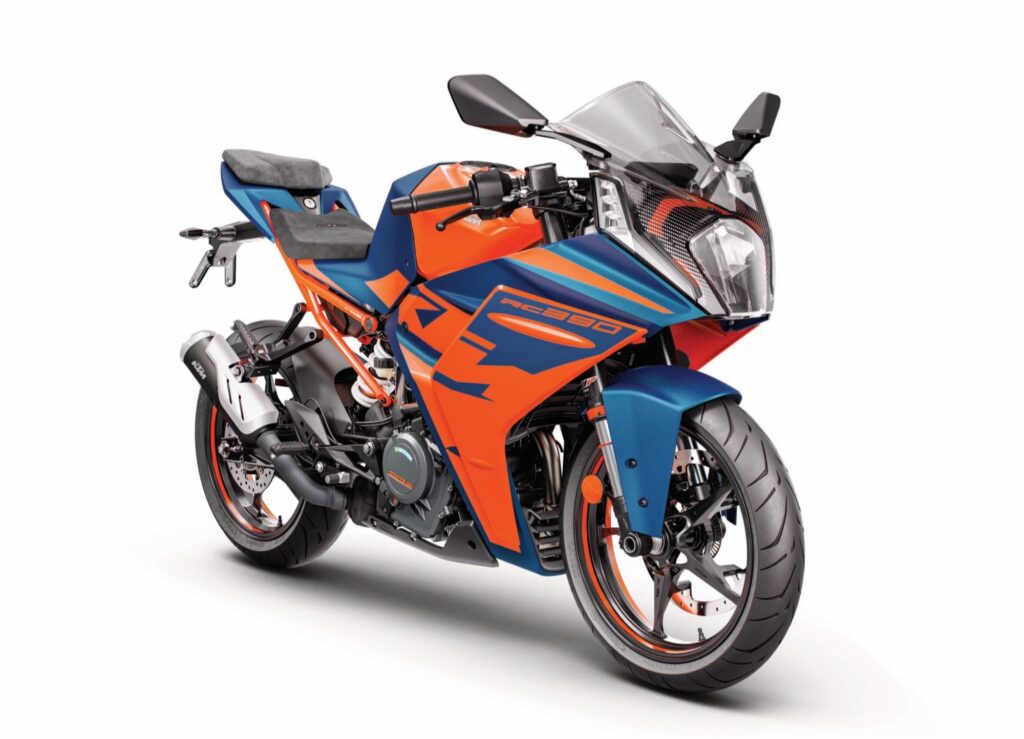 The KTM RC 390 is a surprisingly high-spec entry-level bike. It's powered by a peppy single-cylinder 373 cc engine that makes 32 kW / 43 hp at 9500 rpm. But the special bits of the RC 390 is that it packs in adjustable suspension, a slipper clutch, a TFT display and even cornering ABS since the 2021 model with a kerb weight of 172 kg / 379 lb. Plus, it looks great.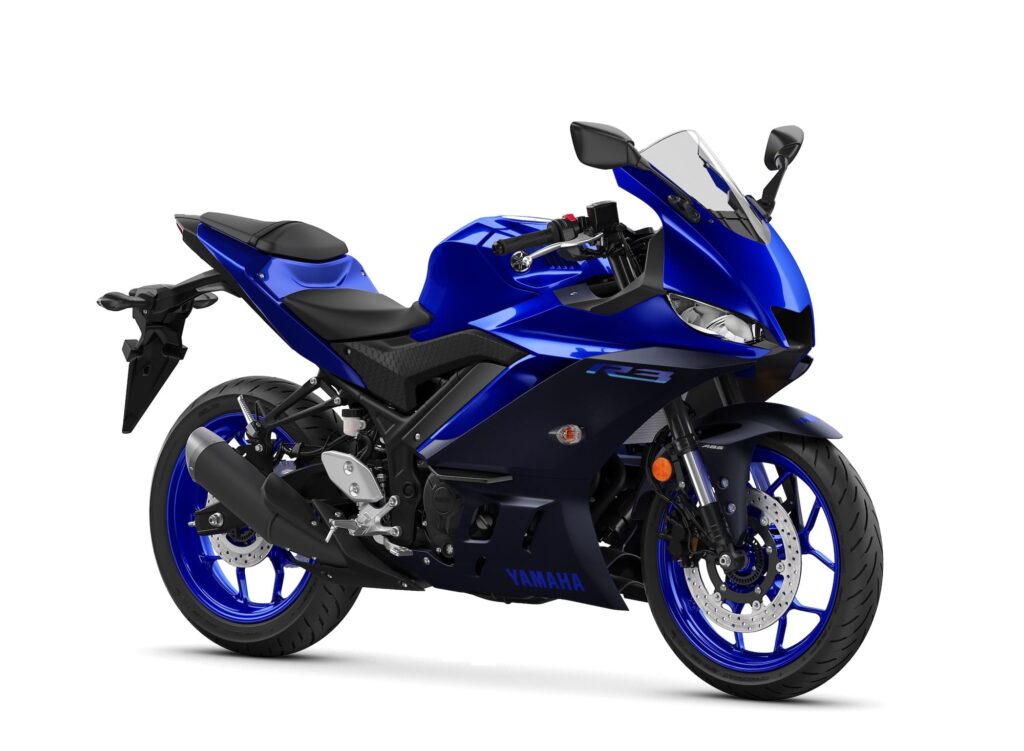 The Yamaha YZF-R3 is based on a 321 cc liquid-cooled parallel twin motor that makes peak power of 31 kW / 42 hp at 10750 rpm. It's happy to rev, lightweight (with curb weight of 167 kg), and generally has a good balance of fun and affordable for a lot of learner riders or track day hobbyists.
You might also consider the Kawasaki Ninja ZX-4R or ZX-4RR. This isn't an entry-level sport bike, despite its sub-400 cc capacity… it's modestly high-power, high-spec, and isn't cheap. But for people looking for a track day weapon to have fun on, it's a solid contender.
Other Related Motorcycles
If you're interested in the Kawasaki Ninja 400, you're probably also considering the Kawasaki Z400.
The Kawasaki Z400 is largely the same bike as the Ninja 400, just in naked bike format. The riding experience on both is very similar. The major difference is that the Z400 has a handlebar and no fairing, which means a riding position that is as good as it is for city riding as it is for fun on weekends, and there's less stuff around the bike in general. The Ninja 400's fairing and windscreen make it a better place to be at high speeds or on the highway, though.
References
The above information came from a mix of the owner's manual, service manual, press releases, and forum information for the Ninja 400.
Below you can see a screenshot of the maintenance schedule from the manual for the Kawasaki Ninja 400, for reference.
You can also download the owner's manual from here: Kawasaki Online Owner's Centre.
Below is an archive copy of the owner's manual.