This is notes from the manual of the Kawasaki Ninja ZX-4RR, sourced from the owner's manual and other online repositories. The Kawasaki ZX-4RR is also known simply as the ZX-4R in some markets.
The Kawasaki ZX-4RR is a compact supersport-style bike with high-power liquid-cooled inline four-cylinder engine. It's unusual because even though it's under the maximum capacity restrictions for learners in many places (660 cc), it makes enough peak power that it is not LAMS or A2-legal.
I compile information like this on motorcycles to help current and prospective motorcycle owners (including myself!) Below you can find information on the maintenance schedule and service intervals for the ZX-4RR, as well as parts you need for a standard service, guidelines for basic services like oil changes, chain maintenance, and torque specs.
Note: Motofomo is reader-supported. If you buy some of the products that we link to, we may earn an affiliate commission, which otherwise goes to the marketplace (e.g. Amazon).
Are you obsessed with motorcycles?
Well, I am. That's why I created this site — as an outlet. I love learning and sharing what others might find useful. If you like what you read here, and you're a fraction as obsessed as I am, you might like to know when I've published more. (Check the latest for an idea of what you'll see.)
Kawasaki Ninja ZX-4RR specifications
Here are the core specifications for the Ninja ZX-4RR, along with some notes.
Item
Kawasaki Ninja ZX-4RR specs
Notes
Engine type
Inline four-cylinder, liquid-cooled, dual overhead cams, 4 valves per cylinder
No other current motorcycle with this small a 400-cc engine
Capacity
399 cc
Bore x stroke (mm)
57.0 x 39.1
Compression ratio
12.3:1 per manual
12.4:1 per press release
Transmission
6-speed, chain drive
Front suspension
37mm inverted fork, SFF-BP, preload adjustability
Rear suspension
Fully adjustable horizontal back-link, BFRC lite shock
Front brakes
2 x 290mm discs, radial monoblock 4-piston calipers
Wet weight
188 kg / 414.5 lb
Similar weight to Yamaha MT-09, Ducati Monster 937
Ride aids
Quick shifter, A&S clutch, TC, ABS, Ride modes
Kawasaki Ninja ZX-4RR specs
Using the Kawasaki Ninja ZX-4RR's Screen and Controls
The Kawasaki Ninja ZX-4RR has a large TFT dash. However, it's useful to know how to use it, especially if you're just going for a test drive.
The Kawasaki Ninja ZX-4RR's display is principally controlled by the big buttons on the left and right, which you can use with a glove on.
Here's how you use it
Task
How
Change background color (black / white)
When the mileage, range, voltage, or stopwatch is shown, press and hold the right button.
Toggle between meter to show
* Odometer
* Trip meter A
* Trip meter B
Press the left button.
Toggle between Right display between
* Current mileage
* Average mileage
* Range
* Average speed
* Total time
* Battery voltage (9-16V)
Press the right button.
To reset
– Trip meter A/B
– Average mileage / speed
– Total time
Push the left or right button and hold.
Enter menu mode, to configure
* Vehicle settings (notably: Shift lamp rpm setting)
* Display (layout modes, brightness)
* Date / Clock
* Service (last date / km and next date / km)
* Bluetooth
* Units
Push and hold left and right buttons. Does not work if in motion.
– Use left button to move highlighted item
– Use right button to shift to next screen (set) or go back (cancel)
Controlling the ZX-4RR's TFT Dash
Kawasaki ZX-4RR Service Intervals
The Kawasaki ZX-4RR has 7600 mile / 12000 km or annual service intervals. At every service, change the oil and filter, as well as all the spark plugs, and check the list of items to inspect.
Every 15200 miles or 24000 km, check the valve clearances.
You need to change the brake fluid every two years, and the coolant every three years.
As the ZX-4RR is a sport bike, it's likely to spend a lot of time high up on the odometer! If you do tend to wring it out, you need to service it more regularly.
Kawasaki ZX-4RR Maintenance Schedule
Below is a clarified version of the maintenance schedule of the maintenance schedule from the manual.
The Kawasaki ZX-4RR maintenance schedule is easier to parse when broken into three separate sections:
A daily maintenance checklist
A periodic maintenance schedule, and
An annual service checklist.
Daily Inspection Checklist
This is the daily inspection checklist for the ZX-4RR. Do this before every ride.
Many of these items you'd naturally do by starting to ride, e.g. confirming that the brakes and clutch work. But you should specifically check the fluid levels periodically.
Daily checklist
Oil level between level lines
Tires — Check the air pressure (when cold), install the air valve cap, and check tire wear
Front min tread: 1mm
Rear min tread: 2mm, or 3mm for track / sport riding
Drive Chain — Check lubrication condition and eyeball the slack (25-35 mm / 1.0-1.4 inches). (See below for drive chain maintenance notes.
Bolt, nuts and fasteners: Check for loose and/or missing bolts, nuts and fasteners
Steering: Action smooth but not loose from lock to lock
Control cables: Check for no binding
Brakes: Check brake pad wear, brake fluid level, and that there's no brake fluid leakage
Minimum pad thickness: 1mm
Front brake pads part #: 43082-0206
Rear brake pads part #: 43082-0185
Throttle: Make sure throttle grip operates smoothly
Clutch lever: Make sure it operates smoothly, with correct play
Electrical equipment — Check that Al lights (head, city, brake/tail, turn signal, license plate, warning/indicator), meter and horn work
Engine stop switch: Ensure it stops engine
Side stand: Ensure the spring is not weak and that it's lubricated, and that the side stand returns to and stays in its top position
Rear view mirrors — Check / Adjust
Kawasaki ZX-4RR daily checks
Service Schedule
Below is the service schedule of major items for the Kawasaki ZX-4RR.
Observe the earlier of time-based or distance-based service intervals.
mi x 1000
0.6
7.6
15.2
22.8
30.4
km x 1000
1
12
24
36
48
Every
Annual inspection checklist (see below) — Perform
✓
✓
✓
✓
✓
Year
Engine oil — Change (Motul 7100 10W-40 or another similar grade JASO MA motor oil)
✓
✓
✓
✓
Year
Oil filter — Change (HF204RC)
✓
✓
✓
✓
Year
Air cleaner (air filter) element — Change
Part: 11013-0812
✓
✓
Spark plugs — Change (NGK LMAR9G)
✓
✓
✓
✓
Valve clearances — Check / Adjust
✓
✓
Idle speed — Check
Target: 1400 +/- 100 rpm
✓
✓
✓
✓
✓
Air suction system — Check
✓
✓
✓
✓
Engine vacuum sync — Check / adjust
✓
✓
✓
✓
Fuel filter — Replace
✓
✓
Rear suspension — Lubricate
✓
✓
Steering stem bearing — Lubricate
✓
✓
2 years
Brake fluid — Replace (Castrol DOT 4)
2 years
Coolant, hoses, and O-rings — Replace
3 years
Brake hoses and rubber parts of brake master cylinder and caliper — Replace
4 years
Fuel hoses — replace
5 years
Evap emission control system — Check / replace components
✓
✓
Annual Inspection Checklist
At every regular or annual inspection, first perform every item in the regular inspection checklist (above). This is important if you haven't ridden the bike, as many of the items above are naturally performed when you use the bike (e.g. checking the brakes and clutch work correctly, and that the clutch and throttle have the right amount of play).
Kawasaki ZX-4RR Annual Inspection Checklist
Regular / daily inspection checklist — Perform all items
Fuel system — Check for leaks and correct routing
Cooling system — Check for level, leaks and correct hose routing
Brake operation — Check effectiveness, and ensure there's no drag
Steering — Check bearing for play
Chassis parts — Check for lubrication condition and general condition. Lubricate / Replace if necessary
Front and rear suspension — Check for smooth operation, and that there is no pitting, leaks, or damage
Wheel bearings — Check for smoothness / damage
Bolts, nuts, and fasteners — Check condition and tightness of all bolts, nuts, and fasteners
Kawasaki ZX-4RR Annual Inspection Checklist
ZX-4RR Drive Chain Maintenance
You should regularly clean and lubricate the chain. Kawasaki recommends doing this according to the following schedule:
Chain maintenance item
Every
Clean and lubricate chain (Motul Chain Lubricant)
400 mi / 600 km
Check chain slack and adjust if necessary
(See below for notes)
600 mi / 1000 km
Kawasaki Ninja ZX-4RR Chain Maintenance Schedule
On the Ninja ZX-4RR, chain slack is measured as free vertical play of the chain.
To measure chain slack
Put the motorcycle on its side stand on a level surface
Find the center of the bottom part of the chain. Move the chain up and down with something like a screwdriver (or your hand with a glove on it. You ever tried to wash off chain grease?)
Measure the deflection between the top and bottom position — measure from the centre of the chain pins.
Target chain slack for the Kawasaki Ninja ZX-4RR: 25-35 mm (1-1.4 inches)
If the chain slack is out of spec, you have to adjust it.
To adjust chain slack:
Remove the rear axle's cotter pin, and loosen the axle nut.
Loosen the lock nuts on the adjusters.
Tighten or loosen the lock nuts to move the axle back or forth. Check the reference marks, and make sure that the axle is positioned equally on both sides.
Tighten the axle to 98 Nm / 72 lb-ft
Tighten the lock nuts.
Tire Sizes and Pressures
The Kawasaki Ninja ZX-4RR ships with Dunlop Sportmax type tires.
Below are the wheel sizes, tire sizes, and the recommended tire pressures (optimising for longevity).
| Wheel | Rim size | Tire size | Tire pressure (cold) |
| --- | --- | --- | --- |
| Front | 17 M/C x MT 3.50 | 120/70 ZR 17 M/C (58W) | 32 psi / 225 kPa / 2.25 bar |
| Rear | 17 M /C x MT4.50 | 160/60 ZR 17 M/C (69W) | 36 psi / 250 kPa / 2.5 bar |
Kawasaki Ninja ZX-4RR tire sizes and pressures
Tightening Torque specs
Below are torque specs that are publicly available. As more become available, more will be added.
| Item | Nm | lb-ft |
| --- | --- | --- |
| Engine drain bolt | 30 | 22 |
| Oil filter | 17.5 | 12.9 |
| Rear axle nut | 98 | 72 |
Kawasaki Ninja ZX-4RR torque specs
About the Kawasaki Ninja ZX-4RR
In brief, the Kawasaki Ninja ZX-4RR is a return of one of the most exciting class of motorcycles — the 400 cc supersport. Kawasaki announced it in February 2023, and it arrived soon afterwards.
The core of the Kawasaki ZX-4RR is a high-revving small-bore inline four-cylinder engine. In European spec, it's tuned for a lot of power, peaking at 77 PS / 57 kW at 16000 rpm. It makes even more power with ram air!
Unfortunately in some markets (e.g. the US) it's restricted significantly. So a tune (maybe with an exhaust) can unlock it.
The rest of the ZX-4RR is very high-spec. It has dual front discs with radially-mounted, monoblock calipers, fully adjustable rear suspension, and a comprehensive suite of rider aids, even including a standard quick shifter. The ride aids stop short of cornering ABS, though.
The level of tech and the high power make the ZX-4RR distinct from the other darling of the 400-cc inline four world, the Honda CB400, which is no longer in production.
In terms of weight, the Kawasaki Ninja ZX-4RR is lightweight without as being as light as the Kawasaki Ninja 400, its learner-legal sibling. In fact, its wet weight is similar to higher-power naked bikes, like the Yamaha MT-09 SP, or Ducati Monster 937.
So if you're looking for a high power-to-weight ratio, this isn't the be-all and end-all of sport bikes. But it definitely provides a very unique experience.
The engine has a lot of high technology inside it to enable the ZX-4RR to be high power with linear power delivery from a small engine.
The short 39mm stroke helps the engine rev highly and easily, as do the cast aluminium pistons, molybdenum-coated piston skirts, die-cast cylinder, and chrome plated cylinder bores.
Kawasaki borrowed tech from the big-sibling ZX motorcycles for the Ninja ZX-4RR. Kawasaki took the intake design from the ZX-10R, giving the Kawasaki Ninja ZX-4RR two-stage machining on its intake ports, to create a straighter and wider intake path for smoother airflow.
Kawasaki use the same ECU platform as the high-power Z H2 motorcycle (one of the Ninja / Z H2 series) to control the rider support systems.
Initial ride reports of the Kawasaki Ninja ZX-4RR (in detuned spec) expectedly say that it's a little lack-luster in the low RPM range as well as high. It weighs and handles like a 600-cc supersport (with maybe 10kg less weight), but it produces significantly less torque through the entire rev range.
However, it can be woken up with some simple modifications and a dyno tune — see below.
Nonetheless, the ZX-4RR is sure to be a future classic!
Modifications for the Kawasaki Ninja ZX-4RR
The US-delivered tune of the ZX-4RR is quite muted, with top-end response restricted through the ECU.
On the US-spec Kawasaki ZX-4RR, at the rear wheel, people measure typically around 35 kW / 50 hp at peak. This isn't a small amount of power, but what's shocking is that a tune alone increases it significantly. With a couple of simple mods including an air filter, a slip-on exhaust, and a dyno tune, tuners report being able to increase peak power by 50%, as well as increase torque through the whole torque curve.
The ZX-4R as delivered elsewhere does not have the same restrictions, but would still be responsive to a tune with modifications.
Alternatives to the Kawasaki Ninja ZX-4RR
Currently, there are no other high-spec middleweight four-cylinder sportbikes on the market.
The principal alternatives to the ZX-4RR are
The Kawasaki ZX-6R 636, which was updated in 2024 with a TFT display, ride modes, and re-designed fuelling
The Kawasaki ZX-25R, a high-power four-cylinder sport bike with an even smaller engine. Sadly, it's not available in every market.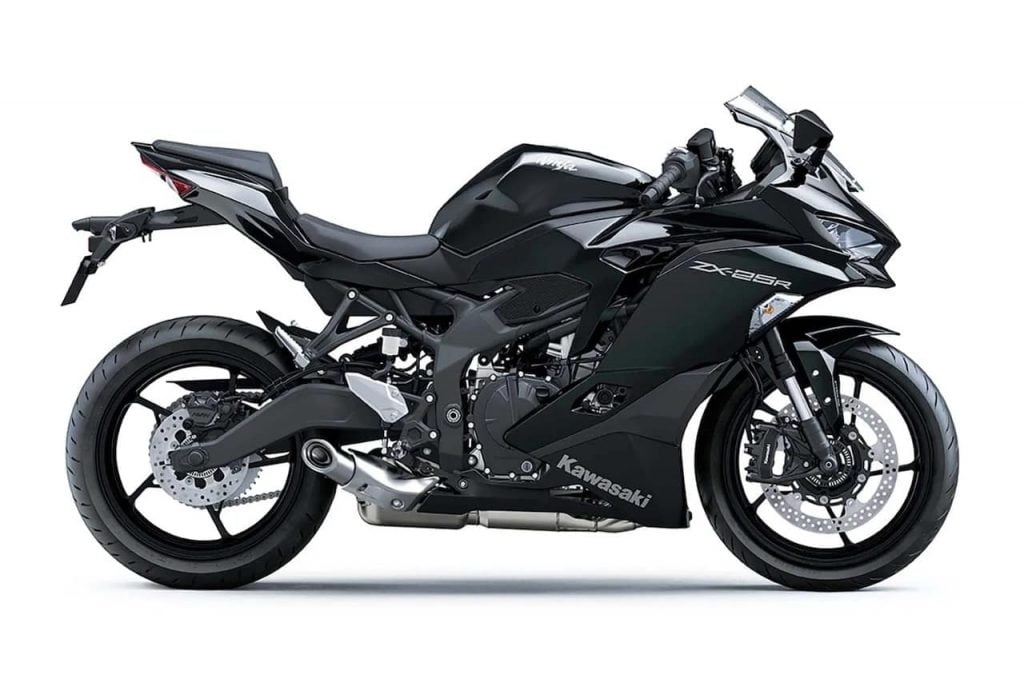 Previously, Honda made the CB400SF, a naked four-cylinder 400-cc motorcycle, but it's no longer available outside Japan.
Kove, a Chinese company, has also revealed the 450RR, a similarly high-spec inline four-cylinder sport bike. It's not available in most markets yet, but on paper it looks promising, with a 443 cc inline four that makes 52 kW / 70 hp at 13000 rpm, with adjustable suspension, and a very light 165 kg / 364 lb kerb weight (wet weight), quite a lot less than the ZX-4RR. Also, winglets!
Reference — Owner's Manual for the Kawasaki Ninja ZX-4RR
The above information was sourced from the owner's manual for the Kawasaki Ninja ZX-4RR. You can browse it online, but you can also download a PDF copy below.
See the screenshots of the maintenance schedule for a second reference.
You can also view or download the manual for the Kawasaki Ninja ZX-4RR in pdf form below.