The Zero SR/F is the first electric motorcycle from Zero that is actually a motorcycle first, and electric second. Here's everything you need to know about the Zero SR/F: real-world range, real-world charging times, what it's like to ride, maintenance, and more.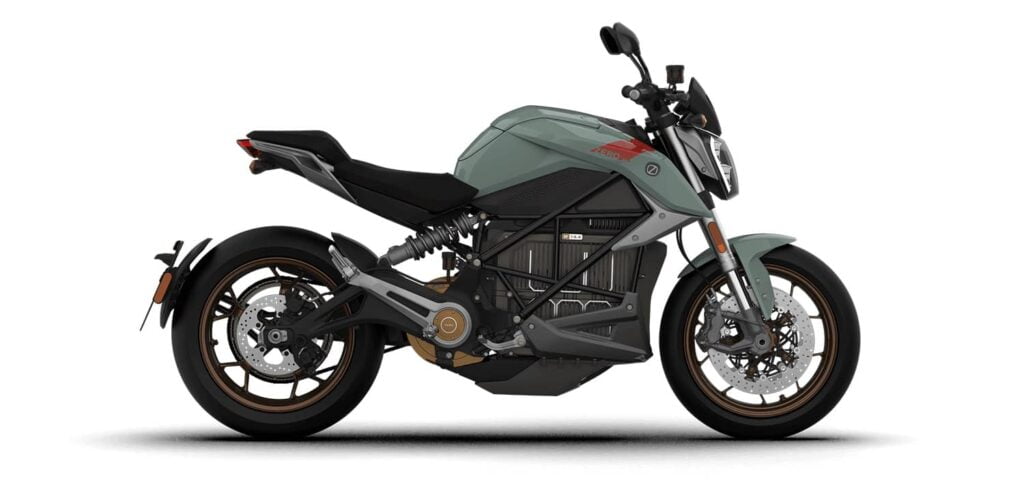 As Sam Paschel, Zero's CEO put it: "The first three things people ask about an electric motorcycle are always: how far will it go, how fast can it go, and how long does it take to recharge?"
Let's try to answer those questions (and many more) about the Zero SR/F.
Are you obsessed with motorcycles?
Well, I am. That's why I created this site — as an outlet. I love learning and sharing what others might find useful. If you like what you read here, and you're a fraction as obsessed as I am, you might like to know when I've published more. (Check the latest for an idea of what you'll see.)
Why you should consider the Zero SR/F in brief
Zero is the longest-running mass-producer of electric motorcycles.
Zero launched its first electric motorcycles in 2009 (production in 2010) with the first Zero S — but a lot has changed since then.
Firstly, their motorcycles have several multiples the power and the range, as well as being more versatile.
And in addition, they've led the way: now bigger players are moving into its territory.
Harley-Davidson launched its battery-powered LiveWire and now an independent brand. Ducati's CEO says "the future is electric." Kawasaki has patents that indicate a similar world-view.
The Zero SR/F is a very nice looking machine, the best-looking one Zero has produced in many opinions.
It was designed to look great from the beginning (unlike the previous model, the Zero SR, where industrial designers were called in "at the end of the project").
"Man, that is a sharp-looking machine." – Cycle World
The Zero SR/F very fast, with a dyno 0-60 mph of 1.6 seconds (real world time, with wind resistance, is around 3+ seconds). It's the fastest Zero motorcycle they've produced, and one of the fastest electric motorcycles in the world — about as fast as the Harley-Davidson LiveWire.
Aesthetically the SR/F looks something like a blend of Japanese middleweights, like an FZ-07 at the front end with a nice-looking frame from a modern third-generation Suzuki SV-650.
Specs of the Zero SR/F
Never mind the bollocks; here come the numbers.
Power: 82 kW (110 hp) @ 5,000 rpm — roughly like a 900cc sport standard. But this doesn't tell the whole story. Cycle World's test shows 102hp at the rear wheel.
Torque: 110 Nm (140 lb-ft) @ 5,000 rpm. This is more than… just about any motorcycle on the market! (Cycle World's test showed 132 lb-ft from just 1,350 rpm)
Weight: 226 kg. This is 32kg heavier than a fully-fuelled MT-09.
Zero-60 mph (0-98 km/h): 1.57 seconds in sport mode, faster than anything else on the market
Top speed: 200 km/h (124 mph). But you can't sustain that speed, as the motor can't sustain full power.
Range: 125 kms (80 miles) in a real-world day of mixed riding
MSRP: $18,995 USD; $20,995 for premium. Price in the UK: 18,490 GBP, or +2,640 for Premium.
Safety features: Bosch cornering ABS (amazing), traction control, and drag control torque. ABS/TC are not switchable
Ride modes: Sport, Eco, Street, Rain
Available: US, UK, Europe (not Australia, Africa, Middle East)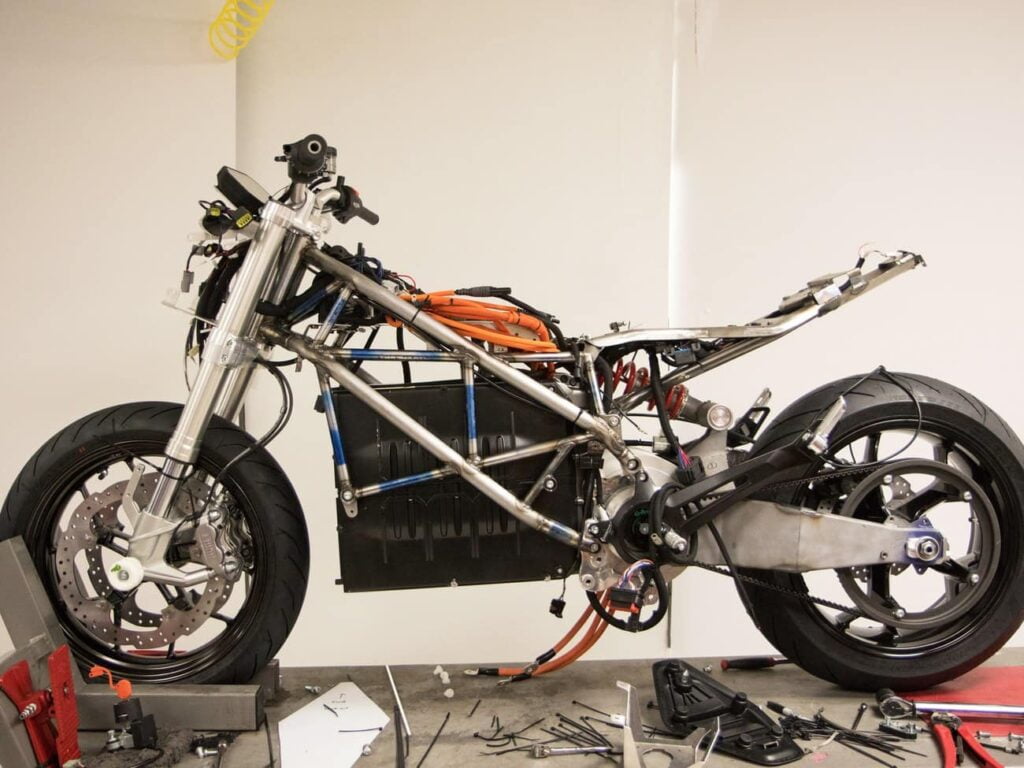 Zero SR/F vs the previous Zero SR: Specs compared
Power increase by 40hp (the Zero SR made 70 hp)
Torque increase by 24 lb-ft (the Zero SR made 116 hp… still ludicrous!)
Top speed increased by 22 mph (the Zero SR made 102 mph)
What's the Zero SR/F like to ride?
Most reviewers describe the Zero SR/F as very easy to ride. It's also described as "quick" and very smooth. The electric motor is quick, deceptively so, and drama-free. When you accelerate hard you just get the slightest tingle through the handlebars. There are no distractions — you just ride.
What it feels like to ride depends a lot on its mode. The ride modes include Sport, Eco, Street and Rain. In practise, most reviewers went between Eco and Sport (all on or all-off, I guess). You can also program in your own ride modes.
In Rain mode, the delivery is very sensible, "very manageable".
In Eco mode, it gets the job done — keeping up with traffic and keeping up highway speeds. The most notable change in Eco mode is the aggressive regenerative braking, which helps to recharge the battery and keep you going longer. You can modify this in settings if you find it too aggressive.
In Street mode, it's described as "roughly like riding a Yamaha MT-07". The throttle is quicker, but not snatchy, and despite being limited compared to sport mode, has a crazy amount of torque. Unlike sport mode, you can't accelerate to full power — but you'd only notice if you hold the throttle wide-open for a while. Street mode still has regenerative braking when you close the throttle, though it's more subtle, doesn't come on until the throttle is close to closed.
In Sport mode, your arms get ripped out your sockets. (See below, "How fast is the Zero SR/F?"). In sport mode, no power is held back, and almost no regenerative braking is applied.
"This is a Monster 1200 on steroids that's much easier to ride for the simple reason that you're always in the right gear." – Alan Cathcart, Morebikes
In truth, the Zero SR/F is not a brutal monster like the Yamaha MT-10, ready to buck and roar at any moment. It's a thrilling bike to ride, but the power is predictable and safe.
Power delivery is all in the middle of the band. It doesn't have the peaky power delivery of an inline four like a Yamaha R6 (see that article to see how the torque curve leaps at around 8-9,000 rpm).
"Yes, if you're used to riding an ICE motorcycle with a peaky power band, you may miss the moment when the bike seems to jump into light speed, but what you gain at every other speed with the SR/F is well worth it. Instant torque is addicting!" – Motorcycle.com
In terms of weight: the Zero SR/F is pretty heavy for a motorcycle in its power class at 226 kg (most are around the 200kg range, e.g. the Yamaha MT-09 has a claimed 188 kg wet weight), but most of that weight is down low (unlike motorcycles with high-up fuel tanks). This means it's easy to ride, even for new-comers to riding (if you don't have license restrictions in your country, like in the US).
The riding position of the Zero SR/F is like a middleweight naked, like a Ducati Monster — bars are a little forward, somewhat streetfighter-like. Not an upright standard like a Yamaha MT-07 or Suzuki SV-650. But still, easily comfortable enough to get to the end of the battery range with no fatigue.
The seat is 79cm (31 inches) high. This means if you have a 31-inch in-seam, typical of someone about 5'10 (177cm), your feet will be flat on the ground. Zero can modify this for you to be between 30.3 inches (flat-footed at 172 cm or 5'8) and 31.9 inches (for taller folks).
But how fast is the Zero SR/F?
It's fast. It's real fast.
To find out, you have to go into "Sport" mode.
In Sport mode it's "more like an MT-10 in terms of immediate punch". But it's MUCH faster. If you crank the throttle on a Zero SR/F, you can pull a 0-60 mph (0-98 km/h; basically 0-100 km/h) in 1.57 seconds according to Cycle World's tests on street tyres!
The Zero SR/F's 0-60 time compared to a few other vehicles (from Wikipedia's stats:
2019 BMW Z4 M40i (the car my brother wants): 3.9 seconds
Suzuki Boulevard M109r BOSS (the fastest current cruiser): 3.7 seconds
Harley Davidson VRSC V-rod (the "fastest Harley", no longer produced): 3.7 seconds (from forum tests, maybe faster)
Porsche 911 GT3 RS: 3.0 seconds
Harley Davidson LiveWire (the $30,000 electric Harley): 3.0 seconds
Honda CBR600RR (recent model, but similar to previous/other 600ccs): 2.9 seconds
Ferrari LaFerrari (hybrid supercar): 2.5 seconds
Tesla Roadster 2020 (the "fastest production car"): 1.9 seconds
Zero SR/F: 1.6 seconds
That's fast, too fast to be remotely practical. But it's nice to know the power is there!
Of course, if you hold on to the throttle near maximum, your range will probably be significantly south of 50 miles. (Similarly, the Tesla Roadster's range plummets if you drive them at speed, as does any vehicle's.)
What the power and torque of a Zero motorcycle mean in reality
What do you get when you combine
The power and weight (84 kW/110hp @ 226kg/498 pbs) of a mid-range sport standard, like a Kawasaki Z900RS (82kW/110 hp @ 215kg/474 lbs), and
More torque than any other motorcycle on the market??
First, let's look at the torque and power curve. It's so different to other motorcycles!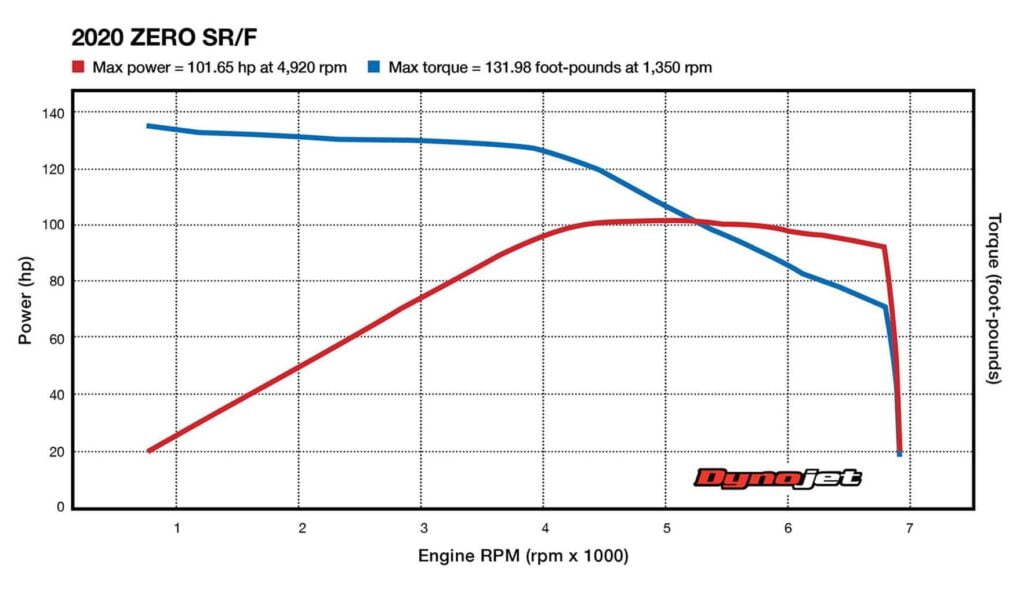 In terms of torque delivery the Zero SR/F motorcycle pulls like a maniac in the low-midrange, but won't scream as high as a four-cylinder motorcycle. It's a bit like riding a motorcycle with the torque of a Harley in the low-end, and the mid-range power of a Yamaha XSR900, in sport mode; or an XSR700 if you leave it in "Street" mode.
Compare this with the torque curve of the similar (in terms of power/weight) Kawasaki Z900RS (one of the "Eddie Lawson" replica series of motorcycles):
Torque for the Z900RS peaks around 65 lb-ft; this is pretty typical of mid-size standard motorcycles (give or take 20%). It's about half of what the Zero SR/F produces. It also really only comes on from about 2,500 rpm.
In theory I think this means you could run a Z900RS entirely in second or third gear, by the way. You may not need that gearbox after all! But you'll still need a clutch as the torque does not come on from near zero.
Remember, power = torque * speed (or rpm). This means that a lot of torque at medium RPMs makes the same power as a little torque at high RPMs.
Many people think that an electric motorcycle has all of its torque available from the bottom. This isn't true at all, for two main reasons.
Firstly, no motor of any kind can deliver all its torque from the absolute bottom.
Just like there's no perfectly flat torque band in an internal combustion engine, there's also no perfectly flat torque band in electric motors. You can't build a perfect machine.
That said, the torque of the Zero SR/F comes on from VERY low. Even though Zero lists peak torque at being from 5,000 rpm, Cycle World's test showed it coming on at full torque of 132 lb-ft at just 1,350. This is lower than any other motorcycle produces full torque. And torque does indeed start building from very low.
By comparison, here are the torque figures of a few other streetfighter/hyper-naked:
Yamaha MT-10: 112 Nm/82 lb-ft
Ducati Monster 1200: 118 Nm/87 lb-ft
Harley-Davidson Fat Boy (a cruiser, but a beastly torque generator): 144 Nm/106 lb-ft
Zero SR/F: 160 Nm/118 lb-ft
That's a LOT of torque. Enough to flip you upside-down in a jiffy, especially considering the Zero is a lot lighter than a Fat Boy.
Secondly Zero tempers the torque band of its motorcycles (as does every manufacturer) so you don't flip the motorcycle over by accident.
This is common even in the internal combustion engine world. You've heard of things like traction control, wheelie control, ride-by-wire, throttle tamers and so on… they're all so that our clumsy analogue human hands don't send us into the stratosphere.
What it feels like to have "range anxiety"
Nearly every reviewer talks about "range anxiety".
This is a mixture of things, including remembering to switch ride modes, planning routes very carefully between charging stations, and never really unleashing the full performance of the throttle.
There are four ride modes, and the amount of torque delivered and regenerative braking applied varies a LOT between them.
Secondly, the Zero SR/F's range depends a lot on the speed at which you're going. Range in the city in stop/start traffic is very different to range on the highway. To maximise range, you have to maintain a steady throttle, not using the power you have. And that gets frustrating.
"What fun is it going 55 mph with all that power on tap?" – Cycle World
When riding day to day, you don't have anxiety.
Some reviewers noted that they only actually had to charge once a week or so if using the Zero only for inner city commuting.
"My daily experience of charge time is that it is no longer than the time it takes me to plug in a Level 2 cable at night and unplug it in the morning – essentially less than a minute total." Motorcycle.com
Should you get the premium model of the Zero SR/F?
Yes. The main reason is you want that fast charging. It will make the Zero SR/F immensely more practical for weekend scratching and the occasional trip.
The premium model has:
A 6kW internal charger (vs 3kW internal charger standard), meaning a 0-100% charging time of 2.5 hours vs 4.5 hours (it's not totally linear)
Fly screen
Heated grips
Aluminium bar ends (ooh)
"Wait, won't using heated grips reduce range?" Sure. Using the heated grips on a Zero will reduce the range "by about a football field", according to the Zero engineers. They do draw current, but there's more than enough available!
What's the real-world range of the Zero SR/F?
In real world riding, a mixed day of city, highways, and spirited back-roads, people generally say the range of a Zero SR/F is comfortably about 125 km a day, or 80 miles.
It will do more than that, but you'd be close to empty. So, this range is based on not planning on reaching exactly 0% between refills.
In practice, the Zero is fine for a commute to and from work, including a mix of highway and city time, or for some short-term weekend scratching of around 2 hours for a whole trip. But it's not great for long distance travel unless you limit yourself to about several stops of about 150 km (90 miles) per day, with a few hours for charging in between.
Most reviewers I've read are from the US or UK, so quote distances in miles.
"The battery dropped from 90% to 25% after 50 miles of A-roads in eco mode, and the occasional twisty lane in sport." – Motorcycle News (implied range: 76 miles of highways + twisties, eco/sport)
"[After] a quite brisk, flowing (i.e. little braking) 35-mile sprint using predominantly Eco mode and occasionally Sport mode, then another 8 miles using only the sport mode, I had traveled 43 miles and used 42% of the available charge." (Adventure rider, 1) (implied range: 102 miles, mixed eco/sport)
"Our ride was approximately 70 miles, including city traffic, mountain thrashing, photo-shoot passes, high-speed sections (including a top speed run" and highway riding. After all of that we returned with the SOC at 30%." (Motorcycle.com. Implied range: 100 miles, mixed)
"I then rode an additional 36 miles in sport mode back to my home. By the time I got there, the charge had fallen [from 84%] to 32%." (implied range: 69 miles on sport mode)
"This time I rode 70 miles using a combination of all modes. When all was said and done, the bike still showed a 25% state of charge." (implied range: 93 miles, combination)
"I'd have no real worries doing a typical 80 mile commute of city-centre and dual carriageways; I really did push the bike on the back roads, but coming home on the A1 I kept the speeds sensible." – Bennets
Claimed range of the Zero SR/F is:
City riding (stop/go): 161 miles
Combined city/highway: 123 miles if you do 55 mph on the highway; 109 miles if you do 70 mph on the highway
Just highway (touring): 100 miles at 55 mph, 82 miles at 70 mph
What's the real-world charging time of the Zero SR/F?
Zero SR/F charging time depends on the configuration you choose.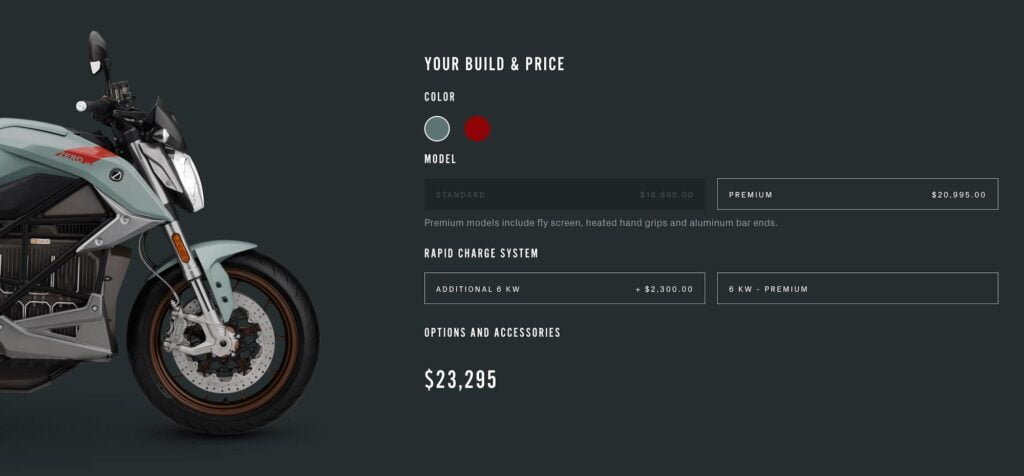 There are four charging configurations the Zero SR/F: Base (3 kW), Premium (6 kW), Base + Rapid Charge (9 kW), and Premium + Rapid Charge (12 kW).
To take advantage of the faster charging options, you need a charging port that can deliver the current. A wall socket at home can only charge at the base speed of 3kW.
An extra optional "Rapid Charge" system is available for $2,300 extra, which will raise total charging power to 12 kW. To charge at this rate, you need to use a charging station that can provide that much power (and they're increasing in number rapidly).
If chargers worked linearly, a 6kW charger would charge a 14.4kW hour battery in exactly 14.4/6 hours, or 2.5 hours. But charging isn't totally linear. The first 95% is charged slightly faster, and the last 5% slightly slower, a method used to not overcharge the battery (and preserve battery life). So often, charging times are quoted as the time to reach 95%.
Zero SR/F charging times (fastest, claimed):
Standard trim (3kW): 4 hours to 95% charged (24%/hr)
Premium trim (6kW): 2 hours to 95% charged (48%/hr)
Standard trim with rapid charge (9 kW): 1 hr 12 minutes to 95 % charged (71%/hr)
Premium trim with rapid charge (12 kW): 1 hour to 95% charged (95%/hr)
In all cases, add 30 minutes to reach full charge.
Remember, you need a power outlet capable of delivering that current to use the fastest charging system. Even if you have a premium SR/F with the rapid charge system, you'll only be able to charge at the rate that the power outlet provides.
Zero SR/F charging time (real world) experiences:
Tests by reviewers were all with the standard 14.4 kWh battery capacity and the premium model's 6kW charging system.
"I hooked up to the charger and 33 minutes later, the charge had recovered [from 58%] to 84%." (26% in 33 minutes; 47%/hour) – Premium model, Adv Rider
"It charged the bike at 2.8 kW, delivering 29A. In the two and a half hours I was there, the bike got back up [from near zero] to just over 70%." Implied 28%/hour. Premium model, standard charging cable. Bennets
To recharge the Zero SR/F you need to carry cables (two of them). There's a Type 2 socket on the motorcycle (the most common type). You'll either need a Type 2 cable or a Type 2 to wall socket cable. The cables are bulky — you can fit one of them into the storage tank, but to carry two, you'd need extra baggage.
Nearly all (90%, per Zero) of the chargers in Europe and the US currently are level 2, so for charging on the road, that's the one to take. Of course, for charging overnight at many hotels, you'll need a wall socket cable… so if you pack for a road trip, that's what you'll need.
What does the Zero SR/F sound like?
Electric motorcycles aren't totally silent. I mean they are compared to a roaring Ducati Monster, but they make their own distinctive sound.
At rest, there's nothing you can hear. This is unlike the Harley Davidson LiveWire, for example, which has a "heart beat" pulse that you can feel in the handlebars to remind you it's alive.
First, there's the electric sound of the motor. If you like the roar and snarl of a petrol engine, you'll miss that on a Zero SR/F. You can hear the whine of the motor when it's going faster, but it'll be diminished by the sound of the tires and the wind.
Secondly, sound of tires. The most noise you'll hear is the hiss of the tires on the road.
Thirdly, for the rider, the wind sound. At speed, this is all you'll hear.
People love the sound of motorcycles (guilty), but there are some huge advantages to silence: stealth!
I went hard towards a village on the way to Stevenage, but when passing a guy tending to his garden I felt good about not disturbing him. If there'd been a police biker there, he'd have had a very good idea what speed I was doing on a petrol-powered bike by the exhaust note and shift sounds. – Bennets
Here's a good video showing what the sounds of a Zero motorcycle are like from the rider's perspective:https://www.youtube.com/embed/RZ77_yF-m94?feature=oembedThe sound of a Zero motorcycle (a DS, but it sounds the same as a SR/F)
What's the Zero SR/F's maintenance cost (and running cost)?
Consider the the below costs (in US dollars).
Zero motorcycles need almost no maintenance. The only cost you'll incur in the first five years, assuming you ride it 250 days a year for 50 km/s a day (62,500 kms, or 39,000 miles) is charging ($200) and replacing the tyres ($400).
Compare this to any other motorcycle
Petrol/gas: at 40 mpg, US$4 per gallon (prices will rise): $3,900
Major inspections: ~2 major inspections at $1,000 each ($2,000) – for valves, belts, major fluids.
Minor service: ~4 minor services at $300 each ($1200) (fluids, plugs etc.)
Chain: Changing the chain once: $300
Other costs are similar: registration, insurance, and crash repairs. If you buy a new motorcycle, it's likely an engine failure would be covered by warranty, just like a motor failure would with Zero.
What is a Zero motorcycle's resale value?
Unfortunately Zero motorcycles don't have good resale value. They're a bit like iPhones: very nice items, but much better ones come out every couple of years, with vastly improved power, range, and style.
On Craigslist now:
2017 Zero DS with 14.4 kW battery, 9K miles: $7,490 (was $13,995 new)
2017 Zero SR with 13 kW battery, 2K miles: $10,000 (2as $15,995 new)
So the prices of Zero motorcycles tend to plummet, dropping 30-40% in just two years.
That said, second-hand Zero motorcycles are also fairly rare. So if you buy a second-hand one for a song, it's likely that it'll keep that value for a while.
The second advantage to buying a used Zero motorcycle is that wear and tear on them is negligible. The battery and motor have a life-span of over 100,000 miles, and people generally put very little mileage on them. So about the only things you have to check for are crash damage and tyre wear. (See guides on those in my used motorcycle checklist.)
Zero SR/F vs Harley-Davidson LiveWire vs Lightning Strike
These are the motorcycles the SR/F will most often be compared with.
Zero SR/F vs Harley-Davidson LiveWire — The Brand Pick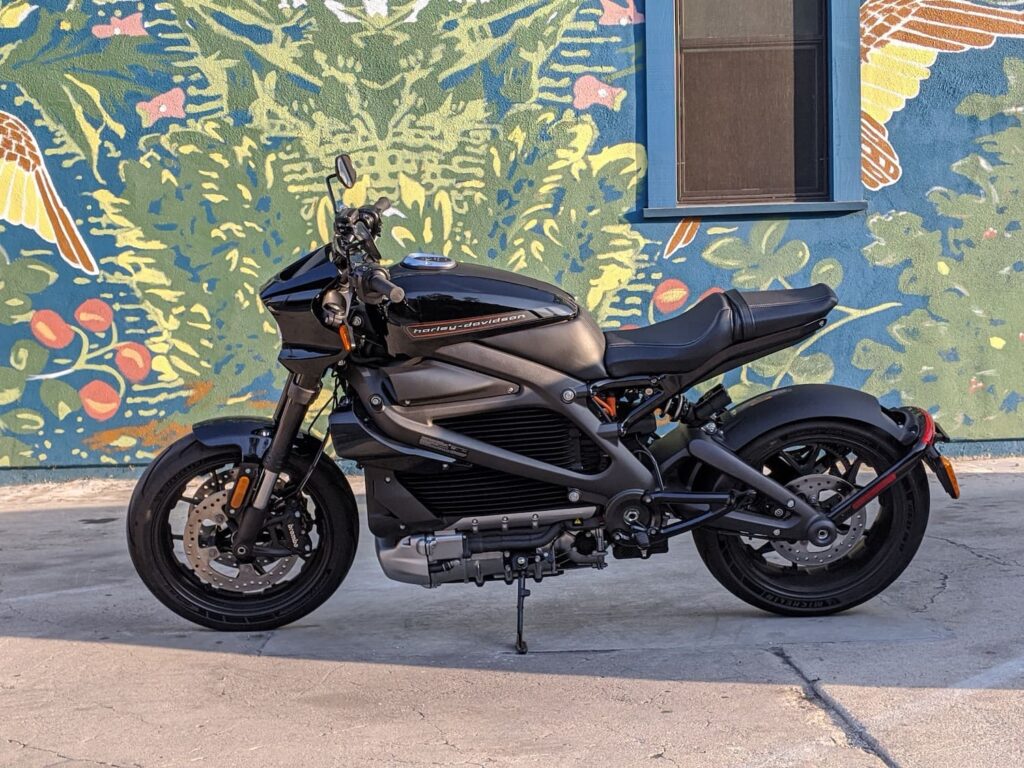 The Harley-Davidson LiveWire has been test-ridden, and specs are being released gradually.
Update — Now I've ridden one too! I wrote a long piece on whether the LiveWire has soul.
Watching initial test-rides on YouTube, people LOVE the massive acceleration, the nimble handling (it carries its weight low), and what it looks like.
The sound is "not quite like a Tie Fighter", according to one YouTube reviewer, but something like a scooter on steroids.
Right now, this is what we know:
The LiveWire cost $29,799 in base form – $10K more than the Zero SR/F
Makes 105 hp (less than the 110 from the Zero)
Makes 86 lb-ft of torque (less than the 140 from the Zero)
Range of 140 miles city driving (20 less than the Zero)
Zero-60 of 3 seconds (on par with the Zero)
Is 248 kg (heavier than the Zero SR/F by about 30kg)
Comes with Level 3 DC fast charging standard (meaning 1 hour for full charge; better than the standard Zero, equal to Zero with premium package + Rapid Charge option)
The thing that's inescapable about the Harley-Davidson LiveWire is that it's coming from one of the oldest motorcycle manufacturers in the world.
This means a huge dealer network, a large pool of fans, and brand recognition that will mean it'll be easier to resell after a couple of years.
Lightning Strike (Carbon edition) — The Value Pick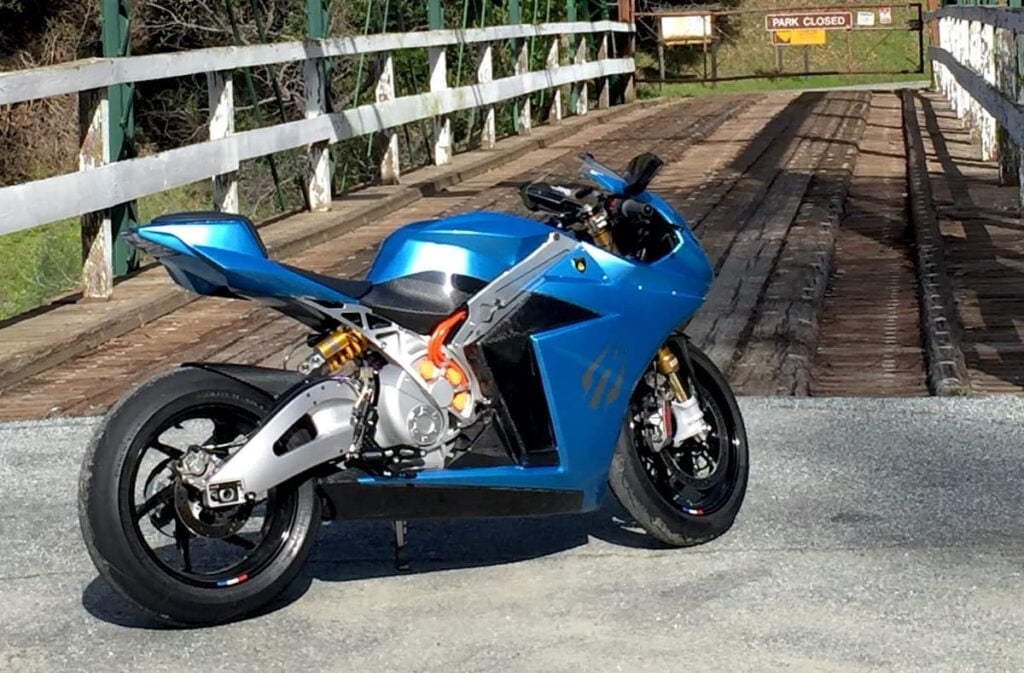 The Lightning Strike has been announced. It looks to be an affordable electric superbike. It hasn't been test-ridden yet, and only some specs have been released.
$16,998 ($3K cheaper than the Zero in base form)
Makes 120 hp (10 hp more than the Zero SR/F)
Weighs 219 kg (marginally lighter than the Zero SR/F)
Range of 150-200 miles (much more); however we don't know in what conditions this range was tested
6.6 kW charger with Level 3 DC fast charging; full charging time of ~1 hr (same as Zero, but with more range)
---