Thinking of buying a BMW R 1250 GS? Going to rent one on vacation? Or maybe just taking one for a test drive?
This is a page of resources about the BMW R 1250 GS (including the Adventure) to get you started with basic set up, checking the important things in the menus, and getting the suspension and other parameters set up correctly for everyday use.
BMW launched the R 1250 GS in 2018 for the 2019 model year, and the R 1250 GS Adventure for the 2020 model year (the GSAs typically lag by a year).
Both motorcycles replaced the earlier DOHC liquid-cooled BMW R 1200 GS available between 2013 (the first GS) and 2019 (the last GSA)
The BMW R 1250 GS is the first big GS to have a bigger engine in nearly two decades. Still a DOHC liquid-cooled boxer twin, the BMW G 1250 GS' "ShiftCam" motor has 1254 cc (previously 1170 cc) capacity, and puts out a peak of 100 kW (136 hp) @ 7750 rpm and peak torque 143 Nm (105 ft-lb) at 6250 rpm, both of which specs are a rough ~10% increase over the outgoing model.
The R 1250 GS shares an engine with the R 1250 RT, R 1250 S, and R 1250 R.
See the complete guide to the BMW GS Boxers, from the R80 G/S to today, here.
I compile information like this on motorcycles to help current and prospective motorcycle owners (including myself!). Below you can find information on the maintenance schedule and service intervals, as well as parts you need for a standard service, guidelines for basic services like oil changes, drivetrain maintenance, and torque specs.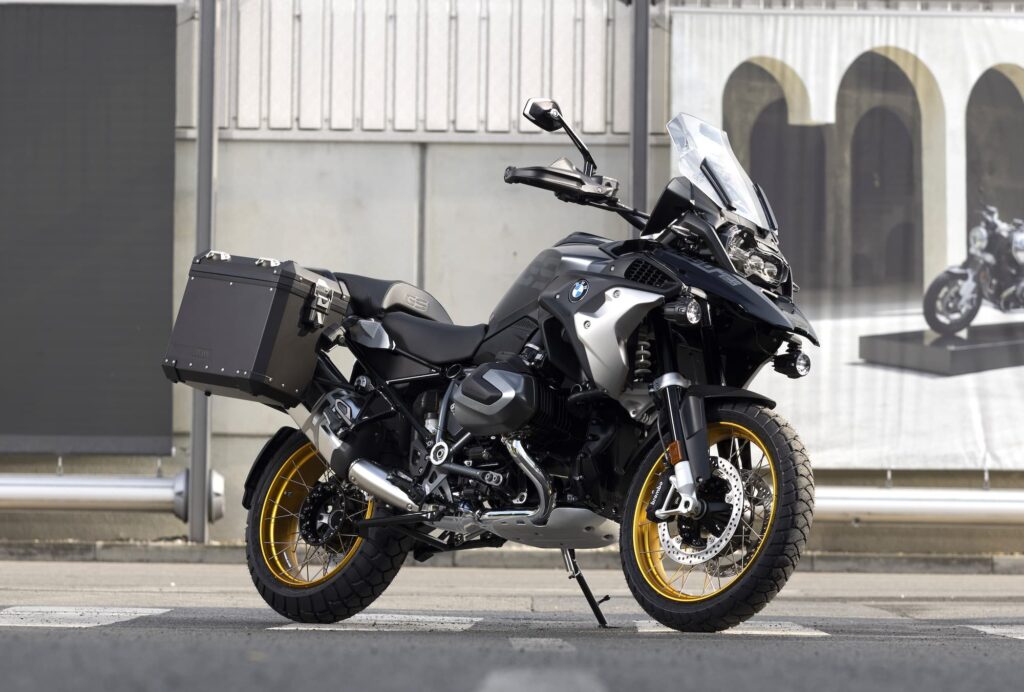 Note: Motofomo is reader-supported. If you buy some of the products that we link to, we may earn an affiliate commission, which otherwise goes to the marketplace (e.g. Amazon).
Are you obsessed with motorcycles?
Well, I am. That's why I created this site — as an outlet. I love learning and sharing what others might find useful. If you like what you read here, and you're a fraction as obsessed as I am, you might like to know when I've published more. (Check the latest for an idea of what you'll see.)
About the BMW R 1250 GS and R 1250 GS Adventure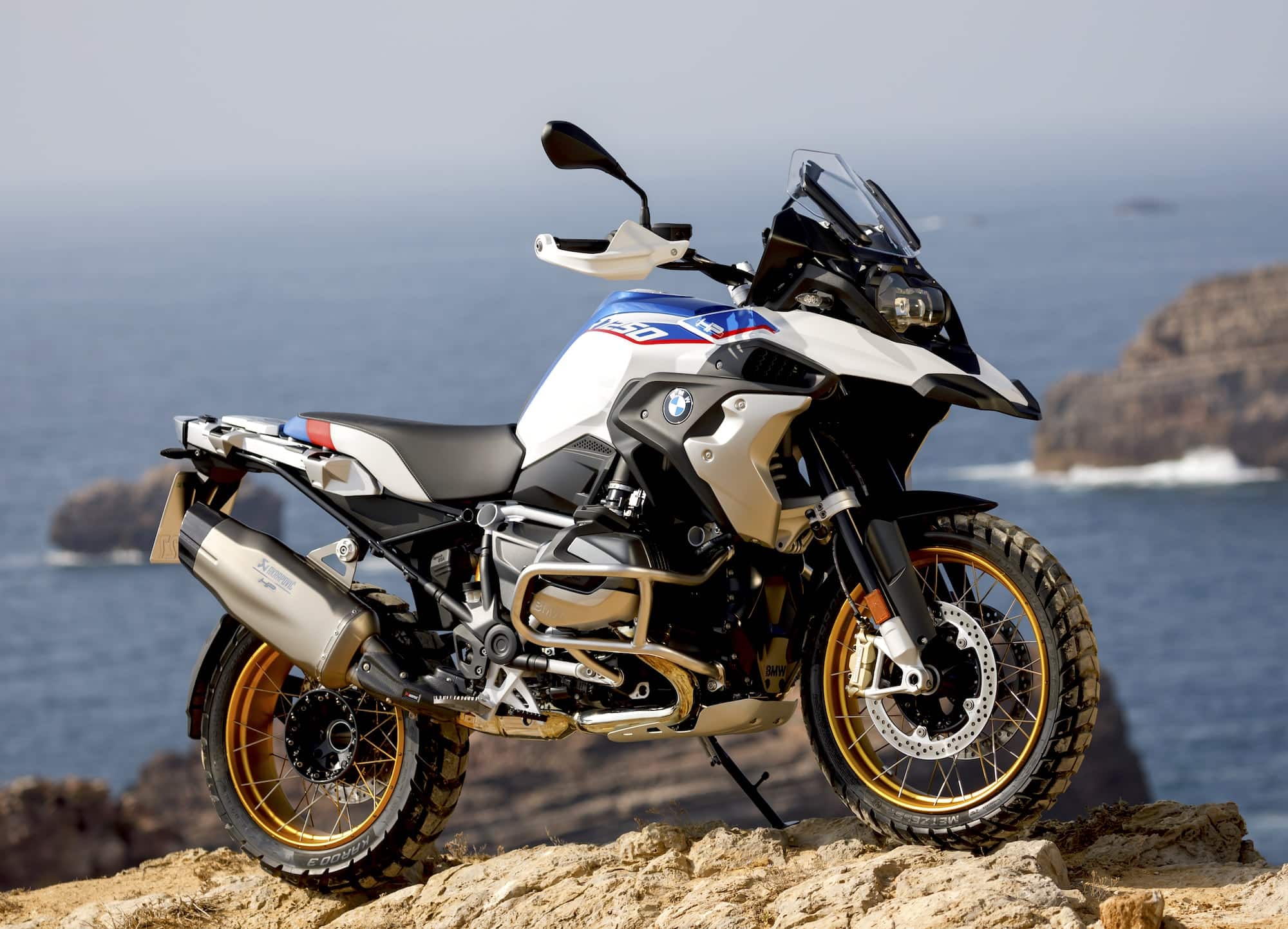 The BMW GS series almost needs no introduction, but here goes. If you want an adventure motorcycle that can do everything, from rocky trails to highway blazing, from low-speed city work to twisty mountain roads, the BMW R – GS line has been known for a long time to be able to do it all.
It's surprisingly sporty in curve, surprisingly agile at low-speed work, and very comfortable on the highway (not so surprising). And as time has gone on, it has gotten more and more powerful, to the point that the R 1250 GS is actually fast.
The BMW R 1250 GS is powered by new 1254cc boxer motor, with big opposed pistons jutting out the sides. It takes a bit of adjustment — many first-time GS riders find themselves kicking the cylinders. but you get used to it fast!
The new 1254cc engine makes 100 kW (136 hp) @ 7750 rpm and 143 Nm of torque peaking at 6250 RPM, a ~10% increase in both specs. Even though the R-GS bikes aren't all about top-end power, power is always welcome!
The BMW GS line has been an adventure motorcyclists dream for decades. In fact, in many ways, BMW defined it with the BMW R 80 G/S, a bike that confused people with its identity as not an ideal highway bike, and not a dirt bike… but some of both.
Over time, the engine has gone through many iterations. In the 80s it was air-cooled, then air/oil-cooled in the 90s. BMW added a twin overhead cam in 2010, then partial liquid cooling a few years later. Finally, for the R 1250 line, BMW introduced "ShiftCam" technology — variable valve timing so that the motor's torque delivery is optimised over an even wider range.
The ShiftCam technology allows the engine to vary valve timing and valve stroke on the intake side. Additionally, BMW designed the intake camshafts so that they can open the intake valves asynchronously, for "enhanced swirl" of fuel/air mixture.
The camshaft is now driven by a toothed chain (previously a roller chain), too.
Aside from the engine, BMW added many other new features in the BMW R 1250 GS. These include
Standard riding modes, ASC, and hill start control, with optional Ride Modes Pro (which gives more ride modes and cornering ABS / TC).
Next-generation Dynamic ESA (Electronic Suspension Adjustment)
Dynamic Brake Control — helping avoid unintentional accelerator activation while braking
Standard LED headlamps, with DRLs as optional equipment
Full-colour TFT screen standard — replacing the gauges of previous models (a TFT display became an optional extra in later years)
The "Comfort Package" (which gives heated grips and a tyre pressure control system) is almost a default option, and the "Touring Package" is necessary if you want Dynamic ESA and cruise control.
Many people opt for the "Dynamic Package", which brings pro riding modes (ABS Pro, BMW's name for lean angle-aware ABS and TC), keyless ignition, a quick shifter, cruise control, and many more things.
The BMW R 1250 GS Adventure (often called the GSA) is based on the base R 1250 GS, but with longer suspension travel (8.3-8.7 inches vs 7.5-7.9 front and back) and associated height, standard crash bars, and a 50% larger fuel tank. It also just looks massive!
BMW R 1250 GS Specifications
Here are the core specifications for the BMW R 1250 RS, along with some notes.
Item
Specs
Notes
Engine type
Liquid-cooled opposed (boxer) twin, DOHC, ShiftCam VVT
Capacity
1254 cc
Up from 1170 vs R 1200 GS
Bore x stroke (mm)
102.5 x 76
Vs 101 / 73 of R 1200 GS
Compression ratio
12.5:1
Fuel requirement
Premium AKI 91 / 95 RON
(Can run on AKI 87 / 91 RON)
Note: You can run it on regular gas, as it has a knock sensor.
Peak power
100 kW / 136 hp @ 7750 rpm
Up from 92 / 125 of R 1200 GS
Peak torque
143 Nm / 105 lb-ft @ 6250 rpm
Transmission
6-speed, shaft final drive
Front suspension
Telelever, 190mm travel
Adventure: 210mm travel
Rear suspension
Paralever, 200mm travel


Adventure: 220mm travel

Front brakes
2 x 305 mm discs, 4-piston radial brake calipers
Wet weight
249 kg / 549 lb
Adventure: 268 kg / 591 lb
Adventure weight is from extra fuel + much more protection standard
Ride aids
ABS Pro, Cruise control, more (Many optional; some standard from 2022)
BMW R 1250 GS / Adventure specs
Updates to the BMW R 1250 GS / Adventure
Here's the timeline of releases of the BMW R 1250 GS and how it changed.
Date
Activity
Reference
November 2019
Announcement of MY2019 BMW R 1250 GS (base model)
Link
November 2019
Announcement of MY2020 BMW R 1250 GS Adventure.
Link
October 2020
– Standard Integral ABS Pro
– Future "Welcome / Goodbye / Follow home" functions standard (announced)
– Limited-release 40th anniversary yellow/black colour scheme
– Optional swivelling adaptive headlight
– Optional seat heater for rider / passenger
Link
June 2022
– R 1250 GS Trophy Competition special release: 126 models of special GS Trophy released with aluminium engine guard + rugged covers for cylinder head and headlight, the TFT, and a bunch of other stuff. Rally seat and Akrapovic silencer.
– Trophy Gravity Blue Metallic color also replaced 40 Years GS colors.
– RDC real time gradient tire pressure monitoring added (option)
– Can switch off comfort turn indicators.
Link 1

Link 2
June 2023
– New "Eco" ride mode standard.
– US / Canada got Intelligent emergency call for the Adventure range.
– New color – Racing blue metallic.
Link
Updates to the BMW R 1250 GS
BMW R 1250 GS / GSA Main Controls
If you're renting, borrowing, or testing a BMW R 1250 GSA, it's useful to know how to operate the main controls.
There's a lot going on with these advanced motorcycles, so I'll try to distil it to the bare minimum without having to dive (too much) into menus.
Riding modes
To change riding mode on the R 1250 GS, press the button on the right control block. It says "mode" on it.
The base model has three riding modes — Eco, Rain, and Road. The "Pro Riding Modes" add on (a common one) enables four more, for a total of seven: Enduro, Dynamic, Enduro Pro, and Dynamic Pro.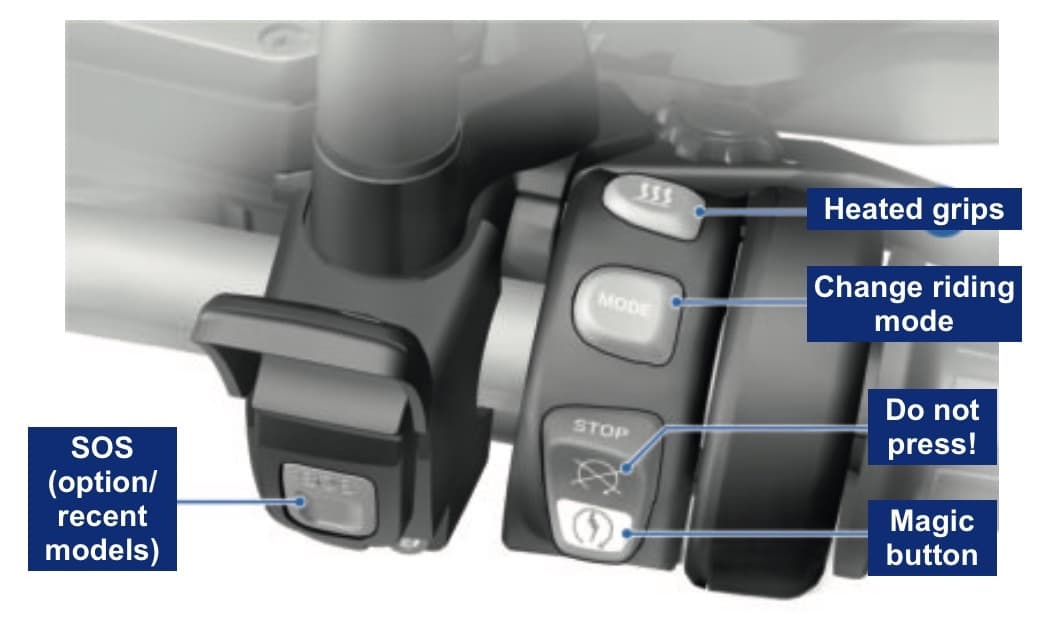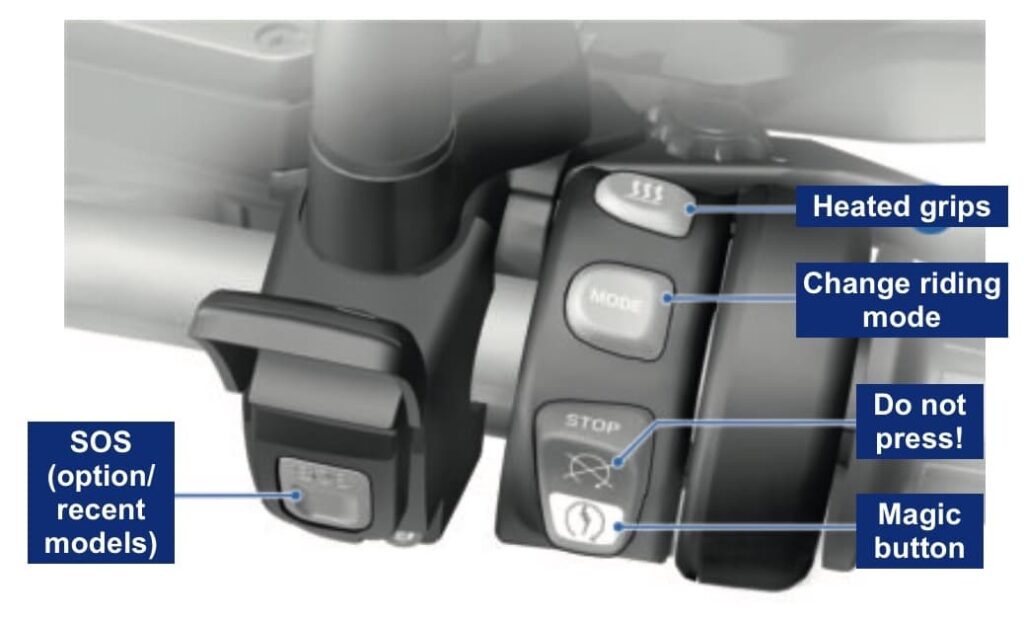 Note that you can only cycle between two and four pre-selected riding modes. You have to choose the ones in your shortcut menu via the settings.
You can change riding mode when the throttle is closed, cruise control is off, and you're not braking. So you'll be slowing down.
Here's how the riding modes are defined.
Riding mode
Throttle response
ABS
Rear wheel lift off
DTC
Eco
Particularly restrained
Road use settings
Max ABS Pro
Maximum
Later than Rain — Avoids rear wheel spinning
Front wheel lift-off prevented
Rain
Restrained
Road use settings
Max ABS Pro
Maximum
Early intervention
Front wheel lift-off prevented
Road
Optimum
Road use settings
Max ABS Pro
Maximum
Later than Rain — Avoids rear wheel spinning
Front wheel lift-off prevented
Enduro
Restrained
Enduro
ABS adjusted for off-road use, road tires
Reduced ABS Pro
Maximum
Very late intervension. Long drifts, brief wheelies allowed
Dynamic
Direct
Dynamic road use settings
Reduced ABS Pro
Gentle lift off allowed
Late DTC intervention. Minor drifts / wheelies allowed
Enduro Pro
(Customisable)
Optimum
Enduro Pro
ABS adjusted for off-road tires
No rear brake with foot lever
Not available
Disabled
Assumes cleated tires, allows long drifts. No wheelie prevention.
Dynamic pro
(Customisable)
Direct
Dynamic road use settings
Reduced ABS Pro
Gentle lift off allowed
Late intervention. (Wheelie prevention not mentioned in manual)
Riding modes as defined in the manual
Disable Traction control
If you're really desperate to wheelie your bike, you can also disable traction control on the R 1250 GS. Press the traction control button on the left handlebar (top of the same button as suspension settings), and then hold it down to disable TC. The warning light will display.
Do it again to enable TC again. The TC warning light will switch off, provided that the motorcycle is moving.
Cruise control
The cruise control switch is on the left handlebar. This is the same style of control for all modern BMW motorcycles with cruise control.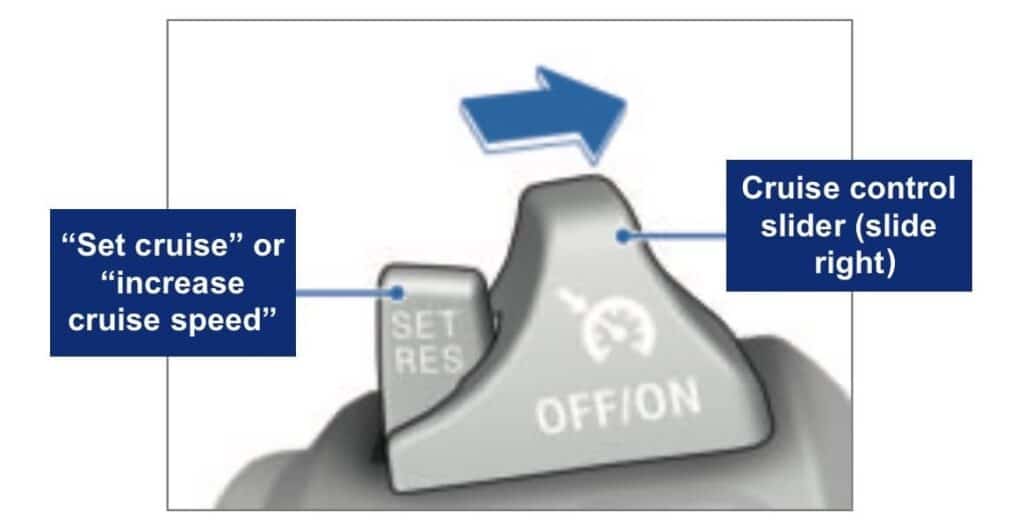 Slide the slider to the right, then push the button forward to enable cruise control. You can tap it forwards and backwards to nudge up or down the speed.
Suspension settings
Adjusting the suspension on the R 1250 GS / GSA depends on whether you do or don't have electronic suspension (Dynamic ESA "Next Generation").
The easy case is where you have Dynamic ESA "Next Generation", a commonly selected option, especially on rental or test ride motorcycles.
Dynamic ESA "Next Gen" does a few things:
Automatic preload adjustment: The BMW R 1250 GS's active suspension automatically adjusts preload according to the load on the motorcycle, using ride height detectors. So you don't have to adjust preload depending on your weight, or that of the passenger and/or your luggage. (Note: For this to work, the load setting should be set to "Auto".)
Active suspension: The damping level changes in response to the road conditions, providing a level of damping suitable to the terrain.
Damping modes: Similar to previous electronically adjustable suspension, you can set the damping mode to "Road", "Dynamic", or "Enduro".
To view or adjust the current preload damping setting of the R 1250 GS, press the suspension button.


Press it once to view the settings, and then:
Short press to cycle through the damping settings: Road, Dynamic, or Enduro.
Long press to cycle through preload settings. (For simplicity's sake on test rides or rentals, it may be easiest to set this to "auto", unless you have a particular reason to override.)
If you don't have Dynamic ESA, you can set preload and damping for the rear wheel.

Turn the preload knob towards high to increase preload, for when there's more load on the bike.
Turn the damping knob clockwise to increase damping, for smoother / less rough surfaces.
Setting
Basic setting
One-up, no luggage
One-up, luggage
Two-up, luggage
Rear preload
Turn knob at (at top of shock) in LOW (reducing preload) direction as far as possible, then in HIGH direction:
Nothing (leave at zero)
15 turns
30 turns
Rear damping
Turn adjuster (at bottom of shock) as far as possible in clockwise direction (increasing damping), then back it off counter-clockwise:
8 clicks
Base model: 2 clicks
Adventure: 4 clicks
Base model: 2 clicks
Adventure: 4 clicks
Manual adjusting the BMW R 1250 GS damping
Using the "Wonder Wheel"
BMW has been making motorcycles with the "Wonder Wheel", or "Multifunction controller" since the early K 1600 models, but in the late 2010s it started to bring it to the R line with TFT displays.
It's a clicky spinny thing that's on the left handlebar. It has great tactile feedback and is a pleasure to use with one hand without looking at it, though you still have to look at the display to see what it's changing.
The wheel moves not just in a rotating direction, but can be clicked left and right.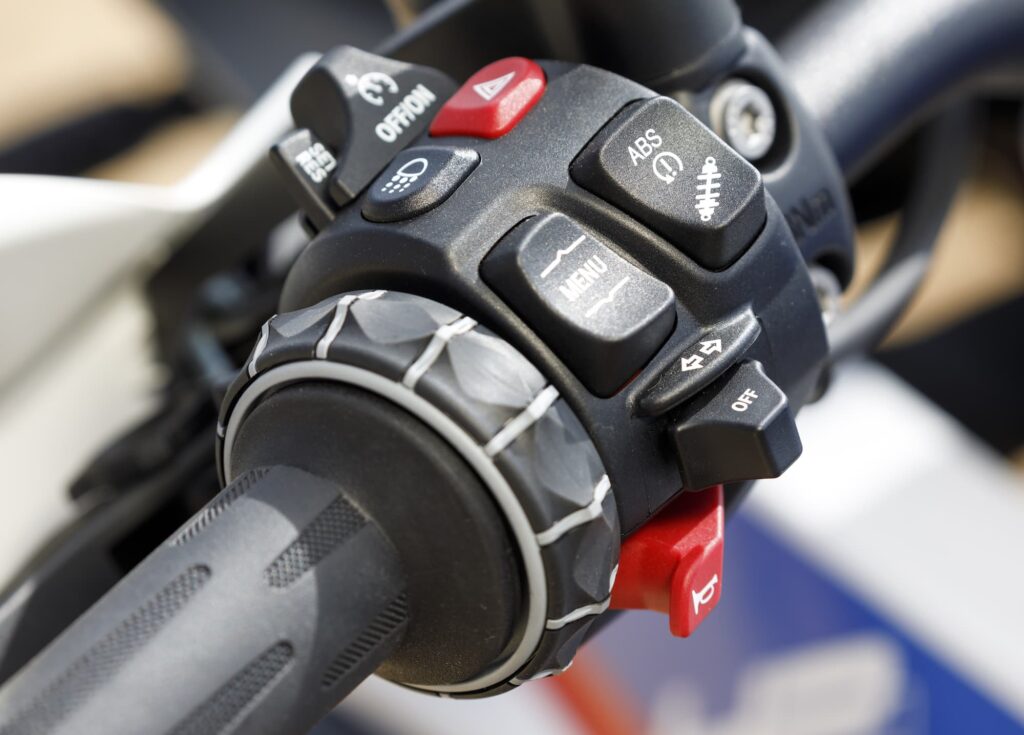 If you're new to the BMW Wonder Wheel, then the one bit of advice is to play with it somewhere where you have time and space. Do NOT attempt to figure it out while riding out of the dealer lot!
First, the menu button. Pressing the top of the menu button cycles you through various display options for the "status line".
You can also long-press the menu button to change to "Pure Ride" view.
To access the menus, you press the bottom of the menu button. Then you can use the wonder wheel to cycle through menus and change and choose various options.
There are a few settings you might want to adjust very quickly.
The default four ride modes. The Riding modes button lets you cycle through four. If you have "Riding Modes Pro", then there are seven possible riding modes. Make sure you have enabled the four you want to use. (E.g. if it's not going to rain for the foreseeable future, then you don't need "Rain" mode.)
Ride Pressure Warning: Turn the "RDC" setting off. (RDC is German for Reifendruck Control, though in German "Control" is normally written with a "K".) This is useful if you want to alter pressures for your riding and don't want the warnings.
Connections: Hook up your mobile phone!
If you get sick of the menus, long press the top of the menu button to get out of there.
BMW R 1250 GS / GSA Service Intervals
This information comes from maintenanceschedule.com.
If you're considering owning a BMW R 1250 GS long-term, it's important to know what maintenance looks like.
Overall, the BMW R 1250 GS, like other ShiftCam models, has service intervals of every 6000 miles / 10000 km or every year, at which point BMW recommends you change the oil and oil filter, plus do a number of other checks for leaks, tightness, and adequate lubrication (the standard service).
Every two services, do a major service, including a valve clearance inspection, changing the oil in the rear bevel gears, the air filter and the spark plugs.
The ShiftCam motor is a DOHC setup with shims and buckets, which means adjusting valve clearances involves removing the camshafts.
There are some items that are time-based rather than distance-based, like replacing rear bevel oil and brake fluid. See more detail in the maintenance schedule below.
BMW R 1250 GS Maintenance Schedule
Below is the maintenance schedule for the BMW R 1250 GS and R 1250 GS Adventure (same engine / platform).
This maintenance schedule is presented in a simplified format from the manual, as it's presented repetitively there.
Things to note:
There's no alternator belt to change (unlike many earlier models)
You change the rear bevel gear oil every 20 000 km / 2 years, more frequently than on past models
Valve service intervals are 20 000 km, wider than earlier air/oil-cooled models, but it's a shim-under-bucket system
One interesting thing is that BMW doesn't mention changing the coolant, just checking it. BMW uses a "permanent" (OAT or HOAT) antifreeze that isn't meant to be changed. Various dealers/mechanics still say you can change it every 3-4 years, though. Especially if you notice the level declining.
Notes on the schedule
The running-in check is omitted (Dealers usually do this as part of the warranty period)
Past the end of the maintenance schedule, keep following it in the pattern shown.
The maintenance schedule for many items follows a "per x years" or "x distance" schedule. Follow whichever comes first.
| miles x 1000 | 6 | 12 | 18 | 24 | |
| --- | --- | --- | --- | --- | --- |
| km x 1000 | 10 | 20 | 30 | 40 | Every |
| Conduct standard BMW service checklist (see below) | ✓ | ✓ | ✓ | ✓ | Year |
| Change engine oil and filter (BMW Motorrad Advantec Ultimate 5W-40, HF160RC) | ✓ | ✓ | ✓ | ✓ | Year |
| Change oil in rear bevel gears (75W-90 gear oil) | | ✓ | | ✓ | 2 years |
| Check / adjust valve clearances | | ✓ | | ✓ | |
| Change all spark plugs (LMAR8AI-10) | | ✓ | | ✓ | |
| Replace air filter element (BM-1113) | | ✓ | | ✓ | |
| Check or replace air filter element | ✓ | ✓ | ✓ | ✓ | If used off road, every year as well. |
| Change brake fluid, entire system (BMW DOT 4) | | | | | After 1 year, then every 2 years |
BMW R 1250 GS and R 1250 GS Adventure maintenance schedule table
Standard BMW service for the R 1250 GS / Adventure
Below you can see the "standard service" to be done according to the schedule above.
Items marked [D] are for dealers / mechanic shops as they need special tools or equipment (though you can do some of it yourself if you have a GS-911).
Standard BMW service checklist (1250 motor)
[D] Perform visual test with BMW Motorrad diagnosis system
Inspect clutch system, checking for friction point
Visually inspect brake lines, brake hoses, and connections
Check front brake pads and brake discs for wear
Minimum thickness: 1.0mm
Check brake fluid level, front wheel brake
Brake fluid must be above MIN mark. Note: level can drop with pad wear.
Check rear brake pads and brake disc for wear
Minimum thickness: 1.0mm
Check brake fluid level, rear wheel brake
Brake fluid must be above MIN mark. Note: level can drop with pad wear.
Check coolant level
Check side stand's ease of movement
Check centre stand's ease of movement (if fitted)
Check tyre pressure and tread depth
Check spoke tension (if spoked wheels fitted), adjusting if necessary
Check lighting and signalling system
Function test, engine start suppression
Final inspection and check for road safety
Checking battery state of charge
[D] Setting service-due date and countdown distance with BMW Motorrad diagnosis system
[D] Confirming BMW service in on-board literature
BMW R 1250 GS / Adventure standard annual service
BMW R 1250 GS tire pressure recommendations
Use the following recommended tire pressures for the BMW R 1250 GS / Adventure to optimise for performance and tire longevity.
| Wheel | Wheel size | Tire size | Tire pressure (cold) |
| --- | --- | --- | --- |
| Front | 3.00″ X 19″ | 120/70 R 19, load index 60 | 2.5 bar (one or two-up) |
| Rear | 4.5″ X 17″ | 170/60 R 17, load index 72 | 2.5 bar (one or two-up) |
BMW R 1250 GS wheel and tire size, and tire pressure
Common tightening Torque specs
Below are torque specs that are publicly available for the R 1250 GS. These come from the service manual.
| Item | Nm | lb-ft |
| --- | --- | --- |
| Engine oil drain bolt | 42 | 31 |
| Oil filter (lubricate sealing ring with oil) | 11 | 8 |
| Spark plugs | 12 | 9 |
| Front wheel axle bolt | 30 | 22 |
| Front brake disc to front wheel (tighten diagonally opposite, use thread locker) | 19 | 14 |
| Front brake caliper to fork brackets | 38 | 28 |
| Fork lower pinch bolts to sliding tube | 19 | 14 |
| Speed sensor | 8 | 6 |
| Rear wheel bolts | 60 | 44 |
| Rear brake caliper to bevel gears | 24 | 18 |
BMW R 1250 GS common torque specs torque specs
Alternatives to the BMW R 1250 GS / GSA
While the GS has a huge following, the big-bore adventure tourer has become a popular segment. Here are the main contenders in the segment below. This is a list of all the motorcycles in the class, including the GS, which is why you see it in there.
BMW R 1250 GS
The BMW R 1250 GS (pictured above in limited HP colours) is a high-power, high-spec, and very capable adventure tourer, designed to be at home on highways or on dusty 4×4 paths. It's powered by a 1254 cc liquid-cooled boxer twin with variable valve timing (the "ShiftCam" engine). It's available in base trim, and up-spec "Adventure" trim which comes with a lot of options as standard, taller suspension, and a 30-litre long-range fuel tank. (See the resources page here.)
Ducati Multistrada V4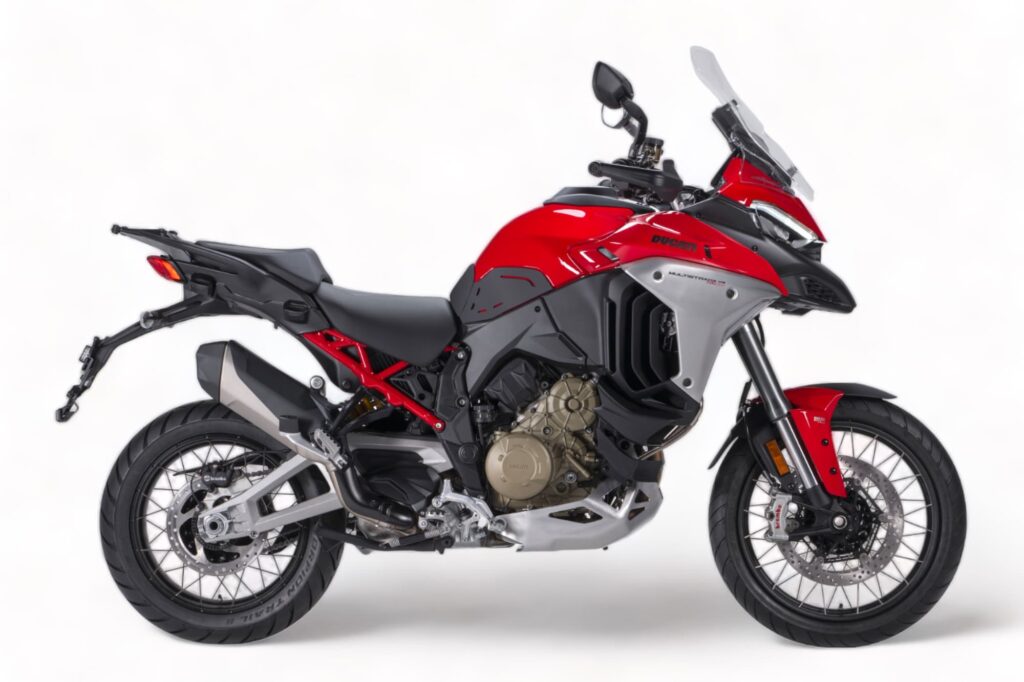 The Ducati Multistrada has evolved, over the years, from being a road-oriented sport motorcycle to a mixed use weapon. The latest incarnation, the Ducati Multistrada V4 (see the resources page), is powered by Ducati's V4 Granturismo motor, which makes impressive power of 125 kW / 170 hp at 10000 rpm) and has super long 36000 mile / 60000 km major maintenance intervals. The V4 has loads of things that make it special, including active "Skyhook" suspension, and radar-based adaptive cruise control.
Honda Africa Twin CRF1100L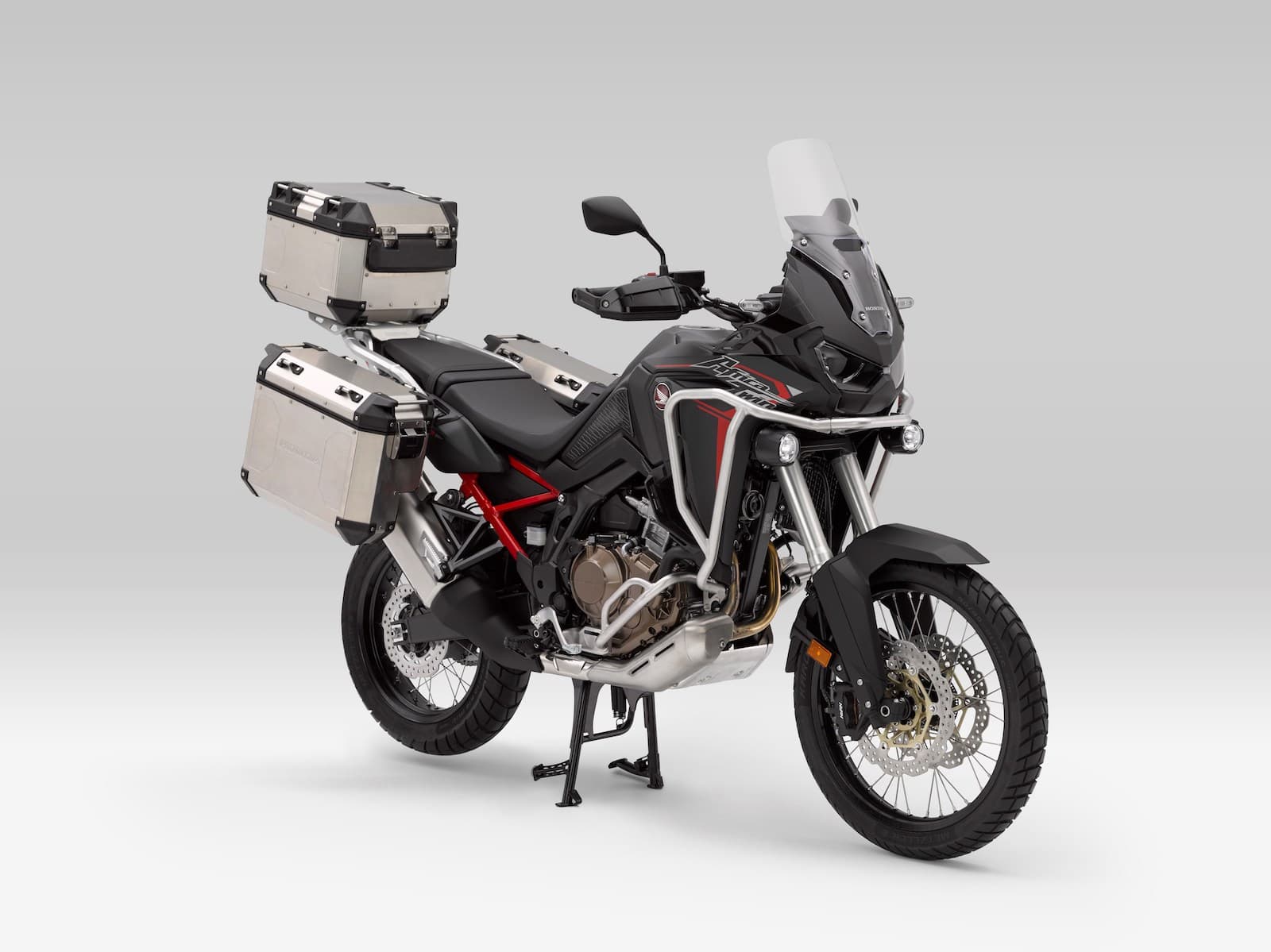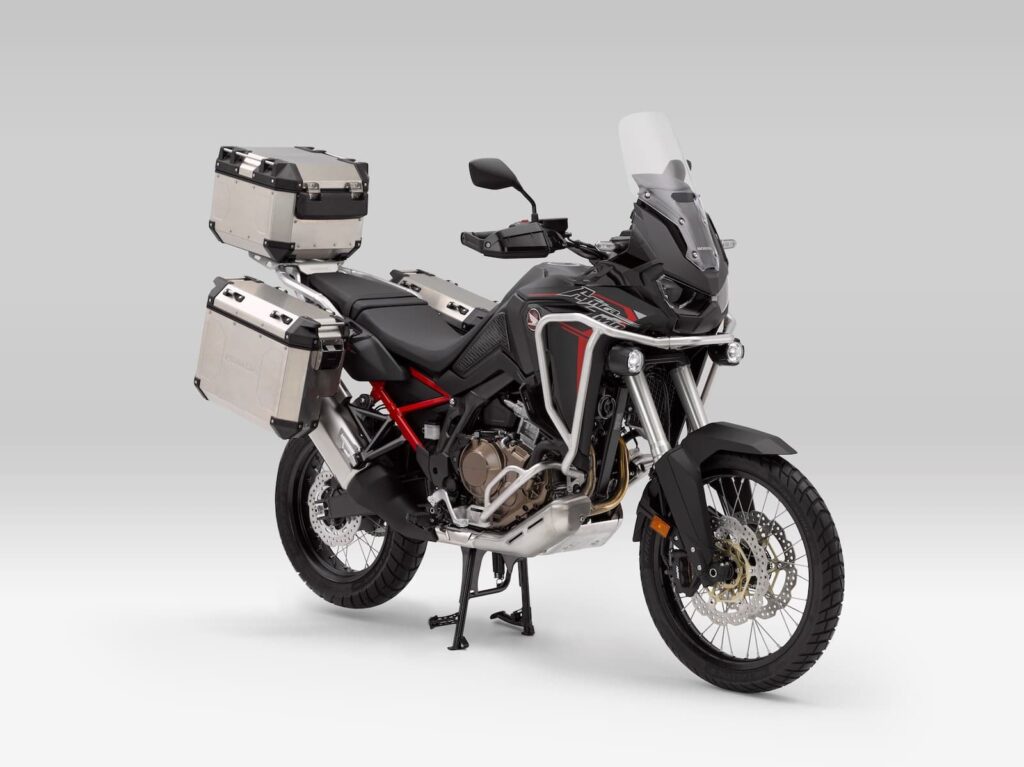 The Honda Africa Twin is Honda's revival of an iconic brand that put them on the map as adventure touring manufacturers. The 2016+ models are powered by a parallel twin "Unicam" engine which has a 270-degree crankshaft, and has loads of torque and character. The Africa Twin has a 21-inch front tire and comes with tubes in some configurations, which is something to be aware of. The 1100+ model has cruise control and a 6-axis IMU for cornering ABS.
KTM 1290 Super Adventure S / R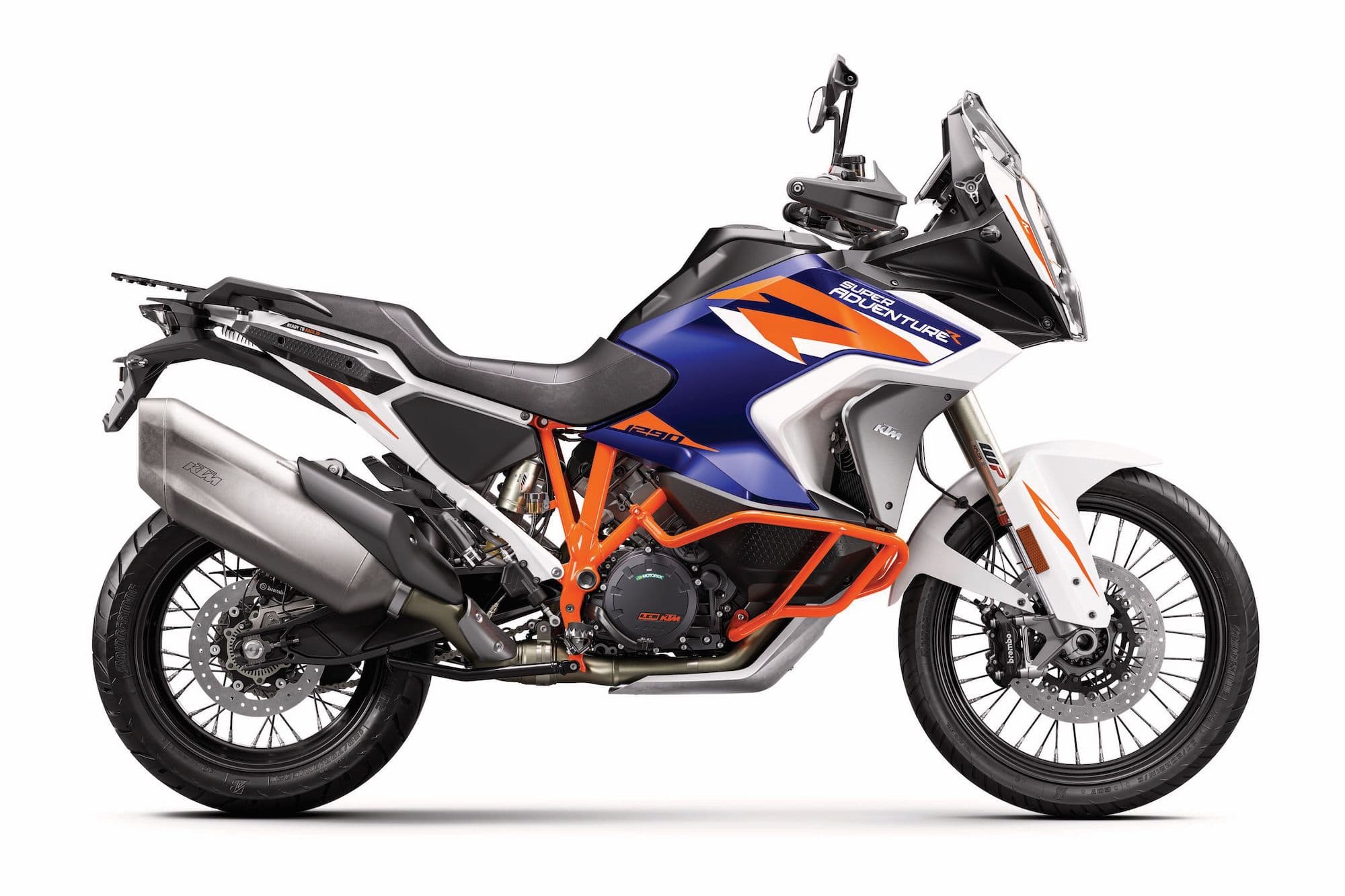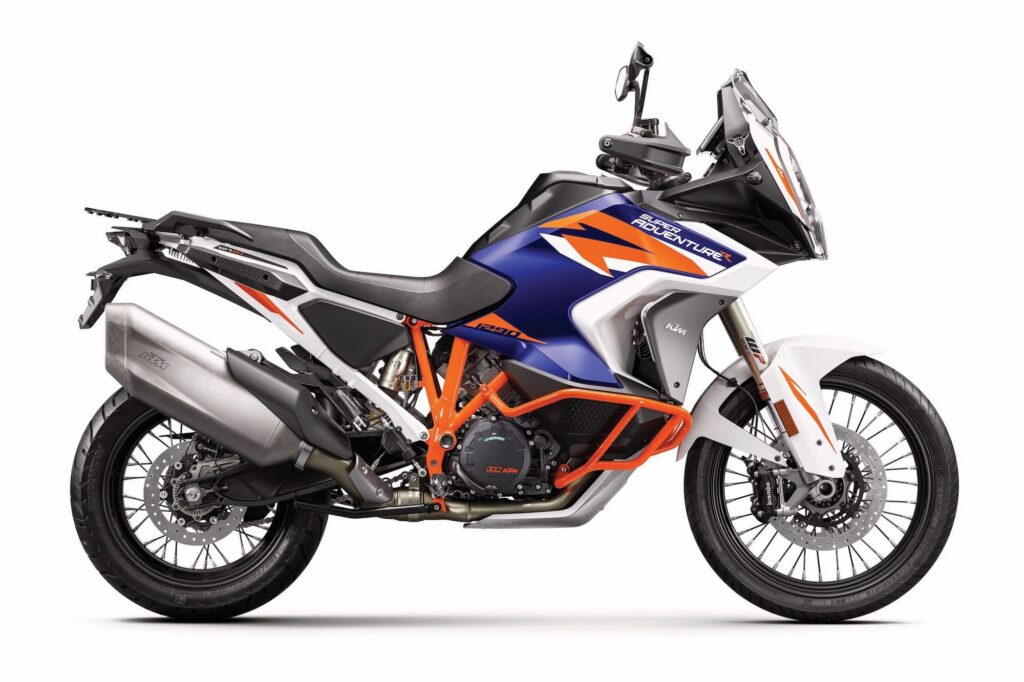 The KTM 1290 Super Adventure S and R are the bikes that most riders describe as something spanning "berserk" to "crazy". Both bikes are powered by the LC8 V-twin, a 1301 cc liquid-cooled high-power beast that also powers the 1290 Super Duke R. It makes 118 kW / 160 hp @ 8750 rpm, and gobloads of torque. The S is the street bike, with a smaller front rim, semi-active suspension, and radar-supported active cruise control, and the R is the off-road adventurer with long-travel suspension (non active), both rims spoked with a 21-inch front wheel, and a shorter screen.
Suzuki V-Strom 1050DE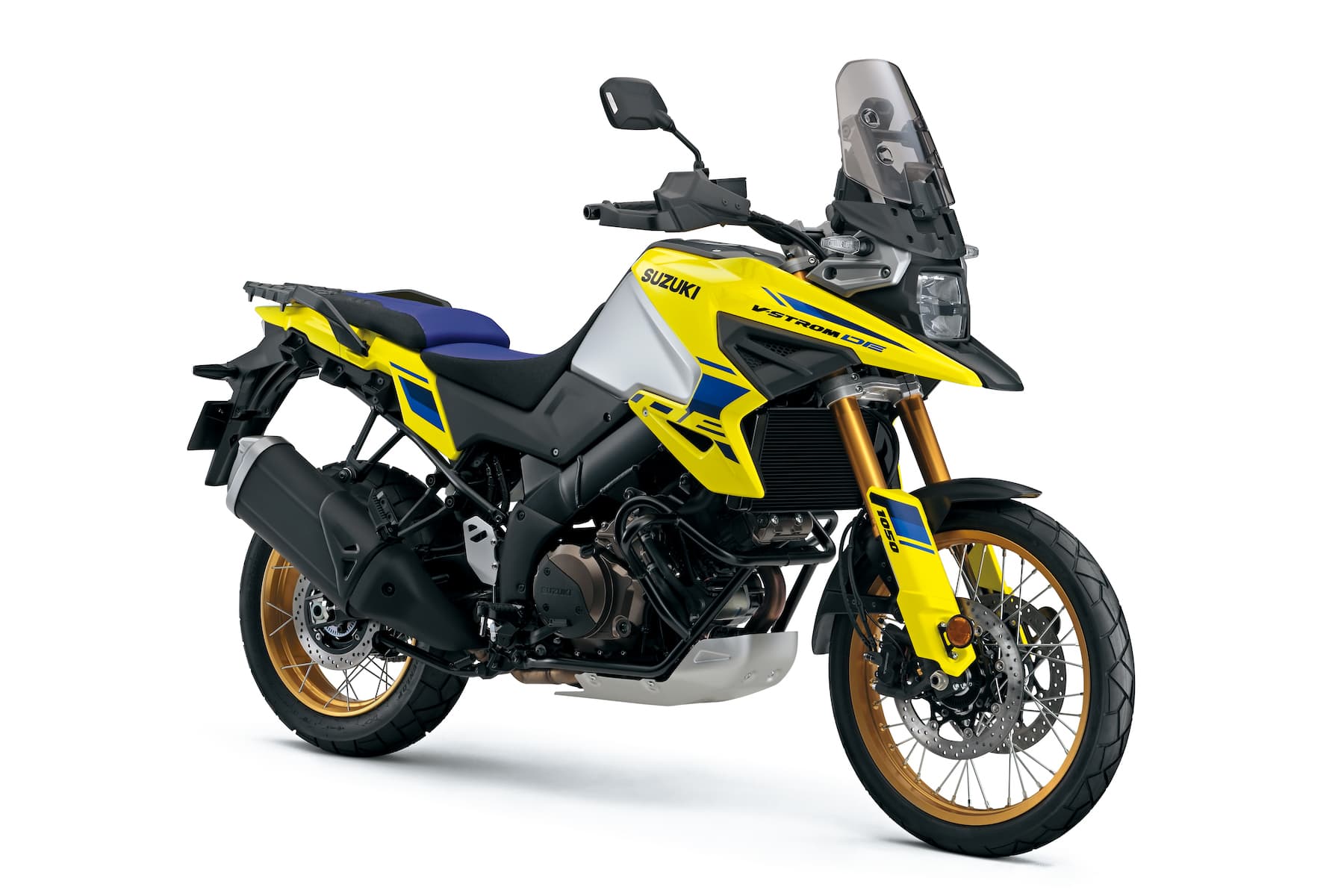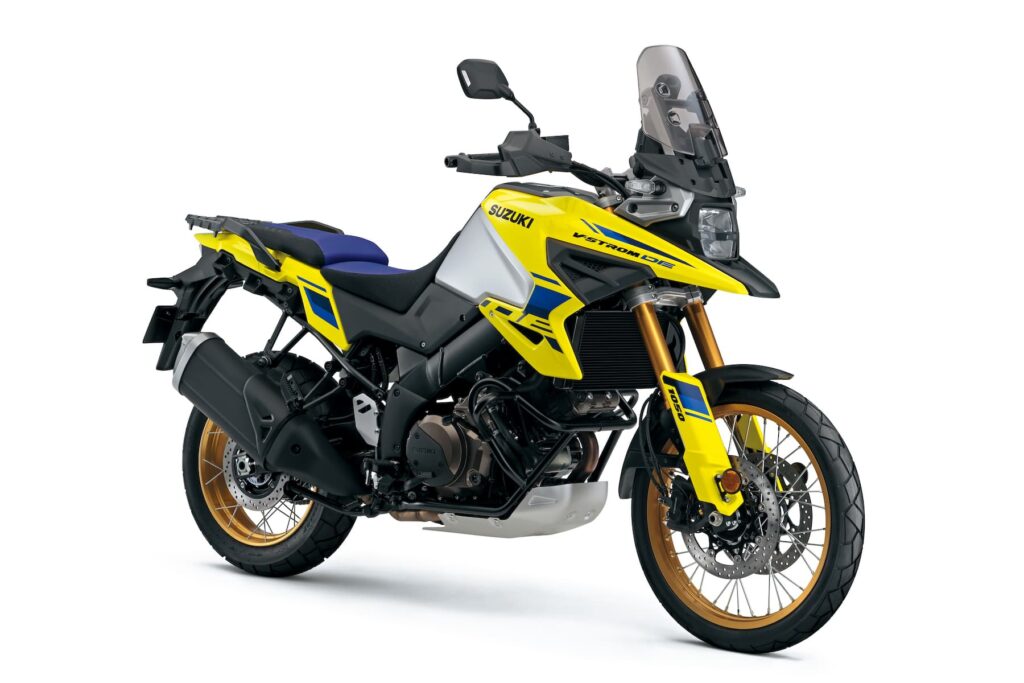 The Suzuki V-Strom 1000 and 1050 have always been budget contenders in the adventure touring market, but this doesn't mean they're not capable and very well-equipped — plus stylish! For 2023, Suzuki updated the 1050, granting it a 21-inch front wheel and letting you disable rear ABS for better off-road work. Otherwise, it's the same V-twin powered adventure bike with a motor that traces back to the iconic Suzuki TL1000S.
Triumph Tiger 1200 Rally / Explorer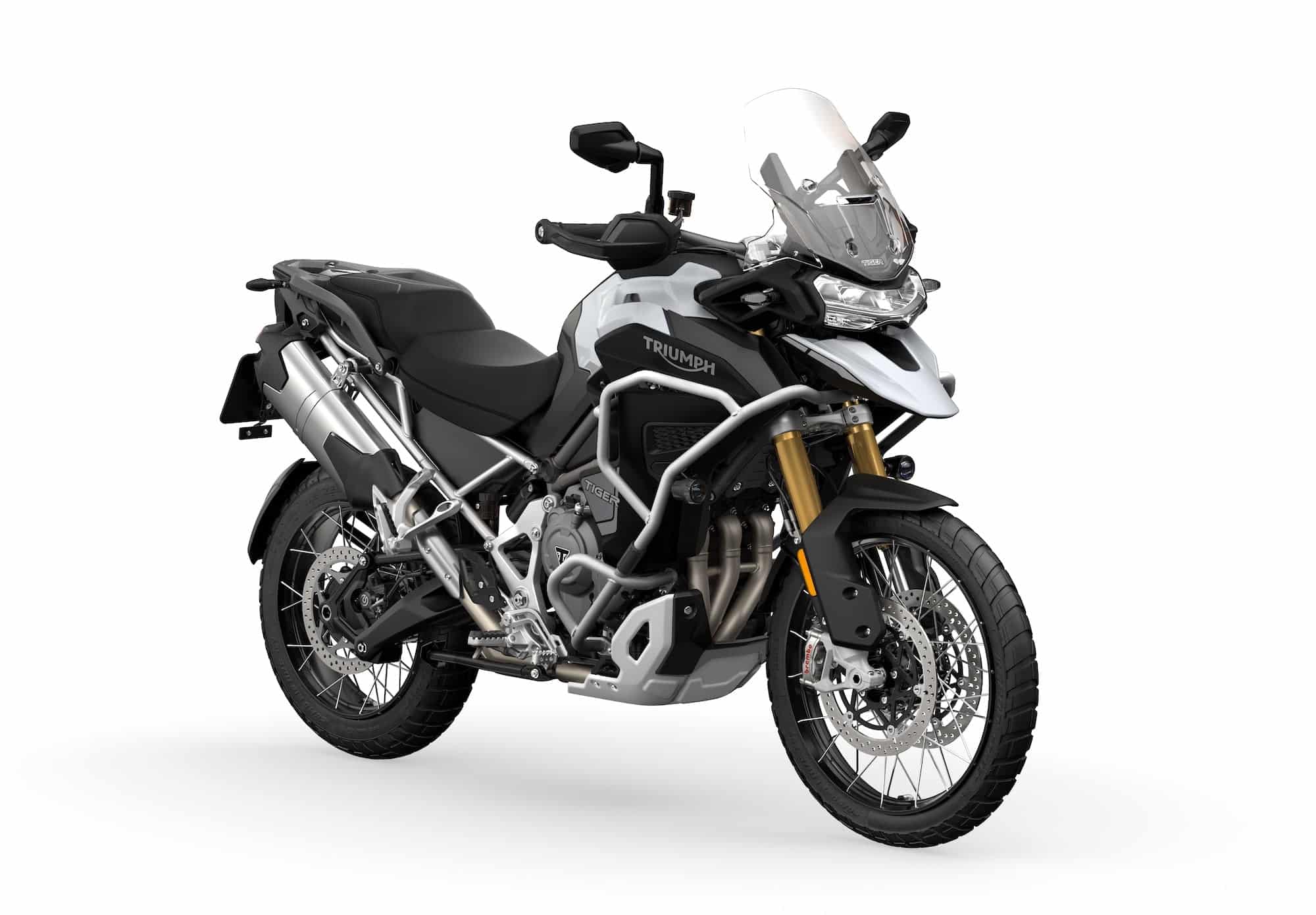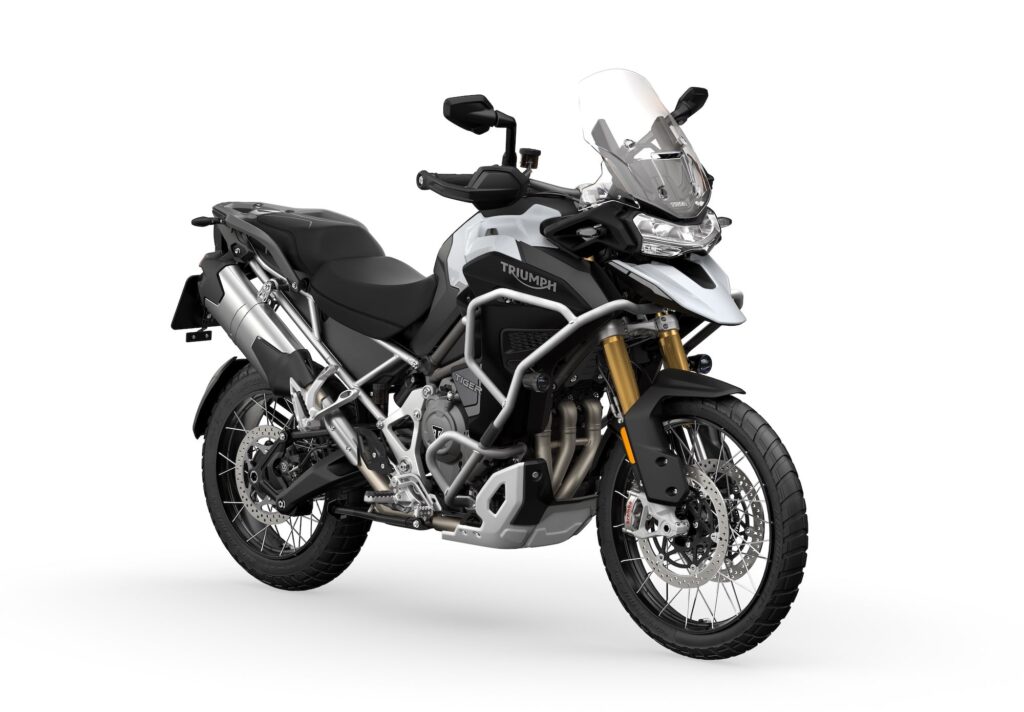 Triumph has been making the big triple-powered Explorer for many years, but in recent years has made concerted efforts to make it more off road-ready. The Rally Explorer (and Rally Pro) replace the XE and XC models, and they're the same concept — a big adventure tourer powered by an 1160 cc triple, powering the rear through a shaft drive, a relative rarity in this class. The Rally models have a 21-inch front wheel, still with a tubeless tire.
Yamaha Ténéré XTZ1200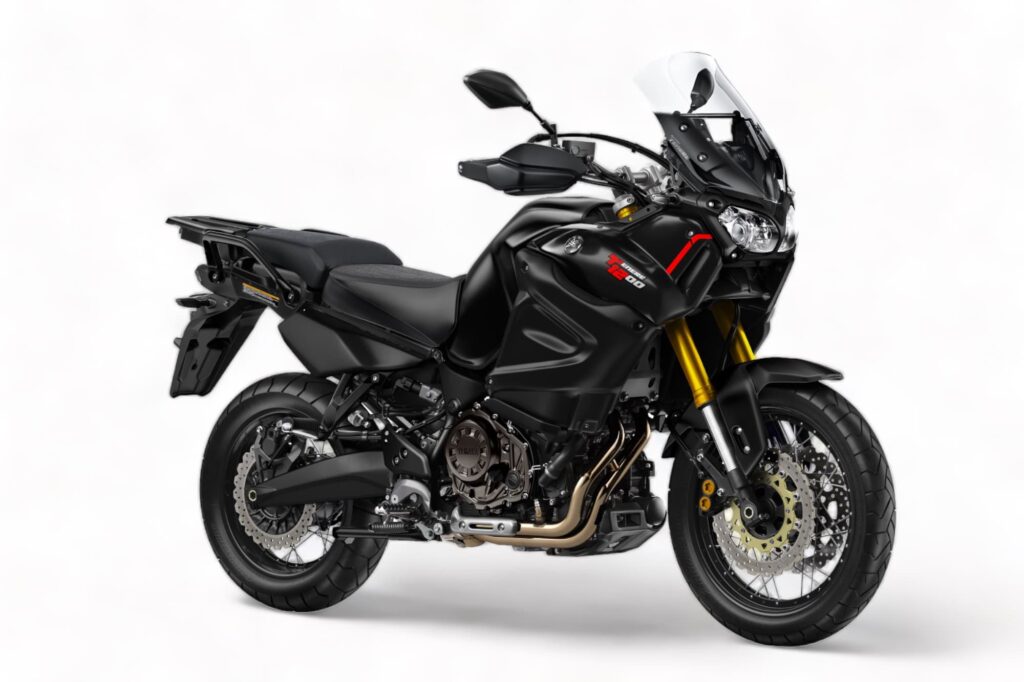 The Yamaha Ténéré XTZ1200 is almost forgotten next to its middleweight sibling, the Ténéré 700, but for a long time was the secret alternative to the GS. It's powered by an 1198 cc big bore parallel twin and puts power down through a shaft drive. The ES version lets you electronically control rear preload and front and rear damping. Aside from the option of ES, the XTZ1200 hasn't had major updates since 2014 and has been discontinued in some markets.
Other Related Motorcycles
If you're interested in the BMW R 1250 GS, you're probably looking at the same-engined siblings next to it, the other motorcycles with the ShiftCam boxer motor. Here they are below.
BMW R 1250 GS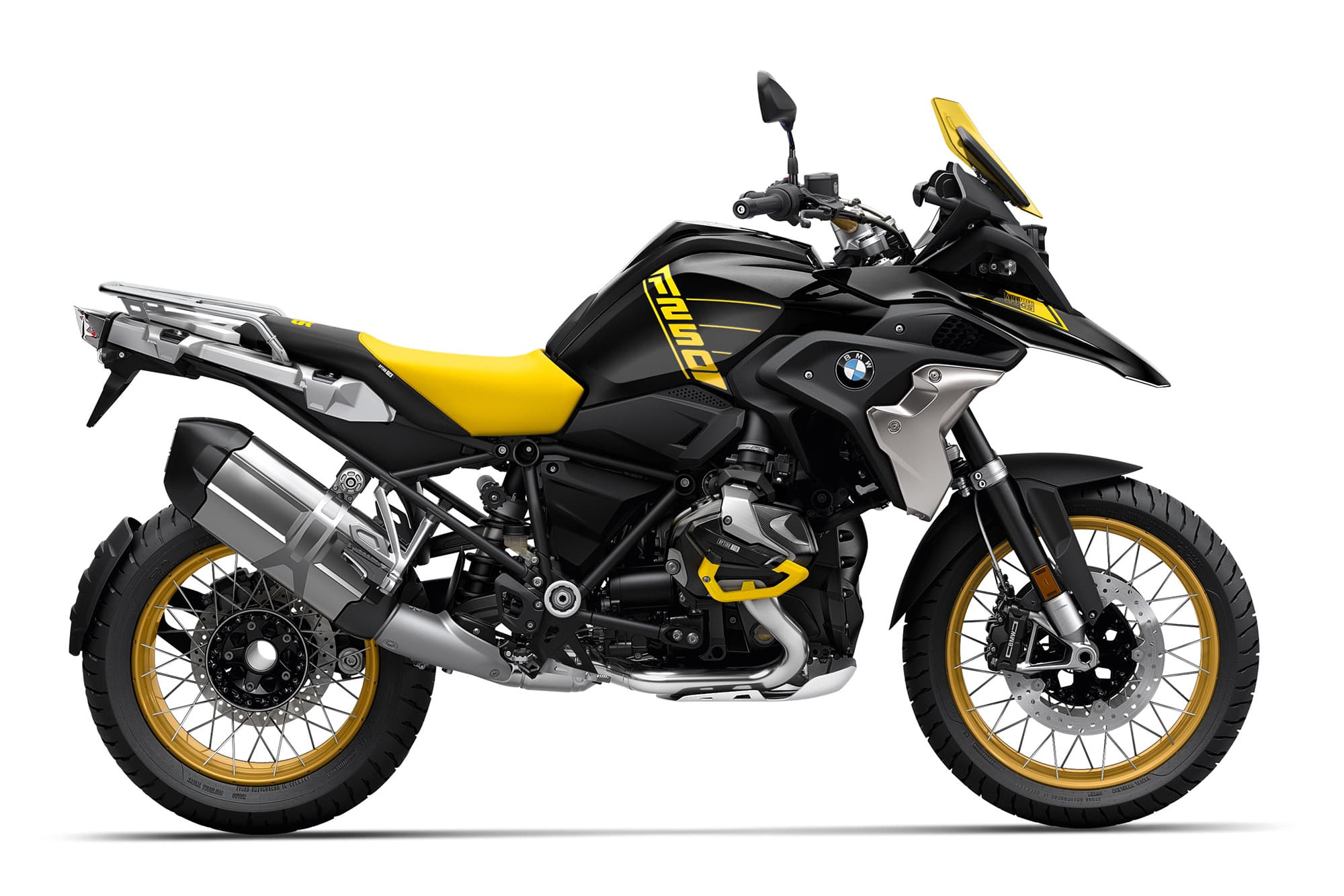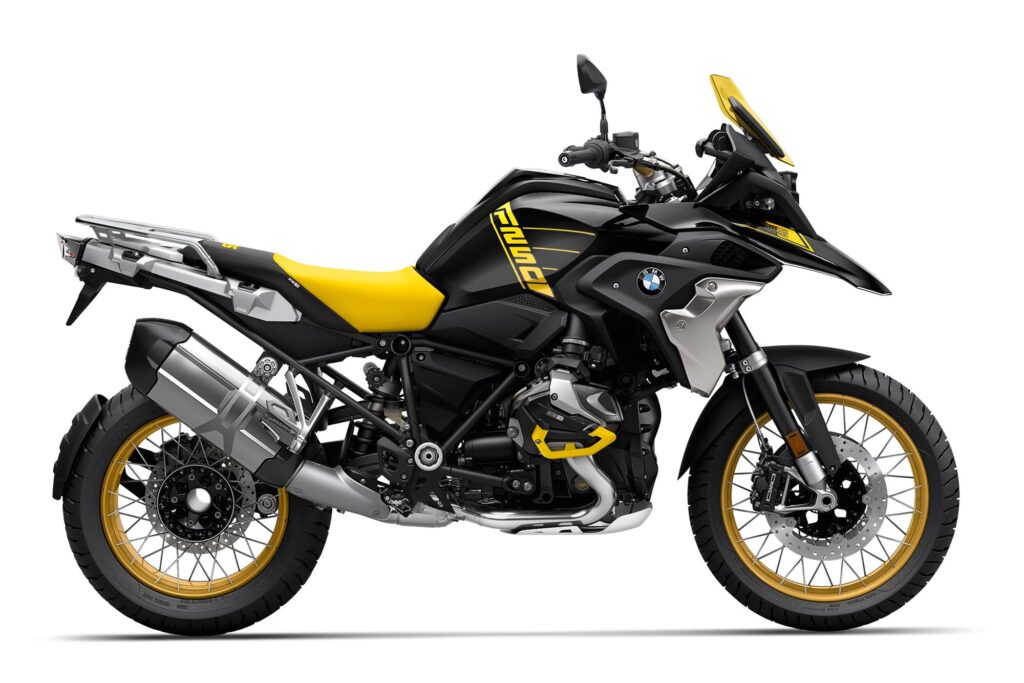 The BMW R 1250 GS / GS Adventure is the latest line in a series of motorcycles that began in 1981 with the first BMW boxer-powered adventure motorcycle, the R 80 G/S. The latest incarnation has a lot in common with the original — a motorcycle that's far heavier than dirt bikes but still at home off road, and bigger than most road motorcycles but still adept on the curvy bits. The R 1250 GS is loaded with tech, including cornering ABS and active suspension (both of those options), and the Adventure version has a generous 30 litre fuel tank.
BMW R 1250 R
The BMW R 1250 R is the naked sport bike of the boxer twin line up. It's powered by the same engine, but has a lower stance, no wind protection few comfort options, and 17-inch cast wheels. The BMW R 1250 R shares a lot of the tech in optional format, including optional cornering ABS and semi-active electronic suspension (Dynamic ESA), but of course lacks off-road options like "Enduro" modes that the R 1250 GS has.
BMW R 1250 RS
The BMW R 1250 RS is the latest in the R-RS line, which only started in 2014. It's BMW's "Sport Tourer", essentially a BMW R 1250 R but with a fairing to help with high speed comfort and stability. Like the R, the RS comes with options for cornering ABS (standard since 2023) and cruise control. It's a stylish and comfortable bike, and capable of pretty much anything other than off-roading.
BMW R 1250 RT
The BMW R 1250 RT is the quintessential police bike because it's so capable and so comfortable. Like the RS, the RT is a sport touring motorcycle, though with more luggage, more capable weather protection, a very comfortable all-day riding position, and a much bigger TFT display. The ace card is "Active cruise control", a feature which few other bikes share, which maintains travelling distance safely from vehicles in front, taking stress out of commuting. (Here are other motorcycles with active / adaptive cruise control.)
Reference — Owner's Manual for the BMW R 1250 GS
The above information came from the owner's manual of the BMW R 1250 RS, parts fiches, press releases, and a few choice other bits of information from forums and YouTube.
In more recent years, BMW slightly updated the R 1250 GS' maintenance schedule, changing the annual inspection to one that should also be done on a distance interval. See the screenshot below.
You can download BMW's manuals for their motorcycles here.