When I was shopping for a BMW S 1000 R, I always remember that one seller was selling it to keep her other bike — a BMW R nineT.
Both the BMW S 1000 R and R nineT are beautiful bikes, but admittedly I had mostly thought of the S1KR (and did eventually buy one — here's my buyers guide). It had so much more going for it in my view — it was faster, had a more exciting engine, and had niceties like cruise control and grip warmers.
But the R nineT did catch my eye. What made it so special that this rider (who was quite experienced) would keep it over what was a technically superior bike?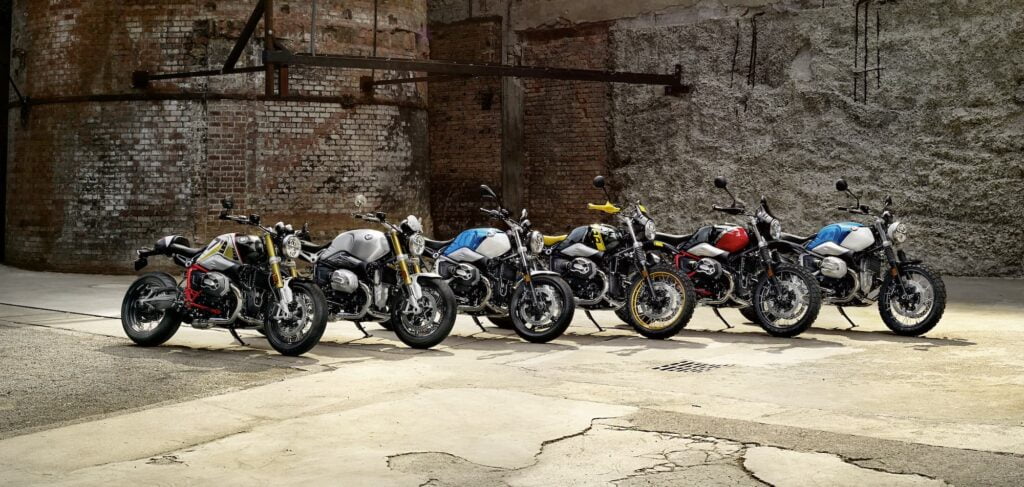 Ever since selling the R 1200 S I had missed the lopsided purr of the boxer twin and thought: when will I admit to myself that a 110 hp engine is "enough" to be sporty? Maybe these are worth a look…
So: The BMW R nineT is BMW's "classic" line of motorcycles. They've kept an older air-cooled engine alive by putting it into a throwback, retro designed chassis, and they use advertising with plenty of emotion to try to appeal to a different kind of rider.
(Here are some other modern air-cooled motorcycles that you can still buy.)
The R nineT range uses an air-cooled boxer twin engine (the "Camhead", which is a DOHC "Oilhead" — see my explainer of BMW engine types for more info) that BMW retired from its R 1200 line in 2014, but kept in the more classic R nineT.
See the complete guide to the BMW GS Boxers, from the R80 G/S to today, here.
Since its release, BMW has made a number of variants of the R nineT and added a ton of options you can get from the factory. It's a little hard keeping track of all the model variants, so I made this buyer's guide.
Updates:
1. Dec 2022: BMW R nineT 100 years, a nice-looking semi-custom.
2. May 2023: the R 12 nineT, the "cruiser" R nineT.
Are you obsessed with motorcycles?
Well, I am. That's why I created this site — as an outlet. I love learning and sharing what others might find useful. If you like what you read here, and you're a fraction as obsessed as I am, you might like to know when I've published more. (Check the latest for an idea of what you'll see.)
Common Specs of the BMW R nineT
Before going into the variants, it's worthwhile looking at what all the BMW R nineT models have in common. Below are their specs.
Item
BMW R nineT Spec (all models)
Engine
DOHC air/oil-cooled 1170-cc boxer.
"Camhead" generation engine
Peak power
~80 kW / 110 hp @ 7750 rpm (exact figures changed over time)
Final drive
6-speed transmission, dry single plate clutch, shaft drive
Front suspension
Inverted forks (specs vary)
Rear suspension
Paralever single-sided swing-arm
See here for how Paralever works.
Brakes
2 x 320 mm discs, 4-piston radial mounted monoblock calipers
Common R nineT specs
The drivetrain is from the twin-cam series of the R 1200 motorcycles, which BMW stopped producing after 2014. The R nineT even inherits the swingarm being on the right hand side of the bike (BMW changed that as of the liquid-cooled series) and the Paralever rear drive configuration, which helps reduce the torque jacking effect of the driveshaft.
(See more about how Paralever works here.)
BMW R nineT model line-up — In a nutshell
What all the BMW R nineT models have in common is the engine. In every variant it's the same 1,170 cc dual overhead cam air-cooled boxer twin, putting power down to the ground through a single plate dry clutch and a shaft drive. The engine is tuned the same in all models.
But differences are in the motorcycles' visual designs, fit, components that influence handling like geometry, tyres, wheels, and suspension.
Here are all the major models of the BMW R nineT, with differences made clear between them.
Model
BMW R nineT (2014-2016)
BMW R nineT (2017+)
BMW R nineT Pure (2017+)
BMW R nineT Racer 2017-2019
BMW R nineT Scrambler (2017+)
BMW R nineT Urban G/S (2017+)
R 12 nineT (2024+)
Overall design
Naked roadster
Naked roadster
Naked roaster
Sporty with clip-ons
Relaxed urban roadster
Relaxed urban roadster, street oriented
Urban cruiser roadster
Front suspension
Non-adjustable upside-down forks
Fully adjustable upside-down forks
Rebound-adjustable conventional fork
Rebound-adjustable conventional fork
Shallower rake, rebound-adjustable conventional fork with gaiters
Shallower rake, rebound-adjustable conventional fork with gaiters
Inverted fork (specs TBD)
Dash/gauges
Dual gauges
Dual gauges, separate housing
Single gauge
Dual gauges
Single gauge
Single gauge
Dual gauges
Wheels
Spoked wheels w tubed tyres
Spoked wheels w tubed tyres
Cast alloy, tubeless (optional spoked w tubed tyres)
Cast alloy, tubeless (optional spoked w tubed tyres)
19-inch front wheel
Spoked wheels, but tubeless tyres
19-inch front wheel
Spoked wheels, but tubeless tyres
Spoked wheels, details TBD
BMW R nineT line-up — Differences
The only variant of the R nineT line to have been retired is the Racer. And what a shame! Apparently, it was just too uncomfortable for people who wanted a classic bike, and not fast enough for people who wanted a fast bike (and who would have opted for the S 1000 RR). Read more about my thoughts on the R nineT Racer here.
2021 updates to the BMW R nineT line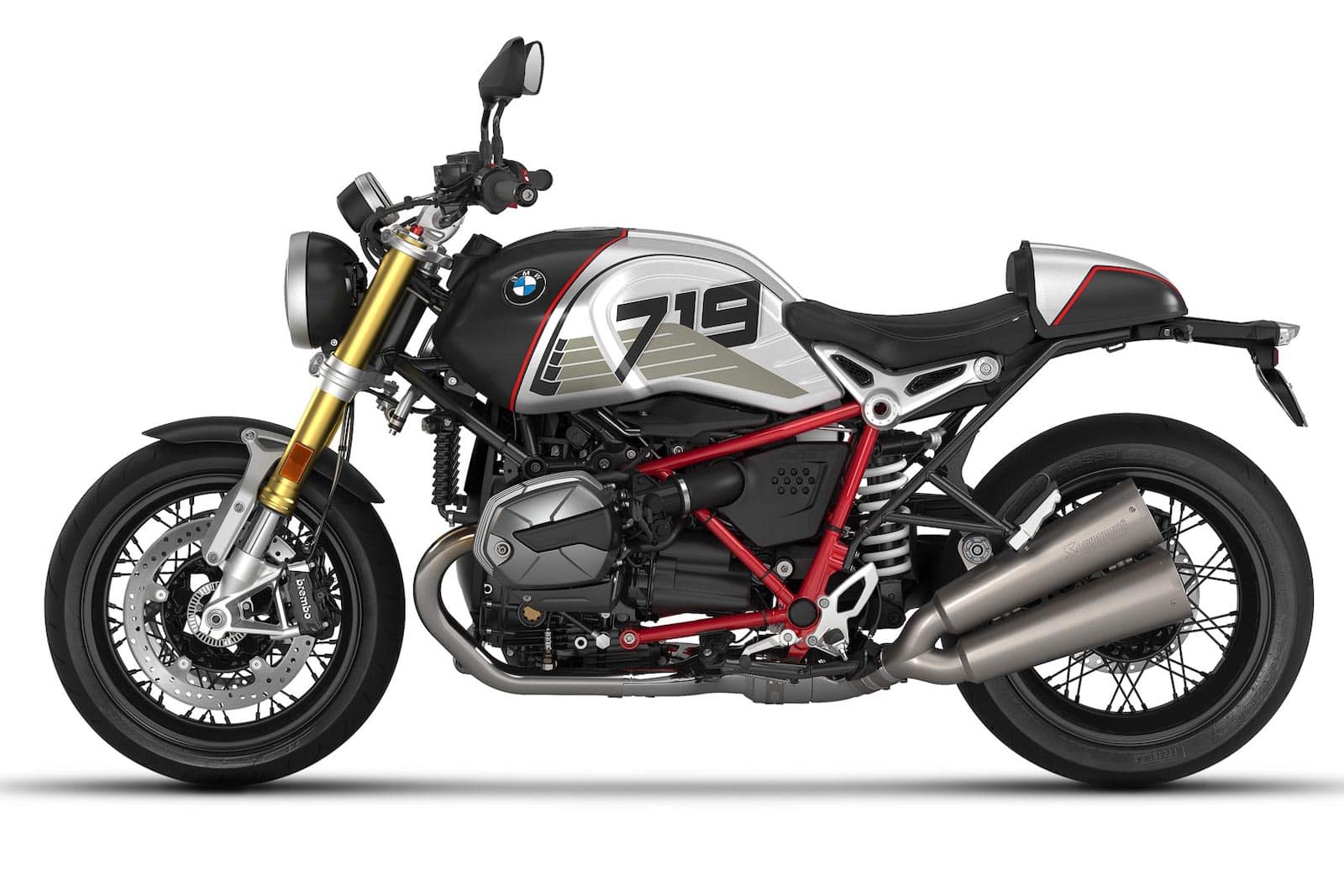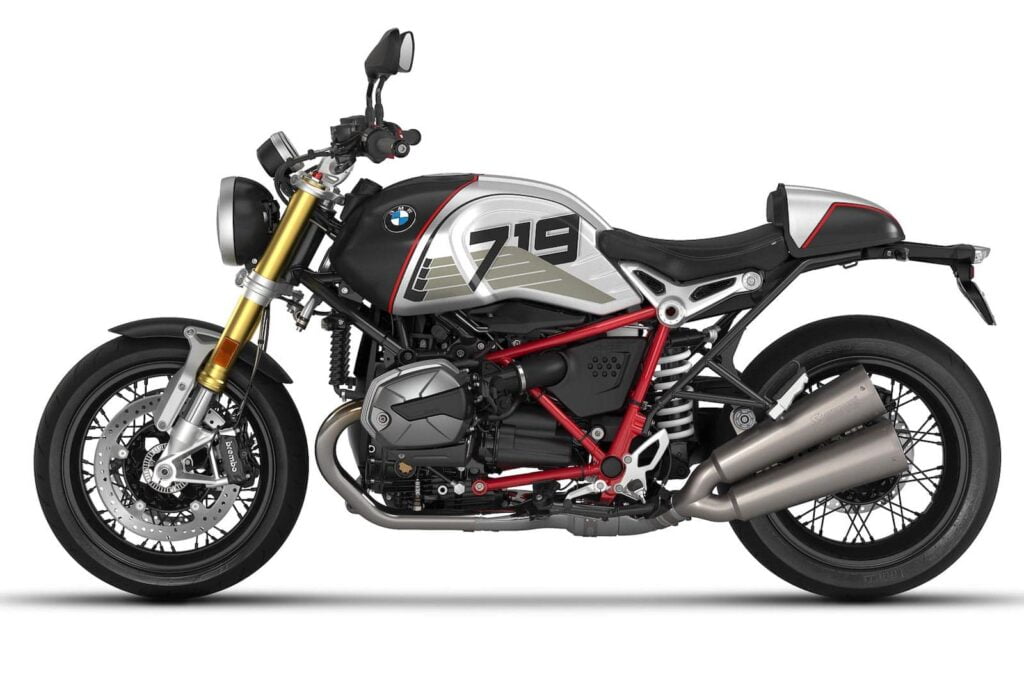 In 2021, BMW updated the entire R nineT range, so it doesn't make sense to add individual updates to each of the below models.
While the engine didn't change again, it was re-worked slightly to accommodate tightening emissions regulations — but the headline is that BMW only sacrificed one horsepower to get it EU-5 compliant.
BMW introduced a bunch of electronic rider aids across the line, including
Ride by wire, including cruise control
An inertial measurement unit (IMU), with standard ABS Pro (BMW's nomenclature for cornering ABS) including Dynamic Brake Control, and optional "Pro Riding Modes" (which give you different optional ride modes depending on the model of R nineT you own)
A new shock absorber including travel-dependent damping
LED lighting (including indicator lights that are "invisible" when not lit up)
A standard USB charging socket
A whole bunch of new colours and paint options
One thing that won't change about BMW in the short term is them capitalising on trends. There are lots of options, colours, and accessories you can use to customise your ride. It's impossible and redundant to catalogue them all here, though.
Which is the "Best" R nineT to get?
This is a question people often ask. Which one is the best to ride? Which one has the most features?
Since motorcycle decisions are so emotions-driven, and since classic/retro motorcycles in particular appeal a lot to emotions, it's likely you have an inclination towards one or another.
But if you think all R nineT models are great and just want to pick one of them, here's my suggestion: try (if your budget manages) to get a 2021+ BMW R nineT.
The reason is that the R nineT (the original) is the most highly spec'd of the bunch simply because it has the best suspension. You'll never be let down by it. The 2021+ version has a lot of advanced rider safety systems, like an IMU and cruise control.
If you can't quite stretch the coin that far, I'd go for a 2017+ BMW R nineT as second choice. Again, it has a higher spec level than most of the range, and while it lacks the electronics of the latest gen, I'd even pick a 2017+ BMW R nineT over most of the rest of the 2021+ models. (And I eventually did.)
Of course, if your options are limited, when buying a used BMW motorcycle just make sure your bike comes with a full service history, both keys, the manual, keys, and original parts. Without those, you'd lose up to thousands of dollars of value in resale. BMW owners are fastidious. This means that on the one hand, you're more likely to get those things. But if you don't have them, you'll have a harder time re-selling the bike.
Let's go on to the buyer's guide and discuss the differences between the BMW R nineT models you can get.
BMW R nineT "Classic" (2014-) — The Original but Not the Best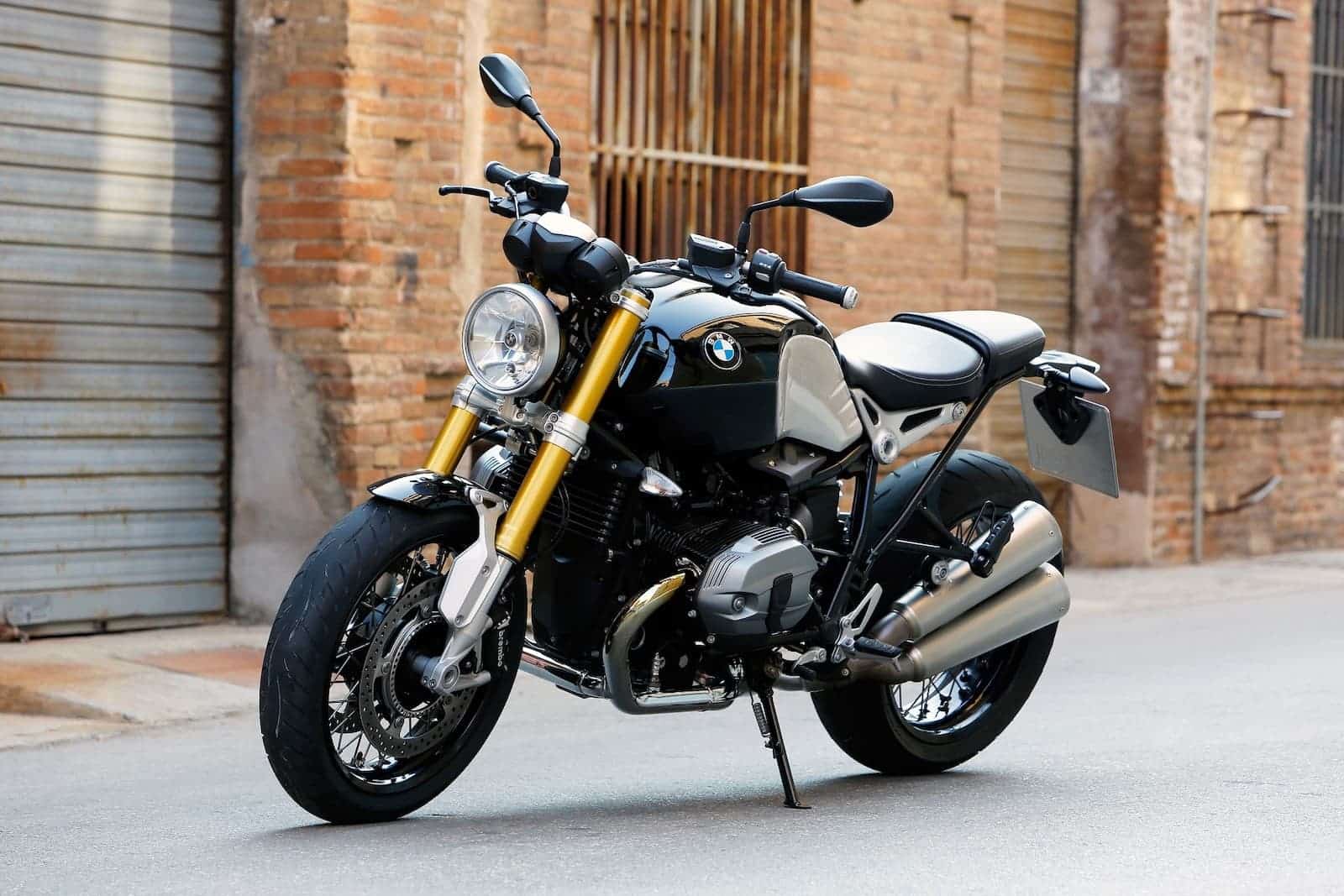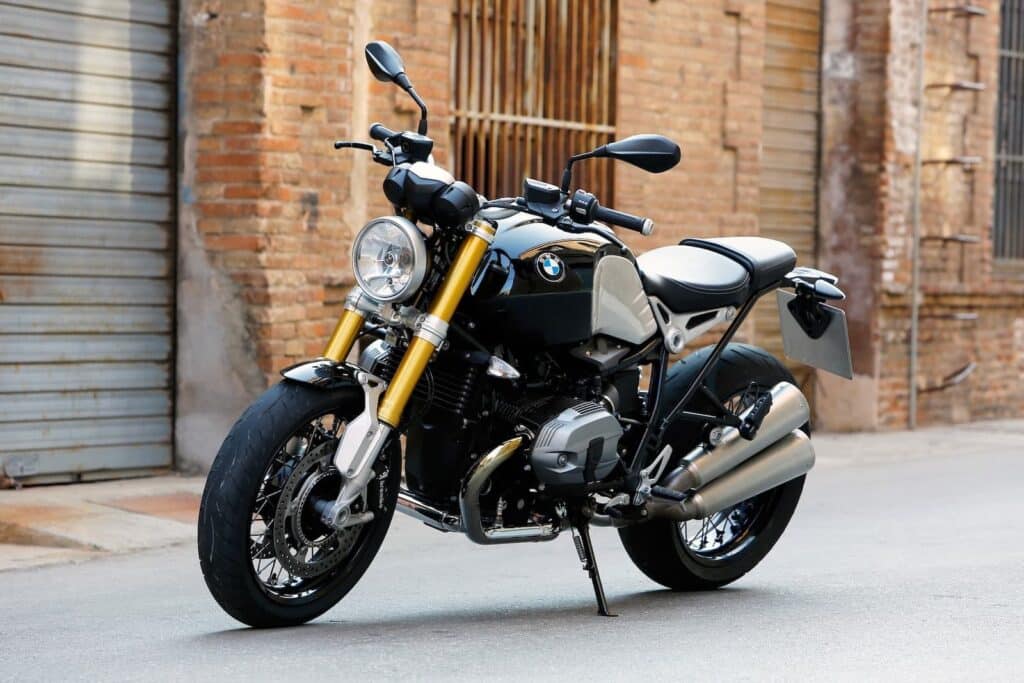 The first BMW R nineT was released in 2014. It wasn't called the "Classic", but to distinguish it from other R nineT models, that's what people call it now.
In 2014, the original R nineT used the same air-cooled boxer twin engine as the then R 1200 R, which was soon thereafter updated to become liquid-cooled. But it had some distinct contrasting elements to the R 1200 R of the time.
The main differences between the R nineT and the R 1200 R were as follows.
| Feature | BMW R nineT (2014-2016) | BMW R 1200 R (up to 2015) |
| --- | --- | --- |
| Engine | 1,170 cc air cooled boxer twin making 81 kW (110 hp) and 119 Nm, with a dry clutch and a shaft drive | Samesies, 1,170 cc air cooled boxer twin making 81 kW (110 hp) and 119 Nm, with a dry clutch and a shaft drive |
| Wheels | Wire spoked, tubed tyres | Cast aluminium, tubeless tyres |
| Front Suspension | Inverted telescopic fork (non-adjustable) | BMW Telelever with a central spring strut |
| Front brakes | 4-piston monoblock brake calipers, floating 320mm discs | 4-piston fixed calipers, 320mm floating discs |
BMW R nineT and R 1200 R specs compared
But really, specs only tell half the story. Look at the designs and you'll get a better sense.
As one reviewer put it: "You can do everything on the R 1200 R that you can do on the R nineT. Everything but look cool."
I think that's a little unfair. They look so similar! But closer inspection does show that the R 1200 R has a lower seat, more swept back handlebars, shallower rake, and a general more… er… less cool kind of feeling. The R nineT is all hipster.
From 2015 onward, the R 1200 R got liquid cooling. The differences started to increase and now they're two different lines… The modern BMW R 1250 R is a liquid-cooled more high-end motorcycle, and the R nineT is still the scrappy minimalist sibling.
Not everyone was a fan of the original R nineT. It's a custom roadster, so you ride it because it looks nice and makes you feel cool, but you'd have to overlook a number of shortcomings:
Too-soft, non-adjustable suspension. BMW announced that the forks were borrowed from the BMW S 1000 RR, but the forks dive heavily under breaking, which BMW downplayed with a lot of initial travel (which is also annoying).
Tubes needed for the spoked wheels, but no centre stand, so hard to deal with a roadside flat
No fuel gauge (a fuel gauge being common even on much older BMW motorcycles)
Thin, uncomfortable seat, with no storage (not even a little bit)
Apart from the suspension, it's easy to live with a lot of the above. But why should you? The 2017 update was much better.
Since 2014, aside from more models coming out, there have been a few revisions to the original R nineT.
2017 update to the BMW R nineT — Better Suspension (finally)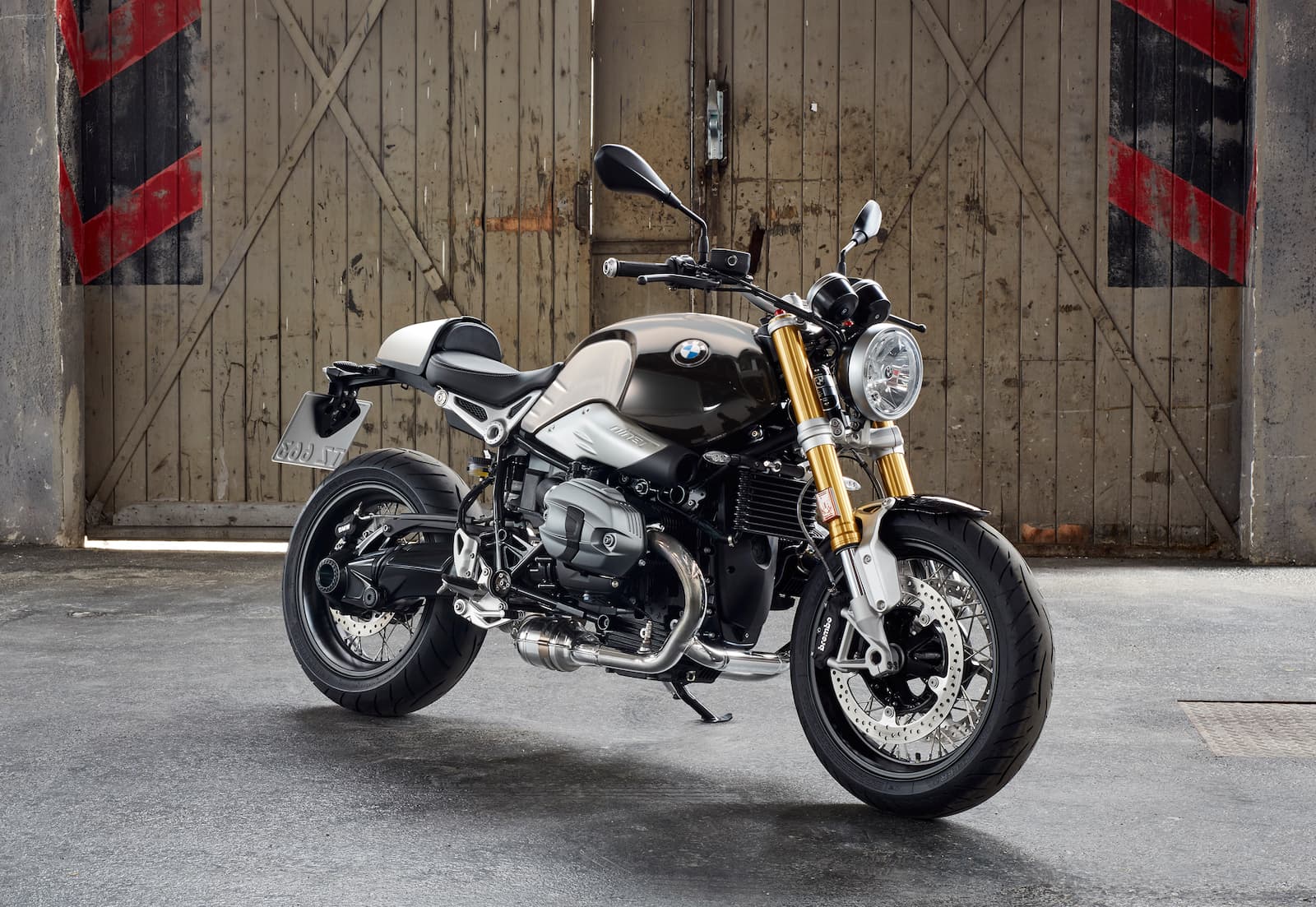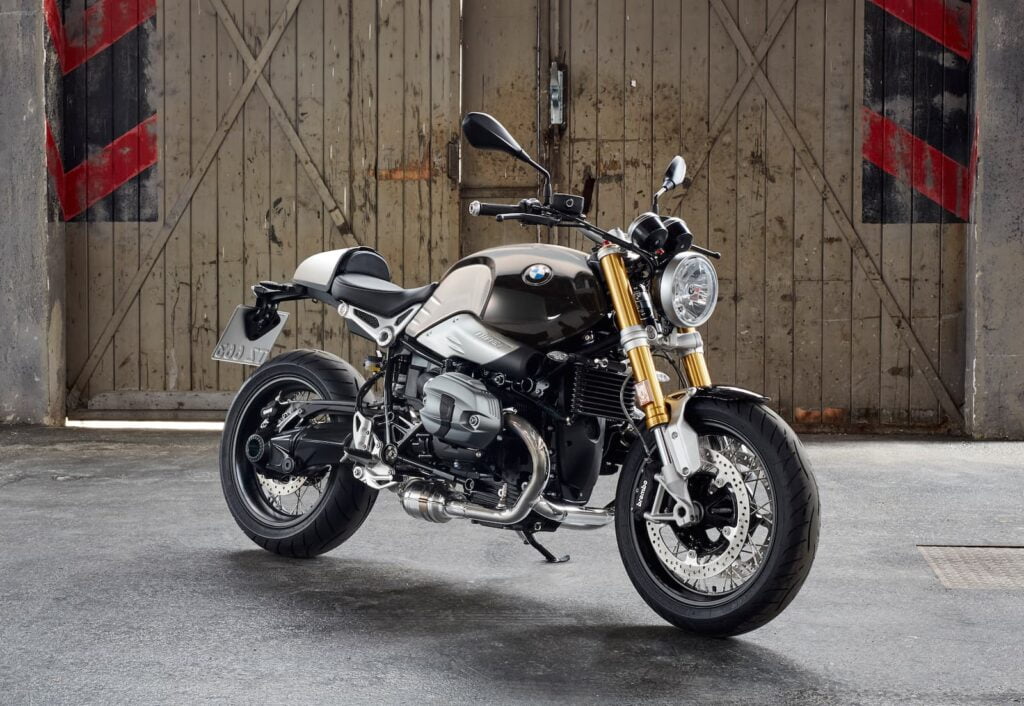 In 2017, BMW made a number of updates to the R nineT. These included
Adjustable front suspension — BMW optimised the suspension geometry and added full adjustability to the upside-down fork — preload, compression damping, and rebound damping. The rear suspension is also adjustable, but for general damping.
Separate instrument casings for the front display (rather than being in the one housing)
ASC (Automatic stability control) as an option
So really most importantly — suspension. But this in itself was a good upgrade, as many complained about the overly simplistic suspension on the earlier model.
See my suspension explainer to see why preload and damping adjustability are important.
BMW also released the rest of the range of R nineT models in 2017. They realised they were onto a good thing!
BMW R nineT Pure (2017+)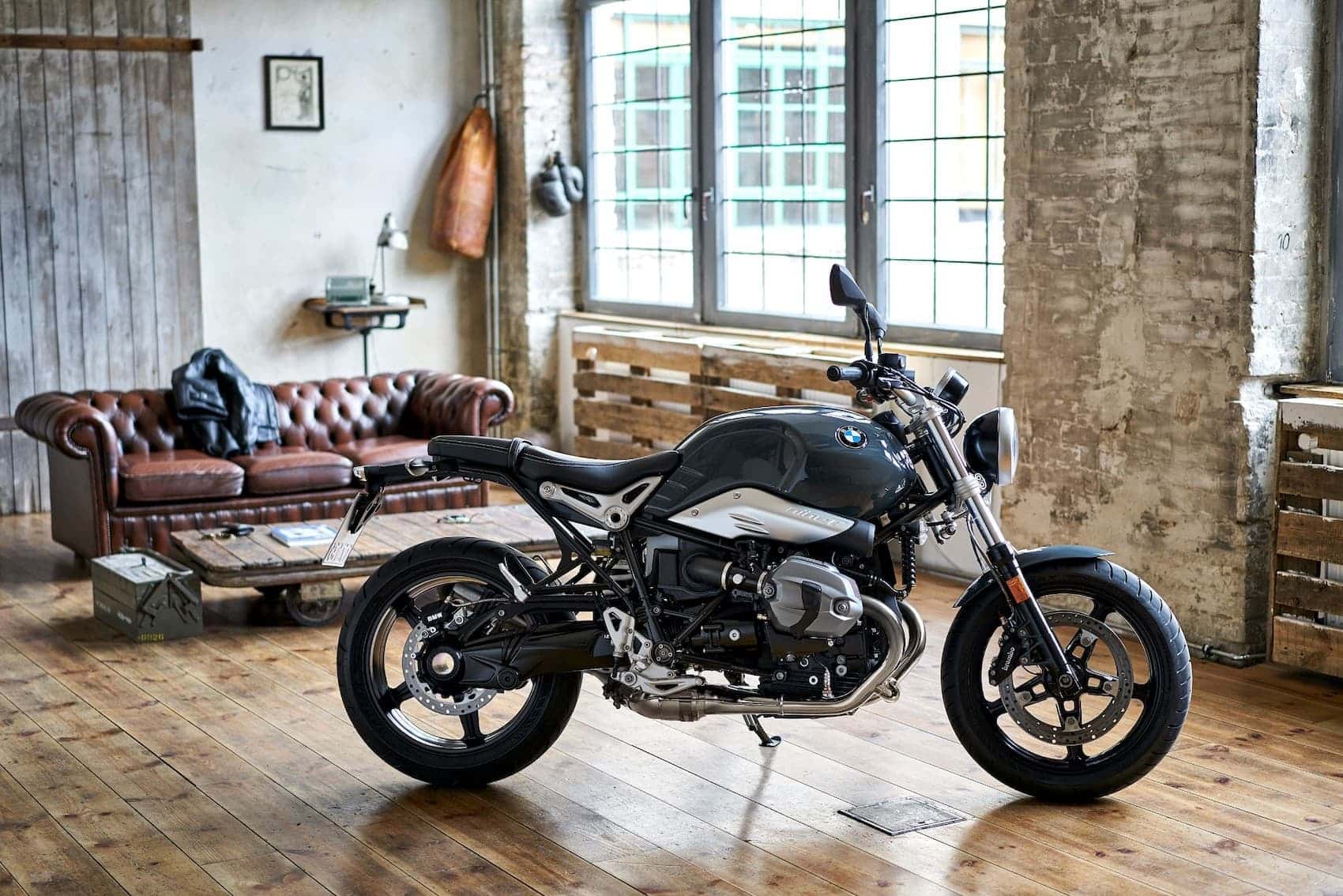 The first time I heard of the R nineT Pure, I assumed it meant the original one, not one of the variants like the Scrambler or the Racer. Wrong!
The BMW R nineT Pure is an even more stripped-down version of the R nineT. Essentially the things you don't get from the R nineT Classic on the Pure are:
Suspension — The R nineT Pure has more basic suspension than the new 2017 R nineT — no adjustability on the Pure
Cast wheels — a supposed downgrade, but the Pure doesn't need tubed tyres, which is my preference
Brakes — The R nineT Pure, like the rest of the BMW R nineT line (aside from the "classic"), gets slightly lower tech brakes. In spec they're the same (4-pot callipers, 320mm discs) but the parts are not interchangeable.
Steel tank — rather than the lightweight aluminium. Supposedly a downgrade, but it helps keep magnetic tank bags secure!
One less gauge — The R nineT pure only has one gauge. Is it minimalist, and enough?
Really, the most significant change with the Pure is the suspension. It keeps the same basic non-adjustable suspension that some people complained about on the original R nineT (which they changed for 2017 to a fully adjustable setup).
But is the Pure enough? Anyone looking into the R nineT Pure will go reading reviews and look for evidence that they might get sick of the suspension or find the brakes soft. The reality is that this is not the experience of most owners of the Pure.
The R nineT Pure is marketed as a simple bike, designed to not have any fancy doo-dads for you to have to figure out how to calibrate or understand — just get on and go. Many owners, seeking simplicity in their riding experience, get just that with the Pure. It's not a track bike, nor is it many other things, but it definitely is a bike you just "get on and ride", letting you absorb your surroundings rather than worry if you've tuned your suspension correctly.
You don't have a tachometer on the Pure (nor on most of the non-Classics), but the R nineT isn't a bike that you really relish redlining. If you want to race up through the gears, you can generally get a sense of when you're nearly there. Anyway, you can buy aftermarket tachometers that look very good from Wunderlich.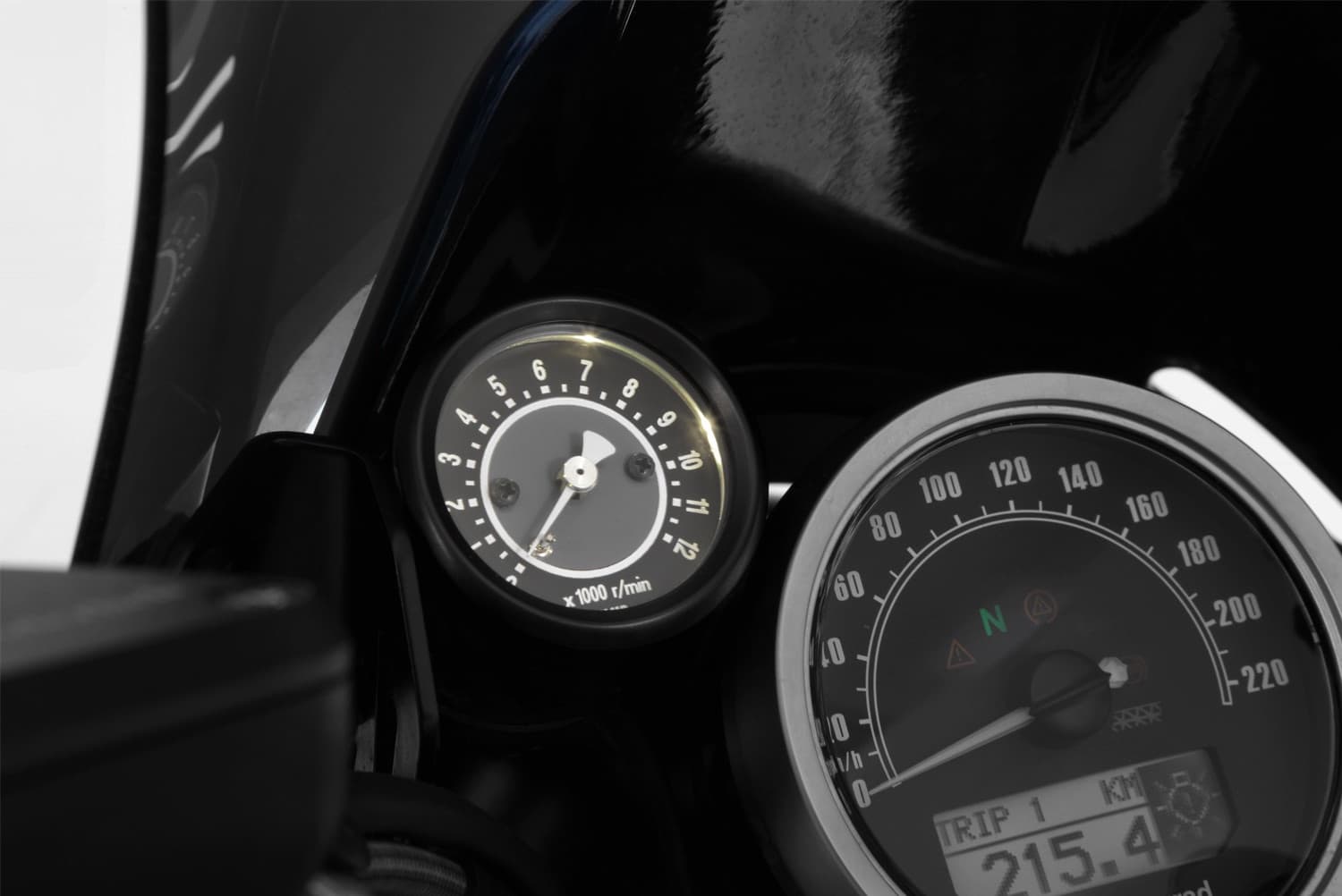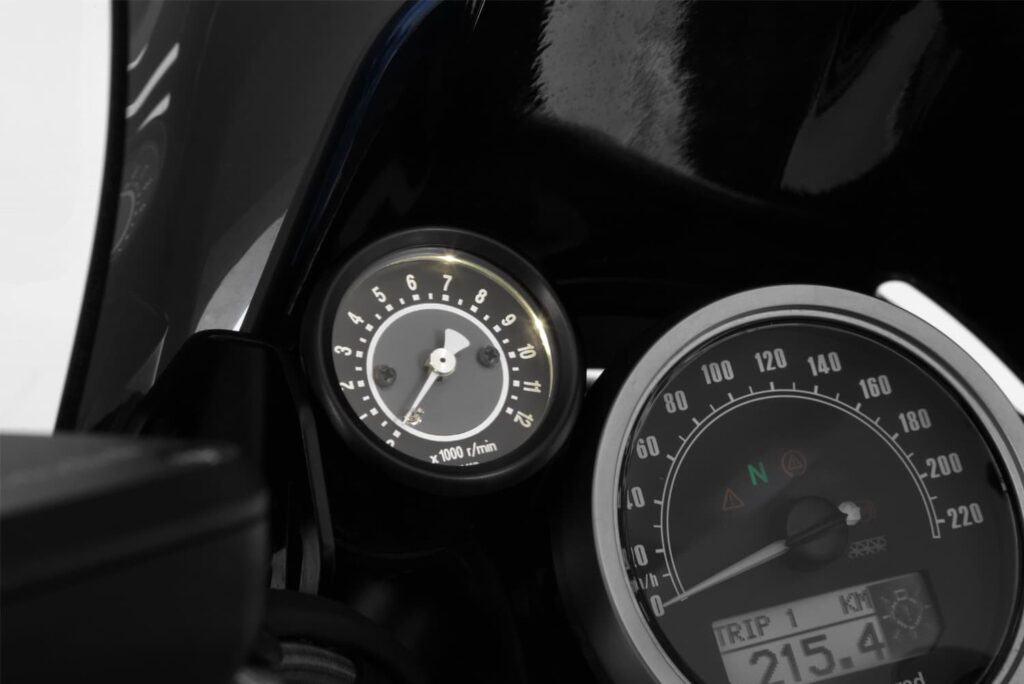 If you watch ride reviews on YouTube, you'll find people complaining in principle that the R nineT Pure doesn't have suspension worthy of the price point. But I don't hear or read people complaining about the ride quality.
BMW R nineT Racer (2017-2019) — The Eye Candy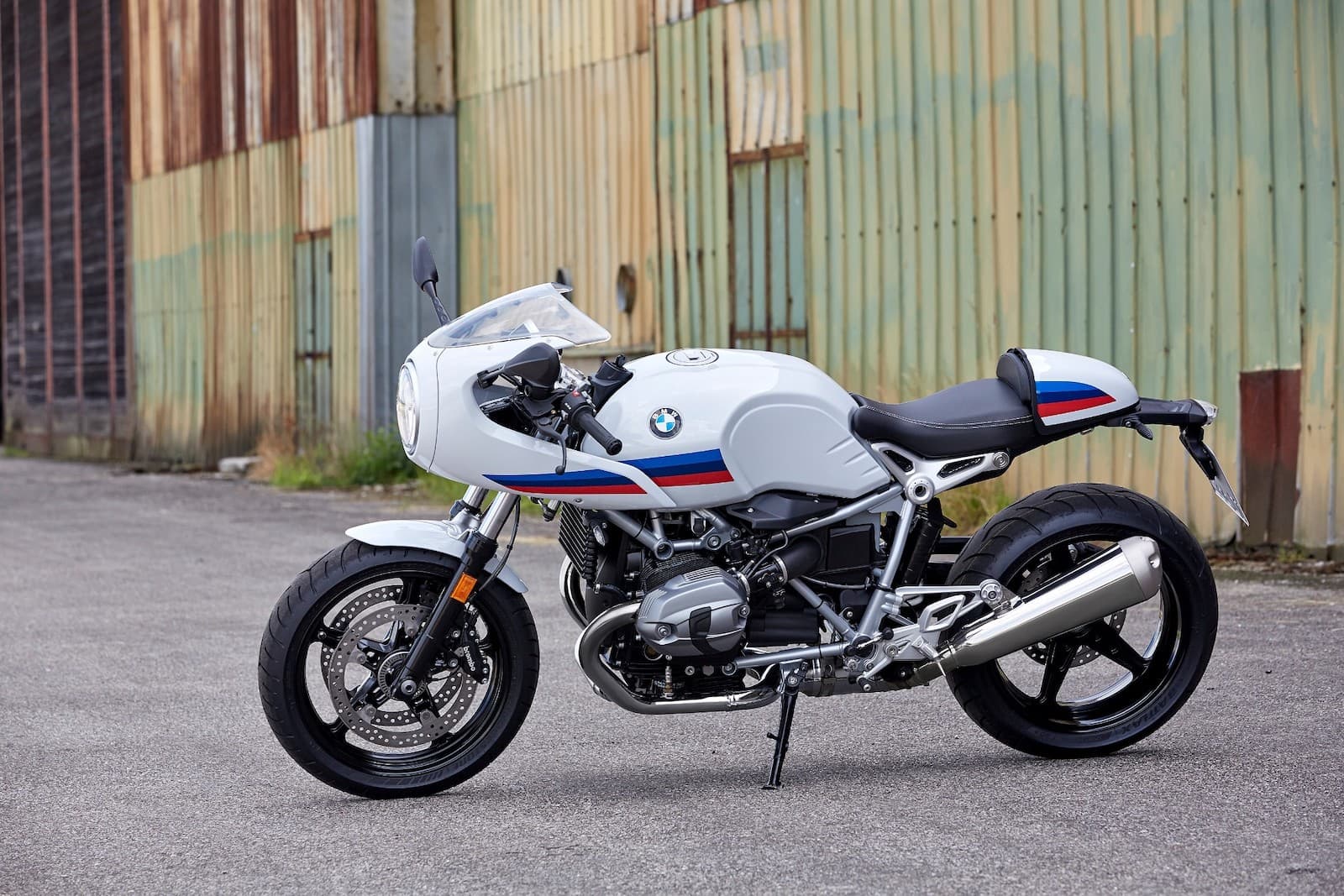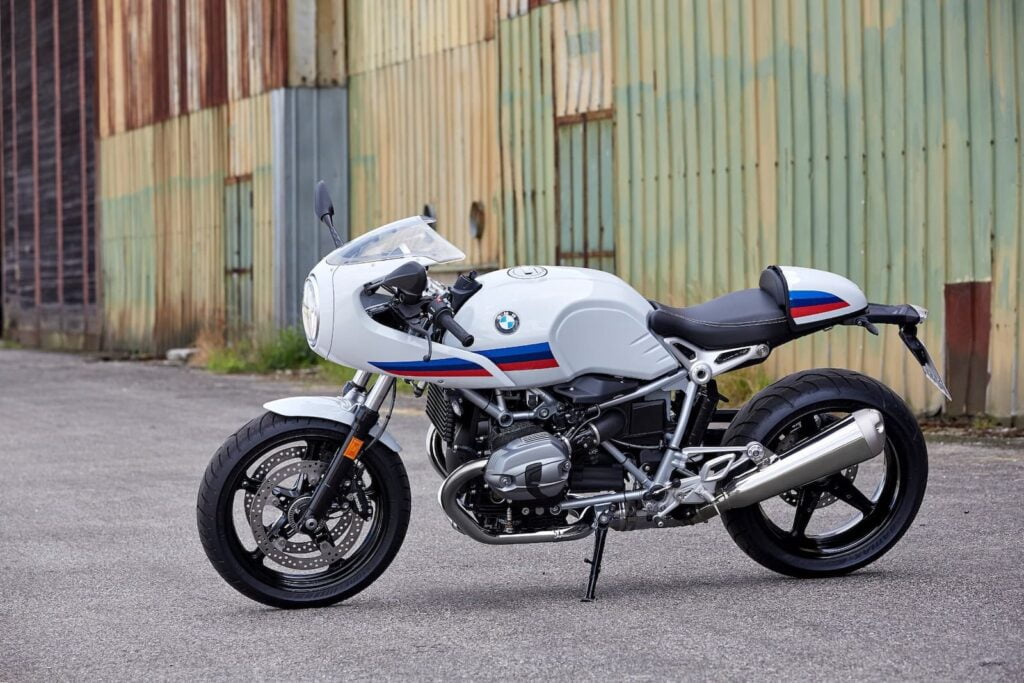 The BMW R nineT Racer was a beautiful looking but short-lived "racer" variant of the R nineT series.
Notable changes were
Ride position and aesthetic — this is a single-seated motorcycle with very low clip-ons, with reach over a long tank, and that small fairing that's more for style than anything else
Twin gauges in the dash (something eschewed by most of the other R nineT line-up)
Simple suspension — more on this below
The R nineT racer was retired in 2019 as it couldn't keep up with the competition — even within BMW's line-up. Yes, some sold to a loyal following, and they're definitely easy on the eye, but basically, competition was fierce.
The major let-down of the R nineT Racer was the suspension. It's really basic for a bike that has pretensions of being a "racer".
Firstly, it's a conventional fork, which means that you don't get the unsprung mass-minimising effect of a USD fork.
Secondly, it's non-adjustable (not even for pre-load, let alone for damping). This is OK on a "Pure" motorcycle, but on a Racer, it seems like a huge oversight.
And finally, it is an old-school damping rod, not a cartridge suspension unit. Essentially this will translate into a bumpy ride, dive when braking, mis-matched settings unless you happen to be the perfect BMW test rider right in the middle of their weight range, and the weird feeling that you just spent a lot of money on a motorcycle that actually doesn't like to go fast around corners.
See our suspension overview for more information on suspension technology.
So for those looking for a "comfortable sports bike" experience, money would be better spent on a Ducati Supersport or a Triumph Thruxton R (of the era). For those looking for an actual sportbike experience, BMW's own S 1000 RR (or any of the litre bikes) is a far more sophisticated punt — a better engine, better handling, lower weight… those are actually made to race, despite the Racer's moniker.
But again, the Racer is enough motorcycle for many, despite any technical objections. If you consider it a styling exercise, don't necessarily want to "race" on it, like aesthetic beauty a lot more than function, and aren't seduced by the alternatives… the Racer makes many people happy.
If you really like the style of the BMW R nineT Racer (and I do! Frankly, I can't stop looking at it), and want to make it work for you, either get used to the suspension, don't go too fast (not everyone likes to), and/or budget getting the suspension upgraded.
See more on what happened to the beautiful BMW R nineT Racer.
BMW R nineT Scrambler (2017+) — Cashing in on the trend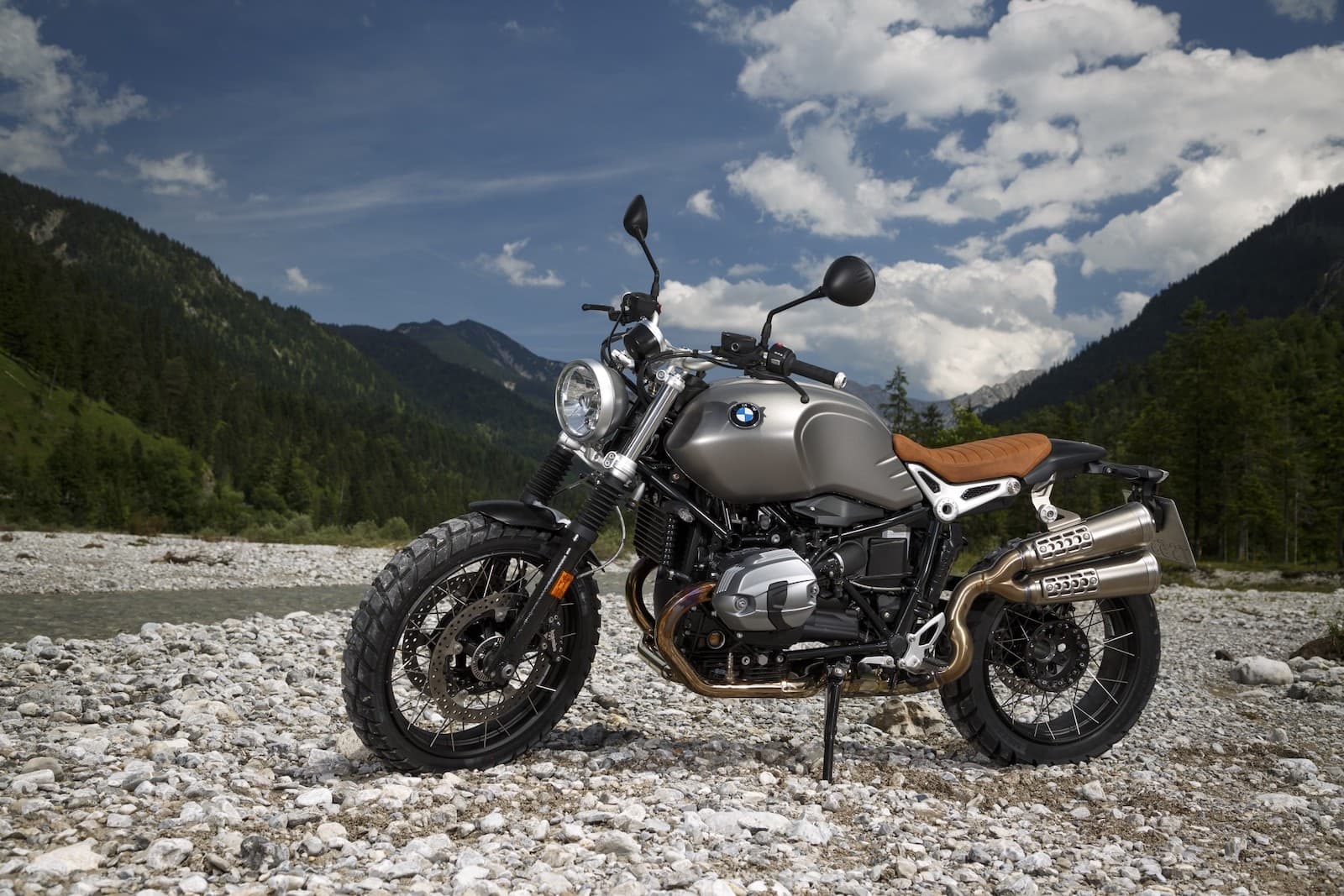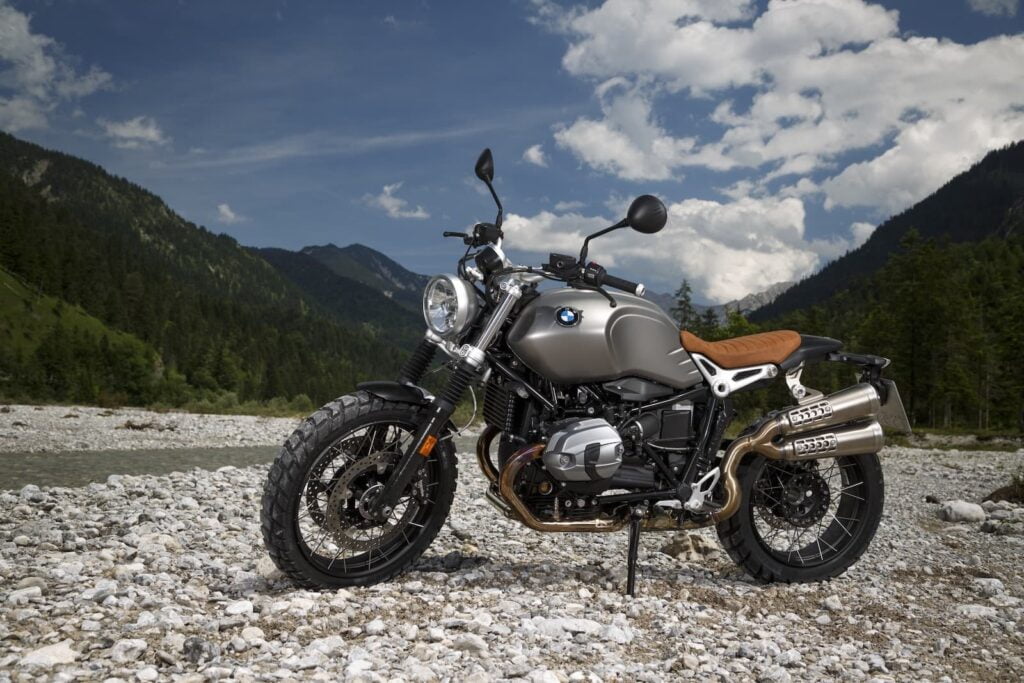 The BMW R nineT Scrambler is BMW cashing in on the "Scrambler" trend. It has slightly revised geometry (higher bars, taller seat, repositioned foot pegs), a raised exhaust, a leather stitched seat, and round mirrors.
Other notable features of the BMW R nineT Scrambler are:
Basic, non-adjustable, conventional (non-USD) suspension, with fork gaiters
19-inch front wheel, knobby tyres, Metzeler Karoo 3s (that are tubeless, thankfully); you can get street tyres as standard too (if you buy new) for the same price. Optional laced wheels.
Single gauge — an analogue speedometer/tripmeter (and no tachometer)
Steel tank (rather than aluminium)
Cosmetically there's no doubt that the BMW R nineT scrambler is beautiful. The stock exhaust both looks and sounds great, as good as a gentle aftermarket system on many other motorcycles.
Reviews of riding the R nineT Scrambler are mixed. In short
Not really a scrambler: Compared to other retro scramblers (the Ducati Scrambler 800 and Triumph Street Scrambler), the R nineT Scrambler is the most powerful but also the heaviest and thus least likely to actually "scramble". Suspension travel isn't good for anything other than packed dirt roads. This is a weird claim though, as I think apart from photoshoots, basically 100% of people wouldn't use this to deliberately go offroad and go camping. It'd get dirty! (and maybe fall over and give you an expensive repair bill)
Handling not as good as others in the line: The geometry and the knobby tires (which you can swap out, of course) means that cornering the R nineT just doesn't hold up to R nineT models. The increased rake mean you have to muscle it into corners more, adding to the effort of steering on non-road tyres if you opted for knobbies.
Non-adjustable forks: They're fine if you're the right weight, but many are not. Per Cycle World: "Then you notice the suspension— a serious downgrade. It crashes over bumps, juddering the entire bike, and the rear features very little damping as well."
It's not a bad ride, it just doesn't hold up to the standard of the R Nine T or even the R nineT Pure.
And interestingly, given some of the common features of the R nineT Urban G/S, people even prefer the G/S to the Scrambler.
BMW R nineT Urban G/S (2017+) — Trying to Recapture the Glory of the original G/S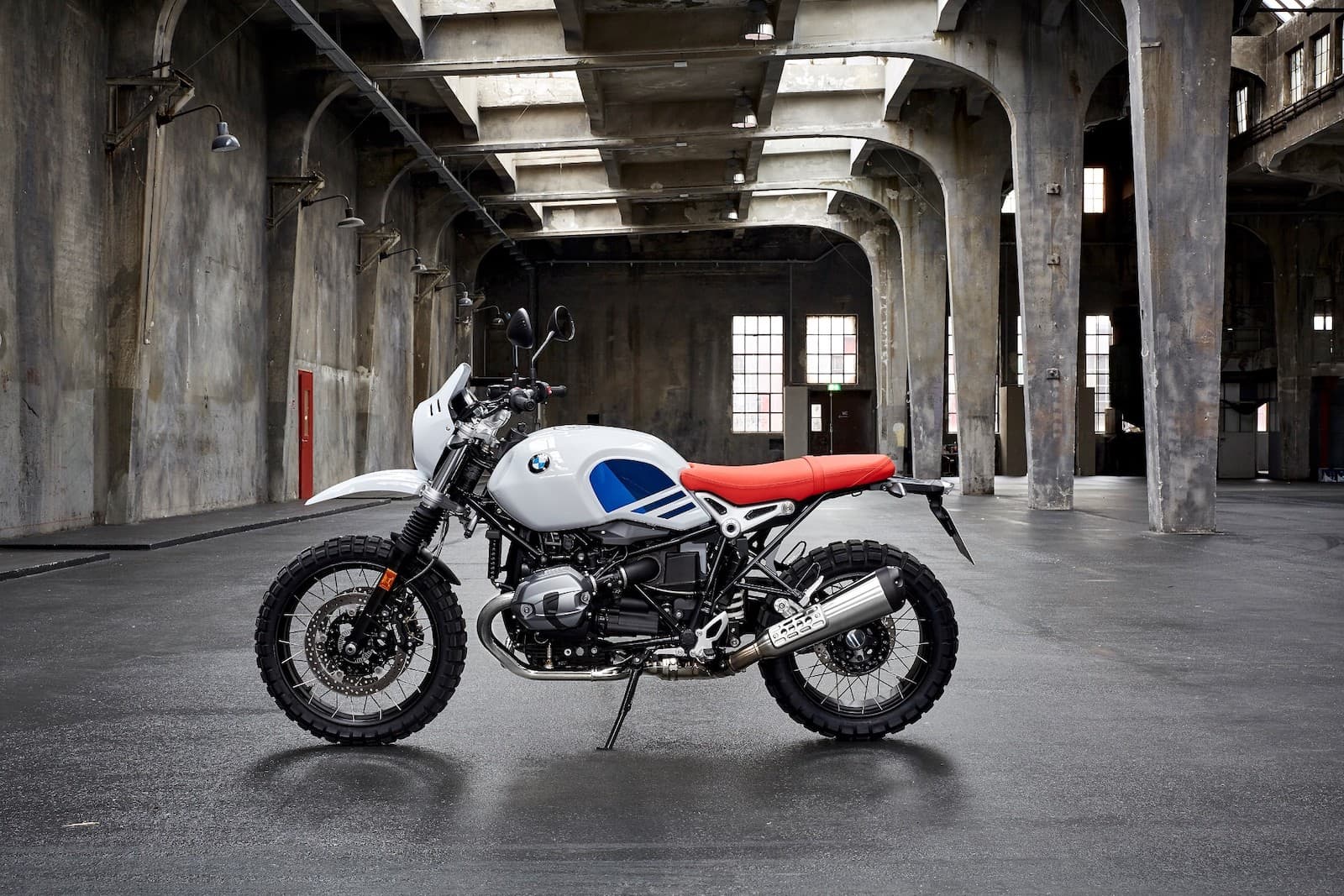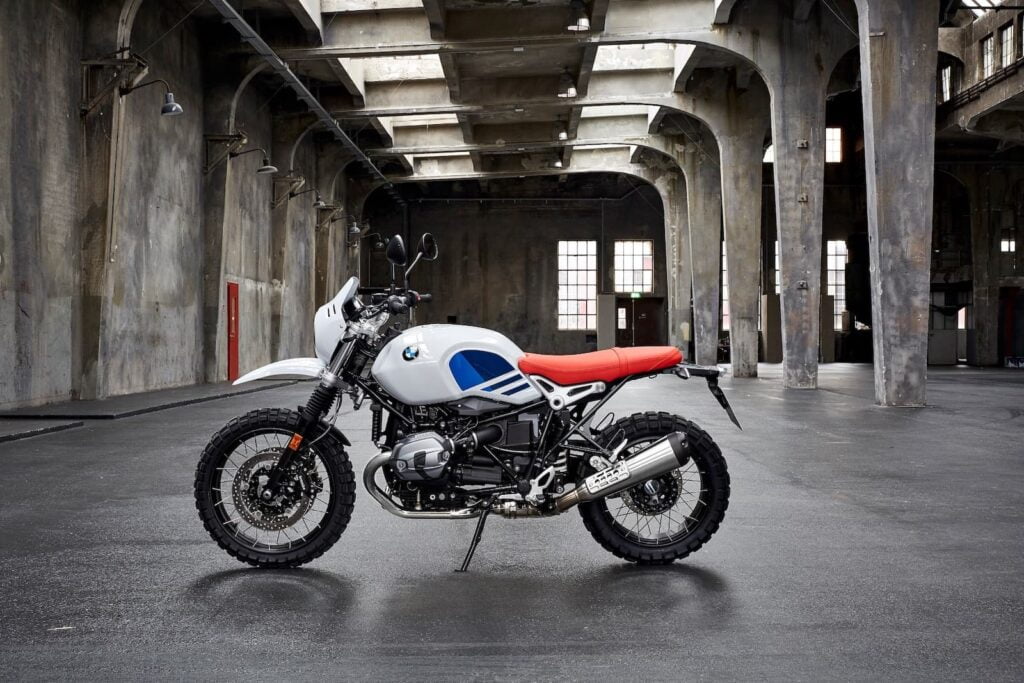 Finally, the BMW R nineT Urban G/S.
The name is a little confusing. Isn't the G/S an adventure bike? Doesn't that contradict "Urban"? True on both counts, but that naming scheme acknowledges the reality of most "adventure" motorcycle owners: that the biggest adventures we usually take are aggressively riding over speed bumps, pot-holes, and sometimes kerbs.
Whatever, I don't care how people ride their bikes. I have a 300+ km/h bike that I barely have taken over the speed limit (I mean… I never have, officer). But I'm just saying: the Urban G/S is a styling exercise. You can ride it however you want, but BMW don't really expect you to go rock-hopping on this, or touring around the world. (But you could!)
The R nineT Urban G/S draws its style inspiration from the R80 G/S, an airhead from the past that was — for its day — a legitimate adventure bike.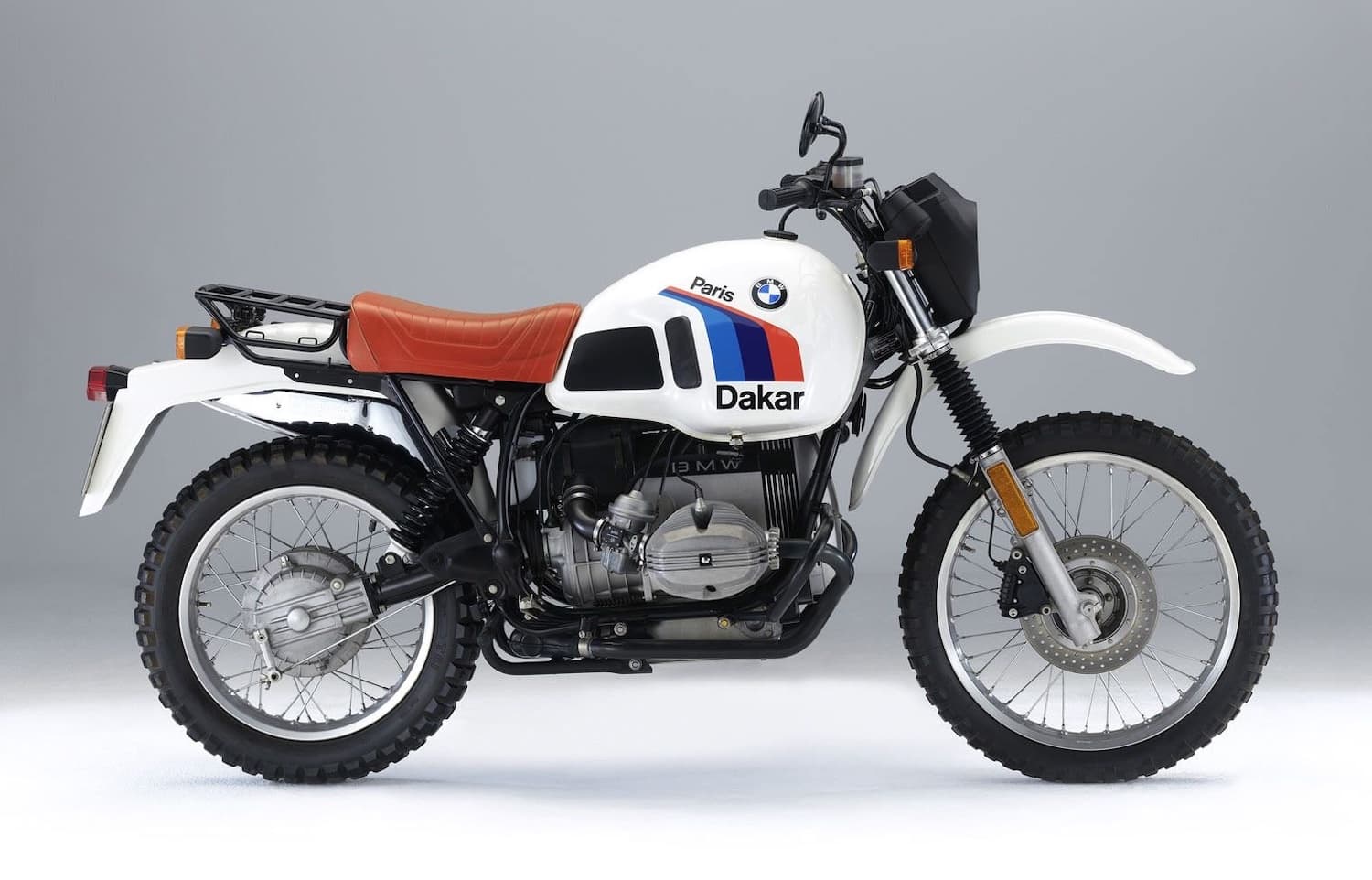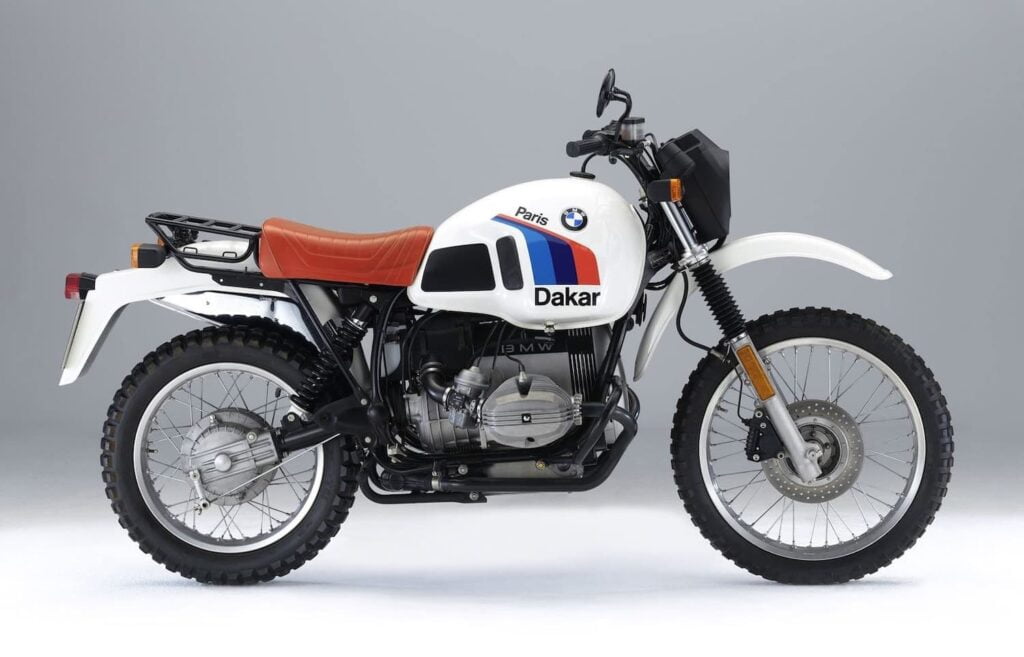 The etymology of G/S itself is interesting and telling. The G stands for Gelände, which means grounds, premises, terrain, or country. The S stands for Straße, which means road. It's understood to mean "Offroad/Road", which captures the dual nature of the G/S spirit. And yes, the Urban G/S has a forward slash in its name (unlike other modern GS bikes).
These days, other motorcycles in the GS line — like the F 850 GS or the R 1250 GS — more capture that dual nature. But the R nineT Urban G/S most looks like the original bike that redefined adventure motorcycling.
See here for the guide to the GS line of motorcycles.
The Urban G/S is actually very similar to the Scrambler. They share the same geometry (higher handlebars, shallower rake), simple suspension (conventional, non-adjustable forks, with fork gaiters), and both come with optional knobby tires.
But there are some important differences.
Tyres: If you opt for knobbies, the Urban G/S gets Continental TKC-80s, rather than Metzeler Karoo 3s. The Continental tyres are much better in the dirt.
Lower exhaust pipe (not the raised pipe of the Scrambler)
Raised mud-guard, like the old R80 G/S
Longer seat
Different paintwork
Criticisms of the Urban G/S are similar to those of the Scrambler — other than the stock knobby tires being better ones. The suspension is adequate, rather than anything amazing. Visordown wrote "The G/S's suspension sucked up all the lumps and bumps I could aim it at. While the fork and shock don't feel luxurious, they work well and kept the Urban G/S composed and comfortable." Sounds fine to me.
BMW R 12 nineT (2024+) — The "Cruiser"
In mid 2023, BMW announced the R 12 nineT, a more relaxed roadster, for the 2024 model year. It's named in a way that obviously hints to the BMW R 18, though this isn't as relaxed a cruiser as the R 18.
See here for the BMW R 18 buyer's guide.
The most important difference is that the R 120 seems to have a more relaxed rider triangle. From the positioning of the foot pegs relative to the seat, it looks like a rider won't have to bend their knees as much.
However, I can't tell exactly what it'll be like, and it's possible my perspective is wrong. Regardless, the BMW R 12 nineT looks like it'll be closely related to the top-spec BMW R nineT, with an inverted fork and dual gauges. BMW will release more info later in 2023.
Special editions of the BMW R nineT
Occasionally BMW releases special versions of the R nineT. These are usually base models with a bunch of trick aftermarket components and some special paint / livery. These are a few of the main ones I've come across.
BMW R nineT /5
In mid 2019, BMW announced the BMW RnineT /5, to celebrate the 50th anniversary of the /5 series and 50 years of BMW Motorrad production in Berlin Spandau.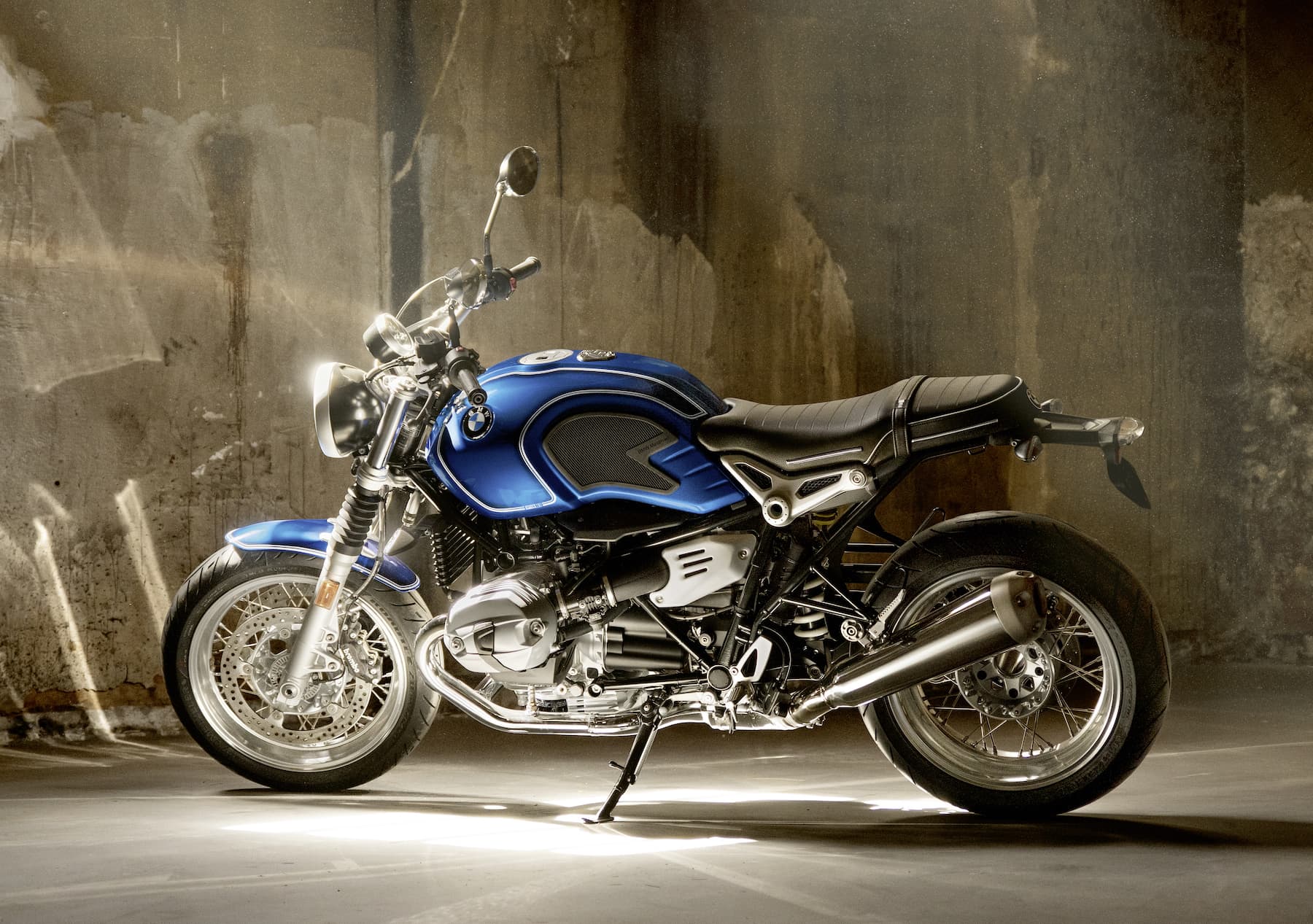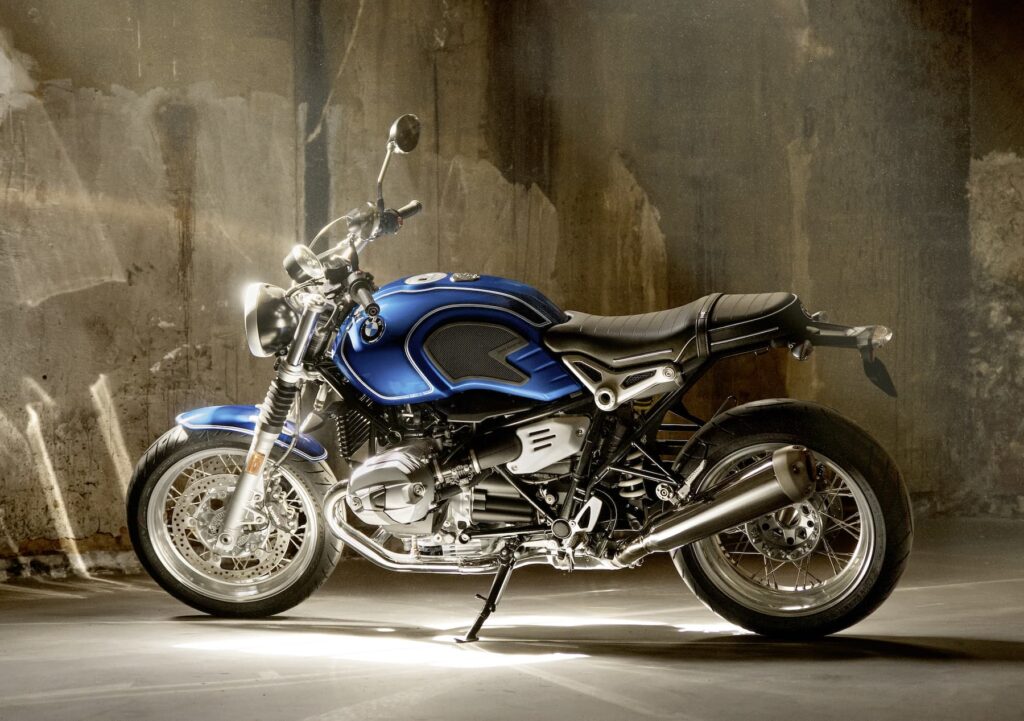 Interestingly, this special edition is apparently more based on the R nineT Pure. It has a single gauge and a conventional fork with fork gaiters.
But the /5 anniversary model is no ordinary Pure — it has a lot of cosmetic changes. The anniversary model comes in Lupine Blue metallic with a smoke effect, and a double line marking the fuel tank, which also has an anniversary emblem.
BMW added chrome to the mirrors, exhaust manifold, and exhaust, and gave the /5 a special contoured seat with cross-embossing on the cover.
The BMW R nineT /5 also has an aluminium silver coating on the engine, gearbox, fork slider tubes, hubs, and spokes.
BMW R nineT Scrambler "40 Years GS"
Along with the launch of the new 2021+ R nineT, BMW released the Scrambler in "40 years GS" livery to acknowledge 40 years of production of G/S and GS models.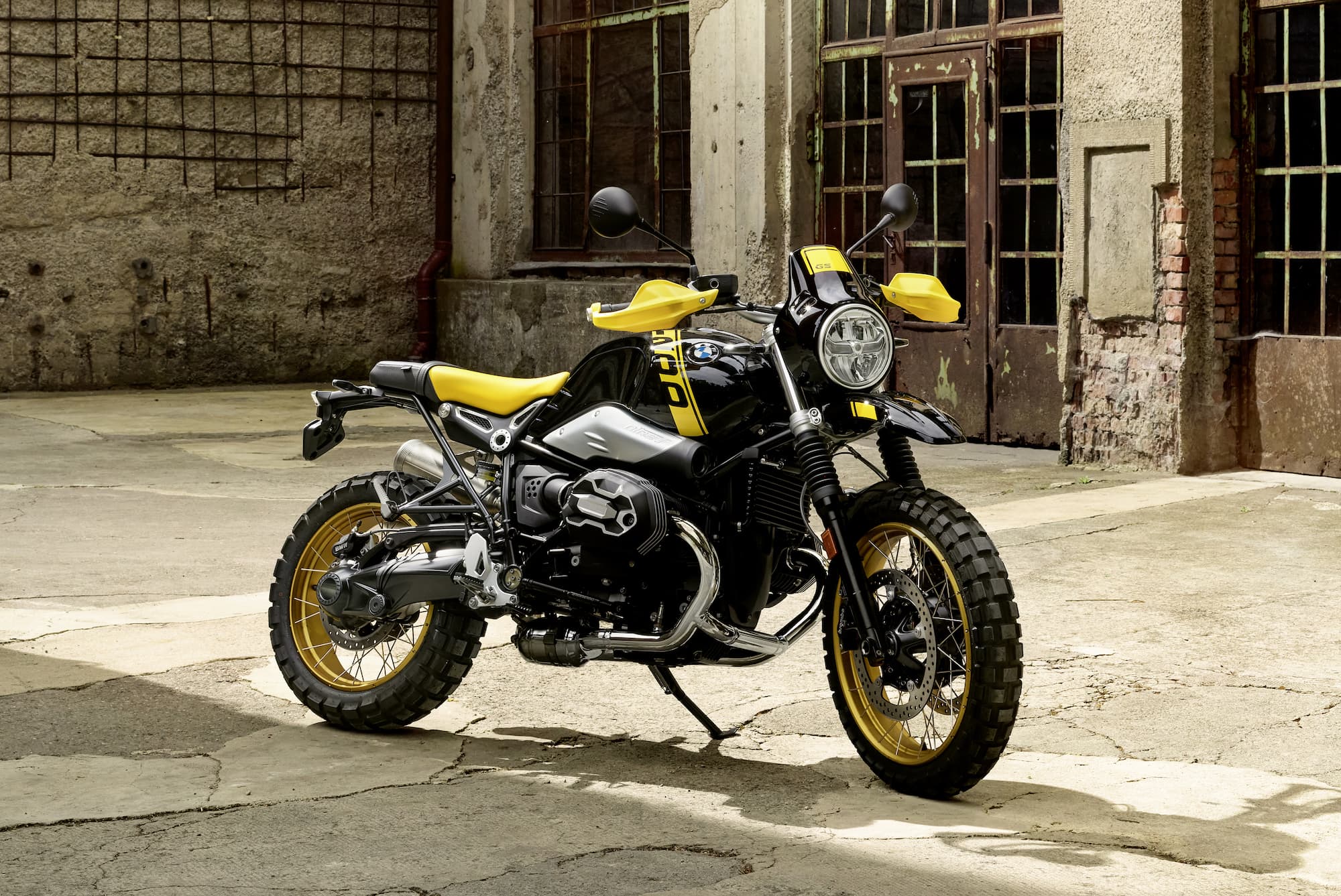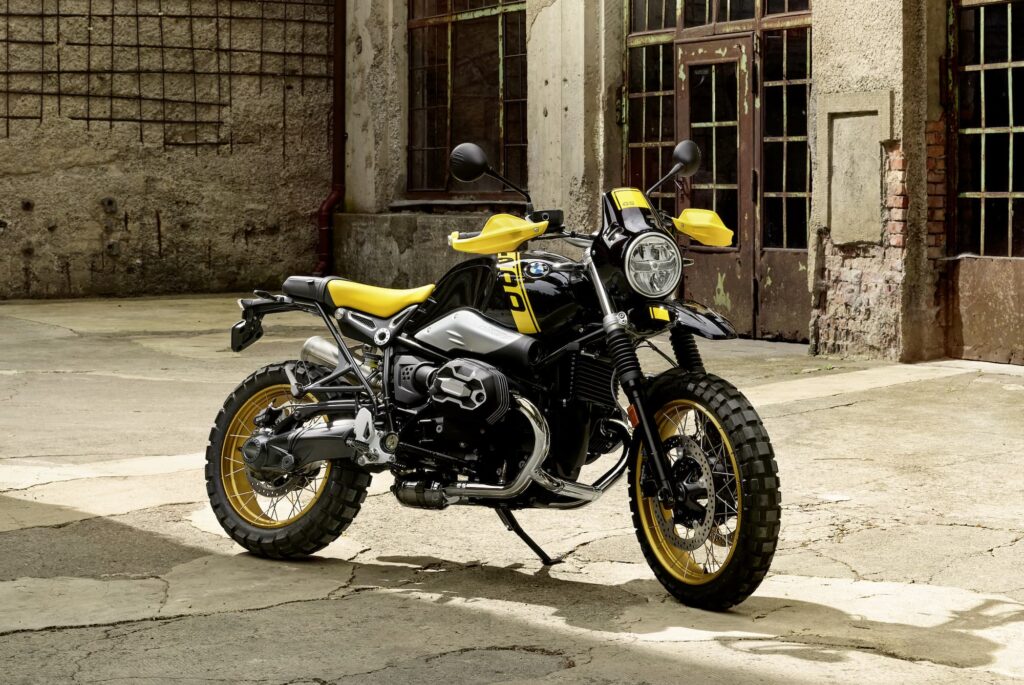 The 40 years GS version of the R nineT Scrambler comes in special black/yellow paint finish, various logos, hand protectors, cross-spoke wheels with off-road tires, some Option 719 details, and the full Comfort Package (heated grips, cruise control).
I have to say it does look cool. But it cost a pretty penny, too. Besides, I'm not sure that this is designed to be scratched up by scrambling in the bush.
BMW R nineT 100th Anniversary
For 2023, BMW has released a "100th Anniversary" edition of the R nineT (the base, high-spec version). This celebrates 100 years of BMW Motorrad, which started in 1923.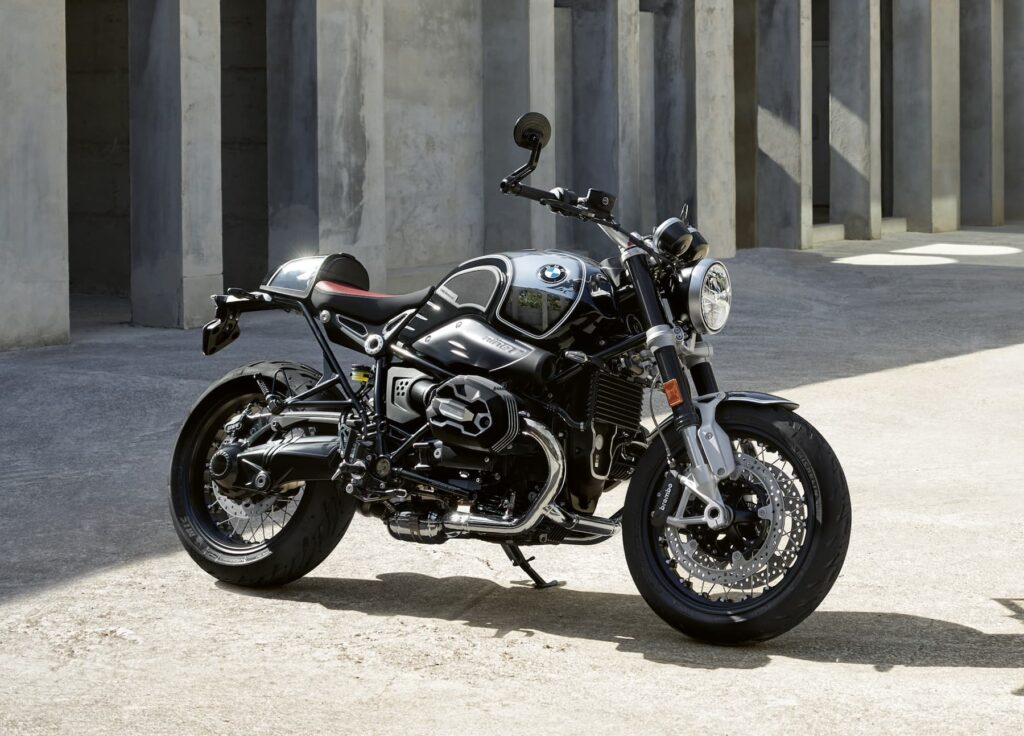 It's the same motorcycle, but with a bunch of chrome on it (e.g. the tank, the seat hump), a "100 years" badge, and lots of other black and two-tone features.
It also has a ton of Option 719 milled parts, including bar-end mirrors, adjustable hand levers, and a foot rest system, plus the full "Comfort Package" with heated grips, cruise control, and driving modes pro.
Alternatives to the BMW R nineT Series
So, you want a stylish throwback, but don't necessarily want an R nineT?
Luckily, "classic" machines made a bit of a comeback in the last five years. If you narrow the field to air/oil-cooled, upright motorcycles… frankly, choices are a little slim. But broadening to include liquid-cooled gives a few more options.
Alternative 1: Triumph 1200 series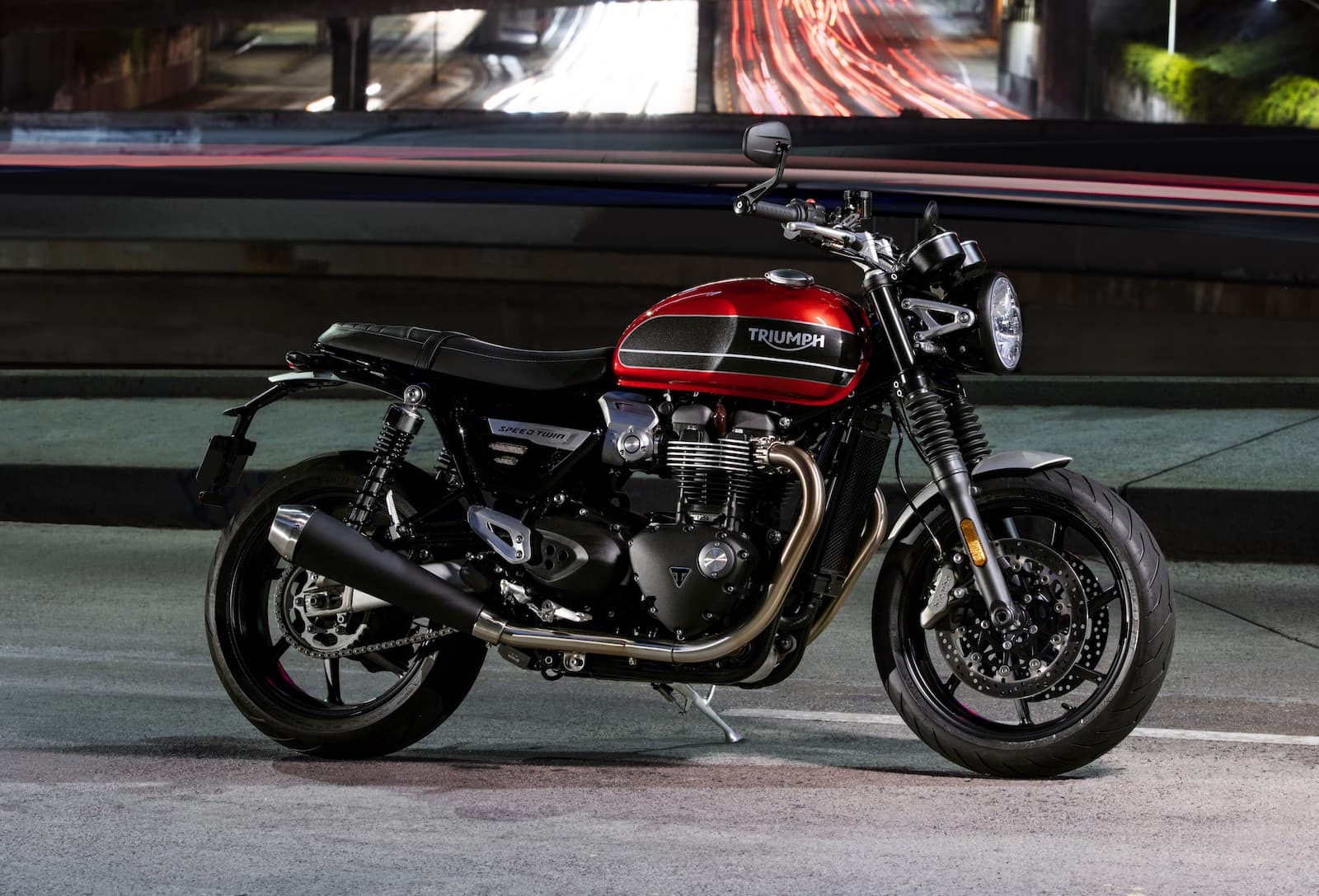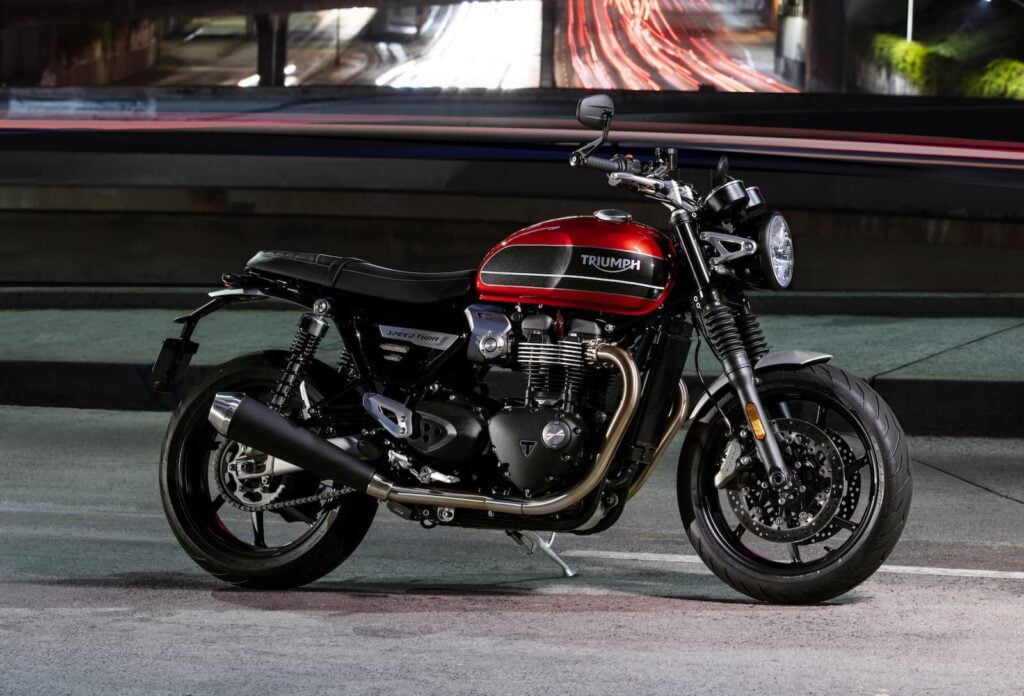 Firstly, if you're buying a BMW, you've probably eyed a Triumph. I'd head straight for the Triumph 1200 series, including the Triumph Speed Twin (which I didn't really like, but which you might!), Triumph Thruxton RS, and the Triumph Scrambler 1200.
The Triumph 1200 series uses a 1200cc parallel twin with a 270-degree crank. They're liquid-cooled, but still stylish, modern, and classic looking. The peak power they produce is a little lower, but these kinds of bikes are more about mid-range grunt, character, and aesthetics than they are about outright power.
Like the BMW R nineT, the Triumph 1200s come in a number of flavours: the Bonneville (the everyday standard), the Thruxton (the sporty racer), the Scrambler (the off-road styled bike, but with actually some decent ground clearance), the Speedmaster (a cruiser), and the Bobber (a bobber-style cruiser). Triumph configures each of these quite differently, even tuning the engine differently.
Alternative 2: Ducati Scrambler 1100 series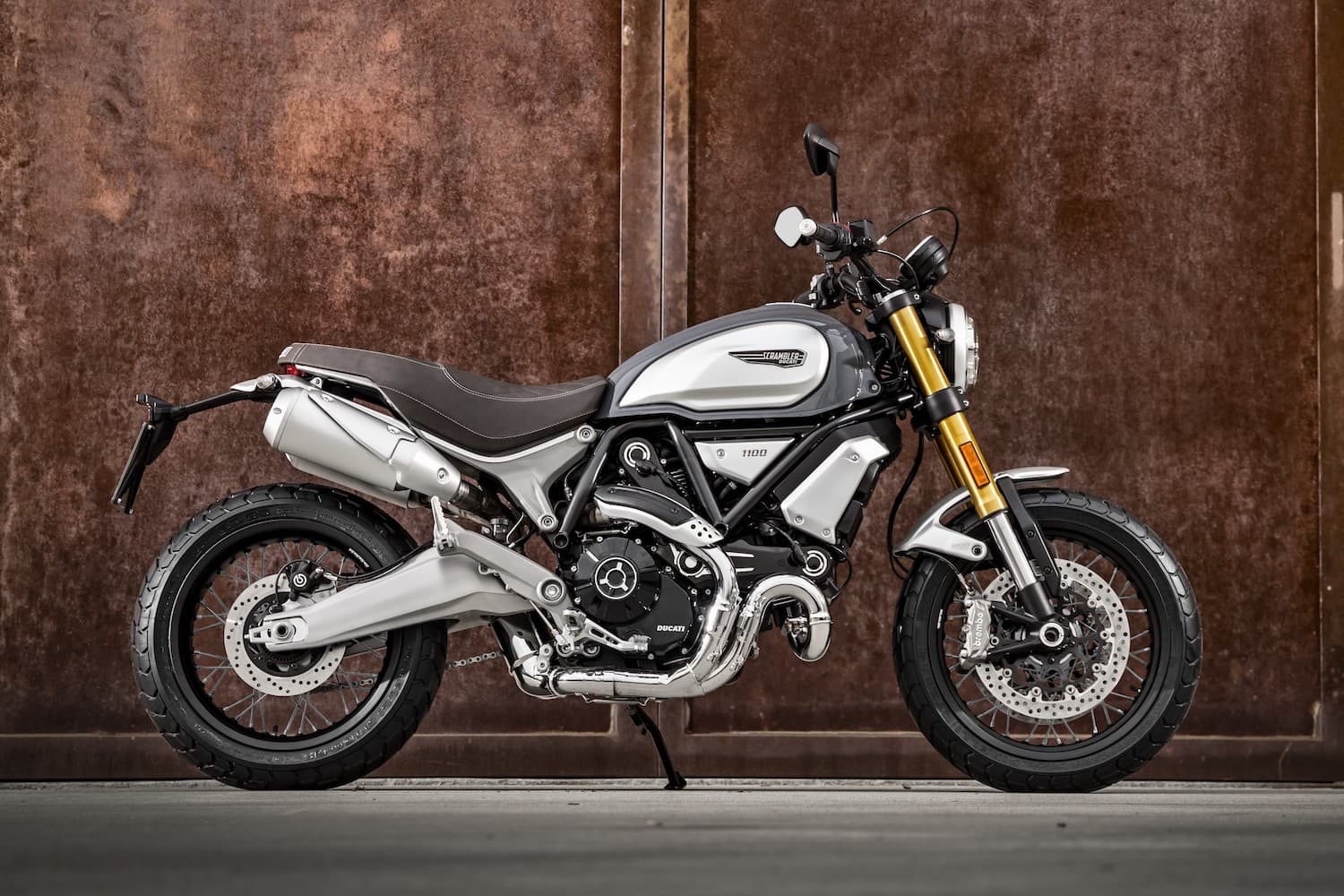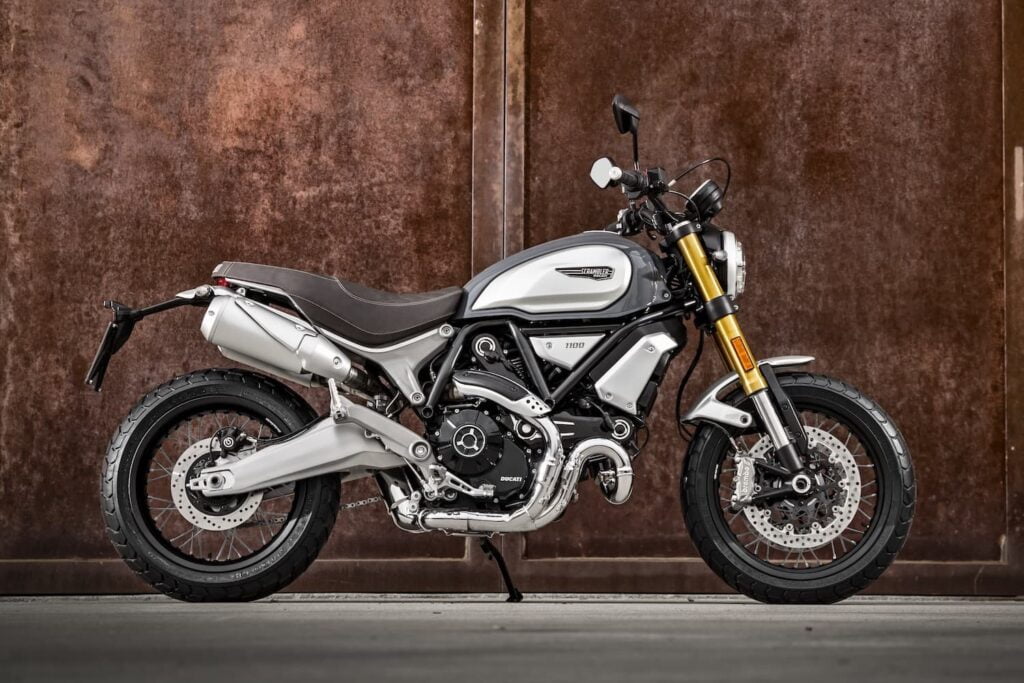 Another alternative to the BMW R nineT is the Ducati Scrambler 1100. The Scrambler 1100 does have that "Scrambler" name, but it comes in a variety of configurations, including the Sport and Pro Sport configurations with Öhlins front suspension.
–> See my full guide to the Ducati Scrambler 1100 series to understand all the variations.
The Scrambler 1100 has a motor that is over ten years old, first used in the Monster 1100, Multistrada 1100, and Hypermotard 1100. It's an air/oil-cooled 1079cc 2-valve-per-cylinder V-twin that has been tuned for mid-range punch, making 64 kw (86 hp) and 88 Nm (65 lb-ft) of torque at peak.
So why would you pick the Scrambler 1100? Probably not on aesthetics, as subjective as it is. The Scrambler 1100 looks great, but not iconic/classic like the R nineT did since its launch.
The Scrambler 1100 does represent the only chance to own a version of one of the best Monster motorcycle engines of all time. It's kind of a modern incarnation of the Ducati Monster 1100 Evo… but without the aggressive styling, the single-sided swing-arm, or even the top-end power (but you could probably get that back in a tune).
Alternative 3 — The 2021 Harley-Davidson Sportster S
One new addition for 2021 is the Harley-Davidson Sportster S.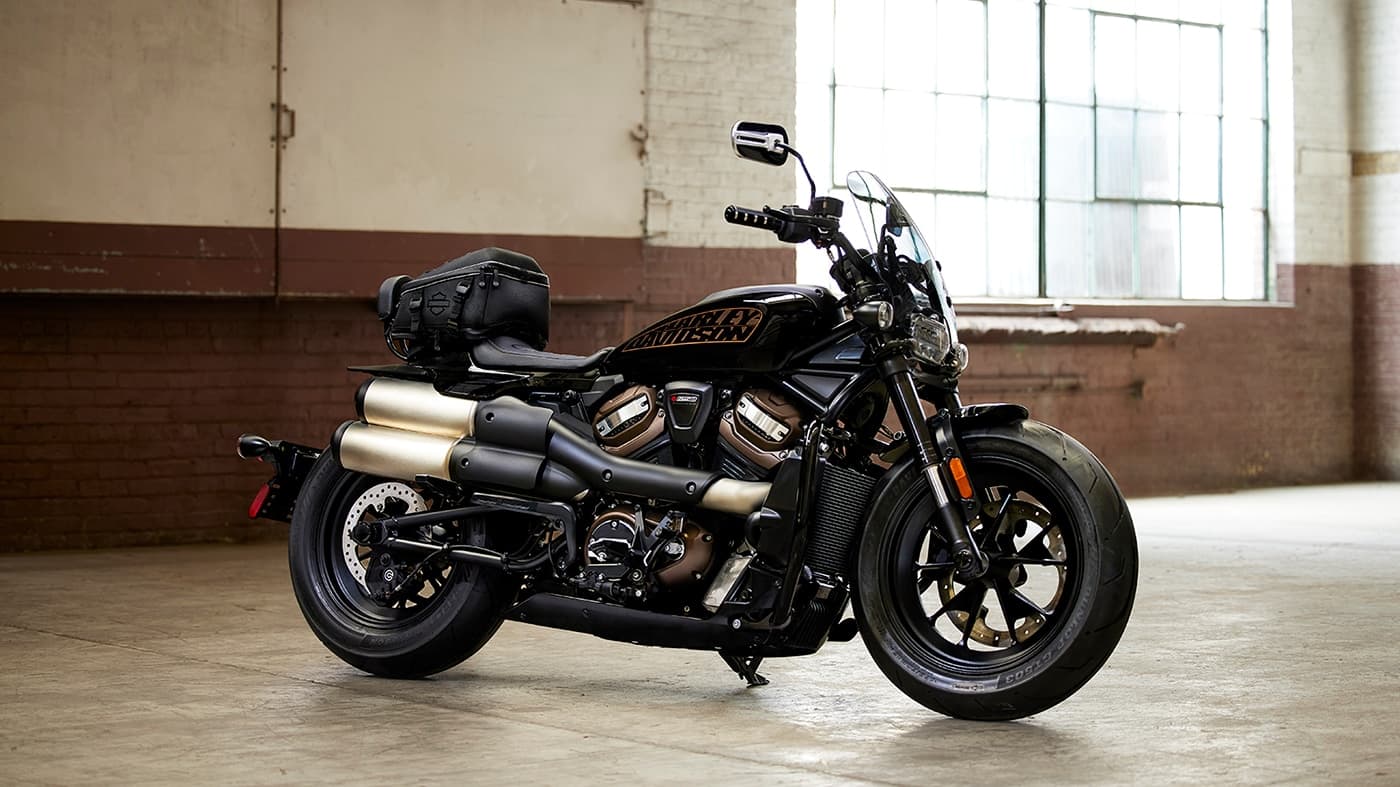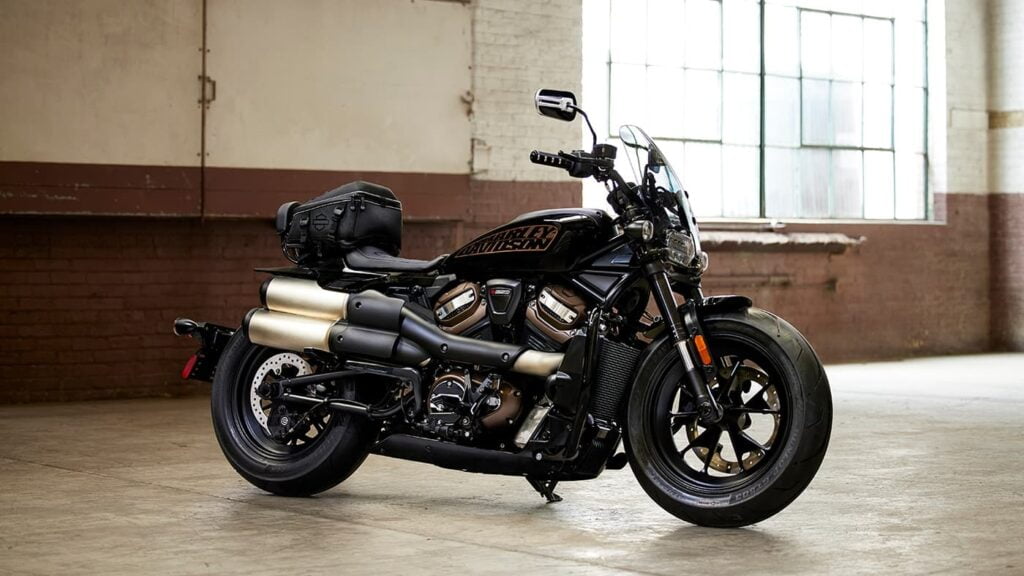 The Sportster S is a muscle cruiser with a 1,252cc liquid-cooled V-twin that makes a whopping 90 kW or 120 hp in a chassis that weighs 228 kg, giving it a very similar power-to-weight ratio as the R nineT.
In stock trim it comes with advanced fully-adjustable inverted forks, cornering ABS, cruise control, and a TFT display that you can connect with your phone.
The Sportster S does have foot-forward controls (or mid controls), and of course a very different character engine. But that engine doesn't ever need valve service, as it has hydraulic valve lash adjusters… that alone should give you pause.
Read here for my take on riding the Harley-Davidson Sportster S.
Maintaining the BMW R nineT
One of my favourite positives about air-cooled boxers is the maintenance — it's easy.
Maintaining an R nineT — Or indeed most BMW motorcycles before the mid 2010s — is a doddle for a few reasons:
Exposed valve heads. Since you have to inspect the valves of a BMW air-cooled boxer every 10,000 km (6,000 miles) — much like an old Ducati Monster — it's lucky that the cylinder heads are there for everyone to see. The reason nobody complains about BMW valve service intervals is because it's easy (and frequently doesn't end up in adjustments).
Shaft drive. There's no chain to maintain! You do have to change the shaft drive with fresh gear oil, but only every 10,000 km (6,000 miles)
Naked/exposed design. If you're trying to trace an electrical fault or leak, there are no fairings to remove.
Note I didn't mention the fact that the R nineT is not "liquid cooled" as it's not a clear-cut "advantage".
It's true that liquid cooling means one more thing to maintain, slightly more weight, and more visual/mechanical complexity.
But overall, liquid cooling has distinct benefits. Valve service intervals are twice as wide (this is common on other motorcycles too, e.g. Ducati), emissions are lower (it runs more efficiently as it's more often in the correct operating temperature range), and generally the motorcycle lasts longer. Maintaining a cooling system isn't hard.
Anyway, this is likely a philosophical debate — just saying there are pros and cons. See here for a long discussion of air- vs liquid-cooled motorcycles.
Epilogue — Buying and Selling the 2017 BMW R nineT
I eventually settled on a BMW R nineT of the 2017-2020 vintage, opting to add an MCCruise electronic cruise unit to it. I chose this because I paid $18000 ride-away, rather than 28000 ride-away for a new 2021 unit which wasn't even in stock. And I wanted a project.
I love that bike, but as I'm out of the country for a LONG time, I'd rather sell it and leave options open for when I return.
Would I ride an R nineT again? Absolutely!