Ever since Harley-Davidson announced the new 2021 Harley-Davidson Sportster S, I've been intrigued. This is a motorcycle that seems marketed towards people like me: people who want nice looking, classic bikes, but don't want to give up everything related to power, handling, or safety.
But it wasn't until I took the Sportster S for a ride that I realised: this bike isn't exactly how I imagined it, even after reading everything about it. It surprised me in some ways nobody had told me it would and disappointed me in a few I wasn't expecting.
The things I learned were about important questions like:
What does that liquid-cooled Revolution Max 1250T engine feel like?
Does the Sportster S feel fast with its torque-forward engine and low gearing?
Does the Sportster S handle and stop well, with its fat front tyre and single disc brake?
What are the controls like?
How does riding the Sportster S make me feel?
Because I learned so much from that ride, I thought I'd share it with you to help you make your own decision.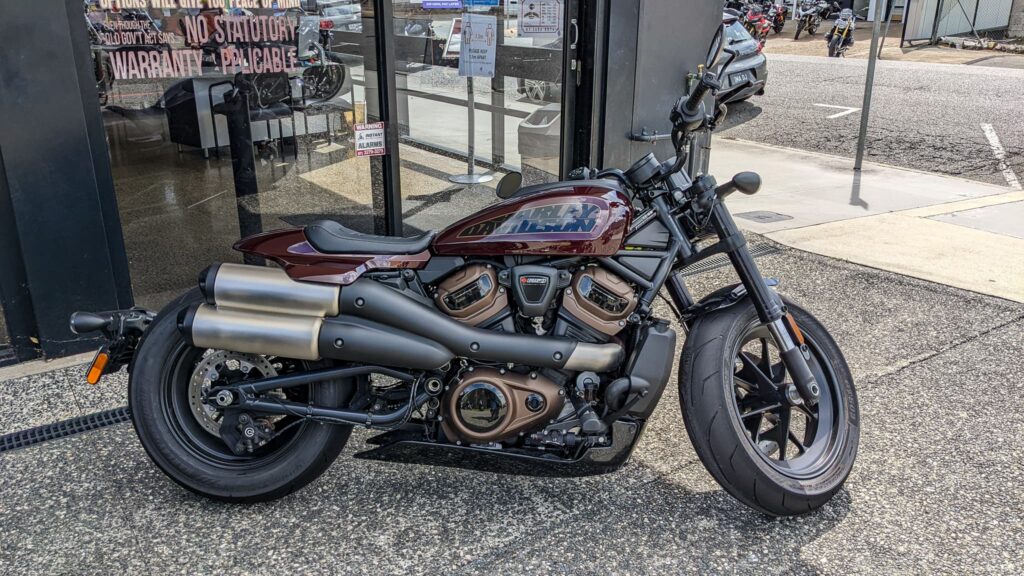 Are you obsessed with motorcycles?
Well, I am. That's why I created this site — as an outlet. I love learning and sharing what others might find useful. If you like what you read here, and you're a fraction as obsessed as I am, you might like to know when I've published more. (Check the latest for an idea of what you'll see.)
Brief overview of the Harley-Davidson Sportster S
Firstly, this is no ordinary Sportster. Far from it. So much so that many of the Harley-Davidson faithful say it might be a fine bike but that it shouldn't be called a "Sportster".
The reason for that, of course, is that Harley-Davidson tends to make motorcycles the same way for a long time. They might gently update the engine and components, but do nothing too drastic.
So the original Harley-Davidson Sportster has gone relatively unchanged for decades. In the last three decades there was one revision where they added rubber engine mounts to quell some of the more extreme vibrations, one where they added fuel injection, etc. Very small stuff. These are the kinds of changes that other manufacturers do every two to three years, not every decade.
But the Harley-Davidson Sportster S is a drastic revision of the Sportster line. This isn't just a small addition. It's lighter, more powerful, much more high-tech, has better handling and ride components, and of course is powered by a liquid-cooled engine. About the only things it has in common with the Sportster line (and indeed most of the Harley-Davidson brand) is that it's powered by a V-twin, is a cruiser, and is very easy on the eye.
They new Sportster S is a natural competitor to bikes like the BMW R nineT, the Triumph Bonneville Bobber, and the Indian Scout.
The Joy of Blasting About on the Harley-Davidson Sportster S
The Harley-Davidson Sportster S is very easy on the eye. Let's get that out of the way. But that has little to do with what it's like to ride.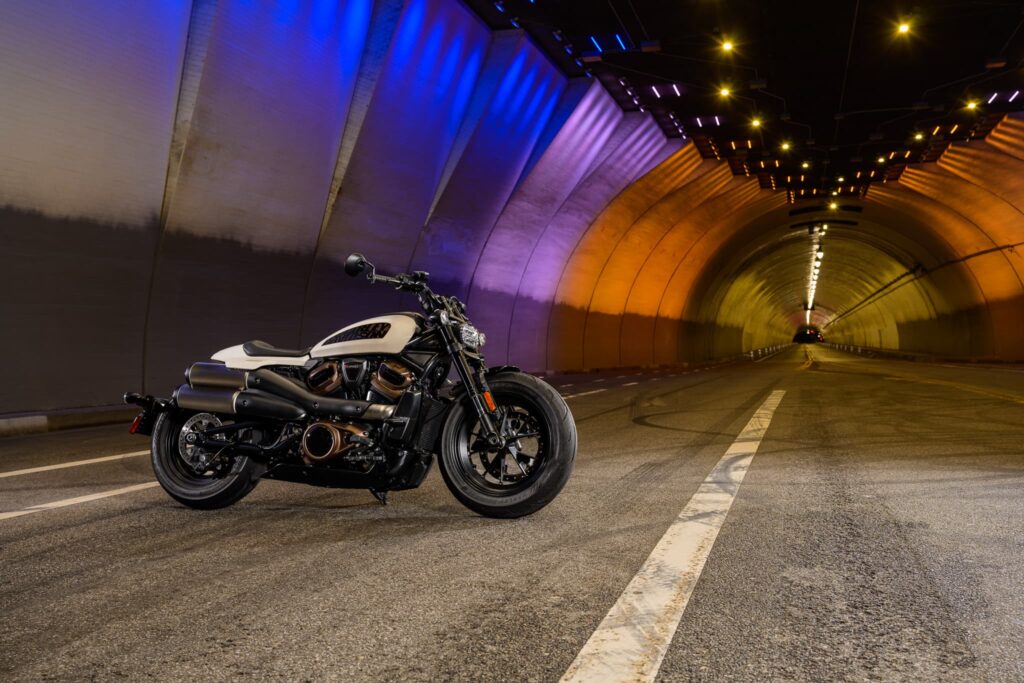 So on to what the Sportster S is like to ride: The Sportster S is one of those bikes that makes everyday riding a blast. That's it, in a nutshell!
Doing this is a respectable feat. Everyday riding can be very boring: commuting, traffic, and stop lights. While any bike is better than no bike, the daily grind can be rough as your engine's fans blow heat onto your legs, your exhaust note begs you to take it above 5000 rpm, and maybe as a car honks at you for not taking off fast enough at the lights (it happened to me on a quite slow commuter bike). You need a bike with a lot of character and its riding position, gearing, and engine just so to make that fun.
I mostly ride on the street, though I do some track and occasionally I wander off the beaten path with a 250 cc dirt bike. I tend to do everything with my motorcycles: I commute when I need to, I go to the shops and gym, I go on trips of 2-3 hours sometimes, and occasionally I go on multi-day trips. I ride in the wet, dry, heat, and cold, and see my bikes in a plethora of conditions.
So I'm very impressed that the Sportster S takes that everyday riding and makes it so enjoyable. It takes the mundane and makes it fun, and gives me a badass feeling that's a little bit hard to come by on modern motorcycles (though it's more common on cruisers).
I really liked how the Harley-Davidson Sportster S engine has an accessible rev range in multiple gears and is full of fire. It's comfortable, though still a little too relaxed for my taste. And all of it works fine for everyday riding — I can see out the mirrors, it has a turn signal switch block that doesn't require a mental hack to remember how to use it, and it has handling that takes enough work to be fun but isn't hard to use.
The Sportster S isn't perfect, though. I have some fundamental problems with it that mean that I probably won't buy one. The riding position and suspension mean that potholes were my worst enemies, some of the controls seemed poorly built, and overall it seems like a bike targeted towards a different market segment than me.
That Sweet, Sweet Engine
The first thing that surprised me about the Sportster S that nobody really told me about was how the engine would feel and sound.
Actually, at idle, the Sportster S's engine sounds boring. Just listen to it here:
I was ready for this quiet sound. Modern emissions standards mean that motorcycles are muted at idle, including those from the brand known for cantankerously loud bikes. Since about two decades ago, you almost need an aftermarket pipe to unleash a bit of bark (or roar, depending on your appetite). So I wasn't worried that at idle the Sportster S sounded like a lawnmower.
I was a little disappointed with the torque off idle, too. Between 1-2,000 rpm, torque doesn't slap you in the face. Despite its 1252cc of displacement, you have to rev the Sportster S up slightly and slide out the clutch to do quick launching.
But what I was surprised by was that at around 3-4000 rpm, the Sportster S's engine really comes alive — even in base trim! In fact, it has so much roar that I would liken it to a slightly more sedate version of my Ducati 1098S — another liquid-cooled V-twin, but one that above 3000 rpm I equated to the dogs of war.
The mechanical rasp and roar of the exhaust meant that I stayed in 3rd and 4th gear at even highway speeds, just to keep the engine in the fun part of the rev range. The only reason this bike has a 6th gear would be fuel economy — I don't think people will be taking this to the Bonneville salt flats (or will they?)
The engine of my Ducati 1098S was easily the best part of it. But it was very difficult to use as an everyday bike. Aggressive suspension, geometry, and gearing made most quotidian stuff challenging and sometimes scary.
So the fact that Harley-Davidson have created a more everyday machine that can evoke the same feeling is something to celebrate.
The gearing on the Sportster S is very low. So much so that full throttle in the first gears means the front wheel will definitely get lighter! The first and second gears are over very quickly if you keep the throttle pinned at that point — it's not a high power literbike that will give you that thrust feeling well into triple digits. In fact, by the time you've hit highway speeds, you'll probably have shifted twice (depending a little what your highway speeds are).
The Sportster S Handles and Brakes Fine (Just Like it Should)
Firstly, let's acknowledge that the Harley-Davidson Sportster S is actually pretty light for a motorcycle of its class. It weighs 228 kg (503 lb) wet, which is reasonable for a middleweight roadster. This is an important fact that helps it handle really well.
You notice it's light the moment you sit on it, because the Sportster S is also quite small for a Harley-Davidson. Because of its low ride height and bars, I really did feel like I was sitting on the Sportster S rather than in it.
Much ballyhoo was made about the fact that the Sportster S has inverted forks and fully adjustable suspension.
And the braking, while on a single disc, is at least supplied by a Brembo four-pot caliper.
See here for our FAQ on motorcycle braking systems, including discussion about types of calipers, discs, and Brembo vs. the rest.
Of course, this equipment is an outstanding setup for a cruiser. But it doesn't instantly make for a great handling bike. It makes for a great handling cruiser, or an average handling motorcycle.
One unusual thing that contributes to the handling is the choice of tire sizes. It's probably an aesthetic thing, but it's so odd it bears mentioning. Rather than a conventionally sporty 120/70-17 on the front, the Sportster S has a much wider 160/70-17 on the front, and at the back there's a 180/70R16.
When pushing the bike over to lean, there's definitely some resistance from the tyres. Even though the Sportster S has those wide handlebars, you have to really push on them to make it move into corners. This isn't a sportbike (or even a sport naked) that dives in at the tip of a hat.
But let's consider how all this stacks up: the Sportster S feels exactly like it should. It's not a sport bike, it's a muscle cruiser, and it feels like one. It won't stop on a dime or launch into space, but I do think it performs far better than most cruisers, and it has a brawny feel that makes the daily grind something not just tolerable, but maybe even something you'd look forward to.
Riding Position — Foot-forward Riding Takes Customisation (or getting used to)
Since I ride almost exclusively sport bikes and standards (and occasionally an adventure sport tourer), riding a foot-forward bike takes getting used to.
I always have had a bit of a crush on foot-forward bikes. They look cool, and they feel tough. I know cruisers are in my future, and I've just been trying to mesh together my penchant for fast, high-revving bikes with cruiser aesthetics.
I've ridden relatively few cruisers, but I can compare it to a few like the Bolt, the Suzuki M109R, the Indian Scout Bobber and Twenty — mostly middleweights, other than the M109R.
When you sit on the Sportster S with the default forward controls, your feet aren't as far forward as they are on your average cruiser. My knees were very comfortable, and my feet were definitely in front of me.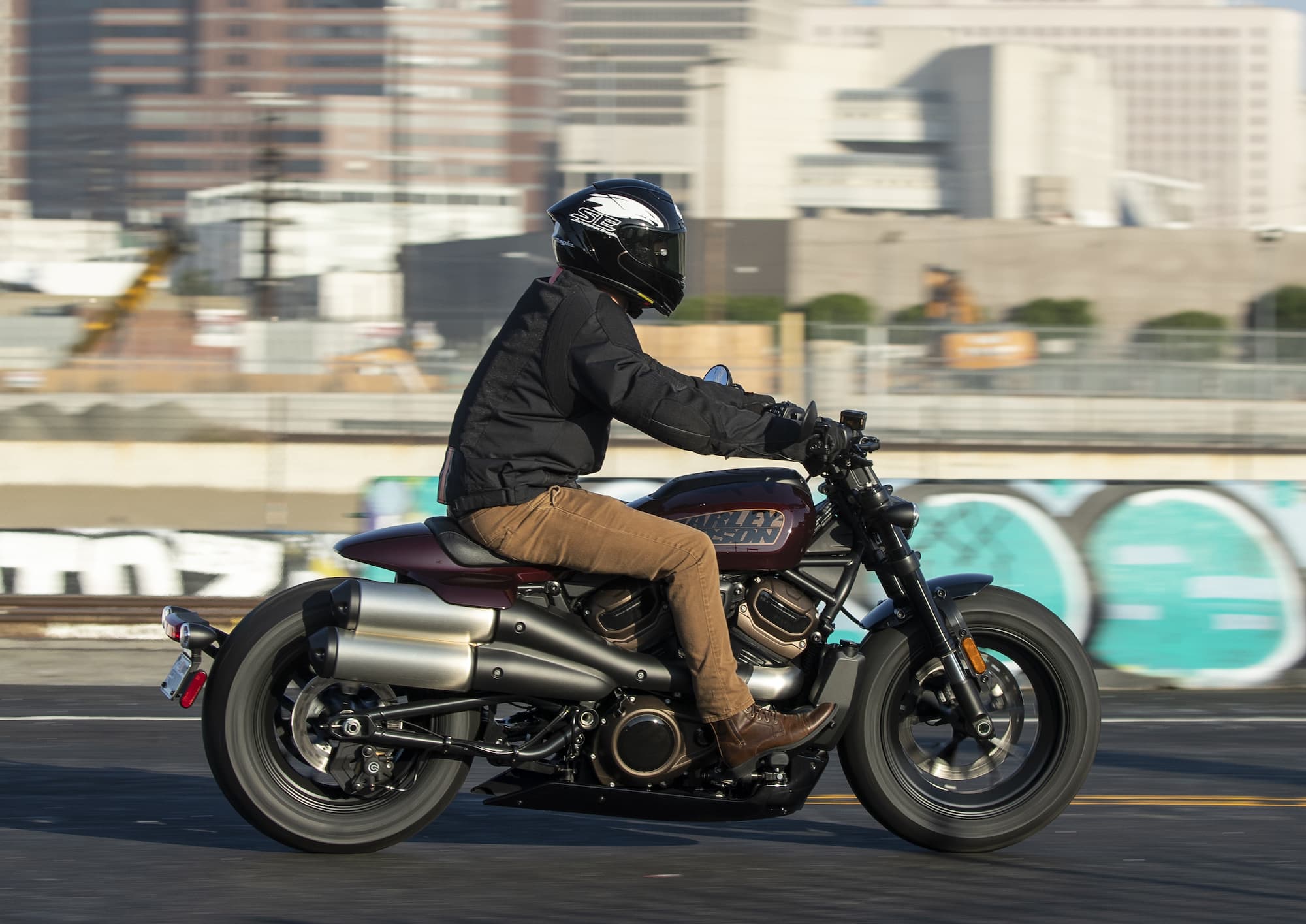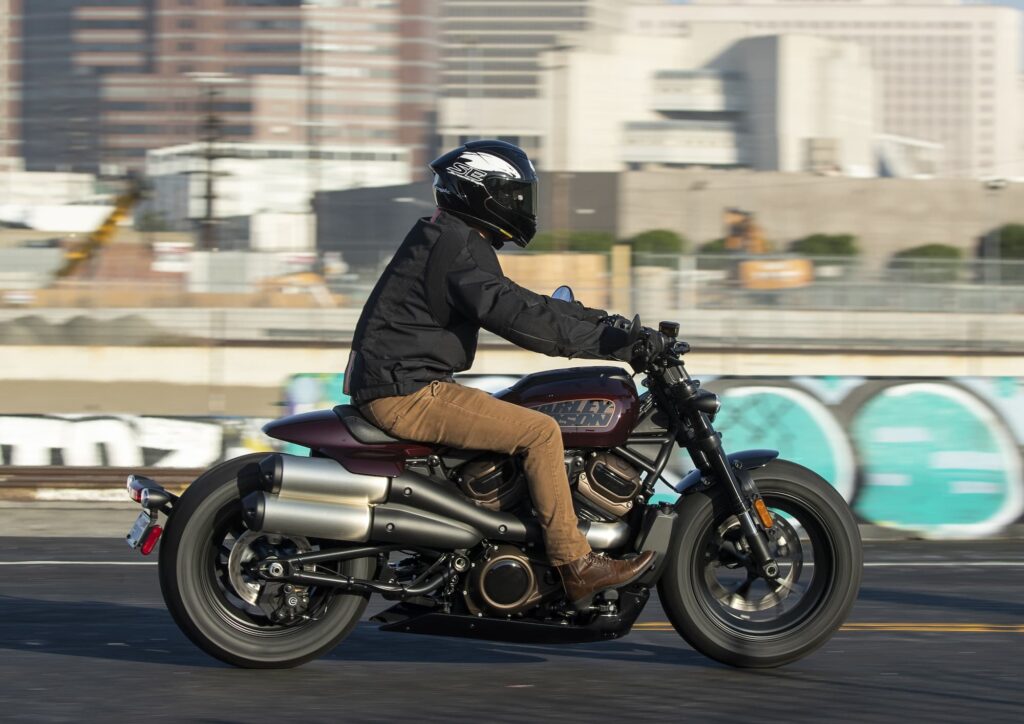 It's comfortable, but I wouldn't ride this bike for more than about two hours without a windshield.
Bear in mind, though, that the riding position leads to a bumpy ride.
Bumpy Suspension
Any foot-forward riding position seems comfortable at first — until you realise that you lose the suspension component of your legs.
When you sit with your feet in front of you, spine relatively straight up, you rely entirely on the rear suspension (quite short on the Sportster S — 51 mm or two inches) to soak up rear bumps. And let me tell you, I haven't been this jarred since I decided to try riding a Ducati Superbike around as a daily — also unsuccessfully, I might add.
I know motorcycles aren't meant to be comfortable machines. If we wanted comfort, we'd all be in Mercedes-Benz SUVs or something. So we choose motorcycles that are inevitably a compromise between comfort and the other characteristics that are important to us — aesthetics, performance, or whatever.
I'm just saying that I've had many motorcycles more comfortable than feet-forward cruisers. It would take better rear suspension and a plusher seat to make me want to stay on it for long, and I think that would take away from the hard-edged feel that the Sportster S otherwise has.
As it stands, this is a bike for occasional fun or reasonable-length commutes, not one I'd ride for long stretches every day.
I didn't like the controls or the display
The three things I actively didn't like about riding the Harley-Davidson were the switchgear, the shift lever, and the display.
This is pretty unfortunate, because they're the things I use and look at really often!
Firstly, the display on the Sportster S is a modern round digital display. It has the speedometer in prime position, and indicates the revs with lights around it.
Honestly, I just really don't like this kind of display. It's a "neither Arthur nor Martha" approach that has the disadvantages of digital aesthetic with none of the advantages of an information-rich larger display like in many other modern bikes.
I say if you're going to go modern, don't sacrifice convenience for an arbitrary definition of style. Anyone buying a modern bike that doesn't have analogue dials knows that they're not getting analogue dials. Go the whole hog!
That said, I like analogue dials. This means I tend to buy older bikes, or modern bikes that have retro elements.
All reviews are subjective, by the way. Maybe I'm in a minority in this; it could be that riders between the ages of 20-40 like things going digital and accept the aesthetic cost for the functional gain. I'm sure Harley-Davidson has done their research.
Secondly, I'm not really a fan of the switchgear on the Sportster S. I don't like the huge switch block, and I hated the way it feels.
Even if I were to get used to having an XBOX controller for ants on one handlebar, the thing that really irritated me was the turn signal button. For decades, other manufacturers have mastered turn signals, but on the Sportster S this oft-used button has all the tactile feedback of glass. I can barely tell when I've activated it, and was never sure I had turned it off. I just had to "believe" I had. A bit like the Apple "Butterfly" keyboards, if you use Apple products.
So I found myself constantly pressing that turn signal cancel button — more than I already do on other bikes.
And then there's the gear shift lever. Using the glass-like switch gear was the total opposite of the gear shift lever, which while very light in action nonetheless had massive throw, requiring me to almost do a one-leg crunch just to shift (ok, I'm exaggerating, but that's really what I was thinking).
I know I could adjust the shift lever throw, but it's weird to me that this is how the factory decided to set up the bike by default. "It's a cruiser thing," I was told by the dealer. I'm sure riders of big cruisers are used to it.
Which brings me to the next question…
Just who is the Harley-Davidson Sportster S for?
I gather the Harley-Davidson Sportster S is targeted towards younger riders than me (and I'm not that old). So basically, even though I thought this might be my first Harley-Davidson, this one isn't for me.
There are a few other bikes that have similar qualities — electronic retro-esque displays, lots of safety equipment, and similar power levels. One obvious contender is the Yamaha XSR900, for example, the "retro"-inspired version of the Yamaha MT-09. So prospective buyers would be young and style conscious, and choose between those two based on whether they want a sportier or a cruisier ride. Or perhaps because of branding.
Another competitor to the Sportster S is the Ducati XDiavel. That's Ducati's high-performance cruiser. It makes tons more power, is slightly heavier, and has a very different, very Italian style. The XDiavel is also more expensive, and the S version a lot more so.
See our complete guide to the Ducati Diavel / XDiavel.
Personally, I wish the Sportster S had two front discs (even if for "sportbike cred"… it's not like I'm likely to experience much fade in the way you'd ride this bike), a bit less weight, a sportier riding position, analogue gauges, and better quality switch gear.
Basically, aside from the gauges (which won't happen), and switchgear (which is unlikely to change much), what I really want is the Bronx 1250. Or even the 975.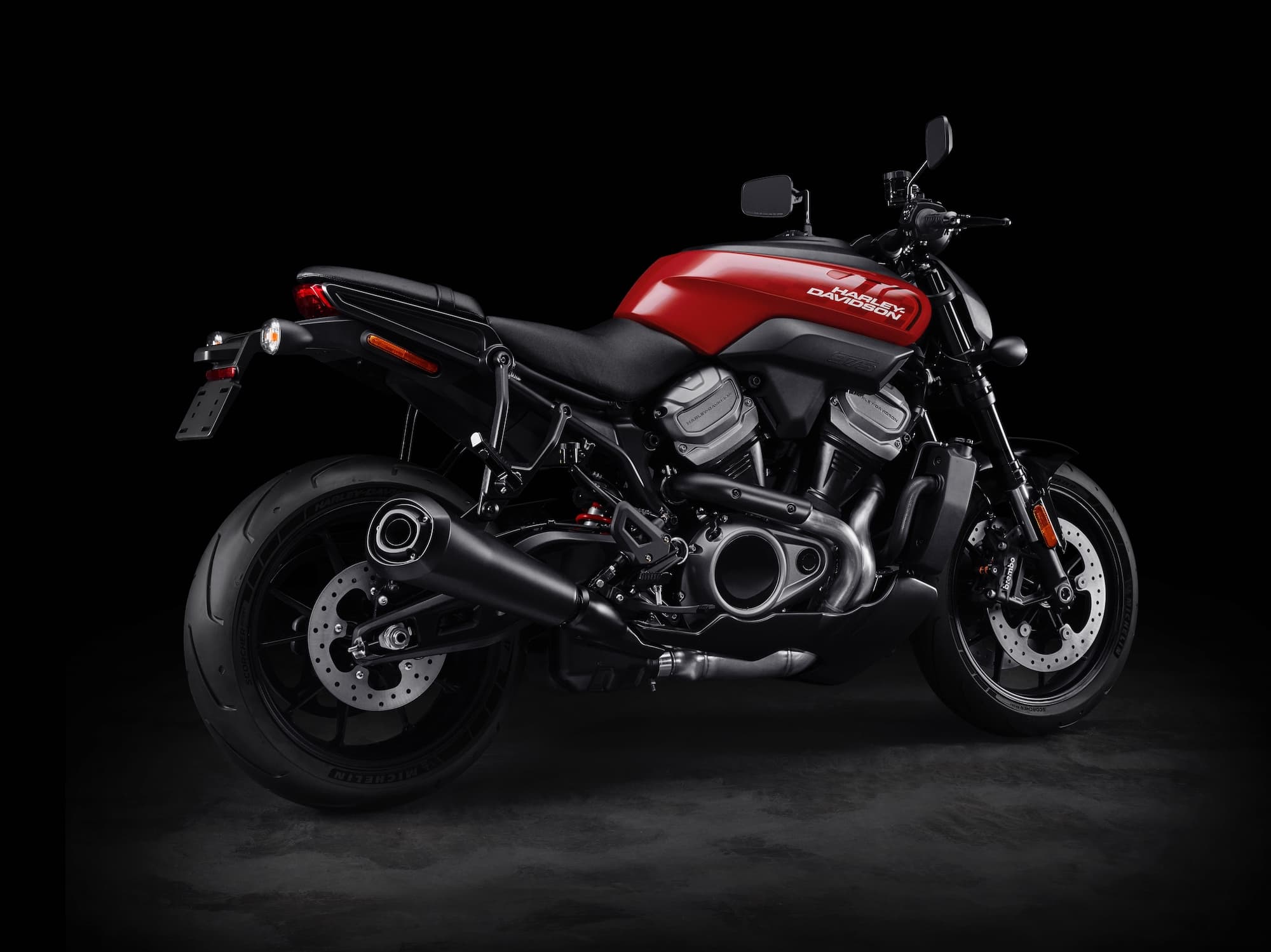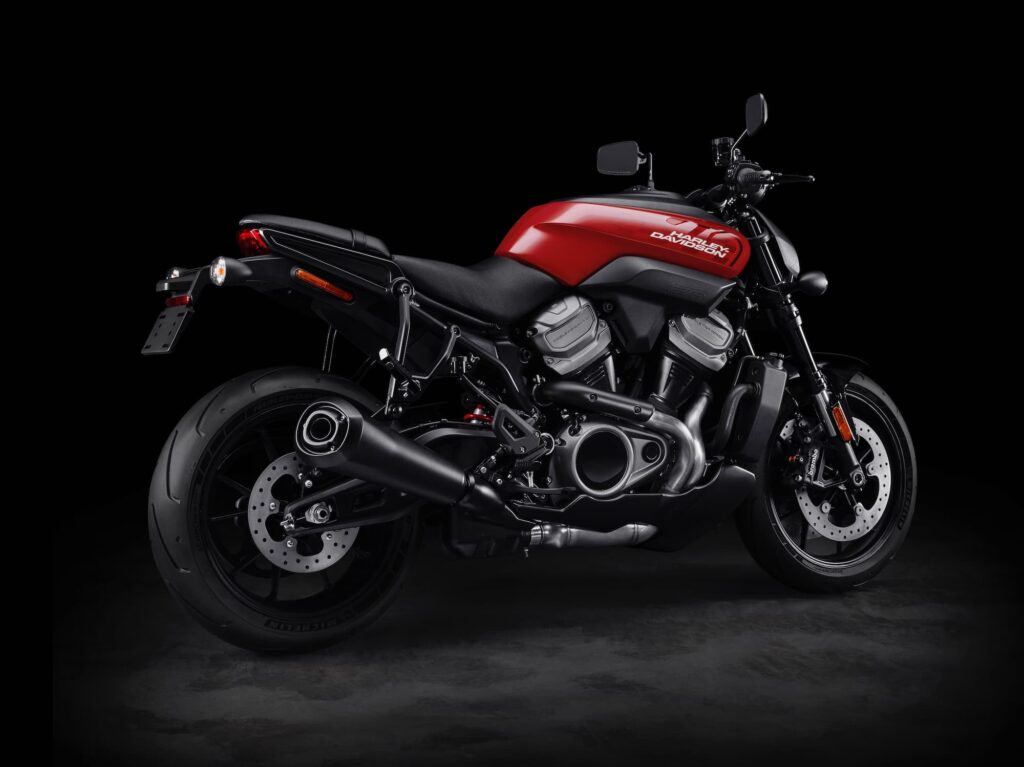 Harley-Davidson announced the Bronx 1250 in Milan in 2020, announcing it as an upcoming 2021 model. But it never came around (or hasn't yet, anyway).
I don't know that whether HD decided to scrap it or to delay it. But I will throw a leg over one if and when I get the chance.