There's a special class of motorcycles for every person that makes you feel invincible. Unfortunately for me, my driver's license, and my wallet, I've had the misfortune of discovering that the 2021 (new, 890 cc) Yamaha MT-09 SP is just one of those motorcycles. It makes me feel like I can do anything. It gives me "God mode".
Yamaha has absolutely nailed it with the new MT-09 SP as a street bike. The engine is wonderful — oodles of torque down low and still a sport bike-like surge as the tachometer climbs. The brakes, chassis, and suspension all match perfectly with the engine, leaving even an intermediate rider like me feeling like I can do anything. It has the kitchen sink of rider aids — about all you can expect on a premium sport bike.
And it's light. Holy smokes, I knew the MT-09 was light from my last jaunt on one, but the new MT-09 is proper light in a way that's intentional and not flimsy. Just how light is it? I'll examine this below.
And finally, yes, the MT-09 is kind of ugly, but that's OK because it's cheap! I'd spend money on a tail tidy and a cleaner underbelly later.
I'll look over:
A brief history of the MT-09
What makes the MT-09 special?
Riding the MT-09
Some alternatives to the MT-09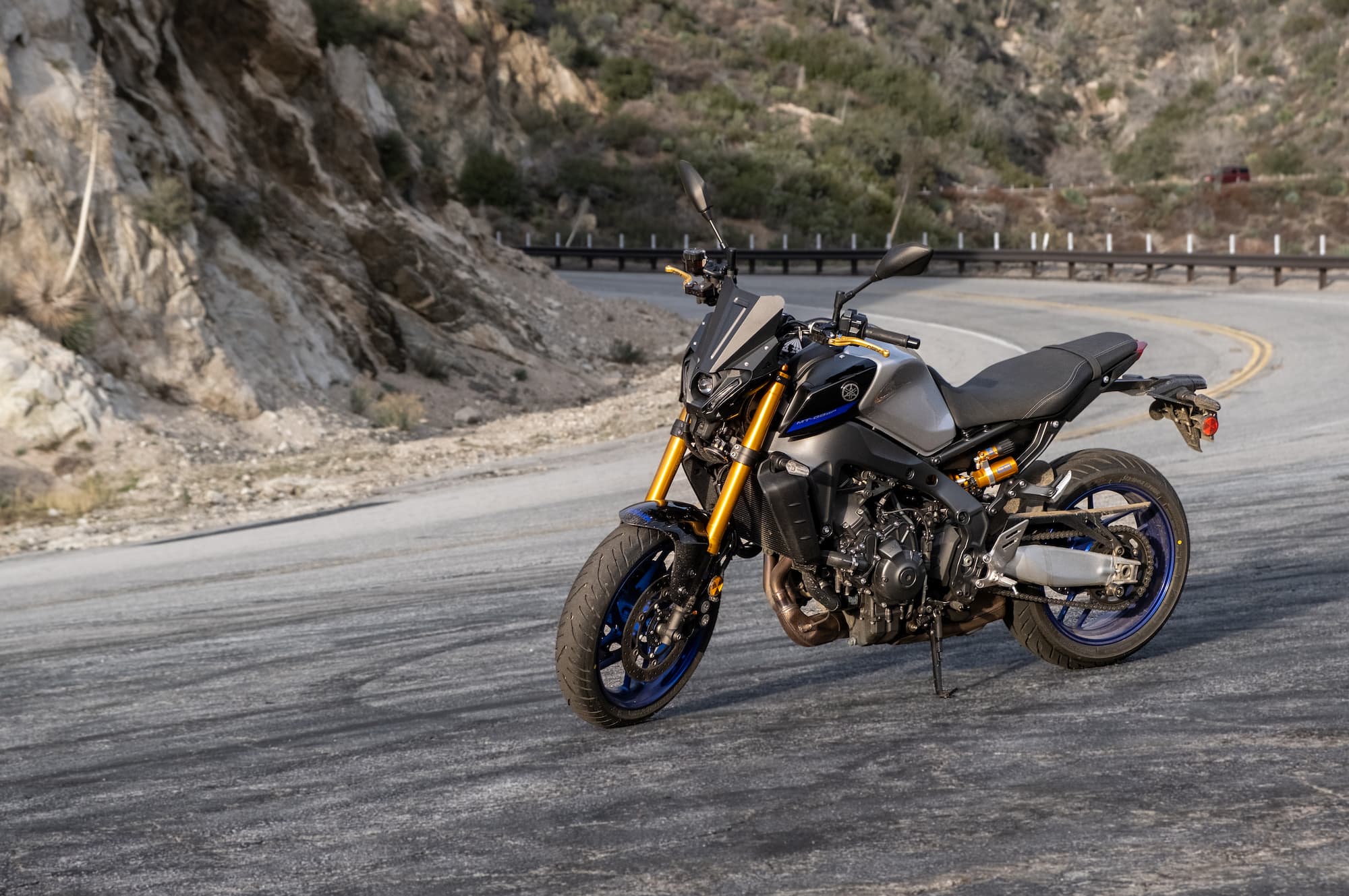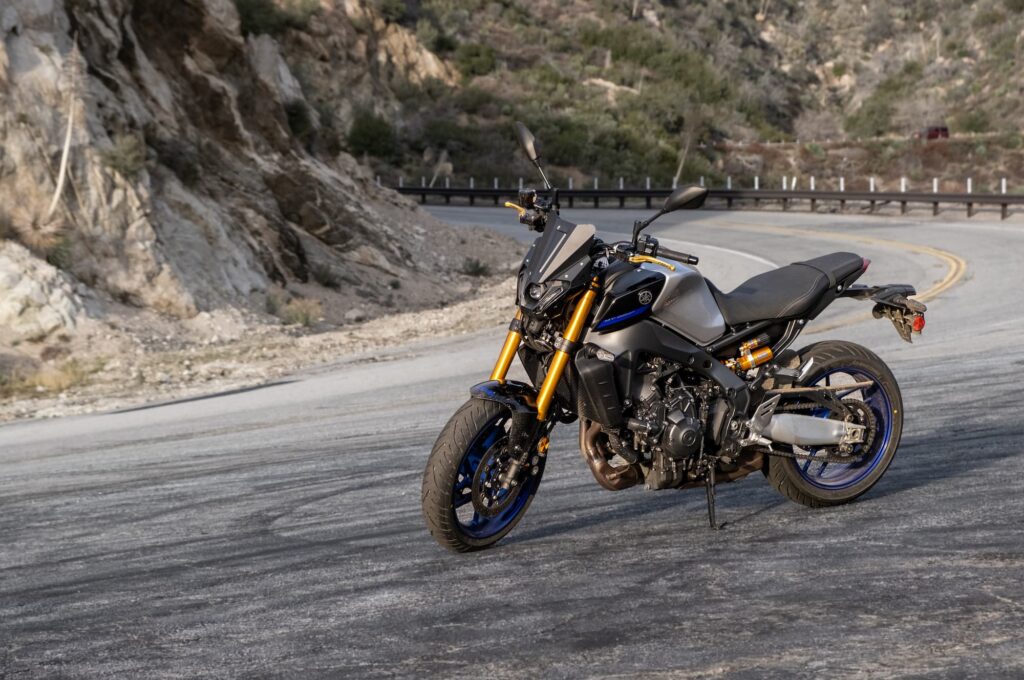 Are you obsessed with motorcycles?
Well, I am. That's why I created this site — as an outlet. I love learning and sharing what others might find useful. If you like what you read here, and you're a fraction as obsessed as I am, you might like to know when I've published more. (Check the latest for an idea of what you'll see.)
A brief history of the Yamaha MT-09 and MT-09 SP
Yamaha has been making the MT-09 since 2014. Back then, in the US, it was known as the FZ-09 in the US and the MT-09 in Europe. It wasn't until 2018 that everyone agreed to call them MT-09.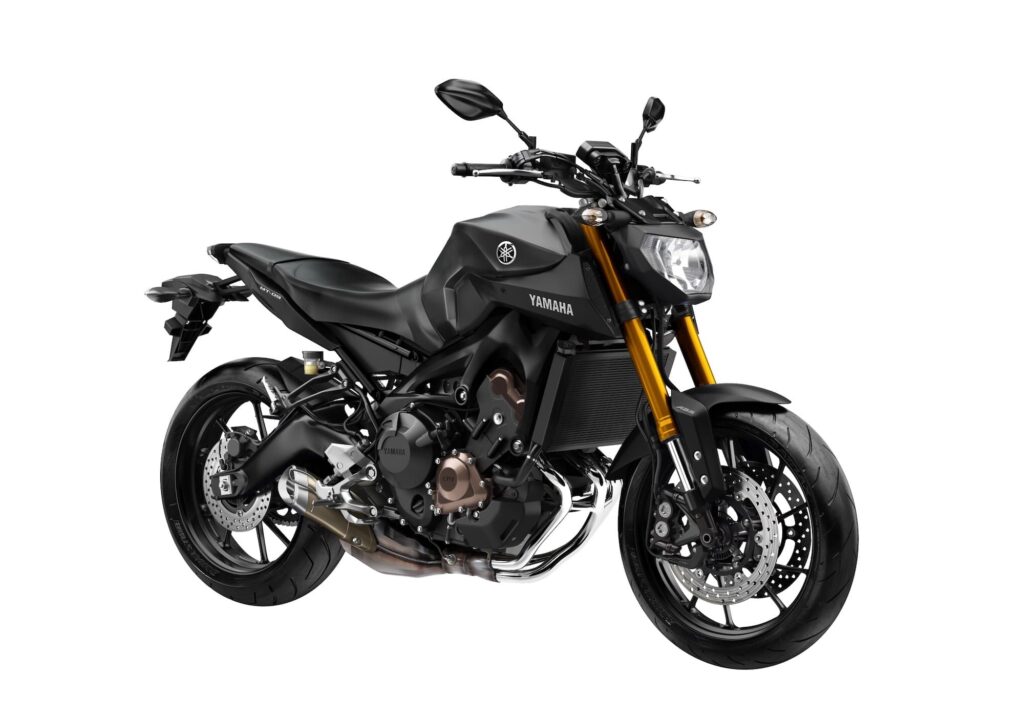 At the time, the FZ-09 was a wild new thing for Yamaha to be doing. Yamaha hadn't made triples for decades, and they're a rare thing in motorcycling to begin with — only Triumph and MV Agusta (a relatively small manufacturer) do them. Yamaha decided to throw their hat into this ring!
Further, not all manufacturers make this size of middleweight sport bikes. Most make either something in the 600/650-class, or literbike class. For example, Honda, Suzuki, Aprilia, and BMW currently don't have something in this class (the BMW F 900 R is not in the same class of sporty hooliganism as its S-bikes, which is why BMW doesn't call it one). Honda and Suzuki are edging up there with the CB750 Hornet and the GSX-8S respectively, but they're still not quite there in engine size or power.
And the MT-09 is a little unusual in that it's not related to any other sport bikes. The MT-09's engine has never seen a sport bike fairing — though some are waiting for a fabled YZF-R9.
The original Yamaha FZ-09 / MT-09 was identical conceptually to the current MT-09: a naked street bike powered by a torque-forward but lively three-cylinder engine. It had a slightly smaller displacement of 847 cc, and makes slightly less power and torque. No matter — the engine is great, universally loved. But people didn't like the tune of the engine, nor the chassis.
It's hard not to directly compare the Yamaha FZ-09 / MT-09 with the Triumph Street Triple range. After all, they're both middleweight bikes that are lightweight and powered by triples.
But in the early days, the "Striples" were easy winners in many ways. Street Triples had (and still have) a smaller displacement motor, but it went well with the chassis to make for an easy-to-exploit package. They felt higher quality and didn't suffer from Yamaha's suspension or throttle issues.
The early FZ-09 / MT-09 is known for having a "snatchy" throttle. This can mean a lot of things, but in this case, it means that at low RPMs it's just very on-off, making it hard to control in A-mode. It's more tolerable in B-mode, but who buys a bike just to ride it in B-mode? B is for "Boo!"
Luckily, a tuner can tune out the throttle issue. But you shouldn't have to.
The early FZ-09 / MT-09 was also known for having under-sprung suspension, a common complaint of many non-premium bikes.
Anyway, the result was a bike that's a little unruly. Riding an un-tuned FZ-09 around corners is like coaxing a wild cat into a cage. It'll go there, but not at a pace I can easily dictate. That's also a way of saying it has character or that it's a "wheelie machine" (sold!). But to me it means that the early FZ-09 / MT-09 seemed unfinished, and people had to invest money into the suspension and tuning to make it the bike it really could be. Which many didn't mind, because the MT-09 was and is cheap! That's something it has been to this day — excellent value for money.
See here for all the other middleweight naked sport bikes available.
Yamaha improved the aesthetics of the FZ-09 / MT-09 in 2017. At the same time, they revised the fork and the throttle response, but it still didn't go far enough for many (including me).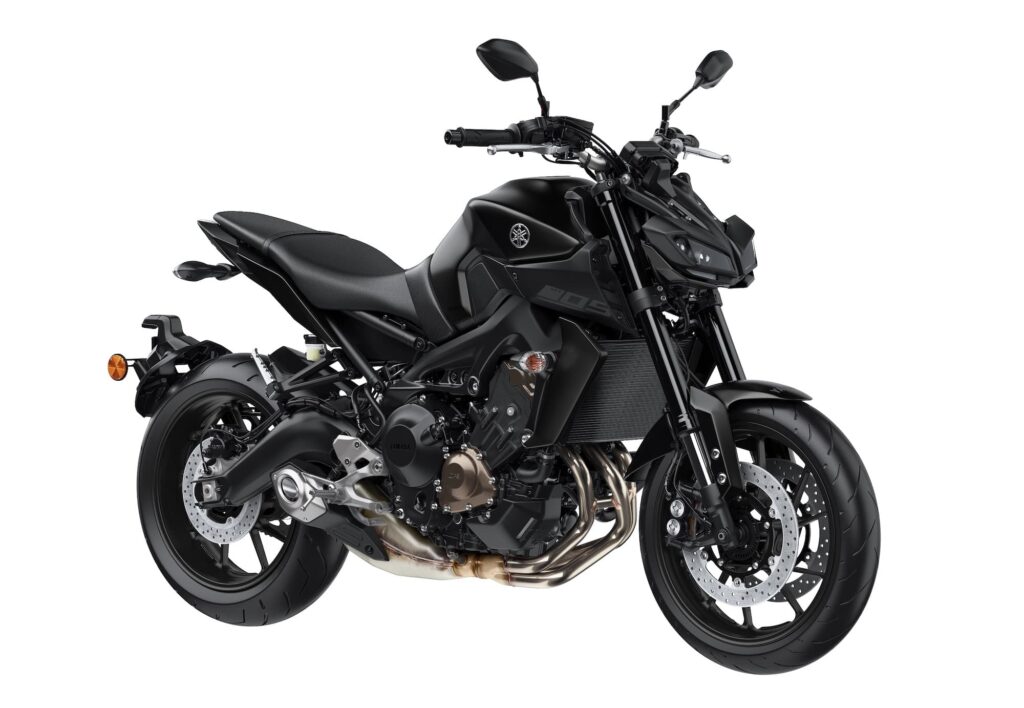 It also got a few new colour schemes, which look really great, and luckily are making their way into the 2021 generation of bikes.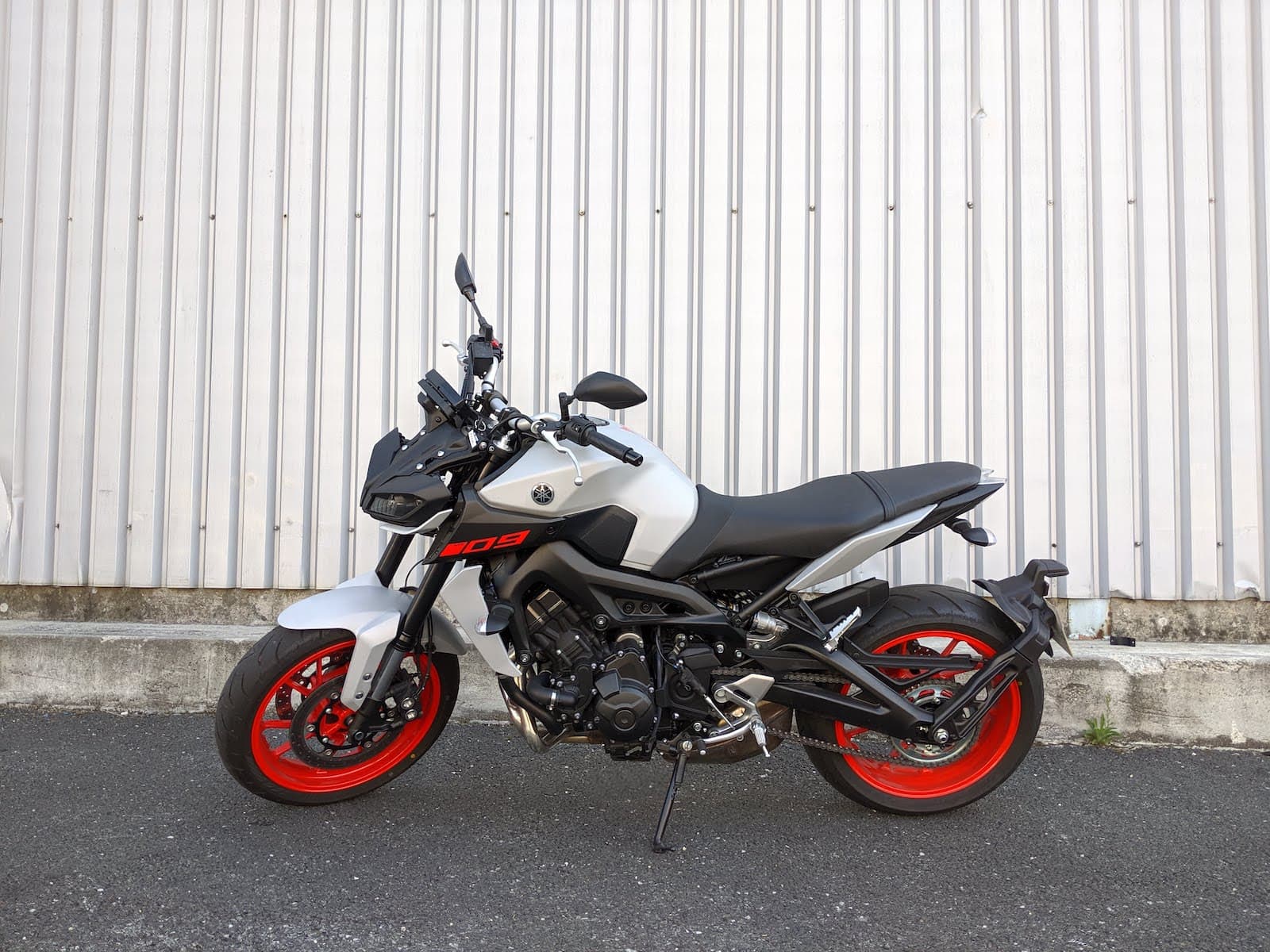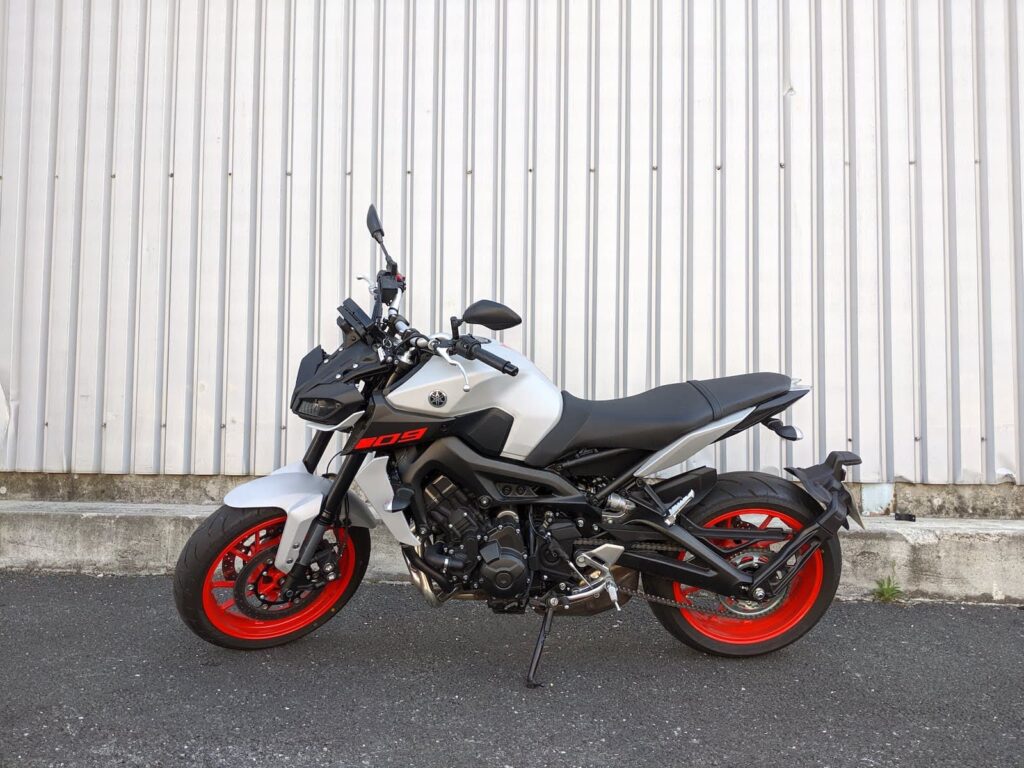 In 2018, Yamaha released their MT-09 SP. It has the same foundation as the original MT-09, with the same engine and chassis, but more adjustability in the suspension (with rebound and compression on each leg), and an Öhlins shock at the rear.
The surprising thing is that the MT-09 SP is still quite an affordable bike, even with an Öhlins rear shock! It's because apparently, it's not a very high-end Öhlins. But to many, gold is gold. Oh, and the MT-09 SP also got a quickshifter — but upshift-only, originally.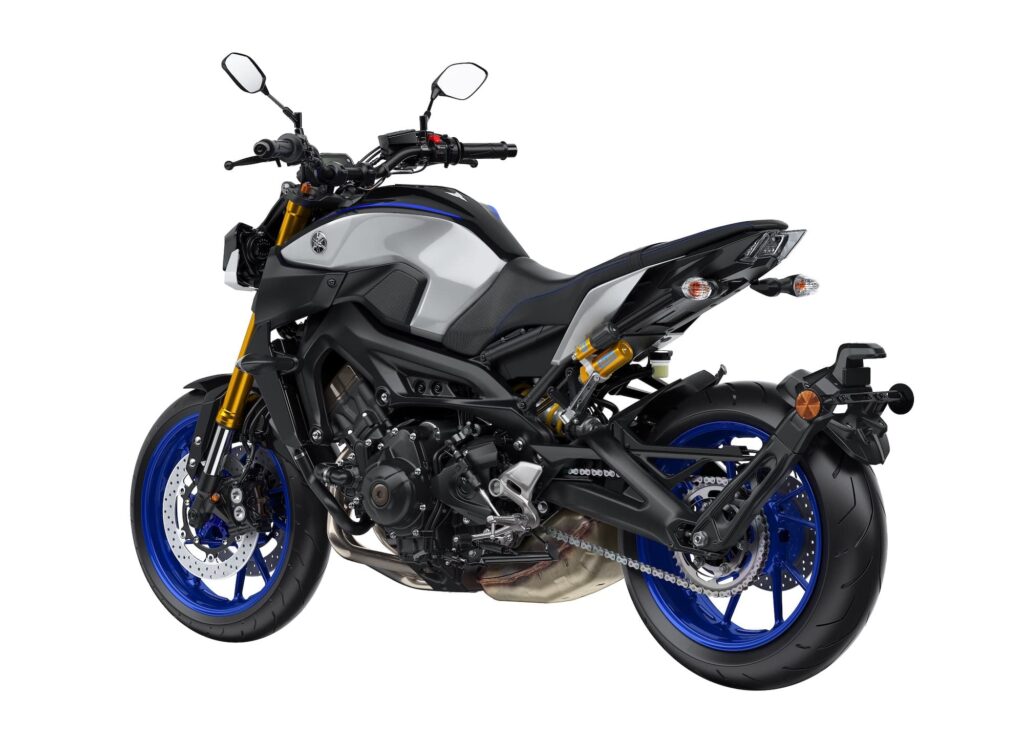 The MT-09 SP did address most people's complaints about suspension, but it still does need a tune to iron out the low-rpm fuelling. But many people who'd throw on a full system would budget a tune in, anyway.
In 2021, Yamaha updated their CP3 engine from 847 cc to 890 cc. This is probably largely a requirement to keep the power in the same range but also address emissions standards, because there's only a tiny horsepower bump. But at the same time, Yamaha tuned the 2021+ model motorcycles properly, meaning that you get smooth throttle response on a stock bike. Thank you!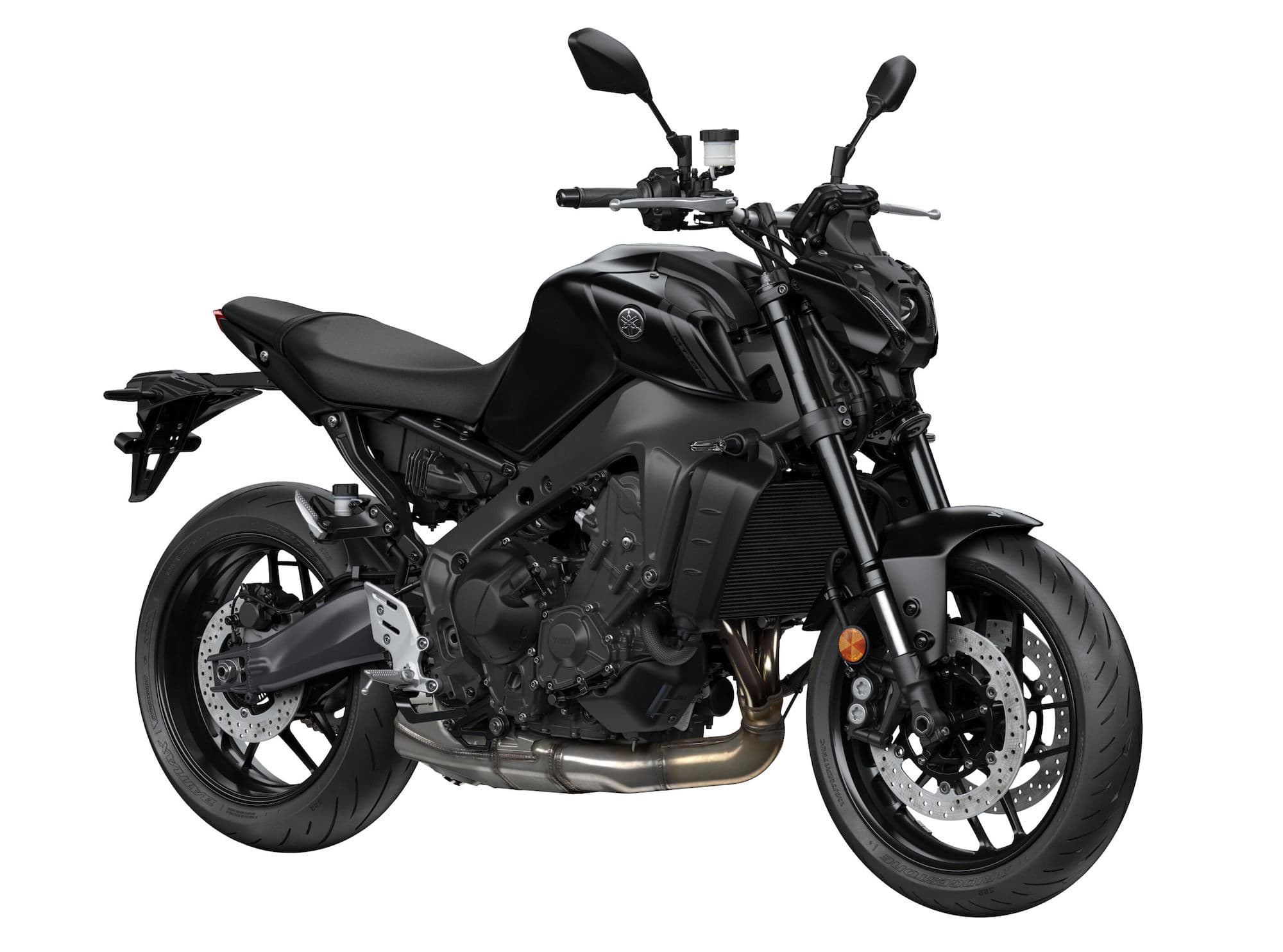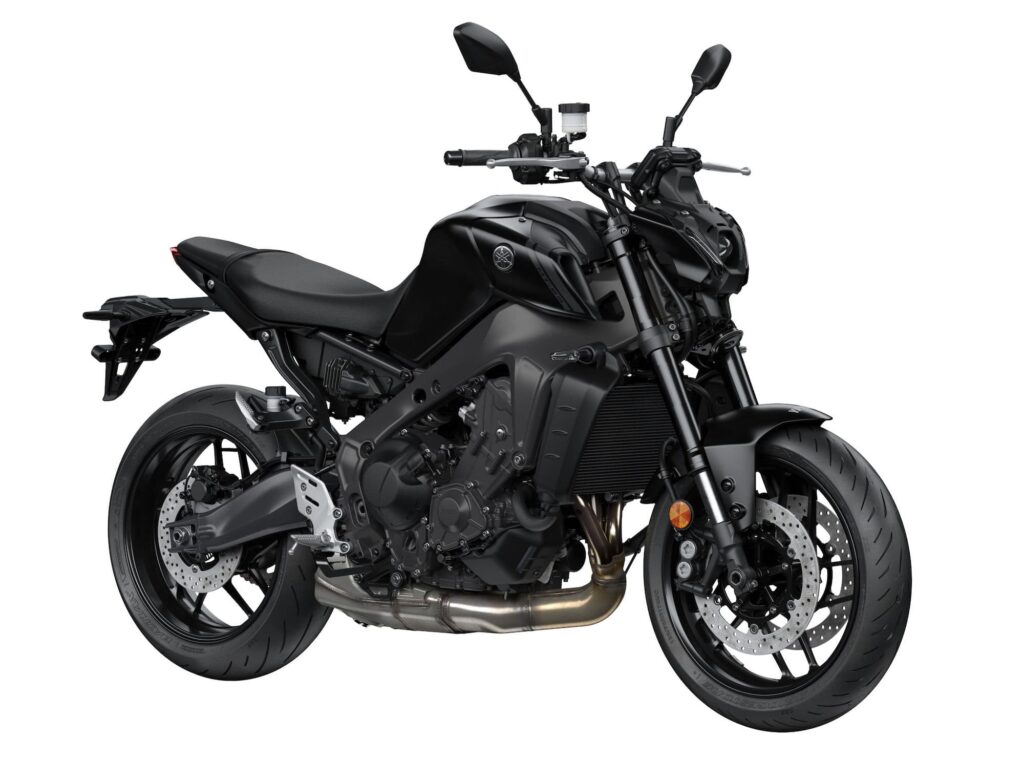 The 2021 Yamaha MT-09's changes didn't stop at the engine. Yamaha also gave it
A six-axis IMU, giving it cornering ABS and traction control
A more aggressive, forward-leaning riding position
Cruise control (on the SP model)
The result is, from my perspective, a winner. My only criticism is it doesn't look that great. But when the riding is this good, I can ignore that.
See here for a deeper analysis of what's new and improved on the 2021 Yamaha MT-09 vs the previous generation.
Riding the 2021 Yamaha MT-09 SP
I spent a weekend of glory with the 2021 Yamaha MT-09 SP in the Los Angeles mountains. It was icy cold (for me, a poor Australian who tends to avoid winter in the southern states even in my home country). But despite this, I just put on layer upon layer and gritted my teeth through the freezing temperatures, and only turned around when I could see ice on the roads and thought "I don't want to fly home in a helicopter unless it's because I'm a billionaire."
In the past, I've ridden a number of bikes in the LA hills. If you haven't ridden there before, the first time you see the roads you'll think "Oh right, this is where they do every single photoshoot for every motorcycle magazine", or so it seems. I really like riding in this area of the world — great curves, limited to no traffic on weekdays, and zero police in my experience.
Anyway. The nice thing about this part of the world is that it has a fairly good spread of riding, from winding curves to tight bends and even long straights (where people do drag racing). It's really fun. And after having ridden the area on sport bikes, adventure bikes, and naked bikes, I've come to appreciate that I want two things when riding there:
A bike that's light, but not powerless, because the roads do open up and I want to lighten the front wheel, and
A bike that's powerful, but not too heavy, because the corners do get tight.
That's where a middleweight sport bike like the Yamaha MT-09 SP (and very few true competitors) comes in. Over 80 kW / 110 hp, torque everywhere, and yet under 190 kg / 420 lb wet. Middleweight sport bikes can do all those things.
This is why, by the way, there's no one bike for everyone, everywhere, all the time. There are people who live in places with 100-mile straight roads. Yes, I can see why you'd ride a Gold Wing or a Road King there. Or maybe a Kawasaki Ninja H2 SX, putting it on cruise control at 150 mph.
And there are those who just have very tight mountain roads that turn into dirt roads, where a 250-cc dual sport makes more sense.
But my favourite kind of road riding is where there's a big, fast, empty-ish road (in the mornings) that takes me to a windy mountain pass that sometimes opens up into straights. And that's where the 2021 Yamaha MT-09 SP thrives.
Because the MT-09 SP (and MT-09) is so light, I felt I could do no wrong. I haven't ridden those roads more than a few times, so I don't know every corner. The result is that I brake at the wrong times and don't pick good lines. No matter. Mistakes matter way less when I have a lightweight powerful bike, because I could brake late and power out of turns, lazily eating up the tarmac in between.
Because the MT-09 SP has a high power-to-weight ratio, I could really abuse the throttle, and wind it on out of every corner, even enjoying third gear thrust quite a lot.
And because the CP3 motor makes quite a bit of torque down low, I didn't have to be so fussed on the gear shifts. (But I still do have to shift — I can't just ride a torque curve like I can on bigger naked bikes.)
A three-cylinder engine is an interesting compromise, by the way, between a twin and a four. The CP3 motor has a lot of character, by which I mean it has a steady but frantic vibe at many parts of the rev range, despite the muted exhaust. So it always egged me on to rev it higher and higher.
A couple of times I was surprised by the rev limiter in first and second gears, but I think that's because I'm used to the whine of a four-cylinder bike (which has an audible frequency 33% more higher due to having one more piston), so my aural cues weren't on.
The only time I don't really enjoy the MT-09 is the same as on any naked bike — high-speed cruising. About 85 mph / 130 km/h is the limit for me. More than 10 minutes at that speed and my neck starts to hurt from holding my head forward. I'd need a better windshield, and at that point I start wondering if I just want a Tracer 9.
Using the Ride Aids
One thing I want to call out specifically is the high-level of ride-aid spec on the MT-09 SP. It has them all: a slipper clutch, a quick shifter, a 6-axis IMU, and even cruise control.
The quick shifter — I did use it, but I didn't love using it all the time. I mostly used it when I got a little tired of gripping the clutch lever. It's nice to have it there in those instances. I can imagine that if I took the MT-09 SP to a track day, I'd use it a lot more often.
The IMU — you don't really know when it's on. But there was a rider ahead of me who was a relative novice (riding for less than a year). He was riding another bike with an IMU, an Aprilia RS 660. He hit some gravel in a turn and while on throttle. His rear tyre stepped out for a second and then he recovered. That's the IMU in action! Chatting with him later, he had no idea it had happened.
And the cruise control. I do really like cruise control in some parts of the world that are nanny states with tons of speeding cameras. But I admit that in the US, on "fun" riding days (not commuting in traffic), I don't use cruise control at all. I'm basically always on throttle or braking. The only thing I need is a palm rest to take pressure off my right wrist (which isn't designed to be gripping something constantly). So if I didn't have cruise, and didn't have to commute (a luxury, I know), then I would be fine.
Here's my list of other motorcycles with cruise control. It's growing very fast!)
But if I were on a long highway run, then I'd probably appreciate cruise more.
Quick Specs of the 2021 Yamaha MT-09 SP
OK, before going too far, let's look over the specs of the MT-09 SP. This is context for some of the discussion of what I like about this bike.
| Pat | Engine size |
| --- | --- |
| Engine type | Liquid-cooled three-cylinder ("Triple") with dual overhead cams and 4 valves per cylinder |
| Capacity | 890 cc |
| Bore / Stroke (mm) | 78 x 62.1 |
| Compression ratio | 11.5:1 |
| Suspension | 41mm inverted KYB fork, fully adjustable |
| Rear suspension | Öhlins shock, fully adjustable |
| Front brake | 2 x 298mm hydraulic discs, 4-piston radial caliper, Brembo radial master cylinder |
| Display | 3.5-inch TFT |
| Ride aids | Six-axis IMU (Cornering ABS + TC), quickshifter, cruise control, slipper clutch |
| Wet weight | 189 kg / 417 lb |
2021 Yamaha MT-09 SP specs
The Unbearable Lightness of Being (the 2021 MT-09)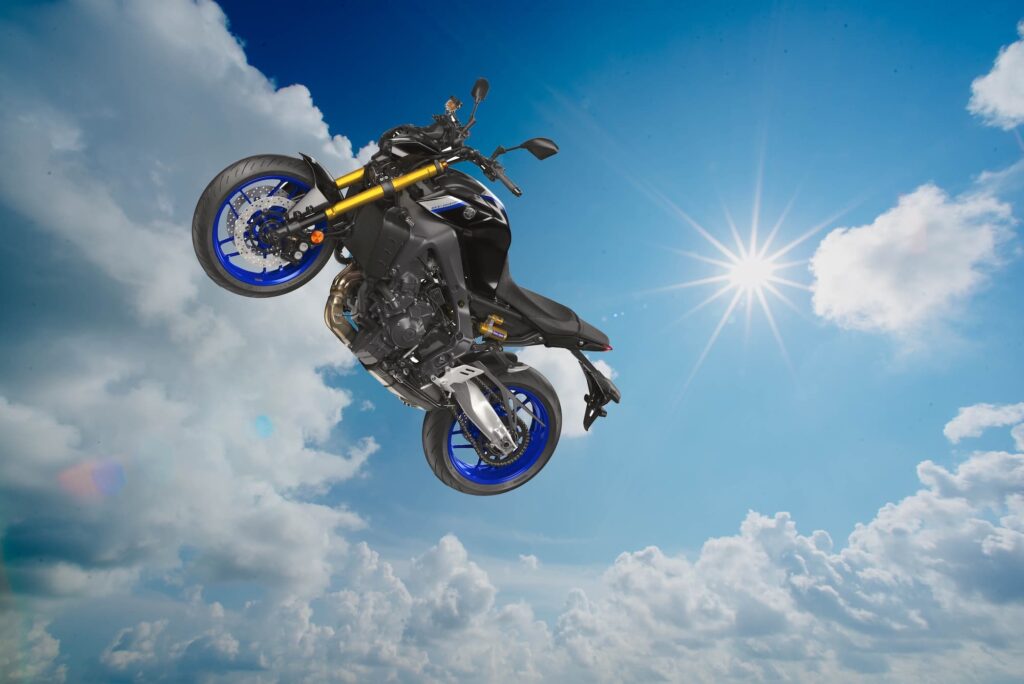 There's something special about a lightweight bike. Everyone knows that for handling, lighter is better. Lighter means easier to move around from side to side, and so on. But rather than state this semi-obvious fact, I think it's interesting to think of in physical terms.
When an engine is making a certain amount of power — say an MT-09's engine, which at 6000 rpm (where I tended to sit in practice, when riding in a fun style) is making around 70 hp or 50 kW — it's putting that power into the motorcycle. That power becomes kinetic energy and is "stored" in the forward movement of the bike and the rotation of the wheels. A portion of energy is also lost as heat and noise.
The amount of energy you need to put into an object is proportional to its mass. So the heavier the bike, the more energy stored into it. This means that as you know, an engine has to work harder to speed it up, and also that the brakes have to work harder to slow it down. (Which is why big heavy bikes stop fine until you really hammer them on the track, and then are more likely to be wobbling home with warped discs.)
Mass is also a component of momentum, and momentum has a directional component. It's easy to deflect the direction of a ping-pong ball, but much harder to do so with a bowling ball. The heavier a bike is, the more force you need to put into it to push it around corners, which is one reason why heavy bikes chew through tires.
Just how light is the 2021 Yamaha MT-09 SP? Super light! Let's put it into quick perspective with a few other motorcycles of its class.
It's the same weight as the Triumph Street Triple R and RS, two bikes that have frequently led the class in lightweight-ness (See my whole article on Chasing Lightness with the Triumph Street Triple). Though they're a shade more powerful (though again, make their power higher up in the rev range)
It's 5 kg / 11 lb heavier than the Yamaha MT-07, a much lower-spec, lower-power (but still plenty quick and fun!) bike.
It's a whopping 23 kg / 50 lbs lighter than the (much more powerful) Yamaha MT-10.
So the Street Triple has the MT-09 beat, but is also more expensive and lacks cruise. Fans of either aren't wrong. I do agree that the Striple looks better and feels more polished in person. Triumph knows what they're doing with aesthetics! But on specs alone, the Triumph isn't that far ahead anymore.
There's more to lightness than just mass, of course. You have to also consider
Un-sprung mass — the weight of the wheels and suspension components (See here for a longer discussion)
The way mass is carried on the motorcycle, for example how low it is, and what tricks the engineers have done to make it feel light
For example, MV Agusta's Brutale 800 uses a three-cylinder engine with a counter-rotating crankshaft, something they've used since the F3. The crankshaft turns in the opposite direction to the wheels, which means that the angular momentum of the crankshaft works to counter the angular momentum of the wheels (commonly known as "gyroscopic effect"), making the motorcycle easier to tip over into corners. Clever, and quite unique — only a few other production motorcycles have this, among them Ducati's recent V4-engined bikes (Panigale, Streetfighter, Multistrada, and Diavel).
So why all this focus on lightness? Shouldn't I be focused on power-to-weight ratio? Yes, sometimes (like drag racing), but lightness is one of those things I'm beginning to appreciate because it gives me a few things at lower expense.
Easier to start and stop. With less weight, I need less energy to get a bike moving, which means less revving up, less energy dissipated in the brakes, and less wear in the braking system etc.
Easier to turn. The heavier a vehicle it is, the more momentum it has, which means it takes more force to change direction. (Momentum is directional.)
Easier to move at a standstill, which is very useful on steep driveways. Also, have you ever taken a wrong turn and been stuck on a narrow downhill path? Maybe not, but I have, and it was on a 250+ kg Triumph Bonneville T120 and it was hell.
Less wear overall. The lighter a bike, the less strain goes on everything: chain, tyres, bearings. Less wear means lower maintenance costs.
To really get to the next echelon of lightness I'd have to drop down to the 400 class of motorcycles, or maybe go to dual sports and super motards, something like a Suzuki DR-Z400SM. Which I might.
The Ugliness of the MT-09 SP Must be Mentioned (Unfortunately)
Firstly, I'd much rather have an ugly but good bike than a sexy but boring bike. And the MT-09 is the first. It's ugly, but it's good. Not just good, but amazing. But it's ugly!
I know the common responses to describing a bike as unattractive — "You can't see it when you're riding it," etc. I get that. But motorcycling is a thing of the heart for many, and we're all just squishy blobs of flesh and goo and are allowed to be a bit irrational.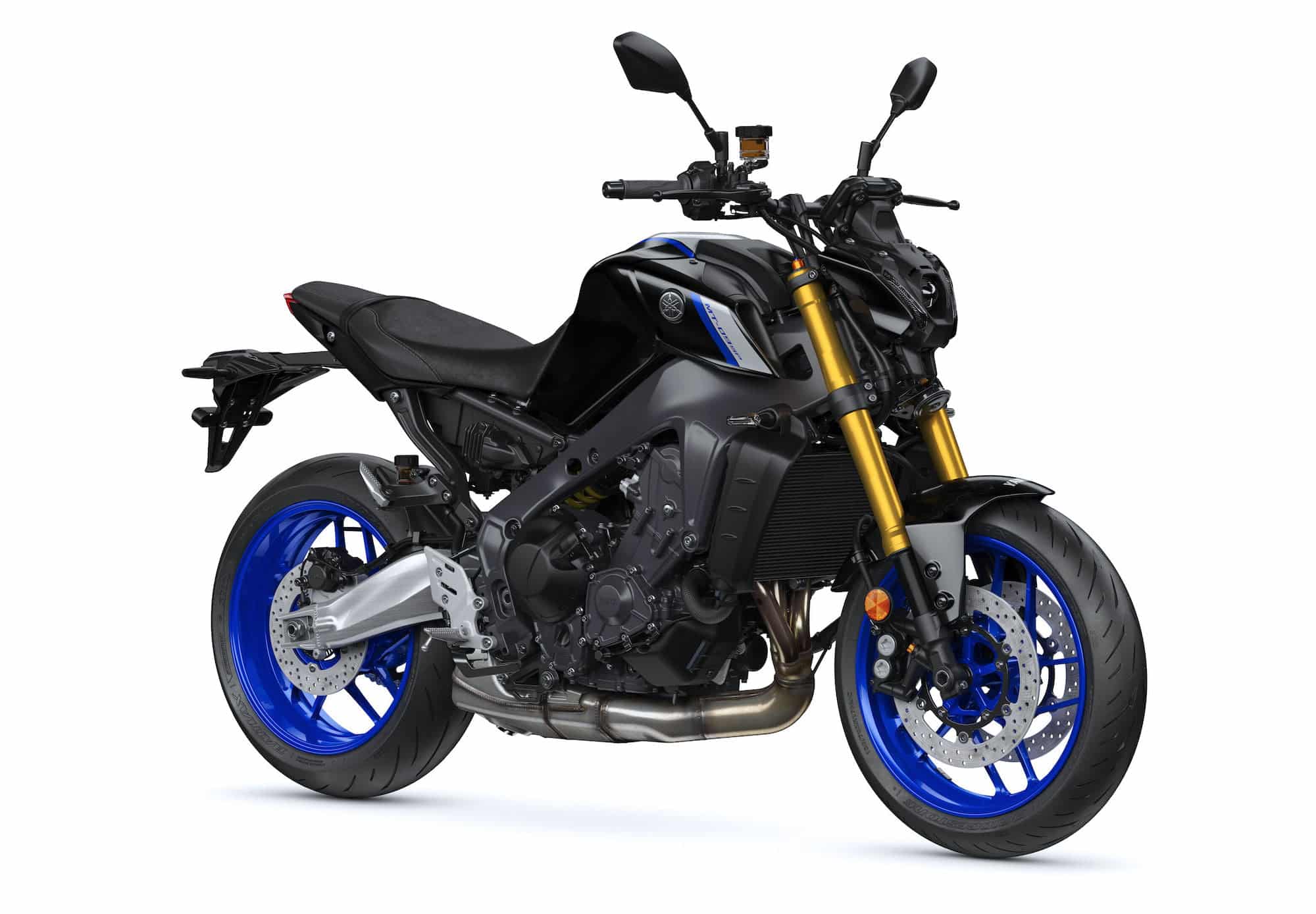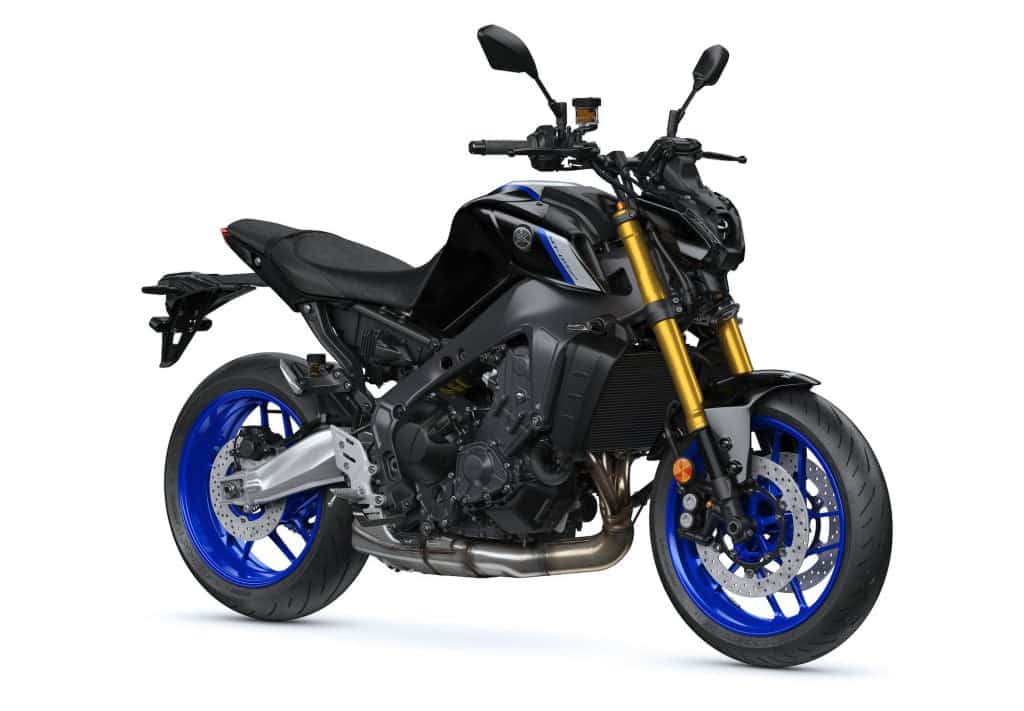 This is one of those subjective irrational bits. Perception is relative, and changes, even within me over time (I've grown to like many under-appreciated bikes). But there's a lot that I don't like about the 2021 MT-09 and MT-09 SP aesthetically.
I know that it's harder to make a naked bike attractive. These days, engines are saddled down by regulation, so they have to have things like fuel evap canisters, secondary air injection systems, and catalytic converters, just so they can run lean enough to pass fuel consumption tests and have zero bad things in the exhausts.
When you have a naked bike, it takes a lot of effort to hide all that stuff, or to make it attractive. That effort makes a bike expensive and sometimes harder to service. That's why fashion-forward motorcycles like the Triumph Speed Twin 1200 or the BMW R nineT command such a price premium over the bikes like this — they're around 30-50% more expensive, depending on what model you get.
But still, there's a lot that Yamaha could have done fairly simply but didn't do.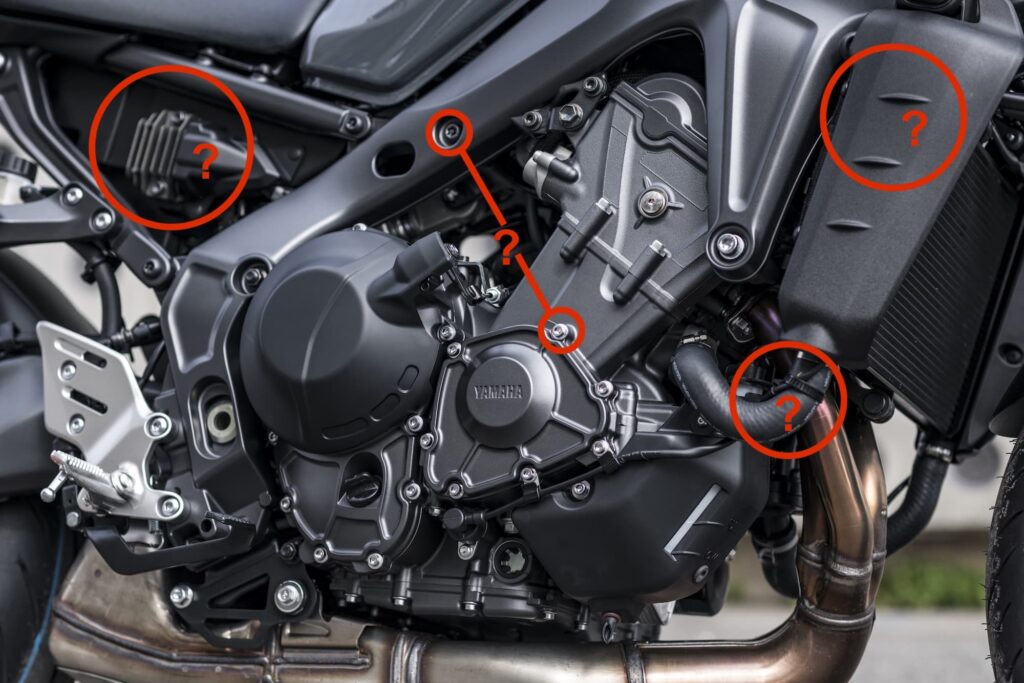 What's with some bolts being anodised to match the black paint of the chassis or engine, and others not?
Why not put some cover over that regulator/rectifier's heat sink? Surely it'll still get airflow?
What's with the speed louvers on the side of the radiator? As if the wide radiator weren't ugly enough…
Why route wires and cables in this haphazard manner?
This is without even considering the elephant in the room, the headlight. But I do appreciate that the MT-09 is a few kilograms lighter than the XSR900, and I'm sure the aesthetic of the headlight helps. Anyway, I've changed my tune on headlight designs before, so I reserve judgment there.
I don't think any of the above was "intentional", other than in a sense of keeping it intentionally simple to allow users to bother with aesthetics, if they even care.
The first things to take care of on the MT-09 aesthetically would be the classic ones that most people do with modern motorcycles, if they have any money left after paying the piper:
The underbelly exhaust. I normally don't touch exhausts but that's not a cat, that's a whole er… clowder of cats. (Pounce? Herd? Agglomeration? Nightmare?)
The tail. Again, I don't normally care, as I can't see it, but it's such a compact bike that this tail section seems egregious.
The brake master cylinder on the non-SP, which looks like a medical sample cup dangling in the breeze. (The SP has a more palatable Brembo radial master cylinder)
Once those are taken care of, you'll be out of pocket another $2K or so, but the bike will be easier on the eye — and even lighter, incredibly. It still won't be a design icon, but that's OK because it's so good!
That's the thing about the MT-09 SP. If you're like me and don't appreciate the aesthetic, then riding it may change your mind anyway. I'm a person who really likes the "approach" to a bike — I want to feel invigorated by the design. But on the MT-09 SP, even though I don't get that appeal from the design, I remember the riding and that's what gets me excited.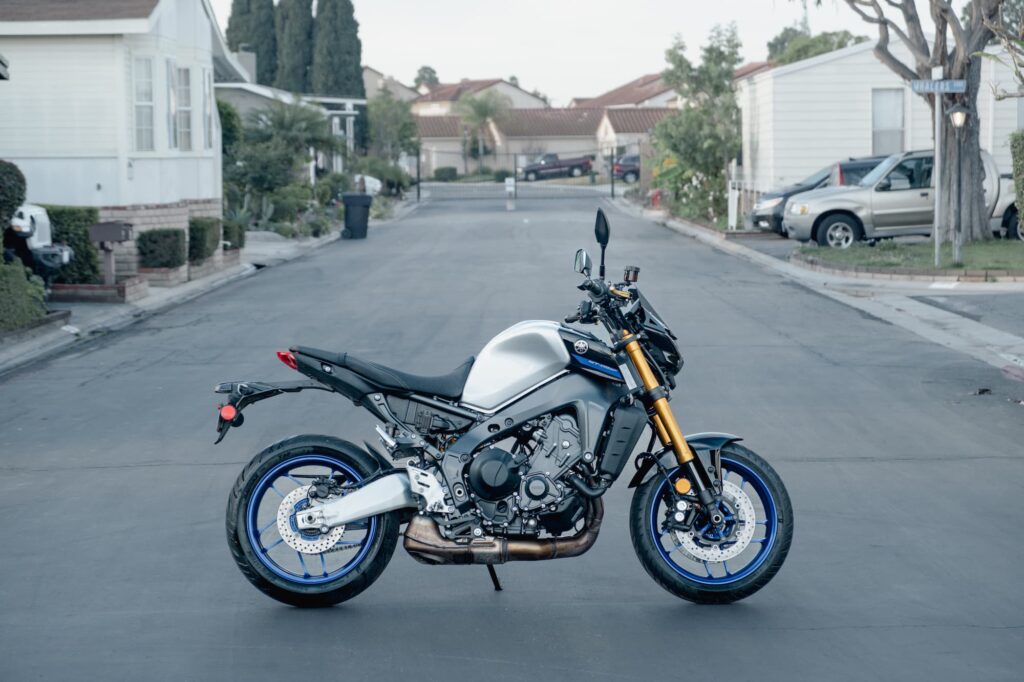 If you don't like the design, then you're in luck: it's much easier to improve how a bike looks than to improve how it rides. The MT-09 is a great starting point.
The "Other" CP3 bikes: the XSR900 and the Tracer 9
Anyone looking at the MT-09 or MT-09 SP would also be looking at the Tracer 9, or the Tracer 9 GT. As of 2022, they've all been updated to the 890 CP3 engine.
Because they have the same engine and chassis, it's hard not to be confused. Which one? I'll go over it briefly here.
What they all get is the 890-cc engine in the same state of tune. They also all get the six-axis IMU that gives them cornering ABS and traction control.
Here's what the various variants get:
The SP gets the Öhlins rear shock, a quick shifter, and cruise control.
The XSR900 gets cruise control and a quick shifter, and of course retro styling.
The Tracer 9 (Europe only and US only, some markets only get the GT) gets cruise and the quick shifter, plus upright seating and a windshield.
The Tracer 9 GT gets KYB electronic suspension, though preload is still manual.
The Tracer 9 GT+ gets assisted active cruise control, making it the cheapest bike on the market with radar-assisted cruise (here are all the others… it's a short list).
Some Obvious Alternatives to the Yamaha MT-09 / SP
If you're shopping for a bike in the class of the MT-09 or MT-09 SP, then you're probably looking at premium middleweights.
By "middleweight" I don't mean the ones edging near 150 hp, like the bikes based on liter bike engines, but with de-tuning and handlebars. I mean motorcycles intended to be middleweights.
There are relatively few that are squarely competitors for the MT-09. But if we're looking for bikes below 190 kg in weight and that are over 80 kW in power (sub 420 lbs and over 110 hp), then there are relatively few: The Triumph Street Triple, the Ducati Monster 937, and the KTM 890 Duke R. For all of these I'll compare the top spec to the top spec Yamaha, the SP.
Motorcycle
Yamaha MT-09 SP (Reference)
Triumph Street Triple RS
Ducati Monster 937 SP
KTM 890 Duke R
Engine type
890 cc triple
765 cc triple
937 cc V-twin
890 cc P-twin
Power
87.5 kW / 119 hp @ 10000 rpm
96 kW / 130 hp @ 12000 rpm
82 kW / 111 hp @ 9250 rpm
89 kW / 121 hp @ 9250 rpm
Front suspension
41mm KYB inverted fork, fully adjustable (including high/ low-speed damping)
Showa 41mm BPF, fully adjustable
Öhlins NIX30, fully adjustable
WP Apex 43mm USD, compression / rebound damping adjustable
Rear suspension
Single KYB shock, preload and rebound damping adjustable
Öhlins STX40, fully adjustable
Öhlins monoshock, fully adjustable
WP Apex monoshock, fully adjustable (including high/low-speed compression damping)
Front brakes
2 x 298mm discs, Brembo radial front master cylinder
2 x 310mm discs, Brembo Stylema calipers
2 x 320mm discs, Brembo Stylema calipers
2 x 320mm discs, Brembo Stylema calipers
Curb weight
189 kg / 417 lb
189 kg / 417 lb
185 kg / 410 lb
185 kg / 408 lb (measured)
IMU?
Y
Y (2023+)
Y
Y
Cruise?
Y
Optional
(Some markets)
N
Optional
Quickshifter?
Y
Y
Y
Optional
MSRP (USD)
$11499
$12995
$15595
$12399
Premium middleweight motorcycles — Spec comparison table
Triumph Speed Triple R / RS
Let's start with the most obvious competitor. A three-cylinder lightweight naked? You mean the Triumph Street Triple, right?
The "Street Triple" too often doesn't get a look-in from riders because they look at the Speed Triple next to it, with its big engine, single-sided swingarm, and "speed" right there in the name, everything goes hazy and red, and thirty minutes later they're pulling their visor down and wondering how they're going to keep their license or their pants not on fire.
But the Street Triple is, and always has been, a fast bike. Note that I don't say "fun" or "sporty", in that condescending way that implies it's entertaining to really push a bike that doesn't normally get pushed. No, I genuinely mean fast. Because the Street Triple is basically a 600-cc sport bike with more torque everywhere and handlebars.
As of 2023, the Street Triple comes in three variants: the R, the RS, and the MotoGP spec. Most people would be happy with the R (even for casual track use), and some others might want the RS for its slight bump in power, the improved suspension front and rear (with even an Öhlins shock at the rear), and Brembo Stylema calipers.
But the R itself is awesome. It really does have a lovely torque curve, and the Triumph take on a triple feels different from that of the Yamaha. There are plenty of people for whom anything not a Triumph will feel "cheap", so you really have to look at one in person and see how you feel, and whether you want to pay that premium.
You can also buy Street Triples from a decade ago and have the same basic package (with a slightly smaller 675-cc engine) — ample power, a wailing engine, and a lightweight chassis.
See the complete Triumph Street Triple Buyers Guide.
KTM 890 Duke R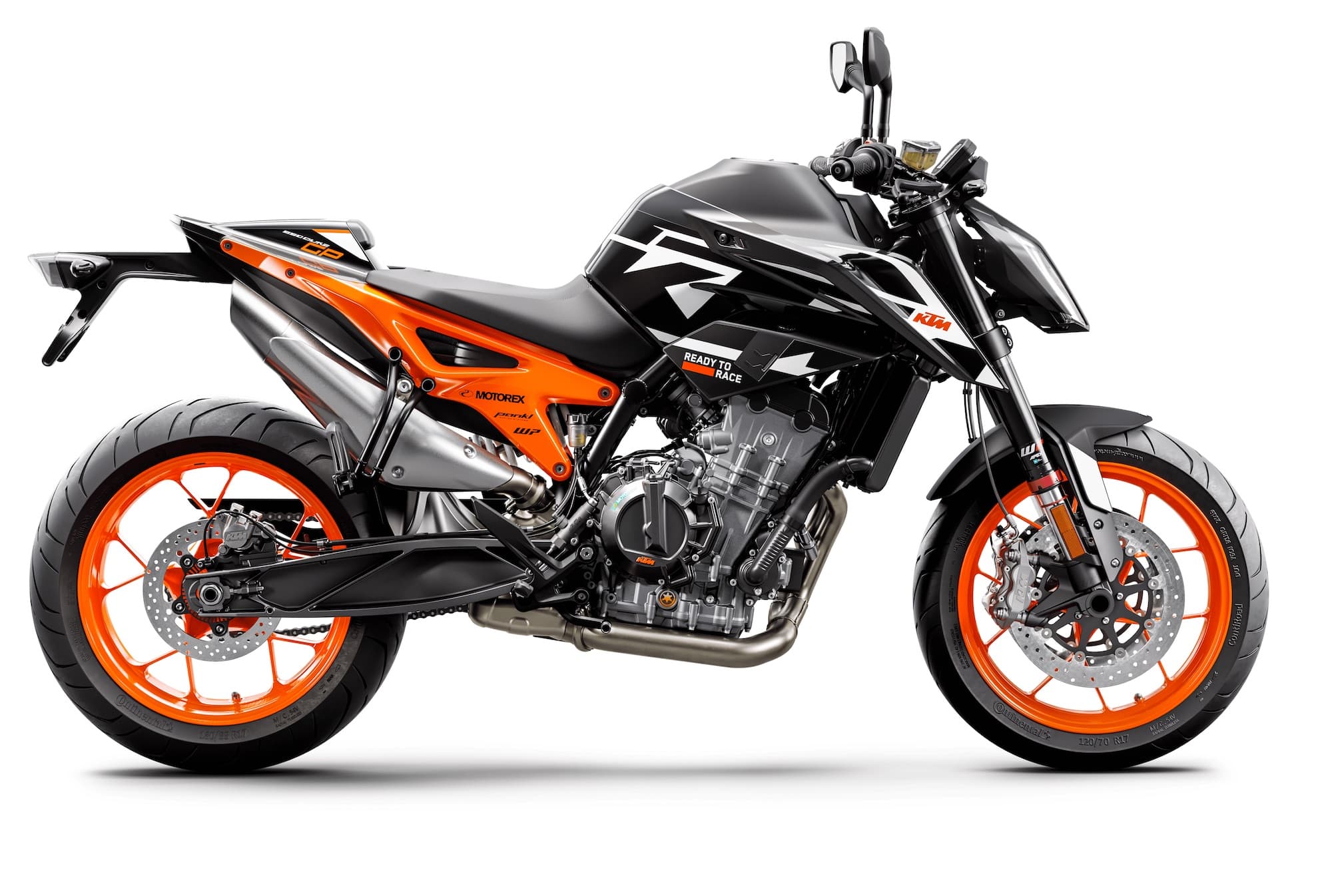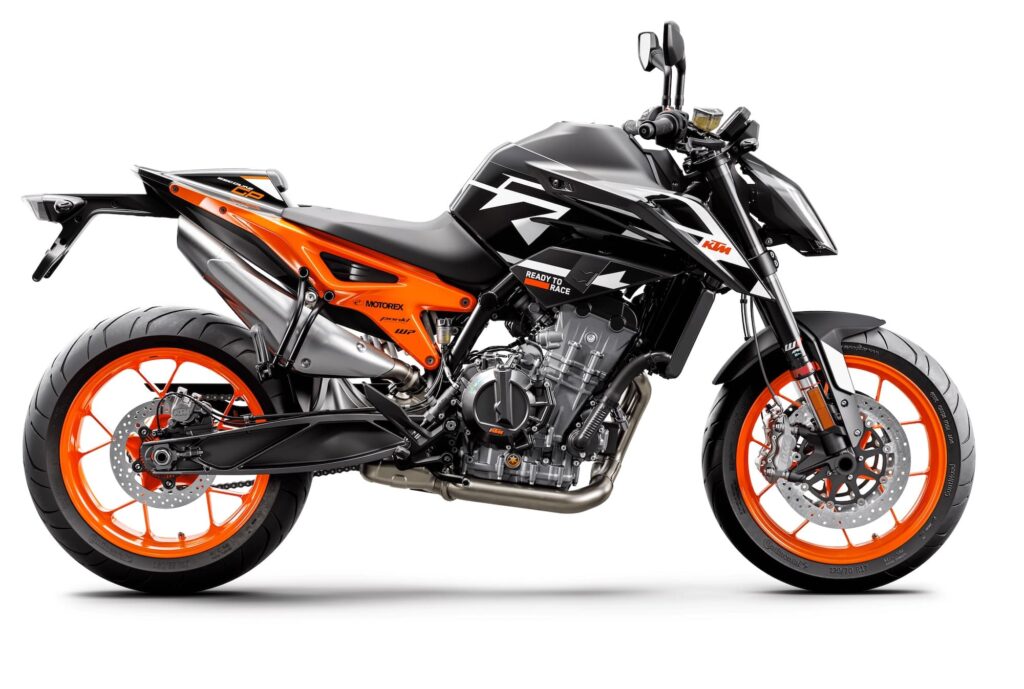 KTM has been making parallel-twin powered Dukes for a little while now. Again, it's the Super Duke R that gets all the attention, but the 890 Duke R is the middleweight choice with a lot of personality.
Like the MT-09 SP, the KTM 890 Duke R makes a middleweight amount of power into a lot of fun. The core of it is an 890-cc parallel twin with a 270-degree crank that makes an impressive 89 kW (121 hp) at 9250 rpm, peaking in torque earlier at 7750 rpm.
Suspension is adjustable on the front and rear, and the shock is even adjustable for high- and low-speed compression damping. The brakes are Brembo Stylema calipers on 320mm discs.
It has most of the ride-aids of the MT-09 SP, with a slipper clutch, cornering ABS, and an optional quick shifter and even optional cruise.
The Duke R looks pretty cheap on paper (hardly more than the MT-09 SP!), but remember to add in what you pay for a quick shifter and cruise control, which also needs a special switch block (it varies by market but it'll be at least US$5
Basically, this is a high-end bike with a high-performing engine and the kitchen sink of performance parts — though some come as accessories.
Ducati Monster 937 / SP
Truth be told… It's the Ducati Monster 937 (not even the SP version) that got me thinking about cheaper to buy and to maintain alternatives.
The Monster 937 (its informal name — Ducati just calls it the Ducati Monster / Monster+) is a huge update to the old Monster 821. It takes the same 937-cc Testastretta-11 engine used in a bunch of other motorcycles (the Hypermotard 950, the Supersport / 950, Ducati Multistrada V2, etc.) and puts it to use in the Monster, one of the middleweight sport bikes to really kick off the trend.
Ducati also added in a six-axis IMU and quickshifter, but like many motorcycles in its class from Ducati, it doesn't have cruise control (if you wanted that).
The Ducati Monster 937 is much lighter than its 821 predecessor, bringing it into the same league as the Triumph Street Triple and Yamaha MT-09 for the first time.
The SP spec Monster brings Brembo Stylema calipers to the brakes and front and rear Öhlins suspension, making this a super high-spec middleweight.
And… No others?
What about the MV Agusta Brutale 800, another triple? The Kawasaki Z900 (awesome machine btw)? The BMW F 900 R? The Aprilia RS 660? Or even the new Honda CB750 Hornet? All of these bikes are either too heavy (over 190 kg) or not powerful enough to be as direct competitors to the MT-09 SP. They're close, and I have an eternal soft spot for the underdogs, but I have to cut off the specs at some point or the list will go forever.
What's next?
I have to take out the competition for a test ride — the main contenders being the Ducati Monster 937 and the Triumph Street Triple RS. I'm quite partial to the Striple, because I don't know anyone that doesn't like them.
There's also a bit of noise about a potential Yamaha YZF-R9, a sportbike based on the MT-09. I'm hoping so, because it'll distract people from the MT-09, meaning I can snap it up second hand for even less.
But anyway, I'll reserve judgment until I've ridden them all!