Ask many a wizened old motorcycle guru what their favourite motorcycle ever is, and they'll say… the Triumph Street Triple.
… well, the truth is they may say any old thing. Man, the number of people who've told me any random bike is the "best bike of all time" for whatever reason! So many bikes — it's a wonderful time to be alive.
But the Triumph Street Triple, or "Striple" as it's affectionately called, really is a bike for many people. It just ticks so many boxes:
Comfort: It's upright (ish), so you don't have to lose all feeling in your hands just to ride for an hour
Power: It makes a lot of power (over 75 kW or 100 hp) in stock trim. It's the "right amount" for a lot of situations
Character: It has a blaring triple, for that bellow at high revs
Torque: It's more tuned for a broad spread of mid-range torque than 600cc sport bikes, not outright power above 14,000 rpm, so you can actually ride it down to the shops to get a coffee where you can sit and admire what you rode there
Lightness: Or a "lack of weight" — in stock trim these are light bikes for their class (or any class)
What's the downside? There isn't one! The only downside to the Street Triple, I suppose, is that it's not another (different) kind of bike, like the much more powerful Speed Triple or the much more adventurous Tiger 800 / 900.
But wow, the Street Triple is a perfect bike if you (like me) like the screaming midrange of a 600 cc bike but don't want to wait until 6000 rpm to start enjoying life.
Right from 2-3K, a Street Triple never feels slow. People like to throw truisms about triples around, but with this bike they're true: Street Triples are tuned for the low-end torque of a twin, but the top-end of a four-cylinder sport bike (at least before rpms get into the silly range).
OK, so now you want a Street Triple too. Welcome to the club!
But sadly, Triumph has gone and made it very confusing in recent years, constantly rearranging their model codes, changing what it means to have a Street Triple R or S, and making it different by where you live — what you get is slightly different if you're in Europe, the US, or Australia/New Zealand.
This all started for me when I visited a dealer years ago and the guy tried to explain to me that both models I was looking at had Brembo brakes, but one was better.
I've been looking at Street Triples of all generations, looking for an older one (found one but it got away before I pulled the trigger… story of my life / this website), and thought I'd share everything I've learned from test rides, research, speaking to people, and bothering netizens on forums about what their favourite tyre is (kidding. Also, don't tell me. Obviously it's the Pirelli Ultra Doppio Diablo Rosso Oscuro VII.)
I've done my best to present this buyers guide correctly, but I keep discovering new bits of information around the Internet. If you find any egregious omissions, please let me know!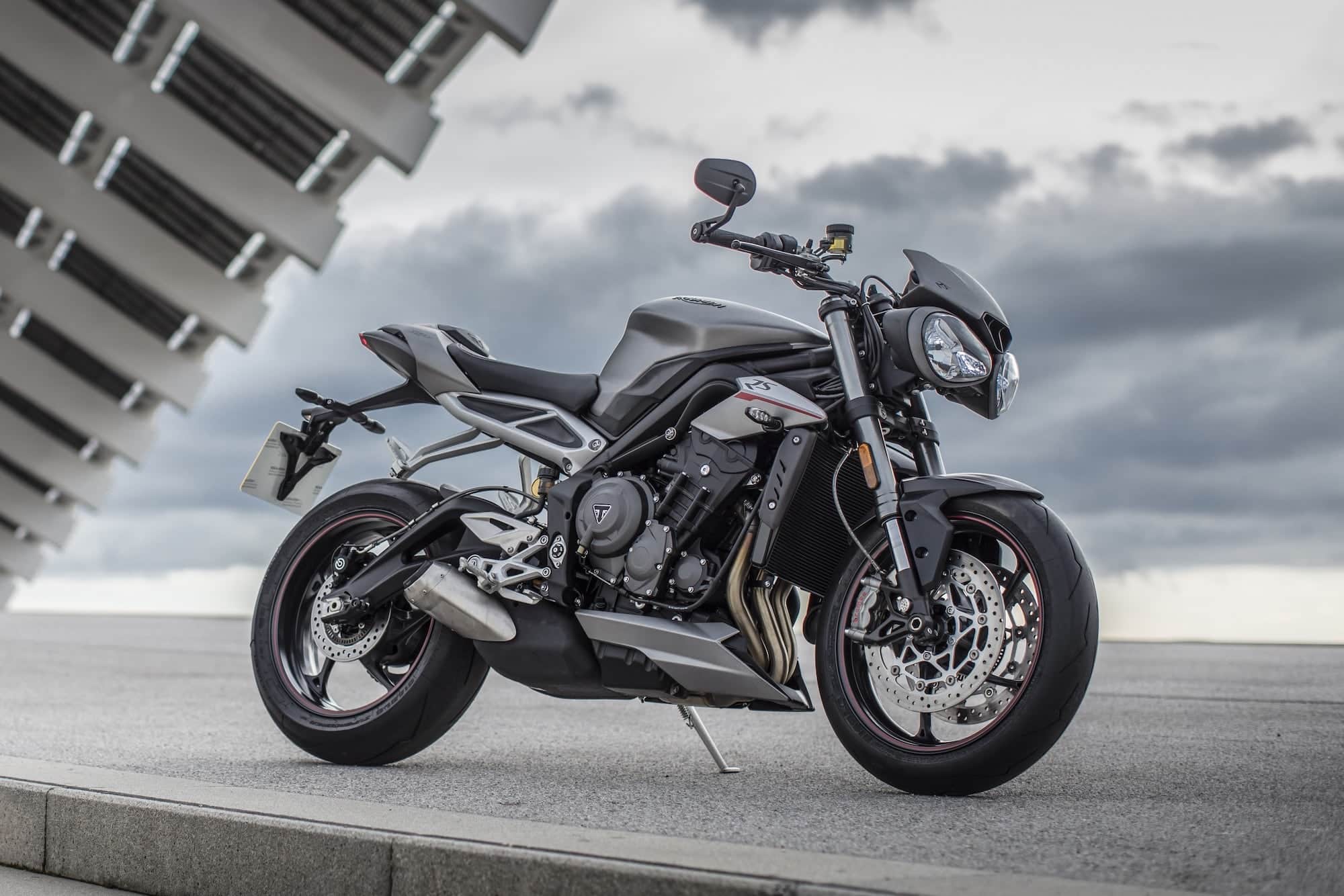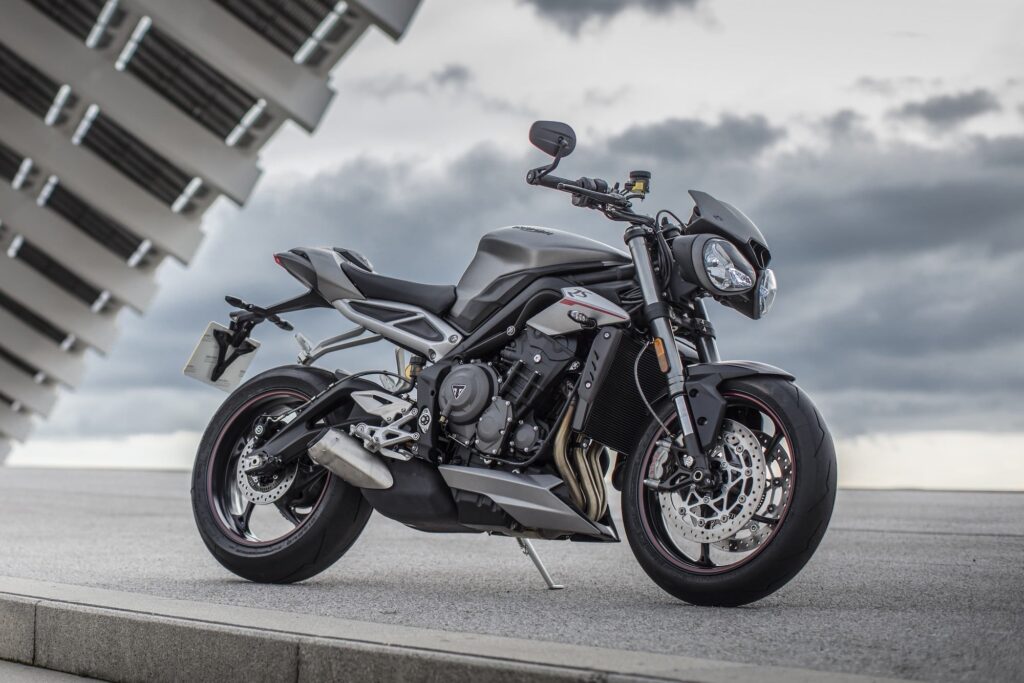 Are you obsessed with motorcycles?
Well, I am. That's why I created this site — as an outlet. I love learning and sharing what others might find useful. If you like what you read here, and you're a fraction as obsessed as I am, you might like to know when I've published more. (Check the latest for an idea of what you'll see.)
Triumph Street Triple — A Brief History
The Street Triple is part of the new generation of Triumph motorcycles since John Bloor took over the defunct brand a few decades ago.
The more experienced riders among us remember the "old" Triumph brand, a company founded a century ago that made cars and then motorcycles.
That was a different Triumph. I know because one of our family's early cars was a Triumph, and it was quite different to anything else from Triumph I've ever seen. In fact, a neighbour gave it to my father for free (because, it turned out, it was cursed), and my dad later sold it for $150 and was surprised anyone paid anything for it. (The new owners were pretty drunk and crashed it a couple of blocks away and left it there.)
Anyway, some quick googling shows that the Triumph Cycle Company was actually a separate legal entity that produced motorcycles since 1902.
The original Triumph made a bunch of iconic bikes but eventually went bankrupt. Not because the bikes were bad, but just that the changing global economy made them uncompetitive. They went bankrupt in 1983.
John Bloor, a now-famous British billionaire businessman, was shopping for factory property, and along with the property bought the rights to the brand that same year, in 1983. For a while, he let others build motorcycles under the Triumph brand, but eventually made the now historically smart move to rebuild the Triumph motorcycles brand up from scratch. This generation is also known as the "Hinckley" generation.
The original Triumph brand coined a lot of model names that the new Triumph has reproduced in later days: the Daytona, the Speed Twin, the Trident, the Bonneville of course, and others.
But even though the original Triumph did make three-cylinder engines (like the Trident), they never had any bike called the "Street Triple" (nor "Speed Triple").
Triumph announced the first Triumph Street Triple in 2007 for the 2008 model year. They conceived it as a smaller sibling to the Speed Triple (then with a 1050 engine), and heavily borrowed from the Triumph Daytona 675 of the time, taking its chassis, and much of its frame.
But the original Street Triple, a bug-eyed naked, looks very different from the Daytona, a racy sportbike.
Those dual round headlights really caught people's eyes. What a look!
Sadly, Triumph decided to abort the dual round headlights by the 2012 model year and never really brought them back. The latest Triumph Street Triple RS looks fantastic by other measures, but it lost that original look. In the early 2010s there were many threads on forums about how to convert back to the original round headlight look.
I've gotten used to and actually appreciate the new look. It looks lean and fast. But it's all a matter of personal taste.
That original Street Triple, which you can still find for sale, manages to squeeze out 78 kW (105 hp) from its 675cc three-cylinder engine. Peak power comes on at 11850 rpm, and peak torque is at 9750 rpm.
The original Street Triple 675's power is down on the Daytona 675's 91 kW (125) peak power, of course.
But what is more amazing was how that torque is delivered in the Street Triple — including any later generation.
The engine of any Street Triple is a lot more torque-forward than its stablemate the Daytona and other ~600-class streetbikes. (I say ~600 class because this is 675cc, and anyway, the ZX-6R has been 636 cc for most of its life.)
Down low from 2500-3000 rpm, the 675cc motor makes 75% of its peak torque. This is quite different to other 600cc-class bikes, which make maybe half their peak torque at lower revs.
At the 7000 rpm range there's still a jump in torque, but it's not like the turbocharger feeling you get with a 600cc sportbike.
In sportbike terms, this torque curve is relatively "flat".
Here's an annotated dyno chart (based on data from an old Cycle World dyno run) to explain visually: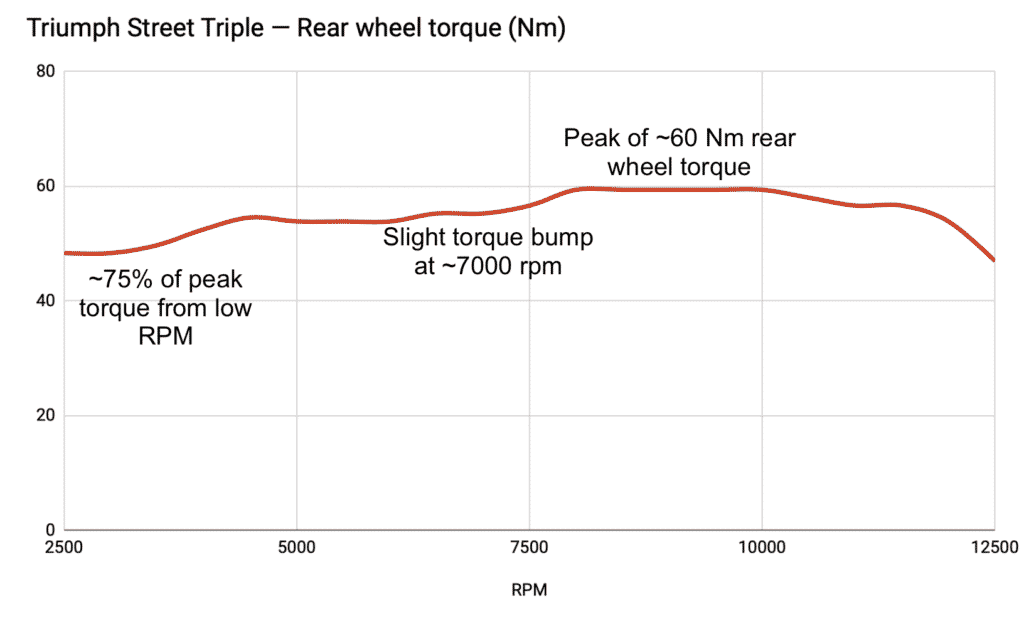 What is less often emphasised about the original Street Triple is how light it is.
The first Triumph Street Triple weighs only 182 kg / 401 lb wet (fully fuelled). Later generations keep this spirit — the mid-spec 2017 Triumph Street Triple R weighs under 180 kg / 397 lb, even though it has a lot more rider aids and a bigger engine!
In fact, the claimed weight for a fully-laden Street Triple of whatever incarnation has always been between 175 and 182 kg (386 – 401 lb) — and since that's a small difference, and things like the weight of the rider plus gear, accessories/weight reducing add-ons, and fuel in the tank would make a bigger difference — I'm not going to report individual differences in the model history. It's just worth noting that the weight never ballooned out.
For comparison's sake, here are a few other somewhat comparable bikes, power, and weight, all 2021 model year:
| Motorcycle year/make/model | Peak Power | Wet Weight | Power/Weight (kW/kg) |
| --- | --- | --- | --- |
| 2021 Triumph Street Triple RS (765cc) | 85 kW | 175 kg | 0.49 |
| 2021 Kawasaki Ninja ZX-6R 636 (636cc) | 95 kW | 196 kg | 0.48 |
| 2021 Yamaha MT-09 SP (890cc) | 87.5 kW | 189 kg | 0.46 |
| 2021 Ducati Monster (937cc) | 82 kW | 188 kg | 0.44 |
| 2021 KTM 890 Duke (890cc) | 79 kW | 184 kg | 0.43 |
Power/weight ratios of some common middleweight sport bikes
So the modern Street Triple R does very well. Yes, that's in some metric units and not "freedom units", but believe me, the order of the ratios is the same if you do it in brake horsepower over pounds. (Or Pferdestärke / kg, or whatever.)
There are lighter naked bikes, like the Aprilia Tuono 660, but they're not as powerful. And there are more powerful naked bikes, like the Ducati Streetfighter V4S, which have higher power to weight ratios too, but they're heavier and in a different class of bike and budget.
Over the years the Street Triple has had some significant changes. I'll go over these in more detail in the next sections.
2007-2011: "Original spec" — round headlights, upswept exhaust, and the 675cc engine.
2009-2011: First Street Triple R, with better suspension and brakes
2012: Strange unicorn year for both the original and the R with the new headlights, no ABS yet, but still an upswept exhaust.
2013-2016: Cosmetic redesign for both base spec and R, with different front lights and an underbody exhaust (for emissions as well as mass centralisation, and optional (sometimes standard) ABS.
2014-2018: Original Triumph Street Triple 660, the low-power LAMS class (Aust/NZ)
2014-2016: Higher-spec Rx (like an R but with a bunch of add-ons standard)
2017-2019: New redesign with a 765cc engine. Three different states of engine tune in the Street Triple S, Street Triple R, and Street Triple RS.
2020+: Street Triple R and Street Triple S repositioned slightly. In the UK, the S became the 660 cc low-power A2 / LAMS bike. The R lost the TFT display and some dollars.
More detail on all these generations below.
Street Triple Generations and Models Summary
It drives me slightly crazy when motorcycle manufacturers barely change (or don't change) the name of a model but make massive changes inside it, either for a different time period or different market.
But it also gives me a job to do — do the research and explain it all for you, the eager buyer!
Over the years and in different regions, the Street Triple R and S in particular can mean different things. For example, the Street Triple S:
In the UK, this is 660cc and can be bought in restricted and unrestricted form.
In Australia, it's 660cc and is always restricted. (Unless you derestrict it)
In the US, it's 765cc and never restricted, though it's lower spec than the R and RS.
It makes sense if you stick to one market — but when we start googling things about a model, and we find figures from the UK/Europe, the US and Australia, it becomes bamboozling.
At least early models are the same everywhere. More reason to buy used!
Here's a summary table of all the differences:
Generation (Key characteristics)
Years
Engine
Peak power
Suspension
Brakes
Gen 1 (round lights, upswept exhaust)
2007-2011
675cc
79 kW (106 hp) @ 11750 rpm
* Non-adjustable KYB 41mm fork
* Preload-adjustable rear shock
308 mm discs, 2-piston Nissin calipers
Gen 1 Street Triple R (better suspension)
2009-2011
675cc
79 kW (106 hp) @ 11750 rpm
* Fully-adjustable KYB 41mm
* Remote reservoir rear shock
308mm discs, 4-piston Nissin calipers
Gen 1 2012 base and R models (New lights, but still upswept exhaust)
2012
675cc
79 kW (106 bhp) @ 11,750 rpm
Same as base model / R respectively
Same as base model / R respectively
Gen 2 Street Triple (new lights, low exhaust)
2013-2016
675cc
78 kW (105 bhp) @ 11850 rpm
* Non-adjustable KYB 41mm fork
* Preload-adjustable KYB monoshock
310 mm discs
* 2-piston Nissin calipers
* Optional ABS
Gen 2 Street Triple R (better suspension, brakes)
– Rx from 2015 with standard quickshifter
2013-2016
675cc
78 kW (105 bhp) @ 11850 rpm
* Fully adjustable KYB 41mm USD fork
* Kayaba shock, 2-way adjustable
310 mm discs
* 4-piston radial Nissin calipers
* Optional ABS
Triumph Street Triple 660 (Detuned, Australia/NZ only)
2014-2016
659cc
40.6 kW (55 bhp) @ 9300 rpm
* Non-adjustable KYB 41mm fork
* Preload-adjustable KYB monoshock
310 mm discs
* 2-piston Nissin calipers
* ABS
Gen 3 Street Triple S 765 (low-spec, but still high-power)
2017-2019
765cc
83 kW (111.5 / 113 PS hp) @ 11250 rpm
* Non-adjustable Showa fork
* Preload-adjustable Showa shock
310mm discs, ABS, Nissin 2-piston calipers
Gen 3 Street Triple R (mid-spec)
2017-2019
765cc
87 kW (116 bhp / 118 PS) @ 12000 rpm
Fully adjustable Showa SF-BPF
* Fully adjustable Showa rear shock
310mm Brembo M4.32 4-piston calipers, ABS (switchable)
Gen 3 Street Triple RS (high spec)
2017-2019
765cc
90 kW (121 bhp / 123 PS) @ 11700 rpm
* Fully adjustable Showa 41mm BPF
* Fully adjustable Öhlins TTX36 rear shock
310mm discs, Brembo M50, ABS (switchable)
Triumph Street Triple S A2/LAMS (660) (based on 765 cc, de-restrictable)
2017+ (elsewhere)
660cc
A2: 35 kW / 47.6 PS @ 9000 rpm
Full: 70 kW / 95.2 PS @ 11250 rpm
* Non-adjustable 41mm Showa SFF
* Preload-adjustable Showa shock
310mm discs, ABS, Nissin 2-piston calipers
Gen 4 Street Triple R (mid spec)
– Analogue / LCD dash
2020+
765cc
87 kW / 116 bhp (118 PS) @ 12000 rpm
* Fully adjustable Showa SF-BPF
* Fully adjustable Showa monoshock
310mm Brembo M4.32 4-piston calipers, ABS
Gen 4 Street Triple RS (high spec)
2020+
765cc
90 kW (121 bhp / 123 PS) @ 11750 rpm
* Fully adjustable Showa 41mm BPF
* Fully adjustable Öhlins STX40 rear shock
310 mm discs, Brembo M50 four-piston calipers
Generations of Triumph Street Triple
More details on all these model variants below.
1st Gen Triumph Street Triple – 2007-2012
This is the Street Triple that started it all. It was just called the "Street Triple", not the "Street Triple 675" or whatever we use to distinguish it from later generations.
At its core, the first Triumph Street Triple is a pared-down Daytona 675 with a street tune and different road-going equipment — different lights, handlebars, and exhaust.
Key characteristics of the first-gen Street Triple (2007-2011) are:
Round headlights
675cc engine from the Daytona — fuel injected inline three-cylinder engine
79 kW (106 bhp) @ 11,750 rpm
68 Nm (50 ft-lb) @ 9,100 rpm
The base model first-gen Striple has no adjustability in suspension, but has a preload-adjustable rear shock (though they don't supply you with the spanner to do it).
Unless you find an absolute bargain, or one on which someone has replaced the suspension, it's nearly always a better idea to get an early Street Triple R with adjustable suspension.
On the other hand… this is the original Street Triple. They're not very expensive, they look cool, and they're classics. You could also rebuild the suspension for exactly your ride style and weight, and you might have a bargain.
1st Gen Triumph Street Triple R 2009-2011
The 2009 Triumph Street Triple R is the first "R" in the series.
Triumph took the base model Street Triple and added:
Fully adjustable front suspension (a KYB 41mm fork) borrowed from the Daytona
4-piston calipers, still Nissin and on the same 308mm disc
Still just a pre-load adjustable rear shock
Basically Triumph took more premium parts from the Daytona 675 of the time and plonked them on the Street Triple R. And a track legend was born!
The 2009-2012 Triumph Street Triple R still has short gearing, round headlights, and exhaust pipes under the seat. This combination makes the original 2009-2012 Triumph Street Triple R an iconic hooligan machine.
If you're after an original round-eyes Street Triple, I'd pick the Street Triple R over the base model (all other things equal). You'll save money when it becomes time to upgrade the suspension of the original.
Of course, if you find an original Striple in great condition for a good price, do what's right for you!
2012 Triumph Street Triple and Street Triple R — the "Last Hurrah"
The 2012 Triumph Street Triple and Street Triple R is a peculiar unicorn year in the Triumph Street Triple's history.
Triumph just replaced the headlights, but kept everything else in the motorcycle the same. Same exhaust, no ABS, etc. In the R version they also kept everything else the same (better brakes, suspension).
AMCN called it replacing the "Marty Feldman" eyes with "Dame Edna's Glasses" headlights, a reference which requires you to be Australian to understand.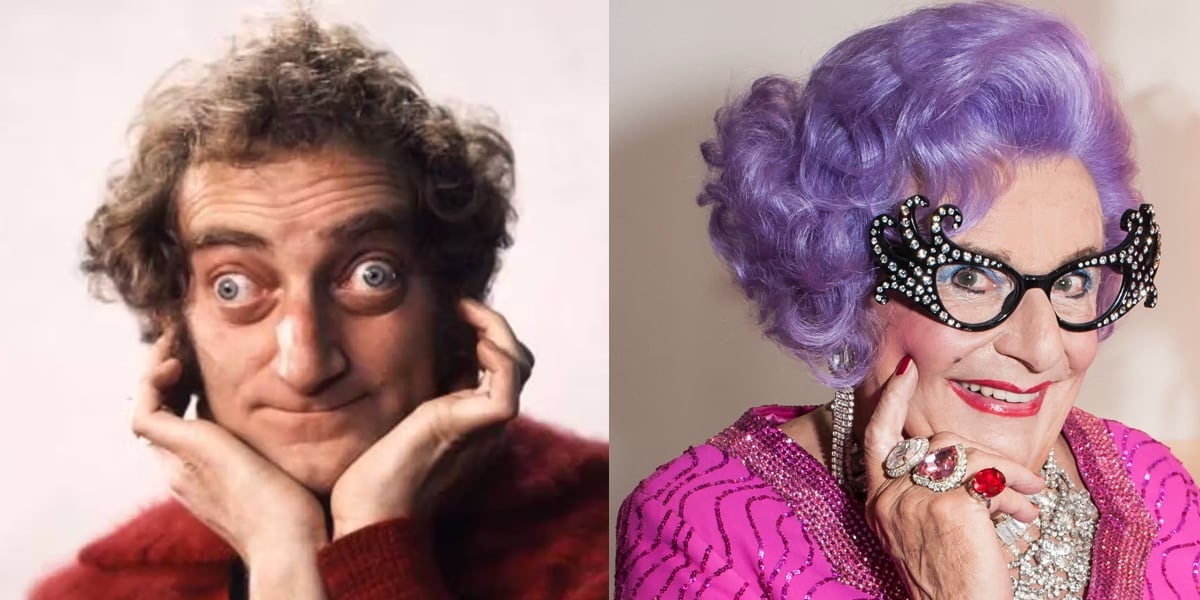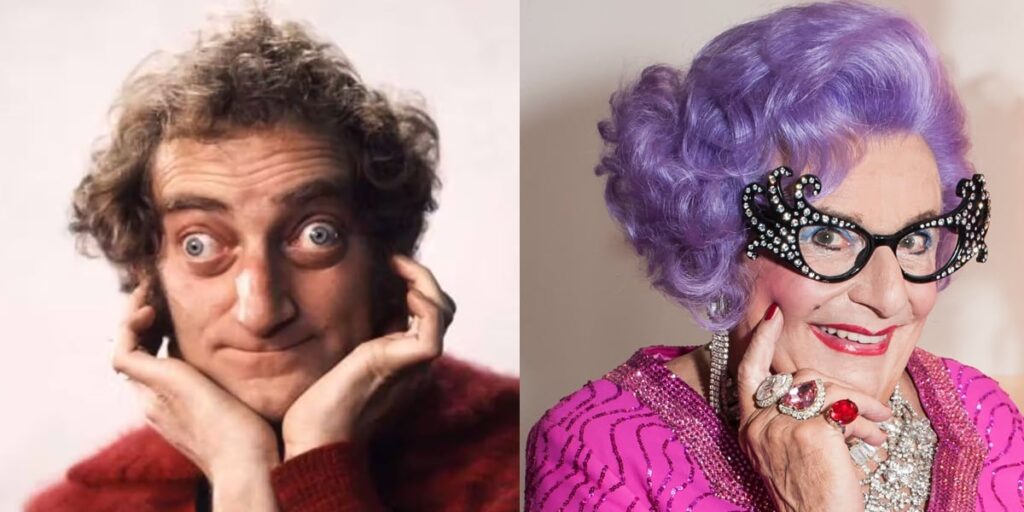 Great, now I can't un-see it…
2nd Gen Street Triple – 2013-2016
In 2013, Triumph did the unthinkable and permanently ditched the round eyes and the under-seat exhaust.
But they managed to reduce the weight, so not many complained.
Key changes for the 2nd gen Triumph Street Triple include:
Major aesthetic change to the headlights — same as the 2012
Side-slung exhaust, rather than under the seat
Lighter frame, exhaust, wheels, and rear caliper, leading to 6 kg (13 lb) less weight (non-ABS model)
More forward weight bias — 52% front, up from 49% front, for more precise handling
Taller first gear
310mm front rotors (up from 308)

Optional TPMS
2nd gen Street Triple Base model (2013-2016)
The base model of the 2nd gen Street Triple has the same engine (with the same specs) as the Street Triple R.
You can recognise the Street Triple base model by the gold fork tubes. Despite the bit of bling, the forks are non adjustable on the base 2013-2016 street triple. And the monoshock is adjustable only for preload.
2nd gen Street Triple R (2013-2016)
This is my pick of the bunch to buy used.
If you find a 2013-2016 Triumph Street Triple R with ABS for a decent price and low miles — particularly if it was fixed with the ex-works Arrow exhaust — pick it up.
The 2nd gen Triumph Street Triple R took the base model and added:
Fully adjustable front and rear suspension (only a preload adjustable shock on the non-R)
4-piston radial-mounted calipers with optional ABS (2-piston on the non-R)
Adjustable swingarm pivot (not available on the non-R)
Slightly steeper rake and slightly shorter trail, and also slightly higher seat height (from the suspension differences)
You can spot a Street Triple R easily from the red subframe, black fork tubes, matching radiator cowls, and red pinstripe wheels.
Triumph Street Triple 660 (First gen LAMS bike, 2014-2019)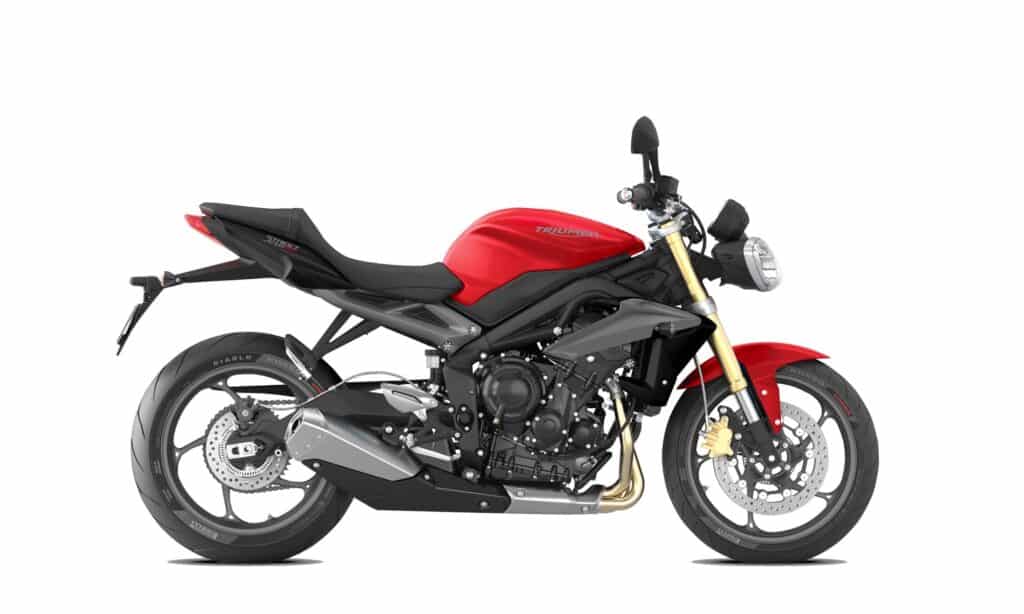 In Australia and New Zealand — maybe elsewhere, not sure — Triumph released a first generation of the Street Triple 660, based on the 2013-2016 Street Triple. It's carefully designed to meet the Australia/New Zealand LAMS requirements of making a maximum of 150 kW per (metric) tonne and being under 660 cc in capacity.
This version is different from the 2020+ Street Triple S in at least the name (but they also ride differently, too).
The 2014-2019 version of the Street Triple 660 is based on the 675 motor with a slightly shorter stroke, trimmed from 52.3mm to 51.1mm. Triumph also altered the cam timing and of course re-programmed the fuel injection to dramatically reduce the peak power by around 50% to the legal maximum in Australia and New Zealand, but also to maximise torque. You can spin the wheel up pretty easily on the 660.
The bike is otherwise the same as the base model Street Triple — non-adjustable front suspension and a Nissin two-piston caliper. It looks the same other than a decal that says "660" on the back rather than "675". A lot of people remove this decal on the used market.
The learner market is pretty fierce in the Antipodes. Since a number of years ago, people have had to ride learner bikes for 2 years (roughly) before they can move to an unrestricted "full power" license. In this time, many people move on from the bike hobby altogether, meaning the market is saturated with learner-legal small capacity bikes.
In this field, the Street Triple 660 is very popular. It's a Triumph, and it looks and sounds cool. It has a lot of torque from down low and really doesn't feel like a learner bike, just a learner-legal bike. It's more expensive than the usual competitors, too.
In 2017, the Triumph Street Triple 660 got a visual makeover in line with the other 2017 bikes. I'm not sure if the engine was changed. The 2017-2019 Street Triple lost the 660 decal and otherwise looks like the 2017 base model.
I haven't found official Triumph photos for this era (I did, but they're the wrong photos on the Triumph website… smh), but know that in 2017-2019 they're different from scouring for sale ads!
Triumph Street Triple Rx (2015)
In 2015 Dr. Triumph prescribed the Rx model of the Triumph Street Triple.
As you might be able to guess, the Rx is a special version of the R. More R!
The Triumph Street Triple Rx has much the same specs — same engine, brakes, and suspension.
But Street Triple Rx gets the following as standard:
Quickshifter (a frequently chosen option)

A standard fly screen, seat cowl, and belly pan

(fairly commonly added)
Diablo red wheels and special decals
The rest is basic Street Triple R. If you get a Striple R and add on a quickshifter and some plastic bits, you'll basically have the Rx.
3rd gen Street Triple (2017-2019): The 765 cc engine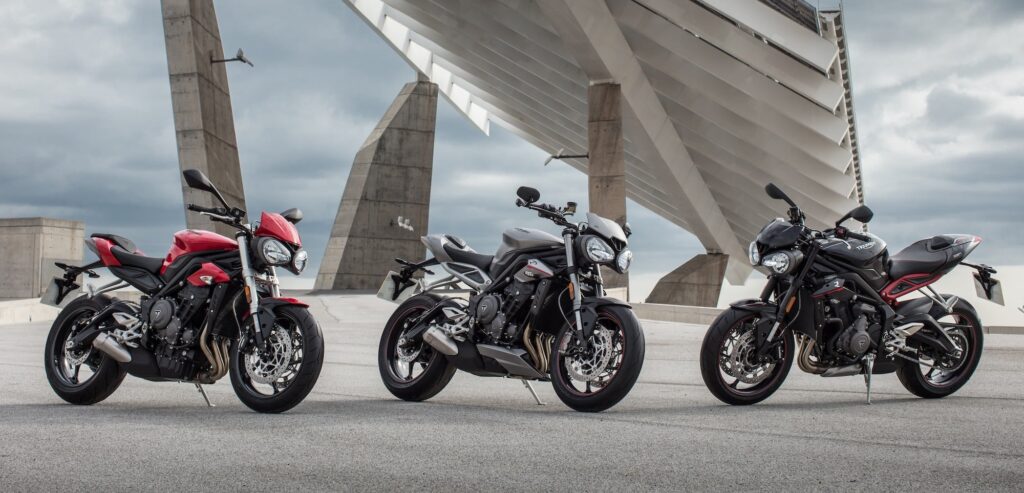 Triumph in 2017 updated the Street Triple to 765 cc. This really surprised me when they did this! I actually thought it was a typo (675 / 765). Five years later, I've mostly gotten used to it.
The banner update is that Triumph increased engine capacity to 765cc. That much is obvious. The engine is still a three-cylinder 12-valve liquid-cooled motor with the same personality — a lot of torque across the whole midrange.
Here's a composite dyno run from Cycle World dyno runs showing the difference.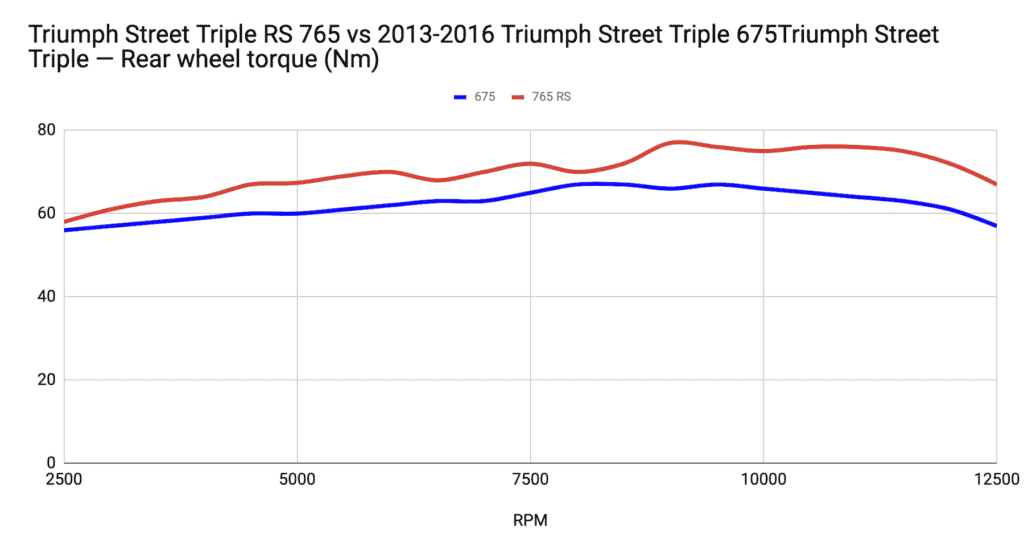 Since the data is from different runs, don't focus on the exact numbers; rather, just acknowledge two things:
Like before, the torque curve of the Street Triple is incredibly flat.
The 765 makes ~10% more torque than the 675 across the whole rev range.
Yes, the above data is from the RS, which is tuned for more power.
Oh yeah, Triumph took the unusual step of tuning the different spec Street Triple engines with the 675 engine for different power levels. There's a difference of roughly 5% power between the Triumph Street Triple S and R, and the same between the R and RS.
I've never seen another brand do this. In fact, Triumph doesn't do it anywhere else in their range. E.g. all of the Triumph Scrambler 1200 variants make the same amount of power.
But anyway, there's a different peak power and torque spec for each of the 2017 Triumph Street Triple S, R, and RS models.
Other than changing the engine, the bikes look and function pretty much the same. But Triumph did go and change the model line-up slightly with some different letters.
2017-2019 Triumph Street Triple S — the 660cc A2 / LAMS-compliant version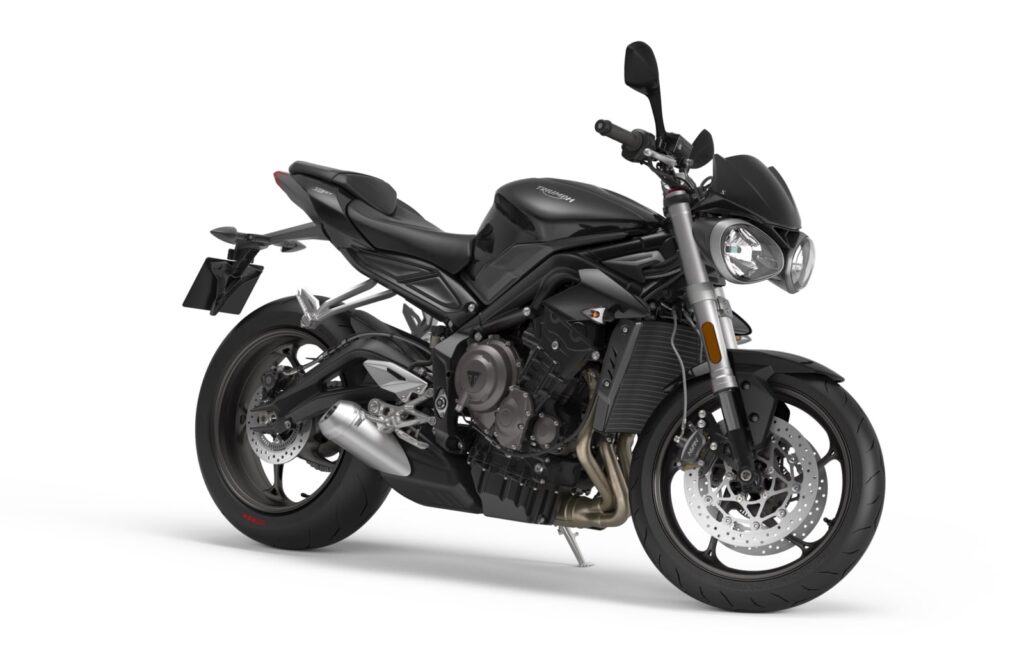 From 2014-2016 there was the Street Triple 660 released in Australia and New Zealand. From 2017 onward this was also available in the UK and Europe for A2 licensing laws.
Let's start with the base spec, which has been a very popular learner bike for Europe, Australia, and New Zealand. (Skip over this if you're from the States, unless you're curious about this weird 660 cc version.)
Europe's learner licensing laws are different from those in most states of Australia and NZ. But this model satisfies them all.
At its base, the 2020 Triumph Street Triple S has a 660 cc (actually 660, not 659 like the previous) engine with a reduced bore AND stroke vis-a-vis the 765 motor.
In the UK it makes peak power of 35 kW / 47.6 PS and 60 Nm peak torque (at 5250 rpm) for A2 license compliance, but here's some magic: a dealer can de-restrict it to 70 kW / 95.2 PS and 66 Nm peak torque.
In Australia there's no mention that a dealer can "de-restrict" your bike. This is probably because it involves a more complex process to re-register your Street Triple S as a full-power bike, which is just as complex if you ever decide to go the other way. For this reason, I would not recommend it, as it'd be much easier to sell your bike and move on than to sell a de-restricted but still lower-power and lower-spec 660cc Street Triple.
I've seen some reports that the 2017+ Street Triple 660 continues to make 40 kW / 54 bhp (55 PS) in Australia/NZ, but I'm not sure. They just might be incorrect carry-overs from the previous generation. It doesn't matter too much. It behaves like the former bike — fast at normal speeds, but if you wind it out past 10000 rpm you might be disappointed.
You can pick a new gen Street Triple 660 by the calipers — they look a bit different to the original Street Triple 660 (black, vs the original gold ones on the S).
2017 Triumph Street Triple S 765 cc (2017-2019)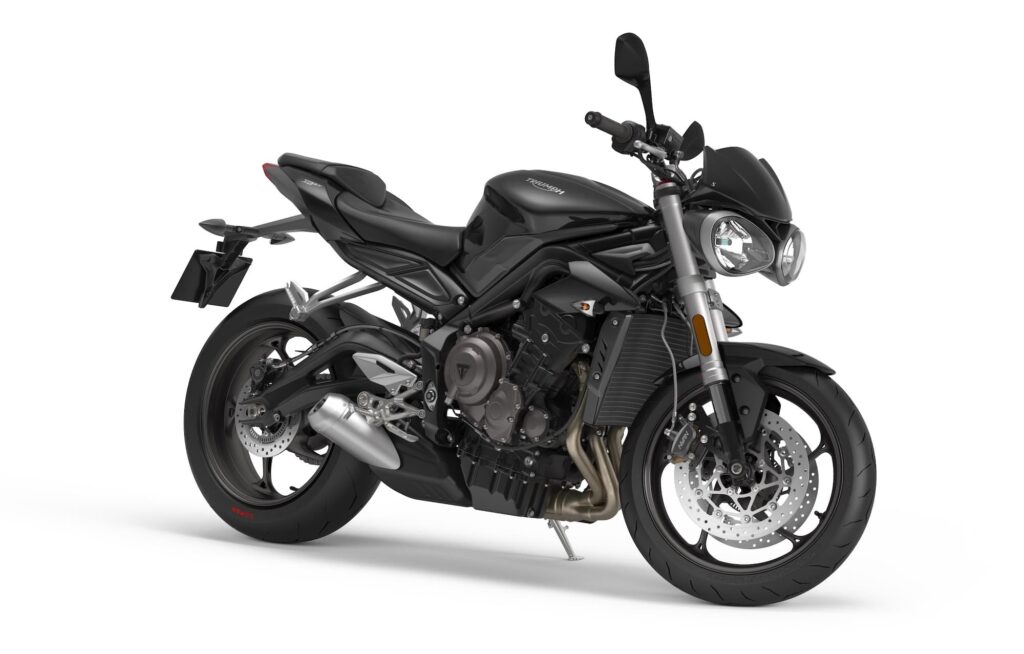 Triumph's 2017-2019 Street Triple S is the entry-level 765 cc "full-power" motorcycle. It's conceptually the same as the earlier base model Street Triple (non-R) — it has street-level lower-spec brakes and suspension.
The 2017-2019 Street Triple S is a bike that is totally fine and still a blast to ride. For the everyday rider who doesn't intend to get hard on the brakes around corners — i.e. people who just want to commute on a cool bike — the Street Triple S is a great option.
Not great enough it seems, though, as Triumph discontinued this concept of bike from 2020. They actually kept making a bike called the Street Triple S, but changed the engine. (*Shakes fist at sky*)
The 2017-2019 Street Triple S 765 makes peak power of 83.1 kW (113 PS / 111.4 bhp) at 11250 rpm, and peak torque of 73 Nm (54 lb-ft) @ 9100 rpm. Healthy.
There's a non-adjustable KYB fork, a preload adjustable KYB shock, twin 310mm discs, and 2-piston Nissin calipers.
It comes with analogue instruments and two ride modes.
If you're unsure which one you're looking at… the decal just says "Street Triple". But the brake caliper and the instruments will confirm what you're thinking.
The Triumph Street Triple S is gradually disappearing from most catalogues. Predictably, it's just less attractive than the 2021 Triumph Trident.
Even though it's on some websites (e.g. France), if you go to a showroom, you'll see a bunch of Tridents there. If I were on a restricted license, I'd pick the Trident, too.
2017 Triumph Street Triple R 765 (2017-2019)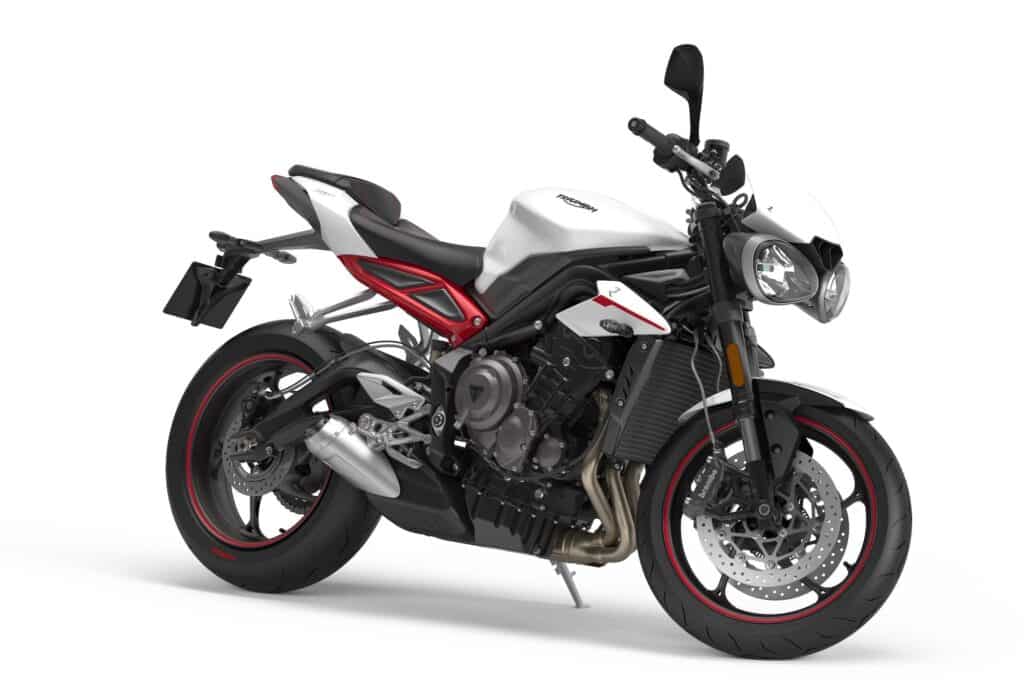 The "mid-spec" Triumph Street Triple R (2017-2019) is actually quite high-spec! It's a bit higher spec than the R that came from 2020 onward.
Like the S, it gets a 765cc triple, but the engine makes slightly more power — peaking at 86 kW (118 PS / 116 bhp) at 12000 rpm.
The Street Triple R comes with an adjustable KYB Separate Function-Big Piston fork (SF-BPF), with preload adjustable on the left fork leg, and rebound and compression damping adjustable on the right. The R has Brembo M4.32 calipers. And the 2017-2019 version of the Street Triple R comes with a TFT display, the same as on the RS.
The Street Triple R 2017-2019 comes with four ride modes — Road, Rain, Sport, and Rider (programmable).
This bike is really the bike for most people. It's a sport bike with enough spec to satisfy nearly anyone. If you are a track pro then you might want the Öhlins shock and Brembo M50s of the RS, but then again, you can just get the R and swap in whatever suspension and brakes you like.
Triumph kept the same engine spec in the 2020+ Street Triple R, but took away the TFT display, and also shaved some money off the sticker price.
Triumph Street Triple RS (2017-2019)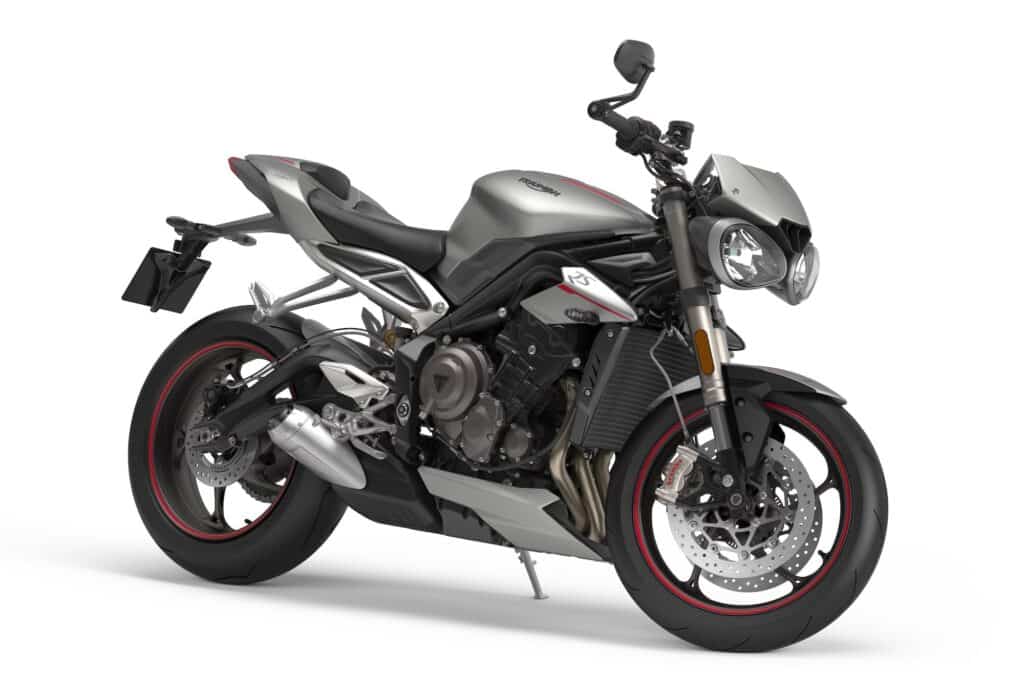 Here we go. The original Street Triple RS.
Again, it has a 765 cc engine, but tuned slightly higher than the R, making 90.4 kW (123 PS / 121.2 bhp) @ 11700 rpm.
Front suspension seems to be the same 41mm fork, but it's actually a BPF, rather than SF-BPF. This means that the fork legs are the same — you adjust preload, rebound damping, and compression damping on both. This gives experienced riders more ability to fine-tune settings.
The rear shock is an Öhlins STX40 piggyback reservoir monoshock, a big upgrade from the Showa shock on the base model.
Brake discs are the same 310mm floating ones, but the caliper is a Brembo M50 unit, which we first saw on the Ducati 1199 Panigale. That's a fast bike. The M50s should be good enough for any mortal on the RS.
Finally, you get another ride mode — a customisable Track mode — on the RS, for a total of five ride modes (up from four on the R).
From 2020 Triumph only slightly improved the RS. It was already a winning formula.
4th Gen Street Triple (2020+): Simpler line-up
In 2020, Triumph re-positioned its models into
Street Triple S, a 660cc model not available everywhere — this is essentially the same as the 2017-2019 Street Triple 660 but visually a little different (e.g. no more decal)
Street Triple R, slightly lower spec but also cheaper, and including a low ride height variant
Street Triple RS — Pretty much like the 2017, but more mid-range torque
2020+ Triumph Street Triple S
This is basically the same bike as the 2017-2019 Street Triple 660 A2 / LAMS-compliant bike, so I won't dwell on it for long. But it looks newer — see the updated graphics and lights.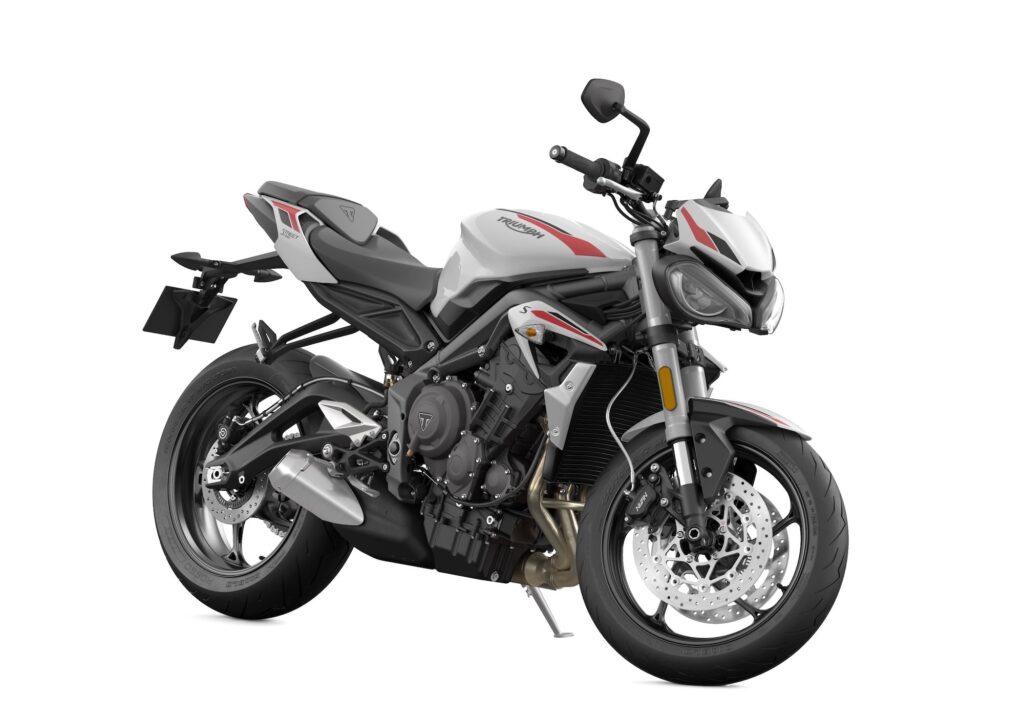 From 2020, Triumph decided to rename the artist formerly known as the Triumph Street Triple 660 or Triumph Street Triple A2 as the Triumph Street Triple S.
It's the same fundamental bike, with a 660 cc lower-power motor that meets either A2 or LAMS spec.
To avoid too much confusion, Triumph stopped selling any S variant in the States (it was previously a 765 cc, slightly lower-power and lower-spec version than the R and RS, but higher-power than a de-restricted 660… are you still with me?). The S worldwide is now the 660 (well, 659) cc Street Triple.
You can pick the Street Triple S by the decal and generally different look. Hopefully owners will leave that decal on!
2020+ Triumph Street Triple R — The New Mid-Spec
I like what Triumph has done — made a "mid-spec" Triumph Street Triple R. I like it because I happen to like analogue tachometers.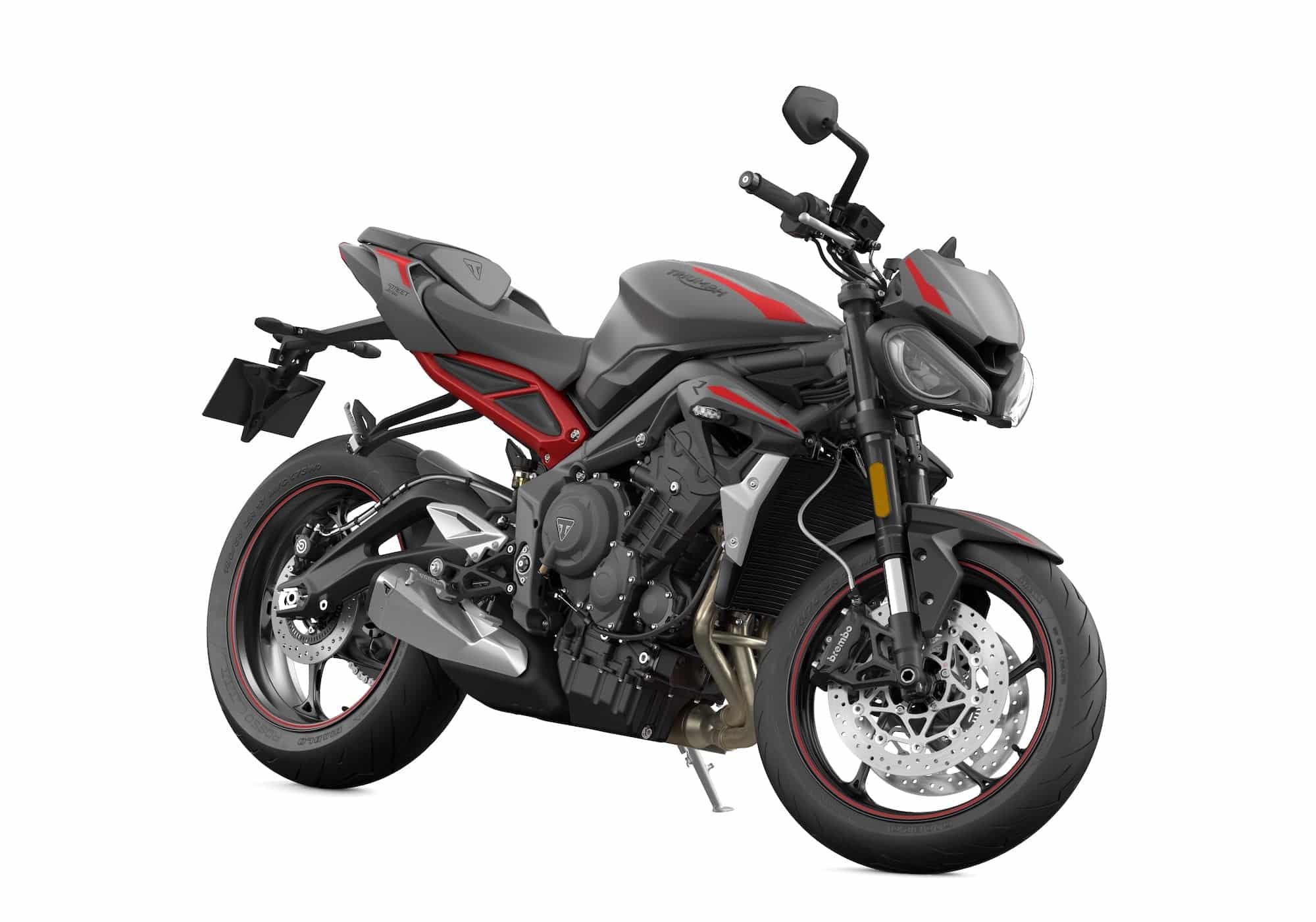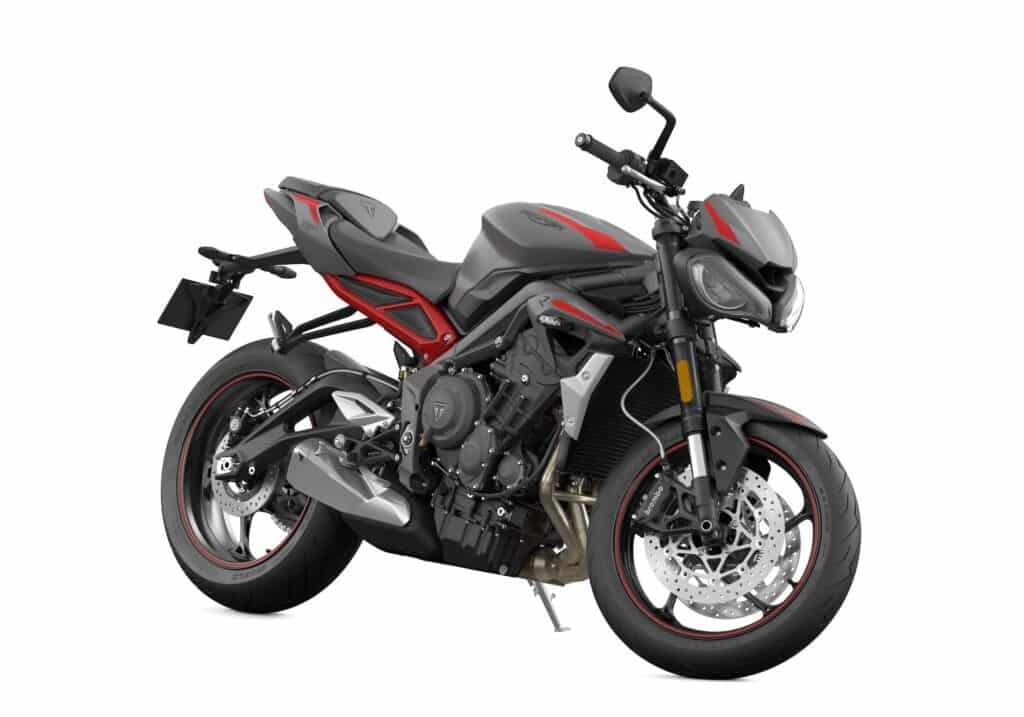 The modern Street Triple R has the same basic engine as the Street Triple RS, but it's tuned ever so slightly lower, for a peak of 116 hp at 12000 rpm, and peak torque of 57 ft-lb at 9400 rpm. I challenge you to tell the difference!
The lower power comes from a range of internal changes, but it does result in a slightly lower (but still high) 12.50:1 compression ratio.
The R still comes with many of the nice bits as the Street Triple RS, including fully adjustable front Showa suspension. Just bear in mind that like the previous version R, the fork on the front is a Showa "Separate Function — Big Piston Fork" (SF-BPF).
The difference is that the RS has a straight "Big Piston Fork" (BPF).
On an SF-BPF, you modify preload on one side, and rebound/compression damping on the other. On BPF, you modify all three things on both fork tubes.
The difference… well, anecdotally, the SF-BPF is fine for most people, even people who enjoy track days, but the BPF is what you'd get if you're a serious top-group racer. Or get BPF if you just want the best.
The 2020 model even comes with a quick shifter standard. It was previously an option (that many went for).
But the Street Triple R makes some small sacrifices in that it forgoes the Öhlins rear shock for a Showa unit — that's still fully adjustable, mind you.
Brakes on the R are on the same 310mm floating discs, but the calipers are "merely" Brembo M4.32 units — still radial monoblock calipers, and the same spec as those found on many high-end sport bikes, like the Suzuki GSX-R1000.
Finally, the 2020+ Street Triple R comes with an analogue / digital instrument cluster, just like on your favourite retro Casio watch. This is a cost-cutting and price-saving step back from the 2017-2019 TFT.
I've read some users are really turned off by this, considering some direct competitors have it (e.g. the BMW F 900 R, Kawasaki Z900, and later the 2021 Yamaha MT-07). I do think it's weird to take a feature off an existing model. It makes the 2017-2019 Street Triple R look like a good used buy.
That's the best bit — the 2020+ Street Triple R is cheaper than the old one.
2020+ Triumph Street Triple RS — The Ultimate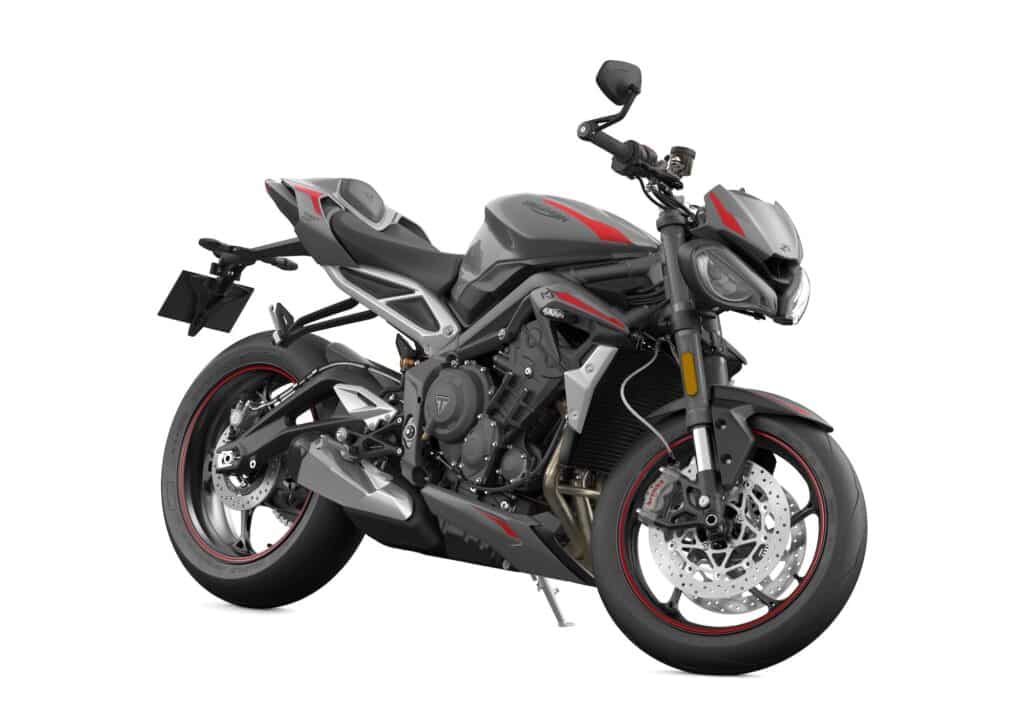 The 2020 Street Triple RS is much like before, based on a high-power engine that makes 121 bhp @ 11750 rpm, or 58 lb-ft at 9350 rpm, with a high 12.54:1 compression ratio.
As before, this is slightly more peak power than the Street Triple R, thanks to its slightly higher compression ratio. But the 2020 Street Triple RS, which is Euro 5 compliant, makes more peak torque (79 Nm vs 77 Nm at 9350 and 9400 rpm respectively), meaning more mid-range power.
Triumph continues to distinguish the modern RS with its higher-spec suspension and brakes. It has the same front suspension as the R, though at the bottom of the forks you'll find Brembo M50 calipers, the same that you find on superbikes of a few years ago.
And at the rear there's an Öhlins STX40 shock, the same as on the previous gen.
The 2020 version of the Street Triple RS gets a few other niceties:
Daytime Riding Lights (DRLs) — exclusive to the 2020+ RS (neither the current R nor the previous R or RS got it)
Five riding modes (same as the previous R, but the current R just has 3)
Other than that, one interesting thing is that the 2020+ RS is the only Street Triple in the modern line-up with a 5-inch TFT. The R model makes do with an analogue/digital unit (which I prefer!).
What's Next for the Triumph Street Triple?
Wow, there are are a LOT of models of Street Triple up there! This article is over 5000 words long and took me a long time to write.
The Triumph Street Triple isn't going anywhere. It's one of the most popular middleweights out there.
But the middleweight category is getting very competitive. Yamaha's new 2021 MT-09 SP has a 6-axis IMU, cruise control, and a bunch of rideability improvements that lead Motorcyclist to lead with the headline "Yamaha Builds a Better Triumph". Not pulling any punches!
Aprilia has a pair of middleweight sportbikes two with a raucous parallel twin (not the same to me, but some love it), and also loaded with rider aids and technology (even cruise control). They're cheaper, too, and look fantastic.
And finally, Triumph upped the ante on itself by releasing its Speed Triple 1200 RR (one of 2022's best-looking motorcycles, in my subjective opinion), which is like a Speed Triple 1200R but with clip-ons, a cowl, and semi-active suspension.
So all this puts a bit of pressure on Triumph. I don't foresee semi-active suspension on a middleweight in the near future. But more ride aids would need to happen for the Striple to stay competitive on the spec sheet. Almost everyone else has an IMU, including a lot of Triumph's line-up. And I'd personally welcome one styled like the 1200 RR.
This doesn't mean I want any of that, of course — just that it's the direction in which I see it going. If you want a bike that's the sweet spot of everything, then get a Triumph Street Triple R now before it gets all that stuff.