So you've got Hayabusa fever, but you want to buy a used one. This is where I was in mid-2020. I saw a beautiful GSX1300R Hayabusa at a nearby dealer and thought… could that be my only motorcycle?
Can I daily a Hayabusa? Is it good at low speed, not just near 300 km/h? Does it have good wind protection? Is it safe?
And in 2021, is the Gen 3 Hayabusa worth the extra 50% you have to pay?
Here's what I found out — and I'm putting it all down for you in my guide to buying a Suzuki GSX1300R Hayabusa — used or new.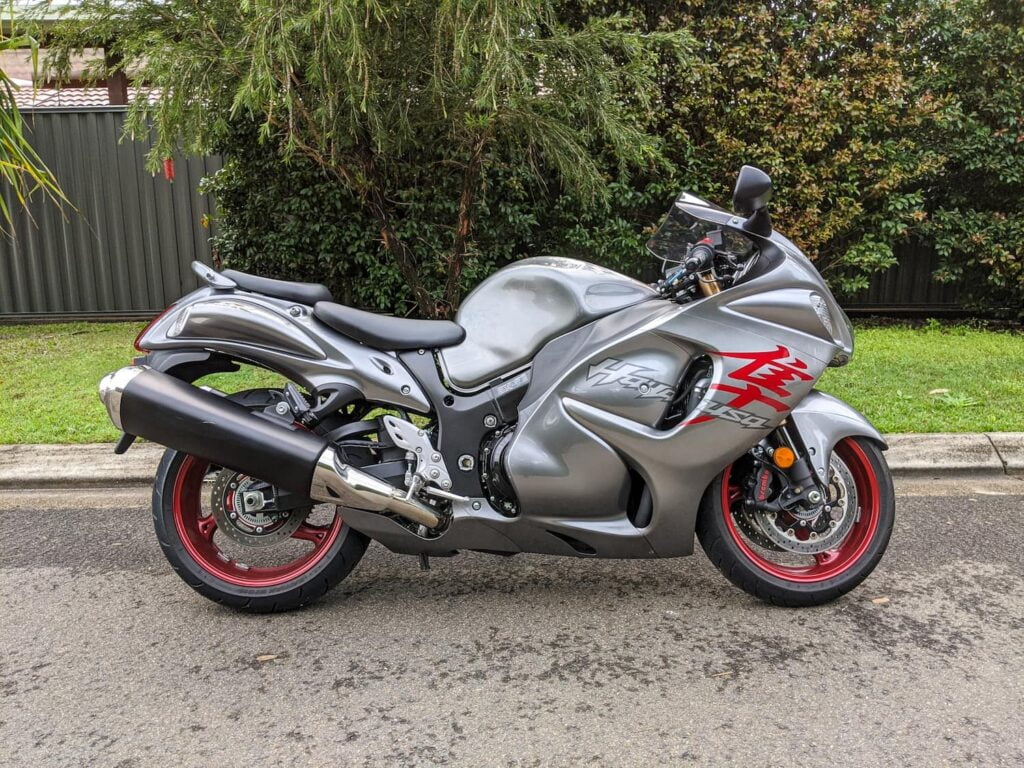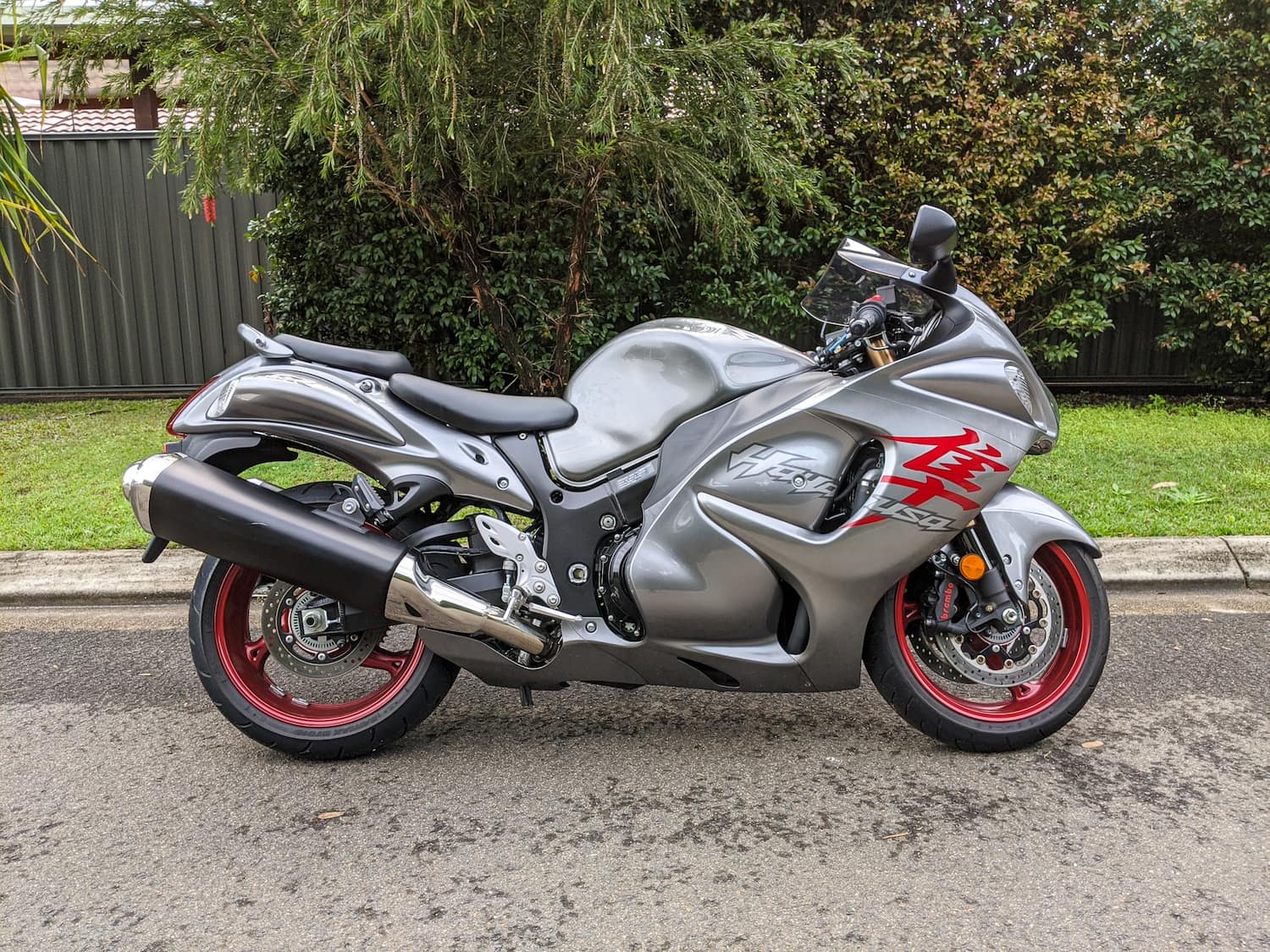 Hope you enjoy the guide.
---
Are you obsessed with motorcycles?
Well, I am. That's why I created this site — as an outlet. I love learning and sharing what others might find useful. If you like what you read here, and you're a fraction as obsessed as I am, you might like to know when I've published more. (Check the latest for an idea of what you'll see.)
General overview of the Suzuki Hayabusa, a.k.a. the GSX1300R
I won't rehash all the history of the Hayabusa. But here it is very briefly: The Hayabusa took the crown as the fastest production bike in history before everyone agreed to limit top speeds to 299 km/h. There are other, faster bikes, but the Hayabusa won the race before the rules were changed.
In the late 1990s, the Honda Blackbird was the fastest production motorcycle at the time. Suzuki decided to take this crown by in 1999 releasing the GSX1300R Hayabusa — which is Japanese (隼 in Kanji or ハヤブサ/はやぶさ) for "Peregrine Falcon", by the way, an animal that hunts and kills blackbirds.
The Honda Blackbird, with a claimed 120kW at the crank and aerodynamic design, had a top speed of 287 km/h (176 mph). The first-generation Suzuki Hayabusa had a top speed of 312 km/h (194 mph), and easily took the crown for the fastest production motorcycle.
Then, in 1999, Japanese motorcycle manufacturers thought "this is ridiculous. Nobody should be riding that fast." And so they came to a professional agreement to limit the top speed of production motorcycles to 299 km/h (186 mph).
So later motorcycles never cleared 299 km/h. But the Hayabusa had already taken the crown as the fastest production motorbike. Even though the later-released Kawasaki ZX-14R and other litre-class racing motorcycles have more power, and unrestricted may well be the fastest motorcycles, they never got a chance to prove it.
Model history of the Suzuki Hayabusa
The Suzuki Hayabusa has been revised three times in its 20+ years of production history. There were rumours of a higher-capacity one in 2021, but the final revelation showed basically the same motorcycle but with different styling and a lot more electronics — and a slight reduction of power.
First Generation Suzuki Hayabusa — 1999-2007
The first 1999 Suzuki Hayabusa had a 1299cc engine. It had a liquid-cooled, inline-4, fuel-injected engine that produced a claimed 129 kW (173 hp).
It was only the 1999 model that wasn't speed restricted. Others from the first generation (2000+) were limited to an indicated 299 km/h. You can remove the speed restriction yourself, though (by getting the ECU reprogrammed).
It's hard to find an early Hayabusa that hasn't been thrashed or modified to hell. See below for common modifications. But basically, an early Hayabusa will almost definitely be high miles/ kilometres, have been wheelied by one or more of its owners, and might have extensive modifications like paint jobs, turbochargers, or extensions (for drag racing).
So unless you find one kept meticulously in a garage by a collector (and you want to pay the premium for that), let's look at Gen 2 Hayabusas as a start.
Second Generation Hayabusa — 2008-2012
The first revision to the Suzuki Hayabusa was in 2007, for the 2008 model year, known as a Gen 2 Hayabusa.
The changes to the Gen 2 Hayabusa included
A minor restyling of the body (thankfully preserving what made the second gen great)
Fine-tuning of the engine's head and pistons, increasing stroke to 65mm (from 63mm), overall displacement to 1,340cc (from 1,299 cc) and compression to 12.5:1 (from 11:1), thus increasing power to 197 hp at the crank (up from 173 hp). This included lighter pistons and rods.
Modifications to the valves and exhaust to suit the engine changes
Upgraded suspension to 43mm Kayaba inverted fork with diamond-like carbon coating, and a Kayaba rear shock — both fully adjustable
Higher windscreen
Interlocking gauge faces with a digital speedometer
Tokico radial brake calipers
Steering damper
Larger radiator and dual cooling fans
Overall dry weight of 222 kg; 2kg more than the earlier generation
Second and a half Generation Hayabusa (2013-2020)
In 2013, Suzuki made minor updates to the Gen 2 Hayabusa, adding
ABS as standard (not available before)
Brembo brakes (replacing the Tokico brakes of the 2008-2012 version)
The 2013 version remained current to 2020, with only styling changes like colours. It's still a Gen 2, though I think of it as a Gen 2.5 because ABS is great.
I'm one of those nerds who thinks that ABS is a good thing, always. I've read anecdotal stories about how some people think not having ABS is what saved their life because they could skid around something, but I'm not at that level of ninjutsu.
ABS, when well-designed, never comes on really until you need it, which is basically when you hear yourself going "oh sh—-". I've been there, and have been glad to have it.
So if you're with me and like ABS (and Brembos), then I'd say buy a 2013+ Suzuki Hayabusa and just focus on maintenance history and what colour you like, and you'll get a great bike. The only benefit of buying a new one is a warranty — and I can almost guarantee you won't need it.
Third generation Hayabusa — 2021+
In February 2021, Suzuki announced the third generation Suzuki GSX1300R Hayabusa. Finally! It was good news for people like me, considering buying one, but bad news for those who really wanted an upgrade.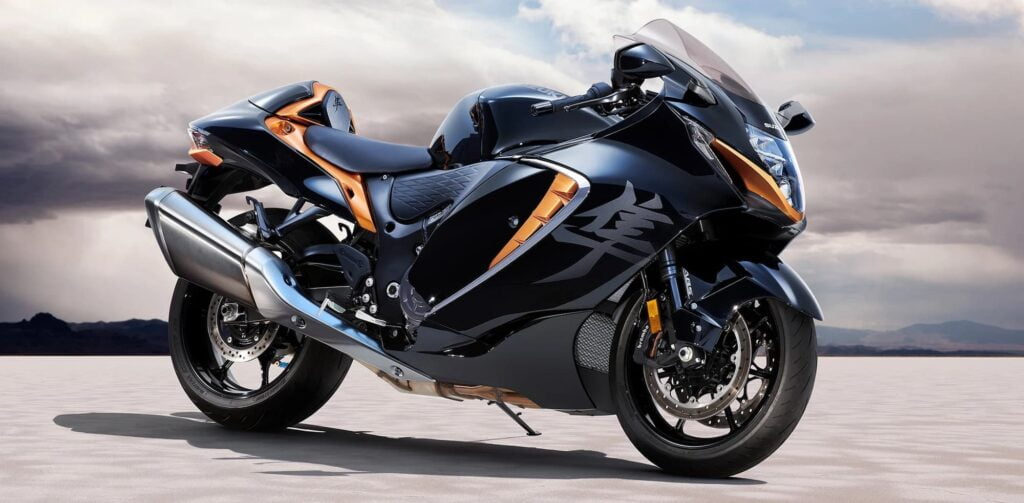 Here are the main things that changed (and are different)
Engine: Same 1340cc inline-four water-cooled engine with a 12.5:1 compression ratio, but slightly down on power, 140 kW compared to the 145 kW of its predecessor. This is undoubtedly due to emissions regulations.
Weight: Down 2kg to 264 kg from 266 kg.
Fuel consumption: Improved (for anyone who cares) 15% from 17.6 km/l to 14.9 km/l
Added ride safety tech: A 6-axis IMU (same as on the latest GSX-R1000) giving cornering ABS and lean angle-aware traction control
Added standard quick shifter — bi-directional
Other added tech: Ride modes, anti-lift control, a TFT display (that displays and records your lean angle), selectable engine brake mode, launch control, a speed limiter (rather than cruise! I actually really like this feature), cruise control, and other tech
Optional heated grips (I'm slightly shocked these aren't included)
In terms of styling, the Hayabusa mostly keeps its original long, muscular, wind-tunnel design, but is a little less bulbous and a bit more angular. For a classic motorcycle, any styling changes are bad. To me, it already looked perfect.
The way a lot of Hayabusa owners read the 2021 update is "same engine, but less power, uglier exhausts, unnecessary technology, and 50% higher price". It's suddenly being compared to other high-end sports tourers like the Kawasaki Z H2 SE SX+, which while less iconic, will maybe become iconic for being a modern, high-tech supercharged sports tourer.
Riding the Hayabusa — Can you daily it?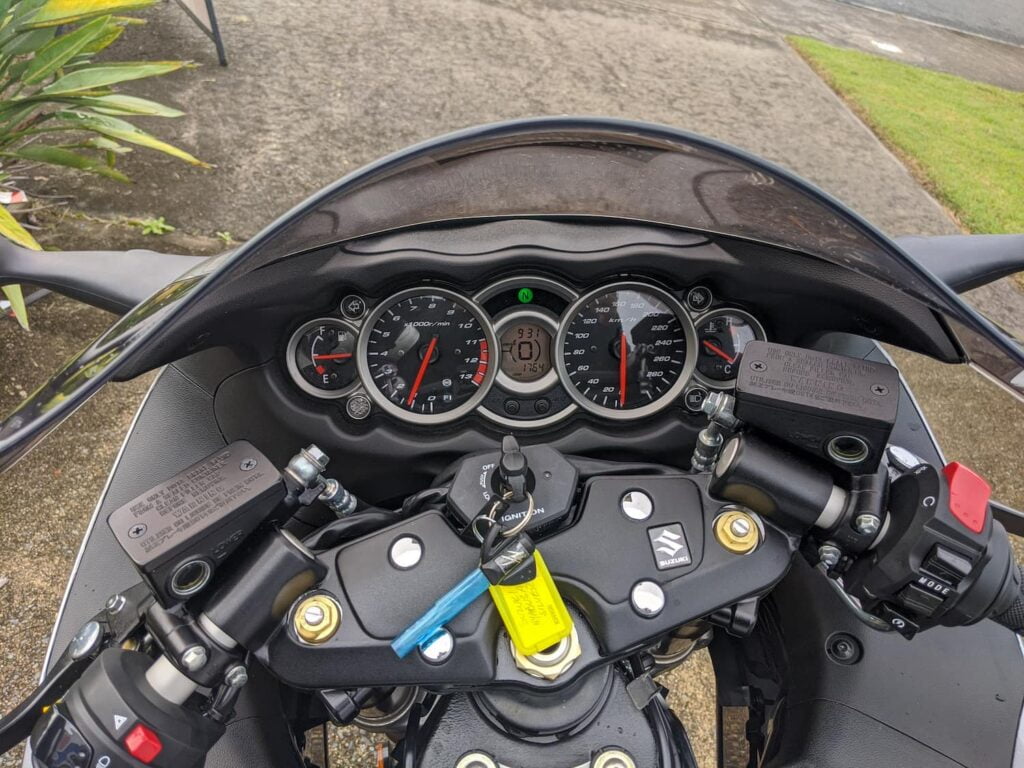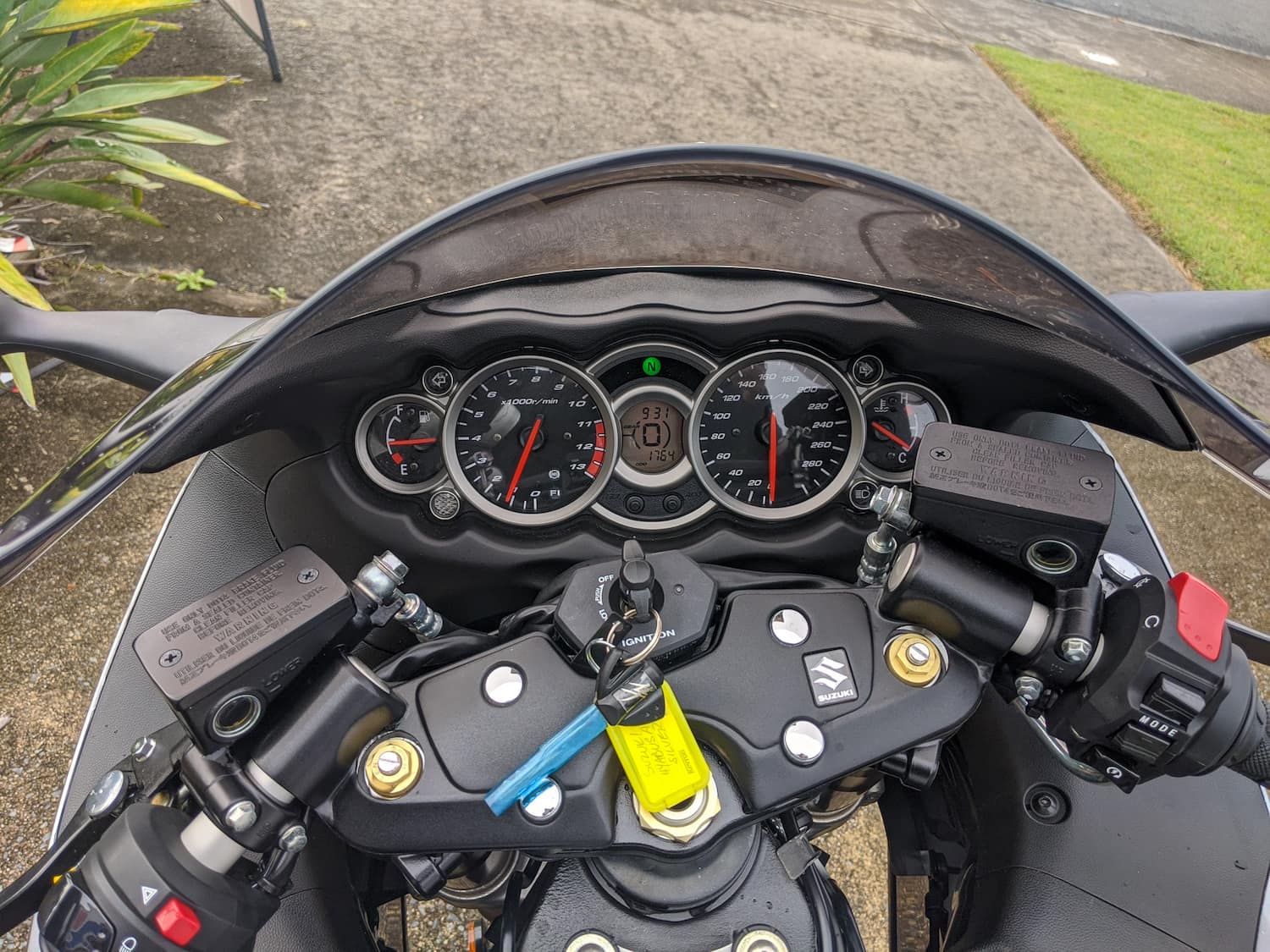 A Hayabusa is a "hyperbike". It's extreme. It goes really, really fast. Well it can, anyway.
So is it ridiculous to ride as a day-to-day rider? Is it really a "sports tourer" as people claim? Can you daily a Hayabusa?
This was the question that was on my mind when I was considering buying the Hayabusa. I wondered how it would be around roundabouts, commuting, on the highway, for short jaunts to the shops, and on dirt roads.
The surprising thing to me is that the Hayabusa can do damn near everything. Spoiler alert — the only place I'd feel nervous about taking it would be on dirt roads. Because dirt roads tend to come up a lot in Australia when just following Google Maps, this is an important consideration.
Around town, at 40-70 km/h, the Hayabusa is very easy to ride. I've previously ridden a Ducati 1098S as a daily rider, and that was a terrible choice (although it was awesome). Apart from being uncomfortable (highly subjective, anyway), it gets hot, doesn't like going slow, has very aggressive throttle response, eats tyres for every meal of the day, and is just loud.
I was looking for a bike that would have as much soul as my Ducati 1098S, but which wouldn't be all those things. And the Hayabusa, surprisingly, was it.
I found that going around gentle 60 km/h corners and roundabouts was fun on the Hayabusa. A lot of other riders and reviewers have said that the Hayabusa is easy to handle for the weight. Well, I found it easy to handle, end of sentence. It leaned easily. I never felt I had to push it hard.
The comfort of the Hayabusa is hard to overstate. If you prefer a sporty position, then the Hayabusa is incredibly comfortable. Riding it was a bit like putting on a high-quality glove. It just fit. I know that again, this is subjective, but enough people have found the Hayabusa comfortable that I don't think it's controversial.
The engine of the Hayabusa is incredibly versatile. It's definitely designed to take you to high speeds but it's also OK going at low speeds. The motor never lugged — it was just lusciously smooth and full of torque. Because of the broad torque curve, I never felt like I was in the wrong gear; just that I could potentially be in a better gear.
So I enjoyed riding the Hayabusa as a commuter. What else?
The Hayabusa is decent on the highway without being amazing. At 100-120 km/h, it purrs along and doesn't necessarily urge you to go faster. But the thing is, it can, and sometimes you just want to try…
The Hayabusa lacks a lot of electronics that come with throttle-by-wire systems, like cruise control, for example. So riding the Hayabusa is an exercise in restraint. I'd have to be happy with going at the speed limit.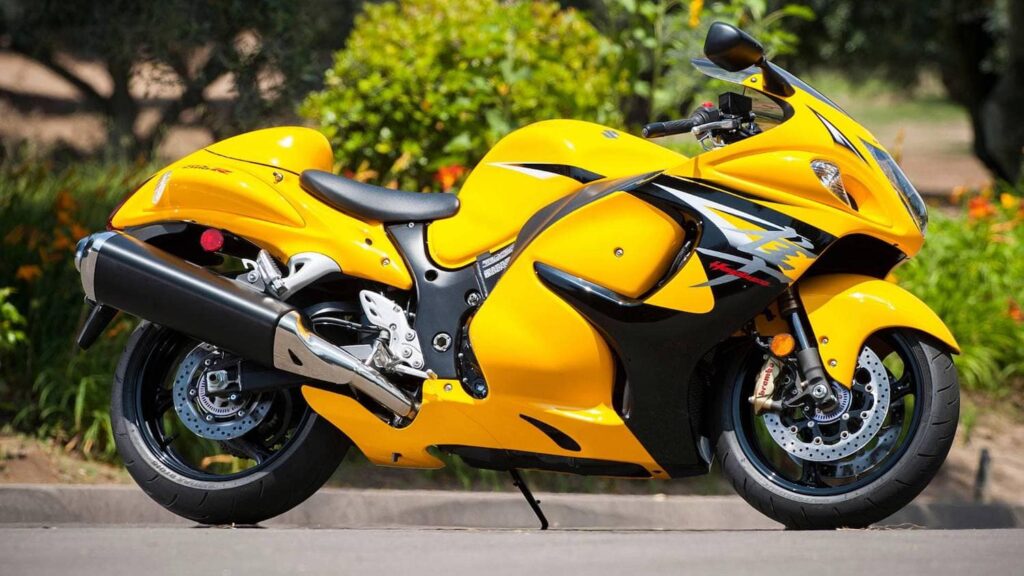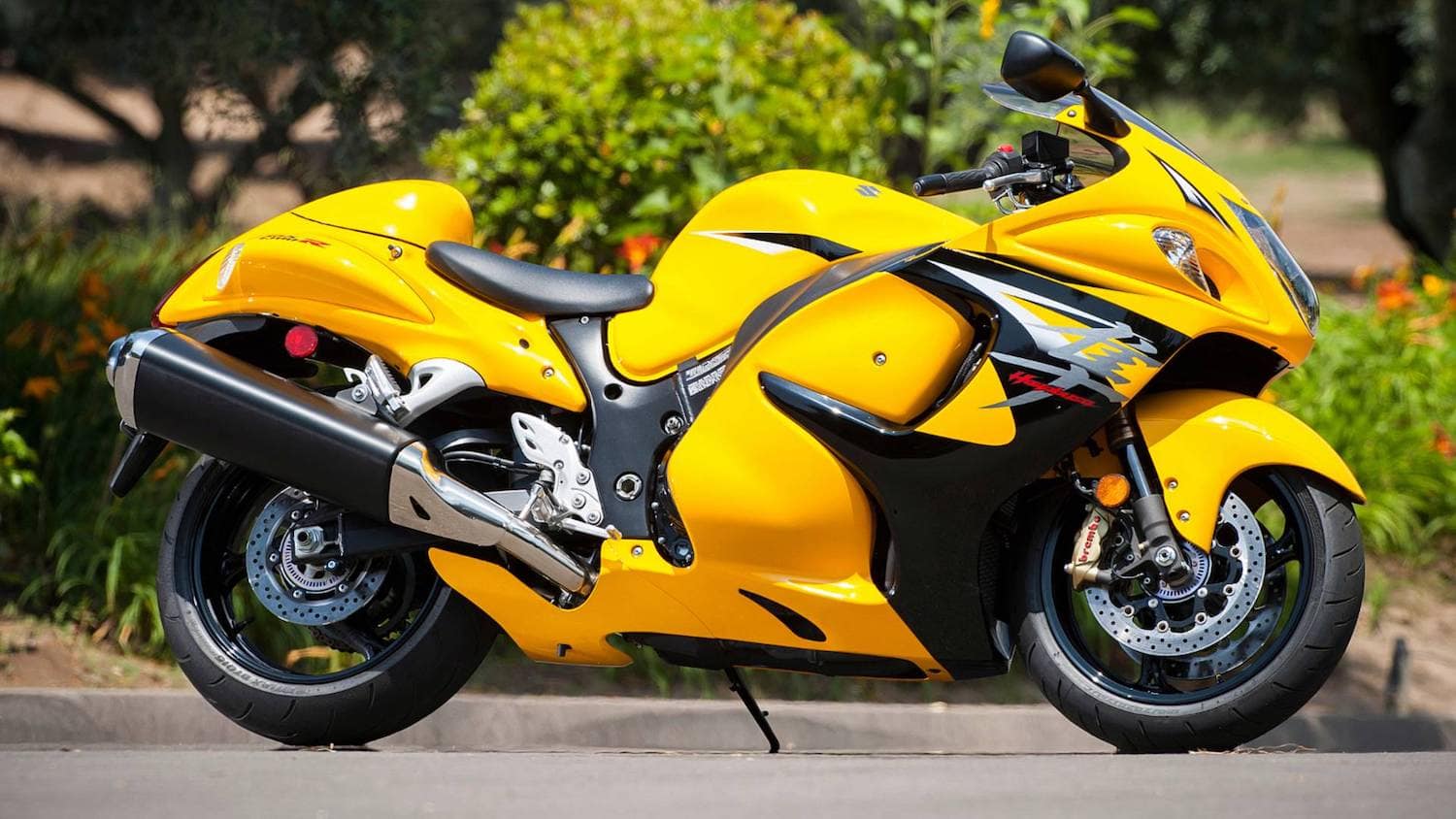 But is the Hayabusa too fast?
There's a certain cadre of person who says "I don't trust myself with a litrebike" or "you could never get the most out of the Hayabusa on a public road".
The latter is true. But it's true of pretty much any vehicle, motorcycle or car. You could drive a Toyota Corolla at north of 150 km/h and fling it around corners; it has way more traction than most people realise.
It's also, obviously, true of many sports cars like the BMW M series, Audi sports cars, or Porsche Boxsters that all manner of dentists and doctors use as their daily vehicles.
Even a humble Suzuki SV650 can get to 100 km/h in less than 4 seconds if you're skilled with the shifter. But I doubt many people do that on a regular basis.
So what's "getting the most out of your motorcycle"? For me it's riding it in all the places I want to ride it without feeling like something about it — the power delivery, the comfort, or the features — are holding me back.
When you wind on the throttle on a Suzuki Hayabusa, it's not like it will suddenly do a back-flip and crush your spine. Far from it. Remember, the Hayabusa weighs over 250 kg and has a relatively long wheelbase. On top of that, the gearing is long.
Even without traction control, it's hard to break traction on the Hayabusa without doing it deliberately (e.g. holding down the brake, dumping the clutch, or cornering at high speed).
No, the feeling of winding on the throttle is simply "Faster… faster… faster…" without ever feeling like it'll stop.
On my rides, I don't exceed 160 km/h (and I rarely get up there) — so around half the top speed of the 'Busa. I don't need to go fast in a straight line. I just need to hit the limiter once or twice and I'm happy.
But I do really enjoy using the throttle at about half or three-quarters on a freeway on-ramp and getting that rush of acceleration.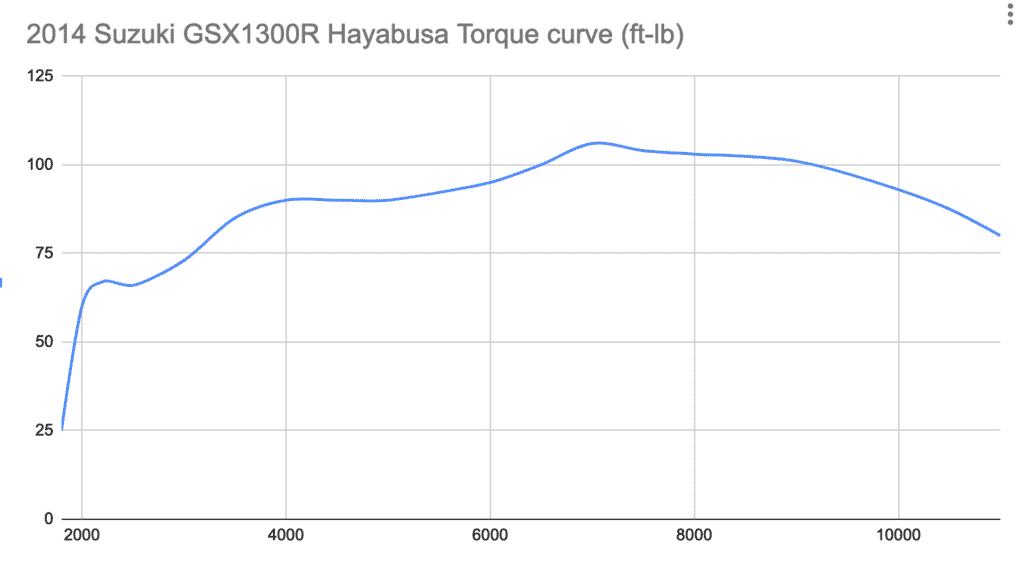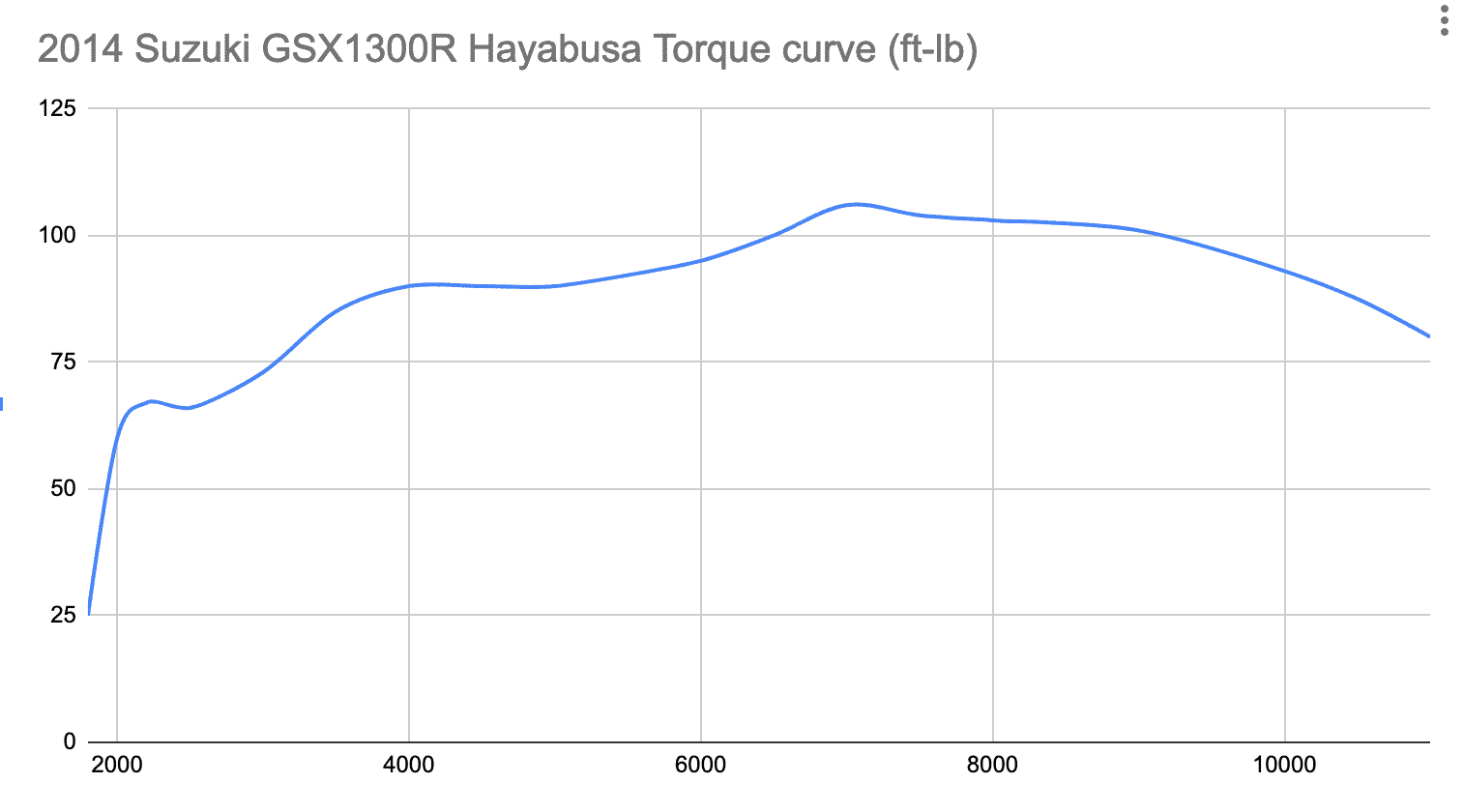 As you can see from the above torque curve, a lot of torque is available from down low. From 2,000 rpm, you get more torque than you get anywhere on a Triumph Scrambler 900, which isn't a fast bike but which is definitely a torquey one.
There's a fat plateau of torque all the way up to 5,000 rpm, after which it bounces up by a good 25%. That rush of torque between 6,000 and 9,000 rpm — exceeding 100 ft-lbs — makes the Hayabusa quite sportbike-like, even though it's not as high-revving.
It's important to note that even though the Hayabusa is fast, there are definitely more extreme bikes out there in terms of raw acceleration. When you go throttle-on on a v-twin superbike from Aprilia or Ducati, it's like a thousand machine guns blazing in unison. Babababababam!!! And you're catapulted forwards with rockets behind you. The Busa isn't like that! It's more like an executive jet that has unrelenting forward urgency, but without delivering the power in a manic way.
It's also nice to not have to wring the neck of a motorbike to have it go the way you want. When I ride a 300cc or under motorbike, I'm regularly pinning the throttle. I mean, I enjoy that, but I hate feeling like I've hit the limit. I really like being in 5th or 6th gear and just rolling on to warp-drive past the cars around me.
So no. The Suzuki Hayabusa is not too fast, if you like to have a lot of power just a twist of the wrist away.
Electronics on the Gen 2.5 Hayabusa — a tad old-fashioned…
I know the Hayabusa has had ABS since 2013, but in 2020 what was more remarkable was number of things that the Hayabusa did not have — especially when other motorcycles from the same brand (e.g. the 2020 Suzuki Katana or V-Strom 1000) have had them for years.
Things that it's surprising the Gen 2.5 Hayabusa did not have include
❌ Traction control — the Hayabusa has "ride modes", but they limit power delivery rather than sensing loss of traction
❌ Lean-angle sensing ABS and traction control, a.k.a. cornering ABS (see my list of motorcycles with cornering ABS)
❌ Cruise control — there's no ride by wire (nor manual cruise control), leaving you to go aftermarket
❌ Heated grips, even as an option (I feel this isn't asking for too much on a sporty tourer), though you can go aftermarket
❌ Dynamic suspension — something the other 2020 motorcycles tend to have
People who like the Hayabusa tend to like it for the absence of these things, for a "purer" motorcycling experience. But for me, that's marketing spin. I think it's just an excuse to say "I like the Hayabusa". Which is OK.
Because taken further, a "purer" motorcycle would have carburettor, manual points, and a kickstarter. Definitely much less power. Maybe fewer wheels.
But there's nothing wrong with saying "the Hayabusa is awesome and I want one"; you don't need an excuse to like it (or hate it).
For those who are desperate for new tech, the Gen 3 Suzuki Hayabusa from 2021+ solves most of these issues, offering even heated grips as an accessory. But all that comes at a price.
For me, I can't help but look at the ZX-14R from even 2017 onward and wish that the Hayabusa had some of the electronics it features. Though even the ZX-14R is lacking, in the final analysis — it doesn't have cruise control or cornering ABS.
Speaking of which…
What's the better motorcycle — the Kawasaki ZX-14R or the Suzuki Hayabusa?
This could be a whole article by itself.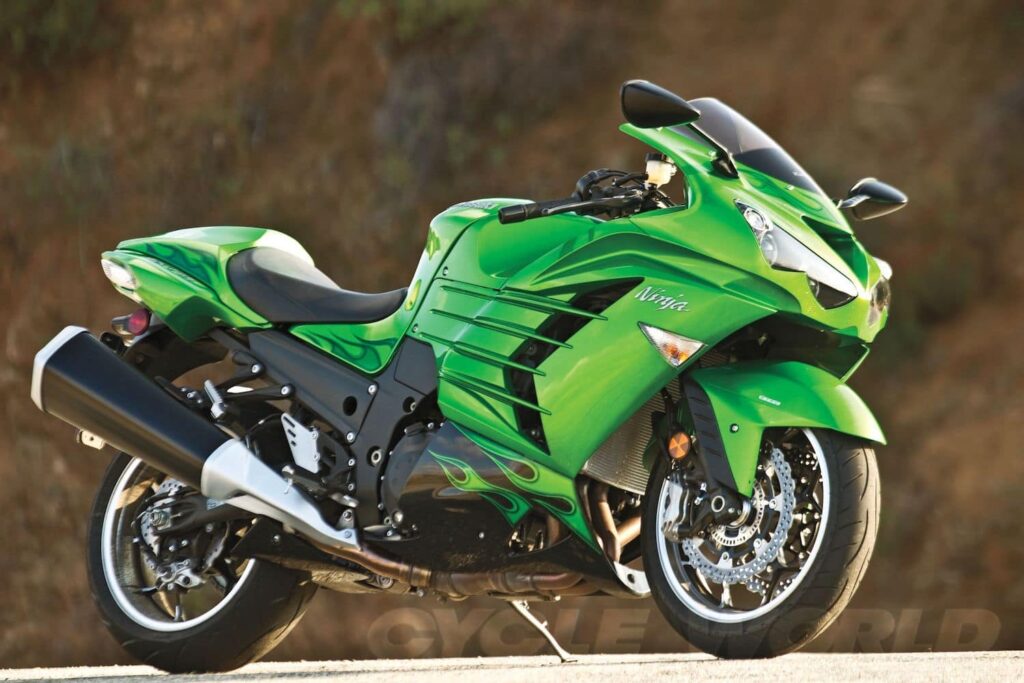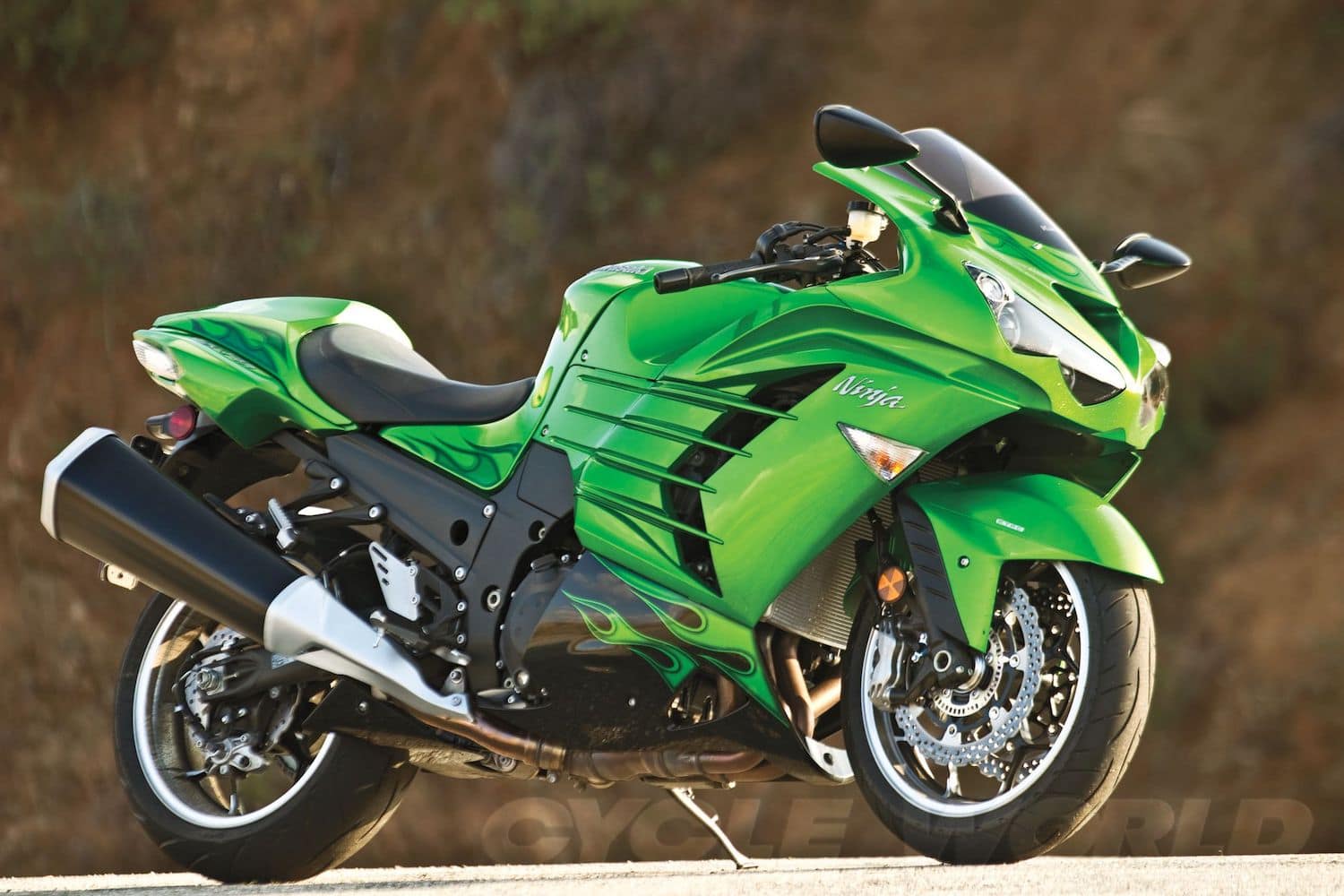 Firstly, if you've committed to either the Suzuki Hayabusa or the Kawasaki Ninja ZX-14R, then you've already committed to a 250+kg bike with way too much horsepower, something designed to much down the miles at high speed without batting an eyelid.
If you've decided that much, then the specs won't vary much between the two motorcycles. Yes, you could probably fling the ZX-14R down the straight a hair faster than the Hayabusa, thanks to its higher horsepower and traction control.
But they're still both extremely fast.
You'd choose the Suzuki Hayabusa over the Kawasaki ZX-14R for…
Brand name recognition. Tell someone who vaguely knows about motorcycles (e.g. someone who's mostly into cars) that you ride a Suzuki Hayabusa, and they'll know what you mean in the same way that they'll know about an R1, a Ducati, or a Harley. They won't know what a ZX-14R is; it was always known as the the "Hayabusa killer".
Iconic (not "better") design. The design of the Hayabusa was wind-tunnel first, aesthetics second. But it does look better to some people.
Customisability. The Hayabusa shares so many components with the first generation, and so little has changed over the years, that it's really easy to find aftermarket components for it. It's a favourite among customisers.
Simplicity. You might prefer a motorbike with less technology. That does mean there's less that can go wrong, and overall it's a bit easier to work on.
Buying new. The Hayabusa is still available new in some markets, like in the US and in Australia (not in Europe). The ZX-14R has been discontinued and it seems like the H2 range of motorcycles has taken its place.
And you'd choose the Kawasaki ZX-14R over the Suzuki Hayabusa for…
Horsepower (and performance). In sheer numbers, the ZX-14R has peak power of 155 kW (208 hp), whereas the latest model Hayabusa has peak power of 146 kW (194 hp).
Electronics. 2012+ Kawasaki ZX-14Rs have traction control and ride modes (not just power modes, as the Hayabusa has).
Design. It's subjective, and many just hate the Hayabusa's design. If you hate the 'Busa, but love the concept, then the ZX-14R is your best alternative.
You'd choose either the ZX-14R or the Hayabusa, and not go wrong, if you prioritise comfort (subjective between the two), speed (they're both fast as hell), or road presence (they both have a lot), and if you don't need cruise control or cornering ABS.
A lot of people simply choose the best used example of either they can find.
Common issues with the Suzuki Hayabusa
One of the wonderful things about the Hayabusa is that it's such an old, established platform, that very little goes wrong with it.
I mean, it's so reliable that it's a platform for modifications like throwing turbochargers onto it. To be comfortable that a turbocharger isn't going to blow up your bike, you would have to be really confident!
It's not to say they don't have faults or never break down. But there are no gremlins lying underneath the surface waiting to bite, unlike a lot of other motorcycles out there (looking at you, Ducati).
Here are a few common issues with the Suzuki Hayabusa that I find in the forums.
Hard starting — Early Hayabusas (mostly Gen 1 models) are hard to start. Assuming you've checked most things like wiring and relays, and that you're using the correct fuel (some say 95 RON is best, rather than 98), then many people on forums say the grounding wire on the starter motor is usually to blame — replace it with a new one. Or just a bad battery.
Blown clutches and gears — this is really something you should watch out for in a used Hayabusa. It's not that the clutches and gears had problems; it's that people flog these motorcycles and so one gear might be broken and you might never find it without a test ride.
Aside from that, I don't see anything I don't see with any other motorcycle. Some people complain about starter clutches, but that's common to every motorcycle out there.
Which Suzuki Hayabusa to buy? And what to look for in a used Hayabusa?
If you're going to buy a Gen 1, buy 03+. There were changes to the ECU that made them run a lot better.
But I'd suggest buying a Gen 2.5 Hayabusa — 2013+ with ABS. These are effectively the same as the new ones, even in 2020.
Do not buy a new Suzuki Hayabusa unless you're desperate to buy new with a full warranty. Apart from the tech not having updated since 2013, if Suzuki does decide to update the tech, yours will suddenly drop in value.
Just find one with
Low miles
Stock condition (not even an aftermarket exhaust!)
Good paint
If you have those done, you're golden.