A few years ago, a guy near me advertised a Suzuki RF900R for a paltry $3000 — fully restored. And that's Australian dollars. And for some reason I didn't bite fast enough and it'll haunt me forever.
Sure, he was a backyard hobbyist type of restorer. The kind who makes sure everything is right, restores the fluids, cleans the carbs, polishes off the rust and paints primer over it, and so on. But frankly, as a backyard mechanic myself, I respect the ones who are just straight up about what they are.
But alas, it sold, and I rarely see these come up again. If the opportunity presents itself, grab one of these bikes. They're a sweet spot of sport touring history that is super unique these days.
Anyway, here's everything you might want to know about this classic bike, the Suzuki RF900R.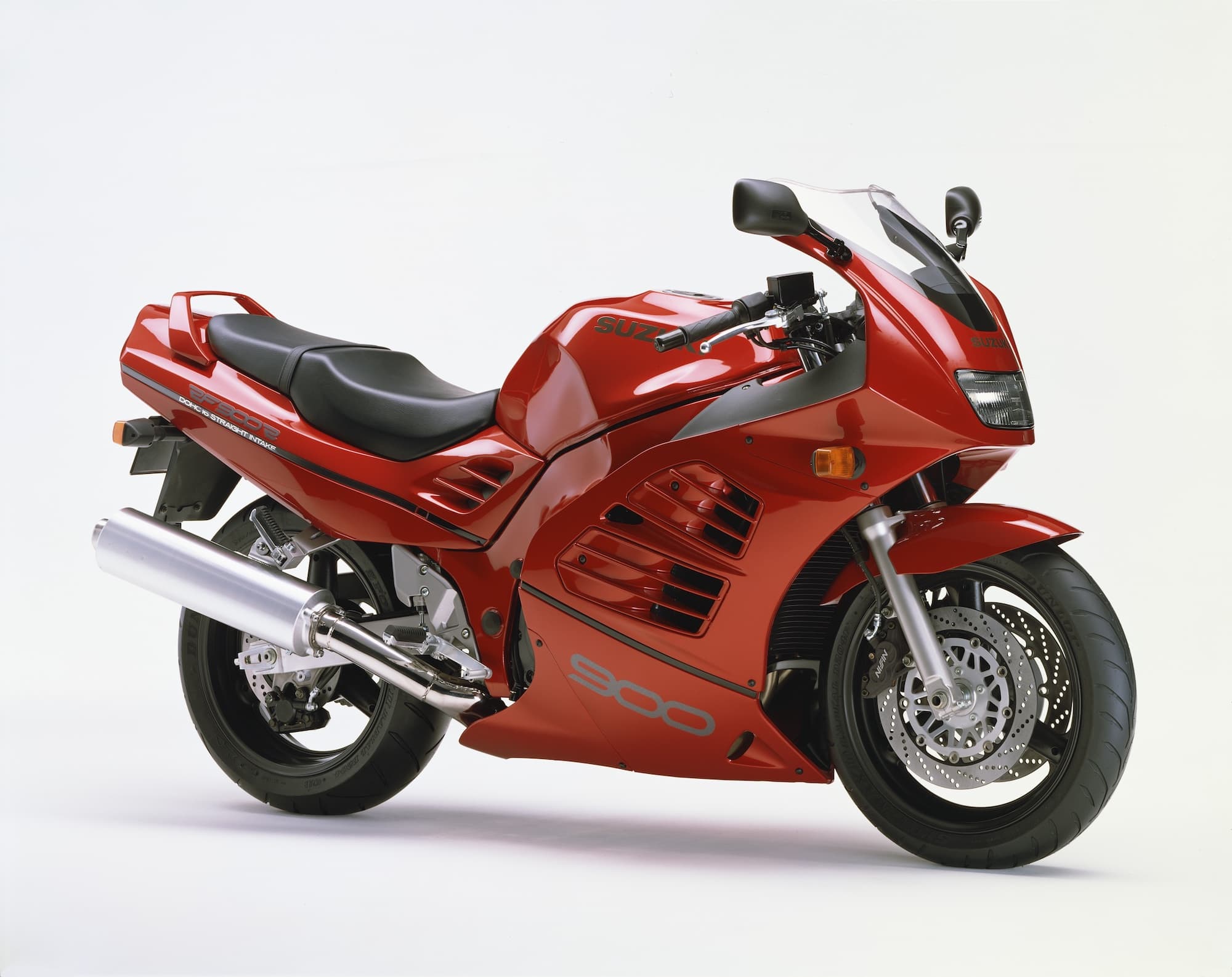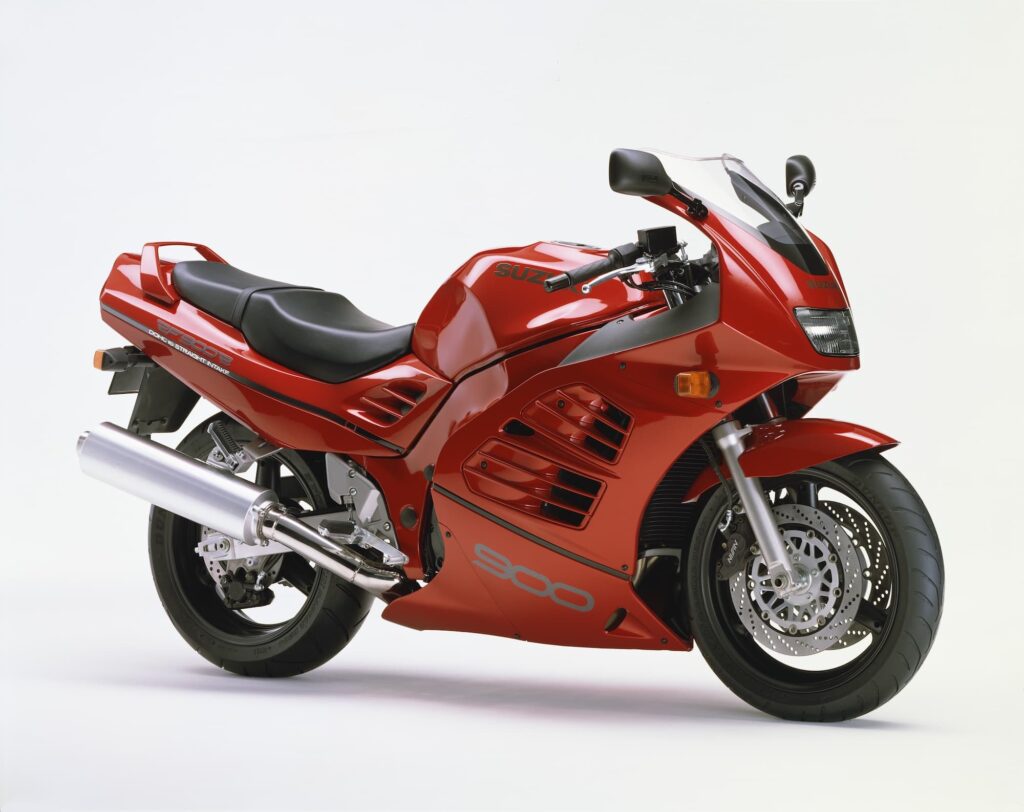 Are you obsessed with motorcycles?
Well, I am. That's why I created this site — as an outlet. I love learning and sharing what others might find useful. If you like what you read here, and you're a fraction as obsessed as I am, you might like to know when I've published more. (Check the latest for an idea of what you'll see.)
Core specs of the Suzuki RF900R
It's actually not terribly easy to piece together the RF900R specs because so many sources conflict. Even the official Suzuki RF900R archive page mentions 89 PS peak power, which is clearly wrong (or might apply to a Japan-only spec.)
Part
Suzuki RF900R spec
Engine configuration
Liquid-cooled in-line 4-cylinder, dual overhead cams, 4-valve per cylinder
Capacity (cc)
937
Bore x stroke (mm)
73 x 56
Compression ratio
11.3:1
Induction
4 x 36mm Mikuni BDST carburettors
Peak Power
101 kW (135 bhp) @ 10000 rpm
See notes below
Peak torque
100 Nm / 74 ft-lb @ 9000 rpm
Front suspension
41mm forks, adjustable for preload only
Rear suspension
Single shock, stepped adjustable preload and rebound damping adjustable, fully adjustable compression damping
Brakes
2 x 310mm discs, 4-piston Nissin calipers
Gears
5-speed
Tyre specs Rear tyre
Front: 120/70-17
Rear: 170/60-17 (you can also run a 180/55-17)
Dry weight
203 kg
Core specs of the Suzuki RF900R
On the peak power — a number of different publications have cited between 125 and 135 bhp of peak power for the Suzuki RF900R, and also different peak torque values.
From what I've seen, the higher number of 135 bhp seems to be most accurate as
It corresponds to the peak torque figure cited (if you drop it a little and raise the rpm to 10000 the conversion torque to horsepower conversion formula produces the right peak horsepower number). (Arguably 125 bhp could match this too.)
Some magazines measured 118-120 bhp at the wheel, which corresponds to the 135 bhp figure (a ~13% drop)
In general the power produced by any Suzuki RF900R you find is more going to depend on the condition of the bike than anything else, plus any modifications and appropriate jetting changes.
About the Suzuki RF900R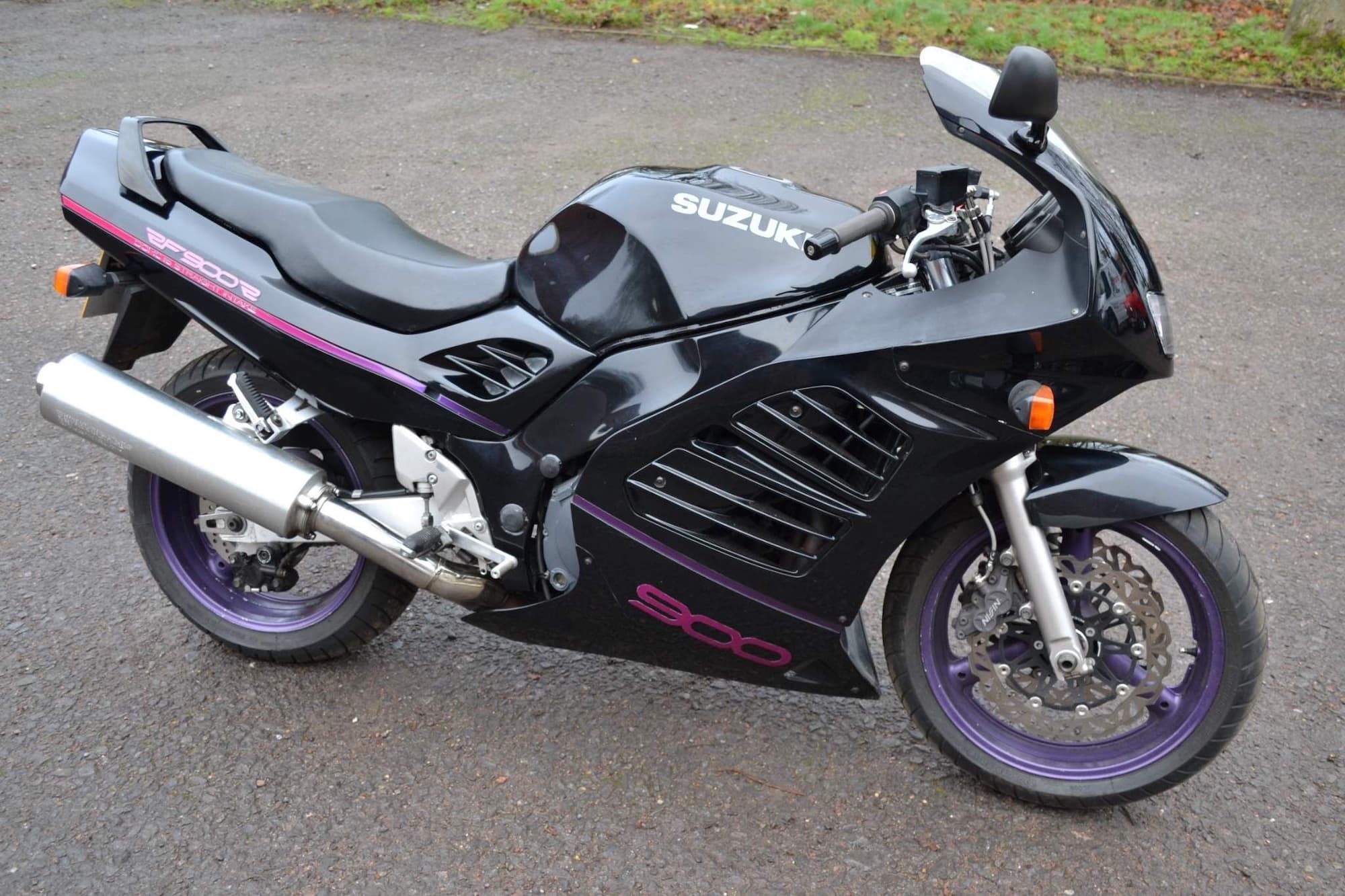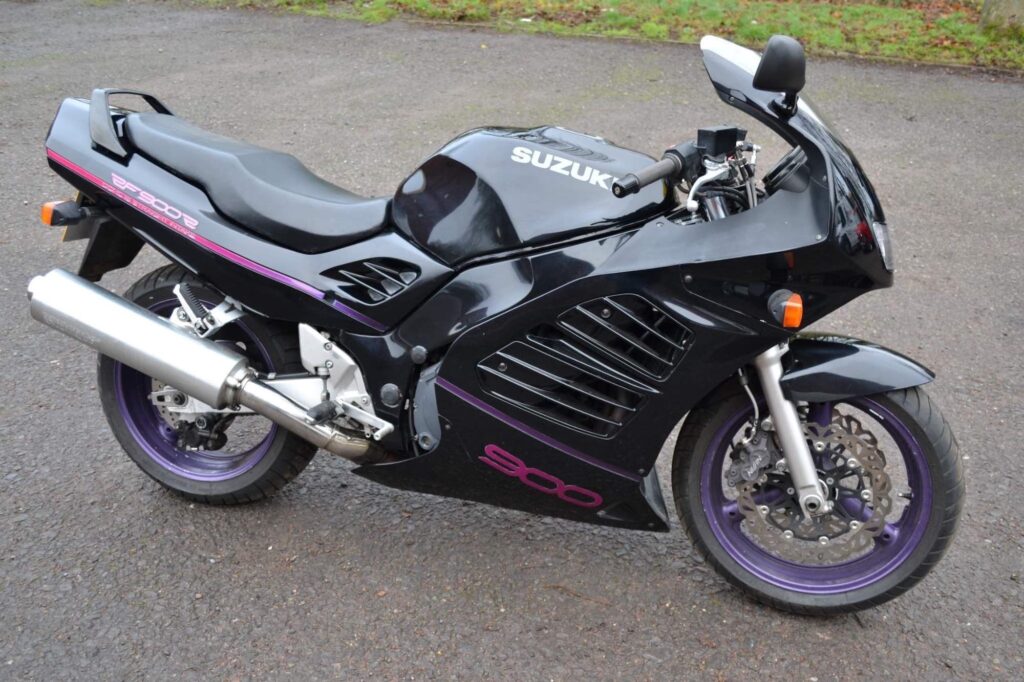 What's most interesting about the Suzuki RF900R is that most people haven't heard about it, and that most other motorcycles are — on paper — "better" than it.
But to the retro buyer, someone who looks at all those plastics and relishes the idea of having the odd one out at the Saturday café meetup, or who likes to buy an underdog bike and then flog it with aplomb on track days, the RF900R is a pretty cool pick.
(So don't be so quick to tell me that the FireBlade or ZX-9R are better bikes. Obviously they are! It's just that this one has some niche appeal, particularly how far it dropped in price.)
The Suzuki RF900R is a middleweight (well, large capacity back then) sport bike with an engine derived from the Suzuki GSX-R1100W (the liquid-cooled 1100), with parts from the GSX-R750 of the day as well.
But all that's less important as the RF900R does stand on its own.
Even though it looks like a sport bike from a distance, the Suzuki RF900R was never intended to be a high-end sport bike, and its relatively low price and mid-range feature set attest to this. Also, the riding position isn't quite as extreme — the handlebars are mercifully higher and the rear-sets don't have you folded up quite as much as a modern sport bike.
The Suzuki RF900R didn't get too many adulating fans as it was always compared to other big-capacity four-cylinder bikes like the Honda CBR900RR FireBlade and the Kawasaki ZX-9R. To retro sport bike buyers, a period GSX-R750 is still a more interesting buy.
A better way to think of the Suzuki RF900R, rather than as a sport bike, is as an all-rounder — a bit like the VFR750/VFR800, its primary competitor at the time. A sport-tourer, even. You might be able to tell that I quite like sport tourers… I've had a few!
But even though the VFR got all the glory and is the one for which bike nerds around the world go crazy, the RF900R gradually slipped away from people's consciousness and has become very cheap — and nearly extinct.
The base of the RF900R is an inline four-cylinder engine. It's liquid-cooled, has dual overhead cams, and four valves per cylinder — much like any sportbike of the day, or even today, minus curiosities like the early YZF-R1 (which had five valves per cylinder).
It peaks in power at 10000 rpm, but pulls with an even torque curve all the way to its redline at 12000 rpm.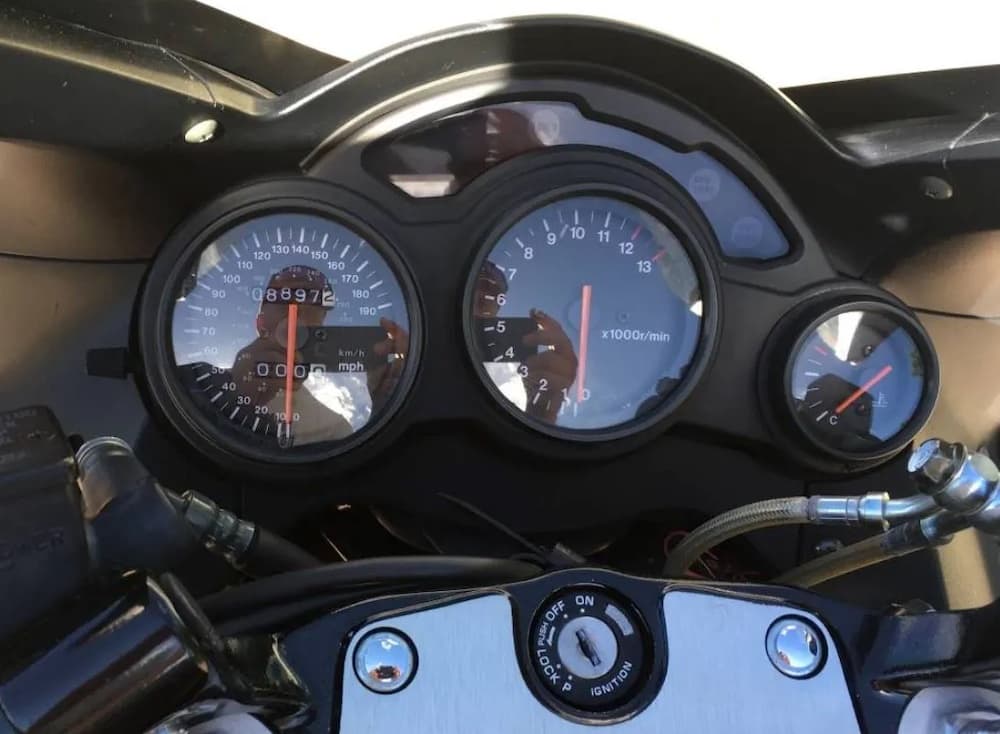 These days, you'd have to do a few things to ensure it does have such a linear power curve. Unless a bike was recently rebuilt, I'd strongly consider replacing the plugs, coils, and spark plug lines on any RF900R I acquired, as well as balancing the carbs and giving them a clean (not just Seafoam… there's places it won't reach).
Other parts of the Suzuki RF900R are predictably unexciting, but also not garbage.
The front brakes are twin 4-pot Nissin calipers on 310mm discs. It's standard, but at least it's not bad!
And front suspension just has preload adjustment, but you do get three-way adjustability on the rear shock.
Even though the rear tyre of the RF900R is a 170/60 standard, you can run an easier-to-get 180/55 profile tyre. Some owners on forums do, anyway, and say the bike handles well. It'll also look a little cooler…
Maintaining the Suzuki RF900R
In many ways, maintaining the Suzuki RF900R is much like maintaining any liquid-cooled Suzuki motorcycle.
General maintenance intervals are:
Change the oil every 4000 miles / 6000 km
Change the spark plug and inspect valve clearances every 2 services (every 7500 miles / 12000 km)
Replace other fluids and rubber parts every 2-4 years
There are some idiosyncrasies to maintaining the Suzuki RF900R.
Firstly, the RF900R has an odd spec chain — it's a 532. Most modern motorcycles of its size class are 530. This isn't a problem if you're in a big city, but if you're in the middle of nowhere (as this anecdote in the Canada Moto Guide tells), a broken chain could be a problem.
Secondly, it bears repeating that as an older, carburettor fuelled bike, it's likely that any example either has (or will soon experience) some fuelling issues. These could range from
Rust in the tank
Clogged fuel filter
Failed fuel pump
A vacuum leak on the carburettors (seals, a loose hose)
Clogged ports in the carburettors
Carb needle not re-seating (leading to over-filling the fuel bowl)
Owners on various sportbike forums say you should take the carbs, tear them down, clean out all the jets, and make sure everything works — maybe do a full rebuild of the carbs (new seals, needle, etc.). It'll buy you peace of mind. Heck, maybe while you're at it, install a jet kit for that phat exhaust you have your eye on.
Finally, the suspension on this bike is likely old and maybe due for a refresh. New springs, fluid, and seals would be in order soon.
If you're planning on doing that work yourself, enjoy. But if you're outsourcing it — it'll get expensive quickly, which is one reason old bikes aren't always the most economical bet.
Alternatives to the Suzuki RF900R
If you're looking at the Suzuki RF900R, you're probably looking at comfortable, everyday sportbikes — what some call "sport touring" (but that's a broad definition that goes all the way to the FJR1300). And bikes that aren't too big.
In some ways, early sport bikes are good comparisons. They weren't deathly uncomfortable.
But these days, mid-1990s and early 2000s sport bikes are rare and sometimes priced as collector's items.
The most obvious competitors to the Suzuki RF900R would be the Honda VFR750 and the later Honda VFR800.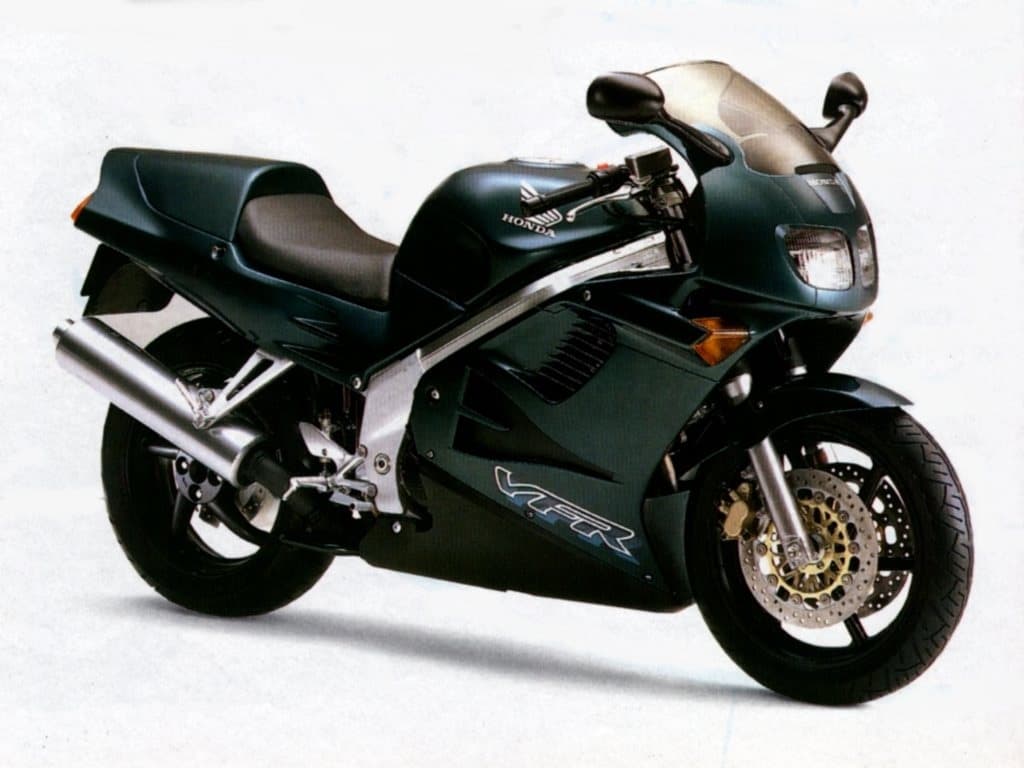 The last Honda VFR750 (before the line changed to the VFR800… see my Honda VFR750 / 800 model history) was the 4th gen, made between 1994 and 1997. It was also the last of the carburettor-fed VFRs, and had quite a few tweaks to reduce weight.
It's based on a 748cc liquid-cooled V4 engine that makes around 75 kW (101 hp), and has a claimed wet weight of 226 kG (498 lb) which makes it one of the lightest VFRs on paper.
The VFR has had much more history since, and this generation of VFR750 is somewhat of a collector's item (much more so than the RF900R anyway). This means they're more expensive, but often also better maintained.
The early VFR800 (pre-VTEC) is an even better pick. Fuel injection, gear-driven cams, under-seat exhausts, and enough power to have fun with… plus, the early VFR has a better sound and feel than the later Gen 8-up VFRs (the last ones), which are muted in comparison.
But the RF900R has one thing in its favour — an inline four-cylinder engine. Inline fours are just a tad easier to service — fewer cylinder heads, and better access in general. According to the specs, the RF900R makes more power, and the bikes are in a similar class of weight — but in reality, they'll be fairly evenly matched due to other differences between the bikes, and it's more up to the individual rider.
And some people just prefer the beserkness of a high-revving inline four. Something I totally understand!
Wrap-up
I know that if I find a Suzuki RF900R in good condition again, I won't wait as long next time.
But what's admittedly more likely is that in that time I'll have come across one of the many other, newer sport-touring motorcycles available, and made peace with that.
You can typically find them for just a grand or three, depending on where you're living and currency you're using. The exact price should factor in maintenance because you may just be up for a grand or two more in immediate tasks.
Think about whether you'd need a new tyres, chain/sprockets, a carb rebuild, and electricals redone. All that can add 50-100% on your low purchase price. But then you'd have a pretty cool bike.
If you have a Suzuki RF900R — tell me what you love about it, and send a pic!