There exists within many of us motorcyclists an irrational desire to have it all.
Somewhere out there, we believe, there's one motorcycle that can keep us comfortable when it's cold and rainy, navigate the quickest of roads to the gnarliest of trails, and light the fire of the devil within our bellies.
Of course, this unicorn doesn't exist (well, not for most of us), and that's why we have one, two, seven, or 25* motorcycles in the garage.
* This is a real number. One Motofomo subscriber told me he has that many, and his riding buddies all do too.
But it's this irrational hunt for the unicorn that keeps trying new things, wondering if I just need to broaden my horizons further. That's how I came to the unlikely destination of the Kawasaki Versys 1000 SE, the 2019+ model that comes with cruise control and an IMU.
I know, it's not obvious. The dealer even told me as much. "If you're used to sport bikes, you're going to be bored on this," he insisted. "But see what you think."
It's not the first time I've ridden an adventure tourer, of course. I've owned a couple and tried a few more. None of them were The One for me, but nonetheless, there's a small, quiet, but increasingly aggressive part of me that keeps pulling me back towards the genre.
Adventure sport tourers — the more road-going versions of the big bikes (they usually also come in a version that has stuff oriented towards off-roading) — are the SUVs of motorcycles. There's basically nothing they can't do at least a bit well. They have torque in most places you need it, every comfort option you could want, and a riding position that never gets old.
And the Kawasaki Versys 1000 SE has more interesting things in its favour. It has a big inline four-cylinder engine that revs up nicely and has a fat torque curve. It comes with cruise control, an IMU, and really nice fairing protection. Plus, it's as comfortable as they come.
But the questions that always nag me about adventure tourers were the same that I had for the Kawasaki Versys 1000 SE. I thought
Is the Versys 1000 SE going to be fun to ride? Or just boring?
Does the Versys 1000's engine have character? Cue the inline four haters…
Is the big Versys "cool"? (Er… no)
If I didn't quite like the Versys, what other options would I have?
Many riders scoff at the legitimacy of some of these questions, like those people who think it doesn't matter what it looks like (I do, personally). But I was determined to keep an open mind, so I took the Versys for a spin.
I didn't buy the Versys as it was literally the first test ride I did on my journey to broaden my horizons. I eventually settled on another sport bike, but one with more sedate road manners than the Ducati I was on at the time.
But the Versys definitely influenced that decision, and it's a bike I still have my eye on. If one comes up…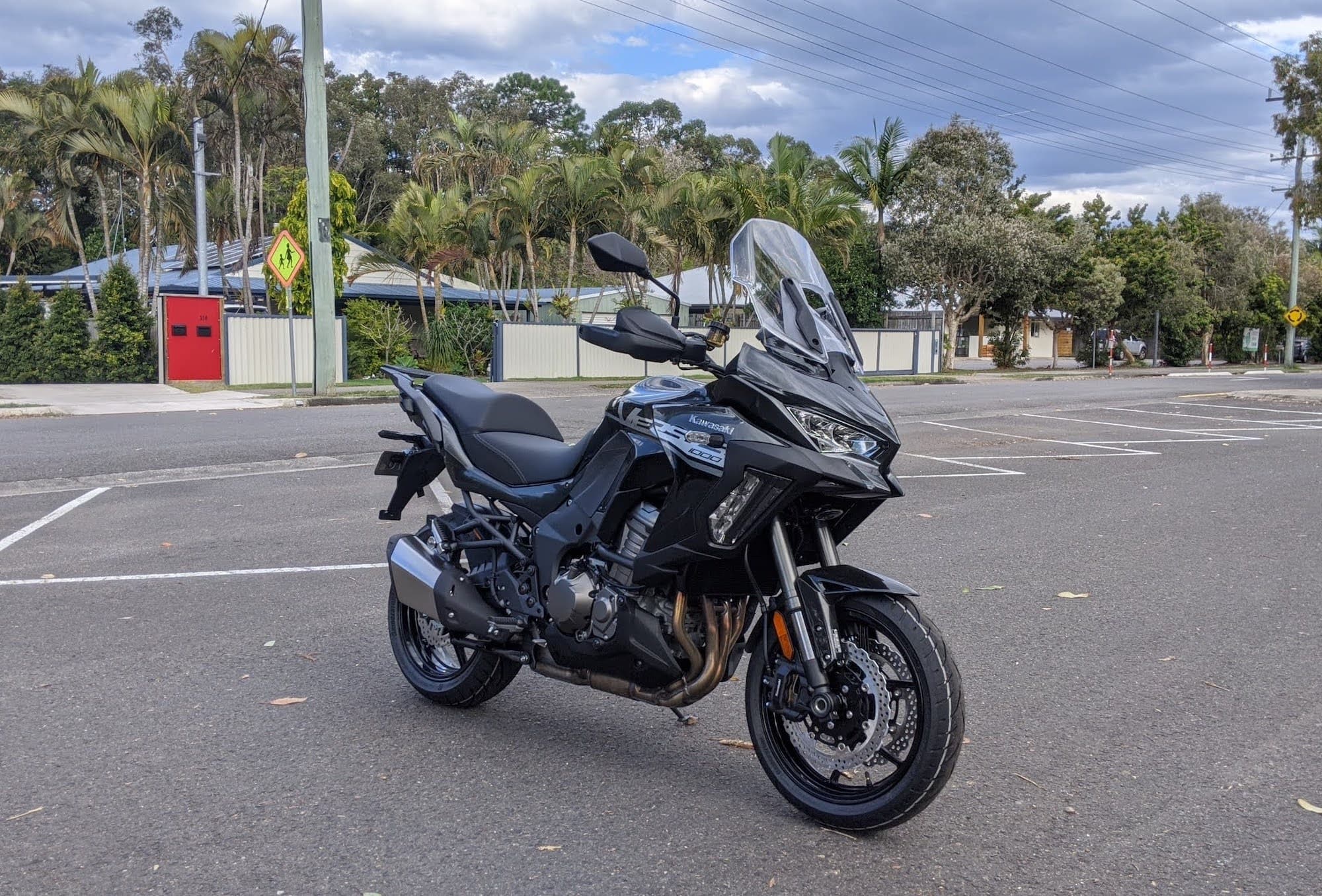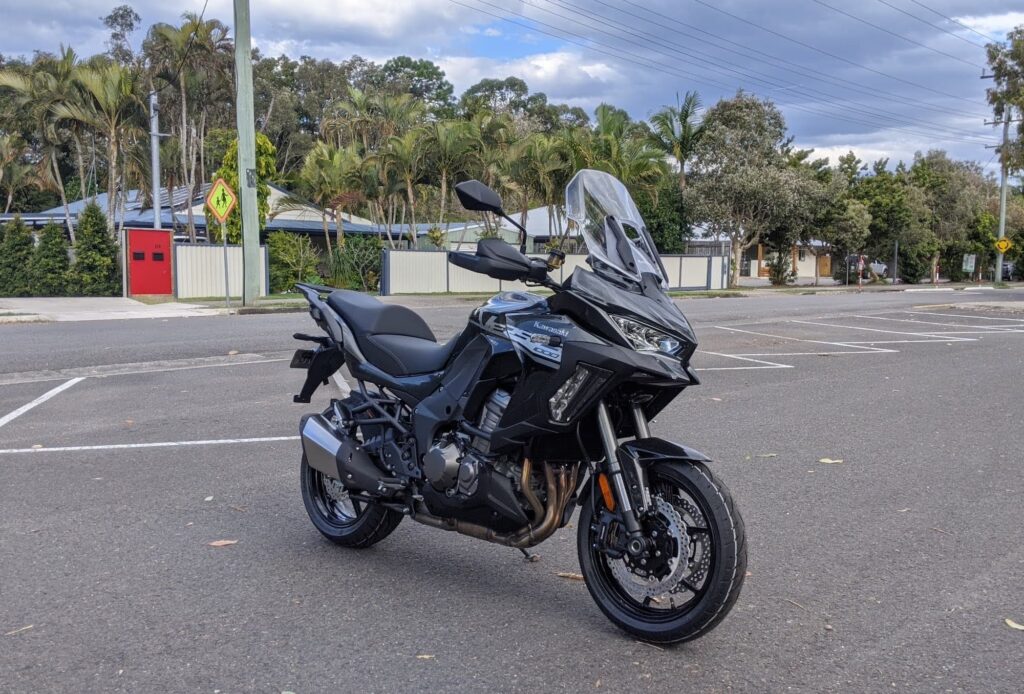 Are you obsessed with motorcycles?
Well, I am. That's why I created this site — as an outlet. I love learning and sharing what others might find useful. If you like what you read here, and you're a fraction as obsessed as I am, you might like to know when I've published more. (Check the latest for an idea of what you'll see.)
Brief History of the Kawasaki Versys 1000 SE — How did we get here?
The "sport adventure tourer" market had been in evolution for a while before the first Versys 1000, though nobody called it that (and few still do… it's a bit of a mouthful). A few manufacturers had defined their own sections of the market.
In those confusing times of the early 2000s when sportbikes were inexplicably losing their market allure, BMW was cornering the "adventure" side with the R 1150 GS and R 1200 GS, which forked into road-going and more adventurous branches.
Ducati was focusing on road-going sport touring with the Ducati Multistrada 1000 DS and Multistrada 1100. And Suzuki was playing along with the V-Strom 1000 / DL1000, with a liquid-cooled V-twin engine — but it was outshone by its little sibling the V-Strom 650 in the early days. And Triumph had its three-cylinder Tiger.
All of those brands (and others) kind of converged and overlapped and developed versions of their bikes that could do both road touring and mixed off/on-road adventures. They all are excellent, unique, and blessed with loyal fan bases.
So it was in that already established market that Kawasaki decided to enter the fray with the first Kawasaki Versys 1000 in 2012.
1st gen Kawasaki Versys 1000 (2012-2014)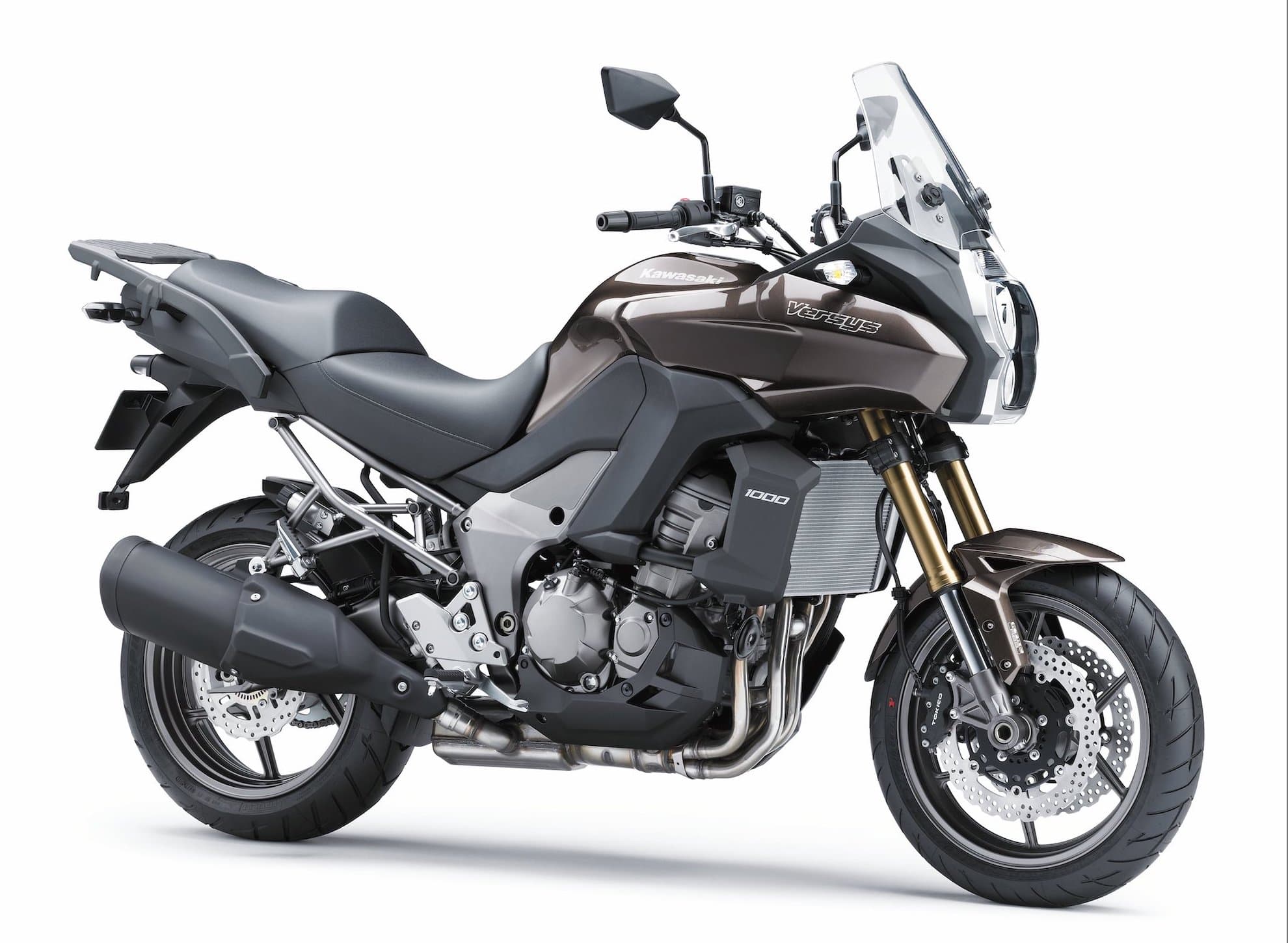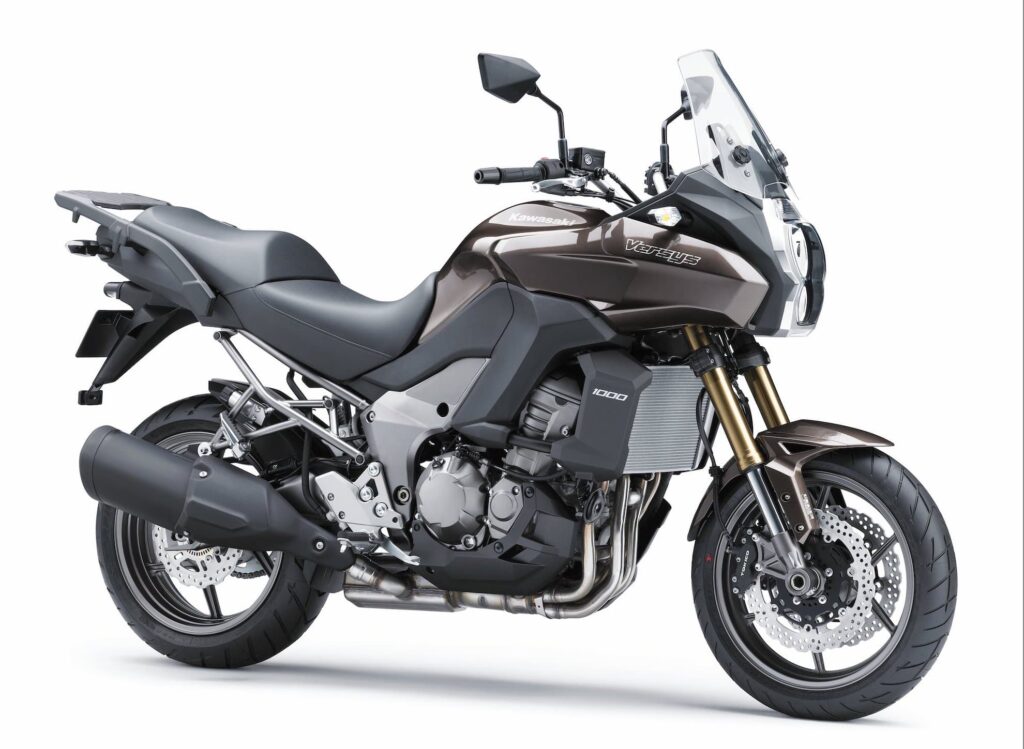 Most of you are looking at that picture and asking: "What the **** is that?" Well, it's the first-gen Versys 1000, and it didn't make it to North America.
Kawasaki announced the first Kawasaki Versys 1000 at EICMA in November 2011. This was an upright adventure sport tourer focused on covering distance on road. It had an engine that was based on the one in the Z1000 — just like its stablemate, the Ninja 1000.
Side note: See my archive of bikes voted "Most Beautiful Bike of Show" at EICMA. See some pretty pictures, at least!
Europe and some Asia-Pacific countries got it, but the US didn't. Americans were disappointed, but at least they got later incarnations.
The heart of the original Versys is the same as the modern bike. It has most of the same stuff — a 1043cc inline four-cylinder engine that's tuned for midrange power. It comes with ABS, traction control, long-travel suspension including USD forks on the front and which is partly adjustable on both ends (preload and rebound damping), and decent protection from the elements.
So the Gen 1 Versys 1000 is still an excellent bike, and if you find one (whether in Europe or Australia, or imported elsewhere), there's no reason you shouldn't plonk down for one. The only argument against one is that people really do ride these bikes, so nearly all examples of older Versys bikes are high-mileage. High mileage is fine but it just means a few typical bike bits will fail (e.g. the stator coil, some hose will spring a leak, bearings will get notchy, the usual), so you have to be willing to put up with that.
The only other four-cylinder sport adventure tourer from the era that comes to mind would be the Honda VFR1200X, which has a V4 engine. It was also announced at EICMA in 2011.
Europe and the APAC regions enjoyed their Versys 1000 for a while, and then hooray, the US got the second one.
2nd gen Kawasaki Versys 1000 (2015-2018)
Kawasaki made the second generation Versys 1000 between 2015-2018. And this one made it to the US.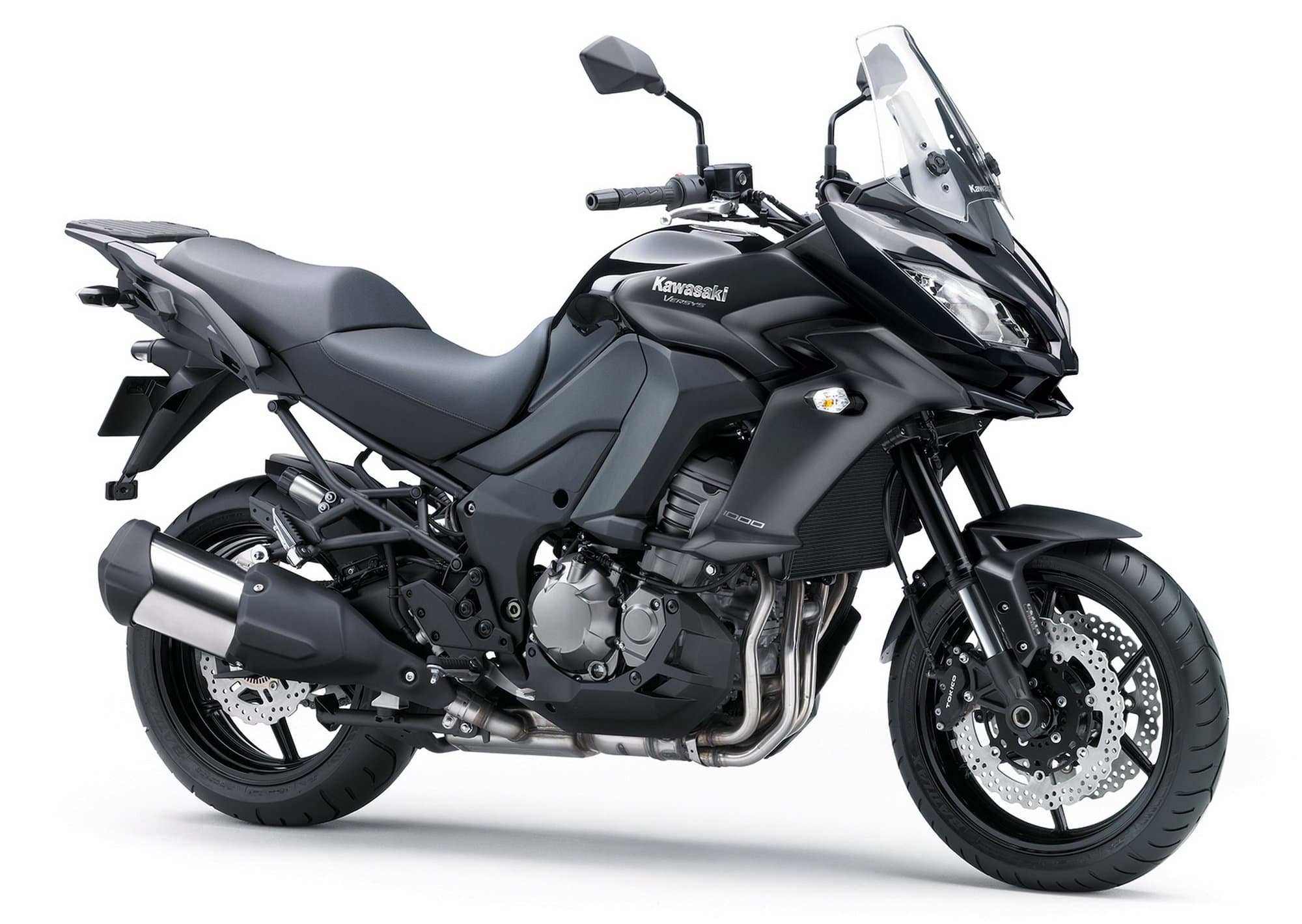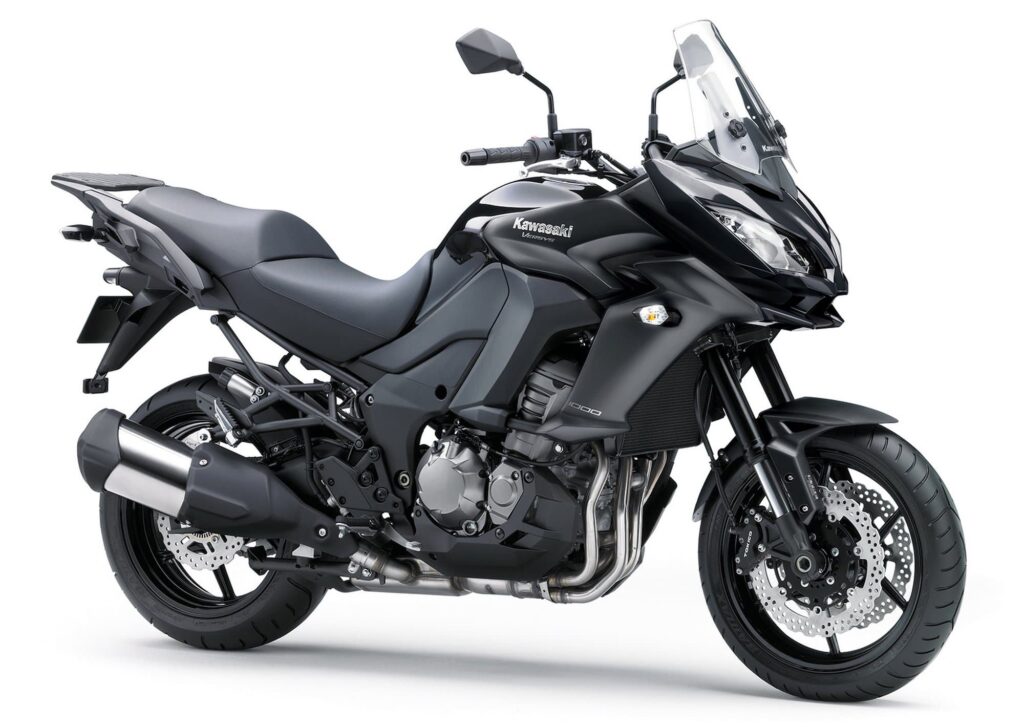 Ahh, there we go. I didn't want to say it, but the second one lets me admit that the first gen looked a little… snub-nosed.
No matter, though, because the 2015 Kawasaki Versys 1000 rectified that. It's based on the same 1043 cc engine. It comes with the same tech as the previous gen — ABS, traction control, and power modes — but also gets a slipper clutch. Power and torque are about the same.
The second gen Versys 1000 has some new options like integrated luggage and a center stand. It also came in an LT version with many add-ons standard. These days, some markets can only get the LT version of the latest Versys.
The Versys 1000 did well for a while, and got a lot of fans. At roughly the same time as the second gen Versys 1000, BMW released its S 1000 XR, loaded with electronics, tons more power, and a predictably higher sticker price. People made comparisons in forums, and Versys fans of the time said "No thank you, I like my bikes simple and electronics free and a lot cheaper, too."
Well, too bad, it seems, as Kawasaki got the idea that owners wanted all those electronics and so released their third gen Versys 1000 SE for the 2019 model year, with some minor updates in 2021. This is what we'll talk about below.
Specs of the Kawasaki Versys 1000 SE (3rd gen, 2019+)
You can't ride a spec sheet yada yada but this is how you'll be comparing the mighty Versys to every other bike you come across, so we may as well.
Part
Kawasaki Versys 1000 SE spec
Notes
Engine configuration
Inline four-cylinder engine, DOHC, 4 valve per cylinder
Capacity (cc)
1043
Same as the Ninja 1000, Z1000
Bore / Stroke
77 x 56
Oversquare, short-ish stroke
Compression ratio
10.3:1
Quite mild
Peak power
88 kW / 120 hp @ 9000 rpm
Could do with more top-end
Peak torque
102 Nm / 75.2 ft-lb @ 7500 rpm
Front suspension
43mm inverted fork, manual preload, active compression / rebound damping
Showa "Skyhook" from 2021
Same hardware but Showa "Skyhook" software from 2021
Rear suspension
Horizontal backlink, active compression/rebound damping, electronically adjustable preload
Ditto re Skyhook
Front brakes
Dual 310mm petal discs, 4-piston calipers
Ride aids
IMU, 3-mode TC, 2 power modes, 4 ride modes (including manual), cruise control, Quick shifter, slipper / assist clutch
Instrument cluster
Analogue + TFT digital, multiple modes, with smartphone connectivity.
Wet weight
258 kg / 569 lb
Quite heavy
Kawasaki Versys 1000 SE — Core specs
What makes the Versys 1000 SE Special?
Amid a plethora of big sporty adventure tourers, why even consider the Kawasaki Versys 1000 SE? I mean, you maybe didn't know it existed. It's hardly a sexy bike, either.
Well, here's what drew me to it and what I thought made the Versys 1000 SE a little different from the competition.
The engine — an inline four
Firstly, the engine. In a sea of twins and the occasional triple, the Versys 1000 SE is a rare four-cylinder engine in a tall adventure tourer.
The engine is the same basic block found in the Kawasaki Ninja 1000 and the Kawasaki Z1000 (where the latter is still sold — it has been discontinued in favour of the Z900 in some markets). The engine is a 1043cc inline four-cylinder that's liquid cooled, has dual overhead cams, and four valves per cylinder.
In the Versys, it's tuned more for torque. In fact, in some press kits, Kawasaki doesn't even mention peak power… they just mention peak torque of 75 lb-ft (102 Nm) at 7500 rpm. Peak power is a claimed 118 bhp (88 kW / 120 PS) at 9000 rpm.
Opinions may vary, but I think an inline four-cylinder engine is ideal for an adventure sport tourer. Like I mentioned, it's like an SUV. So a gentle purr (rather than a raspy roar) seems ideal. A triple is a close second, which is why I like the idea of the Tiger 800s and 900s.
There are other adventure bikes that are much livelier, like pretty much anything from the KTM stable for example. The KTM 1290 Adventure R is bonkers, undoubtedly. Those are just different kinds of bikes, and they feel different. (In terms of whether it lights a fire in your belly: the KTM is a "absolutely!" and everything else comes some place after it…)
But I really like inline fours. I never thought I would, but then I've liked them ever since my first bike with one, a weird old BMW K 1200 RS. It just kept winding up. At high RPMs, a heavy bike feels like a jet plane. I dunno, different strokes for everyone.
As I will mention below in the "alternatives" section, there's one other bike with an inline four-cylinder engine in the same class: the BMW S 1000 XR. And that's a BMW, and they know what they're doing, so maybe Kawasaki does too.
The suspension — Showa Skyhook
The 2019+ SE model comes with active suspension, and in 2021 Kawasaki updated this to be "Skyhook" active suspension.
OK firstly, even just electronically adjustable rear preload is a good start. You can set preload from 0-35 depending on how many pies you've eaten and/or whether you've decided to pack your entire toolbox "just in case".
But the real gem is active suspension.
Active suspension, which Kawasaki calls KECS (Kawasaki Electronically Controlled Suspension) lets users set the suspension characteristics. You actually mostly set it via ride mode.
| Ride mode | Suspension damping setting |
| --- | --- |
| Sport | Hard |
| Road | Normal |
| Rain | Soft |
| Rider (custom) | Adjustable (Compression/Rebound from +5 to -5) |
Adjustable suspension settings — KECS
I didn't try the custom mode, just left it in sport. Seemed fine.
In 2021, Kawasaki updated the software on the Versys SE to include Showa's "Skyhook", which is an updated algorithm for the hardware that manipulates damping settings.
"Skyhook" aims to do exactly what it sounds like it aims to do: keep the bike upright, as if suspended from hooks above it in the sky.
Kawasaki says the new Skyhook functionality helps the Versys 1000 deliver a smoother ride with reduced pitching during acceleration and braking. Apart from knowing Skyhook is in there, there's nothing different for the rider to do to use it.
I'm a little sceptical about electronic suspension usually, especially active suspension. The main reason I'm sceptical is that I've occasionally bumped my bike into things and I squirm at the thought of bending forks that would cost upward of $5000 to replace, writing it off.
The second reason I'm dubious about them is that they tend to mask bad riding or suspension knowledge on sport bikes. On a good bike with good manual suspension, a good rider can control dive and corner effectively. If I have a bike that's designed to just stay upright no matter what I fling at it, I feel like an impostor.
But this is an SUV, remember! It's not a sport bike! I'm not trying to prove anything on an adventure tourer; I'm just trying to have fun on trips and stay alive.
Lo and behold, on my very first ride on the Versys 1000 SE I was leaning HARD into corners. The post-ride computer said I leaned 29 degrees to the left, and 30 to the right. This means I was close to scraping pegs on my first ride. It was easy, fun, and felt safe, very different to when I got roughly those lean angles at the track on my completely un-aided 2000-s era sportbike.
I want that feeling again.
The electronics — IMU, Cruise
The active suspension relies on an IMU — an Inertial Measurement Unit that measures pitch, yaw, and… the other one. Anyway, the ways in which the bike moves in different directions.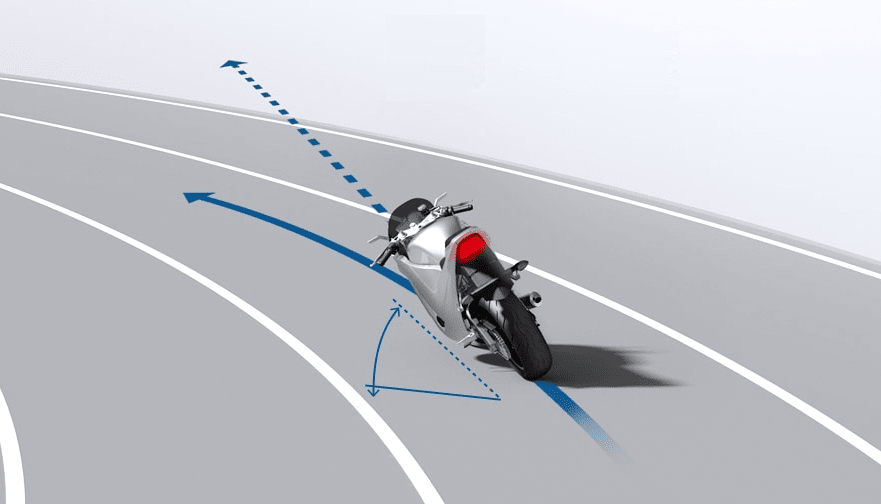 The IMU also gives inputs to the brakes and traction control. The aim of an IMU is to keep the bike in the same orientation and avoid situations where grabbing brakes while going around the corner might send the bike upright and off course, possibly into oncoming traffic.
See here for my updated list of motorcycles with IMUs.
IMUs only started becoming mainstream in the late 2010s, and at first you only found them on high-end sport bikes and European adventure bikes. But now Japanese bikes are getting them, and I welcome having it. In fact, Kawasaki was super early to the game of bringing the IMU to bikes other than high-end sport bikes or adventure tourers with the 2017 Kawasaki Ninja 1000 getting one.
Cruise control is the other thing. I like cruise for everyday bikes. It doesn't have to be active (yet). And the button is on the left handlebar, where it is best accessed — when it's on the right handlebar, it takes a bit of muscle training to keep the throttle steady while pressing it.
Self-healing paint
This is a really nice-sounding idea. Apparently new high-end Kawasakis have a kind of paint that heals from superficial blemishes. I haven't found any interesting reviews of it working. I just trust / hope it pans out in reality!
Riding the Kawasaki Versys 1000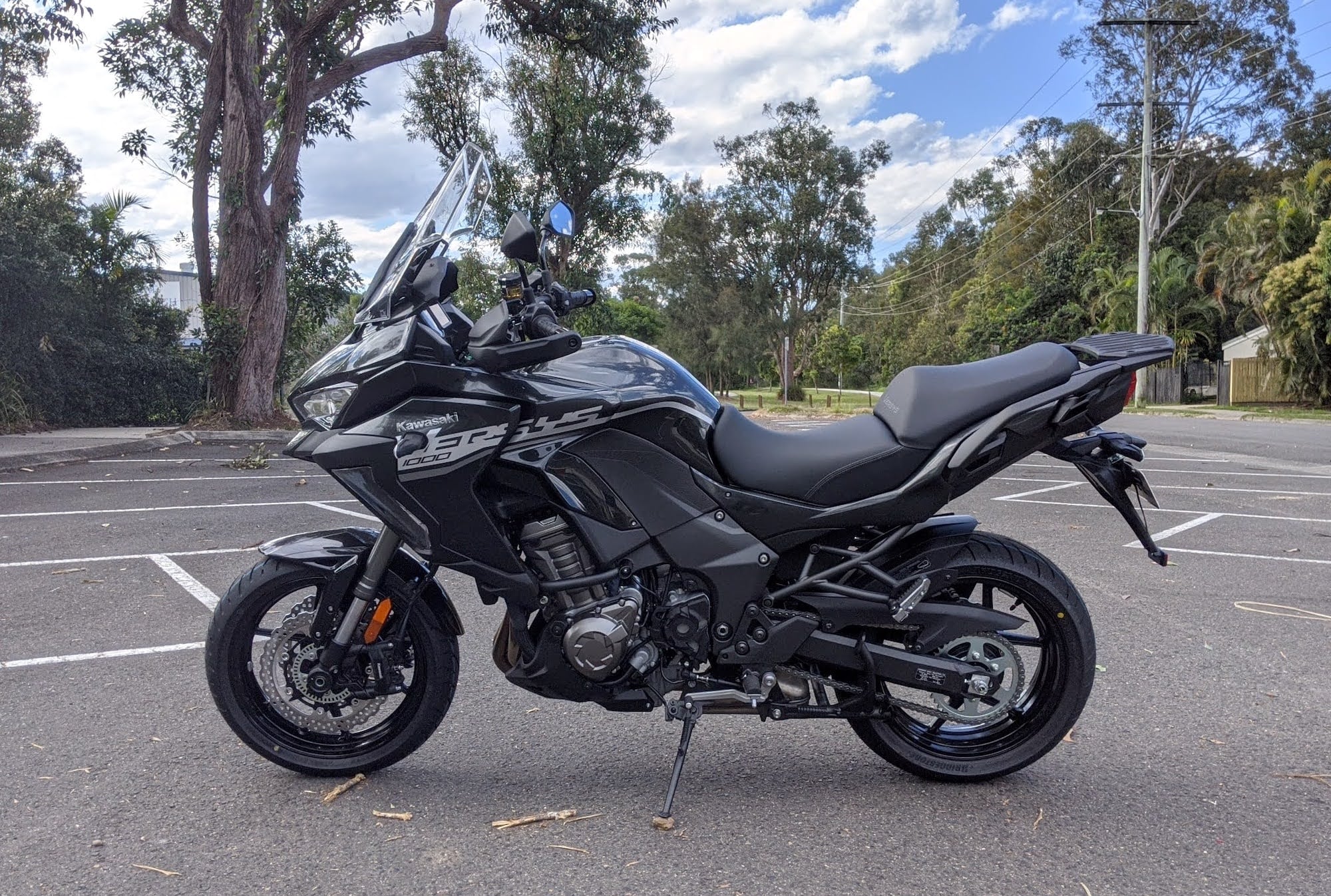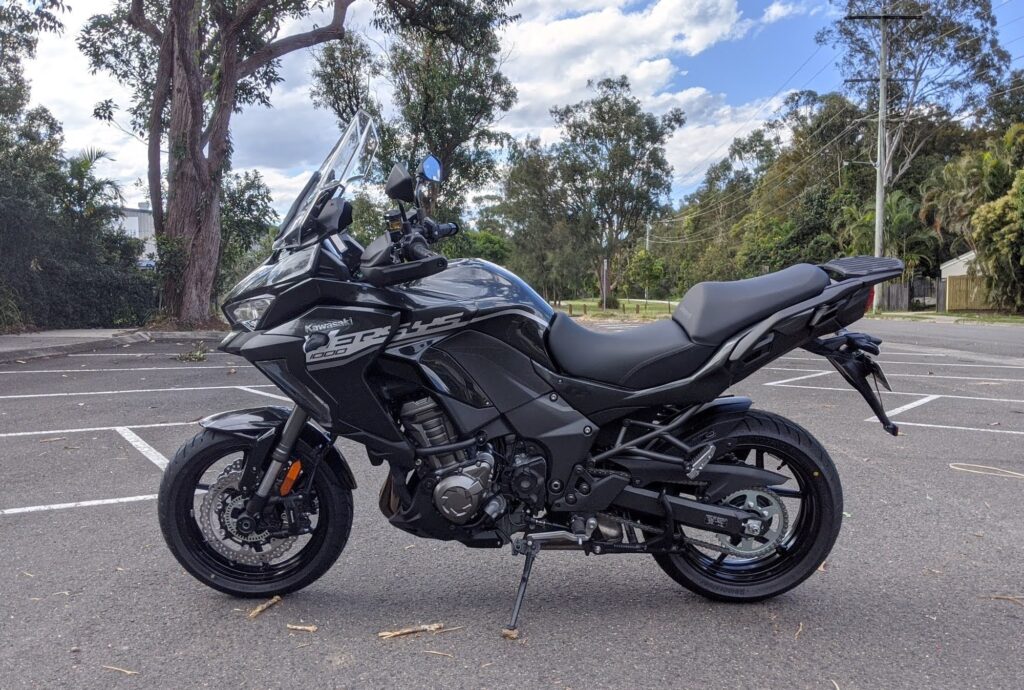 Riding any motorcycle for me is a mixed bag of emotional and logical response. Mostly, I'd say, it's emotions, with my brain working out some logic to back up whatever I'm feeling.
Aesthetics
The emotional journey starts with aesthetics. I think aesthetics are underrated, so I don't subscribe to that "you can't see it when you're riding it" mantra.
A great meal starts with great presentation. And I'm not just talking about haute cuisine. It could be tacos from your favourite Mexican joint, pizza fresh out of an oven, or a meat pie and sauce from my home country, Australia. A good meal or snack has to look clean, fresh, appetizing, crispy, hot… are you salivating yet? (I am!)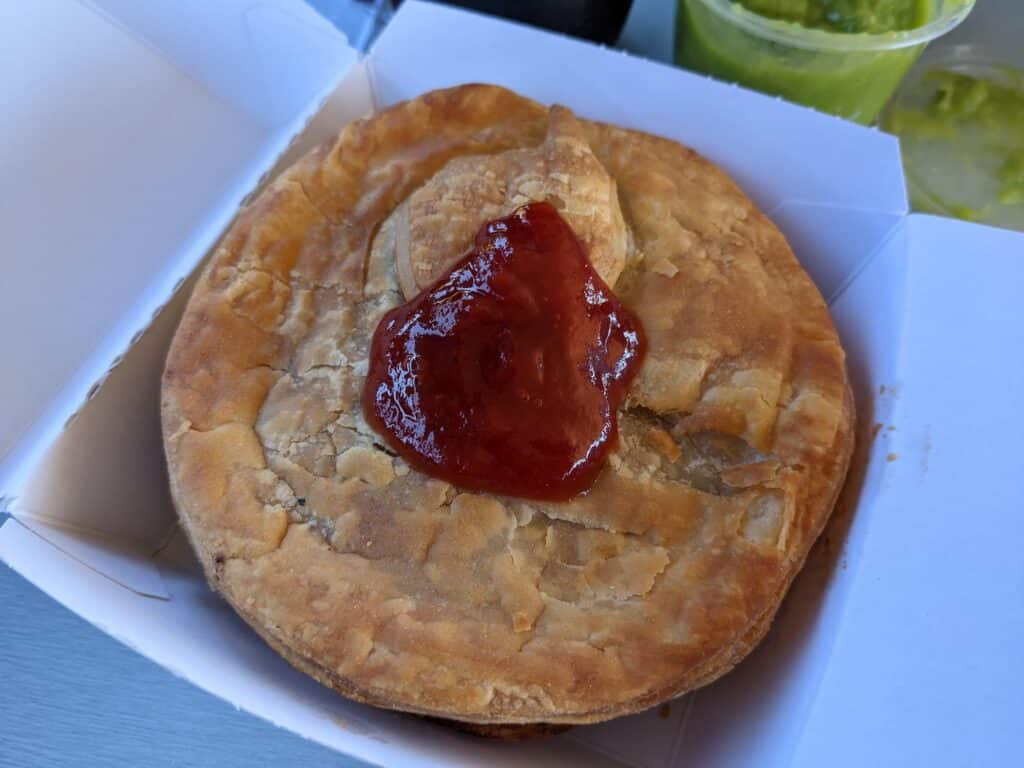 In the same way, any ride starts with walking up to the bike and letting your eyes feast on its visual presence. What a bike looks like is important. It has to look appealing to you as you look at it or even pictures of it, and the ride has to back that up.
Unfortunately, the Versys 1000 SE doesn't look like an exciting bike! It's not that it's unpleasant to look at. It looks clean and sharp, "not ugly" (a bar over which some bikes don't pass), and the paint is rich and deep.
But walking up to the Kawasaki Versys 1000 SE, it was with a certain degree of relish — I knew I was about to be comfortable and not let down. It was a little like the feeling of walking up to a leather recliner. And that's not a bad thing, mind you! It's just not as much "lust" as I might want.
To be fair, I think it's hard to make an adventure tourer look lust-worthy… but (highly subjectively) nearly every other adventure tourer out there I've seen looks sexier than the Versys.
I could rattle them off, but it's a bit unfair. Also unfair is that I'm comparing a street bike with off-road adventure bikes — it's like comparing a road-going Toyota RAV4 to an adventure-ready Land Rover Defender. The Defender will just always look tougher.
Another thing I could say in the Versys 1000's aesthetics' defense is that the S 1000 XR looks like it was modelled after it. And they're BMW so, you know, they know what they're doing. (See below for a pic of the XR.)
See the model guide to the BMW S 1000 XR.
Comfort
Wow, this thing is comfortable!
I've ridden a lot of comfortable bikes, and sat on even more. And also, as a sport bike lover, you might discount what I think of as comfortable. But I really think the Versys 1000 nails ergonomics like few other adventure tourers do.
The rider triangle is very good for an adventure tourer. I don't feel lazy like I do on some more dirt bike-like tourers, and my feet aren't at a weird angle. In other words, I feel in control. For reference, I'm 6'0 tall and have a 32-inch inseam, and while I'm giving away personal information so you can steal my banking info, my mother's maiden name is Gertrude and I was born in Anus, France (ok fine, I just googled "silly place names").
Anyway, a couple of other motorcycles I'd equate to the Versys roughly are the BMW R 1200 GS and the V-Strom 1000. Heck, none of them are bad in any way, but the Versys immediately feels like a grand touring motorcycle.
One thing worth mentioning is the quietness of the wind noise on the Versys 1000.
Since I have mild tinnitus (I've had it since I was a child as a hereditary condition), I'm always looking for ways to minimise cockpit noise. I already have custom earplugs and a decently quiet helmet (but am searching for a quieter one), and I also must have a good windshield for long rides (the "naked bike" answer isn't a good one for me).
The Versys 1000 has an excellent windshield. I found that when fully extended, I just had to dip my head slightly to be in a quiet pocket of air. This means that with a small wind deflector, I'd be able to sit up in comfort. Magic!
There are full-on touring bikes like the Honda Gold Wing or Yamaha FJR1300 that have even more wind protection. But this level of wind protection in an adventure sport tourer is quite special.
The Dash / cockpit / controls
Let's also talk about the dash and cockpit. Not many people talk about it, which I think is weird, because it's what you spend all your day looking at and using when riding!
I noticed the dash at the same time as I noticed the comfort.
The dash on the Versys 1000 is just how I like it — partly digital for the big tachometer, and partly analogue with the rich TFT display and status lights. I can't think of another modern adventure bike like it. (Usually by the time bikes go TFT, they ditch the analogue parts altogether.)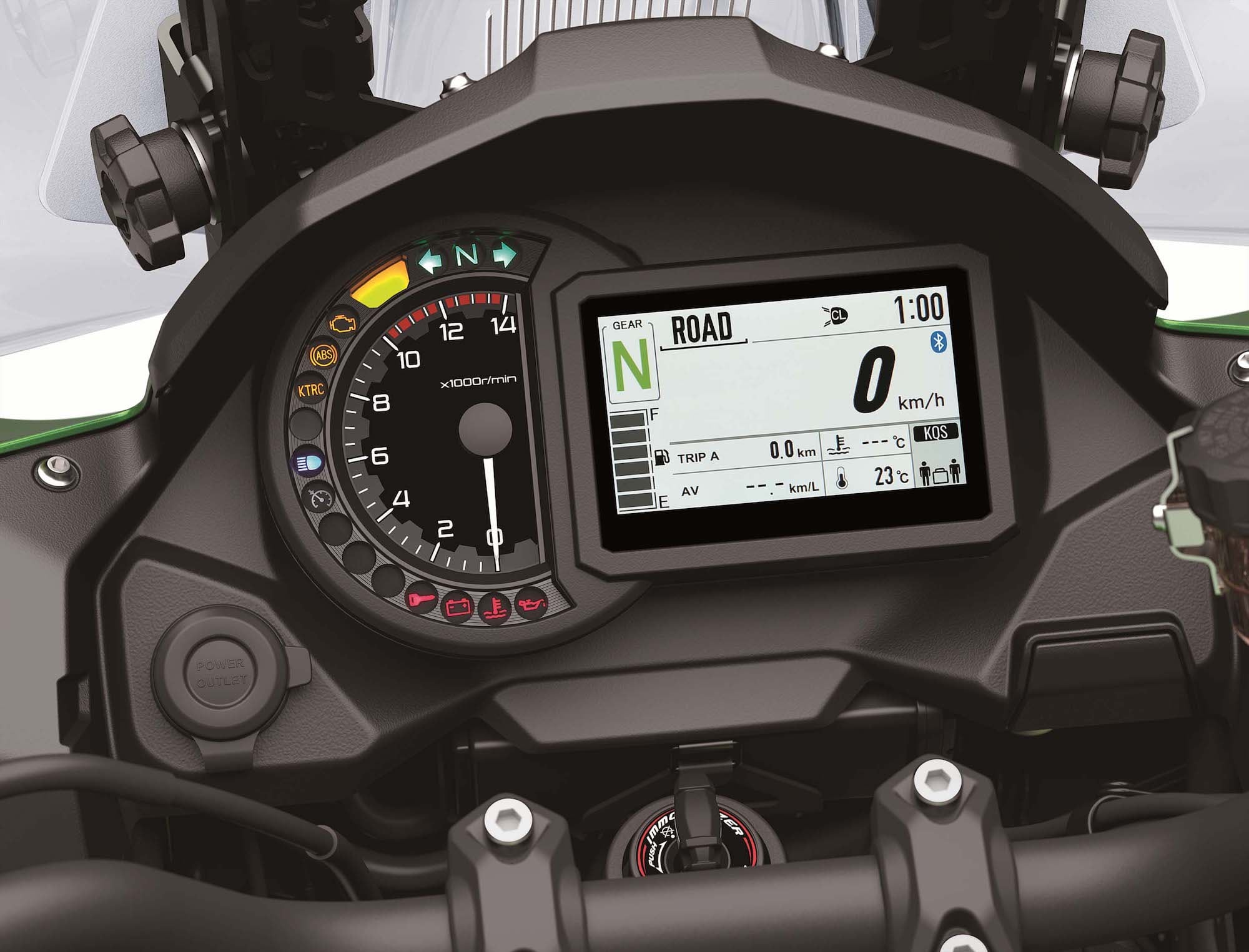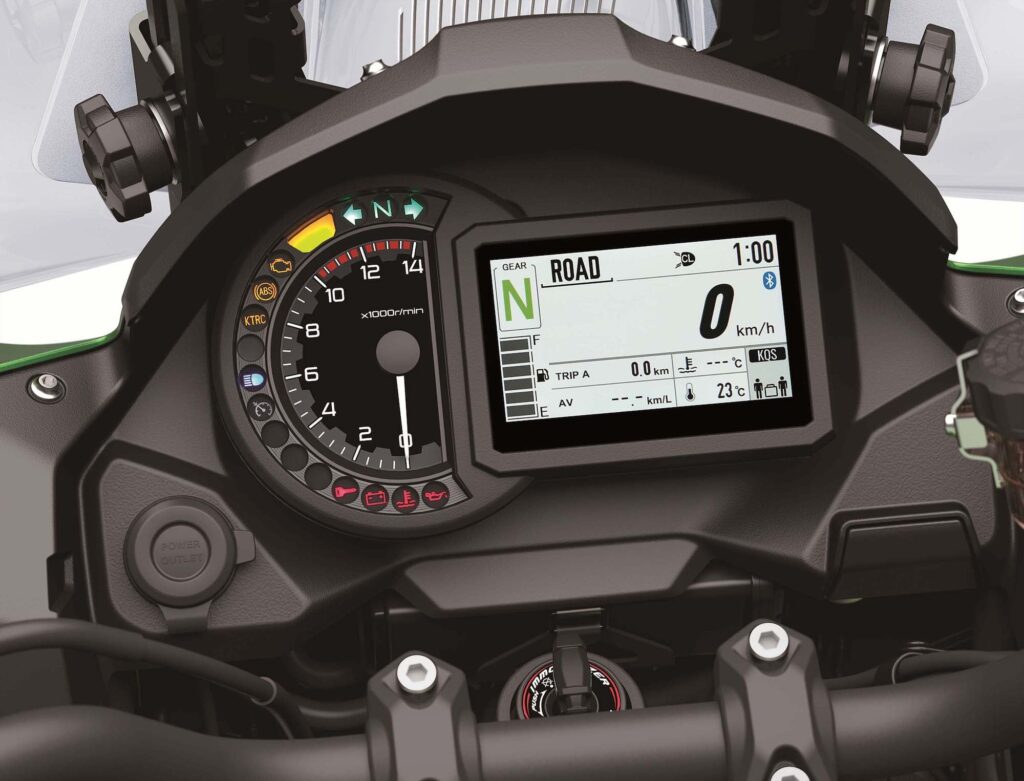 Controls
And the controls on the Versys are easy to use and comfortable — mostly.
This isn't a given, by the way. I've ridden plenty of brand-new motorcycles that have annoying controls that I have to use all the time, like Harley-Davidson's switchgear for turn signals that have no tactile feedback. (I had to check that with other people and I'm not alone.)
But everything on the Versys was in a reasonable place and worked as expected.
The only control I don't really like on the Versys — and it's a big one — is the shifter.
The Versys 1000 SE has an up-and-down quickshifter, which is cool for an adventure tourer, but it feels mushy. It has at least a couple of clicks, which is very unsatisfying. I'd rather a clunky or heavy shifter to one that feels mushy and indecisive.
Since I like shifting, and since a quickshifter can be like a drug when well executed, this is a bit of a turn-off for me, one I'll have to remember as I keep getting sucked in by deals I find online.
Character
One of the things that draws me to the Versys is that it has a four-cylinder engine, as I mentioned above.
I used to write off four-cylinder bikes as being "boring". And it's true, there are some that are boring. But there are also boring V-twins and even boring V-fours. (I haven't found a boring triple!) Really, it's just that some bikes are boring.
And there are definitely exciting inline four-cylinder bikes. So my question before riding the Versys 1000 was: how much soul does it have?
Short answer: I loved it! It left me wanting for a little more top end, but I think that wouldn't be hard to pull out of it with a full exhaust and remap, if I wanted to drop another $2-3000 into the bike (and don't we all…)
Or I could just downshift for big-torque overtakes. Or gear it differently… not sure. Nonetheless, I really liked the engine.
Every manufacturer does four-cylinders a little differently. Hondas have a little purtle that becomes a roar at high revs. Suzuki bikes I've ridden (1000-1340 cc) tend to have the deepest boom from aftermarket exhausts.
But Kawasaki inline fours do this really special thing: intake howl. It's present on all Kawasakis, from the mid-spec Z900 to this top-of-the-line Versys 1000 SE.
I only revved the engine out a few times, but I enjoyed it more on the Kawasaki Versys 1000 SE than on any other adventure tourer I've been on.
Handling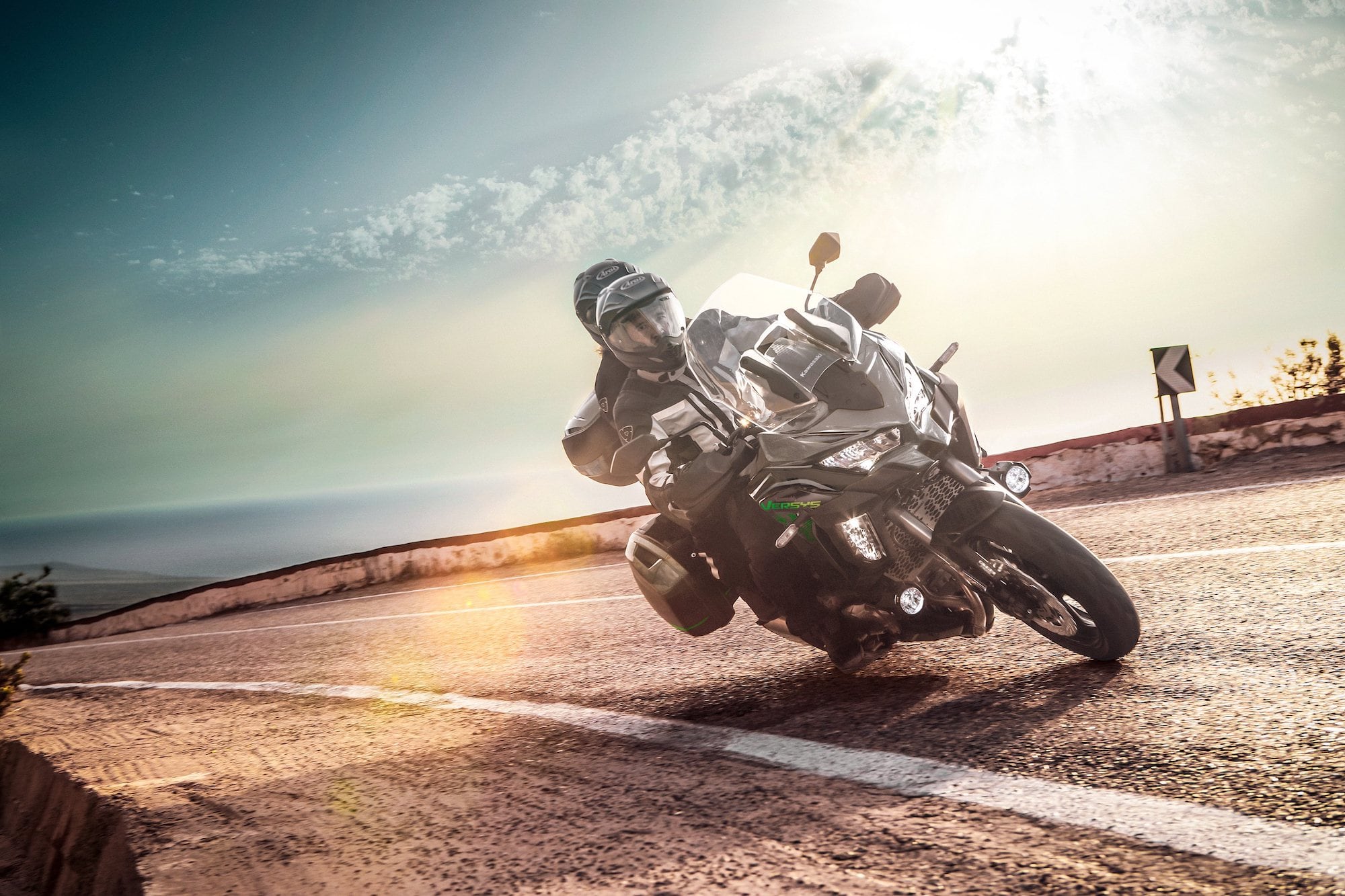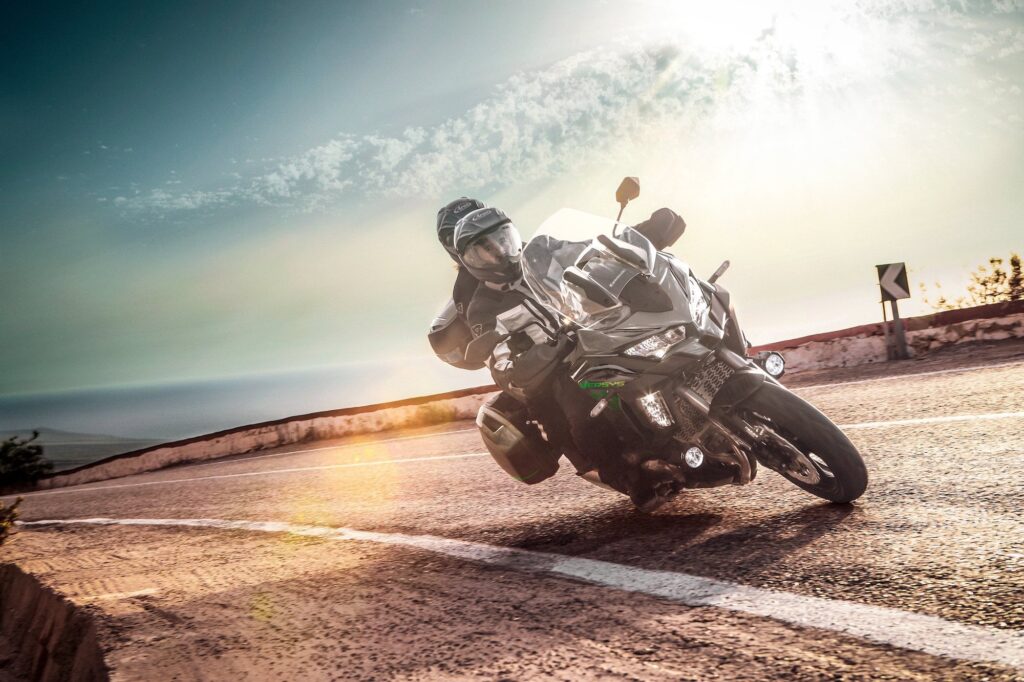 Finally, handling.
The Versys 1000 SE handles shockingly well.
Riding a tall adventure tourer can be intimidating. You're aware of how big the bike is and how heavy it is from wheeling it around at the parking lot. I felt more timid on the Versys 1000 than I did on the Yamaha Tracer, Ducati Multistrada, or MV Agusta Turismo Veloce. They all just felt lighter (and they are lighter).
But despite the impression of weight, the Versys 1000 SE felt stable from the moment I pushed it off from a standstill to when I banked deeply into corners very early in my ride.
I don't expect too much of sport adventure tourers, of course. All I expect of them is to go where I need them to go with ease and to do so at a range of normal speeds.
It's just that I was surprised by how well the Versys did its job. I never felt nervous.
My favourite memory was when I accidentally went towards the airport and had to take a large roundabout to get back to the country roads I was looking for. I was leaning deep into the roundabout and thought "this is way too easy".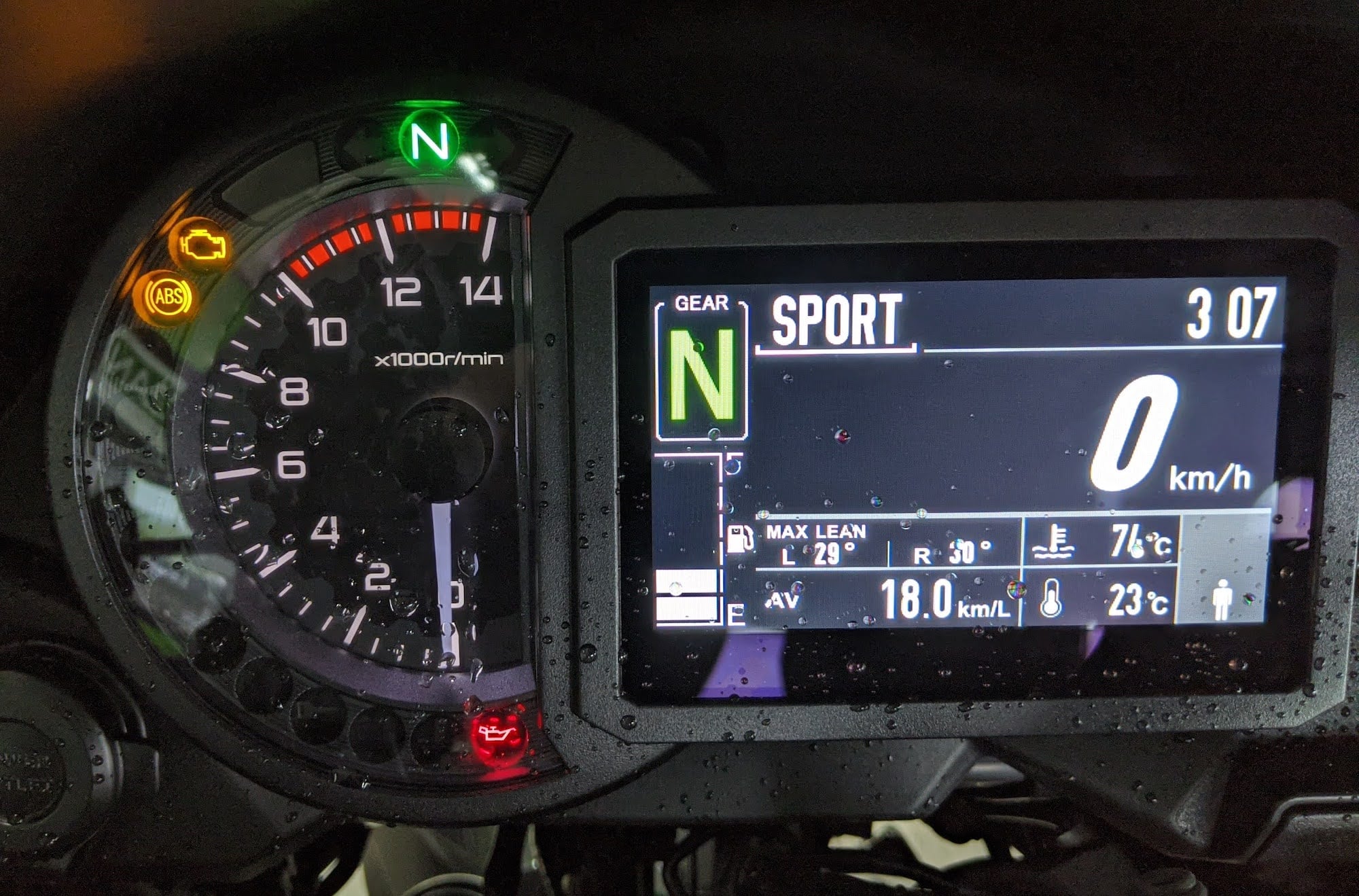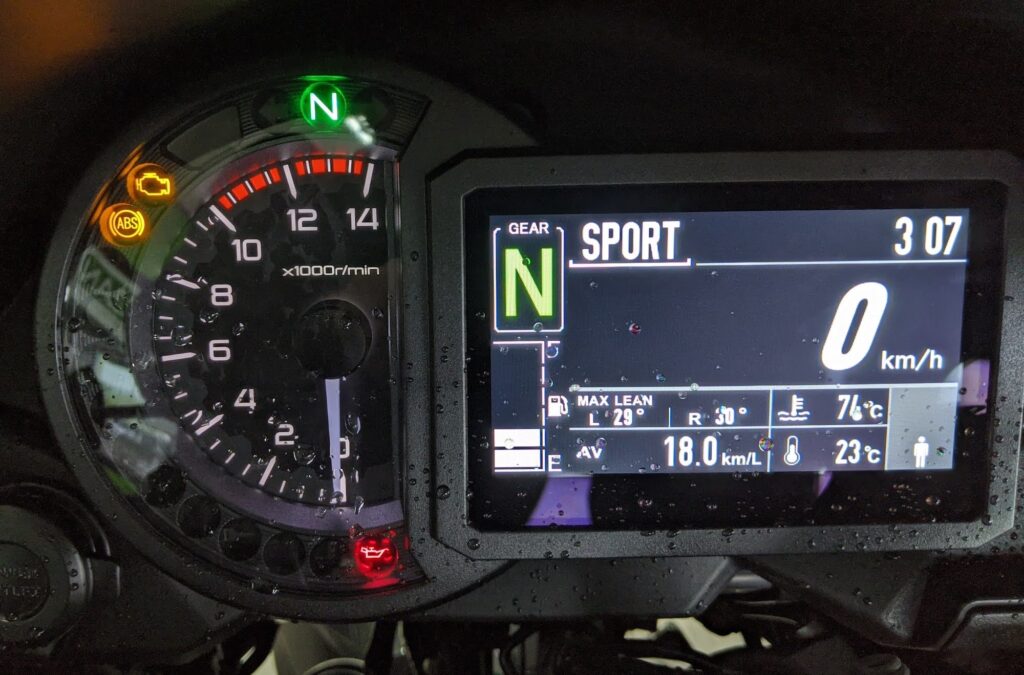 That's basically what I thought about the Versys' handling: easy.
Alternatives to the Kawasaki Versys 1000 SE
OK, so you're thinking of a Versys 1000 SE, but like me, you're also thinking about what else might exist in the class.
The ones that come most immediately to mind as multi-cylinder adventure sport tourers are the 2021+ Yamaha Tracer 9 GT, the BMW S 1000 XR, the Triumph Tiger 900 GT, and Kawasaki's own Ninja 1000 SX.
Alternatives in a nutshell
Here's a comparison table summarising the alternatives in a nutshell.
These bikes all have an IMU and cruise control, assuming you get the relevant options (e.g. ABS Pro as part of Ride Modes Pro on the BMW S 1000 XR).
| Spec | Kawasaki Versys 1000 SE (2019+) | Yamaha Tracer 9 (2021+) | BMW S 1000 XR (2015+) | Triumph Tiger 900 GT (2022+) | Kawasaki Ninja 1000 SX (2020+) |
| --- | --- | --- | --- | --- | --- |
| Engine | 1043 cc inline four | 890 cc triple | 999 cc inline four | 888 cc triple | 1043 cc inline four |
| Peak power | 88 kW / 117 bhp @ 9000 rpm | 88 kW / 117 bhp @ 10000 rpm | 121 kW / 162 bhp @ 11000 rpm | 70 kW / 94 bhp @ 8750 rpm | 105 kW / 140 bhp @ 10000 rpm |
| Peak torque | 102 Nm / 75.2 ft-lb @ 7500 rpm | 93 Nm / 69 lb-ft @ 7000 rpm | 114 Nm / 84 lb-ft @ 9250 rpm | 87 Nm / 64 ft-lb @ 7250 rpm | 111 Nm / 82 lb-ft @ 8000 rpm |
| Wet weight | 258 kg / 569 lb (LT spec) | 220 kg / 485 lb (GT spec) | 226 kg / 498 lb | 229 kg / 505 lb (measured) | 235 kg / 518 lb |
| Cruise | Yes | Yes | Yes | Yes | Yes |
| Heated grips | Yes | Yes | Yes | Yes | Optional |
| Semi-active suspension | Yes | Yes | Yes | No | No |
| Price | Pricey | Affordable | Very pricey | Pricey | Affordable |
Kawasaki Versys 1000 SE alternatives
More details below.
Yamaha Tracer 9 / GT / GT+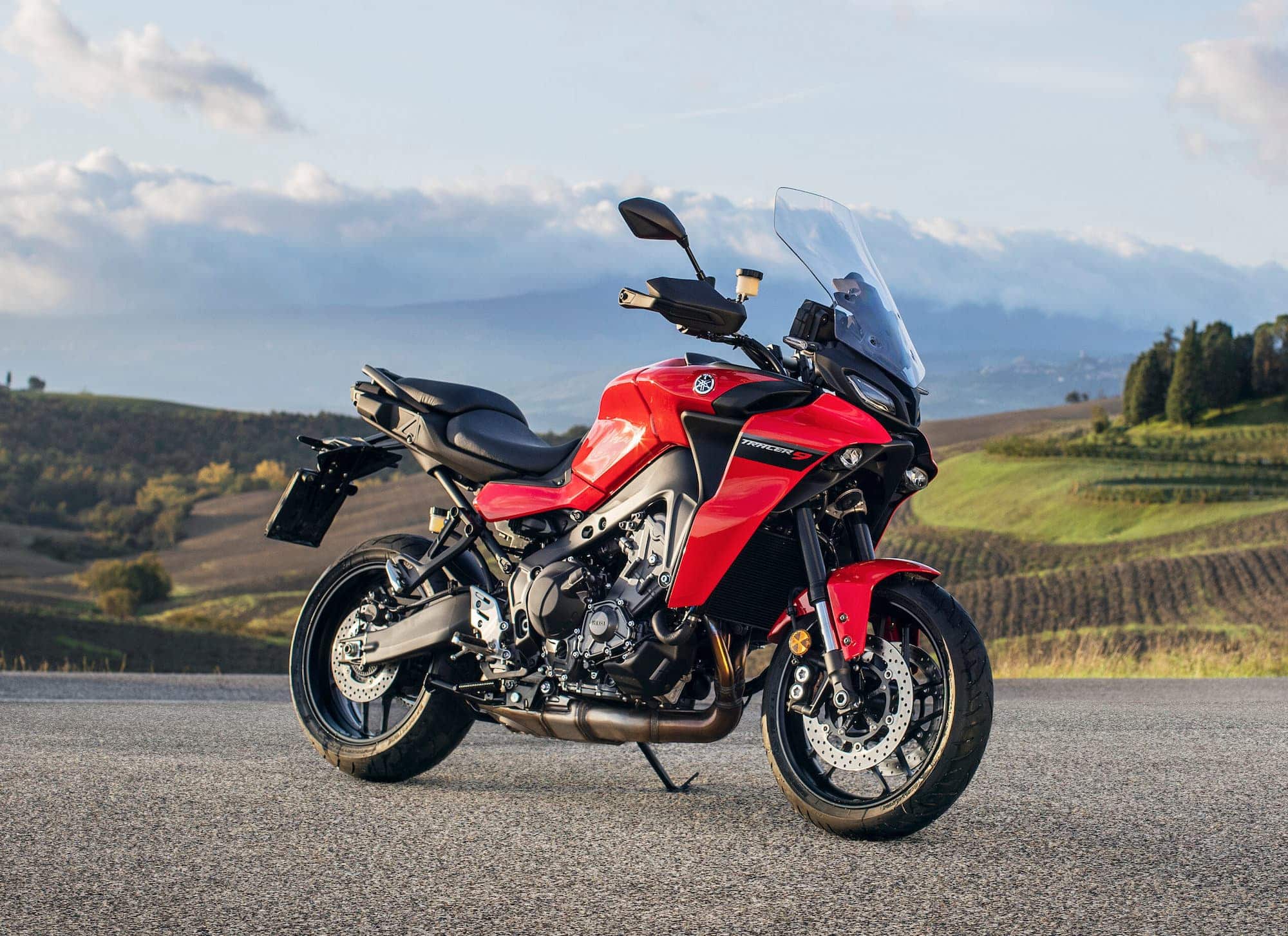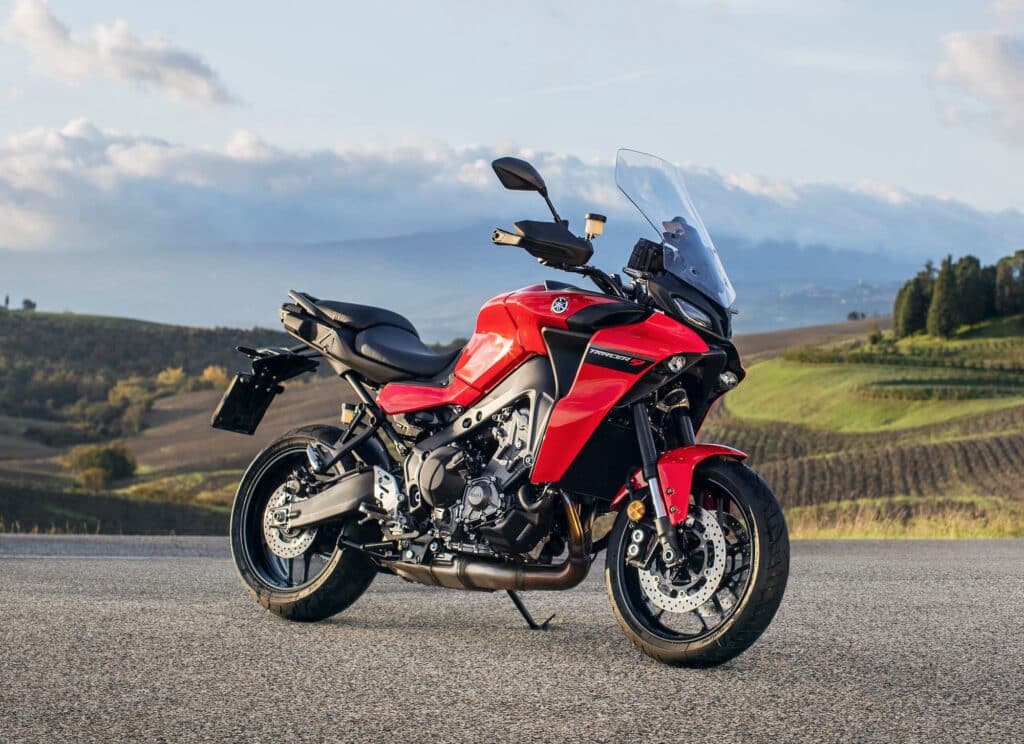 The Tracer 9 is the updated replacement for the older (but still interesting) Tracer 900. Like its predecessor, the Tracer 9 comes in "GT" spec, which is the one with bags, active suspension, and some other stuff. In some markets, the GT is the only spec sold.
I really liked the Tracer 900 GT's value proposition. It was really affordable even brand new with "the lot" — luggage, centre stand, cruise control, and heated grips. I rode one around France for a bit and like it, but didn't feel excited enough about it to buy one.
The Tracer 9 got quite a few upgrades over the Tracer 900. It's not just a bigger engine! This is what the Tracer 9 got:
A bigger 890cc engine that makes a bit more peak power and torque than the previous motor, and almost as much as the Versys 1000
A six-axis IMU (cornering ABS and traction control)
Electronic semi-active front and rear suspension that adjusts damping in response to road conditions (on the GT)
LED lighting, including cornering lights
On the GT+: Adaptive cruise control (with front and rear radars).
Aside from that, the Tracer 9 has much of the same — cruise control, heated grips, and adequate protection for everyday adventures.
The Tracer 9 makes roughly the same power as the Kawasaki Versys 1000, but it's a lot lighter, weighing in at 220 kg wet, vs the Kawasaki's 239 kg (comparing each with full luggage options).
If you want a sportier ride, pick the Tracer 9. The one caveat — the adaptive cruise control on the Tracer 9 GT+ is quite unique. If you want that feature, there are only a few other bikes with it.
BMW S 1000 XR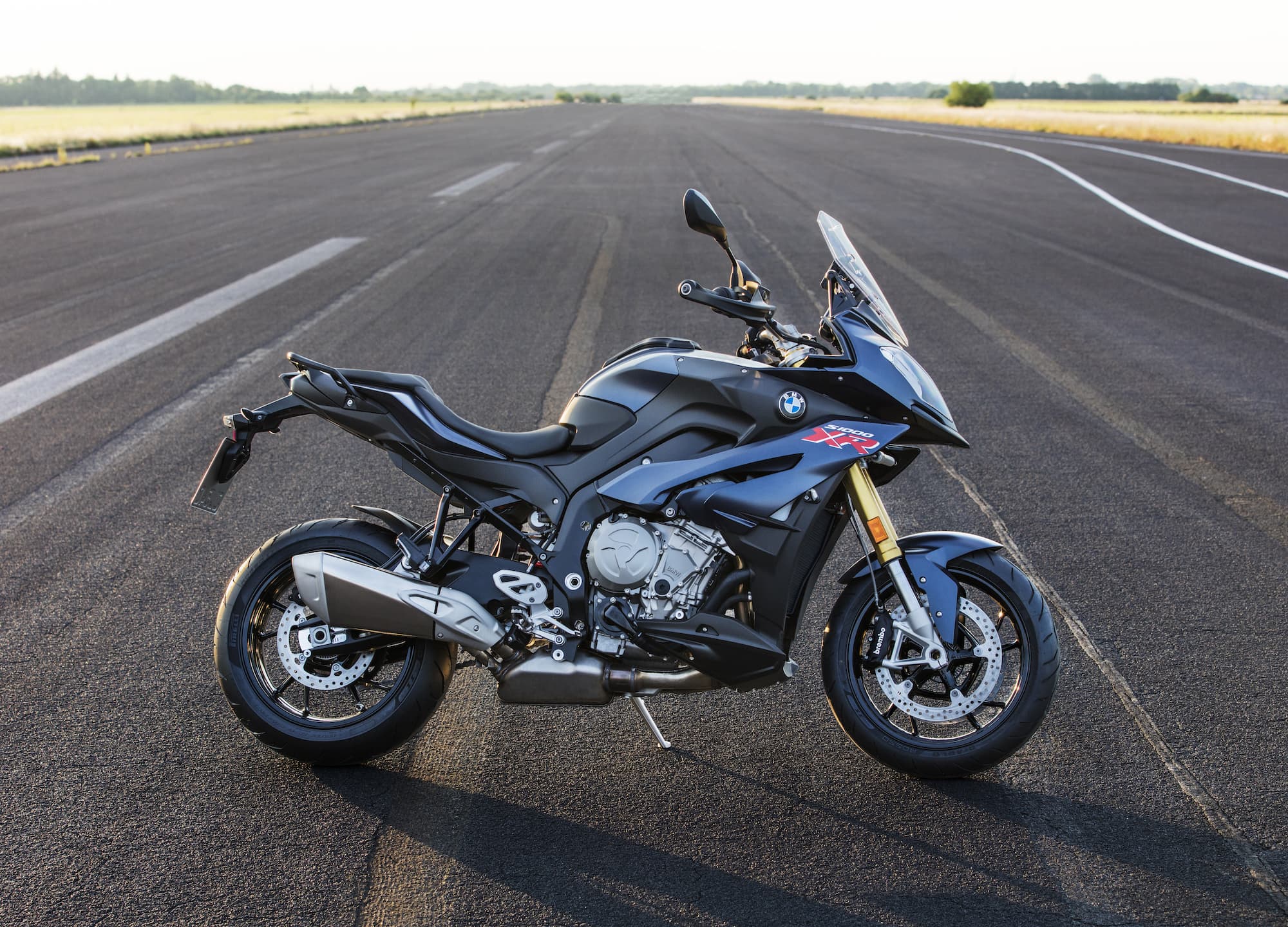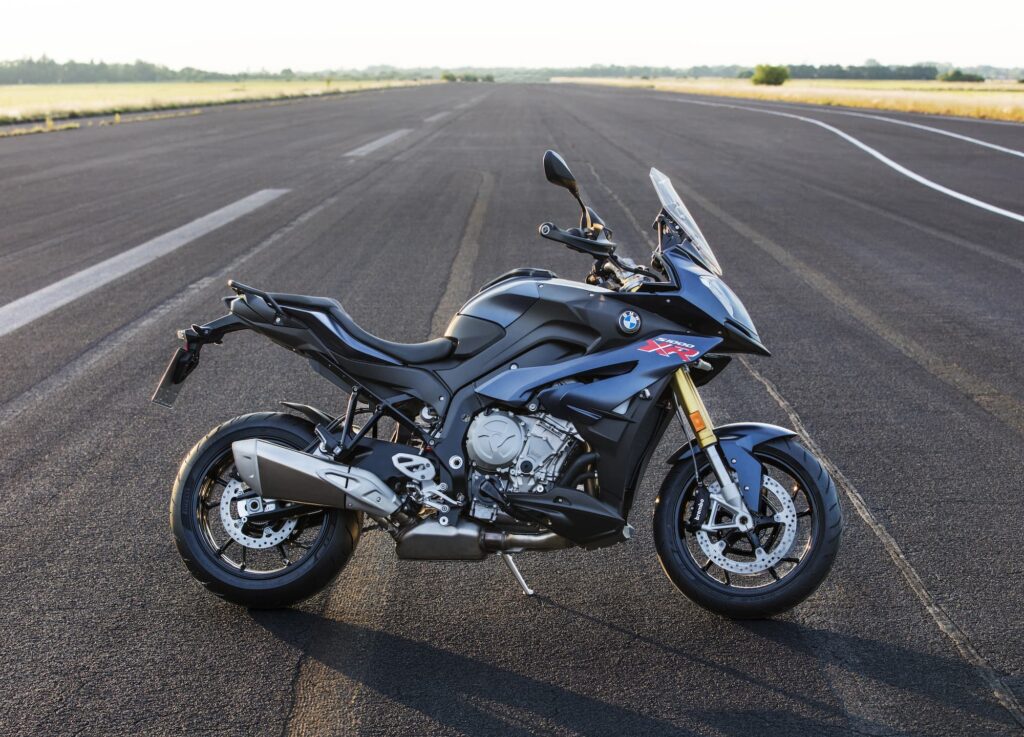 The BMW S 1000 XR is the premium alternative to the Kawasaki Versys 1000 SE. I mean, it's a BMW!
Gosh, it's a handsome thing. Or is it just that BMW's photographers are really good? Maybe it is, because it actually looks a lot like a Kawasaki Versys 1000 to me. And it came out later.
BMW first released the S 1000 XR in late 2014 for model year 2015. It was (and still is) based on a detuned version of the engine from the legendary BMW S 1000 RR superbike — a 999 cc inline four-cylinder engine that makes peak power of 118 kW (160 PS / 158 bhp) at 11000 rpm, and peak torque of 112 Nm (83 lb-ft) at 9250 rpm.
The BMW S 1000 XR is obviously very powerful. You know it even if you're not told it. It may be an adventure sport tourer, but from the moment I first sat on one I thought it felt taut, and from the moment I grabbed the throttle I knew it was quick.
I never thought of the Versys as slow. But there's no way I'd say the XR is not fast. (I have to write about this one, too…)
The BMW S 1000 XR came with a lot even then (some as optional items) — cruise control, ABS Pro, and semi-active suspension. Yow! Owners on Versys forums were quick to deride the abundance of technology, but lo and behold, the Versys has caught up in that regard.
If all your friends are on literbikes, aim for the XR… if you can swing the sticker price.
If I were picking between both, I'd likely take the Versys as the value pick. But I'd be tempted by a slightly older model XR, for sure.
Triumph Tiger 900 GT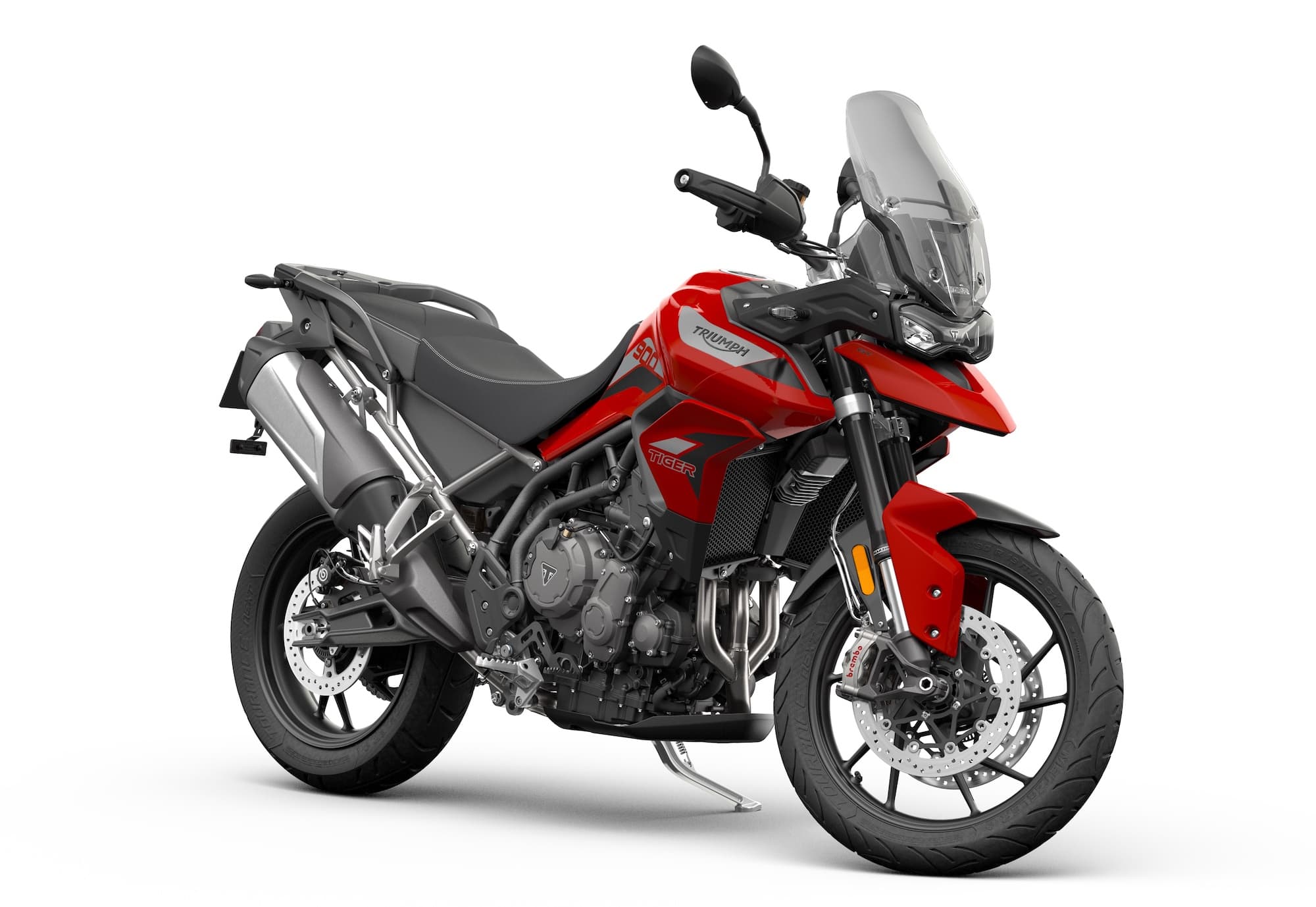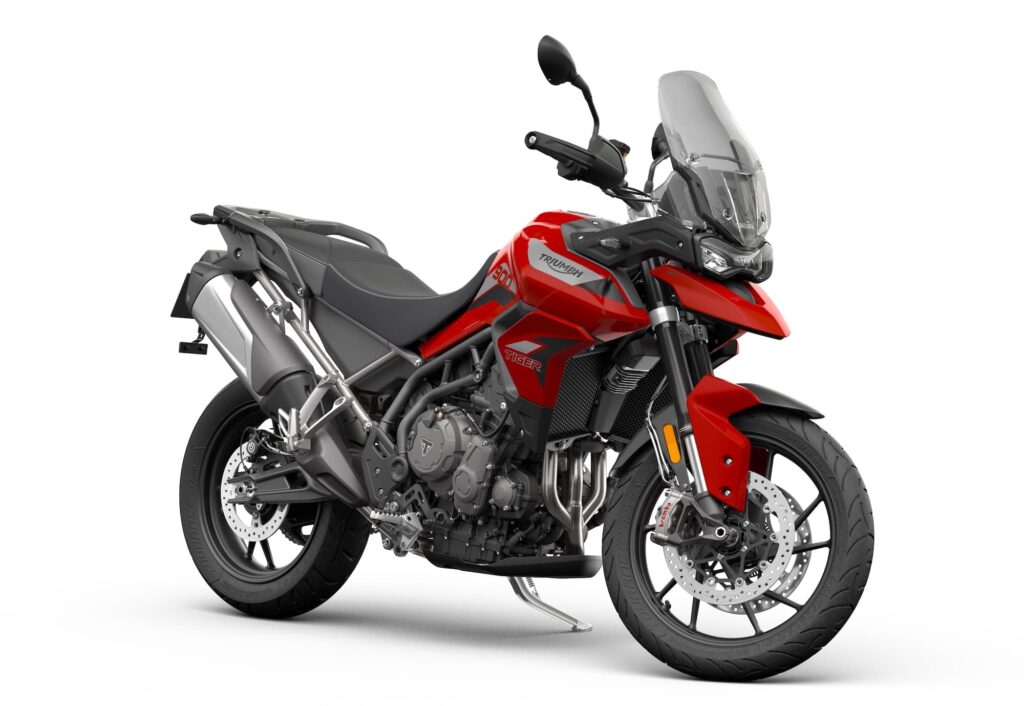 The Triumph Tiger 900 GT is conceptually similar to the Tracer 9: a road-going middleweight adventurer with a three-cylinder engine (of roughly the same capacity and power).
Being a Triumph, it looks good, and comes in a lot of flavours. The GT and GT Pro are the road-going versions, and the Rally and Rally Pro are the more adventure versions that are happier off-road.
The Tiger 900 GT comes with cruise control and heated grips, but doesn't come with active suspension. In fact, if you pony up for the GT Pro you'll get an electronic (passive) rear suspension unit that's adjustable for preload. But only Triumph's Tiger 1200 range gets semi-active suspension.
Kawasaki Ninja 1000 SX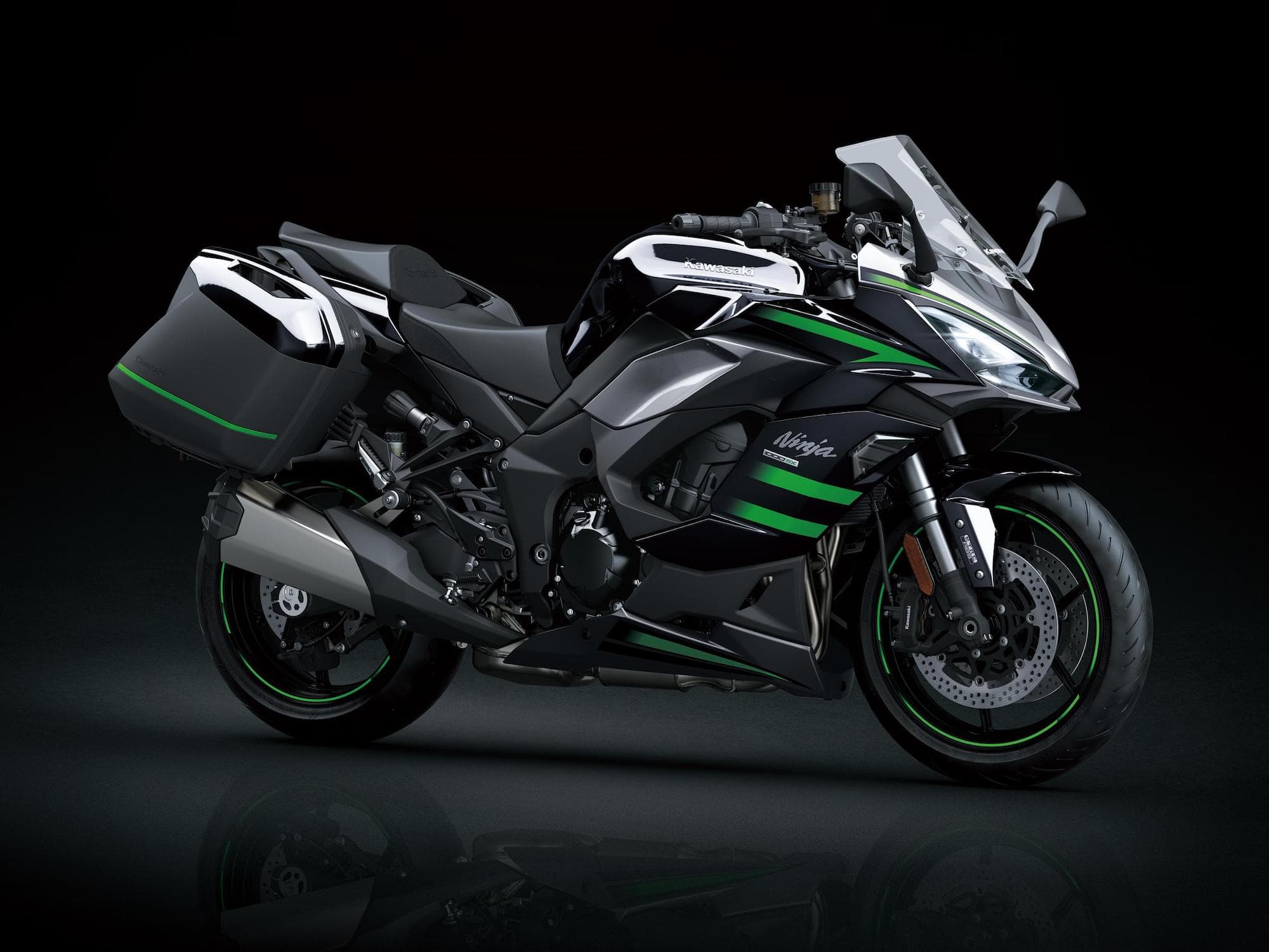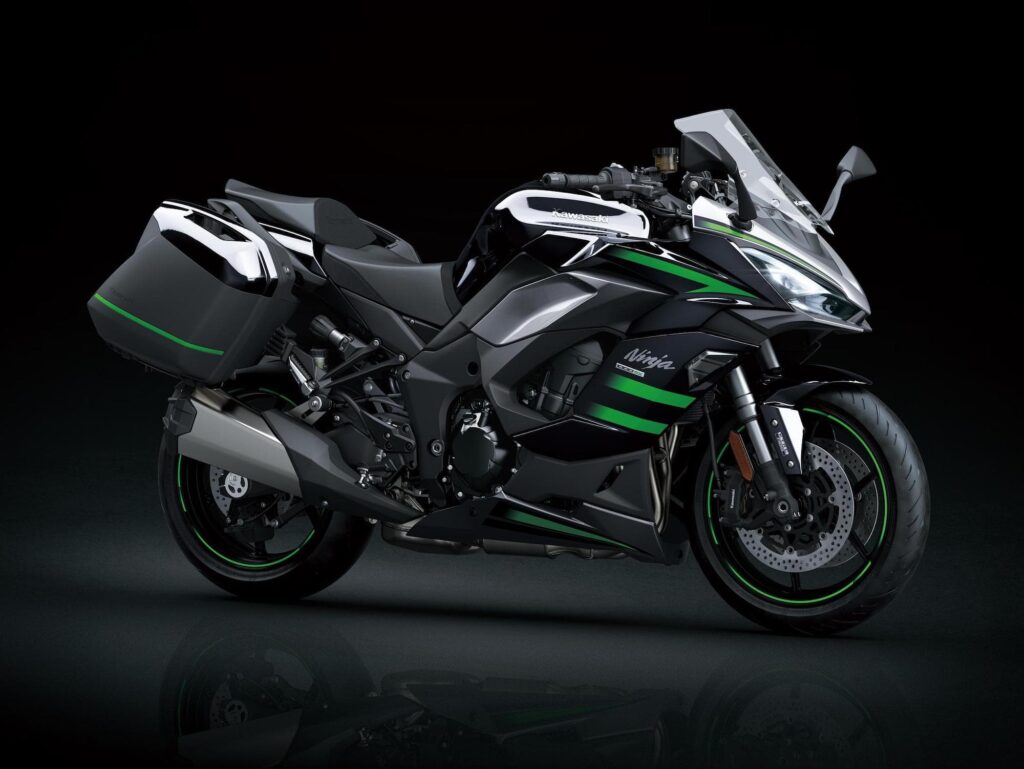 Lastly, Kawasaki has a more compact version of basically the same bike, the Ninja 1000 SX.
The thing that makes the Ninja 1000 an alternative to the Versys is that it's still definitely a comfortable sport tourer. You sit nearly upright. You get baggage and heated grips if you want them. And you even have the same engine block in it.
In fact, it's definitely a comfortable motorcycle. It's just that the Versys 1000 is even more comfortable!
In the Ninja 1000, the engine is tuned a little more for high power. It makes peak power of 104.5 kW (142 PS / 140 bhp) at 10000 rpm, with peak torque of 111 Nm (82 Nm) at 8000 rpm. Heaps of power. And the Ninja 1000 is not a heavy bike, with a curb weight of 235 kg despite having loads of rider protection.
On the 2017 Ninja 1000 we got an IMU for cornering ABS, and on the 2020+ Ninja 1000 we get cruise control. Heated grips are an option. But of course, on the Ninja 1000 you don't get semi-active suspension, and of course you get less protection.
Really on the Ninja 1000 you just get a little less of the most extreme ends of comfort — e.g. you can easily get wind protection up to the shoulders, but don't expect a quiet bubble of air like on the Versys. And on dirt roads it might be a little hairier.
If you don't mind tucking to avoid the wind and rain, and don't need to be held up from the sky by Skyhook suspension, then you want the Ninja.
Sum Up
So, I didn't buy the Versys right off the bat — I never buy the first bike I see! But I learned something new: that it's possible to get a comfortable position, a reasonable wind bubble, and an engaging ride.
I really relished being comfortable. Sportbike fanatics still appreciate a good couch. And I like the idea of chasing horizons from the comfort of a grand touring sofa… the time for that is definitely approaching.