Recently, while shopping for a BMW S1000R or S1000RR (I ended up buying an S1000R), I was quite confused by the different words used to describe braking systems in BMW.
They had "Race ABS", "ABS Pro", and sometimes, they mentioned cornering ABS.
BMW Motorrad, its motorcycle division, calls its version of cornering ABS "ABS Pro".
But for a while longer, BMW has also had another feature on its motorcycles — "Race ABS".
These two sound so similar that people get them confused, so I after a lot of asking around, I've figured out the differences!
Note: This isn't a criticism of BMW's naming scheme. It's very clear when you're buying new. It's just that when you buy a used bike, it's harder to find the information as it gets updated over and over again on the internet. Poor reporting by many (even high-end) magazines, plus lazy Wikipedia entries, confuse the issues even further.
Are you obsessed with motorcycles?
Well, I am. That's why I created this site — as an outlet. I love learning and sharing what others might find useful. If you like what you read here, and you're a fraction as obsessed as I am, you might like to know when I've published more. (Check the latest for an idea of what you'll see.)
BMW Race ABS vs ABS Pro in a nutshell
In a nutshell…
Race ABS is BMW's name for their combined ABS system they use on sport bikes. It is ABS that alters the amount that it intervenes in the front and rear depending on traction and riding conditions.
ABS Pro is BMW's name for cornering ABS. It's retrofittable on 2012-2014 BMW S1000RR, standard on 2015+ BMW S1000RR, and is an option on the S1000R and S1000XR in all model years.
Both Race ABS and ABS Pro change in nature depending on the ride mode you choose.
You can retrofit ABS Pro to a large number of BMW motorcycles, even where it wasn't available standard.
The S1000 series' history with ABS
ABS has been fitted as a factory standard feature since the first BMW S1000RR in 2009. The S1000RR was the first supersport-class bike to come standard with ABS.
Later, the S1000R and S1000XR also came standard with ABS. It was less surprising in the touring-oriented S1000XR, but even for the S1000R (a naked sport bike), it was an unusual thing to have ABS as standard — and especially for it to be combined ABS that intervened with the back wheel as well as the front.
What is BMW Race ABS?
Race ABS is what BMW calls its ABS system introduced on the BMW S1000RR, and is a replacement for the previous combined ABS system, BMW Integral ABS II.
Race ABS is, at its core, ABS and combined braking. It means that when you use the front brake lever, a bit of rear brake is applied — the amount depending on the ride mode you're in (and the riding conditions).
To identify rear wheel lock-up, Race ABS uses four pressure sensors and rear wheel lift-off detection to differentiate between an uneven surface and a locking up rear wheel.
When you use the rear brake pedal, under Race ABS, only the rear wheel brake is activated. I.e. it's not two-way combined braking — front activates combined braking, but rear activates only rear.
On the S1000RR, in the "Race" and "Slick" riding modes, Race ABS doesn't do anything — the rear wheel lift-off detection does not intervene in the rider's braking requests. The "Slick" mode basically turns off Race ABS (i.e. the system that applies a bit of rear brake) but keeps ABS on the front wheel, letting riders do a braking drift without forgoing the benefits of front wheel ABS.
If you're building a track-only bike, Race ABS can be switched off entirely, but you need a BMW mechanic to do it (and I'd go to a dealer).
On the BMW S1000R and S1000XR, rear wheel ABS is switched off in Dynamic Pro mode (which is available as part of the "Sport" package with Riding Modes Pro). Thus, there is no Race ABS in Dynamic Pro mode.
However, in Dynamic mode, Race ABS is still active — but it intervenes later.
What is ABS Pro?
ABS Pro is BMW's name for cornering ABS, or lean-angle sensitive ABS.
ABS Pro uses accelerometers to identify lean angle and it adjusts ABS intervention accordingly. The goal of ABS Pro is to let you grab a handful of brake while going around a corner and still just gently role to a standstill.
BMW describes it as a function designed for public roads, where you might have to grab the brakes at any moment — including while cornering. The system ABS Pro system prevents the wheels from locking up even when the brakes are applied quickly while cornering. This reduces stops the motorcycle from standing up unintentionally.
BMW first had ABS Pro on some of its high-end adventure and touring motorbikes, like the R 1200 GS and K 1600 GT lines.
But in the sport bike world, BMW first offered ABS Pro as a retrofit option for the HP4 in 2014. Later, they began to offer ABS Pro as a retrofit for the 2012+ S1000RR.
On the S1000R and BMW S1000XR, ABS Pro is a component of "Riding Modes Pro", which is part of the "Sport" package.
On both the S1000R and S1000XR, ABS Pro is switched off when you switch to Dynamic Pro mode, or a custom user mode.
On the pre-2017 S1000RR, ABS Pro isn't available on User and Slick modes. After 2017, ABS Pro became available in User mode on a 2017 S1000RR, per the manual.
How do you know if your motorbike has ABS Pro?
The most tell-tale sign your motorbike has ABS Pro is if you see it at startup.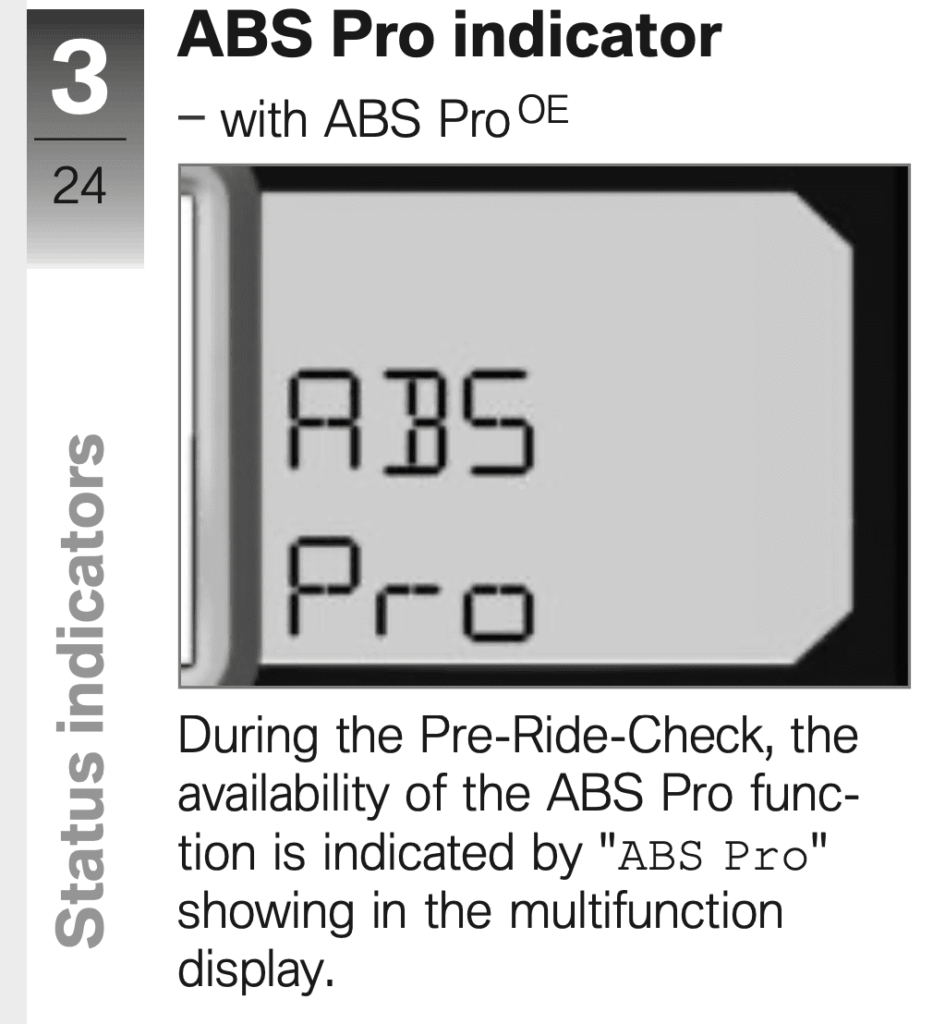 If you're inspecting a bike remotely, you can be confident it has ABS Pro if it's
A 2015+ S1000XR with the "Sport" package
A 2017+ S1000RR with the "Sport" or "Race" packages
A 2017+ S1000R with the "Sport" package
Of course, it could have been retrofitted to an earlier S1000R or S1000RR — See below.
Can you retrofit ABS Pro? How much does it cost?
You can retrofit ABS Pro onto
S1000RR models from 2012 onward
All S1000R models from 2014 onward (when it was released)
All S1000XR models 2015 onward (when it was released)
The cost of the upgrade varies, but it's around 300-600 Euros, or around 300-600 USD. Seems to depend on your country and dealer (and who you ask). I've seen prices as high as 800 CAD in forums, or 750 AUD.
The upgrade ranges from a software update to the fitment of a small piece of hardware plus a software update. If you already had Riding Modes Pro, then you have the required hardware.
Note the parts diagram below showing the hardware you need to retrofit ABS Pro to a K47 (2014-2016) BMW S1000R. Unless you have DTC/Riding Modes Pro on the S1000R, you need also buy the "Speed Sensor", which is an additional massive amount of money.
Otherwise, it's mostly enabling codes.
Thus, if you want to retrofit ABS Pro to a motorcycle you haven't bought yet, make sure it is one with DTC/Riding Modes Pro (i.e. with the Sport option package) to potentially save you money.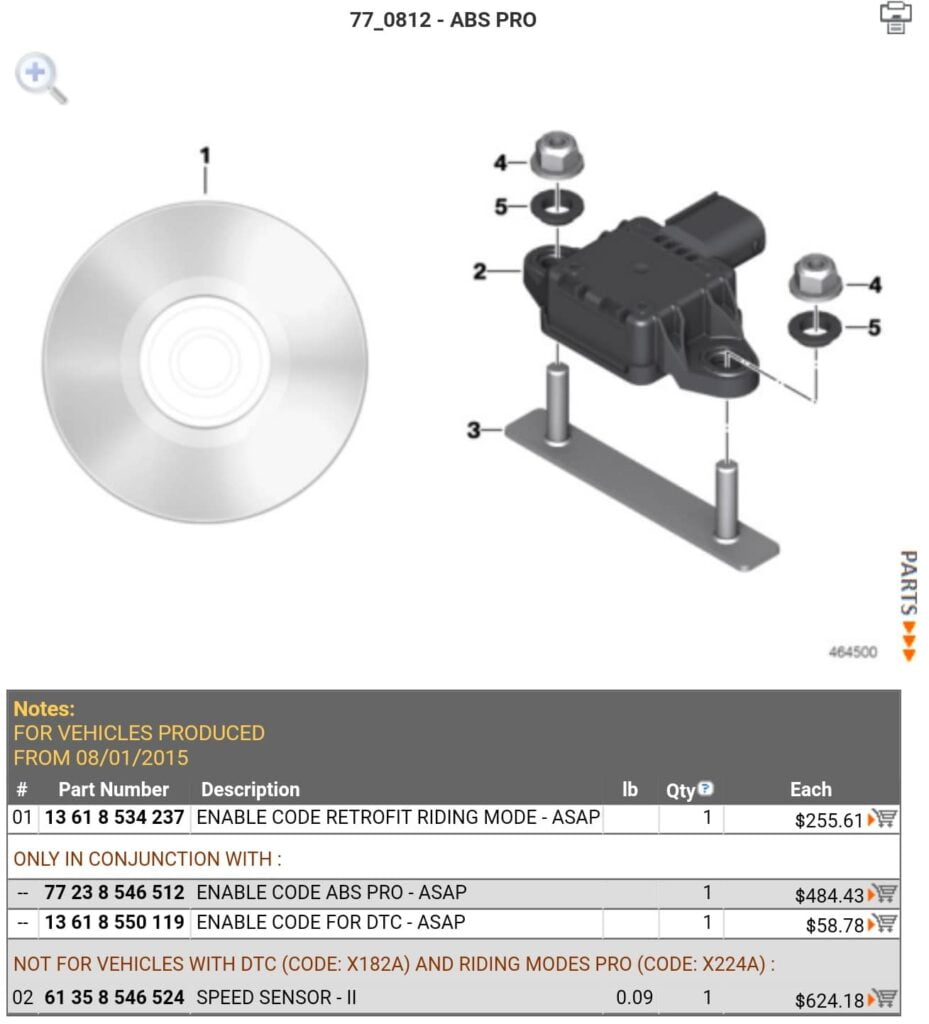 There's a lot more detail and special situations that I haven't gone into here.
For example
I don't know if you need Race ABS on 2012 to 2014 S1000RRs (because it was only standard from 2014+) to fit ABS Pro aftermarket
I don't know if you need some "Sport" or "Dynamic" package on the 2012-2014 S1000RRs to fit ABS Pro aftermarket
If you are still confused and one of these situations apply to you, drop me a line and maybe I can help you work it out and also update this guide.
Or alternatively, if you work it out with a dealer, I'd love to know the details.