In 2018, I started renting out my motorcycles on what was then a new app, Riders Share. It was a very interesting experience, so I wanted to write out this riders share review to share some ideas about how to use the platform to earn passive income. Well, somewhat passive.
"Rent out your motorcycle?? You're crazy!" you cry. I agree. But in my defence, I had already decided to sell my motorcycle.
And it wasn't a new V-Rod, nor a used Ducati Superbike. It was a beater. And I was going to make a few bucks off it!
Renting out motorcycles is a great way to earn income on your woefully unused motorcycles. You aren't going to get rich, but this is a way to make affordable owning too many motorcycles — as long as you're willing to do basic maintenance.
You already know that motorcycling is a money pit of a hobby. Generally speaking, you can spend anywhere from a minimum of hundreds to many thousands a year on regular upkeep (chain, tires, oil etc.), major services, registration, insurance, gear, parking tickets, undercover parking, and that's before you buy those new motorcycles you've lusted after. It really adds up!
But renting out motorcycles, even if they're not your main steed, is a way of making motorcycles less painfully expensive. And in some cases, you might even make it profitable!
Sign up to Riders Share. Make some cash, meet some riders, and get a discounted first rental.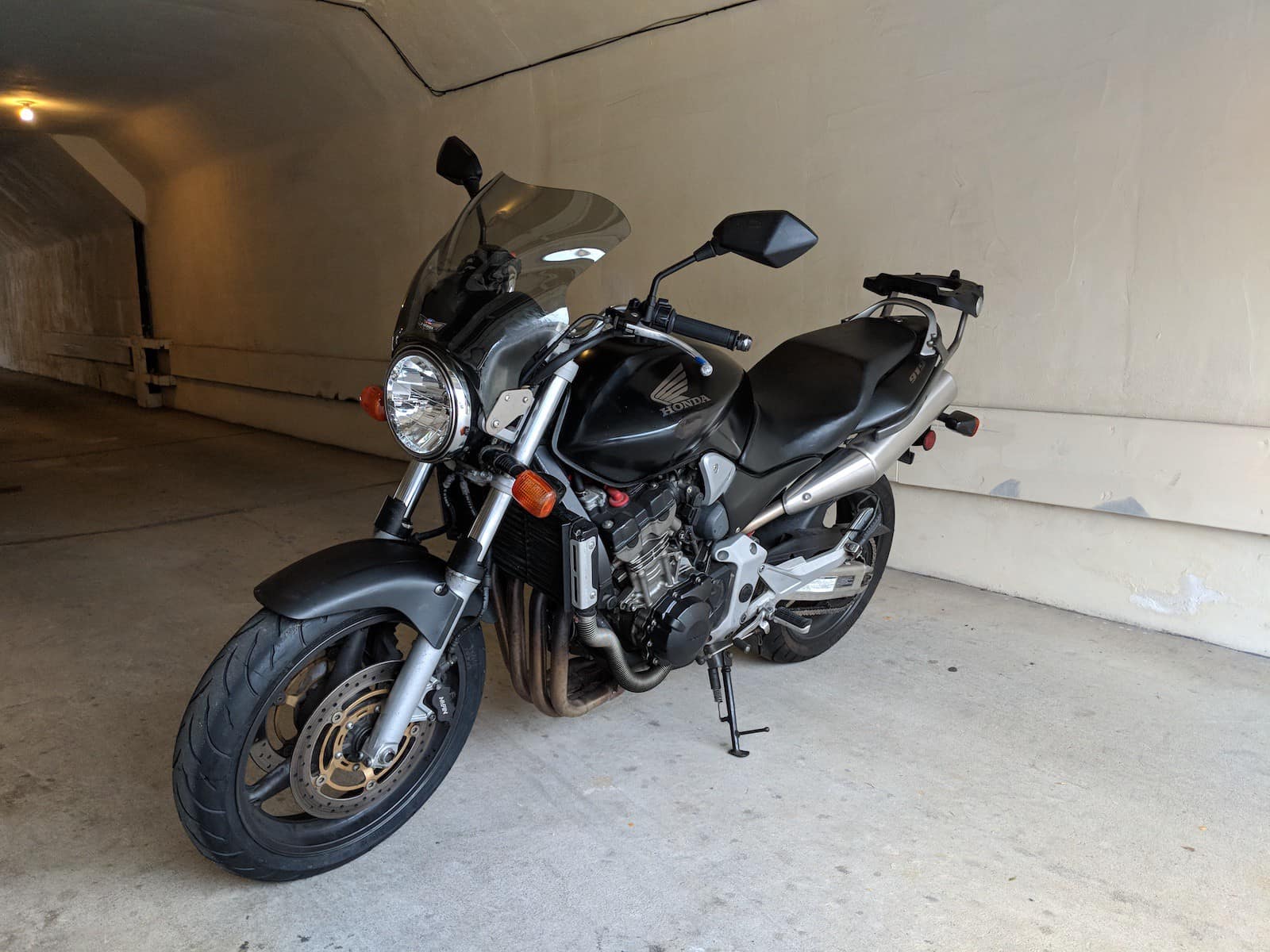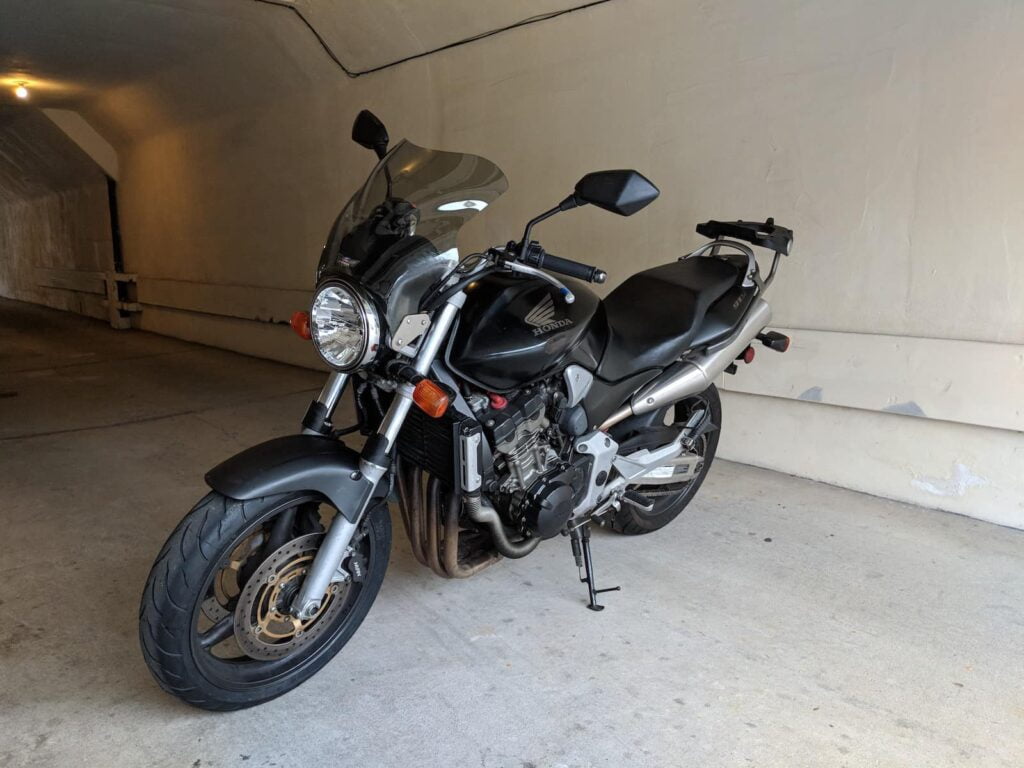 Here's how  to rent out motorcycles easily —  a magical new(ish) startup based in Los Angeles called Riders Share.
Founded by Guillermo Paco Cornejo, it basically works like Getaround does for cars, but for motorcycles. You make a listing, add pretty photos of your motorbikes and pricing, and then (if there's any demand for your model and at that price), watch the bookings come in.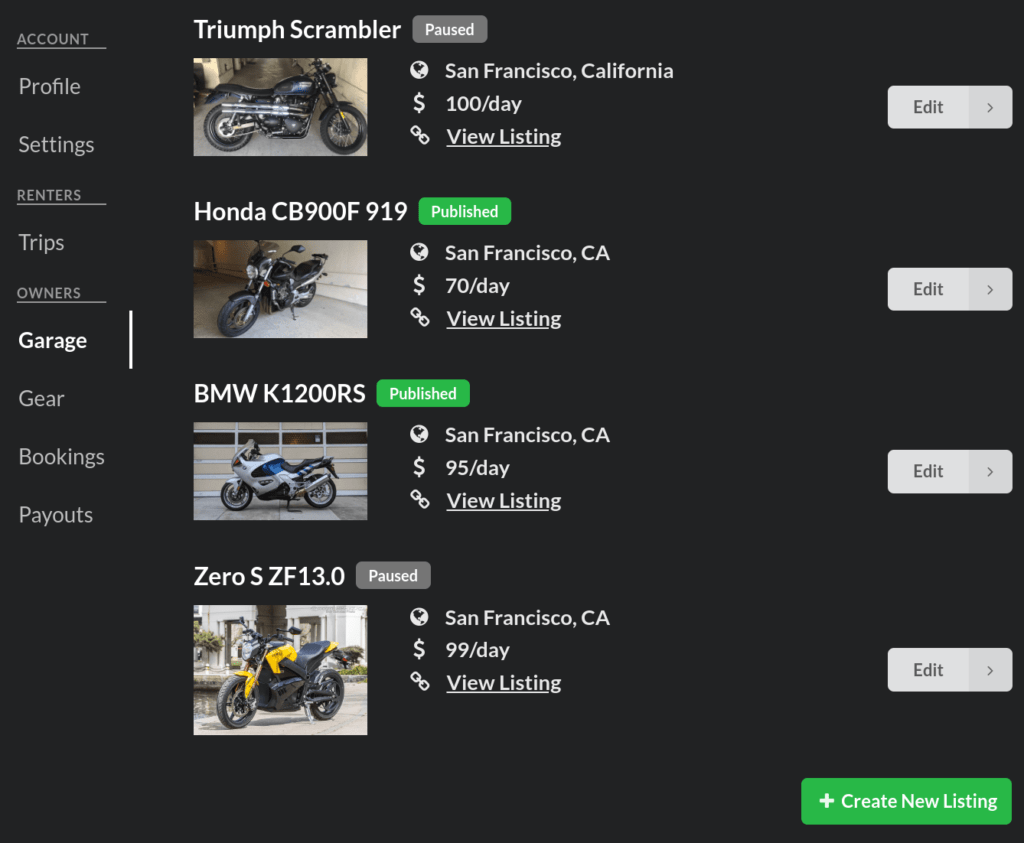 Here's how it worked for me, plus a business case for how to do it.
Are you obsessed with motorcycles?
Well, I am. That's why I created this site — as an outlet. I love learning and sharing what others might find useful. If you like what you read here, and you're a fraction as obsessed as I am, you might like to know when I've published more. (Check the latest for an idea of what you'll see.)
The business case for renting out motorcycles on Riders Share
Most people ride just on weekends. Some, not even every weekend. There's a popular statistic that John Zimmer of Lyft likes to mention, that cars are > 95% un-utilised — just sitting around in parking spaces. This number must be SO MUCH HIGHER for motorcycles.
On the other hand, demand (usually by out-of-town travellers) is high. You can buy a popular older motorcycle that is low maintenance, of generic appeal and reliable, and have a reasonably high ROI.
The profit target for renting out motorcycles on Riders Share
How much money can you make? It depends on the model and pricing (see the tips below). But you can make around $1–2K per year per motorcycle, which is pretty amazing considering it's something most people SINK a lot more money into.
Here's a simple model I made to show this.

Investment required to rent out motorcycles
You're going to have to buy a motorcycle. Maybe a second one, if you don't want to rent out your first (it's your baby/it'll be too nightmarish dealing with a crash/you don't want people to thrash your R1).
There are two ways of doing this.
Firstly, you might want to rent out an older motorcycle, one that is worth $2–3K —  generally anything that has stopped depreciating but that isn't too old or the platform.
Motorcycles stop falling in value and maintain it at a certain point. They become valued as something that runs, is regularly serviced, and is in roadworthy condition.
Alternatively, you might also want to buy a newer motorcycle, and consider your investment to be the purchase price minus the eventual sales price — it is possible to factor in selling the motorcycle in a few years for a lower price.
For example, I could justify buying a newish Triumph Bonneville for $7,000, then selling it for $5,000 in two years time.
Ongoing costs of running a motorcycle rental business
Ongoing costs include two major parts. One is regular maintenance (tires, chain/sprockets, oil, plugs, filters), and one is major service (valves). Most regular maintenance you can do yourself, but you can even outsource that if you need to.
Few people choose to do valve inspections and adjustments on a range of motorcycles (unless they LOVE being a mechanic), so feel free to outsource that to a competent local mechanic.
Return on Investment of renting out motorcycles
Here, I look at EBITDA — i.e. not factoring in depreciation costs or the amortisation of major spend.
This is because I presume anyone renting out a motorcycle would be renting out something slightly older, which have negligible depreciation costs (the value is maintained and directly relative to how well maintained they are).
Also, EBITDA is the best way to understand payback period relative to your investment (either the total purchase price of an older vehicle, or the depreciation of a newer one).
How to hit profit targets — tips
Here are some tips for making your listing attractive.
Have a great listing that appeals to the target market. If you've sold motorcycles before, this is a different style of writing. Think of your target market: probably from out of town, many just looking for fun. They're not looking for a dream ride, they're just looking to blast around.
Things that help are
Having a cheap, versatile, reliable, and fun machine
Options like luggage, a throttle lock, heated grips
Having gear to rent
Being available at various hours
I've rented a 250cc single cylinder in random countries and had a BLAST compared to the alternative (a buggy or car). Depending on the part of the country, they might want to get to some of the long roads out there.
So write a listing with copy that bears this in mind. Sell the feeling, don't sell the motorcycle. You don't need to worry about dings in the paint.
Buy some cheap gear (helmet, gloves). You know those $100 helmets you'd never wear yourself? Well, as long as they're DOT approved and in good condition, those are the difference between life and death, and in many states, between legal and illegal.
Having helmets on hand will help the rental happen with those many out-of-towners who didn't even think to bring a helmet (90% of them), or those who would rather not because they're huge. Buy size large. It'll do for most people.
(You can lend your own gear, but that's even more intimate than sharing your motorcycle. Gross!)
Offer services to help, and make this explicit in your ad. Let them store gear at your house if they over-packed. Give them tie-downs for their luggage and locks. Make sure your motorcycle is equipped with a phone mount and charger. Offer a ride to/from their hotel or AirBnB if practical. All this stuff helps!
Be strategic with pricing. Check other ads in the area. Don't price based on cost to yourself; priced based on what is likely to be attractive to a potential renter. Just one more reason not to rent out that 2018 model BMW R 1200 GS.
Do your own basic maintenance. After every renter returns their motorcycle to me, I clean and lube the chain and wipe it down. I start it and check the miles and see if it needs an oil change, and look at the brake pads. Aside from that, motorcycles don't need much. When it comes to major service, you can opt to do your own valve inspections or outsource it.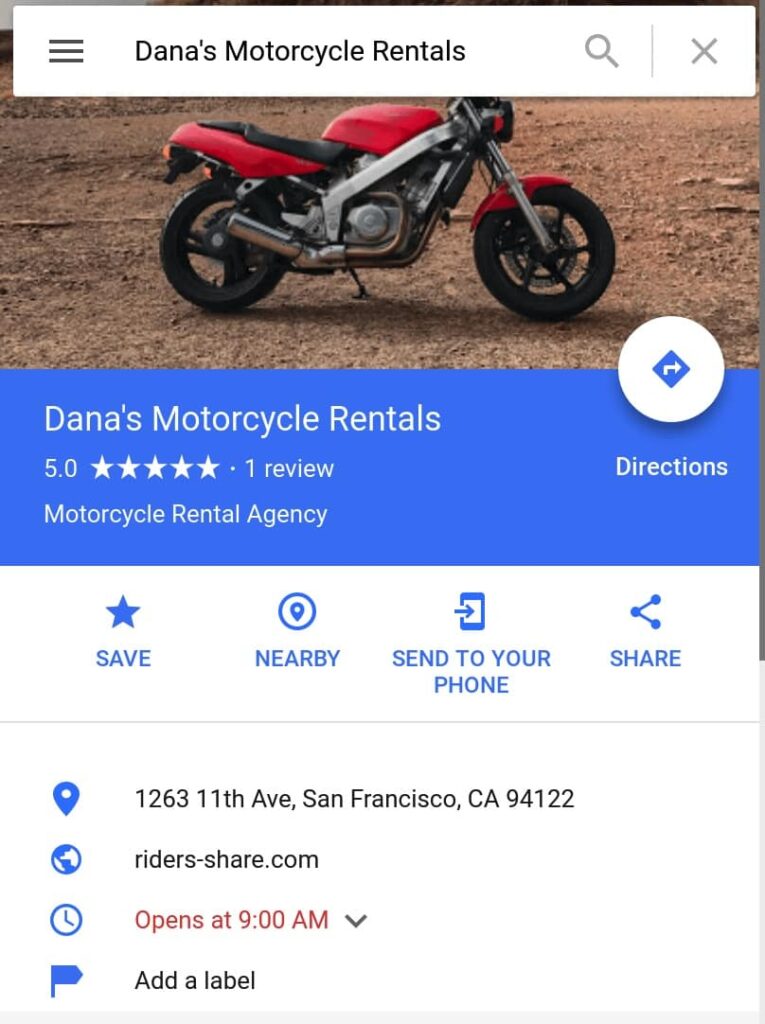 Buy models popular with renters. Buy only cheap but cool models that need infrequent major service, low insurance and cheap tires.
According to Riders Share themselves, some of the more popular models are Ducati Monsters, Triumph Bonnevilles and adventure bikes. This mimics what you see on the larger rental sites, so think about buying the older, cheaper versions of those.
If you can, prioritise models with things like
And throw on a cheap throttle lock so people have something like cruise control without spending big money.
Do your own marketing & promotions. I don't actually know what benefit this had, but I opened a Google Business site and made some posts. I took my phone number off (I just got a lot of phone calls that went nowhere).
FAQs
Here are a few things people keep asking me, so I'll answer them here.
How do you let some random person ride your motorcycle?? I would never do that!
It's quite hard to watch your baby go the first time. No matter how attached you are to your motorcycle, it's difficult watching someone else ride it off. Even when you sell it! Aside from this, bear the following in mind.
Firstly, most motorcycle renters are like you — lovers of the hobby, people who pay attention to their machines.
To most people who I've met through Riders Share, I'd have lent the motorcycle anyway. I'd probably have been their friends or riding buddies. They seemed cool. I bet they'd have done the same for me whenever I visited their hometown. I've never met any bad riders.
Secondly, you could consider buying a 'backup' motorcycle to rent out, something you're willing to let go.
One person dropped one of my bikes and scratched up the clutch cover a bit plus broke a brake lever. On anything unscratched, especially a new and expensive model with fairings, this would have been a major hassle.
But this was an old motorcycle that cost me less than $2K, had a salvage title (at the time, salvage title bikes were covered by Riders Share's policy — this has changed). And the best part — the rider replaced the brake lever before returning it to me with a new item. (These are good people.)
So think of all those motorcycles you'd buy if you could afford keeping them. Older machines that aren't a Panigale V4.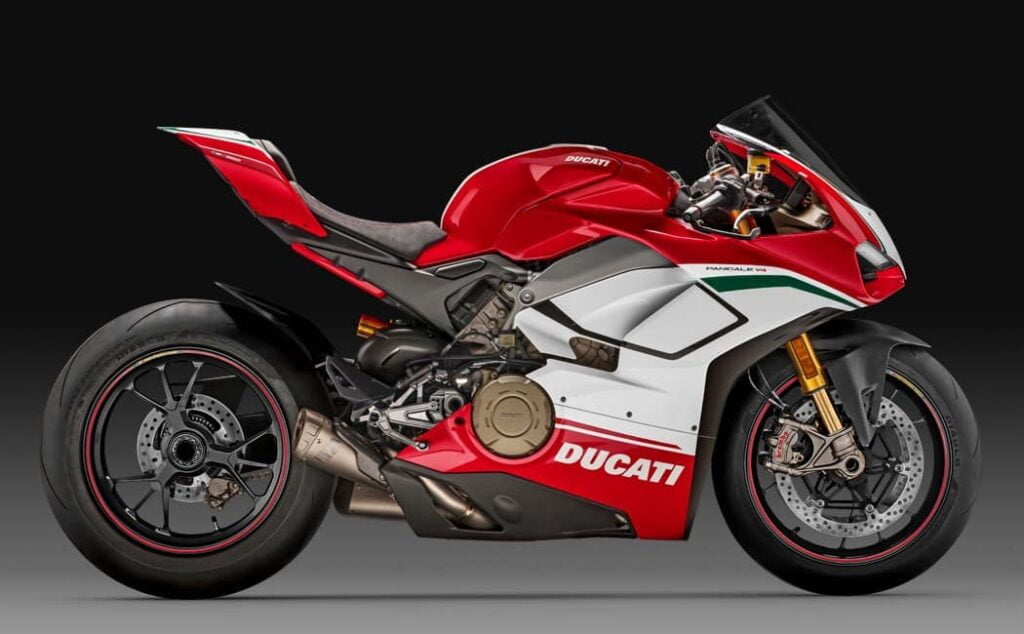 Around the SF Bay area, some popular machines (that I like) are:
Triumph Bonneville/Scrambler ($4–6K for a nice example)
Kawasaki KLR650 kitted out for adventure ($3–4K, kitted out for adventure)
Harley Davidson Sportster (older one) ($4–5K if stockish, well maintained)
Suzuki SV650S or Ninja 650 ($3–4K for well maintained)
The list goes on…
These are all machines that are reasonably reliable and unlikely to completely cark out on you (which is why I didn't have a Ducati in the list, as much as I love them. I don't want to do that much valve maintenance, as renters can put hundreds of miles a day on machines).
What about insurance? If they crash it, is it going to hurt my premiums?
Riders Share has a third party insurance policy with no risk to you, the motorcycle owner. Read it. Basically, the rider is liable for up to $2,000 themselves, and then after that it's covered by their insurance policy.
I've never used this website. How do people find out motorcycles that you have to rent?
Every person I've rented to has been using the website for the first time. They all have a similar story: They wanted to come to the Bay Area (where my motorcycle was), they wanted a motorcycle, but didn't want to fork out $150+ for a motorcycle from one of the major shops. So they found the website and found my machines.
In putting this post up, I'm hoping more people will find mine (and yours). Write about it! Publish about it on your local motorcycle forum! Every link helps the community grow.
Has anyone damaged one of your bikes?
There was one time someone damaged one of my bikes. They told me, but I didn't know the extent of the damage until I went to sell it (back to the mechanic who originally sold it to me).
The person admitted they dropped it at a standstill. They broke a brake lever. To their credit, they told me that they had, and got another brake lever and replaced it.
But they didn't tell me that the handlebar was bent. I didn't notice; and the person who bought it from me did notice. How do I know that this rider did it? The mechanic swore that it didn't used to have a bent handlebar, and now it did. I trusted him (definitely more than some random renter who crashed my bike).
Another thing that was wrong with the bike was that its fork seals were leaking. I suspect one of the people who rented it did wheelies. I never knew — I had omitted to check the fork seals when picking the motorcycle up again.
Both of these issues were fairly trivial for an older bike. They added up to a few hundred bucks of damage — basically, what I had earned on those rentals.
I probably could have claimed it from Riders Share's insurance, but it was after the contracts had ended and I didn't have enough evidence.
Both of these incidents are enough to convince me that if I were to rent out motorcycles on Riders Share again, I would definitely not rent out my pride and joy.
Is renting out on Riders Share "passive income"?
I don't really like the term "passive income". I guess it means "income with minimal effort", like dividends or trust disbursements.
I would not call renting out on Riders Share to be passive income. At some point it becomes minimal effort once the work becomes mechanical.
There is, of course, the set-up time and cost. You have to learn how to take good photographs of your bikes, advertise them well with good text, get the gear you'll have to lend to renters who forgot gloves, and set up your profile. Let's put that to one side.
Once you have your listings up, there's definite stuff that goes along with every transaction.
Firstly, for every booking, you'll have to communicate with a few people (or maybe one, if you're lucky).
You'll have to make sure they don't sound crazy, see that your schedules align (you're not out of town when they're picking up a bike) and so on.
Then every time someone picks up one of your motorcycles, you have to do a few things. You have to
Communicate to arrange a meeting
Meet them for key handover
Do an inspection and get both parties to sign the doc
Communicatre to arrange drop-off
Meet to do a final inspection and sign-off
Do a minor service (lube the chain, clean it)
All of that really adds up! That's why I would call Riders Share less "passive income" than most other things people tout — like owning a blog, or renting out your house on AirBnB. At least with AirBnB you can put a key in a lock box, and hire cleaners and charge it to the renter.
So no, Riders Share isn't "passive income". It's more a way of at least not losing money on the motorcycles you own.
Conclusion
In summary, this isn't a get rich quick scheme. It's simply a way of saying you can own a motorcycle to have fun with sometimes and let others have fun with it on occasion, too.
And you might want to rent one out yourself to see what it's like. I don't need to own every motorcycle, but I'd love to try a bunch out for a day. I know there's a Honda CBR600RR in San Jose I have my eye on…
Anyway, if you have something vaguely rent-worthy in your garage, I recommend you give Riders Share a try.