This is my list of motorcycles with cruise control. It includes some surprisingly cheap and unusual motorcycles with cruise control, too!
As I decided that cruise control was a must-have feature for my ONE motorcycle to rule them all, I started finding out a few surprisingly cool, and sometimes cheap motorcycles with cruise control (well, cheaper) — in addition to the usual suspects, and also some motorcycles that surprisingly DON'T have cruise control. Here's what they are.
Cruise control is controversial. Purists say you don't need it; those without it say you can add a throttle lock to get 80% of the way at a fraction of the cost, and those who've had electronic cruise control claim there's no real substitute.
Yes, you can add cruise control to many motorcycles, from throttle locks all the way to advanced systems that play with the motorcycle's electronics, like those from the Australian company MCCruise.
–> See our complete buyers guide for the best after-market motorcycle cruise control systems and throttle locks for every budget.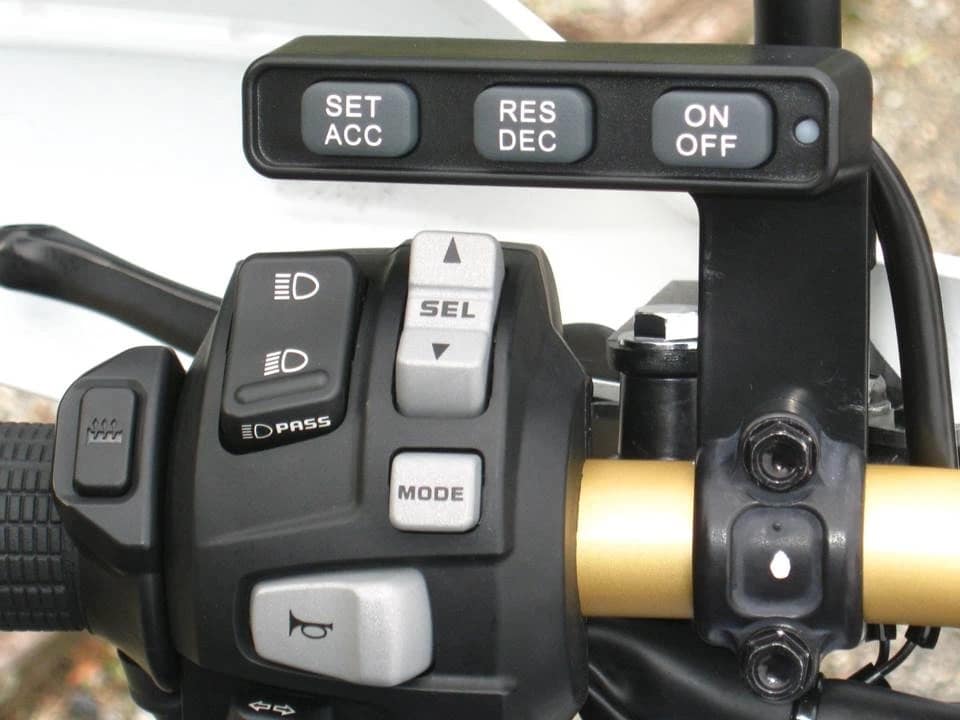 But even though those modifications all work and are fine, I really prefer for the advanced systems in my everyday motorcycle to be stock ones. There are a few reasons for this, including a system being better integrated with a motorbike visually and electronically, to not losing value on expensive add-ons when selling the bike. Even the awesome well-integrated systems from MCCruise don't look visually perfect, and cost north of US$500, and up to nearly US$1,000 for some systems.
Let's start with the obvious — a lot of high-end touring and sport-touring motorcycles come with cruise control. Nobody would be surprised to see that you can get a touring-focused motorcycle like a Ducati Multistrada, BMW R 1250 GS, a Yamaha FJR1300, or a Honda Goldwing with cruise control as standard. I've got a starting point list below of the usual suspects with cruise control, too.
What's more surprising, to me, is the other motorcycles that are cool, sporty, or adventurous — and maybe not even top of the line — and that have cruise control either standard or as a surprising option.
Are you obsessed with motorcycles?
Well, I am. That's why I created this site — as an outlet. I love learning and sharing what others might find useful. If you like what you read here, and you're a fraction as obsessed as I am, you might like to know when I've published more. (Check the latest for an idea of what you'll see.)
The Unsurprising Motorcycles with Cruise Control
Firstly, let's get something out of the way — a lot of sport touring or full touring motorcycles have cruise control, particularly those that are the most expensive and recent, and particularly those from the premium brands.
In fact, Honda and Harley-Davidson have had cruise control on some motorcycles for decades. Since the 1980s, before the internet was a big thing!
Some of these motorcycles with cruise control (this is necessarily a non-exhaustive list) are
Honda Gold Wing (since… forever ago) — The Gold Wing has had cruise control since the 1980s. Just watch out for other versions of the 'Wing, like the F6B or the Valkyrie, that often omit this feature.
Yamaha FJR1300 2013+ — popular with cops and those who like to be on the sporty side of comfortable. I can see myself on one of these eventually.
BMW R 1200 GS 2013+ and R 1250 GS — BMW's adventure tourers, some of the most popular premium motorbikes of all time. Super popular for massive distance.
BMW K1600GT and K1600GTL (2011+) — BMW's big sporty cruisers with six-cylinder engines and excellent weather protection. Designed for the long haul, and sometimes for cops.
Ducati Multistrada — Ducati's premium tourer has cruise. It's more surprising that nothing else in the line-up does, given they share so many electronic features.
MV Agusta Turismo Veloce (2015+) — A big touring bike (you probably don't know about, because MV Agusta).
Kawasaki Versys 1000 SE (2019+) — Finally, a Kawasaki with cruise control! I tried it and it works great.
Suzuki V-Strom 1050 — finally, the 2021 V-Strom 1000 replacement got full ride by wire and cruise control.
Suzuki GSX-S1000GT — Cracker of a sport-tourer from Suzuki for model year 2022. Nice that it has cruise control, but not terribly surprising.
Triumph Trophy — Triumph's sporty distance bike has cruise control.
Triumph Tiger (various sizes since 2015) as an option — Triumph's equivalent of the R 1200 GS has had cruise as an option
Indian Chieftain, Roadmaster (and various others) — Has had cruise since 2014.
Harley-Davidson (since ages ago) — Harley-Davidson has had electronic cruise control for many years, since 1989. It's model-specific though, so make sure you check. You can often find it on the Classic and Ultra-Classic lines. Early ones (like, pre-2000) were sometimes problematic, according to random forum users.
But there are some notable omissions from this list, too. I've included this at the end — motorcycles that surprisingly don't have cruise. Like the competitors to some of the above. Seems some manufacturers were either asleep at the handlebars or maybe didn't want to pay for patent licenses.
These days, these premium motorcycles are getting adaptive or active cruise control. See our complete guide to motorcycles with adaptive / active cruise control here.
2021 Aprilia RS 660 and Aprilia Tuono 660 — Middleweight sportbikes with cruise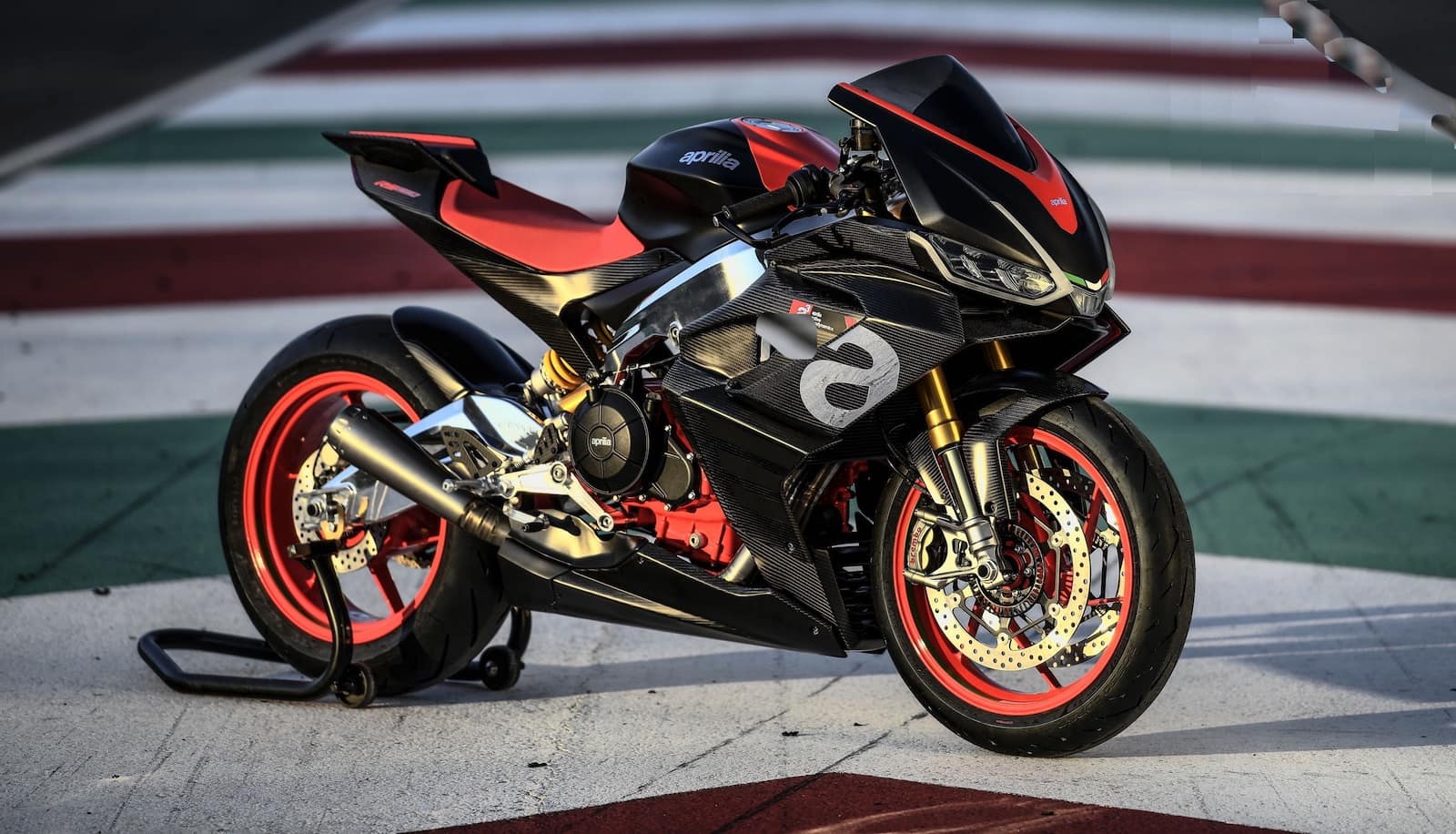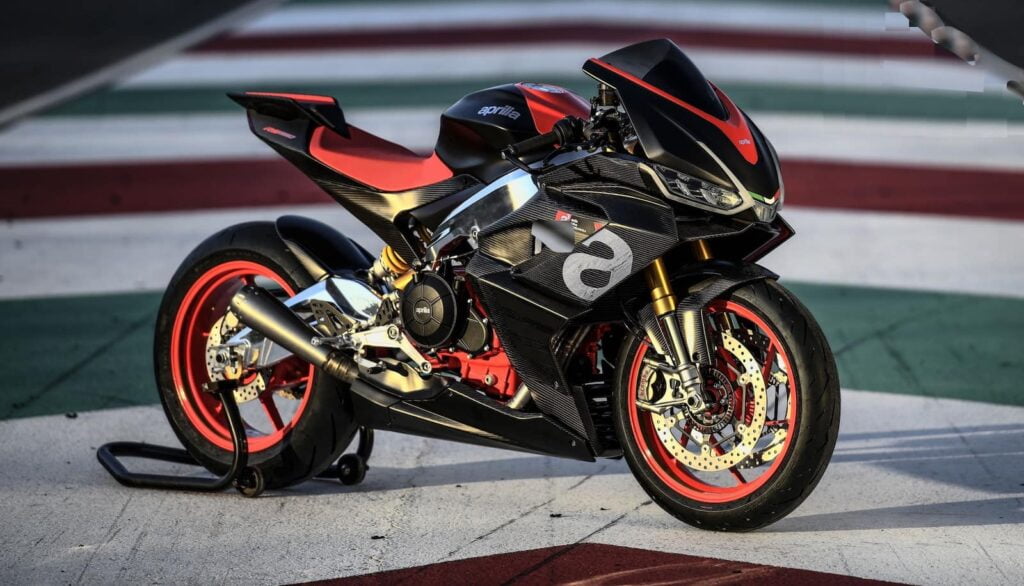 I love it how the RSV4 has cruise, but usually smaller bikes don't get all the same technology the big ones do.
So it's really nice to see the smaller (659cc, 74kW/99 bhp) twin-cylinder sportbikes from Aprilia with cruise control.
I'll definitely have to give the RS 660 a try — or maybe the smaller Tuono-inspired cousin, the Tuono 660. The reasons to get an Aprilia are stacking up!
The 2021 Aprilia RS 660 has standard cornering abs, too! That's another feature that rarely makes it to middleweight bikes. It's optional on the Tuono 660.
The Tuareg 660 has cruise control, but that's less surprising in an adventure motorcycle.
See here for our full take on the Aprilia RS 660.
Aprilia RSV4 and Aprilia Tuono V4 (2017+) — a superbike and its streetfighter companion, both with cruise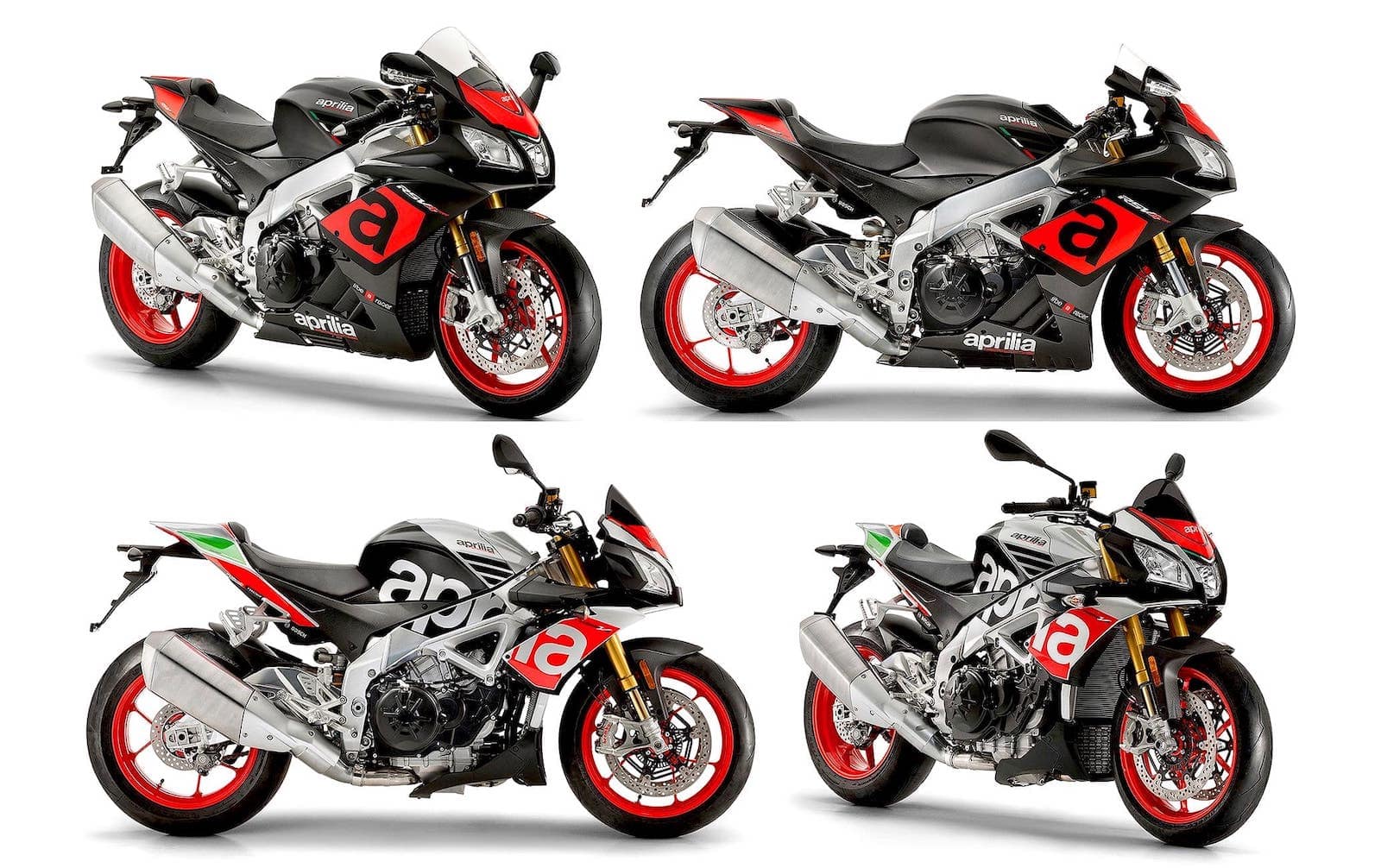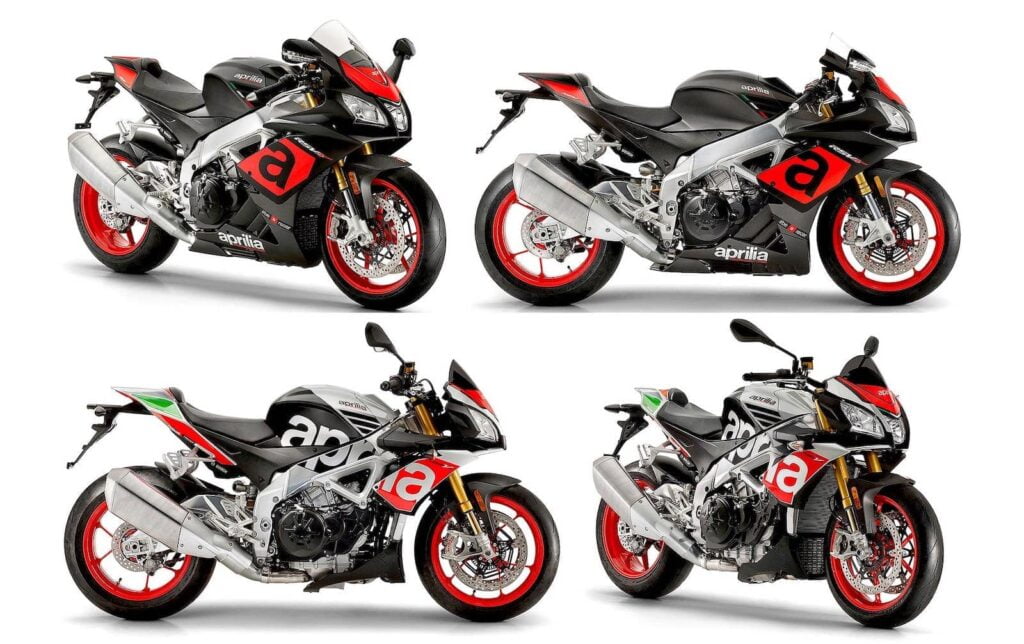 Both the RSV4 and Tuono V4 from Aprilia came with cruise control as standard.
This makes the RSV4 and S1000RR the only sport motorcycles with cruise control. None of the other manufacturers even have it as an option.
The Tuono V4 joins a few other high-end standards with cruise.
BMW F 900 R and F 900 XR (2020+) — a mid-range sport standard with cruise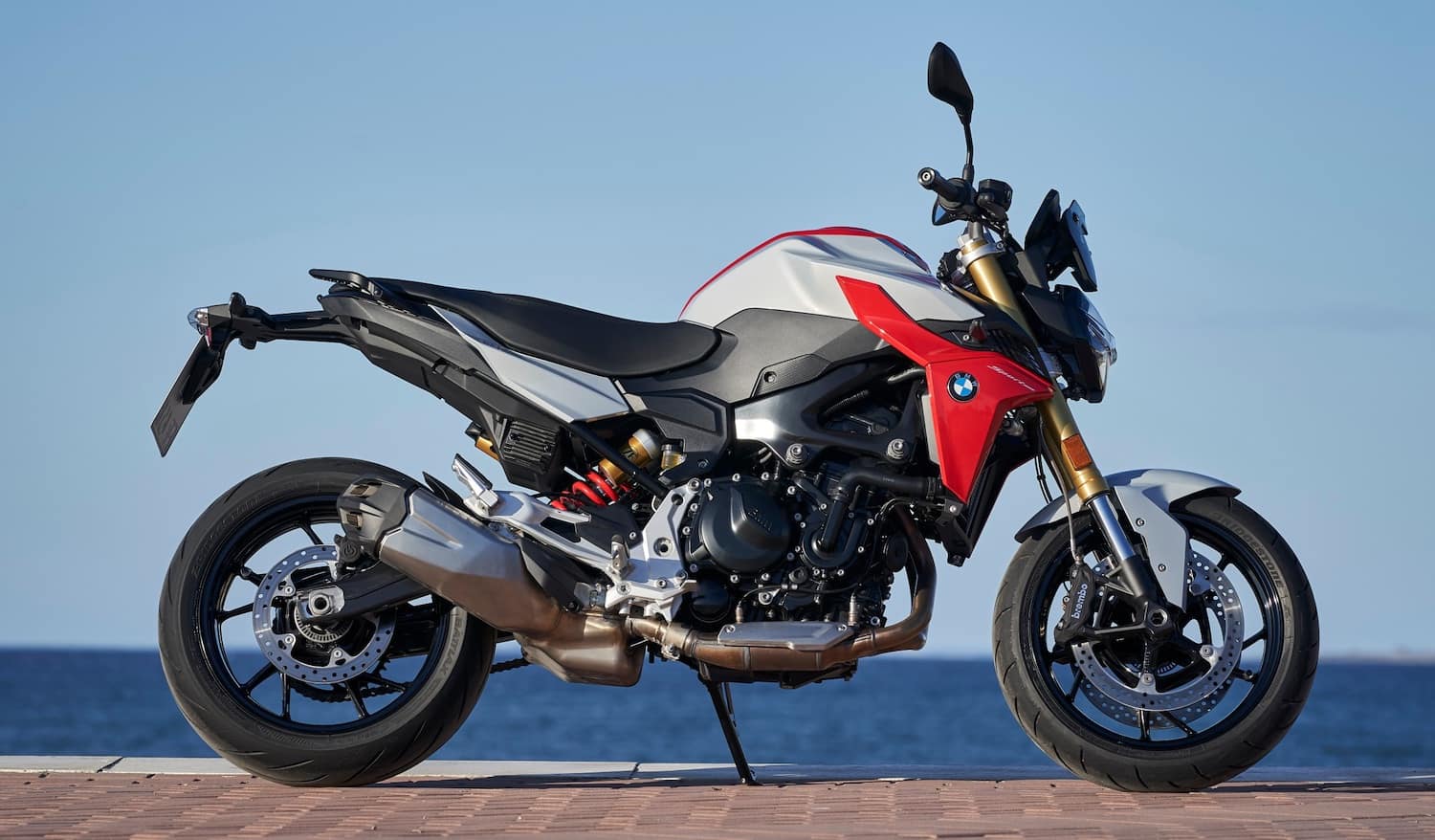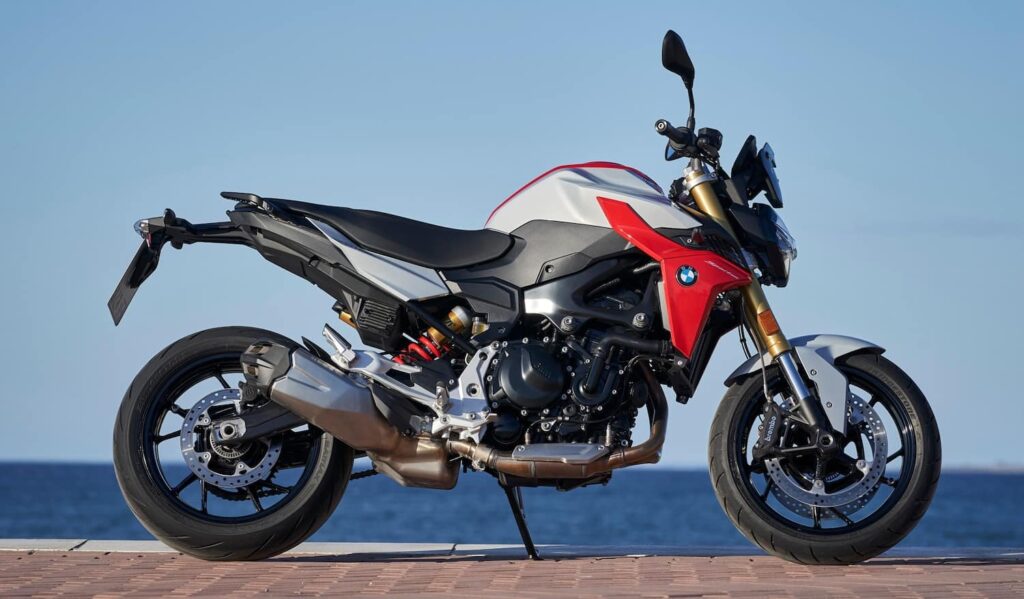 Another street bike from BMW that has cruise control is the 2020 BMW F 900 R, the long-awaited update to the F 800 R.
The F 900 R is a really awesome street bike that's totally packed with features and available for a really affordable price. It's basically as well-featured as the S 1000 R, but with about 2/3 the power, and half the cylinders. So, less frantic, but just as refined.
Some reviewers do say the fuelling isn't spot-on, either, but that's an opinion not shared by everyone.
What's remarkable (to me) is that this is a mid-powered, modestly-priced standard motorcycle from BMW with cruise control. It's not one of their "premium" bikes like the R 1250 RS or K 1600 GTL that you'd expect to have cruise. It doesn't even have a fairing — it's not designed for the wide open road! So for this motorbike to have cruise is pretty special, a bit like seeing cruise control on an SV650.
Note that cruise isn't standard in every market — it's not standard in Australia, for example. You can retrofit it but it's not exactly an "option" and the parts and labour cost over A$1,500 to get it installed, a dealer told me.
More middleweights with cruise in the future, I hope.
BMW R nineT (2021+) — An Old-school Standard with Cruise
From 2021 onward, the BMW R nineT range (the surviving ones, sans the Racer) all have cruise control.
This means the retro-styled R nineT now has cruise control — despite it being an otherwise fairly basic (though high-end) bike with an air/oil-cooled engine.
The rest of the range (the Scrambler, Pure, and Urban G/S) have conventional, non-adjustable forks. For them to have cruise control (and even an IMU) is quite interesting.
BMW S 1000 RR (2015 +)— a hyper sportbike with cruise
Many BMW motorcycles have cruise control. Nobody would be surprised to find out big tourers like the K 1600 GTL or R 1250 RT have cruise.
But cruise control on the S 1000 RR? Cruise control on a 200hp+ sports motorcycle?? Now we're talking!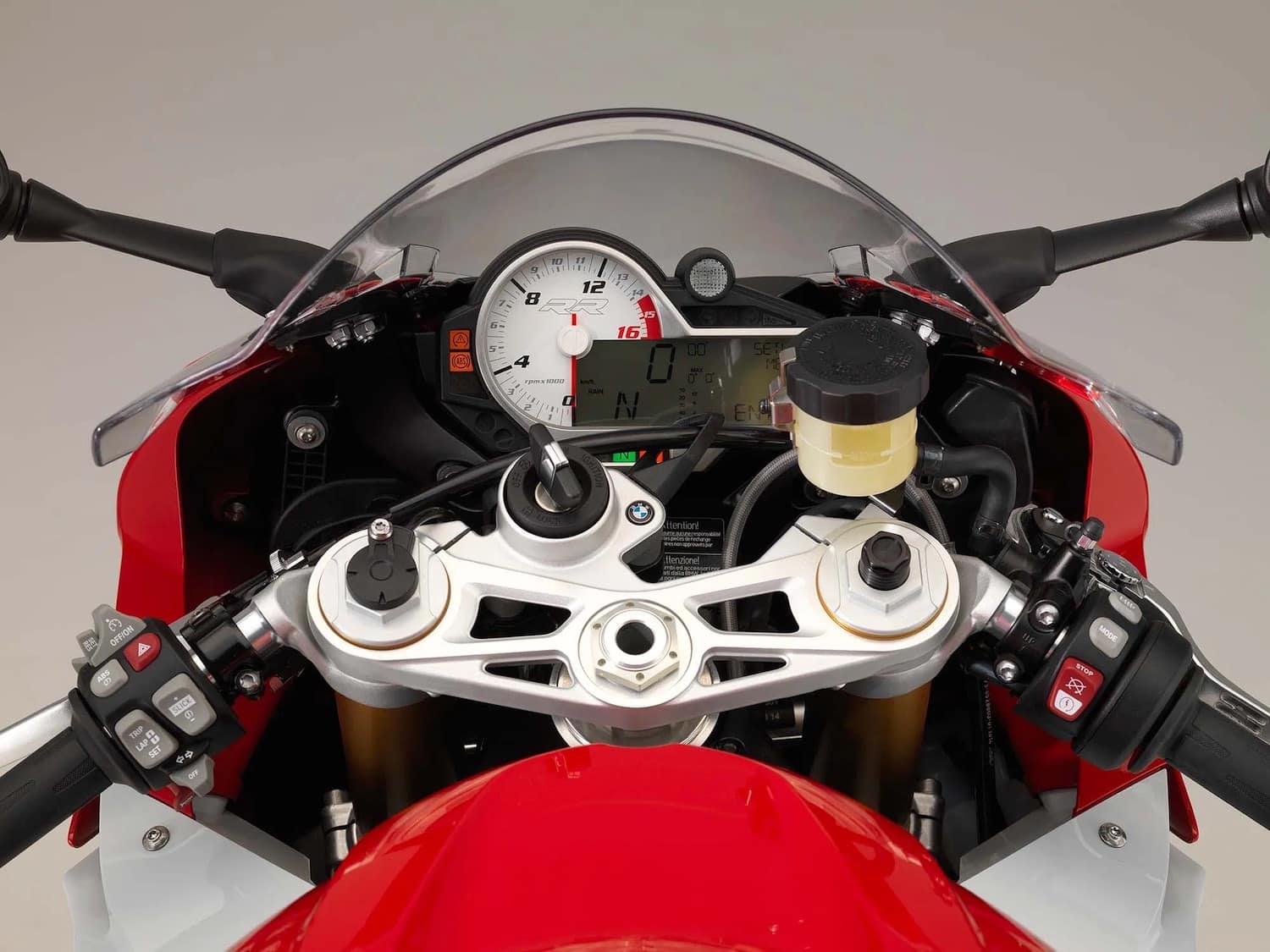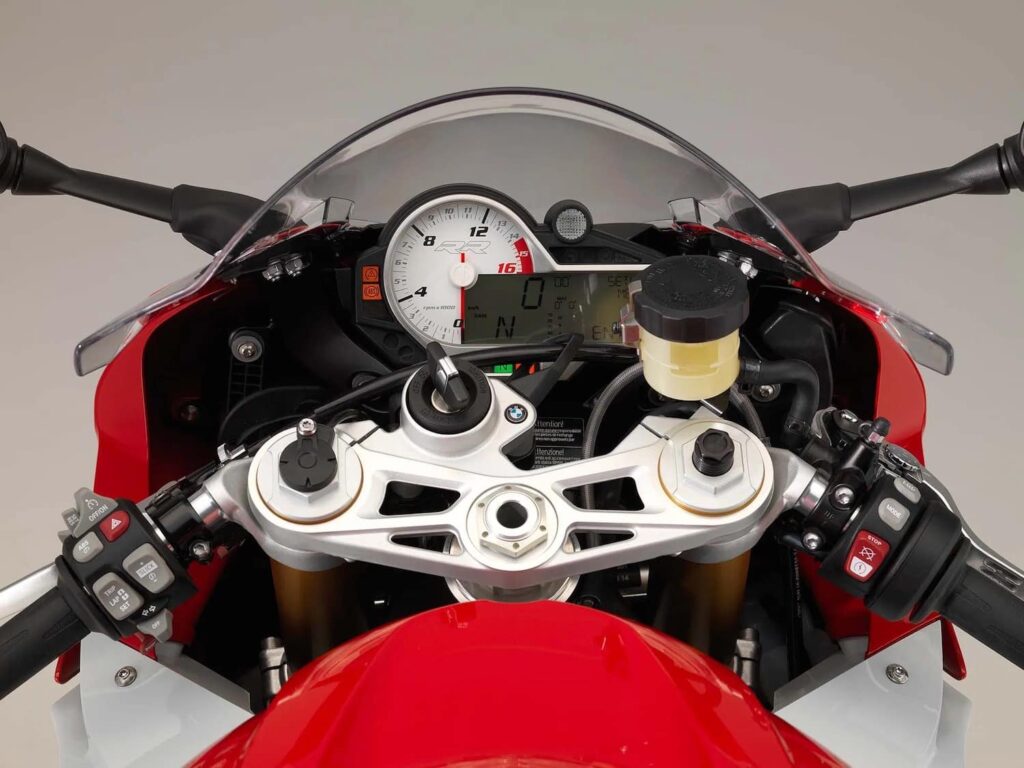 The BMW S1000RR first got cruise control in 2014. The S 1000 R also got it, but as an option. (See my buyers guide to the BMW S 1000 R.)
There are very few sport motorcycles with cruise control on the market — the Aprilia RSV4 is the only other one with it. The superbike/litre-bike class includes the Honda CBR1000RR, the Yamaha YZF-R1, the Suzuki GSX-R1000, the Ducati Panigale V4 and V2, and the Aprilia RSV4… only the Aprilia has cruise (it got it in 2017).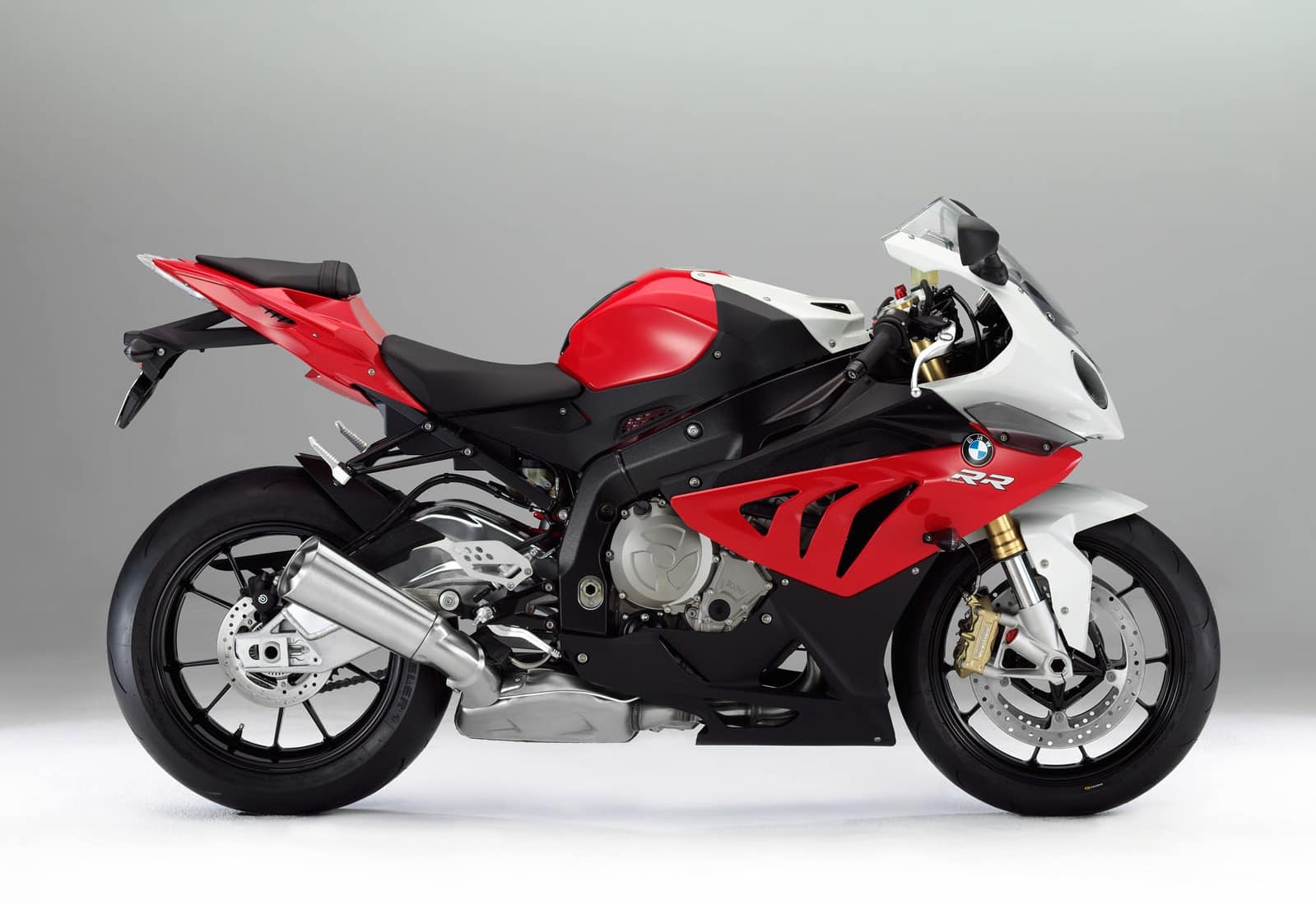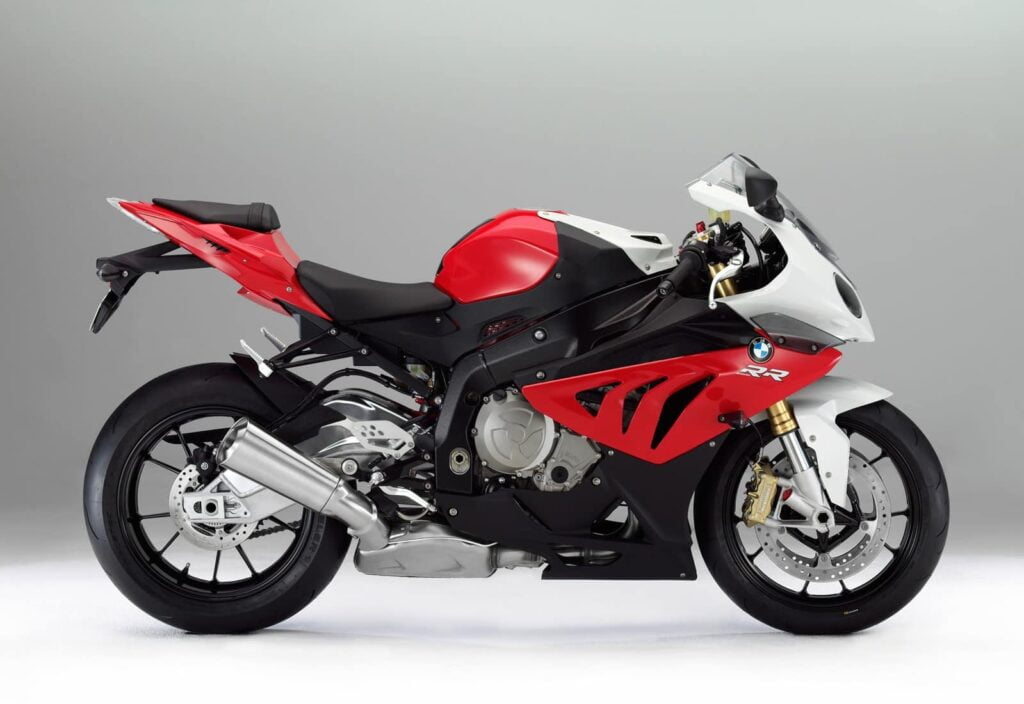 Cruise control is also an option if you get the "sports" package on other motorcycles in the S1000 line-up. It's still a really cool option to have on the S1000R, but a less surprising one on the touring-focussed S1000XR (actually, I'd be a bit miffed if I had an XR without cruise). But having cruise as an option was a reason I opted for the 2017 S 1000 R as my bike of choice.
CFMOTO 700CL-X, 800MT — The Cheapest New Motorcycles with Cruise Control
The CFMOTO 700CL-X (especially the 700CL-X Sport, with clip-on handlebars and Brembo M50 brakes) is definitely one of the coolest and cheapest motorcycles that come stock with cruise control.
The Chinese manufacturer CFMOTO is taking the approach of offering feature-rich bikes at a low price to compete internationally and build a brand for itself.
If you're wondering "Who is CFMOTO??" you're in luck — here's a long answer to that question.
The CFMOTO 800MT is a format you'd more expect to have cruise control — a mini-adventurer, powered by the LC8c engine we first saw in the KTM 790 Duke. Even so, that's a bike that competes with other middleweight adventure bikes, and the most affordable in that range — the V-Strom 650XT and Versys 650 — don't come with cruise control. Cruise is still a premium option in that segment.
But the 700CL-X bikes, which are middleweight naked and sport bikes, are pretty ground breaking in offering cruise control standard!
It's definitely an indication that we're going to see ride by wire and cruise control in competitors in the market soon. Pages like this will become redundant as the feature becomes more widespread.
Ducati XDiavel (2017+) and Diavel 1260 (2019+) — A sporty muscle cruiser with cruise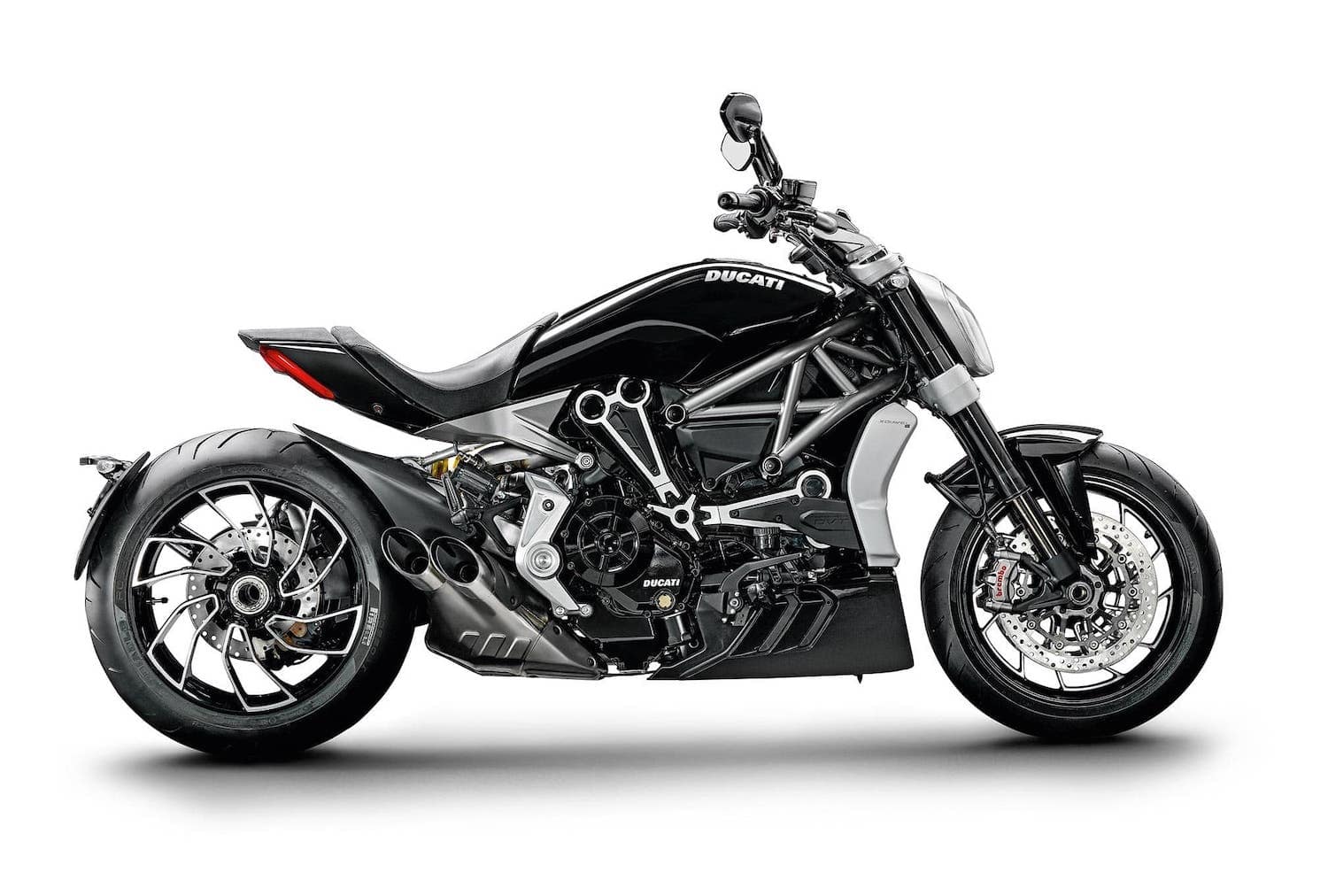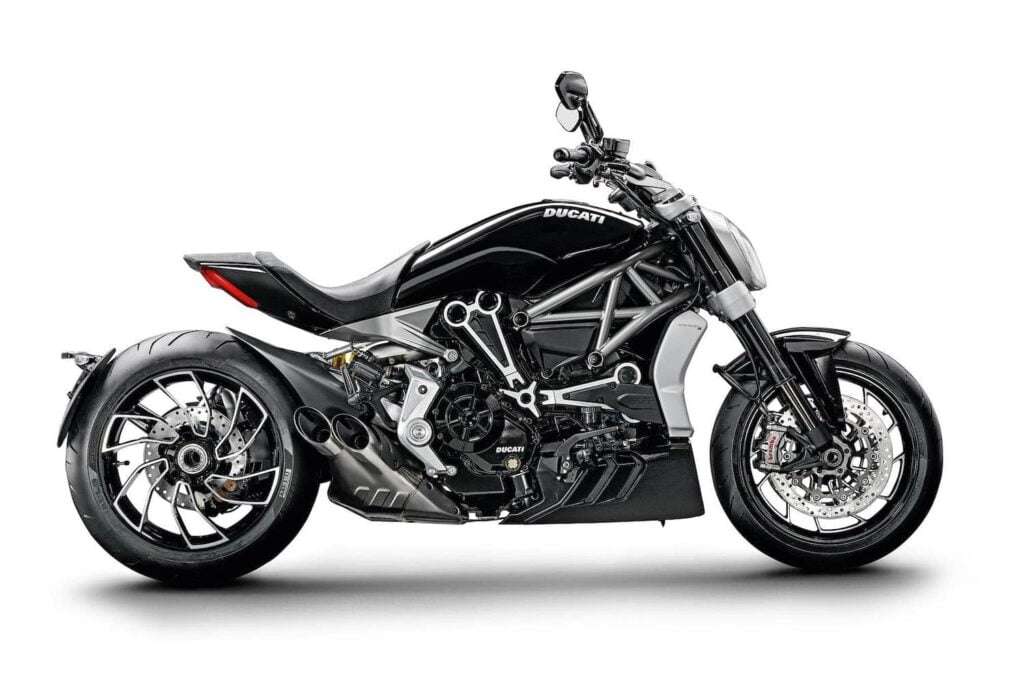 The XDiavel is Ducati's "Cruiser" offering. But with a 150+ hp engine that likes to rev and genuine corner clearance, the XDiavel was never really a direct competitor to Harley-Davidson or various Japanese metric cruisers. It's definitely in "muscle cruiser" territory — a comfortable sportbike, or a scary fast cruiser.
From launch in model year 2016, the Ducati XDiavel has had cruise control. This put it alongside the Multistrada as being the only two Ducati motorcycles with cruise control. You'd expect it on the Multi though, as that's an adventure tourer, specifically designed for the long and lonely road.
Ducati also gave the Diavel 1260 S (but not the base model) cruise control, as they did to the Diavel V4.
See our complete Ducati Diavel / XDiavel model guide.
But Ducati has given this feature out sparingly to other models, despite many of them having ride by wire.
Harley Davidson Sportster S
Harley-Davidson's new muscle cruiser, the Sportster S has been released — and it has cruise control.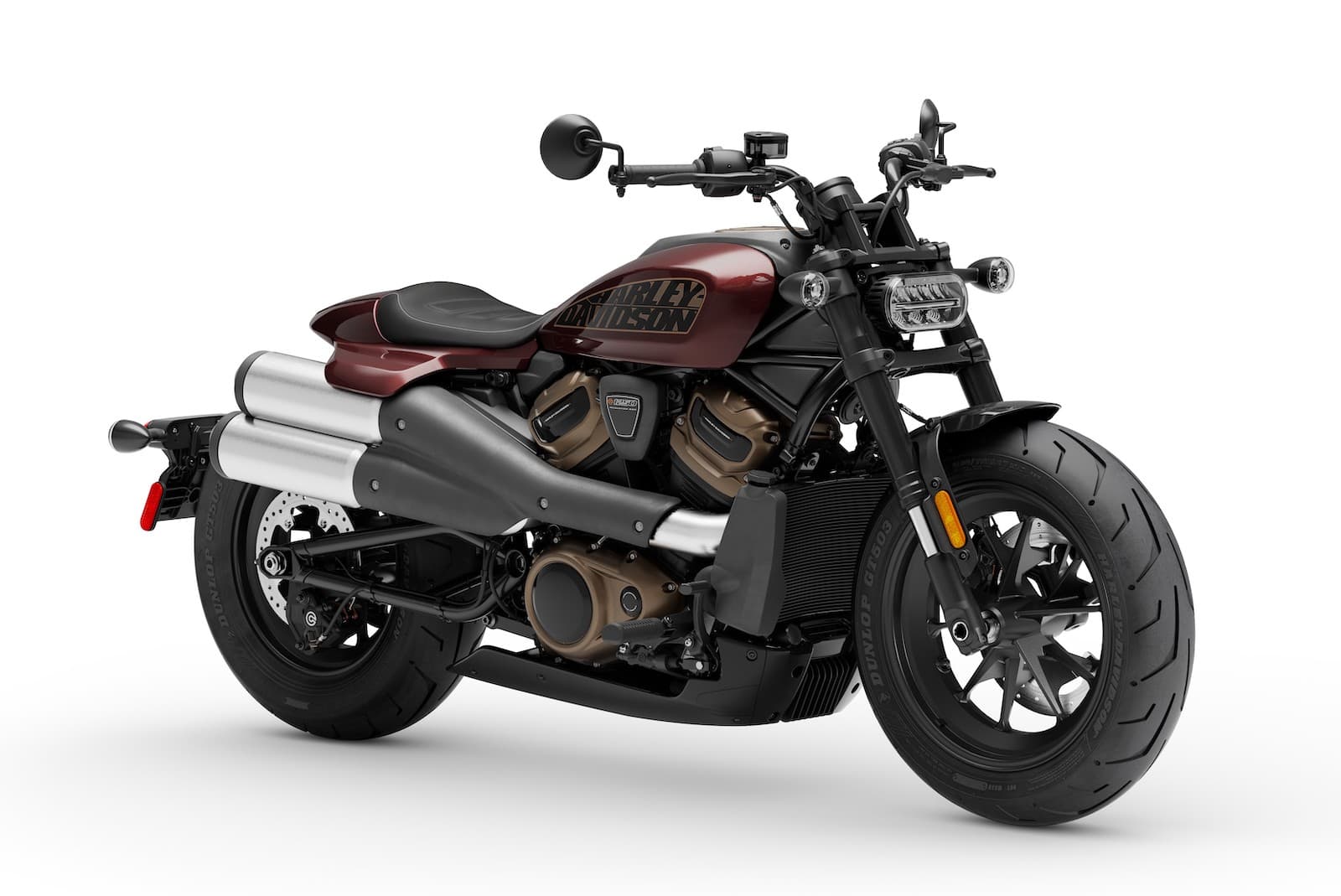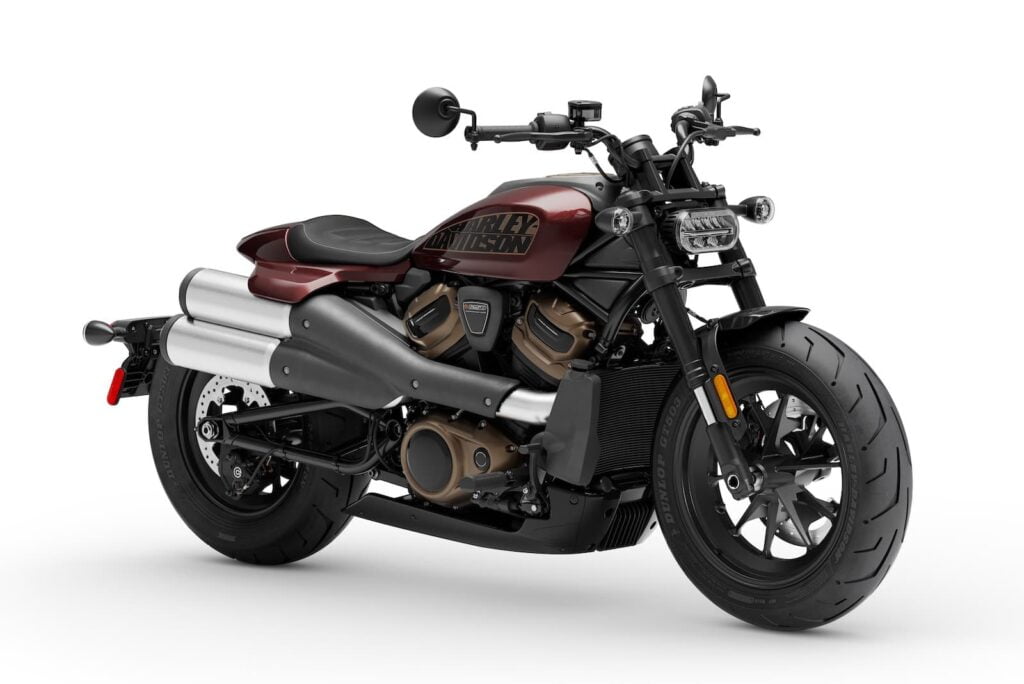 This is a huge move for Harley-Davidson. The Sportster line has embodied simplicity and modest, accessible power for as long as I can remember.
But if the idea of a 90kW/121 hp muscle cruiser with cruise control, cornering ABS, self-adjusting valves, and a wet weight of 228 kg (not that light… but light for a cruiser, especially for a Harley!) entices you, then check out the full details here.
Honda Africa Twin CRF1100L 2020+ — A capable adventure tourer with cruise
The Honda Africa Twin is a bit of a unicorn right now, unique in its line-up.
It's hard to put this very succinctly, but there are very few adventure bikes that people (reviewers, users) say are as well-placed to do both off-road work and chew up highway miles as the Honda Africa Twin.
A few other motorcycles in the category are the Yamaha Ténéré 700 and Suzuki V-Strom 1050 — which got cruise, after the 1000 lacked it.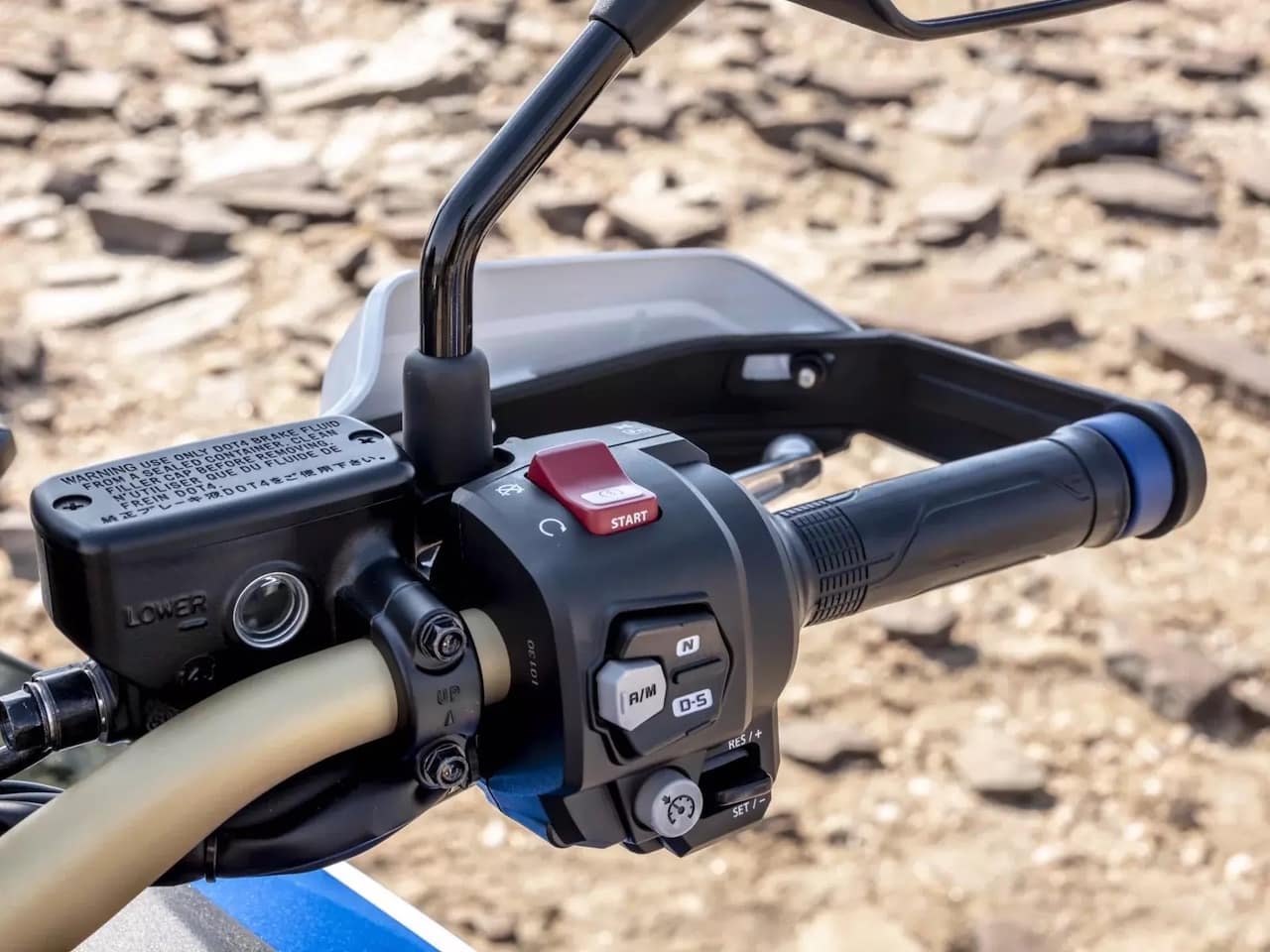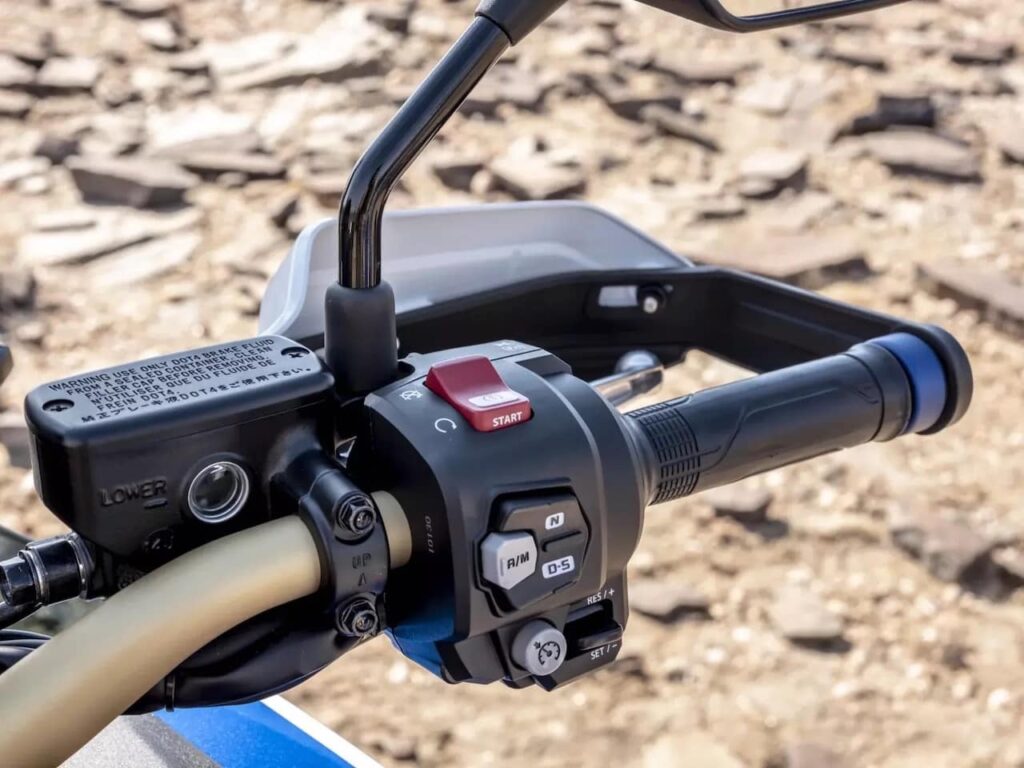 One complaint about the cruise on the Africa Twin is that the controls are on the right hand side. This means you have to set cruise with the same hand that's adjusting the throttle. This can be more fiddly than setting the cruise with the left hand, like nearly every other motorcycle.
Some larger adventure-focused motorcycles like the BMW R 1250 GS and Ducati Multistrada do have cruise, but that's less surprising given their brand names, the price you pay for those bikes, and the fact that they're more road-going.
One other similar bike to the Africa Twin that has cruise is BMW's smaller F 850 GS and F 900 GS — but to me that's less surprising coming from BMW (sorry, very subjective, I know!).
Honda Rebel 1100 (2021+) — A cruiser with cruise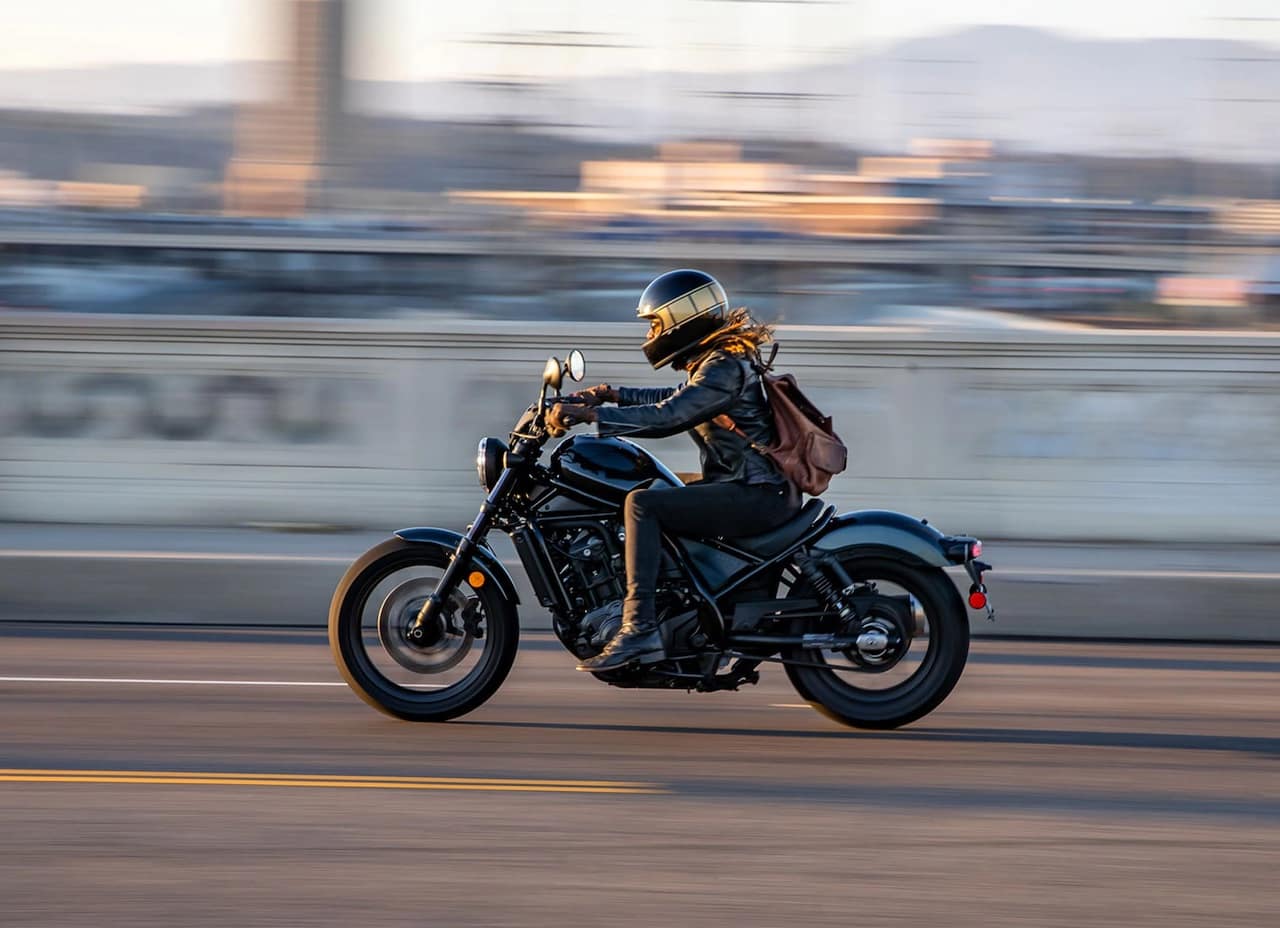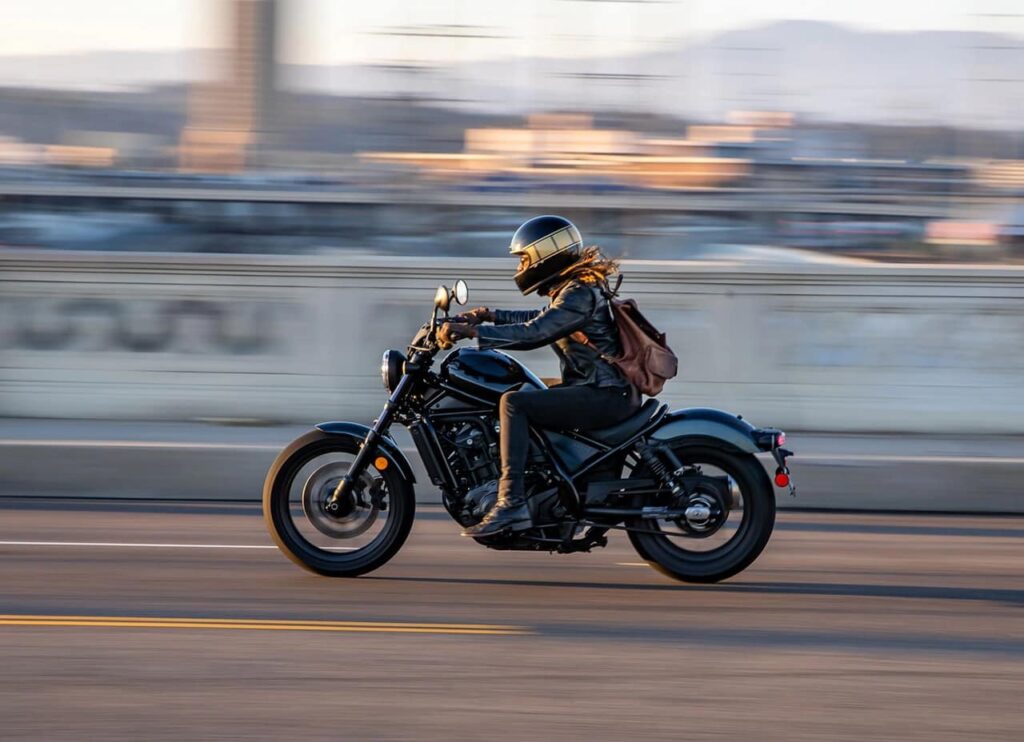 I'm pretty excited for the 2021 Honda Rebel 1100. I've always liked the idea of the Rebel — a simple cruiser that isn't totally inhibited by lean angle, has a modern engine, and looks decent without being totally chromed out — and now the fact that there's an 1100 version ticks a lot of boxes for me (see my regret minimisation framework for buying motorcycles).
Specifically, the Honda Rebel 1100 comes standard with cruise control in every trim, whether in manual or DCT. Huge win!
Particularly as most cruiser motorcycles aren't particularly advanced. Although you can fit cruise to the Triumph Bonneville Bobber as well, so it's good that this direct competitor provides the same option.
Indian FTR1200 — a flat-tracker-inspired bike
Cruise control is standard on the FTR1200 line from Indian. Because as they put it: "Because once you head out, you're bound to be going for the long haul."
This is pretty cool of Indian, but particularly cool given that the FTR is not your average touring motorbike. It's really more like a naked muscle bike, with its pondering huge V-twin and lack of fairing protection. So to include it in a list of motorcycles with cruise control is pretty cool.
Kawasaki Ninja 1000SX (2020+) — an affordable sport tourer with cruise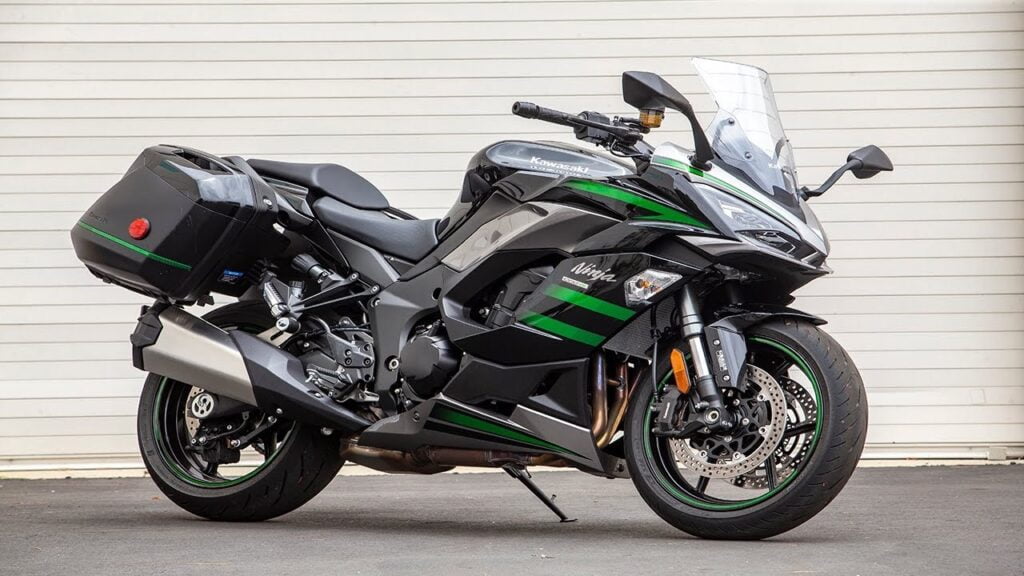 In 2019, the Ninja 1000 got ride by wire. This gave it traction control (KTRC) and cornering ABS (KCMF), but not cruise control… yet.
In 2020, the Ninja 1000 got a slight name change to the Ninja 1000SX and that one important addition of cruise control!
This is really a cool addition to a sports tourer with a forward-leaning position, even if the handlebars aren't that low. It still has a fun and rev-happy 140hp in-line four that has a raucous intake how.
The Ninja 1000's bigger brother, the Versys 1000, got cruise control in 2019. But being an upright touring bike, that's a less surprising bike on which to have cruise.
Kawasaki ZX-10R and ZX-10RR (2021+) — Another superbike with Cruise Control
Another — much later to the party — litre-class motorcycle with cruise control is the 2021+ Kawasaki ZX-10R (and the more exclusive ZX-10RR).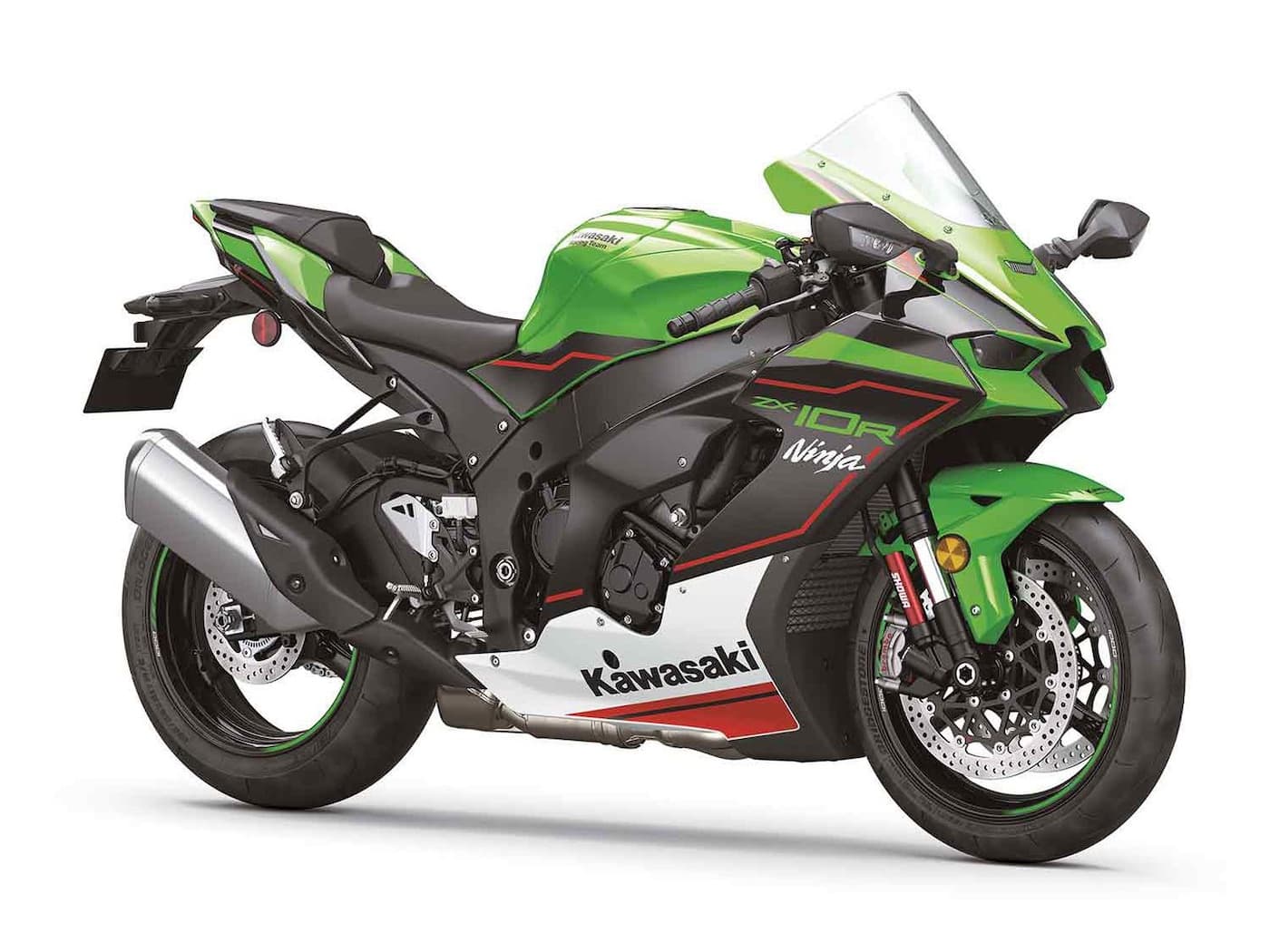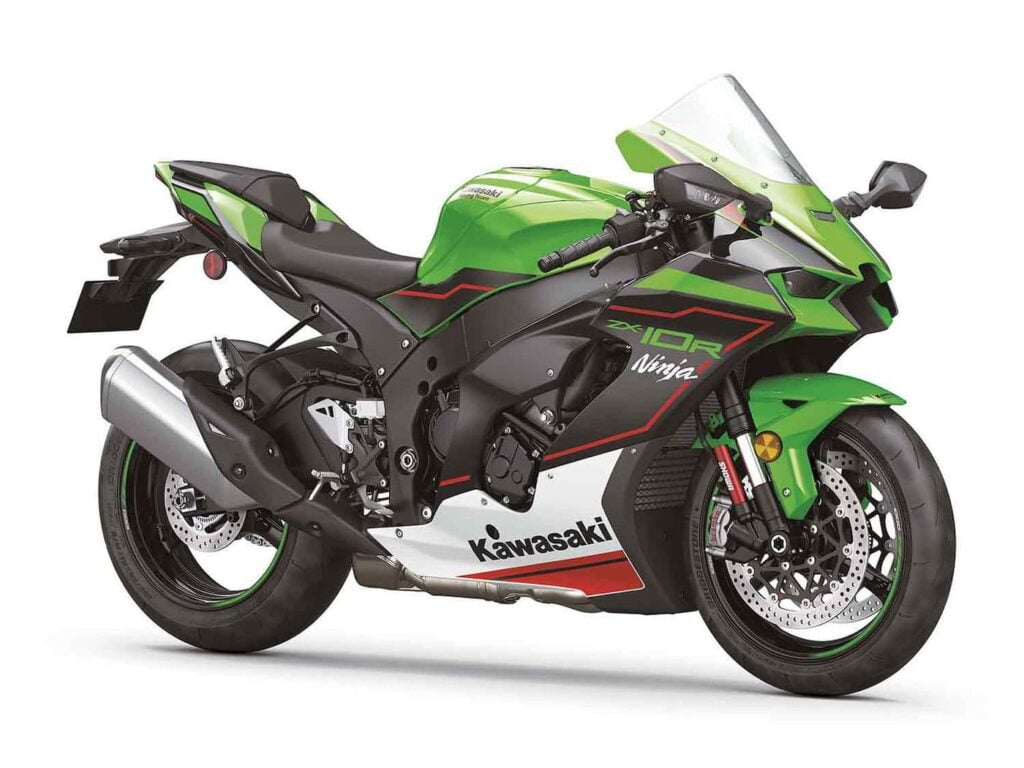 In 2021, Kawasaki released their revised ZX-10R. Among the many improvements to the engine and aerodynamics (winglets!), Kawasaki also added cruise control. This makes it, like the BMW S 1000 RR, another 200+ hp superbike with cruise. (Still no standard heated grips, though — not that I'm complaining, but it leaves the S 1000 RR as the "superbike for the modern gentleman".)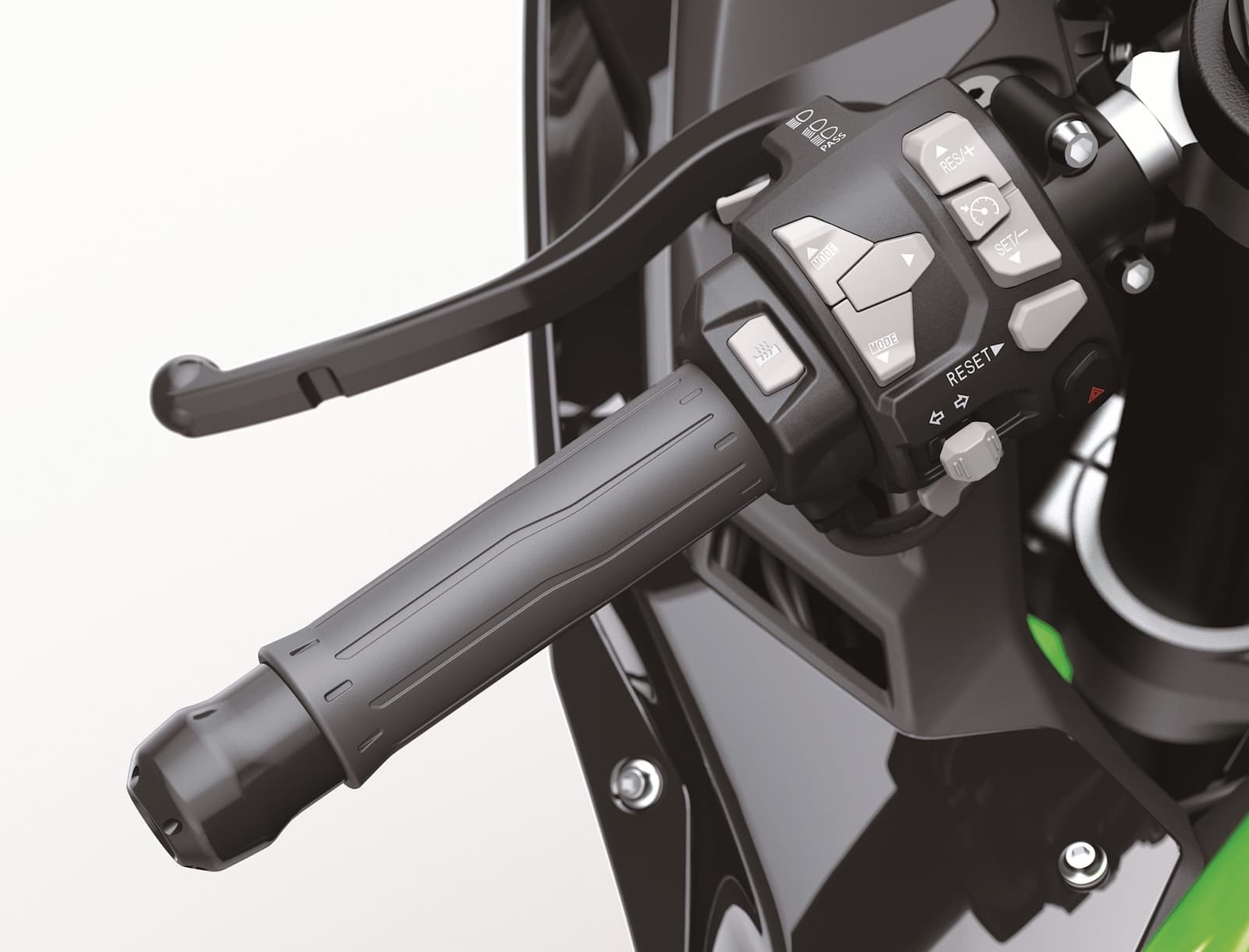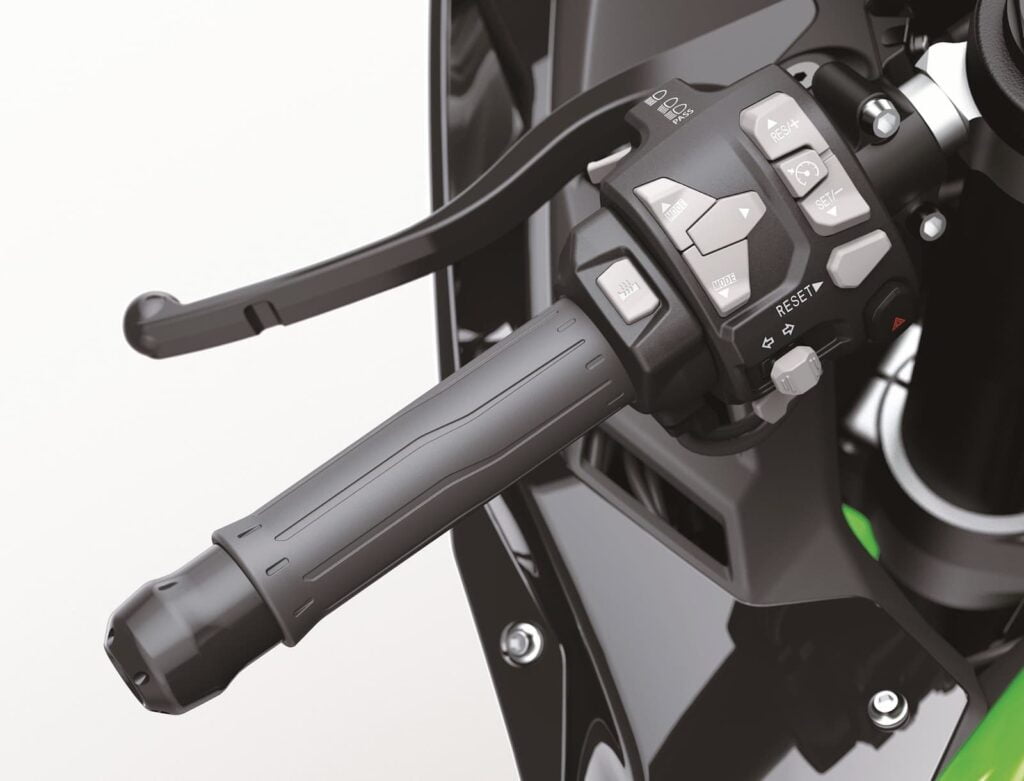 Moto Guzzi V85TT — A middleweight air/oil-cooled motorcycle
The V85TT is not just a striking bike from Moto Guzzi — it's a middleweight adventure bike with an air/oil-cooled engine — and cruise control.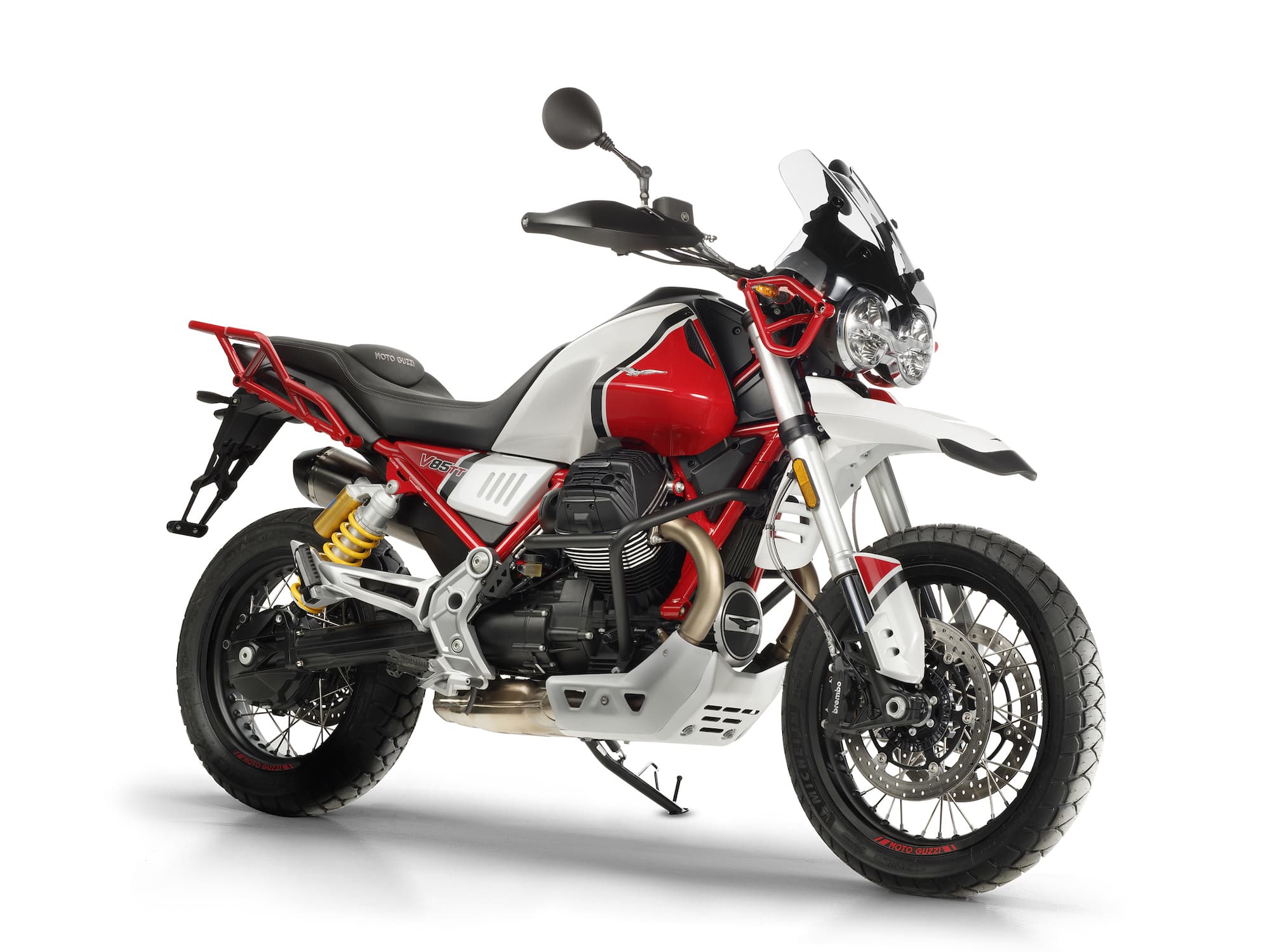 Moto Guzzi has had cruise control on their recent California cruisers, too (since 2016).
MV Agusta Superveloce (2019+)
The MV Agusta Superveloce, one of the EICMA popular vote winners for "Most Beautiful Bike", is a gorgeous supersport motorcycle that comes with cruise control.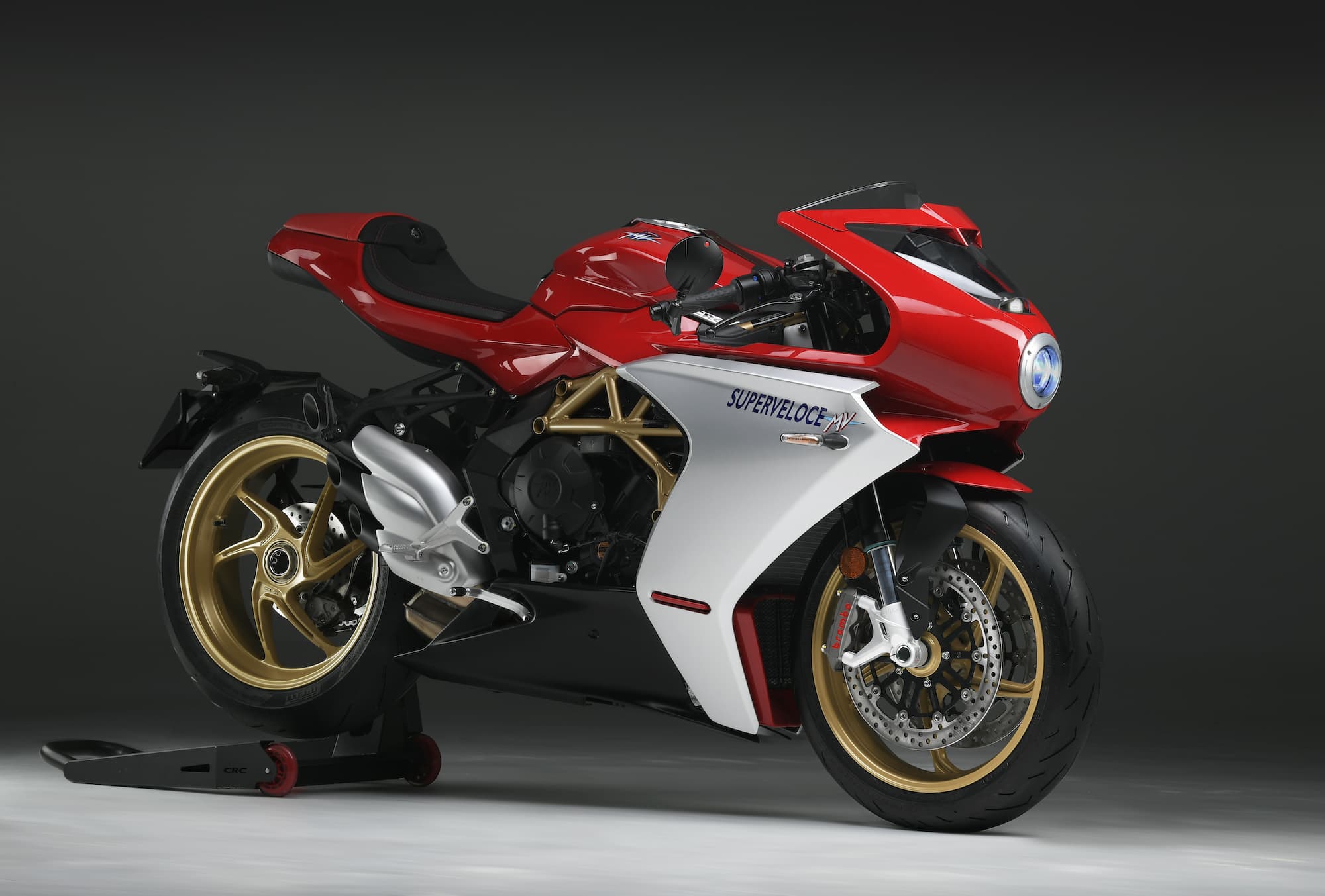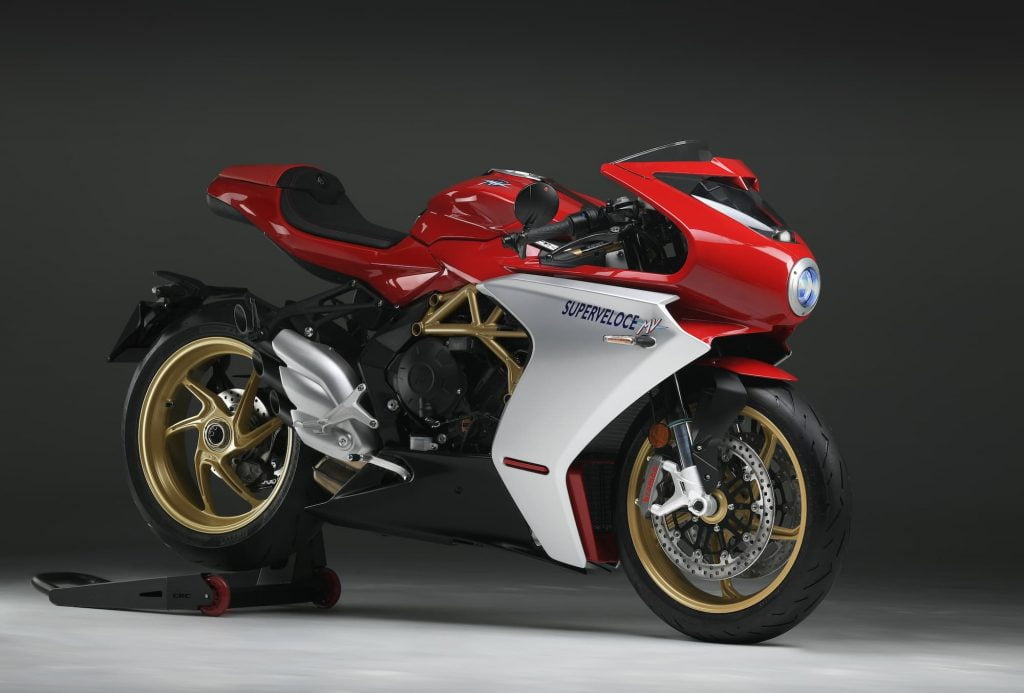 This is unique in so many ways — a middleweight triple cylinder supersport bike with cruise! It's hardly the kind of bike on which you'd expect to drone around on the freeway. But the cruise would at least help you take some weight off your wrists on those clip-ons.
Suzuki GSX1300R Hayabusa 2022+ (3rd gen)
The 3rd gen Hayabusa is a speed demon, just like its predecessors.
But it also comes with a full electronics suite, including both cruise control and a cruise limiter.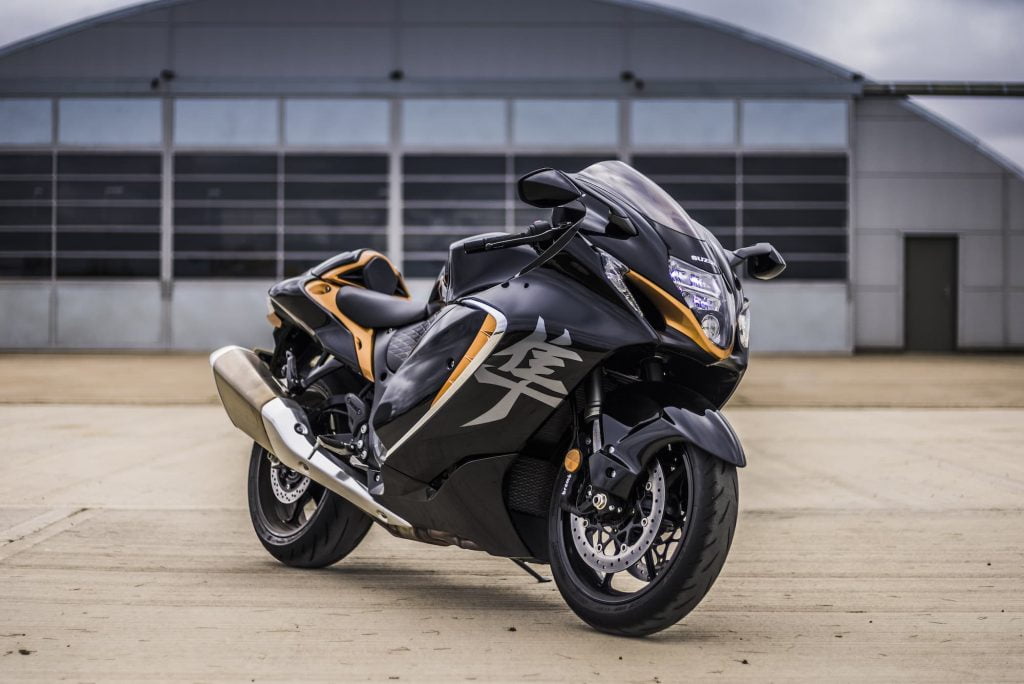 The speed limiter is a feature where the user can set a maximum speed for the Hayabusa, e.g. 100 km/h. The motorcycle won't ever exceed this speed, even at full throttle. Handy for those unavoidable highways littered with speeding cameras.
Triumph Rocket III R and GT (2020+) — a premium 2500cc monster (that's also quite expensive)
The Triumph Rocket III 2020 model is pretty amazing. Just look at it!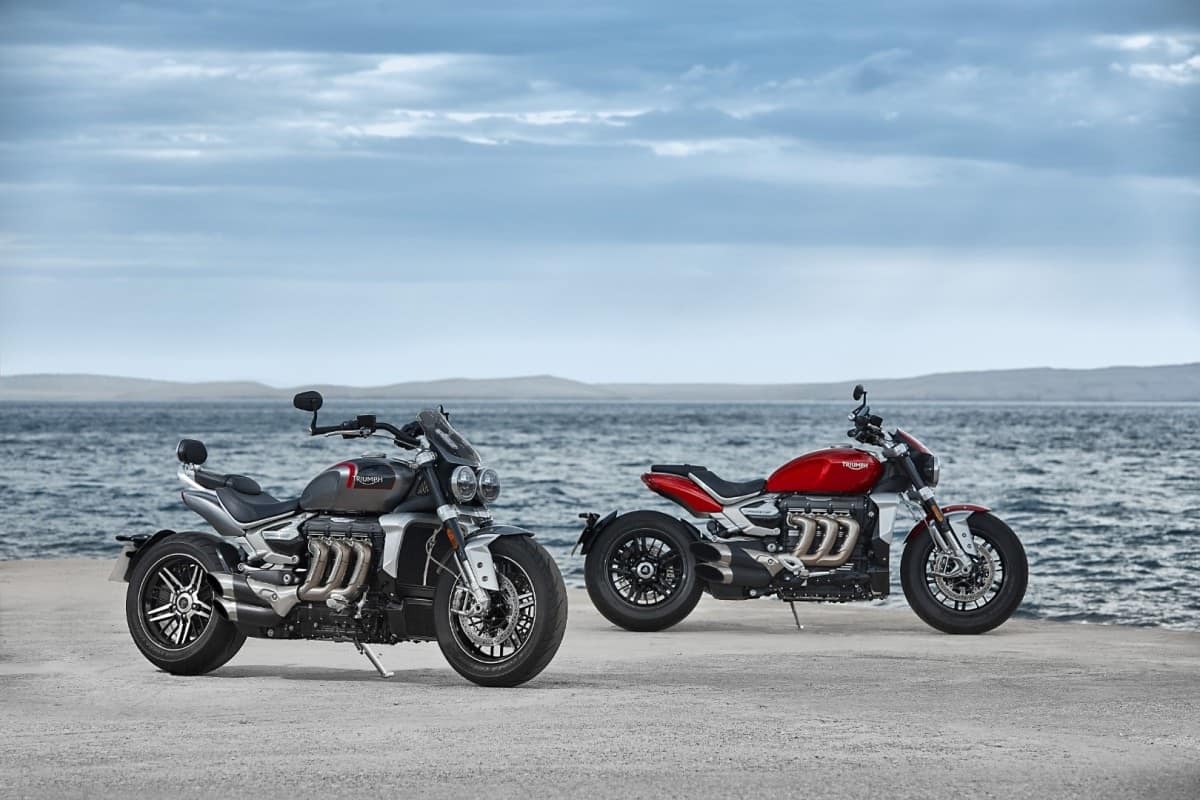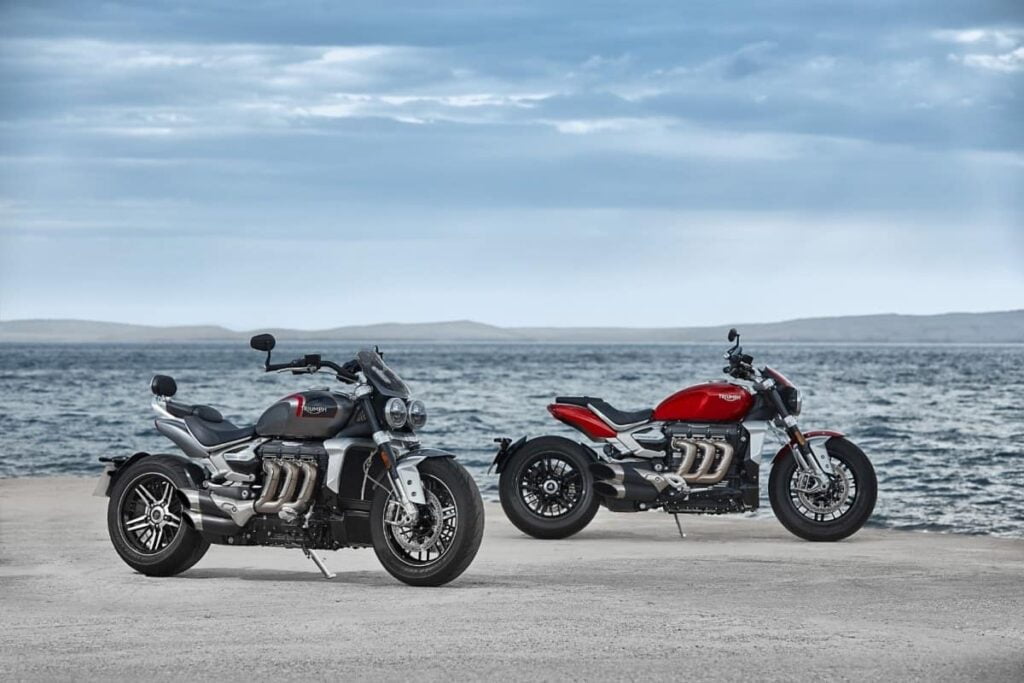 It's a very expensive premium motorcycle with a $20,000+ price-tag, incredible looks, and a stomping 2.5L engine that produces a massive near 200 Nm (near 150 ft-lb) of torque.
It's also a very attractive motorcycle to look at, one of the best-looking motorcycles of 2020.
So it's not really surprising that a premium bike can have cruise control, until you look at it and realise — this is really far from a long-range motorcycle! It is a big naked motorcycle without even a windscreen and with a range of only ~150 miles.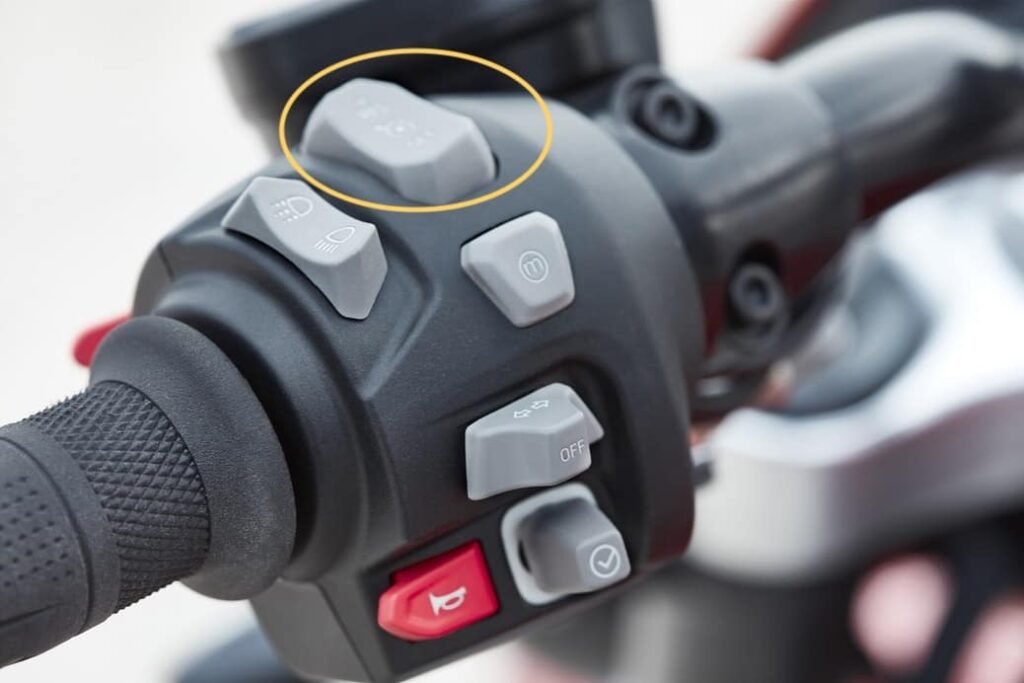 2018+ Triumph Speed Triple — Another raucous naked streetfighter with cruise control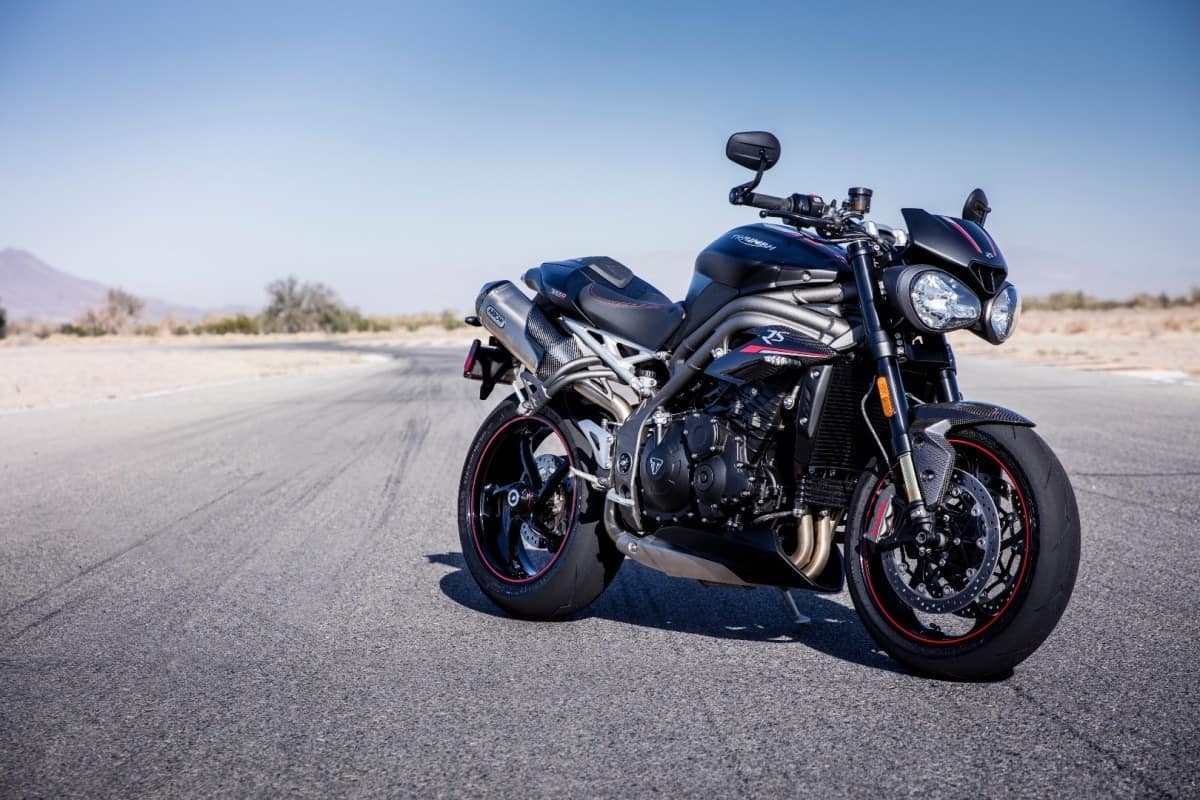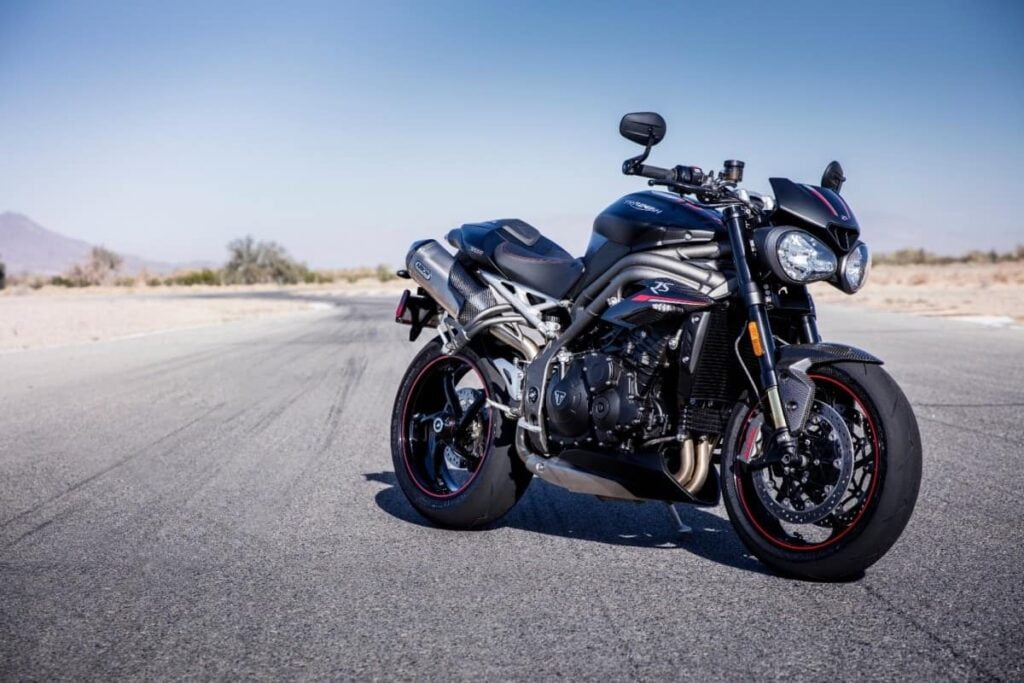 Like many other naked bikes, especially those in the premium segment, the 2018+ Triumph Speed Triple finally got cruise control.
This puts it in the same company as the BMW S1000R and the Yamaha MT-10 as being brutish, powerful naked motorcycles with no fairings — often called "streetfighters" — but with the manners of cruise control to get us through heavily policed areas. Awesome!
2023 Triumph Street Triple RS / Moto2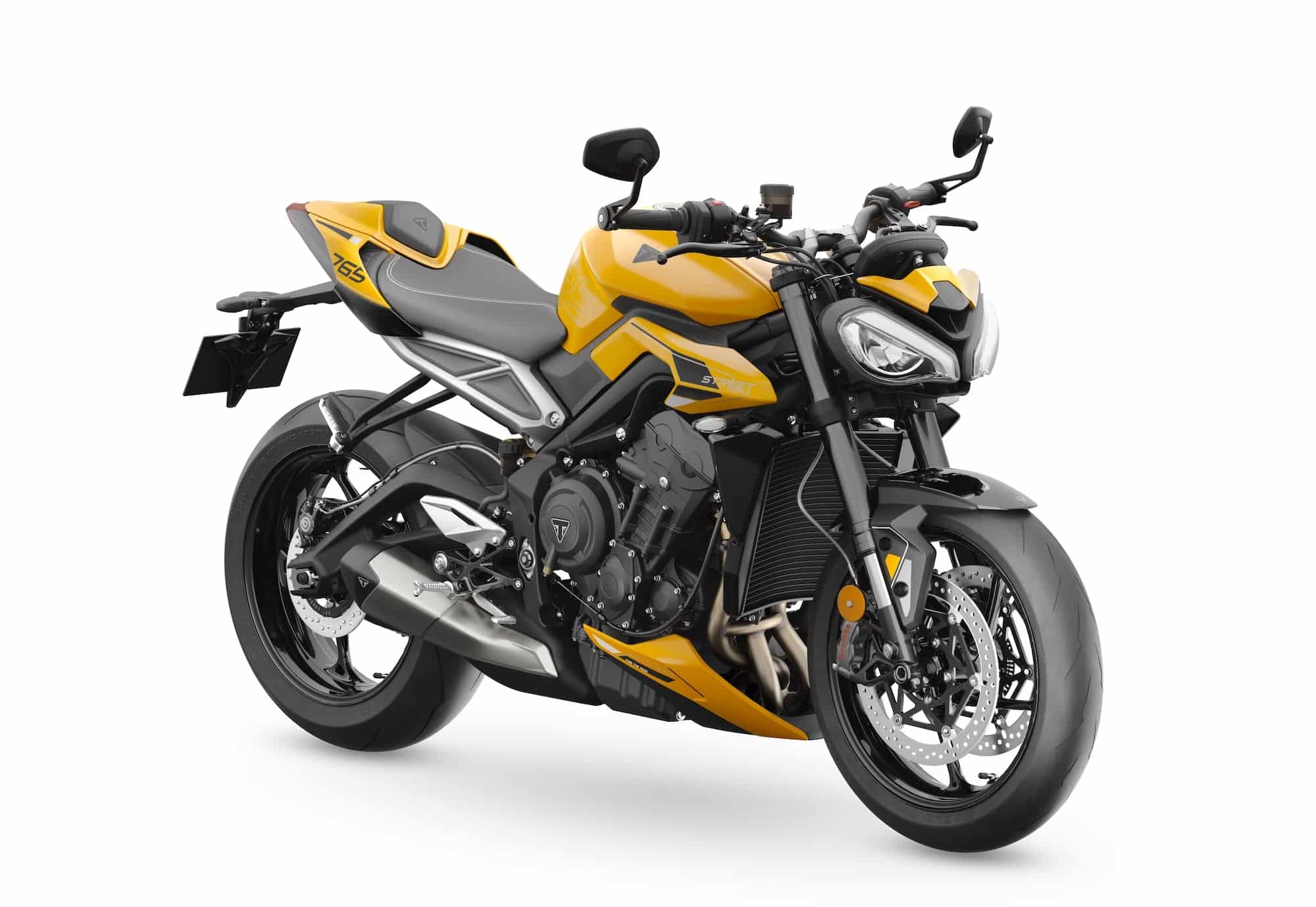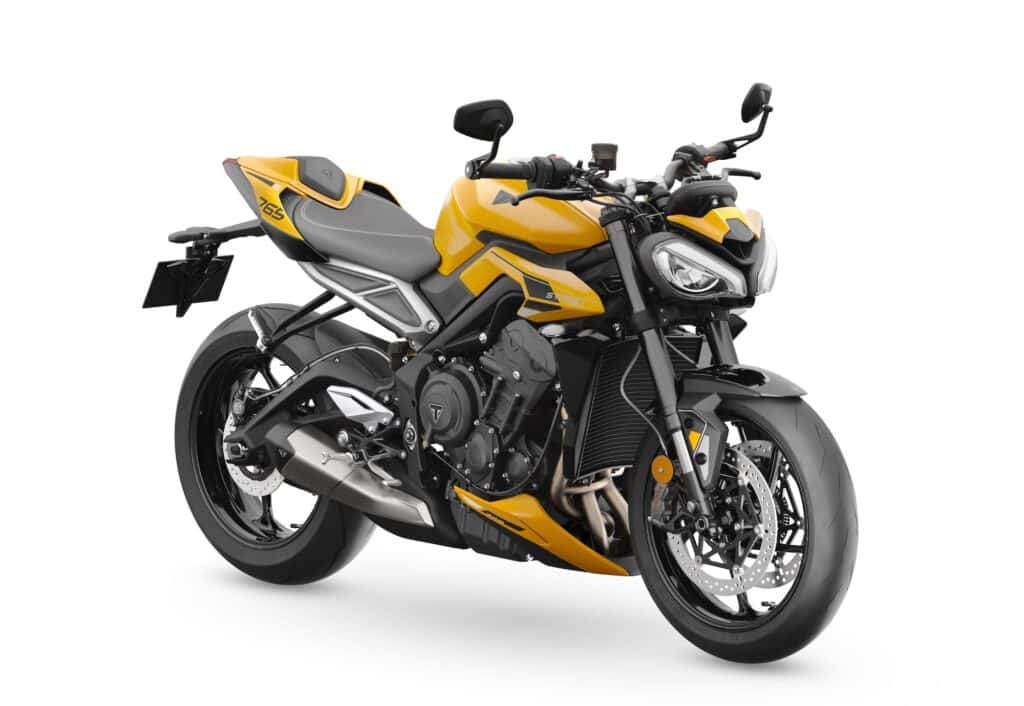 The new 2023 Triumph Street Triple RS and limited-edition Moto2™ get optional cruise control, putting them in the rare category of middleweight naked sport motorcycles with cruise. Note that it's an aftermarket option you have to specify, making bikes like the 2021 Yamaha MT-09 SP seem like excellent value.
Shame that the standard version of the Street Triple (the R) doesn't get it, though.
2021 Yamaha MT-09 SP and 2022 Yamaha XSR900
For 2021, Yamaha has totally revamped their middleweight naked bike, the 2021 Yamaha MT-09. And while both the standard and SP models get ride-by-wire, only the SP gets cruise control.
This puts it in the same category as the F 900 R — a middleweight standard motorcycle with cruise control.
The price difference between the MT-09 and MT-09 SP is USD$1,600 at MSRP. But with that you also get significantly upgraded suspension on the SP, too.
In late 2021, Yamaha announced the same updates for the 2022 Yamaha XSR900. It also gets cruise control.
Yamaha FZ-10/MT-10 (2016+) — the first Yamaha sportbike with cruise
It's unsurprising that the R1, Yamaha's 200+hp superbike, does not have cruise control — even though with ride-by-wire it should be a trivial addition. I mean, that's a high-power sport bike, where every gram matters.
But what is surprising is that the "streetfighter" version of the R1, the MT-10, has had cruise control as standard since launch!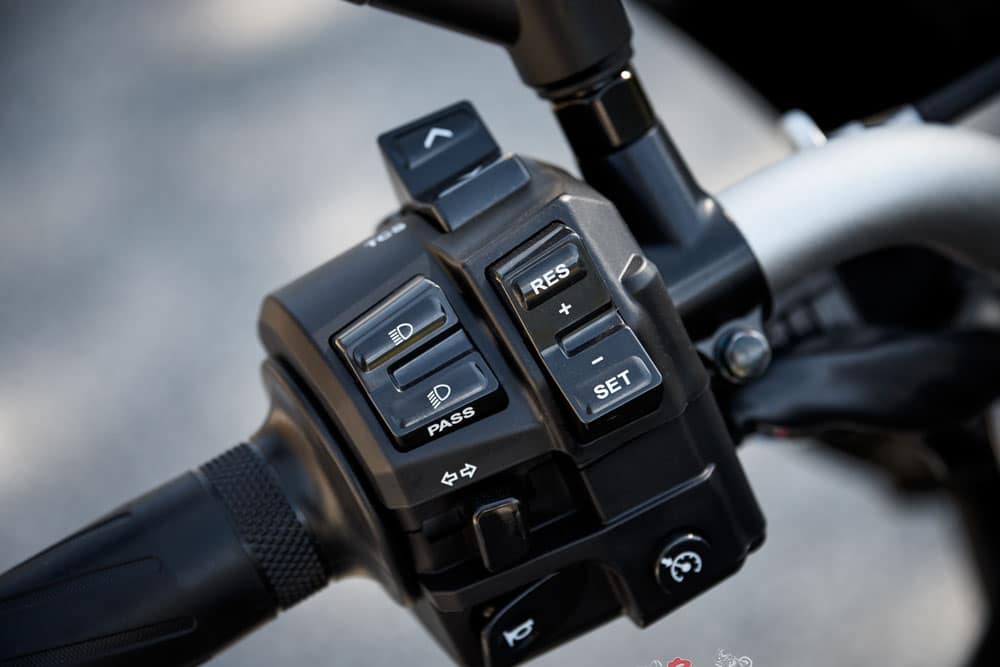 The MT-10 is a fire-breathing standard/streetfighter bike that puts out a claimed 158hp (138 hp at the rear wheel as measured on the dyno), using the crossplane engine from the Yamaha R1, but detuned to produce its peak torque and power slightly lower in the rev range.
The MT-10 has also been released in "touring" version since 2017, complete with a couple of small tail bags and a windscreen.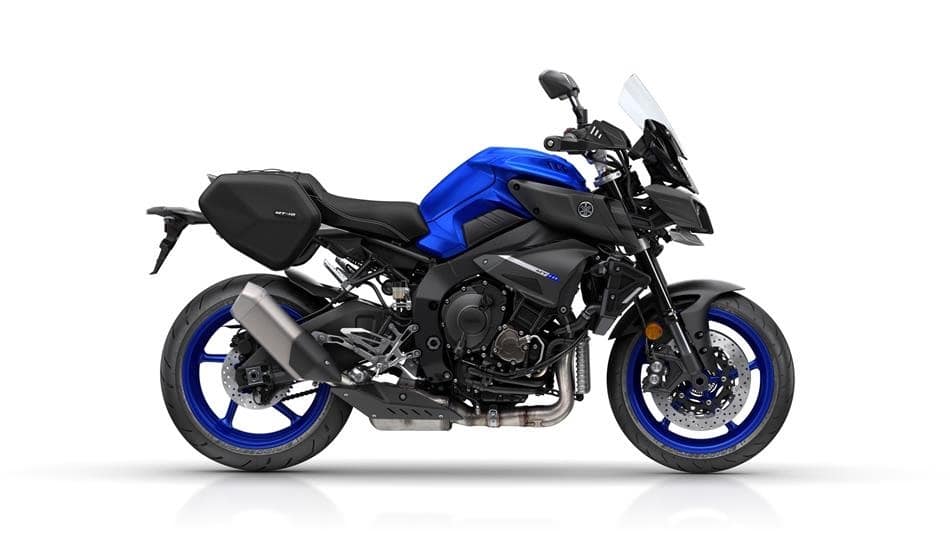 Which are the cheapest motorcycles with cruise control?
If you're looking for factory cruise control — not an aftermarket one — then your best bets for a cheap motorcycle with cruise control are:
A new CFMOTO CL-X Sport or Heritage. These middleweight sport or standard bikes from Chinese manufacturer CFMOTO are hopefully setting a trend for cruise control trickling down to more and more motorcycles.
A used BMW S 1000 RR or S 1000 R — these have had cruise as standard (RR) or an option (R) since 2014/15.
A used Yamaha MT-10 — these have had cruise control as standard since 2016.
A new BMW F 900 R (in most markets) — these aren't too expensive and have cruise as standard! If you're after a high-end new bike with cruise, this is the cheapest one you can find.
Motorcycles/Brands that Don't Offer Cruise (somewhat surprisingly)
A corollary to the above is to consider motorcycles — and sometimes entire brands — that surprisingly don't offer cruise control.
(A previous version of this article, before the V-Strom 1050 and well before the 3rd gen Hayabusa, said no Suzuki motorcycles had cruise. Times have changed!)
For example, no motorcycle in the Ducati line-up has cruise control other than the Multistrada XDiavel, and later model Diavels. This is a bit surprising to me given that it's a premium brand, and that Ducati has had ride-by-wire for years. If BMW can do it, then Ducati definitely can.
Finally, I find it surprising when premium sport tourers that already have fly-by-wire don't offer cruise. For example, the Kawasaki Concours GTR1400 — to say nothing of its sportier sibling the ZX-14R, and the Honda ST1300. Since the early 2010s these motorcycles have had traction control and power modes managed via ride-by-wire throttle — but no cruise.