A buying guide to the BMW S 1000 R — an "everyday awesome" sportbike that can do everything. Including analysis of model changes over the years, factory options, spec changes, designs, colours, what can go wrong, and maintenance.
A few months ago I bought a BMW S 1000 R (which many refer to as the "S1000R"), after a very careful and exhaustive analysis of what motorcycle to buy (using something I call the "regret avoidance framework").
In doing so, I had to learn everything about the S 1000 R. Everything! It was a little hard piecing together all the information on the internet, trying to figure out stuff like "What is the Sport version?" or "How buzzy are the handlebars really of the pre-2017 S 1000 Rs?".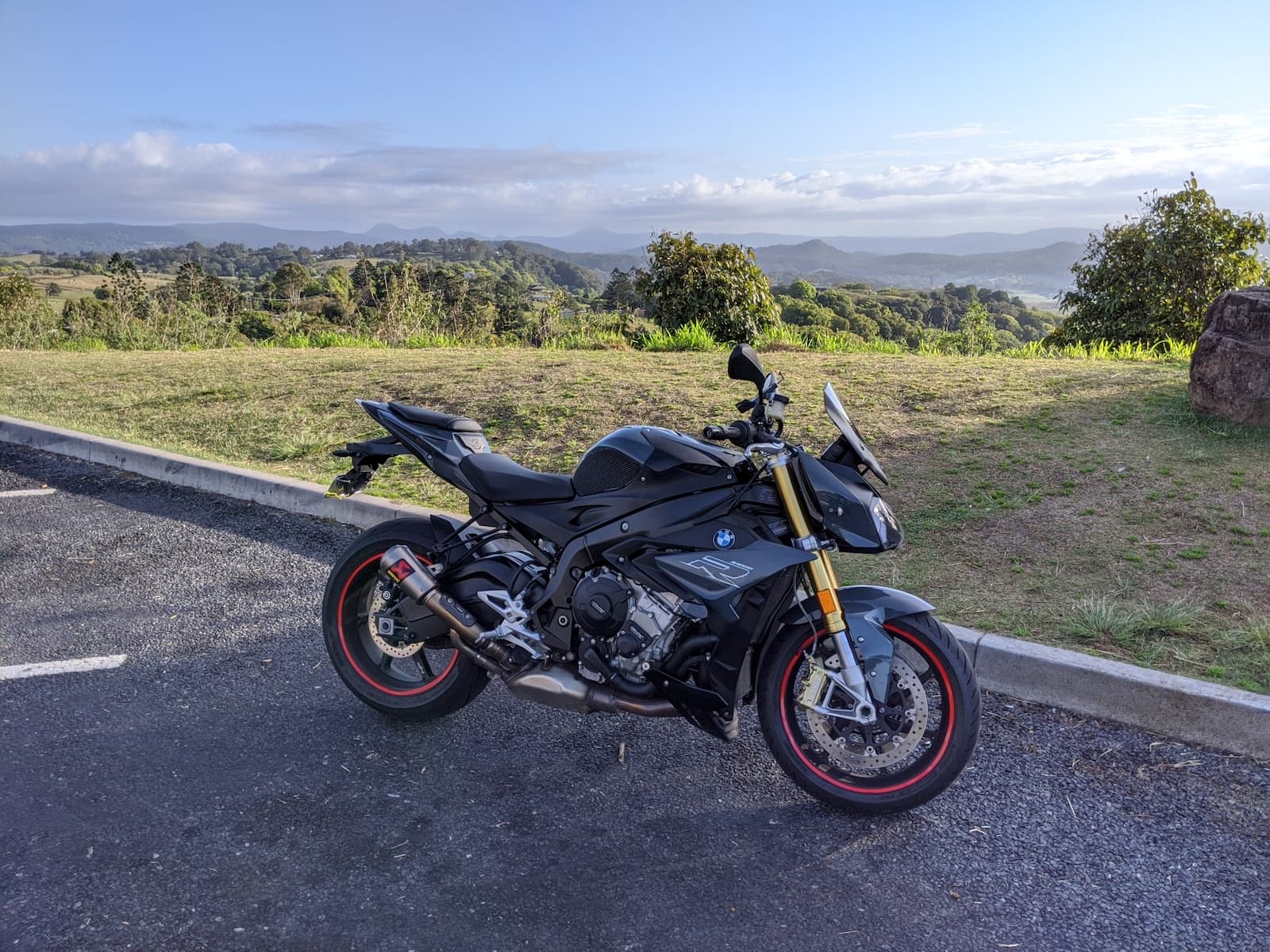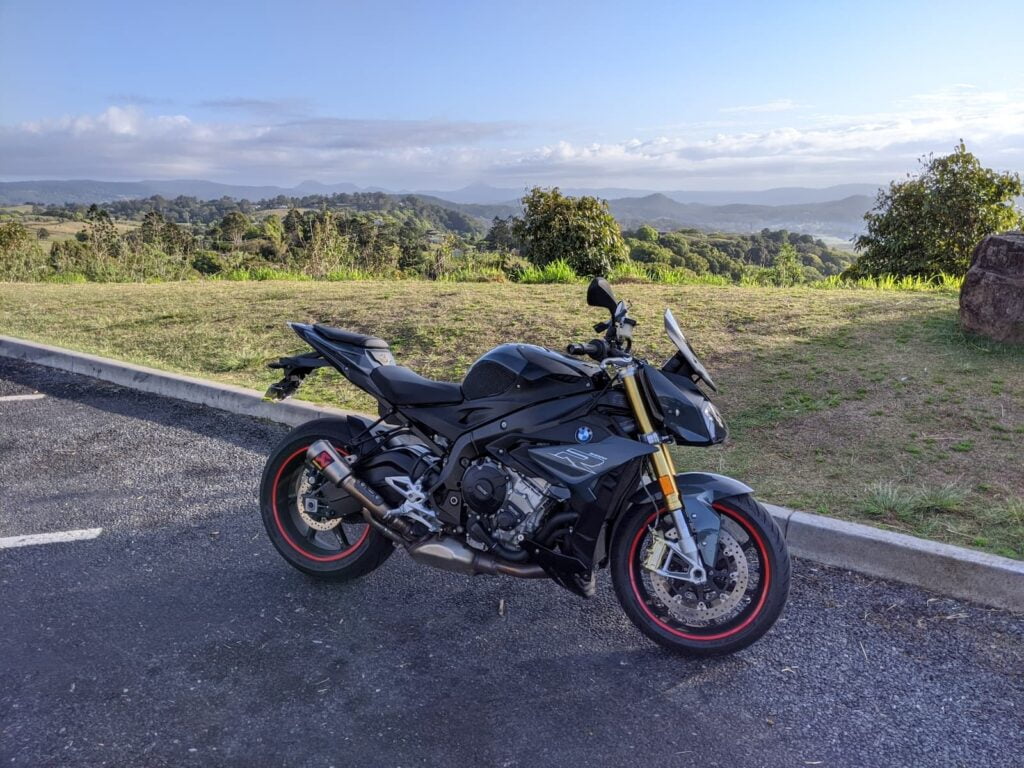 So I'm putting it together in this used buyers guide for other people who want to buy a used BMW S 1000 R.
Whether the BMW S 1000 R is right for you depends on a lot of things. Do you like naked bikes? Do you like BMW? Do you like inline four-cylinder engines? If the answer to those three things is "yes", it's likely to be it.
A small word — I never have taken many photos of my S 1000 R. I usually had no reason to stop riding unless I was at a petrol station!
I'll try to go over each of these in detail.
Are you obsessed with motorcycles?
Well, I am. That's why I created this site — as an outlet. I love learning and sharing what others might find useful. If you like what you read here, and you're a fraction as obsessed as I am, you might like to know when I've published more. (Check the latest for an idea of what you'll see.)
Brief history of the BMW S 1000 R
The S 1000 R was released first in 2014, five years after the BMW S 1000 RR thundered onto the sportbike scene in 2009, suddenly changing many things for BMW.
See also — my BMW S 1000 RR model history and buyers guide.
Before the BMW S 1000 R, the closest parallel was the K 1300 R. The K 1300 R shared some features with the S 1000 R — it was an inline-four motorcycle with a large-displacement engine and 127 kW/173 hp — a bit more power than the S 1000 R's de-tuned engine when it was released in 2014 (118 kW/160 hp).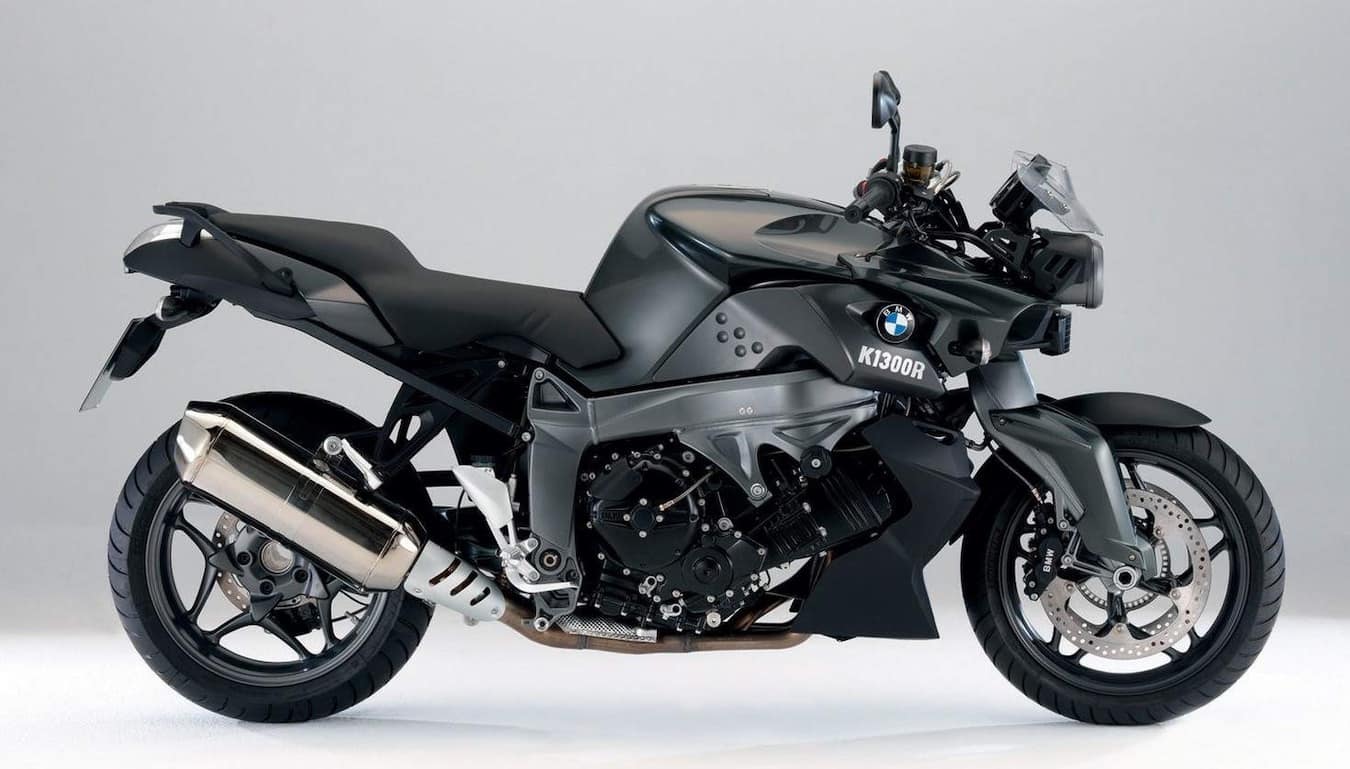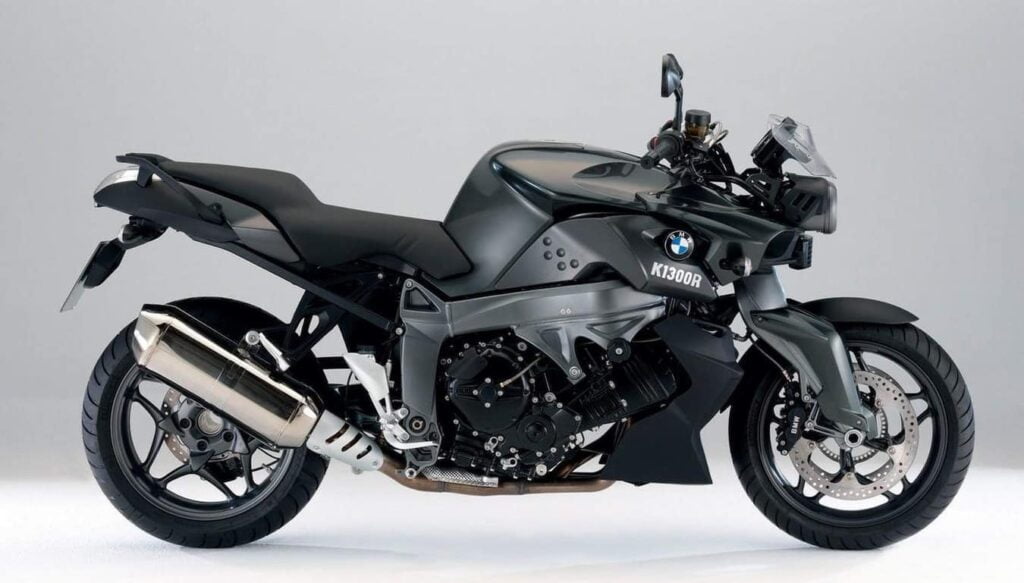 The K 1300 R also looks amazing. It has a dark angular thing going on that puts it in a small group of motorcycles I think of "motorcycles fit for Batman".
But the K 1300 R was a different kind of bike. It was fast, but it was more "muscle" than the S-series bikes are.
Here are they key differences, from both a consumer's and a rider's perspective:
The K 1300 R (and K 1300 S) had dual telelever ("duolever") suspension, different to the forks on the S 1000 R (and nearly every other motorcycle)
The S 1000 R is quite a bit lighter at 207 kg/456 lb (wet); the K1300R is 243 kg/536 lb
The K 1300 R has a bigger engine at 1298cc; the S 1000 R's is 999 cc
The K 1300 R has a sweet single-sided swing arm; the S 1000 R has a conventional swing arm
The S 1000 R has much more tech in it — active suspension, cornering ABS in later models (which BMW calls ABS Pro), and cruise control.
In a nutshell, while both are fast naked four-cylinder bikes that will handle well, the S 1000 R is a more lightweight sportbike, while the K 1300 R is a more heavyweight bruiser.
They're dissimilar enough that the K 1300 R was still sold until 2017, when it was discontinued — though I'm certain BMW will replace it at some point.
The BMW S 1000 R was first introduced in 2014, then revised in a big way in 2017, then revised again in 2021.
In the original 2014 spec, the BMW S 1000 R had a 999cc 4-cylinder in-line liquid-cooled engine producing 118 kW (160 hp).
The engine was based on the incredible S 1000 RR, which at the time produced 144 kW (193 hp). So the S 1000 R was down on peak power by about 20%.
But it was done so that there'd be more torque available down low. And indeed, looking at a dyno chart, the S 1000 R has about 10 m (7 lb-ft) more torque along most of the torque curve, up to 7,500 rpm. (More on this on comparing the S 1000 R with the S 1000 RR below.)
Revisions to the 2017+ BMW S 1000 R
In 2017, the BMW S 1000 R was revised. Even though it wasn't extensive, it still means that the 2017+ is the earliest model I'd recommend. For one reason — better handlebars!
Changes to the 2017+ BMW S 1000 R include
Slightly increased power to 121 kW/165hp (up from 118 kW/160 hp)
Slight weight reduction of 2 kg to 205 kg unladen
Standard HP titanium rear silencer, designed by Akropovic — looks cool, sounds better
"Vibration-free" handlebars, to reduce the buzz everyone complained about on earlier models
ABS Pro as a new element of the optional equipment item Riding Modes Pro
Reduced fairing
Improved instrument cluster
There were other aesthetic changes, like colour options, too.
A few tiny things changed since 2017 (e.g. support for the app, or tweaking of the self-cancelling turn signals), but nothing major.
Do the 2014-2016 BMW S 1000 R's handlebars really buzz?
There's a lot of… buzz… about the buzz in the handlebars of the 2014-2016 BMW S 1000 R.
Like with many aspects of motorcycles, it's hard to figure out how much of this was just sensationalism by moto journalists, and how much was real. So I had to try it out! I went and test rode a 2015 S 1000 R and an S 1000 XR too (both suffered from the same problem).
Admittedly, I went in knowing that the handlebars buzzed. So I had some expectation that coloured my opinion. But at the same time, I really wanted to buy that bike. I was trying to talk myself into it.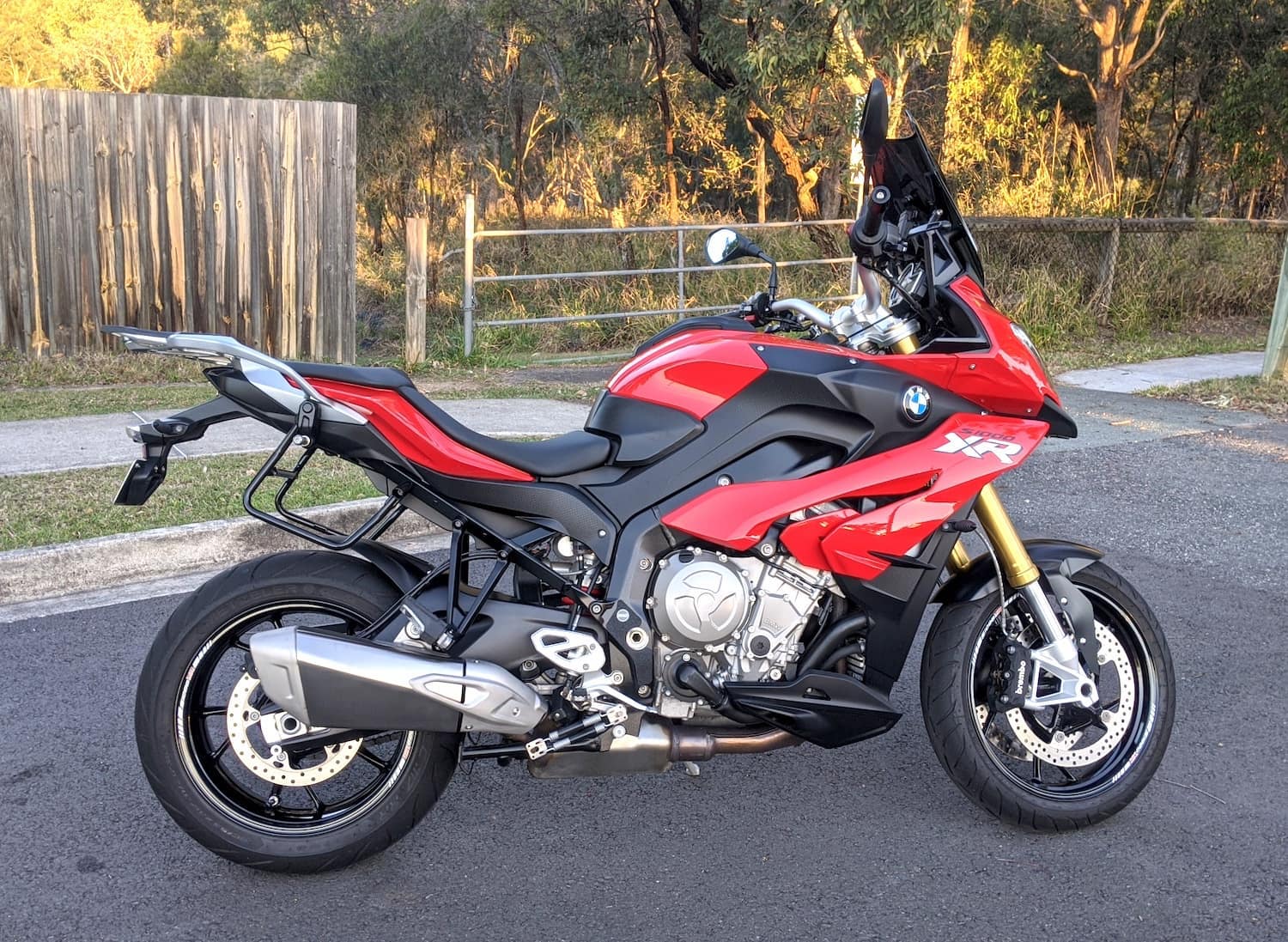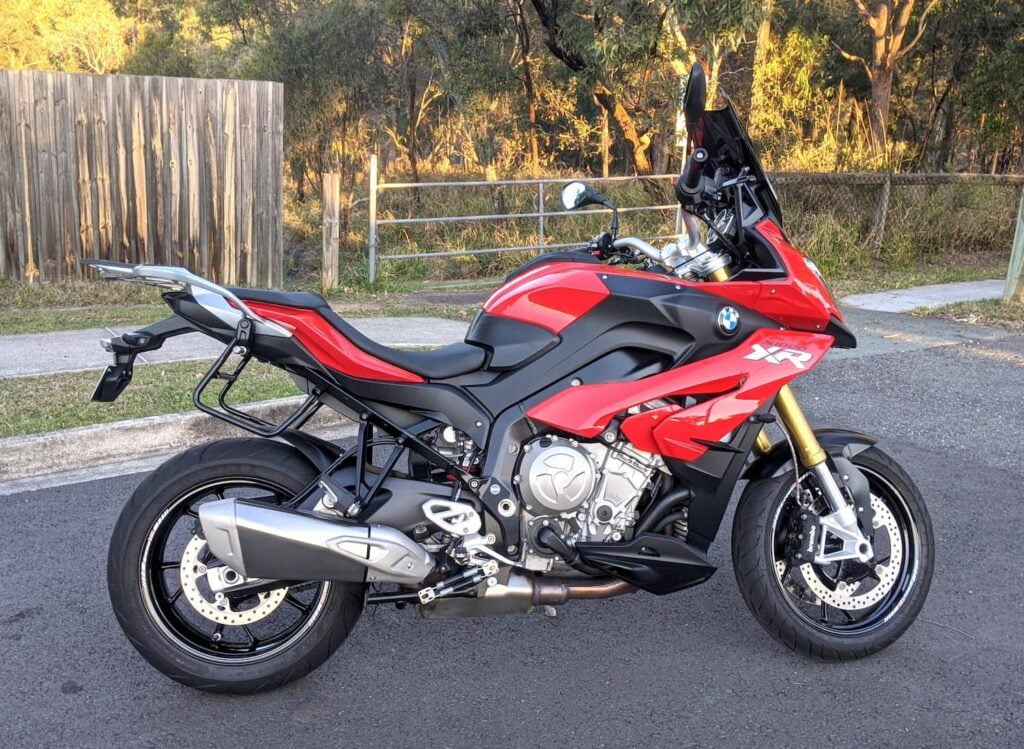 I really liked the BMW S 1000 XR in particular. It was very nice to look at, and well-priced. But in the end I didn't buy it because a) the position was a little too gentlemanly, and b) I just had to admit that those handlebars were too buzzy.
Look, buzziness is relative. All motorbikes vibrate. I should know, I've ridden my share of Ducatis. Those things vibrate so much that they vibrate out fairings in the bolt, loosen the engine mounts, and one day even caused my shift lever to fall off the bike (I didn't tighten it enough, though).
Other motorbikes all vibrate, or buzz. Harleys vibrate, and it's called "character". Kawasaki Ninja 1000s have a buzz around 6,500 rpm that's well known. Does any of it matter? It depends entirely on your expectations. When I bought a BMW, I did so because I wanted 100% smoothness everywhere — just as I'd expect from a Honda Goldwing or a Yamaha FJR. So a little buzz is OK, but my threshold of tolerance on a BMW is a low lower because I expect (and pay) more.
That said — the 2017+ BMW S 1000 R (that I bought) is not vibration-free, but it never bothers me.
The 3rd generation BMW S 1000 R: 2021+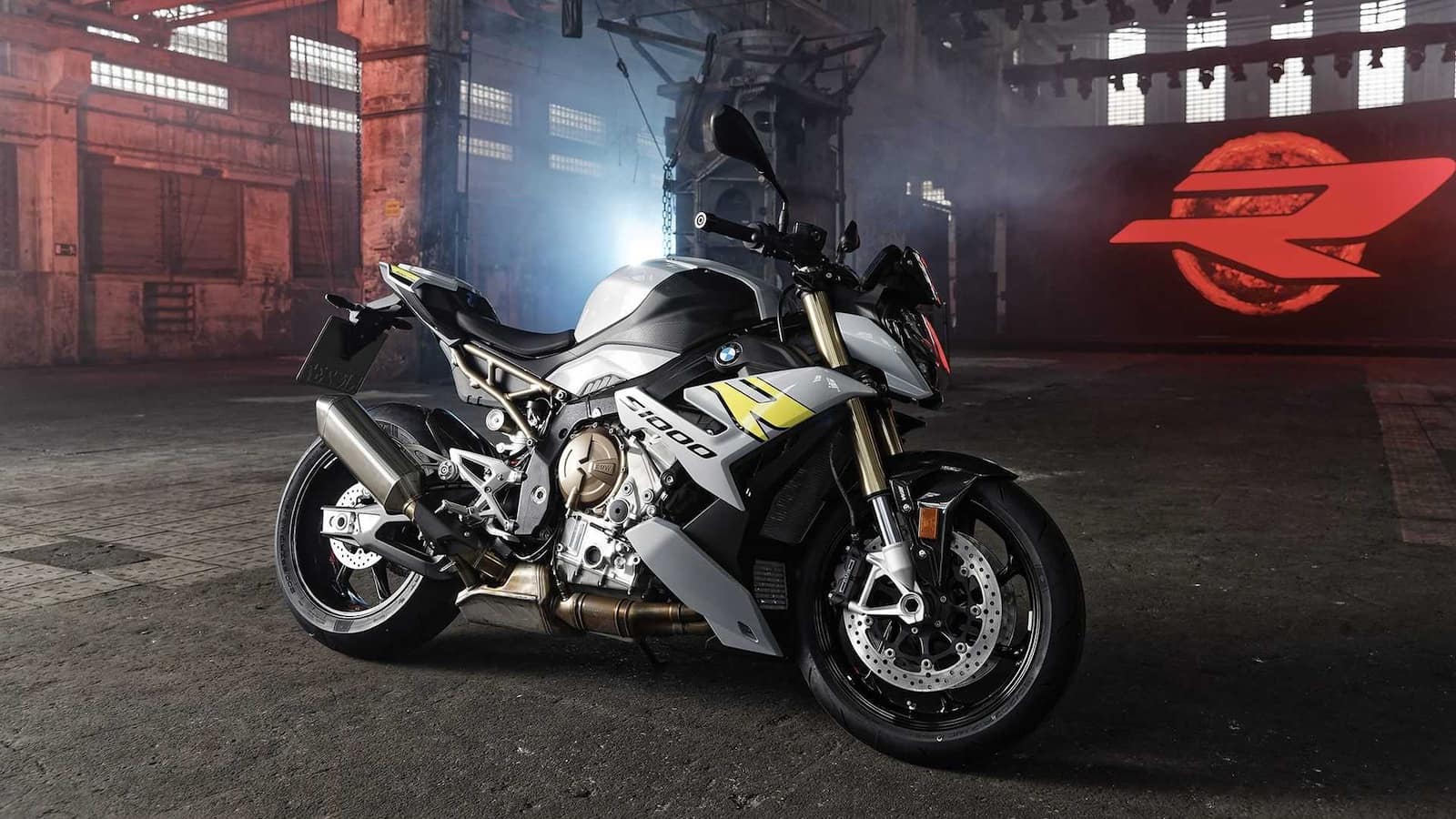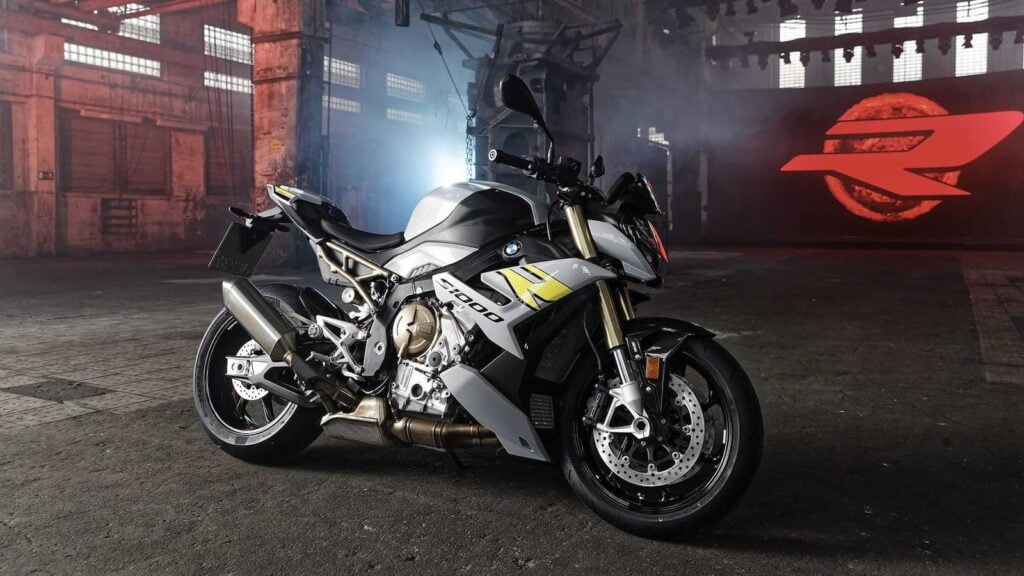 Late in 2020, BMW announced a revision to the S 1000 R for 2021.
Here's are the differences in the 2021 BMW S 1000 R:
Lighter — wet weight of 199 kg (439 lb), vs the previous model's 205 kg (452 lb)
Single-piece LED headlight (rather than the asymmetrical one from the former model) with adaptive lighting for cornering
Standard ABS Pro (cornering ABS)
Slightly modified fairings to make it look better
Modified, narrower frame (called "Flex Frame") that helps rider keep knees tucked in
Colour TFT display to replace the old-looking LCD
The engine has the same power and torque rating as before, but BMW says they improved mid-range pull, bringing 59 lb-ft of torque at 3,000 rpm.
The 2021 S 1000 R now comes five optional packages.
M package: Lighter M forged wheels or even lighter M Carbon wheels (at additional cost), a titanium silencer, the M endurance chain (that needs much less frequent maintenance), a lightweight battery, different paint finish, a lap trigger, and a special seat and fuel cap.
Dynamics package: Riding Modes Pro (the pro riding modes, adjustable engine braking, and a setting to allow power wheelies), Shift Assistant Pro (the quickshifter), DDC, and a spoiler (new)
Comfort package: Keyless Ride Light, USB charging port, heated grips, and cruise control. This package is standard in some markets, like Australia.
Carbon package: A few parts made of carbon
Milled parts package: Much nicer milled metal hand levers (something people replace quickly!), lever protectors, and footpegs
Some of these are standard in some markets, and some are included in the "Sport" package. It's a little confusing. Just get ready (and excited) for a lot of decision making.
One of the things that disappointed many pundits is that the 2001 model doesn't get the ShiftCam variable valve timing that the S 1000 RR got two years previously in 2019. So the S 1000 R's "de-tuned" engine now means not just different timing but a different valve timing system.
Standard S 1000 R vs "Sports" Package and Options
A question I had — and which people often have on the forums — is what is the difference between the standard BMW S 1000 R and the "Sport" package? Or as it's known from 2021 onward, the "Dynamics" package?
Luckily, this has remained mostly consistent since 2014 (through 2020).
Standard, the BMW S 1000 R is equipped with:
Two ride modes — "Rain" and "Road"
Heated grips
Automatic Stability Control (ASC) — Traction control
Race ABS — essentially linked ABS that adjusts based on various conditions (but not lean angle)
The Sport package includes "Pro Riding Modes". This includes
Quickshifter (Gear Shift Assistant)
Two more riding modes — Dynamic and Dynamic Pro
Dynamic traction control — Traction control whose intervention level is modified by lean angle
Dynamic Damping Control — Active Suspension
Cruise control
ABS Pro — Retro-fittable to the 2014-2016 model, and from factory in 2017+.
If you're after cornering ABS, then I'd advise you to buy a 2017+ model with the sports package. Many owners with pre-2017 models didn't retrofit it.
In 2021, ABS Pro and DTC (both of which rely on the six-axis IMU) are standard on all the S 1000 R models.
How to tell if an S 1000 R is the "Sports" package
This was a difficult one for me. But there are a few ways you can tell.
Here are a few tell-tale indicators. Any one of them is enough, but you might not have a lot of information if you're looking at an advertisement with not enough photos.
Cruise control on the handlebars. If it has cruise, then it's the Sports package.
On start-up (for pre-2021), it says "ABS Pro" on the dash as the first thing.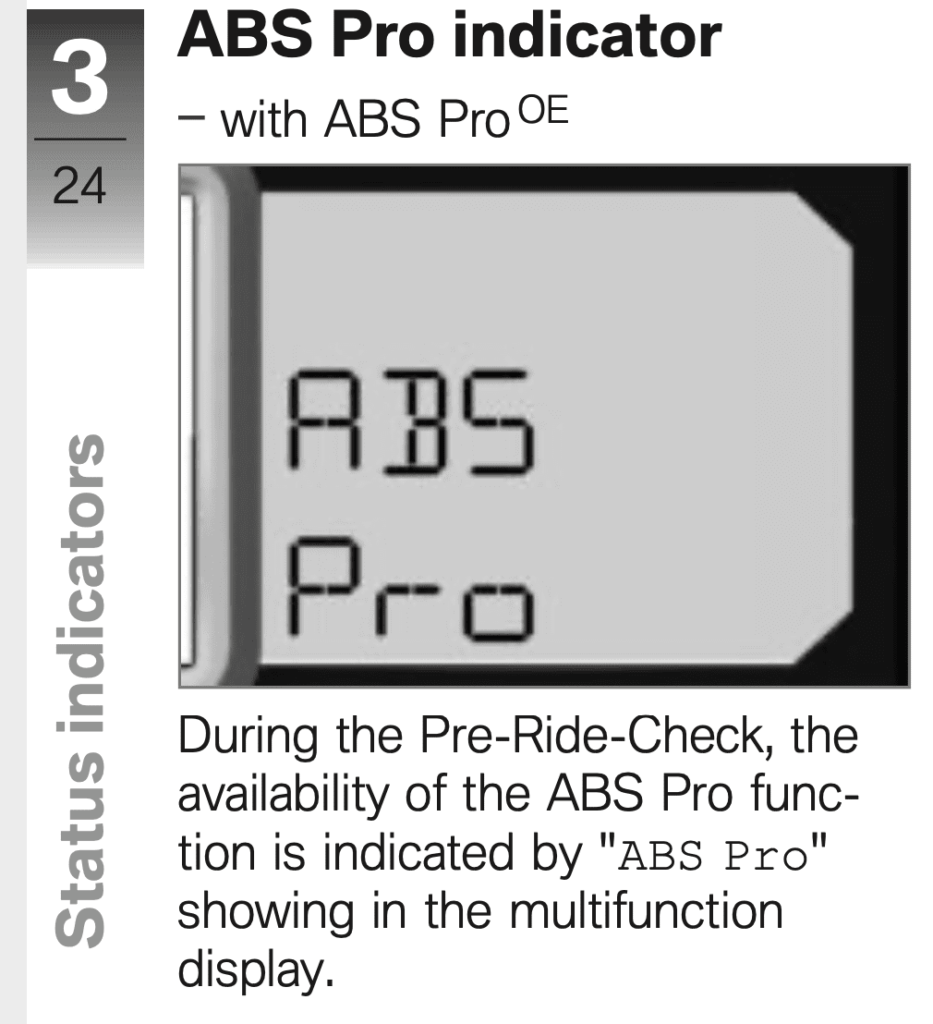 Gold forks. The sport package includes DDC, and those forks are gold. The non-sport package has black forks.
The little engine spoiler. This also comes as part of the sport package.
Of course, beware of people who've sourced the spoiler or forks, and not fit other parts of the sport package. Due your due diligence. Watch for that ABS Pro on startup (pre-2021. From 2021 it's standard.)
Confused by Race ABS vs ABS Pro? So was I! Here it is, explained.
Differences between the BMW S 1000 R and S 1000 RR
Aside from the fact that the S 1000 RR is the more "iconic" of the two bikes, being the sportbike, there are three primary differences between the S 1000 R and the S 1000 RR:
Engine power and torque curve (the big one!)
Handlebars and riding position (the other big one)
Racing-oriented factory options on the S 1000 RR
S 1000 R vs S 1000 RR power and torque curve
Let's start with the power and torque curve.
Firstly, it should come as no surprise that the S 1000 RR overall makes more power. Both motorcycles have had power bumps since they were first launched, and this remains the case.
The reason the S 1000 RR makes more power is that it revs higher. It makes less torque for most of the lower rev range, but then maintains its torque levels into higher RPMs, beyond the S 1000 R's redline.
According to BMW themselves in their 2014 press release (and every magazine article that's just a re-write of the press-release), for the S 1000 R "up to 7500 rpm, this engine version develops 10 Newton metres (approx. 7 lb-ft) more torque than the S 1000 RR."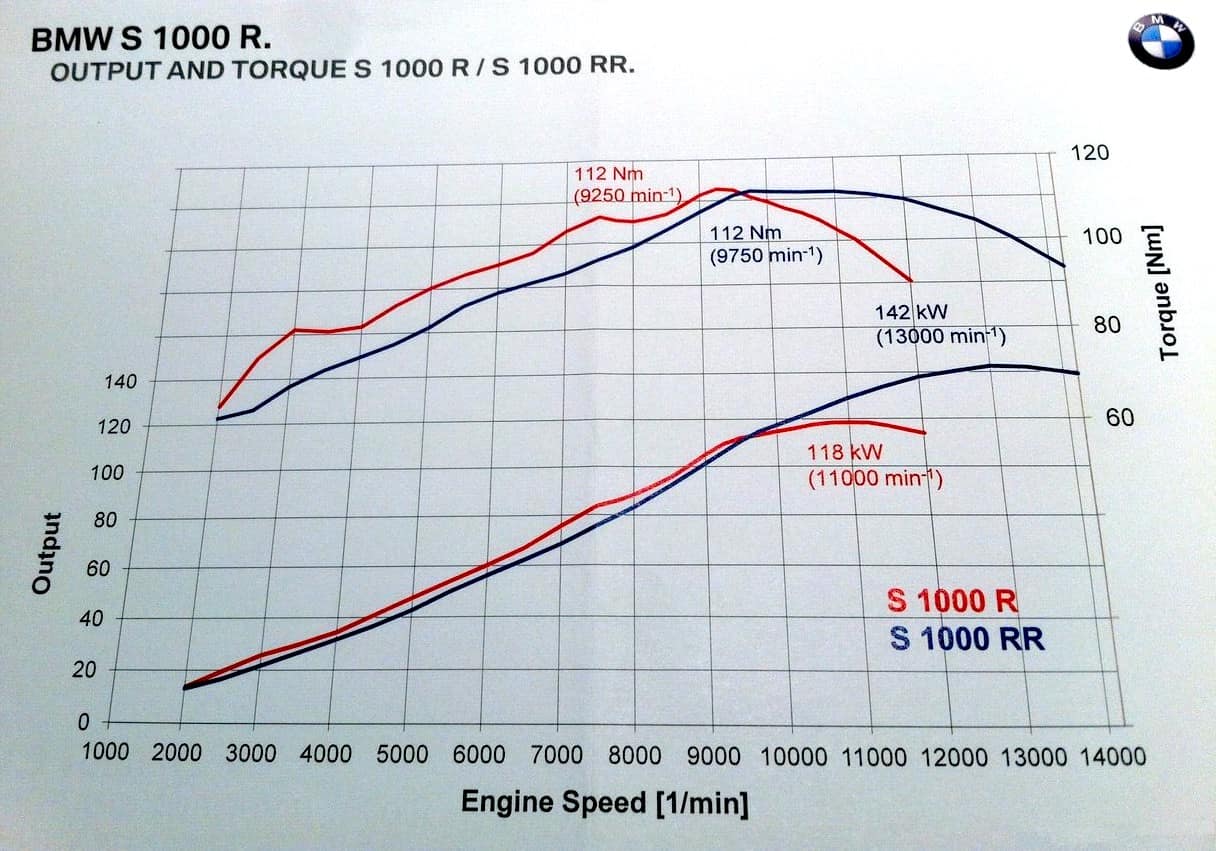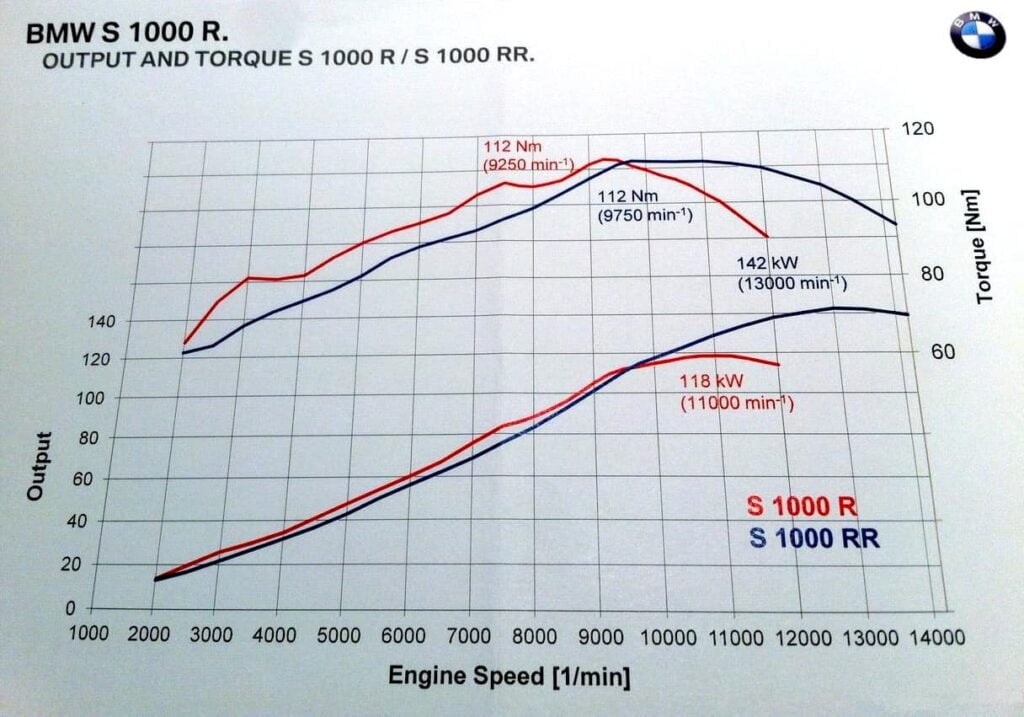 To verify this, I took the liberty of compiling data from a few different public dyno chart torque curves I found on the internet of the 2017 models S 1000 R and S 1000 RR.
Even though there may have been some small (+/-2%) errors in my transcription, at first blush the difference in the charts supports BMW's claim, roughly matching their published charts in shape.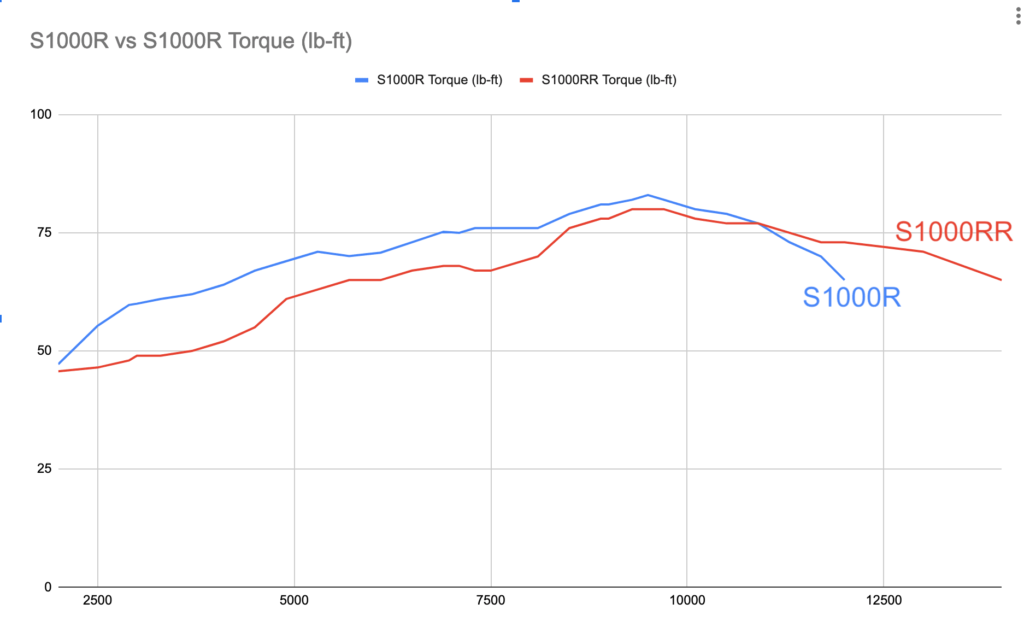 What does this mean in reality? The S 1000 R has more torque along most of the curve but then redlines more quickly.
So is the S 1000 RR "weak"? Is that what it feels like to ride? No!! In fact, in almost any forum thread of people talking about using the S 1000 RR as a daily rider, nobody complains about it having poor road manners in traffic.
The S 1000 RR has over 50 ft-lb (about 35 Nm) of torque from very low, 2,500 rpm. That's a LOT of torque. The fact that the S 1000 R has 10-20% more is nice, but not necessary.
I have occasionally read of people describing the S 1000 RR as a little weak in low RPMs, but that must be in comparison to any more road-oriented bike, or a big super-naked (like the S 1000 R). In my personal experience, either bike has a basically unusable amount of torque for launching at full twist on public roads, and both benefit greatly from the electronic controls to help me when I accidentally grab too much throttle.
(I don't need those aids happen 99.9% of the time, and it's possible to train this away with much more experience, but last week in the city when I was jumping between lanes a little too actively, I was really glad it was there or I'd have wheelied right into a taxi.)
Recent S 1000 R and S 1000 RR models have the same gearing of 17/45. They thus apply torque in the same way. (The S 1000 RR has a higher top speed because its redline is higher.)
But in summary, both the S 1000 R and S 1000 RR can be ridden on the street. Both come with heated grips, cruise control (if you have the Sport package), and ABS — all of which are street-oriented options.
S 1000 R vs S 1000 RR riding position
Second comparison point between the S 1000 R and S 1000 RR is the handlebars and riding position.
On the S 1000 R, you're more upright. The posture is definitely still forward-leaning — you're not stock upright like on an adventure bike, nor are you even mostly upright like you are on a Triumph Bonneville. The position is aggressive, like on a Ducati Monster or Triumph Speed Triple. When you hunker down onto the tank at high speeds, it doesn't feel ridiculous like it does on an adventure bike (where I suddenly feel like I have ape hangers).
On the S 1000 R, there's also more room for your feet to flex — the footpegs are a bit lower.
Have a look at this comparison from Cycle Ergo. I'm 6 foot tall with a standard 32 inch inseam (183 cm with a 82cm inseam), which makes me very average. I encourage you to try out Cycle Ergo yourself and see how you might fit the bikes.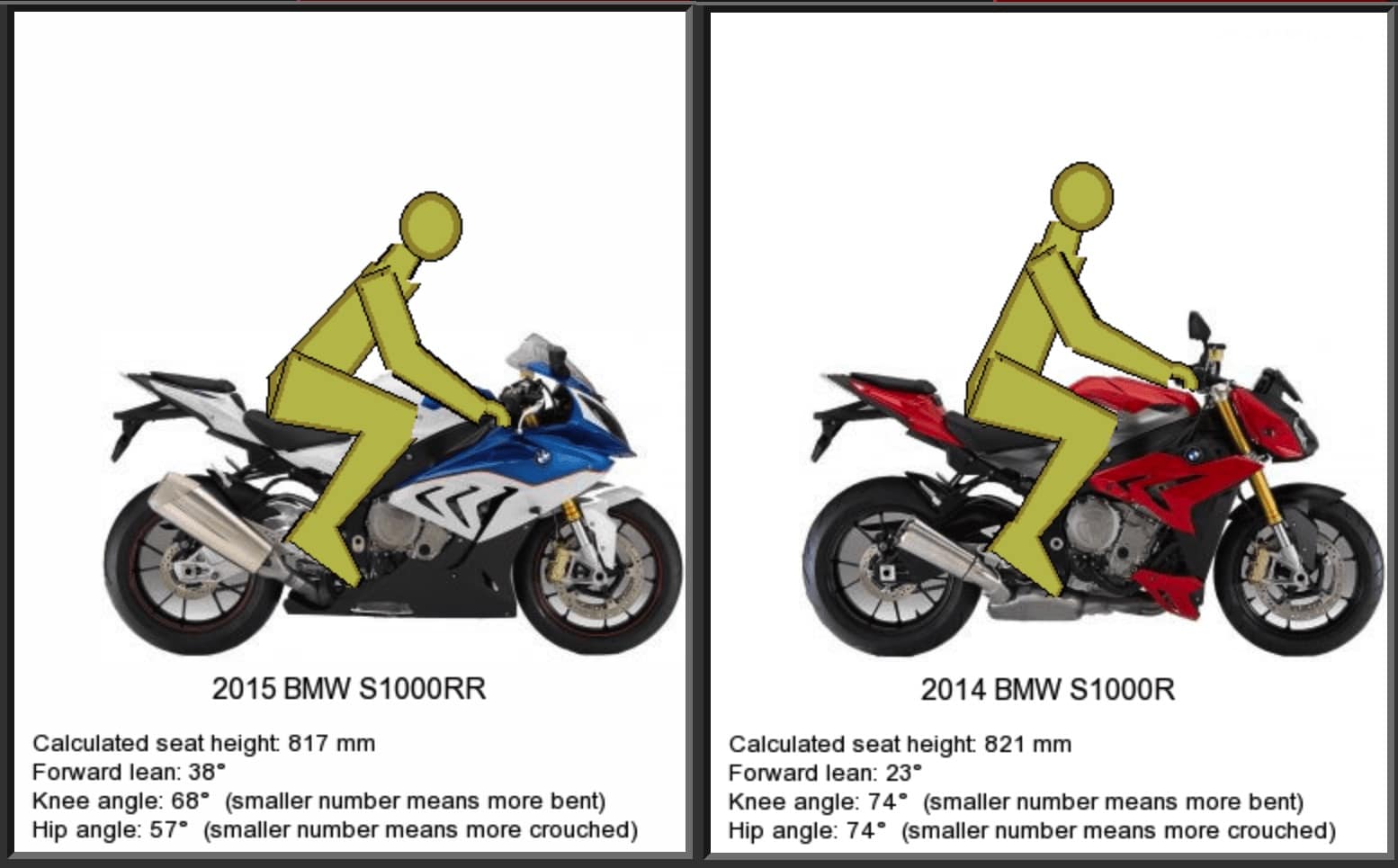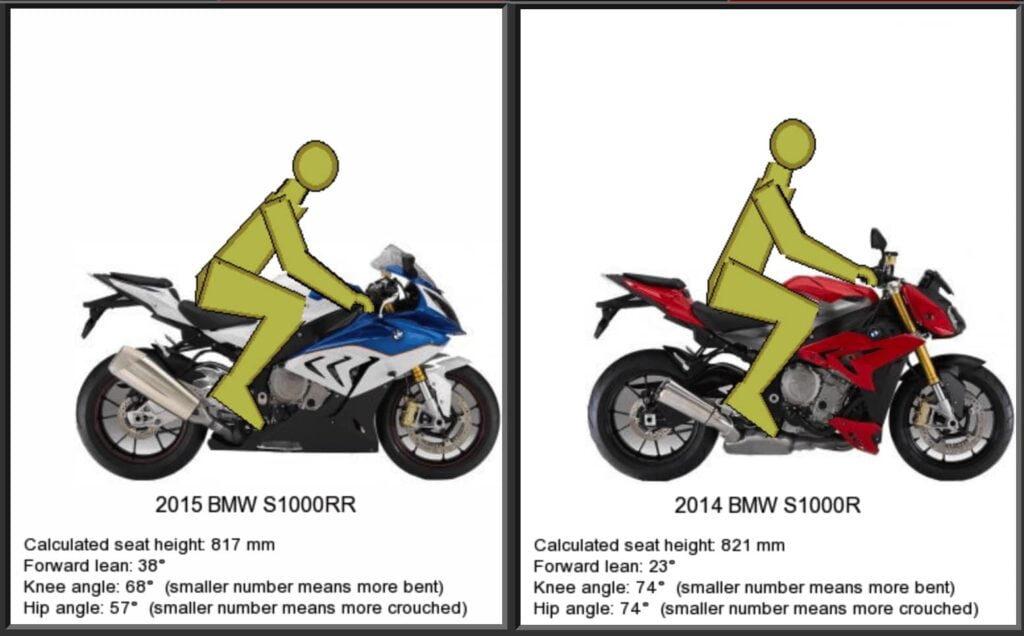 The 2021+ model of the BMW S 1000 R comes with adjustable riding positions, and you can even get factory bar risers from BMW.
Racing options on the S 1000 RR
The final comparison point, an important one for track riders and racers, is that the S 1000 RR comes with racing options in the computer.
Both the S 1000 R and S 1000 RR have lap timers and shift indicators.
The S 1000 R has four riding modes (assuming you have the Riding Modes Pro option) — "Rain", "Sport", "Dynamic", and "Dynamic Pro". There's also a "User" mode.
Dynamic Pro mode on the S 1000 R is designed for "situations in which the rider has an open view of the road ahead and the surroundings, and is for riding on dry surfaces with the high level of grip generally encountered only on race tracks" (p126).
In Dynamic Pro mode on the S 1000 R:
ABS support is reduced to a minimum, intervening later.
Lift detection for the rear wheel is deactivated — it can lift off the ground.
ABS for the rear wheel is deactivated.
ABS Pro is not available.
The S 1000 RR has four as well, but they're called "Rain", "Sport", "Race", and "Slick" (and also a "User" option).
Note: You only get "Slick" on the S 1000 RR if you have a special coding plug, which comes with the Sport package.
On Dynamic Pro option on the S 1000 R, only the suspension and ABS/TC intervention is adjusted.
In Slick mode on the S 1000 RR, you get the following (per the manual)
Engine output, increase in power and response are designed for maximum "sportiness" (not sure what that means)
Overrun cutoff (RPM limiter) is deactivated
The behaviour of the ABS system matches that of RACE mode (intervening later, and de-activating rear-wheel lift-off prevention), but with one difference — if you use the footbrake lever, there'll be no ABS on the rear-wheel – meaning you can lock it up.
Longer wheelies and wheelies at small angles are also permitted – meaning it's possible to flip the bike.
So the difference between Slick mode on the S 1000 RR and Dynamic Pro mode on the S 1000 R is that Slick mode improves engine output, power and response, and removes the RPM limiter.
On forums, people say they prefer Slick mode because it is more "responsive", but they get better times with either Slick or Race modes.
There are also a few racing-specific features on the S 1000 RR — probably more than I can find, but there's at least
A customisable shifting lamp
A customisable speed warning/limiter
More easily removable mirrors
But overall, both the R and the RR share a lot of race-oriented technology, like lap timers and advanced data logging, supporting an infrared receiver, and so on.
Riding the BMW S 1000 R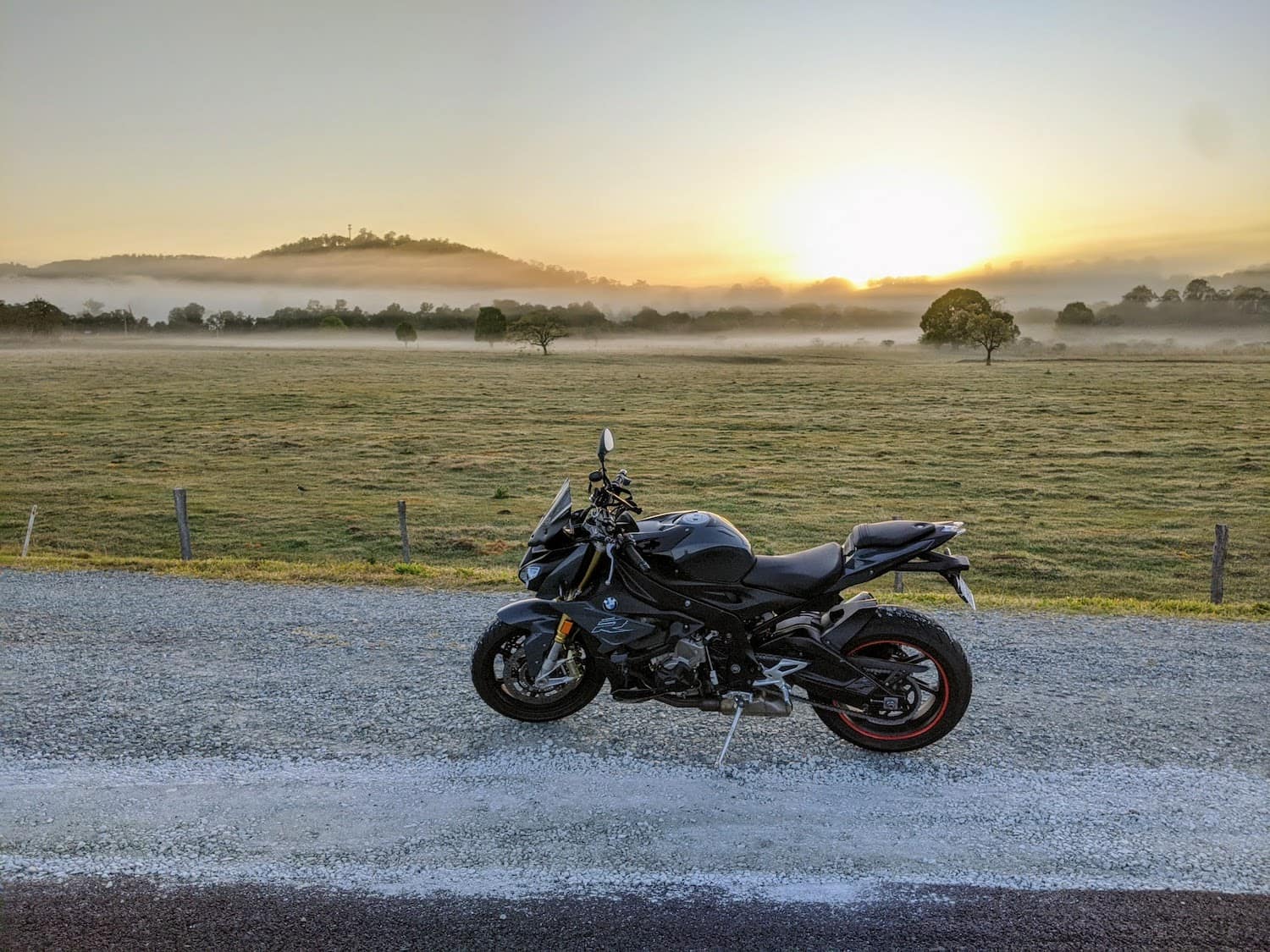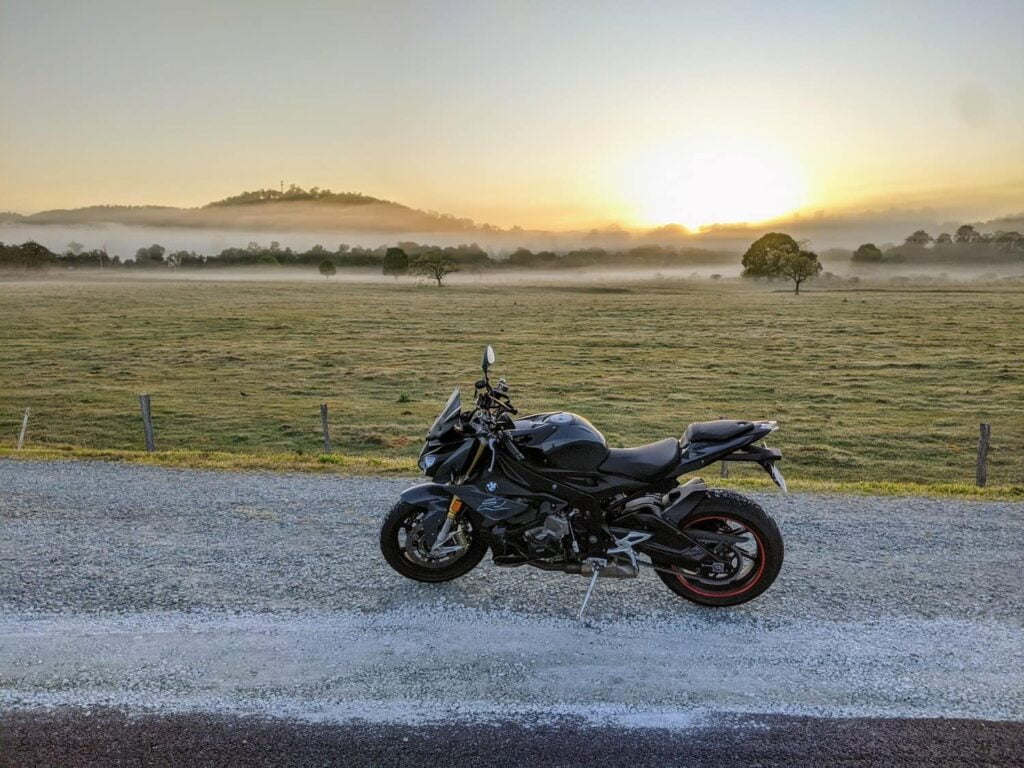 A review of what the BMW S 1000 R is like to ride deserves its own article.
But in short, I picked the S 1000 R because I perceived that it could do anything. Riding it was always joyful and never annoying. The S 1000 R has this curious twin personality that let it (and me) be both a gentleman and a beast at different times in the same ride.
Firstly, the twin personality of the engine. The inline-four of the S 1000 R is its own animal. It's smooth, but raucous and burbly — especially with a little slip-on exhaust.
People think four-cylinder motorcycles (maybe with the exception of the R1's crossplane) are boring, but keeping the S 1000 R on the boil was more adrenaline-inducing than I could ever want. Hearing it crackle on downshifts just made me feel really bad-ass.
Secondly, the twin personality of the S 1000 R's riding range. It's set up with somewhat high pegs and a slight forward lean that are more "streetfighter" than "standard" — this isn't something you'd compare to a Bonneville. The BMW S 1000 R wants to go quickly.
But the engine and gearing lets you do whatever you like. You can also take the S 1000 R slow, if you need — I've accidentally turned corners in fourth gear and it hasn't come close to lugging. And on the freeway, setting cruise control on and just effortlessly pushing forward makes the boring stretches very palatable for a bike that's so sporty.
Finally, the twin personality of the controls and features. When I was going out for a quick blast in the mountains but got caught out in a gully that was surprisingly cold (I like to ride before dawn), I could turn on the heated grips. A sportbike with heated grips? That's the S 1000 R (and RR, too).
And I felt invincible shooting down winding roads, but on the occasion that I had to grab the brakes, it was quite comforting to know that cornering ABS would catch me if I fell.
The number of features that the BMW S 1000 R has is also its only downside. There's nothing the S1KR can't do, unless you can't do it. It will cover your faults and let you accelerate through them. If you want a bike to become a more skilled rider, I'd pick a simpler one, and probably a less powerful one.
BMW S 1000 R vs Alternatives — Yamaha MT-10, Ducati Streetfighter, etc.
We live in a golden age of motorcycling, shortly before internal combustion will become illegal.
The competitors to the BMW S 1000 R are formidable and awesome. It's such an incredible list, and I'd be happy with any of them as my only bike, honestly.
It's such a formidable list it's impossible to do it proper justice, so I'll give a very quick one-paragraph overview of each one and why you might choose it.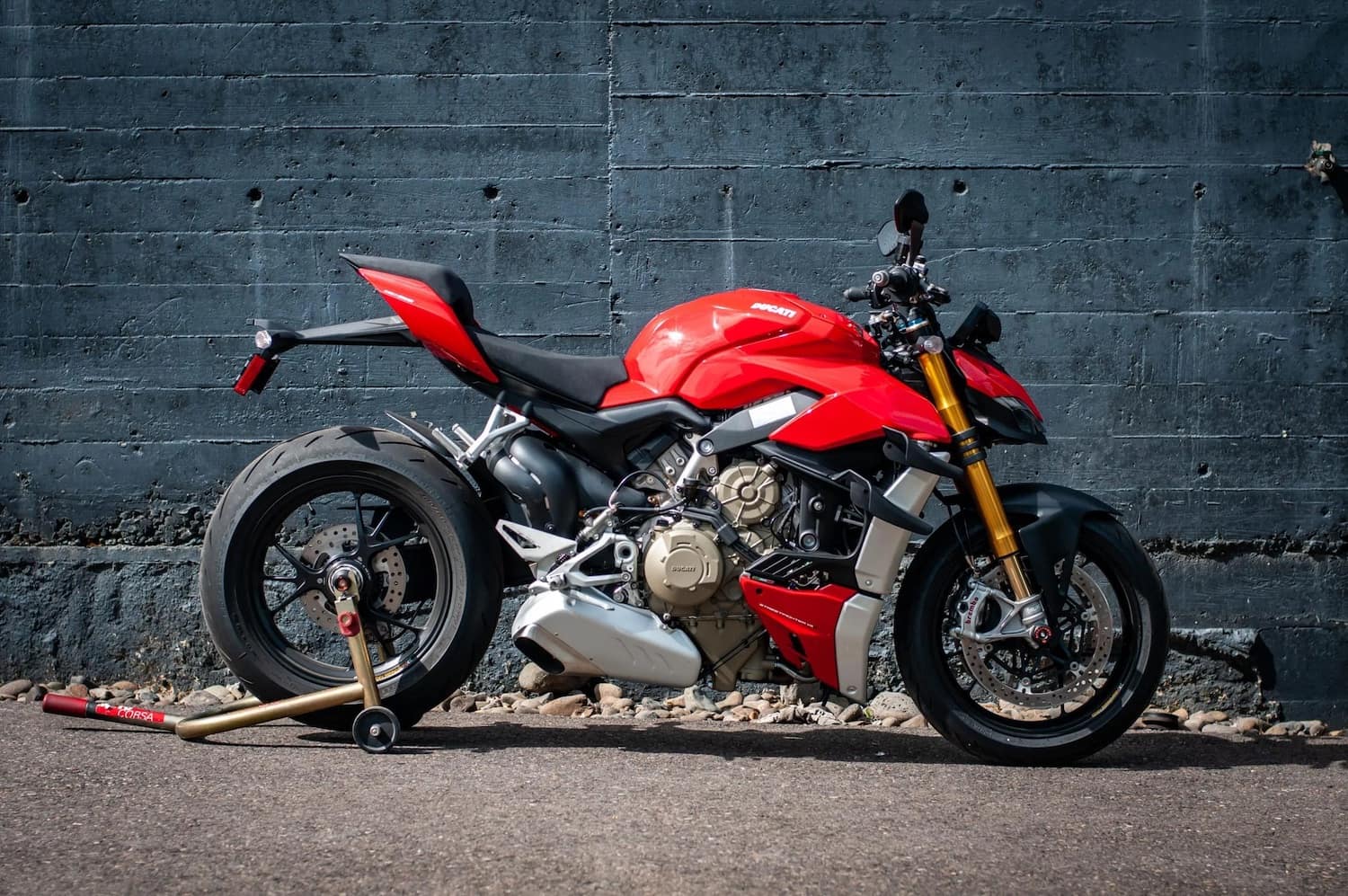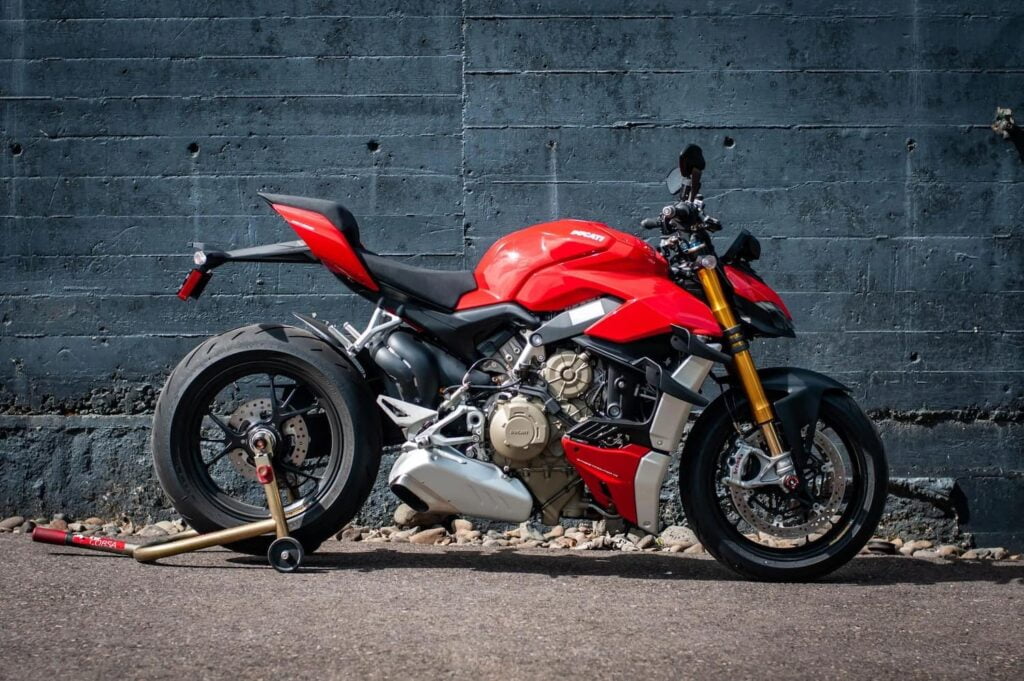 Ducati Streetfighter (S or V4) — You'd pick the old Streetfighter S (up to 2012) if you wanted a formidable, raw bike, with a brutish 116 kW/155 hp v-twin package pushing through a dry clutch and relatively tall gearing with no electronics. You'd pick the modern Streetfighter V4 (2020+) if you don't mind the premium cost of Ducati valve maintenance — even more expensive than BMW's. You'd also forego heated grips and cruise, but you'd still have cornering ABS. Streetfighters are very good-looking bikes. See some pics in our model history here.
Triumph Speed Triple — You'd pick the 2016+ Speed Triple if you wanted a howling triple that pushes 100 kW (140 hp) and a really attractive design, including a single-sided swing-arm. You'd have ABS and traction control, and cornering ABS/cruise from 2018 onward.
Aprilia Tuono V4 1100 — Aprilia has been doing the V4 for much longer than Ducati, and it has always been awesome. You get a bonkers engine with more power than the S 1000 R (175hp total), and later models come with all the tech you want, including ride by wire, cruise control, launch control, etc. Your only limitation with the Aprilia is a bit less dealer support, and "I told you so" from friends/forum gremlins when something goes wrong with the electronics.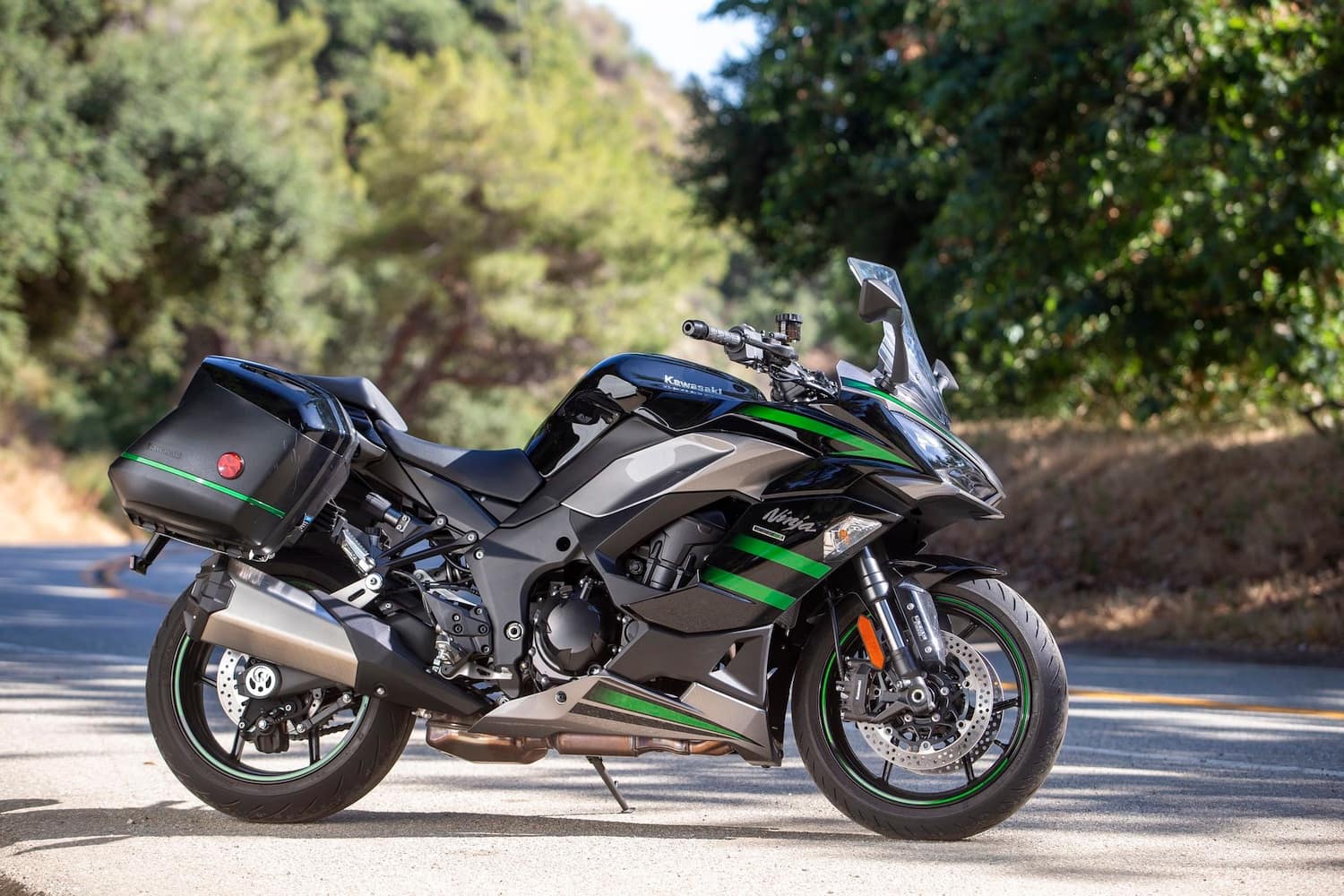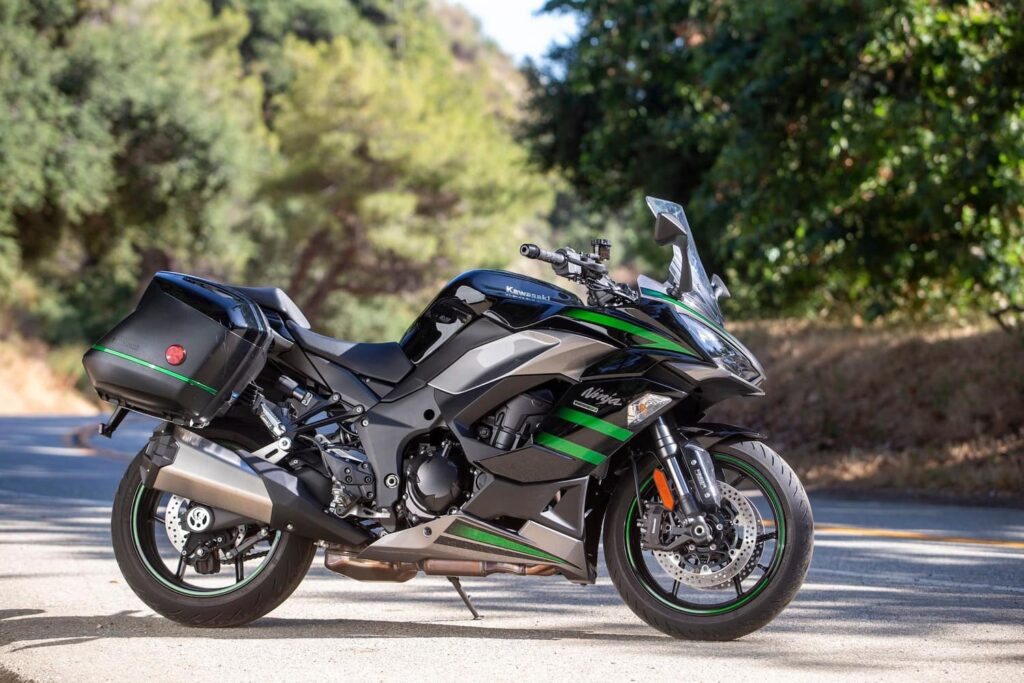 Kawasaki Ninja 1000/1000SX — I'd consider this the "reliable alternative". I quite like the 2020 Ninja 2000SX and considered it, but couldn't get a test ride. It has everything — cruise, traction control, a quickshifter, cornering ABS — and a bit of bodywork to keep the wind off me. It's comfortable and very reliable and has a raucous intake howl that I love listening to (I rode the similar Versys 1000 which shares the howl, but is a bit too sedate for me).
–> See my complete buyers guide to the Ninja 1000 (a.k.a. Z1000SX) for how it changed since launch in 2011.
Kawasaki Z H2 — This is maybe the most insane bike on this list, deserving its own entry. A naked bike with a supercharger from the factory, from the same line as the Kawasaki H2 superbikes. It's insane, but it's also fairly new and the high 197 hp (147 kW) power pushing a heavier 527 lb (239 kg) wet weight chassis almost puts it in another category.
Suzuki Katana — The Katana is an easier pick than the GSX-S1000, as it has higher-tech and retro 80s styling, just like I do. But it's still pretty old-school in a couple of ways. The Katana has cornering ABS and a full bevy of other rider aids — but no cruise control. It only became ride-by-wire in 2022 (but still no cruise), so I would put this in the category of "affordable and awesome" alternatives. It's cheap though and still high-tech (and cool-looking) enough to be worth a look.
Yamaha MT-10 — The MT-10 gets you the Yamaha Crossplane inline-4 from the R1, but tuned for low-down torque (and less top-end). It grumbles a bit at low RPM but is otherwise well-loved for being rich with character. The MT-10 also has cruise, TC, and ABS. From the 2022 model, the MT-10 also has a six-axis IMU with cornering ABS.
Honda CB1000R — The Honda lacks a lot of tech, and isn't that powerful at "only" 122 hp (91 kW) for the 2019 model. No cornering ABS, no cruise control… there are few reasons to pick the CB. The only reason I would is that you get Honda's reputation for reliability. On top of that, you'd get a platform that has been producing easy-to-ride, nice-looking bikes of this generation for decades. But otherwise, it's the least exciting bike on this list. (Note — 2020 sees throttle by wire including traction control, so maybe it'll get more tech soon.)
Common problems with the BMW S 1000 R
If you're buying used, then you need to know what problems lie in wait for you!
Here are the most likely things to happen to the S 1000 R. These are usually things that happen in the first 20,000 kms.
Noisy cam chain tensioner — The tensioner gets noisy on these. BMW replaces it at 15,000 km. But many owners opt for a manual tensioner.
Microswitch failures — there are several small switches that tend to fail on the S 1000 R. They're cheap to fix, but they can be annoying. These are on the clutch lever, and there's one in the ignition barrel — when it fails, your bike will stay on, even after you remove the key! (Tip — to turn it off, you have to disconnect the battery.)
Of course, you do need to do a proper inspection on the bike. It won't be that old, but you still need to make sure the tires aren't too worn, that the chain and sprockets work, etc. Check out my full used motorcycle inspection checklist.
And that's it. Aside from making sure the 10,000 km maintenance intervals are respected, you're good to go.
BMW S 1000 R Maintenance
The BMW has two major service intervals — minor and major.
Minor service is every 10,000 km, and involves
Changing the oil and filter
Changing the air filter
Checking and changing (if necessary) the brakes, brake fluid, steering head bearing, coolant, clutch lever/mechanism, chain, tyre, side stand, and lights.
The BMW S 1000 R has major maintenance every 30,000 kms (18,000 miles).
In addition to the minor things, you have to do
Valve clearances & timing
Changing the spark plugs
Changing fork oil
Minor service is about US$500, and major service is about the same on top of that.
You can do most of the minor service (probably all of it) yourself. But you won't get that pretty stamp in a logbook, and you'll need to have a BMW tech do the reset for you.
The S 1000 R was at the time the newest, shiniest bike I ever bought. To keep its service history, I decided to have service done at the mechanics.
I usually do all my older bikes myself — they don't have a service history, and cost me very little, so it doesn't matter as much.
But if you decide to do maintenance on the S 1000 R — at least those valve clearances come only every 30000 km (18000 mi). And if you have an M Endurance chain — well, you're barely going to have to touch the bike more than once a year.