A while ago, I found myself in love — against all odds, if you'd believe reviewers — with the Honda CB900, a.k.a. the Hornet 919.
There's a lot to love about a Honda standard. They're fast, good-looking, and "bulletproof". Despite this, I found many people described it as boring and mediocre. How could this be?
The same thing happens with the Honda CB1000R. On the face of it, this is a fast, high-spec sportbike that looks the business.
But every time I read a comparison between the Honda CB1000R "Neo Sports Café" and any other standard, the review of the CB1000R always falls short in some way: not as fast or high-tech, not as light, not as "characterful", or not as stylish.
And finally, as of 2022, Honda is not even exporting the CB1000R to every market (relax, Americans. You guys still get it.)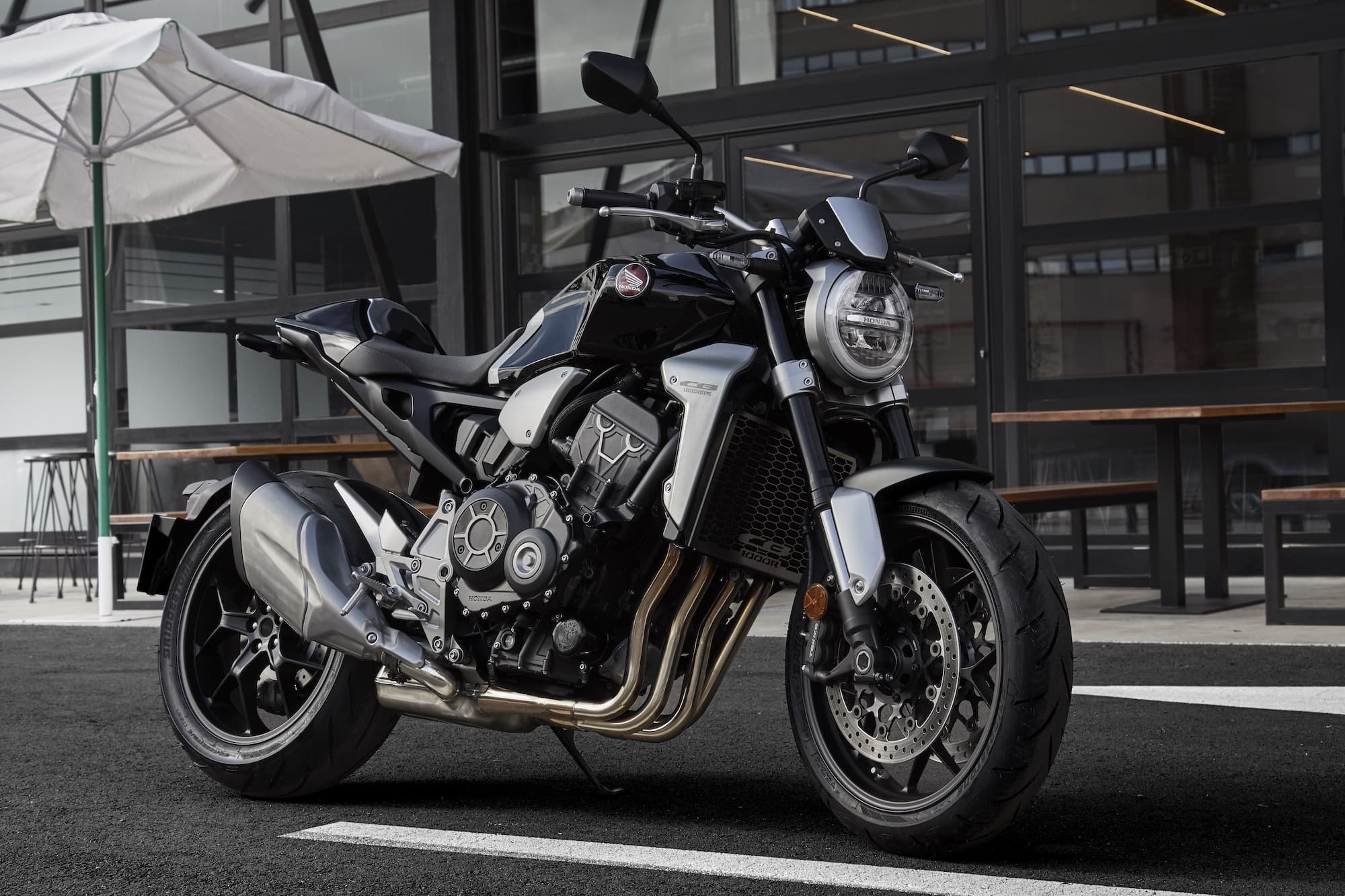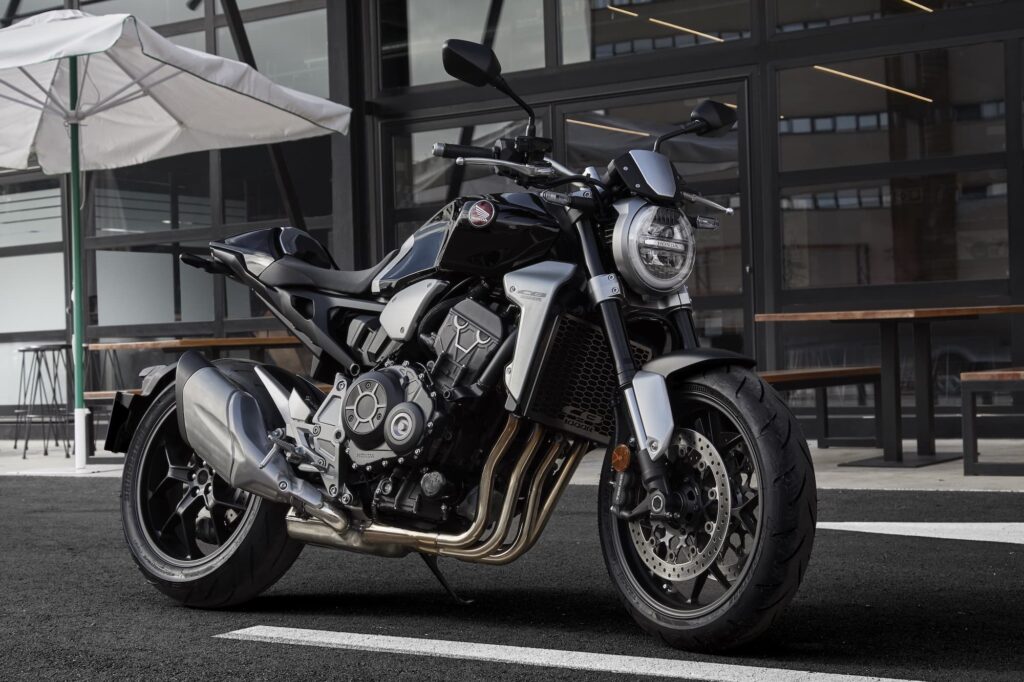 It's confusing to me, because the CB1000R is definitely all of those things: fast, high-tech, characterful, and stylish.
So, I keep wondering: Why no love for the CB1000R compared to its competitors? Are we just spoiled for choice? Or is there something to not love about the CB1000R — is it slow? Ungainly? Too expensive? I don't get it.
I've spent a while looking into the CB1000R and talking to a few friends who've owned them to try to figure this out.
If you own a CB1000R and want to write in and send me a pic and tell me what you love about it (or your gripes), I'd like to hear from you. See my contact page.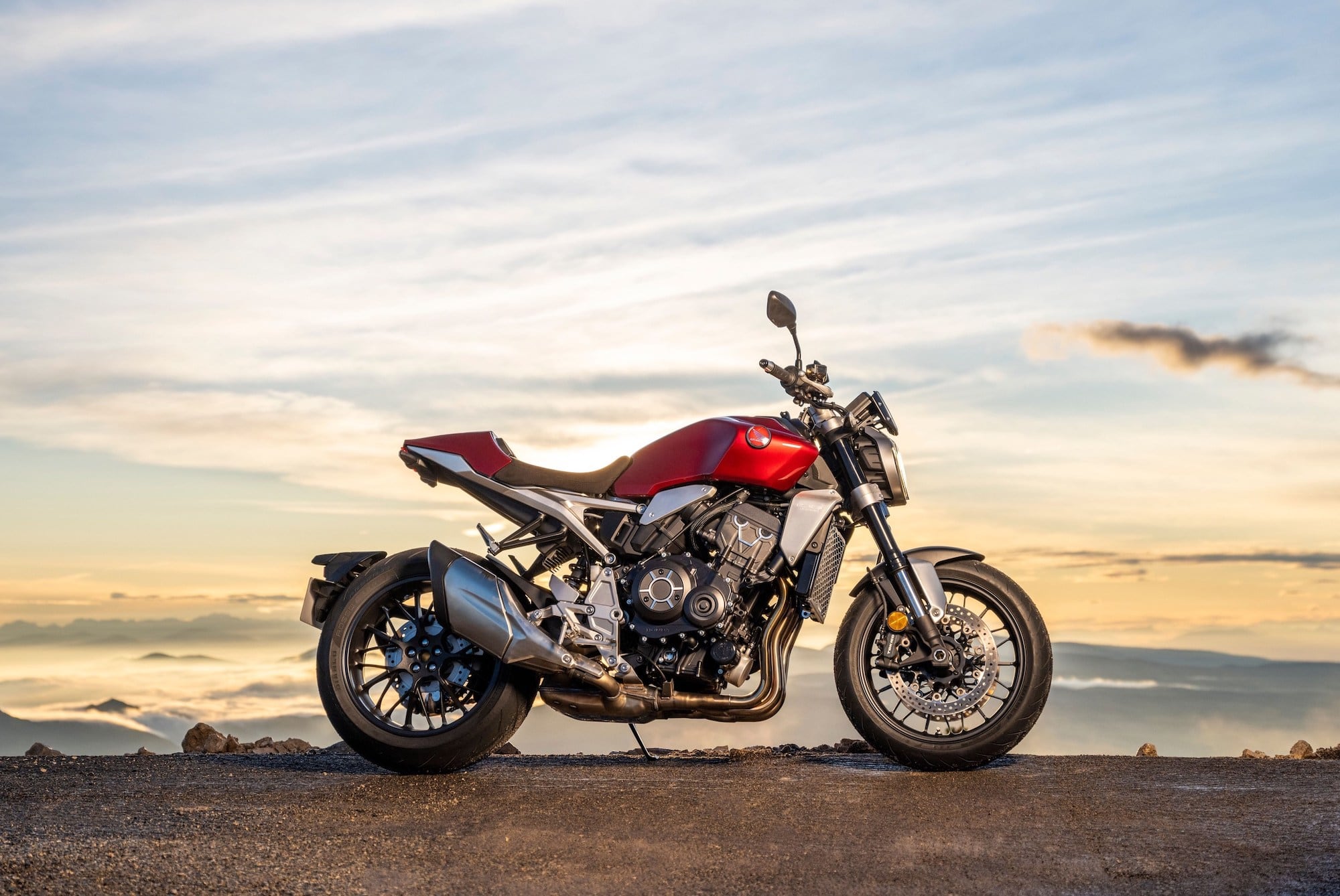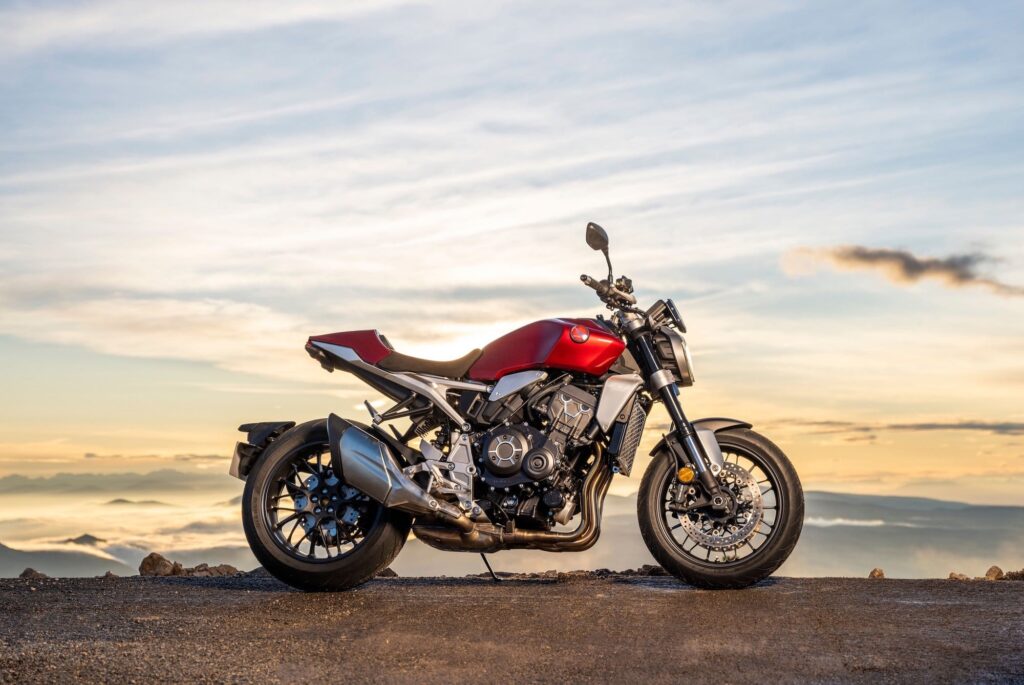 Are you obsessed with motorcycles?
Well, I am. That's why I created this site — as an outlet. I love learning and sharing what others might find useful. If you like what you read here, and you're a fraction as obsessed as I am, you might like to know when I've published more. (Check the latest for an idea of what you'll see.)
A Brief History of the Honda CB1000R
The Honda CB1000R is the latest in a long line of Honda standard bikes with a four-cylinder liquid-cooled engine.
In the 70s and 80s, Japanese manufacturers started to be known as responsible for making "UJMs", or "Universal Japanese Motorcycles". It actually started with Honda, who made the CB750, an air-cooled four. You may know that bike from every cafe build ever (ok, also BMW airheads).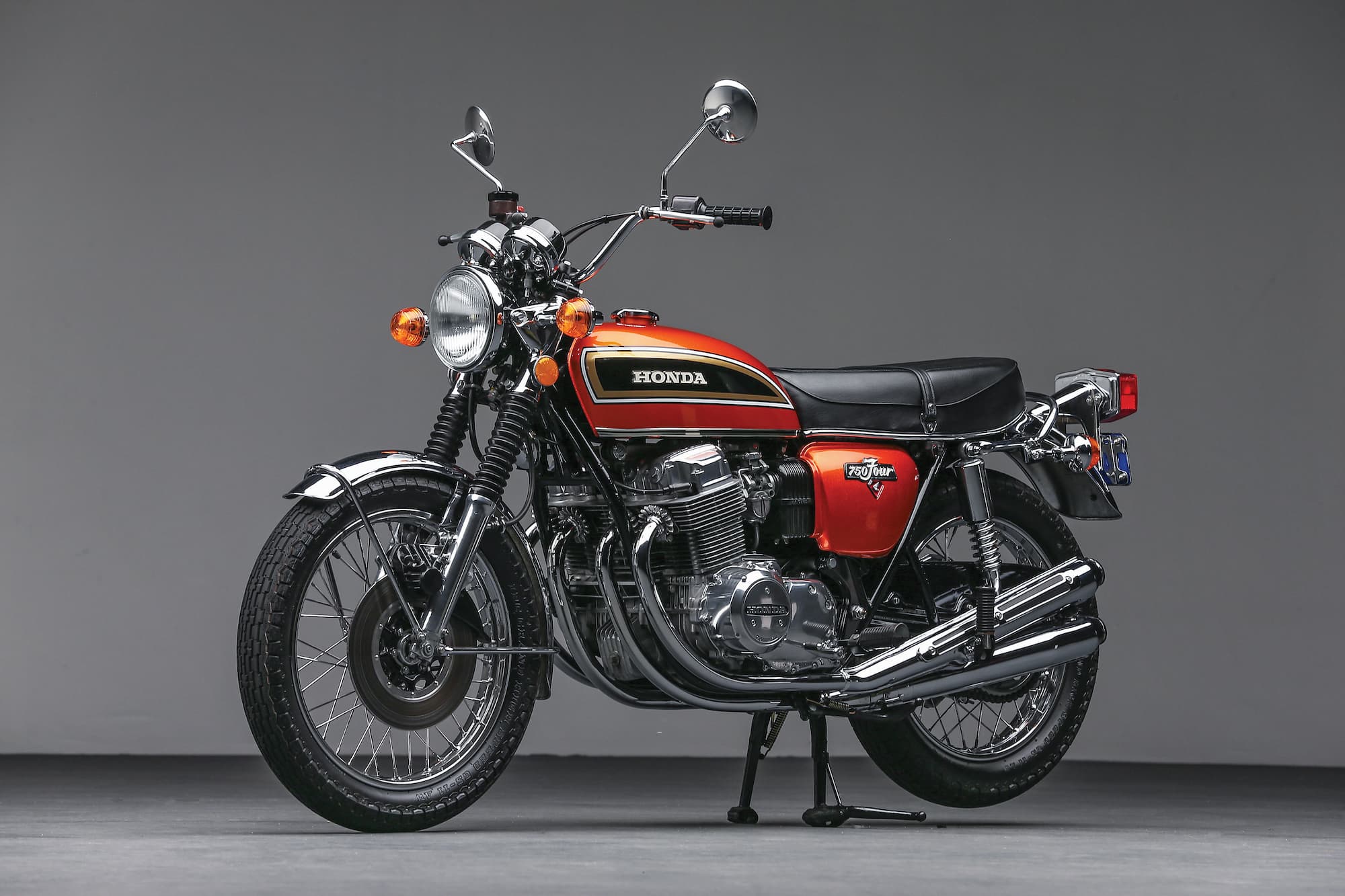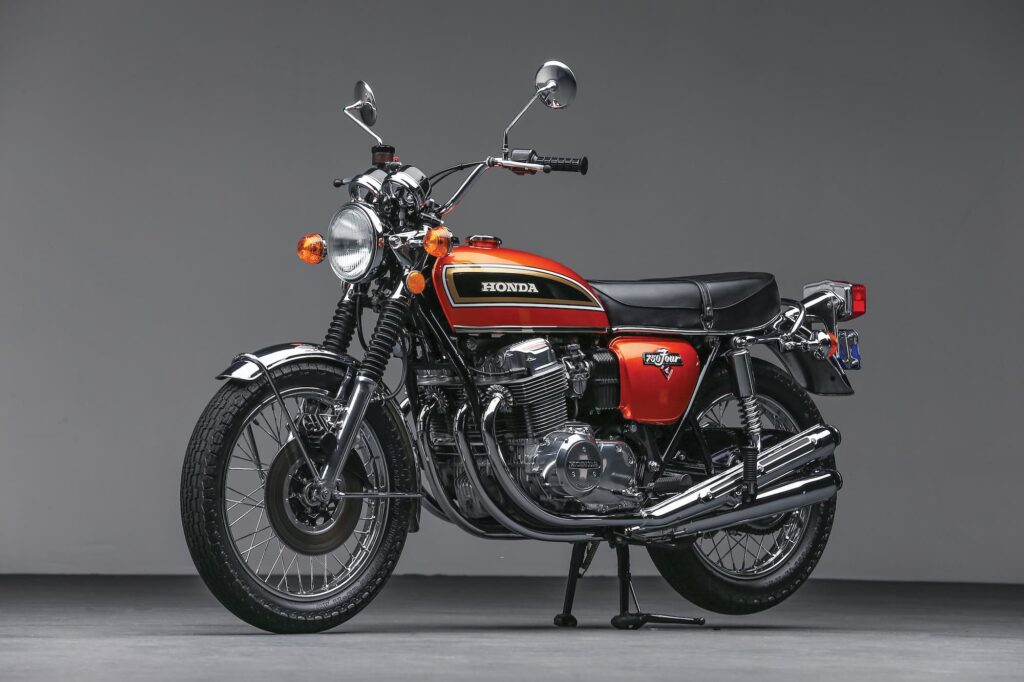 Then Kawasaki (who were about to release an air-cooled 750 as well) responded to the CB750 with the Kawasaki Z1 900, another air-cooled four. Yamaha and Suzuki also did their own things.
In the 1980s, most four-cylinder standard bikes were air-cooled. Liquid cooling was reserved for sport bikes with fairings.
But that started to change (slowly) in the nineties. Actually, an early predecessor (which doesn't share anything other than a name) of the Honda CB1000R was the Honda CB1000 "Project Big One", made since 1992 and sold in the US since 1994.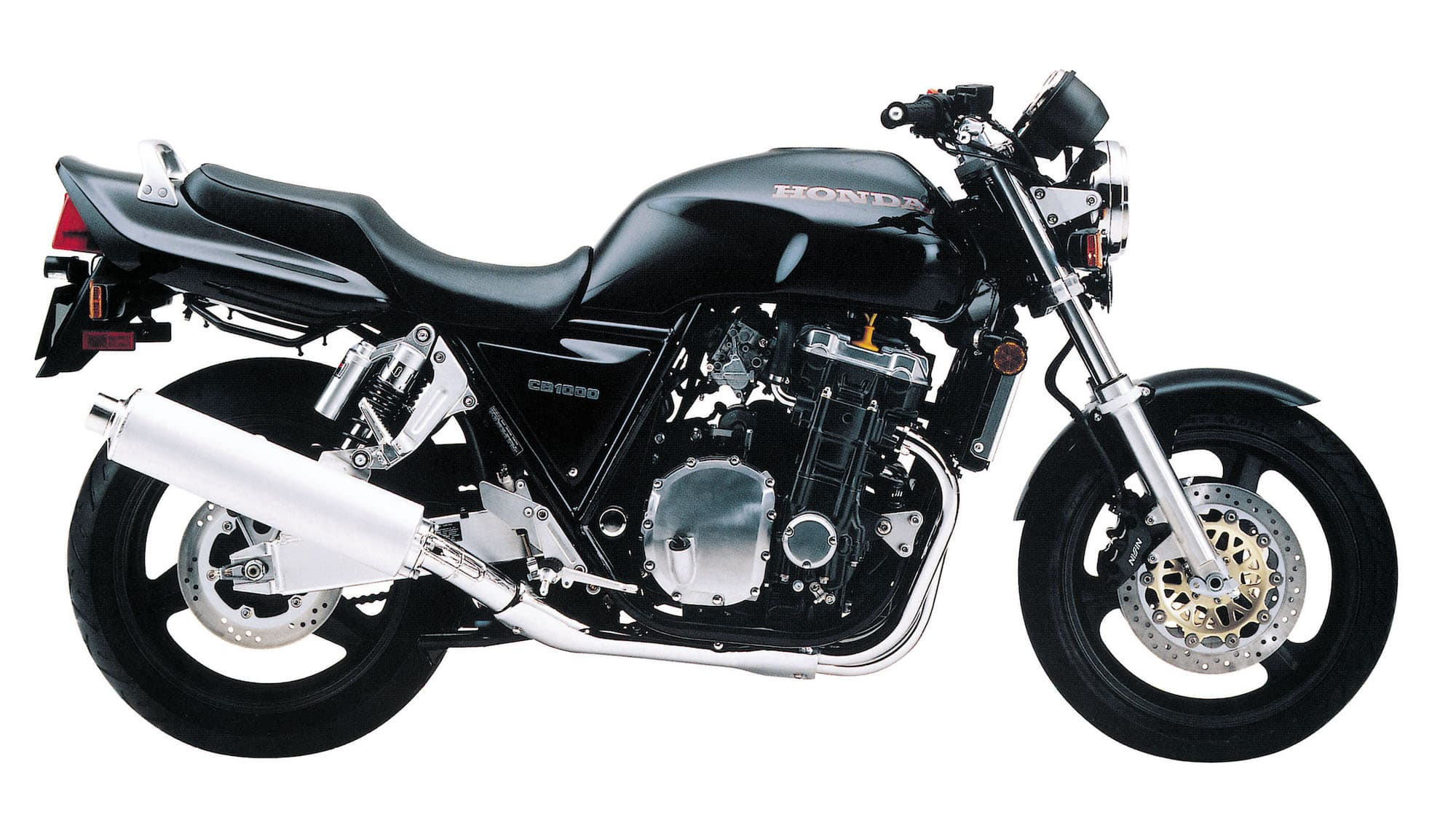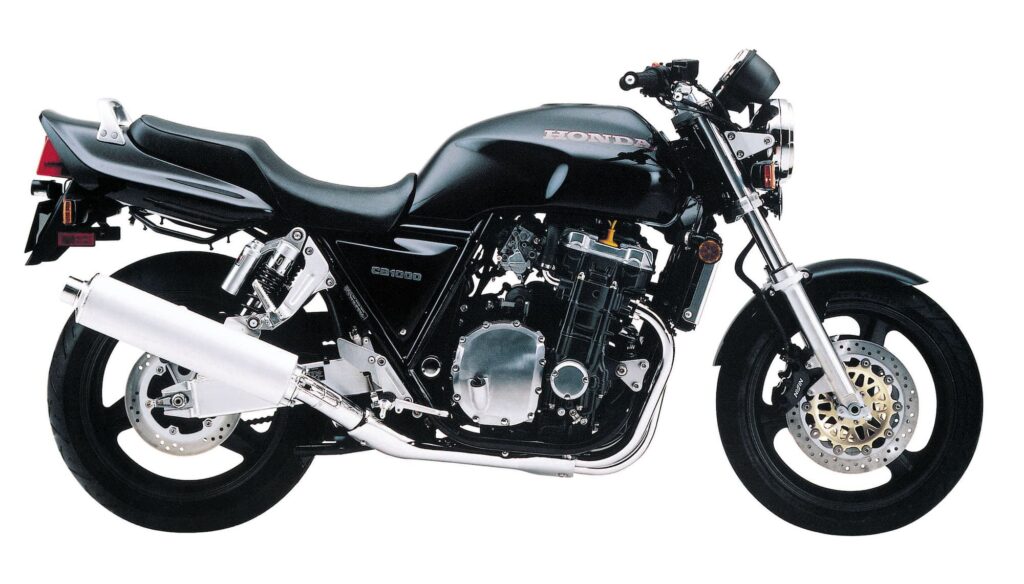 The CB1000 was based on the motor of the Honda CBR1000F Hurricane, but with its motor detuned, a lighter chassis, and of course no fairings. And a weird name. "Big one?" Weird. I mean, it's kinda big, sure… but even Honda was already making bigger bikes.
And Honda has made four-cylinder standard sport bikes in all kinds of capacities, from 250 cc (yes!) all the way to 1300 cc (the big CB1300, which should be named, by Honda's naming standards "the Even Bigger One").
See the guide to big-bore four-cylinder motorcycles here, of which the CB1300 is the only one still in production — albeit just in Japan.
Of course, the US never got most of those, but random other markets did. Asia got a lot of the 250s, and the 1300s made it to Australia and New Zealand. Honda Powersports likes to tease the Australians, giving them some awesome things for a while and then denying them others later. Sigh.
Have a look at these four-cylinder beauties below (click/slide).
OK, we get it! Other places got all the cool stuff at some point.
All of these bikes share a general style/demeanour, and a general configuration that's the same — an inline four-cylinder engine that's transversely mounted and drives a chain. They mostly had mid-range suspension that lacked most adjustability. But not all of them are based on sport bikes. For example, there was never a CBR1300F or R superbike (other than the bikini-fairing version of the same bike).
Most markets got the middleweight CB motorcycles, the CB600 and CB900/1000. These were always the most popular ones in Europe and the US after all, so it makes sense that Honda would export them.
The most recent model in the CB range before the CB1000R was the Honda Hornet 919, which went by a few different names, including CB900 or just Honda 919.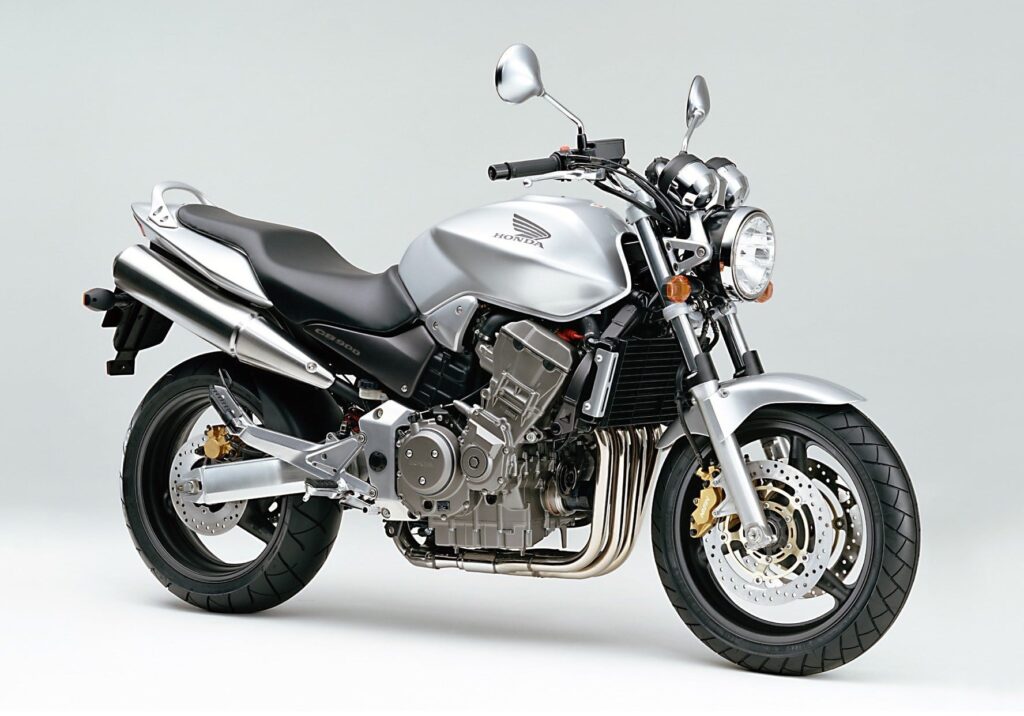 Like the "Big One" before it, the 919, or "Somewhat Big One", was based on a superbike, the 918 cc motor in the nearly third gen Honda CBR900RR FireBlade, but with fuel injection on the 919's motor. It's good fuel injection, too — all the benefits of no carburettors to clean, and none of the downsides of a snappy throttle response (some disagree with me on this).
Honda did very well with the Hornet 919. It's still a fan favourite — a bit of an underdog, with nothing particularly amazing about it, but it's effortless to ride (almost un-stallable), easy on the eye, and super reliable. I miss mine and have often eyed others' askance. They did find a niche crowd, though weren't a runaway sales success.
It was on the back of this smaller-scale success that Honda built the first gen CB1000R, a similar concept, but a huge departure in style.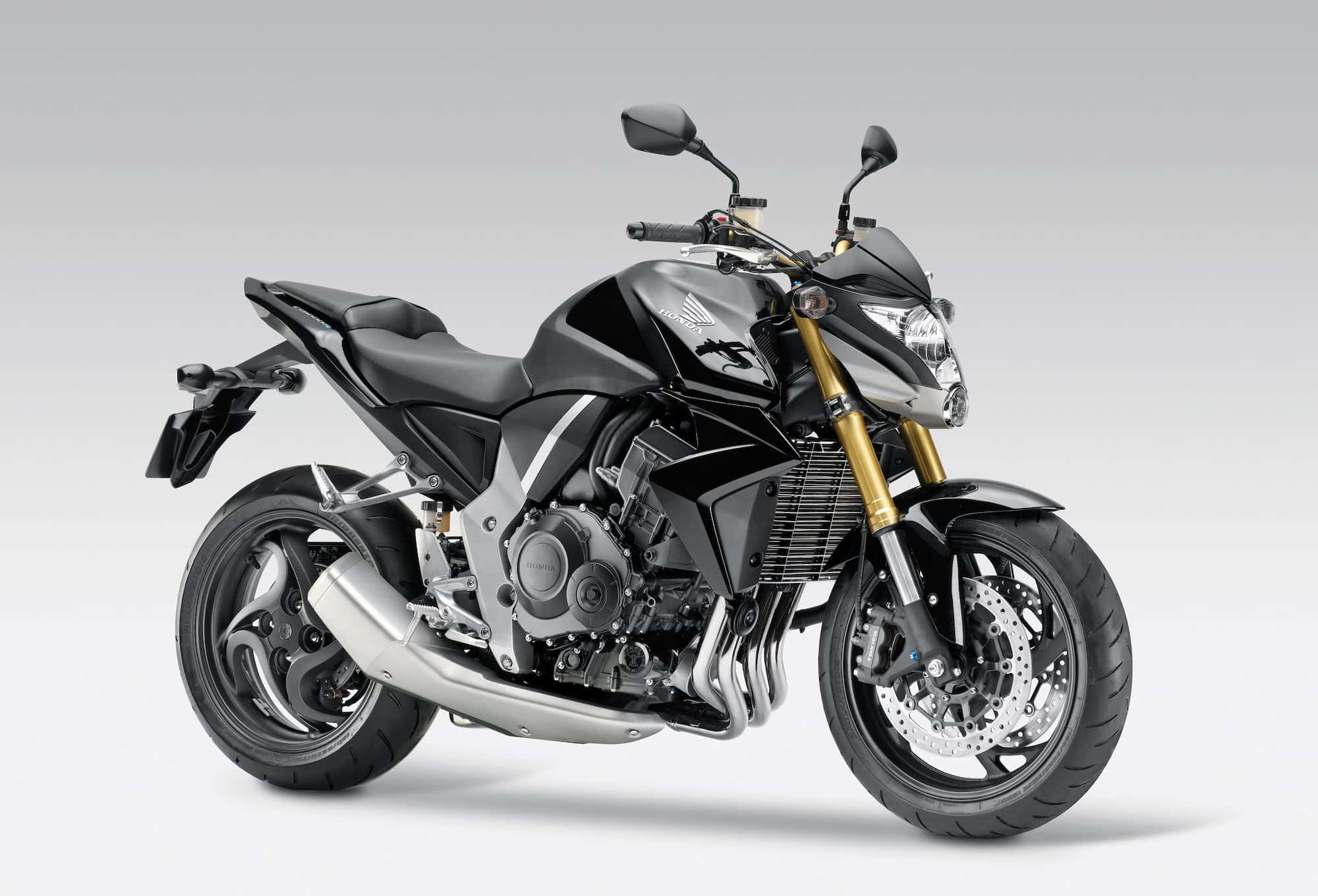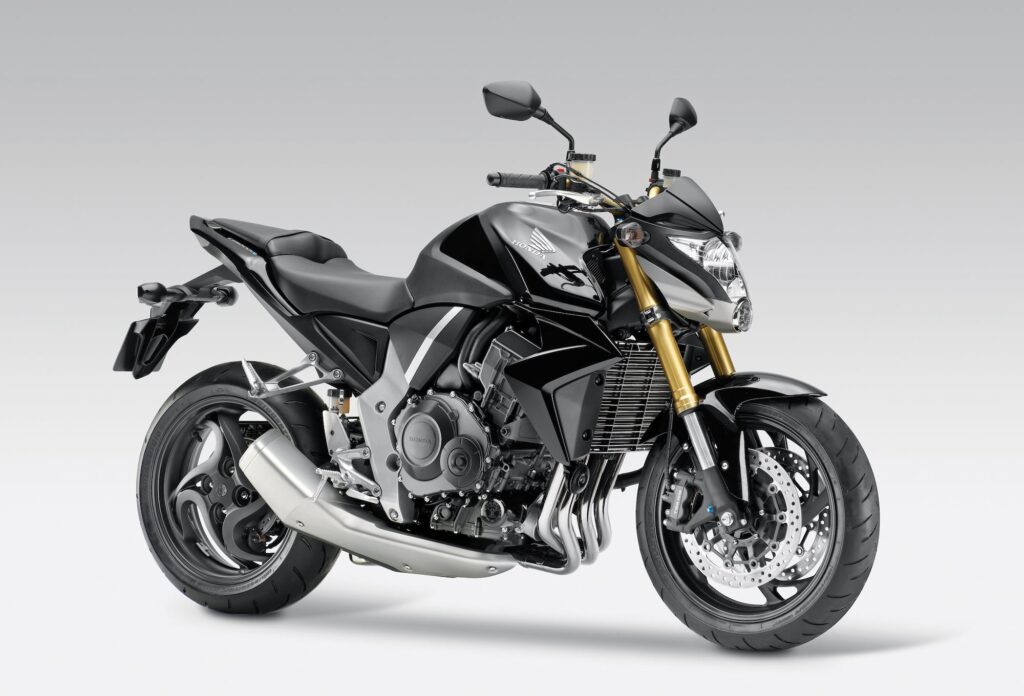 Wow, that's pretty different looking, you can't help but notice. Why change so much of what was already working aesthetically on the 919?
Part of the reason for the change, apart from the implacable onslaught of the passage of time, is that in the late 2000s / early 2010s, the "futuristic" (which it was at the time) style of the CB1000R was the trend. Streetfighters were starting to emerge — the Ducati Streetfighter won the "best bike" award at the EICMA, Kawasaki was making its Z1000 in "Sugomi" style (but doing so a lot better), and Triumph was soon to transition away from twin round headlights to the "tiger eyes" style that now dominates.
And anyway, it wasn't Honda Japan that designed and built the first CB1000R. In fact, Honda Italy designed and built it! This might help you understand why they used a single-sided swingarm, for example. That's a design option that I haven't otherwise seen on a standard bike outside of Japan.
But all isn't golden with the CB1000R's design. It's a little… off. I liked the round headlight of the 919, and I think the new projector headlight on the 1st gen CB1000R looks like an aftermarket afterthought. I liked the simple rear wheel, and the new exposed rear wheel looks really visually heavy.
In some ways, the first gen CB1000R is good looking, in a streetfighter-y kind of way. If it were a custom build I might give it a "huh" and acknowledge that it looks clean and interesting. But in other, less generous ways, and having seen how motorcycle designs evolved… it was a bit of a miss.
Anyway, aside from subjective impressions of looks, the first-gen CB1000R is a great bike. Honda used the engine from the 2007 CBR1000RR Fireblade (same block as the original 2004 Fireblade, but improved in 2006-2007), keeping the capacity at 998 cc but tuning it for more mid-range.
The suspension and brakes are pretty good on the first gen CB1000R, too. Not superbike spec, but not bad. And it's a little heavy but not catastrophically so. In general, the first gen CB1000R is the kind of bike that doesn't sing off the spec sheets but performs decently once you throw a leg over.
But then Honda decided to fix things properly with the second-gen Honda CB1000R, the 2018+ "Neo Sports Café" version. Let's ignore that name for a little while… just look at it. It looks good!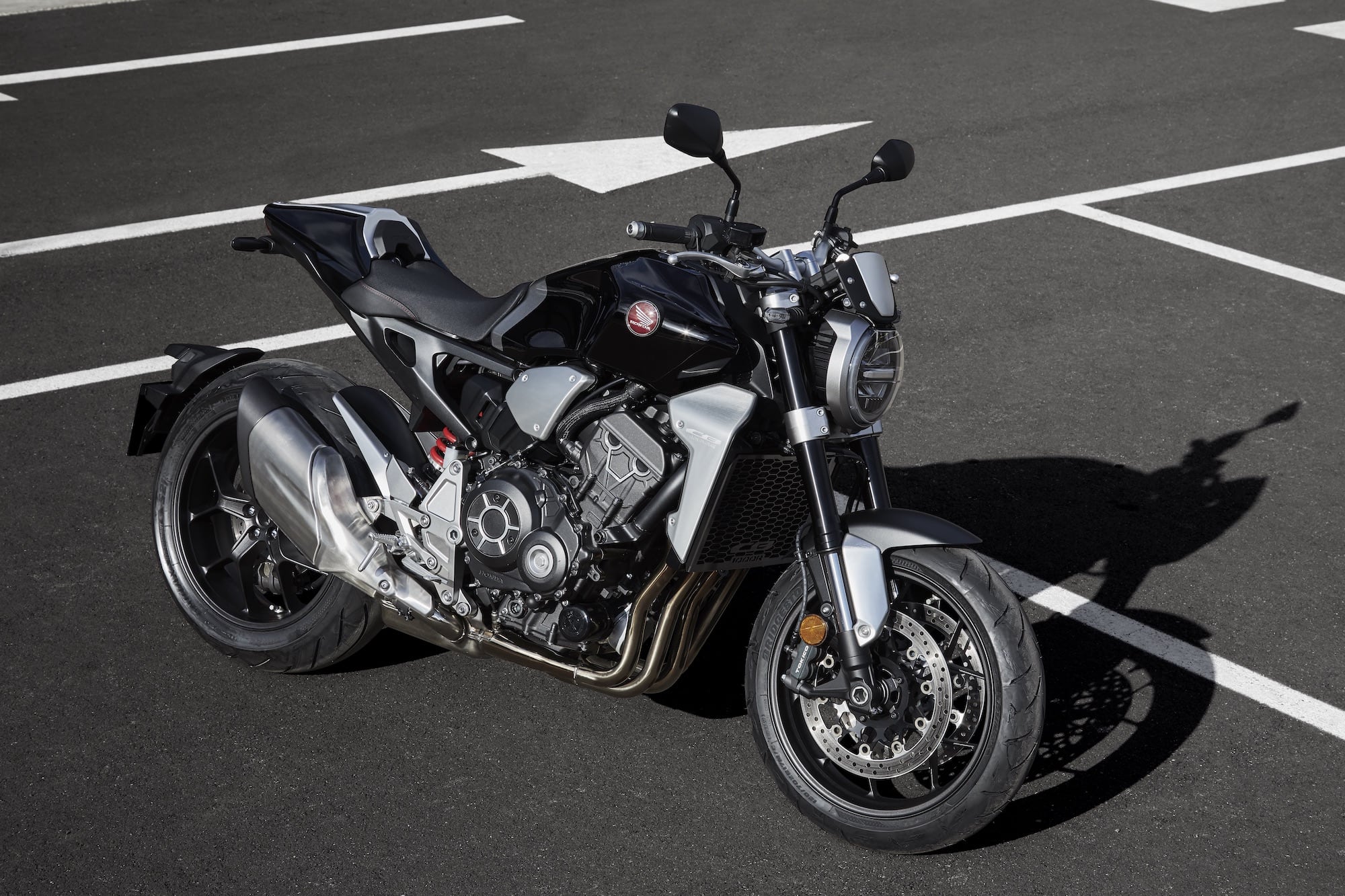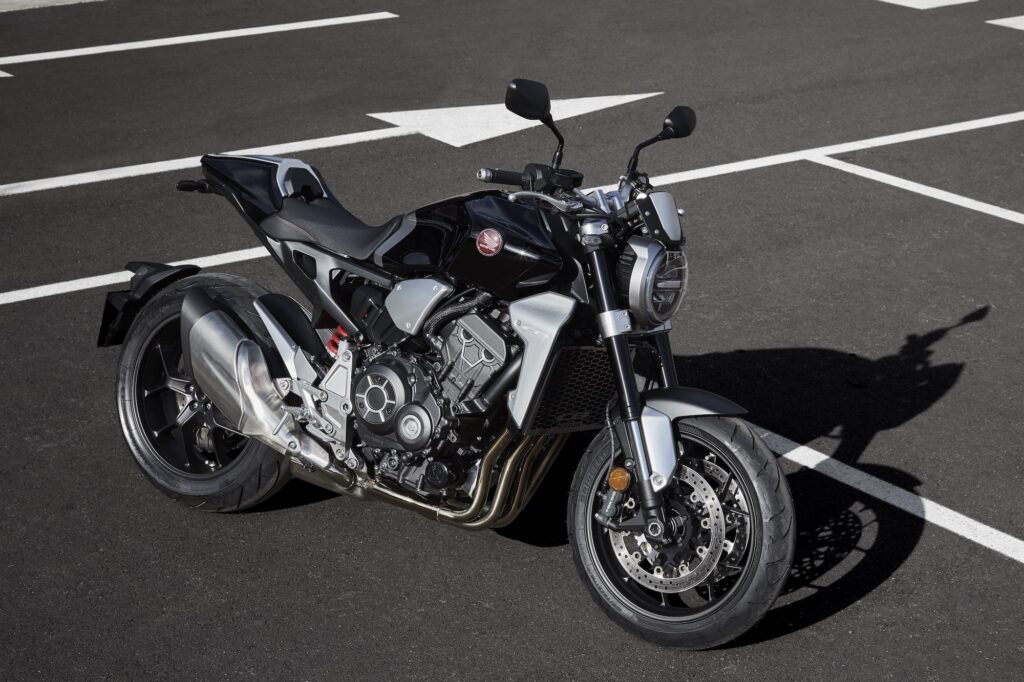 I'll look more at how the CB range changed in the next section.
Honda CB1000R Specs — By Generation
Finally, a spec sheet you can actually ride!
Below are the specs of the CB1000R 1st gen and 2nd gen, with the CB900F / Hornet 919 for context.
Spec
Hornet 919 (CB900F) For context
CB1000R 1st Gen
CB1000R 2nd gen (Neo Sports)
Years
2001-2006
2008-2016
2018+
Engine capacity (cc)
919
998
998
Bore x Stroke (mm)
71 x 58
75 x 56.5
75 x 56.5
Compression ratio
10.8:1
11.2:1
11.6:1
Peak power
81 kW / 109 bhp @ 9000 rpm
92 kW / 123 hp @ 10000 rpm
107 kW / 143 bhp @ 10500 rpm
Peak torque
92 Nm / 67 ft-lb @ 6500 rpm
100 Nm / 74 ft-lb @ 8000 rpm
104 Nm / 77 lb-ft @ 8250 rpm
Redline / rev limiter
9,500 rpm redline, ~10,500 cut off (approx)
10250 rpm (rev limiter 10700 rpm, 9800 rpm in 6th gear)
11500 rpm redline, 12000 rpm rev limiter
Final drive gearing
16:43
16:44
15:44
Front suspension
43mm cartridge-type fork, non-inverted
Fully adjustable
Showa SFF-BP USD fork, fully adjustable
Rear suspension
Monoshock, 7-step adjustable preload
Adjustable preload and rebound damping
Showa monoshock, adjustable preload and rebound damping
Front brake
2 x 296mm discs, 4-piston calipers (adequate)
2 x 310mm discs, radial mount 4-piston calipers
Optional ABS: 3-piston calipers
2 x 310mm discs, radial mount 4-piston calipers (standard ABS)
Ride aids
None / your hand
Optional ABS
TbW, ride modes, ABS, TC, optional QS
Display
Analogue, twin gauge
Digital LCD
High-contrast LCD, then TFT from 2021
Wet weight
220 kg / 485 lb
217 kg / 478 lb (non-ABS)
ABS: 222 kg / 489 lb
212 kg / 467 lb (including ABS)
Honda CB1000R specs (compared to CB900 / Hornet 919)
How the CB1000R Changed (Gen 1 vs Gen 2, and 2021 updates)
A lot changed between the two generations of Honda CB1000R. It's not just aesthetics — Honda updated the engine, letting it rev higher, added a lot more electronics, and oh, they made the bike look a lot nicer!
Engine changes
The engine in the Honda CB1000R is derived from the Honda CBR1000RR Fireblade of the 2006 generation. This was actually the same as the 2004 CBR1000RR in terms of bore and stroke.
But Honda did revise the CBR1000RR for 2006, including making changes to the ports, compression ratio, cam timing, valve lift, and valve springs, giving the 2006 CBR1000RR a higher redline than the original 2004 model.
The thing is, those changes didn't make their way over to the CB1000R in a meaningful way. For example, the 2004 CBR1000RR has a redline of 11250 rpm, and the 2006 model's internal changes give it a redline of 12200 rpm. The first-gen CB1000R has a hard rev limiter lower than both those numbers.
All that's important to know is that the CB1000R still has the longer-stroke engine (75 x 56.5 bore and stroke) than any model of CBR1000RR since 2008. As of 2020 the CBR is at 81 x 48.5 mm.
Fundamentally, you'd be mistaken for thinking that Honda kept the engine the same between the two generations of CB1000R.
You wouldn't be totally off the mark. The engine does stay the same, a 998 cc inline four-cylinder engine with liquid cooling and fuel injection, complete with dual overhead cams and sixteen valves. It has the same bore and stroke, too.
But Honda made internal changes to the Gen 2 CB1000R's engine to let it rev higher and thus make its power up higher. And they also neutered the mid-range torque, leaving it to you to recover it — more on that below.
Honda increased the compression ratio from 11.2:1 to 11.6:1 and uses lightweight forged pistons in the new 2018+ CB1000R, rather than cast pistons.
Honda also made a number of changes to help the new CB1000R breathe. They:
Increased valve lift for more gas flow, raising the inlet and exhaust valves from 7.9/7.8 mm to 8.5 and 8.1mm
Increased the diameter of the throttle body from 36 mm to 44 mm (a ~50% increase in area)
Increased the diameter of the inlet ports
Revised the shape of the combustion chamber
Replaced the airbox, ducting, and air filter, all for smoother air flow
Finally, Honda got rid of a restriction on the 1st gen CB that limited the top speed (limiting peak RPMs a bit earlier when in top gear). So you can now take your naked bike to even higher ludicrous top speeds for a naked bike, should the need arise, perhaps down the straight on a larger track.
The result of the engine changes is a free-er flowing engine with lightweight components that makes its power higher up. Here's a dyno chart comparison showing the torque curves of the 1st and 2nd gen CB1000R engines. You can see that the second gen (blue) revs higher.
… Good lord, what happened? There's a giant hole in the Gen 2's torque curve between 4500 and 7500 rpm! And on top of that, the earlier gen CB1000R makes more peak torque, and at lower RPMs.
Riding the newer CB1000R, this feels like a huge surge at 6000 rpm. In fact, that's what Honda claims their aim was in their marketing press release:
"The engine has also been tuned to deliver its torque with strong character especially in the 6-8,000 rpm range, where it bulges significantly, generating an exciting and engaging riding experience."
Ah, I see. "Strong character".
That hole in the torque curve is, on the face of it, not good news.
But the good news is that since this hole in the torque curve most likely comes as a result of aggressive tuning for emissions restrictions, you can get a dyno tune done and get rid of it.
Woolich Racing offers a tune, for example. I've seen quite a few examples of tuning the new gen CB on the CB1000R forums. You don't even need an exhaust, though people do often do it with a full exhaust system. In for a penny, in for a pound… or in for a cent, in for a Euro, or a kilogram, I suppose.
In every case I've seen, owners have — aside from increasing peak everything, everywhere — massaged away the hole in the 2nd gen CB1000R's torque curve. Here's one example of results with the Woolich tune.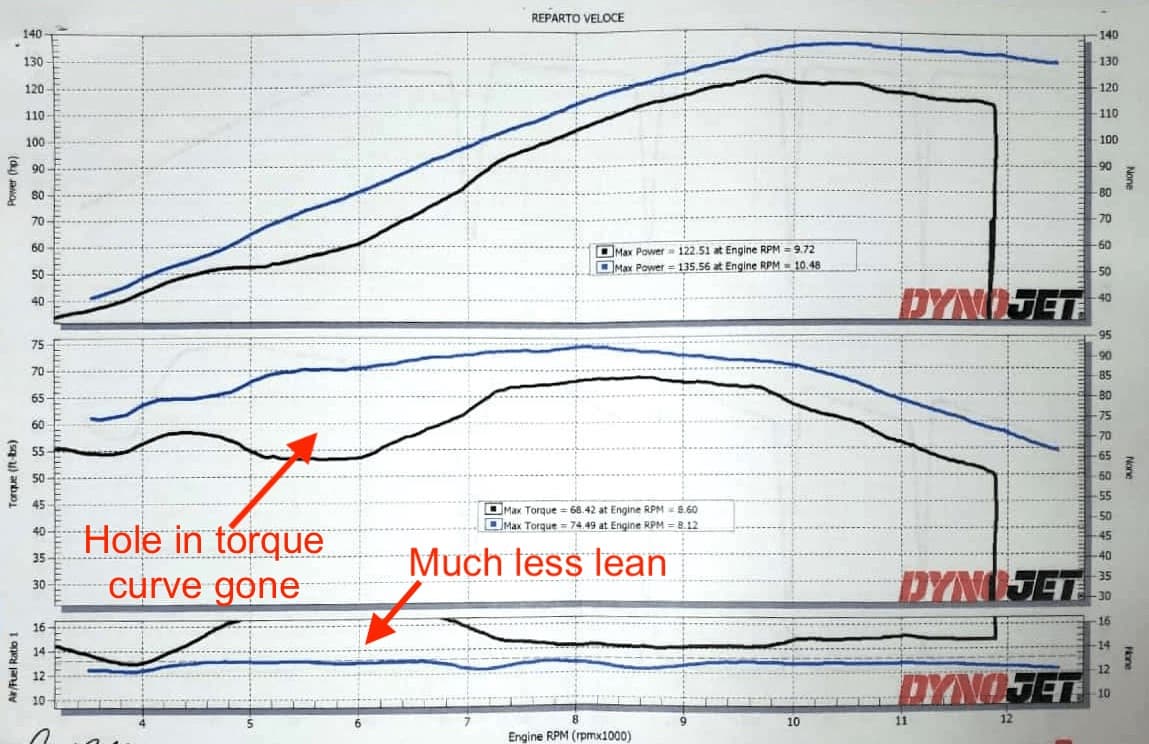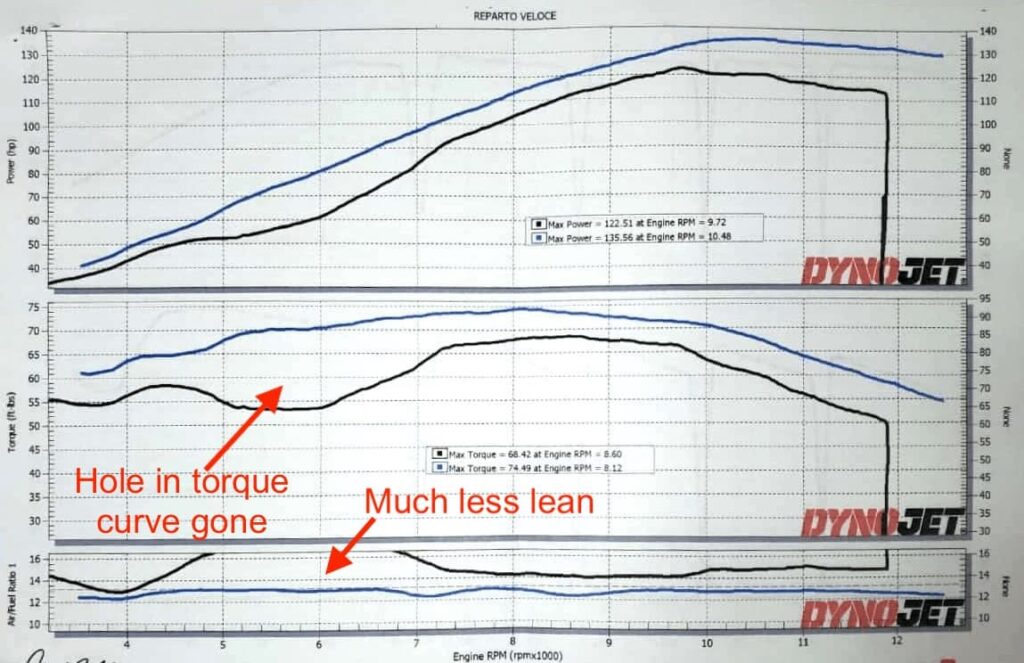 The obvious, huge change that the tuners seem to make is to a) add more fuel everywhere, and b) really add fuel — I mean, delete the crazy over-lean condition — between 4500 and 6500 rpm. I can only imagine that the bike runs hyper lean in that range because of emissions restrictions and targeting lower fuel consumption.
So yes, your bike will use more fuel afterwards, making it less of an economical commuter. But if you use your CB1000R just for fun, you're not likely to notice the difference.
But the bad news, again, is that a tune will cost you — a dyno tune will cost you anything from $4-500 for an out-of-the-box tune (like Woolich, unless you already have the hardware — in which case you just pay $100 for the tune files!) to $1000 for a shop to do it. Prices will vary depending on your local labour rates. So, add that to your budget.
Basically, Honda is shipping a really nice looking but bike that has a lot more potential bundled in. You have to budget to finish it off.
Design changes
The most striking change between the 1st and 2nd gen CB1000R is the design. Here are the two generations side-by-side (click/slide).
I'm glad that Honda kept a few design features intact, like the single-sided swing-arm, the snaky front exhaust pipes, and nice-looking wheels — though they definitely evolved in style, especially with the 2021+ Black edition.
But everything else on the Honda CB1000R improved aesthetically. Honda added a gorgeous front headlight, lots of nice finishing touches to the wheels, and improved the shape of the tank and fairing.
I think the original gen CB1000R looks unique, and interesting, but the second gen really captured the imagination of a broader market (and, er, me).
Instruments updates
In principle, the first-generation Honda CB1000R had nice-looking instruments, if you're to believe the marketing image.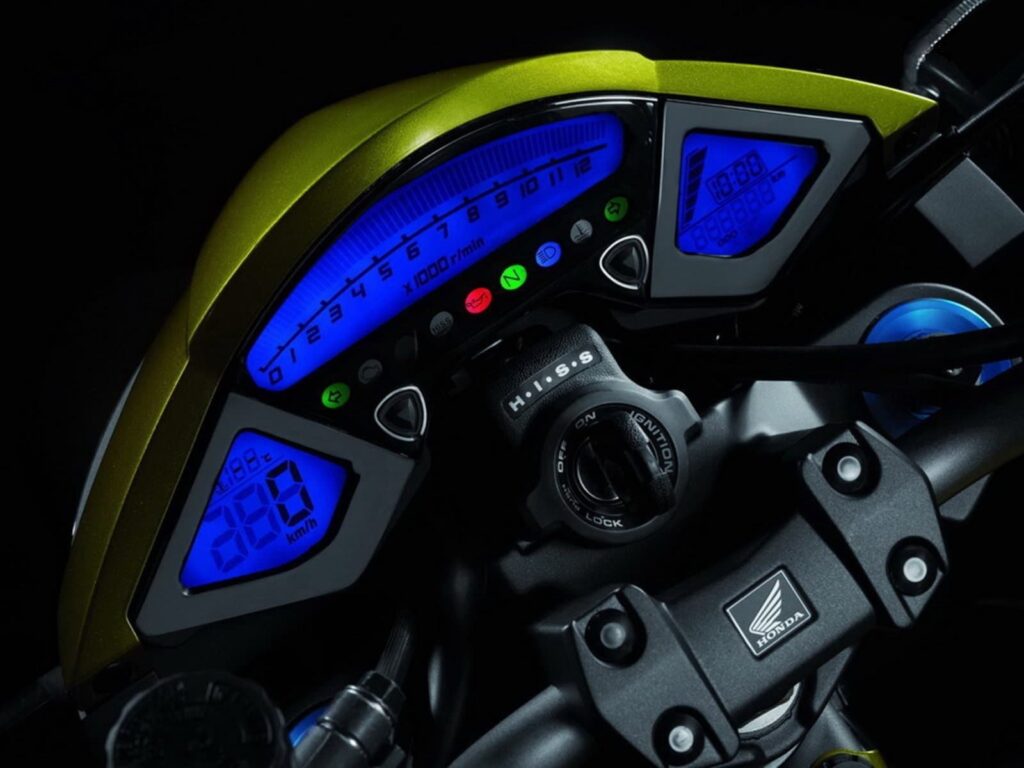 It looks nice with the back-lit blue. But it's actually not easy to read, even at night time. The display is pretty low-contrast. I mean, even in this press image, I'm struggling to read the information.
In the daytime, the first gen CB1000R's information cluster is almost unusable. This isn't just my experience — many riders on forums say the same thing. They've tried using anti-reflection material (like you can buy for an iPad), but that doesn't work. So you don't know your RPMs, or your speed, which is a liability if you have hyper-vigilant speed cameras in the area and no GPS.
Here are a couple of photos of the first gen CB1000R's information cluster in normal daylight conditions.
For the 2018 Neo Sports Honda CB1000R, Honda updated the instruments to a very legible analogue / digital setup.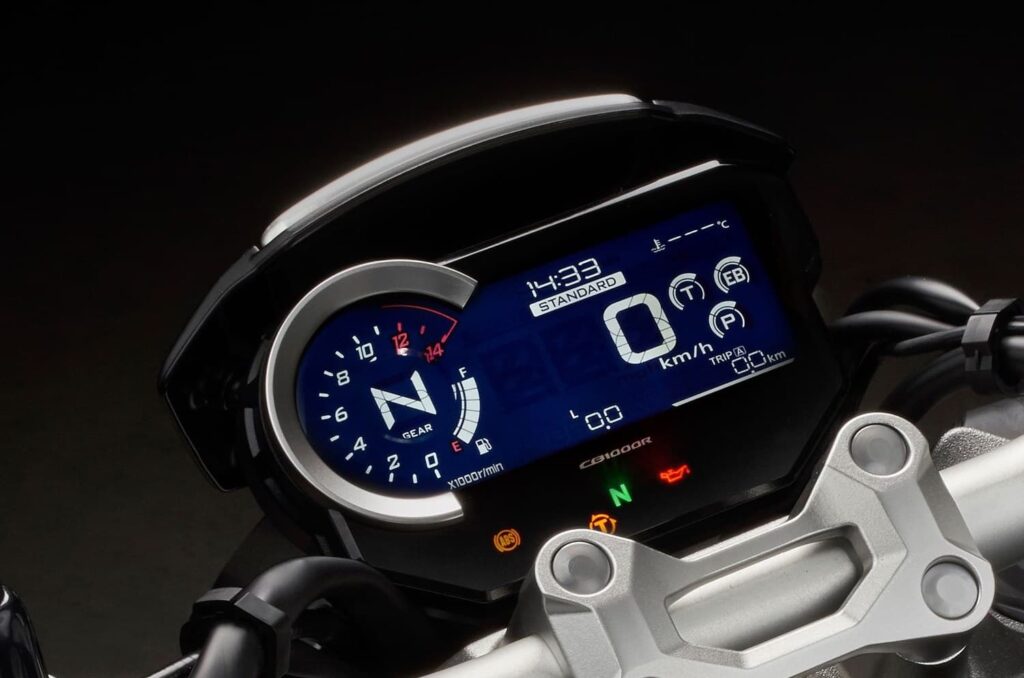 This setup is more reminiscent of the style of Honda instrument panel I've seen since the early 2010s, like in the last generation of Honda VFR800, which Honda has made since 2014. So it's a little surprising it took Honda this long to bring the display up to standard. I really like this 2018-2020 instrument panel in particular — it's clear, legible, and familiar.
In 2021, Honda made some more updates to the CB1000R's info cluster, introducing a TFT display, alongside Bluetooth connectivity (in some markets) so you can use your phone via the panel.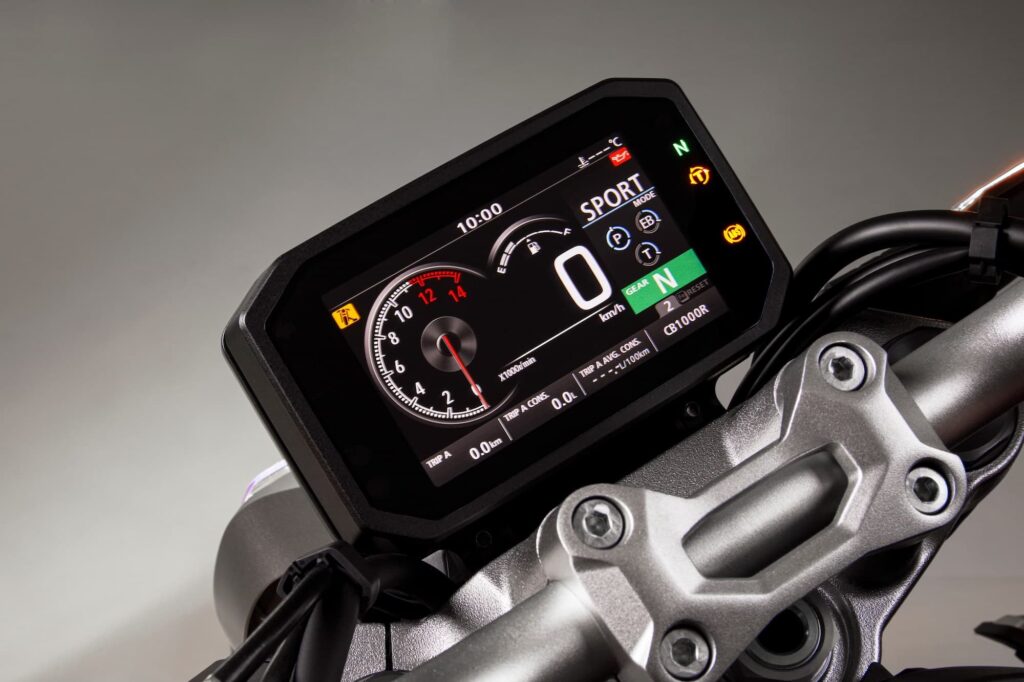 I'm not the biggest fan of TFT screens on phones, but I do like it when they a) have a touch-screen system that means I don't need to mount my phone on the handlebars, and b) when they have a voice control system.
The Honda CB1000R 2021+ model does come with Honda's RoadSync voice activation system. But here's the catch: Bluetooth or Honda RoadSync is not available on the Honda CB1000R in North America! You can only get it in Europe and Australia. This is paradoxical as other Honda motorcycles in the US (like the Gold Wing) do have RoadSync.
Unfortunately, the CB1000R's display isn't touch-enabled, either, so if you're in North America, you'll just have to make do with the control joystick on the handlebar to change the settings. This, to me, reduces most of the value of the TFT display on the Honda CB1000R in North America.
Tech improvements and ride aids
Another thing that improved between the 1st and 2nd gen Honda CB1000R is the level of tech. In fact, there were also some changes in ride gear and tech between the 2019 and 2021 versions.
Tech
Gen 1
Gen 2 2019-2020
Gen 2 2021+
ABS
Optional
Standard
Standard
Traction control
No
Standard
Standard
Ride modes
No
Four
Four
Slipper clutch
No
Standard
Standard
Quickshifter
No
Optional — CB1000R+ model
(Europe / UK only)
Standard
Display
LCD
Revised High-contrast LCD
TFT + Bluetooth
Honda CB1000R tech / ride aid improvement
On the first gen, ABS was optional, and rarely selected, judging by the examples I find used (which seem to never have it).
On the 2nd gen 2019+ Neo Sports Café CB1000R, ABS is standard, as is traction control (HSTC, or "Honda Selectable Torque Control"), and ride modes.
And as mentioned above, the 2021+ model also gets a TFT display and Bluetooth connectivity (Bluetooth in Europe/Australia only).
The other important ride aids that come only on the 2nd gen 2019+ Honda CB1000R are a slipper clutch and a quickshifter (in Europe an option in 2019, and globally standard on 2021+).
Gearing
One subtle change between the gen 1 and gen 2 Honda CB1000R is the gearing.
Honda kept all the internal gearing the same. The primary drive and gearbox ratios are identical.
But Honda decided to go down one tooth on the front sprocket, dropping from a 16 tooth to a 15-tooth front sprocket. The effect of this is to help a feeling of thrust from the engine's torque — it'd feel about 6.25% (approximately…) faster by the "seat of the pants", all other things equal. Top speed would also drop by the same degree, but top speed runs on the Honda CB1000R are rare.
The reason for which this is important to note is that the 2nd gen Honda CB1000R has a higher quoted peak power, but a big dip in the torque curve in the midrange.
So if you feel the stock 2nd gen Honda CB1000R is faster… it might just be the gearing and the fact that it's 10 kg / 22 lb lighter.
Some people on the CB1000R forums gear it up (either gen). The rationale for gearing up is usually to extend top speed, but that's not the goal here… it's just to get more usability out of each gear. The Honda CB1000R has enough torque where it's just possible some people don't want that much.
Riding the Honda CB1000R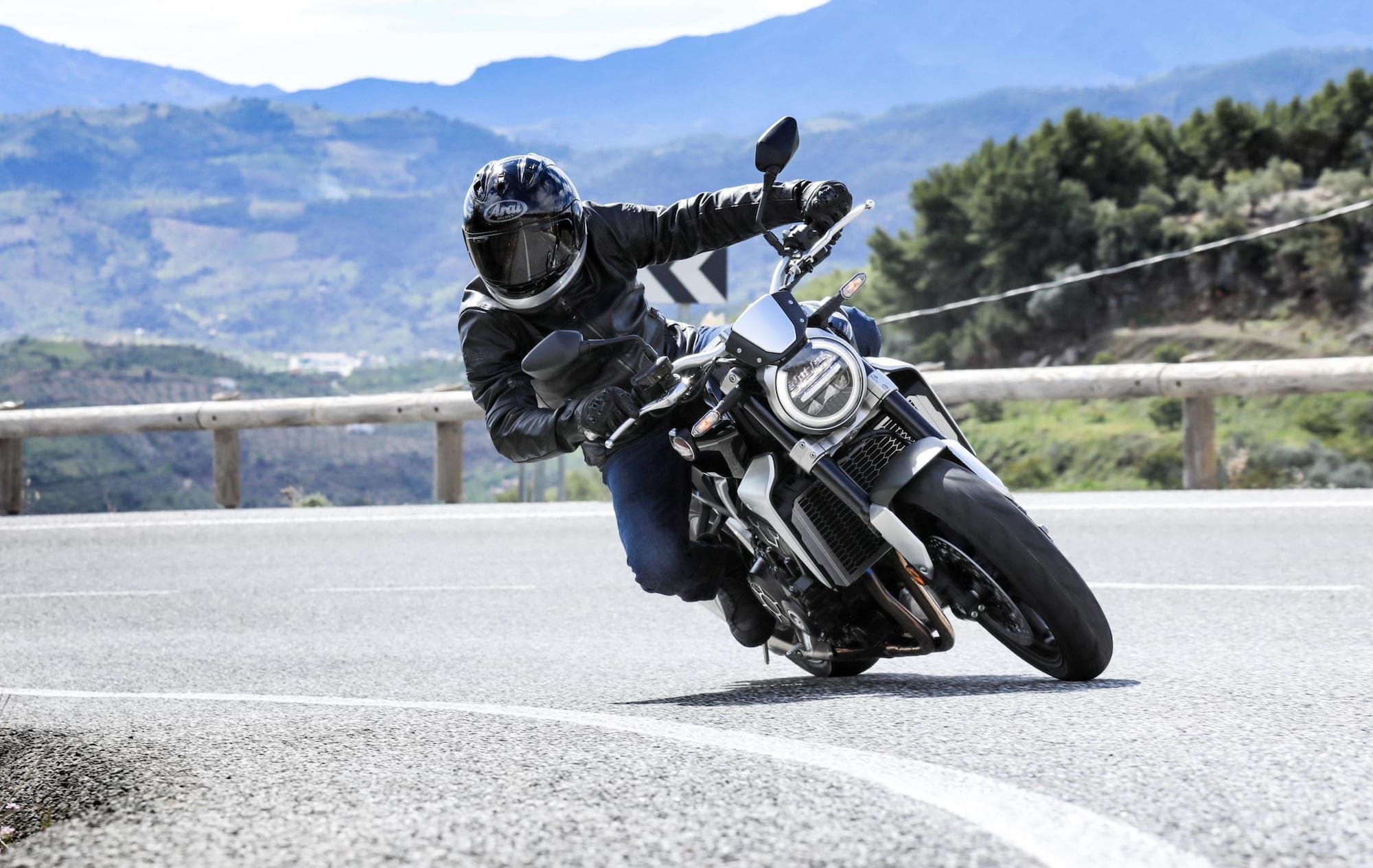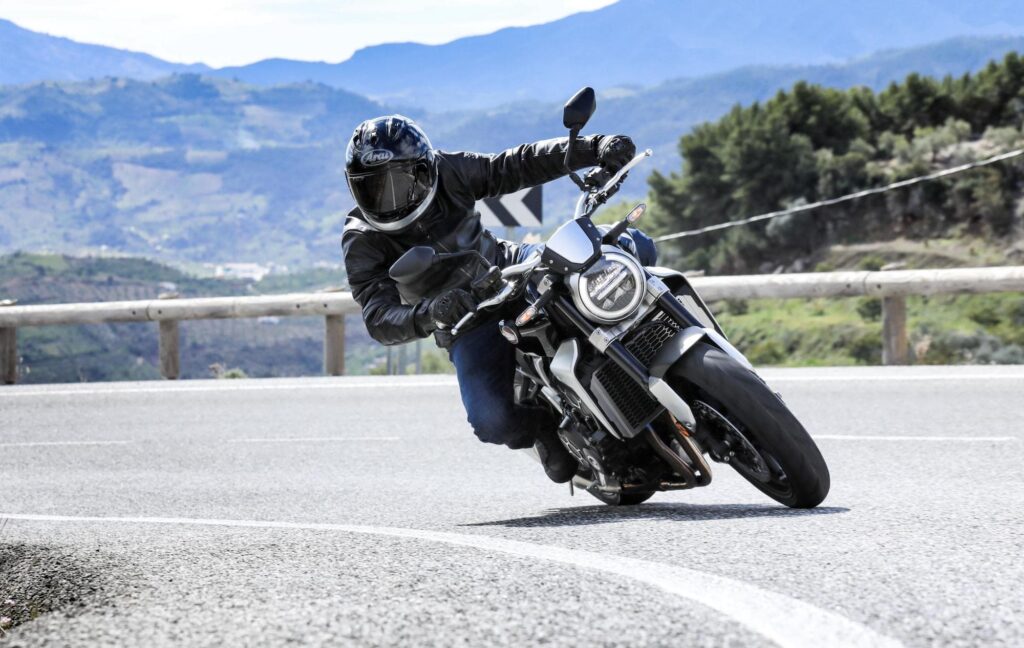 Here are a few notes on riding the Honda CB1000R. In short, it's a great bike to ride. If you're looking for things not to like, that's mostly because we're spoiled for choice in the class, not because anything about the Honda CB1000R is bad.
Power Delivery of the Honda CB1000R
Firstly, let's talk about the power delivery. This is a great motor!
The CB1000R I rode had a slip-on exhaust (a fairly common modification, as the stock exhaust is a little unsightly), but didn't have a tune. So it suffers from the torque hole that the charts above show. But I must admit, I didn't really suffer for it.
At low RPMs, the Honda CB1000R of either generation is predictable and smooth. Despite the aggressive tune of the 2nd gen 2018+ Neo Sports CB1000R, it's still smooth at low RPMs — just a little down on thrust.
If you personally experience jerky throttle response, most users say this is because of a chain that's too loose — go check that out first.
The Honda CB1000R is tuned a little like a superbike in that it really comes alive around 7000 rpm. (Although it also peters out after 11000 rpm. Can't have it all!)
The superbike tuning is a little bit of a shame, because in first gear you're already doing 70 km/h or 45 mph. So at low speeds, you suffer a little knowing that you're at around 75% of peak torque.
It's not that big a deal though, as the CB1000R isn't low (in absolute terms) on torque anywhere. The engine is making a healthy 50 ft-lb or 68 Nm at the rear wheel from as low as 2500 rpm, which with the gearing gives it great thrust — full throttle definitely means you're hanging onto the handlebars, even from down low.
But above 7000 rpm, it's very hard to keep the wheel down at full throttle in the first gears, no matter how far forward you lean! I backed off quickly.
Since the Honda CB1000R doesn't have an IMU (to detect lean angle and pitch), the CB1000R won't cut you off as soon as it detects wheel lift. But the CB1000R does have wheelie control via the ABS ring and the HSTC (Honda Selectable Torque Control) system. If you're in one of the more aggressive ride modes, as soon as it detects a difference in wheel speeds, the CB1000R's ECU will start to limit power.
Riding through gears 1 and 2 will take you to the legal limits of most freeways. Gear 3 is still lively. It's one of those bikes where I rarely use the 5th gear except as a stop on the way to 6th gear for highway time, or as a gear to drop down to for passing sometimes.
Riding position / Comfort of the Honda CB1000R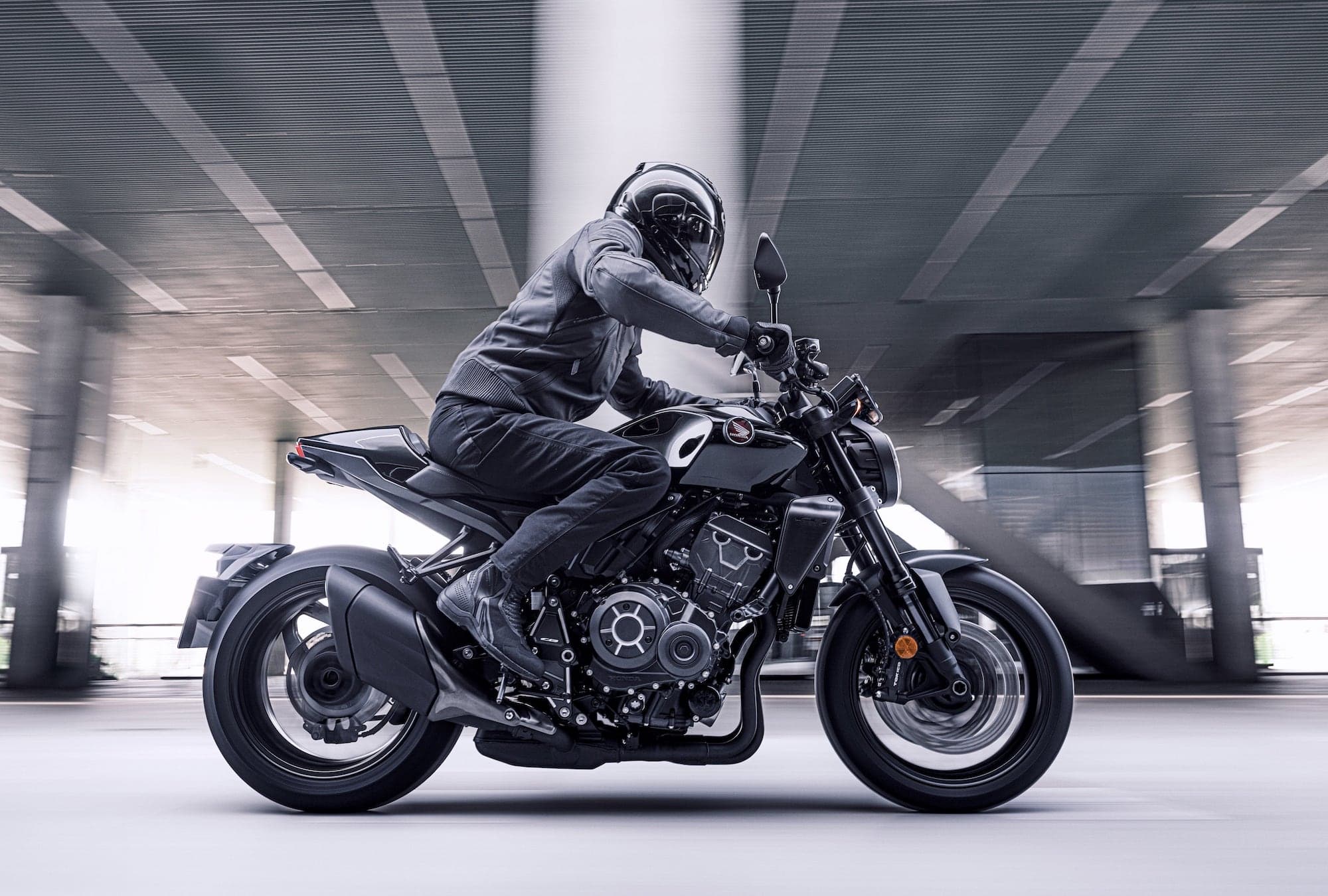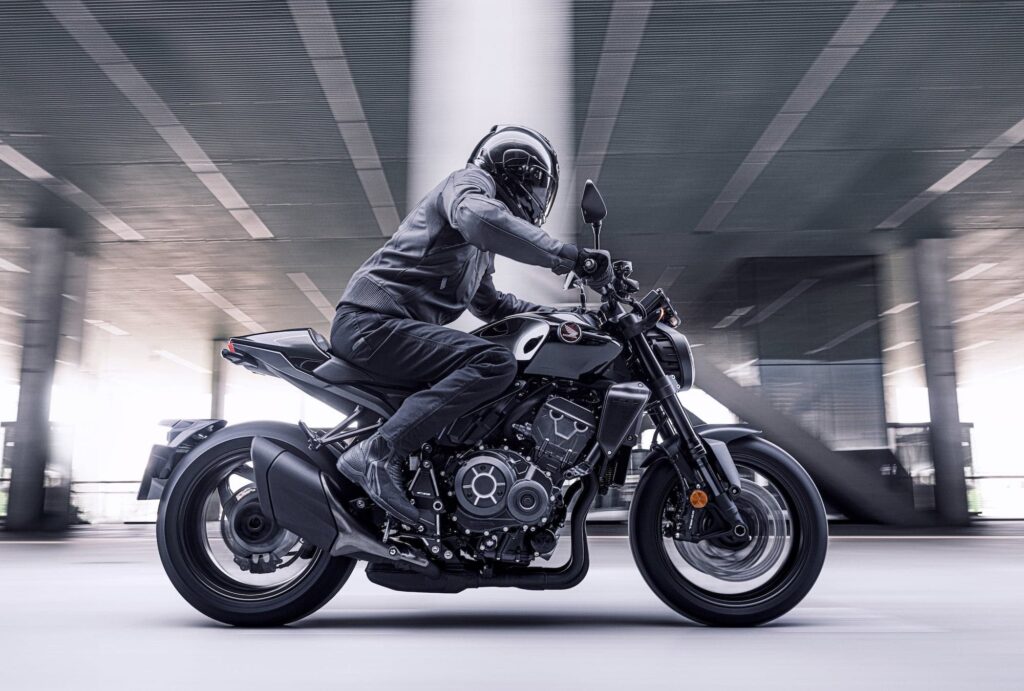 You might think the Honda CB1000R is a comfortable sportbike. But it's a naked bike, a roadster. Comfort is all a matter of perspective.
Being a roadster means that on the Honda CB1000R your knees are quite bent, and you have a definitely forward canted position when riding the CB1000R.
Both generations of the Honda CB1000R have a relatively comfortable seat, but it's not one that's designed for all-day riding. I'm probably the wrong person to ask as a) I haven't tried all-day riding on any CB1000R, and b) I generally forget about seats when I really like a bike. Anyway, fuel breaks solve everything.
Yes, the Honda CB1000R is more comfortable than its superbike stablemate, the CBR1000RR. But if you're looking for a more Bonneville-like experience, you might be looking more for something like the Honda CB1100.
On top of that, there's no wind protection (just in case you forgot).
Commuting with the CB1000R
Just a small (but important) note to say battling traffic is something the Honda CB1000R does well.
I actually don't mind super sports in traffic. They're thin and nimble, perfect for slipping between cars.
But I have to admit, naked sport bikes do even better. And the Honda CB1000R actually has fairly narrow handlebars for a naked bike — this isn't like a Harley-Davidson or even a Triumph "Modern Classic" roadster, though nor is it a streetfighter.
The narrow handlebars — and the fact that it doesn't have bar-end mirrors — mean that navigating through traffic is quite easy. On top of that, the CB1000R does have more lock-to-lock clearance, something that supersport bikes lack.
The Honda CB1000R does run a little hot, but nothing unusual.
The fan on the Honda CB1000R kicks in at 104 degrees C (219 F) which it will regularly hit in traffic, especially when at a standstill. This is fine. Liquid-cooled bikes are designed to run at these temperatures. The cooling system is pressurised, and the coolant has anti-boil protection.
But still, the fans coming on is something you have to kind of get used to on a naked bike. If you're used to air/oil-cooled bikes, you won't have a fan at all of course… and if you ride supersports or sport touring bikes, you may not hear the fan because the fairings cover the noise pretty well.
My advice — don't look at the temperature on the dash. And don't worry about the fans! If you do, you might want to look at some of the air/oil-cooled motorcycles you can still buy (like my BMW R nineT).
Alternatives to the Honda CB1000R
We're a little spoiled for choice when it comes to neo-retro bikes.
Because the bikes below are quite varied, I'll summarise the differences in a table.
Note — you could also compare the CB1000R to any number of modern streetfighter bikes, like the Yamaha MT-10, Aprilia Tuono, and so on. But I know that part of the appeal of the newer CB1000R, at least, is its style. So I'll limit it to those that have retro sporting designs.
So I was torn, for example, between the BMW R nineT and the BMW S 1000 R. Then I realised — none of them is quite it!
| Spec | Honda CB1000R | Yamaha XSR900 | Kawasaki Z900RS | Suzuki Katana |
| --- | --- | --- | --- | --- |
| Engine | 998 cc inline four | 890 cc inline triple | 948 cc inline four | 999 cc inline four |
| Peak power | 107 kW / 143 bhp @ 10500 rpm | 87.5 kW (119 PS / 107 bhp) @ 10000 rpm | 82 kW / 110 hp @ 8500 rpm | 112 kW / 150 bhp @ 11000 rpm |
| Peak torque | 104 Nm / 77 lb-ft @ 8250 rpm | 93 Nm / 69 ft-lb @ 7000 rpm | 98 Nm / 72 lb-ft @ 6500 rpm | 106 Nm / 77 lb-ft @ 9250 rpm |
| Front suspension | Showa SFF-BP USD fork, fully adjustable | 41mm inverted fork, fully adjustable | USD 41mm fork, fully adjustable | 43mm KYB inverted forks, fully adjustable |
| Rear suspension | Showa monoshock, adjustable preload and rebound damping | Monoshock, adjustable preload and rebound damping | Monoshock, preload/rebound damping adjustable | KYB shock, adjustable preload and rebound damping |
| Front brakes | 2 x 310mm discs, radial mount 4-piston calipers | 2 x 298mm discs, 4-piston calipers | 2 x 300 mm discs, monoblock radial mounted calipers | 2 x 310mm discs, Brembo M4.32 calipers |
| Instruments | LCD (2018-2020), TFT (2021+) | TFT | Twin gauges | TFT |
| Cruise control | No | Yes (2022+) | No | No |
| IMU | No | Yes (2022+) | No | No |
| Wet weight | 212 kg / 467 lb | 193 kg / 425 lb | 214 kg (472 lb) | 215 kg / 474 lb |
Honda CB1000R vs alternatives
Yamaha XSR900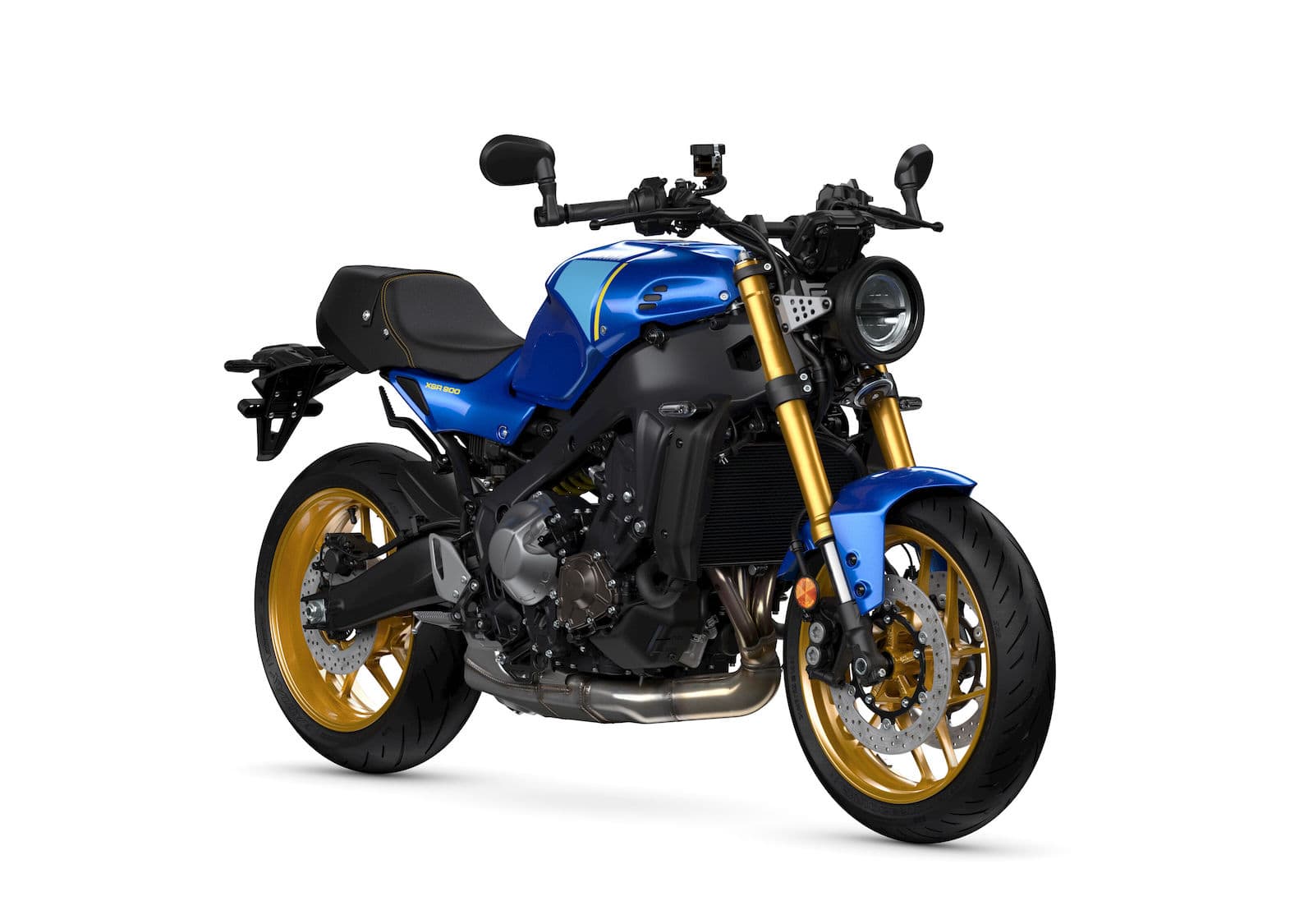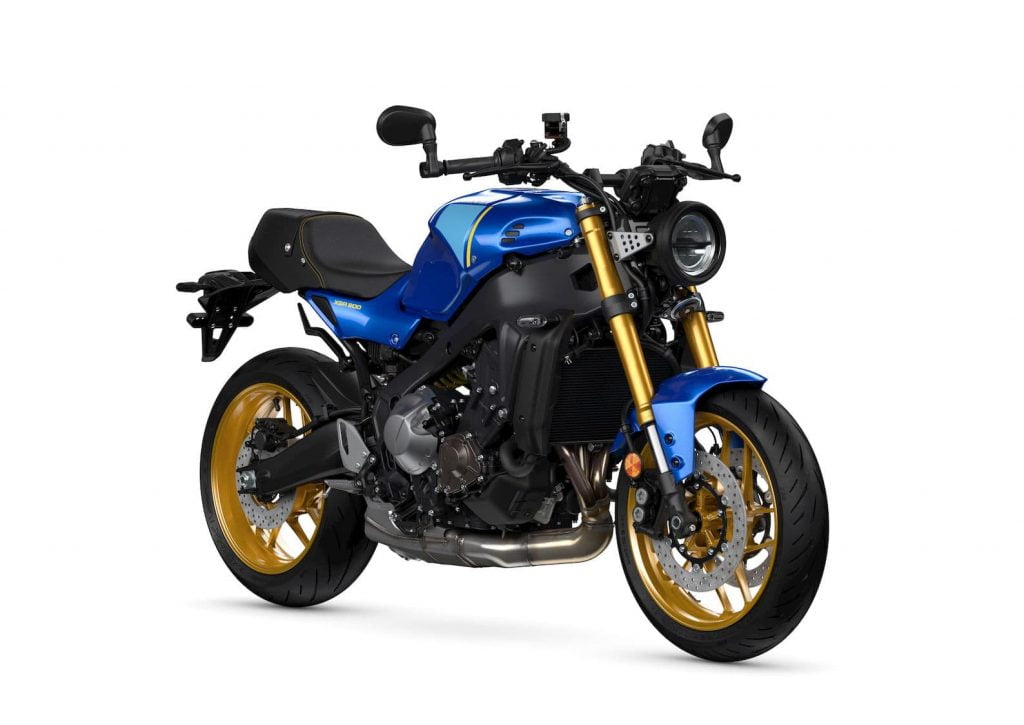 The Yamaha XSR900 is the neo-retro version of the MT-09. They're very similar bikes and have a lot in common.
In the past, this was the 847 cc inline three-cylinder engine (the "triple") for which Yamaha is almost famous these days. Since 2022, the XSR900 has been upgraded to the 890 cc triple, as well as getting a bunch of other changes.
In general, the Yamaha XSR900 has always been the lighter, livelier one of the retro bikes. Even the 847 cc version has less of the bouncy suspension problem than the MT-09, but it still has a bit of a twitchy throttle — it could benefit from a remap.
Yes, it's a bit down on power, but it still has a lot of it — 87.5 kW (119 PS / 117 bhp) is a lot of power for a street bike, especially one as light as the XSR900. The XSR900 only weighs 193 kg or 425 lb fully fuelled. And you feel it when you sit on it — it feels very light!
There are three things that make the XSR900 unique in this line-up:
The inline three-cylinder engine. These days, only Yamaha, Triumph, and MV Agusta do them. And in neo-retro bikes, just Yamaha. The three-cylinder engine has a unique sound and feel… revvy like a four, but with a torque curve like a twin.
The electronics. The XSR900 is the only neo-retro bike with both cruise control and a 6-axis IMU for cornering ABS.
The lightness. If you're after overall lightness, then you won't find a bike in this category lighter than the XSR900 (or its sibling the MT-09). Even the Triumph Street Triple RS (not a retro, and with a smaller motor) weighs about the same.
The Yamaha XSR900 does lose out a bit on looks. It's a bit busy looking and doesn't have the snaky exhaust of the CB1000R. But it's a cool bike, anyway.
Kawasaki Z900RS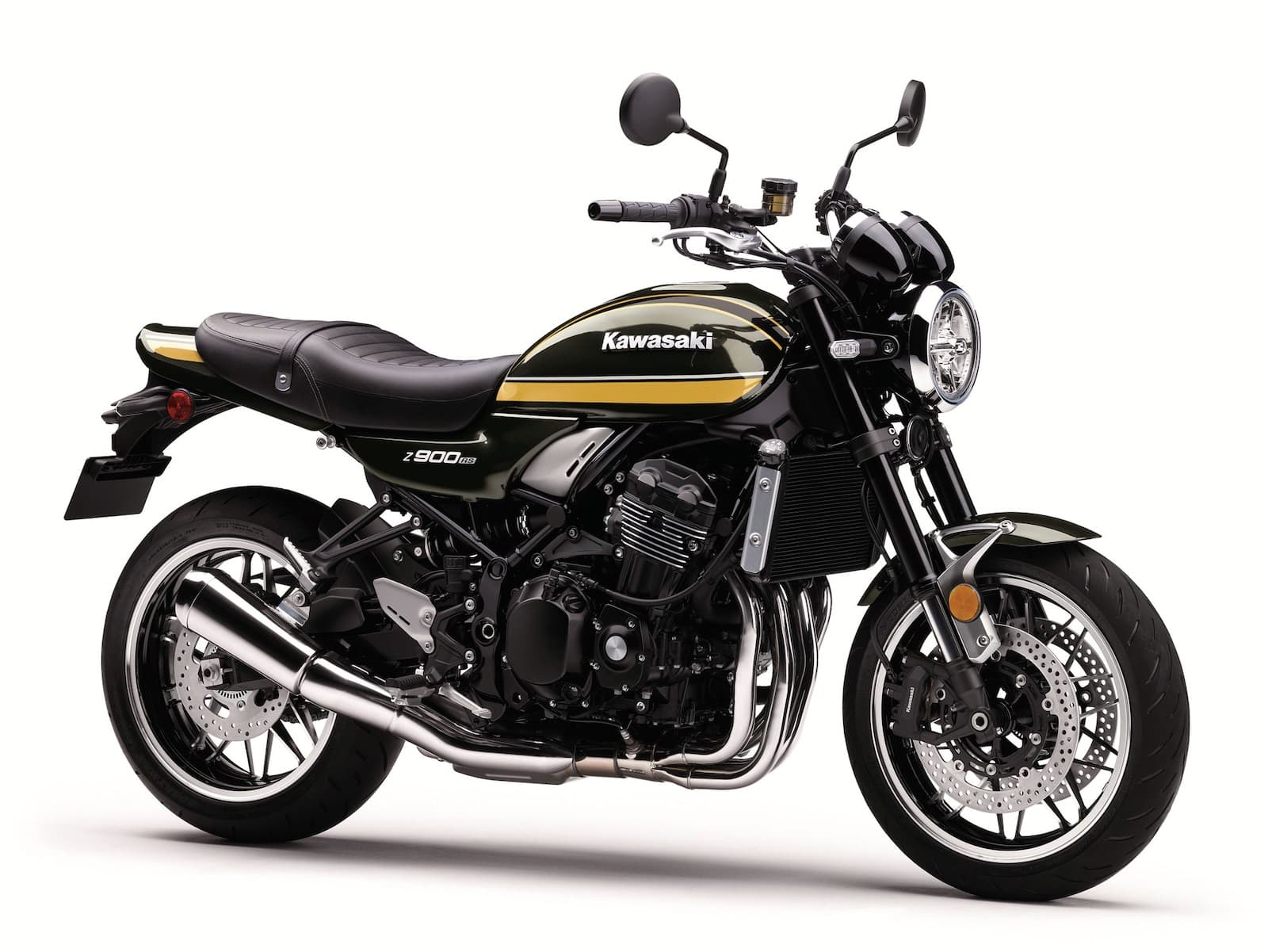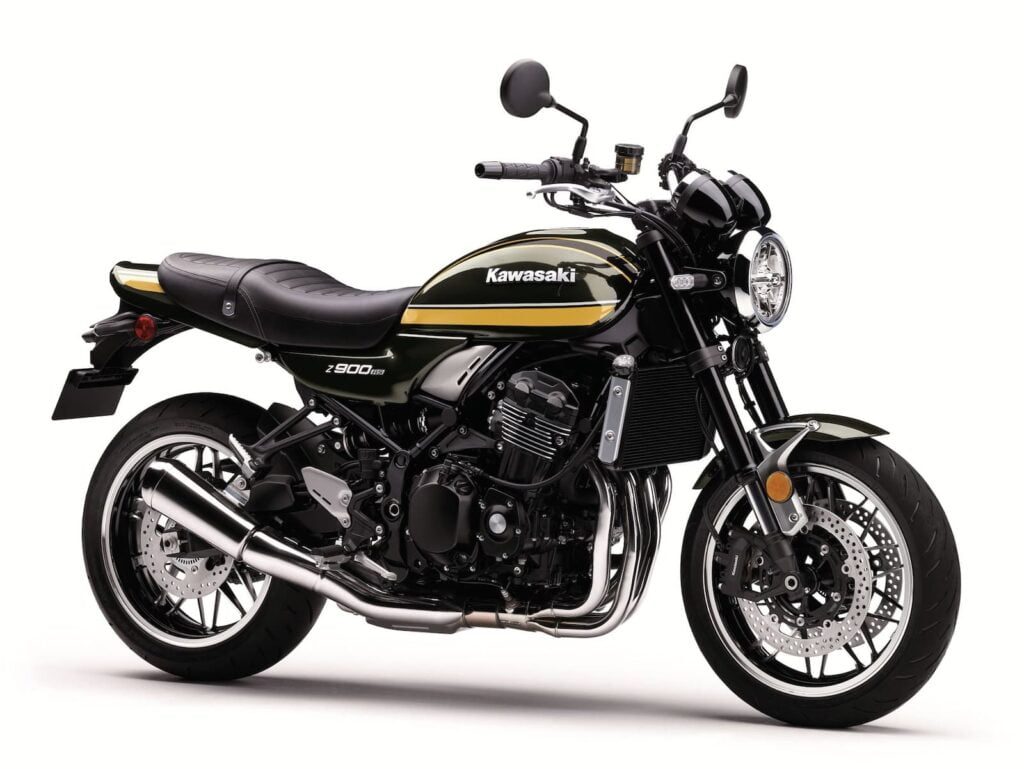 In terms of classic style points, the Kawasaki Z900RS is the winner here, in my opinion.
The Z900RS is kind of the everyday nobility's sportbike. It has an engine like the one in the Z900, but tuned for even more mid-range torque, at the cost of a little top-end power. Of course, you can tune it… see my article on the Z900 vs the Z900RS for more on that note.
By "nobility's sportbike", I mean that the Z900RS has a riding position a bit closer to that of a Bonneville than a streetfighter.
But despite this, it's a quick bike. It revs up, has a great sound (all Kawasaki's do… they tune for it!), and has really high-spec suspension and braking — even better components than on the higher-powered Z900.
The tuning of the Kawasaki Z900RS means that you don't feel bad for short-shifting it. The CB1000R comes on around 6000 rpm, but the Z900RS is getting to peak torque around then — and has had most of it since much earlier.
Three unique features of the Kawasaki Z900RS are
The style and the heritage of the design. The Z900RS's design hawks back to the early Kawasaki superbikes, and more recently the ZRX1200R, itself also a retro replica (though now it's old, so a retro retro bike).
The instruments. Everyone else is going TFT, but the Z900RS is among the last bastions of bikes with twin gauges.
The engine. Every manufacturer does a four differently. What I like about the Z900RS's engine is that like the CP3, it isn't a superbike engine with different tuning. So it has torque everywhere and is really rewarding to ride in the midrange. That, and Kawasaki engines all have this intake howl that's really fun for the rider. It's a cracker!
I really like the Kawasaki Z900RS. If you are in a place with aggressive speed policing, it might be the more sensible choice, as the more comfortable riding position and lower tuned engine won't have you champing at the bit as much.
But for those blessed with areas where they can ride quickly (and that's what you want to do), the Z900RS's downfall is that it is quite a bit down on power vs the Honda CB1000R, and doesn't make up for it with lightness, which it doesn't have — it's just as heavy as the CB. The CB is easily the sportier choice.
Suzuki Katana, "The new one"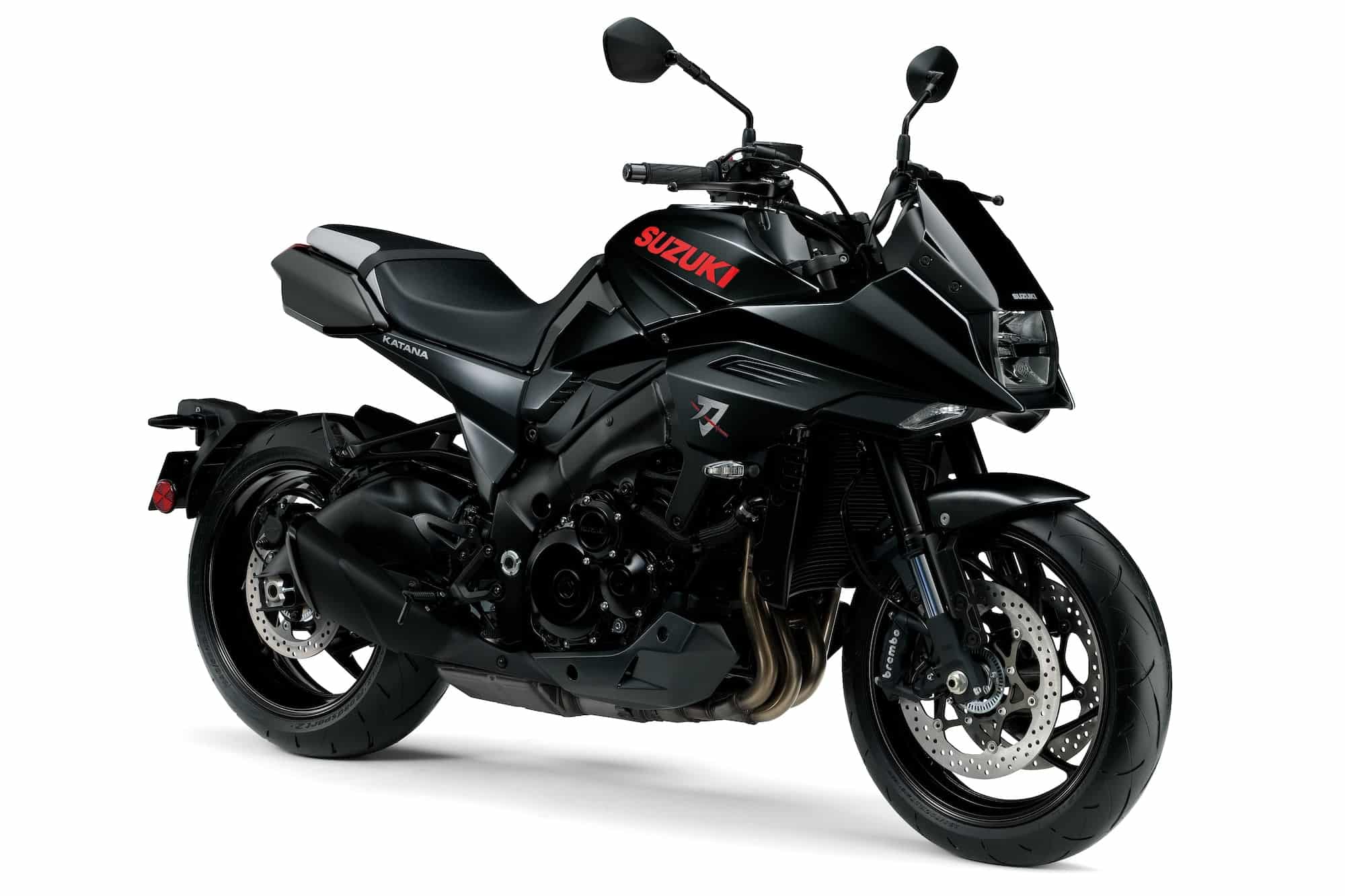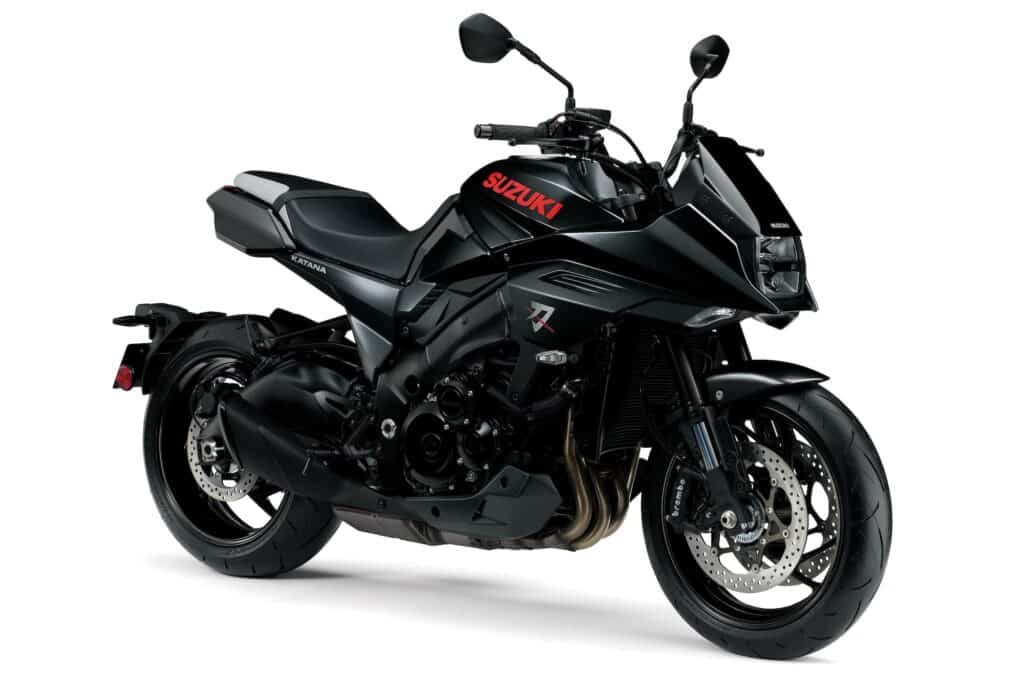 The Suzuki Katana is an unusual entry in the modern retro line-up.
It's unusual because rather than call back to the "round front headlight" classic bikes of the seventies and eighties, the new Katana is built as a re-issue of what has become a pricey collector's item – the Suzuki Katana 1100.
The original Suzuki Katana bikes of the early 80s used to be considered oddballs of design, from launch and for maybe 20 odd years. I remember looking at examples in the early 2000s and thinking the same thing I do now: "Weird. Kinda cool, but weird."
But that hasn't stopped prices from skyrocketing since then. These days, you'll pay upwards of US$15K for one in good condition – though only for the larger capacity ones (the 750 is a lot cheaper).
Anyway, the modern Suzuki Katana is basically a Suzuki GSX-S1000 in different skin. There are some subtle differences to riding position, but largely it's the same bike – powered by the 999 cc inline four cylinder engine with the same bore and stroke as the K5 GSX-R1000, but detuned to more reasonable (but still huge) power, suited for street / sporting use.
What makes the Katana unique in this lineup is that it's the only one with an engine in the same league as that of the CB.
Whereas other retro standards have middleweight-style tuning (which is how I think of a flat torque curve and around 110-120hp), the Katana makes the same power as superbikes of 20 years ago, with a more pronounced top-end bump in torque starting from 7000 rpm.
Just like the CB, you can also squeeze a lot more out of the Katana's engine with a tune. And both bikes lack most rider aids (other than ABS and TC). Neither has an IMU, nor cruise control.
So you'd pick the Katana if you prefer the looks, or want to finally have the K5 Gixxer motor in a street bike. I love the sound and feel of that motor!
Should you buy a Honda CB1000R?
If there's one reason for which you might want to buy a Honda CB1000R — aside from its general virtues — it's that this may be the last bike we'll see in a long history of inline four-cylinder sportbikes that started with the CB750 and which shaped motorcycling history.
Yes, that line kind of ended with the CB1100, an air/oil-cooled four which is no longer sold new. But that's a nostalgic model, deliberately heavy and modestly powered. The CB1000R inherits its spirit more naturally, because the Honda CB750 was meant to be a performance motorcycle, just as the CB1000R is.
And given the limited updates to the Honda CB1000R… I'm not sure we'll see another one.
But since it's my money (and it is, as nobody is giving me these things for free), I have a hard time plonking down for the latest Honda CB1000R. In fact, I'd probably — for very personal reasons — pick the other three bikes first in the "alternatives" section first.
Each of the other bikes has something to distinguish it from the Honda CB1000R, whether it's engine character, style, or electronics. Or all of them.
And that's if we just look at retro sport bikes. There's the other standards, too, like the BMW S 1000 R (ok, you'll have to get one a few years old to be the same price… but they're still awesome from a few years ago!), or the bikes with other engine formats like the KTM 1290 Super Duke R, the Triumph Speed Triple, and so on. I mean, it's just a very tough market in which to shine.
But again, none of this makes the Honda CB1000R a bad bike. Quite the contrary — it's still an excellent bike. We're just spoiled for choice. If you already have one, you would only incrementally gain one or two features by swapping it with another retro standard, and likely lose out on something – style, history, the power band, or maybe just the peace of mind that comes with owning a bike whose brand is known for unwavering reliability.
I ended up with a BMW R nineT as my sporty standard. It's not because it's better — I mean, it's "worse" in many ways — it's just more different from my four-cylinder sport bike. Being air/oil-cooled and powered by a boxer twin makes it different enough from my four cylinder superbike where I'd have less trouble choosing between the two.
Still, that doesn't stop me from looking at the CB1000R whenever one crosses my path. Try one out and see if it tickles you.
What's Next for the CB1000R
The 2018 update to the Honda CB1000R wasn't as far-reaching as some hoped. And the 2021 update was nice… but didn't bring much to the table (particularly not in the US, where you don't even get Bluetooth!)
Besides which, the base engine in the CB1000R hasn't changed since the first gen, and was quite neutered by the Euro 4 updates.
And Honda has made the slightly alarming move (for the CB1KR) of creating more motorcycles based on the Africa Twin engine platform, and gradually retiring the CBR1000RR and CB1000R from some markets.
It looks like the writing is on the wall for the Honda CB1000R. I expect to see a "final edition" in the coming few years.
The reason for this isn't that sport bikes are falling out of fashion, but rather that I think Honda isn't going to be able to keep using its four-cylinder platform that has been in the CB1000R. It looks like Honda will be re-issuing a Honda Hawk based on the Africa Twin platform, and that might be the end of it for the CB.
Luckily, we aren't spoilt for choice in alternatives.