When I first heard of the Ducati DesertX, I was sceptical (or skeptical, for some of you).
I'm used to Ducati (and Triumph, BMW, etc.) making quite subtle changes to a motorcycle, calling it a new name, and marketing it to a very specific niche. Don't get me started on the Ducati Scrambler Hashtag…
So I thought "Here's Ducati trying to cash in on the middleweight adventure motorcycle niche". I thought that they saw that the V-Strom 650 had been doing well, then the KTM 790/890 Adventure and the Yamaha Ténéré 700 even better, and thought "I want some of that action" and slightly modified one of their existing bikes to suit.
But I'm somewhat surprised by just how different the Ducati DesertX is from other motorcycles in the Ducati line-up, and how differentiated it is from the rest of the middleweight adventure category.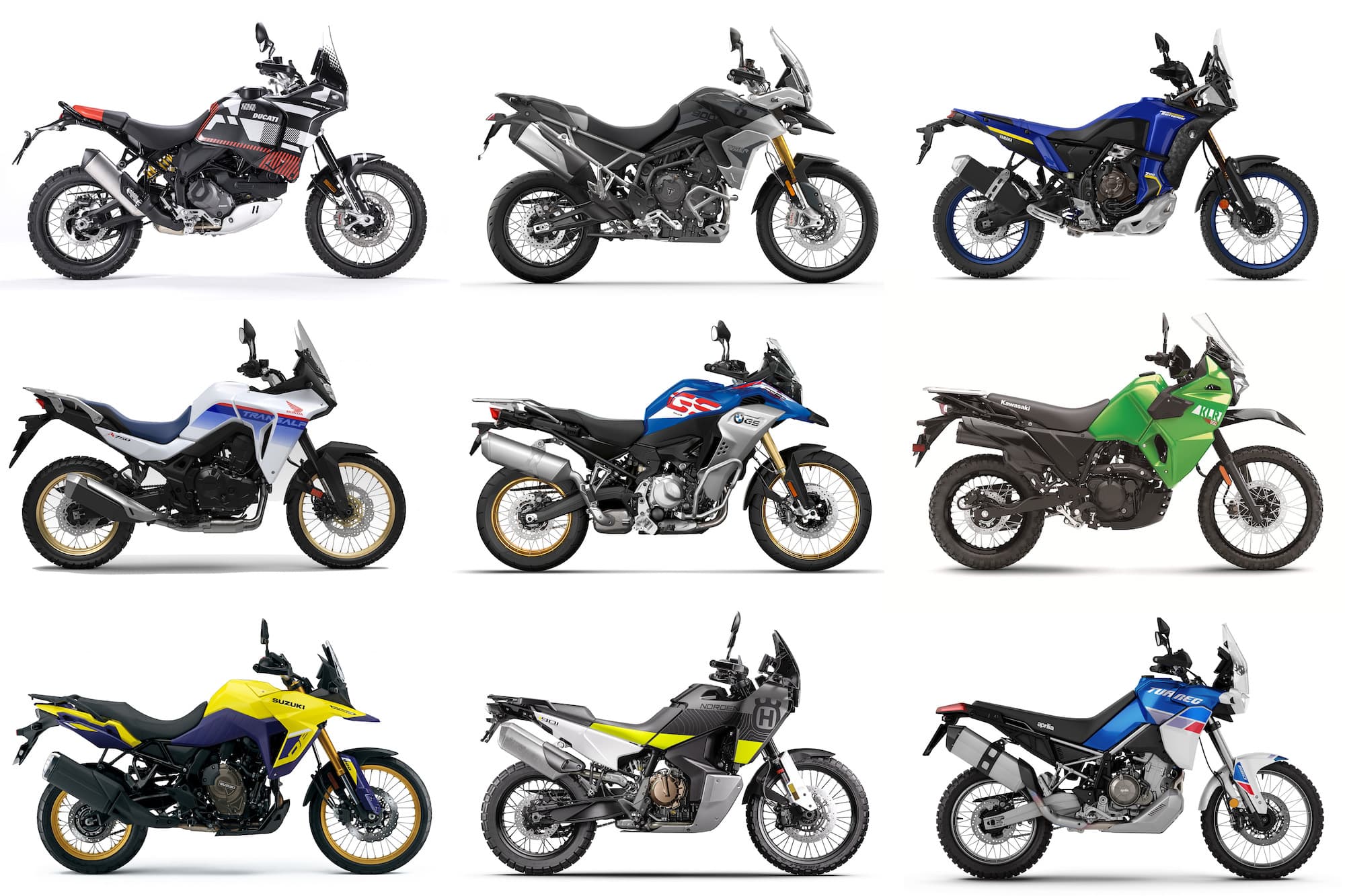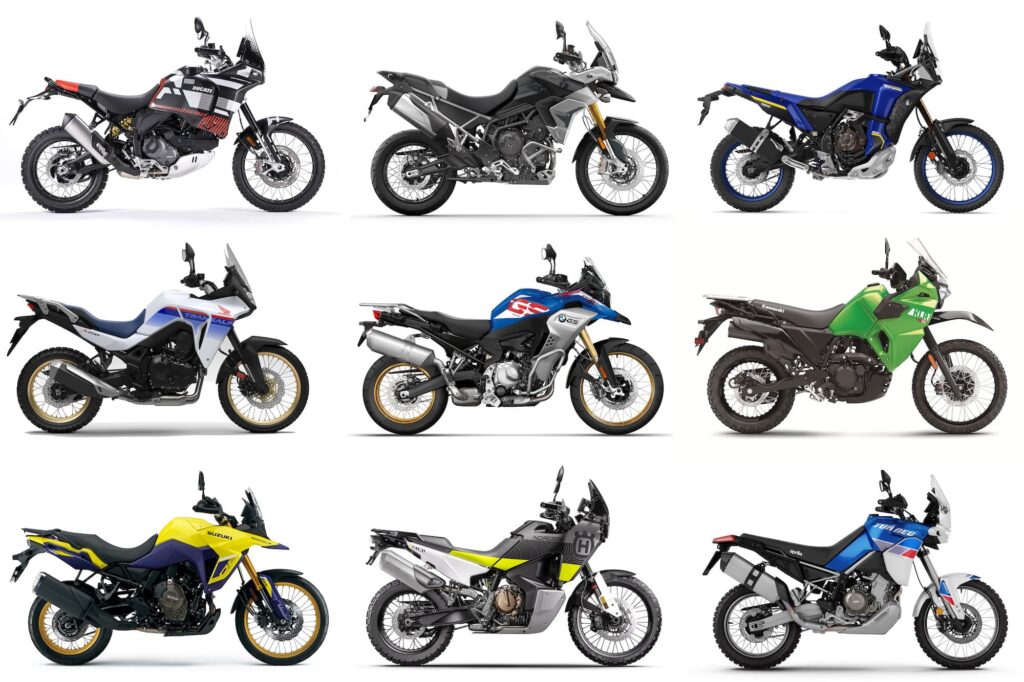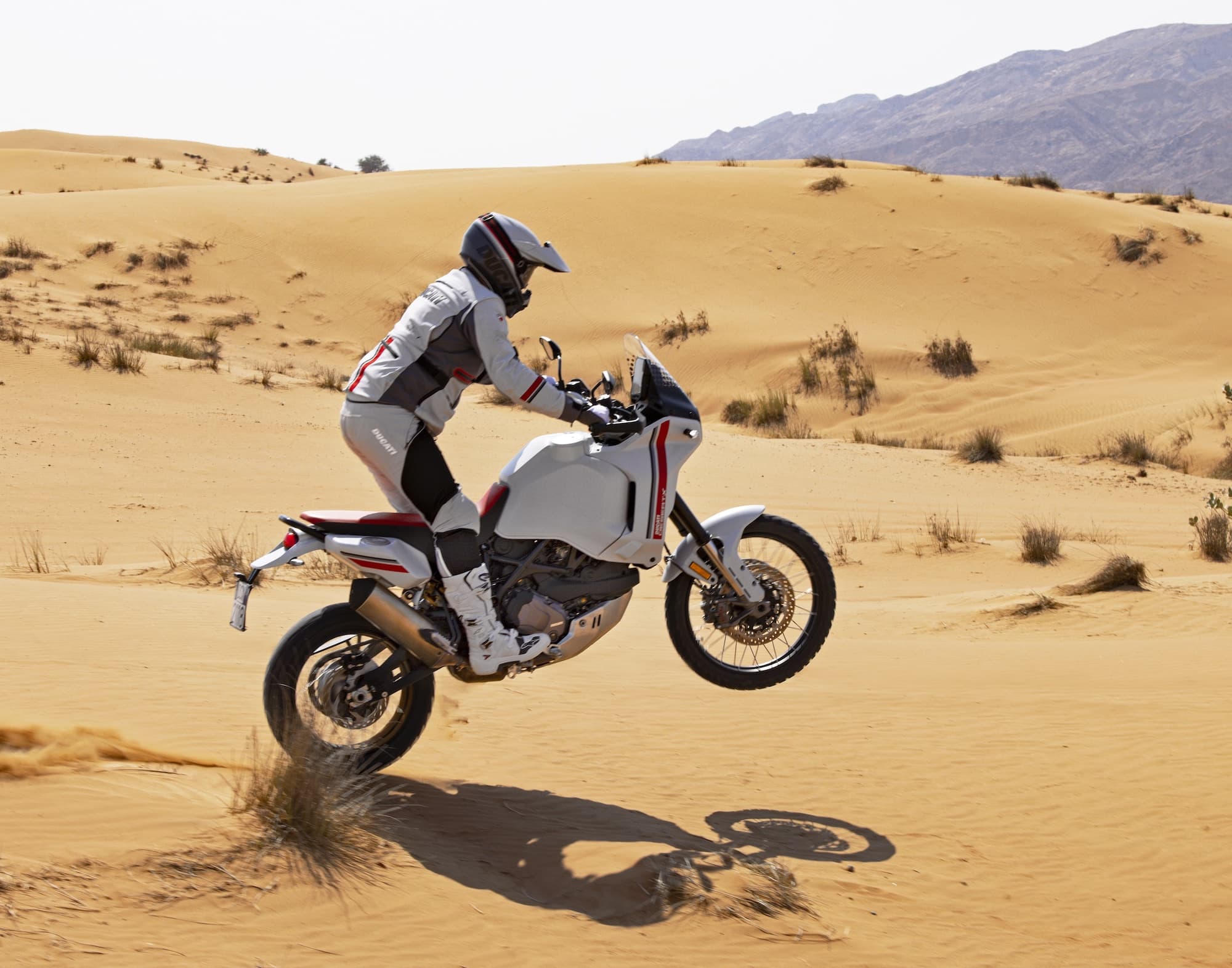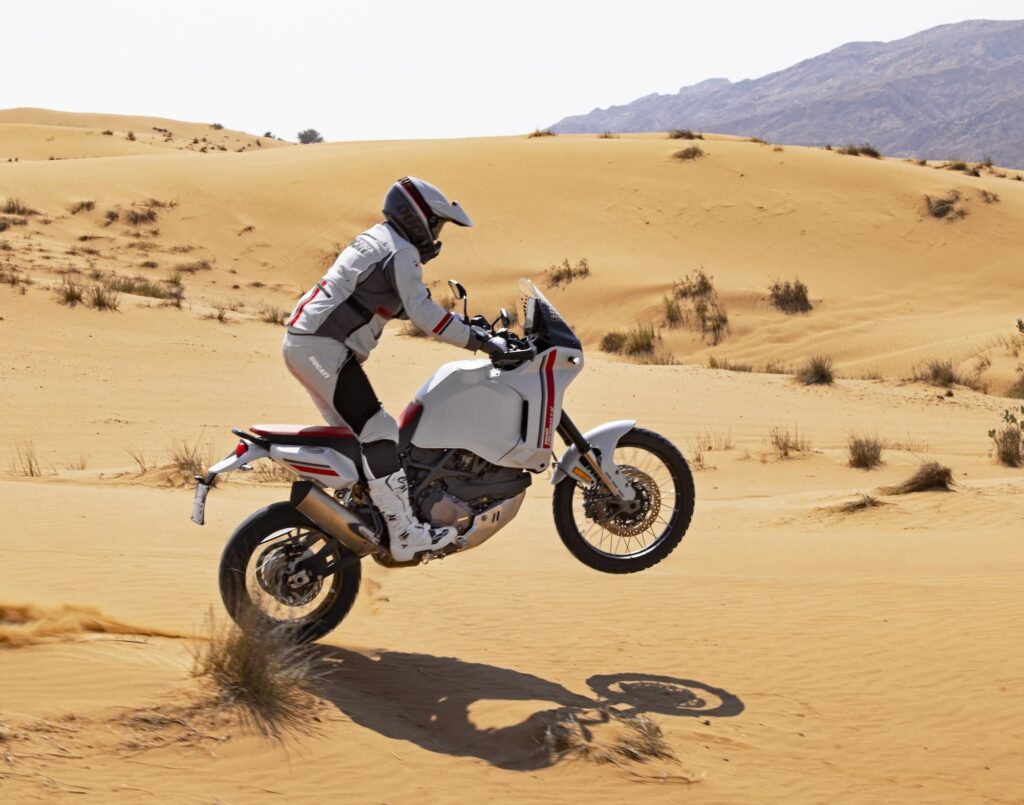 So if you're like me you were probably wondering
How is the Ducati DesertX different from the Multistrada 950 / V2, and the Ducati Scrambler Desert Sled, while we're at it?
What makes the Ducati DesertX unique in the middleweight adventurer line-up?
What's the Ducati DesertX missing?
Here's everything I've found out!
Are you obsessed with motorcycles?
Well, I am. That's why I created this site — as an outlet. I love learning and sharing what others might find useful. If you like what you read here, and you're a fraction as obsessed as I am, you might like to know when I've published more. (Check the latest for an idea of what you'll see.)
Ducati DesertX Similarities and Differences — In a nutshell
In a nutshell, the Ducati DesertX has the same 937 cc engine seen in all of Ducati's liquid-cooled middleweights — the Hypermotard, the Supersport, the Multistrada, the Monster 937, and now the DesertX, but in an enduro-ready chassis with top-shelf equipment as standard.
There are too many individual elements that make the DesertX unique, so I thought I'd contrast it with two motorcycles people are likely to compare it to — the Ducati Scrambler Desert Sled, and the Multistrada V2, including the higher spec "S" version.
First, below are pics of the Ducati DesertX next to the Multistrada V2 and the Ducati Scrambler Desert Sled.
And below there's a table showing all the differences between the three bikes.
Spec
Ducati Scrambler Desert Sled
Ducati DesertX
Ducati Multistrada V2 / S
Engine
803cc 2-valve air/oil cooled L-twin
937cc liquid-cooled Ducati Testastretta 11-degree
937cc liquid-cooled Ducati Testastretta 11-degree
Peak power
55 kW (74 bhp) @ 8250 rpm
81 kW (109 bhp) @ 9250 rpm
83 kW (111 bhp) @ 9000 rpm
Peak torque
68 Nm (50 lb-ft) @ 7750 rpm
92 Nm (68 ft-lb) @ 6500 rpm
96 Nm (71 ft-lb) @ 7750 rpm
Front suspension
46mm fully adjustable USD, 200mm travel
Kayaba 46mm fully adjustable USD, 230mm travel
KYB 48mm fully adjustable USD, 170mm travel
(S: Sachs 48mmm USD, Skyhook active)
Rear suspension
Kayaba, preload & rebound adjustable, 200mm travel
Kayaba monoshock, fully adjustable, 220mm travel
Sachs rear shock, fully adjustable, 170mm travel
S trim: Sachs, Skyhook active suspension
Front wheel size
19 inch (120/70-R19)
21 inch (90/90 21)
19 inch (120/70 ZR 19)
Rear wheel size
17 inch (170/60-R17)
18 inch (150/70 R 18)
17 inch (170/60 ZR 17)
Tyres
Pirelli Scorpion STR
Pirelli Scorpion STR
Pirelli Scorpion Trail
Speed in 1st gear, 2000 rpm (showing gearing)
17 km/h (11 mph)
15 km/h (9 mph)
18 km/h (11 mph)
Theoretical top speed (per gearing)
210 km/h (130 mph)
~230 km/h (~145 mph)
245 km/h (151 mph)
Brakes
Single 330mm disc, Brembo M4.32
2 x 320mm discs, Brembo M50
2 x 320mm discs, Brembo M4-32
Tank capacity
13.5 L (3.57 US Gal)
21L (5.5 US Gal), + optional 8L (2.1 Gal) tank
20L (5.3 US Gal)
Ride modes
No RbW
Six — Sport, Touring, Urban, Wet, Enduro, Rally
Four — Sport, Turing, Urban, Enduro
Display
LCD
5-inch TFT, including Rally info mode
Analogue display
S: TFT
Ride aids
ABS only
IMU, Quickshifter
IMU, ride modes
S: Cruise control, quick shifter
Wet weight
207 kg (456 lb)
223 kg (489 lb)
222 kg (489 lb)
S: Slightly more
Service intervals
7500 mile (12000 km) oil change + Desmo service
9000 mile (15000 km) oil change, 18000 mile (30000 km) Desmo service
9000 mile (15000 km) oil change, 18000 mile (30000 km) Desmo service
Comparing the Ducati DesertX with the Scrambler Desert Sled and the Multistrada V2 / S
See here for 00Ducati Scrambler (800) Buyer's Guide and Model History.
OK, with that summary aside, let's go into some detail.
1 — The Ducati DesertX's Look — Twin front headlamps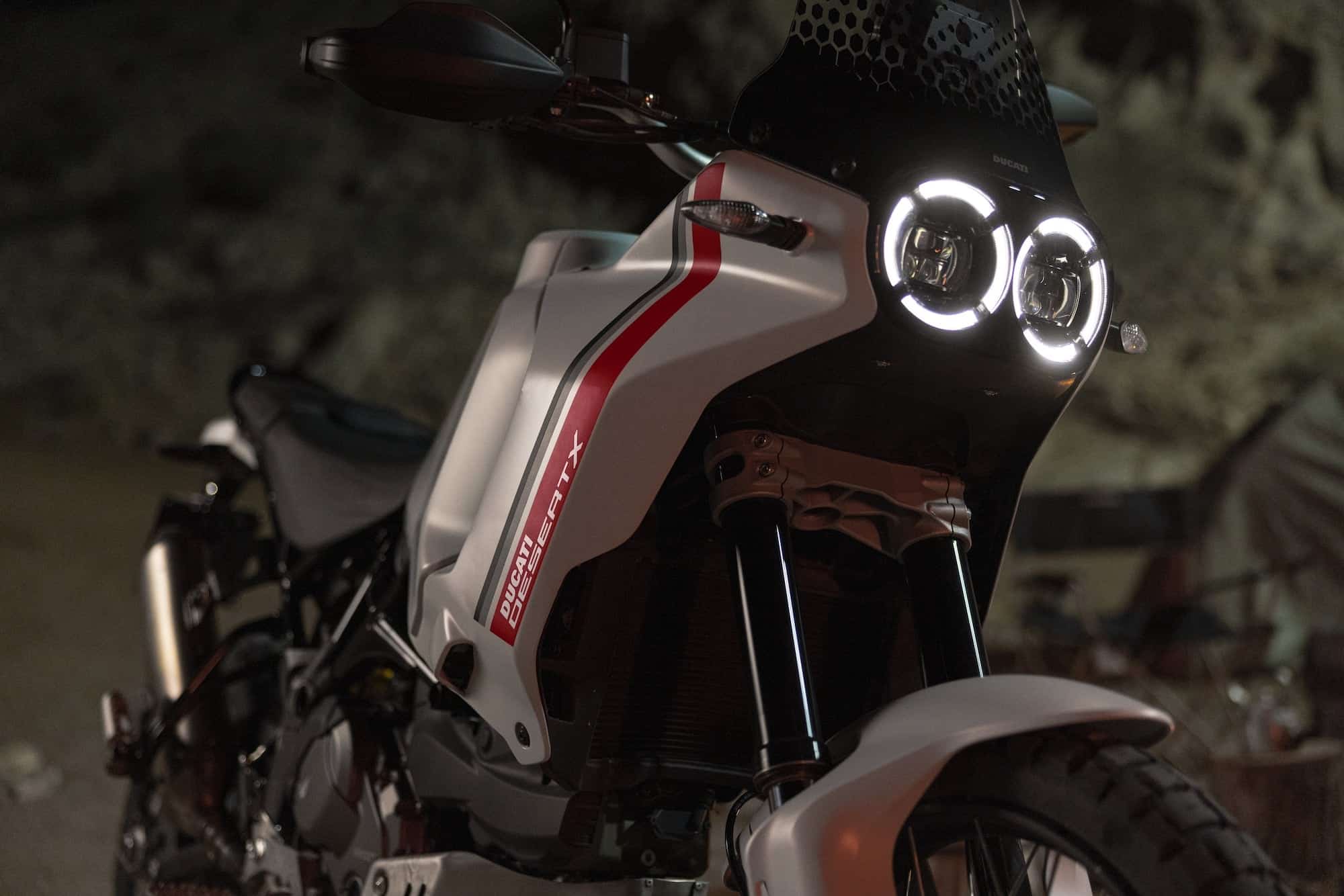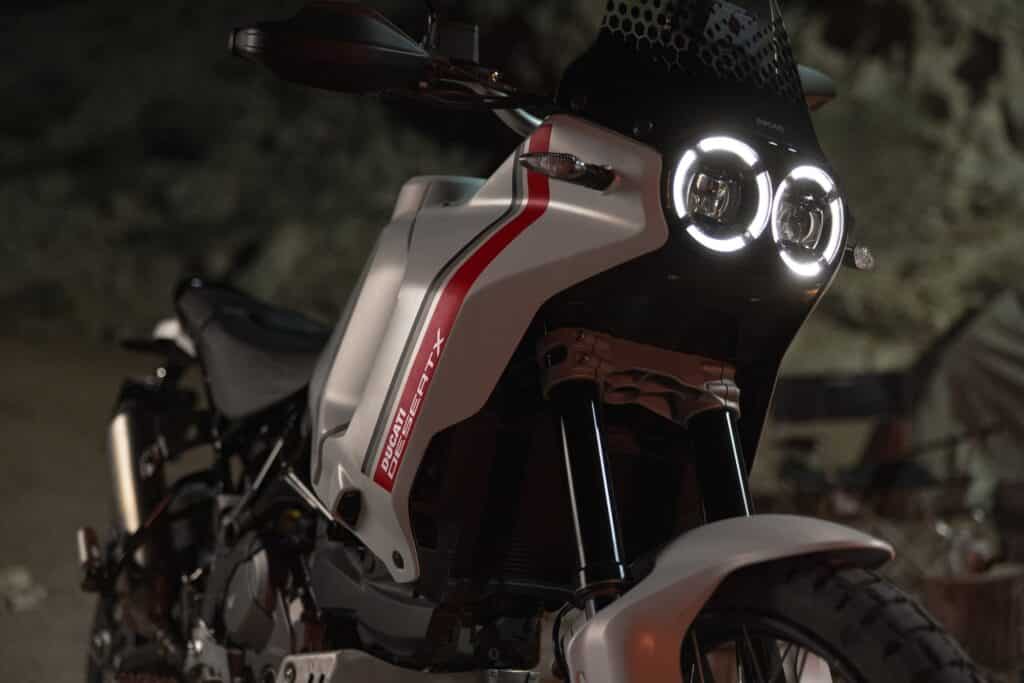 I haven't seen a Ducati with circular twin front headlamps before. Some motorcyclists go gaga for it, and were pretty upset when e.g. Triumph removed them from the Speed/Street triple line in the early 2010s.
But twin circular front headlamps are "classic adventure bike" from a LONG time ago.
One reader wrote in to share that the design of the DesertX recalls the Cagiva / Ducati Elefant 750 / 900 (which shared a look though had different specs). Admittedly this isn't a bike I had seen before, so while I had heard the name, I didn't know of the design. But there's an indubitable design heritage there!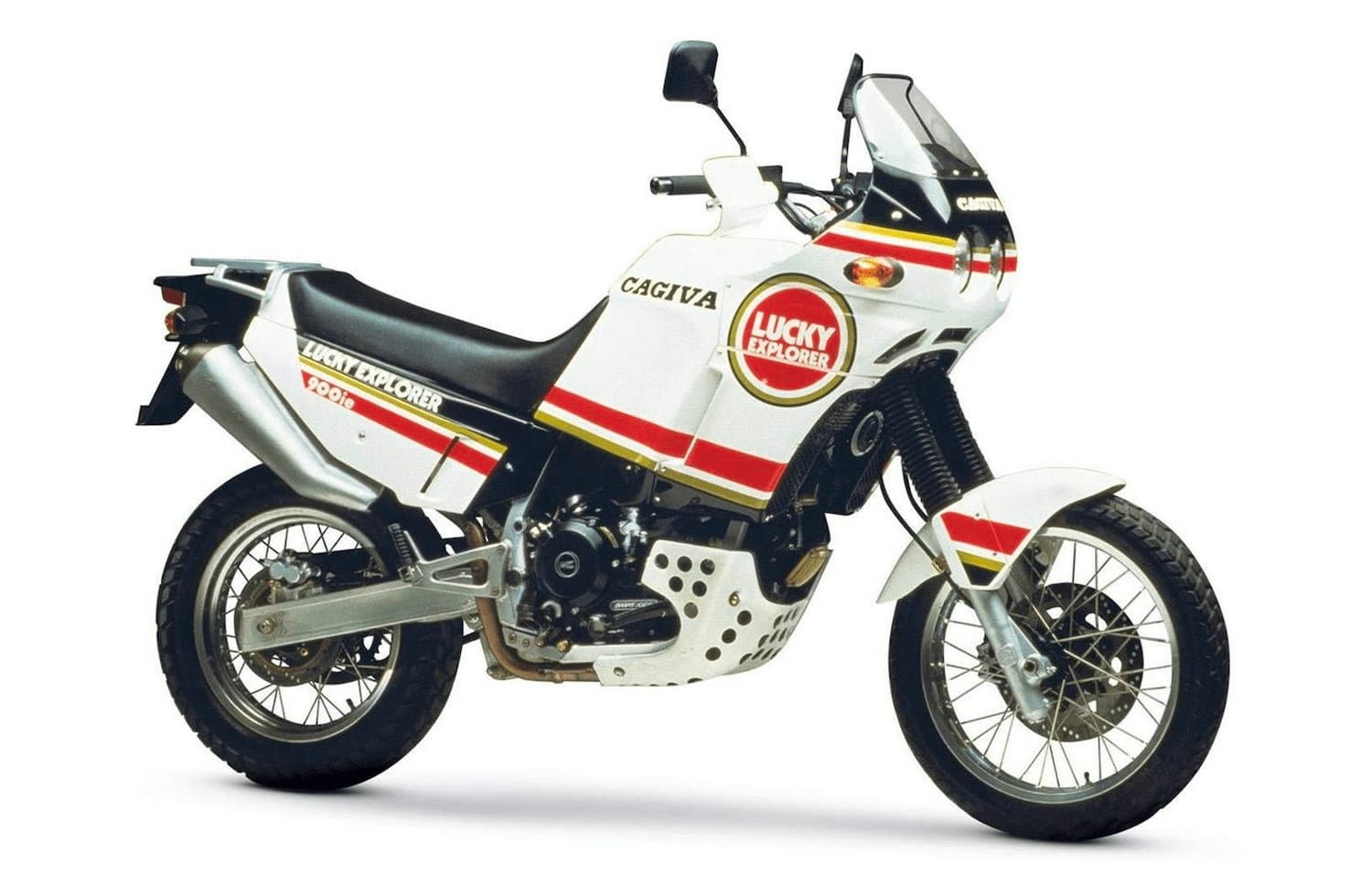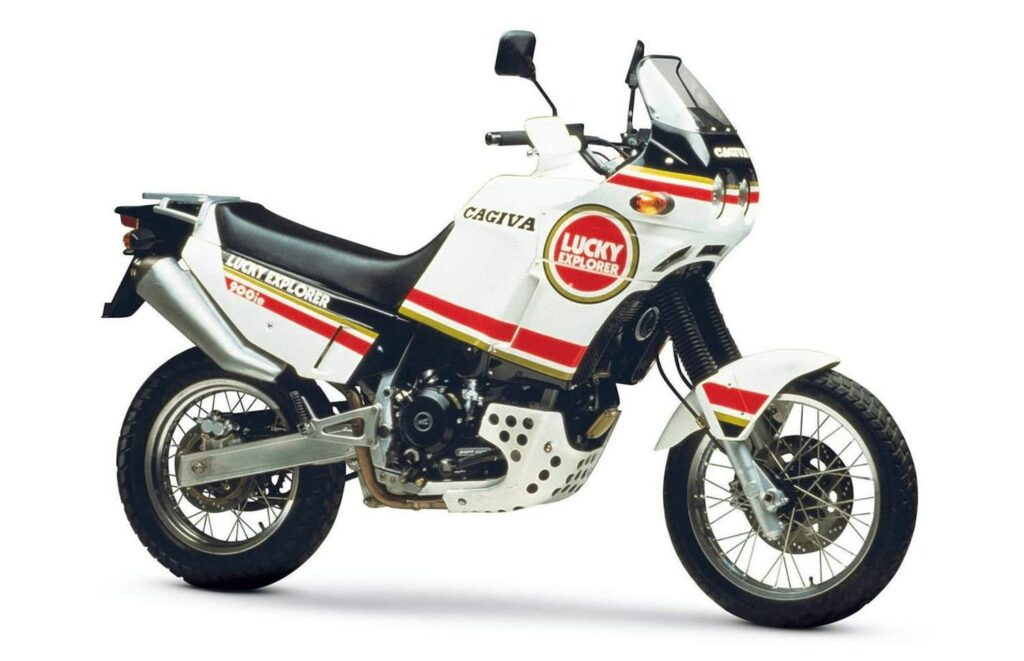 Twin headlights, up-swept exhaust, and even the red and white colour scheme. The Elefant was powered by the air-cooled desmodromic 2-valve motor, which was fed by fuel injection in some year models / variants.
The bike that came to my mind was the Honda 1988 XRV650 Africa Twin, which was part of the same design generation of enduro motorcycles.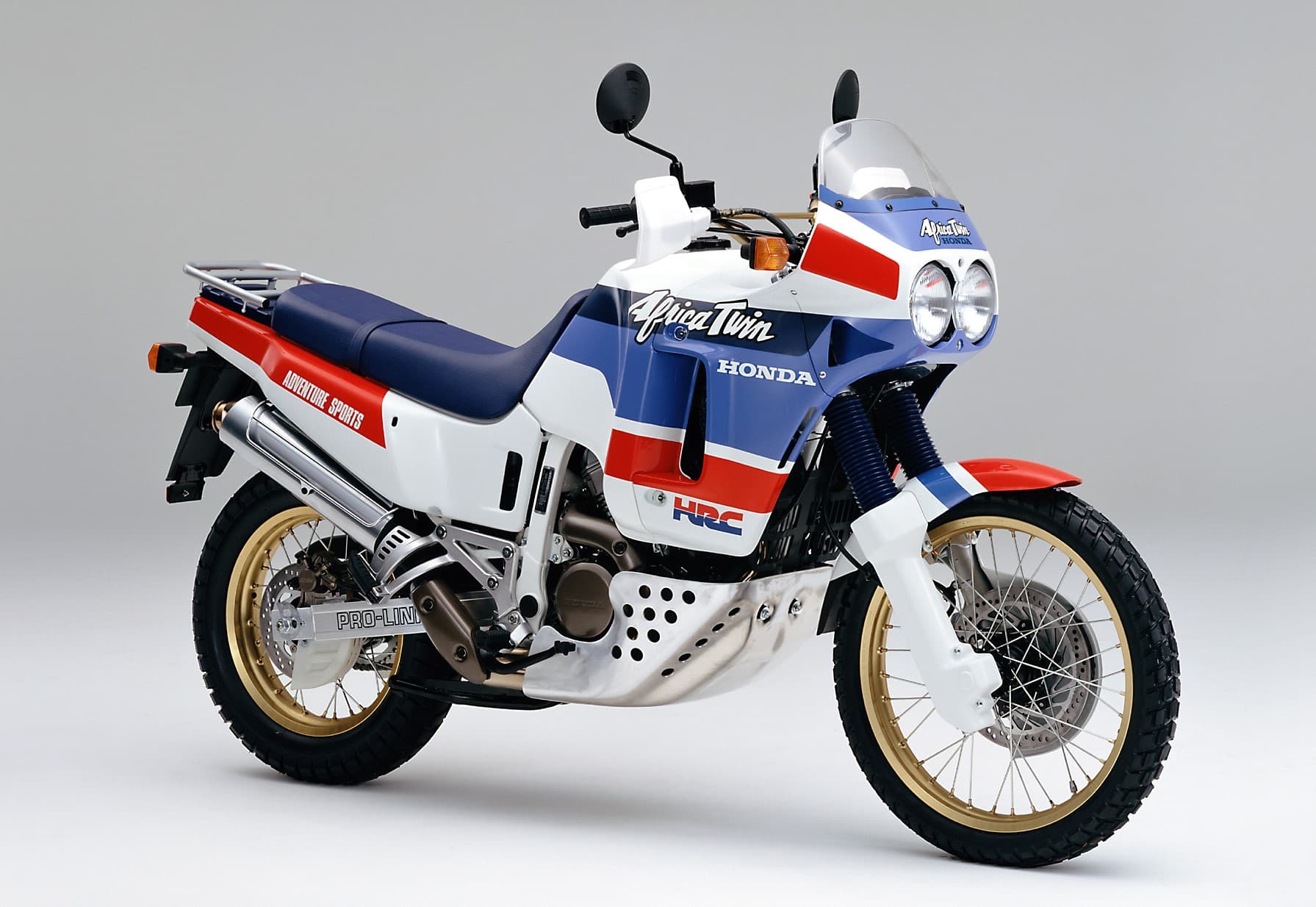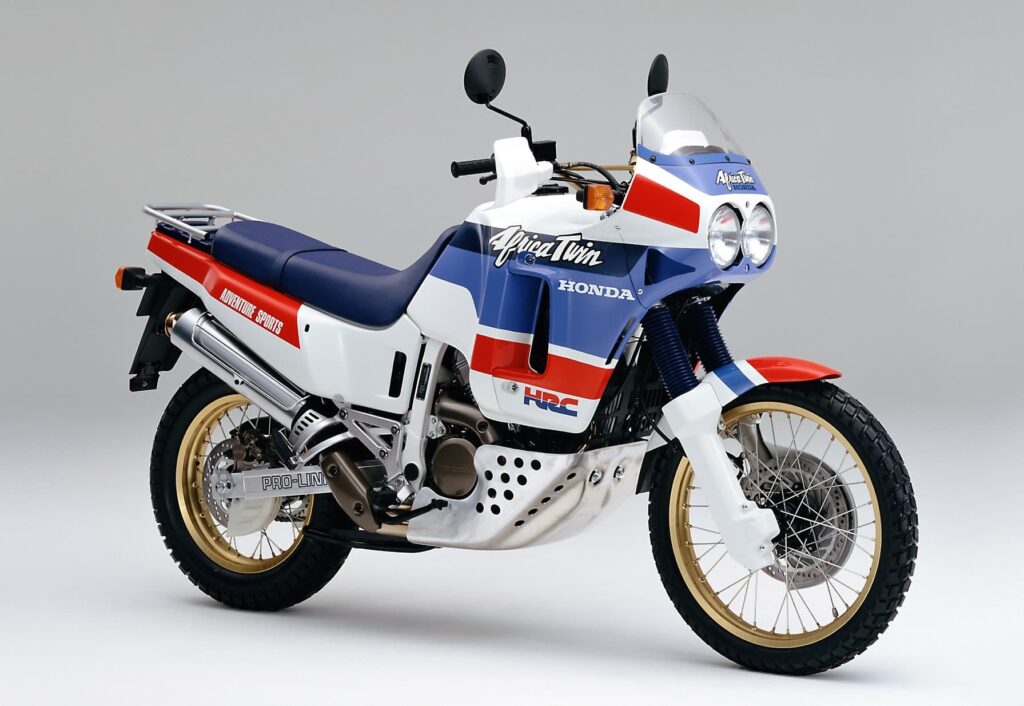 Sorry to show you a picture of a non-Ducati in this article. But it's important to have some historical context for design choices.
Here's an equivalent picture of the DesertX to compare it to the above.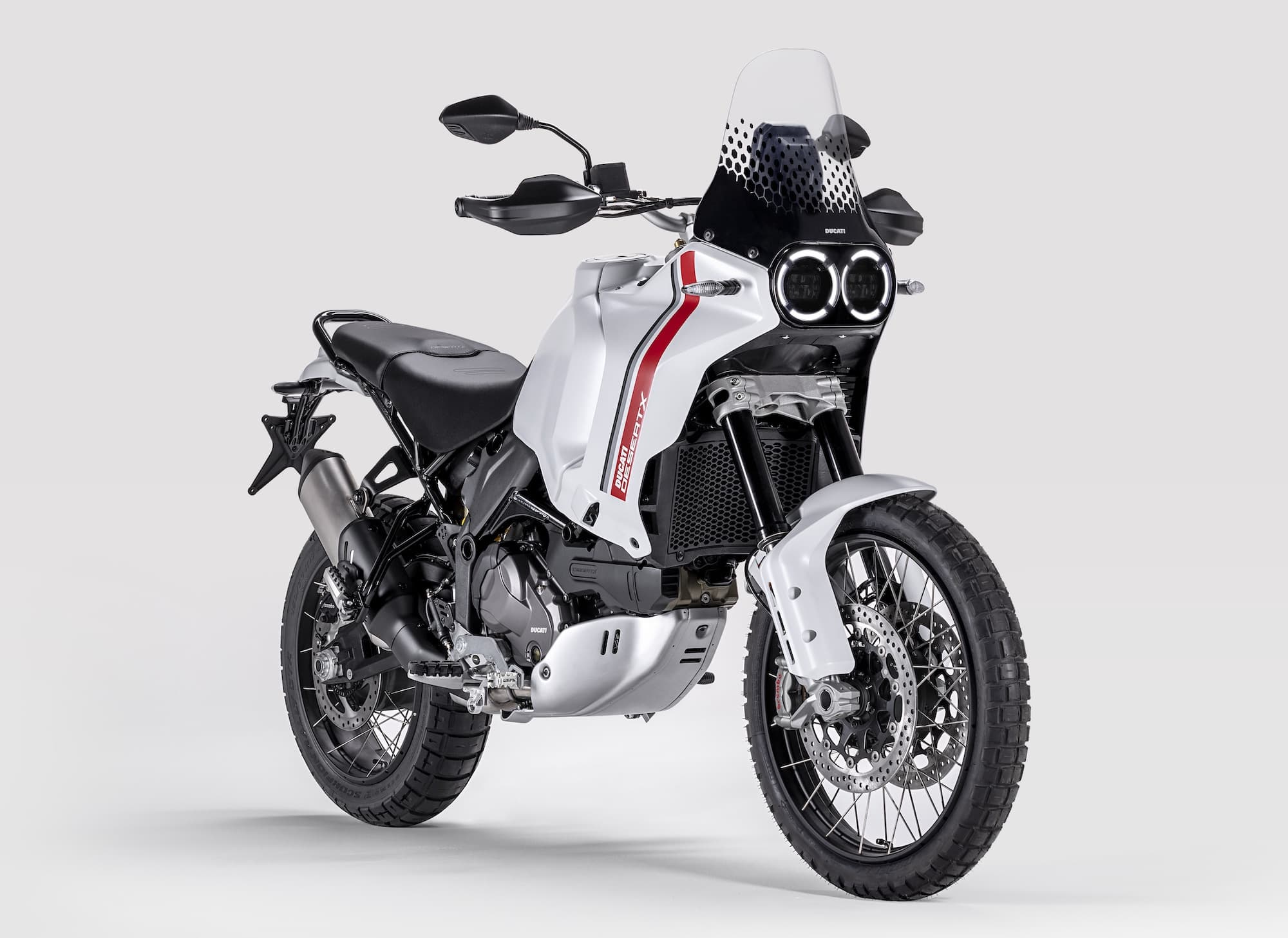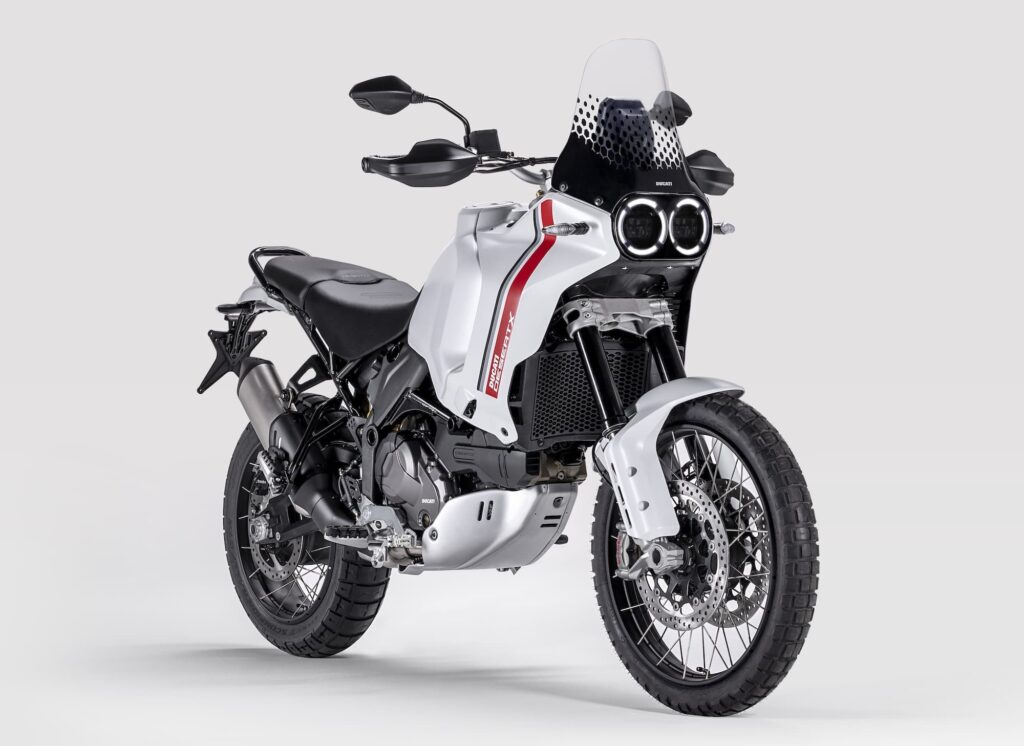 Twin front circular headlamps are like the pop-up headlights of the motorcycle world. It's not the most aerodynamically efficient, and not everyone likes them, but they both look cool to me and to others of inscrutable (well, fine… scrutable) taste. They're quite rare, though! Moto Guzzi does it in their V85 TT, but aside from them, you don't see many.
The DesertX is such a good-looking adventure bike that I'm surprised it didn't win an award at EICMA's "Most Beautiful Bike" vote, hosted by Motociclismo magazine. But it did make it to my list of the best-looking motorcycles of 2022.
The lights are full LED and have daytime running lights (DRLs in Newspeak — see my acronyms guide).
2 — The DesertX's Offroad-Ready 21/18 inch wheels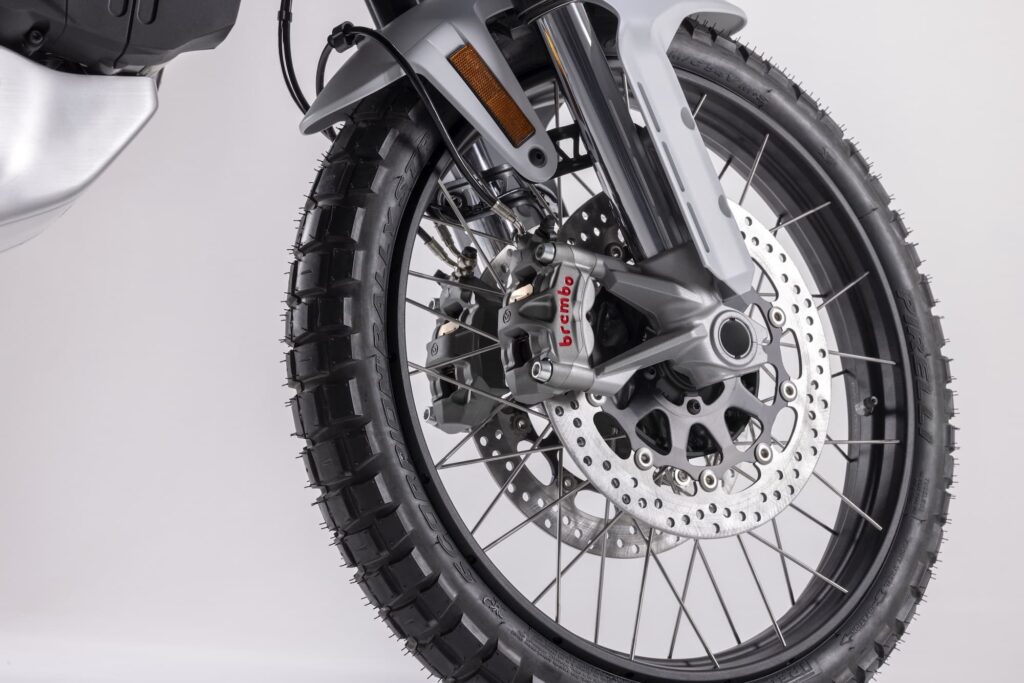 Ducati has made a lot of noise about the DesertX being the first time they've ever released a motorcycle with a 21-inch front wheel.
The Ducati Scrambler Desert Sled has a 19-inch front wheel. So do many modern Multistrada models.
But in the enduro/adventure world, a 21-inch front wheel is considered de rigueur. That said, it's definitely not a new thing, not in bikes, nor even in high-spec middleweight adventure bikes. For example, BMW has been doing it in the F 800 GS / F 850 GS line for ages.
If you're wondering "What are the wheel sizes of other middleweight adventure bikes?", here are a few below.
| Motorcycle | Front wheel size | Rear wheel size |
| --- | --- | --- |
| Ducati DesertX | 90/90-21 | 150/70-18 |
| Yamaha Ténéré 700 | 90/90-21 | 150/70-18 |
| KTM 890 Adventure | 90/90-21 | 150/70-18 |
| BMW F 850 GS Adventure | 90/90-21 | 150/70-17 |
| Kawasaki KLR 650 (EFI) | 90/90-21 | 130/80-17 |
| Honda CRF1100L Adventure Sport | 90/90-21 | 150/70-18 |
| Triumph Tiger 900 RALLY Pro | 90/90-21 | 150/70-17 |
Adventure motorcycle wheel sizes
As you can see, a 21-inch front wheel on an adventure motorcycle is universal. And on the rear, 17-18 inch is a common pairing.
I'm kind of surprised no Multistrada has ever had a 21-inch front wheel, even the "Rally" spec V4.
3 — Ducati DesertX's Gearing
Even though the Ducati DesertX shares the same 937 cc L-twin engine as other bikes of the same generation (like the Multistrada V2), Ducati made the interesting choice of altering the gearing inside the gearbox.
I say "interesting choice" because manufacturers tend to leave the innards of the gearbox the same on multiple motorcycles with the same engine. It's part of the engine, after all, and non-trivial to modify. For example, the gear ratios in the gearbox of the Yamaha MT-07 street bike and the Ténéré 700 are the same.
Here's how the gearing of a few Ducati motorcycles compares. These motorcycles all have the 937 cc Testastretta V-twin. They all share the same primary drive ratio of 33/61, and 3rd, 4th and 5th gear ratios. We've bold-faced the differences (vs the Multi V2 engine as a baseline).
| Motorcycle | Ducati DesertX | Multistrada V2 / SuperSport 950 / Hyperstrada 950 | Monster 937 |
| --- | --- | --- | --- |
| 1st gear ratio | 38/14 | 37/15 | 37/15 |
| 2nd gear ratio | 31/17 | 30/17 | 30/17 |
| 6th gear ratio | 23/24 | 23/24 | 23/22 |
| Front/Rear sprocket | 15:49 | 15:43 | 15:43 |
Gearing ratios of Ducati 937 / 950 / V2 engines (differences to middle column boldfaced)
There were occasional typos in the press releases for the DesertX and other motorcycles, by the way, so I cross-referenced with the owner's manuals to make sure.
The net effect of the gearing changes for the Ducati DesertX, compared to the Multistrada V2 / 950, is overall shorter gearing in all gears from first to fifth, with particularly shorter gearing in the first and second gears.
4 — The Ducati DesertX's Testastretta 11 degree V-twin engine
An interesting differentiator against most other adventure motorcycles is the V-twin engine in the Ducati DesertX.
The main competitors for the Ducati DesertX tend to have parallel twin engines — or even a single-cylinder engine, if we stretch our imagination to the EFI KLR 650 (which is much less sporty, lower spec, and less powerful than the DesertX), and also one triple, in the case of the Triumph Tiger.
| Motorcycle | Engine configuration |
| --- | --- |
| Ducati DesertX | 90-degree L-twin |
| Yamaha Ténéré 700 | Parallel twin, 270-degree crank |
| KTM 890 Adventure | Parallel twin, 285-degree crank |
| BMW F 850 GS Adventure | Parallel twin, 270-degree crank |
| Kawasaki KLR 650 (EFI) | Single |
| Honda CRF1100L Adventure Sport | Parallel twin, 270-degree crank |
| Triumph Tiger 900 RALLY Pro | Triple, T-Plane crank |
Adventure Motorcycle engine configurations
The engine in the Ducati DesertX also gives it a higher power-to-weight ratio of most competitors.
If we assume a 85 kg rider (including gear), which is roughly what manufacturers tend to base their designs on, here is how the DesertX's power:weight ratio is against other motorcycles.
To the best of my ability, the above numbers are like-for-like: claimed wet weight and claimed peak power at the crank. These are all chain-driven bikes, so that should translate to proportionally the same power at the wheel.
5 — The Desert X's Huge Fuel Capacity (Optional Extra Tank)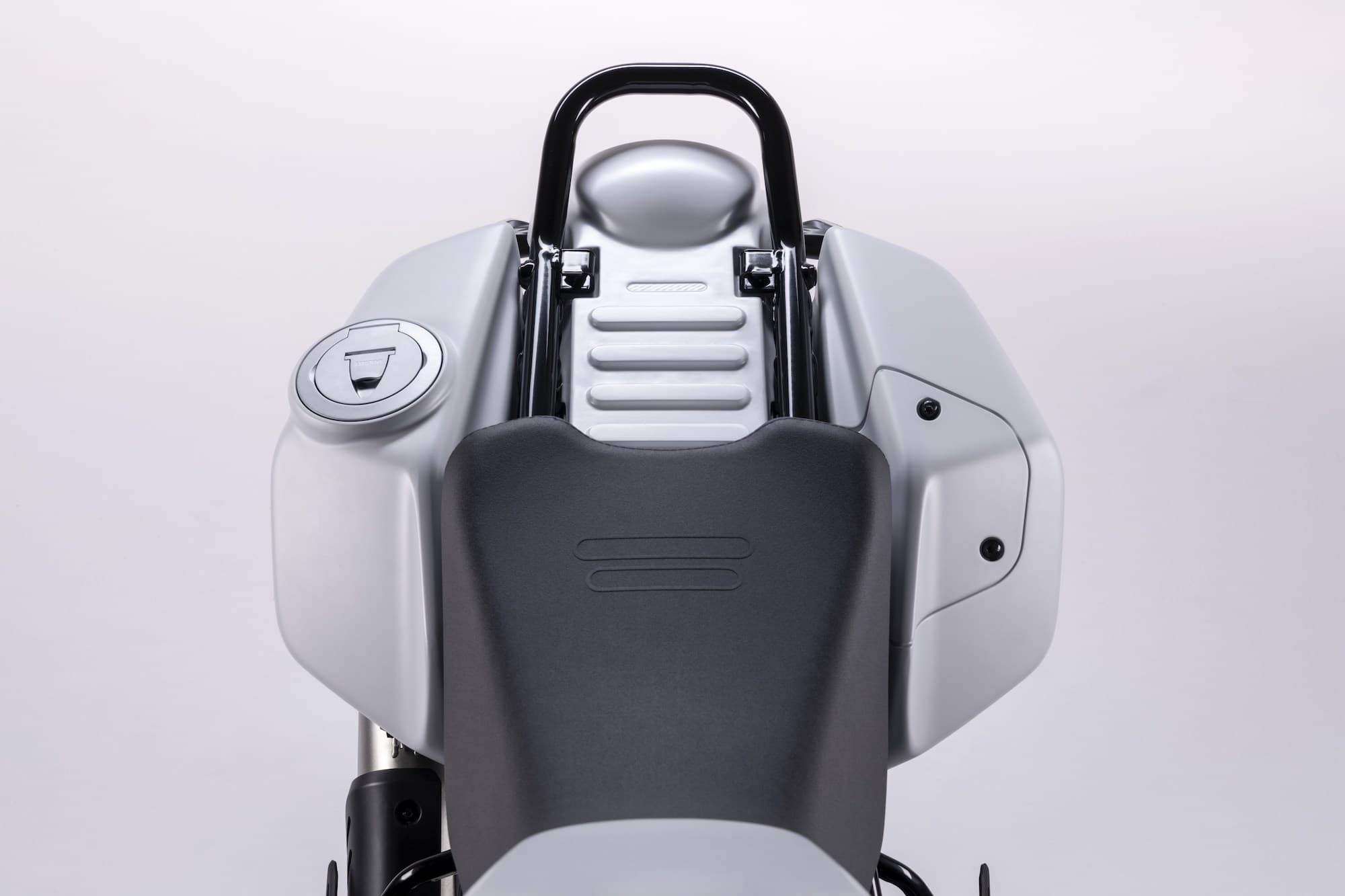 Standard, the Ducati DesertX comes with a 21 liter (5.54 US gallon) tank.
This is slightly more than the Multistrada V2, which has a 20 liter tank, and much more than the 13.5 liter tank in the Ducati Scrambler Desert Sled.
The 21 liter capacity is about on par with most of the competition, though some have much smaller tanks.
The F 850 GS Adventure has 23 liters of capacity, the Tiger 900 Rally Pro has 20 L capacity, and the little Ténéré 700 has a paltry 16L.
But the secret sauce of the Ducati DesertX is its optional 8L (2.1 US ga) accessory tank, bringing total capacity up to 29L (7.7 US gallons).
The optional extra tank is a huge bonus. It means you don't have to carry fuel in a fuel canister and worry about safety issues. Or you can still carry fuel in a canister and have extra backup!
The extra tank is mounted at the rear. You fill it separately, but it's connected to the front tank. When fuel is running low in the main tank, you can transfer fuel from the rear to front via the dashboard. As you do so, you have to say "Activate auxiliary fuel cell" to nobody in particular.
Is the Ducati DesertX for you?
I try to find a reason not to love the Ducati DesertX, and truthfully, the only one I can think of is "That wind protection doesn't look that great". Also, the price tag, combined with the fact that I'd always have to get it dirty.
In reality, the bike that better suits me is something like the Ducati Multistrada V2S, or just the older 950. I ride the vast majority of the time on the road, and just venture off-road sometimes. So gearing that's more for everyday commuting is my cup of tea.
But there's so much to like about the DesertX. Aside from all the above, it comes with a high standard spec — a 6-axis IMU for cornering ABS / traction control, cruise control, a quickshifter, and even a special brake light that flashes when you brake hard.
Plus, it looks ridiculously good in white.
The only thing holding me back is budget, garage space, and wondering how I'd explain to the other bikes why I'm not riding them so much anymore…
Maybe the marketing images and slogan will finally get to me. The photo below does indeed make me want to "dream wilder".