A 650-1000 cc engine, a 21-inch front wheel (usually), and a yearning for the beyond: this is what I call a "middleweight adventurer".
There are so many out there now, and I keep referencing them from many articles, so I thought I'd keep this master reference here for anyone thinking of alternatives to any middleweight adventure motorcycle on this list.
I've tried to keep this to one motorcycle per brand. In some cases, there's two that could technically make the cut, but one's a clear winner. Here they are in alphabetical order.
Updated in 2023 with
Some added motorcycle models per requests
Premium / Regular fuel requirements for each middleweight adventure motorcycle
More info on the Suzuki V-Strom 800DE
A new Husqvarna Norden 901 Expedition variant
The re-released KTM 790 Adventure
The BMW F 900 GS Adventure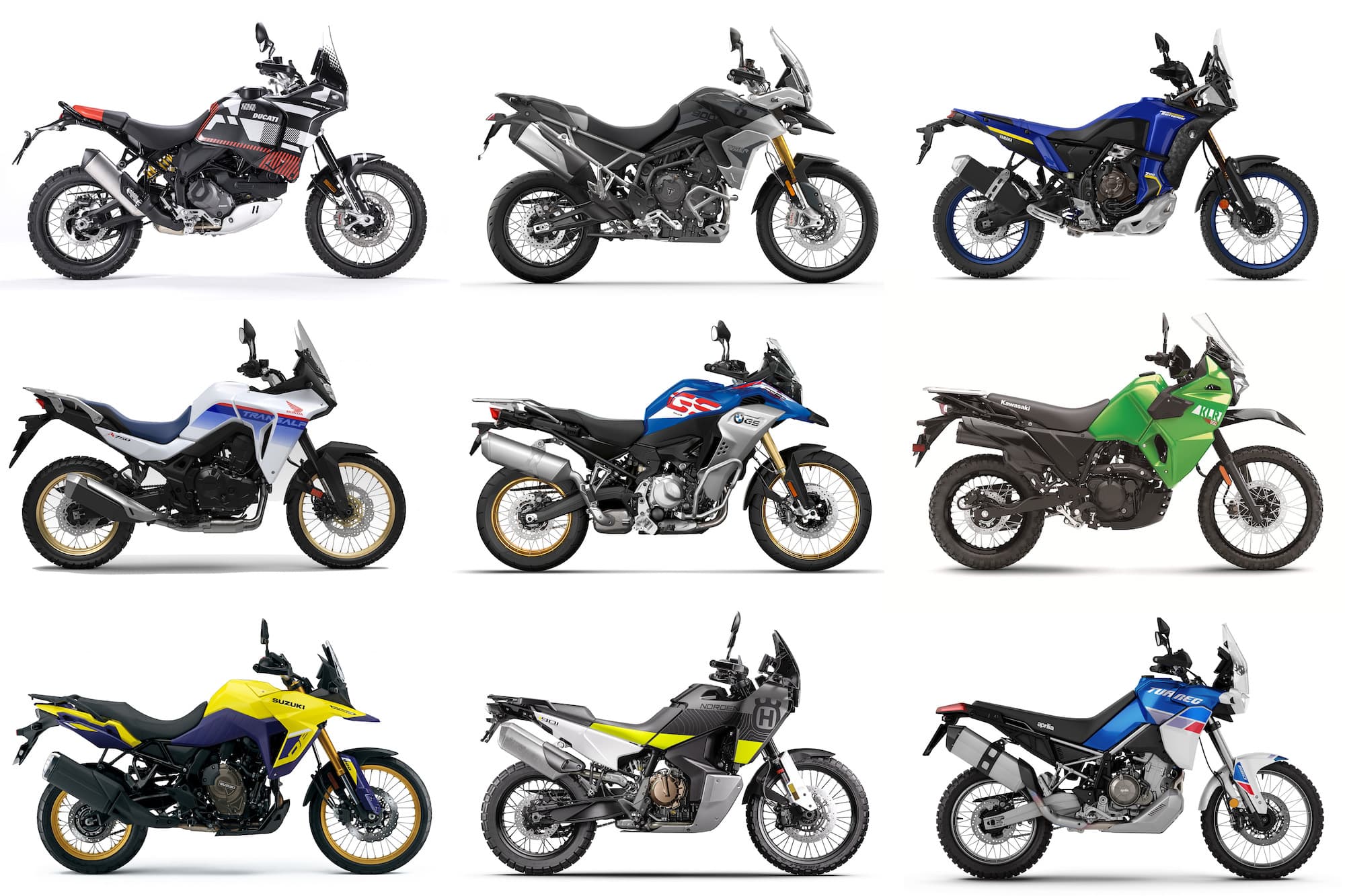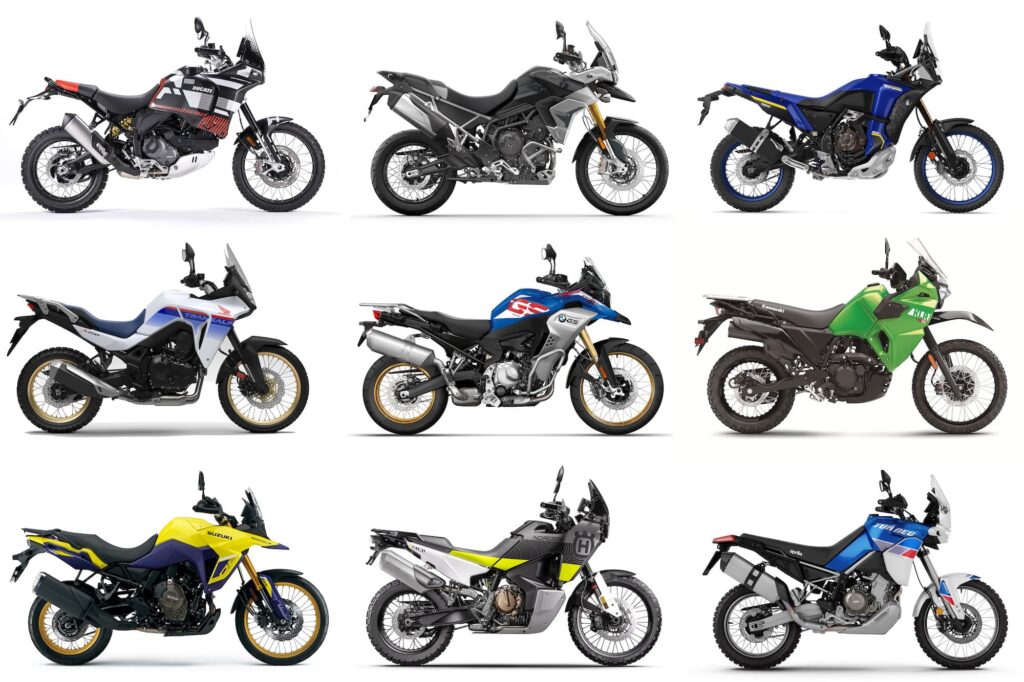 Are you obsessed with motorcycles?
Well, I am. That's why I created this site — as an outlet. I love learning and sharing what others might find useful. If you like what you read here, and you're a fraction as obsessed as I am, you might like to know when I've published more. (Check the latest for an idea of what you'll see.)
Overview: What Are "Middleweight" Adventure Motorcycles? What's this category about?
This is just a brief explanation of every bike that I'm including in this list. I'm opening it up for comment, in case you want to suggest something different.
I've put a lot of thought into it, based on comparisons other people make, and a few objective criteria.
Generally speaking, a middleweight "adventure" motorcycle is one that's
"Middleweight" capacity — between 600 and 1000 cc (a big range, I know), just not the biggest nor the smallest bike a manufacturer sells. For example, between the Suzuki DR-Z400 and the V-Strom 1050DE there's the V-Strom 800DE.
The most cross-purpose — not a purely road-going explorer, and also not optimised purely for off-road travel. For example, to use a 21-inch front wheel is a choice that manufacturers make that sacrifices a bit of road feel for off-road handling.
I also just choose one motorcycle from each brand, even though this omits other potential competitors from within a brand. Like the Kawasaki Versys 650 has explorer tendencies, just not as many as its KLR sibling.
There are a few recent (but not current) models that might have made it to the list. For example, the 2016 Honda CRF1000L Africa Twin had a 998 cc engine. Honda would have had nothing in the line-up, as they upgraded the Africa Twin to the 1084 cc engine it's available in today, but then released the smaller Transalp 750. By my arbitrary rule of "one bike per brand", the Transalp is more appropriate. But the older AT is definitely an option.
Also, there are a few different sub-categories within this list. The most obvious one is price / luxury level. In this corner, the KLR650, and in this one, the Ducati DesertX… doesn't seem a fair fight to compare those two (unless you're competing on "Which one do you feel less bad about scratching up or dropping in a river?").
Anyway, some of the bikes below are expensive, and come stock with things like big, powerful engines, cruise control, and an IMU-driven cornering ABS system. And then some don't. I recognise this. But it's still good to know what the competition is. All these bikes (and then others, too) will take you to the Back 'o Bourke* and give you memories and stories to tell. Some people with the money for an expensive bike might still choose a cheaper one, foregoing fancy add-ons on purpose, or maybe thinking "What's a bike I feel comfortable dropping in a river?"
* Australian for "middle of nowhere". Do you know where Bourke is? Neither do I! Anyway, somewhere near there.
There are other ways of slicing up the bikes — engine type, maintenance requirements, or weight. I'll do a bit of that below.
Even if these middleweight adventure motorcycles span a few classes, it's still interesting to see them side by side. I'm sure in the middle of nowhere they'd all have their unique strengths, whether it's the KLR's indestructibility, the Yamaha's engine character, or the BMW GS's ability to do anything you ask of it easily.
Middleweight Adventure Motorcycles — Summary Table
Here's a summary table of the specs of every bike for you to peruse. It's huge and a bit hard to parse, but I'll break it down in future sections.
By the way, this list (and the detailed list below) is in alphabetical order of brand, just in case you think I'm playing favourites!
Spec
Aprilia Tuareg 660
BMW F 900 GS Adventure
CFMOTO 800MT / Ibex 800
Ducati DesertX
Honda XL750 Transalp
Husqvarna Norden 901 Expedition
Kawasaki KLR650 (3rd gen)
KTM 790 Adventure
KTM 890 Adventure R
Moto Guzzi V85 TT
Suzuki V-Strom 800DE
Triumph Tiger 900 Rally
Yamaha Ténéré 700 (World Raid)
Engine type
Parallel twin, DOHC
Parallel twin, DOHC
Parallel twin, DOHC
Desmodromic L-twin
Parallel twin, Unicam
Parallel twin, DOHC
Single-cylinder, DOHC
Parallel twin, DOHC
Parallel twin, DOHC
V-Twin, Pushrod, Air-Cooled, 2V
Parallel twin, DOHC
Triple, DOHC
Parallel twin, DOHC
Capacity
659 cc
895 cc
799 cc
937 cc
755 cc
899
652 cc
799
889 cc
853 cc
776 cc
888 cc
689 cc
Fuel tank size
15L
23L
19L
21L
16.9L
19L
23L
20L
20L
23L
20L
20L
23L
Peak power
59 kW / 80 hp at 9250 rpm
77 kW / 105 hp at 8500 rpm
70 kW (95 hp) / 9000 rpm
81 kW / 109 bhp at 9250 rpm
67.5 kW / 92 hp at 9500 rpm
77 kW / 105 hp @ 8000 rpm
28.5 kW / 39 hp at 6000 rpm
70 kW / 95 hp @ 8000 rpm
77 kW / 105 hp at 8000 rpm
57 kW / 76 hp at 7500 rpm
62 kW / 84.3 hp at 8500 rpm
70 kW / 95 hp @ 8750 rpm
54 kW / 73 hp at 9000rpm
Peak torque
70 Nm / 52 lb-ft at 6500 rpm
93 Nm / 69 lb-ft at 6250 rpm
77 Nm / 57 lb-ft at 7500 rpm
92 Nm 68 lb-ft at 6500 rpm
75 Nm / 55 lb-ft at 7250 rpm
100 Nm / 74 lb-ft at 6500 rpm
51.5 Nm / 37 lb-ft at 4500 rpm
88 / 65 lb-ft Nm @ 6500 rpm
100 Nm / 74 lb-ft at 6500 rpm
81 Nm / 60 lb-ft at 5000 rpm
78 Nm / 57 lb-ft at 6800 rpm
87 Nm / 64 lb-ft at 7250 rpm
68 Nm / 50 lb-ft at 6500 rpm
Final drive
6-speed, chain
6-speed, chain
Optional M endurance chain
6-speed, chain
6-speed, chain
6-speed, chain
6-speed, chain
5-speed, chain
6-speed, chain
6-speed, chain
6-speed, shaft
6-speed, chain
6-speed, chain
6-speed, chain
Cruise control
Yes
Yes
Yes
Yes
No
Yes
No
Optional
Optional
Yes
No
Yes
No
IMU (Cornering ABS/TC)
No
Yes
Yes
Yes
No
Yes
No
Yes
Yes
No
No
Yes
No
Quick shifter
Optional
Optional
Yes
Yes
Optional
Yes
No
Optional
Optional
No
Yes
Yes
No
Front suspension / Travel
KYB 43 mm USD, fully adjustable, 240 mm travel
43 mm USD, fully adjustable, 230 mm travel
KYB 43 mm USD, fully adjustable, 160 mm travel
Kayaba 46 mm USD, fully adjustable, 230 mm travel
Showa 43 mm SFF-CA, 200 mm travel
48 mm WP XPLOR USD, fully adjustable, 240 mm travel
41 mm Fork, 200 mm travel
WP Apex 43mm USD, non-adjustable, 200mm travel
WP XPLOR 48 mm USD, fully adjustable, 240 mm travel
41mm USD, adjustable height / preload, 170mm travel
Showa fully adjustable USD fork, 220 mm travel
Showa 45 mm USD, fully adjustable, 240 mm travel
KYB 43 mm USD, fully adjustable, 230 mm travel
Rear suspension
Kayaba fully adjustable shock, 240 mm travel
Monoshock with travel-related damping, adjustable for preload/ rebound, 215 mm travel. Optional dynamic ESA
KYB monoshock, fully adjustable, 150 mm travel
Kayaba monoshock, fully adjustable, 220 mm travel
Showa monoshock, 190 mm travel
WP XPLOR monoshock, 4-way adjustable, 240 mm travel
Uni-trak shock with adjustable preload and rebound, 185 mm travel
WP Apex shock, 200mm travel
WP XPLOR monoshock, 4-way adjustable, 240 mm travel
Twin shocks, adjustable height / preload, 170mm travel
Adjustable Showa link-type suspension, 220 mm travel
Showa shock, preload/rebound adjustable, 230 mm travel
Fully adjustable monoshock, 220 mm travel
Front brake
2 x 300mm floating discs, Brembo 30/32 calipers
2 x 305 mm discs, 2-piston floating calipers
2 x 320mm discs, 4-piston calipers
2 x 320mm discs, Brembo M50 4-piston calipers
2 x 282mm wave discs, 2-piston calipers
2 x 320 mm discs, 4-piston radial calipers
Single 300 mm disc, 2-piston caliper
2 x 320 mm discs, 4-piston calipers
2 x 320 mm discs, 4-piston calipers
2 x 320mm discs, Brembo 4-piston radial calipers
2 x 310 mm discs, 2-piston Nissin calipers
2 x 320mm discs, Brembo Stylema calipers
Dual 282mm discs, Brembo 2-piston calipers
Front wheel size
90/90-21
90/90-21
110/80-19
90/90-21
90/90-21
90/90-21
90/90-21
90/90-21
90/90-21
110/80-19
90/90-21
90/90-21
90/90-21
Rear wheel size
150/70-18
150/70-17
150/70-17
150/70-18
150/70-18
150/70-18
130/80-17
150/70-18
150/70-18
150/70-17
150/70-17
150/70R17
150/70-18
Tire type
Tubeless
Tubeless
Tubeless
Tubeless
Tubed
Tubeless
Tubed
Tubed
Tubed
2019-2020: Tubed
2021: Tubeless
Tubed
Tubeless
Tubed
Minor service interval (oil change)
6200 mi / 10000 km
6000 mi / 10000 km
9000 mi / 15000 km
9000 mi / 15000 km
8000 mi / 12000 km
(See here for more details)
9300 mi / 15000 km
7600 mi / 12000 km
9300 mi / 15000 km
9300 mi / 15000 km
6000 mi / 10000 km
3750 mi / 6000 km
6000 mi / 10000 km
US: 4000 mi / 6000 km
Eur/APAC: 6000 mi / 10000 km
Major service interval (valves)
12400 mi / 20000 km
12000 mi / 20000 km
18000 mi / 30000 km
18000 mi / 30000 km
16000 mi / 24000 km
18600 mi / 30000 km
15200 mi / 24000 km
18600 mi / 30000 km
18600 mi / 30000 km
6000 mi / 10000 km
15000 mi / 24000 km
12000 mi / 20000 km
US: 26600 mi
Eur/APAC: 40000 km
Kerb weight
204 kg / 450 lb
256 kg / 542 lb
225 kg / 496 lb
223 kg / 492 lb
208 kg / 459 lb
228 kg / 504 lb
207 kg / 456 lb
TBD
210 kg / 464 lb
230 kg / 507 lb
230 kg / 507 lb
229 kg / 530 lb (measured, CW)
220 kg / 485 lb
US MSRP
$11,999
–
N/A (not available in US)
$17,095
N/A (not available in US)
$13,999
$6,999
N/A (not available in US)
$14,599
$11,990
$12,999 (Adventure spec)
$15,400
$13,100
Australia ride-away
$22,230
–
$12,990
$24,700
TBA
$25,490
$11,199
TBD
$24,370
$22,730
$18,590
$22,390
$21,399
Middleweight adventure motorcycles
* Note: The service or owner's manual for the Suzuki and Honda motorcycles isn't yet available. But in recent years, these have been the service intervals for these brands for liquid-cooled engines for a wide variety of motorcycles, so it's a fairly safe bet.
Engine types
Most middleweight adventure motorcycles have a parallel twin type engine. These are all the rage these days! In fact, eight of the eleven motorcycles in this list have parallel twins. Further, the parallel twins all have 270-degree crankshafts.
Engine type
Models
Parallel Twin, 270-degree crankshaft
* Aprilia Tuareg 660
* BMW F 900 GS
* CFMOTO 800MT / Ibex 800
* Honda XL750 Transalp (Unicam)
* Husqvarna Norden 901
* KTM 790 and 890 Adventure R
* Suzuki V-Strom 800DE
* Yamaha Ténéré 700
V-Twin
* Ducati DesertX
* Moto Guzzi V85 TT
Single
* Kawasaki KLR650
Triple
* Triumph Tiger 900
Engine types for middleweight adventure motorcycles
So, why parallel twins? Marketing hype aside, there are a few good reasons for them in the middleweight adventure category. Like most engine choices, they're a balance between a few things: performance, size, reliability, and ease of maintenance.
One penalty you pay with having more cylinders is more weight. It's a bit hard to compare apples-to-apples as different motorcycles come with different bits of kit standard (e.g. protection). But the fact that the Kawasaki KLR650 — a bike which is built to be affordable, not necessarily using the latest lightweight components — has one of the lightest curb weights on the list give you a hint as to how simplicity can matter.
For an adventure motorcycle that's trying to stay lightweight, a parallel twin makes sense because it adds a bit of smoothness over a single, without adding too much weight, complexity or service difficulty.
A few of the other design choices are iconic, and come with their own trade-offs.
Ducati's V-twins are iconic, but having two cylinder heads to deal with means that when it comes time to service the rear cylinder, you have to worry about access.
Moto Guzzi is known for longitudinally-mounted air-cooled V-twins. They're low-tech and have fairly short valve service intervals, but the job is super easy.
And Kawasaki's single cylinder is similarly iconic, but it is hard to make a single as smooth as a bike with more cylinders.
As for why a 270-degree crankshaft — well, here's a whole article on them.
Power / Weight ratios
Because these middleweight adventure motorcycles come with a range of different power specs, I thought it would be useful to show power/weight ratios of each bike.
Yes, the more expensive motorcycles here tend to have higher power-to-weight ratios. But it's not uniformly the case.
I've put these down with a 95 kg (210 lbs) additional weight — adding a standard-ish 85 kg rider plus 10 kg of gear. There's a large range of rider weights, but the order of the below chart doesn't change with different weights (I tested from 40 kg / 110 lbs to to 120 kg / 265 lb).
Motorcycle weights are based on the base-model motorcycle with no luggage, too, which is not likely to be how you'll ride it. But again, the order will stay the same.
Notes:
Of course, power is not the whole picture by any means. Firstly, you rarely will be riding any adventure motorcycles bikes anywhere near peak RPMs at full throttle. Secondly, actually, you probably NEVER will be (weird way to ride these bikes unless you're trying to prove a point — or maybe you just miss your sport bike!).
More relevant is how a bike is geared, especially at low RPMs for easy traction, and high RPMs for top-speed cruising.
It's just interesting to look at power-weight ratios as it does encapsulate engine power and motorcycle size in one number.
Gearing and Thrust
One thing that makes motorcycles very different to ride is gearing. Not just the final drive — but also the primary drive and the gearbox ratios.
Below are a few facts about gearing for every one of these middleweight adventure motorcycles.
Motorcycle
Aprilia Tuareg 660
BMW F 850 GS
(900 pending)
CFMOTO 800MT / Ibex 800
Ducati DesertX
Kawasaki KLR650
KTM 890 Adventure R
Moto Guzzi V85 TT
Triumph Tiger 900 Rally
Yamaha Ténéré 700
Thrust in 1st gear (Gs)
0.95
0.9
1.1
1.3
0.7
1.15
0.85
1.1
1.0
Thrust in 2nd gear (Gs)
0.7
0.65
0.8
0.9
0.45
0.8
0.6
0.75
0.75
Top gear revs at 110 km/h (68 mph)
5300
4100
4700
4900
4700
4500
4300
4500
5000
Shift RPM
8000
8000
8000
9000
5500
8000
7000
8500
9000
Top RPM (rev limiter)
10000
9000
9750
10250
7000
9250
8000
10000
10500
Gearing and thrust of different middleweight adventure bikes
The above is based on dyno charts showing rear wheel torque and gearing info from manuals. Haven't seen dyno curves for a few of these bikes, but will release update this table as they become available. (Currently TBC: BMW F 900 GS, Honda XL750 Transalp, Husqvarna Norden 901, 2023 KTM 790 Adventure, Suzuki V-Strom 800DE)
It's interesting to see how some middleweight adventure motorcycles are geared quite short in the first gear, especially the Ducati DesertX. This isn't for brisk acceleration from standstill, but rather to give easy control at low speeds.
As for "thrust": This gives you a good idea of what it's like to pin the throttle in the meat of the curve. It's the G-force — the feeling of being pushed back in your seat, having to hold onto the bars, or shift your weight to keep the nose down.
If you have thrust of anywhere near 1G, then it's as fast as most people can stand, and will probably lift up the front wheel if you don't modulate the thrust a little.
If you're wondering "how is it that bikes of such different characteristics can have such similar G forces?", this is the explanation: It doesn't necessarily last the same amount of time on each bike. For example, a liter-class bike might have 1.2 Gs (give or take) in first gear, but it lasts for ages compared to a middleweight bike, taking you to triple digit speeds (or well into them, in km/h).
As to specifically how — well, there's more to thrust than pure torque. There's all the gearing between the engine and the road: the primary drive, the gear ratios, the sprocket ratios, and the rear wheel size and tire profile. That's why you can gear down a bike and have it feel "torquier". The engine has the same torque, of course, it's just geared a different way. Same way you can reel in a big, strong fish using your fishing rod, in theory.
Read more about motorcycle gearing here. And as for how that translates into thrust, see this article here.
Fuel requirements — Premium or Regular
One interesting thing to me that's often overlooked when talking about fuel economy is whether a bike requires premium or regular gas.
Being able to run your motorcycle on regular gas (see below for a more precise definition) means:
Lower fuel costs when both fuel types are available (and fuel economy is one reason why some opt for middleweight adventure motorcycles)
More "RTW" capability, as premium fuel isn't available in more remote places (even in more developed countries)
However, a motorcycle tuned for regular fuel also means it won't be able to make as much peak power, and probably has more emissions — one reason why it's going out of vogue as emissions restrictions tighten.
Some motorcycles, like those powered by the KTM 890 block, can run on regular or premium, thanks to the built-in anti-knock sensor, something the 790 (and thus CFMOTO 800MT / Ibex 800) doesn't have.
Some middleweight adventure motorcycles can run on both (and will run more efficiently on premium). Those bikes that do run more efficiently on premium don't do so enough to offset the fuel cost increase, as it's usually just a few percent higher efficiency.
In the US, fuel grades are also referred to "octane". But they're also more clearly specified as "Pump Octane Number", "AKI" number (Anti-Knock Index), or in manuals defined as "(R+M)/2", referring to how they're the average of the RON (Research Octane Number) and MON (Measured Octane Number).
In Europe, Australia/NZ, and indeed the rest of the world (Asia, Africa, etc.), fuel grades are also referred to as "octane", but in these cases they are just talking about RON (Research Octane Number), sometimes referred to in German manuals as ROZ (Research-Oktanzahl, German for the same, though Research is a loanword in this acronym).
To simplify the categorisations, it's easier to think of "regular" and "premium".
Name
US standard
(PON, AKI, or (R+M)/2)
Europe / Rest of World standard
(RON, ROZ)
"Regular"
86-87
90-91
"Premium" or "Super"
90-91
95
Common fuel names / definitions
You should check the manual for your specific model of middleweight adventure bike (or go to various forums to ask "Which fuel?" at your peril!) to see your fuel requirement, as this will vary by region. It could be the same bike that adapts, but it could also be a different state of tune.
Motorcycle model
Fuel requirement
Fuel spec (per manual, for reference)
Aprilia Tuareg 660
Premium
95 RON
BMW F 900 GS Adventure
(Assumption based on other models)
Regular or Premium
USA manual: 87 AKI / 91 ROZ/RON
Europe manual: 95 ROZ/RON / 90 AKI
CFMOTO 800MT / Ibex 800
Premium
95 RON
Ducati DesertX
Premium
95 RON
Honda XL750 Transalp
Regular
91 RON
Husqvarna Norden 901
Premium
(Regular works)
ROZ 95
Kawasaki KLR650 (3rd gen)
Regular
AKI 87
KTM 790 / 890 Adventure R
Note: Only 2023+ 790 Adventure has a knock sensor; 2019-2020 doe snot
Premium
(Regular works)
ROZ 95
Moto Guzzi V85 TT
Premium
95 RON
Suzuki V-Strom 800DE
Premium
90 Pump Octane (R+M)/2
Triumph Tiger 900 Rally
Regular
AKI 87
Yamaha Ténéré 700 (World Raid)
Regular or Premium
Europe: 95 RON
US: 90 RON / 86 pump octane
Middleweight adventure motorcycles — Fuel type requirements
It's quite interesting that the high-spec Tiger 900 only requires regular fuel per the manual. The engine does produce relatively low peak power for the capacity, and this may be because of its mild tune on regular gas.
Service requirements of each middleweight adventure bike
One thing that's important if you're planning on doing any long-range travel is: How hard (or easy) is it to service each middleweight adventure bike in this list?
There are three aspects to service, by my reckoning:
How often is service needed? (Both per the manual and per reality)
How easy is it to do the easy service — oil and filter changes? (Both in terms of technical difficulty and hours of labour)
How easy is it to do the longer-term service — valve services?
On how often service is needed, you just have to consult the service or owner's manual for each motorcycle. There's a wide range between motorcycles. Here is a summary table of the bikes in this list.
Motorcycle
Minor service interval (mi / km)
Major service interval (km / mi)
Engine
Aprilia Tuareg 660
6200 / 10000
12400 / 20000
P-twin
BMW F 900 GS
(Assumption)
6000 / 10000
12000 / 20000
P-twin
CFMOTO 800MT / Ibex 800
9000 / 15000
18000 / 30000
P-twin
Ducati DesertX
9000 / 15000
18000 / 30000
V-twin, Desmo valves
Honda XL750 Transalp
8000 / 12000
16000 / 24000
P-twin, Unicam
Husqvarna Norden 901
9300 / 15000
18600 / 30000
P-twin
Kawasaki KLR650 (3rd gen)
7600 / 12000
15200 / 24000
Single
KTM 790 / 890 Adventure
9300 / 15000
18600 / 30000
P-twin
Moto Guzzi V85TT
6000 / 10000
6000 / 10000
V-twin, OHV, 2V
Suzuki V-Strom 800DE
3750 / 6000
15000 / 24000
P-twin
Triumph Tiger 900
6000 / 10000
12000 20000
Triple
Yamaha Ténéré 700 **
US/NA: 4000 mi / 6000 km
Eur/APAC: 10000 km
US / NA: 26600 mi / 42000
Eur/APAC: 40000 km)
P-twin
Maintenance intervals for middleweight adventure motorcycles.
Notes:
Considering how easy it is to do both minor and major service is a bit more complicated.
The complexity of a minor or major service depends on two factors:
Access — how easy is it to get to things like the air filter (which you'll have to do comparatively often) and valve heads (which hopefully you don't have to do often)?
How many cylinders (and valves) are there?
How many steps are there in general?
For example, an easy hypothetical bike to service would be one where you can get to the cylinder head easily, there are just two valves, and you make screw and locknut adjustments to valve clearances.
The easiest middleweight adventure bike to service, in my opinion, is the Kawasaki KLR650. You can get to the air filter easily, and a valve service is uncomplicated as there's just one cylinder head. It does require a lot of fiddling to get access to the shims though, if you have to make adjustment, including removing the cam chain tensioner and the camshafts (this is par for the course in OHC engines).
The Yamaha CP2 engine is also not difficult to service, but like the KLR, you have to remove a bunch of things, including the tank, radiator, and camshafts. Most parallel twin engines have similar complexity in service.
An interesting variant is the Honda Unicam design. I haven't seen the inside of the Honda Transalp yet, but the Unicam engine in the Africa Twin has shim adjusters for the intake valves (which need less frequent attention… though they sometimes do), and screw/locknut adjusters for the exhausts, which need more often attention as they get hotter. I predict that the Transalp will have a similar design, (they do say it's Unicam) though that's TBC.
Another interesting bike to mention is the Moto Guzzi V85 TT. At first blush, the 6000 mile / 10000 km valve service intervals are quite short. But the valve cylinders stick out into the breeze, and with only two valves per cylinder, it's quite an easy job, definitely within the reach of most adventure riders — even with basic tools and while on the road.
But things get more complicated in the land of three-cylinder engines and Ducati's V-Twin. On the DesertX, there are two cylinder heads (the rear one of which is more difficult to access), twice as many valves (because of Desmodromic timing), and you also have to change the timing belts every five years. Even changing the air filter (something you do more often when riding in dust) on the DesertX is a complicated procedure — you have to remove the tank.
So — know what you're getting into.
Aprilia Tuareg 660 (2022+)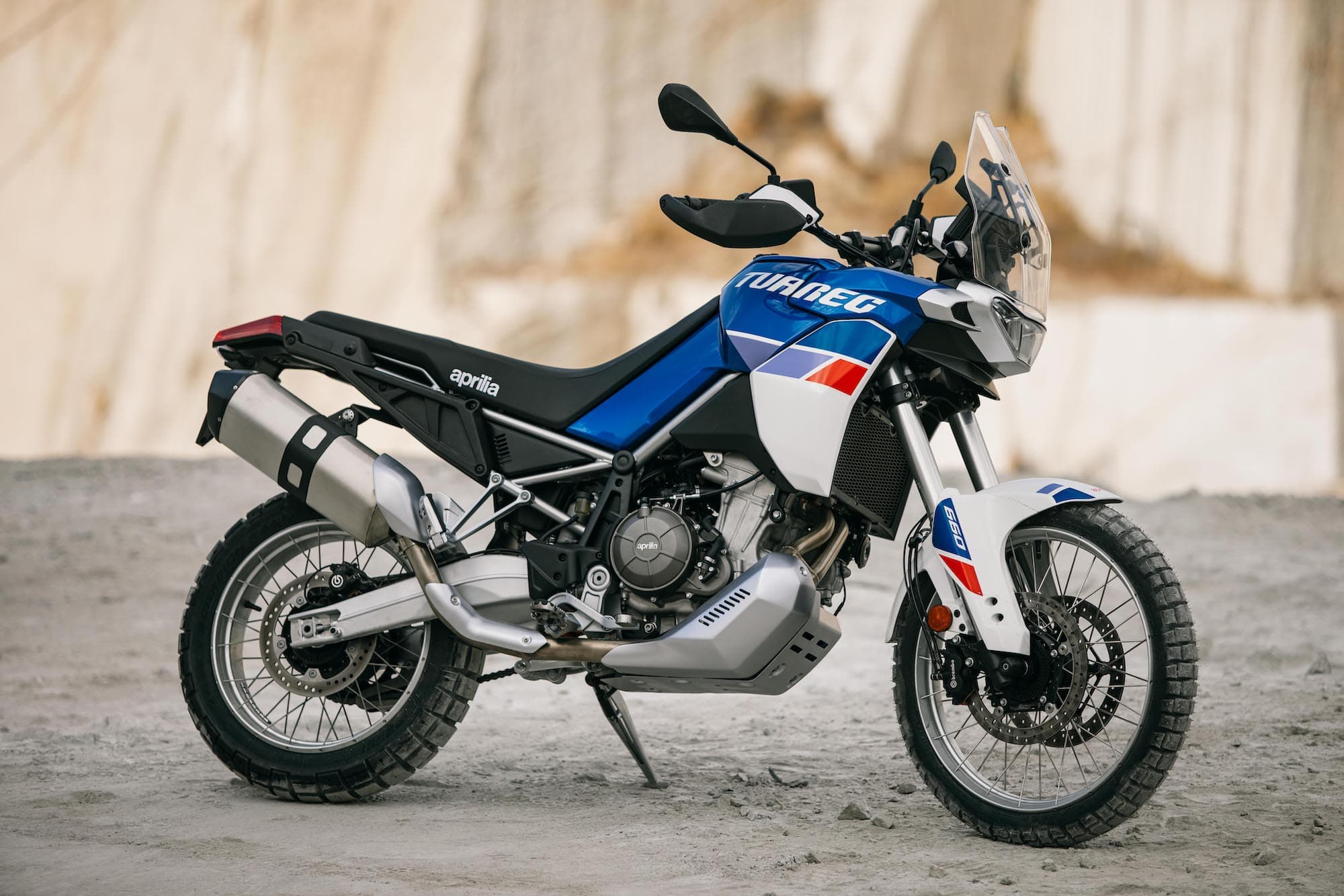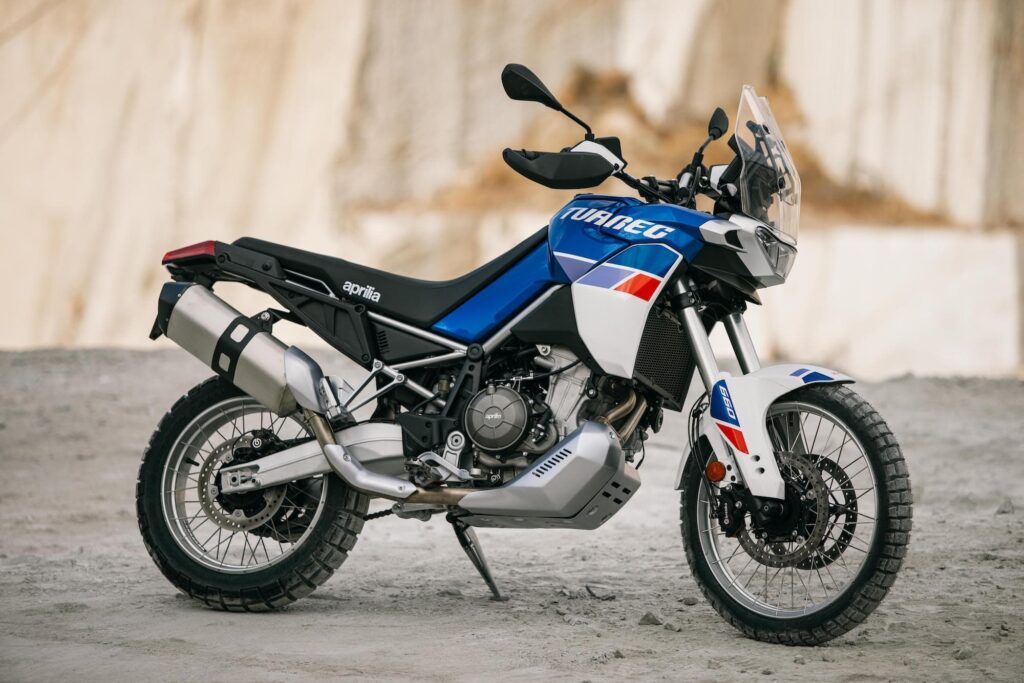 Aprilia announced the Tuareg 660 for the 2022 model year. It's the third motorcycle Aprilia has based on the 659 cc parallel twin platform that also powers the RS 660 sport bike and the Tuono 660 sport / street bike.
But the Tuareg 660, a middleweight adventure motorcycle, is quite different from the other two bikes in the line-up. Whereas the Tuono and RS660 have a lot in common, Aprilia changed the chassis, the suspension, the wheels, the tune of the engine, and even the rider aids — the Aprilia Tuareg 660 doesn't have cornering ABS, which its siblings are blessed with, and the quick shifter is an optional extra on the Tuareg.
The engine, which is a parallel twin with a 270-degree crankshaft, is tuned for 60 kW / 80 hp at 6500 rpm — a 20% drop on the sport bike. But it makes a few more Nm (or lb-ft) of torque, at 2000 rpm lower in the rev range. On top of that, the Tuareg is quite light for this class, with kerb weight of 204 kg, putting its power/weight ratio quite high.
The Tuareg is an interesting bike as it's the only "premium" brand motorcycle from a European manufacturer with a relatively small engine. The others (BMW, Ducati, Husqvarna, Triumph) all are in the ~900cc range. But despite this, Aprilia has tuned the engine for quite high power output. So it would be worth a look if you want a feistier, lighter twin, and are willing to pay the Europe price premium.
Here's a comprehensive overview of the differences between the Aprilia RS 660, Tuono 660, and Tuareg 660.
BMW F 900 GS / Adventure (2024+)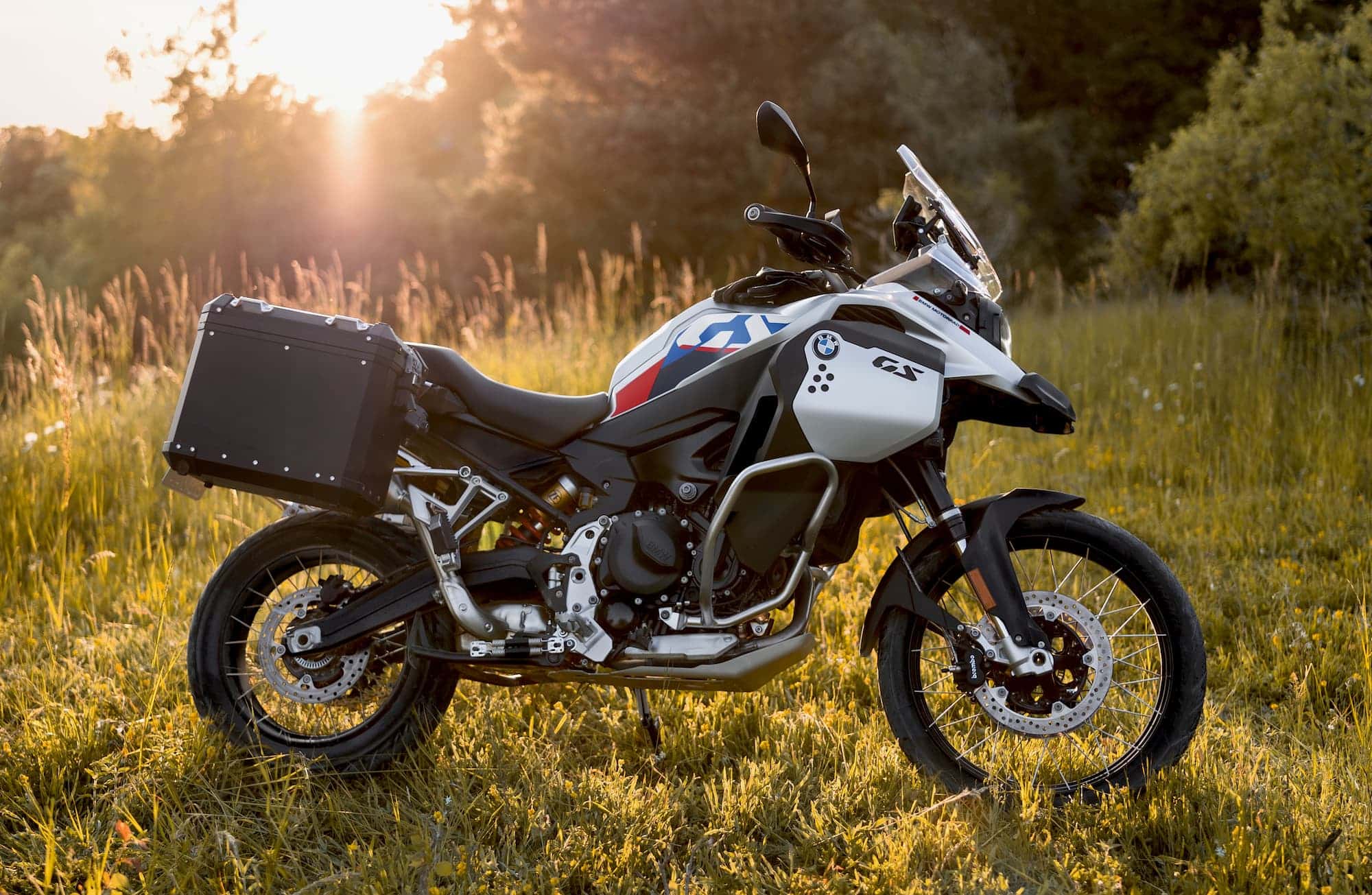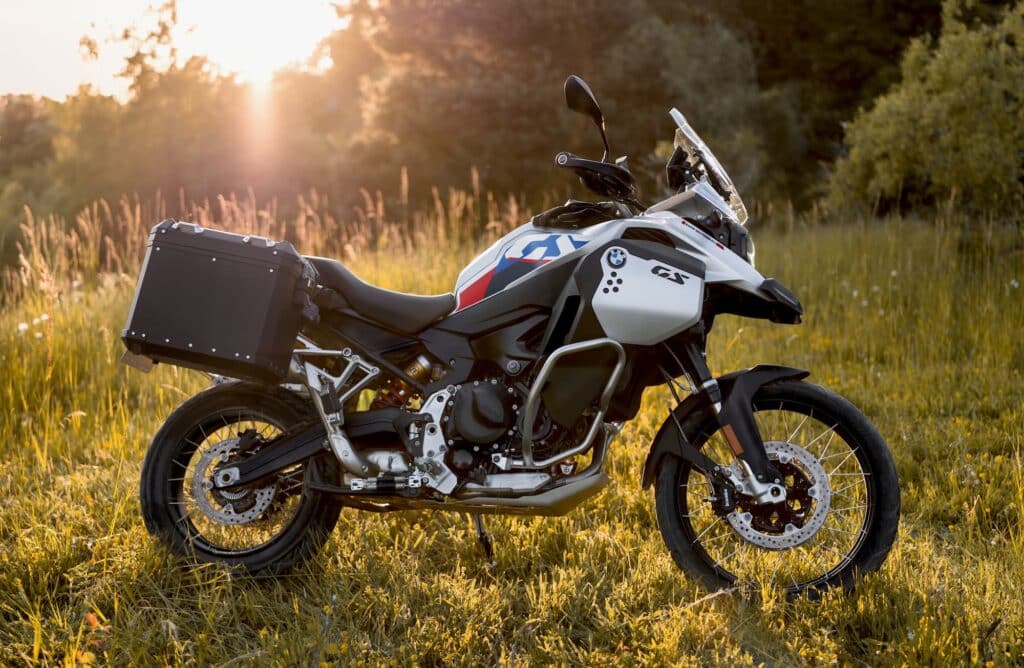 The F 900 GS is a 2024 model, an update from the F 850 GS, which was itself a significant update from the F 800 GS.
The BMW F 900 GS (and its predecessors) is one of those "If you know, you know" motorcycles. People who love the 800 GS / 850 GS / 900 GS do so because they say these bikes take them to more places than the bigger R 1200 / 1250 GS can.
Of course, whether a middleweight adventure bike or a bigger bike is better for you depends on where you are in the world, how you ride, and the conditions. If roads don't get too narrow and slow, then the bigger boxer twin might be more your cup of tea. And each bike can do most things that the other can, so in the end it might just be a personal preference — or cost factor, as the 900 is cheaper, after all! (Though it's not "cheap".)
The BMW F 900 GS Adventure in particular is the one you want, with more protection, longer-travel suspension, and more fuel range. The F 900 GS Adventure is powered by the same 895 cc parallel twin as its more road-going sibling, known simply as the F 900 GS (sans "adventure"). It's the same engine used in the BMW F 900 XR road-going motorcycle.
Since the BMW F 850 GS, the mini-GS has had a 270-degree crankshaft. So bear that in mind if you consider saving some bucks and getting an earlier (and definitely still very capable) 800 model.
A lot of people have ridden and trusted F 800 GS / F 850 GS /F 900 GS bikes over the years, so I'm doubt this one will let you down.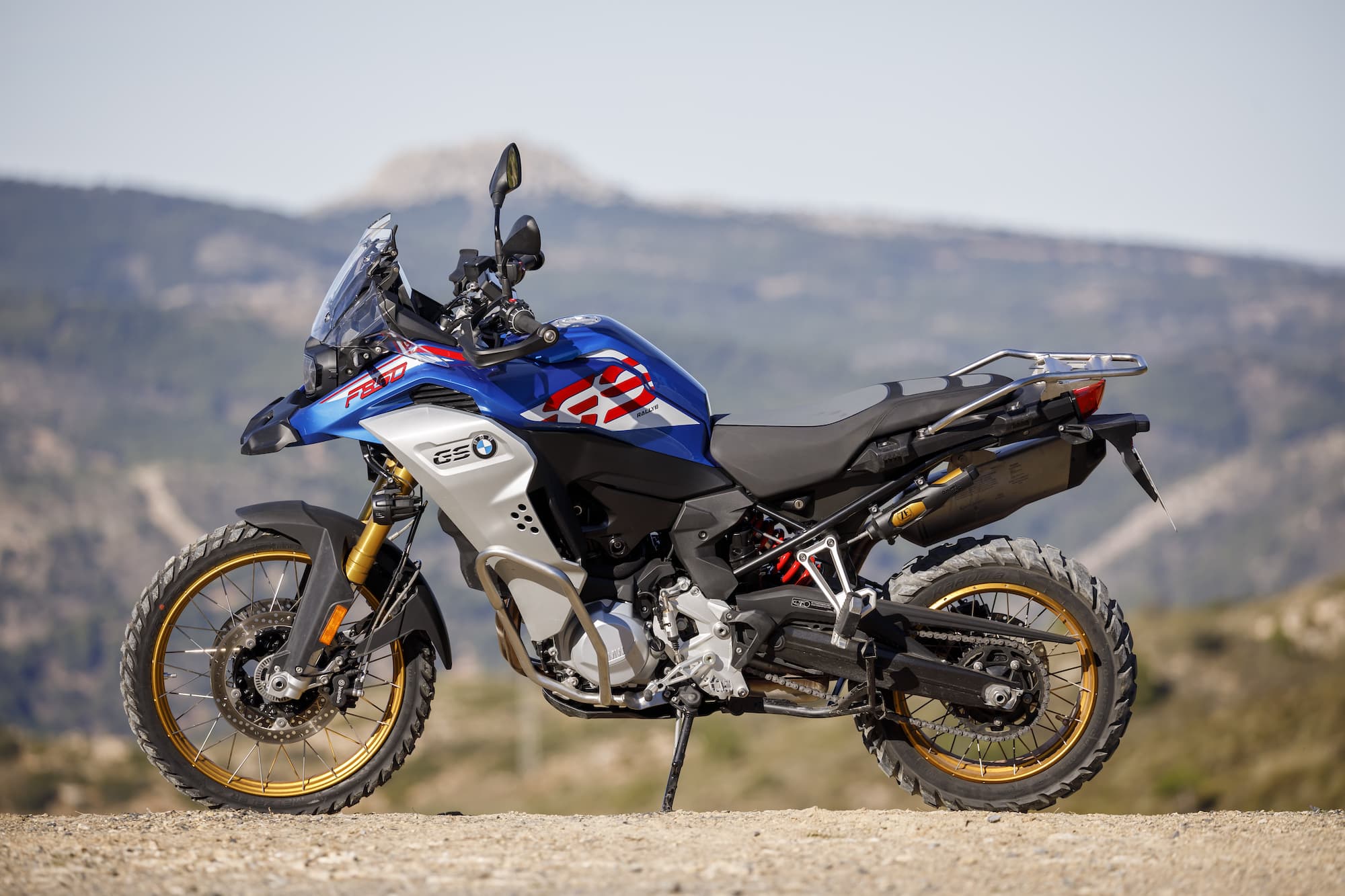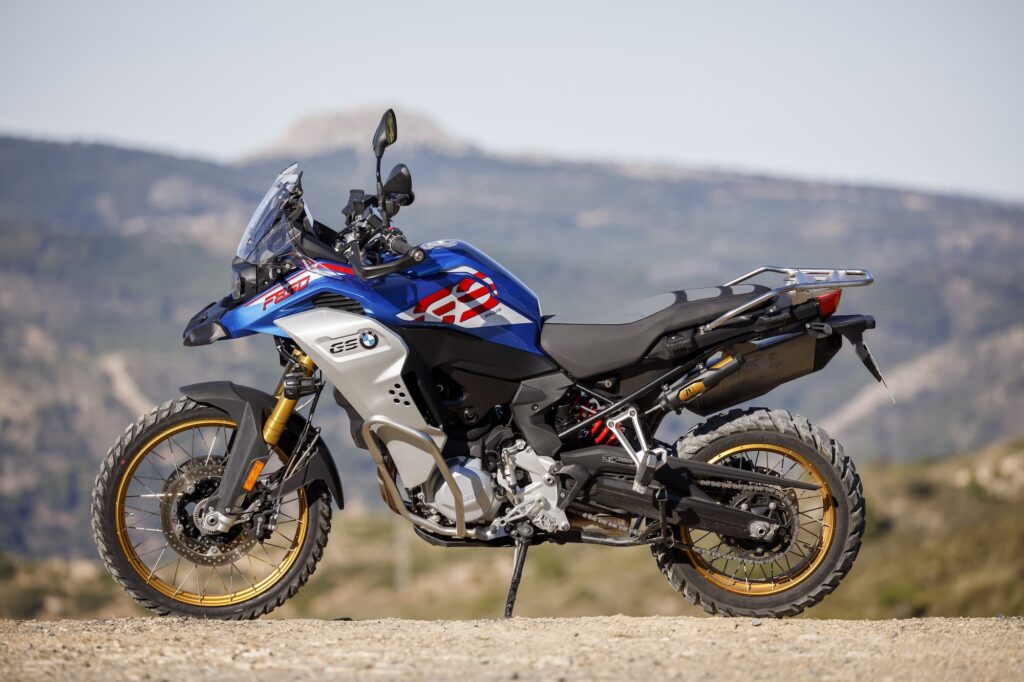 CFMOTO 800MT / Ibex 800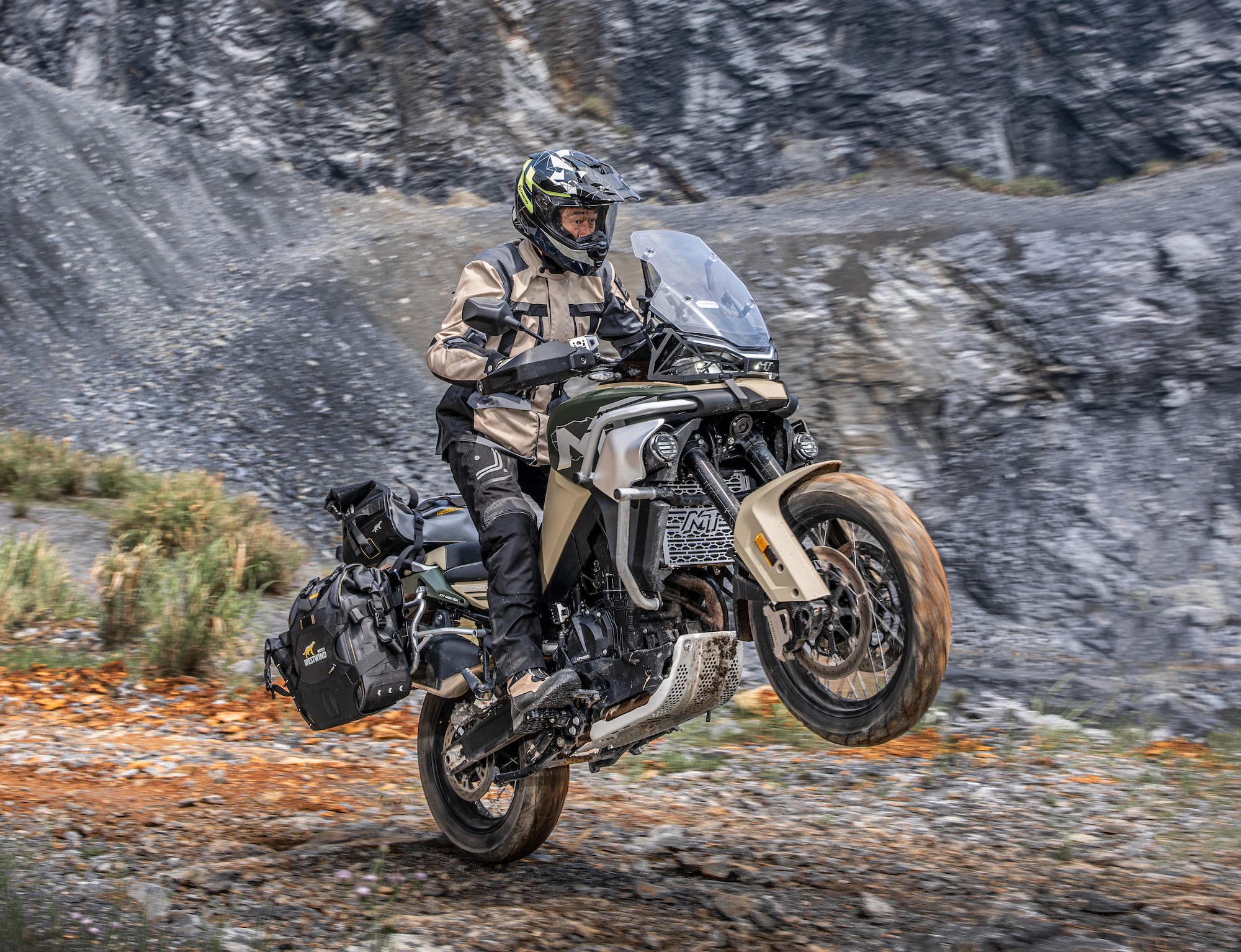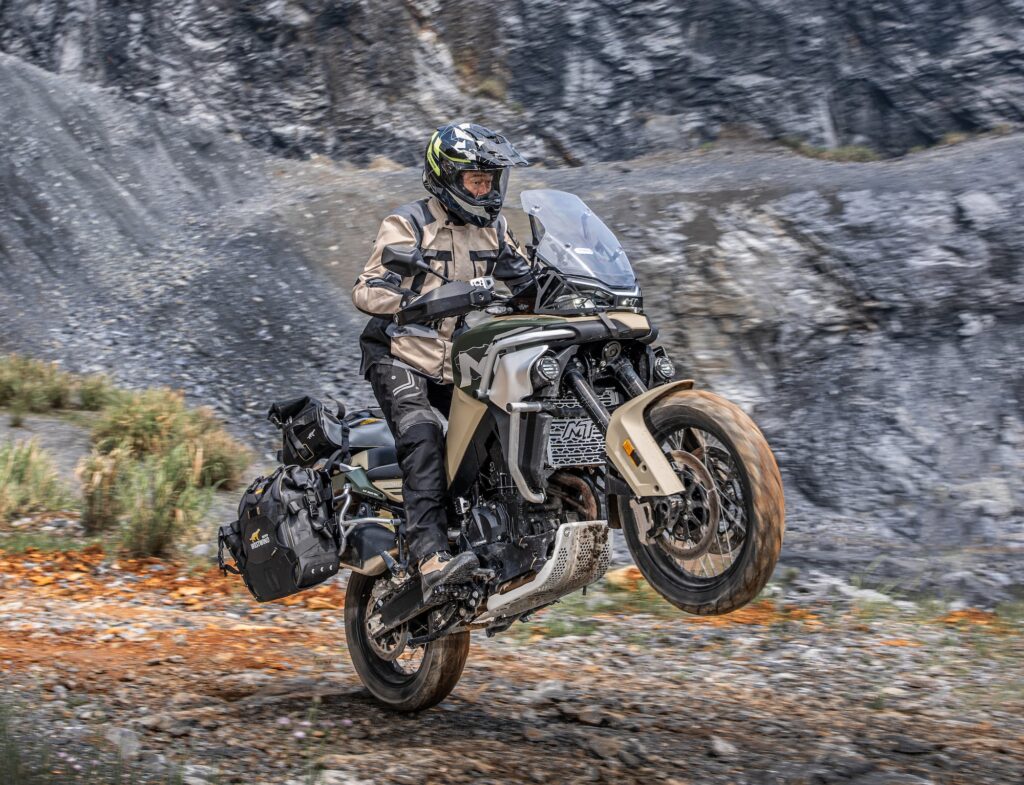 You may not have heard of the Chinese brand CFMOTO, but you will soon. The CFMOTO 800MT is CFMOTO's entry into the middleweight adventure category.
("Who's CFMOTO?" you ask. Here's my company overview.)
CFMOTO first launched the 800MT in non-US markets as that, but launched it in the US as the Ibex 800. Same bike, just different names.
The CFMOTO 800MT / Ibex 800 has a 19-inch front tire and not quite as much suspension travel as the more long-legged bikes in this list, but I'm including it here because it does so much else well, it's cheap, and it's fully loaded. So it's not a full-on middleweight adventure bike — it's at least an "adventure gravel" tourer as some put it.
The CFMOTO 800MT is a motorcycle based on the same engine platform as the KTM 790 Adventure, which is still in production in some markets, though quickly replaced by the 890 in Europe and the US. The engine is a feisty one, a 799cc liquid-cooled dual overhead-cam parallel twin with a 270-degree crankshaft.
With its 12.7:1 compression ratio, the CFMOTO 800MT makes a healthy 70 kW (95 hp) at 9000 rpm — a great power range for middleweight sport touring. Riding it, it never feels lacking, especially if you're off the highway.
What's impressive about the CFMOTO 800MT is that it comes with loads of tech standard, including a TFT display, cruise control, and even cornering ABS. The Touring edition comes with even more, including a taller windshield, hand guards, heated grips and seats, a centre stand, a bash plate, and more (unbelievably), all at a price that undercuts many other bikes on this list without all those features.
And the 800MT / Ibex 800's tubeless tires site on wire-spoke wheels. It's a nice combination that we don't see enough of!
The main fly in the ointment is that the 800MT / Ibex 800is that it doesn't have switchable ABS. So — it's not a dirt bike. You'll have to override it in some way, e.g., by wiring a switch in-line with the fuse box, as used to be the way.
But CFMOTO does say (in their manual) that the 800MT's ABS system is calibrated to be able to be used on sandy, wet, or slippery roads with low traction. Test it for yourself.
Regardless, no doubt CFMOTO is trying to carve out its sector of the market, but it has some pretty stiff competition.
Ducati DesertX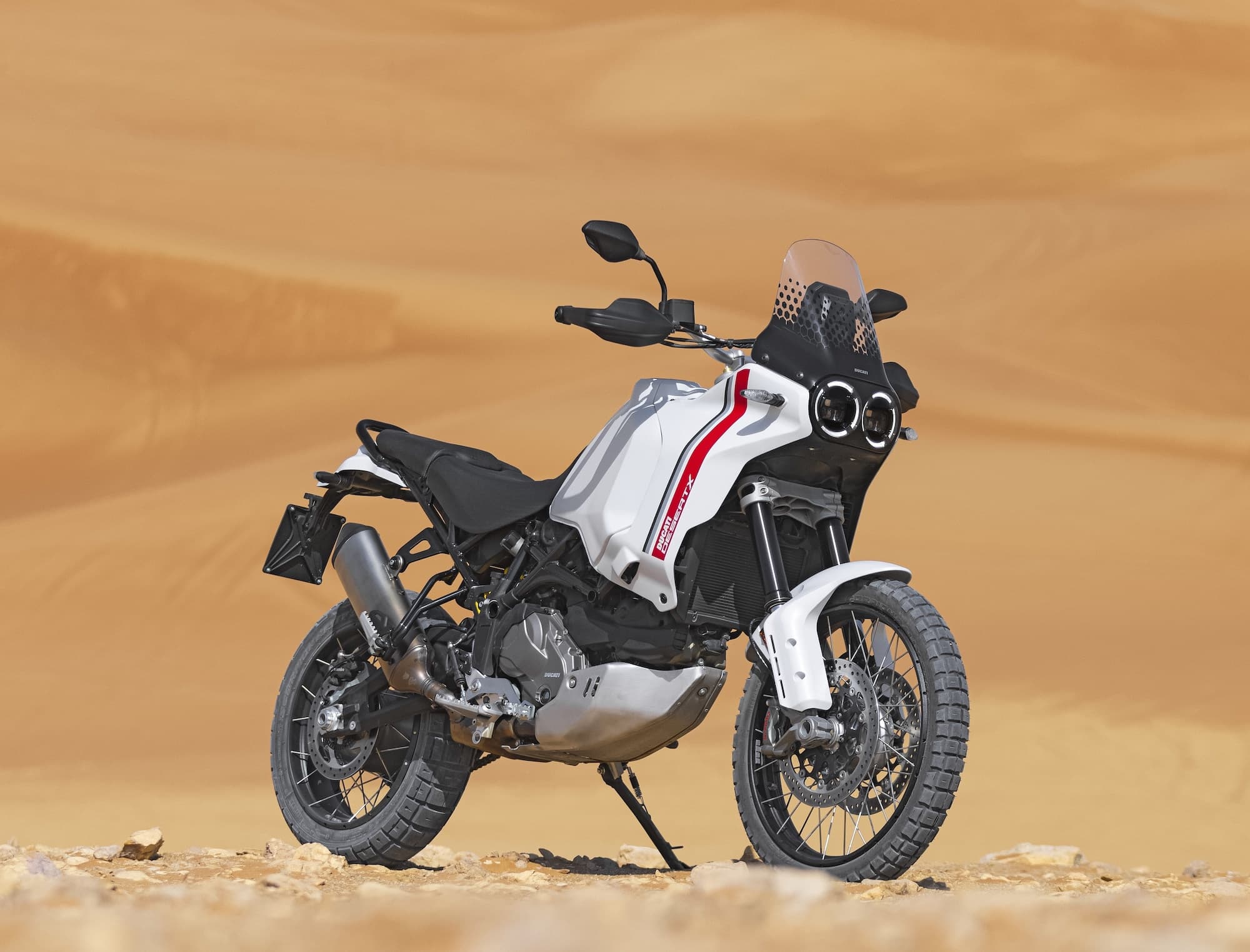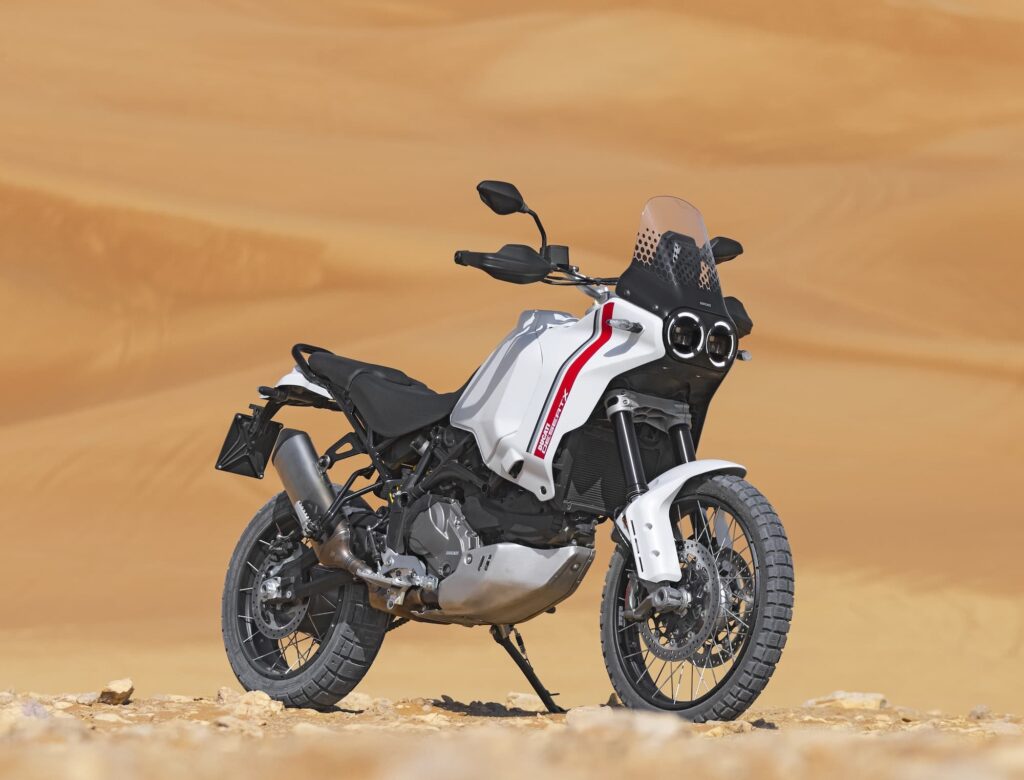 From Ducati for 2022 we get the DesertX, a stunning looking (subjectively — I've heard some dissenting opinions) middleweight adventure bike powered by the 937-cc liquid-cooled Testastretta engine that drives so much else in the middleweight Ducati line-up, including the Multistrada V2, the previous closest Ducati to a middleweight adventure bike.
The Ducati DesertX is one of the higher-spec bikes in this list, and also one of the more powerful, making a handy 81 kW (110 hp) at 9250 rpm from its V-twin motor. It also comes with the kitchen sink of standard equipment, including cornering ABS/TC, cruise control, a steering damper, and an up/down quick shifter.
On top of that, the DesertX has high-end fully adjustable suspension, Brembo calipers, and tubeless tires (which have both pros and cons).
Just in case you're wondering — the Ducati DesertX is not just a Ducati Multistrada V2 dressed up with some different gear. Ducati modified the wheels, the suspension, and even the gearing (both in the gearbox and final drive) to give a very different ride experience.
The only problem, from my perspective, is maintenance of the DesertX. The number one issue is the complexity of changing the air filter. If you ride anywhere dusty (e.g. many off-road places) or in rain, you have to change — or clean, if you have a cleanable one — the air filter more often. On the DesertX, you have to remove (or at least dislodge) the tank to access the air filter. Not fun.
The Testastretta V-twin has belt-driven cams and Desmodromic valve timing, which means that coupled with Ducati service tech prices (if that's your best option), the valve services will be expensive. But they're only every 18000 miles / 30000 km.
Ducati also has made the Ducati Scrambler Desert Sled for a few year models, but it's not as obviously an offroad-designed bike as the DesertX — for example, it lacks a 21-inch front wheel. It looks cool, though. (See here for the Ducati Scrambler 800 Buyer's Guide for more about the Desert Sled and many other models.)
Honda XL750 Transalp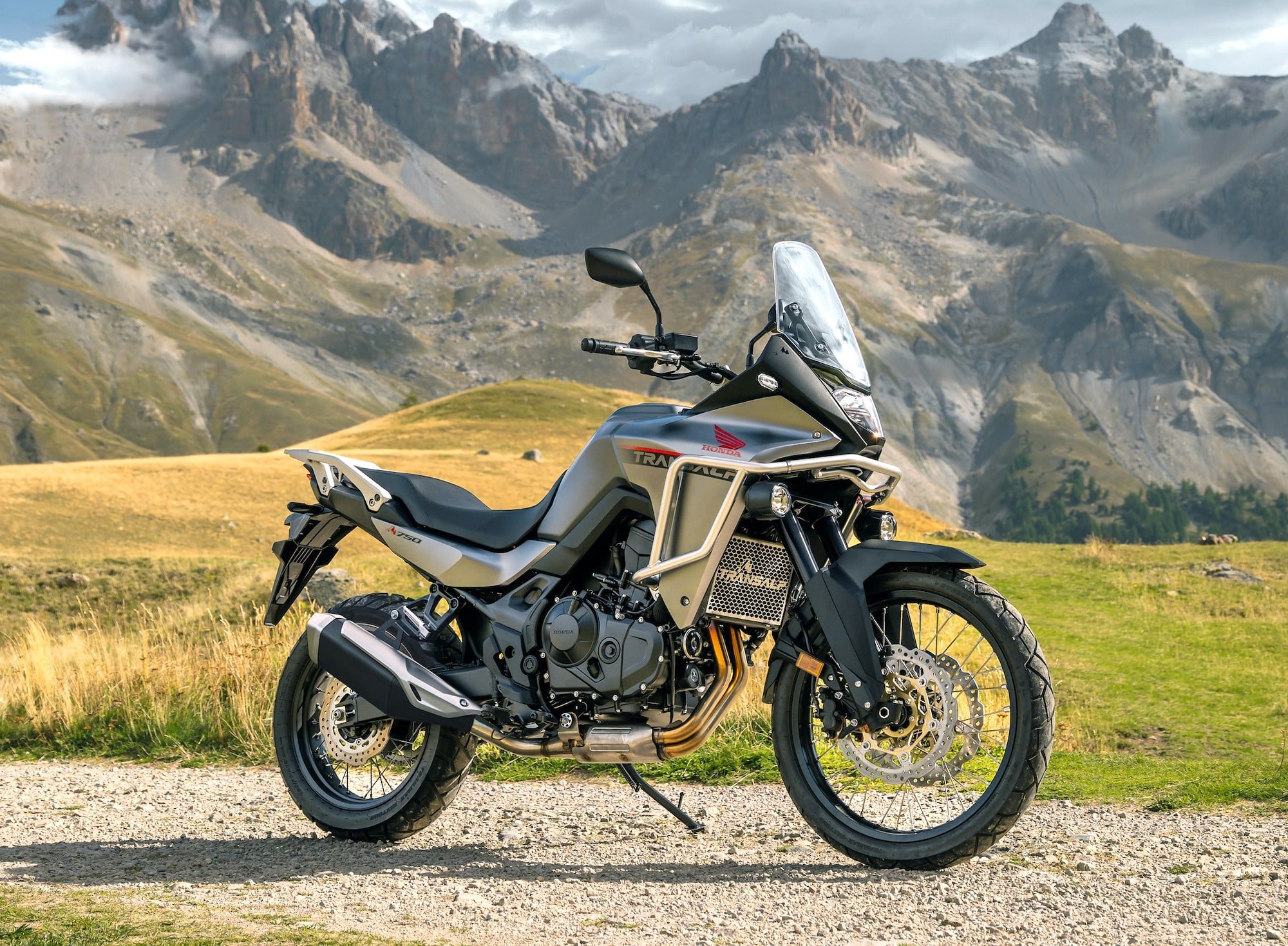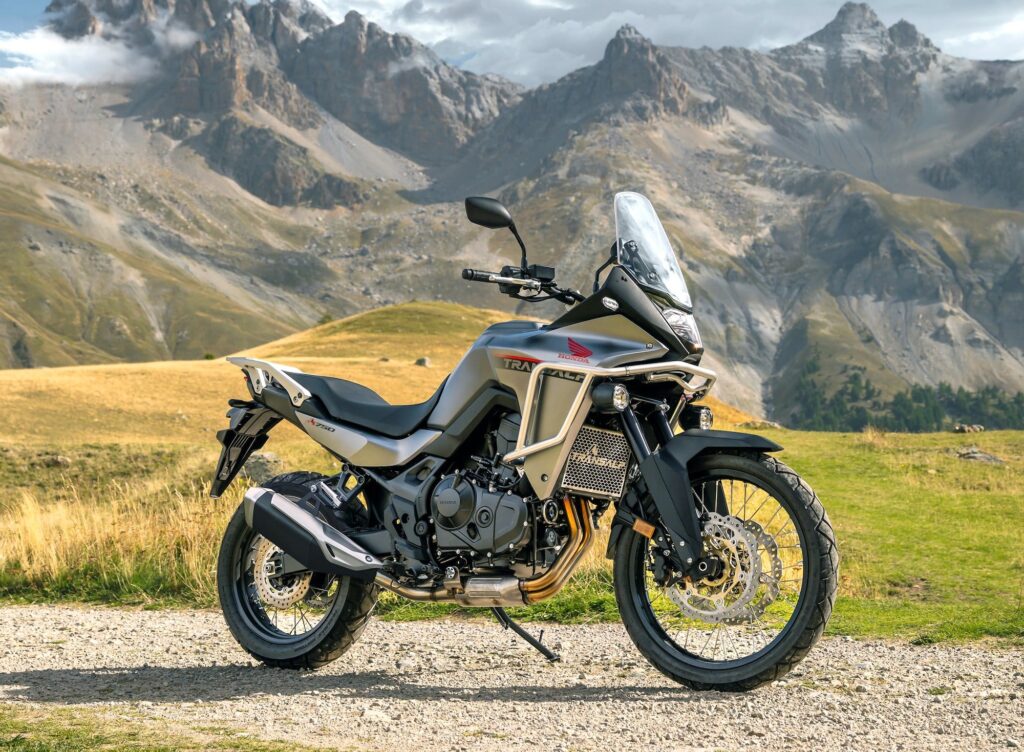 Honda announced the Honda XL750 Transalp is a new middleweight adventure bike for 2023. It's a revitalisation of the Transalp brand that we last saw in more commuter/V-Strom 650-esque form in 2012, but which dates back to the 1980s. (See our full Honda Transalp model history.)
The new Transalp is powered by a 755-cc parallel twin — the same one that powers the (also new for 2023) Honda CB750 Hornet. But the Transalp has an adventure-forward design, with a 21-inch front wheel, 200 mm of suspension travel (and 210 mm of ground clearance), and enough protection to get you started — though I'd want something covering those pipes.
What's special about the XL750 Transalp is that it's a fairly basic bike that will target a lower price point. The suspension is mostly non-adjustable, there are minimal ride aids, and you have to add basically everything to it, starting with a guard to protect those pipes.
Honda also makes a number of other adventure motorcycles, including some that people would consider as alternatives to the Transalp. The Transalp's most direct competition on features is the Honda CRF1100L Africa Twin, a much bigger and more expensive motorcycle.
Husqvarna Norden 901 Expedition (+ the 701 Enduro LR)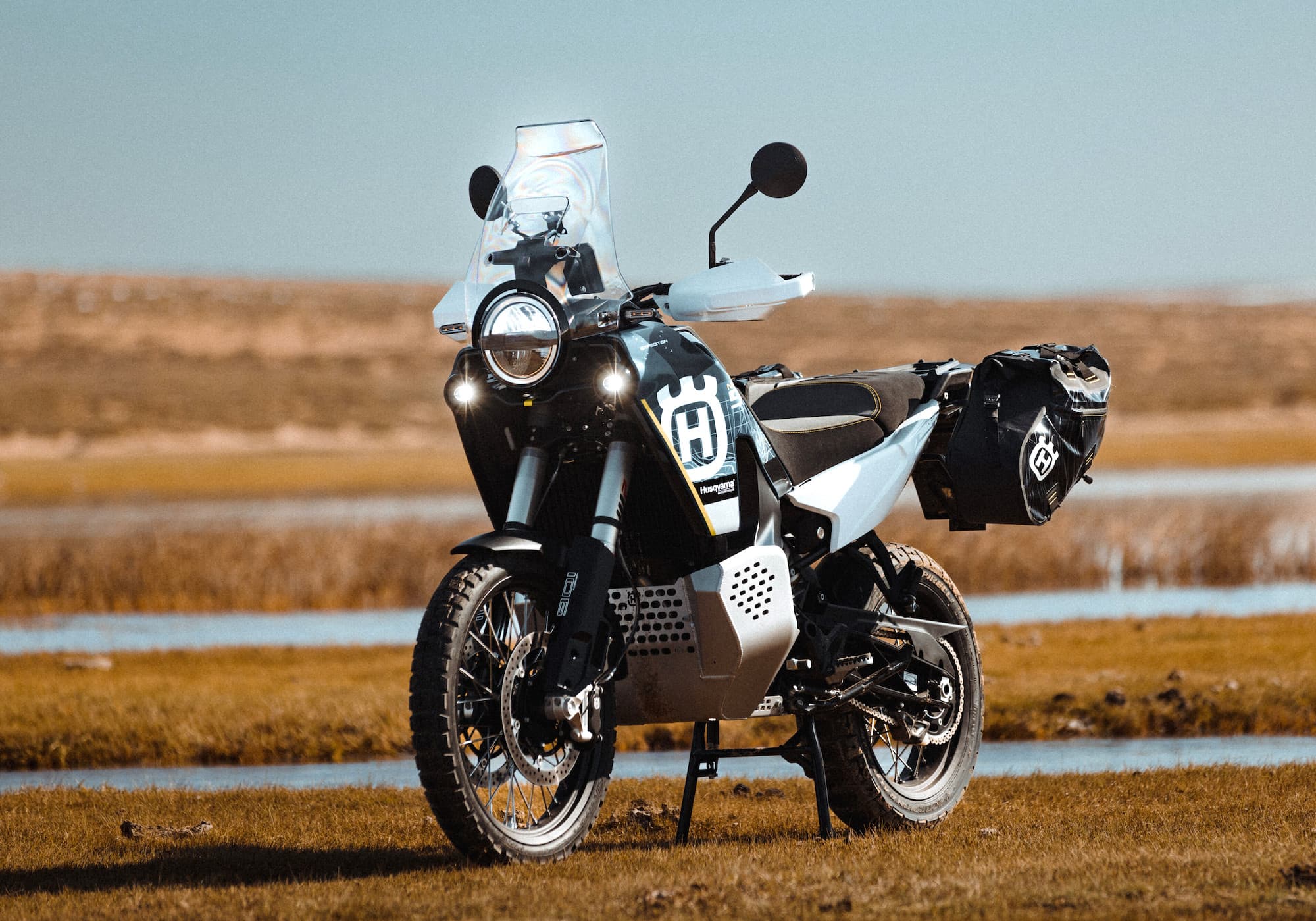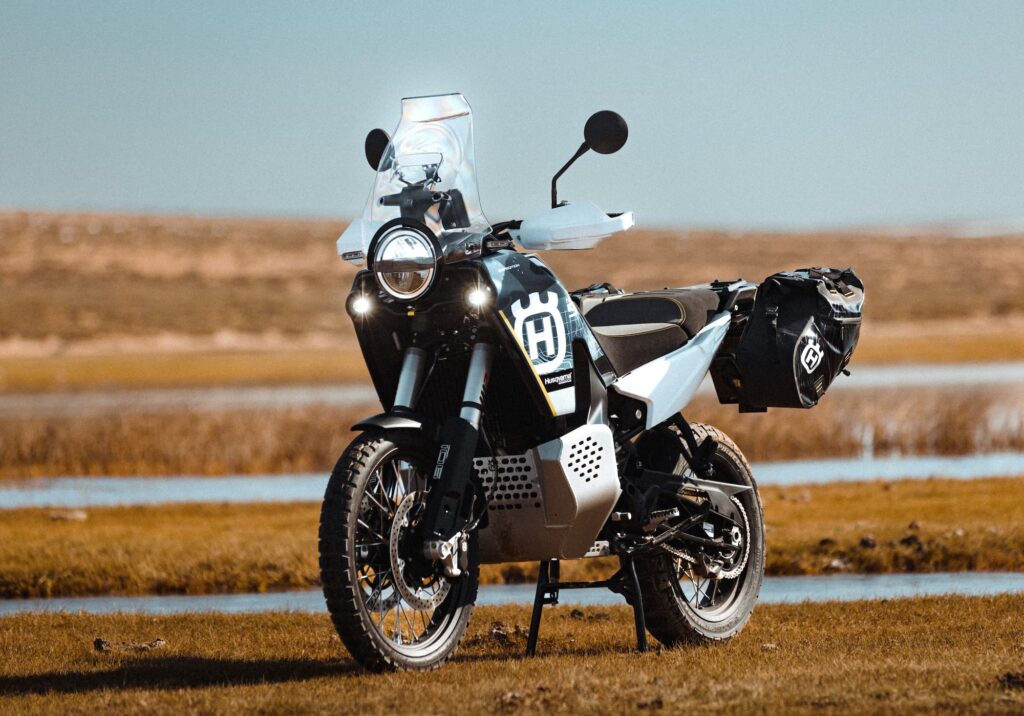 Husqvarna introduced the Norden 901 in 2022. It's another middleweight adventure motorcycle in the "premium" price/spec range, with loads of standard features. For 2023, they released the "Expedition" variant, with longer-travel suspension and more standard equipment.
The heart of the Husqvarna Norden 901 (base model or Expedition) is the same 889cc parallel twin we get in the KTM 890 Adventure. KTM and Husqvarna are both owned by the same parent company, so they often share engines. In fact, both motorcycles also share a frame.
But whereas the Husqvarna Norden 901 base model is positioned somewhere between the 890 Adventure S and R specs in its road/off-road orientation, the Norden 901 Expedition is more on the "R" side of things. Though this the Husqvarna still has less aggressive off-road intentions than KTM does. (They're all very capable, though — this is just splitting hairs or looking at marketing angles.)
The Norden 901 has everything you'd expect of a premium adventure tourer, including a 21-inch front spoked wheel, long-travel suspension, standard protection for the engine and hands, and a high exhaust. It also has tons of rider aids, including cornering ABS, cruise control, and even a clutch-less shifter.
Here's how the Husqvarna Norden 901 vs Expedition differ:
| Model | Norden 901 (base) | Norden 901 (Expedition) |
| --- | --- | --- |
| Front suspension | WP APEX 43mm, Compression / Rebound adjustable, 220 mm travel | WP XPLOR 48mm, fully adjustable, 240 mm travel |
| Rear suspension | WP APEX monoshock, Rebound / Preload adjustable, 215mm travel | WP XPLOR PDS shock, 4-way adjustable (High and low-speed rebound damping), 240mm travel |
| Ground clearance | 252 mm | 270 mm |
| Windshield type | Short (Optional tall) | Touring |
| Ride modes | 3 + optional Explorer mode | 4 including standard Explorer mode |
| Heated grips and seat | Optional | Standard |
Husqvarna Norden 901 base vs Expedition
Otherwise, the bikes are the same — same engine and power, same ride modes, and even the same fuel capacity. Husqvarna says it should be good for a range of around 250 miles / 400 km.
Whether the base model or higher-spec Expedition model, people find very little to complain about on the Husky Norden 901. The most I've read is it's a little wide, but that most people get used to it, and that it could benefit from some wider front foot pegs.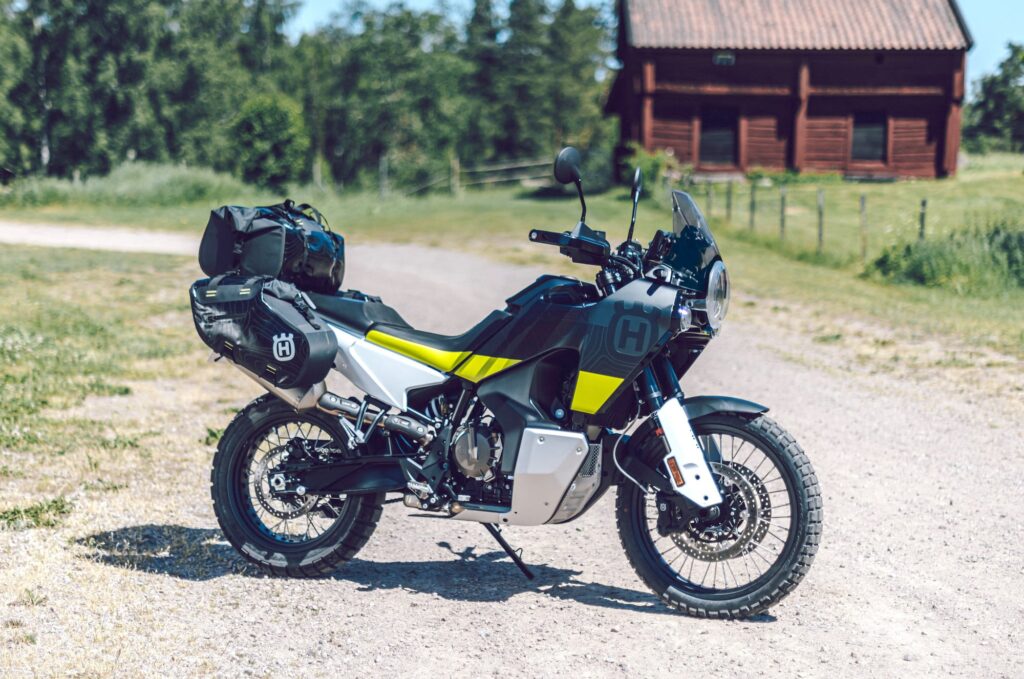 I also should make special mention of the Husqvarna 701 Enduro LR, which you can't get in the US, but which is probably the best bike for exploring real off-road long range in Europe (on the TET) or in Australia.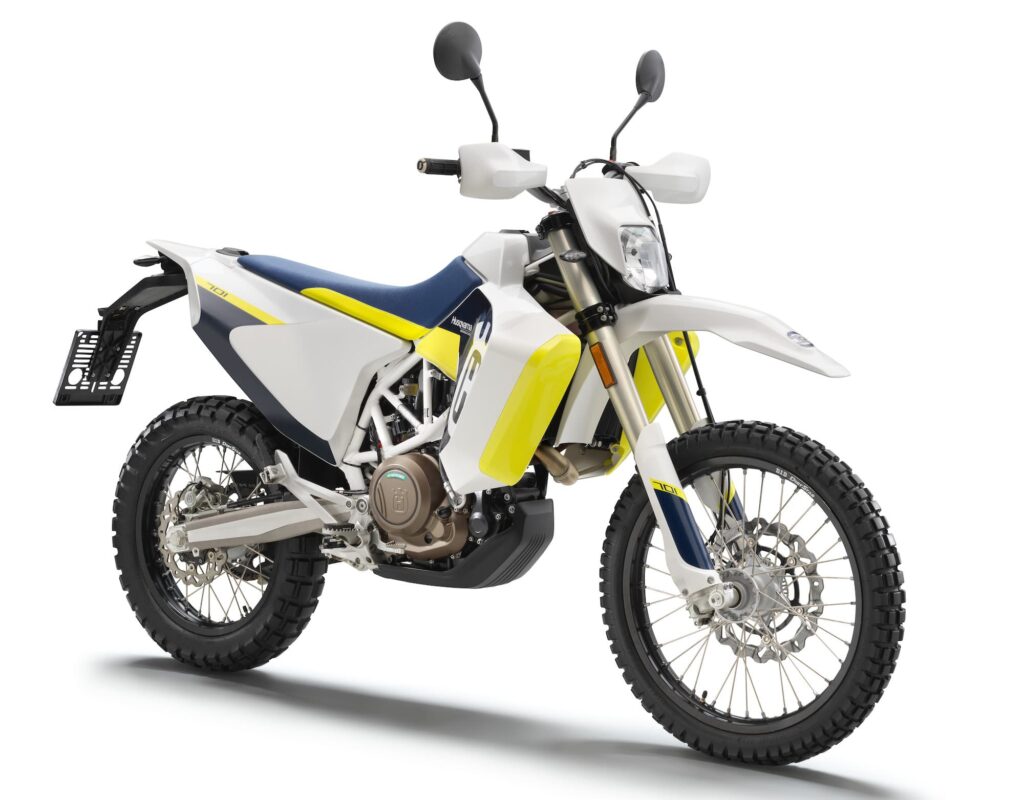 The 701 Enduro LR is really interesting, with a high-power single, loads of ride aids (cornering ABS, and even a clutch-less shifter), super off-road credentials, feather-light weight, and a 25-liter / 6.6-gallon tank that gives you over 500 km (or 360 miles) of range. Massive!
I'll do a full write-up on it elsewhere. The motor (counterbalanced since the 2017 version, same as the 2019 KTM Enduro R) is really smooth, but overall, the bike nowhere near as road-friendly as the Norden — no wind protection, and lacking in some creature comforts that distance travellers like. But that'd be irrelevant for many a trail rider who'd take lightness and competent suspension over anything.
Kawasaki KLR650 (3rd Gen, Fuel Injected)
Kawasaki has been making the KLR650 for longer than I've thought about motorcycles, which is a very, very long time. Unable to kill off the unkillable KLR, Kawasaki made just enough tweaks to it for the 2022 model year to keep it selling, adding fuel injection and ABS.
The ABS isn't switchable, but it's off-road optimised. You can check out this test of it on YouTube where a guy puts it through its paces on gravel / dirt. It looks like it performs fine.
But otherwise, the KLR650 is the middleweight adventure motorcycle — or more like "tank" — it has always been. It's powered by a single-cylinder 652 cc engine that doesn't make that much power, but which will keep doing so forever. The KLR is the kind of bike that the denizens of ADVrider regard as a good first adventure bike — but it's also one that a certain kind of rider keeps coming back to. As long as you're happy to not take it more than indicated 85 mph / 135 km/h… with patience. That's in top gear, which by the way, is fifth gear on even the newest KLR.
I really like the fighter pilot-style dash of the old carburettor-fuelled KLR, which gave way to an LCD console in the 2021+ fuel-injected version, but I'd also prefer fuel injection. Carburettors are fine until one day when they're not and then they're annoying, whereas EFI systems are relatively trouble free.
But if you want to save even more dosh, get any older carburettor-equipped KLR (basically anything pre-2020). The best bit is that older owners will have made a bunch of mods to the KLR, including adding luggage, protection, charging points, and so on, and if you're lucky things like a Scottoiler, the "doohickey" mod, and even lights.
KTM 790 and 890 Adventure / R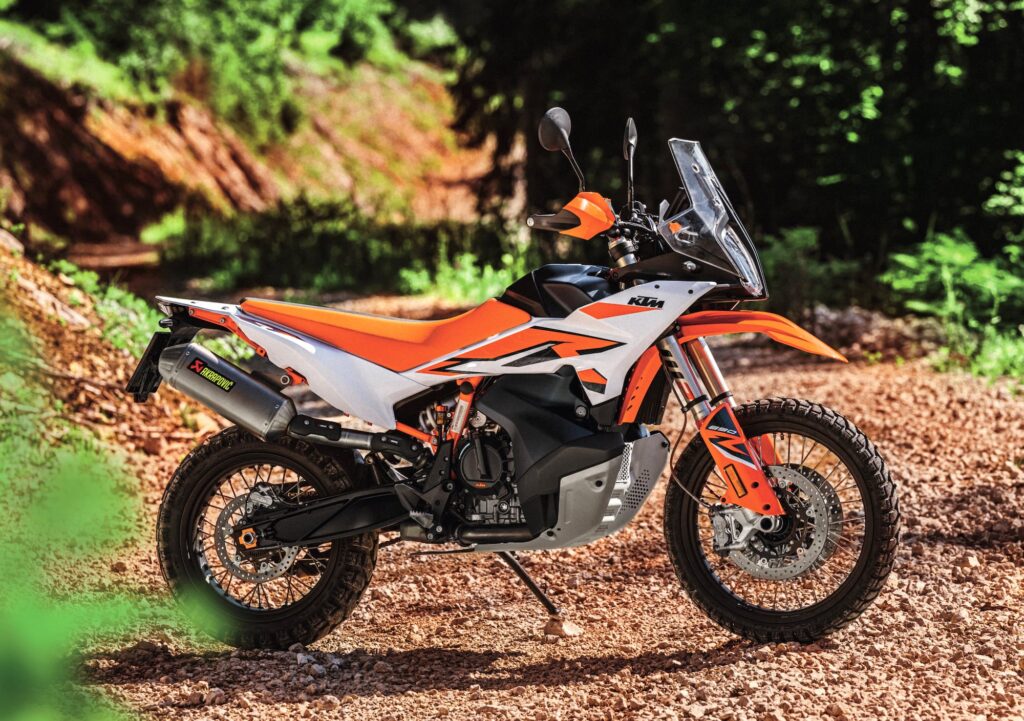 The KTM world has legions of fans for a reason — their motorcycles are, without exception (that I can think of), "exciting". KTM doesn't make commuters.
And KTM is no newcomer to the middleweight adventure category, even if the 890 is relatively new. They've been making V-twin-powered bikes for a long time.
The KTM 890 Adventure R is the update to the 790 Adventure that we only had for two years (but which lives on in some markets, and whose engine survives in the CFMOTO 800MT / Ibex 800 series for the rest of us). Compared with the 790, 890 Adventure is more of everything — more power, more features, and more cost.
The 890 Adventure comes in two trims. The R spec is the more popular one for off-road use.
Like BMW in this list, the KTM 890 Adventure R is the little sibling to a much more widely recognised top-tier big-bore bike, the 1290 Super Adventure R / S.
But the small KTM isn't just a smaller "Super Adventure". It's a cracker of a bike, one of the more powerful and lighter bikes in this list.
The only problem with KTM is the cost. They're expensive, and also KTM charges you to "unlock" features that are actually there from the factory. For example, if you buy an 890 Adventure R, it'll come with cruise control buttons… but you have to pay for the part for KTM to install the software. It's a little infuriating because the buttons are there and we're used to paying for "stuff", but that's the price fans pay.
KTM has been quietly making the 790 Adventure in some markets, but has also begun re-releasing it in some western markets around the world, co-selling it with the 890 Adventure. This includes Australia and Europe for now, and may expand to include others.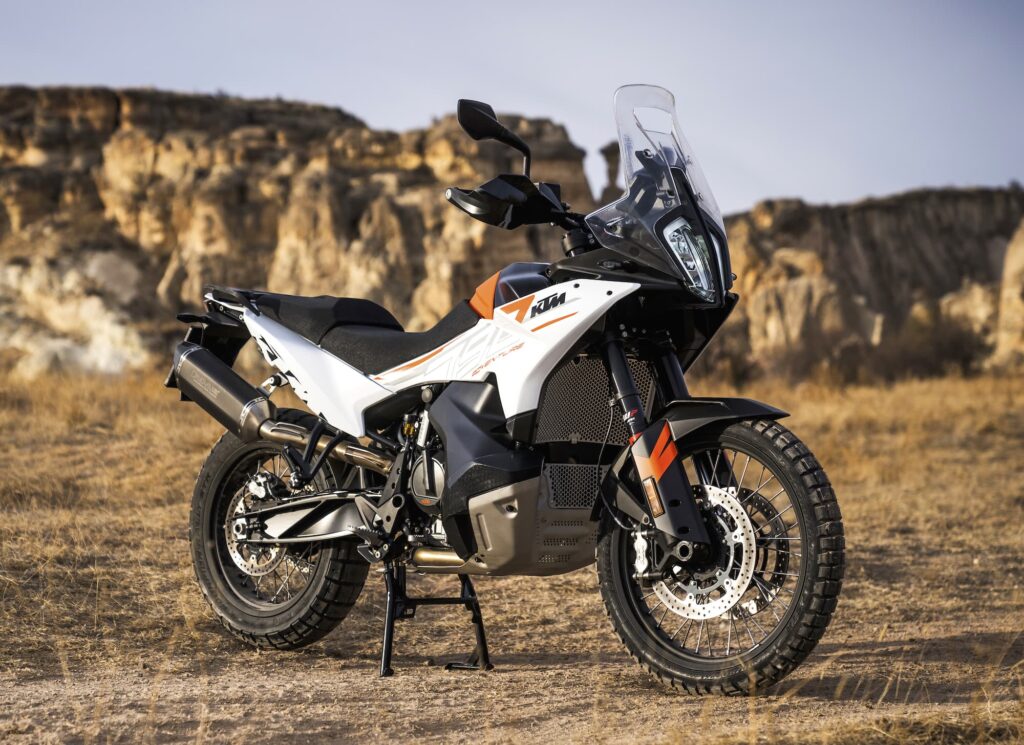 KTM redesigned the 790 Adventure for 2023. The engine spec is the same (it still makes 71 kW / 95 hp @ 8000 rpm), but now meets Euro 5 targets.
Most notable changes vs the previous version are that the 790 has a knock sensor, which lets the 790 Adventure work on low octane fuel (with lower power output), a reconfigured optional quickshifter, revised clutch, revised IMU, and more.
But the 790 doesn't come in R spec in 2023 in most western markets (Europe, APAC). If you want a mini Adventure R, you'll need to fork out for the 890.
One thing to bear in mins is that the KTM 790 Adventure is made in Hangzhou, China, in CFMOTO's facility. That's also where CFMOTO makes the 800MT / Ibex 800. KTM shifted production over, but in the meantime released the 890, which is still made in Austria.
Moto Guzzi V85 TT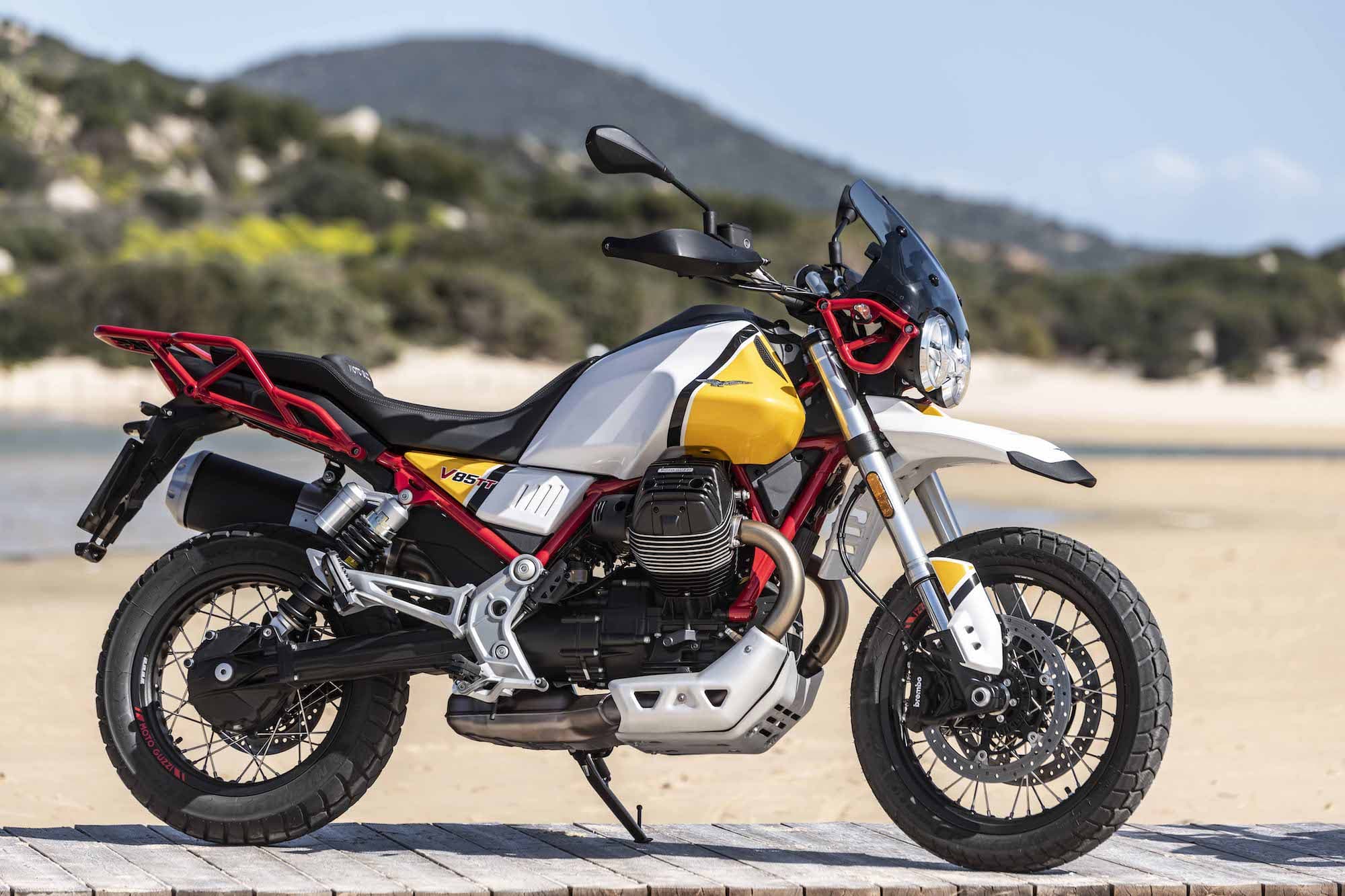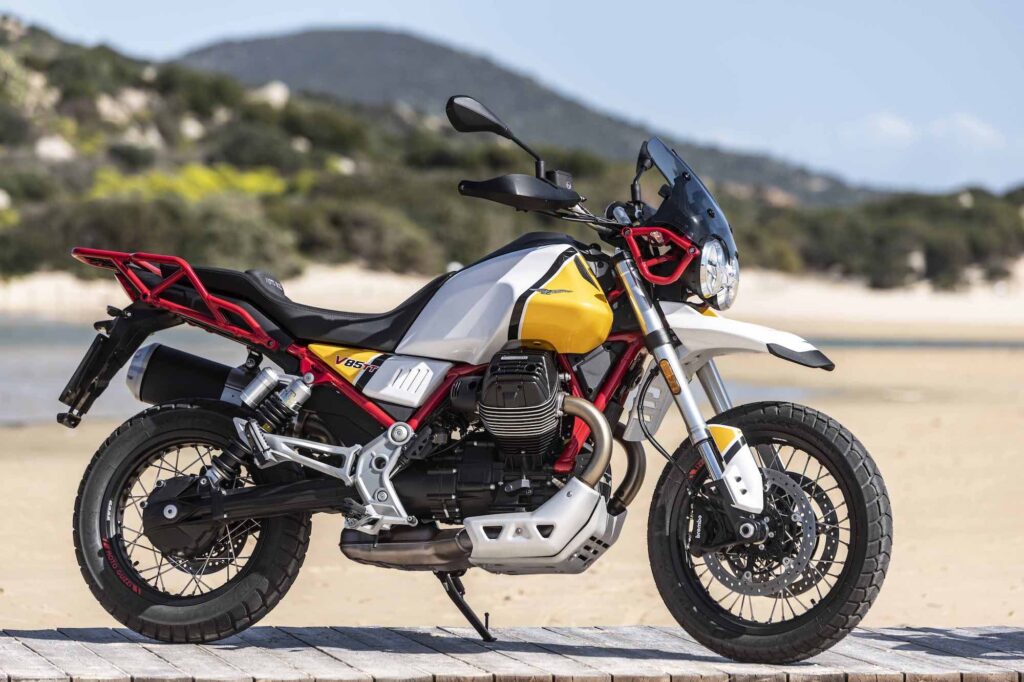 The Moto Guzzi V85 TT (see our resources page) is another edge case in this list. There's just so much that's unique about it. But it deserves a mention because even though it's a "soft-roader" like the CFMOTO 800MT (with a 19-inch front wheel and more modest suspension travel), it's the closest thing to a dual sport that Moto Guzzi makes, and it has a couple of aces up its sleeve that no other bike in this list has.
Things that are unique about the V 85 TT are that it has:
A V-twin engine, like the Ducati, but this one's very different: air-cooled, longitudinally mounted (with the pistons coming out of the sides as you see — classic Guzzi), and with more modest power output
A shaft drive, which is one of those things adventure bikers sometimes demand from bikes (who wants to clean and oil a chain every night, they say?)
Very striking looks!
The looks could have been the first thing I mentioned. I love it — in photos and in person, and I'm not alone. But also, there are many people who hate it, again who I've met in person and who voice their opinion the first time they see it. Basically, if you can't get past the looks, this bike isn't for you. The fact that it's polarising is super interesting to me, too (brains are weird!).
Aside from that, there's just enough about the V85 TT to make it tempting for some adventures. It comes with a bash plate, a 19-inch front wheel (spoked, with an inner tube in 2019-20, but tubeless from 2021+). The only strike against it is the frequent valve service required (every 6000 miles / 10000 km). But it's the cylinder heads stick out to the sides, and there are only two clearances per cylinder to check, with no camshaft to move out of the way, so it's a relatively easy job.
Anyway, Moto Guzzi isn't as big a manufacturer as the others here, so I'm not sure they'll throw their hat in the ring in an already-competitive market that's not their core competency. So, the V85 TT is the best they might give.
Suzuki V-Strom 800 DE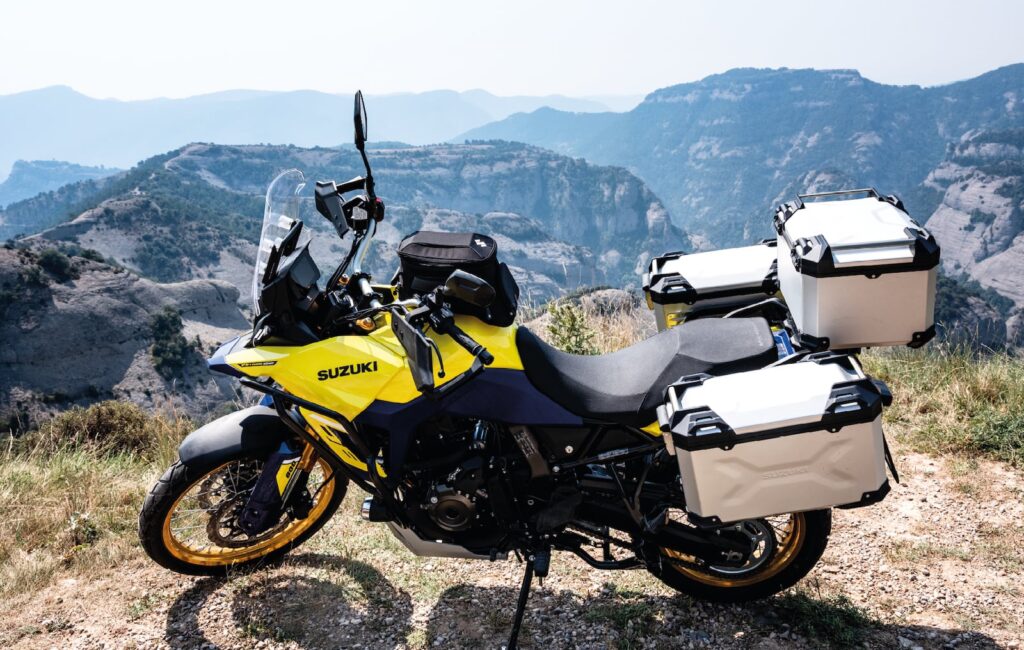 Suzuki introduced the V-Strom 800DE in late 2022 for the 2023 model year, shortly after introducing the now more offroad-oriented V-Strom 1050DE (with a 21-inch front wheel and switchable ABS).
More concretely, the Suzuki V-Strom 800DE takes over from the V-Strom 650XT as the most "adventure"-oriented of their middleweight adventure motorcycle line-up. The 800 has longer-travel suspension, a bigger front wheel (finally, 21 inches), and of course a more powerful, easier to service engine — a parallel twin is usually easier to access than a V-twin.
Like the other more affordable middleweights on this list (e.g., the Honda), the V-Strom 800DE doesn't come with things like an IMU, cruise control, or electronic suspension. But it does come with a lot of history of middleweight adventure behind it, in the form of the V-Strom 650XT, the bike known affectionately as the "Wee-Strom" and known to have been, at times, the best in the V-Strom range. Both the 800DE and 1050DE have specific merits, so it's a tougher call this time.
If you're looking for an older alternative to the 800DE you can definitely look at a 650XT, as long as you're willing to put up with a 19-inch tire and less ground clearance, and also a V-twin engine, which has pros and cons.
Triumph Tiger 900 Rally / Pro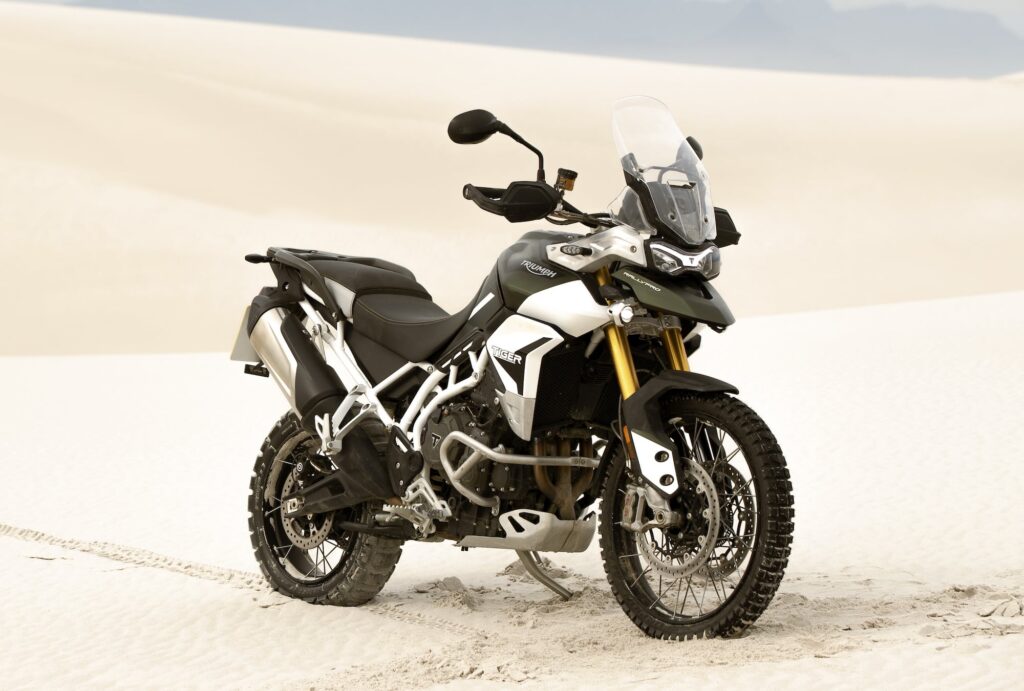 If you want a sport bike-like engine in your middleweight adventure motorcycle, then you'll be looking at something like the Triumph Tiger 900, which is the only bike in this list with more than two cylinders. In fact, the Tiger 900's motor derives from that of the 765 range, with the same 78 mm bore but an 8.5mm longer stroke, giving the larger 888 cc displacement.
Triumph of course made other changes to the motor, making it an even more midrange-focused engine (midrange performance has always been a hallmark of Triumph's street bike triples). But still, it revs past 10000 rpm, making typical Triumph music, which can make for fun when it needs it.
The Triumph Tiger 900 is unique in a few ways in this list. Primarily, it has a three-cylinder engine. Most other middleweight adventurers are parallel twins. In fact, most motorcycles that most manufacturers produce are not triples. The only other people playing the "triple" game are Yamaha and MV Agusta, both of which have made touring bikes based on triples (the Tracer 900 / 9 and the Turismo Veloce, respectively), but haven't had the gall to put a 21-inch knobby tire on front of them. Our loss! (We're all patiently waiting for the MV Agusta Lucky Explorer…)
Triumph did exactly that. The Tiger 900 middleweight range has road-going variants (GT) and off-road/cross-country variants (Rally), and the Rally variants are distinguished by their larger front wheel, longer travel suspension, and some other details like in the electronics.
The Triumph Tiger 900 also has a different firing order (known as "T-plane") compared to its predecessors and others on the market, which gives the Triumph engine a unique sound and character.
If you feel like saving a few bucks / quid / lakh, you can go back to the Triumph Tiger 800, where the XR was the road-going variant and XC was the mixed-use kind. They were still awesome — I think the Triumph Tiger 800 XCa is budget buy that everyone should look at (after I get one). Heated seats!
Yamaha Ténéré 700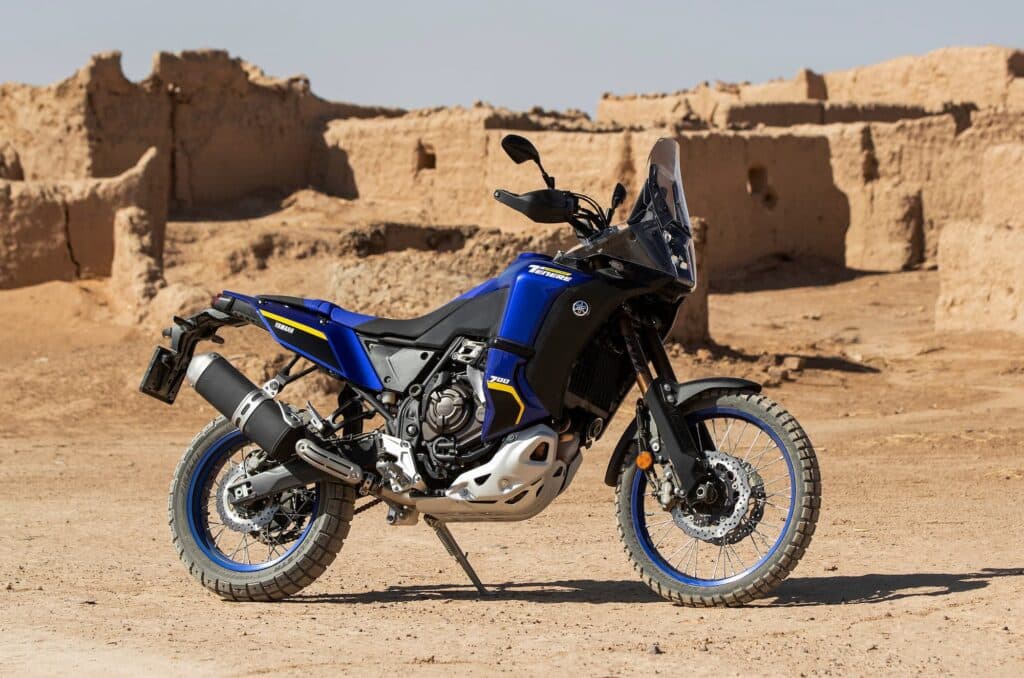 Finally (because it's last alphabetically), the Yamaha Ténéré 700, a bike which breathed a lot of fresh air into the middleweight adventure category.
One of my favourite incarnations of the T7 is the World Raid, which gets more fuel tank capacity, more suspension travel & higher spec suspension, a steering damper, a TFT display, a higher windscreen, and of course more weight (and cost) to go with it all.
The first Yamaha Ténéré 700 was a very early-announced and long-awaited motorcycle. When we finally got it in 2019/2020 (depending on where you are), it met most people's expectations, but definitely disappointed those of a few for being less powerful and heavier than they were hoping.
Nonetheless, the T7 is, in many ways, the bike to beat, just because of the reputation it got itself pretty quickly. It's simple, reliable, has a cracker of an engine, and is what many consider to be "just enough" to do long-distance travel across a variety of terrains. It doesn't feel like too much of a compromise. And it's very popular.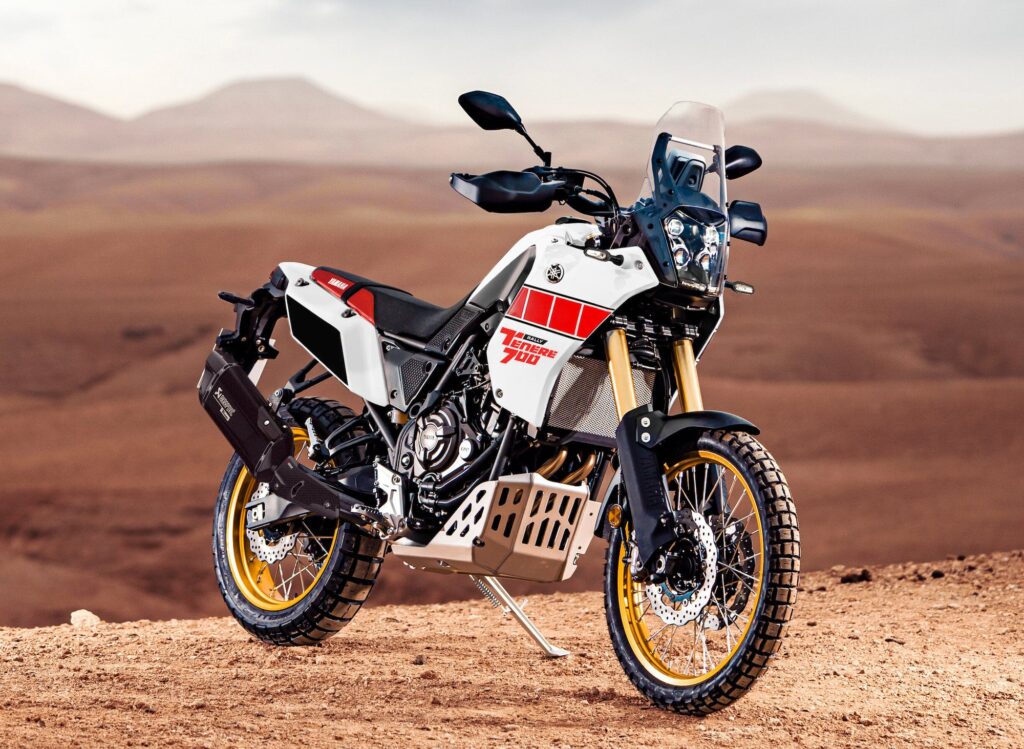 Yamaha has released the Ténéré 700 in a number of other variations and also made updates as the years have passed, adding more travel to the suspension, more protection as standard, and even bigger tanks. They also upgraded the dash to that of a TFT for recent models (not in all markets).
The only fly in the ointment is that this supposedly fairly simple motorcycle (no cruise control, no IMU, no heated grips) is quite expensive. Still, like I mentioned, it's popular!
If you're looking for a cheaper alternative, there's always the earlier gen Yamaha Ténéré XTZ660, which has a big "thumper" single-cylinder engine, the same rugged looks, and a much lower price. Not every market got that, though (the US didn't, anyway).
Motorcycles not in this list
I've kept out of this list bikes that are more on the "sport touring" side, like the V-Strom 650 XT or the Yamaha Tracer 9, for example.
You can take any motorcycle anywhere, but those aren't really geared towards mixed-use work, so I wouldn't really call them middleweight adventure motorcycles.
Similarly, I've kept off this list bikes that are much more off-road focused, like the Honda XR650L for example, which would be better characterised as a dirt bike.
Finally, I've kept off electric adventure motorcycles from manufacturers like Zero or Energica. They're great bikes, but they're not really "middleweight" motorcycles, as they're heavier at around 250 kg wet, and have relatively limited range (the Experia does 153 miles city / highway). They're more likely to appeal to a different demographic — more like a competitor for the road-going versions of big adventure bikes, on which a rider might do some limited off-roading, but not overnight treks across bush.
(By 2030, as models become available and charge life improves, I expect this list will have some electric models on it. By 2040, it'll be all electric!)
Luckily, every major manufacturer has a middleweight adventure motorcycle in this list.