Here it is, another subjective list of the best-looking motorcycles of 2023. These are ones that I look at and think "crikey!" and think others would to.
Some of these motorcycles came out in mid-2022, and might be released as a 2022 model year in some places. And maybe some of these motorcycles were released a year or two prior, but I didn't recognise them, and want to give them some airtime. But they're all available new in model year 2023.
You might notice some themes as you look down the motorcycles here, like a larger number of middleweight adventure motorcycles. It's not entirely my subjective taste — some of it is fashion and what's popular in motorcycles these days.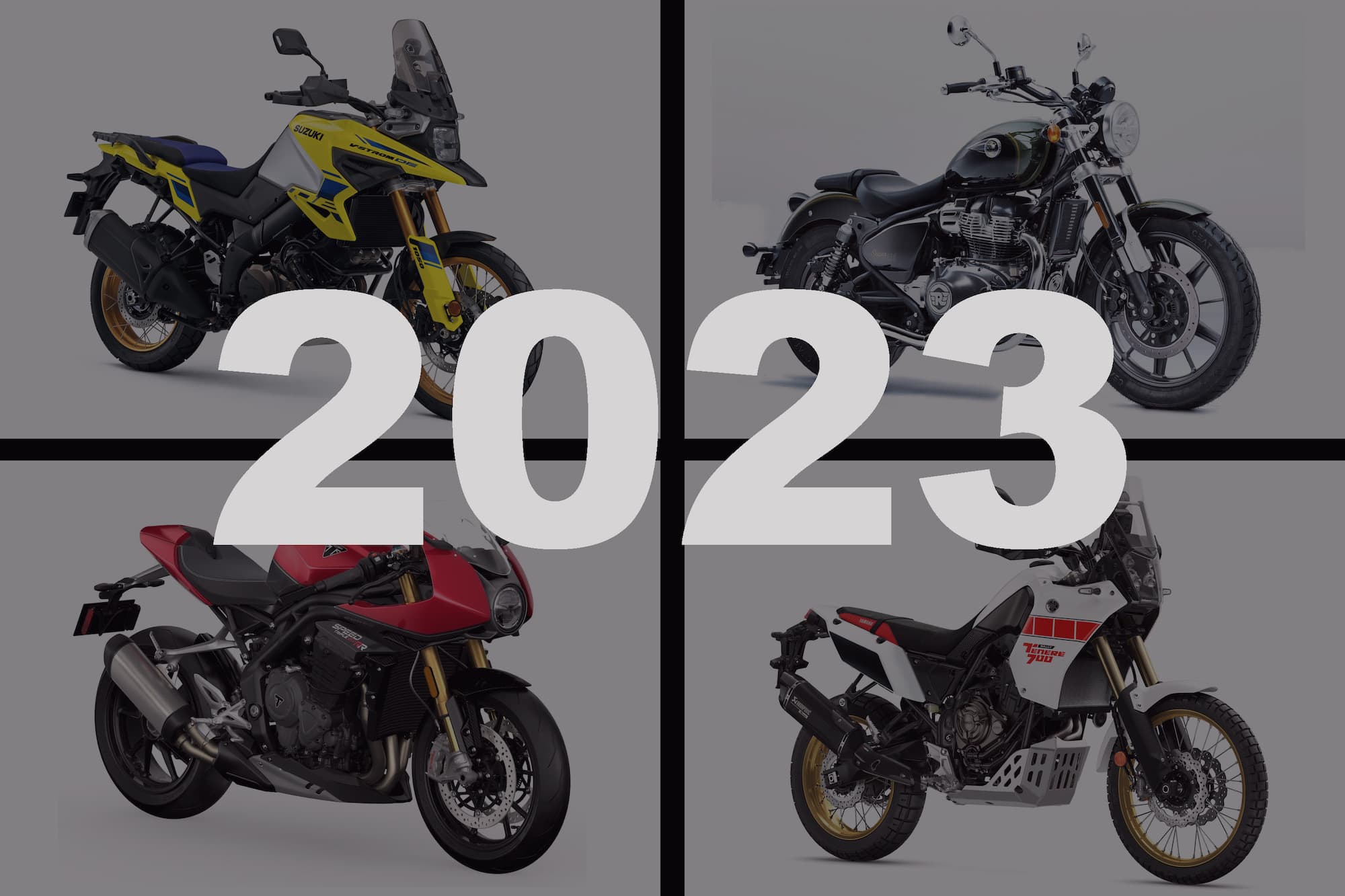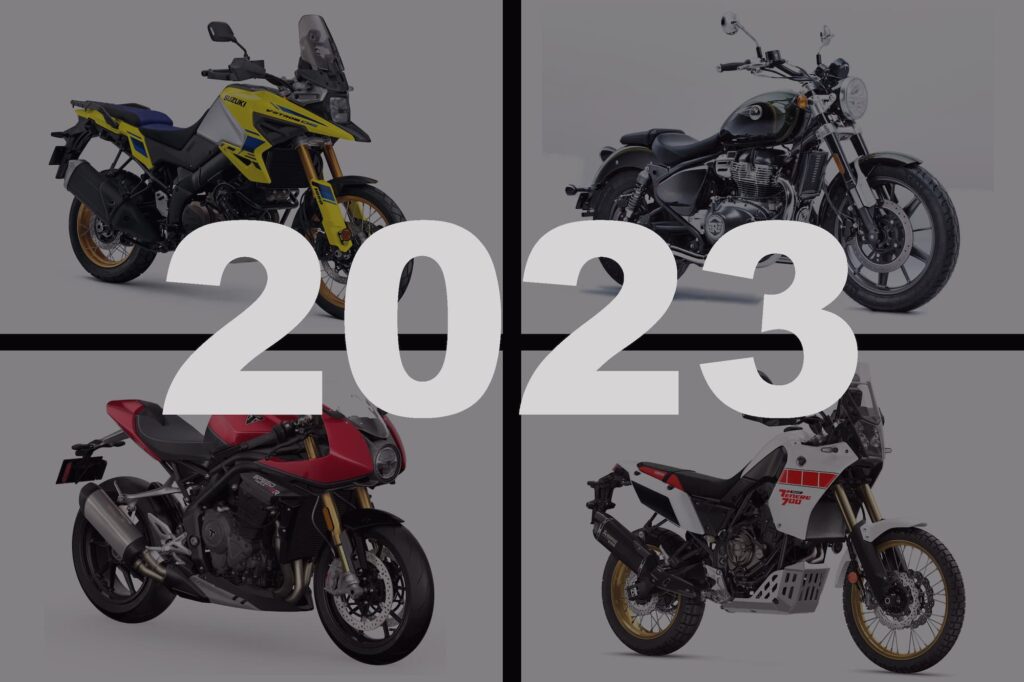 See the all the lists of best-looking motorcycles if you want to look at other pretty pictures:
Are you obsessed with motorcycles?
Well, I am. That's why I created this site — as an outlet. I love learning and sharing what others might find useful. If you like what you read here, and you're a fraction as obsessed as I am, you might like to know when I've published more. (Check the latest for an idea of what you'll see.)
Aprilia Tuareg 660 (2022)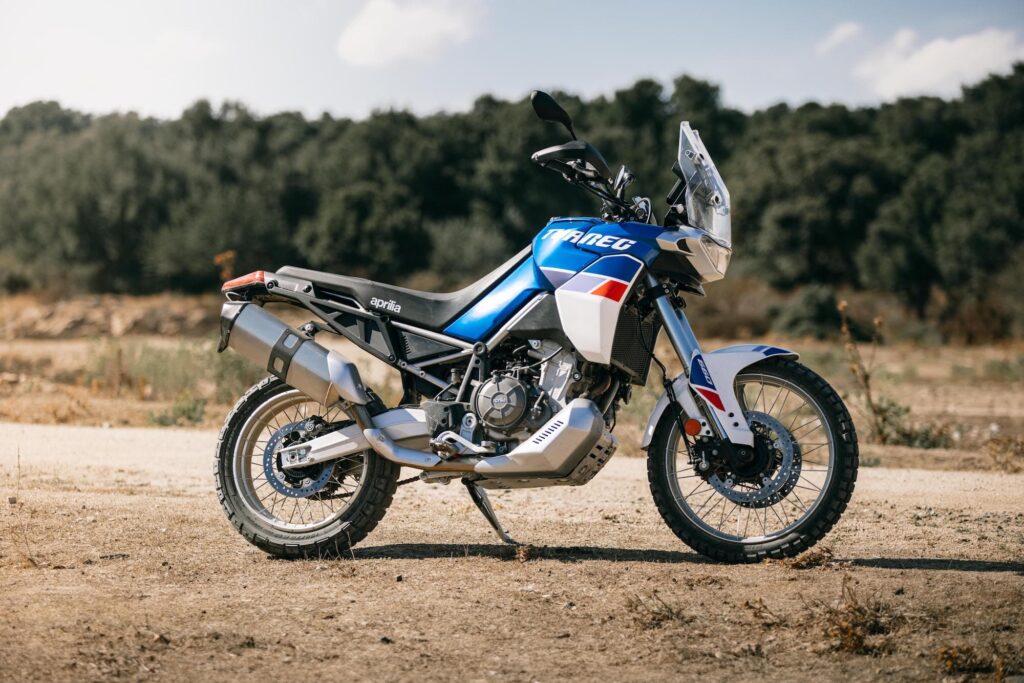 Aprilia launched the Tuareg 660 as a 2022 model but only in the second half of the year, so I'm counting this one as one of the best-looking motorcycles for 2023 (besides, for 2022 I listed the Aprilia Tuono V4).
The Aprilia Tuareg 660 is the third motorcycle in the Aprilia 660 line-up of middleweight motorcycles that started with the RS 660 and was quickly followed up by the Tuono 660.
The engine was a similar highly-tuned unit in the RS 660 and Tuono 660, but the 659-cc parallel twin has been detuned for more torque in the Tuareg. So in the Tuareg, the same engine makes similar peak torque of 70 Nm (52 lbf-ft) at a lower 6500 rpm, but just 59 kW (80 hp) at 9250 rpm. But who needs top end when you're doing off-road riding?
That's what the Tuareg 660 is best for, with 240 mm (9.4 inches) of suspension travel on both ends, a 21/18-inch tire setup, and a comfortable upright riding position. They've also managed to keep the weight down (impressive given the protection they added) to 204 kg / 450 lb fully fuelled — not as light as a dirt bike, but lighter than the adventure-touring competition.
(See here for all the middleweight adventure tourers.)
Aside from the engine, Aprilia changed a bunch of things on the Tuareg 660 — this isn't just a Tuono in different plastics. Most obviously, it has a 21-inch front tire, more protection, and longer-travel suspension. In addition, the Tuareg is designed to carry more load more easily and geared to navigate at low speeds.
Aesthetically, I like it how the Tuareg manages to make practical things like a strong chassis, long-travel suspension, and under-carriage protection all work together and not seem ungainly.
BMW M 1000 R (2023)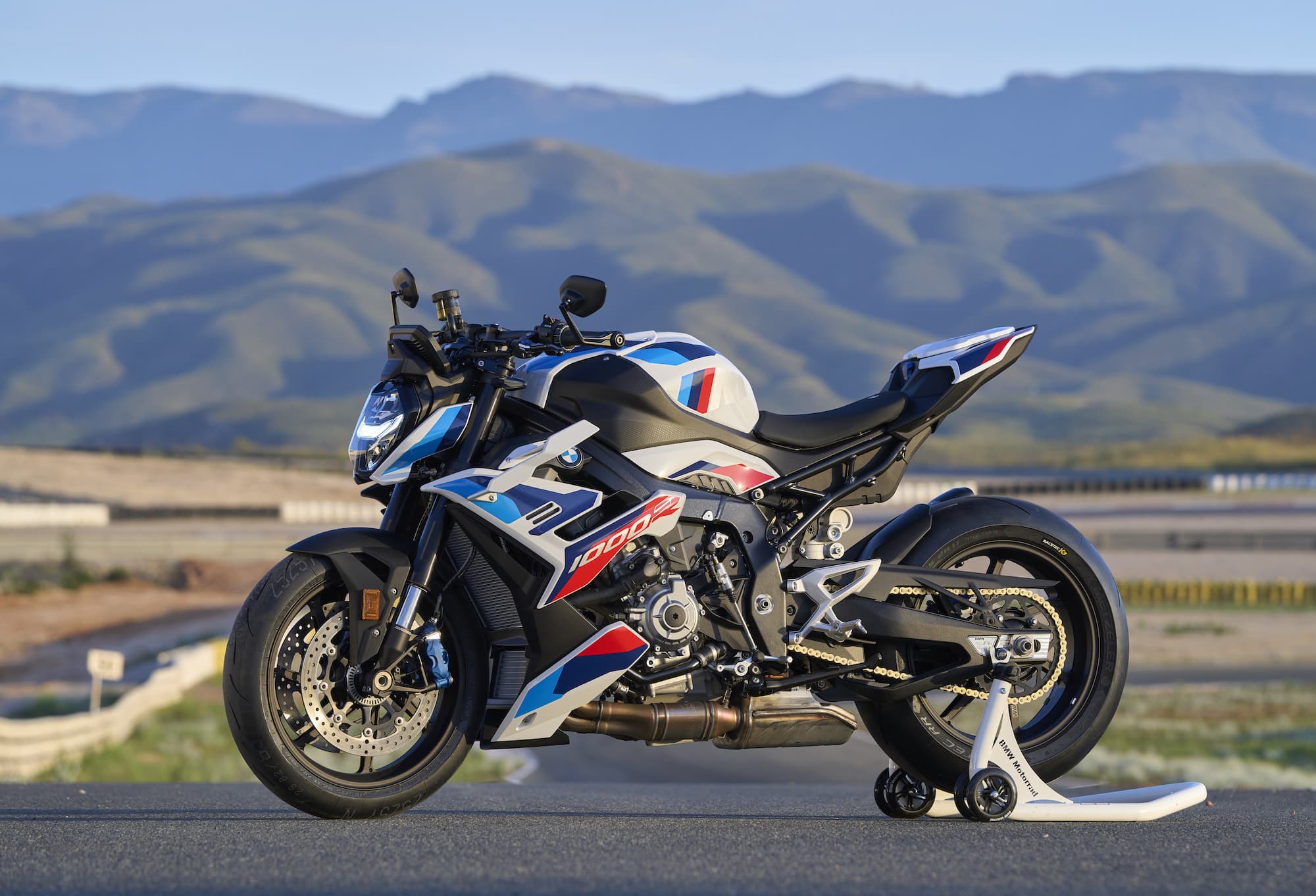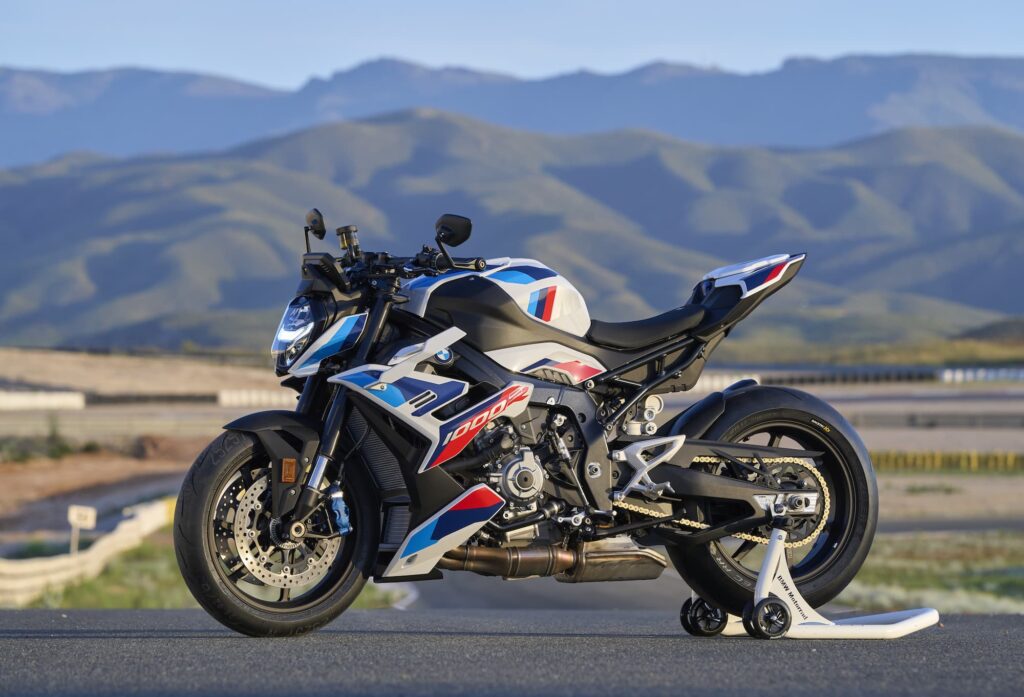 "That's not the name of a motorcycle, that's just a string of letters and numbers!" Well, it's both. The M 1000 R is the latest "M" model of motorcycle from BMW, basically an S 1000 R (single R) with RR characteristics.
The BMW S 1000 R has been BMW's naked street sport bike for a number of years. I love it — oodles of power, and handling that makes me seem like a much better rider than I am. (Here's my buyer's guide.)
But other manufacturers keep upping the ante. Somehow, 165 peak horsepower doesn't cut it for a naked bike these days. The Triumph Speed Triple, Ducati Streetfighter V4, and Kawasaki Z H2 all make much more power.
So to catch up, BMW released the M 1000 R, which is in a nutshell an S 1000 R (single R) streetfighter-style superbike with the same generation S 1000 RR (double R) ShiftCam engine in it, plus winglets, M brakes, forged aluminium wheels, a lightweight battery, and bar-end mirrors.
It's easy to get lost between all the different letters in the S / M franchise. Here's a quick cheat sheet:
| Category | S — Sport | M — Track |
| --- | --- | --- |
| R — Bar | S 1000 R — Street sport bike with handlebar | M 1000 R — Track bike with handlebar and high-power engine |
| RR — Clip-ons | S 1000 RR — Street sport bike with clip-ons, high-power engine | M 1000 RR — Track bike with clip-ons and high-power engine |
S / M / R / RR cheat sheet
The current generation S is still an awesome bike, but it has the standard non-ShiftCam engine in it, plus it lacks winglets.
Ducati Diavel V4 (2023)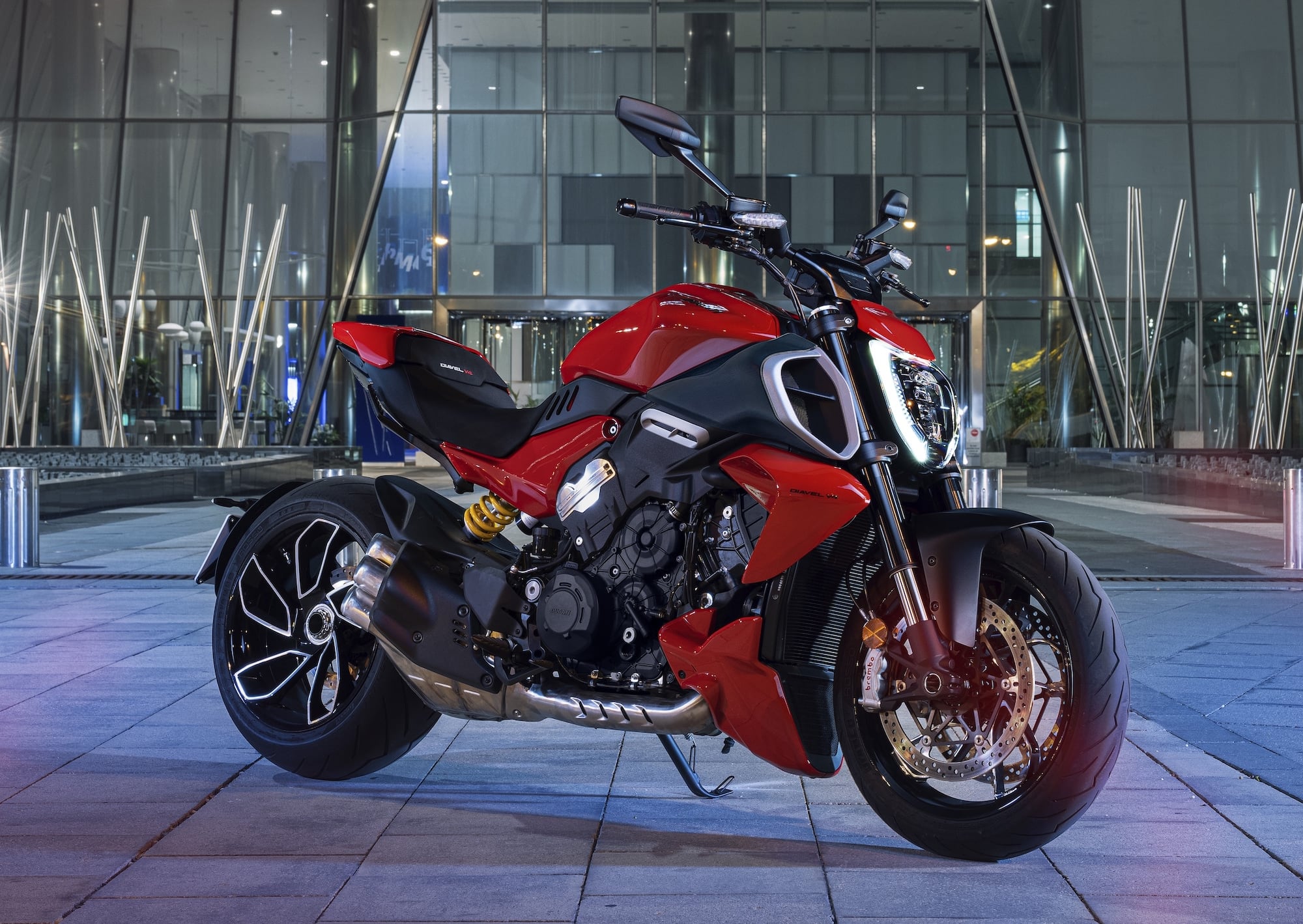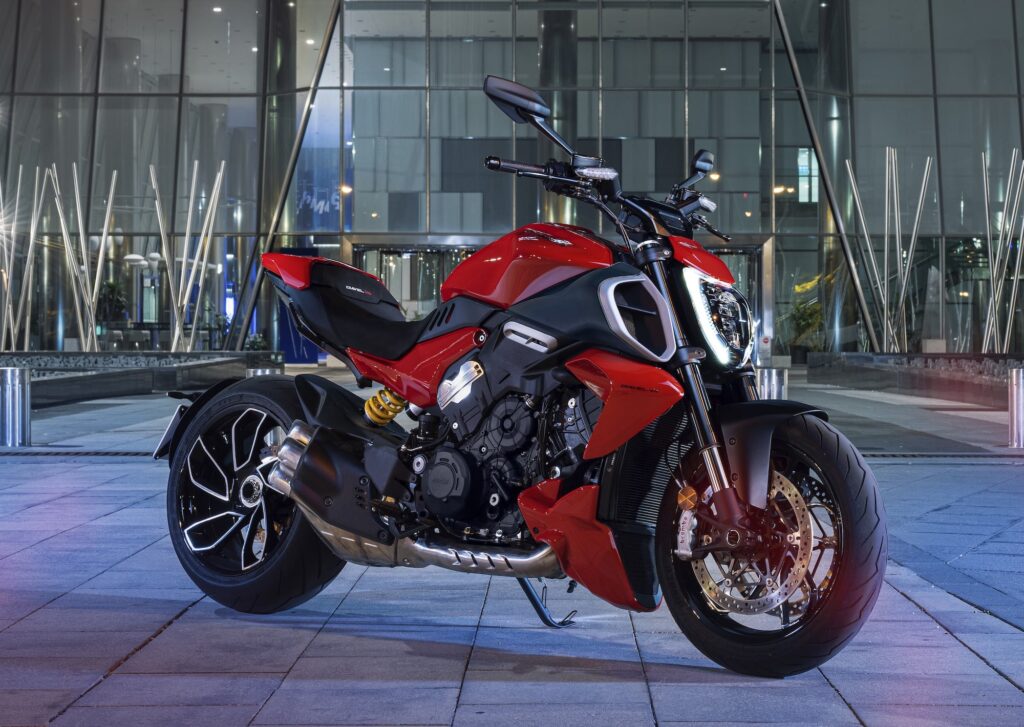 Ducati keeps rolling out that V4 engine to more and more motorcycles. It debuted in the Panigale, then came in Granturismo format (with no Desmo and super-long valve service intervals) in the Multistrada V4, and now it's in the Diavel V4.
See here for a guide to Ducati motorcycle engines, from Desmodue onwards, including the V4 Granturismo.
The Diavel V4 is the latest in Ducati's iconic Diavel / XDiavel range of sporty "cruiser" motorcycles. It replaces the 1260 V-twin engine with the V4 Granturismo engine which we first saw in the Ducati Multistrada V4. It's Ducati's first engine not to have Desmodromic timing in a long time, and the result is that maintenance is not only slightly easier, but also much wider, with a massive 36000 miles or 60000 km between valve service intervals.
Oh, it's also ridiculously powerful and torque-rich, making 126 Nm / 93 lb-ft at 7500 rpm, and 124 kW / 168 hp at 10750 rpm. Given the Diavel V4 isn't even that heavy (a very manageable 236 kg / 520 lb, most of which is down low), the Diavel V4 is a seriously quick bike.
Also from the Ducati House, the Lamborghini Streetfighter V4 is supposed to be good-looking, but I just don't dig that acid yellow. Perhaps you have different taste — here's a pic of it.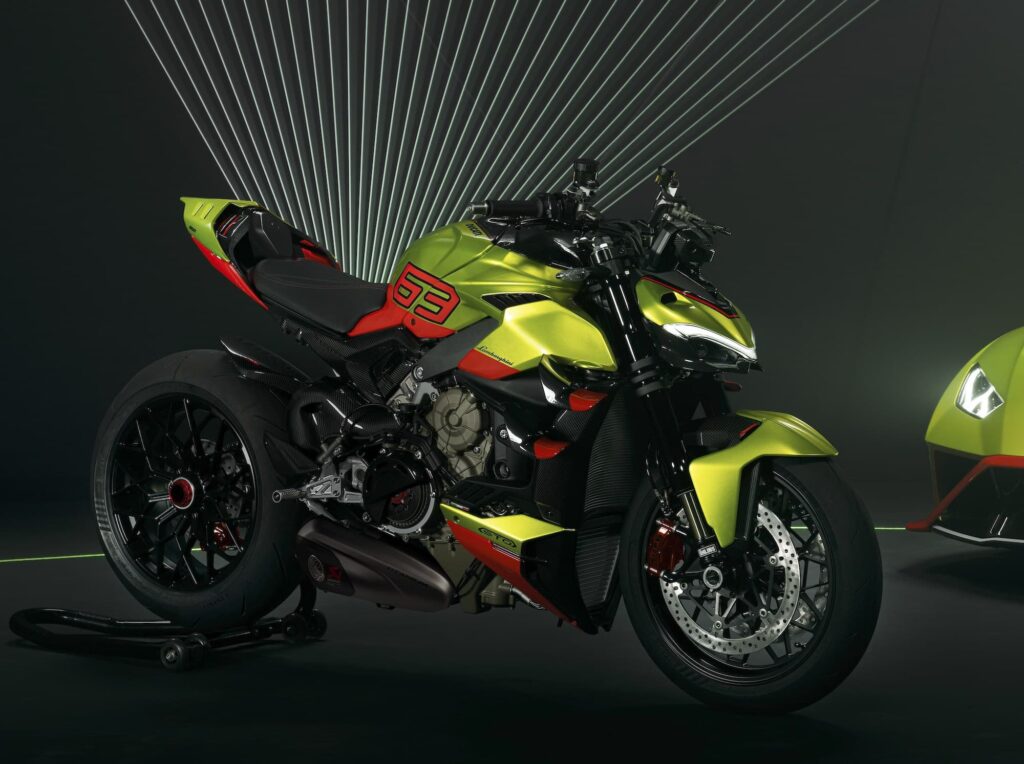 The Streetfighter V4 Lamborghini is built on a base of the Panigale V4 S, and styled after the Lamborghini Huracán STO. It has the 208 hp 1103 cc Desmosedici Stradale engine at its core, and uses Öhlins Smart EC 2.0 semi-active suspension and Brembo Stylema callipers on 330mm discs. Like the Streetfighter V4 SP (but unlike the Streetfighter V4 S), the V4 Lamborghini also has a dry clutch.
(See here for the Ducati Streetfighter model guide.)
Ducati also slightly upgraded its Panigale V4 SP and Streetfighter V4 SP models, but those changes aren't anywhere near as significant.
Harley-Davidson Low Rider ST (mid-2022+) and 2023 Breakout 117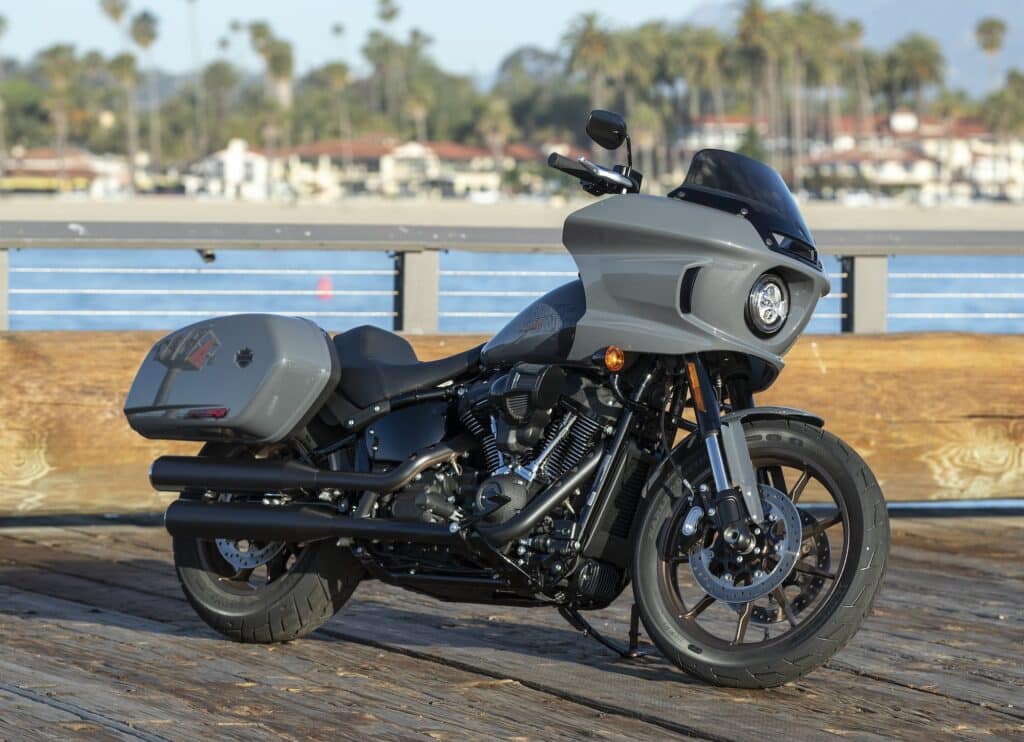 Harley-Davidson released the Low-Rider ST in mid 2022, so I'm counting it as a 2023 bike unless we get any surprises about the 2023 model line.
The Harley-Davidson Low Rider ST is essentially a Low Rider S — a sporty cruiser with mid controls (for a neutral riding position, knees at 90 degrees), inverted forks, and twin disc brakes — but dressed up in a fairing and with twin bags. Harley-Davidson also tweaked the front suspension to boot.
Like many high-spec Harleys, the Low Rider ST has the air/oil-cooled Milwaukee-Eight 117 engine at its core. This is Harley's most premium-spec engine — it also graces the limited-edition CVO bikes, for example. It makes a whopping 125 lb-ft of torque at 3500 rpm, with no ride modes or traction control to get in the way… it's all at your fingertips to use as you wish.
But it's the Gunship Gray colour scheme (an extra US$450 option) that really commands attention here. Combined with the blacked-out details, it really stands out, and is one of my favourite colours for motorcycles. It might seem superficial, but we're talking aesthetics and Harleys here.
Harley-Davidson always has a bunch of stunning bikes in its line-up. The Breakout is back in the 2023 line-up in the US after a 3-year hiatus, after it continued to be a top seller elsewhere in the world (notably in Australia). The new 2023+ Breakout has the Milwaukee-Eight 117 motor and has a 5-gallon tank again (up from 3.5 from the earlier Milwaukee-Eight years).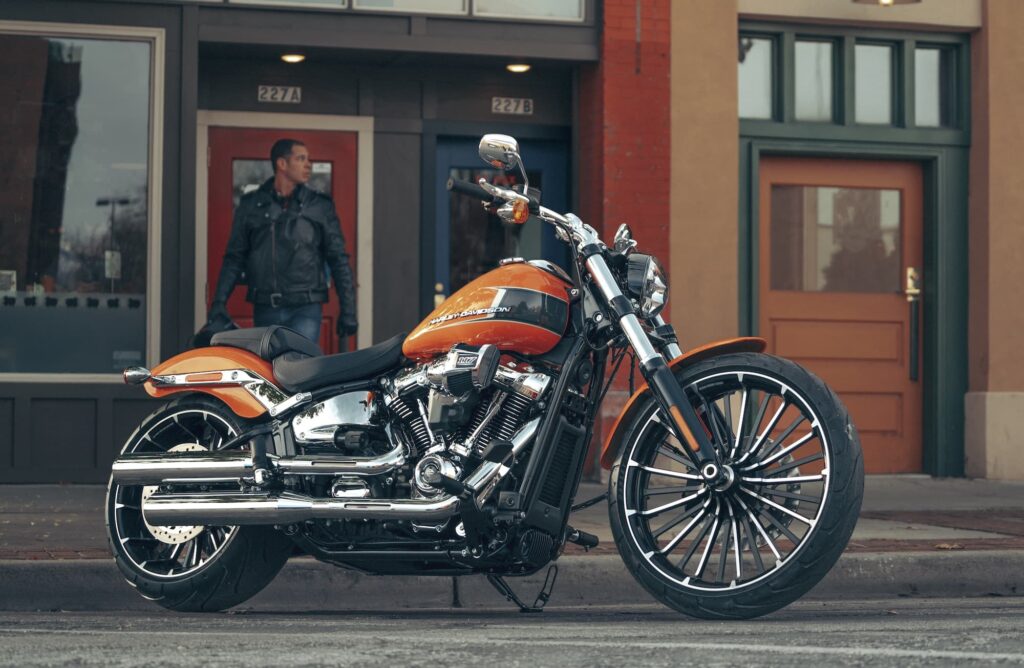 See the full guide to the Harley-Davidson Breakout and how it has changed since the first model, 2013 CVO Breakout.
Honda XL750 Transalp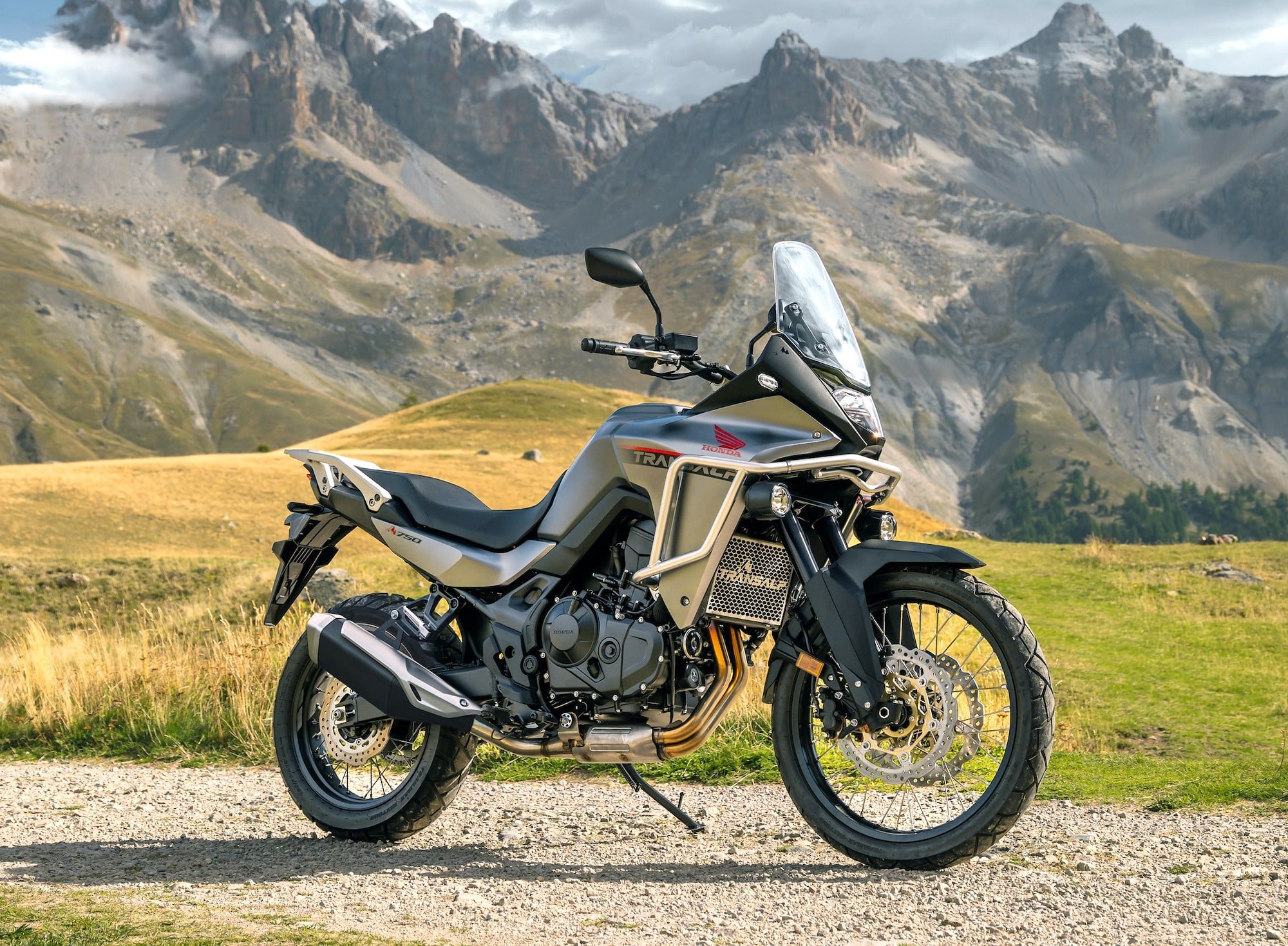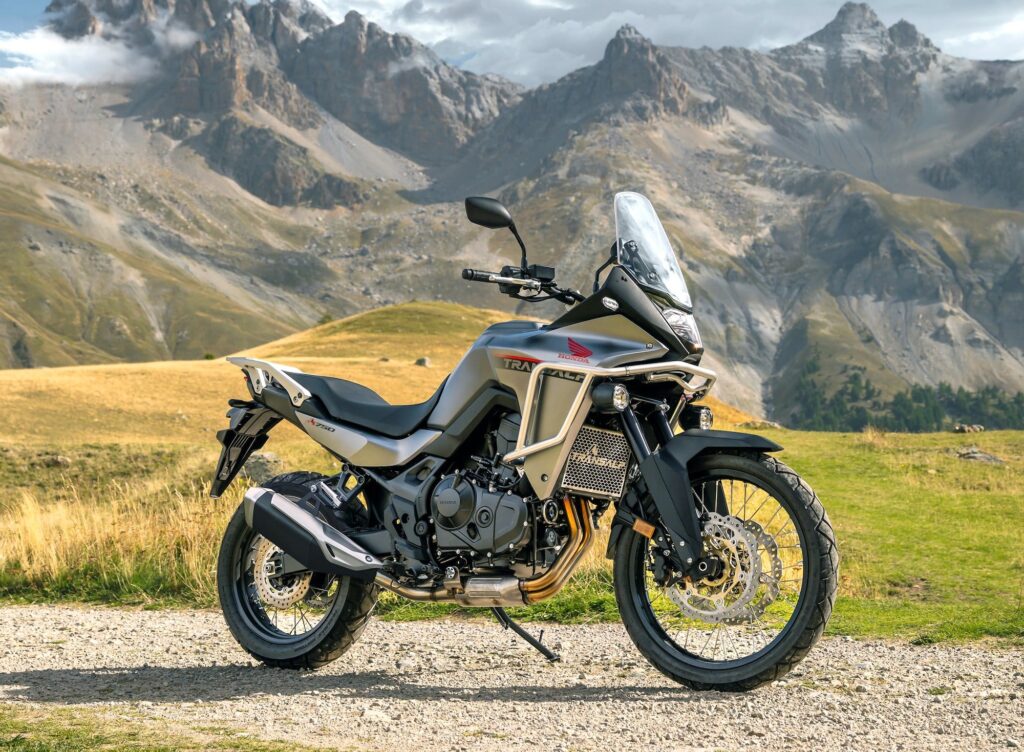 Naysayers may poopoo it next to the original Transalp which now comparatively drips with retro charm (see the buyer's guide to the Honda Transalp, past and present), but the new Transalp has a nice blend of clean design and the promise of the ability to explore. So part of the aesthetic for me is what a bike like this promises — adventure!
The Honda Transalp 750 is powered by a 755-cc liquid-cooled "Unicam" parallel twin with a 270-degree crank. It's an all-new motor for Honda, and is also found in the new 2023 CB750, Honda's new darling middleweight naked roadster.
In the Transalp, the motor makes a peak of 67.5 kW / 92 hp at 9500 rpm, a near-perfect amount of power for a bike like this. But the headline features are that the new 2023 Transalp comes with a 21-inch front wheel and 200 and 190mm of suspension travel at the front and rear, respectively.
Husqvarna Norden 901
A lot of people end up on adventure tourers because they're the right compromise between fun and practicality. And a lot of others, like me, are still in search of "the one" that ticks all the right boxes. (We're getting closer!)
The Husqvarna Norden 901 is Husqvarna's first attempt at building an adventure tourer. They're building on the back of the KTM 890 Adventure platform, borrowing most of the high-end equipment, including the engine, chassis, suspension, and brakes.
So the core of the Norden 901 is an 889 cc liquid-cooled parallel twin with a 270-degree crankshaft. With its 13.5:1 compression ratio, it makes 105 hp (77 kW) at 8000 rpm. The suspension is adjustable on both ends (the 43mm fork up front is fully adjustable and the shock is adjustable for preload and rebound damping), and the dual 320mm discs are gripped by radially-mounted 4-piston calipers.
For off-road adventuring, the Norden 901 has great intermediate specs, with 220 / 215 mm (8.7 / 8.5 in) of suspension travel front and rear, and a 21-inch front wheel. Wheels are spoked on both sides (which makes off-road work less jarring), and there's protection for the fork lowers, sump, and hands. The Norden 901 can take you there!
Purely on aesthetics though, the Husqvarna Norden 901 is quite different from the KTM bikes. It manages to look modern but retro, and I like it.
Indian FTR Sport and (Surprise!) 2023 Indian Sport Chief
Indian has modified its line of FTR motorcycles for 2023, replacing the FTR S with the FTR Sport.
The Indian FTR (formerly FTR1200) has been a popular bike for FTR since they launched the line a few years prior. It has a raucous 120cc liquid-cooled V-twin that makes peak power of 92 kW (123 hp) at 7750 rpm — a very accessible powerband. With fully adjustable front and rear suspension and Brembo brakes on dual 320mm calipers, plus the full suite of ride aids (cornering ABS, cruise control, and ride modes), it's a pretty compelling package.
Plus, they all look great. Anecdotally, the person with the FTR always seems to get attention at bike meets and cafes.
The Indian FTR Sport is the same basic bike as the FTR S — same engine, suspension, and brakes — but the 2023 FTR Sport gets
An Akrapovič muffler and associated tune
A round touchscreen with Ride Command, like other high-end Indian motorcycles, replacing the TFT of the FTR S
Revised front braking and clutch feel
Some sweet new colour schemes!
The Sport also gets a few styling details by default, including a small fairing and seat cowl.
Interim 2023 update: Just as 2023 was getting underway, Indian announced and launched the Sport Chief, a version of their Chief with inverted forks and twin disc brakes.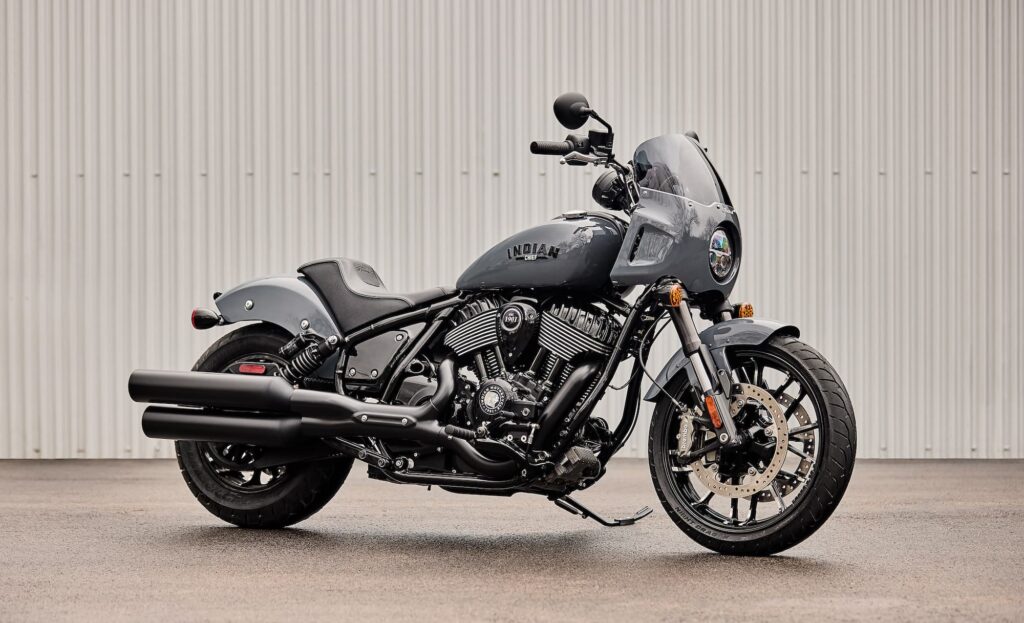 The Indian Sport Chief is based on the same platform as the 2022 Indian Chief, with the air-cooled Thunderstroke 116 motor at its core. It has a lighter frame than the outgoing Chief, plus comes with the Ride Command TFT, a nice blend of old style and new tech.
I'm a sucker for a good-looking cruiser, a bike that feels good enough to keep me from doing illegal speeds (well… not ABSURDLY illegal), and the Indian Chief has always done it for me.
The Sport Chief takes away the rest of my apprehensions by adding the fairing I'd inevitably need, and upping the suspension and brake spec to match the Harley-Davidson Low Rider S. Then the Stealth Gray colour scheme seals the deal. This is my present to myself if/when I get to a certain level of wealth!
See here for more about the 2022 Indian Chief in general.
Kawasaki ZX-4RR KRT Edition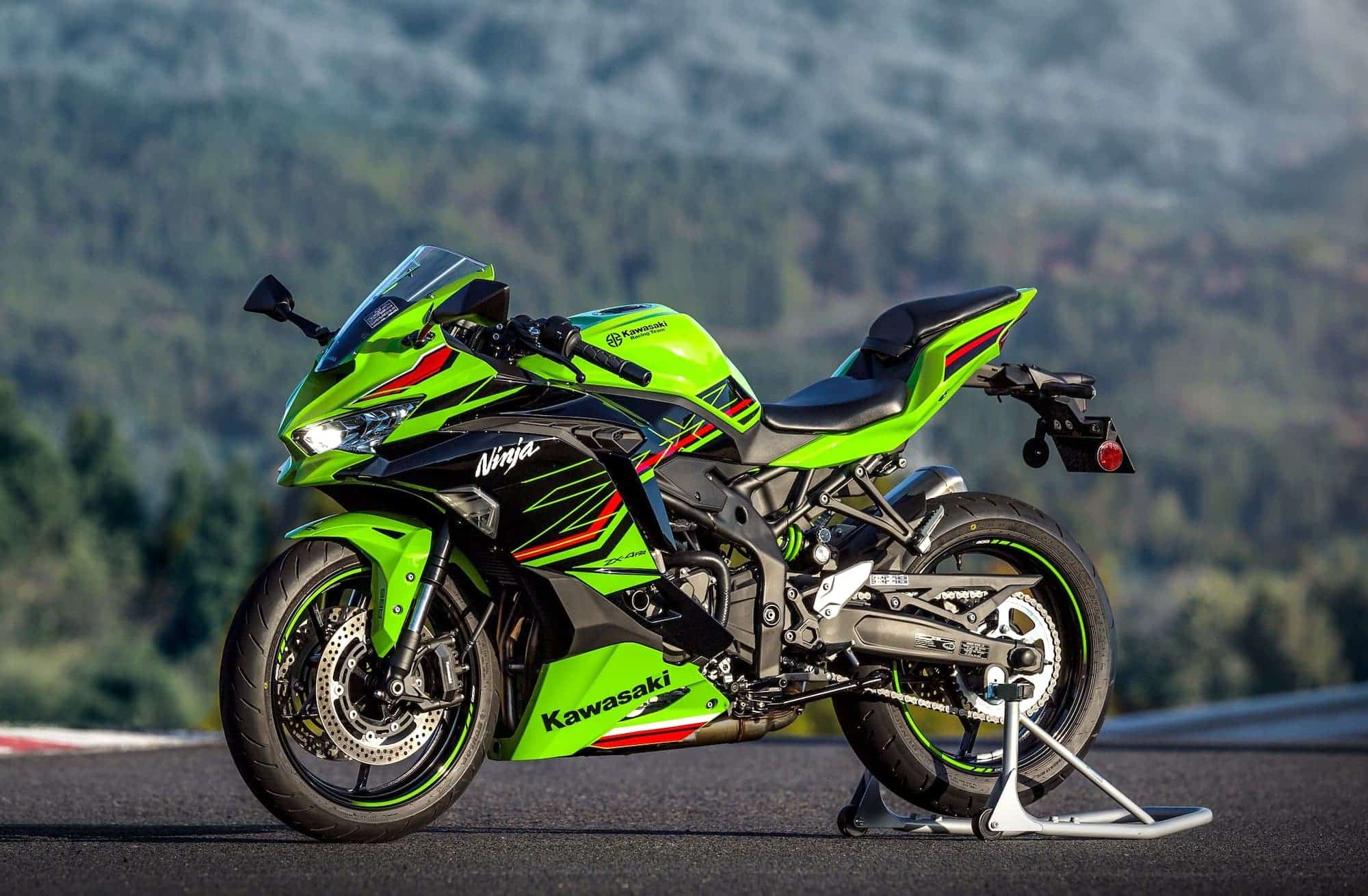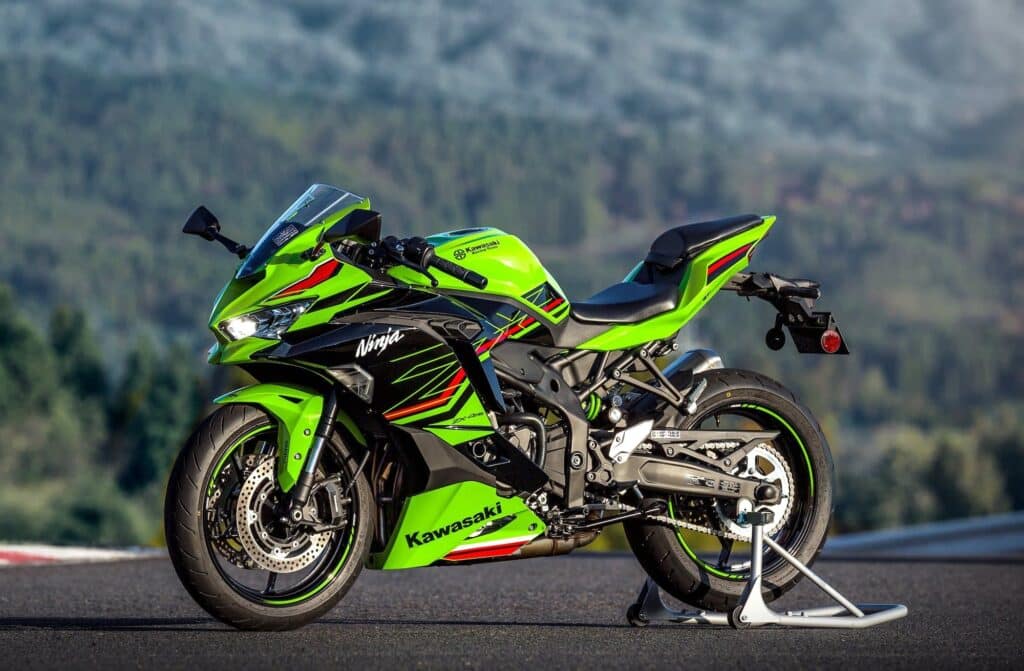 The Kawasaki ZX-4RR (known as the ZX-4R in some markets) is the return of the four-cylinder high-revving sport bike!
In terms of aesthetics, it looks a lot like other KRT sport motorcycles form Kawasaki. Even the humble Ninja 650, a street commuter, looks cool in this livery.
But the promise of the high-revving 399 cc liquid-cooled engine is what gets people's hearts fluttering. It makes peak torque of 36 Nm / 36.5 lb-ft at 11000 rpm, very similar to the peak torque made by the Honda CB400 Super Four, but higher revving to make peak power of 57 kW (77 PS), or 59 kW (80 PS) with ram air per the Kawasaki Europe announcement. By my math, that peak power would arrive around 16000 rpm. Making an engine sing that high in everyday riding is a recipe for fun!
The rest of the ZX-4R is quite high-spec for a modestly-powered bike, including a fully adjustable Showa separate function fork, dual 290mm discs with radial-mount monoblock calipers, ride modes, ABS/TC, and even a standard quick shifter.
Moto Guzzi V100 Mandello S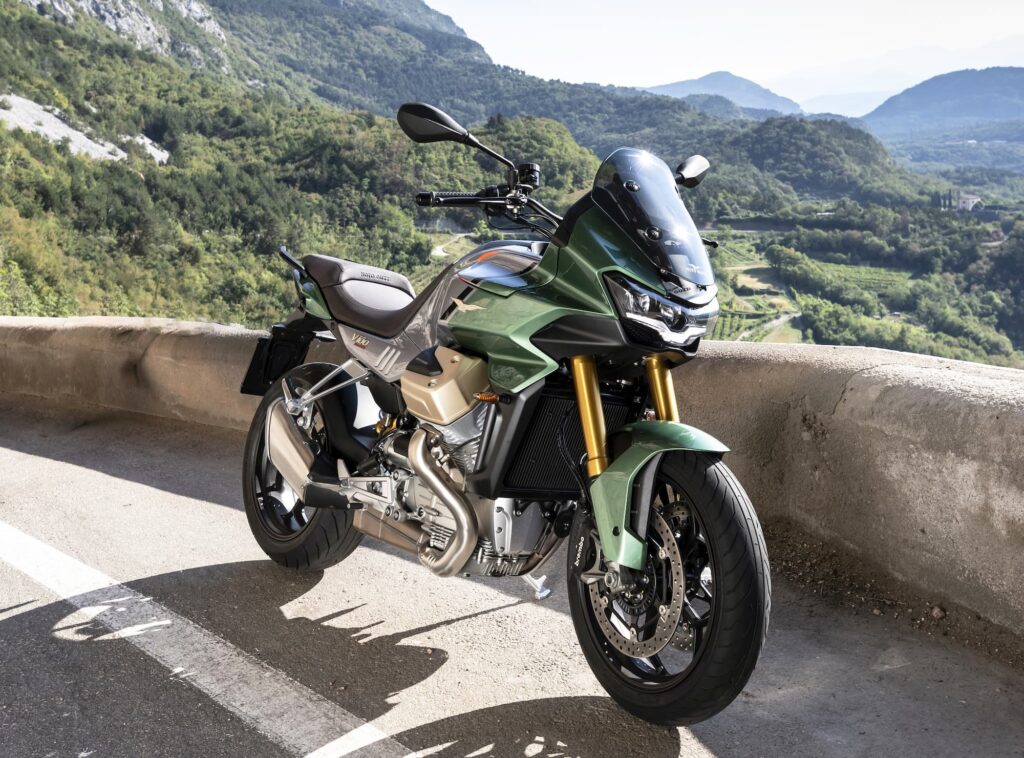 Moto Guzzi has always had some of the best-looking motorcycles, as they prioritise classic aesthetics (and feel) over the latest tech. The balance has shifted with their 2023 headliner, the V100 Mandello.
There's a lot that's special about the Moto Guzzi V100 Mandello. It is the first Moto Guzzi motorcycle to have:
Liquid cooling — Moto Guzzi has been known for air-cooled V-twins
A six-axis IMU (for cornering ABS / traction control)
Semi-active suspension (Öhlins Smart EC 2.0)
A quick shifter
Adaptive aerodynamics (In fact this is a first for the class altogether)
The engine is new in a lot of ways, using modern technology like double overhead camshafts, four valves per cylinder, and chain-driven cams. The net result is a respectable peak power of 115 hp from the 1042 cc engine — about what I'd expect for a middleweight sport tourer.'
Like other Moto Guzzi motorcycles, final drive is via a shaft.
But aside from all that, the Moto Guzzi actually looks good in a class of motorcycles that traditionally struggles to look interesting: upright sport tourers. A single-sided swinging arm, tasteful colours, and a nice design to the wheels… I'd love this in my garage.
Royal Enfield Super Meteor 650 (2023)
The Royal Enfield 650 twins (the Continental GT and the Interceptor) are already very good-looking bikes. Royal Enfield definitely knows how to make an attractive bike on a budget!
The Super Meteor 650 is the third bike in the 650 twins series, but in cruiser format.
Like its stablemates, it's powered by a 648-cc parallel twin with a 270-degree crankshaft that's air-and-oil-cooled that makes a modest 47 hp at 7250 rpm, making this cruiser learner-friendly in many parts of the world. It's heavier than the other 650 twins though, so this is quite a sedate ride.
The Meteor 650 is a bigger sibling to the also very attractive Meteor 350. Royal Enfield is quickly cornering the market for cool and affordable entry-level motorcycles.
The best part is, this handsome cruiser will be learner-legal in Europe (A2) and Australia / NZ (LAMS).
Suzuki V-Strom 1050 DE (2023)
I've been a big fan of Suzuki's re-design of the V-Strom since it first happened a few years ago. It's based on the classic DR Big design, which was named after an evil superhero from another galaxy. Whether you like the "beak" design on adventure motorcycles or not, Suzuki's invented it with the DR Big!
Well, Suzuki have done it again with the 1050 DE's design, which looks as great as its predecessors. That's because the same guy designed both — Ichiro Miyata, who joined Suzuki four decades ago in 1983.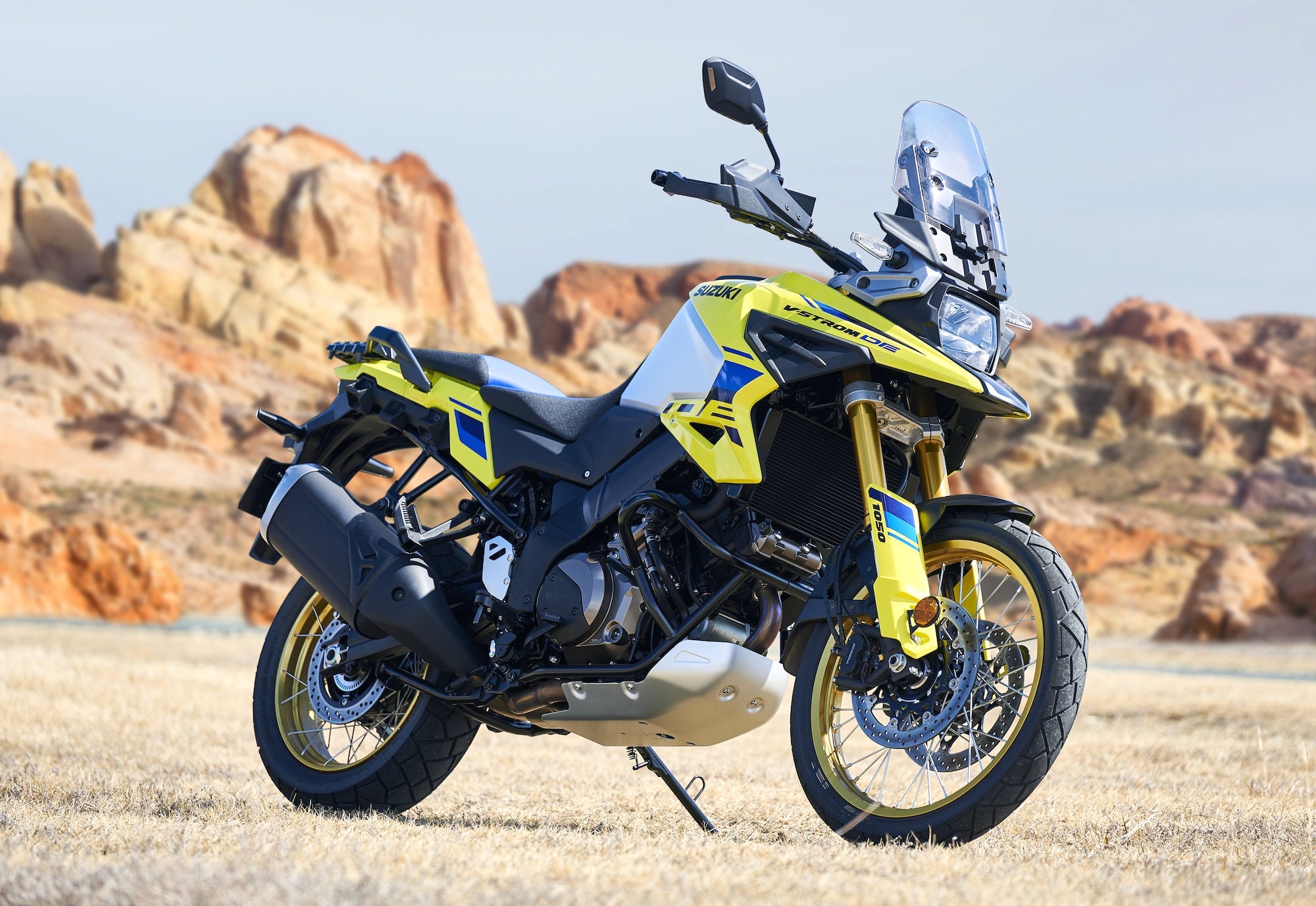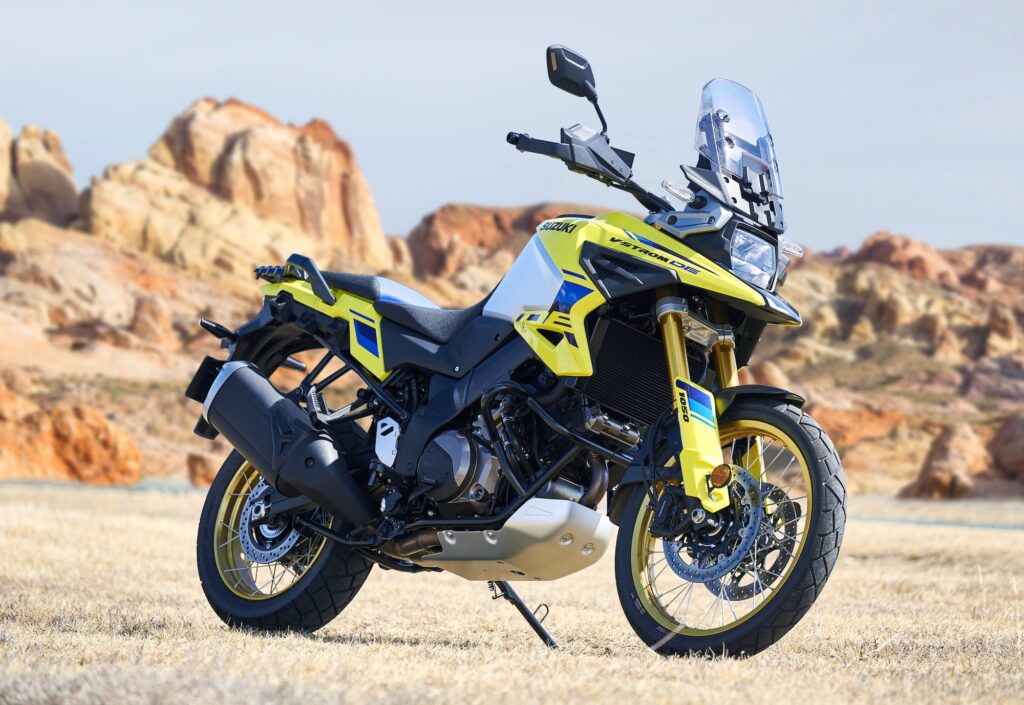 The Suzuki V-Strom 1050 DE borrows heavily from the V-Strom 1050 XT, which it replaces, but has some significant and long requested upgrades.
The V-Strom DE takes the same engine and general design concept, but adds a 21-inch front tire (which is tubed!), more adventure-ready rubber, longer-travel suspension, a bunch of off-road features that XT riders would have added anyway, e.g. wide foot pegs, a stronger sump guard, and other stronger parts.
Suzuki also upgraded the electronics, adding the much-requested switchable rear ABS, and even a "gravel" mode to the traction control system. On top of this, Suzuki improved the TFT display.
The V-Strom 1050 DE is now one of my top contenders for the best value adventure motorcycle. It's a bonus that it's good-looking.
Suzuki came up with two other motorcycles based on the new 800 platform, the GSX-8S and the V-Strom 800DE. They're awesome, but I like the look of the 1050 DE the most.
Triumph Speed Triple 1200RR Bond Edition
Yes, "Bond Edition" is a shameless grab at our wallets, but it gives me an excuse to write about a 2023 version of the 2022 bike.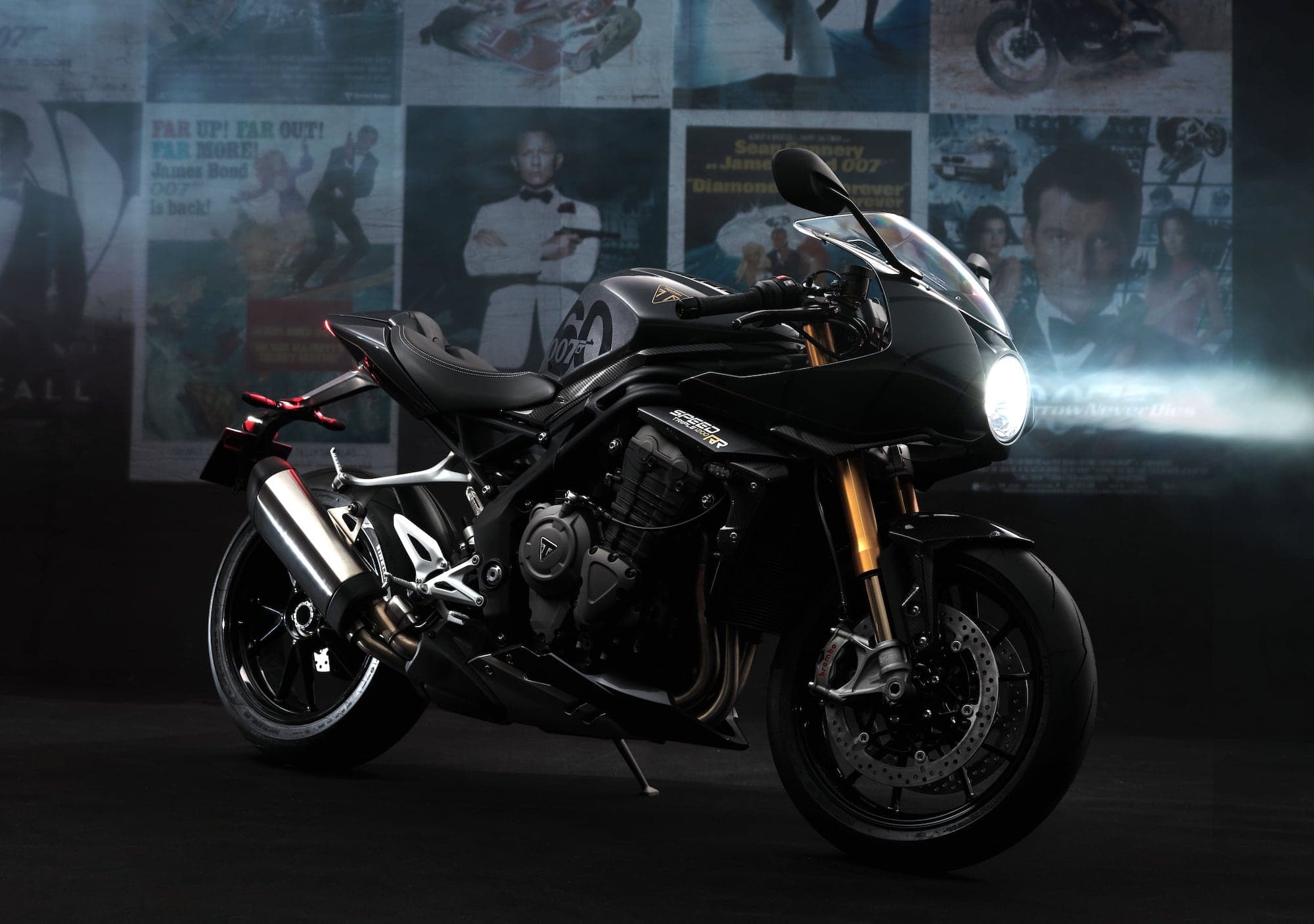 The Speed Triple 1200RR Bond Edition is a limited 60-run (already sold-out, of course) of the 1200RR with custom detailing for the Bond edition. Otherwise it's the same as the already awesome 1200RR, which is essentially a Speed Triple 1200 RS with clip-ons and Öhlins smart suspension. It keeps the 1160 cc three-cylinder engine (a "triple") that makes 180 hp / 132 kW at 10750 rpm, with Brembo Stylema calipers keeping it in check.
I'd say the same thing about the Speed Triple 1200RR as I'd say about any modern superbike: That's cool, now show me the naked version with a more mid-range focused power curve. Luckily, that's called the Speed Triple, and it was around before RR.
The truth is, Triumph has a lot of good-looking bikes. So it's hard to choose. They constantly release special editions, like all the ones coming in shiny "Chrome" edition for 2023.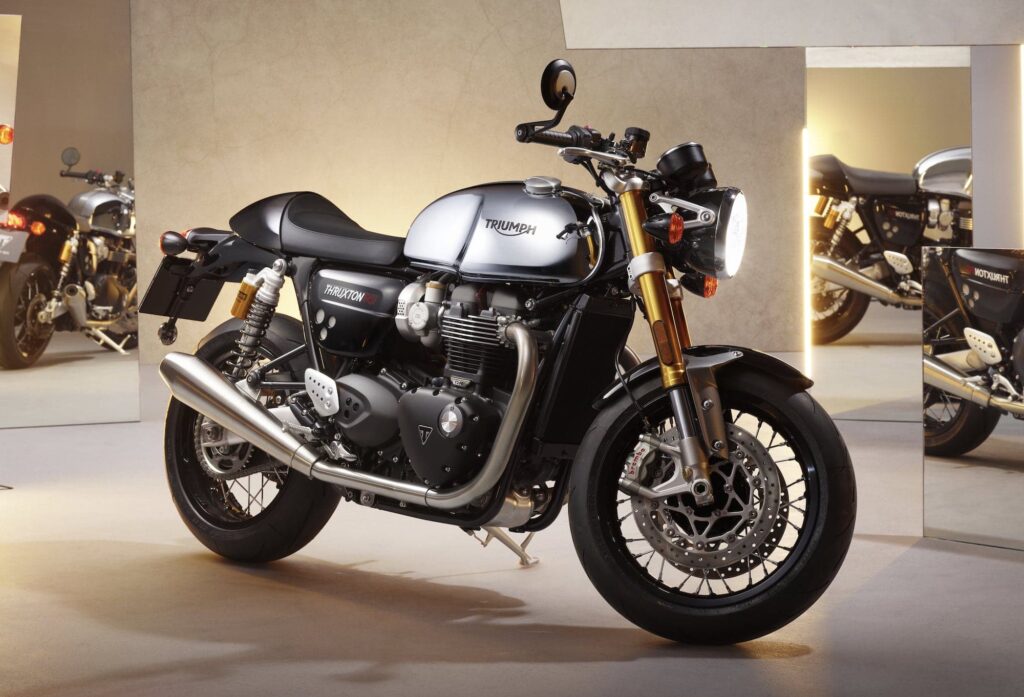 Special credit to the Street Triple Moto2TM Limited Edition. It's a very cool bike, and my favourite class of street bike to actually ride, but aesthetically it looks a little busy. And "Acid Yellow", as edgy as it is, will not really stand the test of time as a colour. That's right, I'm calling it! I may be proven wrong, but by that time I'll have moved on in life.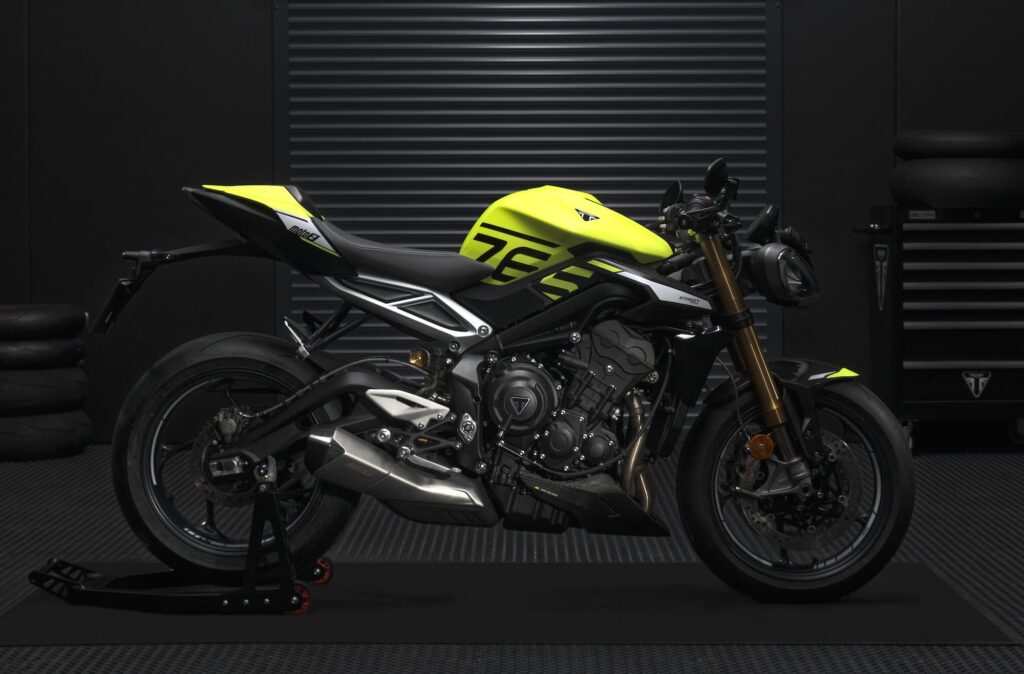 Yamaha Ténéré 700 Rally Edition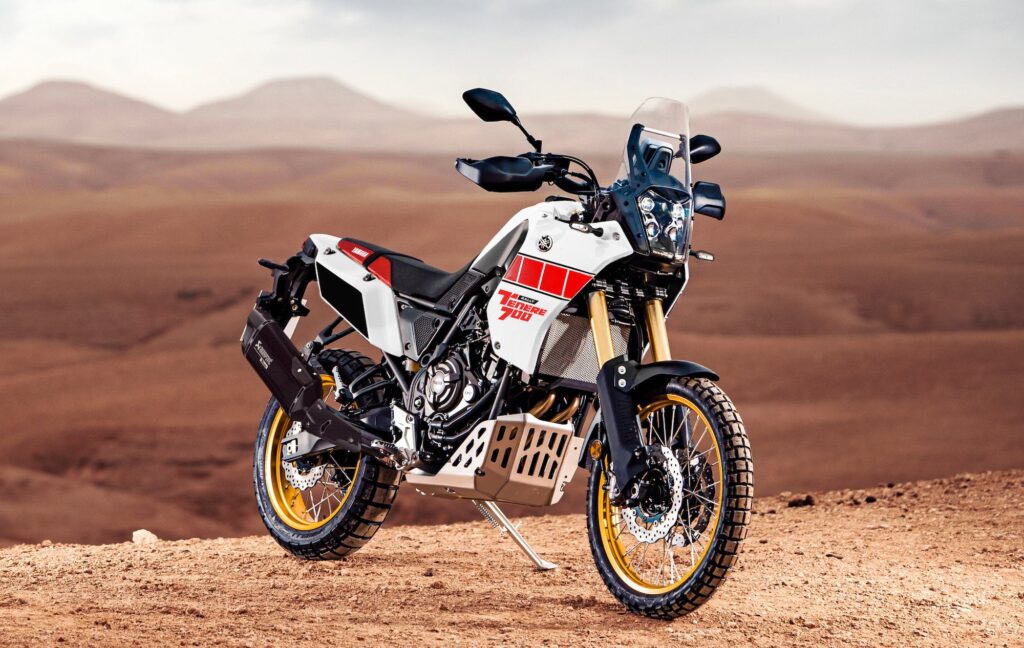 For the 2023 model year, Yamaha has updated their instantly iconic Ténéré 700 middleweight adventure bike with a new "Rally" edition.
In case adventure bikes aren't your thing and you've missed it, the Yamaha Ténéré 700 is a middleweight adventure motorcycle based on the same "CP2" engine that's in the Yamaha MT-07, XSR900, and YZF-R7. It's a great engine — lively, easy to use, and full of character, something that's rare in the middleweight class.
The 2023 T7 Rally Edition is not the first Rally Edition, but it's the first one with this colour scheme and also the 5-inch TFT screen that we first saw on the World Raid version last year (it's now standard across the line… in most countries). The 2023 Rally Edition also gets a fat skid plate and the Akrapovič muffler that the original Rally got.
Aside from that, the 2023 Ténéré 700 is still the firecracker of a middleweight adventure bike, with a colour scheme that'll be collectible, and which I think makes it one of the best-looking bikes in the adventure class.
Unfortunately, not every market gets it, but at least the others get the World Raid with its higher-spec gear.
Final Thoughts (And More to Come)
It's early in 2023, and some brands tend to release motorcycles halfway through the year. If I see anything exciting from other brands, I'll add them. But don't hesitate to let me know, anyway.