The Harley-Davidson Breakout is a relatively new model in the line-up, but it's a stunner. Long, low, and mean, to some people it encapsulates everything Harley-Davidson bikes are about.
But it's a little hard to parse out just how the models of the Breakout have changed, and how they're different to the other motorcycles in Harley-Davidson's range.
The Breakout is definitely one of the few Harleys I can't stop looking at (it's a frequent entrant on my subjective list of the year's best-looking motorcycles). I'm a sucker for shiny things, and the rumble of a Big Twin is something few other brands can replicate effectively. (In case you're curious, I'm also pretty partial to the Low Riders past and present, the Road King, and the Fat Bob. Probably others. But that's already enough.)
The thing about looking into Harley-Davidsons, though, is that it's a massive pit of information with almost no end to resources on specs, history, customisations, and modifications. Many Harley-Davidson people I speak with (some of whom are on my mailing list) have decades of experience in working on their bikes, tearing them down and doing all kinds of things to them. It makes it VERY hard to get started in Harleys. What do you do?
Well, do what I do: I go to the well-known dealers in each city, talk to people, sit on things, take test rides, and read, read, read. I'm trying to distil this vast ocean of knowledge into a few buyer's guides of my favourite models, and this is the first.
Anyway, if you're considering a Breakout, you're probably wondering what I did when I started looking into them, which is:
What makes the Harley-Davidson Breakout special?
What is the Harley-Davidson Breakout's model history? How has it changed other than in the motor?
What alternatives to the Breakout might you want to look at? (Spoiler alert: There aren't many!)
Even if you aren't a Harley guy (yet!), it's nice to broaden one's horizons sometimes, and maybe look at some pretty pictures.
OK, here goes. Enjoy!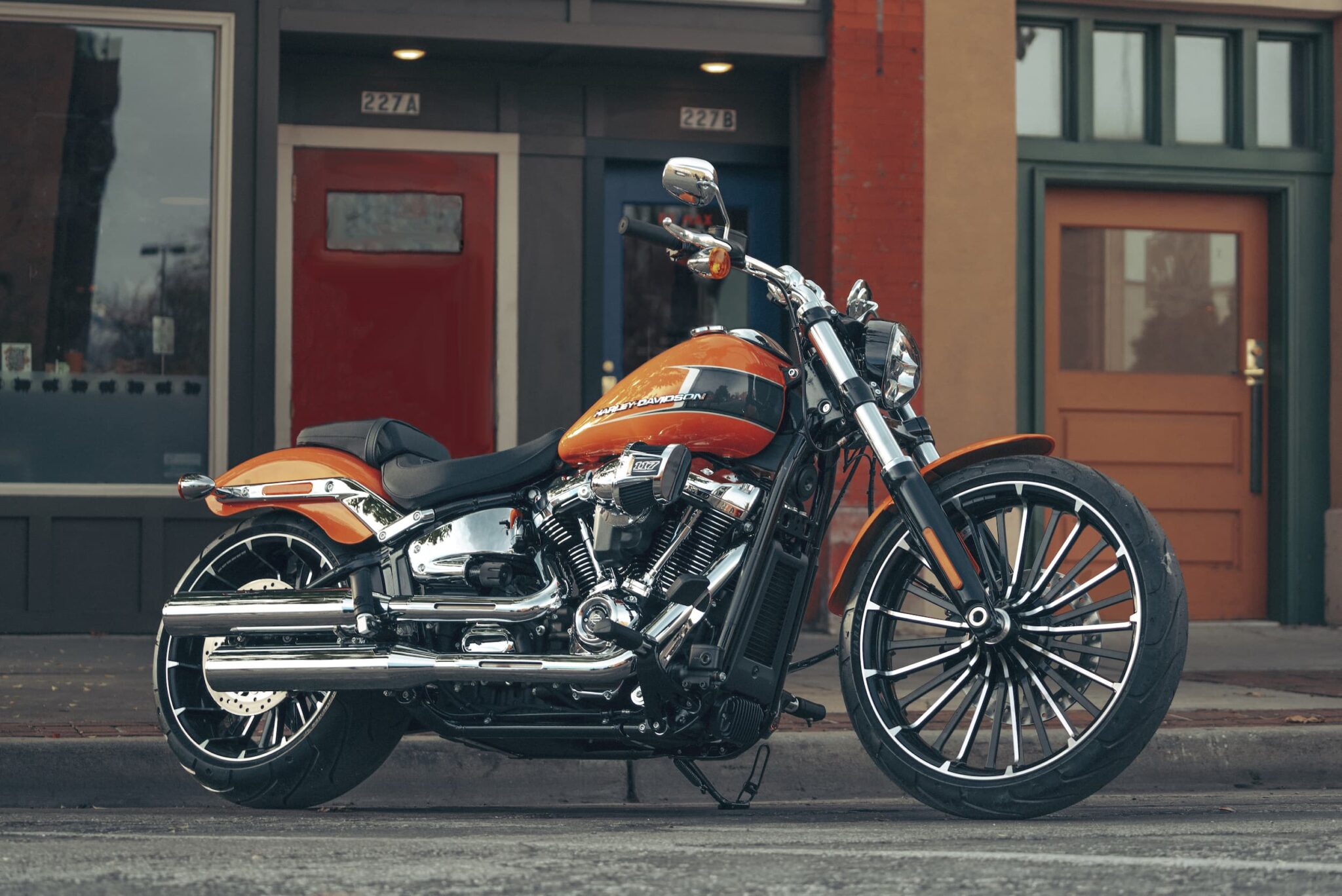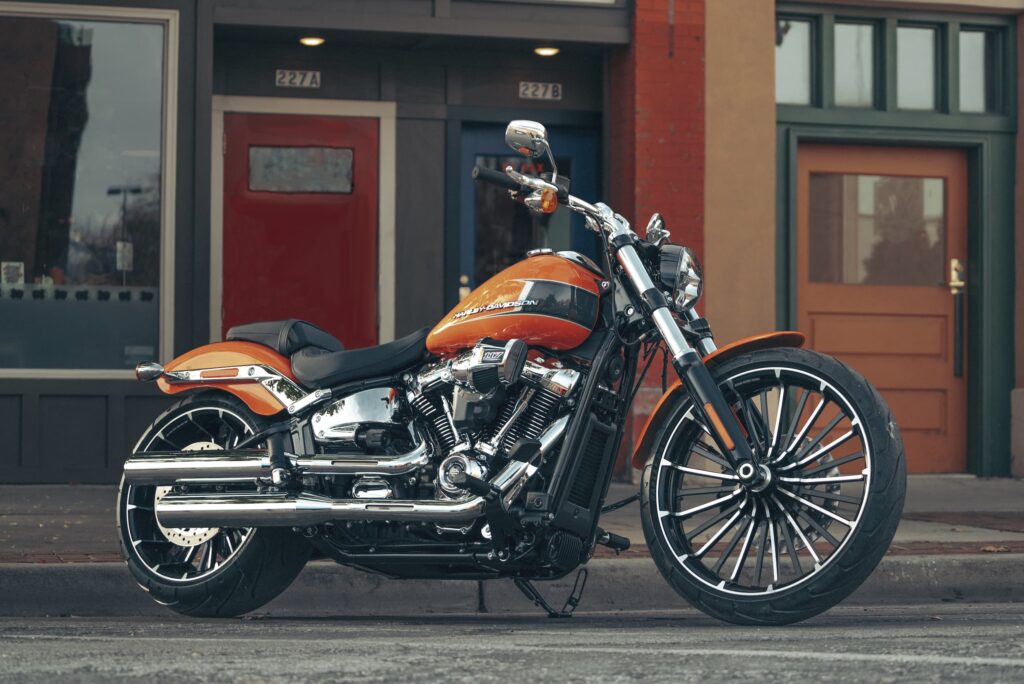 Are you obsessed with motorcycles?
Well, I am. That's why I created this site — as an outlet. I love learning and sharing what others might find useful. If you like what you read here, and you're a fraction as obsessed as I am, you might like to know when I've published more. (Check the latest for an idea of what you'll see.)
Brief History of the Harley-Davidson Breakout
It's difficult to tell the history of Harley-Davidson motorcycles without diving into over 100 years of history, but here goes.
In general, we can summarise the history of the Harley-Davidson Breakout into two phases:
The Twin Cam Breakouts, including the CVO models, and
The Milwaukee-Twin Breakouts, on the updated Softail chassis.
But first, let's look at how we got here, and what inspired the first Harley-Davidson Breakout.
There are a few elements that go into the bag of ingredients that make the Breakout. The first is the Softail chassis came in the early 1980s, and was so named because it has a "soft tail". Rear suspension was nothing new at the time, but the Softail chassis was so named because it mimicked the "hard tail" design by hiding the rear suspension. This is in contrast with, for example, the Dyna chassis, which has twin exposed rear shocks.
The second ingredient in the Harley-Davidson Breakout is "chopper" or "drag bike" design. Choppers have a long and complicated history, but essentially, as I understand it, they started in the mid 20th century. People would buy cheap motorcycles, remove all unnecessary bits, and "chop" the frame and re-weld it so that the front wheel would be raked out, giving the bike better straight-line stability. This was the goal. They'd then drag race the bikes.
Choppers evolved from a functional thing to a style thing, and for a while there was a fashion of sticking massive forks on the front of bikes to rake them out for style purposes only, because it looks cool. Kind of like a permanent wheelie, to my eye. Custom chopper bike shops thrived for a while, making shiny works of art that were nonetheless very expensive, or poor handling, or sometimes both.
Custom choppers have mostly gone out of fashion for a number of reasons, mostly just the changing tides of fashion and the high cost that builders never recuperated, but also because brands like Harley-Davidson started making their own chopper-styled motorcycles, and these were enough to suit most people. Other brands built chopper-style bikes too, e.g. Yamaha made the XV1900 Raider with a whopping 39-degree rake (including the 6-degree yoke), and Honda still makes its Honda Fury (with a more modest 32-degree rake, and also a much smaller motor) for the US.
From Harley-Davidson, the most immediate predecessor to the Breakout was the 2008 Harley-Davidson Rocker (FXCW), also built on the Softail platform. It took over duty from the earlier 2000-2007 FXSTD Deuce, another Softail, but gave it a more aggressive design with a fatter rear tyre and more slammed rear look.
Pics of both the Rocker and Deuce are below.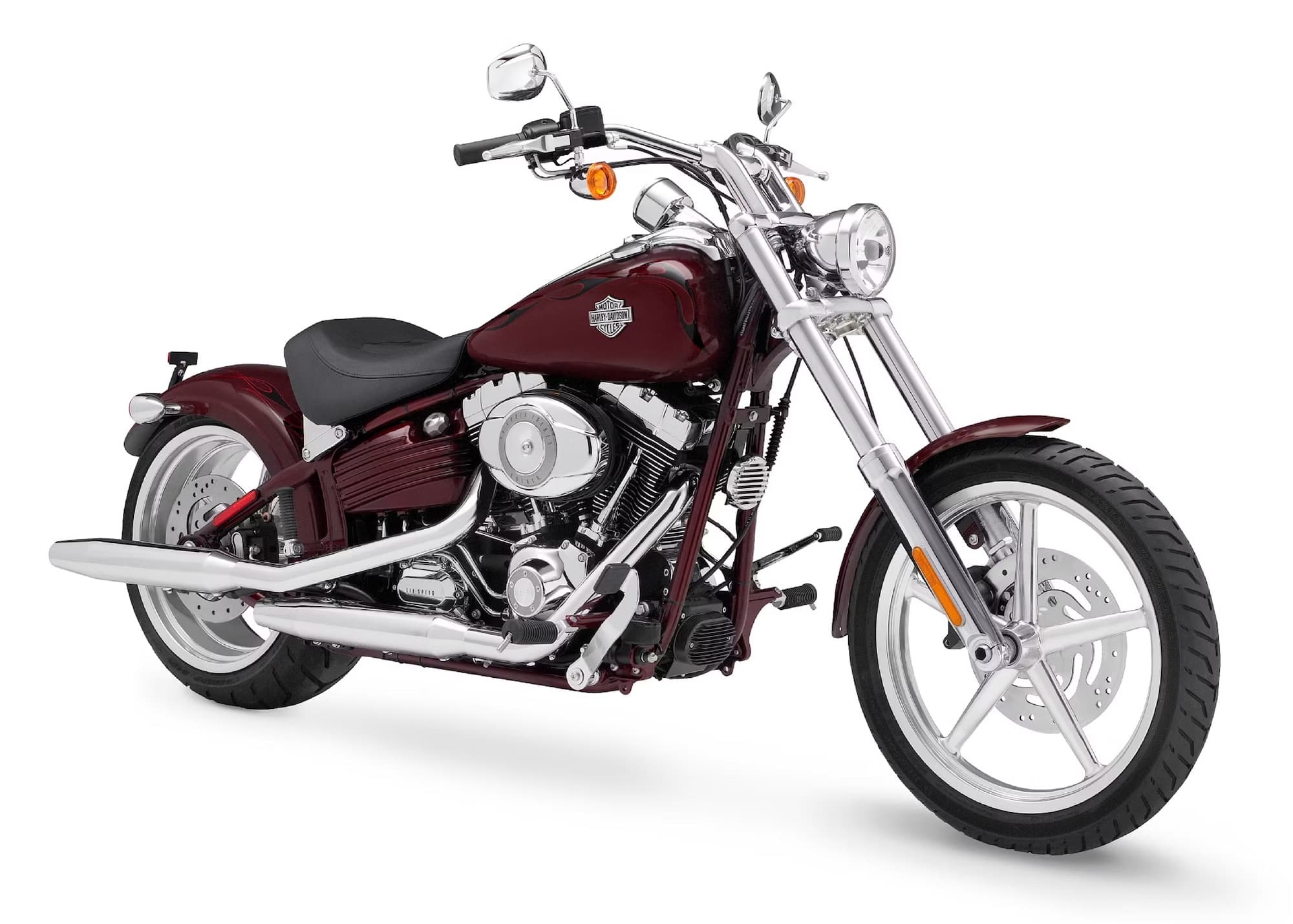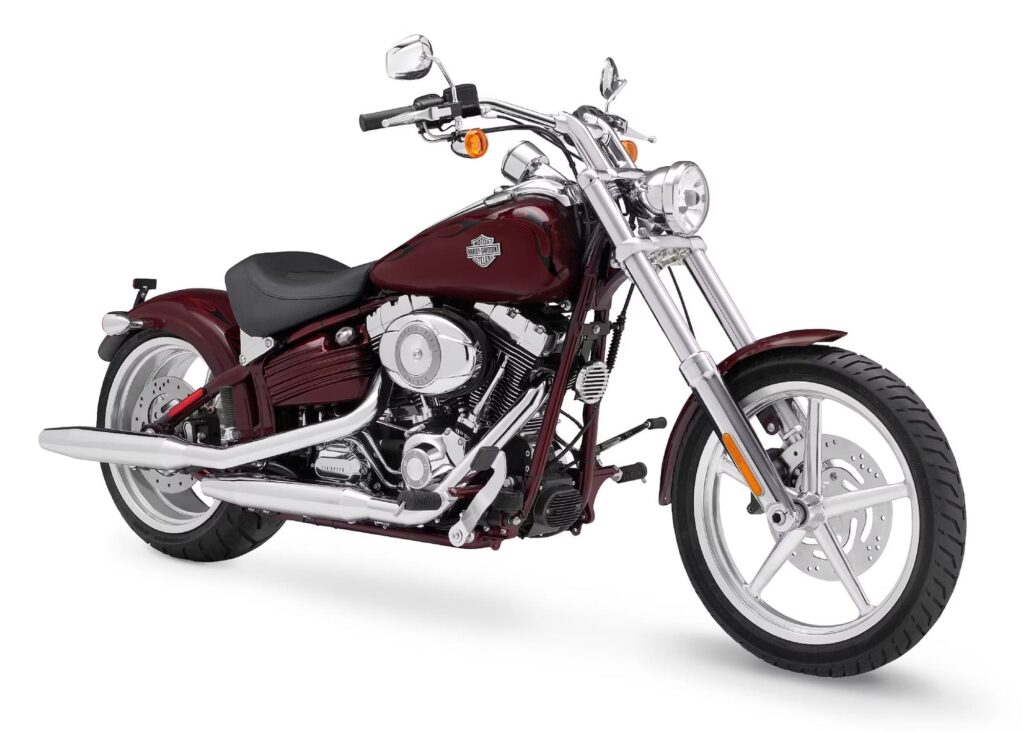 Aside from sounding cool, the Rocker's name came from the "Rockertail" rear section, which looks really like a hardtail but which hides the coil-over shock absorber rear suspension.
The front of the Rocker is raked out 36.5 degrees, giving the bike a long wheelbase of nearly 70 inches, longer than any Harley-Davidson Breakout since released by a few inches. It also shares a 240-section rear tire, like the Breakouts, but the front wheel is a 19-inch unit, smaller than the Breakouts (other than the one-off 2016 CVO Pro Street Breakout).
The Rocker was short-lived, but for many people thinking about it, the Harley-Davidson Breakout was an even better proposition. Of course, to some on hdforums.com, the Breakout is the one you get if you can't get a Rocker!
What Makes the Harley-Davidson Breakout Special?
There are few things that make the Harley-Davidson Breakout special in Harley's line-up. These are:
The drag bike styling — long and low, with a raked out front end (34 degrees on the modern ones — most Softails are around 30 degrees, and the Fat Bob is 28 degrees)
The 21-inch thin front wheel and 240-profile rear tire (itself also rare), on unique designer wheels
The minimalist design — the Milwaukee-Eight era of the Breakout has a tiny LCD instrument cluster, whereas bikes from the e.g. Touring line can have multiple gauges, a screen, speakers, and so on.
It's only when you see the Breakout up against other Harley-Davidsons from the Softail line that you realise just how long and minimalist it is. This is worth a visit to a dealer to see in person — images don't do it justice. But see the Breakout vs the Fat Bob below for example — both from the modern Softail line-up.
The wheels on the Harley-Davidson Breakout are unique in the Harley-Davidson line not just for their dimensions but also style, which changed per model year (refer to the below images).
There are a few caveats about the Harley-Davidson Breakout. It's not perfect!
Firstly, the Harley-Davidson Breakout doesn't handle objectively as well as other Harleys. Most Harleys aren't known for leaning far or easily, but the Breakout is a little worse, with its raked out front wheel, long wheelbase, and big rear tire. Many think of the Twin Cam era as actually being an objectively poor-handling bike!
This is not a universal opinion, and whether a bike handles "well" is subjective. It depends a lot on your expectations. Since you don't look at a Harley-Davidson Breakout and think "I will crush corners on a tight track!", you don't try. So whether it handles well enough for your intentions is something you need to figure out for yourself. It's not like it'll send you to an early grave. Just plan your tight corners a little more than you would on a bike with more clearance or less length.
The Milwaukee-Eight 2018+ models do handle a LOT better than that version, to the point where it's no longer considered a poor-handling bike. But still, other Softails from the same range with steeper rakes / shorter wheelbases and easier-to-manage tire sizes do handle better.
Still, remember, you don't buy a Breakout (or even most Harleys) to crush corners on mountain passes. It's more of a take-it-easy cruiser around town.
Some people blame the handling of any of the Breakouts on the 240-profile rear tire. But that's not the only factor; there are other bikes with similar profile tires that handle better (like the Ducati Diavel at the other end of the spectrum).
The second caveat to the Harley-Davidson Breakout is fuel range of the early Milwaukee-Eight generations. The 107 and 114 had a reduced-size 3.5 US gallon (13.2L) tank, downsized from the twin cam era. This is a small caveat; you're probably not taking your Breakout on huge distances. But having to refill the tank more often on jaunts with other riders can be annoying.
Finally, the Harley-Davidson Breakout itself isn't built for distance riding, as hinted above. It depends a bit on your proportions how significant this is, but with your legs forward and arms stretched out, you're in the classic "parachute" shape that isn't really conducive to extended high-speed runs. I mean, it's always fun for a little bit!
Aside from those things, the Breakout shares the same core with other motorcycles of its time, be it the earlier Softail chassis with the Twin Cam motor, or the more up-to-date, higher-rigidity Softail chassis (which also took over duties from the Dyna line) and the Milwaukee-Eight motor.
Model History of the Harley-Davidson Breakout
There have been six Breakouts so far. There were three models under the FXSB Softail chassis with Twin Cam engines (and one update along the way), and now three more based on the FXBR Softail chassis with the Milwaukee-Eight motor.
The specs below are all "official" claimed specs from Harley-Davidson, combining the spec sheets from different years to one source.
| Model | CVO Breakout | Breakout 103 | CVO Pro Street Breakout | Breakout 107 | Breakout 114 | Breakout 117 |
| --- | --- | --- | --- | --- | --- | --- |
| Year(s) | 2013 | 2013-2017 | 2016 | 2018-2019 | 2018-2022 | 2023+ |
| Model code | FXSBSE | FXSB | FXSE | FXBR | FXBRS | FXBR |
| Engine series | Twin Cam | Twin Cam | Screamin' Eagle Twin Cam | Milwaukee-Eight | Milwaukee-Eight | Milwaukee-Eight |
| Engine model | 110B | 103B / High output (2016+) | 110B | 107 | 114 | 117 |
| Comp ratio | 9.2:1 | 9.6:1 | 9.2:1 | 10.0:1 | 10.5:1 | 10.2:1 |
| Peak torque | 112 lb-ft / 152 Nm @ 3500 rpm | 95.5-99.5 lb-ft / 129-135 Nm @ 3000 rpm | 112.1 lb-ft / 152 Nm @ 3500 rpm | 109 lb-ft / 148 Nm @ 3000 rpm | 119 lb-ft / 161 Nm @ 3000 rpm | 123 lb-ft / 167 Nm @ 3500 rpm |
| Clutch type | Hydraulic, high-performance spring | Cable clutch | Hydraulic, with slip/assist | Cable clutch, assist & conventional | Cable clutch, assist & conventional | Cable clutch, assist & conventional |
| Front suspension | 49mm telescopic fork | 49mm telescopic fork | 43mm inverted fork | 49mm DBV fork | 49mm DBV fork | 49mm DBV fork |
| Front brakes | Single 292mm disc, 4-piston fixed caliper | Single 292-300mm disc, 4-piston fixed caliper | Twin 300mm / 11.8-inch discs | Single 300 mm disc, 4-piston caliper | Single 300 mm disc, 4-piston caliper | Single 300 mm disc, 4-piston caliper |
| Fuel capacity | 5 US Gal / 18.9L | 5 US Gal / 18.9L | 5 US Gal / 18.9 L | 3.5 US gal / 13.2 L | 3.5 US gal / 13.2 L | 5 US Gal / 18.9L |
Harley-Davidson Breakout generations
More detail on each model year below.
Twin Cam Breakouts (2013-2017)
The first generation of Harley-Davidson Breakouts came with the Twin Cam motor in different guises.
There were also two CVO models in this phase which had slightly bigger engines, and some higher-spec components.
2013 Harley-Davidson CVO Breakout Twin Cam 110B (FXSBSE)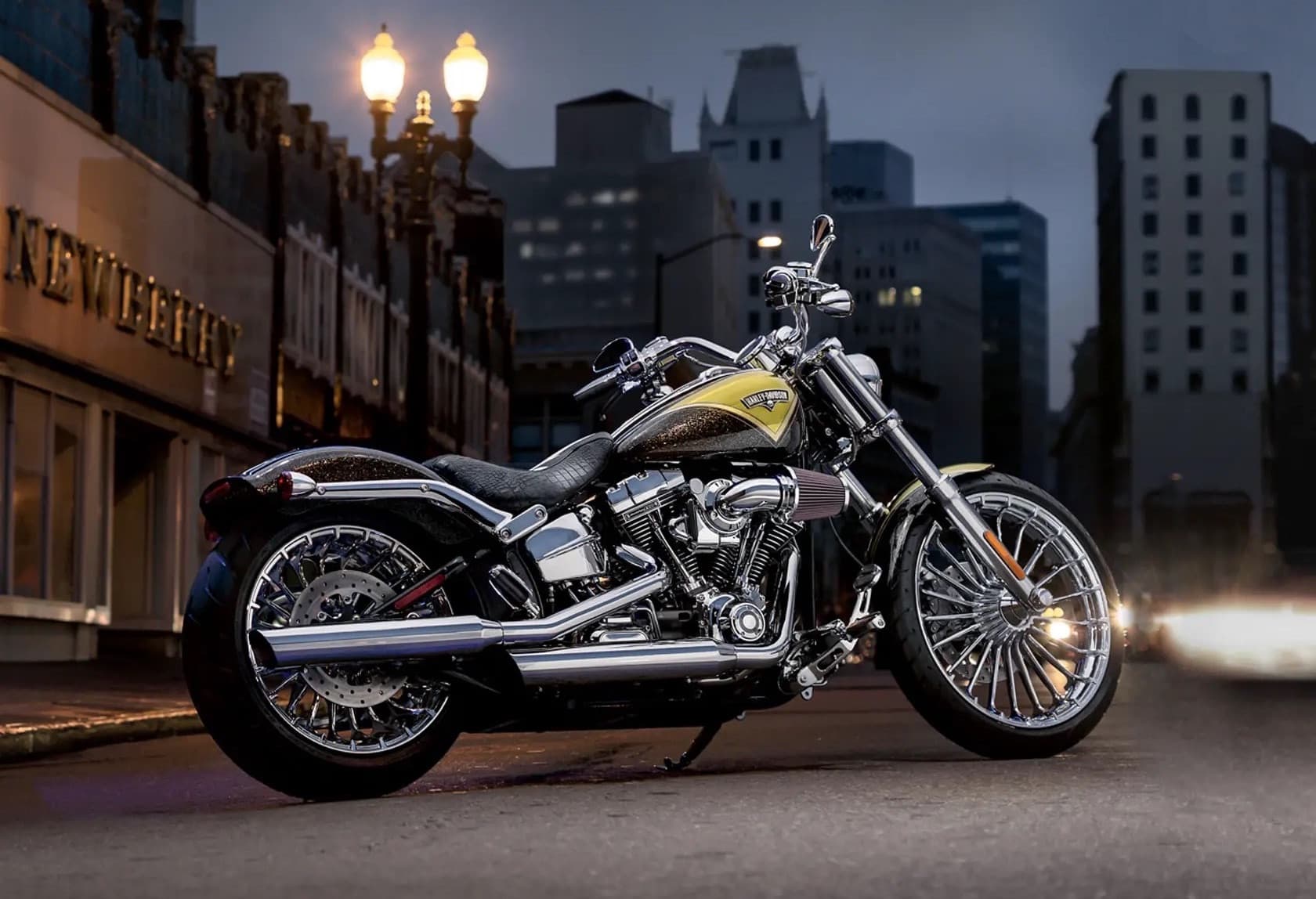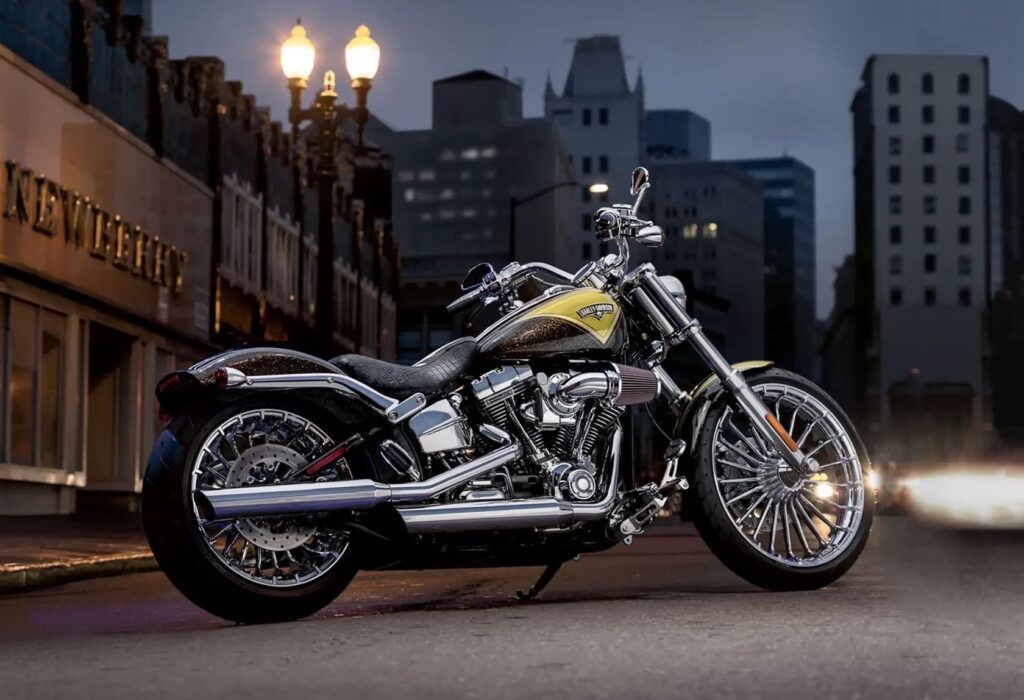 The Harley-Davidson Breakout's history started with the CVO Breakout in 2013.
Harley-Davidson usually gives the CVO treatment to one or more existing bikes in its line-up every year. But they took the unusual step of releasing the first Breakout as a CVO.
This motorcycle was the best-selling CVO in Australian Harley-Davidson history. In fact, the Breakout would soon become Australia's top-selling model. Elsewhere, it was also very popular, just not the "top" seller.
The standout features of the Breakout were as mentioned above — a 21-inch front wheel, a fat 240-profile rear tire, a raked out front fork, and a minimalist, style-forward design.
This first model of Breakout was an instant classic, and while it's not the "best", it's already a sought-after example.
The engine in the first Breakout is the Twin Cam 110B engine. In Softails, the engines are solid-mounted (without rubber vibration dampeners). To counter vibrations in solid-mounted engines, Harley-Davidson put a balancer shaft in their Twin Cam motors. These do cause a loss of some power, but the difference is negligible, whereas the difference in vibrations is not.
One thing common to all the Twin Cam-era Breakouts — CVO or otherwise — is the analogue speedometer. It has a chrome housing on most models. It's pretty minimalist, and for some people, this is exactly the right amount of gauges.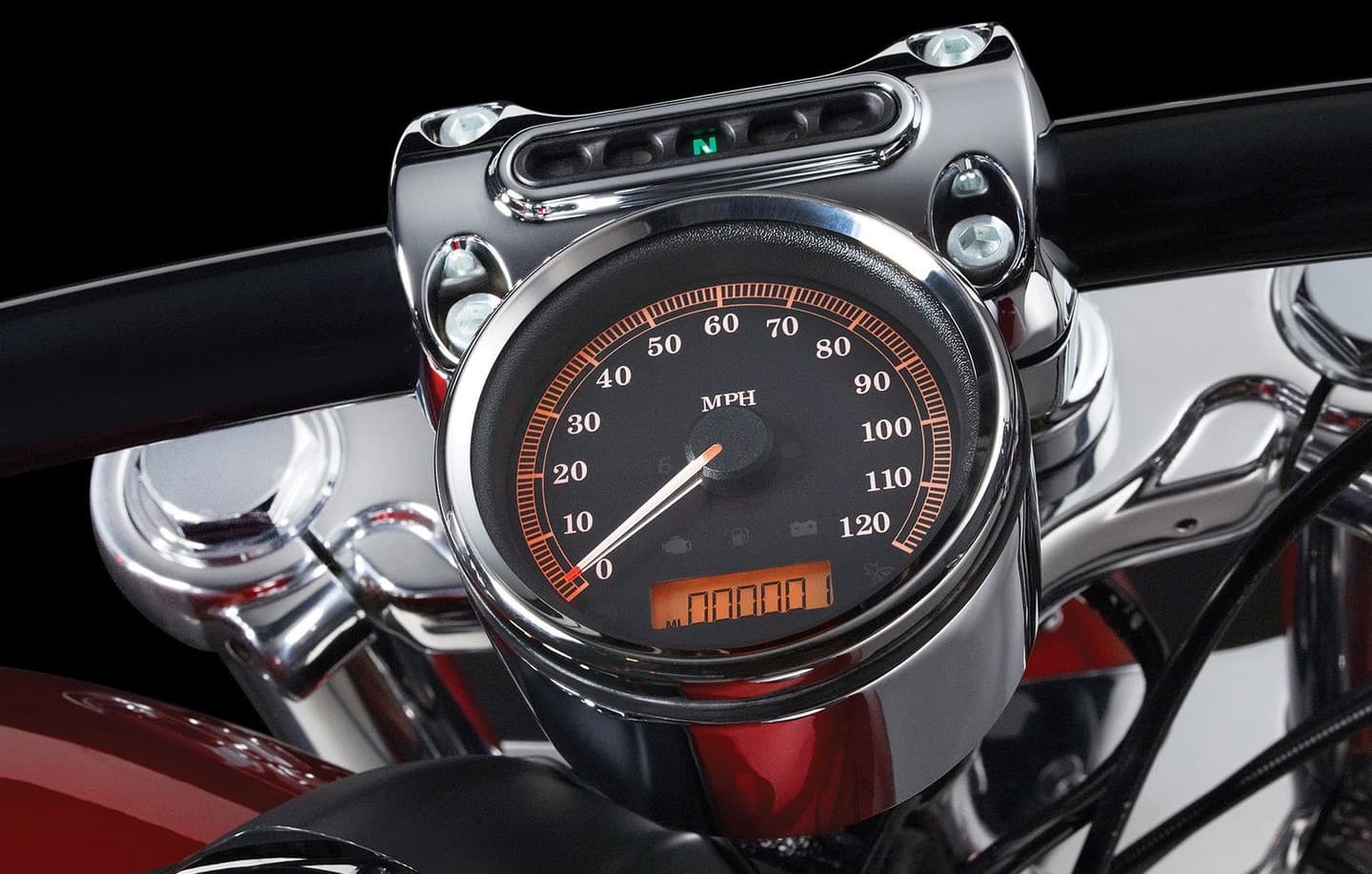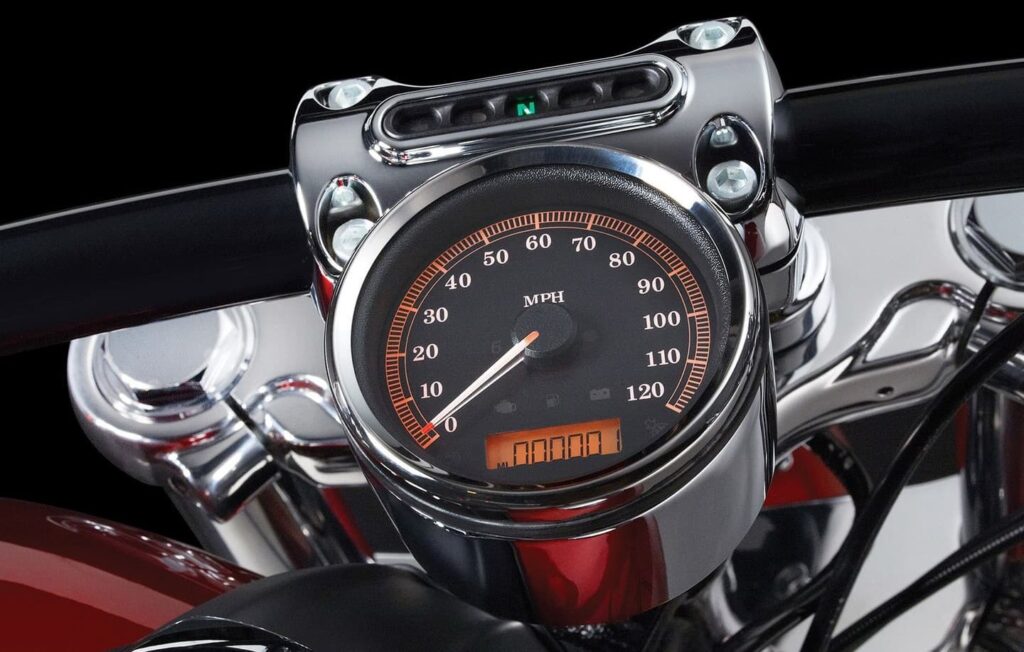 If you want the original Breakout, then the CVO Breakout is for you. You'll have every bit of style that the later models do, plus the exclusivity of a CVO model, and originality.
Unfortunately, the later models of Breakout are all better in some way (maybe other than the base model 103B… well, that one's better in sticker price!). The later 2016 CVO has better ride gear, and the 2018+ Milwaukee-Eight engine and revised Softail chassis is almost universally praised as a better platform.
But if you like the earlier, shakier, more character-ful bikes, and you're willing to pay the higher price of a collectible, then this is for you.
2013-2017 Harley-Davidson Breakout Twin Cam 103B (FXSB)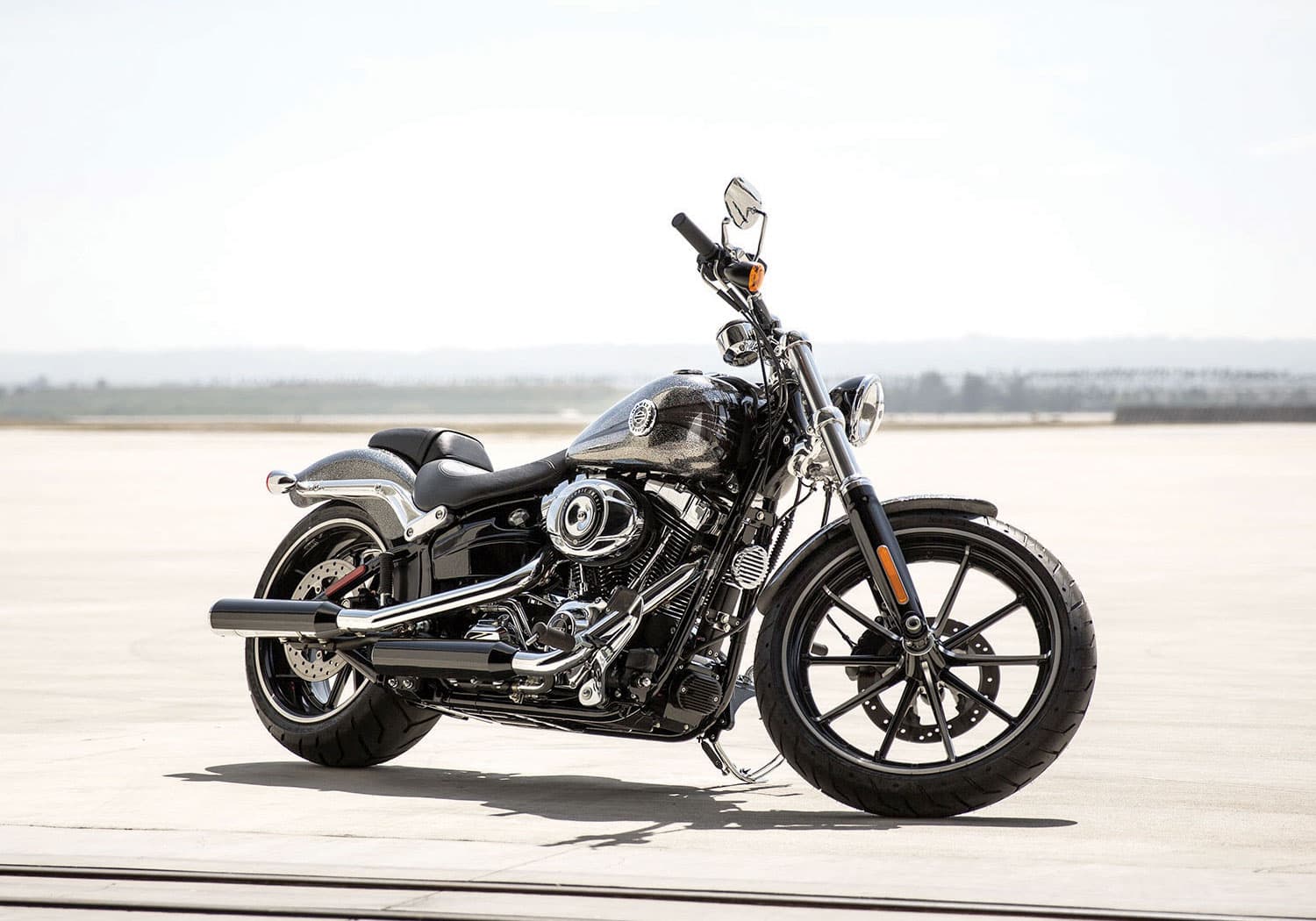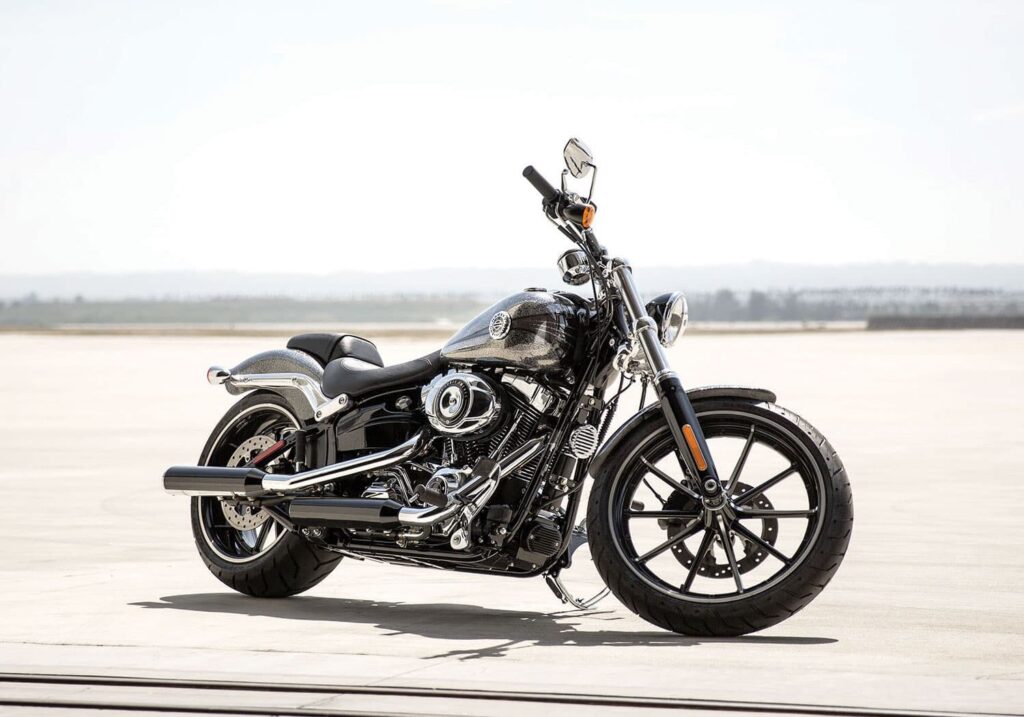 Harley-Davidson released the first non-CVO Breakout halfway through the 2013 model year, as a down-step from the much more exclusively-priced CVO Breakout.
It has the 103B engine (the "B" is for "Bargain!"… OK, it's "Balanced"), rather than the 110B of the CVO.
The FXSB is the most affordable used Breakout on the market. But that's because it's the one with least favour. Every other bike has some kind of cachet above it, whether it's more advanced suspension, or a more up-to-date motor.
The Harley-Davidson Breakout 103 is a good example of a bike preferred by people who like the older, more ungainly Harleys. Compared to the newer Breakout, you have to fight the Twin Cam Breakout more, whether around corners or at speed.
But you're rewarded with a motor that's more vibey (which is a good thing to many!), has a great sound, and more than enough power. At any point in time, Harley-Davidsons have enough power for most people.
While more displacement always seems like "better", you just have to go back to reviews a decade ago and you'll see people saying "My Twin Cam 96 is plenty — not sure I'd need the 103". Still, "wanting" and "needing" are different things.
Some pluses of the earlier generation Twin Cam Breakout are that it came with a 5 gallon tank for most of its life, and has an analogue speedometer. For some people, it has better ergonomics, too. Luckily, Harley dealers love it when customers ask if you can sit on their bikes (especially when we can see our reflections in the window), so go ahead and try.
Harley-Davidson made some updates to the Twin Cam Breakout in its time.
In 2015, they upgraded the brakes, giving it a larger 300mm rotor and a new "high-stiffness" 4-piston caliper. They also replaced the master cylinder to match.
In 2016, Harley-Davidson gave the Twin Cam Breakout the "High Output" motor, with a revised cam profile and better breathing. It makes more power, somewhere between the original 103B and the higher-performance 110B (see the above spec table).
The 2016 model also got ride-by-wire, enabling electronic cruise control as an option — this would be standard on the 2016 CVO Breakout.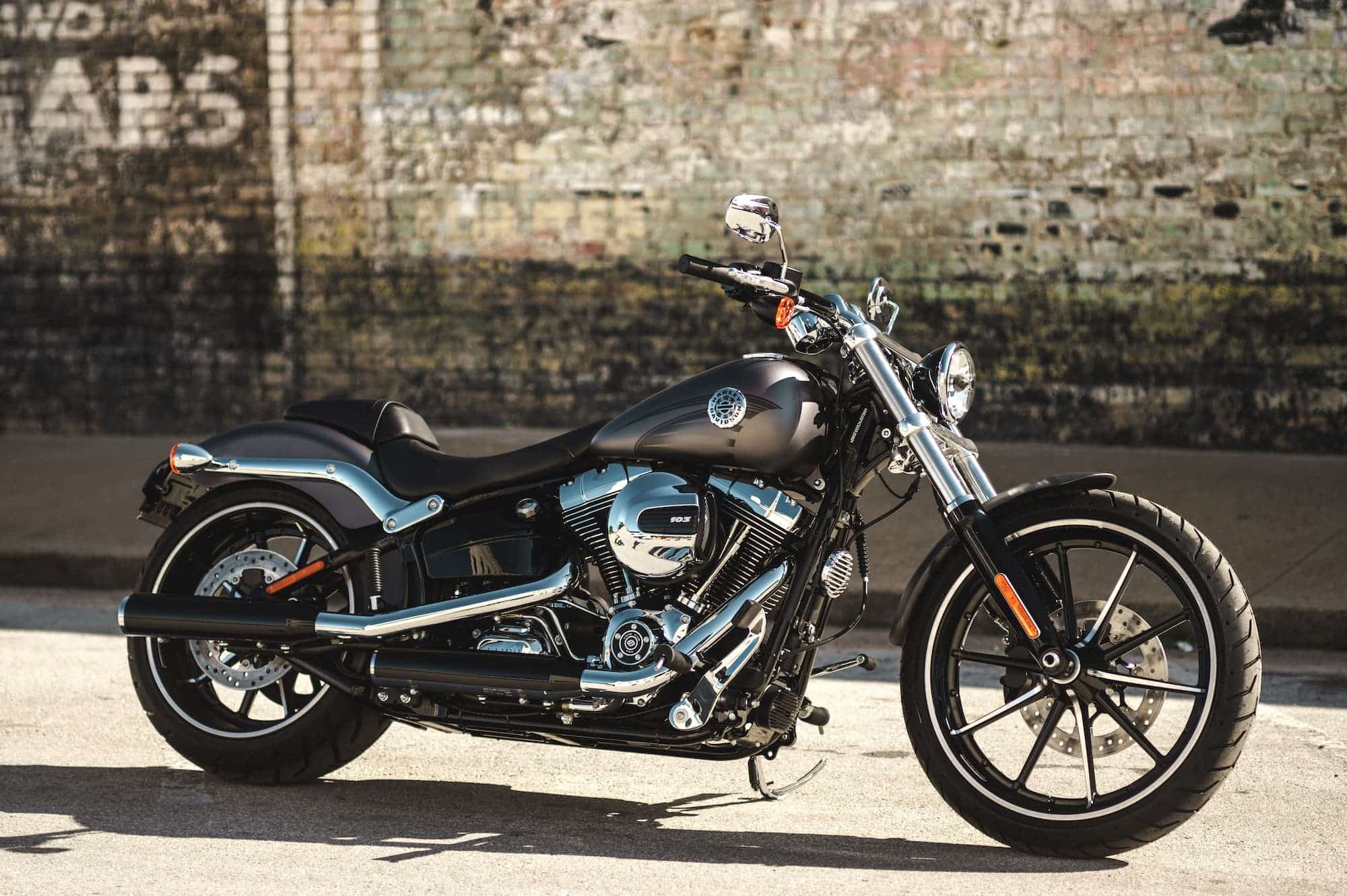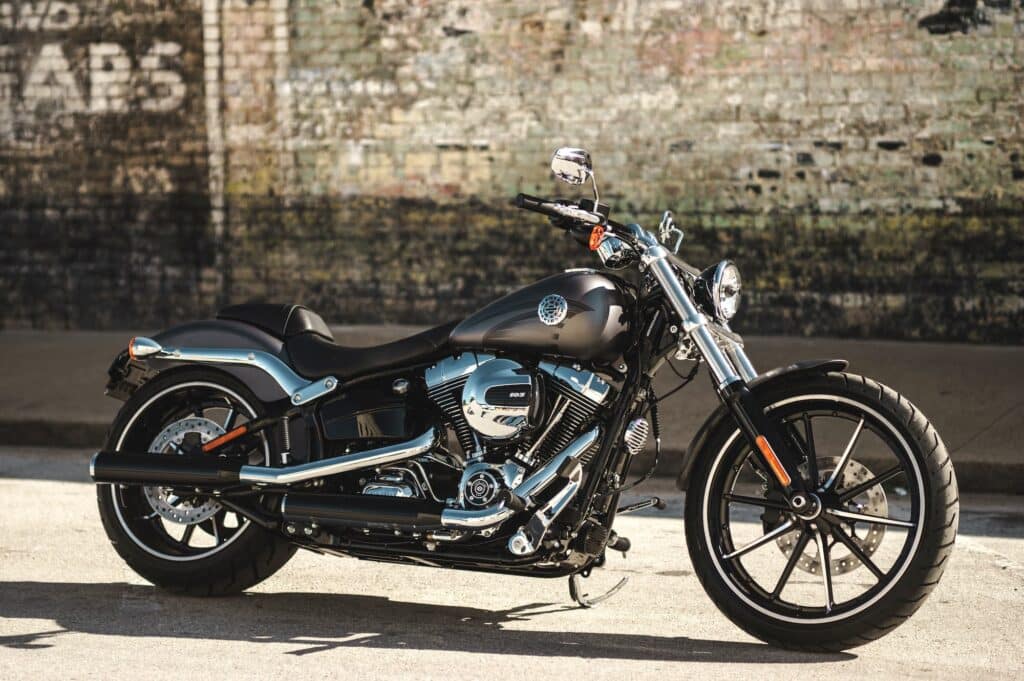 2016 Harley-Davidson CVO Pro Street Breakout Twin Cam 110B (FXSE)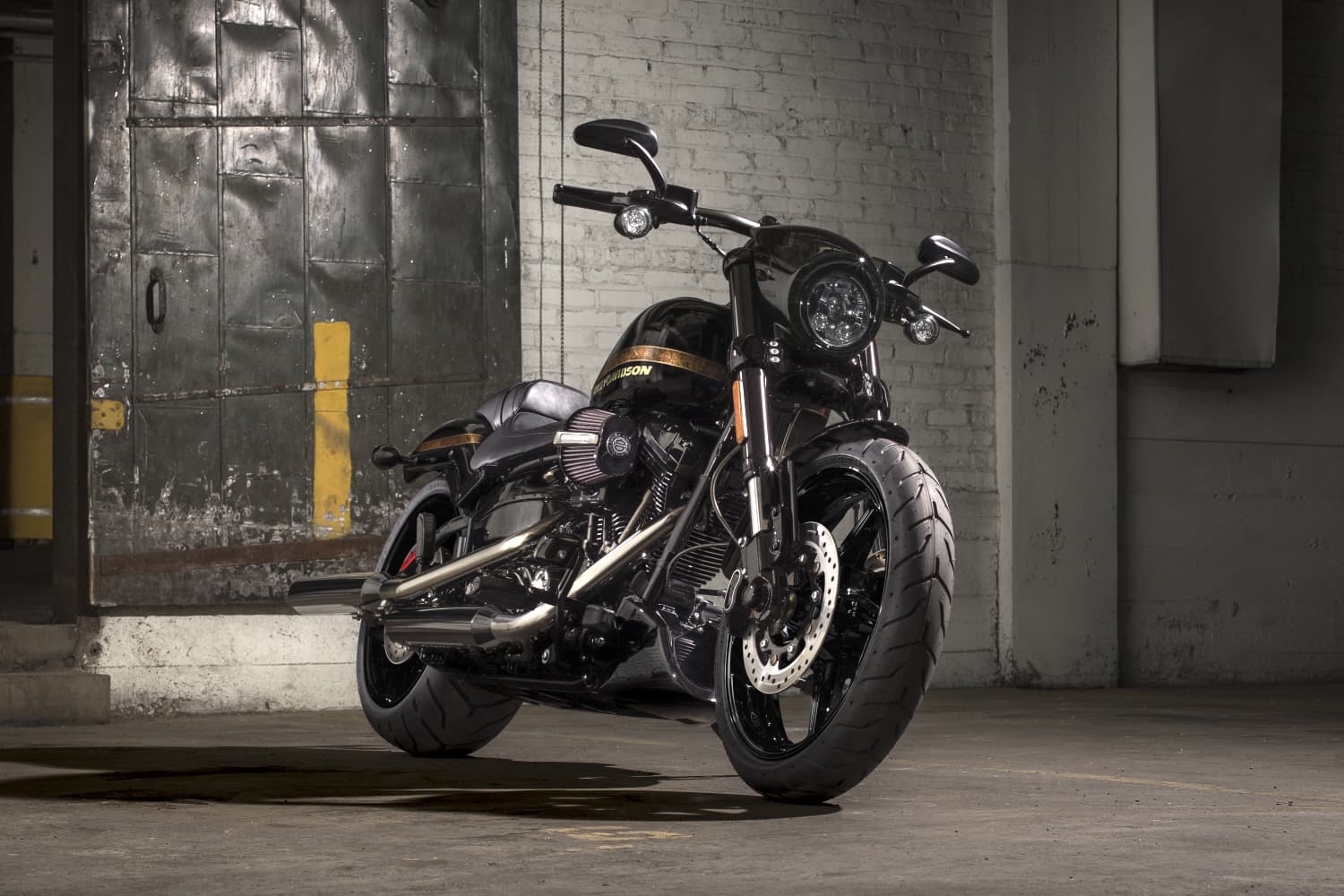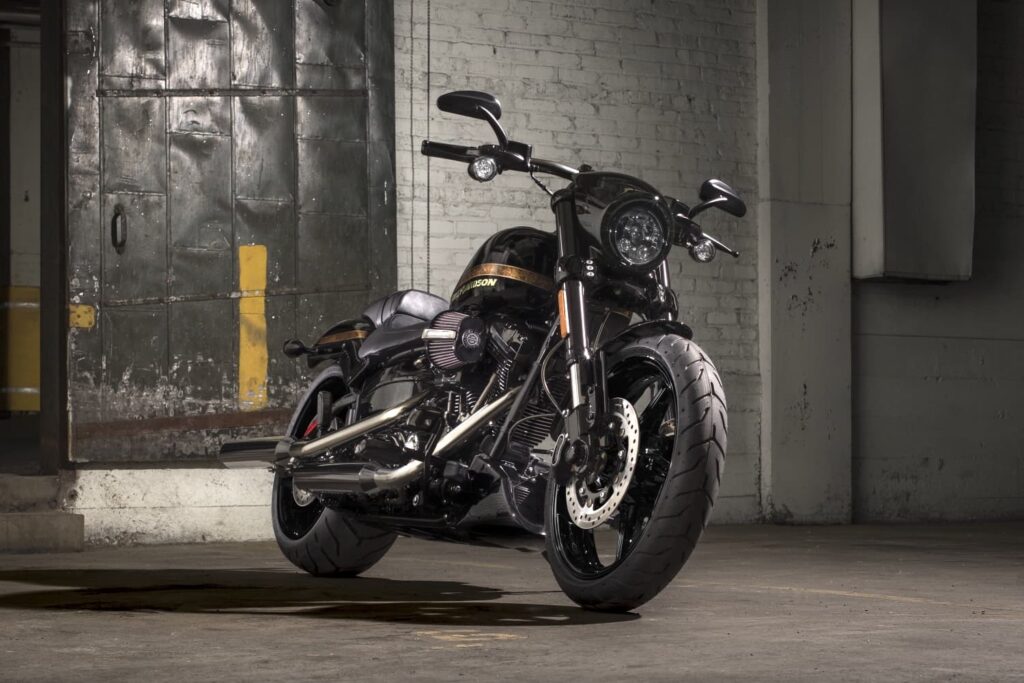 In 2016, Harley-Davidson released a higher high-spec CVO Breakout, the Pro Street Breakout. This is the second CVO for the Breakout family. It's significantly higher-spec than the original 2013 CVO Breakout.
In 2016, the standard Harley-Davidson Breakout got the High Output 103B Twin Cam motor. The Pro Street version, to distinguish itself, gets a higher-tuned Twin Cam 110B motor that gets the Screamin' Eagle name.
Per the spec sheet, the 110B motor has the same peak torque as the earlier 2013 CVO Breakout.
But the 2016 CVO Pro Street Breakout gets other performance enhancements, including:
A 43mm inverted front fork — just like your favourite superbike! (Though not with any adjustability)
Dual disc calipers (most Breakouts have a single disc)
19-inch front wheel (most of the Breakouts have a 21-inch), for improved handling, but a little bit less drag bike aesthetic
What's interesting is that these are actual performance additions to the Breakout that bring it into the same class as other performance-oriented cruisers, like the Harley-Davidson V-Rod line, or bikes from other manufacturers like the Yamaha XV1900 Raider.
What's harder to describe about the Pro Street Breakout is just how great it looks. The blacked out style, rich paint, and details in the seat all make it a very premium bike on which to cruise around town!
Alright then, let's have another look at 'er: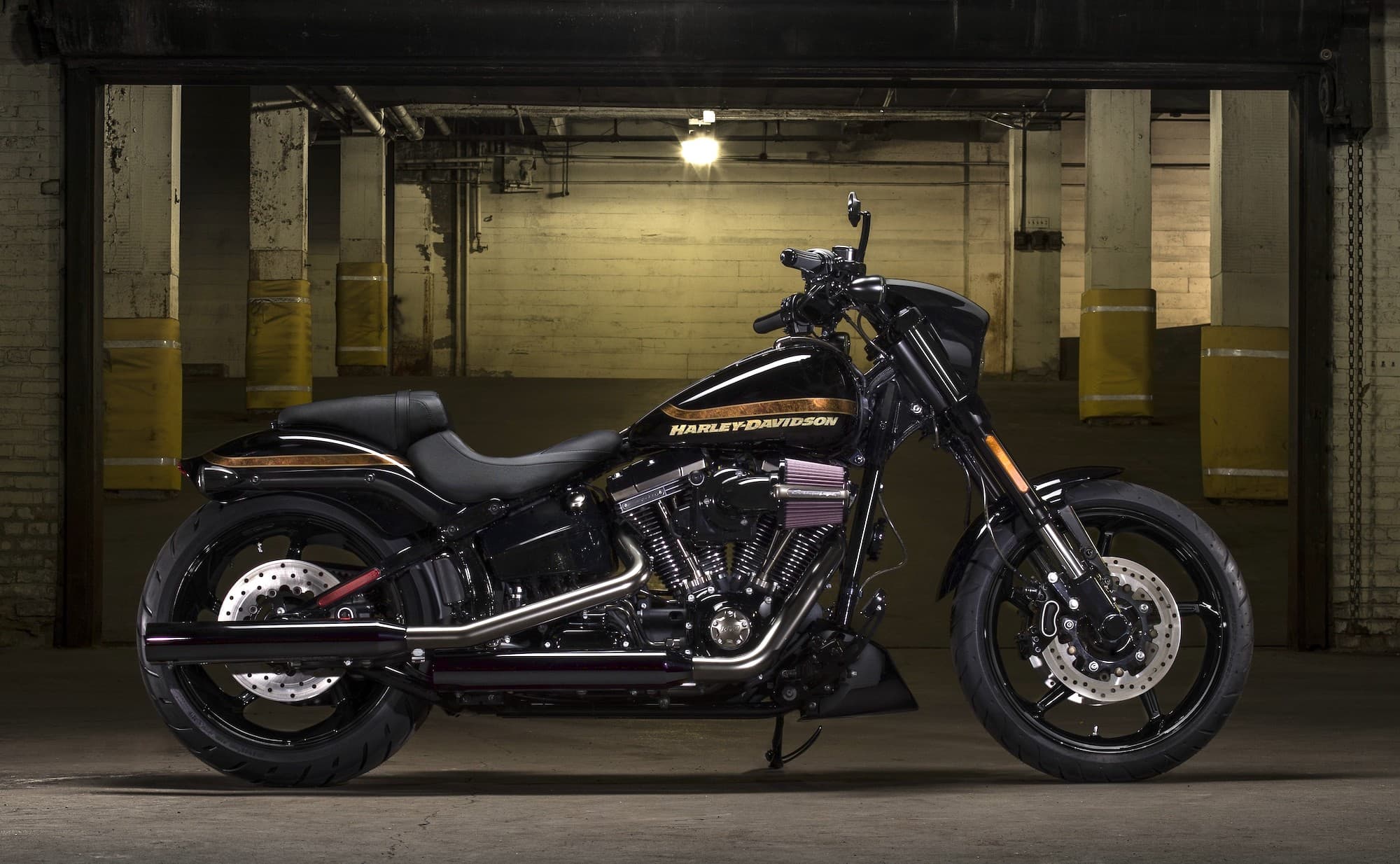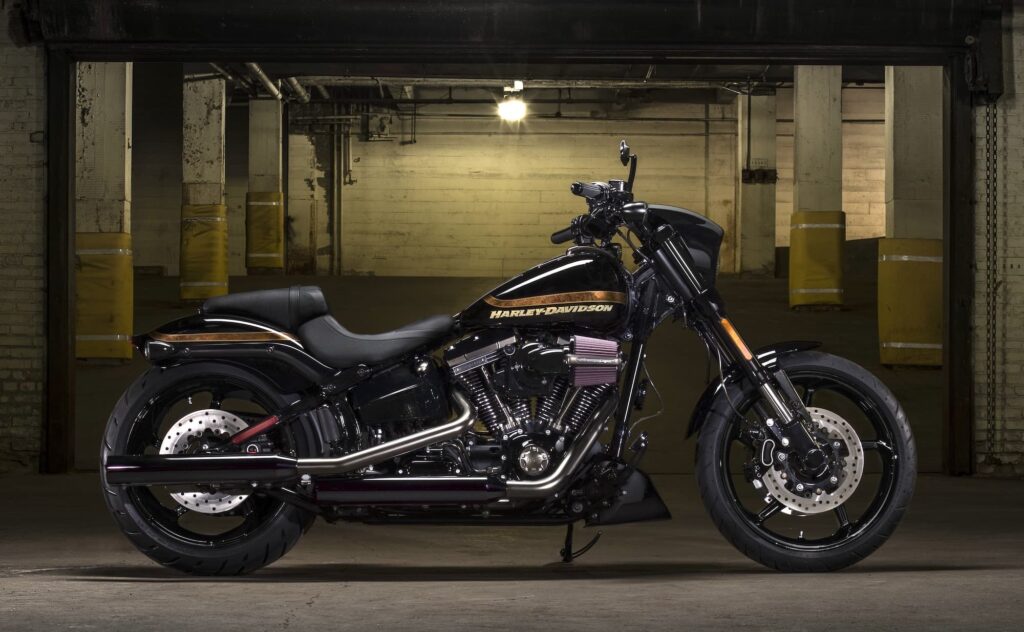 On top of that, Harley-Davidson loaded the CVO Pro Street Breakout with comfort features, including
A standard wireless security system
Standard electronic cruise control (via throttle-by-wire)
"Smoked Satin" style on the analogue tach / LCD digital speedometer (the standard Breakout's unit is chrome)
General higher attention to detail in things like paint and chrome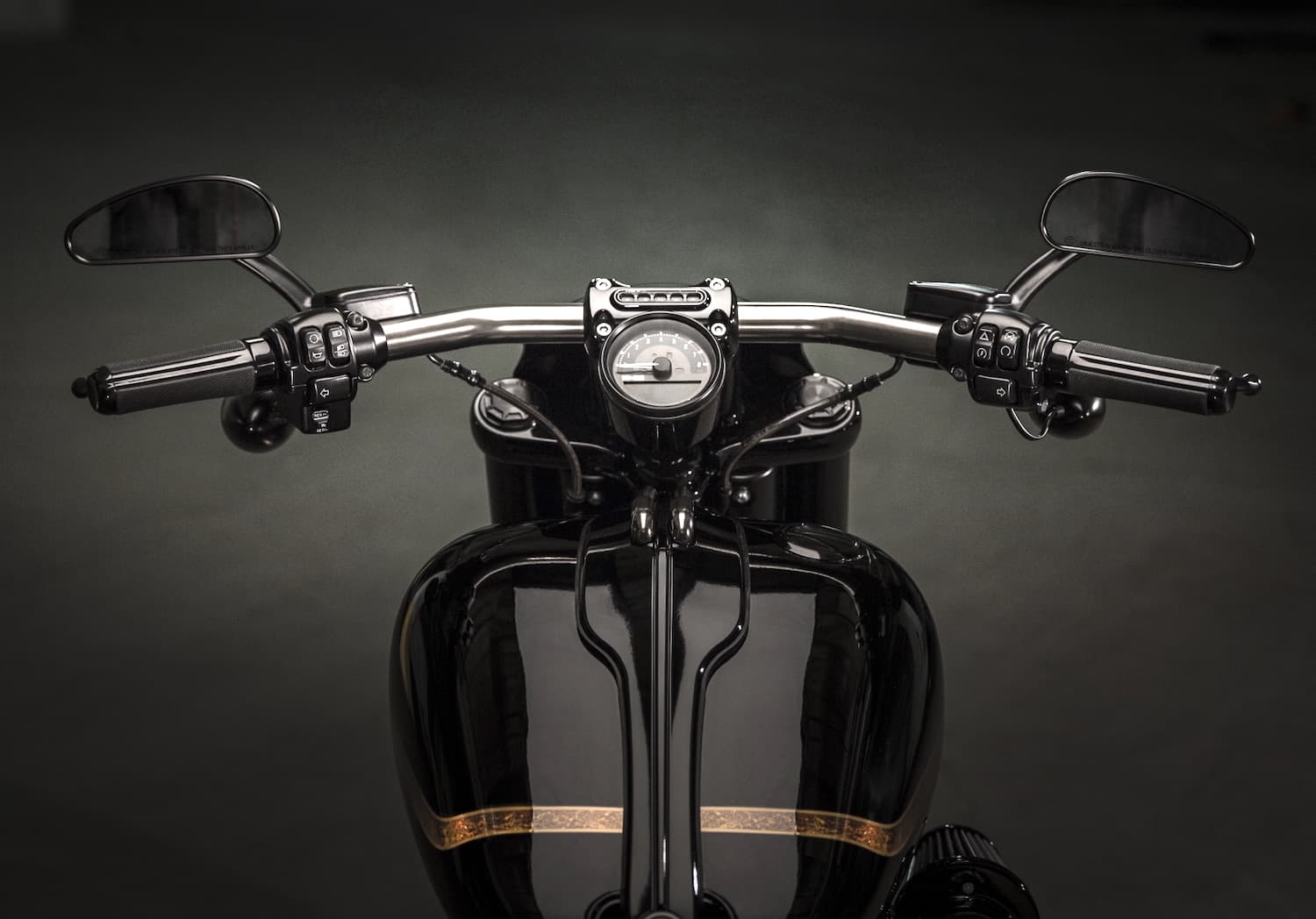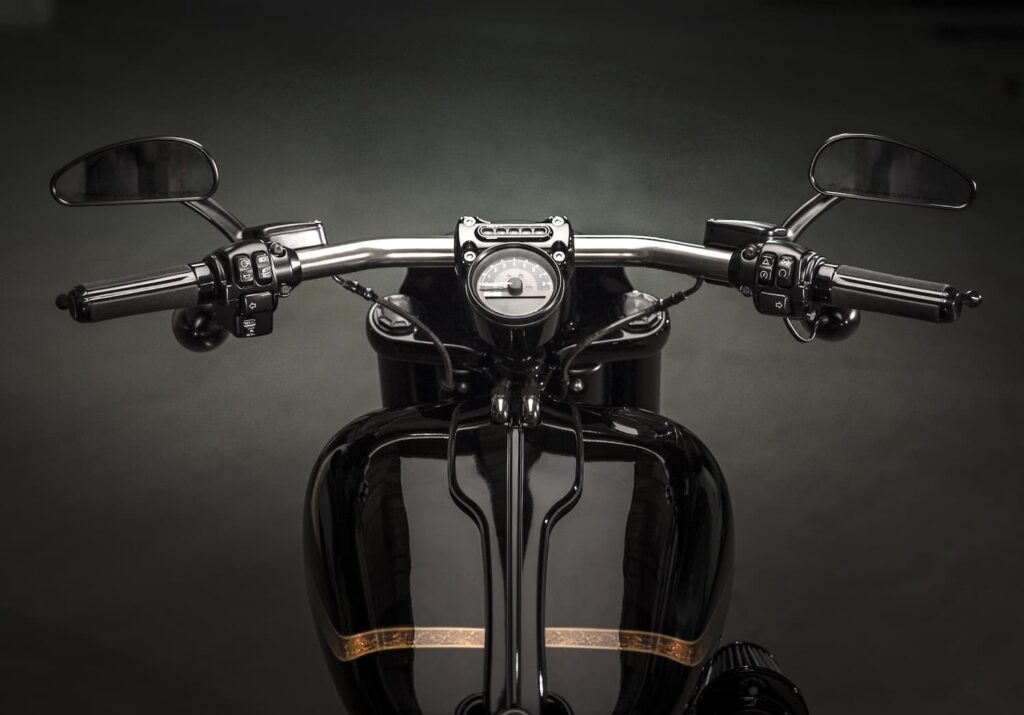 The Pro Street Breakout is, to date (barring another Milwaukee-Eight-powered CVO Breakout in the future), probably the most collectible Breakout. On the used market, it's still very expensive. It has an MSRP of $25,699 at launch in the US (over $7K more than the base model).
These days, seven years later, checking Motohunt, the cheapest Pro Street Breakout is around $17K and the median price is around $20K, representing depreciation of 4-6% a year. While this doesn't make them an "investment", they've definitely held their value well — you'd probably be looking at the older Pro Street with miles and time on it against the new 2023 model side by side.
Milwaukee-Eight Breakouts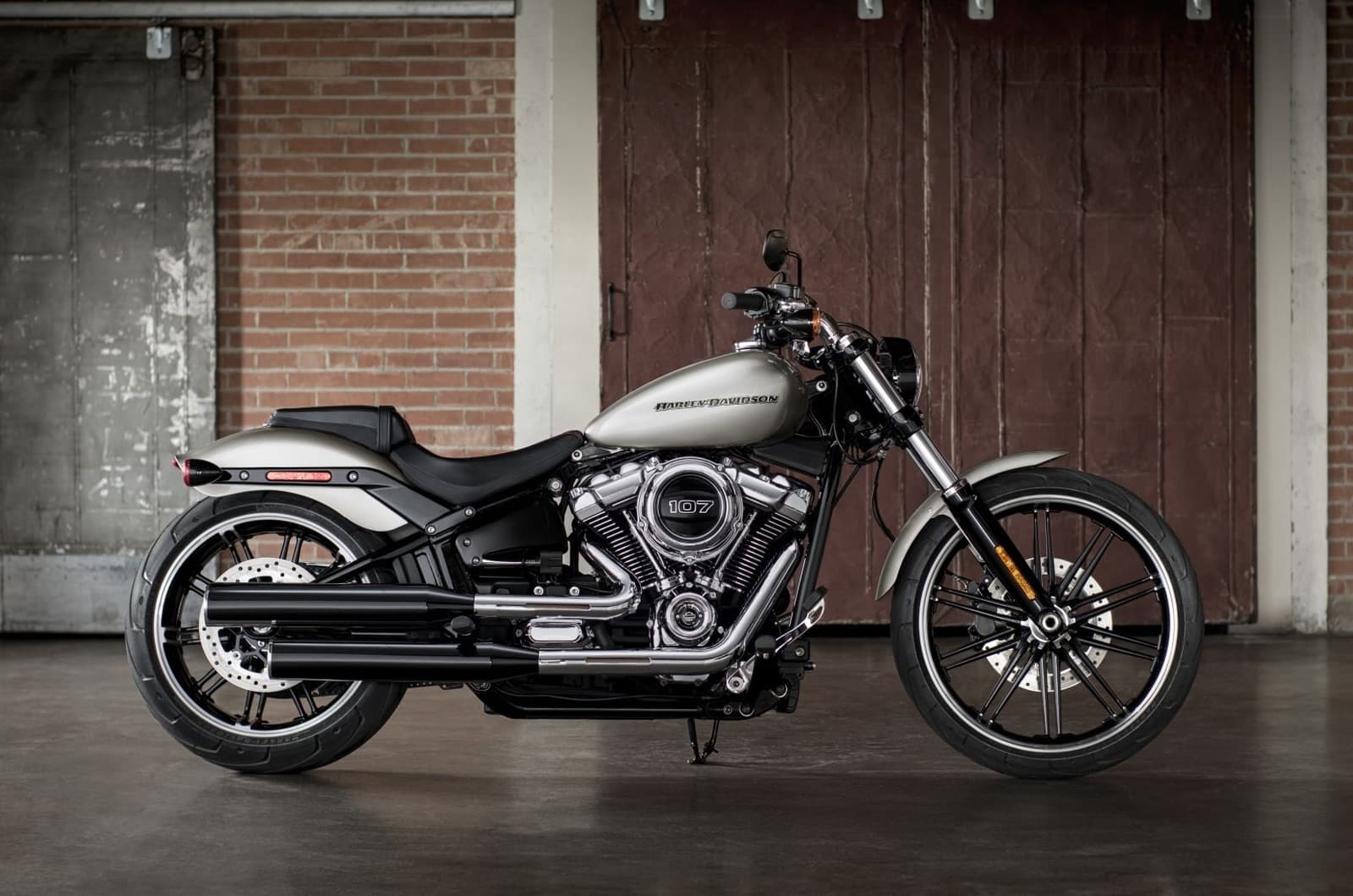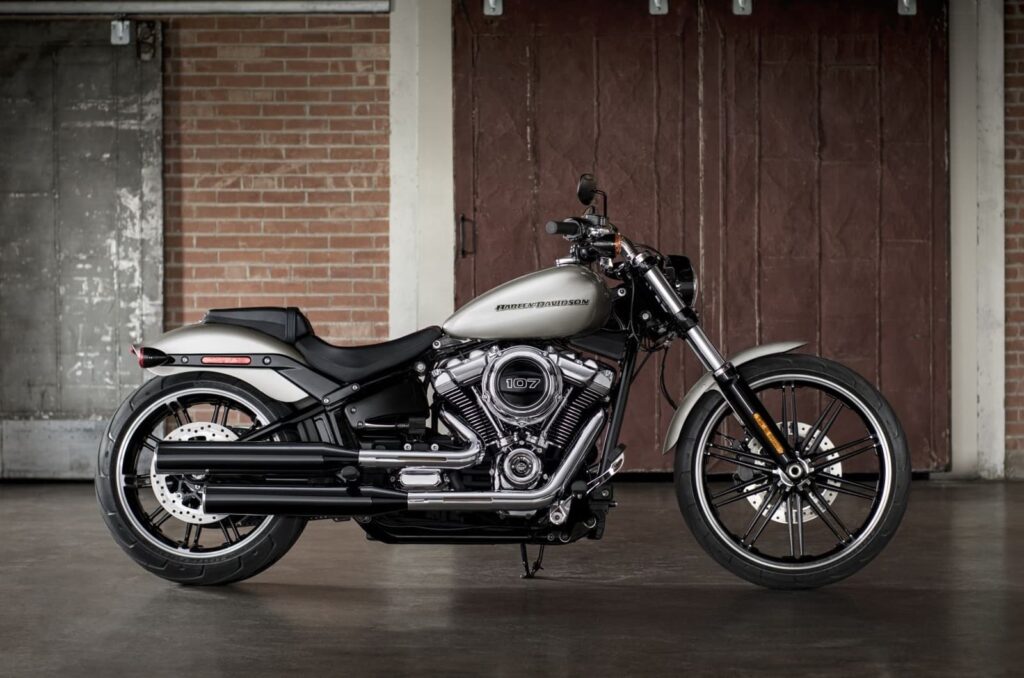 From 2018, Harley-Davidson dramatically updated the Breakout, along with the rest of the Softail line. Apart from general style, the new 2018+ Breakout series feels very different from the old ones.
Harley-Davidson updated their main motors from the Twin Cam to the Milwaukee-Eight line from 2017. The Touring line got it first, but the Softail line got it from 2018.
This isn't really a review of the Milwaukee-Eight motor. But since it's now been through a few generations and proved its worth (past some early teething issues), it's generally accepted that the Milwaukee-Eight powerplant is a) much smoother (it's twin counter-balanced), b) more powerful, both down low and through the power band, and c) more predictably responsive.
Even though Harley-Davidson has been using ride-by-wire since 2016, they don't use ride modes on most models (some of them do, e.g. the RH models like the Sportster S). They're predictable down low and controllable through the rev range. So, to mute the response at any point seems unnecessary.
On top of that, Harley-Davidson updated the Softail chassis from 2018, making it stiffer and lighter. The new chassis is universally praised for helping the new Softails become a much better handling bike. So much so that the Softail line absorbed the Dyna line of motorcycles — the old Dyna chassis now retired.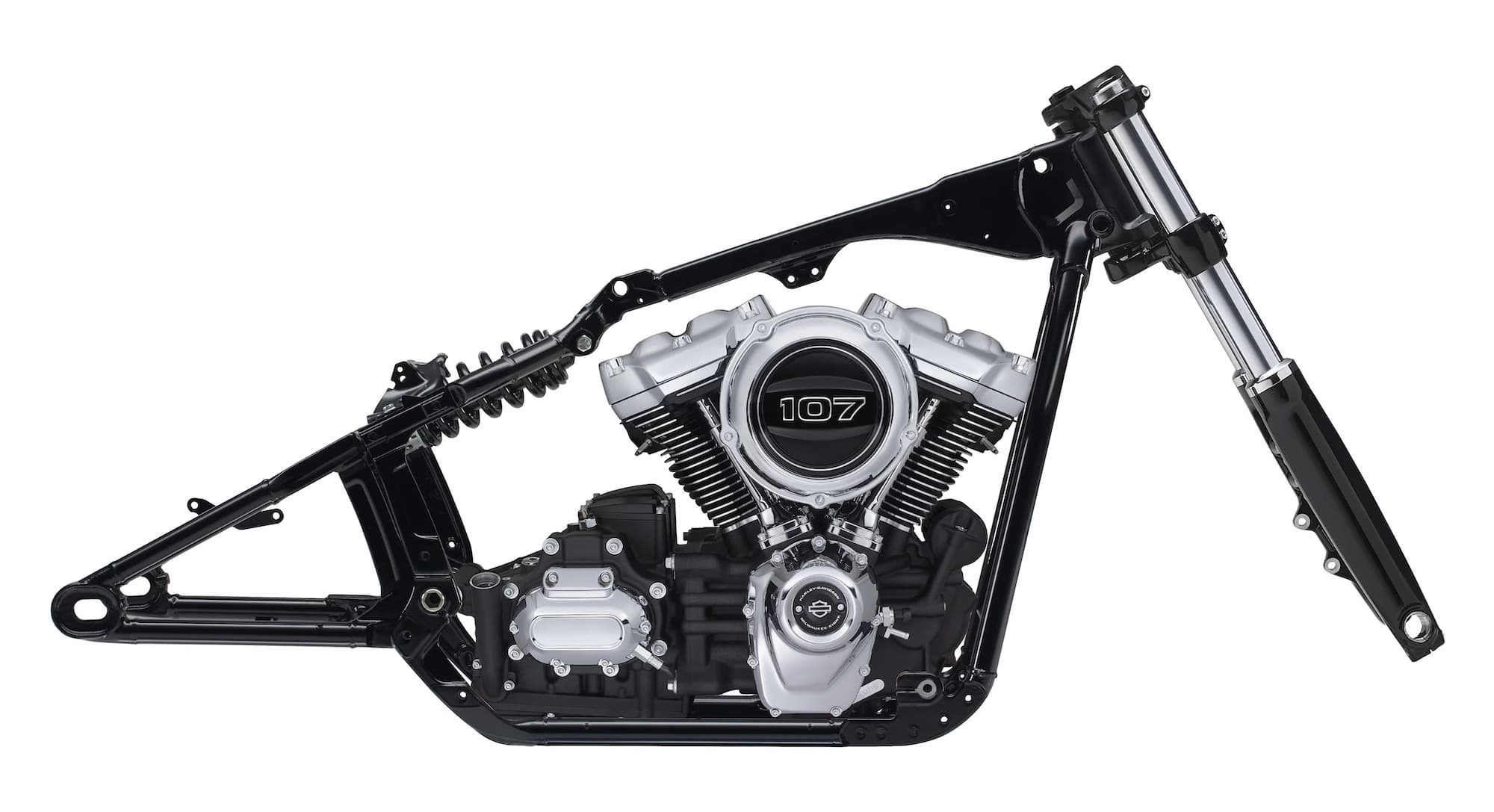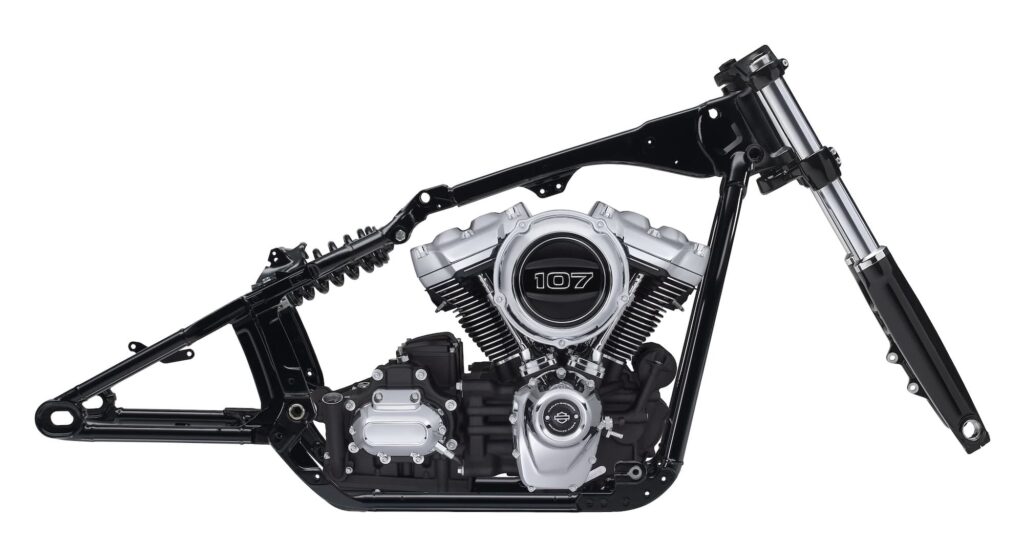 Harley-Davidson introduced the new chassis to improve handling and comfort (the two of which sometimes are at odds), and to reduce weight. The frame in the 2018+ Softail chassis is brand new, with a perimeter frame and central backbone, a central monoshock that's in line with the frame's backbone to efficiently transfer load from the monoshock to the backbone, avoiding bending loads that would have required a stronger structure.
The frame is more than 65% stiffer than the older Softail frame, and over 90% stiffer than the Dyna frame — in other words, much less likely to flex under the same forces. Stiffness in a chassis leads to more predictable response and better handling, though it can also come at a cost to comfort.
To increase comfort, Harley-Davidson revised the front suspension on the new Softails, upgrading the fork to a Showa "Dual Bending Valve" design.
What's "Dual Bending Valve" design? It's a Showa technology that they've used since the early 2010s, and which isn't exclusive to Harley-Davidson. It achieves this by having check and disc valves on both the rebound and compression sides, rather than just an oil hole.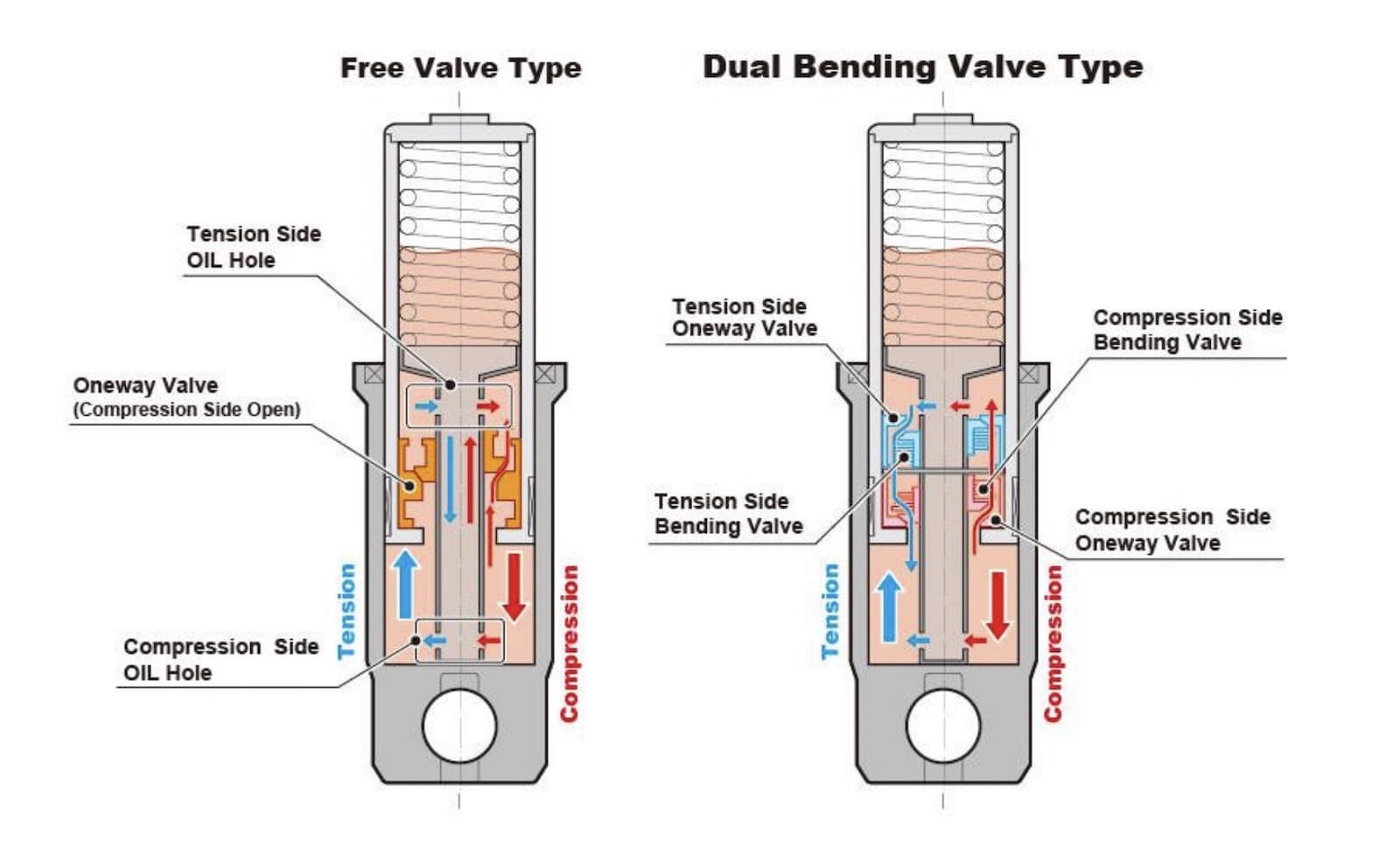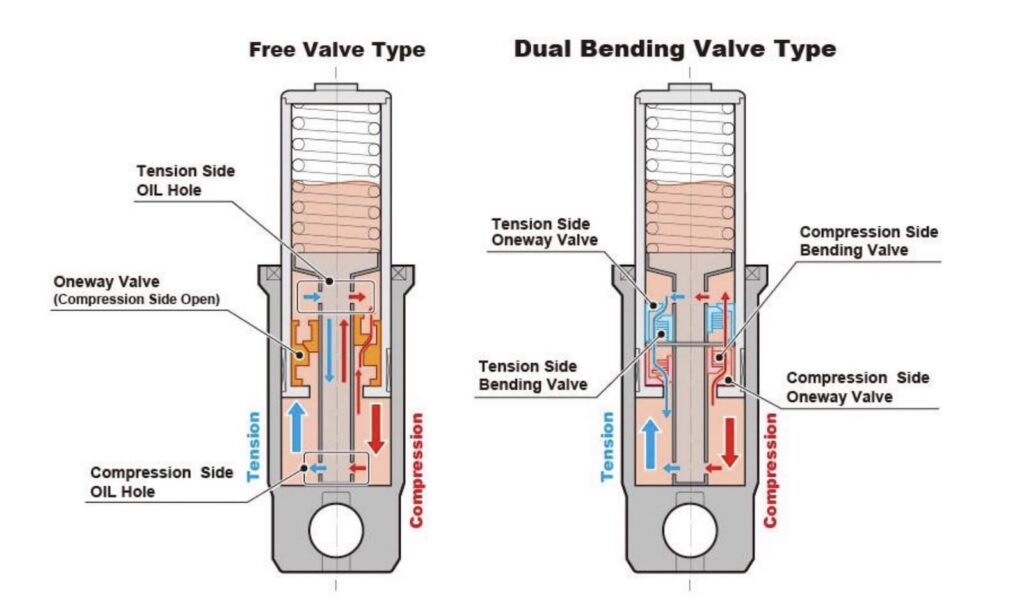 The check and disc valves mean that both rebound and compression damping are much more linear and predictable compared to the free valve. There are other technologies that achieve this (e.g. cartridge designs), but this is the one Harley-Davidson uses. (Honda's a fan, too; you can find SDBV forks in bikes like the Honda CBR650R.)
The monoshock on the Softail chassis is preload-adjustable. On some models, you adjust it via a wrench, on some via a hydraulic adjuster, and on some via a knob. You'll be happy to know that the Breakout is one of the models where you get an external preload adjuster!
Finally regarding the chassis, Harley-Davidson aimed to reduce a lot of weight through the new Softail chassis. Most models have lost 14 kg / 30 lb or more. The Milwaukee-Eight breakout is 16 kg / 35 lb lighter than the old Twin Cam model, despite the bigger displacement engine.
Aside from the engine and chassis, another significant update that the Harley-Davidson Breakout (and a number of other Softail models) got in 2018 was a new LCD information console. Say goodbye to the analogue gauge!
2013-2017 Harley-Davidson Breakout analogue instruments

2018 onward Milwaukee-Eight Harley-Davidson Breakout LCD
It reminds me of my Casio watch. For some people that's a negative. But I happen to love my Casio G-Shock, and the Breakout's look the same.
Other updates that the 2018-onward Harley-Davidson Breakouts got were:
A much brighter headlamp — from the LiveWire, actually
"Gasser"-style wheels, named after hot rog dragster cars of the 20th century. Harley has used this general style of wheels before on other hot rod-style motorcycles, like the V-Rod Street Rod for example. The style is similar — lightweight and strong — but the Breakout's wheels are made of cast aluminium rather than cast magnesium of hot rod cars (magnesium being even lighter, but also more expensive and less durable).
A smaller tank — 3.5 gallons vs 5 gallons. Harley-Davidson thought that people use the Breakout more of an everyday cruiser rather than a distance weapon, but in reality, the smaller tank was actually a turn-off for some buyers.
2018-2022 Harley-Davidson Breakout 114 (FXBRS)
Simultaneously with the Breakout 107, Harley-Davidson released the Breakout 114, the FXBRS.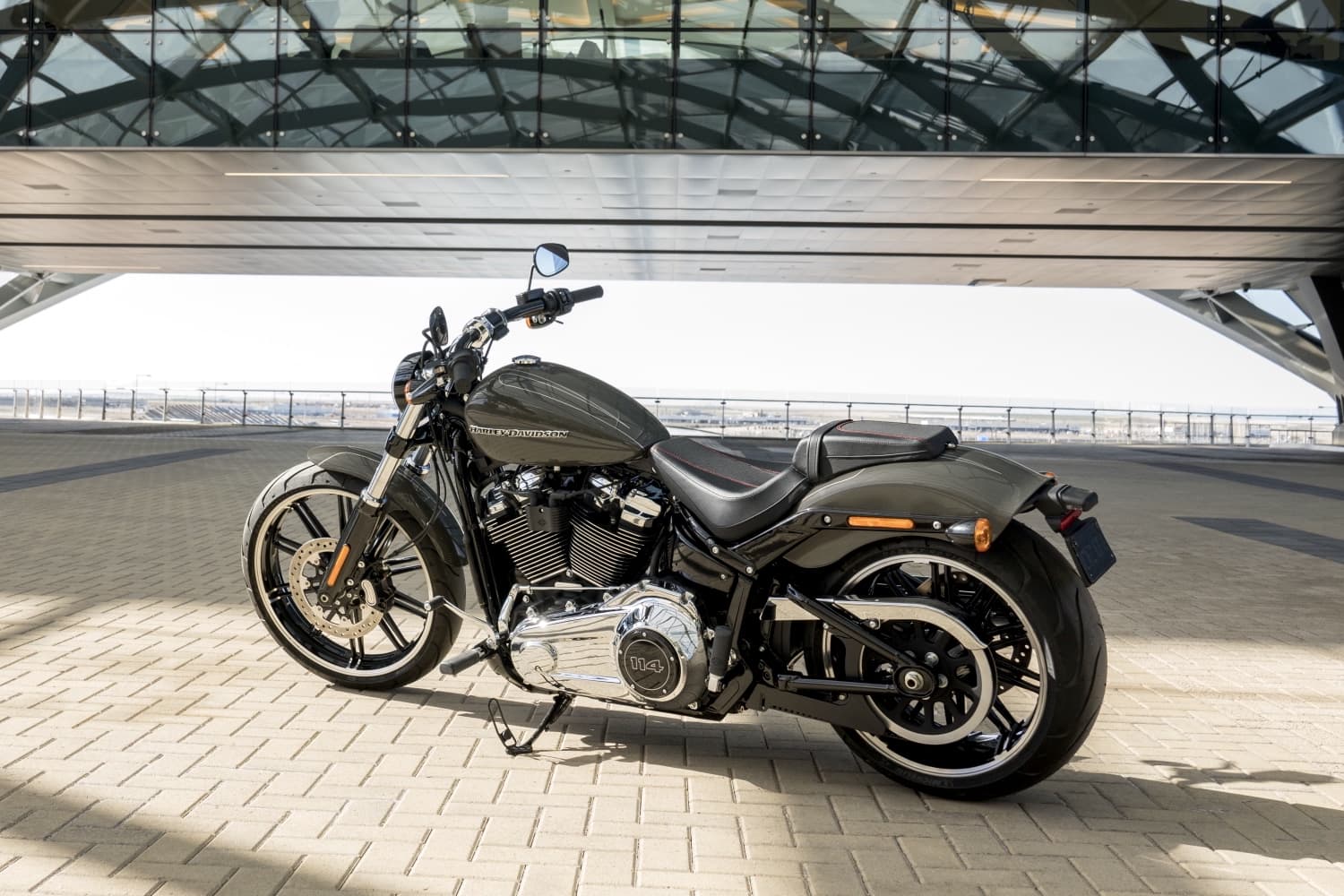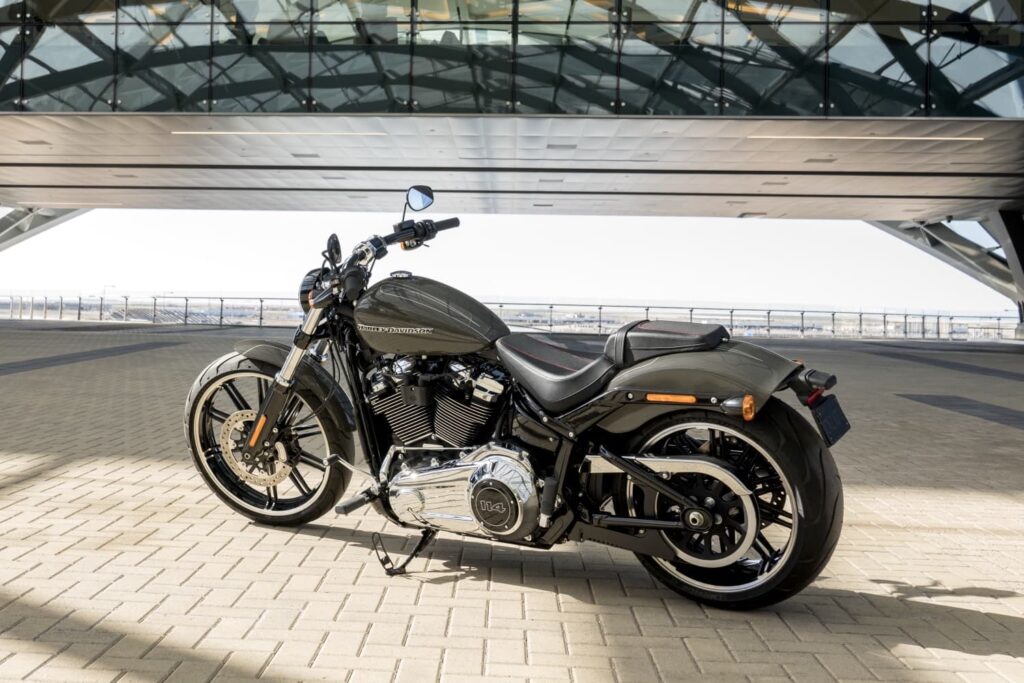 The Breakout 114, or FXBRS, is essentially a Milwaukee-Eight breakout with the bigger motor. Nobody riding the 107 will tell you it's weak, but it's hard to pass up a bigger motor when it's available.
The other thing to bear in mind is that Harley-Davidson stopped selling the Breakout 107 after a couple of years, but kept the Breakout 114 in international markets (like Australia, where apparently it's very popular) all the way until it was replaced by the updated 2023+ Breakout 117.
2023 Harley-Davidson Breakout 117 (FXBR)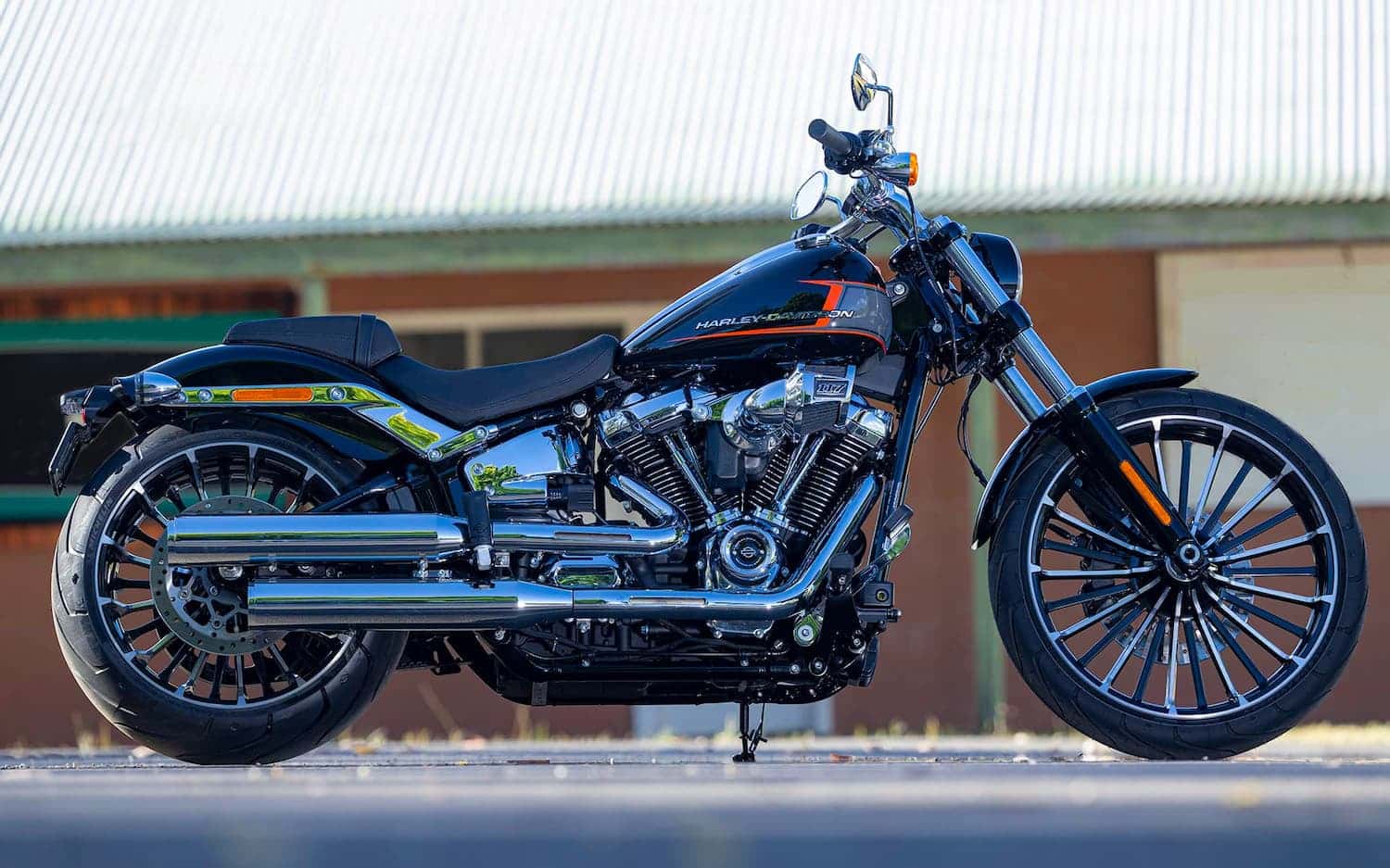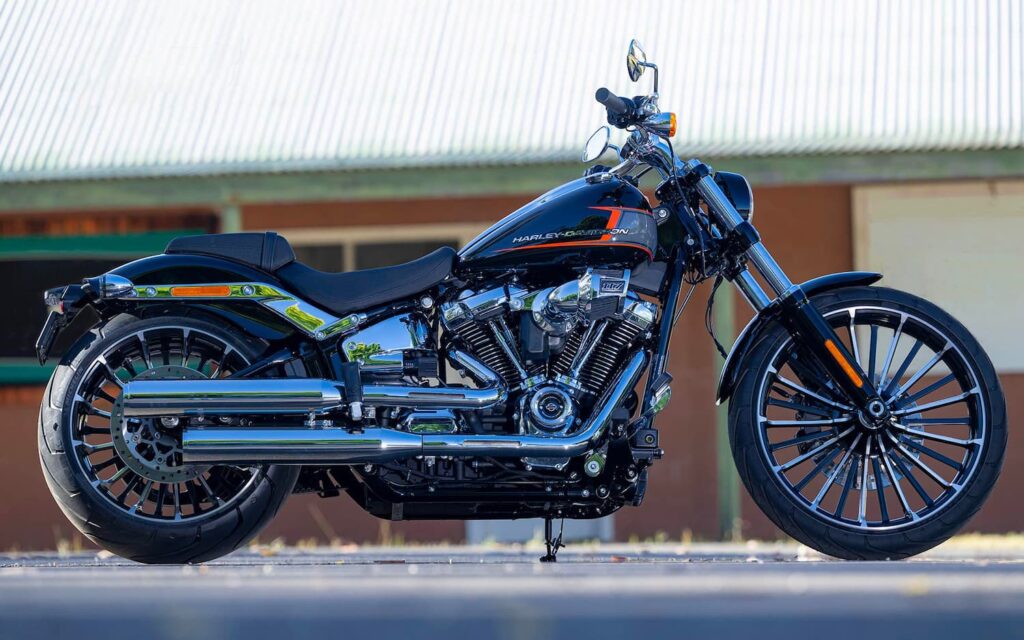 In 2023, Harley-Davidson brought the Breakout back to the USA, and also gave the bike a few updates.
Mainly, the 2023+ Harley-Davidson Breakout got the latest 117 Milwaukee-Eight motor, for a bit more torque and peak power. This means that the Breakout (and a few other models) now have the same displacement motor as the biggest CVO models.
To go along with this bigger motor, Harley-Davidson brought back the 5-gallon tank, which was last seen on the Twin Cam models. Not only does it mean less frequent fuelling stops, I also think the larger tank looks better — more proportionate to the rest of the bike.
The 2013+ Harley-Davidson Breakout also got standard electronic cruise control, which was previously an option.
Alternatives to the Breakout
If you're looking for a long, sleek, minimalist cruiser, there are few other options out there. Nothing is quite the same. Indian doesn't have a direct competitor in this class just yet. Victory (under the same Polaris parent as Indian) had some stuff, but the brand itself is no longer in production, so it doesn't seem like a good idea to recommend their bikes as they won't be supported forever.
The closest alternative to the Harley-Davidson Breakout is the Yamaha Raider, which is no longer made. But you might also look at a BMW R 18 if you're just looking for a stylish cruiser, or you might think of the Triumph Thunderbird Storm if you want a muscle cruiser. I admit both are a bit of a stretch, but they're here for interest, and to show you just how unique the Breakout is.
Yamaha XV1900 Raider S (2008-2017)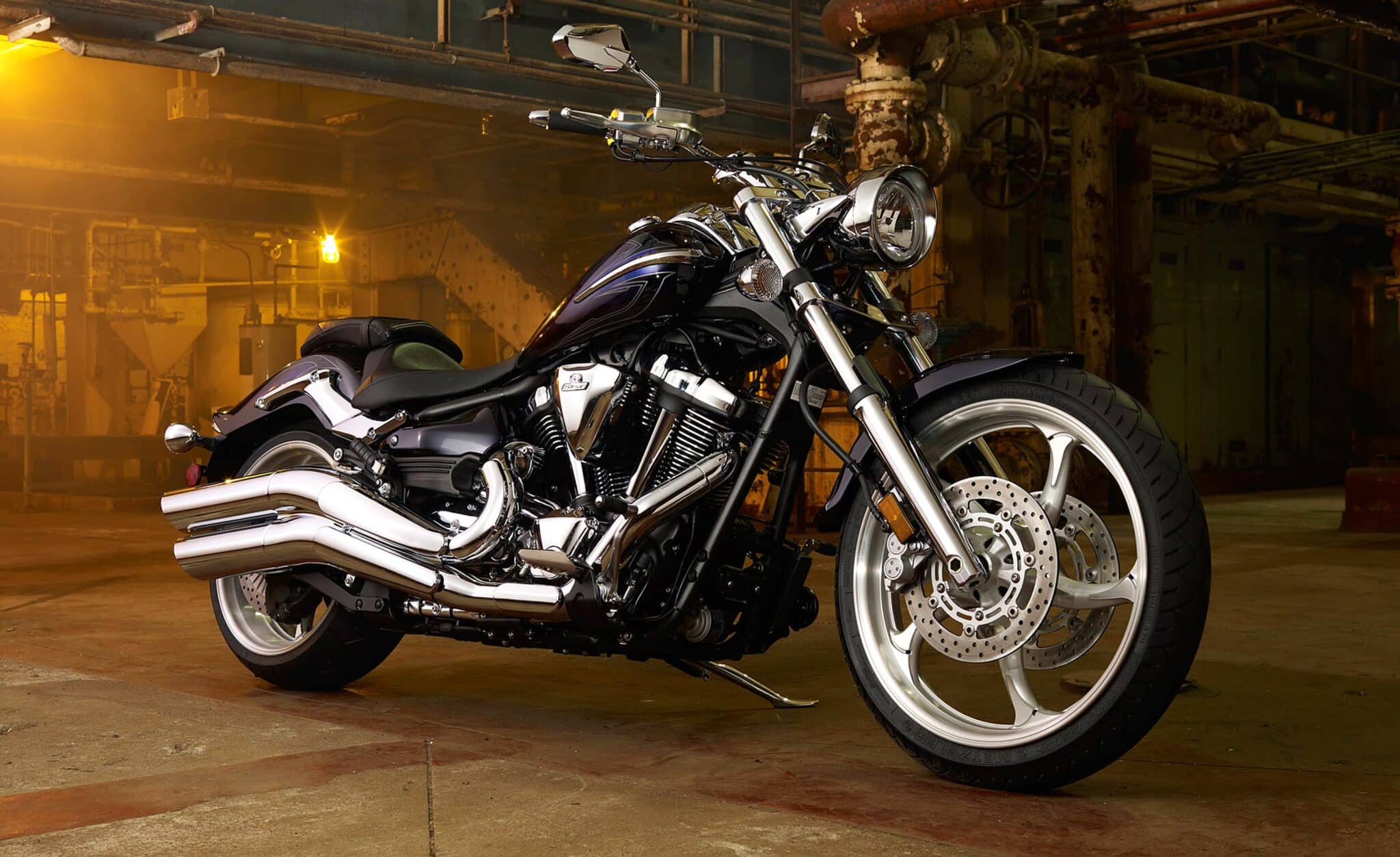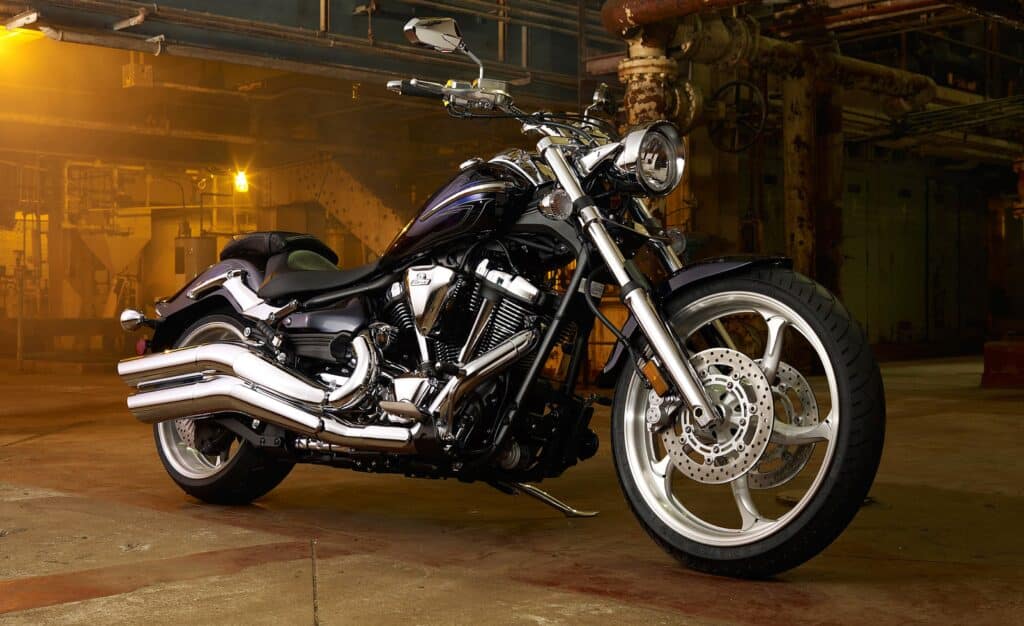 First up, the Yamaha Raider. It has a big (113 ci / 1854 cc) air-cooled engine, massive fork angle (39 degrees!), and angry but classic posture. What more could you want?
Well, it's no longer in production — it was last sold for the 2017 model year. And it wasn't sold in every market.
But if you look on the used market in the right places, you might enjoy the XV1900. The Yamaha Raider makes as much peak torque as the latest Milwaukee-Eight 117, but gets there even earlier, at 2500 rpm. On top of that, the Raider has twin 298mm front brake discs, shares a 21-inch front with the Breakout, and has a still-pretty-wide 210-profile rear tire.
The Raider has a few bits that only came on the premium Harley-Davidson Breakouts, too, like monoblock 4-piston calipers on twin discs. In fact, the Pro Street Breakout, which was the only Breakout with twin discs, had fixed calipers at the front. (See here for a detailed guide to brake specs.)
Similarly, the Yamaha Raider got a slipper clutch from 2013, which only ever appeared on the CVO Breakouts.
Maybe the main thing you lack in the raider is that as cool as it is, to my eye it just doesn't have the aesthetic appeal of the Harley-Davidson Breakout. That's subjective, of course. Oh, and the Raider also does need its valves serviced every 16000 miles / 25000 km.
The best upside of the Yamaha Raider is that it's much cheaper than the Breakout, especially since it has been around for longer. They may also be harder to sell, by the same token. And, as is the case with most V-twin cruisers that aren't Harley-Davidsons, you might get annoyed by people saying things like "nice hog".
BMW R 18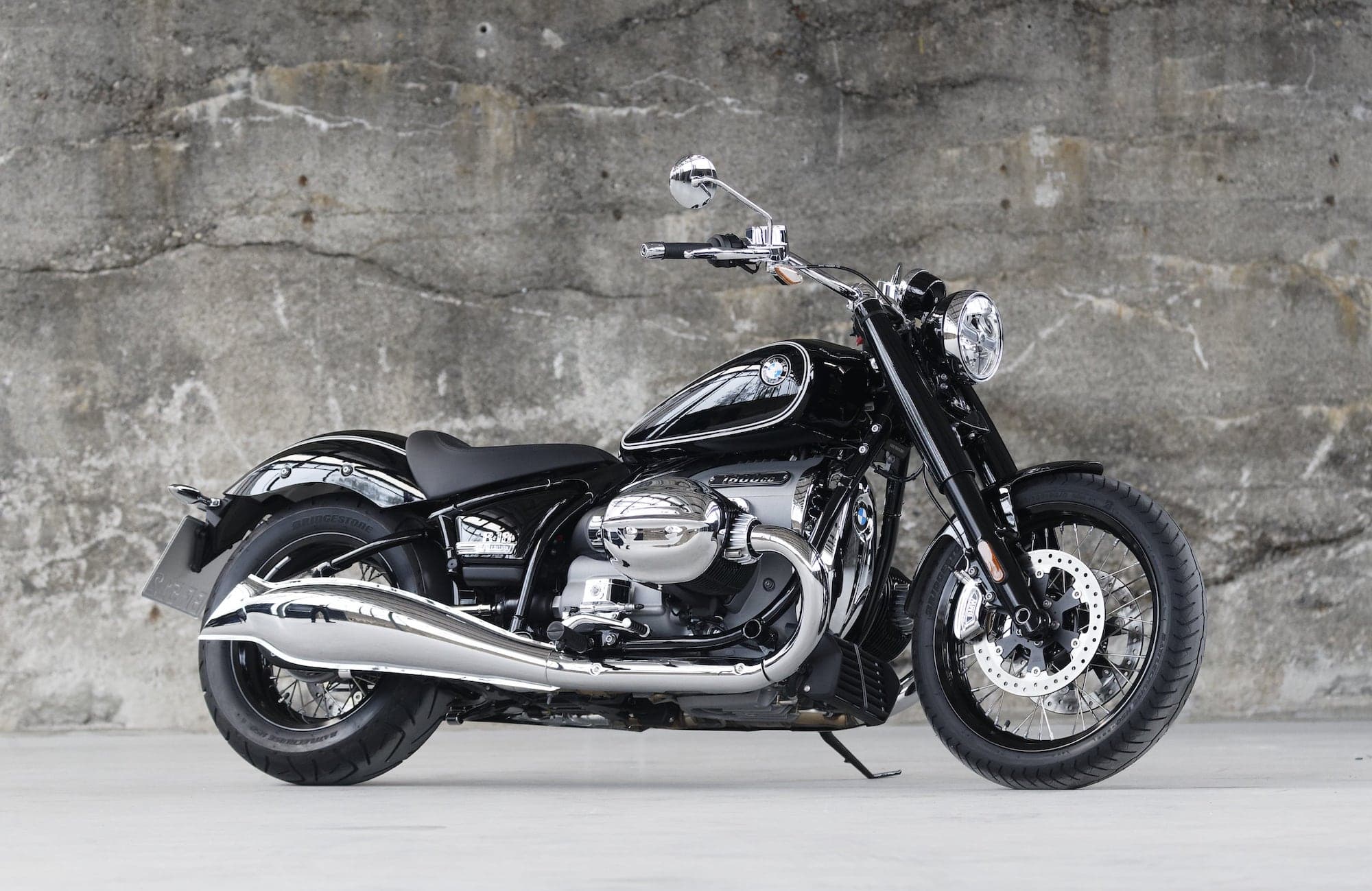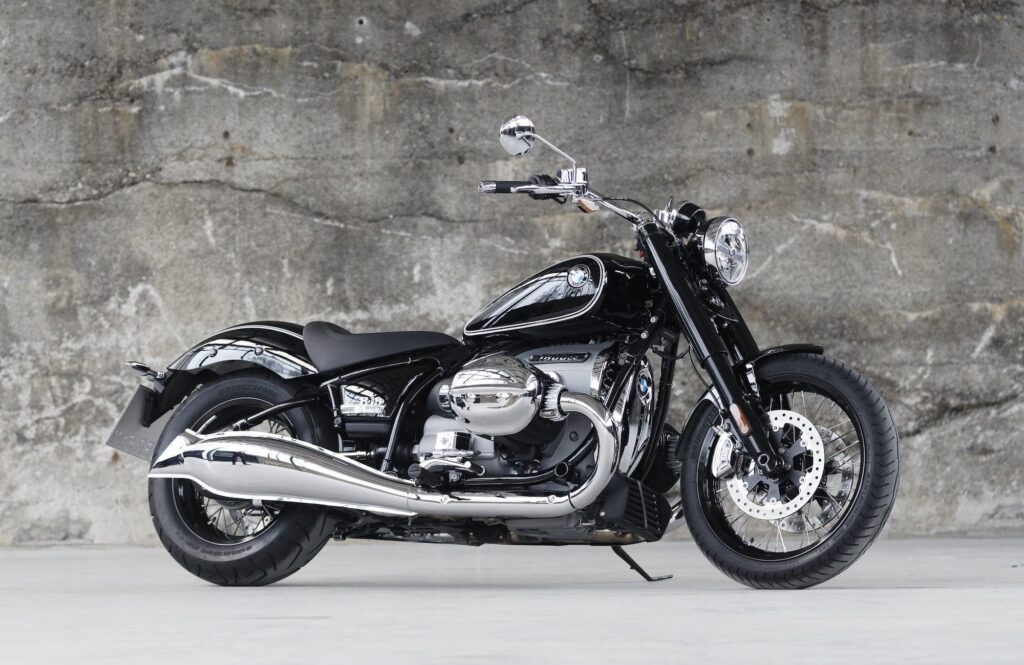 A different kind of alternative to the Harley-Davidson Breakout would be the R 18. Want a bike built in America? Buy Harley. Want one "Berlin Built", as the speedometer housing proudly proclaims? Buy BMW.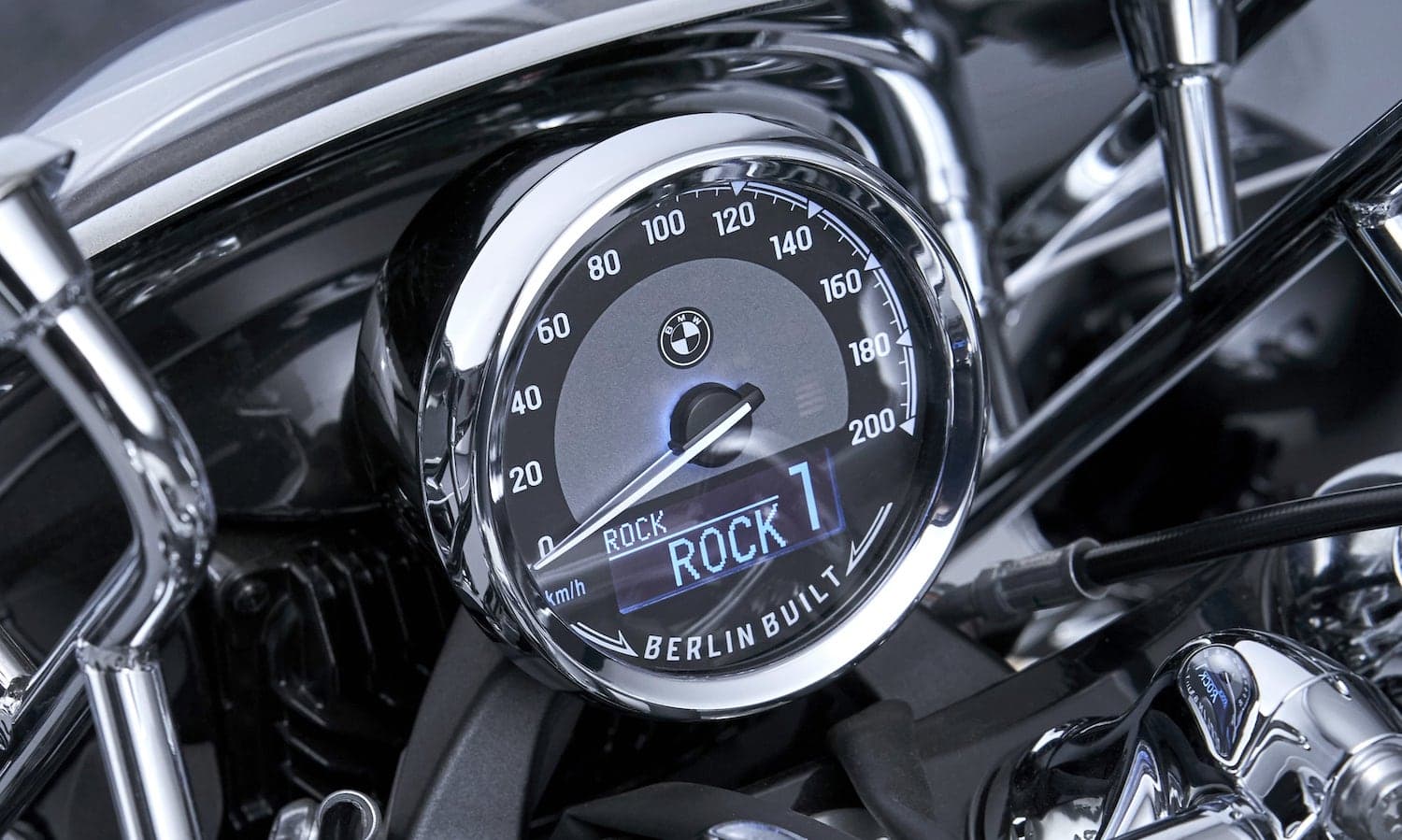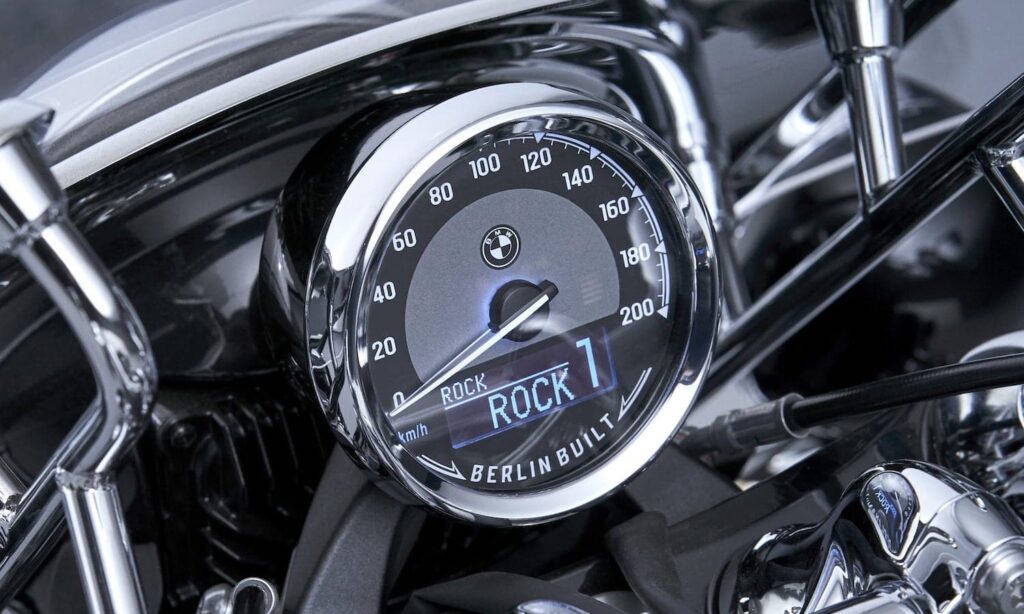 The BMW R 18 is BMW's most recent attempt at the US cruiser market. The R 18 is a style-forward bike powered by BMW's biggest boxer motor of all time, an 1802 cc opposed twin with giant cylinders that stick out the side, blocking you from kicking your legs forwards.
The presence of the authoritative cylinders means you have a more standard, knee-bent riding position, which suits some, but which might not suit the longer-legged.
The R 18 is a heritage model, with design lines that are intended to call back the first BMW boxer motorcycles ever made. The engine is air/oil-cooled, and the final drive is by a fixed shaft — which rotates in the open air!
Even though the BMW R 18 has valves that need adjusting (in contrast with the Harley-Davidson big twin's self-adjusting hydraulic valves), the job is easy as it can be done with a screw and locknut, just like in traditional old-school BMWs.
There's a lot that's quirky and interesting about the R 18. It's really nice to look at, has a unique character from that boxer twin that kicks the bike to one side, and it's stuffed with high-end bits.
People's opinions are divided on whether the BMW R 18 it's a "better" bike though. Harley-Davidson really knows what it's doing with cruisers, and it shows, and most people side with Harley's various models (in the cruiser realm) for reasons spanning handling, character, and iconic branding.
But the BMW and its variants might be of interest if you want to do something a bit different. It's a little easier to come by at an affordable price point, too. But nothing holds its value like a Harley.
See the BMW R 18 complete buyer's and model guide here.
Triumph Thunderbird Storm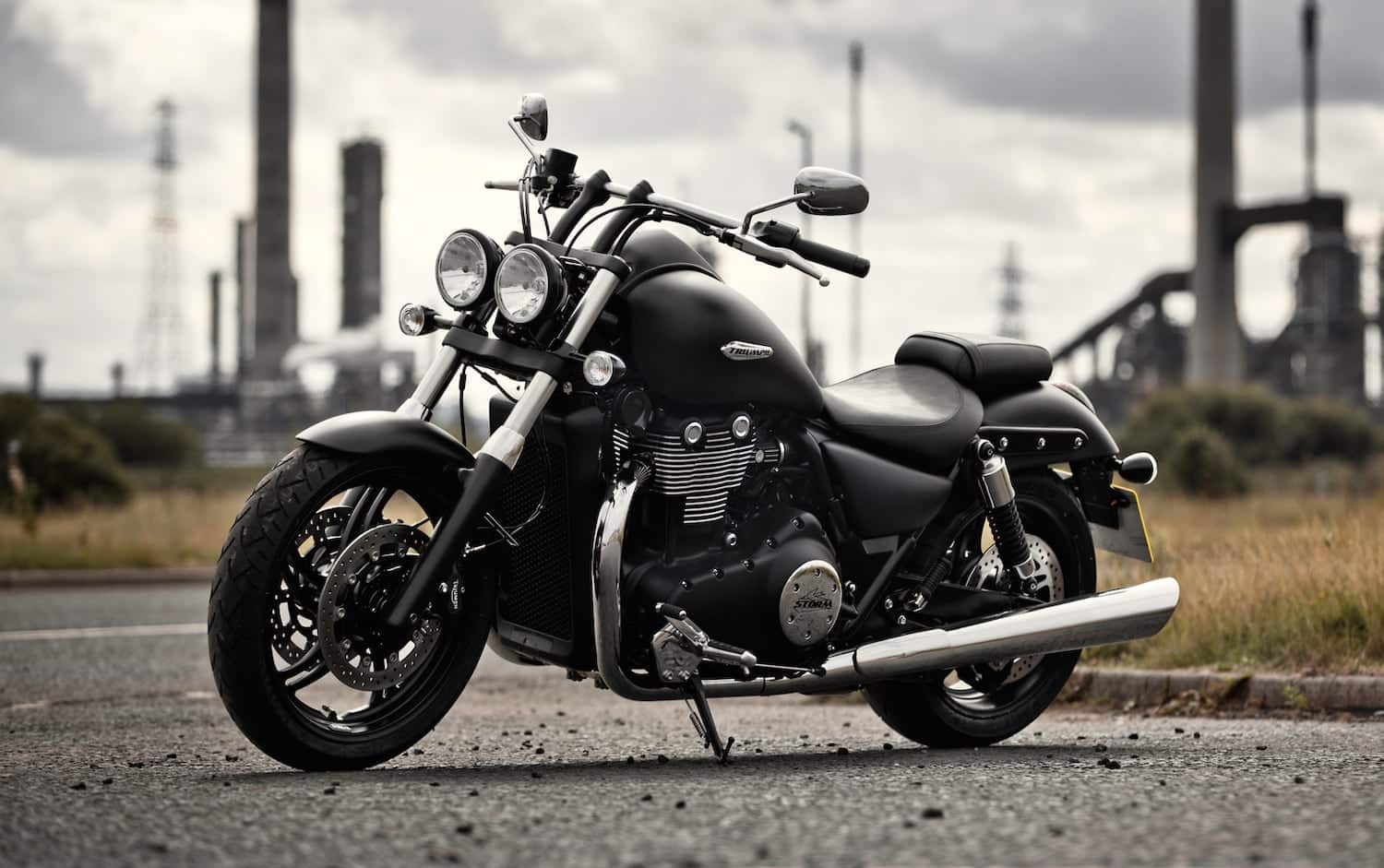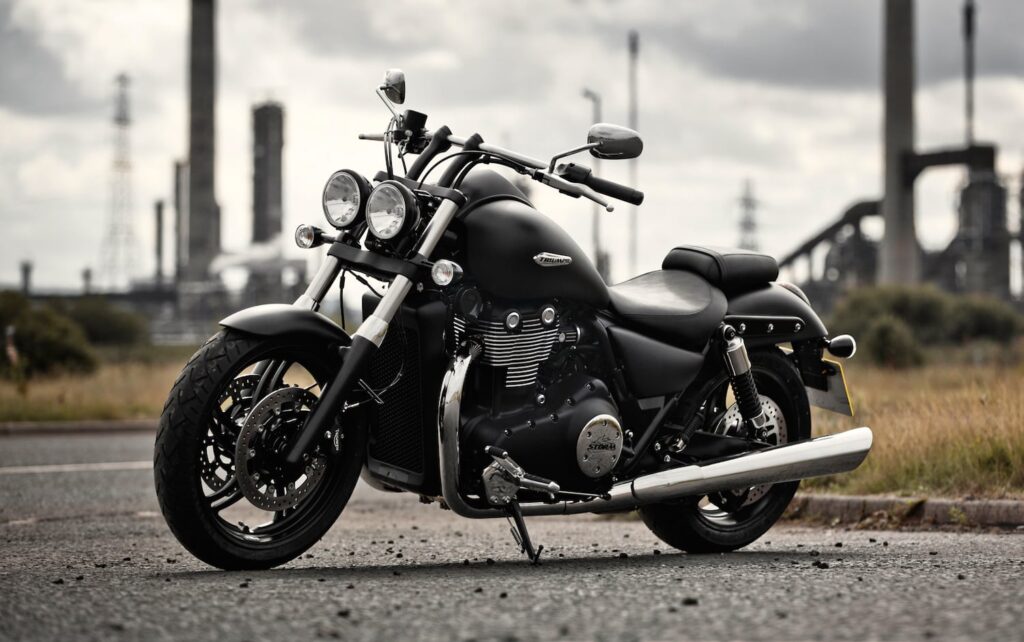 Triumph no longer makes the Thunderbird 1700 — it was last sold in 2018. But there are just so few models to compare to the Harley-Davidson Breakout that I had to dig up another one!
The Triumph Thunderbird Storm, sold between 2011 and 2018, was Triumph's "Power Cruiser", sold alongside the higher performance cruiser, the Rocket III / 3 (which is in another tier of performance and technology).
The Thunderbird Storm is powered by a 1699 cc liquid-cooled parallel twin. Being liquid-cooled, it's tuned a bit higher than most air-cooled cruisers, so is good for a bit more top-end power. Still, it peaks in torque at 2950 rpm, with an impressive peak torque figure of 115 lb-ft / 156 Nm.
The Storm is slightly more "muscle" than "drag bike". It has a 19-inch front wheel, raked out at 32 degrees, and a narrower 200-profile rear tire.
Really, the Triumph Thunderbird Storm is equally an alternative to the Fat Bob or Fat Boy.
Like the BMW for German buyers, some people prefer to buy British, and if that's the case, the Triumph will be your cup of tea.
Wrap up
What's really surprising about the Harley-Davidson Breakout is how a popular model can have such little competition. Other manufacturers just aren't making drag-style cruisers any more, leaving it to Harley-Davidson to clean up.
Still, it's admittedly hard to decide on the Breakout. It's super expensive, to the point where someone like me can only think about having it as my only bike. And since I like corners and don't enjoy naked bikes in inclement weather, I'd be loath to pick it as my primary investment.
Practicality is why I keep coming back to sport tourers, adventure bikes, and touring bikes. But as I fail to talk myself into any of them, I keep looking askance at the Harley-Davidson Breakout thinking: Are its good looks enough to justify its downsides? Still not sure… maybe I'll go sit on it again.