With the release of the 2024 Yamaha XSR900 GP, I think it's time to put together a quick buyer's guide for the Yamaha XSR900, showing how it changed over the years.
The Yamaha XSR900 is a retro-inspired sport bike that's based on the Yamaha FZ-09 / MT-09 three-cylinder naked.
It's essentially the same bike but with a few bits replaced for style. But along the way, Yamaha has made some tweaks that make it its own unique combination of parts — the XSR900 isn't just about looks.
Below I'll go over
A brief history of Yamaha and sporty nakeds
The Yamaha XSR900 and how it changed over the years
The XSR900 vs the other CP3 motorcycles (the MT-09 and Tracer 9)
Some alternatives to the XSR900 (other modern retro bikes)
Enjoy! Particularly all the pics, as the XSR900 is a very nice-looking bike.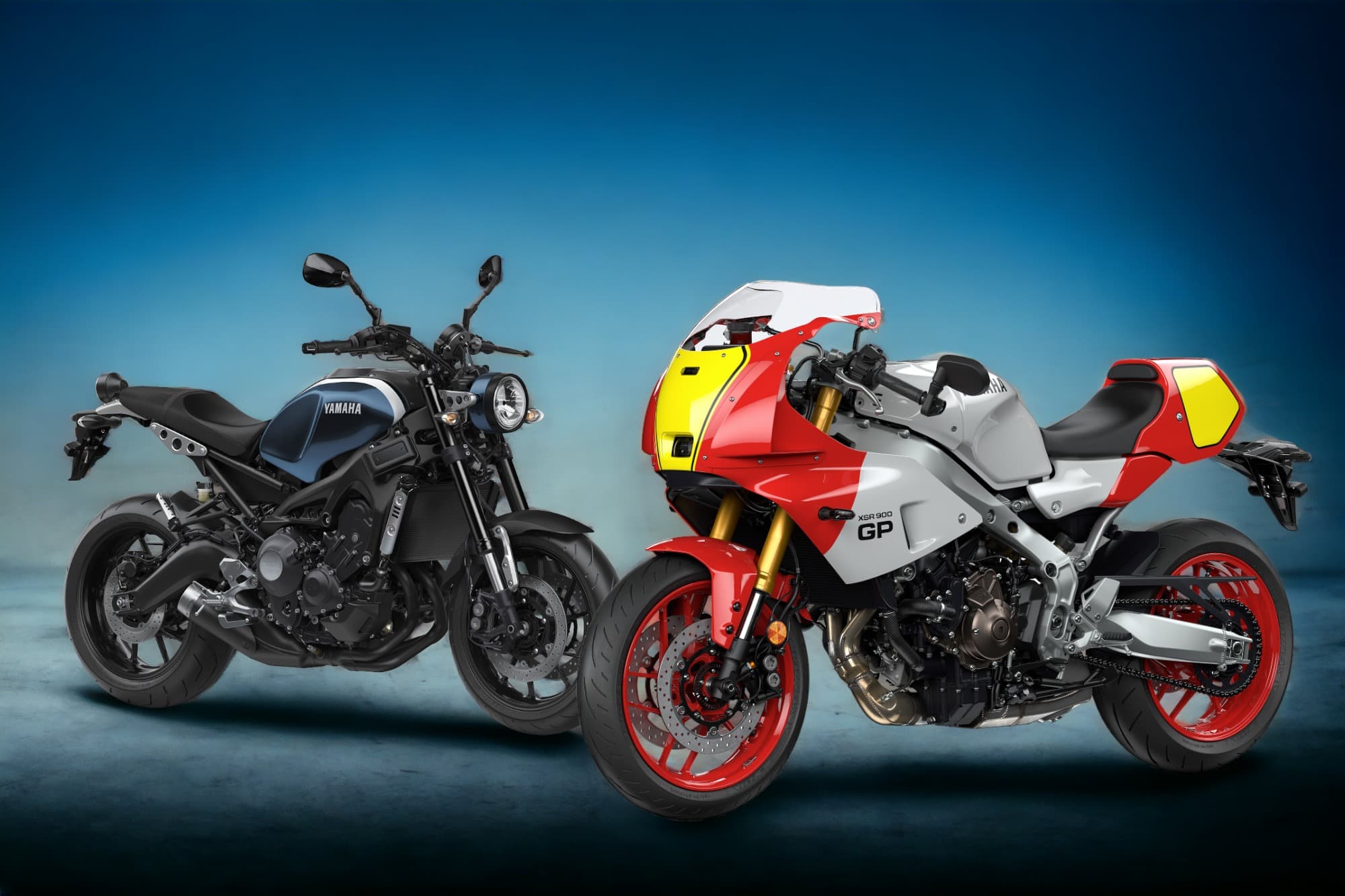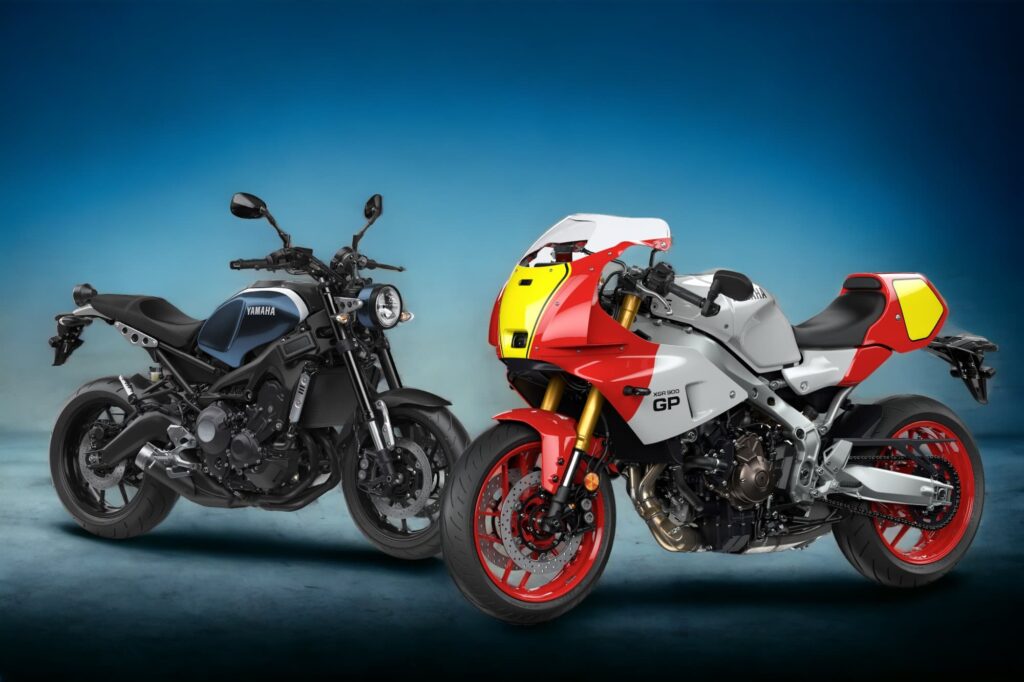 Are you obsessed with motorcycles?
Well, I am. That's why I created this site — as an outlet. I love learning and sharing what others might find useful. If you like what you read here, and you're a fraction as obsessed as I am, you might like to know when I've published more. (Check the latest for an idea of what you'll see.)
Before the Yamaha XSR900 — A Brief History
The Yamaha XSR900 is the intersection of two stories — firstly, Yamaha's long history of making middleweight sport bikes, and secondly, Yamaha's newer "retro" lineup.
I talk about Yamaha's middleweight sport bike history in the Yamaha MT-09 buyer's guide. But very briefly, Yamaha has been making middleweight sport bikes for a long time — decades.
In a nutshell, the modern era of liquid-cooled middleweight sportbikes started with the 1988 Yamaha FZR600.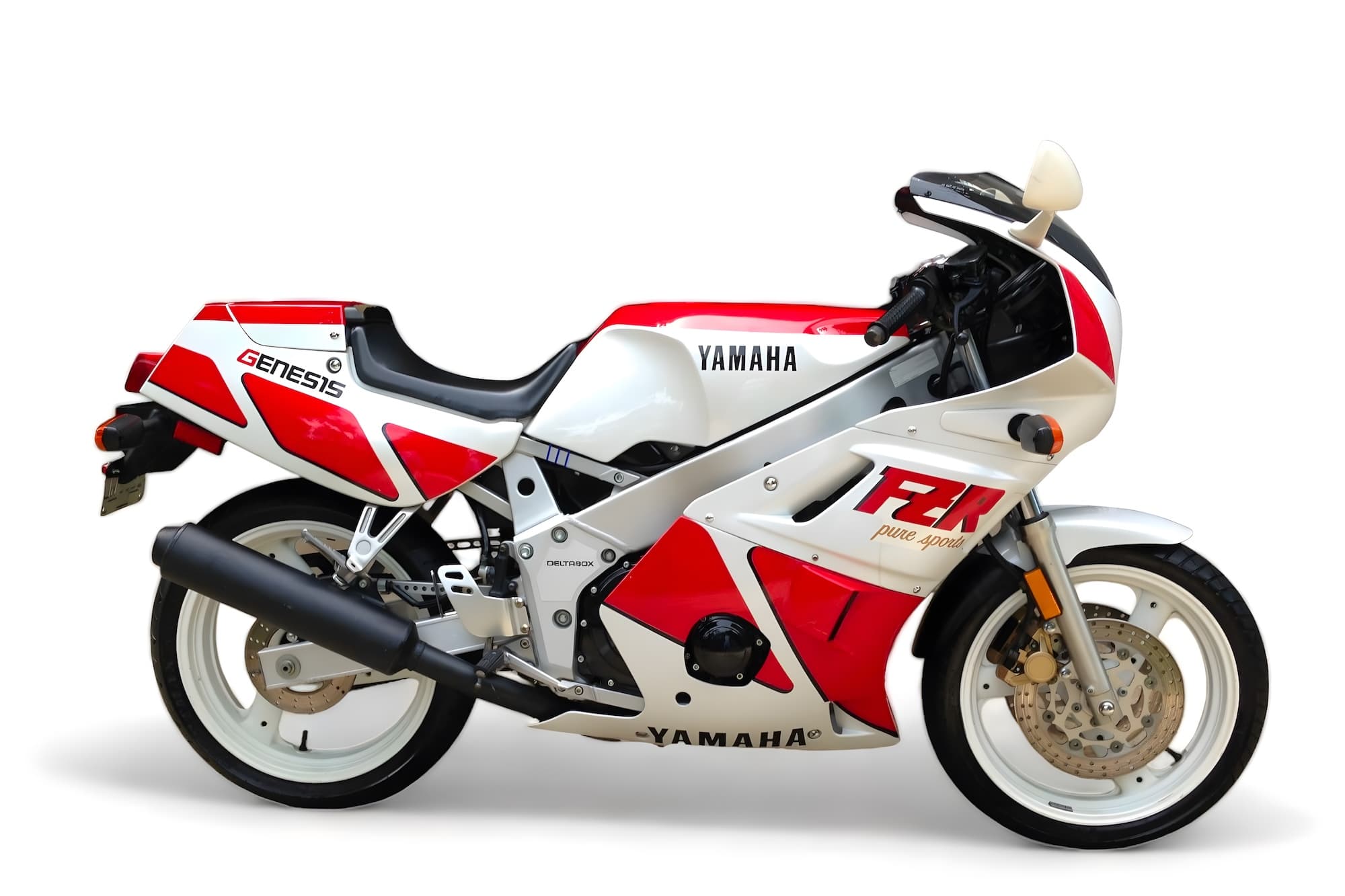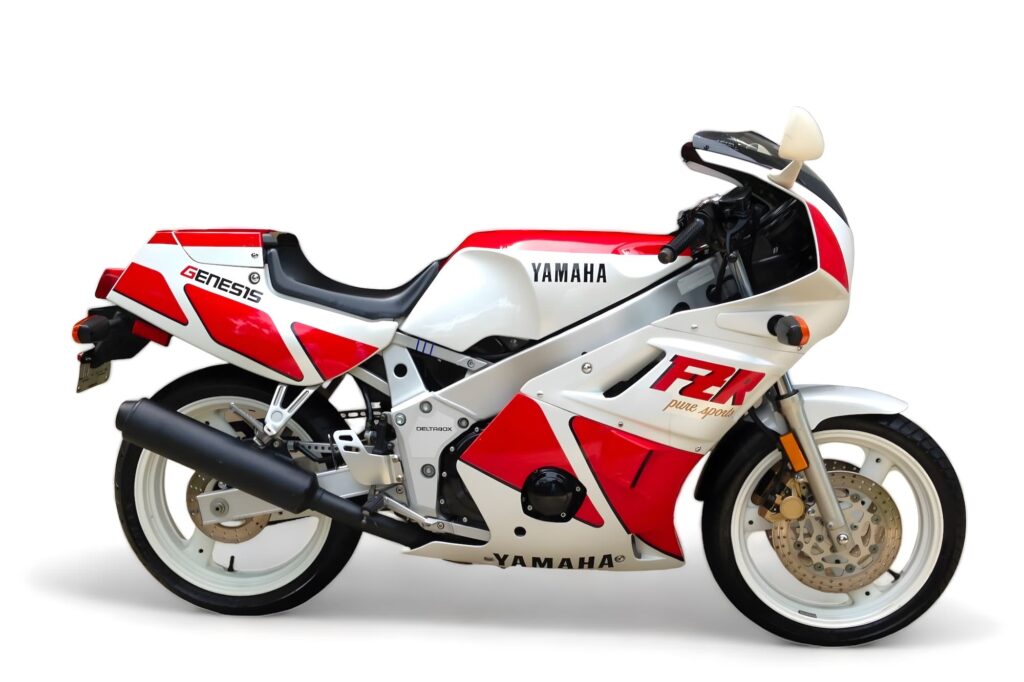 It's important to acknowledge the FZR 600, I think, because this was a middleweight sport bike accompanying the larger FZR1000, but still with a relatively comfortable riding position (though that may not have been the explicit intention at the time). The FZR 600 had the Deltabox chassis, which had only been debuted relatively recently in MotoGP.
The Deltabox frame is a kind of diamond frame that suspends the engine (per Yamaha's own description).
The FZR600 gave way to the YZF600R Thundercat, which lent its engine to the FZ6 Fazer, only in a twin downtube frame. Its successor, the fuel-injected 2004 FZ6 Fazer, revised that frame, but still didn't use a "Deltabox" style.
As good as the FZ6 Fazer and its successor, the FZ8 (which was loosely based on the larger Yamaha FZ1) were, the middleweight Yamahas were gradually getting heavier. This was particularly noticeable when compared with their competitors (like the Honda 599, 9 kg / 20 lb lighter) or the featherweight 1st gen Triumph Street Triple (around 22 kg / 50 lb lighter). Yamaha needed to shake things up.
The 1st gen Yamaha FZ-09 / MT-09, released in 2013 for the 2014 model year, shook things up for Yamaha. Firstly, it dropped a huge amount of weight. It wasn't as light as the Triumph Street Triple (which kept the crown for a long period), but the Yamaha MT-09 was also significantly torquier, thanks to its big displacement.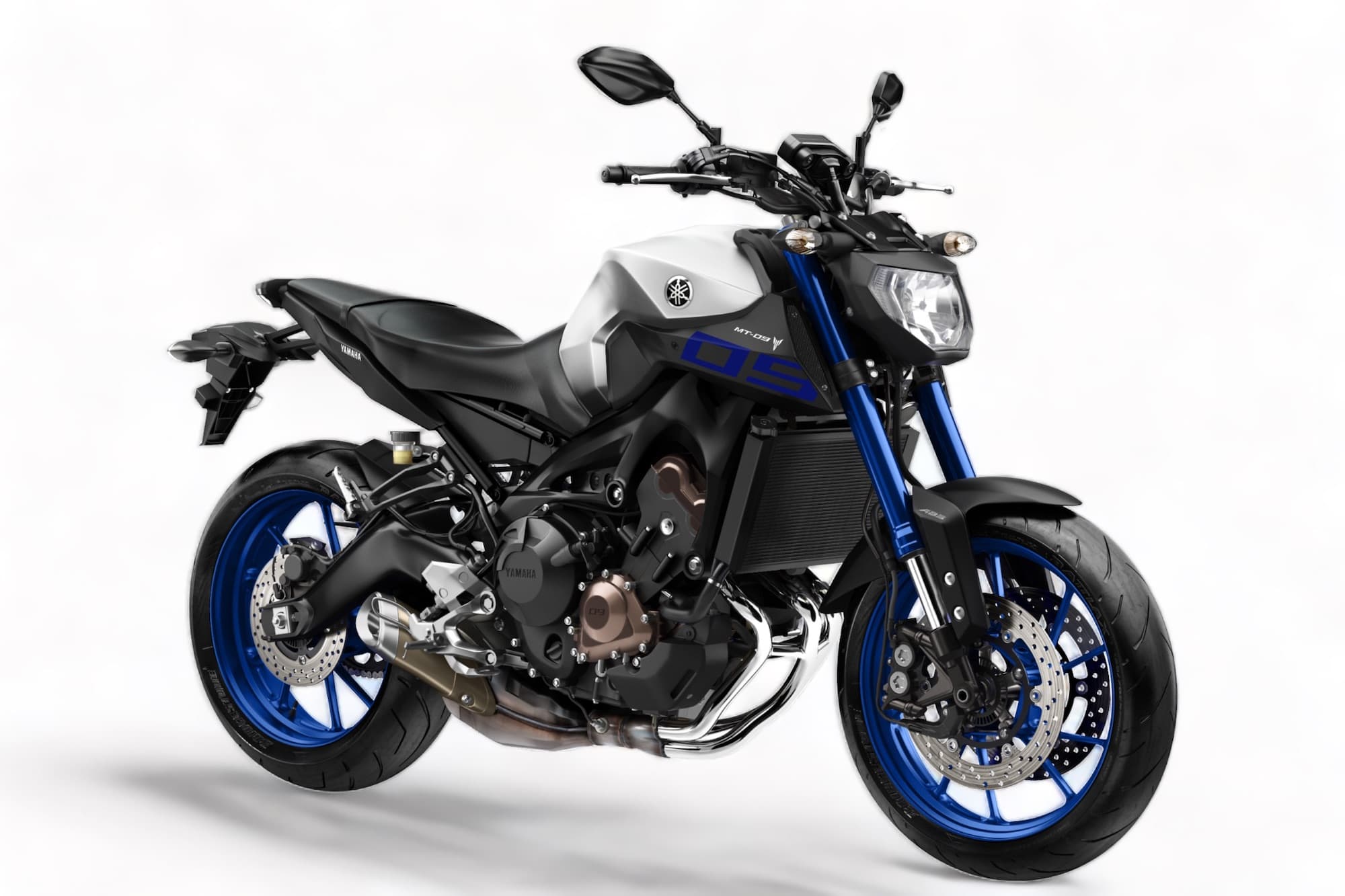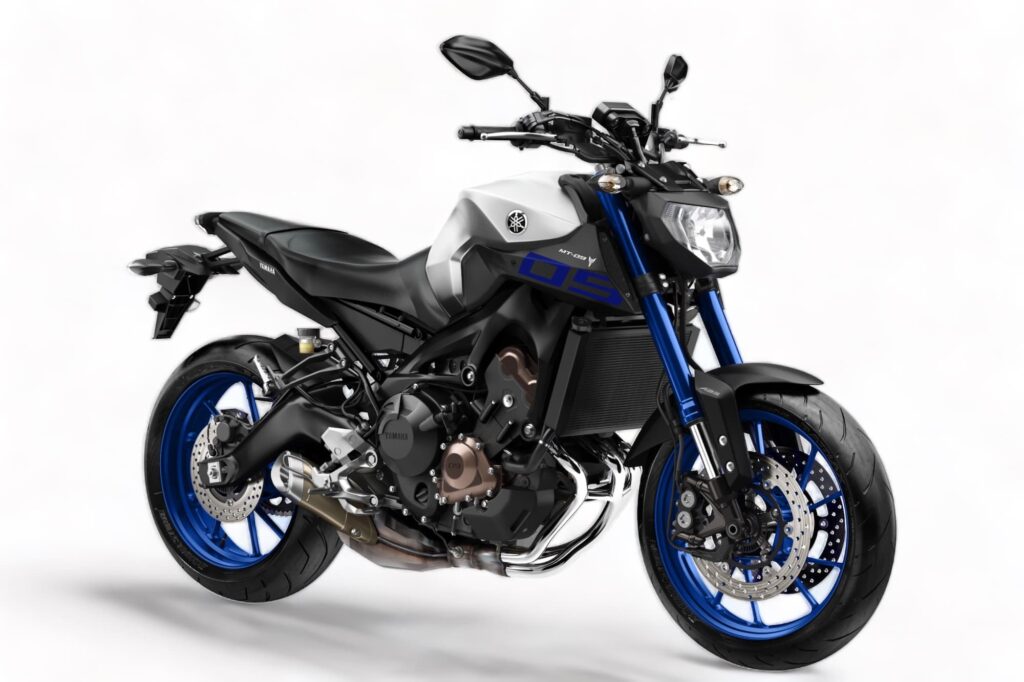 Another distinct change for the MT-09 is that Yamaha had made another triple, an engine format Yamaha has played with on and off over the years. The 847 cc three-cylinder engine, named the "CP3", has been an engine whose praises many have sung, whether or not they like the rest of the bike.
Unlike other manufacturers, many of whom based their middleweights naked bikes on middleweight sport bikes (like the Triumph Street Triple, which had an engine derived from that of the Triumph Daytona 675R), or on smaller-capacity versions of the bigger naked bikes (like the Yamaha FZ8 itself), the CP3 engine was designed first and foremost for road bikes — there was no version with a fairing and clip-ons.
The Yamaha MT-09 has been a runaway success, and one of the bikes I think back to most fondly (the 2021 SP model, anyway). One of its only foibles is that it doesn't look as good as some of its stylish competitors. I don't personally care; I'll pocket the difference in dollars and be happy. But if you're looking for a Yamaha FZ-09 / MT-09 in a more interesting-looking package, then you might be interested in the Yamaha XSR900.
Oh, and that's the other story that leads to the Yamaha XSR900 — Yamaha's "Faster Sons" movement. It's their philosophy of bringing back "sport heritage" motorcycles that have ties to the past but which are better.
Yamaha's Sport Heritage line currently includes the XSR900 and XSR700 (based on the MT-07 / FZ-07). In the UK, it includes the compact XSR125. And in the past, it has also included the SCR950 (a "scrambler"-styled Yamaha Bolt) and the Yamaha VMAX.
Yamaha XSR900 Generations — Spec Table
Below is a brief overview of the specs of the different generations of the Yamaha XSR900, for reference.
Item
XSR900 Gen 1
2016-2021
XSR900 Gen 2
2022+
XSR900 GP
2024+
Engine
847 cc CP3
890 cc CP3
890 cc CP3
Front suspension
KYB inverted fork, adjustable for preload (both legs) and rebound damping (right fork leg)
KYB inverted fork, fully adjustable: preload (both legs) + compression damping (left fork leg) + rebound damping (right fork leg)
KYB inverted fork, fully adjustable
(Detail pending)
Rear suspension
KYB Monoshock, adjustable for preload and rebound damping
KYB Monoshock, adjustable for preload and rebound damping
KYB Monoshock, fully adjustable
(Detail pending)
Front brake master cylinder
Conventional
Brembo, radial
Brembo, radial
Bars
High
Mid-high
Mid clip-on
Display
(See GP section for pics)
Round LCD
Rectangular TFT, 3.5-inch
Rectangular TFT, 5-inch
ABS / TC
Yes, 3 TC levels
Yes – Cornering
Yes – Cornering
QS
No
(OEM available)
Yes
Yes
Cruise
No
Yes
Yes
Yamaha XSR900 model evolution / changes
CP3 Engine Evolution
One of the major evolutionary points of the Yamaha XSR900 between the 2016-2021 models and the 2022 model is the engine. Below is a table of the changes in the engine between generations.
Item
First gen CP3
2nd gen CP3
Notes
Years
2014-2021 (MT-09)
2021+ (MT-09)
2nd gen is 2022+ on the XSR900
Capacity
847 cc
890 cc
Some sources say 889; bore and stroke calculates to 890
(see formulas page)
Bore / Stroke
78 x 59.1 mm
78 x 62.1
Slightly longer stroke
Compression ratio
11.5:1
11.5:1
Same, surprisingly
Peak power
84.6 kW / 115 PS / 113 bhp @ 10000 rpm
87.5 kW / 119 PS / 117 hp @ 10000 rpm
Bit more
Peak torque
87.5 Nm / 64.5 lb-ft @ 8500 rpm
69 lb-ft / 93 Nm @ 7000 rpm
More torque, lower down
Peak RPM
11300 rpm
10600 rpm
Per various sources (Ivan's performance, dyno readings)
Yamaha CP3 engine generations
OK, let's look at the specific generations of the Yamaha XSR900, below.
1st gen Yamaha XSR900 — 2016-2021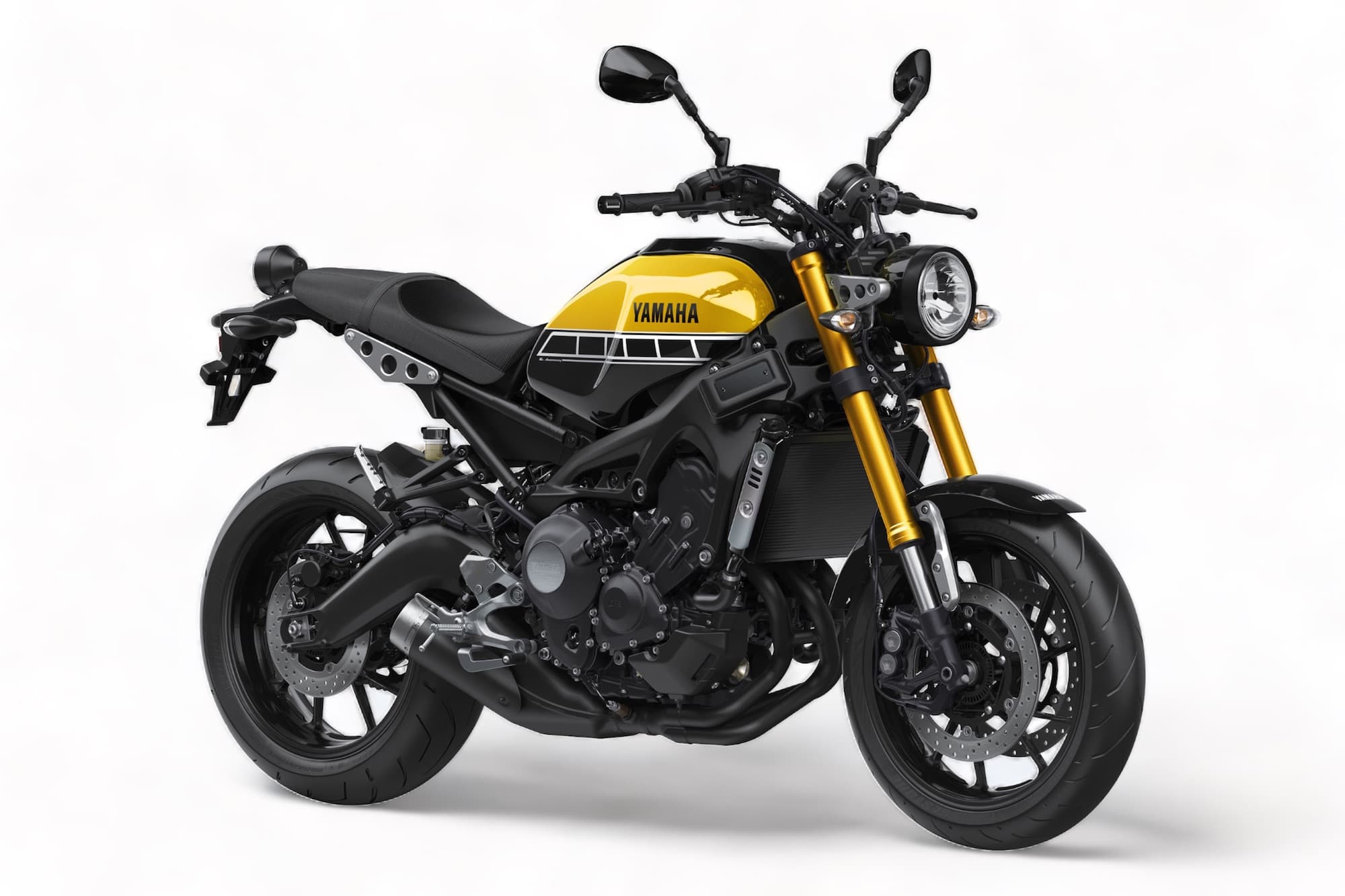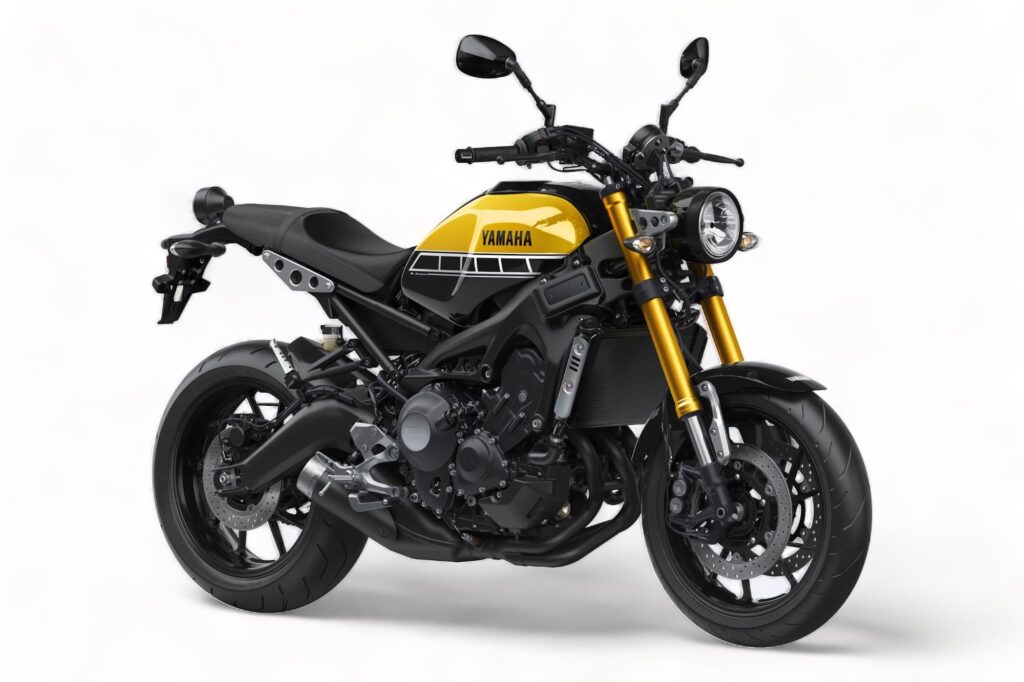 If you liked the MT-09, but weren't a huge fan of its looks, and also had an eye for retro-styled roadsters, then maybe the Yamaha XSR900 would be more your speed.
The first-gen Yamaha XSR900 was, at its core, a Yamaha FZ-09 / MT-09 but re-skinned. Yamaha chose the modern retro look, and changed several aesthetic features, including
The lights, adopting a compact round unit for the front and taillight
The dash, swapping the LCD of the FZ-09 for a round TFT dash
The muffler, again giving it a round tip
Because this is a neo-retro, Yamaha made a big deal out of materials used on the XSR900. So when checking one out, note the hand-buffed tank covers, aluminium rear fender, and leather covering on the seat. There's less plastic, in general — but also a few more kilos/pounds (not many, though).
Aside from aesthetics, what's interesting is that Yamaha also modified other aspects of the bike. Yamaha granted the first-gen 2016 XSR900 a few other improvements from launch. These included
3-way traction control (two settings, and off). Yamaha brought this to the 2016 MT-09 in Europe, but it didn't come to the US model FZ-09 until the 2017 refresh.
An assist/slipper clutch. This came only on the 2017 MT-09 / FZ-09
Tweaked throttle response for better rideability in A mode, which Yamaha had implemented in the 2015 model FZ-09 / MT-09
However, Yamaha never granted the first-gen XSR900 a quick shifter out of the box. That said, the OEM Yamaha quick shifter reportedly works on models that have a QS icon on the dash (depends on your build date — see this thread). There are also aftermarket options, of course.
And addressing the complaints about the FZ-09's suspension, Yamaha did the right thing and launched the XSR900 with an improved fork spring and valving, giving much more control on both ends. The XSR900 thus has much better composure than the earlier FZ-09.
Even the seat is more than just a styling exercise — it's more comfortable than the one on the FZ-09.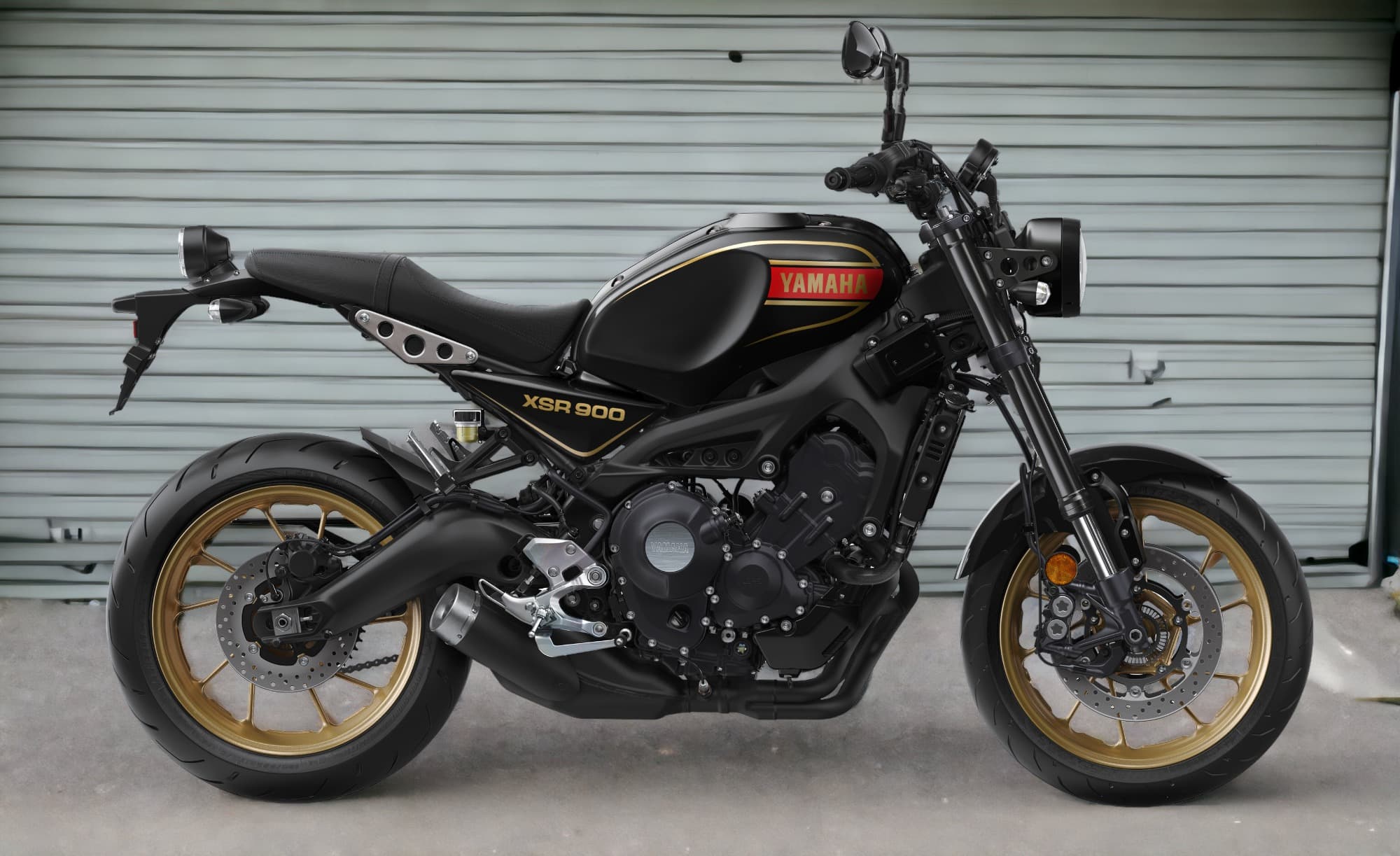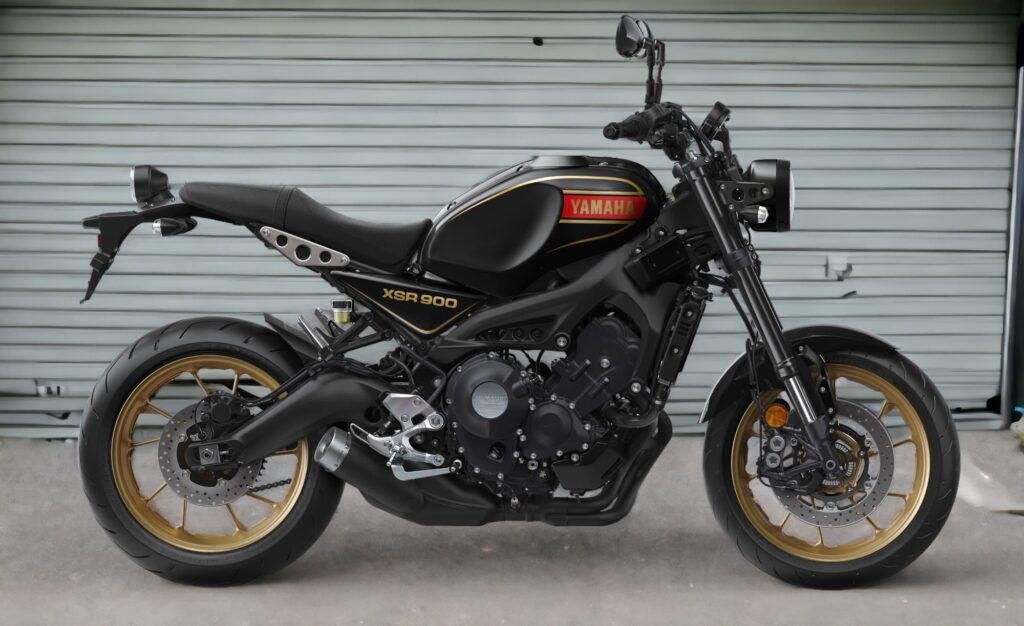 So all in all, you get a bike that has more conventional (but broadly appealing) good looks, and is all-in-all more capable than its sibling.
Riding the first-gen Yamaha XSR900, you are not really wanting for anything. The engine is smooth, the ride is comfortable, and it draws a lot of looks — particularly in its more striking colour schemes like the 2020 ones released as a last hurrah, with their contrast gold wheels.
The 84 kW / 110 hp @ 10000 rpm and sub-200 kg / 440 lb wet weight combo is a potent one, together meaning that with traction control switched off and an eager throttle, the XSR900's front wheel is pretty eager to jump into the air. In fact, it'll power wheelie fairly easily in the first few gears, to the point where experienced riders really describe it as being difficult to not wheelie.
And the best part is, you're wheelie-ing in style!
Yamaha XSR900 Abarth (2017)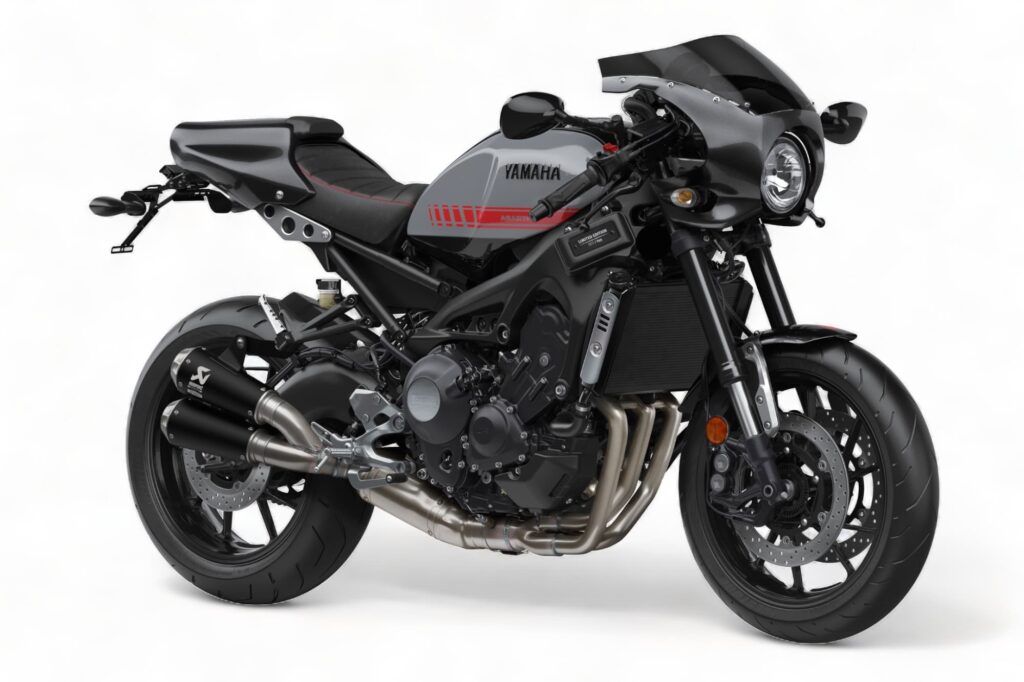 For 2017, Yamaha introduced a limited edition "Abarth" special edition of the XSR900, making just 695 units globally. The number corresponds to the Abarth 695, which they launched at the same time, and styled similarly in a fetching charcoal grey.
Abarth is an Italian racing brand. You may know Abarth, as I did, from the car world. In particular, there's the Abarth 595 / 695, the turbocharged go-kart-like pocket rocket that, sadly, never made it to the US, where small cars don't sell enough.
The XSR900 Abarth comes with a number of modifications to give it more cafe racer (I apologise for using that term) styling, including
A cafe racer (apologies again)-style windshield
Downward-rotated handlebars, for a low riding position, much like a… well… no, I won't say it a third time
An Akrapovič custom exhaust
Sporty suede solo seat with red stitching
Abarth logos and limited numbering
In person (or even in photos), the Abarth is quite striking. Heck, it's gorgeous. I personally couldn't stop looking at it in the display window of my local Yamaha dealer.
But the unfortunate reality of the Abarth is that the riding position is low. This is much more stretched out than even most sport bikes, given the longer tank.
This low bar makes it quite uncomfortable to ride — a styling exercise that reminds me of the same-year BMW R nineT Racer, a motorcycle that suffered from a similar problem of style interfering with function.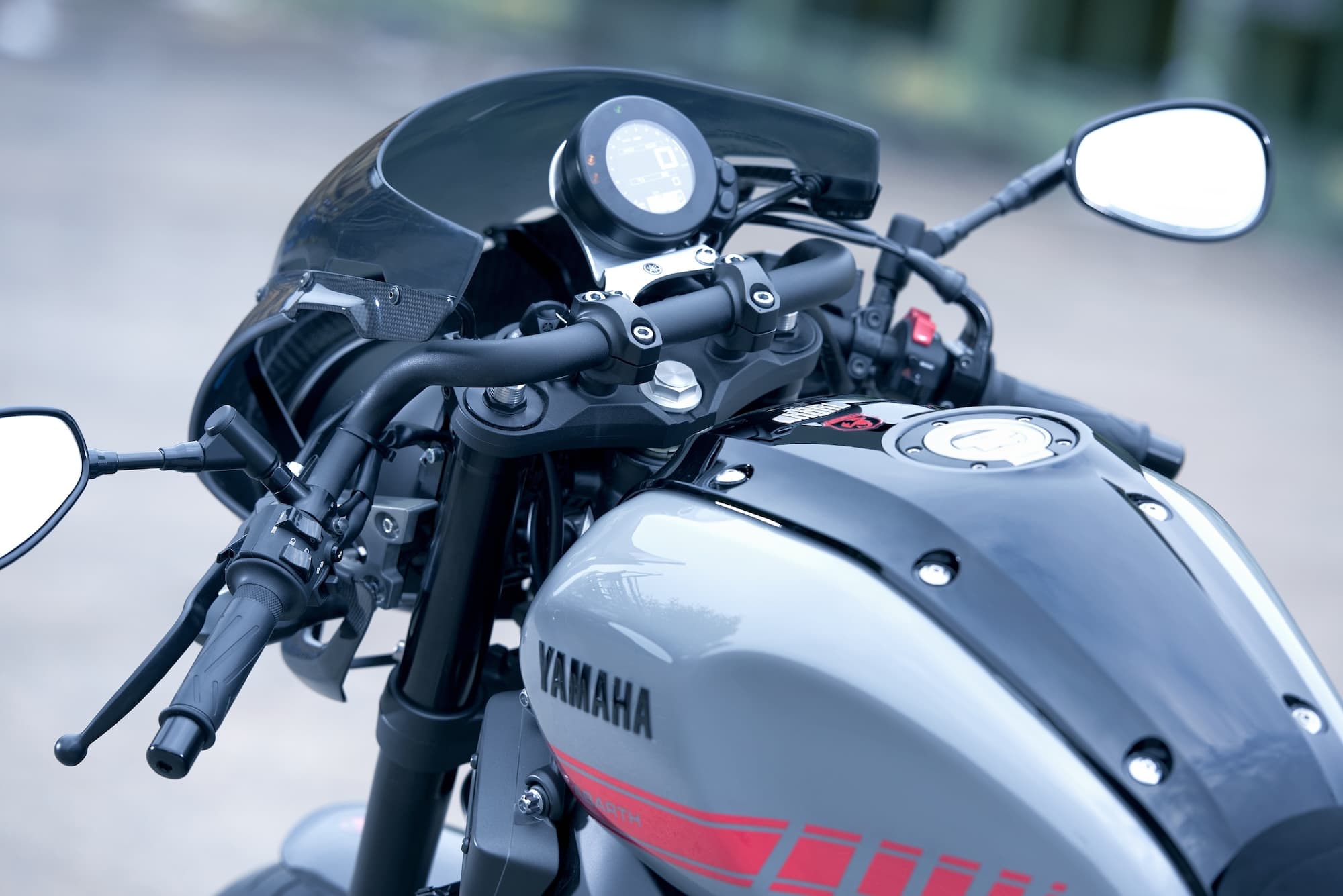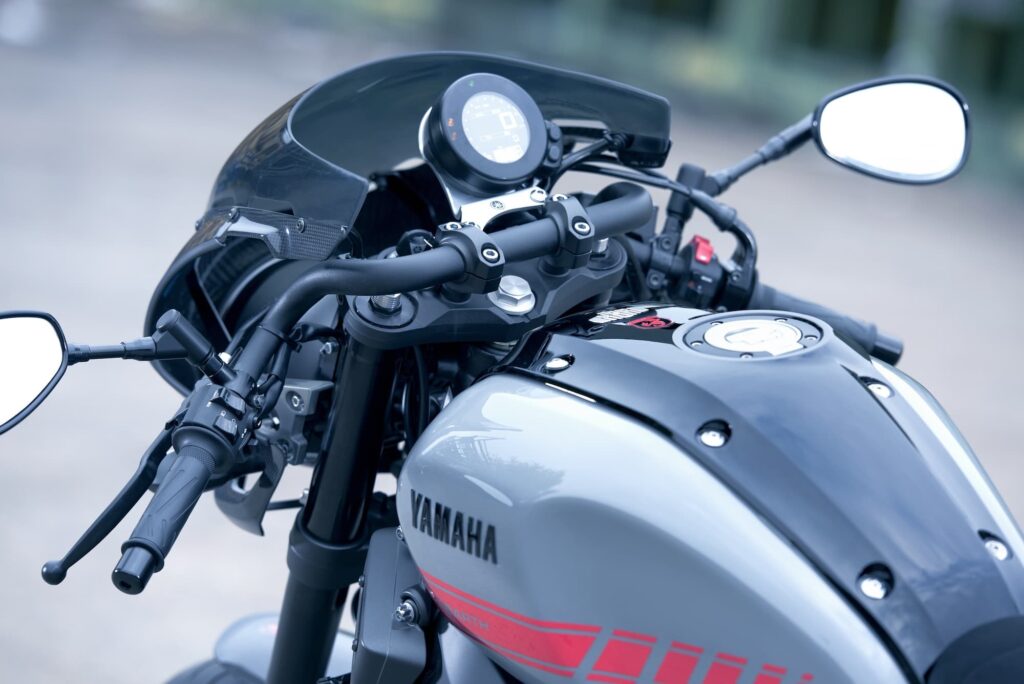 But wait, maybe you can just turn those handlebars up a bit, until it's comfortable. Or replace them with whatever you want. As long as there's clearance, it should be perfectly rideable.
Regardless, it's very nice to look at. Luckily for us, we'd see more of this kind of style, soon.
2nd gen Yamaha XSR900, 890cc (2022+)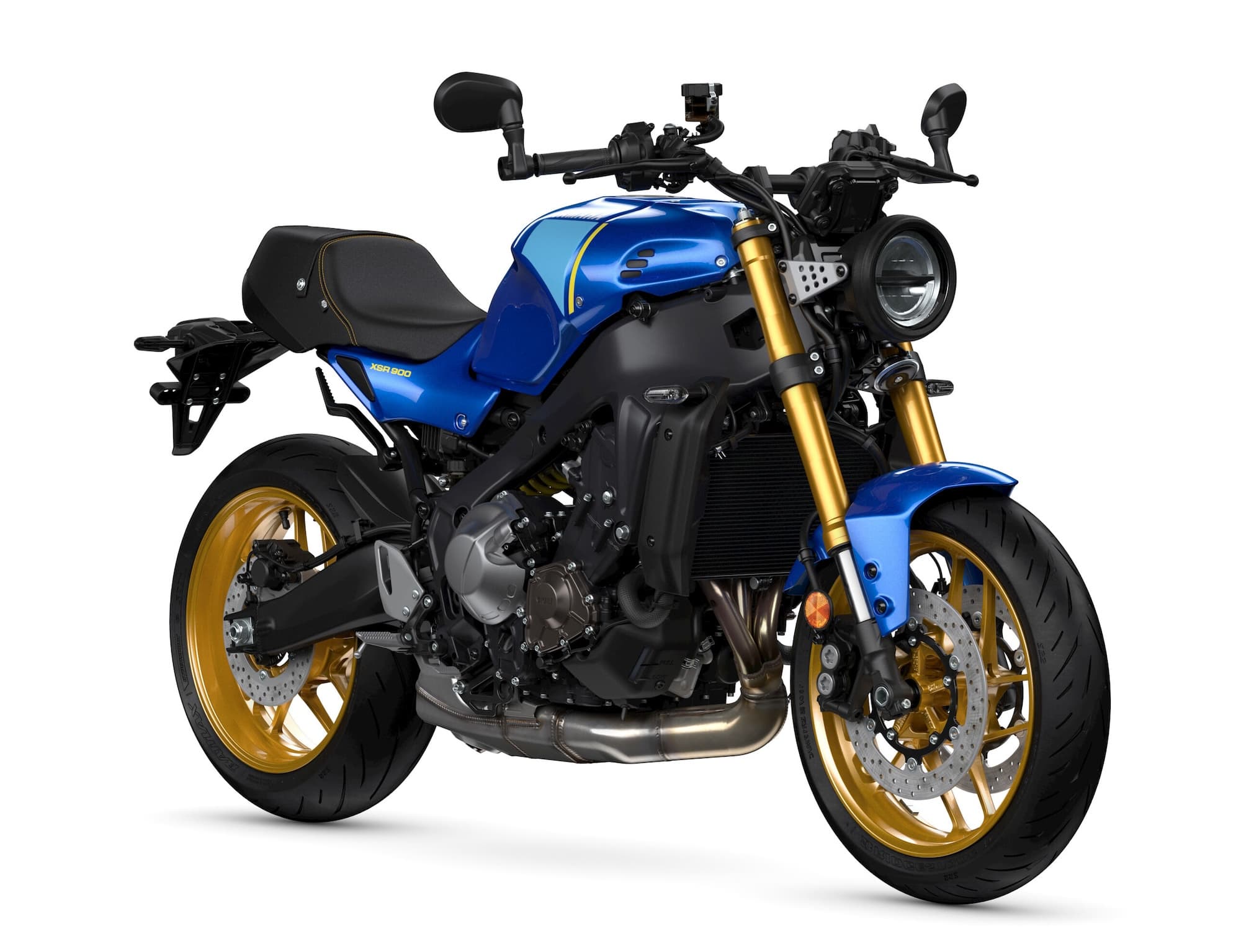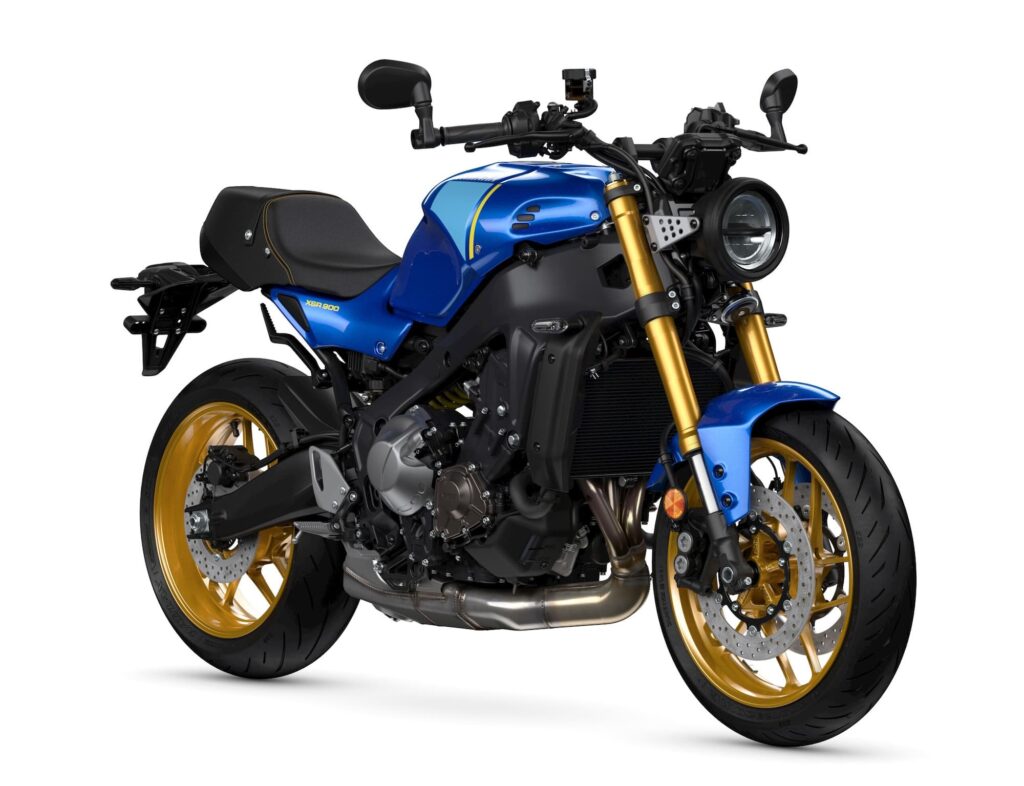 In 2022, Yamaha brought to the XSR900 the same changes it had brought to the 2021 Yamaha MT-09 — largely, the bigger and gruntier 890cc CP3 engine.
See here for a compendium about what changed in the 2022 Yamaha XSR900.
The CP3 isn't just a bigger, more powerful motor. In fact, peak power only moved up a notch. But what Yamaha managed to achieve with the larger CP3 motor is to improve torque across the rev range, and to achieve what I think is perfect throttle response. There are no surprises with the new motor, no glitches, just an arc of broad torque that extends from down low, all the way to the top. Is this engine perfection? It's up there, anyway.
But Yamaha didn't just improve the engine in the 2nd gen Yamaha XSR900. Yamaha also improved the suspension, the brakes, the ride aids, and the display, and even gave the XSR900 a quick-shifter.
Part
2016-2021 Yamaha XSR900 "1st gen"
2022+ Yamaha XSR900 "2nd gen"
Engine
847cc CP3
890 cc CP3
Front suspension
KYB USD fork, adjustable for preload and rebound damping
(same as 2014-2016 MT-09)
Fully adjustable KYB USD fork
(Same as 2017+ MT-09)
Front brakes
Dual 298mm discs, regular ABS
Dual 298mm discs, cornering ABS, Brembo radial front master cylinder
Wheels
Cast 10-spoke wheels
10-spoke spin-forged (700g lighter)
Wet weight
195 kg / 430 lb
193 kb / 425 lb
Electronic rider aids
* Regular ABS
* Traction control
* 3 power modes
* Cornering ABS
* Lean angle-aware traction control
* Lift control
* Slide control
* 4 power modes
* Cruise control
Manual rider aids
* Assist and slipper clutch
* Assist and slipper clutch (refined design)
* Quick shifter
Display
Circular LCD
3.5-inch TFT
2016-2021 Yamaha XSR900 vs 2022 XSR900 — Specs compared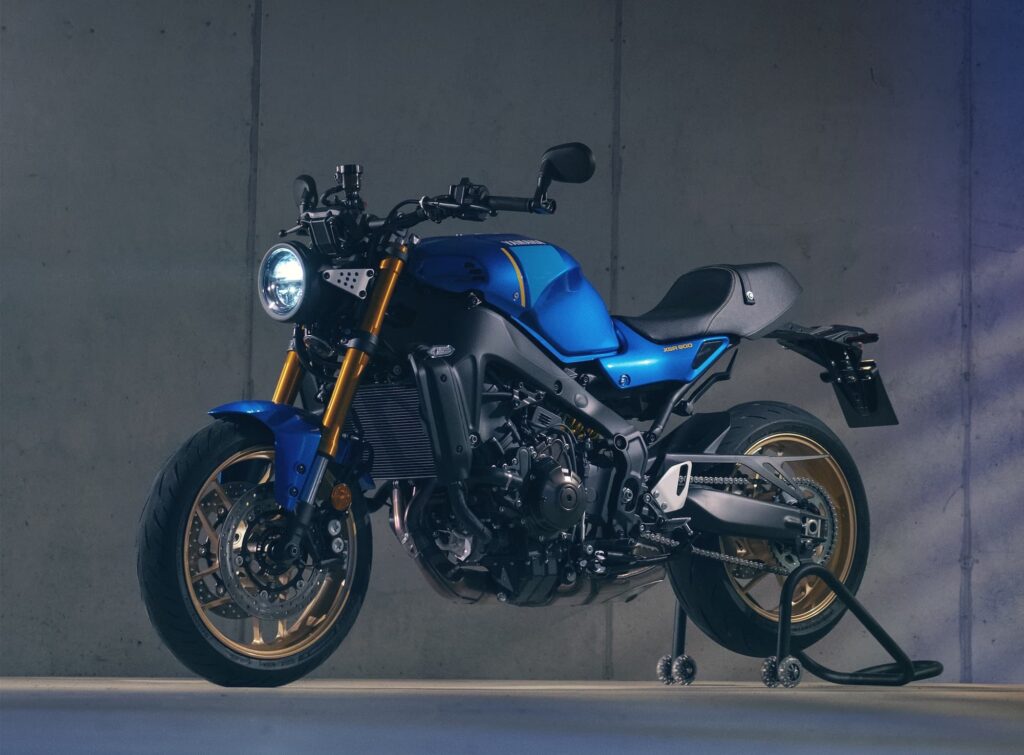 What's interesting is that the 2022 XSR900 sits, in terms of features, somewhere between the middle of the base-model 2021 MT-09 and MT-09 SP, with even one spec better (can you find it?)
| Item | 2021 MT-09 | 2022 XSR900 | 2021 MT-09SP |
| --- | --- | --- | --- |
| Front suspension | 41 mm KYB inverted fork, fully adjustable (separate compression / rebound on each leg) | 41 mm KYB inverted fork, fully adjustable (separate compression / rebound on each leg) | 41 mm KYB inverted fork, fully adjustable on both legs, DLC coating |
| Rear suspension | KYB shock, preload / rebound adjustable | KYB shock, preload / rebound adjustable | Öhlins shock, fully adjustable |
| Front brake master cylinder | Nissin radial master cylinder | Brembo radial master cylinder | Nissin radial master cylinder |
| Display | 3.5-inch rectangular TFT | Round TFT | 3.5-inch rectangular TFT |
| Cruise control | No | Yes | Yes |
Table comparing 2022 XSR900 to 2021 MT-09 and 2021 MT-09 SP
Yamaha brought up the spec of the MT-09 in 2024, adding cruise to the base model, a bigger display to both, and upgrading the brakes of the SP. It's a game of tag, and each model seems to add features one after the other!
See here for more about what changed with the 2021 MT-09 and MT-09 SP.
Aside from those changes, the XSR900 is the same conceptually as the earlier gen — a style-forward neo-retro roadster with a very modern engine, and looks that are something like "What you'd get if you tried to make a modern naked bike look retro, without totally going to town on it."
Fundamentally, the style hasn't changed. The chassis and engine look quite busy — it's not an engine you'd gaze longingly at for minutes on end. But it delivers as a rider's motorcycle.
Yamaha also quietly began offering a bunch of factory options for fairings and bits to improve the style of the XSR900. I don't see too many of these on the road, which is a shame, as they can wake up the retro style of the motorcycle.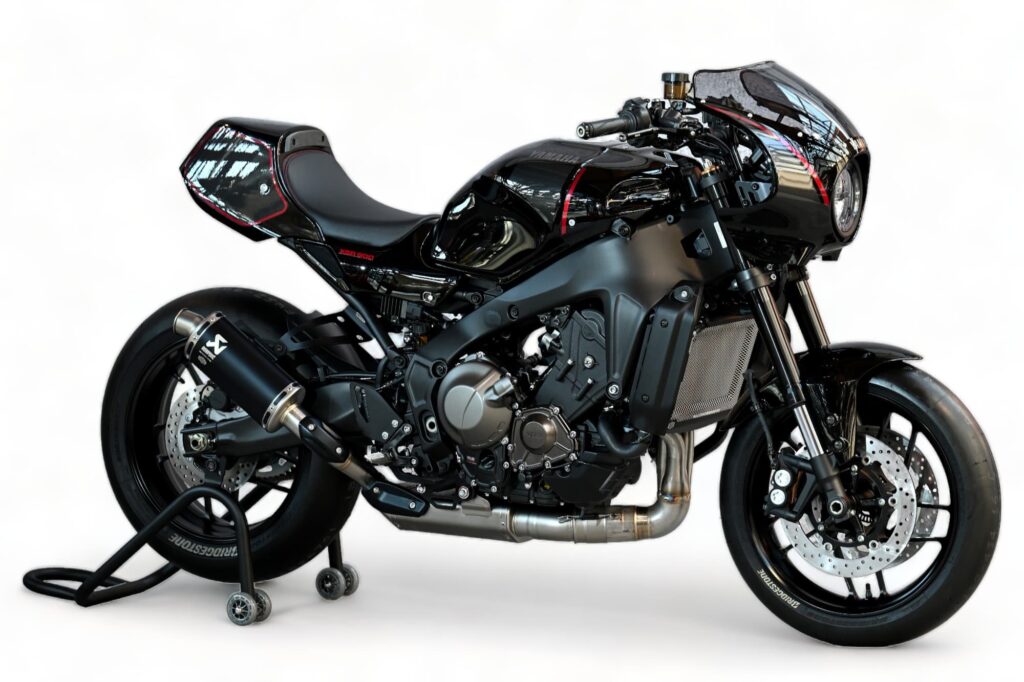 Yamaha XSR900 DB40 Goodwood (2023)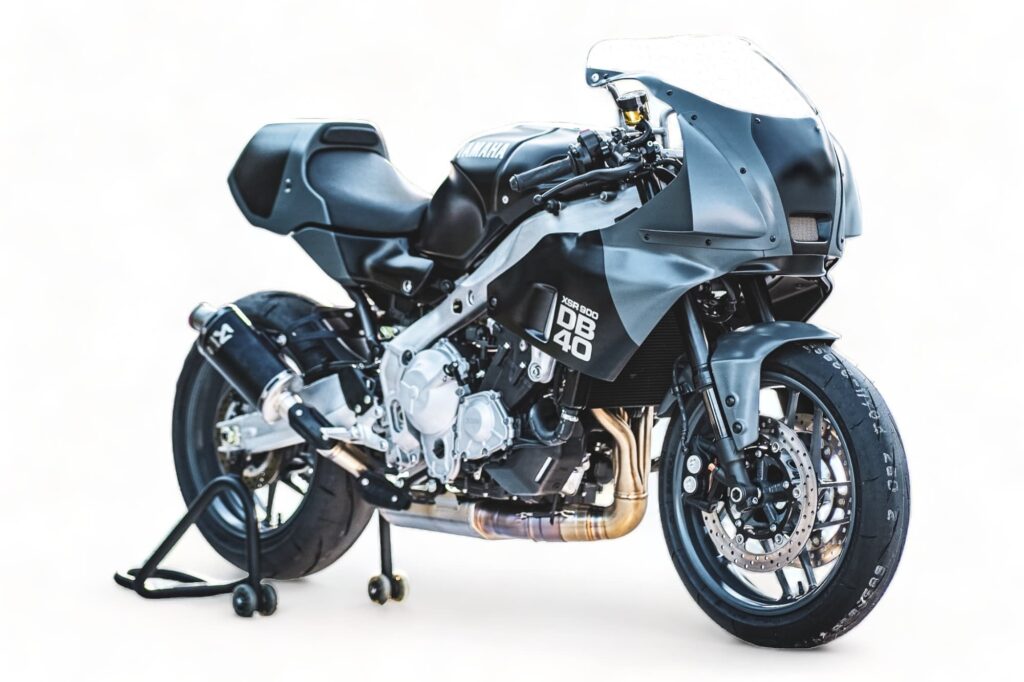 Early in 2023, at the Goodwood Festival of Speed in England, Yamaha showed off a model they called the XSR900 "DB40 Prototype".
The DB40 Prototype is so named for the Deltabox ("DB") frame, the latest version of which is what houses the XSR900's motor in this model, as well as the 2022 XSR900. The 40 stems from 2022 being the 40th anniversary of the frame (as of the time of the bike's build), which first appeared on the 1982 YZR500 GP bike.
If you've already jumped ahead to the XSR900 GP, you can see some hints of it in the DB40 already: the squinty front headlight, the sports exhaust, the single seat, and the low handlebars.
The DB40 prototype wasn't a production type — but we'll get to that soon.
Yamaha XSR900 GP (2024+)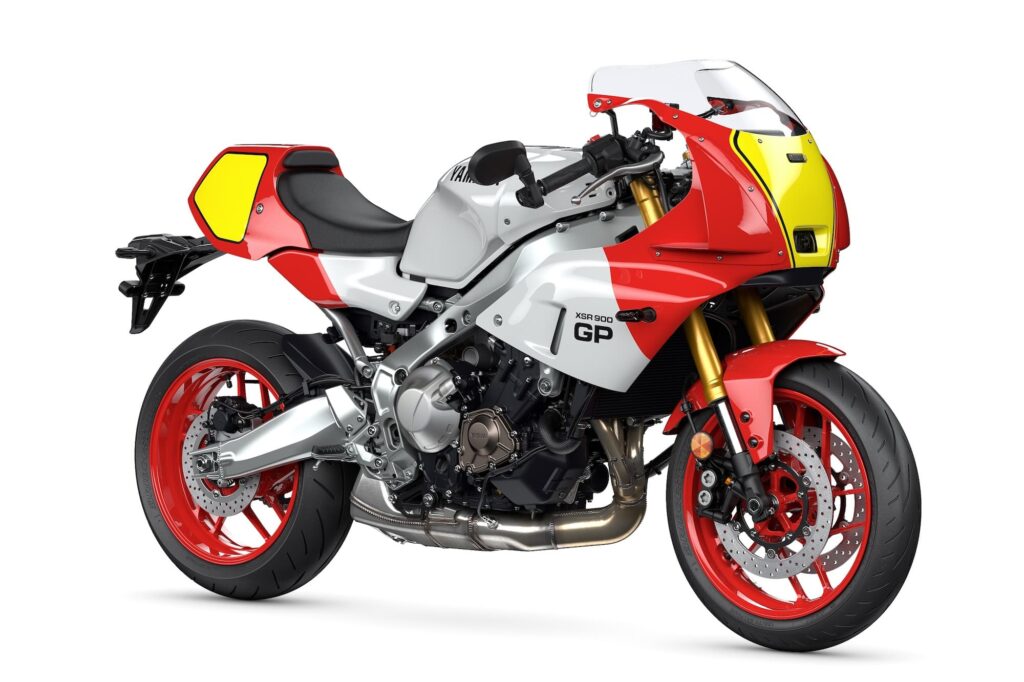 In late 2023, Yamaha announced the 2024 XSR900 GP, taking many cues from the DB40 prototype, and adding MotoGP colours in the "Legend Red" colour scheme.
… Wow, those are some bright colours! If you're wondering where they're from and are not into MotoGP, they're from the Yamaha YZR500, the 500 cc 2-stroke MotoGP bike that Yamaha used for decades until 2003, when new rules allowed 990 cc 4-stroke engines.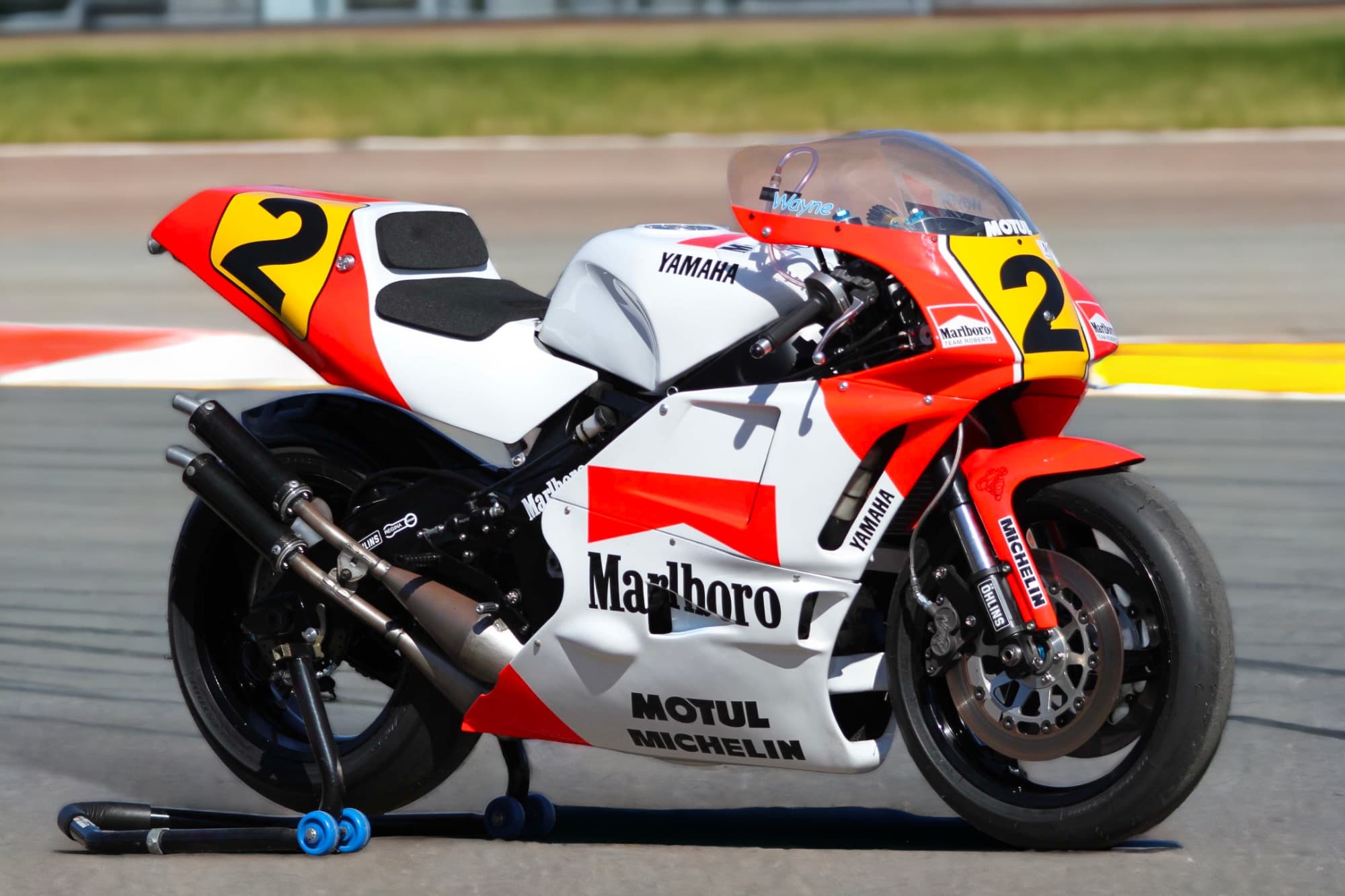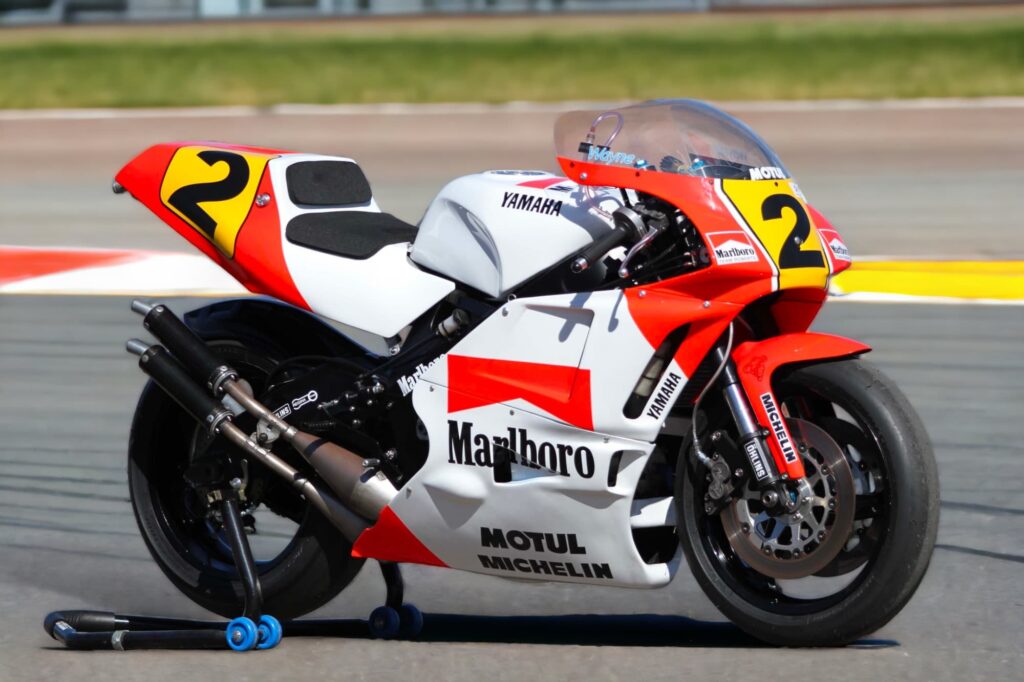 The Yamaha XSR900 GP takes the 2022 XSR900 improvements (engine, electronics, chassis and suspension refinements) and adds a retro fairing, clip-on handlebars (though not too low), and a single seat — much of what we saw in the DB40 prototype earlier in 2023.
It's important to note that the riding position of the XSR900 is not a severe sportbike-like riding position. Yamaha deliberately has kept the position of the bars comfortable — think sport bike with two-inch risers. The clip-ons are above the triple clamps (see below).
Similarly, the footrests come in two positions, upper, and lower. By default they're in the upper position, but I would put them on the lower position on day one, bringing it back up only for track days.
Though one improvement I really like is the under-chassis exhaust. It's lightweight, tidy, and keeps the centre of gravity low. The XSR900 GP is begging for a tail tidy, but once that's done, it'd be a very clean-looking stock motorcycle.
But Yamaha improved other parts of the XSR900 as well for the GP model. Improvements include:
Fully adjustable suspension – including a fully adjustable shock (Note: Unclear whether the fork is from the MT-09 SP or from the XSR900)
An increased-rigidity Deltabox chassis, tuned for the GP's sportier riding position
A larger 5-inch TFT, which I'm sure will make its way to the other models soon (given the newer MT-07 already has it)
Emergency Stop Signal brakes
TFT displays are divisive. But my unsolicited opinion (and I'd be interested to. hear yours) is that if you're going to go TFT, then make it a good one, that can show navigation so I don't have to have TWO screens in front of me.
And make it a cheap one to replace — a part used on multiple bikes. So, rectangular is fine.
But round gauges still have a place in my heart.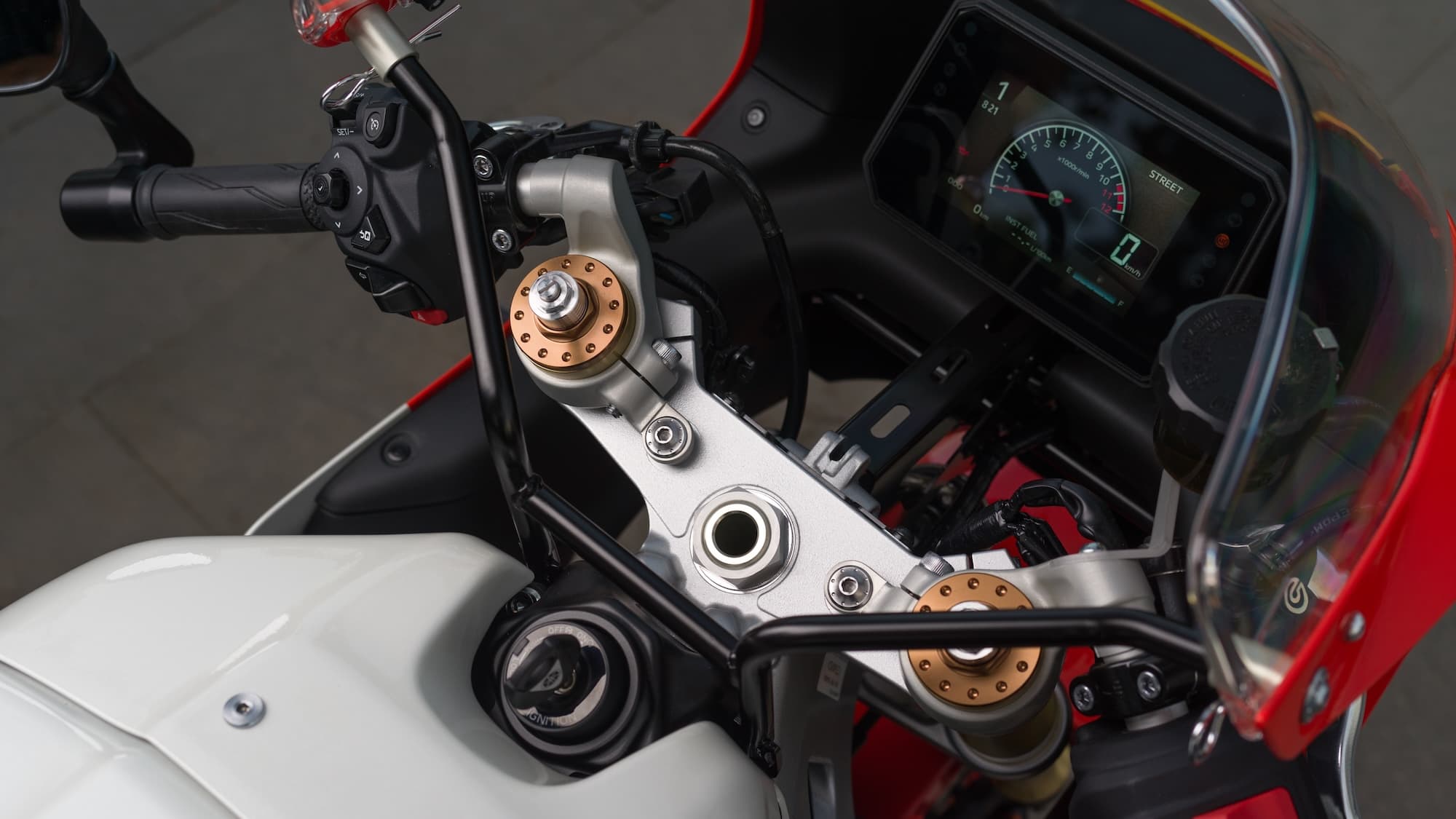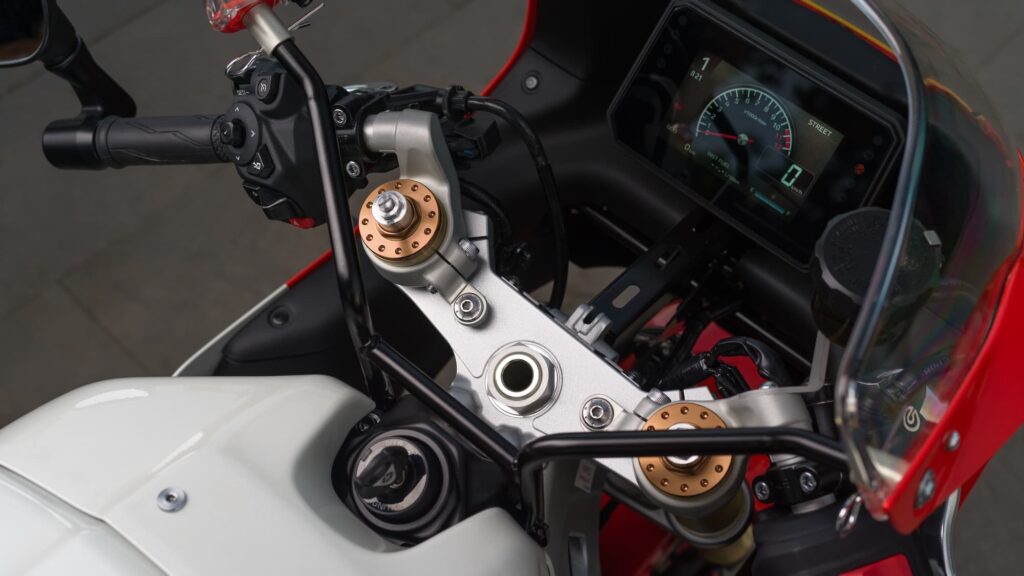 In fact, coupled with that cage and the copper fork caps, the XSR900 GP's cockpit is one of the nicest TFT-equipped clusters I've seen.
If you're not into the GP colours, you can also get the XSR900 GP in a much more socially acceptable "Power Grey", which looks a lot more like the DB40 we saw before.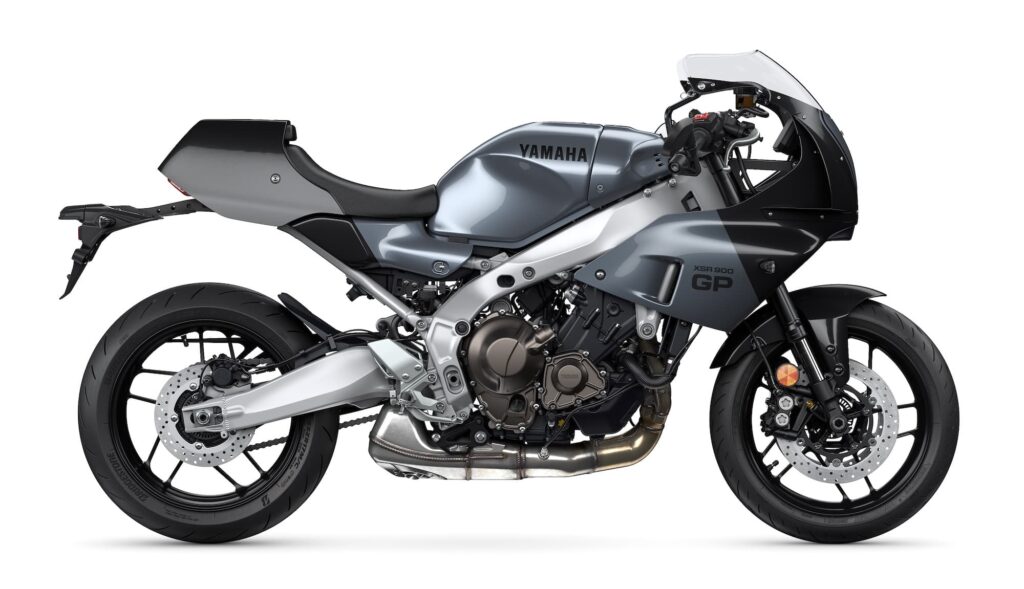 But maybe you just need to see the XSR900 GP in a different light…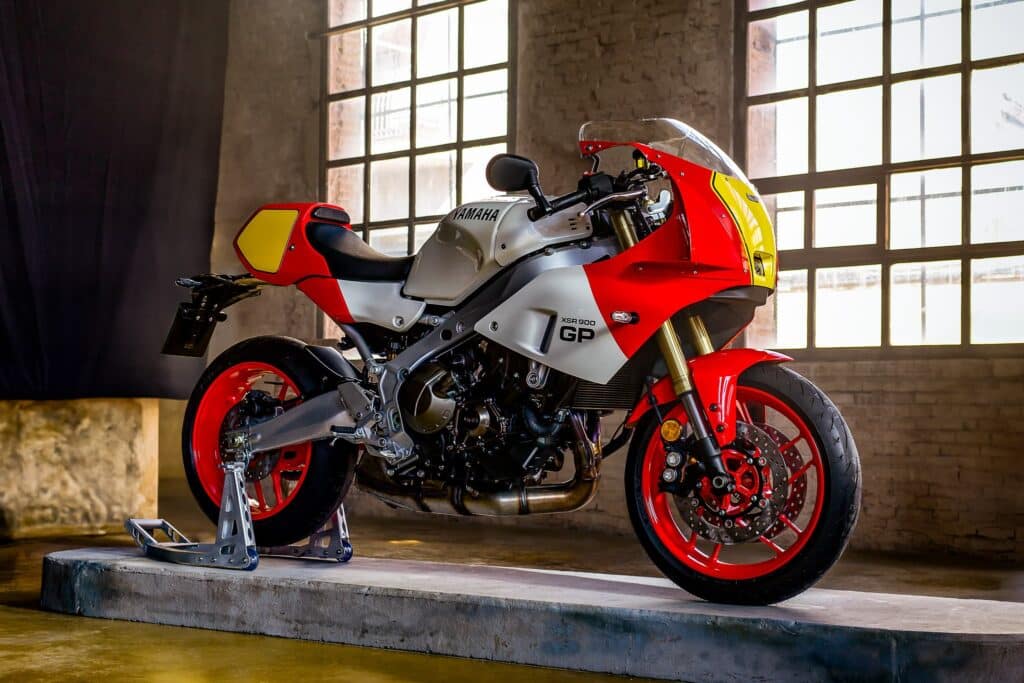 Finally, pending the release of an official image, here's a screen grab from Yamaha's promotional video of the XSR900 GP with a lower fairing.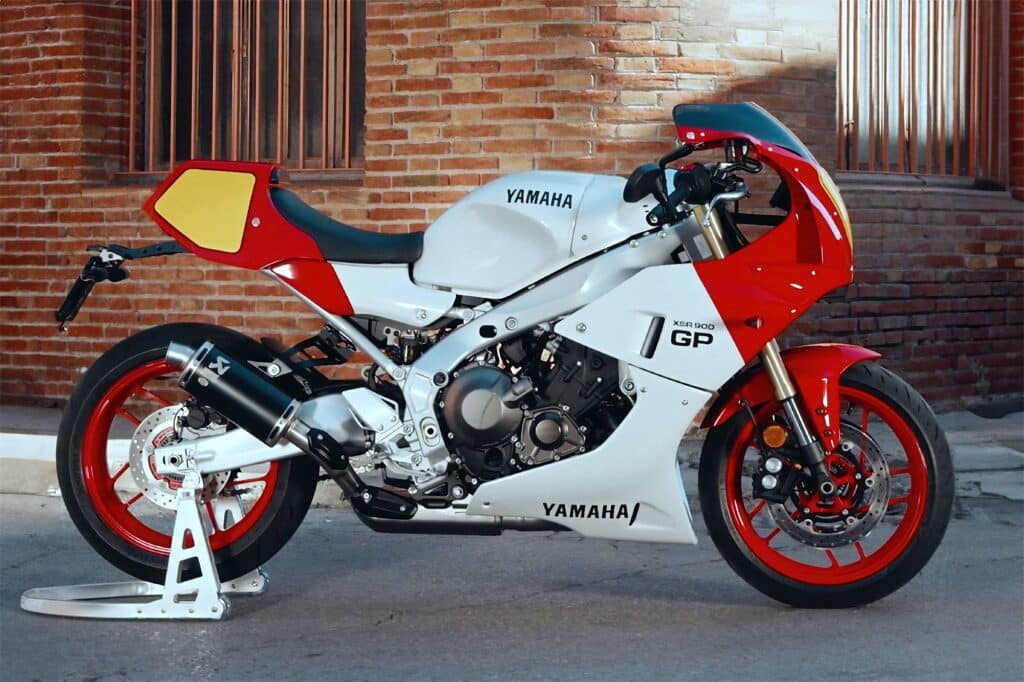 Alternatives to the Yamaha XSR900
If you're looking at the Yamaha XSR900, you're probably looking at other mid-high spec neo-retro sportbikes.
Below is a slider of the high-end middleweight sport bikes from the major manufacturers, including the XSR900. This is just the bikes that have sporty, liquid-cooled engines… the heavier more retro-focused motorcycles (like the BMW R nineT and Triumph Speed Twin) are a different category — still very capable, just slightly different.
Honda CB1000R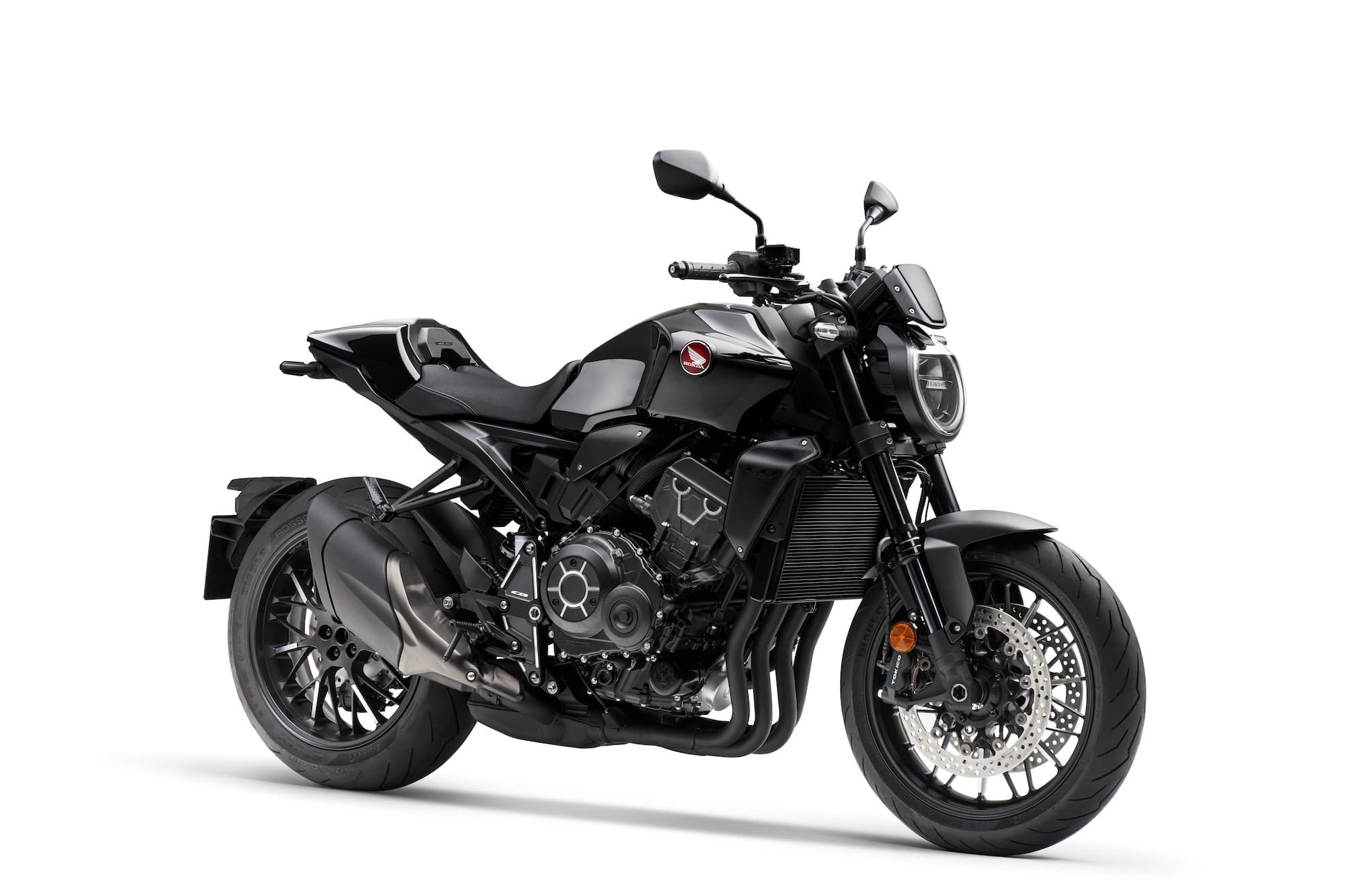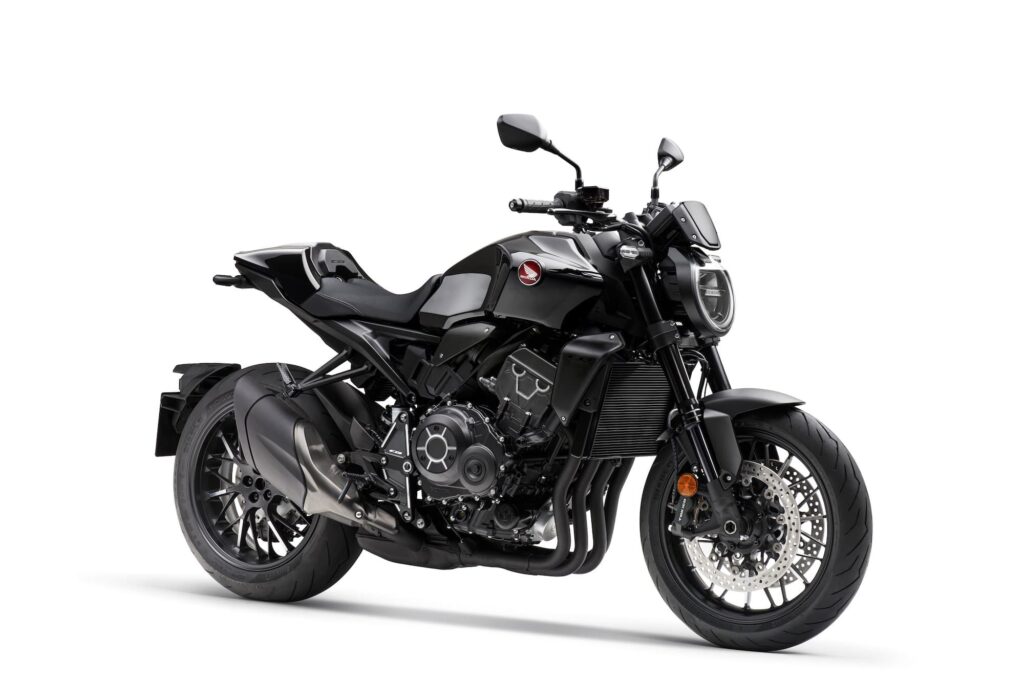 The Honda CB1000R is the most recent of its CB line of naked sport bikes based on the CBR1000RR motor from a few generations ago. Honda calls this "Neo Sports Café" styling. The core is a ride-by-wire 998 cc liquid-cooled inline-four that makes 145 hp at 10500 rpm — putting this between the "middleweights" and the "supernakeds / streetfighters" in terms of power delivery.
But the Honda CB1000R is also brimming with style, with its single-sided swingarm and elegant wheels and headlight. Tech is a bit old hat — there's a 5-inch TFT, ABS, and TC, but no cornering ABS, nor cruise. You can no longer get the Honda CB1000R in the US, and it's a shame — but there are a lot of units still for sale. (See the Honda CB1000R review and buyer's guide.)
Kawasaki Z900RS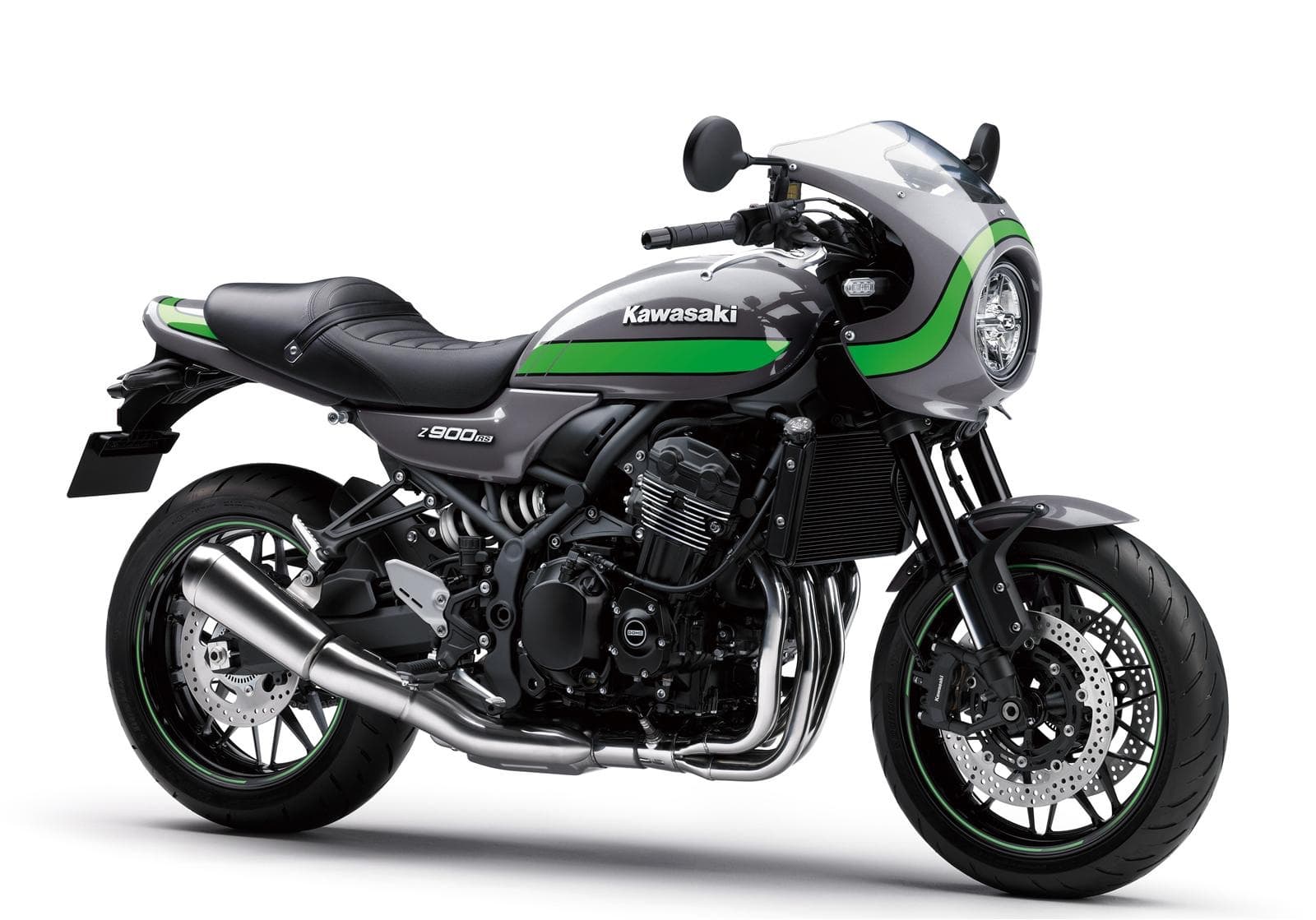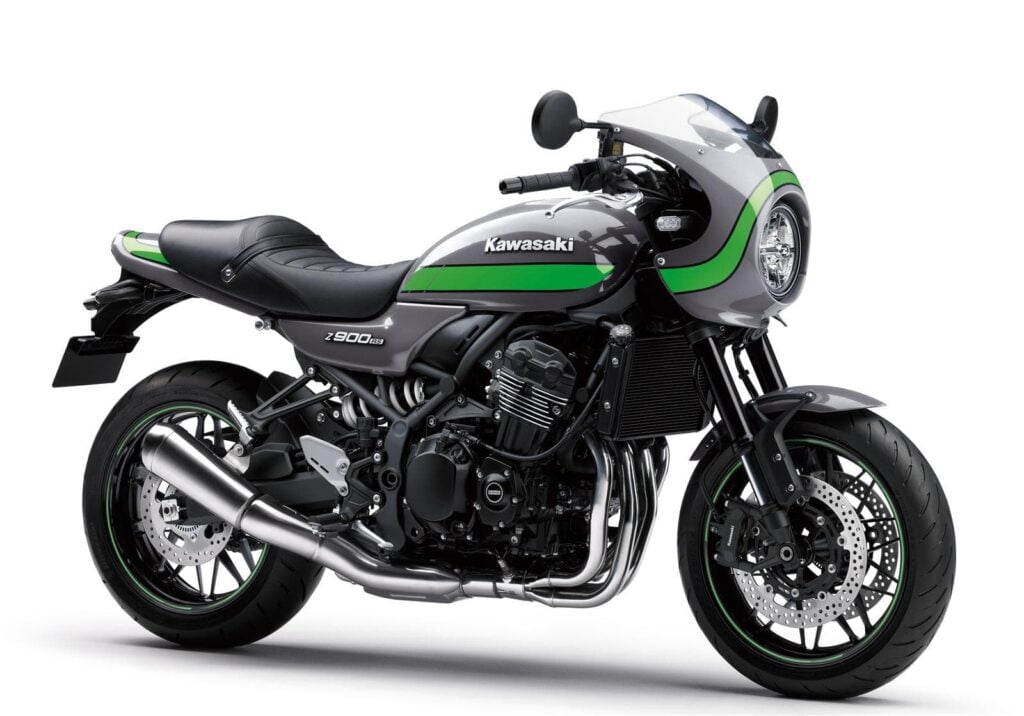 The Kawasaki Z900RS is a gorgeous modern retro, loosely based on the Z900 (sportier, but cheaper), as well as trying to hearken back to the "Eddie Lawson Replicas" (but not really doing so other than in a vague sort of way).
The core of the Z900RS is a 948 cc inline four-cylinder engine that is tuned for 82 kW / 110 hp at peak at 8500 rpm — but it can be easily tuned for more. The riding gear is good, but the tech level is basic — though one benefit of that is that this is a rare modern bike with twin gauges rather than a TFT display. The Z900RS It has a comfortable riding position, even in café format.
See the comparison of the Z900 and Z900RS.
Suzuki GSX-S1000 Katana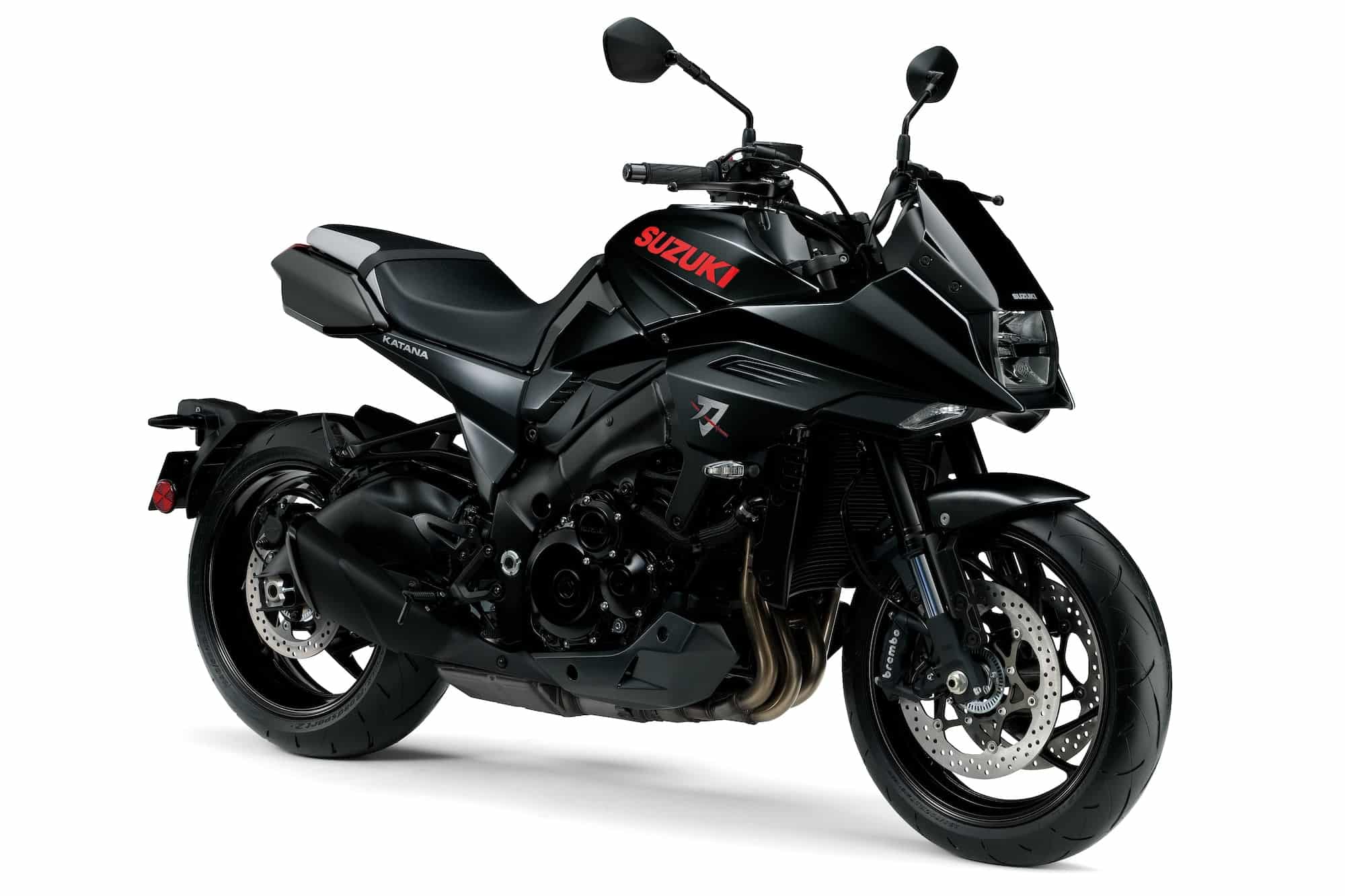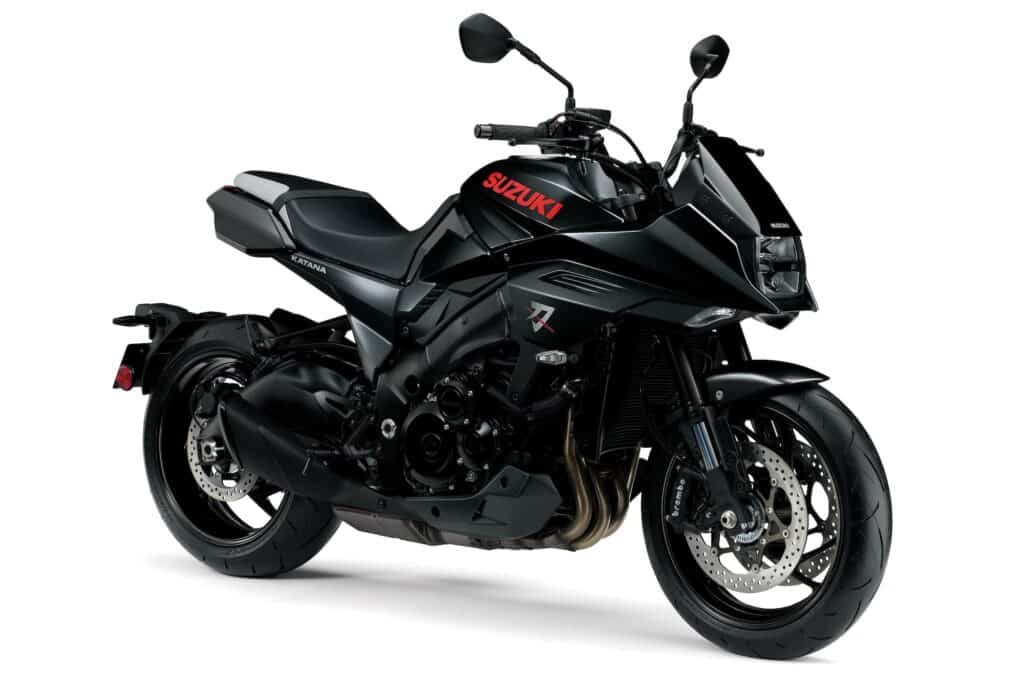 The Suzuki GSX-S1000 Katana is a modern reimagining of the classic Suzuki Katana, with angular styling that looks amazing in person (Suzuki has a way with paint). The heart of the Katana is the same as that in the GSX-S1000 / F / GT, which has heritage dating back to the K5 GSX-R1000, known for its broad spectrum of torque.
The Suzuki Katana 1000's 999 cc inline four-cylinder engine makes a peak of 110 kW (150 PS / 147 bhp) at 10000 rpm, which is a huge amount of power for a relatively upright naked bike. The 2022 version makes slightly more, due to an emissions compliance revision, and also has a bi-directional quick shifter. But the Katana lacks ride aids like an IMU or cruise control — it's still old-school at heart.
Yamaha XSR900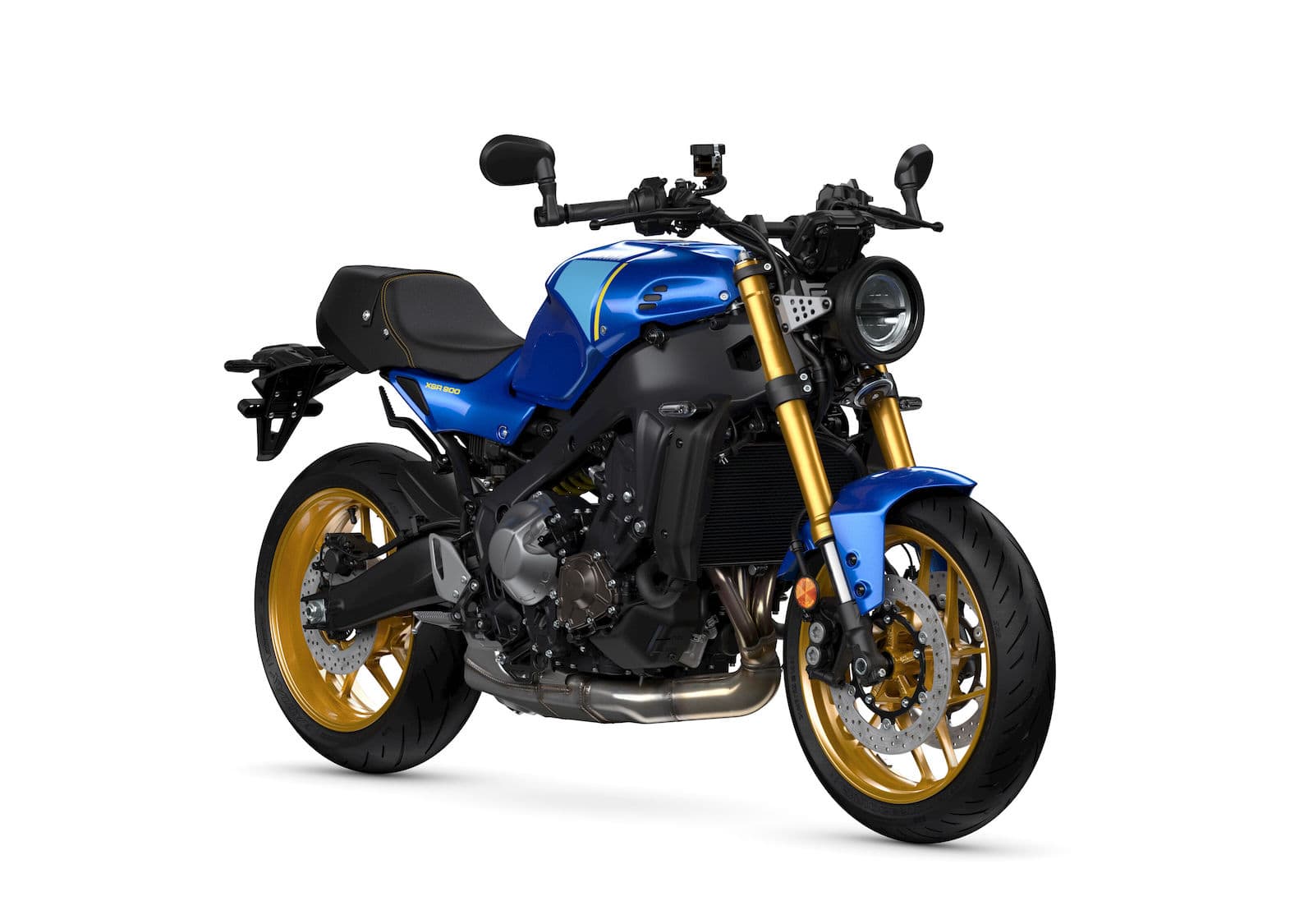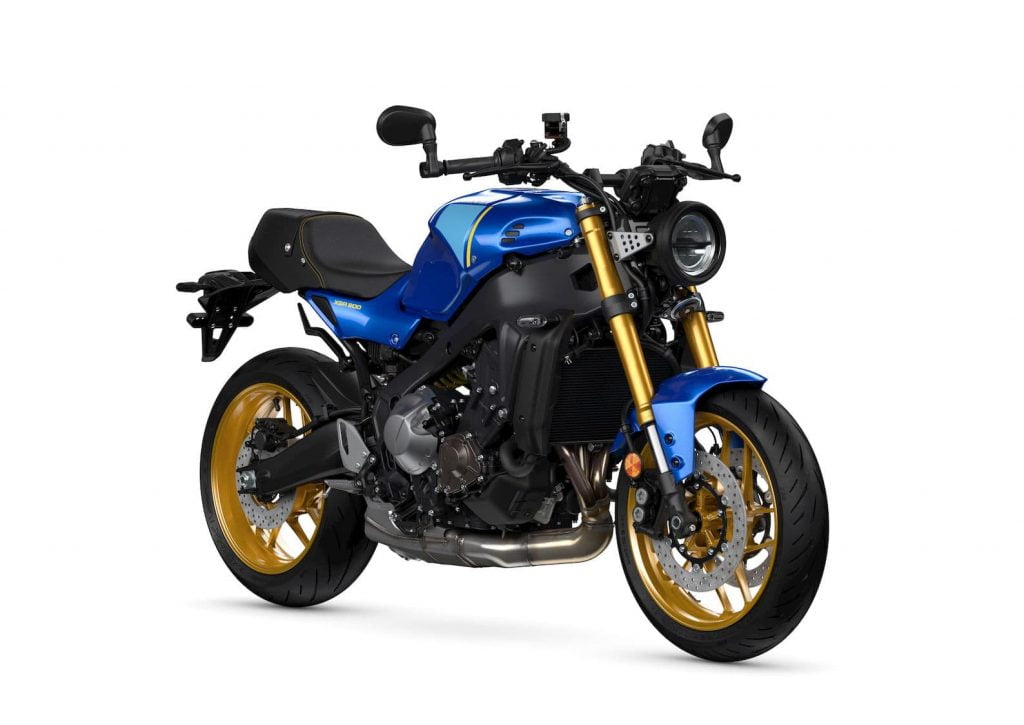 The Yamaha XSR900 is much like the MT-09 (see previous panel), but with more retro styling. It shares the same 890 cc three-cylinder engine with its nice balance of character and smoothness. The suspension is similar to the base model MT-09 in terms of spec, which is great, and the same goes for the brakes.
But the 2022+ Yamaha XSR900 comes with much more advanced ride electronics — including both an IMU / cornering ABS and even cruise control, a relative rarity on a naked bike. This combination makes the Yamaha XSR900 a rare retro sport bike with the full gamut of ride aids. One of the best bikes of the decade!
Wrap up
I'm a sucker for a retro motorcycle, especially so for one that has a fairing but which is still comfortable. I'd be all over the Yamaha XSR900 GP, were it available in my area! And yes, I'd want it in "Legend Red".
As I keep finding, lightweight, powerful middleweight bikes make me feel invincible. They have enough power to launch easily out of corners in almost any gear, but are lightweight enough to give me large margins of error. They're just easy to have fun on.
The XSR900 goes one step further than other bikes in the class by also being quite easy on the eye. I know it's not for everyone. But it's also easy to modify, especially with Yamaha's catalogue of options.