There's something about high-tech naked sport bikes like the 2022 Yamaha XSR900 that makes them, in my eye, a perfect balance of everything one could want from a single bike — presuming one doesn't have a garage full of dedicated weapons (which, if you do, kudos).
A naked bike does everything kind of well — though admittedly with room for improvement everywhere. You can take them on highways as they're reasonably comfortable, but you might miss wind protection. You can take them to the track, but you might miss the top end of sportbikes on the straights. You can take them on dirt roads, but you might miss the ground clearance and knobby tires of adventure/dirt bikes. And so on.
And the 2022 Yamaha XSR900 has just about everything one could want from a naked sport motorcycle. It looks good, has a ride position that doesn't make me swear in French, has a bonkers engine, enough comfort electronics, and stuff that keeps me alive even when I do slightly stupid things.
Previously I wrote about the 2021 MT-09 and MT-09 SP. I thought that was the best. But then Yamaha went and put everything that was good about the SP straight onto the XSR900.
One more thing that naked sportbikes with classic designs do best is look very good sitting there parked in a garage, or in view of your seat from your diner.
Are you obsessed with motorcycles?
Well, I am. That's why I created this site — as an outlet. I love learning and sharing what others might find useful. If you like what you read here, and you're a fraction as obsessed as I am, you might like to know when I've published more. (Check the latest for an idea of what you'll see.)
Background on the Yamaha XSR900 — Why change anything?
The Yamaha XSR900 is one of Yamaha's heritage-styled modern sportbikes.
It's not a total throwback bike. If you're looking for an actual retro bike (i.e. old-school technology and a very simple design), then you'd be looking for something more like the Yamaha Bolt. But that's a step too far for most people — yeah it's cool and basic, but it's also heavy and slow.
The Yamaha XSR900 is a modern standard sportbike but in an aesthetic package with many retro details, like a flatter seat and a round headlight.
Other than that, the XSR900 has always shared a lot with the Yamaha MT-09 — the engine, the drivetrain, and the general performance envelope.
Unfortunately, the fact that the XSR900 shared a lot with the MT-09 wasn't a good thing, because one thing has plagues both bikes: a twitchy throttle (see this review from Rider Magazine for the 2016 Yamaha XSR900 for example).
Look up "MT-09 twitchy throttle" on Google and you'll find a plethora of people complaining that it is very difficult to adjust the throttle at low speeds. This is partly to do with running lean at low RPMs as a result of emissions tuning (in closed loop mode — see my guide to understanding open/closed-loop performance), but even with remaps, some people aren't satisfied with the response in A mode, and don't want to buy a sporty bike just to ride it in B mode.
Another frequent complaint of early models of the MT-09 was that the suspension was too soft, leading to too much dive under braking and "pogo stick"-like characteristics. This was partially resolved in the 2017 model for many users. (Track or advanced riders prefer the SP or to redo the suspension.)
Luckily, the XSR900 was never really criticised for bad suspension. Yamaha adjusted the dual-rate spring on the XSR900 vs the earlier FZ-09, making the soft part of the spring 7 percent softer, but the stiffer part 27% stiffer. Overall, people received this change well.
Nonetheless, Yamaha has improved suspension in the 2022 XSR900 again.
In 2021, Yamaha updated both its MT-09 / MT-09 SP and Tracer 9, but didn't update another sibling that shares the CP3 engine and basically all driveline components, the XSR900.
The new MT-09 got a bigger 889cc engine, a six-axis IMU, and the SP version got cruise control.
For some people though (a lot of commentators), the looks of the 2021 MT-09 were the deal breaker. Even though the new MT-09 looks fast and cool in its own way, it lacks the obvious, in-your-face aesthetic appeal of the best-looking naked bikes.
So here's why the XSR900 might be a saviour. If you want an SP, and aren't married to Öhlins at the rear, then the 2022 XSR might be your ticket.
Both these bikes are very interesting looking. But in terms of pure aesthetics, it's the XSR that gets my vote, and I suspect many would share that opinion.
2022 Yamaha XSR900 Changes — Summary
You can't ride a spec sheet, but you can if you print it out and sit on it! No really, they tell you a lot, but especially so when you read them in context.
What the 2016-2021 XSR900 and 2022 Yamaha XSR900 have in common is important. They both share the general concept of a modern naked sportbike with a feisty liquid-cooled 12-valve inline three-cylinder engine (a triple), shoehorned into a modern retro-inspired design.
Both bikes have round front headlights and a somewhat cluttered but presentable naked bike appearance.
Both bikes also have similar maintenance schedules — very wide valve service intervals of 40000 km (24000 miles). This is wider than their direct competitors. Most Yamaha motorcycles have wide valve service intervals. One of the joys of having a motorcycle from a brand considered to be one of the most reliable!
Below is a table of all the changes in the 2022 Yamaha XSR900 vs the earlier 2016-2021 XSR900.
Part
2016-2021 XSR900
2022 Yamaha XSR900
Engine
847cc triple
889 cc — new gen has 43 more ccs
Throttle
Ride by wire
Ride by wire with R1-style APS
Peak power
84.2 kW (113 bhp) @ 10000 rpm
87.5 kW (117 bhp) @ 10000 rpm — new gen has a smidgin more power
Peak torque
87 Nm (65 ft-lb) @ 8500 rpm
93 Nm (69 ft-lb) @ 7000 rpm — new model makes slightly more torque at a 1500 rpm lower peak
Front suspension
KYB USD fork, adjustable for preload and rebound damping.
Fully adjustable KYB USD fork (more adjustability)
Front brakes
Dual 298mm discs, regular ABS
Dual 298mm discs, cornering ABS, Brembo radial front master cylinder
Wheels
Cast 10-spoke wheels
10-spoke spinforged (700g lighter)
Wet weight
195 kg / 430 lb
193 kb / 425 lb
Electronic rider aids
* Regular ABS
* Traction control
* 3 power modes
* Cornering ABS
* Lean angle-aware traction control
* Lift control
* Slide control
* 4 power modes
* Cruise control
Manual rider aids
* Assist and slipper clutch
* Assist and slipper clutch (refined design)
* Quick shifter
Display
Circular LCD
3.5-inch TFT
2016-2021 Yamaha XSR900 vs 2022 XSR900 — Specs compared
That's the main summary of the improvements in the 2022 Yamaha XSR900. See below for more details.
Suspension and Handling Improvements — Better Forks & Stiffer, Lighter Frame
The 2022 Yamaha XSR900 has an improved front suspension setup.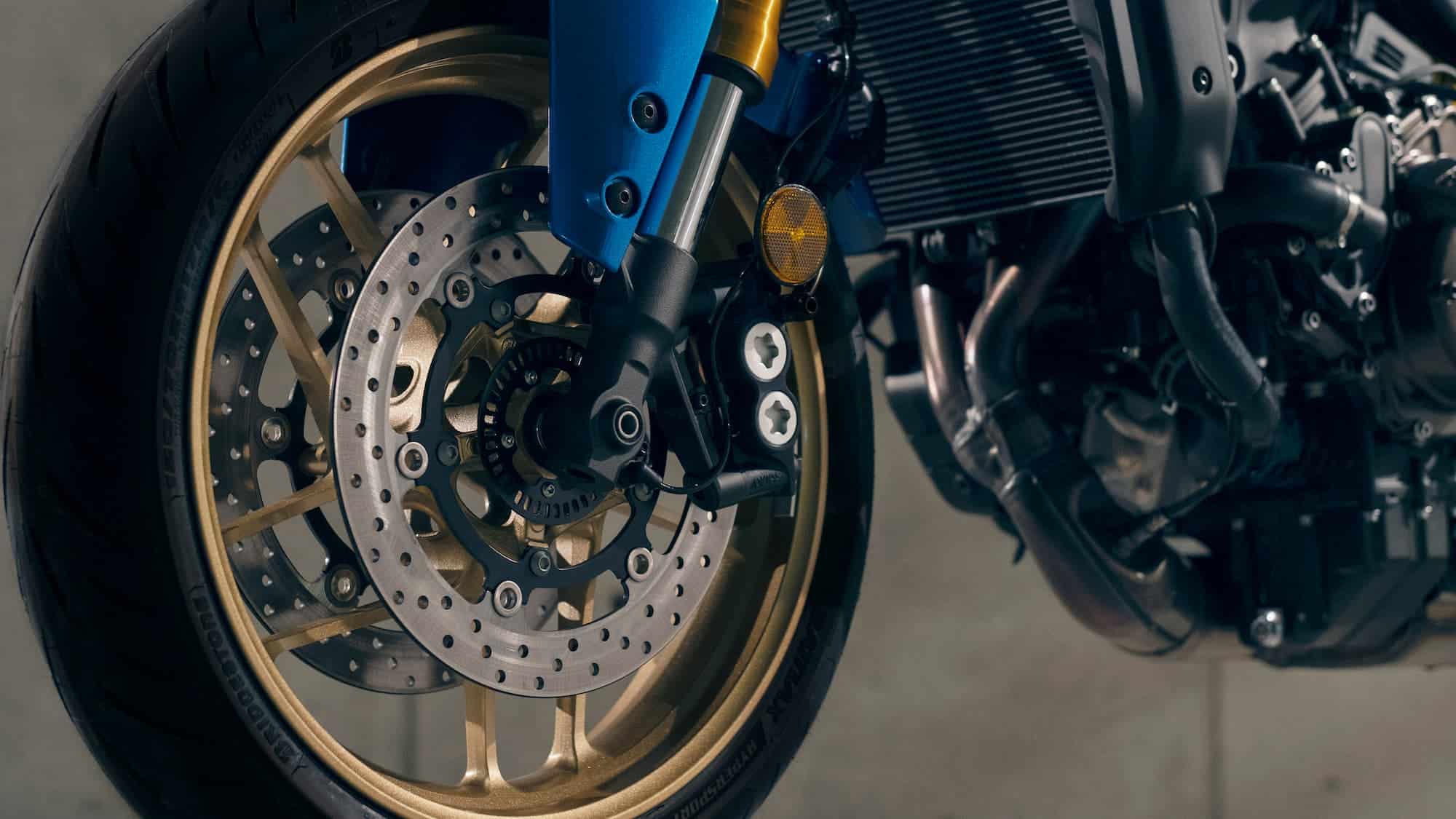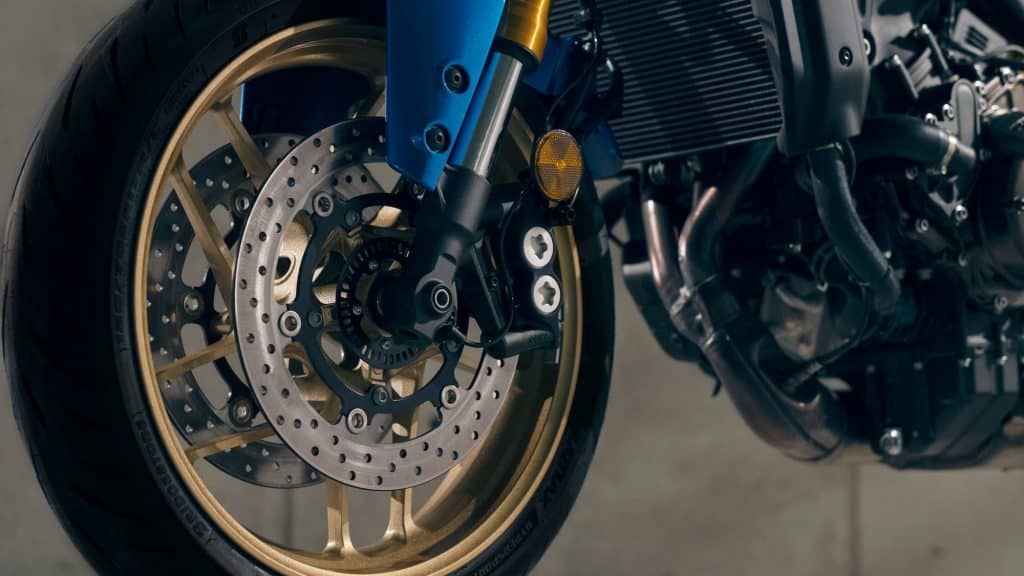 Front KYB inverted fork with preload, compression, and rebound damping adjustment (full adjustability)
30mm lower head pipe — like the new MT-09 SP, the handlebars and steering head are 30mm lower, for a sportier ride and increased feeling when cornering.
Lighter and stronger Deltabox-style aluminium frame: built using Yamaha's "Controlled Filling" tech, maximising rigidity while minimising weight
Wet weight of 193 kg (425 lb) is 2 kg or 5 lb lighter
Even though the outgoing XSR900 wasn't panned for its suspension (like the MT-09 was), upgrades are always nice.
The lighter wheels will lead to lower unsprung mass, which will help the handling further.
The downside to the improvements is that people looking for a comfortable ride might find the 30mm change to be a negative. I'm sure there are aftermarket riser options available for the 2022 Yamaha XSR900 if you want to put the bars back up.
Throttle Improvements — Ride by Wire; Cruise control
Full Ride by wire with an Acceleration Position Sensor from the 2020 YZF-R1
Cruise control
The previous generation XSR900 had a fly-by-wire throttle — called YCC-T ("Yamaha Chip-Controlled Throttle"). But the 2022 Yamaha XSR900 goes one step further, using an accelerator position sensor (APS) for a digital signal from the throttle.
Yamaha has also added cruise control onto the 2022 Yamaha XSR900. This is special, as it's only available on the SP version of the MT-09. But the base (and only) model XSR900 gets it, too!
It's also special as the XSR900 is another example of a mid-range motorcycle getting a feature that used to be exclusive to expensive touring bikes.
Here are some other motorcycles you can get with cruise control stock.
A Six-Axis IMU (and all the safety features)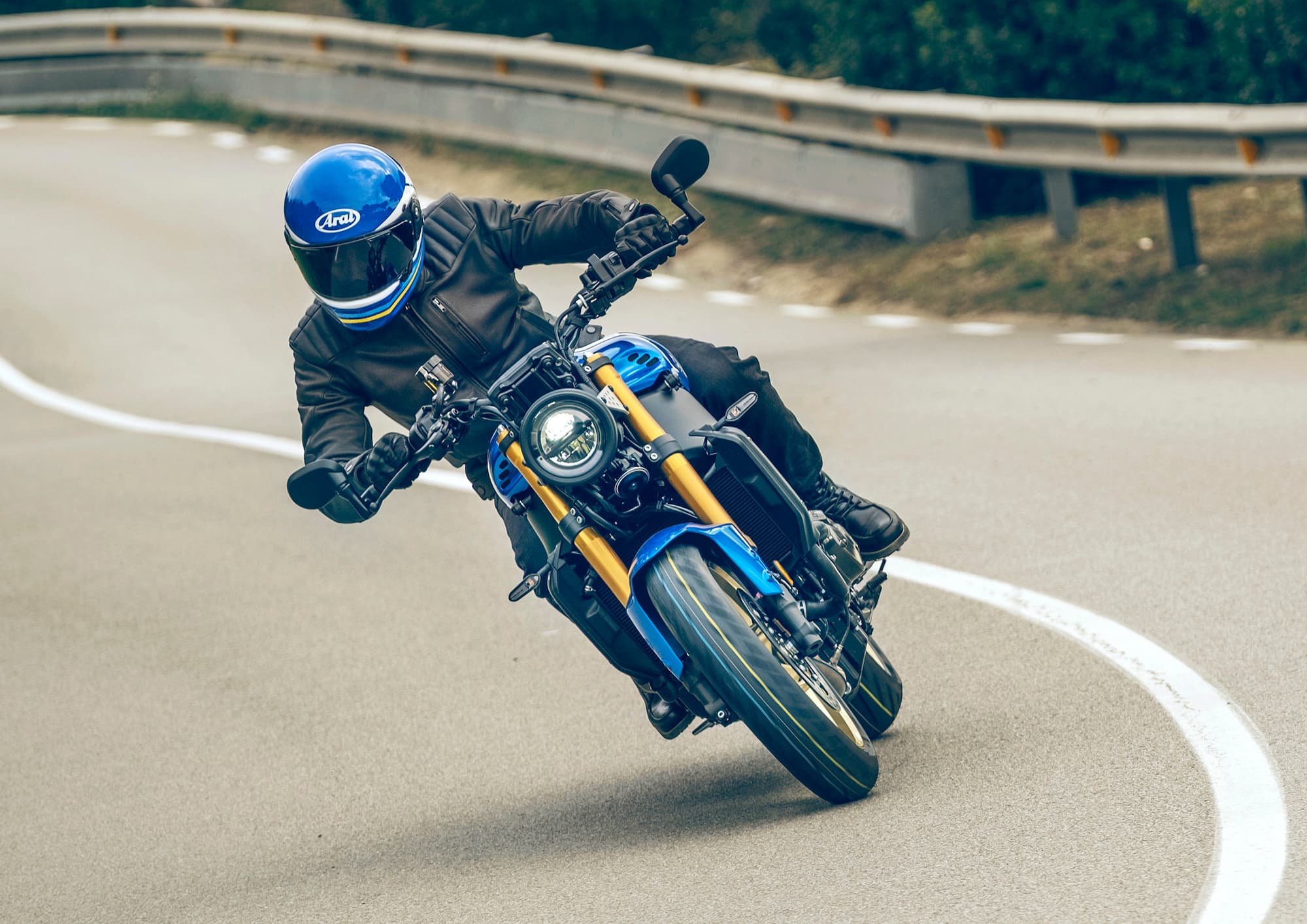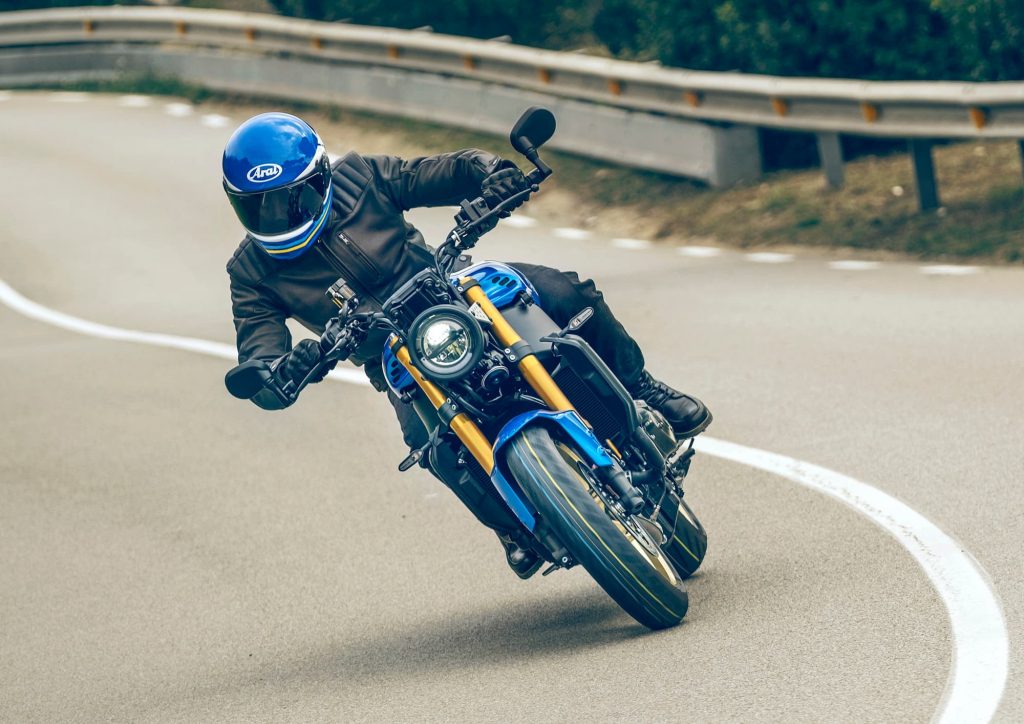 Here's where the XSR900 is a heritage bike in external appearance, and not in its spec.
The Yamaha XSR900 has finally received the six-axis IMU (intertia measurement unit) which the MT-09 and Tracer 9 received back in 2021, and which the Yamaha YZF-R1 got in its latest generation, the 2015+ Yamaha YZF-R1.
Here is a bunch of other motorcycles that have IMUs. Some might surprise you…
The IMU detects movement along six axes so that the ECU can make decisions about how to apply brake pressure or cut power intelligently, keeping the rider upright for longer, despite our best efforts to get sideways…
The IMU means that the XSR900 now has a host more safety features, including
Cornering ABS — meaning the bike will modulate use of ABS depending on perceived cornering speed and angle
Lean angle-aware traction control — the bike will cut power when a wheel loses traction, but not too aggressively if you're mid-corner
Wheelie control — helping mitigate the risk of looping the bike (doing a wheelie too high, or for too long)
Slide control — cutting power when the bike detects a lateral slide
Mechanical rider aids — Quickshifter, improved slipper clutch
The 2016-2021 original Yamaha XSR900 already had an assist and slipper clutch.
But the 2022 Yamaha XSR900 gets an improved slipper clutch. Yamaha changed the cam angle of the clutch from 30 to 33 degrees, to reduce the load on the clutch springs, lightening the feeling of the clutch at the lever.
The improved assist and slipper clutch helps the XSR900 absorb torque during downshifts, preventing unintentional bunny hops.
And the 2022+ Yamaha XSR900 comes with a standard up and down quickshifter. This lets you do full-throttle upshifts and clutchless downshifts.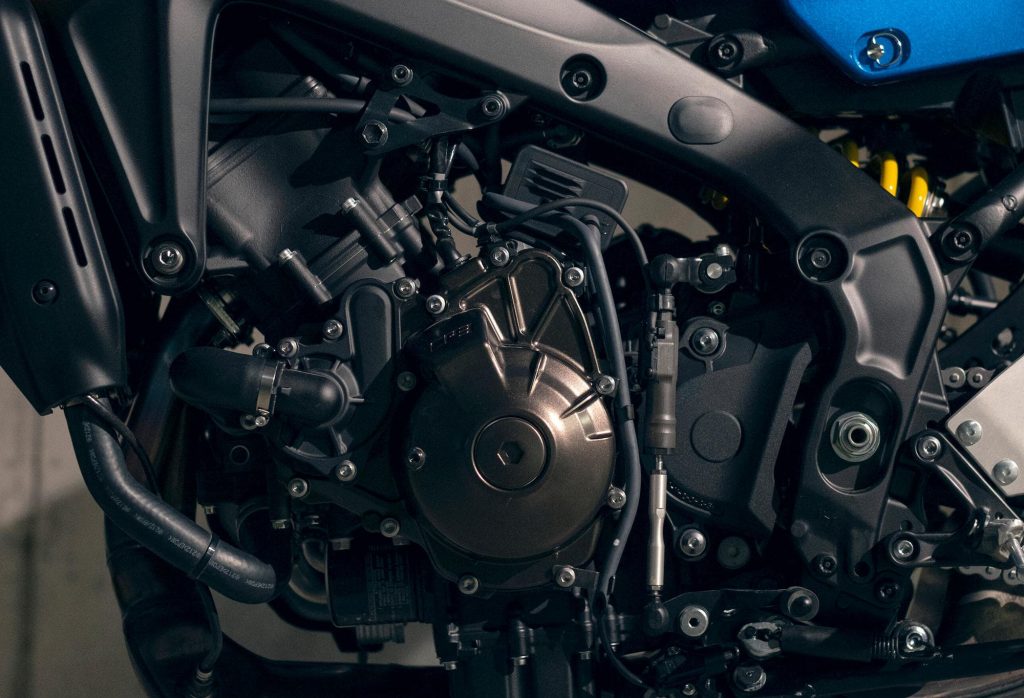 Engine improvements — More torque
Yamaha has increased the displacement of the CP3 engine from 847cc to 889cc by giving the engine a 3mm longer stroke. (See my guide to understanding bore, stroke, and displacement)
This means that the inline three-cylinder engine (the "triple") which is shared by the MT-09 and Tracer 9 makes a hair more power up top, but a lot more torque in the midrange. Pretty exciting, as the MT-09 was never short on torque.
The new engine is also compliant with Euro 5.
TFT Display update
Yamaha updated the display for the XSR900 too, giving it a TFT display.
Coupled with the bar-end mirrors, this makes the riders perspective on the 2022 Yamaha XSR900 quite modern.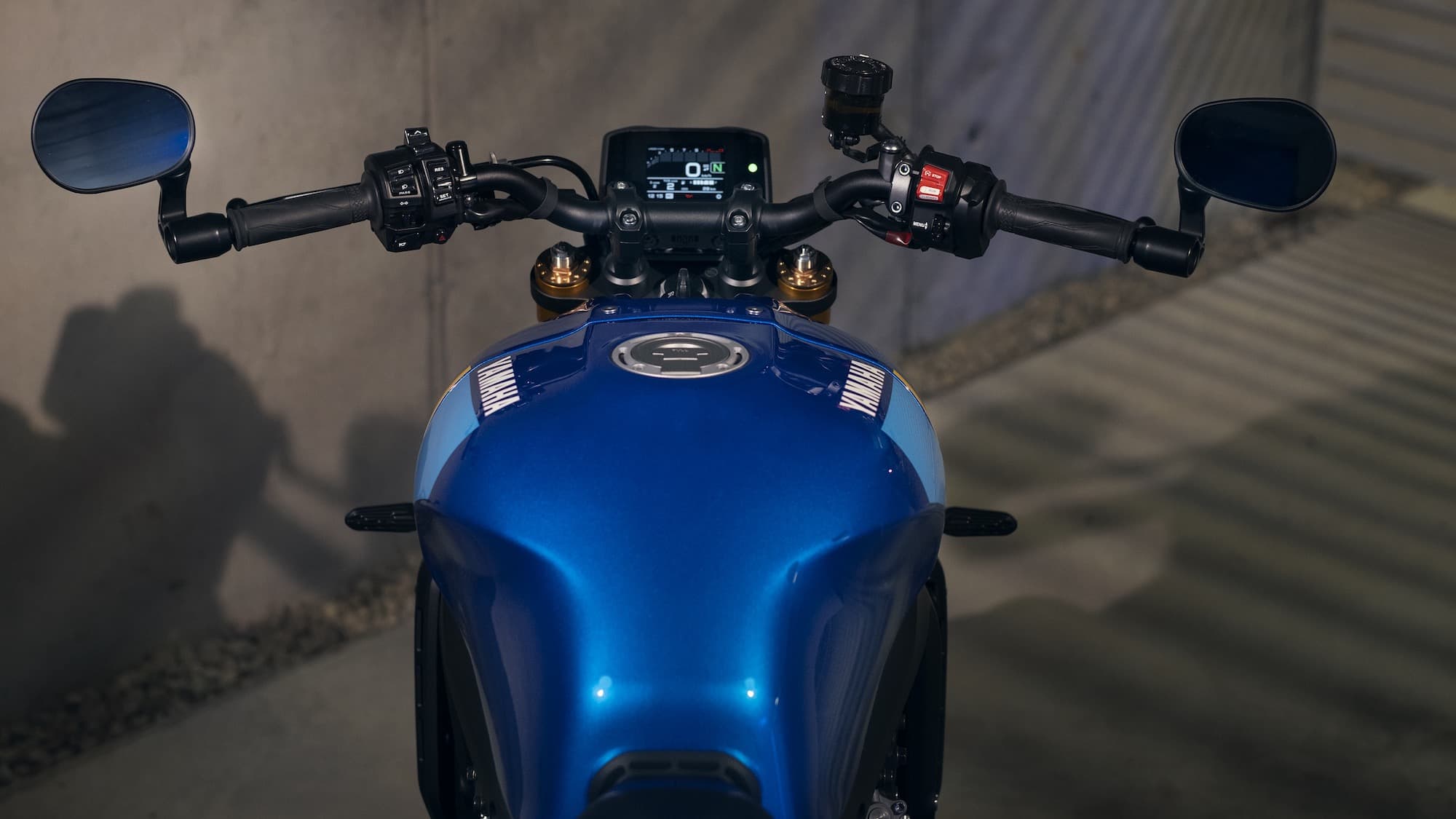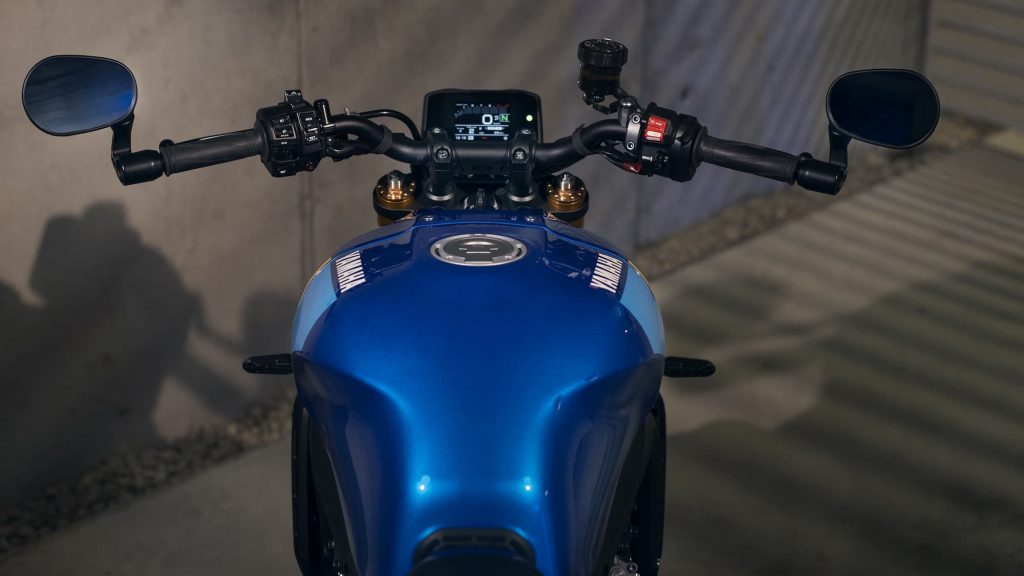 The older XSR900 had a neither here-nor-there round LCD instrument cluster. It wasn't vintage-looking like an old school analogue dial, nor was it a modern full digital display. What was this tiny round thing?
Yamaha went the whole enchilada with their new TFT, giving the 2022+ XSR900 a 3.5-inch full colour instrument cluster.
I'm not a huge fan of colour displays (I look at screens all day and sometimes want a break), but it does look attractive, and brings the XSR900 in line with the competition. And I respect that TFT displays are easy to customise and present a lot of complex information simply.
Improved braking
Finally, the 2022+ XSR900 gets a Brembo radial master cylinder.
This has a piston that moves parallel to the brake lever which Yamaha says gives increased feedback and improved stopping power.
I can't comment on it specifically other than mention that it's also a new feature for the 2021+ MT-09, and that it has "Brembo" in it, and that's worth calling out.
The XSR900's calipers themselves are still in-house.
Maintaining the 2022 Yamaha XSR900
One of my favourite thing about Yamaha motorcycles is the wide maintenance intervals.
This isn't unique to the new XSR900, but it's a feature worth repeating.
You don't have to service the valves for a whopping 40000 km (or 24000 or 26600 miles, depending on whether you're reading the European or US manual) on the XSR900 or most Yamaha liquid-cooled bikes. Most other liquid cooled motorcycles specify shorter valve service-intervals, like for example the following competitors:
Triumph liquid-cooled triples (e.g. Street Triple RS): 12000 miles / 20000 km
Ducati liquid cooled V-twins (e.g. 2021+ Monster 937): 18000 miles / 30000 km
Honda liquid-cooled inline fours (e.g. Honda CB1000R): 16000 miles / 24000 km
Kawasaki inline fours (e.g. Z900RS): 16000 miles / 24000 km
On top of that, Yamaha has a reputation for rarely needing valve adjustments — especially after the first service.
The above is based on the manuals for the 2021 MT-09 and Tracer 9, but since they share an engine with the XSR900, I'm confident the maintenance schedules will be the same.
Should you get the 2022 Yamaha XSR900?
If you're looking for a fast street bike with not a "bonkers" level of power (that you get in the latest generation of streetfighter-style naked bikes), then the Yamaha MT-09 or XSR900 should be your first picks.
I personally really enjoy the 90-120 hp range of sportbikes. For me that means I can ride it below the redline, without the throttle all the way at the limit and have a lot of fun. (Or occasionally, I can nail the throttle, and try to hold on).
People have different preferences for power ranges depending on their local roads, how they ride, and the police's affinity for hiding in bushes (something that has turned me off from road sport riding in Australia, my home country).
But in the US and Europe, this power band is sweet.
A lot of people were turned off from the latest MT-09 because of its looks. Personally, I can see that its design isn't for everyone. So if looks were the only thing holding you back from getting the 2021 MT-09 or MT-09 SP, then the new XSR900 might be for you.
Here are some more high-res pics of the Yamaha XSR900 for you to gawk at.