The Honda Rune (known formally as the Honda Valkyrie Rune) is one of those enigmatic rare beasts that garners so much attention from motorcycle lovers (and just regular passers-by who unwittingly catch the glare of the sun or a reflection of themselves in the shiny chrome) that I always wonder: Just what makes this gorgeous but odd-looking, low-tech, heavy motorcycle a classic?
Why does Jay Leno own one (actually, three, including the first one off the production line) — and why is he just one of a line of celebrities who own (or who have owned) one?
And why does the Honda Rune keep showing up on dealer floors, or on used motorcycle sites, with relatively low miles, for roughly the same price?
It's a motorcycle that befuddles me in a few ways. Most of the examples of the Valkyrie Rune I see for sale are low-mileage, which means that the people who sell them move them on without riding them much. They maybe just wanted one for a while, before aspects of their lives changed and they decided they wanted a bike they could ride more without freaking out about it being scratched or getting sun-damaged.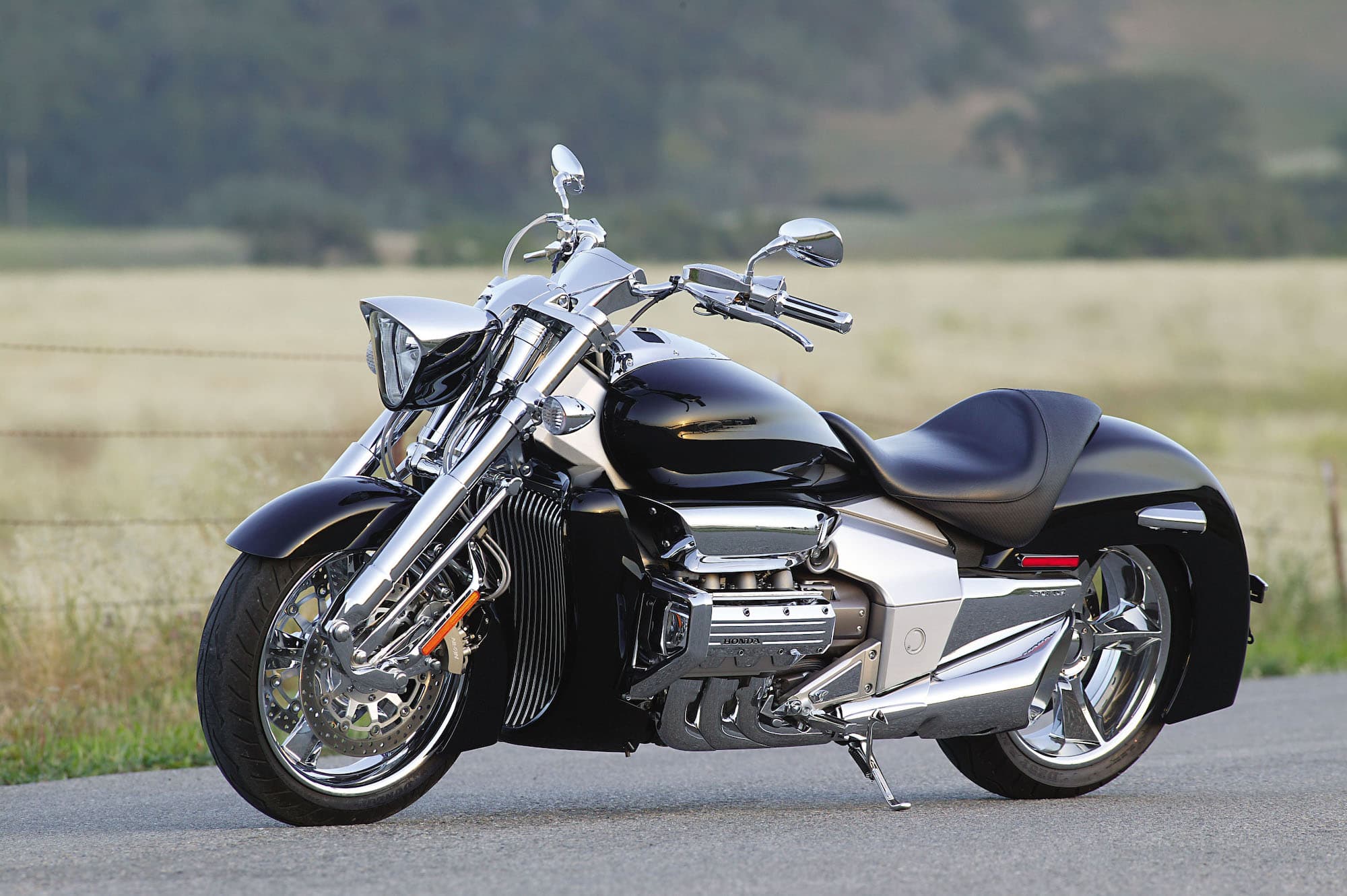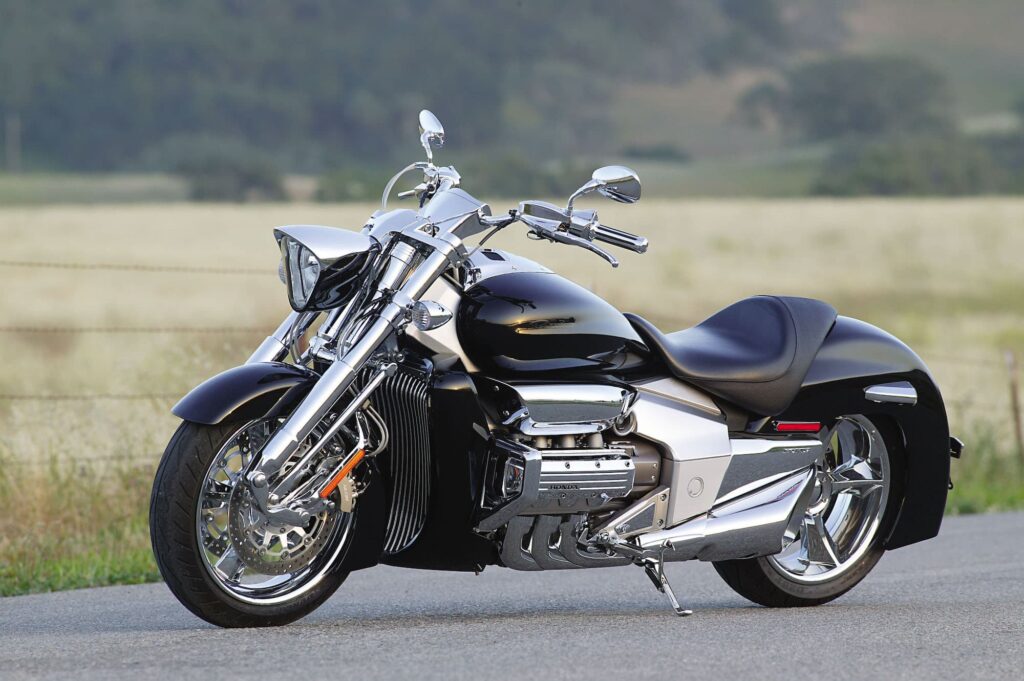 But there are also, obviously, many Valkyrie Rune models that are just sitting in people's private collections. They must be there, because I don't think I've ever seen one on the road, in the ~10 years of knowing they existed.
So when one comes up for sale I think: Is it time for me to start my private collection? Or do I spend my hard-earned dosh on another obvious classic, something like a Ducati Panigale V4 SP?
I first mentioned the Honda Valkyrie Rune in the article about unusual Honda motorcycles. But I think the Rune deserves a little extra attention.
Here's a quick overview of the history of the Valkyrie Rune — its history, its specs, and what makes it special.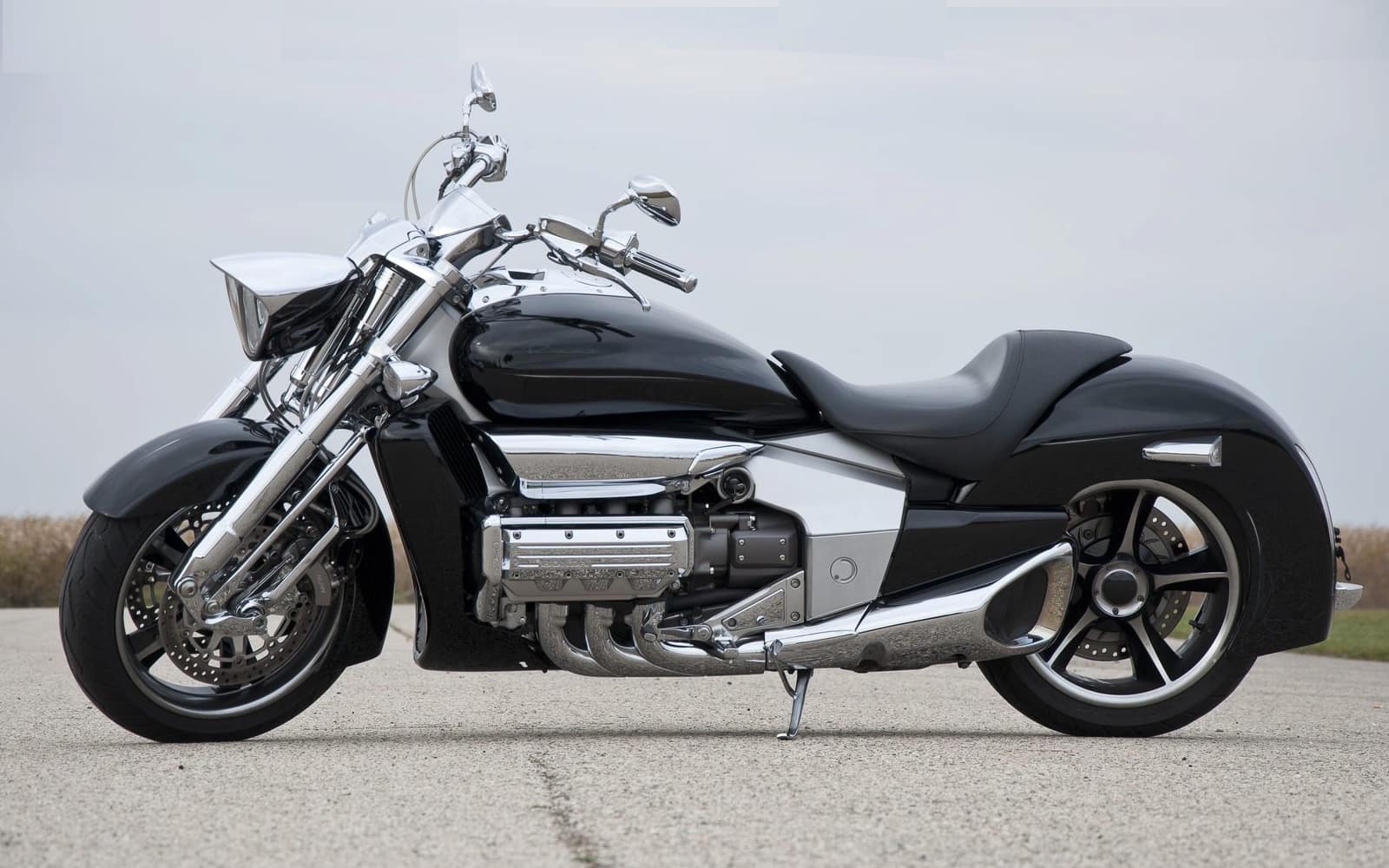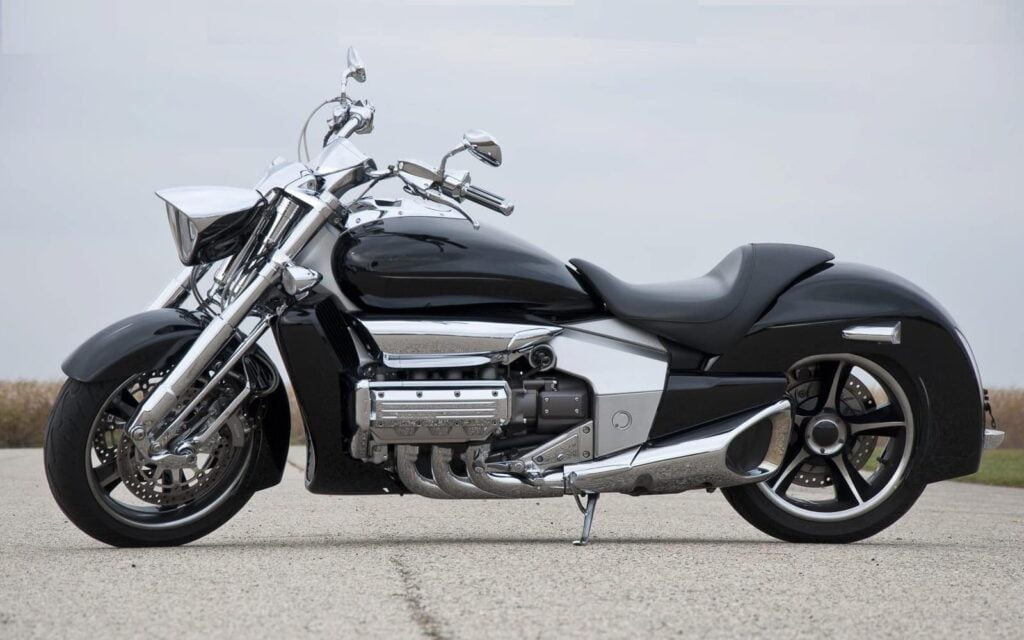 Are you obsessed with motorcycles?
Well, I am. That's why I created this site — as an outlet. I love learning and sharing what others might find useful. If you like what you read here, and you're a fraction as obsessed as I am, you might like to know when I've published more. (Check the latest for an idea of what you'll see.)
Quick background of the Honda Valkyrie Rune — How did we get here?
The Honda Rune, which is formally known as the Honda NRX1800 Valkyrie Rune, is a cruiser based on the same engine found in the 5th gen Honda Gold Wing.
So at its base, there's a 1832cc flat 6 liquid-cooled engine with two valves per cylinder, a 5-speed transmission, and a shaft drive.
But there's so much more to the Valkyrie Rune than just the specs. Before we get into it, we have to answer the question: How did we get here?
Honda had built cruisers before the Rune, and had even built a cruiser based on a six-cylinder engine from the Gold Wing before. The Original Honda Valkyrie was based on a souped-up 1520cc engine from the GL1500 Gold Wing.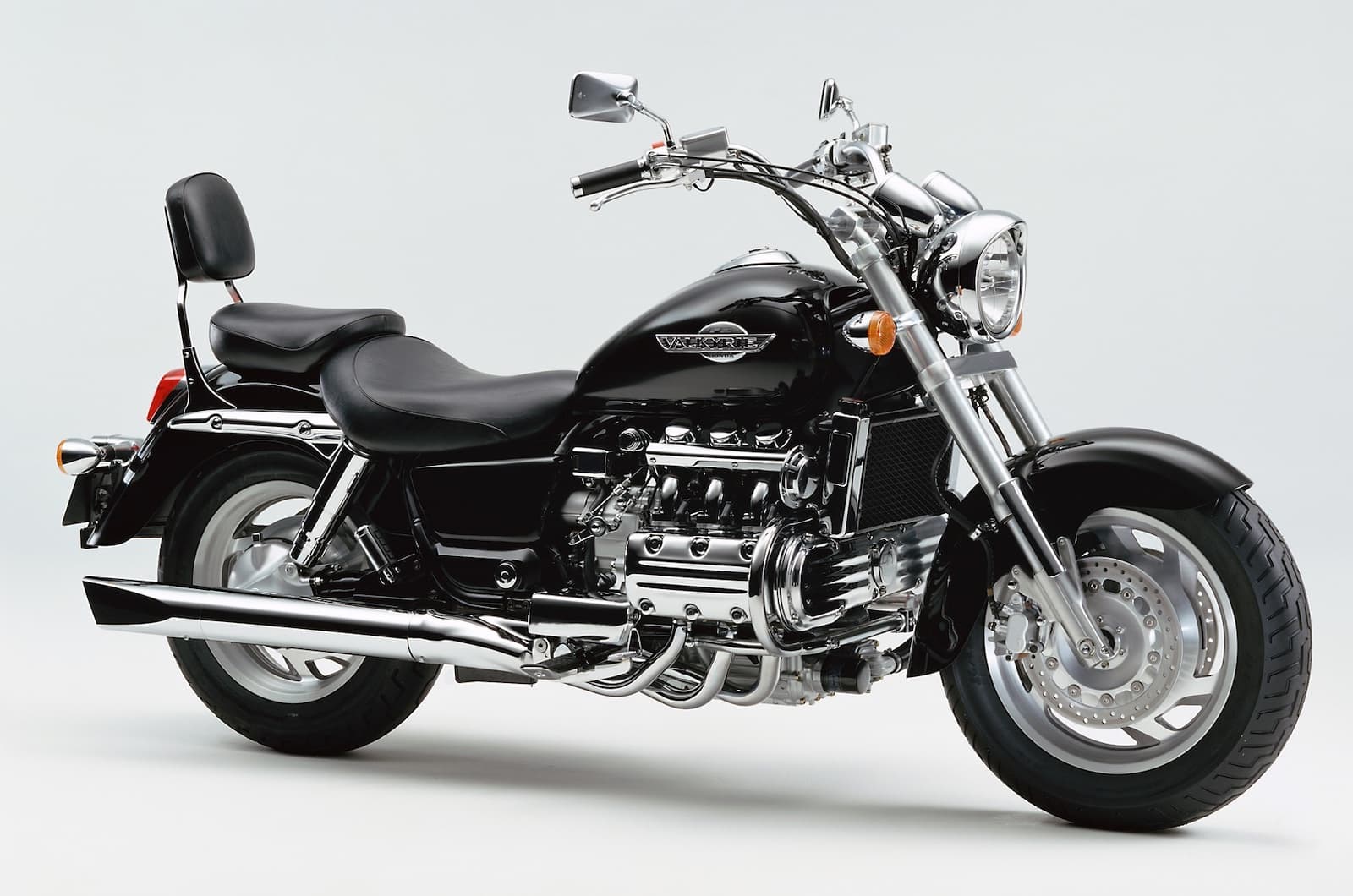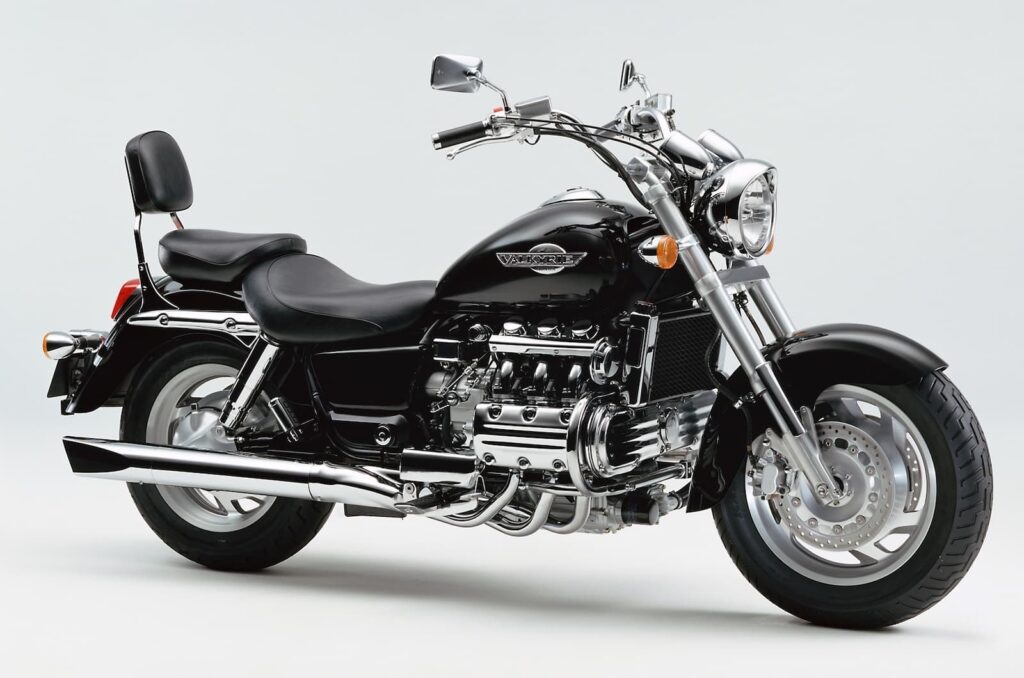 The original Valkyrie (known as F6C, or "Flat Six Custom") was already quite a looker, and had a sweet exhaust note — burbling at idle, and roaring in the mid-range.
Honda has a bad rep for producing "boring" motorcycles. I'm not sure where it started, but two things are definitely true about this allegation. Firstly, most of their motorcycles are indeed more "boring" than a big shaky cruiser that barks and snarls when you grab the throttle. And secondly, Honda does actually make some relatively "boring" motorcycles, like scooters and sedate commuters whose claims to fame are fuel efficiency and storage space. (They have their place, but they're unlikely to grab your heart.)
So, every now and then, Honda does something super weird. They're not the only ones. BMW throws oddballs like the K1 at us. Yamaha made the three-wheeled Niken. And Honda has made the Honda Valkyrie Rune.
The Honda Valkyrie Rune was designed by American designers and built in the Honda plant in Marysville, Ohio, principally for the American market. This is quite unusual for Honda, a Japanese manufacturer.
The Rune was design-led, engineering-second. Both the Project Director Tony Schroeder and the Senior Designer Martin Manchester (who was head of design at HRA — Honda Research Association) had a lot of latitude to express creative freedom. Mr. Manchester said: "Our goal was to produce something new, something no one had ever thought of before. We wanted to create a fresh look, but one that would also serve as an engineering showpiece, a cruiser with a new level of performance and technology."
Honda gave the Rune design team free reign to do whatever they wanted. In fact, they even took away commercial constraints — they were told that the final price of the Rune wasn't a consideration in the design phase. This was a first for Honda, and the designers took it to heart.
In coming up with the Rune, the team built a number of concept bikes. They showed these to the public at motor shows and also in focus groups.
The Concept models before the Honda Valkyrie Rune
Before Honda revealed the Rune in 2003 (for a 2004 model), the Honda Rune development team released a few concept models.
Honda Zodia
The first of these was the Honda Zodia. Honda revealed the Zodia at the Tokyo Motor Show in 1995.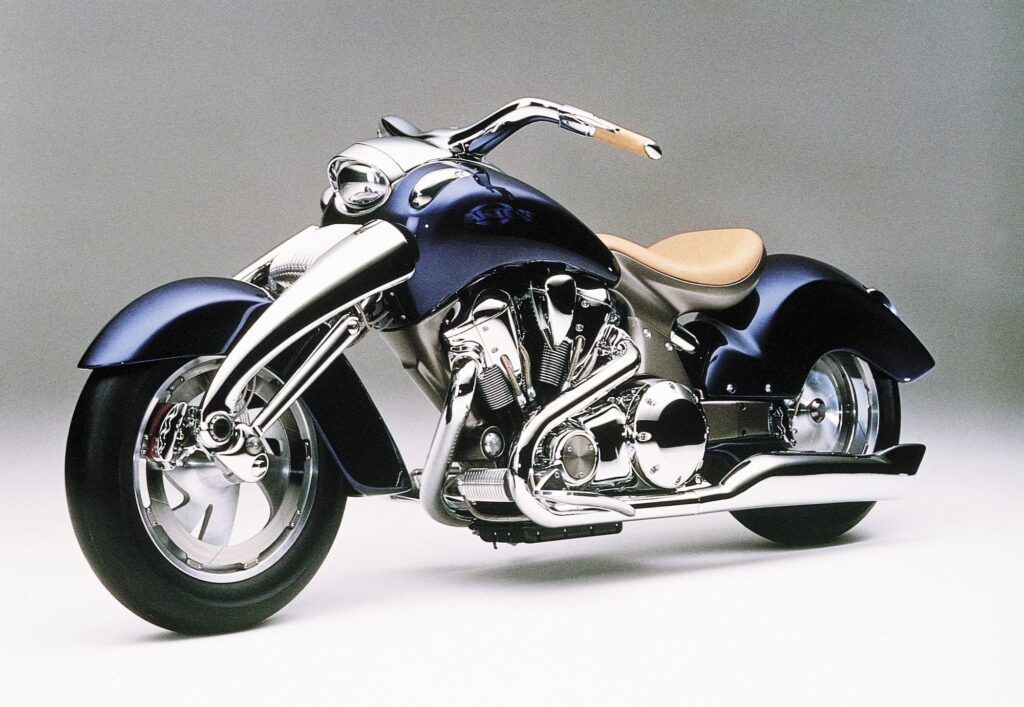 The Honda Zodia wasn't just futuristic looking — you can see a few elements of it that are unusual on a motorcycle. The trailing link front suspension and the single-sided swingarm are two design elements that both made it onto the Rune.
The engine in the Honda Zodia concept was a 1500cc V-twin, and power was transmitted to the rear wheel via Honda's hydro-mechanical automatic transmission known as the "Human-Friendly Transmission" or HFT. It's a CVT transmission that was later used on the DN-01 production motorcycle (also in our list of unusual Honda bikes).
(Honda didn't release the Rune with HFT. They eventually released it commercially on the DN-01 in a press release on October 4, 2007.)
After the Zodia, Honda Research America started producing other concept motorcycles that would lead to the development of the Honda Rune.
Concept Type 1 (T1)
Honda's HRA team released the T1 concept in late 1998 / early 1999. This one was based on the Gold Wing's flat six engine. Honda intended it to evoke a hot-rod or muscle car image — as the exhaust pipe shape might hint.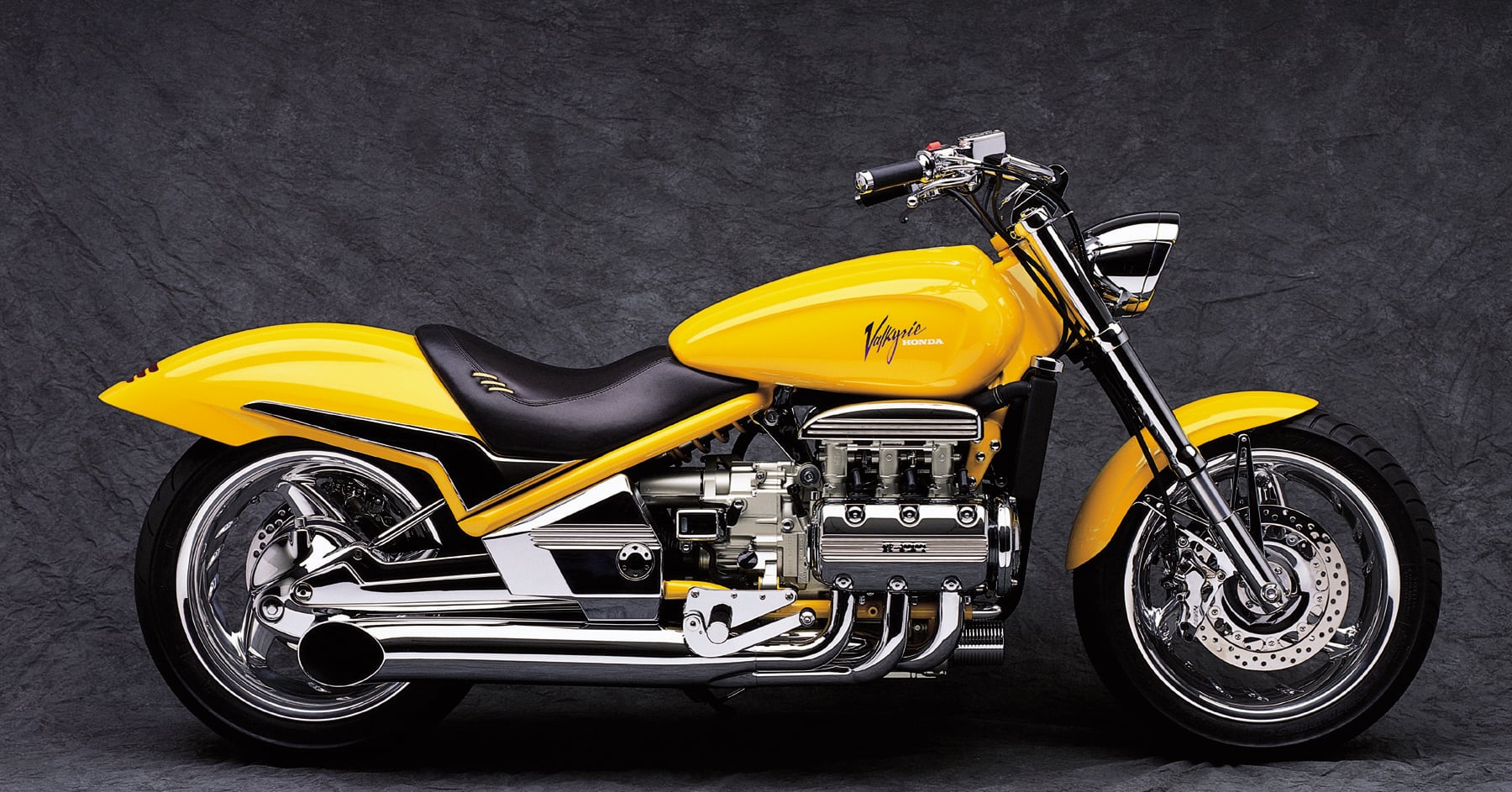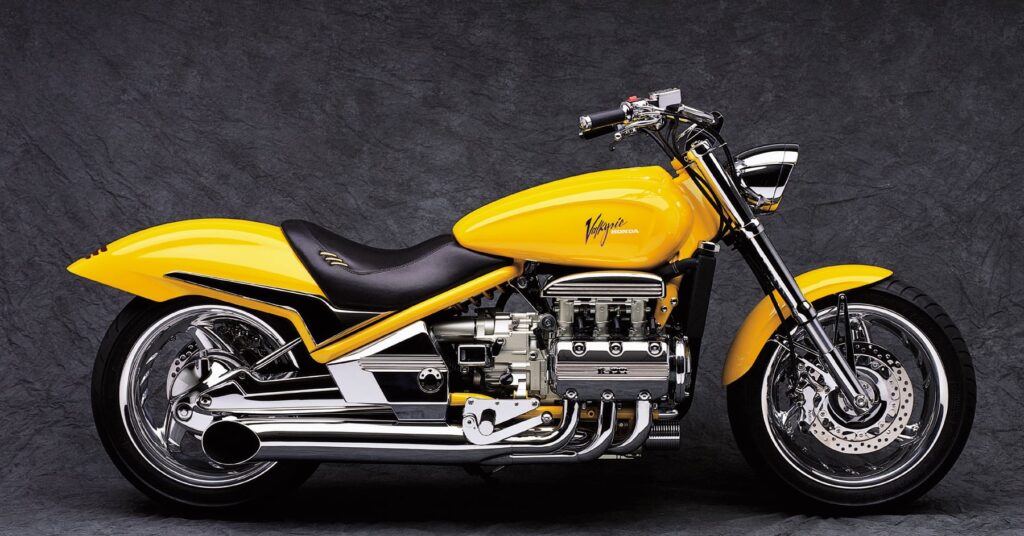 The T1 shared a motor element with the Rune, but in terms of styling it was much more "traditional cruiser".
Honda implemented a number of interesting design elements onto the T1 that made it onto the VTX, another cruiser with a chopped look. These include small body parts that accentuate the engine, a grab rail that is faired into the rear fender, and a smoothly integrated tank/seat intersection.
The T1's rear suspension was on purpose not a Pro Arm single-shock design, but rather a cast aluminium swingarm and a chrome plated strut leading to a single shock.
Honda then released three more concepts — all called the T2, T3 and T4, in December 2000 at the Cycle World show. These were all unique.
Concept Type 2 (T2)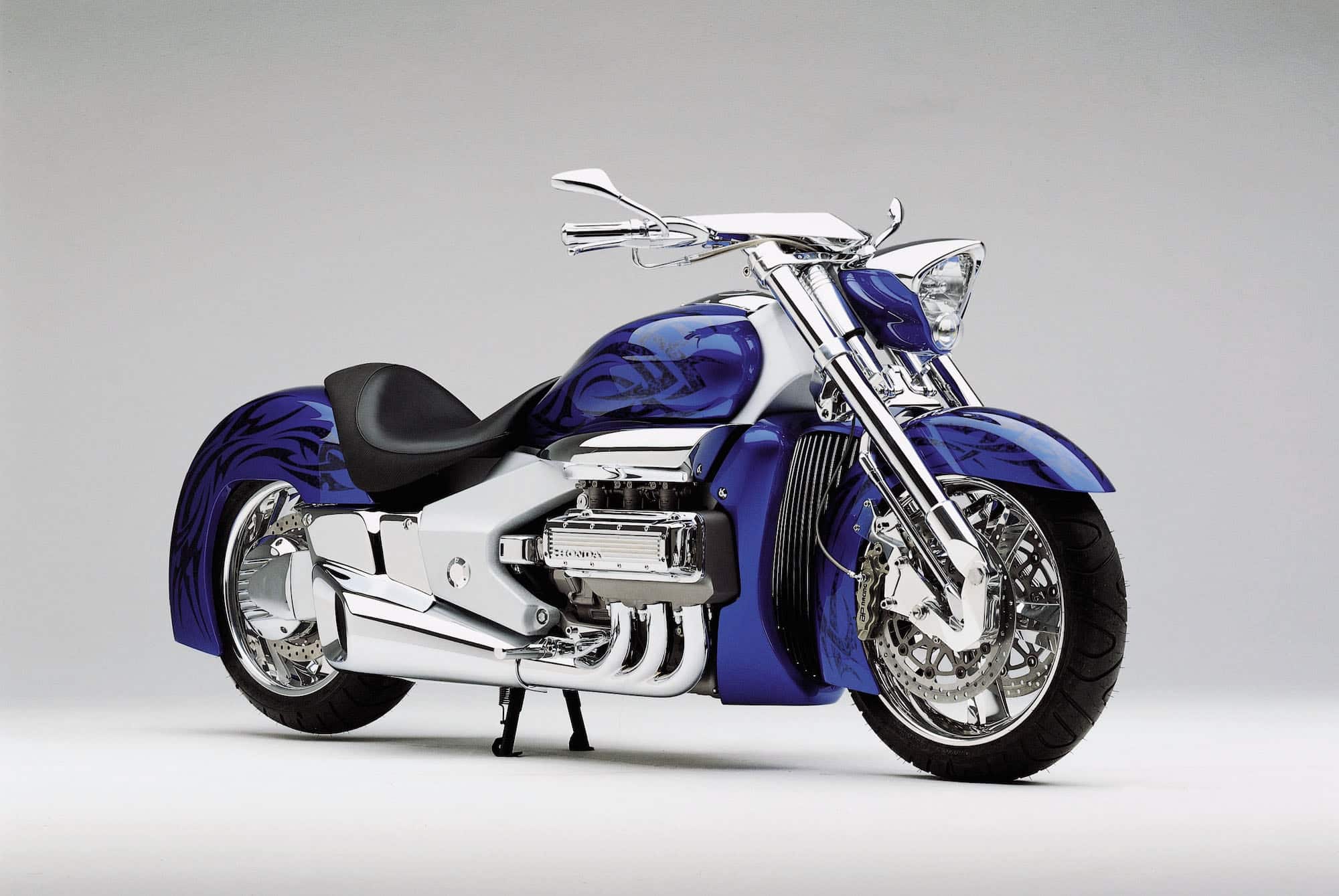 The Honda Concept Type 2 (T2) may look familiar. More on that later.
The concept behind T2 was "neo/retro" — retro deep fenders and low tank, but a high-tech six-cylinder engine, aluminium twin-spar frame, and a single-sided Pro Arm rear suspension design.
It has many unique design and performance features, like the faired-in muffler, the sweeping radiator shroud that recalls big grills on roadsters, and the trailing link front end.
The Pro Arm swingarm is on the right-hand side, alongside the exhaust, leaving the wheel exposed on the left.
The T2 had lots of other neat concepts, like a projector headlight in the bottom of the vertical stacked lights at the front (another Rune feature), and integrated LED tail lights and turn signals.
Concept Type 3 (T3)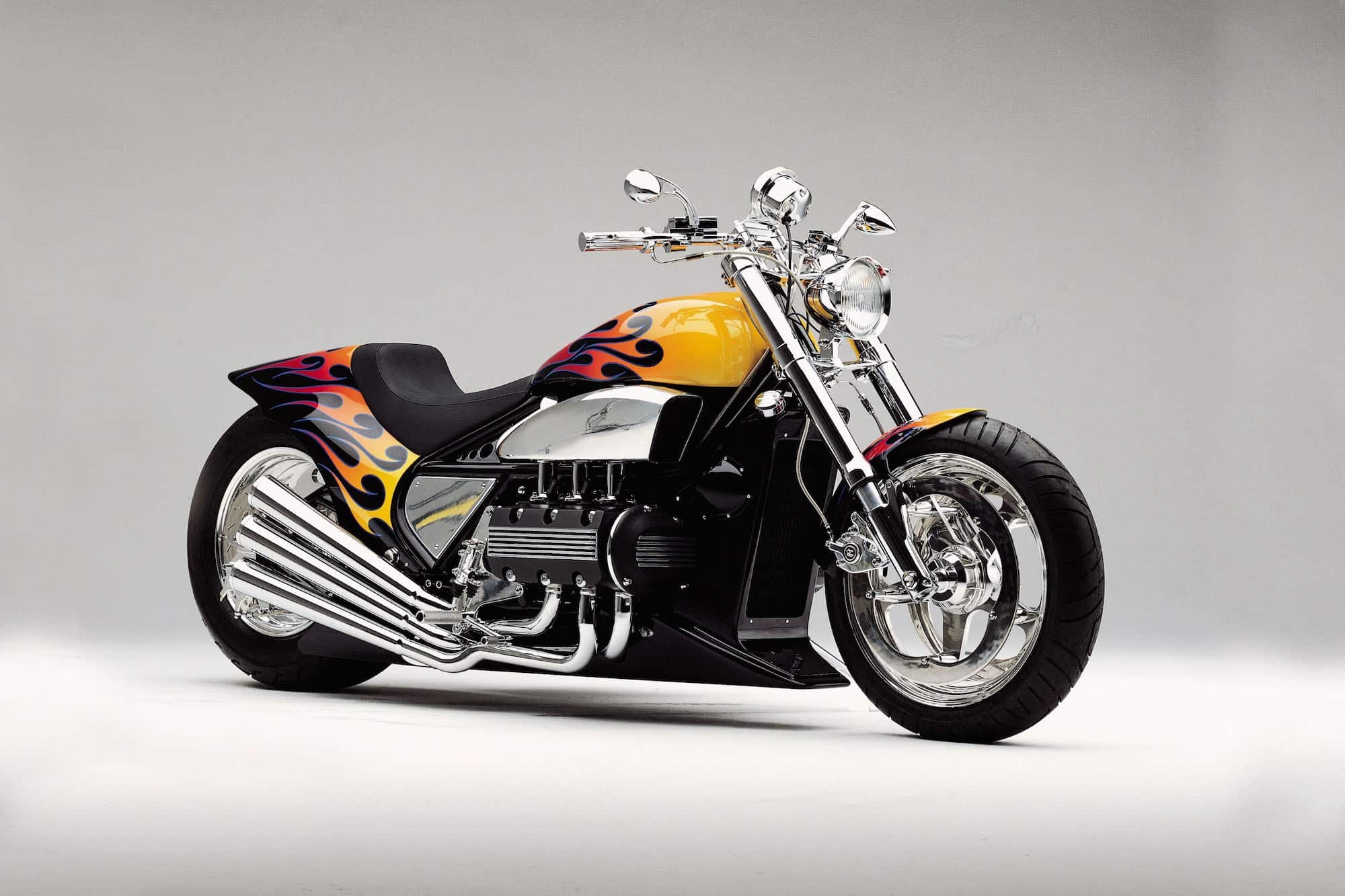 Honda's HRA team used the drag strip as inspiration for the T3. They styled it to look more like a performance bike rather than a pure cruiser. A few nods to performance are the tubular steel frame, seamless aluminium body pieces, and huge air scoops on each side.
The T3 has a raked front end with imposing-looking inverted forks that give it a lot of front-end presence (though not as much as that on the T2). The handlebars are drag style and the off-center speedometer is purposefully very functional looking.
One striking unique feature of the T3 is the exhaust system. Like the other concepts, it's powered by a flat six engine. But each cylinder has its own pipe — it's a six-into-six exhaust!
The T3's front wheel has beefy solid discs bolted to the bike's spokes rather than to carriers. And the bike also has a wide 230/16-16 rear tyre and a chain final drive — the other concepts were all shaft-driven.
Concept Type 4 (T4)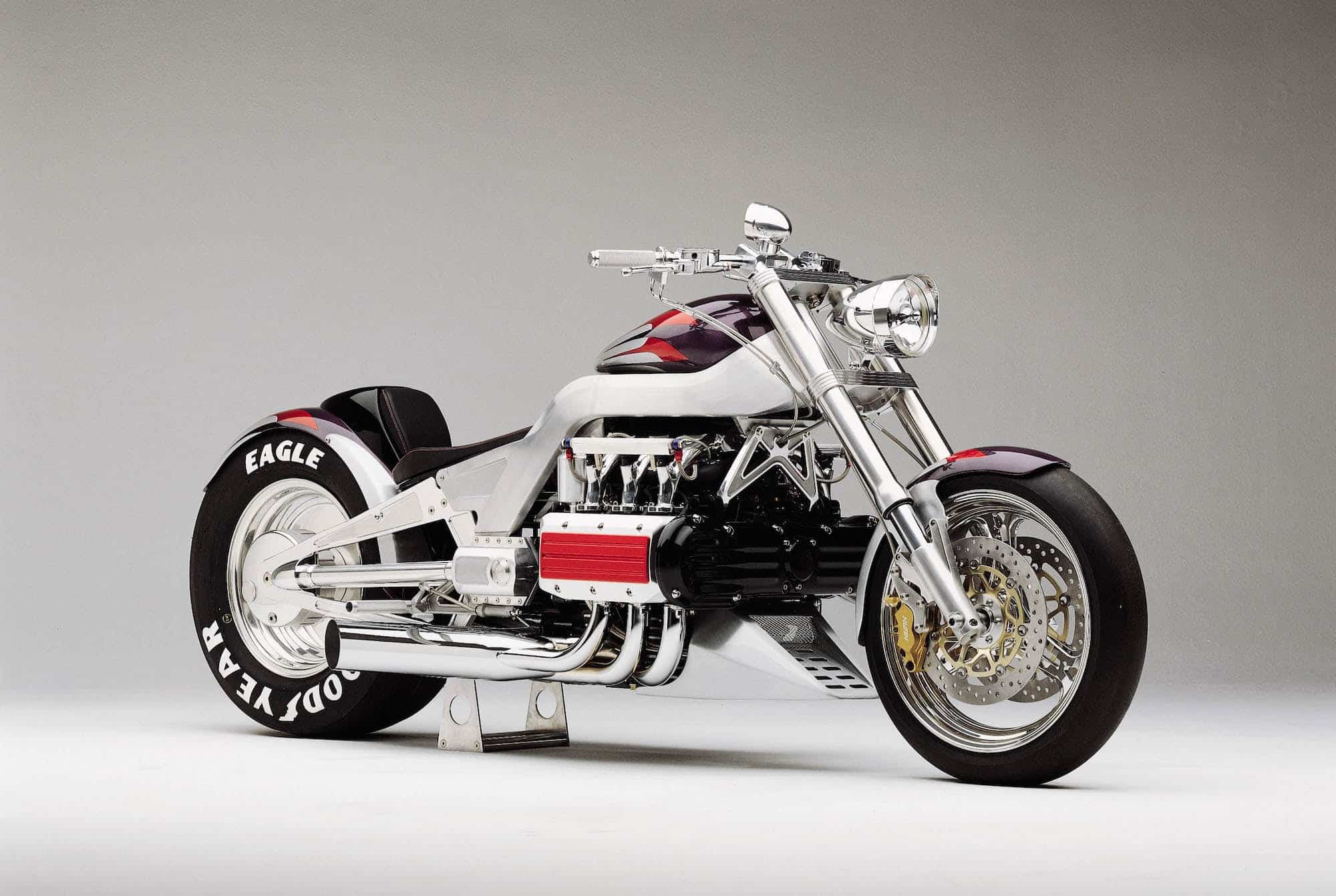 The T4 concept was a little different to the others. Honda commissioned it as a technical material study to demonstrate construction techniques. Honda's master fabricator Mike McCluskey built it.
A few of the unique features of the T4 were
A near-seamlessly welded twin-spar frame
Billet aluminium triple clamps
Billet swingarm (built in three pieces)
Lots of other billet pieces — the drive shaft's front and rear gear cases, front engine hanger, and many other small pieces
An exposed-shaft driveshaft — moved outboard for rear wheel clearance
Drag style short exhaust
A massive drag-ready 260/90-15 tyre
How Honda Chose between the Concepts
Honda didn't just show the concepts at shows, or get people to vote for them — Honda spoke to fans and to focus groups to understand people's reactions to them. They also segmented the customers.
Honda found that conservative cruiser riders liked the T1, and hot-rod riders liked the T3. This was unsurprising to Honda.
What surprised Honda was that the T2 concept (which looks a lot like the final Rune) was the overwhelming crowd favourite at the 2000 Cycle World motorcycle show in Long Beach, California. In fact, the Honda team were hoping that T1 would be, as they had already started developing the bike that would be based on it — the VTX1800.
"We were hoping the T1 mock-up would be the most popular because new-model development had already begun based on the T1. But people who saw the T2 mock-up expressed a most unusual degree of excitement. It was difficult for many Japanese to understand such enthusiasm. The T2 was more than four times more popular than any of the other designs. It was far and away the overwhelming favourite." — Masanori Aoki
In fact, some riders said that the Rune was perfect at was, and asked for Honda to make it with every component in place. The designers and project leaders recalled that one person said "I would buy this bike, just as it is, but I know it could never be done. It would be impossible even for a company such as Honda to build a bike just like this." Honda took this as a challenge.
Translating the visions to reality
Because of the public's reactions to the T2, with everyone asking for it to be reproduced intact (while simultaneously expecting that never to happen), Honda decided to do exactly that. Challenge accepted!!
Having picked the T2 as the prototype on which to base the final Honda Rune, the HRA team consulted with Large Project Leader Masanori Aoki, an experienced engineer who had worked on bikes from the NSR250 to the GL1800 Gold Wing. These were both bikes (as were many others) that were very unusual for Honda and that had expanded the company's engineering horizons.
Even though Aoki-san took on the challenge to build the Honda Valkyrie Rune, it wasn't without apprehension. "To be honest with you, I thought it would be impossible to mass-produce the product without changing the styling design. It was just too radical of a design. And yes, as an engineer I thought the process was completely backward," he said in an interview.
Aoki-san gave his input to resolve manufacturing problems with the Rune like
Keeping an exhaust that looked like the prototype — short enough for the desired visual effect, but engineered correctly to retain horsepower and remaining within regulated noise limits.
Producing cast and chrome plated wheels to look like the HRA one-off units
Using LEDs to keep the clean rear fender look
Changing the bend of the T2 bar so the bike is rideable (the original T2 bar looked nice but was uncomfortable).
The result was that the final Rune looks quite a lot like the T2, even though the T2 is a non-running prototype! Here they are side by side (scroll or swipe on mobile):
In the end, there were 11 new technologies that Aoki and his team had to create or adapt to produce the Valkyrie Rune. These included things like plastic moulding techniques, a production method for the chrome-plated wheels, and steel braided lines.
The radiator is an oft-cited design and manufacturing challenge that the team had to confront when building the Rune. The original radiator, Aoki said, was good for an engine that made 22 horsepower; a little less than the 118 that the Rune's engine actually makes. They moved mountains to create a curved radiator that maintains the aesthetic and also can dissipate enough heat.
Just don't let a stone hit it while riding it… you might be up for quite a bill.
Core specs of the Honda Rune — What makes it special?
Here are the core specs of the Honda Rune, just for comparison with other bikes you know.
| Part | Honda Rune Spec |
| --- | --- |
| Engine | 1832cc flat 6, SOHC 2-valve per cylinder, liquid cooled |
| Peak power | 86 kW / 118 hp @ 5,500 rpm |
| Peak torque | 167 Nm / 121 lb-ft @ 4,000 rpm |
| Drivetrain | 5-speed transmission, shaft drive |
| Front suspension | Trailing bottom link, non-adjustable |
| Rear suspension | Pro-link single shock, non-adjustable, single sided swingarm |
| Front brakes | 2 x 330 mm full floating discs, 3-piston calipers, both controlled |
| Rear brakes | Single 336 mm disc, 2-piston caliper |
| Front wheel | Cast/optional Chromed, 150/60 R18 |
| Rear wheel | Cast/optional Chromed, 180/55 R17 |
| Wheelbase | 1750 mm / 68.9 inches (longest in Honda history) |
| Dry weight | 367 kg / 811 lb (about the same as a Harley-Davidson Road King) |
| Wet weight | 403 kg / 888 lb |
Honda Rune Core Specs
A few aspects of the Honda Rune deserve more attention.
The Honda Valkyrie Rune's Engine
The engine of the Honda Valkyrie Rune is, at its core, the same 1832 cc liquid-cooled engine found in the Gold Wing GL1800 of the era.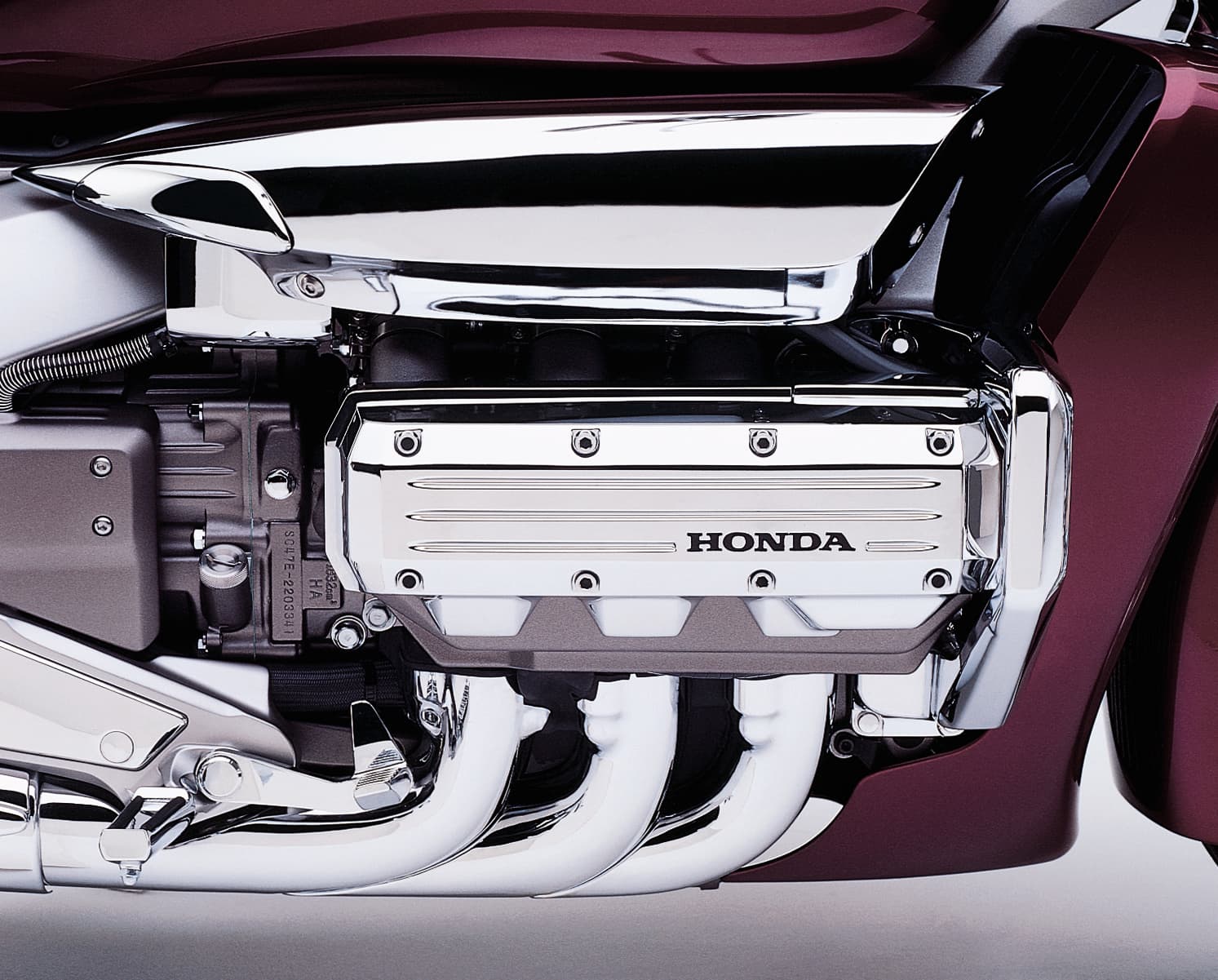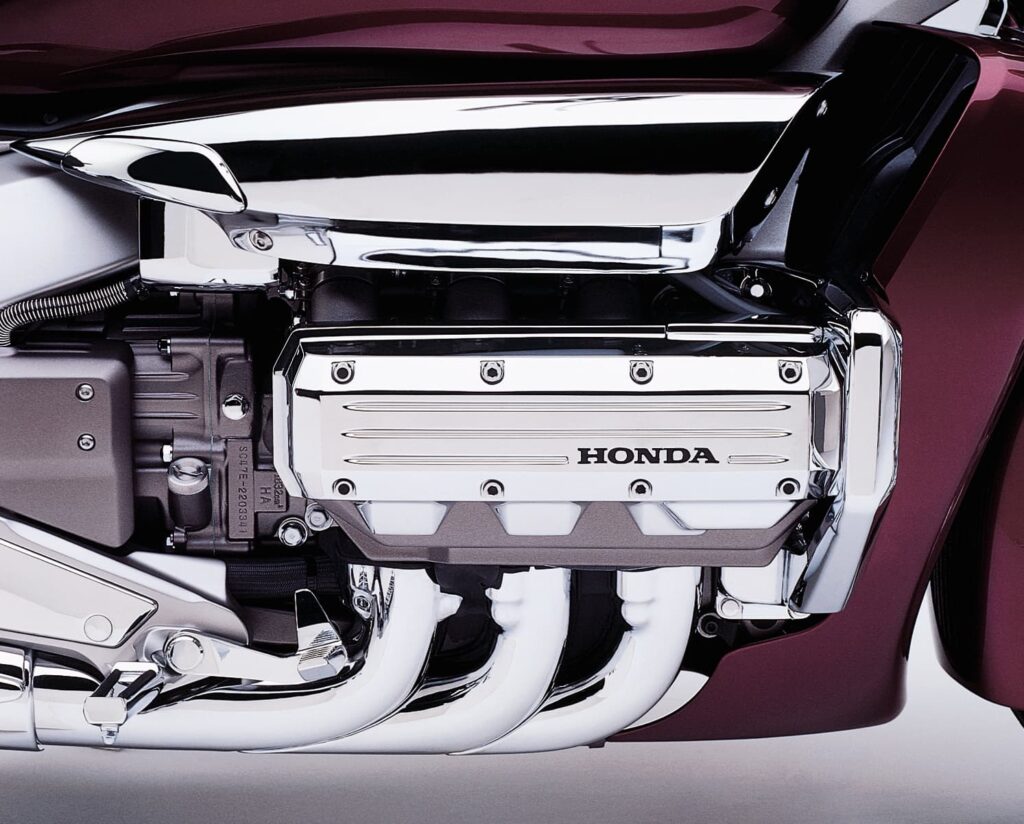 But Honda modified that engine from its sedate base. They increased throttle bodies from two to six (32mm throttle bodies, with 12-hole injectors), and re-tuned the top-end with hotter cams and more aggressive fuel injection and ignition timing maps. The Rune also has a larger 6.9-liter airbox and a different exhaust system to that found on the Gold Wing.
What's confusing is that the quoted power is identical to that for the Gold Wing. But the engine obviously sounds different — in part due to the different exhaust system.
Owners who have both motorcycles say that the Rune has more mid-range and incites more bad behaviour, but that the Gold Wing is faster. The latter is also in part due to the aerodynamic fairings of the Gold Wing.
Nonetheless, both bikes will take you above 200 km/h with ease.
Various dyno runs show both the GL1800 Gold Wing and the Valkyrie peaking in torque at between 2500 and 4000 rpm, always around 140-150 Nm (105-110 ft-lb). In the dyno runs where the peak is higher, over 80% of the torque is available at 1250 rpm — just above idle. So these engines pull!
Much like an air-cooled cruiser engine, the 1832 cc flat six is designed to be shifted early. The hard redline is at 6500 rpm, and a natural shift would be around 5000 rpm even when ridden aggressively.
Honda Rune's Suspension
One thing most people notice is the unconventional front suspension on the front of the Honda Rune — the "trailing link" design.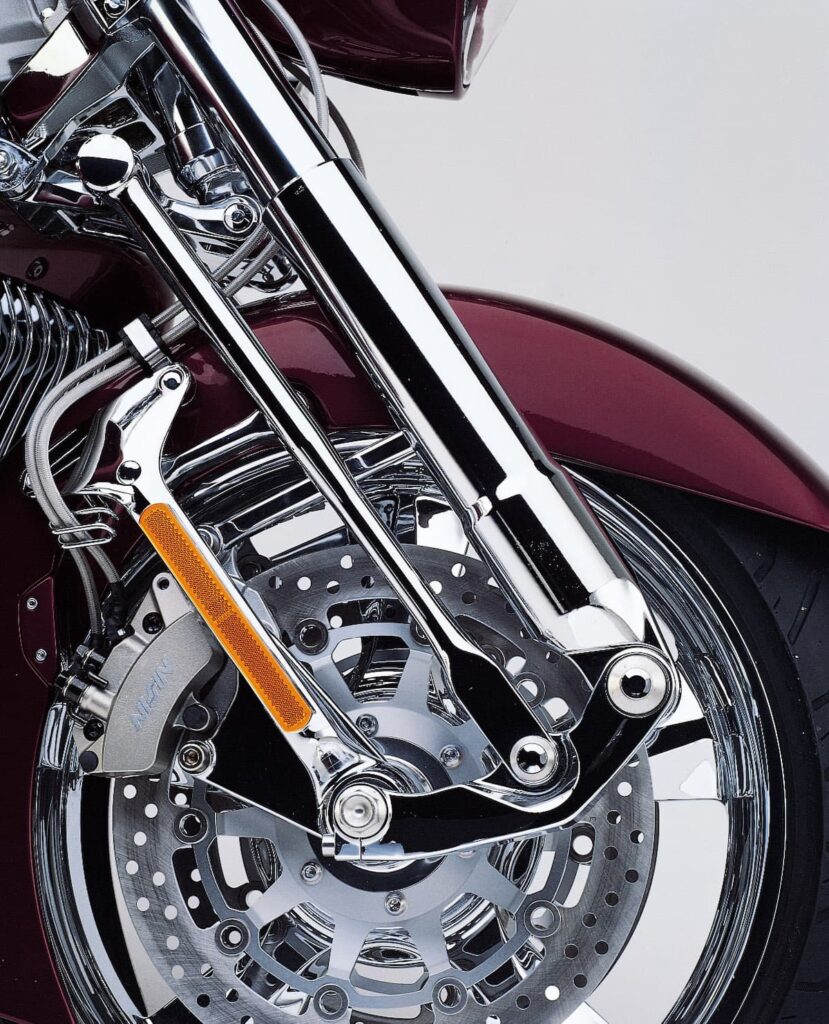 The front suspension is another element of the Rune that came from the design team and then was implemented by engineers to be faithful to the aesthetic.
The Rune's trailing link front suspension look like twin shocks surrounding the steering head and headlight.
In reality, the right side has the main spring, and the left shock does damping (and also has a lighter weight sub-spring).
The suspension might look unfamiliar, but it performs like you'd expect motorcycle suspension to perform. The trailing link design adds additional trail to the front wheel, helping it remain stable.
Even though the front suspension gets all the attention, it's the rear suspension that's the higher-tech unit.
The Unit Pro-Link rear suspension on the Rune is derived from the RC211V MotoGP bike. It's designed to improve mass centralisation, both for balance as well as to increase frame design options.
The main benefit of the Unit Pro-Link design is that the Rune can have a low ride height of just 690 mm (27.2 inches). This is because the damper doesn't have to attach to an upper cross member.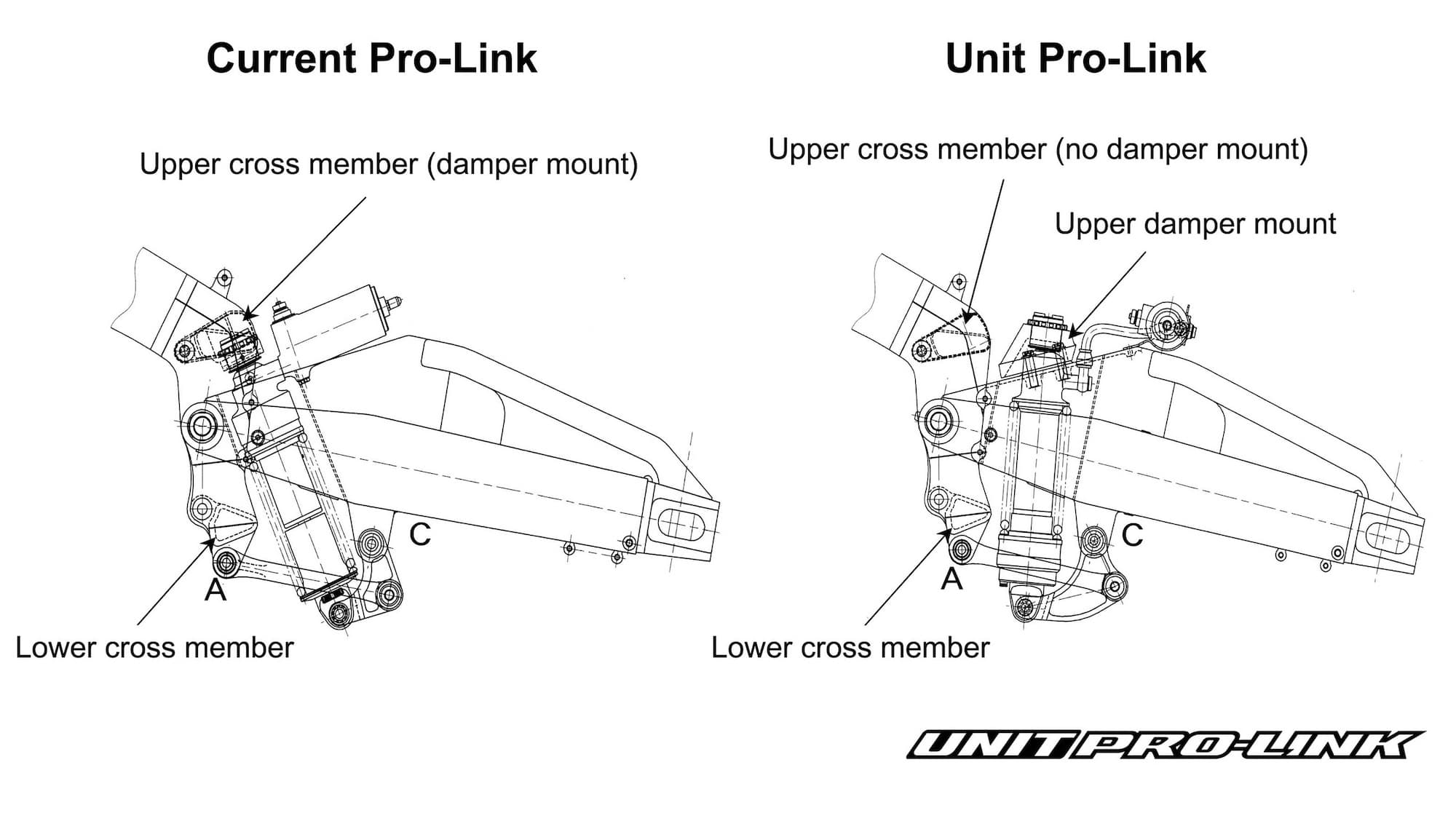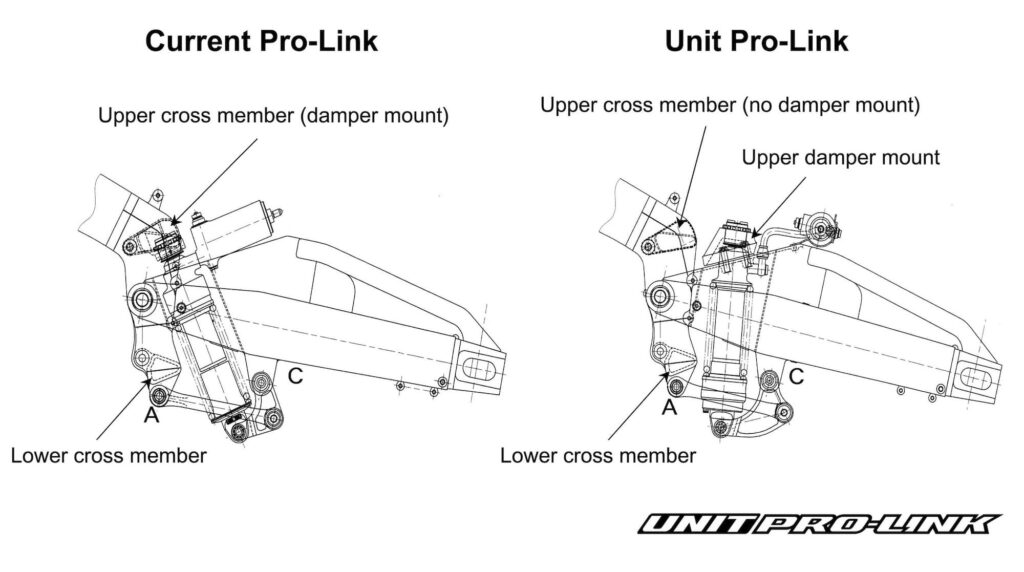 The Rune's shock goes from the top of the swingarm, through the swingarm, and attaches to a bellcrank linkage system below. There, the shock's bottom eye is connected to the frame via a pair of tension links.
As the wheel goes over a bump, the whole swingarm moves up, moving the shock with it. But the rising-rate ratio in the bellcrank system compresses the shock from below.
It's a clever and quite high-tech bit of kit in a design-led cruiser.
The Honda Rune's Exhaust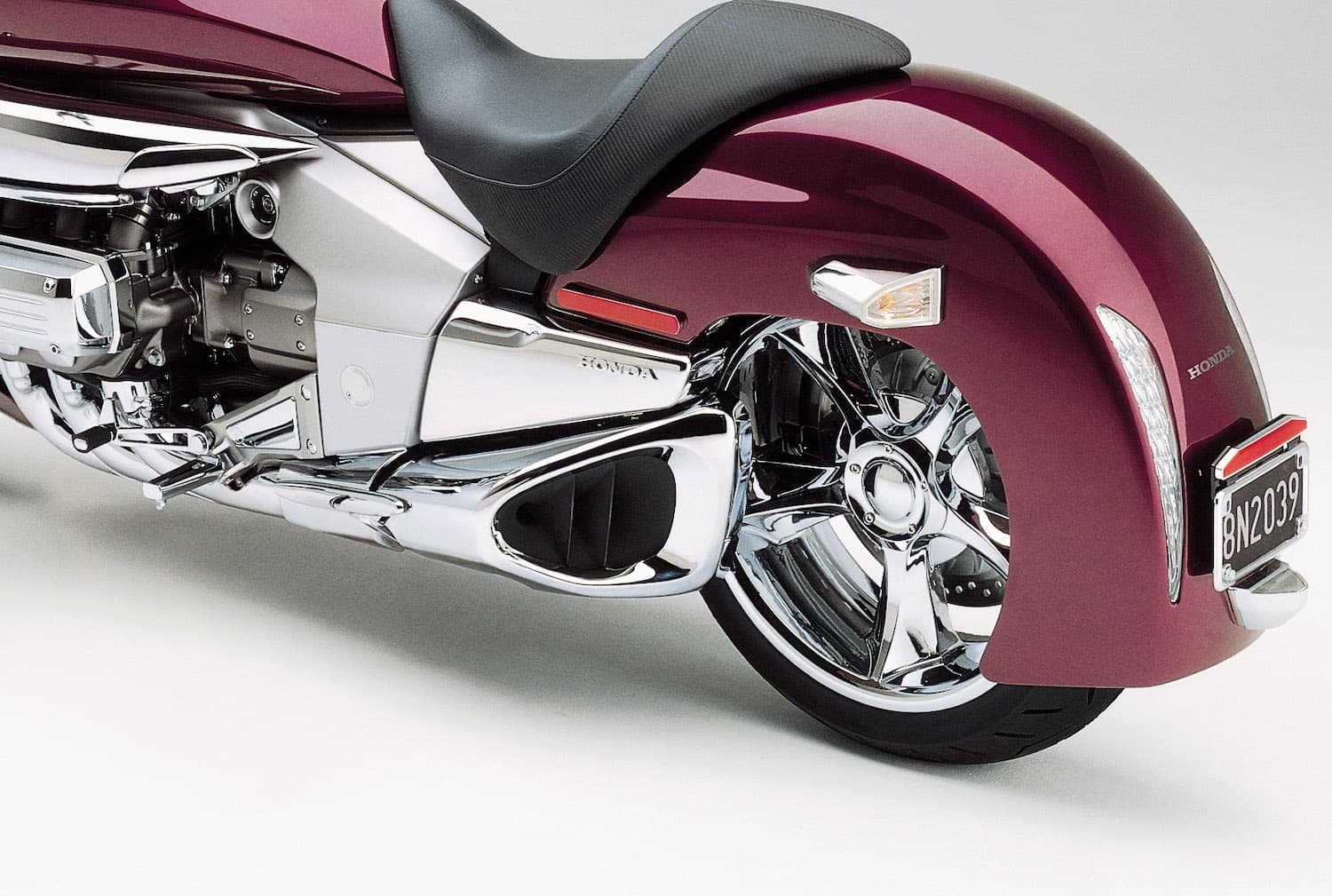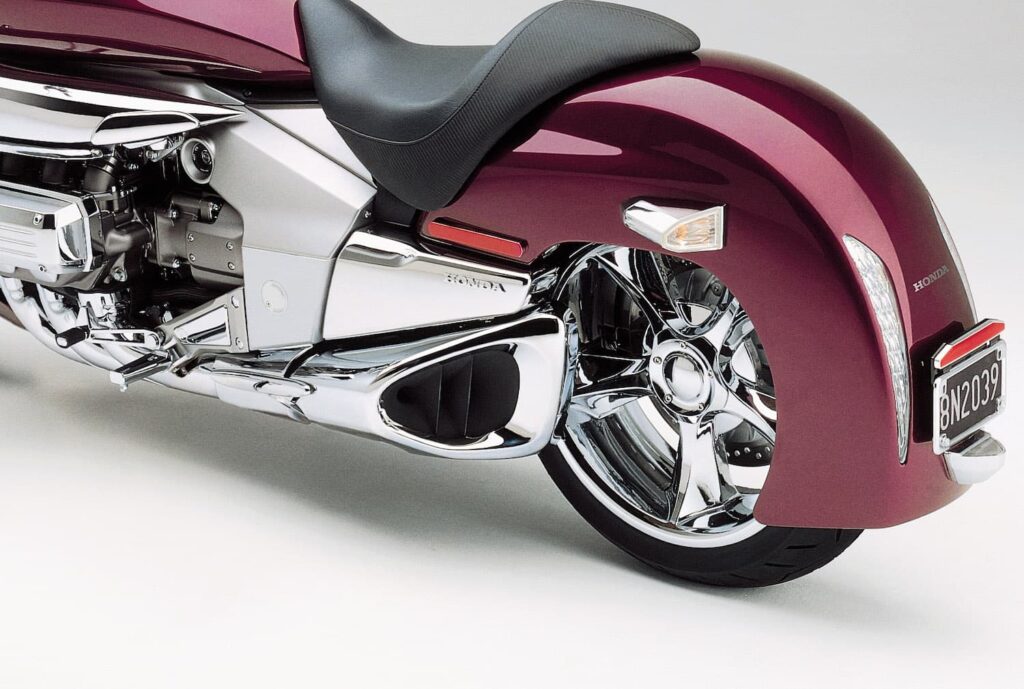 One controversial part of the Rune is the exhaust. Some don't like it visually. But it's interesting to note that the Rune's exhaust was very deliberately engineered to look like this, faithfully recreating the designer's intent from the T2 concept, which was very difficult from an engineering perspective.
There was a lot of back and forth between the engineers and the designers, but the Rune's project leader was intent to find a solution to keep the T2's aesthetic, and did. The end result is that the Rune's short exhaust can meet emissions (and noise) standards and is faithful to the original aesthetic.
Fortnine's Christmas-themed review describes that the exhaust is an "aerodynamic back pressure funnel" and cast out of a single piece of metal using a 5000-year-old casting method. (Caveat: I hadn't heard that before and can't find support for it elsewhere.)
But in summary, if you're buying a Valkyrie and it doesn't have the original exhaust, make sure you get the original with it!
Riding the Honda Rune
One of the mysteries surrounding the Honda Rune is: why are the ones for sale almost always low mileage?
Talking to a couple of dealers, the answer seems always to be that people buy them as collectors' items in multi-motorcycle garages. They sit for a long time and occasionally are taken to a show. Otherwise, they just age gracefully.
People sell them when they suddenly need a large amount of money, are moving to a place with no garage (as people get older and opt for smaller, more convenient homes), or perhaps even pass on and leave a Rune in a deceased estate.
I saw one video by Sean of SRKCycles in which a dealer said they bought a Rune that was a non-runner and had some pitting from a minor flooding incident for a paltry US$1500. Don't expect that to happen again, ever!
Even while people own Runes, they're not a bike many riders (with some notable exceptions!) choose to ride other than to show or perhaps to be seen.
They're not practical (I mean, even less so than most motorcycles), and in stock form have no luggage or passenger options. And because of their legacy, people are loath to make any modifications at all.
There is an active community of riders who do post on forums, though. They seem happy to ride their bikes and even modify them — painting them, primarily.
Weight and Comfort
The Honda Valkyrie Rune is, obviously, a heavy motorcycle. You feel it at standstill, taking the weight off the kickstand. But the low ride height means that it's not unbearably heavy.
In terms of comfort — your feet aren't splayed out forwards. This means that when you take off on the Rune, there isn't that sometimes awkward dance of getting feet up onto the forward pegs (which is fine if you're on a level surface, but why am I always cursed with launching from angled driveways?)
On the Honda Rune, your knees are bent at a comfortable 45 degrees, and swept back bars make the seated position very comfortable. Another bike the Honda Rune's riding position reminds me of is the much more modern BMW R 18.
Getting started on the Honda Rune is easy. The clutch is very light. Because of big twins, I always expect clutch pull on a big bike to be heavy and for action to be clunky. Not so on the Honda Rune! The clutch pull is light (like a much smaller bike) and gear action is smooth.
The sound
There's a nice burble from the exhaust at idle. The firing order of the Honda Rune is 1-4-5-2-3-6, so the engineers did a clever thing where they routed half the cylinders to one side and half to the other so you'd get one seemingly fat pulse out of the left and then one out of the right.
(By the way, the firing order may look weird until you realise it's totally natural in a flat six engine, balancing between both sides of the engine and both ends of the crankshaft.)
But aside from those rhythmic bursts, the engine is very smooth.
I have very rarely seen a Honda Valkyrie Rune with a non-standard exhaust. This is presumably due to the legacy of the exhaust — Honda went to great lengths to get one that fit it stylistically, looks good, and conforms to regulations.
Everyday riding
What's important to note is that the Honda isn't just a looker like most choppers are — it's a typical Honda in the way it rides. It's well-balanced and has suspension and steering geometry that works.
This means that as soon as you pull away, confidence soars as you stop feeling the weight, even at low speeds. Low-speed handling is a little tricky, but nowhere near as much as just knowing the weight would have you believe.
It helps that the engine in the Rune is unbelievably torque-oriented. There's enough torque below 1000 rpm to pull away in top gear! (Mind you, there are only five gears…) So top-gear roll-on on the highway is effortless.
The Rune isn't a fast bike. It's fast compared to cruisers, but that's not really a reasonable comparison — this market is mostly about torque.
And again, while it's a cruiser, the handling and braking at speed is fine. The Rune rides like a standard motorcycle should. You can even lean on it, modestly — it has lean angles of 32 degrees, which mean you'll likely only scrape when trying to (or maybe taking a pillion around a roundabout a little too aggressively).
Braking works well, too. I don't think it'd be possible to pull a stoppie, but braking is adequate for the pace at which you'd ride the bike. The braking is linked — when you step on the brake pedal, it activates one of the front brake calipers' pistons — cleverly, after a valve to delay the effect, so stepping on the rear brake while turning tightly won't jar the steering.
The only downside to riding the Honda Rune is that the combination of the riding position and short suspension travel means that it's a little harsh over larger or sharper bumps. But I don't expect many people will be taking their Rune down country lanes.
The Honda Valkyrie Rune vs A Few Alternatives
If you're considering buying a Honda Rune, then you probably want a Rune and nothing else.
But if you're like me, you're thinking "Wait, should I just get a newer Valkyrie? Or maybe just a Gold Wing?"
You wouldn't be alone. Many owners of the Rune in various forums also own Gold Wings. Can't have too much of a good thing! They compare one to the other, and the comparisons are obvious — a Gold Wing gets you many more creature comforts, much more wind protection, luggage and so on — and the Rune gets you style.
Honda Valkyrie F6C (2014-2015)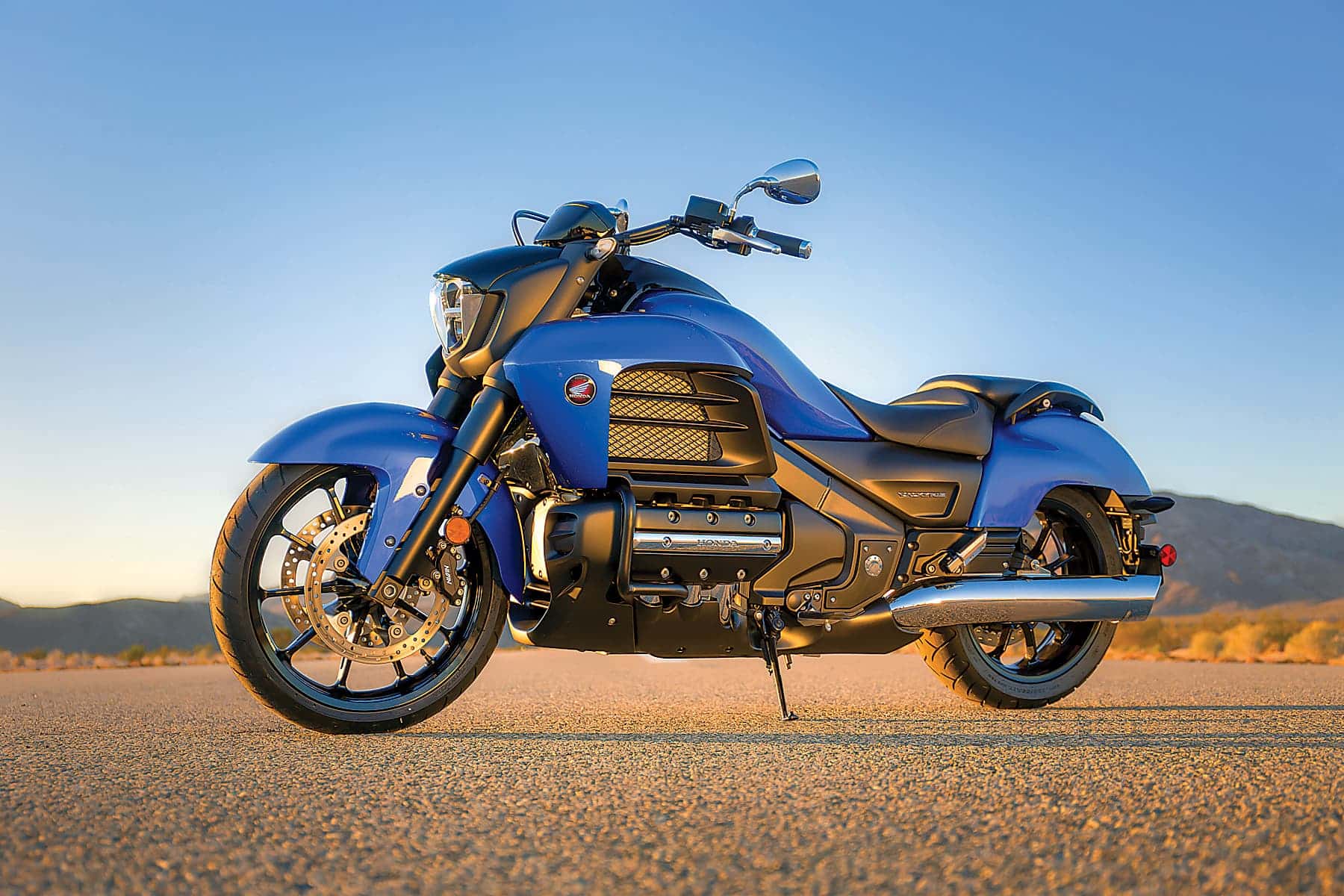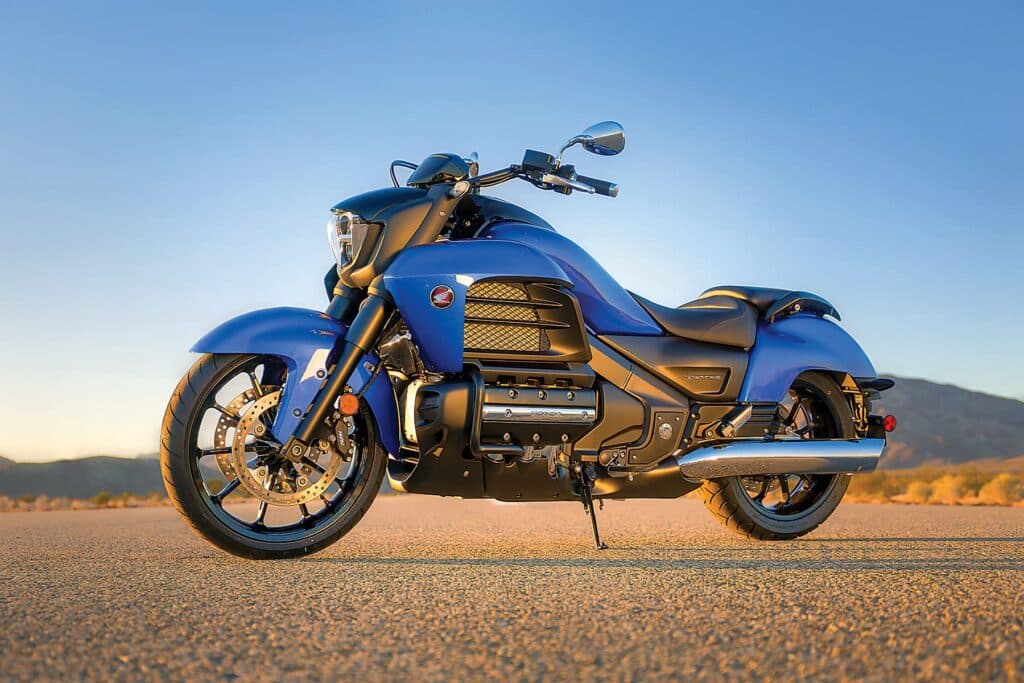 The 2014-2015 Honda Valkyrie (just that, Valkyrie) is an obvious first port of call for an alternative to the Honda Rune. It has a lot in common with the Rune — a comfortable riding position, the flat 6 engine, a single-sided swing-arm (unfortunately covered up by the exhaust pipe), and quite a lot of style — though it seems muted when parked next to the Rune!
The 2014 Valkyrie rides quite similarly to the Rune. The engine is effectively the same (though in a newer state of tune) with roughly the same power and torque delivery that lets it pull away from idle in top gear.
Where the more modern 2014 Valkyrie is clearly superior is that it's lighter, more advanced, and has more affordable replaceable parts. For those who would max out their budget just buying the Rune, the Honda Valkyrie GL1800 may be a more affordable alternative — because you can afford to crash it, relatively speaking.
The more modern Valkyrie has a lot of additional bits of tech, like an LED headlight, an LCD display with a customisable start-up message, and ABS and self-cancelling turn signals as an option.
The Honda Valkyrie is quite a lot lighter than the rune. But that still makes it quite a heavy motorcycle. With ABS, it weighs 340 kg vs the 403 kg of the Rune (754 lb vs 888 lb) — a whole (small) human being lighter. Still, it makes other bikes considered "heavy" (e.g. my 260 kg Hayabusa) seem like lightweights in comparison.
Honda Gold Wing F6B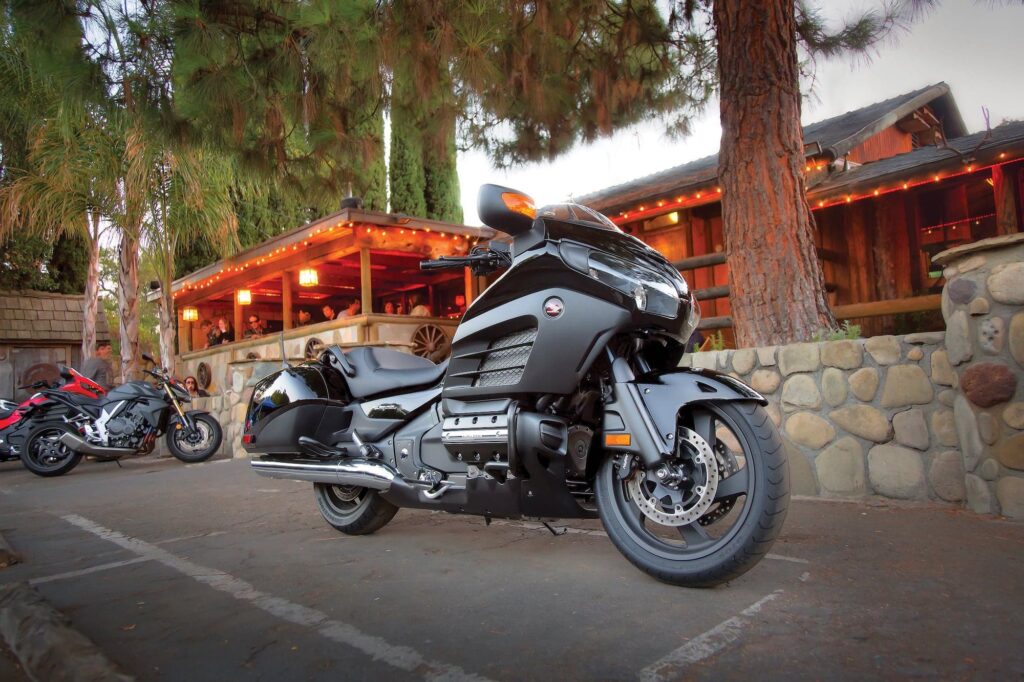 Aside from the actual full-on Gold Wing, a Honda Rune buyer might be tempted to get another less fully-equipped bike from Honda — the F6B.
The Honda Gold Wing F6B is conceptually similar to the modern 6th gen Gold Wing. It has the same engine and chassis at its core, but it's lighter on features. It's somewhere in between the more modern Valkyrie and the Gold Wing in that respect. It is a Gold Wing but without: air bag, reverse gear, cruise control, rear seat and speakers, sat nav, illuminated switchgear, and self-cancelling indicators.
Being somewhere in between, the F6B does still weigh quite a bit — and you don't have the reverse gear of the Gold Wing. But then neither did the Honda Rune!
Like the Valkyrie, the Gold Wing F6B comes with lots of tech that wasn't on the Rune, like ABS, a premium audio system, and a sophisticated display.
What to pay for a Honda Valkyrie Rune
In some ways — if you want one of these bikes, you pay the asking price.
That said, the prices I've seen them go for in the US are around the $18000-20000 mark over the last five years (2015 onward). Prices seem to have stabilised around this point. Mileage has crept up, and the bikes have gotten older of course, so you would want the bike to have been serviced.
In Australia, my other home, I've seen them advertised for around $30000 from dealers and more or less privately — probably private owners are more open to negotiation with someone with the right attitude.
Current listings in both the US and Australia reflect this price. But there are VERY few for sale, which means you'll have to maybe factor $500 in transport fees on top.
While many owners leave them stock, I do see some customised Honda Runes out there.
Customisations are usually in the form of paint jobs, but they can be more extensive. In fact, if you go hunting on the internet, you can find pics of a chromed-out Honda Rune that Pamela Anderson stole in a video clip for a Russian metal band. (There's a sentence full of things you never expected to be together…)
It's fine if there's a paint job that you like, but just be aware that you are massively reducing the resale price if you decide, like the person before you, that the Rune isn't for you.
Final thoughts
The Honda Rune is definitely one of those bikes that I have my eye on for in a few years time when I have more garage space. Or perhaps when I have that dream, a money-losing but infinitely fun automotive cafe on a winding road where a few bikes are permanently on display.
If you do have that space, and fancy yourself a collector, the Rune is a bike that you're likely to hang on to for a while.
A dealer in a video I watched said that he had "nearly" bought Runes multiple times. The same scenario would play itself out every time: an owner who barely rides their bike would call up and say it's time for it to go. They head to the gas station to fill up for the ride over to the dealer. And along the way, they get so many comments and looks, and enjoy the ride so much, that they change their mind and go back home.
Not sure if that's everyone's ideal scenario. But it shows that the Honda Rune can really tug at your heartstrings.
Also, if you have bitten the bullet and have one in your garage — send us an email with a pic. We love 'em.