This is a brief essay in pictures on the most boring motorcycles in the world — Honda.
Every now and then there's a discussion in internet forums and Facebook groups about what motorcycles are the most reliable.
People often like to say Honda makes the most reliable motorcycles — though definitions of reliability vary, and data are scarce.
But anyway, someone always like to respond with "but at the end of the day, you'll be on a Honda…" or "You know what they say… you meet the nicest people on a Honda!" or just "Hondas are boring!"
I couldn't agree more. They're incredibly boring. That's why I've compiled this list of what are ostensibly the most hideously dull Honda motorcycles of all time, bikes that leave me in tears with their plain aesthetics, uninspiring sound, and unpleasant handling.
Here they are… motorcycles by Honda, the most dull, boring, listless etc. motorcycle brand in the world.
In this list of totally awesome, ahead-of-their-time, I mean boring Honda motorcycles…
On to the list!
Are you obsessed with motorcycles?
Well, I am. That's why I created this site — as an outlet. I love learning and sharing what others might find useful. If you like what you read here, and you're a fraction as obsessed as I am, you might like to know when I've published more. (Check the latest for an idea of what you'll see.)
Honda HRC NSR500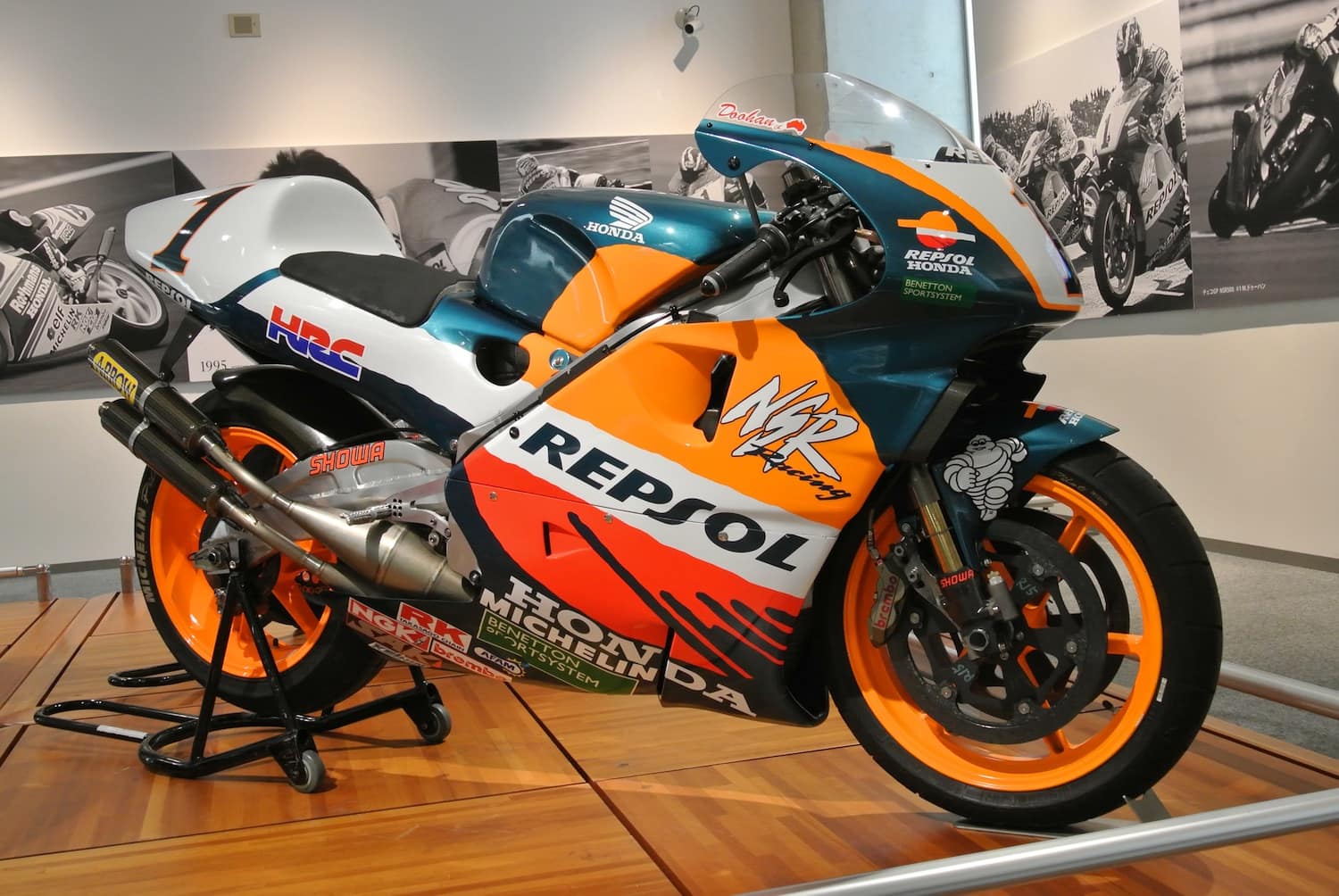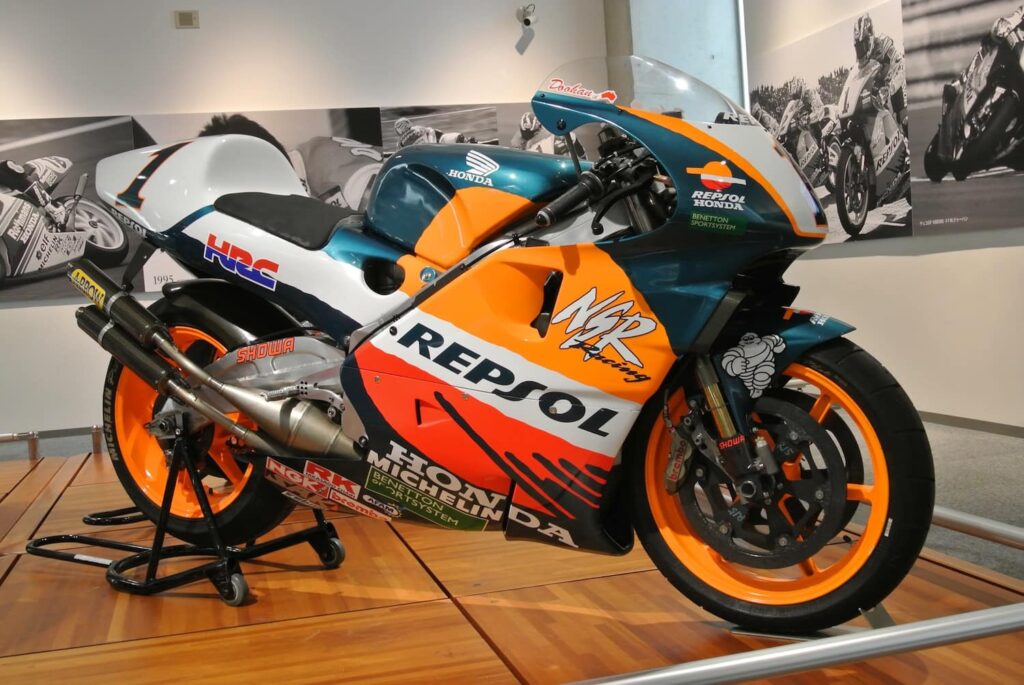 Let's start this onslaught of boredom with the NSR500, a V-4 2-stroke with 200hp that would probably decapitate you just for looking at the throttle at the wrong part of the rev range.
Honda's NSR500 was Honda's 500GP bike. It was a two-stroke 499cc V-4 with 200hp output at the time it was sunsetted in 2002.
What made them insanely boring was that they went from 50hp to 150hp in just 100rpm, at the 9,700 rpm point. The torque came on just like that, slapping you in the face with an oversized hand that would send you to the other side of the track before you could say "argh".
People who won championships on them included names you may have heard of like Valentino Rossi, Mick Doohan, and Wayne Gardner.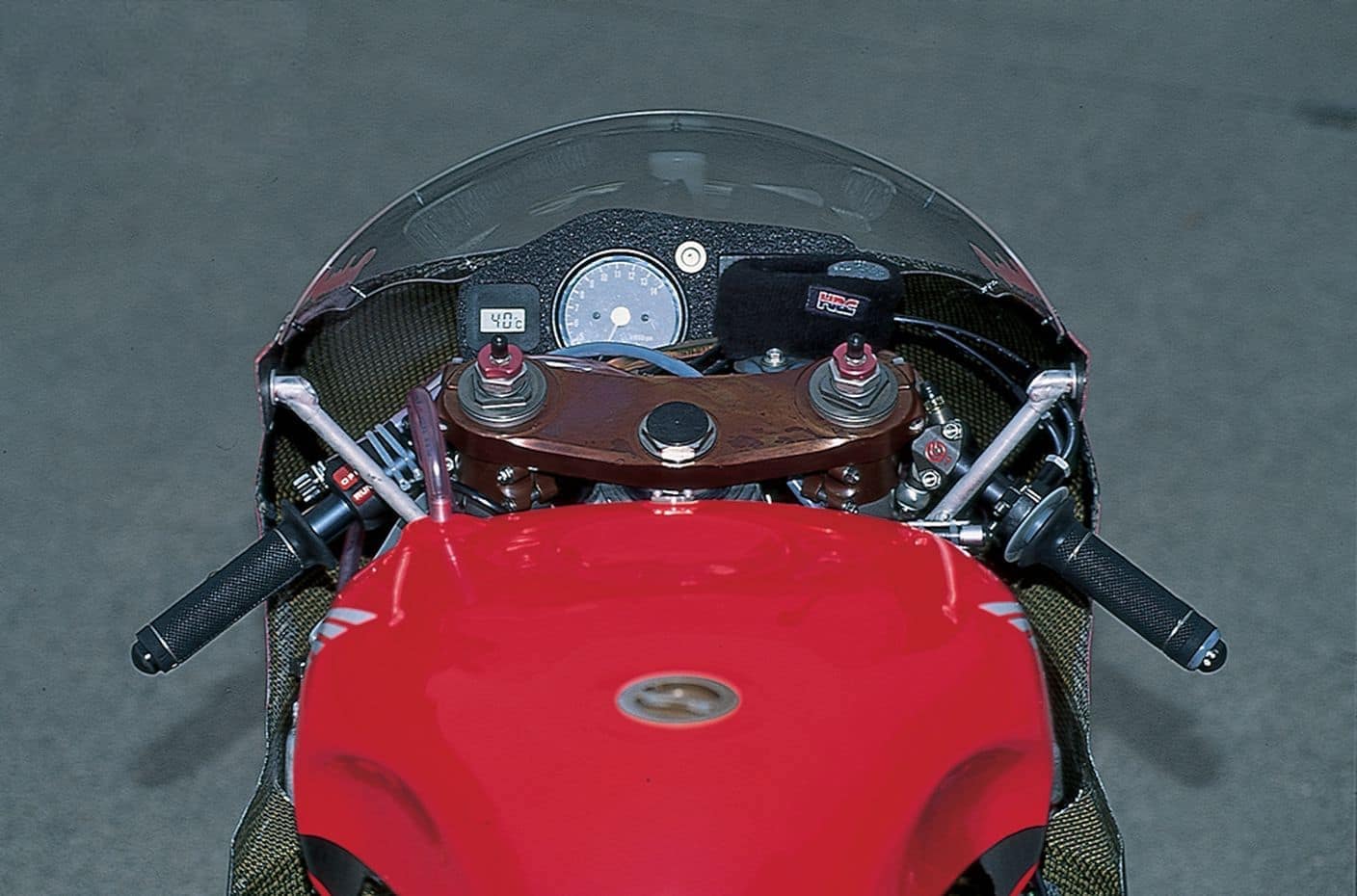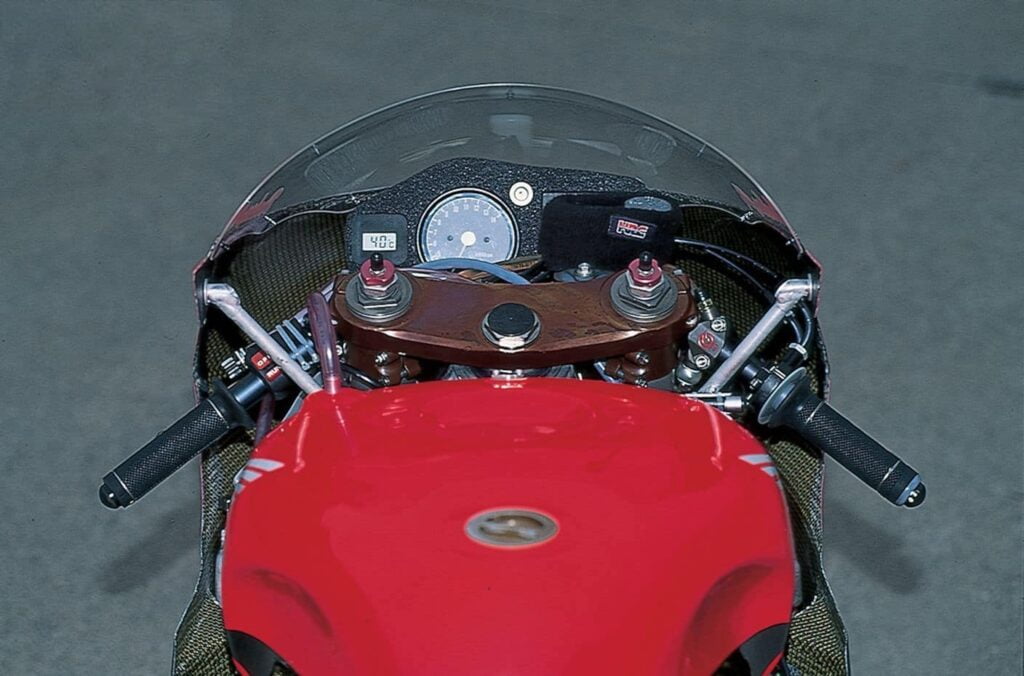 Here's what a few others say about it…
"Viewed from any angle, Honda's almighty NSR500 is intimidating, but looking at it from behind the bars makes my mouth go dry and my pulse pound into the red zone." — Lance Holst, Cycle World
"There was nothing like riding a racing two-stroke… The NSR was light, agile, had 200bhp and was so responsive to the throttle. They were so edgy." — Wayne Gardner
Honda DN-01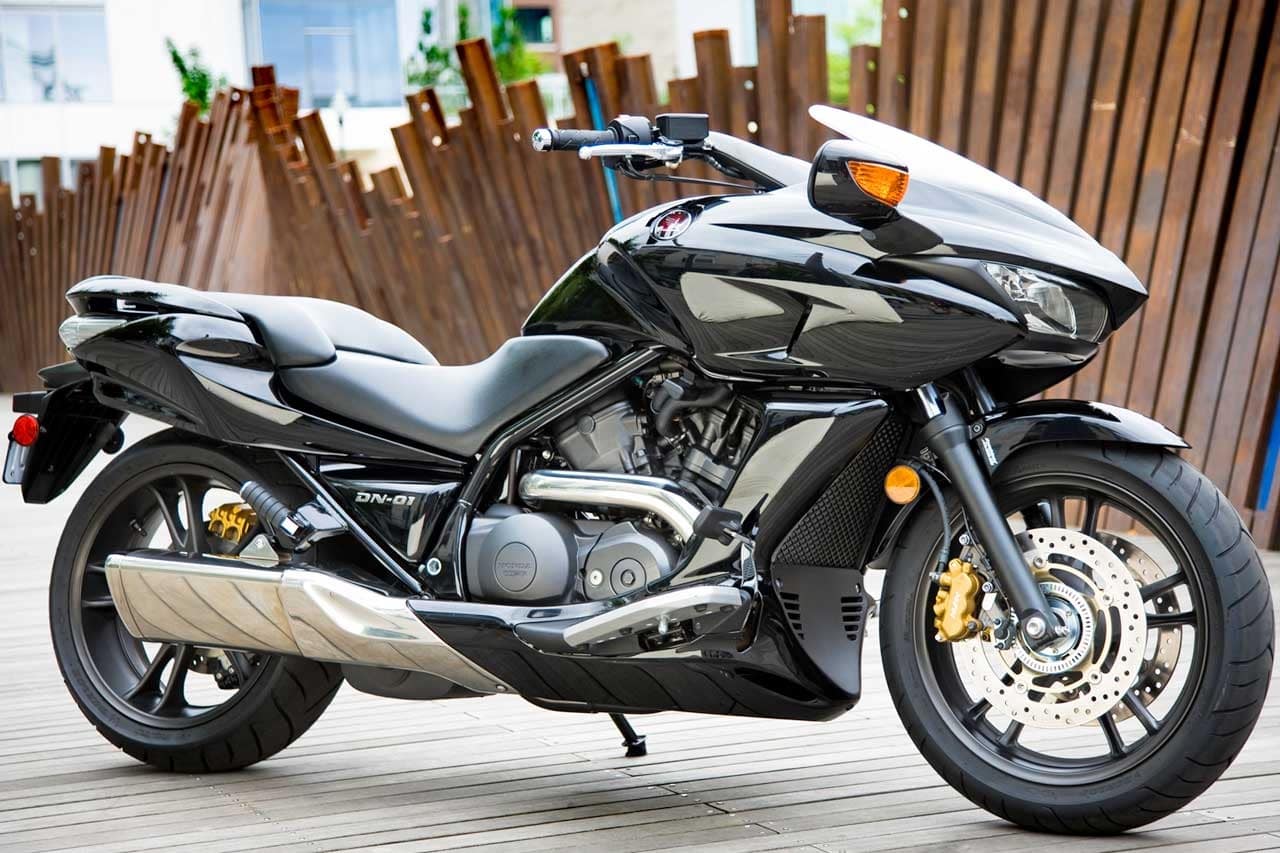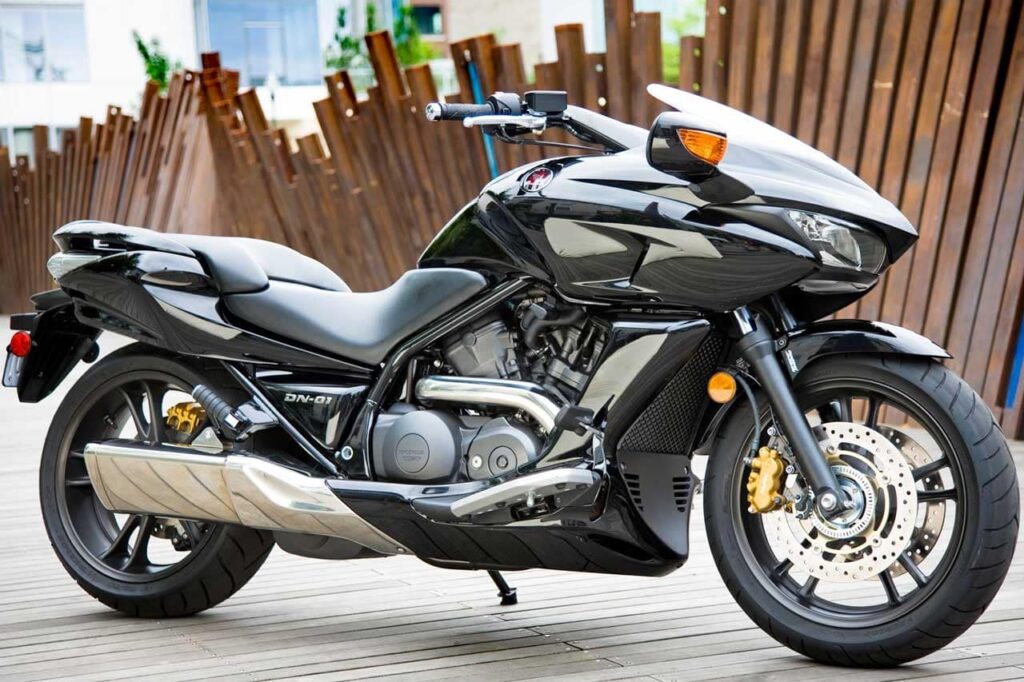 Following on, let's go around 1,000 years into the future, into a time when motorcycles own people.
The DN-01 may not be your cup of tea. Some think it's ugly. Whatever it is, that futuristic design that looks like it just arrived here at light speed from another dimension to help you commute to buy the groceries is very, very… boring?
The DN-01 is many things: it's a cruiser, it's avant-garde in design, and it… has an automatic (CVT) transmission.
That makes some people call it a "scooter". But it still has push-button-selectable gears if you want, so you can boringly rip through the box on the way to the shops.
The DN-01 has a 680cc V-twin that you also found on the Deauville (a name I do un-sarcastically find boring). It makes around 50kW (66 hp), drives the sport tyres via a shaft drive, has combined ABS, can actually lean and… did I mention it's a cruiser? It has floorboards! And they're quite high up, and not too easy to scrape.
There are a couple of other bikes that the DN-01 inspired, like the CTX700 and CTX1300. They're big, comfortable, refined cruisers.
I'd still pick a Valkyrie though… especially that Valkyrie Rune.
Honda CX500 Turbo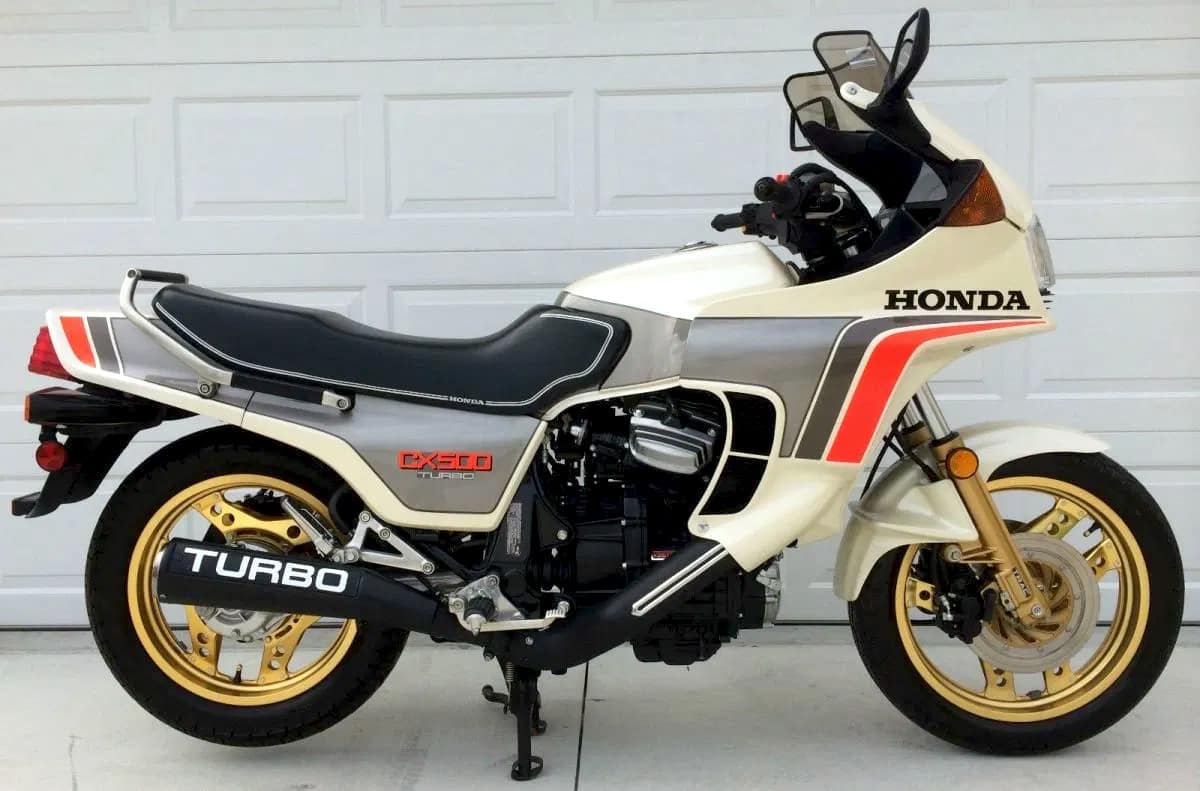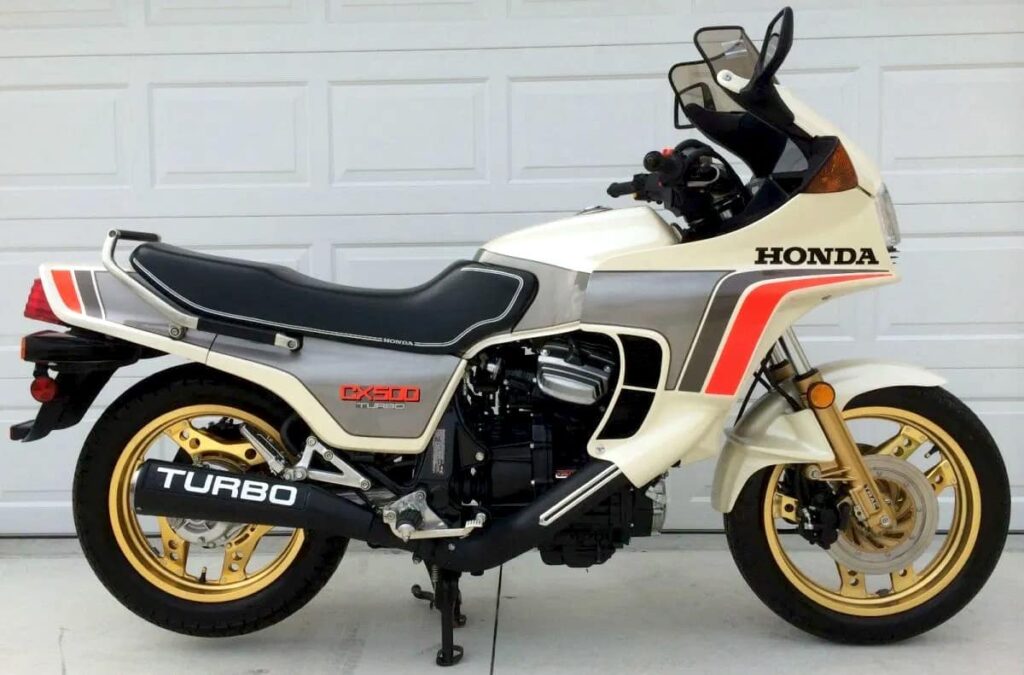 The CX500 Turbo: Because we really need a turbocharger on motorcycles to make them even duller.
Honda — and shortly thereafter, other Japanese motorcycle manufacturers — all did briefly think a turbo was a good idea in the early 1980s.
The CX500 was already cool, with his horizontal 80-degree V-twin. People cafe-racer the heck out of them. But Honda upped the 497 cc engine's power by a good 30hp up to 82hp at 8,000 rpm by adding a tiny turbocharger.
They also added an ECU to control the turbo, fuel injection and electronic ignition… in 1982. This was super futuristic!
Riding the CX500 Turbo was apparently a challenge, though. It had substantial power lag, it was expensive, and it was heavy at over 250kg. Also, when that turbo kicked in, riders tend to fall asleep.
Honda MSX125 Grom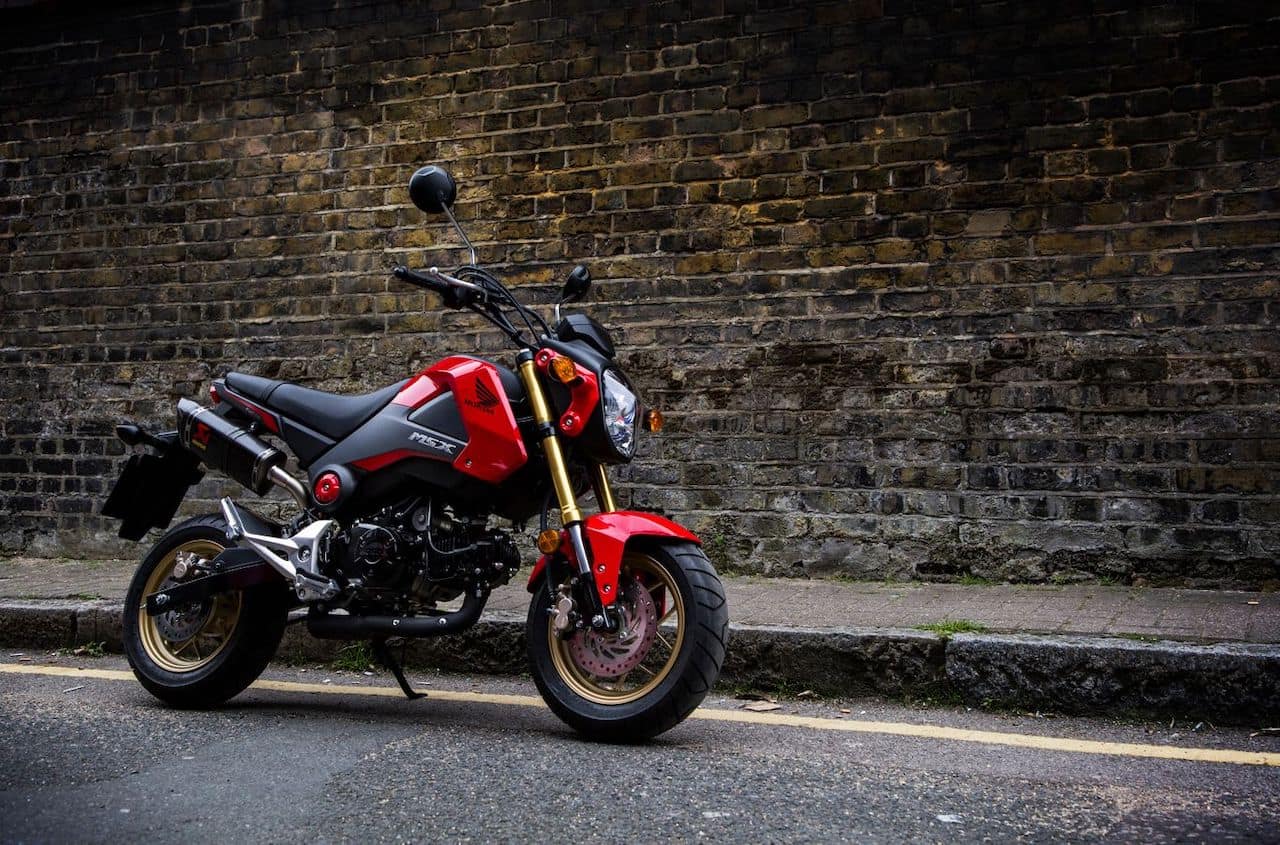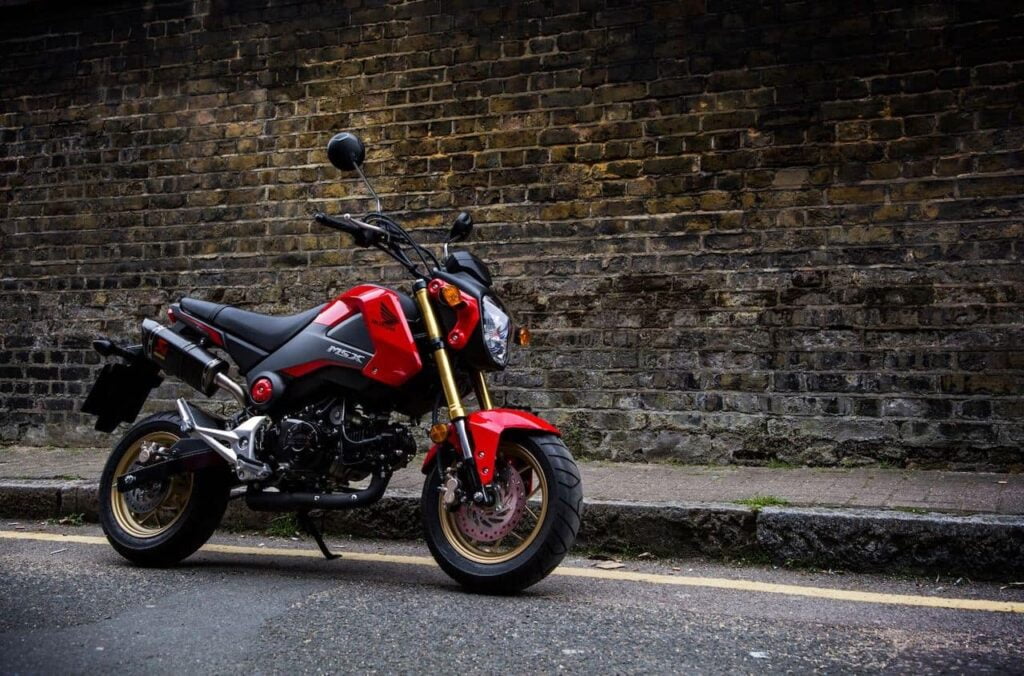 Nothing bores me to tears like getting my knee down on 9hp of 125cc that everyone who rides describes as "ludicrously fun".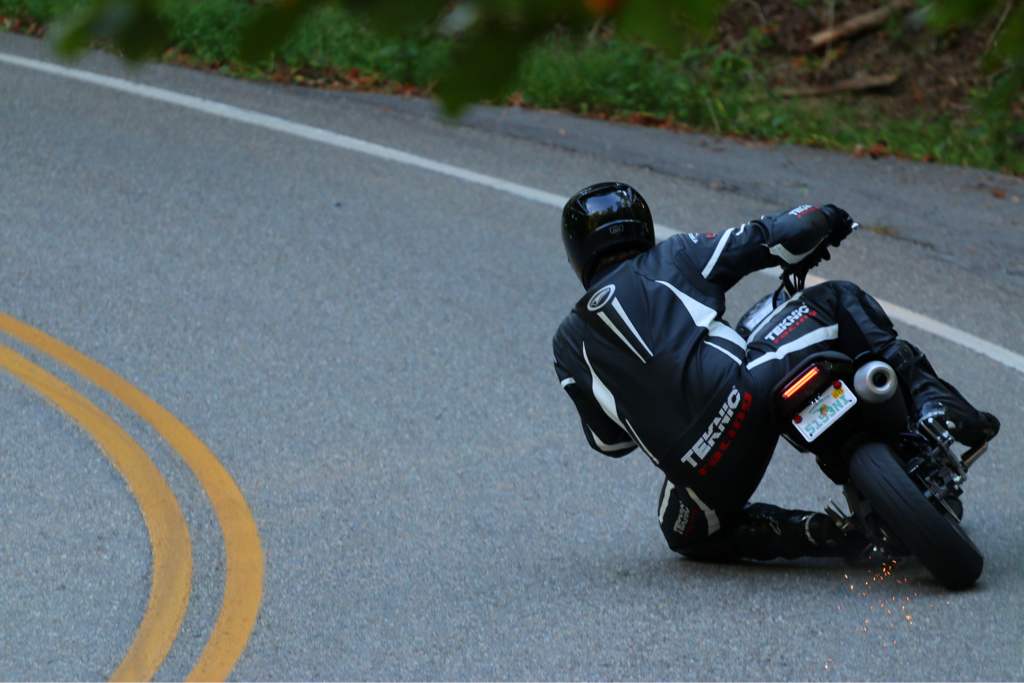 I know, that pic just puts you to sleep, right? And it's just one… you can find tons of similar videos and photos online.
Many mediocre riders (like myself) find it easier to practice "awesome" things (not necessarily "good riding" things) like getting a knee down or little wheelies on small motorcycles than large ones. And the Grom is the archetypical small motorcycle. It has the catchy name that means everyone else thinks of the Z125 as being, well, just an alternative to the Grom.
After pussy-footing my Ducati superbike through roundabouts, I'd genuinely appreciate something low-power and low-to-the-ground that I could flog through them.
I'm considering it… can a motorbike be both fun and uninteresting?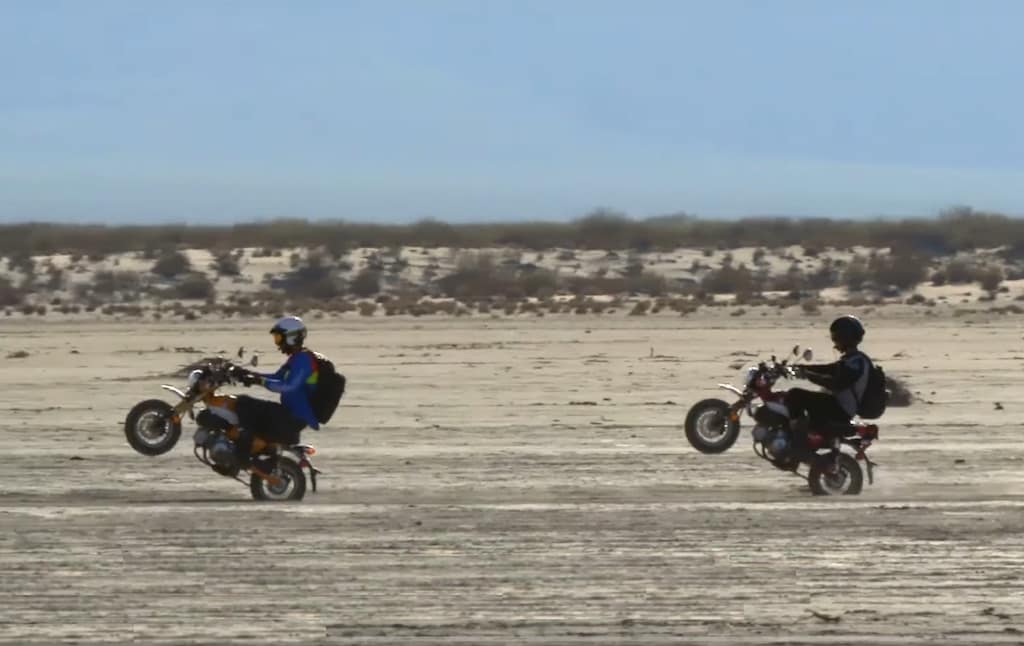 Honda CBR250RR
So, you think 250cc four-stroke bikes are boring? I certainly used to, before I knew 250cc four-cylinder motorcycles existed.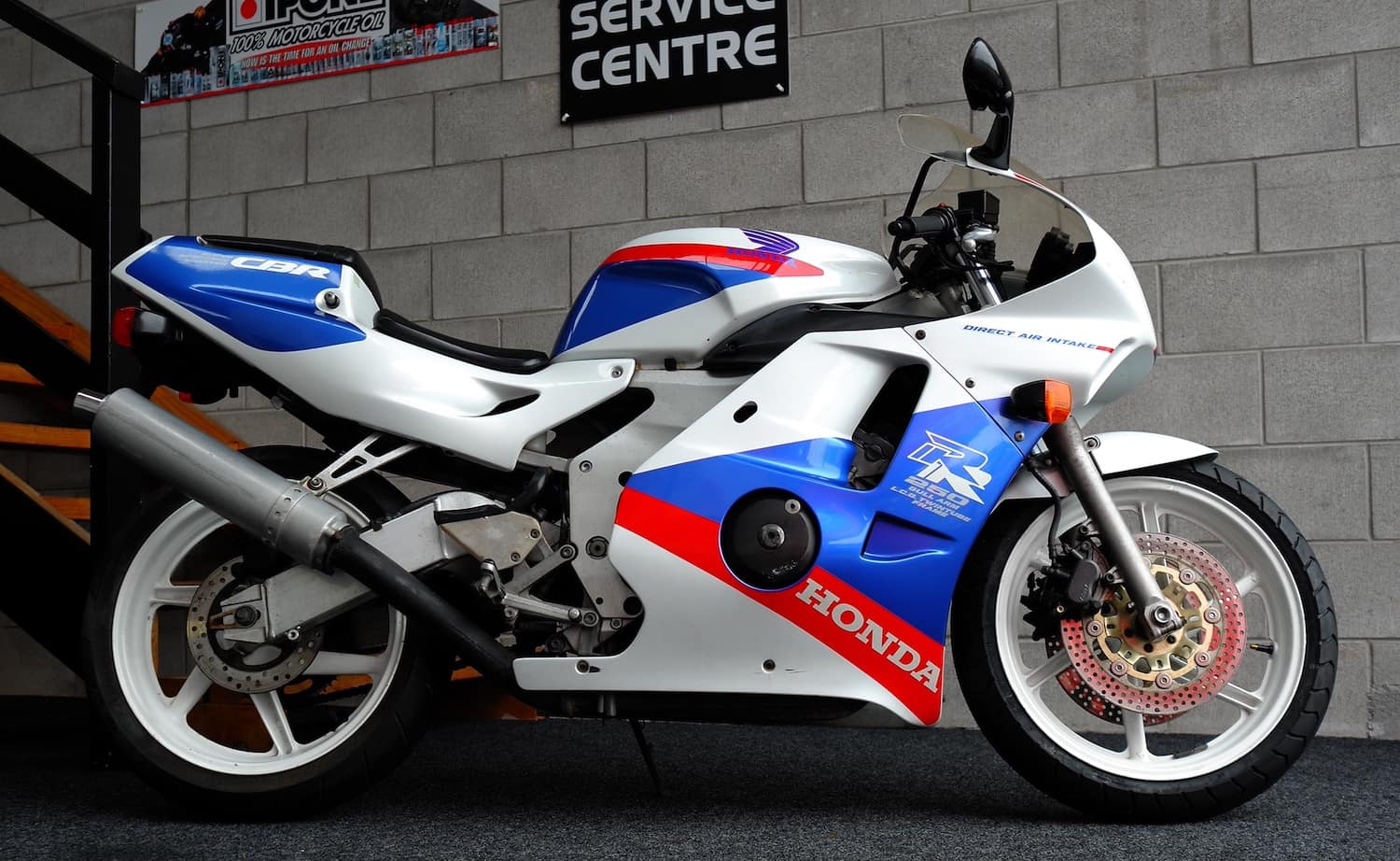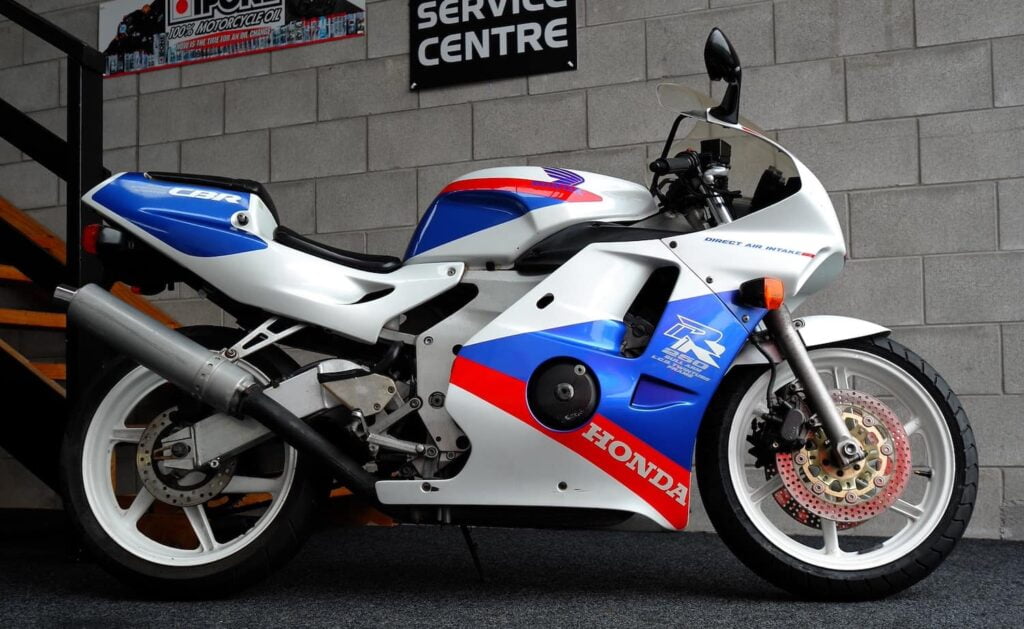 The CBR250RR was produced only until 1996, and sold until 2000 in some markets (though nothing changed). In the US, it was sold in much lower quantities.
The CBR250RR is a four-cylinder motorbike with a sporty riding position (sporty for the time, though as a people we've become sportier) and a motor that pushed out 45 hp. It revved to nearly 20,000 rpm, making it one of the best-sounding motorbikes of all time, in my honest, highly-subjective, and yet correct opinion.
OK, other motorbikes sound great when they rev high. But they'll a) never rev as high as this (even the Yamaha R6 only revs to 16,500 rpm) and b) you'll probably go straight to jail if you ever hit the redline on anything else.
Not the CBR250RR. You can probably red-line it within seconds of leaving the parking lot. And you had better, because most of the torque is delivered above 14,000 rpm. You'll sound and feel like you're going at light speed, even if you are actually just going at commuter speed.
(On a serious note, if you pick one up, go for the MC22 — it has dual front discs.)
Honda RVF750 RC45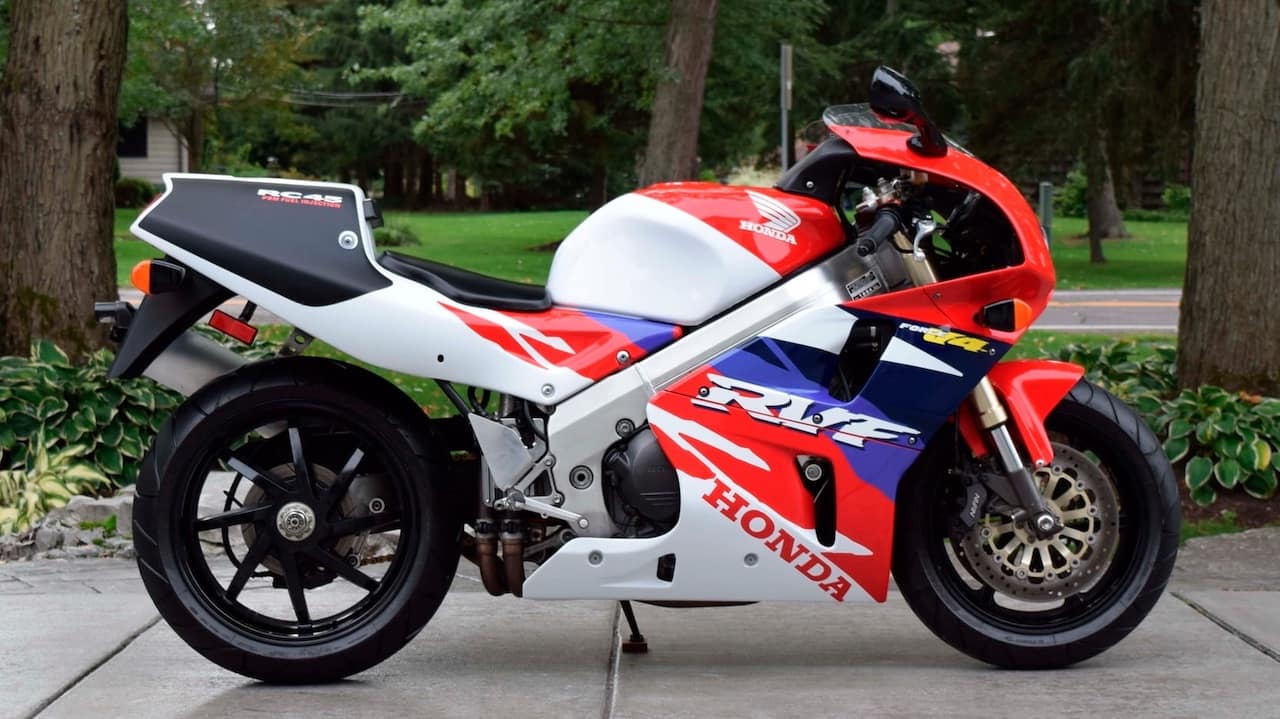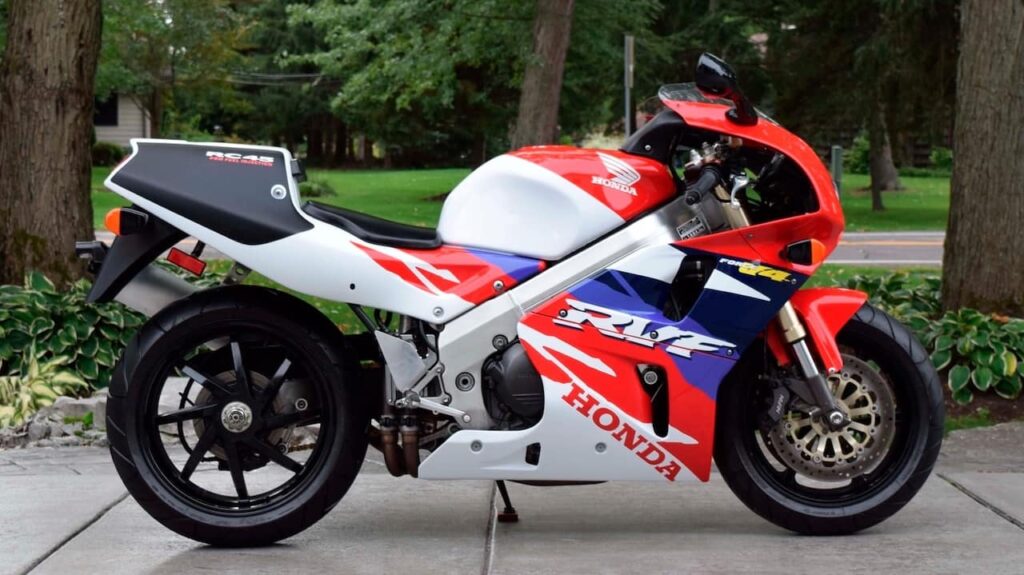 Something inside me snaps when I see a single-sided swing-arm and fully exposed wheel. It makes it much harder to be sarcastic. Nothing about the above photo is boring. I want to ride that to the moon!
Like the Honda RC51, the RC45 was another fully-faired sport motorcycle that was created for homologation purposes for the World SBK.
Before Honda said "sod it, we'll just make a litrebike V-twin", they produced the dream machine that was the V-4 749cc RC45. Look at those design features — the fully exposed wheel and single-sided swingarm, in particular. Look familiar?
These are super rare. There were only a few hundred produced. They were expensive at the time, and could be matched by the CBR900RR in performance — a bike that was also far cheaper.
A cheaper and more common alternative was the sport-touring 1998-2001 VFR750, which had a lot of common engine internals and even bodywork mounts.
Oh that reminds me, both bikes also borrowed a lot from the Honda NR750.
Honda NR750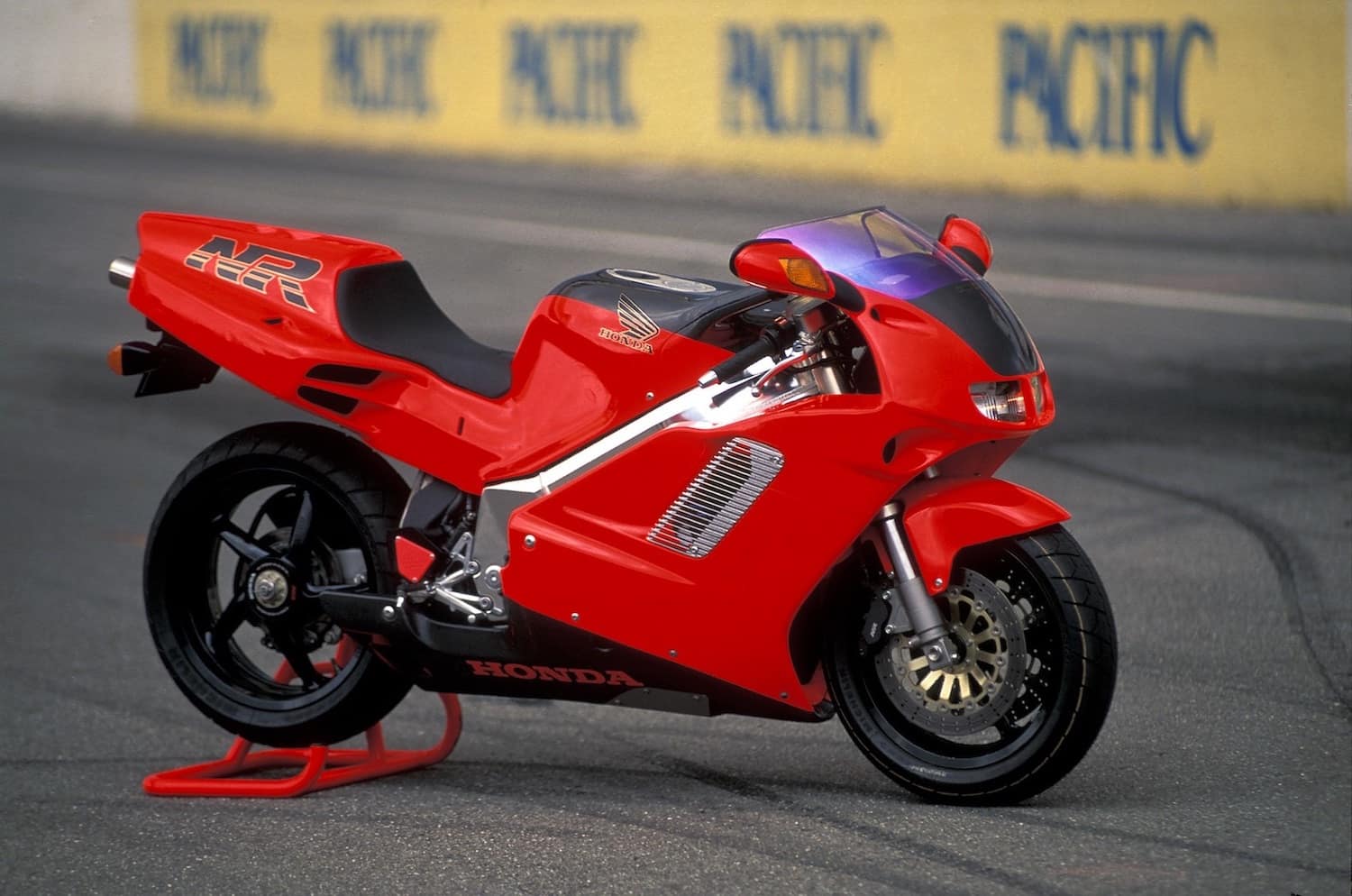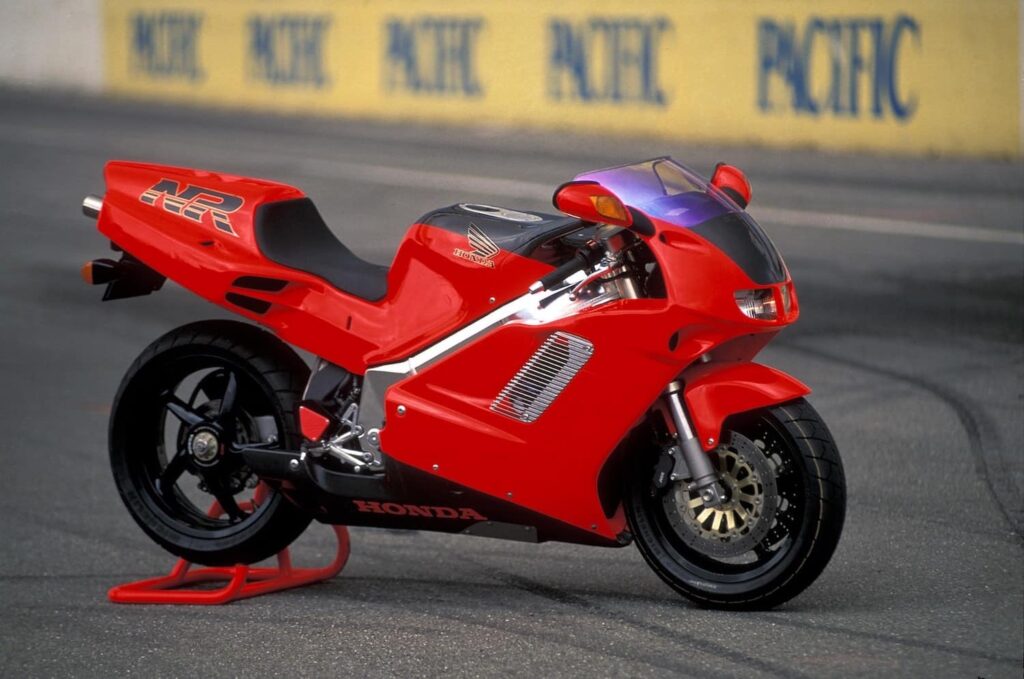 No, I don't find this hybrid Ducati 916 and 999 boring. Wait… what?
The Honda NR750, if any, should be a motorbike that reminds you of a certain other Italian bike, if not a whole family of them. And guess what? The Honda NR750 was built first.
Yes, the NR750 had several design elements — the single-sided swing-arm, under-seat exhaust, and twin front lights (which it basically invented) — that the Ducati 916 borrowed (to great success). It also reminds me of the 999 because of its squarer bodywork.
The distinguishing features of the NR750 don't even stop at the external design cues. It also had
Digital instruments (in the eighties)
Carbon fibre bodywork (super rare)
A V-4 with oval pistons (also super rare, because not super reliable)
A 38,000 pound price tag in the UK. Adjusting for inflation, that's basically US$100,000 today.
So yeah, these didn't sell too well.
But you can still get one for only… actually, that number MUST be a typo. Surely not over US$150K?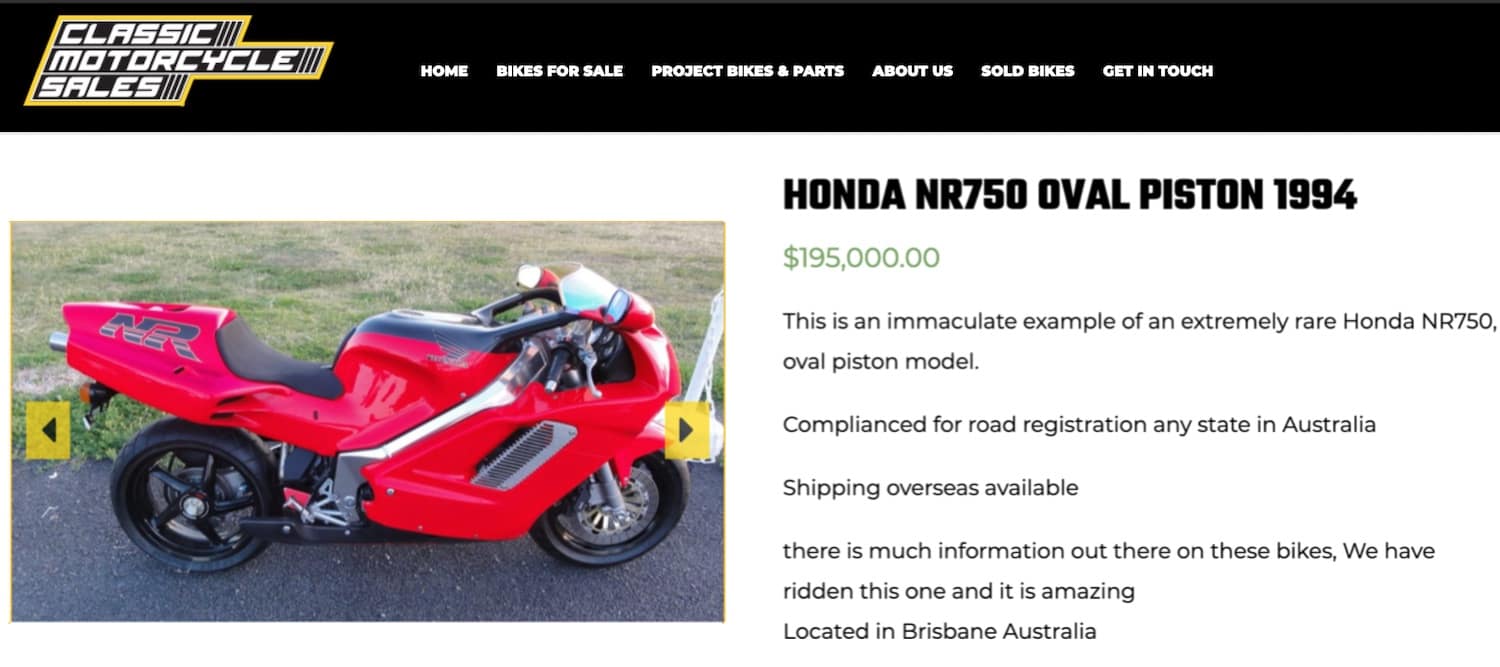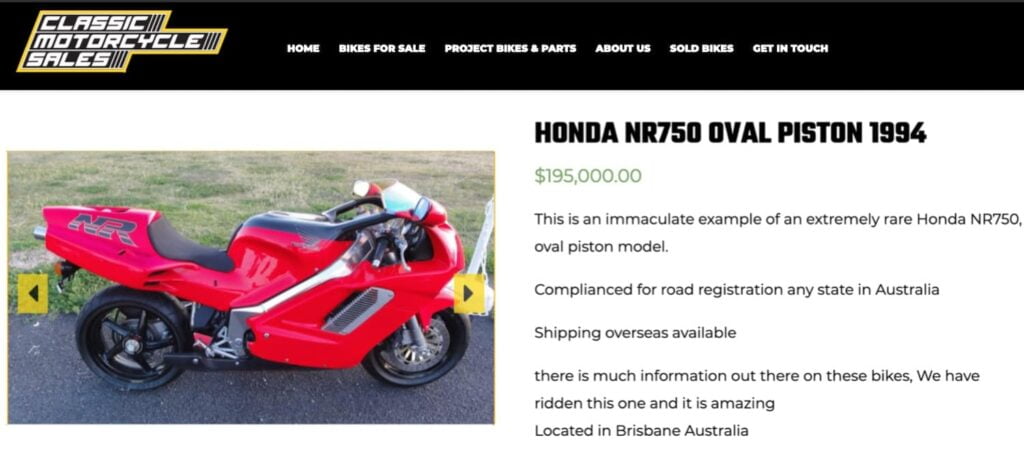 Honda CBX1000 (a.k.a. Honda CBX)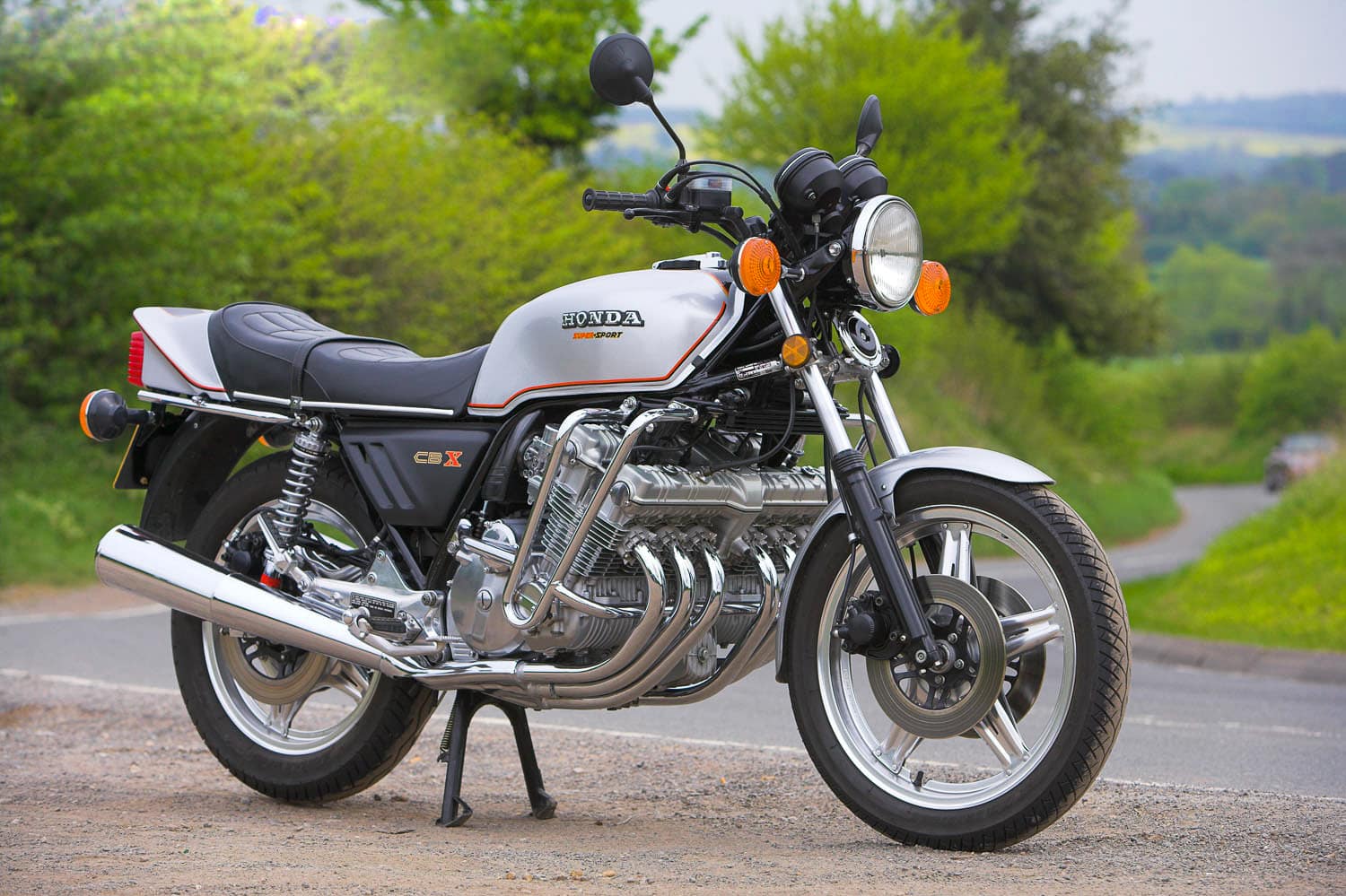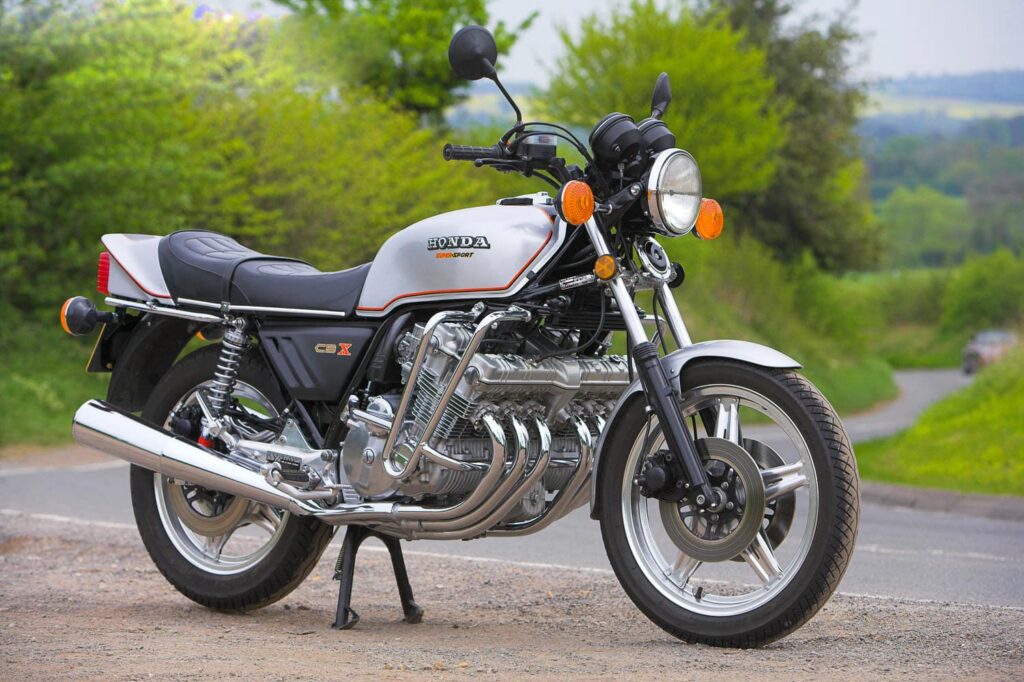 Something about the sound of a F1 car between my legs in a touring-capable chassis just makes me think "maybe I should give up riding and just go eat a sandwich".
Jokes aside, if there's one bike on this list I want more than any other, it's the Honda CBX1000. It just looks wrong to have such a massive engine in an upright chassis in a way that's so right.
See here for a deep dive into what makes the Honda CBX1000 special.
A lot of Honda names tend to blur into one. But the CBX1000 is special. It's a transversely-mounted inline six, and to my knowledge, the only one ever produced (or at least the one produced in the largest quantities). Honda made other sixes, but no other inline sixes.
The CBX1000 was a flagship motorcycle for Honda from 1978 to 1982. Despite this, its smaller and simpler sibling the CB900F (one of my first motorcycles) outsold it considerably.
The sound from this thing is amazing. It's like a race car. Here's a little sound bite to whet your appetite.
By the way — it looks wide, but it's no wider than the legs of a rider.
Honda VTR1000 RC51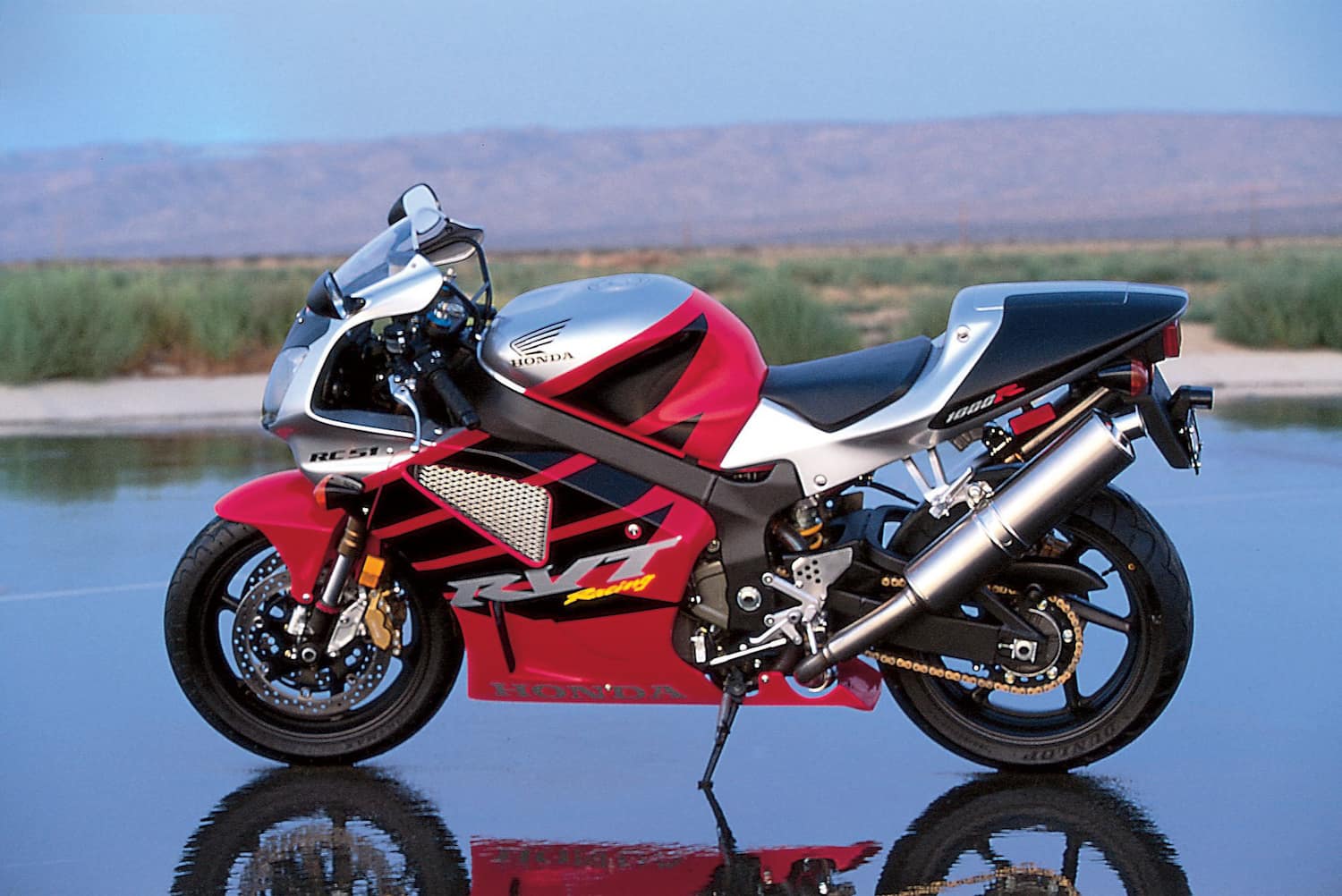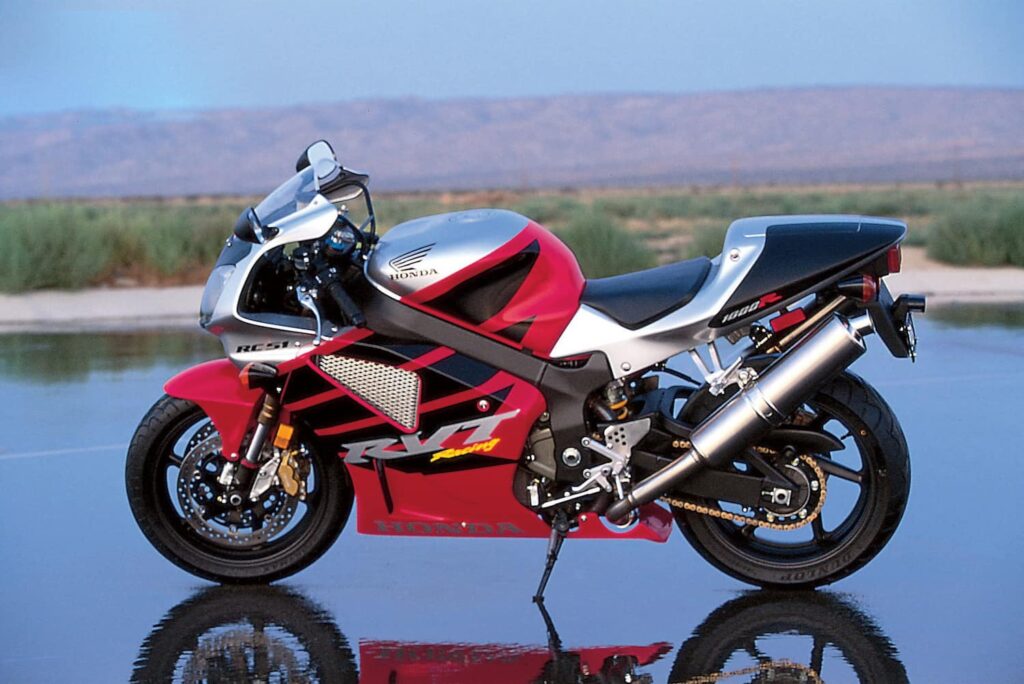 Honda got bored of losing to the Ducati 916 and so decided to beat Ducati at their own game — fast V-twins.
The Honda RC51, also known as the VTR1000 SP1 or Sp2 (or the RVT1000R in the US) was Honda's production race-bike that they designed to — successfully — beat Ducati on the track.
It borrows a bit from Ducatis of the era, but injects it with Honda flavour. The RC51 is powered by a 99 kW (133 hp) 999cc V-twin in a twin-spar aluminium frame. The whole thing was 222kg wet.
Ducati had an amazing run in the 80s in the World Superbike championships thanks to their Ducati 916, and rules allowing V-twins up to 999cc to compete. Honda didn't have a chance until it produced its own litre-class V-twin, the RC51. It won in the first year (piloted by Colin Edwards) it competed with it, and in the final year.
This is what World SBK champion Colin Edwards said about the RC51:
"The thing with the twin was that it was like riding a Supersport bike. It had such easy, deliverable power. There was no 'hit' – you could do it in your sleep. It was such an easy bike to ride compared to the four-cylinders."
OK, so that does sound a little "boring". But if screaming to a race win on a litre-class V-twin sounds boring, then so be it.
Honda XRV750 Africa Twin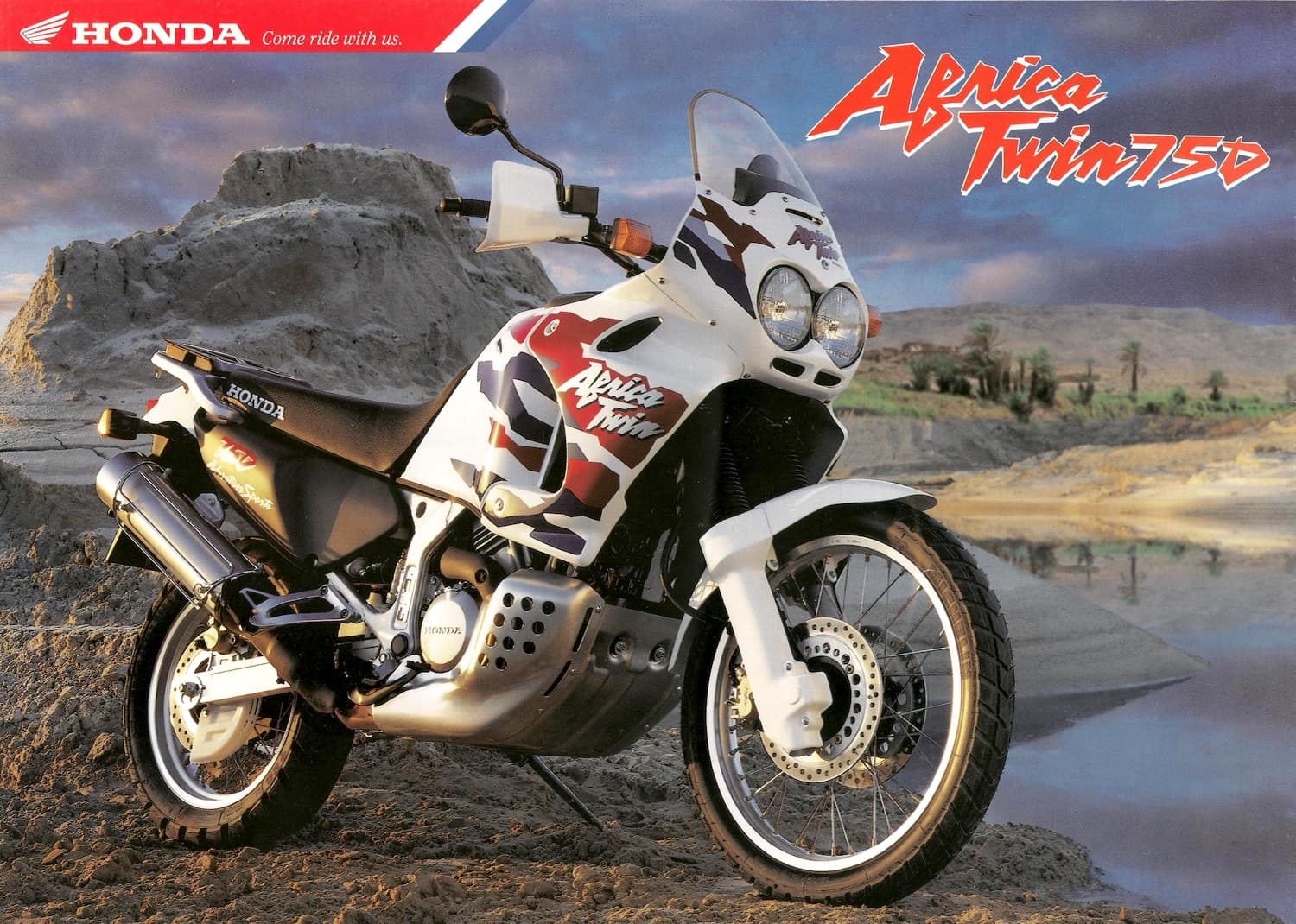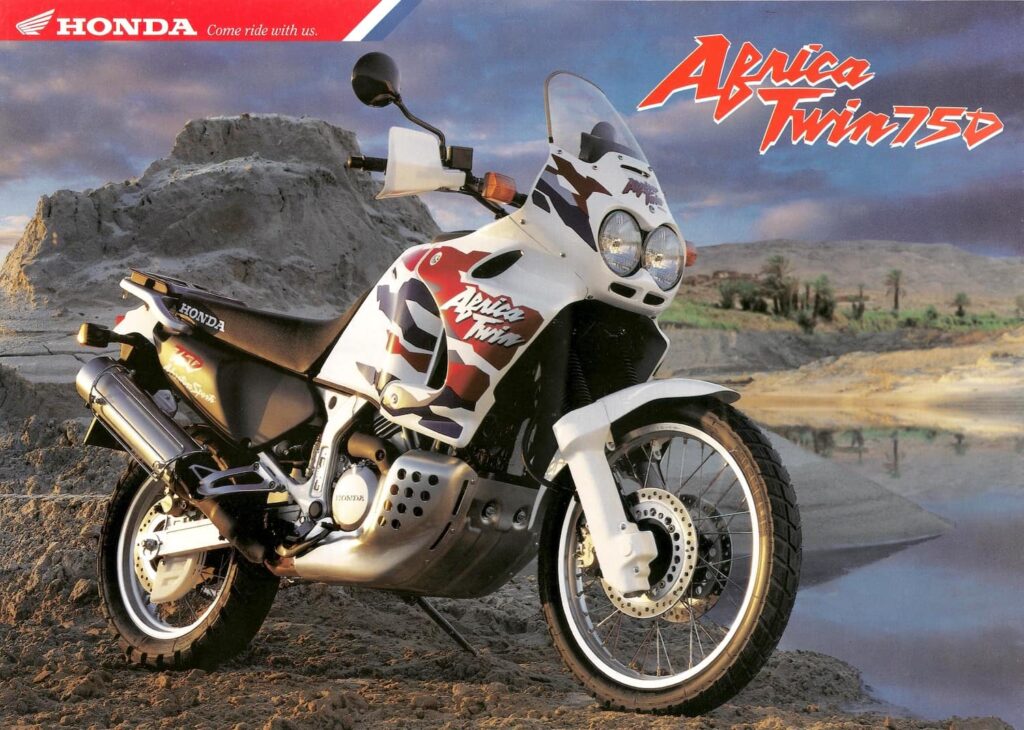 Have you been to Africa? Did you find it uninteresting?
We all know the Africa Twin since Honda brought the brand back in 2016.
The modern AT is a medium/large-displacement adventure motorcycle, designed to compete somewhat with the BMW GS series, the KTM Adventure R series, and a few other motorcycles of the like. Generally, I see older folks with Baja dreams buying it.
But the original Africa Twin was much more unique.
The Honda XRV750 Africa Twin was based on the NXR-750 that used to win Paris-Dakar rallies. It had a softly-tuned V-twin, twin headlights, a windscreen, and a comfortable seat. In modern times you'd see it and think "oh right, an adventure bike." But Honda pretty much invented the category back in the late 90s — only to squander its lead by abandoning the line, leaving BMW to take the market.
The original AT was smaller and lower-powered than its competitors (like Yamaha's Super Ténéré), but was — in classic Honda style — lighter, and with friendlier power delivery that was easy to use.
Honda Valkyrie Rune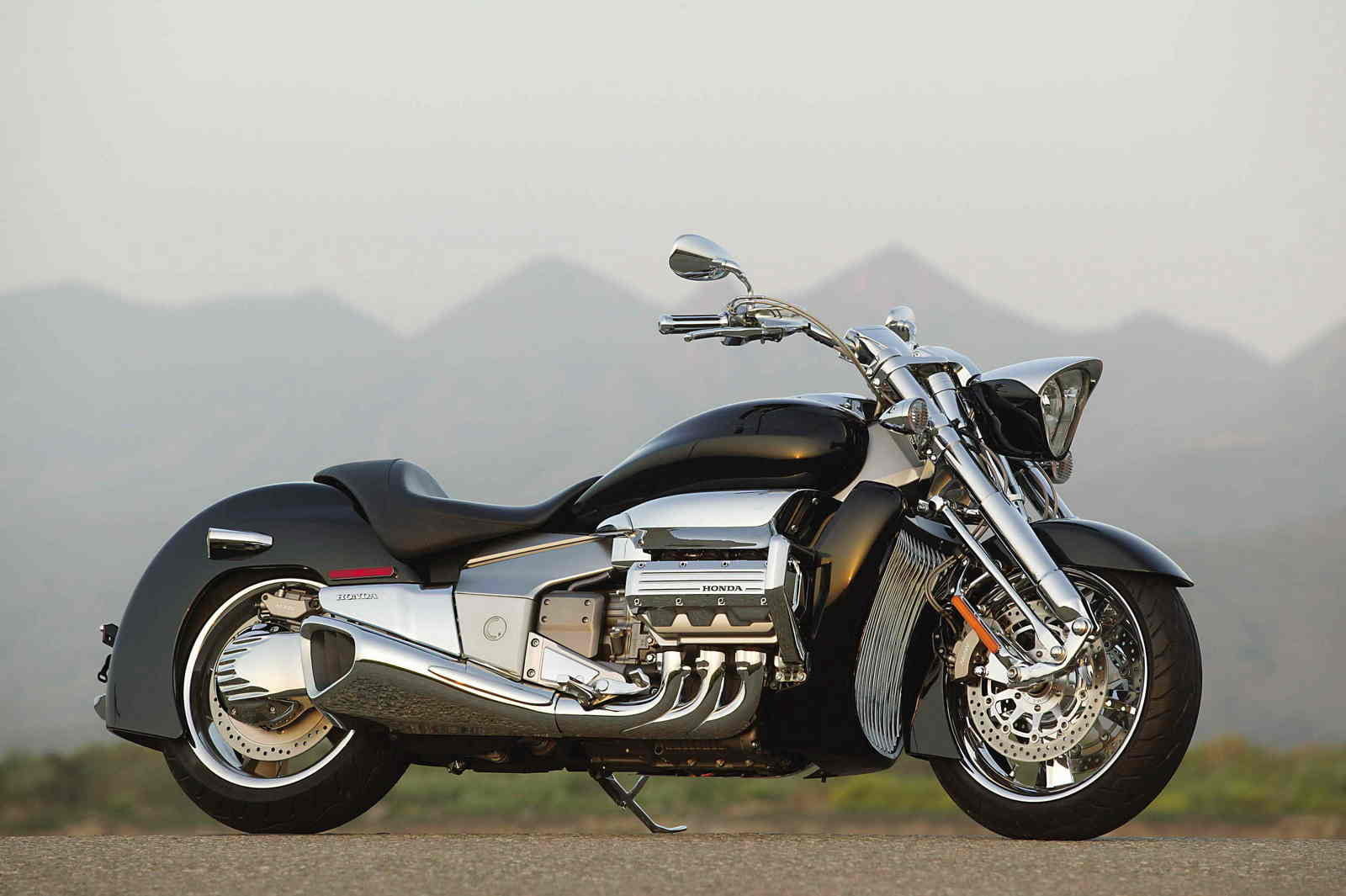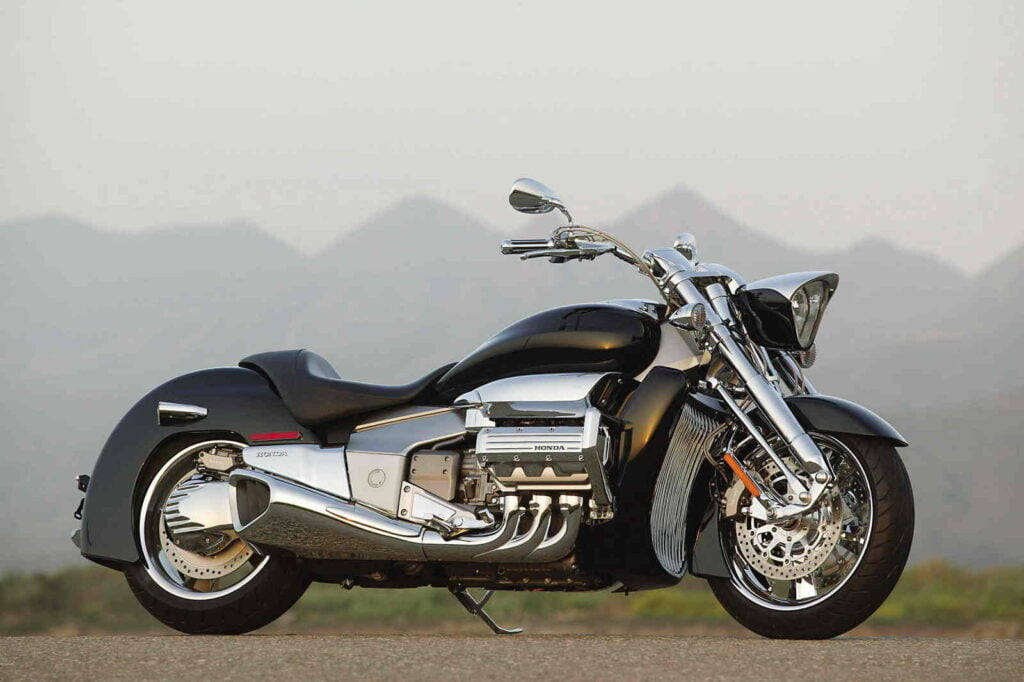 Ok to wrap up…
Holy smokes, look at that thing. Again, I can't even be sarcastic when it comes to describing the Rune. It's just… magic. Hence the name, possibly.
Every review of the Valkyrie Rune mentions Batman at least once. "If Batman had a motorcycle…"
See here for my full write-up on the Valkyrie Rune.
The Rune was produced in 2003 only, using the 1,843cc dong used in the Gold Wing. The regular Valkyrie of the time used a smaller 1,520cc engine.
Everyone who has had the good fortune to see a Rune in person can't stop looking at it. It's a visual feast, totally unique, nothing copied from American cruisers (which can't be said for other Japanese V-twin motorbikes).
It has enough torque to "uproot a lamp post" (Motorcycle Cruiser) and thus actually feels quite fast to ride, despite the massive 403kg (888 lb) wet weight. It does a quarter-mile in 12.42 seconds!
And reviewers say it handles well, thanks to its unusual suspension — trailing links rather than forks. Apparently the tail is hard, though.
The Rune was initially released at $25,499 (USD, but it's frankly expensive in nearly any western currency), but they've gone up in price since then (well, depends on miles, but they haven't dropped even after over 15 years). They're rare and highly sought after.
---
Like this article? I write them with love. Send me a note to say "thanks". I live for these.