With Kawasaki having launched its ZX-25R (in some markets — not most of them!), everyone's going gaga about four-cylinder 250cc motorcycles. Pocket rockets, screamers… this category of motorcycles produces 50hp or under, but rev to the moon at 18,000 rpm.
Most manufacturers haven't made them for a while, but you can still find them on used markets around the world, particularly in Japan and Australia.
Here's a guide to them — four-cylinder 250cc screamers.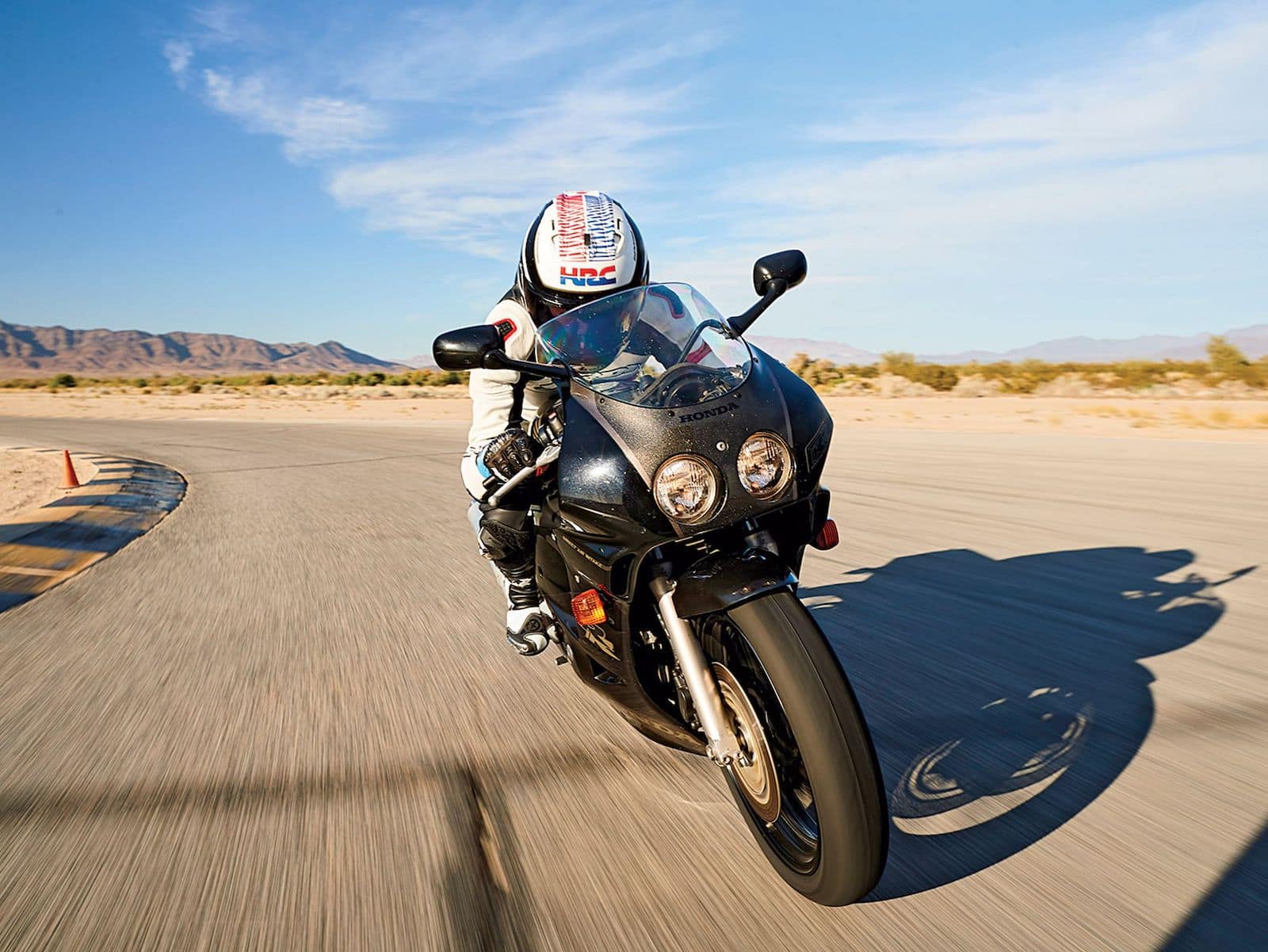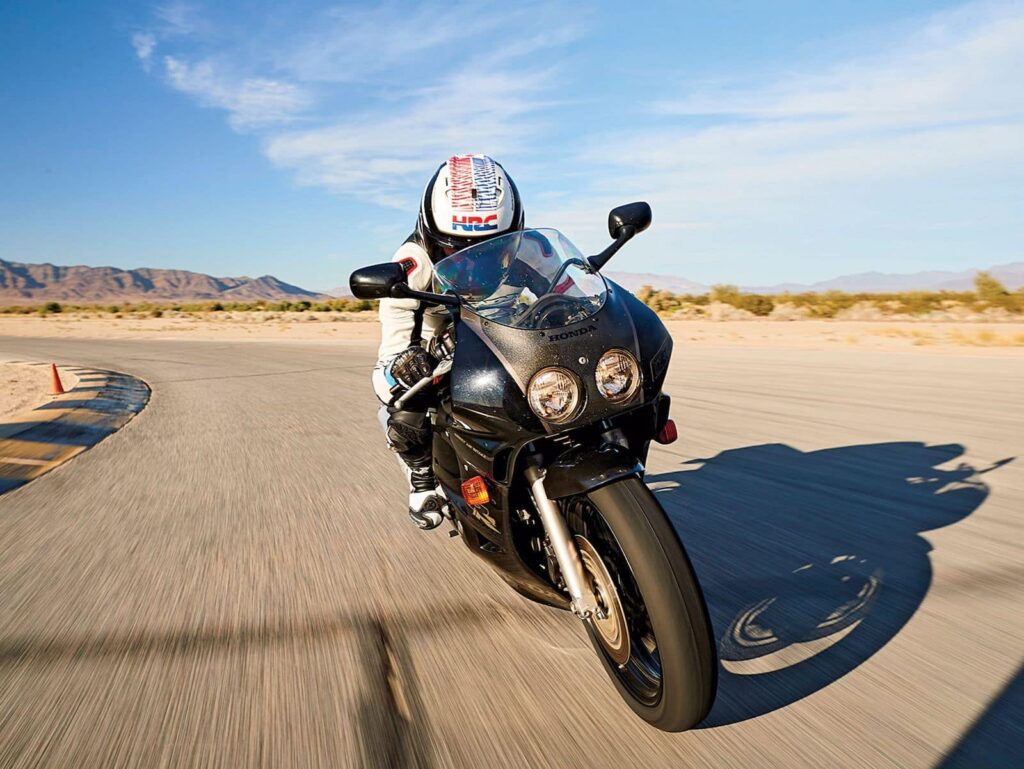 Are you obsessed with motorcycles?
Well, I am. That's why I created this site — as an outlet. I love learning and sharing what others might find useful. If you like what you read here, and you're a fraction as obsessed as I am, you might like to know when I've published more. (Check the latest for an idea of what you'll see.)
Why a four-cylinder 250cc motorcycle? Pros and cons
There are lots of moderate-power fun motorcycles you could buy these days. There are bikes like the Kawasaki Ninja 400 or Honda CBR500R, and also smaller bikes like the Honda Monkey. These are great first bikes, or great first track bikes.
But a four-cylinder 250cc motorcycle (or any small four-cylinder motorcycle) has its own charms.
Here are their advantages. Four-cylinder 250cc bikes are:
Cheap. If you're learning (whether to ride, or to race), then they're cheap to run and cheap to maintain (don't forget tyres!). You can use that extra budget for servicing, gear (leathers), and more tyres.
Crashable. This is related to "cheap". Ideally you don't want to crash. But if you do, you don't want to feel like you just lost your life savings, or your pride and joy. (Forget about the Ducati 916 SPS you have your eye on.)
Light. You're going to learn cornering. So it should be something you can easily push into turns. The ideal weight is under 180 kg or 400 lb wet.
Controllable. It shouldn't be a motorcycle you feel is way beyond you, which basically means anything in the 600cc "supersport" category or above. 50-70 hp is a top-end maximum, and you can probably learn faster on a 30-50 hp 250cc motorcycle.
You can find other motorcycles that fit the bill — like the modern Ninja 400 or RC 390. These are great bikes, and lots of fun. The problem is… they're slightly boring. The engines sound uninspiring. They're reliable, though!
On the other hand, the first time you ever rev a four-cylinder 250cc bike all the way to 20,000 rpm you'll realise there's more to life than reliability…
There are however some disadvantages to owning an older four-cylinder 250cc bike like the below.
The disadvantages are:
Torque down low is not that great. Yes, you can pilot your fighter plane around in traffic, but when peak torque is made above 12000 rpm, you know you have to make it sing.
It will be harder to find parts. You can't just go to your Honda dealership and ask for new mirrors. You'll often have to find aftermarket parts or find something that fits from another bike.
The bike may have been crashed, abused, or worse. The older a bike gets, and the more owners it goes through, the more damage it will have experienced. And people tend to hide the damage, so you may not find it easily.
You have to maintain the motorcycle more. Since the motorcycles are carburettor-fed, you're going to have to think about storage and making sure that the jets remain clean. There's just a lot less to worry about when you have fuel injection.
A bike that has some of the characteristics of a 250cc inline four — but not to the same extreme — is a 400cc inline four. Read about the Honda CB400SF Hyper VTEC Revo here.
Honda CBR250RR (MC22) (1990-2000)
Engine: 249cc 4-cylinder DOHC 4-valve 4-stroke engine
Power: 33 kW (45hp), with a 19,000 rpm redline
Wet weight: 165 kg (364 lb)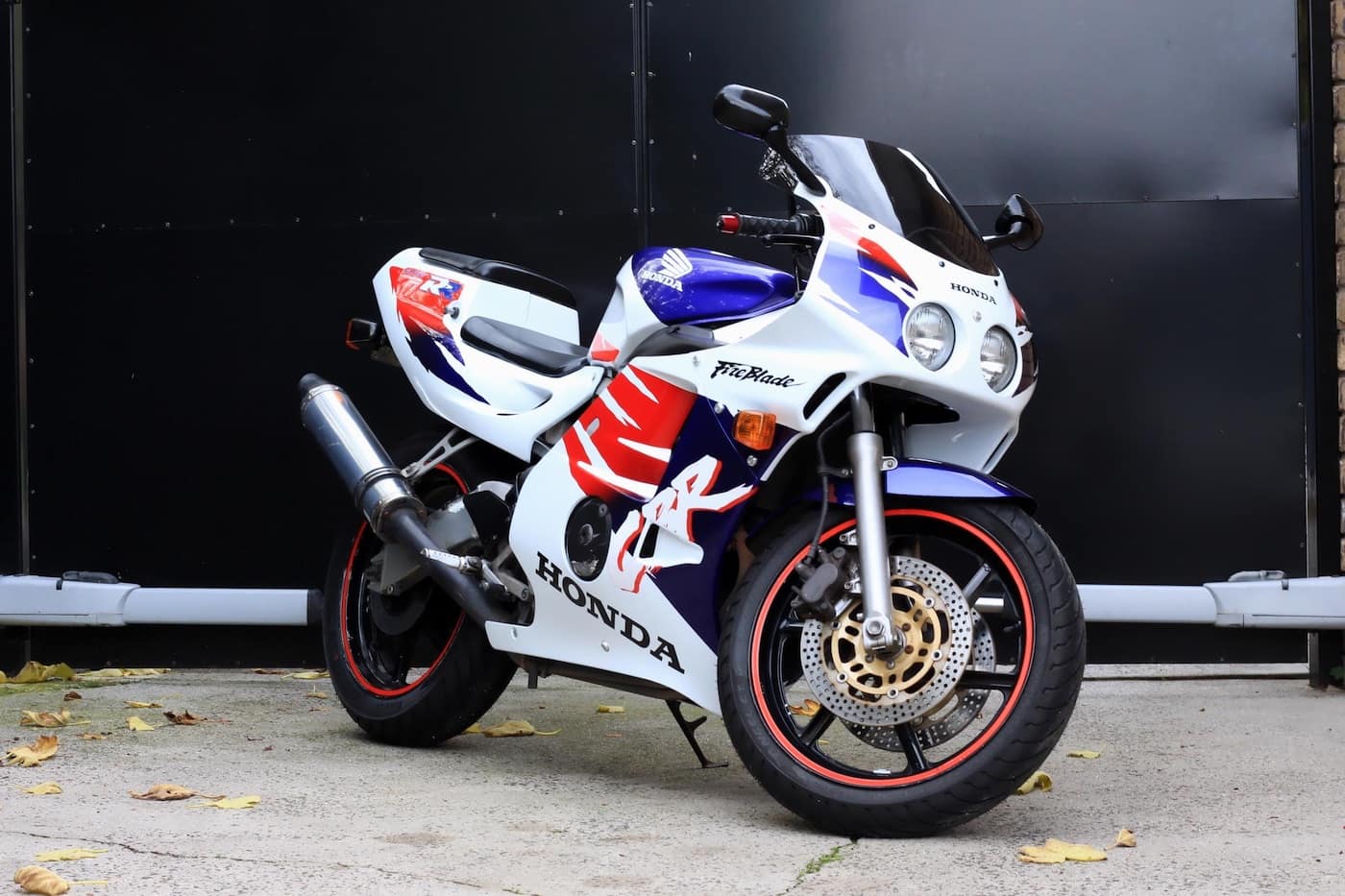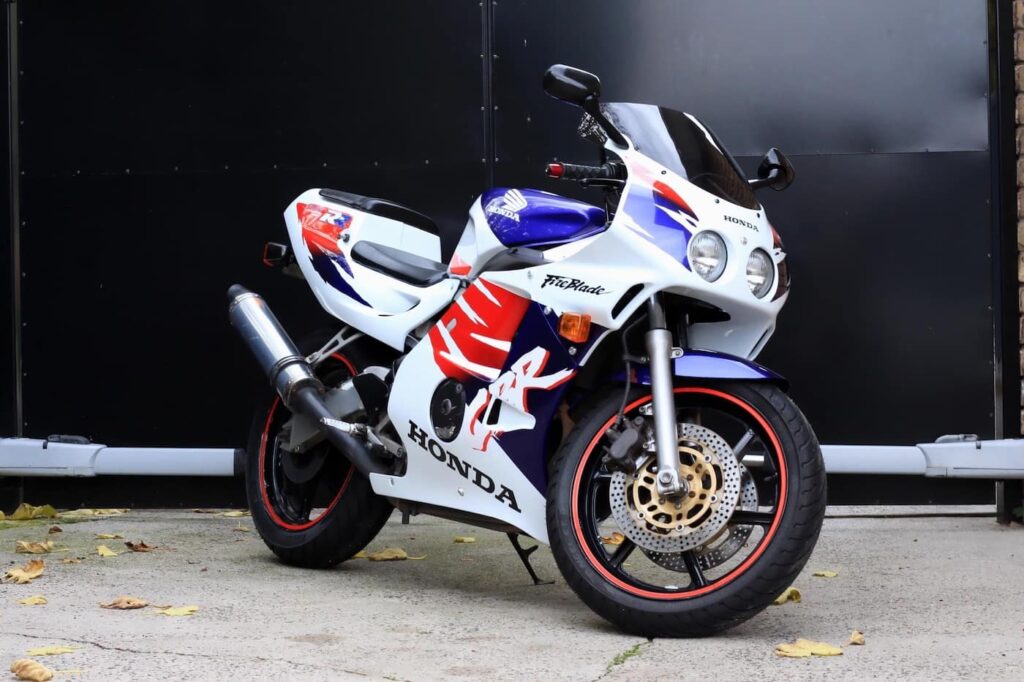 Ah, the MC22 CBR250RR FireBlade, also known as the "Baby Blade". This is the best of the bunch — the most available, the most sought-after, and the best.
The CBR250RR was only made up to 1996 (over two decades ago), but was sold up to 2000 in Australia. It's rarer in the US.
The MC22 CBR250RR It's most well known for having an absolutely screaming red-line of 19,000rpm. It makes most of its power above 15K!
The CBR250RR is not totally gutless down low. It'll pull you around, but won't be anywhere near as fun as when it's high in the rev range. The zero-100km/h (or zero-to-sixty in mph) is around seven seconds.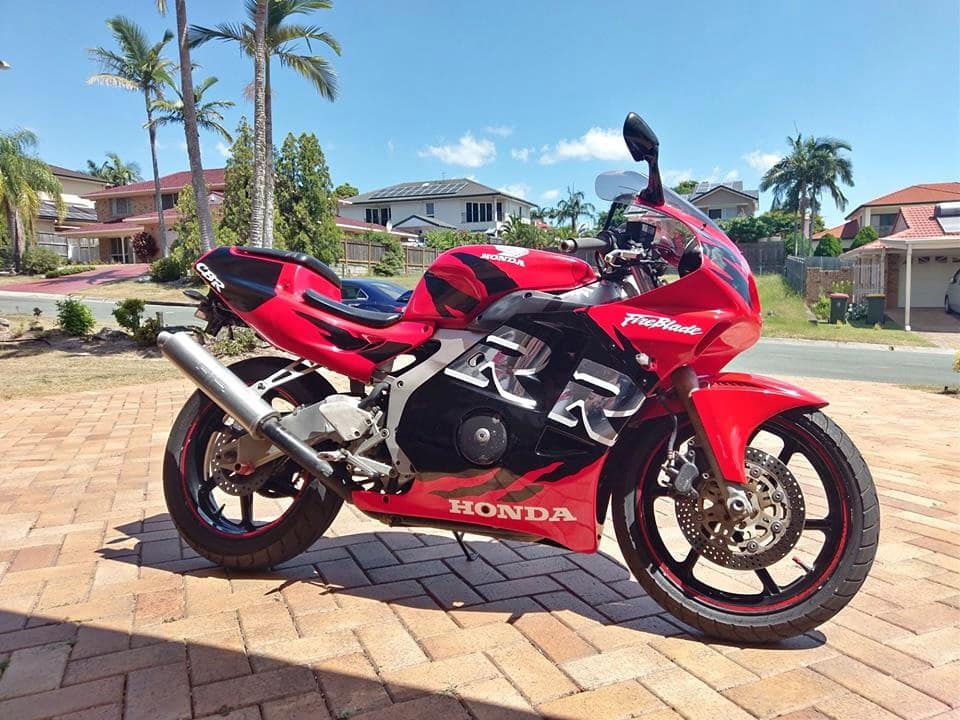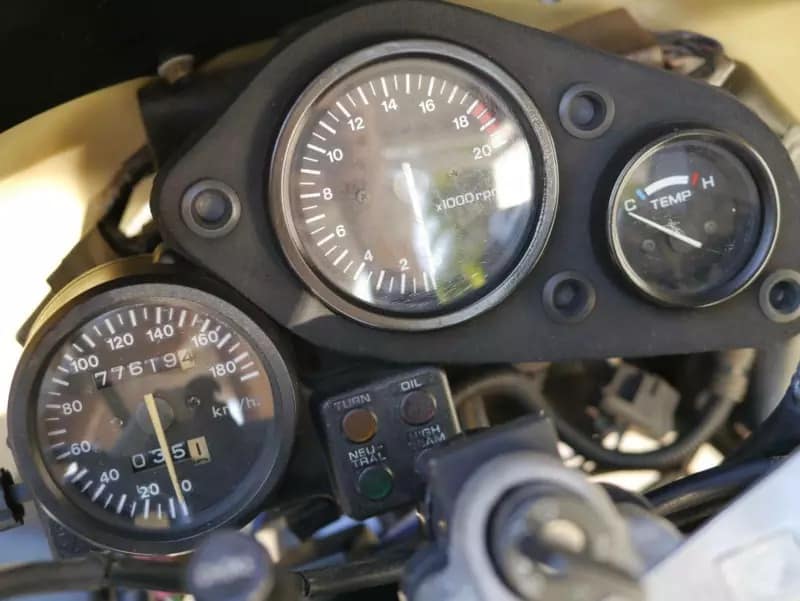 Modern-day riders who own and ride CBR250RRs adore them. They don't complain about them being "old" technology. In fact, most reviewers who have the chance to throw a leg over agree that they're every bit as good as a modern motorcycle.
A few things to note when buying a used CBR250RR
Make sure you're getting an MC22, not an MC19 (also known as a CBR250R). They're very similar, but the MC19 only has one front disc brake, which means it'll heat up more quickly and perform less well under heavy load (e.g. at a track), and pads will wear more quickly. However, they are lighter! (Thanks to a commenter who pointed this out to me.)
Fairings are commonly replaced with "eBay" fairings because the originals are both old, and were very thin. This is OK. The bikes are old. A common swap is for Repsol fairings.
Nearly all will have been sitting for a while. Make sure you check tyre age, carburettor status (it will probably need a clean), and battery/charging system.
The second two points apply other 250cc motorcycles, too.
Kawasaki ZX-2R (aka ZXR250) (1988-2004, but get pre-1999)
Engine: Four-cylinder, DOHC, 4-valve per cylinder 249cc engine fed by four carburettors
Power: 33 kW (45 hp) @ 15,000 rpm – red-line 20,000 rpm
Brakes: twin front discs
Wet weight: ~160 kg (dry is 141 kg)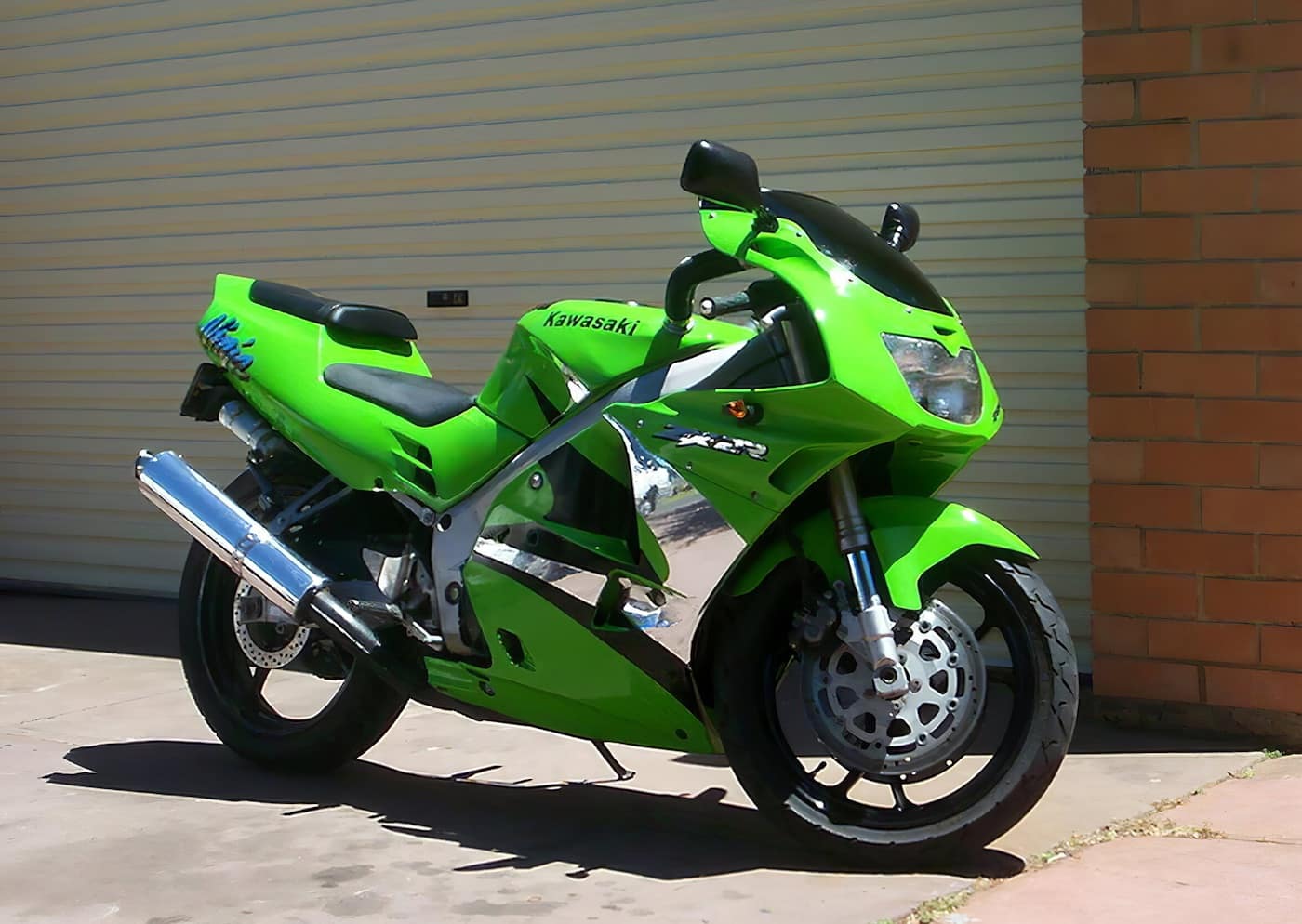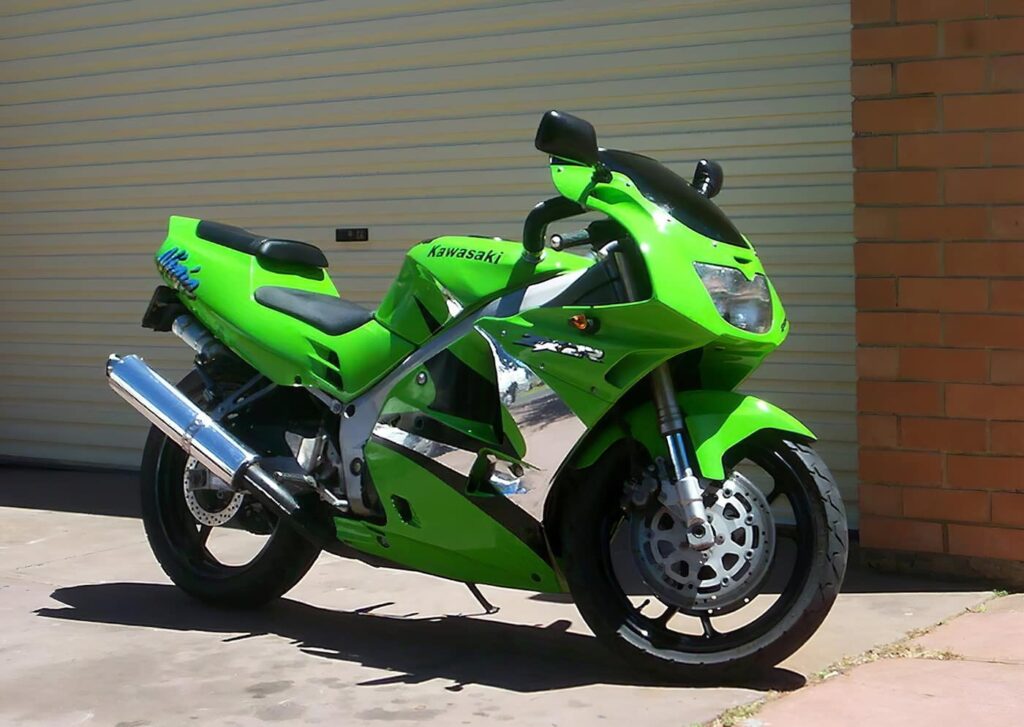 The Kawasaki ZX-2R was another four-cylinder 250cc motorcycle that's a scream to ride around with the engine singing.
It's a lot rarer than the Baby Blade, however. So finding one nearby in good nick will mean you'll have to set up a bunch of search alerts.
Again, this is much more common in Australia (or Japan). In the US, it's extremely hard to find one, and so probably not a good idea for a machine that you'll definitely drop. In the US you're more likely to find a CBR250RR, even though they were also only imported in similar years.
Like other models, the power went down after 1993 by 5hp, so get the ones before. Post-1999, they were produced in Malaysia and were slightly different, but people still like them!
The Kawasaki ZX-2R is quite rare but you can typically get them for under A$2,500 in good mechanical condition.
Personally, I'd pick up one of the 2021 Kawasaki ZX-25Rs, if it's available in your market.
Suzuki GSX250 Across (1990-1998 — but get 1990-1993)
Engine: 248cc, 4-cylinder, 16-valve (DOHC) with CDI and twin carburettors
Power: 33 kW @ 14,500 rpm (red-line 16,000) from 1990-1993, reduced to 29 kW from 1994 onward
Brakes: Dual-piston, single disc
Wet weight: 172 kg (373 lb)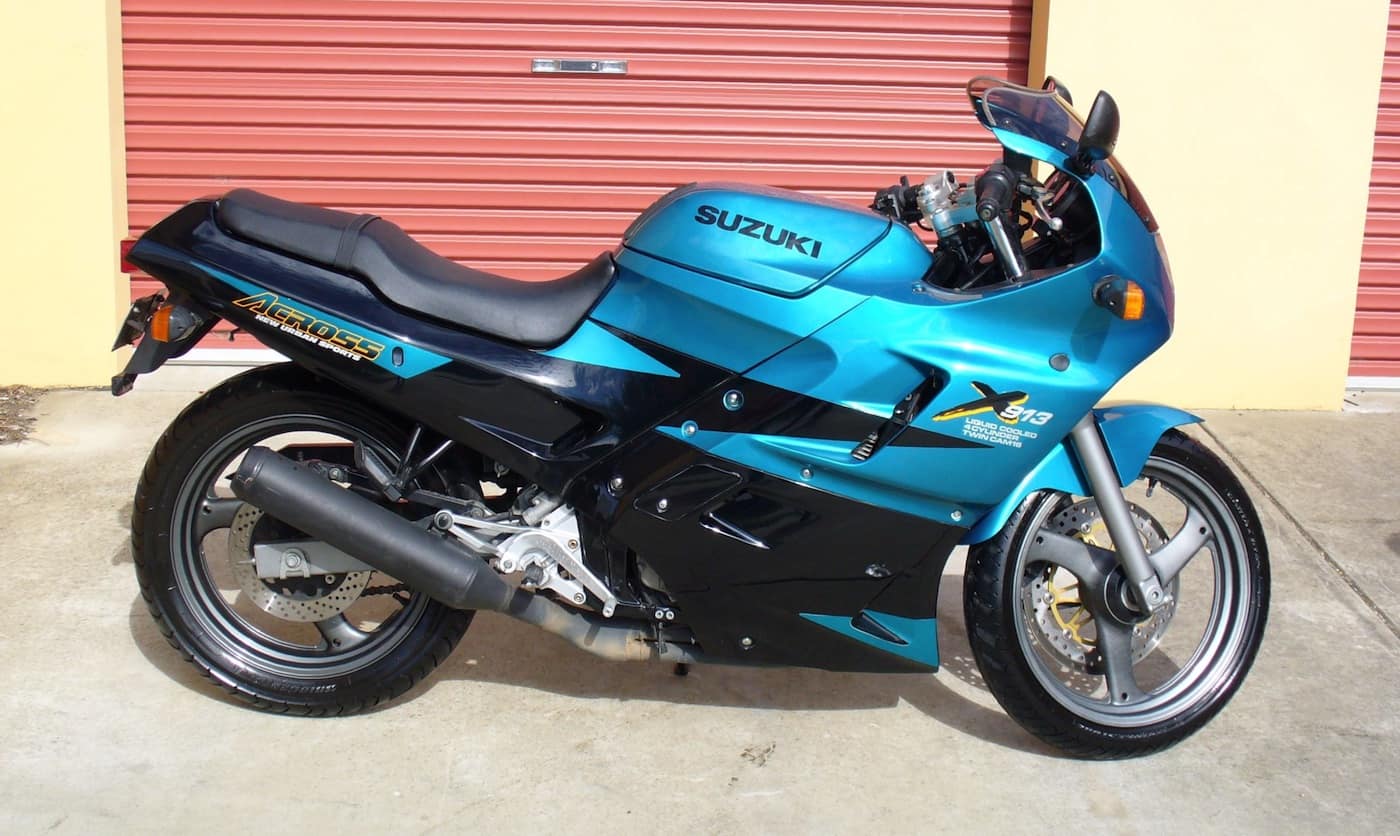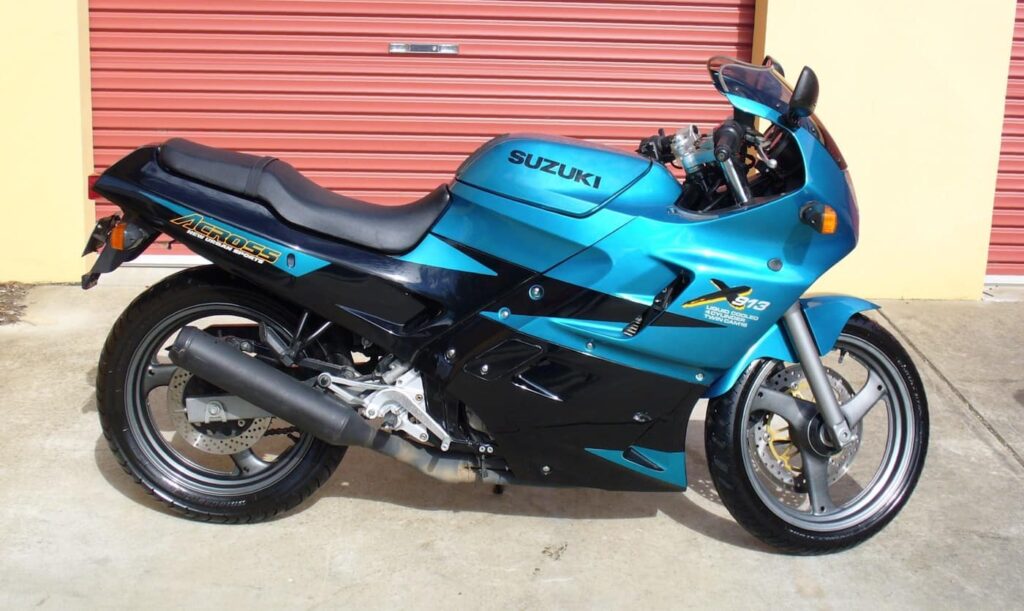 The Suzuki Across is much easier to find but generally considered a less aggressive motorcycle than the other two. It only has two carburettors and a single front disc brake. But it still produces all the power you need!
It was more comfortable than the CBR250RR and the ZX-2R, and thus was pigeon-holed by some as a "sport touring" motorcycle. This is helped by the fact that there's ample storage in the rear, able to carry a full-face helmet.
The main reason you can never call this a sport-tourer is it can only go about 130km (80 miles) before the fuel light comes on. That's a very short tour…
It's also slightly heavier than the others, because of its steel frame.
However, it's common, it's high power, and sounds great.
There was also a Suzuki GSX-R250 produced, but it's so rare that I can't find them for sale at all.
Yamaha FZR250R — Another Comfortable 250cc
Engine: 248cc, 4-cylinder, 16-valve (DOHC) with CDI and four carburettors
Power: 33 kW / 45 hp@ 14,500 rpm (red-line 17,000) from 1990-1993, reduced to 29 kW from 1994 onward
Brakes: 2x285mm discs, 4-piston calipers
Wet weight: 172 kg (373 lb)
Like the Suzuki Across, the FZR250R was another somewhat comfortable 250cc four-cylinder motorcycle.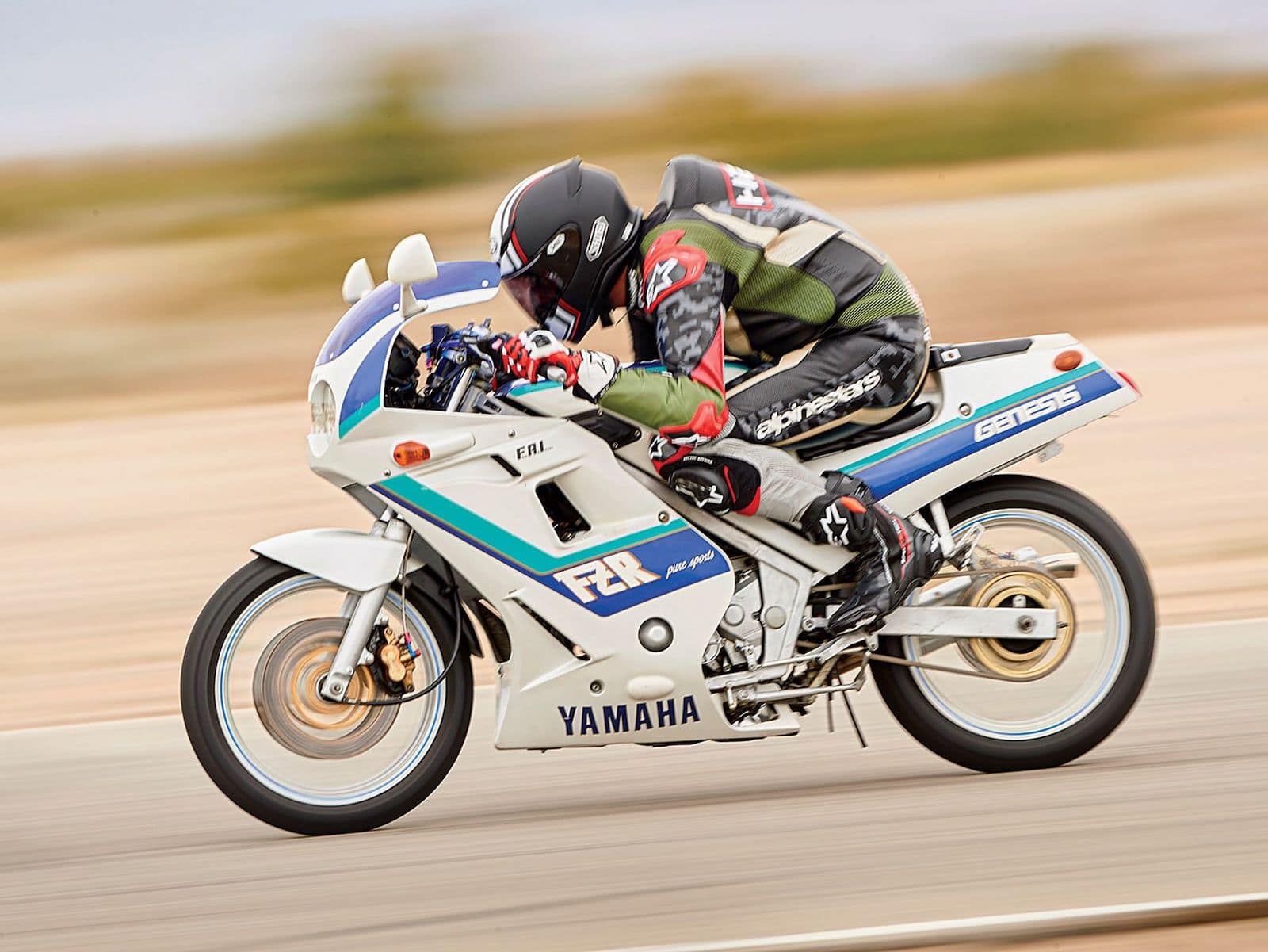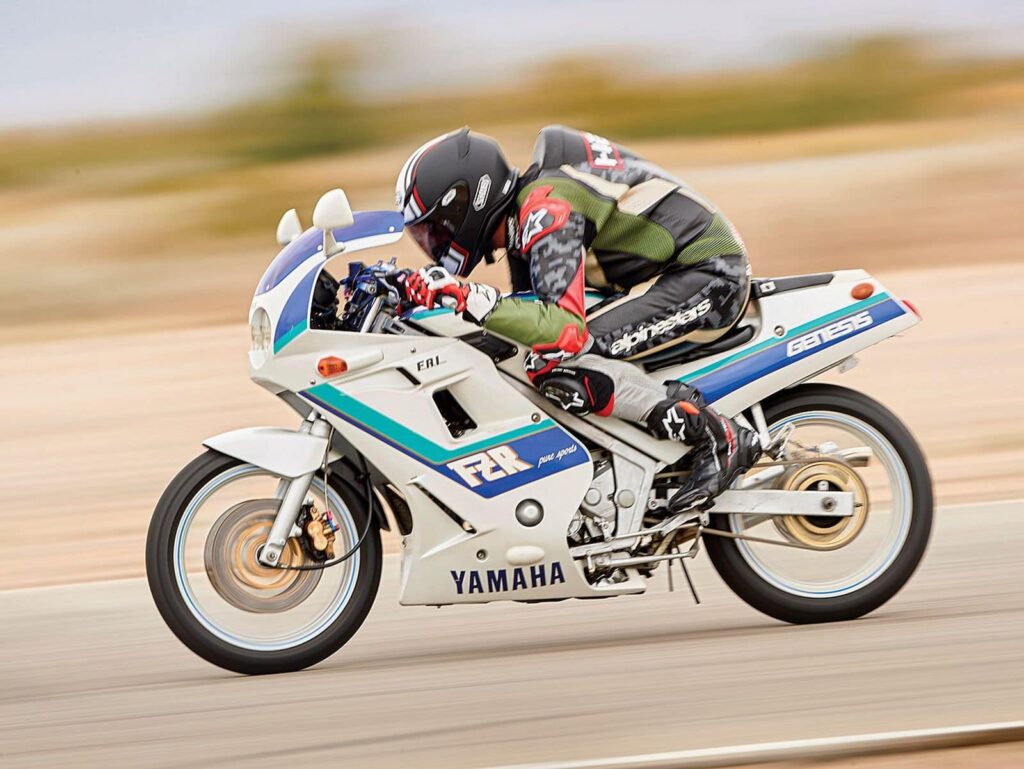 Yes, you can get down in a tuck position on the FZR250, but the clip-on handlebars are high up enough that in modern terms, it'd be a sport-tourer like a VFR800.
The engine has a technical redline of 17,000 rpm but really stops going at around 15,500.
There's also a FZR250 which has a much weaker breaking setup. Make sure the one you pick up has the double discs.