The Yamaha MT-09 is a kick-ass middleweight sport bike from Yamaha. I previously wrote about it as part of my Tracer 900 review in passing — I wasn't impressed enough by the bike to write about it by itself.
But the 2021 Yamaha MT-09 and MT-09SP promises a lot, and I wanted to summarise the differences here because they're quite important!
In the past, the MT-09 suffered from two major things: Twitchy throttle response, and soft suspension. Those marred what otherwise could have been an awesome package of a responsive and reliable motor in a very lightweight, easy-to-handle chassis.
In my personal opinion, the MT-09 also had slightly outdated electronics (not really a problem, just the lack of something I wanted). The display looked a bit old and the bike lacked an IMU, something that more and more motorcycles in the middle-weight category feature (like BMW's latest F900R, and the limited-release 2021 Honda CBR600RR).
So has the MT-09 added the things that might tempt me away from my S1000R and onto a bike with more practical amounts of horsepower? Let's see…
See here for my full ride review of the 2021 Yamaha MT-09 SP.
Are you obsessed with motorcycles?
Well, I am. That's why I created this site — as an outlet. I love learning and sharing what others might find useful. If you like what you read here, and you're a fraction as obsessed as I am, you might like to know when I've published more. (Check the latest for an idea of what you'll see.)
Background — Problems with the previous Yamaha MT-09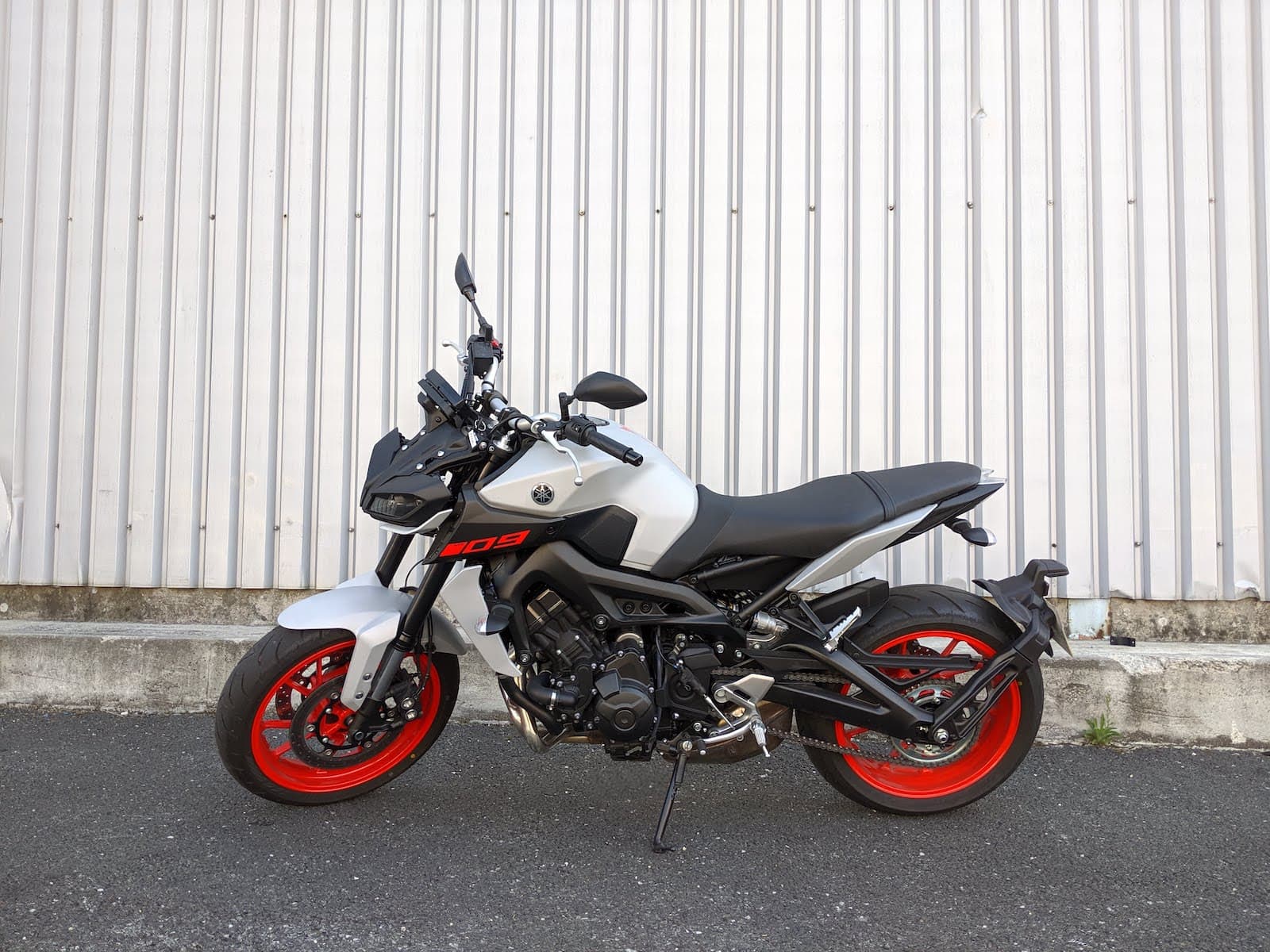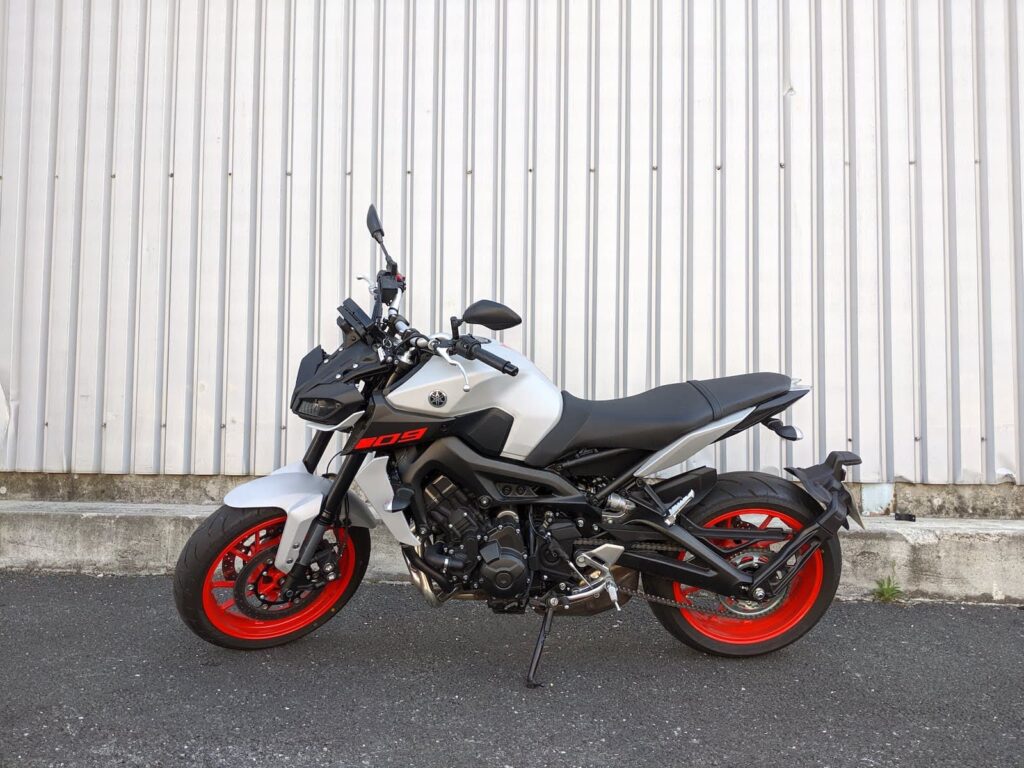 See here for a full buyer's guide / generation history of the MT-09 from 2014 to today.
The MT-09 seemed like an awesome package. The "right" amount of power (100-120 hp is my personal sweet spot — enough so I can grab a handful of throttle on public roads, but never feel like it's wheezing), a naked chassis, and Yamaha reliability.
But I didn't really enjoy my 2018 Yamaha MT-09.
Twitchy throttle. Some people call this "responsive". It's true that you can get used to it. But for people who ride multiple bikes, the MT-09's throttle is jerky compared to most. When coming out of corners or leaving lights, I had to always be on guard, and couldn't relax. For context, I've ridden higher-power superbikes that had more predictable throttles.
Soft suspension. Many non-race bikes have soft suspension to comply with the vagaries of modern life. That's fine. But something about the short wheelbase and large amount of power made the suspension on the MT-09 felt toy-like. Yamaha can do (and has done) better on most of their mid-range motorcycles. Revzilla said the old MT-09's suspension made it "basically unrideable". The 2017 model had improved suspension, but it still was too soft.
In general, the MT-09 felt overpowered. Its chassis couldn't keep up with the engine. The engine was always ready to spit out way too much for the chassis. You can slice it up anyway you like — the result was the same; it lacked "balance". And I wasn't the only one who felt that way. Not just reviewers, either; check message boards and reddit for phrases like "MT-09 jerky" or "mt-09 soft suspension" and prepare for the onslaught!
Apart from those things though, the promise of the MT-09 was great!
When I recently bought a BMW S 1000 R, I did it by listing the things I'd regret not having, and an IMU that inputs into braking and traction control — often called "cornering ABS" — was one of them. So, the fact that the MT-09 and the Tracer 900 GT didn't have it were strikes against them, especially when I could get those on competitors (albeit slightly higher CC, and maybe competitors to the MT-10) like the Kawasaki Ninja 1000 and the Suzuki Katana.
But that appears to have changed in the 2021 Yamaha MT-09 — they've addressed those issues. Short of a test ride, I'm intrigued. (Yamaha Australia, send me one and I'll ride it around Oz for you!)
In addition, Yamaha have improved the engine and the display, plus made a small range of other changes.
So, on we go to the five major improvements in the 2021 Yamaha MT-09.
2021 Yamaha MT-09 and MT-09 SP improvements summary
In summary, the 2021 Yamaha MT-09 and MT-09 SP get:
Improved suspension and handling: better suspension on the standard MT-09 (all KYB), and on the MT-09 SP, even better suspension (high-spec KYB forks and a fully adjustable Öhlins rear shock)
Throttle improvements and Ride-by-wire: Ride by wire, and an attempt to reduce twitchiness, in support of the electronics package. The MT-09 SP (but not the base model) gets cruise control
Safety Features — a Six-Axis IMU: The 2021 Yamaha MT-09 and SP both get an IMU with cornering ABS and lean angle-sensitive ABS. Not even the MT-10 had this at the time of the 2021 MT-09's launch.
Engine improvements: More displacement to 890cc, and more power at 89.5 kW (117 bhp or 120 PS/CV).
Updated digital TFT display. It looks nice!
Read below for more detail.
1. Suspension & Handling Improvements — Better Fully Adjustable Forks; Stiffer, lighter Frame
30mm lower handlebar position
MT-09 Front KYB fork gets preload plus compression and rebound damping adjustment
The MT-09 SP's KYB fork legs can be individually adjusted on each side for compression and rebound damping, with high- and low-speed compression damping adjustability, and the 41mm inner tubes have DLC coating
The MT-09 SP gets a fully adjustable Öhlins rear shock with remote preload adjuster (replacing KYB rear on the standard)
Lighter weight — 4kg (8 lbs) lighter, to wet weight of 189 kg (417 lb)
Stiffer frame — 50% improved lateral rigidity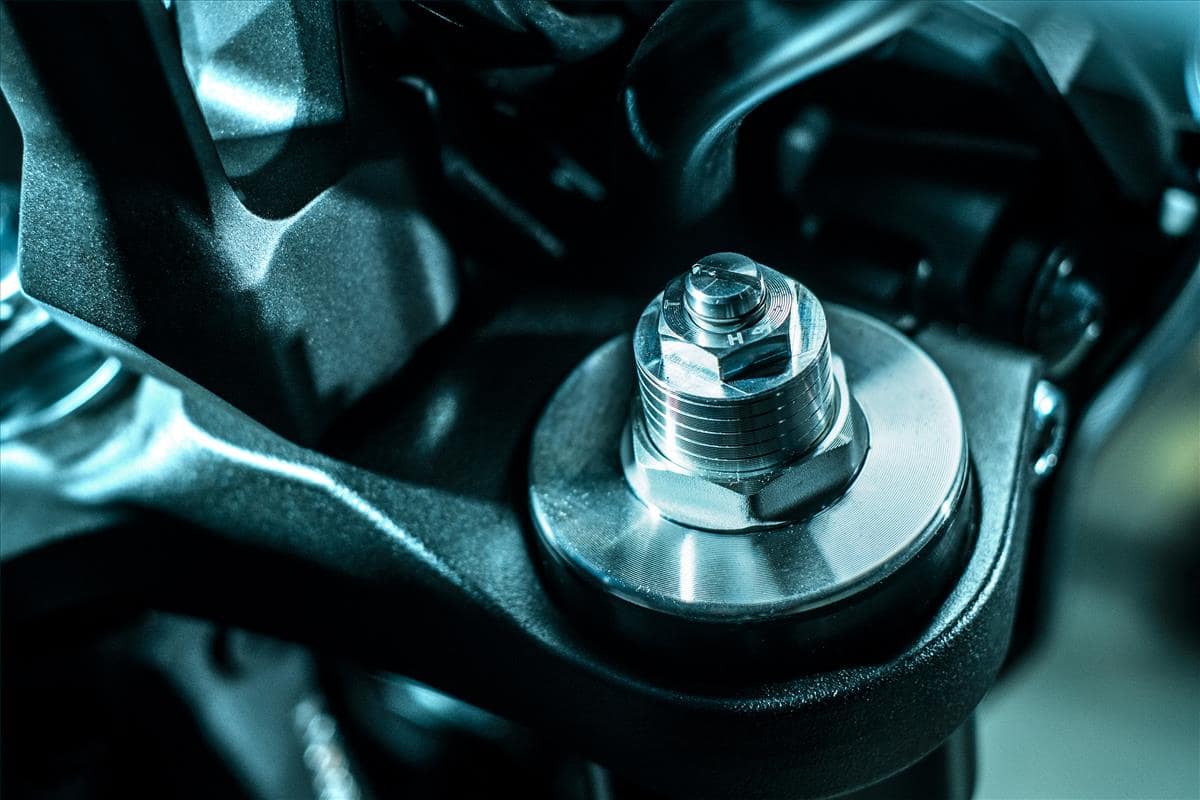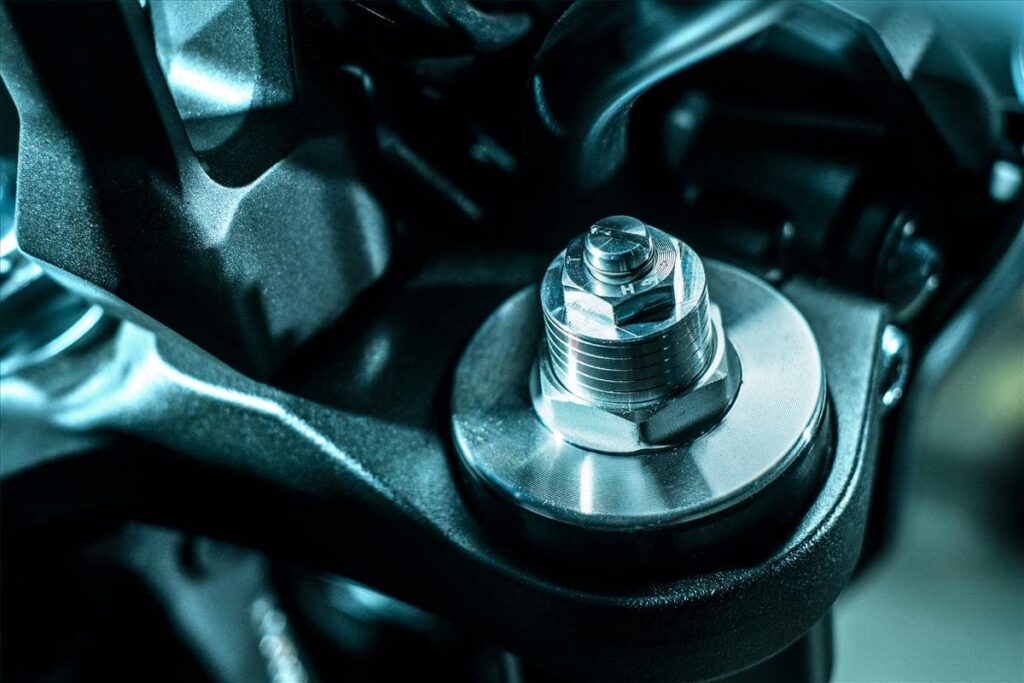 Yamaha addressed the tendency of the old MT-09 to dive into corners and generally feel like the engine outclassed the chassis by stiffening the frame and significantly upgrading the fork.
On the 2021 Yamaha MT-09 (non-SP), you get a fully adjustable fork, a 41mm KYB unit that's adjustable for preload, rebound damping, and compression damping. This is already great!
On the 2021 MT-09 SP, the new lightweight 41mm KYB front fork legs can be individually adjusted on each side. On top of that, you can adjust them for high-speed and low-speed compression damping, to direct the way it dives into corners.
Yamaha has also reduced the tendency for the MT-09 to pitch with revised settings for the forks to complement the stiffer, lighter frame, optimising for a smoother, more controlled ride.
The new MT-09 is also 4kg (8 lbs) lighter, with a wet weight of 189 kg (417 lb). That's super light, especially considering the power! They get this weight with a lighter aluminium frame. Yamaha has also targeted rigidity, saying they've increased lateral rigidity by 50% (not sure what the metric is), adding to straight line stability.
2. Throttle Improvements — Ride by Wire; Cruise control on the SP
Ride by wire
Acceleration Position Sensor from the 2020 R1
Cruise control on the 2021 MT-09SP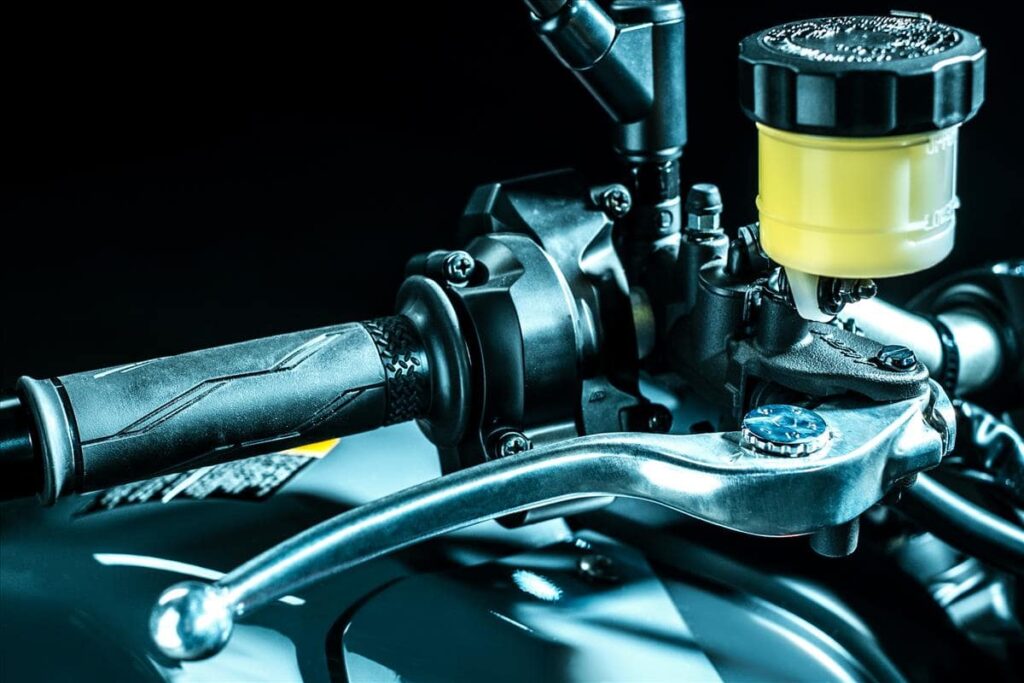 The twitchy throttle is one of those issues that has plagued every generation of the MT-09. Reviewers said that it made the outgoing MT-09 "too much to drive in the city" (Safer Turn) and "jerky". Commenters said "I decided the journalists were being pedantic… I then rode an MT09, and hated it. Obviously, you can ride around it, but why should you have to – it detracts from the pleasure of riding." (reddit).
The 2021 MT-09 has fixed the throttle response. The throttle has been majorly overhauled on the 2021 MT-09. The 2021's throttle is now ride-by-wire, with an acceleration position sensor. Yamaha has added a spring, slider and gear to provide degrees of resistance to give a natural throttle feel during use.
Ride by wire doesn't by itself eliminate a twitchy throttle. In fact, it is almost unrelated. But having a RbW system does let Yamaha engineers tweak the response in the ECU programming without having to manually adjust the way a cable opens butterflies.
The 2021 Yamaha MT-09 SP gets one more gimmick attached to the ride-by-wire: cruise control. This puts it in the same category as the MT-10, another Yamaha standard motorcycle with cruise, a rarity (see our list of other motorcycles with cruise control).
The whole ride-by-wire package comes from the 2020 Yamaha R1/R1M, but is calibrated for the MT-09. It has good pedigree at least.
3. Safety Features — That Six-Axis IMU!
New for 2021:
Lean angle-sensitive traction control, braking, slide control, and front wheel lift control!
"Cornering ABS"
Since 2015, the only Yamaha motorcycle that had a six-axis IMU was the venerable R1. (Here are all the motorcycles with cornering ABS on the market.)
Look, the R1 is awesome. But it's not exactly a bike that most people can ride every day. The 2015+ model (that has the IMU) is a motorcycle many find unpleasant below 3,000 rpm. So it's a shame that such a great safety feature was in a bike that most people just use for hard riding and on the track (admittedly probably where it'll come in most useful).
After years of just being on the R1, Yamaha has brought cornering ABS and their six-axis IMU to one of their mid-tier bikes, the MT-09! This is ahead of the higher-spec MT-10 and even Yamaha's premium-priced touring bike range.
The 2021 MT-09 has a new 6-axis inertial measurement unit (IMU) that keeps the performance of the R1's IMU in a smaller package.
The IMU gives input to
Traction control — which takes the difference in speed between the front and rear wheels, and takes input from the IMU to adjust intervention levels.
Slide control — adjusting power output on the rear wheel if it slides, but not cutting power if you're mid-corner,
Front wheel lift control — reducing power if it detects you doing a wheelie, but again, moderating this if you're mid-corner
Braking control — giving you "cornering ABS", meaning you can grab a handful of panic brakes mid-corner and your bike won't just stand up — you'll progressively come to a stop without going into the opposite lane.
Oh, and all these are adjustable and can be switched off. So you can do dank wheelies when you want!
That last one is important. The new MT-09 has two braking modes — BC1 and BC2. BC1 is regular ABS. And BC2 "controls the brake pressure in addition to ABS and operates in situations where machine behaviour is likely to become unsettled, such as unavoidable panic braking mid-corner."
Cornering ABS on an MT-09. Awesome. And it also made it onto the 2021 Tracer 9 (an update to the Tracer GT), making that a really tempting proposition.
4. Engine Improvements — More displacement, More power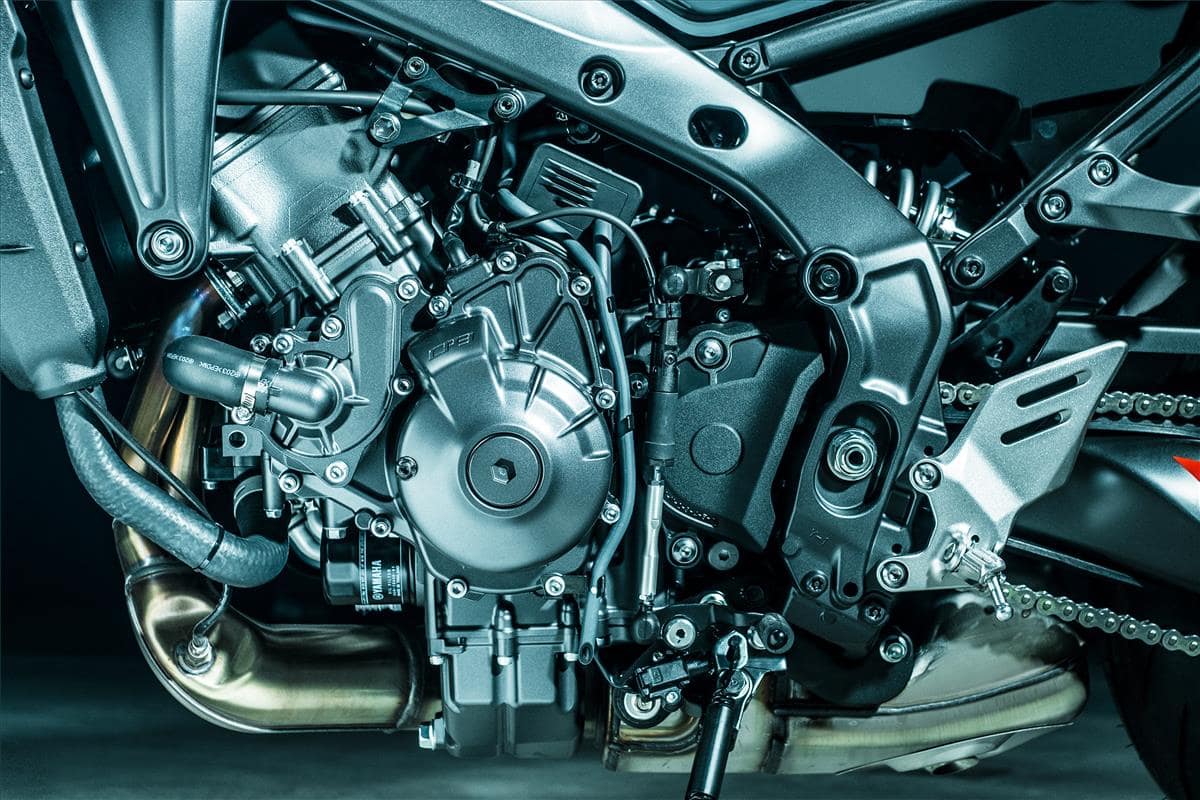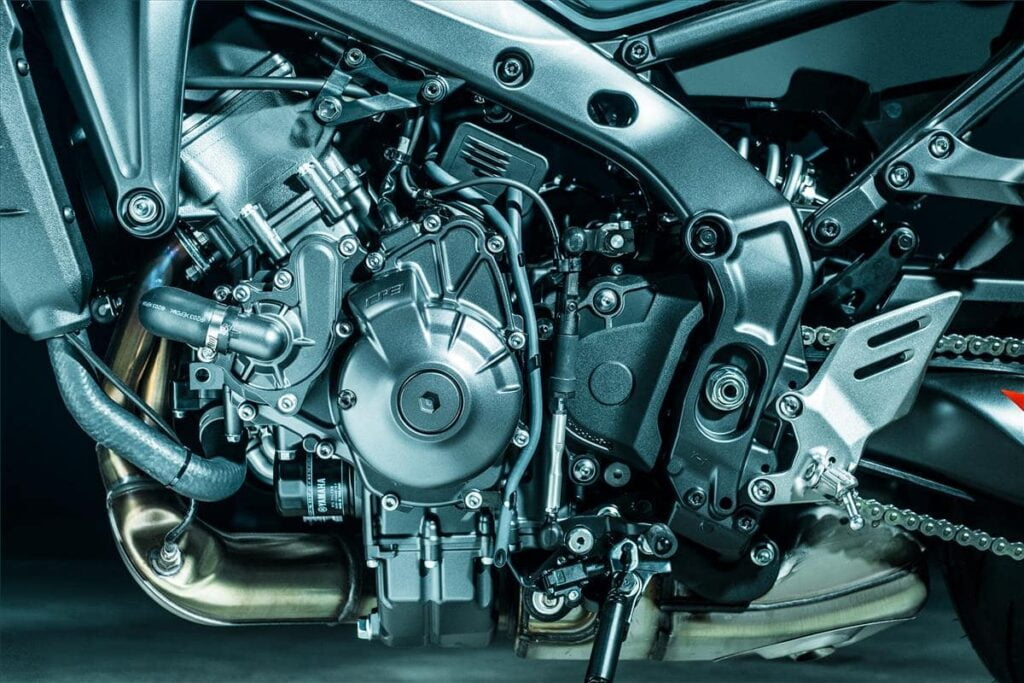 I thought the engine of the previous MT-09, with an 847cc engine and 86 kW (115 hp) of power was enough.
But Yamaha has increased the displacement to 890 cc (sometimes reported as 889 cc — even different regional Yamaha websites were different), and improved power output to 90 kW (120 hp).
So why increase the power on a middleweight sport bike with enough power? I've seen manufacturers do this at times in response to emissions regulations, where they're forced to increase engine size so they can maintain power while reducing emissions. For marketing reasons, they slightly increase power while they're at it, I think to distract from the emissions compliance. Since the 2021 MT-09 is compliant with EURO-5 emissions regulations, this may be the reason.
Whatever the reason, a larger capacity engine means more mid-range torque and more top-end power.
5. Digital Display Update
I thought the outgoing MT-09 LCD dash was fine. It gave all the info I needed, even if it was a bit small.
But the new 2021 MT-09 has a 3.5-inch full-colour TFT display with all the info. It looks "premium" and up-to-date, competing with the fancy displays from other manufacturers both in Europe and Japan — though it's still smaller than what you'll find on the competition, e.g. the 4.3 inch TFT on the 2021 Ducati Monster
Other improvements to the 2021 Yamaha MT-09 and MT-09SP
Nissin front brake master cylinder
Adjustable riding position (handlebars and pegs)
LED lighting
The braking system has been improved in the 2021 MT-09. The front brakes are still 298mm discs, like the previous model, but the master cylinder is now a Nissin one.
Riding position is now adjustable on the 2021 MT-09. The handlebars and foot-pegs can be adjusted to two different positions. You can move the handlebar clamps 10mm forwards, and the footpeg mounts can be raised 14mm higher and 4mm backwards.
The 2021 MT-09 has LED front headlight that also looks more aggressive. The parking lights (position lights) are also LED.