Many a seasoned rider(including this one) has looked at a Honda Grom and thought: One of those. One day.
That day might be getting closer and closer, too. Every time I see a friend with a Grom I think "Cripes, that looks fun. And cheap!" They are. They're cheap to ride, maintain, and fuel.
The things that hold me back are the predictable excuses — too many bikes in the garage, and not enough versatility in the Grom.
But for anyone looking to downsize, there's a secret about the Grom — it's a bike that isn't really considered "downsizing". In fact, in some ways, it's an upgrade over lots of other, bigger motorcycles, because you get to do so much more with a Grom, like practise difficult maneuvers, learn to do your own maintenance, and enjoy flogging a bike about not just for fun but also because they're efficient transport.
Even riders like Revzilla's (formerly Motorcyclist's) Ari Henning, whose daily at one point was a supercharged Kawasaki Z H2 that makes north of infinity horses, the Honda Grom can be a lot of fun.
If you are interested in the Grom, then you may have a few questions, like I did:
What makes the Grom special?
Should I buy the latest model, or are the older second-hand versions just as good?
What are the major updates through the model years?
How does the Grom handle day-to-day riding or longer distances?
What about alternatives to the Grom? (Most notably from Kawasaki)
I'm sure you have many more questions, so we'll try to answer these and give you a general overview of what the Honda Grom is like to live with.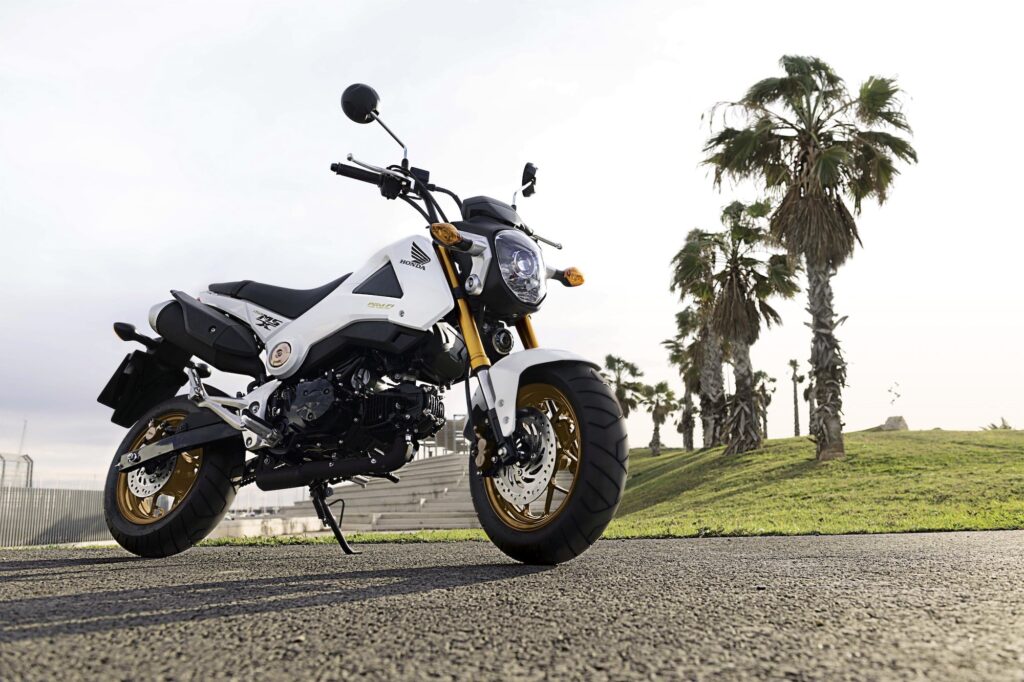 Are you obsessed with motorcycles?
Well, I am. That's why I created this site — as an outlet. I love learning and sharing what others might find useful. If you like what you read here, and you're a fraction as obsessed as I am, you might like to know when I've published more. (Check the latest for an idea of what you'll see.)
Overview of the Honda Grom — What Makes it Special?
There's a class of bikes which is known as the "pit bike". It's a word I have heard more than I've seen in practise, so I don't assume everyone is familiar with it.
A "pit bike" is basically a kid's bike (not when I was a kid! Would that I were so lucky). It's small, manageable, low-powered, but not poorly built; nobody wants to put a kid on a dangerous bike. They'll do that to themselves when they're older (sorry mum and dad). Pit bikes are usually not registered — they're for tooling around on private property.
But there's a dirty secret to the pit bike: people of all ages love throwing a leg over one and being silly. Doing wheelies, stoppies, and any other kind of silliness we don't normally do with our bikes that are ten times the power and would be much more unaffordable and dangerous to crash.
So the Honda Grom is a bike in this "pit bike" spirit — but it's a little bit more premium. It's kind of a pit bike for grown-ups.
Honda launched the Honda Grom in 2013, and from 2014 in the US. Honda had had immense success with their Monkey and Super Cub mini motorcycles in the past, and the time was right for something a bit funkier. (They've since brought those models back too — they're part of Honda's "miniMOTO" range.)
The Honda Grom is a small, lightweight motorcycle. It's not quick or high-tech. But neither is it particularly low-tech or "cheap" feeling.
Yes, Honda makes affordable commuter motorcycles, the kinds that you might see used as an UberEATS delivery bike, like the CB125e. Those are cheap to buy and run, but they're really just functional bikes.
The Honda Grom, on the other hand, is designed with the intention of being a "fun" bike, one that's not built for a functional purpose. Look at a few features of the Honda Grom that you don't get on your basic commuter:
Upside-down forks: They're not adjustable like on sport bikes, but they're still there! They even have a gold tint to make you think they might be Öhlins (they're not, but I've seen aftermarket Öhlins shocks on Groms)
A rear disc brake: Most cheap bikes have a rear drum. In fact some cheap bikes, like the Honda Navi, have twin drums.
Fuel injection: Typical entry-level commuters (like the present-day Honda CB125e) still have a carburettor. Nothing wrong with carbs, but PGM-FI is an acknowledgement that a bit more development has gone into this engine — it's not just a leftover design from the 1970s
LED lighting (from the 2021 model onward)
Honda initially launched the bike as the Honda Grom in the USA as the Honda MSX125 in Europe. "Grom" is, after all, an American slang word, something west coast surfers used to call newbies. But in recent years Honda adopted the Grom name worldwide — I think we all get what it means now. It means a small motorcycle.
Honda Grom Model History — Updates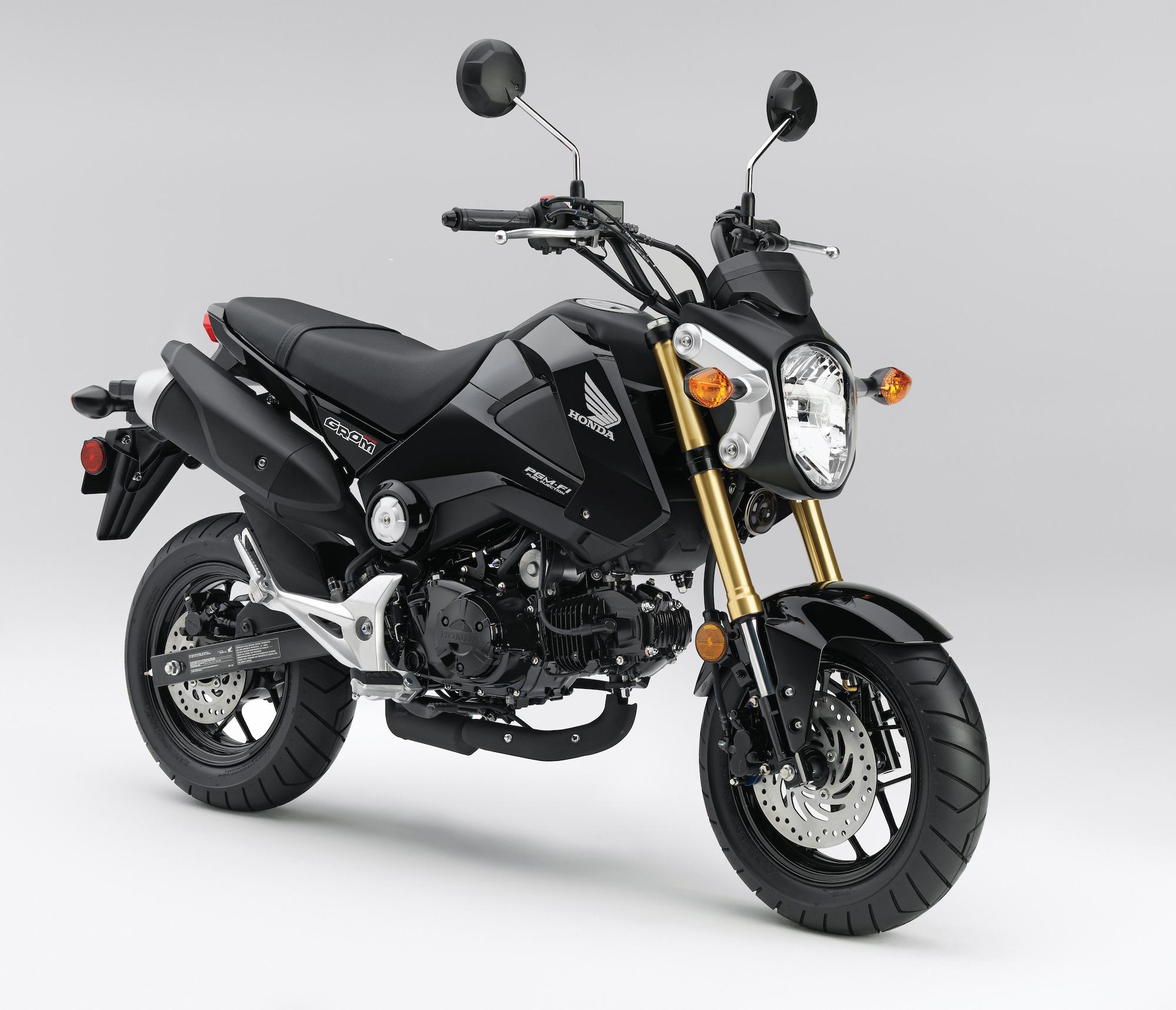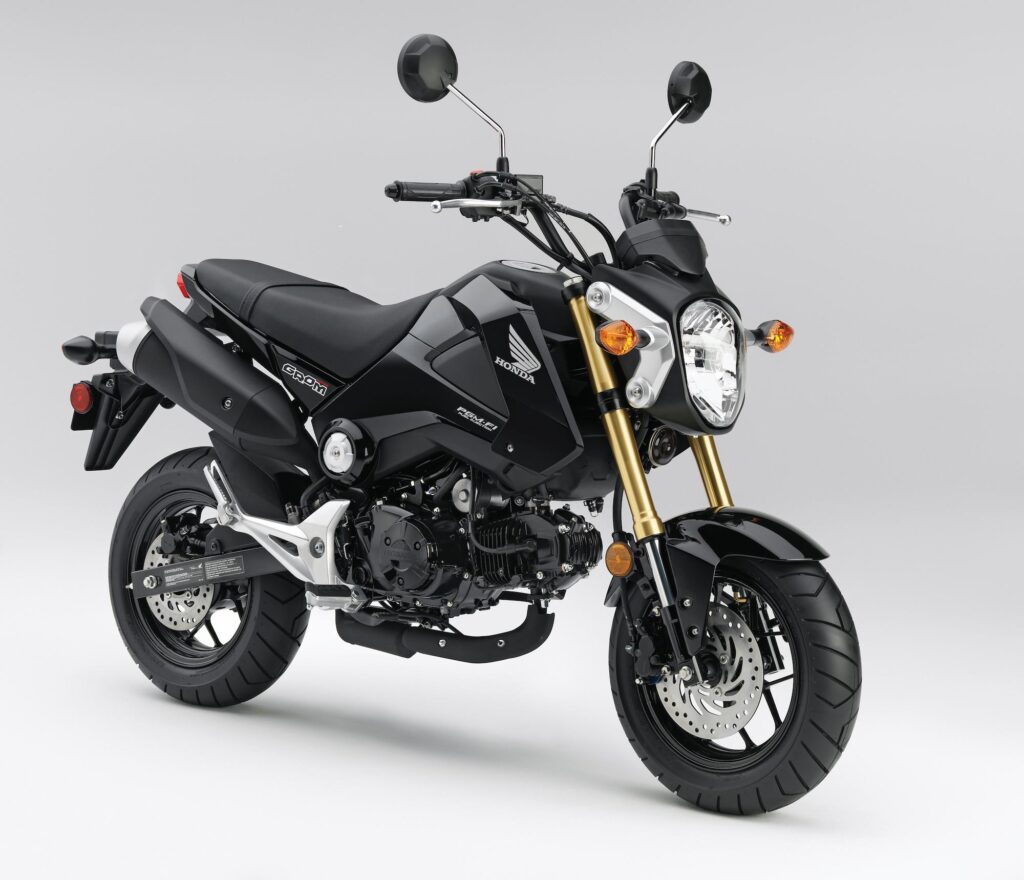 When Honda released their first Honda Grom model in 2013 Japan, Europe, and the UK, and 2014 in the US, it was an instant hit. A few publications, including Motorcycle USA, called it "Motorcycle of the Year" (in 2014).
Honda produced the original model from 2013 to 2015 under the original model designation, and it sold in large numbers.
From the 2016 model year, Honda made a few changes with different plastics, an LED headlight, and replacing the high-level exhaust with a low item below the footpegs. That was it. Honda didn't make any engine or suspension/drivetrain for the 2016 Honda Grom, as they knew they were onto a winner.
Between 2017 and 2019, the only changes were to the colour schemes available, and the Grom continued to sell in huge numbers.
In 2020, Honda released the 2021 model year Honda Grom. Honda significantly revamped the bodywork on the Honda Grom, going from a relatively modern look to the new bike's boxy retro style with easily removable panels.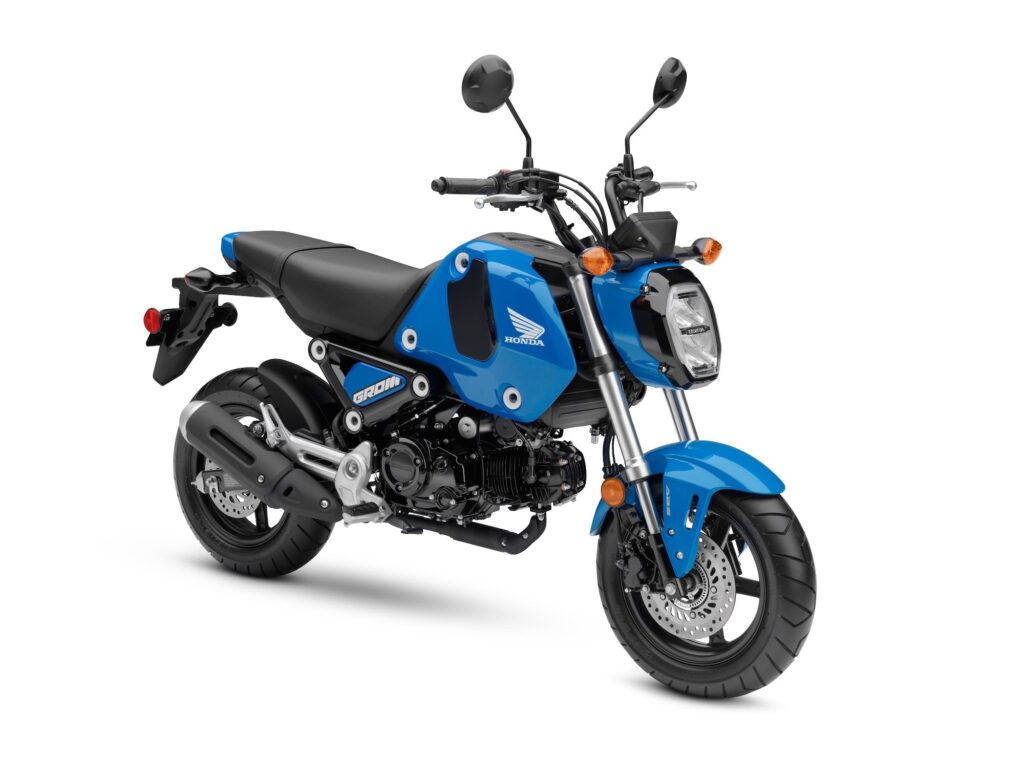 Honda gave the seat on the 2021+ model Honda Grom similar treatment, with more padding and a widening for extra comfort.
All the lights are now LED. Honda gave the 2021+ Honda Grom a larger fuel tank (up from 5.5 to 6 litres) and an improved ABS system for more controlled braking. Above the headlight, the Grom's new LCD dashboard is clearly laid out and has some added features, like a gear indicator, which doesn't even come standard on most models of the BMW R nineT.
To meet Euro 5 environmental standards, Honda slightly tweaked the Grom's engine. The power changed trivially — peak power of 9.7 hp or 7.2 kW comes just a little higher in the rev range, 7250 rpm vs 7000 rpm.
But most significantly, Honda changed the gearing on the 2021+ Honda Grom. Honda gave it a fifth gear, tweaked the ratios, and changed the final drive ratio. The change in ratio changes the way you perceive the engine's character, making it easier to rev out in the lower gears and giving the Grom nippier acceleration.
Having fifth gear also means you can go a little faster. You could always hit 100 km/h (~60 mph), but the gearing of the new Grom means that you'll be at slightly lower RPM (7600 rpm on the original Grom in fourth gear, and 7100 on the new one in fifth).
Honda's 2021 mods improved the already popular Grom, and if you are in the market for this type of bike, seriously consider spending a little extra on the 2021+ model. (Or at least change the final drive ratio on your earlier model… see our guide to calculating the impact of final drive ratio)
Grom Year model
2013-2015
2016-2020
2021+
Gears
4 speed
4 speed
5 speed
Primary drive gearing
3.350
3.350
3.040
Gear ratios
1: 2.500
2: 1.550
3: 1.150
4: 0.923
1: 2.500
2: 1.550
3: 1.150
4: 0.923
1: 2.846
2: 1.777
3: 1.315
4: 1.034
5: 0.843
Final drive gearing / reduction ratio
15:34
(2.267)
15:34
(2.267)
15:38
(2.533)
100 km/h (62 mph) rpm in top gear
7600
7600
7100
Peak power rpm
7000
7000
7250
Compression ratio
9.3:1
9.3:1
10.0:1
Exhaust
High
Low-slung
Low-slung
Headlight
Standard
LED
LED
Other lights
Standard bulbs
Standard bulbs
LED all round
Fuel tank
5.5 litres
5.5 litres
6 litres
Dashboard
LCD
LCD
LCD (bigger)
Panels
Standard
Standard
Quick change
Honda Grom — Generational changes
Honda Grom 2022 — Core Specifications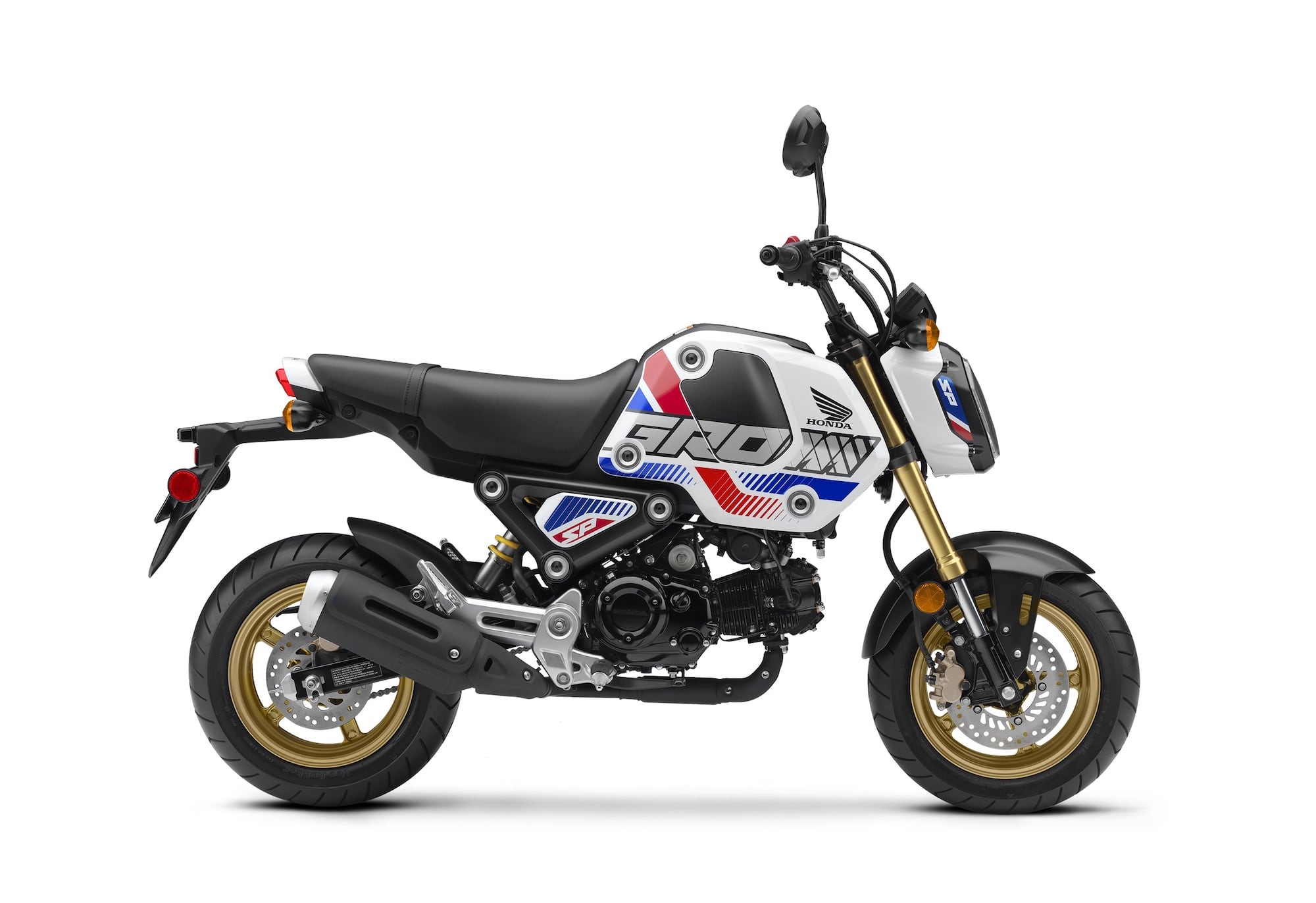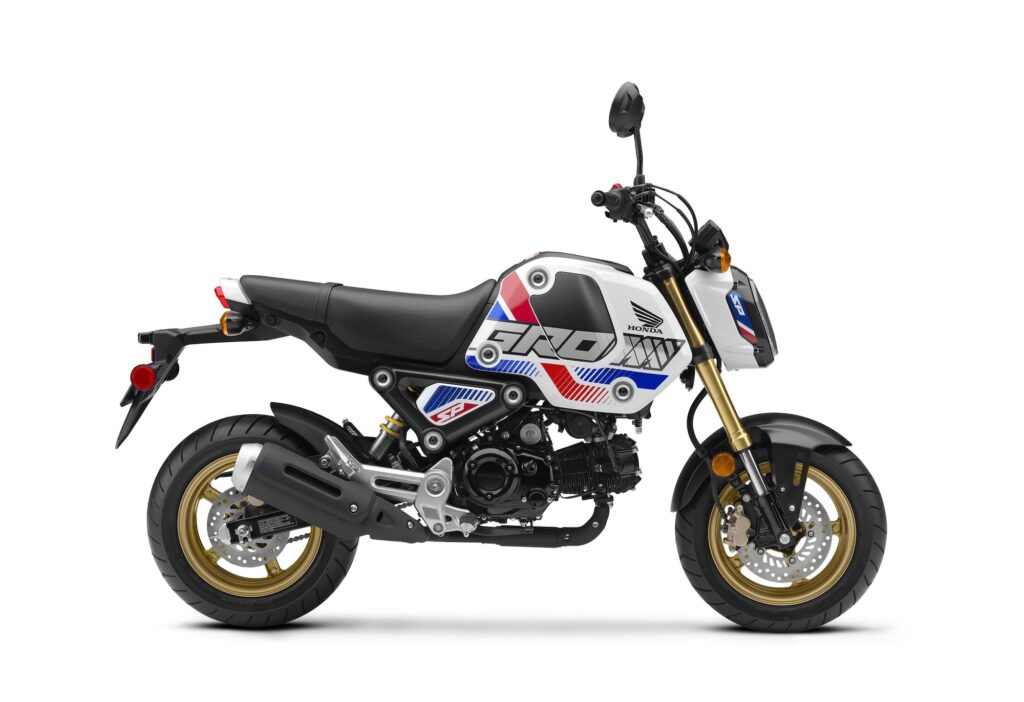 Honda made some significant spec upgrades to the latest generation of the Honda Grom.
You can't miss the first update: the bodywork. The new panels are secured with just six screws, but they have large washers that really stand out. Aesthetically, it's love or hate, but the advantage of the six screws is to make customization simple. Swapping the bodywork is really easy, so one day, you could make your Grom a Repsol Honda replica, and give it a camouflage pattern the next.
The next noticeable upgrade is the seat, which is now broader and flatter than before. The previous model had a distinct dip in the center, making moving around tricky for taller riders.
The engine has gained an extra gear, taking it to five and in conjunction with the change in final drive ratio giving the power delivery a much more lively feel. Straight-line speed will never be a selling point of the Grom, so it's how it feels in urban speeds that makes all the difference. The gearing also lets you eke out a tiny bit more top speed, should you wish.
The new 2021+ Honda Grom has a complete set of LED lights, including the indicators, while the LCD dash gains a new look. The redesigned dash gives you a gear position indicator, shift light, and fuel consumption readings, along with a clear rev counter and speedometer.
| Part | Core spec — 2021+ Honda Grom |
| --- | --- |
| Engine Type | Single cylinder 4 stroke |
| Engine size | 124.9cc |
| Compression ratio | 10.0:1 |
| Max Power | 7.4 kW (9.7 bhp) @ 7250 rpm |
| Max Torque | 11.1 Nm (8.2 ft-lb) @ 6000 rpm |
| Fuel Consumption | 66.7km per liter (252 US mpg) |
| Fuel Tank | 6 liters (1.6 US gallons) |
| Kerb Weight | 103 Kg (227 pounds) |
| Seat Height | 760 mm (30 inches) |
| Gears | 5 speed |
| Front Brake | Single 220 mm disc, dual-piston calliper with ABS |
| Rear Brake | Single 190 mm disc, single-piston calliper with ABS |
| Front Suspension | 31 mm USD forks, non-adjustable |
| Rear Suspension | Mono shock |
| Wheels | Five-spoke cast aluminium |
| Front Tyre | 120/70-12 |
| Rear Tyre | 130/70-12 |
| Lights | LED |
| Instruments | LCD digital dash |
Core specs for the Honda Grom (2021+)
Engine
The same single-cylinder 124.9cc four-stroke engine powers all models of the Grom, with only minor tweaks being made since its introduction in 2014. The engine is a single overhead cam (SOHC) design with two valves, electronic ignition, and fuel injection.
The unstressed engine produces 7.2 kW (9.7bhp) at 7250 rpm in its latest incarnation and 11.1 Nm of torque at 6000 rpm, taking the Grom to a top speed of around 60 mph / 100 km if you wish. As you would expect, it won't exactly pull your arms off, but it doesn't feel slow.
Suspension and Brakes
The grom has a 31mm upside-down fork. It looks great, but it's non-adjustable. For the target rider and the available performance of the Grom, that's not really a problem. If you want to ride your Grom aggressively, change the springs and fork fluid — it's an easy job.
At the back there is a mono-shock spring supporting a steel box frame swingarm.  Again, some people throw on aftermarket shocks if they have sportier intentions.
Overall, the suspension is adequate for the type of bike, but Grom owners are known for their love of updating their bikes. Big bore engine kits are available, taking the engine out to 183cc and almost doubling the power to 18bhp. With that extra power, the suspension may become a limitation. But that just means a chance for more upgrading by the dedicated Grom owner!
Brakes are similar to the suspension — adequate if nothing special. With just 10 bhp on tap and a low weight of 103 Kg, they don't have much to cope with. Single discs back and front, basic callipers, and ABS are fine unless you want to do something gnarly on the local mini track.
Equipment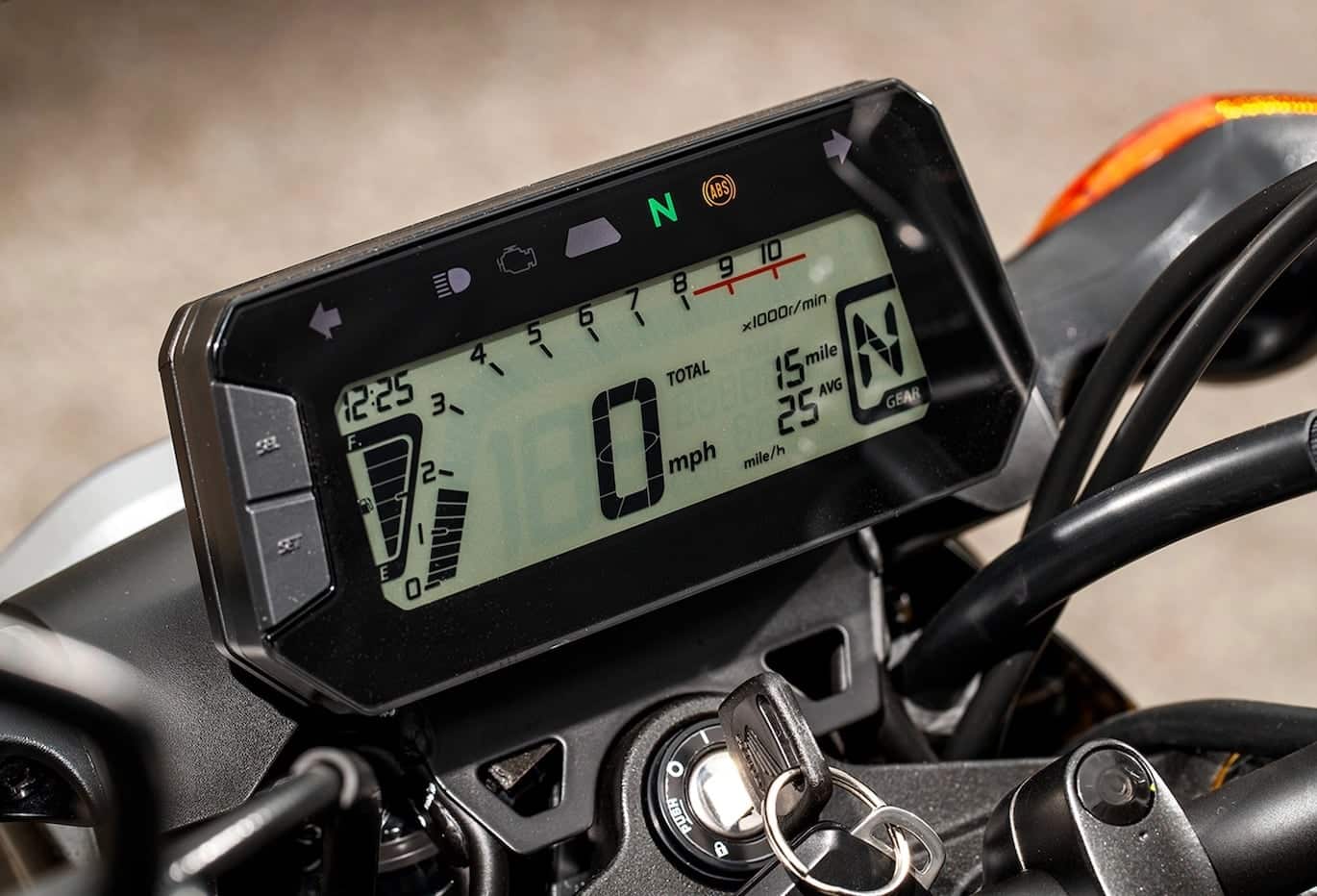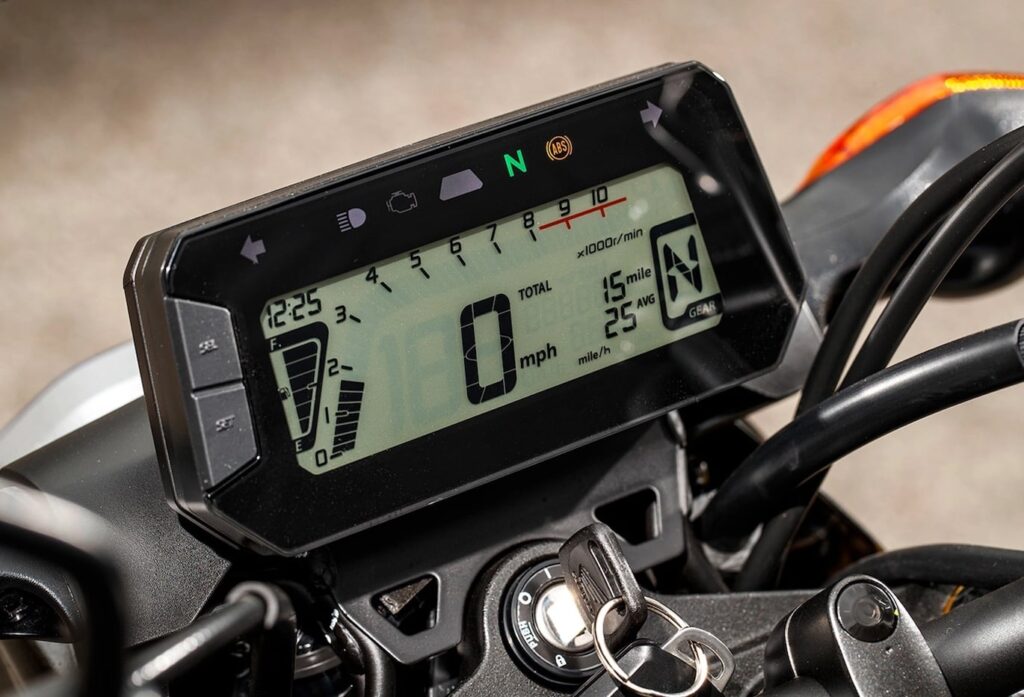 As a learner or fun bike, Honda doesn't stack the Grom with equipment or tech. You get an LCD dash with all the essential information you need, including a fuel gauge. The 2021 model comes with a gear position indicator, too.
… Wait, a gear position indicator? And a fuel gauge? And a tachometer?? Let's not forget that many more expensive motorcycles (I keep thinking of the R nineT Pure, which I avoided) don't come with most of those things.
The LCD dash is clear, bright, and easy to read, so no complaints here.
Aside from the dash, the lighting on the new Grom is full LED, including the indicators, making them bright and easily seen.
That's about it for equipment on the standard Grom, and although Honda does not offer any accessories, there are plenty of companies providing parts to bling your Honda Grom.
Styling
Love it or hate it, the Grom certainly stands out from the crowd. The style is one of the major draws for many younger riders, setting it apart from more traditional motorcycles. The squared-off, slabby look of 2022 models bodywork, with six large securing screws on each side, is a bold move. It's a deliberate style choice from Honda to emphasise how easy it is to customise the Grom and make it individual.
I really like the look of the Honda Grom. If it weren't for the adventures that the Honda Trail promised, this would be my pick of the miniMOTO crowd.
Riding the Honda Grom
There's no escaping the fact that the Grom is a small bike, especially if you're above average height. But for me, that just adds to the fun!
For anyone new to motorcycling who wants to learn how to ride a motorcycle instead of a scooter, the Grom is very user-friendly. With its four or five gears (depending on the generation you get) instead of a twist-and-go automatic scooter setup, new riders learn the basics on an easy-to-ride, unintimidating motorcycle.
Riding around town or on short commutes is the Grom's natural habitat. It has enough power to keep up with traffic, is relatively quick away from the traffic lights, and it's small enough to fit through most gaps.
Parking is wonderfully easy, needless to say. You can even share parking spots with another motorcycle, if they're cool (or likely to be so).
The only place the Grom struggles is on faster roads, such as motorways or highways. The top sustainable/comfortable speed is around 100 km/h or 60 mph. In many parts of the world, even if that's the speed limit, drivers will go slightly faster than this. And speed limits are often higher — e.g. in the UK motorways are rated at 70 mph, and in the US, on motorways rated at 65 mph, traffic will often be going 80 or 85. So that's not the Grom's comfort zone — just something to do if it's unavoidable.
Despite the lack of outright speed, there's no reason why you couldn't tour on the Grom, especially if you choose back roads. These guys did 2000 miles on a Grom, for example. The seat is comfortable, particularly on the latest model. The pillion seat provides space for a bag or even throw-over panniers. Its exceptional fuel consumption would make it a very cheap to run touring bike.
There are many parts of the world, of course, where speeds of 20-50 km/h are incredibly fun. Tight, winding roads on islands would make a KTM Duke 1290 R seem frustrating. But winding up a Grom? Heck yes.
Pillions: es, the Grom has a pillion seat, and their marketing material shows two people on one, but with ~10 horsepower, the bike will struggle with two people aboard. Nipping to the shops would be okay, but anything further would soon be tiresome. Think of it as a bike for emergencies if your friend breaks down nearby, or if you feel like having a laugh.
The Honda Grom is aimed at putting fun into low-speed motorcycling. Yes, the power is low, but then so is the weight. Make a mistake on the Grom, and you'll just laugh at yourself, whereas if you'd made the same mistake on a more powerful bike, you'd be in trouble.
Maintaining your Honda Grom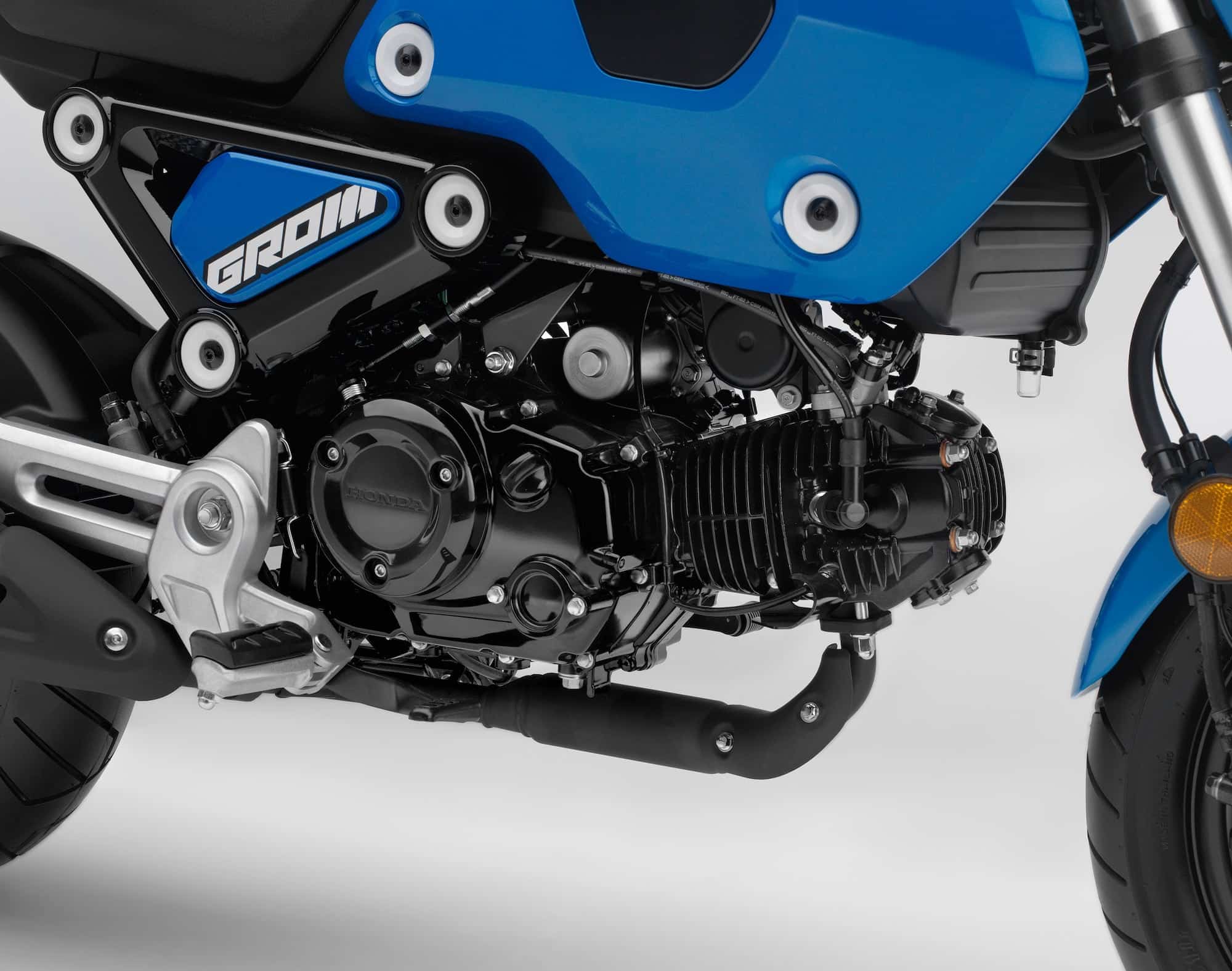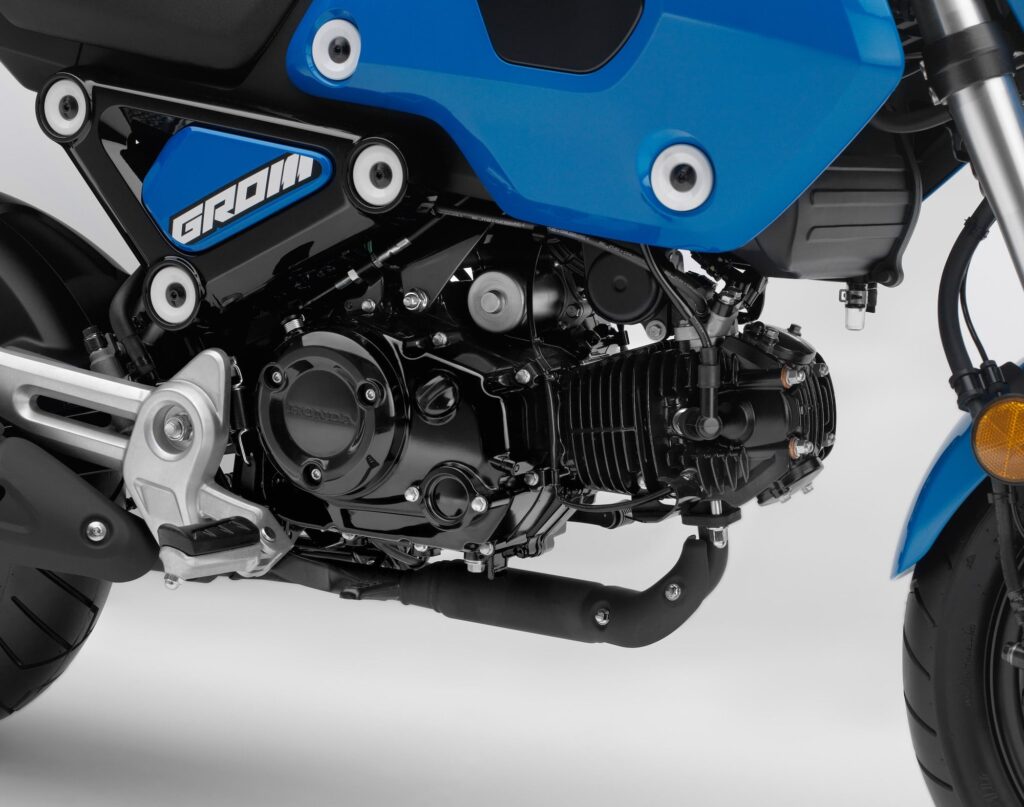 Something I really like about the Grom that's rarely mentioned is that it's a doddle to service. It's a really good candidate for a first motorcycle to learn how to do work on.
The Grom's engine is an unstressed single cylinder 125 cc single-cylinder motor. It's very simple in design: air cooled, two valves (most motorcycles have four valves per cylinder), and fully exposed — no fairings to remove to get to the spark plug. This means that servicing it is cheap (if you get someone else to do it) or very easy, if you do it yourself.
The Honda Grom's break-in service is at 600 miles (1000 km) and is simply an oil change, idle adjustment, and tightening all the nuts and bolts to the recommended torque (basically giving the bike a once-over with wrenches and screwdrivers).
You do a regular service on your Honda Grom ever 4000 miles (6400 km). Since you have to check the valve clearance, it's more involved than just an oil change, but with everything accessible (even the spark plug and cylinder head), it's not expensive or time-consuming to do.
Here a breakdown of service intervals for your Honda Grom.
Every 300 mi / 500 km: Inspect and lubricate the chain.
Every service (4000 miles / 6400 km): Change the oil, check the spark plug and valve clearance, and check everything is functioning and lubricated
Every 2 services: Change the spark plug, and check/clean the oil strainer and centrifugal filter.
Every 3 services: Change the air filter.
Every 2 years (regardless of mileage): change the brake fluid.
This is all in addition to regular checks you do to ensure your Grom is roadworthy (or trackworthy) — make sure the brakes work, there are no leaks, and so on.
Sometimes people wonder "why are the service intervals for the Honda Grom so short?" Most Honda motorcycles, after all, have oil change intervals of 8000 miles, and valve service intervals of 16000 miles. There are two reasons why the Honda Grom's service intervals are shorter:
The Grom has an air-cooled motor. Liquid cooled (or at least oil-cooled) motors have less heat around the cylinder heads which can lead to softer metals and quicker warping out of spec.
Engineers usually think of engine service intervals in hours of operation (like we do with race bikes), not distance. The Grom travels slower than bigger bikes. So the engine will have many more hours of operation per distance travelled than bigger bikes.
Those two factors lead to the service intervals being shorter.
Honda Grom Alternatives
It's natural to look around and think: what else could you get for your hard-earned dosh? There are a few alternatives to the Honda Grom, and they're each worth considering.
Kawasaki Z125 Pro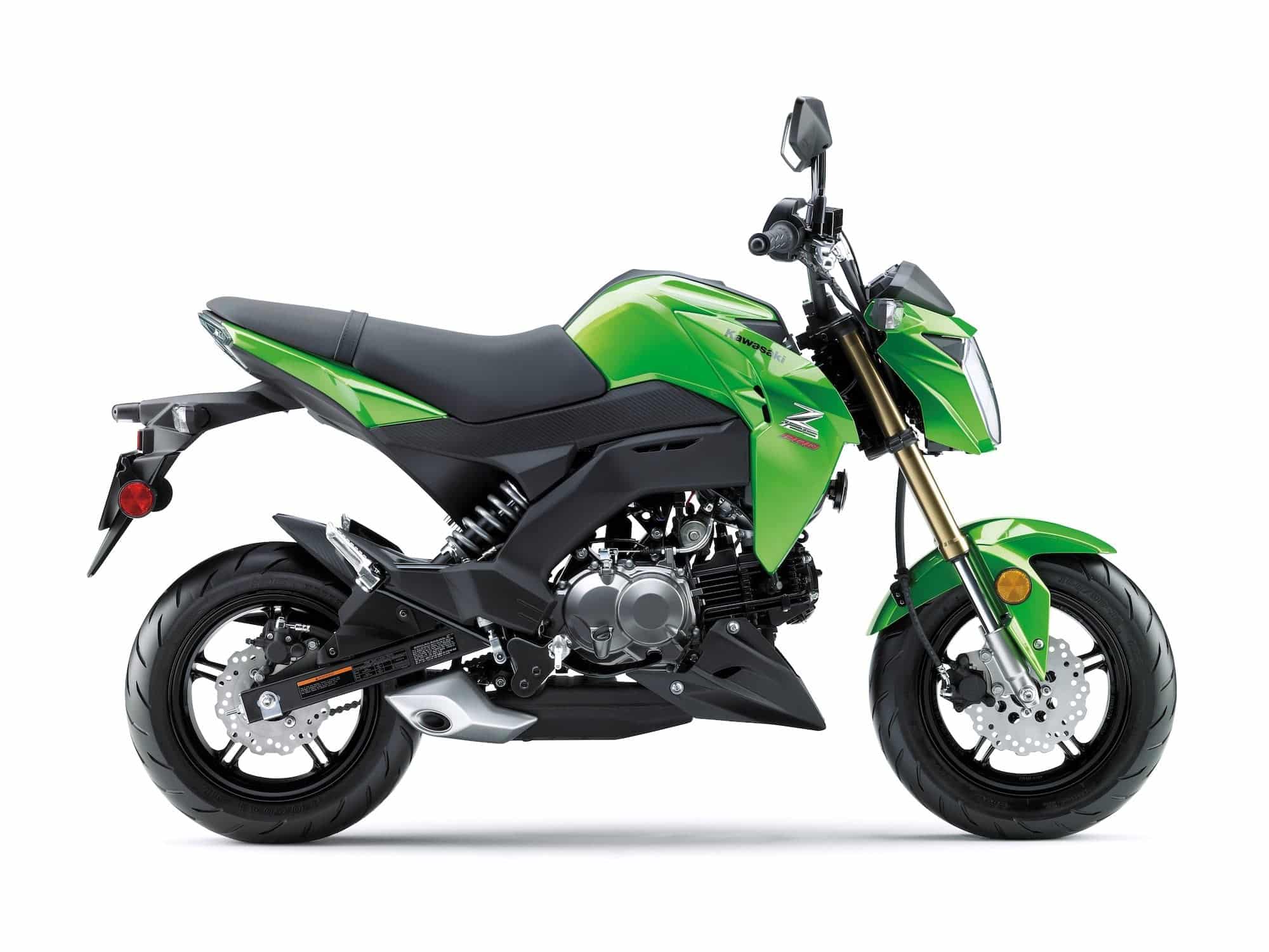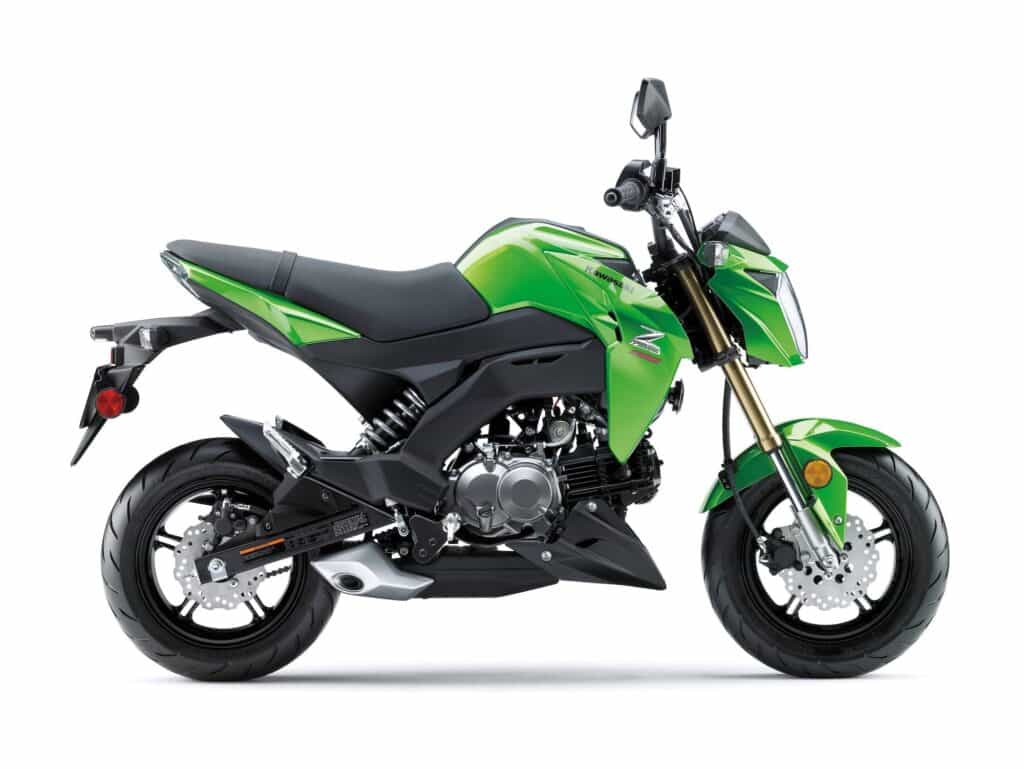 Top of the list of alternatives has to be the Kawasaki Z125 Pro, which looks very similar to the older Grom. They're the same kind of bike.
One complaint some have about the Kawasaki is that the rearset pegs were too high, pushing your knees up in the way of the handlebars. Apart from that, there is little to separate the two. Besides, controls are one of the first things Grom / Z125 owners modify.
Honda has taken the Grom a step forward for 2022, with the new easily modified bodywork, but apart from that, the two bikes remain very similar. If you're buying used, then I'd choose one based on the better deal.
Other Honda miniMOTO bikes
There are other bikes in the miniMOTO line-up which all serve a slightly different niche (maybe it's worthy of another buyer's guide).
There's the Honda…
Monkey — The little beach bike. Quite similar to the Grom in spec (five-speed transmission), but with a more upright, everyday adventure riding position
Super Cub — Like an old postie bike, with four-speed automatic transmission. From 2022, it has looks that suggest Honda's getting it ready for electrification.
Trail 125 — Ready for adventure! A modern take on the old classic Trail 110. Has a no-clutch semi-automatic four-speed transmission and spoked rims.
Navi — (from 2022) The really budget commuter with a no-shift CVT transmission, belt drive, 110cc carburettor-fed engine, and twin drums.
Whichever of those you use is likely to be part utility, and part aesthetic. Sportbike riders will gravitate towards the Grom, whereas adventure riders will look at the Monkey or the Trail, and so on.
Other Contenders
There are other minibikes from Benelli and Kymco, among others. But I don't consider them to be good contenders for one reason — the aftermarket.
They're fine pocket rockets. The Benelli TNT 135 even has upside-down forks and makes a bit more peak power if you wind it up, thanks to a more advanced four valve engine.
But the main difference between the Honda Grom/Kawasaki Z125 and others is the depth of the aftermarket.
There are many people who modify the Grom and the Z125. It's really easy to find parts for the gearing, suspension, brakes, aftermarket filters, handlebars, bodywork etc… trivial. The same can't be said of other brands, other than in the case of generic parts. But even when generic parts are available, you won't have the same catalogue of people who can attest to the performance changes.