This is the decade of "Peak Motorcycle". It's a decade of bikes that make over 150 kW (200 hp) at the crank, and that need ride electronics to keep most mortal riders upright and intact while enjoying the full range of what a bike has to offer.
In the next decade, motorcycles will have picked up all kinds of safety features mandated by regulatory bodies — just like cars have. They'll all have GPS-connected speed governors and eventually autopilot features, just like their four-wheeled brethren.
So the bikes that we can get now are either the best we'll ever see from petrol-engined bikes, or are close to it — and the Ducati Streetfighter V4 will be one of those bikes that we'll look back on in 20 years and think: "…and these were legal? And humans were allowed to pilot them?"
I don't mean to be bombastic, but I truly believe bikes like the Streetfighter V4 (and the Panigale V4) will be museum pieces that will make people gasp at the folly and glory of the 2020s. We owe it to the future all to at least rent one for a day or two.
As Ducati keeps releasing more and more Streetfighter motorcycles, including the recently announced V4 SP 2 for 2023, it's time to put together a quick overview of the model history of the Ducati Streetfighter so you can see the full picture.
Enjoy the history (and the beautiful pics, courtesy of Ducati's media archives).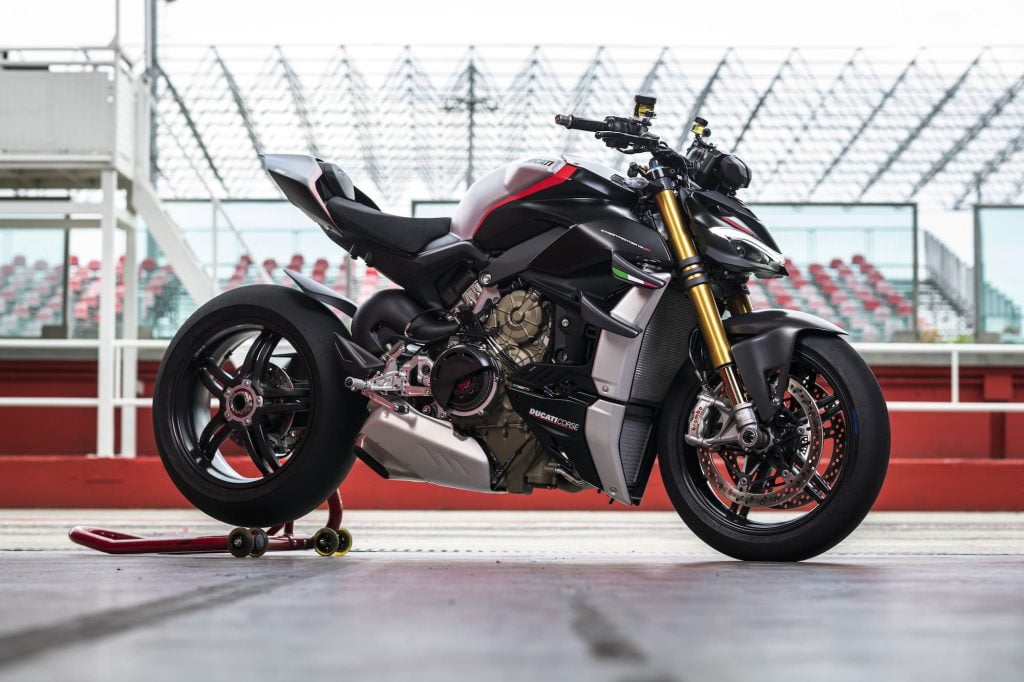 Are you obsessed with motorcycles?
Well, I am. That's why I created this site — as an outlet. I love learning and sharing what others might find useful. If you like what you read here, and you're a fraction as obsessed as I am, you might like to know when I've published more. (Check the latest for an idea of what you'll see.)
Brief Introduction to the Ducati Streetfighter
The Ducati Streetfighter is like no other. It stood apart from the crowd when it was launched, in the 2009 model year, and it is still unique amidst the "everyday superbike" masses.
The Ducati Streetfighter is, as its name suggests, a superbike without the fairings. It really is just that. You get the full motor (or just a shade less), and all the high-end suspension, brakes, and other go-fast bits that the track superstars normally have exclusive rights to.
The Streetfighter is a pretty special animal. When Ducati first put it on show in 2008, attendants voted it the most beautiful motorcycle of EICMA in that year. Then the same happened a decade later with the Ducati Streetfighter V4. I guess the EICMA crowd have a type!
A "streetfighter", if you are not familiar with the term, is what people call a superbike without its fairings. Sometimes people use it as a verb.
– "Crashed my bike at the track. It's OK but the fairings are ****ed."
– "No worries. Streetfighter it!"
Ducati has a tendency, sometimes, to give their bikes an obvious (and presumably hard to trademark) name. For example, the Scrambler, the Supersport, and the Streetfighter.
Before the Ducati Streetfighter, Ducati had definitely used superbike engines in street bikes. Most recently, the Ducati Monster S4 line had taken the engines from the early Ducati Superbikes (the 916 et al) and shoehorned each of them into a naked chassis, giant radiator in the wind.
The Ducati Monster was, for a long time, the naked bike in Ducati's line-up.
When the Monster S4 line (including the S4R and S4RS) was around, there was an awkward split in Monster models. You could opt for the the lower-powered (but still very fast and fun) air-cooled 2 valve per cylinder bikes ones (like the Monster S2R 1000 and Monster 1100), or the faster S4 line with liquid-cooled, four valve per cylinder engines.
But Ducati Streetfighter caused a fork in that line — for a while, and now again, there are two naked lines. The Streetfighter took over duty of having a superbike engine in a naked chassis.
Ducati later released the Ducati Monster 1200, with a 1198 cc liquid-cooled motor that was derived from the 1198 superbike engine. But Ducati significantly detuned that engine, much more so than they did with the S4 motors.
See the Ducati Monster 1200 buyer's guide here, with a guide to the generational changes, and the S and R spec.
The Superbike-powered S4 Monsters are in a different league from the Streetfighters. They're powerful, but not outrageously so. They're sporty, but still comfortable. Whereas the Streetfighter is not really appropriately powerful for anything but going fast, and it's not comfortable. Don't be fooled by the presence of handlebars — they're low.
Have a look at a Monster S4Rs and a Ducati Streetfighter (the original) side by side:
The Monster S4 bikes do incline you forwards, but the Streetfighter has you leaning further forwards. The handlebars are lower, and the seat is angled higher. The tank on the Streetfighter implies a more bent-over posture. The footpegs on the Streetfighter are also further back, requiring more knee bend.
So the riding position of the Streetfighter is more aggressive than a lot of comfortable street bikes. It's more "fighter" than "street"!
Another interesting thing about the Streetfighter is that Ducati barely bothered to de-tune the engine for supposed street use.
Other manufacturers de-tune more heavily than this. "We optimised it for mid-range torque," they say. Rather successfully, sometimes — you really see it in the different torque curve of the BMW S 1000 R, for example.
Usually, manufacturers use a combination of different cams, ports, and ECU tune to de-tune the superbike engines for their streetbikes. Sometimes, lower-speed components are used (e.g. no expensive and unnecessary lightweight titanium valves, as the engine won't need to move as quickly). And all that does lead to better mid-range, but at the expense of top-end power.
Not Ducati with the Streetfighter. You can see this plainly in the power figures for their Streetfighter bikes compared to the Superbike siblings:
Generation
Superbike
Streetfighter
Difference (%)
1098
Ducati 1098: 119 kW @ 9750 rpm
2009 SF: 114 kW @ 9500 rpm
-4%
848
2010 848 Evo: 103 kW @ 10500
2011 SF 848: 97 kW @ 10000 rpm
-6%
V4
2018 Ducati Panigale V4:
158 kW at 13,000 rpm
2020 SF V4: 153 kW @ 12750 rpm
-3%
V2
2020 Panigale V2:
114 kW @ 10750 rpm
2022 SF V2: 112 kW @ 10750 rpm
-2%
Comparing peak power of Ducati Superbikes vs Streetfighters
I mean, they barely touch it. C'mon! Ducati quotes 5% lower power for the Streetfighters vs the Panigale, which may be due to different airflow to the intakes.
Meanwhile in other brands, manufacturers intentionally drop power by a lot for the streetfighter/naked versions of their bikes. Yamaha, BMW, and Honda all drop peak power by at least 25% for their naked versions of their superbikes. They're all still very quick, of course.
I don't want to over-emphasise peak power on naked bikes here. Not having a fairing means that riders will be less inclined to look for speed records. There are many other factors that make a great bike. I just think it's interesting how remarkably little Ducati shaves off the top for their Streetfighter series.
Ducati Streetfighter Model History — Summary Table
Below is an overview of all the Streetfighter models released until today with their core specs.
These specs come straight from the press releases and/or the manuals for each bike. So the power figures aren't on a dyno, but at least they're internally comparable.
A few things that the Streetfighter bikes all have in common are
Fully adjustable suspension front and rear. While the spec of the suspension varies, it's always got full adjustability (preload, rebound damping, and compression damping) on both the fork and monoshock. This is true even of the "smaller" bikes (the 848 and V2).
Brembo radial-mounted 4-piston calipers. Again, while the spec varies between bikes, they all have that as a standard.
| Model | Streetfighter | Streetfighter S | Streetfighter 848 | Streetfighter V4 | Streetfighter V4S | Streetfighter V4 SP | Streetfighter V2 |
| --- | --- | --- | --- | --- | --- | --- | --- |
| Years | 2009-2011 | 2010-2013 | 2011-2015 | 2020+ | 2020+ | 2022+ | 2022+ |
| Engine | 1099cc Testastretta Evoluzione 8-valve V2 | 1099cc Testastretta Evoluzione 8-valve V2 | 849 cc Testastretta 11-deg 8-valve V2 | 1103cc Desmosedici Stradale V4 | 1103cc Desmosedici Stradale V4 | 1103cc Desmosedici Stradale V4 | 955cc Superquadro V2 |
| Peak power | 114 kW / 153 bhp @ 9500 rpm | 114 kW / 153 bhp @ 9500 rpm | 97 kW / 130 hp @ 10000 rpm | 153 kW (208 PS / 205 hp) @ 12750 rpm | 153 kW (208 PS / 205 hp) @ 12750 rpm | 153 kW (208 PS / 205 hp) @ 12750 rpm | 112 kW (151 bhp) @ 10750 rpm |
| Peak torque | 115 Nm / 85 ft-lb @ 9500 rpm | 115 Nm / 85 ft-lb @ 9500 rpm | 93.5 Nm / 69 ft-lb @ 9500 rpm | 123 Nm (90.4 lb-ft) @ 11500 rpm | 123 Nm (90.4 lb-ft) @ 11500 rpm | 123 Nm (90.4 lb-ft) @ 11500 rpm | 101 Nm (75 ft-lb) @ 9000 rpm |
| Compression ratio | 12.5:1 | 12.5:1 | 13.2:1 | 14.0:1 | 14.0:1 | 14.0:1 | 12.5:1 |
| Clutch | Dry | Dry | Wet | Wet | Wet | Dry (STM-EVO SBK) | Wet |
| Front suspension | 43mm Showa USD forks | Öhlins 43mm USD fork with TiN | Marzocchi 43mm USD fork | Showa BPF fork, 43mm chromed tubes | 43mm Öhlins NIX30 fork, electronic | 43mm Öhlins NIX30 fork, with Panigale V4 springs, electronic | Showa BPF fork, 43mm chromed tubes |
| Rear suspension | Showa monoshock | Öhlins monoshock | Sachs monoshock | Sachs monoshock | Öhlins TTX36 monoshock, electronic | Öhlins TTX36 monoshock, electronic | Sachs monoshock |
| Front braking | 2 x 330mm semi-floating discs, radial mounted Brembo monoblock 4-piston calipers | 2 x 330mm semi-floating discs, radial mounted Brembo monoblock M4.34 calipers | 2 x 320mm semi-floating discs, radial mount 2-piece Brembo P4.32 calipers | 2 x 330mm semi-floating discs, Brembo Stylema (M4.30), self-bleeding master cylinder | 2 x 330mm semi-floating discs, Brembo Stylema (M4.30), self-bleeding master cylinder | 2 x 330mm semi-floating discs, Brembo Stylema R, Brembo MS radial master cylinder | 2 x 320mm semi-floating discs, radial Brembo M4.32 4-piston calipers. Self-bleeding master |
| Steering damper | Yes | Yes | No | Sachs | Öhlins | Öhlins | Sachs |
| Wheels | 10-spoke light alloy | Marchesini 5 spoke forged light alloy | 10 spoke light alloy | 5-spoke cast light alloy | Marchesini aluminium forged | 5-split spoke carbon fibre | 5-spoke cast light alloy |
| Front tyre | 120/70-ZR17 | 120/70-ZR17 | 120/70-ZR17 | 120/70-ZR17 | 120/70-ZR17 | 120/70-ZR17 | 120/70 ZR17M |
| Rear tyre | 190/55-ZR17 | 190/55-ZR17 | 180/60-ZR17 | 200/60-ZR17 | 200/60-ZR17 | 200/60-ZR17 | 180/60 ZR17 |
| Kerb weight (90%) | 199 kg / 439 lb * | 197 kg / 434.3 lb | 199 kg / 439 lb | 201 kg (443 lb) | 199 kg (439 lb) | 196 kg (432 lb) | 200 kg (441 lb) |
| Drive ratio | 15:38 | 15:38 | 15:42 | 15:42 | 15:42 | 15:42 | 15:45 |
| Electronics | Optional DDA | DDA, DTC | DDA, DTC | Full ride by wire/IMU suite of ride and race tools | Full ride by wire/IMU suite of ride and race tools | Full ride by wire/IMU suite of ride and race tools | Full ride by wire/IMU suite of ride and race tools |
| Maintenance interval | 7.5K mi (12K km) / 12 mo | 7.5K mi (12K km) / 12 mo | 7.5K mi (12K km) / 12 mo | 12K km (7.5K mi) / 12 mo | 12K km (7.5K mi) / 12 mo | 12K km (7.5K mi) / 12 mo | 12K km (7.5K mi) / 12 mo |
| Valve clearance interval | 7.5K mi (12K km) / 12 mo | 7.5K mi (12K km) / 12 mo | 7.5K mi (12K km) / 12 mo | 24K km (15K mi) | 24K km (15K mi) | 24K km (15K mi) | 24K km (15K mi) |
| Camshaft drive | Belt | Belt | Belt | Chain | Chain | Chain | Chain |
Ducati Streetfighter Specs — Model History
To date, Ducati has released two "smaller" streetfighters, the Streetfighter 848 and the Streetfighter V2.
Note also — I didn't include the Ducati Streetfighter V4 Lamborghini in the above table to avoid too much repetition. Basically, the V4 Lamborghini is the same spec as the V4 S, but with a dry clutch from the V4 SP. (Or alternatively, the same as the V4 SP, but with Brembo Stylema calipers rather than Stylema R.)
A quick note — you might notice some small differences in the horsepower figures compared with other sites. Ducati quotes "horsepower" in their manuals, and refer to metric horsepower, which is sometimes written "CV" by Italian manufacturers (cavalli, Italian for "horses") or "PS" by German manufacturers (pferdestärke, German for "horsepower").

But I report metric units as kW, CV, and PS, and use hp for imperial horsepower.

It's only a tiny difference anyway, and frankly the fuel you're using or how warm the air is that day may have a larger impact.
The original Ducati Streetfighter (2009-2011)
Ducati released their first Ducati Streetfighter at EICMA 2008 for the 2009 model year. It got people's attention right away and was voted the Most Beautiful Bike at the show.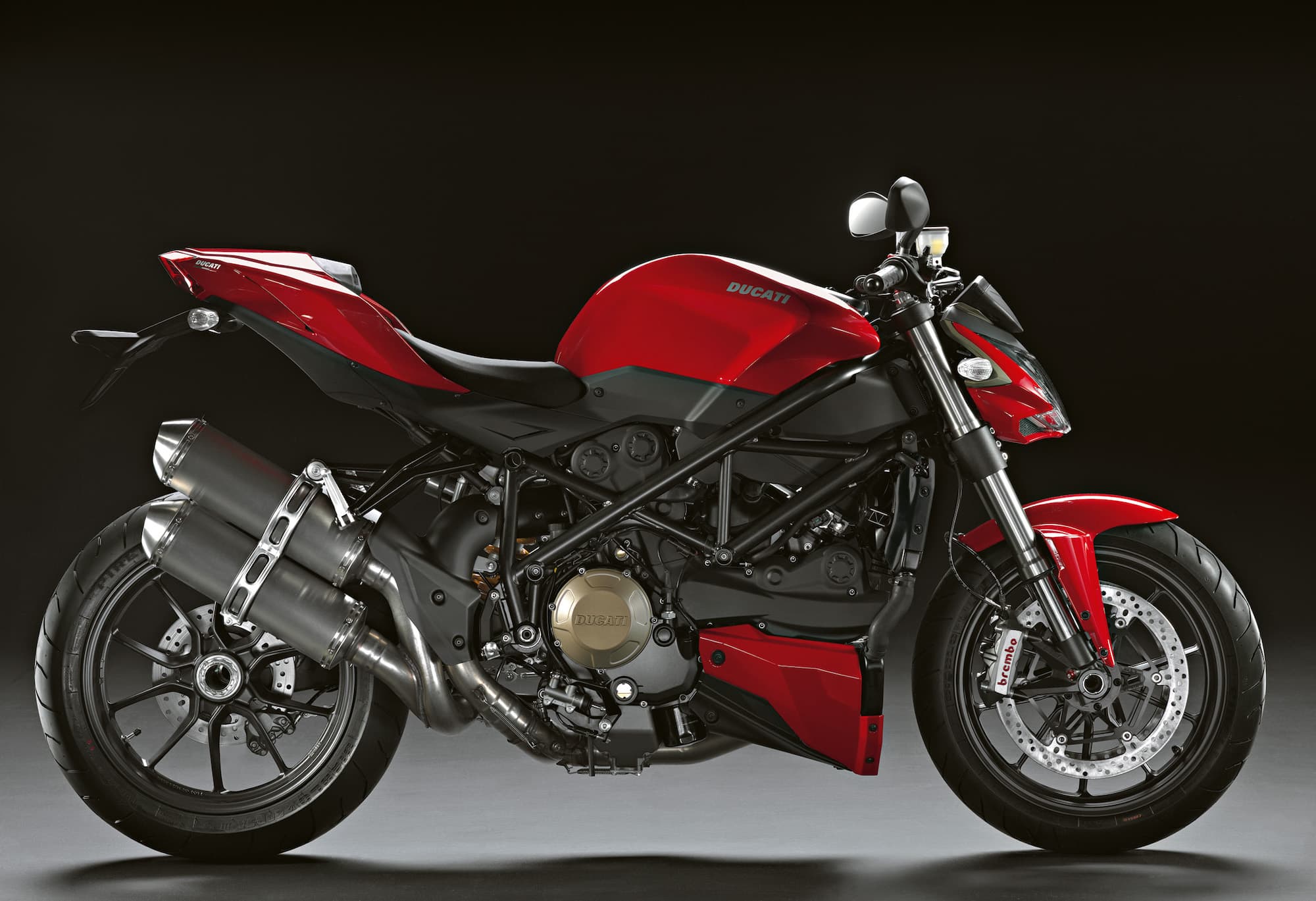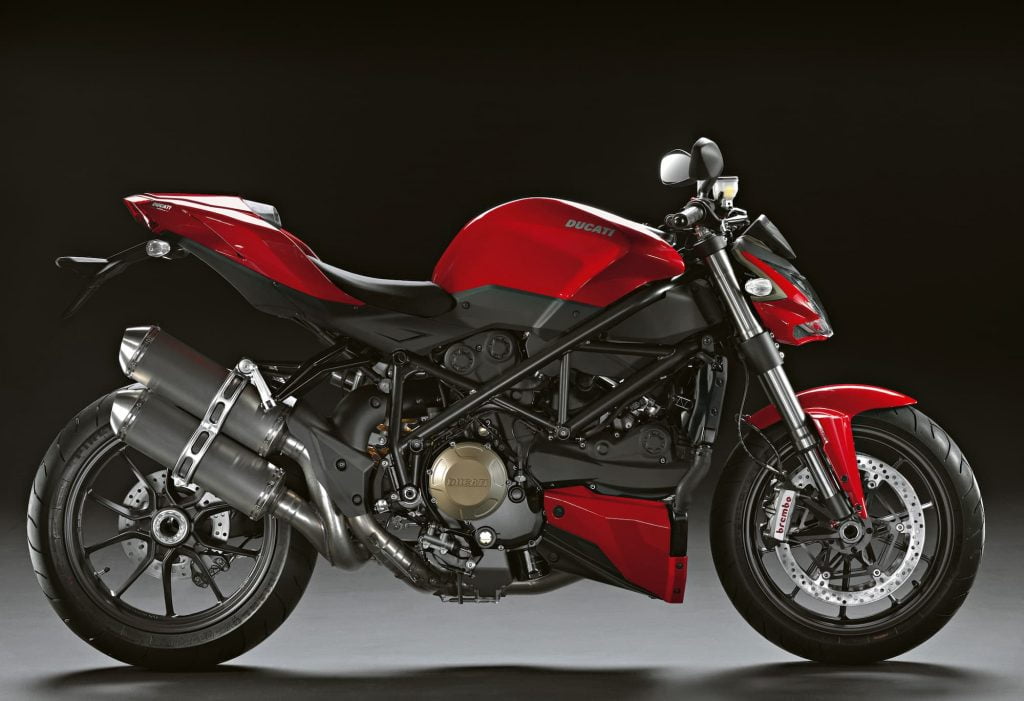 These days, people sometimes call this the Streetfighter 1098 to disambiguate it from later streetfighters. But this bike was the first of its kind, so it didn't get any numbering.
The Ducati Streetfighter 1098 is based on its contemporary superbike the Ducati 1098 (I had a love affair with my Ducati 1098S, and I still miss it), but with a few components from the Ducati 1198, which also was announced for the 2009 model year. For example, the Streetfighter 1098 has the cast aluminium crank case from the 1198, which helps the SF save 3 kg (7 lb) of weight.
Compared to the 1098 Superbike, the Streetfighter's engine has 4% less peak power. Miniscule difference!
The rest of the ride gear (suspension, brakes, wheels) are similar spec, e.g. the Ducati Streetfighter has Brembo M4-34 calipers on 330mm rotors, just like the 1098 or 1198 Superbikes.
See our guide to motorcycle braking specs for discussion of calipers, rotors, brands, and so on.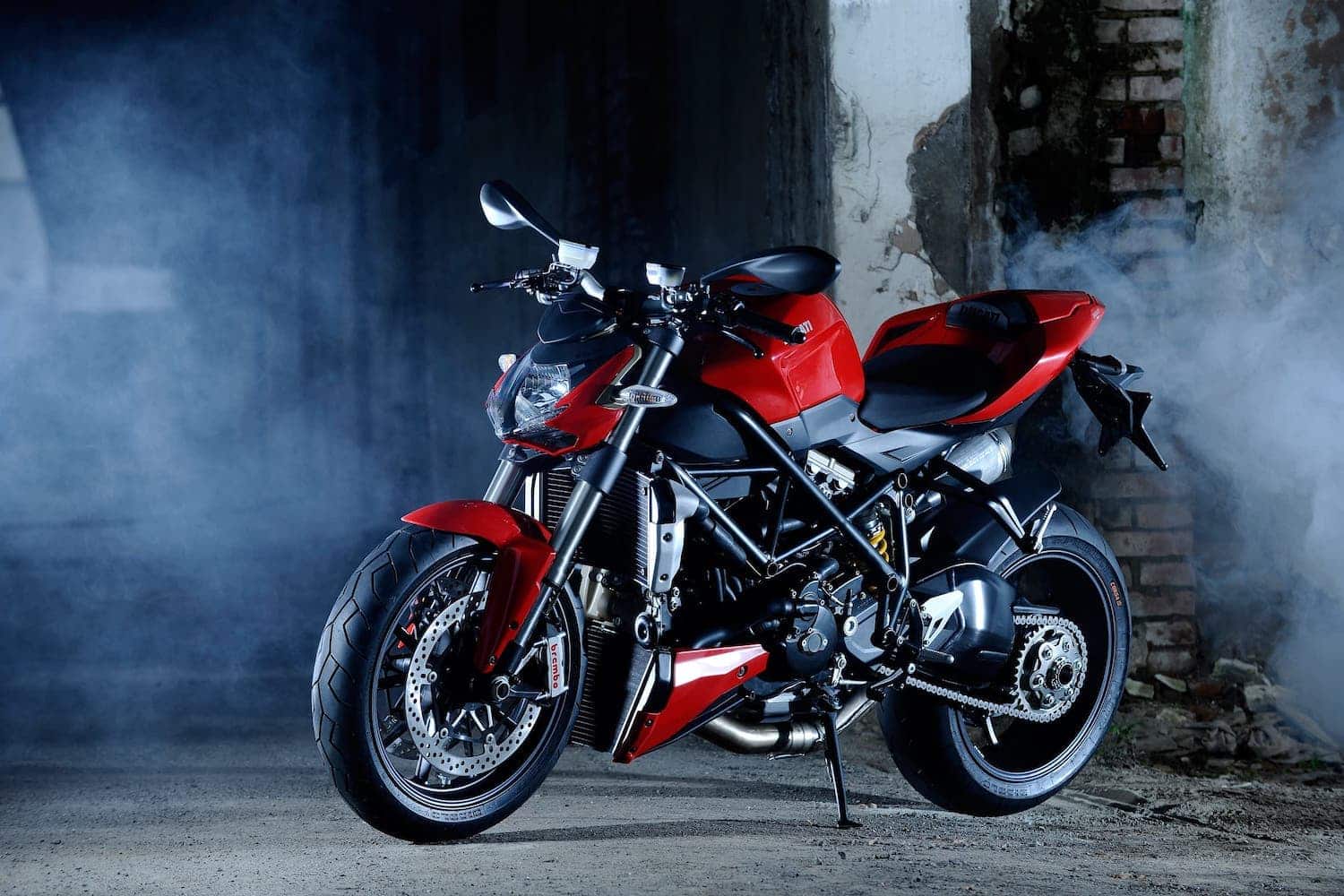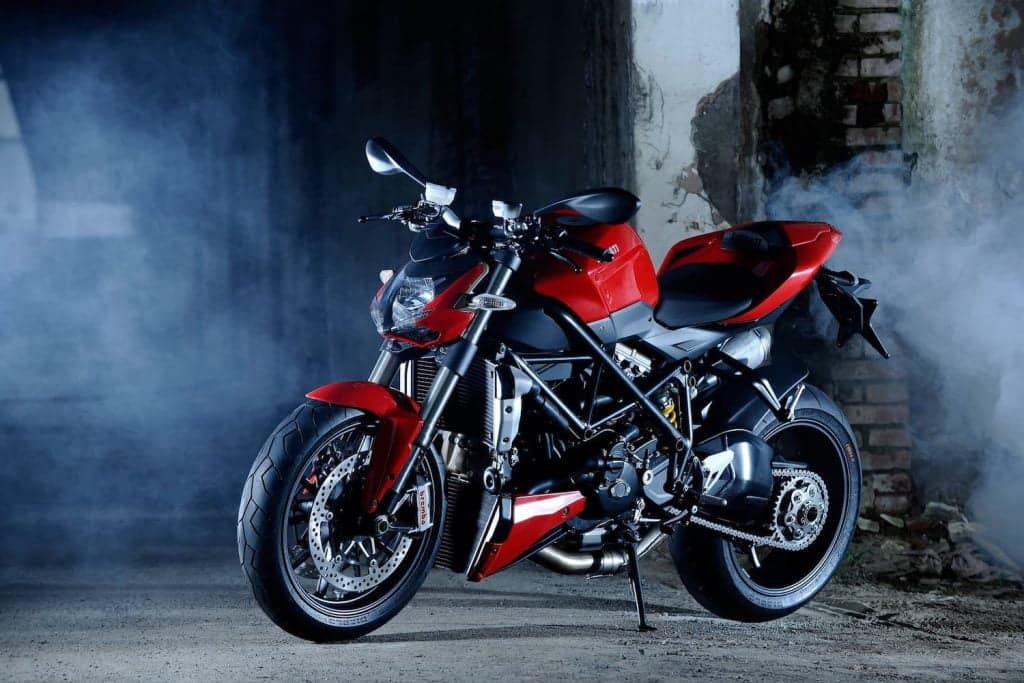 Even the drive ratio is the same; both bikes are geared the same (same primary drive ratio, gears, final drive ratio, and tyre size). Many owners of the Ducati Streetfighter 1098 change the gearing, favouring more low-end thrust.
There's a lot that's special about the original Ducati Streetfighter (and its sibling, the S) that we haven't seen again for a while.
Firstly, it has a dry clutch. The 848 didn't, and nor do the models of the Streetfighter V4 available to most mortals. If you're after that distinctive Ducati rattle (or perhaps the ability to quickly change out your clutch pack), then only the 1098 or 1098S are for you.
Secondly, with its massive 114 kW (155 CV / 153 hp), the Ducati Streetfighter was the most powerful naked bike Ducati had ever released. This would be true of its later successor, the Streetfighter V4, too.
Finally, as mentioned above, Ducati barely changed the engine of the Ducati 1098 Superbike. The result is that the Streetfighter is rather biased towards high speeds, and feels actually awkward down low.
Riding the Ducati Streetfighter 1098 around town is a little uncomfortable, particularly around suburbs. It doesn't really enjoy being below 3000 rpm. This is a trait typical of many Ducatis.
The suspension is quite sporty, even when softened up, and the tank has a shape that means it bumps into you in places that are painful. So this isn't a great bike for milk runs.
Once the engine is above 3000 rpm and you're doing 40 km/h (25 mph) or more — and particularly once you're above 5000 rpm — the Streetfighter 1098 starts to sing. It has a glorious mechanical clatter, a product of the superbike engine and the dry clutch, that's not matched by many other motorcycles.
An option that many take on the Ducati Streetfighter, as they do on the 1098 Superbike depending on intended use, is to change the final drive gearing. Since the Ducati Streetfighter 1098 has the same final drive gearing (15:38) as the superbike, there's quite a lot of room for adjustment. A common change is to go down one at the front and up one at the rear. See my analysis of Ducati 1098 Superbike gearing options for more.
Ducati Streetfighter S (2010-2013)
Ducati released the Streetfighter S for the 2010 model year (one year after the original).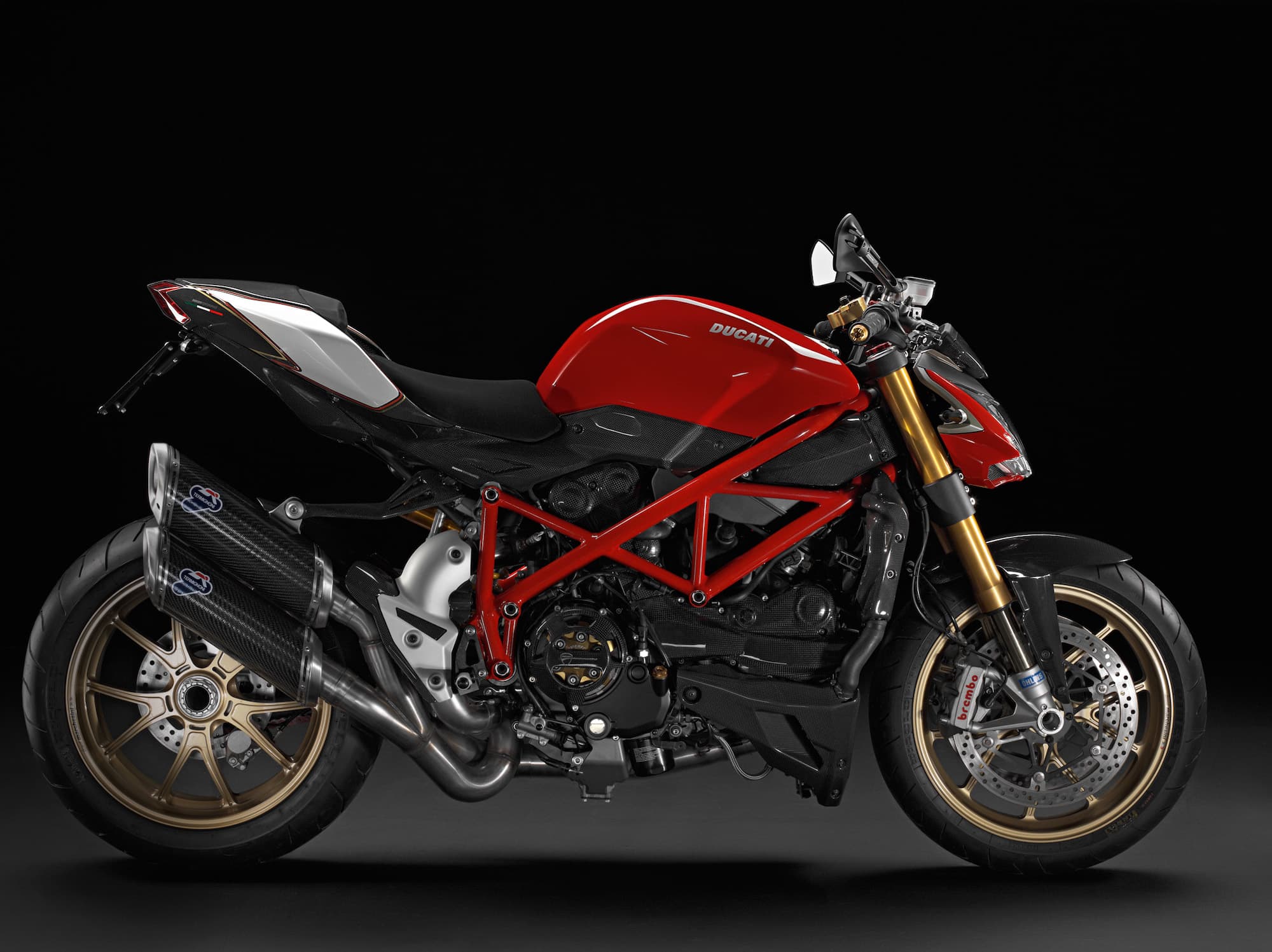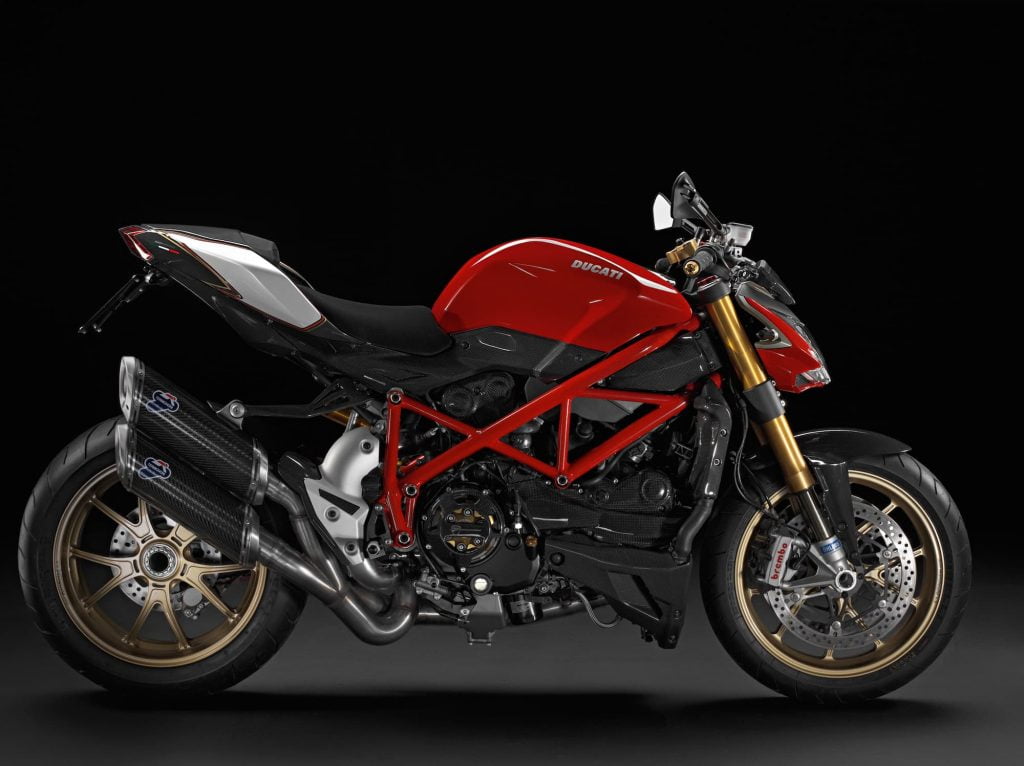 You can pick the Streetfighter S immediately from the wheels and gold forks.
The Ducati Streetfighter S is very similar conceptually to the base model Streetfighter. It's based on the 1099cc Desmodromic liquid-cooled L twin in the exact same state of tune. The drivetrain and gearing are the same.
Similar to the Ducati Superbikes, the S denomination meant that the bike got
Öhlins suspension front and rear (fully adjustable as well) — lighter and "plusher" in theory
Lightweight Marchesini five-spoke wheels, for lower unsprung mass
Some carbon fibre components, including the cam belt covers and the front fender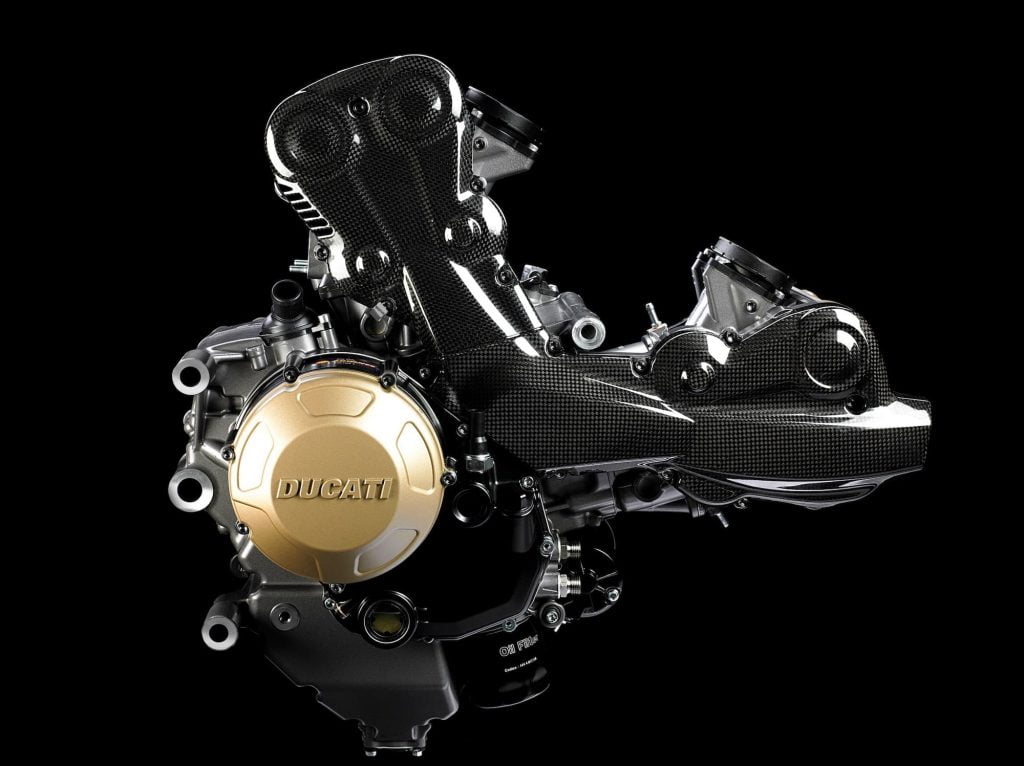 The Ducati Streetfighter S also got traction control (which Ducati calls DTC).
DTC on the Streetfighter S and Streetfighter 848 — How does it work?
The DTC on the Streetfighter S (not base model) and 848 was the same as that found on the Ducati 1198.
DTC on these early bikes works using a Hall effect sensor (similar to the part that detects engine speed) — without the ABS ring you'll see on other bikes. (Other manufacturers have taken different approaches. The 2012 Yamaha YZF-R1 also had traction control but no ABS, but opted to use a ring.)
There are 8 settings of intervention that you can set on all these bikes.
The DTC on these Ducatis works first by retarding ignition, and by later cutting fuel. You may not notice the ignition retardation, but you'll definitely notice it when the fuel is cut — the throttle starts to feel lurchy.
When DTC is working, the sensor will light up on the dash.
If you decided to remove the DTC system ("who needs this!" / "it's broken anyway") you'll get an error on your dash. Not sure how to remove the error, but I assume it can be programmed out.
Other than the traction control, the riding experience when not at full send between the Streetfighter S and the base model is very similar. They both have high-end, fully-adjustable suspension — the setup on the base-model Streetfighter is already excellent. But when pushed, back to back, an experienced rider/racer could tell the difference between the setups.
The lightweight wheels on the Ducati Streetfighter S make a big difference in handling. They're a large contributor to the 2 kg (4.5 lb) reduction in weight compared to its non-S stablemate. That weight reduction means reduced moment of inertia in the wheels, which means it's easier to tip them around an axis perpendicular to the axis of rotation. In other words, it's easier to turn in, and you feel it more at higher speeds.
Another benefit of the lighter wheels, of course, is lower unsprung mass. This means the wheels can more easily remain in contact with the road.
(See my guide to unsprung mass here.)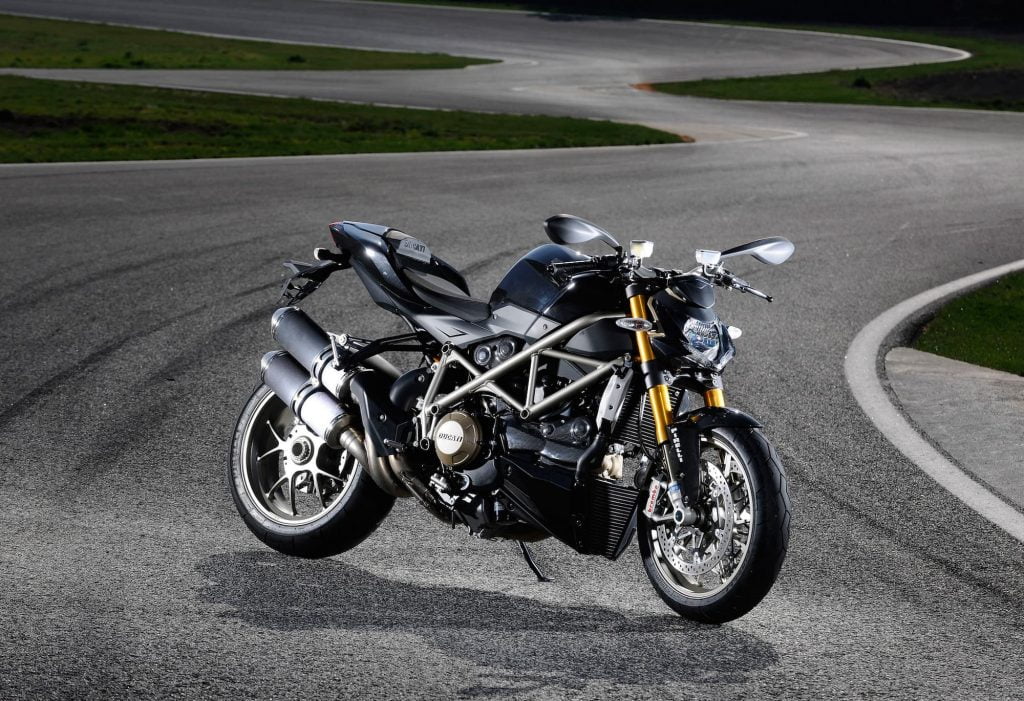 For most mortals (like me), owning the S model is in many cases an exercise in owning the bike with the better collectability and resale value. And having shiny gold forks.
The Ducati Streetfighter S also came with standard DDA (Ducati Data Analyser), which was an option on the original non-S. This records a lot of information about track sessions for later analysis.
Ducati Streetfighter 848 (2011-2015)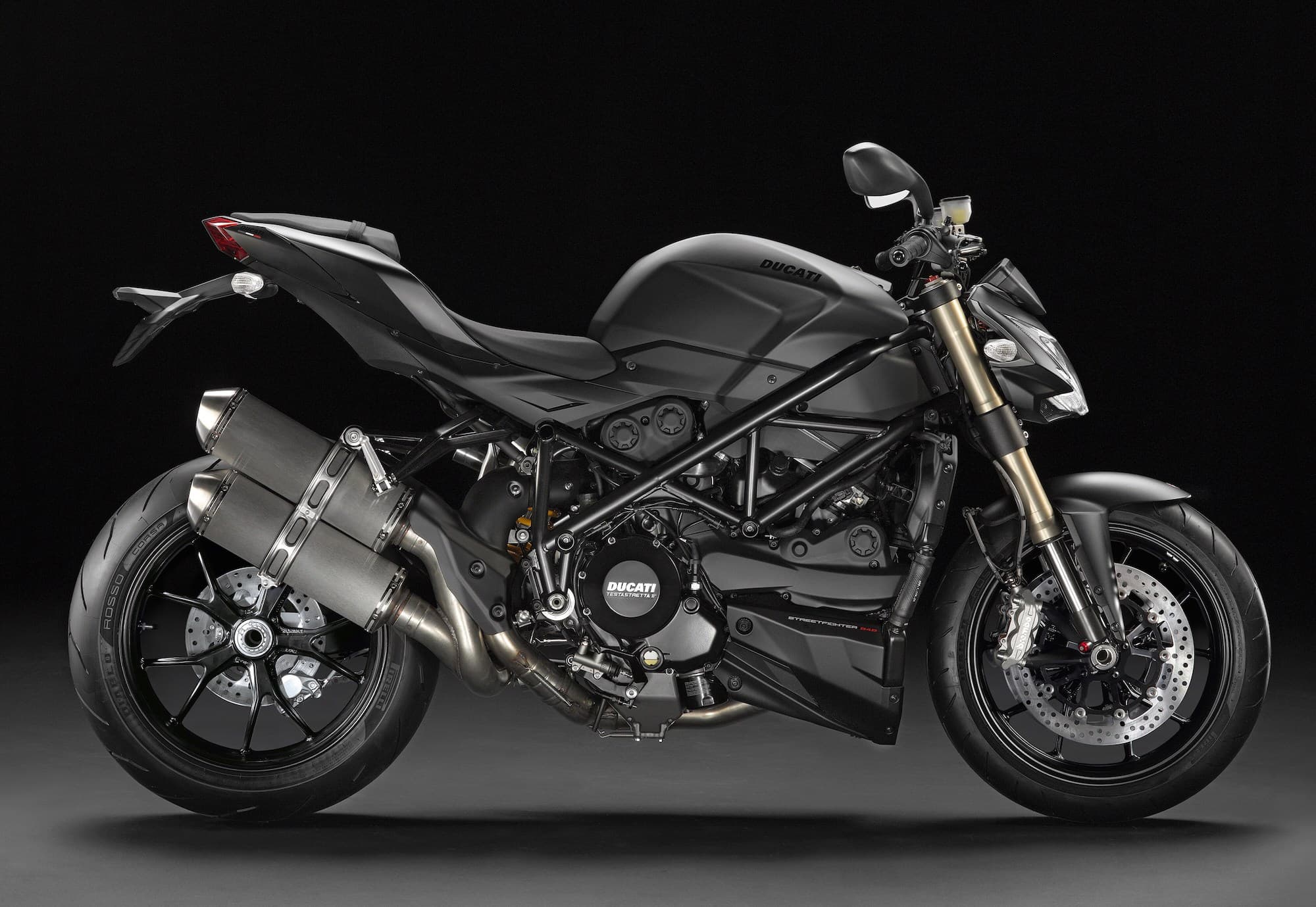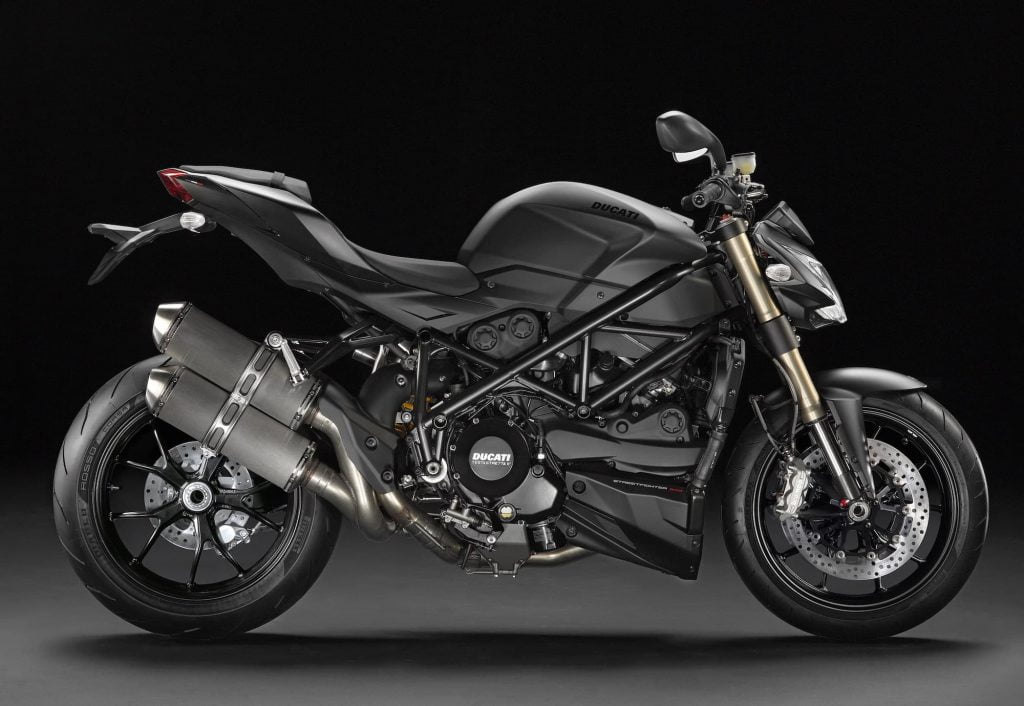 The Ducati Streetfighter 848 was the first smaller Ducati Streetfighter.
It was cheaper, and similar in spec to the basic Streetfighter, but this is far from just a poor man's Ducati Streetfighter. For many people, like me, this is the bike to get. (But it WAS cheaper!)
The Ducati Streetfighter 848 is most comparable to the final bike in the 848 Superbike range, the Ducati 848 EVO Corse. That bike got more power and also got DTC, with which the Streetfighter 848 is also blessed.
However, bear in mind that the Ducati Streetfighter 848 has a different series of engine. The engine isn't the Testastretta Evoluzione like in the bigger Streetfigher or in the 848 Superbikes, but rather the Testastretta 11-degree, with narrower valve overlap, like in the Monster and Multistrada 1200.
This later generation of motor means that the Ducati Streetfighter 848 has much wider service intervals than the other Testastretta Streetfighters — valve service intervals of 15000 miles / 24000 km. That translates to even more savings.
So the Ducati Streetfighter 848 is more than just a small 1098. It may weigh the same as the Streetfighter (1098) and have a smaller engine… but the peak power isn't that much lower, and it has DTC. On top of that, it has more aggressive gearing, which means that many riders feel like the Streetfighter 848 is nearly as fast.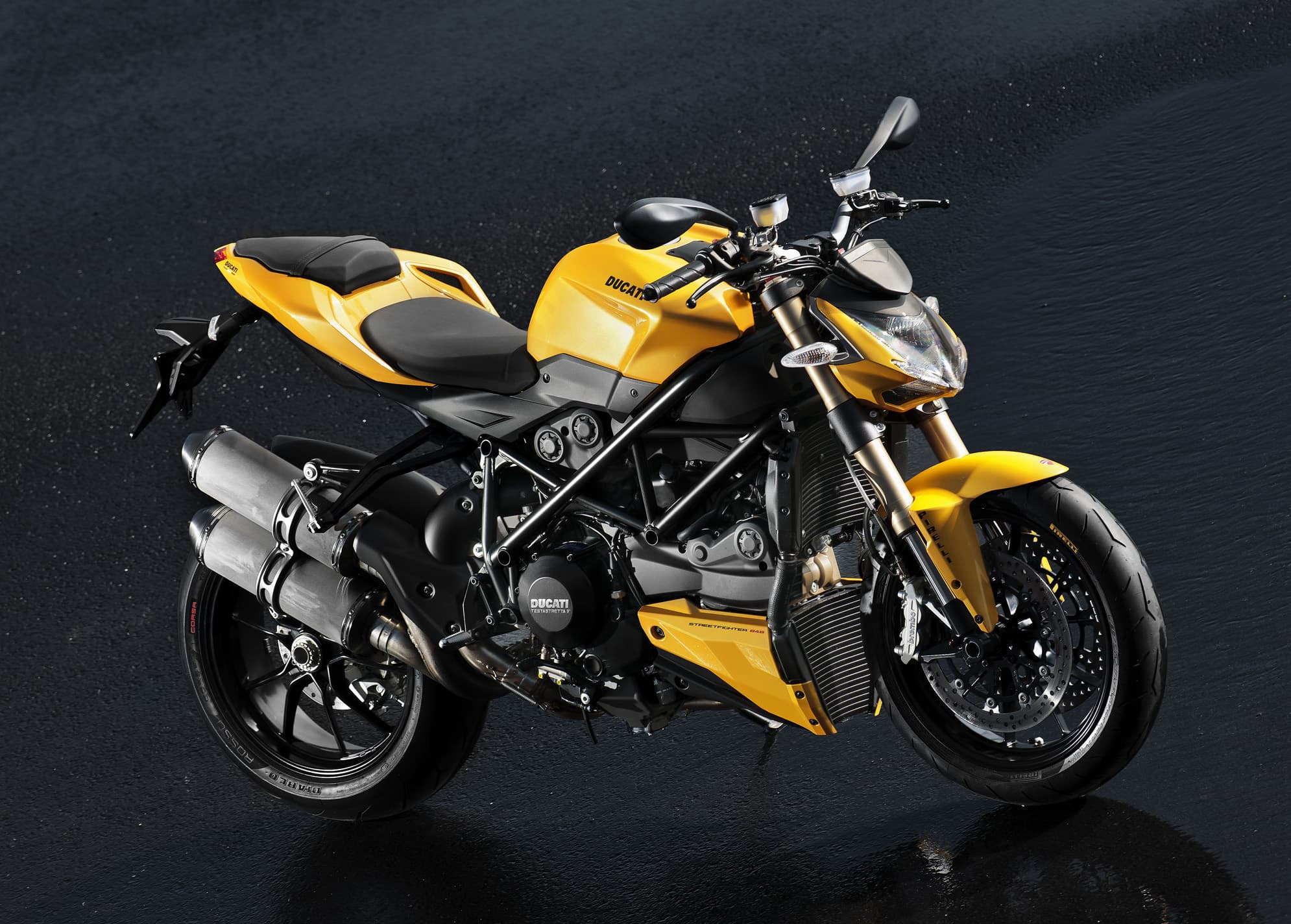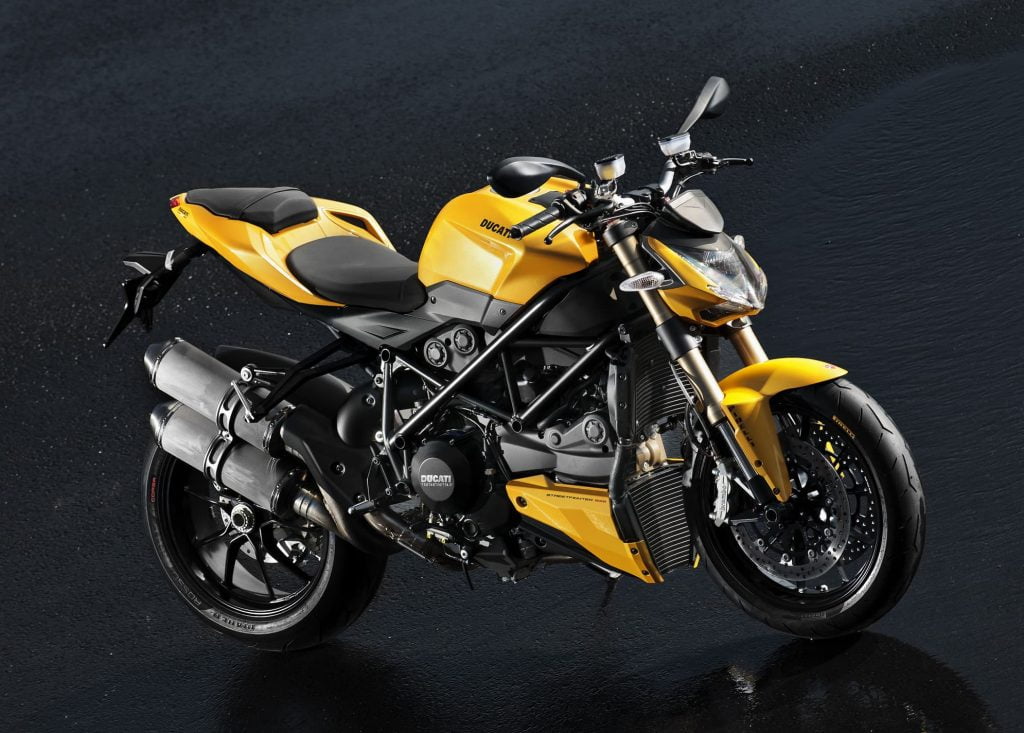 Peak torque for the 848 is about 20% down from the 1098. The Streetfighter 1098 has peak torque of 115 Nm (85 ft-lb) at 9500 rpm, whereas the 848 makes a peak of 94 Nm (69 ft-lb) at the same engine speed.
But the gearing is different. They share the same gearbox and rear tyre size, but the primary and final drives differ.
| Gearing spec | Streetfighter 1098 | Streetfighter 848 |
| --- | --- | --- |
| Primary drive ratio | 1.844 (59/30) | 1.848 (61/33) |
| Final drive ratio | 2.533 (38/15) | 2.800 (42/15) |
| Wheel size | 190/55-17 | 180/60-17 |
| Combined gearing ratio | 4.670 | 5.174 (11%) |
| Speed at 10000 rpm | 105 km/h (65 mph) | 96 km/h (60 mph) |
Streetfighter 1098 vs 848 gearing
The Streetfighter 1098 has a hard redline (engine stop) at 10700 rpm, but at that speed you're already doing 110 km/h (70 mph). That's fun, but it means that it's a bike biased towards top-end speed. I'd gear the 1098 down slightly (it has the same 15:38 front:rear sprocket ratio as the 1098 Superbike) for the tighter roads and tracks in my part of the world.
The Streetfighter 848, on the other hand, has a 15:42 front:rear sprocket ratio. At its redline, it's doing a slightly saner 100 km/h (60 mph). Realistically I'd have shifted a bit before that, which means that even if I'm totally hammering it, I get to shift once before it gets to illegal territory (and twice before it's in "we're impounding your bike" territory).
An obvious solution to this predilection for velocity is to just change the gearing of the 1098. This doesn't just help with making it more usable on slower roads/tracks, it also helps with the aforementioned jitters at low speeds. But even so, the two bikes feel different in power delivery. See here for more about gearing and thrust.
The Ducati Streetfighter 848 otherwise has conceptually similar ride gear to the base model Ducati Streetfighter. It has non-Öhlins fully adjustable forks — but Marzocchi rather than Showa. And at the back there's a Sachs fully adjustable shock, rather than a Showa as on the Streetfighter base model.
The brakes on the Ducati 848 are lower spec than the others in the range. They're fine for the bike, but while the other Streetfighters all have monoblock Brembo M4-34 calipers on 330mm rotors, the Streetfighter 848 has two-piece Brembo P4-32 calipers on a 320mm rotor. The Brembos are still radial-mounted, in common with the rest of the SF line.
Ducati sold the Streetfighter 848 until model year 2015. But after that, they put the Streetfighter brand on hold for a few years.
Ducati Streetfighter V4 (2020+)
After the Ducati Panigale V4 shocked everyone (for being a V4), the next question on everyone's minds was: where was the … Monster V4?
I remember this. People had kind of forgotten about the Streetfighter, assuming Ducati had sunsetted the model forever.
So when Ducati announced the Ducati Streetfighter V4 in 2019 for the 2020 model year, they managed to catch many fans off-guard again.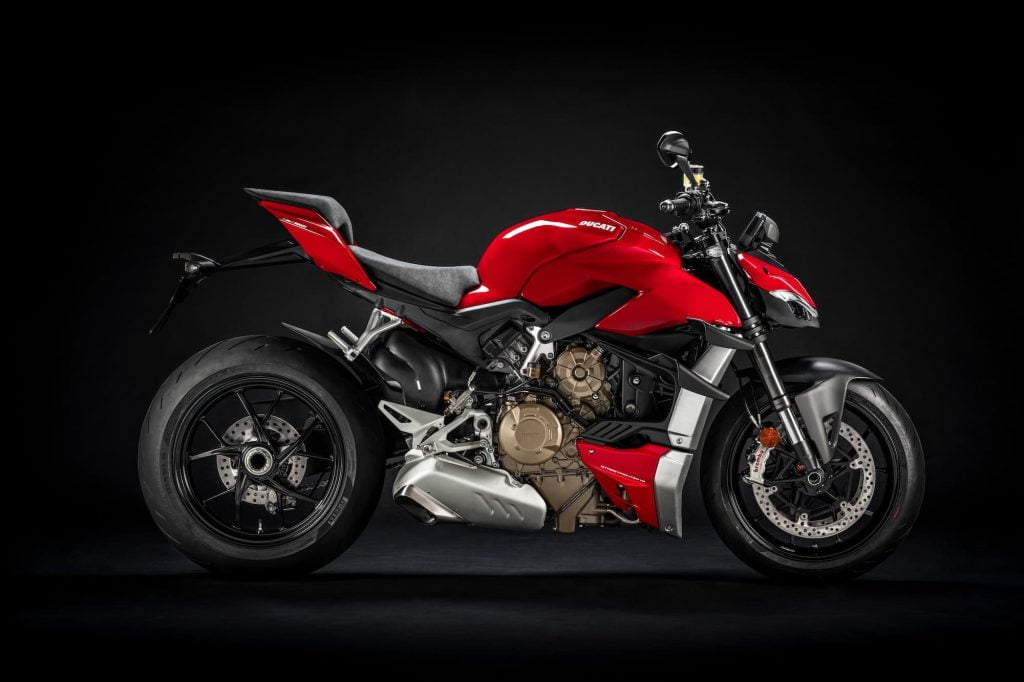 Again, Ducati announced the Streetfighter V4 at EICMA, and again, it won "Most Beautiful Bike".
Like its predecessors, the Ducati Streetfighter V4 is based on a superbike — this time the Ducati Panigale V4. It's thus powered by an 1103cc Desmosedici (here's how to pronounce that) Stradale 90-degree V-4 engine.
The engine is barely detuned — the claimed peak power is 153 kW (208 CV, 205 hp) at a quite high 12750 rpm. That's less than 5% less than in the Panigale, and it's still at a high rpm. This is no low-revving V-twin! The redline for the bike starts at 14500 rpm and goes up to 15K. In first gear, the rev limiter is at 13000 rpm, at which point you'll be doing about 130 km/h (80 mph).
The Streetfighter V4 is geared more highly than its Panigale V4 contemporary, though. The gears, tyre size, and primary drive ratio are the same, but the SF V4 has one fewer tooth up front and one more at the back. This helps with low-end thrust, but limits top speed slightly (if that's a concern for you).
Unlike its V-twin predecessors, though, the engine in the V4 Streetfighter is more versatile. It doesn't shudder and vibrate heavily at low speeds, needing you to go above pedestrian speeds just to survive. The mirrors don't vibrate heavily and are usable (if short).
As if the V4 engine weren't enough, the Ducati Streetfighter V4 comes with a ton of improvements over earlier generations. These are:
Riding modes and power modes via the ride-by-wire system.
Rider aids via the six-axis IMU and Ducati control systems. This includes the latest generation of cornering ABS (EVO) and traction control, DTC EVO 2 (derived from Ducati's MotoGP racer), wheelie control, launch control, slide control, and engine brake control.
Sport rider aids, including launch control (Ducati Power Launch), a quickshifter, and automatic tyre calibration.
A TFT display. Whether you like screens or dials, there's no denying that the clean screen on the Ducati bikes is pleasant to look at and easy to read in all conditions.
Some luxury niceties, like auto-off turn signals, and LED lighting with a DRL.
What's notable is that the Ducati Streetfighter V4 does lack a few things we're starting to take for granted on other high-end bikes, like cruise control, comfort options like heated grips, or even a tiny wind deflector to make high speed rides just a little more palatable. It has wings, so a deflector doesn't seem like an unreasonable ask.
I'm not trying to be pedantic or say that you "need" cruise control. But given the extensive other inclusions (including minor niceties like auto turn signals), it seems to be a conscious omission. After all, quite a few superbikes have cruise control (like the ones in my list of unusual bikes with cruise control here).
Ducatis are known for being high-maintenance and for having costly service, so I want to address that here: yes, the Streetfighter V4 has a Desmo valvetrain and servicing those 32 valve gaps (4 cylinders, 4 valves per cylinder, 2 gaps on each side, for the opener and closer) is fiddly and time-consuming (or expensive).
But one small blessing is that the service intervals are much wider apart than on previous bikes. The original Streetfighters (both 1098 and 848) had 12000 km (7500 mile) valve service intervals. On top of that, they had rubber belts that had to be replaced periodically.
The Streetfighter V4 has service intervals 2.5x twice as wide — 30000 km (18000 mile). And chains instead of belts. So yes, this is a more reasonable bike to own!
The Ducati Streetfighter V4 is also very expensive. It's up to twice the cost of other motorcycles technically in the same league. For example, for American prices:
| Bike | US MSRP |
| --- | --- |
| Ducati Streetfighter V4 S | $24395 |
| Ducati Streetfighter V4 | $19995 |
| Aprilia Tuono V4 Factory | $19499 |
| Aprilia Tuono V4 | $19499 |
| Triumph Speed Triple 1200 RS | $18300 |
| BMW S 1000 R with Sport, Premium, and Select package | $17915 |
| BMW S 1000 R | $14995 |
| Yamaha MT-10 | $12999 |
Price of the Ducati Streetfighter V4 vs competitors
The prices above are 2022 or 2021 MSRP. The MT-10 may go up in price when the 2022 model's pricing becomes final. But it's still a lot lower than the MSRP of the Streetfighter V4 S.
Ducati Streetfighter V4 S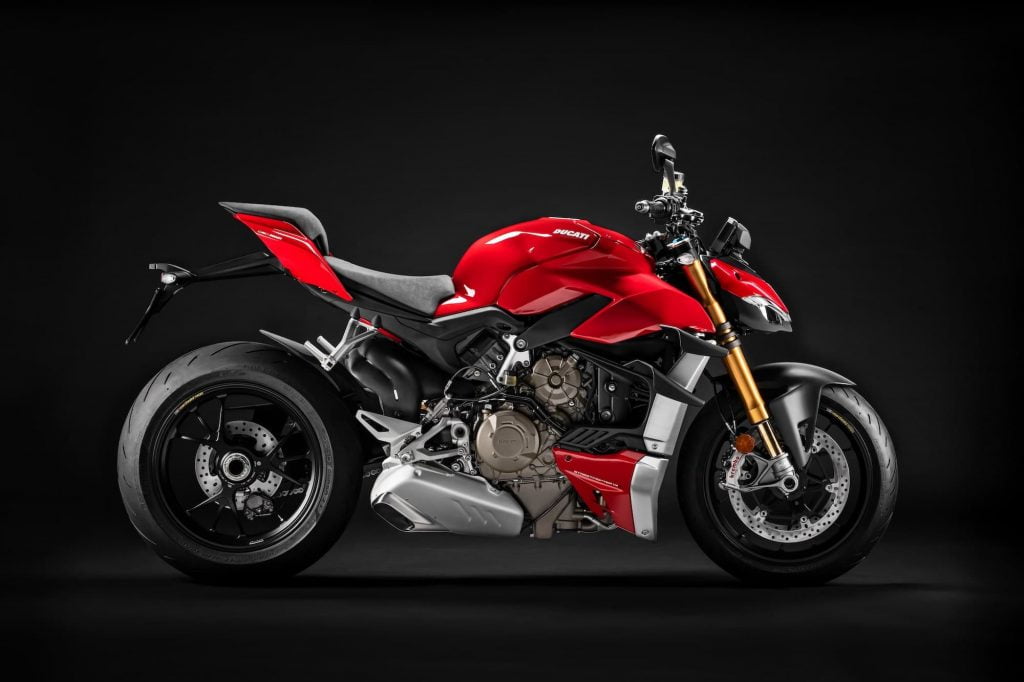 Like the Ducati Streetfighter S relative to the Streetfighter, the V4 S is a higher-spec version of the Ducati Streetfighter V4, with the same frame and engine.
The additional bits that the V4 S gets are:
Öhlins active suspension — a NIX30 fork up front with TiN treatment, and a TTX36 unit at the rear. Compression and rebound damping for both are controlled by the Öhlins Smart EC 2.0 event-based computer
Öhlins steering damper, also electronic and controlled
Lightweight wheels (see above for discussion of the benefit in terms of moment of inertia and unsprung mass)
Some carbon fibre parts, like the front wheel cover, and a lighter battery in the 2023 model year.
Ducati made some minor updates to the V4 S for 2023, including a new color. See below.
How does active suspension on the Ducati Streetfighter V4 S work?
So you might be wondering — electronic suspension? How does that work?
The first generations of electronic suspension, back in the early 2010s, simply meant buttons on the handlebars that could adjust preload and/or damping. That's really useful for adventure bikes that go up and down in load or switch terrain.
But newer generations of electronic suspension are active suspension units. They allow you to choose between several ride modes have several ride modes This is what the Streetfighter V4 S (and Panigale V4 S) have.
On the Streetfighter V4 S, you can choose between "Fixed" or "Dynamic" suspension. In "Fixed" mode, it works like standard fully adjustable suspension — you can specify the characteristics you want (for front and rear rebound and compression, and damper settings).
In Dynamic mode, the motorcycle responds to the current riding conditions. The Öhlins Smart EC 2.0 computer takes input from your ride mode ("Race", "Road", "Street" etc.) as well as from the Bosch IMU and automatically adjusts damping characteristics to suit.
In addition, there's a "Custom" Dynamic suspension mode. Here's where you can tell the Öhlins computer how much range it has to adjust damping overall on the fork and shock, as well as under certain conditions like when braking, accelerating, or cornering. Quite a lot to play with, if you're game.
If you find that intimidating, well, good news — maybe you can save yourself a ton of money and get the base model without electronic suspension! It's still a cracker of a bike.
So the Ducati Streetfighter is just about everything you could want in a superbike with a little more street usability. But then Ducati released the more limited SP model.
Ducati Streetfighter V4 SP (2022+)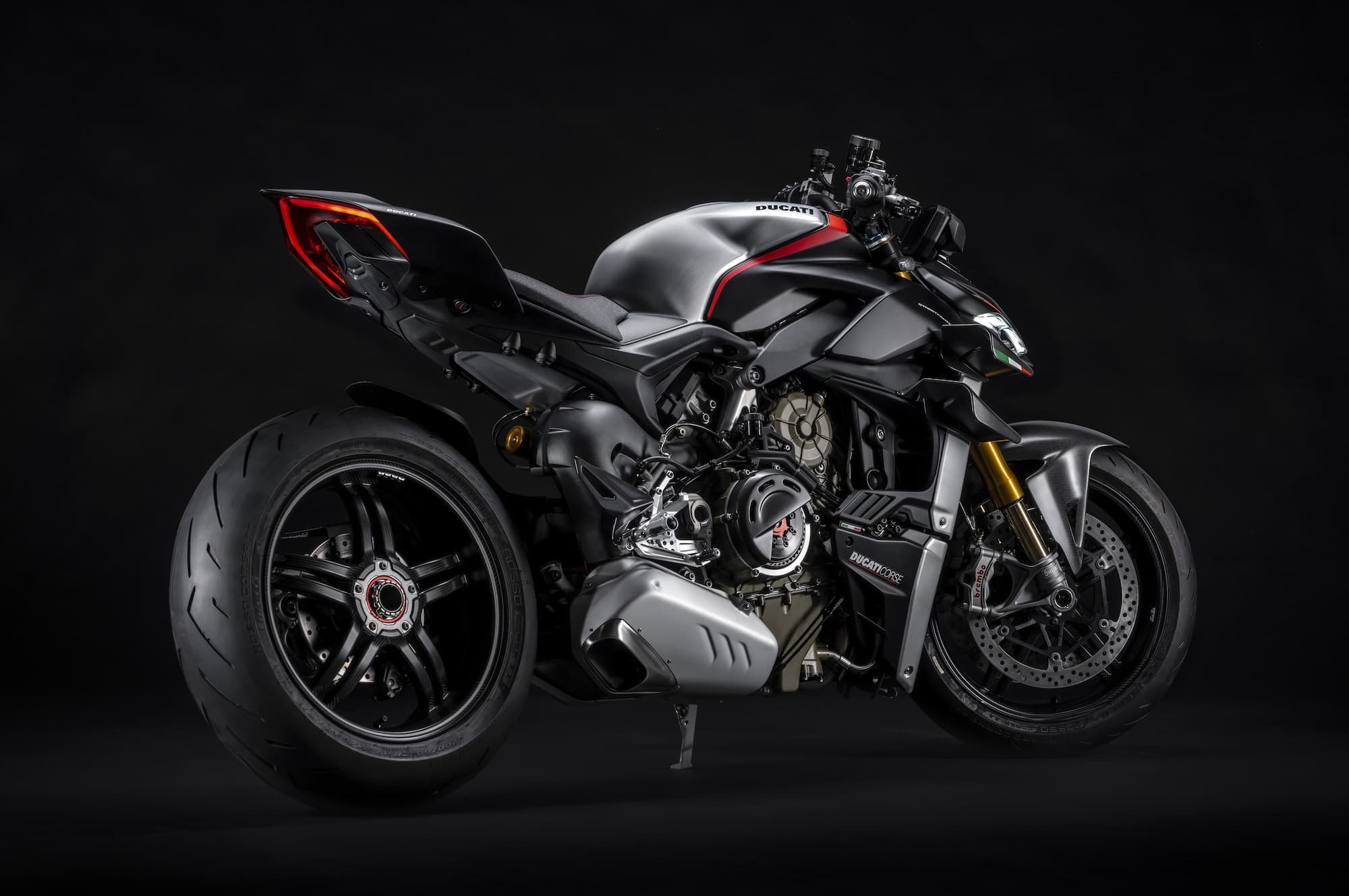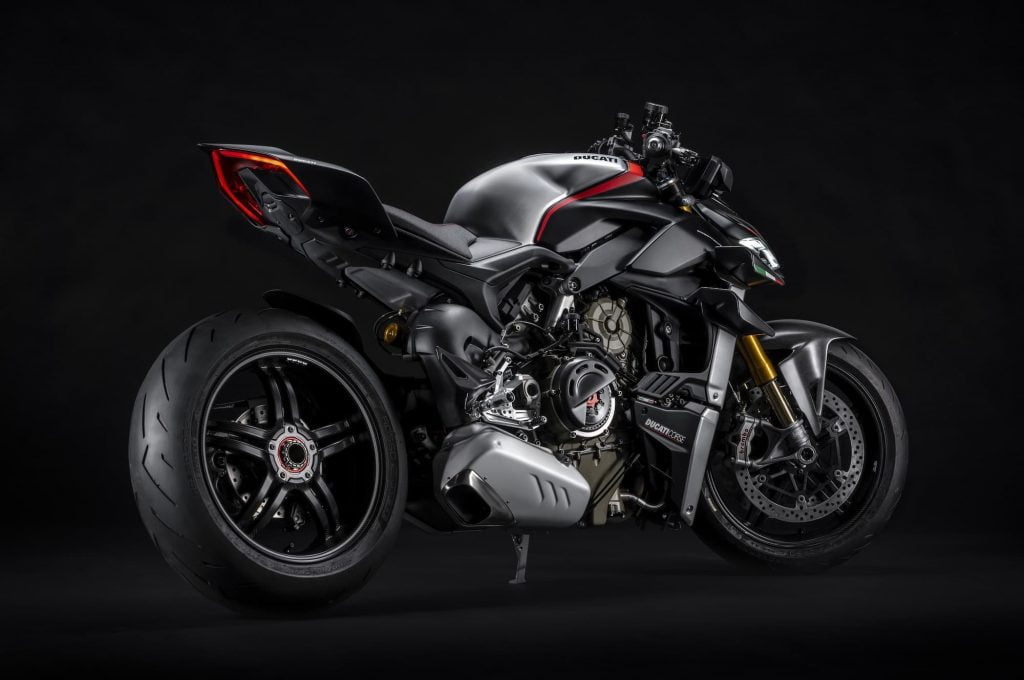 Ducati released the Streetfighter V4 SP just shortly after announcing the Panigale V4 SP in late 2021.
If the Ducati Streetfighter V4 is "peak motorcycle", then the V4 SP is a contender for the pinnacle. The only competitor would be the Panigale V4 SP, a bike explicitly marketed towards average riders who want to be track superstars.
Similar to the Panigale V4 SP, Ducati says that the Ducati Streetfighter V4 SP is made for amateur riders. Amateur riders who want carbon fibre wheels!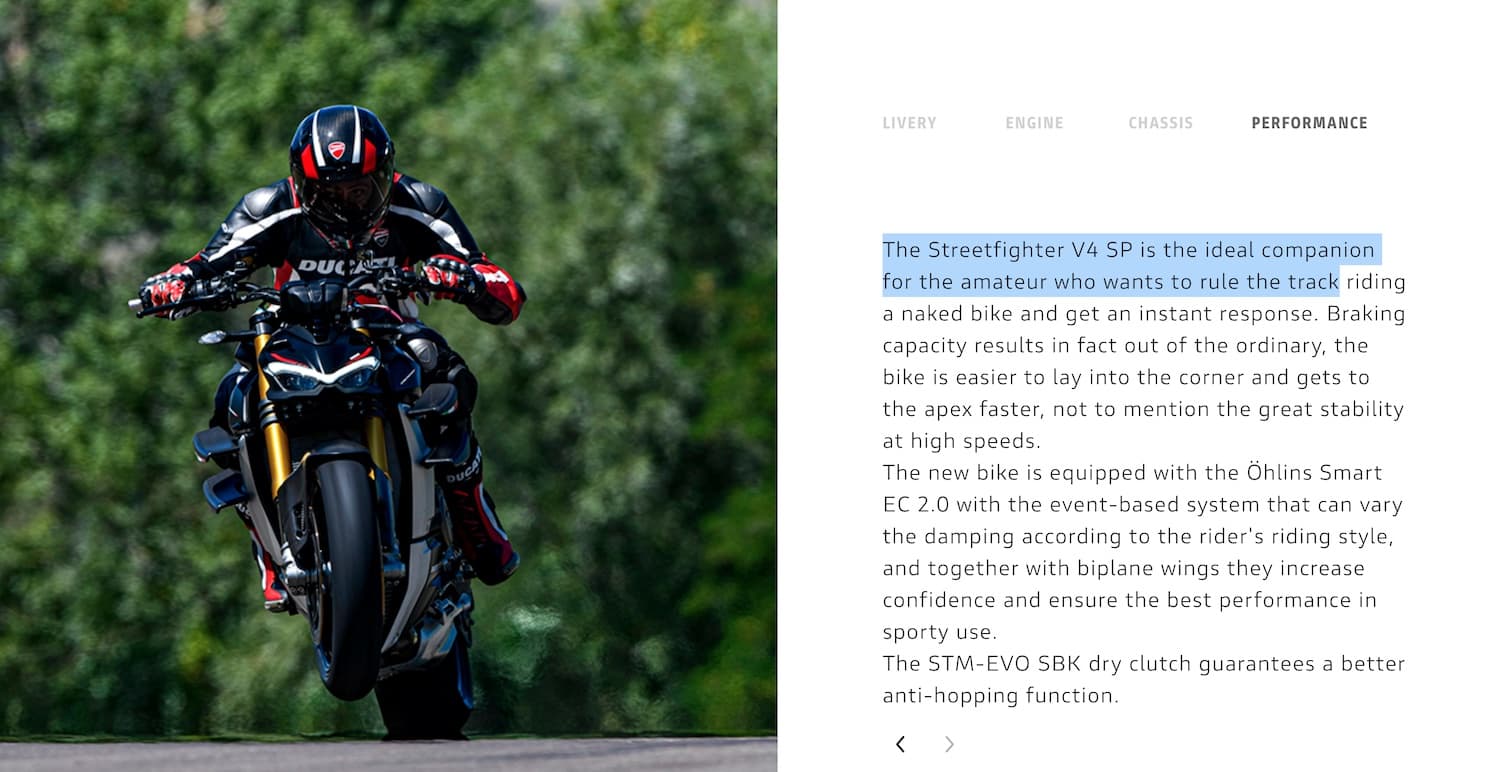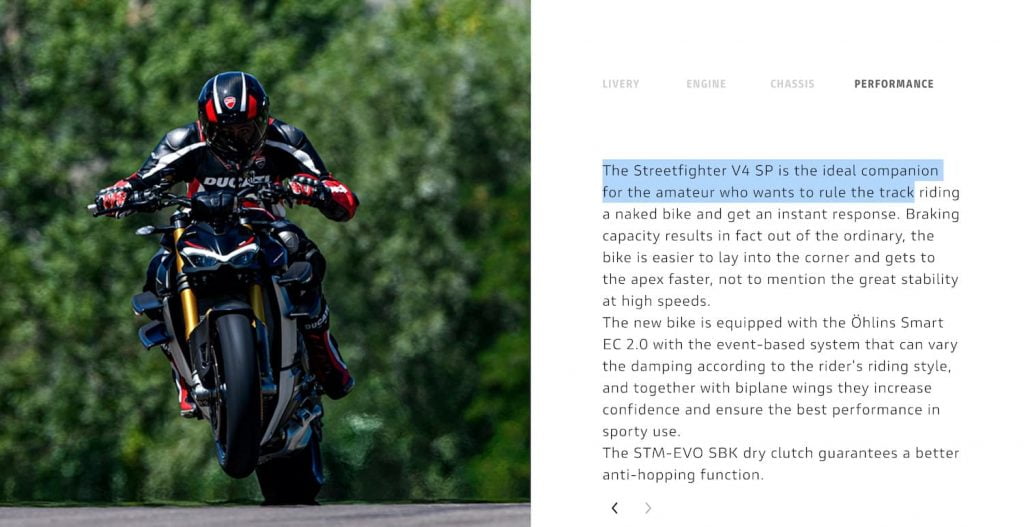 Here's what makes the Ducati Streetfighter V4 SP special. The Streetfighter V4 SP takes the best of the Ducati Streetfighter V4 S and adds on
An STM-EVO SBK dry clutch, complete with (optional) open clutch cover — a factory dry clutch was last seen on a Streetfighter with the original. They've generally been a dying breed with Ducati motorcycles in general.
Carbon fibre wheels — 1.4 kg (3 lb) lighter than the forged aluminium rims on the SF V4 S. Stunning reduction in un-sprung weight.
Brembo Stylema R brakes (an upgrade from the Stylema on the other V4 bikes)
Same Öhlins NIX-30 fork, TTX36 shock, and steering damper, all controlled by Öhlins Smart EC 2.0, but with the Panigale V4 springs and hydraulics — with just a small difference in spring preload compared to the Panigale.
Other lightweight components (carbon fibre mudguard, lithium-ion battery)
The Ducati Streetfighter V4 SP comes in stunning "Winter Test" colours. It seems expensive now, but so was the Streetfighter S when it was released. And I'm confident this one won't be seriously eclipsed by future generations. How could it? It'll remain on a pedestal of its own.
Ducati Streetfighter V4 Lamborghini (2023+)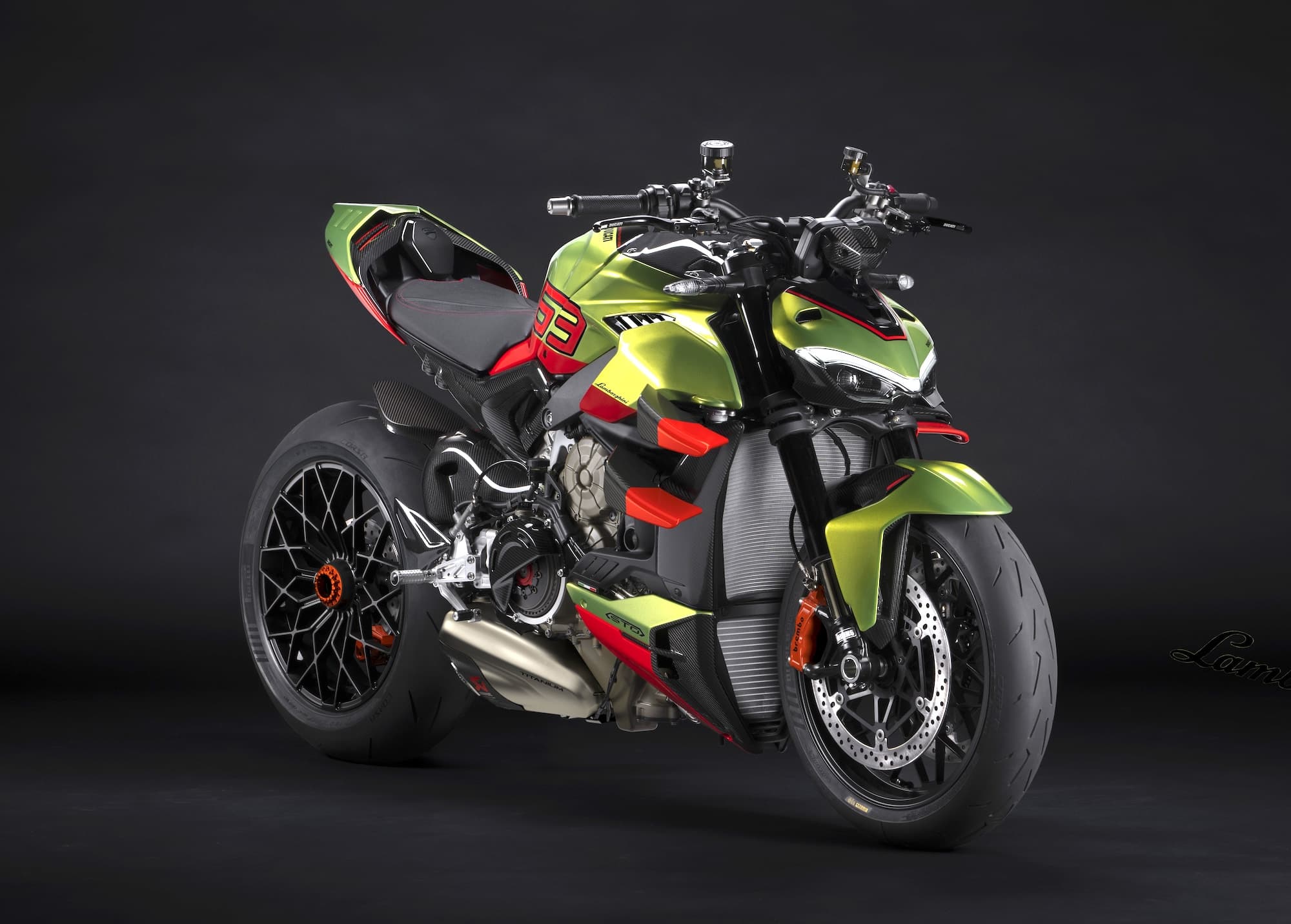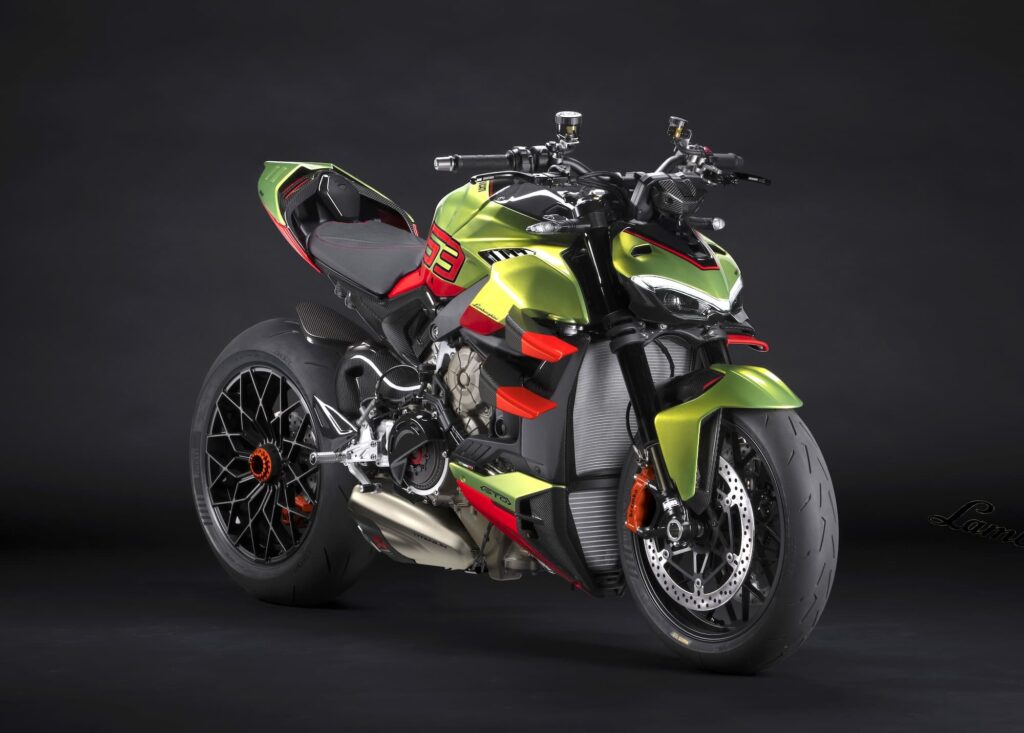 For the 2023 model year, Ducati announced a collaboration between themselves and Lamborghini, releasing the Ducati Streetfighter V4 Lamborghini.
The Streetfigher V4 Lamborghini is mostly a styling and branding exercise, but it's interesting that it sits between the V4 S and V4 SP specs in a couple of respects. For example, it has the dry clutch of the SP, but the Stylema (rather than Stylema R) calipers of the S.
Of course, the stand-out feature of the V4 Lamborghini is the colour scheme, "Verde Citrea" (lemon yellow). Only 630 of these were made, plus an additional 63 for long-standing Lamborghini customers, and they're already sold out, in case you were wondering.
Ducati Streetfighter V2 (2022+)
The Ducati Streetfighter V2 is the "smaller" Streetfighter. But it's only small compared to the (bonkers) Streetfighter V4.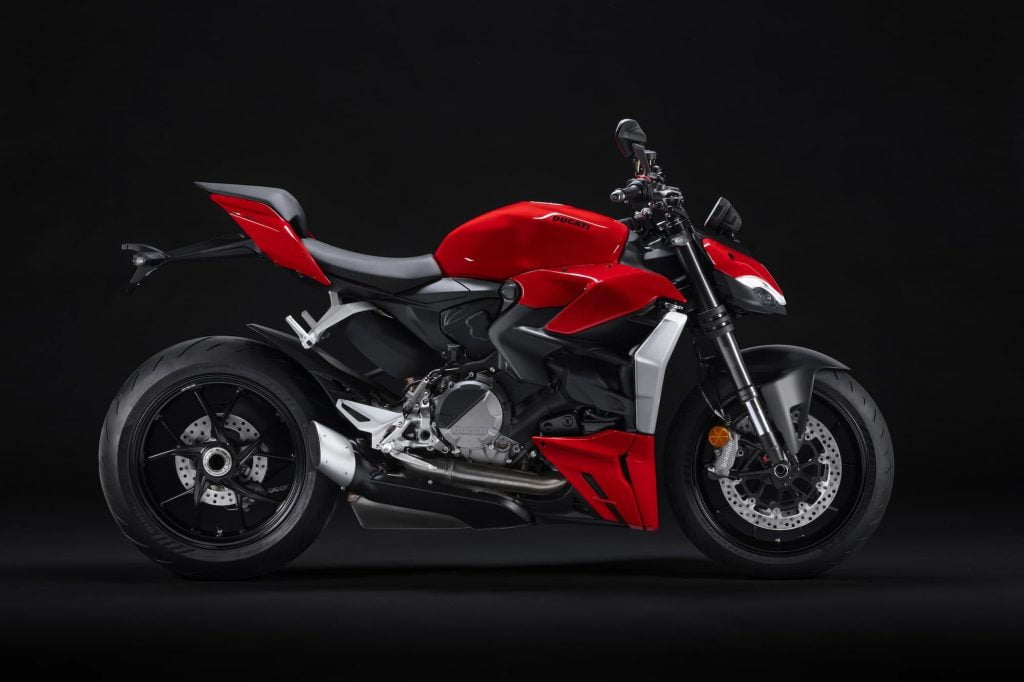 The Streetfighter V2 is based on the Ducati Panigale V2 superbike, itself a smaller sibling to the Panigale V4.
Like the Panigale V2 (and its predecessor, the Panigale 959), the Streetfighter V2 has at its core on the 955cc "Superquadro" engine, a liquid-cooled 90-degree V-twin with Desmodromic valves that are chain-driven (no more belts to replace!).
Even though the SF V2 is the lower-end streetfighter, it still has a lot of high-end components — just not the very highest end. The specs are similar to that of the base model Streetfighter V4 — the fork is a Showa BPF unit, and the rear shock is by Sachs.
The brakes on the Streetfighter V2 are Brembo M4.32 calipers, which is lower spec than the Streetfighter V4.
The Streetfighter V2 only has a shade less power than its Panigale V2 superbike stablemate. Here are how its core specs stack up:
| Spec | Streetfighter V2 | Panigale V2 |
| --- | --- | --- |
| Peak power | 112 kW (151 bhp) @ 10750 rpm | 114 kW (153 hp) @ 10750 rpm |
| Peak torque | 101 Nm (75 ft-lb) @ 9000 rpm | 104 Nm (77 ft-lb) @ 9000 rpm |
| Curb Weight | 200 kg (441 lb) | 200 kg (441 lb) |
| Gearing | 15:45 | 15:43 |
Core specs — Streetfighter V2 vs Panigale V2
Very similar specs between the Streetfighter and Panigale V2 as you can see, with just slightly shorter gearing in the Streetfighter.
The Streetfighter V2's powerband already puts in in the class of sporty nakeds. The V4 is just a step above!
Probably the best news is that the Streetfighter V2 is more reasonably priced — half the price of the V4 SP. Considering that it retains all the looks, still a lot of power, and a competent equipment spec, it is likely to sell well.
The Ducati Streetfighter V2 also shares the modern V-twin's wide service intervals of 18000 miles (30000 km) between valve inspections and no belts to change every five years.
The valves are still Desmodromically actuated, of course — which means 16 clearances to check in the twin.
My take is that in many parts of the world, considering both speed limits and lower budgets, the V2 is going to be the more popular bike.
In mid 2022, Ducati updated the Streetfighter V2's colour range, making it also available in Storm Green.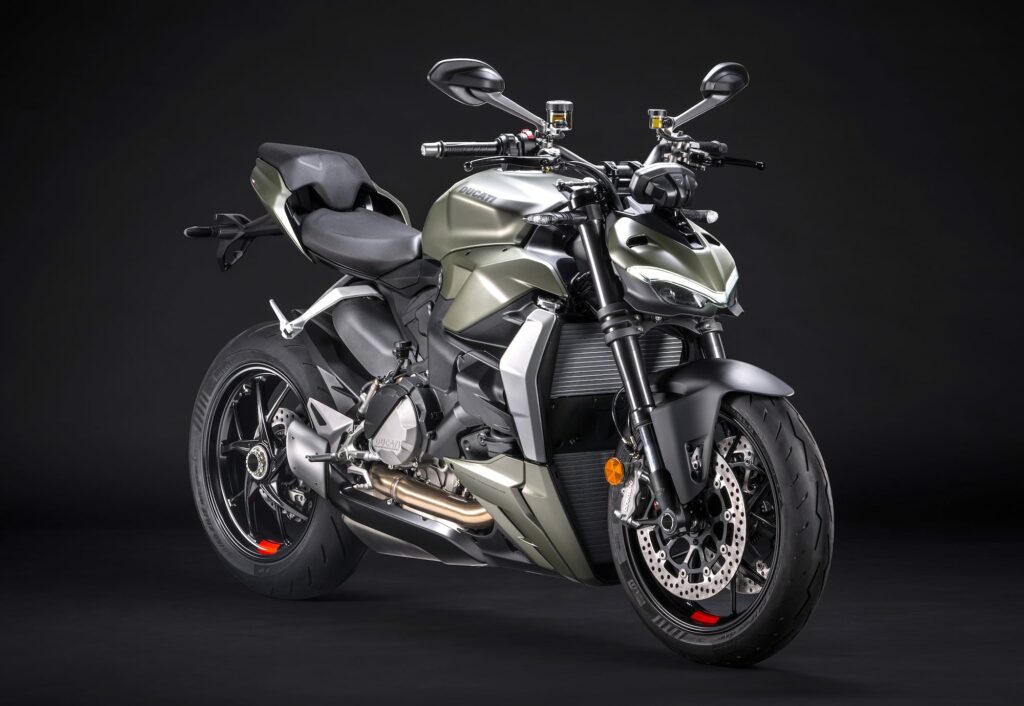 2023 Updates to the V4, V4 S, and V4 SP 2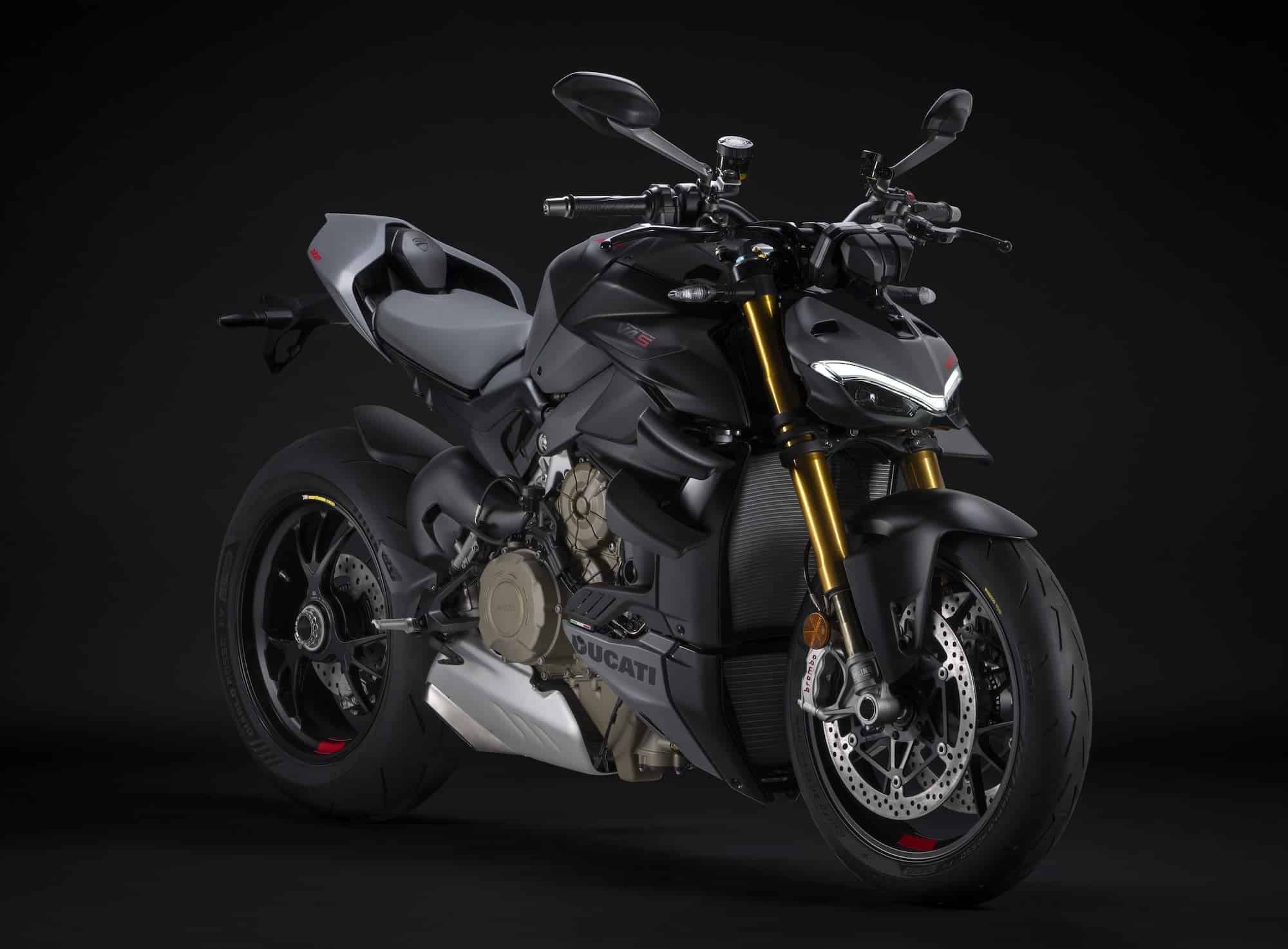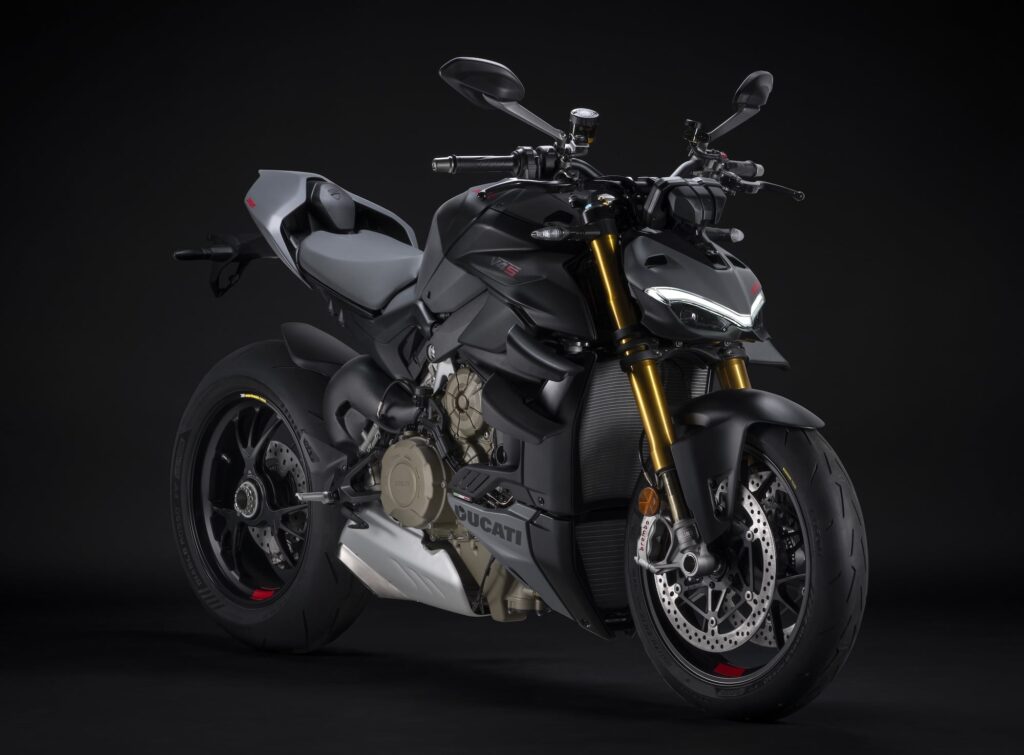 Ducati announced some updates to the Ducati Streetfighter V4 line in late November 2022 for the 2023 model year.
These are relatively minor. The bike stays mostly the same — a track-ready but easy-to-ride streetfighter with the 1103 cc engine. The S and SP2 are the same bikes conceptually as their predecessors, too.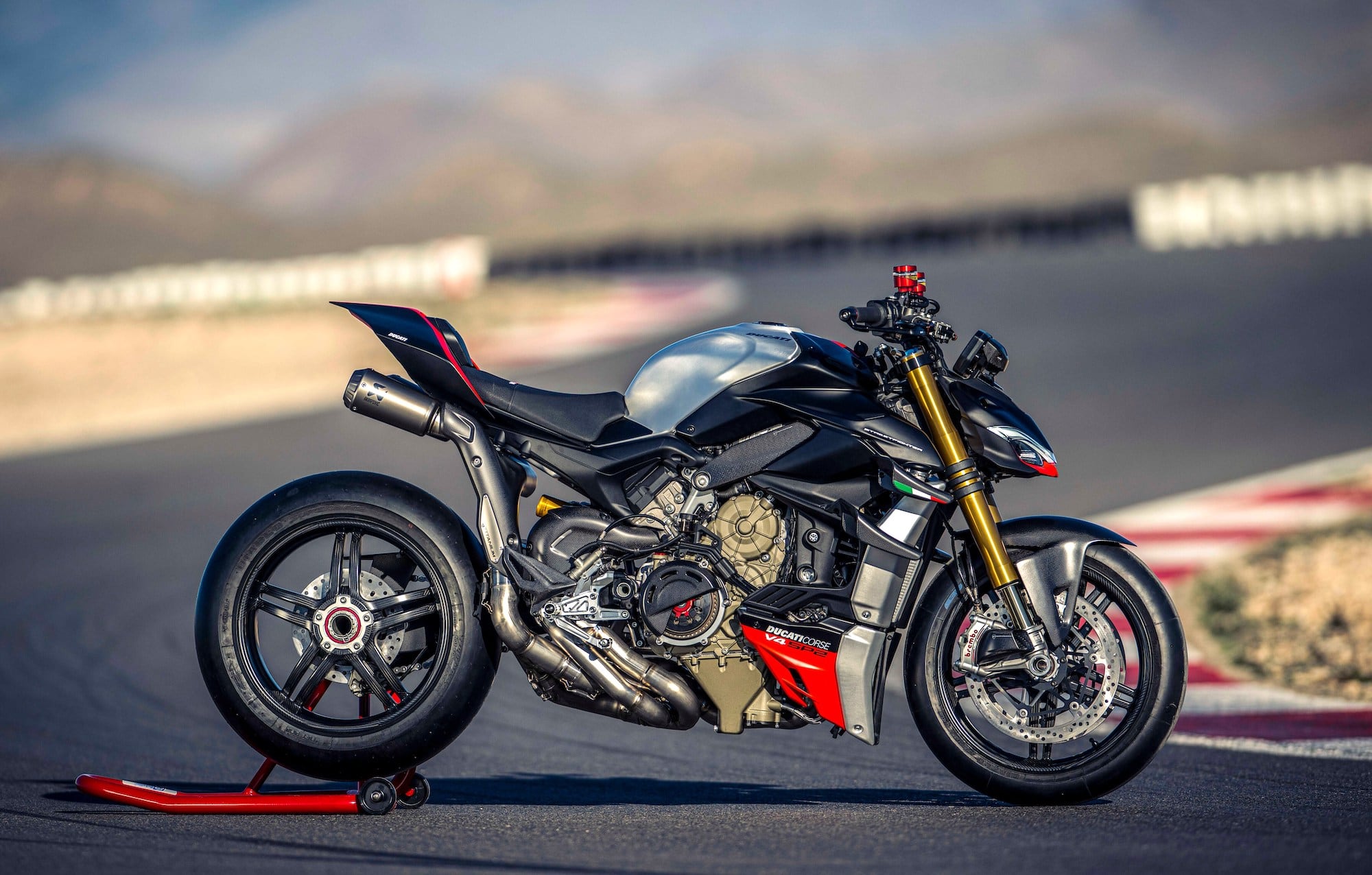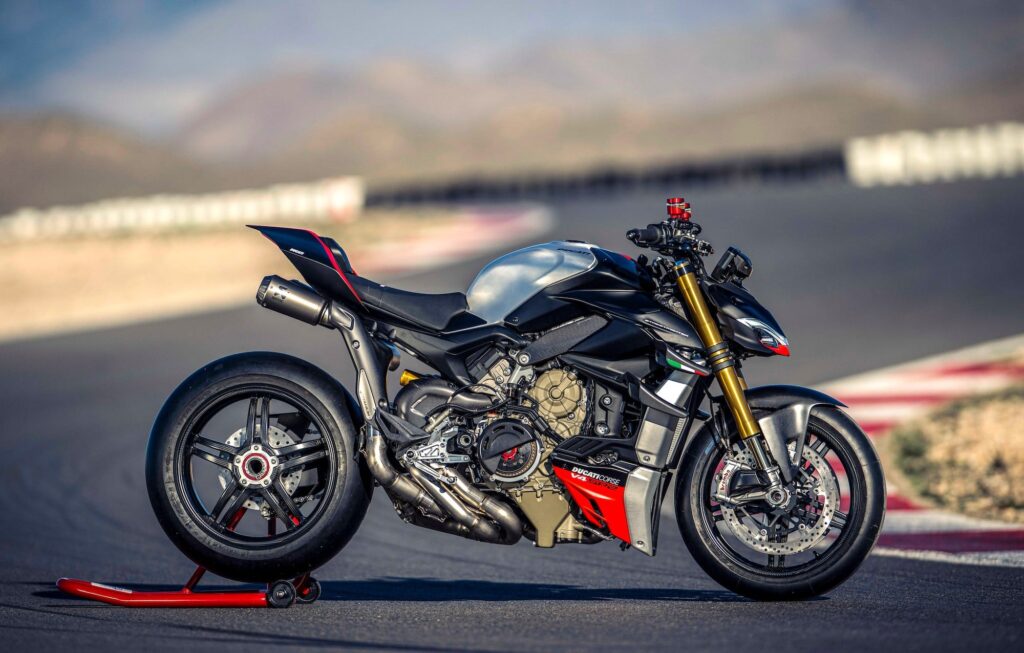 But Ducati upgraded a few bits across the line. The engine has been retuned, there's a "wet" riding mode, and the S comes in a new colour. Here's what changed:
Spec
Which models
Peak power 208 CV / 205 bhp at 13000 rpm
Peak is 250 rpm higher. From revised map for larger diameter exhaust outlet.
All
Peak torque 123 Nm / 90.4 lb-ft @ 9500 rpm
Reaches peak 2000 rpm lower, Ducati says "new torque curves for each gear"
All
Lighter lithium battery (already standard on SP)
3.7 lb lighter than previous S battery
S, SP2
Revised fuel tank — capacity now 17L / 4.5 G
1L / 0.27 G more than previous
All
Wet riding mode
For low-grip surfaces
All
Improved dashboard
Revised displays, includes Track Evo display mode
All
Engine Brake Control EVO 2
Computer-controlled system that modifies engine braking amount depending on load on the rear end, to improve traction and reduce lock-up
All
Revised Ducati Quick Shift algorithm ("strategy")
Revised strategies: For partial throttle, cuts injection and reduces ignition advance, and on full throttle, adds a "torque return phase"
All
New "Grey and Nero" color
Nero means "black" in Italian
V4 S only
2023 updates to the Ducati Streetfighter V4 line
The differences are so minor that nobody would upgrade (other than for tax purposes, maybe…). If both are in the showroom and the outgoing model is counted, the outgoing model would be a tempting option for many people.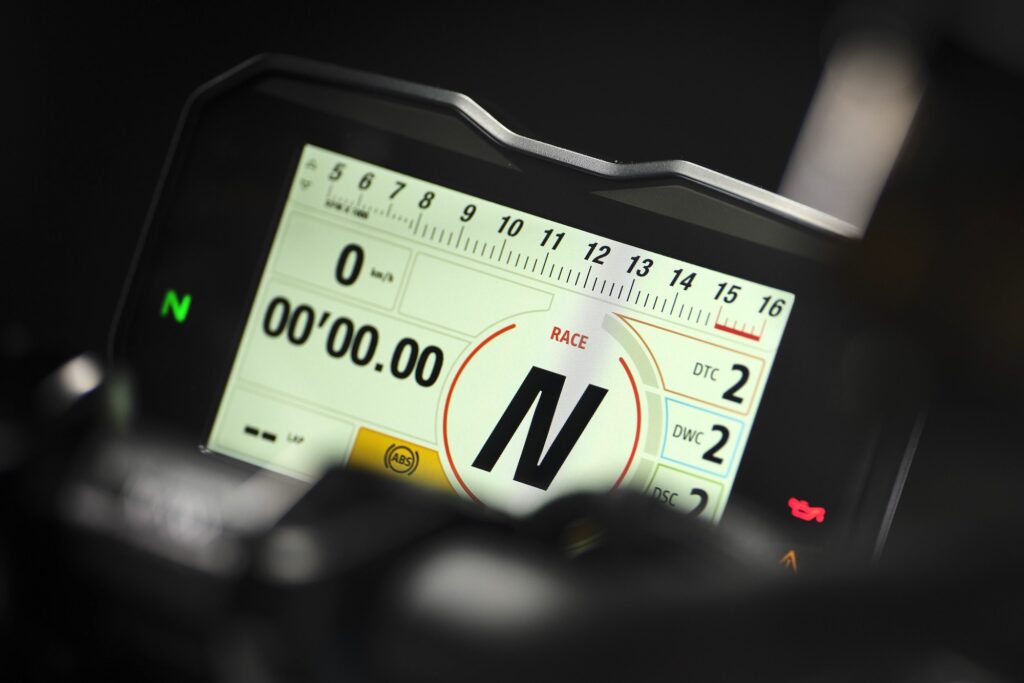 What's next for the Ducati Streetfighter line?
My assumption is that Ducati is going to take the Streetfighter V2 and release a special version — whether an S, a Corse, or a named series, with up-scale suspension and lightweight wheels. It doesn't have to be active suspension!
Ducati has a tendency to not release "S" versions of its mid-range bikes as a pattern. While they released a Ducati 959 Corse and a Ducati Panigale V2 "Bayliss" edition, both with Öhlins suspension, it's not a pattern we will definitely see repeated for the Streetfighter V2 — but it might happen.
Other than that, I expect Ducati has a few more years to squeeze out of its Desmosedici Stradale engine before they have to up the displacement again, either in response to competition or emissions. For now, though, it's really hard to imagine what more one could want out of a machine on two wheels.