If you like the Ducati Monster, and particularly like the most attractive ones, then at some point you'd have contemplated the Ducati SportClassic range.
Maybe you've drooled over SportClassic motorcycles for years, as I have. Every time I see one I think: "Why am I riding my [insert bike]? Don't I deserve a little beauty in my life?" Yes, I do — though I still don't really like the sticker price of these beautiful machines, and likely never will.
I first saw a Ducati SportClassic in a dealer in San Francisco in 2016. I couldn't afford that one. Since then, prices have just gone up.
So if you're looking for one, you might be wondering:
What are all the models in the SportClassic range?
Which ones are the best ones to get? (OK, you probably know this)
Are there alternatives to the Ducati SportClassic motorcycles that might be better value?
Can I see some pretty pictures of the SportClassic motorcycles please?
Here goes.
Are you obsessed with motorcycles?
Well, I am. That's why I created this site — as an outlet. I love learning and sharing what others might find useful. If you like what you read here, and you're a fraction as obsessed as I am, you might like to know when I've published more. (Check the latest for an idea of what you'll see.)
Background to the Ducati SportClassic range
At the end of 2003, Ducati showed three concept bikes at the Tokyo Motor Show which took the breath of journalists away (or so I heard. As a penniless student I could barely afford the magazines these photos were in).
Ducati had built three beautiful masterpieces. The Monster range was always attractive, but those bikes had nothing on the bikes that Ducati showed. These were the Ducati SportClassic motorcycles.
Bear in mind that this was before the modern "café racer" trend had taken hold (again). Triumph was making its Thruxton, but it was just the air-cooled version that didn't go fast or have very good suspension. It was well before companies were putting the words in the name of their bikes, like the Scrambler Café Racer for example (et tu, Ducati?).
No, the focus of the 2000s was on sportbikes. Sportbikes sportbikes sportbikes. Also some nakeds. Adventure bikes were just becoming a thing (with the 2004 BMW R 1200 GS and Multistrada 1000 and 1100 available, but before adventure bikes were huge), but the focus of magazines and showrooms were bikes like the Yamaha R1, the Honda Fireblade, and so on.
So into this mix, Ducati decided to go full retro café. Pierre Terblanche was the design chief at the time. He was pretty avant garde in his design, and not just because that expression is as French as his name. But his design tendencies led to bikes like the Ducati 999 (which I now think is cool, but wouldn't have said so at the time), and the Ducati Multistrada 1000DS, which never quite became cool other than in a "it's hip to be square" kind of way.
Then Monsieur Terblanche hit a home run with the SportClassic range. They were ahead of the market, but definitely were a hit with humans.
Speaking of the Multistrada 1000DS, the SportClassic motorcycles were all based around that same bike's engine — the 1000 DS desmodromic engine, an air-cooled 90-degree L-twin that was also used in the Ducati Monster 1000.
But the engine, while an important component, wasn't the be-all and end-all of this motorcycle — this was one about design.
Because the Ducati SportClassic motorcycles are all named in an overlapping manner (and sellers and dealers tend to throw different names around), may have been modified to heck, and it's hard to find an original pic of any of them, I scoured the Ducati databases to find the press releases, spec sheets, and original press photos of the Ducati SportClassic range to share with you
So next time you go see a Ducati SportClassic you'll know exactly what to look for. ("Does that Biposto come with its seat cowl?" you can coyly ask, hoping they'll knock $500 off that ever-increasing price…)
The Ducati SportClassic range in a nutshell
All of the Ducati SportClassics have some things in common — the engine (and the state of tune), the trellis frame, and the wire spoke wheels.
Aside from those, there are some quite significant variations in riding position, suspension, and colours.
None of that is very important until you realise… few people would want to ride the Sport 1000 Monoposto in its base form for very long. The riding position is pretty extreme and it has no wind protection. And it's a little too gorgeous for most of us to take to the track. So people start doing things like adding risers, maybe modifying the suspension, and so on.
So if you want to know what was in the original SportClassics — here it is!
They all share the same 1000 DS motor. It's a 992cc air/oil-cooled 90-degree L-twin. The motor has desmodromic belt-driven valves, with two valves per cylinder — similar architecture to many air-cooled Monster engines. It's fuel-injected and has a 45mm throttle body.
The 1000 DS motor makes 67.7 kW (92 PS, 91 bhp) at 8000 rpm, with peak torque of 91.1 Nm (67.2 ft-lb) at 6000 rpm. Like many air-cooled engines, it's a midrange-focused motor.
Braking components are common on all of them as well. The front brakes are two 320mm semi-floating discs with Brembo 2-piston callipers with 30 and 32mm pistons.
All of the SportClassics also have wire spoke wheels, but the colours are different.
Below are the core differences between the various models in the SportClassic range.
Part
Sport 1000 Monoposto
Sport 1000 biposto
Sport 1000 S
GT1000 / Touring
Paul Smart 1000 L.E.
Controls
Low clip-ons
Raised clip-ons
Raised clip-ons
Handlebar
Raised clip-ons
Body
No fairing
No fairing
Fairing
No fairing (Touring: Windshield)
Fairing
Clutch
Dry
Wet
Wet
Wet
Dry
Mirrors
Bar-end
Bar-end
Fairing-mounted
Handlebar stalks
Fairing-mounted
Front suspension
43mm Marzocchi USD, non-adjustable
43mm Marzocchi USD, non-adjustable
43mm Marzocchi USD, non-adjustable
43mm Marzocchi USD, non-adjustable
Fully adjustable Öhlins fork
Rear suspension
Single Sachs monoshock, LHS
Twin fully adjustable Sachs shock absorbers
Twin fully adjustable Sachs shock absorbers
Twin shock absorbers, adjustable preload only
Twin fully adjustable Öhlins shocks
Wheels
Spoked, aluminium rim
Spoked, aluminium rim
Spoked, black aluminium rim
Spoked, Chrome steel rim
Spoked, aluminium rim
Exhausts
RHS only
Both sides, black
Both sides, black
Both sides, chromed
RHS only
Seat
Single
Twin, removable cover
Twin, removable cover
Twin, well-padded
Twin
Colours (Tank/fairing)
* Burnt Yellow
* Red
* Black
* Yellow + black stripe
* Black, white stripe
* Red, white stripe
* Black, white stripe
* Black + White stripe
* Red
* Cream + Black metallic, silver stripe
* Silver + Smoke grey
* Metallic silver fairing, sea green frame
Ducati SportClassic variants
The only variant not mentioned separately above is the GT1000 Touring. This is the same as the GT1000 but with a protective screen, chrome front and rear fenders, and a chrome luggage rack. It came in a black with white stripe colour only.
More about each Ducati SportClassic model
The above was a brief overview. Below is more detail (with photos!) of each gorgeous Ducati SportClassic model.
Ducati Sport 1000 "Monoposto" (2006)
The Ducati Sport 1000 was the original of the SportClassic range. It's popular as a collector's item, but it's also the hardest to ride.
Originally, the Sport 1000 was just known as that — the Sport 1000. Only in retrospect, after the Sport 1000 Biposto was released, do we call it the "Monoposto" to distinguish it.
How to pick the Sport 1000 Monoposto
One seat (i.e. posto)
Low clip-on handlebars
Single shock on the left
Silencers on the right
To ride the Sport 1000, you have to lean over really far. The clip ons are set relatively rear, and the seat doesn't let you slide back and forward that much.
The suspension is a little lower spec than it could have been. Ducati opted for a non-adjustable fork, and only a single rear shock — I suppose to accommodate the silencers on the right.
Interestingly, the original Monoposto (and the Paul Smart 1000 L.E.) were the only two models to have a dry clutch. Tears fill my eyes when admitting that wet clutches are now nearly standard in the Ducati range.
Ducati Paul Smart 1000 L.E. (2006)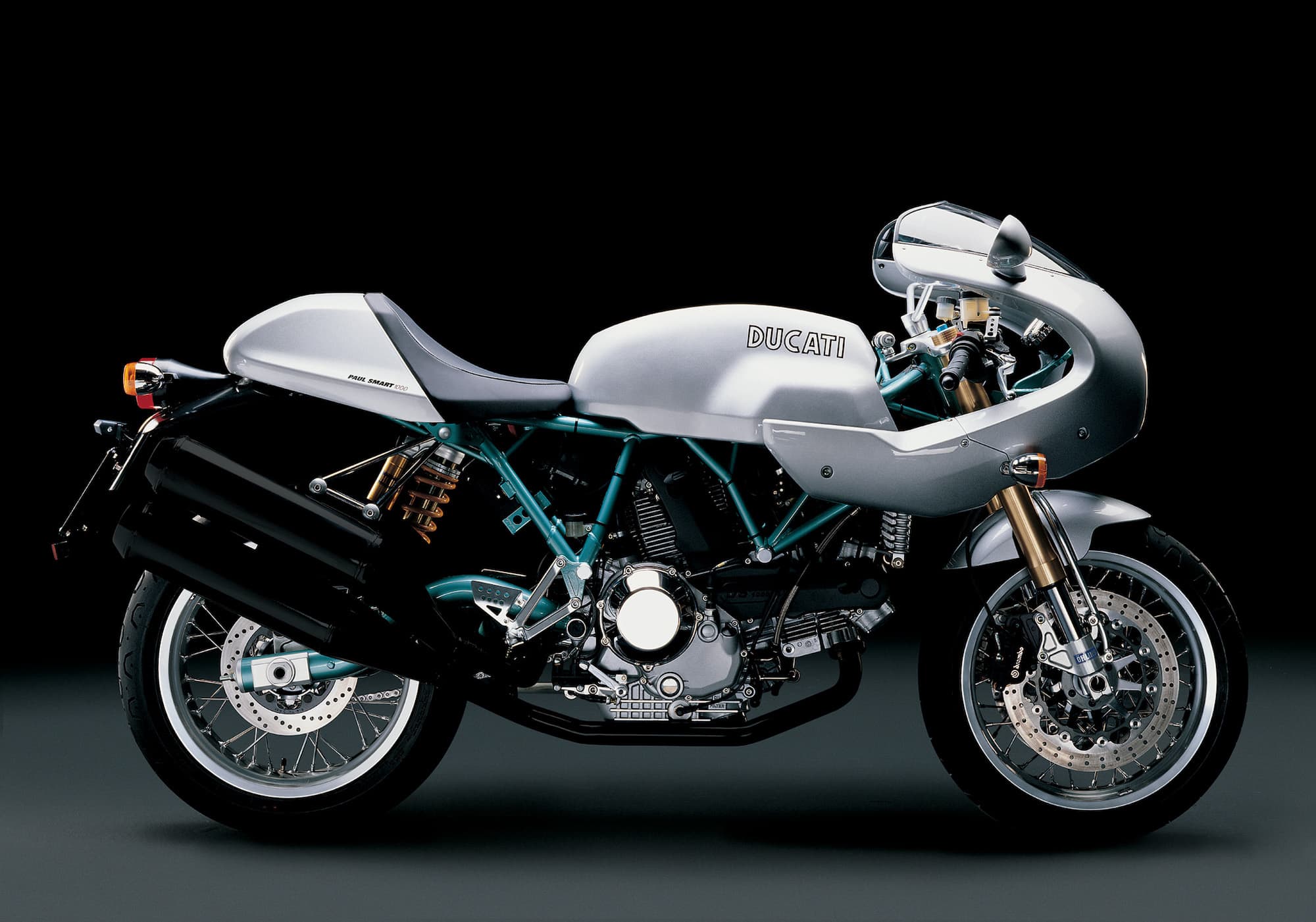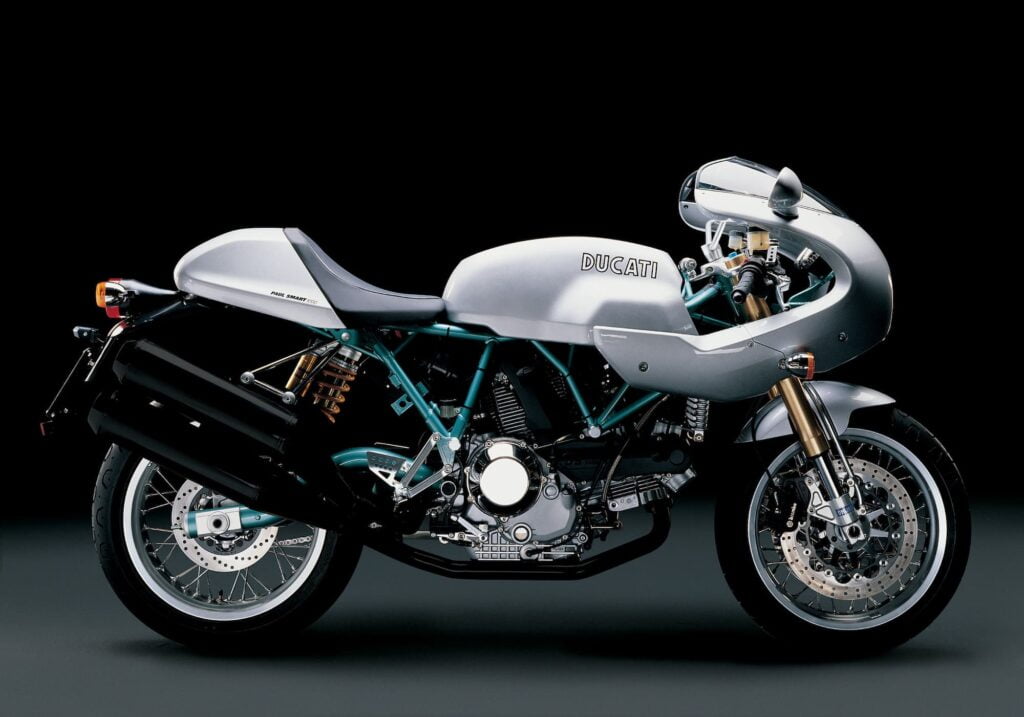 The Ducati Paul Smart 1000 L.E. is the most exclusive, unobtanium-laden motorcycle of the SportClassic series, as well as being one of the most special collector's items in the Ducati range ever. Only 2000 were made and they're rarely for sale.
The Paul Smart 1000 L.E. is named after Paul Smart, an English racer of the 1970s (I didn't know this, I had to look it up). In 1972, Paul Smart tested the as-yet unreleased 1974 Ducati Super Sport 750 motorcycle, and on the same day took it to a surprise victory at the Imola 200. Italian racer Bruno Spaggiari placed second on the same bike.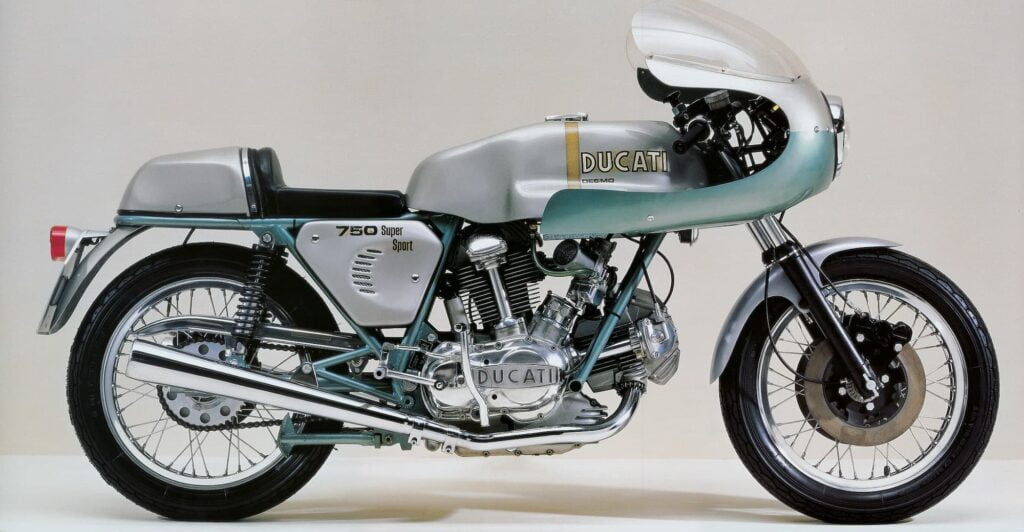 The Ducati Paul Smart 1000 L.E. is based on those motorcycles, the "ultimate" sport bike of its day (according to Ducati).
Distinguishing features of the Paul Smart 1000 L.E. are:
That unmistakable paint scheme — metallic silver fairing and sea green frame colours, just like the 1974 Super Sport 750
Fully adjustable Öhlins suspension front and rear. Aside from the visual paint scheme and exclusivity, this suspension setup is quite a bit better than any other in the SportClassic range
Twin stacked silencers on the right hand side
Extremely high price for mortals
The Paul Smart 1000 L.E. is so rare these days that I've seen them priced at the same as a brand new Ducati Panigale superbike (and not the base models, either). So if you're looking for one, you really know what you want.
In Australia I see them listed for over A$50K, and in the US (where bikes are cheaper… don't get excited, you pay in other ways) it's usually around the $18-20K range.
For most of us, don't touch it… Don't even look at it.
Ducati GT1000 / Touring (late 2006)
Ducati released the SportClassic GT1000 late in 2006, but kept it in production through 2010 as it was a popular model. Finally, one of the SportClassic bikes that you could actually ride every day! (Or at least ride in more comfort).
The GT1000 is distinct in that it has
A full handlebar
Comfortable dual seat
Twin rear shocks, though adjustable for preload only (the Biposto and Sport 1000 S have fully adjustable rear shocks)
More forward pegs and pillion footrests
Indented tank to accommodate knees
Chromed and polished aluminium details (including the fuel cap, exhaust, wheels, forks, etc.)
The GT1000 is, in a historical way, just as classic as the Paul Smart 1000 L.E.. It's styled after the Ducati GT750, which was Ducati's first 90-degree V-twin, which they called an L-twin.
That's right. As you know, Ducati and L-twins are best friends, sitting in a tree… valvetrain desmodromical-ly. And the GT750 was the original L-twin, and the GT1000 is the reincarnation of that spirit.
(Yes I know, Ducati makes V4s now. But they still mostly make V-twins.)
In 2007 Ducati gave the GT1000 two-tone colours — silver and smoke grey, which looks dashing.
Ducati Sport 1000 Biposto (2007)
The Sport 1000 Biposto was the answer to many of the initial complaints about the Sport 1000. A bit less aggressively single-purpose, but still cool.
You might be confused (as I was) because the Biposto came with a seat cowl covering the rear seat. So I initially assumed it was a Sport 1000 Monoposto with another… posto. But no, there's more to it.
How to pick the Sport 1000 Biposto:
Dual seat (Biposto), with a comfortable pillion seat under a removable passenger seat cover
Slightly raised clip-on handlebars (hard to tell from photos)
Twin shocks (fully adjustable), one on each side
Twin exhausts, one on each side
It's hard to tell from the photos, but the Sport 1000 Biposto actually has a more comfortable riding position than the original Monoposto.
Another distinguishing feature is that the Biposto has a wet clutch, whereas the Monoposto had a dry clutch.
Ducati Sport 1000 S
Ducati released Sport 1000 S along with the Biposto. It's almost the same as the Sport 1000 Biposto (with a seat cowl over the passenger seat), dual shocks, and a wet clutch. The major distinguishing factor is the half-fairing — this is no longer a naked bike like the other SportClassic bikes.
There are some other details that are different, like the colours of various components. Look closely and you'll see that on the red version the swingarm is painted red, as is the trellis frame.
The mirrors are mounted on the fairing rather than as bar-end mirrors, making it slightly narrower, too.
You might be tempted to think (as I was) that the Paul Smart 1000 L.E. is simply a repainted Sport 1000 S. They share a riding position, but they're distinct in that the Paul Smart 1000 L.E. has fully adjustable Öhlins suspension front and rear, and a dry clutch too.
Personally, the Sport 1000 S is my favourite of all the SportClassic range. Something about that style of fairing really does it for me.
Owning and Maintaining a Ducati SportClassic motorcycle
People are always worried about the maintenance costs of a Ducati motorcycle. Rightfully so, in some regards, though it's not SHOCKINGLY high.
Here's what to bear in mind when owning a SportClassic.
Firstly, if you're after an air-cooled Ducati motorcycle, they all have very similar maintenance needs and costs. The Ducati Monster 1000, S2R 1000, and Multistrada 1000DS all have the same motor as the SportClassics. The 1100 range (Multistrada, Hypermotard, and Monster) have a different motor, but the same maintenance requirements. So you won't save any money in maintenance by buying a cheaper/less exclusive bike.
Fundamentally, these bikes have the same maintenance requirements as other motorcycles. Change the oil and brake fluids periodically, lubricate external parts, and because it's a big twin, re-torque everything every now and then.
Where they differ is in the belt replacement and the valve service.
Servicing the belts: The manual requires that you change the belts every two years. It's not a terribly difficult job and can be done in an hour or two.
You move a couple of things out of the way, remove the belt covers, and take the old ones out then put the new ones in. You just have to be careful not to move the gears around and to ruin the timing.
Owners of the bikes actually say "Hey, later Ducatis use the same belts and have five-year intervals" and so change their belts way less often. (But you DO have to change them. A snapped belt means busted valves which is very expensive.)
Servicing the valves: This is a little more tricky for a few reasons.
Every motorcycle needs regular valve service, and air-cooled engines tend to need more frequent service. But Ducati twins have more clearances to check (because of the desmodromic valvetrain), and often need adjustments.
Here's more about how the desmo valvetrain works.
So the two-valve-per-cylinder engine in a SportClassic (or any early air/oil-cooled Ducati) may only have four valves, but there are eight clearances to check. Then at least a couple usually need adjusting with new shims, and it's often needs a bit of ninjutsu with your fingers to get it right.
The contrast is something like a liquid-cooled Japanese engine — even of a similar vintage — which have valve service intervals of often ~40000 km (vs 12000 km in the air-cooled Ducatis) and actually rarely need adjustments, especially past the first interval.
How much to pay for a SportClassic
There's no good news in here. If someone is charging a lot for a SportClassic and you think "that's too much!" well — it's a seller's market with these bikes. They're often on premium auction sites like BringATrailer.com.
The SportClassics were never sold in huge volumes. It was just a timing thing — nobody was flush with cash at the time (other than the partners at Bear Stearns and Lehman Brothers… for a little while), they were expensive, and then the financial crisis happened. So there aren't that many around to start with.
But the most affordable of the bunch is the GT1000. I see them for usually around US$13-15000 (depending on the deal, the mileage, and condition). In Australia, they tend to also be between AU$13-15000, interestingly.
Other variants of the SportClassics are more expensive — you'll pay more for a Biposto or a Sport 1000 S, and a lot more for a Paul Smart 1000.
The sad truth is that they were reasonably affordable a few years after release when they weren't classics yet, but the SportClassics now are definitely the classics they were always destined to be. They've also accumulated quite a few miles.
I don't like putting dollar (or euro) figures down, but suffice it to say you'll be choosing between either a moderately high-mileage but intact looking Ducati SportClassic motorcycle, or maybe a Ducati Scrambler 1100 just a couple of years old.
If you're shopping for a used Paul Smart 1000, well, you might as well get a brand new Ducati Panigale V4 for the same money. It'll be a classic in 20 years time, too!
The best deals I've seen on SportClassic motorcycles have been ones where the owner lives rurally and isn't willing to go in to the city to sell it, and maybe it's high mileage and needs some work (e.g. a valve service).
For an alternative, you could also get the much more advanced (and faster) Ducati Monster 1200S and then pay a custom shop to build you the SportClassic replica of your dreams, like the bike below.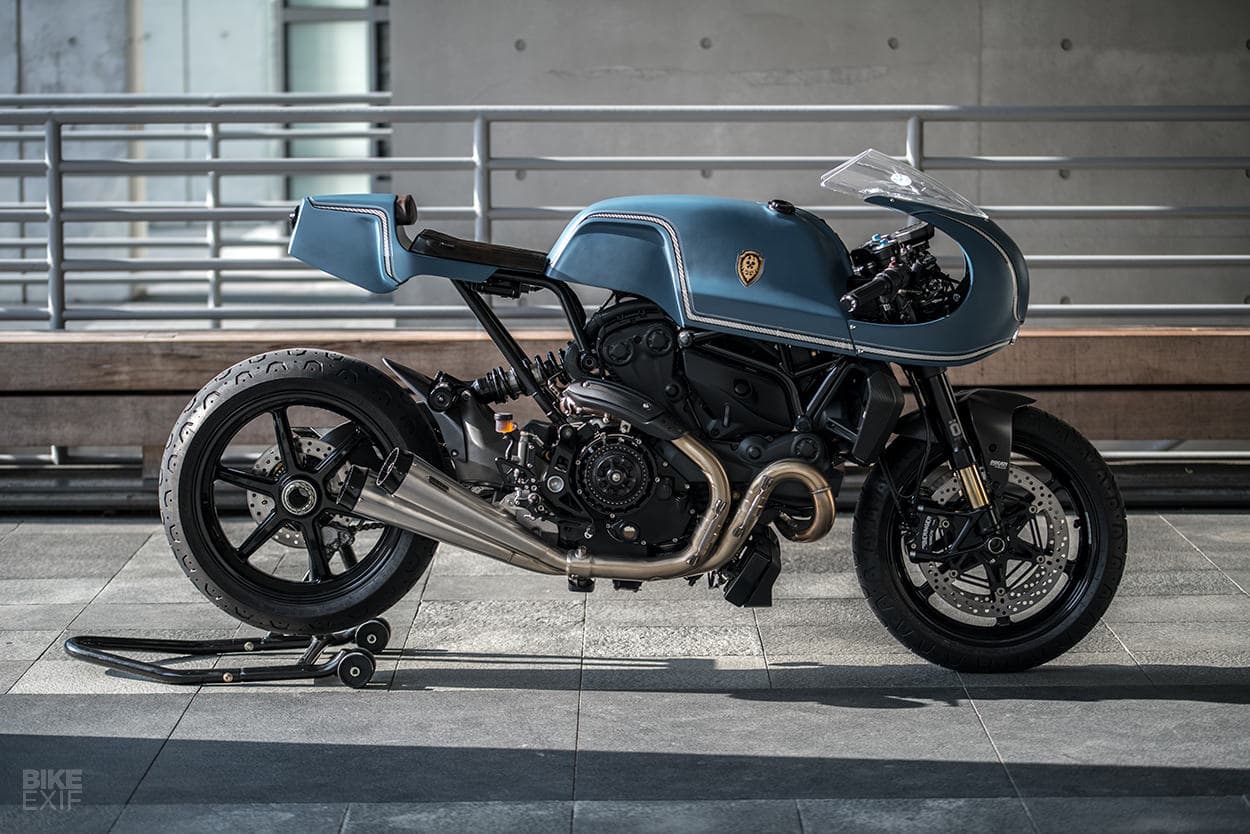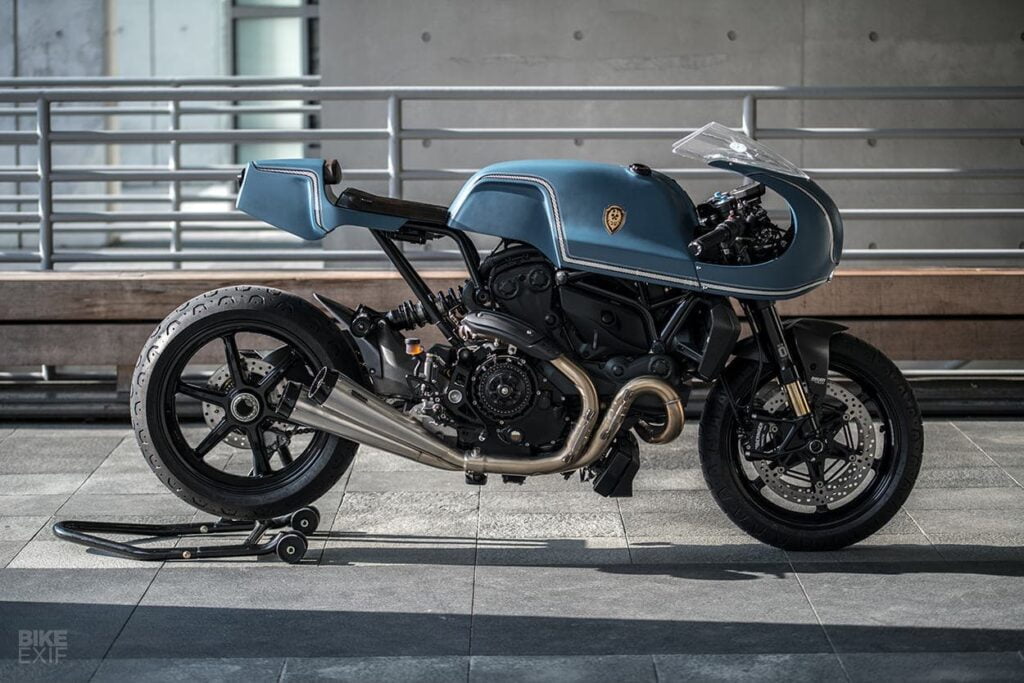 Of course, that won't be a collectable like these. But it'll be eye catching, and in better condition and cheaper than a Paul Smart 1000 when you're done. And if you base it on a more recent model, like the 1200S above… faster, too.
Alternatives to the Ducati SportClassic range
When you have to pay a fistful of banknotes for any used Ducati SportClassic, almost any used motorcycle is an alternative.
But if you're hell-bent on the naked classic "café racer" look, then here's what I'd be looking at as an alternative to the Ducati SportClassic motorcycles.
The crazy thing is that these other motorcycles are just as attractive (as subjective as such a thing can be), have better components (suspension and braking), make more power, are more recent, have things like ABS (if that matters to you) and are often cheaper — particularly when considering mileage.
It just highlights that if you want the SportClassic, you better be hell-bent on picking up a classic bike! Or you might find an absolute steal out there.
Ducati Monster S2R 1000 (2006-2008)
Firstly, if you want that motor and a still hot looking bike, you can't look past its stablemate, the Ducati Monster S2R1000!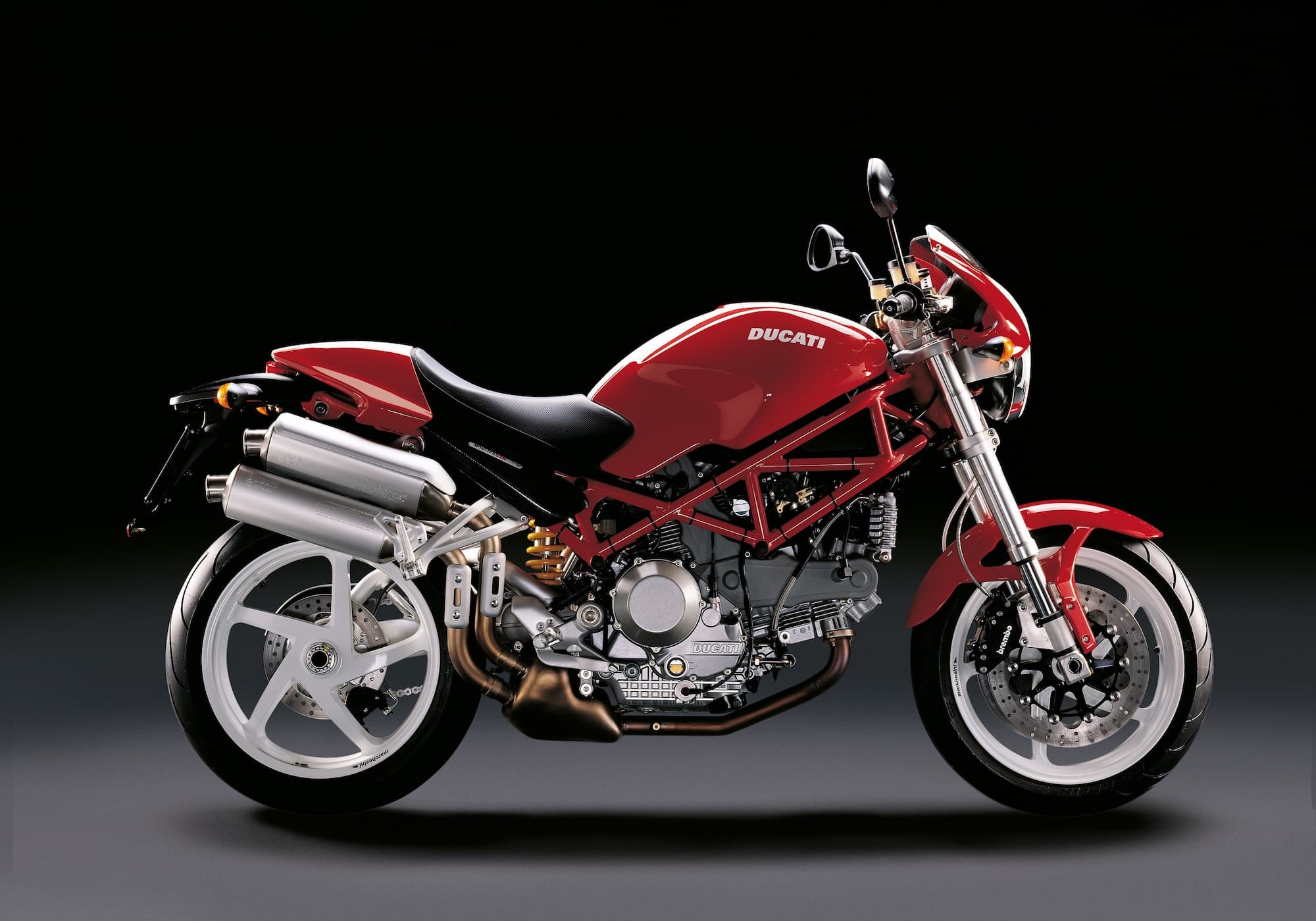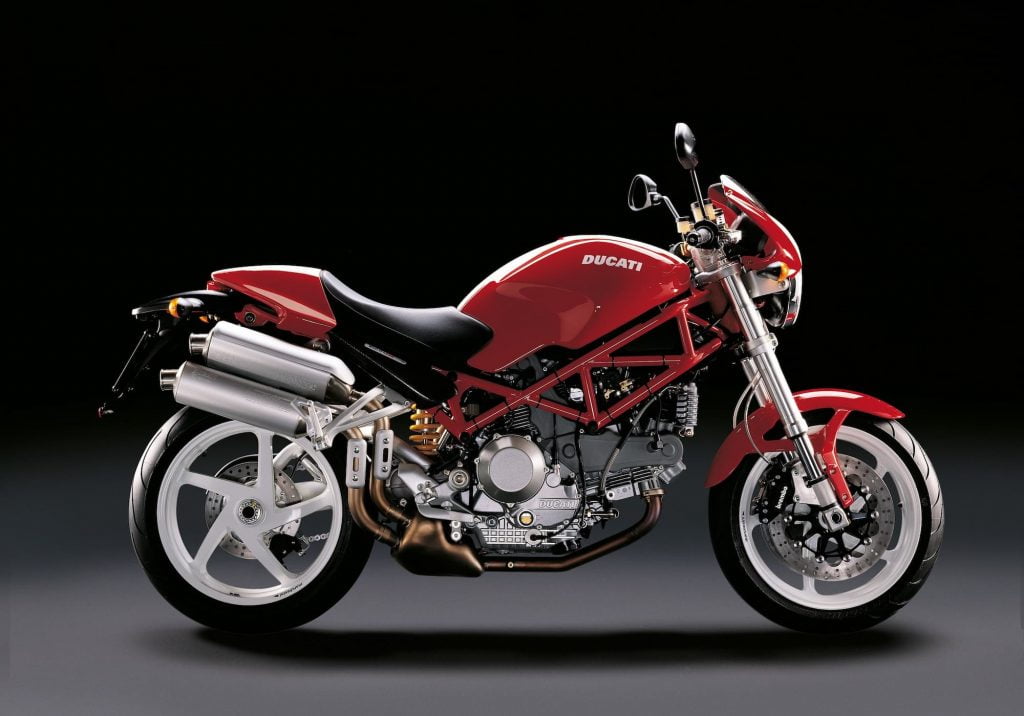 You get the same 992cc twin spark motor, a trellis frame, Monster good looks, and a few extra details like a single-sided swingarm, those up-swung exhausts, and white wheels. Yow!
The Monster S2R 1000 had some really great components too, like a fully adjustable Showa 43mm upside down fork, a preload and rebound adjustable Sachs monoshock, and Brembo calipers on 320mm discs up front.
It's sportier than the Monster 1000, with higher ground clearance.
These bikes are way more available than the SportClassic range. They don't have the same cachet, but they're still very good looking and just as fun to ride.
Triumph Thruxton R (2016+)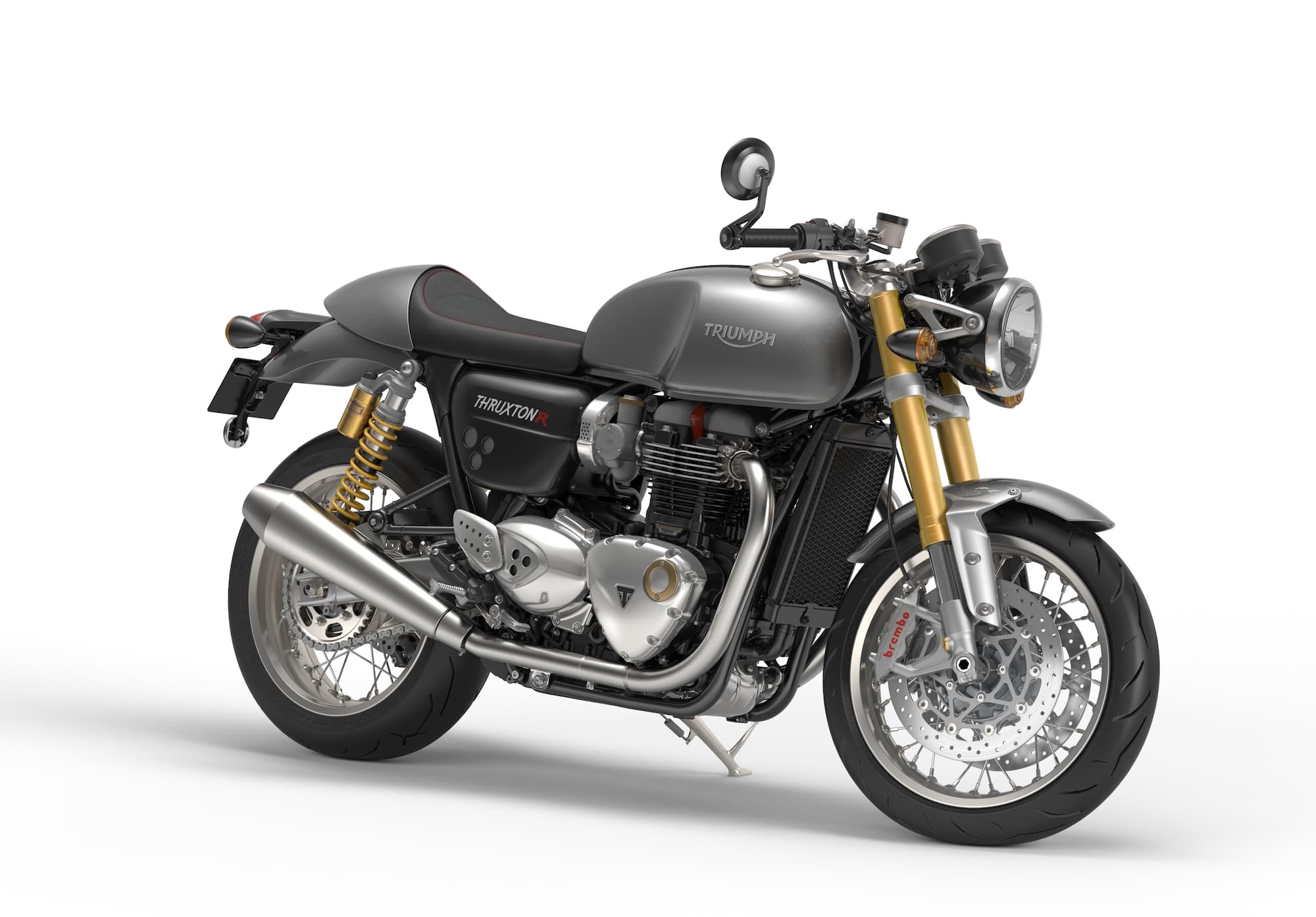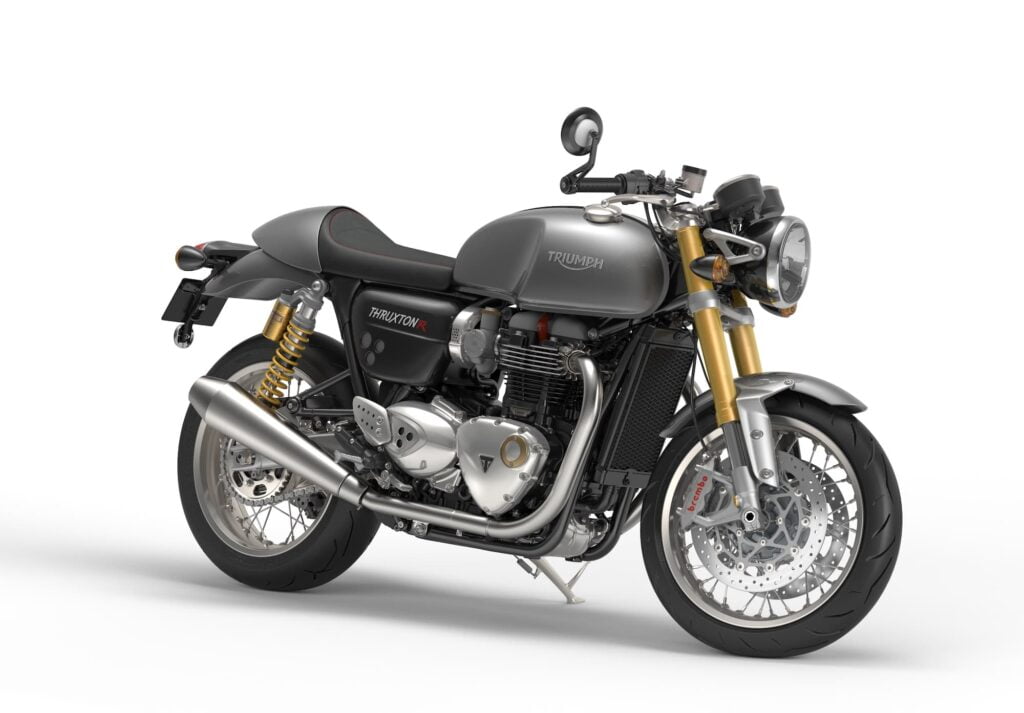 If you're after a classic-looking bike that has a great motor, suspension, and braking, then get yourself a Triumph Thruxton 1200 R.
The Triumph Thruxton R is powered by a 1200cc liquid-cooled 8 valve SOHC parallel twin with a 270-degree crank, giving it a lump at idle and a roar up high. It makes a peak of 72 kW (96 bhp/97 PS) at 6750 rpm, and a peak torque of 112 Nm (83 ft-lb) at 4950 rpm. Very similar figures to the Ducati.
The major advantage of owning the Thruxton is the wider and easier service. The parallel twin engine isn't desmodromic, involves only one cylinder head, and has a wider 16 000 km (10 000 mile) valve service interval (vs the 12 000 km / 7 500 mile service interval of the Ducati). This makes home maintenance quite reasonable.
The ride gear on the Thruxton R is also very impressive. At the front there are Showa 43mm USD "Big Piston" forks that are fully adjustable, and at the rear there are fully adjustable Öhlins twin shocks. This spec beats every version of the SportClassic range other than the Paul Smart 1000 L.E..
The brakes are better than on every model of the Ducati SportClassic, too. The Thruxton R has twin 310mm (slightly smaller) floating discs gripped by Brembo 4-piston radial monobloc callipers. The SportClassics have axial-mounted two piston callipers.
Plus, the Thruxton 1200 R comes with ABS.
You can buy a used Thruxton R for less than you can buy most models of Ducati SportClassics, even though the Thruxtons are lower mileage and more recent. Get one! I really like it when they come with the cafe racer cowl.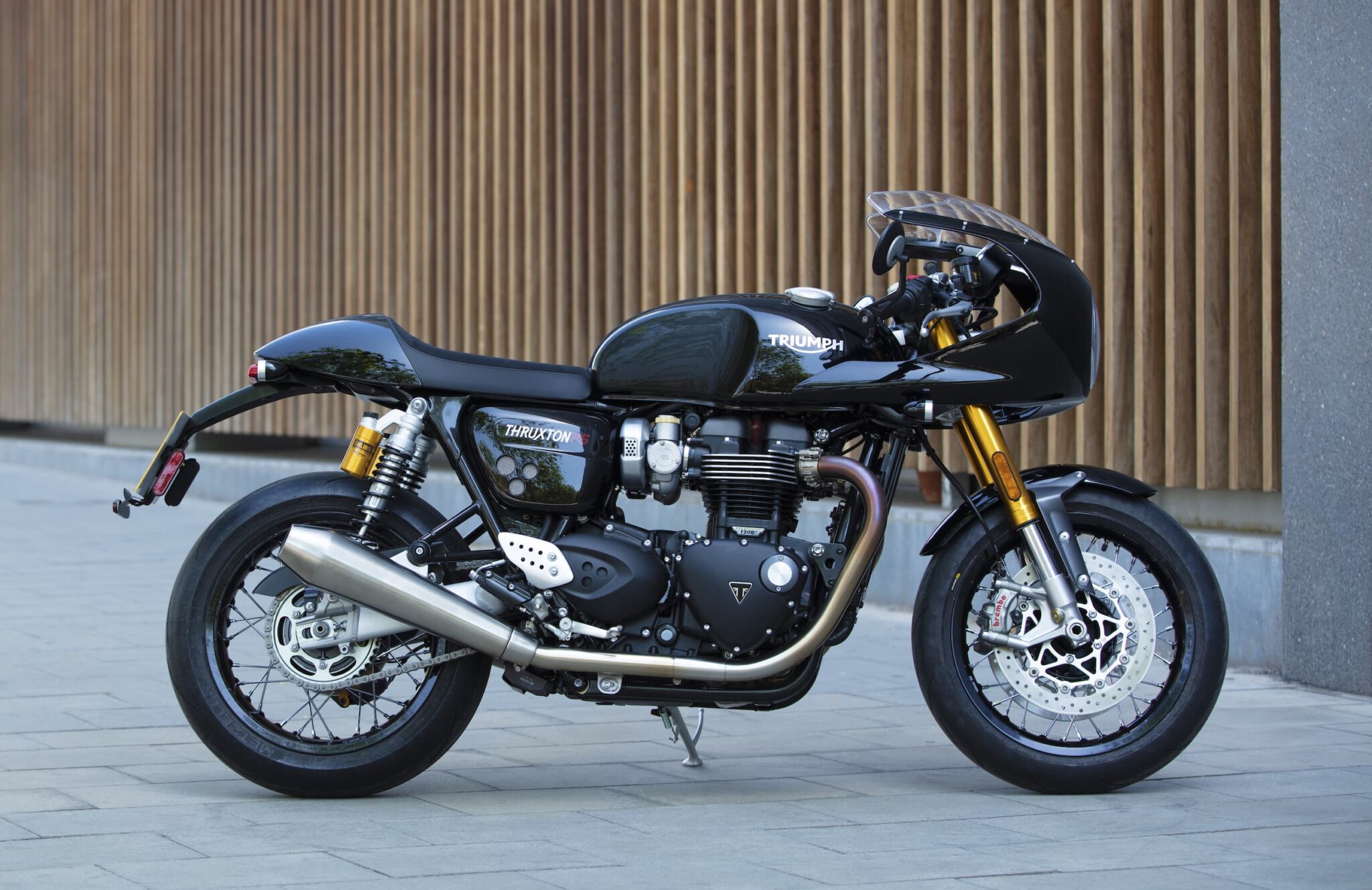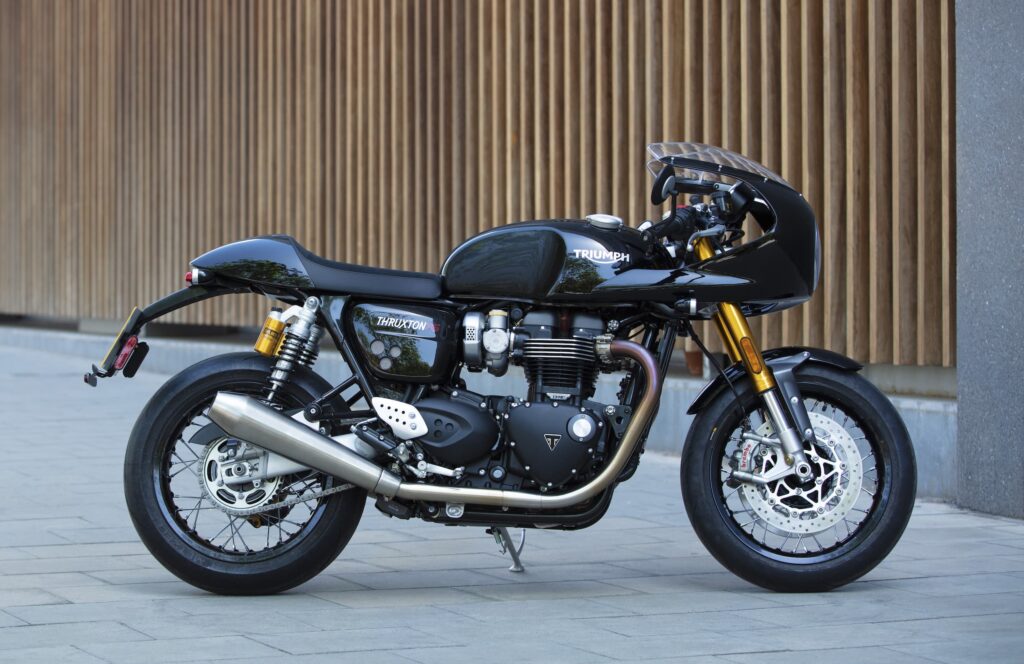 As of 2020 there's even the Thruxton RS, which is lighter, more powerful, and has some better components.
The Thruxton 1200 bikes are, on paper, better bikes in almost every way. The only downsides to the Triumphs are
They're not a Ducati, if you're fixated on the brand. They're even less SportClassics, so they lack that extremely collectable edge, if you're a Jay Leno type character. (They'll still be collectable!)
They're liquid-cooled. If you really want an air-cooled engine for whatever reason, even so it's just so you can avoid conversations about "best coolant", then the Triumph isn't one.
The Triumphs generally have a different look, and you prefer one over the other.
Of course, those aren't objectively "good" reasons — they're highly personal. But we're comparing extremely good motorcycles here, so reasons start getting personal like that.
BMW R nineT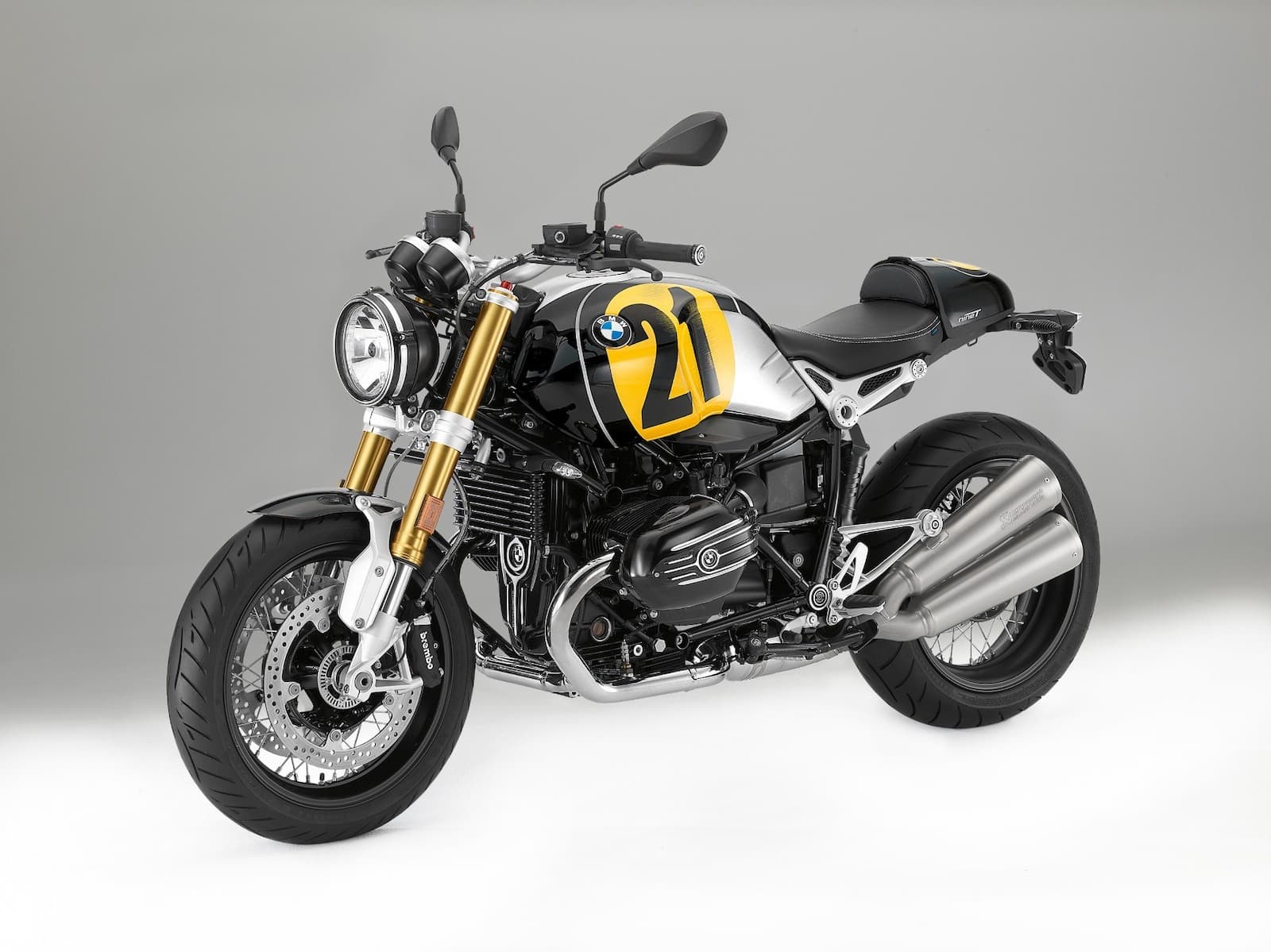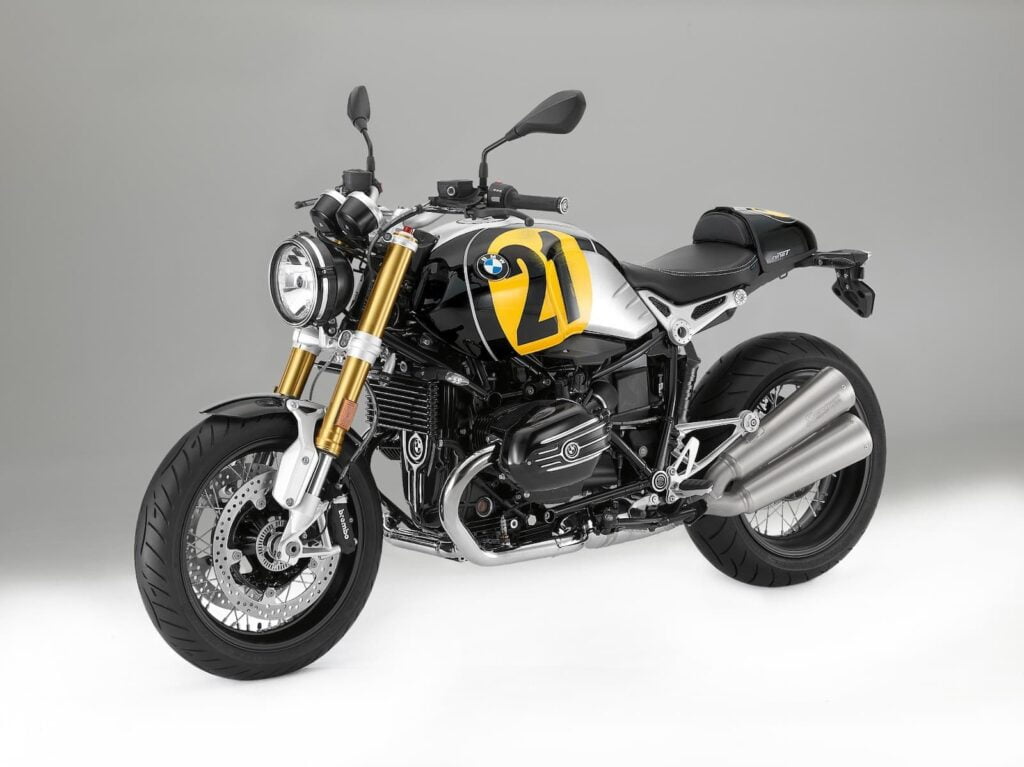 This is a contentious one, it seems. The R nineT is not everyone's favourite bike, for some reason. I think it sits in its own world, not quite as stylish as the Thruxton or SportClassic, and not as sporty as the Speed Triple or Monster. What is it?
The BMW R nineT motorcycles are based on the "Twin Cam" engine of the early 2010s. It's a 1170cc horizontally opposed "boxer" twin that's air/oil cooled. The motors make about 80 kW (110 bhp), and are quite mid-range focused, petering out around 9000 rpm.
The more recent R nineT motorcycles (the base model, which is also the most high-spec) come with fully adjustable upside down forks, with an adjustable monoshock as well. The suspension is not brand-name, like on the Thruxton, but it gives more adjustability than on the SportClassic range. On the other hand, some complain it's too hard in any setting (which isn't my experience).
Braking on the R nineT is also great, with Brembo 4-piston calipers at the front.
You'd pick the R nineT if you like the BMW brand or if you're a fan of the boxer engine sound and feel — personally, I love the way the longitudinally-mounted motor kicks the bike to the side with every rev, and the way it sounds like a WWII warplane. But I don't like the lack of a slipper clutch, it makes shifting more deliberate than I want on a "sporty" bike.
BMW also made the R nineT Racer between 2017 and 2019 (see here for an exploration of what happened to the R nineT Racer) in a decidedly more "café racer" aesthetic. It's tempting to put that as the alternative, but it was considerably lower spec in its front suspension (non-adjustable, non-inverted forks).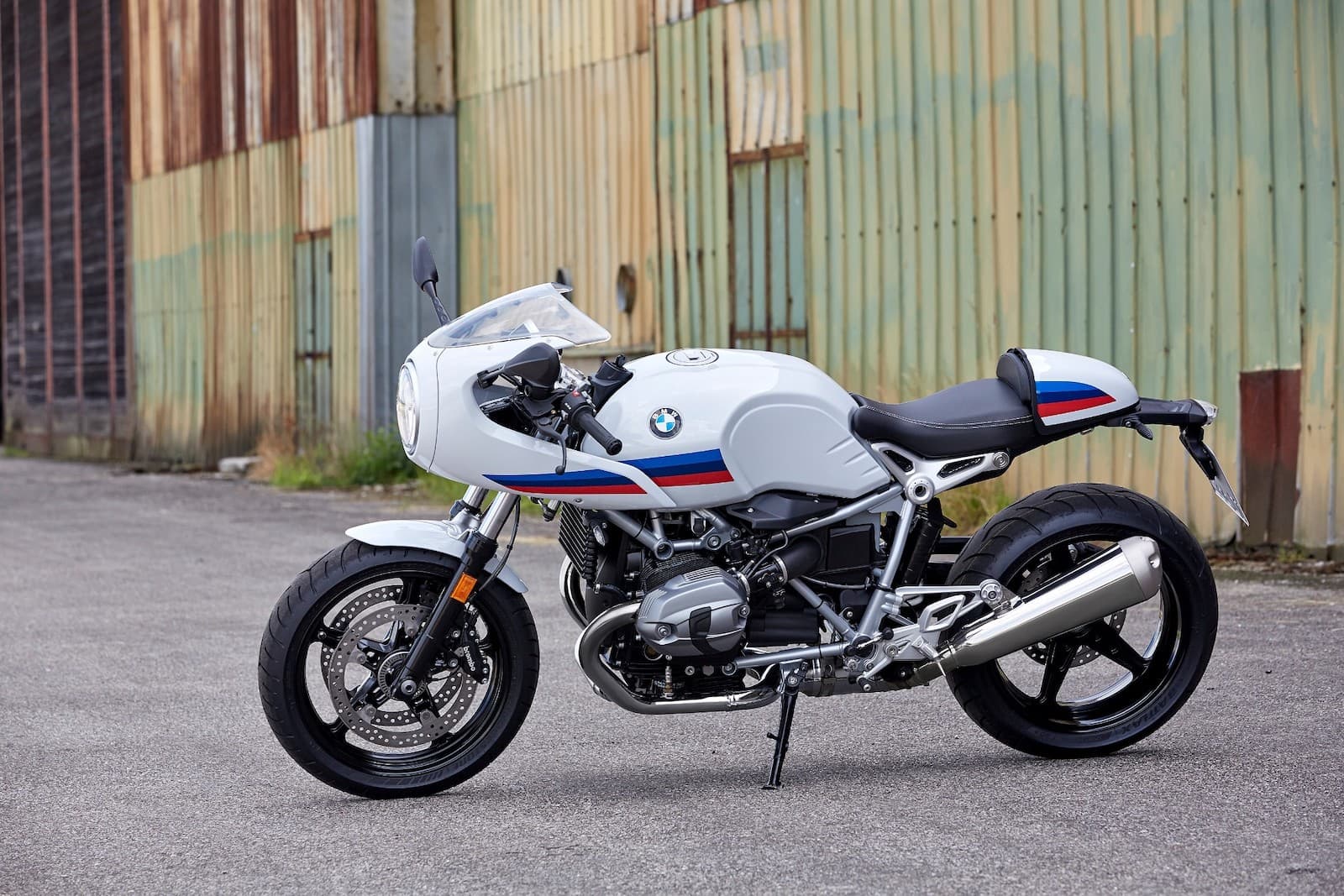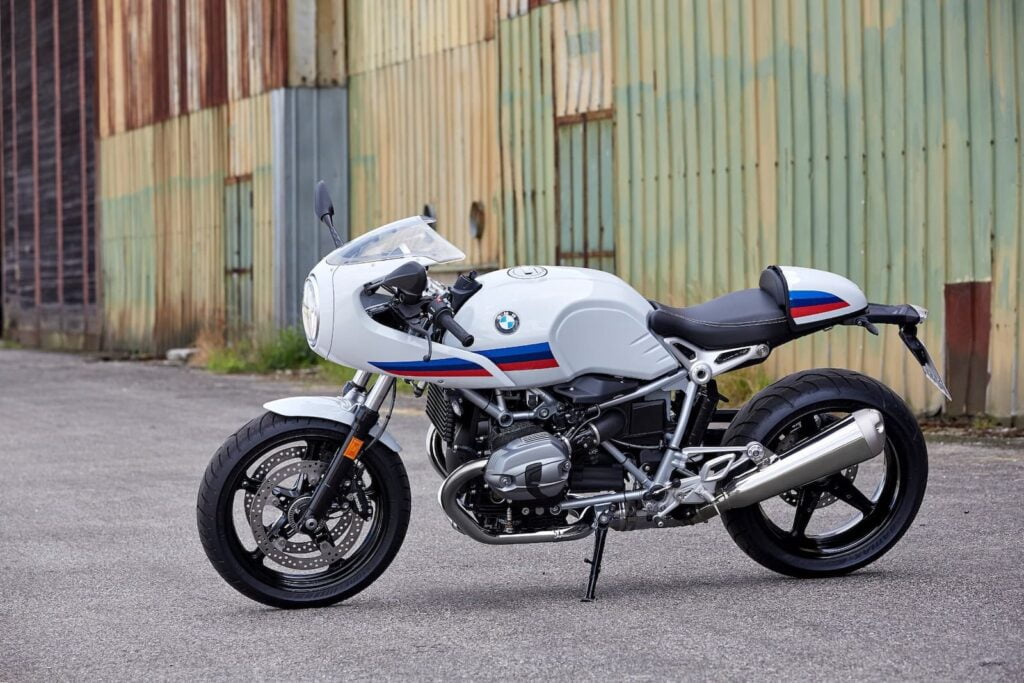 Moto Guzzi Griso 1200 8V (2013+)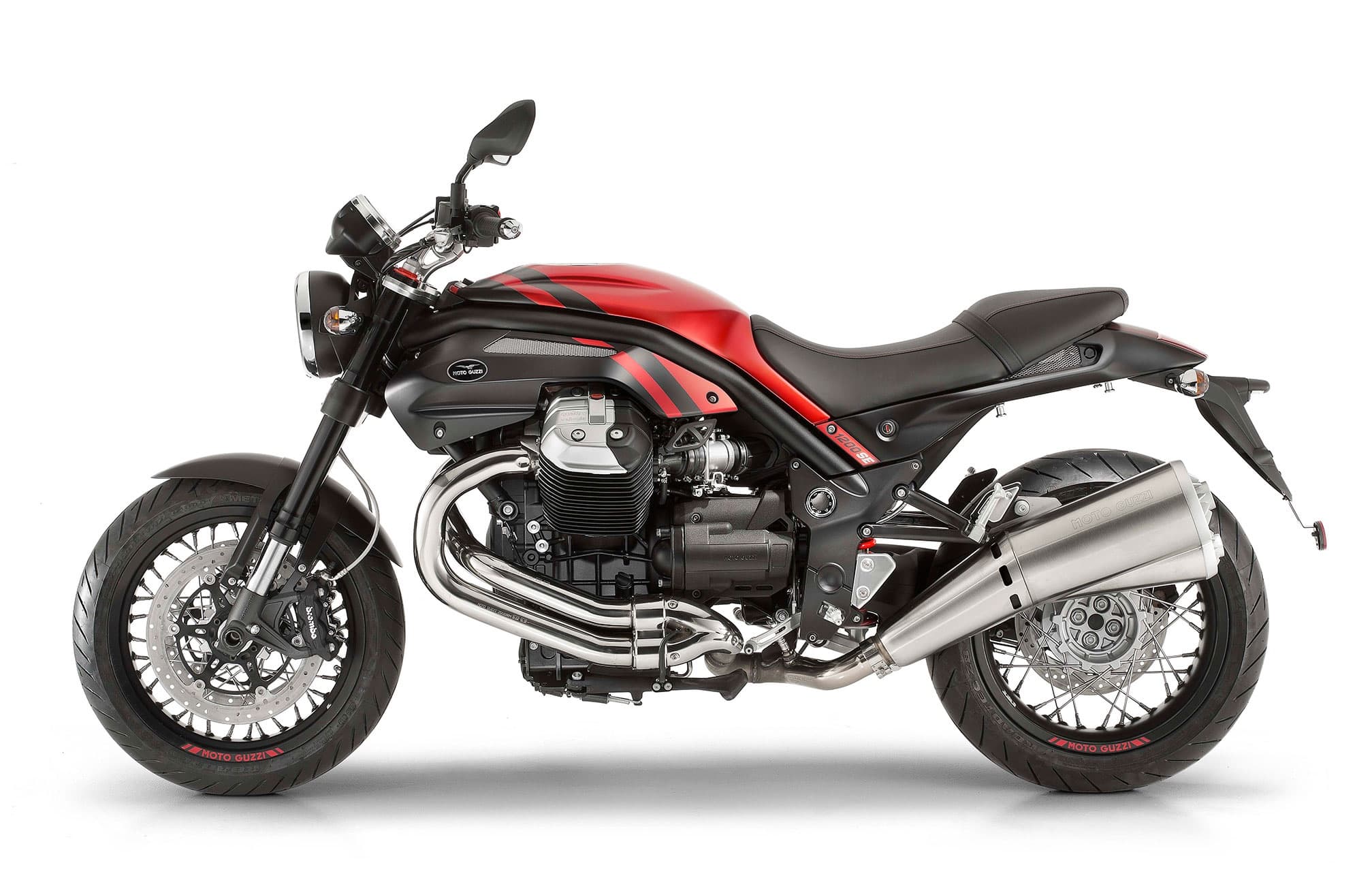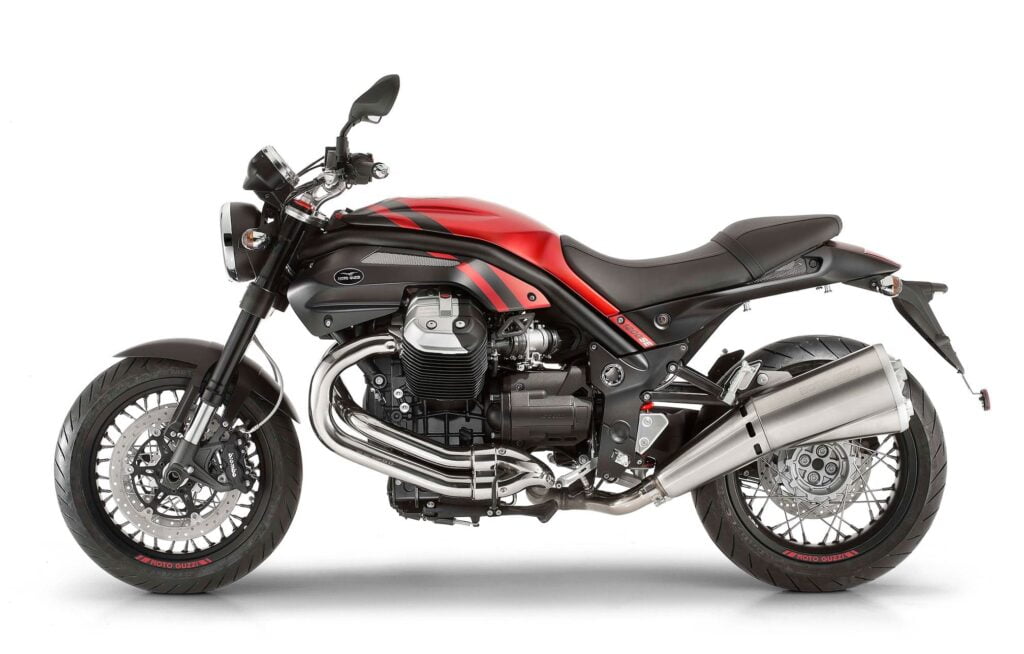 Lastly, if you're considering an air-cooled tough and stylish bike, you can't look past the Moto Guzzi Griso.
Moto Guzzi made the Griso from 2005 to 2015, but I'd focus on the 8V from 2013 onward. There were some issues around flat tappet heads that were only ironed out by mid 2012 (so 2013 is a safe bet). Before then, a bike may have had the problem resolved under warranty, but sometimes it's hard to tell — unless you really trust the seller.
The Moto Guzzi Griso 1200 8V is powered by an 1151cc air-cooled V-twin that's longitudinally mounted. Like the BMW R nineT, it drives a shaft drive.
The Griso 8V even makes similar power to the R nineT — a claimed 81 kW (108 hp) at 7500 rpm and 108 Nm (80 ft-lb) of torque at 6400 rpm. It's a bit heavier, but the suspension and brake specs are great, with fully adjustable front and rear suspension and four-piston Brembo callipers on twin 320mm discs up front.
I've never ridden a Griso because they're rare as hen's teeth, and rarely in dealerships. But I haven't heard a bad thing about them, other than "sometimes the clutch is clunky" (which I've experienced on many bikes). Anyway. Look at it!
Wrap-up — What should you do?
I regret not having owned one of these before they became expensive collector's items. I remember seeing the last one that was a "reasonable" price, back in 2016, but it was above my budget even then. Even though my budget has increased now, I still prefer cheaper bikes.
If I'm lucky, I might get to give one a test one day — but owning one in my limited garage is an unlikely reality, especially as I ride on public roads less and less.
So if you come across one, either by way of a great deal, a passion for the model, or maybe an inheritance, let me know more of your thoughts.