Pierre Terblanche's much-maligned design for the Ducati 999 is finally coming into its own.
Lately I've been thinking of adding another "uncomfortable supersport" motorcycle to my garage.
Every time I meet someone older than me complaining about his (or her, but usually his) back or wrists, I think I'm lucky to be in good shape at age 40. Sports motorbikes don't seem to hurt me just yet. So shouldn't I take advantage of this situation? Yes, yes I should.
There are many amazing sportbikes to choose from if I'm going to keep dalliances under the $10K range. There's the R1, a bike which is as raucous as you could expect for an inline 4, with its crossplane crank engine (from 2009 onward). There's the Aprilia RSV-4, which has a V-4 engine and looks that make me question reality.
But then something always pulls me back to Ducatis. It's not that I'm a raving fanboy. It's just that I have a lot of boyhood dreams I still want to live. Pick your dream, and follow that. Mine is a whole series of Italian beauties like the Ducati 999.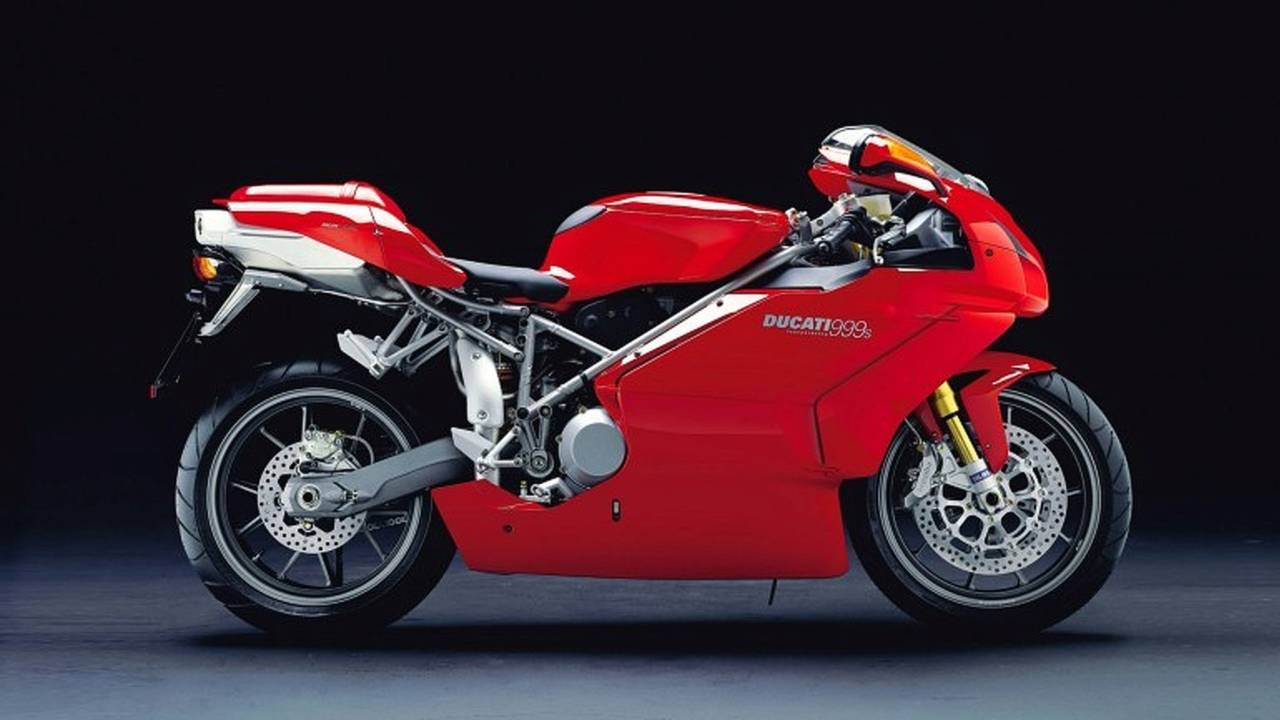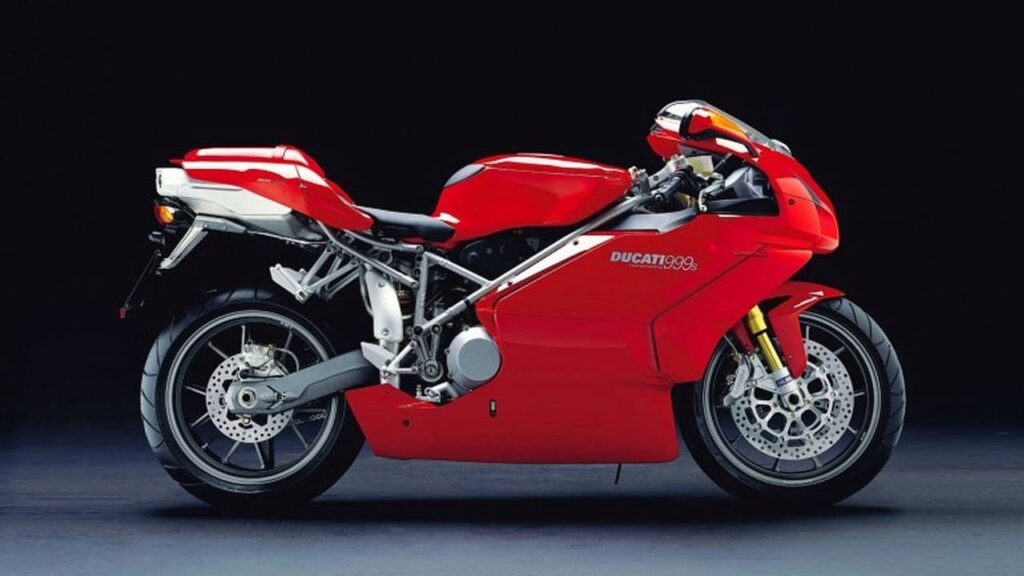 I checked out a very nice Ducati 999S in the Sunshine Coast region a few weeks ago. Didn't buy it (the add-ons, like a $5K-value clutch, put it out of my price range), but I did some research on it, and here it is.
Enter the Ducati Superbikes (pre-Panigale), a range of motorcycle I've always had a soft spot for, and particularly, the Ducati 999.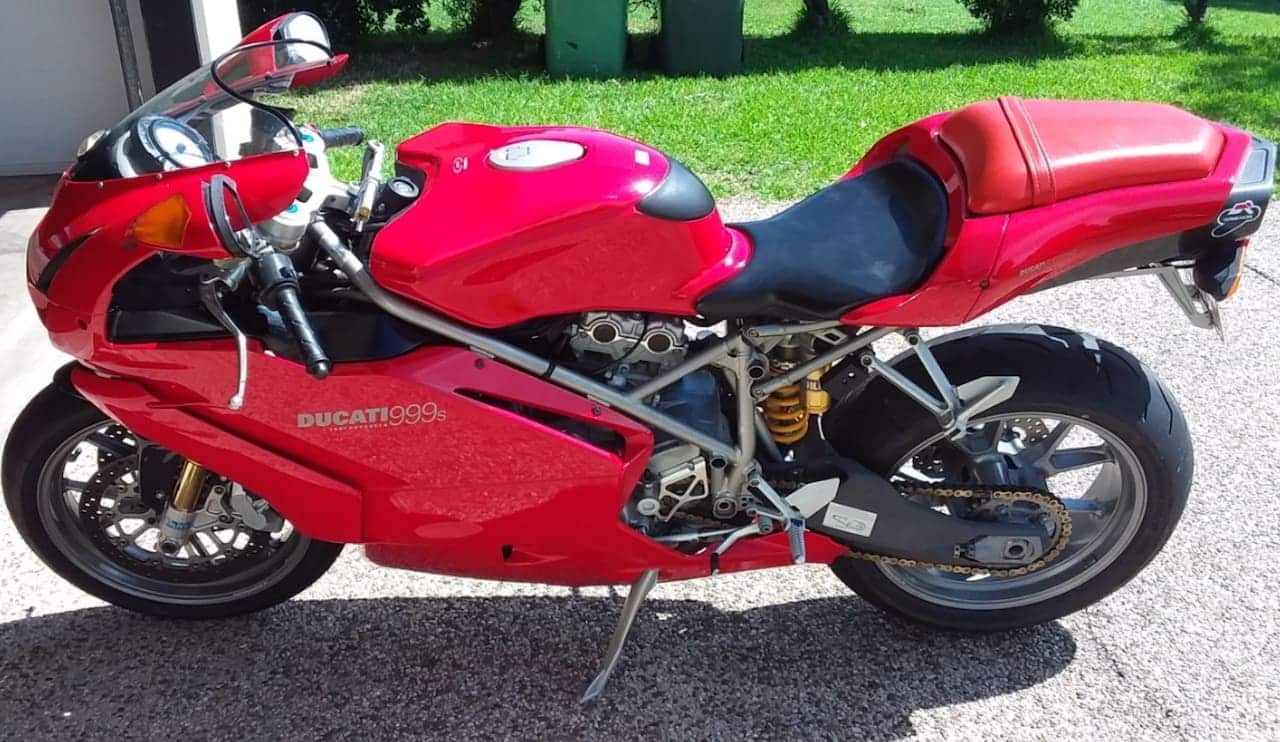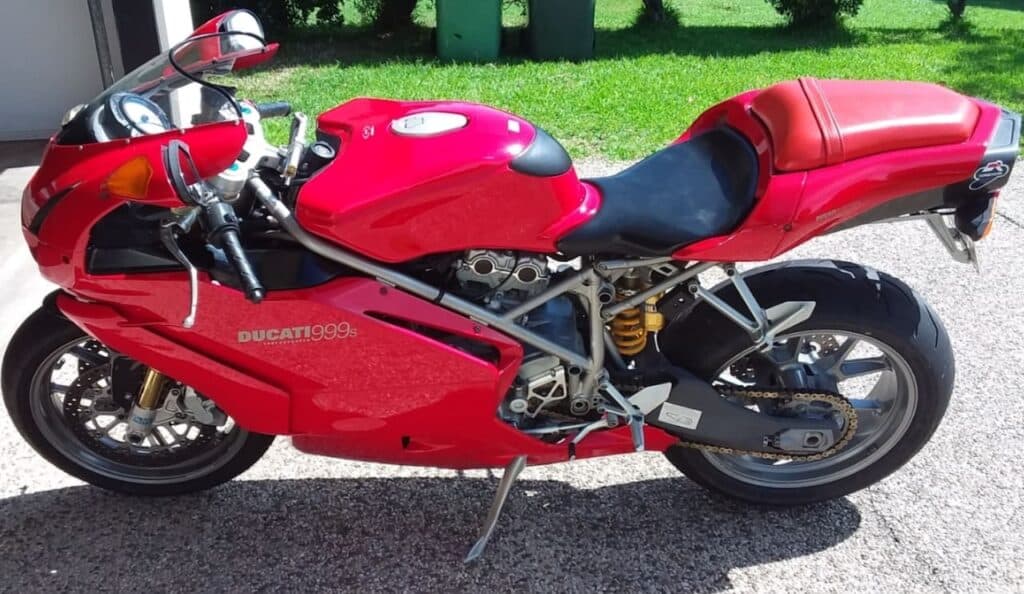 Are you obsessed with motorcycles?
Well, I am. That's why I created this site — as an outlet. I love learning and sharing what others might find useful. If you like what you read here, and you're a fraction as obsessed as I am, you might like to know when I've published more. (Check the latest for an idea of what you'll see.)
A bit of history — How we got to the Ducati 999
The Ducati 999 was the latest in the line of motorcycles starting with the 916 in the early nineties.
I wrote a longer article on buying a used Ducati superbike, covering everything up to the 999.
But in a nutshell, the Ducati 916 was designed by Massimo Tamburini. He produced a line of motorcycles that ended in the 998 before moving on to other things with MV Agusta (at the time part of the same larger motorcycle holding company).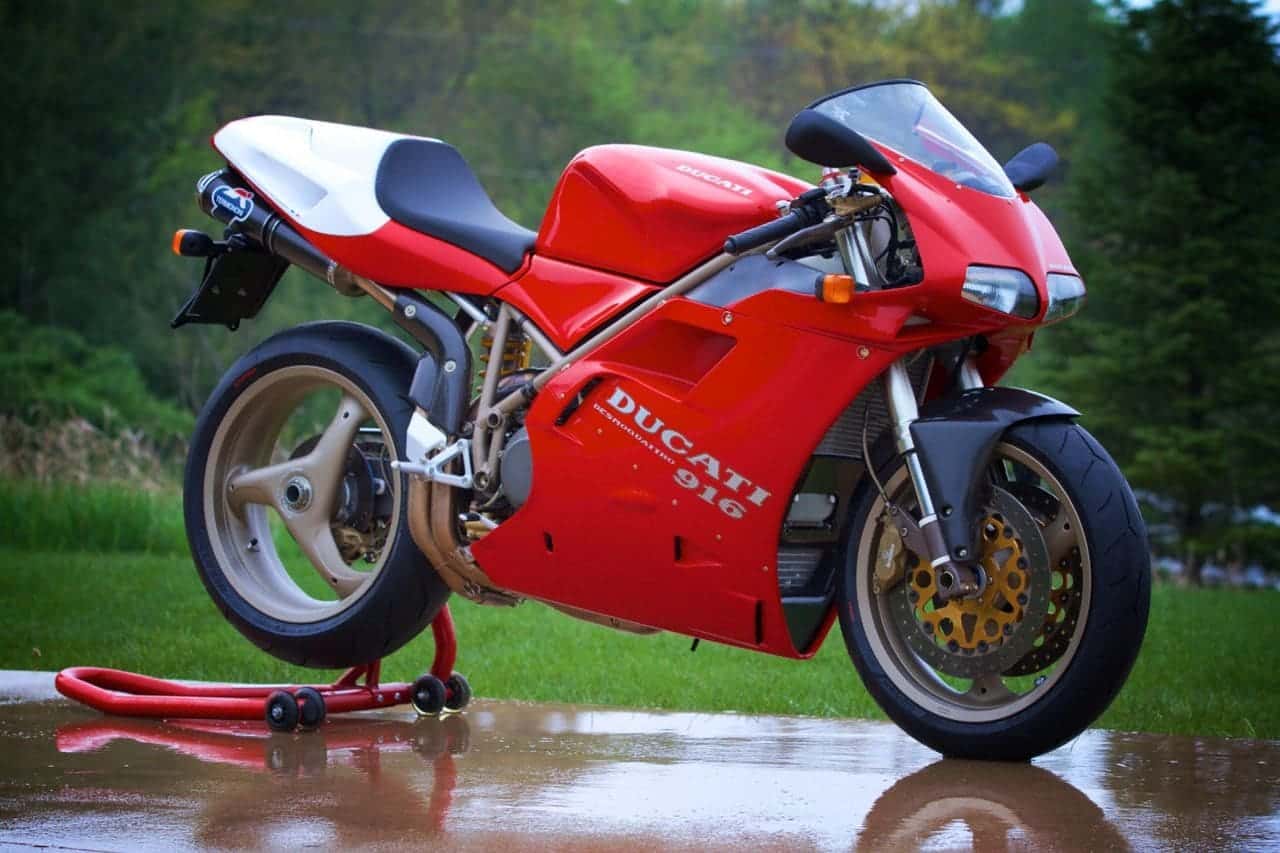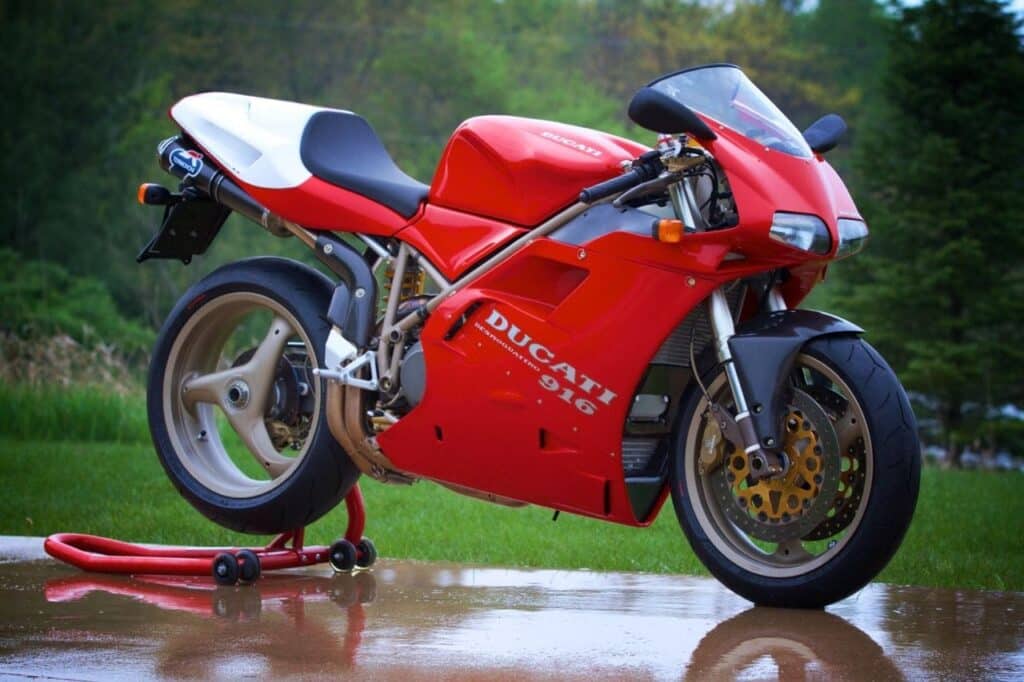 Signor Tamburini's timeless design made popular a few design features:
A single-sided swing-arm
Under-seat exhausts and the exposed rear wheel
Large twin headlights
Sporty lines
These design features were copied with only minor changes in the subsequent Ducati 996 and 998 and all their model variants.
The Ducati 996 and 998 also gave small improvements on top-end horsepower and large improvements in mid-range torque, making them much more usable around town. The end result is that the Ducati 998 range (especially those with Marchesini wheels and Öhlins shocks) have become fan collectors favourites.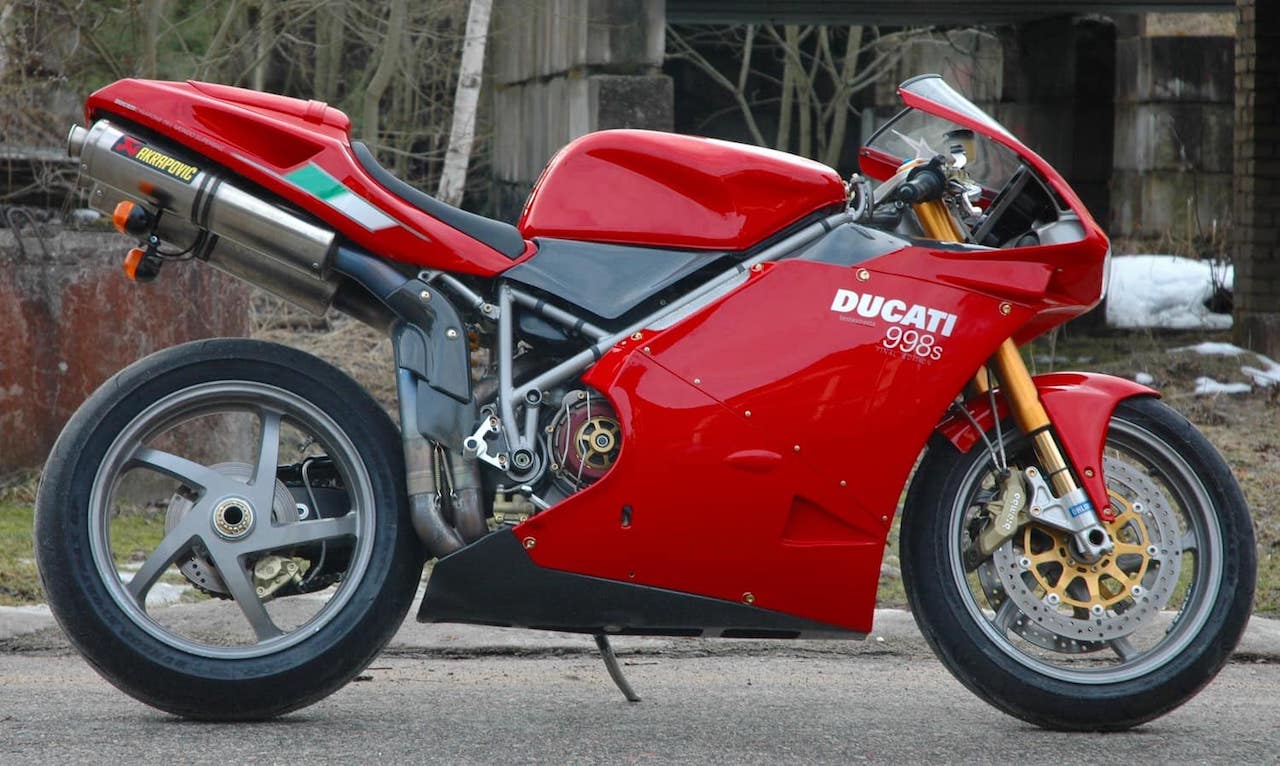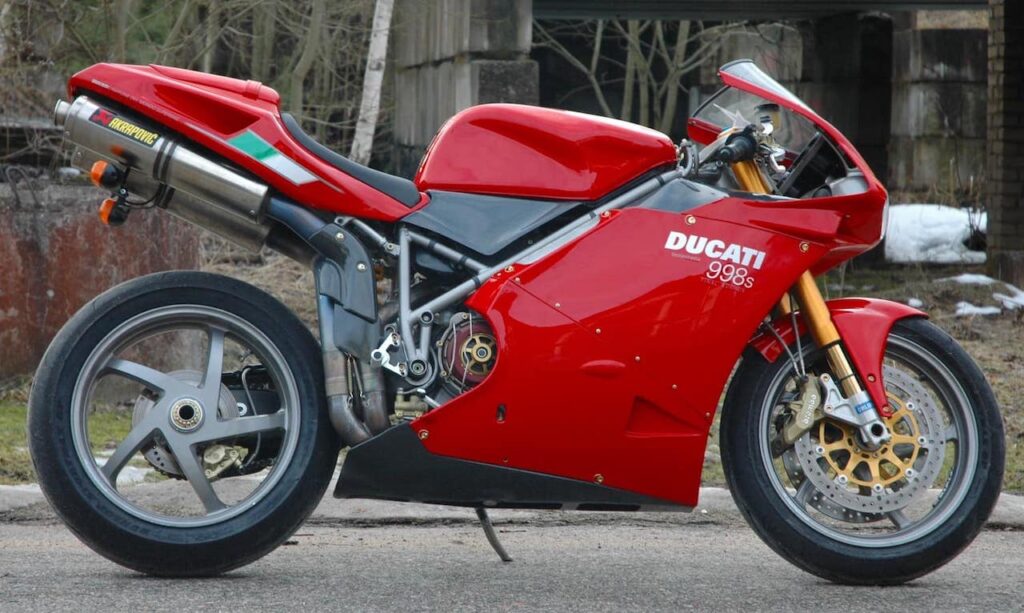 The Tamburini design range ended abruptly with the 999.
Pierre Terblanche totally revamped the design for the 999. He abandoned the single-sided swing-arm, and replaced the horizontal front lights with two vertically stacked lights.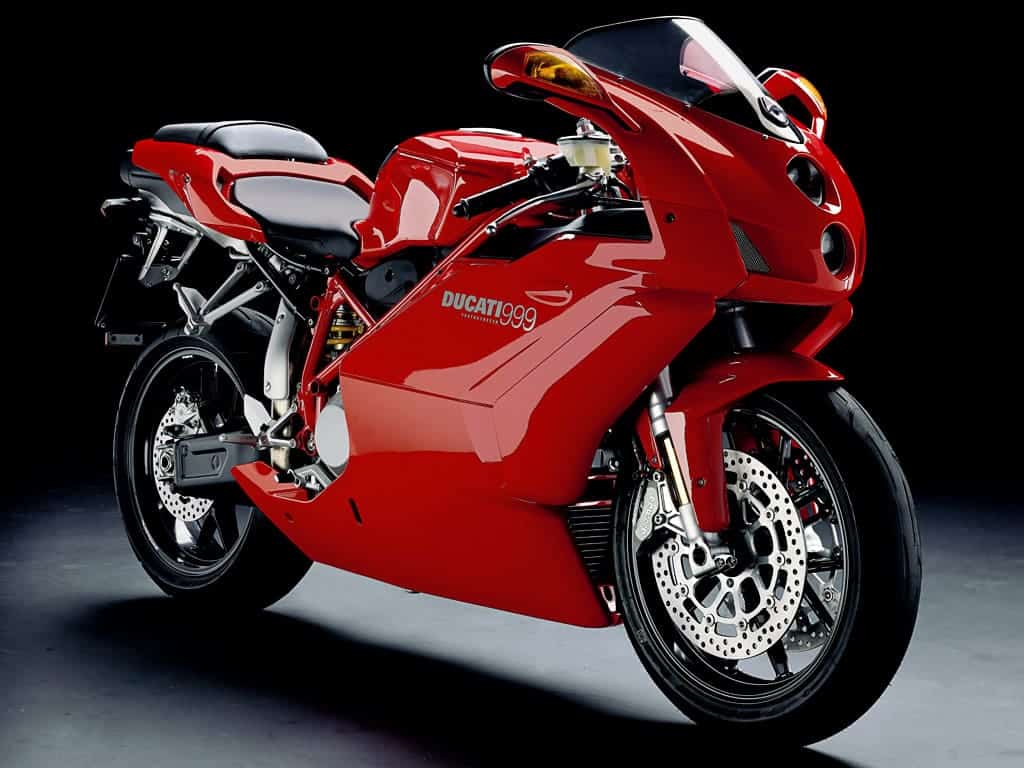 The design of the 999 really caused consternation among the Ducati faithful. People at the time hated it compared to the standards-setting design of the 916. But on its own, it's fine — if not great!
Something about the aesthetics of the 999 really grabs me. As much as any other Ducati, the 999 looks like a toy I'd keep on my shelf as a child. The contrast between the red plastics, black tyres and metallic functional pieces adds up to a visual temporary crescendo away from which Ducati backed with the subsequent 1098.
Aside from the shape of it, the 999 seems to be better built than its predecessors. It may just be the examples I've seen, but the paint and plastics have better stood the test of time. In fact, the ones I've seen have gleamed, leaping out at me just like these photos leap out of the screen.
I have a suspicion that one day Ducati will return to this same design language — even if just to appeal to the vintage crowd.
Riding the Ducati 999
Riding a Ducati 999 makes me feel like I'm alive: temporarily, but extremely.
The Ducati 999 feels, in spirit, like its predecessors; but more like its successors, like my much-loved Ducati 1098S.
That is to say — riding the Ducati 999 is a very visceral, raw experience. The v-twin through a raspy Termignoni exhaust (a must-get feature — look around until you find one), coupled with a dry clutch, means that the 999 is a much more mechanical-feeling machine than many of its smooth Japanese contemporaries.
Compared to the earlier models in the same series, the Ducati 999 feels firmer and more balanced. It's still a small motorcycle. But you sit a little lower, a bit more "inside" it, rather than jockey-ing on top. (This tiny feeling was rectified in the 1098-on motorcycles — they were the first that feel like a "full-size" sports bike… still small, but adequate!)
At the same time, the position places you a little forward on the bike. You're a bit more over the handlebars. This means it's easier to maintain traction and to dive into corners. (Though this writer didn't get close to losing traction on my test ride!)
But the compactness only adds to the feeling of the earlier 916 series in that you feel like you're basically on top of the front wheel, depending a little on your torso height. That's not all bad. It just doesn't give you a feeling of security — it's more akin to flinging a go-kart around a track as you bend time and space to your will.
The take-home feature of riding any Ducati superbike for me is that I feel more present than on any other motorcycle. Put me on a screaming Kawasaki or Honda four and I'll have the time of my life, sending the engine soaring to 8,000 rpm and above in everyday traffic, twisting the throttle and waiting for the turbo-like rush of the sudden 30% leap in torque.
On a Japanese four-cylinder sportbike, I quickly get into the zone. Nothing really is very hard. On Honda FireBlades in particular, even low-speed commuting is easy. Once I get used to it, I turn the music on in my headphones and can wile away an hour of commuting or travelling without breaking a sweat.
But on a Ducati superbike, I'm 100% present. Cornering got progressively easier as the Ducati superbikes progressed, but it always requires my attention. The engine and clutch are always singing to me (or yelling at me), trying to tell me something with varying levels of enthusiasm or desperation.
The roads aren't designed for these Ducati motorcycles (I refuse to change that sentence's order around), and they constantly remind me, often jarring my backside and occasionally my prospects as a father. There's no way I'd play music while riding a Ducati 999 or any other Ducati superbike. Riding a Ducati 999 makes me feel like I'm alive: temporarily, but extremely.
Other writers tend to agree about the Ducati 999. Bennets puts it best: "But there is a dirty secret that even Ducati fans don't like to talk about – unpopular as its styling was at the time, the 999 is actually a far superior machine. Sorry, it is." (The apologetic tone is probably because most people want to disagree.)
It's not the best Ducati ever, though. They kept improving. The 1098 was an improvement again — but that's a story for later.
Apart from other big-bore V-twins — which really means just Ducati (particularly the latter ones), Aprilia, MV Augusta and… anyone else? — nothing else modern rides like a Ducati 999. Especially now that nearly every motorcycle (including nearly all Ducati motorcycles other than the V4R) has a wet clutch.
How the Ducati 999 Stacks Up today
In terms of design, the Ducati 999 was an odd-ball back in the early 2000s — mostly compared to other Ducati motorcycles.
But today, the 999's design is not so unusual. Even though Ducati abandoned vertical stacked lights, other manufacturers have had them from time to time, including on their class-leading motorcycles. Well, Suzuki has, anyway.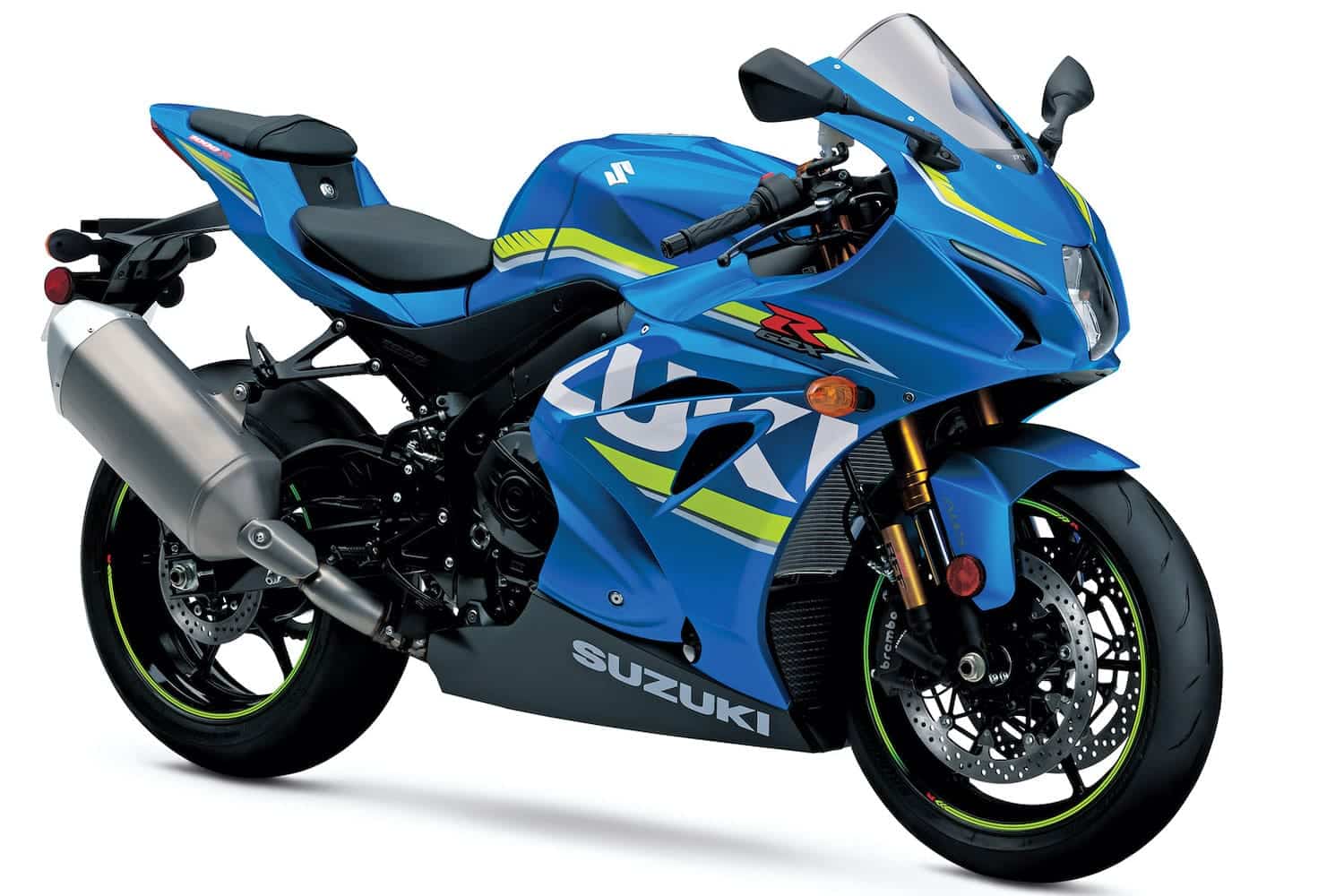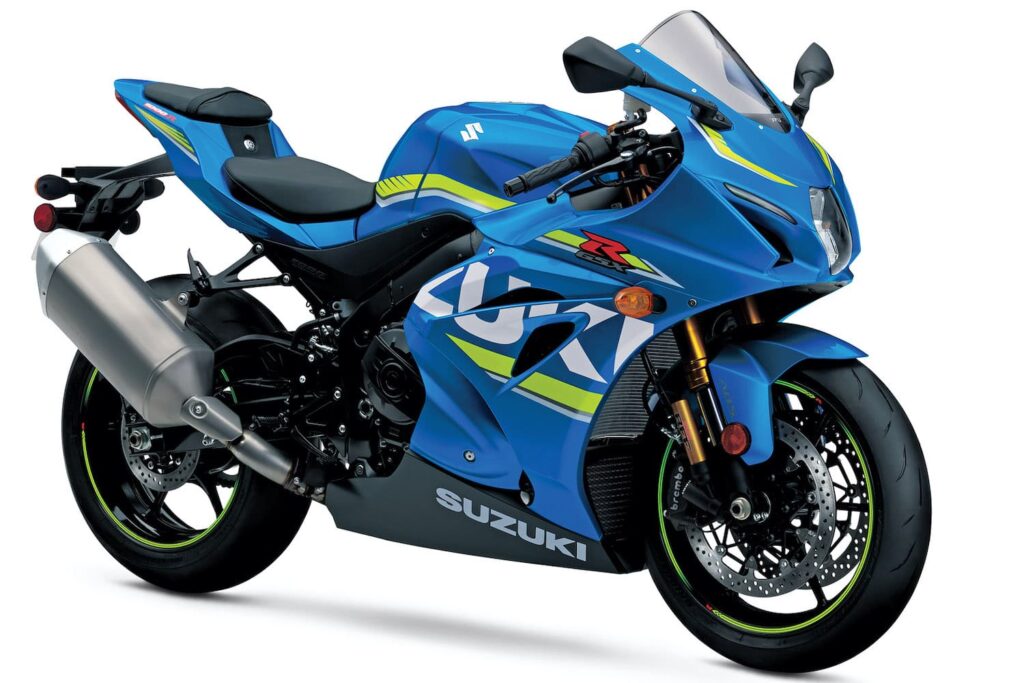 Double-sided swing-arms are still used by nearly all major motorcycle manufacturers. The reason, they say, is that it lets you use less metal overall (lower weight) to provide the same rigidity. It also is easier to balance the motorcycle. Compelling. But double-sided swing-arms definitely don't look as good!
The slightly square design of the 999's plastics isn't so much in use today. Most modern motorcycles are a lot more round. The only boxy example is another Suzuki, the Katana, which itself is another throwback machine.
Variants of the Ducati 999
Like other Ducati superbikes, the Ducati 999 comes in a few distinct variants. The TLDR of this is buy the Ducati 999S if you can. It was a lot more expensive back in the day, but time has whittled away the price difference between a 999S and a standard 999, so it represents much better value.
Ducati 999S
The Ducati 999S is actually slightly more powerful than the base model 999. This isn't always the case with "S" versions. Usually, it's just the base model + Öhlins + lighter wheels.
Differences between the Ducati 999S and base model Ducati 999:
Slightly (~2%) more power — 105.2kW (141 hp) @ 9,750 rpm, vs the base model's 103 kW (138 hp) at the same.
Slightly (~2.5%) more torque — 111.8 Nm (82.5 lb-ft) @ 8,000 rpm, vs the base model's 108.9 (80.3 lb-ft)
Öhlins 43mm forks, vs the base model's Showa 43mm forks. These are gold in appearance, that's how you can tell it's a real "S" (not just fairings!)
Comes in single-seat (monoposto) as well as dual seat. The original only has a dual seat config.
Termignoni exhausts — These were standard on the Ducati 999S, not an option.
Ducati 999R
The Ducati 999R is the racing variant of the Ducati 999. It's much more expensive, and unless you're a collector with many millions in your pocket, I wouldn't recommend it.
The differences with the Ducati 999R over the base model are:
More (~5%) power — 108kW (145 hp) @ 9,750 rpm, vs the base model's 103 kW (138 hp) at the same.
More (~7%) torque — 116.7 Nm (86.1 lb-ft) @ 8,000 rpm, vs the base model's 108.9 (80.3 lb-ft)
Öhlins 43mm forks, vs the base model's Showa 43mm forks. This is same as on the S.
Comes in single-seat (monoposto) only. You don't take a passenger racing…
Lighter weight components — dry weight of 181 kg vs 186kg for the base model
Termignoni full exhaust — The 999R gets a full race system (with the rae ECU to fit).
Prices for these are too high — I'd only buy one as a collector. If you want the power and don't care about a model/design, opt for a Ducati 1098 instead.
And you can race any of them.
What to look for in a Ducati 999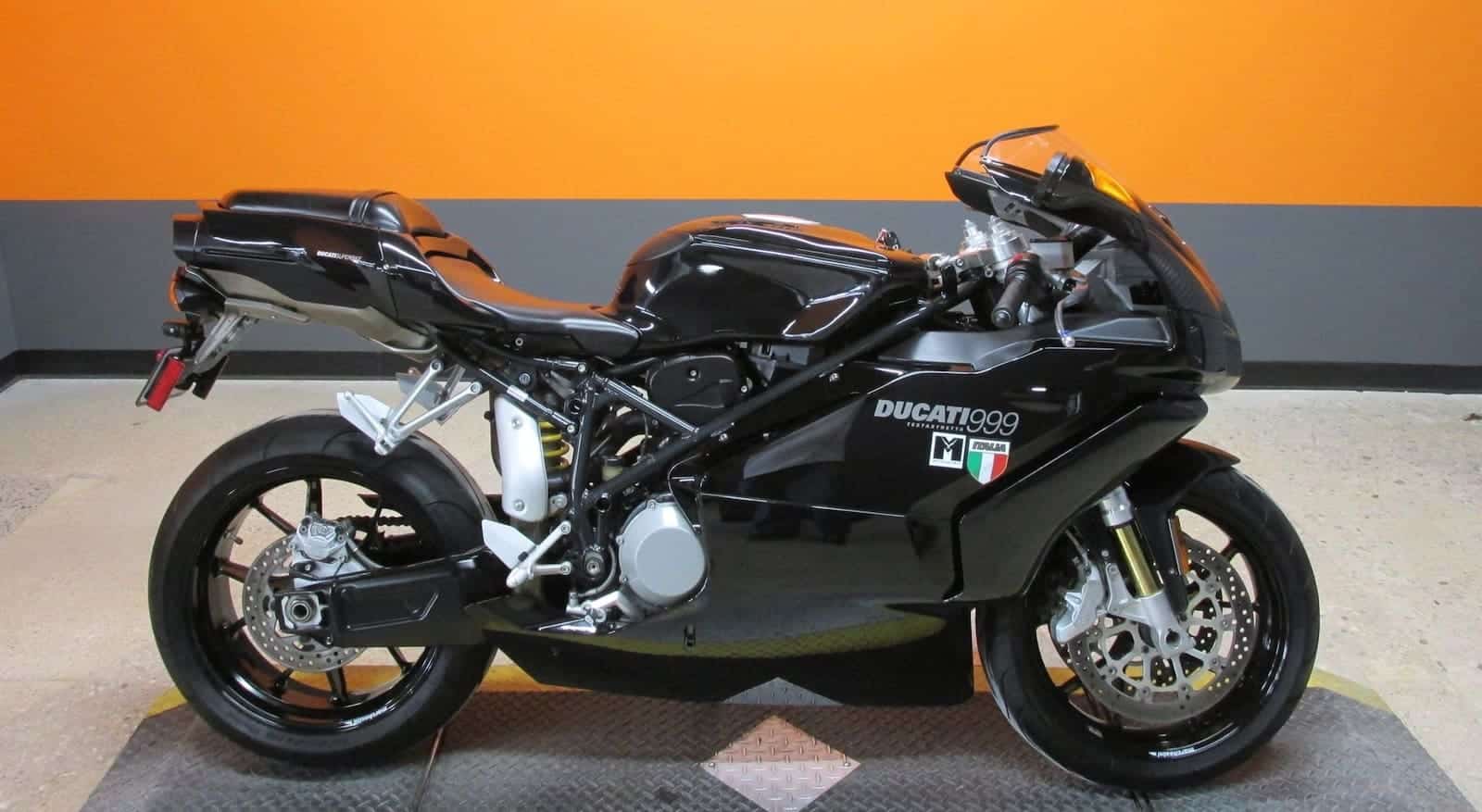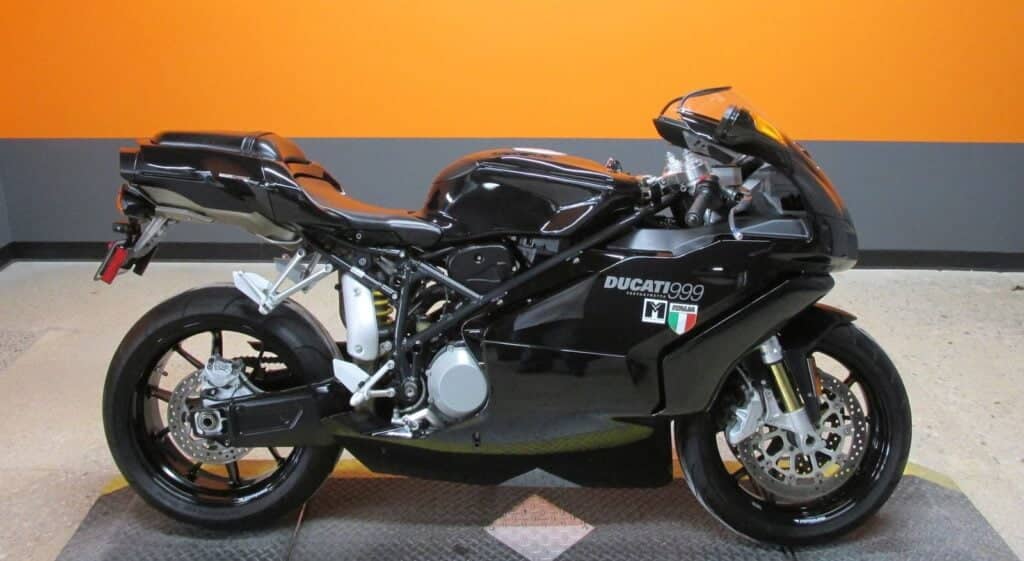 Firstly, I'd suggest finding a Ducati 999 S. The additions make it worthwhile. There are many for sale — they're not a rare bird.
Buying a Ducati 999 means you need to read two of my buyer's guides. Two of them!
Some things I usually find is that Ducati superbike owners don't do their own maintenance. They're a fancier crowd. So they might be aware of valve service intervals, but usually don't know things like
Belts have to be replaced every two years even if you didn't do the distance. Don't listen to them saying "it's fine". Knock $500 off the price. If they don't want to — walk away (I did)
Tires with enough tread that are 5 years old aren't OK. Actually they may be if the thing was stored in someone's living room. But still, knock some money off that thing.
The guy trying to sell me his 999S, as nice as he was, tried to tell me incorrect things about single-sided swing-arms being inferior. There is always merit in comparisons, but I trust an engineering team more than the opinion of someone trying to sell me something.
Because the 999 is a sports bike, it will have been treated like one. That means that it's likely to have been wheelied and maybe even crashed. So check the fork seals and steering head bearing — any play in that steering head means an expensive repair. Fork seals are cheaper, but still annoying to replace.
You can also find evidence of a drop in replaced clip-on handlebars, bar-end mirrors, or controls. A drop isn't bad. But an owner who lies about a drop is much worse than a drop itself. If an owner lies about a drop, it means maybe there are gremlins under the plastic that you don't know about!
And finally, if you really like the 999, but would rather have handlebars and no fairings, then maybe what you're looking for is a Ducati Monster S4Rs. See my guide to the Ducati Monster S4 range for more.