There are few motorcycle brands as powerful as Ducati, and few Ducati models as influential as the Ducati 916 and the motorcycles that came after it. The Ducati Monster is gorgeous, and has been credited with reviving Ducati's business. Scramblers are the hot thing right now.
But it's the Ducati superbikes like the 916 that really get hearts — and racers — racing. If I want to buy a Ducati, then to get anything other than a superbike is a compromise of kinds, the result of me telling myself "I don't need that much power on the street" or "I'm scared of it".
But since when was getting a motorcycle a practical choice?
PS. This article is long. There's too much to say!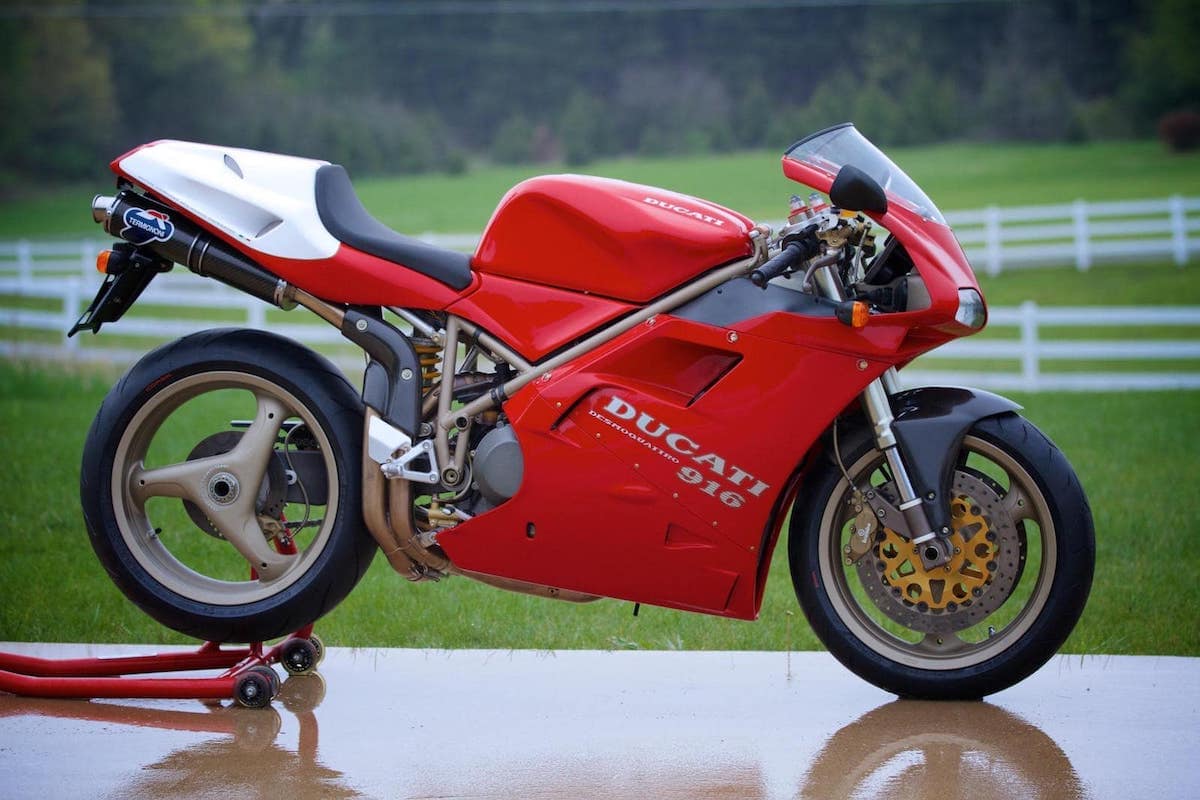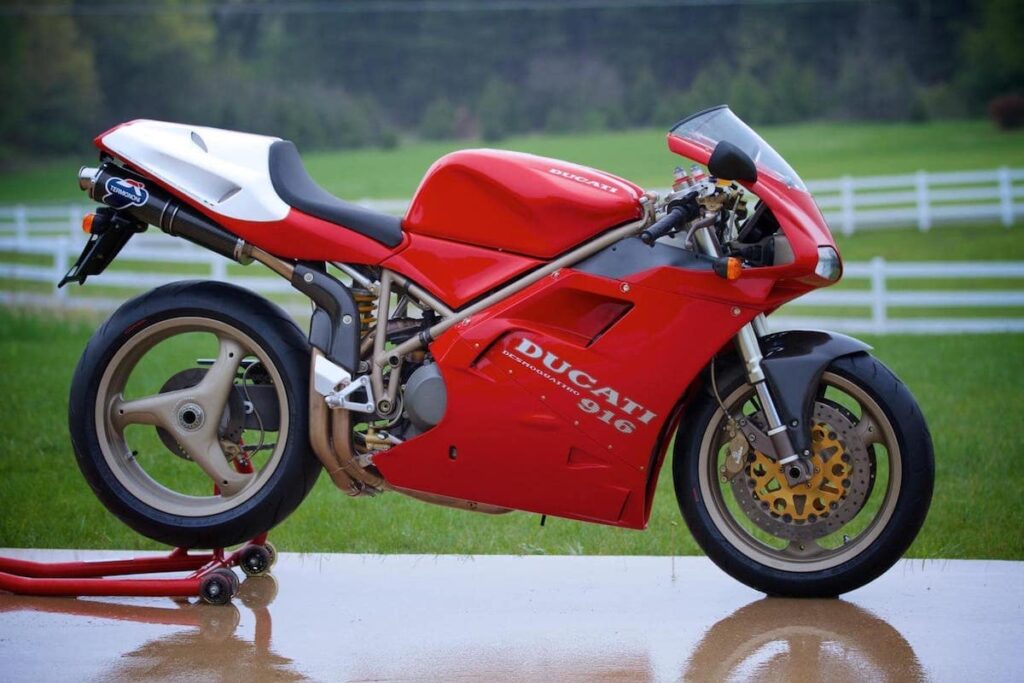 In this guide…
No BS advice on which "original series" Ducati superbike to get (and roughly how much to pay)
What to check for when buying a Ducati superbike
Why buy a Ducati superbike… it's more than they just look great (but that's a good reason)
A history of evolutions of Ducati superbike models (leading up to the Panigale series) — what changed in power, specs, ride-ability and design
Smaller alternatives to the biggest Ducati superbikes (like the Ducati 748 and 749)
Onward. Enjoy!
Are you obsessed with motorcycles?
Well, I am. That's why I created this site — as an outlet. I love learning and sharing what others might find useful. If you like what you read here, and you're a fraction as obsessed as I am, you might like to know when I've published more. (Check the latest for an idea of what you'll see.)
The long and short of it – which classic Ducati Superbike should you buy?
Here's what I recommend, based on different rider profiles.
If money and patience is no object, go find a Ducati 916 SP or SPS on collector's auctions. It's the one that will stand the test of time. But take it about on a trailer and don't crash it!
If you want to ride on public roads, get a Ducati 748S. Just as visually stunning as its older or bigger brethren, still with great power, but more usable on the roads.
If you want to ride the most unique, get a Ducati 999S. It's the "riders motorcycle", being a lot easier to ride than any previous generation. It's just not the nicest to look at.
If you want to ride balls-to-the-wall, get a 1098S or an 1198S! I guarantee nothing else will make your heart sing quite as much…
You can't really go wrong with any Ducati superbike, and I doubt you'd regret any decision. I just generally suggest you get the "S" version for the much more advanced suspension and the lightweight (and good-looking) wheels.
After the Ducati 1198 (end of this series) came the 1199 Panigale, which is a whole other series of motorcycles, which I look forward to test riding soon.
What to check when buying a Ducati Superbike
In addition to the regular things you'd check on a motorcycle, there are a few specific things you must check on a Ducati.
In summary, buy a Ducati Superbike that has had its valve service done, has working electricals and charging, intact tank and fairings (with no swelling in the tank), and already has a full exhaust system.
The things to check for on a Ducati superbike are:
Were the valves serviced recently? Were the belts replaced? Belts and valves need inspection every 6,000-7,500 miles on pre-Panigale superbikes, and belts have to be replaced every five years. Generally, Ducati Superbikes are very well treated by the first owners… but not necessarily as much by the second and later. Some people don't do the service, or just sell it when it's due, hoping you don't notice. Congrats, it's your problem now! You can do it yourself, but it will take you a full day (or two, if it's your first time). Basically: Assume you'll be out another $1,000 for this service unless there's hard evidence that it was done. That evidence could be photos or a receipt from a mechanic.
Do the electricals all work? Make sure the displays work and that the charging system works. Take a voltmeter along to your inspection. If there's a bad connector, loose wire or other faults in the wiring loom, diagnosing and repairing is kind of a nightmare on a Ducati, or any motorcycle (especially one with a fairing). Also, these problems are super common. Failed rectifiers are probably the most common, and luckily, the easiest to fix.
Are the tank and fairings intact? Dents in aluminium tanks are expensive to replace. And the dents are easy to acquire. Similarly, it's easy to damage a panel. Guess what? Ducati tanks and panels are expensive! Many scratches or dings will devalue your target motorcycle a LOT — thousands, even.
If the Ducati has a plastic tank and you are in North America: Check for swelling in the tank, like bumps and blisters, or the tank bulging asymmetrically. If the latch is hard to open, or if the tank is too close to the ignition shroud, it's a sign of swelling. Swelling in the plastic tanks was caused by ethanol mixed into North American gasoline. It was a known problem, and for a while, Ducati was offering replacements. If your tank has no swelling, it may have been replaced (which is good). Of course, if the owner has evidence of this, all the better.
Does it have a Termignoni exhaust? The stock Ducati superbike mufflers under-serve the Ducati motorcycles. Termignoni systems cost over $1,000 new, and won't be as available for older machines. Many new owners slapped them on without much second thought (and can get almost nothing for them now, used), so buy one already equipped. It's worth waiting for. Other exhaust systems are fine too but just stay away from no-name eBay units (thankfully somewhat rare on superbikes, but more common on Monsters), which are more often a sign that a bike was dropped on its muffler than a sign that the owner wanted to invest anything.
Why buy a Ducati Superbike
It's not just because they look (and sound) great. It's with superbikes that Ducati established itself as a race winner. Ducati Superbikes defined design trends that have lasted for decades and inspire many imitators. And old Ducati superbikes tend to preserve value, and sometimes may appreciate (though not adjusted for inflation).
Reason #1: Ducati Superbikes have great race credentials
Since the time they started in 1988, 31 years ago, Ducati has won a massive 17 World Superbike Championships — the race in which motorcycles that are mass-produced have to be used (i.e. not purpose-built racing machines that are unavailable to the public, MotoGP, which Honda tends to dominate).
Note: In the last decade Ducati gave way to the Aprilia RSV4 and the Kawasaki ZX-10R, which means those will have to be the subject of future buyers guides!
The Ducati 916 won four out of the first five years it raced. Between 1994 and 1998, a Ducati 916 variant won every manufacturer's title but one. The Ducati 1098R was the most recent Ducati to win a string of championships, which makes people want that one, too.
Carl Fogarty is the joint most successful World Superbike racer of all time, having won 59 races in the World Superbike Championships, and he won them all on a Ducati 916.
The latest Ducati Panigale V4R has not yet been raced in the WSB but we're all waiting with bated breath.
Reason #2: Ducati Superbike motorcycles are a … not terrible investment.
Ducati motorcycles from decades ago are classics, worth relatively more than many old bikes from the same era.
Yes, overall they're definitely not a good investment, compared to buying a business or stocks, and you'll likely lose money against inflation unless you're extremely lucky and/or smart. But if you're going to buy a motorcycle to ride a little but mostly look at, a Ducati superbike is an excellent choice.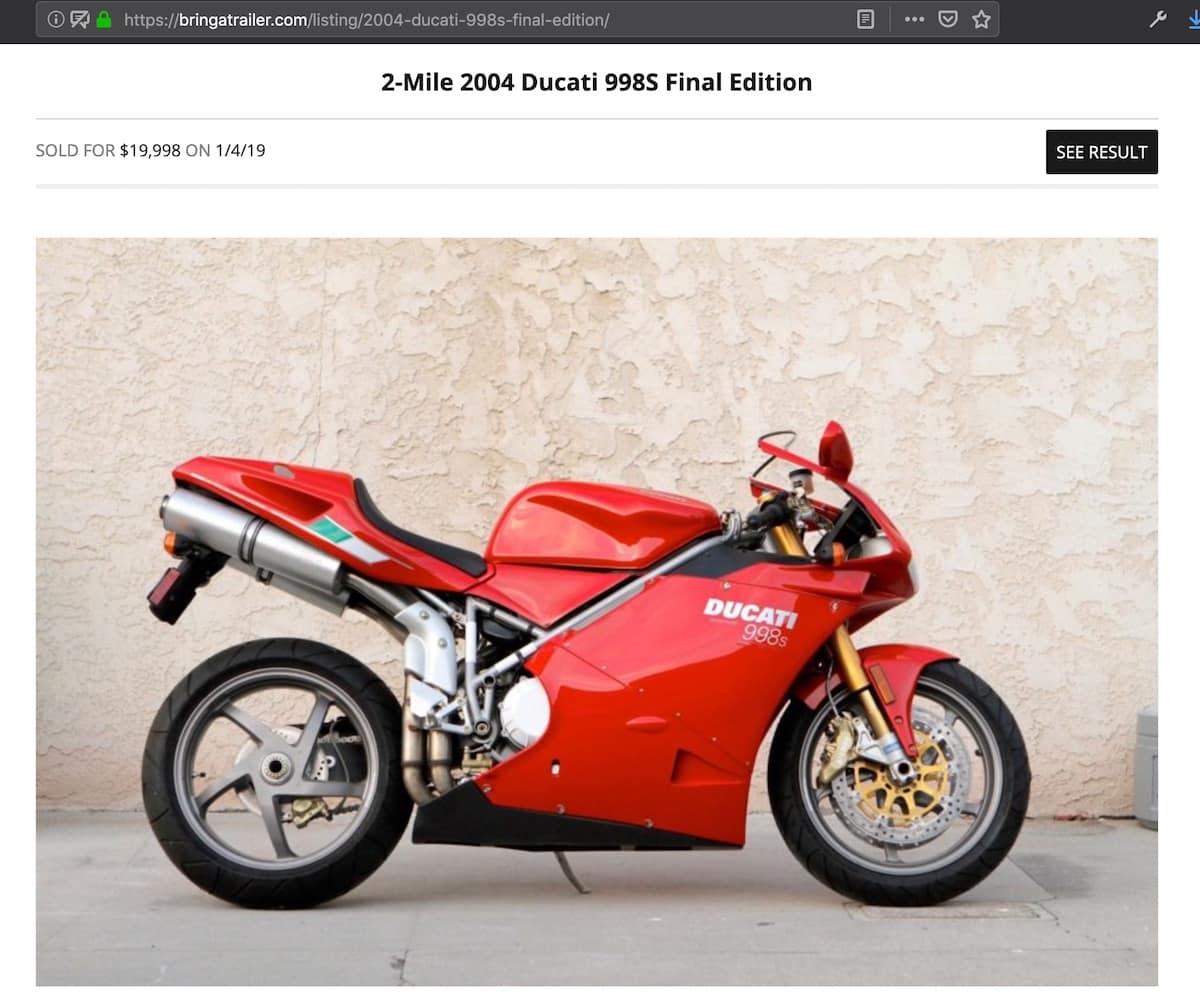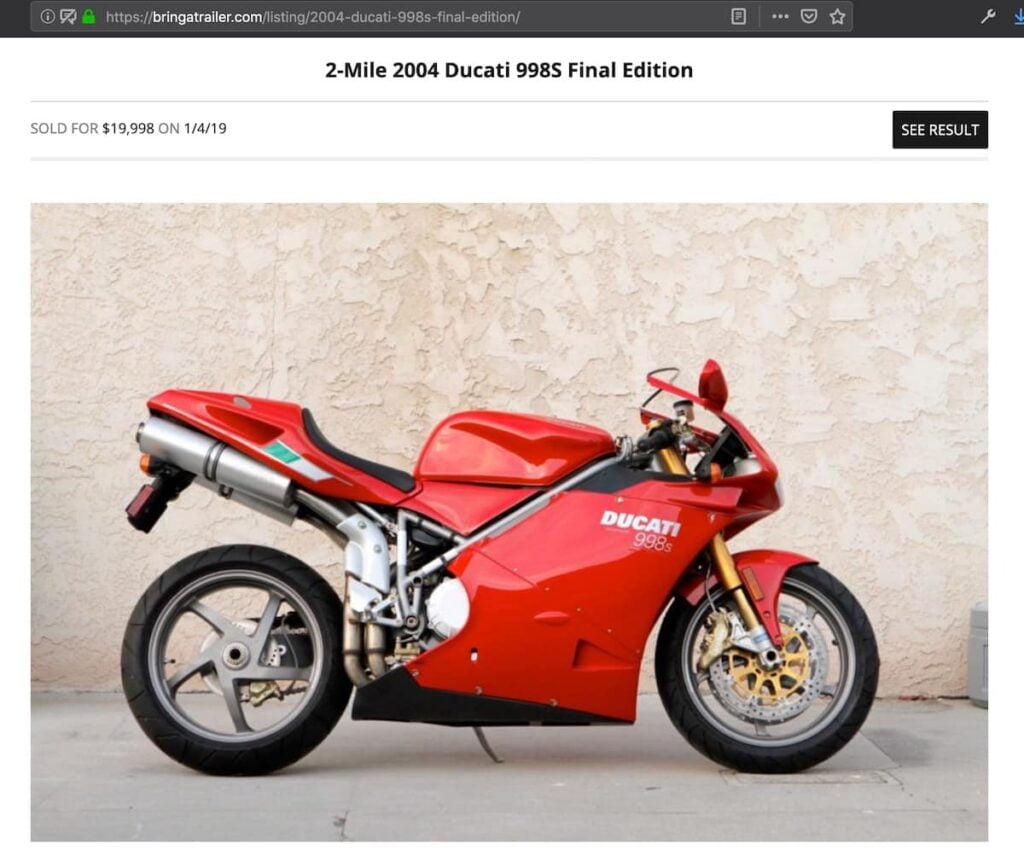 Reason #3: Ducati Brand has Mystique
Yes, Ducati cashes in on this brand mystique. This puts a lot of people off; they don't buy a Ducati because they don't want to be a "poser". I've heard it, and read it on forums. Hey, it even affects me, and I've owned a few. ("Poser!")
But it's true anyway: Ducati superbikes have at times set very high standards, and other brands/owners are proud to reach them.
The Honda VTR1000 RC51, a 998cc V-twin, was known as the "Duc Killer", something its owners proudly will mention too.
Owners of a Suzuki SV650 or SV1000, a Japanese v-twin standard that is considered an "affordable alternative to the Ducati Monster" (despite being a great machine in its own right; be proud, SV650!), proudly report that people ask them if it's a Ducati.
The "Ducati sound" has almost as much mystique as that of Harley Davidson (ok, well, that depends who you ask). The V-twin burble (especially from Termignoni exhausts), the clatter of the dry clutch plate and the unique sound of the desmo valves are often associated with the brand.
Or as some people describe the rattling sound of the Ducati dry clutch plate: "like a bunch of rattling loose bolts."
---
Below is the the part you've been waiting for: the buyer's guide.
Ducati 916 (1994-1998): Don't touch it. Don't even look at it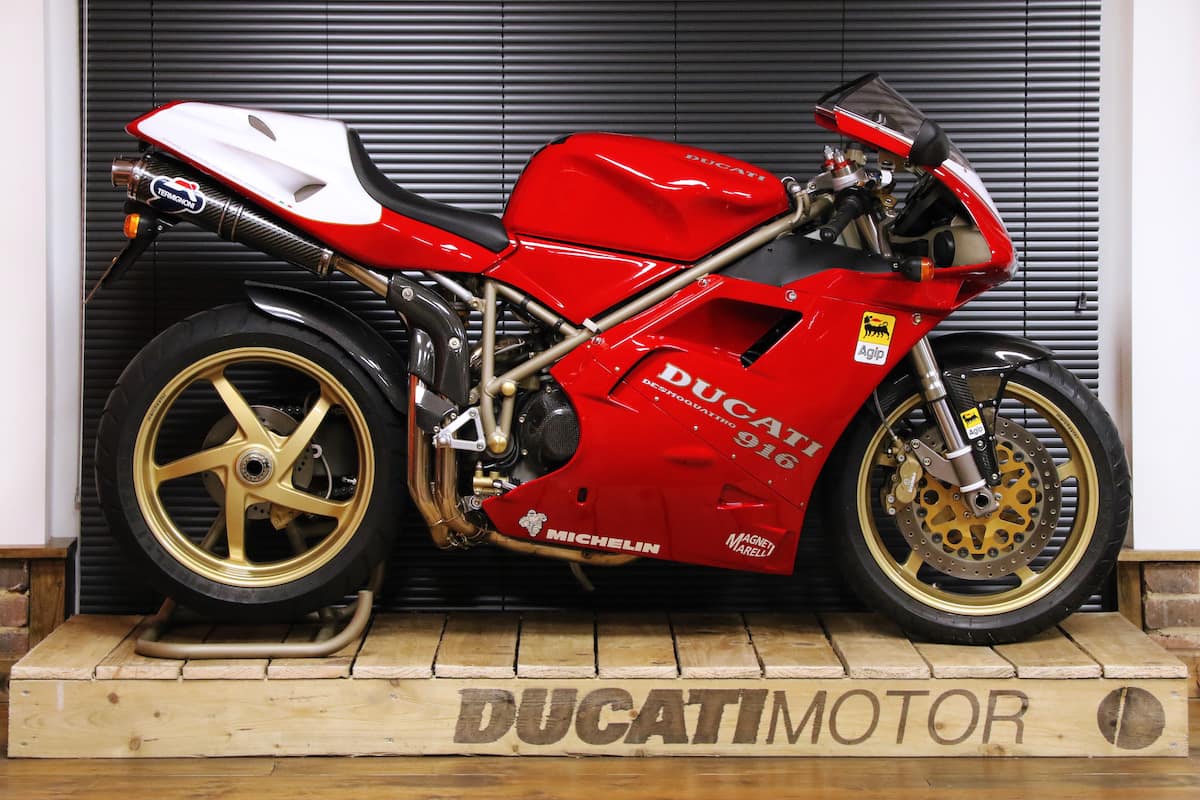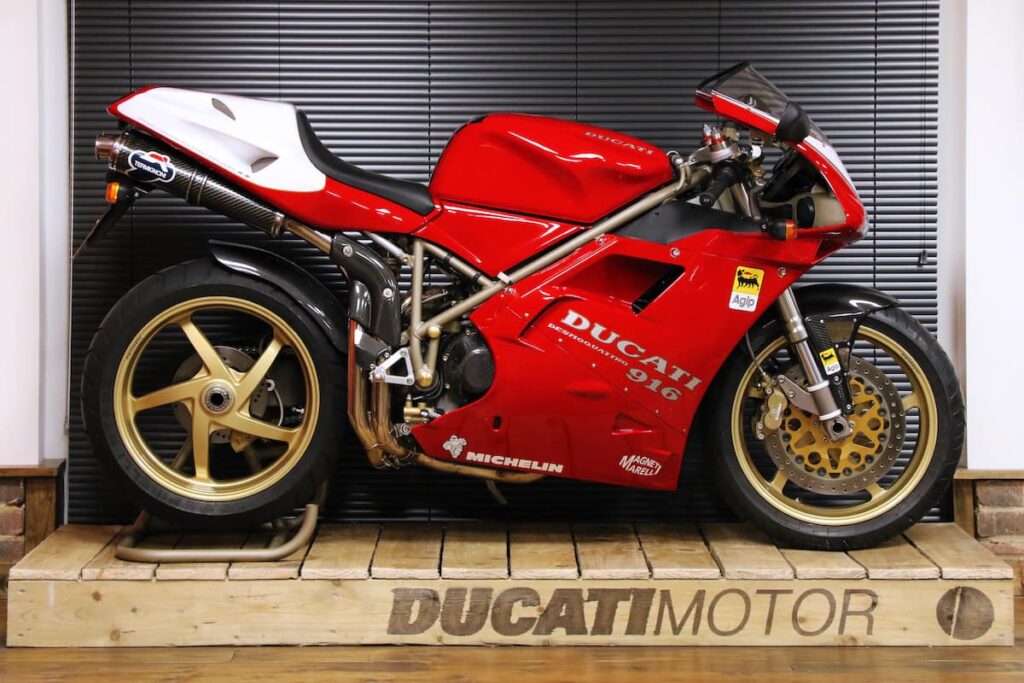 The Ducati 916 is regarded as one of the most beautiful motorcycles of all time. But you can't have one, because they're not for sale! (Well they are, but getting quite hard to come by.)
First, here are the specs:
Power: 80 kW (105hp) for first generation, and 85 kW (114 hp) by the end (base/Strada models)
Torque: 88 Nm peak (65 lb-ft) for first generation, 91 Nm (67 lb-ft) by the end
Wet weight: 205 kg (451 lbs)
The 916 was designed by Massimo Tamburini as part of his work with the Cagiva Research Centre (Centro di Ricerche Cagiva), in the period during which Cagiva owned Ducati. He also designed the Ducati Monster during the same period. Sr. Tamburini named the 916 after the number of times people swore under their breath per hour from just looking at it.
The original Ducati 916 was released in 1993, as a 1994 model.
By today's standards, The Ducati 916's performance is nothing to write home about. Its power to weight ratio puts it in the same category as most modern 600cc motorcycles, which also have a bunch of rider aids and safety features (which may be a con, if you're shopping for a classic!) weighing them down.
You might remember, if you're an old fart like me, that at the time the Honda FireBlade (that's my link to a similarly in-depth guide to the classic FireBlade's evolution), released in 1992, was already putting out 91 kW in a similar weighing chassis (122 hp).
But the designer of the FireBlade, the venerable Baba-san, loved the 916 anyway and definitely took note cues from it during his time at Honda.
"I prefer the feel of an inline four, but as an engineer I found the Ducati 916 very interesting to ride and study." – Baba-san, designer of the Honda FireBlade
Whatever Baba-san, "very interesting" has to be the biggest understatement I have ever heard. I love me an inline 4 too, but you loved the Ducati V-twin. Admit it. Everyone does.
The 916 used a liquid-cooled, 4-valve-per-cylinder V-twin engine. Those specs are worth mentioning because many of Ducati's consumer motorcycles at the time were 2-valve and air-cooled. Ducati Monsters were, notably, and some still are.
There were a few things about the Ducati 916 that made it stand out.
The fairings: This might sound weird. Most modern motorcycles do a good job with fairings. But before the 916, other motorcycles looked… disproportionate. Boxy, even.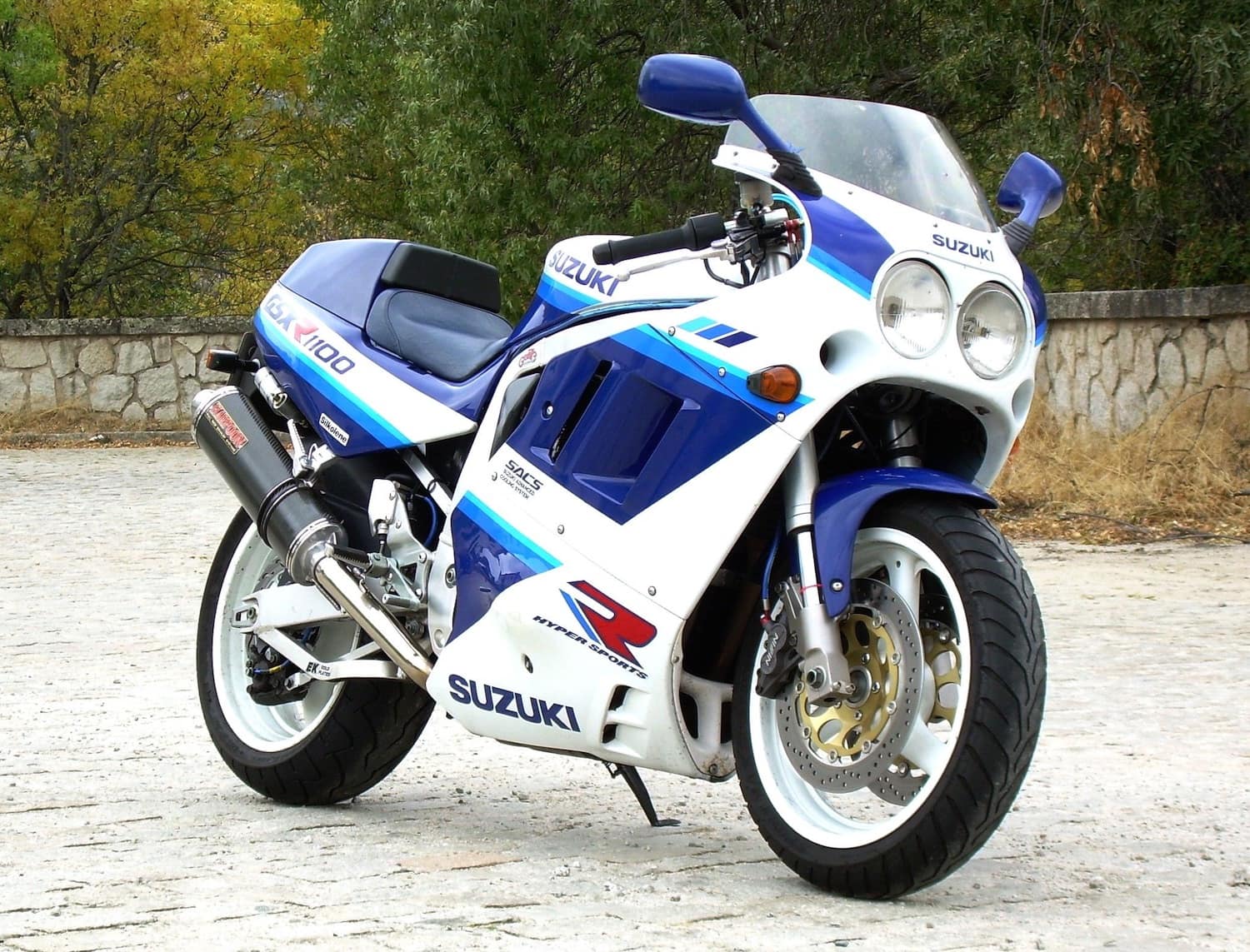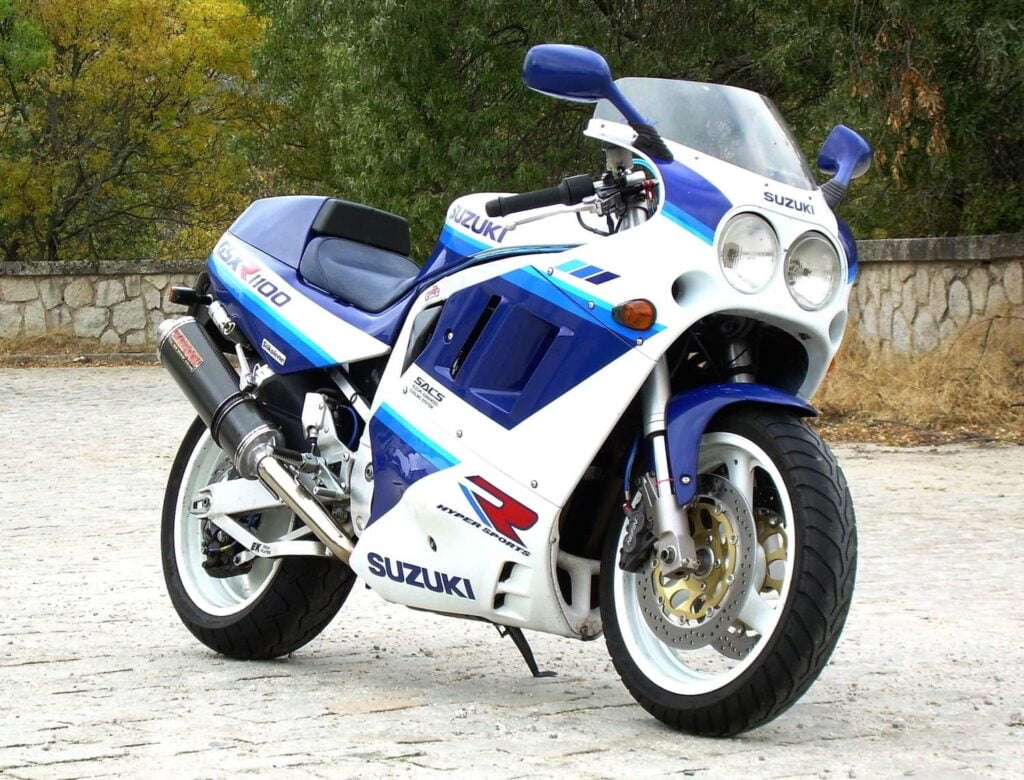 The single-sided swing-arm and the under-seat exhaust. Actually, Ducati wasn't first to use either of these things, but it was widely accepted that they did a good job. Massimo Tamburini did admit that the Honda NR750 was an inspiration for his design, but they're leagues apart.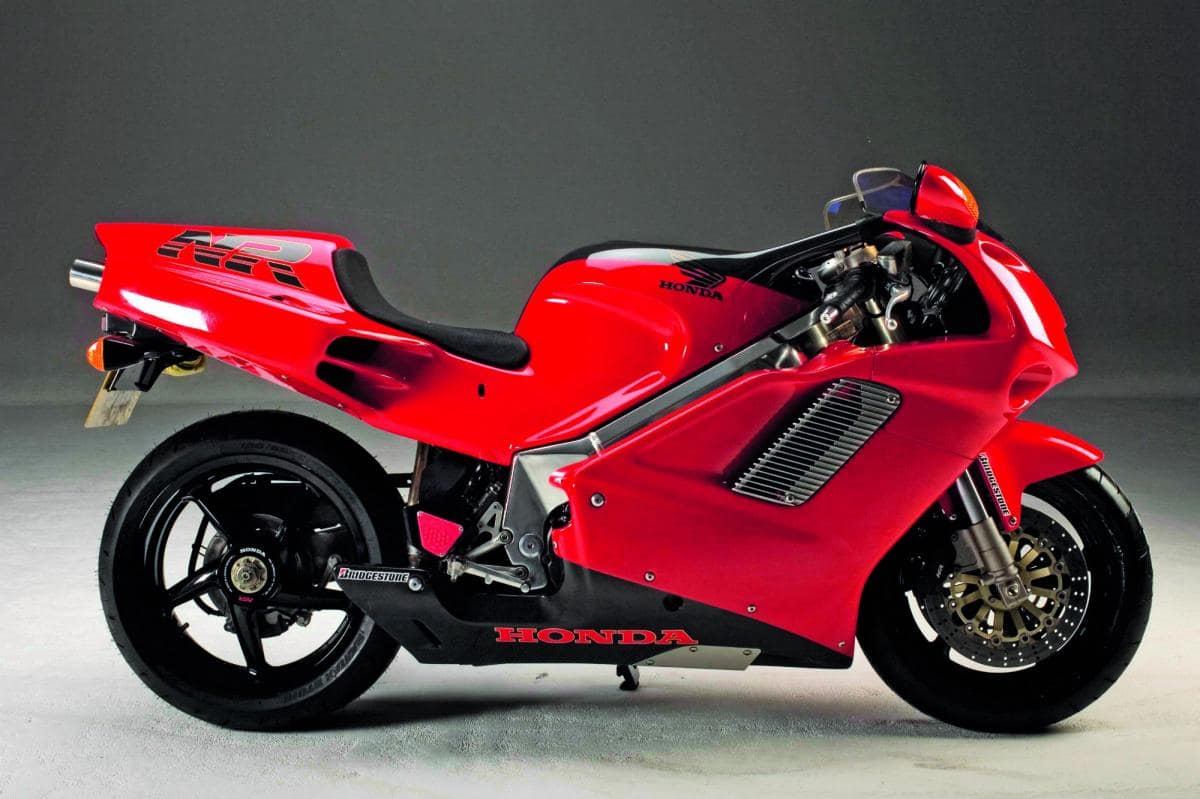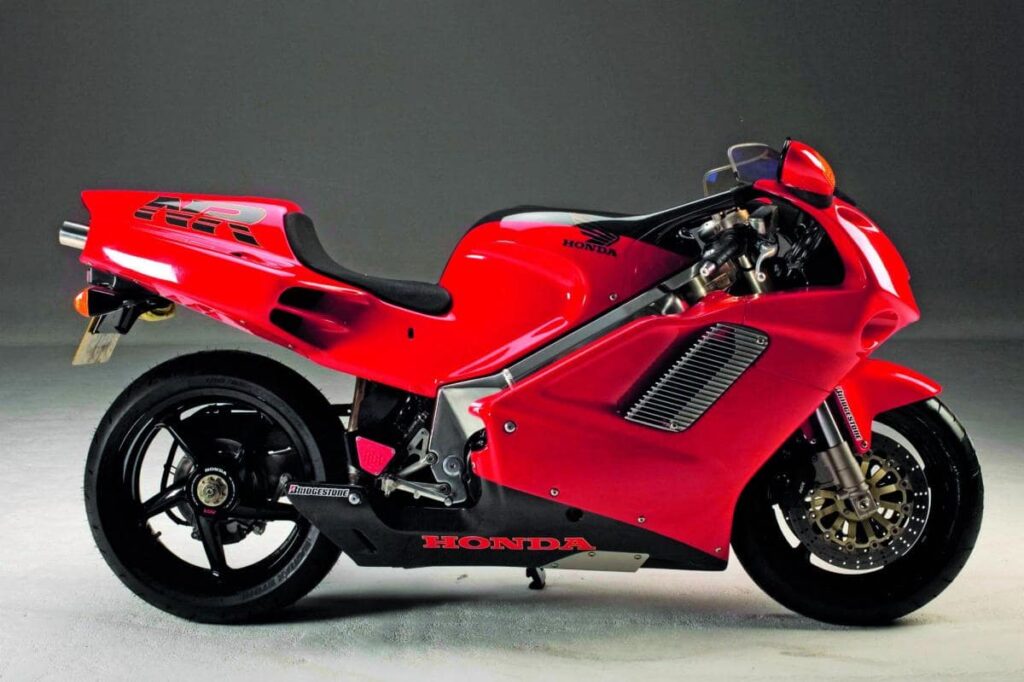 The Ducati 916's aesthetics inspired a generation of Ducati models, and also other motorcycles. Very directly, they inspired the MV Agusta F4. After Tamburini crushed it with the 916, he moved on to designing the F4 for MV Agusta. (Note that at the time, MV Agusta was part of Cagiva's group, as Ducati was. So it wasn't like he was leaving the company and just stealing designs; he was just moving to another division of the same company.) The MV Agusta F4 inherits a few key features of the 916, including the single-sided swingarm, under-seat exhaust and svelte bodywork.
The MV Agusta F4 is credited with single-handedly revitalising MV Augusta's brand. Just look at it!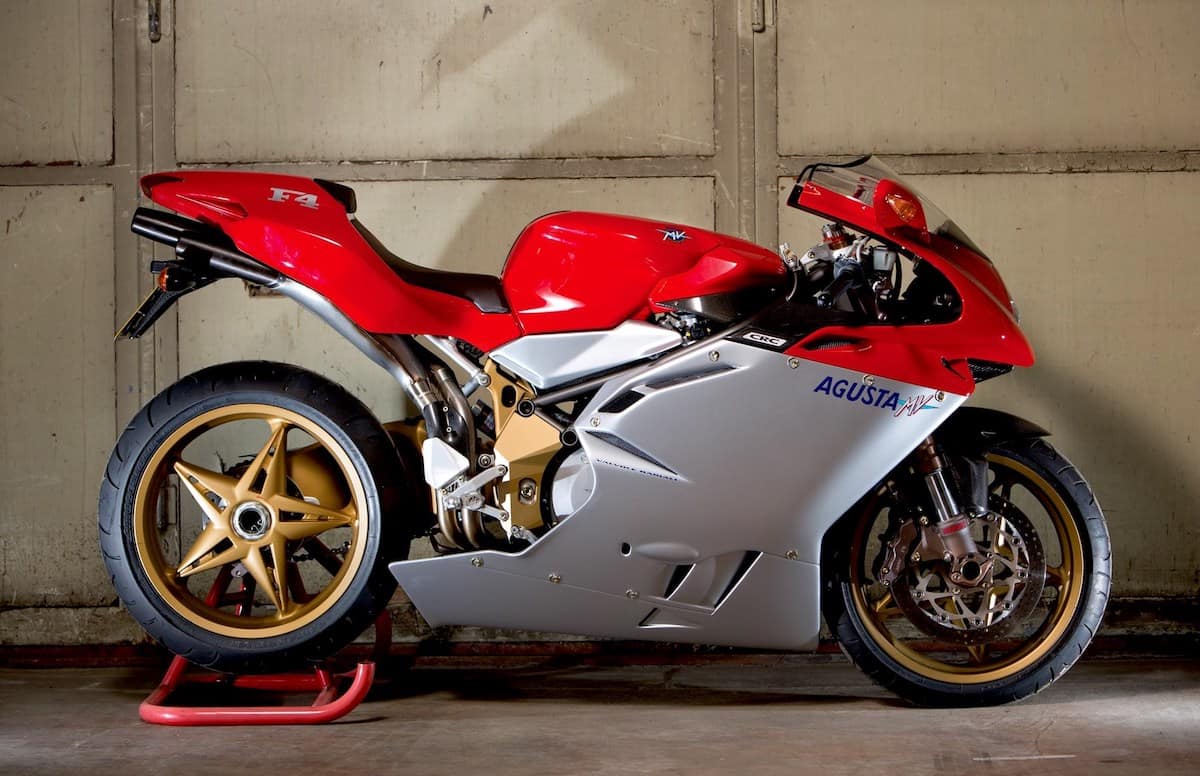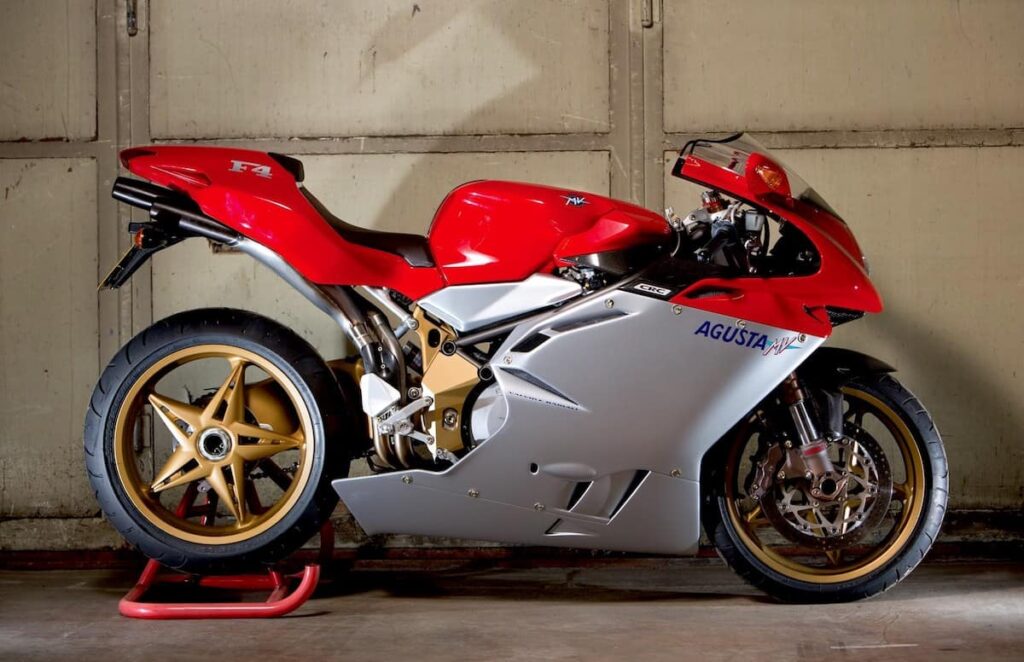 The Ducati 916 did well on the track, too. Between 1994 and 1998, the years the 916 was produced, Ducati won the manufacturer's title for the World Superbike Championships four out of five times. In those years the riders (who have a separate title to the manufacturer) all won on a Ducati 916 (Carl Fogarty three times, and Troy Corser once).
What's the Ducati 916 like to ride?
The Ducati 916 is a special motorcycle.
Like many early motorcycles that have become the stuff of lore, early Italian motorcycles are invigorating to ride. It's like having a rolling thunderstorm in your hands that dares you to tame it, but threatens you with death.
The joy of riding a Ducati 916 is not that they're smooth and refined, getting out of the way between you and the road; it's the exact opposite. Riding a Ducati 916, when compared to a modern motorcycle, is a comparatively rough, raw, visceral experience. When there is nothing between you and the hot tarmac but a large amount of power, your grip on the controls seemingly right above the wheel, and thrust on tap that's waiting for you to get lazy and lose focus so it can suddenly punch you in the face, you find your attention drawn to the ride with much more focus than usual. The rumble of the exhaust echoes every notch of your wrist, and the gentle earthquake of the v-twin reminds you that you are still alive, still breathing, and still very much here.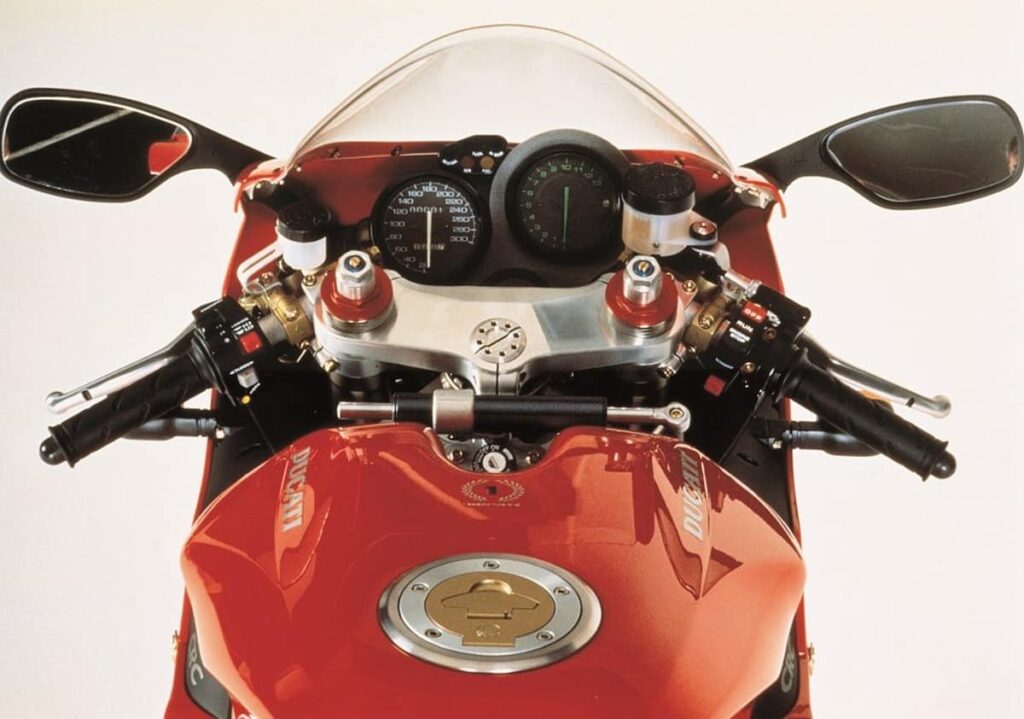 The Ducati 916 is not an easy motorcycle to ride. Modern motorcycles are easy. Rider aids and electronics on a new Panigale V4 will do their absolute best to keep you alive, even if you accelerate towards corners at covered in icy rubble at what should be suicidal speeds. Where a modern motorcycle takes control away into its safe hands, the 916 shrugs its shoulders and leaves everything entirely to you, communicating every problem to you and letting you know when it's not happy — which is often. But you have to learn to speak the language of Ducati to know how to communicate back.
The riding position on the Ducati 916/996/998 etc. is quite extreme, so much so that you're almost planking over the front of the motorcycle. You're so forward that there's not much motorcycle in front of you at all — it's all behind you! One writer described it as
"The riding position is so extreme that… it's almost as if you're on an ocean liner where the wheelhouse was moved to the front of the bow, where you're the king of the world, as opposed to the usual position further out back." – Cycle World
The 916's motor behaves differently to how you might expect a v-twin to operate. Below 3,500 rpm, it's sluggish and easy to stall. Above that it's OK, but it really comes on song at 6,000 rpm. That's where the Ducati 916 — and many other Ducati models until the mid 2000s — really liked to live.
Steering the 916 isn't easy either. It isn't quick to dive in, like a Yamaha R6 is. But it will hold a line until there's no line left. For a 200kg motorcycle, it's shockingly stable. Once you learn to give it a strong steering input, the Ducati 916 will lean and carve through apexes that will make you wonder how that was possibly so easy. It's a motorcycle that flatters you and makes you feel better than you are. Even if you momentarily lose traction in the rear wheel, it's easy and predictable. It soaks up bumps mid-corner that would send other motorcycles reeling. After finishing a turn you'll inevitably ask yourself: wait, was that the best I could do?
But riding the Ducati 916 anywhere other than through tight mountain roads can be exhausting. The 916 is not a commuter, as you need to be very firm with your movements to control it; too soft and it'll run wide, too firm and you'll wear our your wrists. Like many early Ducati models, you can't lug it around in high gear in traffic. You need to be constantly shifting! The brakes are heavy, and the clutch feels like you're doing grip strength training.
And that's not all that's bad. Grabbing the heavy brake lever feels like clamping down on hot steel with a wooden block. It doesn't do much, especially if you're used to light-touch, heavy grab of a modern sportsbike. You can fix this a little with modern pads, but really, it's just how brakes used to be.
The Ducati 916 is not a tourer, because you'll have to take many short breaks to rest your wrists and de-cramp your legs, and then occasionally very long breaks just to inspect the valves.
So riding the Ducati 916 is almost an athletic endeavour, where you decide "I will ride with focus for the next two hours." And if you can do that, it'll be two hours of untrammelled joy.
---
But anyway, you basically can't get a Ducati 916 because the prices are crazy. What are you going to do?
Variants of the Ducati 916
The Ducati evolved over its years, getting more powerful, and lighter parts.
Ducati 916 Strada
This is actually the base model Ducati 916! It was called the Strada for a little while.
It's also called a "monoposto", to contrast with the "biposto" that came out later. If you need a second "posto", then perhaps get something more comfortable for your pillion's posterior.
Ducati 916 SP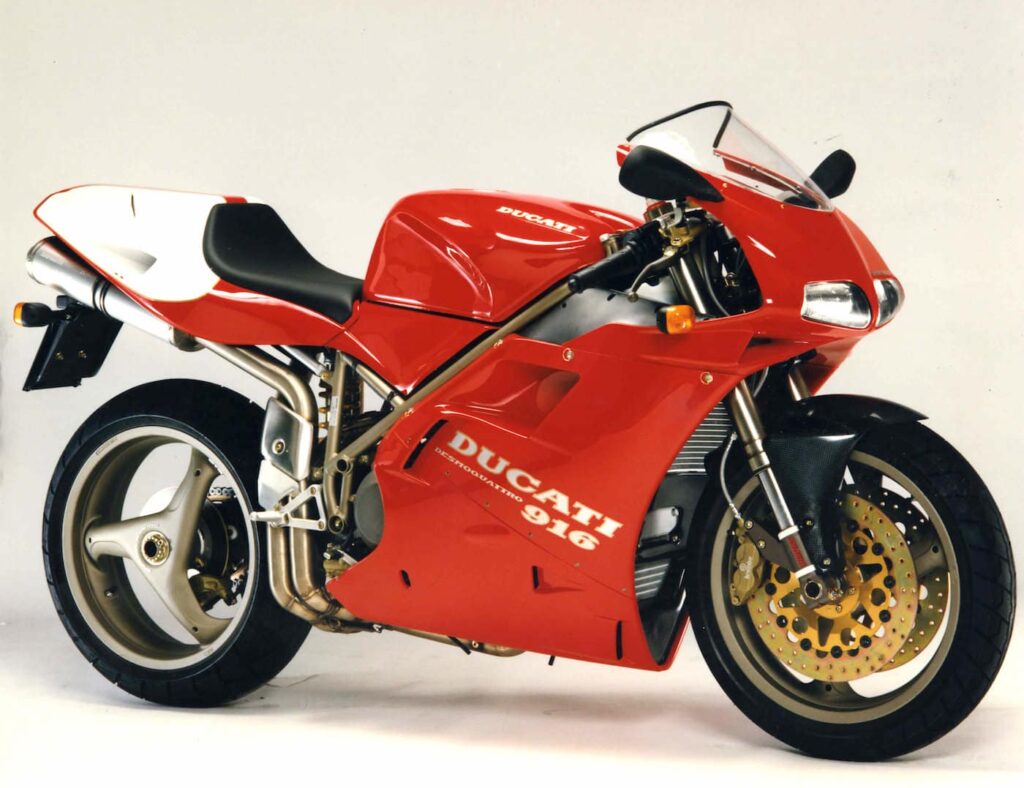 The Ducati 916 SP was a more track-oriented Ducati 916. Even though the Ducati 916 base model is peaky for a v-twin already (as I mentioned above, it is sluggish below 3,500 rpm and only comes on song above 6,000 rpm), the Ducati 916 SP is even worse — it's tuned for more power, higher up at around 8,000 rpm. This makes them harder to ride on the street. But they're more valuable and more collectible.
The Ducati 916 SP engine gets its higher, peakier power through lighter rotating components (crankshaft, rods, flywheels, clutch baskets) in the engines. The Ducati SP models also get as standard better exhaust systems (by Termignoni) to let them breathe more easily. As a result, they only make more power at the top of the rev range, but feel better to rev.
Power for the Ducati 916 SP was 94 kW (126 hp) in 1994, increasing to 98 kW (131 hp) later on.
However, this performance comes at the cost of engine durability. They're very lightweight engines, and stress fractures under the extreme pressures of racing became common as the engines aged.
Ducati 916 SP models are fairly rare: only 200 were made every year, just enough for race homologation for the World SuperBike Championships.
Ducati 916 SPA (1996 only) aka Ducati 955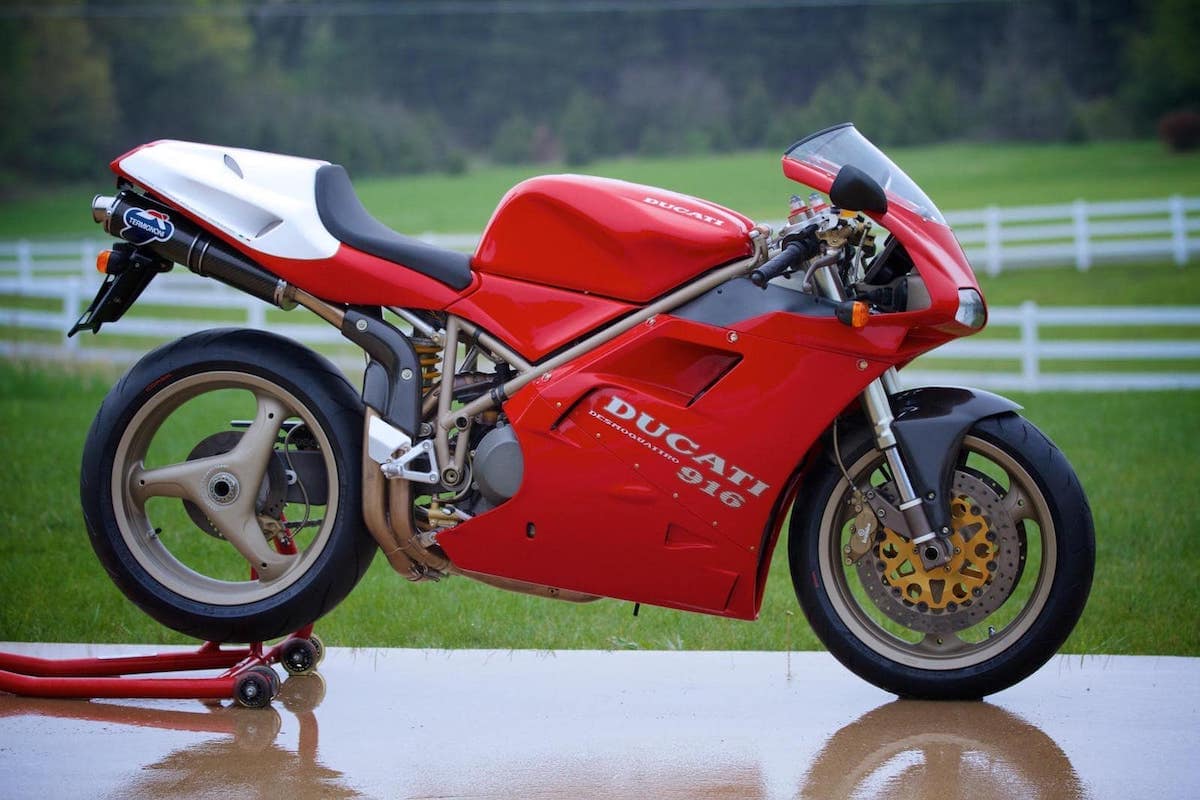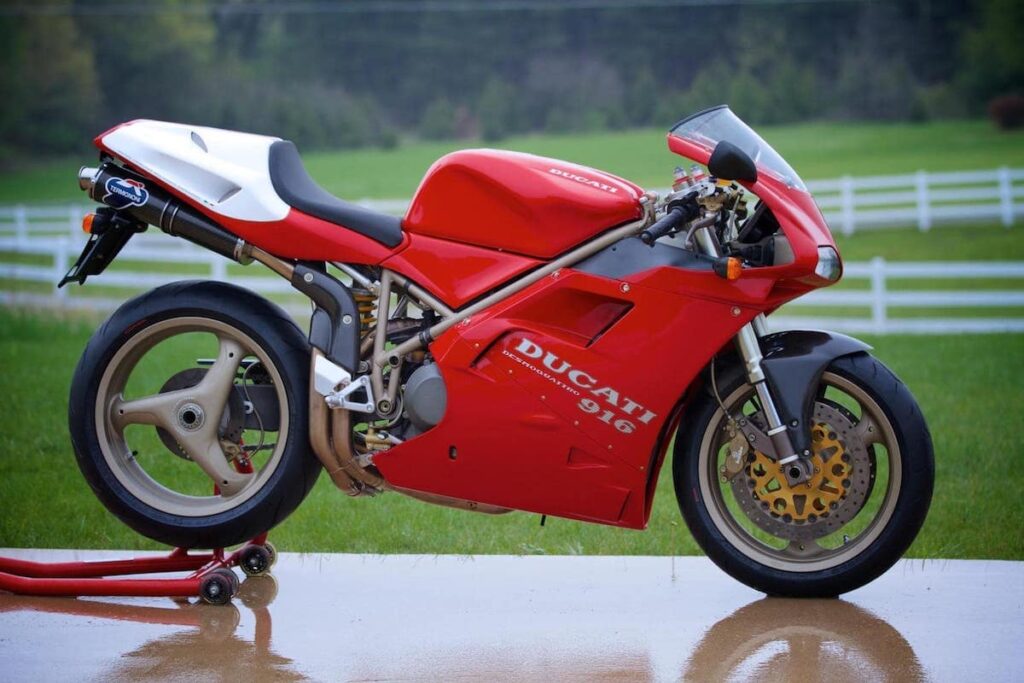 The Ducati 916 SPA was a super rare racing version of a 916 with a 955cc engine.
Specs for the Ducati 916 SPA were
Engine power: 91 kW (122 bhp) and 101 Nm (75 ft-lb) of torque — slightly down on the SP, but significantly up on the base model 916.
Wet weight: 195 kg (430 lbs)
Standard Öhlins rear suspension, Showa front forks (same as base 916)
Only 54 of them were ever produced worldwide (distributed mostly between Europe and the US, though with some grey imports elsewhere), so they're basically museum pieces.
They were built to homologate a set of 96mm pistons & barrels (a 2mm overbore) for use in AMA Superbike racing. The engine also had Pankl titanium con-rods, and there are murmurings that the crankshaft and crankcases were different too — but it's hard to find legit info.
Check it's a genuine 955 by looking at the engine number — it should have a "ZDM955" prefix. Otherwise, it might be a 916 with an overbore kit.
Either way, the overbore reportedly makes the engine highly stressed. It'll break if you hammer it too hard!
Ducati 916 SPS (1997-1998) "Sport Production Special"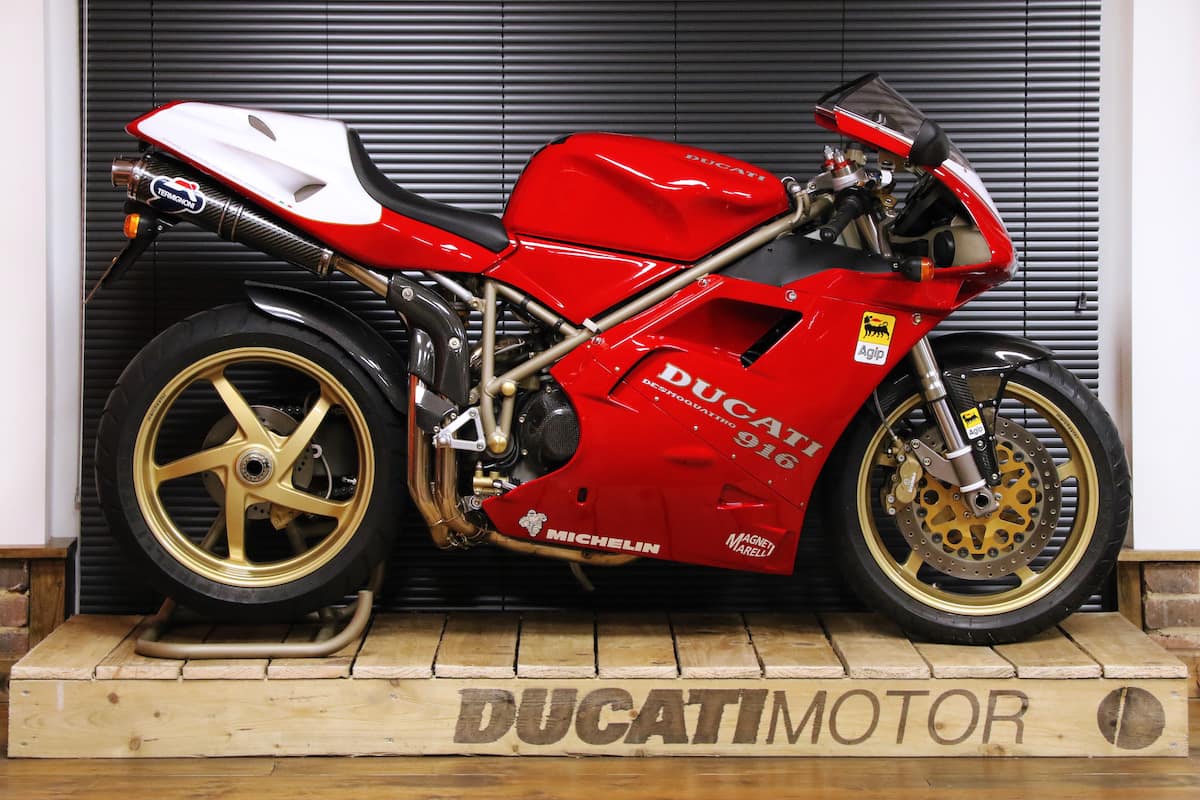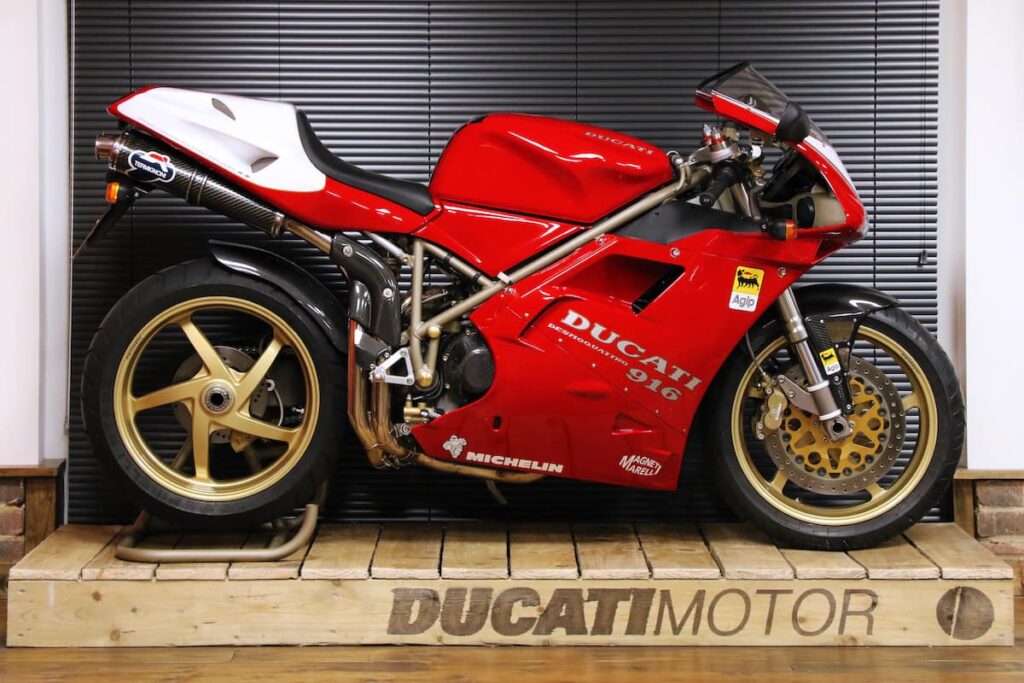 They just added another "S" but these are actually a 996cc motor! The Ducati 916 SPS made over 94 kW, came standard with a full Termignoni exhaust, upgraded suspension (a Showa fork and Öhlins shocks), and better brakes.
Specs for the Ducati 916 SPS were:
Power: 94kW (125 hp) @ 10,500 rpm
Torque: 91 Nm (67 ft-lb) @ 6,900 rpm
Wet weight: 210 kg (463 lb)
The 996 engine was a new block, reinforced to withstand the pressure of racing. Also got 2 injectors per cylinder.
But even outside racing, the 996 engine has much better low-end, and is more suitable to being ridden in the street than the peaky 916.
The SPS is a race homologation model. It is very rare. You have to set up alerts on eBay, be ready to pay a premium price, and fly a long distance. Part of the reason is that it was never imported everywhere, for example the US; you have to buy it from people who got it as a grey import. Only 1058 units were made in 1998 (the most ever for the model), but I'm not sure how many there are in different parts of the world.
In previous years fewer were made, as little as 400 in early years.
The Ducati 996 that followed in 1999 kept the larger engine, but the base model 996 didn't have all the other fancy suspension bits as the 996SPS.
Smaller than the Ducati 916 but nice: the Ducati 748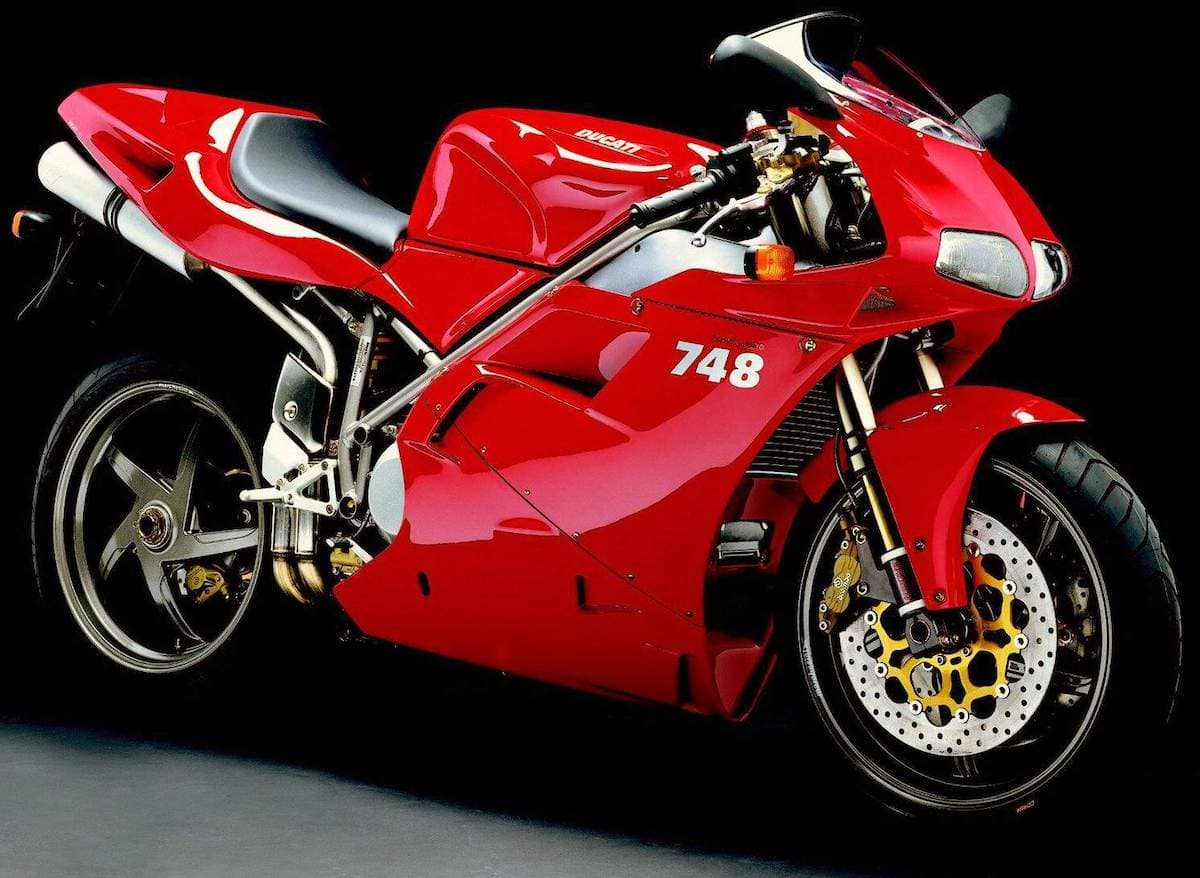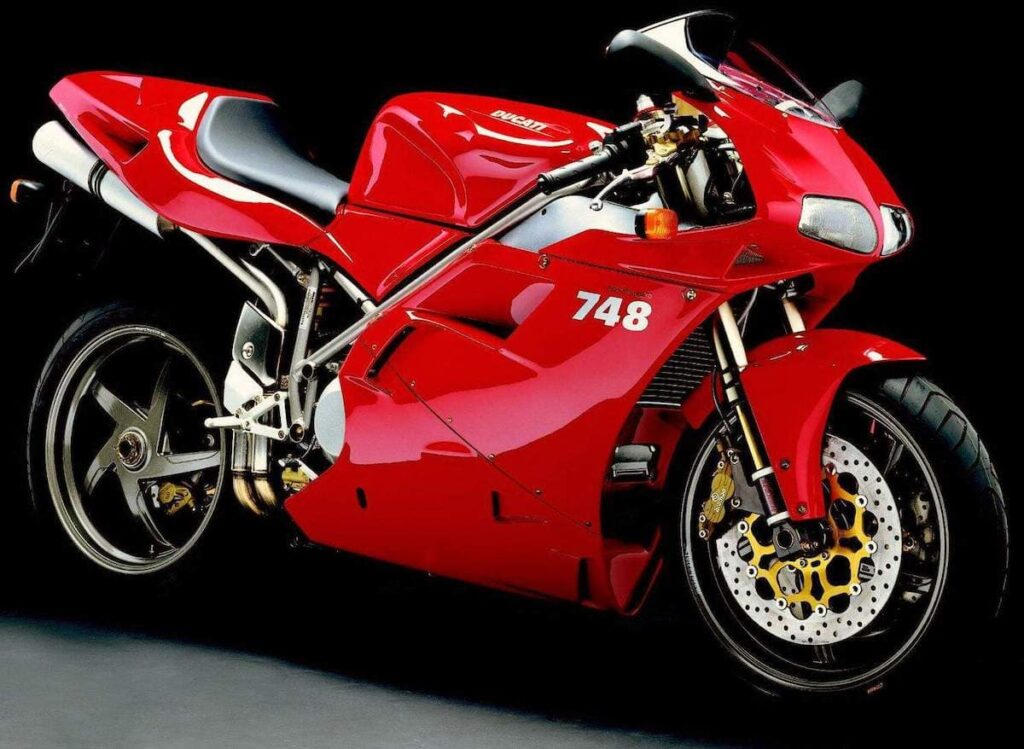 Maybe you should get a Ducati 748!
Specs of the Ducati 748 (base, biposto)
Weight: 202kg (445 lbs), a few less than the 916 but basically the same
Power: 71 kW (95 hp). This is about 9 kW or 15 bhp less than the base model 916. But it's still significantly more than motorcycles like the Suzuki SV650, which weigh a similar amount, and so the 748 motorcycles are bags of fun.
The Ducati 748 is an alternative to the 916 that's more friendly when street riding, more affordable and… actually purchasable. You might have to drive (or ride) a couple of thousand kilometres or miles, but they're out there. So if you're desperate, set up some alerts on Gumtree or Craigslist and start shopping.
The Ducati 748 is visually almost indistinguishable from the 916, except for a slightly narrower rear tyre, and of course, the decals that tell you the displacement. But you can just draw over those with a red Sharpie.
It's also less powerful, of course. But anyone who has ridden one (or a motorcycle with a similar power curve) will tell you that you can get just as much out of this motorcycle on many public roads (depends what your roads are like), and maybe have more fun wringing its neck!
Like the 916, the 748 came in a few different versions. The base was "biposto", which is Italian for "two posto". You're welcome. There were the SP, SPS and R versions, all with progressively lighter parts, and racier suspension. Generally speaking, the more letters after your Ducati 748, the better.
Buying a Ducati 916 or 748
There are many versions of the Ducati 916, some even more exclusive than others.
But with all of them — good luck. Word has gotten out that they're classics, and it's hard to pay less than $10,000 for a 916. If you do find one, it'll be well looked after, and most likely found on sites like Sotheby's or BringATrailer.
You can buy the Ducati 748, and it's actually available. Just make sure it had a recent belt/valve service. And then go ask those difficult questions about brake lines, head bearings etc. to make sure you get a great deal.
Another option is to buy a Ducati Monster S4, which is a Monster motorcycle but with the 916 motor in it (albeit slightly detuned) and some other high-grade components, like fully adjustable suspension. A great bike! See my guide to the Ducati Monster S4 range here.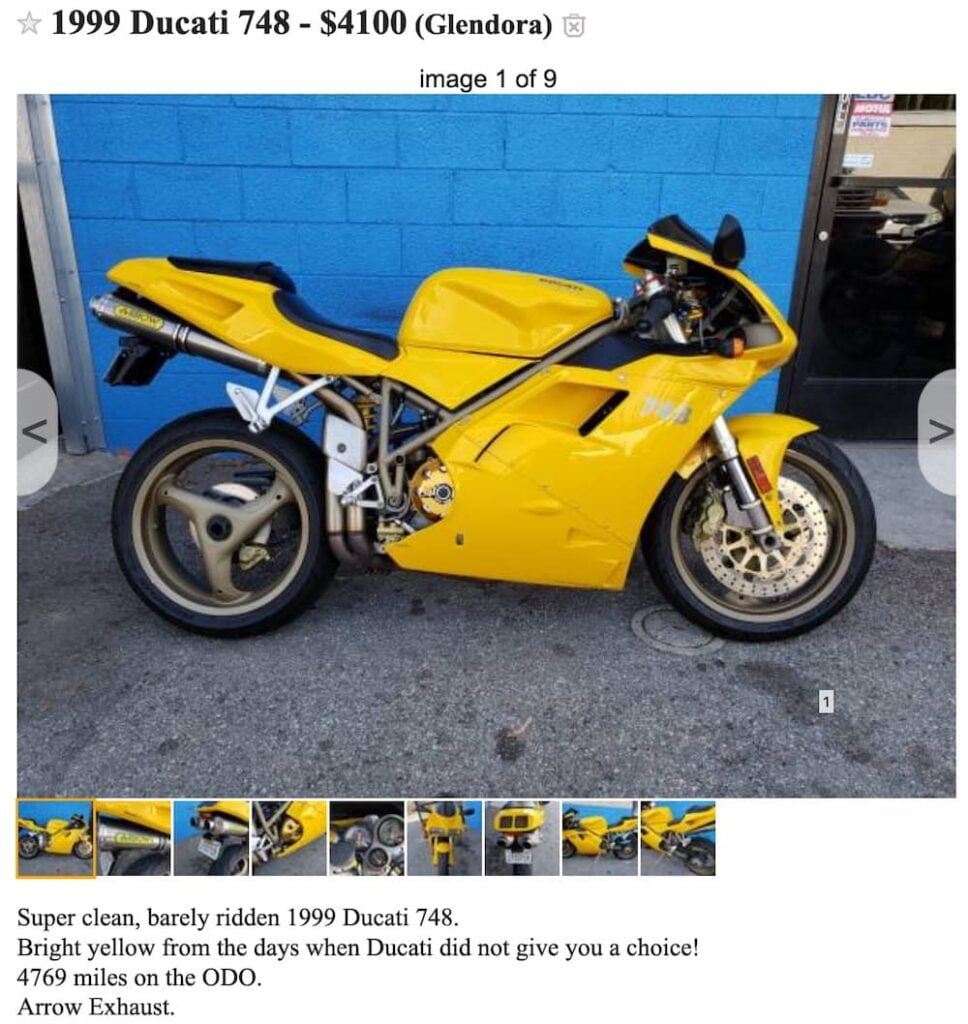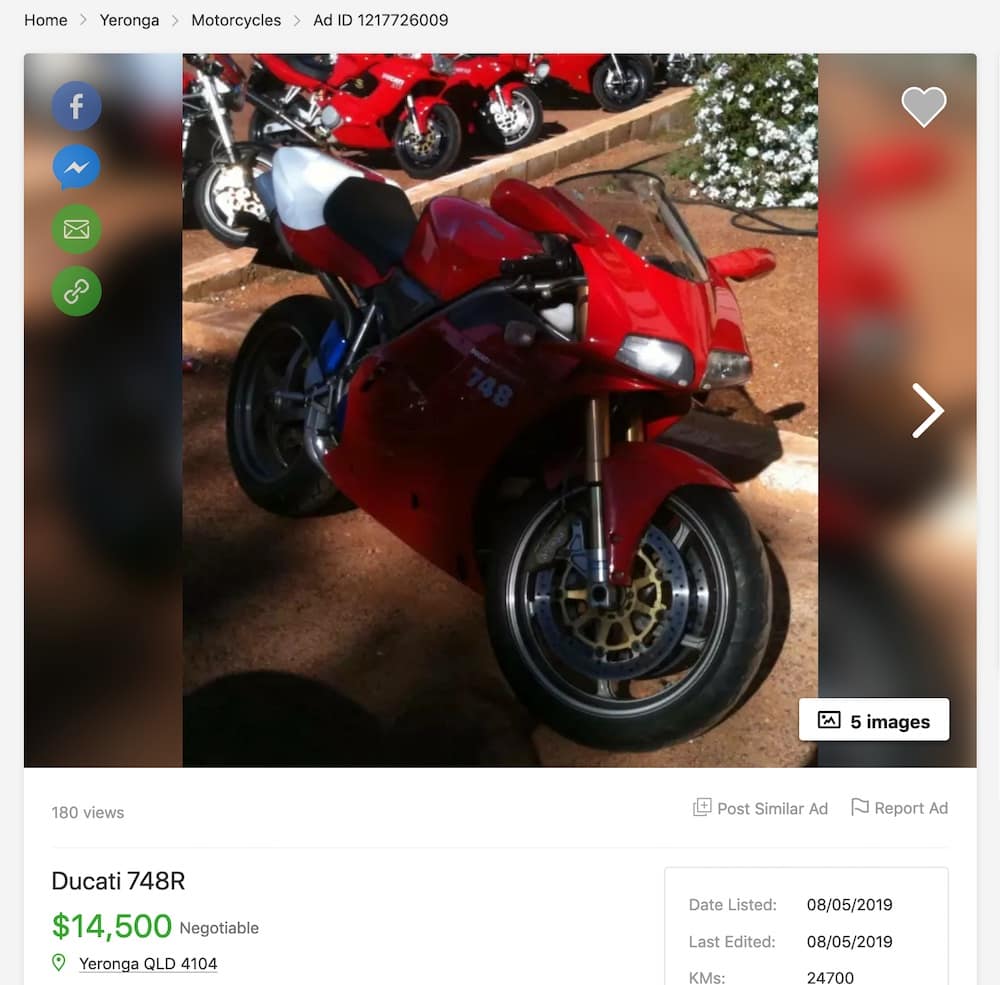 Ducati 996 (1999-2001): Bigger Engine, bigger glory
If you move on from the classic beauty of the Ducati 916, you might consider a Ducati 996, which looks almost the same.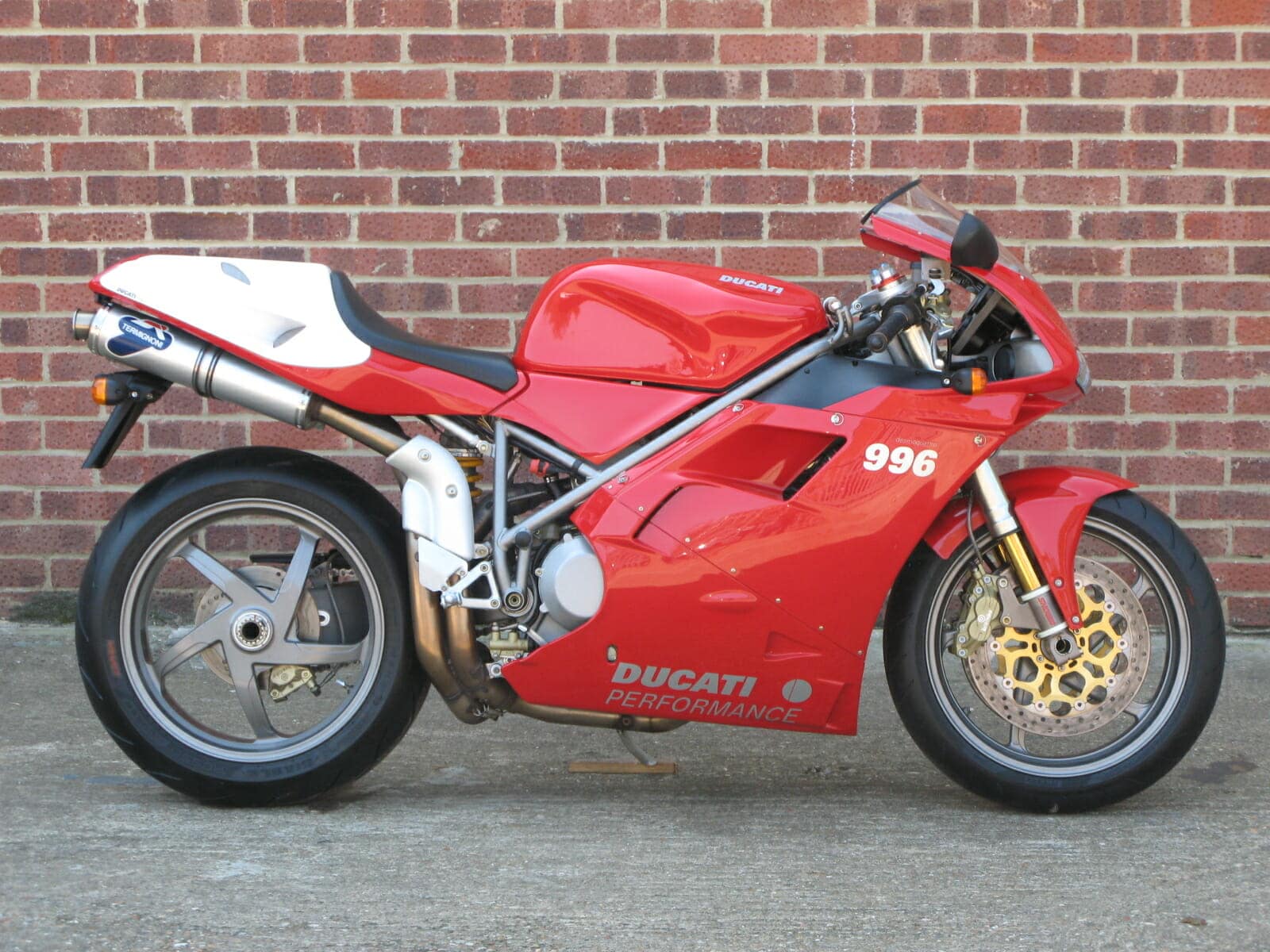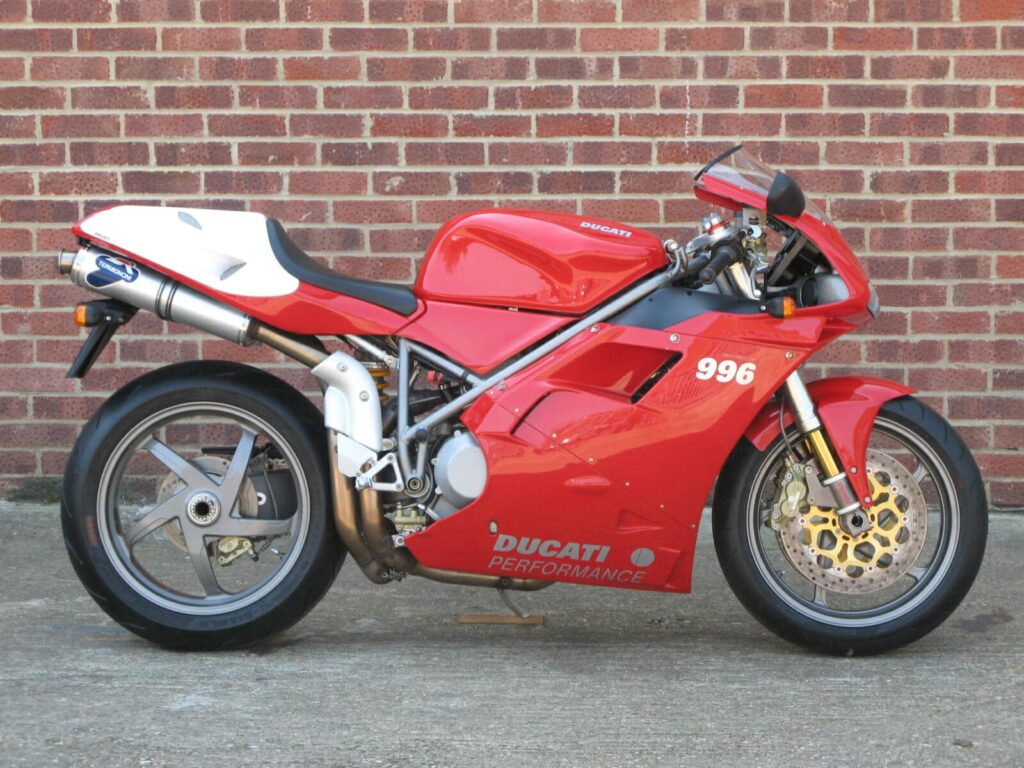 Yes, somehow Ducati seemed to improve on the original!
The Ducati 996 was released in 1999 and sold until 2002. Here are its specs:
Power: 82 kW (112 bhp) @ 8,500 rpm; the SPS made 92 kW (124 hp)
Torque: 93 Nm (72 lb.ft) @ 8,000 rpm
Wet weight: 210kg
Showa front and back suspension
What's it like to ride and own the Ducati 996?
The Ducati 996 shares a lot with the Ducati 916. Both motors have fuel injection and water cooling, but no other electronics apart from that. The 996, too, has a raw, visceral feeling when you pump the throttle, and there's nothing in between you and the road but an angry, roaring v-twin!
On specs, it's not much different, It's actually a little down on power, but up on torque, especially in the midrange. It is overall much more manageable and easier to ride.
The improvements on the 916 that make it easier to ride (and own)include
A stronger frame, lighter frame (5 kg/11 lb lighter)
An improved engine that makes it much easier to work on
In 2001, better Öhlins rear shock as standard, and lighter (and more attractive) 5-spoke Marchesini wheels
Like the 916, you'll hate 996 on boring stretches of straight highway. Your wrists will ache after not long in the same position. The high pegs and seat will keep you in a forward crouch that constantly reminds you that you should be going at full cant.
But unlike the 916, the beefier mid-range of the 996 actually make it quite civil in the stop-and-go chaos of urban warfare. Sure, it has the turning circle of a commercial airliner and a first gear tall enough to send you into orbit, but you get smooth torque from as low as 3,000 rpm, all the way up to the ~10,000 rpm redline.
Riding the 996 out on twisty roads is different to other sport motorcycles of the day, like the venerable Suzuki GSX-R 750. You're way over the bars, and you still have the same slow steering of the 916. So you have to get used to being very deliberate with your movements, but you can quickly learn how to make it all work for you. Once you do, the Ducati 996 will shock you with the narrow, precise line it'll hold through curves, and the huge torque makes it easy to loft the front wheel into the air on exits, even though you're perched right on top of it.
Owning the 996 and servicing it isn't too bad either. Once you get past the European Tax that makes parts twice as expensive as equivalent Japanese motorcycles, you realise that… wow, it's super quick to remove the bodywork and get to the engine to do work. Just as well, as you still have those 6,000 mile valve inspection intervals to cope with…
Variants of the Ducati 996
The base model 996 is actually a biposto, although it's not very comfortable for the rear passenger.
Ducati 996S: A more powerful 92kW (123hp) engine, from the 916SPS, with the Öhlins shock standard, plus Showa forks. They also have nice lighter 5-spoke Marchesini wheels, as pictured above.
Ducati 996SPS (1998-2000): Like the 916SPS, the 996SPS was a "Sport Production Special", and had 7-8 kW (10-12hp) more than base, with peakier delivery, making them more suited to track riding. You can pick them out by the white tail section, and the lighter 5-spoke Marchesini wheels.
Ducati 996R: The first Ducati superbike with the "Testastretta" (or "narrow head") 998cc engine, producing 101kW (135 hp), and sneakily being higher in capacity at 998cc. This was the motorcycle that Troy Bayliss won his 2001 World Superbike title on. The 996R was made to homologate the engine for racing. It also had full Öhlins suspension and carbon fibre bodywork. Only 500 were made.
Ducati 998 (2002-2004): The Pinnacle of the 916 series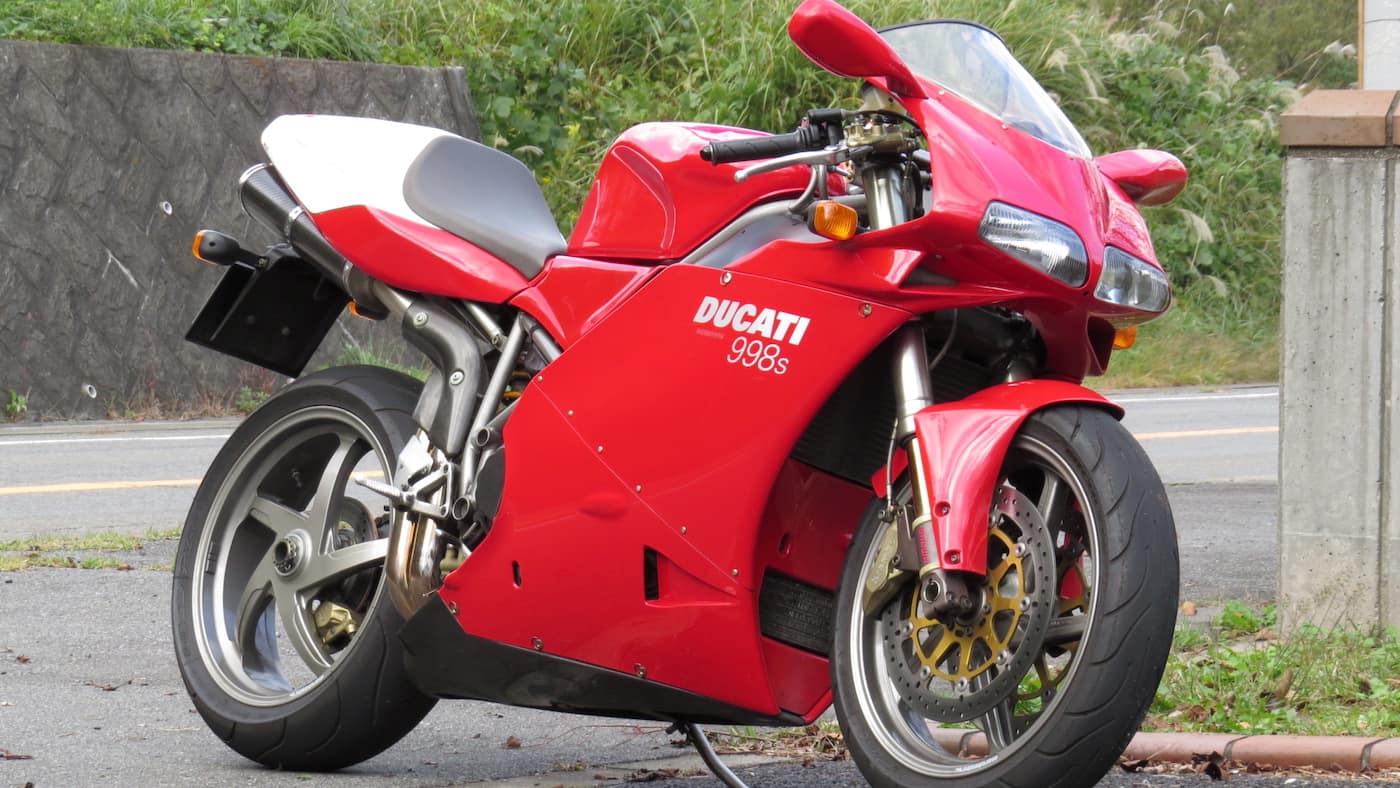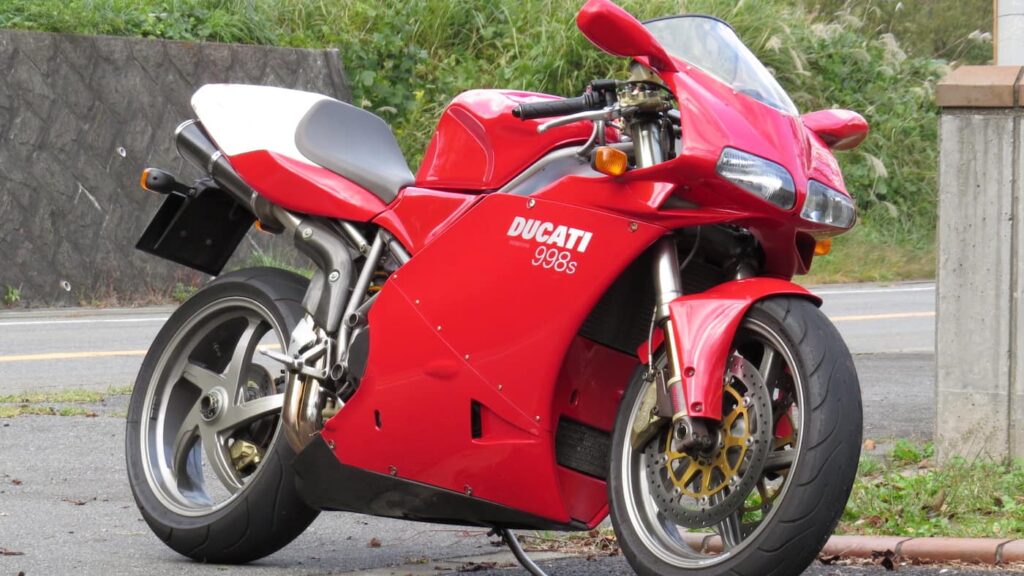 The Ducati 998 is considered to the pinnacle of the 916 design series before it took a break with the 999/749.
From the Ducati 998 onward, the Testrastretta ("narrow head") engine, which debuted in the 996R, became standard, though not tuned quite as as highly as the one in the 996R.
This engine was a little more over-square, increasing the capacity to 998cc. Valve angle was reduced from 40 degrees to 25 degrees. Horsepower went up to 92kW (123 hp) as standard, up from 85 kw (115hp) from the base 996.
Other improvements that made the 998 top its class included
A new frame (also from the 996R)
The same weight as the previous year's 996 (198kg/436 lb)
Riding the Ducati 998
While the Ducati 998 was a winner in its day, over 10 years ago, what's amazing about the motorcycle is how much it hasn't aged at all.
The first thing riders of earlier Ducati models notice when they hop on to the 998 is that its much more responsive down low. It has tremendous low-down torque, making it easy to ride, even if you get the gears wrong.
The second thing is that its much quieter. Everything — the engine, gear box, clutch, and exhaust — are all much quieter than the 916 and 996. The engine is all up much more refined than earlier models.
The 998 is even more a riders bike. It's designed to be pushed hard, to its limits, and even beyond. It'll satisfy beginner riders who just want torque everywhere, and who might ham up gears and get a wrong line. And it'll satisfy experienced racers, who'll be able to get it sideways and not only live to see another day, but look forward to doing it again.
The Ducati 998, if well maintained, still feels rock-solid and focused. It's definitely slower to turn than the Japanese sports motorcycles of the day (like the FireBlade), but just as balanced as any of the competition and later Ducati Panigale models.
The 998 feels narrow and cramped compared to more luxurious later models. The fact that it's harder to turn is in part because it's harder to hang off — it seems like the tank wasn't really designed for it. Your inner thigh just doesn't sit naturally against it, so it's hard to get comfortable in turns.
The Ducati 998's engine can best be described as… frantic. Yes, it's a V-twin, and geared for a huge dollop of mid-range. But it revs. Not like a Yamaha R6 up to a scorching 16,000 rpm, but it still revs. And maintains a raw, visceral feel, just like all the Ducati models that came before it.
Compared to later, larger-engined Panigale releases, the Ducati 998 does need you to pay more attention to where in the power band you're riding, but for the right kind of rider, that can be a very engaging way to ride.
And compared to inline-four motorcycles of the same period (like the Yamaha R1, for example, the standard 998 might even feel… slow.
All in all, the Ducati 998 (and its variants) are an emotional ride, one that you're likely to remember for hours after it's over.
Variants of the Ducati 998
The base model of the Ducati 998 was the "Strada", released in both biposto and monoposto incarnations. Ducati also released S, R, and a special "Matrix" version.
Wait… what? Matrix? As in "The Matrix"? Yes.
The Green "Matrix Reloaded" Ducati 998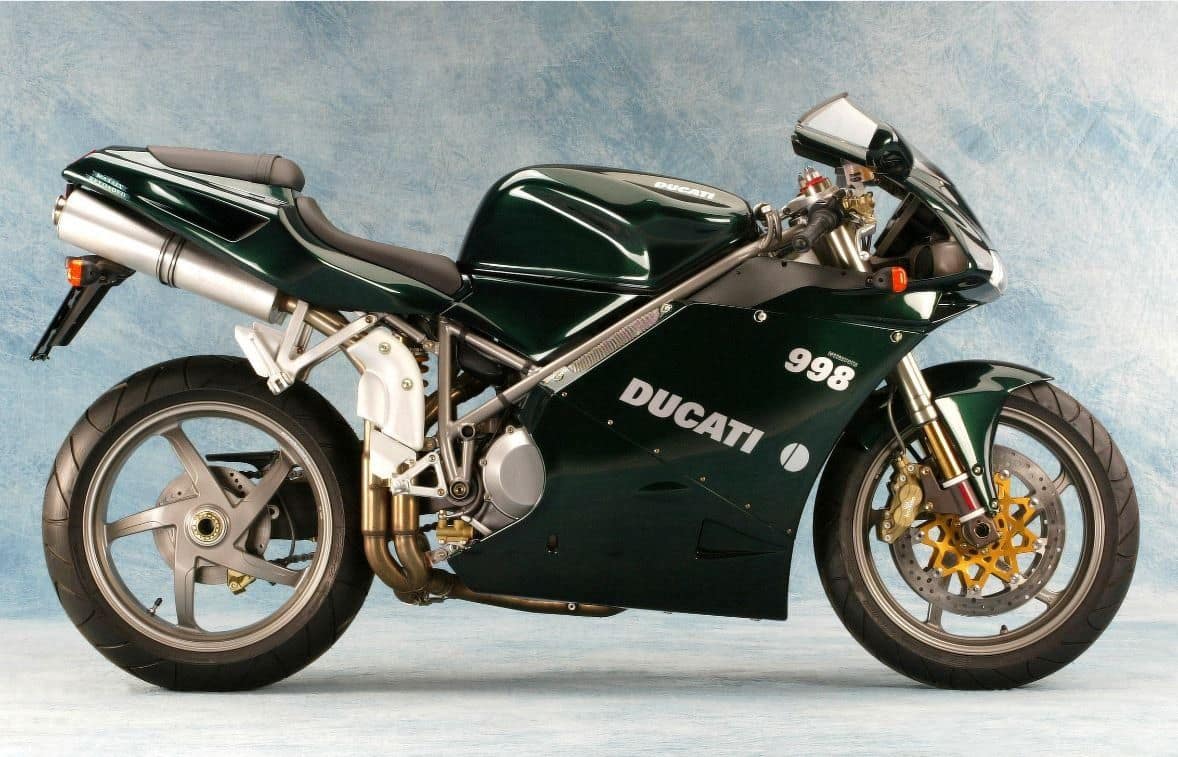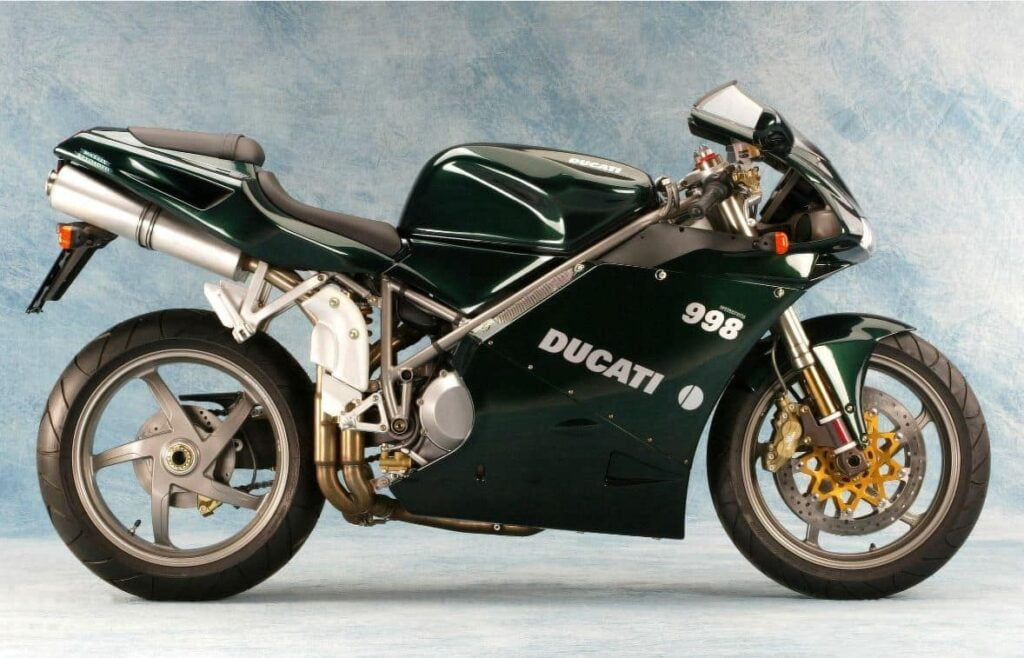 Did you watch any of the sequels to The Matrix? If you did, you might remember a chase scene from "The Matrix Reloaded (2003) featuring a 2001 Ducati 996 that Trinity rode. Want to know something crazy? The actress who played Trinity learned to ride on that Ducati 996! The ATGATT-touting denizens of Reddit's r/motorcycles sub would lose it (she didn't wear a helmet).
Anyway, Ducati made a production version of this after the series finished, in 2004. But since they were making 998 models now, the green Matrix-coloured Ducati is a 998, unlike the original 996.
Only 321 of these were made, with 150 for the US.
Ducati 998R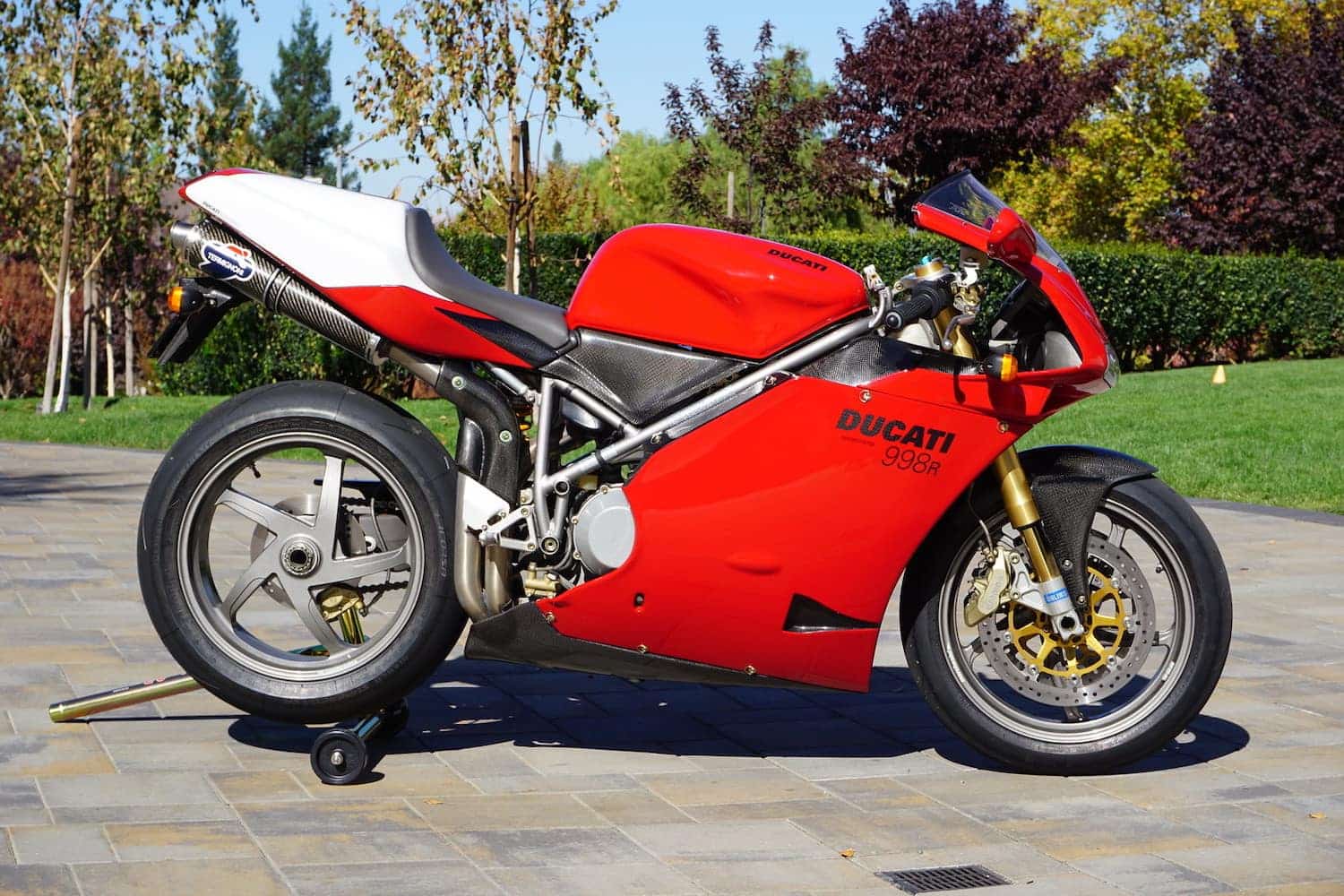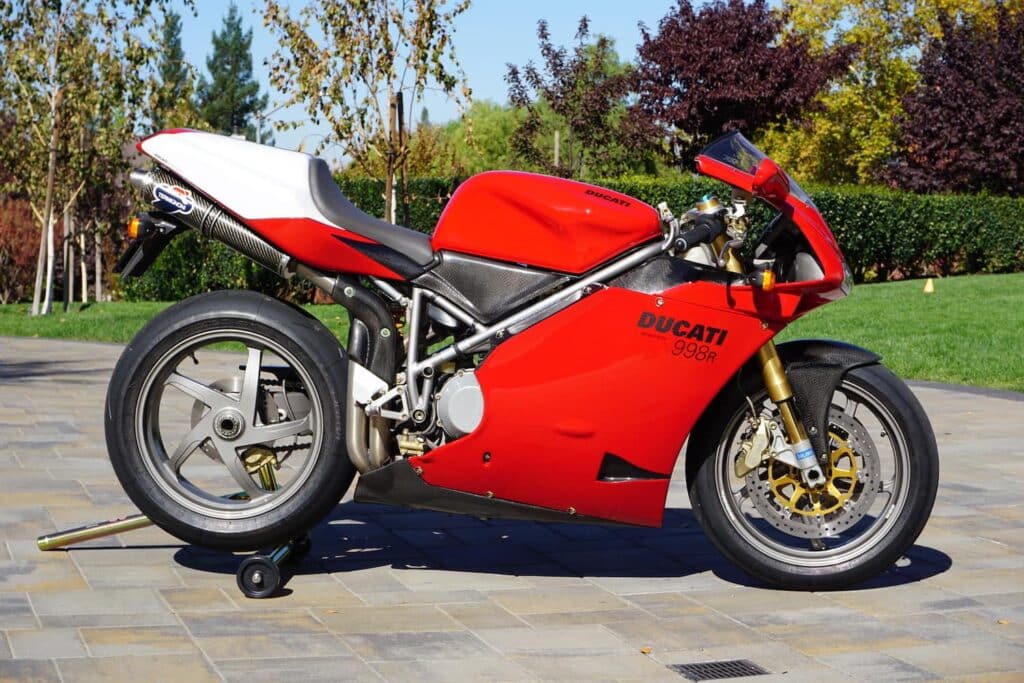 The Ducati 998R was the ultimate version of the ultimate generation of 916-era Ducati motorcycles… before the 999, anyway, which may put you off because of the design.
True to form for Ducati, the Ducati 998R had an even more over-square 999cc engine, presaging things to come… but with a much niche-oriented design than Pierre Terblanche's much (unfairly) lambasted 999.
The Ducati 998R was a homologation model of the second-generation Testastretta engine, with only 700 built (each individually numbered). It's even more over-square than the 998. The new engine produced 100kW (136 hp).
The 998R is the last of generations of analogue-only racers. The dials are needles that wobble about as you enter high speeds… but it's classic as hell! Only 700 examples of the Ducati 998R were built, and they came with individual number plates.
The major innovation of the 999cc engine was that Ducati re-arranged the desmodromic valve gear to bring the camshafts closer together, and allow a narrower valve angle.
(Here's my simple guide to understanding how desmodromic valvetrains work.)
Other features distinguishing the Ducati 998R were
Lighter Marchesini front and rear wheels
Termignoni exhaust standard
Öhlins front and rear suspension.
Riding the 998R gives you (according to racers) the same raw feel as a full-spec racer — "instant throttle response and massive mid-range torque". The suspension is high-spec and designed for race tracks. It doesn't work well on back-country roads, though.
Ducati 998S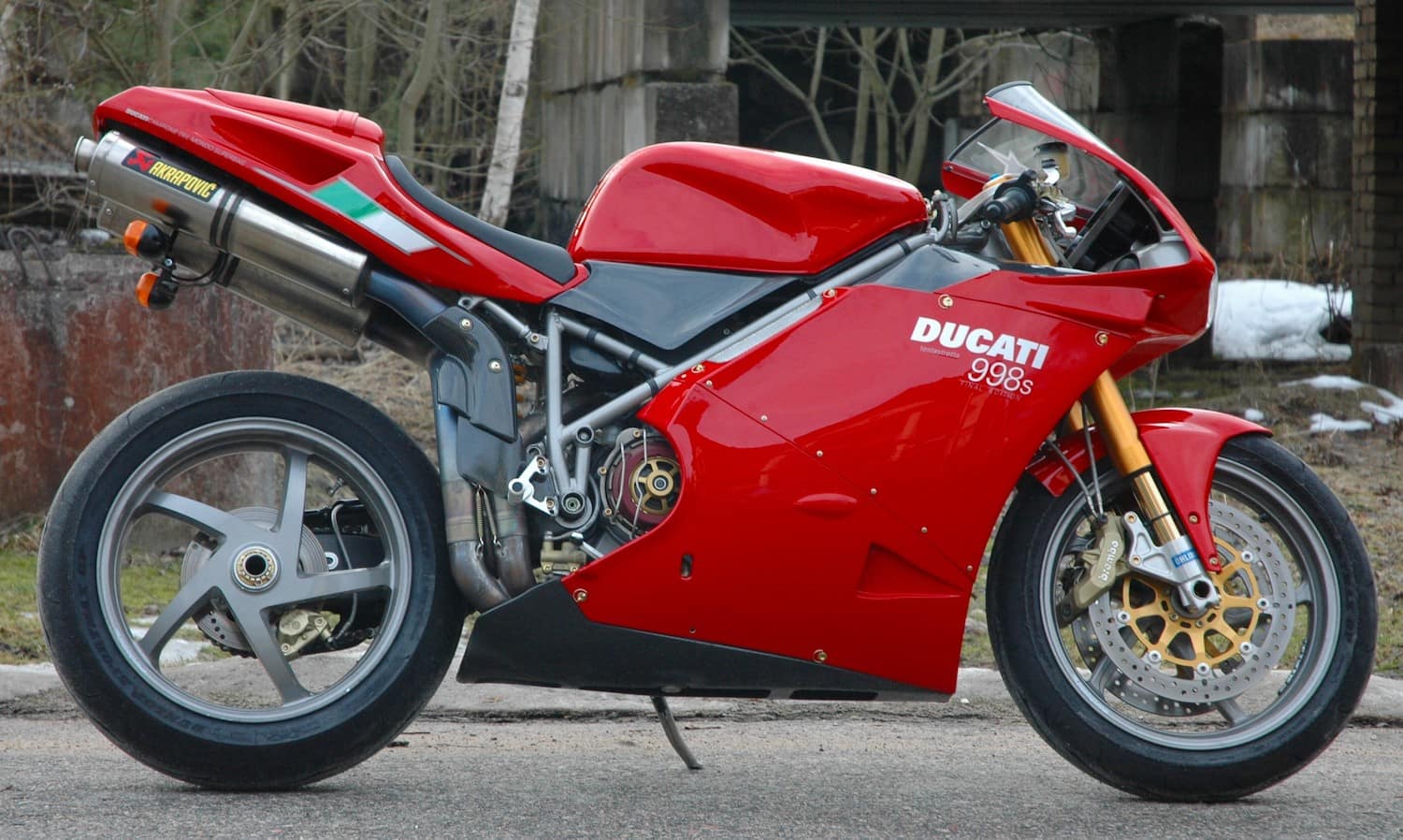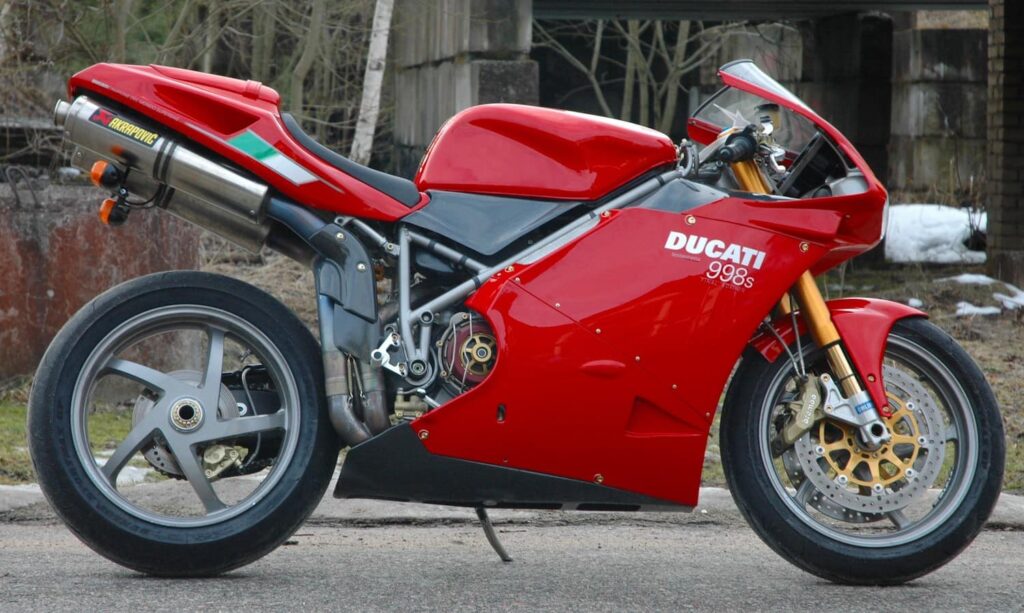 The 998S got the same engine used in the previous generation 996R. This made 136 bhp at 10,000RPM, and also weighted the same as the previous year's S model at 186kg (412 lb) – a lot lighter than the stock 998.
Other things the 998S got were
A full Termignoni exhaust (this one pictured had Akropovic).
Lighter Marchesini five-spoke wheels
Öhlins steering damper
A lot of carbon fibre – belly pan, fairing, and tail piece
Ducati 998S FE "Final Edition"
The 998S FE was only available by special order since it wasn't available as a regular factory made model. It came in two versions, biposto and monoposto (single seat or two seats).
Only 981 of these were made, with 419 in biposto, and 562 in monoposto. They don't have individual numbers.
The engine made 101 kW/136hp, similar to that made in the 996R.
Why "Final Edition"? Because the 999 was coming. And that would cause quite a stir…
Ducati 999 (2003-06): The Connoisseur's Special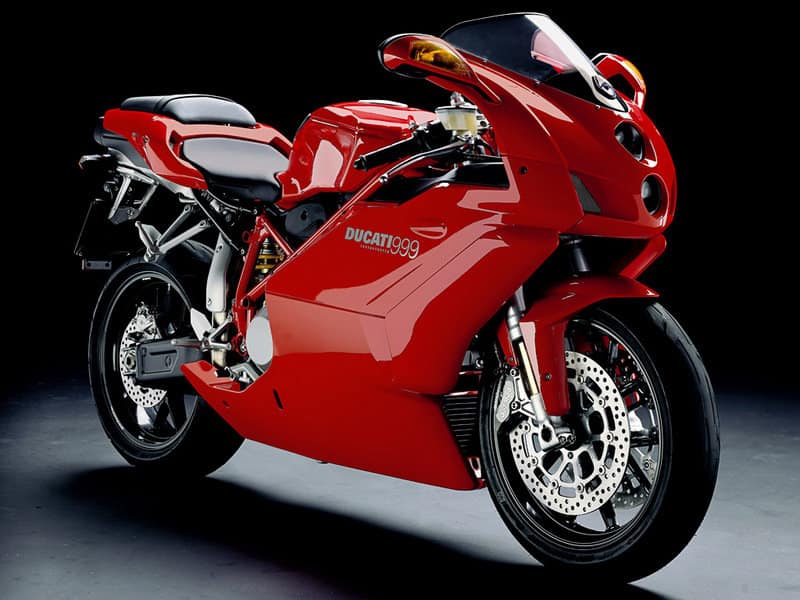 Up until the Ducati 999, all the Ducati Supersports (the 916, 996 and 998) had been designed by Massimo Tamburini.
The Ducati 999 was designed by Pierre Terblanche. And you could tell. The design was controversial, featuring
Vertically spaced lights
Exhaust integrated into the rear frame
A dual-sided swing-arm
More Power: 103 kW (138 hp) @ 9,750 rpm
More Torque: 109 Nm (80 lb-ft) @ 8,000 rpm
The visual changes caused a lot of consternation among Ducati fans, and they were scrapped for its successor, the Ducati 1098.
Personally, I'm a huge fan of the Ducati 999. I haven't got one in my stable, but I've come close a couple of times. I will have to jump on one as soon as I can find a red 999S under A$10,000.
But to those who appreciate Ducati superbikes for their engines and handling, and aren't so concerned about what they look like when they're not riding them, the Ducati 999 may just the best pick!
As you'd expect, the 999 is the ultimate evolution (in ride-ability) of the original 916 series.
In base "biposto" form, the Ducati 999 got a 998cc motor. I know, that's confusing, but I confirmed it with multiple sources! The 999R got a 999cc motor, the one that debuted on the 998R.
The Ducati 999 made the following horsepower/torque:
2003-2004: 92 kW (124 bhp) @ 9,000 rpm, 106 Nm (78 ft-lb) @ 8,000 rpm
2005-2006: 105 kW (140 bhp) @ 9750 rpm, 110 Nm (82 lb-ft) @ 8,000 rpm
Over time, as motorcycle tastes have evolved, people's appreciation of the design of the 999 has evolved. At its release, dealers couldn't give them away. But these days, the Ducati 999 commands a similar "classic Ducati" premium to most other Ducati motorcycles of the time.
On the racetrack, irrespective of style changes, the 999 was very successful. It won the Superbike World Championship three times under three separate pilots, in 2003 (Neil Hodgson), 2004 (James Toseland) and 2006 (Troy Bayliss).
And for this reason, the 999 holds a special place in many people's hearts. Because it's "ugly duckling", it attracts the kind of owner that doesn't feel they need to just get the prettiest thing on the block.
Riding the Ducati 999: Night and day compared to the 998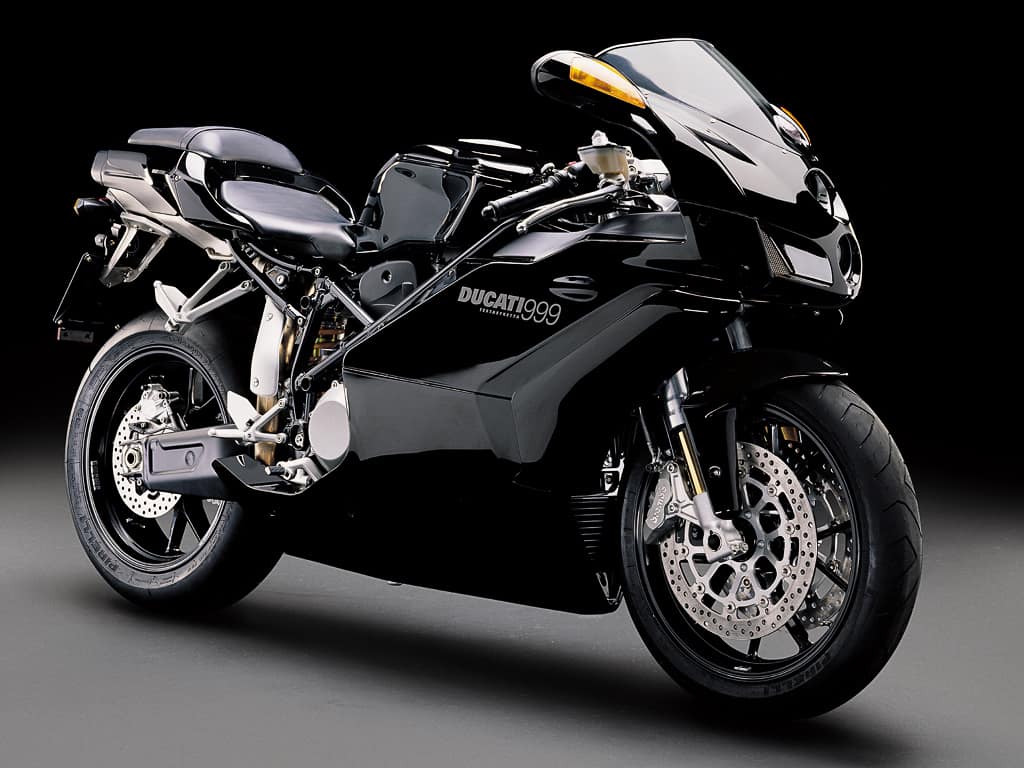 The biggest difference of the Ducati 999 to the 998 and previous generations isn't the looks. It's the way it rides!
All previous Ducati superbikes — the 916, 996, and 998 — were always slow to steer. They needed heavy-handed inputs, though as I've written above, they'd always hold their lines. Not the 999. This was a huge break with (and improvement in) ride-ability.
Start with the way the 999 feels. The 916, 996, and 998 are tall at the back, and low at the front. Your bum sits high, pushing you forward, with your weight on the handlebars. The tank is wide, forcing your legs apart to grip onto it. The 998's firm suspension only exaggerates the riding position. It's sporty, but it's not comfortable.
The 999 is nothing like this. It's low at the back, rounded, and very comfortable. The tank narrows to almost nothing in the middle, meaning you sit well and truly in the bike, feeling like you could almost touch your knees together.
Riding, the 999 is light years ahead of the 998 or previous generations. The throttle is light; the 998's throttle is an exercise in grip strength. The foot-pegs don't cramp your legs (if you're a taller rider). The steering is light, obeying your commands when you think them, much like you'd expect of a CBR954RR or Yamaha R1 of the same era. And the upgraded Brembo brakes respond even better.
On that light steering: it's true. Previous Ducati models were tough to turn, in a way that was just part of their character. You muscle them over, and then enjoy the way they hold their line.
But the Ducati 999 completely changed that. It only takes a slight input to turn the 999. The amazing thing is that it'll still hold my (poorly chosen) line through a turn, but just takes a lot less to get there. It makes previous Ducati models seem so much harder to ride. You have to really think with those well ahead of turns (as I probably should, anyway), whereas you can be a little lazier with the 999 with the same results.
There are many adjustments you can make to the 998 and the 999. But according to other reviewers and riders (much more competent than I am), the 999 will always out-handle the 998.
The gearbox isn't quite as precise as that of the 998, but at this age it'll just vary from example to example.
The windscreen on the 999 is much more effective than the 998. Not sure why, because it's lower… but you definitely hear less noise riding the 999. Maybe Ducati spent some time in a wind tunnel.
Like previous generations, speed is deceptive on the 999. The engine doesn't rev as high as a litre-bike from Japan (or much less a 600cc-class motorcycle), so you won't get the familiar scream as you go north of 150km/h. It doesn't take much effort to be in illegal speeds on any of them. But it takes even less effort on the 999, thanks to the easier throttle, lighter steering, and better wind protection.
Variants of the Ducati 999
The Ducati 999 was also released in S and R versions, respectively producing a little more torque and horsepower each, and with better suspension.
The Ducati 999S
For the 999S, Ducati increased the horsepower to 143 and torque to 82 lb-ft on the 999S, but retains the original 999's 998cc engine. They also added Öhlins forks as standard — widely considered as better than the standard Showa shocks. Plus, they look cool, in gold.
The Ducati 999R
Like previous generations, the Ducati 999R was the ultimate evolution of the 999 series. It used a 999cc over-square version of the 998cc Testastretta engine, which coupled with larger intake valves, gave even more top-end power — 112 kW (150 bhp) to be precise.
Like the S, the R model of the 999 gets Öhlins forks as standard.
The 999R is also 5 kg (11 lbs) lighter than the base 999.
The Ducati 999R gets very expensive – you'll often see them listed for north of US$15,000 at time of writing.
Smaller but also nice: the Ducati 749 (2003-2006)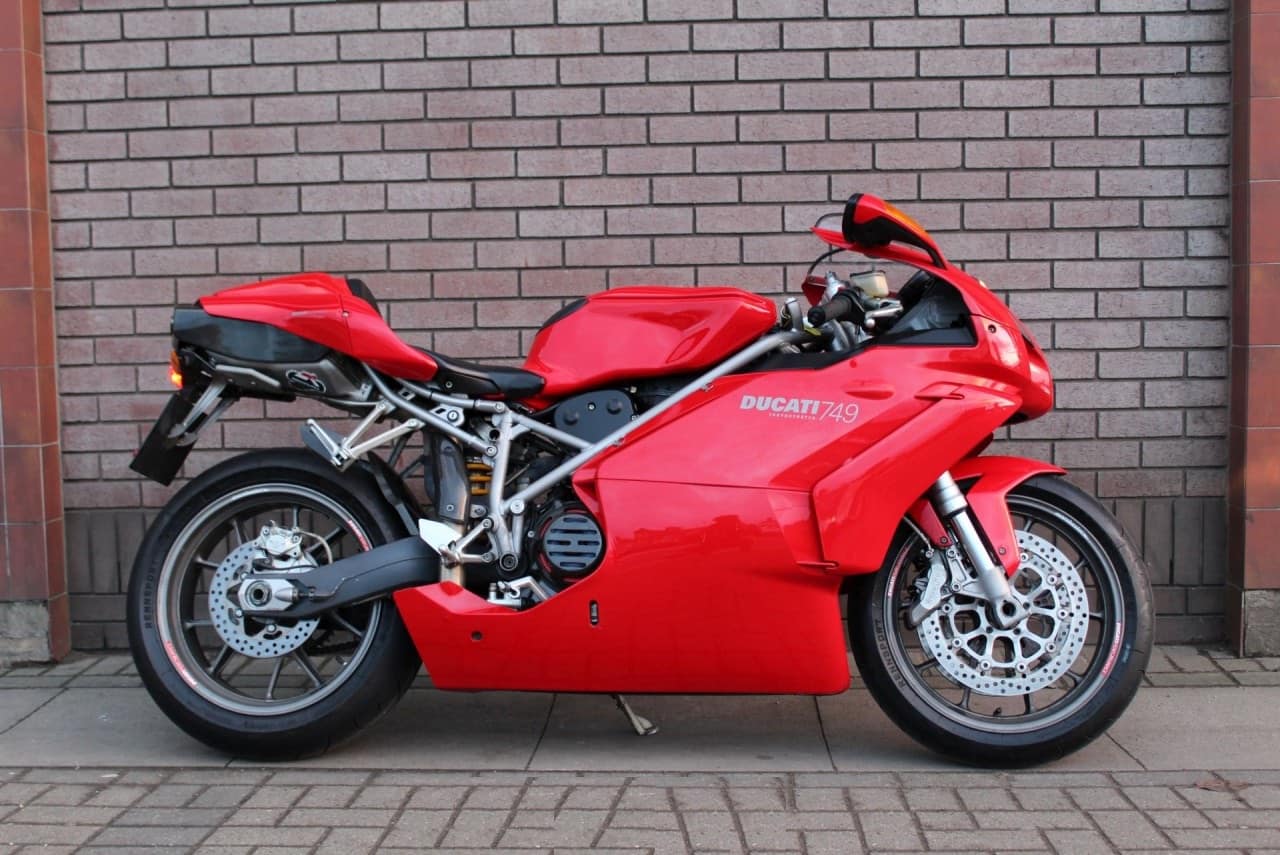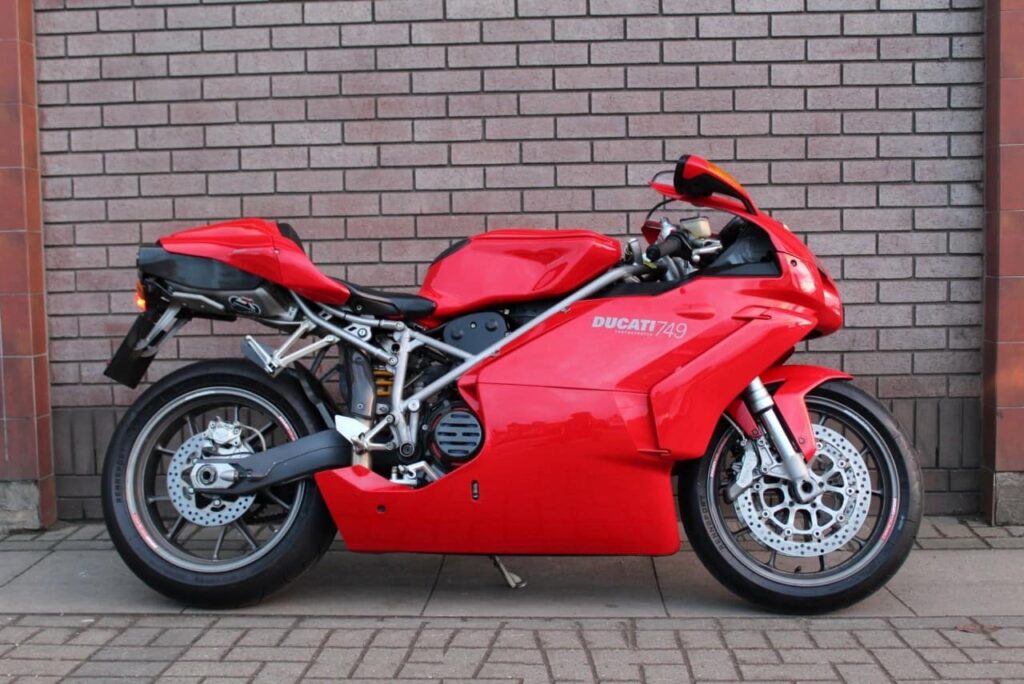 Like the 748, the 749 is a small, but more street-appropriate version of the 999. It's still blazing quick.
It also features a 748cc engine (yes, they upgraded the numbers in the name, without upgrading the engine!)
It came in the 749/749 Dark versions, as well as the sportier 749S and the race-ready 749R. All of the 749 models had a smaller profile rear tyre (180/55).
In general, the nice thing about smaller 749 models is how easy they are to ride at low speeds. The 999 is easier than the 998, but the 749 is easier still. This makes it a much more viable option for everyday riding, rather than just canyons or track days.
On the road, the 749's hefty mid-range makes it easy to ride. You can be lazy, not shifting too much, and not having to rev. Torque is everywhere.
However, the bike is still not "easy" to ride. The clutch is heavy, the mirrors are not terribly useful, and you'll get hot from the exhaust under the seat. This is all to say: if you're looking for a commuter, look elsewhere. But if you're looking for passion, you've found it.
You can generally get a Ducati 749 for under US$6K, or under A$9K. You'll pay a bit more for an S or R model, or one with mods.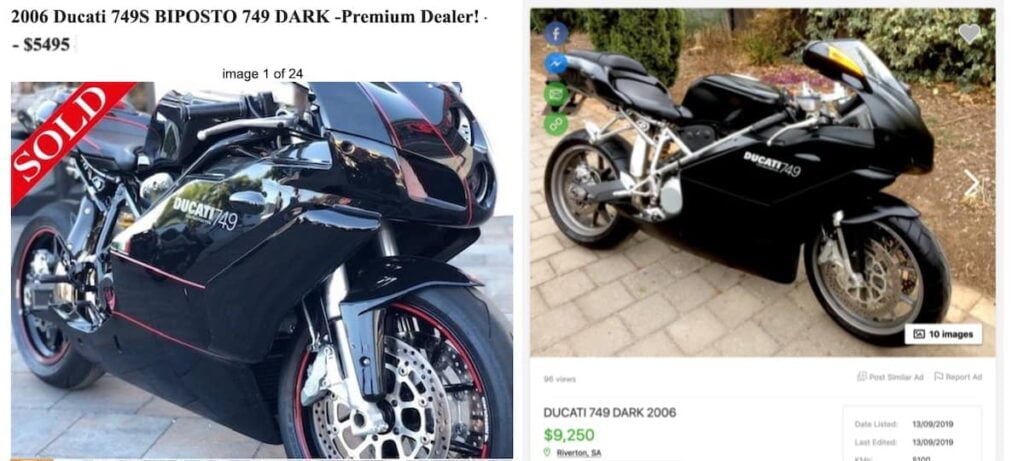 Ducati 1098 (2007-2009): Return of the Single-Sided Swingarm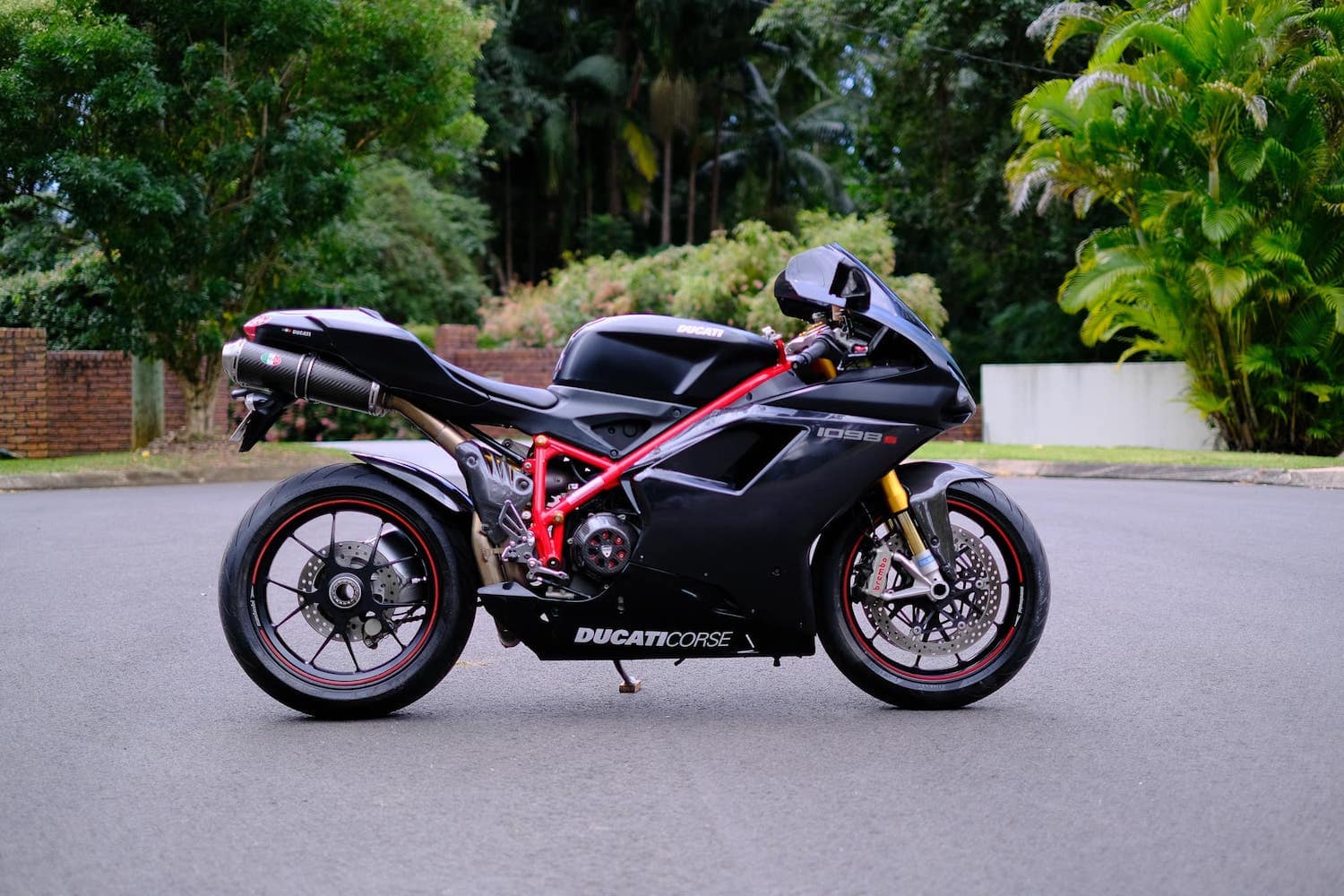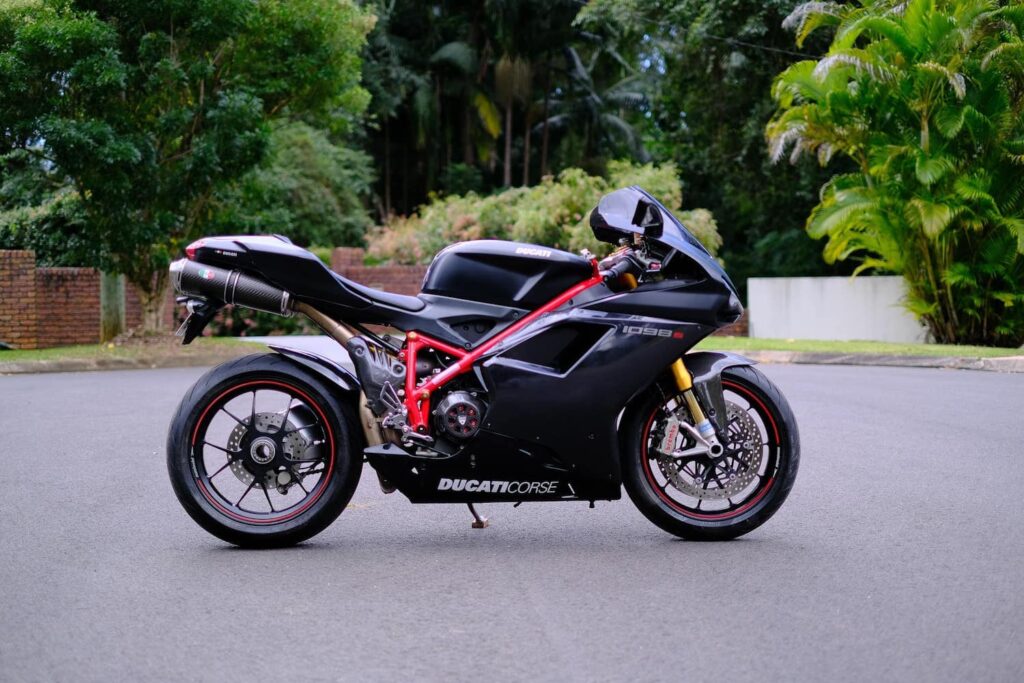 The Ducati 1098 was an incredible superbike. I wrote about it extensively in my review of it, The Dogs of War.
The Ducati 1098 was a big "hey Terblanche, here's what I think of your avant-garde design which will take a decade before it looks normal!" (Like I said, I actually do like the 999.)
New (but actually from the 998) for the 1098 are a single-sided swingarm, dual front headlights, and round exhausts (unlike the square ones you find on the 999).
Other improvements (probably more significant than the aesthetic ones) were:
1099cc (what's with Ducati being 1cc out from a name?) L-twin Testastretta Evoluzione motor
More power: 160 hp (119 kW)
Dry weight of 173 kg (381 lb)
More compact riding position, with bars higher and closer, and the seat slightly higher
New digital dash
Smaller but still nice: the 848 (2008-2013)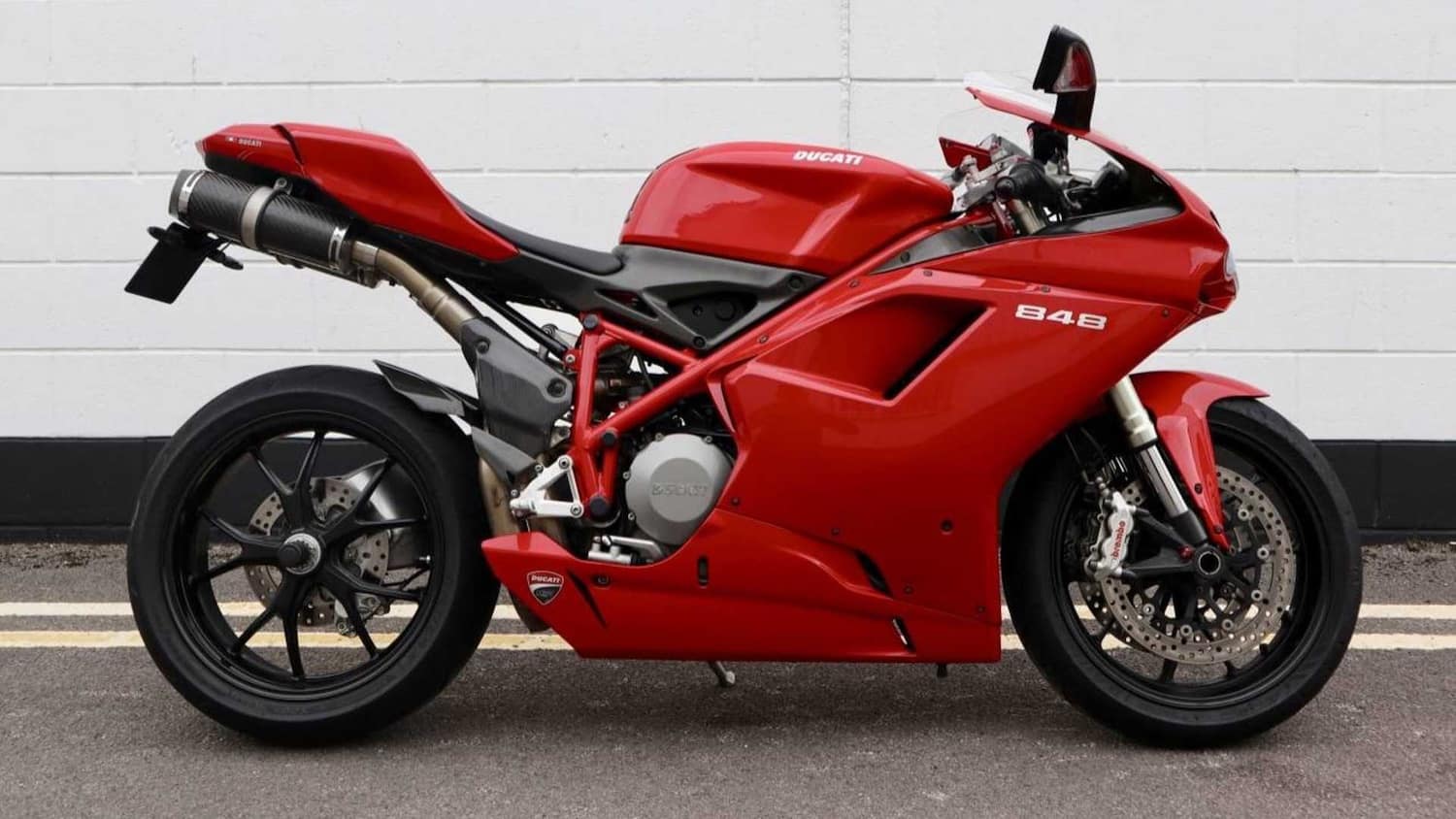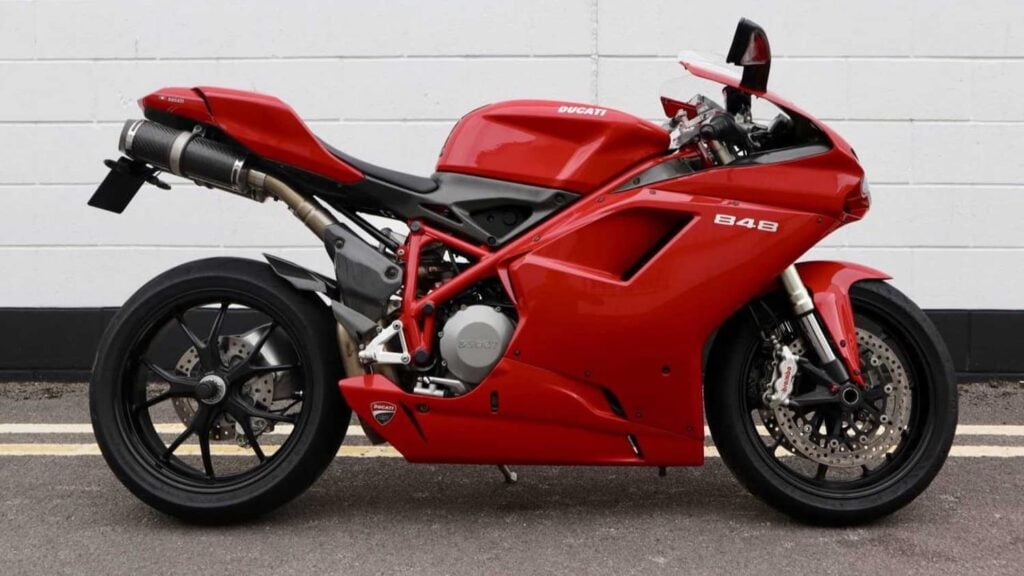 In 2008, Ducati released an updated "small" superbike to replace the 749 and bring the styling inline with the 1098. Ducati kept the 848 in production during the 1098's tenure, only updating it later to the 899 Panigale to be sold alongside the 1199 Panigale (but that's for another story).
The Ducati 848 shared a lot with its big brother — in fact, many body parts are interchangeable. My own Ducati 1098 turned out to have some repainted 848 panels (which I wasn't too happy about).
The Ducati 848 had
An 849cc L-twin
Power of 100 kW (134 hp) @ 10,000 rpm at the crank, and around 87 kW at the wheel
Torque of 96 Nm (71 ft-lb) at the crank, peaking at 8,250 rpm
A dry weight of 168 kg (370 lb), only 5 kg (11lb) lighter than the 1098 (however this was 20 kg or 44 lb lighter than the 749)
15/39 gearing (slightly more street-friendly) rather than the 15/38 of the 1098
It's incredible to me than an 849cc motorcycle with 100 kW of power at the crank is considered a "middleweight". This is especially surprising when you look earlier in this article at the specs of the 916 and 996, and see that the 848 beats them in every way. So don't for a second think that this is a slow motorcycle.
Ducati 1098 Variants
Like the 999 before it, the 1098 was also available in an S and an R verison.
Ducati 1098S
The Ducati 1098S had Öhlins suspension and Marchesini lightweight wheels. Where possible, I would definitely prioritise getting a 1098S. Everyone is looking for them. You might pay a grand or so more, but the value of the parts is much more.
Ducati 1098R
The Ducati 1098R is the racing variant of the 1098. It's much rarer, often twice the price, and is becoming such a classic that I'd be afraid to race it! (Because I do tend to crash and break things…)
The 1098R follows the trend of earlier R models in having larger displacement. Its displacement is 1198cc, which would be the displacement of the Ducati 1198 superbike to follow.
The Ducati 1098R made 20 more horsepower (15 more kW), with power topping out at 180 hp (134 kW). Ducati achieved this through lighter and lower-friction engine components, reworked full exhaust, and a racing ECU. Interestingly, the 1098R also got traction control, something not available on the S.
The Ducati 1098R won three of the four World Superbike championship years in which it was raced.
Ducati 1198 (2009-2011): The Last before the Panigale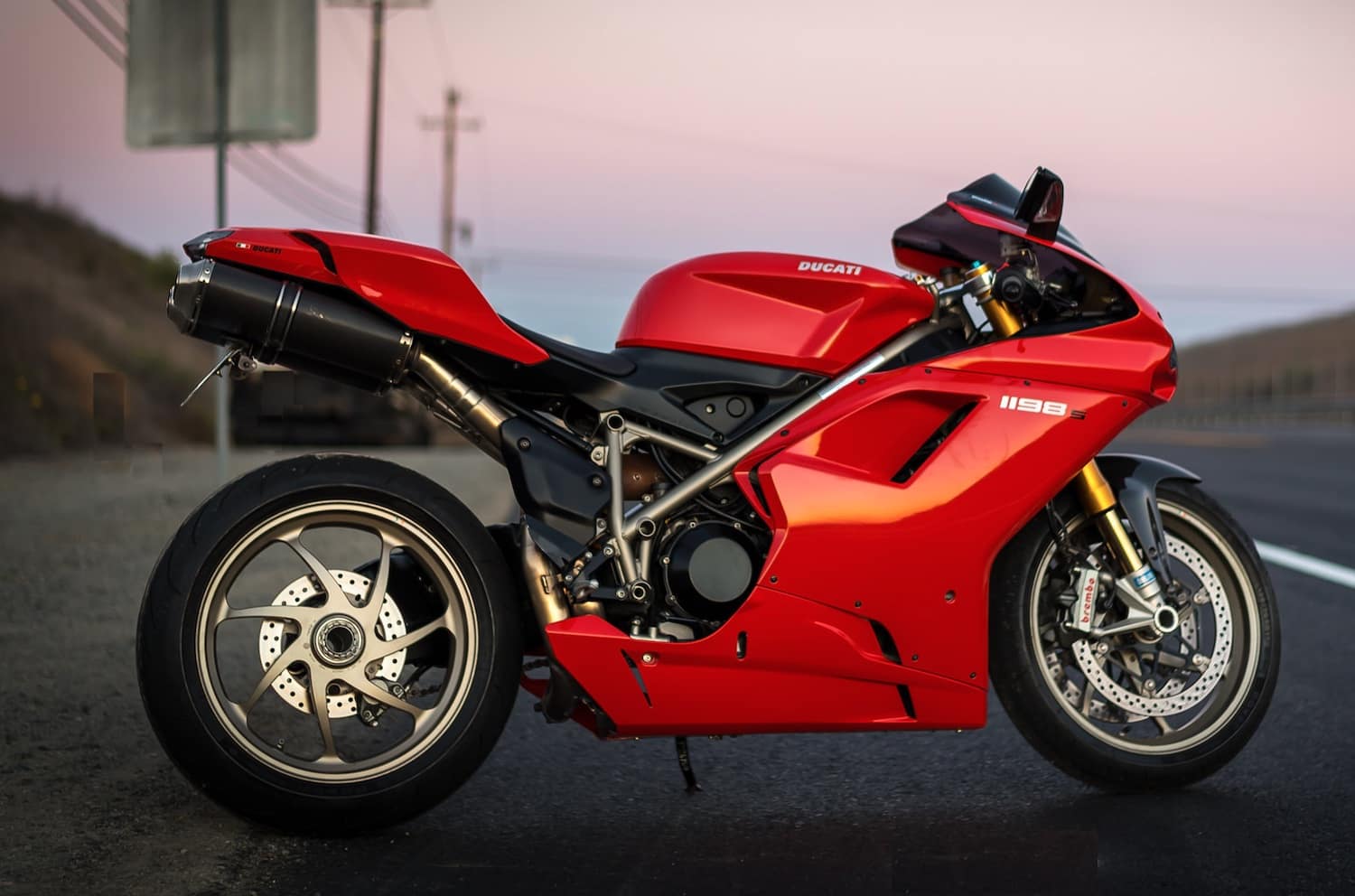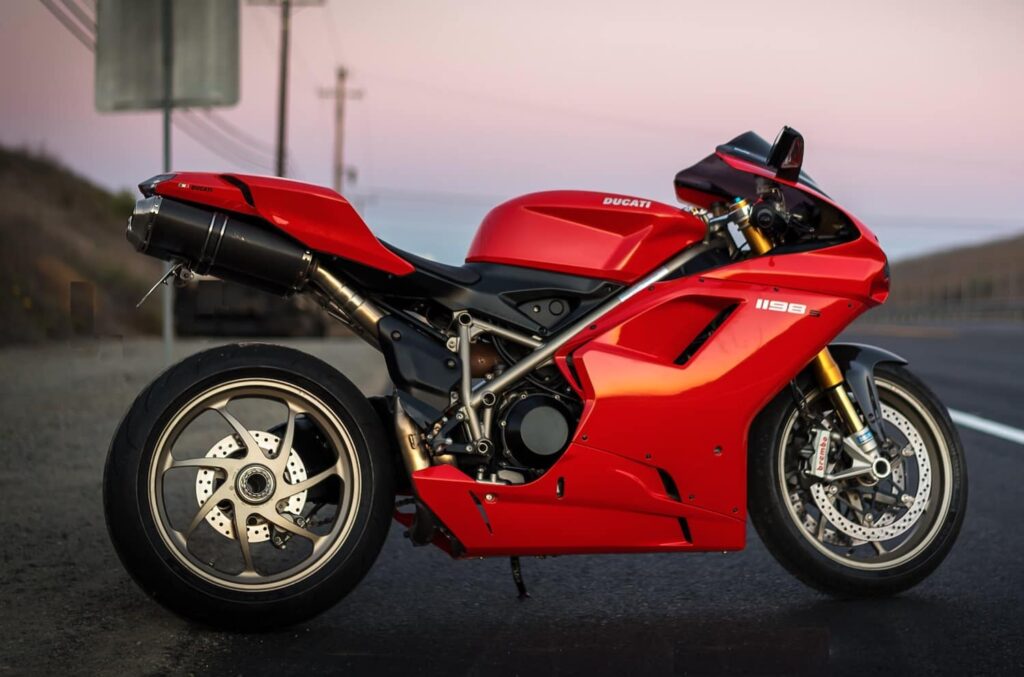 The Ducati 1198 is an update to the 1098. But more of it!
Aesthetically, it stayed pretty much the same, thank goodness, with the single-sided swing-arm, under-seat exhausts, and twin headlights.
One notable upgrade — for me, anyway — is the wider mirrors, on stems. Unlike those on the 1098, the 1198's mirrors are actually usable!
Changes for the Ducati 1198 were:
Engine capacity increase to 1198cc from 1098cc, using the new Testrastretta EVOluzione engine
Power increase to 170hp from 160 hp (125 kW from 119 kW), peak power at 9,750 rpm
Torque increase to 131 Nm (97 ft-lb), peaking at 8,000 rpm
Same weight — dry weight of 173 kg (381 lb). S and SP models are lighter.
People who've owned both like the 1198 better. But it's not a night-and-day difference.
Ducati 1198 Variants
Like every model before it, the Ducati 1198 came in other model variants.
Ducati 1198S and S Corse
The Ducati 1198S came with Öhlins suspension, lightweight Marchesini wheels, and — wait for it — traction control. This is an unusual departure for the S to receive such a significant electronics upgrade. Again, this makes the S version the best one to buy used.
The lightweight components bring total weight down by 1kg. This weight is mostly in unsprung mass (the wheels), which makes the ride feel even lighter.
The S Corse version came with the Ducati Corse livery, like pictured below in the R Corse.
Ducati 1198 R and R Corse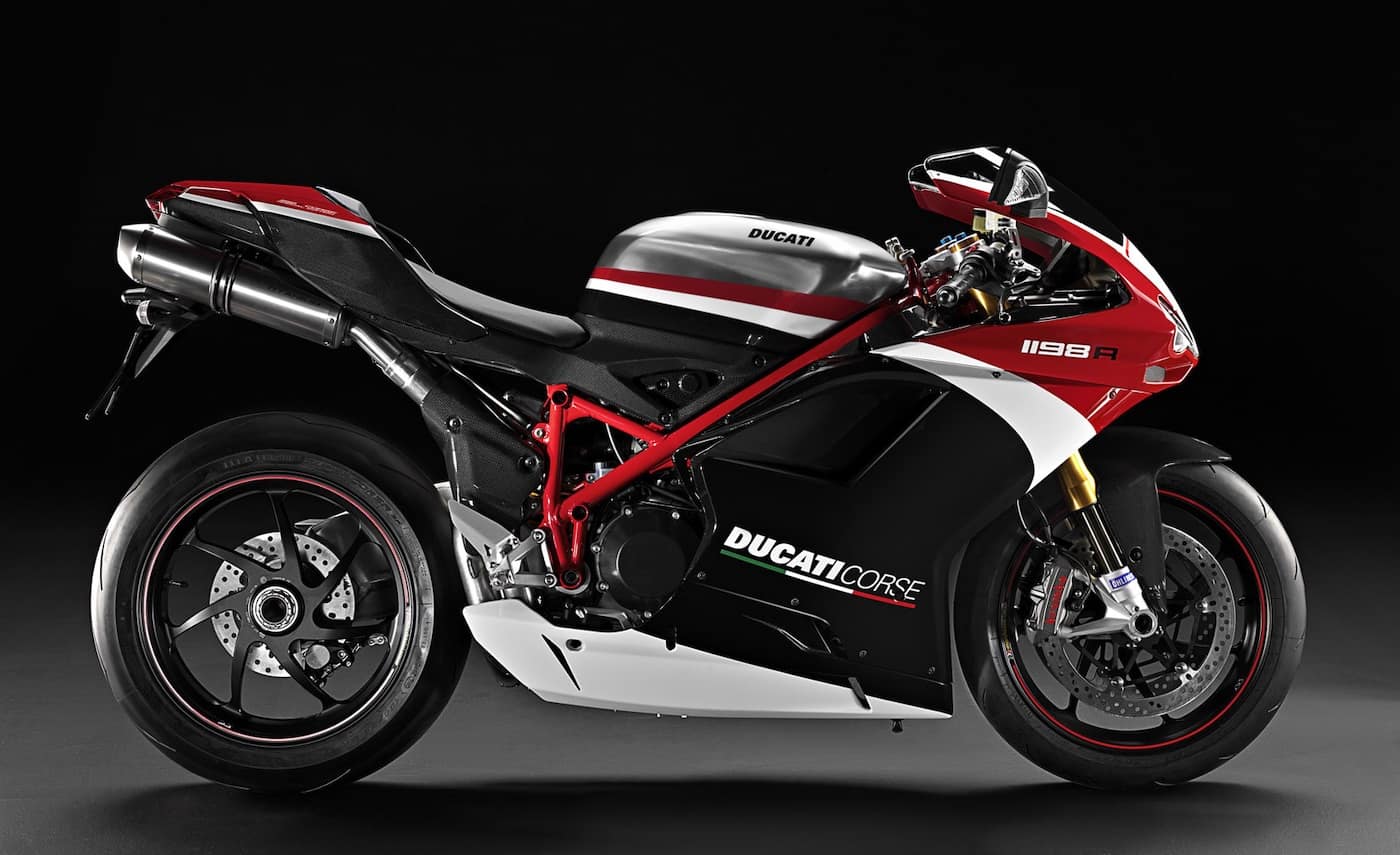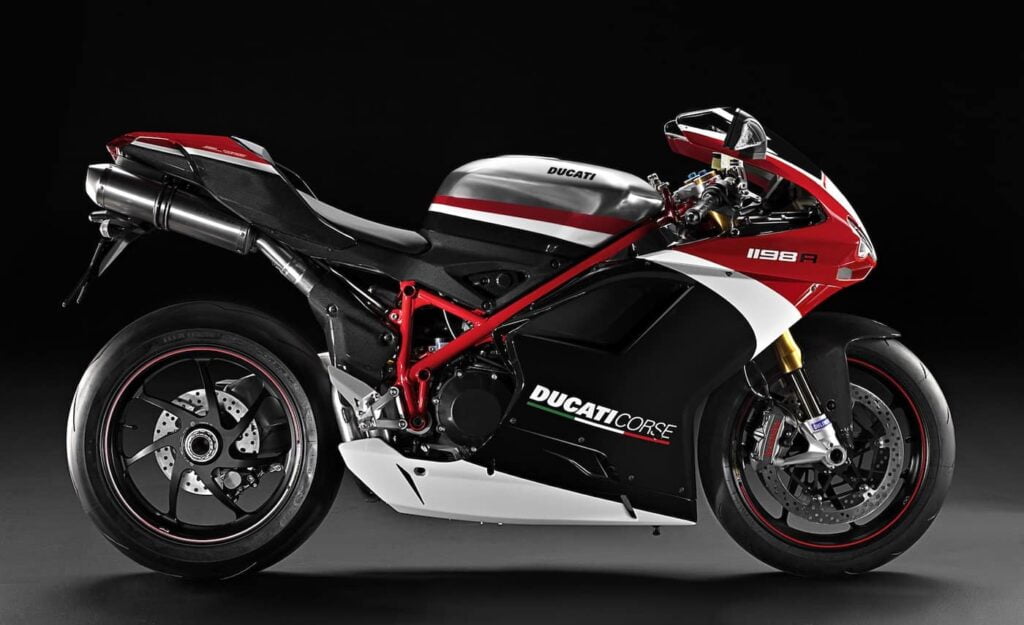 The Ducati 1198R was a race homologation special made in limited quantities. Only 70 were imported into the US.
Unlike every other R before it, the displacement for the 1198R was still 1198cc! But they squeezed out another 10 hp (5 kW), bringing peak power to 180 hp (134 kW).
The Corse models were made in limited quantities. Only 70 were imported into the US. They come with a few extra carbon fibre parts and of course the Corse livery.
Ducati 1198SP
The Ducati 1198SP replaced both the S and the R, signifying the end of an era. So if you're a collector, the 1198SP is what you're after. It has everything the Ducati 1198S was plus a few other bits and bobs, including a quick-shifter.
The engine is the same as the standard 1198, the 170 hp version.
The 1198SP also has a lighter AND larger 18-litre fuel tank.
Epilogue: Which is the "Best" Ducati classic superbike?
You might have gathered there's no "best". There are some that are beautiful, expensive, or easy to ride.
Ultimately, the best Ducati sportbike is going to be just one in good condition, reasonably near you, and taken care of by a fastidious owner. You need to check a few special things on a Ducati — look at my guide on what to check on a used Ducati for some hints.
It's unlikely you'll go wrong or be disappointed with any decision… unless you get a complete lemon from a dishonest seller! So make sure you assess the seller as much as you assess the bike.
My own experience with Ducati superbikes is this: I bought my first one because it was just available at a good price. It needed some work, and I didn't mind. Then I rode it home and palms sweaty and heart racing I realised that I didn't even need another motorcycle. I'd be happy with this one alone.
If your heart wants a Ducati superbike, do what you need to do to get one. You won't regret it.