This is a detailed guide to buying a Ducati Monster, from the first Ducati Monster 900 in 1993 to the latest Ducati Monster 937 SP, including known issues, what to check and the best models of Monster to get (Spoiler: there are many "bests").
I have a confession: I have a love affair with the Ducati Monster. My first, a Ducati Monster M900, had a dent on the right hand of the tank, but I didn't care.
I'm not alone in loving the Ducati Monster. It is the largest selling Ducati model of all time, and at times has led the naked bike sector. Gear Patrol named the Ducati Monster one of the most iconic motorcycles of all time. It was credited with reviving the Ducati brand in the mid-nineties.
The Ducati Monster was my third motorcycle (after a learner and then my first "real" motorcycle, a Honda CB900F). But the Monster was the first motorcycle I regretted selling. I regretted it from the moment I heard it being ridden away.
Ever since, I've compared every motorcycle to it, and bought (or at times built) more. I don't have one right now, but I plan to again soon!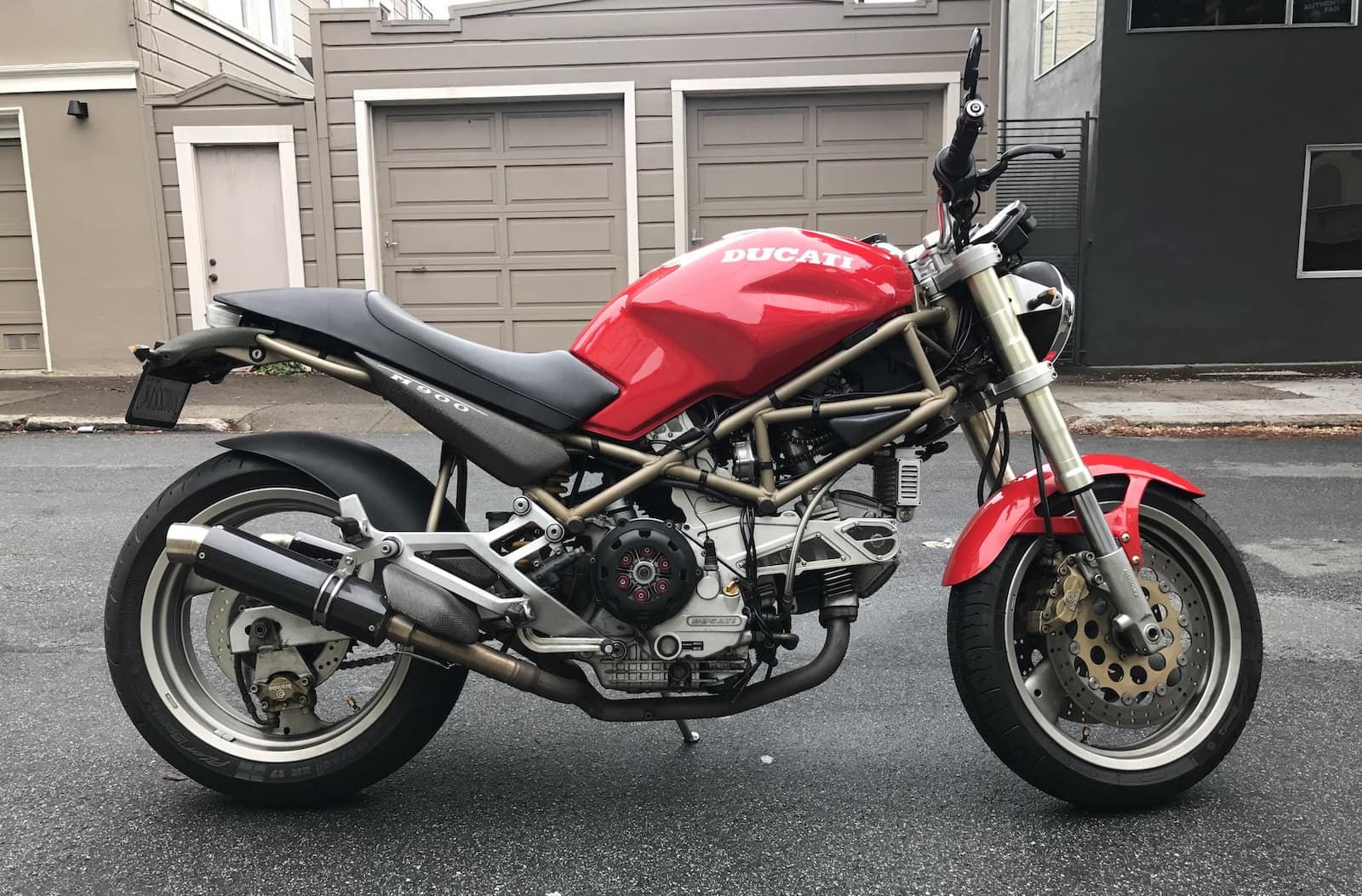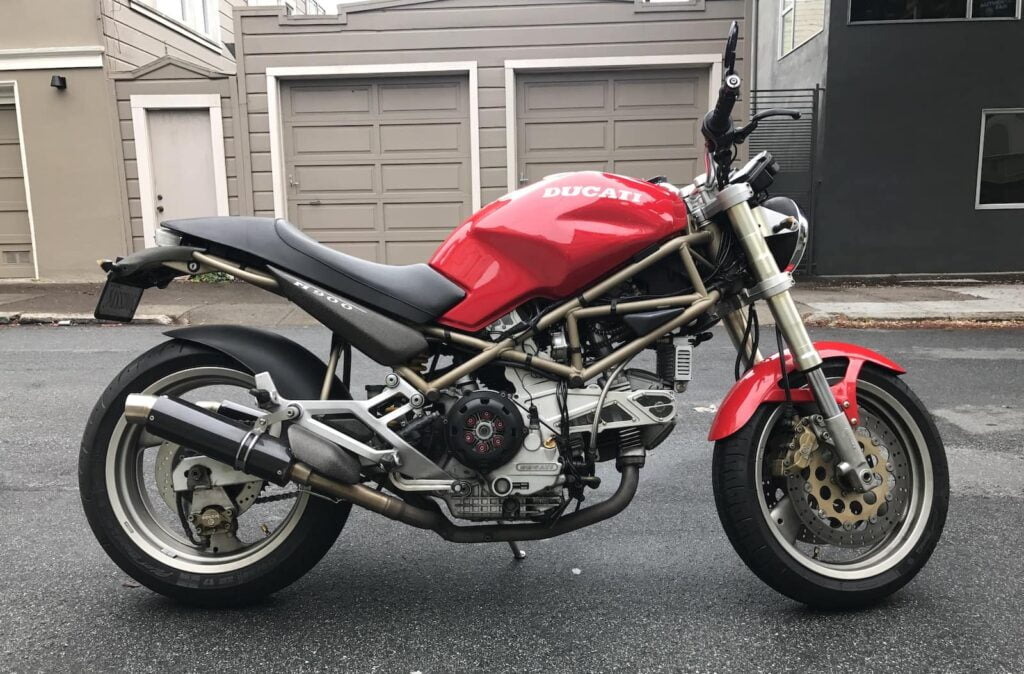 So the research began. Which was the best model to get? How would I avoid the mistakes I made buying the first one? What price should I pay?
It's safe to say I've looked at at least one of every kind of Ducati Monster available on the market. In fact, I've probably looked at every similar Ducati out there (e.g. SuperSports of their time, and modern Scramblers).
So here it is: my guide to buying a Ducati Monster.
If you like this, you might also like my guide to buying and loving the Triumph Scrambler — embodying so much of what the Ducati Monster originally was designed to be.
Note 1: This review has some subjective elements, like discussion of the spirit of what makes the Monster a Monster, or the best models to get. To the extent possible I'll keep my thoughts objective (e.g. by making sure they align with thoughts in reviews by authoritative magazines), but I'll note a subjective element when there is one.
Note 2: This post was first published in early 2018 on my personal blog before I even started Motofomo. It was my first motorcycle-related post! Then I re-published it on November 2018, moved it to Motofomo at the end of 2020, and have since significantly updated it with a lot more detail as time has gone on. It's still one of the site's most popular posts.

2023 updates: Ducati Monster (937) SP, and 2024 Ducati Monster 30th Anniversary
Are you obsessed with motorcycles?
Well, I am. That's why I created this site — as an outlet. I love learning and sharing what others might find useful. If you like what you read here, and you're a fraction as obsessed as I am, you might like to know when I've published more. (Check the latest for an idea of what you'll see.)
Background on the Ducati Monster
Ducati produced its original Ducati Monster 900 in 1993.
It's known as having been a "parts bin special", though that's a little unfair as many standard/naked motorcycles have borrowed parts from their superbike stablemates.
Since Ducati produced the first Monster 900, they've released many more — big and small, pedestrian and extreme, vintage and modern. Ducati gradually added different capacities to the range (from the downsized 400 through to the comparatively extreme 1200), updated the engine design (four valves per cylinder, liquid cooling, and a wet clutch), and improved the ride technology (fuel injection, traction control, and eventually an IMU).
So little has remained constant in the Ducati Monster other than the core concept of a naked sport bike with handlebars rather than clip-ons and a minimal fairing — if any.
What makes a Ducati Monster?
Monsters were originally intended to embody simplicity and minimalism, including nothing more than the core of what you need for a motorcycle to go.
The original Ducati Monster was designed by a designer named Miguel Galluzzi, who sketched it together while working at Honda and making fully-faired CBRs (another motorcycle worth loving).
As Signor Galluzzi tells the story, he saw a photo of a Ducati 851 stripped to its engine and chassis and drew over it, adding only the bare minimum to make it a motorcycle. "In the mind of a motorcyclist," he said, "you need a gas tank, a seat and a motor."
He later joined Cagiva (which then owned Ducati) and convinced executives to build some prototypes. He built the original model from the company's parts bins, pulling a frame from a Ducati 888, an air-cooled L-twin motor from the Ducati 900SS and front suspension from a 750SS, and so on.
When Galluzzi showed those prototypes to Ducati heads at the time, he recalls the managers asked, "Are you bringing the rest of the motorcycle later on?"
What made the Monster's design stand apart from other motorcycles of the time was the combination of:
The exposed "trellis" frame – that attractive blocky frame, taken from the 900 SuperSport engine.
The naked design: Somewhat halfway between a sports bike and a classic upright "standard" motorcycle, the crouched over handlebar position was fairly unique (though not entirely new) on the market.
The V-twin engine – most engines at the time in standard motorcycles were inline four engines. The L-twin gives it a unique rumble.
The dry clutch on the larger (or non-"small") Ducatis giving the distinctive Ducati rattle and clatter that makes many riders swoon, and many car drivers thinking your engine is about to break into a thousand pieces.
The combination made for something unique on the market and it exploded. It created imitators too, most notably the Suzuki SV650 (the "poor man's Ducati"), also equipped with a naked design, trellis frame and burbling 650cc V-twin.
The Suzuki SV650 is also a fantastic motorcycle, but that's a different story (here's my buyer's guide to the Suzuki SV650).
Many aspects of the Ducati Monster have changed since the original launch, but it has kept the V-twin engine in a naked sportbike concept — so far. (There's no Ducati Monster V4 yet.)
A Timeline of Ducati Monsters in Phase Order
Here's how the Monster models broke down over the years. Ducati Monsters were first shown in 1992, then manufactured for the 1993 model year.
I'll try to present this in "Phase order". Very loosely I see it in these phases:
The original air-cooled 2-valves, carburettor fed: the 900, 750, 600, and 400
Air-cooled 2-valves, fuel-injected: 900 i.e., 750 i.e., 620 i.e.
Bigger fuel-injected: 1000, 800, 695
The S2R era: S2R1000, S2R800, 696, 659
The S4 models, the Early Streetfighters: S4, S4R, S4R Testastretta, S4Rs
The Last of the Air-cooled: 1100, 796
First liquid-cooled Testastrettas: 1200, 821
Liquid-cooled Phase 2: 1200R, 2nd gen 1200
The Throwback: 797
Modern Compact: 937, 937 SP
It's a bit messy, I know, as you can't clearly see which motorcycle evolved from which. And several of them randomly share the same motor, like the Monster 800 has the same motor as the Monster 797. What gives? What's with the naming convention? I don't know.
Anyway, here goes:
The Original Air-cooled 2-Valved, Carburettor-fed Monsters: the 900, 750, 600, and 400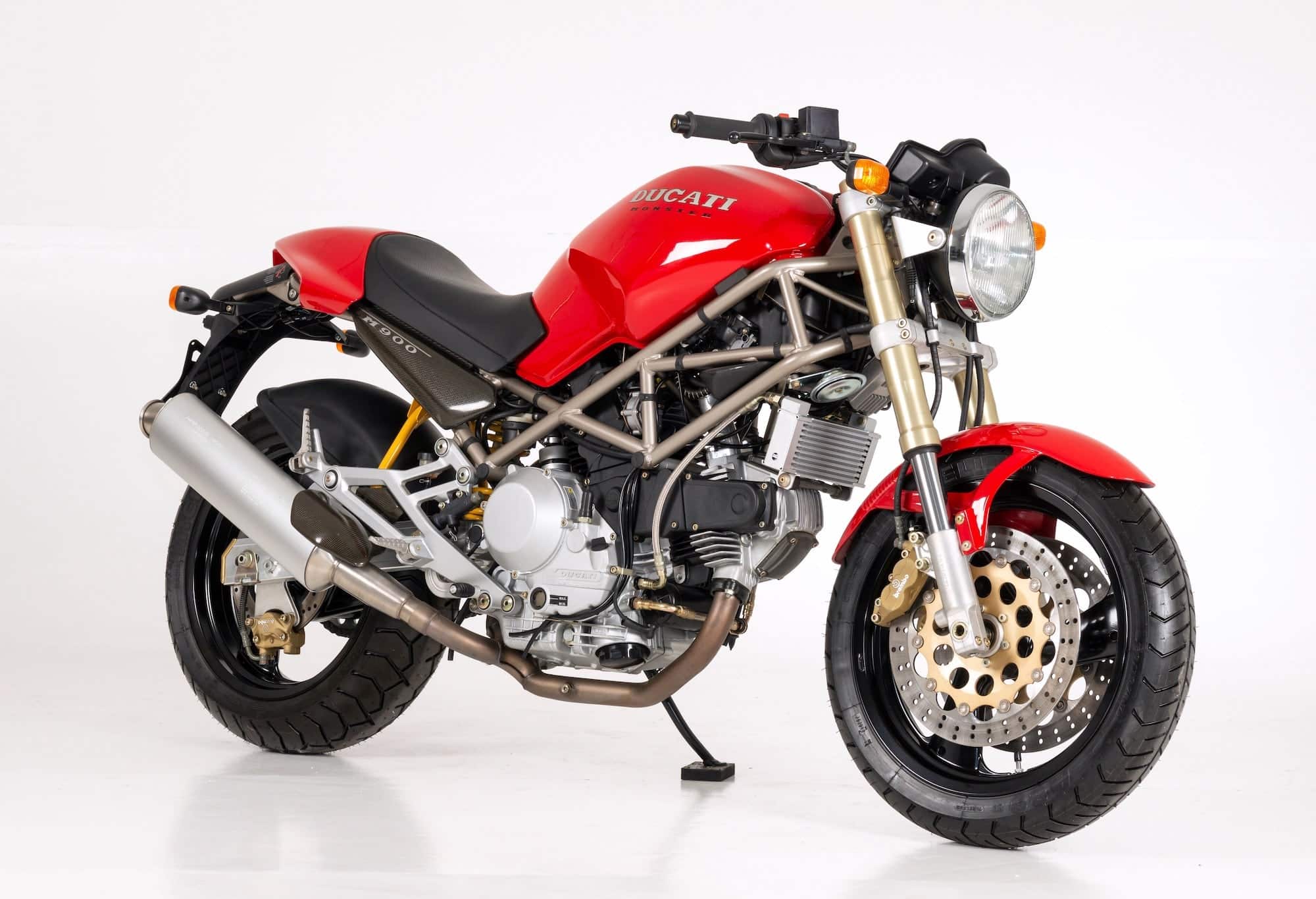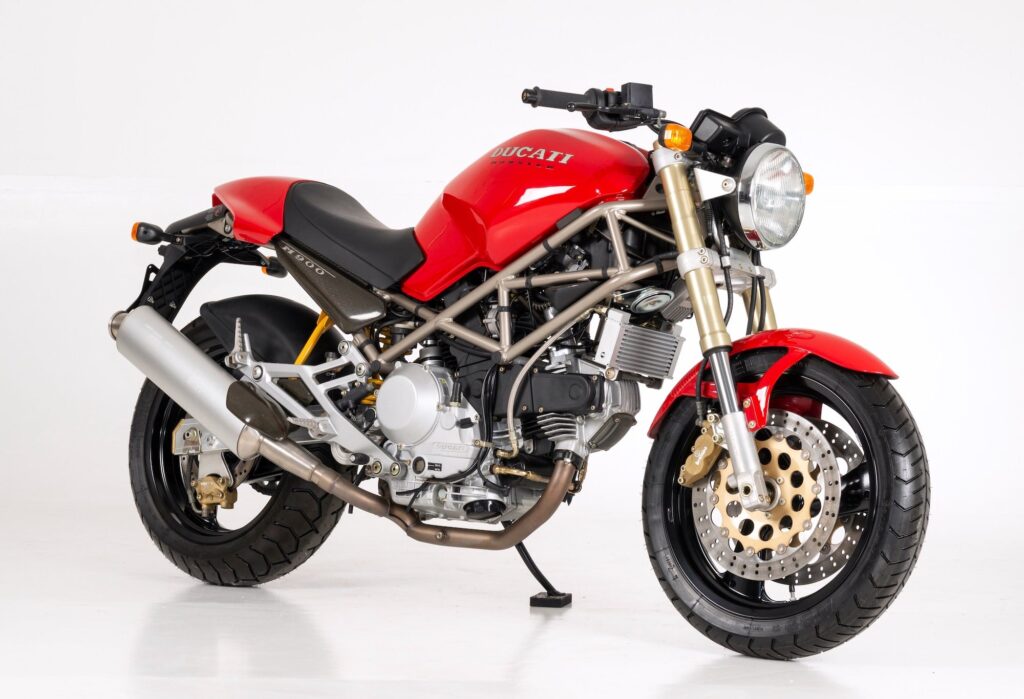 The first Monster was the Ducati Monster M900, a 904 cc V-twin. The original Ducati Monster 900 breathed through carburettors, was air/oil-cooled, and had two valves per cylinder.
The original Ducati Monster M900 set up the template for Monsters for the next two decades. They were all to be powered by an air/oil-cooled (or sometimes air-cooled, for the smaller models) L-twin (a V-twin on its side) with two valves per cylinder, Desmodromic valve actuation, and belt-driven camshafts. It's known as the "Desmodue" engine, named for the valve actuation as well as the fact that it has two valves per cylinder.
See here for a guide to Ducati motorcycle engines, from Desmodue onwards.
All of this would be packed into a naked bike with a minimalist exposed trellis frame and a sporty riding position.
The original Ducati Monster 900 isn't a terribly powerful bike. And it's quite heavy. It makes a claimed 54 kW / 73 hp at 7250 rpm. It has a dry weight of 185 kg per Ducati, which doesn't sound so bad… but with the forward bars and quite shallow turning circle, it's a bit of a handful. Many of them (like mine) have a dent in the tank from an inevitable drop.
But man, is it cool! They absolutely bellow, shake, and feel like they're going a million miles an hour when they're just going 100 km/h or 60 mph. I'm sure they're good for faster but you don't need to get there.
From 1993 until 1999, Ducati released a few more smaller capacity Ducati Monster models. Ducati released a 600cc and a 750cc model, both as lower-capacity, less intimidating, and less costly variants for those who wanted to dip their toes.
The Ducati Monster 600 and 750 have a few different features from the 900. They both only have a single disc front brake, and the 600 doesn't have an oil cooler.
Notably, the smaller Ducati Monsters in the range had — and have always had — a wet clutch, rather than a dry clutch. This means that if you're after the classic Ducati dry clutch "rattle", or a cool exposed open clutch, you need to opt for the larger Monster (900, 1000, 1100, but not the 1200, which adopted a wet clutch).
The Ducati Monster 600 and its successors have been popular for the Monster line-up, and thus they follow a slightly different schedule to the other models in the Ducati Monster generations.
Ducati even made a 400-cc model released in a few markets, a product of regulations where the tax or license system was harsher on larger capacities. People loved them (some still do), but given the smaller capacity, they don't retain the iconic status of the M900 and are thus in lower demand. There are better 400-class motorcycles, and there are better learner-legal Ducati Monster, where learner regulations are present.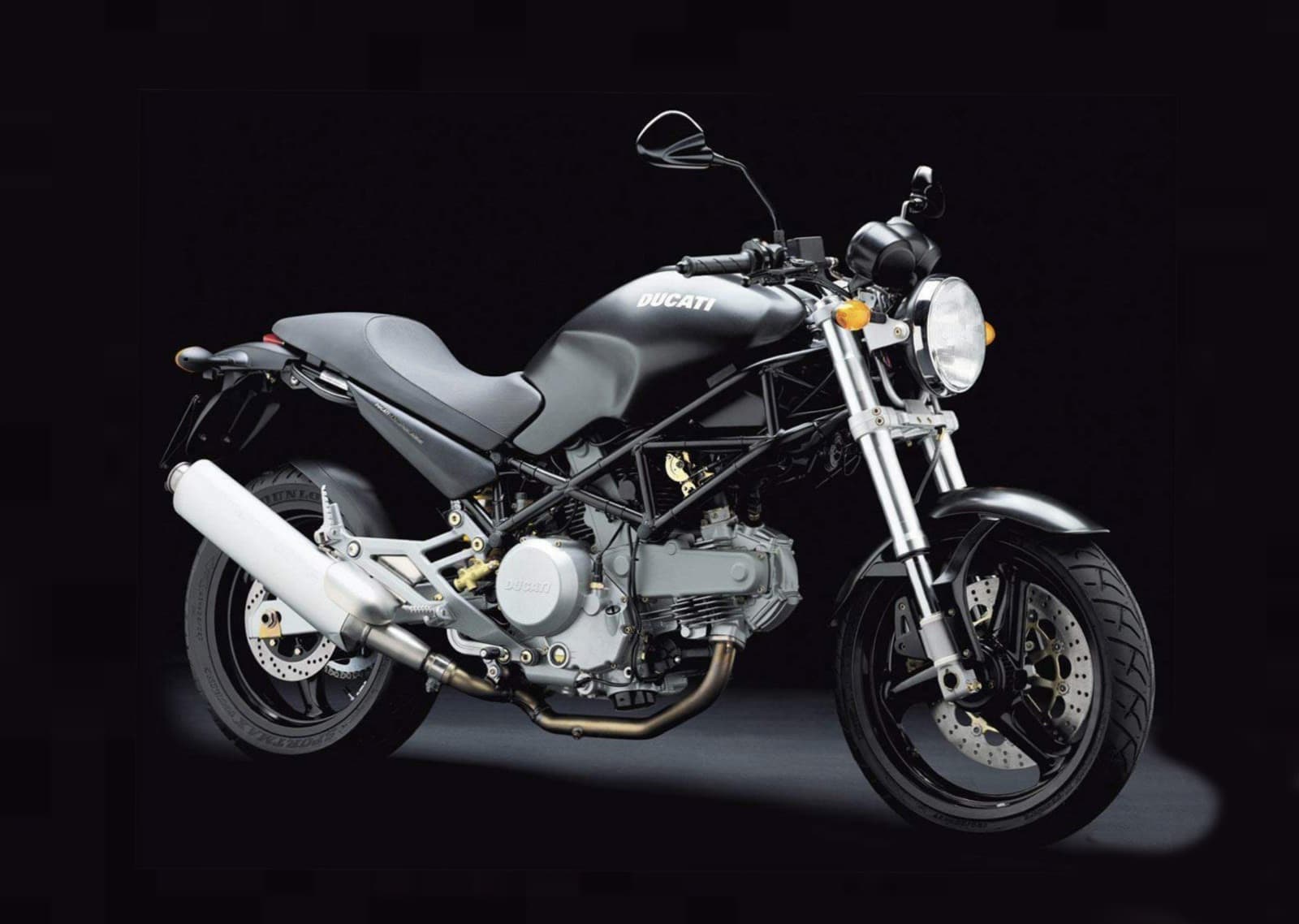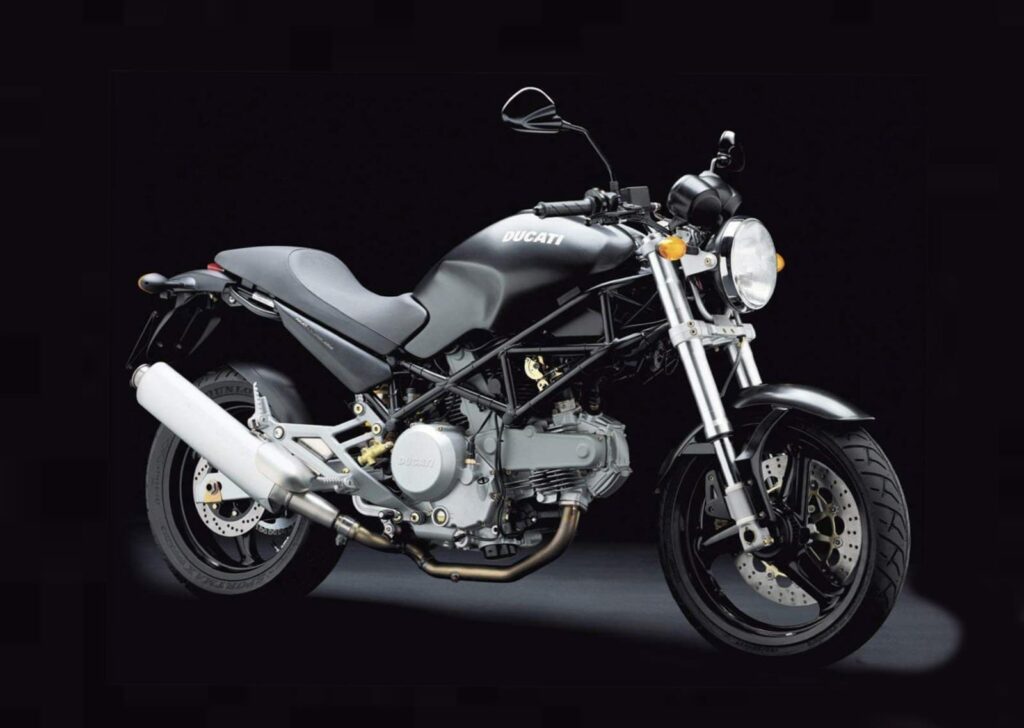 Air-cooled 2-valves, fuel-injected Ducati Monsters: 900 i.e., 750 i.e., 620 i.e. (2001-2002)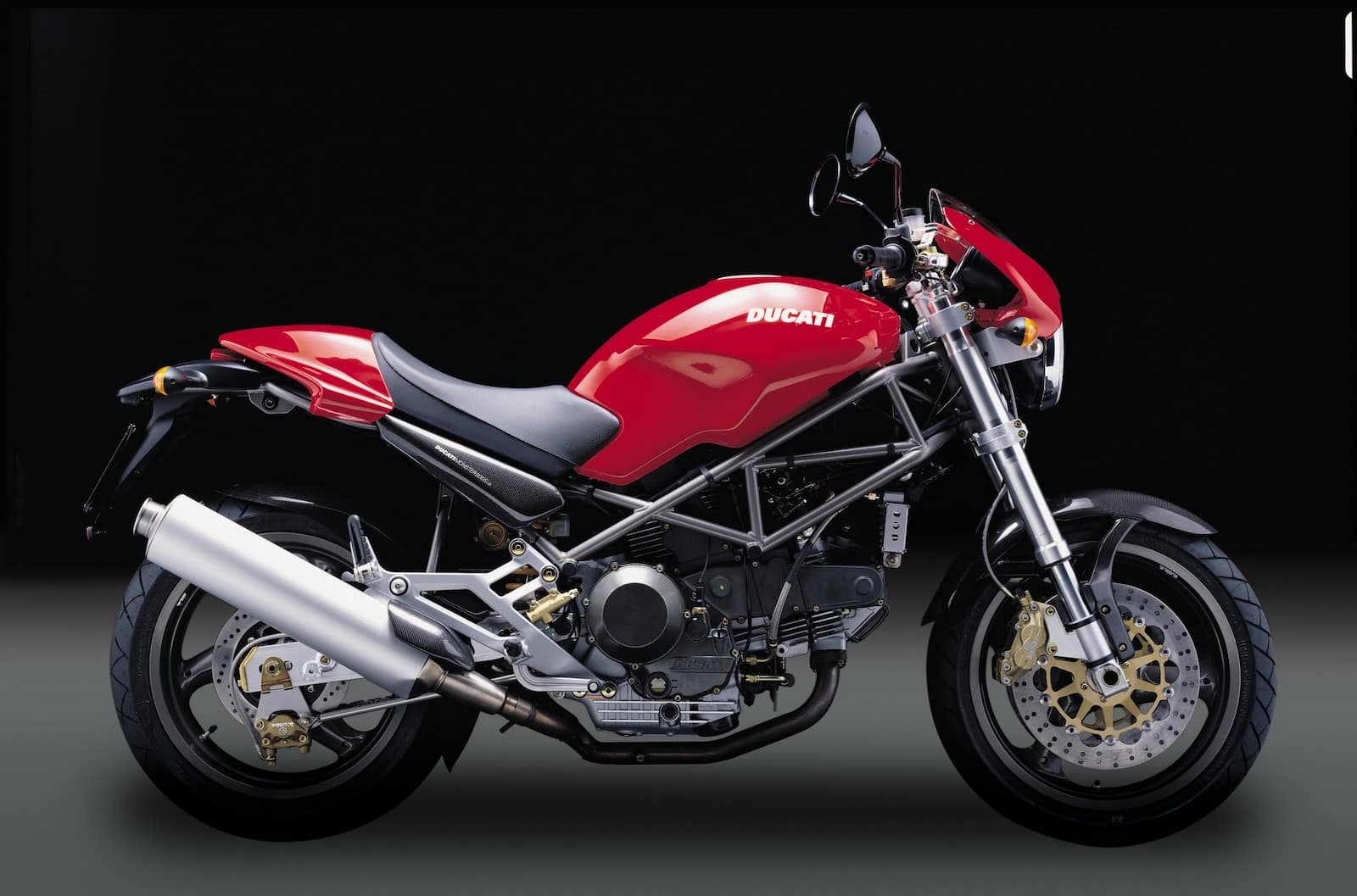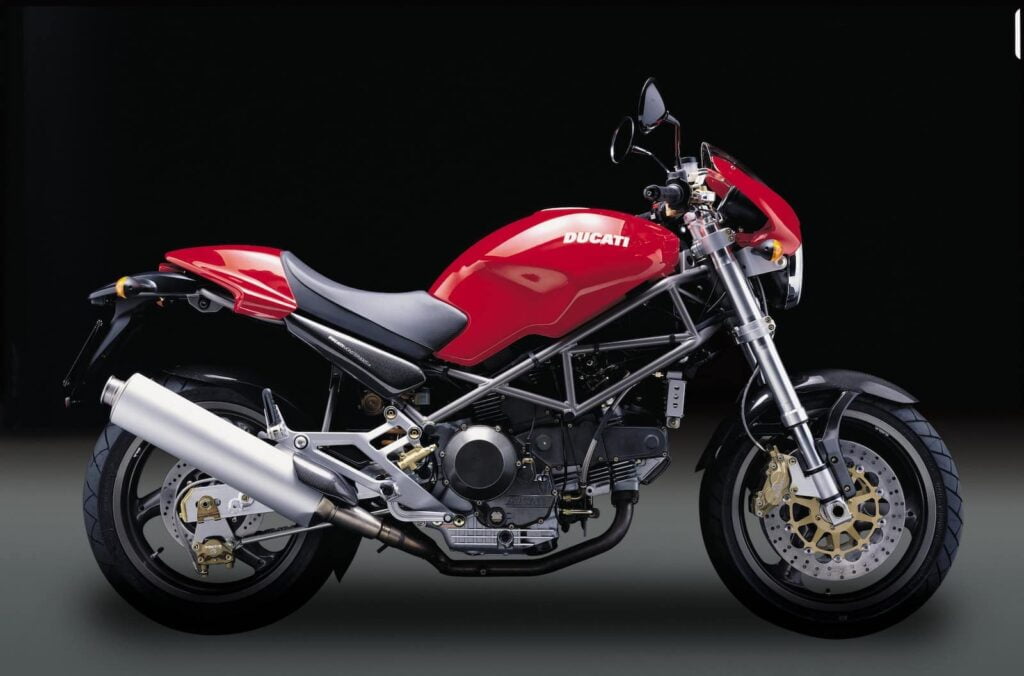 Ducati added fuel injection to the Ducati Monster for the first time in the year 2000. There were a few models with it in the name, like 900 i.e., but they're still Monsters and looked almost identical.
On and by the way, the "i.e." in Monster 900 i.e. or Monster 1000 i.e. isn't Latin for id est ("that is"), but stands for iniezione elettronica, which is Italian for "dieses Motorrad hat ein Kraftstoffeinspritzsystem". You're welcome.
Every model after the year 2000 was fuel injected. If you buy one in that year, check that it made the cut.
The Monster 900 i.e. has similar specs to the original, with a 904cc engine, just with different fuelling. It makes similar power on paper.
There's nothing wrong with earlier carburettor-fuelled Monsters. They're great! Yes, you sometimes have to clean them, and re-jetting them is harder than reprogramming fuel injection, but service and jetting is something home mechanics can do, at least.
After the 900 i.e., Ducati also upgraded the smaller variants, releasing fuel-injected versions of the 750 and the 600, which became the 620 (with a 618-cc engine). Similar to the other lower-spec, lower-power bike, the 620 i.e. lacks an oil cooler… but it has twin disc brakes!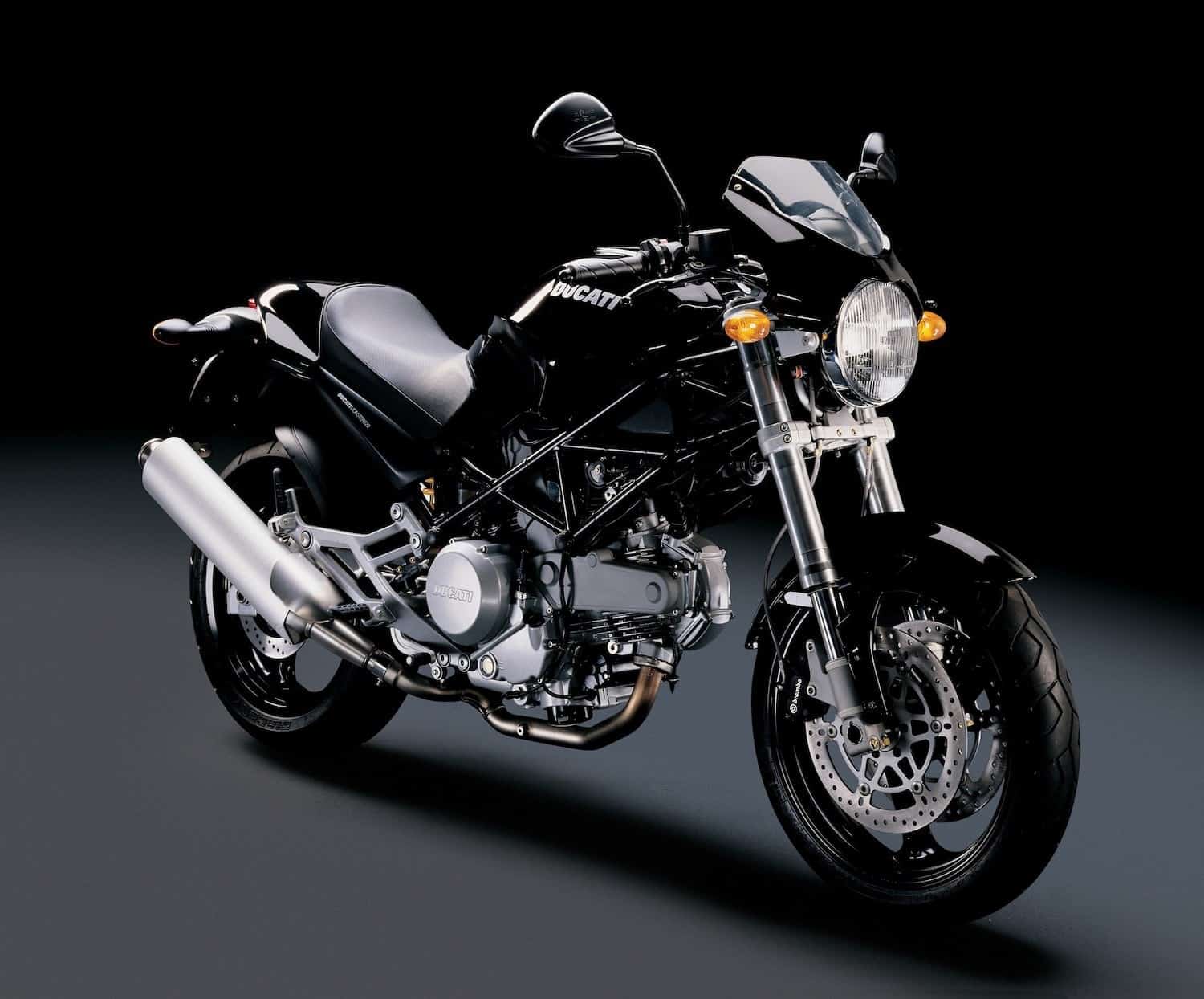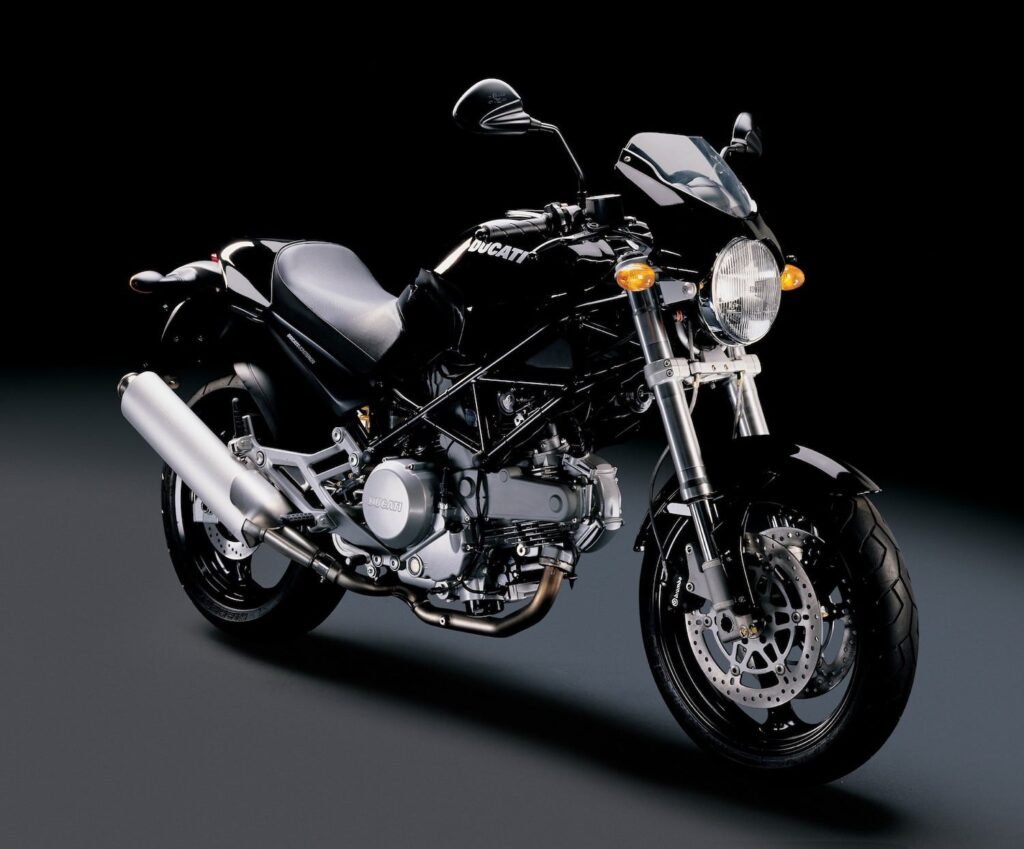 Ducati kept selling the Monster 620 for a number of years afterwards. (I'll get to that bit in a second!)
Superbike-powered Ducati Monster S4 models (including the S4R and S4Rs) (2001-2008)
See my more detailed guide to the Ducati S4 range (including the S4R and S4Rs).
OK, now we're in the vanity phase of Ducati Monsters. Ducati realised they were onto a good thing with the Monster aesthetically, so they did what every kid wanted to do: shoehorned a superbike motor into the same chassis.
Ducati released the Ducati Monster S4 in 2001, starting a new path for the Monsters of the future. The S4 was the first Ducati Monster with a liquid-cooled four-valve-per-cylinder engine.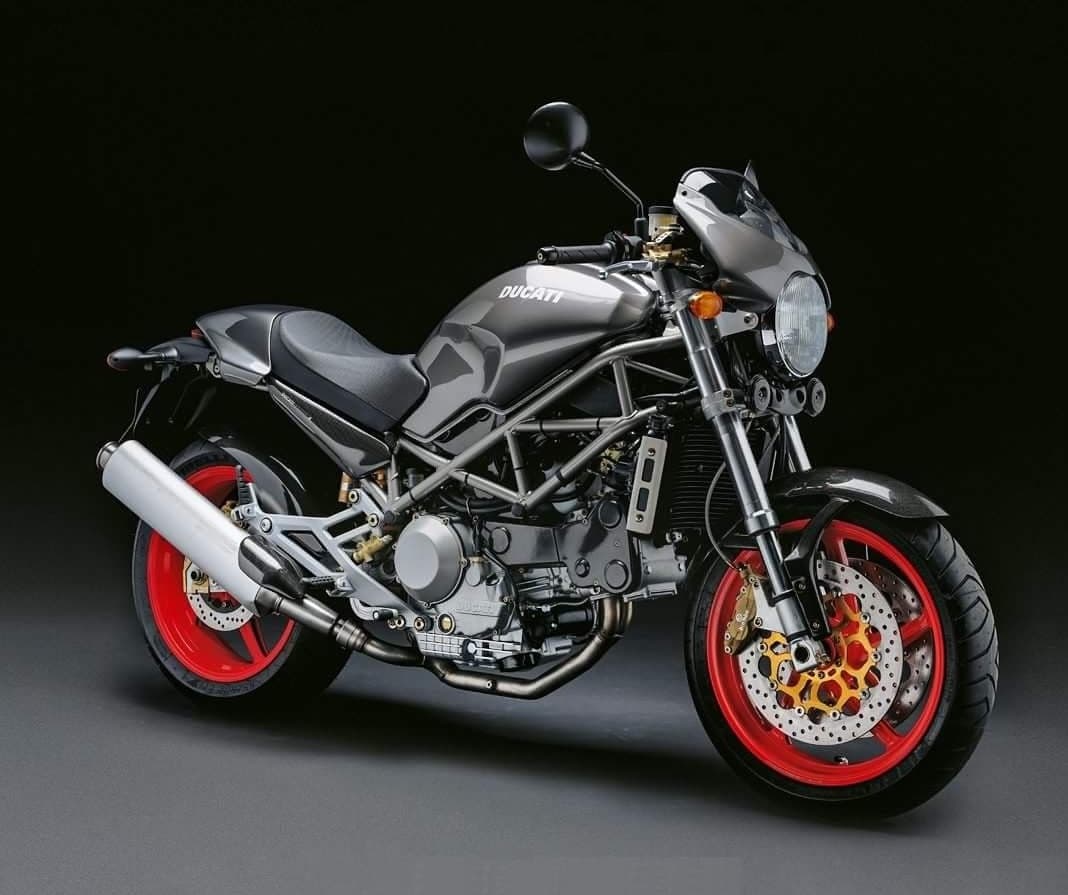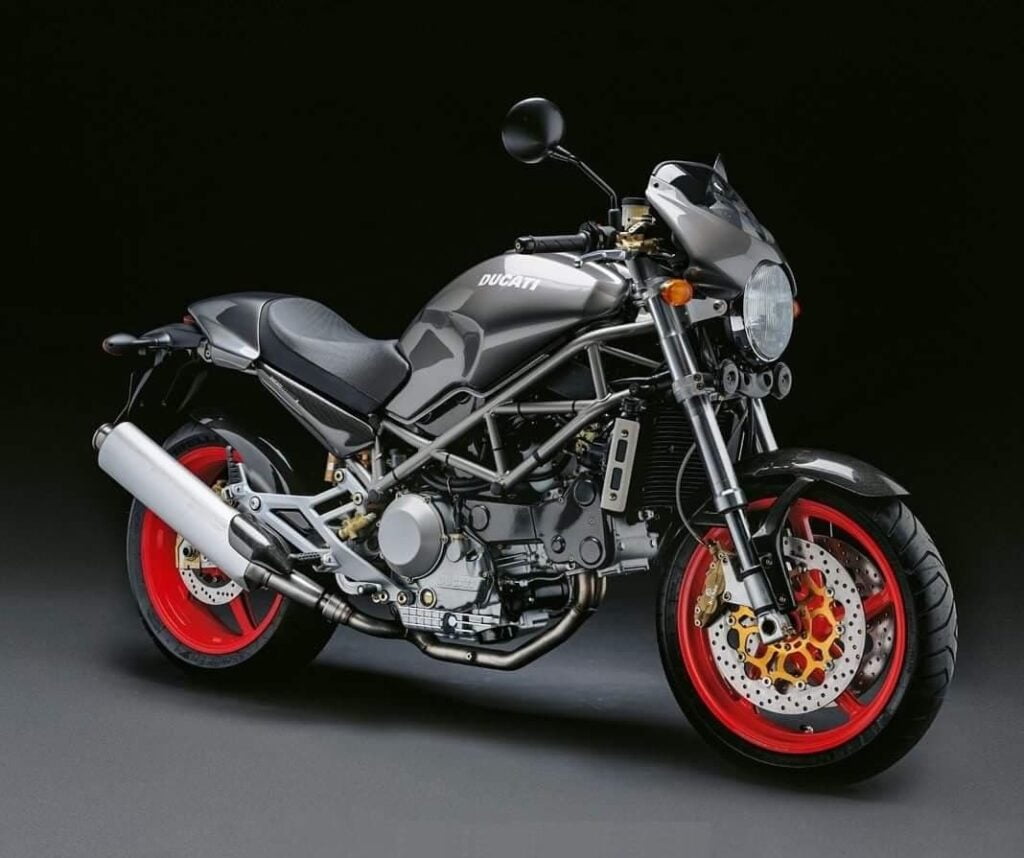 Eventually, Ducati made the entire Ducati Monster line liquid-cooled, causing some to cry sacrilege, but these ones did it under the guise of sticking the superbike motor from the Ducati 916 (and its successors) into the same chassis.
Ducati also gave the Ducati Monster S4 better brakes and front suspension. The fork is fully adjustable, and the brakes are axial-mount Brembo calipers with 30/34 mm pistons. It's a great machine!
The S4 does have more hoses though, and that giant radiator up front, which Ducati hasn't taken any pains to hide away. This takes away slightly from the aesthetically minimalist appeal of the earlier air-cooled Monster design, without the benefits of the improved visual design of the S4R. Maybe that's why they gave it a single-sided swing-arm. "Don't look at the radiator! Look here! Look at this wheel, *drool*".
Ducati released the Ducati Monster S4R in 2003, with the same general idea as the S4 except with the 996 superbike engine (making 87 kW / 117 hp), sexy twin high-rise mufflers on the right-hand side and a single-sided swing-arm.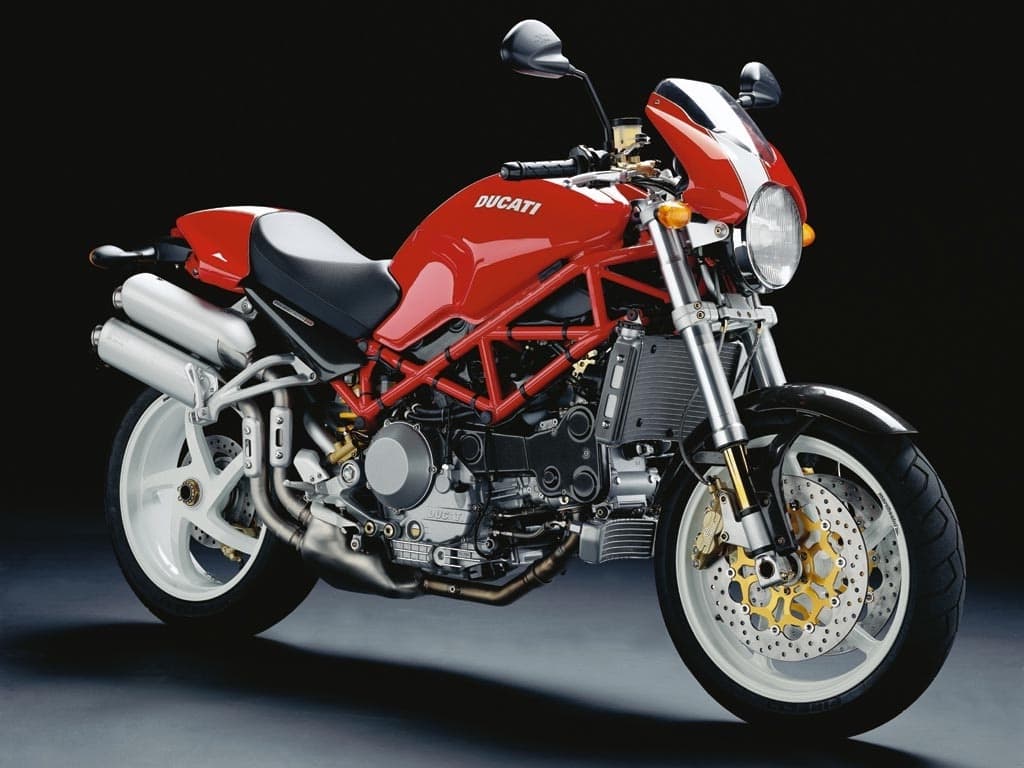 The Monster S4R looks the business. This is one of my favourite motorcycles of the whole series. It's aggressive like the S4, but has so many nice touches that it's timeless.
Then Ducati released the Ducati Monster S4Rs in 2005, this time equipped with the 998 cc Ducati 999 superbike engine, throwing out a barely-detuned 96 kW / 130 hp. These things roar. And also, they were/are some of the best-looking Monsters released ever.
Personally, I think this is just slightly too much power for a naked motorcycle (for me and my riding environment), but you wouldn't be upset if you had it, depending on where you live and how you like to ride. Besides, you can just pin the throttle less.
To help you tame the beast, the Ducati Monster S4Rs got much better ride gear — radial mounted calipers, Öhlins suspension front and rear, and lightweight Y-spoked wheels.
Probably the nicest of the bunch is the 2008 Ducati S4Rs Anniversary, in "tricolore" regalia. It's quite rare and these days sells for increasingly high amounts. But look at it!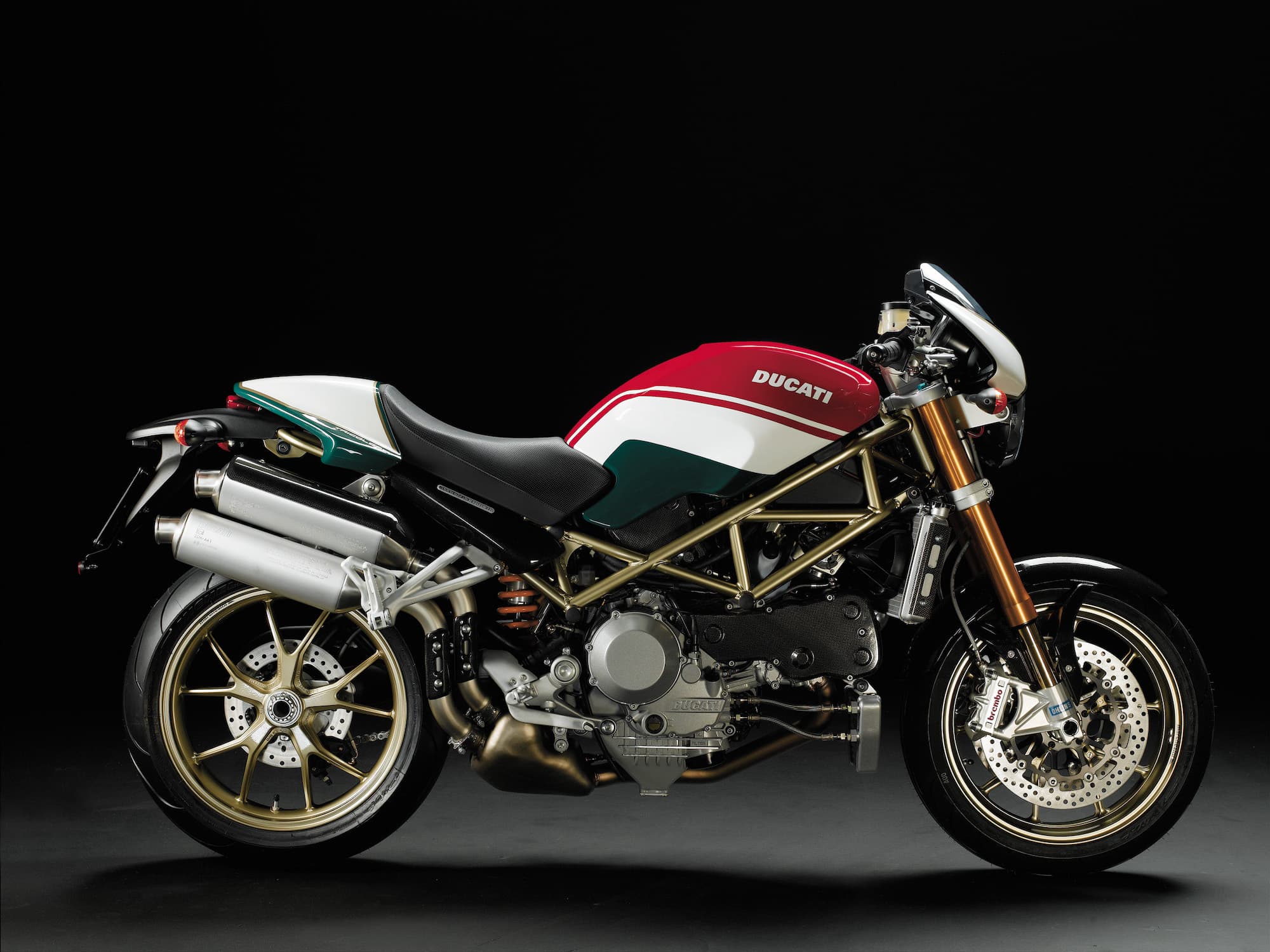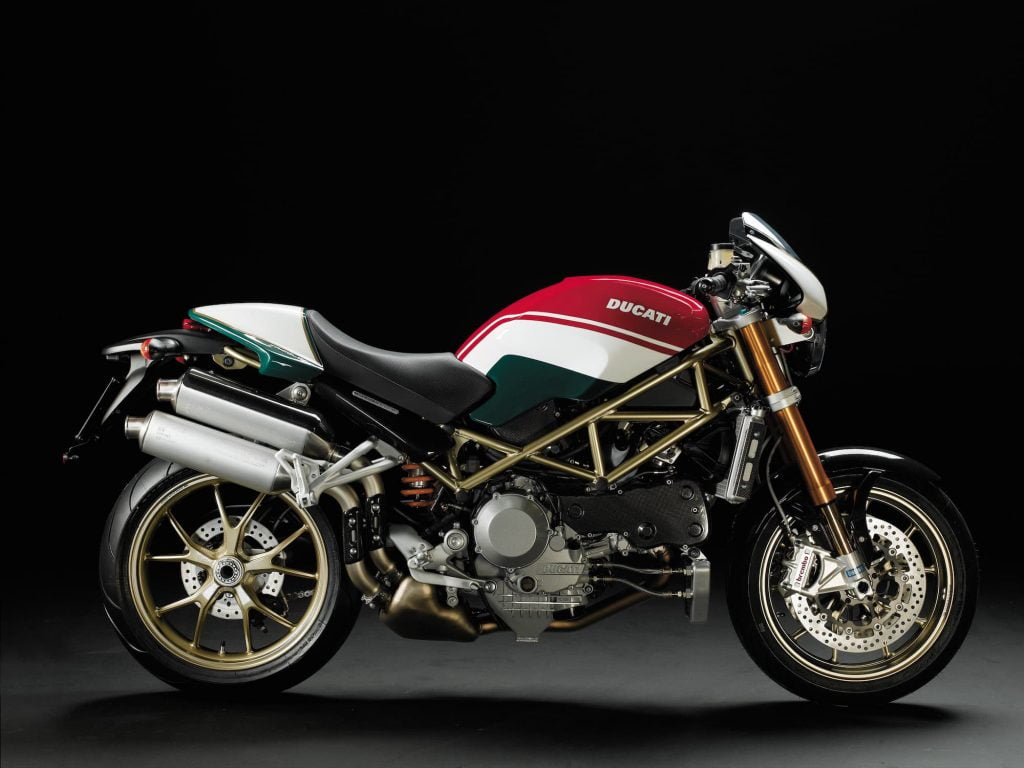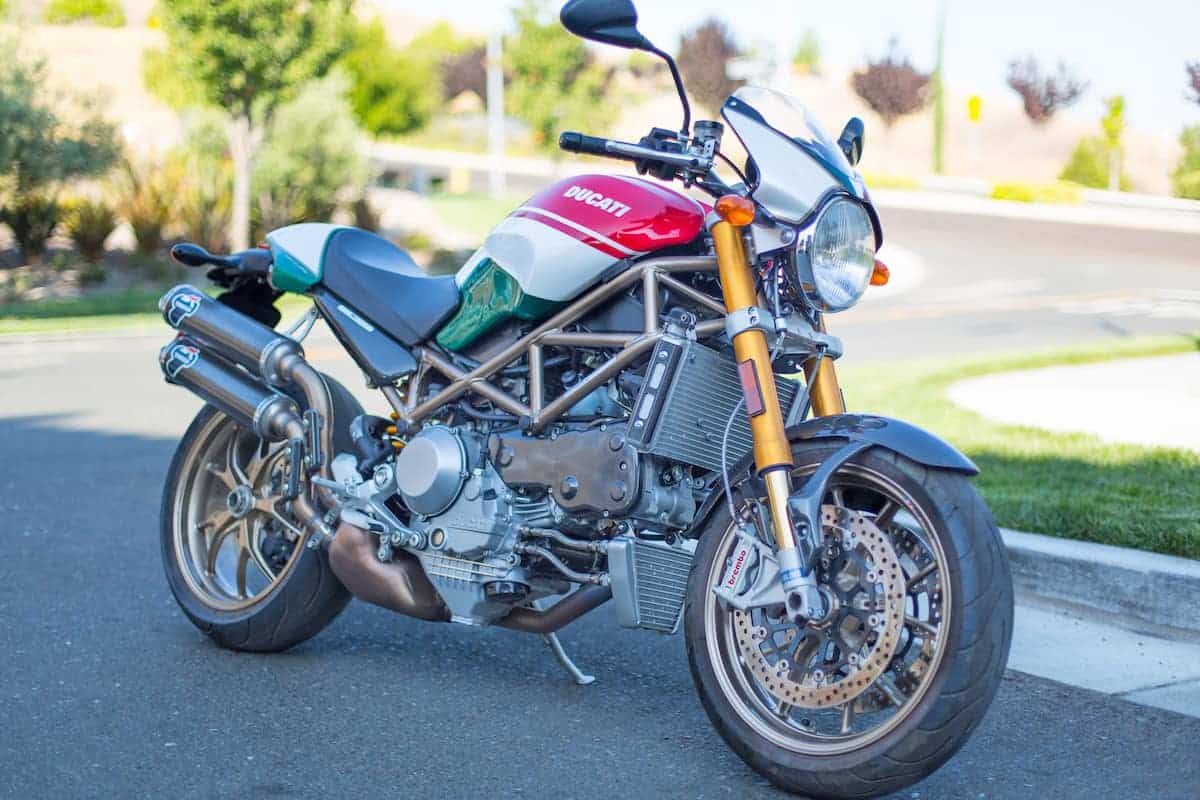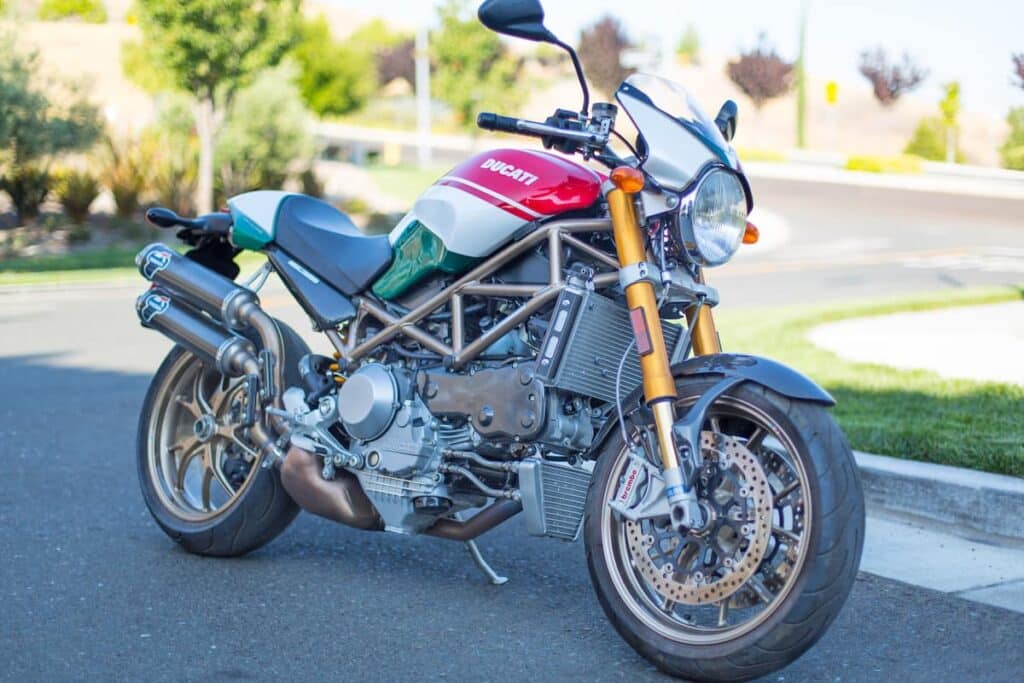 So what happened to these beauties? They were so different from the rest of the Ducati Monster line that they seem to have inspired the line we now know as the Ducati Streetfighters, which have barely-detuned superbike motors in naked chassis.
See here for the Ducati Streetfighter model timeline.
Bigger fuel-injected: M1000 / S, M800
The S4 range was the top of the line, but Ducati released an intermediate range of air/oil-cooled Ducati Monsters contemporaneously.
The M800 and M1000 models were capacity upgrades for the air/oil-cooled two-valve Monsters (750 and 900), but retaining most of the characteristics of what made the original great (of course keeping the fuel injection added in the year 2000).
The M1000 got a dual-spark engine to ensure better combustion. The Multistrada of the same generation is referred to as a 1000 DS (the Ducati Multistrada 1000DS, which I also owned for a period). It's the same motor, and can best be described as reliable but unexciting, and at times sounding a bit like a lawnmower. (Well, mine did, no matter what I did to it.)
Ducati also released a M1000 S, which got a few trick parts and some carbon fibre, but nothing special (no changes to the suspension, brakes, or modification).
The M800 was a pretty unexciting upgrade though, just a small upgrade to the M750. There was also an M800S with a little windshield, like the M1000S.
However, I think it's interesting that the 803cc L-twin in the M800 has survived for decades — it's the same block in the modern Ducati Scrambler 800, one of Ducati's most popular bikes.
People tend to have an affinity for one capacity or another, or for carburettor vs fuel injection, but there are just arguments in every direction, or sometimes just jealousy coming out as "The older one was better!" which evolves into "Well, the older one was cheaper!" — Although prices are definitely rising for these early Monsters.
With bikes this long in the tooth, one can't get too picky about getting the very best model — you just want one that has been treated well and still rides nicely.
Better-looking air-cooled: S2R800 and S2R1000 (2005-2008)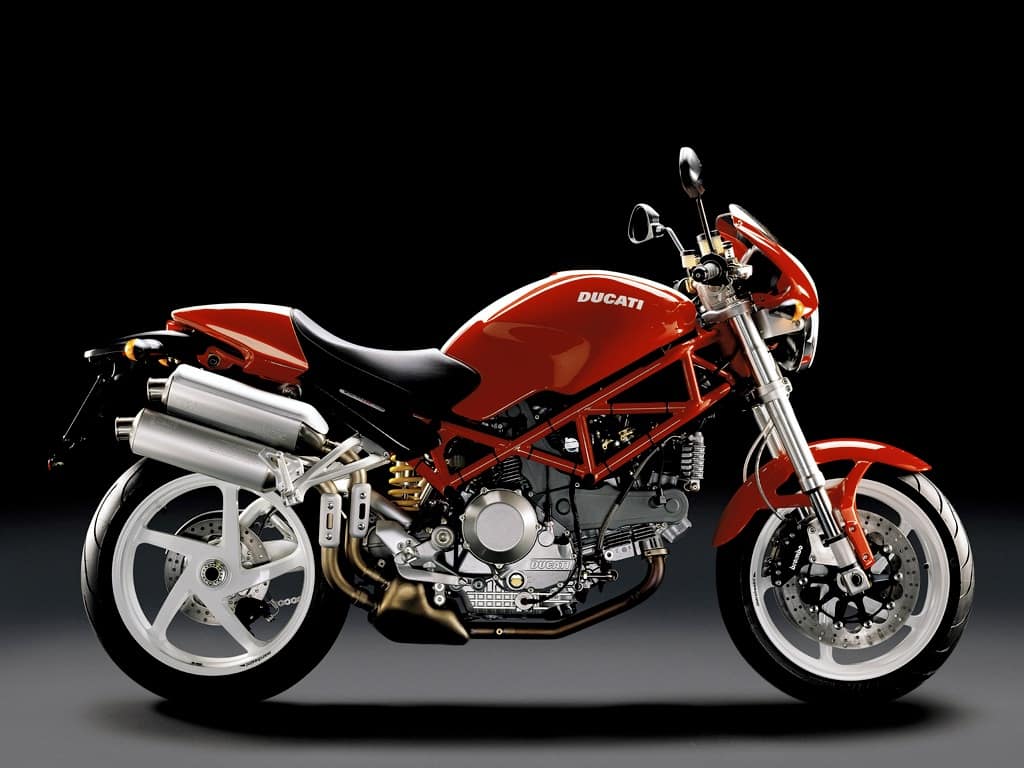 These were much the same as the earlier 800 and 1000 Monsters, with the same engines, but upgraded aesthetically, earning single-sided swing-arms and mufflers running by the side, but retaining the air-cooled 2-valved engines. The S2R800 has a wet clutch, but the S2R1000 has a dry one.
But the aesthetics of the S2R models speak for themselves. They're real head-turners.
Having looked at a fair number of each, I personally think that the 1000 is the better of the two. While the S2R800 is more balanced in its power, people don't like the wet clutch of the 800 after a while. Some people even try to convert it to dry clutch!
On the other hand, the 800 has a powerband that seems more suitable to the slightly sporty naked chassis and is just easier to wring out. It's also a tad bit lighter, about 5 kgs/11 lbs. Not a huge amount, but you can print out a spec sheet and take it to meets. And mind you, some still tell me that the S2R800's power band is "anaemic".
This has something to do with the engine, but it's also to do with the combination of the motor and the aggressive ride position of an S2R800. After all, the 803-cc motor in the S2R800 is the same basic engine in the modern Ducati Scrambler (the smaller version), which while no rocket ship, doesn't feel "slow".
The S2R1000 has much better suspension than the S2R800, with fully adjustable Showa 43mm inverted forks up front. This, and the dry clutch, are what sell me on the S2R1000.
If you find either of these in good condition (they can fetch a high price because they look good), you won't regret it.
Just make sure you like the clutch action of the 800, as it's not for everyone. And the 1000 will always be easier to sell if you realise you picked the wrong one.
Newer and smaller, but feisty: The 620, 695 and 696
It's hard to keep the story of the "little" Monsters in line with the others, because they're out of sync with the other phases. They always sold well, per dealers — they're affordable, cool, and cool and affordable.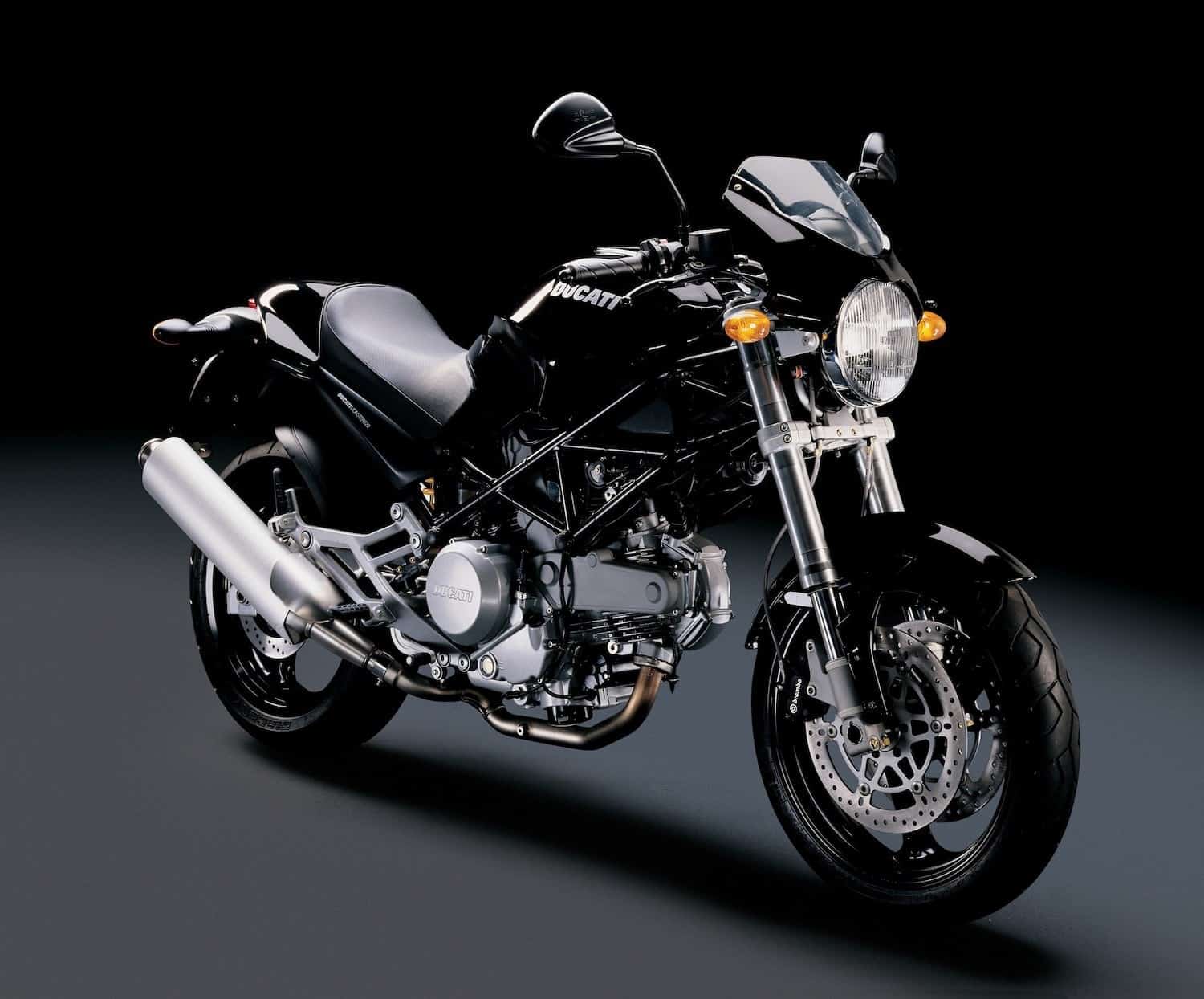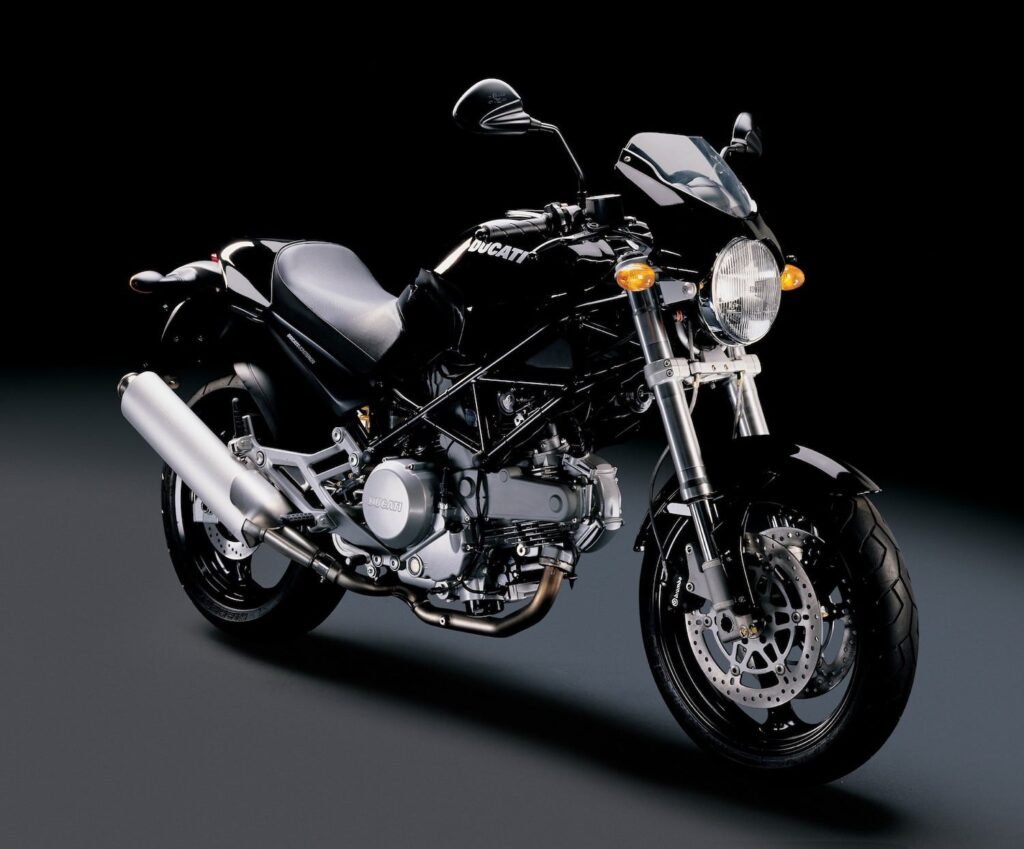 Ducati sold the original Monster 600 from 1995 to 2001, ending production slightly later than for the other carburettor-fed Monsters (which ended in 2000).
Ducati then sold the Monster 620 i.e. from 2001 to 2006 as an upgrade to the Monster 620. So this little Monster spanned a few different generations of big ones, including the M1000, S2R1000, and even S4R.
The Ducati Monster 620 produced 42kW (57hp). While it's attractive, nice-sounding and powerful enough to get you into trouble, it's definitely considered the entry-level version of the bigger monster models.
The Ducati Monster 620 is still a good first motorcycle, especially if you plan on dropping it, which people often express as "I don't plan on dropping it".
Ducati released the Monster 695 briefly as a capacity boost over the 620, reflecting the general size increase of the smaller part of the monster stable. It, too, felt like a small version of the 900 Monster, just as the 750 and 620 did, and so is also often a "first" motorcycle (not even a first "big" motorcycle), though it's plenty capable. The Monster 695 was sold over just 2006 and 2007.
Then for 2008, Ducati gave the little Monster a huge styling update when they released the Ducati Monster 696.
Ducati gave the Monster 696 a more polished build, a refined motor, a small power boost, a different, more aggressive riding position and an altogether unique personality.
The Ducati Monster 696 had at the time the highest horsepower to displacement ratio (an interesting metric) of any Ducati, pushing out 55kw / 74 hp at 9000 rpm out of the relatively compact motor. It remained air-cooled — no oil cooler!
Something about the Ducati Monster 696 is a little edgier than the earlier Monsters. It has a more steady burble and likes to rev a bit more. It makes similar peak power to the original Monster 900, but higher up. This just adds to the fun!
People tend to buy the Monster 696 as a first motorcycle, but a lot of experienced riders would be very happy on it. I personally don't consider it an ideal beginner's machine, unless you find one that has been dropped a couple of times already.
The Monster 696 had a long production run and so makes for an opportunity to buy a modern air-cooled Ducati Monster, one of the last of its kind.
Something about the 696 appeals to me. It's an entry-level Ducati Monster, so you see them everywhere, but overall, it's not an entry-level motorcycle. Because so many people buy it as their first motorcycle, they often do things to them like modify the exhaust (or buy them with Termignoni exhausts fitted, worth thousands!), add styling elements like custom mirrors, and generally invest into them — all things you can pick up effectively for nothing extra.
The small downside is that their suspension isn't high-spec, so you might need to get it re-sprung and re-valved if you plan on flogging it at the track.
The Last Air-Cooled Beauties: The Ducati Monster 1100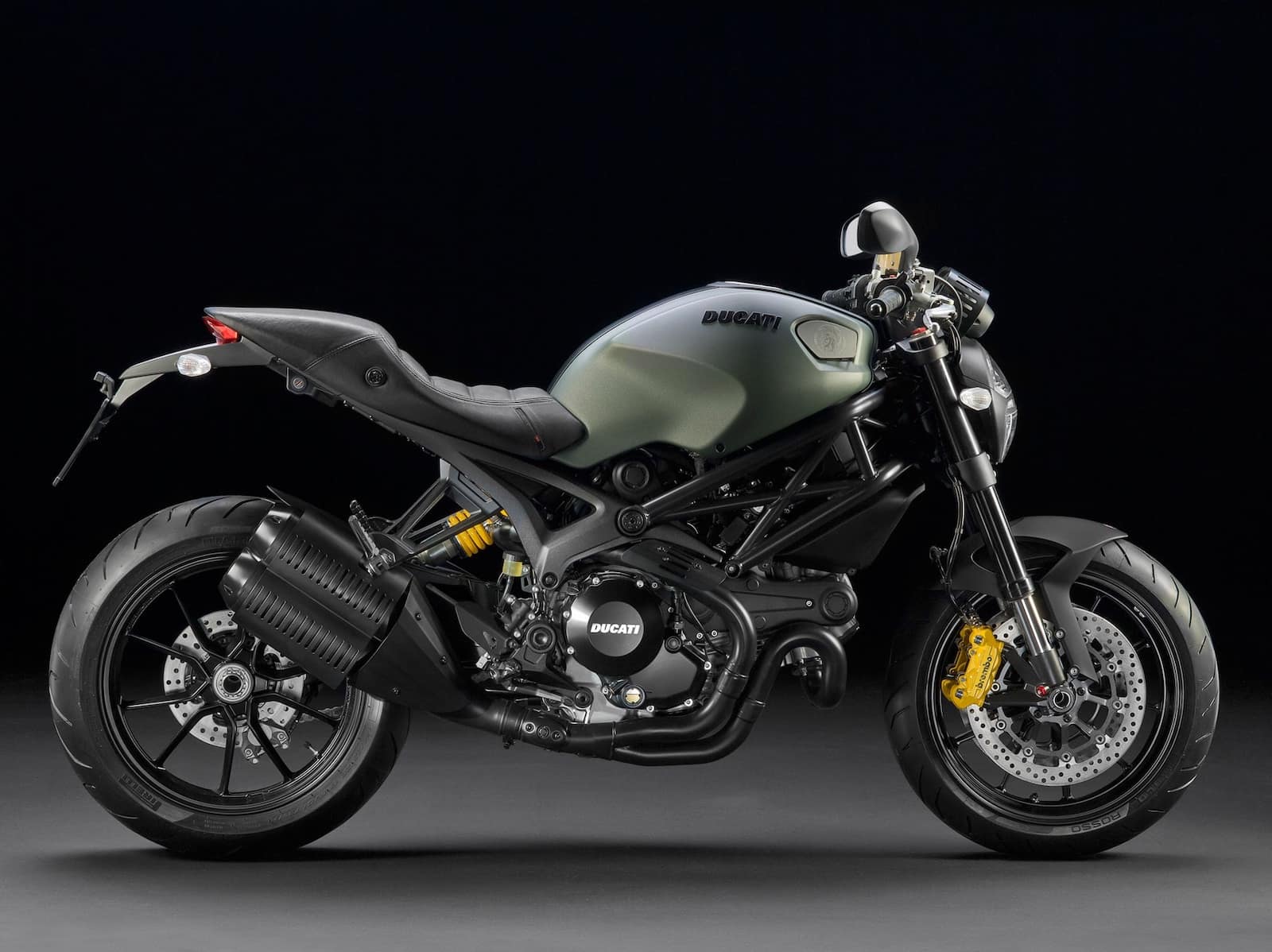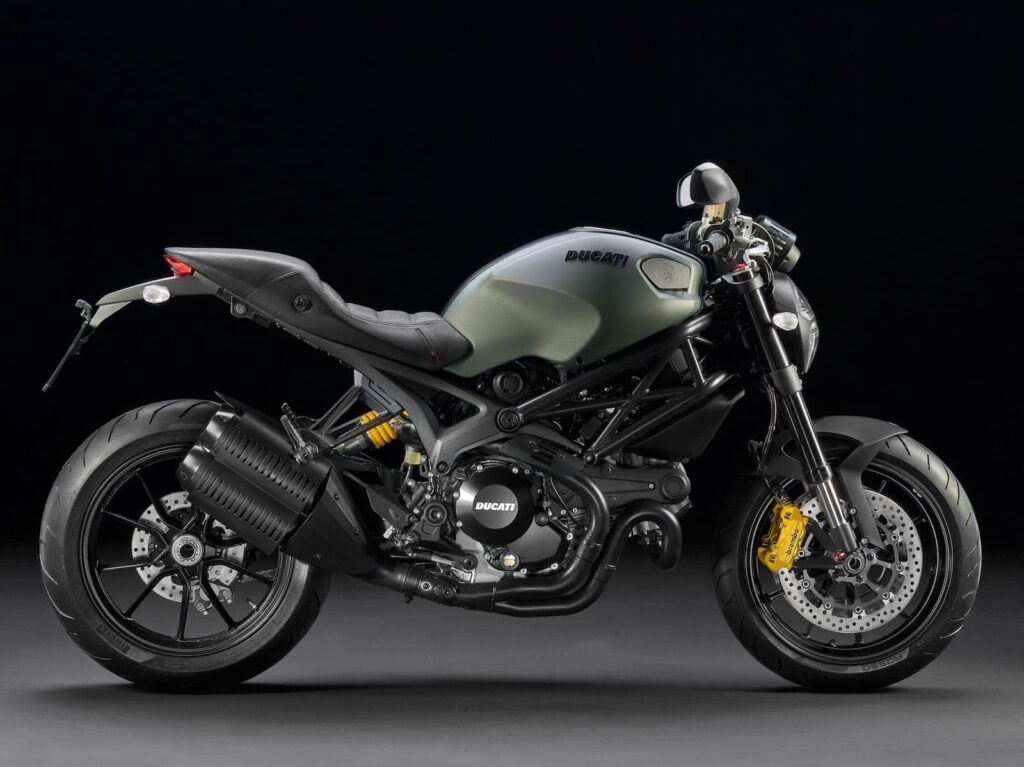 In 2008, the flagship Monster became the Monster 1100, and a higher-spec 'S' version which came with Öhlins suspension.
These were air-cooled (really air/oil-cooled), dry-clutch (other than the Evo / Diesel) machines with a single-sided swing-arm and side exhausts. They maintain a modern design, but because they're air/oil-cooled, they have just less stuff lying around in the design. They're also still two-valved, making them a tad easier to service.
I personally think the 1100 series is one of the last truly beautiful Ducati Monsters made — I'd happily own a Monster 1100 S if I found a nice one and I had no bikes at the time (a rarity).
In 2011, Ducati added ABS, traction control and a wet clutch (I don't know why this last element was added) to the Monster 1100, calling it the Monster 1100 Evo ABS. The engine remained the same, though slightly higher tuned, with the 1078 cc, air-cooled, Desmo L-twin belting out 100 bhp at 7500 rpm, and 103 Nm of peak torque at 6000 rpm.
Ducati also changed the suspension spec for the Evo ABS vs the S.
In case you're wondering what the differences were between the three Monster 1100 versions, here's a handy table.
What they all have in common is:
320mm dual front discs with Brembo P4.32 calipers
The same wheels — unlike Ducati Superbikes with "S" denominations, no version of the Monster got lighter wheels (just different colours)
| Model | Monster 1100 | Monster 1100 S | Monster 1100 EVO / Diesel |
| --- | --- | --- | --- |
| Peak power | 70 kW / 95 CV @ 7500 rpm | 70 kW / 95 CV @ 7500 rpm | 73.5 kW / 100 CV @ 7500 rpm |
| Compression ratio | 10.7:1 | 10.7:1 | 11.3:1 |
| Clutch | Dry | Dry | Wet |
| Front suspension | Showa fork, fully adjustable | Öhlins fork, fully adjustable | Marzocchi fork, fully adjustable |
| Rear suspension | Sachs shock, preload/rebound adjustable | Öhlins shock, preload/rebound adjustable | Sachs shock, preload/rebound adjustable |
| Exhaust | Under-seat | Under-seat | Side |
| Ride aids | None | Nada | Standard ABS (switchable), TC, ride modes |
Spec differences — Monster 1100 vs 1100S and 1100 EVO
See the below mini-gallery for the visual differences. Note the exhaust position and colour of forks.
Personally, I think the Ducati Monster 1100 Evo ABS is a very interesting Ducati Monster. It has all the old-school components of the earlier machines, a more powerful engine, plus equipment to help me stay alive. I really like being alive.
After that there's the 1100 S. The S model has a dry clutch, which the Evo ABS lacks. Dry clutches are becoming rare these days, so you might actually prefer the Monster 1100 S. The 1100 S also has Öhlins suspension.
Unfortunately, as prices go up on these increasingly exclusive machines, the Ducati Scrambler 1100 (which shares the basic engine block) is much easier to obtain.
The Last Mini-Air Cooled Monster: The Monster 796
Ducati released the Monster 796 as the smaller sibling to the 1100. And it's a fitting end to the small air-cooled Desmodue motorcycles because it's visually a winner.
Ducati released the Monster 796 in 2010, and it lasted until 2013. It's like a modern incarnation of the S2R800 (same basic 803cc block), and so nothing special or sought after in terms of its engine, but it would appeal to those people who don't want a balls-to-the-wall 1100 or 1200 Monster.
The engine, an 803cc air/oil-cooled motor, produces a capable 64 kW (87 hp) at 8250 rpm. And yowza, it has great looks!
The Monster 796's engine was so good that it was used in many other motorcycles, including the wildly popular Ducati Scrambler (the 800).
See here for the Ducati Scrambler Buyer's Guide, showing all the various models and how they're different.
Modern elements of the Ducati Monster 796 are that it has a fuel-injected engine, has a nice display, a wet clutch, a more modern design, a single-sided swing-arm and under-seat exhausts.
Those elements of a single-sided swingarm and under-seat exhausts were lost on the Ducati Monster 821 that came later. It might sound like a small difference — 796 to 821 — but the difference is dramatic.
The Testastrettas: The Ducati Monster 1200 (2014-2016)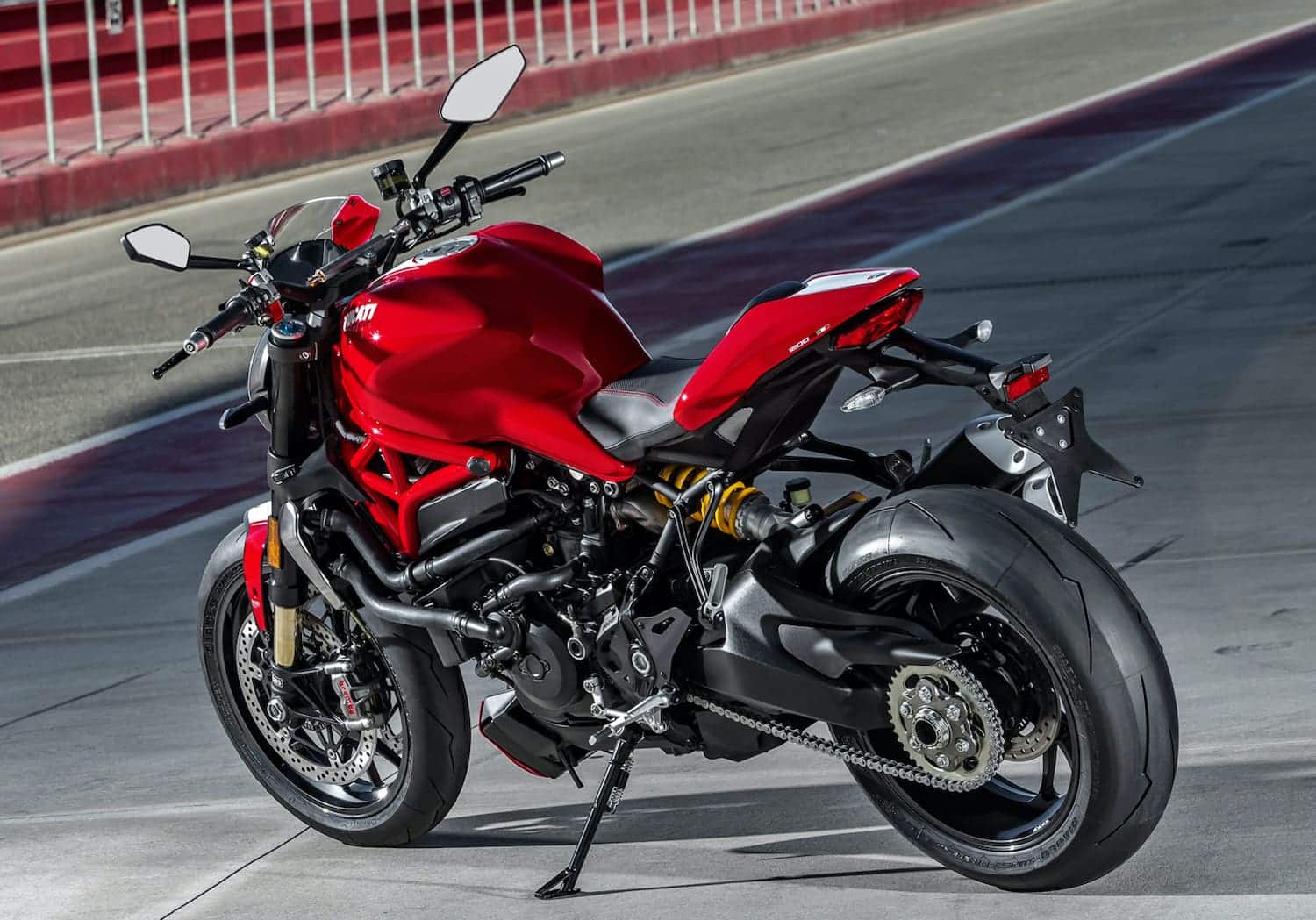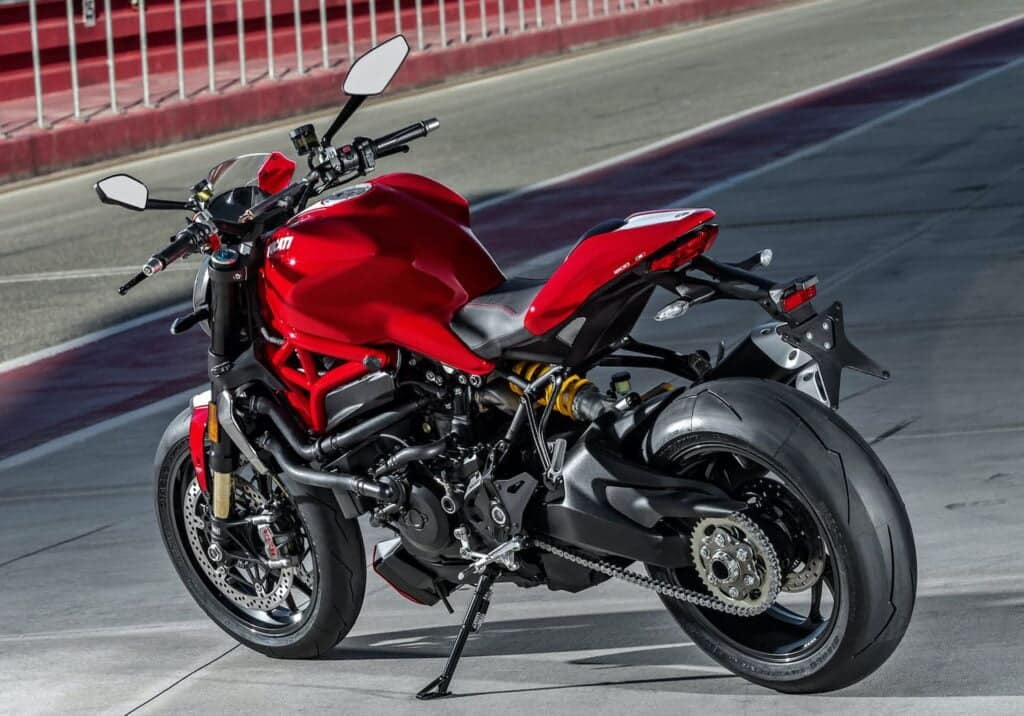 See the Ducati Monster 1200 buyer's guide, with more details about the generational changes, and the S and R spec. A brief overview is below.
In 2014, Ducati introduced the Ducati Monster 1200 with a very modern engine — four-valved and liquid-cooled. Coupled with its giant 1198 cc capacity, these Monsters push out 101 kW (135 hp) of power.
To tame this power, they got a full electronics package, including a TFT dash, ride-by-wire with multiple ride modes, traction control, and configurable ABS.
The S version shared the same motor as the base model Monster 1200, but got more advanced suspension and braking.
Here's the breakdown in specs between them:
Feature
Ducati Monster 1200 (2014-2016)
Ducati Monster 1200 S (2014-2016)
Peak power
99 kW / 135 hp @ 8750 rpm
107 kW / 145 hp @ 8750 rpm
Front suspension
43mm fully-adjustable KYB inverted fork
48mm fully adjustable Öhlins inverted fork
Rear suspension
Preload and rebound adjusted Sachs monoshock
Öhlins fully adjustable monoshock
Front brakes
2 x 320mm discs, Brembo M4-32 callipers
2 x 330 mm discs, Brembo M50 callipers
Wheels
10-spoke alloy wheels
Y-shaped 3-spoke wheels
Weight (dry/wet)
187/213 kg
(412/470 lb)
185/211 kg
(408/465 lb)
Other features
* No DRLs
* Standard turn signals
* Plastic front mudguard
* DRLs
* LED turn signals
* Carbon fiber mudguard
Ducati Monster 1200 vs Monster 1200 S features
For the first-gen (2014-2016) Ducati Monster 1200, Ducati took the unusual step of actually changing the tune in the engine. This isn't something they do all the time. For example, the second gen Monster 1200 (2017-2020) and Monster S have the same engine. Similarly, the Monster 937 / SP have the same engine.
In terms of other components, the Monster 1200 base model is definitely very high-end, with fully adjustable suspension and sportbike level brakes. The base model is suitable even if you ride aggressively. I've definitely had fun on bikes with bikes with less capable suspension and braking!
The Monster 1200 S is for if you really want the best of the best, and have consistent track day ambitions, and so on.
The Little Testastretta: The Monster 821 (2015-2020)
As the little sibling to the 1200, Ducati released the Ducati Monster 821 in 2015 under a new platform that it had been using in the Hypermotard and Hyperstrada, the 821 cc Testastretta 11-degree engine.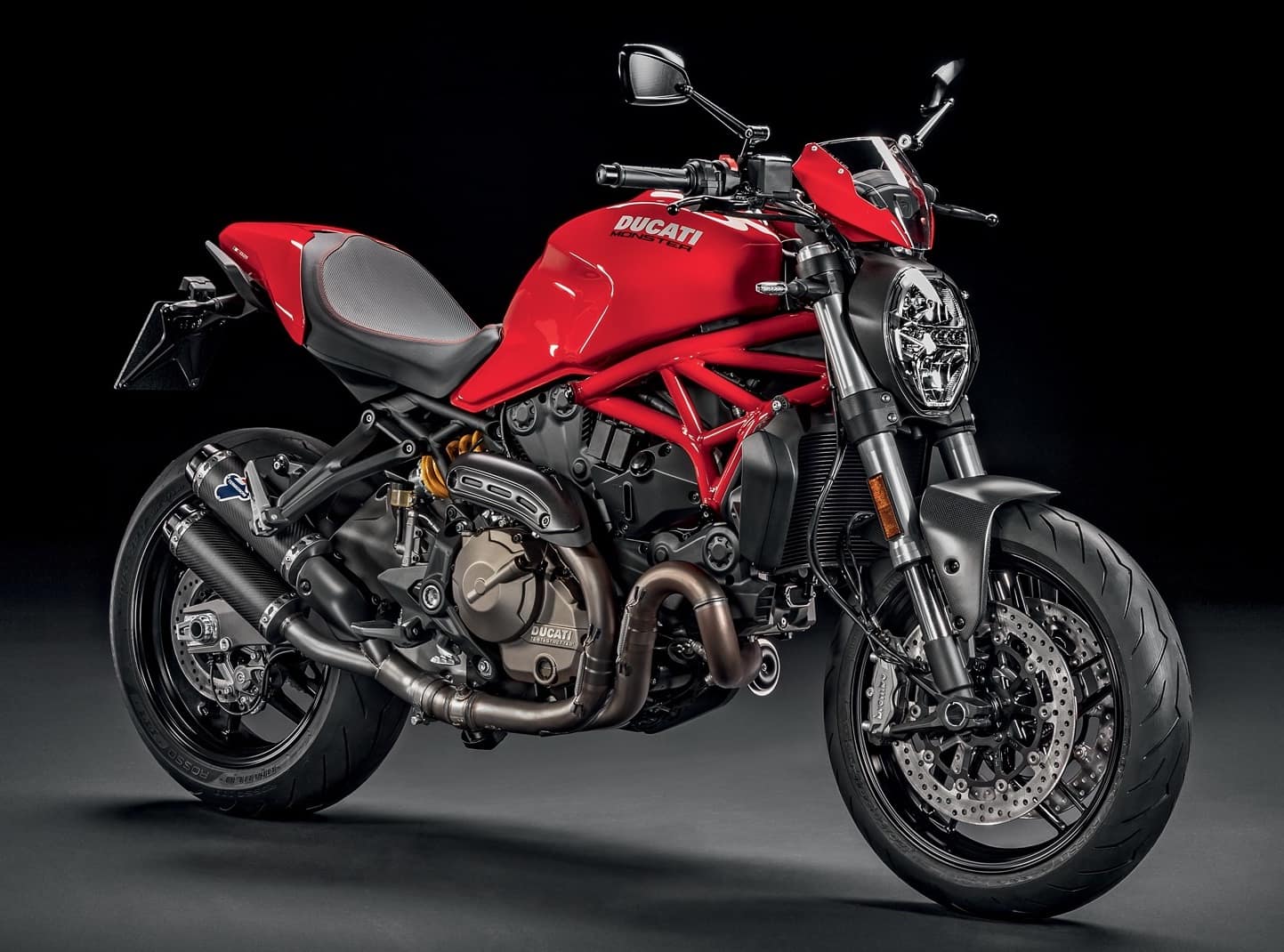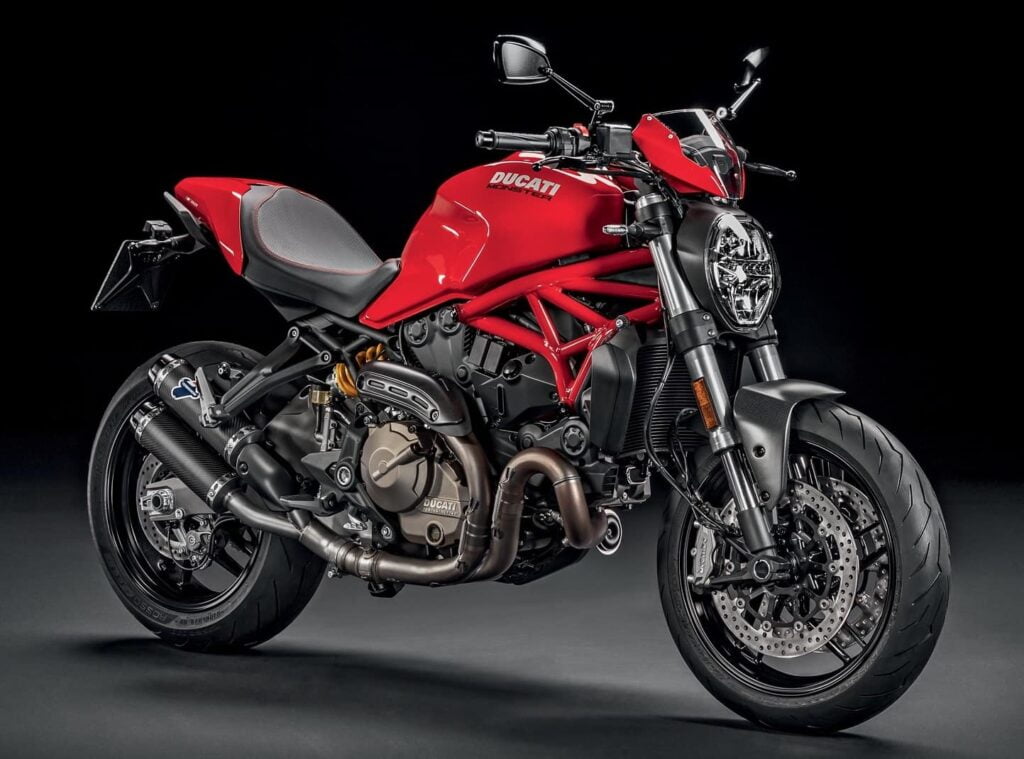 The Ducati Monster 821's engine is liquid-cooled, has four valves per cylinder, produced much more horsepower than its immediate predecessor, the 796, (112 hp / 82.4 kW at 9250 rpm), and has more stylistic changes.
The Monster 821 is positioned as a more entry-level motorcycle next to the Monster 1200, as well as the successor to the Monster 796. But it's such a far cry from the Monster 796 that it's hard to compare the two directly.
| Model | Monster 796 | Monster 821 | Monster 1200 2014-2016 (base) |
| --- | --- | --- | --- |
| Engine type | 803-cc Air/oil-cooled Desmodue, 2 valve | 821-cc Liquid-cooled Testastretta 11-degree, 4 valve | 1198-cc Liquid-cooled Testastretta 11-degree, 4 valve |
| Design elements | Under-seat exhaust, single-sided swing arm | Low exhaust, double-sided swing arm | Low exhaust, single-sided swing arm |
| Peak power | 64 kW / 87 hp @ 8250 rpm | 82 kW / 112 hp @ 9250 rpm | 99 kW / 135 hp @ 8750 rpm |
| Front suspension | KYB 43mm USD fork (non-adjustable) | KYB 43mm USD fork (non-adjustable) | KYB 43mm USD fork, fully adjustable |
| Ride aids | Optional ABS | ABS, TC, ride modes | ABS, TC, ride modes |
| Desmo service interval | 7500 mile / 12000 km | 18000 mile / 30000 km | 18000 mile / 30000 km |
Monster 796 vs 821 and 1200 for comparison
As the little sibling to the 1200, Ducati seems to have intentionally simplified the styling of the 821. So the 821 loses the awesome styling element of the single-sided swing-arm that the 796 had. This really bothers me personally, because it makes the single-sided swing-arm seem desirable by exclusivity.
The motor of the Ducati Monster 821 is sweet. It's balanced, working from down low to up high in the rev range, and never feels like it's lugging, unlike earlier monsters. Being a Testastretta design, it also has much wider service intervals of valves every 18000 miles or 30000 kms. That's massive! The wider valve service intervals are especially important as the engine has a four-valve design, which means 16 clearances to check (two cylinders, Desmodromic).
The Ducati Monster 821 also got more high tech safety gear — the "Ducati Safety Pack" including ABS, TC, and ride modes.
The Ducati Monster 821 also came in a higher-spec "Stripe" and "Stealth" spec in various years with a fully adjustable fork. So the "Stripe" is not just paint to make it go faster, nor is "Stealth" just to make it sneakier.
| Model | Monster 821 (base model) / Dark | Monster 821 Stripe (2015-2017) | Monster 821 Stealth (2018-2020) |
| --- | --- | --- | --- |
| Front suspension | 43mm Kayaba USD fork, non-adjustable | 43mm Kayaba USD fork, fully adjustable | 43mm Kayaba USD fork, fully adjustable |
| Rear suspension | Sachs rear shock, preload / rebound adjustable | Sachs rear shock, preload / rebound adjustable | Sachs rear shock, preload / rebound adjustable |
| Quick shifter | Optional (2018-2020) | No | Standard |
| Fly screen | Optional | Standard ("Nose fairing") | Standard |
Monster 821 base model vs Stripe / Stealth
In 2018 Ducati made some updates to the Monster 821. They're minor, and the uninformed observer would mistake them for the same bike, with some aesthetic modifications to the tail section, tank, exhaust, and light. But Ducati also added a full-colour TFT to the 2018-2020 Monster 821, something which is hard to miss.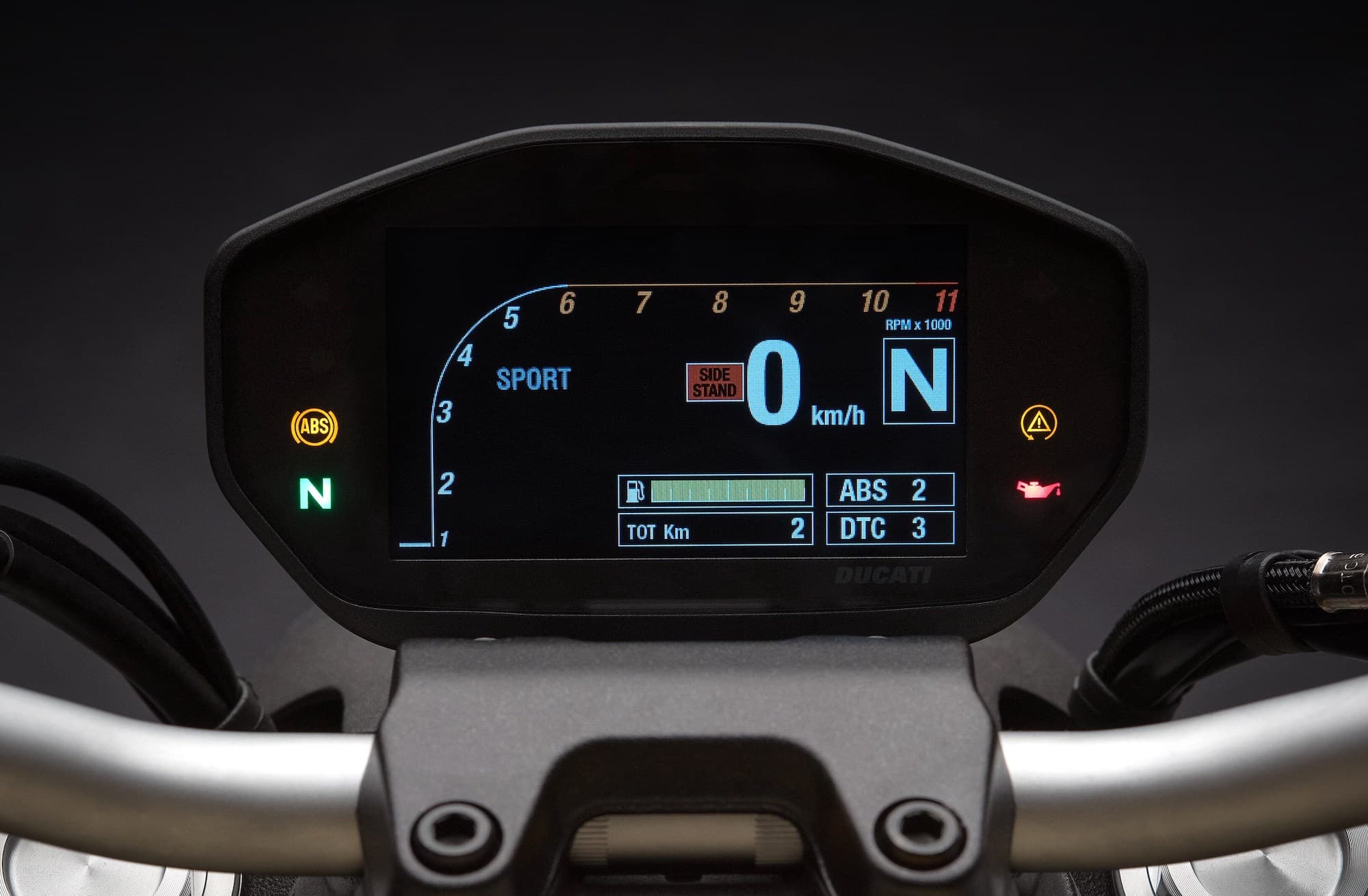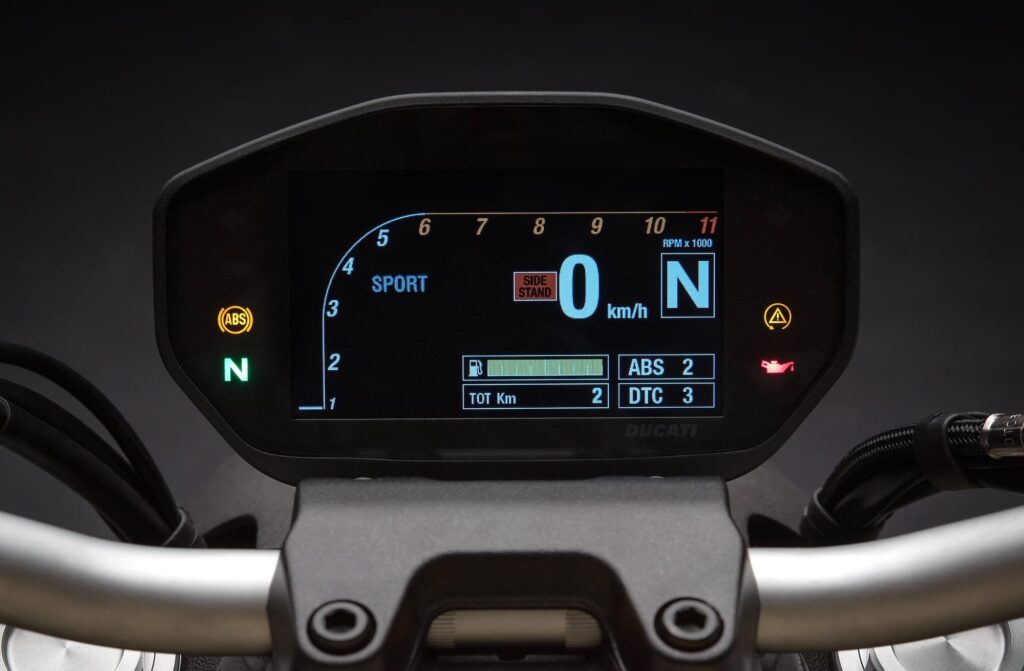 From 2018, the Ducati Monster 821 also got a quick shifter — optional on the base model, but standard on the Stealth. There's more detail in the changes, but I'll save that for a future buyer's guide.
The end result is that the Ducati Monster 821 is a modern mid-spec motorcycle with many kinks ironed out. It's easy to live with, easy to ride, sporty, and fun. It's not as angry or cantankerous as some of the earlier models, but that suits a lot of people. But the gentle purr of the motor, while pleasant, is subdued next to the raspy bark of, for example, the Monster 1100.
In terms of sheer riding ability, the Monster 821 has nothing particular on the Yamaha XSR900 for example (which can come with a little more, as it comes with cruise control from 2022, something that the 937 didn't). Harsh, I know! Again, they're both great bikes, but the fact that they're competitors shows that the Ducati converged a bit on conventional tastes.
This is not to say that the 821 isn't a great, fun, balanced everyday sportbike — it definitely is. I really enjoy it as a rider's bike. It just isn't as raging mad as some of the bigger, older models, nor will it draw as big a crowd, if that's important to you.
The Fastest Monster: Ducati Monster 1200 R (2016-2020)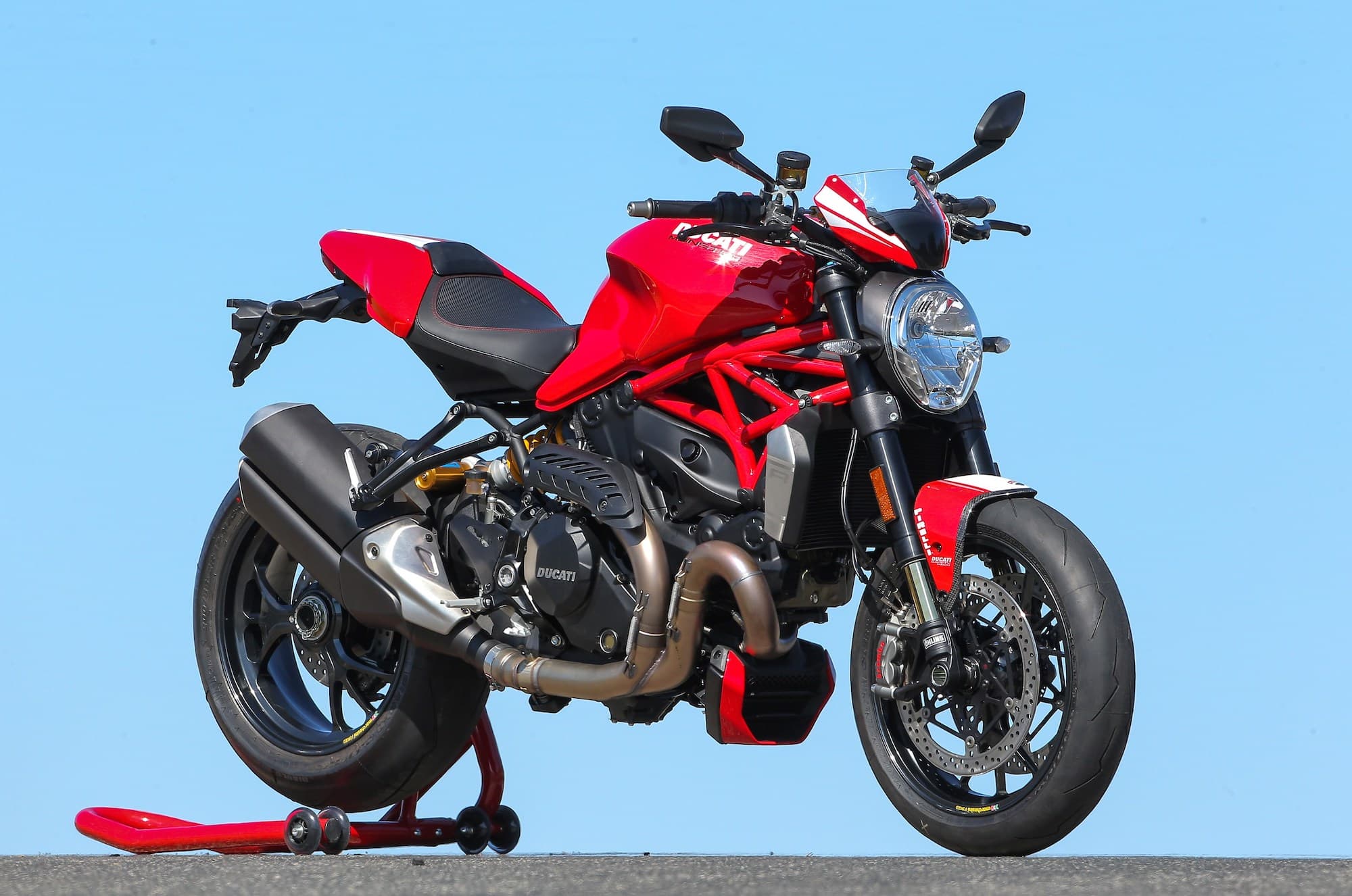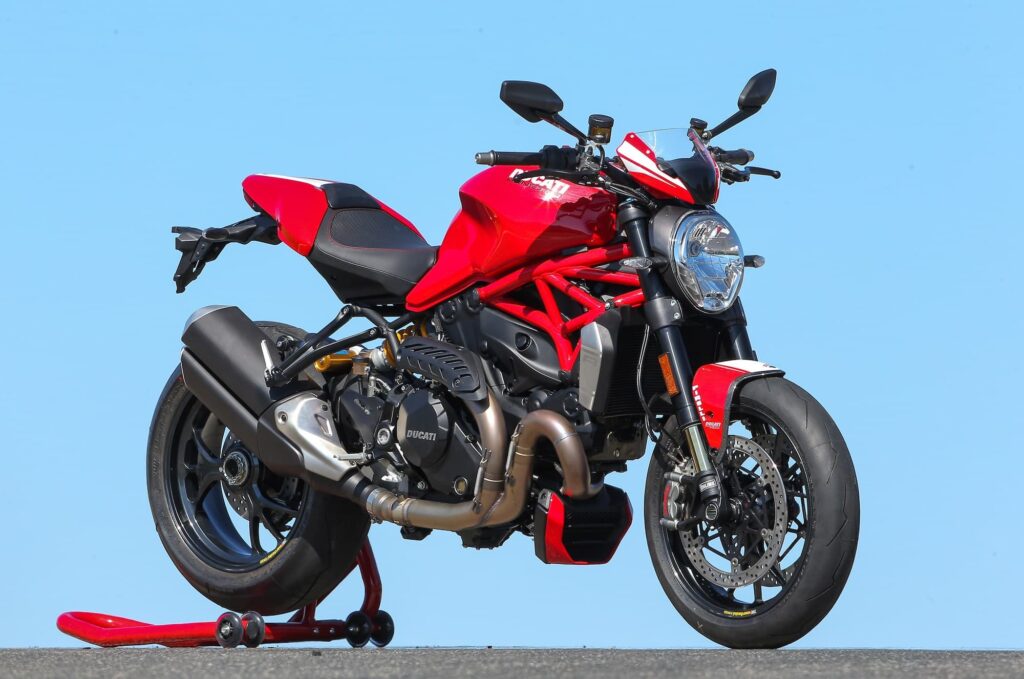 It got even more real in 2016 when Ducati launched the most powerful Monster to date, the Ducati Monster 1200 R. This motor pushed out 117.7 kW (160 hp); now at twice the peak power of the original Monster 900.
The Ducati Monster 1200 R is — out of the box — the most powerful Ducati Monster ever made.
It also had the kitchen sink of high-spec parts — Öhlins suspension, lightweight forged wheels, Brembo M50 calipers, and even an Öhlins steering damper that few other models got.
But the R spec never got an IMU with cornering ABS, as the 2017-2020 models did.
The 2017-2020 Ducati Monster 1200 and Monster 1200 S: More power across the board, and an IMU
In 2017 Ducati revised the Ducati Monster 1200 line again, though kept the 821 line relatively intact.
Visually they're much the same, though they got a ~10% power bump, their 1198cc engines now making 112 kW (150 hp) @ 9250 rpm and 126 Nm (93 ft-lb) of torque at 7750 rpm.
Since these have been ride-by-wire since 2014, you can opt for various power modes, if you feel like taming the responsiveness of the throttle.
A big update for both models was the Bosch IMU from the 1299 Panigale. This meant both 2017+ Monsters benefited from cornering ABS and lean angle-aware traction control.
Both models also got an updated TFT.
As with the earlier 2014-2016 Monster 1200 models, the main differentiators between the Monster 1200 and the 1200 S are suspension and brakes.
The pinnacle of the Ducati Monster 1200 line was the 2018 Ducati Monster 1200 25th Anniversario.
This was ostensibly a Ducati Monster S but with a beautiful paint job and an Öhlins steering damper. Feast your eyes on this!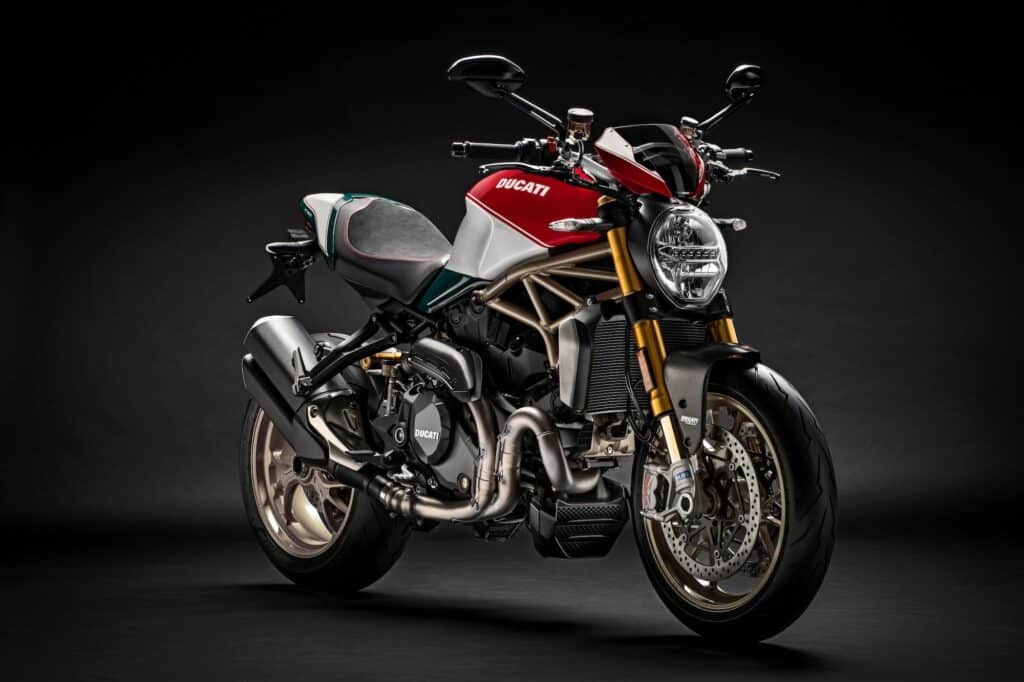 Frankly, these Monsters are now so powerful and high-spec they're well and truly beyond the "back to basics" concept that Galluzzi imagined. They're great, and the rider aids make it easier to tame all those horses, but they are now super-nakeds, not minimalist bikes.
Still, I'd like one. As much power as many superbikes and cornering ABS? Yes, please.
Back to basics — The Ducati Monster 797 (2017-2020)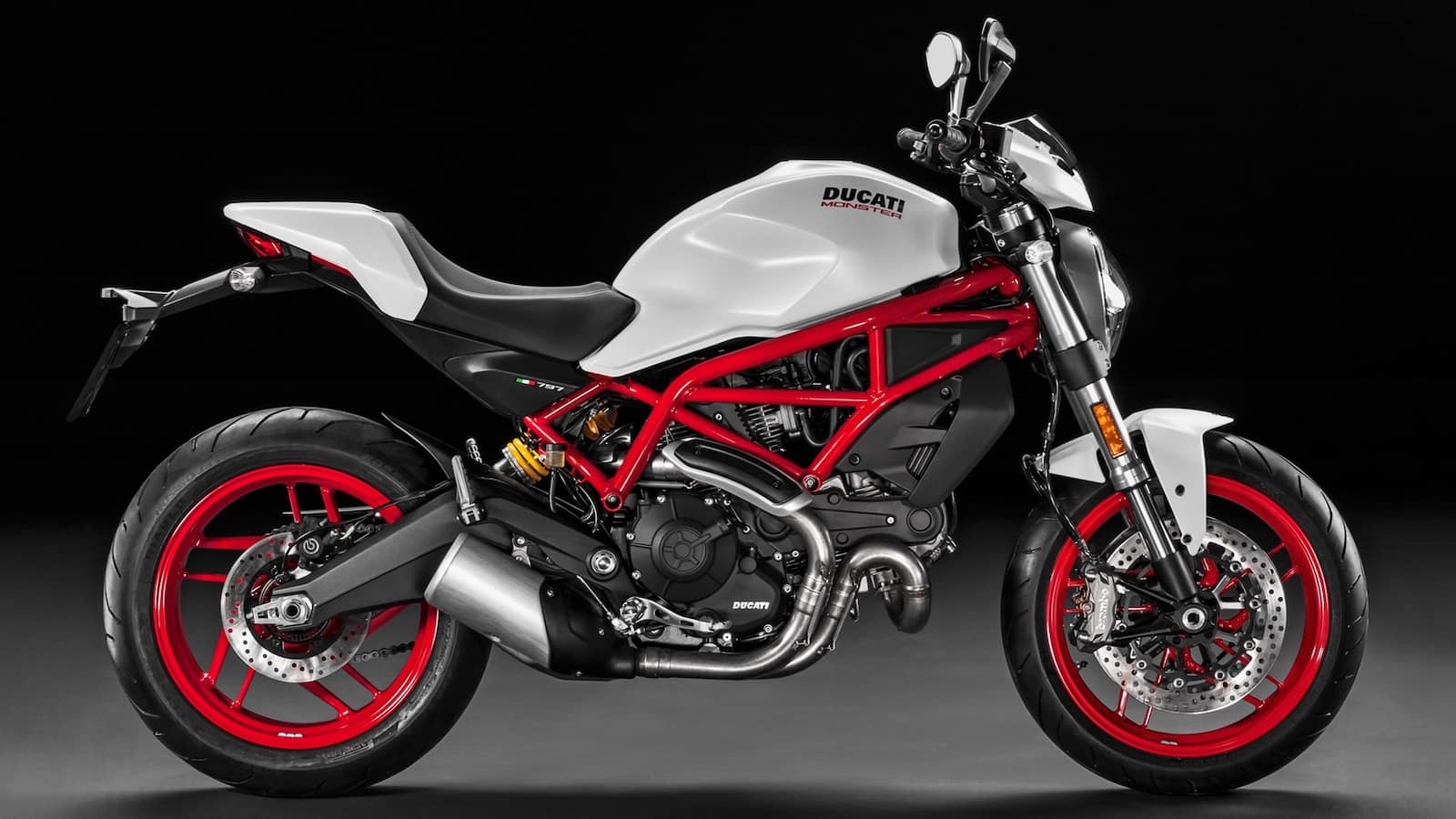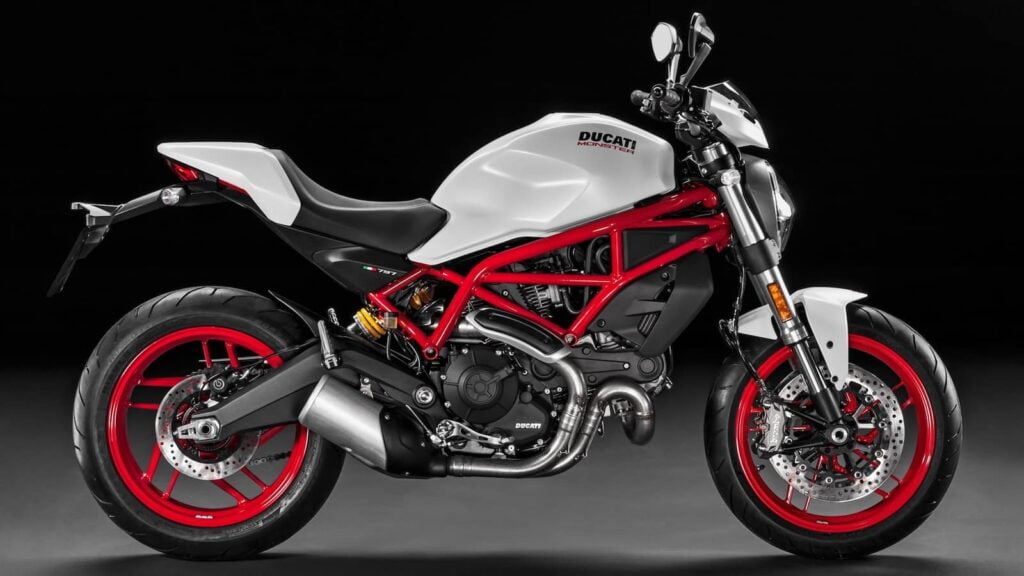 In 2017, Ducati decided to go back to the drawing board to introduce new and comparatively inexperienced riders into the Monster family with the new Ducati Monster 797.
Yes, you thought the 796 was the last air-cooled Monster. Well, Ducati surprised everyone with the 797! Despite just a difference of "1" in the model name, the Monster 797 is quite different aesthetically.
The Monster 797 gets the 803-cc air/oil-cooled L-twin from the Ducati Monster 796 of a nearly a decade prior (and in the contemporary Ducati Scrambler 800), tuned to put out a slightly milder 55 kW (75 hp) at 8250 rpm, the same as in the Ducati Scrambler.
The 797 just gets basic ABS, no traction control, and no riding modes, but you get a fairly decent, good-looking Monster which is easily accessible, even to riders with little experience (though I wouldn't suggest it to most as a first motorcycle).
The design is quite modern though. The front headlight isn't a round headlamp like you will find on other throwback models; it's just the engine that's more traditional.
You couldn't get the Ducati Monster 797 everywhere. It was made available in the US and in Europe, and I'm not sure where else. In the UK/Europe, it was available with a restrictor to make it A2-legal.
The Monster 797 is basically a callback to the original Monster 900, but with slightly wider service intervals, high-quality electronics, a gentler wet clutch, a less insanely shallow turning circle… but still with the simple engine of the original. It contains the spirit of the original.
You could buy the Ducati Monster 797 used, and in the future, you may have a classic!
See more about the Ducati Monster 797 here.
The Ducati Monster and Monster Plus — 2021+ 937 models
In 2021, the Ducati Monster 821 and Monster 797 were both replaced by the Ducati Monster. Just "Monster". That's it! There's also a Monster+, which is pronounced "Monster plus sign".
In reality, many publications (and even the URL on Ducati's web page) already refer to the new 2021+ Ducati Monster as the "Ducati Monster 937", after the displacement of the engine. (See more about the Ducati Monster 937 here at our "hidden manual".)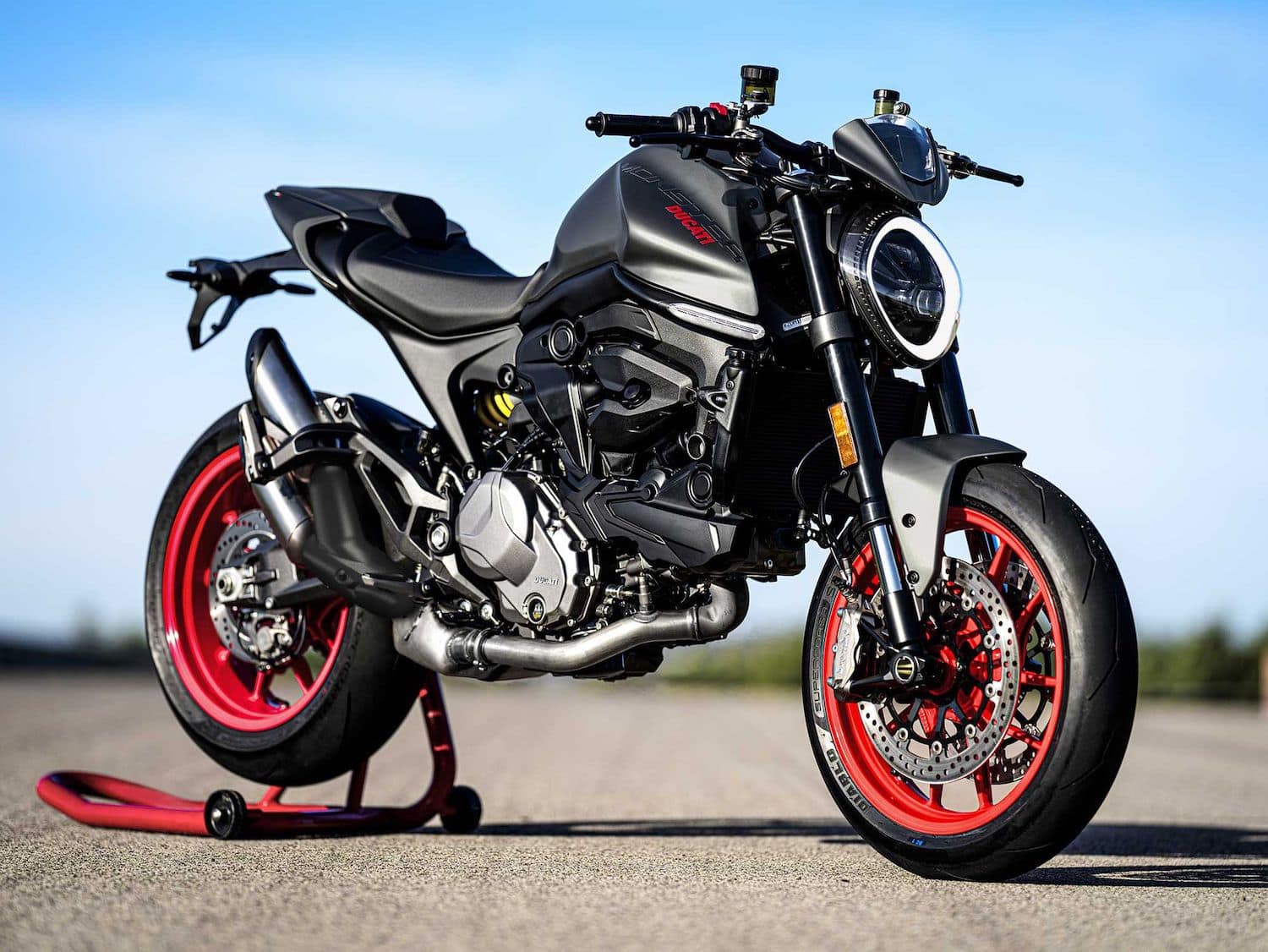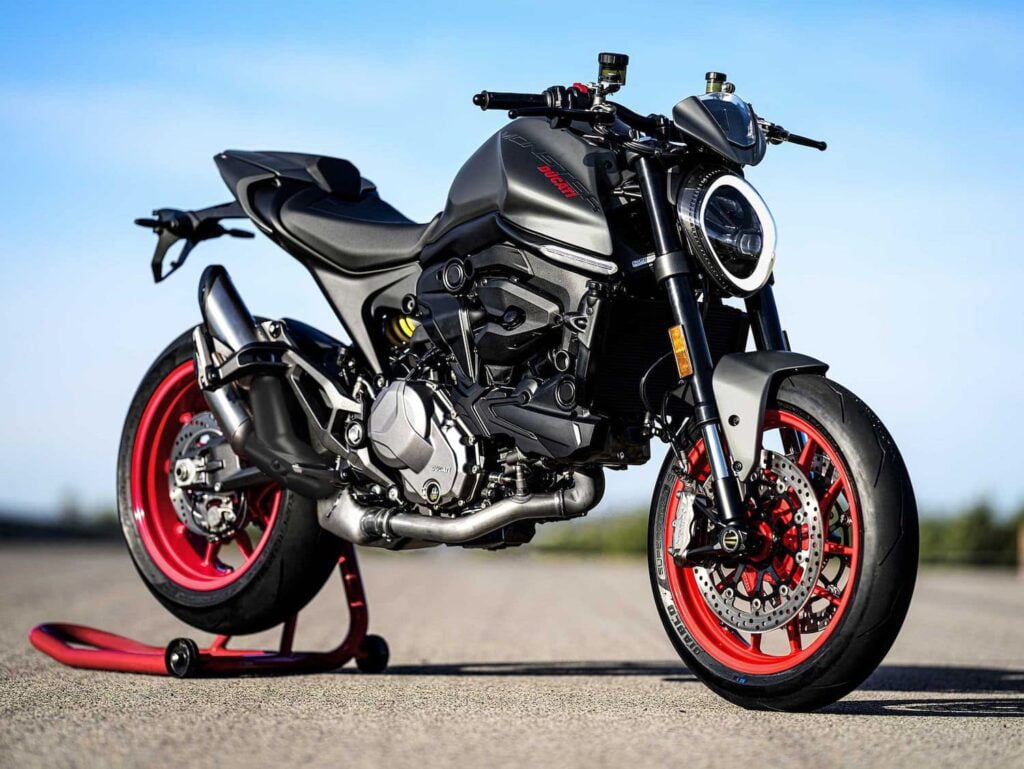 Ducati decided to get rid of everything that's Monster and just make a different motorcycle. So why call it a Monster?
Well, it's still kind of the same thing… a naked sport bike that's not a superbike, nor a streetfighter. A utilitarian hustler and mountain speedster, competing directly with machines like the Yamaha MT-09 SP (which is looking sweeter by the moment).
So the Ducati Monster doesn't have a single-sided swing-arm. Big whoop, the mid-size version lost that with the 821 (replacing the 796). So it doesn't have a round headlight… ok… and no trellis frame. What? The good news is that it still has a V-twin engine, even if it's a liquid-cooled one with a wet clutch.
But what an engine! It's the same 937cc Testastretta 11° engine you can find in the Hypermotard 950, Multistrada 950 / V2, and SuperSport 950. The new engine makes 82 kW (111 hp) at 9,250 rpm and 93 Nm (69 lb-ft) 6500 rpm, a great amount of power and torque for a middleweight.
And speaking of which, the new Monster is 18 kg / 40 pounds lighter than the 821, weighing in at 188 kg or 414 lb — fully fuelled, ready to rock. That is LIGHT. It wheelies easily in 2nd gear… maybe 3rd but I haven't tried.
The banner reason for the weight savings, by the way, is the move to a "Front Frame" chassis design. This is something the press doesn't make a lot of noise out of, but it's a big deal.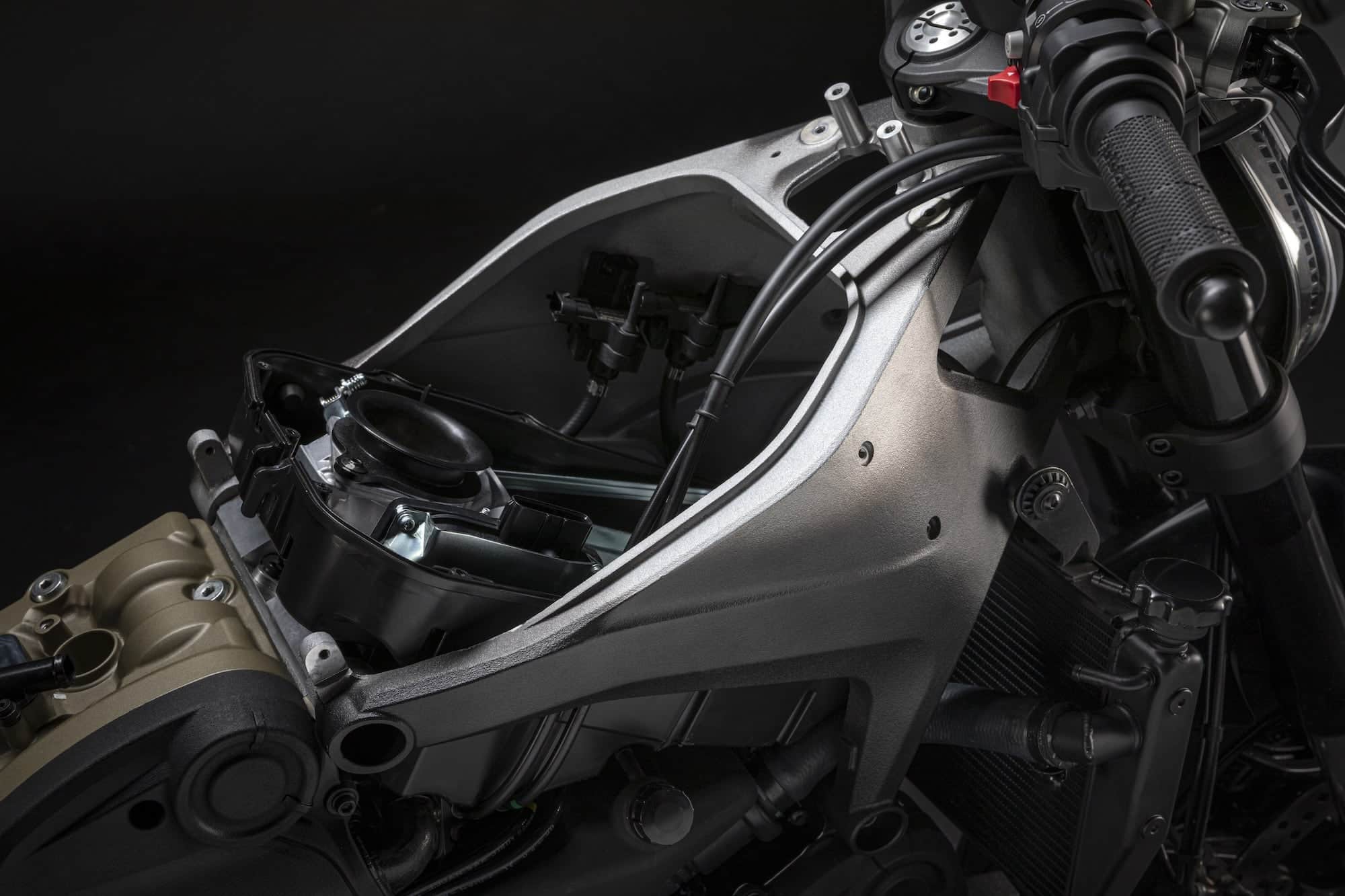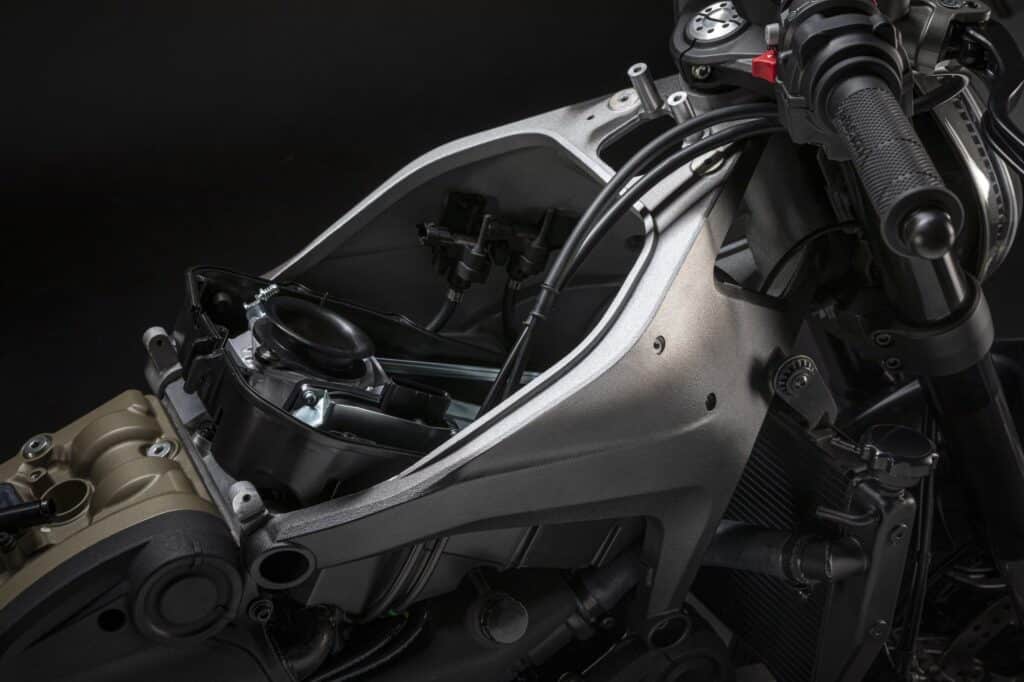 The chassis is important because it's even lighter and stronger than the outgoing trellis frame. Sure, the trellis frame looks nice, but weight is weight. The Monster 937's frame alone is 4.5 kg / 10 lb — or a good 60% — lighter than the previous frame.
The "Front Frame" design is the same that Ducati uses in the Panigale V4 superbike, and is an evolution of the "Monocoque" frame design that was used since the original 1199 Panigale. They share the same concept of a frame being built from as few pieces as possible (the monocoque principle being "from one single piece"). It's a level of tech used on very, very few motorcycles. Frame lightening is a large part of what makes the new Monster so light, and lightness is what makes it such a joy to ride.
The modern Ducati Monster 937 is a beast. It's one of those bikes that makes you feel like a better rider than you are. It gives you wings! Part of this is the torque curve, short wheelbase and light weight, and part of it is the rider aids that keep everything in check even if you grab too much throttle. This class of motorcycles — middleweight sport bikes — is my favourite, and the Monster is one of the best you can get.
Is the 2021 Ducati Monster still a Monster? Well, that's its name. Ducati says it is. It looks cool. Different, but cool.
But on the other hand, suddenly it seems to be competing on the same tier as a few other well-loved street bikes, like the Triumph Street Triple RS — Triumph's beloved 765cc triple that makes 121 hp, or Yamaha's new 889cc CP3-powered MT-09 / SP.
Of course, the Monster is still a V-twin, and still has a unique engine design.
Oh, and the "plus" version gets you a fly screen and a couple of aesthetic things. Don't go crazy, Ducati.
For the 2023 model year, Ducati released the Ducati Monster SP, which shares the same 937 cc Testastretta engine. But like the other S or SP models, the Monster SP gets uprated suspension, brakes, and some lighter-weight components.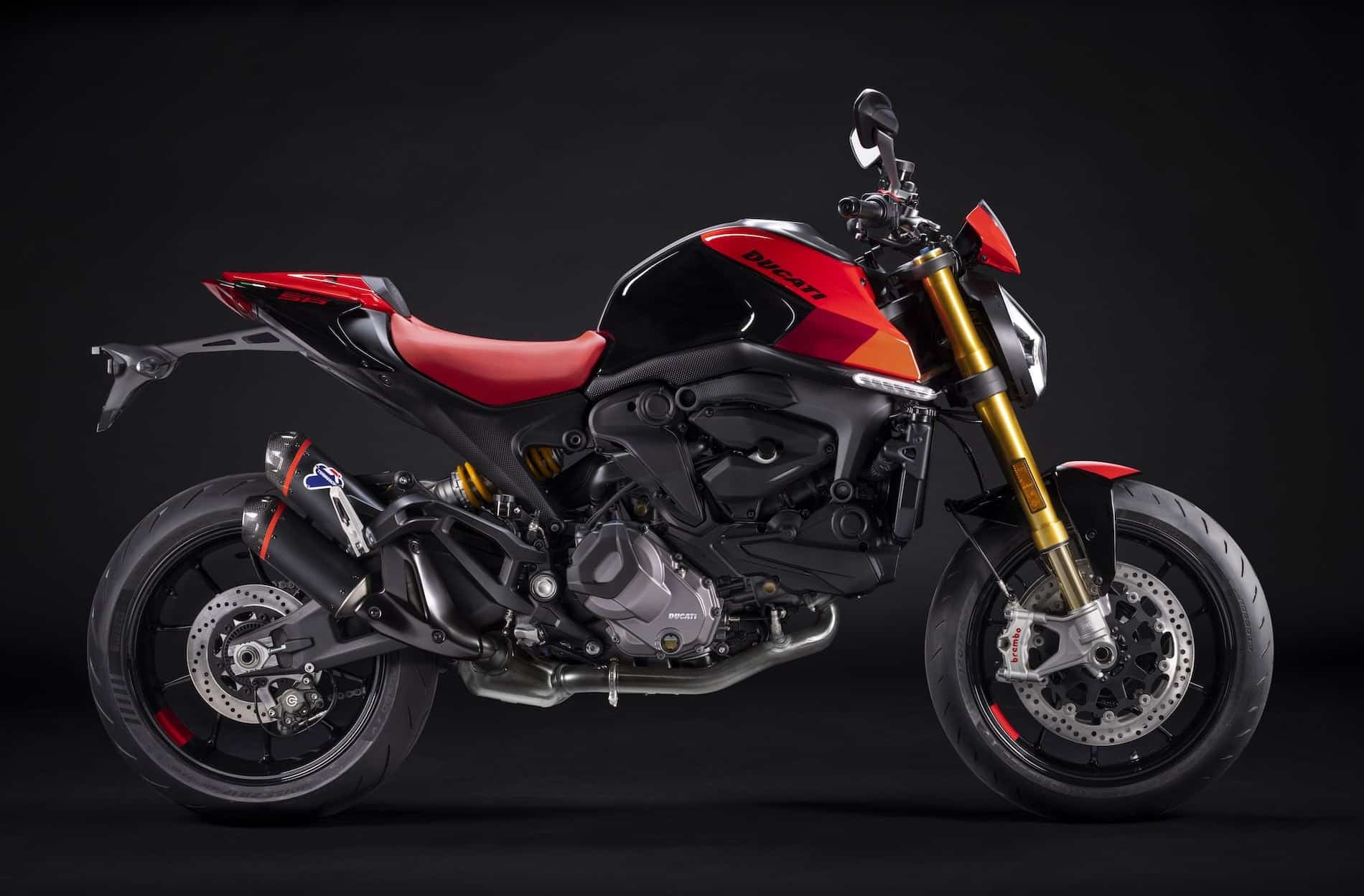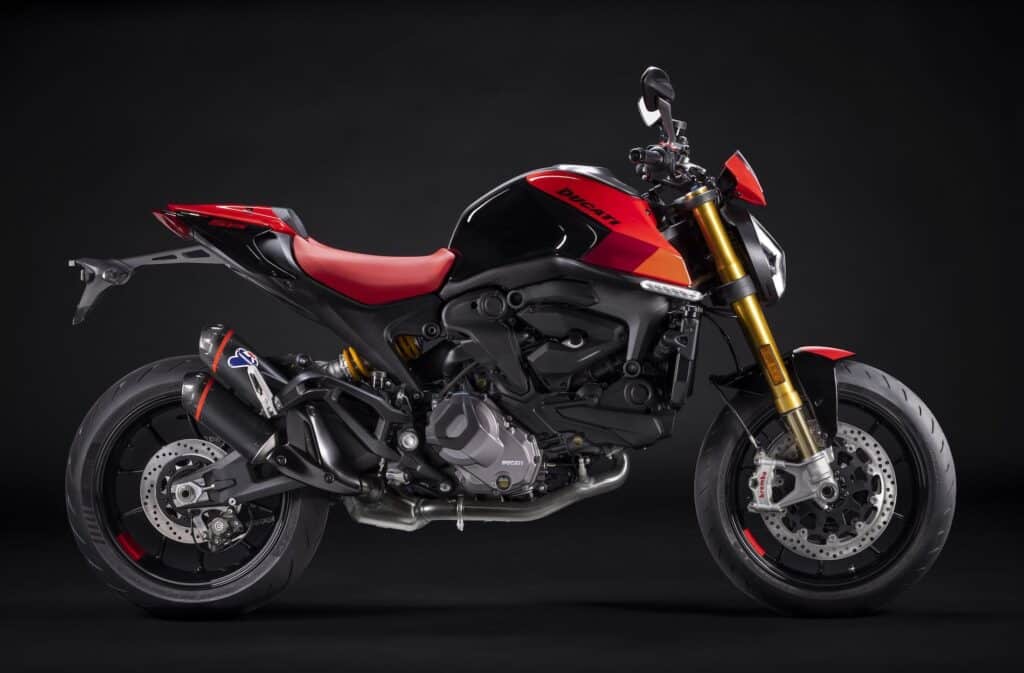 Ducati also announced a Ducati Monster "30th Annivesario" (that's Italian for … ok, you know) for the 2024 model year. It's largely the same as the 2023 Monster SP, but with eye-candy Italian flag-coloured paint.
Things that the 2021 Monster 937 and 2023 Monster SP share are:
The 937 cc Desmo liquid-cooled L-twin engine (making the same power/torque)
Same ride aids — IMU with cornering ABS / traction control
Same 4.3-inch TFT
Standard quickshifter
320 mm front brake discs (though different calipers)
Here are the differences between the 2021+ Ducati Monster 937 and the 2023+ Ducati Monster SP:
| Part | 2021+ Monster (and Plus) | 2023+ Monster SP |
| --- | --- | --- |
| Fork | 43mm USD fork | 43mm Öhlins NIX 30 fork with TiN treatment, fully adjustable |
| Shock | Progressive linkage monoshock, preload adjustable | Öhlins progressive linkage monoshock, fully adjustable |
| Steering damper | No | Yes |
| Front brake caliper | Brembo M4.32 | Brembo Stylema |
| Battery | Standard / Maintenance free | Lithium-ion (1.8 kg / 3.8 lb lighter) |
| Curb weight | 188 kg / 414 lb | 186 kg / 410 lb |
| Ride modes | Sport, Touring, Urban | Sport, Touring, Urban, Wet |
| Muffler | Standard | Termignoni |
| Rake / trail | 24 degrees, 93mm | 23 degrees / 87mm |
| Wheelbase | 58 inches | 57 inches |
Ducati 2021 Monster 937 vs 2023 Monster SP spec differences
If you're familiar with past SP-named Ducati motorcycles, you might have expected the Öhlins treatment front and rear. The Brembo Stylema calipers (used on many modern superbikes) is a nice bonus. But on the flipside, the Ducati Monster SP doesn't get lighter wheels, which many other up-spec Ducatis get over their base models.
Perhaps most magically, Ducati managed to reduce the weight of the SP even further, thanks mostly to the lightweight battery. Combined with the higher-spec suspension, the Ducati Monster SP is even livelier and easier to turn than the base model, which already set a high bar.
The Ducati Monster SP also gets a standard (though non-adjustable) steering damper.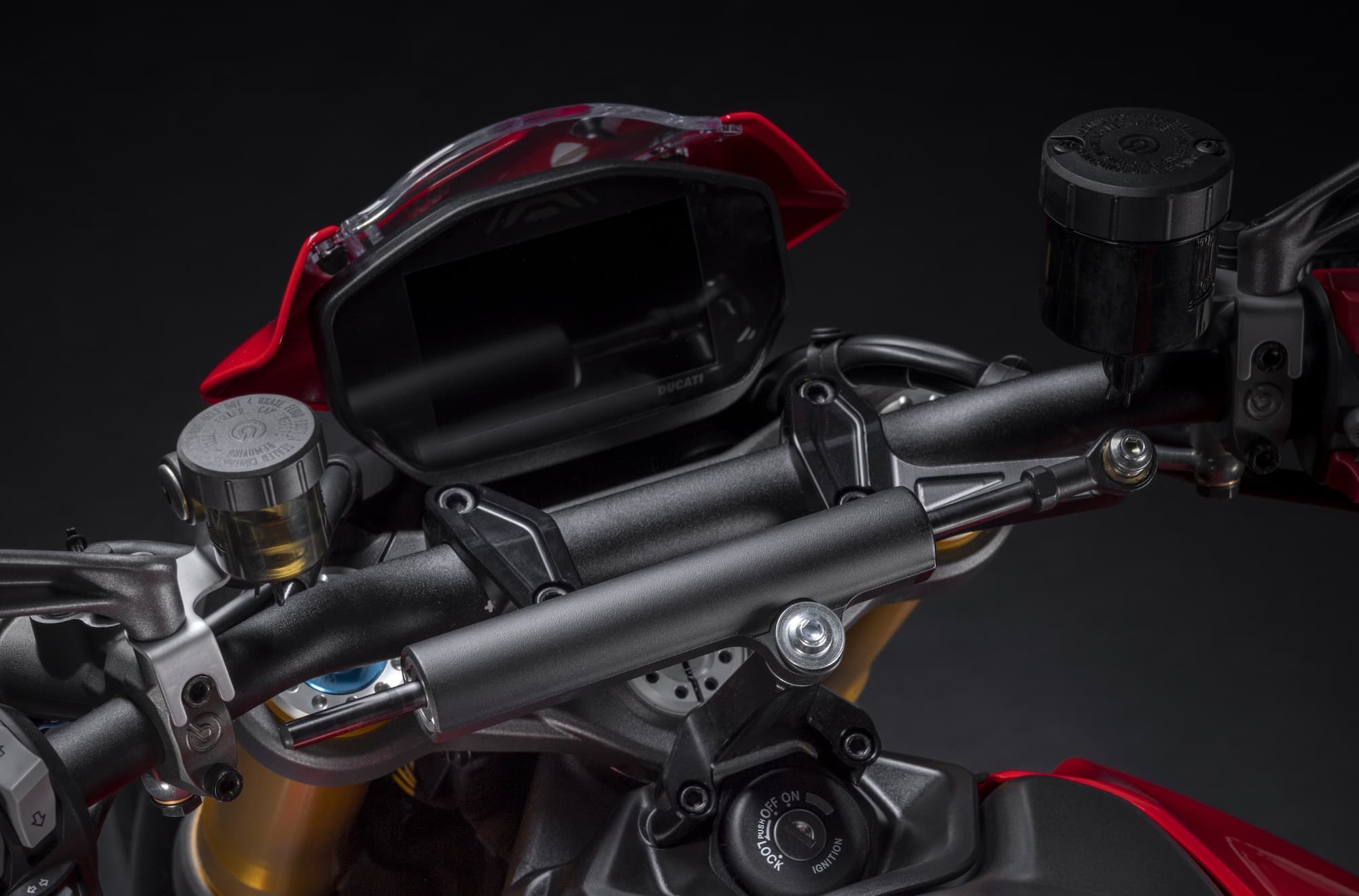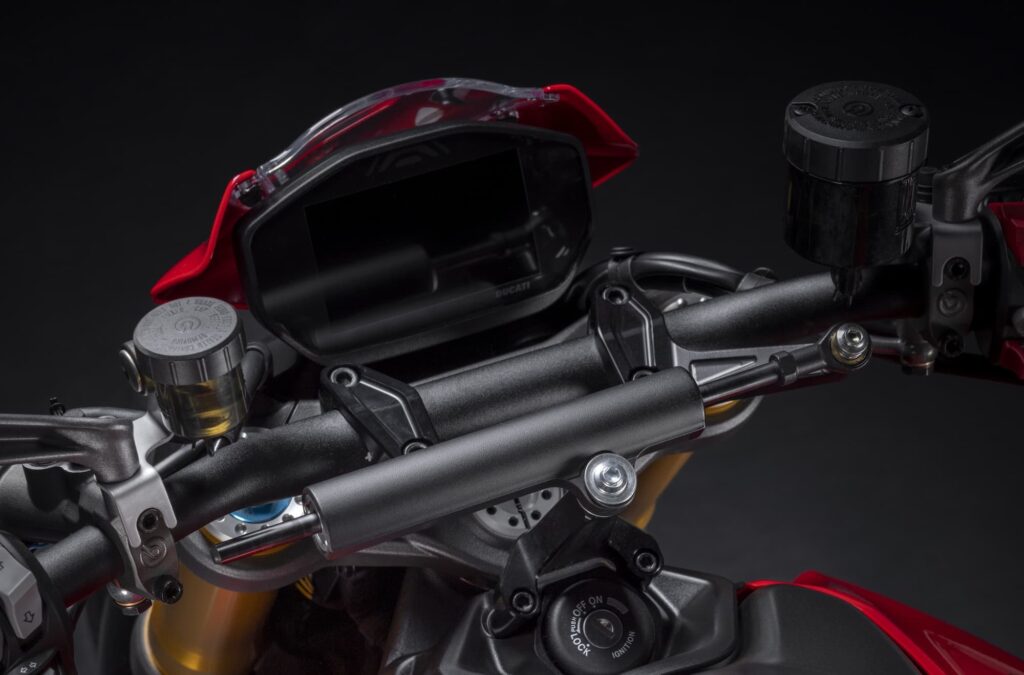 On top of that, the 2024 Ducati Monster Anniversario gets a few extra upgrades. Here they are (a briefer table otherwise a lot is repeated)
| Item | Monster / + | Monster SP | 2024 Monster Anniversario |
| --- | --- | --- | --- |
| Steering damper | No | Yes | Öhlins |
| Wheels | Light alloy cast | Light alloy cast | Forged (1.86 kg / 4.1 lb lighter) |
| Mudgards | Standard | Standard | Carbon fiber |
| Curb weight | 188 kg / 414 lb | 186 kg / 410 lb | 184 kg / 406 lb |
2024 Monster Anniversario differences to Monster and Monster SP
Of course, the Monster Anniversario's banner features are exclusivity and that paint job.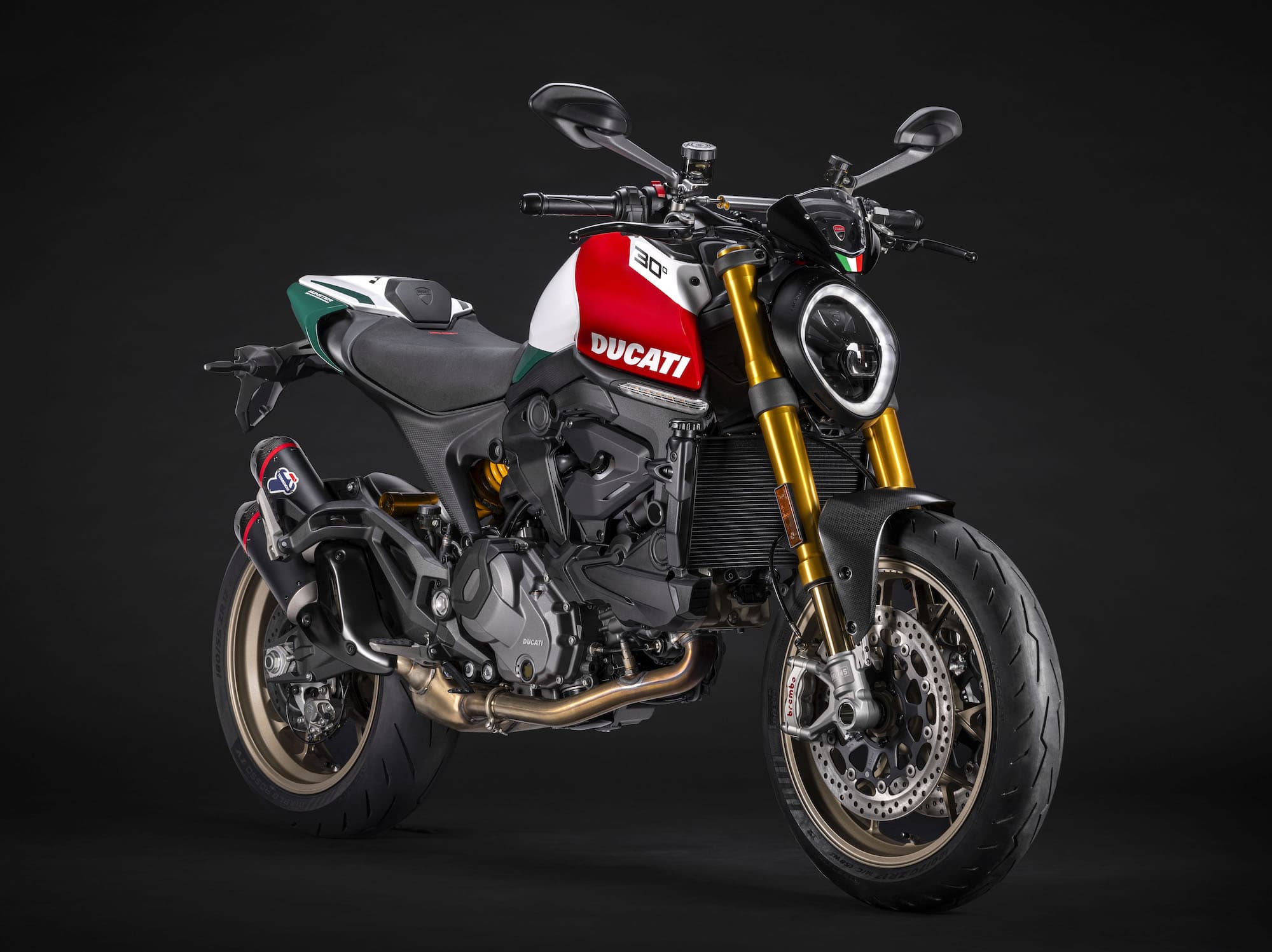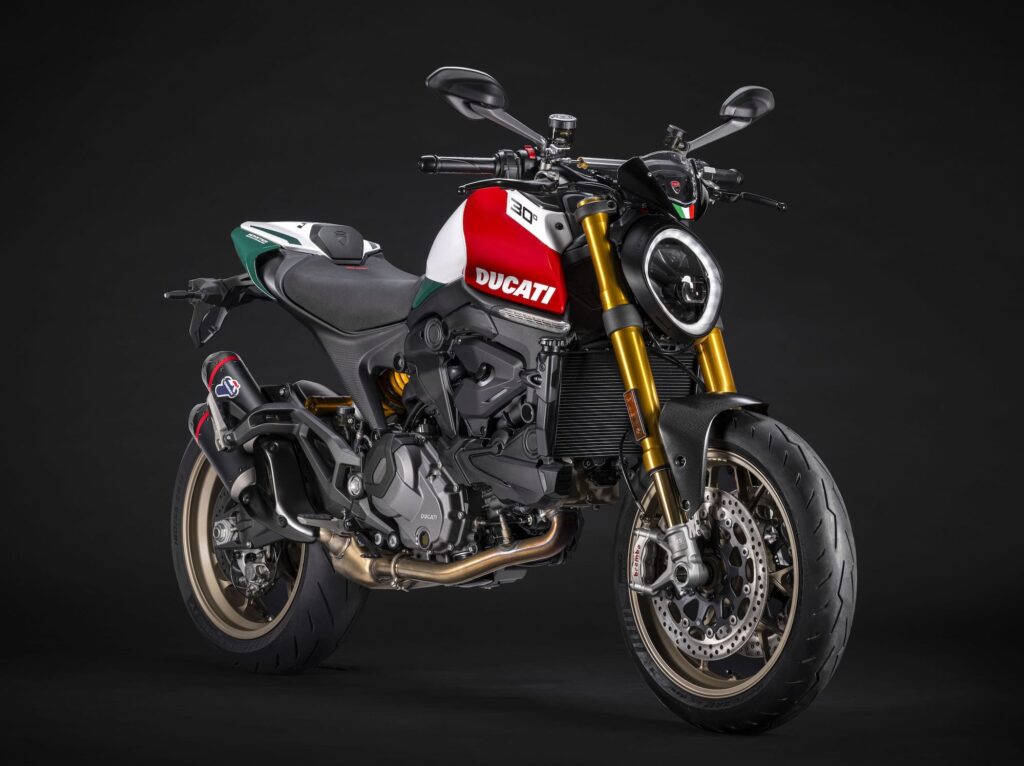 The main let-downs for me of the 2021+ range overall are that the 2021 base-model Monster doesn't have adjustable suspension (I was hoping to see something like full adjustability, just lacking Öhlins), and that neither the base model nor the SP has cruise control to save me from speeding tickets in school zones on the way to the fun roads. But those are minor quibbles — if your heart is set on a Monster, you won't be disappointed.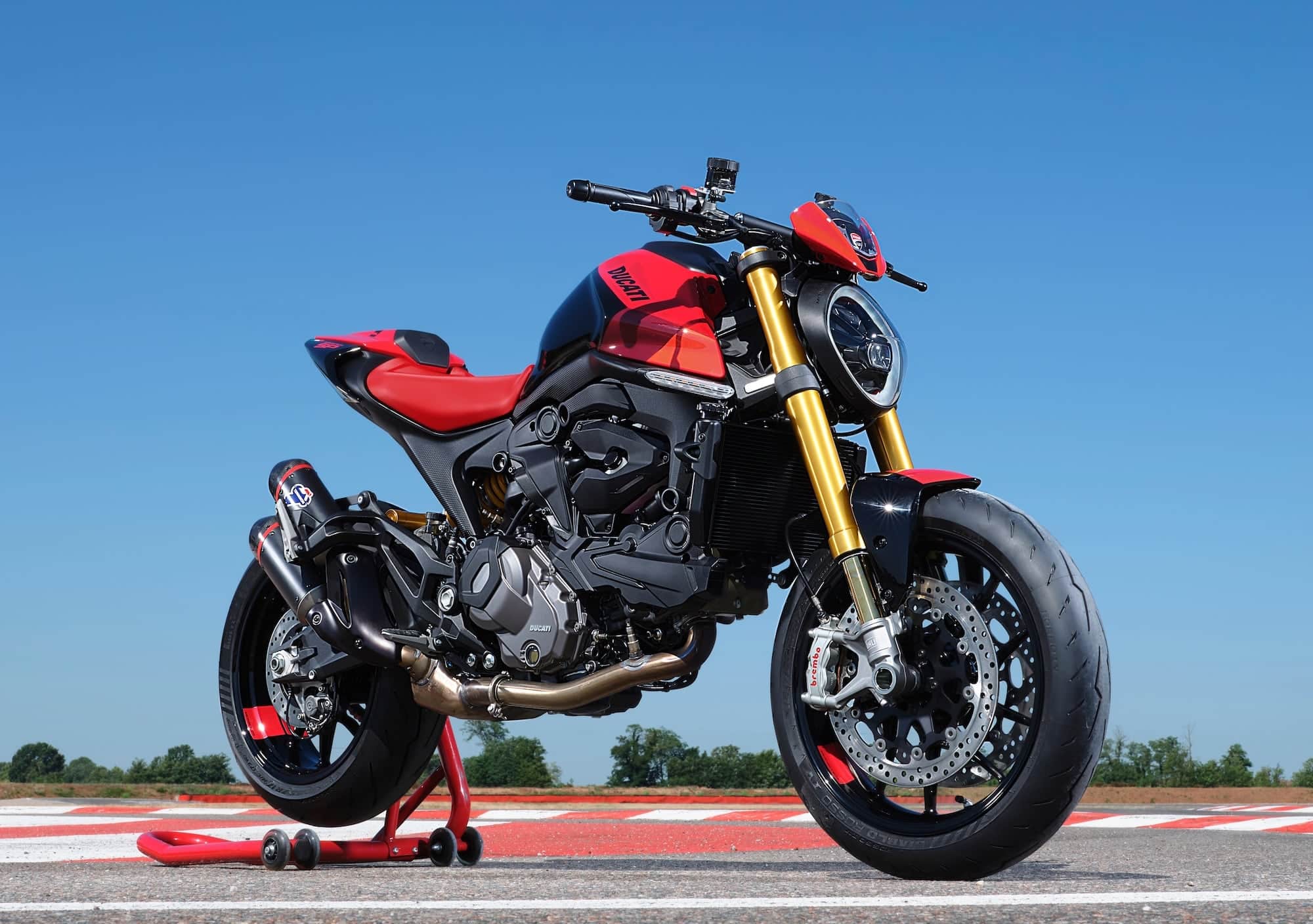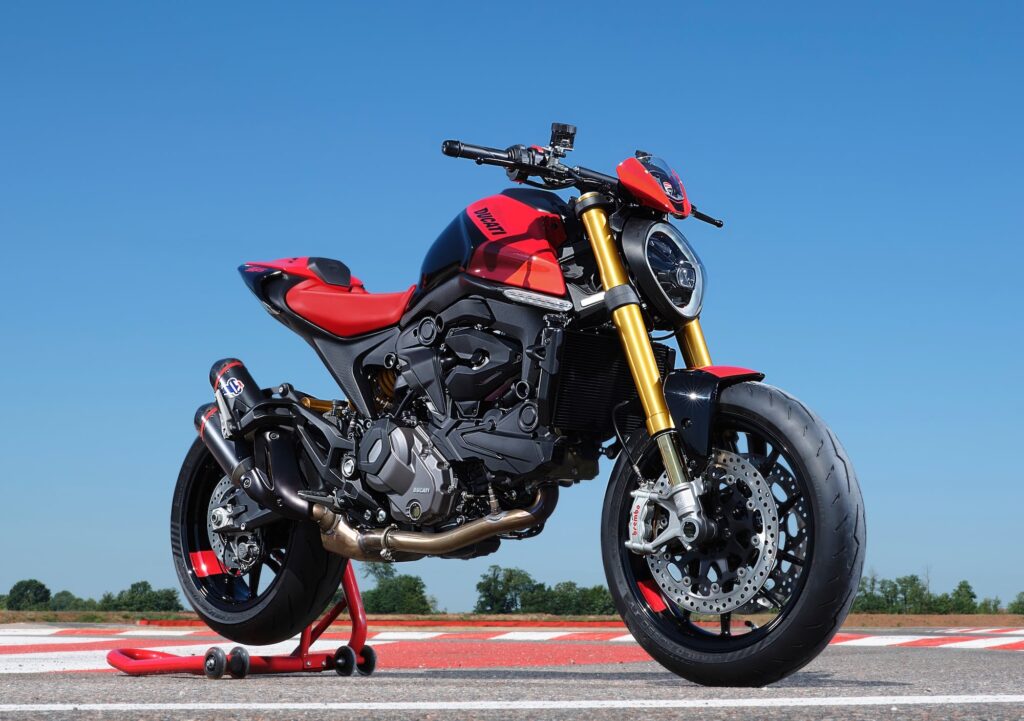 Which Ducati Monster to buy
The aim of buying any Monster is to have something you'll love riding, won't go bankrupt servicing and that you'll be able to sell easily (one day).
You'll love riding any Monster. That part is pretty easy.
Buying one you'll be able to sell means buying one in good condition that has been serviced regularly and that is in reasonable demand. The last part is critical. It's why you want to focus on iconic classics that are not overpriced.
If you want an old Monster, focus on the 900 or 1000. The sweet spot is 2001-2003, when they were 900 cc, had fuel injection (just better reliability and easier maintenance!), but were still air-cooled and with a dry clutch.
Get a red one. I heard someone claim once that yellow ones were better preserved, but that sounds as anecdotal as the rest of this article.
If you want a tad more intrigue… buy a Monster 1100 Evo or an 1100 S, which I think is the greatest of the air-cooled Monsters. Just don't buy one unless you're outside a 1000-mile radius of where I am, because I want it! (I kid, it's all yours, all's fair.)
If you want something balls-to-the-wall but still an iconic design, get one of the S4 models, particularly the S4R or S4Rs. These haul! They have superbike motors in them and most of them easily cleared 90 kW / 120 hp with an exhaust and tune.
However, they were definitely more expensive/complicated to maintain (because of more pipes, harder to access the valves and just more valves). They still had dry clutches, which is fun.
If you want a newer Monster and are OK with it being a reincarnation, get a Monster 797. You get many of the benefits of the original (air-cooled V-twin with modest horsepower), but all the benefits of modern technology – a TFT display, optional ABS, a gentle wet clutch. You'll still have to service those valves every 7,500 miles (12000 km) though.
Should you get a liquid-cooled Ducati Monster? Look, horses for courses. I wouldn't over-simplify and say "classic Ducatis must be air-cooled!", because while the original Ducati Monster was air-cooled, the S4 versions were liquid-cooled.
And let's not forget that those had motors from other liquid-cooled classic Ducati motorcycles, the superbikes that started with the 916.
Finally, there's a lot to be said for the lack of service that a modern liquid-cooled Ducati engine has — service intervals for those from the Testastretta generation (821 and 1200 onward) are noticeably wider.
So yes, there are so many liquid-cooled Ducati Monsters, and they have significant enough benefits, that I'm in favour. But then you'll have to worry what coolant to get…
Should you get a smaller Monster? Like a 620, 696 or 750? Because they were positioned as 'entry level', there won't be as rabid-hot demand for these models.
There's nothing wrong with the smaller Monsters, and you'll likely love riding them. If liquidity is low in your area and one comes up in good condition (well-maintained, with the valves serviced and no dents in the tank) then it might just be a great buy. The smaller Ducati Monsters (below 900 cc) all have wet clutches, and from the 2014 Ducati Monster 1200 onwards, all Monsters (of all capacities) have had wet clutches.
What would I get? I'm on the market for a good Monster 1100 Evo ABS. Tell me if you have one on the east coast of Australia and I'll come by.
Are Ducati Monsters reliable?
It's a common refrain to claim that Ducati motorcycles are unreliable and expensive to service. It is what usually steers the less die-hard away from a Ducati and over to something like a Suzuki SV650.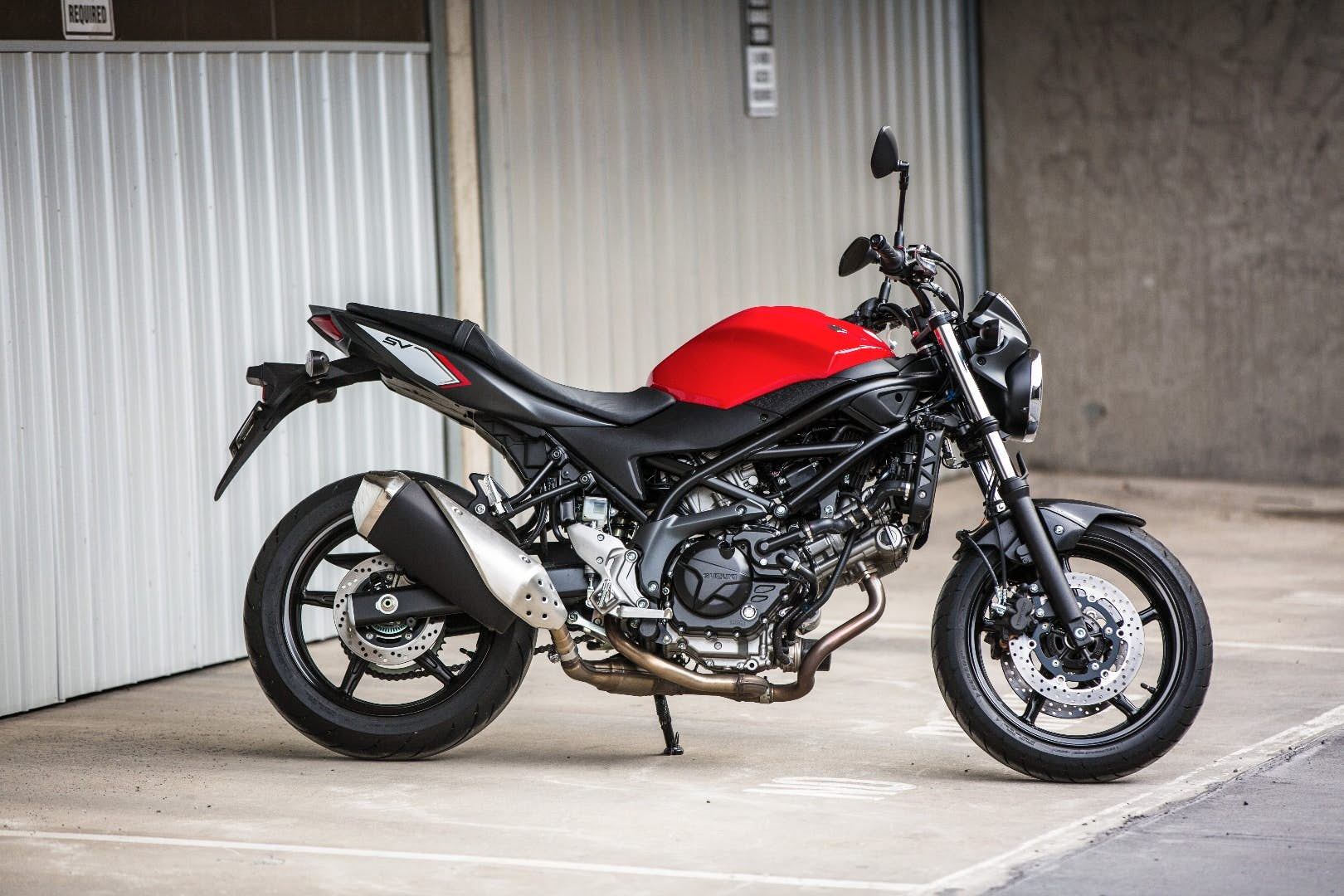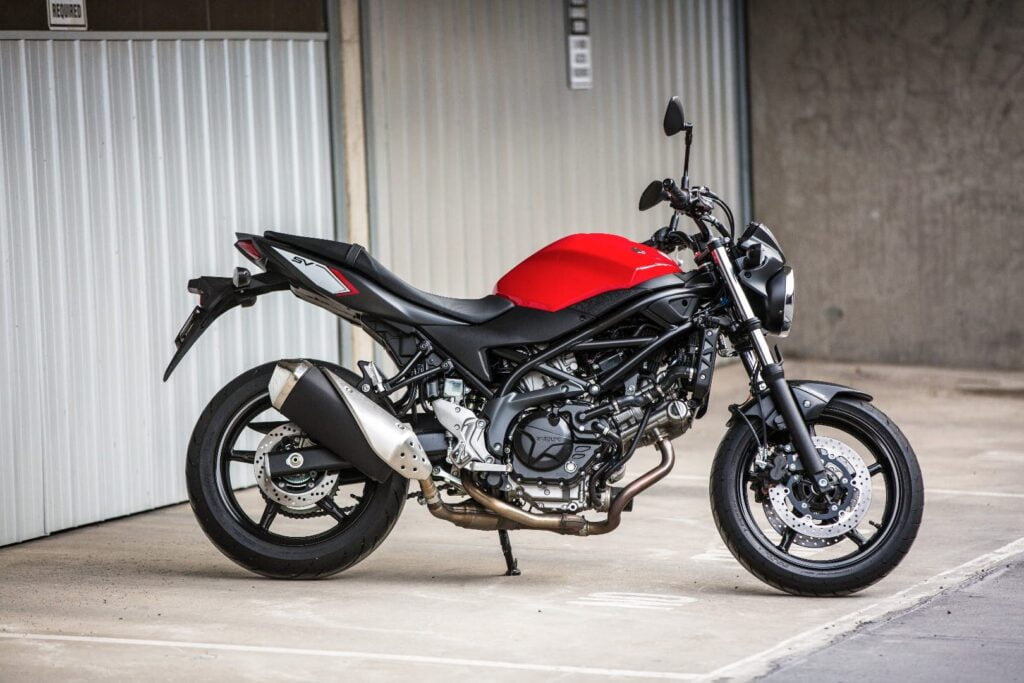 Or you could go full electric with the Zero SR/F, which has more than a passing resemblance to a Ducati Monster!
Let's analyse the question of Ducati unreliability bit by bit. There's some truth to it, but it's more hyperbolic than it needs to be.
Claim 1: "It's unreliable." Yes, Ducati Monsters have their issues, but no more than most motorcycles of that age.
The most unreliable part of old Ducati Monsters is the electrical system. The wiring loom can fail at some points (usually connectors, from corrosion), and diagnosing them can be troublesome. On my own Ducatis, I had to replace the regulator/rectifier on two, and a stator coil on one. One my Monster, the instrument cluster never worked quite right.
Electricals, however, are unreliable on many old motorcycles — Ducati certainly isn't alone. Regulator/rectifier units will always fail after a while — they turn excess voltage into heat, after all. And wiring looms are inherently more complex than modern CAN bus systems.
What's special is that Ducatis are generally kept longer than many motorcycles that are thrashed, so the perception that the electricals go bad is more common.
You can pre-emptively get ahead of the reg/rec problem by buying a higher performance one. If you really want, replace your whole wiring loom, but that's a bigger project.
Other common problems identified by Googling for them:
Leaking clutch slave cylinder (apparently almost guaranteed) (discussion here, here) — I had this problem on my Ducati Supersport, which shares a foundation with the Monster
Oil pressure sensors leaking (easy to replace, can wait until it happens) — this happened on my Multistrada 1000DS (shared a motor with a later Monster)
Broken or leaking head studs – replace them before they snap!
The 1000 DS motor has soft valve guides (sometimes, some years)
None of these are show-stopping problems, and definitely not a reason to avoid the Ducati.
Probably the most contentious claim is that you shouldn't ride a Ducati Monster in the rain because of the risk to the electricals. This occurs most commonly when a gauge's sealing has failed and water enters through them. Water enters, the LCDs go nuts, etc. The fix is to take the gauges apart, add sealant and then close it.
Claim 2: "Old Ducatis are expensive to service." Not really, but service might be more frequent.
Firstly, regular services (oil and filter changes) are no more expensive than any other motorcycle if you don't take it to a Ducati dealer. There's no black magic in a Ducati motorcycle's oil or filter.
Take it to a local trustworthy motorcycle mechanic and these services will only cost you in the $150-200 range, just like they would with any other motorcycle. They just have to know how to check and adjust Desmodromic valves.
"Oh no, they have desmodromic valves? No thank you."
This is what scares a lot of other people off. The truth is: valve servicing on Ducatis is no more expensive, but it can be more frequently needed.
The word "Desmodromic" scares many people away from doing their own valve service. It also lets unscrupulous Ducati mechanics charge more if they want to. It doesn't need to, and they shouldn't.
If you're interested, here's a full explanation of what "Desmodromic" means. It goes to the very heart of being a Ducati.
There's nothing actually very hard about servicing a desmodromic engine. To understand this, you have to know what Desmodromic means.
While conventional engines open and close valves using cams and return springs, Desmodromic engines use two cams and two actuators, avoiding using a return spring.
The Desmodromic actuation design was to prevent the (past) problem of spring failure and lets an engine open and closes valves more efficiently, letting them rev higher (in the past; present-day spring-actuated motorcycles rev plenty high).
Here's Revzilla explaining the difference between Desmo and regular valved engines:
In almost every poppet valve system, valves are opened via mechanical actuation. For side-valve and many OHC engines, that means the cam's lobe is pushing open the valve. (Yes, sometimes it acts on a rocker arm or a shim bucket, but the protrusion that is the lobe is handling the opening duties.)

This is exactly the same in a desmo system. Where the desmodromic valve differs, however, is in the closin'. A conventional poppet valve relies on a valve spring, sandwiched between the head and a collar with keepers, to snap the valve shut.

Desmodromic systems remove the valve spring and generally supply another rocker. Those who deal with standard poppet valves in an OHV or OHC setup tend to think of rockers as valve-opening devices, but there's no reason they can't be used to close the valve, too. (Source: Revzilla)
But you might have to service Ducati valves more often than non-Ducati motorcycles. An old Monster with a two-valve engine needs to be serviced every 6,000 miles (or 10,000 km).
A newer Ducati only needs service every 18,600 miles (30,000km), but it's a more involved job because there are more valves, and if you're special and have a V4, more cylinders.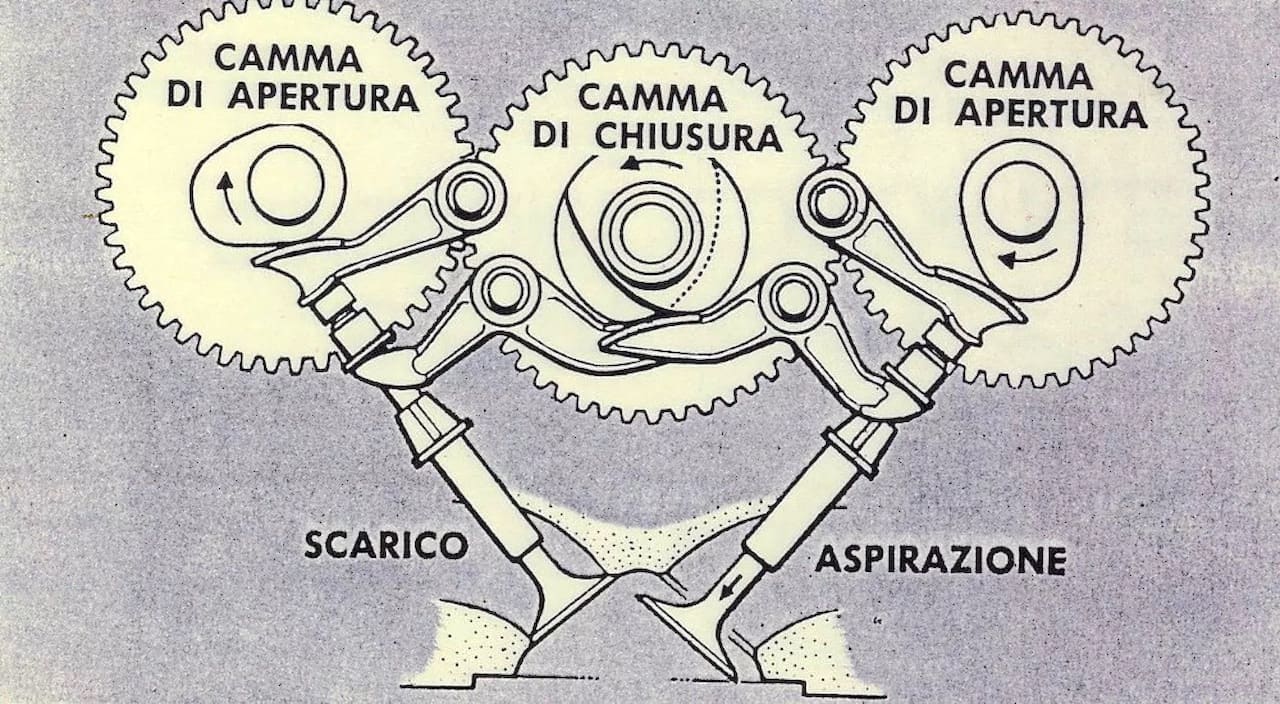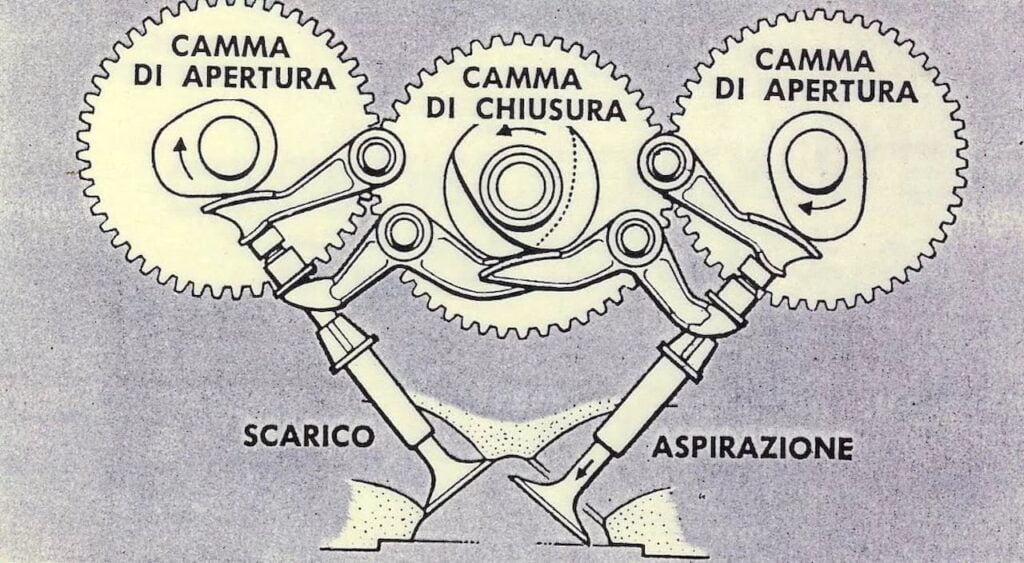 So here's the rub: there's nothing overwhelmingly hard about servicing a desmo engine. Any mechanic can do it.
And better, since there's nothing hard about it, you can do it yourself. Here's my favourite guide. This makes it way cheaper! I'd do this under the guidance of an experienced mechanic at a trade shop, like MotoGuild in San Francisco.
What to Check on a Used Ducati Monster
Apart from the usual things to check for (tyres, chain/sprockets, crash damage, no leaks in suspension, working electricals, frame alignment etc… see my comprehensive checklist here!), look for the following:
Were the valves serviced recently? Were the belts replaced? Belts and valves need inspection every 6,000-7,500 miles for air-cooled machines (and even the liquid-cooled superbike-powered S4 series), and belts have to be replaced every two times you do the valves.
Some people just don't do this, or sell it when it's due, in which case you have to plan on doing it yourself.
Servicing valves needs a couple of special tools, plus buckets to put over the shims, and about 4-6 hours of your time. I did mine under the supervision of an experienced Ducati mechanic, Lucy, at MotoGuild in San Francisco. It took me a few hours (and I added on some more time to replace the belts plus change the oil and do a few other things).
If there is no evidence the belts have been replaced — plan on getting this done, and get a quote for it first. Expect it to be between US$600-1,000, depending on the mechanic and what part of the world you're in.
Do the electricals all work? Make sure the displays work and that the charging system works. Take a voltmeter along to your inspection.
If there's a bad connector, loose wire or other fault in the wiring loom, diagnosing and repairing is kind of a nightmare on almost any motorcycle. Also, these problems are super common on old Ducati motorcycles. Failed rectifiers are probably the most common, and luckily, the easiest to fix.
Is the tank on your Ducati Monster intact?
If you have a steel tank (early models): Dents in the steel tank are not only expensive to replace ($750, as it's very hard to get a second hand tank that's intact!), they're extremely common from the way the handlebars are placed. Basically if one has been dropped, even at a standstill, then the tank is dented. It's annoying to look at and hurts your resale. I'd caution against buying one, unless you know a guy who can fix it.
If you have a plastic tank and are in North America: Check for swelling in the tank, like bumps and blisters, or the tank bulging asymmetrically. If the latch is hard to open, or if the tank is too close to the ignition shroud, it's a sign of swelling. Swelling in the plastic tanks was caused by ethanol mixed into North American gasoline. It was a known problem, and for a while Ducati were offering replacements. If your tank has no swelling, it may have been replaced (which is good). Of course, if the owner has evidence of this, all the better.
Does it have a Termignoni exhaust? The stock Ducati mufflers under-serve the Ducati motorcycles. Termignonis cost over $1,000 new, and people slapped them on (and can get almost nothing for them now, used), so buy one already equipped. It's worth waiting for.
Other exhaust systems are fine too, but just stay away from no-name eBay units, which are more often a sign that a bike was dropped on its muffler than a sign that the owner wanted to invest anything.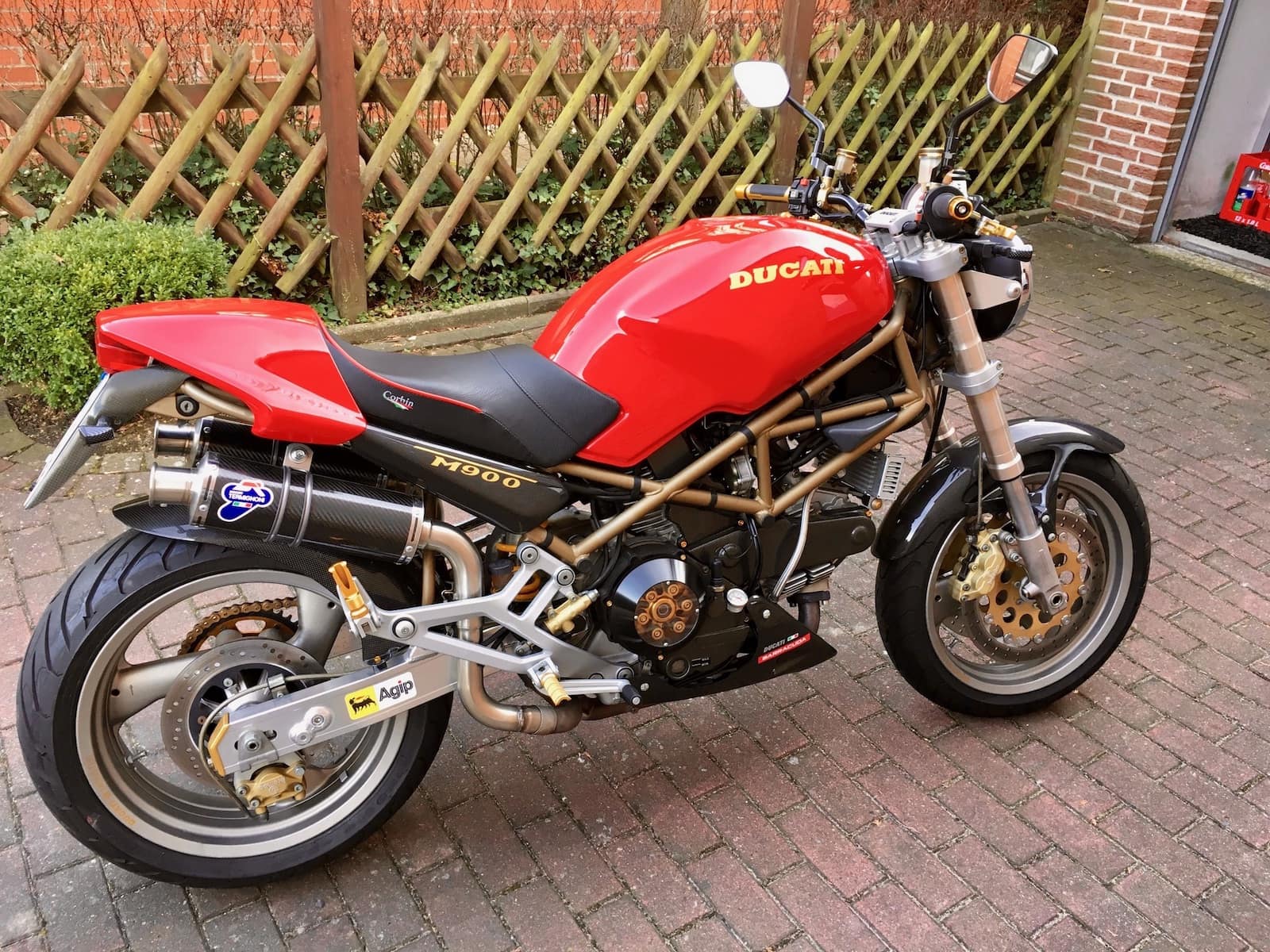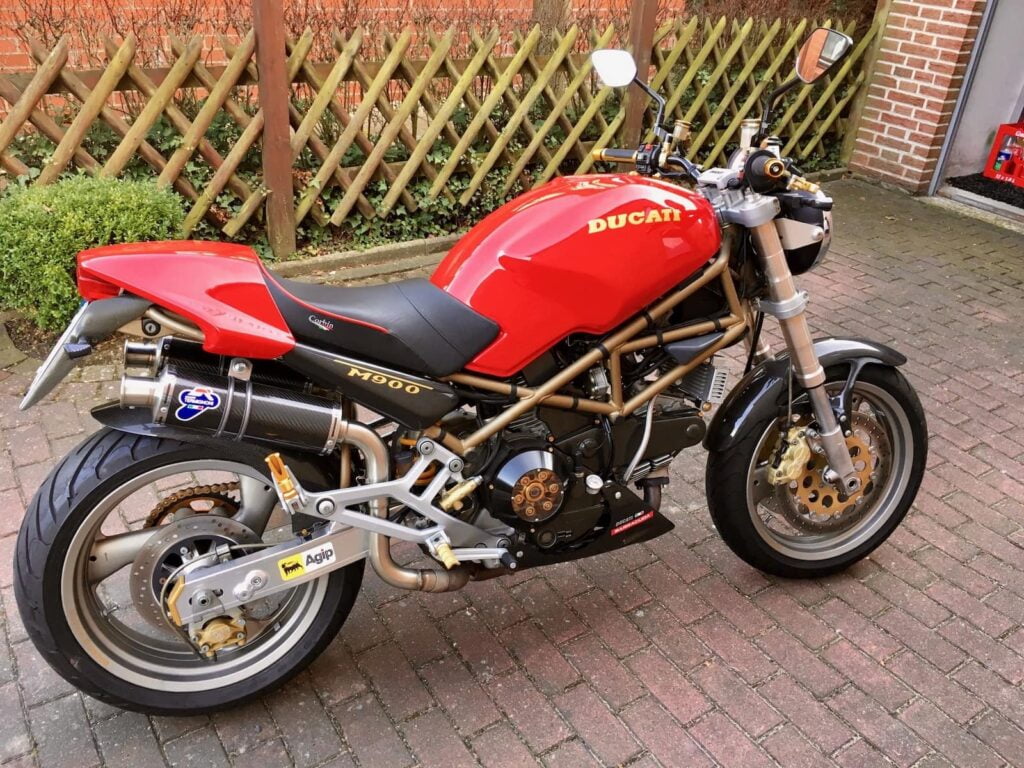 How much to pay for a used Ducati Monster
I wrote this originally in 2018. Since then, prices have changed, but I'm keeping this information for archive purposes.
The price for old Ducati Monsters used to be fairly reasonable. But Monsters are now being considered classics. On top of that, prices fluctuated a lot over the last few years.
Here's an ad from 2018 in Craigslist: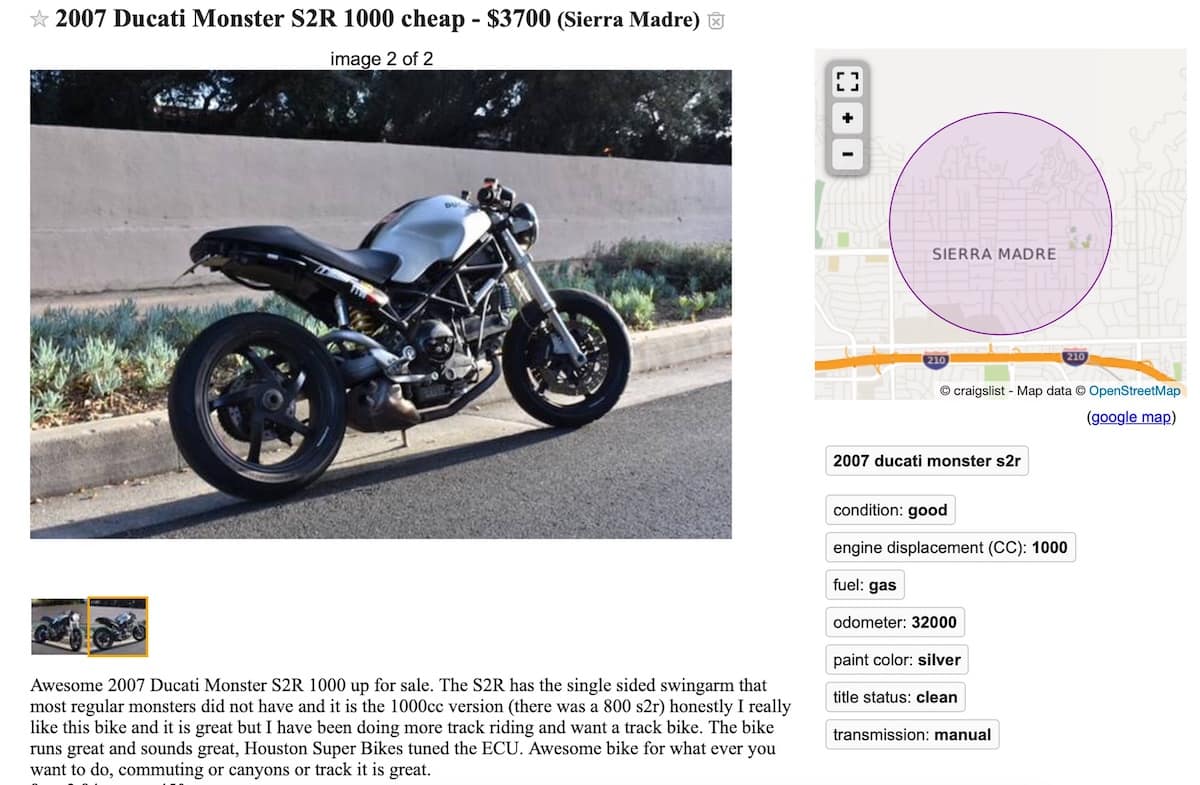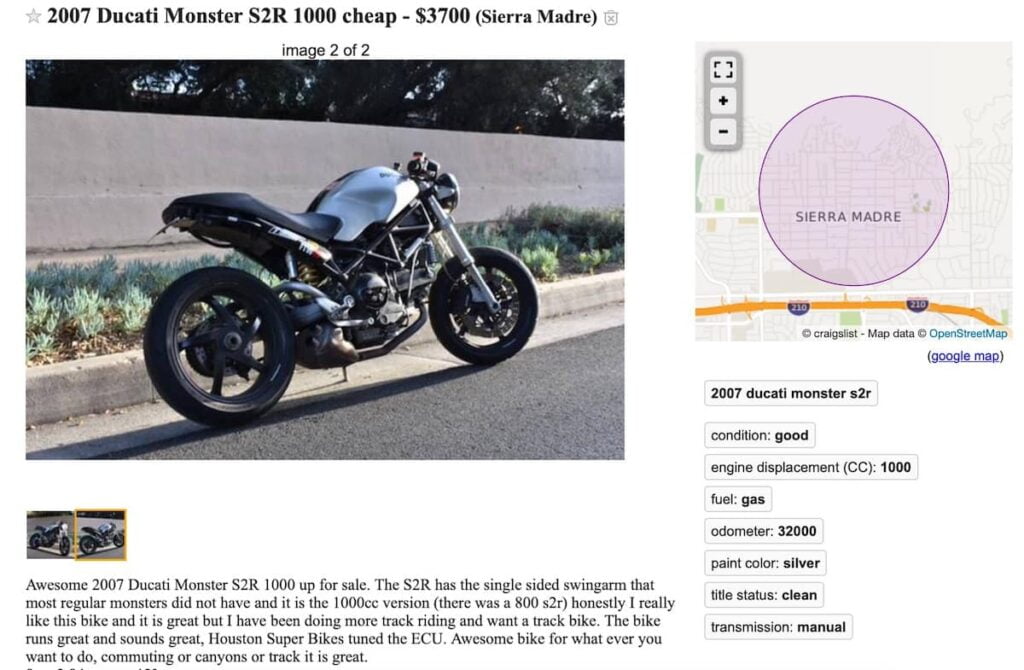 In 2018/2019, you could get Monsters in the US for $2,500-4,000 for one in good condition and that has been maintained. Similar prices were available in the UK.
In the US, a friend of mine runs a tool called MotoHunt that makes it easy to search all the local dealerships ads nationwide (in the US). Give it a try to find your Monster — it's so easy to find good deals, you may just end up planning a fly-and-ride! (And read my interview with the creator.)
In Australia, they're a bit rarer, but you can find them. Here's one on Gumtree that was reasonable.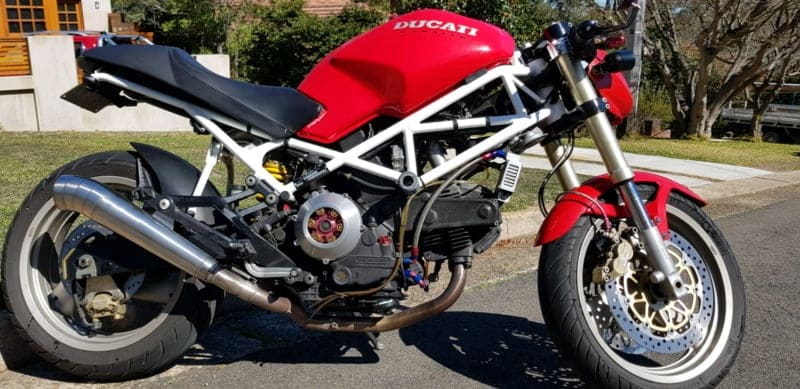 If it has high miles, that's actually OK, as long as it has had few owners and the valves have been serviced regularly. Just use it to your advantage and get a discount. It's very hard to sell a motorcycle that has more than 50,000 miles on it. (But remember: what goes around comes around when it's your turn to sell it.)
Here are general prices I have seen, all in US dollars. You can get similar prices in the UK (after currency conversion). For Australia, add 50% to these — partly the AUD conversion, and partly just that everything's more expensive in Australia.
For these prices, I'd expect non-horrendous miles (under 30,000 miles, or under 50,000 kilometres), a recent full service, and fully roadworthy wheels, tyres, chains, sprockets, suspension and electricals. The fairings and tank will have at worst damage from being driven, never going sideways.
Ducati Monster M900: US$3,000
Ducati Monster S2R800/1000: US$4,000
Ducati Monster S4R: US$5,000
Ducati Monster S4RS: US$6,000
Ducati Monster 796: US$6,000
Ducati Monster 1100: US$7,000
Ducati Monster 1200: $8-12,000
Ducati Monster / SP (2021): Whatever they're asking, they're new!
Note — I put up these prices as "stable market prices". They're likely to change as things normalise from the fluctuations we've experienced recently.
If you have any doubts, get in touch with me and I will help you evaluate any Monster you find out there. I always enjoy a bit of bike banter.
Sum up
There are few more rewarding things than riding a machine you love, even if there are "better" bikes out there. I hope the above has been useful in helping you decide what you might love.
If you think it has, drop me a line and ask any questions you want.