This is a complete guide to buying a Ducati Scrambler, also known as a Ducati Scrambler 800 (to differentiate it from the 1100 model).
The Ducati Scrambler is a very popular line of everyday motorcycles from Ducati. It's Ducati's simplest, most affordable motorcycle, using technology that's a mix of Ducati's heritage (with an air/oil-cooled engine and Desmodromic valve actuation) and of a few new technologies, like cornering ABS and LED lighting.
Since its inception, the Scrambler has been powered by a feisty mid-sized air/oil-cooled V-twin (or "L-twin" in Ducati parlance). It has always been one of those motorcycles that's easy to ride, lightweight, and fun for everything from dashing about town, casual adventuring, and even track days — they're weapons in the right hands and on the right tracks (more dominated by corners than straights).
But the Ducati Scrambler is also doused in a heavy dose of marketing. Catchy slogans, trendy model names, and bright colour schemes go with it, not to mention a whole line of clothing, accessories, and even a digital radio station. It's a little hard to see through the noise, so I wanted to put it together here — everything you might want to know about the Ducati Scrambler, including:
What's the historical context for the Ducati Scrambler?
What makes the Ducati Scrambler special / interesting?
What about the Scrambler 1100?
What are all the model variants of the Ducati Scrambler and how are they different?
Alternatives to the Scrambler from other brands — other Scramblers, and other standard sport bikes
Plus more. Here goes!
See here for the Ducati Scrambler 1100 buyer's guide.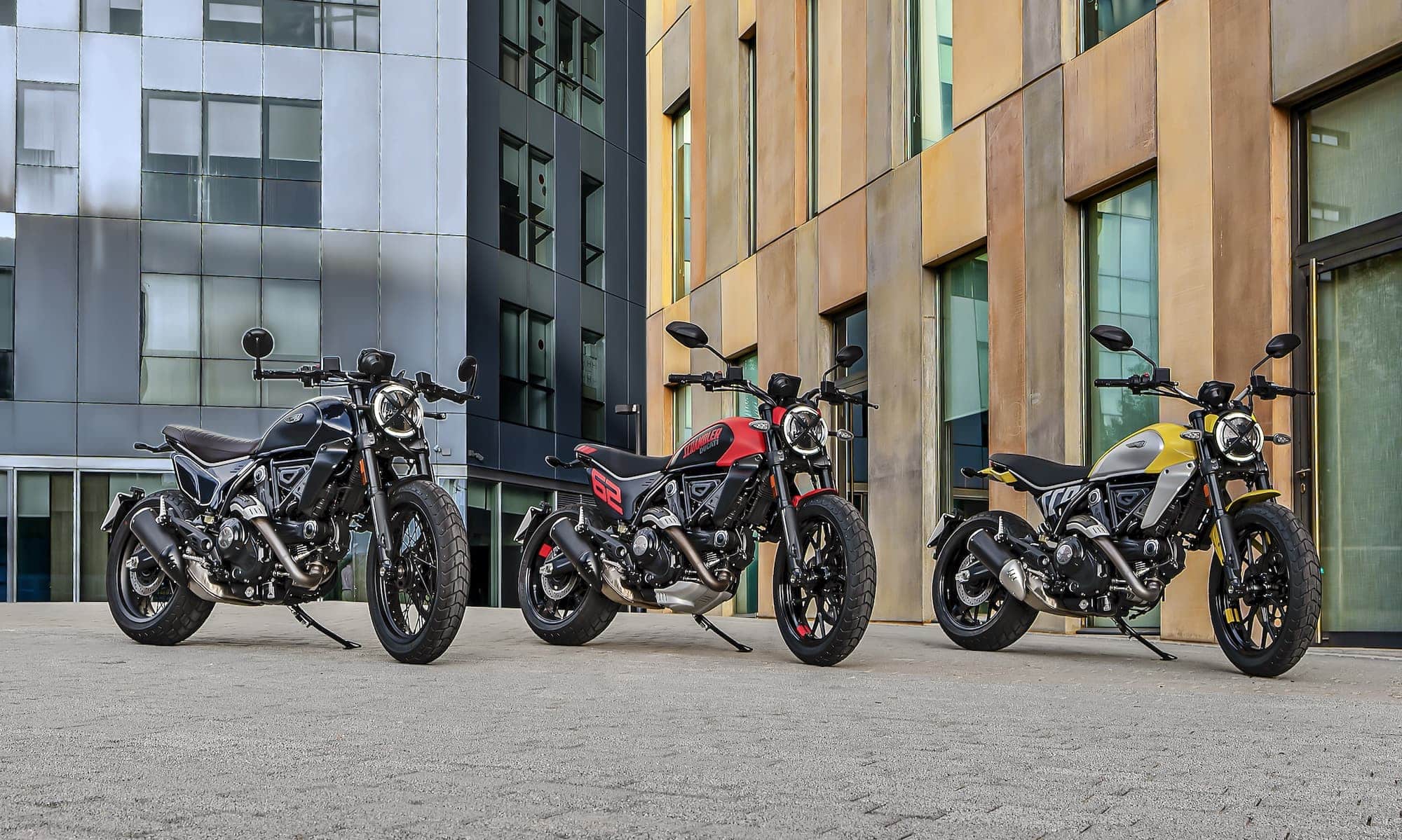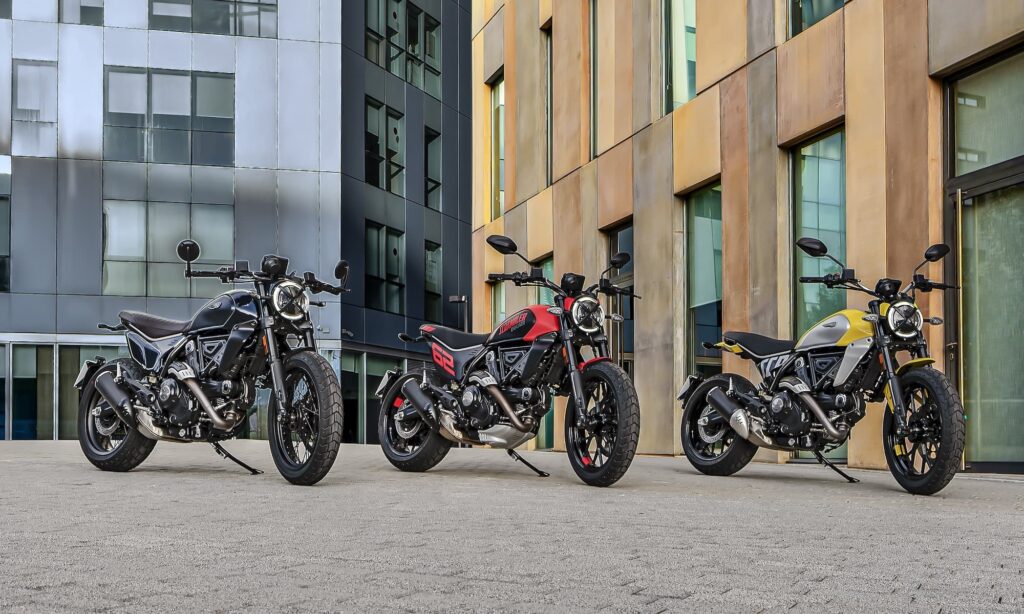 Are you obsessed with motorcycles?
Well, I am. That's why I created this site — as an outlet. I love learning and sharing what others might find useful. If you like what you read here, and you're a fraction as obsessed as I am, you might like to know when I've published more. (Check the latest for an idea of what you'll see.)
Context for the Ducati Scrambler
It's a little instructive to think about the conditions that led up to the launch of the Ducati Scrambler.
Firstly, I'm not in Ducati's corporate strategy team. But I can still look at the market circumstances leading up to the launch to see the major inputs.
(By the way, if you're reading this in Ducati HQ, I'm available to consult on corporate strategy… and you can pay me in motorcycles!)
I think the three things that led to Ducati launching the Scrambler were:
Firstly, Ducati needed a new "entry-level" product line as the Ducati Monster line had matured and evolved – it was no longer the cool new kid on the block. By the time of the Scrambler's launch, the Monsters (both big and small) were all powered by liquid-cooled engines with four valves per cylinder, and not as appealing to the casual first motorcycle buyer.
In the 2010s, motorcycle brands were facing a problem of a generally aging buyer population. Young people aren't buying bikes anymore, the data and companies were complaining! They needed to do something new. The answer for a few brands was simple, cool, and attractive entry-level bikes, like the Ducati Scrambler.
Secondly, there was a perfectly good air/oil-cooled motor that had been used in various Ducati Monsters and even a Hypermotard that was not being used much anymore.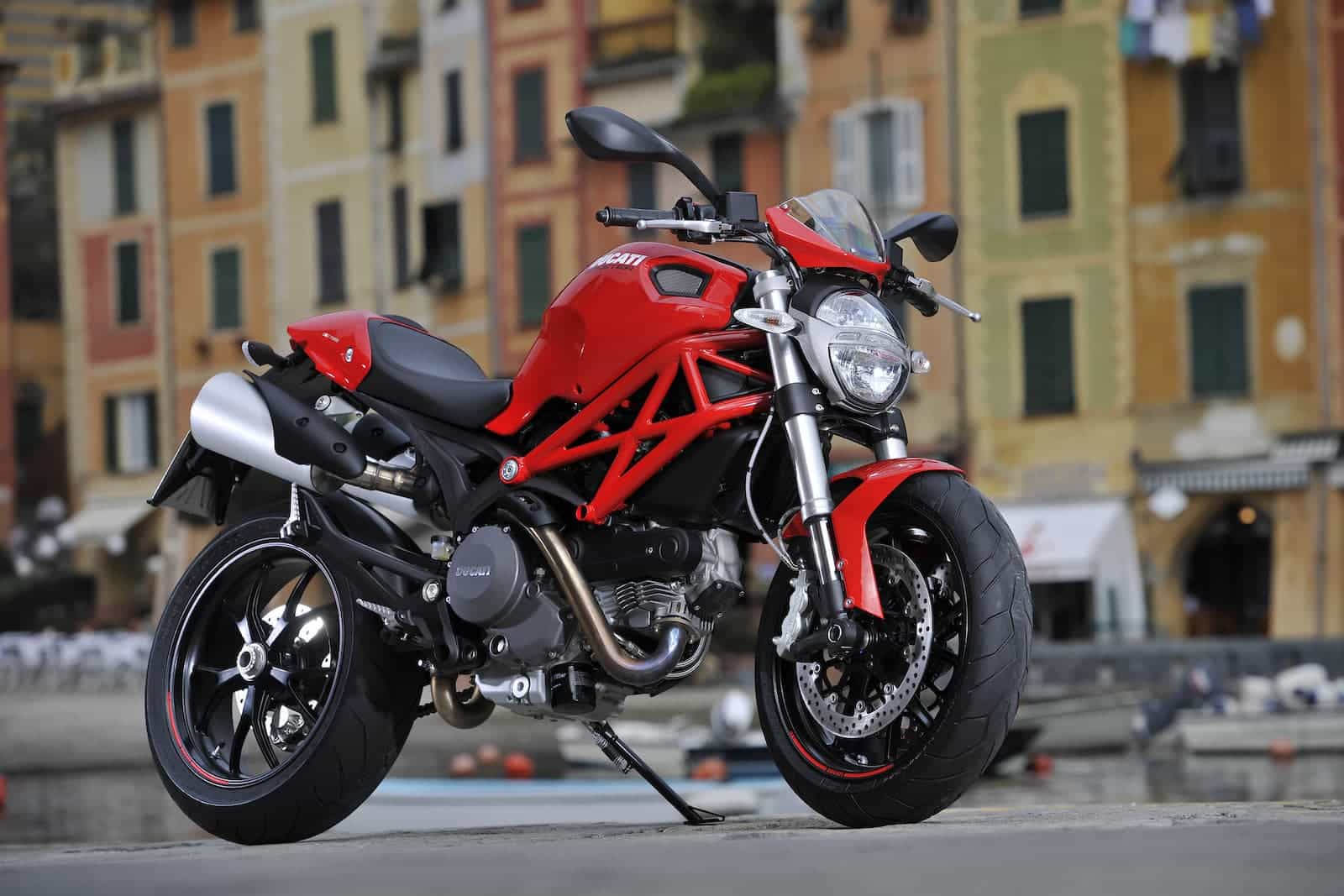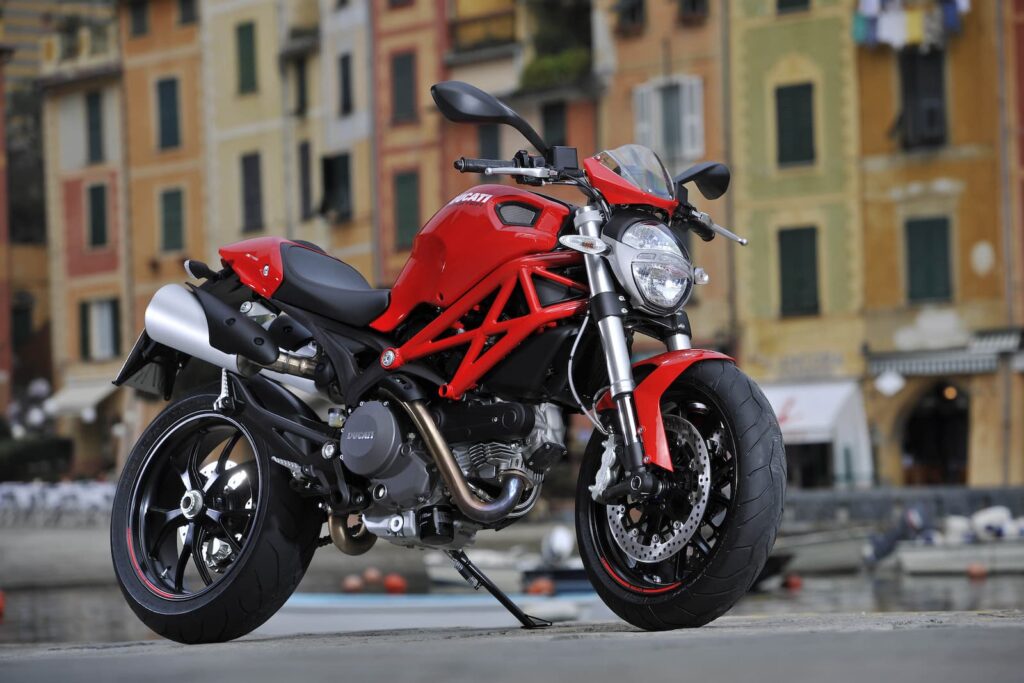 Thirdly, various brands had proven the value of the entry-level middleweight twin — the Kawasaki Ninja 650 / ER-6n and so on, the Suzuki SV650 (which had taken a brief and poorly-timed hiatus), and past Hondas. Yamaha had only just released the FZ-07 (now MT-07). These were all super popular bikes.
Finally, Ducati really picked good branding with the "Scrambler" name. It's very evocative, and captures a feeling of a scrappy machine that could potentially do anything. (Not really anything. But potentially!)
The main other brand that had been selling a motorcycle named a "Scrambler" for a while was Triumph. They launched the original Triumph Scrambler in 2006, also using an air/oil-cooled engine (these days liquid-cooled). It was/is really popular, and a really great, simple bike.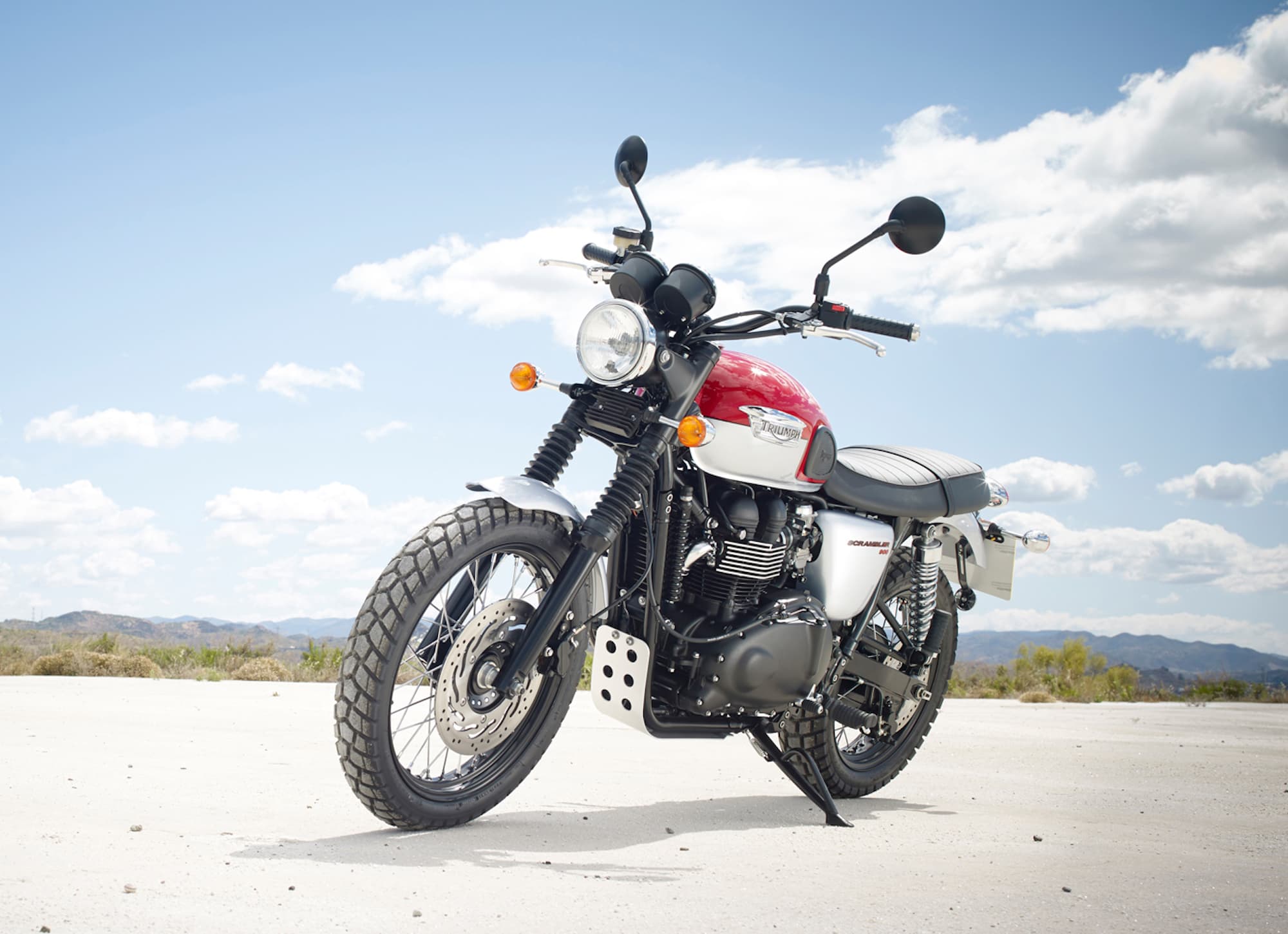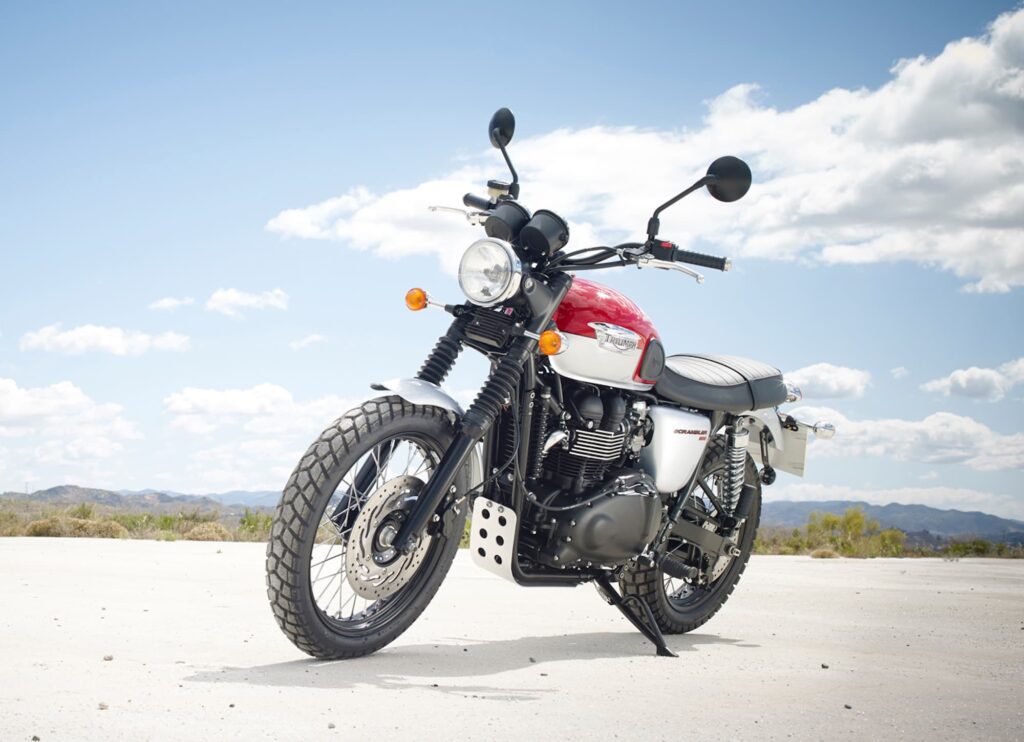 Like the Ducati Scrambler, the Triumph Scrambler is more a branding exercise than an actual off-road bike. Everyone knows this, though of course some people take them on dirt roads and beaches anyway, because they look cool! More about the Triumph Scrambler in this buyer's guide.
Anyway, Ducati announced the Scrambler in 2014 at EICMA. It won the popular vote for most beautiful bike.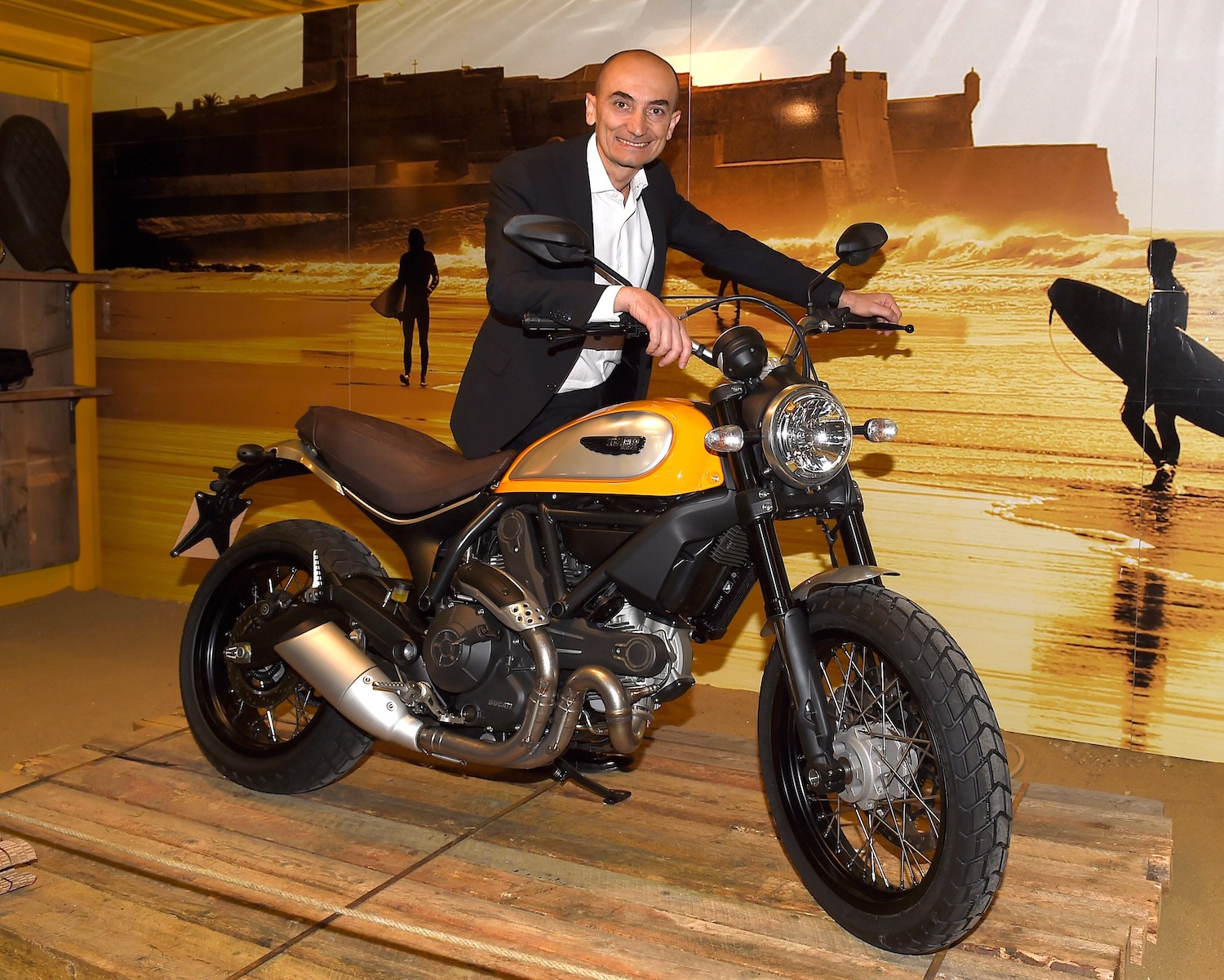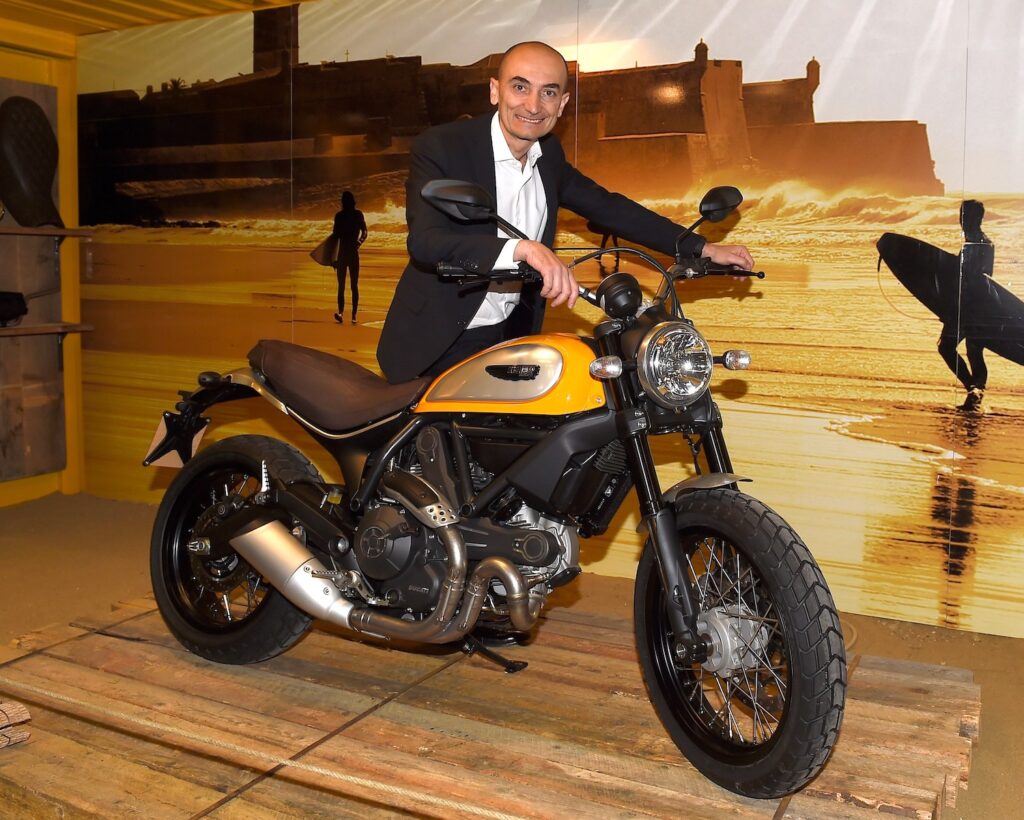 More about that in that article on EICMA winners, but essentially this is a vote run by an Italian magazine, Motociclismo, with most votes from Italians. The winners (to date) have all been either from MV Agusta or Ducati (two Italian brands), so it's definitely biased in favour of Italian brands. But still, Italian brand motorcycles are usually pretty-good looking, and the Scrambler does look good.
The thing is, the runner up that year was the MV Agusta Brutale Dragster RR which is a pretty kick-ass bike, so I have no idea how that happened. (See the pics in that article.)
Since Ducati launched the Scrambler, other brands have launched similar bikes, whether back-to-basics heritage motorcycles, other middleweight street bikes, or even one more big-brand Scrambler (the BMW R nineT Scrambler, more of a competitor to the Ducati Scrambler 1100). Yamaha also sold the SCR950 for a while, based on the Bolt platform.
And other motorcycles have been Scramblers without using the branding, like the Husqvarna Svartpilen 401. So Ducati captured a zeitgeist.
About the Engine in the Ducati Scrambler
The motor of the Ducati Scrambler is an air/oil-cooled 803cc L-twin with 2 valves per cylinder, belt-driven cams, and Desmodromic timing.
If you're fairly new to motorcycles or Ducatis, all that might be a mouthful and make you run for the hills (or an electric motorcycle).
Here's what it all means in simple terms.
Air/oil-cooled: This means it's basically air-cooled, but also uses the engine's oil lubricant to cool as well. There's an oil cooler out the front to dissipate heat from the oil. But there's no liquid coolant. Most modern motorcycles are liquid-cooled, which helps them make more power and need less service, but it's at a cost to heritage and simplicity. See here for more about air cooling vs liquid cooling.
L-twin: This is what Ducati calls its V-twins that lean forwards, unlike a Harley-Davidson (for example) V-twin that sits upright.
Two valves per cylinder: This means each cylinder has one inlet valve and one exhaust valve. This is an old-fashioned design. More recently, most motorcycles have four valves per cylinder, which lets tuners fine-tune how air is delivered and exhaust is removed, optimising for high-end power.
Belt-driven valves: This means that there are belts that go between the crankshaft and camshafts to turn the cams (and thus open and close the valves). This is an old Ducati design. The only downside is you have to replace the belts every two years.
Desmodromic timing: A.k.a. the "Desmodue" engine. More on this below.
A bit more about "Desmodromic" timing
There's a lot of mystique and intrigue about Desmodromic timing. In a nutshell, it means that the valves are opened by cams but also — unlike most motorcycles — closed by cams. Most motorcycles let valves close by return springs.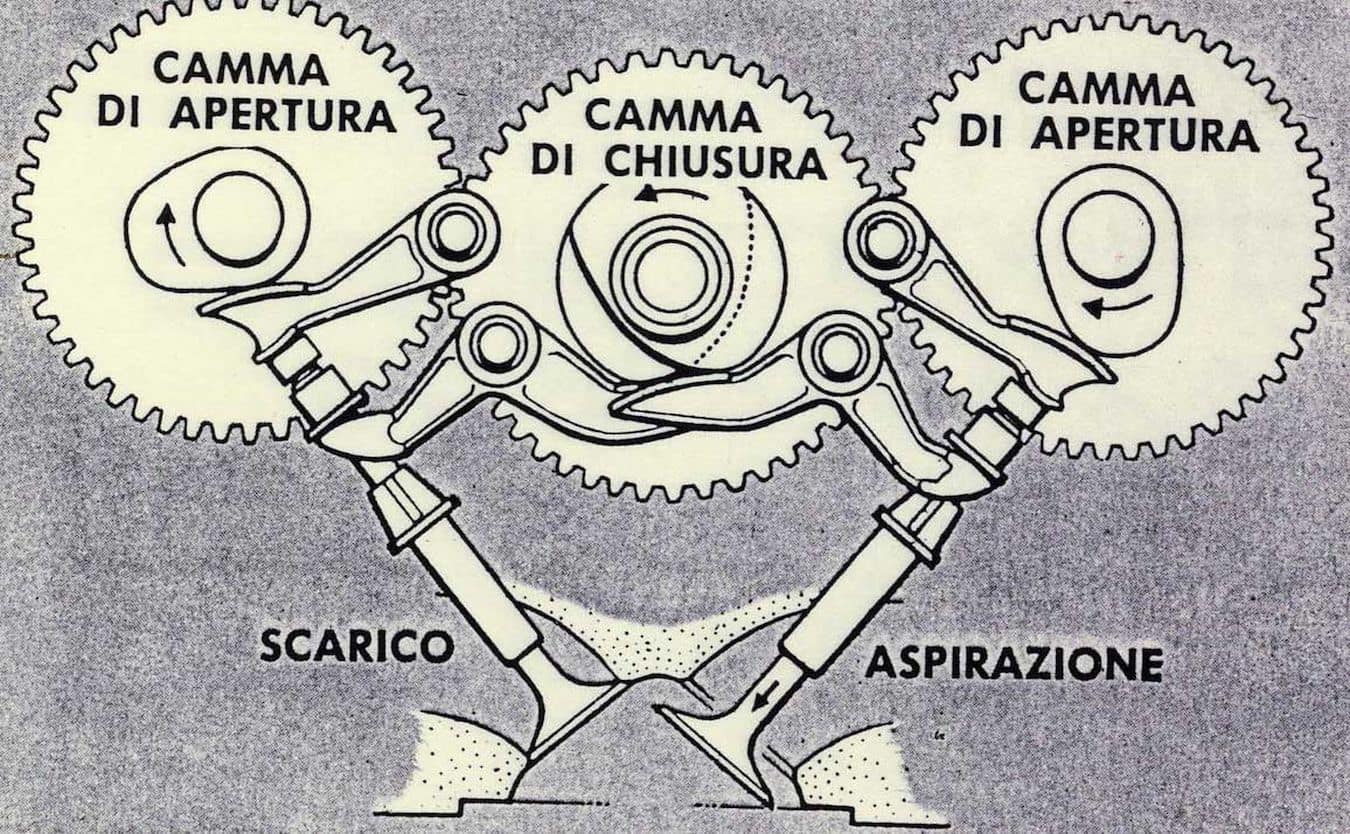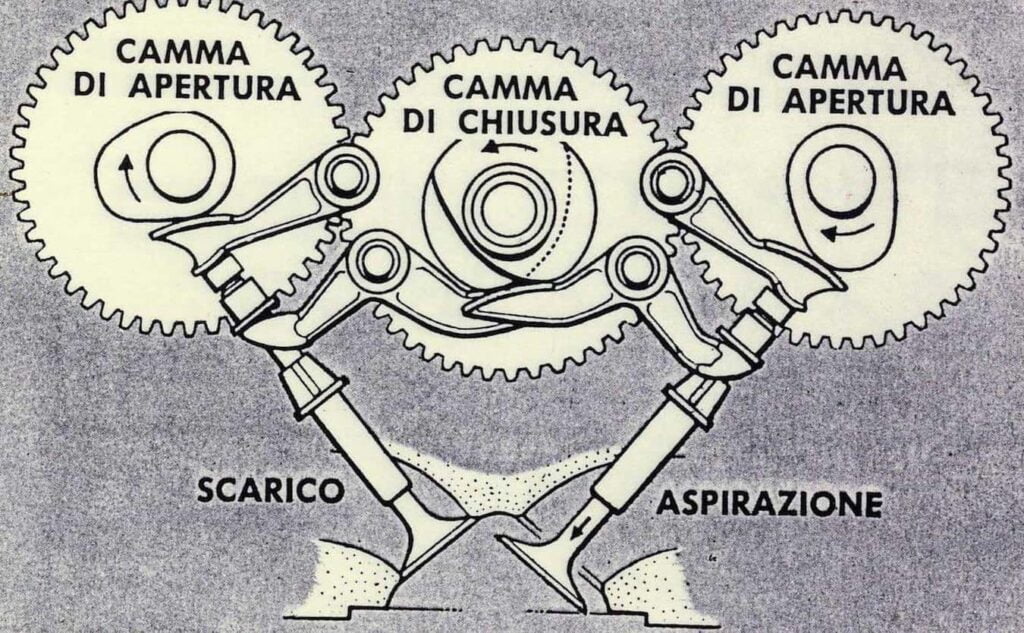 The reason for this is historic. In the past, springs just couldn't go fast enough. So to let a valve train rev up quickly, Ducati opted to have a cam manually close the valves. Nobody was going to wait around for a spring to do its thing!
These days, it's beginning to be an old-fashioned design. Valves are easily fast enough at closing valves. See for example the huge number of sport motorcycles that rev up to 15000 rpm and beyond.. Even Ducati is moving away from Desmodromic timing, like in the V4 Granturismo engine in the Multistrada V4 and the Ducati Diavel V4.
See more about desmodromic timing systems here.
Because the motor in the Scrambler is air/oil-cooled, it tends to need more frequent servicing than more modern liquid-cooled motors. Valve clearance check intervals are every 7500 miles or 12000 km, which is quite often (once a year for many riders… or more, if you commute!).
Because the interval check is tricky — there are eight clearances to check, and access to the rear cylinder head is not too easy — it is usually more expensive than servicing other similar motorcycles. Luckily the Scrambler is an easy bike to work on, but still, you should be prepared to spend more on servicing the Ducati Scrambler than, say, a Yamaha MT-07.
Finally, it's cool to look at all the historic motors that the Ducati Scrambler's 800 cc motor has been in.
Ducati Monster 800 — one of the original Monster line (though with fuel injection), with a trellis frame
Ducati Monster S2R 800 — with a pretty single-sided swing-arm and up-swept exhausts
Ducati Hypermotard 796 — one of the original bad-boy motards, though this one's not as popular as the raucous 1100.
Ducati Monster 796 — one of the best-looking small Monsters, with an exposed rear wheel and under-seat exhausts.
Ducati Monster 797 — a heritage model that was co-sold with the Scrambler for a couple of years.
In some of these bikes the 803cc engine had a slightly more aggressive tune, but we're just talking a few horsepower. None of these were what you'd call powerful motorcycles.
Base specs of the Ducati Scrambler
While there are many different versions of the Scrambler, they all share the same fundamental specs. I'll mention these below along with some notes.
Part
Spec
Engine type
Air/oil-cooled L-twin, Desmodromic valves, 2 valves per cylinder, belt-driven cams
(See above for more about this engine design)
Displacement
803 cc
Bore / Stroke (mm)
88 x 66 mm
Compression ratio
11:1
Moderately sporty for an air/oil-cooled twin — the higher this figure is, the higher the efficiency and peak power of the engine, but the better cooling it needs
Peak power
54-55 kW (74-75 hp) @ 8250 rpm
Peak power dropped by a small amount over model generations with emissions changes
Peak torque
68 Nm (50 lb-ft) @ 5750 rpm
Peak torque dropped slightly and moved up the rev range with emissions changes
Front suspension
KYB 41mm USD, non-adjustable, 150mm stroke
Desert Sled has longer-stroke, fully-adjustable suspension
Rear shock
KYB rear shock, preload adjustable, 150mm stroke
Front brake
330 mm disc, radial Brembo M4.32 caliper
Good-spec caliper, but just one of them — though it's enough. See here about brake calipers specs.
Base specs common to all Ducati Scrambler 800 models
Ducati Scrambler Generations
Generally, there have been three generations of Ducati Scrambler:
Gen 1: 2015-2018. The original! Spawned a bunch of sub-models.
Gen 2: 2019-2022. Got cornering ABS and a hydraulic slipper clutch. These are some premium components.
Gen 3: 2023+. Same but with a TFT and even an optional quick shifter (standard on some versions). Now it's quite a premium bike.
| Years | 2015-2018 | 2019-2022 | 2023+ |
| --- | --- | --- | --- |
| Peak power | 55 kW / 75 hp @ 8250 rpm | 54 kW / 73 hp @ 8250 rpm | 54 kW / 73 hp @ 8250 rpm |
| Peak torque | 68 Nm / 50 lb-ft @ 5750 rpm | 67 Nm / 49 lb-ft @ 5750 rpm | 65 Nm / 48 lb-ft @ 7000 rpm |
| Clutch type | Cable-operated slipper | Hydraulic slipper clutch | Hydraulic slipper clutch |
| Ride aids | ABS | Cornering ABS | Cornering ABS, TC, ride modes, optional quickshifter |
| Lighting | LED rear light, "light guide" at front | LED DRL, rear light, turn signals | Full LED |
| Display | LCD | LCD | 4.3-inch TFT |
Ducati Scrambler 800 model evolution
The TFT is quite good on the modern Scrambler. Ducati has done TFTs nicely (in my opinion the best, equal with BMW) for a long time.
Two things to think about when buying an "older" Scrambler:
Never mind the specs; the power is very similar on all the bikes. Functionally the same. Some time on a dyno at your local shop should help iron out any kinks, anyway.
Cornering ABS on the 2019 model is a VERY cool thing to have on a middleweight bike. It's almost unique in the class (the Aprilia Tuono 660, a decidedly sportier bike, also has it).
If you're thinking of a 2019+ model, that'd be an excellent way to save a few Gs. And if you're desperate for a quick shifter, they're available as aftermarket kits anyway for a few hundred bucks from any bike from 2015 onward.
Performance / Top Speed: Is the Ducati Scrambler Fast?
Yes, the Ducati Scrambler is fast. No, the Ducati Scrambler isn't the fastest bike. But yes, it's still quick… unless you're comparing it to something / someone quicker.
Off the lights, you'll go "whee!" and struggle to keep the wheel down in lower gears as you row through the first few. Of course, the literbike next to you will redline sometime after you've shifted into third, so next to a bike like that… well, why are you competing?
People tend to confuse power, torque, thrust, and top speed, and over-simplify things. So, it's easiest to state facts in top speed, 0-60 (or 0-100 km/h) times, and so on, like we've been doing for decades.
Because on paper, the Ducati Scrambler doesn't seem fast. It's sub-75 hp and weighs as much as any middleweight standard bike. But it's not slow. You'll zip up to the beginning) freeway speeds as quickly as any high-power bike, and they'll only beat you if a) they're trying and b) they're quite good at shifting and keeping the nose down (or they have a quick shifter and wheelie control).
In terms of gearing — the Ducati Scrambler is geared so that you'll get a significant pull-back on the bars in first gear, like any sport bike in the peak of its power band. This is a far cry from an intentionally small and low-powered bike, like a learner bike.
You can power wheelie the Ducati Scrambler in first, even unintentionally if you're coming from a smaller motorcycle. Using a clutch isn't necessary (though of course helps make it smoother).
From second gear onward you won't get power wheelies as easily though you can do it if you're being intentional with body positioning or revs and clutch.
Of course, you'll shift earlier than a sport bike. To get to 60 mph you'll be either redlining it in second gear or have shifted into third.
On the highway, you'll be around the 5-6000 rpm point when on the highway in top gear, depending on your speed (closer to 5000 rpm if you're riding at 65 mph / 110 km/h, or 6000 rpm if you ride around 80 mph / 130 km/h). This is a little "high" for some people, but the nice thing is that the Scrambler isn't buzzy at these speeds — just pleasantly vibey (that's subjective, but others say the same thing).
In terms of all-round prowess — I have friends who ride Ducati Scramblers who run rings around me when I'm on much "faster" bikes. We all have friends like that riding something. Basically, it's a very capable bike, and if you want to hone your skills on a middleweight, it's a great choice.
In terms of top speed — The Ducati Scrambler isn't a high-speed bike! Over 80 mph / 130 km/h, I personally find the Ducati Scrambler (and anything like it) quite tiresome after more than about 15 minutes. Others have even lower thresholds. Unless I lean forwards, my neck hurts. (And no, while I'm no quarterback, I do not have a weak neck! But I suppose I am getting on in years…)
It's pretty easy to fling the Scrambler up to 100 mph / 160 km/h if you want to. But if you want to prove something, the Ducati Scrambler will do 120 mph / 200 km/h without too much fuss — see this video on YouTube by a French vlogger on the Autobahn for example. Beyond that, acceleration slows, but I'm sure you expected that. Sustaining that speed would be a chore.
If you want to keep at that high speed, a sport tourer would be more your cup of tea, for a real fairing that you can also stay comfortable behind. (Even sport bikes, with a short fairing, aren't that much fun for sustained high-speed runs.)
Model variants for the Ducati Scrambler
Ducati has released lots of model variants of the Ducati Scrambler.
They're all good in some way, but most of them are very minor styling changes over the base model.
I'll give a bit more detail on some of the variants below. Notes:
Specs not mentioned below (e.g., engine, brakes) are the same across all models.
I'll mention the Sixty2 separately as it's quite different.
Spec
Icon / Classic
Urban Enduro
Full Throttle
Flat Track Pro
Café racer
Desert Sled
Urban Motard
Nightshift
Handlebar
Standard
Standard
Low
Low, tapered
Clip-on (bar-end mirrors)
Standard, with cross-strut
Standard
Narrow, low mirrors
Wheels
Spoked
Spoked
Alloy
Alloy, yellow piping
Alloy
Spoked
Spoked
Spoked
Tires
Pirelli MT 60
Pirelli MT 60
Pirelli MT 60
Pirelli MT 60
Pirelli Diablo Rosso II/III
Pirelli Scorpion Rally STR
Pirelli Diablo Rosso III
Pirelli MT 60
Front tire size
110/80 R18
110/80 R18
110/80 R18
110/80 R18
120/70 ZR17
120/70 R19
120/70 R17
110/80 R18
Rear tire size
180/55 R17
180/55 R17
180/55 R17
180/55 R17
180/55 ZR17
170/60 R17
180/55 R17
180/55 R17
Silencer
Standard
Standard
Termignoni
Termignoni
Termignoni
Standard
Standard
Standard
Front guard
Standard
High
Short
Short
Short
High
High
Short
Offroad protection (headlamp grill, sump guard)
No
No
Yes
No
No
Yes
No
No
Other things
Quick shifter (2023+)
Billet aluminium details
Front radial master cylinder
* Higher-spec suspension
* Can de-activate ABS
Spec differences
There are a few other very similar incarnations of these motorcycles:
Desert Sled Fasthouse — a limited run of the Desert Sled made in collaboration with the Fasthouse fashion brand.
Mach 2.0 — a special paint edition of a standard Icon
Street Classic — Similar to Mach 2.0, a different styled basic Icon
Below are images of the Ducati Scramblers (well, most of them… there are just so many). I'll mention some of the technical differences below, where applicable.
Ducati Scrambler Café Racer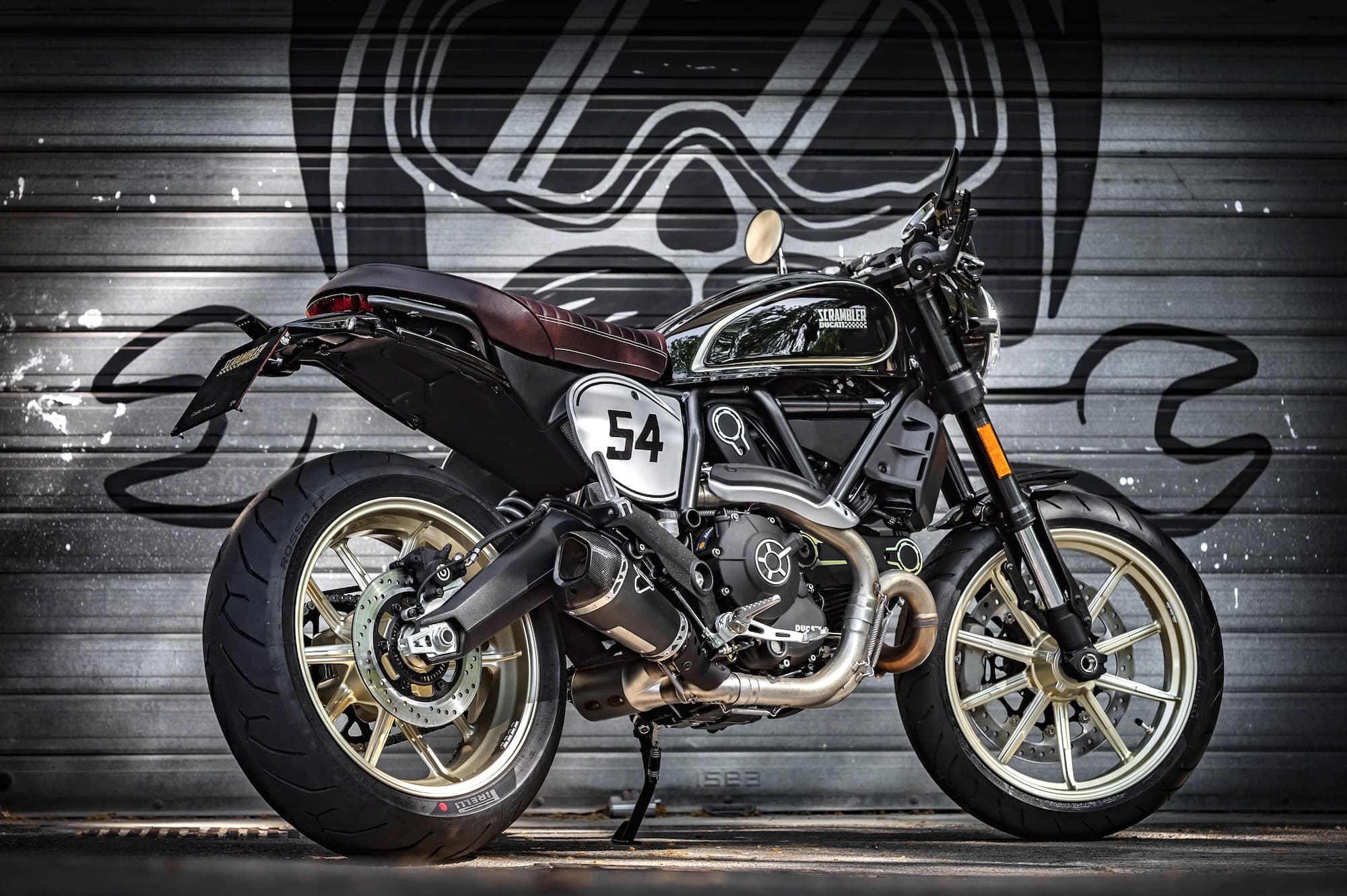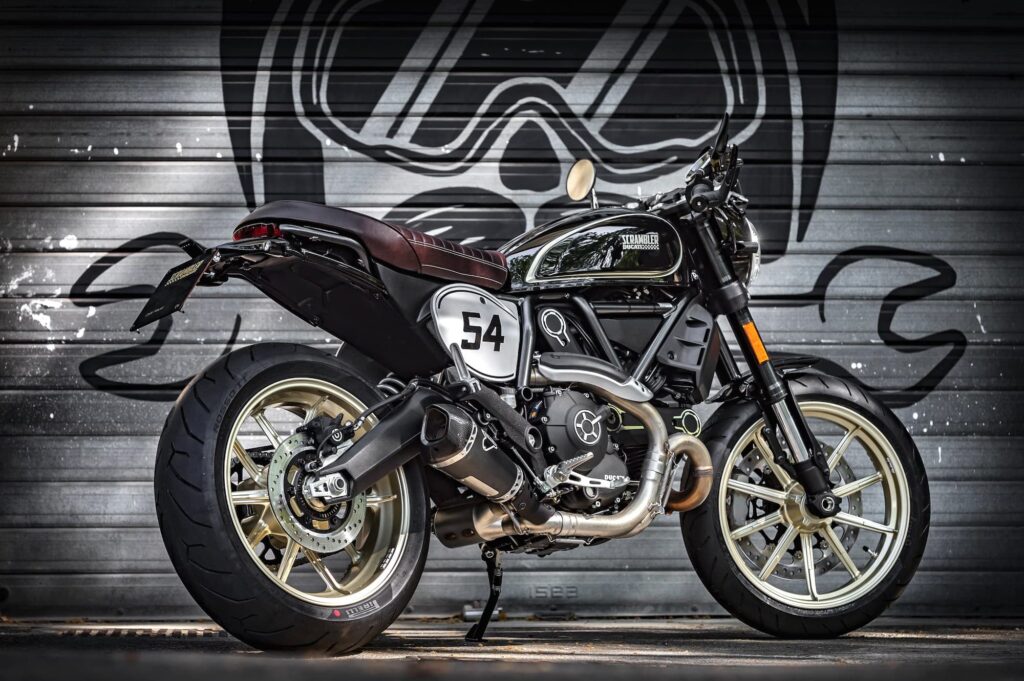 The Ducati Scrambler Café Racer looks cool, but don't get too excited actually racing to cafés any more quickly. It's mostly a styling call-back to the times when stripped down bikes were meant to go fast, with low bars, bar-end mirrors, and a number on the side which can be any number you like, as long as it's 54.
And while the Ducati Scrambler Café Racer isn't slow per se — it'll do 120 mph / 200 km/h if you're really keen (just like any other Ducati Scrambler) — it's not a sport bike.
Essentially though, the Café Racer is just an aesthetic build — clip-on handlebars, a Termignoni exhaust (that's largely aesthetic), sporty tire profile, and… that's it. It still has a non-adjustable fork, a single brake disc, and the engine is of course in the same tune.
Ducati Scrambler Desert Sled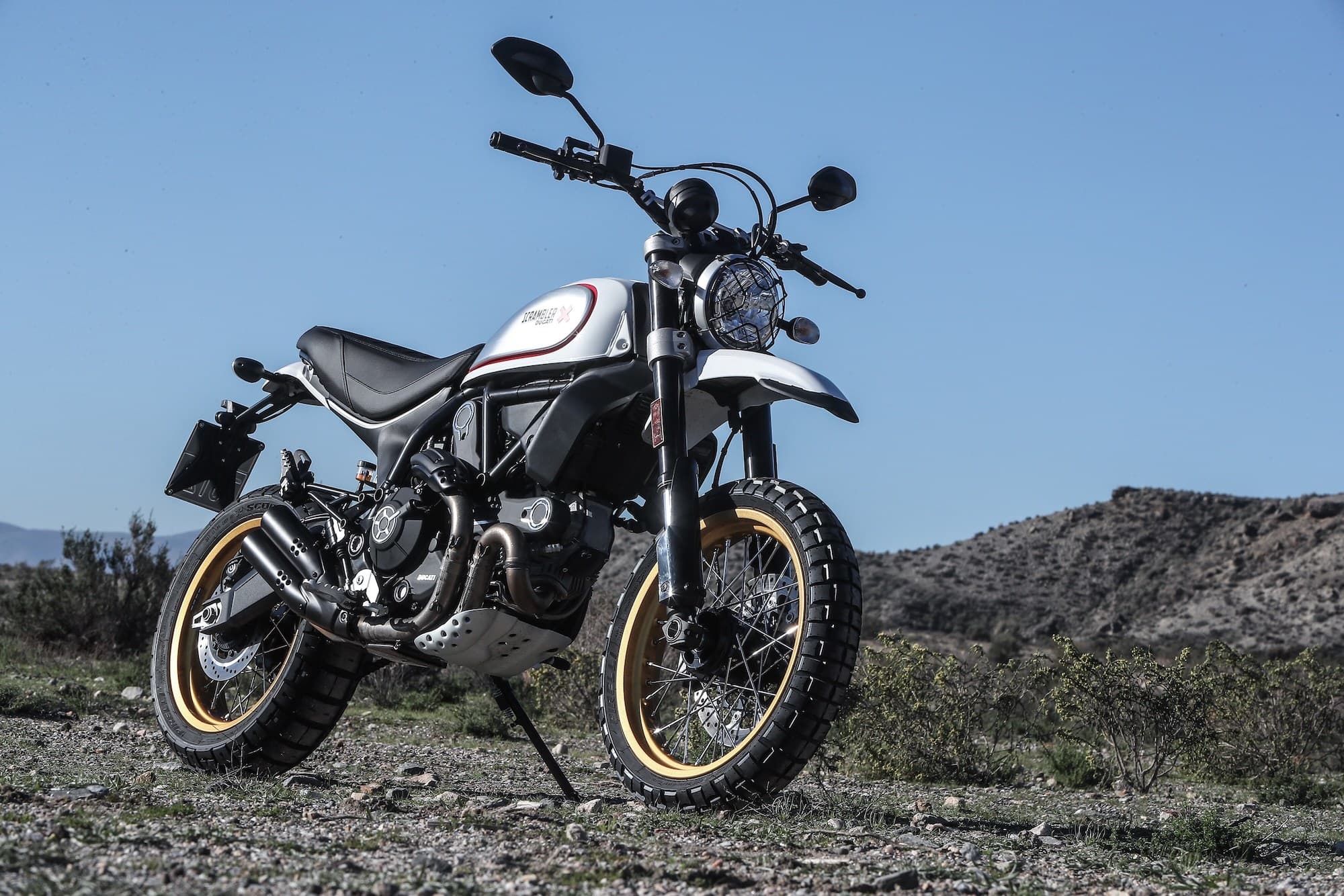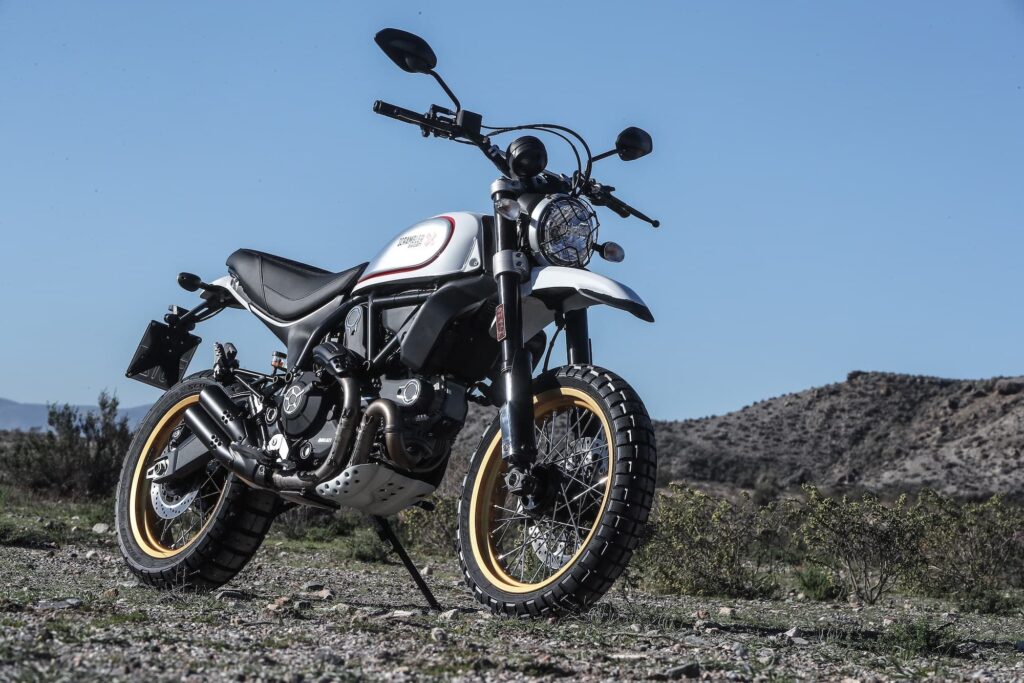 The Ducati Scrambler Desert Sled is a tempting proposition because it looks more fit for purpose than most of the Scrambler range for actually climbing over rocky surfaces.
It does go further — it has some protection (fork guards, a headlight grille, and small sump guard), 200mm of fork travel (50mm or two inches more than the base model), and some knobby tires. The front fork is also higher spec, fully adjustable for preload, rebound damping, and compression damping, whereas the shock is also rebound damping adjustable (but not compression damping adjustable). This lets you set the Scrambler Desert Sled up for a variety of terrain types.
People definitely do use these for off-road adventuring. And if it's a bike you like, and feel comfortable scratching up, then you should!
I just want to highlight that if off-road adventuring is your primary purpose, and you could get any bike you want, then the Desert Sled is not ideal. There are any number of things one could say, and it depends on how you travel, but anything from ground clearance, weight (it's light, but even an MT-07 is lighter), suspension travel (it's still not very much), the lack of liquid cooling on a sporty bike (it'll get hot), or frequent valve service requirements make it a non-optimal bike for travel. If travel is your #1 priority, then Ducati's new DesertX might be your ticket.
If, however, you like the Scrambler and enjoy doing things in a simple, slightly different way, then the Scrambler is by no means a bad choice — and might suit your personality better than something very intentionally made for off-road work (which can be boring — why do things the easy way?)
Ducati Scrambler Full Throttle
The Ducati Scrambler Full Throttle has a few up-spec components on it. It has a Termignoni exhaust, a short front guard, and in 2023 gains a sump guard and a standard (rather than optional) quick shifter. It also has a few styling touches around and its own colour scheme. It always comes in a black background, so bring a flashlight if you want to actually see it.
Ducati Scrambler Nightshift
I really like the Ducati Scrambler Nightshift. Lower bars, bar-end mirrors (as annoying as they are for lane splitting… they do look cool), polished headers. It's not trying as hard as the Café Racer, but it captures the zeitgeist of what people like in a standard everyday bike.
Ducati Scrambler Sixty2 — The Sub-400cc Scrambler
For a few years, Ducati sold the Ducati Scrambler Sixty2, a 400-cc version of the Ducati Scrambler.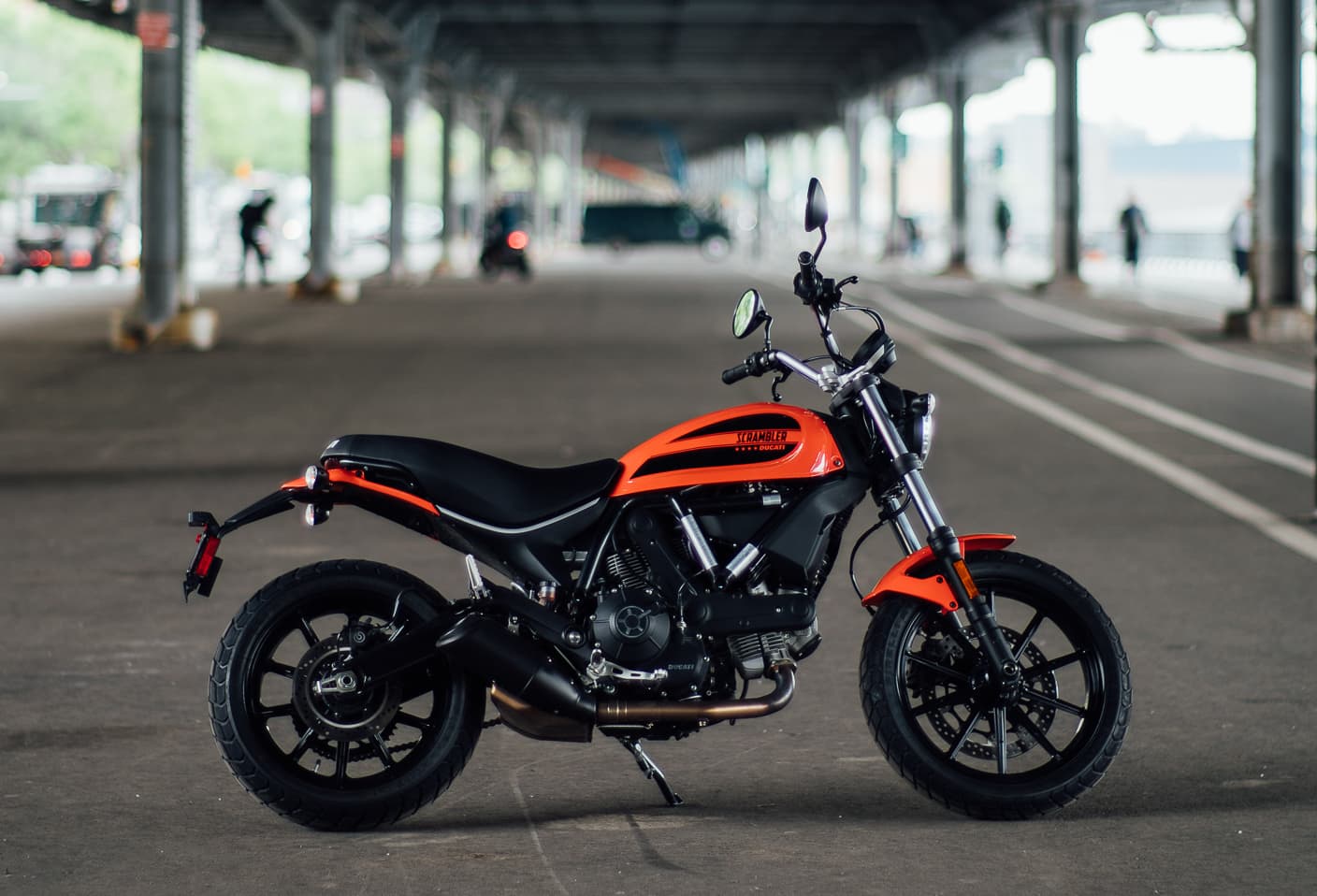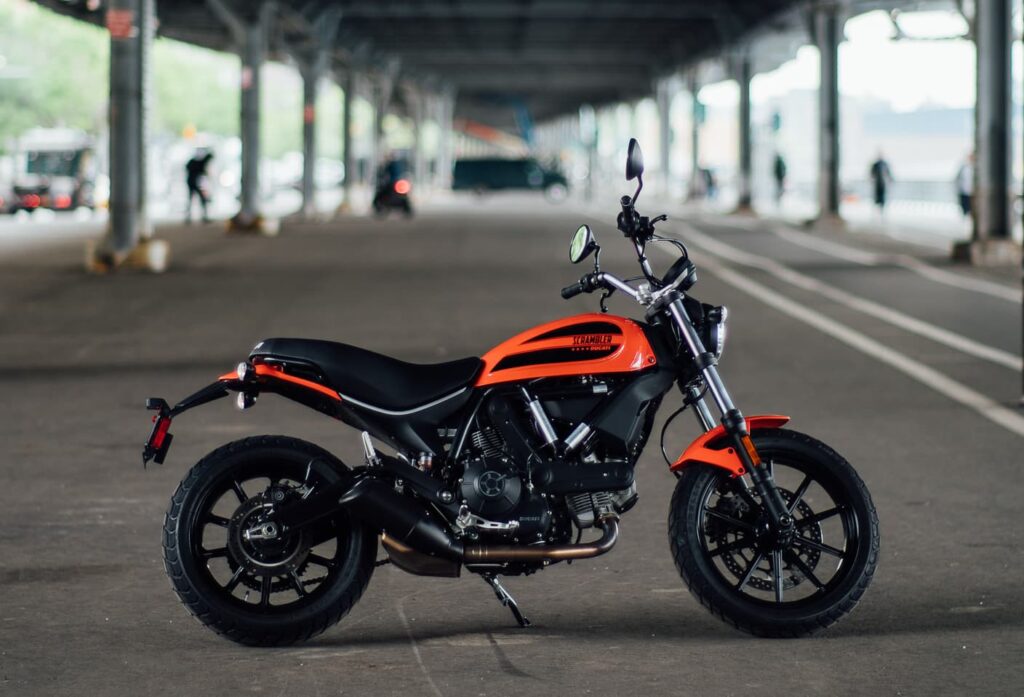 The Scrambler Sixty2 looks a lot like a base-model Scrambler Icon.
What they have in common is the same general concept, engine design (a Desmodue L-twin), and even weight, roughly — the Sixty2 is 3 kg / 7 lb lighter, but it's unlikely you'll notice.
But the engine in the Sixty2 is a lot smaller and less powerful, thanks to being sleeved and having a shorter stroke to boot, and the rest of the bike is lower-spec to match.
Spec
Standard
Sixty2
Notes
Displacement
803 cc
399 cc
Half the displacement
Bore x Stroke (mm)
88 x 66
72 x 49
Based on the same engine, but shorter bore AND stroke
Peak power
55 kW (75 hp) @ 8250 rpm
30 kW (41 hp) @ 8750 rpm
Drop in power, but comfortably A2 / LAMS-legal
Peak torque
68 Nm (50 lb-ft) @ 7750 rpm
34.3 Nm (25.5 lb-ft) @ 8000 rpm
Rear tire size
180/55 R17
160/60 R17
Thinner, smaller rear tire
Gearing
Primary drive: 1.85:1
Final drive: 15:46
Primary drive: 2.28:1
Final drive ratio: 15:48
Internal gears are the same.
Front fork
Showa 41mm USD, non-adjustable
Showa 41mm conventional, non-adjustable
A conventional (non-inverted) fork is a slight handling compromise
See front fork guide
Front brake
330mm disc, 4-piston Brembo caliper
320 mm disc, Brembo 2-piston floating caliper
Significantly lower spec braking
See front brake spec guide
Ducati Scrambler Standard vs Sixty2
The combination of the tire diameter and gearing changes means that you need to rev the Sixty2 more to get to the same speed. But that's necessary to maintain some forward thrust from the lower-torque engine and quick acceleration in everyday riding. It's still not as quick — the Sixty2 feels about 1/3 slower.
I once asked a dealer in the US if I should get a Sixty2 and save a couple of grand and get a simpler, lighter bike, just to blast about on. You can have a lot of fun with 400 cc, after all!
But the dealer, knowing I had ridden for a while at that point, actually talked me out of it, saying that the regular full-size Scrambler 800 was more powerful but still not that powerful, wasn't much more expensive ($1000 in US smackeroos), and would be much easier to resell.
So I got the impression that unless you have a legal requirement to get a smaller bike (e.g. learner licensing or registration restrictions / costs), for most people the larger Scrambler would make more sense.
Ducati also briefly sold the Ducati Scrambler #Hashtag (yes, that's how it's written), an unapologetic grab at the TikTok market. It's the same basic bike.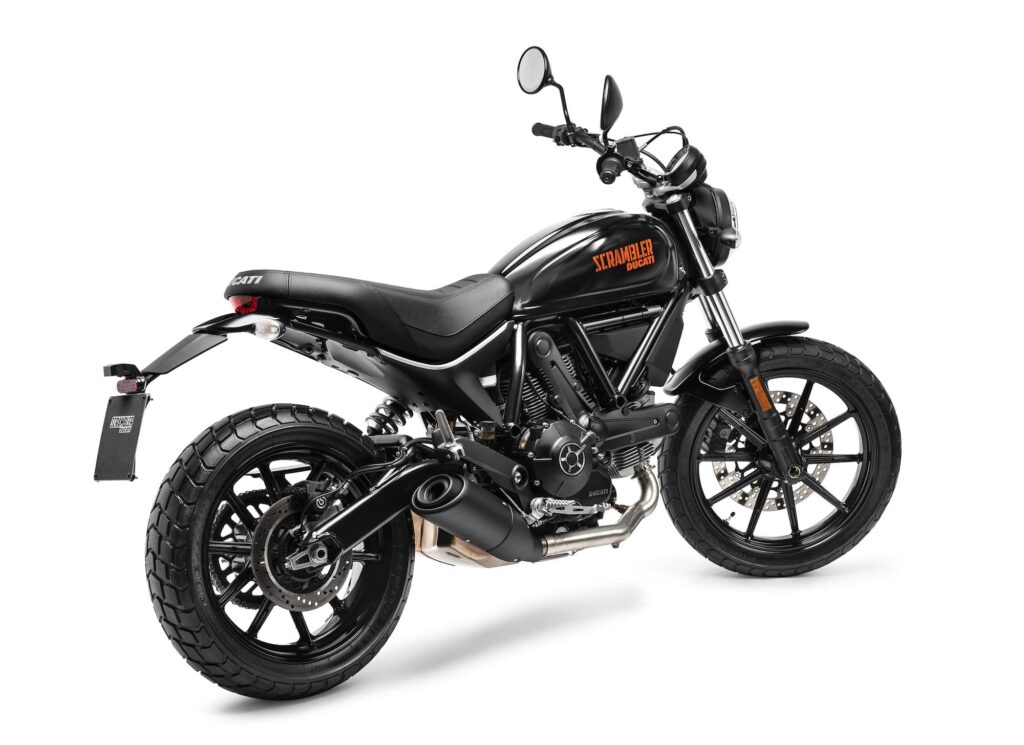 Ducati Scrambler 800 vs 1100: The Scramblier Scrambler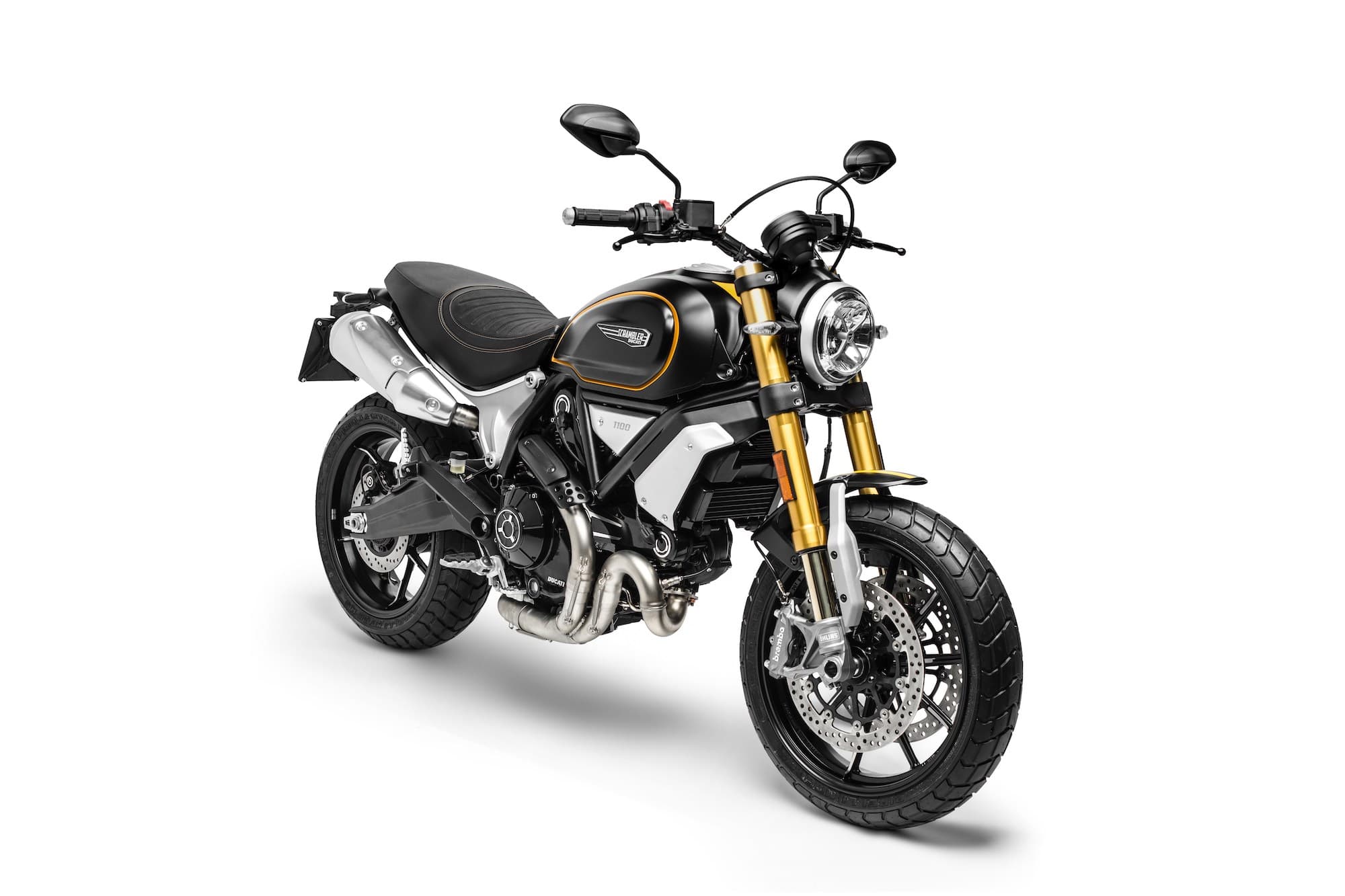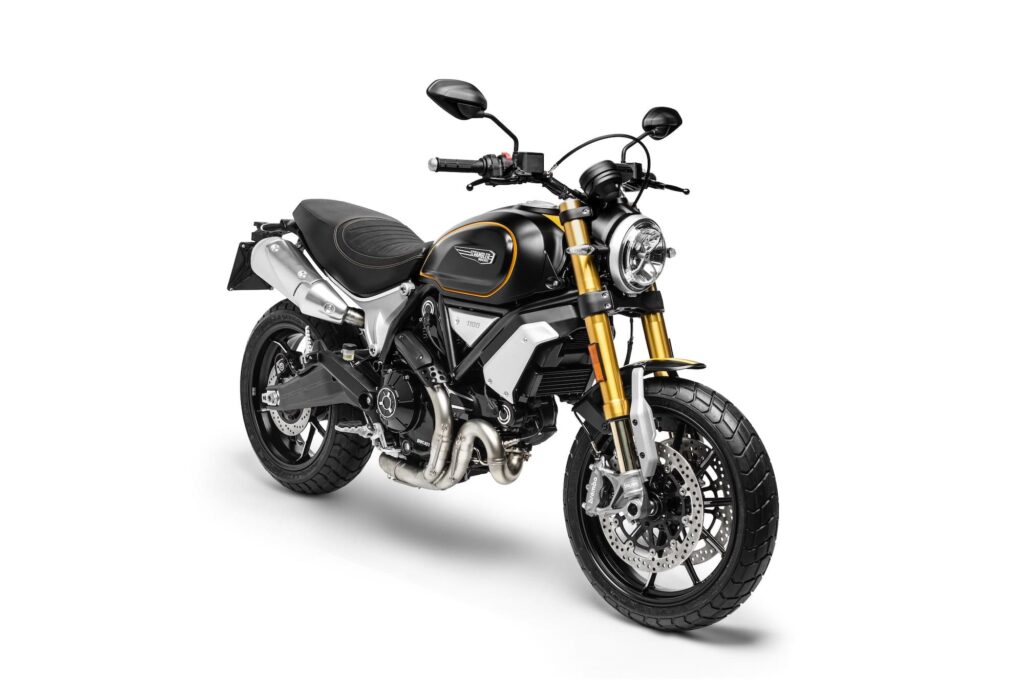 Anyone considering dropping coin on a new Ducati Scrambler is inevitably going to consider the Scrambler 1100. I mean, it's right there, and it's 300 more Scrambler, right? Kind of…
Like the Scrambler (800), the Ducati Scrambler 1100 is a "heritage" motorcycle that's more a road bike than intended for off-road work. It comes in a few formats, none of which are even as off-road capable as the Scrambler.
Both the Ducati Scrambler 1100 and 800 are powered by the same style of engine — a "Desmodue" L-twin with air/oil-cooling and Desmodromic valves, two per cylinder, and belt-driven cams.
But the Ducati Scrambler 1100 has an undoubtedly bigger engine, producing not much more peak power but a ton more torque, especially down low, for a big hit of pull not far off idle.
On top of that, the Scrambler 1100 has fully adjustable forks (of various spec levels), higher-spec brakes, and while the basic Scrambler 1100 model weighs some 20 kg / 44 lb more than the Scrambler 800, the Scrambler 1100 pulls a lot more in the midrange.
| Model | Scrambler 800 (2023 spec, Icon) | Scrambler 1100 (2023 spec) | Comments |
| --- | --- | --- | --- |
| Peak torque | 68 Nm (50 lb-ft) @ 5750 rpm | 88 Nm / 65 lb-ft @ 4750 rpm | More torque, earlier on — a generally much fatter torque curve |
| Peak power | 54 kW (73 hp) @ 8250 rpm | 63 kW / 86 hp @ 7500 rpm | Only slightly more power |
| Weight (Wet) | 185 kg / 408 lb | 206 kg / 454 lb | Heavier, but still not very heavy. |
| Front suspension | KYB 41mm USD, 150mm stroke, non-adjustable | 45mm Marzocchi USD, fully adjustable. (Sport model has Öhlins.) | 1100 has much higher-spec suspension |
| Rear suspension | KYB rear shock, preload adjustable | KYB shock, preload and rebound adjustable | Similar spec level |
| Front brakes | Single 330 mm disc, Brembo M4-32 caliper | 2 x 320mm discs, radial Brembo M4-32 calipers | Braking on 1100 is much higher level |
Ducati Scrambler 800 vs 1100 specs
See the complete Ducati Scrambler 1100 buyer's guide.
There are some people who are always going to get the bigger bike and say it's more suitable for whatever: riding two-up, sustained higher-speed runs (probably with a windshield), or passing cars at high speed on a steep incline without shifting. Sure, you can always justify a Scrambler 1100.
Personally, I like the smaller bike better, but that's because I tend to not commute long distances on freeways, and I ride bikes like this on twistier roads where lightness is valuable. I had a similar reaction to riding bigger and smaller Triumph Bonneville T120 and T100 back-to-back. Bigger isn't always better for everyone / every situation!
Maintenance of the Ducati Scrambler
The maintenance intervals of the Ducati Scrambler are one area I think it falls over relative to the competition — even from within Ducati.
Because it has an old-school engine, it needs more frequent attention than most of its most obvious competitors.
The standard service interval for the Ducati Scrambler (all models) is every 7500 miles or 12000 km. At every service, you don't just change the oil and filter, you also have to inspect the valve clearances and check the belt tension.
Checking the valve clearances on the Ducati Scrambler means removing the tank and a few other bits, taking off the valve covers, and using feeler gauges to check if the clearances are in spec. In principle it's not hard… but it gets fiddlier when you have to change a shim (to adjust the clearance).
Ducati air/oil-cooled engine valves tend to need adjustments more often than on other motorcycles, which tend to settle in after a couple of major service cycles.
Because the Scrambler has a V-twin engine, access to the rear cylinder is a little harder than to the front one. Further, the Scrambler has a Desmodromic engine, which uses lobes to both open and close valves (rather than a lobe to open and a spring to close, like on most modern engines). This means that when one clearance is out of spec, the other one often is too.
Finally, people who work on Ducati engines tend to charge more. All of this means that the Scrambler valve service is more frequent and more expensive than on other bikes.
Compare this, for example, to competitors:
The Yamaha XSR700 has a 26600-mile service interval. It has just one cylinder head (a parallel twin engine), and the valves rarely go out of spec.
The Kawasaki Z650RS has a 16000-mile service interval. It, too, has just one cylinder head (a parallel twin engine), and the valves also rarely go out of spec.
The smaller Ducati Monster (821 or 937) has 18000-mile service intervals. It's still an expensive service (and has belt-driven cams), but it comes up far less often.
As if that weren't enough, on Ducatis with belt-driven cams, you have to replace the belts every 5 years.
The upshot is that you should budget the cost of ownership of a Scrambler into your purchase price — especially when buying used. Some people sell their bikes right before a service is due.
Alternatives to the Ducati Scrambler
It's tempting to think that the Ducati Scrambler is competing with other motorcycles with the Scrambler name in them. But this is narrow-minded, as the Scrambler isn't much more or less a dirt-oriented bike than any of those — some more, some less, in different ways.
So really, the best alternatives to the Ducati scramblers are other middleweight bikes — particularly those with a "heritage" design, and those that are on the sporty side of things that make a comparable amount of power.
These would be bikes like the
Triumph Scrambler 900
Yamaha XSR700
Kawasaki Z650RS
Moto Guzzi V7
You could arguably stretch the definition to lower-powered bikes or some cruisers with air-cooled engines but consider this a non-exhaustive starter list.
| Model (2023 spec) | Ducati Scrambler (for comparison) | Yamaha XSR700 | Triumph Scrambler 900 | Kawasaki Z650RS | Moto Guzzi V7 (850) |
| --- | --- | --- | --- | --- | --- |
| Engine type | Air/oil-cooled V-twin, Desmodromic valves | Liquid-cooled parallel twin, 270-degree crank | Liquid-cooled parallel twin, 270-degree crank, SOHC | Liquid-cooled parallel twin, 180-degree crank | Air-cooled V-twin, transversely mounted |
| Displacement | 803 cc | 689 cc | 900 cc | 649 cc | 853 cc |
| Peak power | 54 kW (73 hp) @ 8250 rpm | 54 kW / 73 hp @ 8750 rpm | 48 kW / 65 hp @ 7250 rpm | 50 kW / 68 hp @ 6700 rpm | 48 kW / 65 hp @ 6800 rpm |
| Peak torque | 68 Nm (50 lb-ft) @ 5750 rpm | 67 Nm (49 lb-ft) @ 6500 rpm | 80 Nm @ 3250 rpm | 67 Nm / 49 lb-ft @ 6500 rpm | 73 Nm / 54 lb-ft @ 5000 rpm |
| Front suspension | KYB 41mm USD, 150mm stroke (200mm on Desert Sled) | KYB Conventional 41mm fork, 130mm travel | 41mm conventional forks, 120mm travel | KYB 41mm Conventional fork, 125mm travel | 40mm telescopic fork |
| Rear suspension | KYB rear shock, preload adjustable | Link-type suspension, monoshock, preload / rebound adjustable | Twin shocks, adjustable preload | Horizontal back-link monoshock, adjustable preload | Twin KYB shocks, preload adjustable |
| Front brakes | 330 mm disc, Brembo M4-32 caliper | Dual 298 mm discs, four-piston calipers | Single 310mm disc, Brembo axial caliper | Dual 300mm discs, 2-piston axial calipers | Single 320mm disc, Brembo 4-piston caliper |
| Ride aids | Slipper clutch, Cornering ABS (2019+), Optional quickshifter (2023+) | ABS | Slipper clutch, ABS | Slipper clutch, ABS | ABS |
| Display | Round TFT (2023+) | 5-inch rectangular TFT | Single gauge | Twin gauges | Twin gauges |
| Wet weight | 185 kg / 408 lb | 184 kg / 406 lb | 223 kg / 492 lb | 187 kg / 412 lb | 223 kg / 492 lb |
| Major service interval | 7500 miles / 12000 km | 26600 miles / 42000 km | 20000 miles / 32000 km | 15000 miles / 24000 km | 6200 miles / 10000 km |
Ducati Scrambler 800 alternatives summary table
Triumph Scrambler 900 (2017+)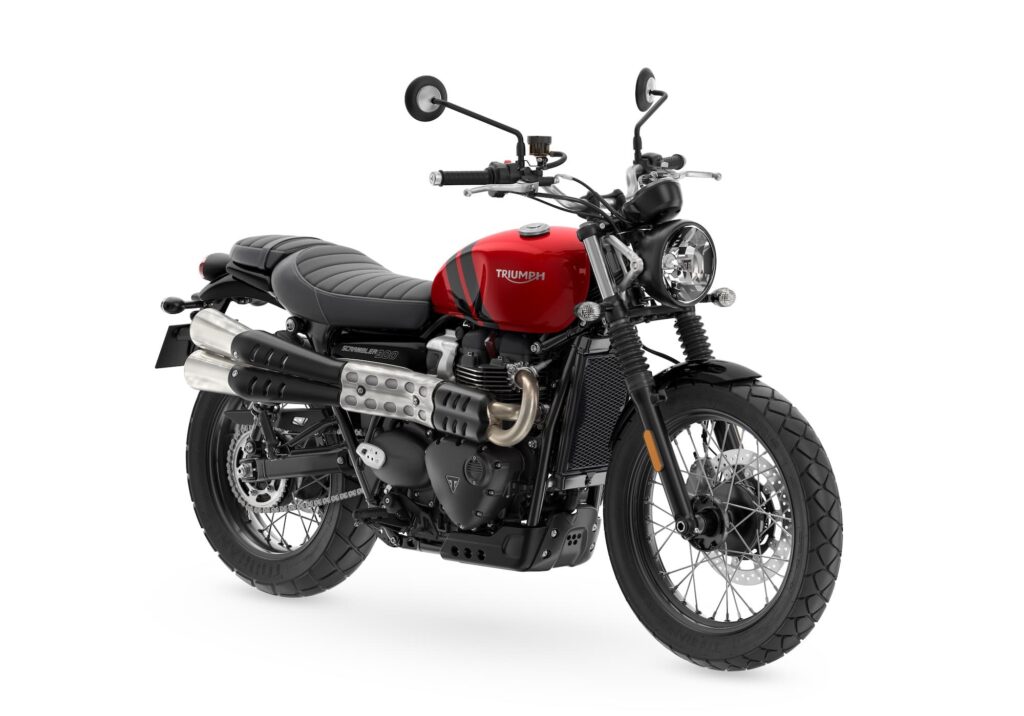 The Triumph Scrambler 900 (previously known as the Triumph Street Scrambler, and before then just as the Triumph Scrambler) is probably the first motorcycle people think of when they think of other "Scrambler" alternatives to the Ducati Scrambler. After all, Triumph made the modern Scrambler for a number of years longer.
The Scrambler 900 has a parallel twin with a 270-degree crankshaft, giving it a similar firing order and comparable engine feel to a 90-degree L-twin. It's liquid-cooled in its latest form, but the radiator is well-concealed.
The Scrambler 900, like the Ducati Scrambler, is a street bike. Yes, you can ride it off-road, yada yada. But before you regale me with tales of bush bashing you did with your Scrambler (I believe you!), we all know it's not a dirt bike. It's more a bike that you can take to the bush or beach if you want to have some fun and don't mind dropping something kind of heavy and very pretty.
The Triumph Scrambler 900 is both heavier and less powerful than the Ducati Scrambler. But it has a satisfying amount of pull off the line, and is happy going up to 85 mph without any fuss. It'll go faster, of course (you can do the ton and a bit beyond), and remain stable, but wind blast increases exponentially and acceleration slows beyond the 90mph point.
Where the Triumph Scrambler is a bit less satisfying is in twisty roads. When I find a straight and pin the throttle in third or fourth… it's just not that rewarding. A tad more power/weight ratio is nice, and the Ducati Scrambler has it.
What's nice about the Triumph is it has a much easier to service engine, with a parallel twin with a single overhead camshaft, and much wider service intervals.
Yamaha XSR700 (2018+)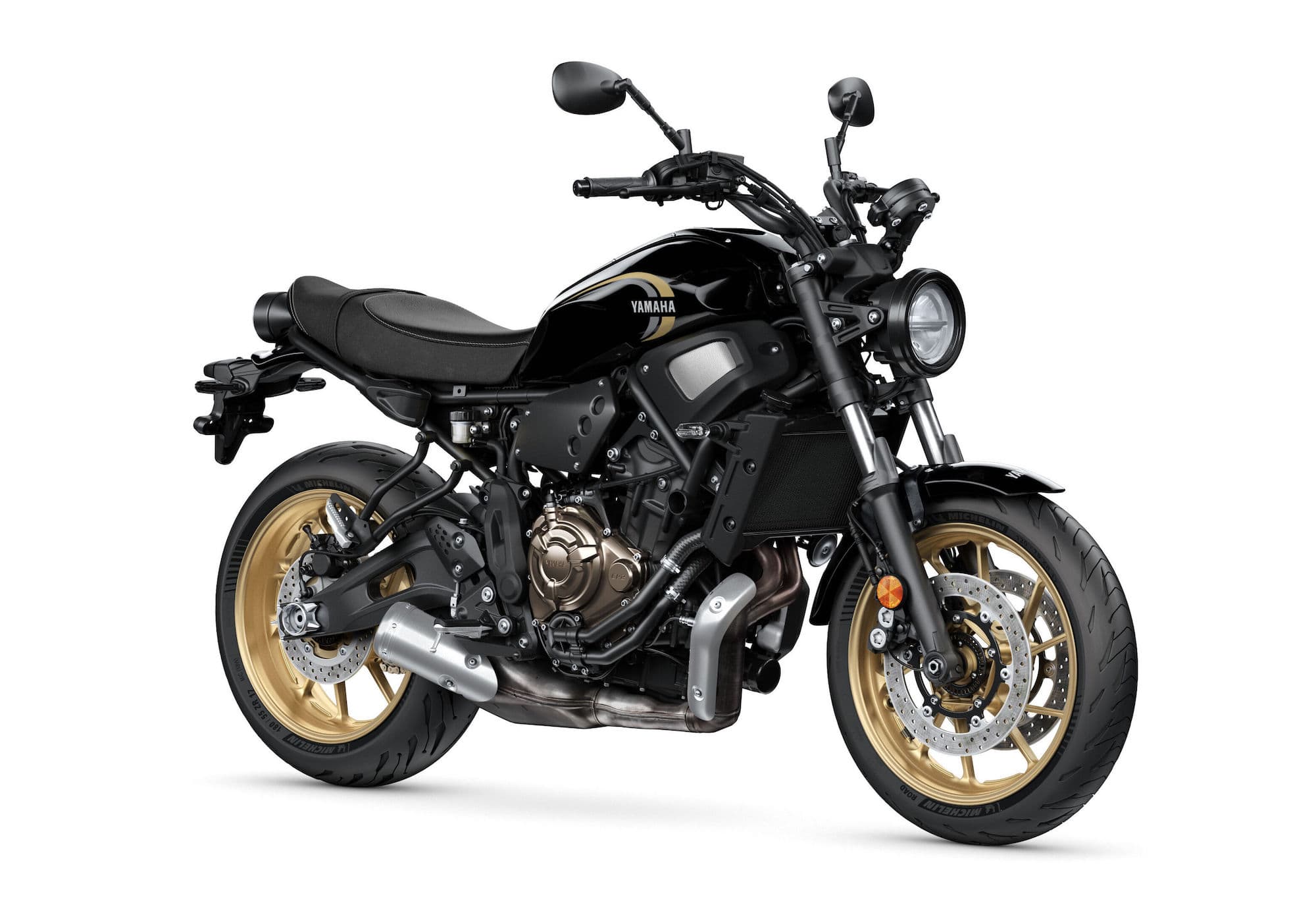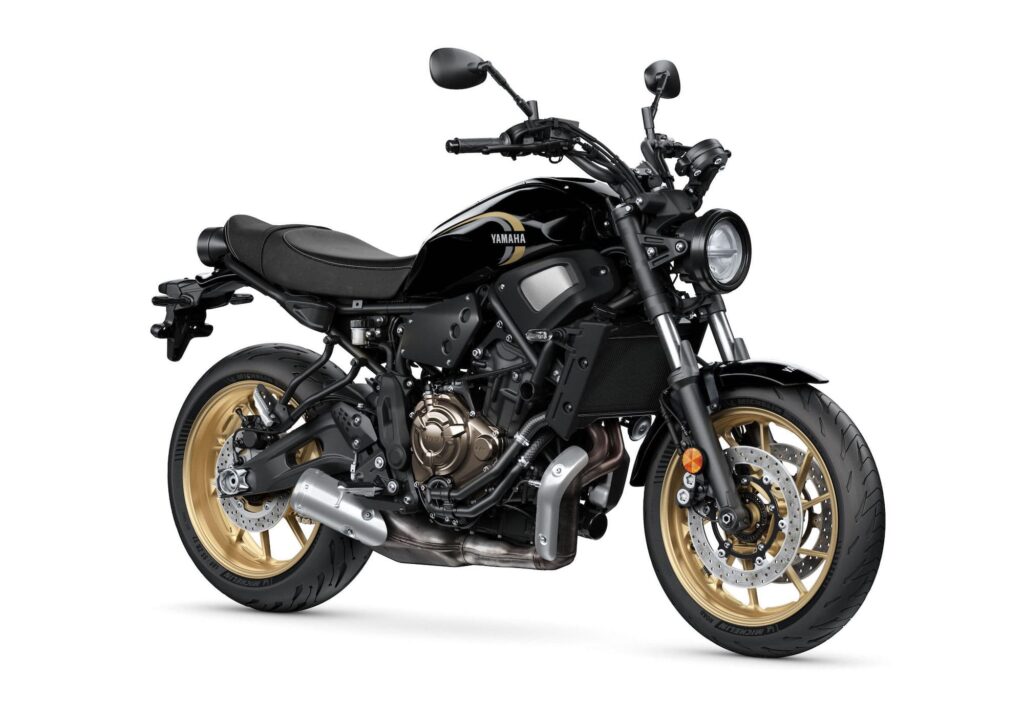 The Yamaha XSR700 is the bike that should eat the Ducati Scrambler's lunch. It's light, good-looking in a modern/retro way, rock-solid reliable, and has a sparkling engine that is hard not to love. It's basically a Yamaha MT-07 in more heritage-inspired guise.
The heart of the XSR700 is the same as that in the Yamaha MT-07, the Ténéré 700, the YZF-R7, the Tracer 7, and… I think that's it (for now). It's called the "CP2" motor, the "Crossplane 2", a branding exercise that means that the firing order is a little unconventional. But it's just a 270-degree crank. Never mind, everyone loves the CP2 motor, no matter what the motor it's in. It feels good, sounds good, and performs well.
The XSR700 has decent specs, but is lower spec than the Scrambler in a couple of ways. For example, it has a conventional fork rather than internal forks, and lacks most ride aids – not even a slipper clutch, let alone cornering ABS.
Kawasaki Z650RS (2022+)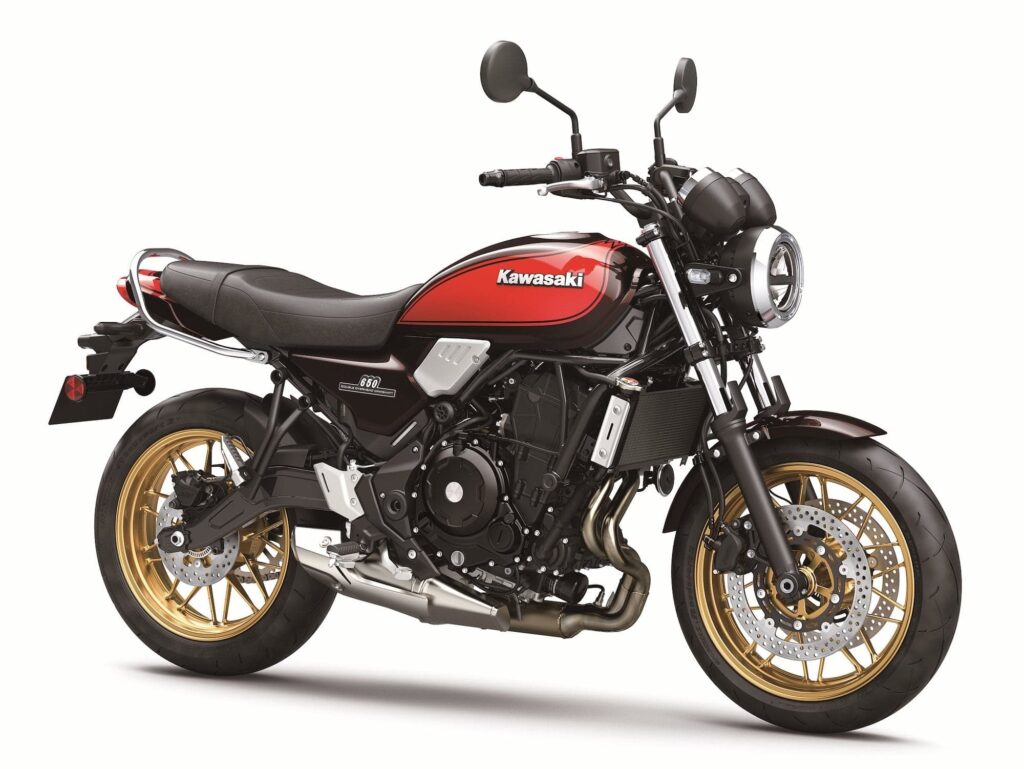 The Kawasaki Z650RS is basically a Kawasaki Z650 in heritage form, much like the XSR700 is relative to the MT-07. But the Z650RS is later to the game — it was new for 2022, whereas the XSR was around since the 2018 model year.
It shares the same basic platform as the Z650 (and the Ninja 650 and the Versys 650), a 649-cc parallel twin engine with a 180-degree crankshaft. It's lively enough for everyday use and has a great amount of everyday torque.
The Kawasaki Z650RS looks great and has decent specs, and ups the ante on the XSR700 by having a slipper clutch, just like its sibling motorcycle the Z650 (and Ninja 650).
Moto Guzzi V7 (850) (2022+)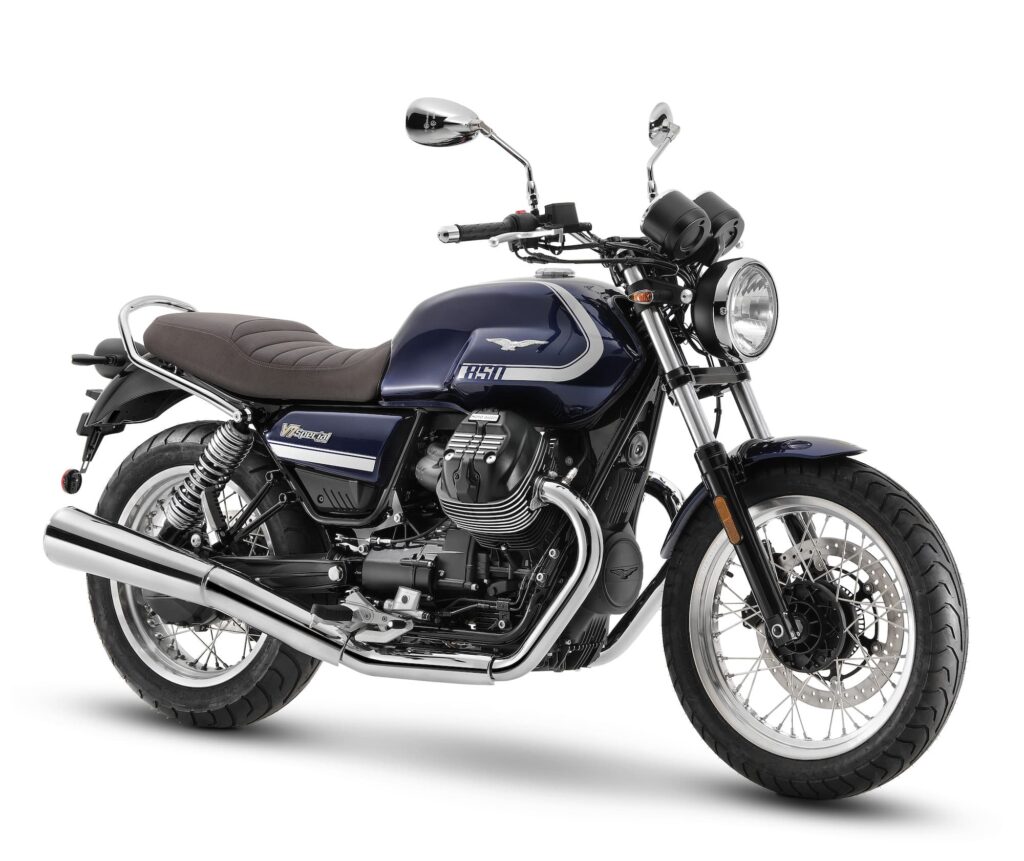 The Moto Guzzi V7 is less sporty than the Ducati Scrambler, but it's worth a mention as it's also a heritage model that makes similar power. I mean, all of Moto Guzzi (other than the V100 Mandello) is very heritage.
The Moto Guzzi V7 has a new 853 cc engine from 2021, but the extra displacement doesn't bring a ton of power with it. It's still old-school in design, having two valves per cylinder, air cooling (not even an oil cooler), and being transversely mounted, which as a twin means the axis of the crankshaft is longitudinal to the motorcycle. So the Guzzi V7, like every Moto Guzzi in recent history, has a dry in-line clutch and shaft drive.
The Moto Guzzi V7 isn't low on power or torque (the engine is pretty big for a middleweight), but it is a heavier, lazier motorcycle than the Ducati Scrambler. But it's high in chrome levels, finish, and character.
Like the Ducati, the air-cooled Guzzi has short valve service intervals of 6200 miles / 10000 km. But with cylinder heads easy to access, it's a much simpler job.
There are a few older versions of the Moto Guzzi V7 with a lower-capacity engine and a few other specs that have gradually increased over the years. They have the same aesthetic and general feel — not a sport bike, but cool for everyday stuff.
Sum up
The Ducati Scrambler is definitely a mixed bag. You get a lot of high-tech stuff with the latest version, a willing engine, and a great riding and visual aesthetic. But the old-fashioned engine will show you its limits when it's time for service.
Whether you think the compromise is worth it is up to you. For those who do, I rarely hear a bad thing about the Ducati Scrambler, so I'm sure you'll enjoy it as much as I did! Let me know (either with a comment or drop me a line) about yours and some interesting stuff you've done with it.