You didn't ask for it, but here it is anyway: All my favourite yellow motorcycles. Plus some more for completion's sake. So there's quite a lot here.
It's impossible to capture all of the yellow motorcycles ever, and I'm sure someone will chime in with a "Hey, how about this 1956 relatively obscure brand of awesomeness I own?" and you're welcome to. Especially if you allow me to share a pic!
Yellow motorcycles are a niche pursuit, I know. Most people favour other colours, especially when certain brands are involved. But to those of us who like bright, sunny colours, well, here's a little gallery that you might enjoy.
Some brands use a lot of yellow, and some just save it for special occasions. You'll see relatively more yellow motorcycles from BMW, Ducati, Honda, and Suzuki.
Have fun!
Note: This started out as a fun little post, and soon became an obsessive post of biblical proportions. This means that it's both long and also continuing to grow! Don't hesitate to comment for any obvious omissions. I'm somewhat limited by the availability of what I can get studio pictures of. Also, I may have burned my retinas from staring at too much yellow.
Are you obsessed with motorcycles?
Well, I am. That's why I created this site — as an outlet. I love learning and sharing what others might find useful. If you like what you read here, and you're a fraction as obsessed as I am, you might like to know when I've published more. (Check the latest for an idea of what you'll see.)
Aprilia Yellow Motorcycles
Aprilia makes a lot of yellow scooters, but few yellow motorcycles. Here are some of the highlights. Get it? Highlights…
2012 Aprilia RSV4 / Tuono V4
Both the RSV4 and Tuono V4 came in "Sunlit Yellow" for 2012 and 2013.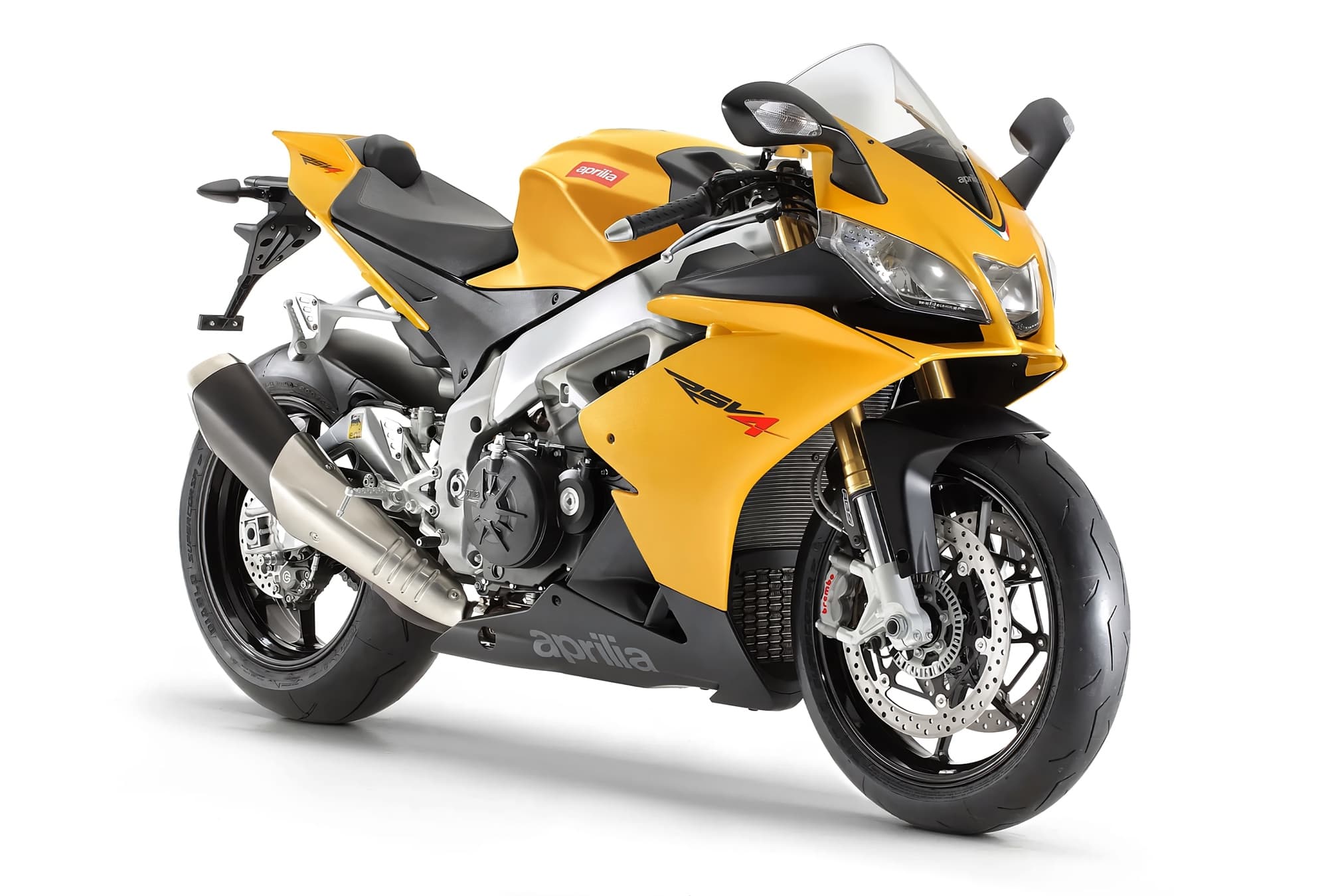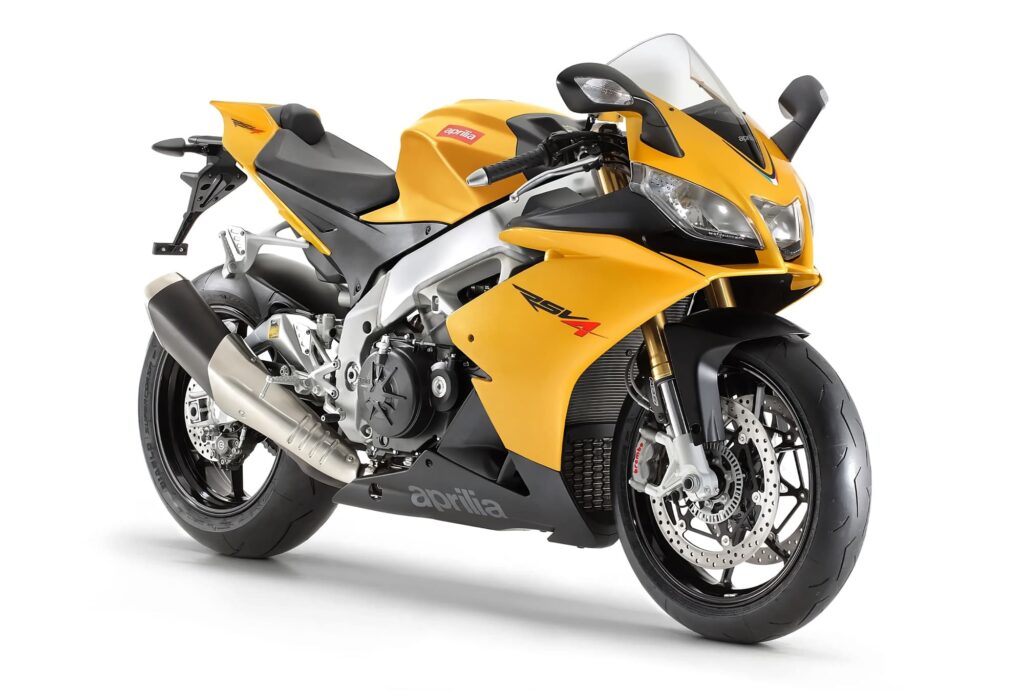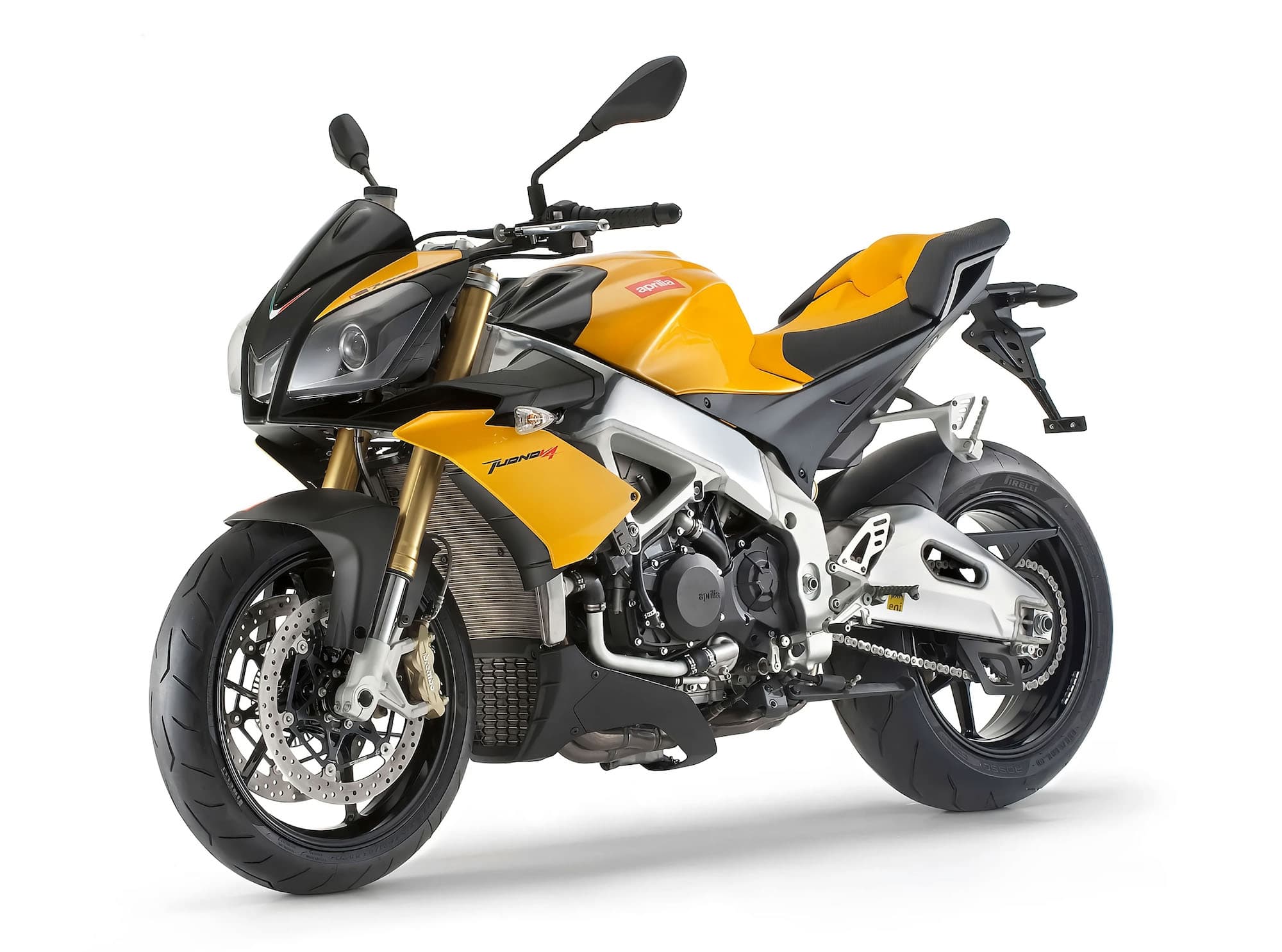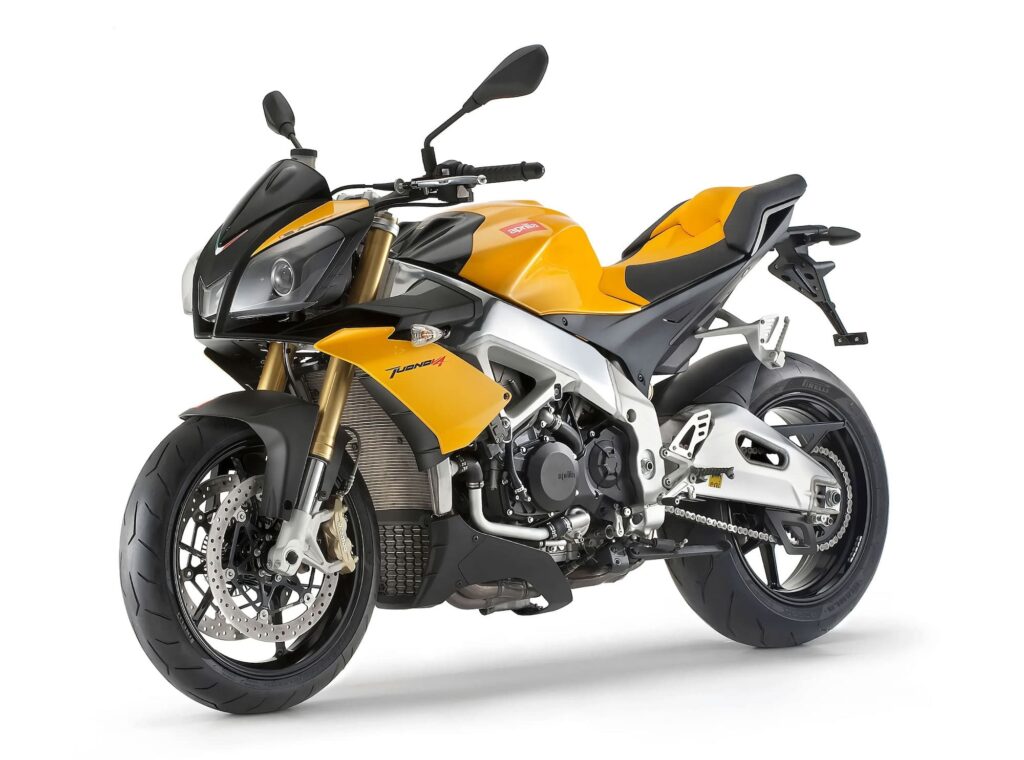 Aprilia RS 660 / Tuono 660
Aprilia also released the RS 660 (and also the Tuono 660) in "Acid Gold". I would struggle to call this yellow, given its company in this document, but some people do. It's definitely yellow-ish and eye-catching, but further along the spectrum towards green.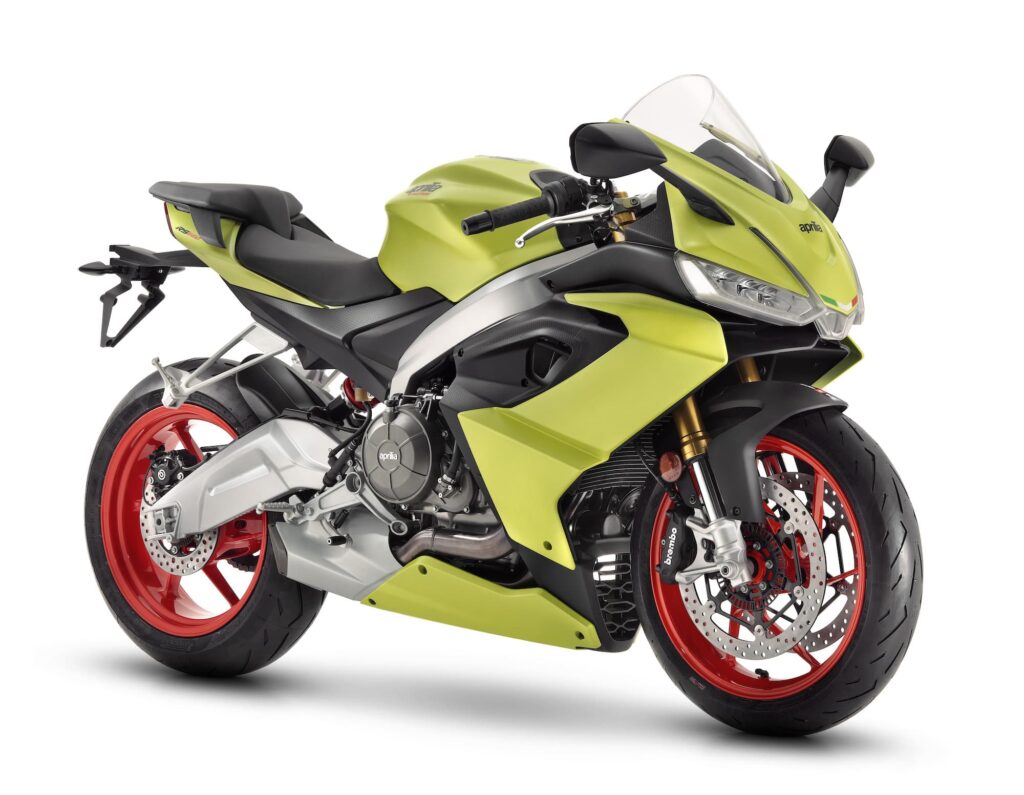 BMW Yellow Motorcycles
BMW uses yellow in regular series motorcycles as well as for some special editions. They're one of the big users of yellow, so this part is long.
BMW F 800 S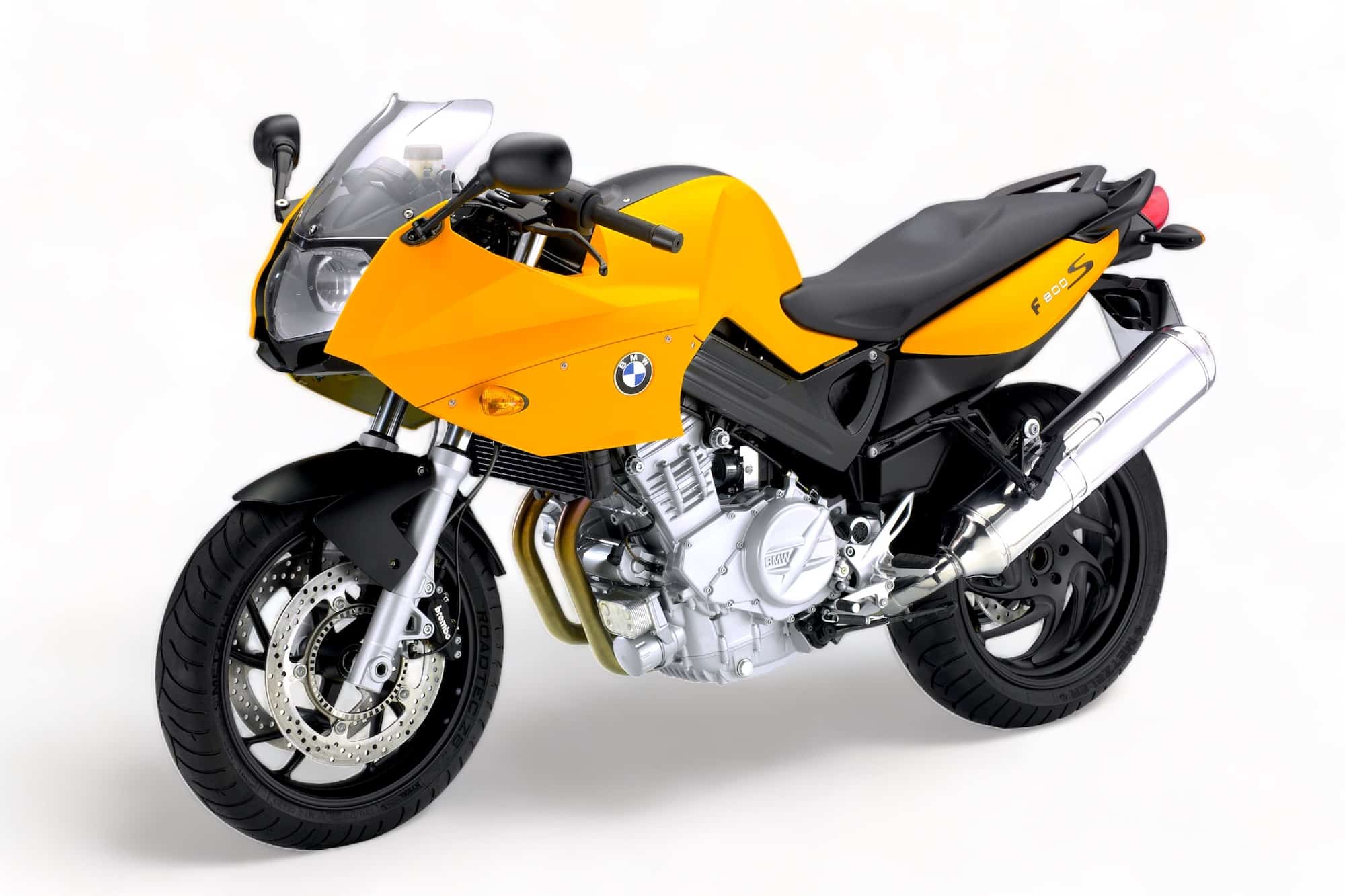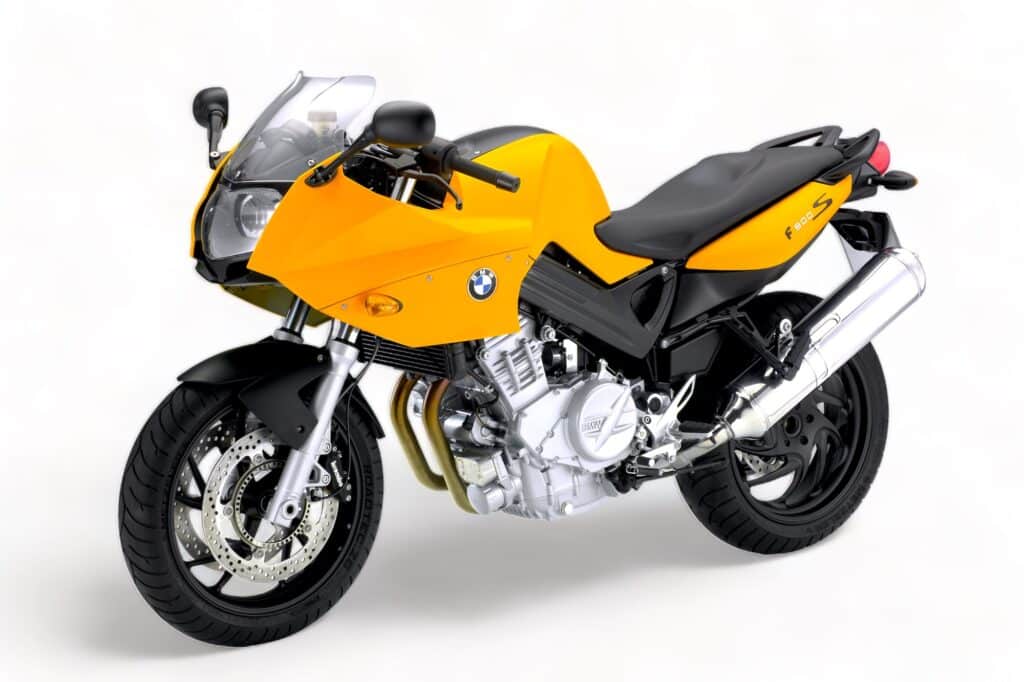 The BMW F 800 S is not the sexiest bike, but its colour is eye-catching! BMW calls this colour "Sunset". BMW also made the F 800 R in "Sunset", too (though there's less paint as it's a naked bike).
BMW K 1200 S
The K 1200 S came in a bumble-bee yellow and black, which they poetically call "Sun-Yellow Non-Metallic / White Aluminium Metallic / Dark Graphite Metallic".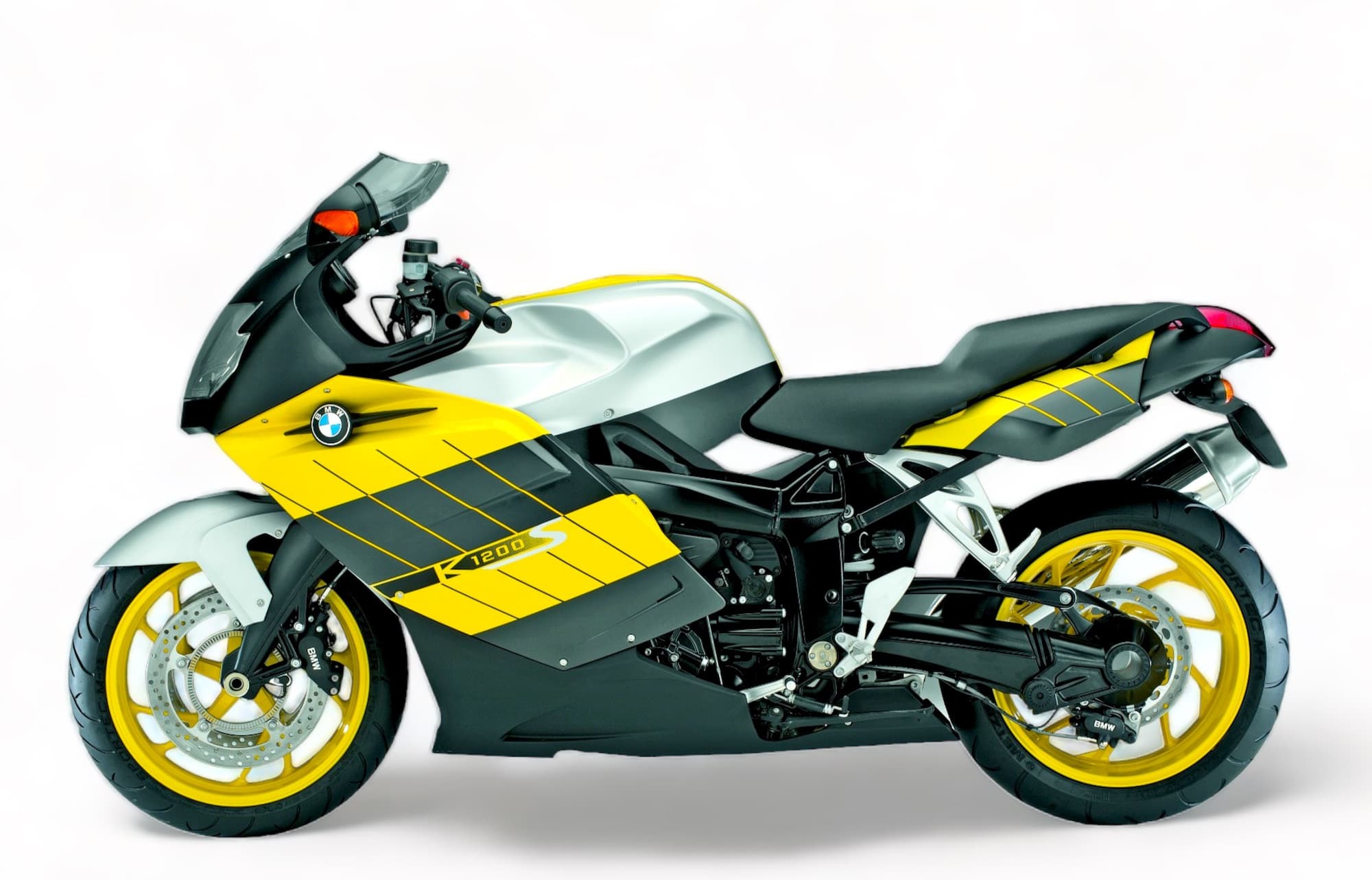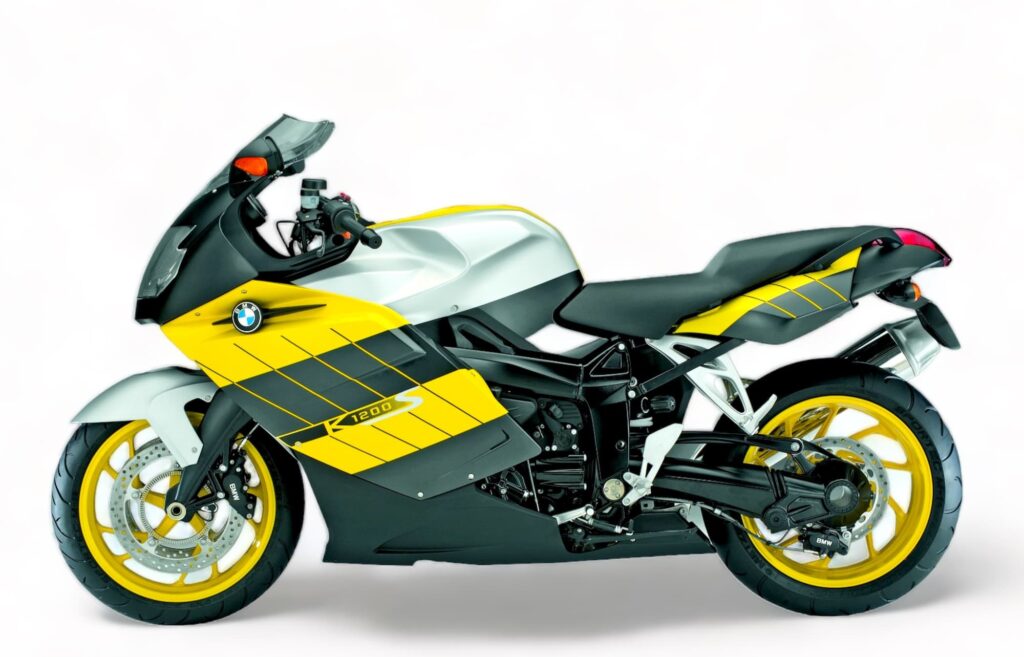 It looks great, especially in person. Unfortunately, the K 1300 S, a bike which I prefer, did not come in this scheme. (It did come in some other very cool colour schemes, out of the scope of this discussion!)
BMW R 1100 S, R 1200 S
BMW released both its boxer-powered sport bikes in a yellow / orange colour scheme.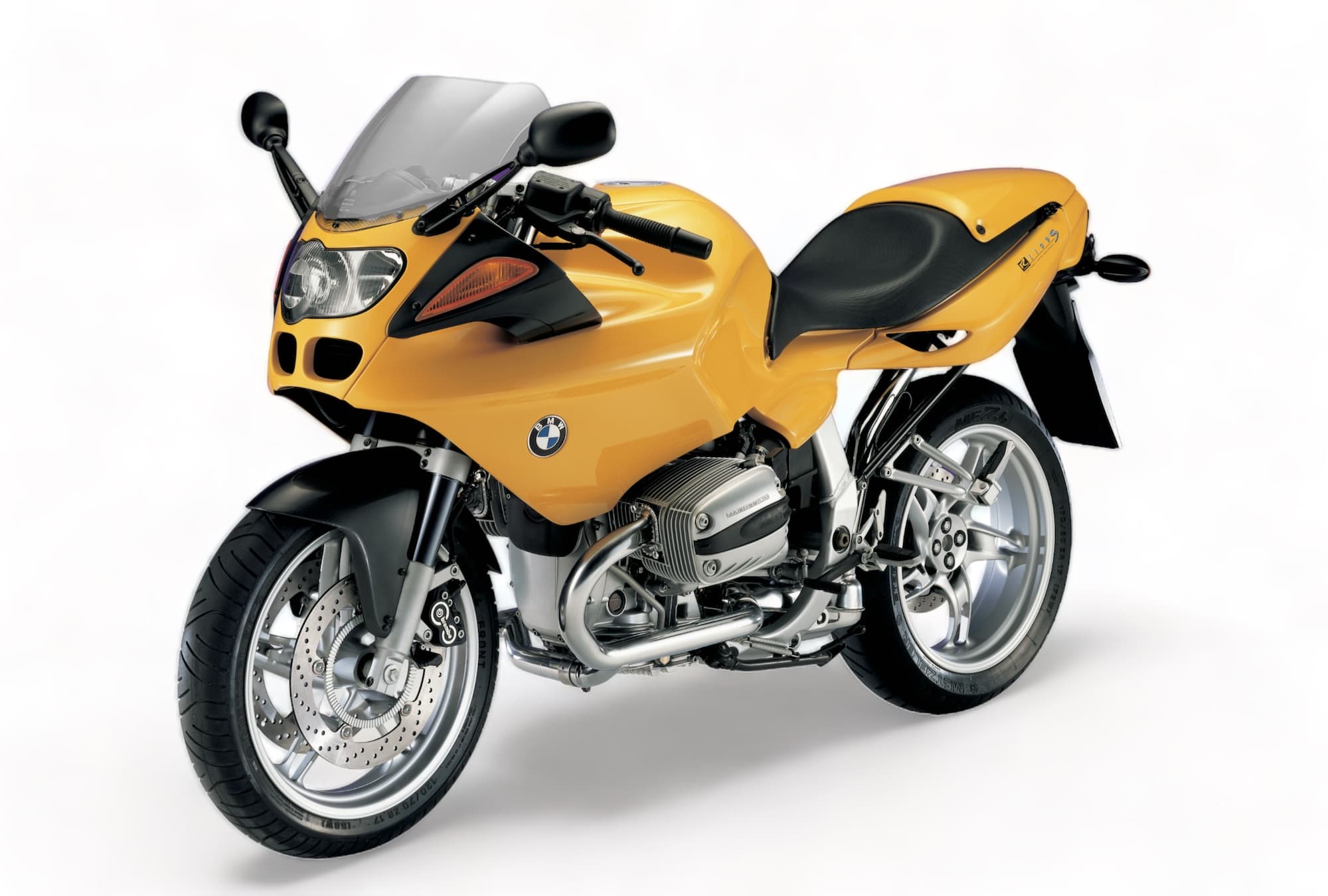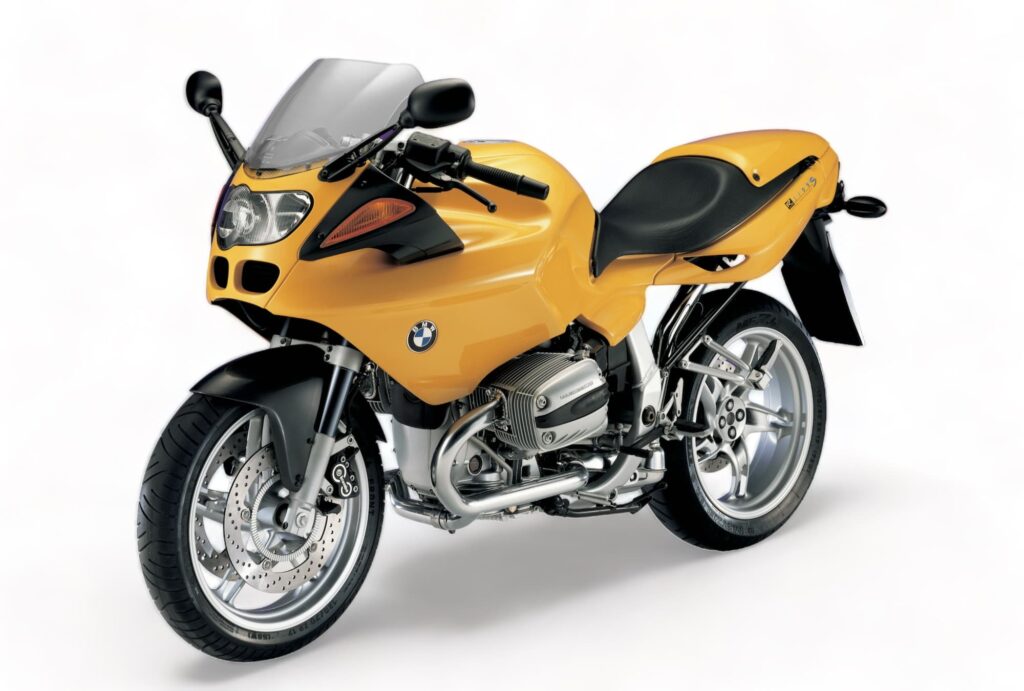 And the successor to the R 1100 S, the R 1200 S: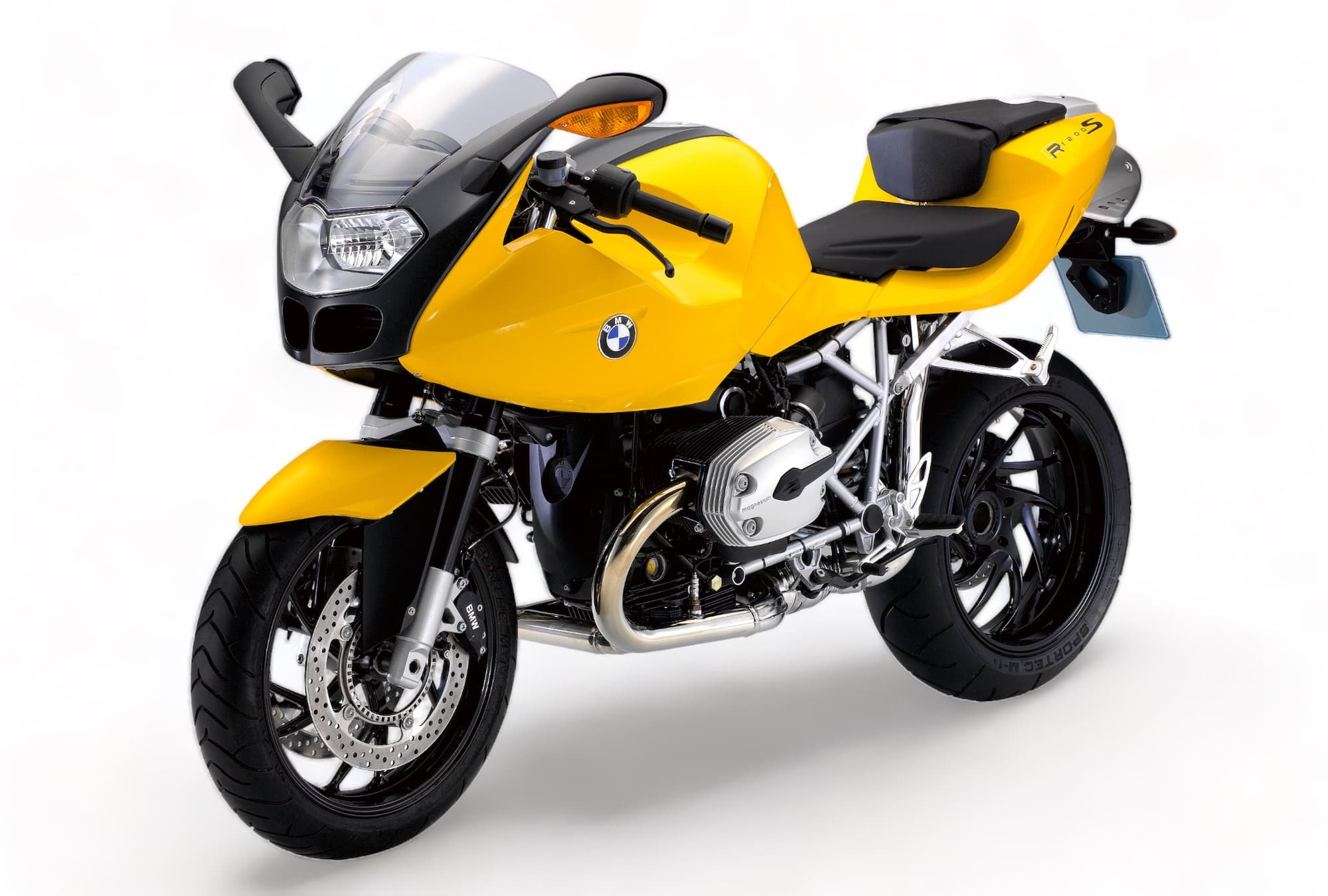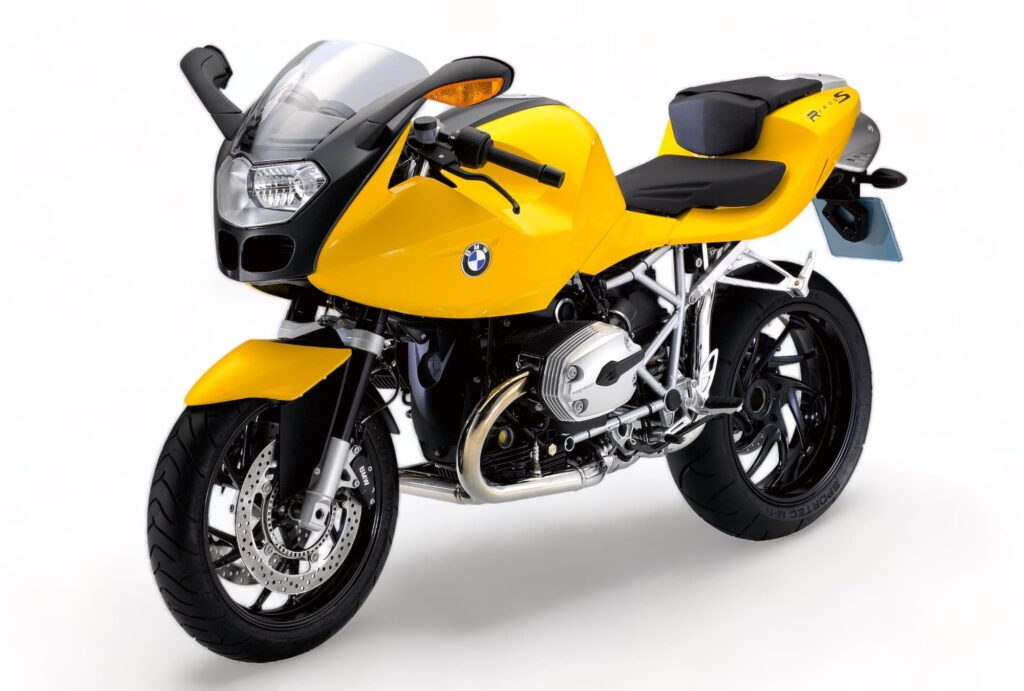 I'm a huge fan of the BMW R 1200 S — a unique, attractive, and interesting sport bike. Not for everyone (not really for me at the time, which is why I sold it), but it has a passionate group of followers. See here for more about it.
BMW GS Motorcycles — R 80 G/S to R 1250 GS
BMW has been releasing the GS motorcycles in yellow color schemes since the beginning, the R 80 G/S.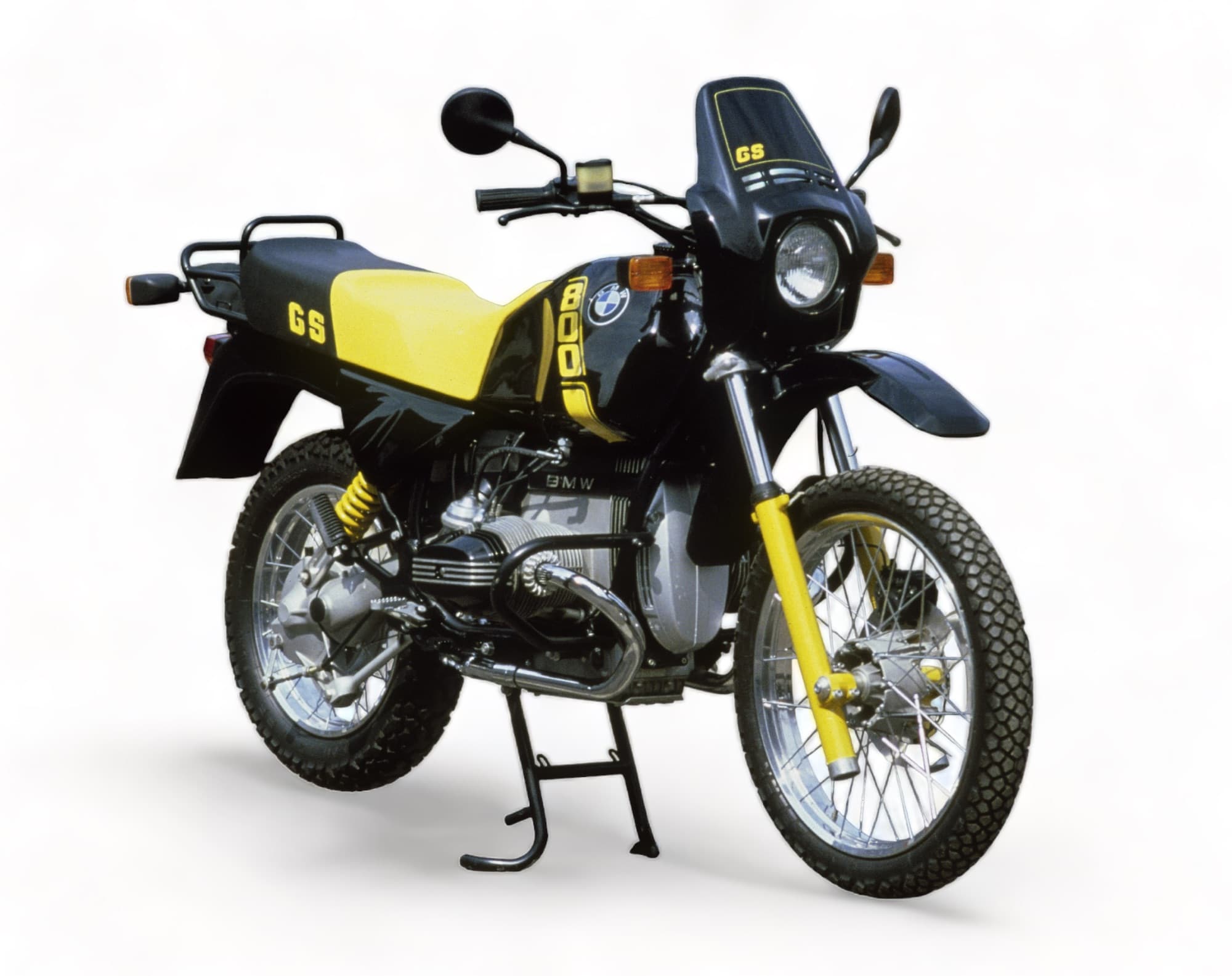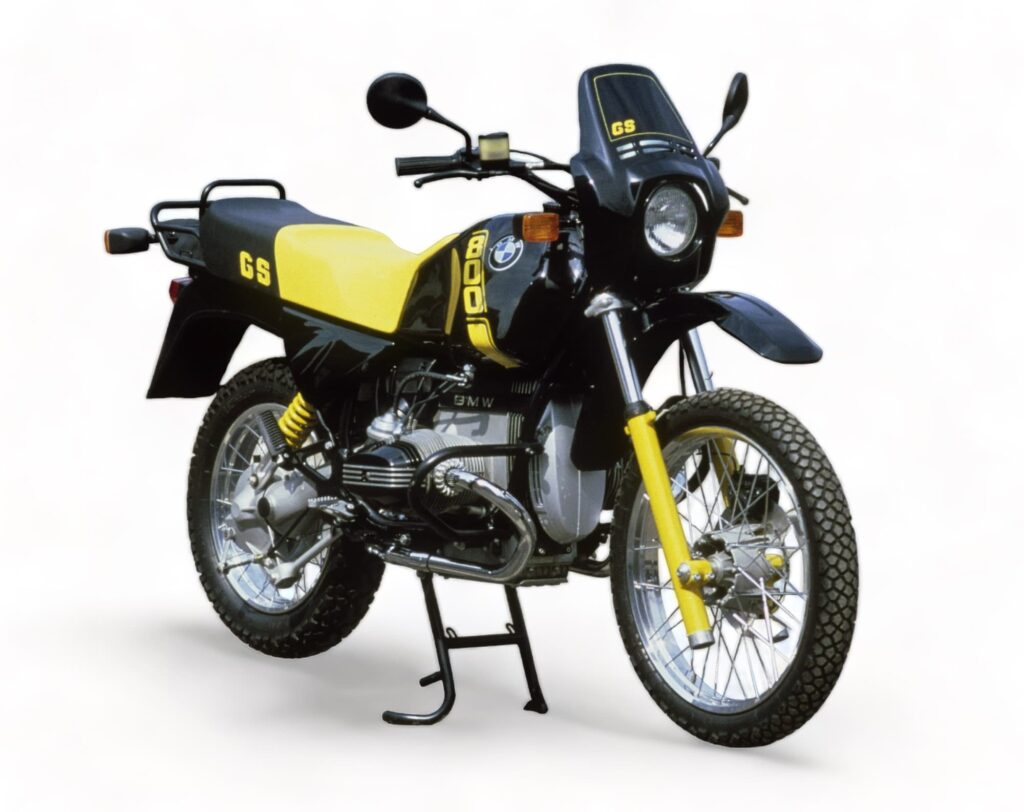 Later GS models were also released in yellow.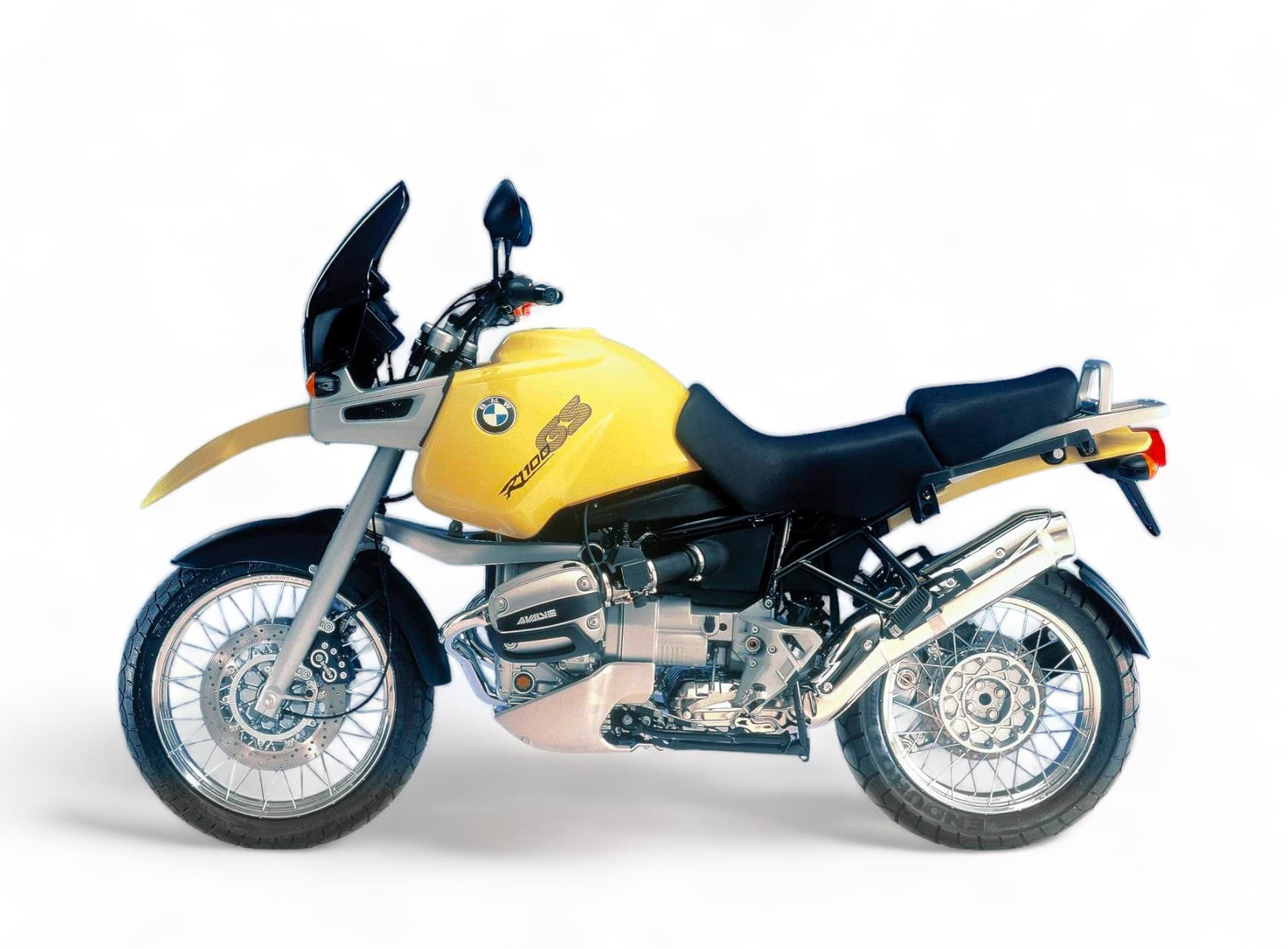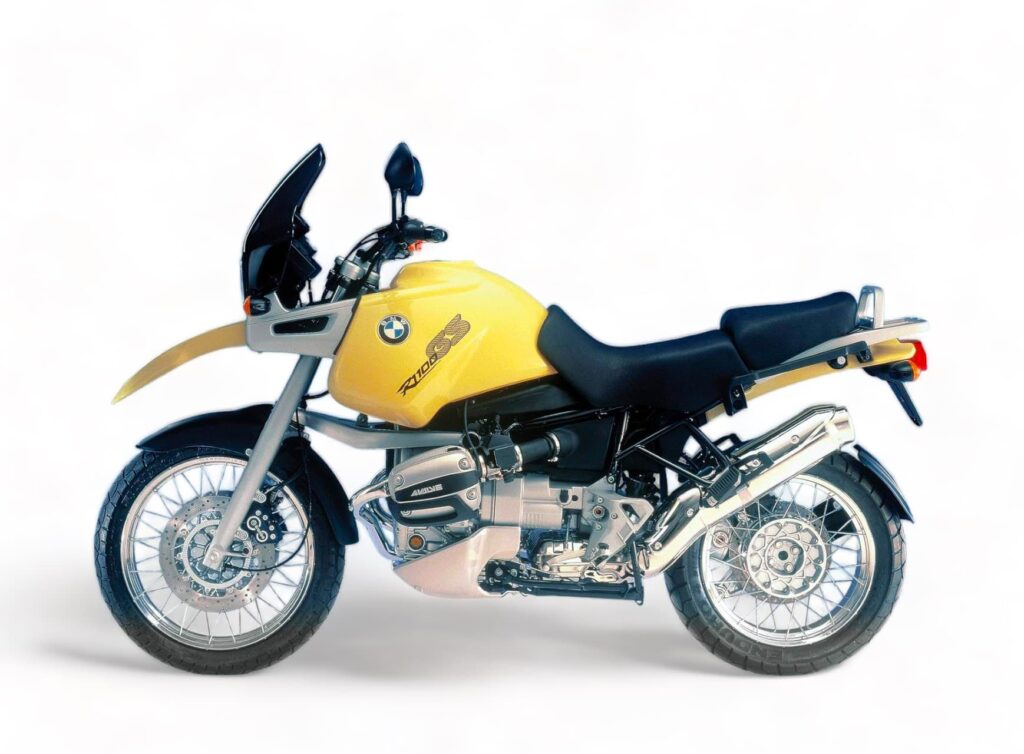 The BMW R 1150 GS came in a couple of different yellow color variants. This one is "Mandarin".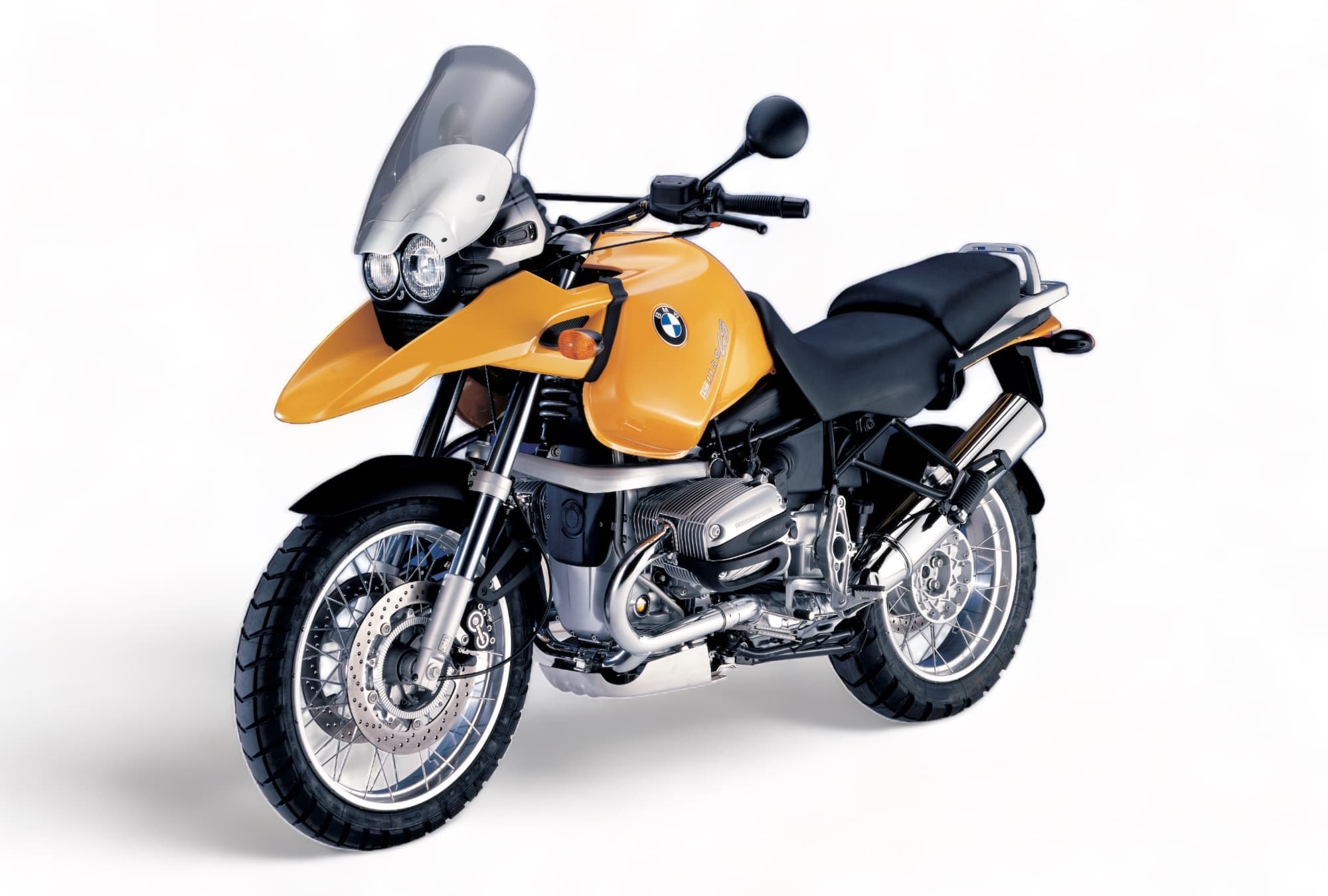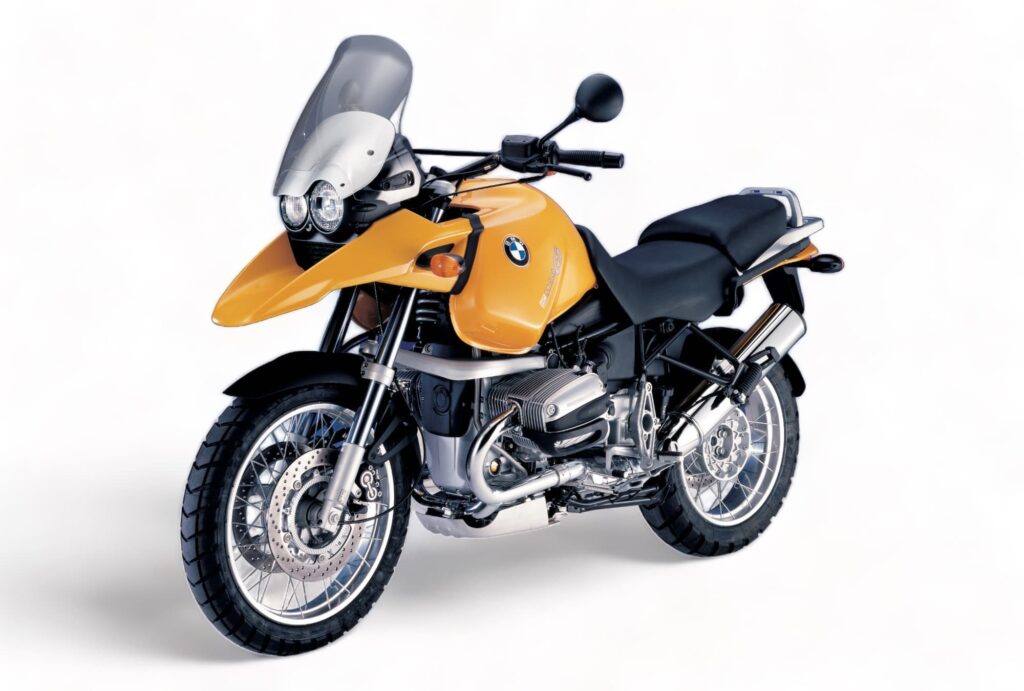 The BMW R 1200 GS also was released briefly in a similar colour scheme to "Mandarin".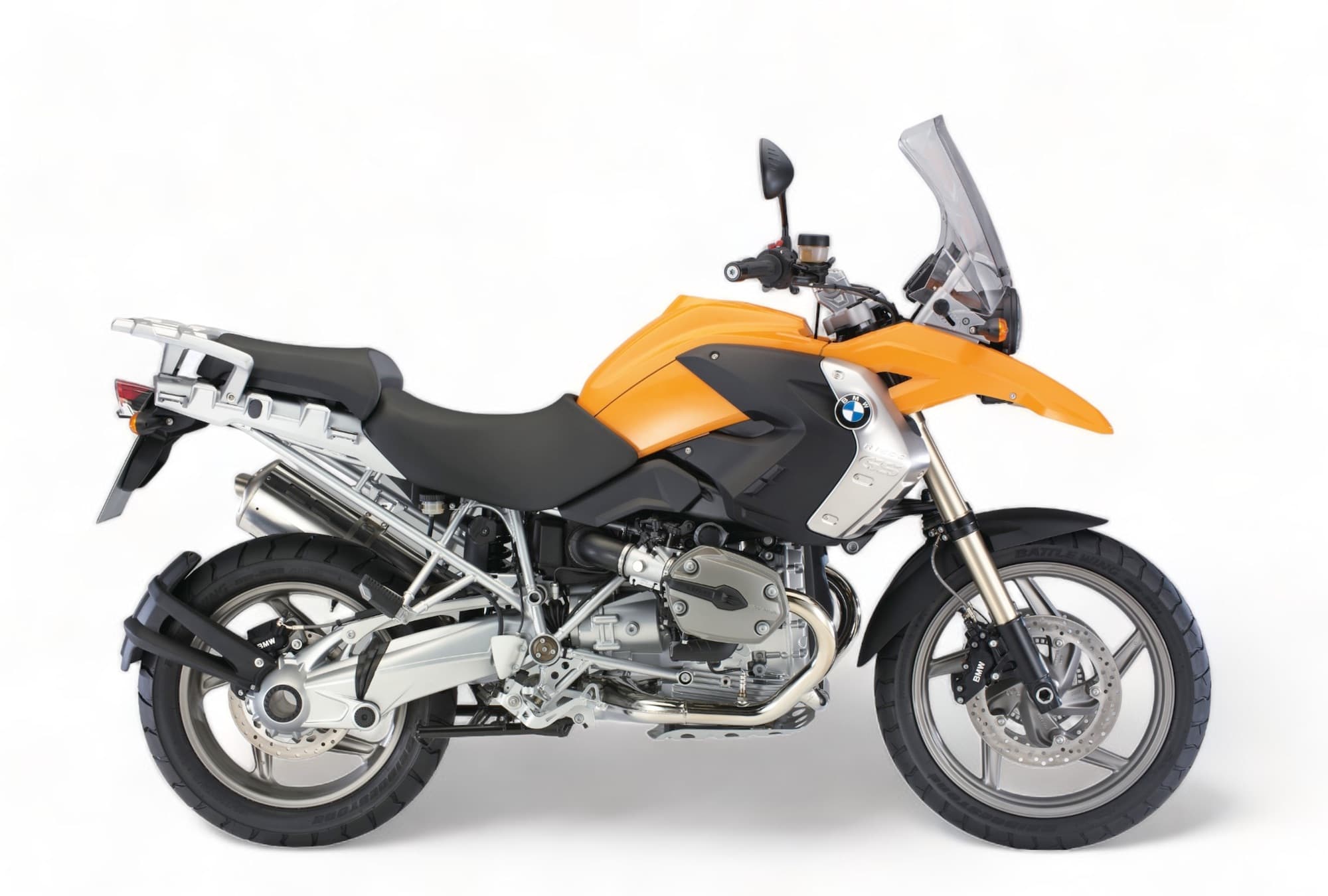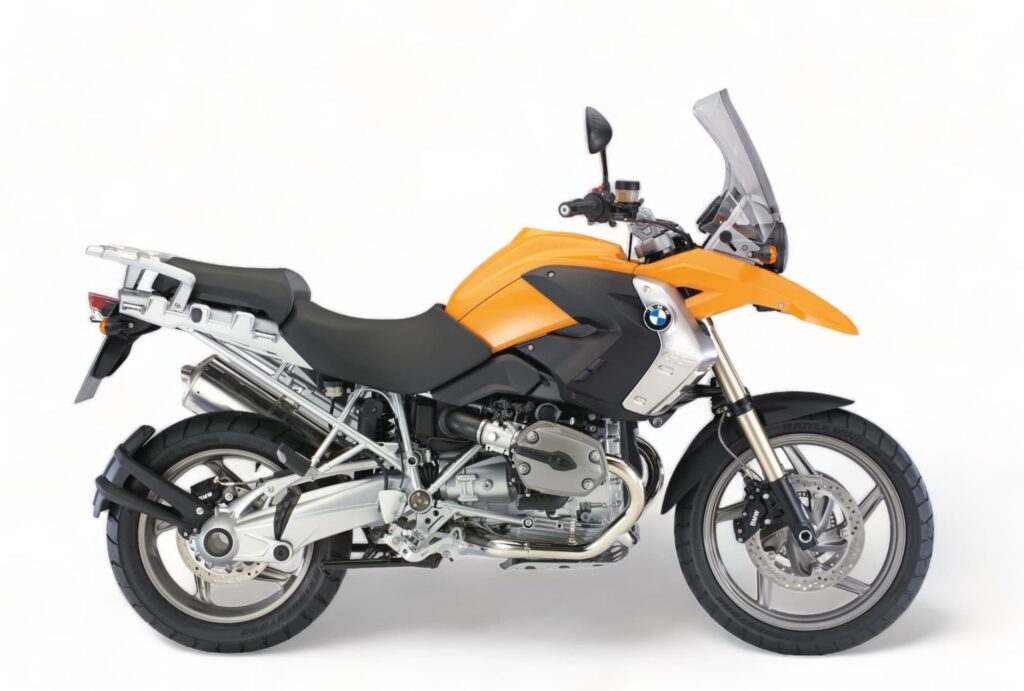 BMW released a few yellow motorcycles in the "40 Years GS" colour scheme, including the R 1250 GS. It's a special edition colour, so it costs more!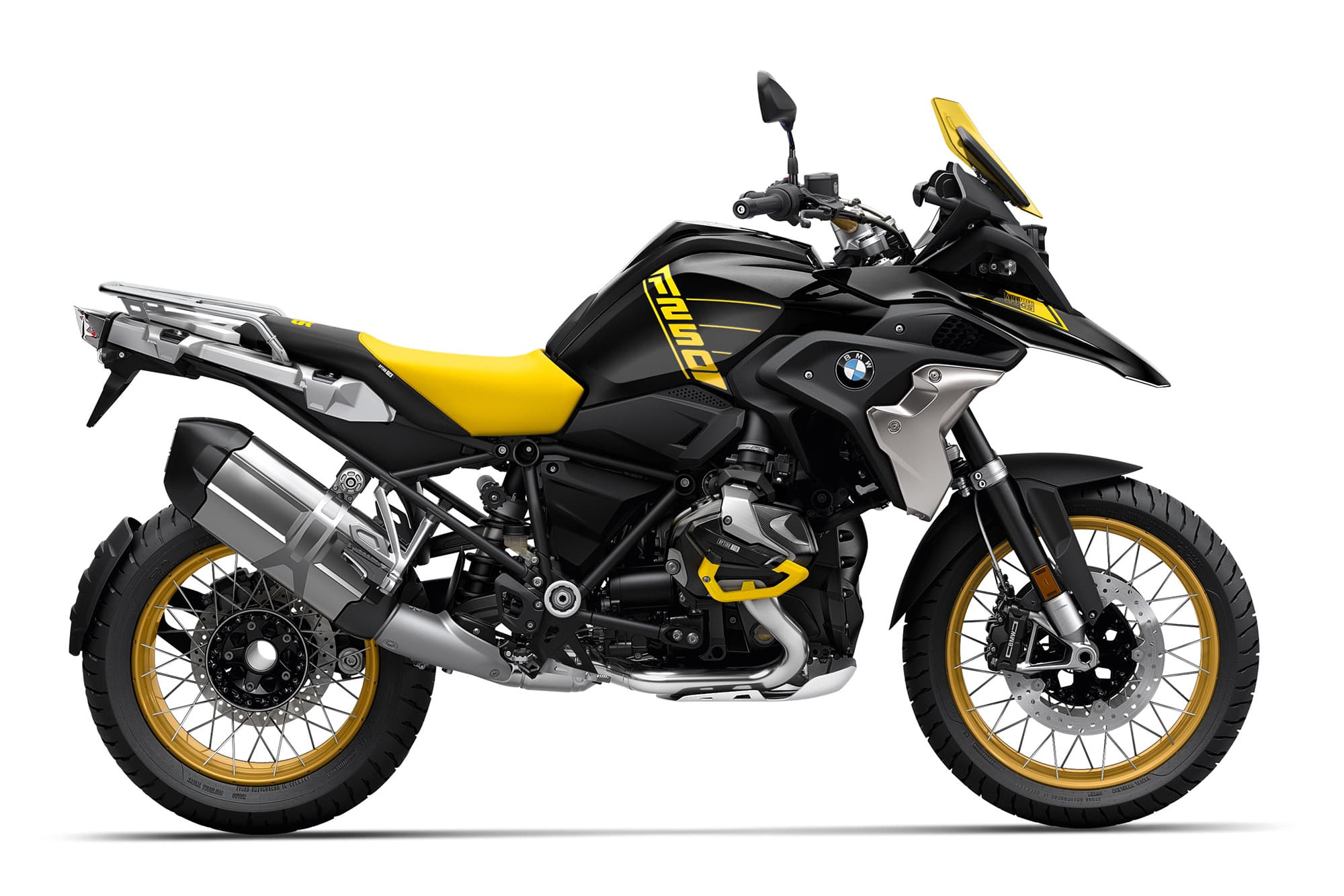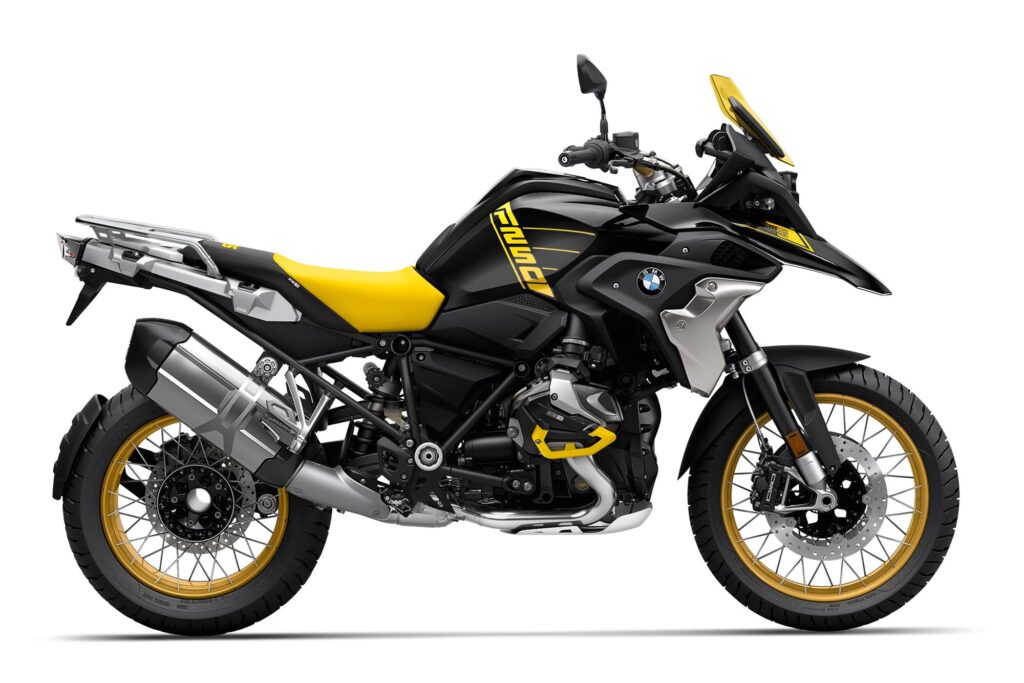 See the complete guide to the BMW GS Boxers, from the R80 G/S to today, here.
BMW R nine T Urban G/S "40 Years G/S" (2021)
The BMW Scrambler "40 Years GS" (same yellow colour scheme as the R 1250 GS) is another up-spec, more expensive BMW.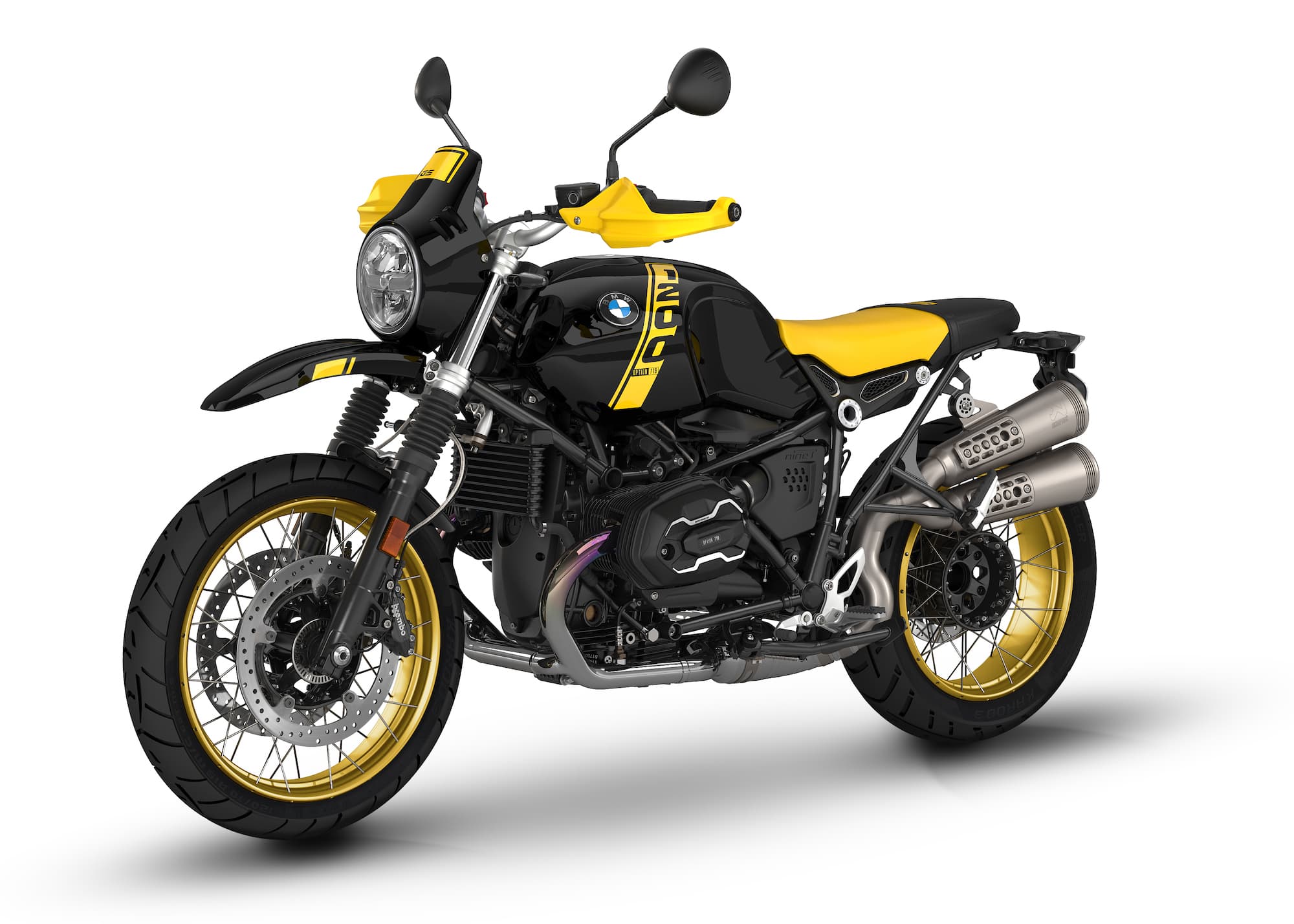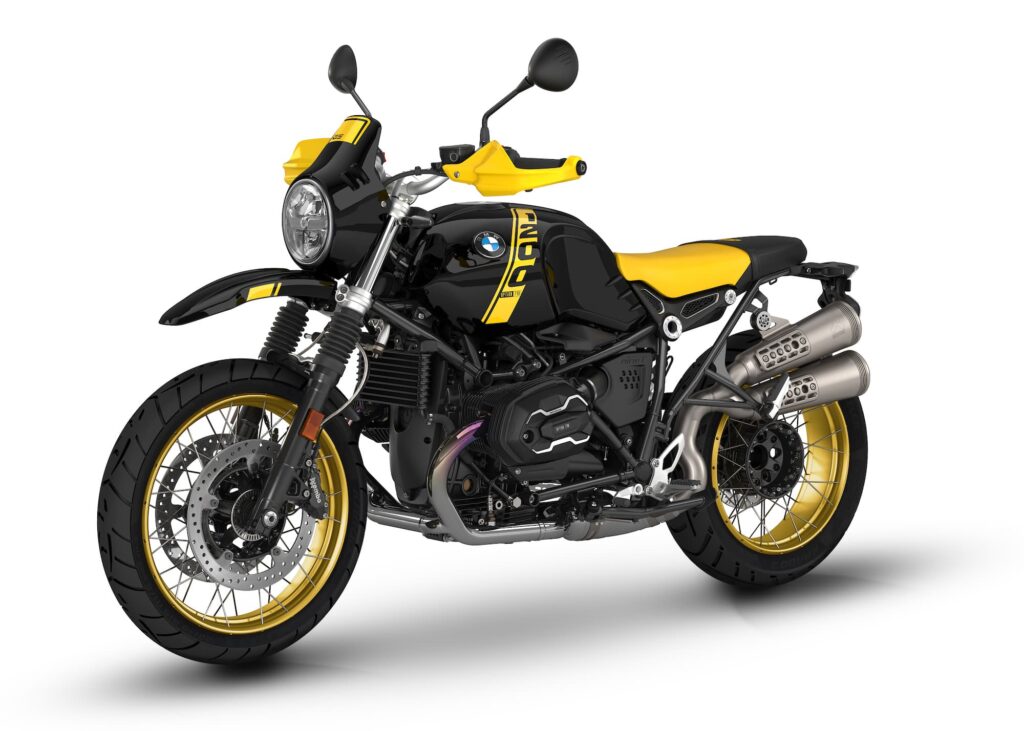 BMW S 1000 RR (2011)
In 2011 BMW released a model for the 2nd gen S 1000 RR, "Sun Grey Yellow". This was the only S-series yellow motorcycle.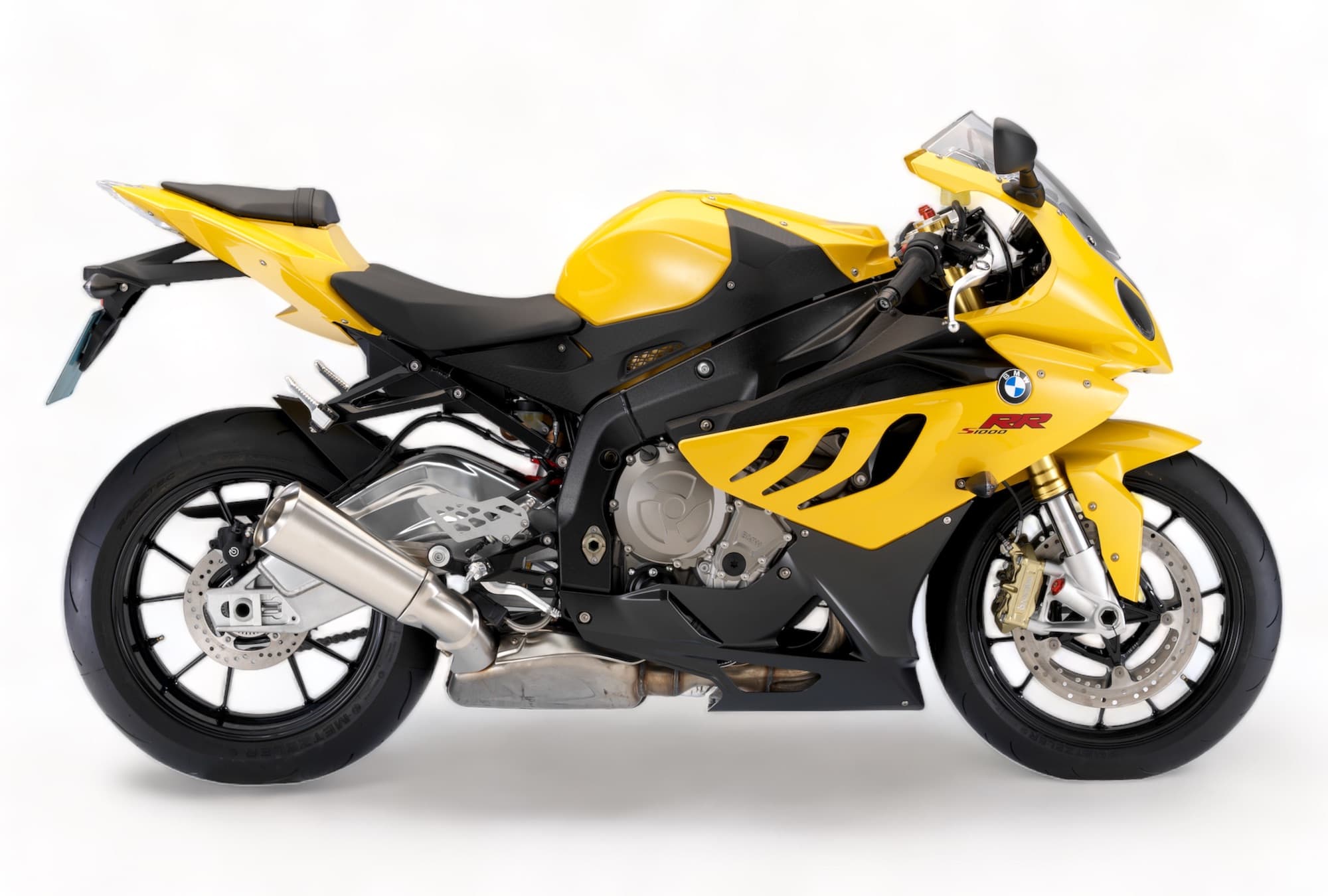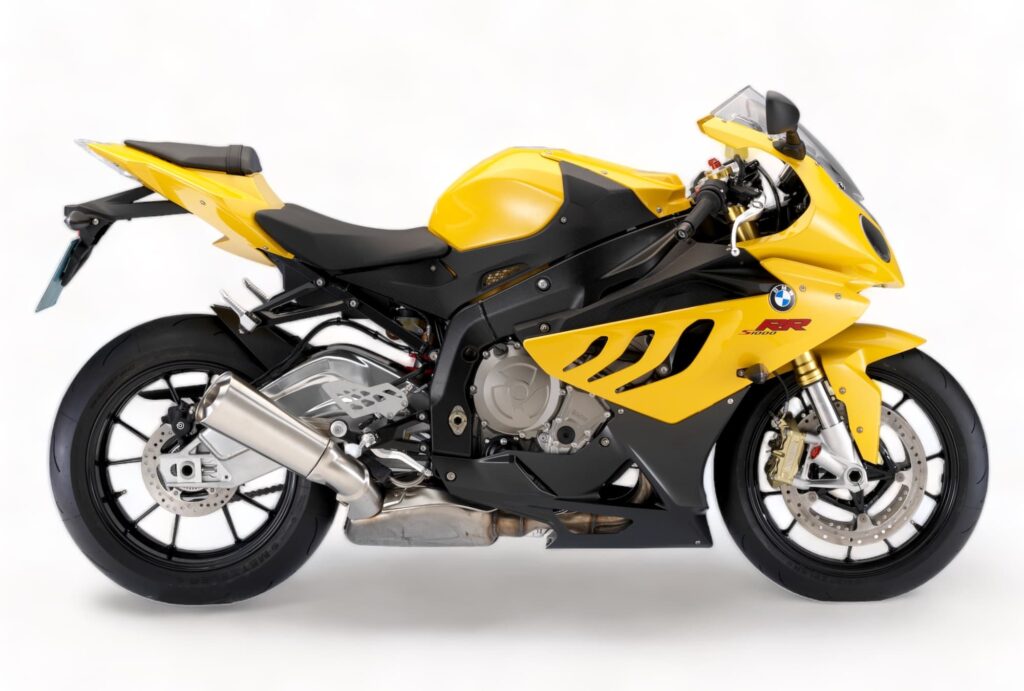 Later, BMW also used an "Acid Green" colour which does look a little yellow. But hey, it's called green.
Ducati Yellow Motorcycles
There are TONS of Ducati yellow motorcycles. It was one of their iconic racing colors. I'll probably miss a few. Also, I can't get photos for all Ducati motorcycles ever.
Ducati calls its yellow colour "giallo corse", which means "racing yellow".
A lot of Ducati folks say it has to be red or nothing. But then this just makes owners of yellow (or white, or even black) Ducati bikes feel special when going on rides with their buddies.
Ducati Superbikes — 916 to 1098
Ducati made a raft of superbikes from the 916 to 1098 in their racing yellow colour scheme.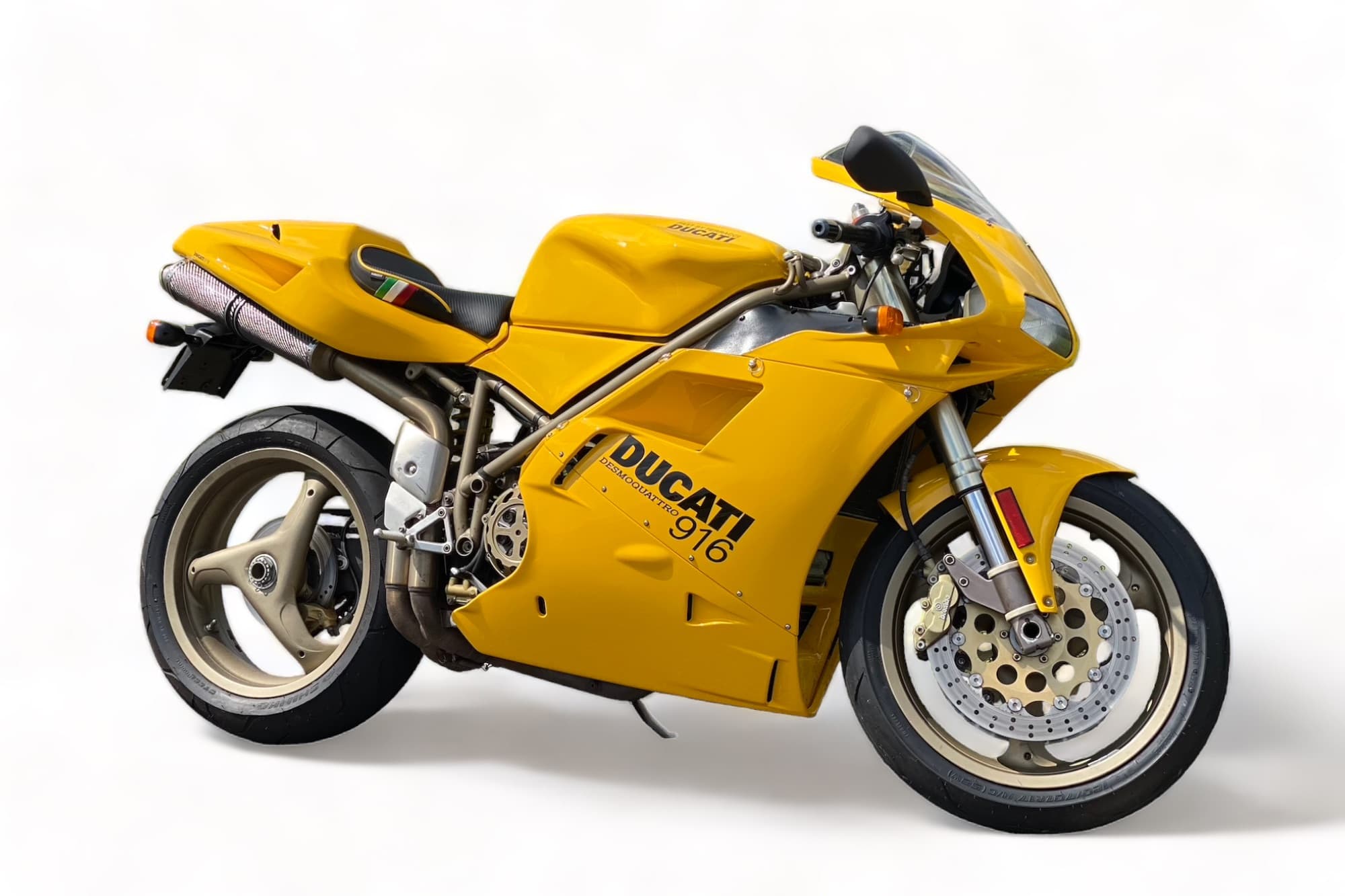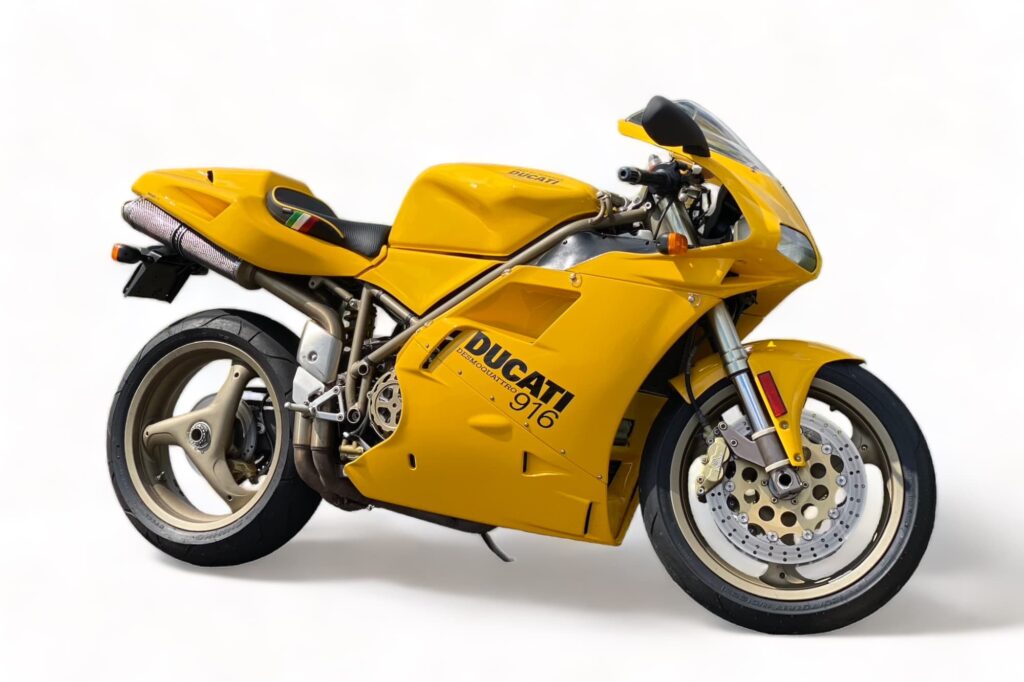 The Ducati 748 has an identical visual design to the 916, but what the heck. Below is the cream of the crop, the 748R.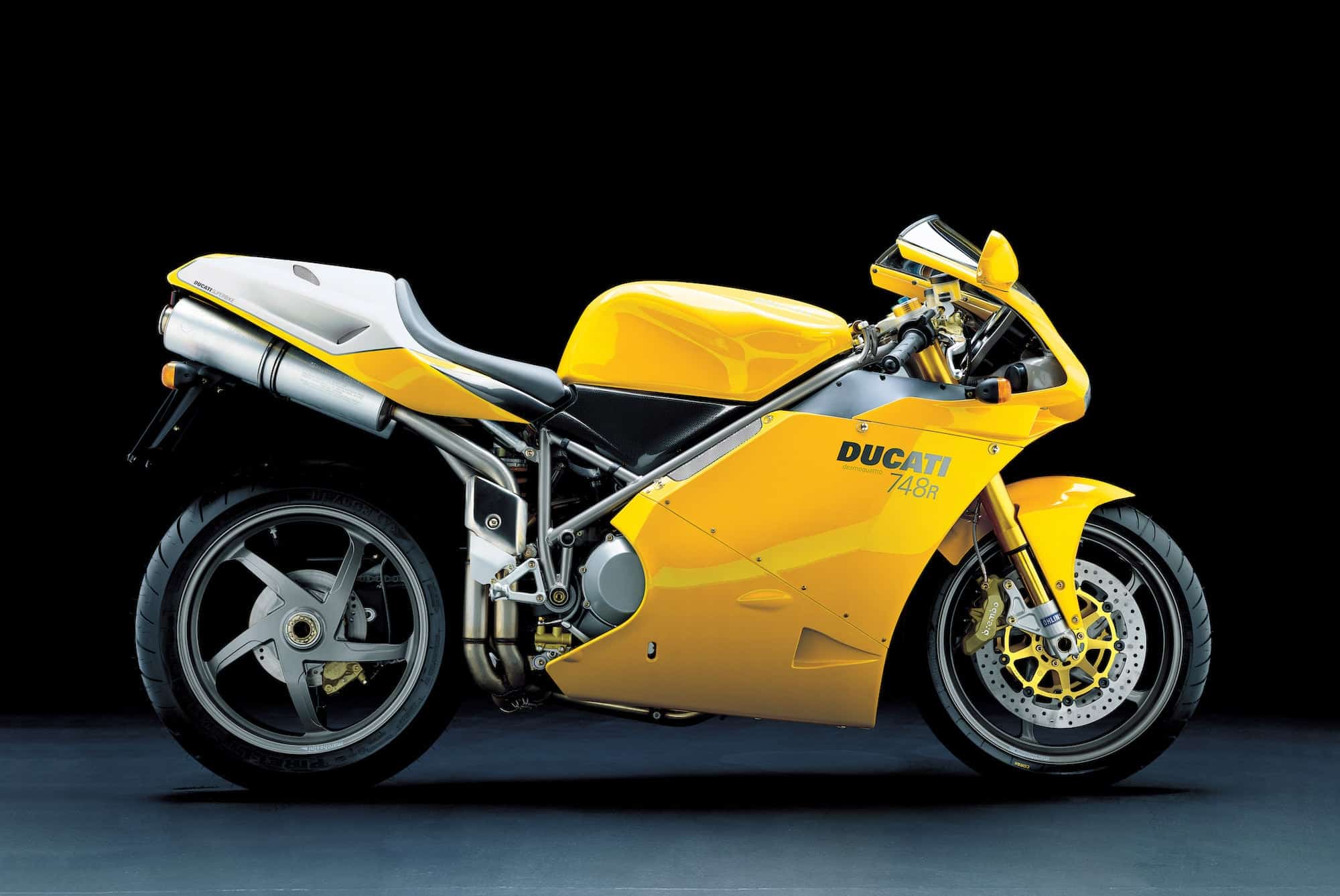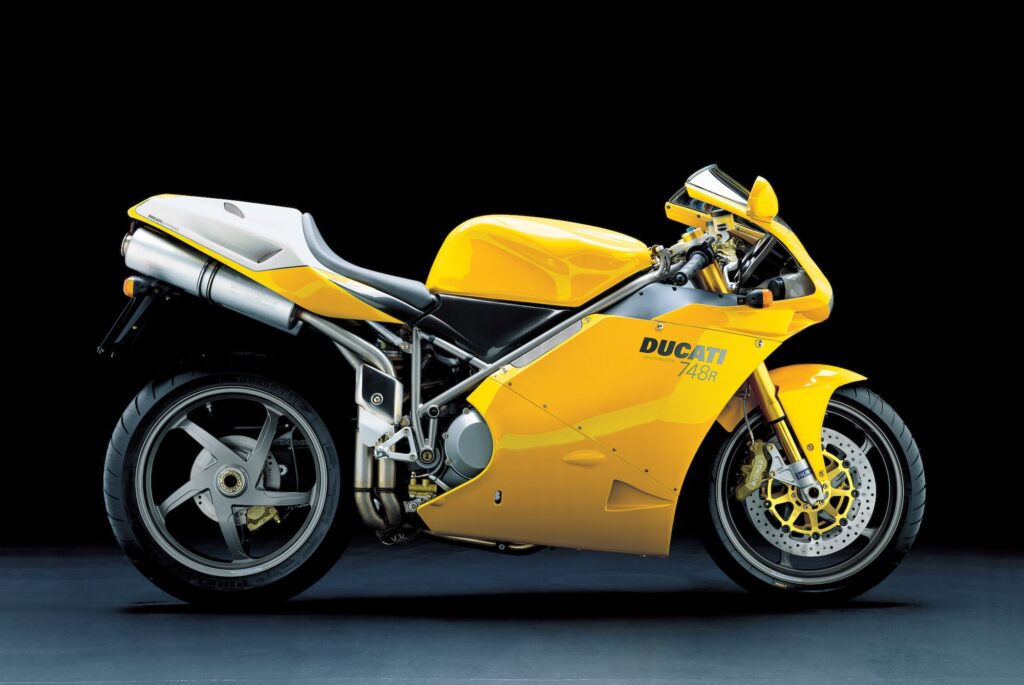 Ducat kept going with yellow motorcycles in the next iteration of the Superbike line, the 996 / 998.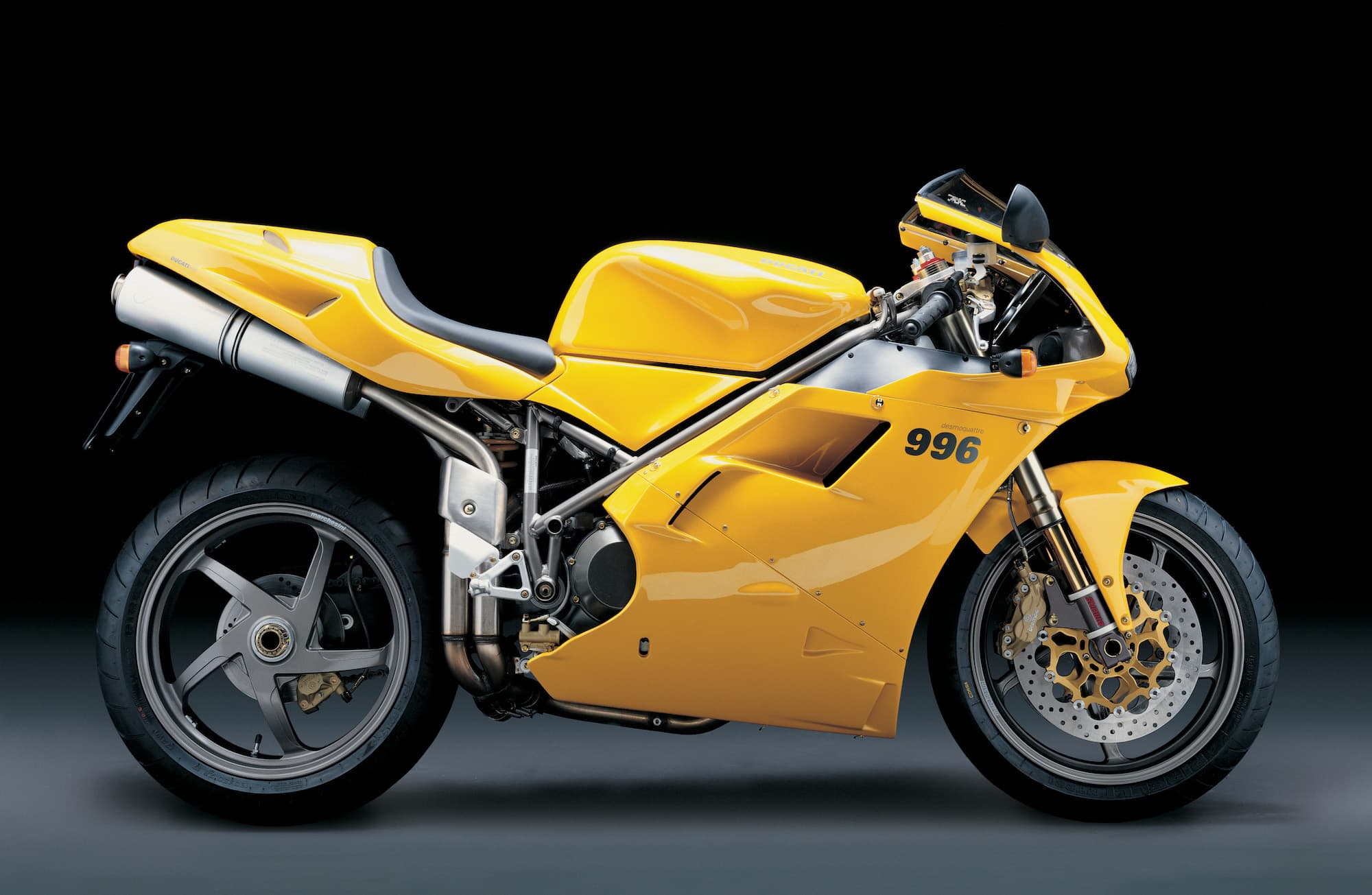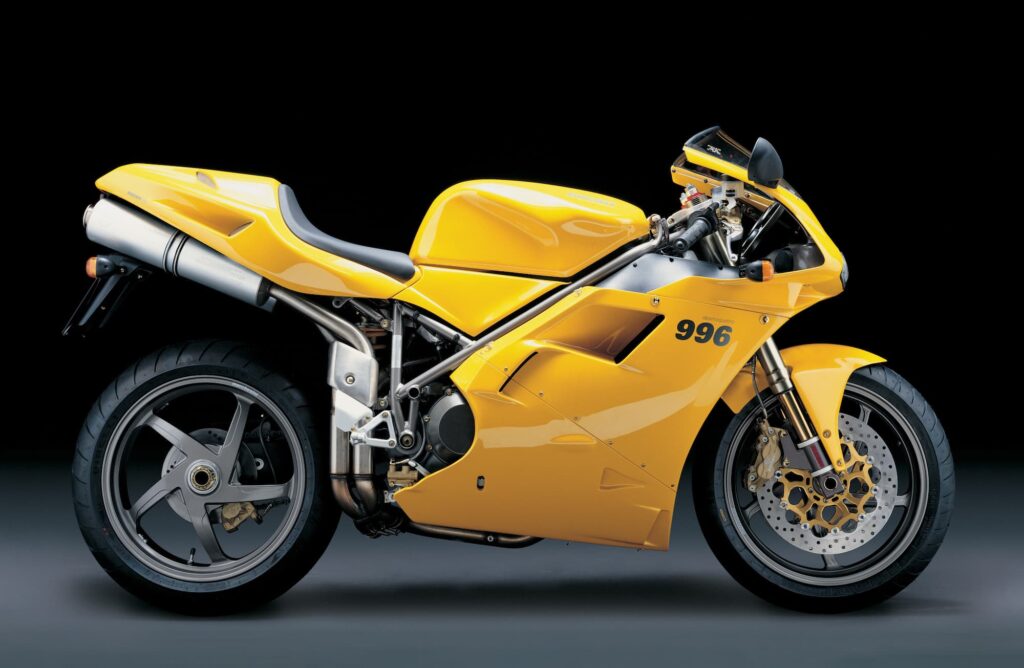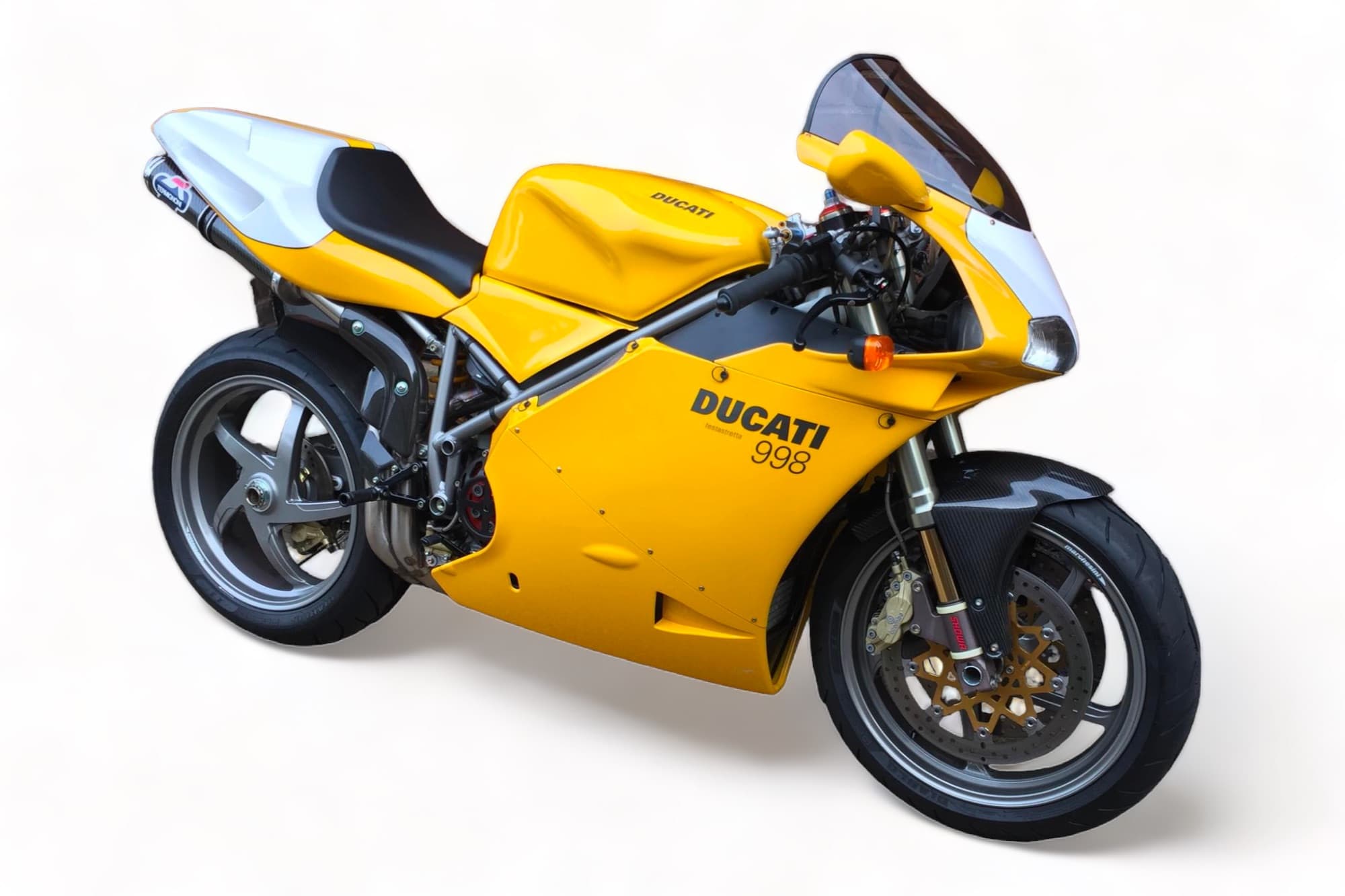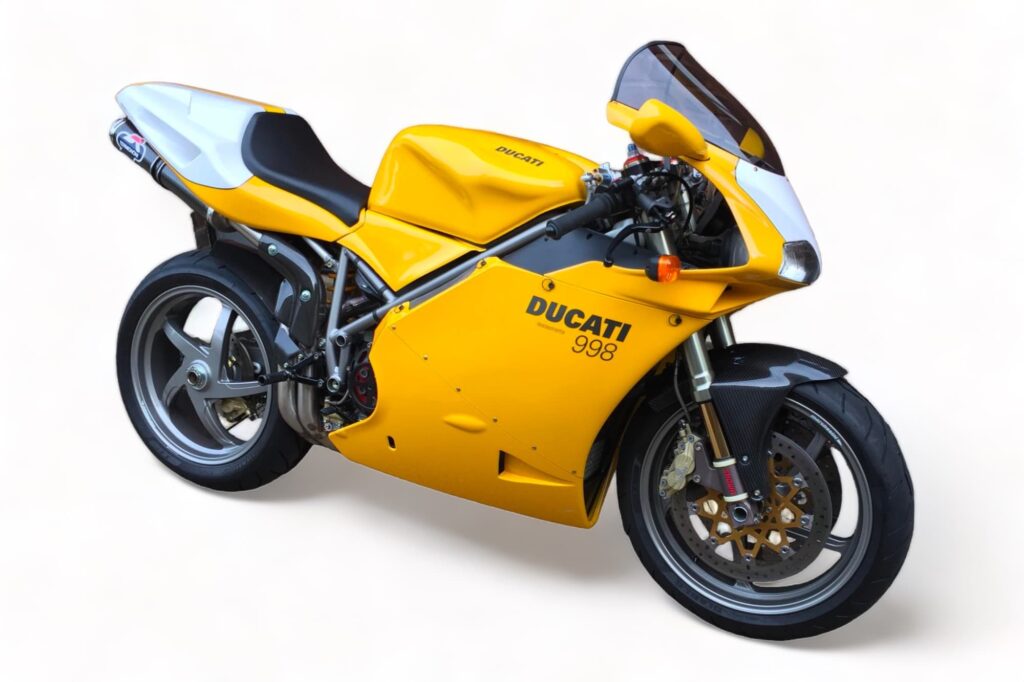 And yes, even the 999 came in Giallo Corse. Ah, the 999. Not everybody's favourite, but it's one of mine.
The Ducati 749 Superbike is styled aesthetically nearly exactly like the 999, and also came in yellow. I mean giallo.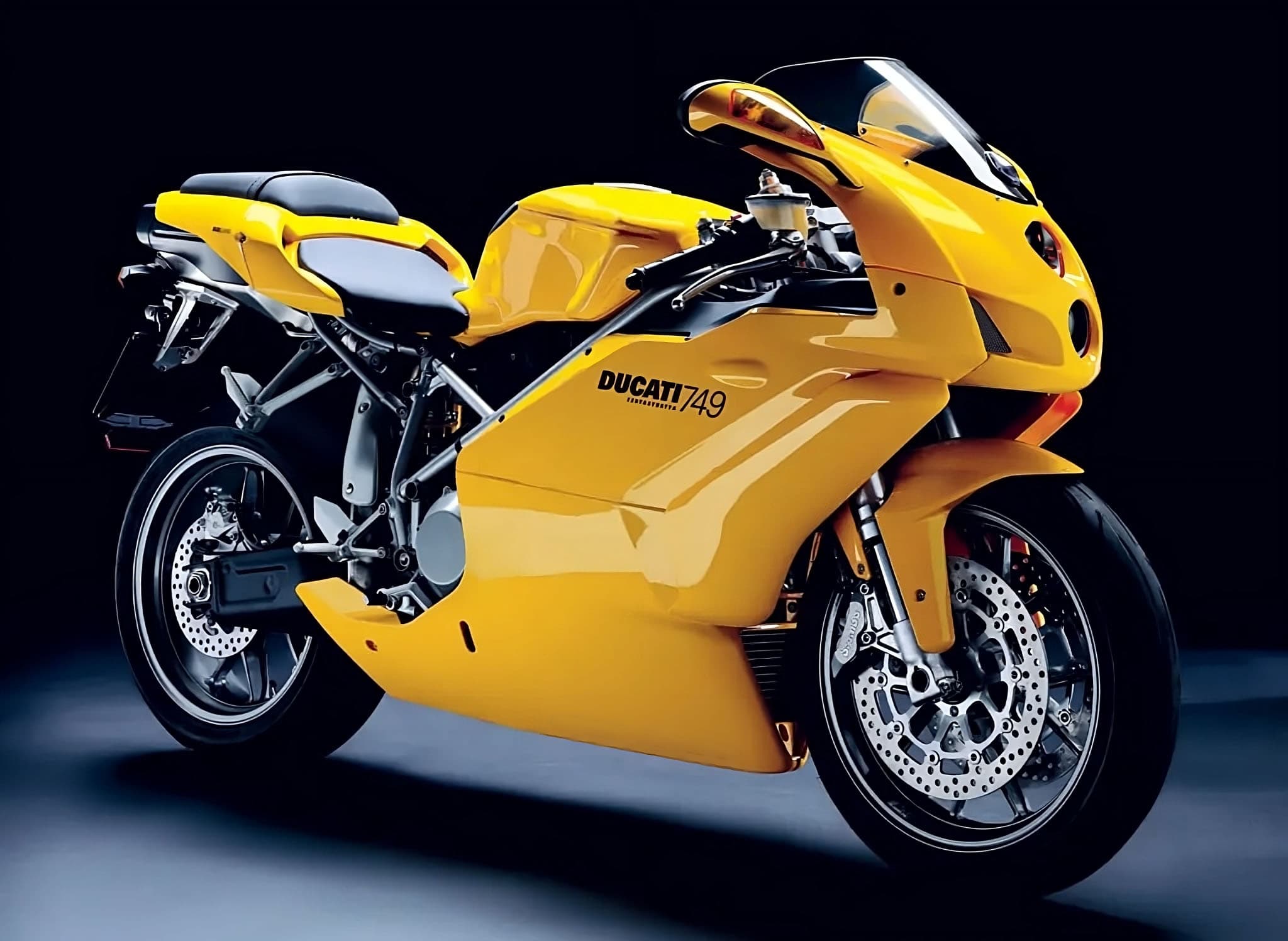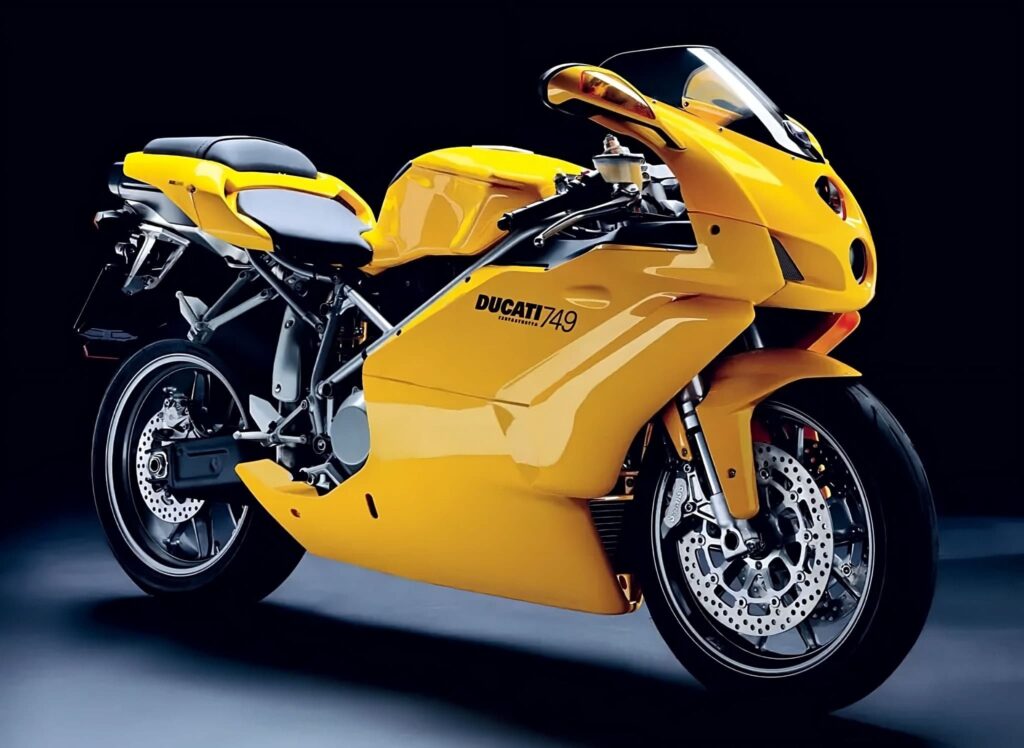 The Ducati 1098 was the last Superbike to come in yellow. This was the end of an era for Ducati sporty yellow motorcycles — Ducati shortly afterwards changed its racing colour to red. I don't think there was a stock 1198 in yellow.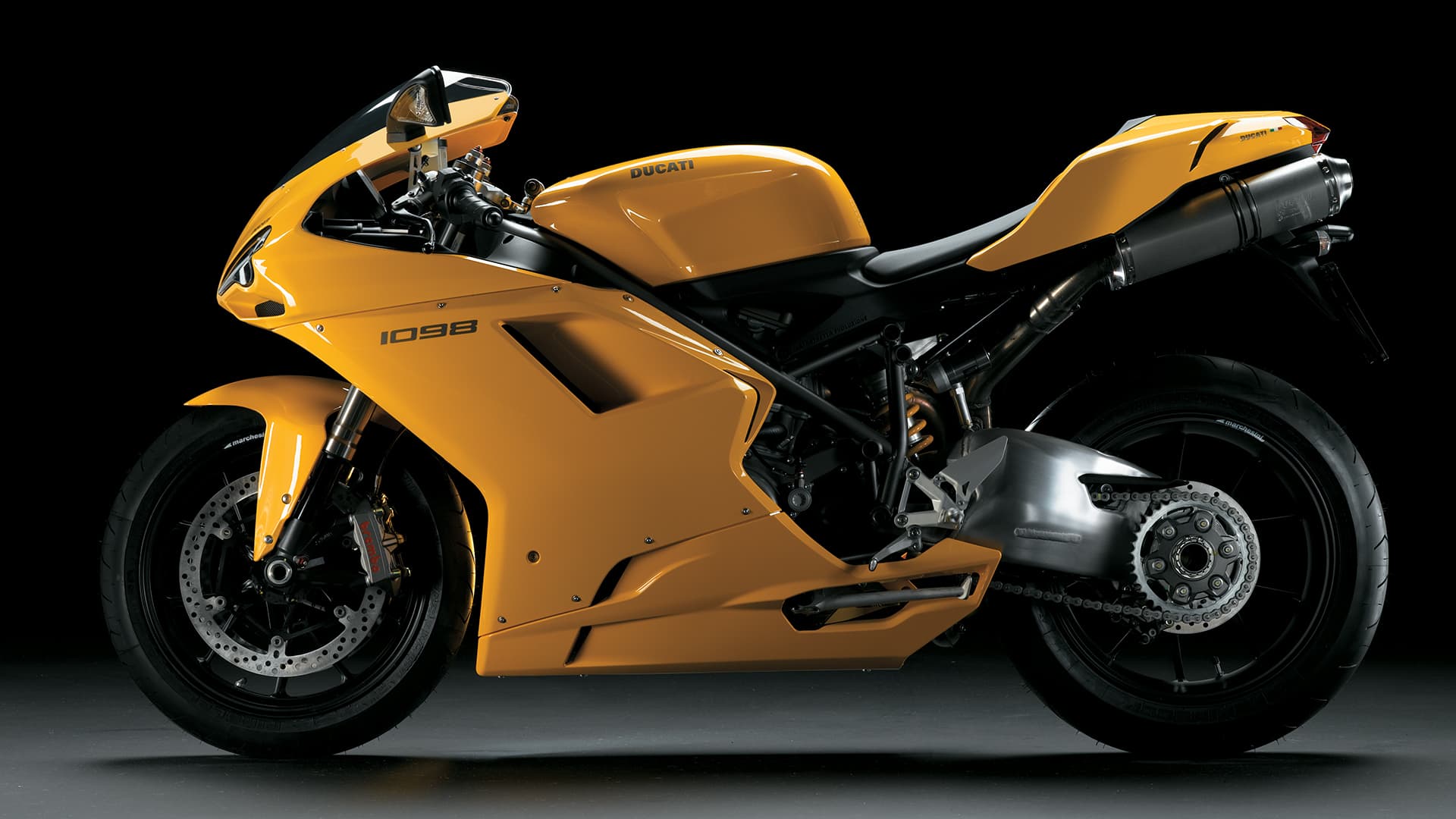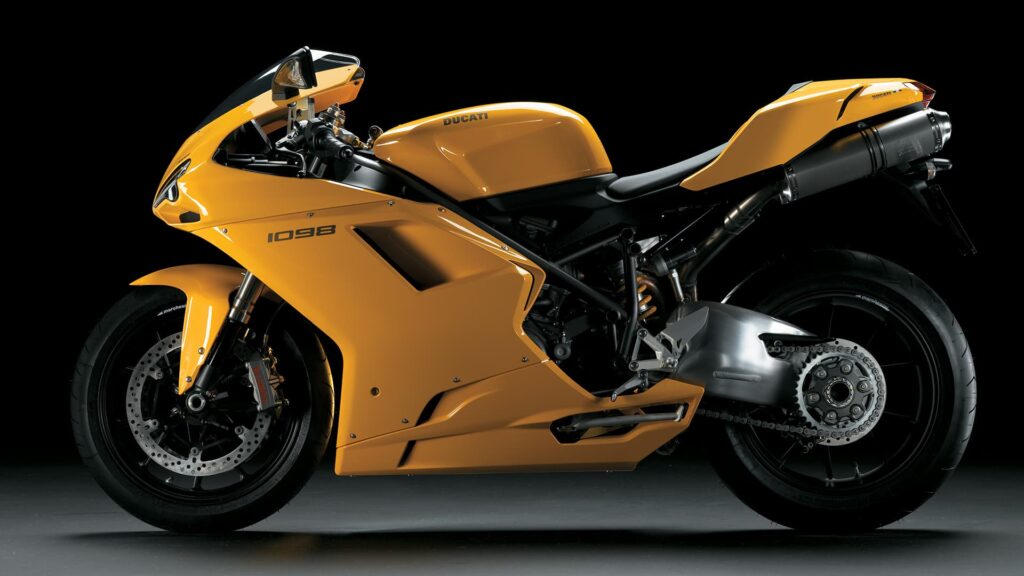 Ducati Monster 600 to 821
There have been many models of Ducati Monster in yellow, starting with the Monster 600 in 1995, and ending with the recent (until 2020) Monster 821.
Here are a few pictures below of some Ducati Monster yellow motorcycles.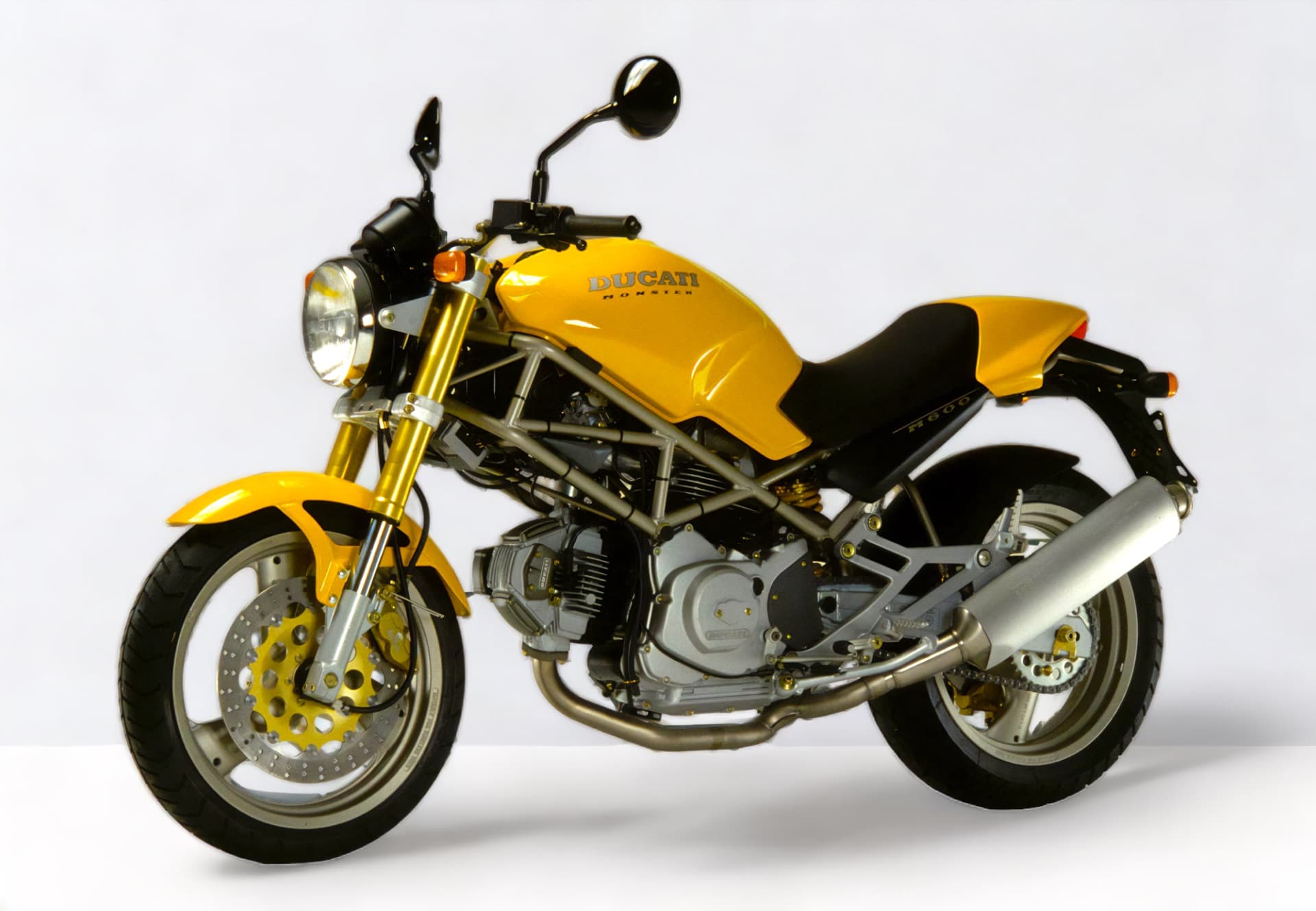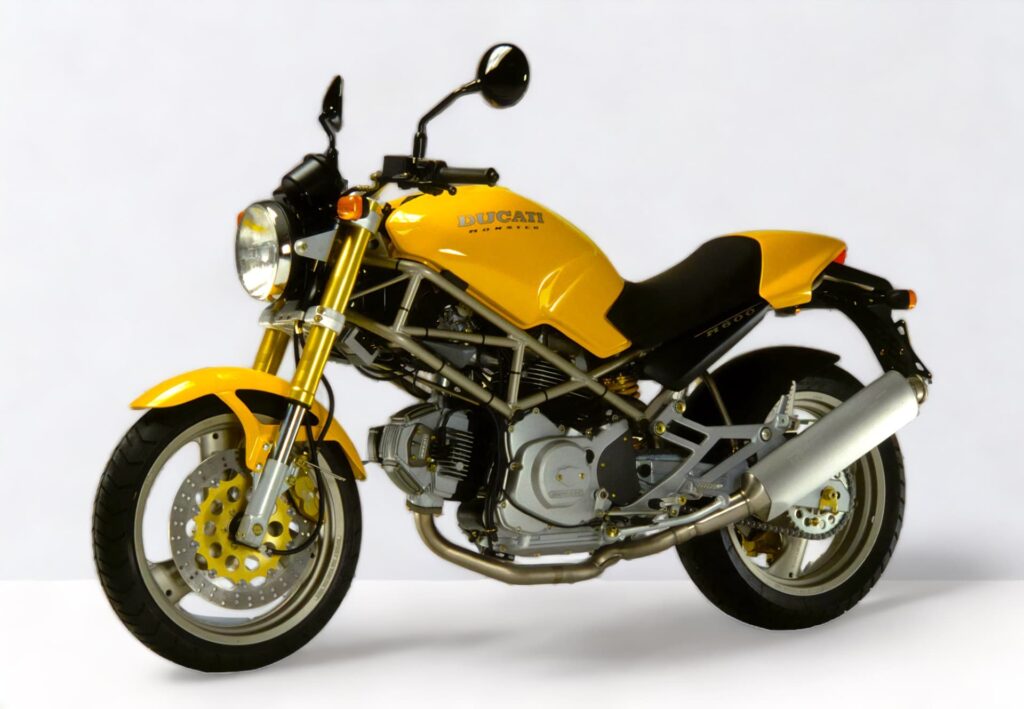 The Monster 900S is 'S'porty with that little yellow windshield. It does keep bugs off the hard-to-clean gauges. Sport!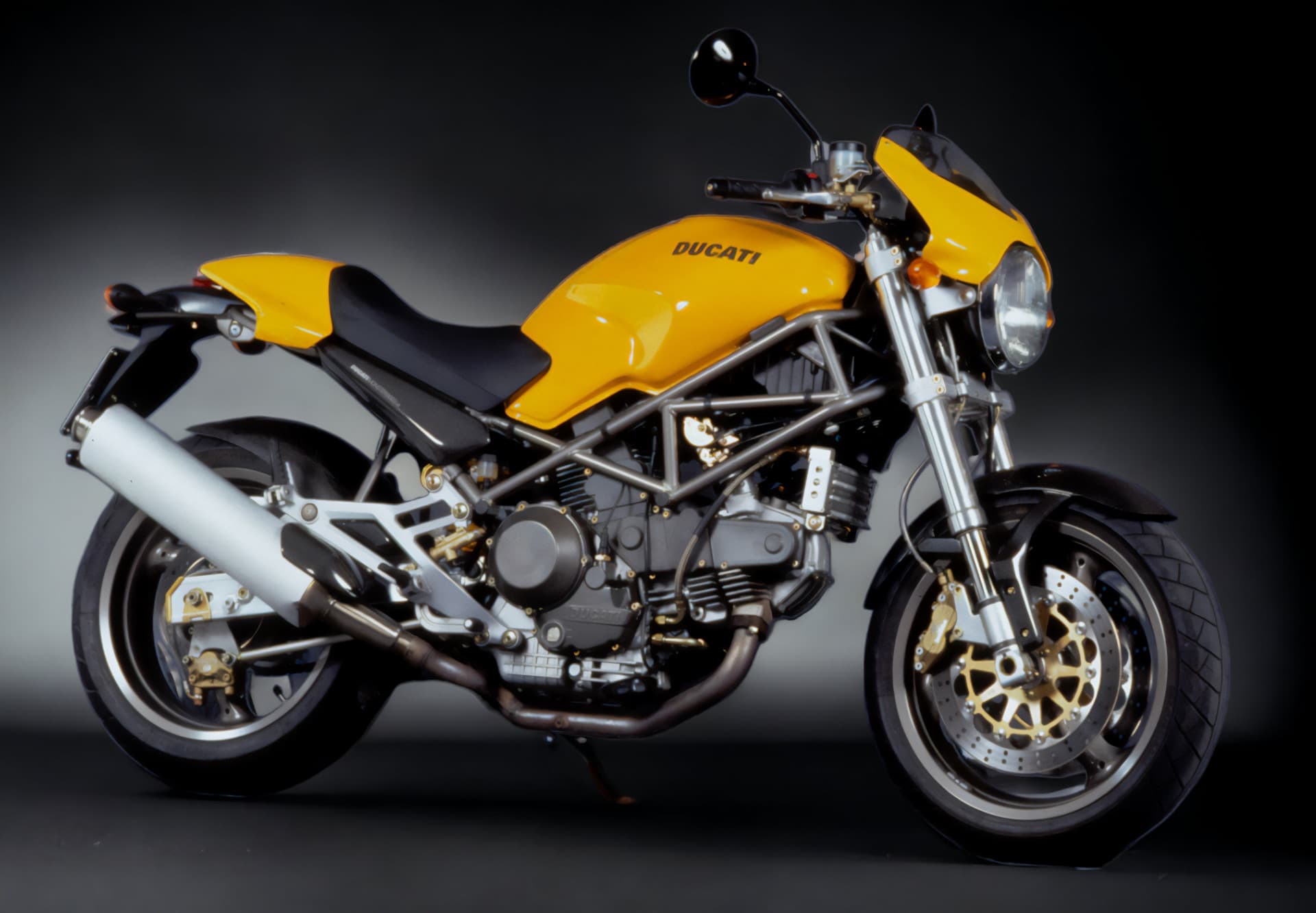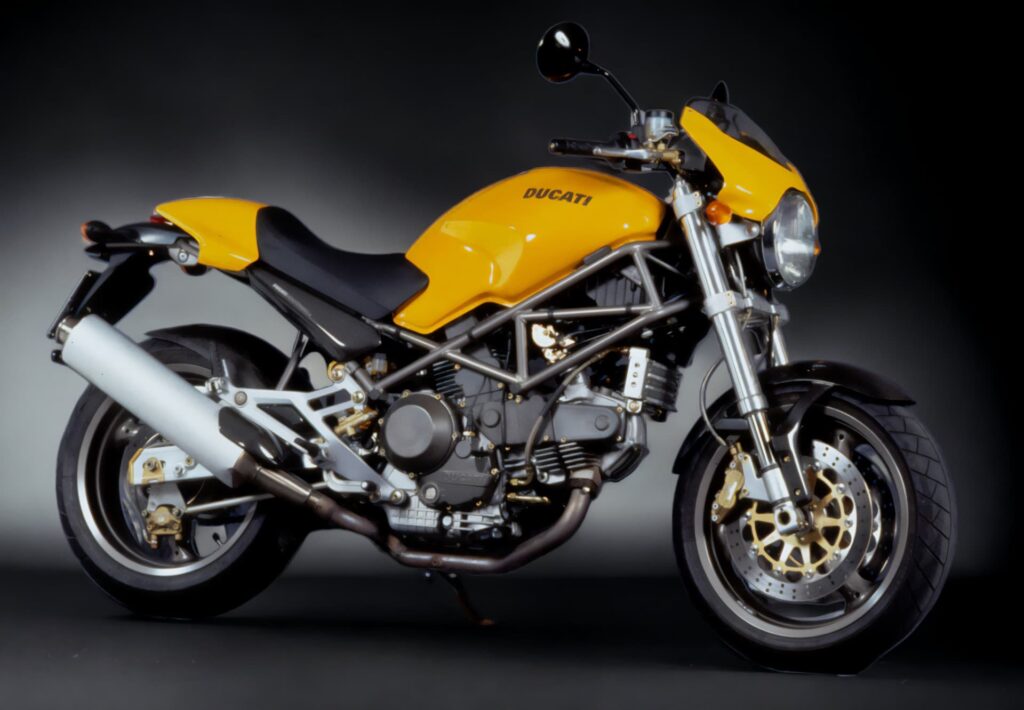 The Monster 620, 800, and 1000 all share a visual design, more or less (though the 620 lacks an oil cooler), but I'm including them all here to keep the pundits happy. (I am one of said pundits.)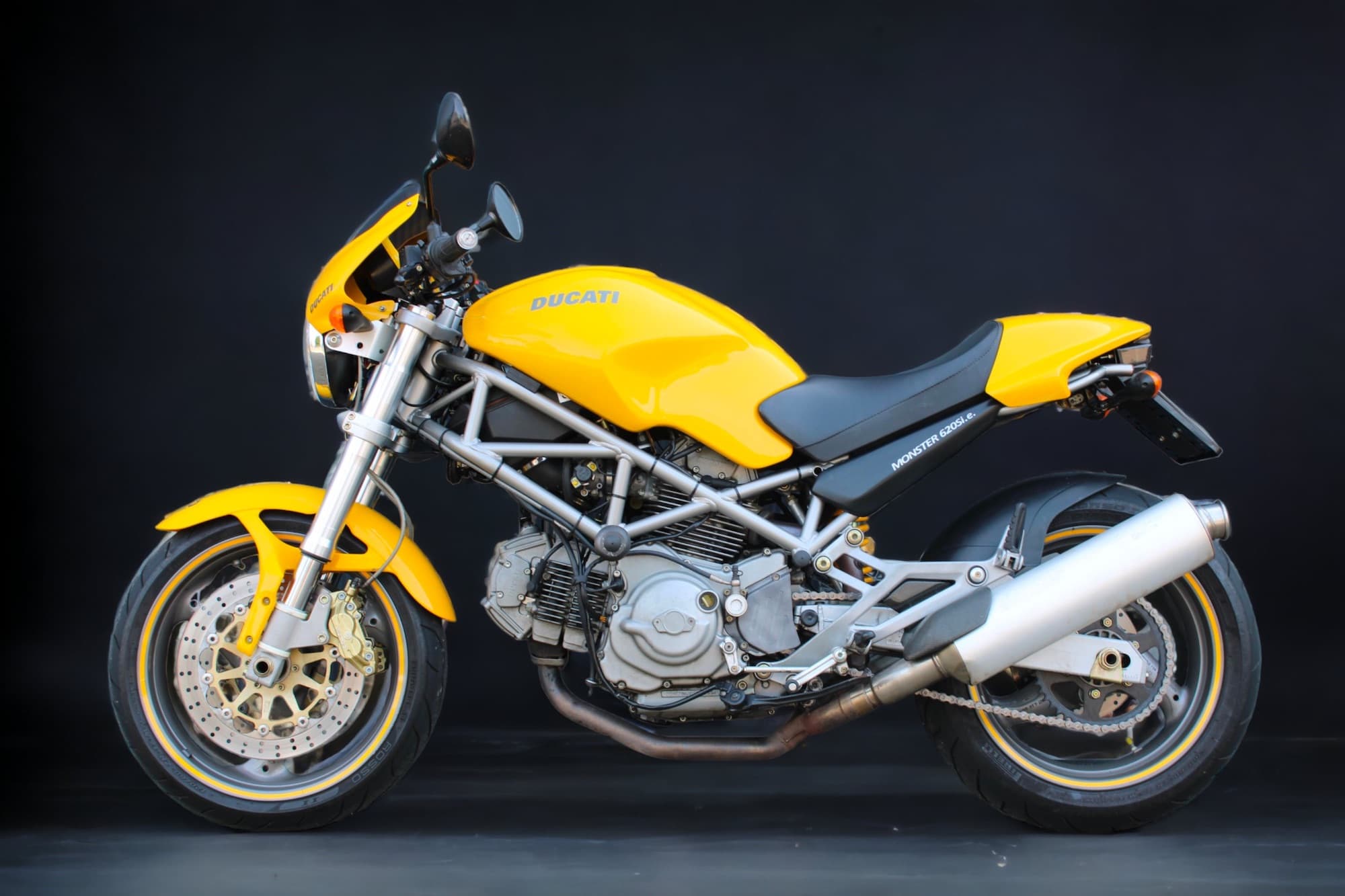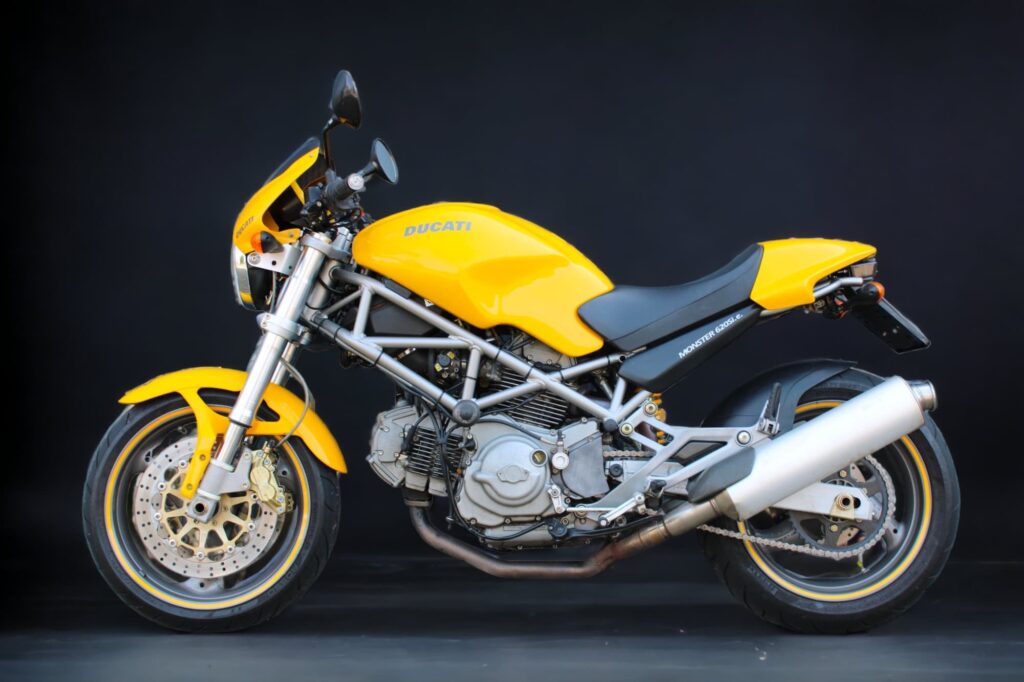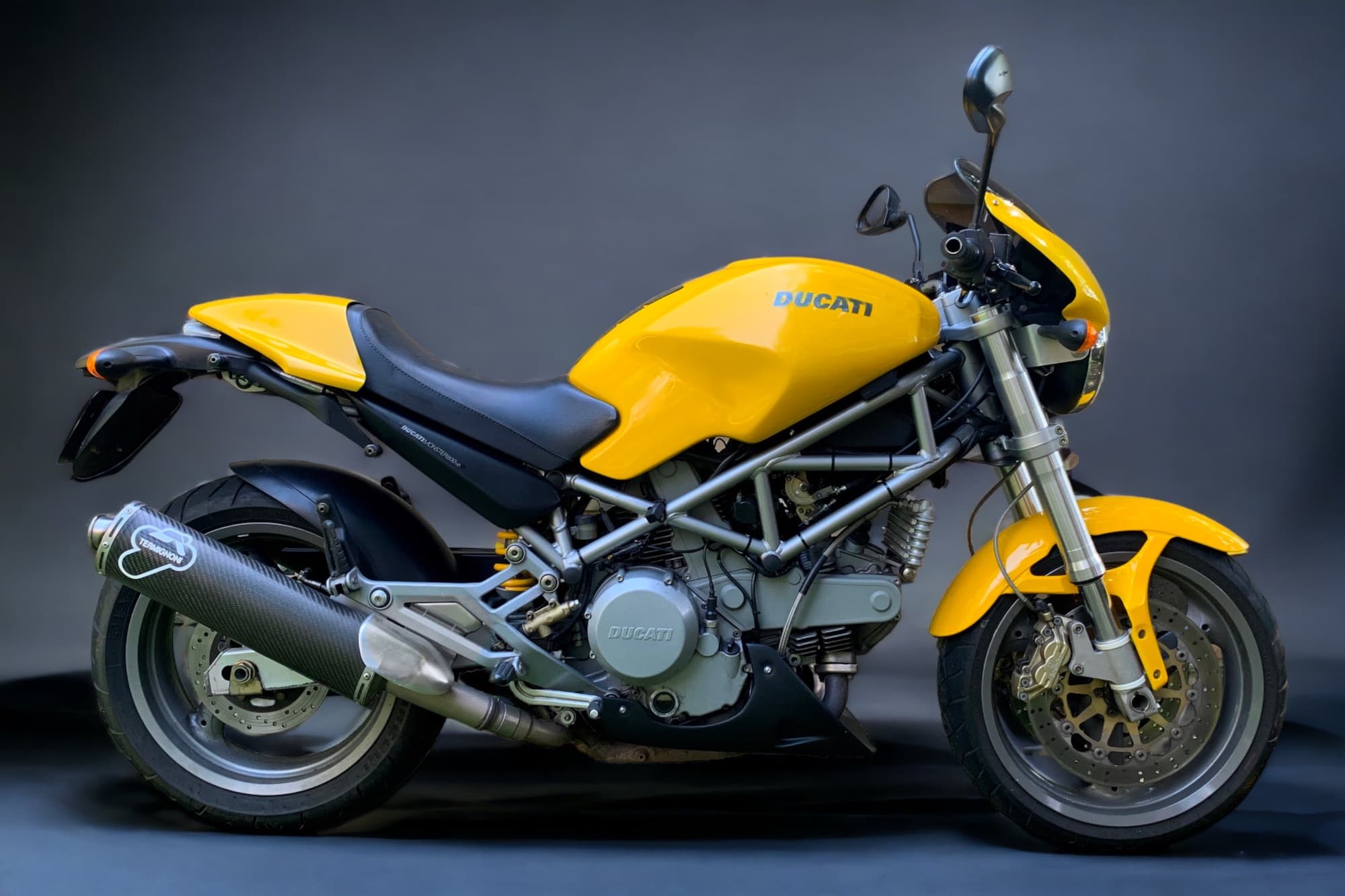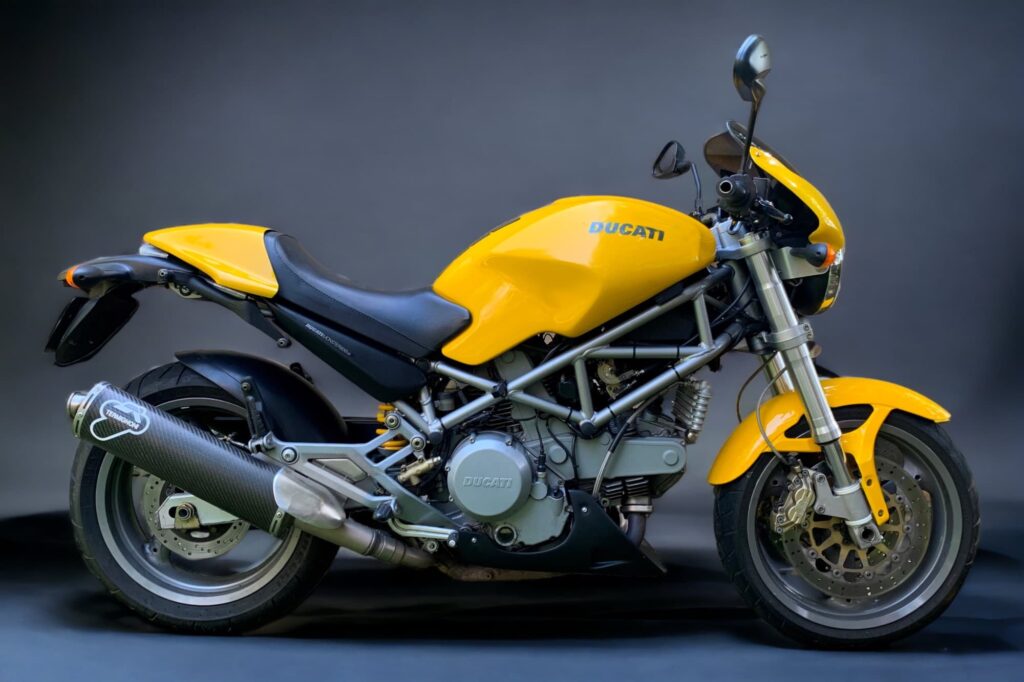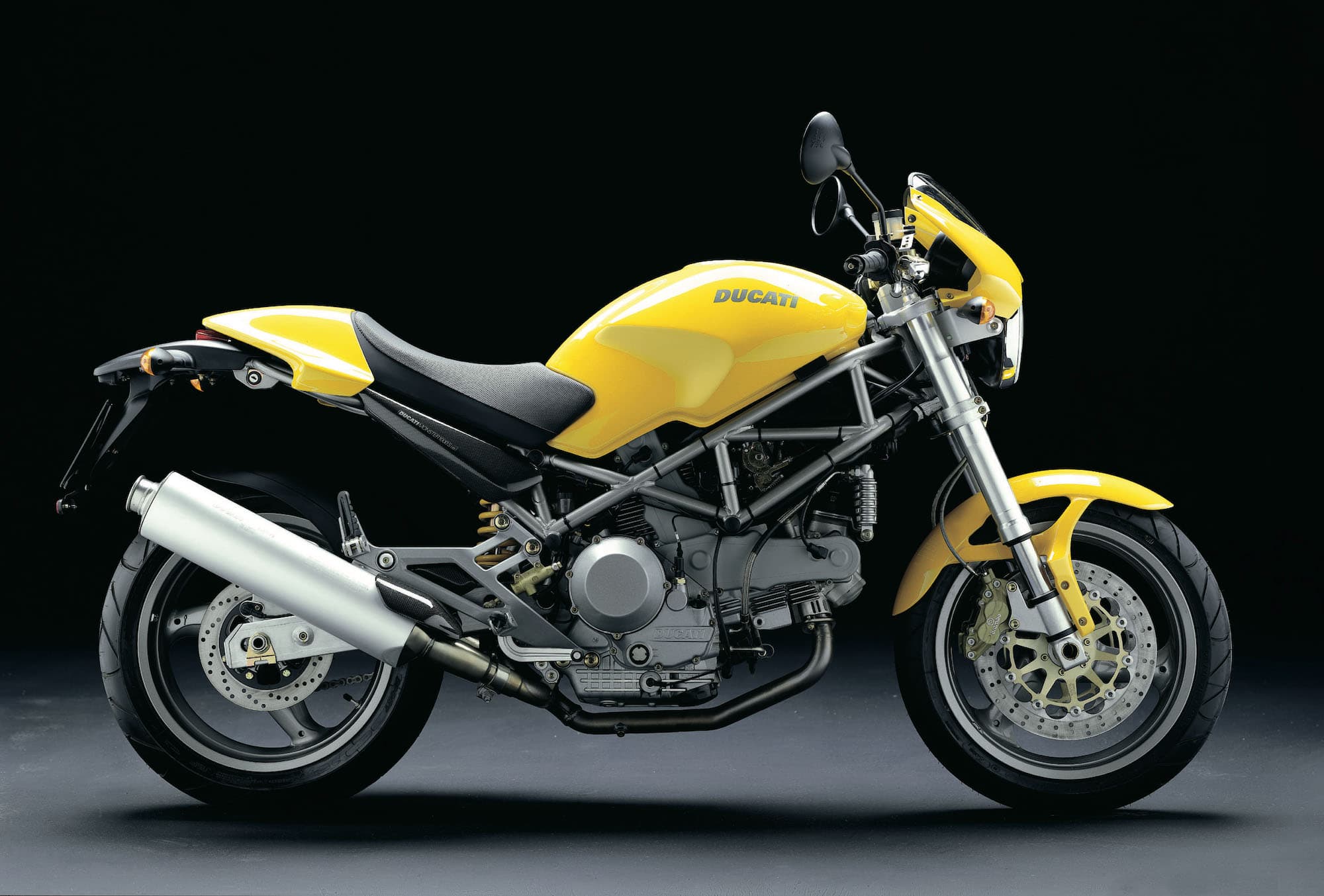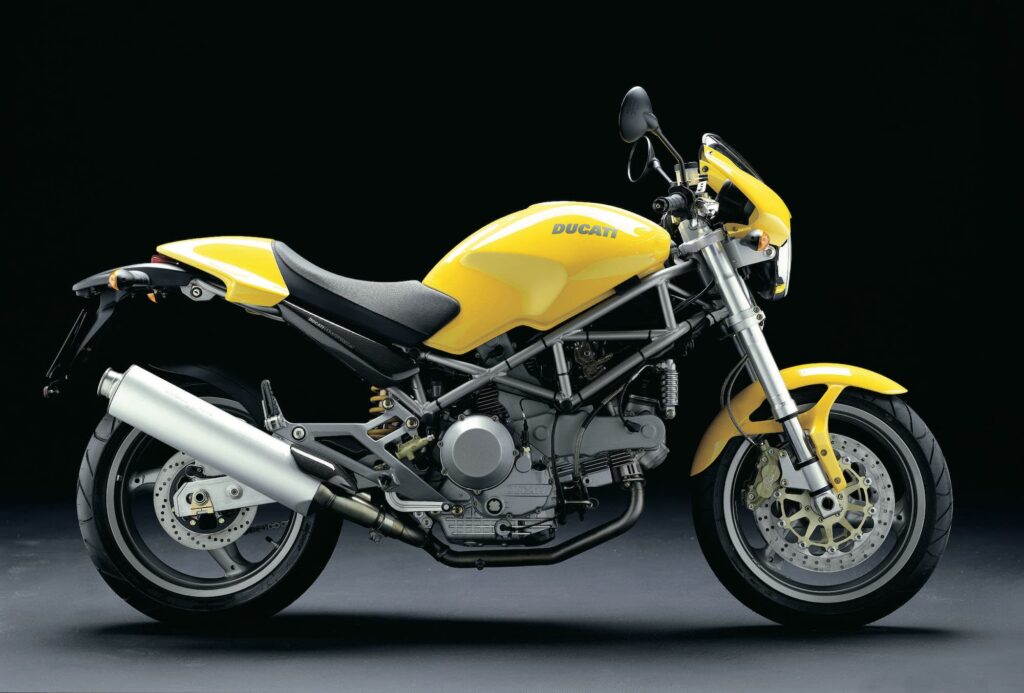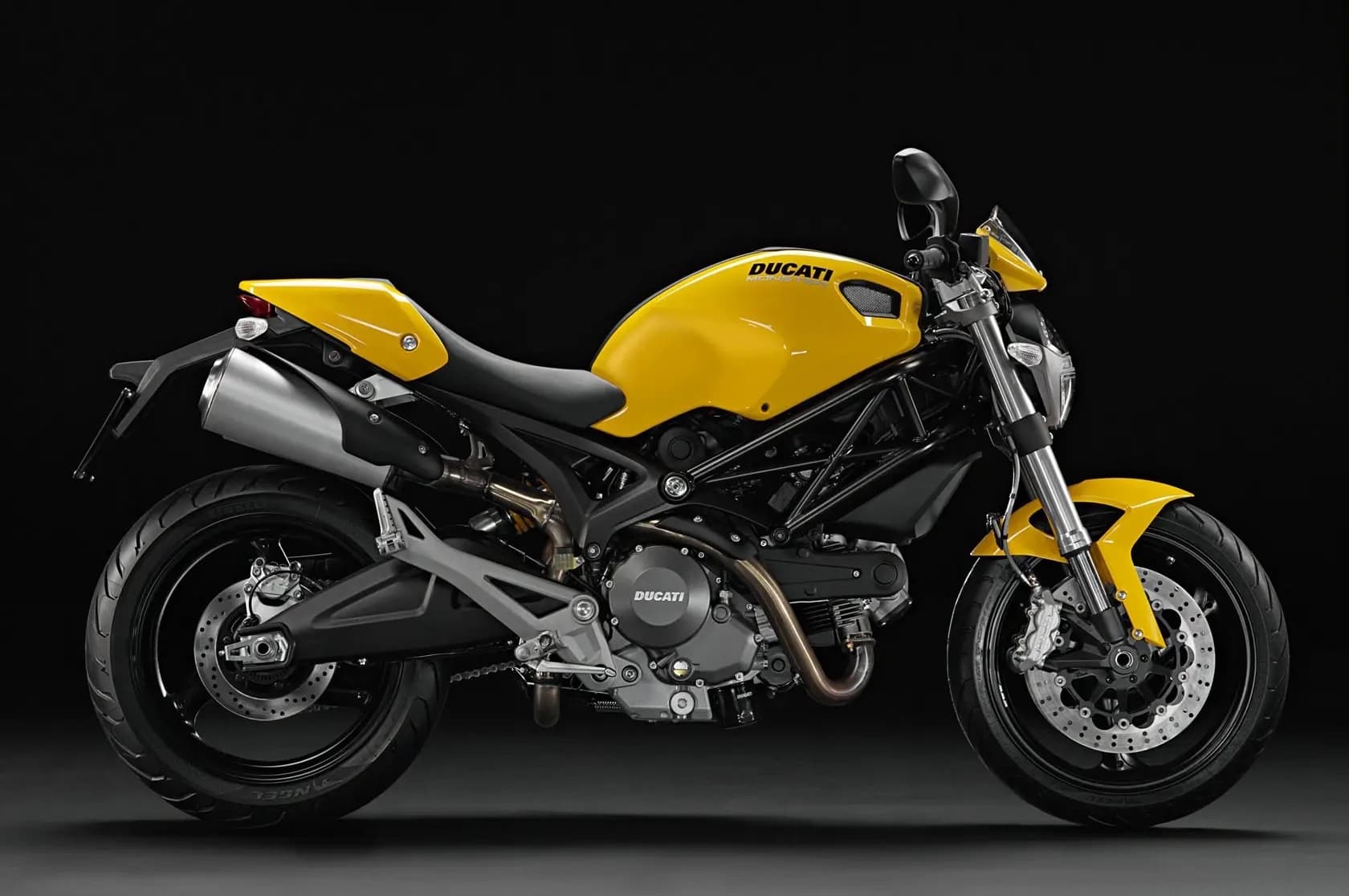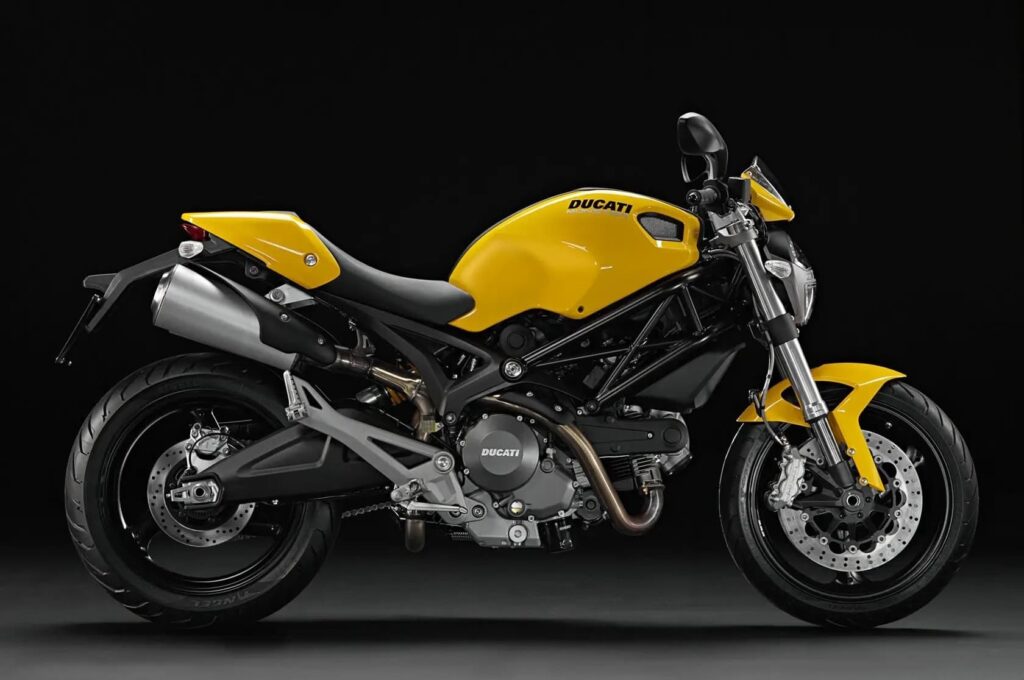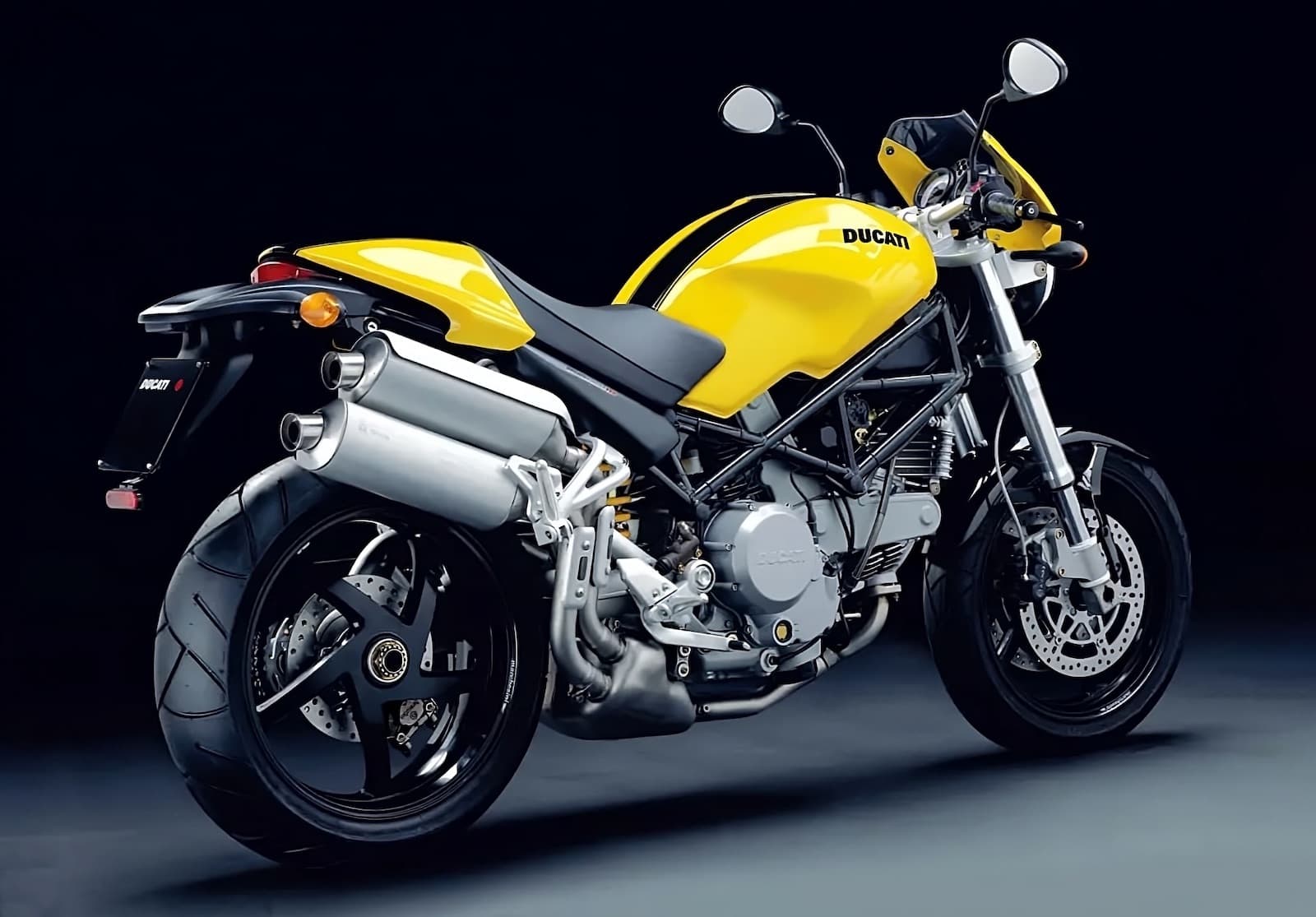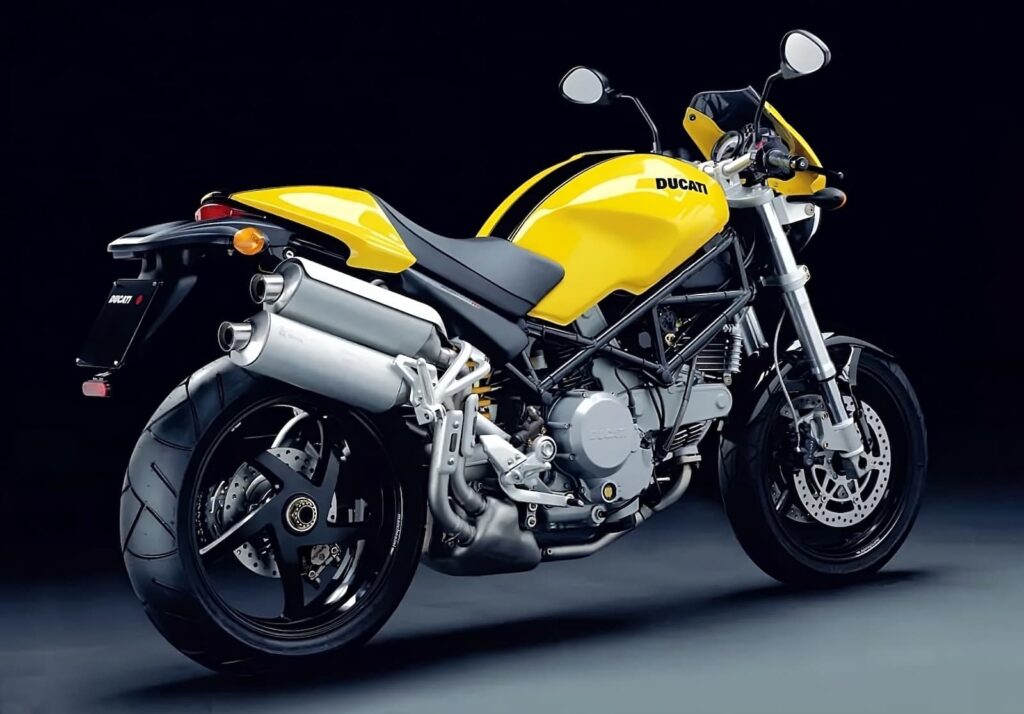 After the S2R, Ducati took a hiatus on making yellow motorcycles in their standard / sport line, too. There was no (to my knowledge) Monster S4R, Monster 1100, or 1200 in yellow.
Ducati briefly came back with the 821, the last trellis-framed Monster.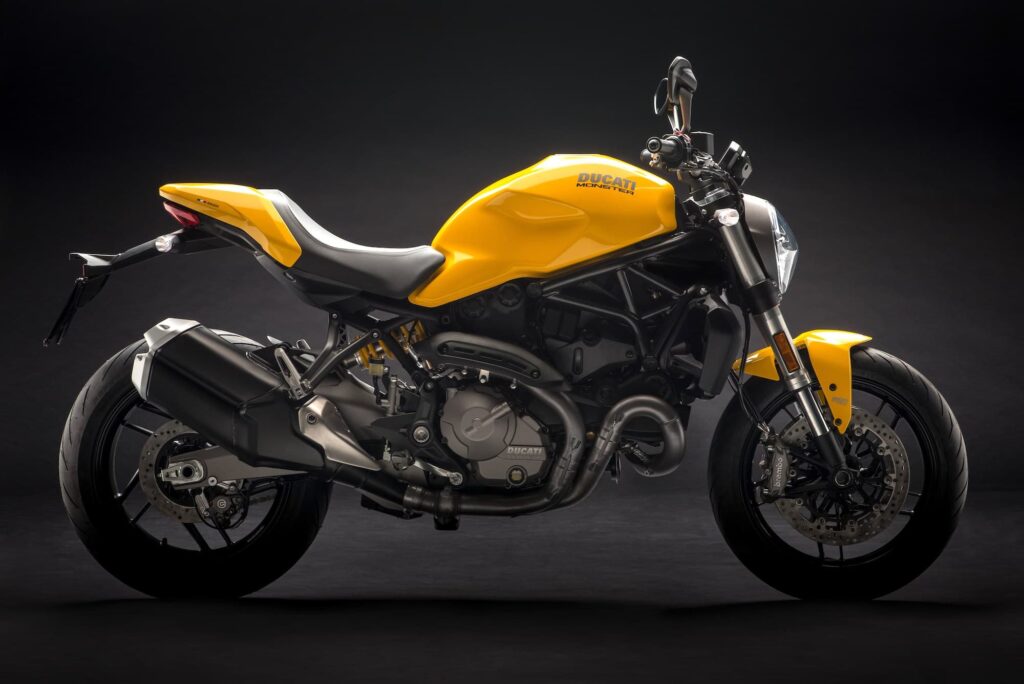 We haven't seen a yellow Monster since the 821. I wonder if Ducati will bring it back for the 2021+ Ducati Monster 937?
Ducati Multistrada 620
Ducati only released the Multistrada 620 (not even the contemporaneous 1000) in yellow.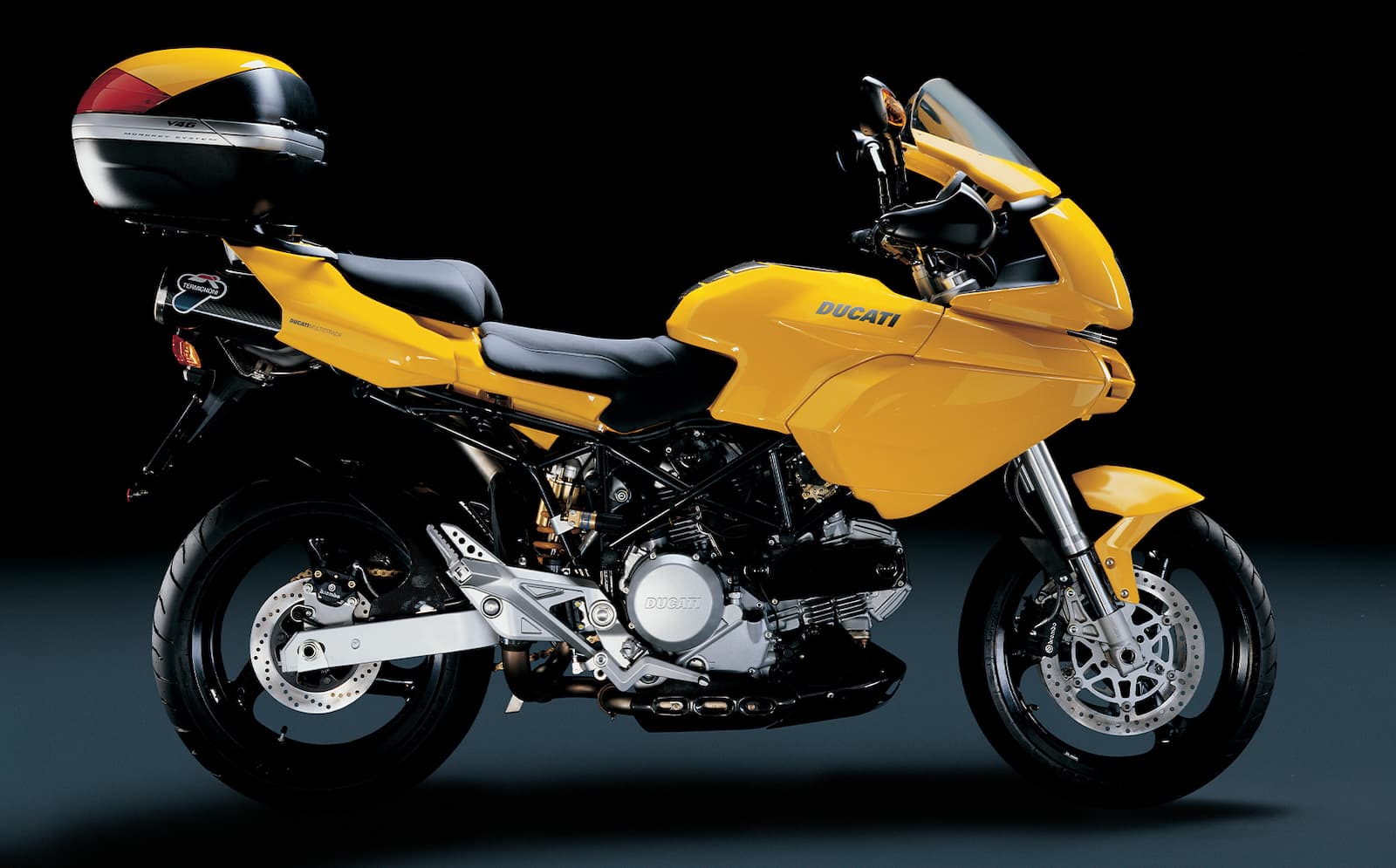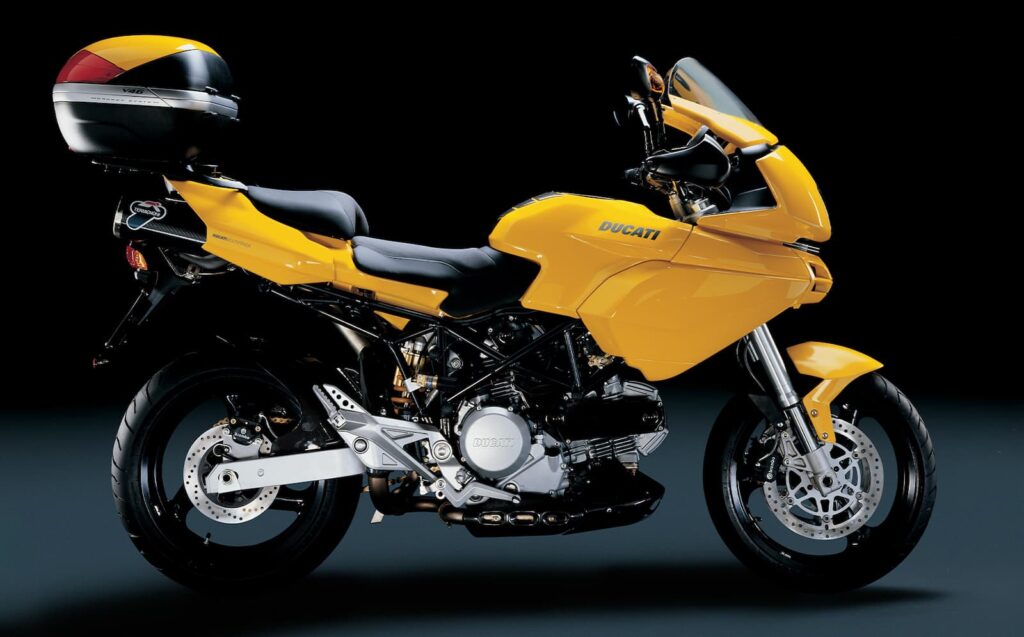 Shame! There have been no other models of Multistrada in yellow. (There were some factory test models I've read about, but none brought into production.)
Ducati Scrambler Models in Yellow
Ducati has released a number of Scrambler models (both 800 and 1100) in yellow from the very beginning. It goes well with Ducati's "Land of Joy" marketing.
The first Ducati Scrambler yellow motorcycle was the 2016 Ducati Scrambler base model.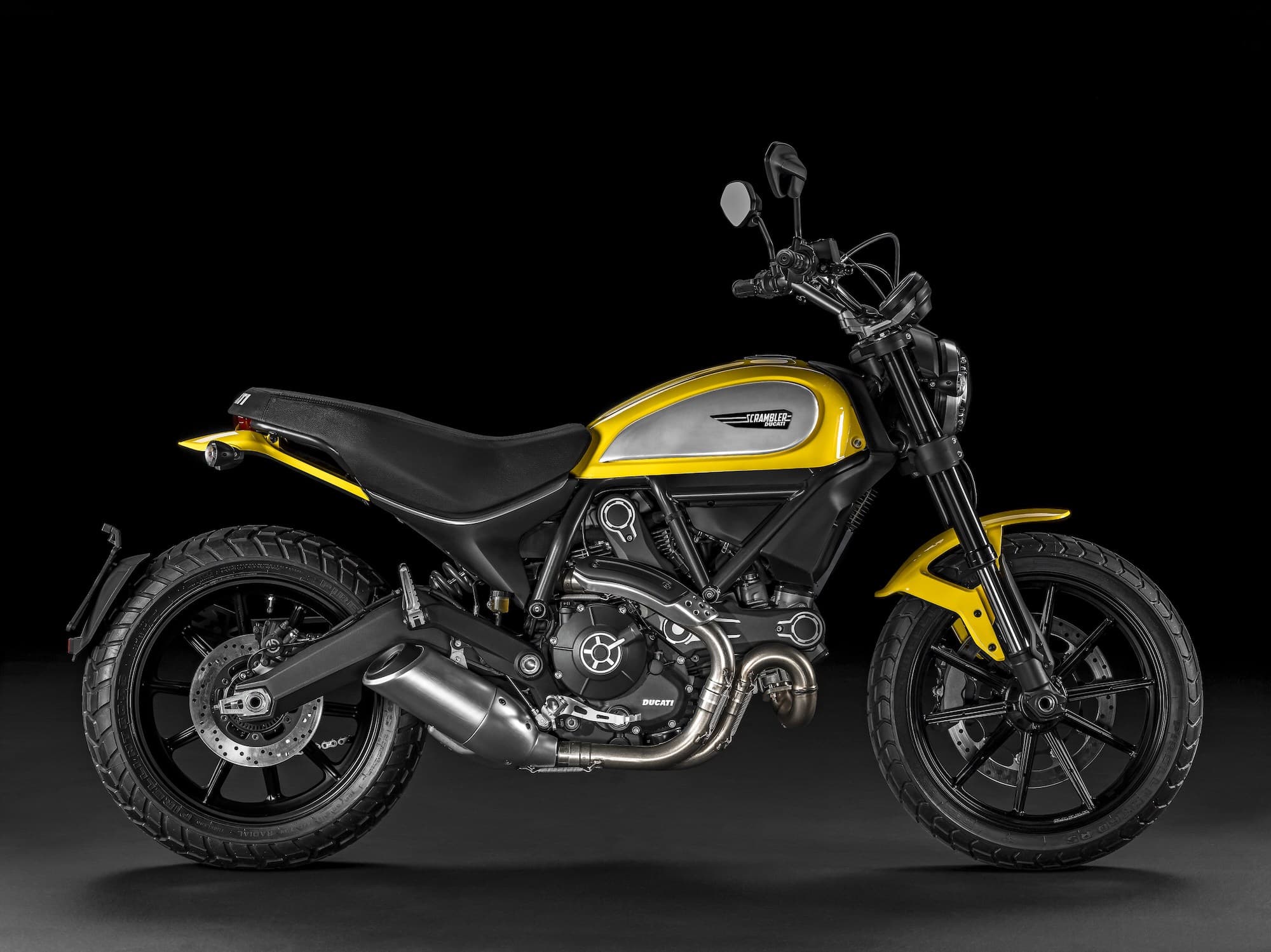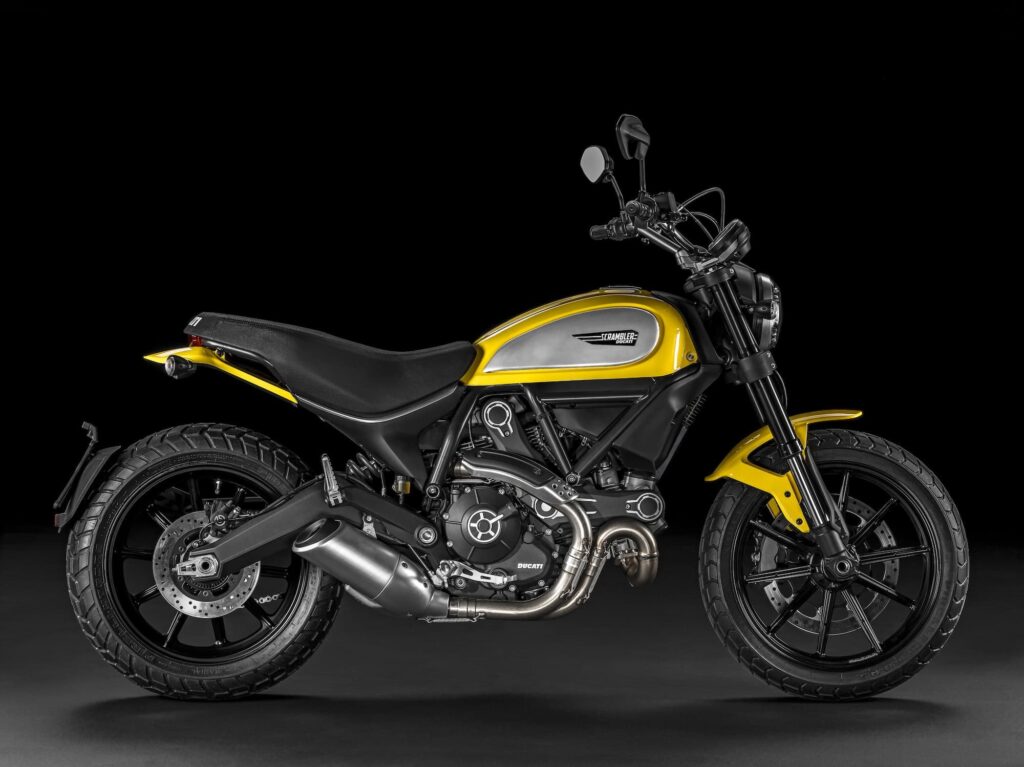 The "Flat Track Pro" variant, with Termignoni pipes, gets more splashes of yellow.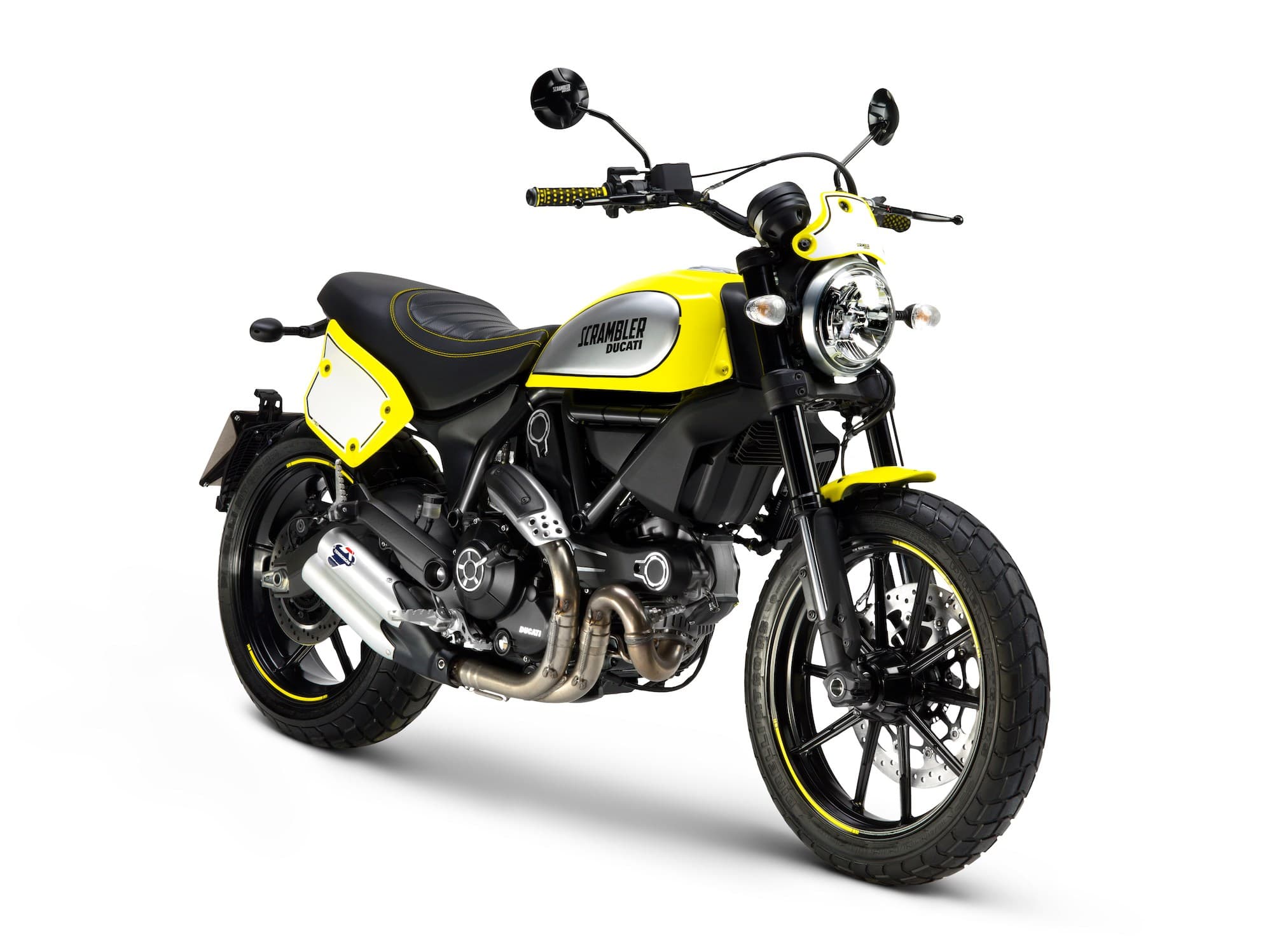 The "Full Throttle" is the yellowiest of the 800 Scramblers.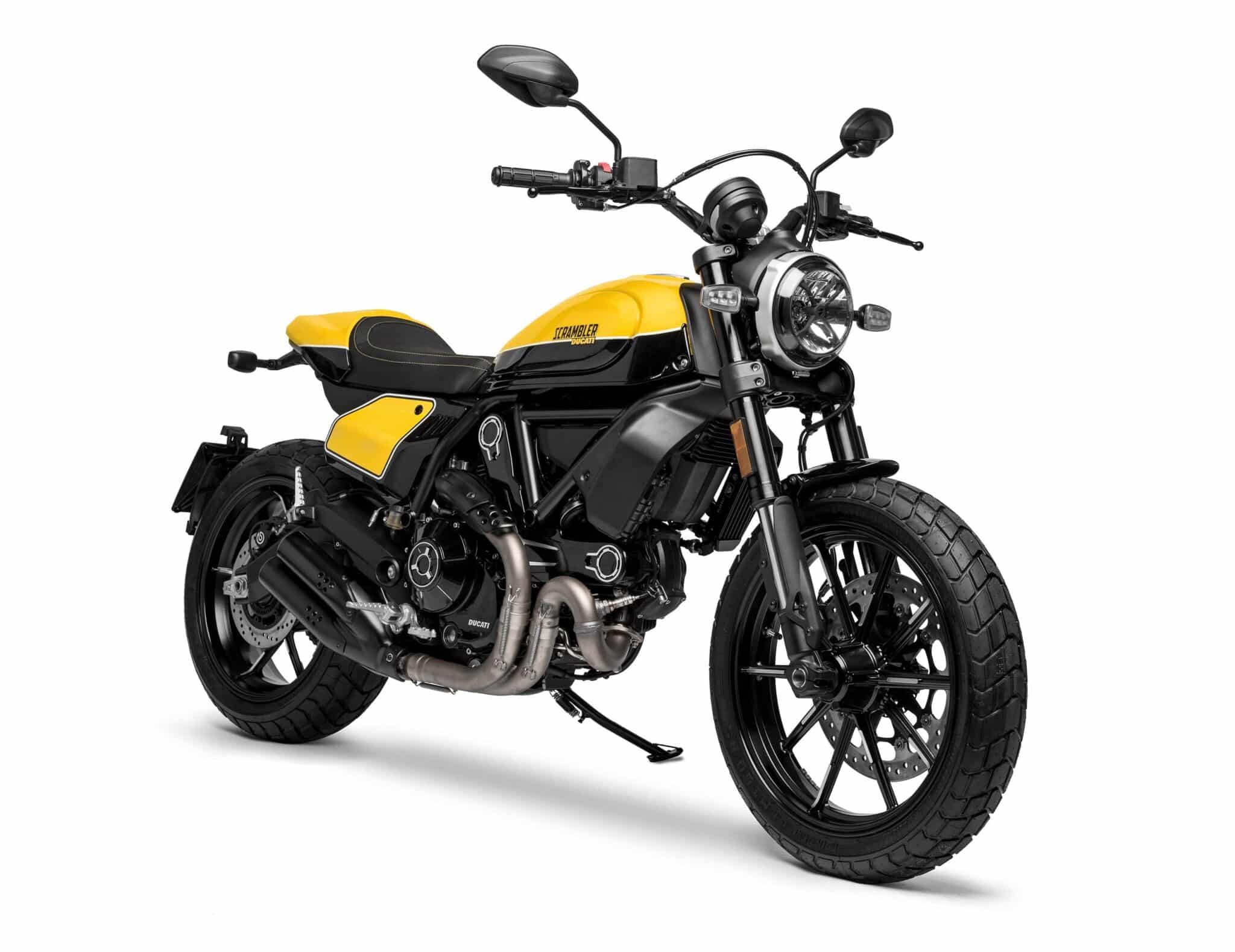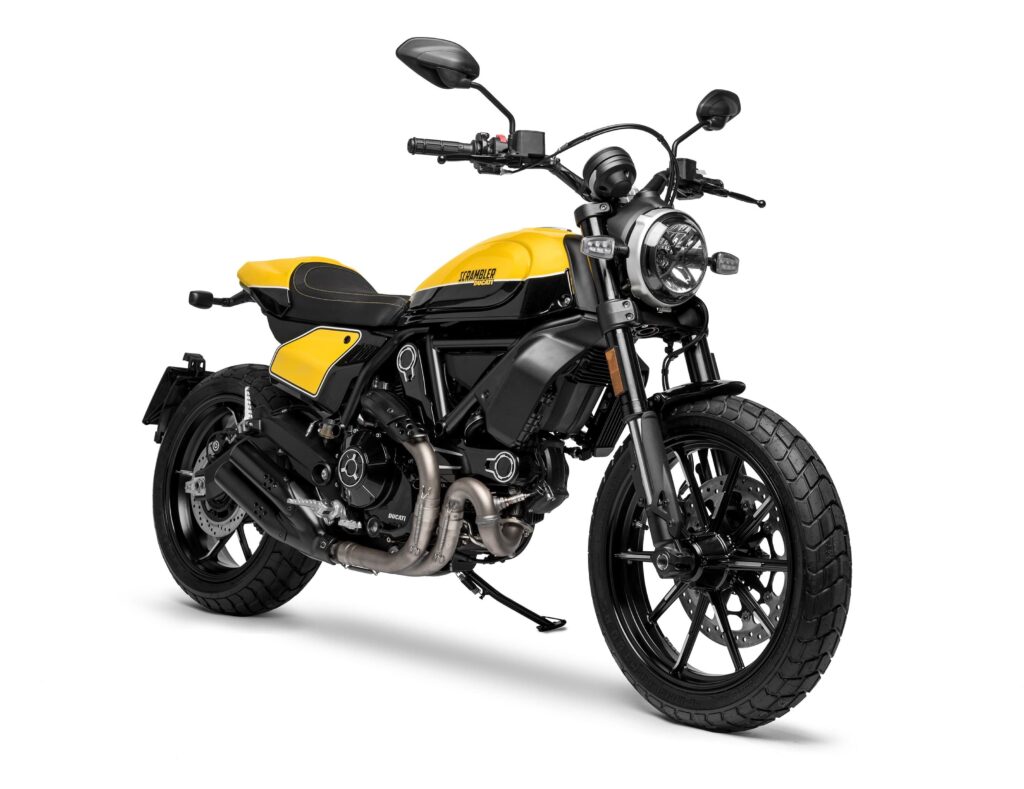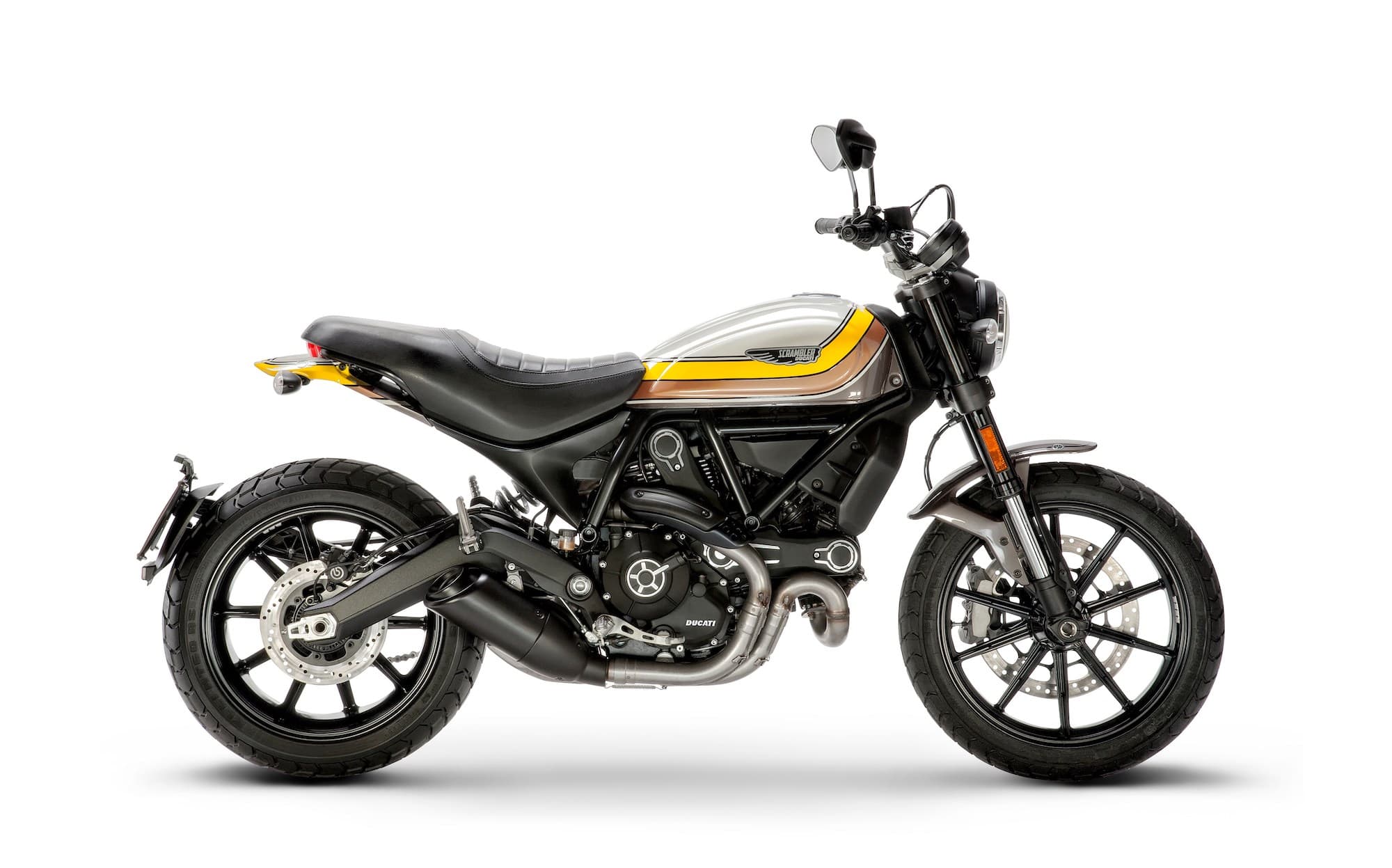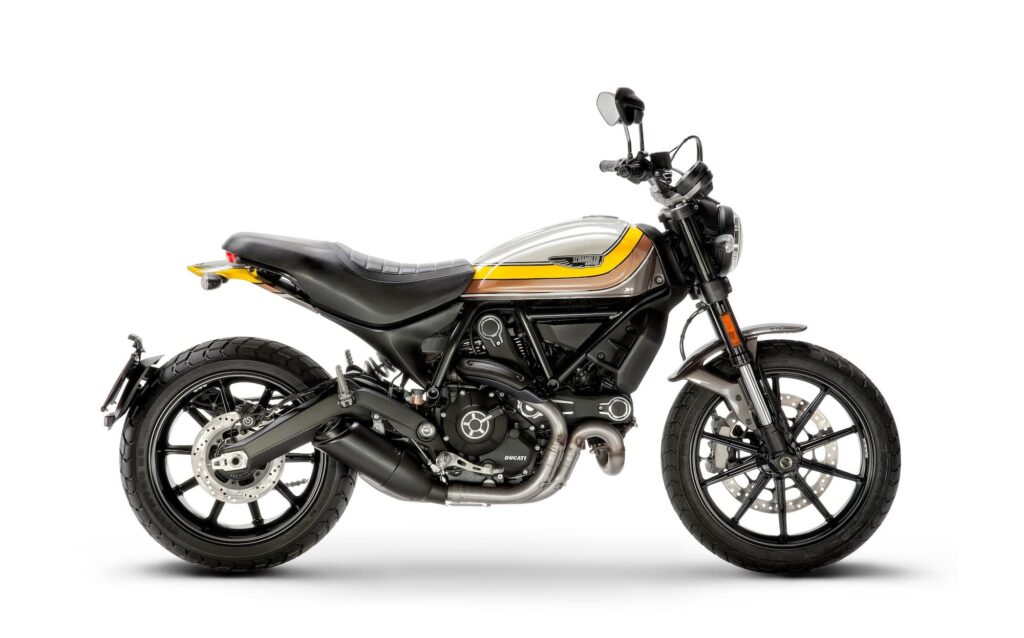 Finally, Ducati released the up-spec Ducati Scrambler 1100 in yellow, too.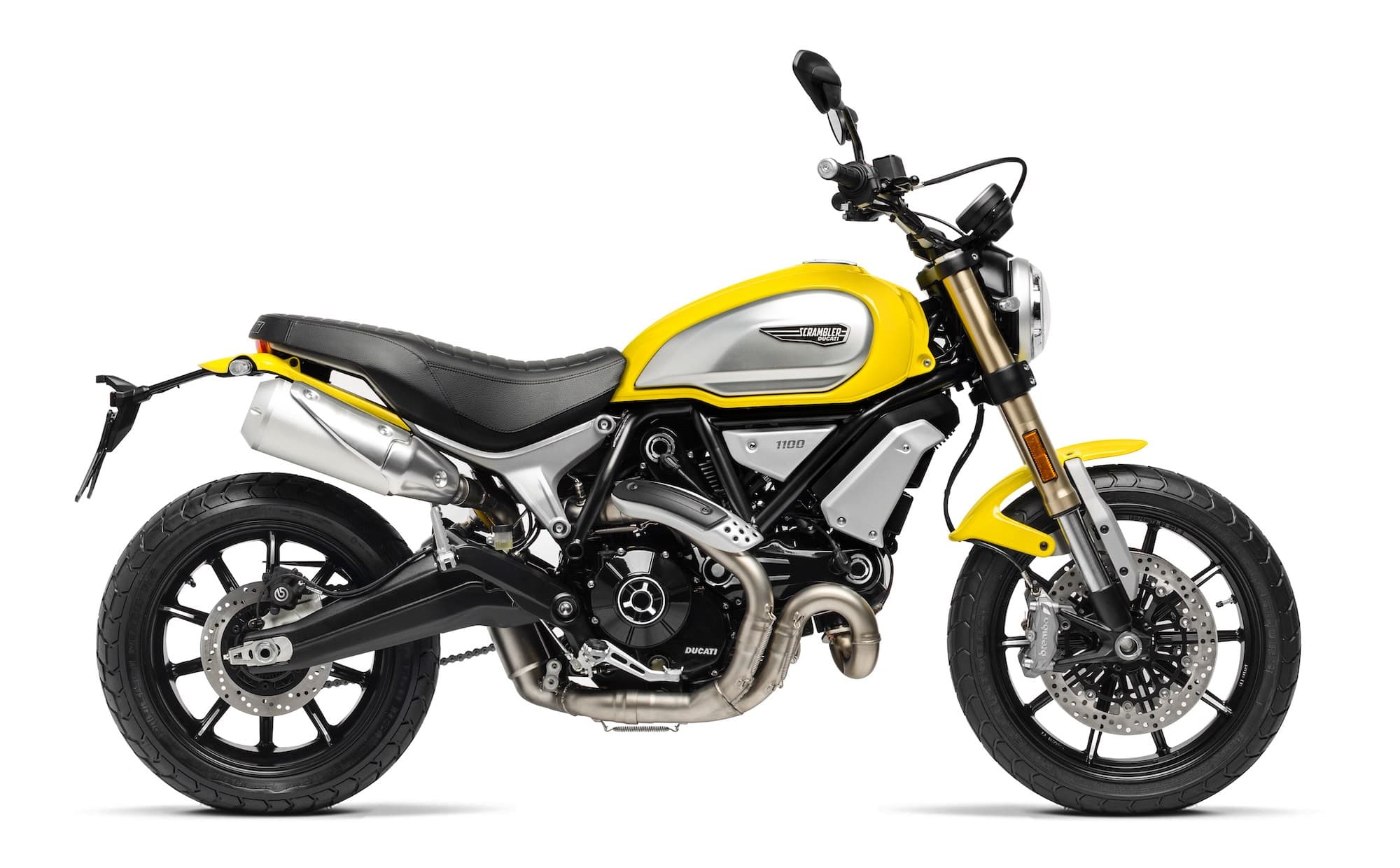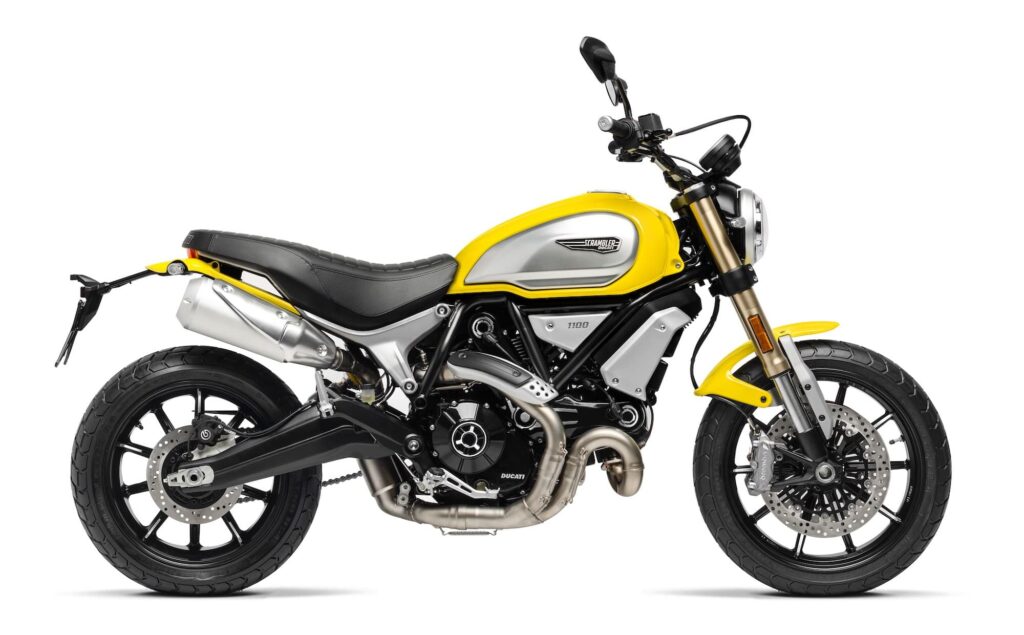 The Ducati Scrambler Tribute Pro is a 2023 model for the Ducati Scrambler 1100 with high side-mounted exhausts, and an orangey-yellow colour. Ducati calls it "Ochre yellow".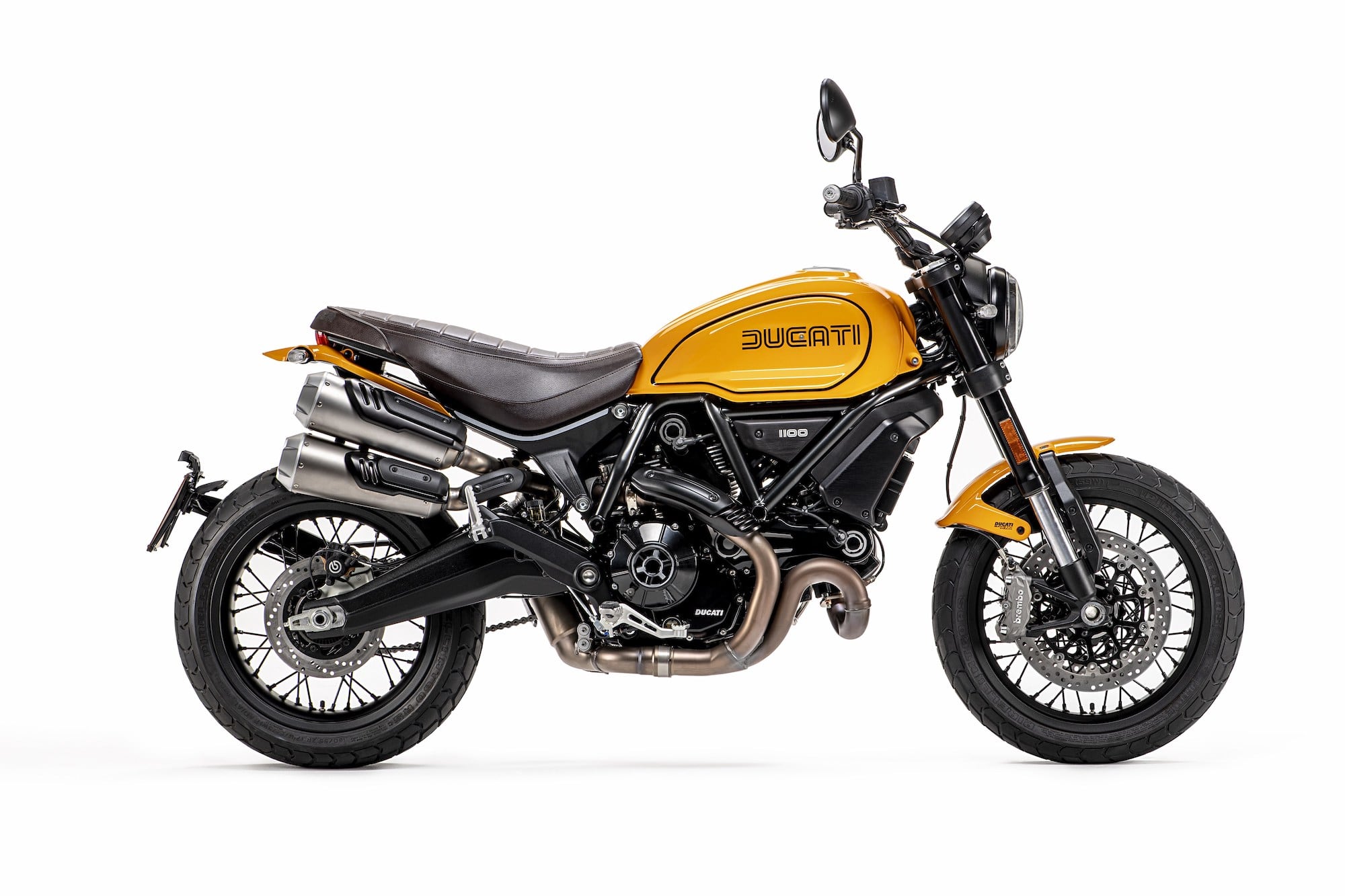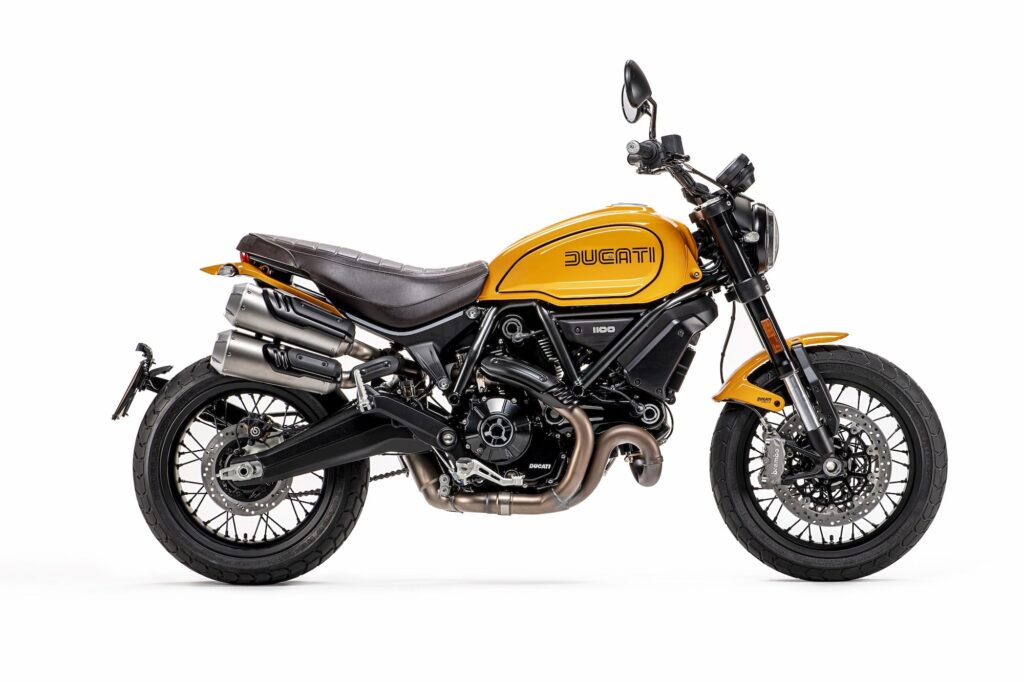 See here for the model guide to the Scrambler 1100.
Ducati Sport 1000
Ducati made the Sport 1000 Monoposto, part of the SportClassic (2006-2010) series, in yellow.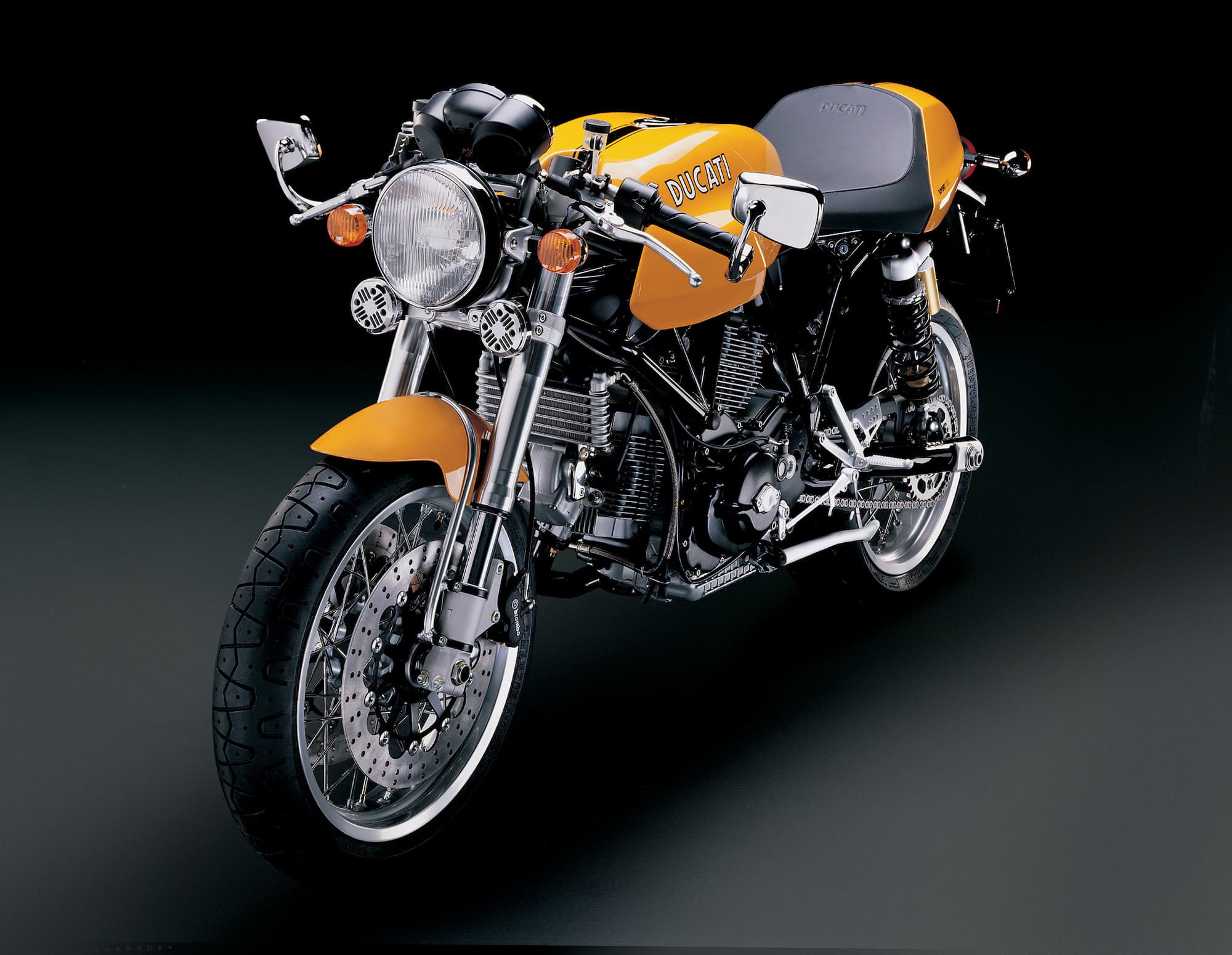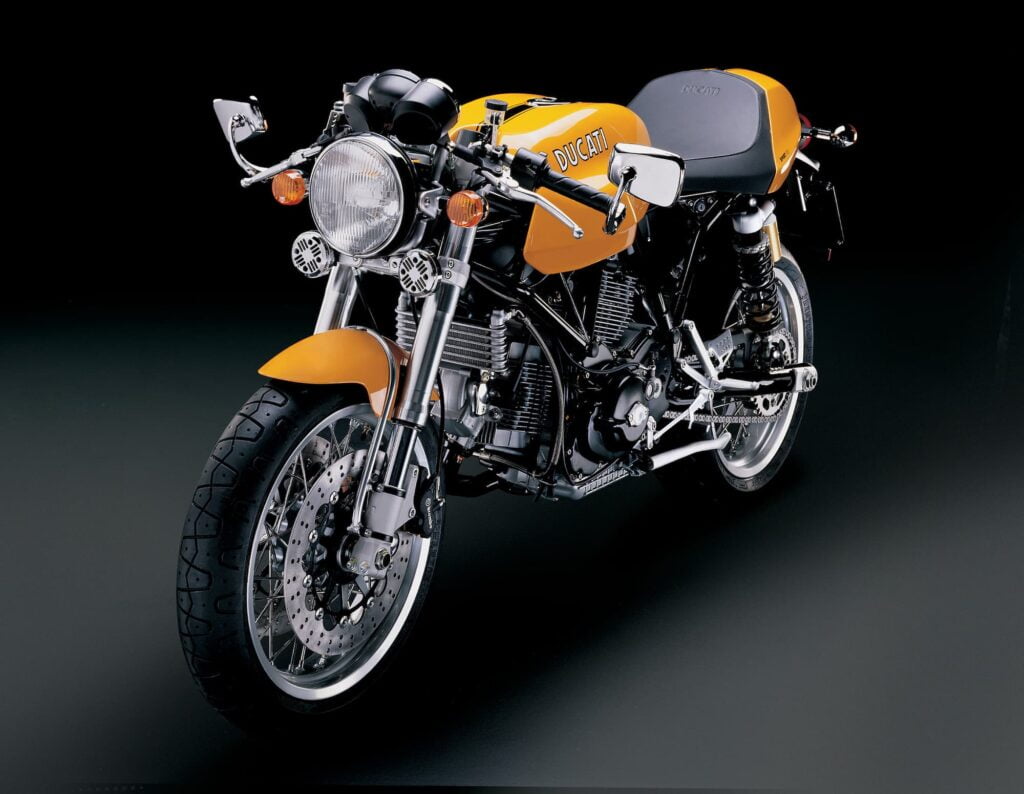 Ducati Streetfighter 848
Ducati didn't release many Streetfighters in yellow, but they did so for the Streetfighter 848. It's called "Fighter Yellow".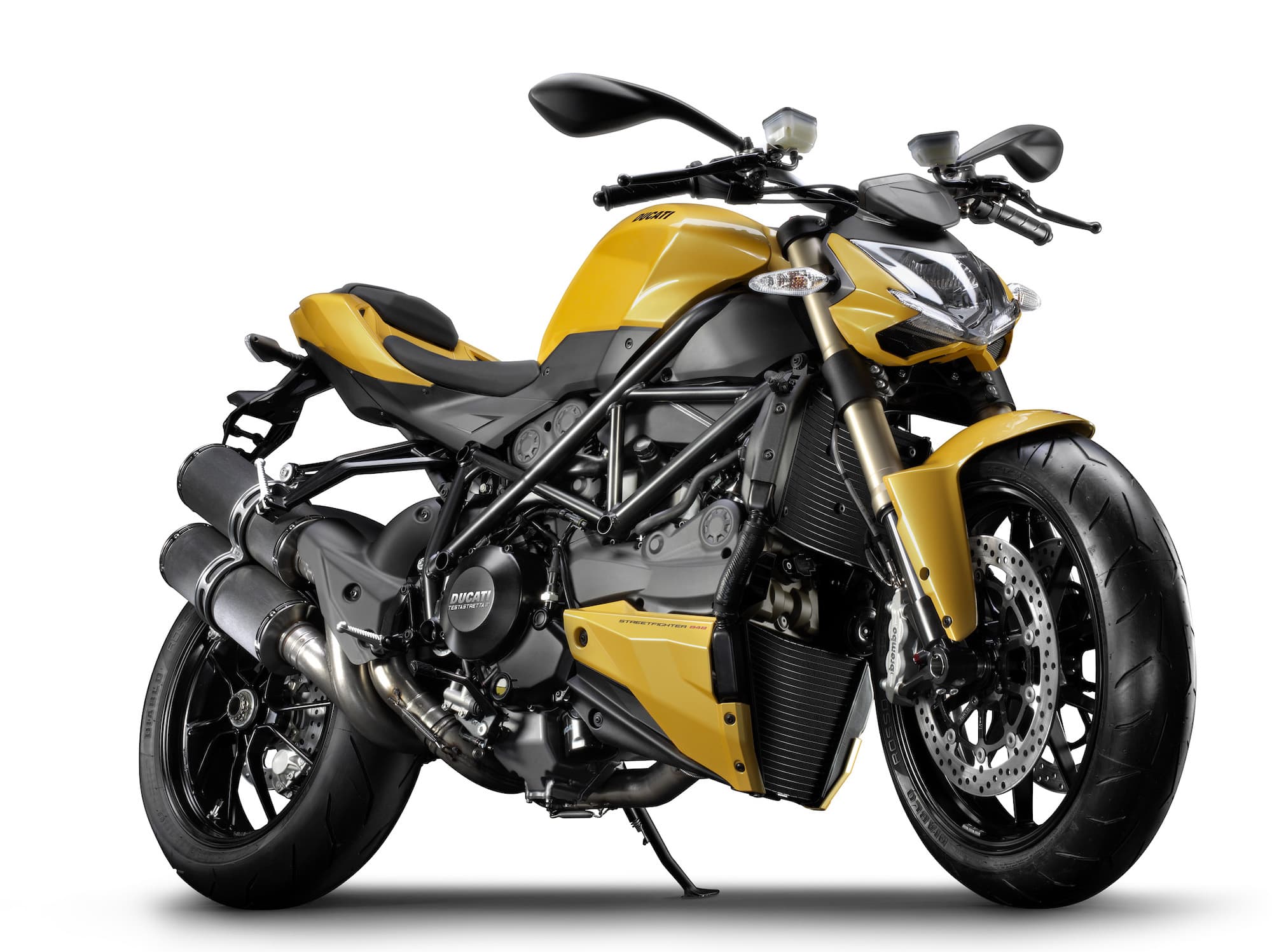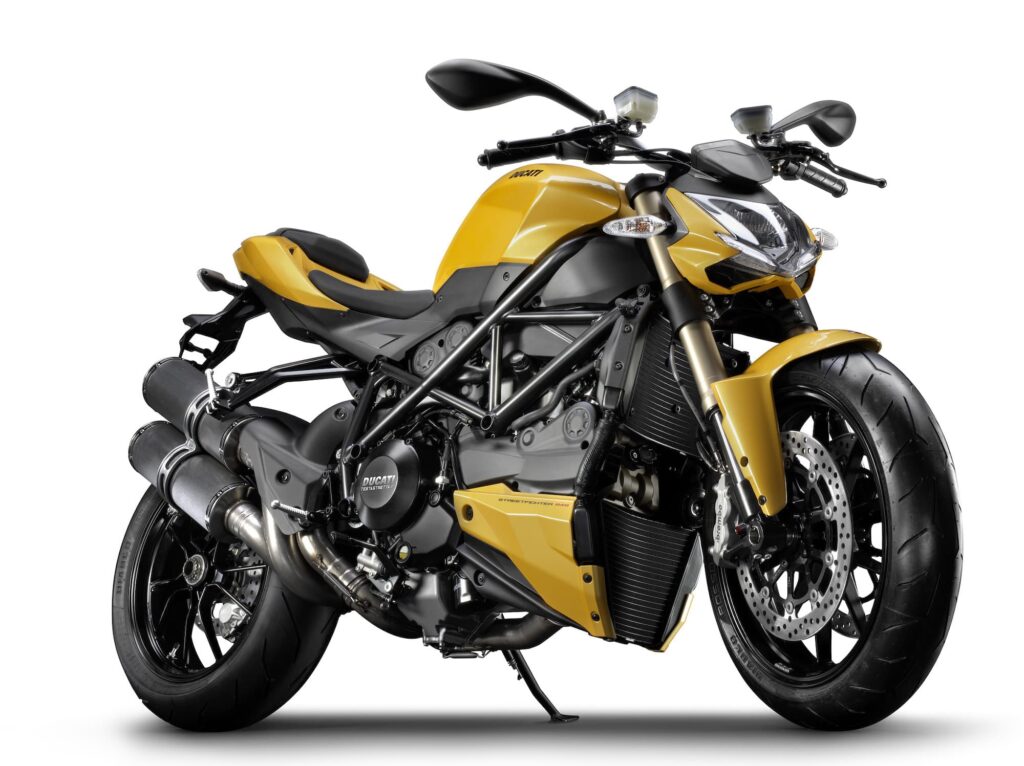 The Ducati Streetfighter 848 is a cracker of a bike, a still very-fast little sibling to the Streetfighter (as it was called then; we now think of it as the Street Fighter 1098). See the Streetfighter model guide here.
Ducati has also released a "Lamborghini" Streetfighter, but it's not quite the same in terms of yellowiness.
Ducati Supersport models
I had one of these briefly! In fact, here's a pic of mine, a 900. It was my only Ducati yellow motorcycle.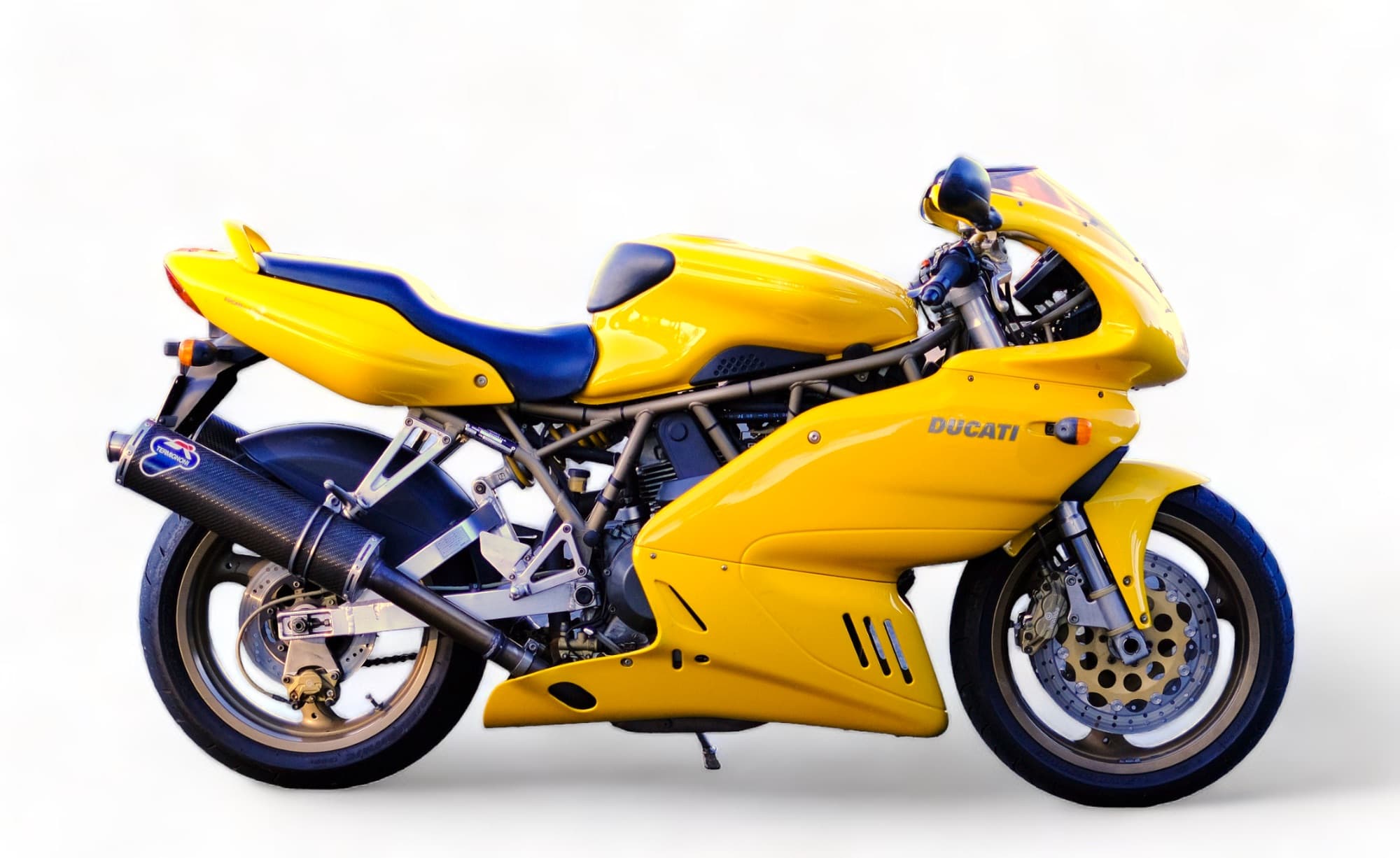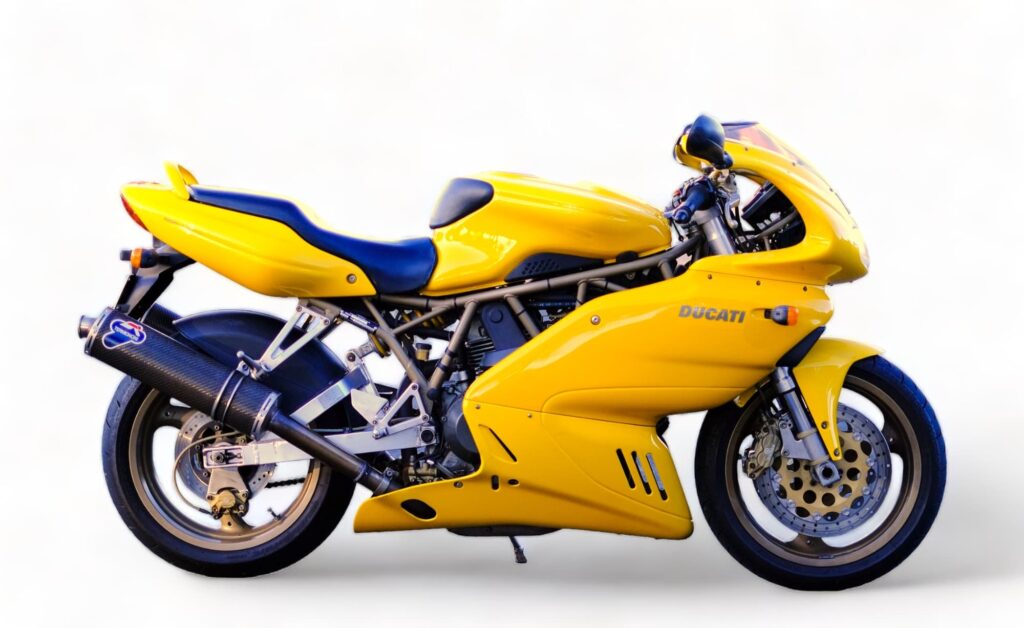 Ducati also released the 800 and 1000 (which look the same) in yellow.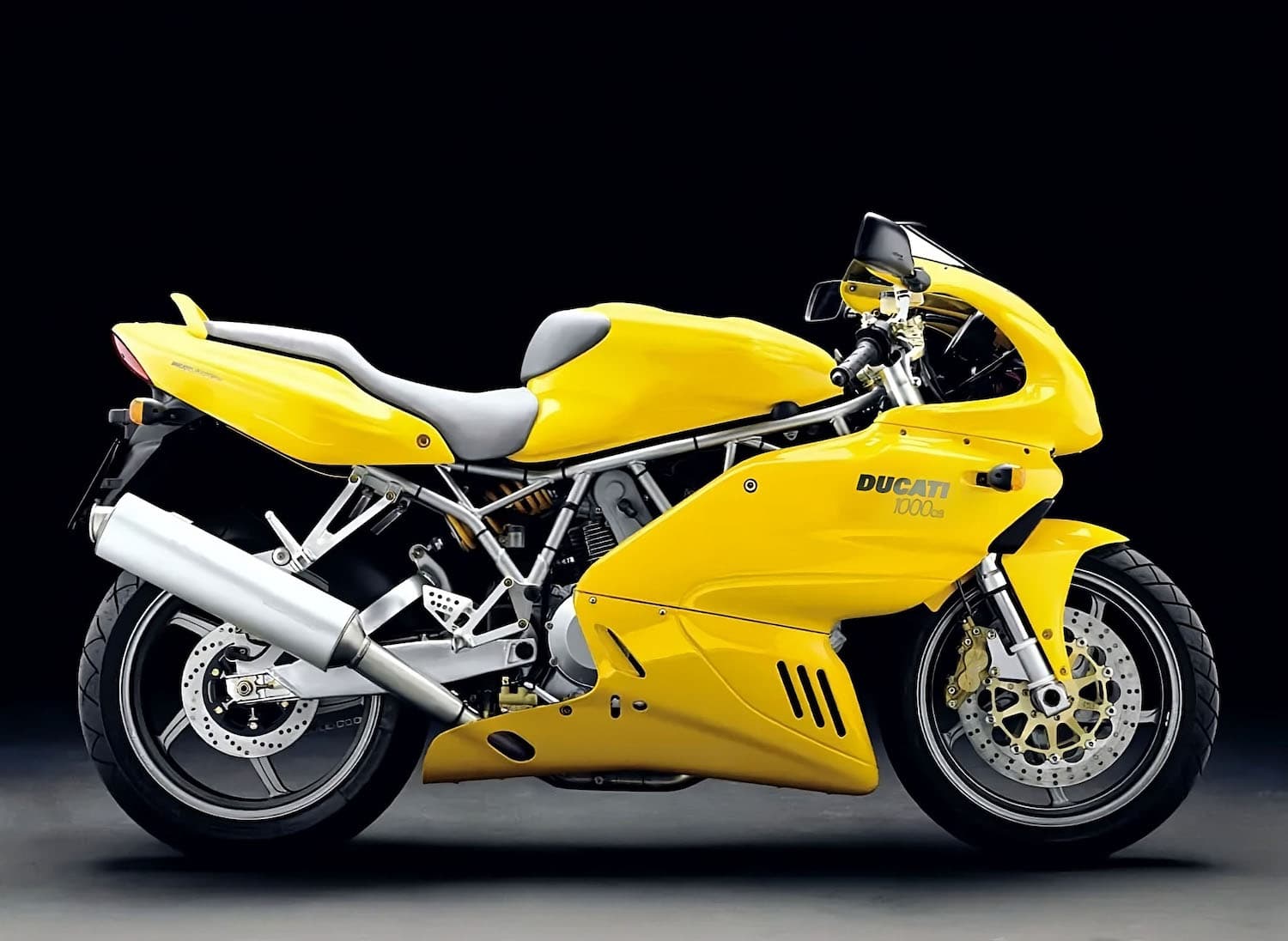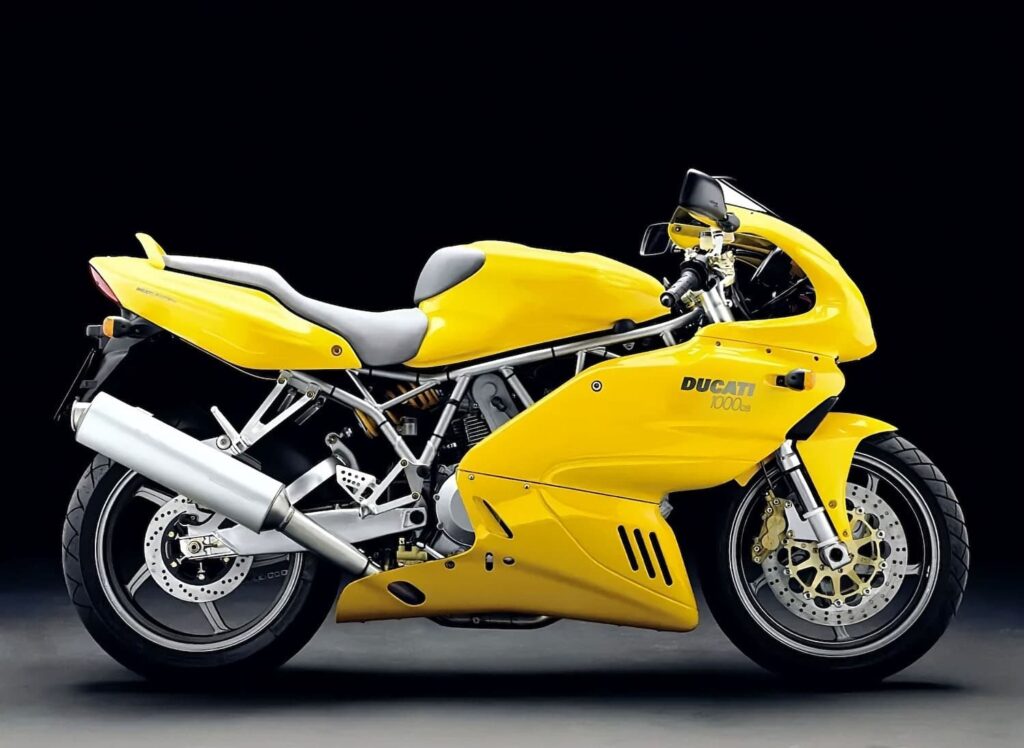 Ducati ST series in Yellow
Lastly, Ducati made sport touring yellow motorcycles for those of us who like the growl of a racy liquid-cooled 4-valve-per-cylinder L-twin but complain about sore wrists after thirty minutes.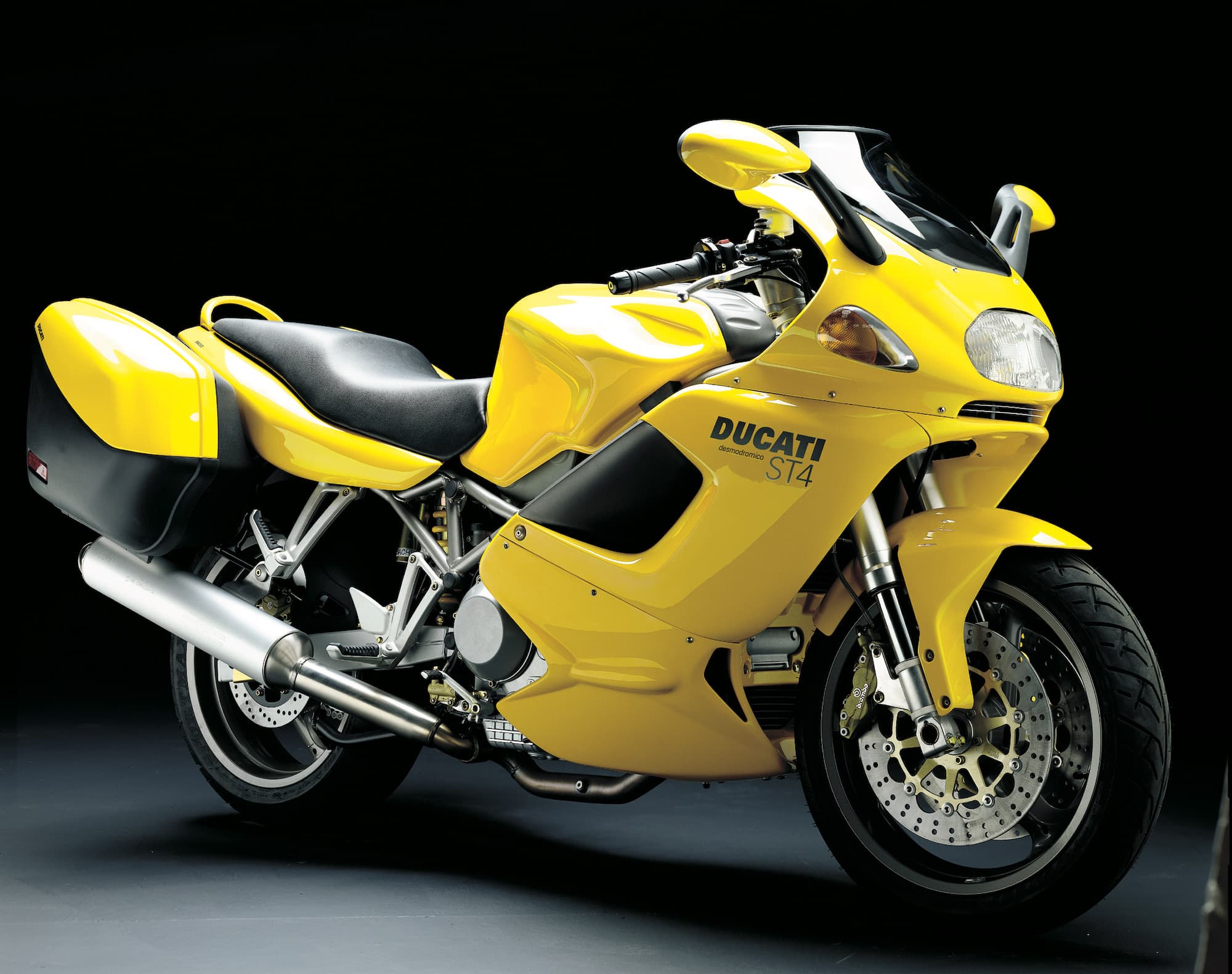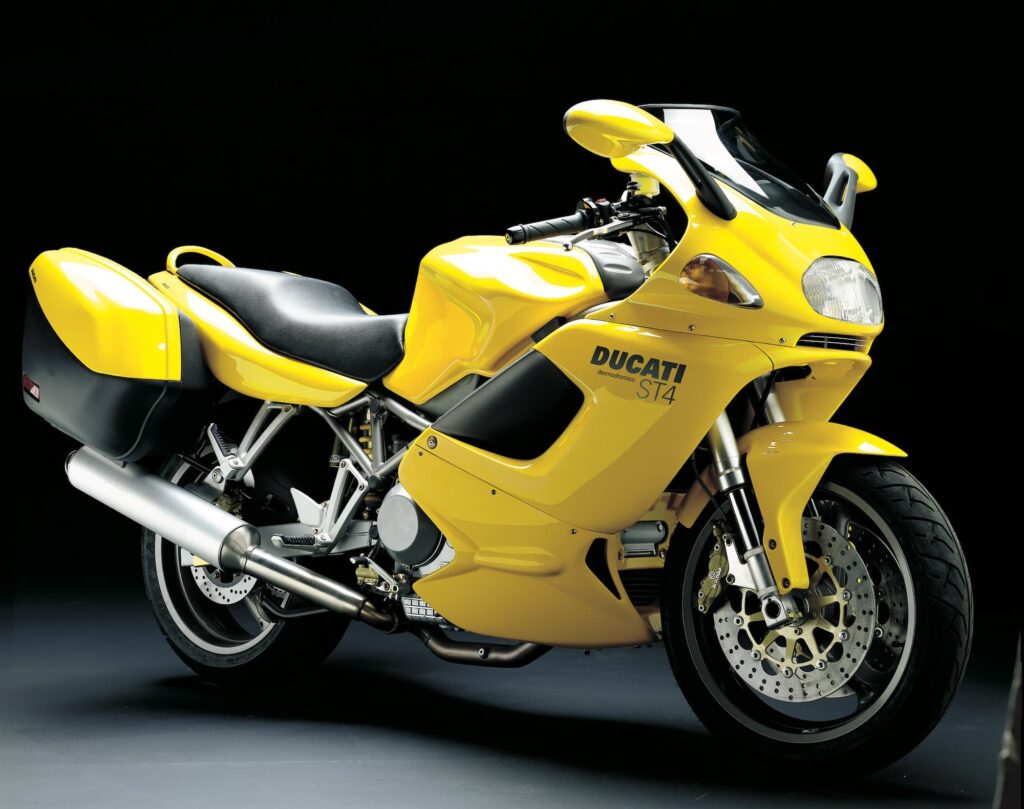 Ducati made the ST2 and ST4 a-plenty in yellow, but the yellow ST3 is rarer.
See the Ducati ST series model guide.
Harley-Davidson Yellow Motorcycles
Harley has made many yellow motorcycles over the years. I could make an entire other post about Harley Davidson models in yellow, so this section is necessarily short. Sorry. If there's one you really think I should look at, please tell me!
Harley-Davidson VRSCDX Night Rod (2011)
In "Chrome Yellow" with a black racing stripe.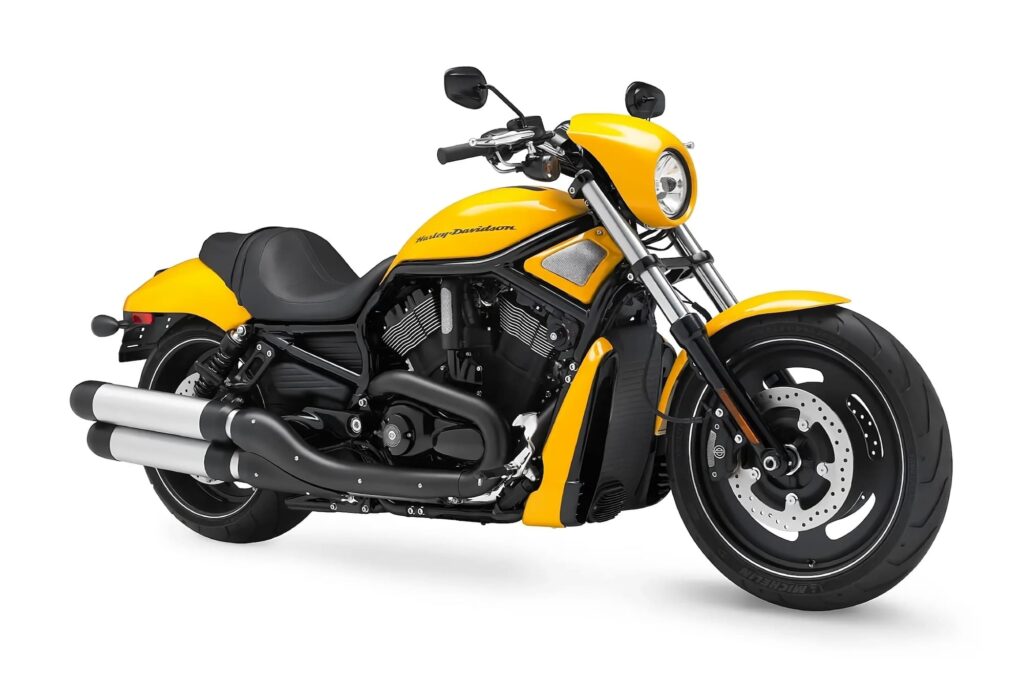 OK, let's have a look at that racing stripe. I do dig them.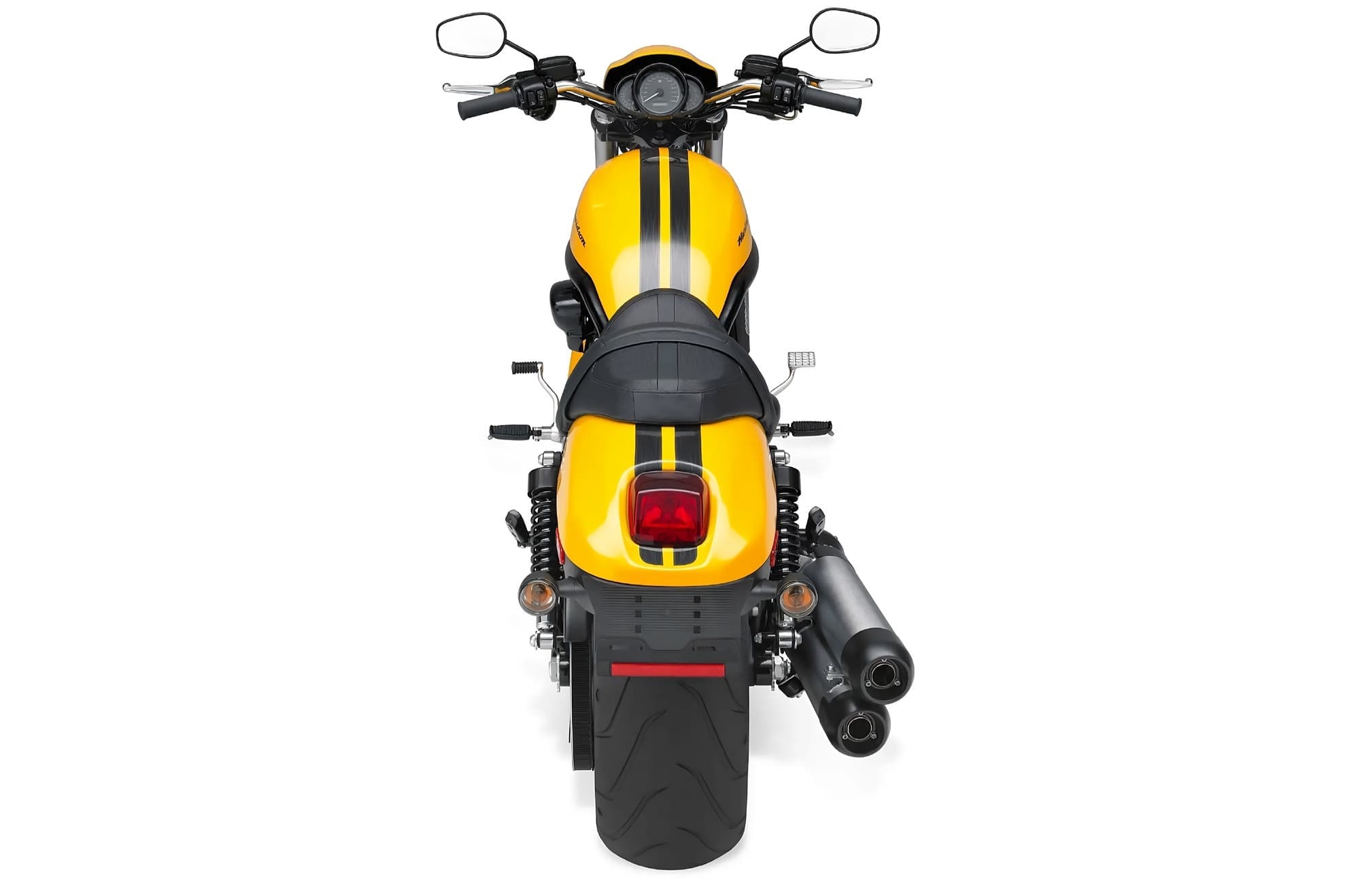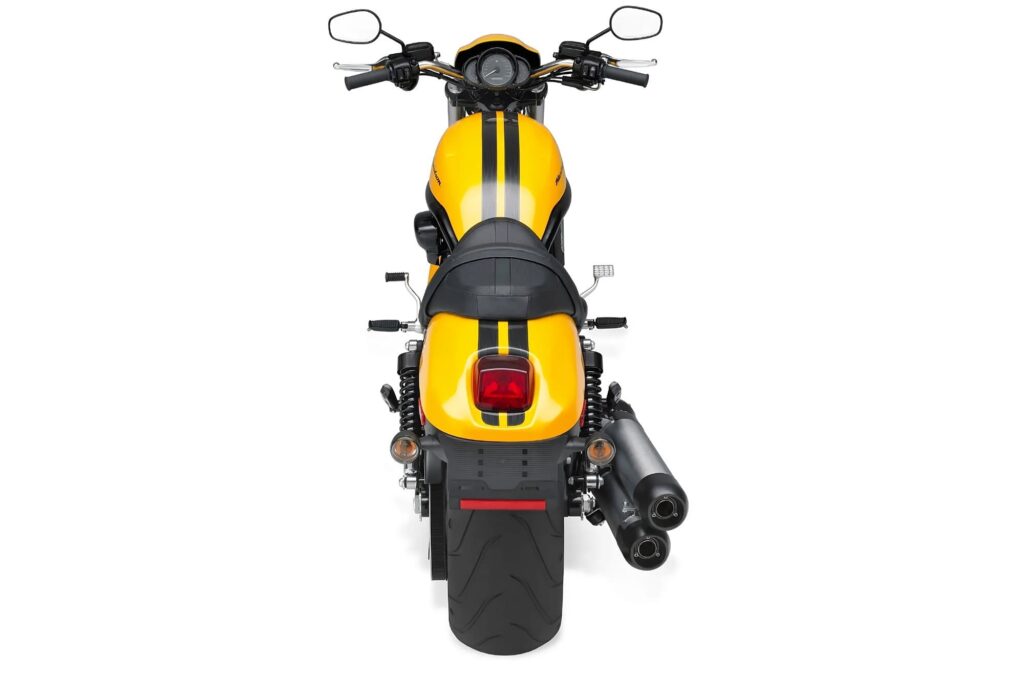 Harley-Davidson VRSCF V-Rod Muscle (2012), "Chrome Yellow"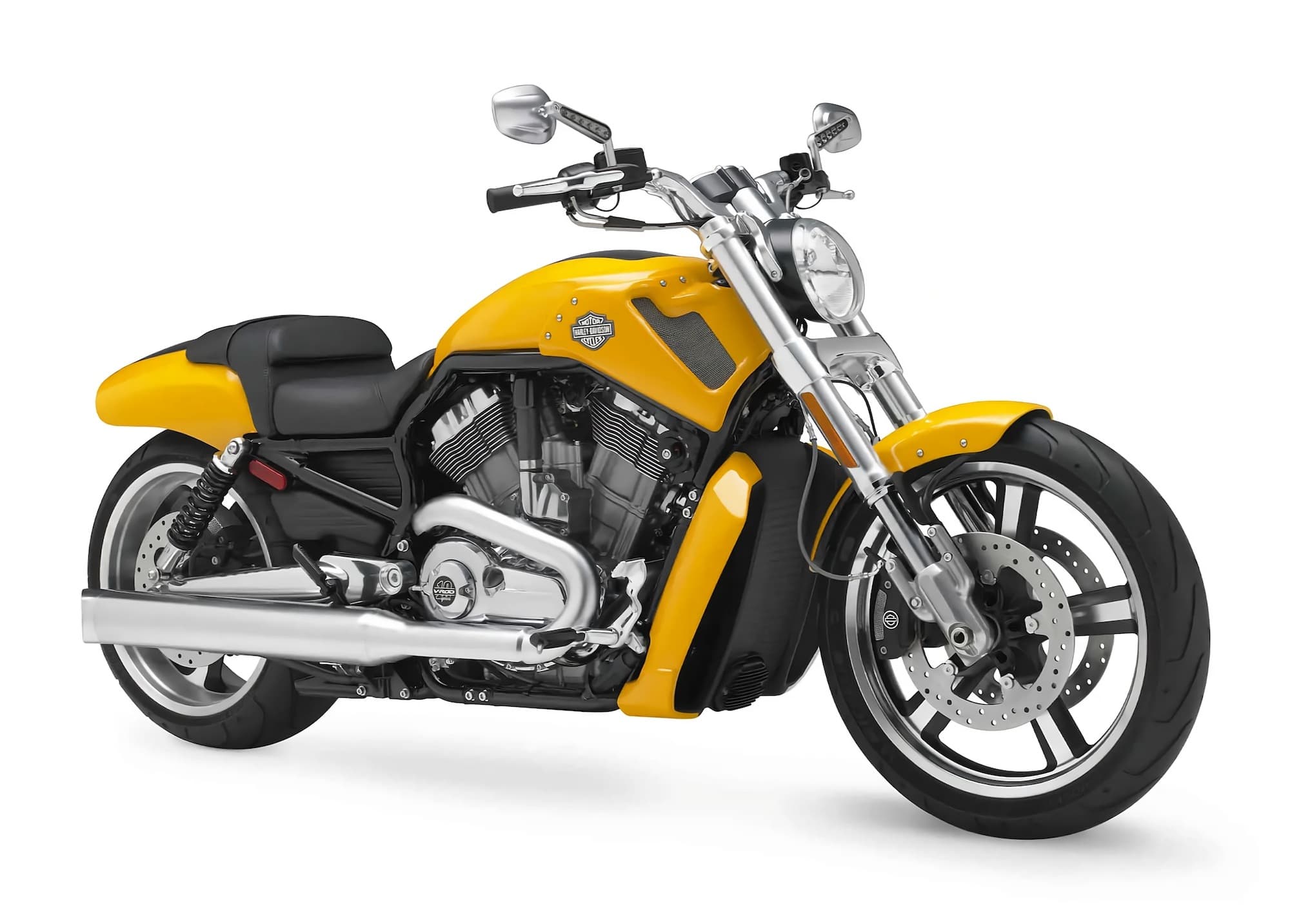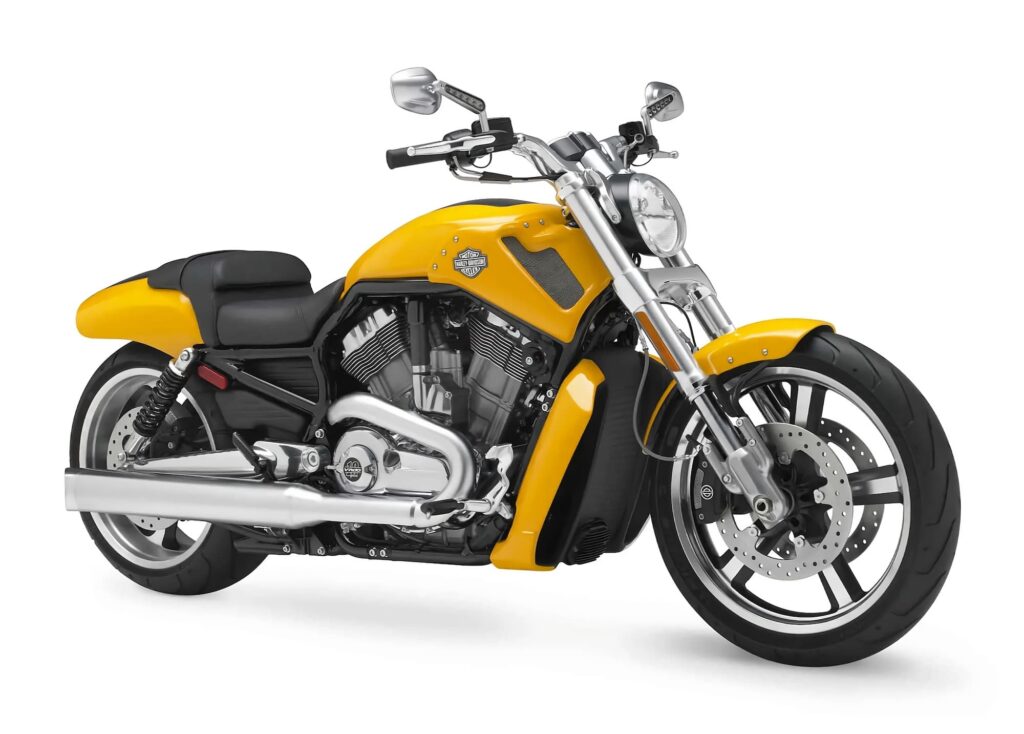 2012 Harley-Davidson FLTRX Road Glide Custom
This was another "Chrome Yellow" for the 2012 model year.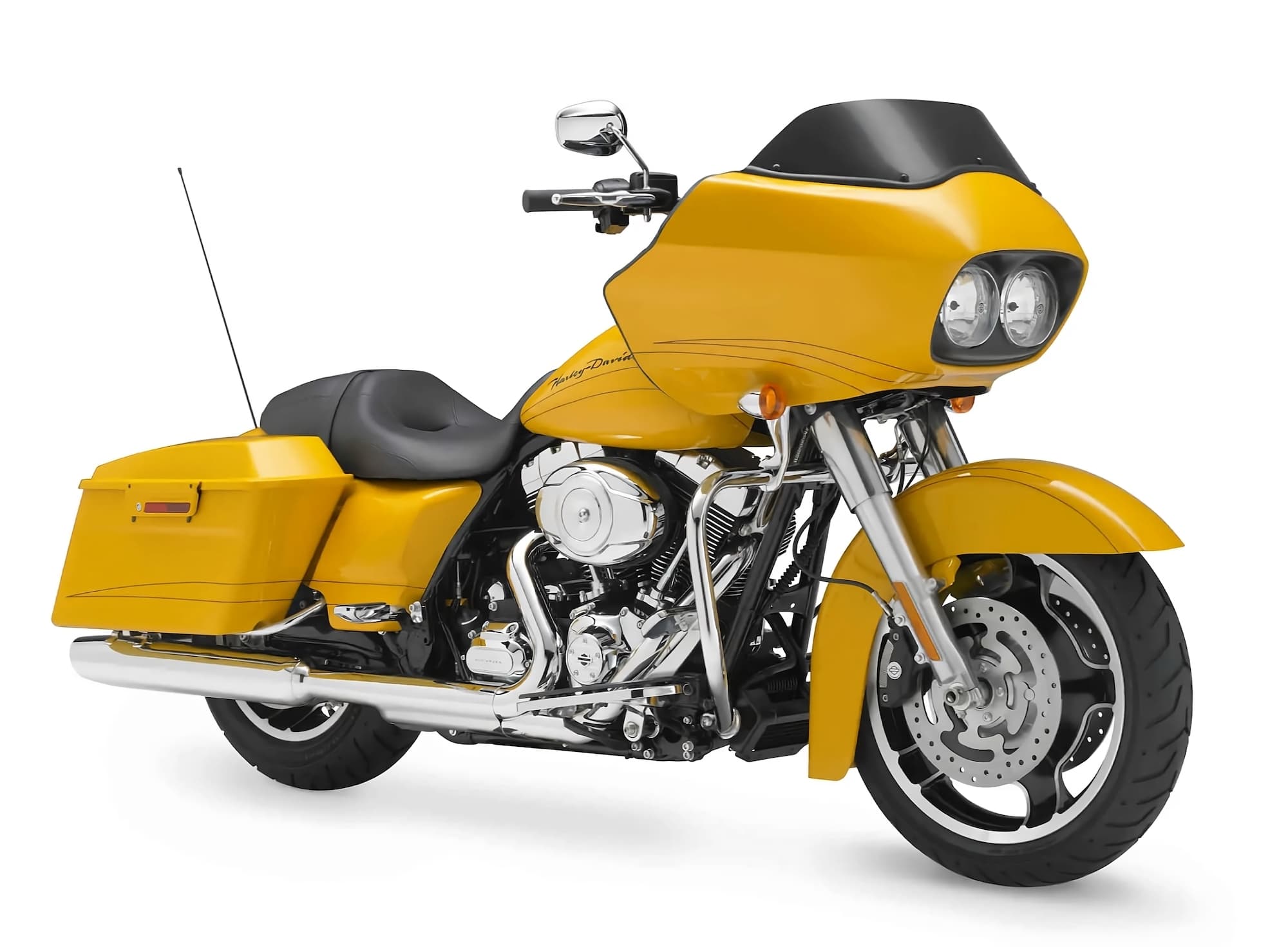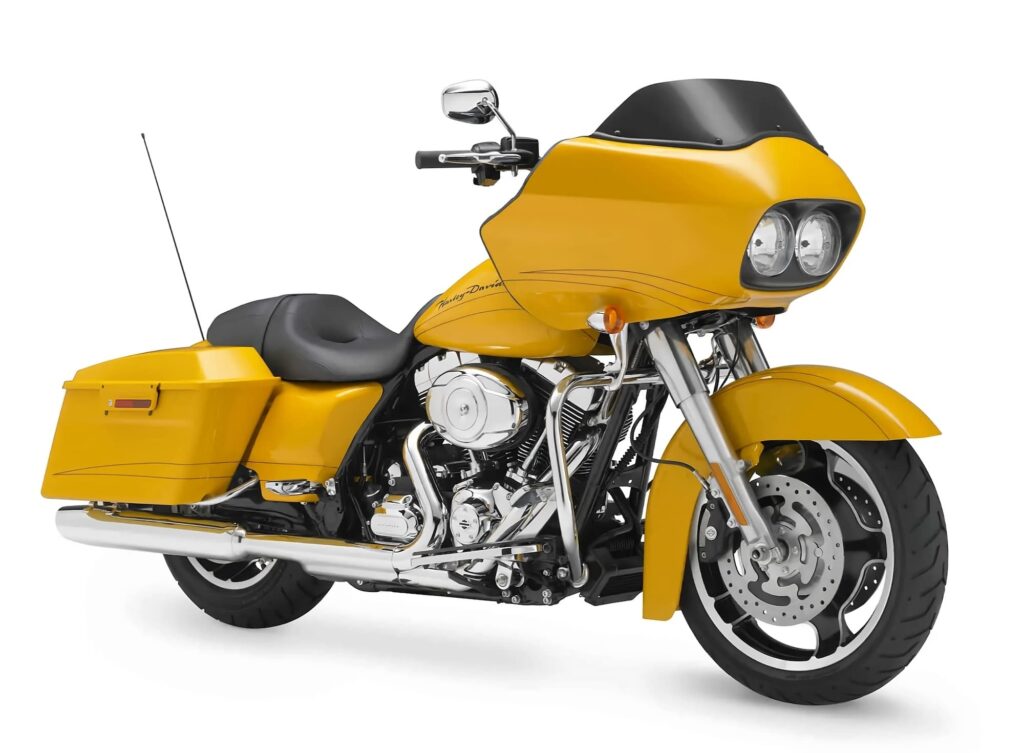 Harley-Davidson Road Glide Special (Eagle Eye Yellow Special Edition)
Below is a 2020 special edition of the FLTRXS.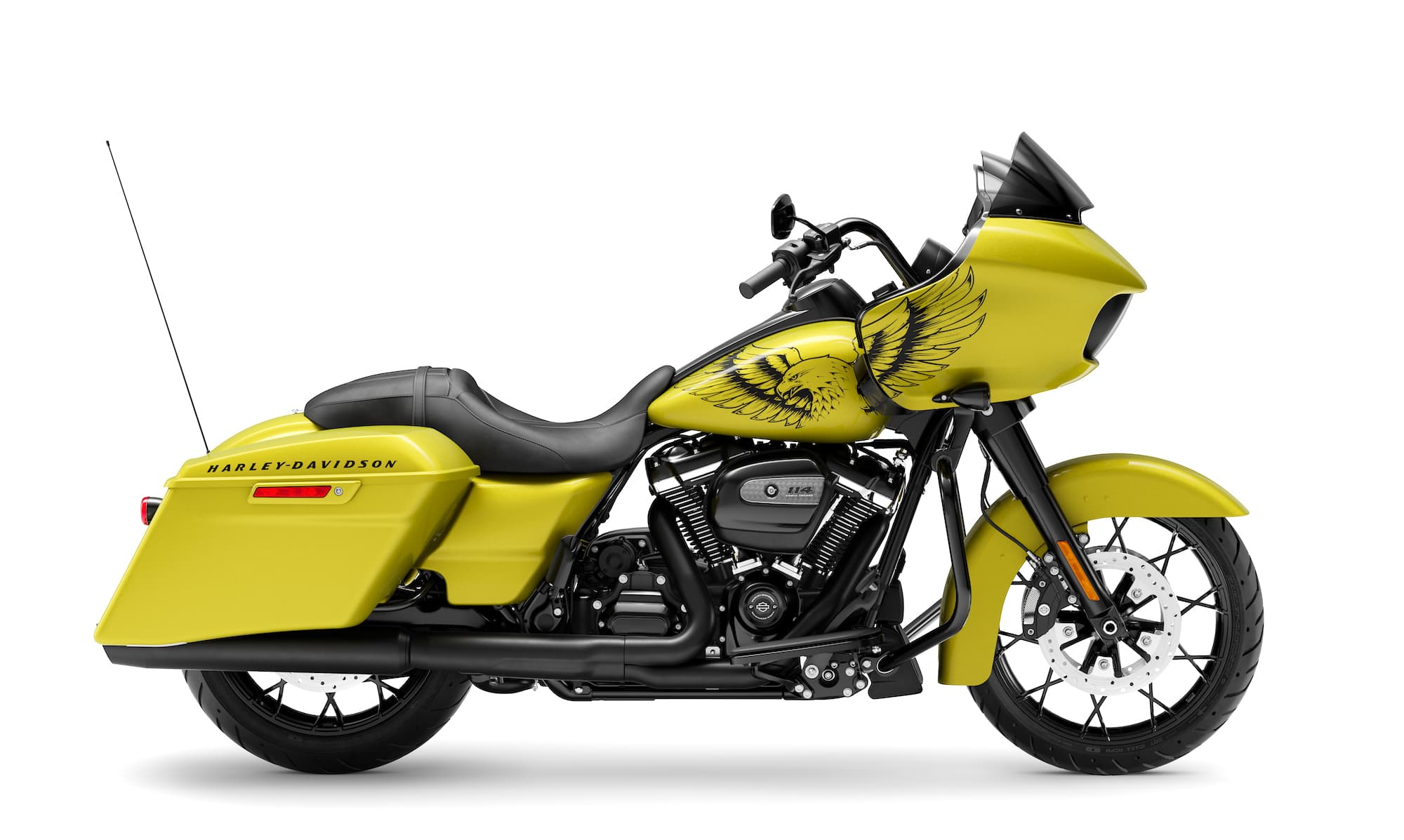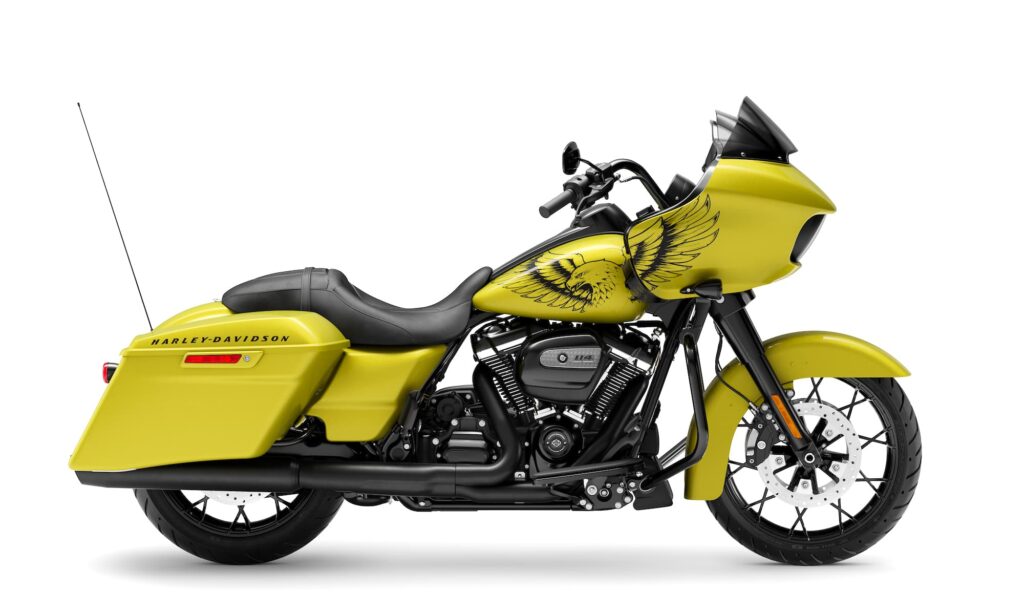 2022 CVO Street Glide
The CVO Street Glide in "Hightail Yellow Pearl". It's a little orange, tbh, but I like it.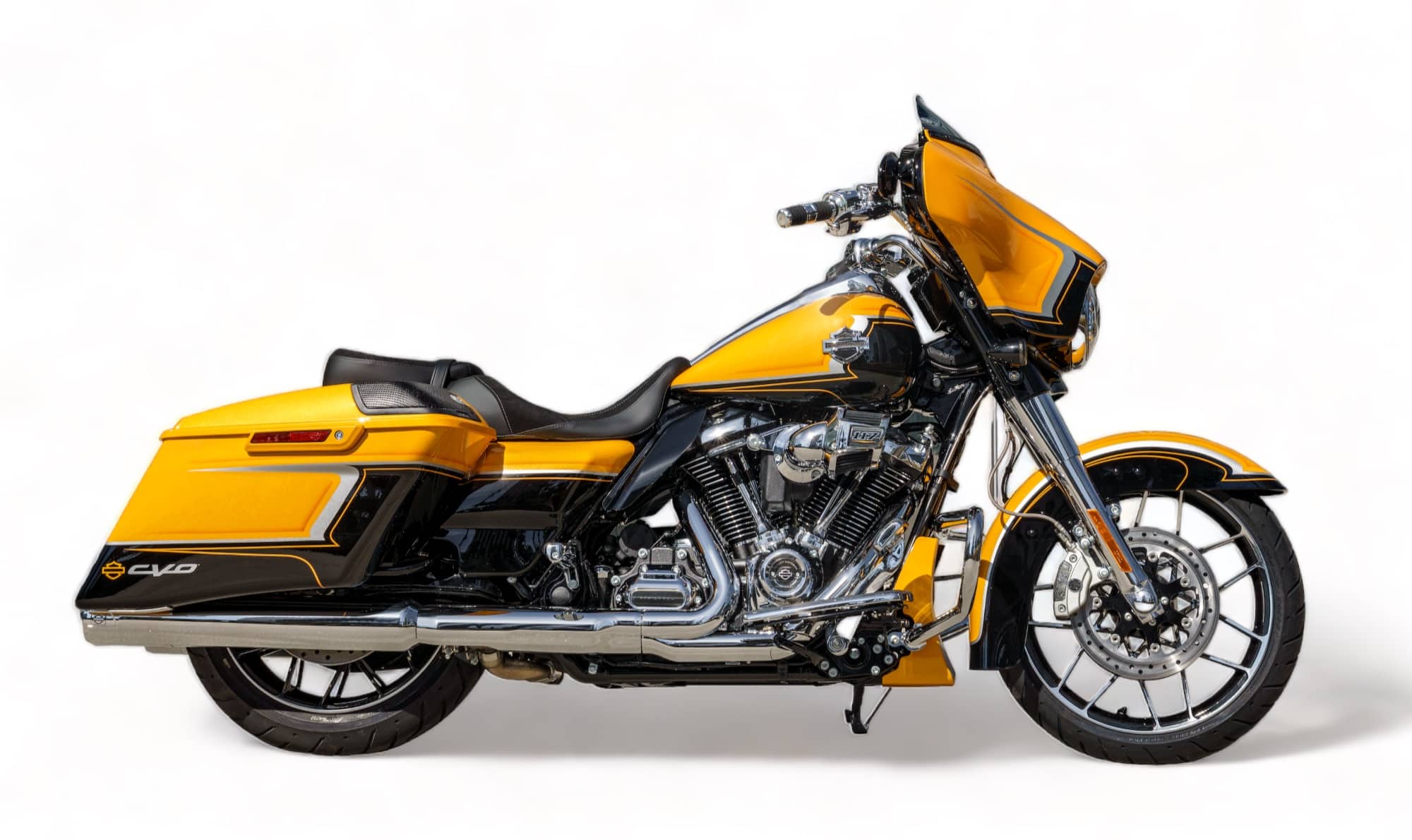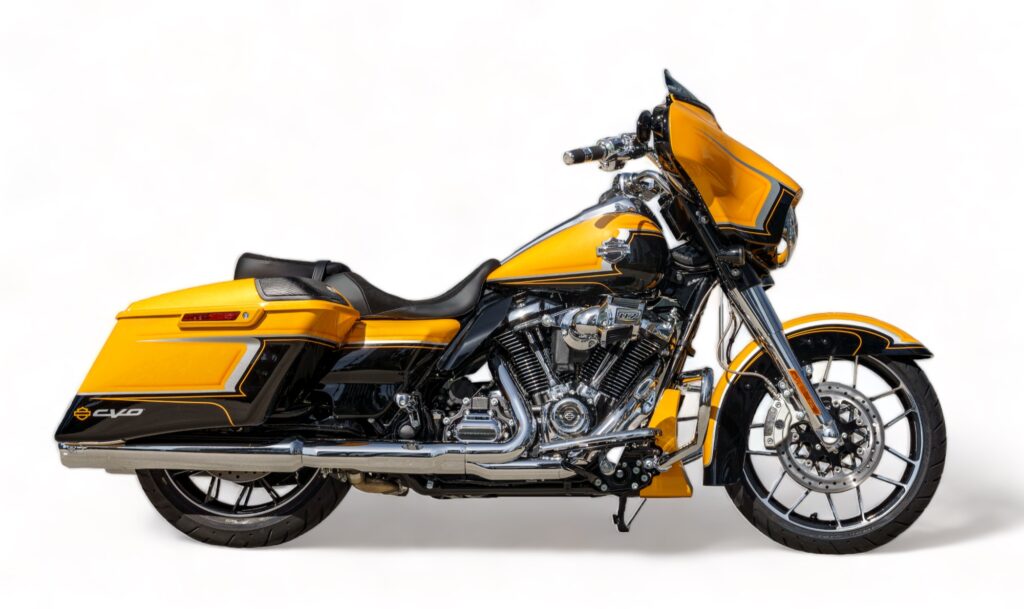 2023 Harley-Davidson Nightster
This is the "new" liquid-cooled Harley-Davidson Nightster, Harley-Davidson's most entry-level yellow motorcycle at present. It's reminiscent of yellow Sportsters from a decade prior.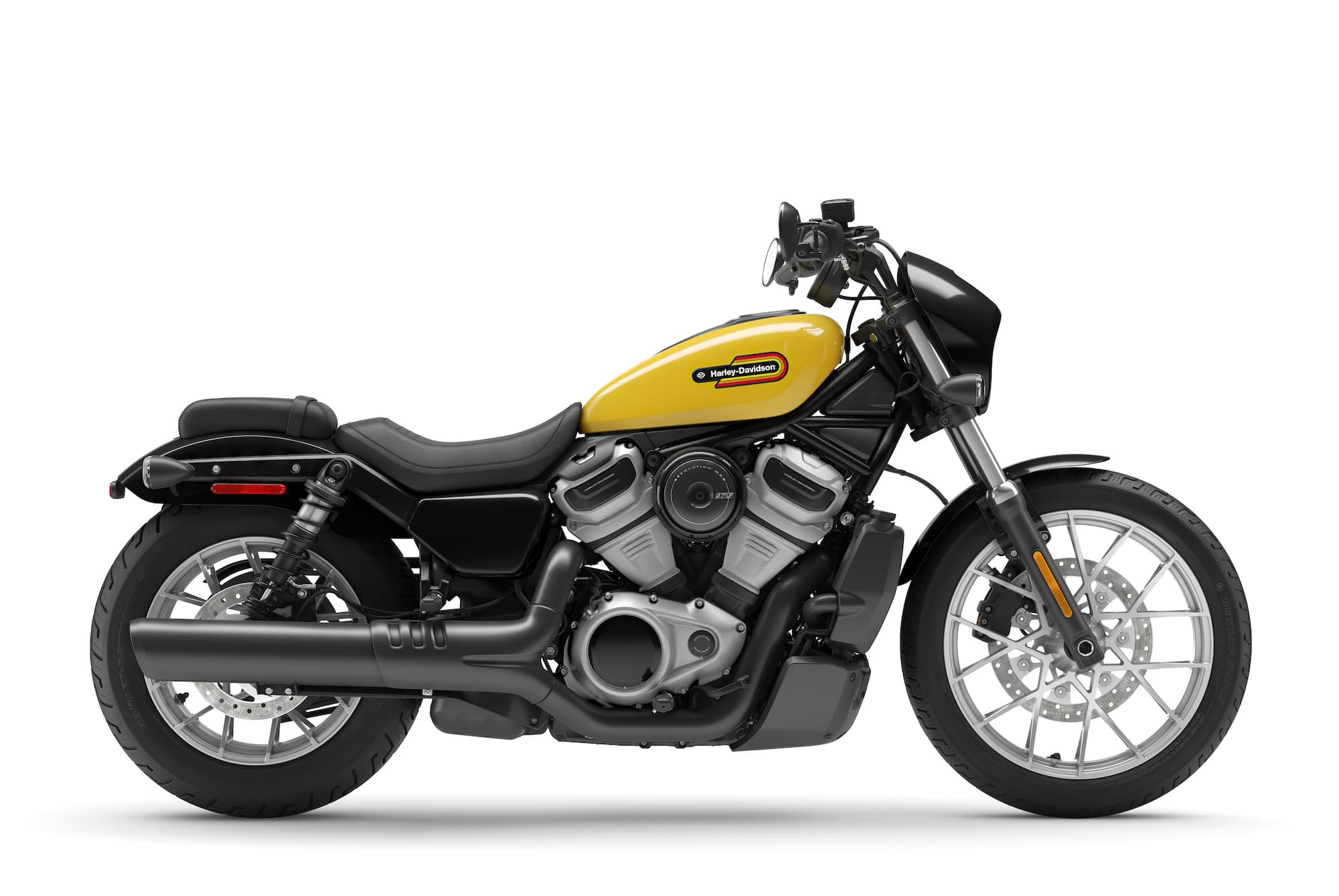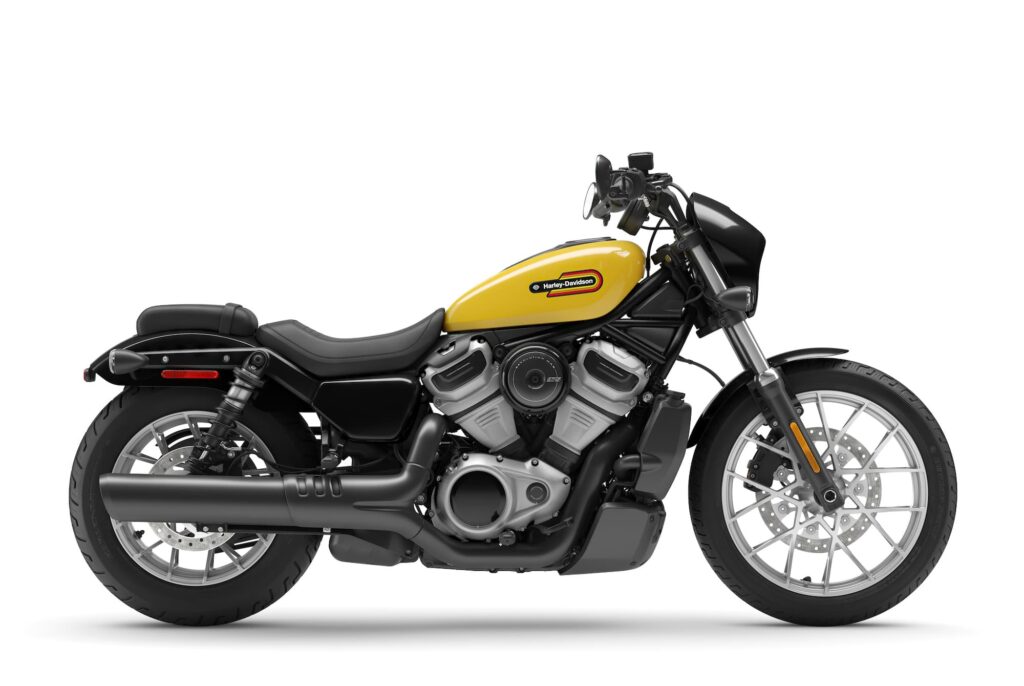 Honda Yellow Motorcycles
Honda has also had an epic run of yellow motorcycles, sometimes combined with black in a nice colour scheme, or sometimes solid.
Honda FireBlade (CBR900RR + 929, 954)
Honda did the Honda FireBlade (capital B, in Tadao Baba's time) in yellow a number of years.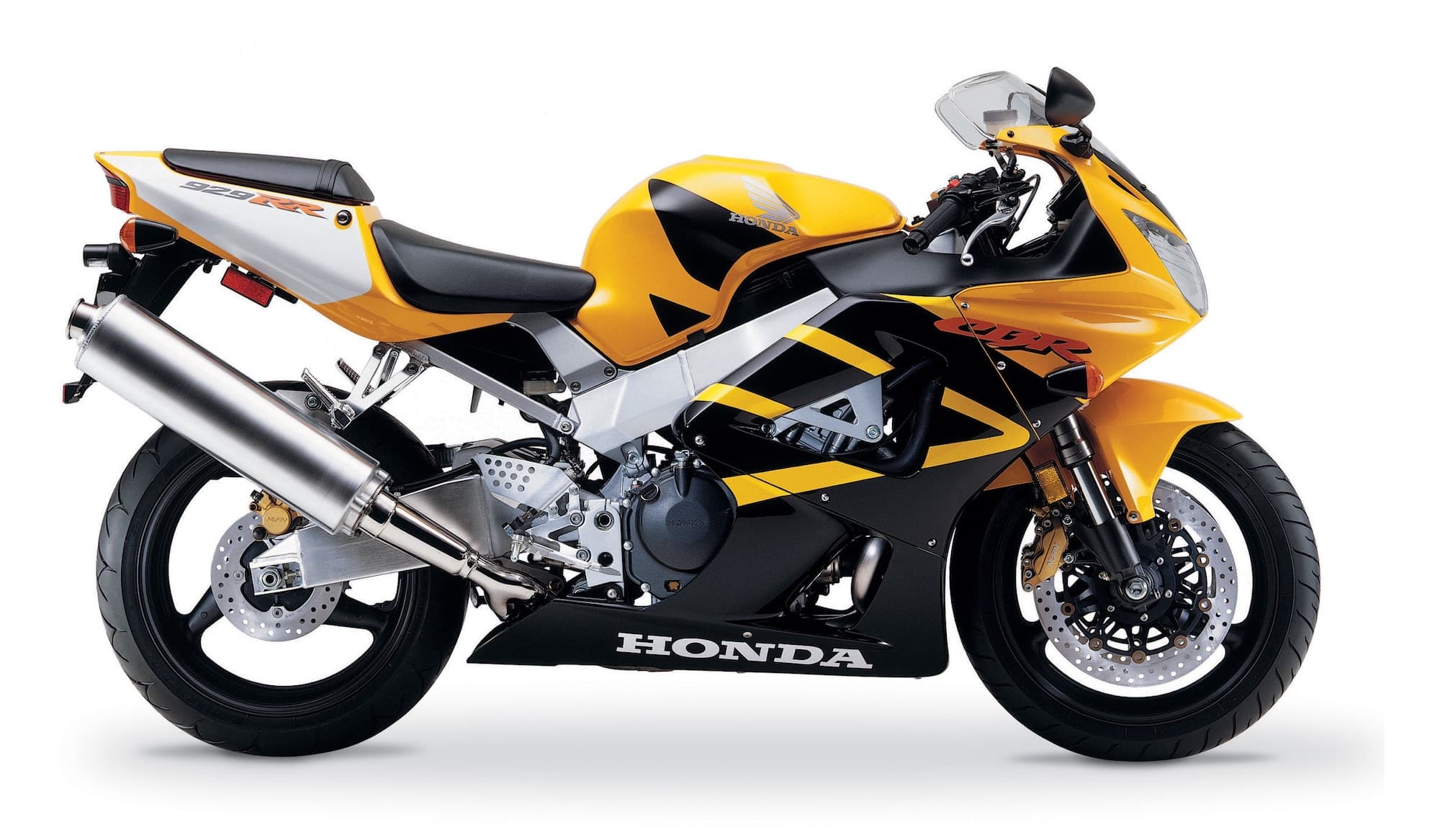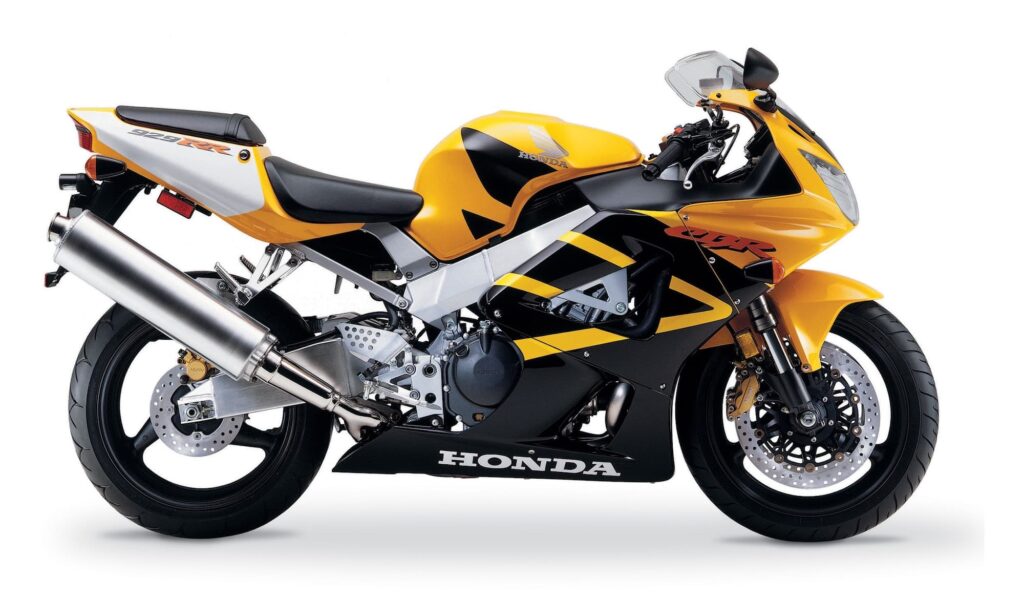 And of course the CBR954RR FireBlade, a motorcycle that somehow looks like every toy I played with as a kid, so captures my imagination. (Get 'em while they're young!)
Honda CBR600F / F4 / F4i
Honda released the class-defining CBR600F in tons of colours. Below are a couple of the nicer yellow ones.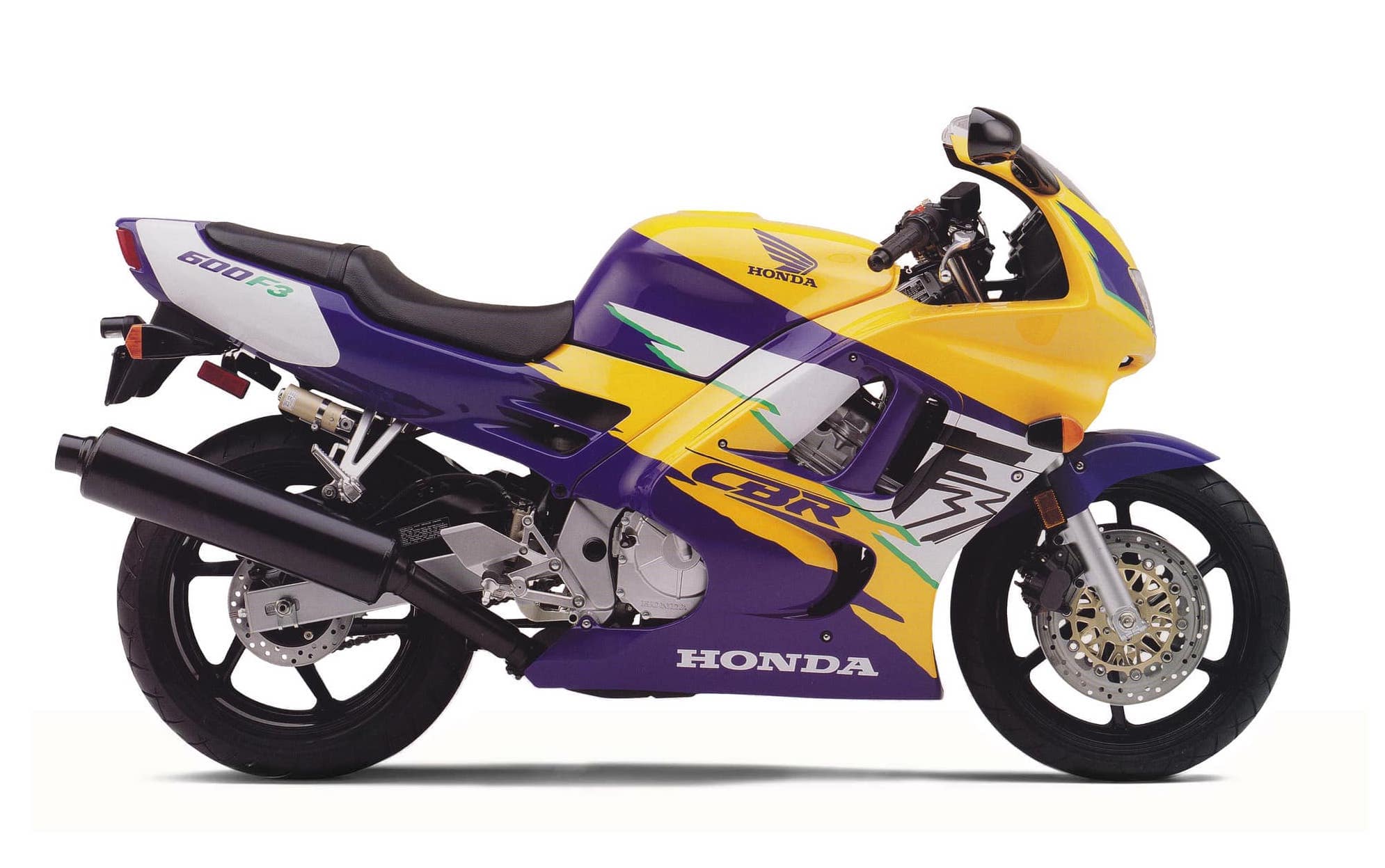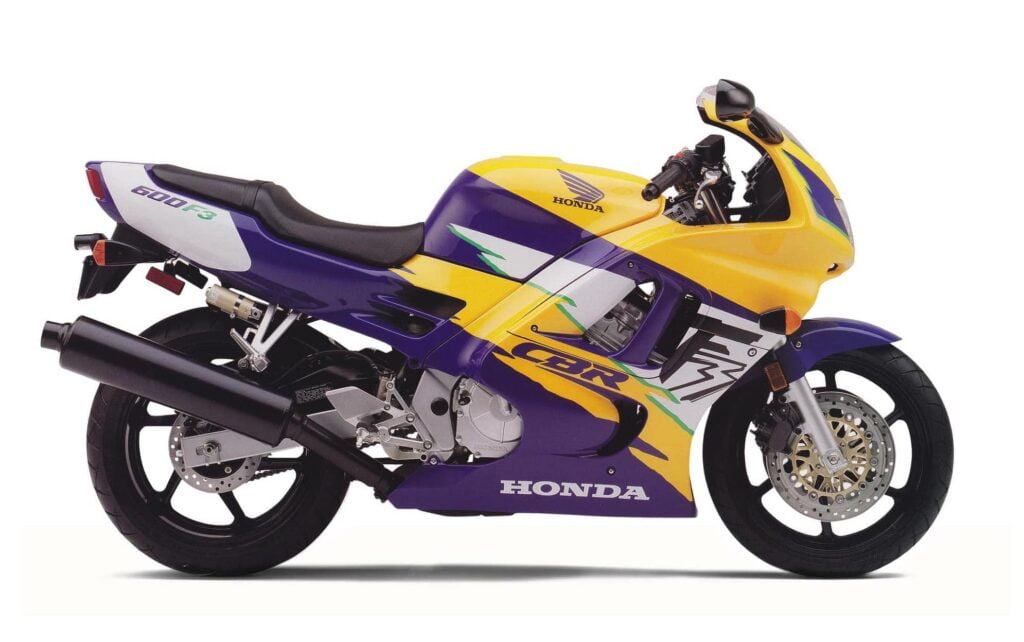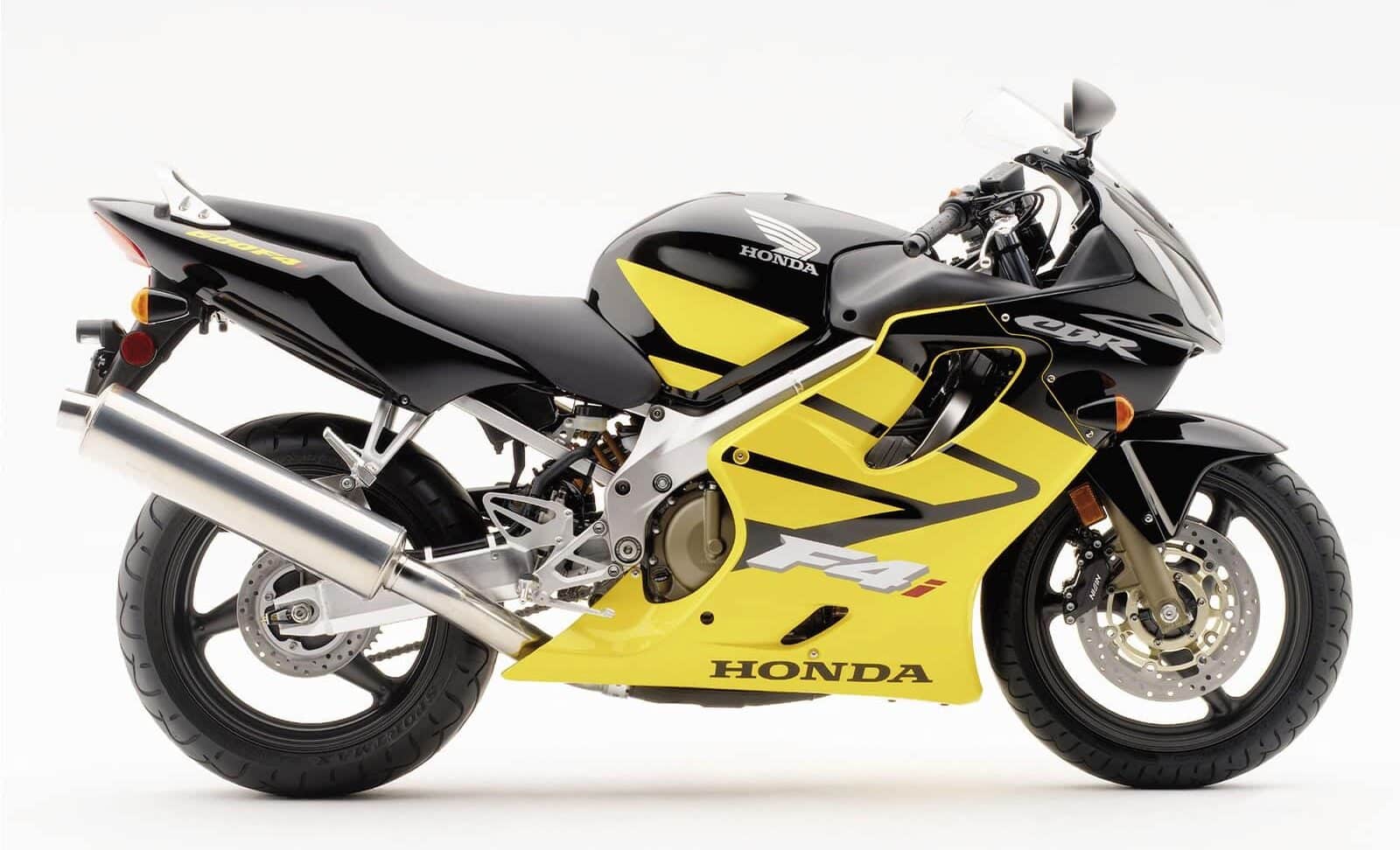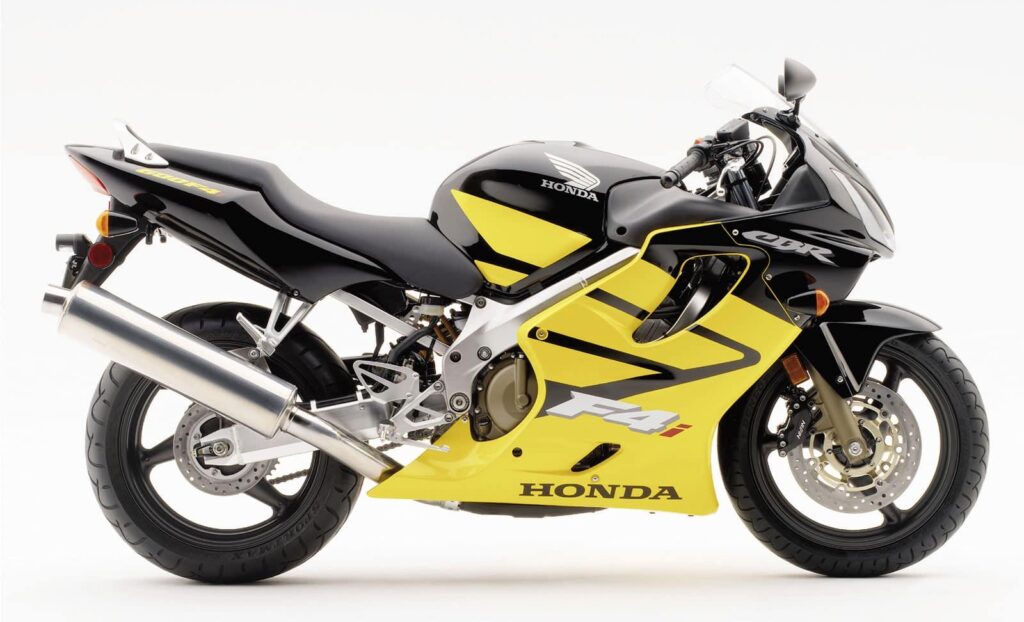 If you want to see the CBR600F in more colors, see the buyer's guide.
Honda CBR600RR
Even Honda's racier RR bike was briefly one of Honda's yellow motorcycles — unusual, and thus eye-catching. But only in the first generation with the non-inverted forks (see the CBR600RR buyer's guide).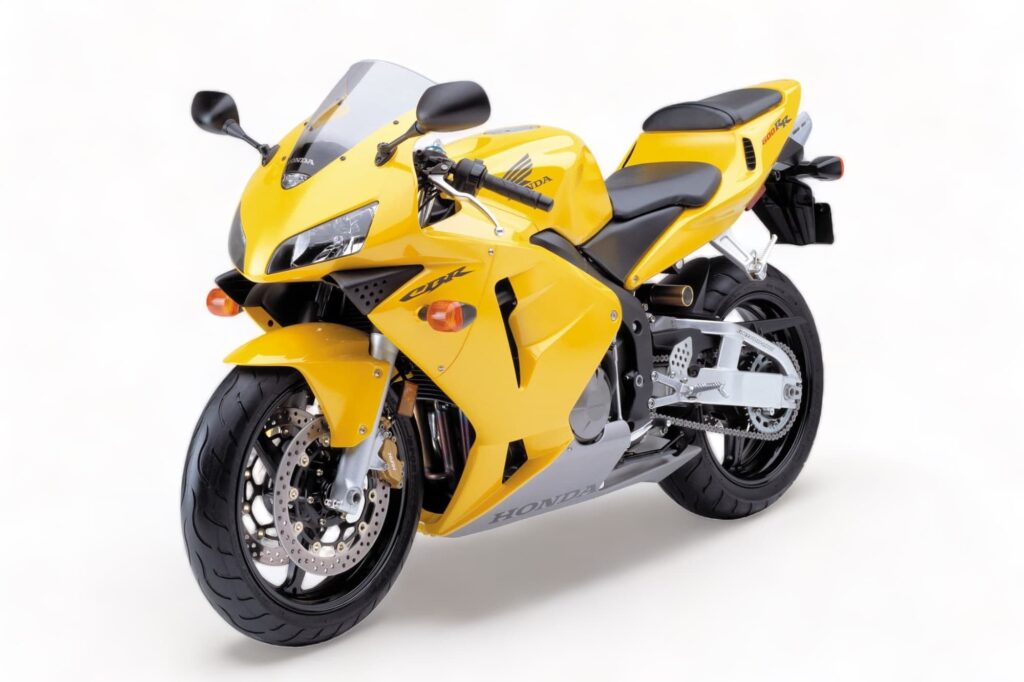 Honda CBR1000RR Fireblade (2008)
The Pearl Yellow / Black colour scheme for the Fireblade was a 2008 release.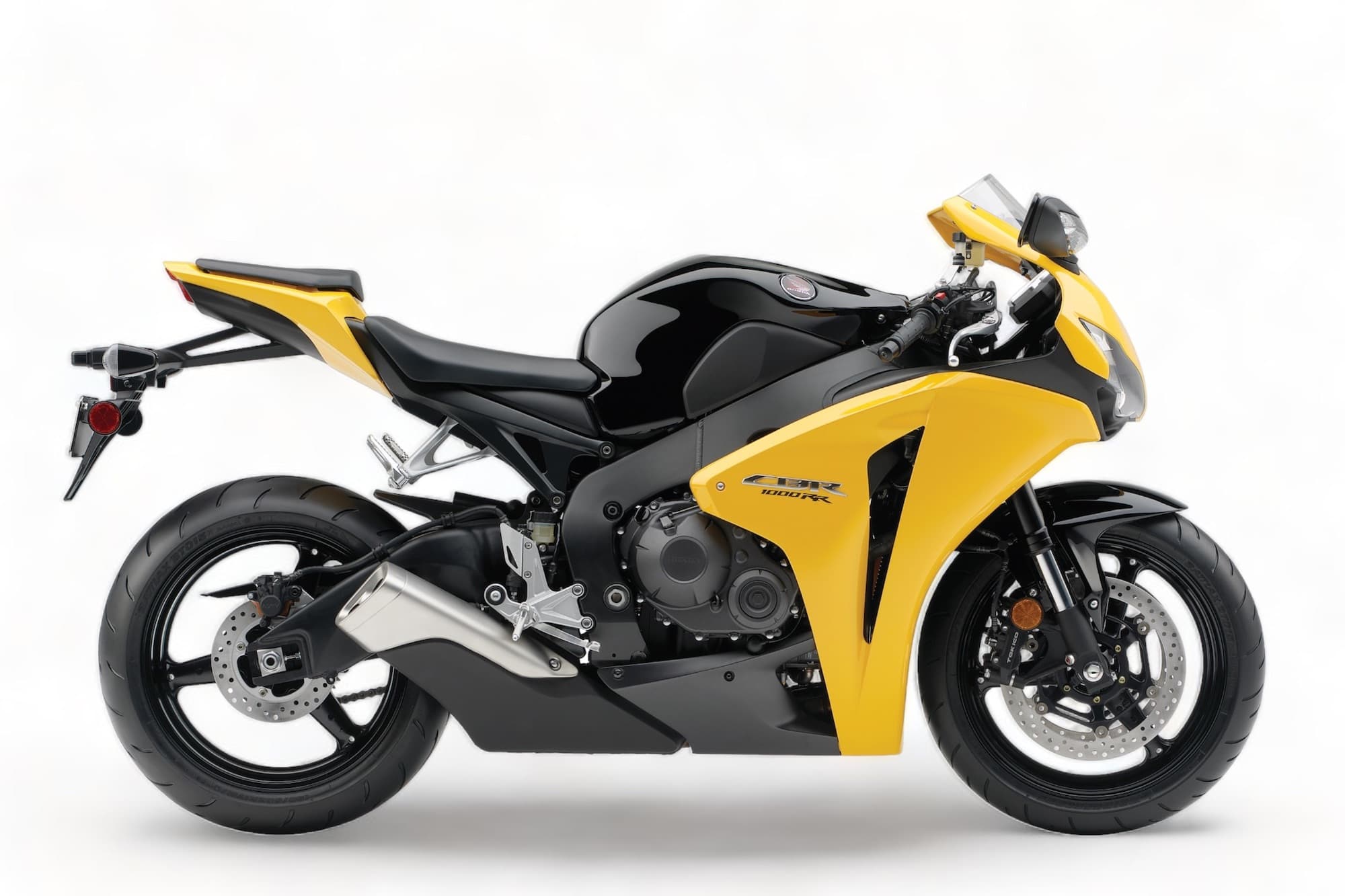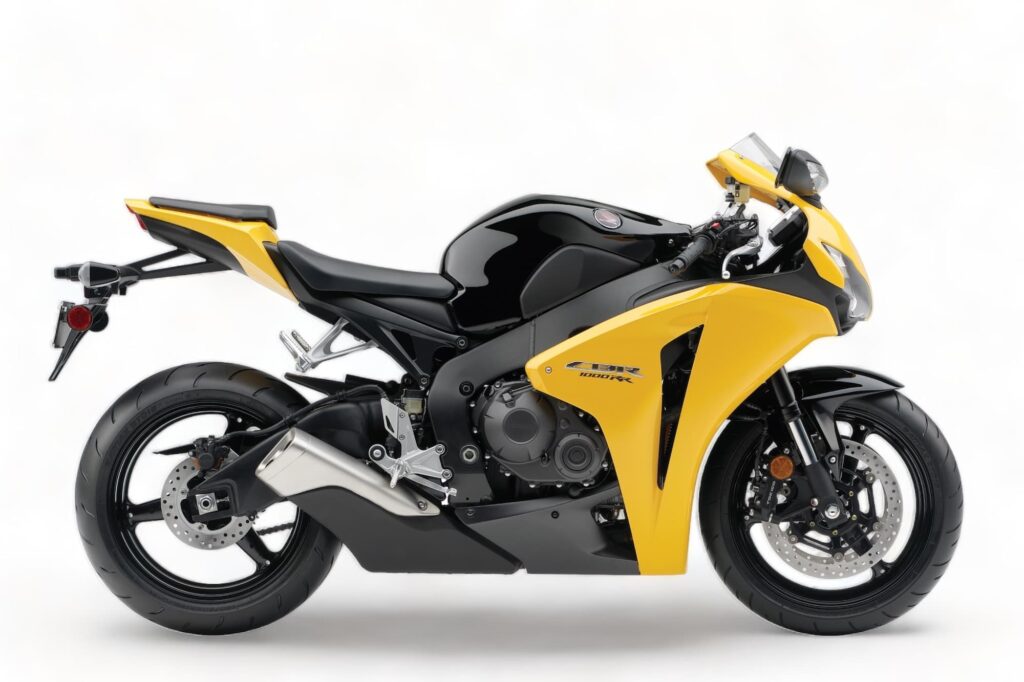 Honda Valkyrie GL1500
Honda's brawler powered by a hot-rodded version of the carburettor-fuelled flat six from the Honda Gold Wing. Very cool bike, with a bad-ass sound.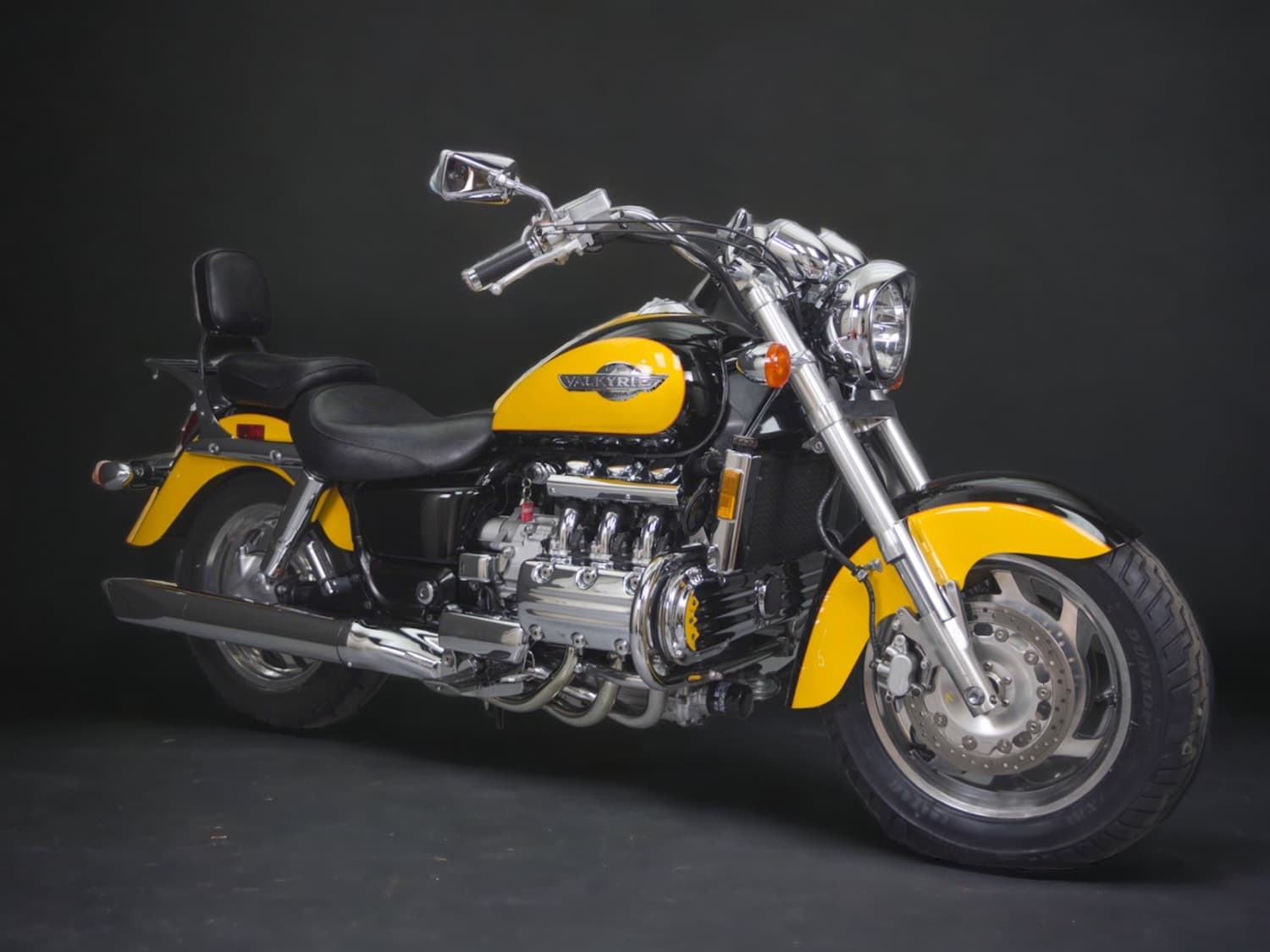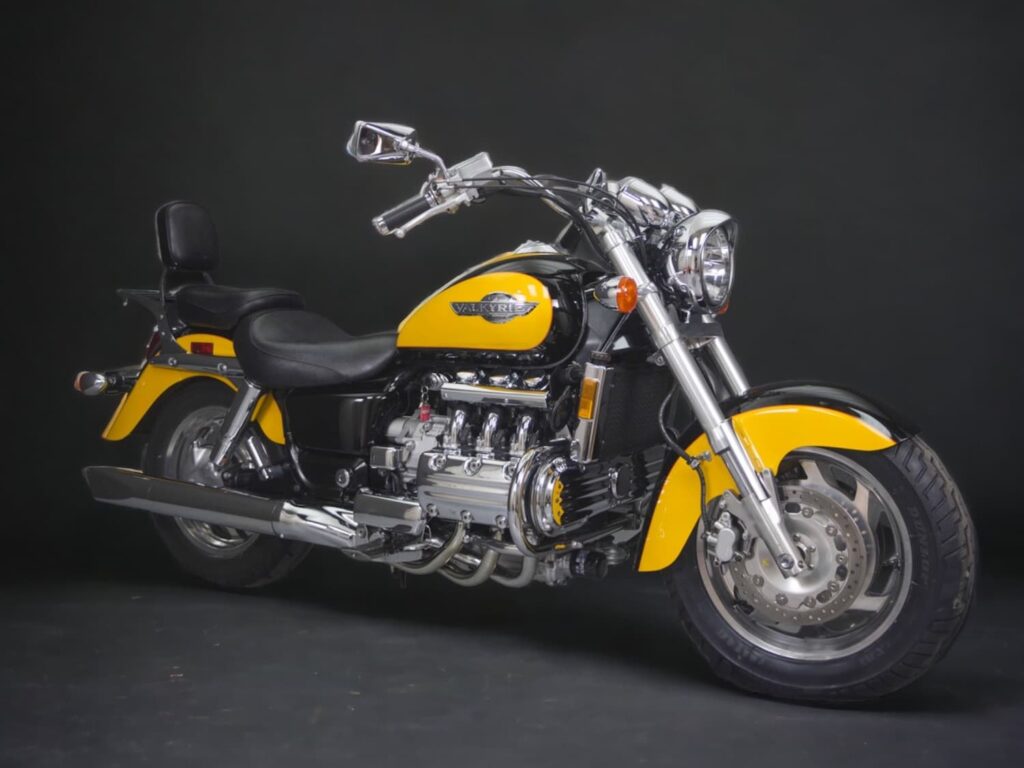 I had my eye on one of these with a custom sidecar, also painted yellow. But it got away from me.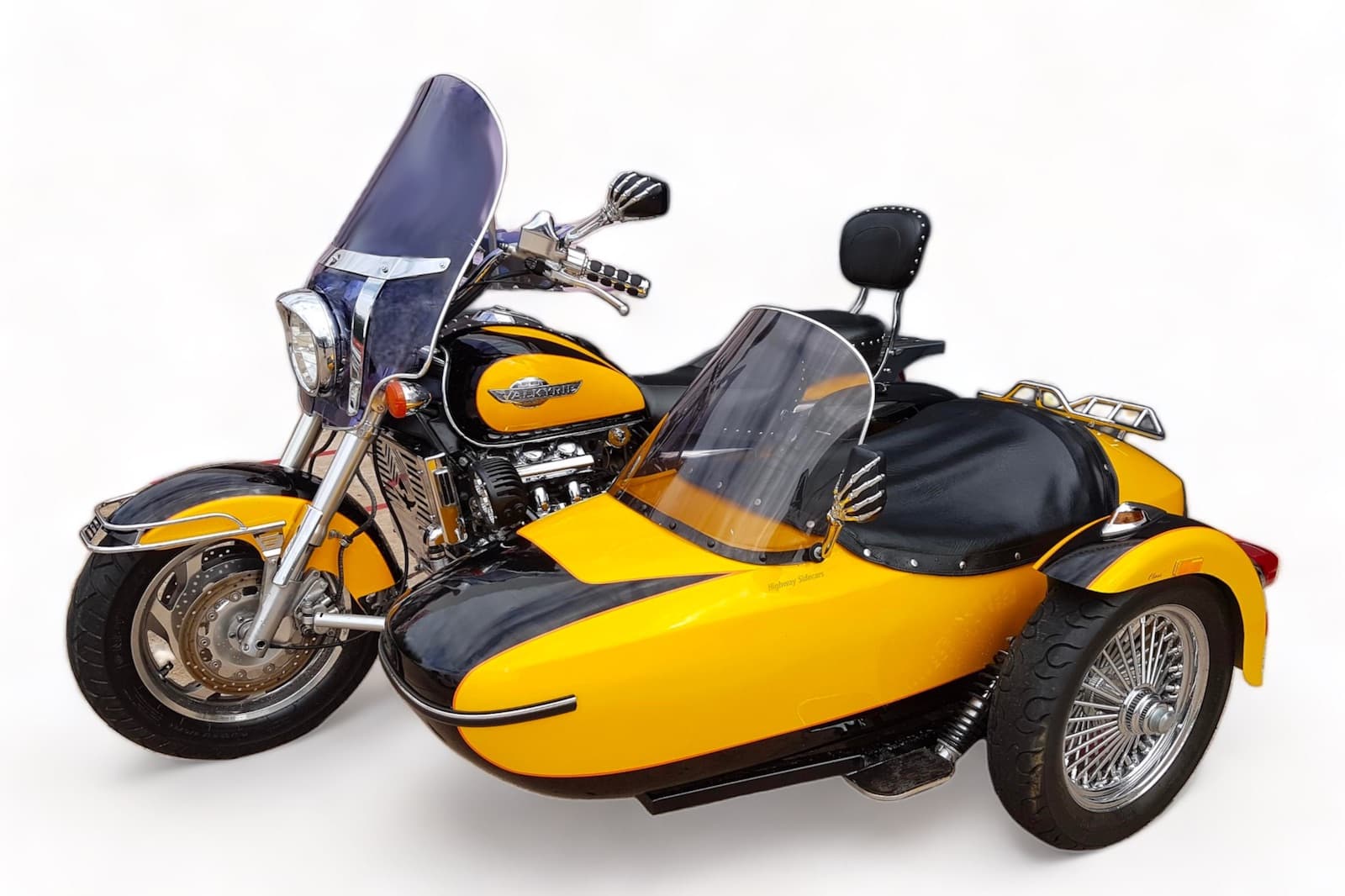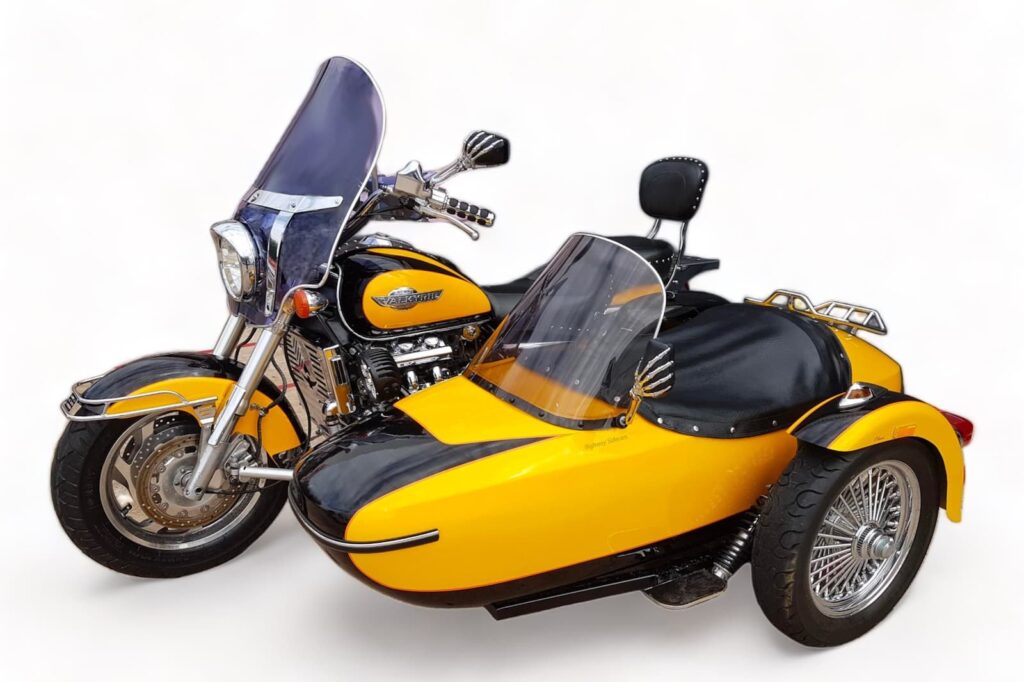 Honda Gold Wing (5th gen) + F6B
Honda released the 5th gen Gold Wing GL1800 in a gorgeous yellow.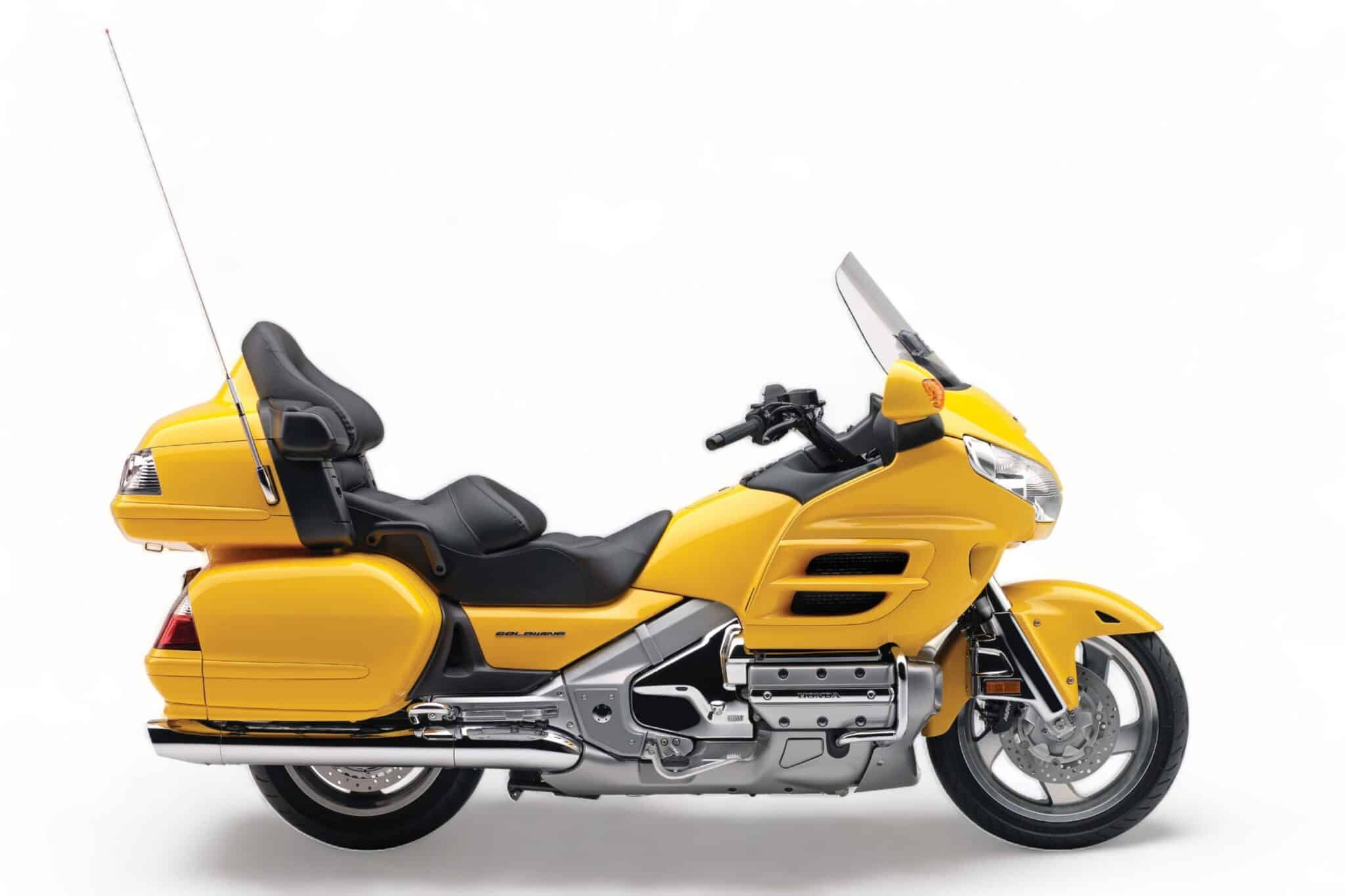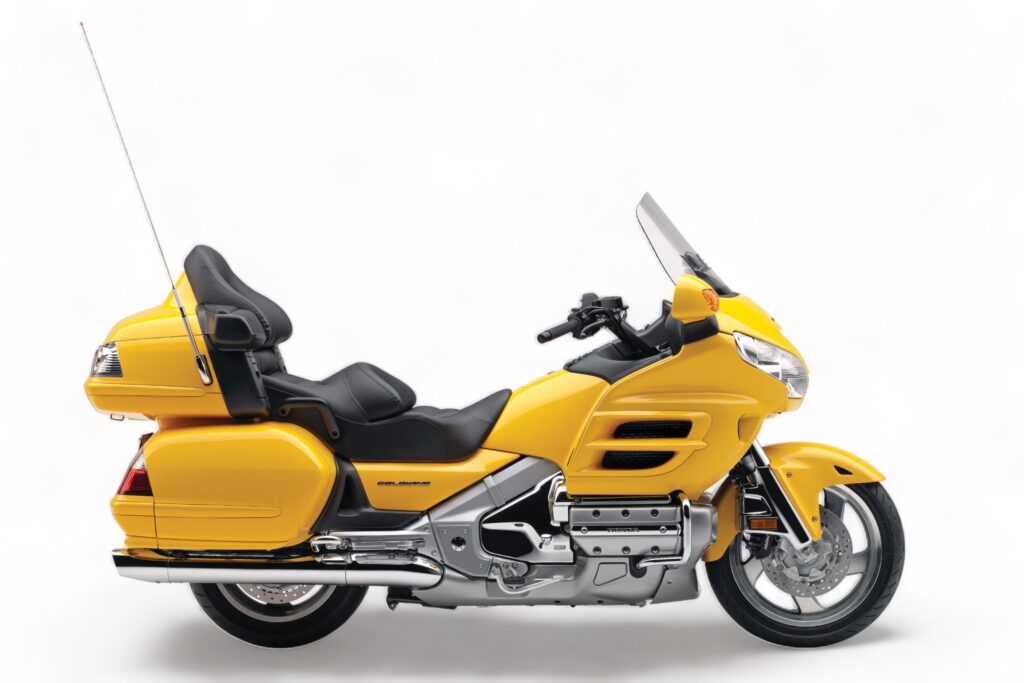 Honda also released the Gold Wing F6B, based on the same platform, as a yellow motorcycle for people too cool for a top box (or windscreen, or cruise control).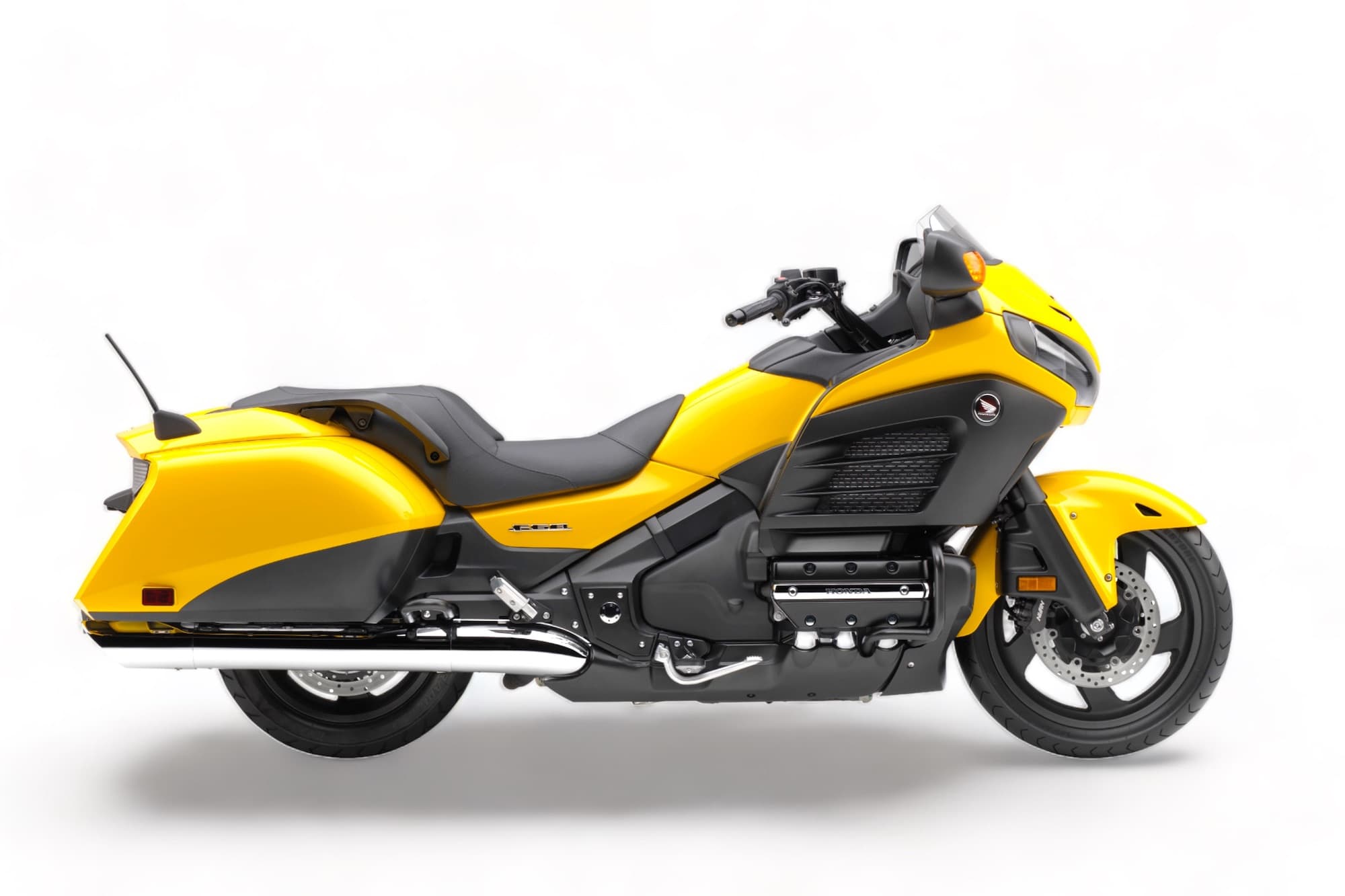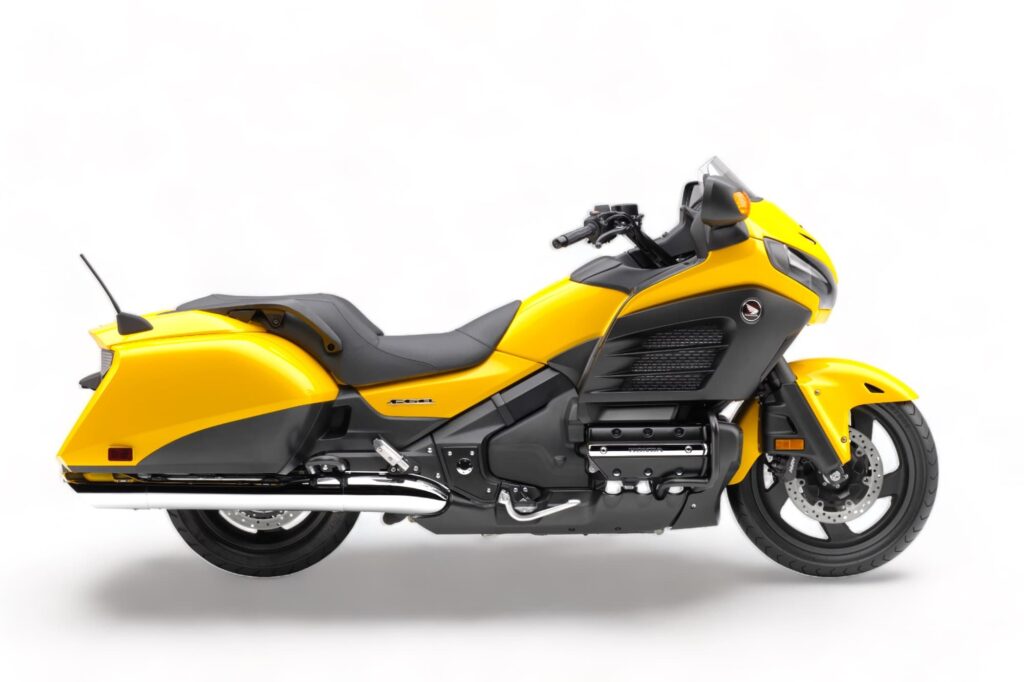 Honda VFR800 (5th gen)
Honda released the 5th gen VFR in yellow.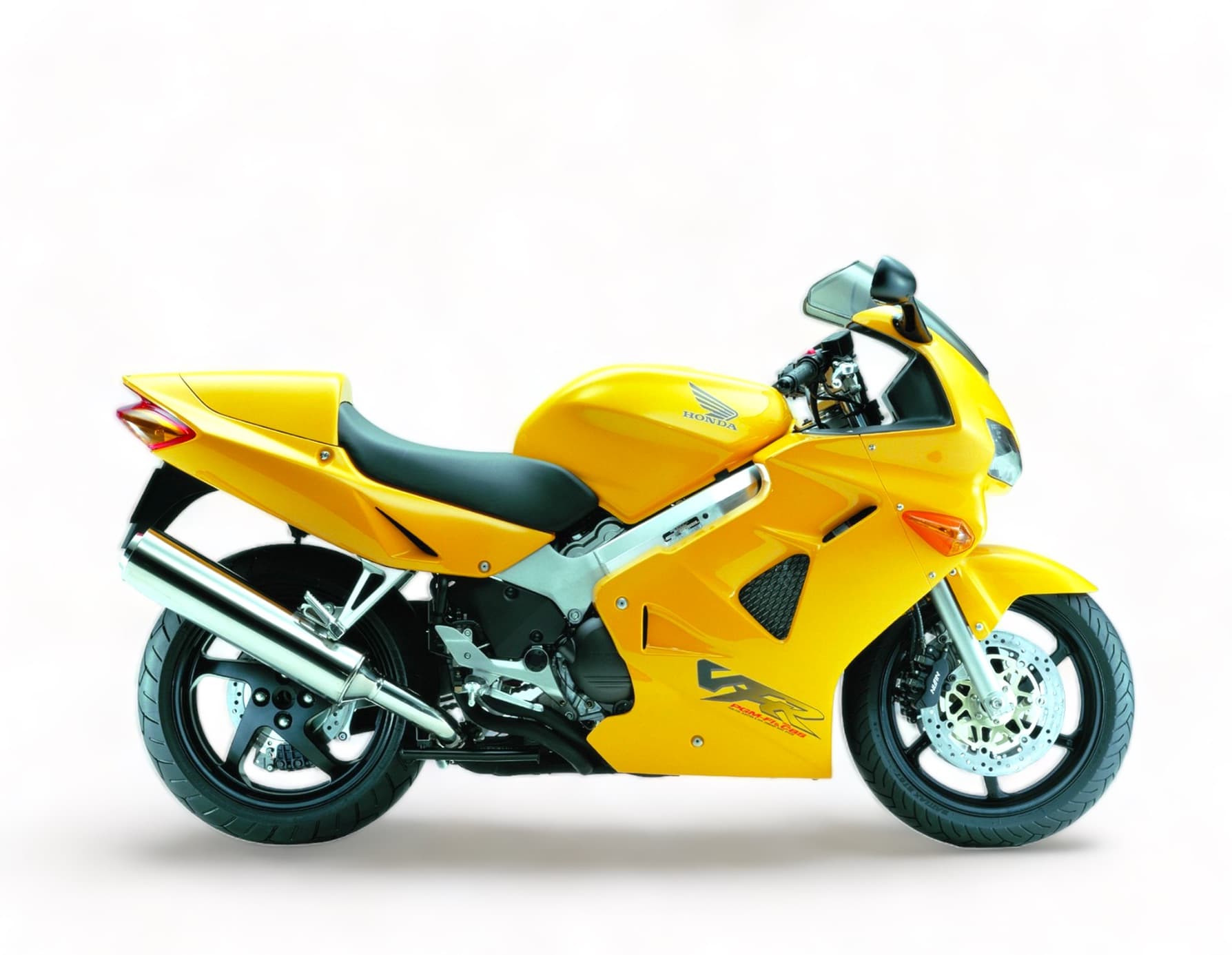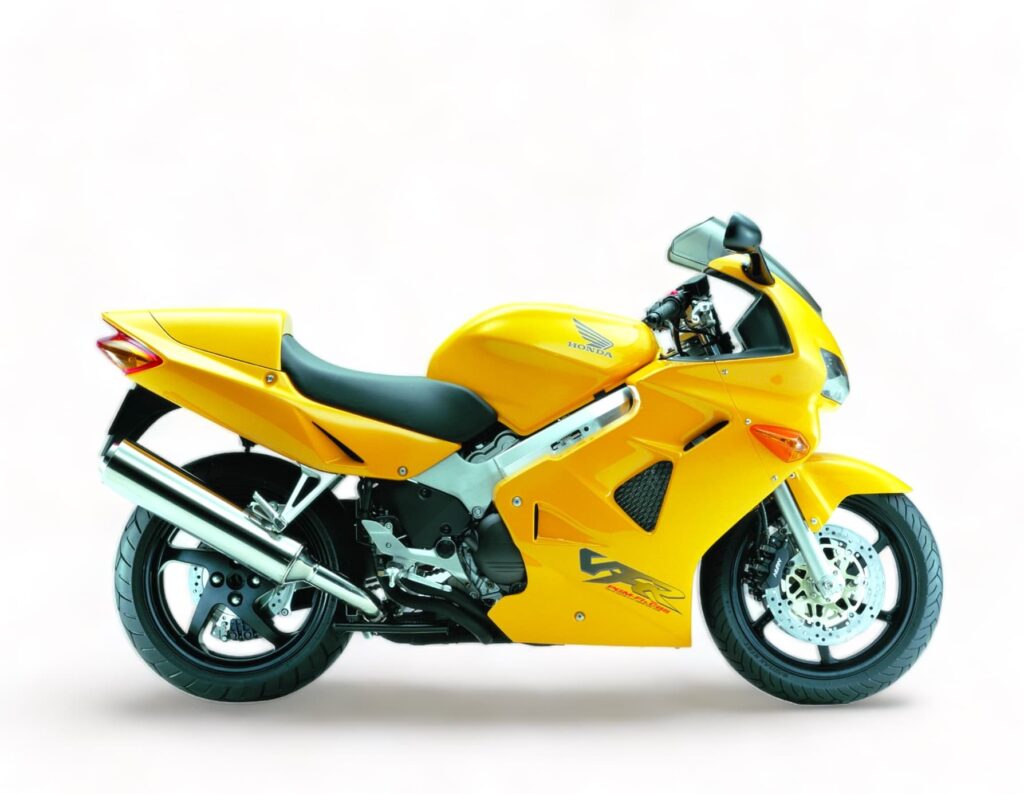 The Honda VFR800 is an iconic sport tourer based on earlier sport bikes, powered by a crackling fuel-injected V4 (the above is a 5th gen when EFI came about).
See the full guide to the Honda VFR800 generations.
Honda Fire Storm / Super Hawk (VTR1000F)
One of my favourite yellow motorcycles is the Honda VTR1000 Fire Storm. It looks like an actual fire storm!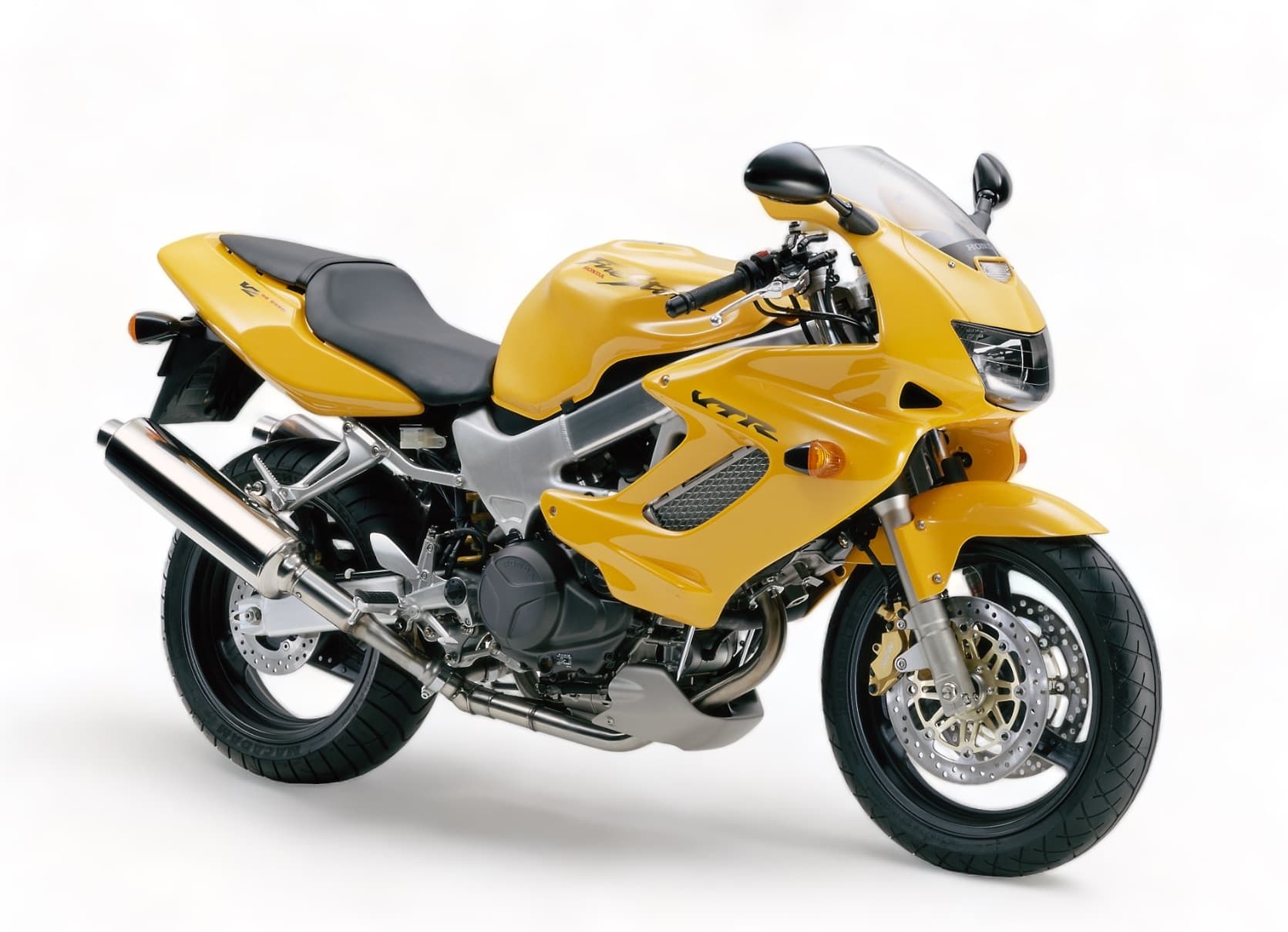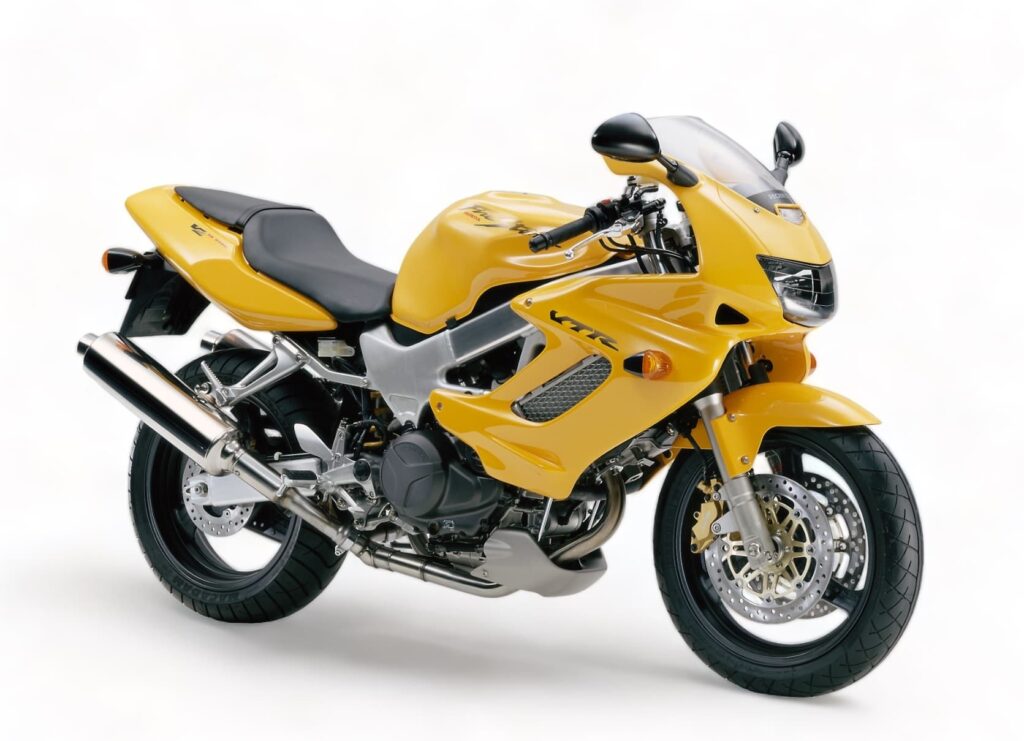 Kawasaki Yellow Motorcycles
Kawasaki has done a limited run of yellow motorcycles, but they're usually special.
Kawasaki Ninja 250R
Kawasaki has done a few yellow Ninja 250s. Here's one. This is one of the most entry-level yellow motorcycles on this list, aside from the much newer Meteor 350.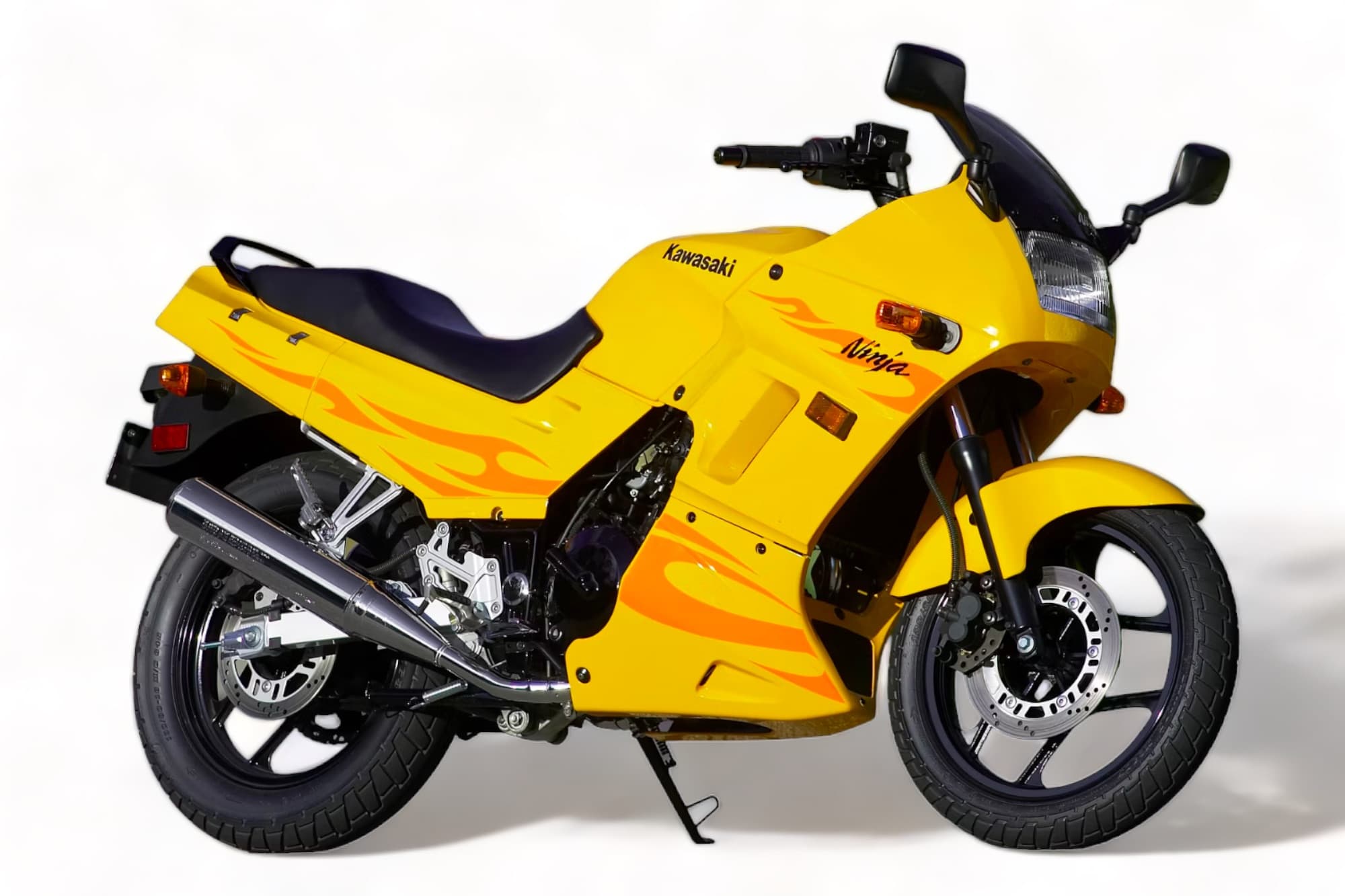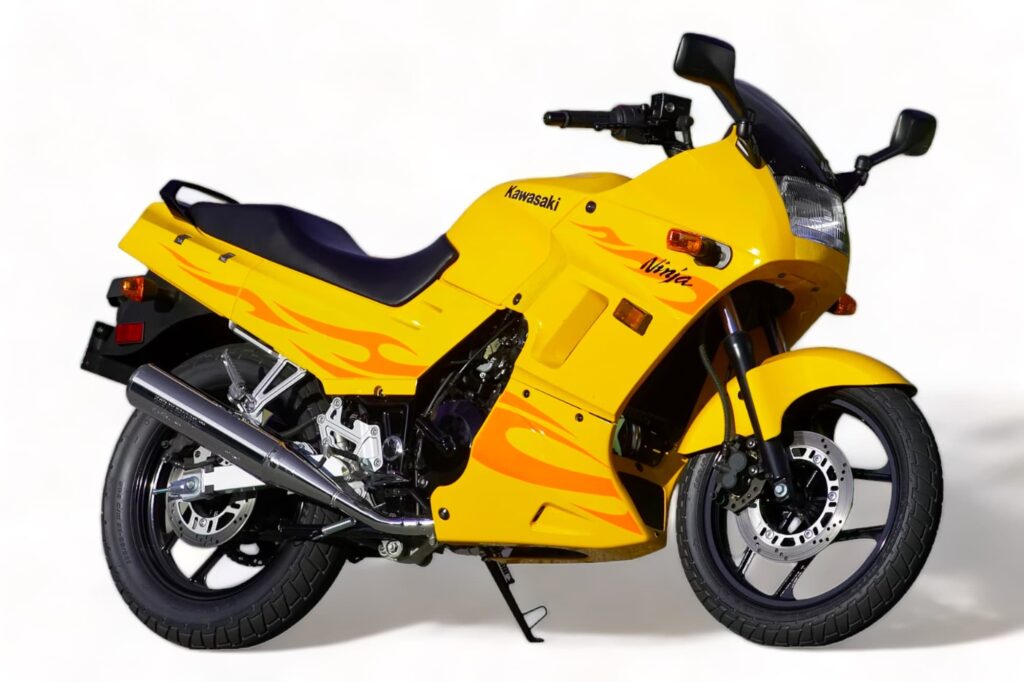 Kawasaki Ninja 500R
The Ninja 500R is a lively, underrated bike. And it came in yellow! It's considered a beginner bike, but it's a great and reliable commuter.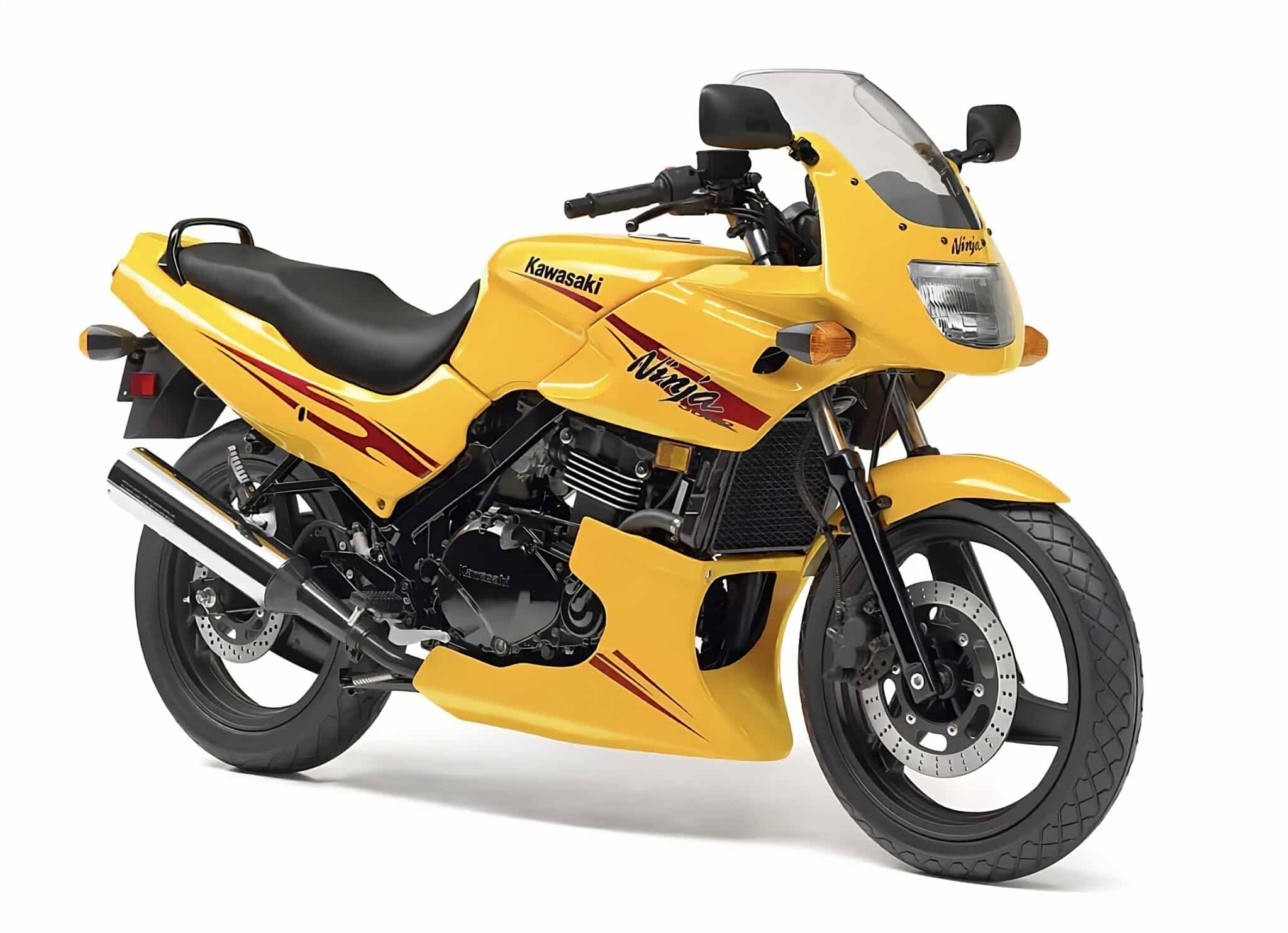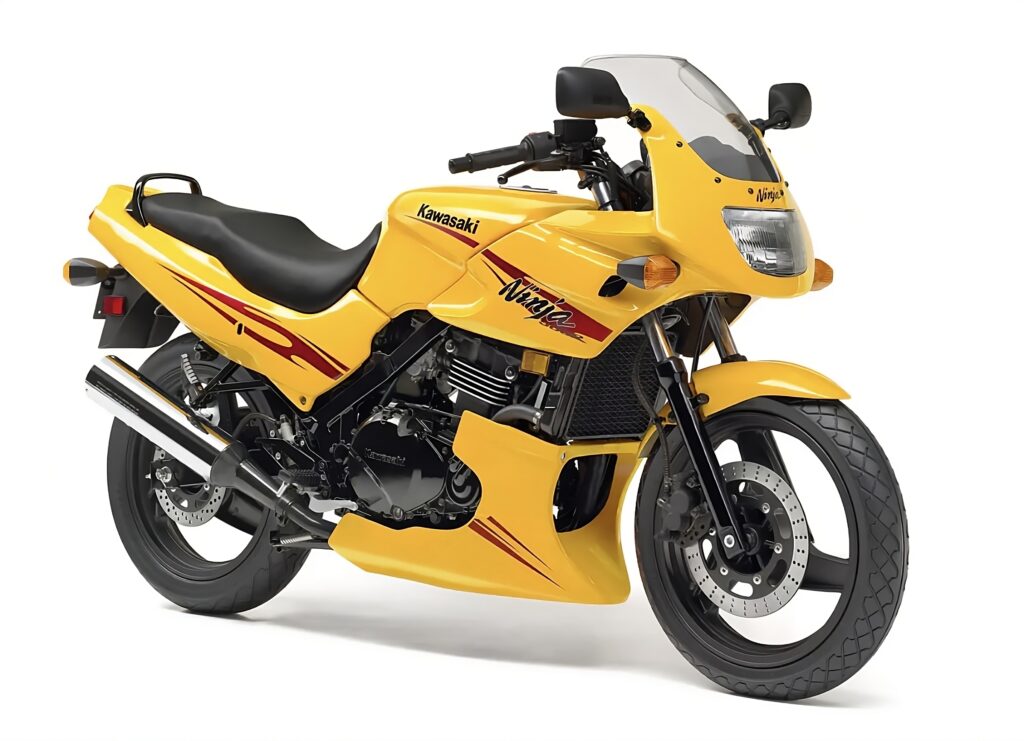 Kawasaki ZX-6R
Kawasaki released the ZX-6R in some striking yellow colour schemes for a number of different years. Here's a couple below.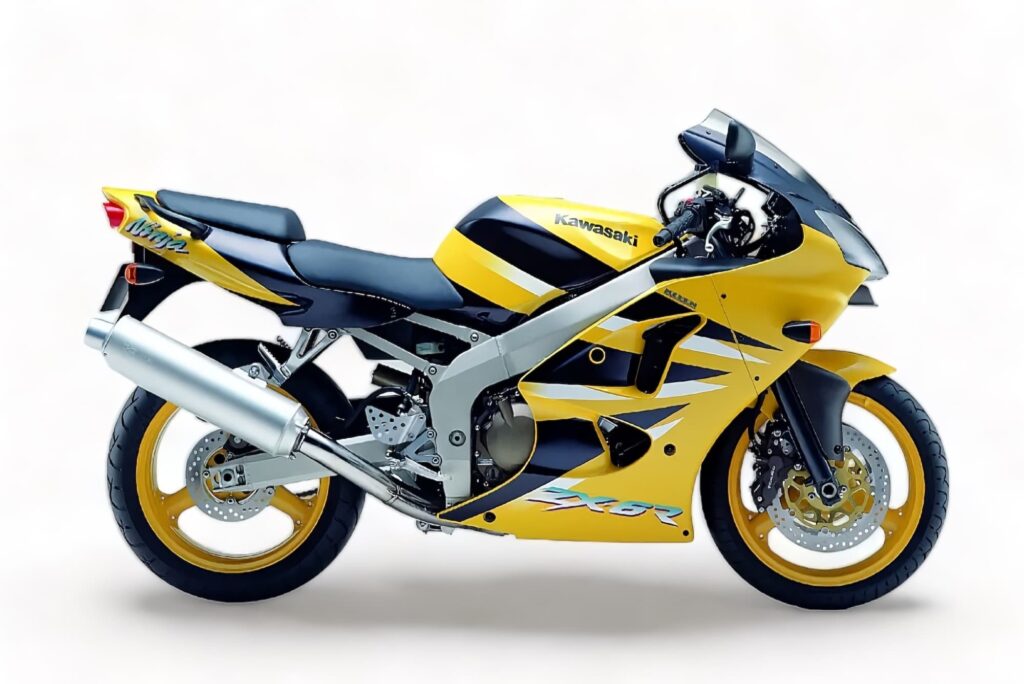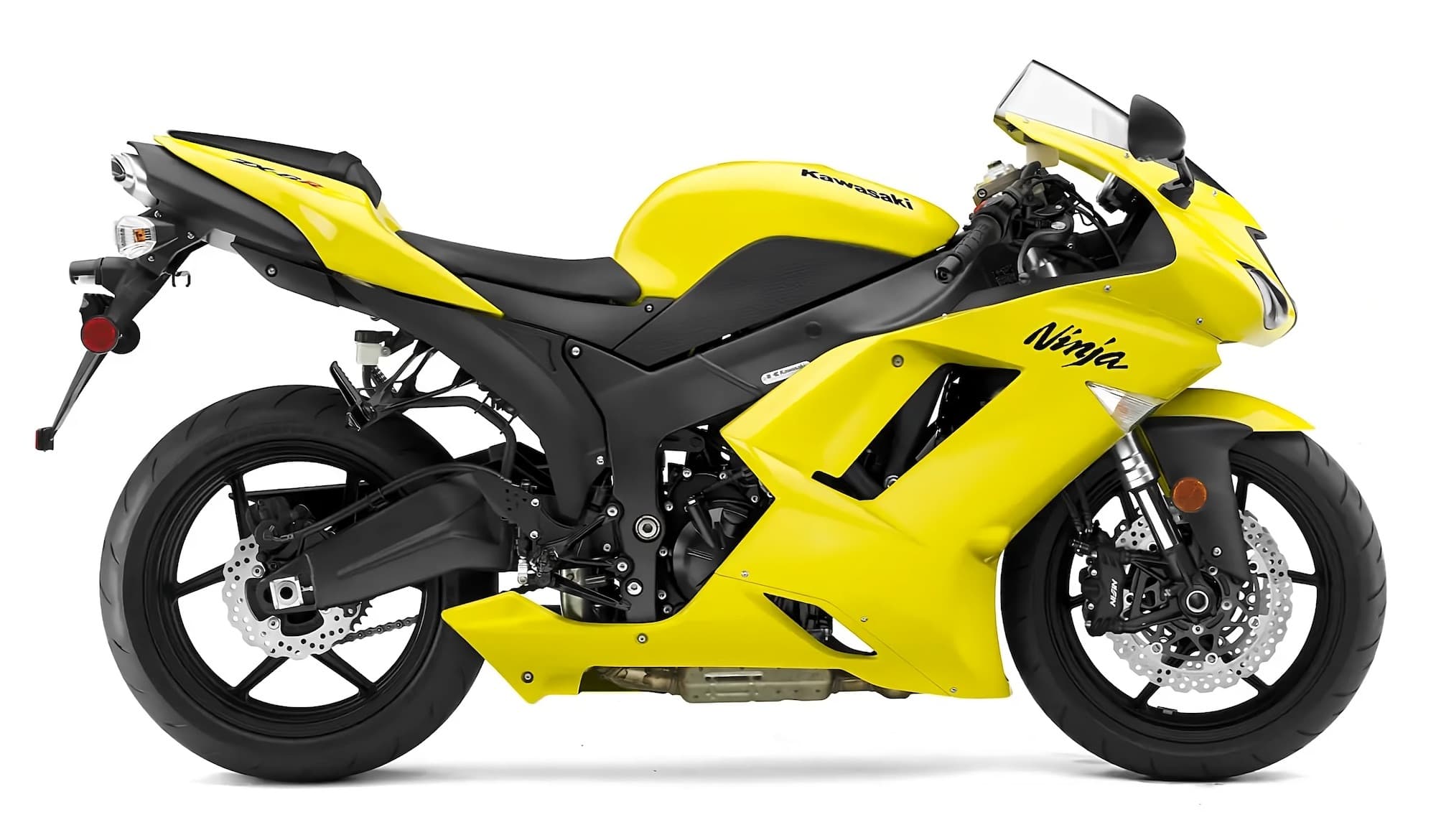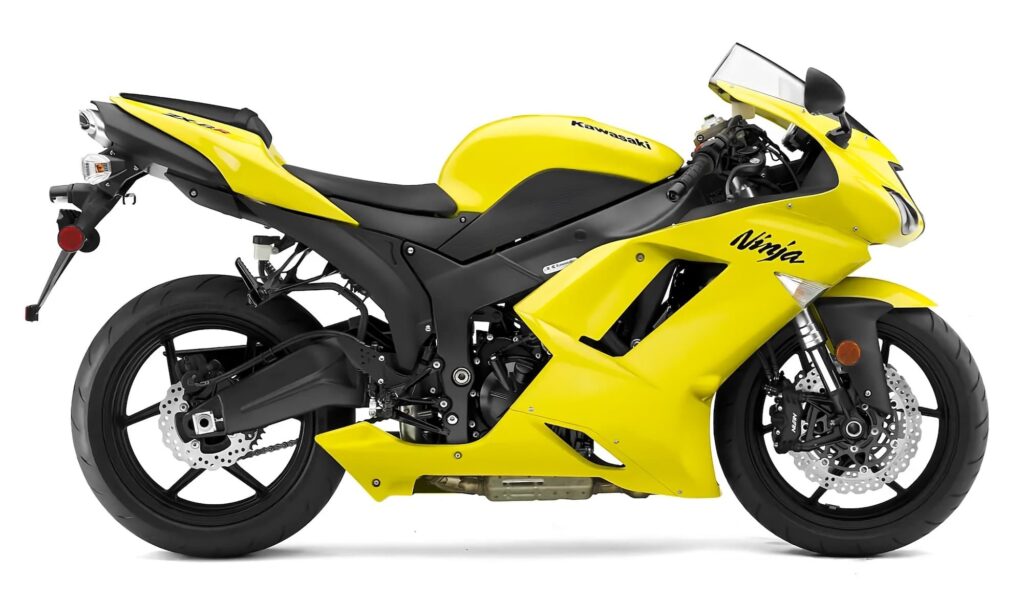 See the full Kawasaki ZX-6R buyer's guide here.
Kawasaki Z900RS SE "Yellow Ball"
Kawasaki has released the Z900RS in many colours. It's part of their thing. One of the colours is "Yellow Ball", a special edition colour. (See here for all the colours).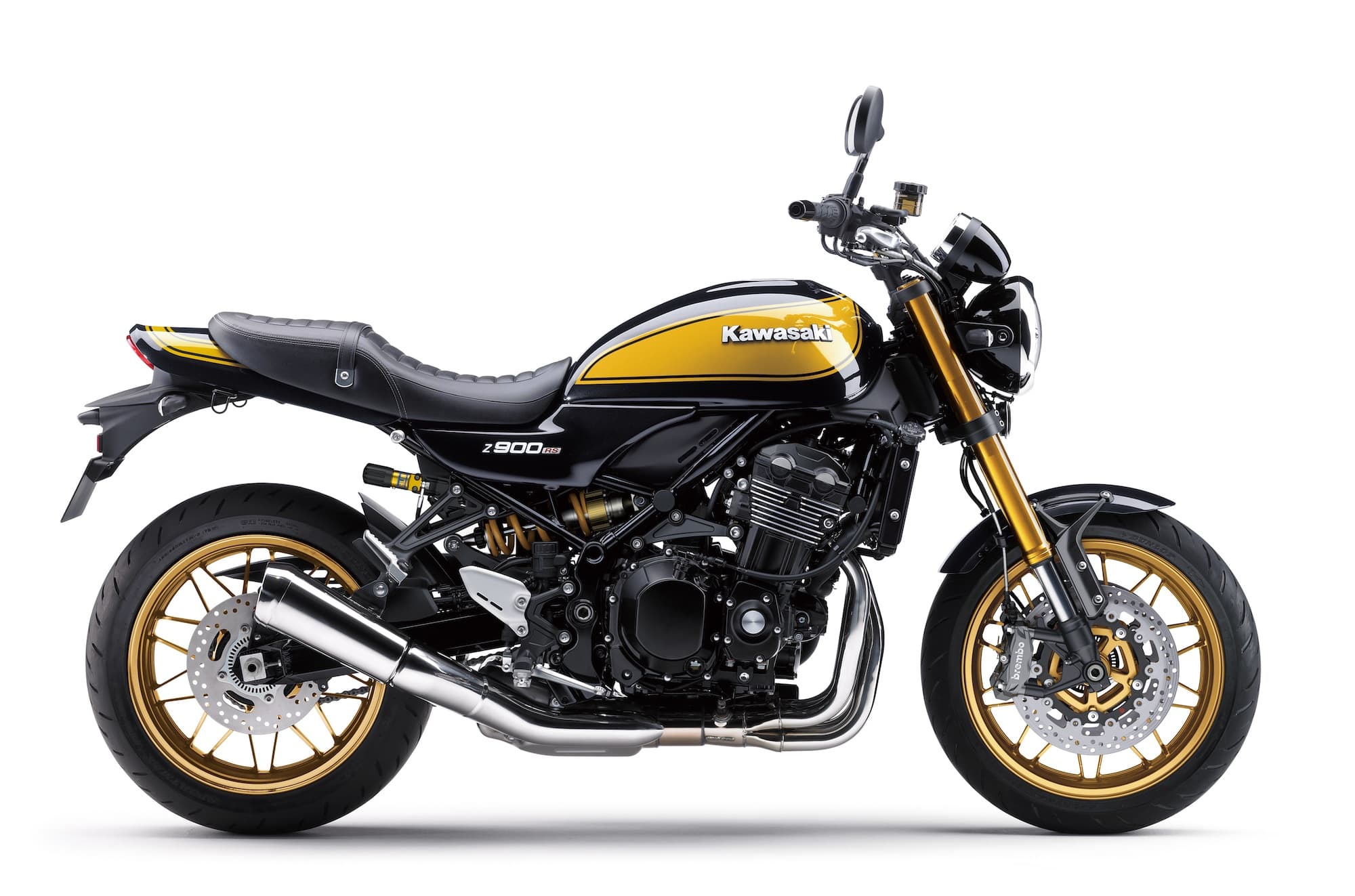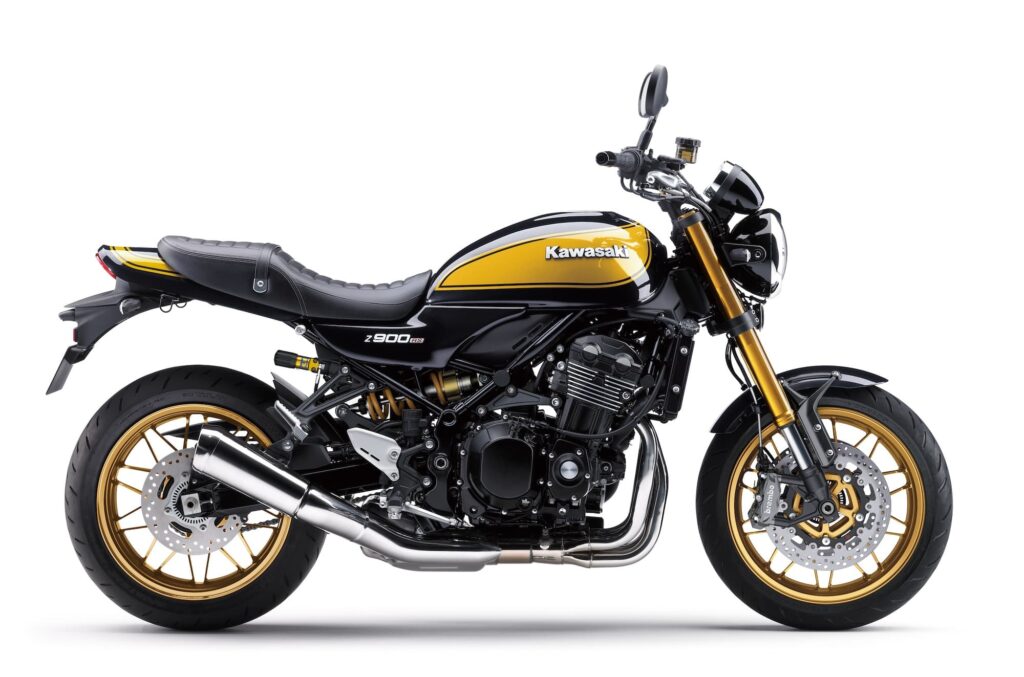 This is, of course, modelled after the iconic 1973 Kawasaki Z1 "Yellow Ball". But good luck finding one of those!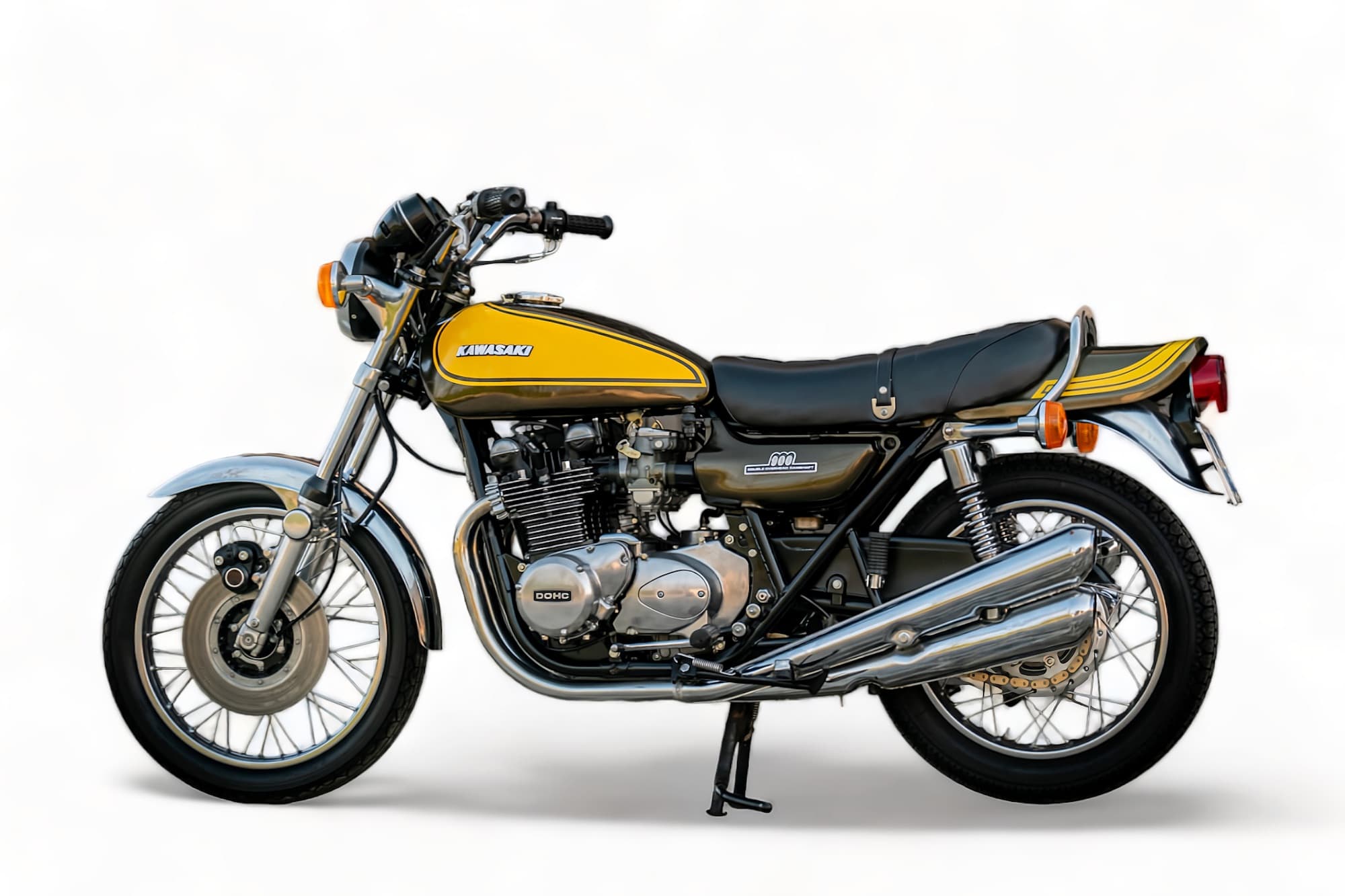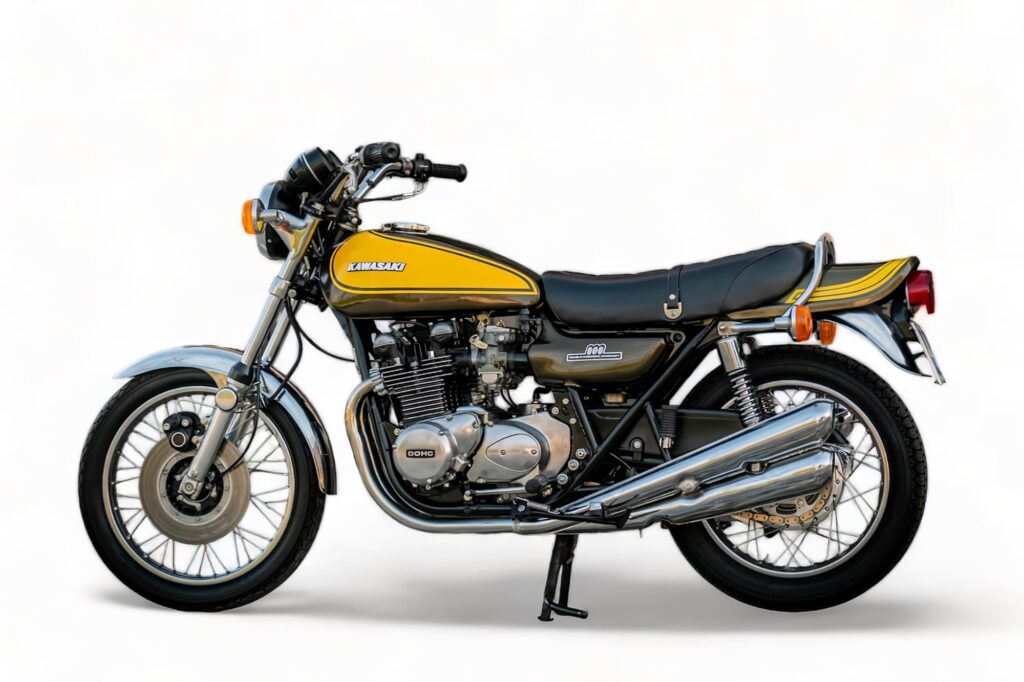 Moto Guzzi Yellow
Moto Guzzi has used yellow on limited occasions over the years. The below are two of the more frequently seen ones.
Moto Guzzi Sport 1100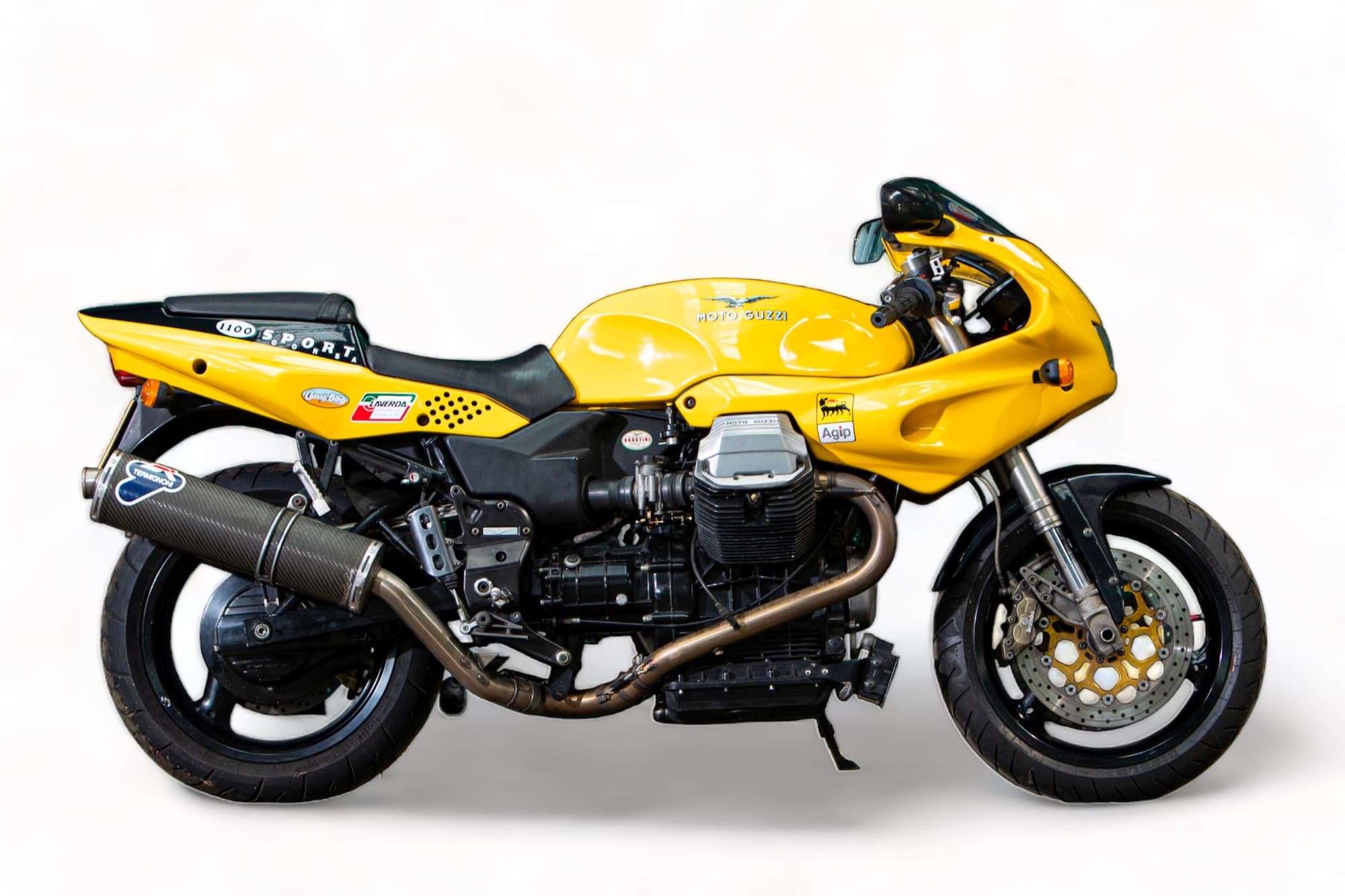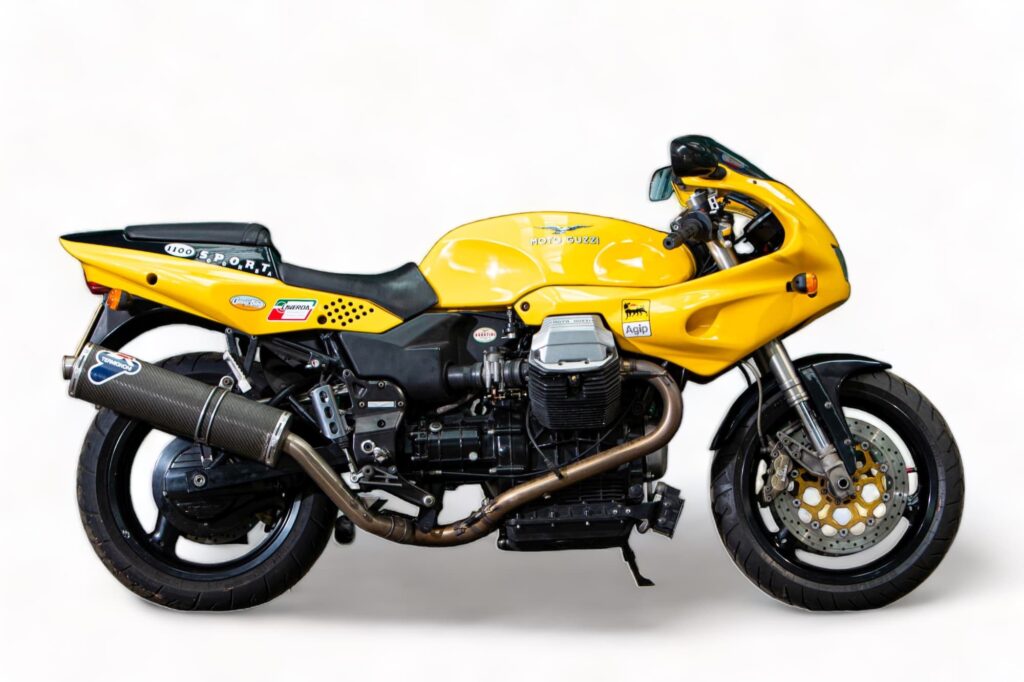 Moto Guzzi V7 850 (2021+)
Moto Guzzi's refreshed V7 with a 850 engine comes in yellow metallic.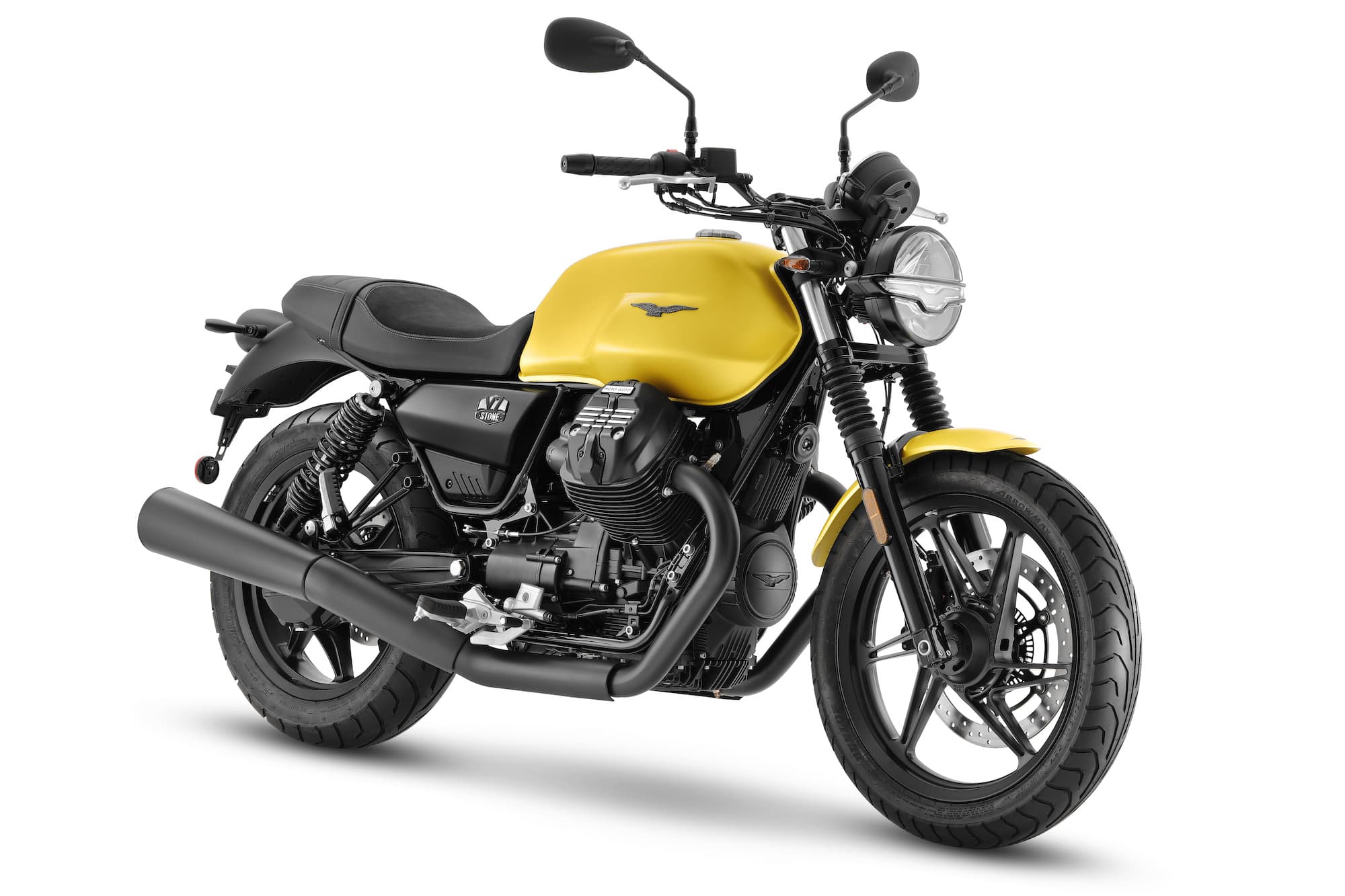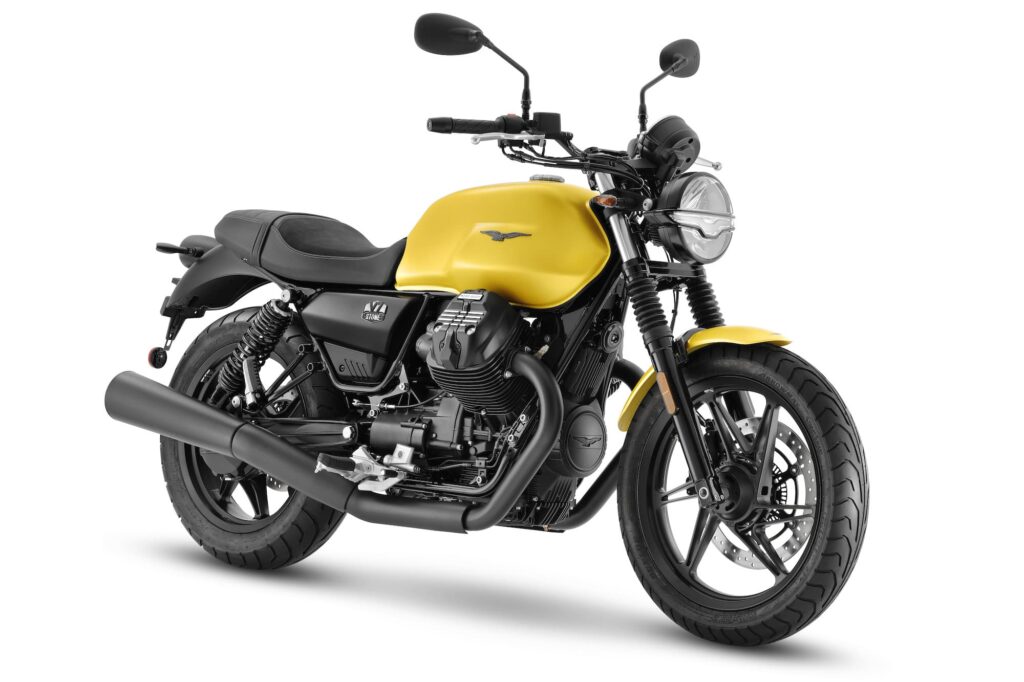 Piaggio Vespa GTS 300
Not a motorcycle per se, but it's yellow as all get-out, and I wouldn't mind seeing one parked next to my yellow Hayabusa at all. This is "Giallo Estate" Yellow.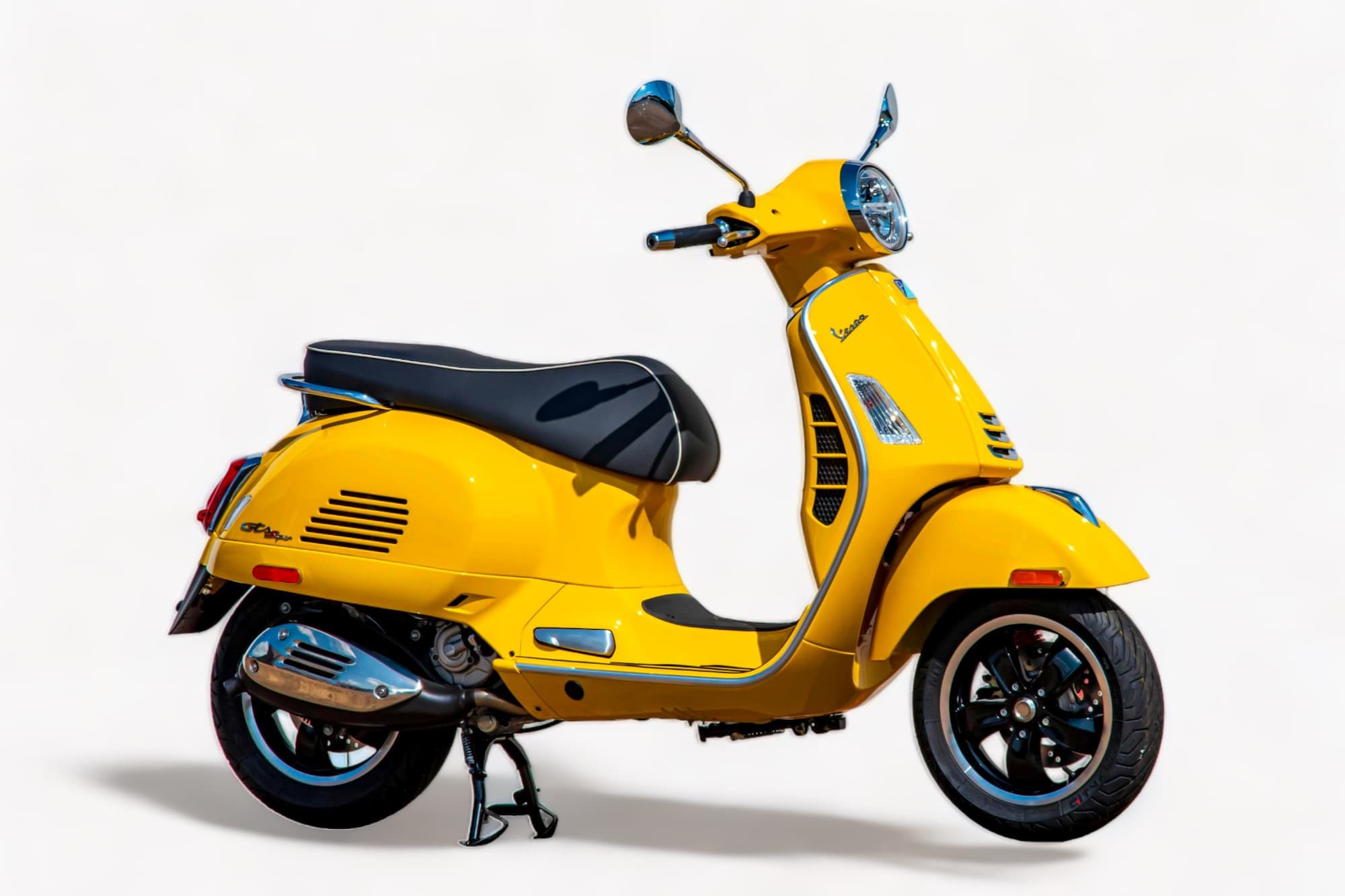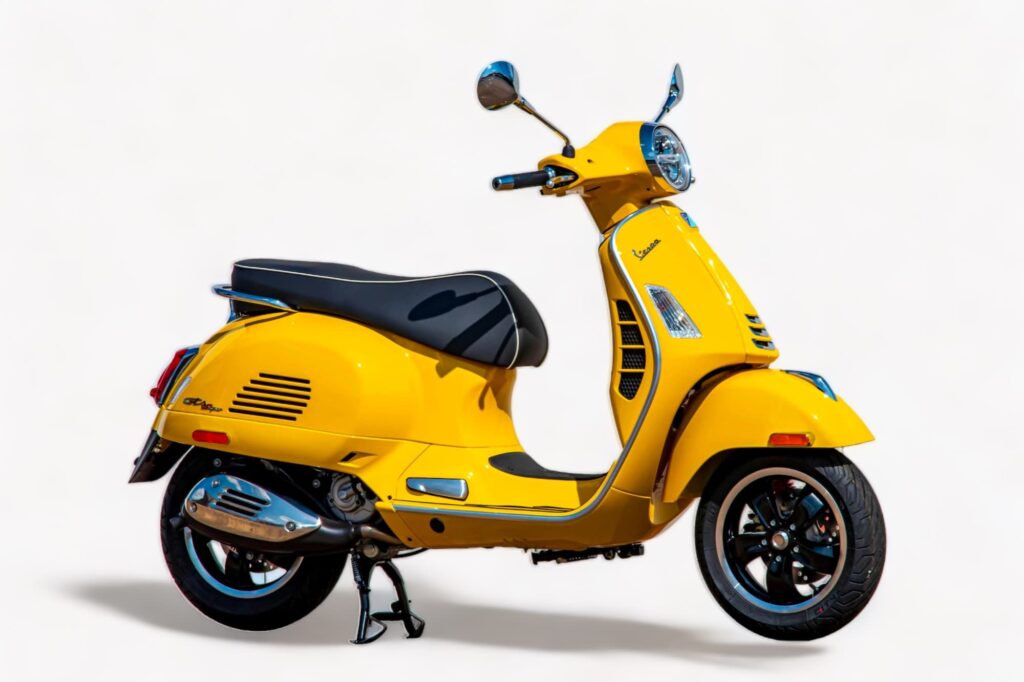 Royal Enfield Meteor 350 Fireball
Below is the only Meteor that actually looks like a fireball. These are compact, affordable, low-power, low-spec, but attractive bikes. They're very popular.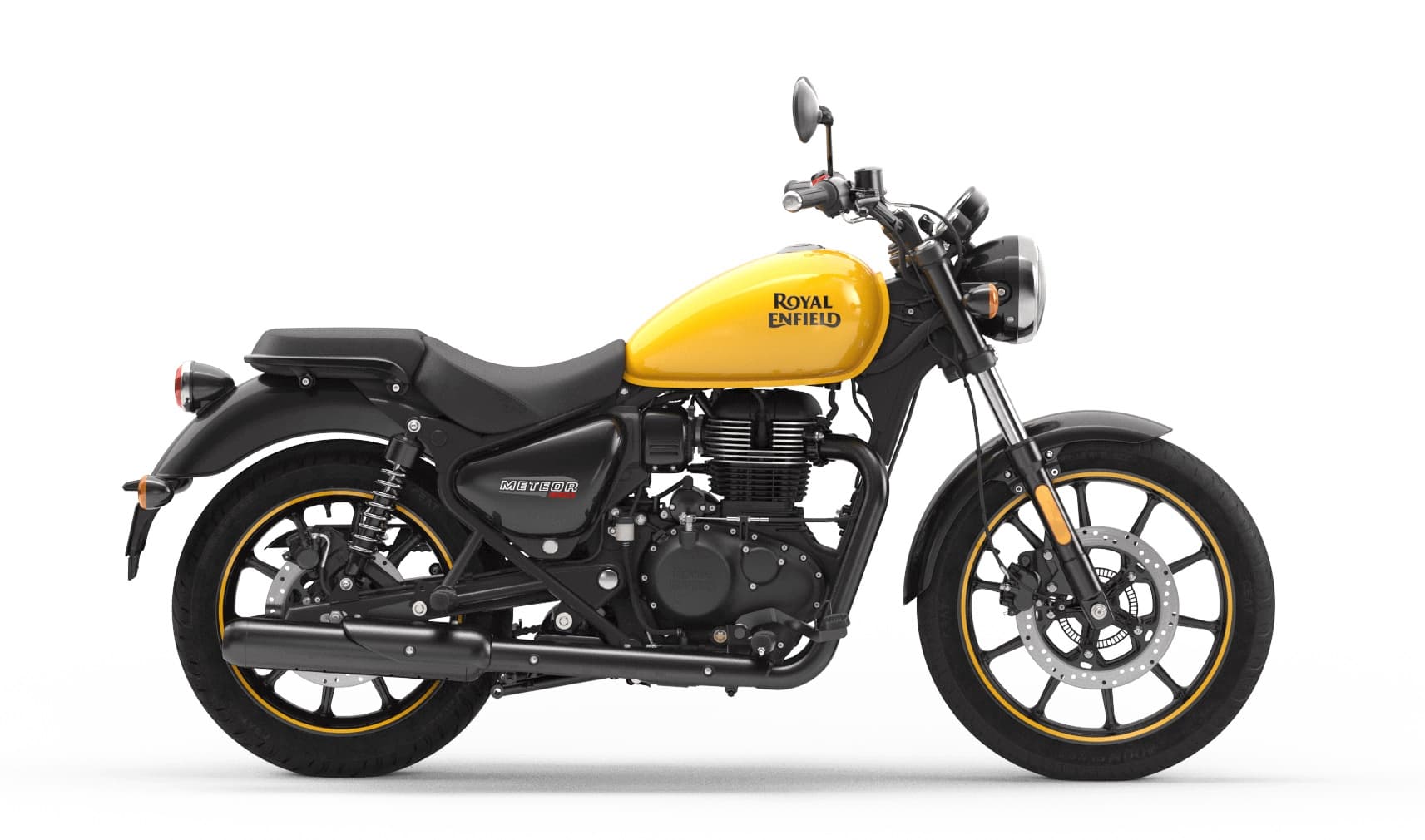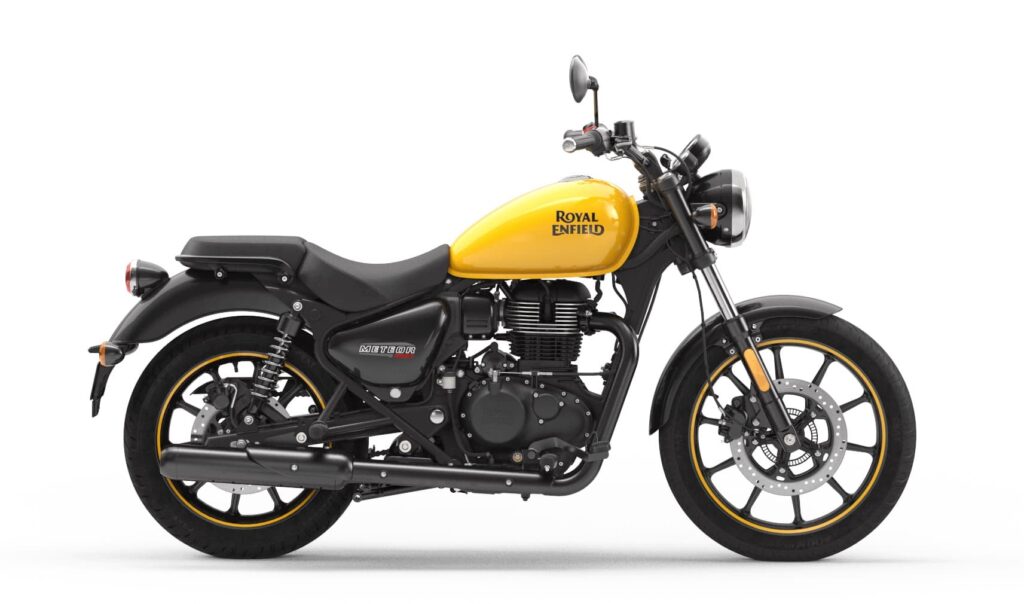 Suzuki Yellow Motorcycles
There's a load of Suzuki off-road and adventure motorcycles with yellow in them.
Probably the most ubiquitous splash of Suzuki yellow has been the DR-Z400SE.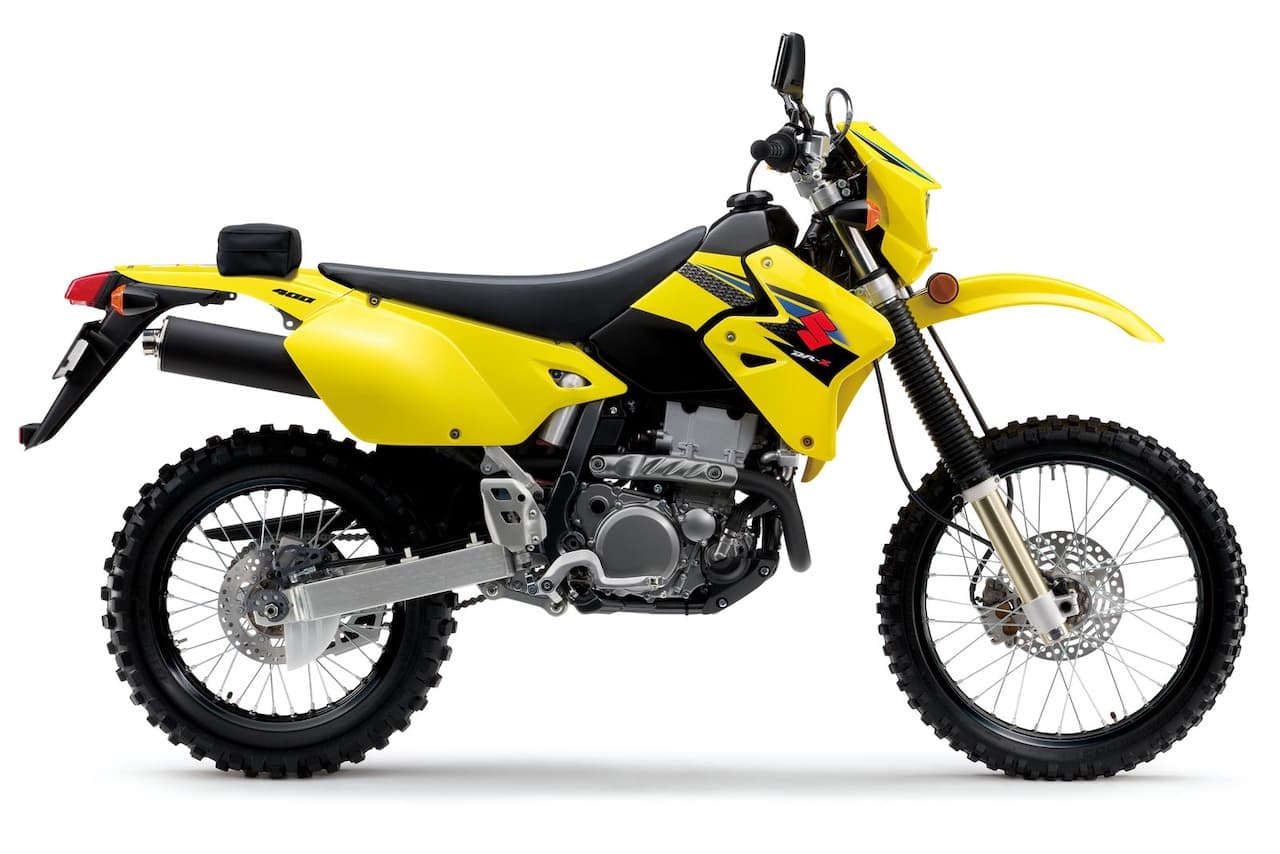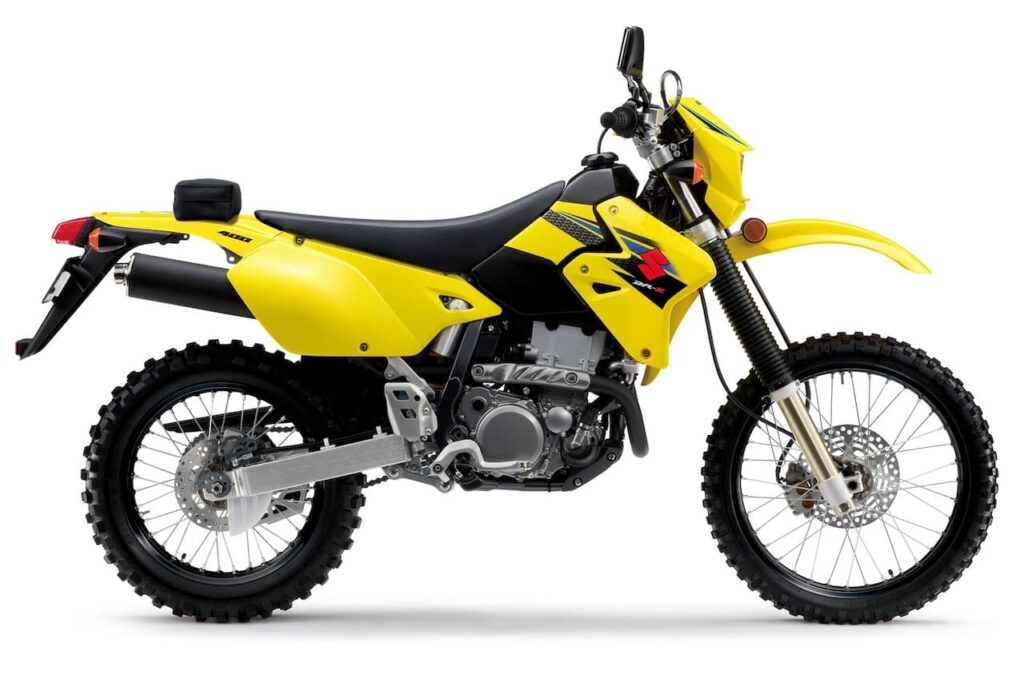 You can see the same Suzuki Yellow on other off-road and dual-sport bikes, but the DR-Z400 is very common.
Suzuki V-Strom Yellow Motorcycles
Suzuki's bigger adventure bikes have also been yellow-coloured since the recent XT years.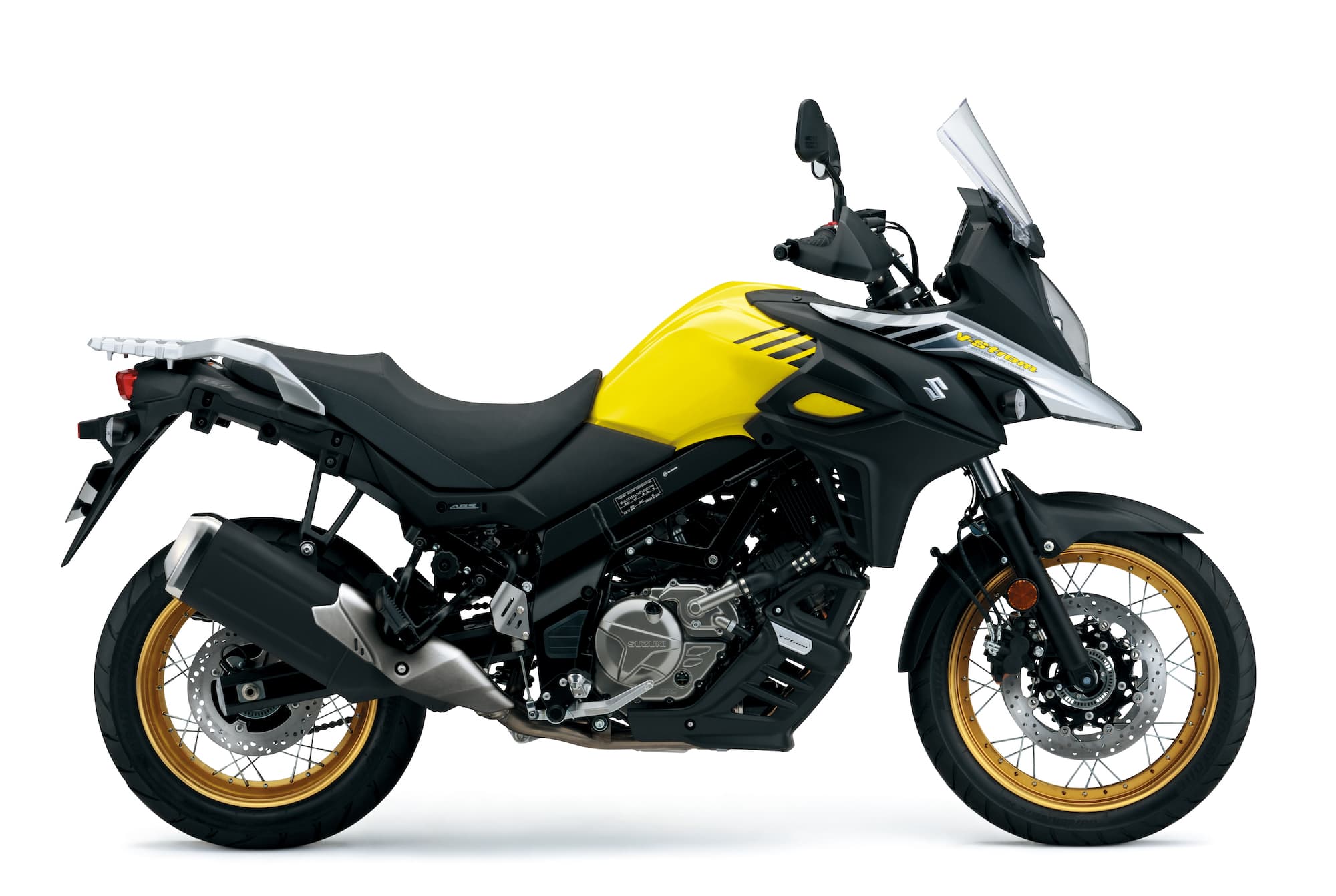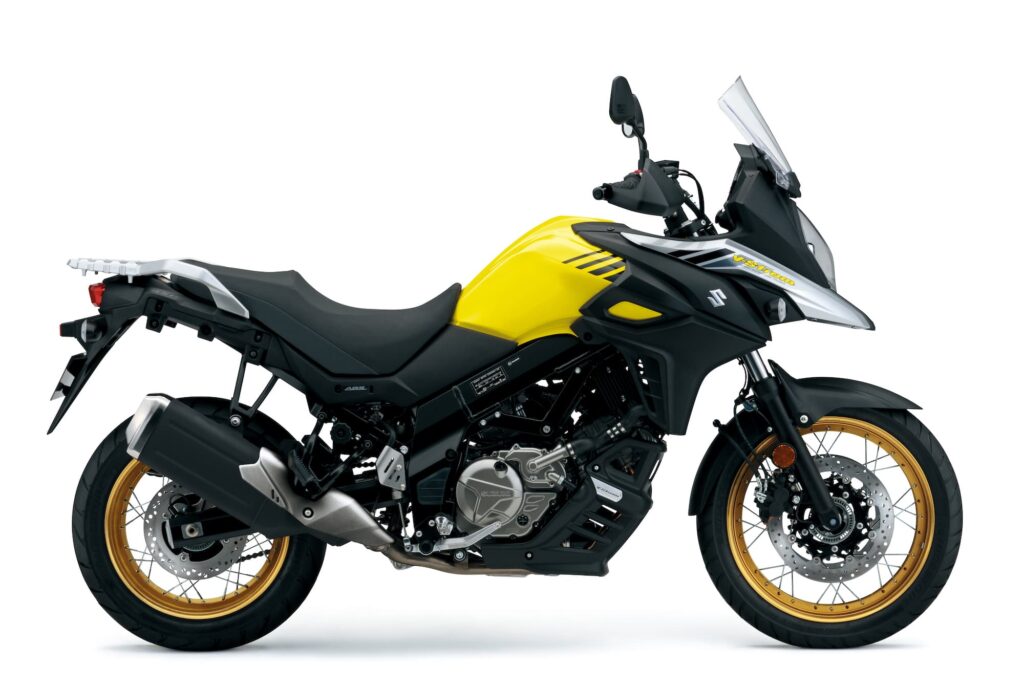 I think Suzuki really nailed its "DR Big"-inspired design with the V-Strom 1050XT in particular.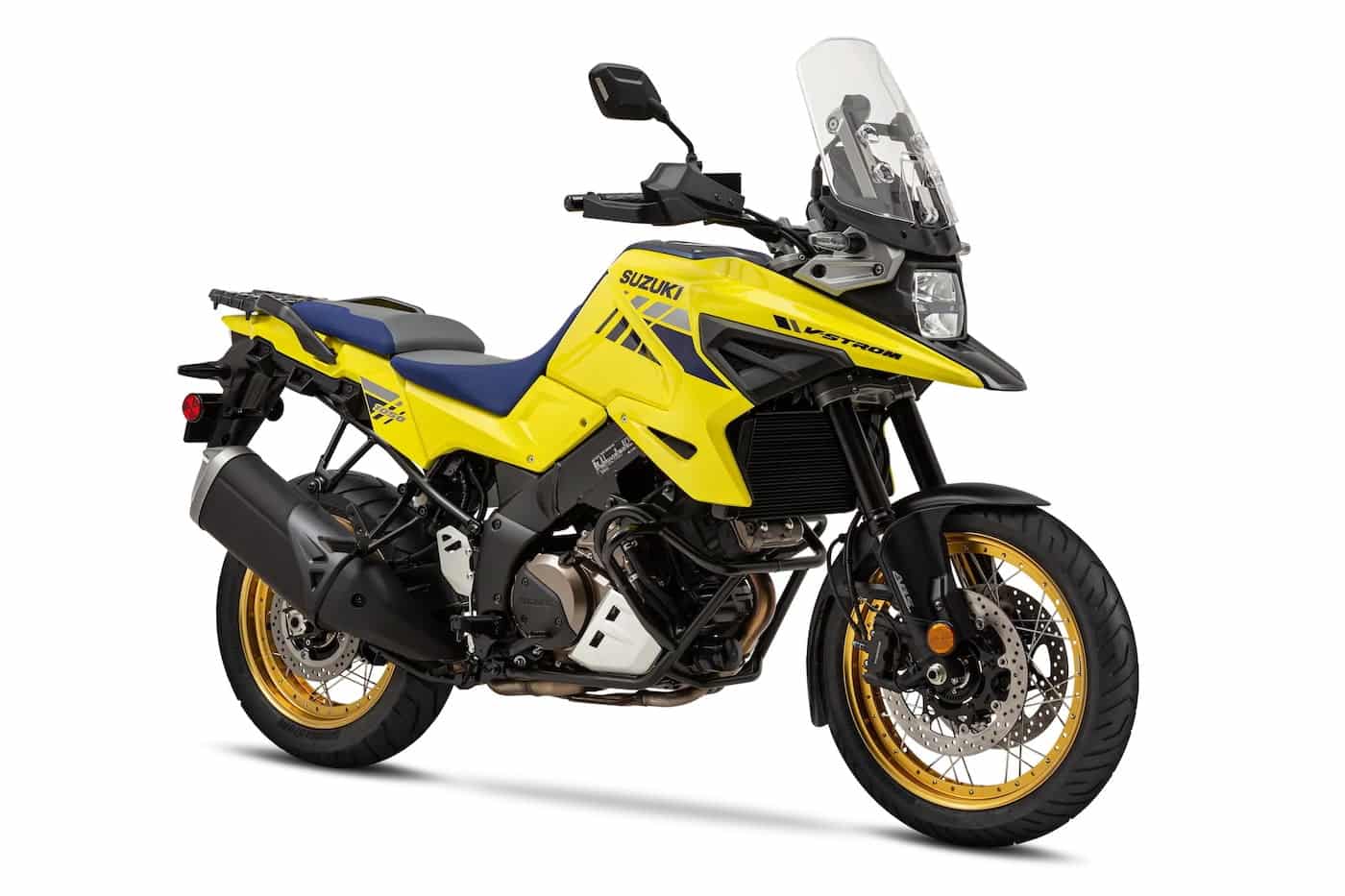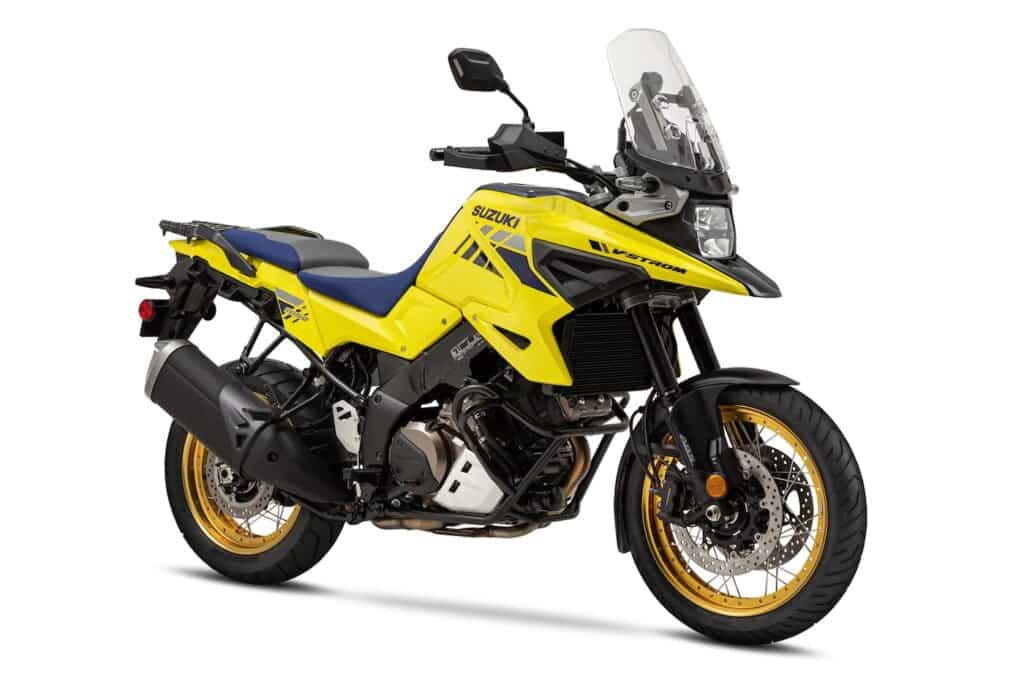 The new 2023 models, the V-Strom 800DE and V-Strom 1050DE (with 21-inch front wheels), also have come in yellow colour schemes.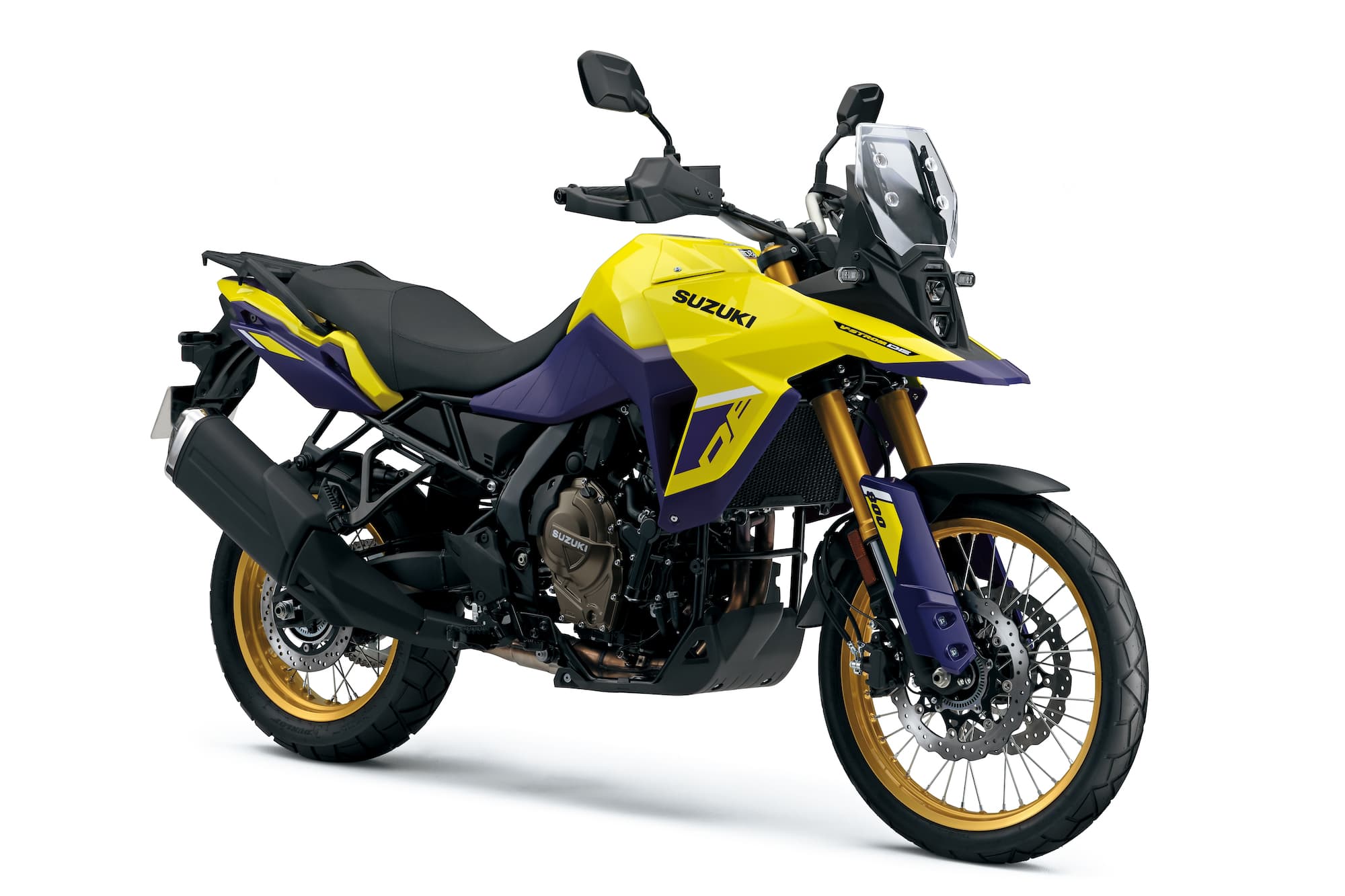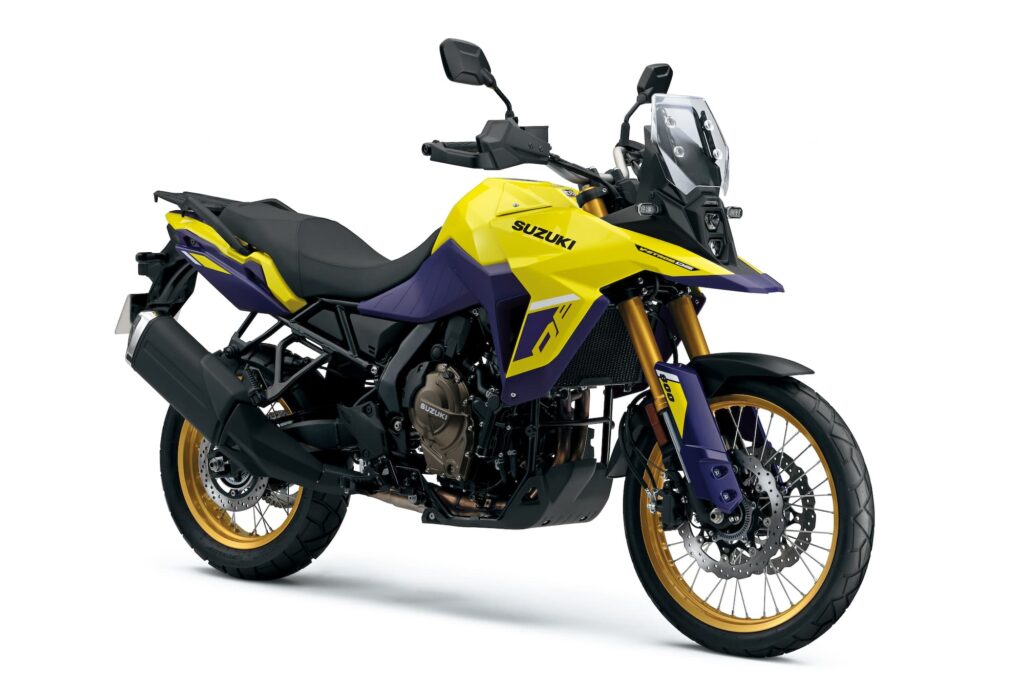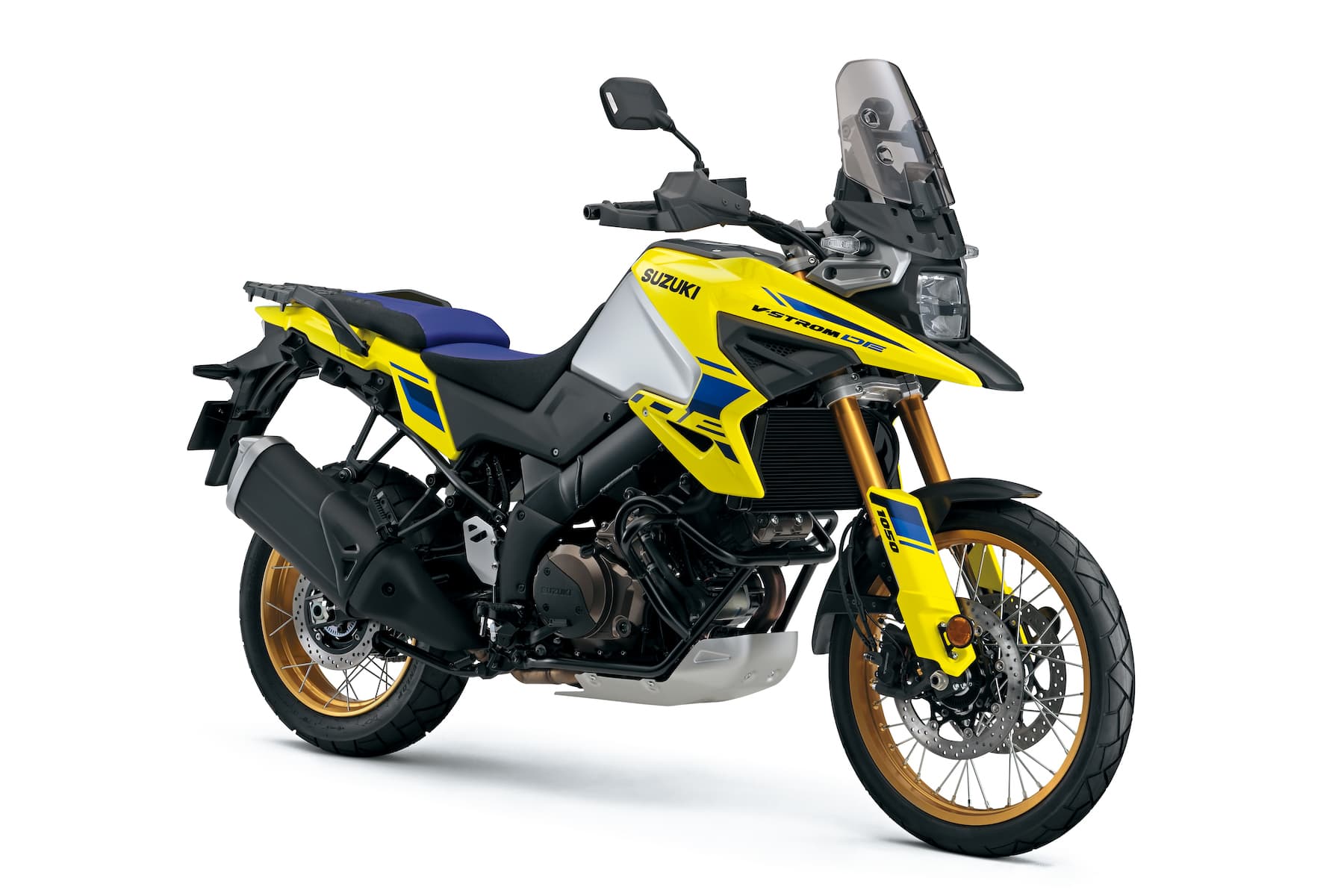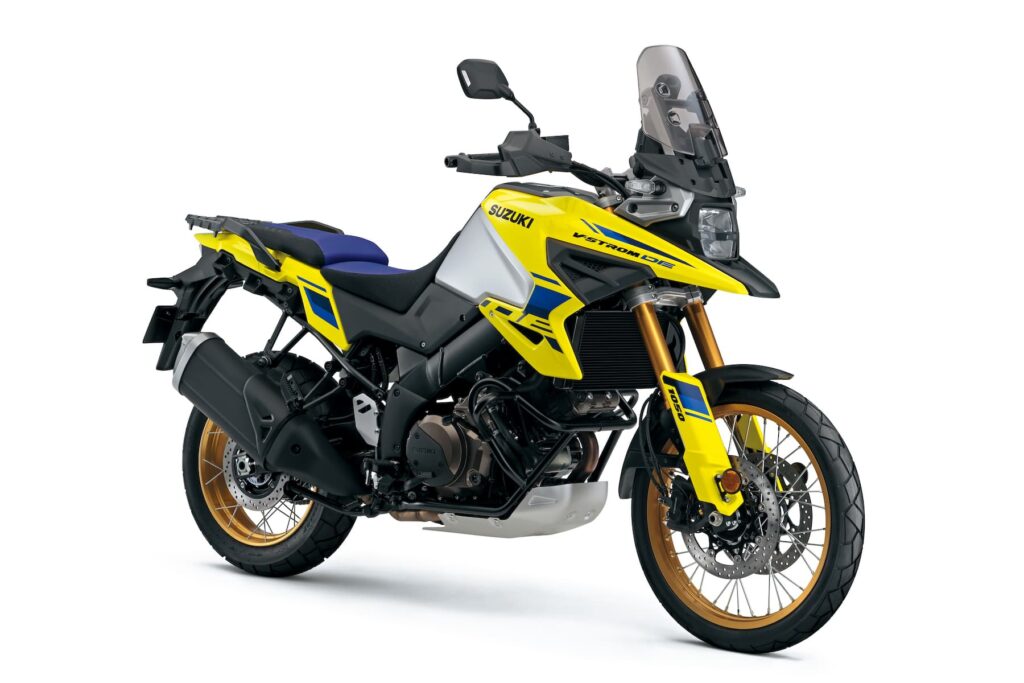 Suzuki Boulevard M109R
Suzuki saves some of their best paint jobs for the M109R and the Hayabusa. It looks even better in person! These are the two yellow colours in my guide to Suzuki Boulevard M109R colour schemes.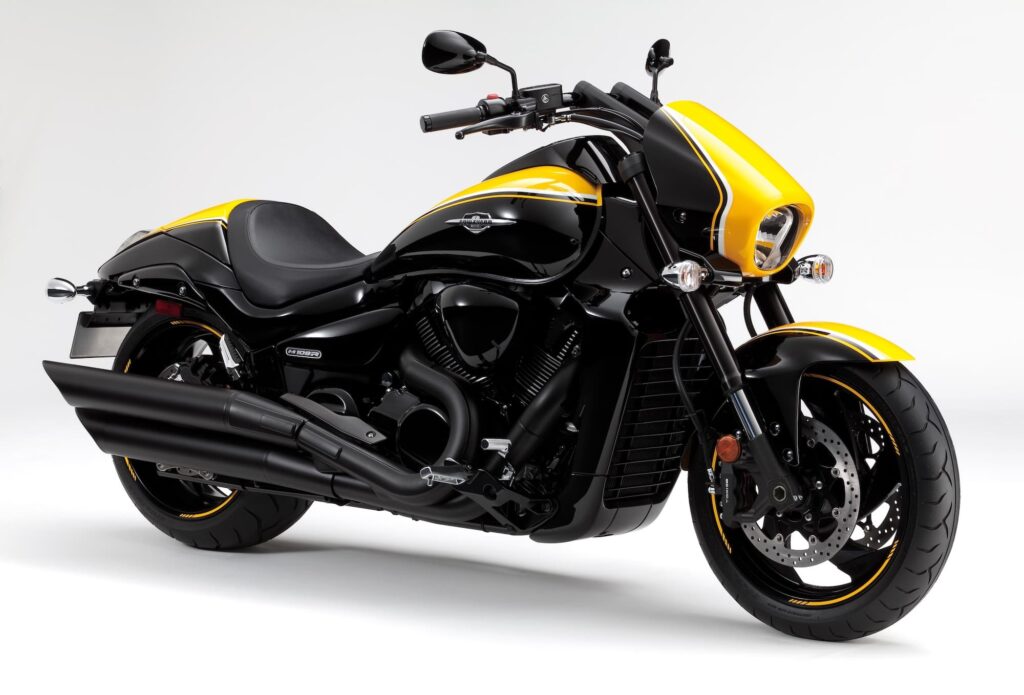 Previously, Suzuki had made it completely in yellow for the 2008 model year.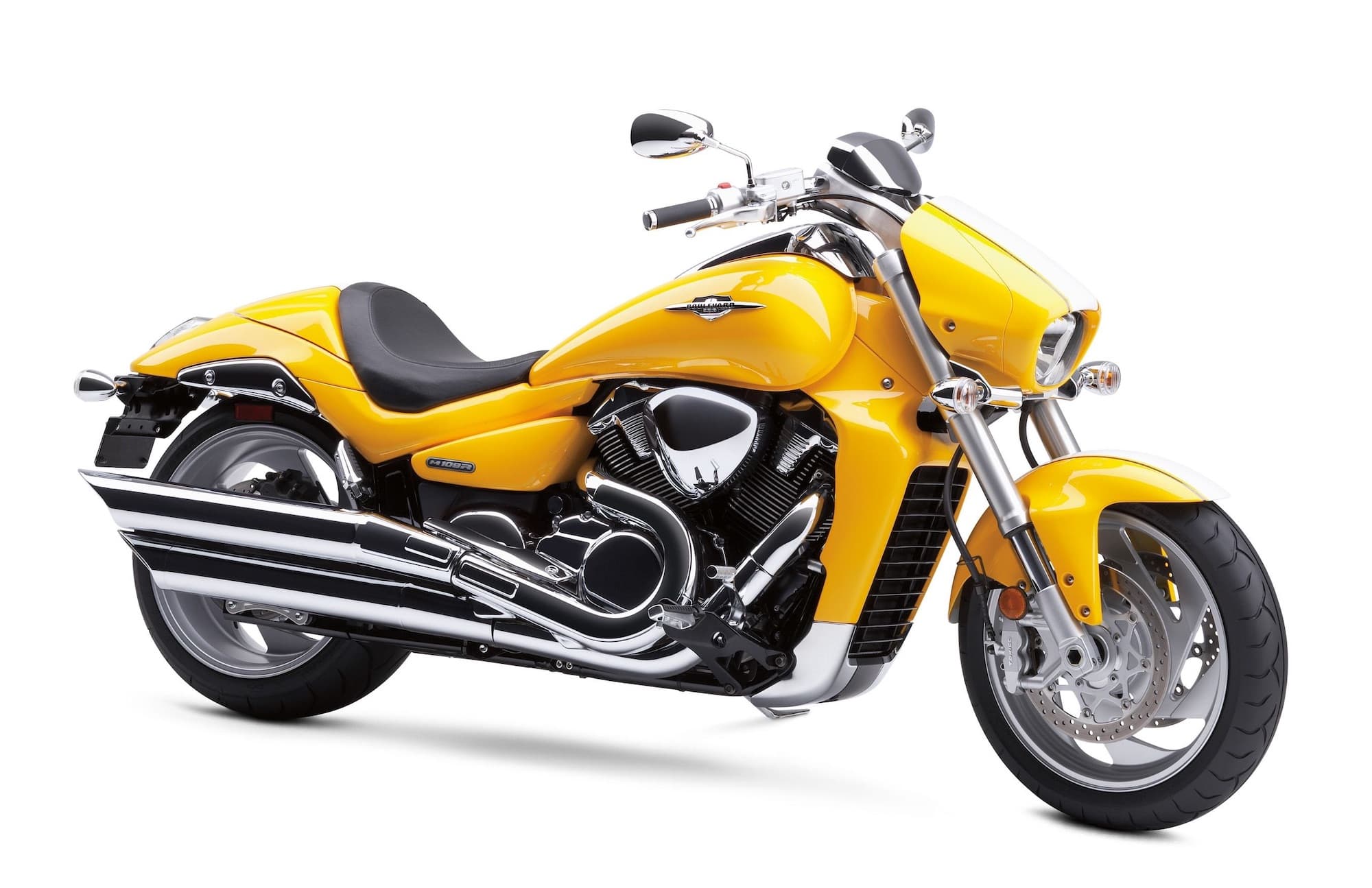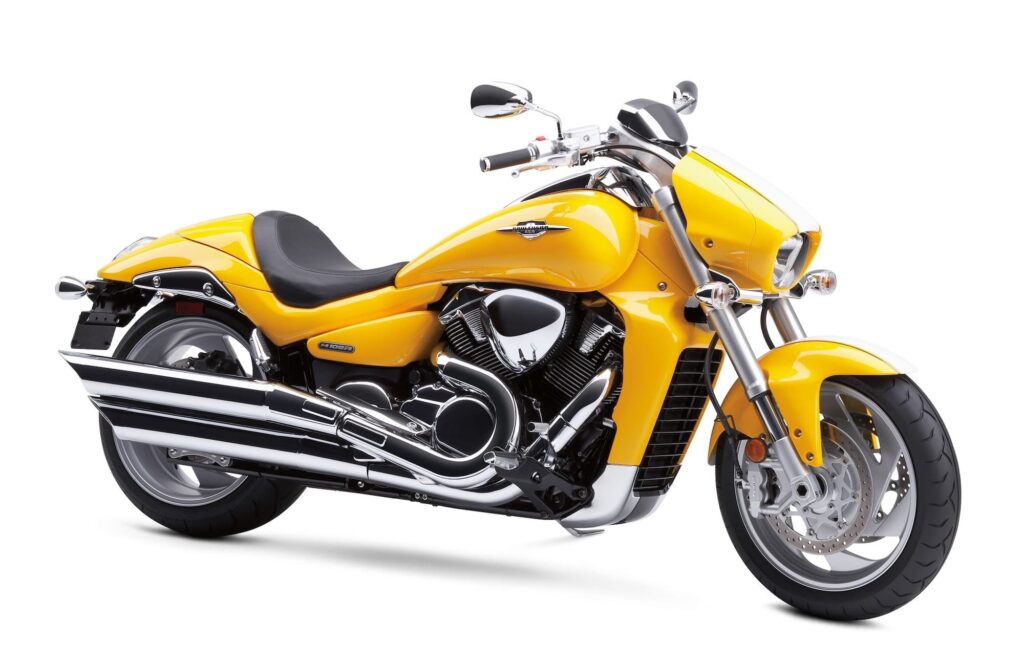 See here for the M109R Buyer's Guide.
Suzuki GSX-R600
Suzuki released quite a number of versions of the GSX-R600, GSX-R750, and GSX-R1000 in yellow. Below are a few.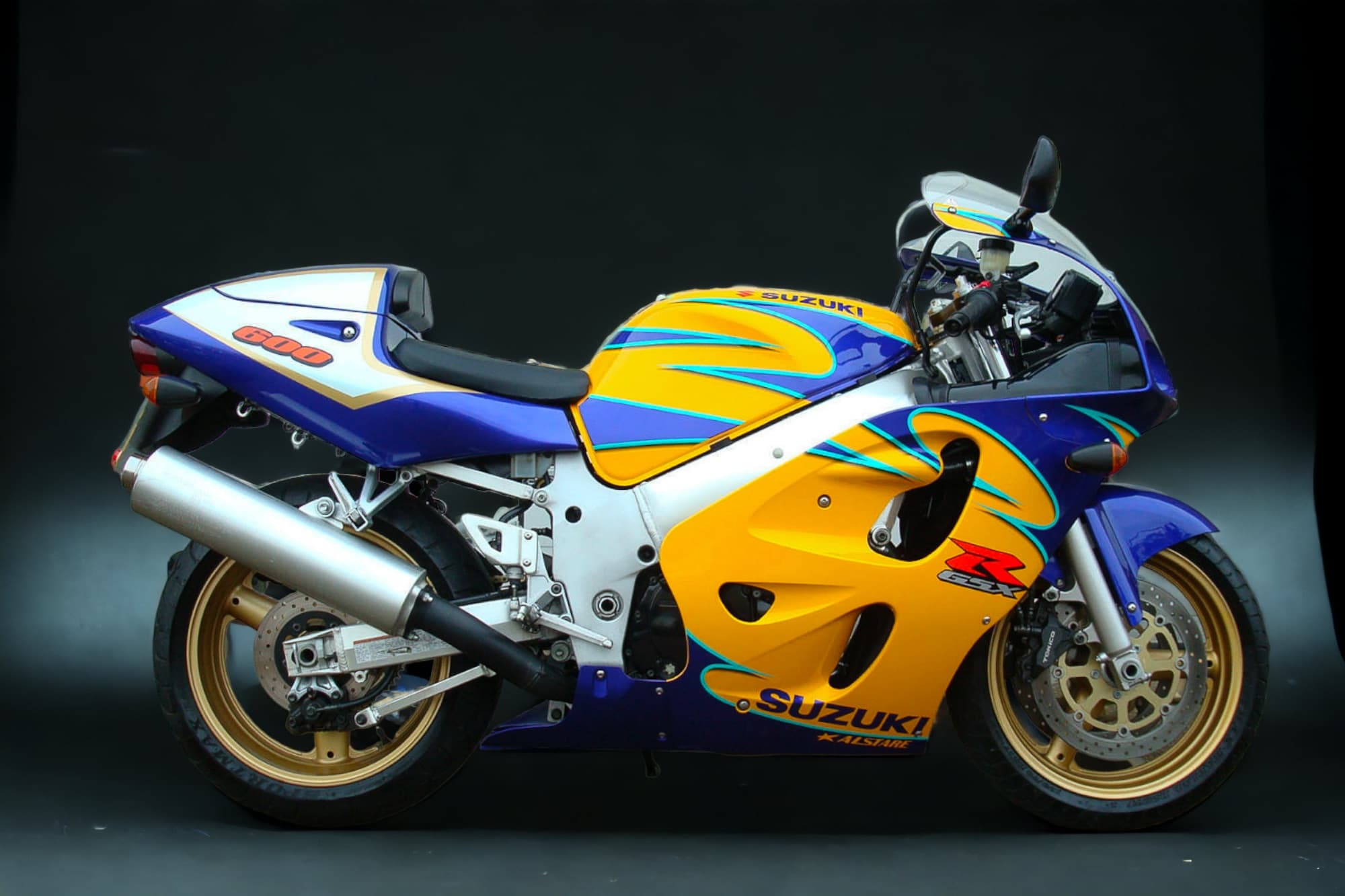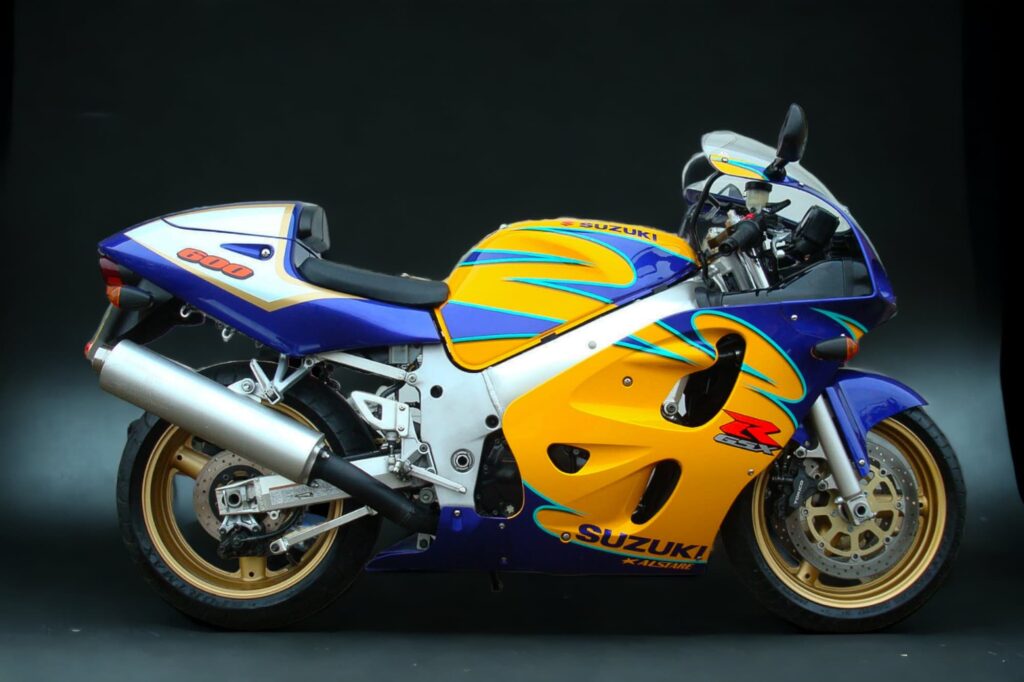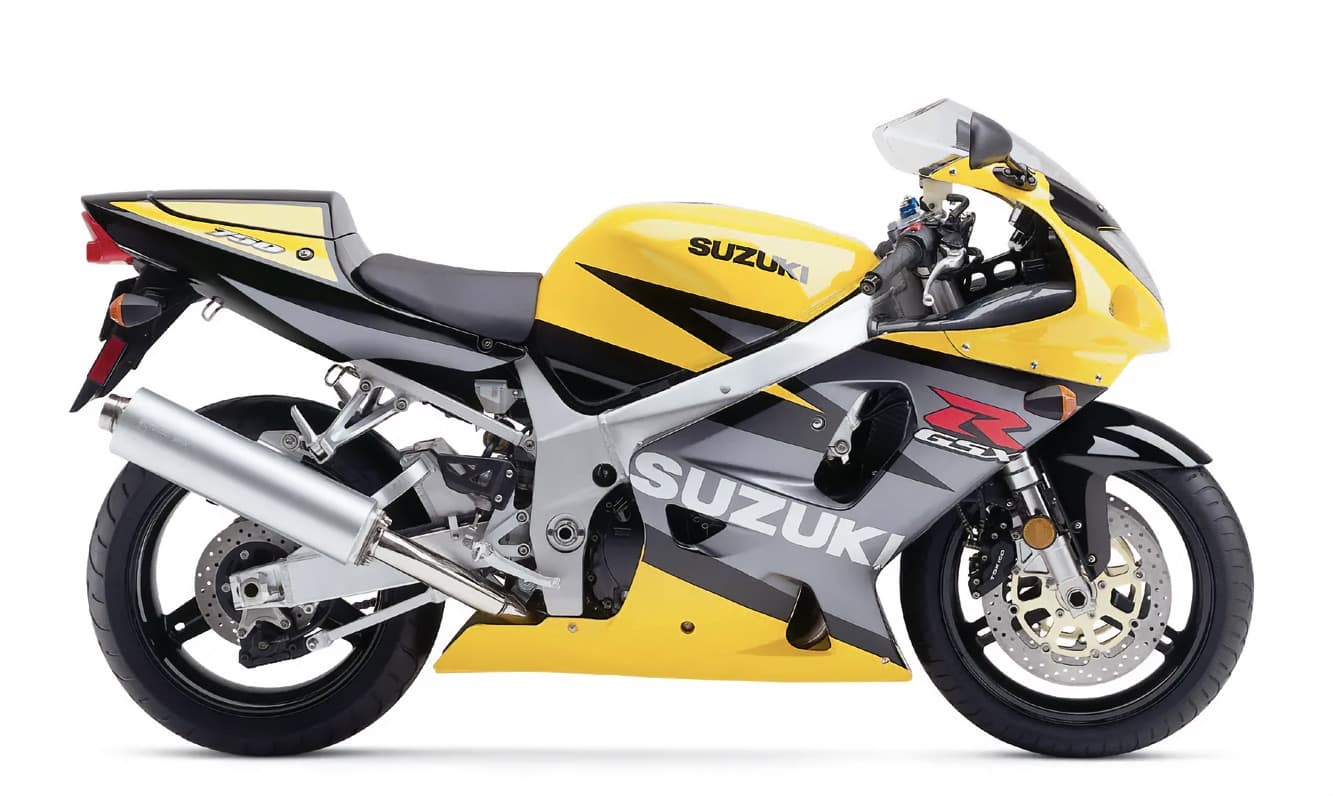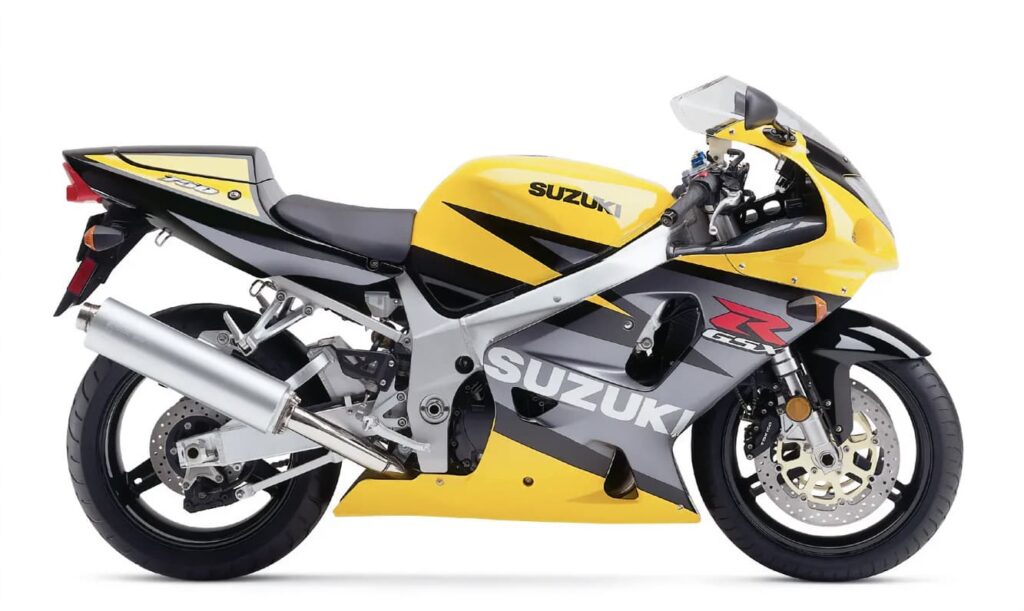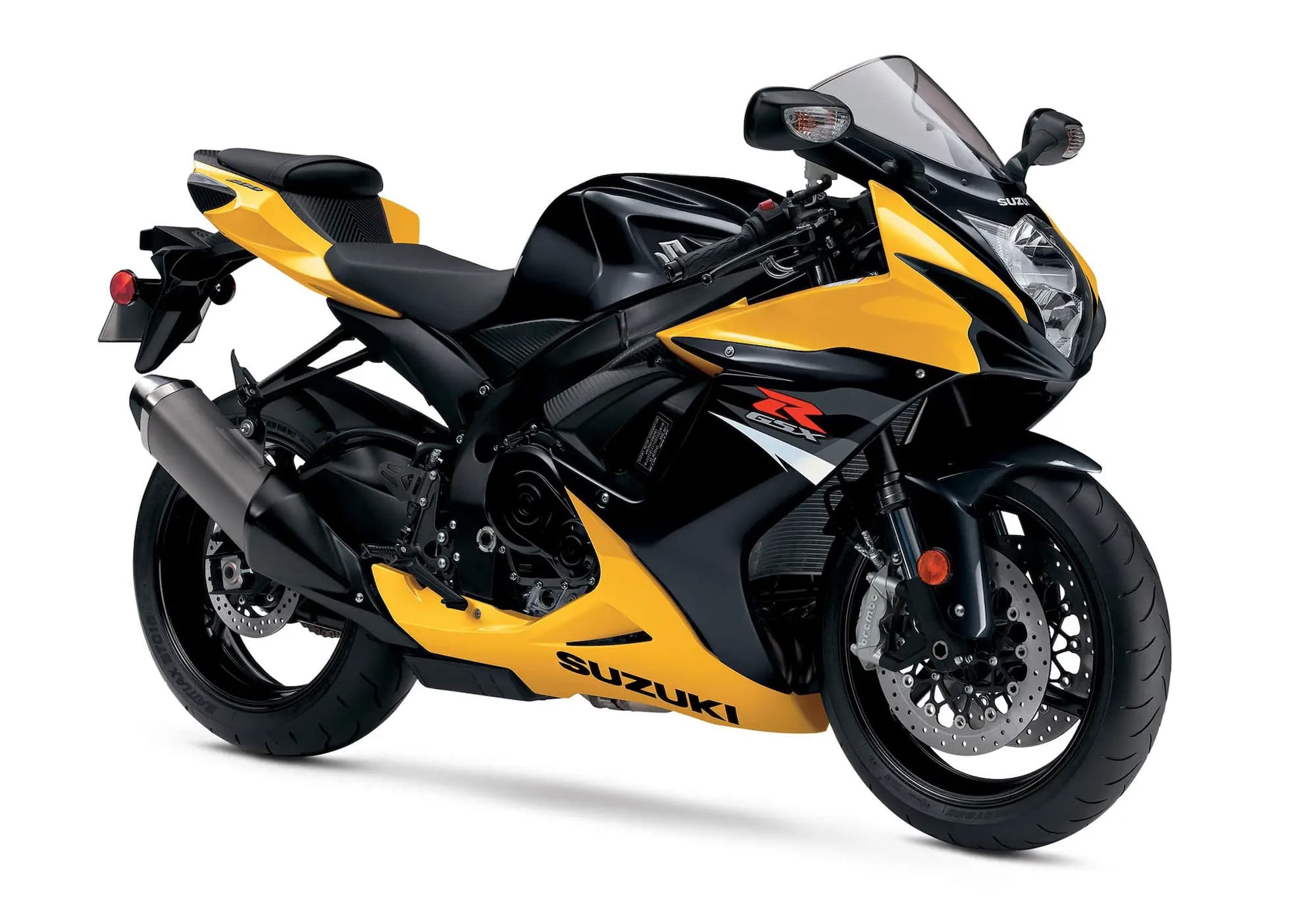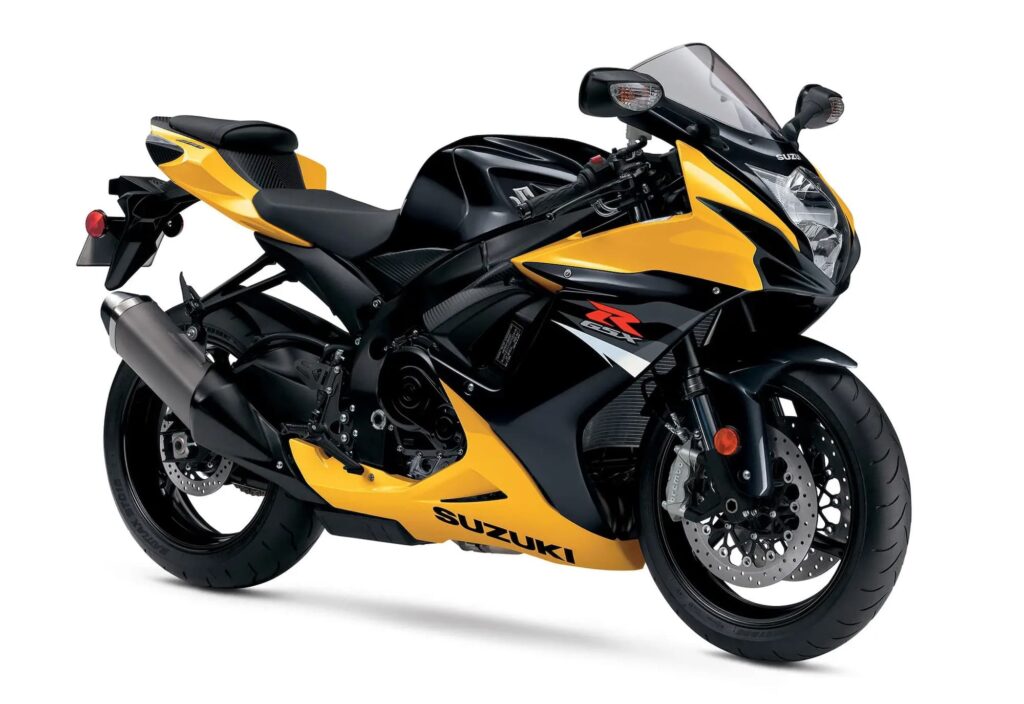 Suzuki GSX-R750
Like the GSX-R600, the GSX-R750 came in a number of yellow / black colour schemes. Here are a few below.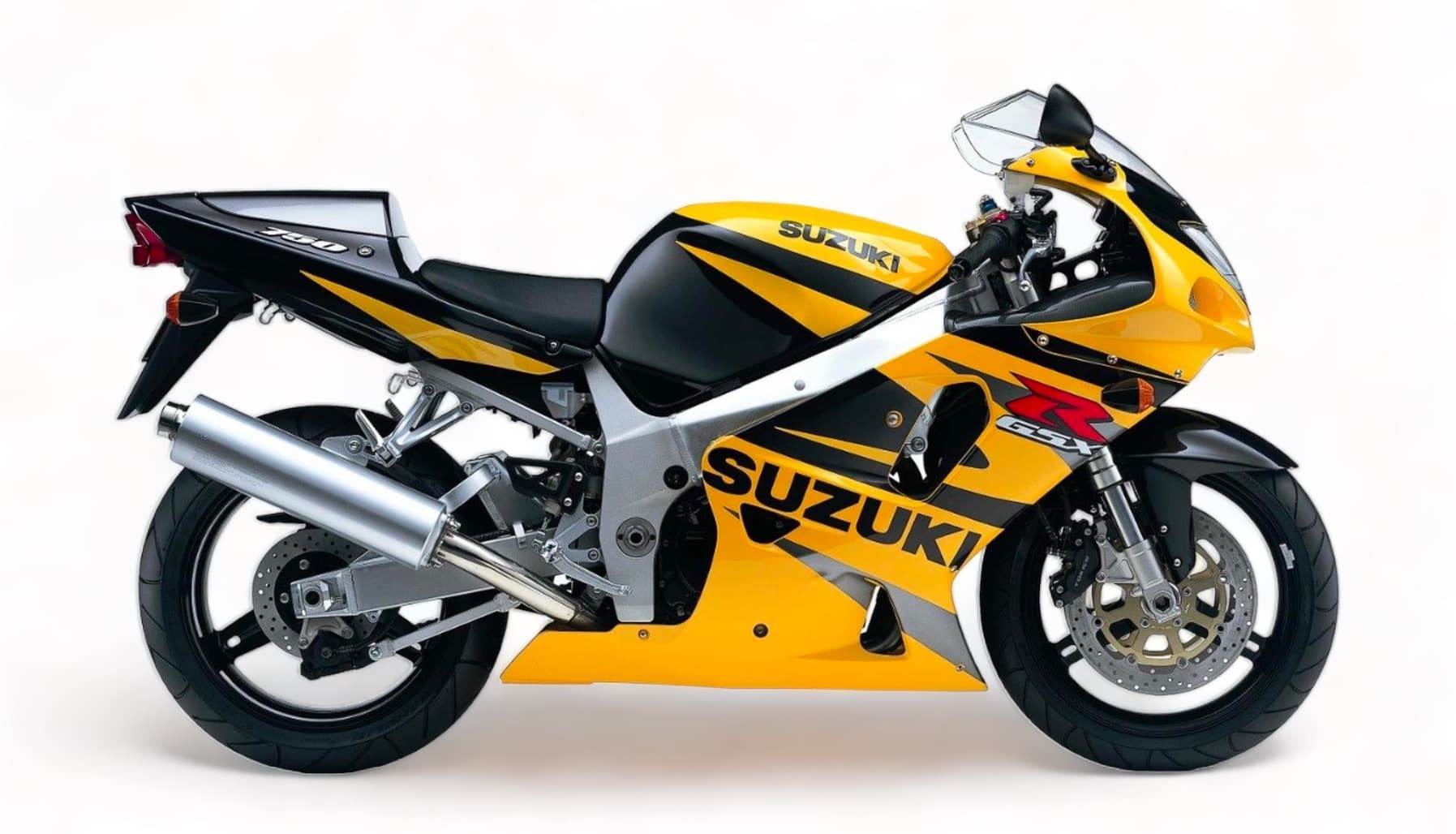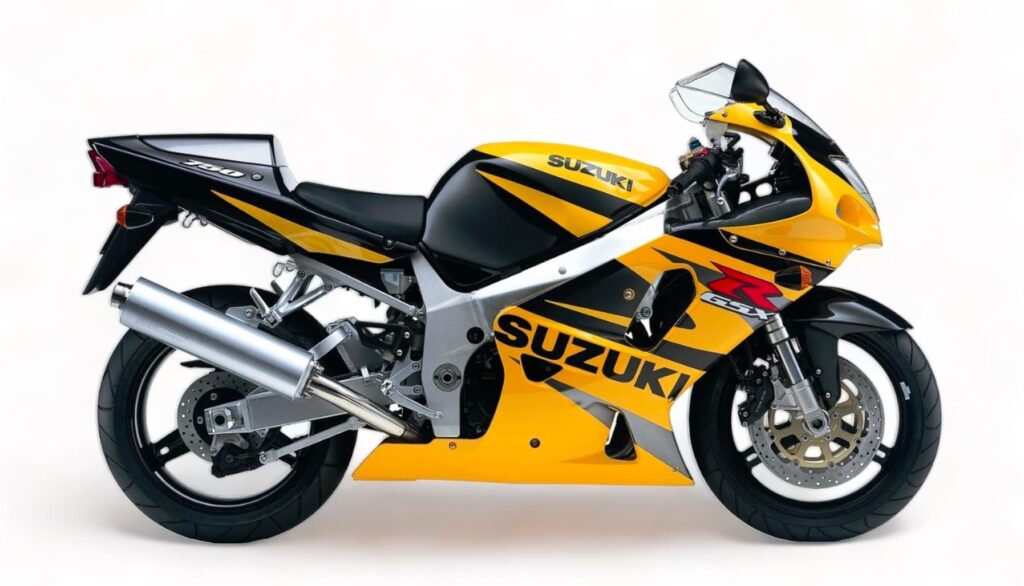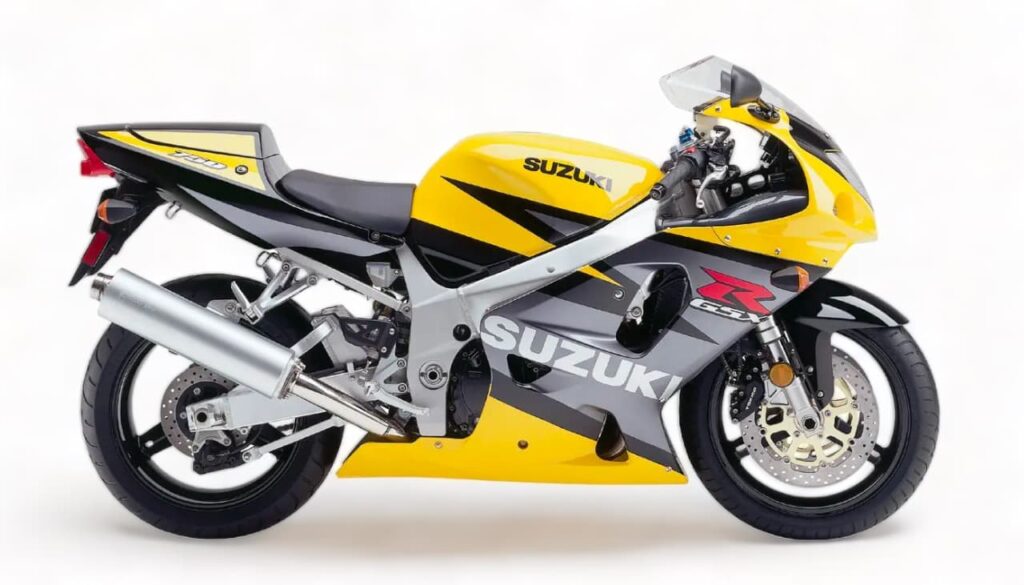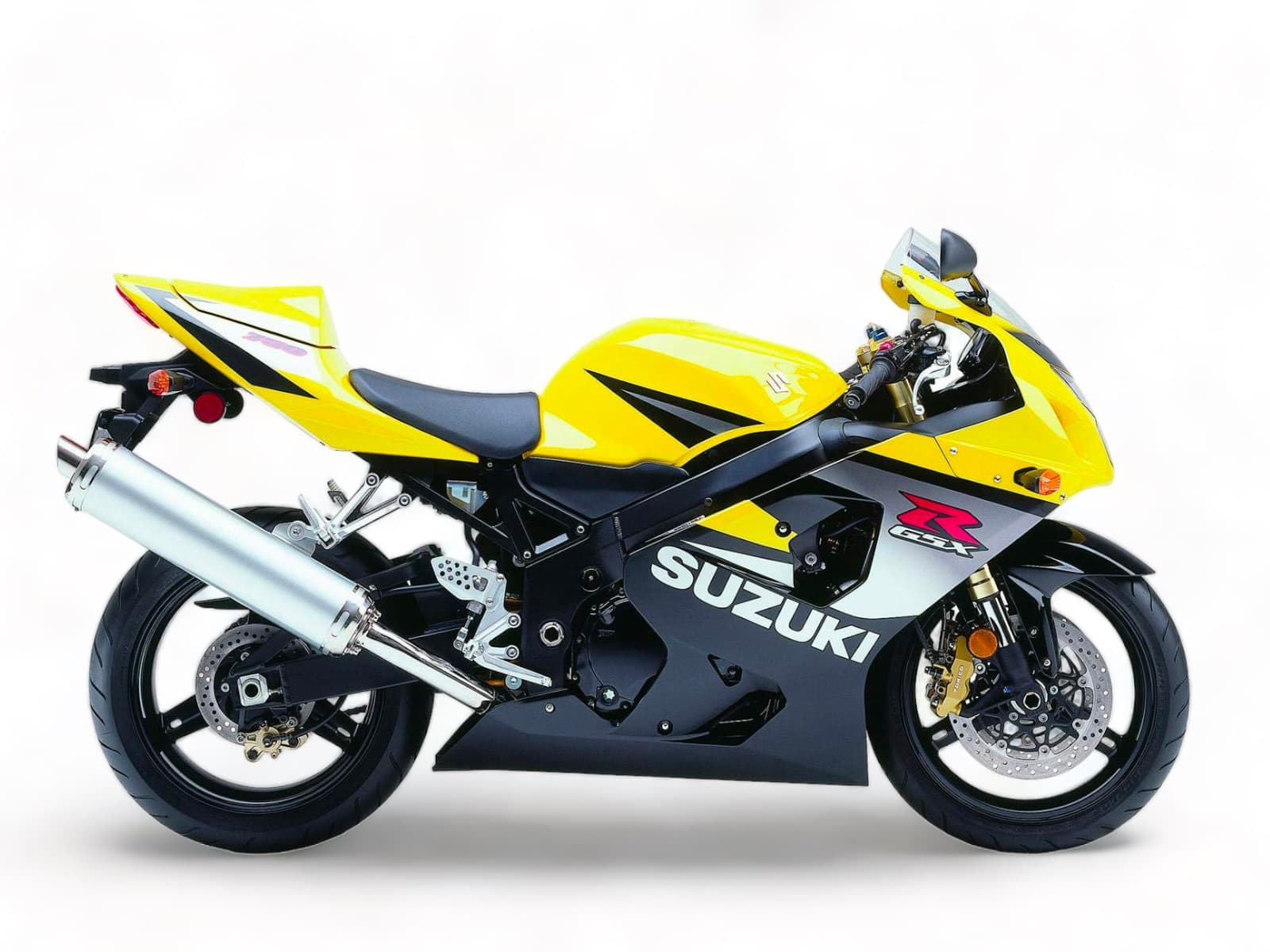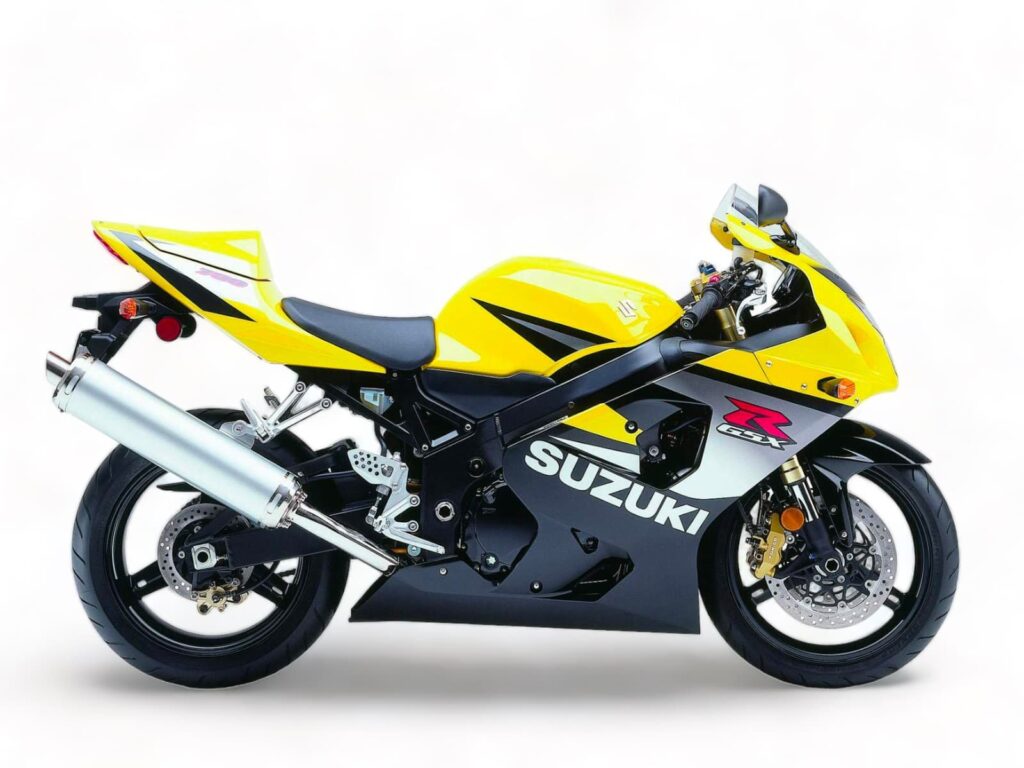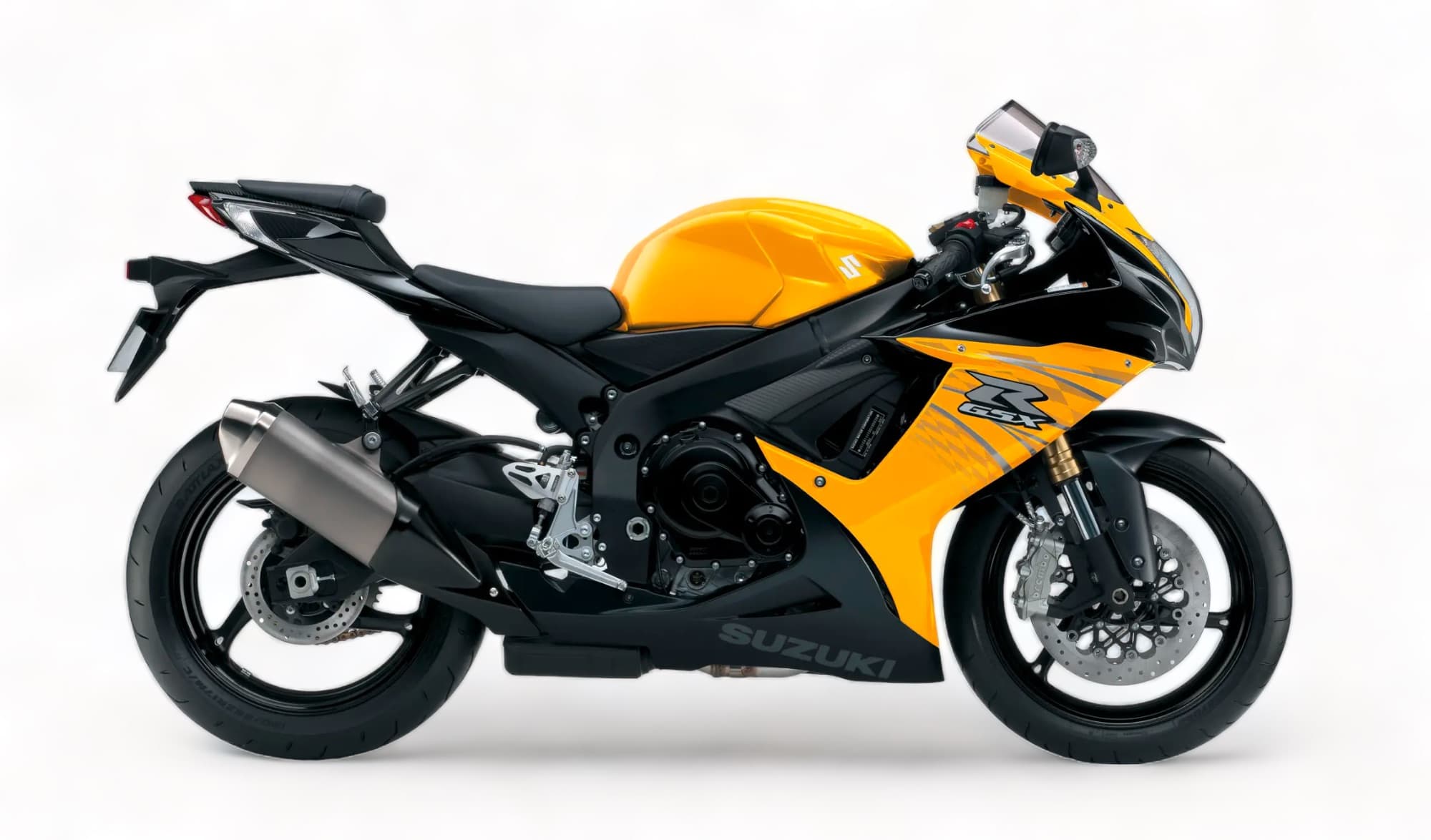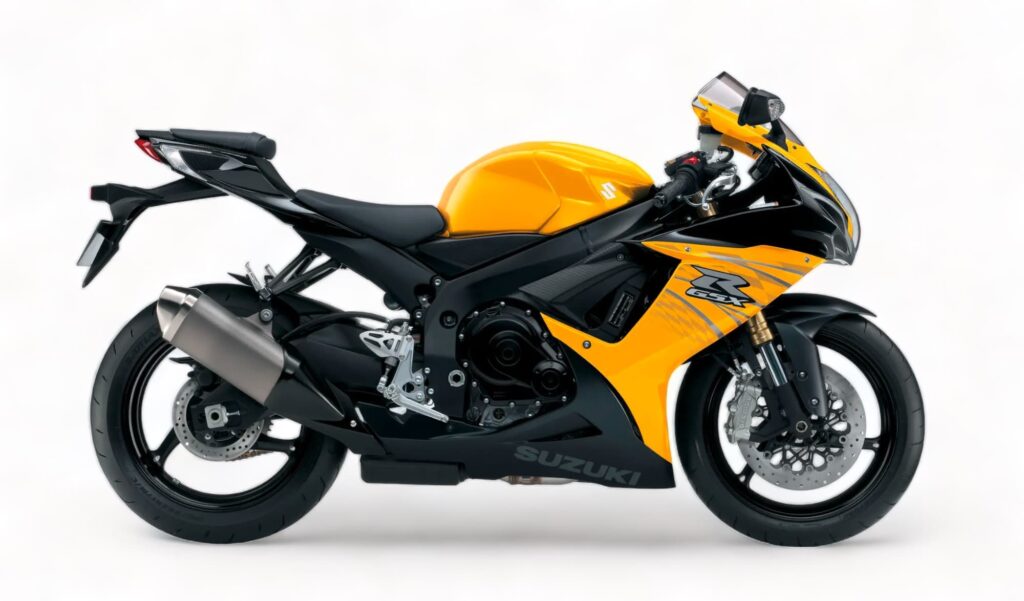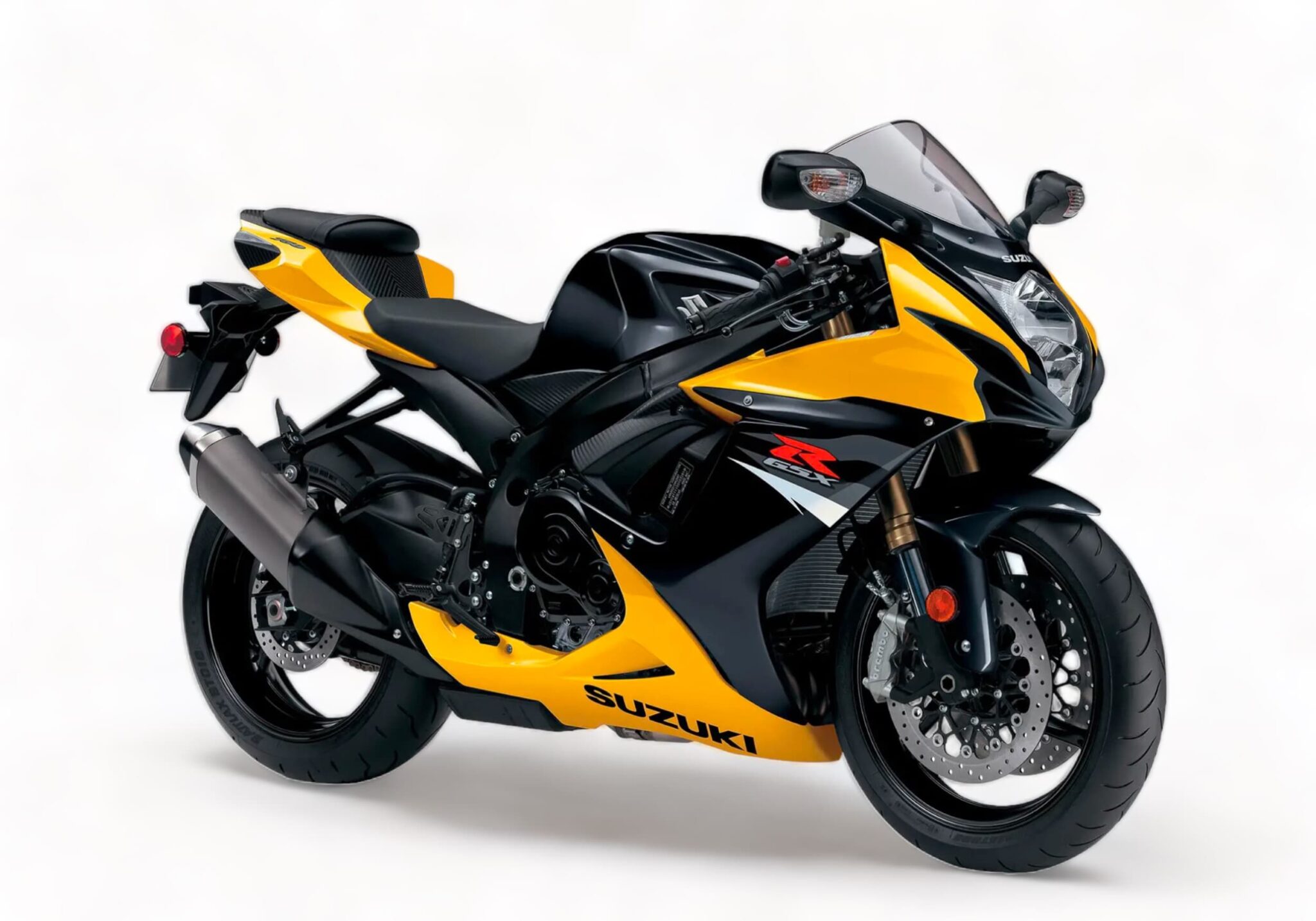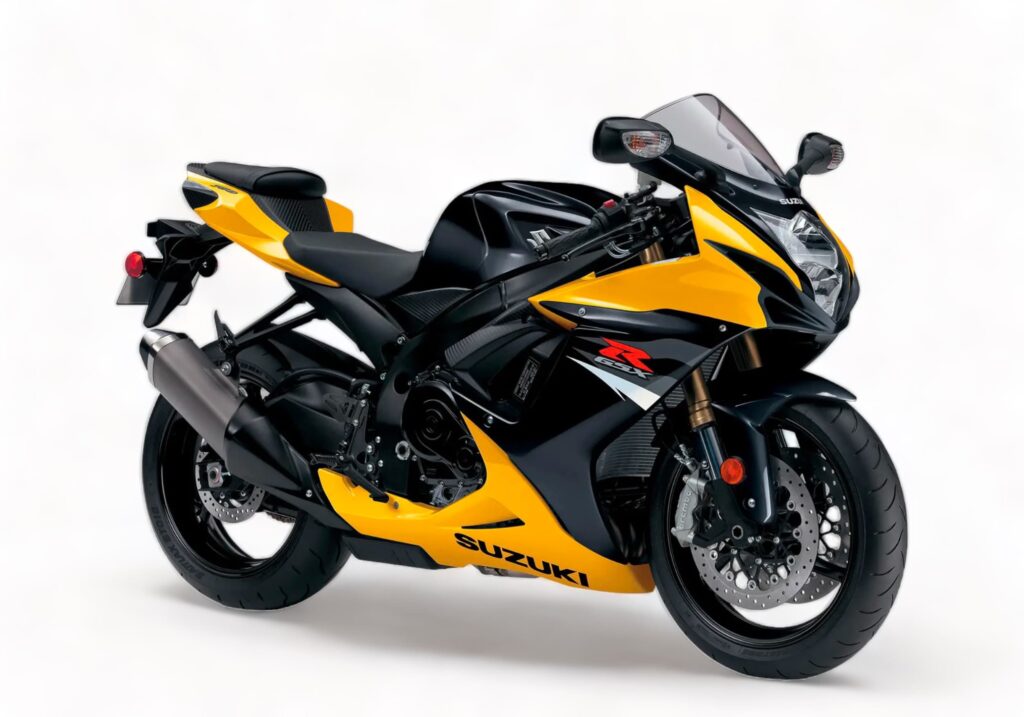 Suzuki GSX-R1000
Finally, the GSX-R1000 came in yellow for a few model years. Here's the iconic 2005 Suzuki GSX-R1000, which is a very long way of saying "K5 Gixxer".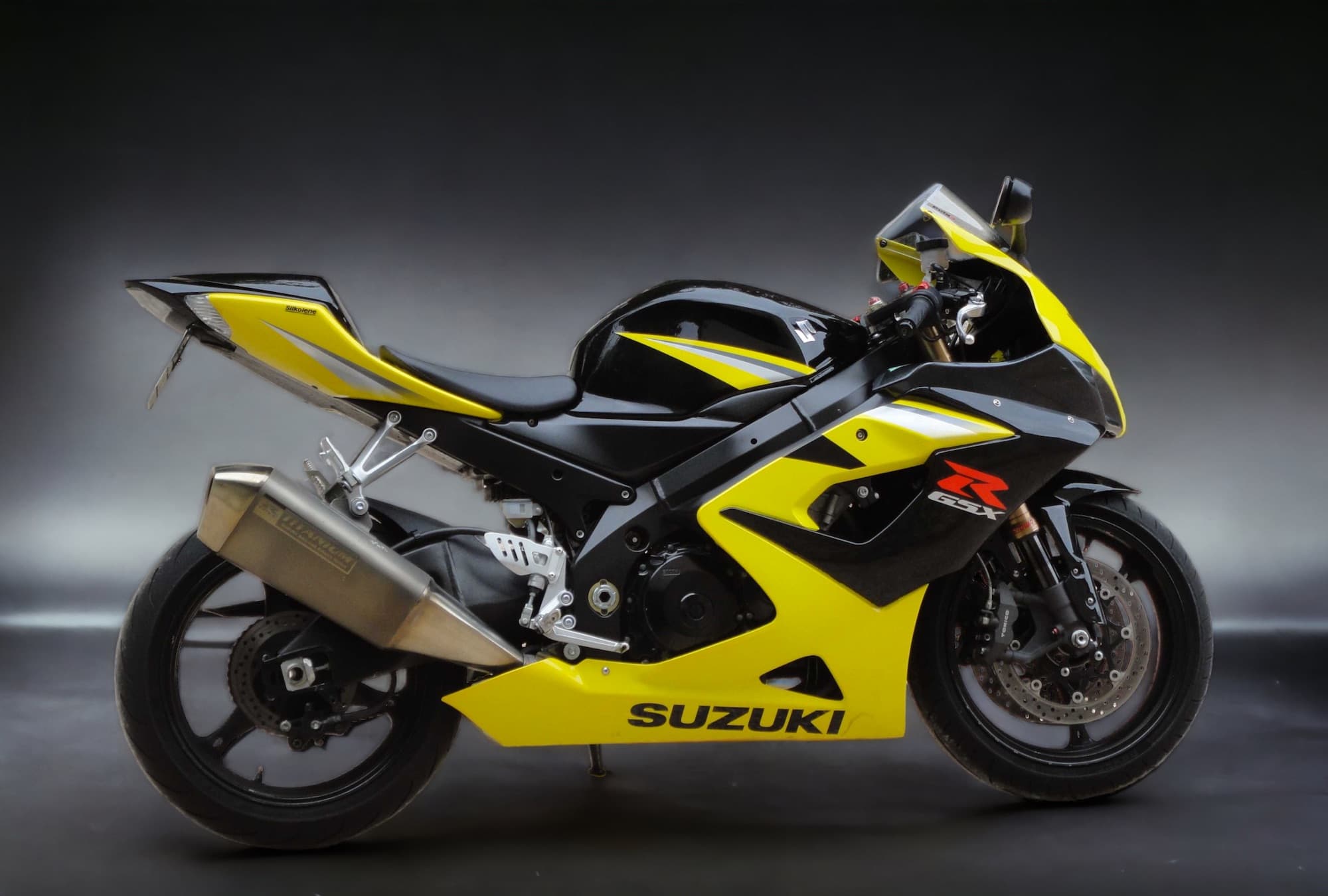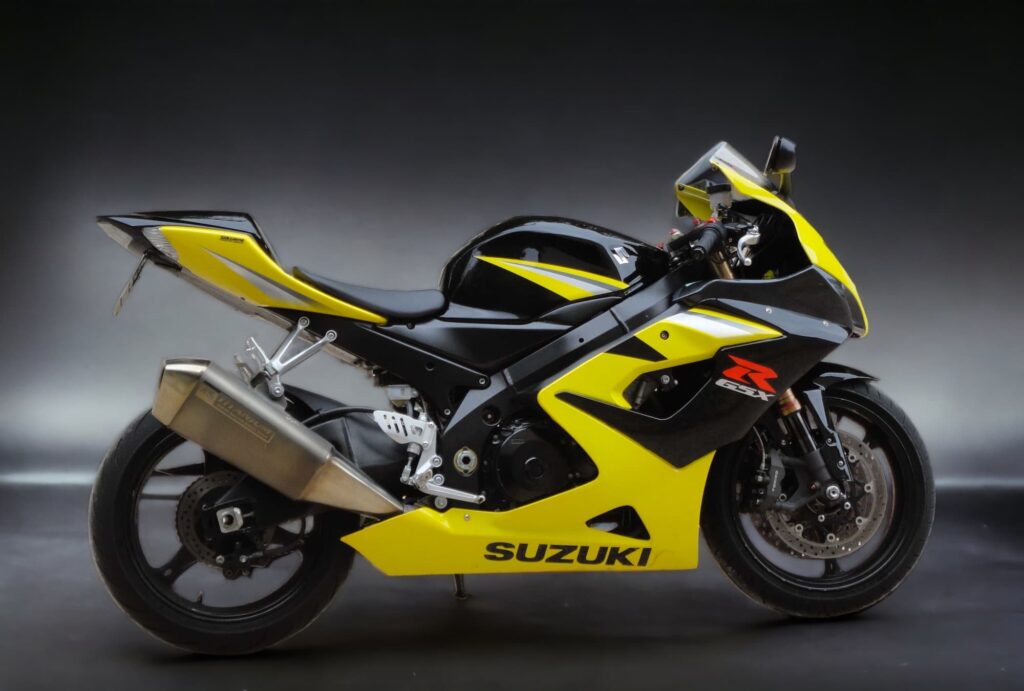 Suzuki SV650
Suzuki released both the 1st and 2nd gen SV650 in yellow.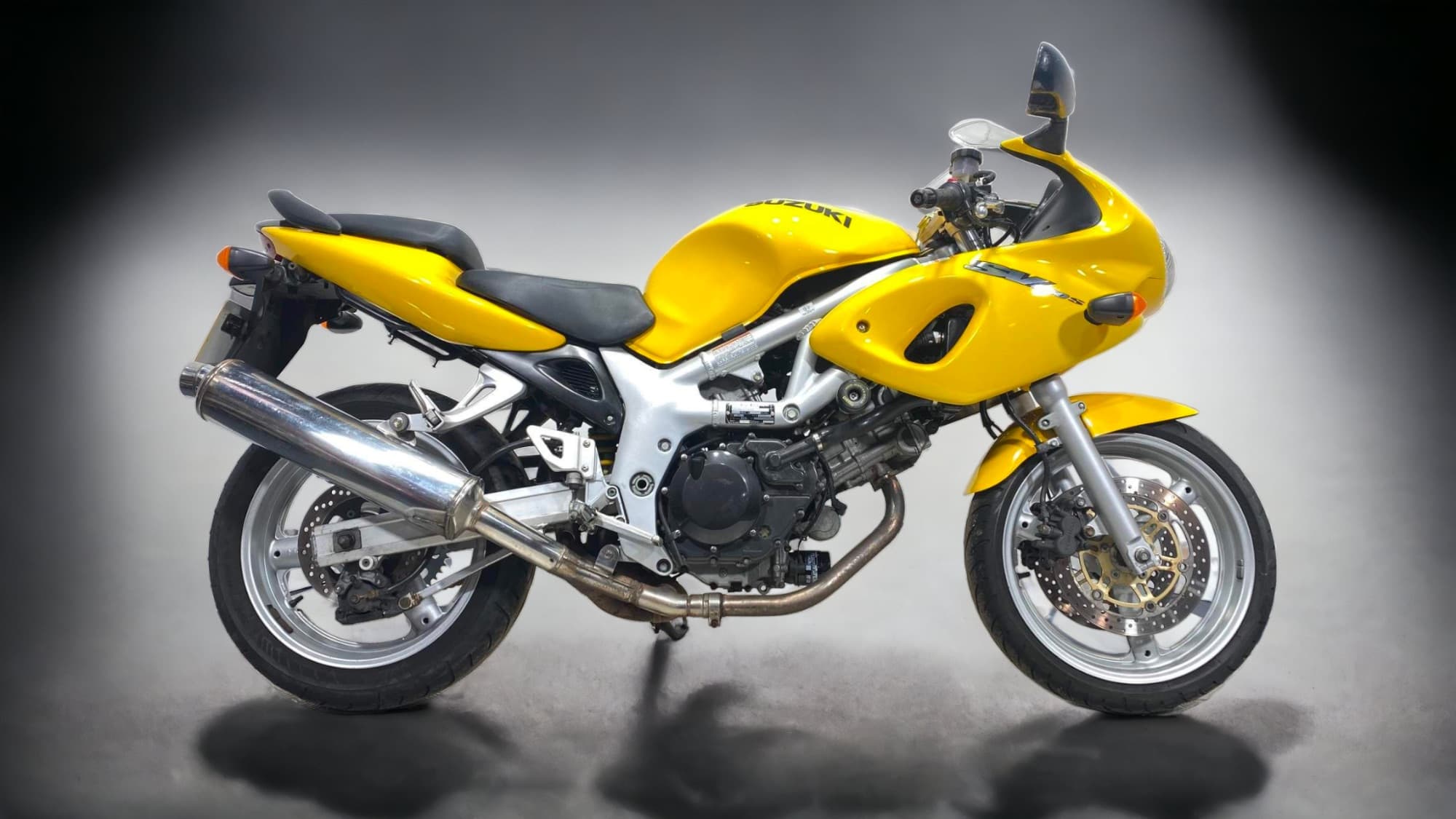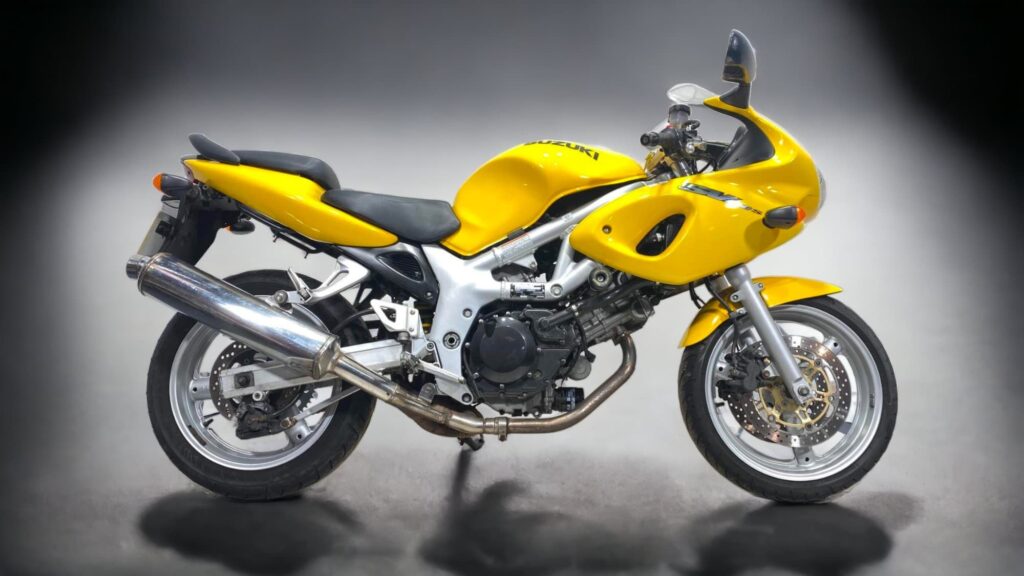 (Hunting for a good pic of the 2nd gen in yellow, if you have one.)
Suzuki TL1000R
The TL1000R (unfortunately also known as the "Widowmaker") is an iconic V-twin superbike from Suzuki. It never won anything other than people's hearts.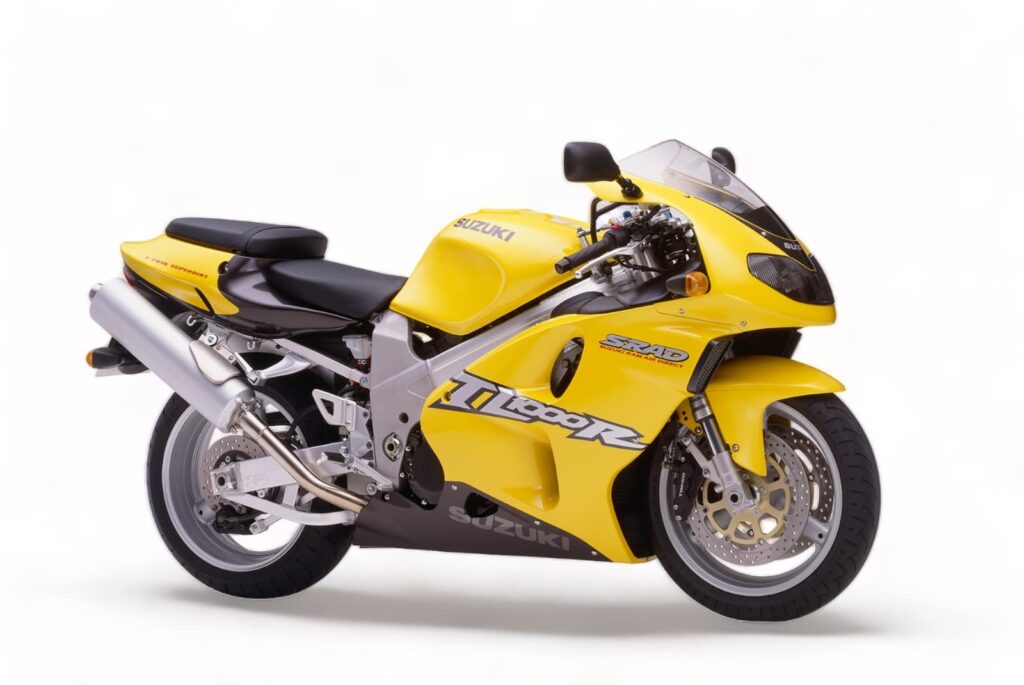 See more about the TL1000S / TL1000R here.
Suzuki GSX1300R Hayabusa
In 2013, Suzuki released a special colour of the Hayabusa — Daytona Yellow / Glass Marble Black. This was the first year in which the Hayabusa was released with updated Brembo M4.32 callipers and ABS.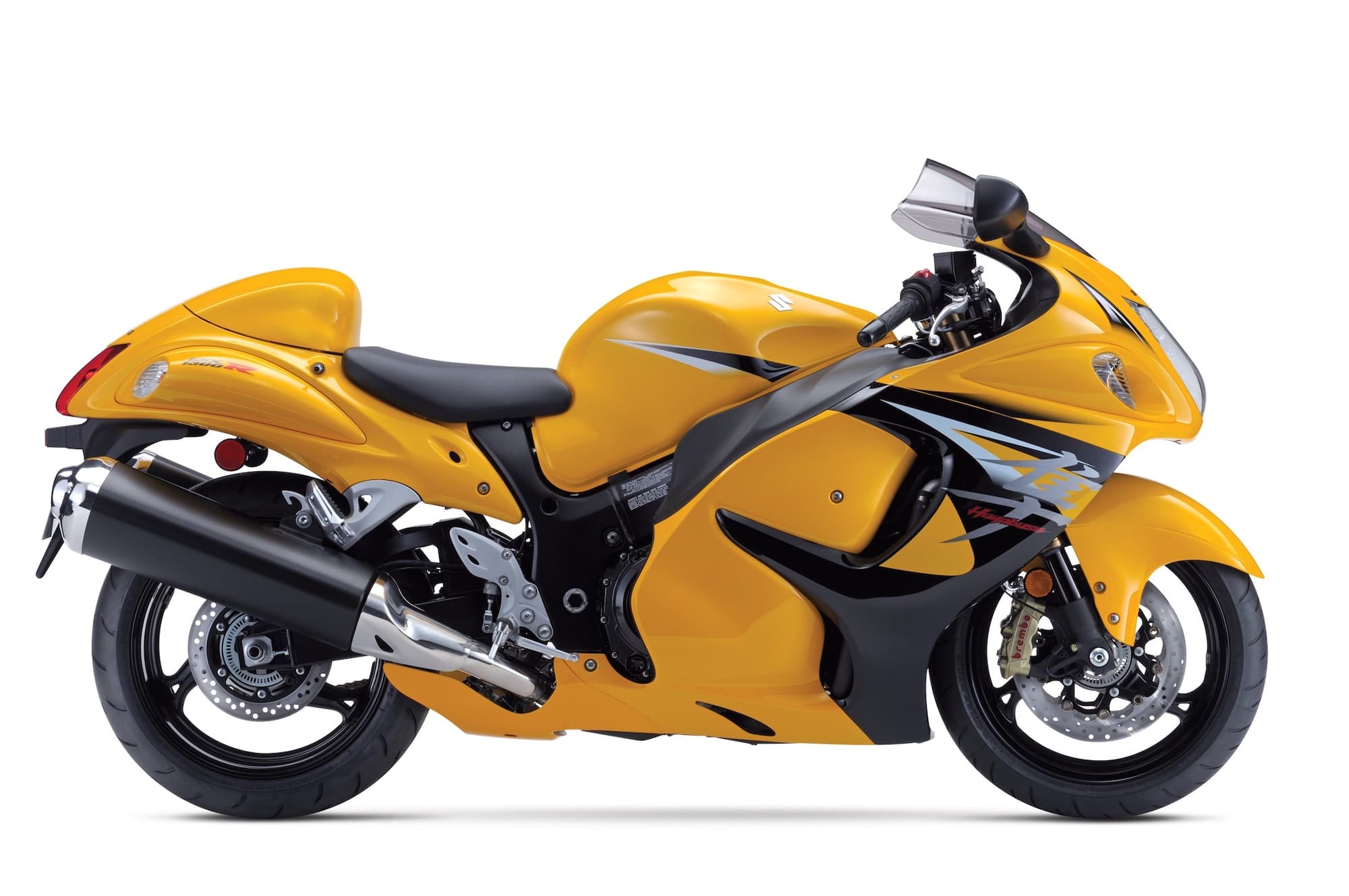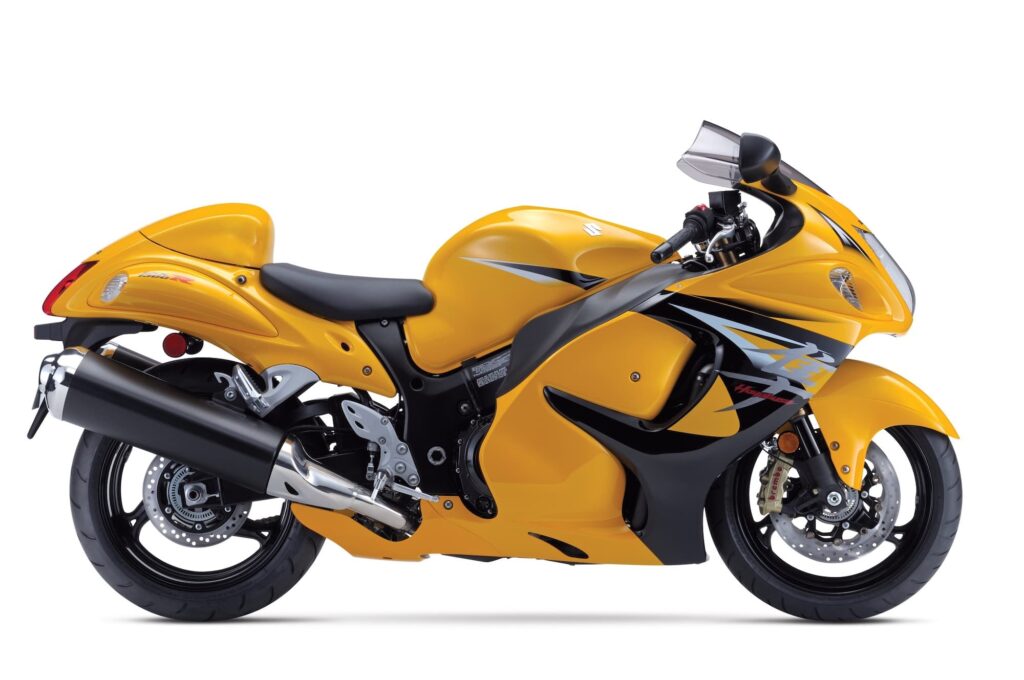 I've been waiting for this colour scheme to come back for the Gen 3. Will it? Or am I going to have to do this by myself?
See the guide to the Suzuki Hayabusa generations here.
Triumph Yellow Motorcycles
Triumph hasn't made many yellow motorcycles, but there have been flashes of light here and there. (Recently they've been more into the "Acid yellow" thing.)
Triumph Daytona 600 / 650 / 675 / 955i
Triumph made its classic sport tourer motorcycles in yellow — the triples as well as the fours.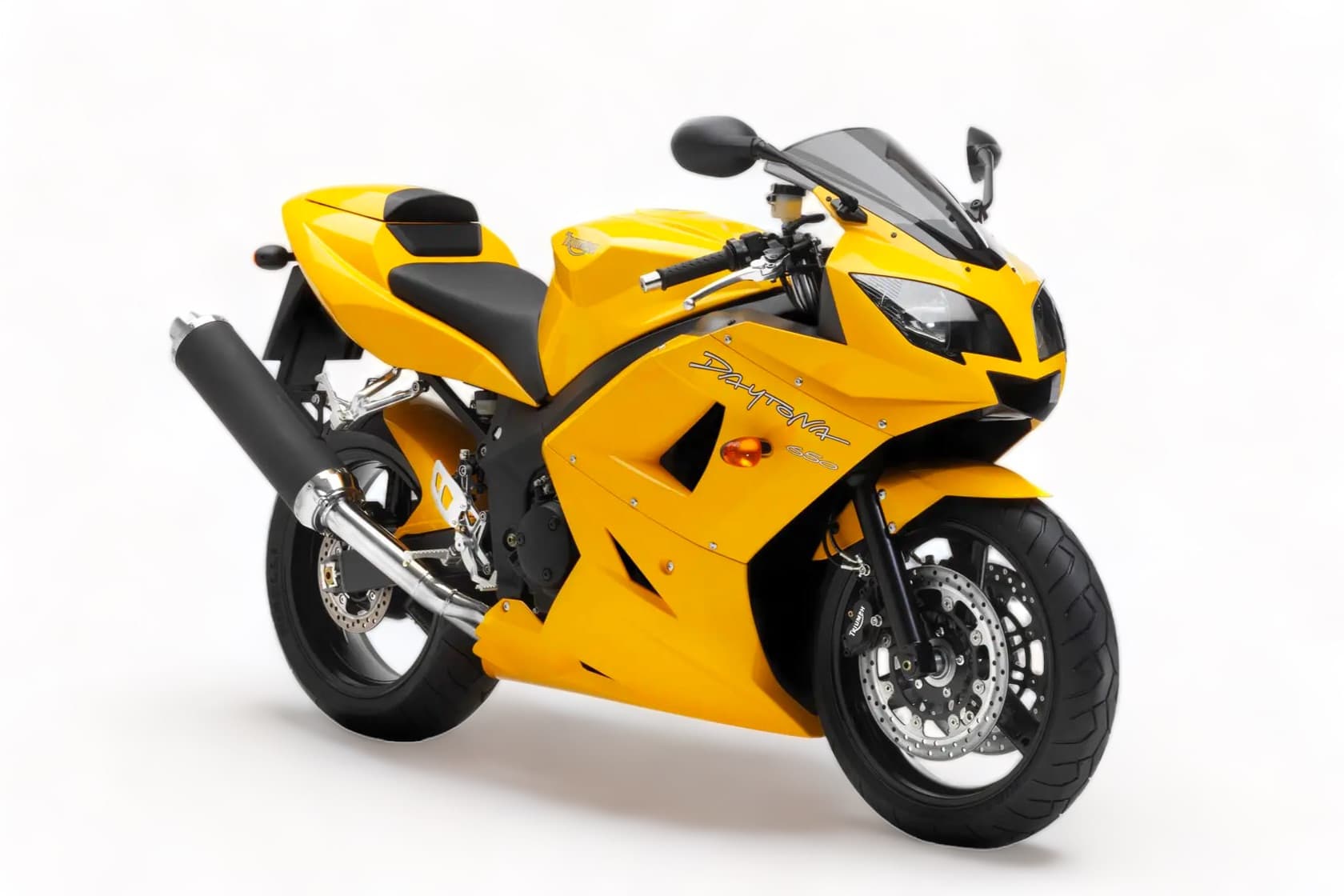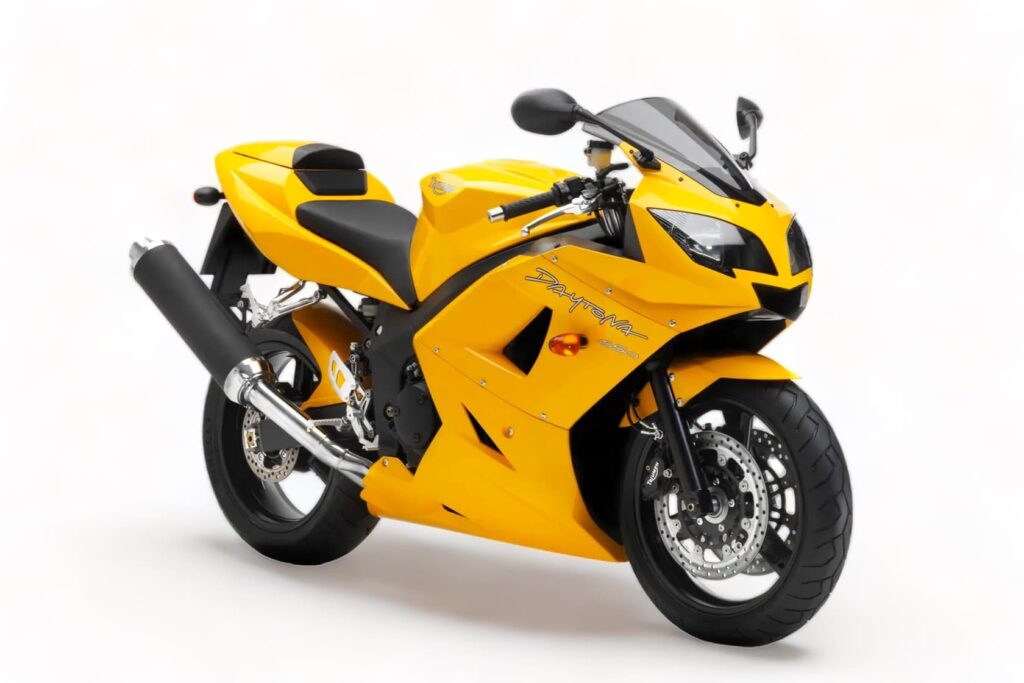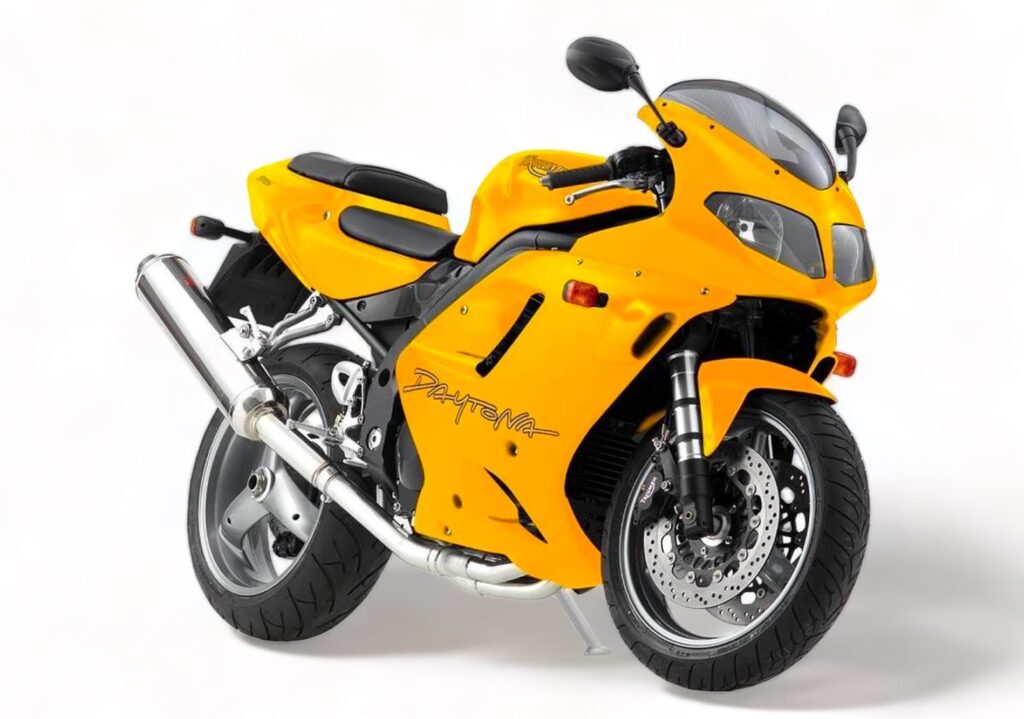 You don't see many of these… the Daytona 675 in "Scorched Yellow".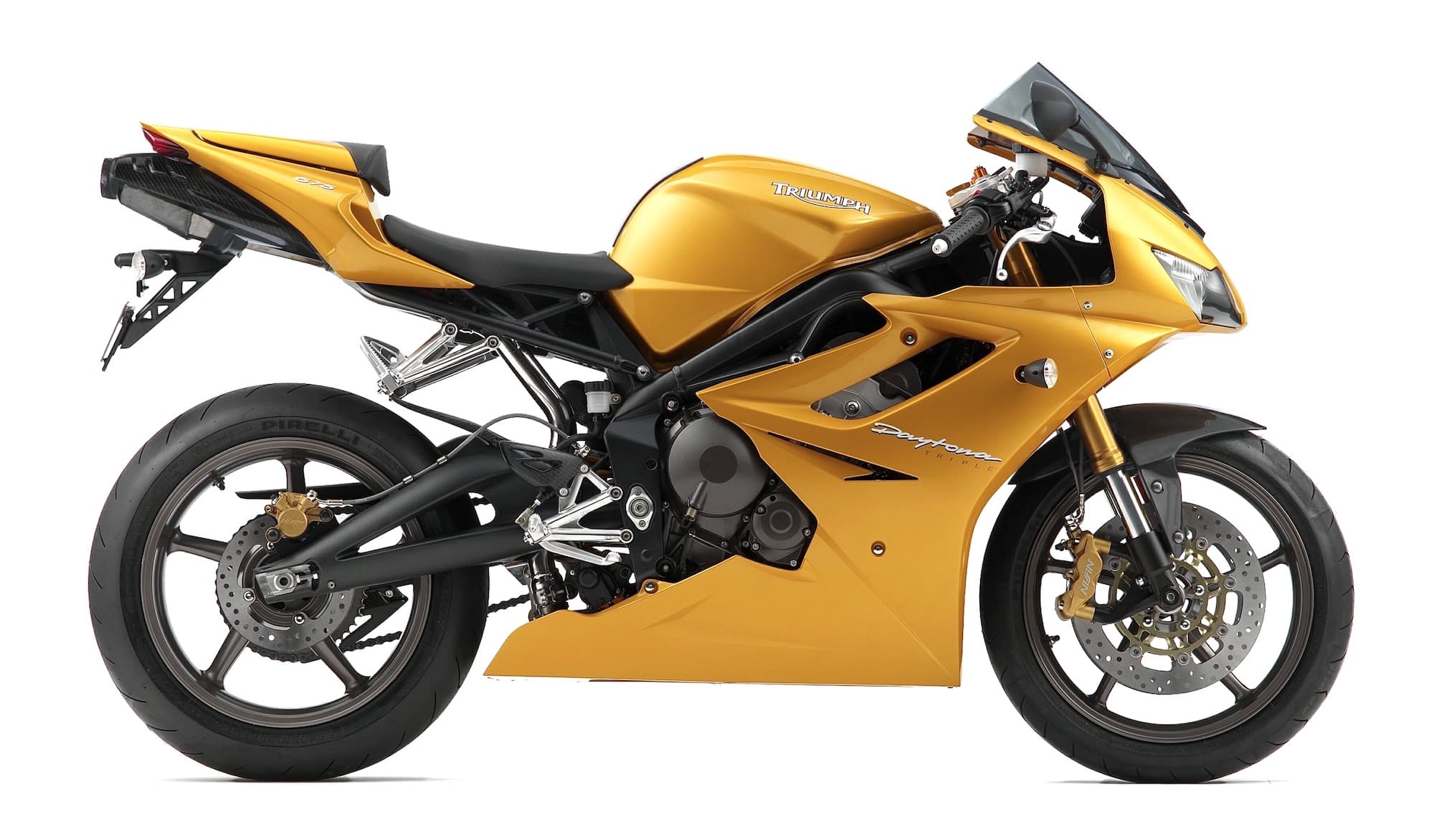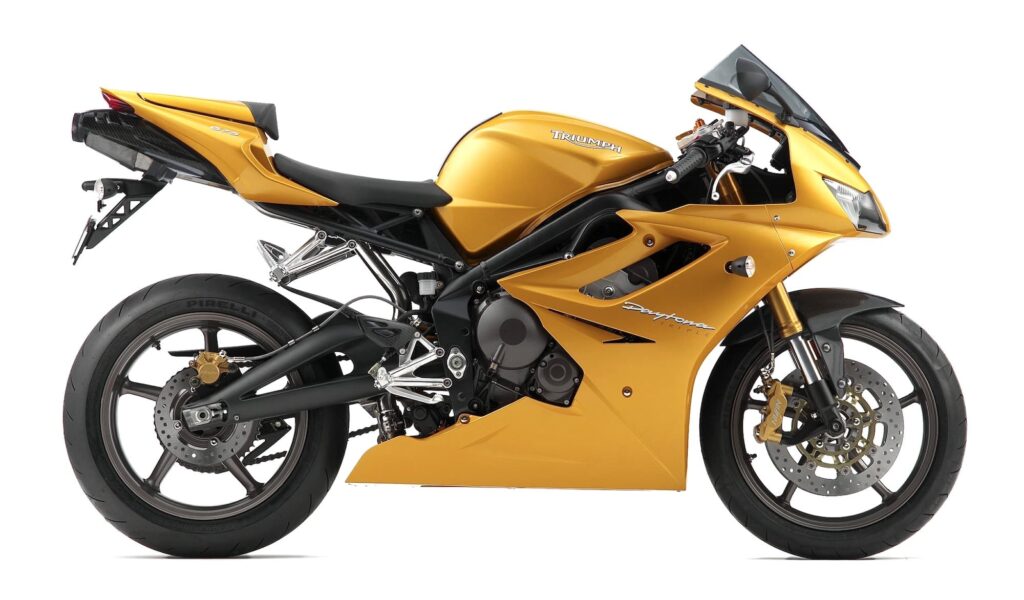 Triumph Speed Four
The Speed Four, the naked sibling of the Daytona 600, also came in yellow.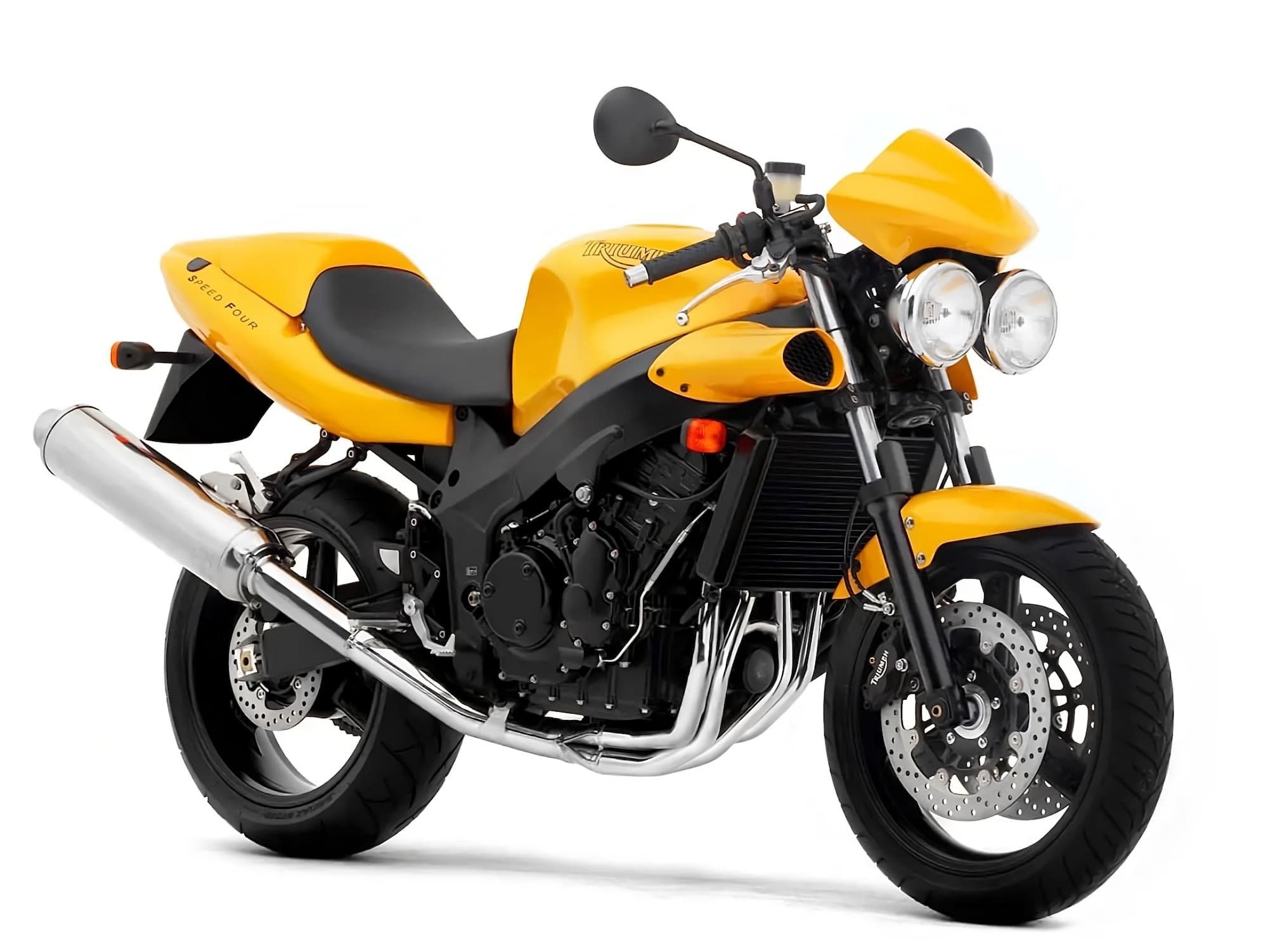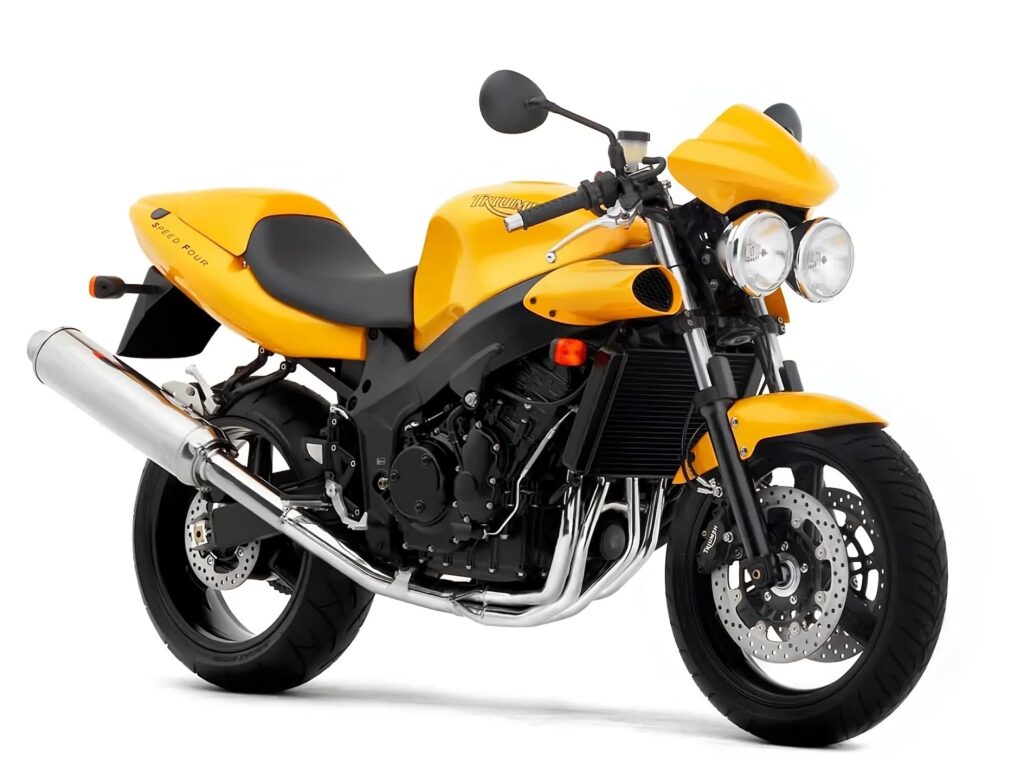 Triumph Speed Triple 94R
This was a 2015 special edition of the Speed Triple.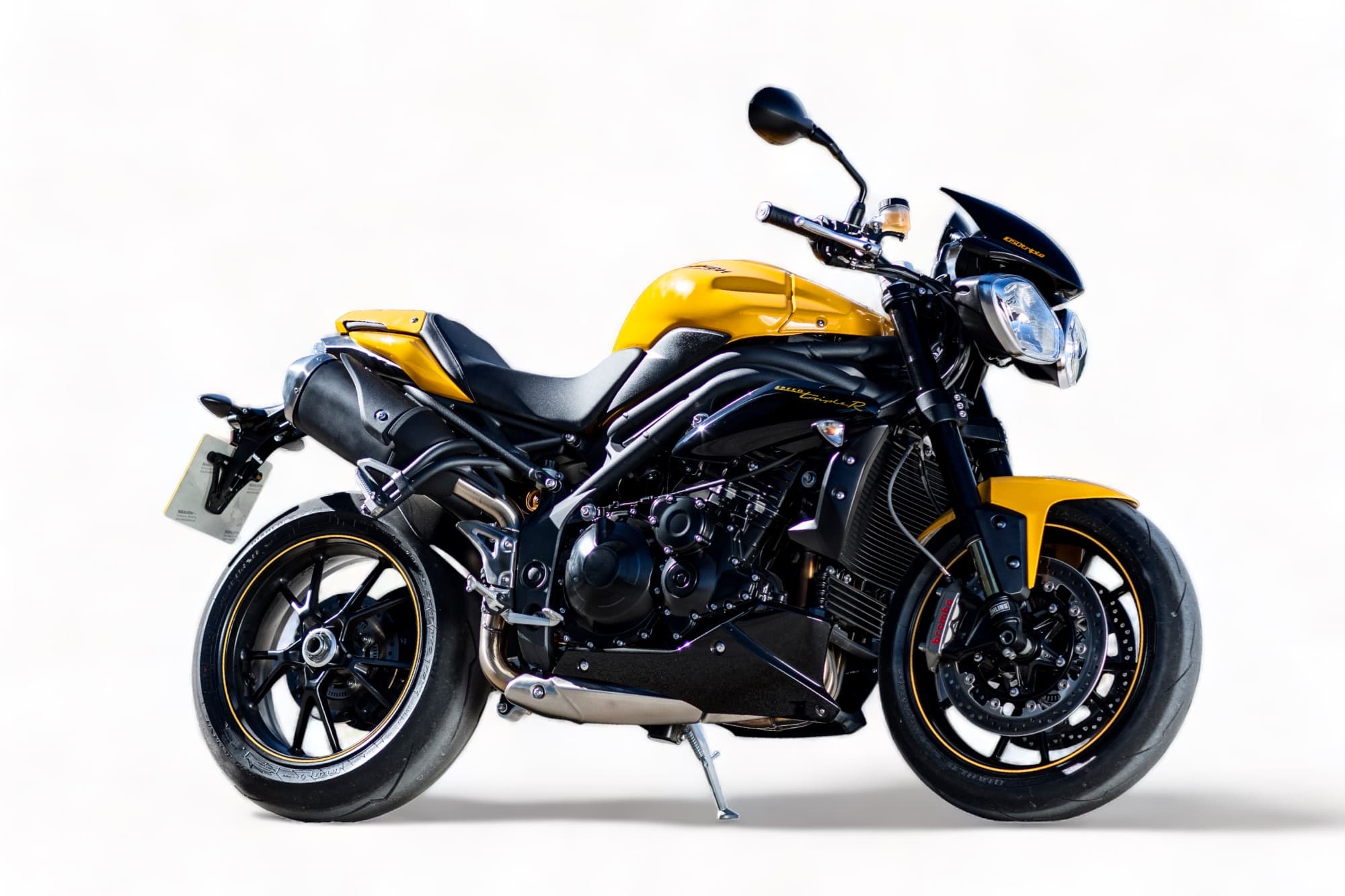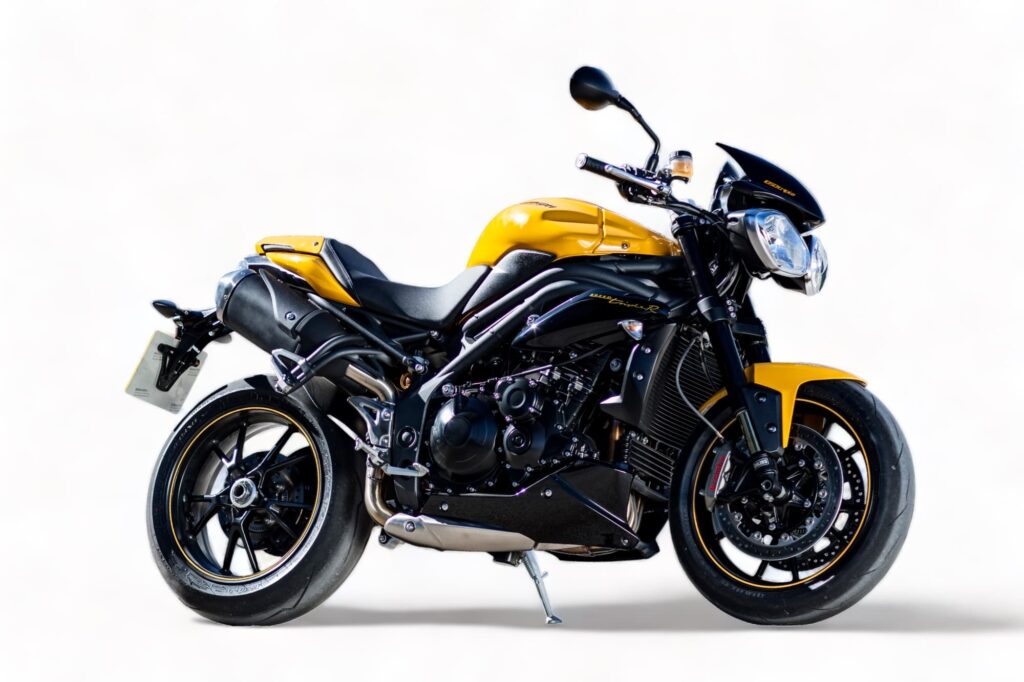 Triumph Street Triple RS
Here's a recent one. For 2023 Triumph released their iconic Striple in "Cosmic Yellow".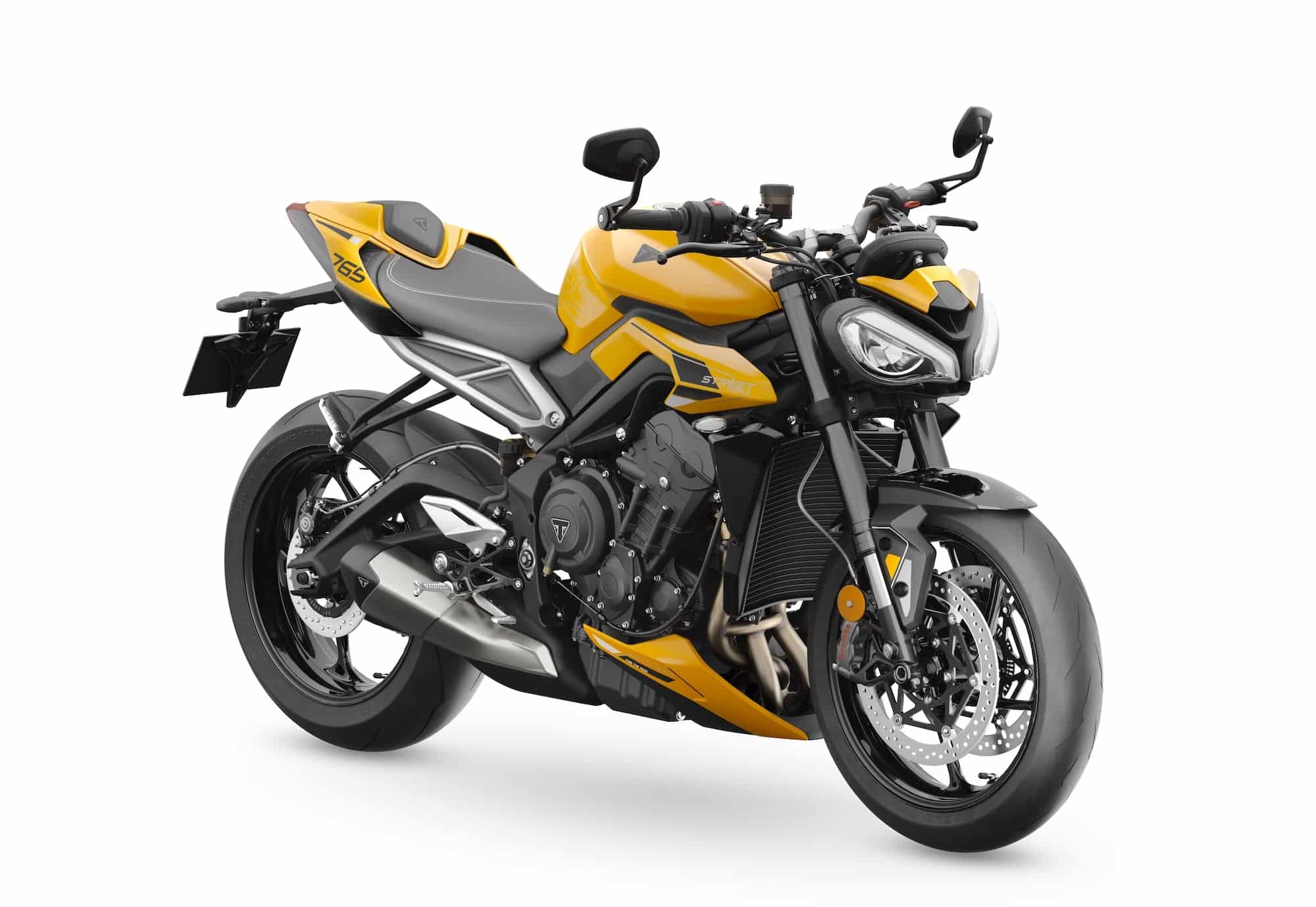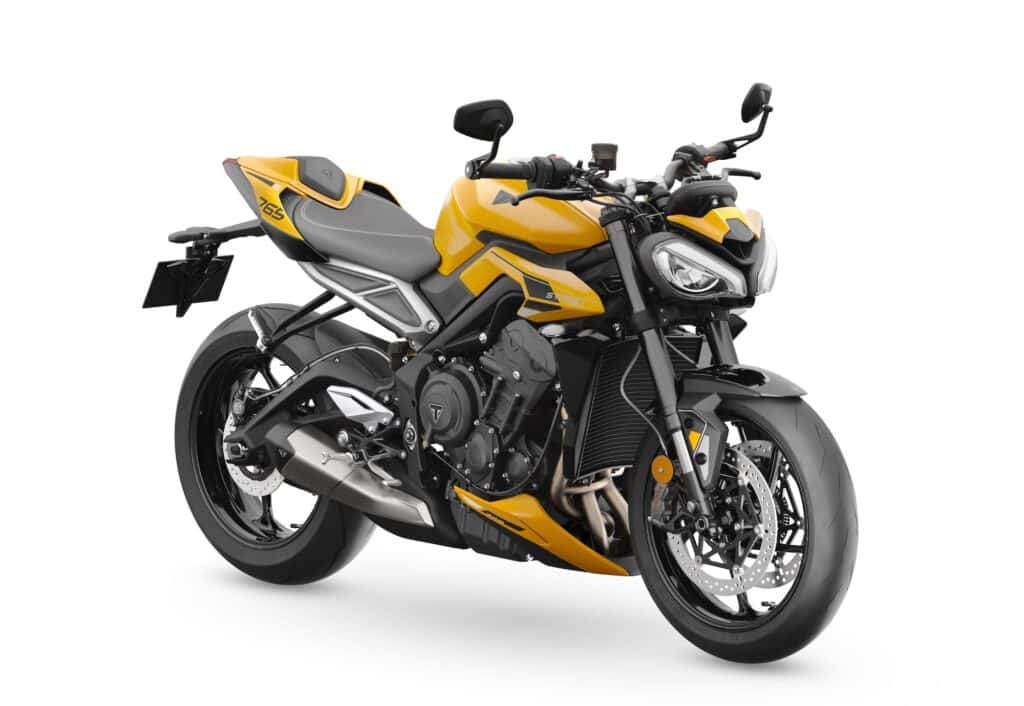 Yamaha Yellow Motorcycles
Yamaha also doesn't do much yellow, but it has in the past. It also tends to do it for anniversary models.
Yamaha XJR1300
Yamaha made the XJR1300 in yellow for a few model years, but most recently for the 2016 anniversary edition, before retiring the model.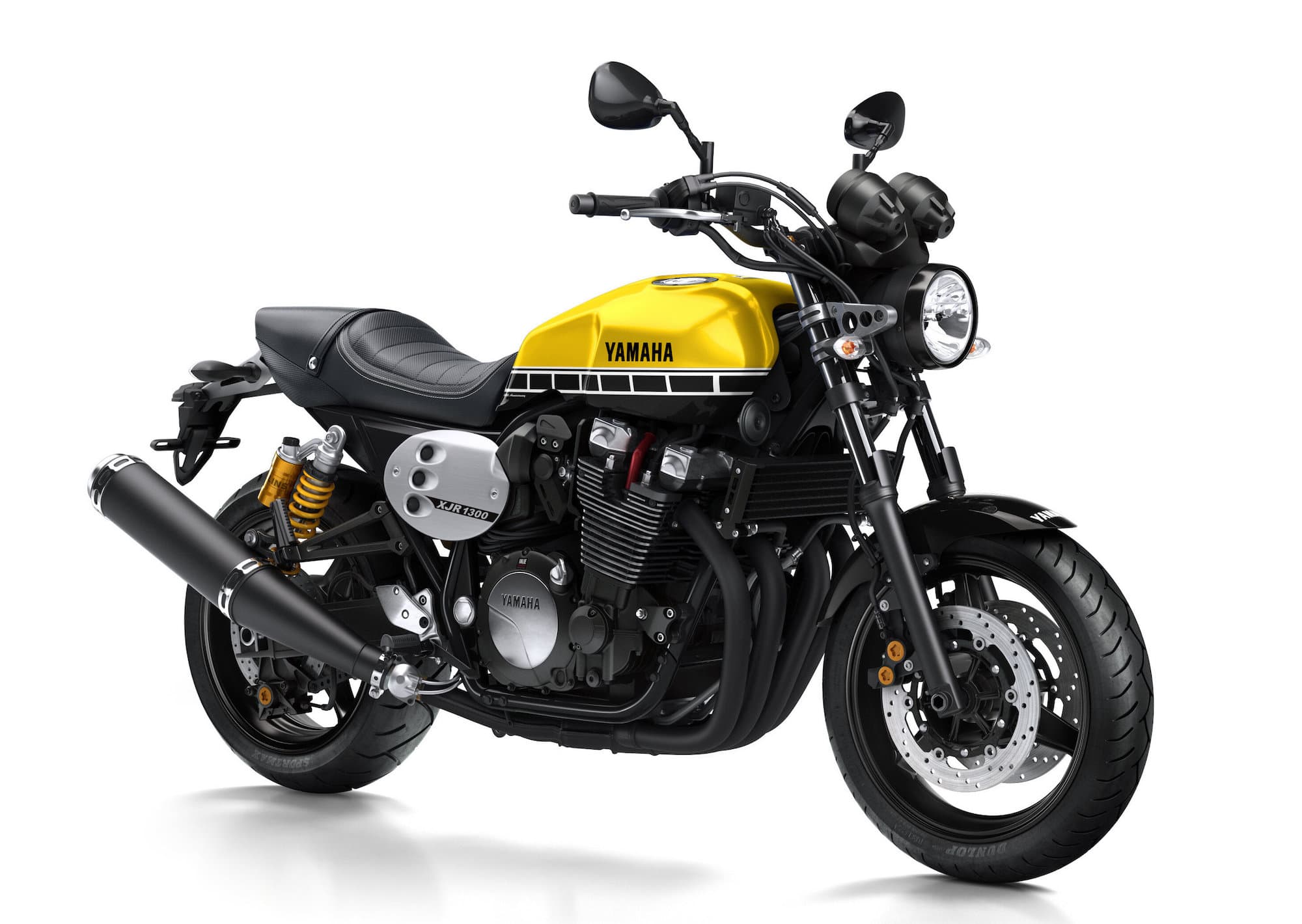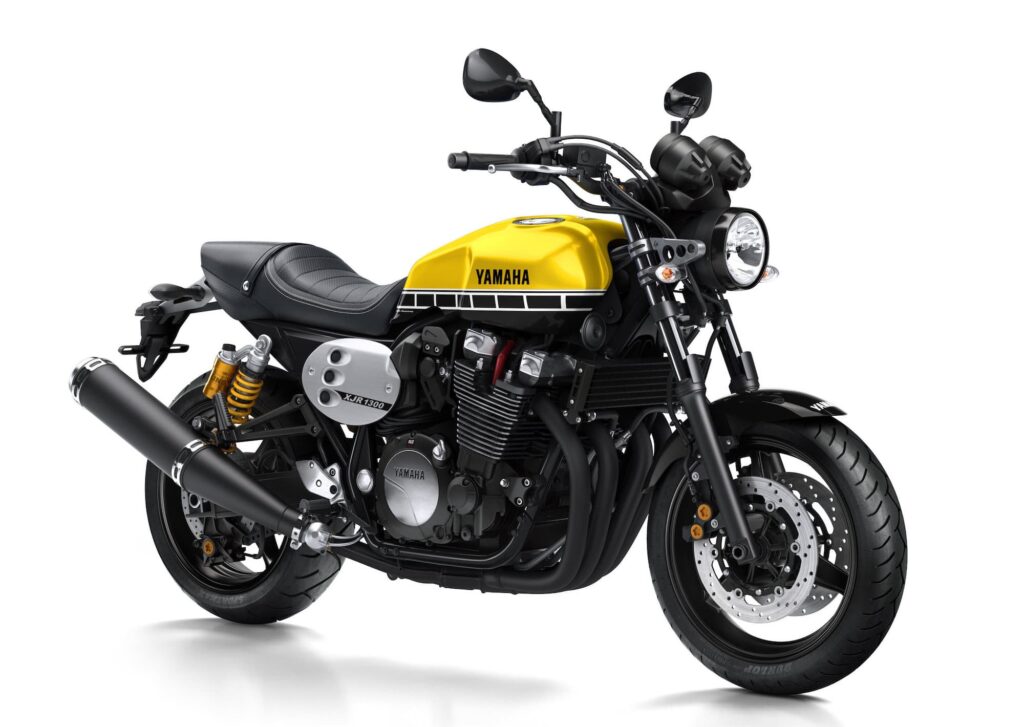 Yamaha YZF-R1
Every 10 years, Yamaha releases a special edition of the YZF-R1 and YZF-R6, plus some other motorcycles. Well, they did in 2016 and 2006 anyway.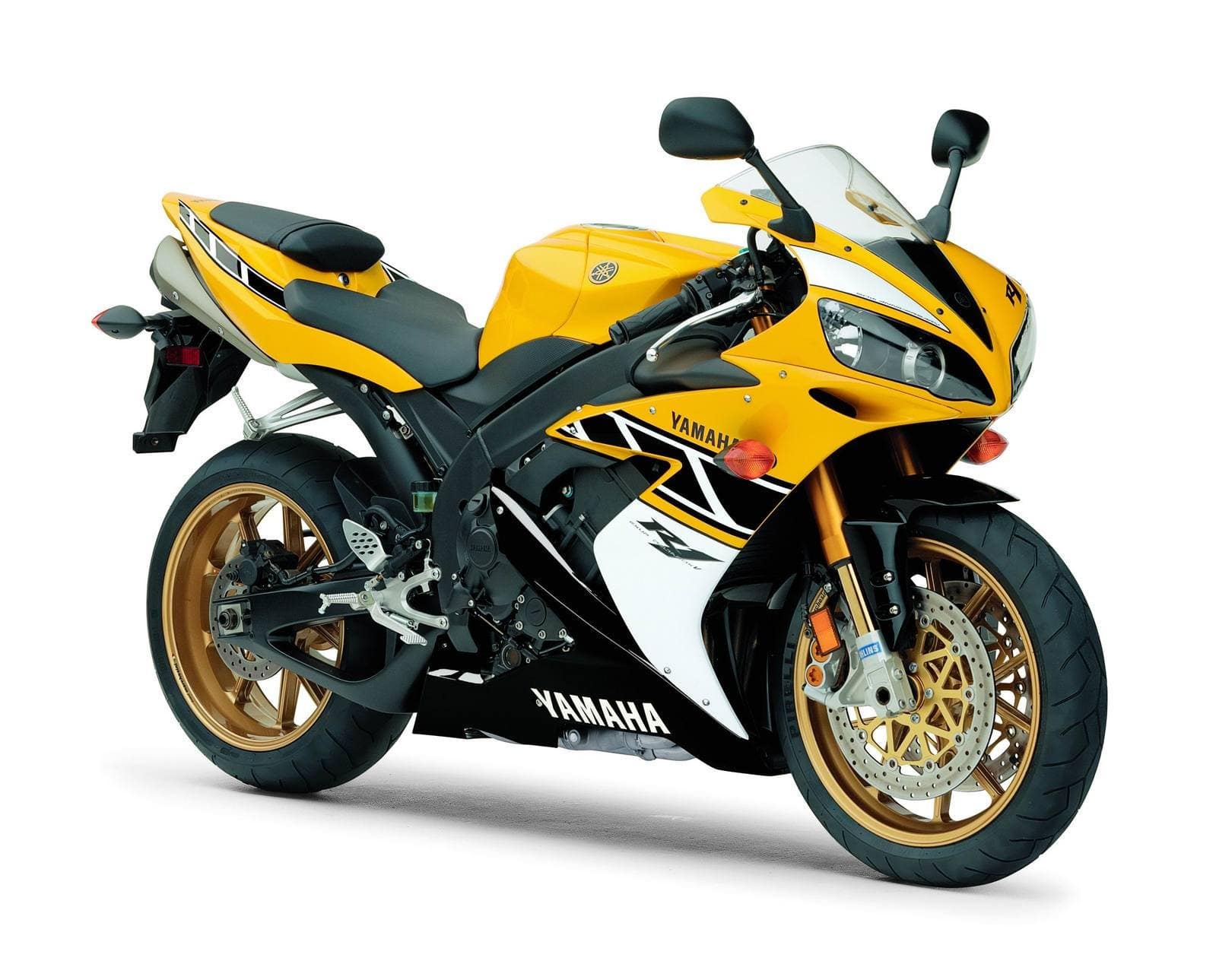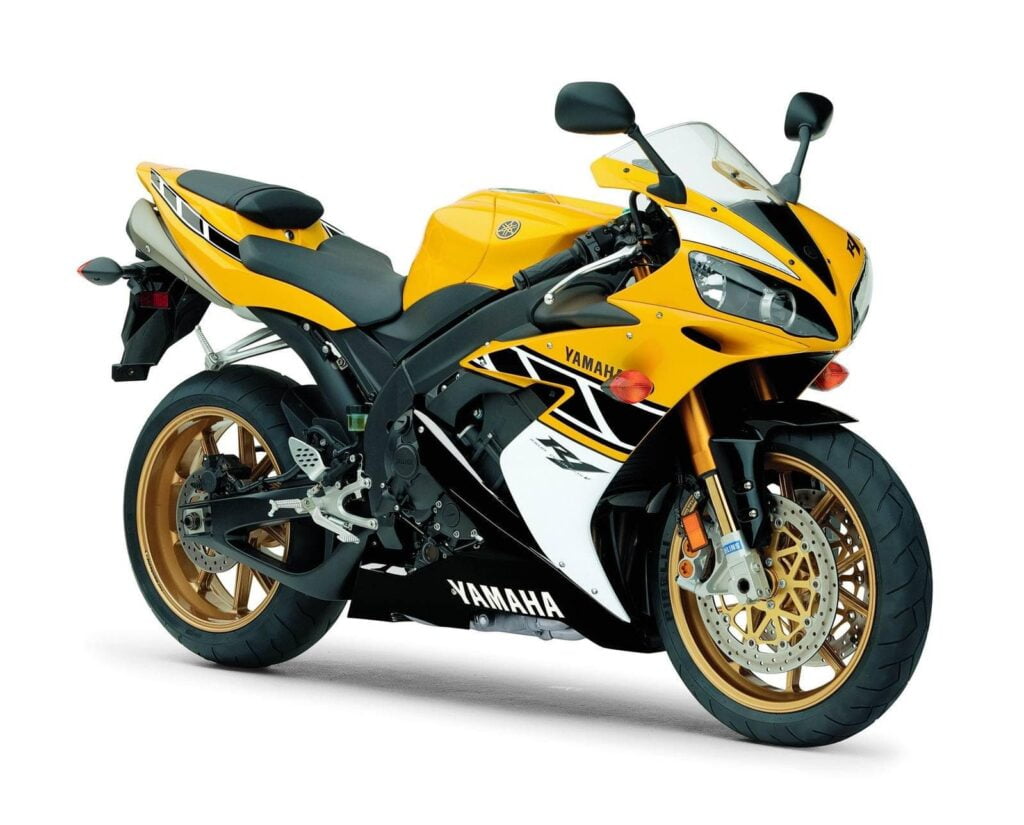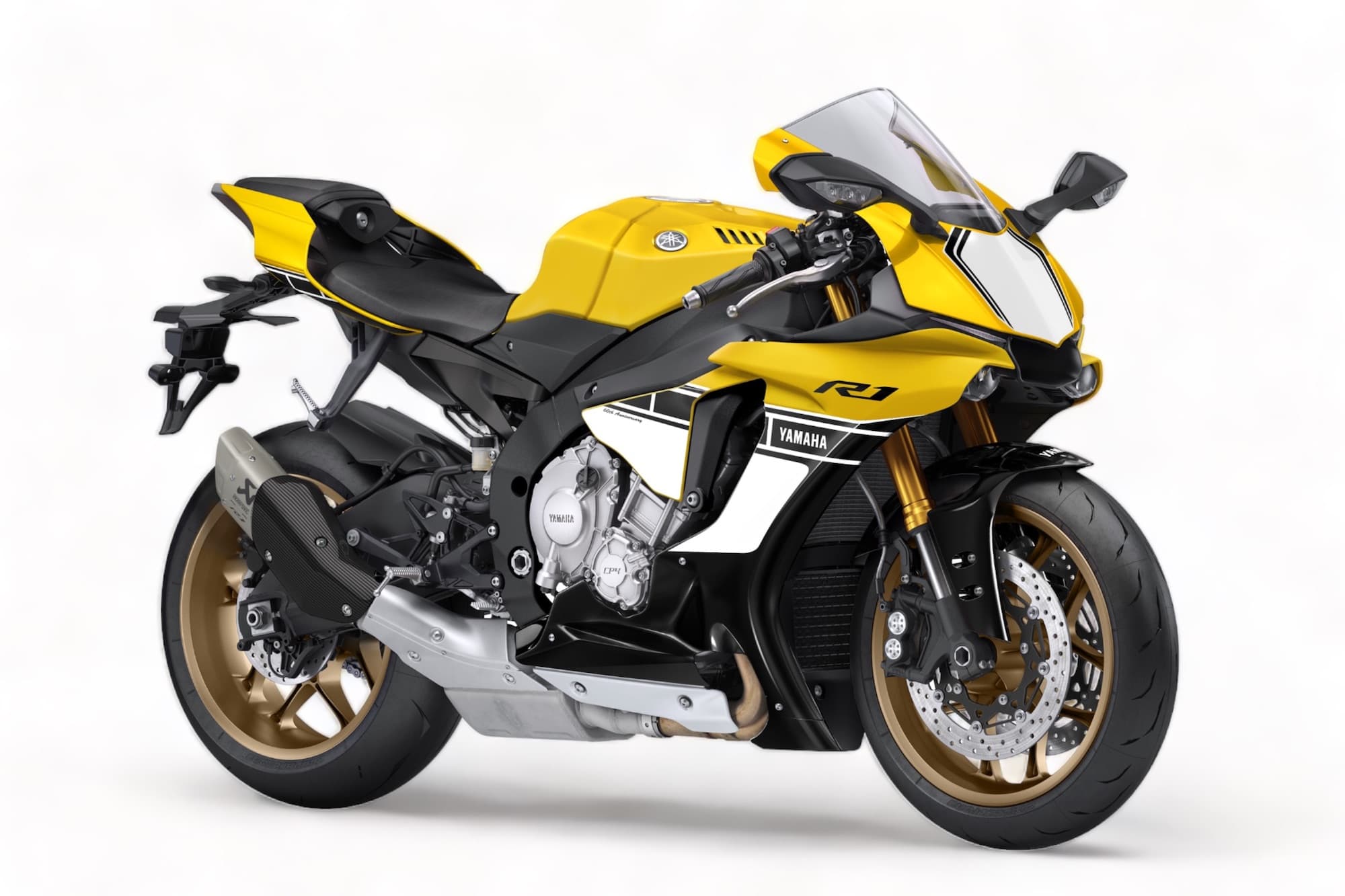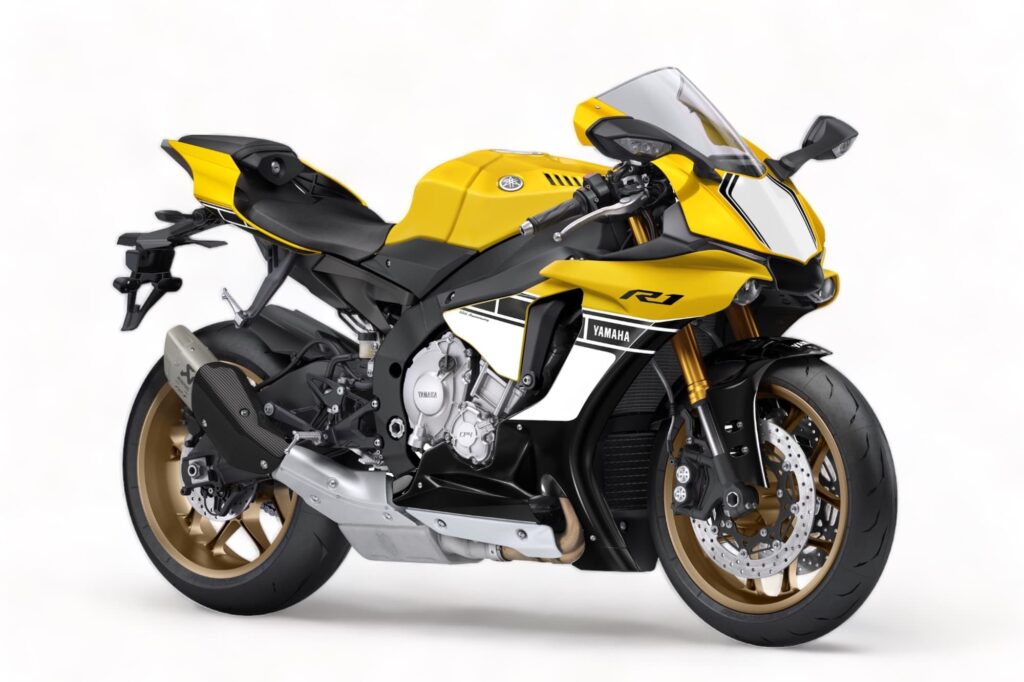 Yamaha YZF-R6
Yamaha also released the R6 in 50th and 60th anniversary yellow and black. Want one? Too late, they're super expensive!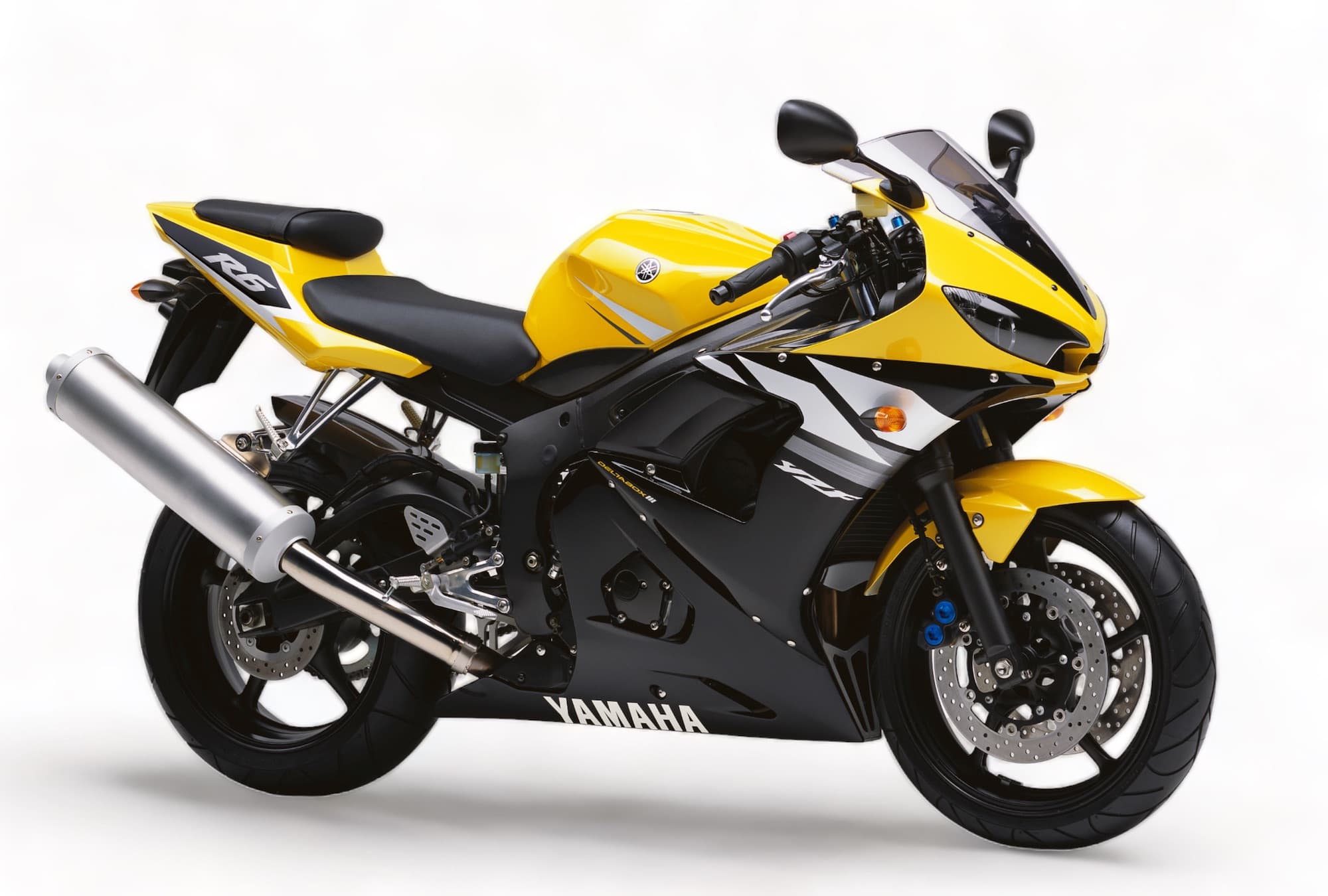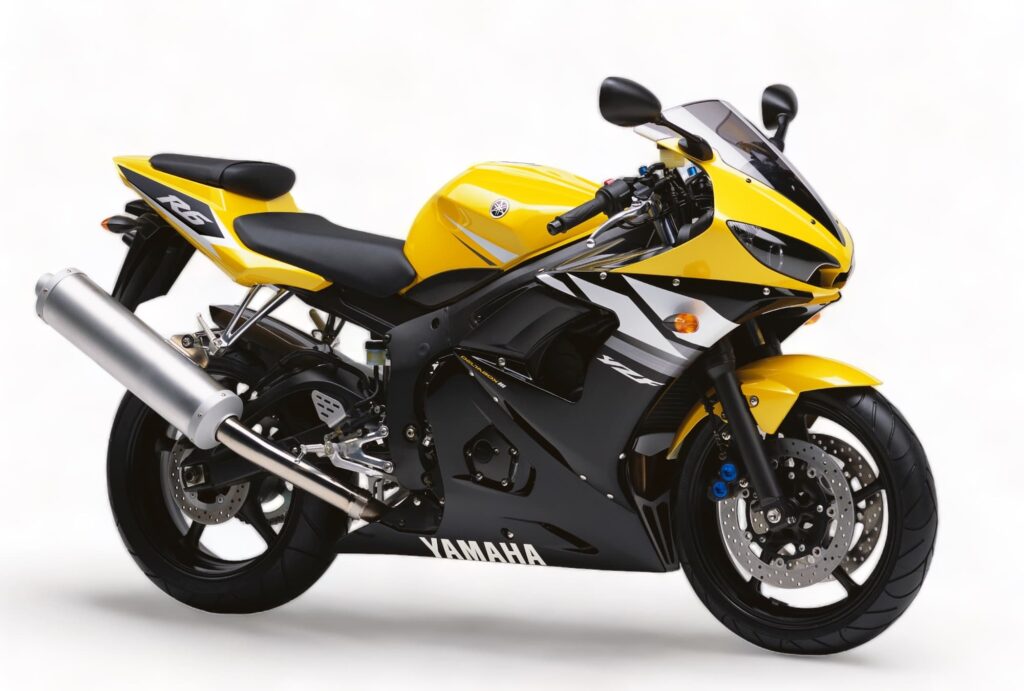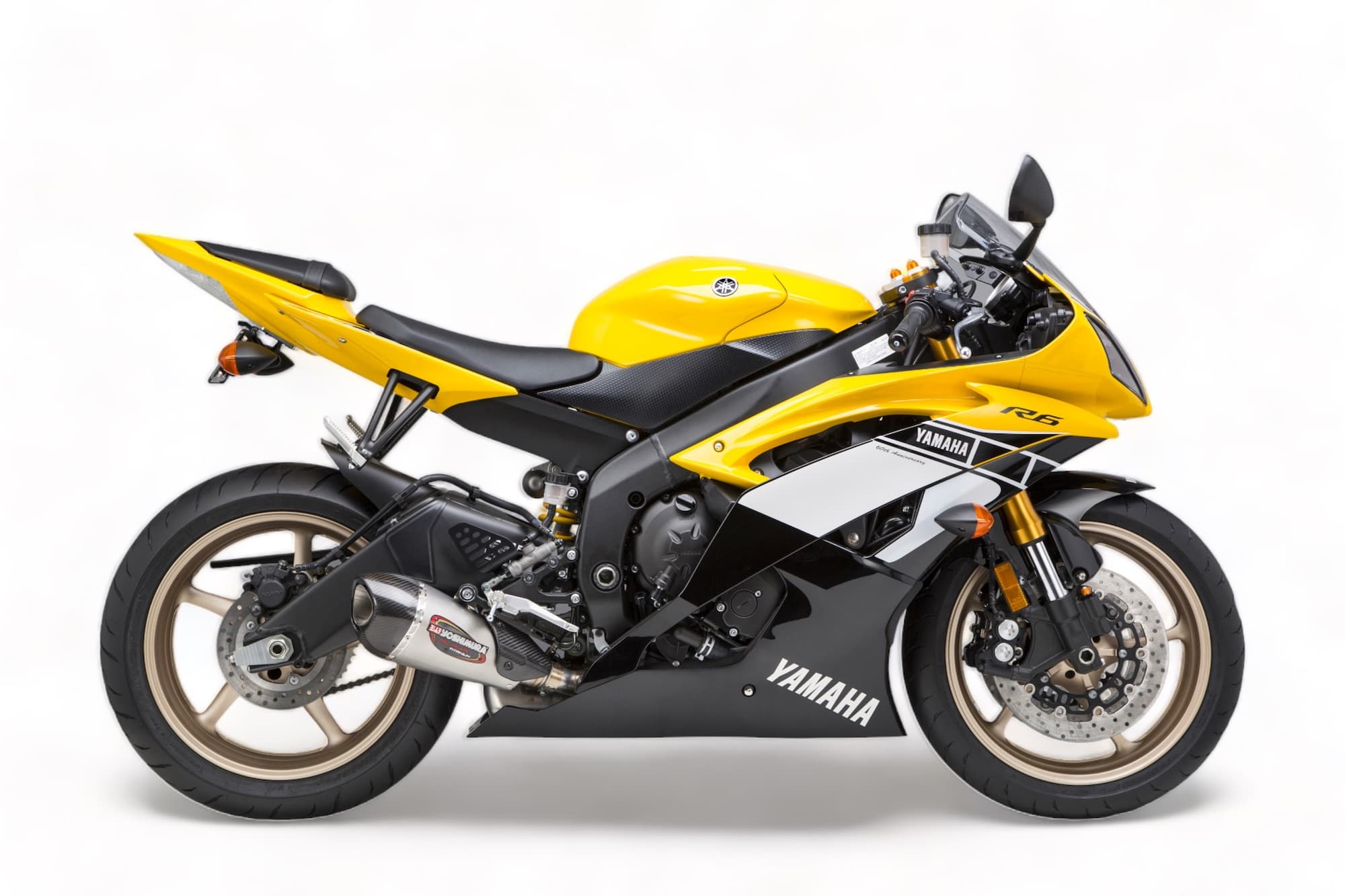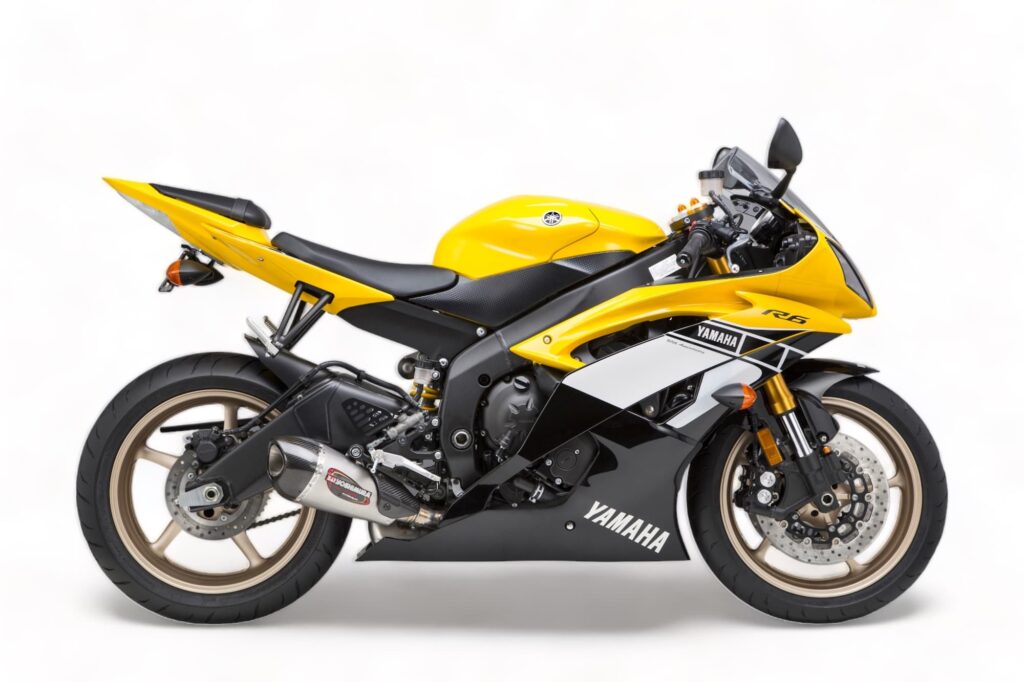 Wrap up
OK, I think you've seen enough. That's enough yellow for a lifetime.
If there are any more yellow motorcycles I should include, let me know!