A while ago I had a chance to pick up a mint yellow Honda CBR954RR FireBlade (yes, the B is capitalised… though it wasn't from 2004 onward after Baba-san left the project) from a dealer on the Gold Coast.
I prevaricated, and missed out I think — another guy made a deposit on it while I was thinking about it.
Here it is. It was listed for A$5995 with a full service history behind it, 35K kilometres (about 20K miles) on the odometer, and everything — spares, factory toolkit, and spare key.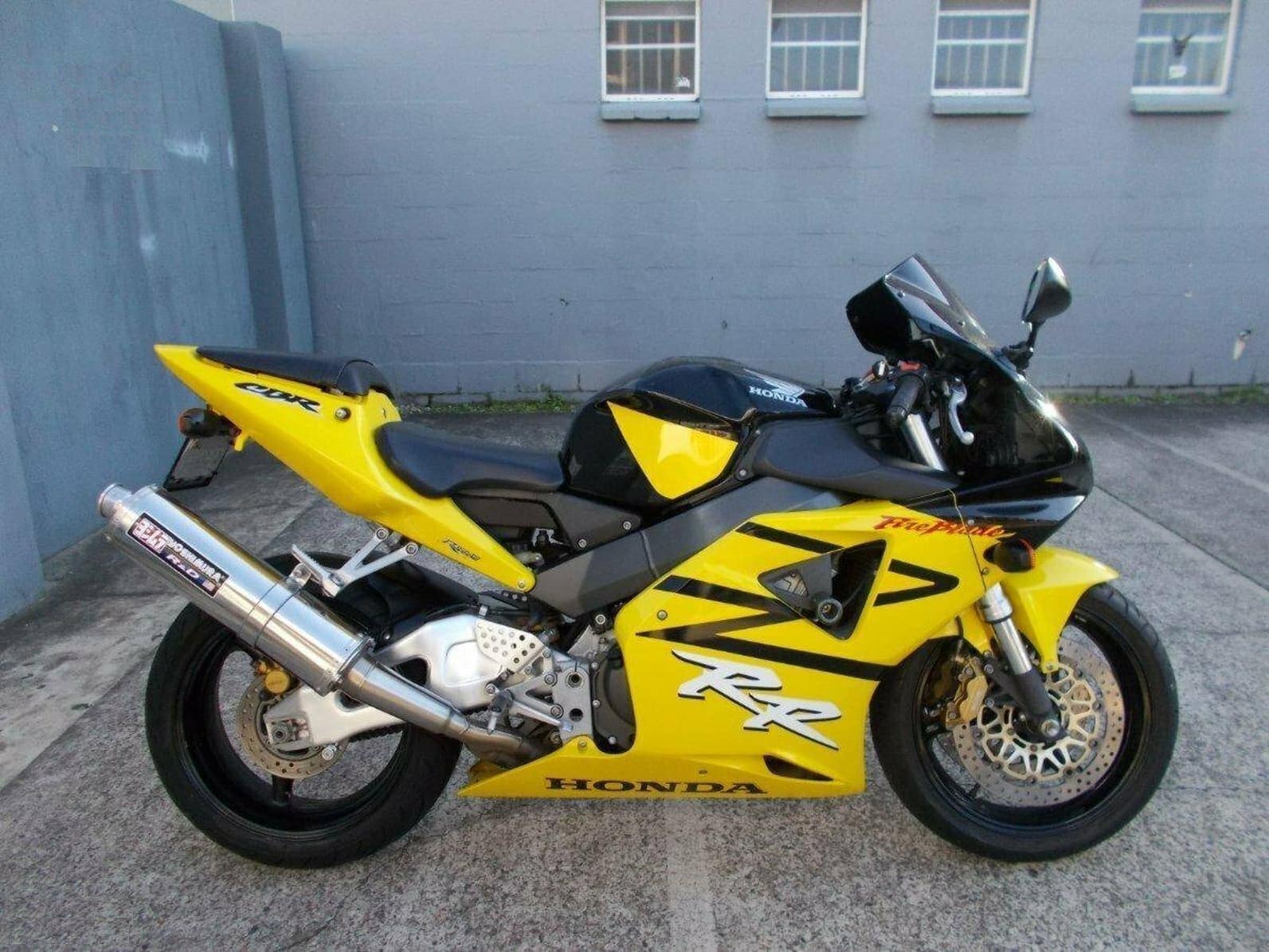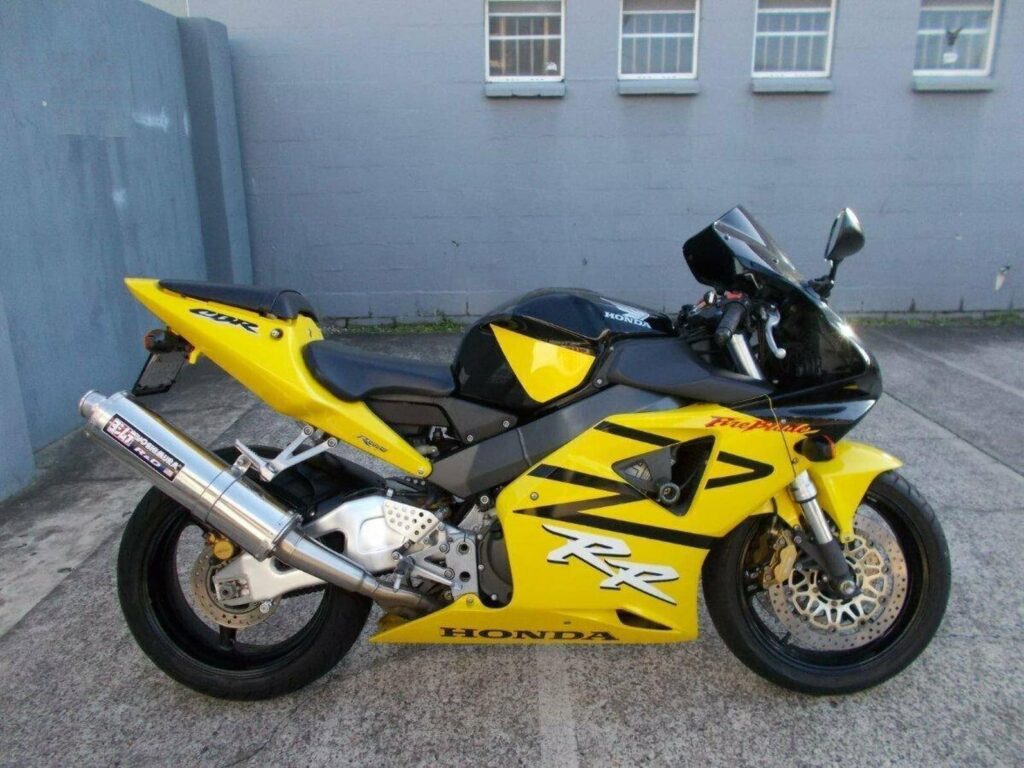 I'm still looking for a 954 FireBlade — in any color scheme.
But first a quick word about why the CBR954RR is the best Honda FireBlade.
In a nutshell, the CBR954RR is the best Honda FireBlade to get because:
It's the lightest. With a wet weight (fully fuelled) of only 192kg, the CBR954RR weighs about what a modern day Honda CBR500R weighs!
It's a sought-after classic. Prices have barely moved in the last ten years — they'll hold, and if anything, go up.
It's not uncomfortable. Older sportbikes like the Honda CBR954RR aren't quite as committed as newer ones.
It was Baba-san's favourite. Tadao Baba, designer of the original CBR900RR FireBlade through to the CBR954RR FireBlade, considered this to be the pinnacle.
More on all these below. But first, if you like this article and want more, then sign up to my humble mailing list.
Are you obsessed with motorcycles?
Well, I am. That's why I created this site — as an outlet. I love learning and sharing what others might find useful. If you like what you read here, and you're a fraction as obsessed as I am, you might like to know when I've published more. (Check the latest for an idea of what you'll see.)
Reason 1 — The CBR954RR is the lightest Honda FireBlade (or Fireblade)
Pictures — well, charts — tell a thousand words.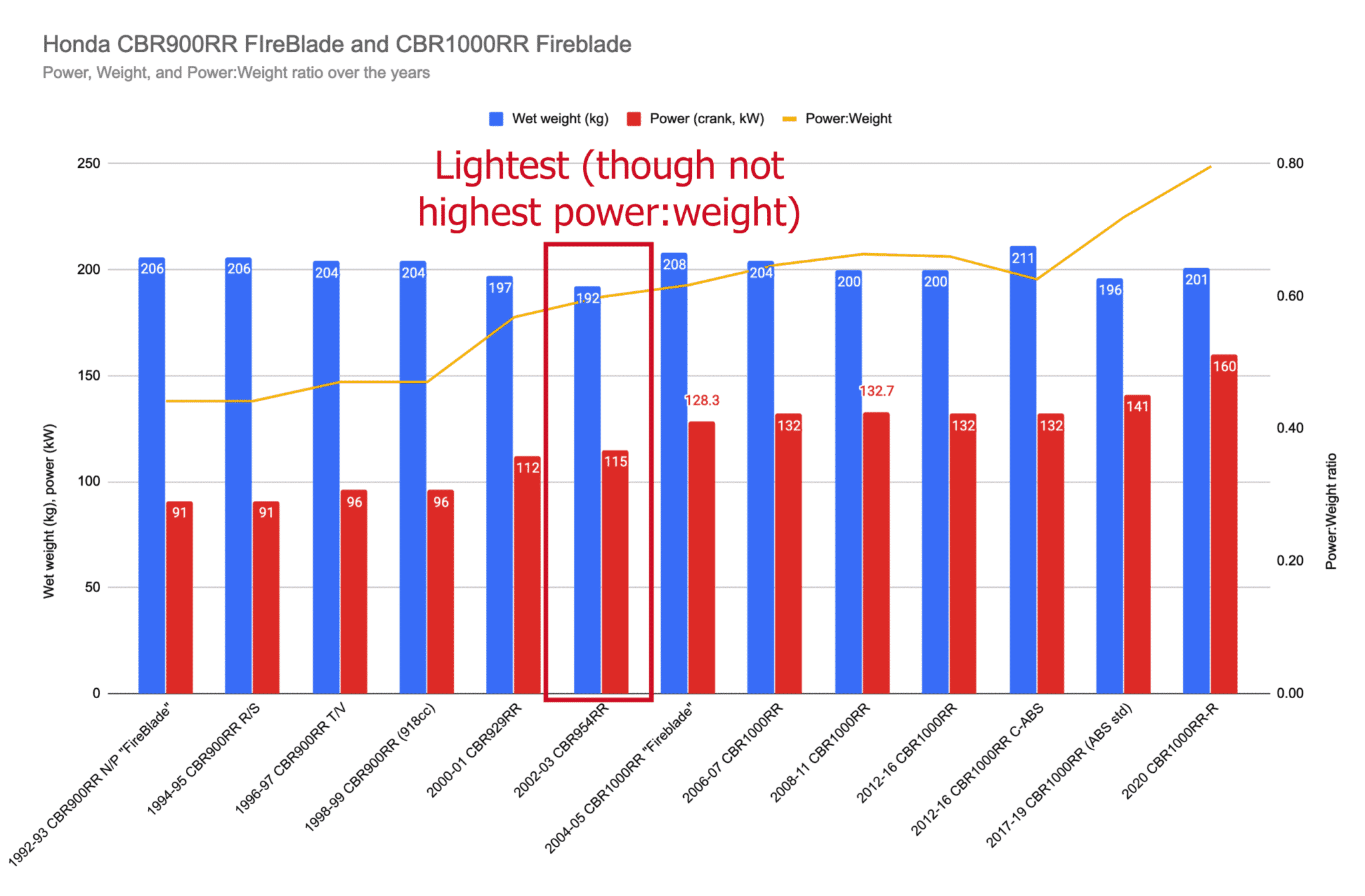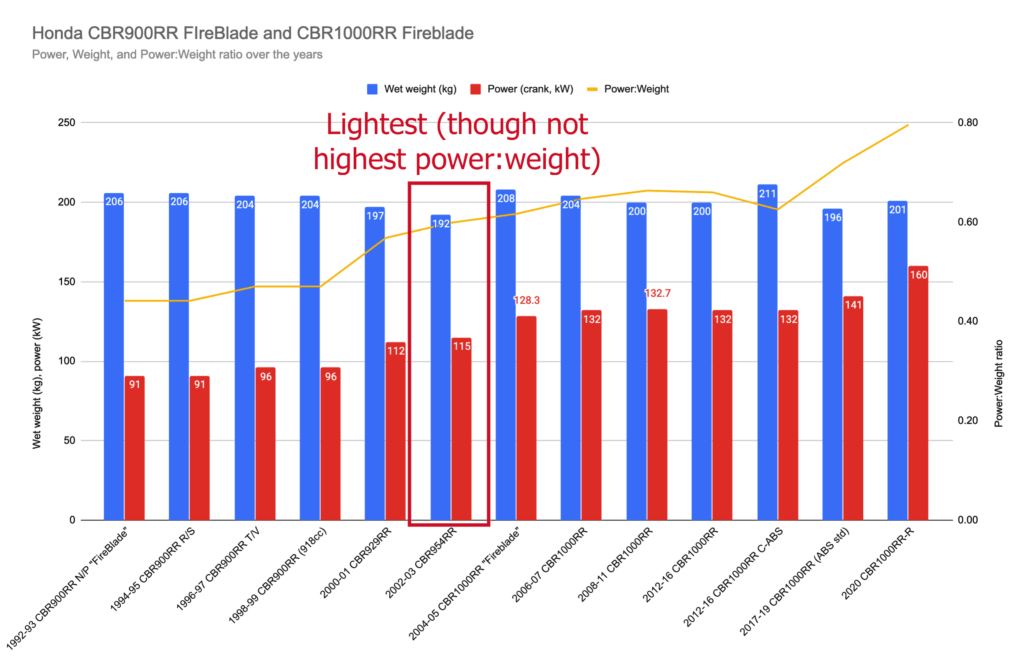 Baba-san designed the original CBR900RR FireBlade with aggressive focus on weight reduction. He wanted it to have a 900cc engine, but fit into a 750cc motorcycle's chassis. He was reportedly ruthless in his obsession.
But despite this, subsequent generations of the FireBlade not only got powerful, they also got lighter.
After Baba-san's departure from the team, the CBR1000RR continued to get more powerful, but they were all heavier.
The power-to-weight ratio did continue to climb (except for a small dip with the C-ABS-equipped 2012-2016 series), but the CBR1000RR lost its edge as a lightweight sports machine after the 954.
Reason 2 — the CBR954RR is a sought-after classic.
Partly for the first and third reasons, the 954 is a recognised classic.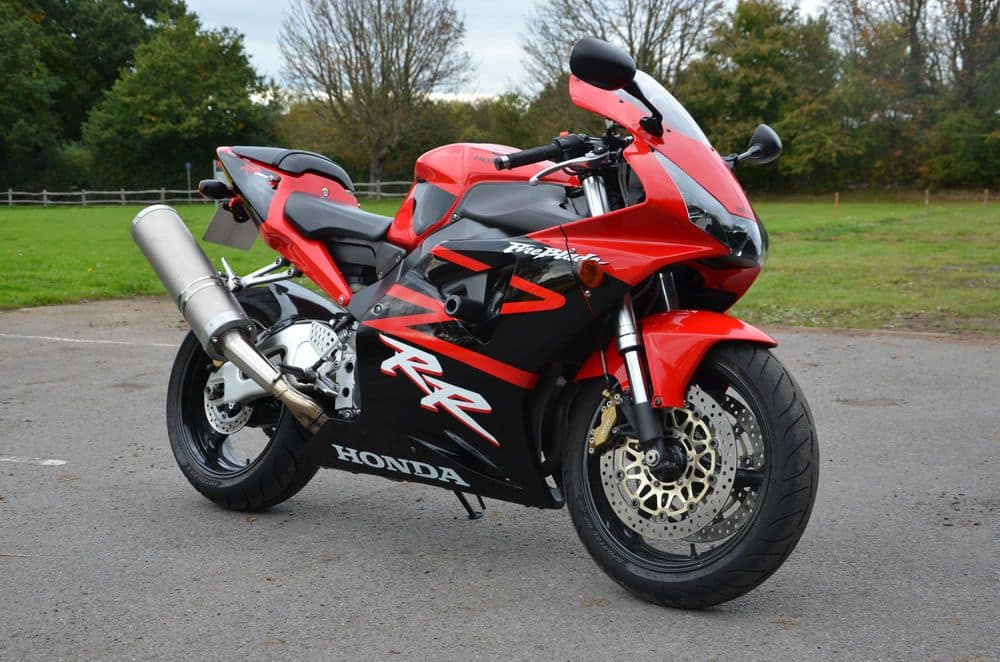 When I googled "Honda CBR954RR Classic", I found quite a few old threads from 10 years ago speculating whether it would be a future classic.
In those threads, the advertised price was exactly what it is today for a bike of higher mileage today! This means that people held on to the motorcycles, put on kilometres, maintained them, and then are able to sell them for the same price.
The one above is listed at A$6,000, which is not expensive. It's about US$4,000 these days. That's about the price you'd pay for one in good condition in the US, too.
The CBR954RR is not in the same league as something like a Ducati 916 SPS in terms of collectability. If you're looking for a classic Honda, I'd look more towards something like the VTR1000 SP2, which are so rare that any time they come up for sale, they get snapped up.
But there are definitely ads out there where people are looking for them.
Reason 3 — The CBR954RR is not uncomfortable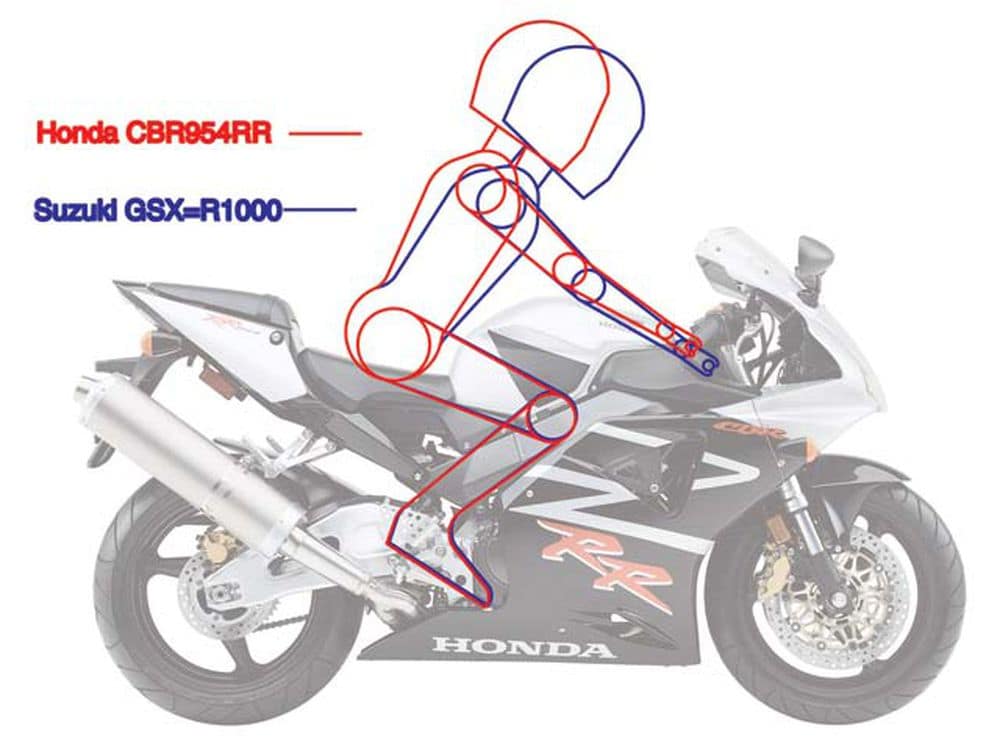 Riding a sportbike is never as comfortable as a cruiser or an adventure touring bike.
But sport bikes have become a lot more uncomfortable. In the late nineties and early 2000s, sport bikes had slightly more relaxed riding positions, making them more appropriate for everyday use.
The CBR954RR was one of these motorcycles. The above diagram shows you the body position compared between the FireBlade and the GSX-R1000 of the time.
Since Honda always wanted the FireBlade to be a general purpose motorcycle, helping normal people ride faster, comfort makes a lot of sense.
Reason 4 — the CBR954RR was Baba-san's favourite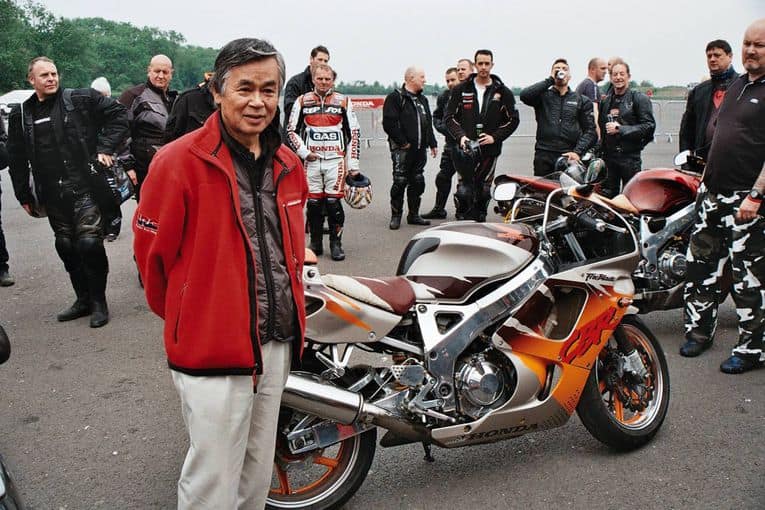 Tadao Baba, father of the FireBlade, retired from the product after the CBR954RR. The last of his work was his favourite and became his personal motorcycle.
"I own a 2002 Fireblade 954; it was the last model of FireBlade I designed, and in my opinion it is the best 'Blade as a total package. The first 'Blade has the best image and memories for me, but the final one is probably the best. Although I don't have a garage – it lives in my parking lot!" — interview with Baba-san PistonHeads
So even if the man himself, Tadao Baba, put his FireBlade up for sale — you probably wouldn't want to own it. The thing hasn't even been "always garaged"!
Caveats
There are, of course, other amazing FireBlades (or Fireblades).
In 2017 for example Honda made a huge splash with their CBR1000RR SP. And their 2020 CBR1000RR-R is ridiculously powerful and comes with all the rider aids that the Yamaha R1 has been touting since… 2015?
These days, the mantle for the best superbike is typically battled between the Ducati Panigale V4R, the Yamaha R1M, and the BMW S1000RR. I mean, the other litre-class motorbikes I haven't mentioned are amazing in their own individual rights. If the Honda isn't competing in that league, it's not because it's far behind. I just mean that in magazines and forums it's not one of the main contenders unless you ask the Honda faithful.
And for me, that's the attraction of the Fireblade. As I pointed out in my story, the CBR900RR kicked off the entire lightweight "litre bike" wave.
So… Why didn't I buy the CBR954RR?
At time of original writing this was actually still available at Gold Coast Honda (but has now sold!).
The things that held me back were: a) I had three motorcycles in my garage already (and it wasn't even my garage… thanks, I have the best brothers!), and b) it's not really a great motorcycle for the street.
In first gear, you're doing over 120 km/h on a CBR954RR before you should shift. It'll actually keep taking you up further — I think north of 140 km/h.
That's not really the way I like to ride on the street. That's why these days I tend to prefer motorcycles more designed for the street or off-road where I can truly enjoy them without much fuss.
That said, if someone had bought my Hyperstrada that was for sale at the time, I might have plonked down for the 'Blade. Another time!