The Honda CBR500R is one of those bikes that always catches my eye when I'm in a Honda dealership. Despite being a "small" or "beginner" bike, the CBR500R is physically a full-sized motorcycle with a beautiful paint job and design.
So I don't realise until I get close to it that it's actually an entry-level bike in the Honda CBR range. It's a stunner!
No wonder the Honda CBR500R is so popular as a first bike, or even as an only bike for many an everyday rider. It has enough power to get into trouble easily, is blessed with great looks, doesn't feel small, and is affordable both to buy and to maintain.
But if you're looking to buy a Honda CBR500R, you'll probably be facing the same questions that many others face, including:
How has the Honda CBR500R changed over the years since it was launched in 2013 — and should you just buy a used one?
How does the Honda CBR500R compare against its siblings, the CB500F and CB500X?
What's the CBR500R like to ride? Is 35 kW / 47 hp "enough" power?
What alternatives are there to the CBR500R?
And probably more.
I'll try to answer all of these and give a complete overview of this bike. Enjoy!
Are you obsessed with motorcycles?
Well, I am. That's why I created this site — as an outlet. I love learning and sharing what others might find useful. If you like what you read here, and you're a fraction as obsessed as I am, you might like to know when I've published more. (Check the latest for an idea of what you'll see.)
Overview of the Honda CBR500R
Honda launched the CBR500R sport bike in 2013. At the same time, Honda also launched the CB500F naked version, and the adventure-style CB500X.
All three models share many components (principally the engine) and are aimed at, depending on the geography, either newer riders looking for an easy starting point before bigger bikes, or experienced riders looking for an everyday commuter.
With a novice-friendly 35 kW / 47 horsepower engine, the Honda CBR500R has always had enough power to keep most riders interested without being too scary for newer riders. Add to this the Honda build quality and reliability — plus the shiny paint in-person — and it's easy to like the CBR500R.
Honda CBR500R generations / Model evolution
During the intervening years since its launch in 2013, very little has changed on the Honda CBR500R.
Here's a summary table of What changed. To avoid repetitiveness, if nothing is mentioned, it's the same as the previous gen.
| Years | 2013-2015 | New for2016-2018 | New for 2019-2021 | New for 2022 | New for 2024 |
| --- | --- | --- | --- | --- | --- |
| Engine | Standard | – | Tuned for more low/mid-range power | – | New Tuned for low-range acceleration |
| Controls | Comfortable | – | Sportier (clip-ons below triple) | – | Backlit switchgear |
| Rider aids | Optional ABS | Adjustable brake lever | Slipper clutch, adjustable brake lever | – | – |
| Front suspension | Non-adjustable conventional fork | Preload-adjustable conventional fork | – | 41mm Showa SFF-BP inverted fork, non-adjustable | – |
| Rear shock | Preload-adjustable shock | – | Revised rear shock with improved damping | Revised rear shock to complement new Showa fork | – |
| Brakes | Single 320mm wave disc, axial-mount calipers | – | – | Twin 296mm discs, 4-piston radial-mount calipers | – |
| Muffler design | Original shiny cigar-type | New, lighter | – | – | – |
| Display | Monochrome backlit LCD | – | Colour LCD instruments, including gear position | – | 5-inch TFT + RoadSync |
| Lights | Halogen | LED front and rear | LED front and rear + turn signals | Full LED, with broader headlight beam | Fireblade-style headlight |
| Kerb weight (ABS) | 195 kg | 194 kg | – | 192 kg | – |
Honda CBR500R model evolution
The original 2013 Honda CBR500R was the foundational bike pictured below.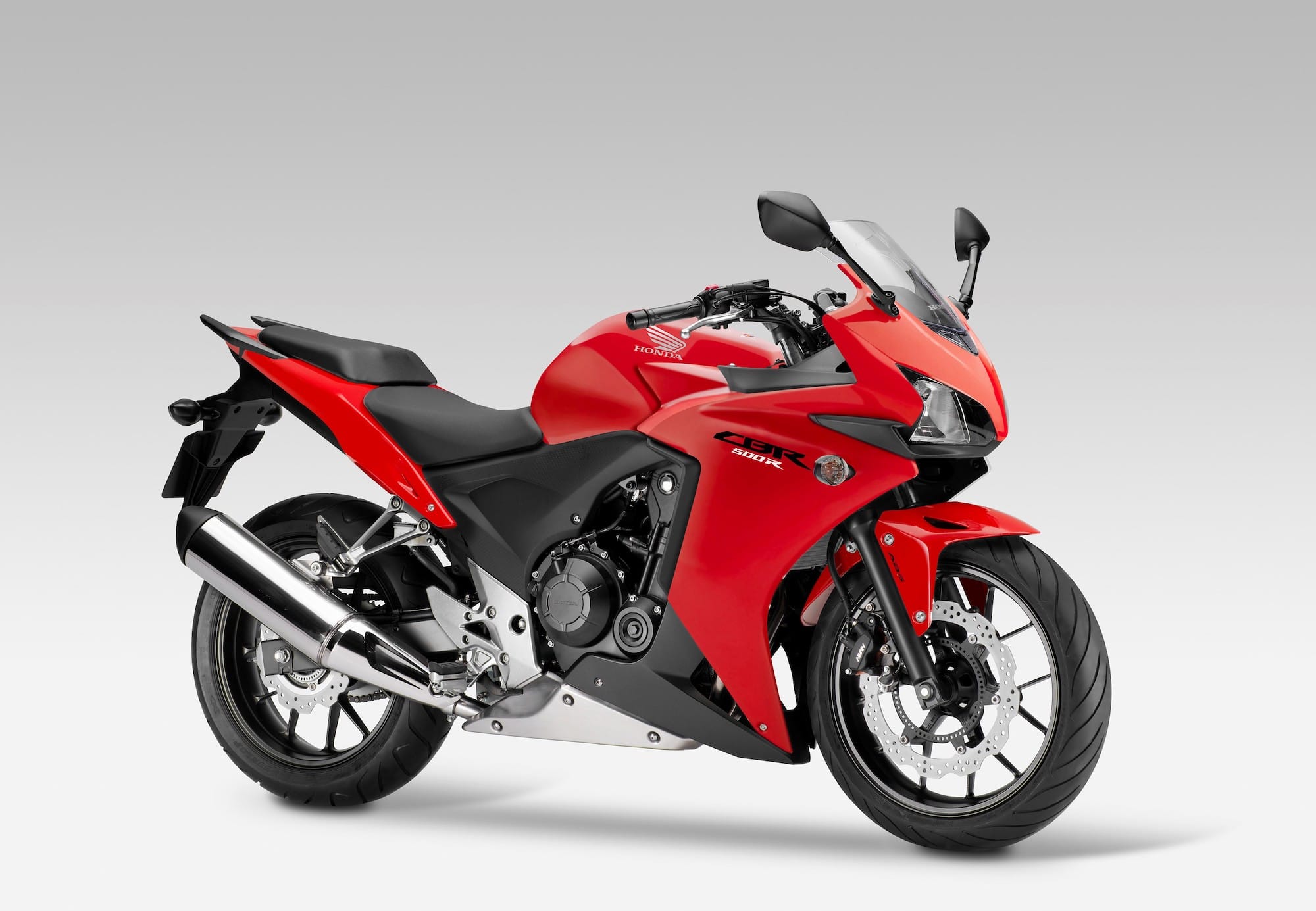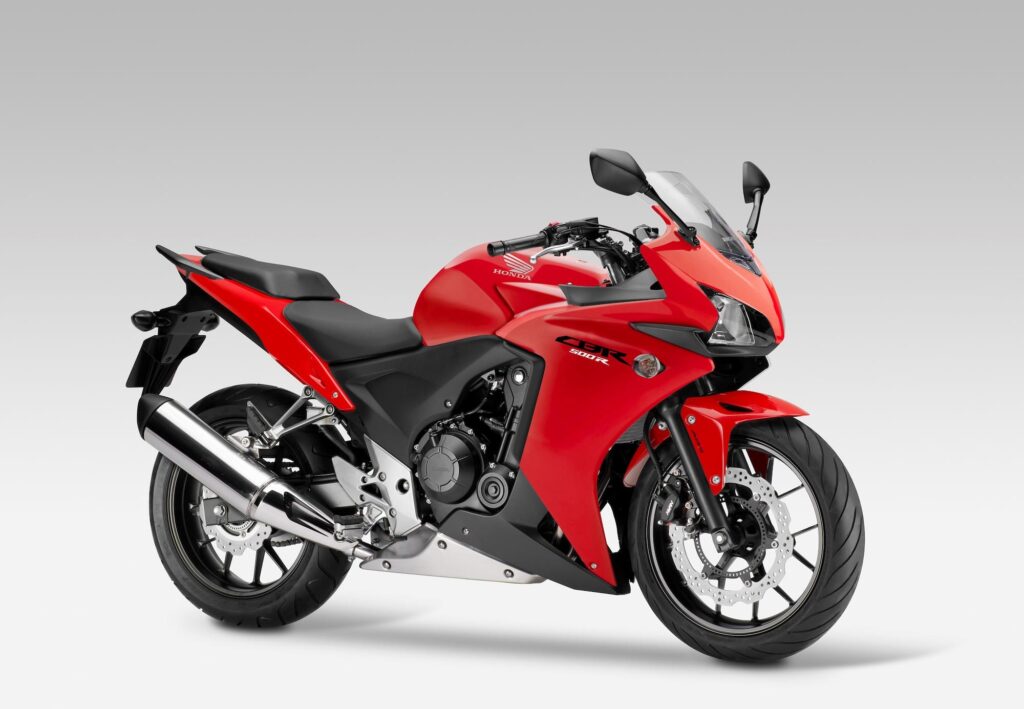 The first-generation Honda CBR500R is distinguishable by the slightly more old-school headlight and seat, the lack of sport graphics on the fairings, and the shiny cigar cylinder-style exhaust (assuming it hasn't been swapped out if you're buying used).
The engine remains fairly constant for future generations, but there have been many incremental changes.
In 2016, Honda kept most of the CBR500R the same, but made some styling and technology improvements. What's all this about "styling"? Hello, good-looking!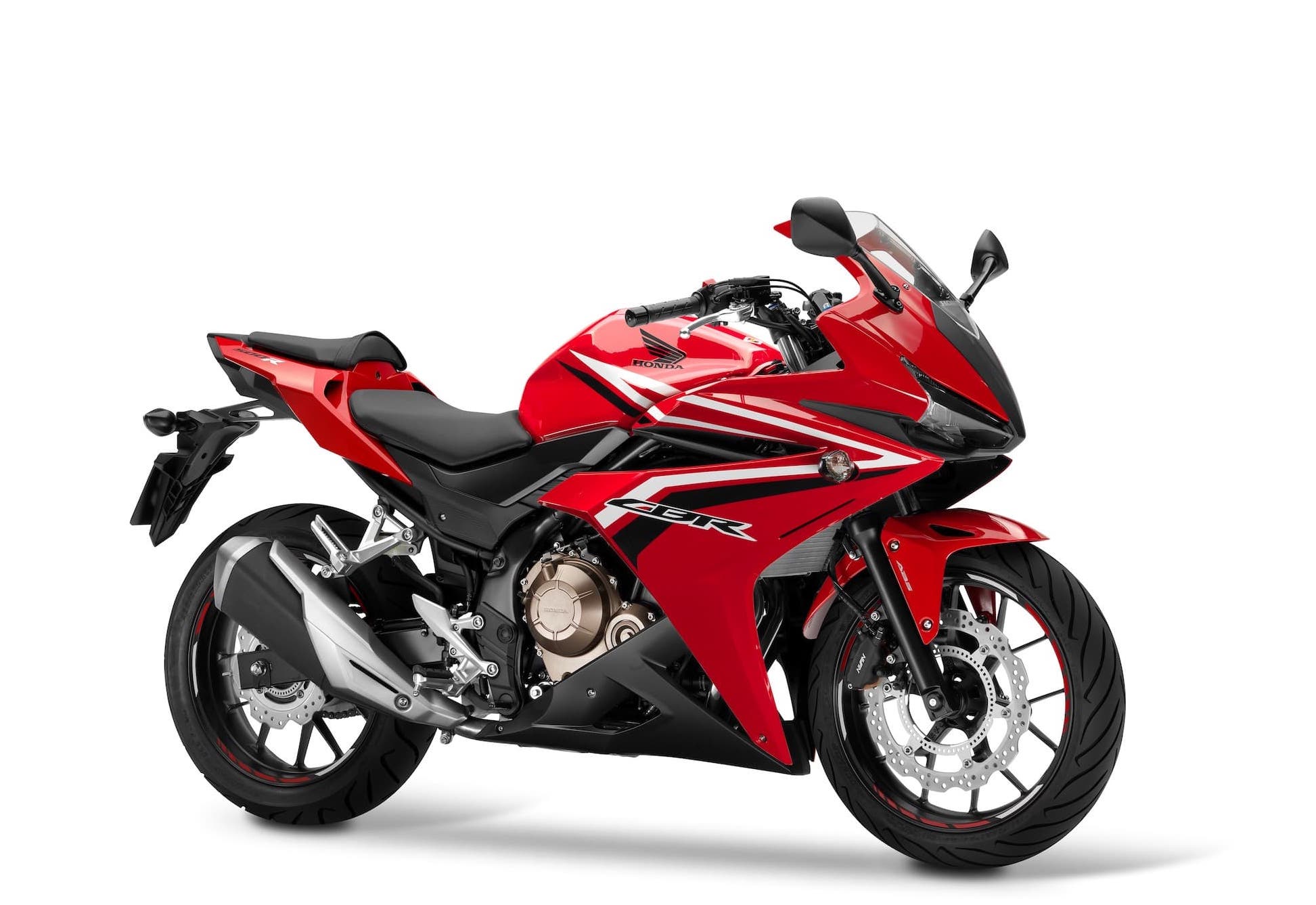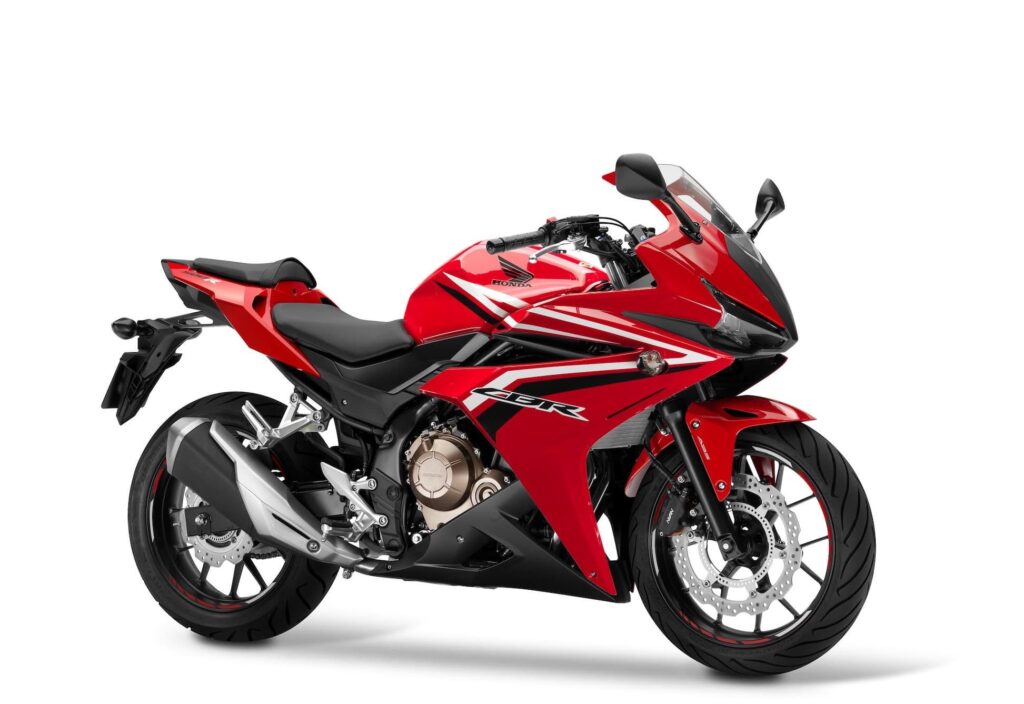 Honda revised the styling of the 2nd gen Honda CBR500R and improved airflow by modifying the fairing slightly. Honda also added LED headlights and taillights, a new muffler, an adjustable front brake lever, an improved gearbox for smoother shifting, a larger fuel tank, and adjustable preload on the front suspension.
In 2019, Honda updated the CBR500R again, bringing the style of the fairings and lights more in line with the bigger Fireblade. It's even sleeker!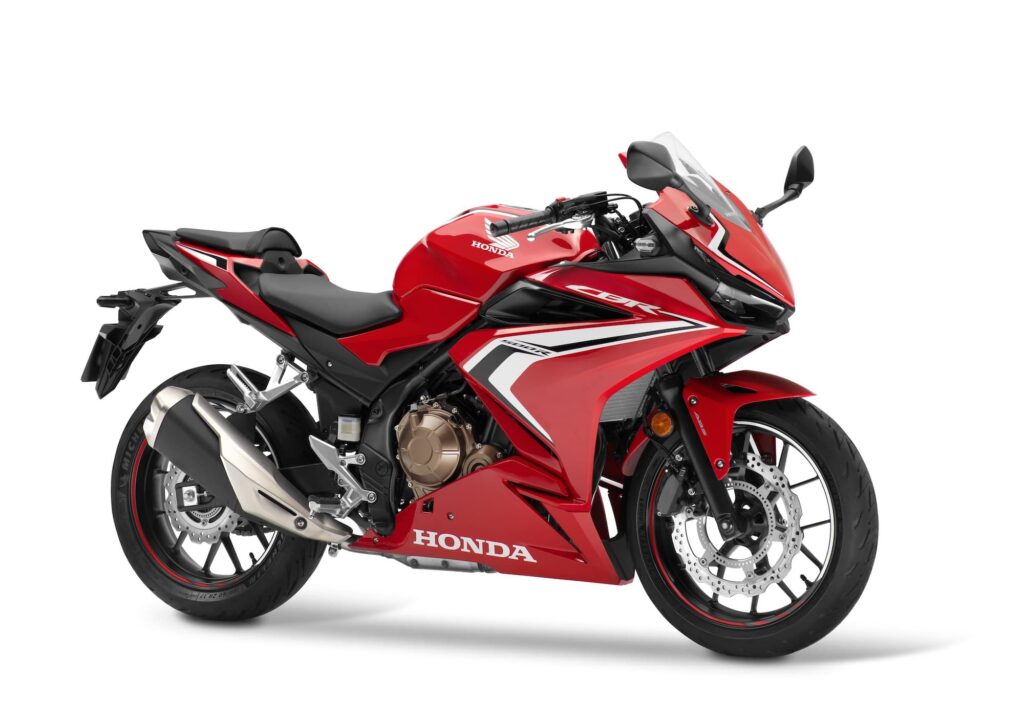 Honda also retuned the engine in the 2019 CBR500R via intake and cam timing changes for more mid-range torque.
For the first time, Honda changed the riding position of the 2019 Honda CBR500R — slightly. It's still comfortable, but the raised clip-ons are now under the top yoke, moving you forward eight degrees compared to earlier generations.
Honda also added an assist-and-slip clutch to the 2019 Honda CBR500R for easier downshifts, implemented a revised colour LCD instrument panel, and changed the rest of the lighting to LED.
For 2022, Honda made some significant improvements again. And it's more than just fairings! But yes, the exterior design of the newest Honda CBR500R is a big part of it.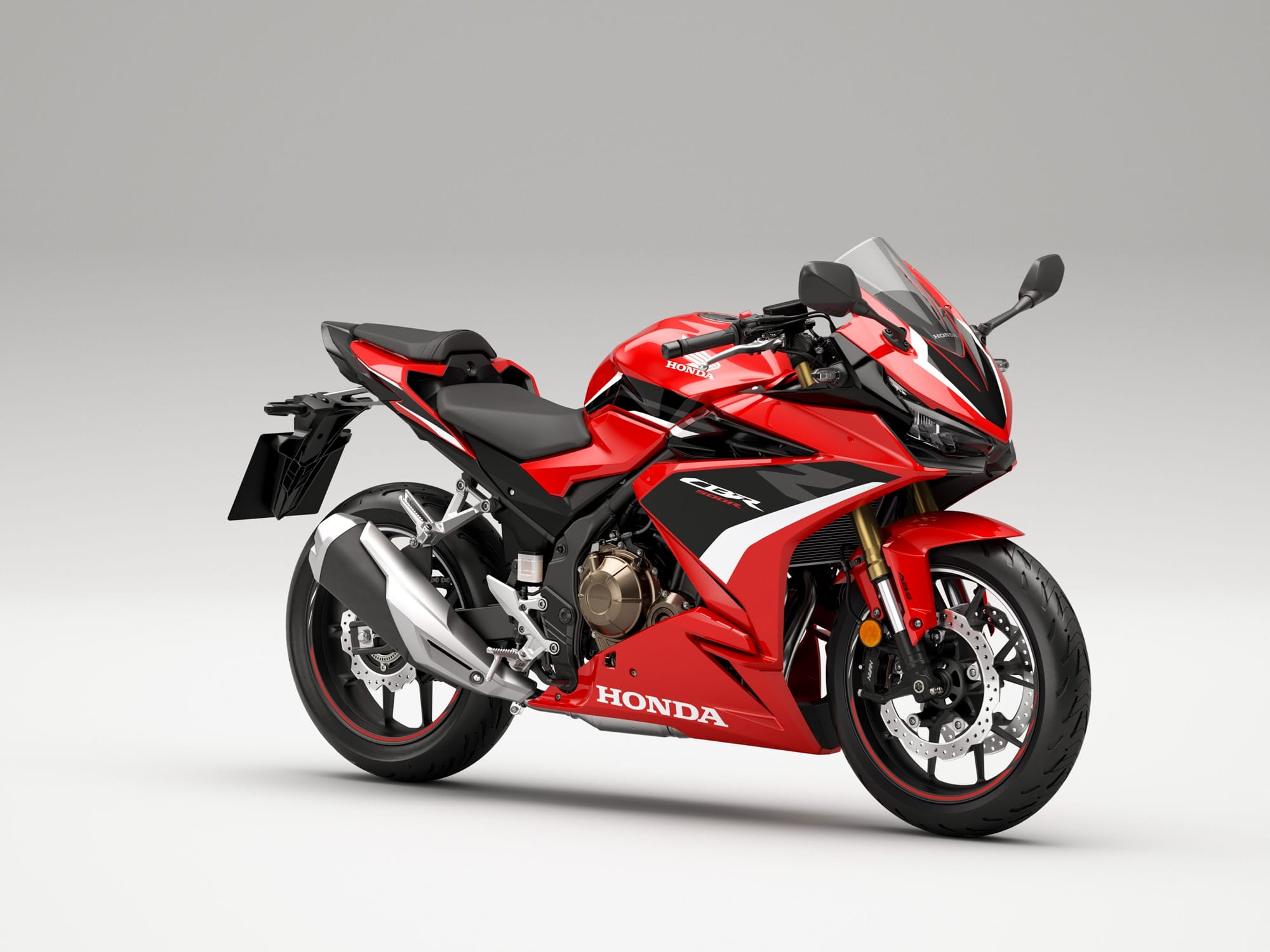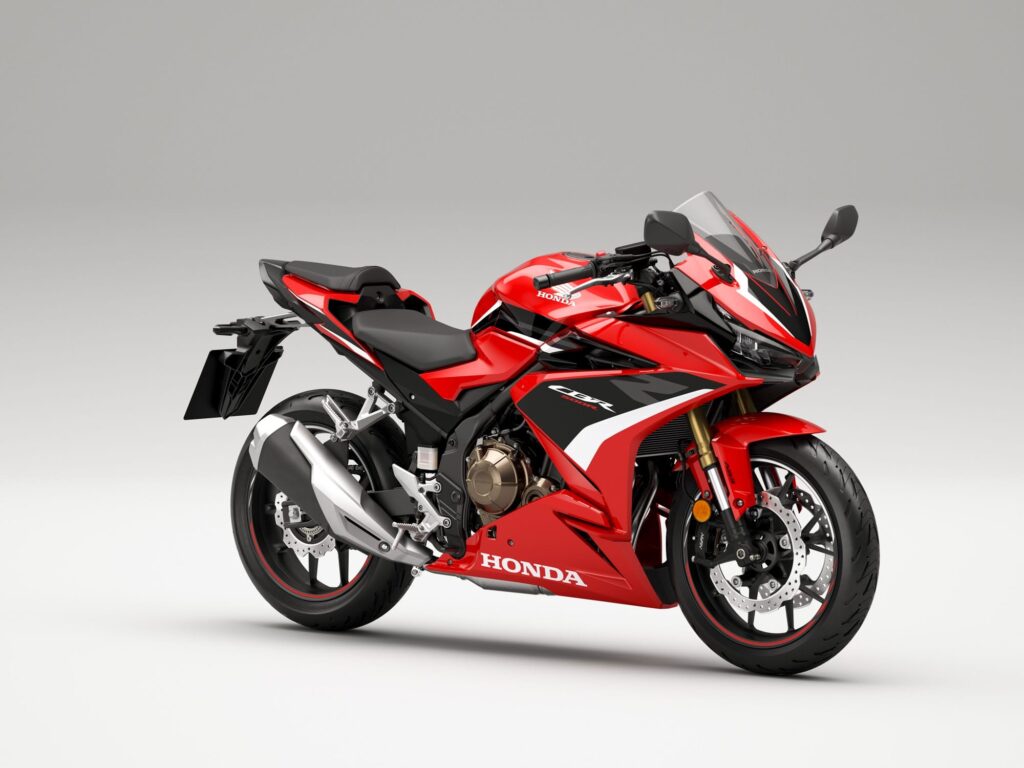 Again, the power hasn't changed, and it's still a learner-legal bike in Europe, the UK, Australia and NZ. But Honda updated the suspension, giving it upside-down Showa SFF-BP forks, and twin front discs of a slightly smaller diameter.
For 2024, Honda updated the CBR500R again, granting it a TFT display, an engine tuned to be more responsive, and an updated look. This time, you can get it in HRC colors — a style otherwise unique to Honda's superbikes.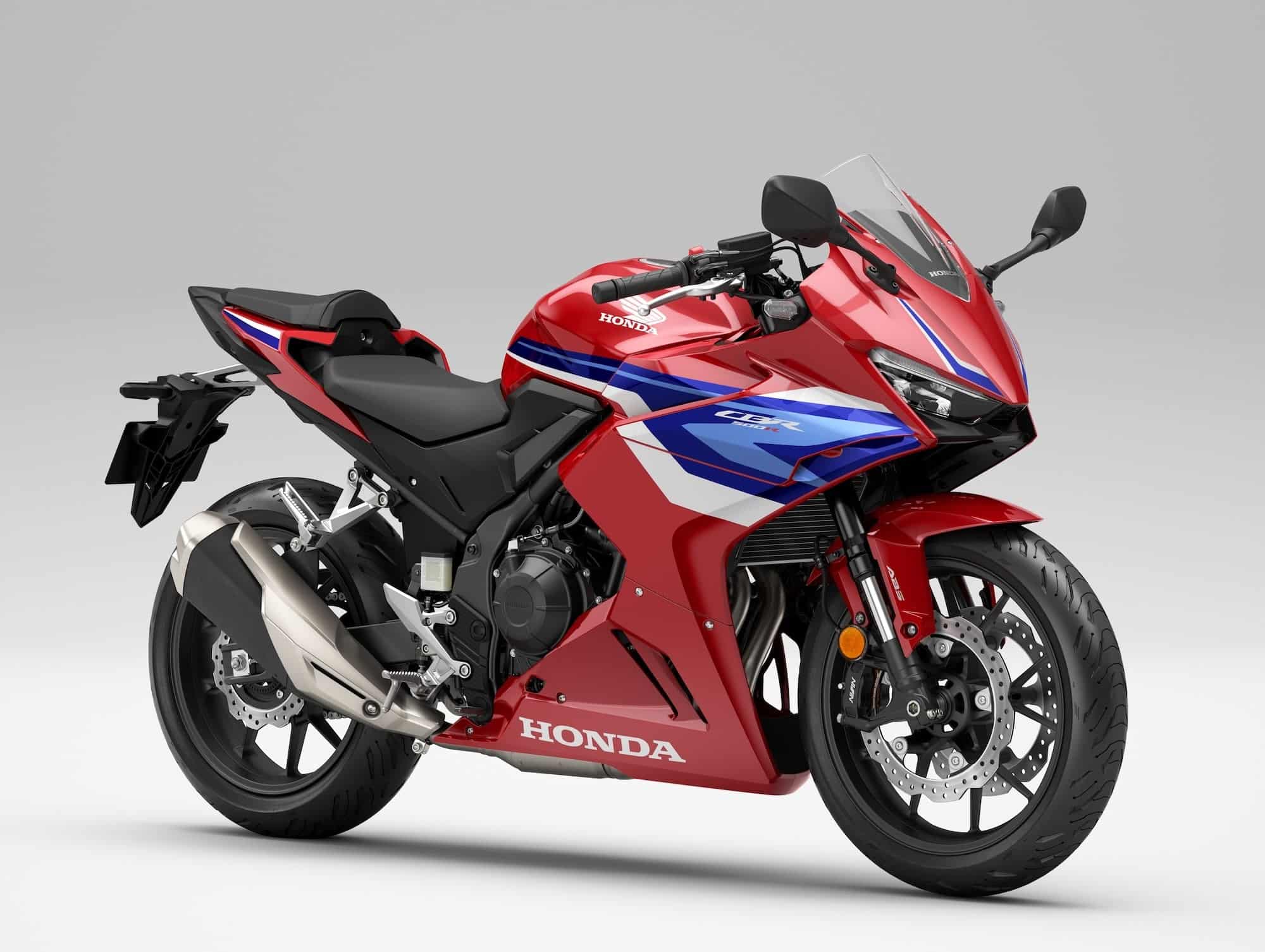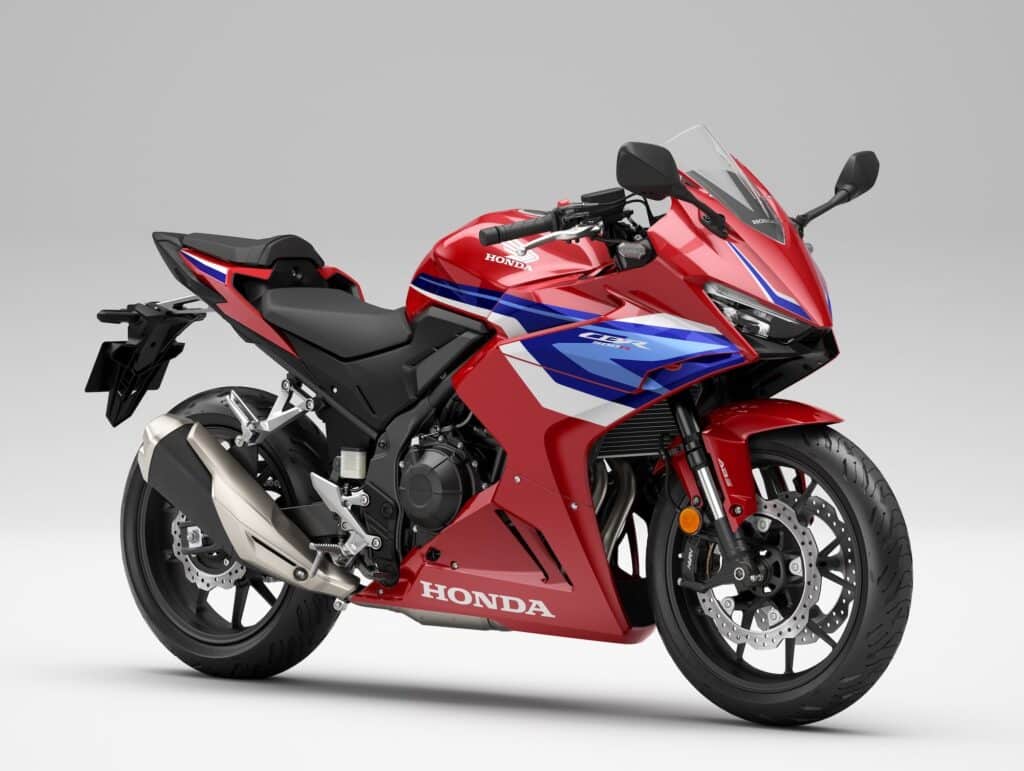 I don't think learner-legal bikes come better looking than that. Or at least… it's up there with the best of 'em.
Specifications
Keeping everything under control at the front are the 41 mm Showa SF upside-down forks and a single Pro-Link shock at the rear. The front forks are non-adjustable, but you can set the preload on the rear shock.
Weight savings have been made in some areas, particularly the new swingarm, but the heavier USD forks offset these, and kerb weight remains the same.
| Part | 2022 CBR500R specification |
| --- | --- |
| Engine | 471 cc liquid-cooled parallel twin, DOHC, 8 valve |
| Max Power | 35 kW @ 8500 rpm (47 hp); 9500 rpm redline |
| Max Torque | 43 Nm @ 6500 rpm |
| Fuel Consumption | 3.5l/100km (67 US mpg) |
| Fuel Tank | 17.1 litres (4.5 US gallons) (theoretical range ~300 miles, ~480 km) |
| Kerb Weight | 192 kg (423 lb) |
| Seat Height | 785 mm (30.9 inches) |
| Final Drive | Chain |
| Gearbox | 6 speed |
| Front Brake | Twin 296 mm (11.6 inches) discs with radial-mounted calipers with ABS |
| Rear Brake | Single 240 mm (9.44 inches) disc with ABS |
| Front Suspension | Showa separate function 41 mm (1.6 inches) inverted fork, non-adjustable |
| Rear Suspension | Pro-Link shock with adjustable preload |
| Wheels | Multi-spoke Cast Aluminum |
| Front Tyre | 120/70/17 |
| Rear Tyre | 160/60/17 |
| Lights | Full LED |
| Instruments | LCD (color) |
Core specs of the 2022 Honda CBR500R
Engine
Honda's 500 range has always been aimed at newer riders, and 35 kW (47 hp) is the maximum power allowed in some countries for riders with restricted licenses (A2 in Europe/UK, LAMS in Australia and New Zealand).
For this reason, Honda has left the engine virtually untouched from previous versions, just tweaking the mid-range torque a little, with peak torque of 43 Nm coming in at 6500 rpm.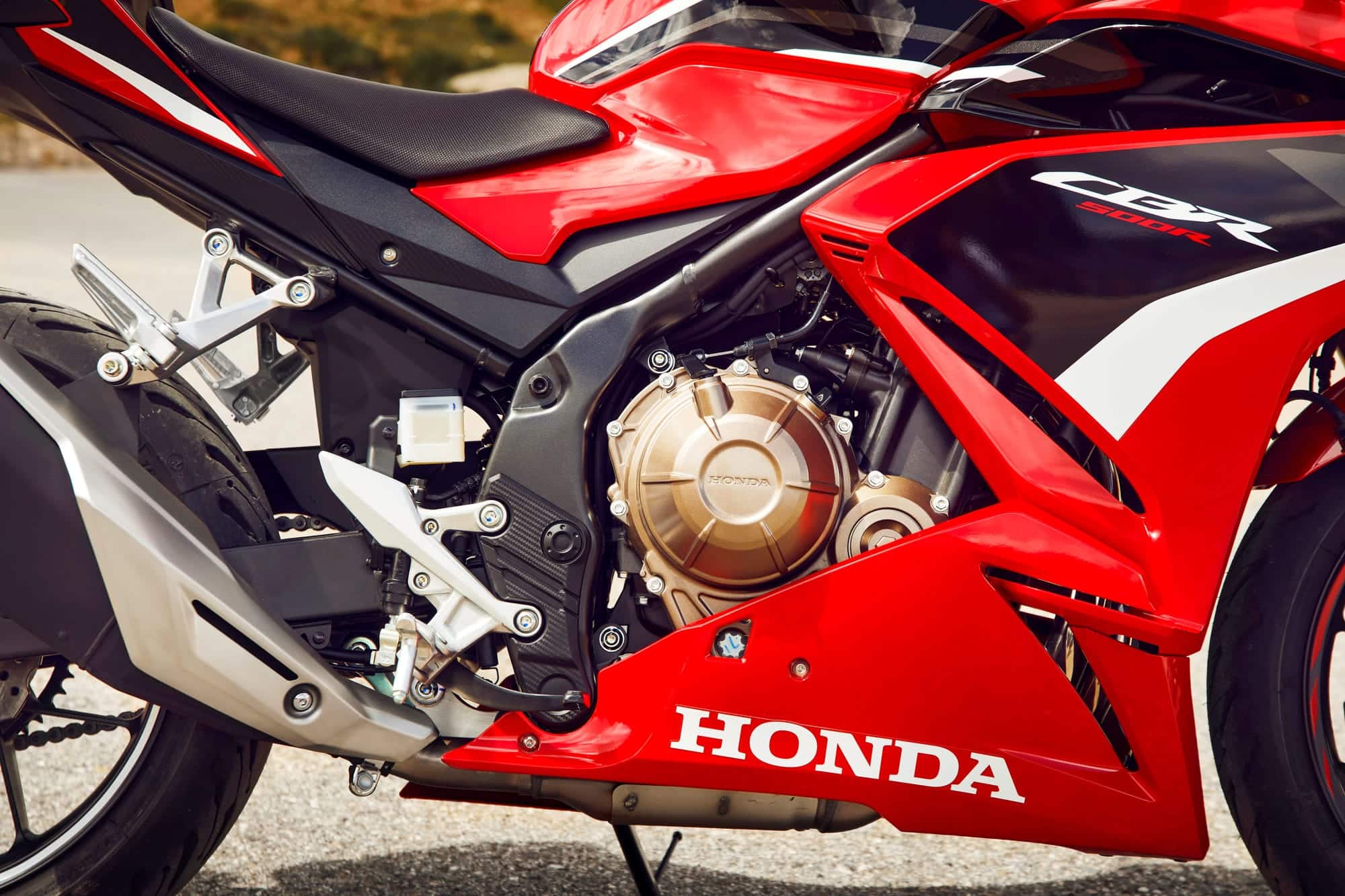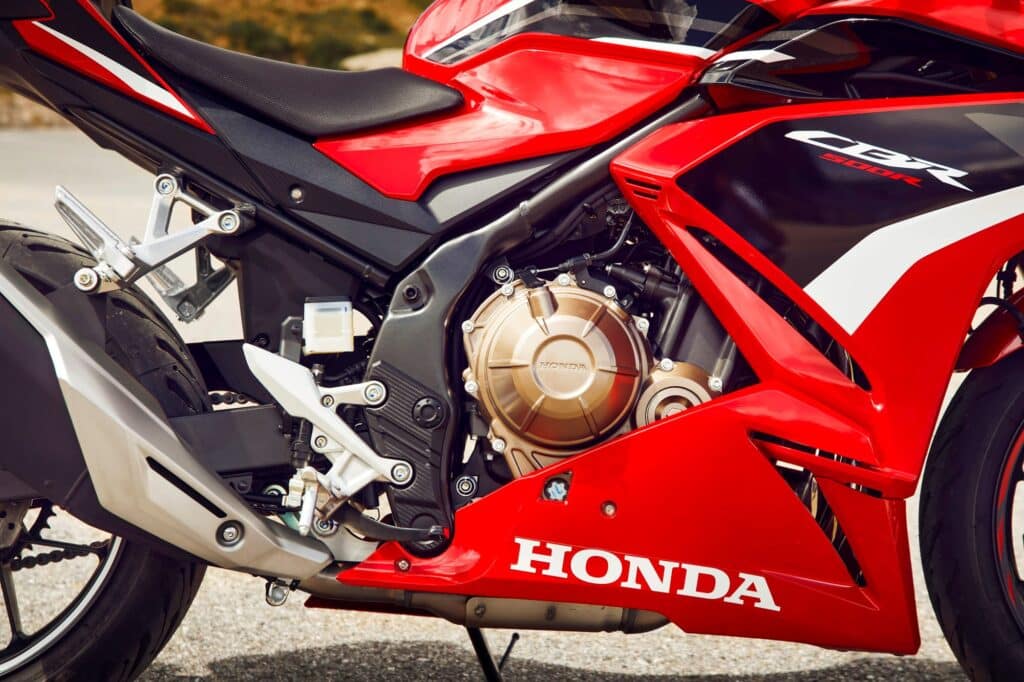 The parallel twin is quite advanced, with dual overhead cams and four valves per cylinder. The timing of the crankshaft is 180 degrees, meaning that in a 720-degree 4-stroke firing interval it goes "bang-pause-bang-pause-pause-pause-pause-pause". This is slightly different to for example the Yamaha MT-07, which has a 270-degree crankshaft, which leads to just a little more rasp and lumpiness.
See here for our list of motorcycles with 270-degree crankshafts.
The Honda CBR500R's engine is not a high-tuned high-revving racing engine. It's quite mild, with a compression ratio of a modest 10.7:1. So even with a sports exhaust on it, it doesn't provide a hair-raising growl, but rather a docile and predictable purr.
Suspension and Brakes
Honda gave the CBR500R a welcome upgrade to the suspension and brakes for 2022. Like high-end sport bikes, the 2022 Honda CBR500R gets upside-down front forks and twin disc brakes and radial-mounted calipers.
There wasn't too much wrong with the previous setup, but the new Showa Separate Function Forks are a step up in technology and look.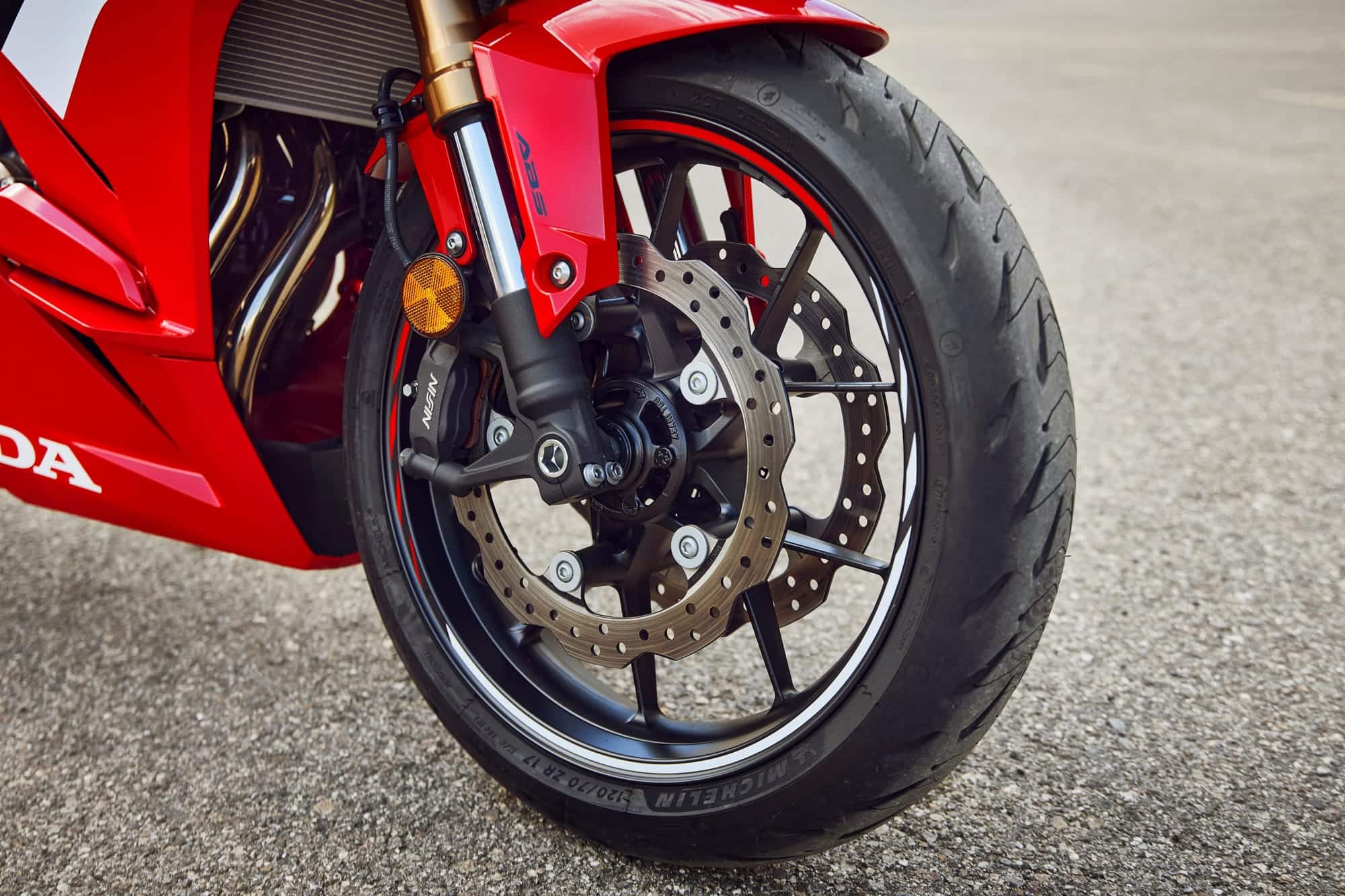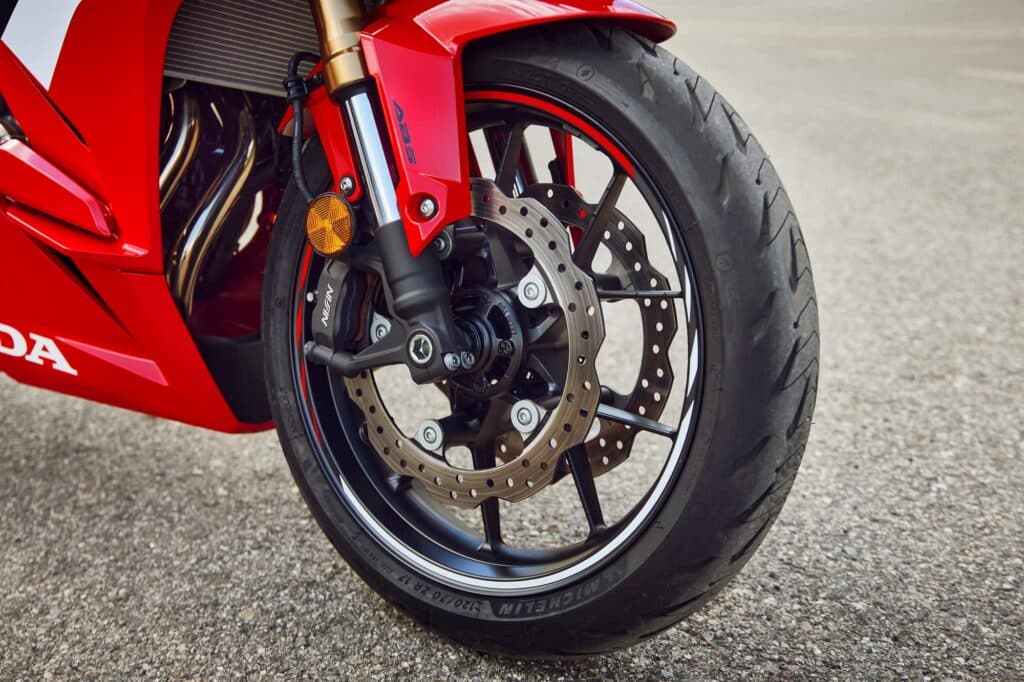 The Separate Function system puts the spring in one leg and the damping in the other fork leg. Splitting the damping and spring gives a good weight saving over conventional forks, although they are non-adjustable.
Slowing the Honda down became easier with the four-pot radial-mounted calipers clamping onto twin 296 mm discs, rather than the single 320mm setup of the past bike.
Equipment
The CBR500R is a thoroughly modern small sports bike. It has LED lighting all around, including the indicators (or turn signals for some of you). The 2019-2023 LCD instrument cluster is colour, and effective, but not as shiny as the TFT on the 2024+ model.
So the CBR500R is effective, but basic. You get a basic bike with everything you need, including a span adjustable brake lever. But not much more.
You can get heated grips as an optional extra — and depending on where you live, getting the factory option can be well worth the money. You can also choose a taller screen, a top box, a magnetic tank bag, and other accessories.
Styling
Honda has made the CBR500R look like its larger supersport siblings.
Wandering past a dealer, you can easily mistake the Honda CBR500R for a Honda Fireblade, particularly with its coloured USD forks and twin radial-mounted caliper setup.
The front looks aggressive, with sharp lines, smart LED lights, and even Fireblade-style winglets for added aerodynamics.
The paint is also just… wonderful. It doesn't feel or look cheap at all!
It looks especially glorious in HRC colours, available from 2024.
Honda CBR500R vs CB500X vs.CB500F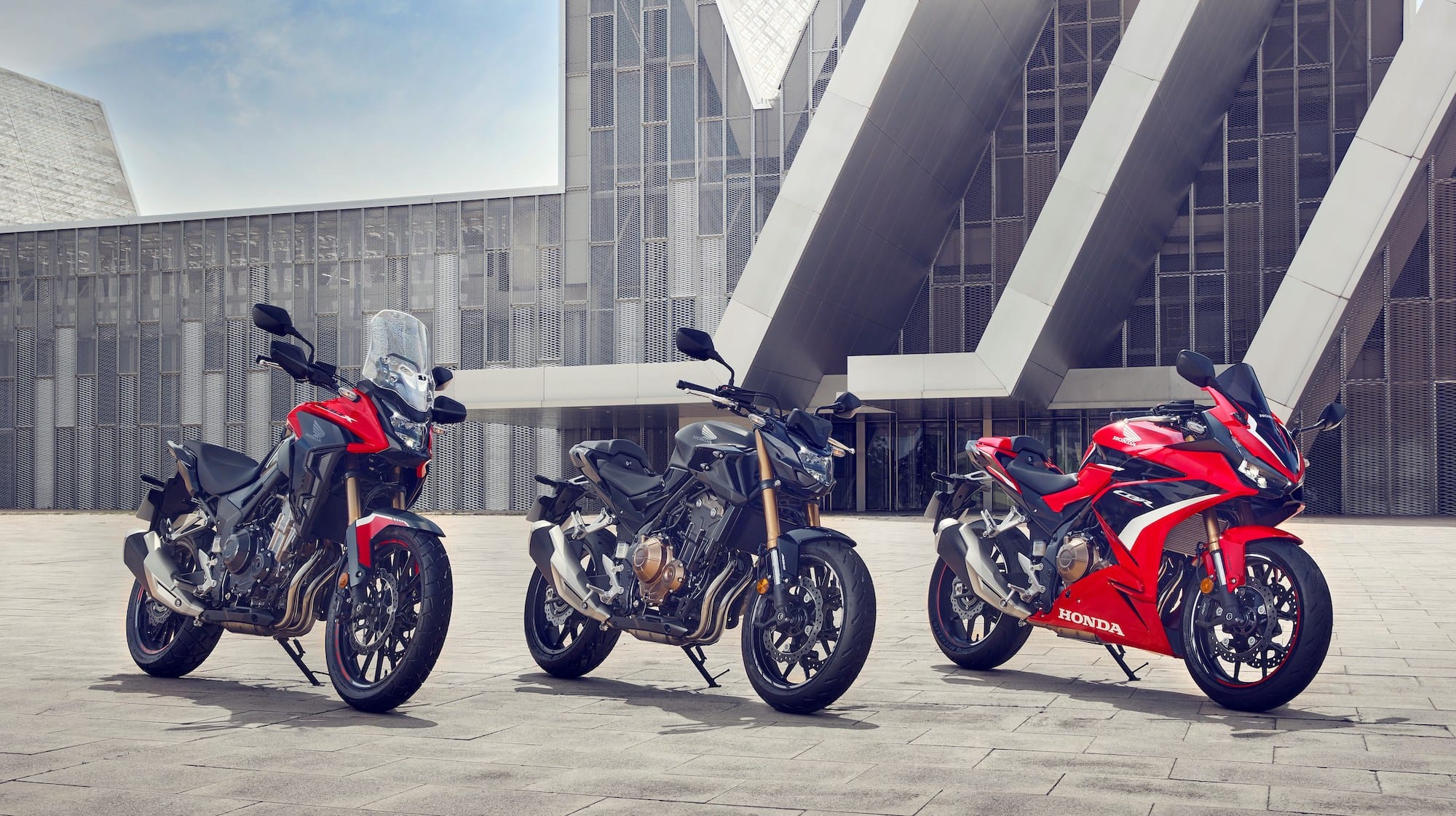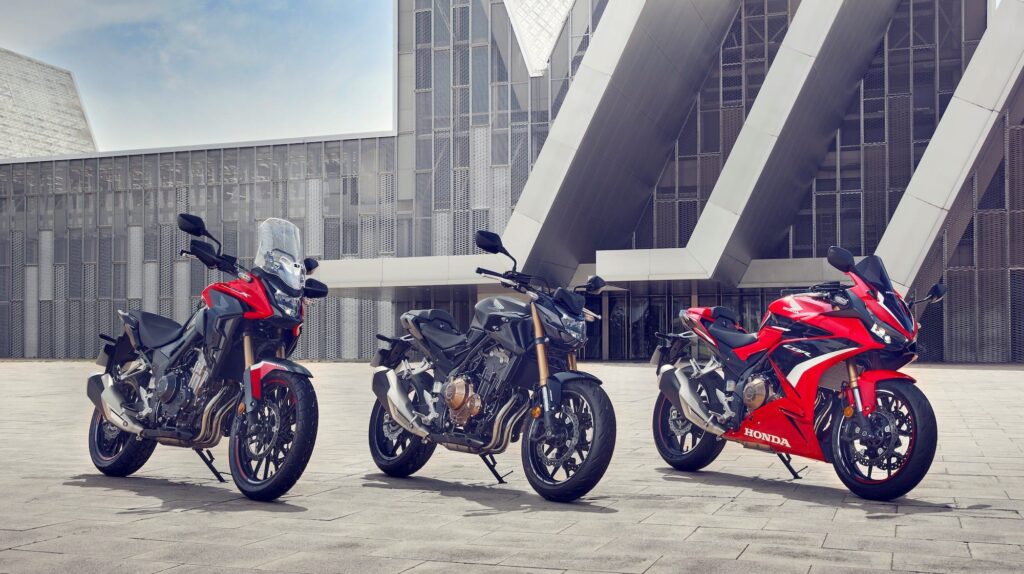 If you're considering buying a CBR500R, you're probably also looking at the CB500X and CB500F.
The 500 family of motorcycles share many components.
Firstly, the Honda CBR500R, CB500F, and CB500F have the engine in common. They all share the 471cc DOHC liquid-cooled 8-valve parallel twin and it's in the same state of tune.
But let's look at the differences for recent model years between the Honda CBR500R, CB500F, and CB500X.
Here's a summary table with the major differences:
| BIke | CBR500R | CB500X | CB500F |
| --- | --- | --- | --- |
| Ride position | Everyday Sport | Upright, adventure | Naked / Standard |
| Rake/Trail | 25.5 degrees / 102 mm / 4 inches | 27.5 degrees / 109 mm / 4.3 inches | 25.5 degrees / 102 mm / 4 inches |
| Front suspension | 41mm Showa SFF-BP, 110 mm / 4.3 inches travel | 41mm fork, 132 mm / 5.2 inches travel | 41mm Showa SFF-BP, 110 mm / 4.3 inches travel |
| Rear suspension | Pro-link shock, 120 mm / 4.7 inches travel | Pro-link shock, 135 mm / 5.3 inches travel | Pro-link shock, 120 mm / 4.7 inches travel |
| Front brakes | Twin 296mm discs, 4-piston radial calipers | Twin 295mm discs, 2-piston axial calipers | Twin 296mm discs, 4-piston radial calipers |
| Wheel sizes F/R | 17/17 | 19/17 | 17/17 |
| Seat height | 790 mm / 31.1 inches | 833 mm / 32.8 inches | 790 mm / 31.1 inches |
| Standard protection | Windscreen | Windscreen, hand guards | None |
| Fuel | 20.5 / 4.5 gallons | 21.5 L / 4.7 gallons | 20.5 / 4.5 gallons |
| Weight | 192 kg / 423 lb | 199 kg / 439 lb | 189 kg / 416 lb |
Comparing core specs of the 2022 CBR500R, CB500F, and CB500X
As you can see from the above, the Honda CBR500R and CB500F are nearly identical. In choosing the CB500F, you save a small amount of weight, and have fewer fairings.
But the Honda CB500X has some important differences. It's heavier, but has more protection. And it's more comfortable, but has a higher seat height. Finally, it has more suspension travel, but still an older conventional fork that's not Showa SFF-BP design.
One significant change that didn't make it to the CB500X is the radial-mounted calipers. Although it shares similar 296 mm discs with the other 500s, the calipers are axial mounted, not radial.
Despite the lower specification calipers, the CB500X brakes are a noticeable improvement over the old single-disc setup.
Riding the CBR500R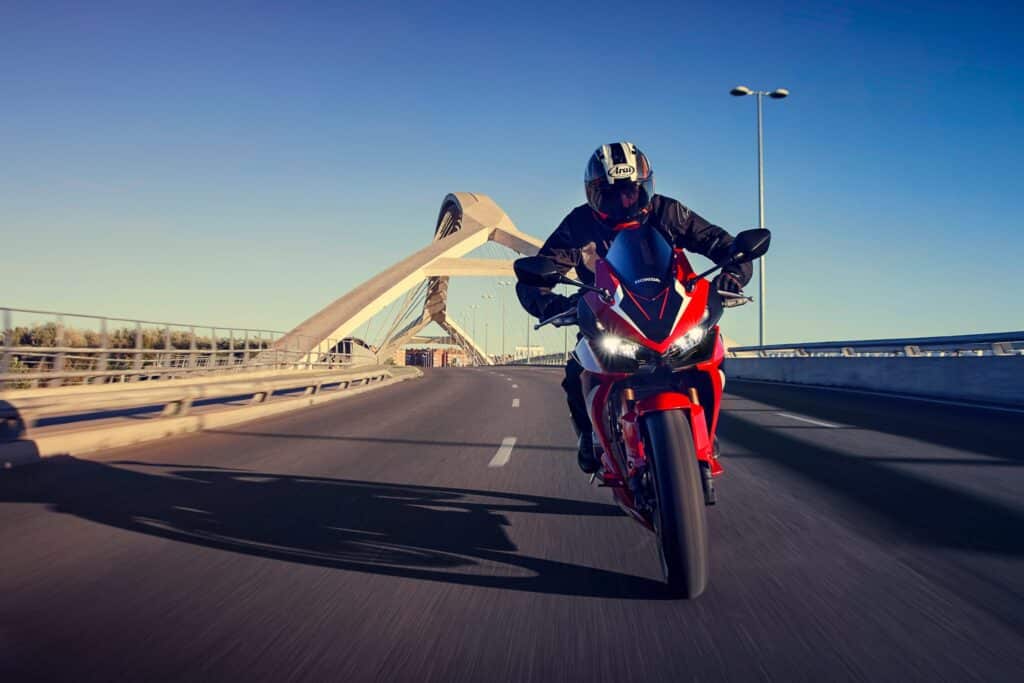 Until you've ridden one, it's a little hard to put the Honda CBR500R into a pigeonhole. It's sporty, but comfortable, and torque-forward, but not high-powered.
We'll attempt to go over detail what riding the Honda CBR500R is like.
Power
The first question many people have of the CBR500R is: is 35 kW / 47 hp enough? Or is the 471-cc parallel twin going to always feel like a small bike?
People who like sport bikes (us included) will be comparing the CBR500R with similar-capacity sport bikes, like the Honda CBR600RR for example. Obviously, they're not the same bike.
But what might surprise you is that up to near the CBR500R's 9500 rpm hard rev limit, the 500R feels just as fast as a 600cc sport bike.
What does this "feels" fast mean? Well, the acceleration rate is the same — it has the same seat-of-the-pants thrust of about 1 G. In fact, down low (around 3-6000 rpm), the 500R is even slightly faster to launch, and easier to get off the line (without having to dump the clutch at high revs)
Where it feels decidedly different is that on the Honda CBR500R, the party is over by around 9000 rpm. That's just where the CBR600RR is getting started!
If you're used to riding a high-revving sport bike, and pin the throttle on the CBR500R waiting to see what happens, you'll realise you have to shift after just over a second. You'll think "What, that's it?"
But if you short-shift sport bikes anyway, it'll feel normal.
So, pick your poison. Do you ride between 3-8000 rpm, or between 6-14000 rpm? The answer dictates what kind of bike you'd like to have.
Comfort
While Honda designed the CBR500R to look like a sport bike, it's actually pretty comfortable.
You're sitting fairly upright, with only a slight lean towards the bars, and although your legs are tucked up a little, it's not too uncomfortable — unless you have issues with bending your knees.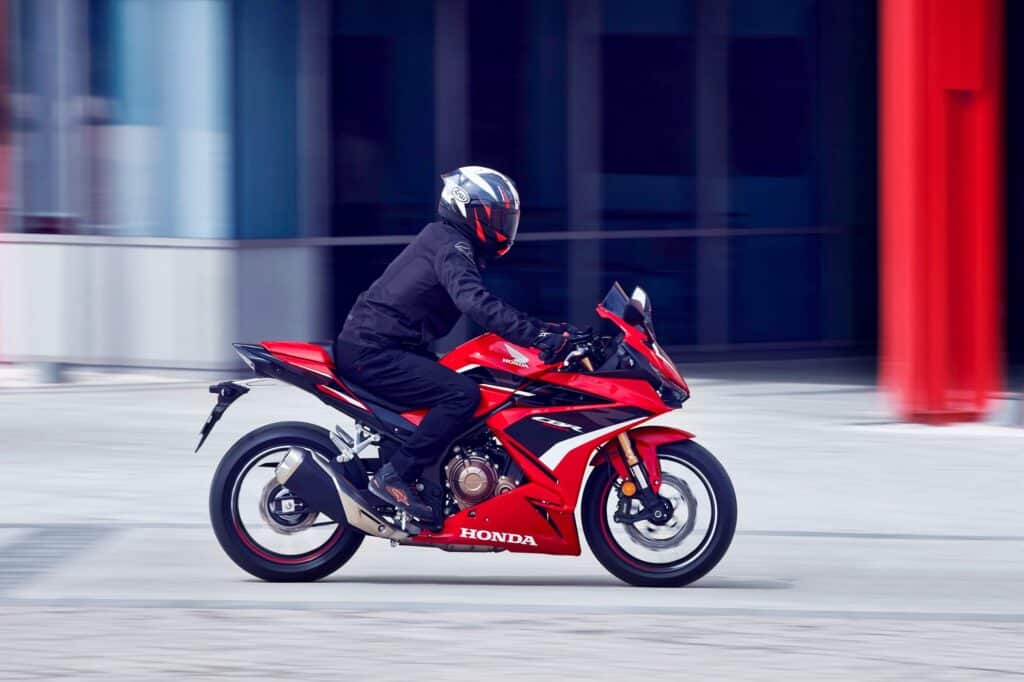 The Honda CBR500R feels like a bigger bike, partly due to the weight and the spacious seating arrangement. In fact, it is a full-sized bike.
Being a full-sized bike means that compared to most of its rivals, the CBR is quite heavy. Yes, this extra weight slightly affects the performance, but it also makes the bike feel planted on the road. It's confidence-inspiring.
What's the CBR500R like when riding it in different conditions?
First, let's look at commuting. No doubt about it, the mid-sized CBR500R works very well as a commuter.
Thanks to the quality Honda build and a frugal engine, the Honda CBR500R makes a great daily ride. It's powerful enough to keep up with traffic on the main roads and light enough to filter through traffic, where allowed — as well as being narrow enough to filter through traffic at the lights.
Add in a comfortable riding position, excellent fuel consumption averaging over 3.5 litres / 100 km (67 mpg US) and the Honda CBR500R is a near-flawless commuter, unlikely to ever let you down unless you completely omit to maintain it.
Secondly, fast Riding. OK, the CBR500R isn't going to set anyone's hair on fire. But it's not slow.
Although there is only 35 kW / 47 bhp on tap, the Honda CBR500R revs out nicely and encourages you to use the throttle. Riding at highway/motorway speed limits is not a problem (depending on where you live!), with enough power left to quickly accelerate and overtake, though you might want to drop a gear.
Top speed on the baby CBR is around 180 km/h or 110, so not earth-shattering, but quick enough for most — even on track days. Of course, the last 20 km/h don't arrive too quickly.
The well-designed fairing and good screen give you reasonable protection from the windblast at speed, allowing you to cruise at high speed for long periods.
Thirdly, in the twisties. For many, us included, the main reason for riding is to blast through twisty mountain back roads, imagining we're GP riders! Fortunately, the Honda CBR500R is totally capable of back-roads fun.
If you ride fast sweepers where you regularly exceed posted speed limits, maybe the CBR500R is NOT for you. But if you ride tighter roads, where your speeds are between 60 and 140 km/h (40 and 90 mph) for example, the CBR will feel more at home.
The new suspension on the 2022 Honda CBR500R has definitely improved the handling compared to previous versions, but most riders who don't expect too much will find the suspension on any generation of CBR500R more than adequate.
The Honda CBR500R feels stable and easy to turn, turning in predictably, much like any mid-range Honda motorcycle (like my Honda VFR800 8th gen I had for a while). If you really start to push on, though, then you'll find the suspension's limits — but few people will be getting a knee down on the CBR500R (and even fewer with the standard foot pegs).
Fourthly, touring. You can tour on any bike (people have toured the world on a Honda C50)! and the Honda CBR500R is no exception. Its roomy seating position makes all-day riding possible, although the seat is a little hard after a couple of hours. With fuel range of upward of 250 miles or 400 km, you won't need to stop for fuel too often.
Honda also has tons of optional touring extras for the Honda CBR500R, like 39 or 48 liter top boxes and heated grips. You can also get aftermarket pannier kits available from manufacturers such as Givi and Shad.
Finally, track riding: Where the single-R will lose out is on track. The extra weight it carries compared to the KTM RC390 and the Kawasaki Ninja 400 means the smaller bikes can keep up with and pass the slightly heavy Honda — all other things equal, and everyone at full throttle on the straight.
You'll still have a great time on the track, but you won't be setting any track records. If the track is your focus, and you're not constrained to the CBR500R (i.e. you don't already have one!), then you have better options elsewhere.
Service and Maintenance
The Honda CBR500R has a relatively simple parallel-twin engine in a low state of tune. So service intervals are quite wide and also low cost — another advantage of mid-range motorcycles.
First service
The first service is due at 1000 km (600 miles) and includes a general look over the machine, tightening bolts, etc., plus oil and filter change.
Unusually, you also have to do a valve clearance inspection, which will add some labor time to the cost (removing the fairings and tank).
Regular Service Intervals
Regular servicing is due every 6400 km (4000 miles), but mostly this is just inspections. At 12800 km (8000 miles), you change the oil and filter, too.
At 19200 km (12000 miles) you change the air cleaner.
The main service is every 25600 km (16000 miles), at which point you do all the above as well as do a valve inspection and change the spark plugs.
See here for more.
Alternatives to the Honda CBR500R
If you're looking at the CBR500R, then apart from other 500-class bikes, you might be looking at other small motorcycles from the competitors.
The three main alternatives to the CBR500R are the Kawasaki Ninja 400, the KTM RC390, and the Yamaha YZF-R3.
Here are their core specs in a nutshell.
| Part | Honda CBR500R | Kawasaki Ninja 400 | KTM RC 390 | Yamaha YZF-R3 |
| --- | --- | --- | --- | --- |
| Engine | 471cc parallel twin | 399cc parallel twin | 373cc single | 321cc parallel twin |
| Peak power | 35 kW (47 hp) @ 8600 rpm | 36 kW / 49 hp @ 10000 rpm | 32 kW (44 hp) @ 9000 rpm | 31 kW (42 hp) @ 10750 rpm |
| Peak torque | 43 Nm (32 ft-lb) @ 6500 rpm | 38 Nm (28 ft-lb) @ 8000 rpm | 37 Nm (27 ft-lb) @ 7000 rpm | 30 Nm (22 ft-lb) @ 9000 rpm |
| Front brake | Twin 298mm discs, twin 4-piston calipers | Single 310mm disc, 2-piston caliper | Single 320mm disc, radial 4-piston caliper | Single 298mm disc, 2-piston caliper |
| Front suspension | 41mm Showa SFF-BP inverted fork, non-adjustable | 41mm conventional fork | WP 43mm USD, compression & rebound adjustable | 37mm inverted fork, non-adjustable |
| Rear suspension | Single shock, non-adjustable | Back-link shock with adjustable preload | WP Single shock, preload / rebound adjustable | Single shock, adjustable preload |
| Ride aids | ABS, slipper clutch | ABS, slipper clutch | Cornering ABS, traction control, slipper clutch | ABS |
| Wet weight | 192 kg / 423 lb | 166 kg / 366 lb | 165 kg / 364 lb* | 170 kg / 375 lb |
Comparing core specs of the Honda CBR500R, Kawasaki Ninja 400, KTM RC 390, and Yamaha YZF-R3. * KTM quotes 155 kg, but this is with an empty tank. Weight here is based on the 11L tank being full.
All these bikes have similar power output and are thus generally comparable, though each has unique characteristics. Most notably, the KTM has a single-cylinder engine, whereas the others all have parallel twins.
Kawasaki's baby Ninja 400 is the closest in terms of style and specification. The CBR and Ninja both have liquid-cooled parallel twin engines, producing similar amounts of power (give or take a horsepower or two).
But the Honda peaks in power at 8500 rpm, and the Kawasaki at 10000 rpm, with a couple of grand of revs of overrun.
So even though the power spec is similar, the Kawasaki's engine feels livelier. It revs higher, and the bike is much lighter weight.
Both the Kawasaki Ninja 400 and Honda CBR500R are designed to look like both mirror their bigger supersport siblings, and at a quick glance, the CBR500R could easily be mistaken for a Fireblade, just as the Ninja 400 looks like a 636 or 1000, particularly when it's in KRT livery.
The Ninja scores highly against the CBR in price, being over $1,000 cheaper than the Honda in the US, with similar price differences in most markets. For that price, you miss out on the upside-down forks and radial-mounted calipers of the CBR, but in road riding terms, you probably won't miss them.
The KTM is a different prospect. Despite giving away a cylinder and 100 cc in engine capacity, the RC390 lives up to the company's reputation for making brilliant engines. The 371 cc single loves to be ridden hard, and with a lower curb weight than the rather portly CBR, the KTM has no problem keeping up or passing the Honda.
This advantage is highlighted even more by the higher specification of the KTM. It comes standard with traction control, cornering ABS (as of 2022), and with much more suspension adjustability.
The KTM is designed to bring out the hooligan in you, and you can't help but have a great time on the orange and black KTM.
See our guide to the latest KTM RC 390 here.
Finally, there's the 2022 Yamaha YZF-R3.
The R3 is another parallel twin-powered bike. It's a lot lower capacity, but thanks to revving quite high, it makes just a shade less power with a peak of 31 kW (42 hp) at 10750 rpm.
The R3 has just a single front disc. But it's much lighter in weight, so the single disc is fine! The R3 does have an upside-down fork though, and it's adjustable for preload.
The R3 has very wide service intervals of 26600 miles or 42000 km. It also has the typical Yamaha reputation for rock-solid reliability. Partly for this reason, it's a great choice for a track bike.
Why not the Honda CBR600RR?
Some people may be wondering whether the Honda CBR600RR is an alternative to the CBR500R. In terms of name, the bikes sound very similar. But in reality, they're very different — the CBR500R borrows from the CBR600RR's branding, but it's the RR that's the star of the show.
See here for our buyers guide to the Honda CBR600RR.
The Honda CBR600RR is much more powerful than the Honda CBR500R — around twice the peak power, despite having only about 25% more displacement. It is based on a four-cylinder engine that revs high and isn't as torquey down low as the engine in the CBR500R.
But the 600 also has very competent suspension, brakes, ride electronics, and aggressive ergonomics, making it a formidable track bike and less suitable for everyday use. It's also a LOT more expensive (especially from 2021, with the new generation with an IMU becoming the latest model, unfortunately unavailable in most markets).
Of course, both bikes do overlap in a lot. Aside from name, they're similar in weight, visual style, and general useability. You can do a lot of things with both bikes — commute, ride out on fun roads, do track days, or even tour (less common on the CBR600RR, but still done).
This doesn't change that they're very different bikes! A quick ride on the RR will tell you the story.
So don't be fooled by the numbers 500 being nearly as much as 600. The CBR500R is an everyday mid-spec bike, but the CBR600RR is a dedicated sports machine designed for lap times.
Why not the 650s?
Some also might be wondering: Why not compare the CBR500R with the Kawasaki Ninja 650 and the Suzuki SV650?
Because the Honda CBR500R is deliberately kept down to 35 kW / 47 hp peak power so that learner riders can ride it (in Europe, Australia, New Zealand etc.), it makes more sense to compare it to other bikes deliberately kept within that limit.
Some might point out that in some markets, there are low-power versions of all the 650 bikes, just to confuse us!
But then, another way of looking at it is that those bikes are competitors for another of Honda's bikes, the Honda CBR650R — another bike I really love (it may seem I love all bikes, but believe me, there are few that I don't!).
It's definitely worth noting that the Honda CBR650R in restricted form is an "alternative" to the Honda CBR500R. The brief CBR650R is better in most ways — but isn't necessarily faster. And it's quite a bit more expensive.