In February 2022, Yamaha announced a new variant on the Yamaha Ténéré 700 — the "World Raid" edition.
The Yamaha Ténéré 700 (which fans affectionately call the T7) is already a wildly popular middleweight adventure sports motorcycle. It's not the fastest, nor the most fully-featured — but it's fun, super reliable, and easy to ride in a wide variety of conditions.
It depends a lot on where you live and how you like to ride, but the T7 suits the way many people ride most of the time — highways (but not all the time), dirt roads and back roads, and then occasionally some single track.
In 2021, Yamaha released the Ténéré 700 Rally edition. This was a more off-road focussed bike — with a rally seat and off-road gear (heavy duty skid plate, off-road grips, better chain and radiator protection, and an Akrapovič silencer).
Considering how popular the Ténéré 700 is, it's no surprise that Yamaha has released another variant. The Yamaha Ténéré 700 World Raid edition is the same fundamental bike but better equipped for long-distance adventure travel.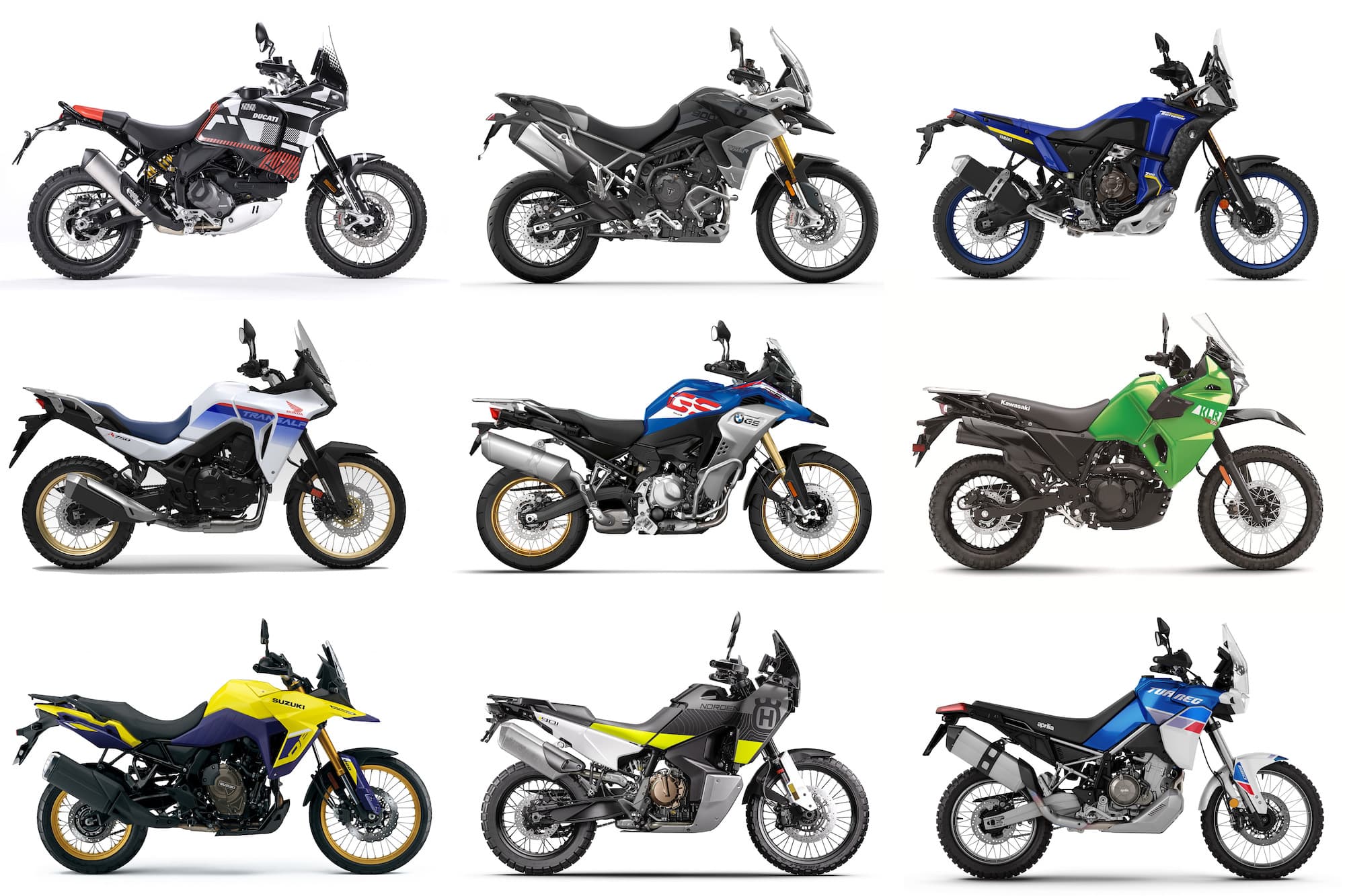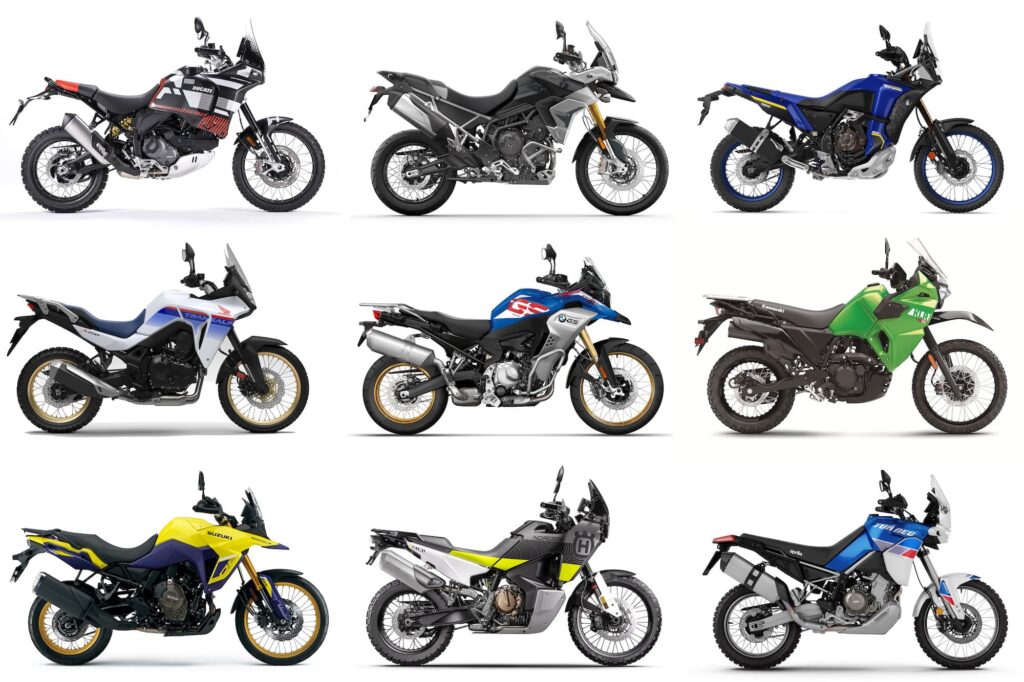 Many riders make modifications like these already. But it's hard to fit some items (like a long-range tank) while keeping the bike looking aesthetically pleasing.
Here's how the standard Ténéré 700 compares to the World Raid edition in detail below.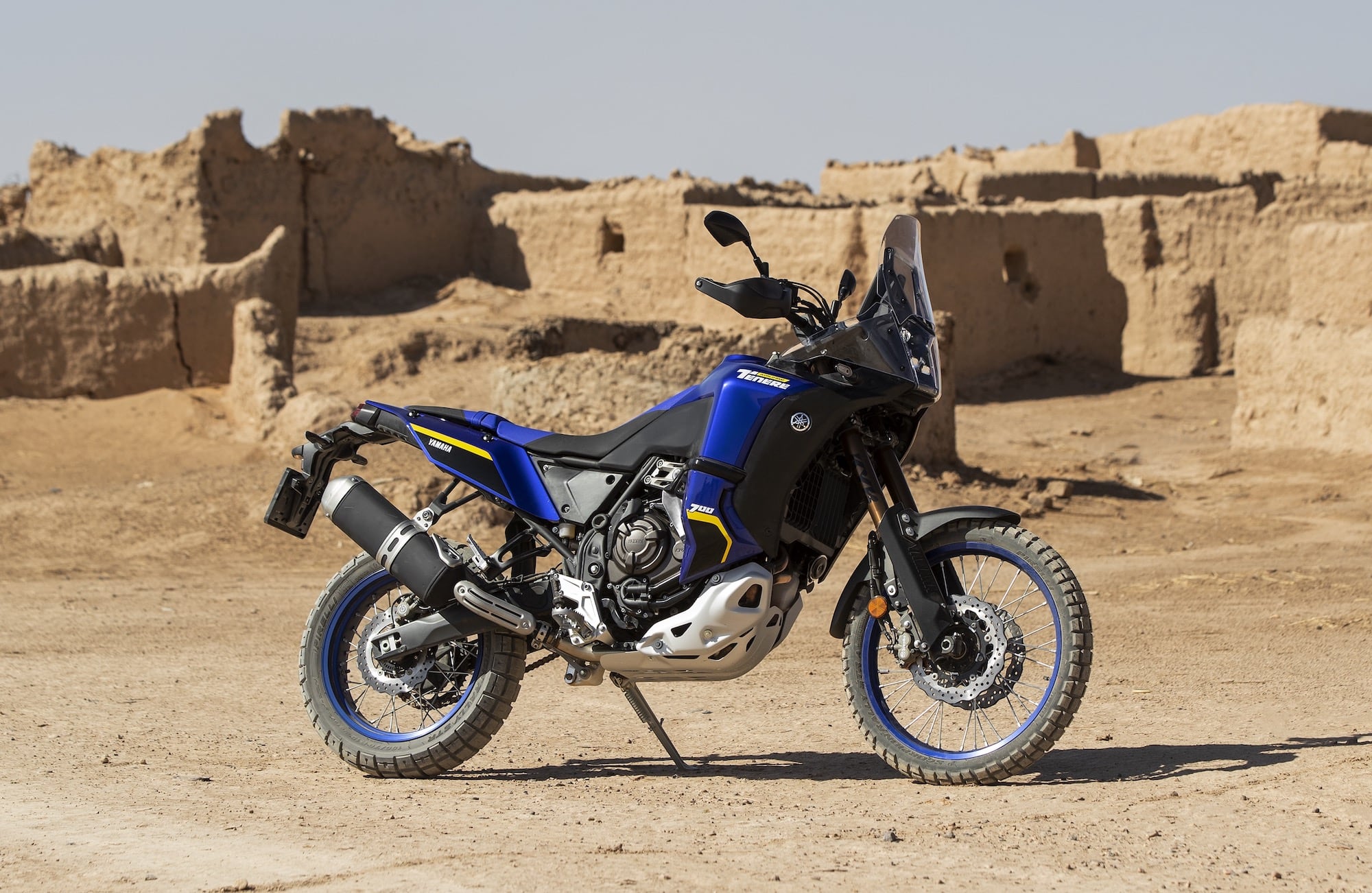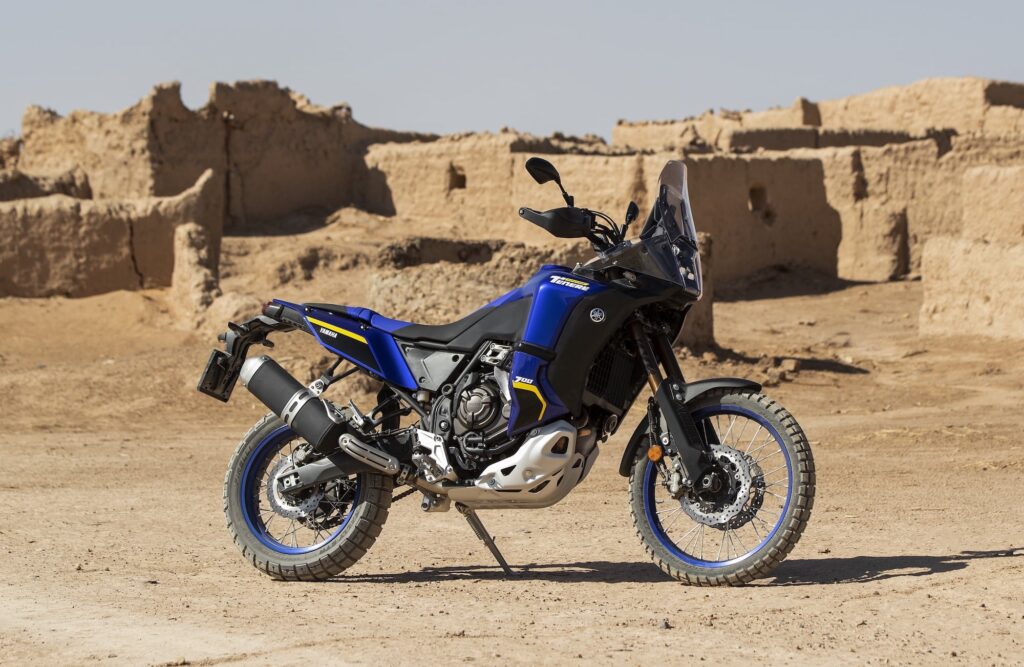 Are you obsessed with motorcycles?
Well, I am. That's why I created this site — as an outlet. I love learning and sharing what others might find useful. If you like what you read here, and you're a fraction as obsessed as I am, you might like to know when I've published more. (Check the latest for an idea of what you'll see.)
Ténéré 700 World Raid and Standard — Shared Features
Before going into how they're different, let's quickly assess how the base model of the Ténéré 700 is the same as the World Raid.
In a nutshell, the World Raid and basic edition of the T7 both have the same engine, chassis, brakes, and lights (mostly).
Both the standard model and World Raid edition of the Yamaha Ténéré 700 share the "CP2" engine — a liquid-cooled 689 cc parallel twin with dual overhead cams and four valves per cylinder.
The engine doesn't change in spec. In both motorcycles it makes peak power of 53 kW (72 bhp) at 9000 rpm, with peak torque of 68 Nm (50 lb-ft) at 6500 rpm. It's a good middleweight amount of power that's ample for highway passing — with a downshift — and won't overpower you when you have to go slow.
It's the same engine we first saw in the MT-07 (well, then the FZ-07 in the US). It has barely changed, other than in minor evolutionary terms to comply with emissions standards.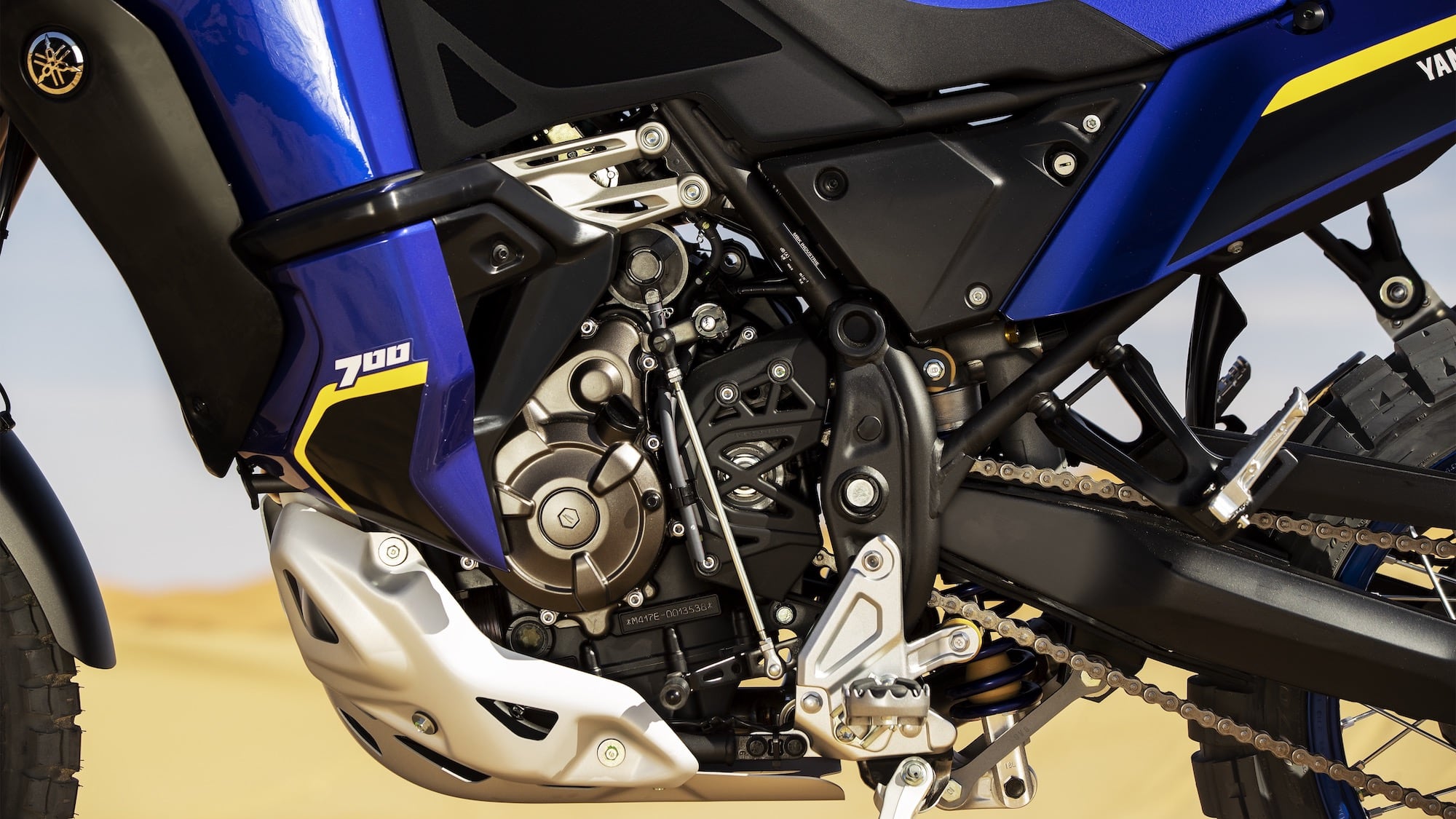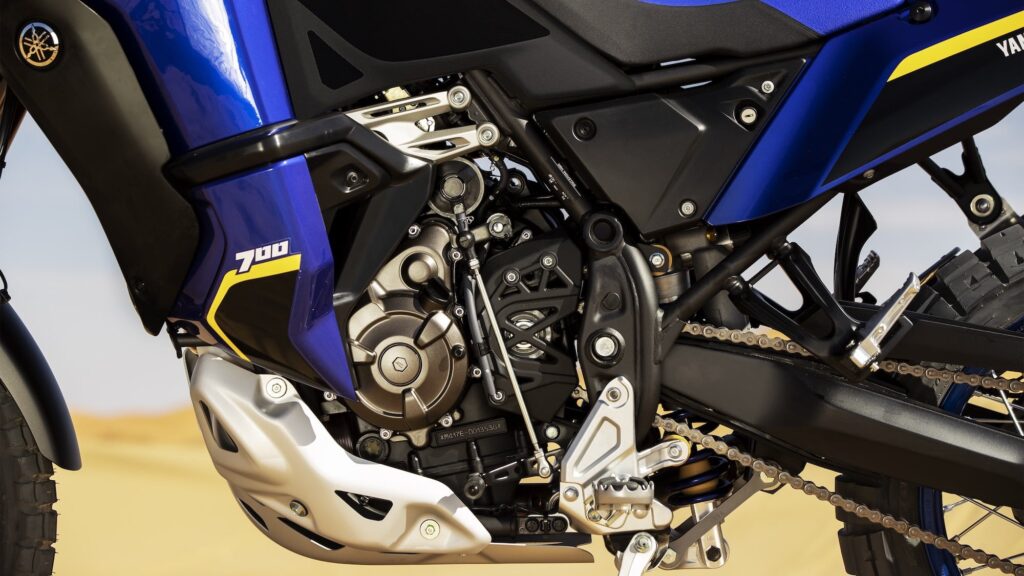 Both bikes also have the same front and rear brakes. At the front there are dual 282 mm wave rotors with Brembo 4-piston calipers, and at the rear there's a 245 mm wave rotor with a Brembo 34 mm 2-piston caliper.
The Ténéré 700 bikes both also have aluminium spoked wheels and Pirelli Scorpion Rally tyres — a 90/90-21 front and a 150/70-18 rear.
In terms of suspension, both the base T7 and World Raid have a 43 mm KYB fork and a KYB shock. But there are some differences in the internals.
Ténéré 700 base model and World Raid Spec Differences
Here are the key spec differences between the Ténéré 700 World Raid and the base model.
More details will be below.
Part
Base model
World Raid
Fuel tank capacity
16 L (4.2 US Ga, 3.5 UK Ga)
23L (6.1 US Ga, 5.1 UK Ga)
Seat
Standard single-piece, 880 mm (34.5 in) height
Flat 2-piece seat, 890 mm (35 in) height
Front suspension
* 210 mm travel 43mm KYB forks
* Adjustable rebound + compression damping (no preload)
* 230mm travel 43mm KYB forks, Kashima coating on outer tube, lightweight internals
* Preload adjustability as well as rebound + compression damping
Rear shock
* 200mm travel
* Remotely adjustable preload, compression + rebound damping
* 220mm travel, piggyback oil reservoir, aluminium body.
* Also fully adjustable.
Steering damper
None
Öhlins adjustable steering damper
Screen
Standard screen
Higher windscreen (15mm taller)
Display
LCD
TFT 5-inch with multiple displays, Bluetooth
Ride aids
Switchable ABS
3-mode switchable ABS
Core spec differences between the standard and World Raid editions of the Ténéré 700
Some other minor differences (also mentioned below)
Bluetooth connectivity
USB port to charge your devices
Larger Dual Fuel Tanks (23L capacity)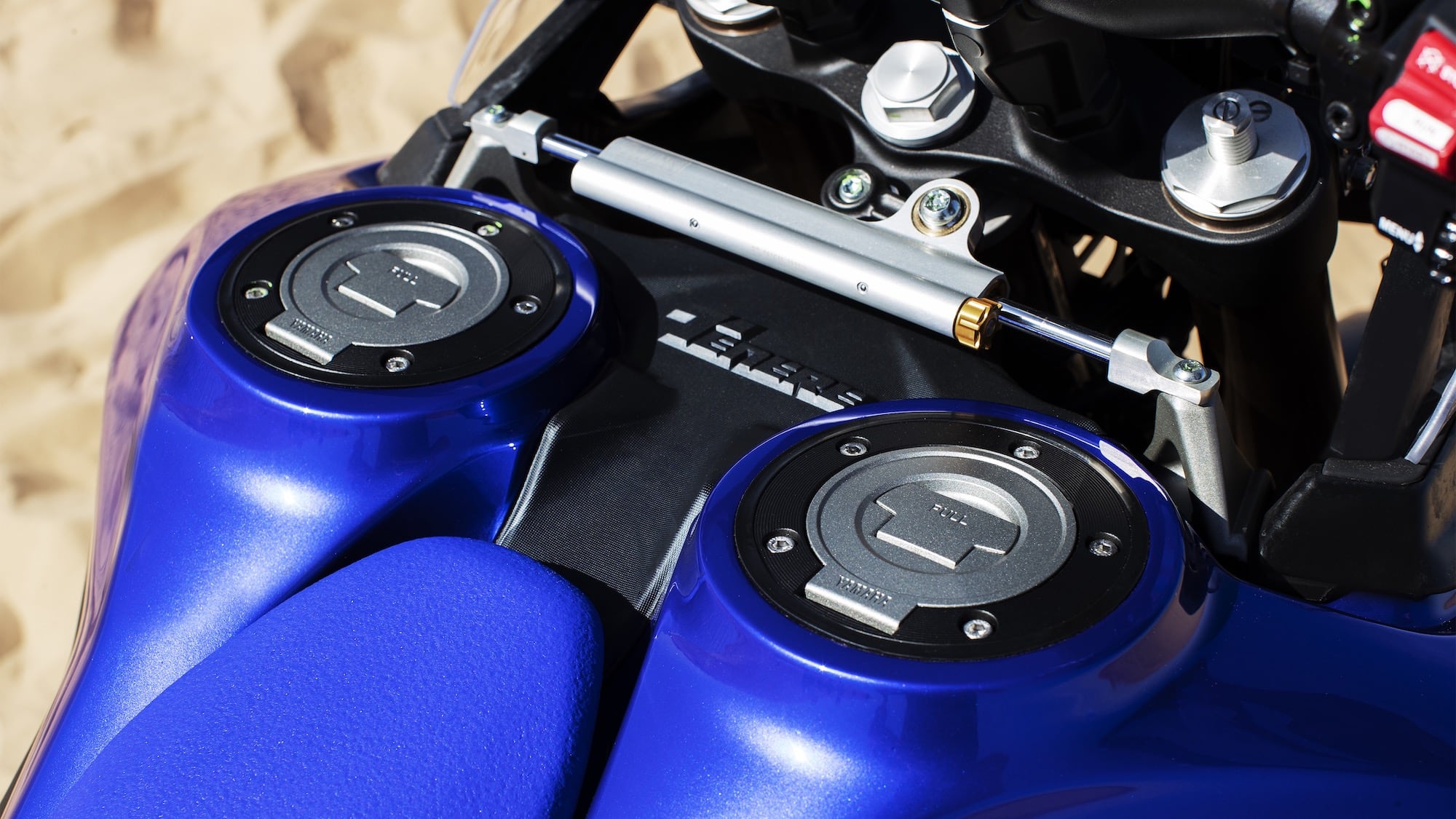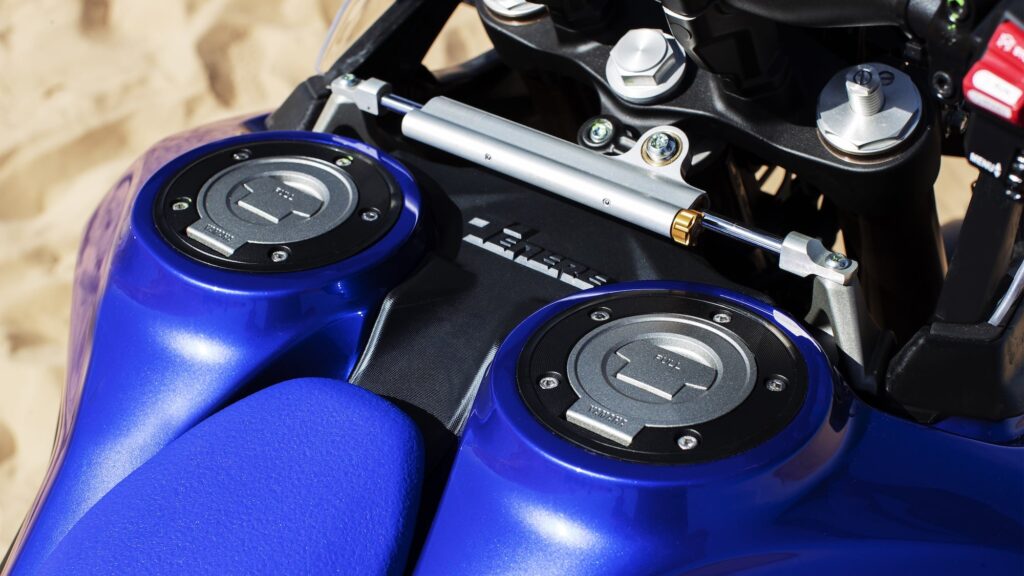 The World Raid edition of the Ténéré 700 adds almost 50% in additional fuel capacity, giving the new bike a range of "up to 500 km" (310 miles) per Yamaha under typical conditions. (This would translate to 21.7 km / L, or 51 mpg, which is a reasonable estimate — many riders report around 55 mpg on Fuelly.com.)
The World Raid actually has dual tanks. Each tank has its own refill cap at the top. This has a number of benefits:
The tanks are positioned lower, giving the bike a lower center of gravity than otherwise (similar to the existing T7 with one 16-litre tank)
The fuel doesn't move around as much laterally, giving more stable weight distribution while cornering
While the larger tank on the new T7 will obviously add fully-fuelled weight, it doesn't seem to add much bulk, as you can see from the pic of the new World Raid below.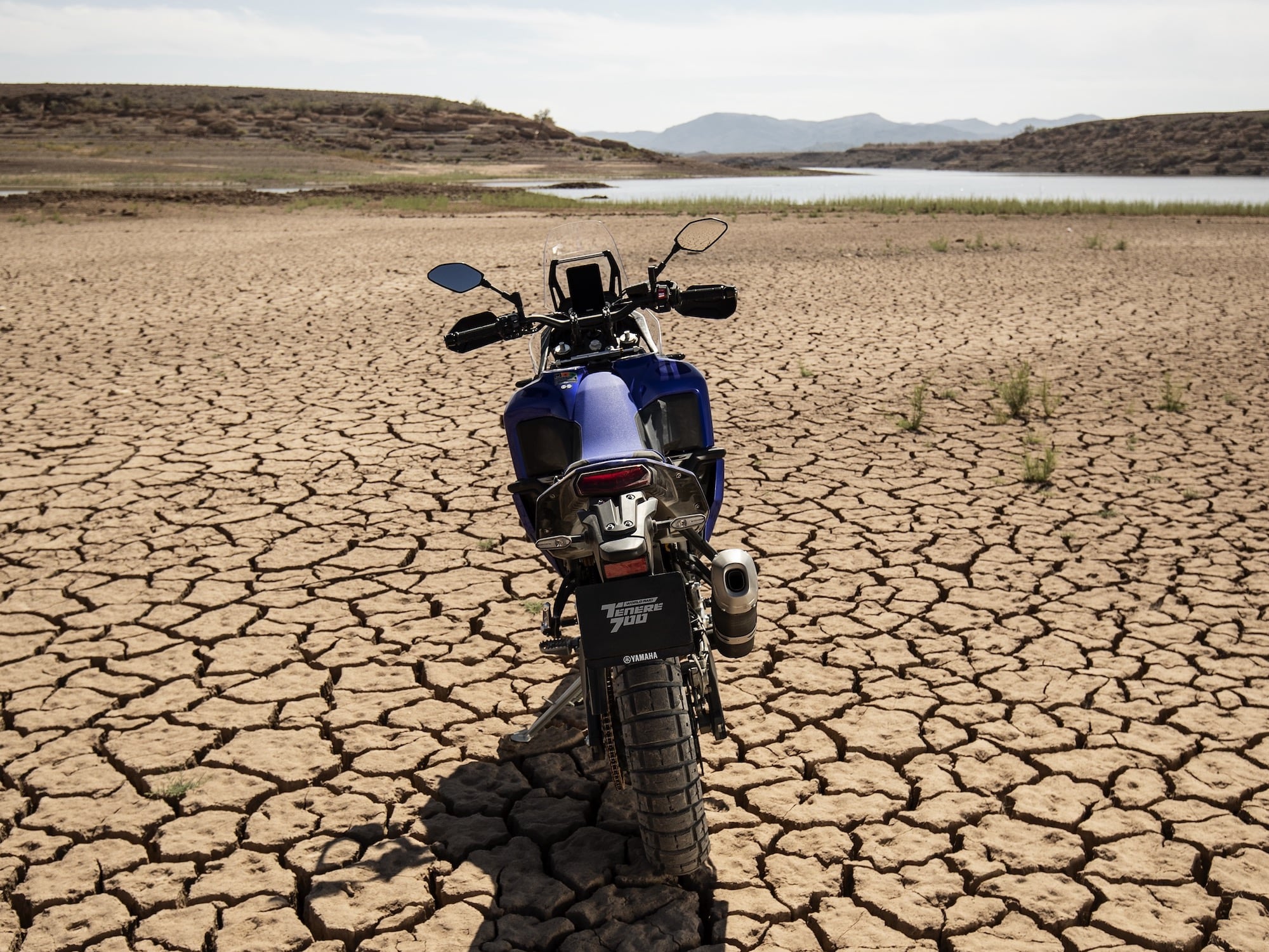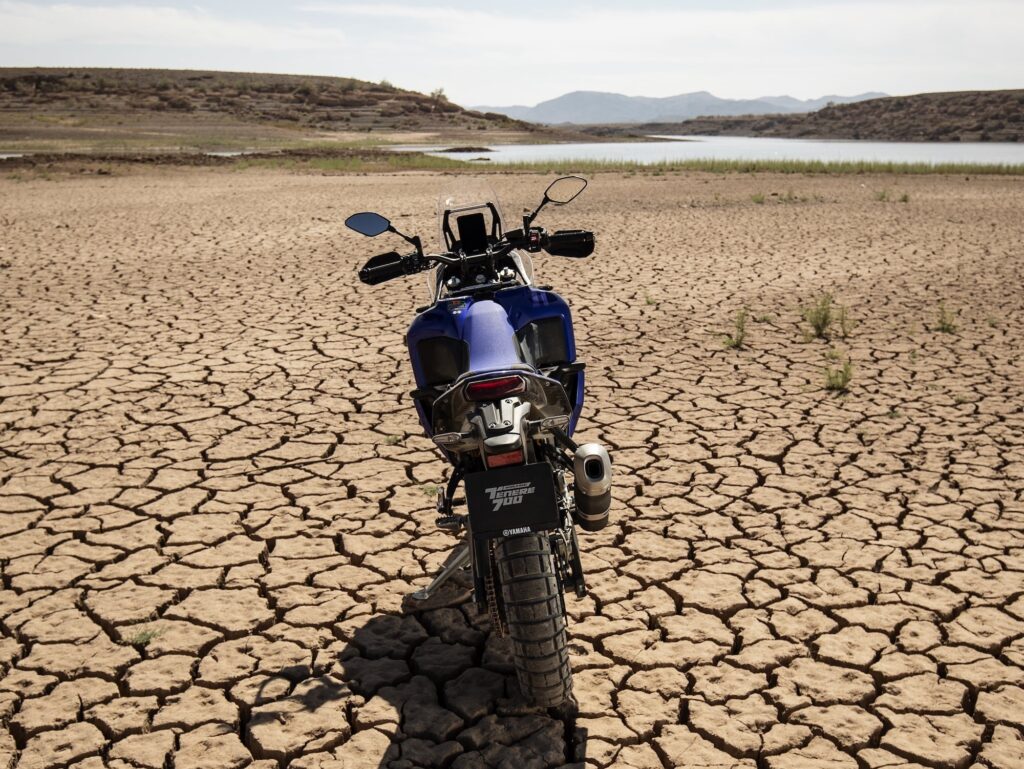 Long-range adventurers typically carry backup fuel, either in their luggage in fuel canisters, or in bolted-on tanks, and so weight is not the determining factor. So it's nice to have that feature pre-installed.
Higher-spec suspension (More Travel, Adjustability)
The Yamaha Ténéré 700 has always had competent suspension for its class.
The base model Ténéré 700 has a 43mm upside-down KYB fork with 210mm of travel. On the base model, you can adjust compression and rebound damping, but not spring preload.
But the Ténéré 700 World Raid has a further upgraded front fork. It's still a 43mm upside-down KYB fork, but it now has 230mm (20mm more) of travel. Yamaha used lightweight materials for the internals, to keep unsprung mass down despite the longer travel.
Yamaha also added a "resilient Kashima coating" on the outer tube, also giving it a dark bronze colour. This is a hard anodizing coating that reduces the propensity for corrosion, nicks and scratches, and also reduces friction, which both increases the performance of the fork and extends its life.
The Ténéré 700 World Raid's fork also has adjustable preload, unlike the base model. (See the photo above in the section on the fuel tanks for the fork preload adjusters.)
Yamaha also updated the rear shock on the Ténéré 700 World Raid, also adding 20mm of travel and adjusting the characteristics to suit the new fork.
Yamaha also gave the new shock an aluminium body (for better heat dissipation to cope with aggressive riding) and a rubber bumper to help with absorbing energy from bottoming out.
The T7's suspension travel range sits between the travel you typically get on an adventure sports bike (usually in the 150mm / 6 inch zone) and what you get on a small-capacity dual sport or trail bike (around 300 mm / 12 inches). This is also true of the World Raid edition — though with the extra 20mm, it's inching (get it?) towards dirt bike range.
The new Ténéré 700 World Raid also has an Öhlins adjustable steering damper. This lets you set the steering to the amount of feel and feedback you prefer, depending on the terrain you ride.
New Colour TFT display
The new TFT display is a nice up-market improvement for the World Raid edition. The standard T7 has an LCD.
Apart from looking nicer, the TFT display has three different themes, including "Street" (which has a traditional circular tachometer), "Explorer" (which focuses on the bike's running data), and "Raid" (which focuses on helping a rider reach waypoints within a certain time period).
The World Raid model's TFT display also connects to your phone via the MyRide app. And yes there's a USB charging port so you can keep your phone connected as Bluetooth drains the battery.
I predict Yamaha will make the TFT available on future models of the standard Ténéré 700 — it's just the current market direction, and the Ténéré 700 is already not a cheap motorcycle with other premium bits installed as standard.
(The only con to the TFT, if I may editorialise, is that the new TFT looks like I'm staring at an old phone with huge bezels. Maybe I'm getting old…)
What's missing from the Ténéré 700 World Raid?
The Ténéré 700 is the perfect "Goldilocks" bike according to many a happy rider. They fly off the shelves, have a long waitlist in many places, and are in short supply on the used market.
But still, the Ténéré 700 has always had some tough competition. The KTM 890 Adventure R has always been lighter, more fully-equipped, and more powerful (and a lot pricier). Of course, Yamaha has a huge edge when it comes to perception of reliability from users, which is important when you're crossing the desert.
The Ténéré 700 also has competition from pretty much every brand in some way. See this list of alternative bikes to the Ténéré 700 which I put together while waiting a very long time for the T7 to arrive.
Here are some things that competitors to the Ténéré 700 have that Yamaha has not added:
Cruise control — long-distance travel has some inevitable boring bits. Many middleweights (including adventure bikes) are adding cruise control. The T7 even lacks ride-by-wire (and associated niceties like ride modes).
Crash bars — the T7 is already a relatively heavy and expensive bike to drop. A "World Raid" edition may have benefitted from some subtle crash protection. It's heavier, anyway, with those tanks, so why not?
An IMU — The Aprilia Tuareg 660 now has us all asking: Does every middleweight bike deserve an IMU for cornering ABS and traction control? Not to mention the KTM 390 Adventure, too. (See this ever-growing list of motorcycles with an IMU.)
Of course… not having those things is also the T7's strength. I personally like motorcycles that don't have active front suspension, for example, because I just fear dinging the front forks and then being out of untold thousands of dollars.
And cruise control — well, I make do with a $20 throttle lock (see this guide for aftermarket cruise options) on my expensive BMW R nineT, and it's good enough. Maybe that'd be good enough for the Ténéré 700, too. After all, it's not a bike you'd want to spend a lot of time highway commuting on — that's more the Tracer 7's cup of tea (a bike not available everywhere, unfortunately).
So whether you choose to opt for a bike does everything you need right and doesn't have anything unnecessary to you is of course your choice.
Many thousands of owners already love their Yamaha Ténéré 700 bikes, and the World Raid edition is more of a good thing.