Am I a shill for BMW? No. They've had their share of weird bikes, oddities, and lemons. But I've ridden enough of the good BMW motorcycles to know that some of them are very, very good.
The BMW S 1000 XR is one of those uniquely good motorcycles. There's nothing else quite like it out there — nothing as fast and comfortable that also has a four-cylinder engine.
The four-cylinder engine in an upright bike. You thought they were dead, didn't you? You thought they had gone the way of the dodo in adventure (or "comfortable") sports motorcycles, the last ones being the Yamaha FZ1 Fazer or Suzuki GSX1250FA. The Yamaha MT-10 exists, but its engine isn't the same… it barks like a V4, and it's more of a streetfighter. And the Kawasaki Versys 1000 exists, true, but is that really a "sport" bike?
Anyway, BMW is doing their own thing again, this time by doing something else everyone else used to do. They took the de-tuned engine from the BMW S 1000 RR that they were using in the S 1000 R street bike, and shoehorned it into an all-day format. Now you have no excuse to end that ride. Oh, you're hungry? Boo-hoo.
But, anyway, the BMW S 1000 XR has been out for a while now. You're probably wondering the same thing most prospective buyers do, and thinking:
What makes the BMW S 1000 XR so special?
How do the generations of the S 1000 XR vary? What's the model history?
How do you pick a good example of an S 1000 XR?
What's the reality of owning a BMW S 1000 XR like?
What are some alternatives to the BMW S 1000 XR?
What's the best colour? (J/k… it's obviously HP colorus!)
OK, here goes.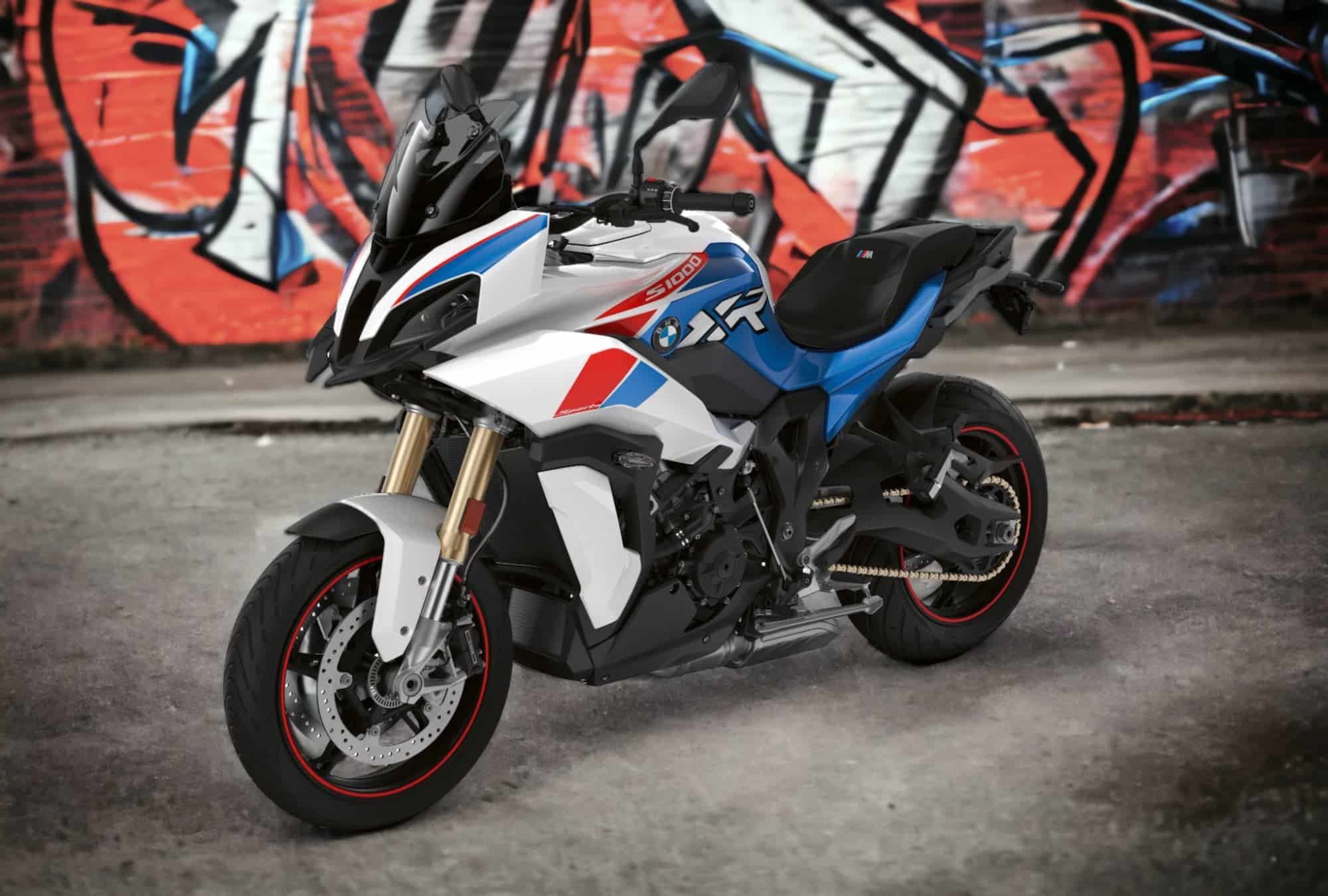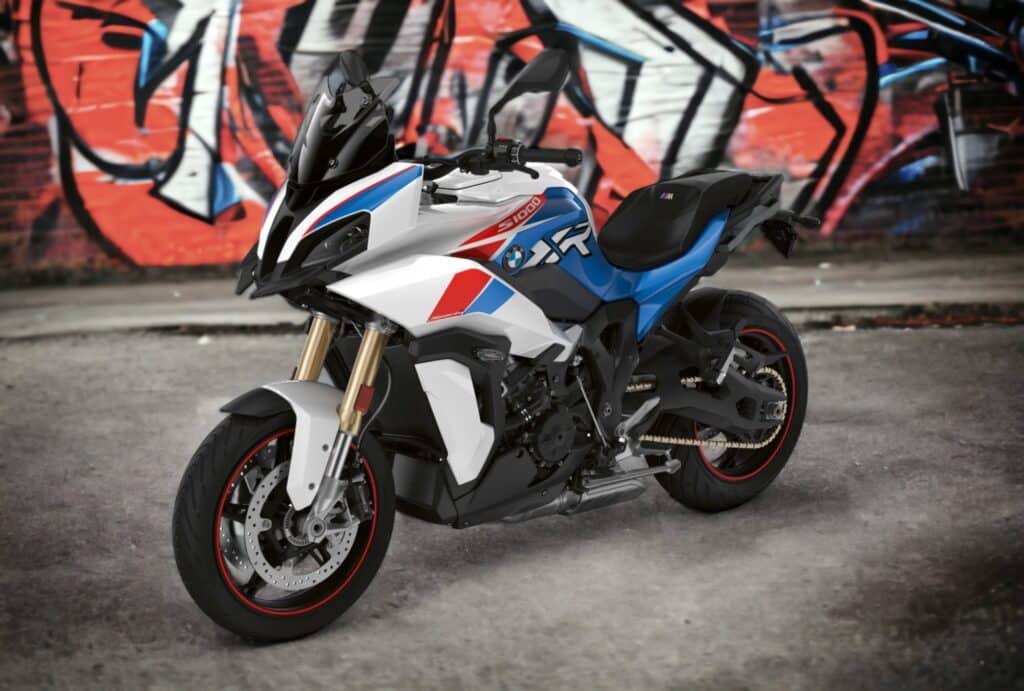 Are you obsessed with motorcycles?
Well, I am. That's why I created this site — as an outlet. I love learning and sharing what others might find useful. If you like what you read here, and you're a fraction as obsessed as I am, you might like to know when I've published more. (Check the latest for an idea of what you'll see.)
Some Brief History — Before the BMW S 1000 XR
There are a few veins of history that lead up to the BMW S 1000 XR. I like to look into "historical context" to see how a motorcycle is unique, both within the brand as well as within the motorcycle industry in general.
First, let's talk generally about four-cylinder upright adventure tourers. This starts at the dawn of time as I know it, or around when I was born.
Yes, four-cylinder bikes have been around for a long time. Probably the first one that caught the public's imagination was the Honda CB750, which back in the 1970s was a "superbike". Fast, furious, and cool, though definitely dated these days.
The CB750 gave way to a number of other superbikes from other manufacturers, but then in the 1980s, many manufacturers were building four-cylinder bikes for everyday riding. The 1980s was the decade of the "UJM" — the "Universal Japanese Motorcycle" — a slightly pejorative term for bikes that shared fundamental characteristics (an inline four-cylinder engine in an upright, comfortable chassis), but which did differ in some other ways (like final drive, air vs liquid cooling, and so on). There's no one particular bike of the era that I want to draw attention to, but I had a Honda CB900 Bol d'Or, so by definition it's the best bike ever and let's look at that.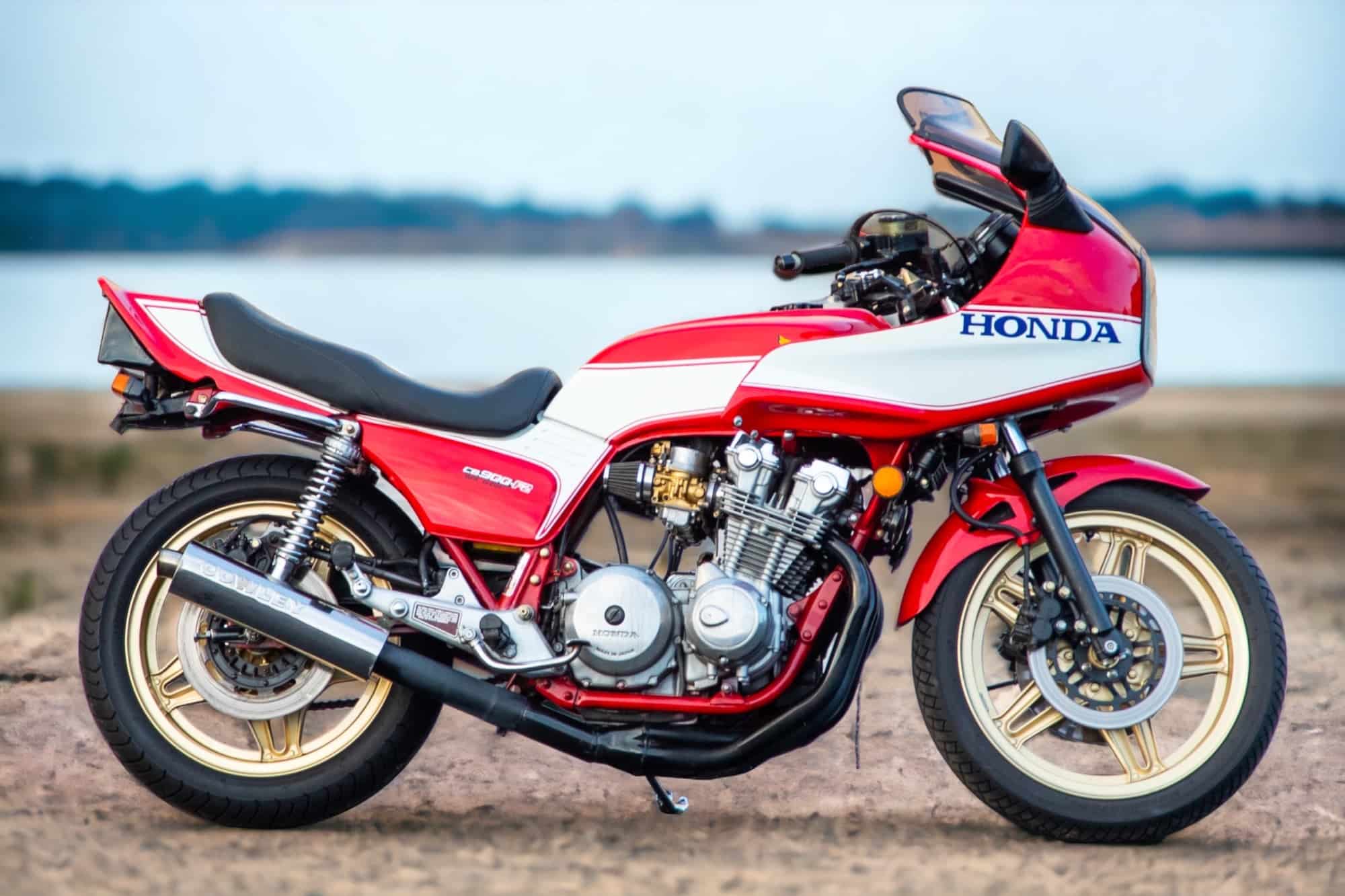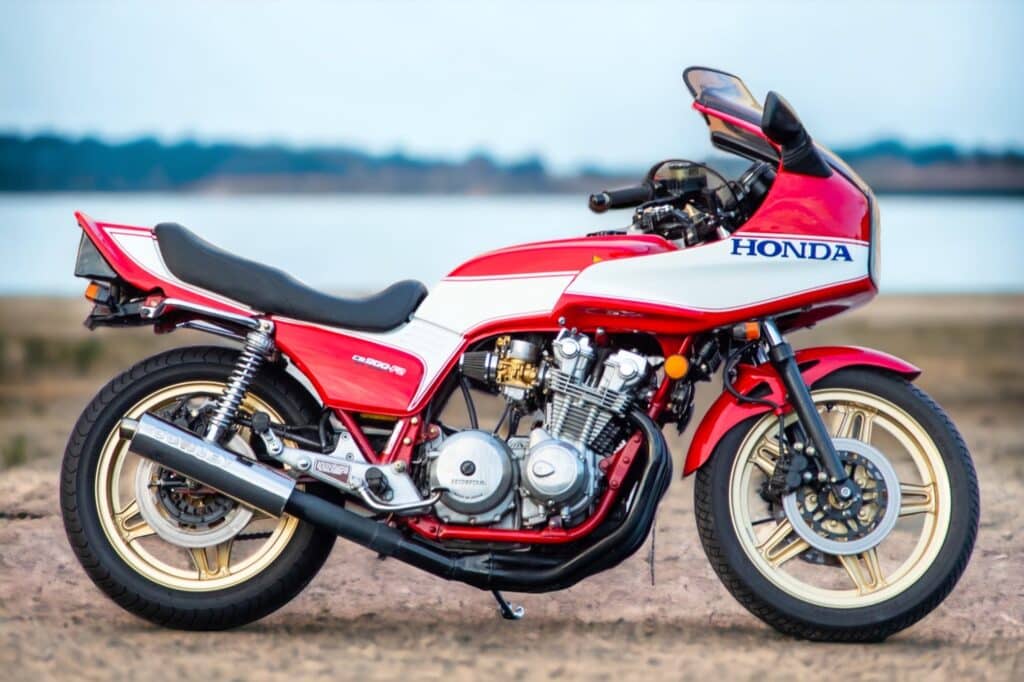 Look at that thing! Four cylinders, a forward-leaning but comfortable stance, and a bit of plastic to keep the wind and rain off my wholly inadequate gear. Great bike, and a concept that I'm forever wedded to because it was my first big bike.
Over time, four-cylinder sport bikes started to get more and more hard-nosed. Front handlebars dropped lower, and fairings became shorter.
There were still big standard four-cylinder sport tourers for a while, including machines like the Yamaha XJ900 "Diversion" (as in "having fun", I presume, not "oh no, the bridge is out"), the Suzuki GSX1200 / GSX1250 Bandit, the Honda CB1300 (not available in all markets), and so on.
See the guide to big-bore four-cylinder motorcycles here.
But over time, other formats of engine rose to prominence, and also the market for big-bore four-cylinder motorcycles began to shrink in favour of "adventure" motorcycles, which also don't typically (or ever? I can't think of one) have inline four-cylinder engines.
The other thing I think about is that these bikes weren't explicitly oriented towards travel. But at the turn of the century, a few brands started making bikes that were oriented towards long distance road-oriented travel, but made with an upright, enduro configuration.
Two notable examples of these were the Triumph Tiger 955i, which ditched spoked rims for cast wheels, and the Ducati Multistrada 1000DS, which was an all-new product line.
Both the Triumph Tiger and the Ducati Multistrada have had great histories since. Along the way, other brands have also released sporty adventure touring bikes, like the Yamaha Tracer 900 / Tracer 9, the Honda VFR800X and VFR1200X, and the Kawasaki Versys line, to name just a few.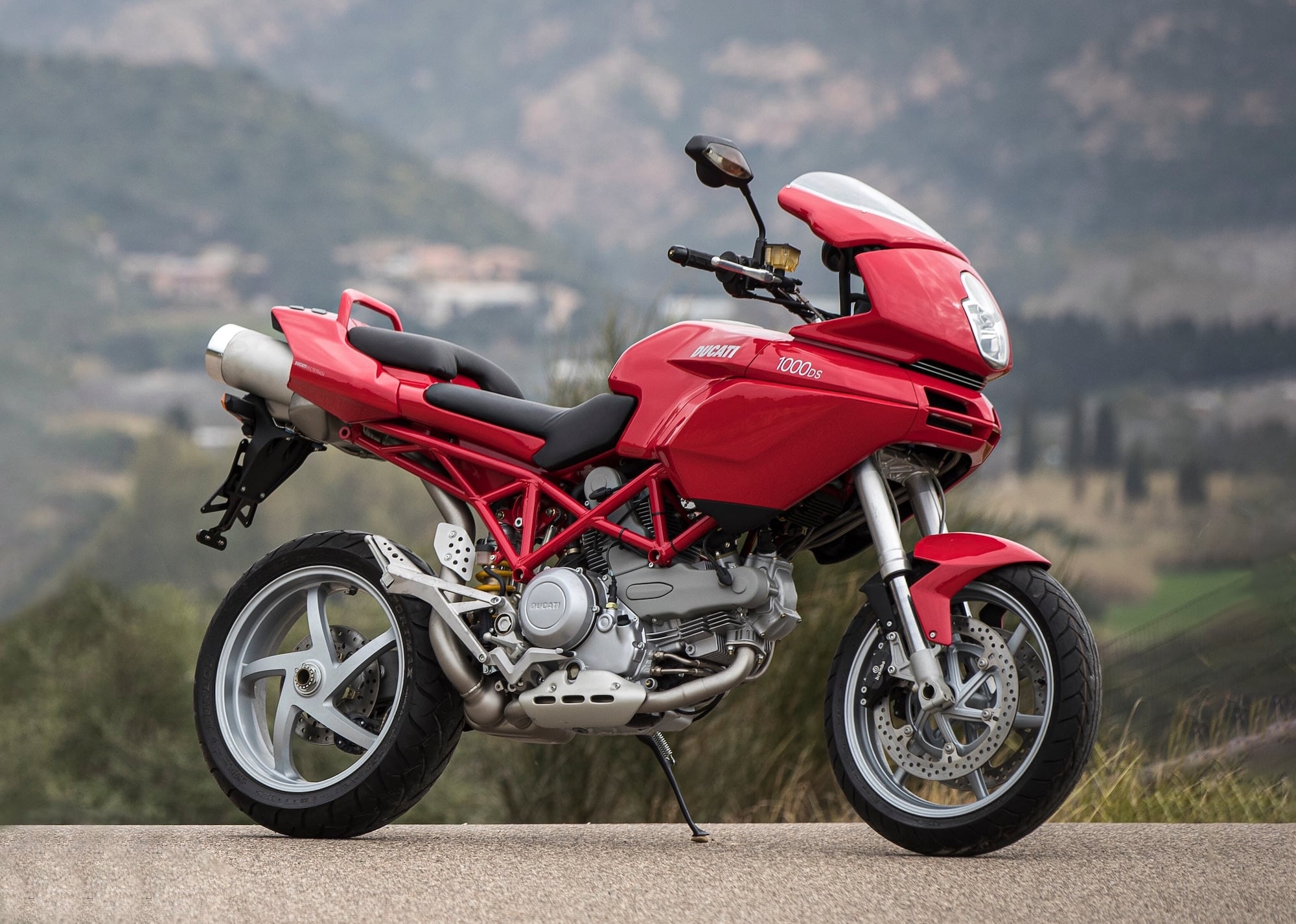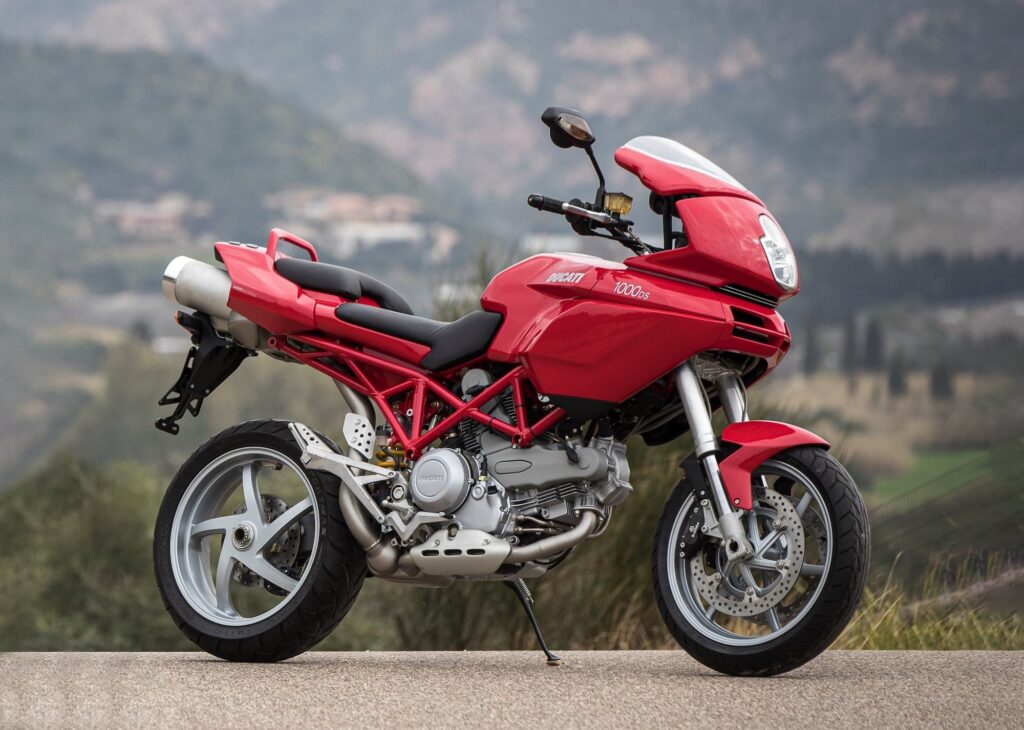 BMW themselves have made a range of bikes that dance around the edges of what the BMW S 1000 XR is.
In the past, they used to make horizontal inline four-cylinder sport bikes and touring bikes. There was, for example, the K 100 "Flying Brick" line (named for the engine, which looks like a brick… see our BMW engines guide), powered by the 987 cc 2 valve-per-cylinder liquid-cooled inline four-cylinder engine that had, remarkably for the 80s on a motorcycle, electronic fuel injection.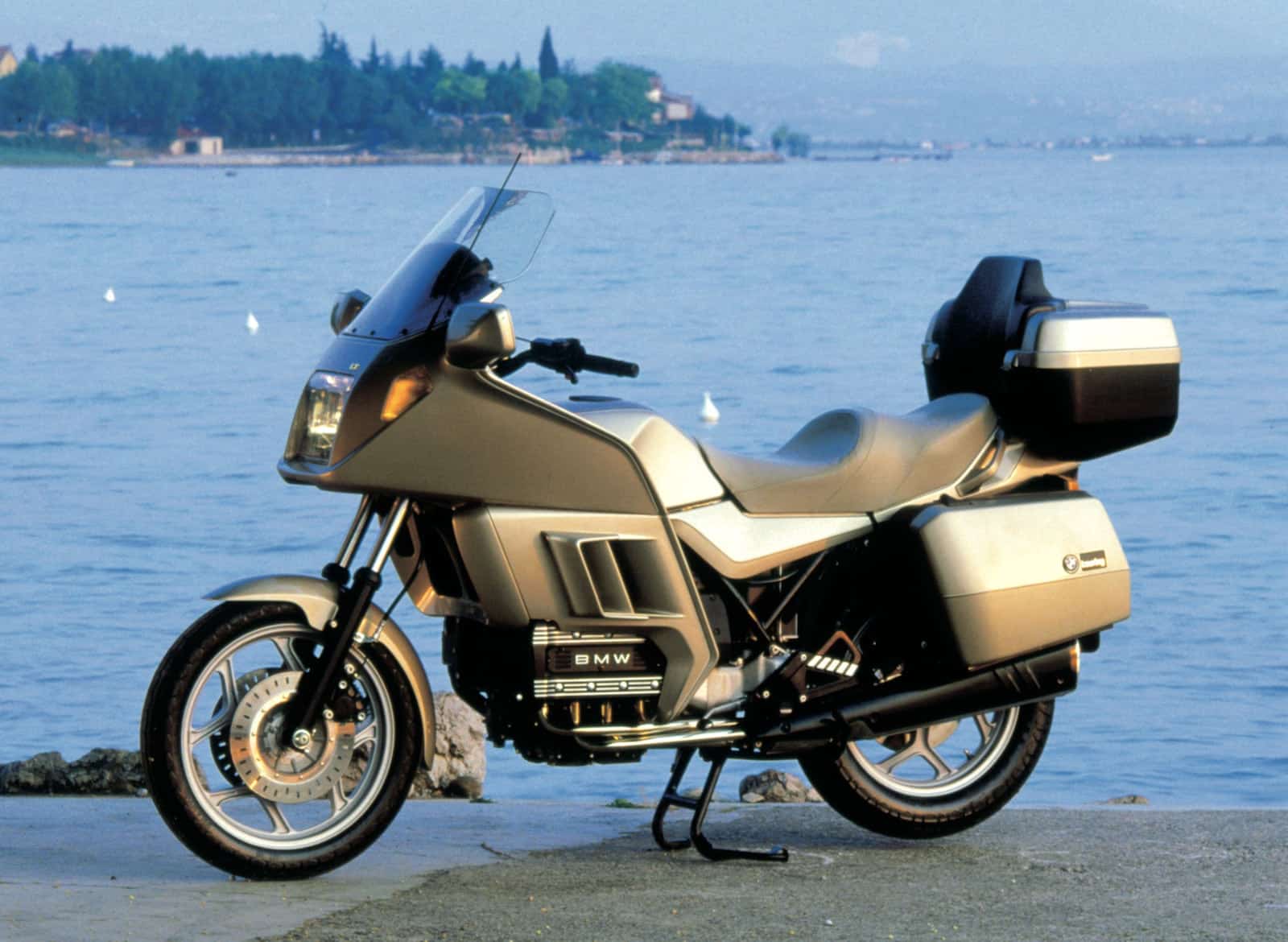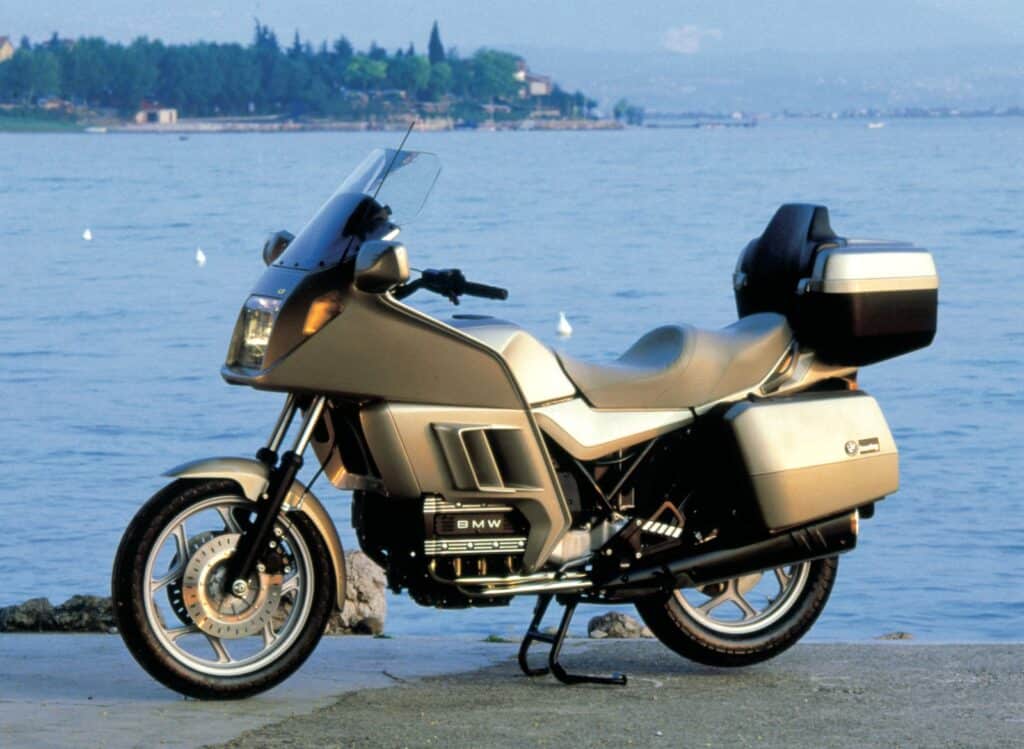 More recently, BMW made four-cylinder touring bikes, like the K 1200 GT, and various K 1300 motorcycles. But while the K 1300 R and K 1300 S are pretty sporty (despite their weight), they're also burly and heavy. The one most suited to touring, the K 1300 GT, while sharing the same foundation, is a bit Gold Wing-esque. The K 1600… well, it's not slow, but it's not a sport bike.
Most notably, all these K-bikes are shaft-driven. Shafts are nice, but they're definitely more for convenience than performance — they're heavier, and you can't change the gearing.
OK, lastly, we come to the S line.
BMW released the first S-bike, the S 1000 RR, in 2009. In a nutshell, they were heavily inspired by motorcycles like the Suzuki GSX-R1000 (very specifically the K5), and decided "OK, screw this, enough tomfoolery doing other eccentric stuff like the HP2 Sport, even if it's cool and interesting; let's just build the best superbike in the world the way everyone else does it."
So BMW built a motorcycle out of the usual suspects: an inline four-cylinder engine mounted the same way everyone else does it, chain final drive (no shafts, no belts), and inverted telescopic forks up front (no Telelever).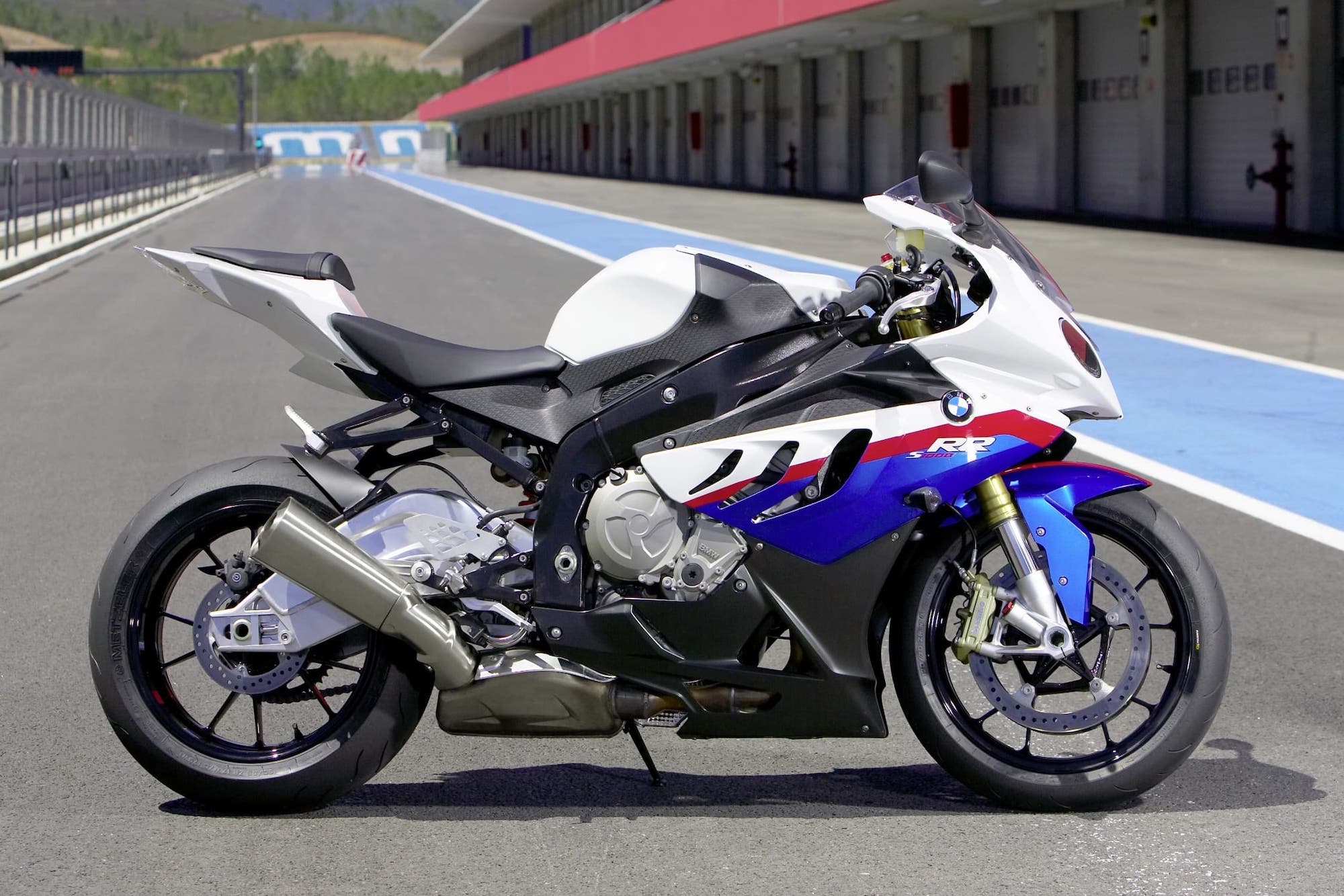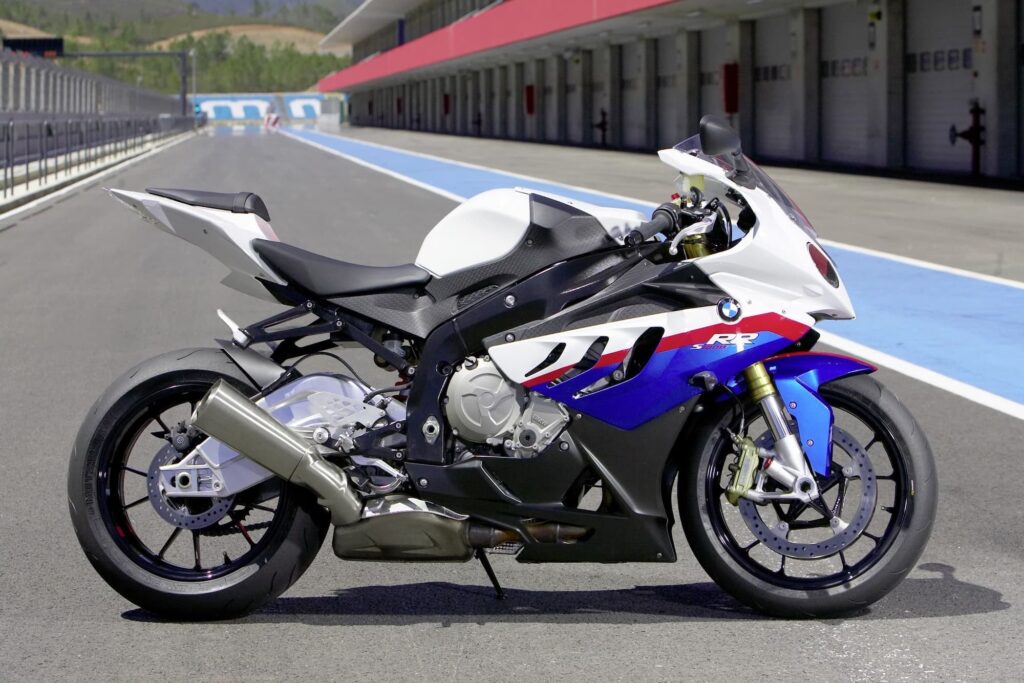 It's a treat. The first S 1000 RR was light and fast. The later ones were even lighter and faster, despite being packed with tech. BMW bikes suddenly became cool to a whole new crowd.
Unfortunately, BMW didn't have quite the racing success they aspired to have with the BMW S 1000 RR, so they cooled their jets on the racing front. But it's still a well-loved bike… I mean, it's blisteringly fast, has always looked great (I really liked the shark fin and asymmetrical years), and it's packed to the gills with fancy things like cruise control, cornering ABS, and even heated grips (well, all depending on the year, but from relatively early on in general). What's not to love?
See the BMW S 1000 RR buyer's guide.
With the S-RR being so popular, BMW capitalised on that to build more comfortable motorcycles with the same motor. First, there's the S 1000 R streetfighter, and second, there's the BMW S 1000 XR adventure sport tourer.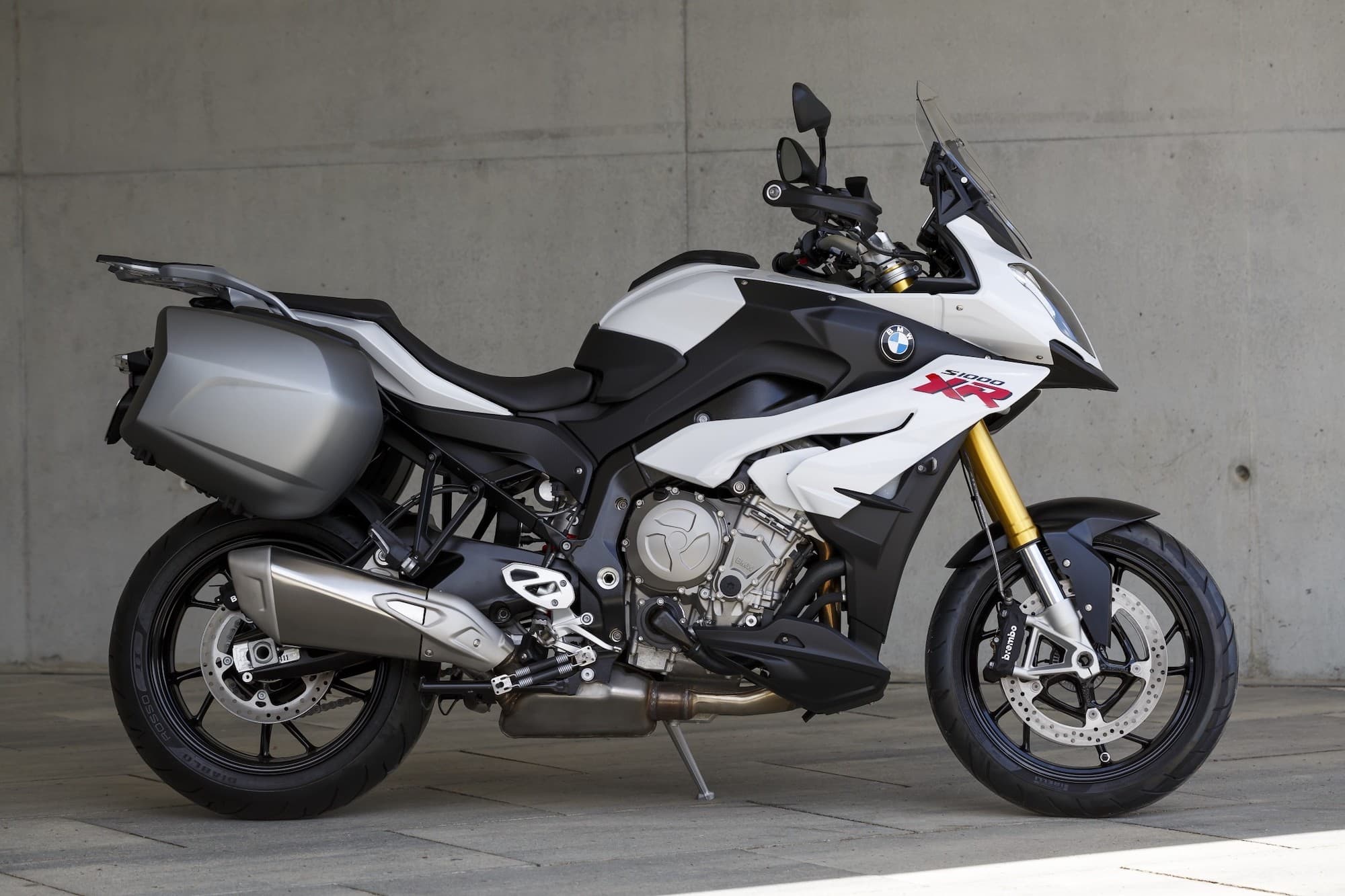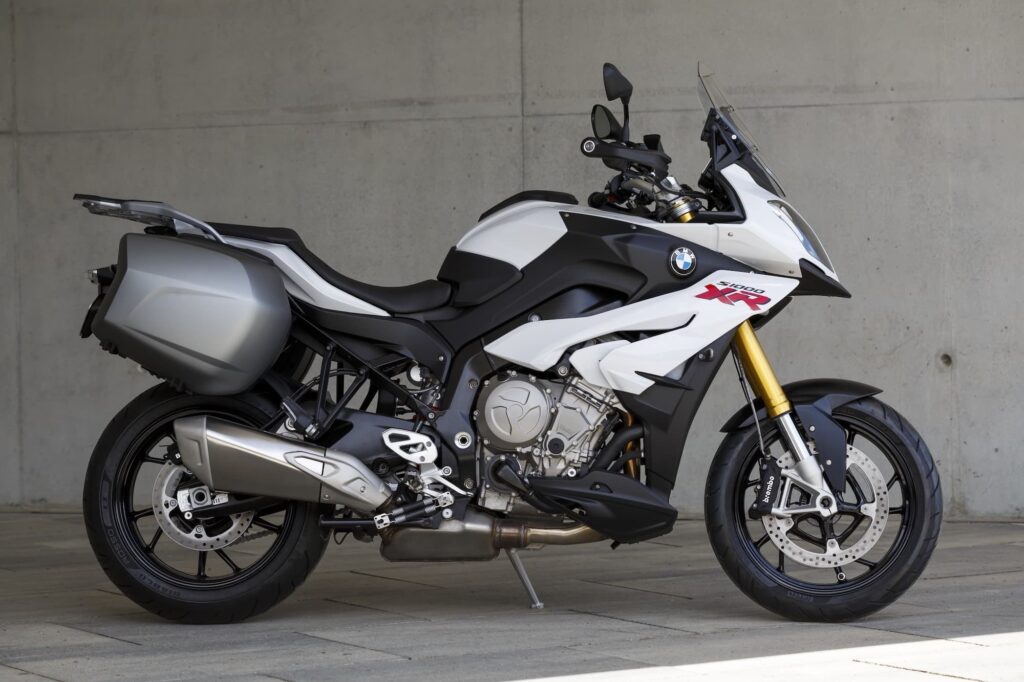 These days, the BMW S 1000 XR has its own unique corner of the market. There's only one other adventure sport tourer with an inline four-cylinder engine (the Kawasaki Versys 1000), and being heavier and lower-powered, it's nowhere near as sporty. There are other high-power sport tourers (like the Ducati Multistrada V4 or KTM 1290 Super Adventure S), but their engines give them unique character.
If you're after a high-power inline four adventure tourer… the BMW S 1000 XR is it!
Overview of the Specs of a BMW S 1000 XR
You can't ride a spec sheet, but you can glue this to the inside of your Toyota Camry's windshield and pretend. Don't ask me how I know.
This isn't a full spec sheet; it's just the stuff that I think is most important or worth talking about.
Item
Specs (all models)
Notes
Engine format
Inline four-cylinder, DOHC
Displacement
999 cc
Bore / Stroke
80 / 49.7 mm
Fairly short stroke
Compression ratio
2015-2019: 12.0:1
2020+: 12.5:1
Fuel requirement
95-98 RON (with knock sensor)
Peak power
2015-2016: 118 kW / 160 hp @ 11000 rpm
2017+: 121 kW / 165 hp @ 11000 rpm
Peak torque
2015-2016: 112 Nm @ 9250 rpm
2017+: 114 Nm @ 9250 rpm
Front suspension
45mm USD, fully adjustable
Optional Dynamic ESA / Pro depending on year — see below
Rear suspension
Monoshock, fully adjustable
Optional Dynamic ESA / Pro depending on year — see below
Electronic suspension
2015-2019: Optional Dynamic ESA
2020+: Standard Dynamic ESA, optional Dynamic ESA Pro (additional damping modes and automatic load compensation)
Front brakes
2 x 320 mm discs, radial 4-piston calipers
Ride aids
ABS, ASC, ride modes.
2015-2019: Optional ABS Pro, DTC
2020+: Standard ABS Pro / DTC
Quick shifter
Optional (all years, spec improved over time)
Wet weight
2015-2019: 228 kg
2020: 226 kg
BMW S 1000 XR core specs
Beyond the S 1000 XR, BMW also has teased (as of mid 2023) an "M 1000 XR" upright comfortable superbike.
Like the other M bikes, the M 1000 XR has a much more powerful engine and is generally higher spec. But specs on it are sparse right now.
Generation Guide — Gen 1, 2, 3, M
Below is an overview of the changes between generations for the S 1000 XR.
The bike has been largely the same over the years — it has always been a fast four-cylinder sport adventure tourer, with the same basic engine and power output.
But BMW has, over time
Made more things standard (like ABS Pro)
Increased the option level (like the quickshifter)
Increased the suspension spec
There has also been a power and weight change, but those are minor. Yes, the latest model is 2 kg lighter, but I don't think I'd be alone in saying I've changed in weight by more than 2 kg in those four years… so it's a rounding error in terms of user experience for "people of a certain age" most likely to buy this bike. And that's before any gear I decide to carry. Still, at least it's getting lighter!
BMW S 1000 XR Model
2015-2016
2017-2019
2020+
2024+ M 1000 RR
Peak power
118 kW / 160 hp @ 11000 rpm
121 kW / 165 hp @ 11000 rpm
121 kW / 165 hp @ 11000 rpm
150 kW / 200 hp ++
Peak torque
112 Nm @ 9250 rpm
114 Nm / 84 lb-ft @ 9250 rpm
114 Nm / 84 lb-ft @ 9250 rpm
Likely similar
Riding Modes Pro / ABS Pro / DTC
Optional
Optional
Standard
Standard
Standard suspension
45 mm USD, mechanical
45 mm USD, mechanical
Dynamic ESA
Awaiting full release info
Optional suspension
Dynamic ESA
Dynamic ESA
Dynamic ESA Pro
Awaiting full release info
Quick shifter
Optional — Gear Shift Assist Pro
Optional — HP Shift Assistant Pro
(Can do reverse shift pattern)
Optional — HP Shift Assistant Pro
(Can do reverse shift pattern)
Standar, (assuming)
Display
LCD
LCD
6.5-inch TFT
TFT (assuming)
Handlebars (more on this below)
Standard
Vibration-decoupled
New vibration decoupling, 30mm narrower
Wet / Kerb weight
228 kg / 503 lb
228 kg / 503 lb
226 kg / 498 lb
("10 kg lighter when adjusted for equipment)
223 kg / 492 lb
BMW S 1000 XR generational changes
Gen 1 BMW S 1000 XR (2015-2016)
Handsome thing, isn't it?
It's nice to see that since inception, the BMW S 1000 XR hasn't dramatically changed shape. It has always been the functional but stylish "sporty SUV" of the BMW line-up.
And the power and suspension spec has been fairly consistent through the years, in the sense that it has always been great. BMW has upped the ante with electronic suspension and standard ride aids. But if you're looking to save a huge wad of cash, then an early gen S 1000 XR will absolutely keep up with the latest gen.
The first (and second) generation S 1000 XR has an analogue / LCD dash. Even though I'm a fan of the BMW TFT layout of the later models, I really like white-faced dials, and I think the BMW cluster is a nice one to look at.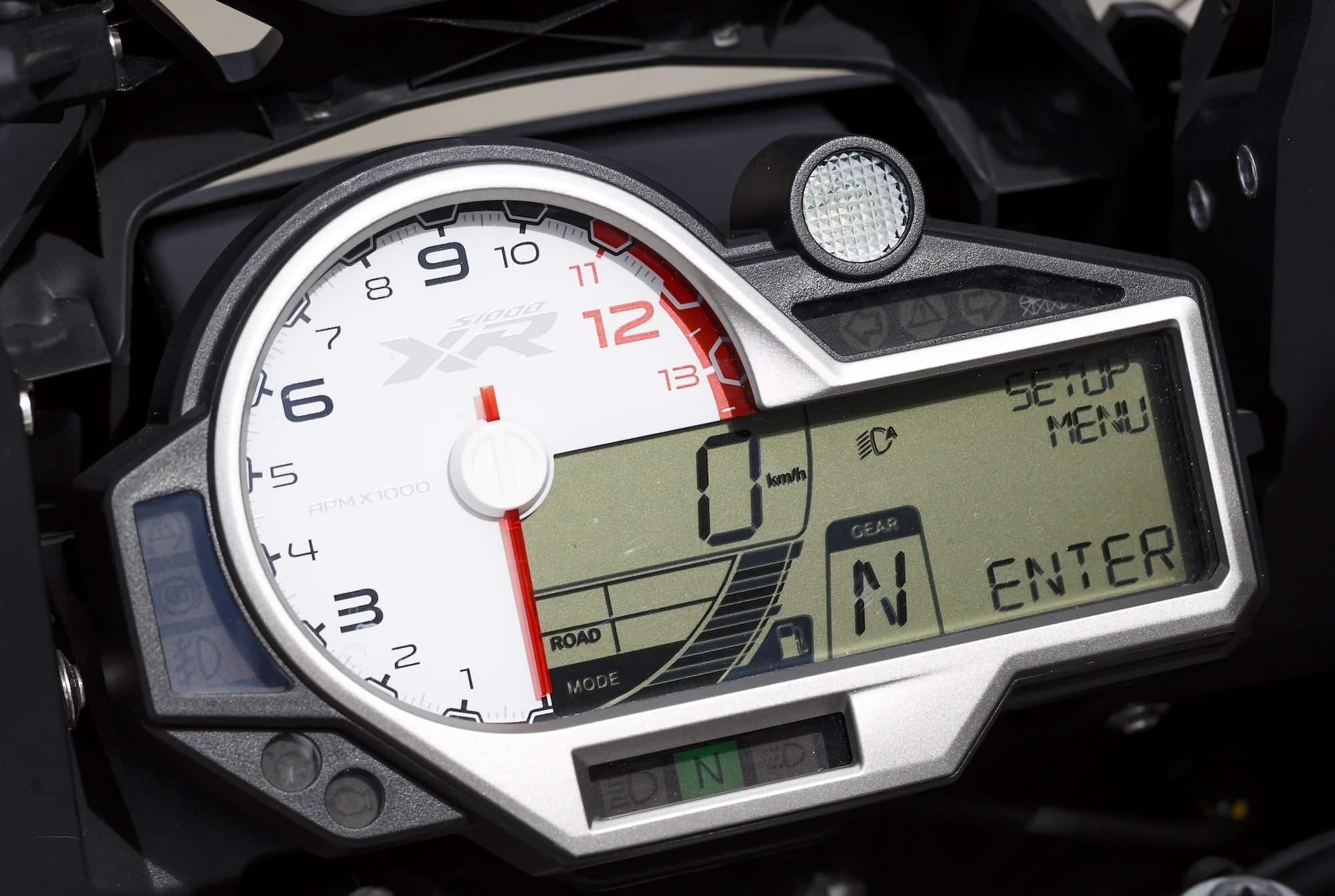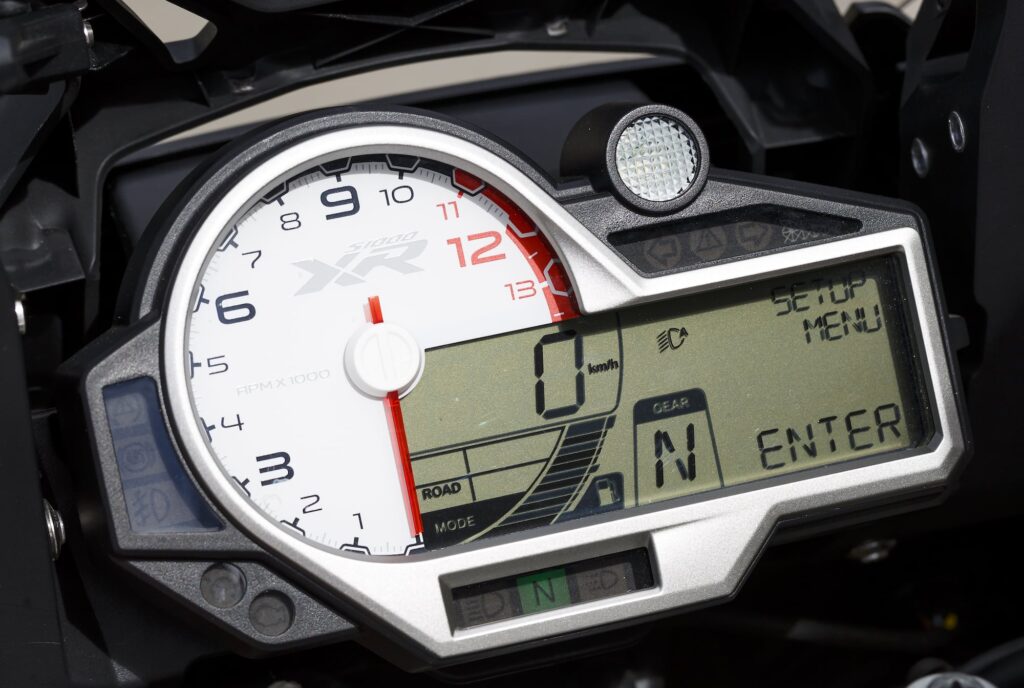 Aside from the dash and electronics, I think it's important to note how much has not changed between the first XR and the most recent XR.
The early models are just as nice looking, just as fast (well, nearly), and are built on essentially the same foundation. You even get most of the same creature comforts, including cruise control, and optional advanced ride aids like an IMU and cornering ABS.
There's one Achilles heel of the original S 1000 XR, and it's a topic that's somewhat up for debate: Vibration. The first-generation BMW S 1000 R suffered from a similar condition.
An Overly-Long Discussion of the BMW S 1000 XR's Vibrations
Here's a summary of what people complained about when talking about vibration in the BMW S 1000 XR and S 1000 R. In essence, people complained that the BMW S 1000 XR vibrates too much, particularly at middle RPMs (4-6K roughly), and particularly in the handlebars.
The vibrations happen typically at highway speeds in top gear, so they're noticeable. And people notice them everywhere: handlebars, seat, footpegs. But particularly in the handlebars, where they can give your hands a tingling feeling.
What's "too much"? Here's where vibration gets subjective. It's "more than people expect". For a BMW, for the price tag, or maybe just in a motorcycle.
But then, some people don't notice the vibrations at all! Some bikes seem to have the vibes, and some don't. People put it down to miles; but some people experience no vibes on a low-mileage test-ride bike, and then get vibes on the one they buy. Personally, I experienced vibrations on one with 16000 km (about 10000 miles).
And then some people just have a higher tolerance for vibrations, either naturally, or because of experience from other vibration-rich motorcycles.
If you test-ride a 2015/2016 BMW S 1000 XR, it's likely you'll be in the same situation as me — you'll be hunting for the vibes. I had it on my mind. I tried to put it out of my mind, but it was haunting me.
I did conclude that the bike I had was afflicted by vibes, particularly in the handlebars. But I wasn't really sure until I rode other bikes afterwards.
So, what to do?
The easiest solution for the BMW S 1000 XR's vibrations is to buy a later model. In 2017, BMW introduced vibration-dampening handlebars, but people still complained; BMW further improved on it in 2019. There are other things you can do, too.
Firstly, don't write off any model of BMW S 1000 XR, assuming it'll have vibrations. I'd test ride any model that comes up. It's very hard to assess a bike objectively, but try riding around at 5000 rpm for as long as you can, and make as objective an assessment as possible about its vibrations. Good luck!
Secondly, if you are really thinking about buying a model of S 1000 XR in spite of the vibrations, bear in mind that some common solutions for the S 1000 XR's vibrations in the handlebars are:
BMW's vibration retrofit kit — Replacing grommets for the handlebar bots with rubber ones.
The bar + other mounting components from the later model XR.
Heavy bar end weights, particularly Evotech bar end weights or HVMP bar end weights.
Grip puppies (which I do like on sport bikes, but they reduce handlebar feel)
Change the gearing (gear it down for highways)
Accept that motorcycles vibrate
However, if the previous owner hasn't implemented these, there's no guarantee that they'll work for you.
Worst case scenario, you can always move a bike on. But of course, that's a pain, and you'd rather not have things come to that.
BMW made some changes to vibration for the 2nd gen S 1000 XR, as well as making some other improvements.
Gen 2 BMW S 1000 XR (2017-2019)
BMW made some important updates for the S 1000 XR.
For me, the most important update is the vibration-decoupled handlebars. This alone is worth the couple of thousand more I'd have to spend on a more recent model. It'd make me comfortable riding it as well as selling it.
Aside from that, the 2nd gen BMW S 1000 XR is largely the same. BMW did tune it for slightly more power and peak torque, which manufacturers tend to try to do when re-tuning for emissions compliance (EU4, for the 2017 model).
The 2017+ S 1000 XR also comes with an optional high windshield which gives much better wind protection. In the upright position, it can protect even taller riders around 6 ft tall completely — air sailing over your head!
Gen 3 BMW S 1000 XR (2020+)
BMW updated the S 1000 XR for the 2020 model year, releasing it at EICMA 2019.
BMW made significant updates for this mode, re-developing the engine and suspension. The DIN unladen weight is 226 kg, compared to the previous models' 228 kg, but BMW said that it's 10 kg (22 lb) lighter "when adjusted for equipment".
BMW lengthened the 4th, 5th, and 6th gear ratios. The effect of this is to reduce noise and fuel consumption, which helps with emissions requirements.
Here's the effect of the gearing change on speed and engine speed in various gears.
| Model | S 1000 XR (2015-2019) | S 1000 XR (2020+) |
| --- | --- | --- |
| Speed at 5000 rpm, 4th gear | 57 mph / 92 km/h | 58 mph / 94 km/h |
| Speed at 5000 rpm, 5th gear | 63 mph / 102 km/h | 66 mph / 106 km/h |
| Speed at 5000 rpm, 6th gear | 68 mph / 110 km/h | 74 mph / 118 km/h |
| 65 mph / 105 km/h in 6th gear | 3000 rpm | 2700 rpm |
| 75 mph / 121 km/h in 6th gear | 3400 rpm | 3200 rpm |
| 85 mph / 137 km/h in 6th gear | 3900 rpm | 3600 rpm |
Effect of 2020 XR gearing changes (rounded)
As you can see, the changes are most significant in top gear. The gearing change also helps with the "buzzy" problem afflicting previous generations.
BMW made the same changes on the BMW S 1000 R, incidentally, for the 2021 model year.
The gearing change is significant. I did feel that the BMW S 1000 XR / R was revving a little high at highway speeds, but it was a small gripe for an otherwise fantastic bike. Owners of the 2015-2019 year models could get a similar effect by changing the sprocket ratios (up one / down one), but that would come at a cost of thrust in the first few gears.
See here for more of a discussion on gearing and thrust.
Even though the BMW S 1000 XR also had an anti-hopping clutch that worked fine, BMW worked to make it smoother, and also introduced engine drag torque control (Motor Slip Regulation or MSR) in the XR. MSR has a similar purpose to an anti-hop clutch — it's an electronic regulation that prevents the wheel from slipping from abrupt throttle or downshifting.
On lightness — BMW says that the 3rd gen S 1000 XR is 10 kg / 22 lb lighter than the previous generation when "adjusted for equipment". What does this mean?
Basically, it means they took the old BMW S 1000 XR (228 kg curb weight), and made these adjustments. This is all from their press docs; I haven't taken one apart and weighed it.
Item
Metric
Imperial
2017-2019 BMW S 1000 XR (2nd gen) base weight
228 kg
503 lb
Engine — many internal changes
– Camshafts are powered directly from the crankshaft (no idler gear), with intermediate gear for halving engine speed directly inside the cylinder head
– Oil and water pump combined to one module
– Reduced tubing for water and oil cooling circuit
– Only one gearwheel in crankshaft – starter's primary reduction gear meshes directly with the primary gearwheel
– Starter motor integrated into the top of the housing behind the cylinders
– Crankshaft position is detected via alternator (no more crankshaft position sensor?)
– Engine height reduced by reducing length of heat-treated steel rods (which are also lighter)
– Hollow-drilled intake valve shafts
– Lightened rocker arms
-5 kg
– 11 lb
Frame and swing arm
– Additional usage of the engine as a load-bearing function, reducing the weight of the new "flex frame" by 2% vs the predecessor
– Rear frame weighs 9% less
– Swing arm redesigned as chill cast part from two welded halves. Weighs 6.6 kg, or 20% less.
Side note: swing arm reduced unsprung mass by 1.6 kg, for better traction
-2.1 kg
-4.6 lb
Wheels
– Standard light alloy wheels
Note: Optional M forged wheels are even lighter
– 1.8 kg
-4 lb
Front brake discs
– 320 mm / 4.5 mm thickness (vs 5mm for previous gen… though of course, this one may not last as long)
-0.5 kg
-1.1 lb
Exhaust
– Front and rear silencer, plus two three-way catalytic converters
– EU5 compliance (up from EU4)
-1.2 kg
-2.6 lb

Total reductions

10.6 kg

23.3 lb

Subtotal

217.4 kg

479.3 lb

Additional equipment
– Standard Dynamic ESA (previously optional)
– More suspension travel front and rear (150 mm vs 140 mm)
– Other stuff?

Electronics (unknown impact on weight)
– 6.5-inch TFT display
– Standard Riding Modes Pro (Cornering ABS, DTC, Wheelie control) and MSR
– Standard MSR
– LED headlamp
~8.6 kg
~19 lb

Net weight

226 kg

498 lb
How the 2020 BMW S 1000 XR is lighter
BMW doesn't make clear what the additional equipment is that would make account for those 8.6 kg. From my knowledge, most of it would be in the now-standard Dynamic ESA. But wow, 8.6 kg seems like quite a weight penalty for comfort.
I was expecting to find other standard gear like protection, luggage, or maybe a centre stand that may make up the difference. Or perhaps EU5 emissions equipment — but BMW say their new exhaust is lighter.
Anyway, the net effect is a lighter bike, with standard dynamic suspension.
On the 2020 BMW S 1000 XR, you can also opt for Dynamic ESA Pro.
With the Pro version, you get two damping modes ("Road" and "Dynamic"… BMW do love the word "Dynamic"), and automatic load compensation. No more fiddling with preload is a win in my books. (I rarely do anyway, admittedly, but I'm also of extremely median weight, so factory suspension often suits me well.)
BMW M 1000 XR (Preview)
BMW has only given us a teaser of the BMW M 1000 XR. What we know at this stage is that it's slightly lighter and significantly more powerful.
BMW says that the M 1000 XR's engine will output "more than 147 kW / 200 hp", which essentially means the same tune as the S 1000 RR superbike.
Like the BMW M 1000 R, I expect that the XR will come with the ShiftCam engine, presumably in the same state of tune as the M-R.
On top of that, the M 1000 XR comes with BMW's high-performance M brake. And winglets!
Riding the BMW S 1000 XR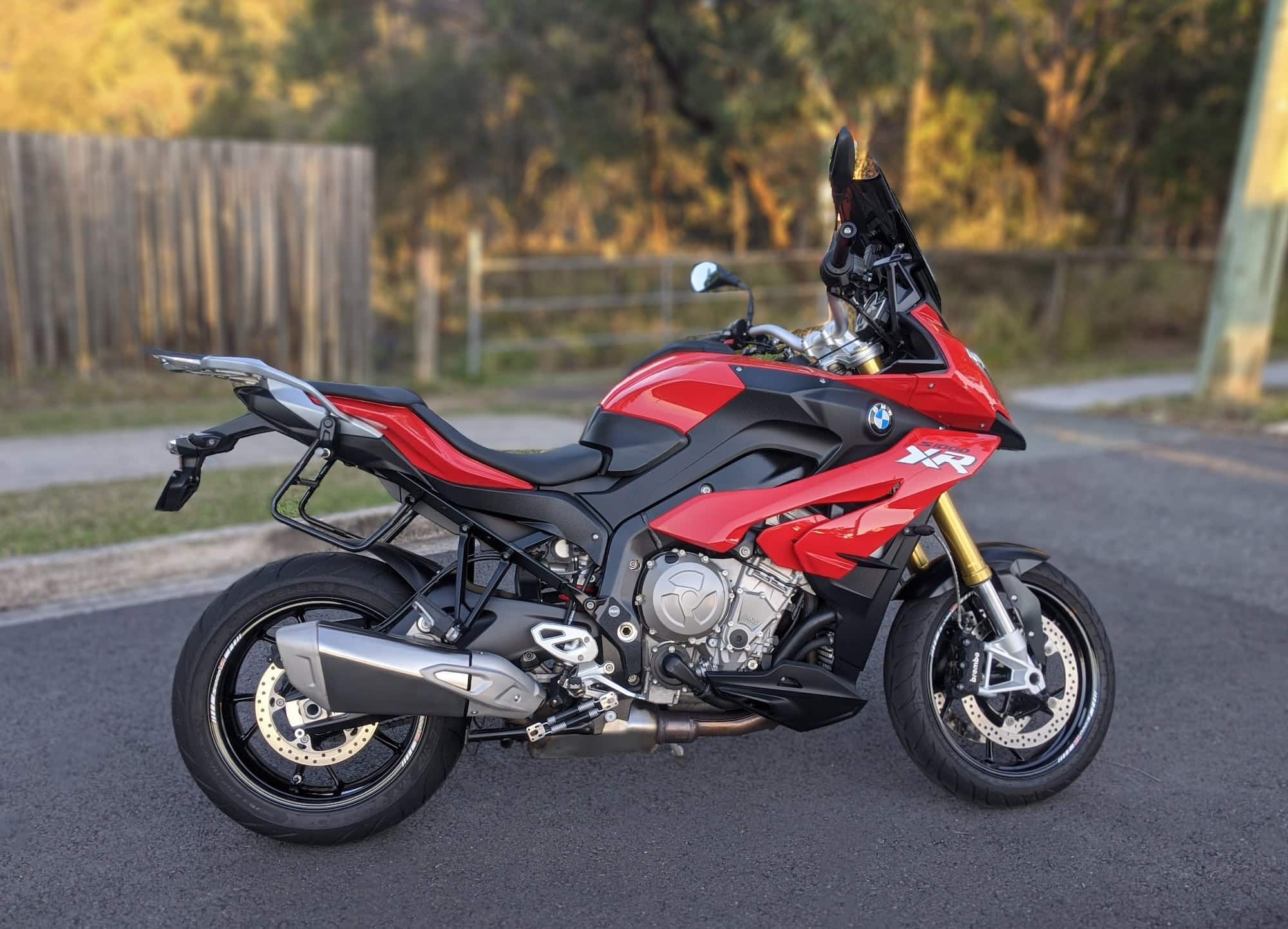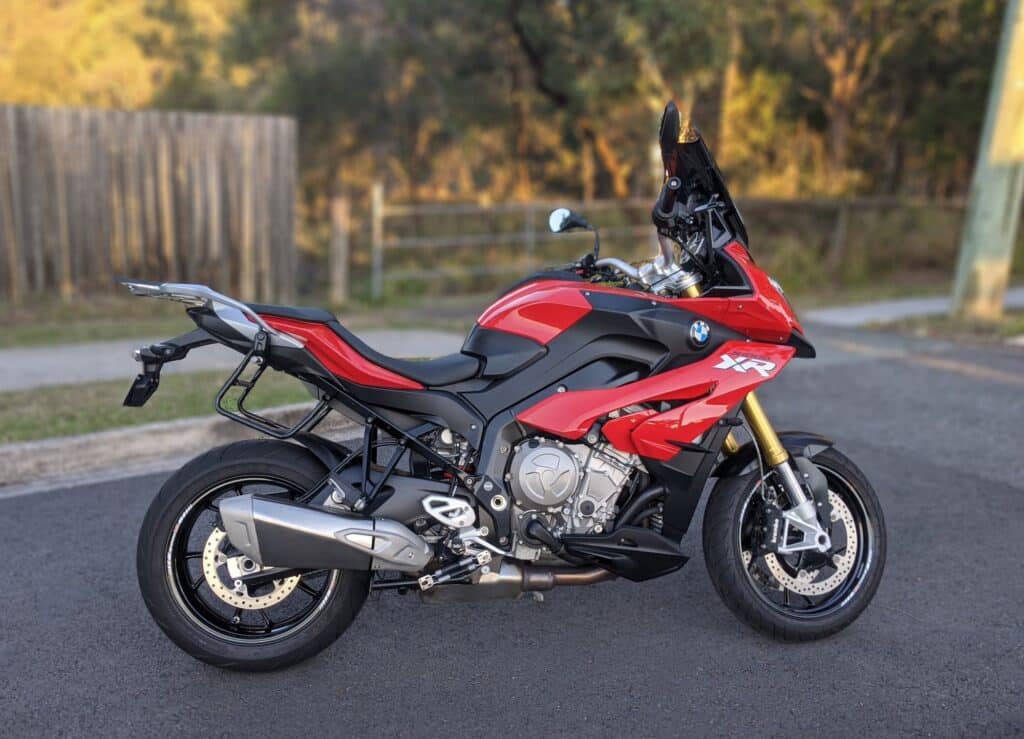 Having ridden the other S 1000 motorcycles, I was curious to know what the S 1000 XR would feel like. The top questions on my mind were
Is the BMW S 1000 XR fast like the S 1000 RR / R, just more comfortable?
Is the handlebar vibration really a thing?
Does this bike feel "cool", or is it like riding a sporty SUV?
Firstly, it goes without saying that the S 1000 XR is fast. This is just to put at rest any doubts you may have on the matter. If all your friends are on superbikes and you want to keep up without letting your carpal tunnel syndrome get in the way of a good day of fun — this is a bike that'll let you do it.
"Fast" is a word that's bandied about recklessly. I've seen it describe bikes that make just 50 hp. But the BMW S 1000 XR isn't just fast feeling, it's genuinely fast. In the first couple of gears, the wheelie mitigation electronics (if you have it) will be doing a lot of heavy lifting to keep the front wheel down. And up to around 100 mph / 160 km/h, it will be very difficult to notice the difference between the S 1000 XR and most superbikes. The difference is likely to be more about what gear each person is in, and just how willing they are to pin the throttle (something you can't do for too long on any fast bike).
To figure out whether the S 1000 XR was fast. I tentatively grabbed the throttle in a few gears and yeah, it's as fast as any human could want. I don't know why I'd want faster, unless I were taking it to the track (and I don't take bikes worth this much to the track).
But I should point out that the BMW S 1000 XR doesn't get the blood boiling as much as a naked bike or superbike. This is no fault of the engine or suspension. I put it down to the riding position. When I'm sitting more upright, I'm in more of a mood to trot or canter gracefully about. I'm not in a racing crouch.
A corollary of that is that when you're relatively upright, your weight is distributed in a different way over the motorcycle. So, I'm intuitively aware that if I just recklessly grab the throttle (in the absence of any ride aids), the front wheel will come up, especially as the RPMs rise a little. I don't necessarily want that, so I'm less likely to grab the throttle unless I actively lean over. The effect is that I'm just a little slower in everyday riding.
So my ride on the BMW S 1000 XR started gently. Because I rode a 2016 model first, I was mostly interested in figuring out whether the handlebars were indeed buzzy, while also trying to figure out if it was all in my head and that I was only noticing it because I was thinking about it.
Figuring out the "buzz" level was very hard. It wasn't a proper A/B test. In courtroom terms, it's a leading question, like asking you "Is this too sweet?" before offering you some ice cream. If I hadn't asked the question, you might have just thought the ice cream were tasty or said "It's too melty" or "Rum and raisin, really??" or had some other reaction. But with the question about sweetness, sweetness all you can think about. What is "buzz"? Is buzz normal? Are all motorcycles buzzy?
Despite that convoluted train of thought, I did think it was buzzy. I suspected I was wrong, as I usually do, but later rides on later bikes confirmed that yes, the 2015-2016 BMW S 1000 XR was buzzier.
But, also, in retrospect, I don't care how buzzy it was. I'd live with it. Especially for a few thousand bucks. A few thousand bucks buys a lot of ice cream!
So the BMW S 1000 XR is fast and comfortable. Is it cool? No. This is something I can't really shake. No sporty adventure touring bike is very cool. This is extremely subjective! It's attractive, it's elegant, it's classy, and of course it's fast and a great handler. But it's not "cool", to me.
There's just something about sitting upright in a dirt bike riding position, arms splayed out on wide handlebars, that is more gentlemanly than anything else. Cool bikes tend to be more single purpose, like fast sport bikes, boulevard cruisers, or naked "cafe racer" style bikes. But these are all, of course, less capable at doing other things. Most people wouldn't logically opt to do distnace on a sport bike or cruiser (I mean pure cruisers, like a Harley-Davidson Breakout, not a tourer on a cruiser base, like a Street / Road Glide).
When you take single-purpose bike and start layering on more use cases, you end up with something utilitarian. A sport bike makes a certain person dream of track victories, and a cruiser makes another person (nobody specific…) imagine they're Arnie in Terminator 2. But a bike that can do many things doesn't inspire any one particular image.
Motorcycle cool factor reminds me of the adage in fashion: You have to sacrifice comfort for style. The XR has plenty of comfort, and doesn't lack in style, but it just won't ever have the panache of a single-purpose bike designed for a certain level of performance or feeling.
But still… I'm sick of doing highway stints leaned forwards onto clip-ons, and sick of wind blast on highway stints on naked bikes. That's why bikes like the BMW S 1000 XR are inevitably my future.
Competitors to the BMW S 1000 XR
Generally, the competitors/alternatives to the BMW S 1000 XR are the fast, sporty, upright, comfortable, tech-rich sporty SUVs of the motorcycle world.
There are a few others that are on the fringes of this comparison list, but to not make this list ridiculously long, I've tried to pare it down.
I'll include all the sport adventure tourers in a future guide to the class.
| Model | BMW S 1000 XR | Ducati Multistrada V4 / S | Kawasaki Versys 1000 SE | KTM 1290 Super Adventure S | Triumph Tiger 1200 GT Pro |
| --- | --- | --- | --- | --- | --- |
| Engine type | 999 cc inline 4 | 1158 cc 90-degree V4 "Granturismo" | 1043 cc Inline four | 75-degree V twin "LC8" | Triple, T-plane |
| Peak power | 121 kW / 165 hp @ 11000 rpm | 125 kW / 170 hp @ 10750 rpm | 87 kW / 118 hp @ 9000 rpm | 118 kW / 160 hp @ 9000 rpm | 110.4 kW / 150 hp @ 9000 rpm |
| Final drive | Chain | Chain | Chain | Chain | Shaft |
| Active suspension | Yes | Yes (S model) | Yes | Yes | Yes |
| Active Cruise | No | Optional | No | Optional | No |
| Fuel capacity | 20 L / 5.2 US Ga | 22 L / 5.8 US Ga | 21 L / 5.5 US Ga | 23 L / 6.1 US Ga | 20 L / 5.2 US Ga |
| Kerb weight | 226 kg / 498 lb | 243 kg / 536 lb | 245 kg / 540 lb | 237 kg / 522 lb | 245 kg / 540 lb |
| Oil change service interval | 6000 mi / 10000 km | 9000 mi / 15000 km | 7600 mi / 12000 km | 9000 mi / 15000 km | 10000 mi / 16000 km |
| Major service interval | 18000 miles / 30000 km | 37280 mi / 60000 km | 15200 mi / 24000 km | 18000 mi / 30000 km | 20000 mi / 32000 km |
Alternatives to the BMW S 1000 XR
Ducati Multistrada V4 / S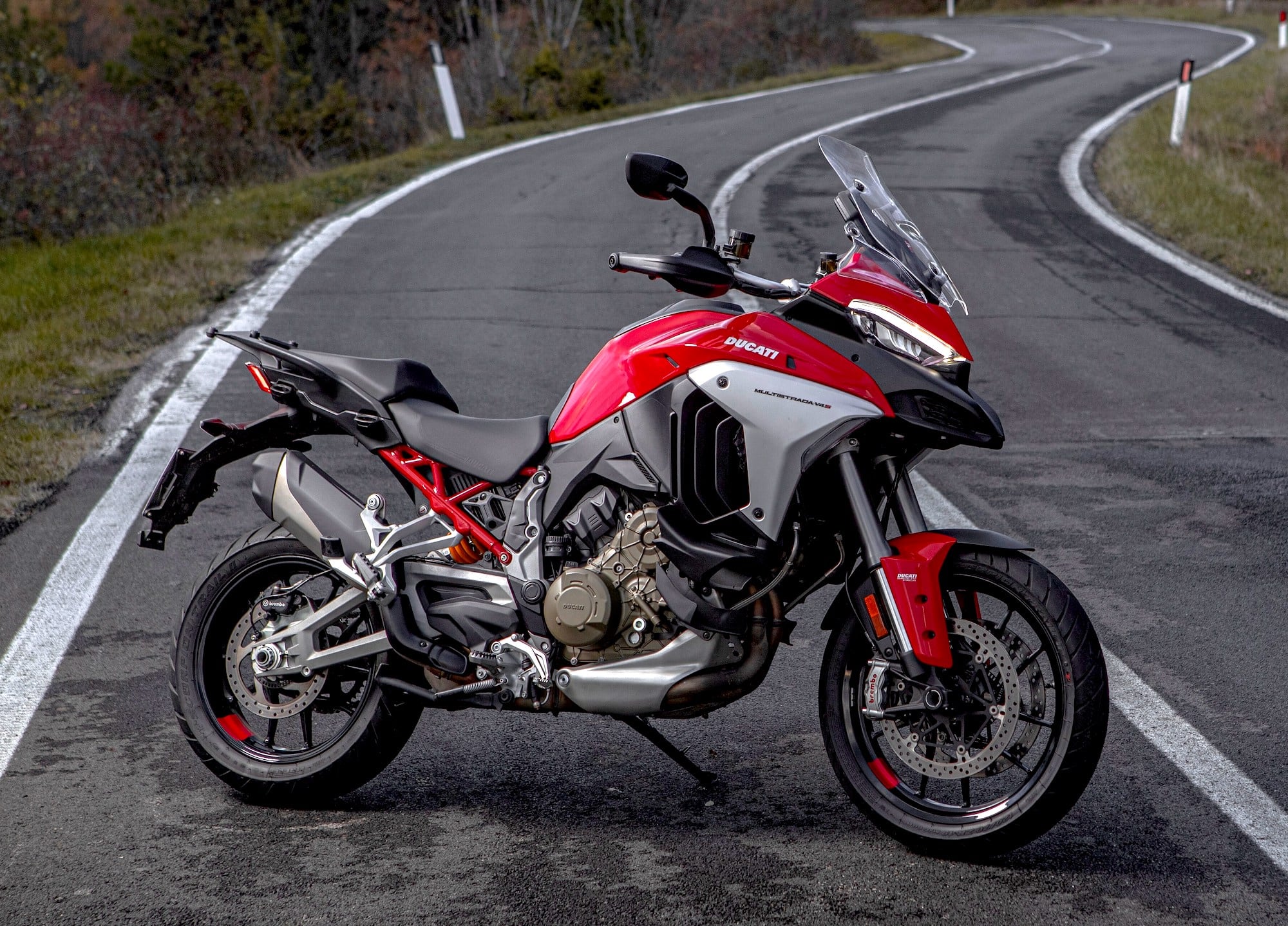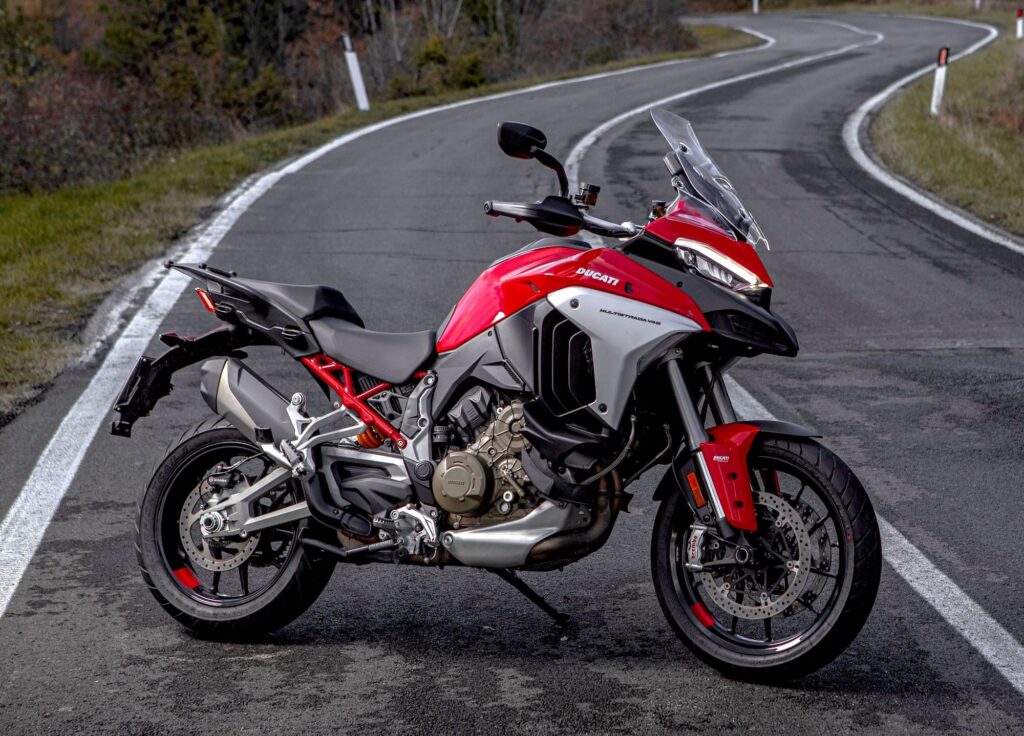 Firstly, it's hard not to start with the Ducati Multistrada — and not just because Ducati comes first alphabetically (after BMW). The Multistrada has been one of the kings of "comfortable sport motorcycle" for ages. It has been actually quite fast since the 1200 line, and just gotten faster over time.
The Ducati Multistrada V4 is powered by Ducati's V4 Granturismo engine, a modern marvel of engineering. Ducati brought over chain-driven camshafts from the Panigale line, and ditched desmodromic valve actuation for regular camshaft lobe / spring action, but in the process extended valve service intervals to a whopping 36000 miles / 60000 km.
Like the 1290 engine in the Super Adventure, the V4 engine in the Multistrada (and the Diavel V4) is regarded as one of Ducati's best motor's ever. I expect to see it in at least one more motorcycle!
The Ducati Multistrada started as a (comfortable) sport bike, but since the Multistrada 1200 it has led the way in "multi-use" motorcycles. In fact, Ducati claims that it was the first motorcycle with fully integrated ride modes.
Even aside from the engine, there's a lot that's cool about the Ducati Multistrada V4, especially in S configuration. It has active suspension with their "Ducati Skyhook Suspension" system, with auto levelling, radar-enabled adaptive cruise control, and superbike-spec Brembo Stylema calipers.
Kawasaki Versys 1000 SE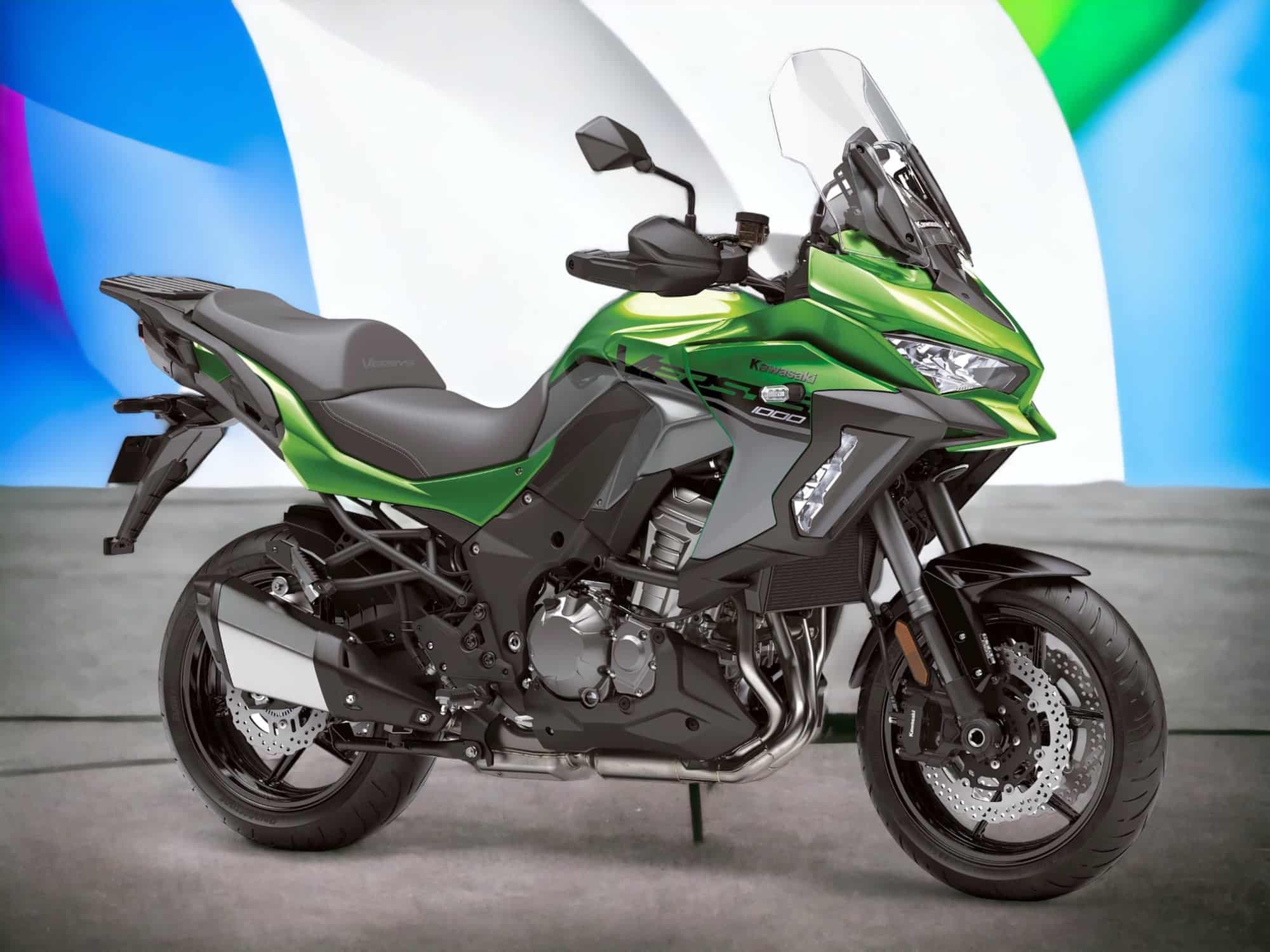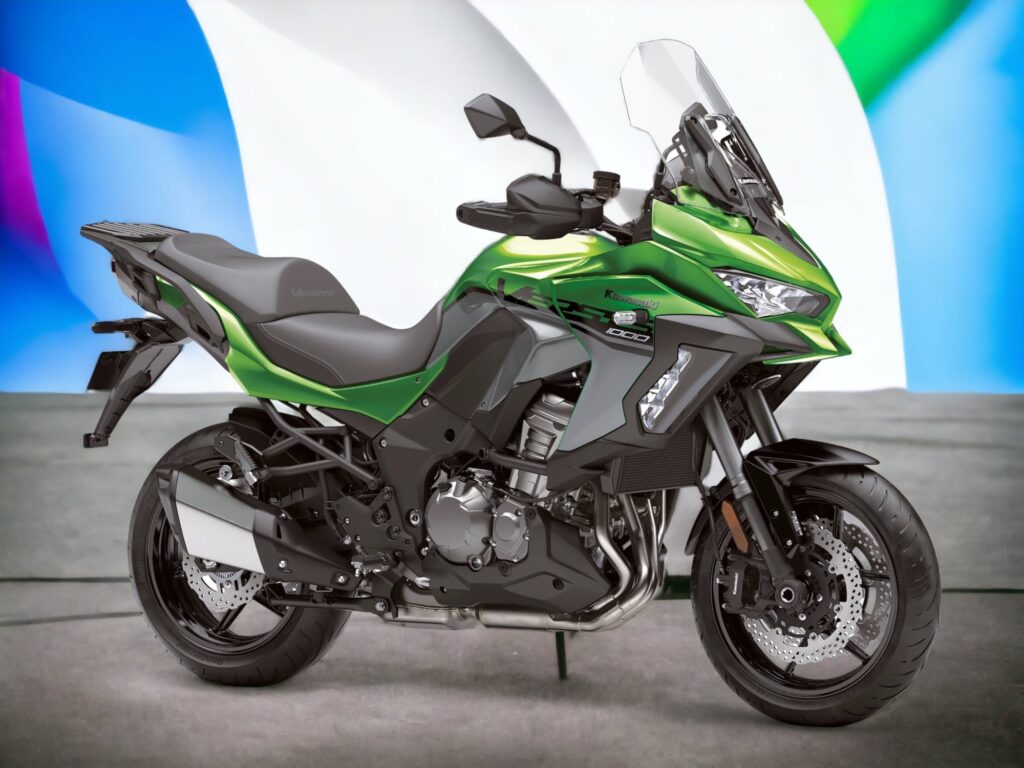 The Kawasaki Versys 1000 is a bit of an outlier in this list, just because it's not as high-performance as the others. In fact, it has a rated power output of just 88 kW / 120 hp at 9000 rpm from its 1043 cc engine.
But I wanted to include it because it's a rare example of another sport adventure tourer with an inline four-cylinder engine. They're a dying breed!
The Kawasaki Versys 1000 — all generations — is a comfortable sport tourer. It's really a bike I could ride all day without thinking twice about it. Plus, the engine, while not relentless like the KTM's for example, isn't boring at all… it has an engaging revviness (which not all four-cylinder bikes have) to it that was really enjoyable, as much on the highway as it was at low speeds.
The Versys 1000 is unique in that it comes out of the box with the works. The latest generation has a full IMU system and active suspension (Skyhook, in recent years), which just adds to both the safety and comfort. It doesn't have a radar, but it has everything else.
See the Kawasaki Versys 1000 3rd gen review.
The Versys isn't quite as sporty as the other bikes, though. It's a bit portlier, a bit lower in power, and the quickshifter isn't as quick (it's got a mushy feel).
Aside from that, it's hard to fault the Versys. Its only fault is that in a class of generally less sexy bikes, it's one of the least desirable, which means you buy it if you really want to use it; it'll never be a collector's item. (This isn't to disparage it. Just consider it near the other end of the spectrum vs an anniversary-edition Ducati of some kind.)
Also, it's worth pointing out that a simple slip-on exhaust and remap consistently brings out around 15 extra horsepower from the Versys 1000, per forums. So more performance is always on tap, if you want it (and who doesn't?)
KTM 1290 Super Adventure S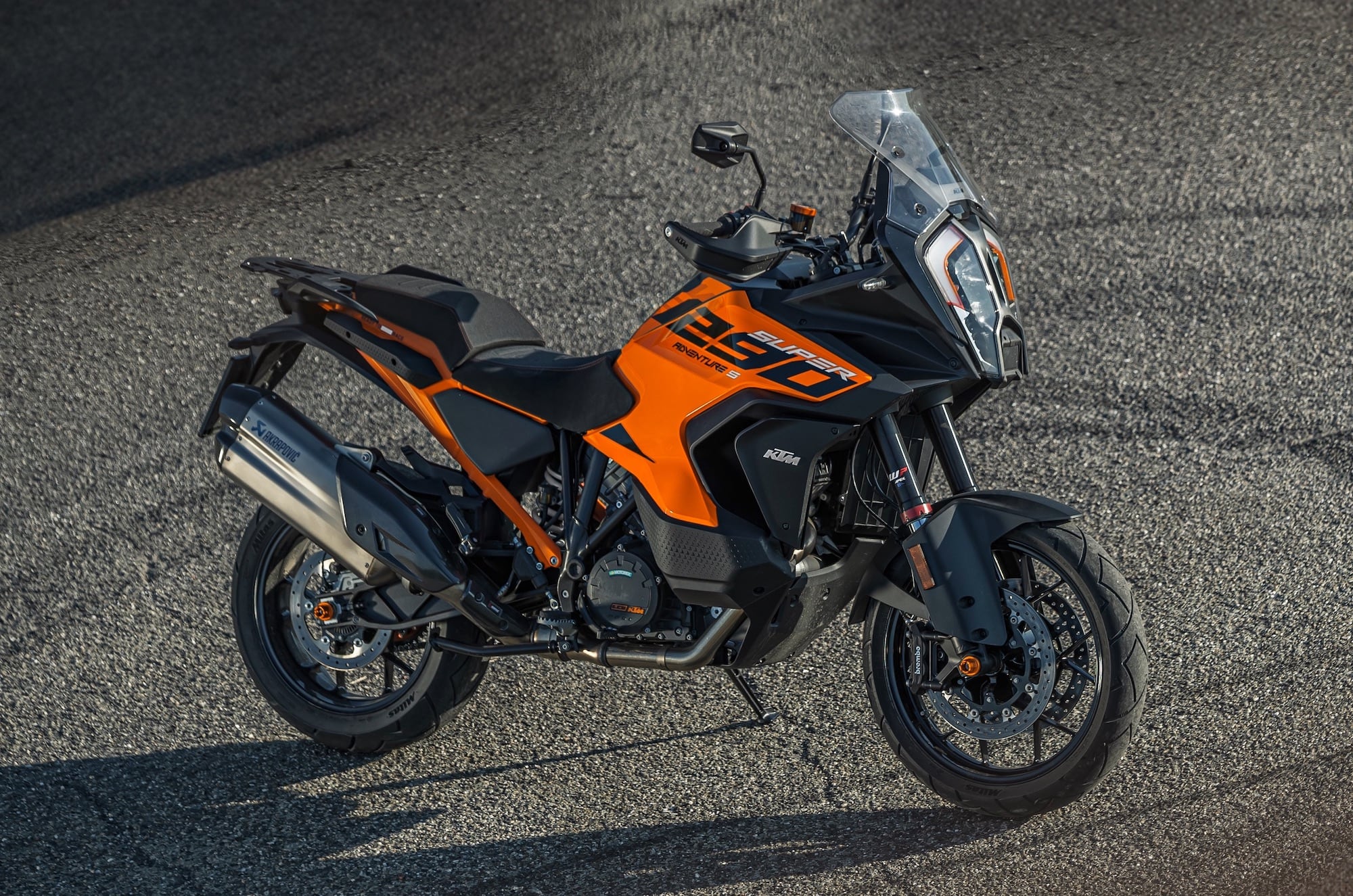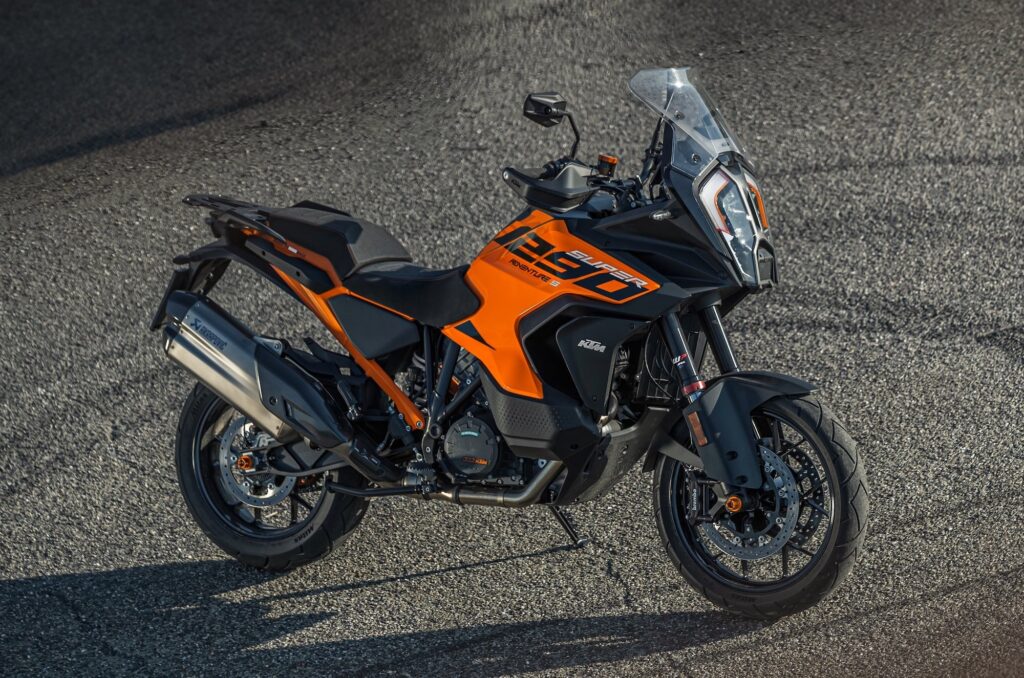 KTM has been making the 1290 Super Adventure since 2015. Since then, it has slightly re-branded into the Super Adventure R, which is more offroad-oriented, and the Super Adventure S, which is for the roads.
There are quite a few differences between the R and S — it's more than just wheels and suspension (which is what you might expect).
The core of the 1290 Super Adventure S is the 1301 cc "LC8" V-twin, which makes a peak of 118 kW / 160 hp at 9000 rpm, with peak torque of 138 Nm / 102 lb-ft at 6500 rpm. People describe the 1290 motor with words like "outrageous", "bonkers", or "the best engine I've ever used". It's raucous, has torque everywhere, and never feels slow. (It's nearly the same motor as that in the KTM 1290 Duke, but without a few high-performance bits.)
KTM shoehorned that beast into an upright adventure touring sport motorcycle. But it's more than that: KTM also gave the Super Adventure S niceties like active suspension and adaptive cruise control, which means cruise control adapts to the rate at which you're approaching a vehicle in front of you. It makes highway cruising a lot more low-stress — so you can get to the fun bits fresh.
Triumph Tiger 1200 GT / Pro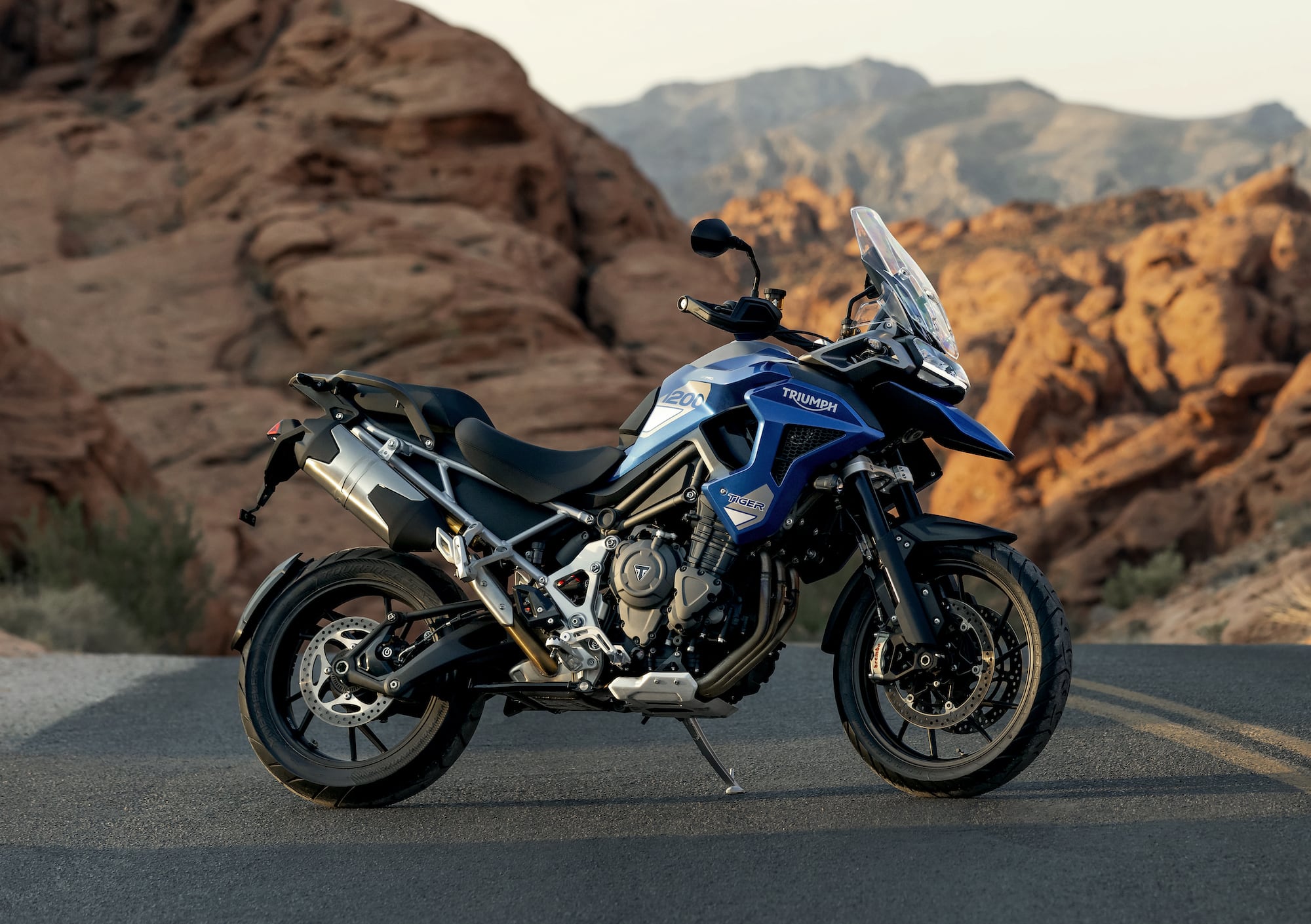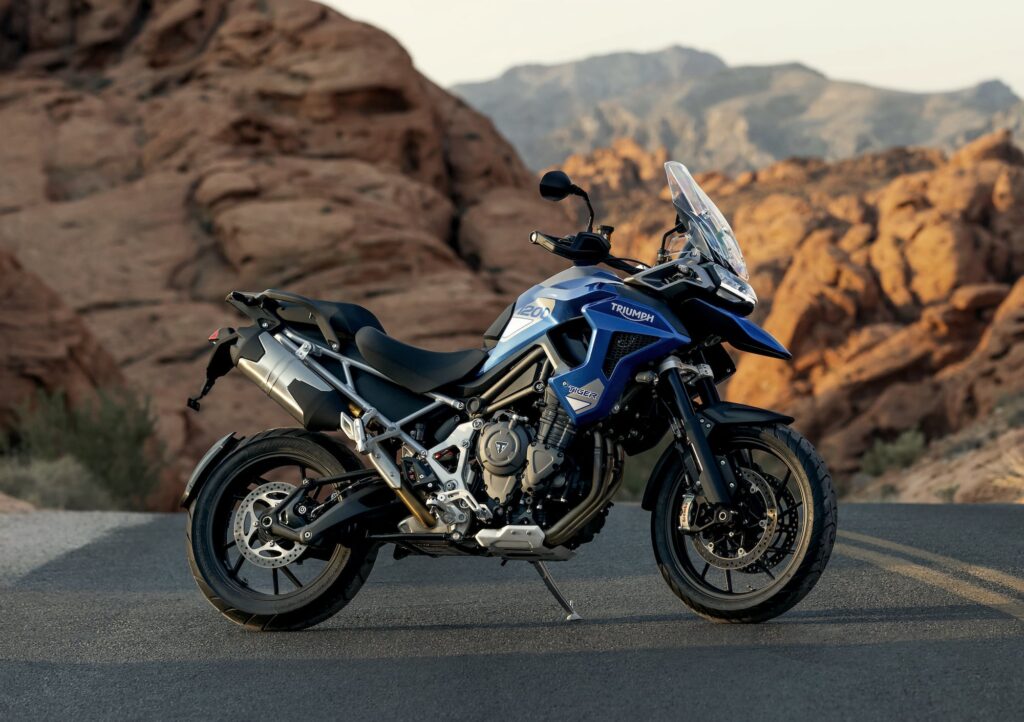 Finally, it's worth looking at the Triumph Tiger 1200 GT Pro, which also comes in Explorer spec.
The Triumph Tiger 1200 GT is powered by a three-cylinder engine in Triumph's "T-Plane" configuration. It's an 1160 cc triple that makes 110 kW / 150 PS at 9000 rpm.
Like the other motorcycles in this list, it has active suspension, and a full suite of ride electronics. But Triumph's 1200 GT is interesting in that its final drive is via shaft. Very few sport adventure tourers have this format of final drive, especially ones this high-power.
The GT Pro is the only reasonable baseline to consider against other models in this list, as the base model GT doesn't even come with cruise control. It's standard on the Pro, as is a quick shifter, centre stand, and some other bits.
The GT Explorer comes with a blind spot radar system, but not adaptive cruise control. It also comes with a 30L tank.
Alternatives to the BMW S 1000 XR within BMW
It's interesting just how many alternatives there are to the S 1000 XR even within BMW!
| Model | BMW F 900 XR | BMW R 1250 GS | BMW S 1000 R |
| --- | --- | --- | --- |
| Engine | 895 cc parallel twin, 270-degree crankshaft | 1254 cc boxer twin | 999 cc inline four |
| Peak power | 105 hp | 100 kW / 136 hp @ 7750 rpm | 121 kW / 165 hp @ 11000 rpm |
| Active suspension | Yes | Yes | No |
| Cruise control | Yes (options / standard) | Yes | Yes |
| Final drive | Chain | Shaft | Chain |
BMW's internal alternatives to the BMW S 1000 XR
BMW F 900 XR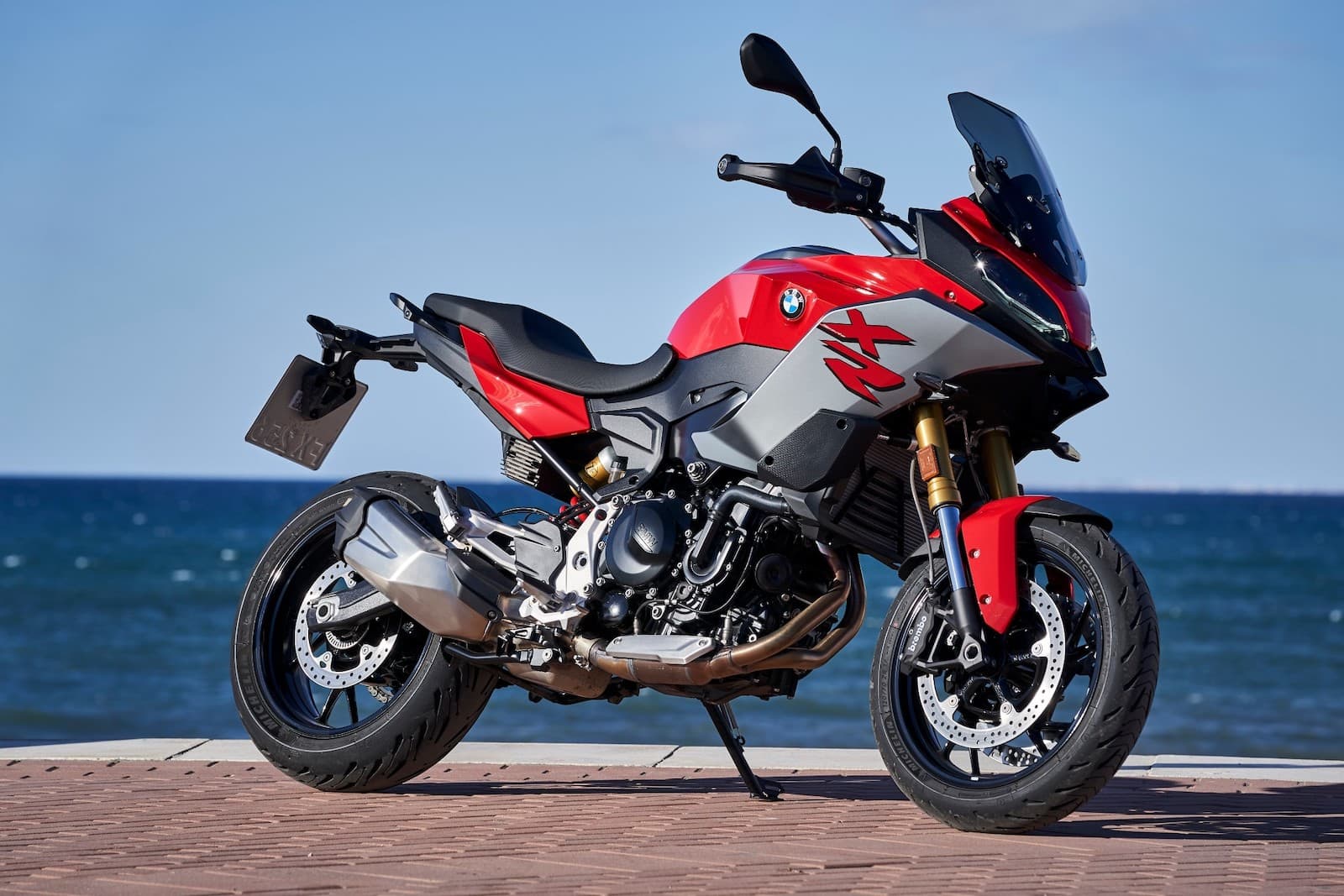 The most obvious contender to the S 1000 XR is the only other XR in BMW's line-up — the BMW F 900 XR.
The F 900 XR is somewhat new for BMW. It's a mini adventure sport tourer, sort of taking over from the F 800 GT, but in a different format and with a new motor — a new bike, in other words.
As it has a parallel twin, the BMW F 900 XR has a very different character to the S 1000 XR. It's much less powerful, but also thinner, lighter, and generally less intimidating to ride. It's a very capable everyday bike. Plus, it's quite affordable, even fully loaded with options like semi-active suspension (at the rear) and keyless ignition.
See more about the BMW F 900 XR here.
I rode one and quite liked it, and definitely wouldn't mind one in the stable for my everyday rider, if I had room.
BMW R 1250 GS
"But that's an adventure bike!" you claim. True. But the BMW R 1250 GS comes in a base model spec — the GS "non-Adventure". It typically comes with cast rims and street-going tires. But it's just damn hard to find a good-looking picture of it without optional spoked rims and some kind of off road-tire…
It's widely acknowledged that most people use the BMW R 1250 GS for road work, either mostly, or exclusively. It's perfectly suited to it. Most heavy off-roaders also opine loudly that the R 1250 GS (Adventure or otherwise) is too heavy for off-road (a matter of opinion).
See the complete guide to the BMW GS Boxers, from the R80 G/S to today, here.
Regardless, the GS is a talked-about bike partly because it has great marketing, and partly because it's just so good. The engine has loads of power and torque everywhere, even if boxers aren't most people's favourite format (I'm partial to them, and I even like the kick-over torque reaction you get). The bike is easy to manoeuvre, and even easy to ride quickly — or slowly. And maintenance is accessible to the everyday mechanic thanks to the cylinders sticking out the sides, and the shaft rarely needs maintenance anyway.
The BMW R 1250 GS comes with most ride aids, including dynamic electronic suspension.
Assuming you'll mostly stay on roads, a lot of whether you pick the GS or the XR will come down to which engine's feel you prefer. The XR is definitely the sportier, faster bike, even if the GS is no slowpoke.
If you think you might spend a while on dirt roads, I'd opt for the GS — it has more clearance and more protection. The shaft drive won't get cross with you for getting dusty. And future buyers are going to be OK with chips from gravel.
BMW S 1000 R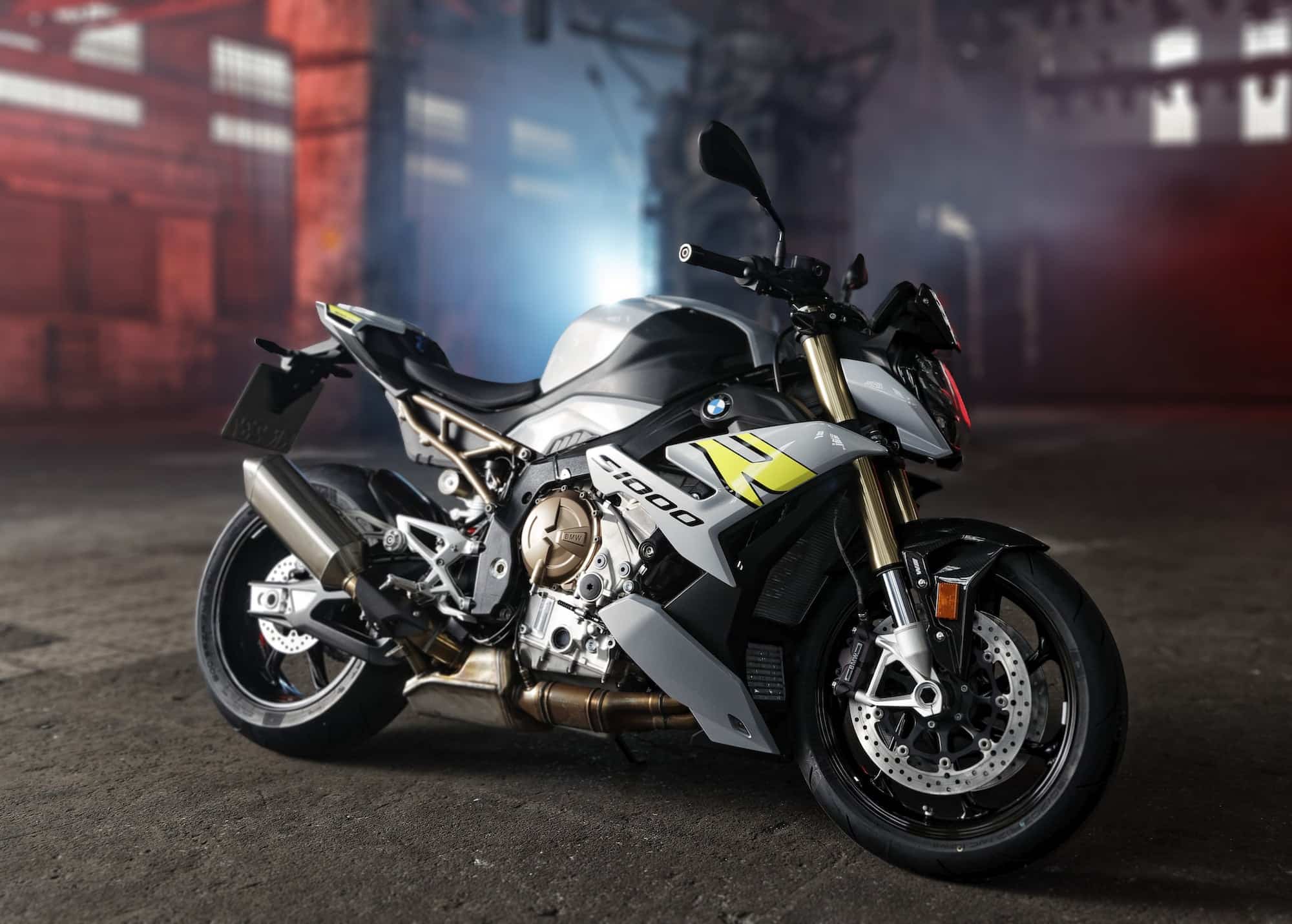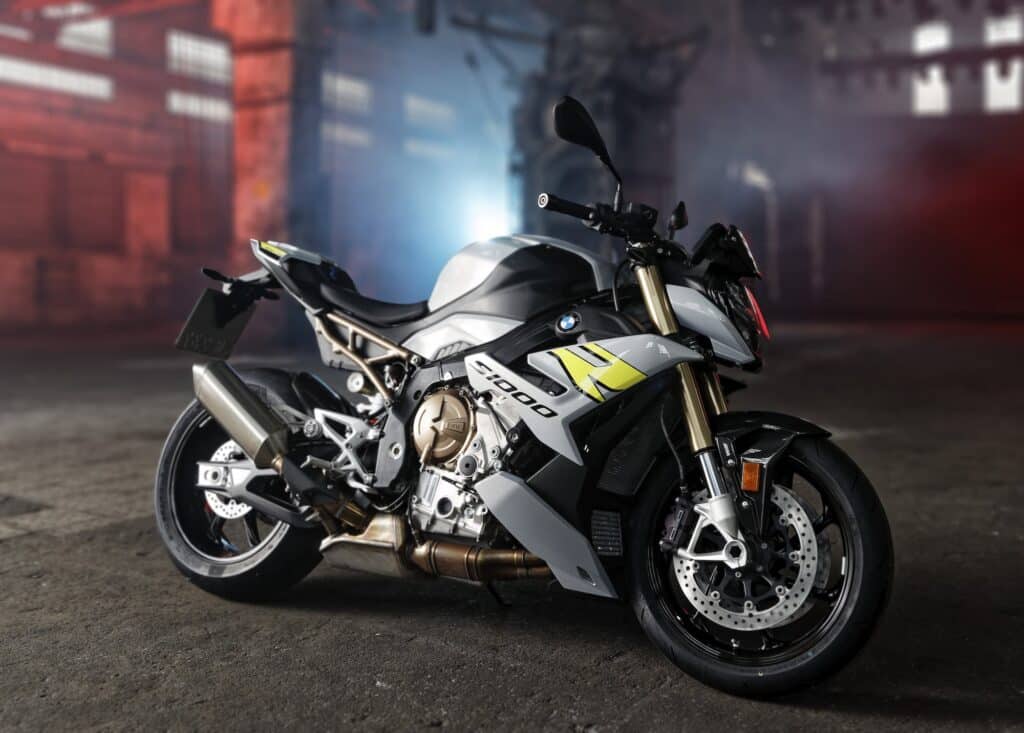 Finally, you might be thinking of the S 1000 R naked / streetfighter.
The S 1000 R and the S 1000 XR share an engine and a lot of components. But the S-R is a bit lighter, a bit more aggressive, a bit less comfortable, and lacks dynamic ESA; the S-XR is the opposite of that.
Essentially, the S 1000 R is more of a sunny days / track / sports motorcycle, whereas the S 1000 XR is the one you'd pick if it might rain, or if you had a long trip. Both are quick, but the S 1000 R is definitely the one to pick if you're more hot-blooded.
I really liked the S 1000 R. It was a perfect nexus of so many things — high spec, affordable (as they've been around for a while), fast, and comfortable. I actually only sold it as I was leaving the country for a while. (I intended to buy one again, but unfortunately, there was a Hayabusa in the lot when I went to check it out…)
Sum Up
I often reflect that it's a glorious time for motorcycling. We've got power for days, comfort like never before, and we're still allowed to ride the things before robots take over.
And while there are more specialised motorcycles out there, it's pretty amazing that the S 1000 XR can do anything a reasonable person would expect. It's not upset on gravel roads, it'd perform fine on a track, and it'd navigate a complex shopping mall car parking lot with aplomb.
It's hard to make an argument against the XR, other than there are just so many great motorcycles out there.
If you pick one up, or if you have it and enjoy it, let me know.