Some time ago I had a chance to go on a ride on the BMW F 900 XR. I actually had intended to go on the F 900 R, a naked sport bike that seemed to be really good value for money, but I was annoyed to see that it was a bit down-spec'd in Australia's market (which is why it was cheap, thus losing its "value" edge). So the dealer suggested I try the F 900 XR… and guess what, I really liked it.
Even though I've ridden a lot of bikes since, the BMW F 900 XR has left an indelible impression on me, and I've often thought back to whether I let this one get away, only for prices to inevitably rise in the meantime. The F 900 XR was just so easy to ride. It was comfortable. It was agile. And it was fun.
So every time I get back to it, I think about a few things that you might be wondering too, like:
Just what is the BMW F 900 XR? Get ready for a mouthful of adjectives, but not including BMW's favourite one, "Dynamic"
How did we get here?
How does it stack up to the other BMW motorcycles that are somewhat like it?
What's the BMW F 900 XR like to ride in general?
What are some alternatives to the BMW F 900 XR?
Here's everything you might be wondering about. Enjoy.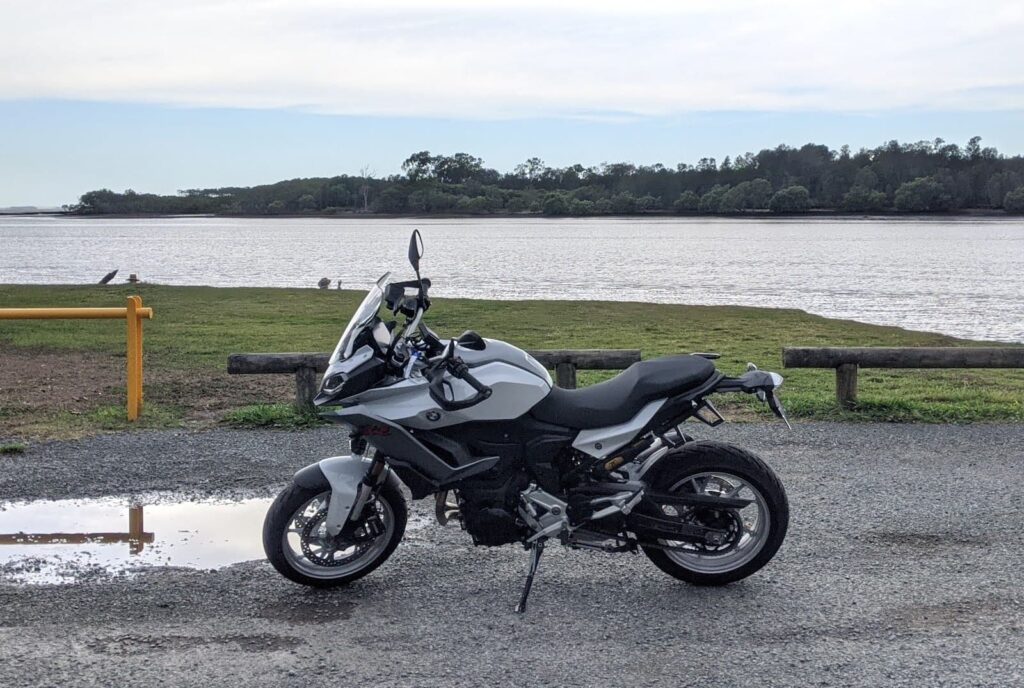 Are you obsessed with motorcycles?
Well, I am. That's why I created this site — as an outlet. I love learning and sharing what others might find useful. If you like what you read here, and you're a fraction as obsessed as I am, you might like to know when I've published more. (Check the latest for an idea of what you'll see.)
A Brief Introduction to the F 900 XR and its Class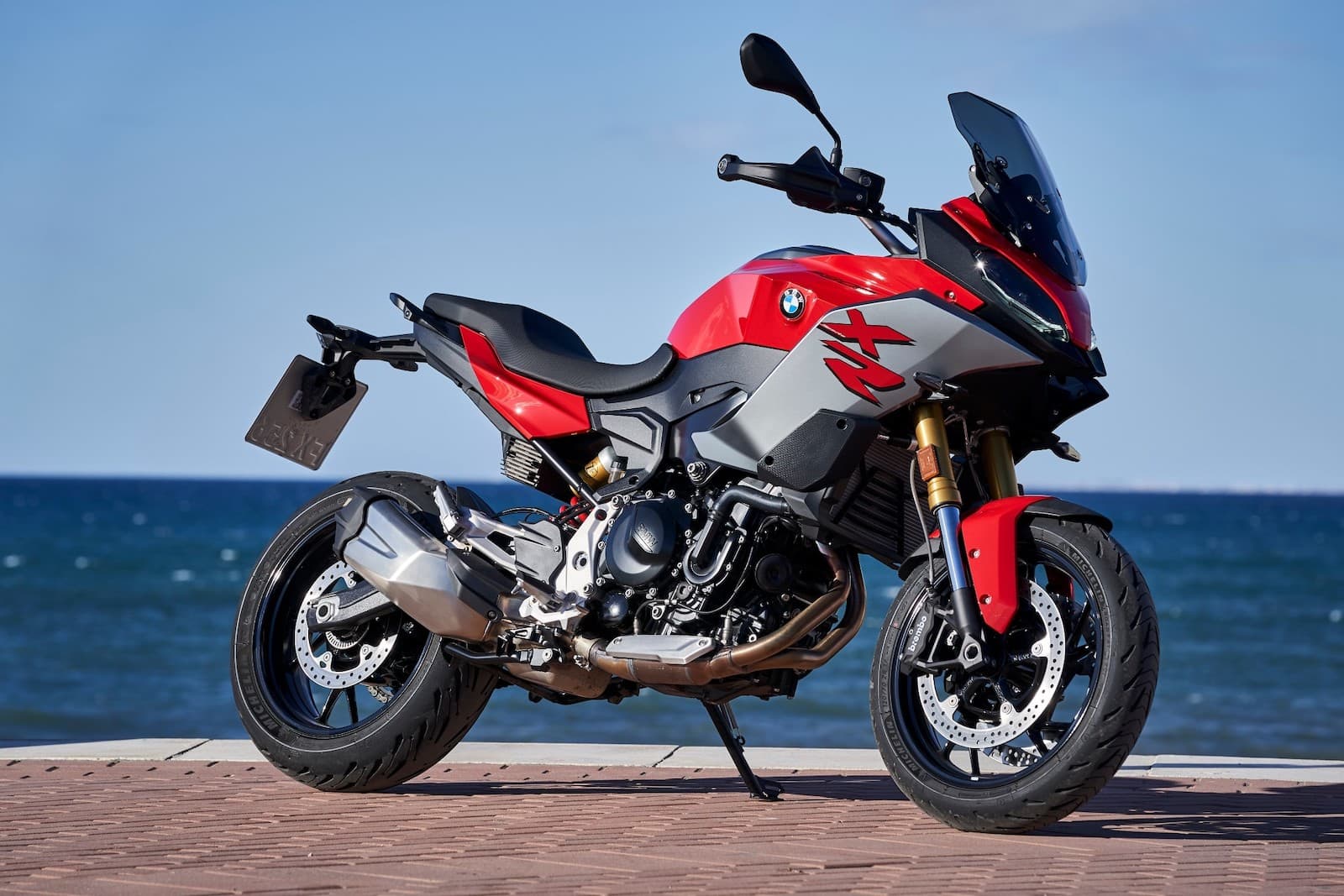 From the moment I got on the F 900 XR, I felt comfortable. And it's no wonder — it's the latest evolution of a class of motorcycles that I first found in the Ducati Multistrada 1000DS (though it wasn't the first comfortable sport motorcycle to exist).
Back in the early 2000s, the non-cruiser motorcycle industry was collectively coming out of a "sportbikes 4 lyfe!!" phase and easing into a "I am a world-travelling nomad on a big adventure bike" phase. Yes, many people had already made the shift to "adventure" generally, riding enduros and trail bikes forever, but I'm speaking about big ones. The BMW R 1150 GS Adventure marked a particular turning point, though KTM also was developing a line of iconic machines.
But Ducati didn't go down this path just yet. They had done enduros in the past with bikes like the Ducati / Cagiva Elefant, but they hadn't pursued that line in a while. Instead, Ducati helped kick into gear a market for upright, comfortable, but (somewhat) fast sport bikes, with the Ducati Multistrada 1000DS.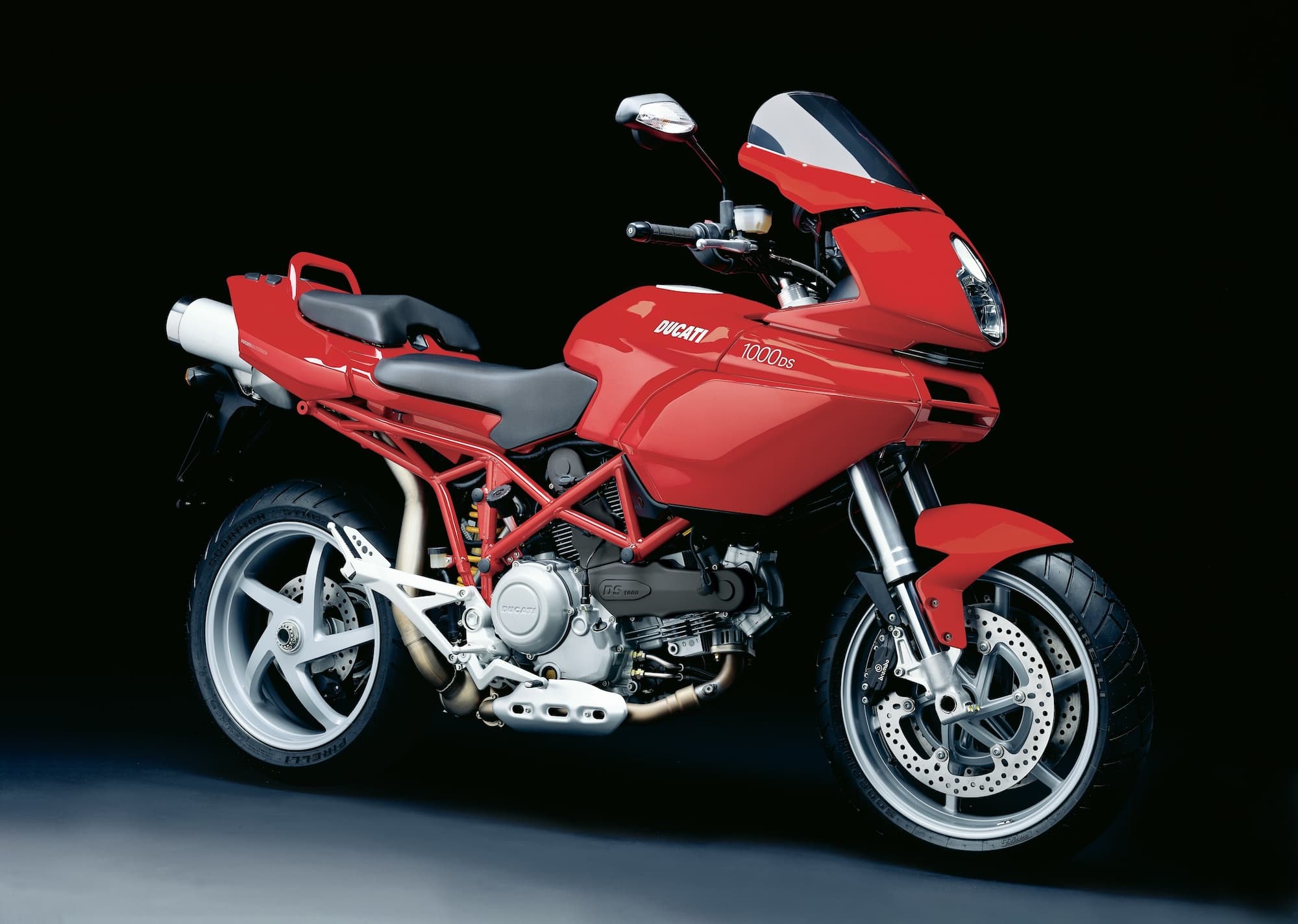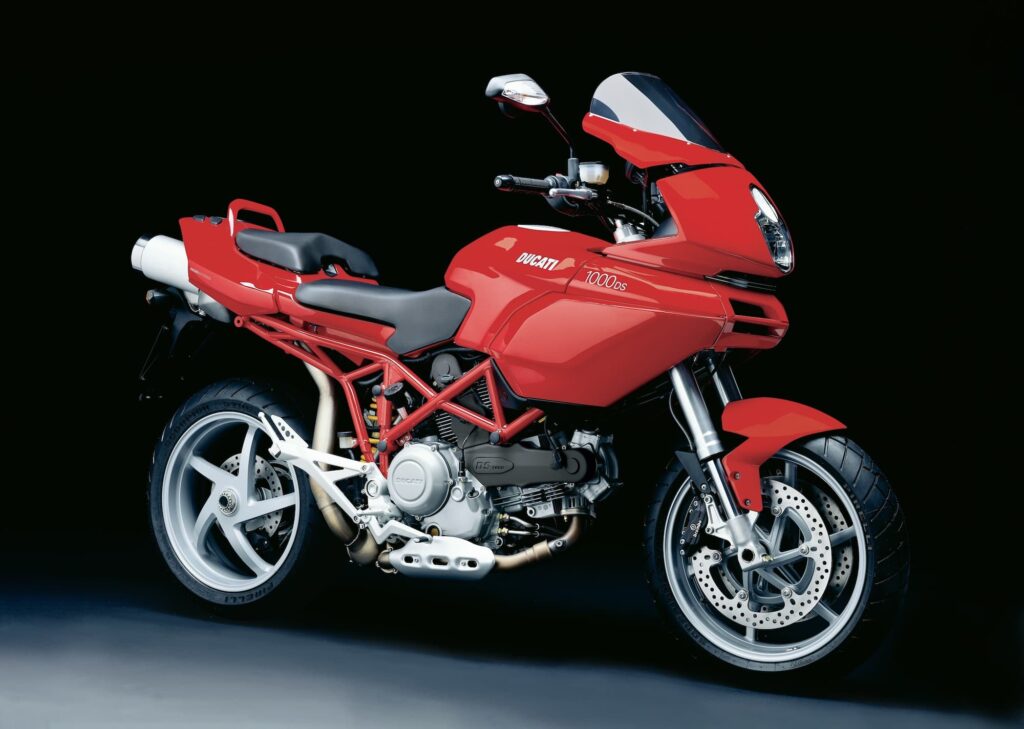 (Note: The Multi 1000 wasn't the first comfortable sport bike — there were others, with various sized markets.)
The Multistrada 1000DS is no lightning bolt by today's standards. Its peak power was 68 kW / 92 hp at 8000 rpm, shortly after which it'd abruptly redline ("I think there's something wrong with my bike," I remember telling my confused mechanic about redlining it constantly). But it has a sweet inverted fork, double disc brakes, a revvy near 1000-cc L twin, and sportbike-sized tires. This is a roadster made comfier.
The Multistrada, which any Italian will tell you means "multi road", gesticulating emphatically no doubt, is a road-going bike. Sure, it looks like maybe it won't be too upset if you ride it on a dirt road, but don't expect the bike's suspension or your own suspension to thank you for it.
Since the Ducati Multistrada, we've seen a bunch of other fast-but-comfy bikes, mostly based on high-end sport bikes, including the Yamaha FZ1S (shh… don't tell anyone!), the BMW S 1000 XR, and the KTM 1290 Super Adventure S. These are all 150 hp+ motorcycles with handlebars and all-day riding positions.
These are basically adventure bikes for people who admit they may never go off-road, and don't really want to go to the track. They sacrifice a bit of style, and a bit of top-end, but reward the rider with a full day of fun.
Alongside the Multistrada, Ducati released a smaller Multistrada, the much-less-popular Ducati Multistrada 620. They killed this off. But it inspired other manufacturers to make smaller adventure sport tourers, which we call "middleweight adventure sport bikes".
These days, the "middleweight" class of adventure sport motorcycle has roughly the same engine capacity but makes more power than the original big Multistrada 1000DS, generally around the 100-120 horsepower level. The F 900 XR tops out at 105, more than 10 hp peak power over the original Multi.
So the BMW F 900 XR is what people these days call a "middleweight adventure sport" motorcycle. It's kind of a compromise, as many motorcycles are.
It's "middleweight" in that it's not the biggest bike that BMW makes, even in this class — that would be the stomping BMW S 1000 XR, which is like a superbike that you could ride to the moon and back.
It's "adventure" in that you could ride it all day, and sometimes on less paved roads.
And it's "sport" in that it's more of a road bike than an off-road bike.
The "middleweight adventure sport" class is one that many people choose because it does everything. And probably many more would choose it if it were sexier. It's just hard to make a do-everything bike that stirs the soul.
But because middleweight adventure sports do make a lot of riders happy, quite a few manufacturers still sell them. I suppose the sales strategy is to lure customers in with marketing about superbikes and hyper nakeds, then get them to sit on a comfortable AND cheaper bike like the F 900 XR, and the rest is history. That's certainly what happened to me!
So how do we define the "Middleweight Adventure Sport" class? It's a moving target, but for me, it's captured by a few things that are shared by the XR and other motorcycles in the "alternatives" section below:
Power level: These motorcycles all make "around 100-120 hp". Maybe a shade more or less. But generally, that level of power.
Engine capacity: They all have an engine capacity of around 800-900 cc. Again, maybe more or less.
Tech features: In this class in the latest incarnations you'll see it all, including cruise control, cornering ABS, TFT displays, and some degree of electronic or even active suspension.
Weight: Middleweight adventure sport motorcycles — fully fuelled – weigh around 220-230 kg. But of course, luggage and crash protection can bump that up, as can things like centre stands. Anyway, it's less than the ~250+ kg range of bigger adventure tourers in the next category up.
When you make a motorcycle that does a bit of everything, you of course run the risk of making a bland bike that doesn't excel in any area. So it's up to the bikes like the F 900 XR to win you over with their utility. Let's see if it can!
How did BMW Get to the BMW F 900 XR?
The BMW F 900 XR is somewhat new and somewhat old for BMW. They've made middleweight adventure sport tourers before, of course, but they hadn't for a little while.
The motorcycles leading up to the F 900 XR were
The parallel twin F 750 GS, the smaller, more road-going sibling of the F 850 GS (and before it, the parallel twin F 650 GS)
The F 800 GT, the same engine powering a sport tourer (this is the "sport" side of the XR)
The S 1000 XR, the only other BMW XR, with a high-power inline four-cylinder engine from the S 1000 RR
All of these go into a heady cocktail to give us the F 900 XR. That's what makes it the sleeper — it borrows an element or two from other motorcycles in BMW's range, but manages to make itself so distinct that one might not immediately think of it as being related to the others, whether as a sibling or a descendant.
And BMW didn't just get bits from each of those other motorcycles. The F 900 XR even has a different engine — similar to that in the F 750 / 850 GS, but with a 2-millimeter wider bore, and a distinct character.
What's more interesting to me is that the F 900 XR sits alongside the F 900 R. This intrigues me because this implies that they replace two motorcycles previously in BMW's line-up: the F 800 R, a naked sport bike, and the F 800 GT, a sport tourer.
OK, I can definitely see how the F 800 R became the F 900 R. It's still a middleweight naked. But the F 800 GT has almost nothing in common with the F 900 XR.
The F 800 GT is a sport tourer, whereas the F 900 XR has a more upright riding position, the "adventure sport tourer" as people call them.
The F 800 GT has a single-sided swingarm. It looks great! The F 900 XR does not have one and so lacks a bit of pizzazz. Boo
The F 800 GT has a belt final drive, which is intriguing. The F 900 XR has a chain.
The GT is a GT, like the K 1300 GT. The XR is an XR, like the S 1000 XR.
That's really most of it.
One of the other ways to think of the F 900 XR is as "the other XR", alongside the S 1000 XR. But wow, the S 1000 XR is some TOUGH competition.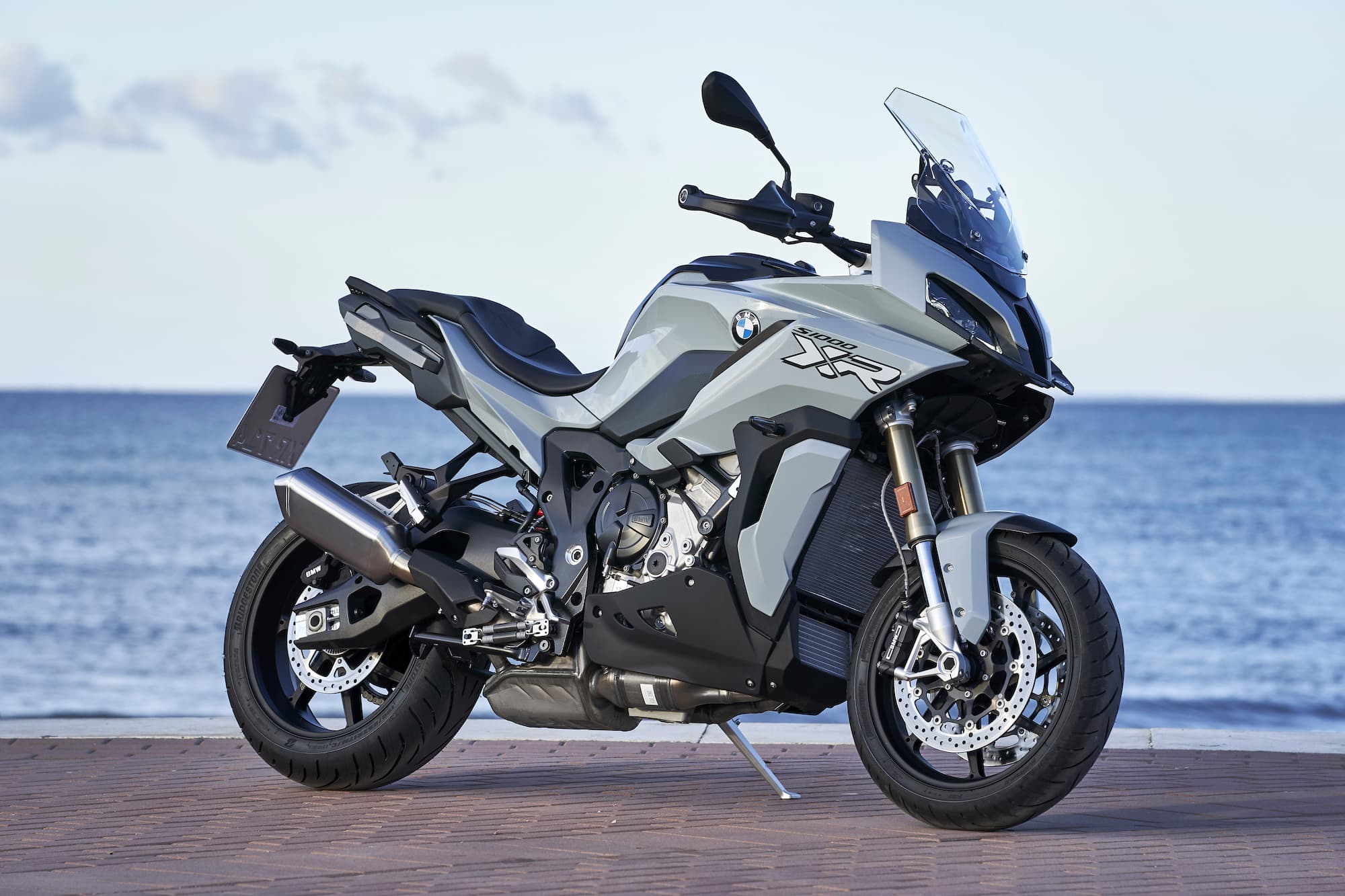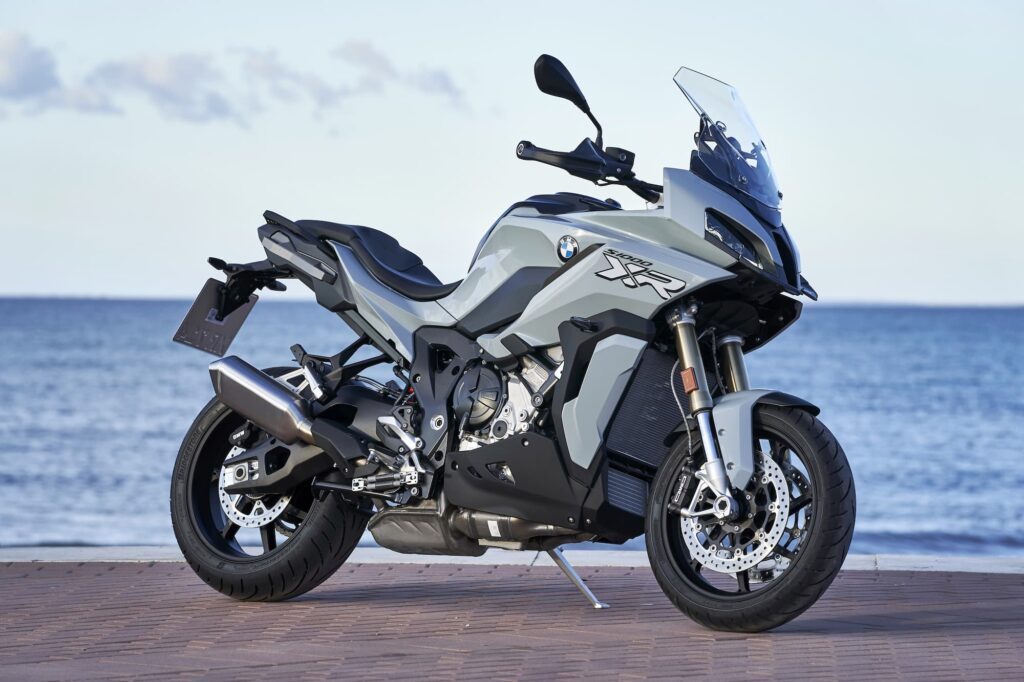 The S 1000 XR is based on the motor in the BMW S 1000 RR superbike. Sure, they "detuned" it to 121 kW (165 hp) at 11000 rpm. It's still really fast! This is much more a sport bike. I dare say in most road-riding situations, there's nothing the S 1000 XR couldn't do. It's one of those "casually fast" bikes that you really have to watch yourself on. BMW is good at that.
The big S 1000 XR has, aside from the higher-power engine making over 1.5x the peak power, more advanced suspension and braking. And somehow, it only weighs 7 kg / 15 lb more than the F 900 XR.
See the model guide to the BMW S 1000 XR.
Having ridden both, the S 1000 XR unquestionably feels faster, more stable, and more "high-end". But this is without prejudice to the F 900 XR, which on its own is a very decent machine.
When you look at both motorcycles, you can see how the F 900 XR looks like the little sibling of the S 1000 XR. It's nice company to have!
Spec Sheet of the BMW F 900 XR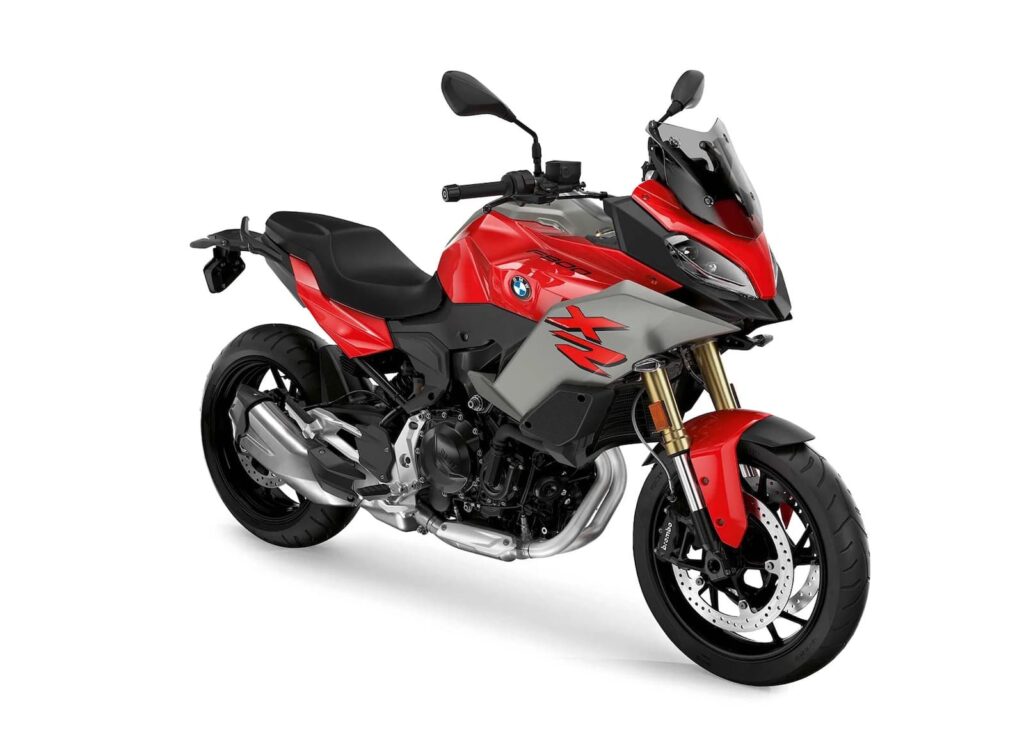 You can get a spec sheet anywhere, but I inevitably compare bits of the XR to other bikes. So I'll just keep the most important specs here, plus provide a brief comment on each element.
Item
Spec
Notes
Engine
895 cc parallel twin, 270-degree crank
Parallel twins with 270-degree cranks are all the rage! (Here's other motorcycles with this format engine)
Peak power
77 kW / 105 hp @ 8500 rpm
"Goldilocks" power for most people. But to be fair, it's not enough for those who'll end up with a KTM 1290 SAS and do wheelies past you.
Peak torque
92 Nm / 68 lb-ft @ 6500 rpm
Torque curve flatter than Australia's "mountains"
Fuel
91 or 95 RON (market dependant)
Check your manual!
Front suspension
43mm USD fork, non-adjustable
A bit disappointing for a still rather expensive bike
Rear suspension
Monoshock, hydraulically preload, adjustable rebound
Optional dynamic ESA
Fairly basic rear shock; see below for ESA description
Front brake
2 x 320mm discs, 4-piston radial calipers
Sportbike spec (well, of a few years back. Still good though)
Ride aids / electronics
* ABS Pro (Cornering ABS)
* Cornering traction control (ASC) – can be disengaged
* Cornering lights
* Anti-hop cable clutch
* Quick shifter
* Keyless ignition
Everything but radar!

Some of these are optional in some markets (e.g. Riding Modes Pro / ABS Pro), but sometimes standard
Core specs of the BMW F 900 XR (from BMW Press)
BMW F 900 XR — How the Engine Compares
Let's look at how the BMW F 900 XR's engine compares to that of its predecessor, the F 800 GT, and the still-current F 750 GS. It has a lot in common with both.
Many manufacturers have tendencies to only vaguely name a motorcycle after its engine capacity, and BMW is no exception.
(They caused the most confusion when they decided that the F 650 GS would change from a 652 cc single to a 798 cc parallel twin, without changing the name… c'mon guys. But I digress.)
Anyway, when I see names like F 750, 800, 850, and 900, I think it's interesting to see what's actually different about the motors.
Here's the specs, straight from BMW:
Engine
F 900 XR
F 800 GT
"The Predecessor"
F 750 GS
"The Other Road Bike"
Motor configuration
895 cc Parallel twin, 270-degree crank
798 cc Parallel twin, 360-degree crank
853 cc Parallel twin, 270-degree crank
Bore / Stroke (mm)
86 / 77
82 / 75.6
84 / 77
Compression ratio
13.1:1
12.0:1
12.7:1
Fuel requirement
Regular / Premium
(Market dependant)
Premium
Regular
Peak power
77 kW / 105 hp @ 8500 rpm
66 kW / 90 bhp @ 8000 rpm
57 kW / 77 hp @ 7500 rpm
Peak torque
92 Nm / 68 lb-ft @ 6500 rpm
86 Nm / 63 lb-ft @ 5800 rpm
83 Nm / 61 lb-ft @ 6000 rpm
Source
F 900 XR, BMW Press
F 800 GT, BMW Press
F 750 GS, BMW Press
BMW F 800 GT / F 900 XR / F 750 GS / F 850 GS specs
Comparing the F 900 XR / F 900 R's motor with its "predecessor" shows a stark contrast. The new motor isn't just more powerful; it's revvier and has a snappier bark to it. It's night and day, really. The 800 has tons of fans (I'm still one of them), but I like the 900 more.
The F 750 GS is a de-tuned version of the F 850 GS, making it more of a road-going motorcycle. It also has shorter-travel suspension and road-going wheels. But what I think is quite interesting is that the engine is tuned for regular (non-premium) fuel. There's a significant saving on your cost of ownership right there!
The F 900 XR's US manual specifies regular fuel, but the Europe manual specifies premium — so you decide for yourself what that means… Some people, predictably, say it works better on premium.
The F 900 XR takes that F 850 motor and adds 2mm of bore for the increased capacity. (See our guide to bore and stroke here.) Plus, it's tuned to be a bit more top-end focused.
One note on the BMW's motor is that it's made by Loncin Motor (隆鑫, lóng xīn) in China, not in Germany. The bike is still assembled in Berlin, Germany. This is part of what keeps the cost down. Loncin is a big company that owns the brand Voge. They've made various motors / blocks for BMW for a while, and also make the motors for the F 750 / 850.
Riding the BMW F 900 XR
The BMW F 900 XR is one of those bikes that makes most riding easy. This is the conundrum of adventure sport tourers: They're easy, but also are at risk of being forgettable. So my ride was a quest to see: Is the BMW F 900 XR going to etch its way into my heart?
I haven't forgotten it, and keep looking for affordable models, so maybe it has!
Versatility is the special magic of middleweight of adventure sport tourers. They can just do anything. It's the combination of
A willing engine
Loads of ground clearance
Wide handlebars
A comfortable seat
Not-too-heaviness
Every ride aid you could want, until the next one comes out (et tu, radar?)
Basically, bikes like the BMW F 900 XR are the Swiss army knives of bikes. Looking at that list, you can't help but wonder why other motorcycles exist. Well, to me, it's just because some people prefer extremes over versatility. If you do track days, you want to crouch over the front wheel. If you do a lot of enduro riding, you want much less weight, and different wheels and suspension.
Look, I wouldn't crawl over rocks on an F 900 XR, just because I don't want to dent a rim on my own in the middle of nowhere (also, I don't really enjoy crawling over rocks in everyday riding).
But there's nowhere reasonable that I wouldn't take the F 900 XR. I might wrap the exhaust headers and put a grille over the radiator first, but I'd ride on dirt roads on it for days. Days I tell you!
My favourite bit of starting up a modern BMW is that BMW lets technology trickle down to middleweight classes, and sometimes entry level classes. So the BMW F 900 XR might not have the most powerful engine or highest spec ride gear. But it has keyless ignition and that sweet TFT display.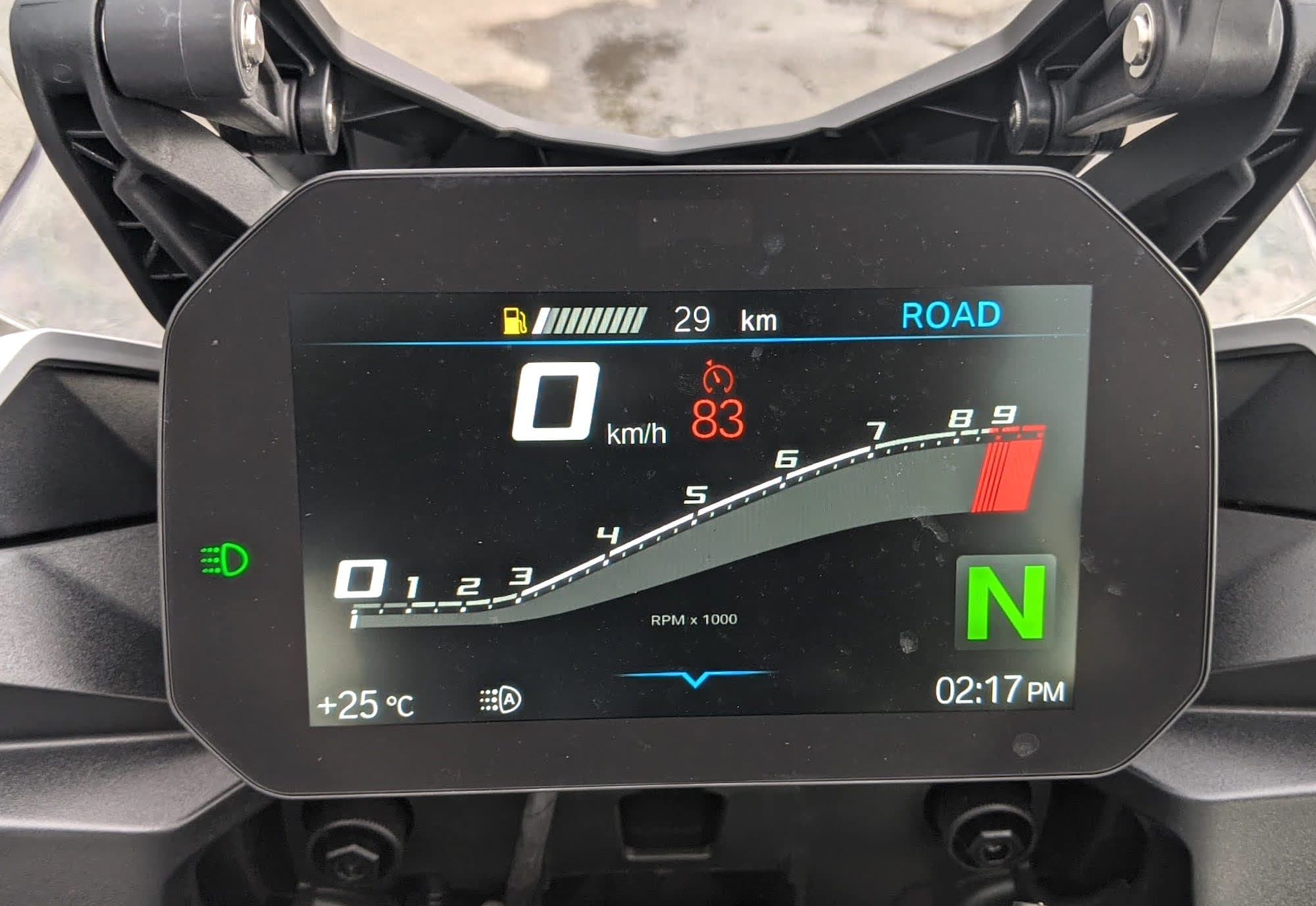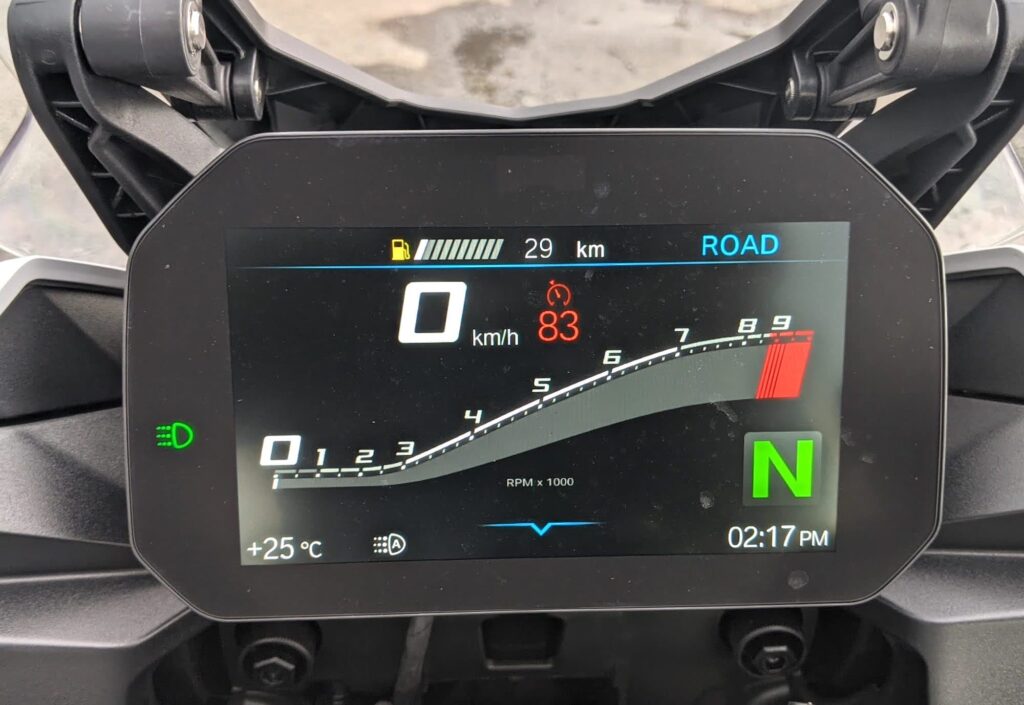 Many people grumble about keyless ignition. But I suppose because I've never felt the pain of a flat battery in my key, I really like them. Especially when compared to the clumsiness of keys — remembering which pocket they're in, forgetting to insert it before I put on my gloves, loose keys mildly scratching the paint or surrounding bits around a key barrel. I think the trade-off is worth it.
Starting the F 900 XR up isn't dissatisfying, but nor is it exactly soul-stirring. Much ballyhoo has been made about how parallel twins with 270-degree cranks have "character" and sound like V-twins.
See here for my list of motorcycles with 270-degree crankshafts
But BMW's entry into the 270-degree parallel twin list isn't fire-breathing off the bat. I wouldn't even liven it up with an aftermarket exhaust. That works for an MT-07, which sounds beastly with a pipe on it, but it just doesn't work for every bike.
Besides, the F 900 XR isn't really for fire-breathing acoustics encouraging you to do wheelies (is it? I mean, sure…). If you want character, get a horse.
The BMW F 900 XR's torque curve is wonderfully flat. On the dyno, it's a pretty much straight line of around 70 Nm / 50 lb-ft from the 3000 rpm point to near redline. This makes it really easy at any point.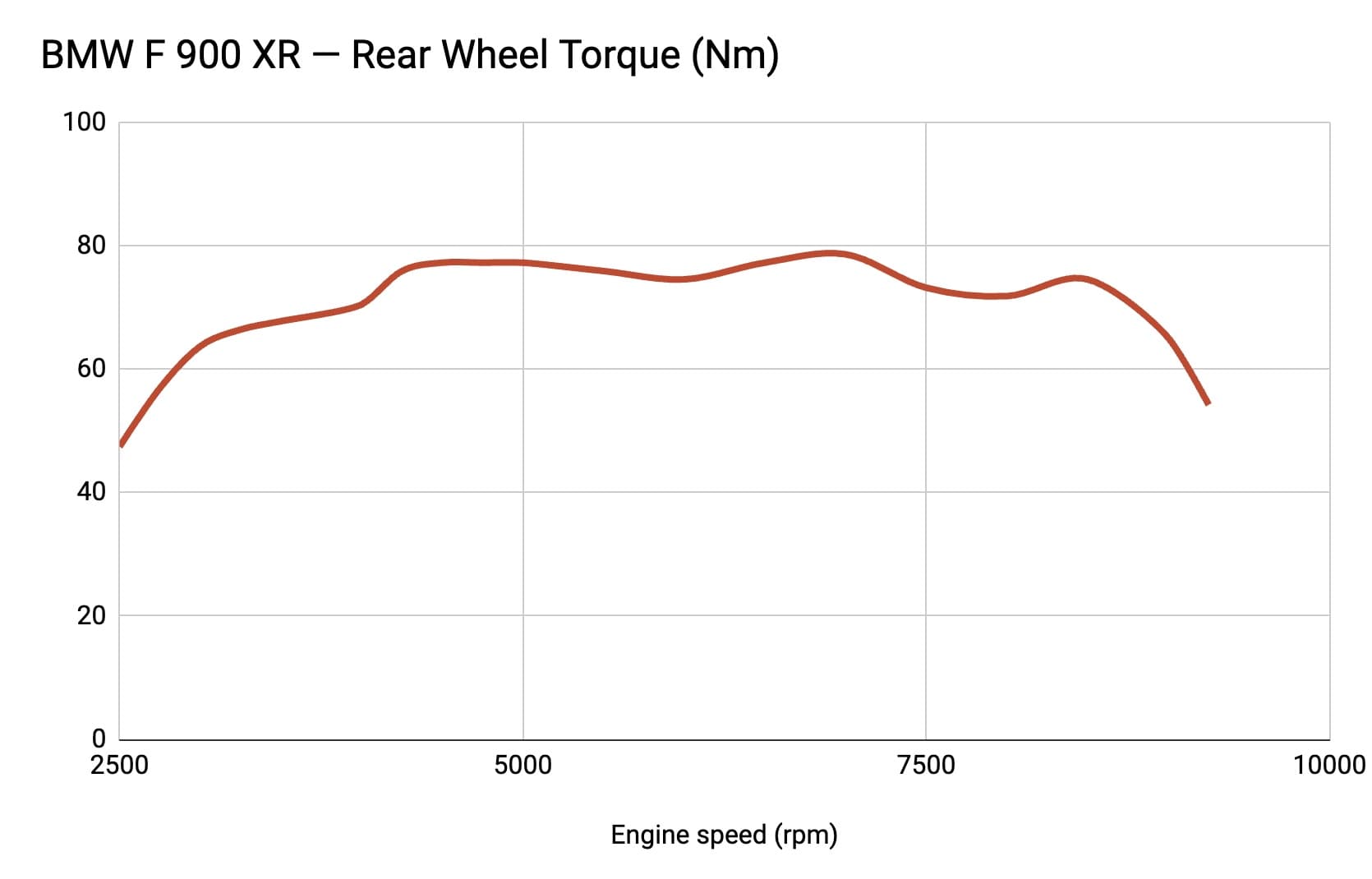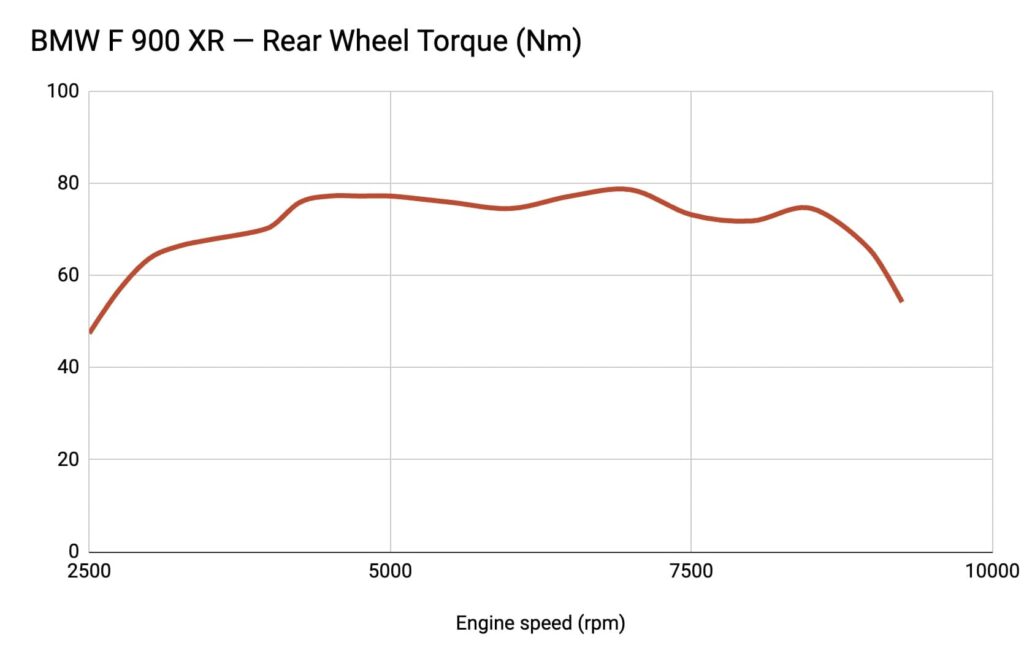 It goes without saying (almost, so I'll say it) that the F 900 XR is very capable at daily riding duty. In traffic, commuting… it's all just very easy on the F 900 XR.
What I was more curious about was how it performed when I got a bit more demanding of it, both more on the sporting side and on the adventure side.
On the sporting side, I took it through some sweepers and some fast corners. It did it well. Yes, there's a bit more dive in the fork than I'd expect of a sport bike, but it never felt remotely hard to control.
Because of its comfortable riding position and linear engine, it was also very easy to start riding quickly on. Within just 20 minutes or so (basically, as soon as the opportunity presented itself), I was able to get it down quite far through corners — further than I can on sport bikes so quickly.
By the way, I think it's important to note that many people think the F 900 XR's motor feels really at home in the XR, more so than in the R. Of course this is a subjective thing, and a very slight preference, but I personally agree. I like naked bikes to have a bit more fire in their belly. The 900 motor is easy and flat, which is more suited to everyday riding — the domain of an upright bike like the XR — than it is to a naked sport bike.
So on roads, I don't think I'd get bored on an F 900 XR — unless I was going to chase 100+ mph sweepers. But that's for other bikes, like my Hayabusa (sigh, always has a place in my heart).
I did have the opportunity to ride the BMW F 900 XR on dirt roads, and also on some messy asphalt roads (with debris on them, like leaves and water). This is where I can say the F 900 XR was 100% happy.
The comfortable riding position and wide-ish handlebars mean that it's always easy to control. And on the occasional point where I lost traction, I found the traction control system to be really effective without being too aggressive — something I've definitely experienced with older generations of the feature.
When I accelerated on a slippery surface on the BMW F 900 XR, the rear wheel kicked out a tiny bit, and then it found its foot again when the traction control kicked in. Kind of like a stumble on an uneven surface.
There's one final thing I want to say about the F 900 XR and that's "character". It has enough, without being a fire-breathing monster. This is totally OK given a) the kind of bike it is, and b) today's climate of emissions restrictions. I doubt I'd do anything to the exhaust, personally. For me, bikes like this are more about where they take me, and what kind of mood I'm in when I arrive. Which was a good one, on this day!
About the Dynamic ESA in the F 900 XR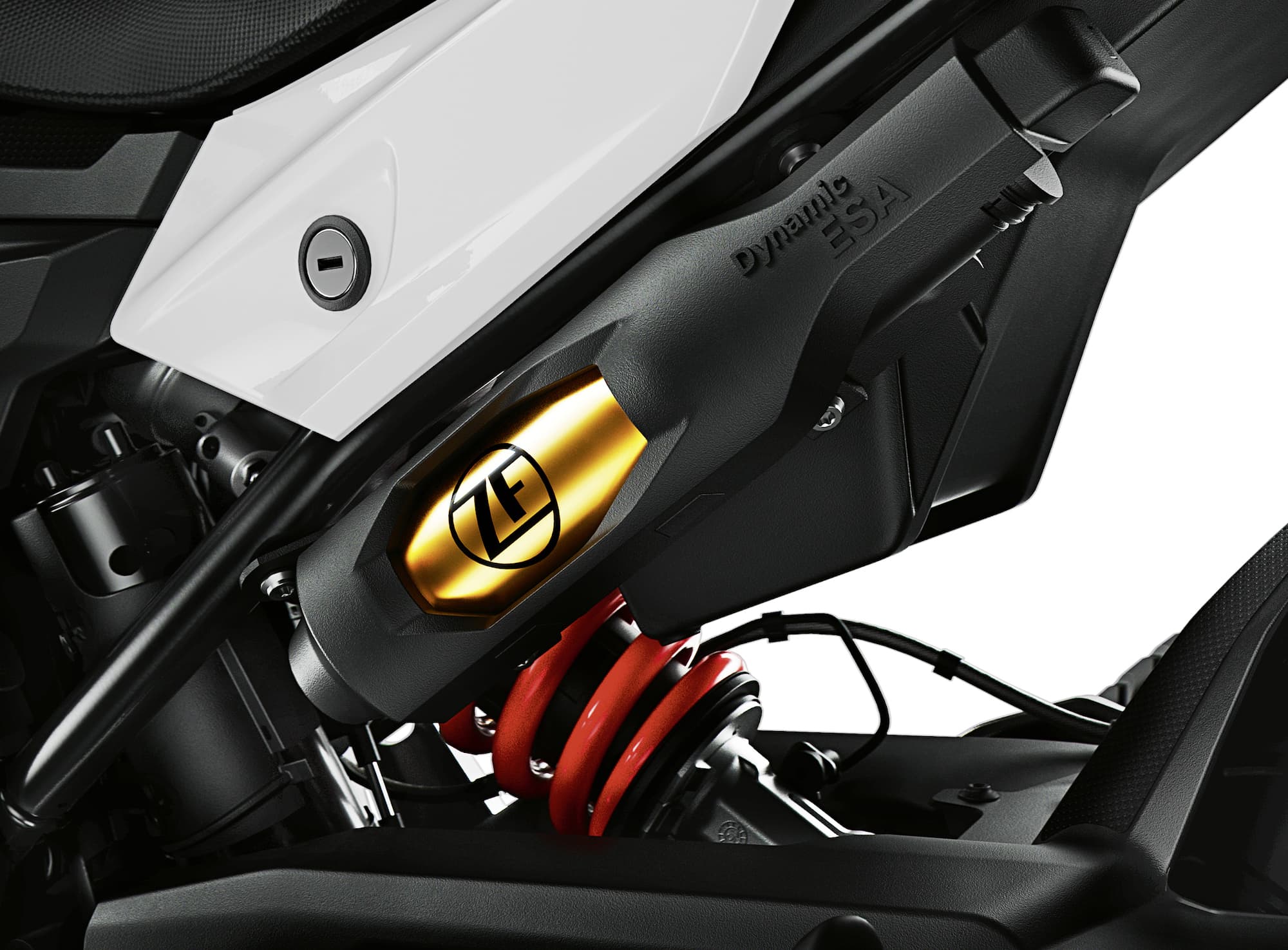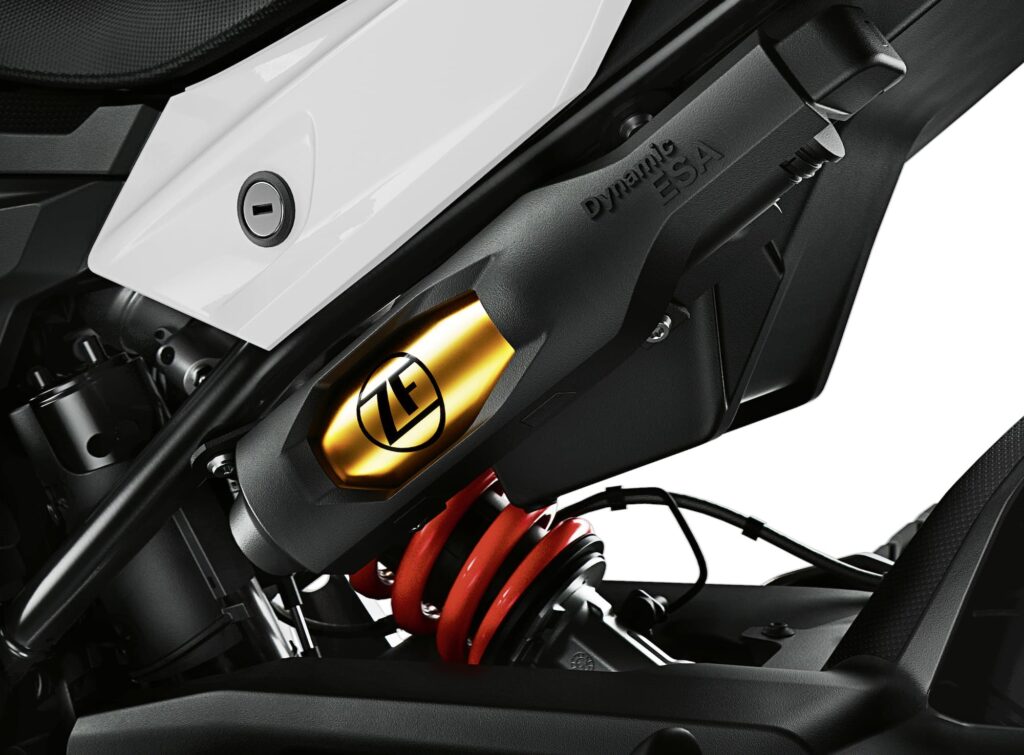 There are lots of kinds of "Dynamic" or "Electronic" suspension in modern motorcycles, so it's worth noting exactly what dynamic suspension (an optional extra on the BMW) does in the BMW F 090 XR, as well as in its competitors.
In BMW's press release, they describe the Dynamic suspension as a way of enabling the Dynamic adventurer to pursue ever-greater Dynamic levels of Dynamism. (I kid, but seriously, I did a word count in the press doc… they used "Dynamic" a whopping 75 times.)
Seriously, in the BMW F 900 XR, Dynamic ESA is designed to adjust damping in the rear shock only to suit road conditions.
The F 900 XR uses a sensor to detect movements in the suspension, both degree and the rate of change. It uses those measurements, combined with input from the ABS / ABS Pro system and ASC / DTC systems, to adjust the damper valve to adapt to the terrain.
You can customise the Dynamic ESA response mechanism in two ways, using the suspension button on the left handlebar:
Damping mode (press the suspension button quickly): You can set it to "Road", which is the more comfortable setting, or "Dynamic", which is for more sporty riding.
Preload (repeatedly press and hold the suspension button): You can set it for one-up, one-up with luggage, and two-up with luggage. Note that you can only set preload when stopped.
There's no dynamic function in the front suspension. In fact, the front suspension isn't adjustable at all.
So how does this stack up relative to the competition? That's an important question.
Different motorcycles have a mixture of a few factors:
Electronically controllable preload — the most basic kind of control, where you set the preload with buttons or via the screen rather than with knobs or screws
Dynamic control of the front fork (and whether it's rebound and compression damping, or just rebound damping)
Dynamic control of the front shock (and whether it's rebound and compression damping, or just rebound damping)
| Item | BMW F 900 XR | Ducati Multistrada V2 S | MV Agusta Turismo Veloce Lusso | Triumph Tiger 900 GT | Yamaha Tracer 9 / GT |
| --- | --- | --- | --- | --- | --- |
| Electronic Preload | Yes | Yes | No | Yes (Rear preload + damping) | No |
| Front active damping | None | Yes (Rebound / Compression) | Yes (Rebound / Compression) | None | Yes (Rebound / Compression) |
| Rear active damping | Yes (Rebound) | Yes (Rebound / Compression) | Yes (Rebound / Compression) | None | Yes (Rebound) |
| Source | Manual, see here | Manual, see here | Motorcycle.com | Triumph | Rider |
Middleweight adventure sport bikes — Suspension
The BMW F 900 XR's active suspension is fairly standard for the class. Similar to the MV Agusta Turismo Veloce (SCS models) and the Triumph Tiger 900 GT, the motorcycle adjusts damping according to what it perceives as the road conditions. It only adjusts the rear shock.
You can also set rear preload via the display on the F 900 XR. Don't take this for granted!
Surprisingly, the Tiger 900 GT doesn't have any active suspension features. It does have electronic suspension — you can adjust the settings via the controls. But there's no active response.
The most advanced middleweight adventure motorcycle in the suspension sense is the Ducati Multistrada V2 S. Not only can you set preload from the display, there's also fully active suspension on the front and rear. This is the whole kitchen sink. No wonder the bike costs a fair bit more.
Alternatives to the BMW F 900 XR
Generally speaking, alternatives to the BMW F 900 XR include any motorcycle in the competitive middleweight adventure sport segment.
To somewhat restrict this category, I've gotten a little narrow with "middleweight" — these are 800-1000 cc motorcycles that are around the 100 hp mark (give or take) and have a fair share of luxury features. See the definition above for more information.
Ducati Multistrada V2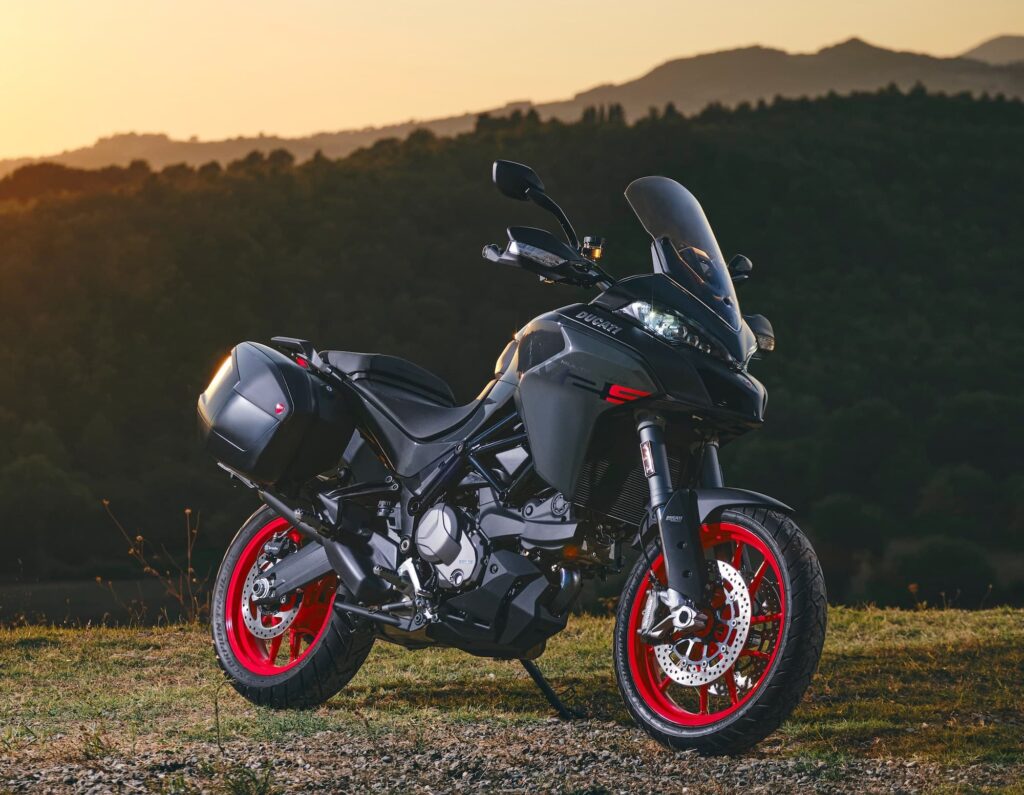 Ducati has been making the Multistrada V2 since 2017, though back then it was known as the Ducati Multistrada 950. The core is the same — the Multistrada V2 / 950 is an upright middleweight adventure sport tourer with the 937 cc "Testastretta 11-degree" engine that powers most of Ducati's middleweight line-up, including the Supersport and the Monster 937.
Ducati has come a long way since its first Multistrada, the Multistrada 1000DS (a bike I owned what seems like a lifetime ago). Back then, the small Multis were 620 cc and not that popular. Ducati didn't even make a Multistrada with later middleweight motors, the 796 or 821, though there were Hypermotards with both those motors. They waited until the 937 motor before deciding it was Multistrada-worthy.
Today's "small" Multistrada (whose bigger sibling is the Multistrada V4) makes quite a lot more power than the original 1000DS. It's its own class of motorcycle!
The Multistrada V2 / V2S feel like legitimate middleweight sportbikes, just with an upright chassis. They have that special "Ducati" premium feel that's hard to match and which may just be all in my head (but not 100%, I'm sure).
The Multi V2's engine has belt-driven cams and desmodromic valves, with valve service intervals of 18000 miles / 30000 km. It's not too often, but with rising labour prices and the time it takes to do it right, it's something to plan for — especially if buying used.
The Ducati Multistrada V2S goes a significant step further with its "Skyhook" active suspension system. You get active suspension front and rear, plus the ability to adjust the rear preload from the display. This is pretty high-spec.
Basically, the Multi V2S is a premium bike. It comes at a premium price, but that's to be expected.
MV Agusta Turismo Veloce 800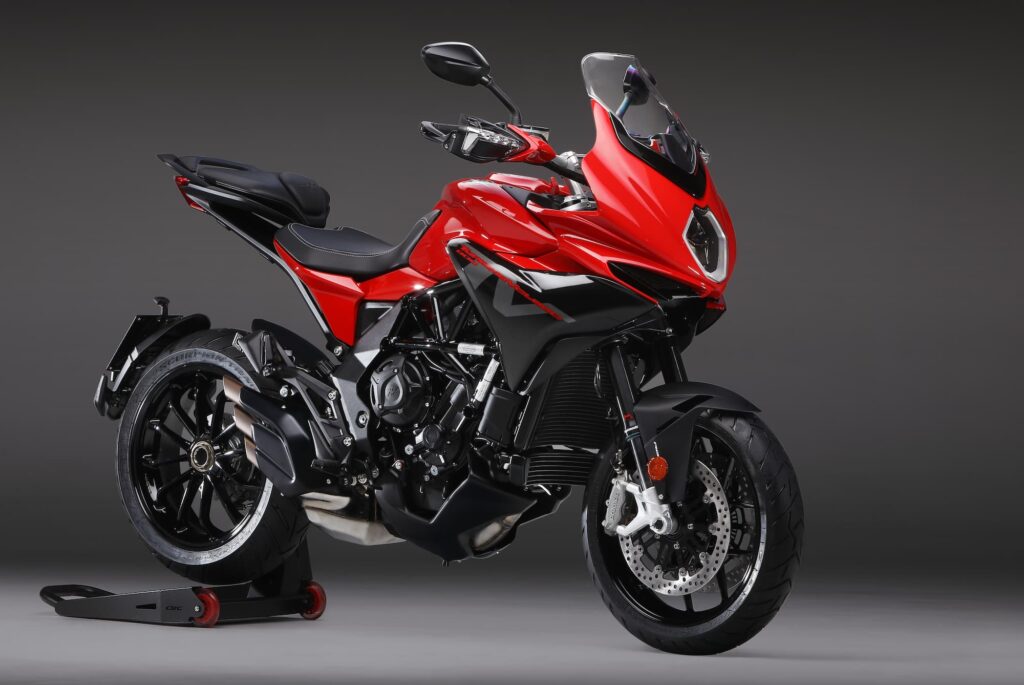 If looks were everything, we'd all be on MV Agustas. They constantly win the EICMA popular vote for best-looking bike. But there's a lot more to the MV Agusta Turismo Veloce than just good looks.
The MV Agusta Turismo Veloce (informally known as the TV800 for short) is a middleweight adventure sport touring bike based on the same burbly 798 cc triple-cylinder engine that powers other middleweights it has, like the Superveloce and the smaller Brutale.
Because the TV800 is based on a triple cylinder engine, it's hard not to compare it to both the Tiger 900 and the Tracer 900 directly. It feels faster and much sportier than the Tiger 900, and it's much better looking than the Tracer 9 — about as good-looking as any bike in this class can get. With a single-sided swing-arm and that three-output exhaust, the Turismo Veloce makes emissions-mandated catalytic converters as sexy as possible.
It's also high-spec in every department you need, including cornering ABS since 2021, Brembo brakes, big brake discs, active suspension, cruise control, and so on.
Triumph Tiger 900 GT / GT Pro
It's tempting to compare the base model Triumph Tiger 850 Sport with the F 900 XR. But it's more appropriate to go to the top-spec road-going model, the 900 GT Pro.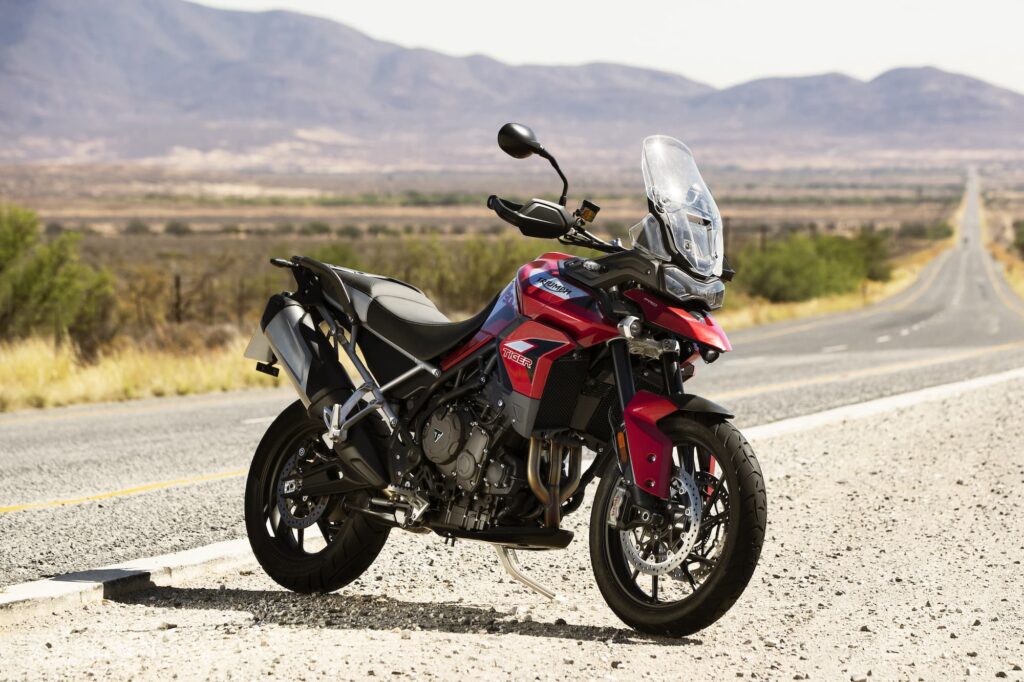 The Triumph Tiger 900 is Triumph's sneaky middleweight entry. Triumph is a bit unique in that their middleweight and full-size adventurers (the Tiger 1200) are both based on the same kind of engine — an inline three-cylinder.
Triumph has been making baby Tigers for a while now, previously in 800 format. Truth be told, I like the 800 more; it's more sport-bike like, revvier and nicer sounding. The 900 has a lower thrum, not unlike a V-twin. Despite that, it's undoubtedly a more powerful and generally more torque-rich motor all the way through the rev range.
The GT gets most of the high-tech stuff, including cornering ABS, a 7-inch TFT, cruise control, and heated grips. But the GT Pro gets electronically controlled (but not active) rear suspension, and the rest of the things that are options on the GT, including a quick shifter, a centre stand, and TPMS.
Yamaha Tracer 9 / GT / GT+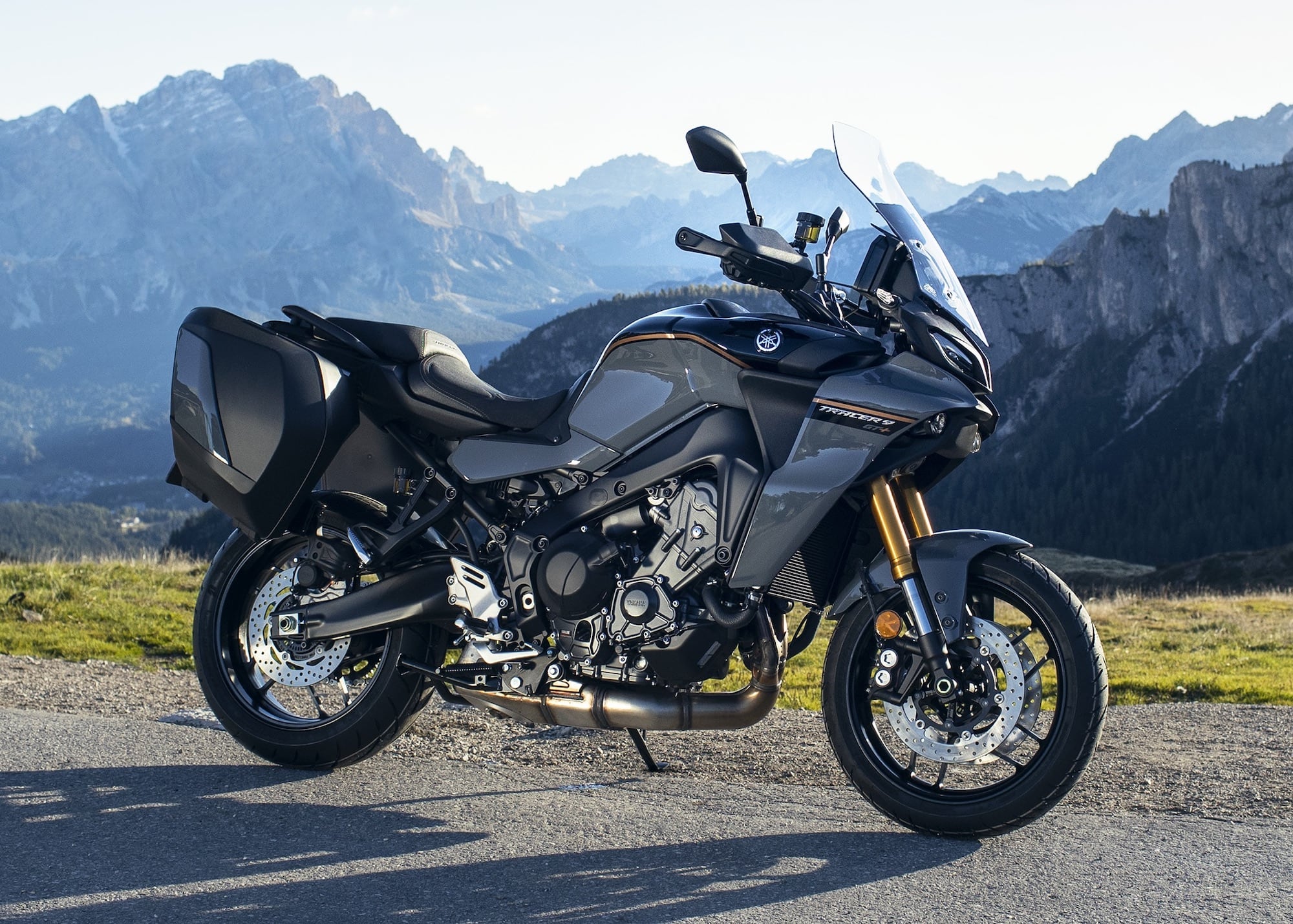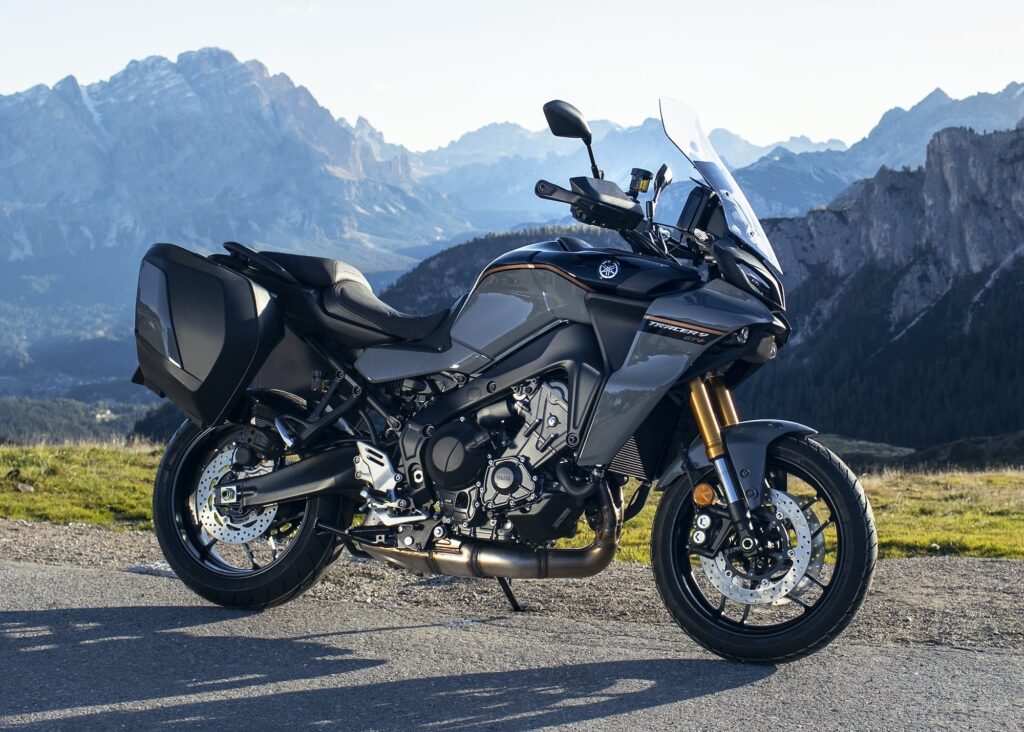 Yamaha has been building the Tracer 9 for many years, starting with the smaller-capacity Tracer 900 back in 2015 (originally known as the FJ-09 in the US).
The Yamaha Tracer has always been based on the FZ/MT series. The Tracer 9 has the same motor as in the latest gen MT-09: an 890-cc inline three-cylinder engine that loves to rev.
As time passed, the Tracer 900 / Tracer 9 has grown distinct from its naked sibling, the MT-09. It's not just an "even more comfortable MT-09". The Tracer gets all these niceties like active suspension, cornering lights, and heated grips. The GT gets standard touring features, like luggage and a centre stand.
See my full guide to the Tracer 900 / Tracer 9 here.
Yamaha stepped up its game even further in 2022 with the Tracer 9 GT+ which has adaptive cruise control — it has a radar which means you can lock on to a vehicle in front and make sure you dont' cruise your way into its rear end. It's the most affordable bike in a selective class of motorcycles with adaptive cruise that will no doubt grow over time.
The Tracer 9 GT/+ is definitely the least attractive of the bunch here. But if you've read this far, I'll sneak in this little surprise: It's my favourite. This motor is awesome. The whole thing works together this well I could do no wrong on this bike.
Others
Honda, Suzuki and Kawasaki don't have something exactly like the F 900 XR in their line-ups.
Honda used to, with the VFR800X Crossrunner, based on the feisty V4 motor in the VFR800. But Honda no longer makes it.
Suzuki has the V-Strom 650, which is ostensibly a middleweight — but it's in a lower class, with a lot less power and tech. Which isn't to say it isn't well-loved by many an adventure rider. But anyway, its days are numbered, with the advent of the V-Strom 800DE, which is decidedly more oriented towards mixed-use riding.
And Kawasaki has the Versys 650 (the 650 being very similar to the V-Strom 650) and Versys 1000, respectively a class smaller and larger than the "middleweight sport" class, but they don't have a middleweight adventure sport tourer for now. (I'd love to see a Z900 in adventure tourer format.)
Moto Guzzi makes the similarly-powered but larger-capacity V100 Mandello, and also the lower-powered older-tech and V85 TT. Both just slightly outside the definition I'm trying to pursue here. But don't discount them.
Wrap-up
I really enjoyed my time on the BMW F 900 XR. I kept thinking about it, and thought it'd be worth putting this article down for anyone else thinking about it, too.
My own heart is pulling me towards bikes that are more off-road ready. But if you're mostly a road rider, if you value luxury but also are on a budget, and if your off-road ambitions are mostly dirt roads that you accidentally find yourself wandering down, it's likely that the F 900 XR is a great option for you.