Whenever I look at a motorcycle, I always wonder about what else I'd like to ride that's similar but better in some way. If my motorcycles had feelings, they'd constantly be hurt…
But the thing about the Harley-Davidson Nightster is that it really isn't directly comparable to many other motorcycles.
You can see this down in the "alternatives" section. I really struggle to compare it to anything else. Other bikes are just sportier or slower, bigger or smaller, or different in some other way. Which leaves the Nightster kind of in a class of one.
So that leaves the question: Is this class worthy of existing? Is this intriguing little middleweight, the Harley-Davidson Nightster, the right bike for you? And… just what is it, by the way?
In a nutshell, the Harley-Davidson Nightster is a middleweight (in the expanding, general sense of the word) street cruiser powered by a smaller version of the Revolution Max engine that we first saw in the Pan America, and which also is in the Harley-Davidson Sportster S.
The Nightster is a bit like the Sportster S in that it's a pretty compact bike (for Harley-Davidson anyway). It's light, sporty, makes its power in the midrange rather than right off idle, has a few bits of ride gear, and is overall very easy to ride.
But the Harley-Davidson Nightster is very much its own motorcycle, not just a "small Sportster S". It has a comfortable standard riding position, not the kicked-out cruiser aesthetic or ride feel that the Sportster S has. It lacks a lot of the Sportster S tech — no IMU, no fancy suspension, and no cruise control. It keeps some of the same things, like a 4-inch round TFT screen and a single disc brake.
Sometimes I think that maybe it's time to downsize again and find some of the joy in motorcycling. There's something about ripping along on a middleweight with enough torque to have fun but also have to shift gears and squeal the tires doing so that really calls to me.
I had many questions before riding the Harley-Davidson Nightster. These were
Is the Nightster just a smaller Sportster S?
Does the Nightster solve the riding position problem of the Sportster S?
Is it as good-looking in person as other Harley-Davidson motorcycles?
Is the Nightster comfortable to ride with its modest suspension setup?
Are the alternatives to the Harley-Davidson Nightster just better value?
This is what I found out.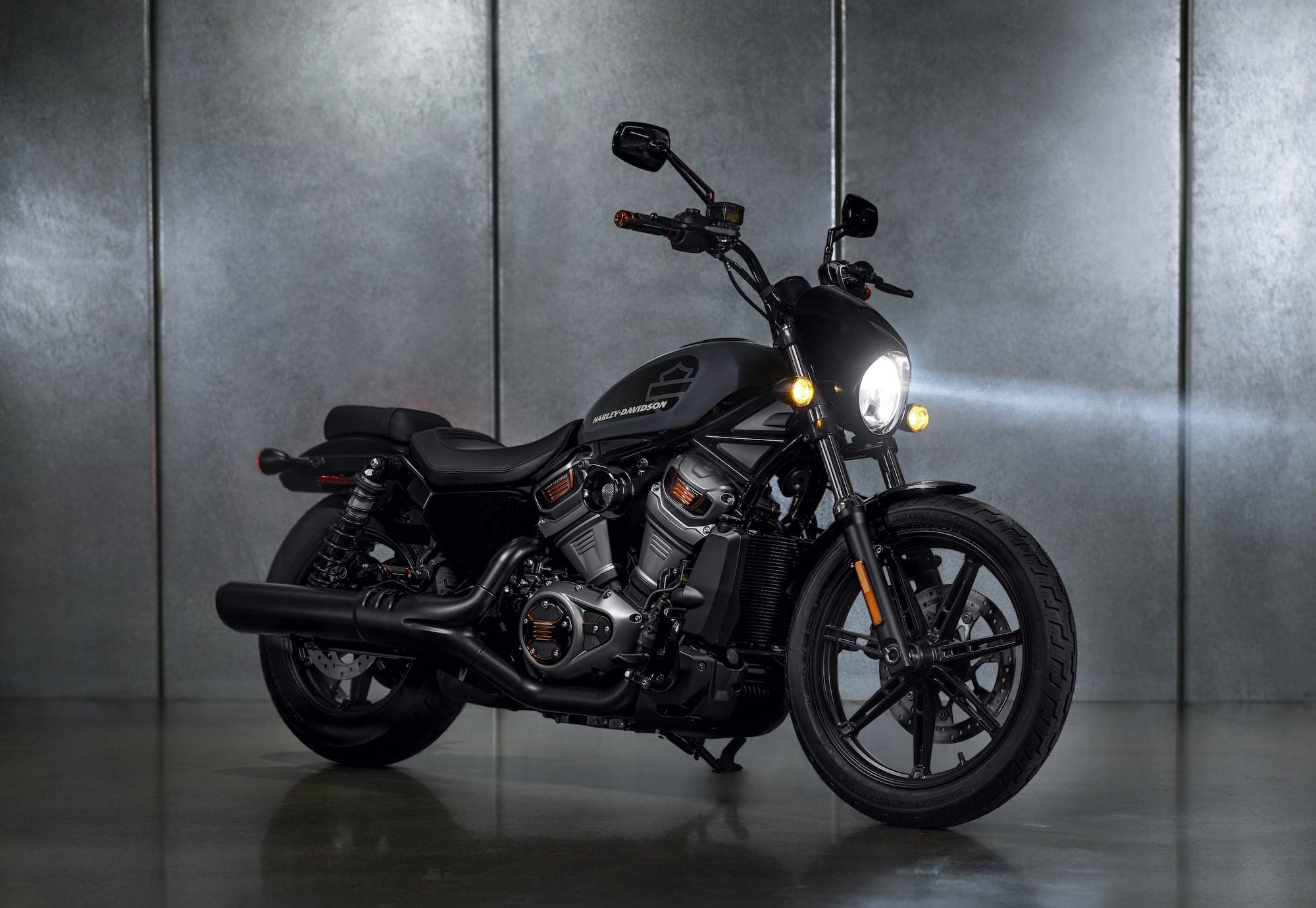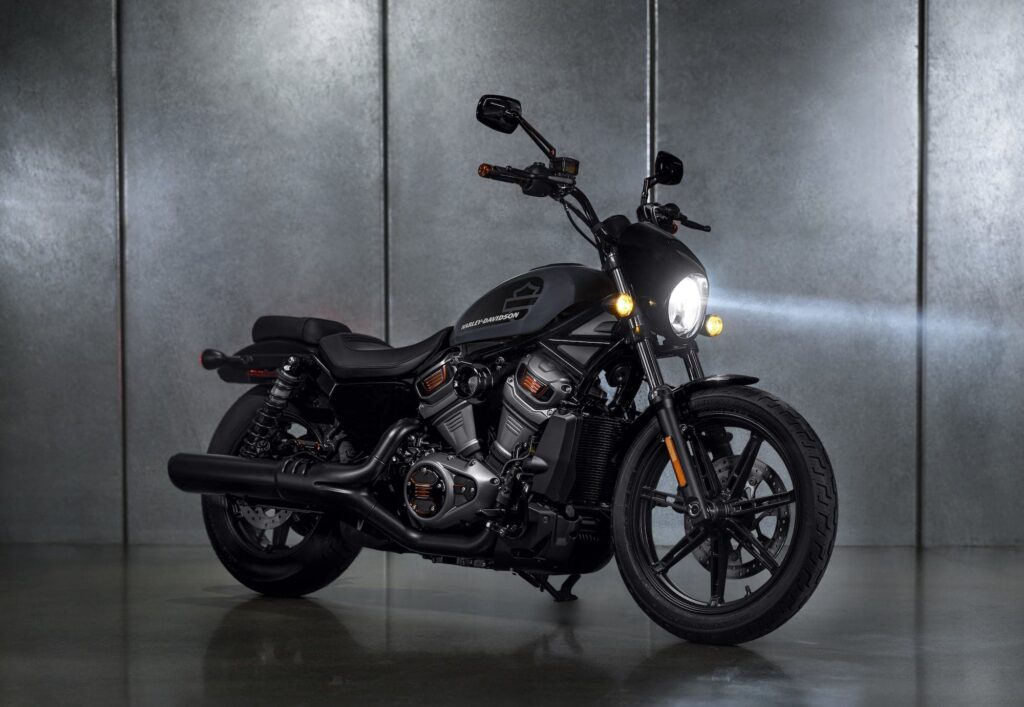 Are you obsessed with motorcycles?
Well, I am. That's why I created this site — as an outlet. I love learning and sharing what others might find useful. If you like what you read here, and you're a fraction as obsessed as I am, you might like to know when I've published more. (Check the latest for an idea of what you'll see.)
Basic specs of the Harley-Davidson Nightster
Before I go on too far, here are the core specs of the Harley-Davidson Nightster. You can't ride a spec sheet, so try to go "vroom vroom" and imagine gentle EURO 5-conformant, muted middleweight exhaust sounds as you look over this data.
| Part | Nightster Spec | Notes |
| --- | --- | --- |
| Engine | Revolution Max 975T 975 cc liquid-cooled 60-degree V-twin. Chain-driven DOHC valves, hydraulic self-adjusting lifters, VVT on intake, four valves per cylinder | Similar to the bigger Rev Max engine but… smaller. Never needs valve clearance checks! |
| Bore and stroke | 97 x 66 mm | Short stroke. Both bore and stroke smaller than Sportster S |
| Compression ratio | 12.0:1 | Same as the Sportster S |
| Peak power | 67 kW / 90 hp @ 7500 rpm | Modest peak power, but enough to let you wring it out in a few gears |
| Peak torque | 95 Nm / 70 ft-lb @ 5000 rpm | |
| Final drive | Wet clutch, 6-speed transmission, belt drive | |
| Front suspension | 41mm Showa conventional forks, "Dual Bending Valve" design, 114mm (4.5 in) travel | Name brand but simple suspension |
| Rear suspension | Dual shocks, no linkage (direct-acting) shocks with pre-load adjustment (via collar), 76 mm (3 in) travel | Very simple suspension, limited travel |
| Front brake | Single 320mm disc, axially mounted Brembo 4-piston floating caliper | Just a single disc, and the caliper is nothing special but does the job |
| Rear brake | Single 260mm solid disc, floating single-piston caliper | |
| Wheel sizes | 100/90-19 front, 150/80-16 rear | Big/small combination, with 16-inch rear tyre |
| Display | 4-inch round TFT with speedometer, ride aids / error alerts | |
| Ride aids | ABS, traction control, assist/slip clutch, three ride modes | |
| Wet weight (running order) | 218 kg / 481 lb | Not too heavy — most standard bikes are within 5% of this. |
Harley-Davidson Nightster — Core Specs
About the Harley-Davidson Nightster — How Did We Get Here?
The Nightster is kind of a unique bike, not just in the Harley-Davidson line-up, but overall. But let's start in the Harley world.
Harley-Davidson markets the Nightster as part of the Sportster line. The Harley-Davidson Sportster line is H-D's "entry level" line. They're designed to be bikes that are cool, simple, usable everyday, and easy for newer riders to hop onto.
But the Sportster line has been, until relatively recently, a line of bikes with decades of history of being powered by air-cooled twins that made a bunch of torque down low, but not too much top-end power.
So there are a few different bikes that I see the 2022 Harley-Davidson Nightster as having evolved from. These are
The Sportster line in general — for the general concept, aesthetic, and ride style
The Street Rod 750 — for the "entry level liquid-cooled street bike" concept
The Bronx Concept — this is the bike many were waiting for (and many may be happy with)
Harley-Davidson generally expects that a Sportster rider will later figure out that they need something like a full dress tourer or a big cruiser and will upgrade to something else. They don't necessarily need to, though, because the Sportsters themselves are bikes with a lot of personality that keep riders (including some I know who've bought more than one) happy forever.
The most recent Sportsters, the XL883 and XL1200 (the latter both in the form of the Iron and the Forty Eight), are based on the "Evolution" V-twin. The Evolution motor is an air-cooled 45-degree V-twin that Harley-Davidson has been building since 1984, and using in the Sportster since 1986. Harley has evolved their other bike ranges on to other motors.
Here's the most recent Sportster, the smaller of the pair, the XL883N Iron.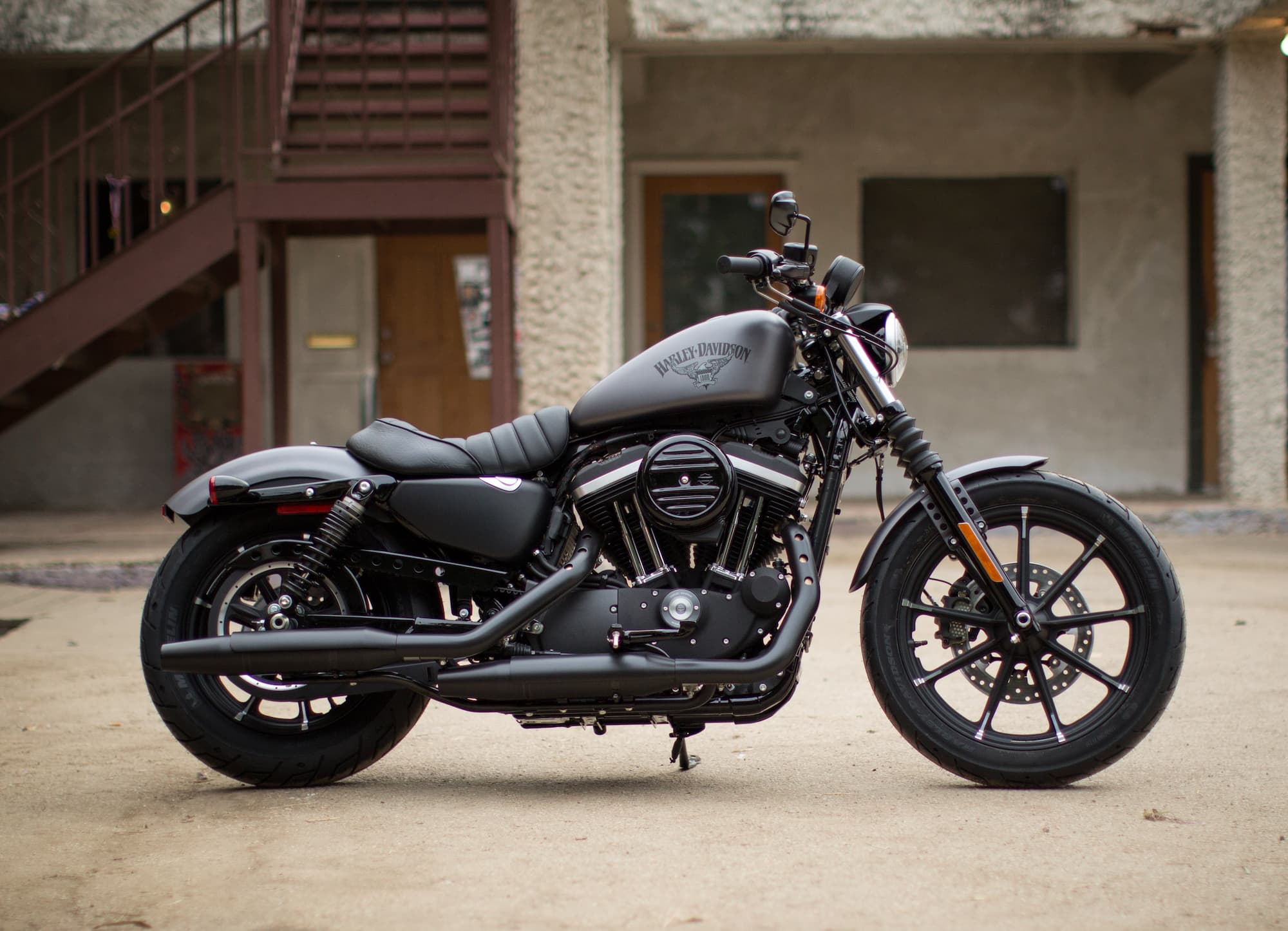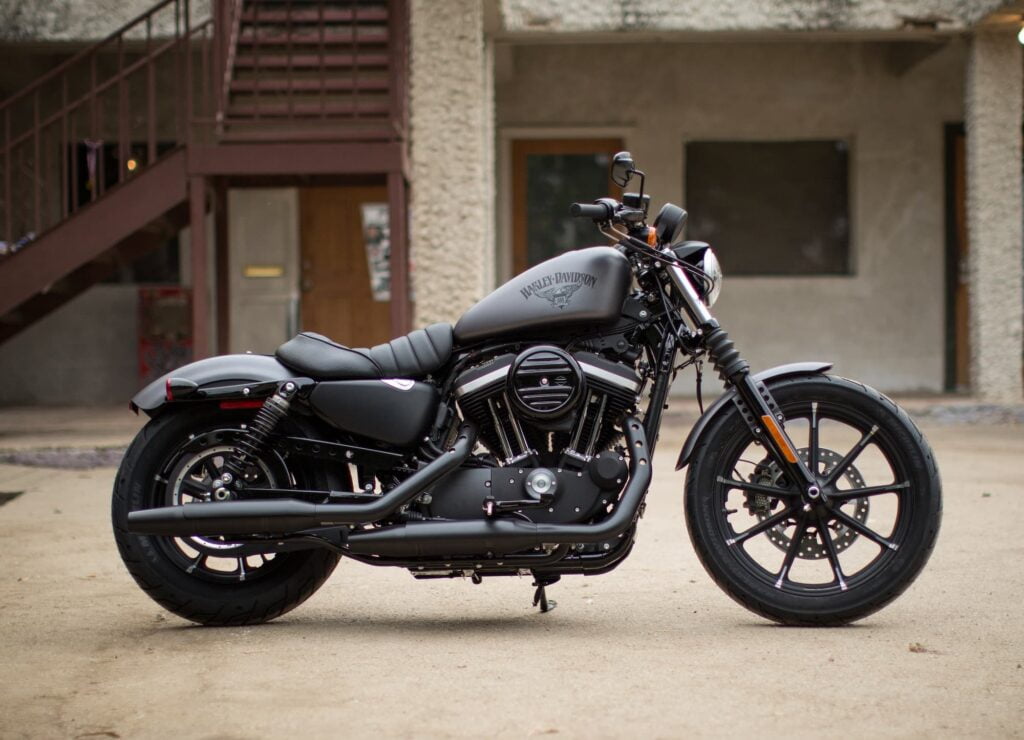 The air-cooled Sportsters are very good-looking bikes. They have a compact and aggressive shape and look just as good in the flesh as they do in photos.
The Evolution engine has two valves per cylinder, and also two camshafts per cylinder. The camshafts are driven by gears and are near the crankshaft. They actuate the valves via pushrods and rockers.
The design of the Evolution engine means that it's pretty easy to tune it with high-output cams. It's even relatively easy to go from 883 to 1200 cc design as the main difference between the engines is a smaller bore on the 883, as well as slightly different heads for fuelling.
But the Sportster's Evolution engine is intentionally a back-to-basics engine — thus the air-cooled design. In fact, the Sportsters were carburettor-fed until 2007 at which point Harley-Davidson moved to fuel injection.
The riding position on the Sportster is definitely cruiser — your feet are out in front of your tailbone. But they're also not splayed out in front, nor resting on floorboards, like on bigger cruisers.
As for the Harley-Davidson Nightster — sure, the Nightster looks kind of Sportster-like. And it may feel a little like a Sportster when you're sitting on it. But aside from a general aesthetic and riding position, they don't have that much in common — the Nightster is very much a ground-up rebuild.
The "Nightster" name isn't new, either. Most recently, Harley-Davidson made a version of the XL1200N Sportster between 2007-2012 and called it the Nightster.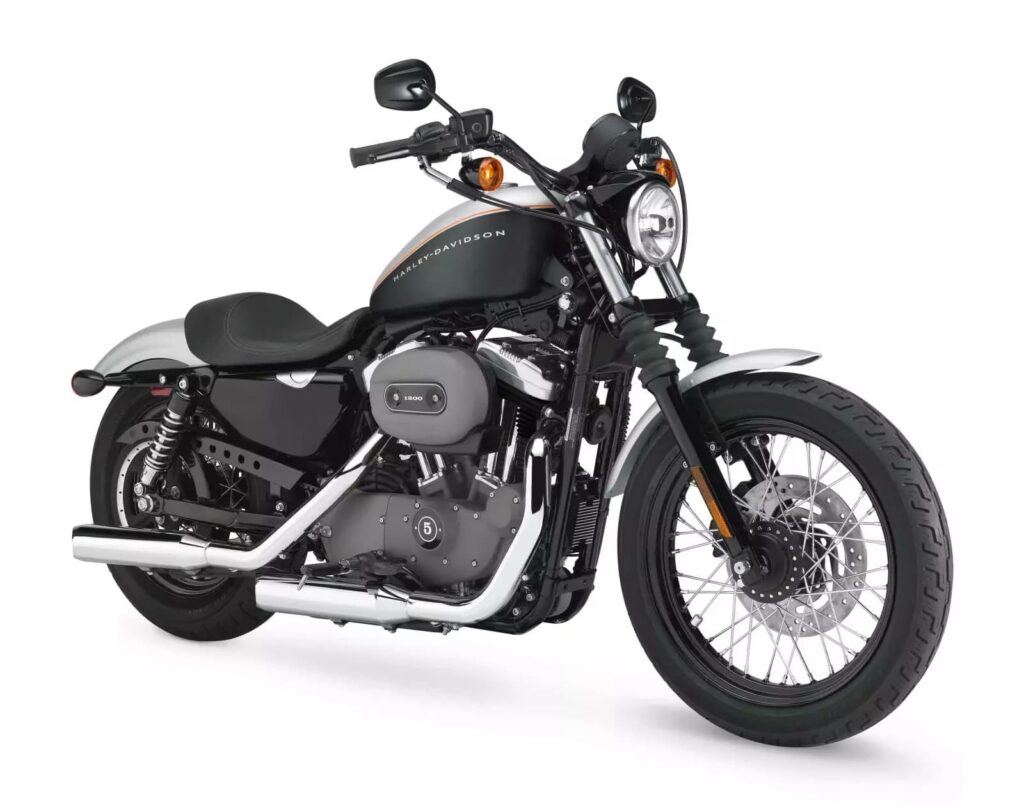 But the new 2022+ Harley-Davidson Nightster is very different.
There are two other predecessors to the modern Nightster worth mentioning: the Street Rod and the Bronx.
Rather than to an air-cooled Sportster, the Harley-Davidson Nightster conceptually has more resemblance to the Street Rod XG750A, which was made between 2017 and 2020.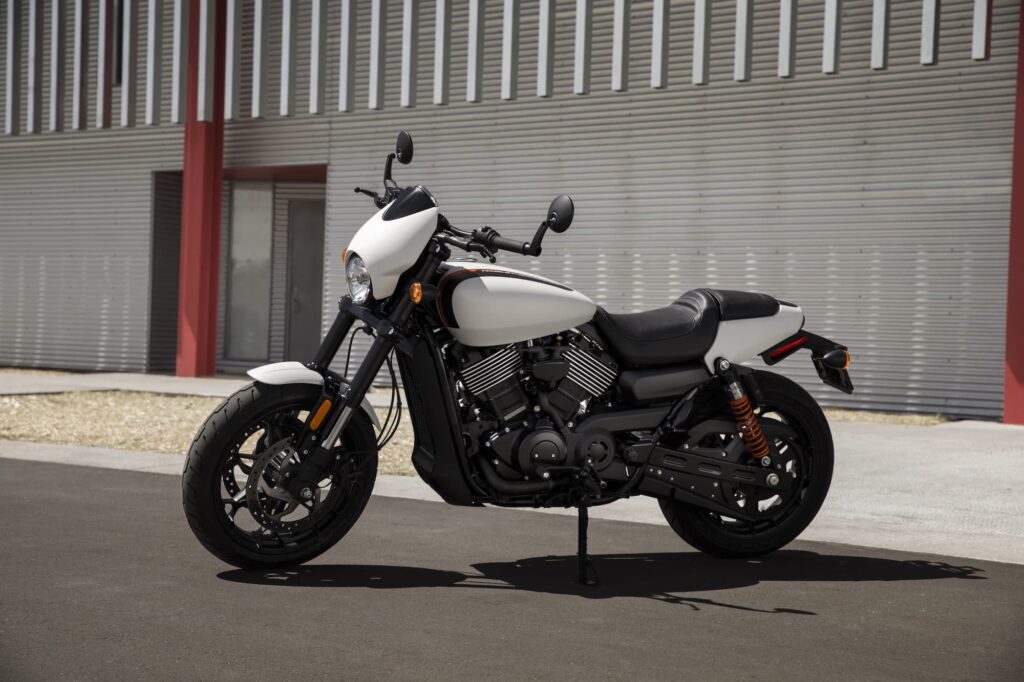 The Street Rod 750 is based on a high output version of the Revolution X 750 engine that gives it more torque and peak power than the base model Street 750. The engine is a 749cc SOHC liquid-cooled 60-degree V-twin with a 12.0:1 compression ratio that in the Street Rod 750 makes peak power of 51 kW (68 hp) at 8750 rpm, and maximum torque of 64 Nm (47 ft-lb) at 4000 rpm.
Ride gear on the Street Rod is entry-level, but not bad. Front suspension is a 43mm inverted fork (though non-adjustable), and the brakes are twin 300 mm discs gripped by 2-piston floating calipers. So, not high-end, but also not terrible.
The Street Rod is heavier though — 238 kg (525 lb) in running order.
The final predecessor to the Harley-Davidson Nightster worth mentioning is the Harley-Davidson Bronx. Harley-Davidson announced this along with the Pan America. But while they made the Pan America, they never made the Bronx.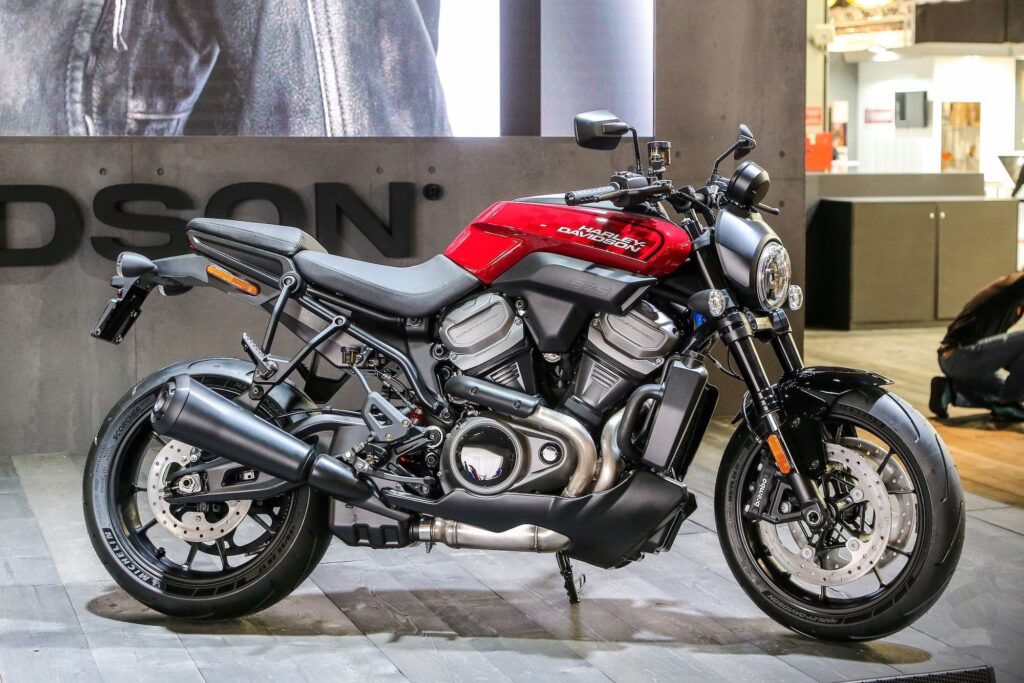 The Bronx 975 was supposed to be a tough, go-fast sports bike. It has an aggressive riding position for a naked bike — Streetfighter-like.
The core of the Bronx concept was a 975 cc down-sized version of the Revolution Max 60-degree V-twin in the Pan America. "975?" you say, babbling excitedly (well, I would be). "That's the same as the Nightster which it is as the same as!" I had the same thought, though less coherently. But it's different.
In the Bronx, Harley-Davidson promised the engine would make over 86 kW / 115 bhp and 70 lb-ft of torque. That's quite a lot of pep! But they didn't manage to get that high performance in the Nightster. It makes the same peak torque, but maybe the H-D engineers couldn't convince the engine to rev that high and still meet emissions restrictions (I don't know).
There's more that's different between the Bronx and the Harley-Davidson Nightster other than the drop in power.
The Bronx was to have a traditional sportbike wheel setup (17-inch), whereas the Nightster has a more cruiser-esque 16 rear/19 front setup.
The Bronx had an aggressive forward-leaning position, whereas the Nightster has more of a relaxed, wide-bar setup.
The Bronx had sportbike-spec gear, like Brembo monoblock calipers, twin disc brakes, and an inverted fork — all of which the Nightster lacks
The Bronx had a switchblock that looks the same as that on the Sportster S, with cruise control, implying it probably had the same ride electronics underneath it including an IMU. The Nightster lacks all that.
In short, the Bronx was supposed to be an alternative to the other much higher-power streetfighters on the market. The Nightster is more of a budget middleweight, just without the budget sticker price (more on that later).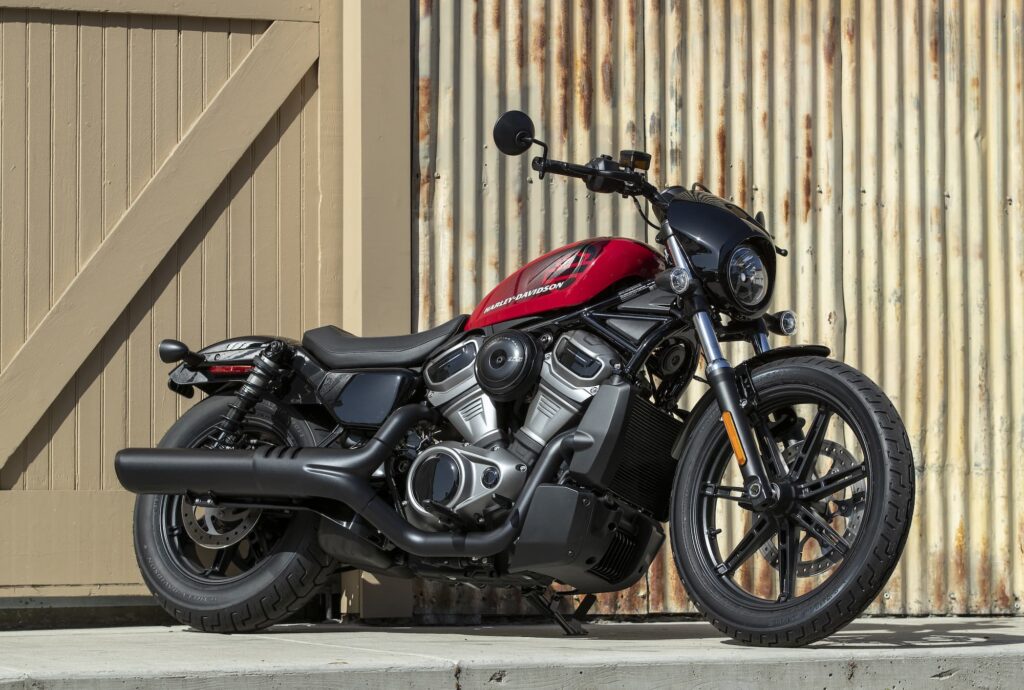 So the Nightster is not the Bronx. But it's still very much a great bike to ride.
Engine of the Harley-Davidson Nightster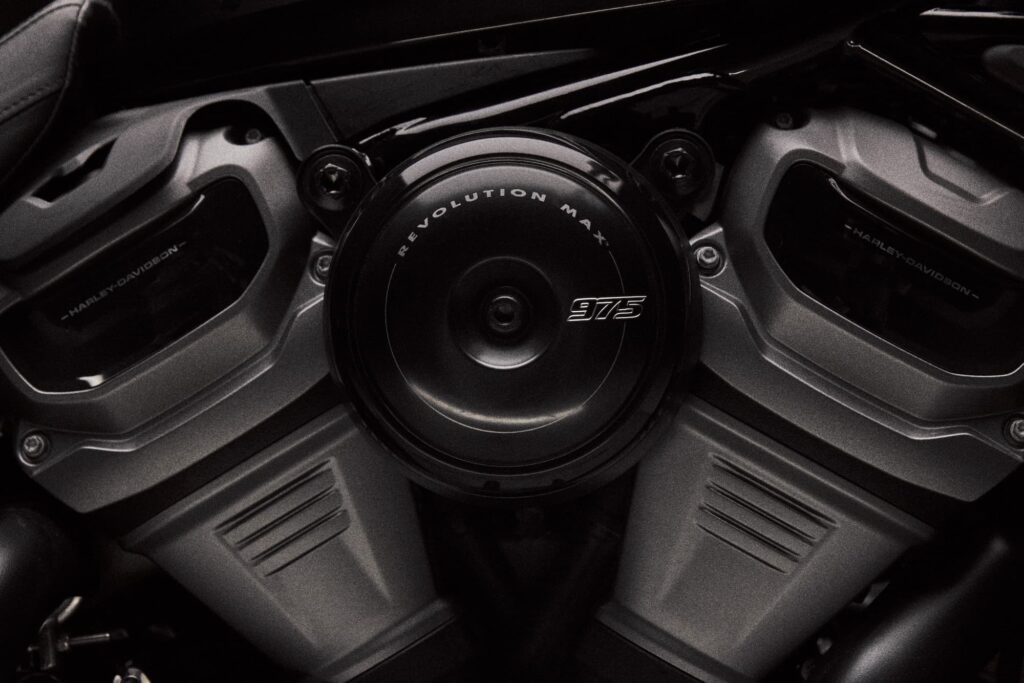 The engine in the Harley-Davidson Nightster is quite special and deserves a little extra mention.
Harley-Davidson calls the Nightster's engine the Revolution Max 975T. It's a liquid-cooled 60-degree V-twin that makes a lot of torque in the mid-range.
We first saw the RevMax engine in the Pan America. We then saw it in "T" format (tuned for mid-range torque rather than top-end power… "T" is for "Twist the throttle!") in the Harley-Davidson Sportster S, and now we're seeing it in T format but reduced capacity in the Nightster.
There are a couple of things that make the smaller Harley-Davidson Nightster's Revolution Max 975T engine different from the larger Revolution Max engines.
Firstly, obviously, the engine size. Harley-Davidson reduced both the bore and the stroke in the Revolution Max 975T to get to the smaller displacement.
Secondly, the variable valve timing (VVT). The Sportster S has VVT on both the intake and exhausts, whereas the Nightster has it only on the intake valves. Harley's engineers decided that the extra cost of VVT on the exhaust valves wasn't worth it considering the minimal performance gains, not necessary on this bike.
There are presumably other changes to the intake and header to adjust fuelling for the smaller engine.
But most importantly, Harley-Davidson retained the hydraulic valve lash adjustment in the other RevMax motors. This not only keeps the engine quiet, but ensures you never have to do a valve lash adjustment on the Harley-Davidson Nightster. What are the valve service intervals? Infinity! (Or when you toast the bike somehow, I don't know.)
By comparison, on most other competitor motorcycles you have to adjust the valves every 25-40000 km, or 15-30000 miles (roughly). It's not often, but when it comes around it's an expensive job, especially on bikes where the valves are difficult to get to (e.g. twins or V4s). Or it's one you pretend you did and sell the bike (which is what I assume everyone does to me).
Interestingly, Harley-Davidson balanced the engine to keep it smooth… but not too smooth. They tuned the balancers to keep the big twin just vibey enough to keep it feeling alive. Sitting on it at idle confirms this. This isn't a big shaky air-cooled twin. But it's not a purring four, either!
Riding the Harley-Davidson Nightster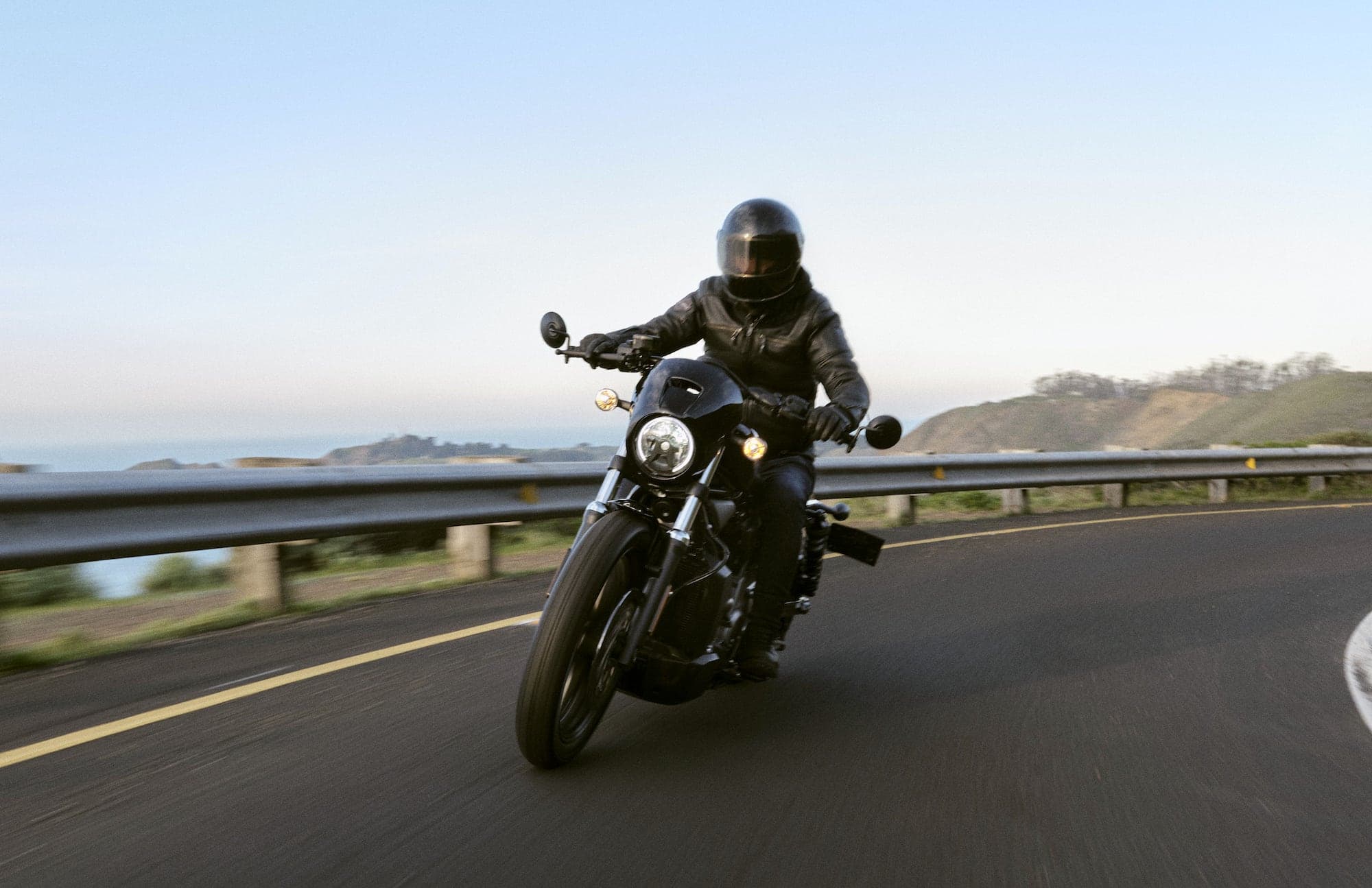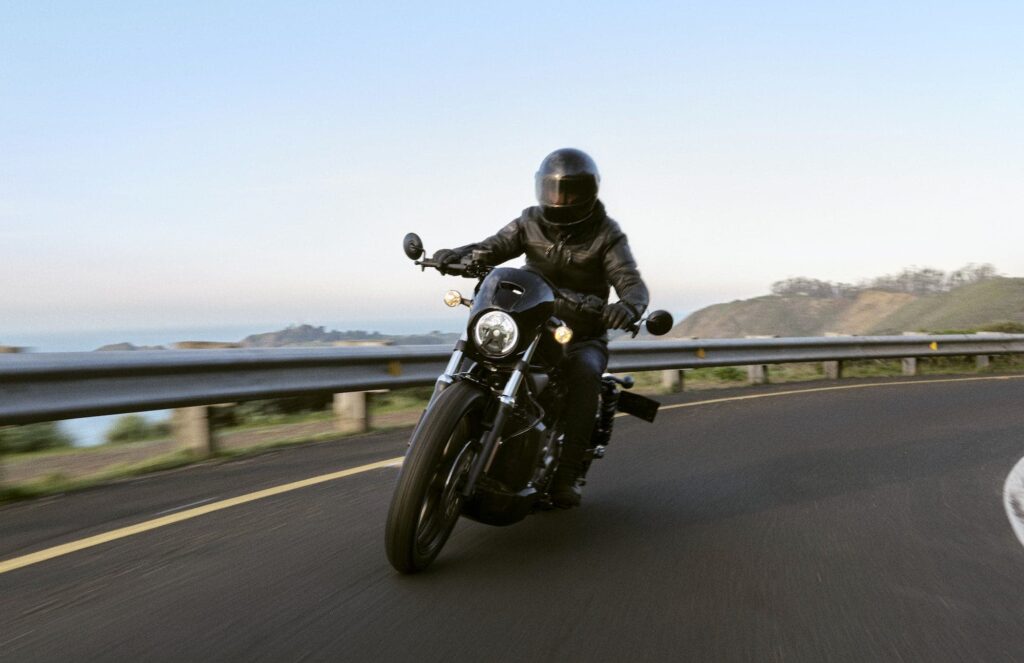 OK, so what's the Harley-Davidson Nightster like to ride? I've ridden a lot of bikes, and tend to form impressions of them before I even sit on them. These are often quickly dashed by sitting on them, and then evaporate after just ten minutes on the road. That's what you've got to try every bike! (Ah, life is grand.)
Because this was just a test ride (from a generous local dealer in Paris, France), I've corroborated this with other reviews to make sure my views are in line with reality.
Firstly, from the moment I sat on the Harley-Davidson Nightster, I felt right at home.
I don't say this often. And I don't expect you would either. Other bikes on which I've immediately felt at home are the Suzuki SV650X, the Ducati Monster 900 (the original), and the 2nd gen Suzuki Hayabusa.
That's quite a weird collection of bikes, so let me first clarify that feeling "at home" is totally subjective. But also, what does it mean? It means it fits like the proverbial glove. It means that I sit on it and I mentally go "Vroom, vroom!" as I imagine countryside dancing past. It's a motorcycle that captures the imagination that way.
I know, I sound like a shill for Harley-Davidson. They have deep advertising pockets and must have gotten to me, right? Wrong. Because I didn't really fall for the technically better Sportster S. I just don't like having my feet forwards like that. And so I like looking at a bunch of Harleys, but the ride doesn't feel for me what I think it should feel like.
But anyway, the humble Nightster got to me. OK, let's get riding.
Fuelling up (done at the shop) means lifting the hinged locking seat. It's actually weird to me to think that the thing between my legs isn't the tank. But of course, the thing between my legs on the LiveWire also wasn't a fuel tank, so I can't complain.
Starting the Harley-Davidson Nightster is nothing special, once you figure out the starter doohickey (it's slightly different to the one on other bikes). New liquid-cooled Harleys aren't loud. Actually, the sound out of the 975 cc V-twin is a sedate purr. Manufacturers do what they can within the context of emissions laws. But if you're after a loud bike, expect to invest another couple of Gs into a hotter exhaust (and maybe cams and who knows what else).
Once away, riding the Nightster is… well, it's really fun.
Middleweight twins are great. But there's nothing quite like the Harley-Davidson Nightster. The SV650/MT-07 crowd are lightweight everyday sportbikes, and they bring out a bit of the hooligan in me. Then there's the Bonneville and so on, and they just make me want to cruise around the countryside.
The Nightster is much closer to the Bonneville side of things. It's not a slow bike, but it doesn't get my blood boiling. And on the other hand, I'm never bored on the Nightster. It has that reassuring purr (thanks to Harley-Davidson's intentionally not perfectly balanced engine… cheeky devils) and a riding position that makes me feel like Arnold Schwarzenegger in that scene from Terminator 2 where he tears up Los Angeles on a Fat Boy.
I think that's because he's riding a cruiser bike but he's an enormous dude. I'm an average-ish 5'11 and two thirds (I mean, six feet…!), but with that my feet have a nice comfortable bend in them that I know I could keep until I got sick of riding.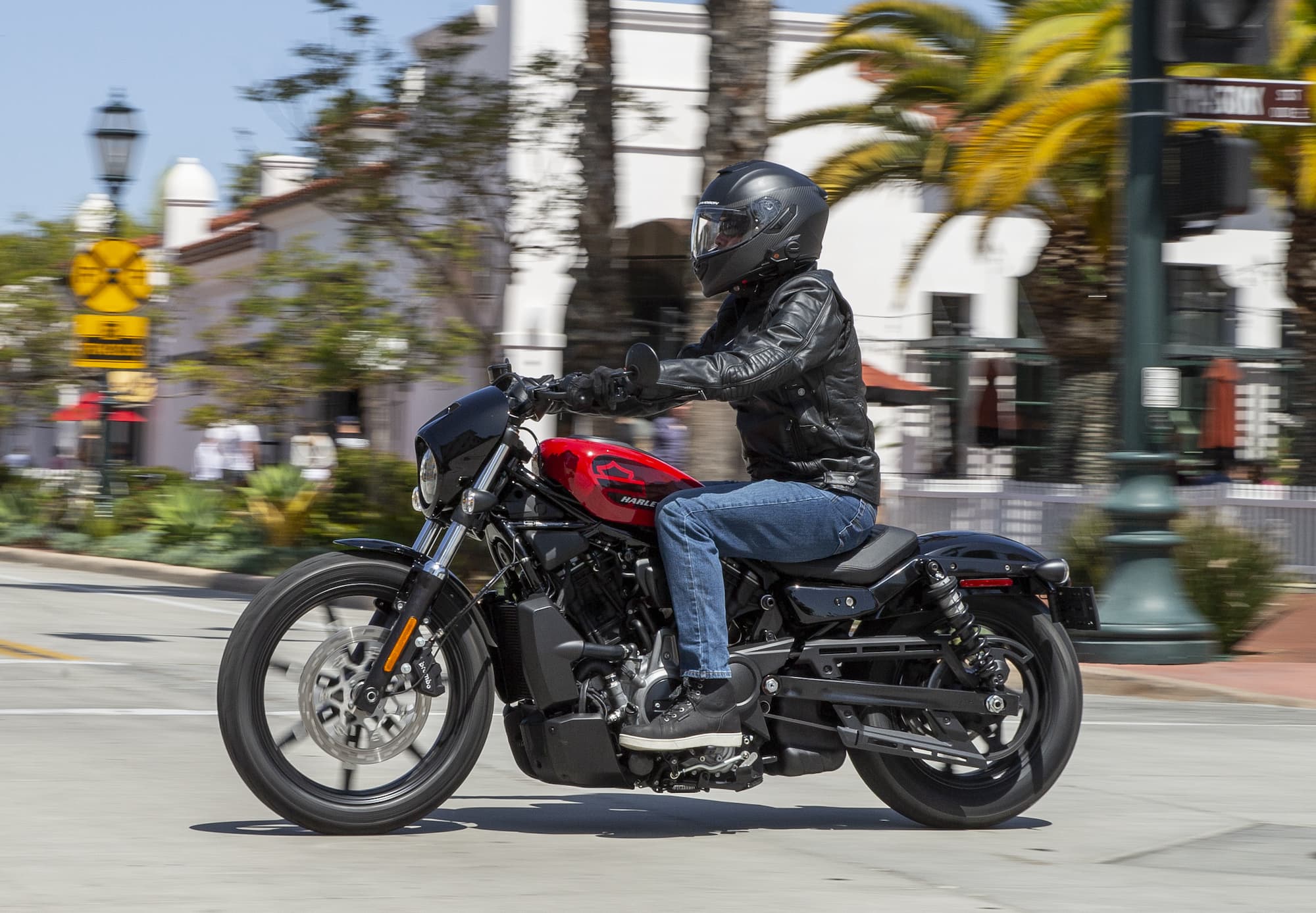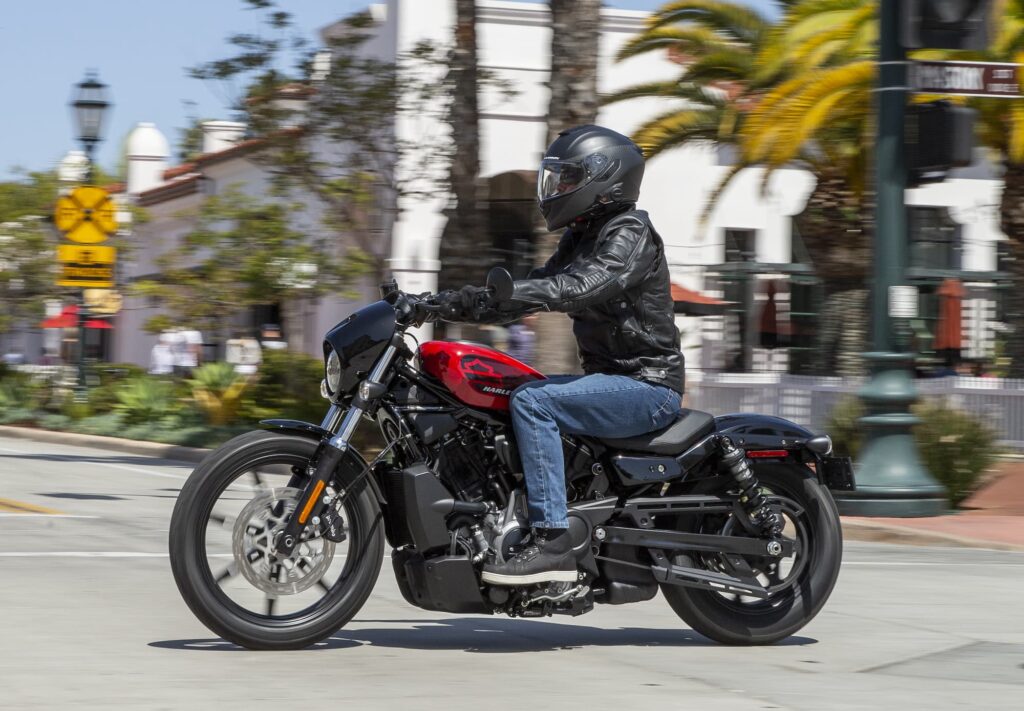 The controls of the Harley-Davidson Nightster are a bit of a letdown. Most of it is fine, but while the throttle has a nice snap to it, it definitely feels like an electronic one. And the turn signal button on the left hand side switch block has the same problem that the Sportster S does — no feedback when I hit reset. Aha! So it wasn't just that example.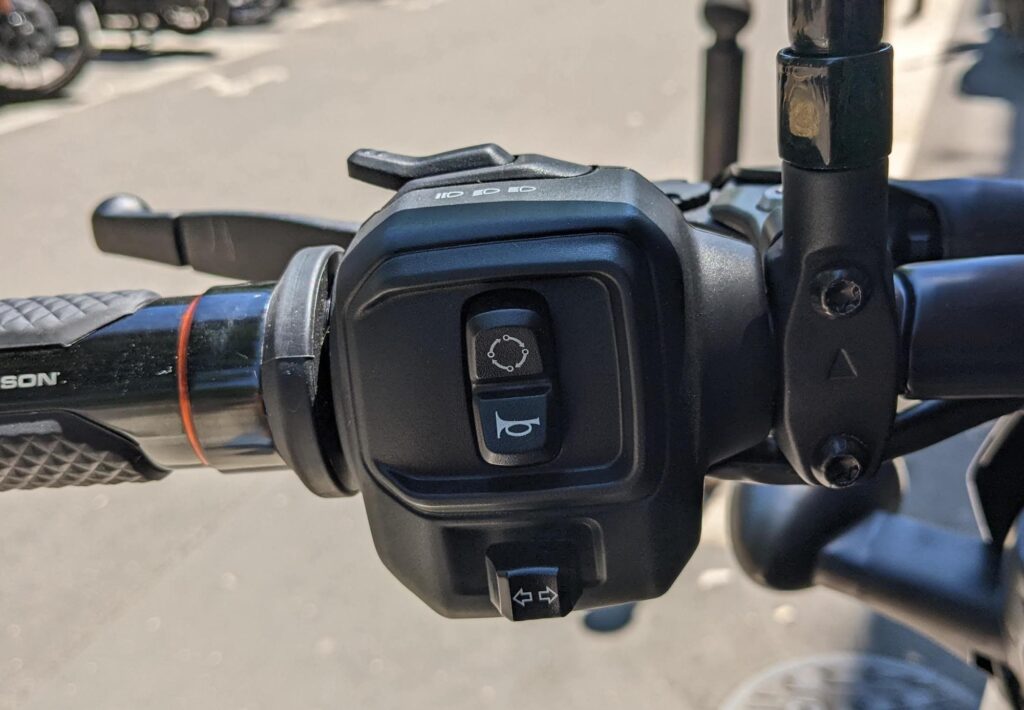 Of course, the Nightster does have self-cancelling indicators. They work well on Harley-Davidsons. Maybe I should just get used to those. I tend not to, though, because I keep changing bikes, and my own bikes either don't have them, or the feature doesn't work in the way that I like (on my BMW).
At least there's no maze of buttons to navigate — the Nightster has a much simpler interface.
Like other riders, I found Sport mode a bit too aggressively on/off. It doesn't suit the bike at all. I left it in Road mode most of the time. I believe Rain mode is there, but I didn't bother trying it.
One interesting choice that Harley-Davidson have made is to leave the gearing exactly as it is on the Sportster S, despite the smaller engine. This has an effect that can be perceived in both ways.
On the one hand, it feels like it lacks low-end comparatively, if you're looking for torque right off idle, like you normally get on a cruiser. I think the gearing on the Sportster S was really low in first gear because cruiser riders are used to that feeling of massive torque right away. But the feeling for me (not a cruiser rider) was that it was geared too short and full throttle in first gear was a little impractical.
But the other way of looking at it is that you just have to spool the engine up to 2-3k to launch and try to live between 3-6k to have fun. This is actually totally fine with me, as it would be with most people used to middleweight sportbikes like the Suzuki SV650S.
Things I Don't Like about the Nightster
Aside from the unsatisfying switchgear (trivial, but I press that darn button a hundred times a ride), there's two things I don't like about the Harley-Davidson Nightster.
1. That front radiator. I'm not against radiators. But many other brands that make naked bikes or cruisers manage to integrate them well into the front. Harley-Davidson does not do a good job of this on the Nightster.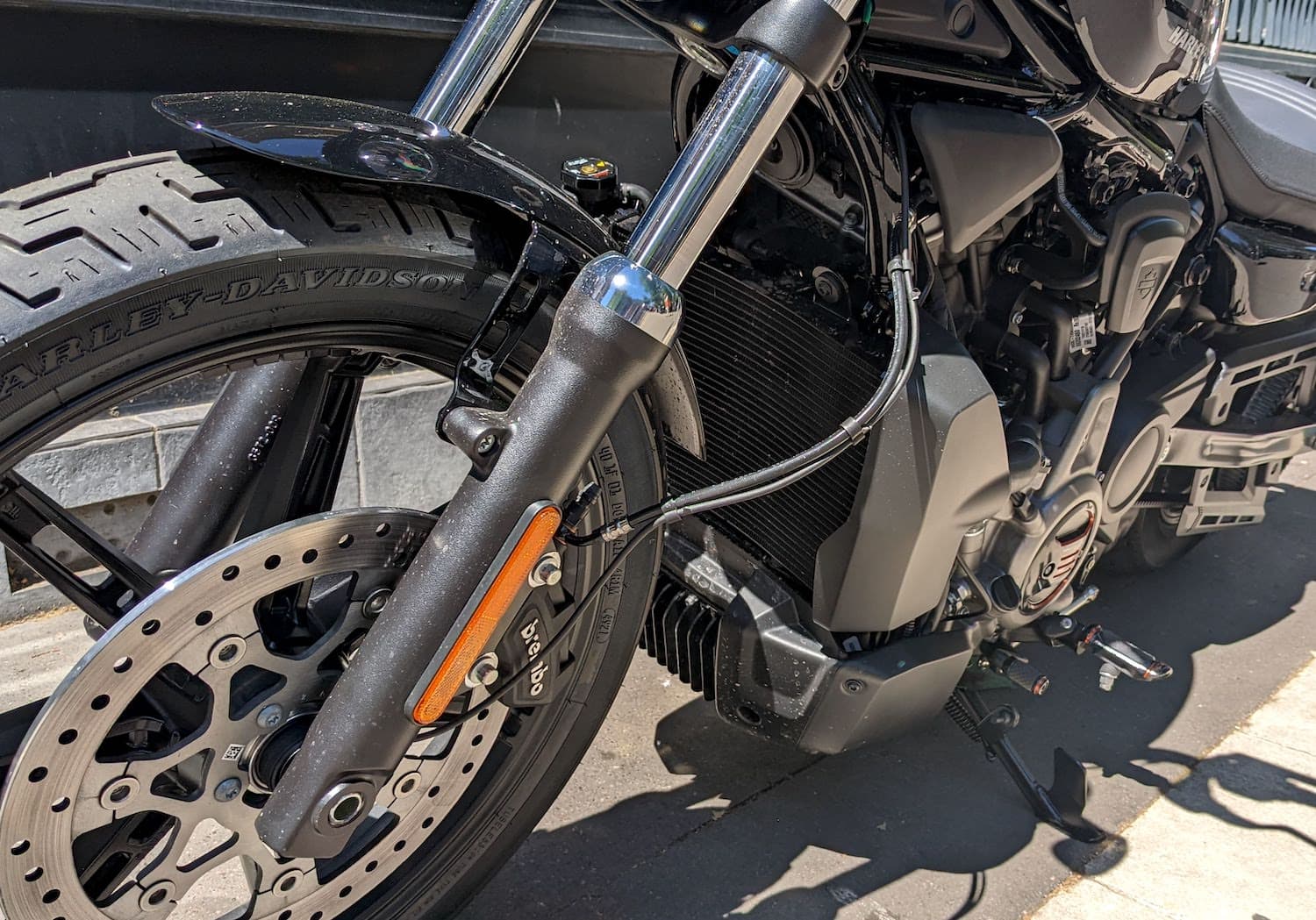 Triumph is really good at integrating radiators up front, for example. Many other brands are, too. This is not a cheap bike, and I expected better for the company, who are one of the aesthetic leaders, and the price.
Speaking of price, that's another thing I don't like.
2. Price. The Harley-Davidson Nightster costs US$13,499 (MSRP). In Australia it sells for $23,990 ride-away. Yikes!
Normally, with Harley-Davidson bikes, you can spend a bit more because you're buying a classic. The bikes don't change much over time, and don't depreciate much as a result.
But as an all-new line … I'm not so sure the same rules will apply to the new liquid-cooled RH Harley-Davidsons. I'd expect some depreciation.
On top of that, simply having that amount of cash is a luxury. Most of my motorcycles have cost under US$5K. Every time I come across a high-priced bike, I think about other, cheaper bikes, that would bring me as much joy, or just how many other bikes I could own for the same price (in this case, probably three, allowing budget for repairs / maintenance of older, warranty-free bikes).
The price is the major obstacle of me owning the Nightster and what pushes me to wonder what else I could get that feels the same. Because it really did feel great.
Reality of Owning the Harley-Davidson Nightster
The Nightster is a new motorcycle. And the Revolution Max is a pretty new motor. So we don't really know long-term problems that might plague the Harley-Davidson Nightster yet.
But there are somethings that are already clear about owning the motorcycle.
Firstly, service intervals on the Harley-Davidson Nightster are every 5000 miles / 8000 km at which H-D recommends you change the oil and filter and do a bunch of other checks, plus tightening things up that shake themselves loose and lubricating others.
Every second service, you replace the transmission lubricant, too.
These service intervals are closer than I see on other manufacturers, even given that factory service intervals are usually conservative. But it's mitigated by the fact that there's no valve clearance check.
Harley-Davidson recommends a few more items every two years, including changing the spark plugs (which is unusual — I normally only see distance-based schedules), brake fluid (which is common).
You have a belt drive, so you should periodically check belt tension and adjust it as necessary. This is a pretty easy task. You can even use an app to check tension!
You replace coolant every 30000 mi (48000 km). Harley-Davidson recommends you get a dealer to do it.
And… there's not much more to do on the Nightster — in the short term.
The best news, which bears repeating, is that you never have to crack the heads to do a valve clearance check on the Harley-Davidson Nightster, as it has maintenance-free hydraulic valve lash adjusters.
Alternatives to the Harley-Davidson Nightster
One of the most interesting things to me is just how hard it is to compare the Harley-Davidson Nightster with anything else.
It's not like the Ducati Monster 937, even though they both have a similar-sized V-twin engine, because that's a much sportier, higher-spec, lower-weight bike. It's also not like the other bikes in that middleweight sport bike class (like the Yamaha MT-09, Kawasaki Z900 / RS, etc.).
It's not like anything above 1000 cc because those are bikes that are obviously trying to be the premium, high-capacity class, and are more obvious competitors to the Sportster S. I could add the Honda Rebel 1100 to the below, but I already compared that to the Sportster S — check out that review if you're considering it as an alternative here anyway (it's in the alternatives section).
And the Harley-Davidson Nightster is not like the 650-700 cc class of middleweights, because even though they make similar power, they tend to rev higher and make much less torque. They're lighter and have different tyre profiles and suspension setups, making the riding experience very different.
Despite this, I have to present some alternatives, so please allow for the fact that this covers a wider spectrum than usual. These are sporty middleweight bikes that aren't too aggressive on power, but that have a lot of character, modern engines, and great style.
| Model | Harley-Davidson Nightster | Triumph Bonneville T100 | Indian Scout Bobber Sixty | Suzuki SV650 | Harley Davidson Sportster S |
| --- | --- | --- | --- | --- | --- |
| Engine | 975 cc liquid-cooled 60-degree V Twin | 900 cc liquid-cooled parallel twin | 998 cc liquid-cooled V-twin | 645 cc liquid-cooled V-twin, 8-valve | 1252 cc liquid-cooled 60-degree V-twin |
| Peak power | 67 kW / 90 hp @ 7500 rpm | 48 kW / 64 bhp @ 7400 rpm (2021+) | 58 kW / 78 hp @ ~ 7000 rpm | 56 kW / 75 hp @ 8500 rpm | 90 kW (121 hp) @ 7500 rpm |
| Peak torque | 95 Nm / 70 ft-lb @ 5000 rpm | 80 Nm (59 lb-ft) @ 3750 rpm | 88 Nm (65 ft-lbs) @ 5800 rpm | 64 Nm / 47 ft-lb @ 8100 rpm | 128 Nm (94 lb-ft) @ 6,000 rpm |
| Gears | 6 | 5 | 5 | 6 | 6 |
| Final drive | Belt | Chain | Belt | Chain | Belt |
| Front suspension | 41mm Showa conventional forks, "Dual Bending Valve" design | 41mm conventional cartridge forks | Conventional fork | Pre-load adjustable fork | 43mm inverted fork, fully adjustable |
| Rear suspension | Dual shocks, no linkage (direct-acting) shocks with preload adjustment | Twin shocks, preload adjustment | Dual shocks | Preload-adjustable monoshock | Linkage-mounted piggyback monoshock, fully adjustable |
| Front brakes | Single 320mm disc, axially mounted 4-piston floating caliper | Single 310mm disc, Brembo 2-piston axial caliper | Single 298mm rotor, 2-piston caliper | 2 x 290mm discs, 4-piston calipers | Radially mounted monoblock 4-piston caliper |
| Instruments | 4-inch round TFT | Twin analogue dials with LCD info display | Single analogue dial with LCD info | Trapezoidal LCD | 4-inch round TFT |
| Ride aids | ABS, TC, ride modes | ABS, TC | ABS, TC | ABS, low-RPM assist | Cornering ABS, TC, Cruise control, ride modes |
| Weight (full tank) | 218 kg / 481 lb | 228 kg (503 lb) | 249 kg (548 lbs) | 197 kg / 434 lb (ABS) | 228 kg (502 lb) |
| USA MSRP (2021) | $13,499 (Base black) | $10,795 | $8,999 | $7,699 | $15,499 |
Harley-Davidson Nightster Alternatives
The MSRP is an indication of prices in other countries, too. Multiply them by roughly 1.5 for example to get the Australian MSRPs (in Aussie dollars, though).
Triumph Bonneville T100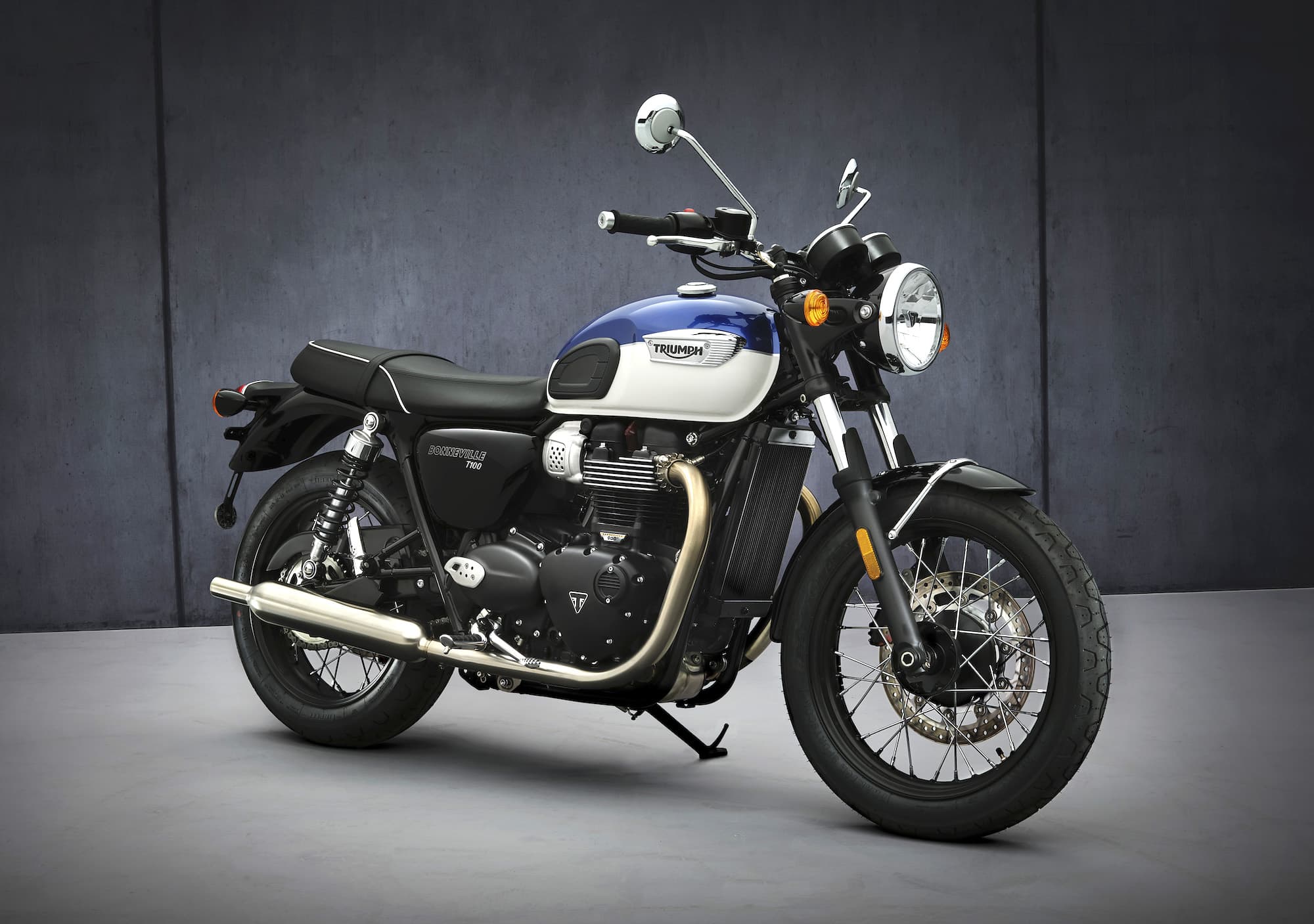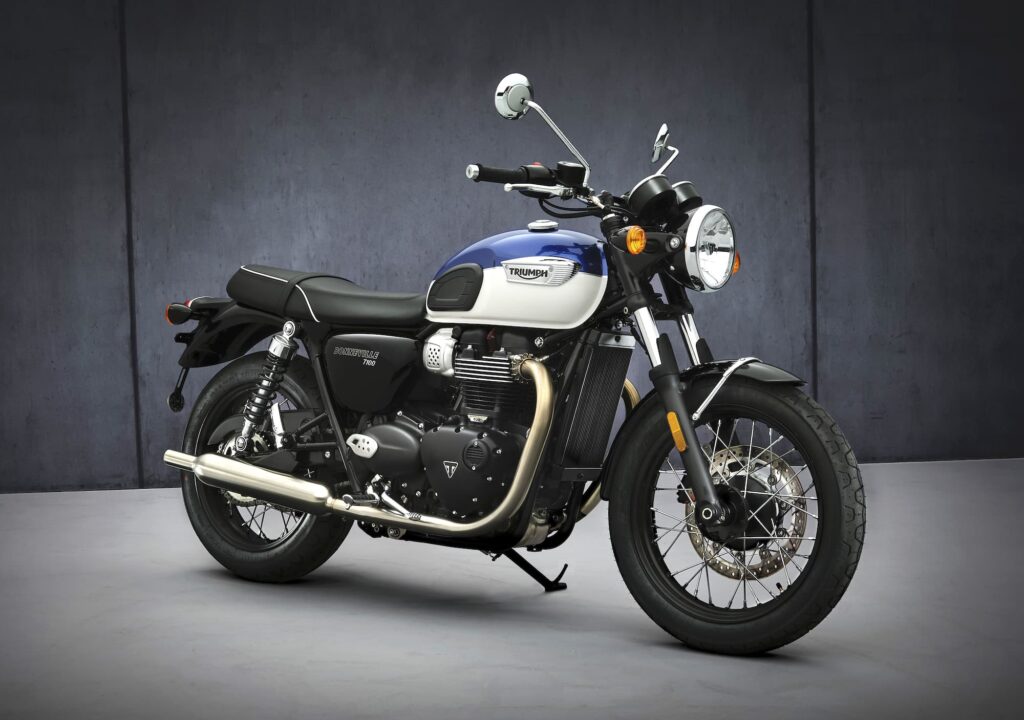 The first not-quite-appropriate alternative to the Harley-Davidson Nightster is the Triumph Bonneville T100.
Why the T100? I could also have maybe chosen the Scrambler or something else in the 900 class. But the T100 seems more appropriate because it's the most "standard" of the class.
And I chose not to compare the T120 (or anything from the 1200 class) because I think they're better viewed as alternatives to the Sportster S in terms of price and positioning.
Anyway, the Bonneville T100 is based on a 900cc liquid-cooled parallel twin. The engine has a 270-degree crank, which helps give the engine a healthy pulse that's very satisfying to people after a cruiser-like lump.
The engine sounds like it might be reasonably high-power, but that's where it gets interesting. Despite the capacity and cooling, the T100 makes peak power of just 48 kW (65 PS / 64 bhp) at 7400 rpm, and peak torque of 80 Nm (59 lb-ft) at 3750 rpm. So it's quite different to the Nightster in under-the-seat performance. It's a little heavier, too.
But people choosing these bikes aren't likely to pick them based on all-out power. There's a lot that the Triumph T100 has going for it: looks, a comfortable position, an iconic history (even though Triumph changed identity in the middle of it), and a very reliable engine.
Indian Scout Bobber Sixty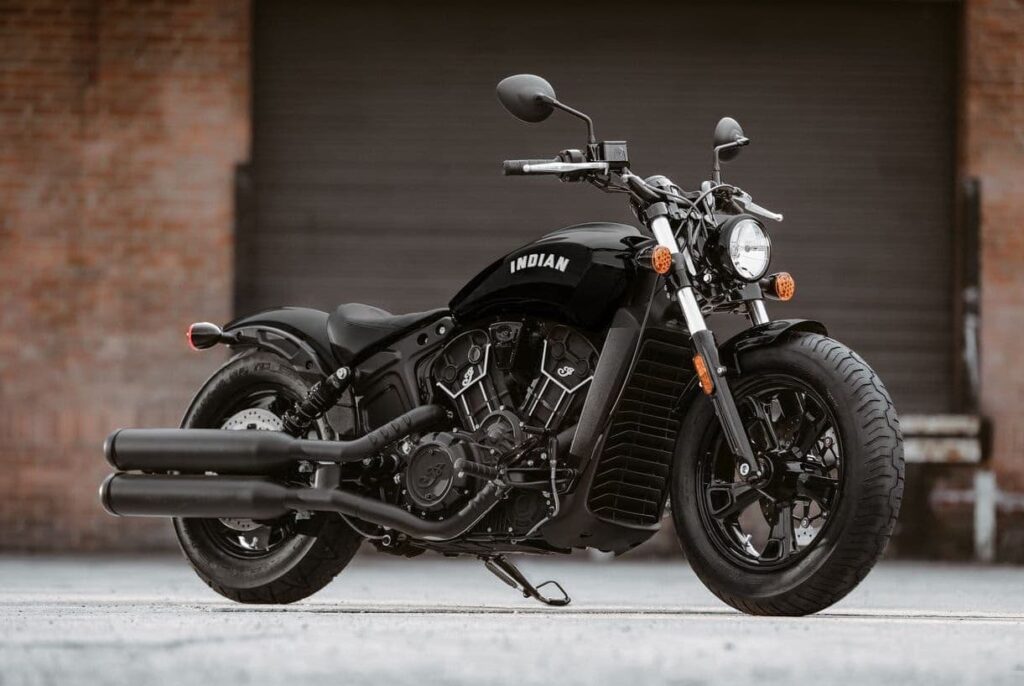 The next vaguely inappropriate comparison to the Harley-Davidson Nightster is the Indian Scout Bobber Sixty, the smaller version of the Indian Scout Bobber.
The Indian Scout Bobber Sixty is essentially a Scout Bobber but with a smaller 999 cc engine (and a consequent drop in power output) and one less gear. Otherwise, it's very similar to the bigger Bobber.
See our full Indian Scout buyer's guide.
The Scout Bobber Sixty's engine makes peak power of 58 kW / 78 hp at around 7000 rpm, peak torque of 88 Nm (65 ft-lbs) 5800 rpm, and weighs 249 kg (548 lbs) full of fuel. The power specs are similar to that of the Nightster, but the Scout Bobber is a heavier bike.
In that sense, the Indian Scout Bobber full-size has a more comparable power/weight ratio to the Harley-Davidson Nightster, but let's not get bogged down in details.
Because the most important thing is that the Scout Bobber Sixty is a more relaxed cruiser. I compared the Indian Scout Bobber to the Harley-Davidson Sportster S, and that comparison makes more sense. But other than them both being "kind of sporty V-twins", riding the Sixty and the Harley-Davidson Nightster feels pretty different.
The Indian Scout Bobber Sixty is a very good-looking machine — not just in photos but also up close. On in-person fit and finish, it wins the prize. And it's an American cruiser. So I guess you'd just pick whichever bike feels better.
Suzuki SV650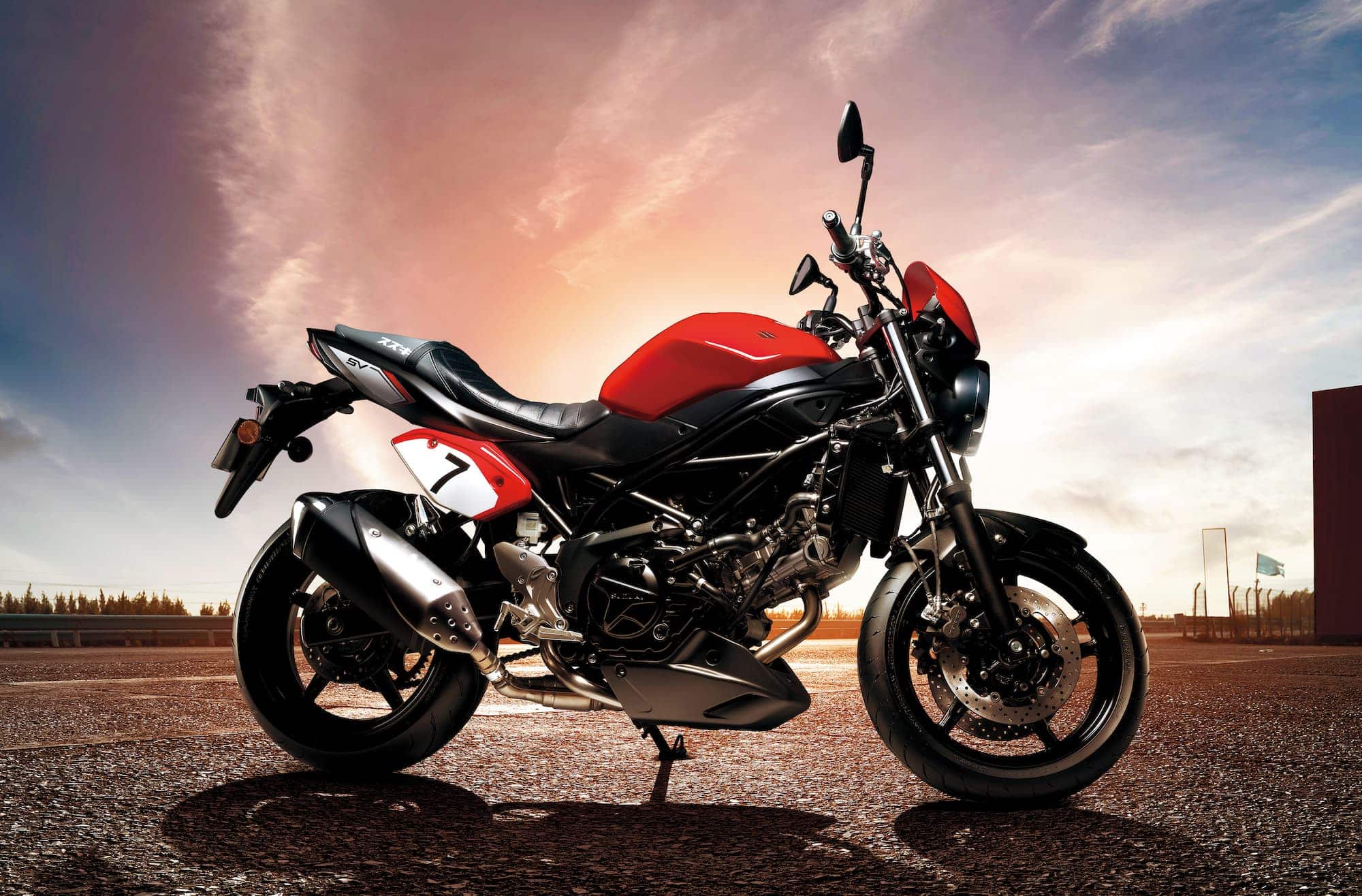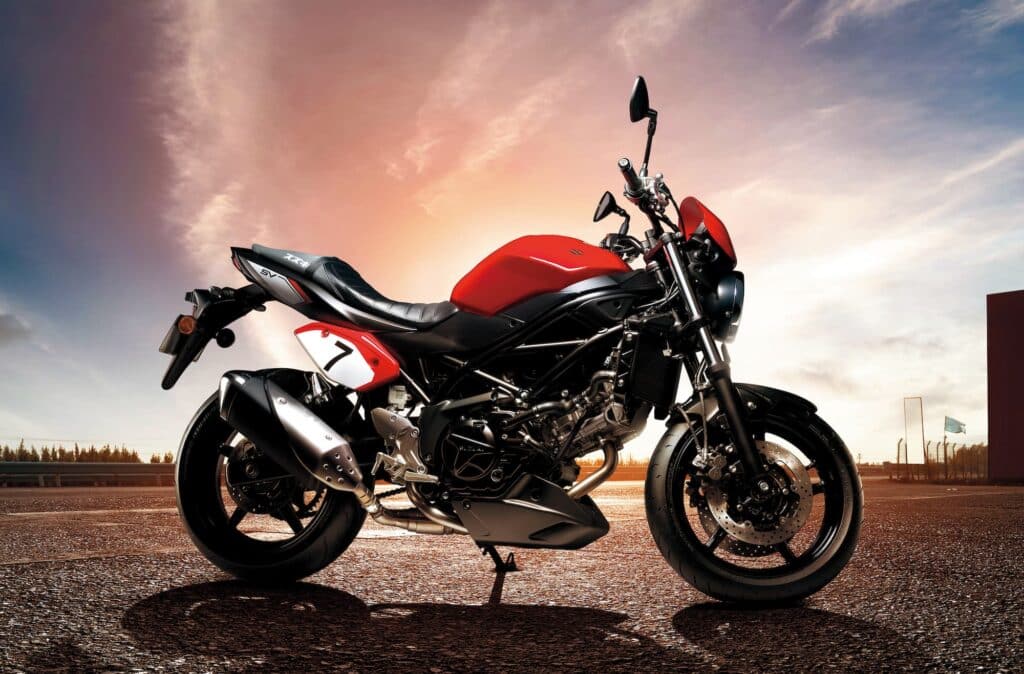 OK, this comparison to the Harley-Davidson Nightster is a bit out there. As I mentioned, it's a different kettle of fish. But it's worth just considering — maybe a Suzuki SV650? Maybe?
The SV650 is, after all, a good-looking upright sporty bike with a simple setup and a lively V-twin liquid-cooled engine. Suzuki has been doing this for a long time (over two decades now) and the SV has a loyal following, including me.
The latest Suzuki SV650's 645 cc V-twin makes 56 kW / 75 hp @ 8500 rpm. This is less power, higher up. And it's reflected in the way the bike makes torque, too. It's obviously a smaller-displacement engine.
Of course once you compare the Nightster with the SV650, you legitimately ask: why not the Yamaha XSR700, new Kawasaki Z650RS (the retro based on the Z650), or the the Honda CB650R? The answer is: of course you can. The SV650 is arguably closer because of its V-twin, but the XSR700 has similar (if not livelier) character.
Then of course there's the Kawasaki Vulcan S, which has a more relaxed riding position, legs out forwards.
Let's just start with the SV650 though. The reality is that all those bikes are great and quite unique. People have strong opinions between them.
The Suzuki SV650 has been a classic entry-level, affordable fun bike for decades. You can do many things with it — slay the daily commute, get out in winding roads of a wide range of speeds, and take it to track days. It's more versatile in those ways than the Nightster, which would be a bit odd at a track day.
But reflections on whether you'd choose the Nightster vs the SV650 or any one of the others comes down to the same questions:
Do you want to pay more for the Harley-Davidson style or brand?
Are you willing to tolerate the quicker value drop of the other brands?
Are you OK with the slightly heavier weight and less sporty suspension and brakes (compared to most alternatives) of the Nightster?
The Harley-Davidson Nightster is by no means a bad bike, but if you're after bang for buck, I'd go with something like the Suzuki SV650.
Harley-Davidson Sportster S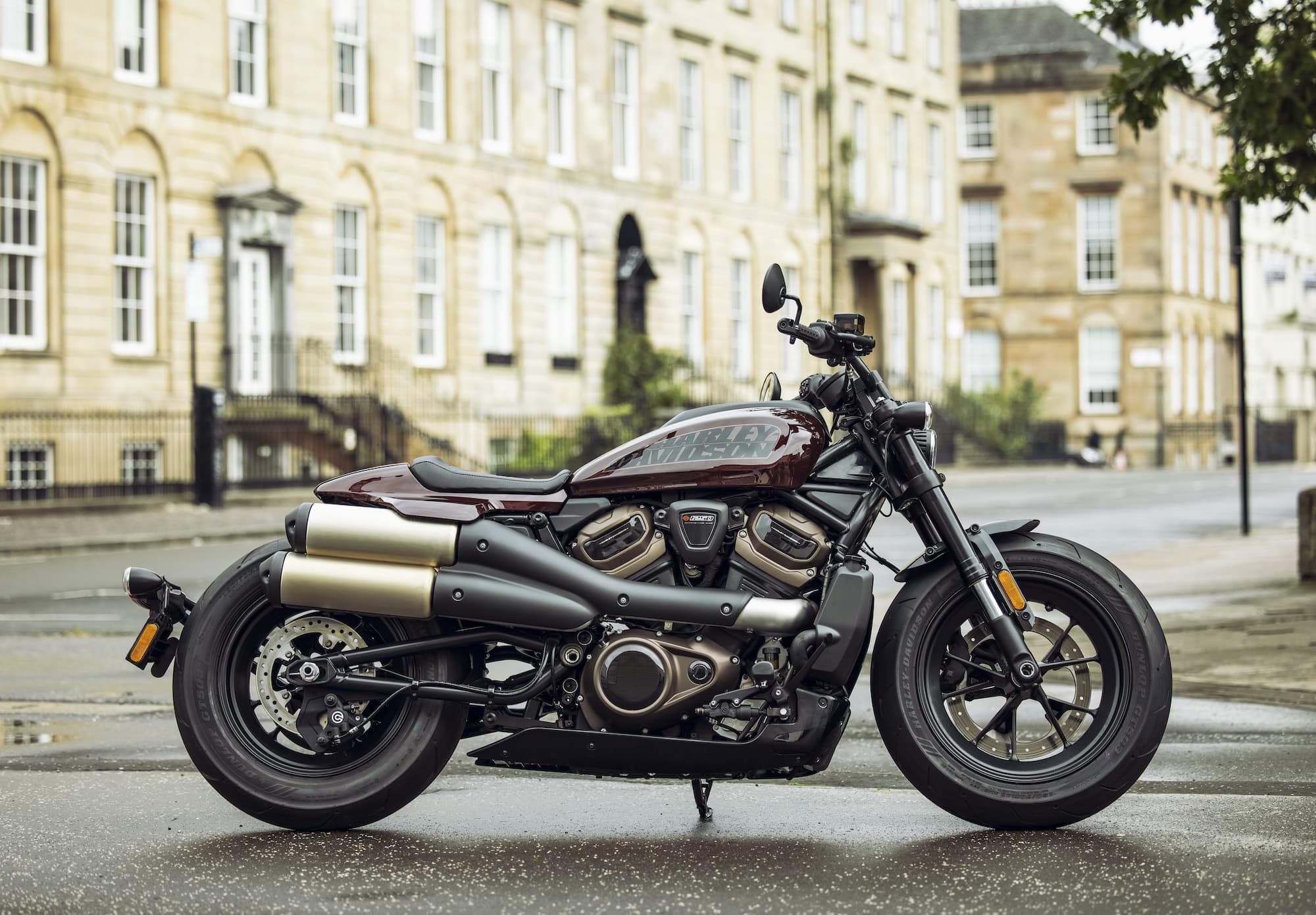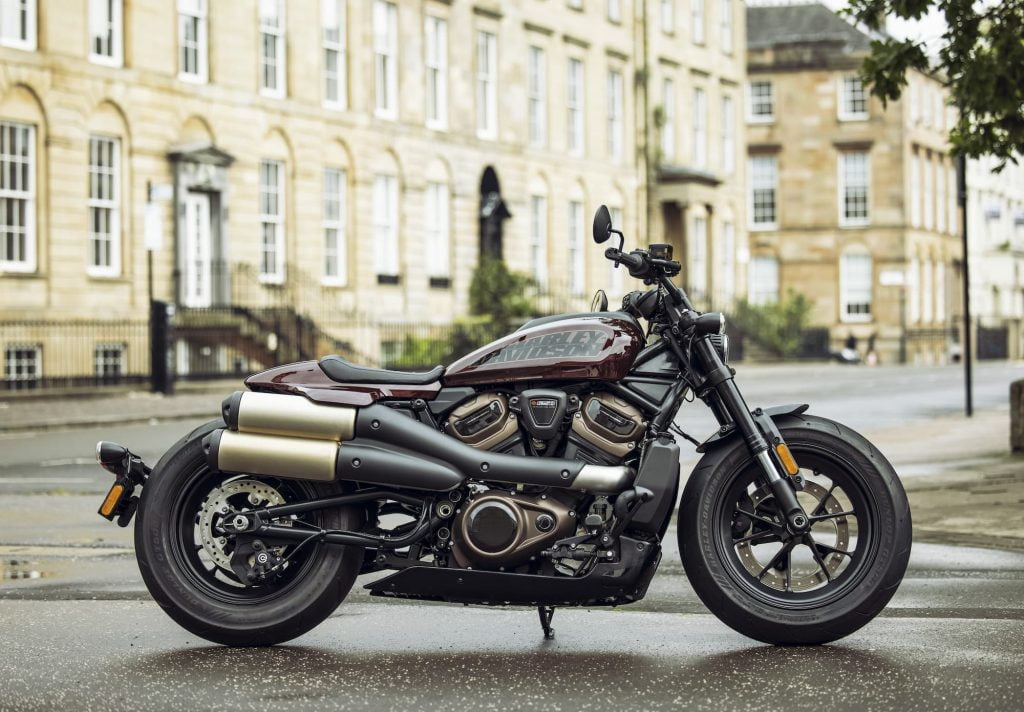 Of course, we have to consider the Harley-Davidson Nightster with the Harley-Davidson Sportster S. (Read my full take on the Sportster S here.)
As I mentioned above, there are many reasons that these are different bikes. They differ in
Riding position: The Sportster S is a feet-forward cruiser, and the Nightster is a standard
Tech spec: The Sportster S has an IMU and cruise control, whereas the Nightster has just the basics of traction control and ABS
Ride gear: The Sportster S has adjustable suspension and high-end brakes, whereas the Nightster does not
But they're similar in many ways. Both are part of the Sportster line, both have a liquid-cooled Revolution Max engine (of different capacities), and both share a lot of parts. They're also not too dissimilar in price.
So how do you pick them apart? It's a little hard. Many are going to say "I wish the engine of one were in the chassis of the other". I kind of think that's going to happen.