Even for the most hard-nosed of sportbike diehards, naked bike blasters or traditional air-cooled cruiser riders, it's hard not to look at the Indian Scout Bobber and think "Maybe".
The Indian Scout (or Indian Scout Bobber, or Rogue) is a tempting proposition. A hundred horses, eye-catching style, and very easy manners… This is a bike that could bring a lot of people to the dark side — whatever that might mean for them.
I love my sport bikes and standards. I admittedly have a hard time getting along with forward controls or a seating position that uses my spine as a shock absorber. But still, for cruisers, the Indian Scout Bobber has come the closest so far to winning me over.
So I really wanted to know:
Is the Indian Scout Bobber "sporty"? Is it fast?
Is it awkward riding a cruiser if I'm not used to it? (Obviously if you are, then it's not awkward)
Is the Indian Scout Bobber worth the high ticket price?
Here's everything I found out.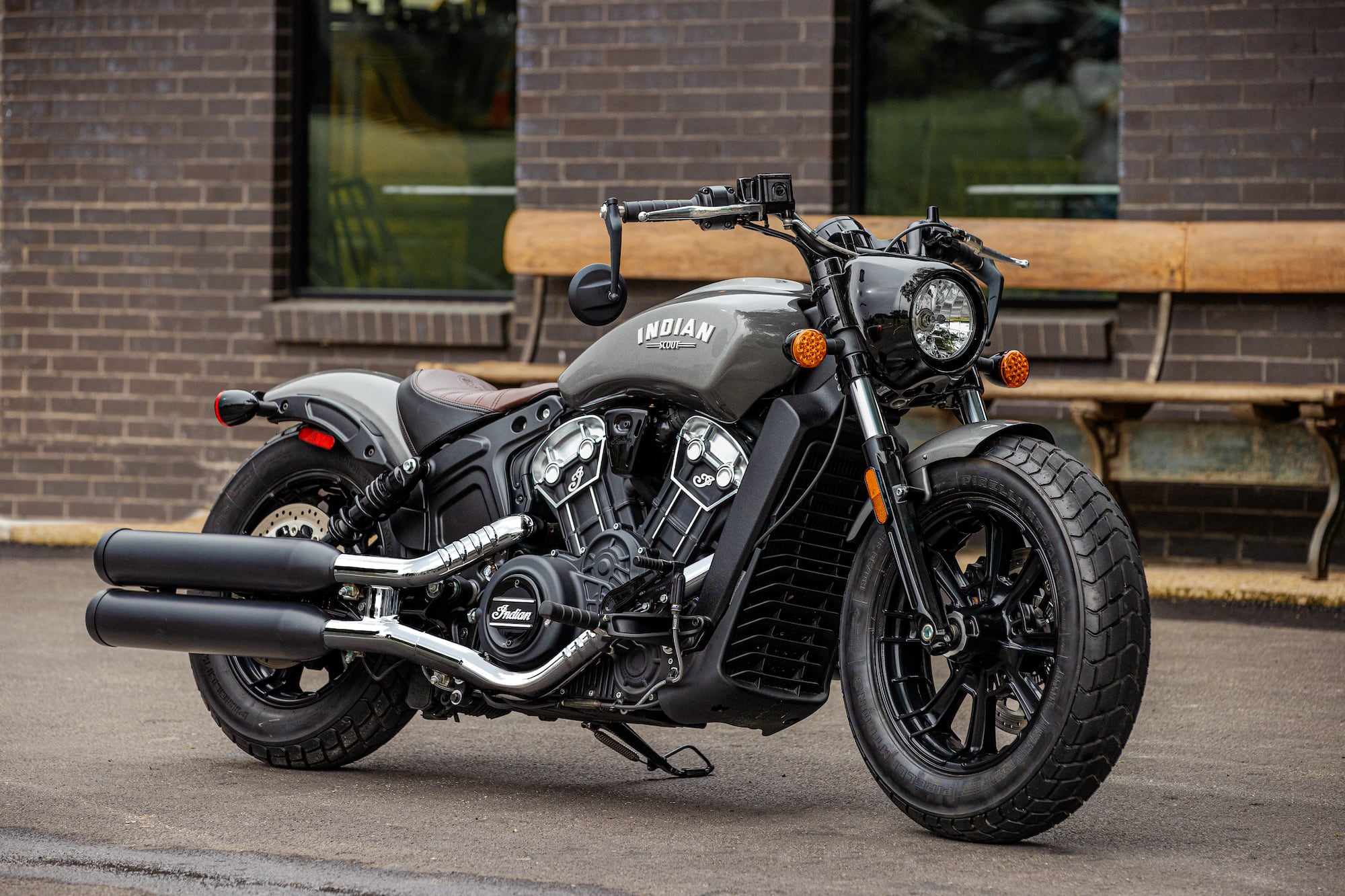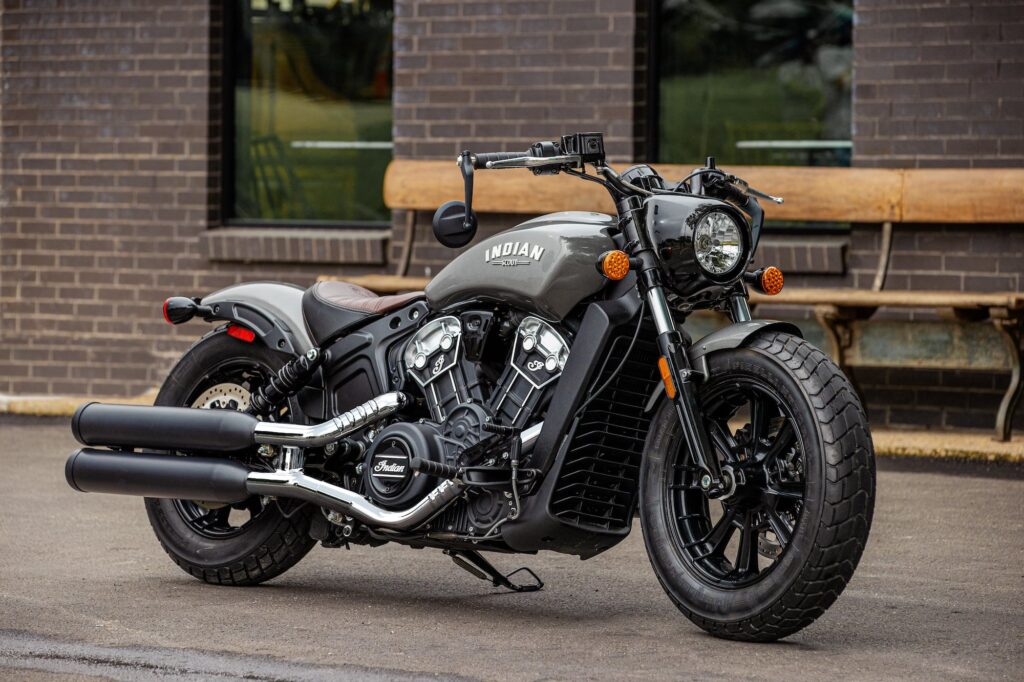 Are you obsessed with motorcycles?
Well, I am. That's why I created this site — as an outlet. I love learning and sharing what others might find useful. If you like what you read here, and you're a fraction as obsessed as I am, you might like to know when I've published more. (Check the latest for an idea of what you'll see.)
About the Indian Scout Bobber In Brief
In brief, the Indian Scout Bobber is the lower, cooler-looking variant of the Indian Scout. It's the first Indian Scout I noticed, and the one that many people prefer.
But really, you can't separate their stories, as they're fundamentally the same bike.
Indian announced the first Indian Scout for the 2015 model year in 2014 at the Sturgis motorcycle show.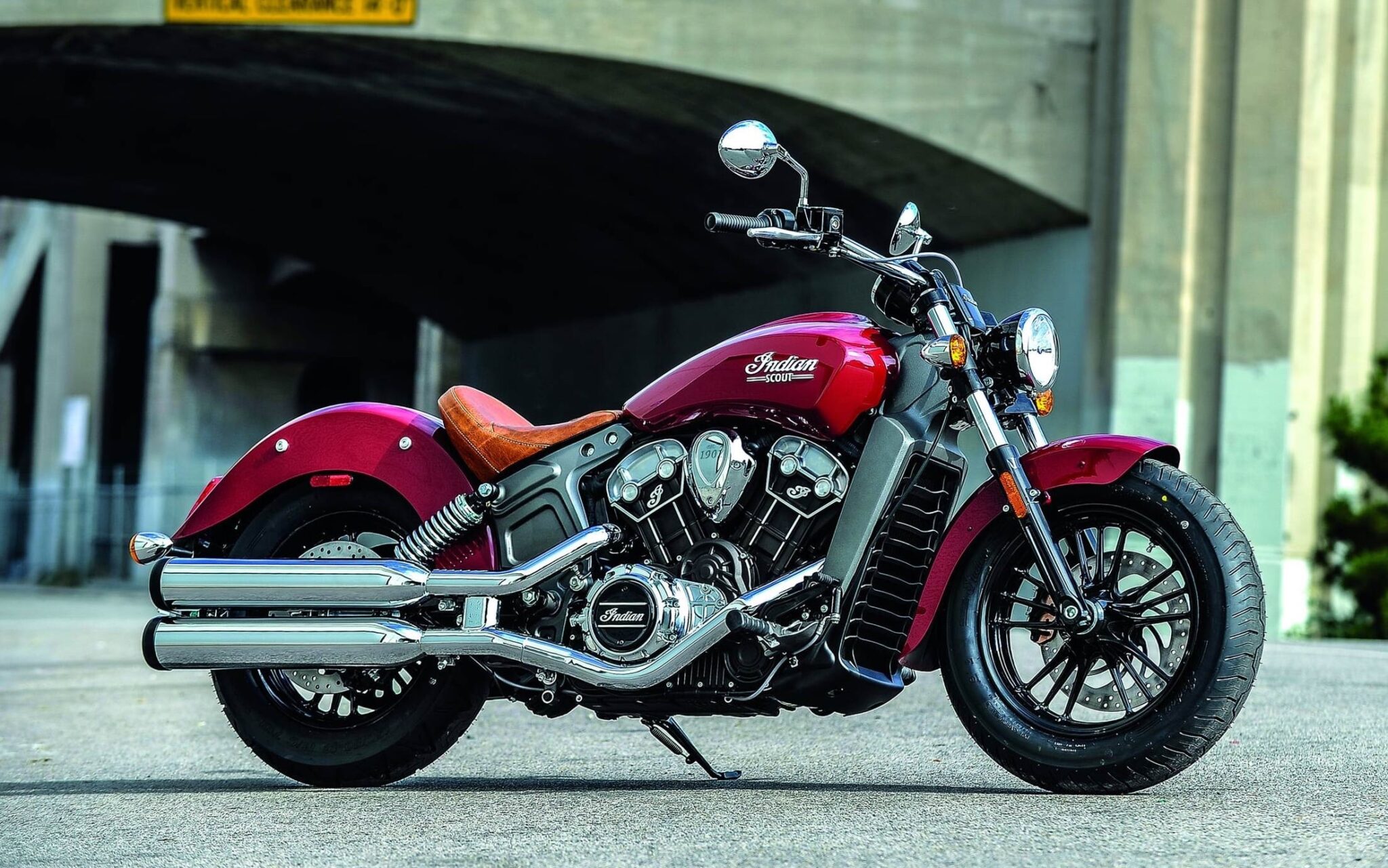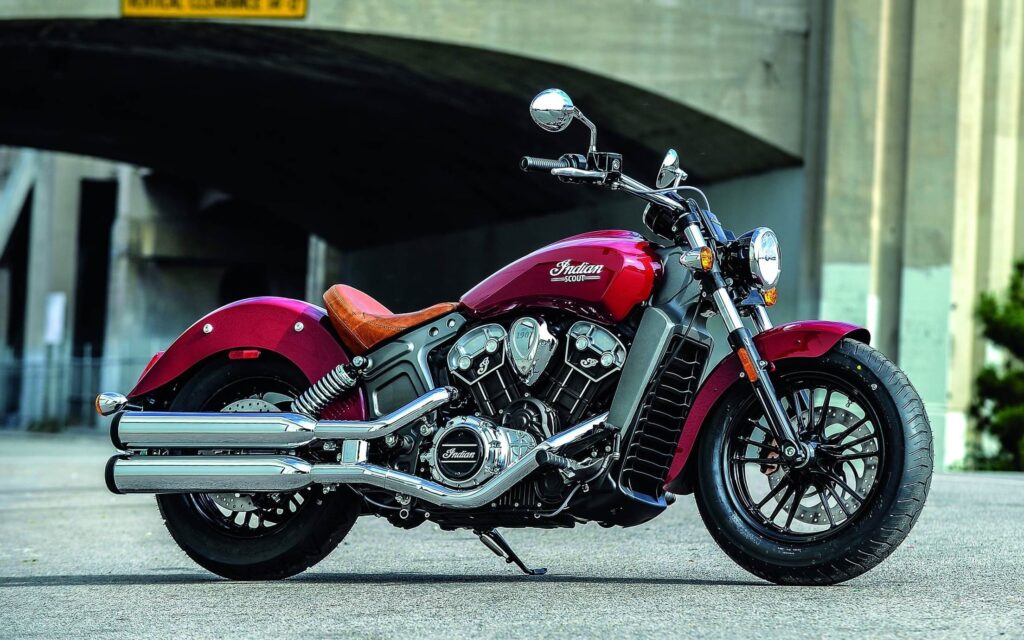 Indian built the Scout as a "clean sheet" design. The overall concept, chassis, and engine were all-new.
Indian, like Harley-Davidson and Moto Guzzi, mostly built air-cooled and air/oil-cooled motorcycles. Most of its biggest motorcycles are still air/oil-cooled.
But the Indian Scout was what Indian called "the first truly new Indian Scout in more than 70 years". Which is interesting as it's named after a model from nearly a century ago — the original Scout made from 1928-1931.
So what makes it new? It doesn't looks that new… It's still a cruiser with a belt drive. But there's a little that makes the Indian Scout special:
That engine: an 1133 cc (69 ci) liquid-cooled V-twin engine that makes 100 horsepower (75 kW) at 7-8000 rpm (depending on who you ask), and peak torque of 98 Nm (72 lb-ft) at 5900 rpm.
Ride aids: ABS is standard (maybe an option a few years ago in the US). And the throttle is ride-by-wire, which leaves the door open for cruise control (from MCCruise)
It's relatively light weight (for its class) at 253 kg / 558 lb fully loaded
Being a mid-displacement V-twin, the Indian Scout of course makes lots of torque down low. In fact, it makes basically peak torque from 3000 rpm, holding that line until 7000, and only dropping off slightly at the engine cut-off at 8300 rpm.
Yes, 8300 rpm! This is a cruiser motorcycle that kind of revs! It's not a short-shifting massive cruiser engine. Riding the Indian Scout gives somewhere between that "big twin" feeling and something much more lithe like the Kawasaki Vulcan S.
In 2016 and 2017, Indian didn't make any dramatic changes to the Indian Scout. They announced a few new colours.
But Indian did release the Indian Scout Sixty for 2016, a version that's with a 999 cc engine and which has about 10% less peak power and 20% less peak torque.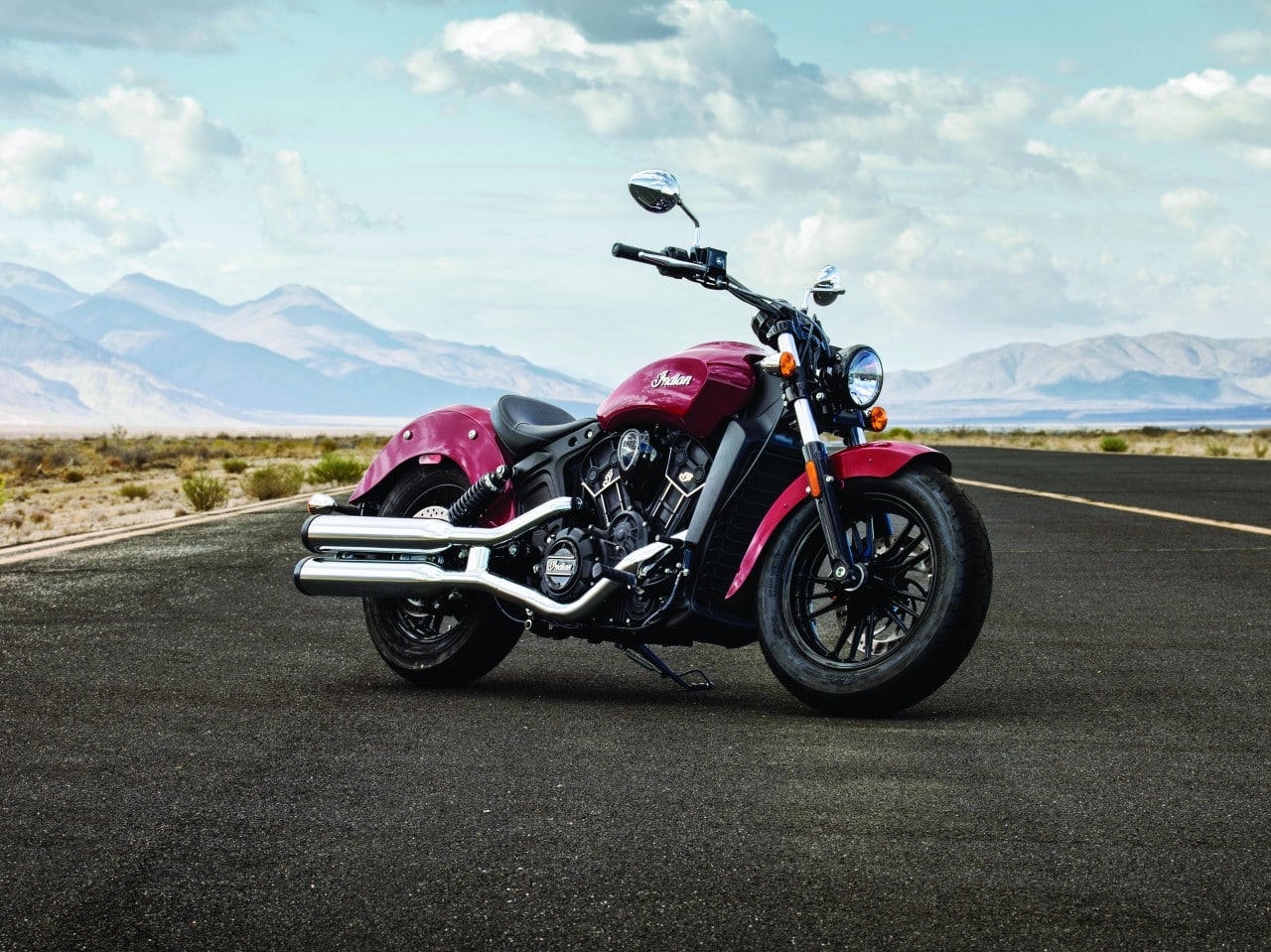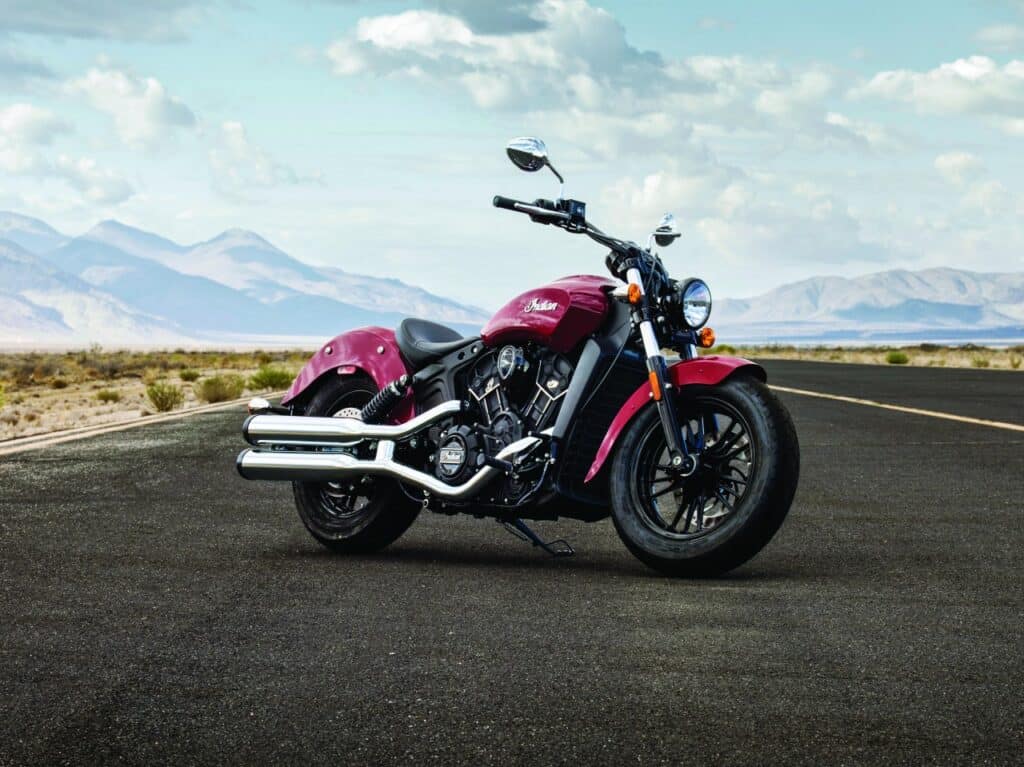 Indian is still selling the reduced capacity Scouts, so they must be selling.
In 2018, Indian released its first style variant on the Scout — the Scout Bobber. It has the same foundation as the Scout but has low-rise bars, chopped fenders, and a side-mount license plate.
Even though all that makes it a less practical motorcycle, you can't help but look at the Bobber's lines and think: dang. Now THAT's a motorcycle. I can't stop looking at it.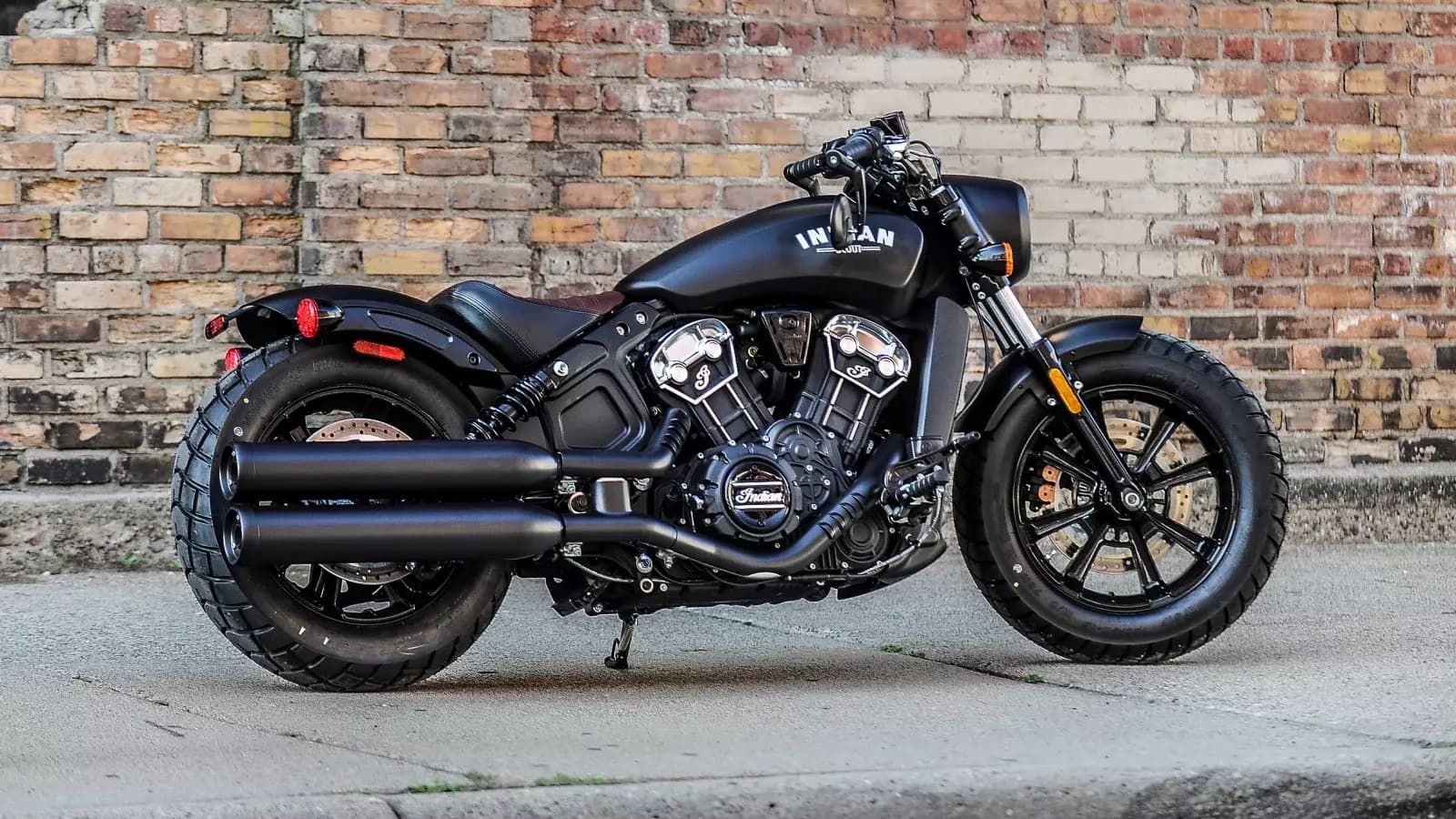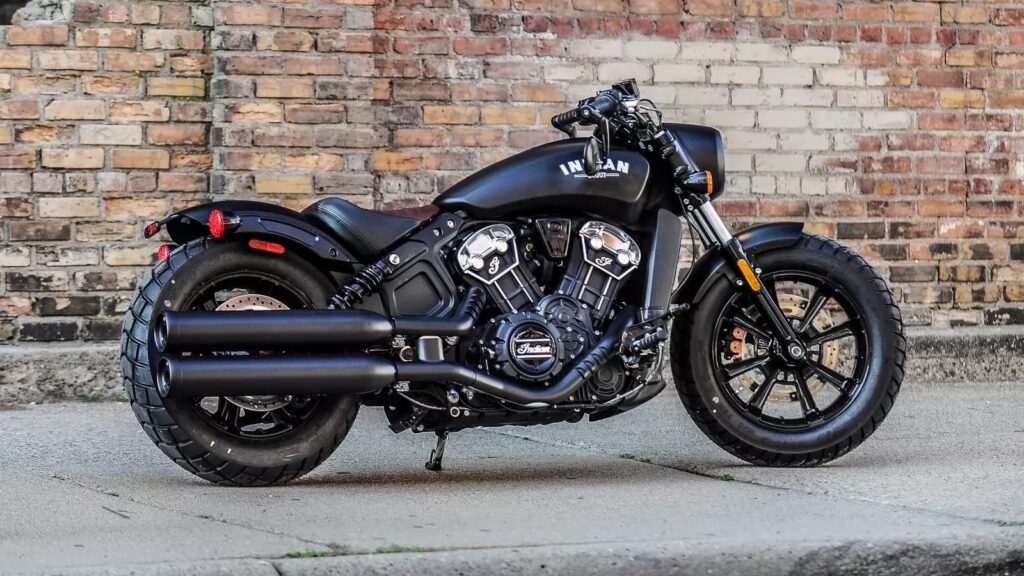 It's long, low, and mean. It's a great looking machine!
Indian also released a few other variants of the Scout, including the Twenty, the Rogue, and a couple more models of the Sixy variant. But not a Twenty Sixy (well, not yet).
Quick Specs of the Indian Scout Bobber
Before we go on too far, let's talk about the core specs of the Indian Scout Bobber.
Because you can't ride a spec sheet, I'll also briefly discuss these specs to put them in context.
| Part | Indian Scout Bobber spec | Notes |
| --- | --- | --- |
| Engine | 1133 cc liquid-cooled 60-degree V-twin | Liquid cooled is rare for an Indian (Indian Challenger is the other one) |
| Bore / Stroke (mm) | 99 x 73.6 | Undersquare, for revving! |
| Compression ratio | 10.7:1 | Mild, but still needs premium ("91" in the US, which is "95" in Europe / APAC) |
| Peak power | 75 kW / 100 hp @ ~8000 rpm | Surprising amount of power, but you may rarely get to 8000 rpm (maybe in the first 2-3 gears) |
| Peak torque | 98 Nm / 72 ft-lb @ 5900 rpm | It makes nearly this much torque as low as 3000 rpm |
| Final drive | Wet clutch, belt drive | |
| Front suspension | Telescopic fork, 120mm / 4.7 inch travel | No adjustability, standard forks |
| Rear suspension | Twin shocks — preload / ride height adjustable, 51mm / 2-inch travel | Less travel than the regular Scout. And not much travel at all… |
| Front brake | 298 mm rotor / 2-piston caliper | Quite a weak / non-sporty setup |
| Rear brake | 298 mm rotor / 1-piston caliper | |
| Instruments | Analogue speedometer + LCD | Still no TFT (but that's OK) |
| Ride aids | ABS only | – |
| Weight (full tank) | 251 kg / 553 lb | Light for a cruiser, but heavy for a standard streetbike (roughly 30 kg / 70 lb heavier than other standards) |
Core specs of the Indian Scout Bobber
2020 Indian Scout Changes
In 2020, Indian mildly updated the Indian Scout. It's 99% the same bike, and if you're test riding an older bike and like it, don't fret.
Here's what changed for the 2020+ Indian Scout (and Bobber):
| Spec | 2015-2019 | 2020+ | Change |
| --- | --- | --- | --- |
| Peak Torque | 72 ft-lbs / 97.7 Nm | 72 ft-lbs / 97.7 Nm | Same |
| Peak torque RPM | 6000 | 5900 | 100 rpm lower |
| 6th gear full ratio | 4.087:1 | 3.810:1 | Slightly taller, ~7% lower top gearing (about 250 rpm in the midrange) |
| Front brake | Single 298mm disc, 2-piston caliper | Single 298mm floating disc, 2-piston caliper | Floating rotor vs fixed, improves stability under braking, and reduces warping. |
Changes to the 2020 Indian Scout range
On the change to a floating rotor: Floating rotors decouple the part on which the calipers grip from the part that's attached to the wheel. The advantages of a floating rotor are that
They don't warp as much, both under heavy braking and over time
They're lighter, meaning you have less inertia and unsprung mass
Most sportbikes (in fact basically all motorcycles) have floating rotors, so this isn't a huge technological innovation.
Many Scout owners upgraded their discs to floating rotors, and while they were at it put on four-piston calipers for better braking. Brembo does a kit.
Power delivery and Gearing of the Indian Scout
OK, so you keep hearing that the Indian Scout has a hundred horses. Must be fast, right? Not so fast!
Let's talk about torque. Also, let's not forget that this is not a lightweight bike.
This is what the torque curve of an Indian Scout Bobber looks like: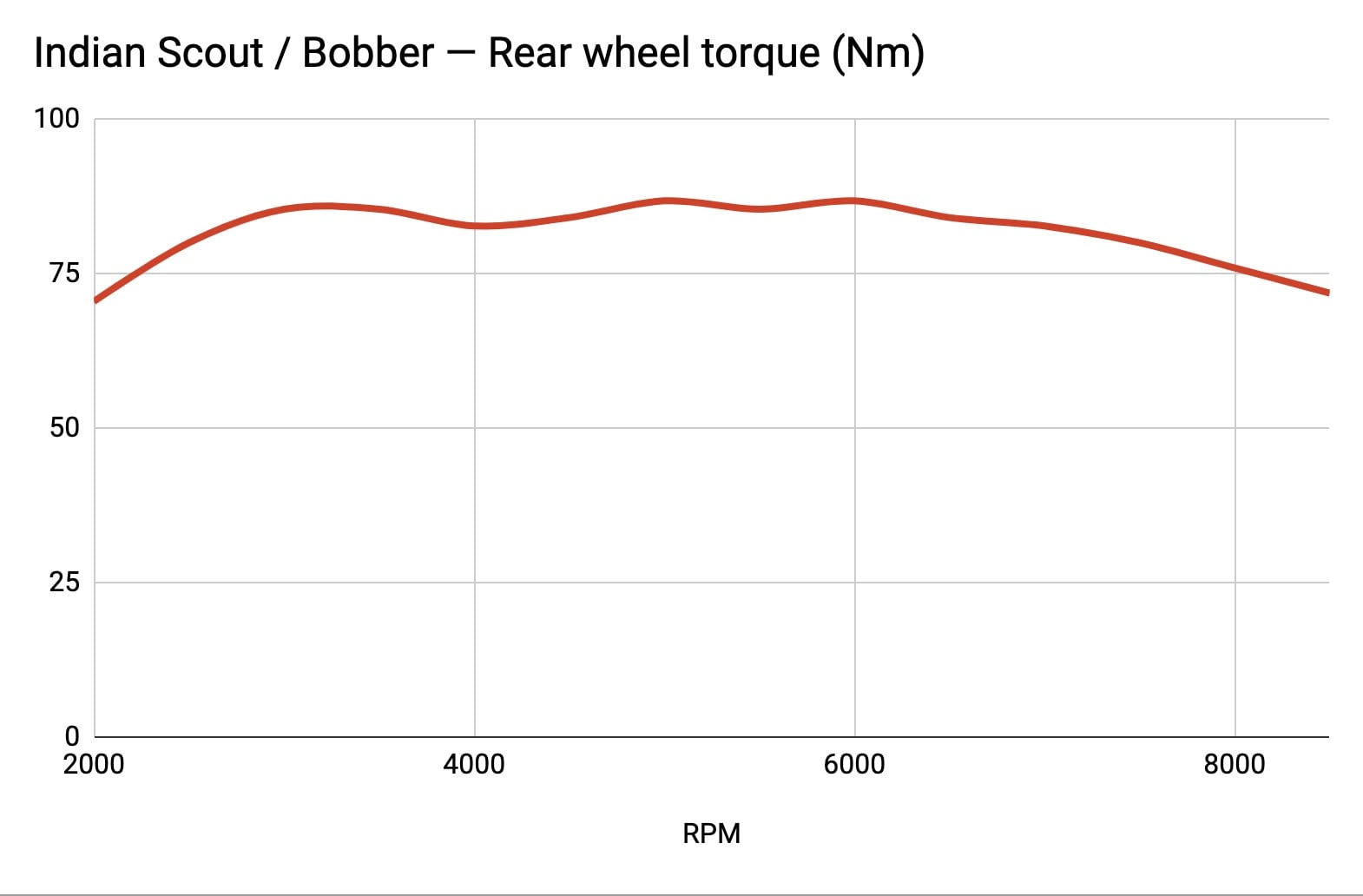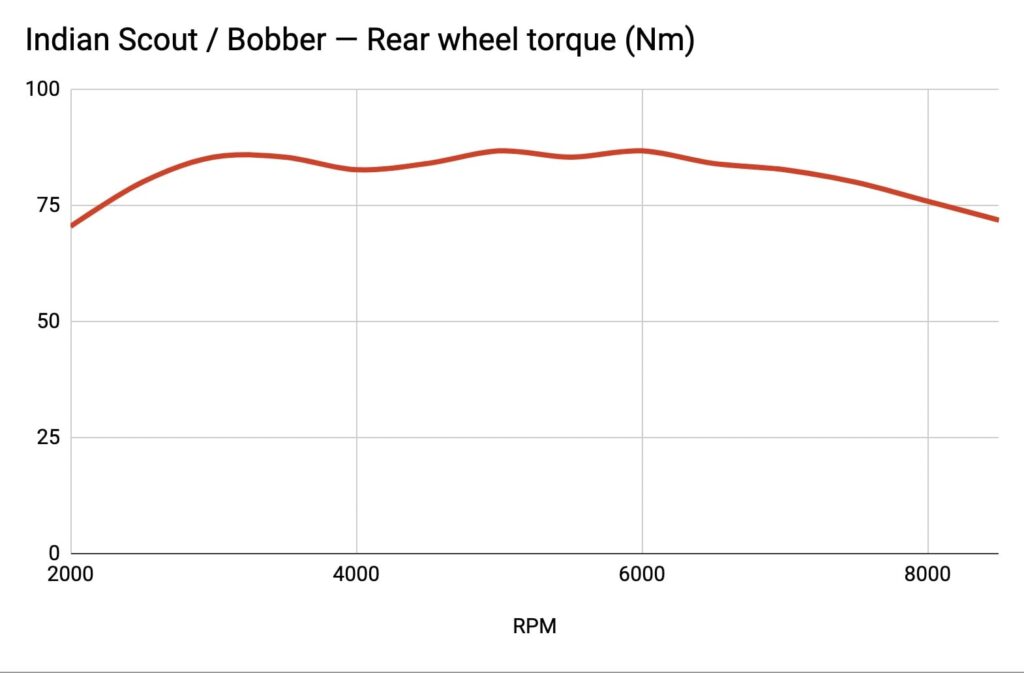 The above is a composite of torque data from other runs (e.g. Cycle World, Motorcycle magazine). They're all pretty much the same shape and scale, though differ by a few lb-ft in some areas.
The Scout Bobber's torque curve is very flat, which is quite an achievement. The torque curve of the Indian Scout Bobber is pretty much exactly what I'd want in a road bike… and it looks a lot like what you get in, for example, a BMW R nineT, a Suzuki SV650, a Honda CB1100, or any other number of biked that aren't designed to be "sport" bike, but rather everyday bikes that you can scratch about on.
But torque isn't the whole story, because it's how torque translates to rear wheel thrust that counts — that's why we talk about gearing.
Coupled with the gearing, here are some ideas about what it's like to ride the Indian Scout (or Bobber etc.)
Flat chat in first gear, you'll pull about 0.9 Gs. This is fast enough for most humans, and you'll rarely even get to that point.
After about 2.5 seconds you'll probably want to shift by 50 mph / 80 km/h, if you're pushing it hard and not short-shifting. Second shift comes at around 70 mph / 115 km/h.
In top gear you'll cruise at 60 mph at about 3100 rpm, and at 80 mph at about 4000 rpm. Neither will feel like you're working very hard.
Riding the Indian Scout Bobber
One thing to get out of the way: I had more fun on the Indian Scout Bobber than I've had on many bikes in a long time.
I actually didn't expect to get to ride it. I went to the dealer wanting to have a look, have a sit on it, and so on, so I was a little surprised when he handed me the keys and said to take it out for "an hour or so". With pleasure! I took an Indian Scout Bobber Twenty.
I didn't really like the aesthetics of the high bars. But I thought I'd get a good feel for the engine this way. And I was surprised to realise that the bars actually feel really good.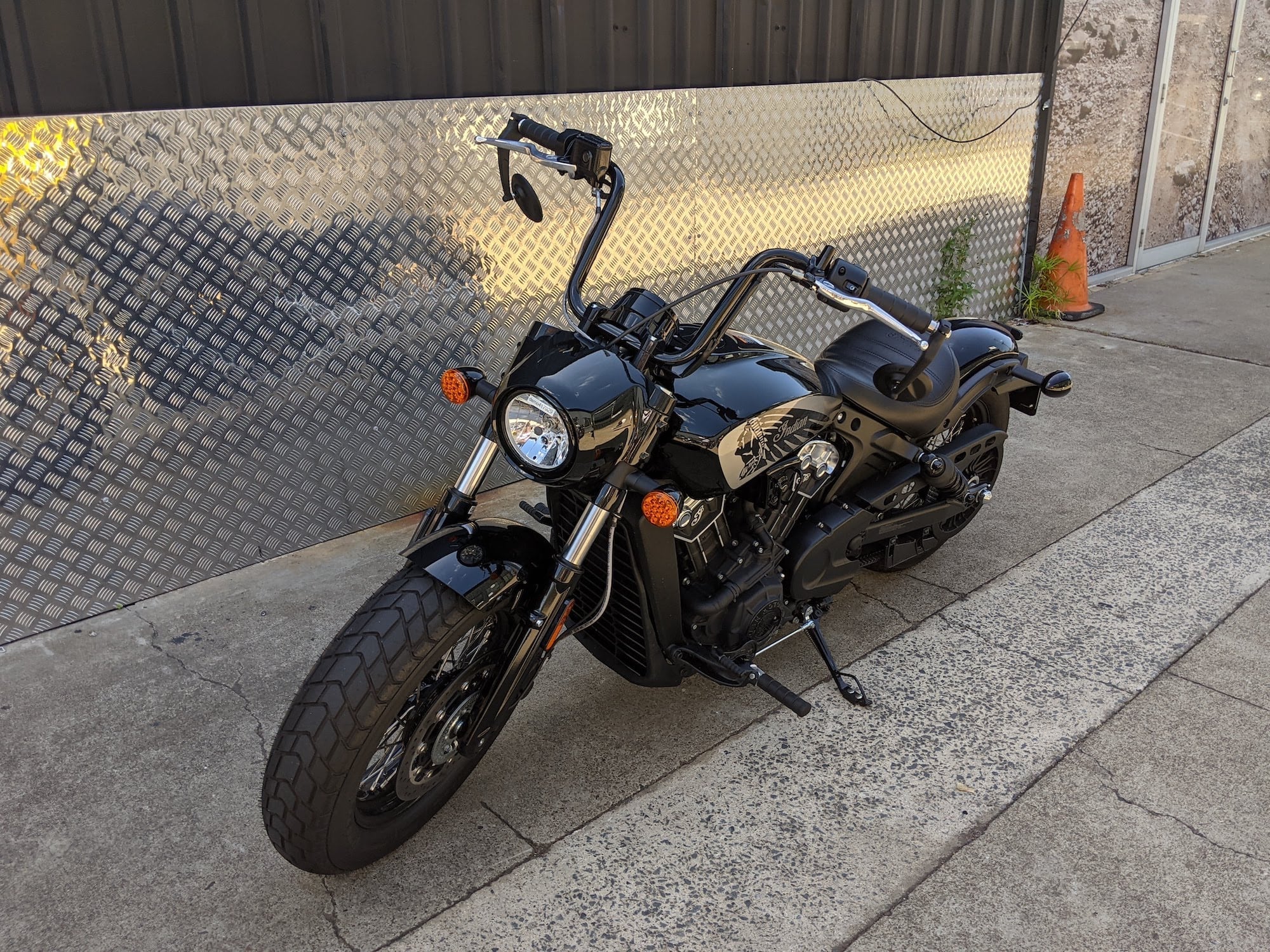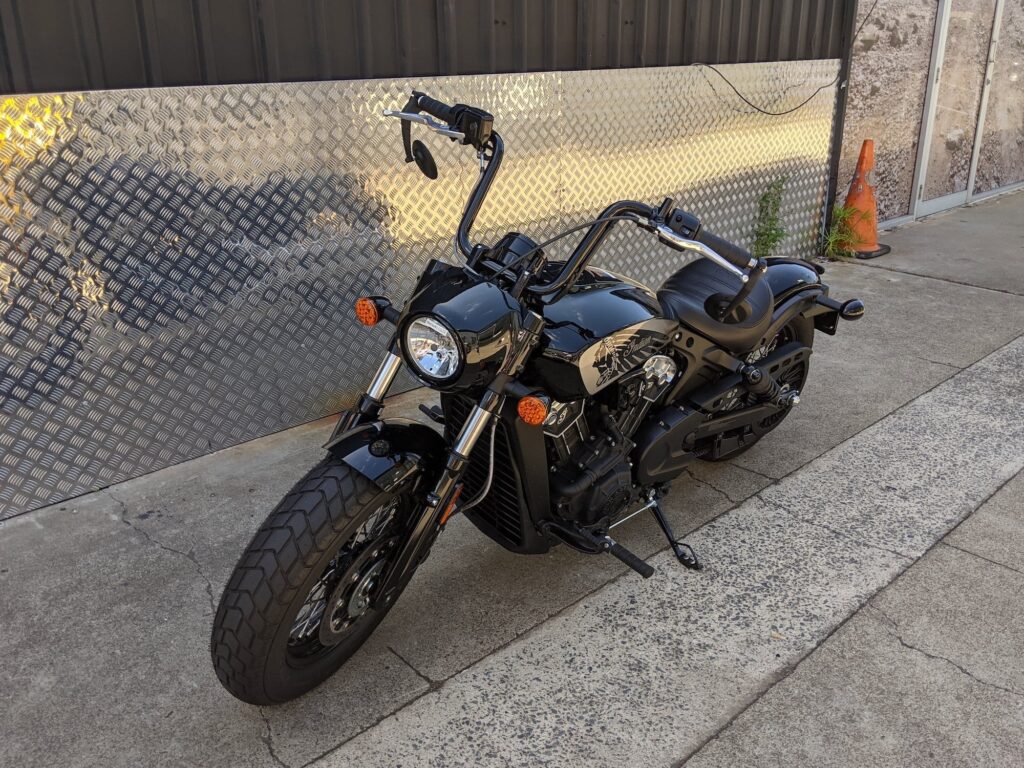 The first thing I noticed, which is what I always notice on bikes with forward controls, is that my legs were in a weird position.
I've felt this before on every cruiser I've been on. They look really cool in pics. But if you mostly ride standards or sport bikes, it's very disorienting to have weight on your tailbone.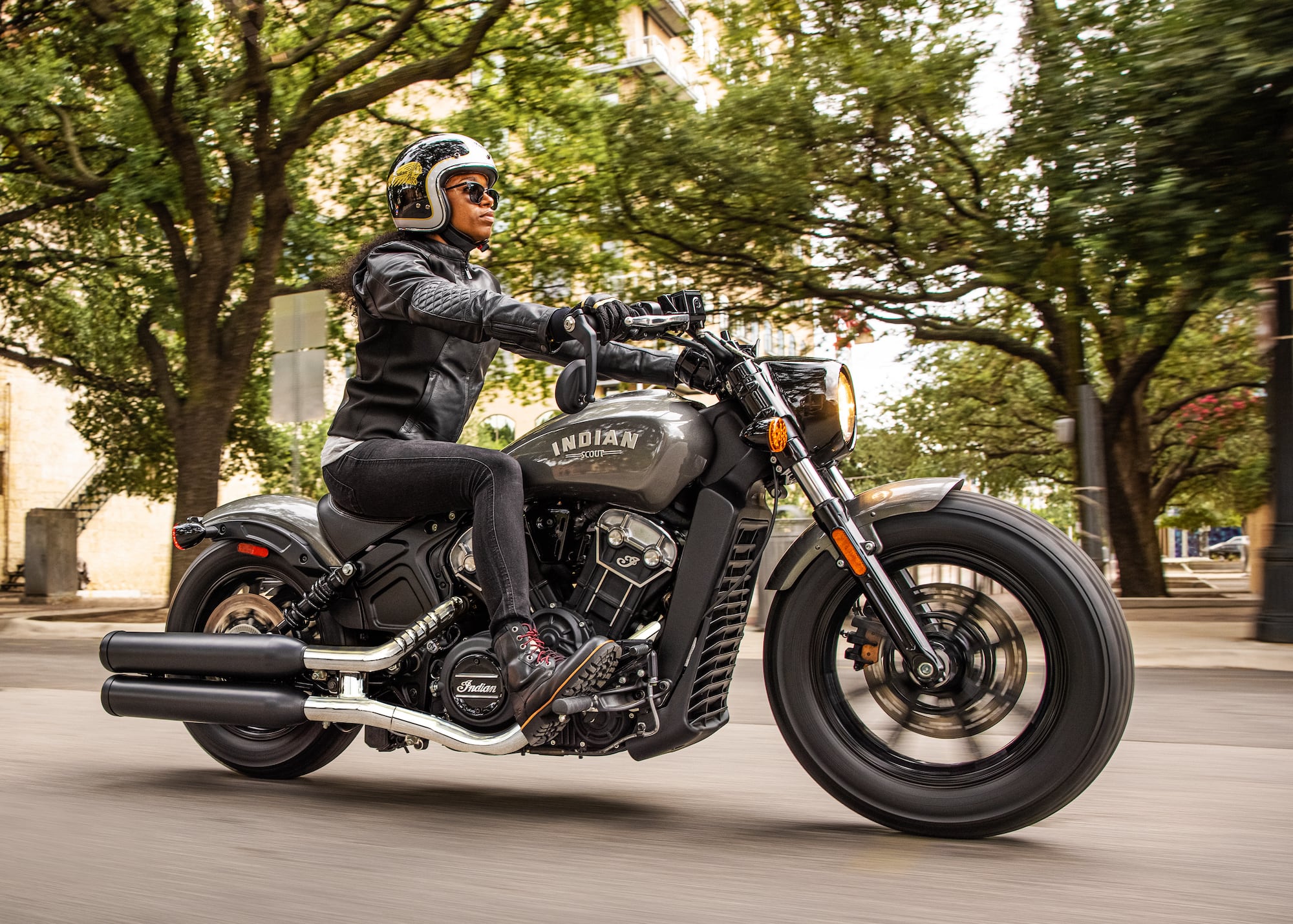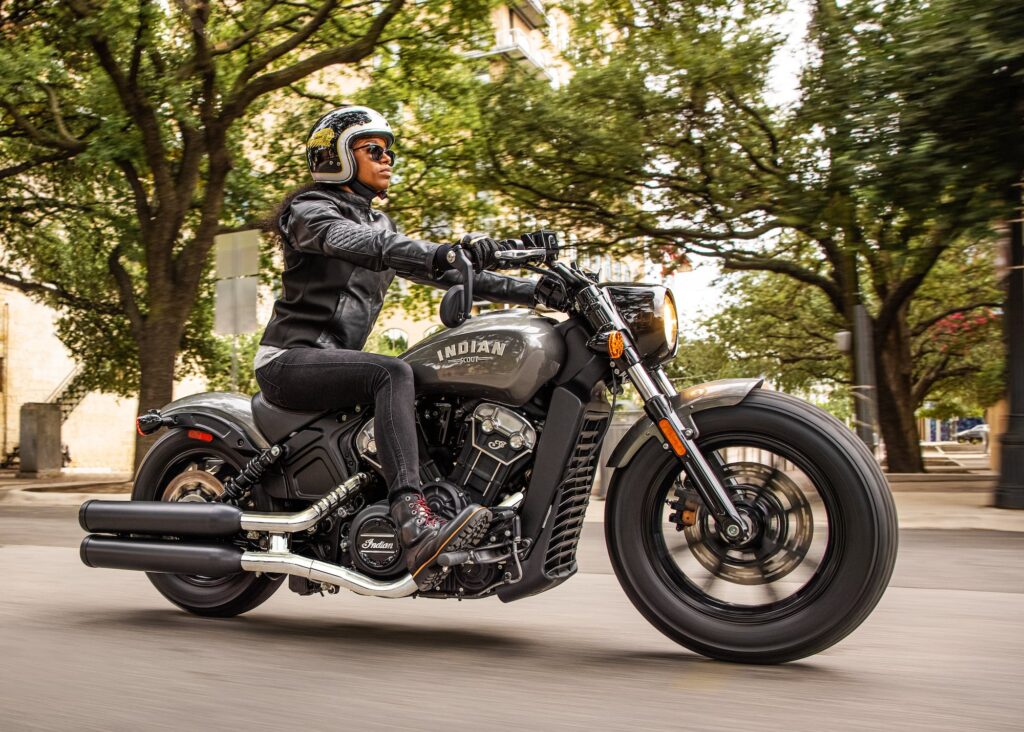 A bit more on riding position: I liked the position on the Twenty a lot more. In terms of reach, it feels like a Triumph Scrambler (a bike I really enjoyed).
I really like the look of the straight Bobber with its low bars. If I were to own one, I think that'd probably be it, position be damned. But to be fair, riding it feels like I become a parachute. The whole thing doesn't make sense, so I try not to think about it too much!
… OK, but still thinking about it, maybe I'd like the mini apes on the Rogue, plus a mid control conversion kit.
But the Twenty felt normal… nearly. Once I got used to seeing my knees in front of me, I was underway.
I had a maybe misguided sense of what "cruiser cool" is when I went for a ride on this bike. I wore my other gear (kevlar jeans and boots — I don't get how people ride in sneakers, safety aside, doesn't the shifter wear a hole in the cloth?) but ignored the jacket and just went riding in a t-shirt. Man, did it feel great. I know the appeal. If I could somehow convince fate to never send me a curveball, I'd only go riding in a t-shirt. OK if also the sun could dial it down a little because by the end of my ride, I was sunburned.
The gearing of the Indian Scout (and Bobber) is such that I shift a couple of times before getting onto the freeway, where I cruise around in fourth or fifth gear. That's all you need! It's nice that there's a sixth gear but I imagine that's for when you have a fairing and are doing 50+ miles a day. I personally never needed it. Maybe I was having too much fun…
Middleweight cruiser bikes are unique in that they can make everyday riding really fun. Riding on dual carriageway suddenly becomes "blasting around" on a dual carriageway. I get a little bit of hooligan spirit and maybe lane change too aggressively. To be honest, a lot of bikes get my blood up like that, but at least cruisers do it while still at relatively sane speeds.
I've had similar experiences on other middleweight cruisers, too — most notably the Harley-Davidson Sportster S (which I rode around a year later).
As for handling, I never pushed it too hard. The one thing I can say in favour of the handling of the Indian Scout is that I never noticed it being difficult. It never felt heavy, nor ungainly, nor awkward. I personally wouldn't expect too much of it though, as I found it pretty easy to scrape footpegs going around intersection corners.
I did find that scraping a bit jarring. But I've scraped a few other bikes in similar situations, like my Triumph Scrambler, so … it happens.
So it scrapes, it's heavy, and it has quite a bit of torque… but is the Indian Scout Bobber "sporty"?
Look, I'll just say it: no. The description "sporty" is very broad, of course. At one end you have something like the Yamaha YZF-R6, designed for lap times. But what's at the other end?
To me, a sporty bike is one I can ride aggressively and feel confident on it in a variety of quick situations, from sweepers to tight corners, braking and accelerating a lot. And the Indian Scout Bobber doesn't meet this definition.
The engine is fine, but it's not a FAST engine. If you've ridden any liter-class sport or naked bike, that's what a fast engine feels like. Or even if you've ridden a big-capacity cruiser, especially one that has been worked (so I've been told by people worth listening to).
I'd put riding the Indian Scout Bobber in roughly the same category as riding a Triumph Bonneville. It's enough for a lot of everyday fun, but line yourself up next to a BMW S 1000 RR at the lights and watch them disappear (this has happened to me a lot).
Other parts of the Indian Scout Bobber are also fun, but not sporty. You have a 31 degree lean angle (which means scraping a lot) and only two-piston calipers on a single disc. Sportier bikes have four-piston calipers on twin discs. This isn't a bike made to bring yourself up to a halt repeatedly in frisky riding.
But before you get all hot under the collar: none of that matters.
The riding position and general feeling of the Indian Scout Bobber (and other Scout variants) are more for injecting some spice into everyday riding. You can be a badass in traffic, enjoy the wind in your face on the highway commute, and have a beautiful piece of artwork outside the local diner.
If you have a winding road on the way — you'll love it. The handling is easy and you may scrape, but that's part of the joy.
So anyway, that's my answer to "is it sporty". It's sporty enough. And let's not waste time comparing it to totally different bikes!
The only thing that I thought might get old was the forward controls. I just felt unbalanced at low speeds. Maybe I'd get used to it. But I know you can get a mid controls kit for the Scout Bobber, and I'd fit one right away. The below pic looks more "right" to me.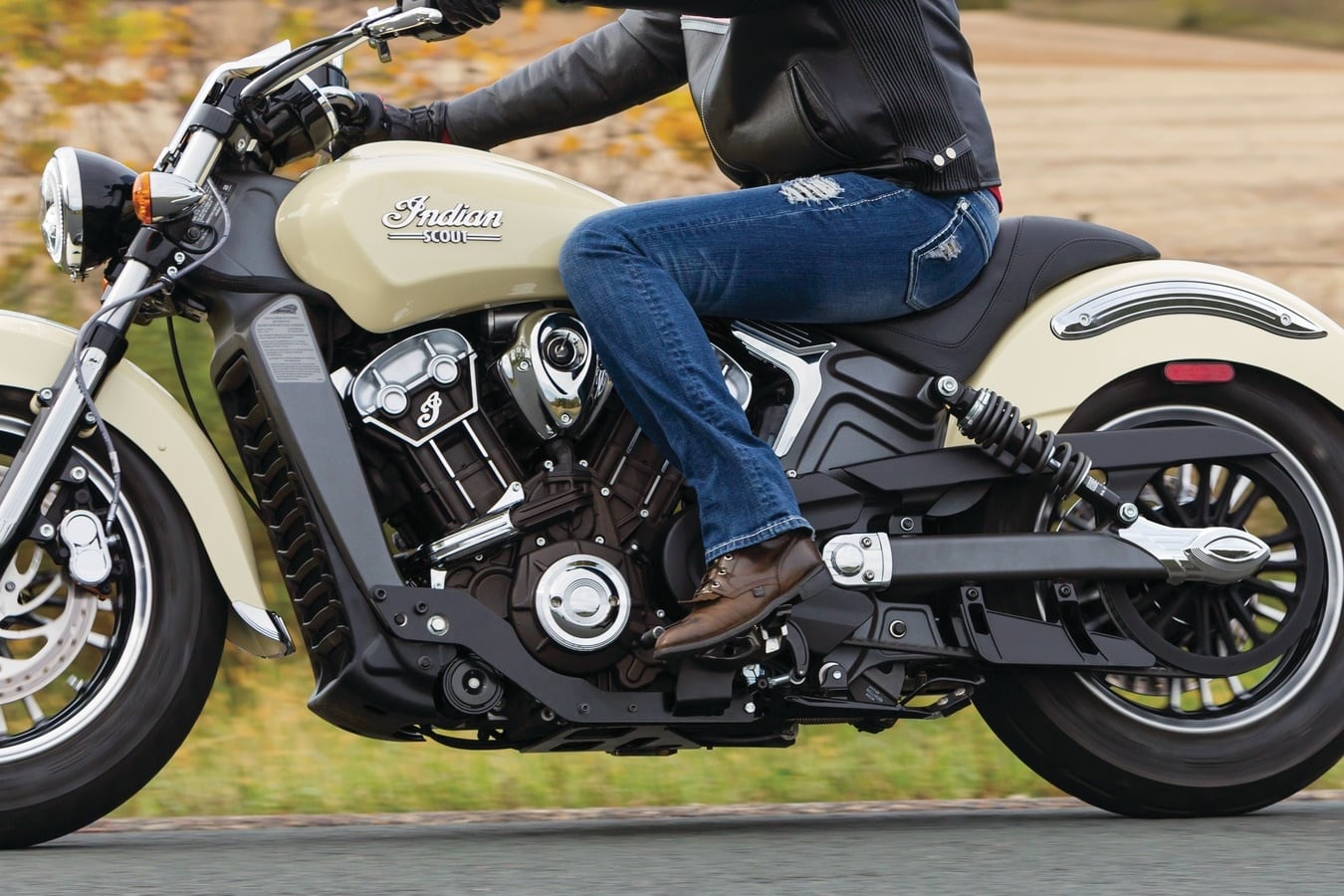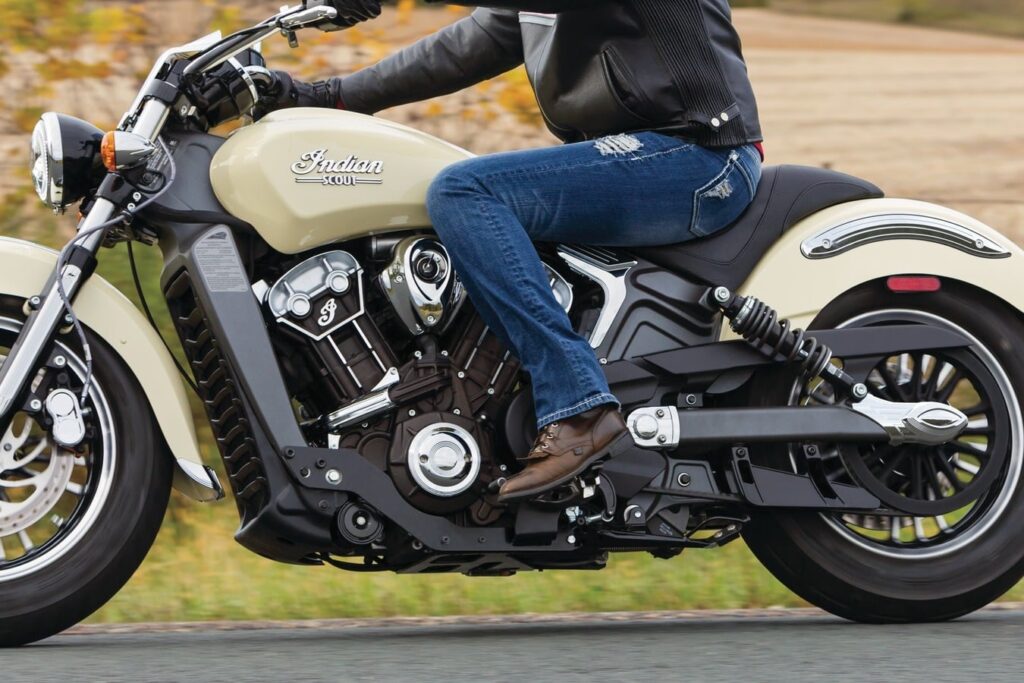 So, I liked it. A lot. But did I $20 000 like it? That was where I struggled.
See, $20K goes a long way, no matter what your currency. It buys you pretty much any motorcycle you want if you take one from a couple of years ago. So the competition against the Indian Scout for my dollars becomes anything.
Secondly, used Indian Scouts don't seem to get much cheaper. They're like Harley-Davidson and BMW in this way — they keep their value quite well. This is a good argument for buying one used, though, because in a year you could sell it for the same price and only have spent money on insurance, registration, and gas.
But still, twenty thousand dollars is a lot of money to spend on a luxury item. Is this bike that much better than all the other ways in which I could spend that money?
At the time, I could still remember spending $3800 on a Honda CBR600F4i, and I just didn't think the Scout was going to offer me five times the fun. I was still too in love with the F4i. So I held onto it.
Indian Scout Range
OK, so you want an Indian Scout of some kind. They come in a few flavours!
Let's look at the model variants of the Indian Scout.
| Model | Description | First model year |
| --- | --- | --- |
| Scout | The original cruiser – full fenders | 2015 |
| Scout Sixty | Same basic bike but with a 999 cc engine, 5-speed gearbox | 2016-2021 |
| Scout Bobber | Low-rise bars, chopped fenders, side-mount license plate | 2018 |
| Scout Bobber Sixty | Low-rise bars, chopped fenders, side-mount license place, 999 cc engine, 5-speed gearbox | 2020 |
| Scout Bobber Twenty | Mini ape-hanger bars, spoked wheels, lowered suspension | 2020 |
| Scout Rogue | Mini ape-hanger bars, quarter fairing, 19-inch spoked front wheel | 2022 |
| Scout Rogue Sixty | Same as Rogue but 999cc engine | 2022 |
Indian Scout models
Colours
Alright, so you want one of these. Now, what colour? The Indian Scout, Bobber, and Rogue come in a LOT of colours!
Here's a table of the colours available, right up to 2023. I'll struggle to keep this up to date, so send me a polite reminder if you want me to.
Color
Scout
Scout Sixty
Scout Bobber
Scout Bobber Sixty
Scout Bobber Twenty
Scout Rogue
Scout Rogue Sixty
Indian Motorcycle Red
2015-2016
2016-2018
2018
Thunder Black
2015-2020
2016-2021
2018-2021
2020-2021
2021
Silver Smoke (matte finish)
2015-2017
2018
Thunder Black Smoke (matte finish)
2015-2017, 2020-2021
2018-2021
2020-2021
2021
Wildfire Red
2016
Brilliant Blue over Pearl White
2017-2018
Ivory Cream
2017
Indian Motorcycle Red / Thunder Black
Note: different from Indian Red / Thunder Black (2019)
2017
Burgundy Metallic
2017-2018
2020
Metallic Jade
2019
Willow Green / Ivory Cream
2019
Deep Water Metallic
2020
2020
Indian Red / Thunder Black
2019
Indian Motorcycle Red over Anniversary Gold
2020
White Smoke
2020-2021
2019
2019-2020
Bronze Smoke
2020
2018-2020
2022
Maroon Metallic / Crimson Metallic
2021
Quartz Grey over Black
2022
2022
Black Metallic
2022-2023
2023
2023
2022-2023
2022-2023
2022-2023
2023
Maroon Metallic
2022-2023
2023
Pearl white
2016-2017
Thunder black / Titanium Metallic
2018
Polished Bronze
2018
Star Silver / Thunder Black
2019
Ruby Metallic
2019,2021
Pearl White over Titanium Metallic
2020
Alumina Jade Smoke
2021-2022
Blue Slate Smoke
2021
Titanium Metallic
2022
2021
Black smoke (metallic)
2022-2023
2022-2023
Ruby smoke
2023
2022
Titanium smoke
2022
Sagebrush Smoke
2023
2021
2022-2023
Silver Quartz Smoke
2023
2022-2023
Stealth Gray
2022
2022-2023
Black Smoke Midnight
2022
Storm Blue
2023
2023
Silver Quartz Metallic
2023
Spirit Blue Metallic
2022
Spirit Blue Metallic / Black Metallic
2023
Black Metallic / Silver Quartz Metallic
2023
Riot Orange Metallic / Black Metallic
2023
Spirit Blue Smoke
2023
Stryker Red Metallic
2023
Springfield Blue Metallic
2023
Stealth Gray Azure Crystal
2023
Copper Smoke
2023
Indy Red
2023
Titanium Metallic Smoke
2023
Bronze Pearl Metallic
2023
Black Azure Crystal
2023
Copper Metallic
2023
Indian Scout colors (including Bobber, Twenty etc.)
Maintaining the Indian Scout Bobber
As I contemplate owning an Indian Scout Bobber, I have to look into what it's like to own it.
Firstly, checking the maintenance schedule in the owner's manual, I was pretty happy to see that you only have to change the oil every 16000 km / 10000 miles. That's huge! That's a wider service interval than the desmo service on my first Ducati.
Secondly, the valve service interval is a whopping 32000 km / 16000 miles. Between a number of bikes, it would take me years to hit that.
But there's an annoying part to owning any cruiser, and that's checking and setting belt tension and ensuring alignment is intact.
I've read a number of threads on various forums, and they all say that the instructions in earlier versions of the manual are misleading/confusing.
The confusing part is that people didn't seem to understand what bolts to turn and how much to turn them, and how to get alignment exact.
In a nutshell, to do a belt tension/adjustment on the Indian Scout / Bobber you need:
A simple stand (to raise the rear wheel)
Belt tension tool — check deflection at various points on the belt
A 27mm socket for the axle nut and bolt
1/2 inch socket to make adjustments
Here's a video Indian made with details on how to do it. It makes it seem like a 3-minute job!
But hey, at least you don't have a chain to maintain…
Alternatives to the Indian Scout Bobber
If you're thinking about an Indian Scout Bobber, then I think you're thinking of "relatively modern, well-powered but not overpowered cruisers".
In the past I might have included a few more, like the Yamaha Bolt, but in light of other alternatives these days, that seems less relevant.
Here are the alternatives to the Indian Scout Bobber that come to mind:
Harley-Davidson Sportster S
Triumph Bonneville Bobber
Honda Rebel 1100
All these motorcycles are similar in general style, capacity, and power. But they're all different in engine configuration, engine, final drive, and technology. Also style. Have a look below and see what might be your cup of tea.
Alternatives in a Nutshell
As usual, it's easier to line up specs of each of the main alternatives in a table.
| Spec | Indian Scout (for reference) | Harley-Davidson Sportster S | Honda Rebel 1100 | Triumph Bonneville Bobber |
| --- | --- | --- | --- | --- |
| Engine | 60-degree V-twin | 60-degree V-twin | 270-degree parallel twin | 270-degree parallel twin |
| Capacity (cc) | 1133 | 1252 | 1084 | 1200 |
| Peak power | 75 kW / 100 bhp @ 8000 rpm | 90 kW (121 bhp) @ 7500 rpm | 64 kW @ 7000 rpm | 57.5 kW / 76.9 bhp @ 6100 rpm |
| Peak torque | 98 Nm / 72 ft-lb @ 5900 rpm | 128 Nm / 94 ft-lb @ 6000 rpm | 98 Nm @ 4750 rpm | 106 Nm / 78 lb-ft @ 4000 rpm |
| Final drive | Belt drive | Belt | Chain | Chain |
| Engine cut-off rpm | 8300 | 9500 | 8000 | 7000 |
| Minor service intervals ('000 km / mi) | 16 / 10 | 8 / 5 | 12.6 / 8 | 16 / 10 |
| Valve service intervals ('000 km / mi) | 32 / 20 | Infinity! (hydraulic lifters) | 25.2 / 16 | 16 / 10 |
| Front suspension | Telescopic fork, non-adjustable, 120mm / 4.7 inch travel | 43mm Showa inverted fork, fully adjustable, 92mm / 3.6 inch travel | 43mm fork, 120mm / 4.8 inch travel | 47mm Showa cartridge fork |
| Rear suspension | Twin shocks — preload / ride height adjustable, 51mm / 2-inch travel | Showa monoshock, fully adjustable, 51mm / 2-inches travel | Dual Showa shocks, adjustable preload, 3.7 inch / 94 mm travel | Mono-shock |
| Front brake | 298mm rotor / 2-piston caliper | Single 320mm disc, Brembo caliper | Single 330 mm disc, 4-piston radial caliper | Twin 310mm discs, Brembo 2-piston axial calipers |
| Rear brake | 298mm rotor / 1-piston caliper | Single 260mm disc / 1-piston caliper | 256 mm disc, single caliper | Single 25mm disc, Nissin 1-piston caliper |
| Instruments | Analogue speedometer + LCD | 4-inch TFT | 4-inch TFT | Analogue speedometer + LCD |
| Ride aids | ABS | IMU / cornering ABS/TC | ABS/TC | ABS, TC |
| Cruise control | No | Yes | Yes | Yes (previously option) |
| Curb weight | 254 kg / 561 lbs | 228 kg / 502 lbs | 221 kg / 487 lbs | 251 kg / 553 lb |
Alternatives to the Indian Scout Bobber
Harley-Davidson Sportster S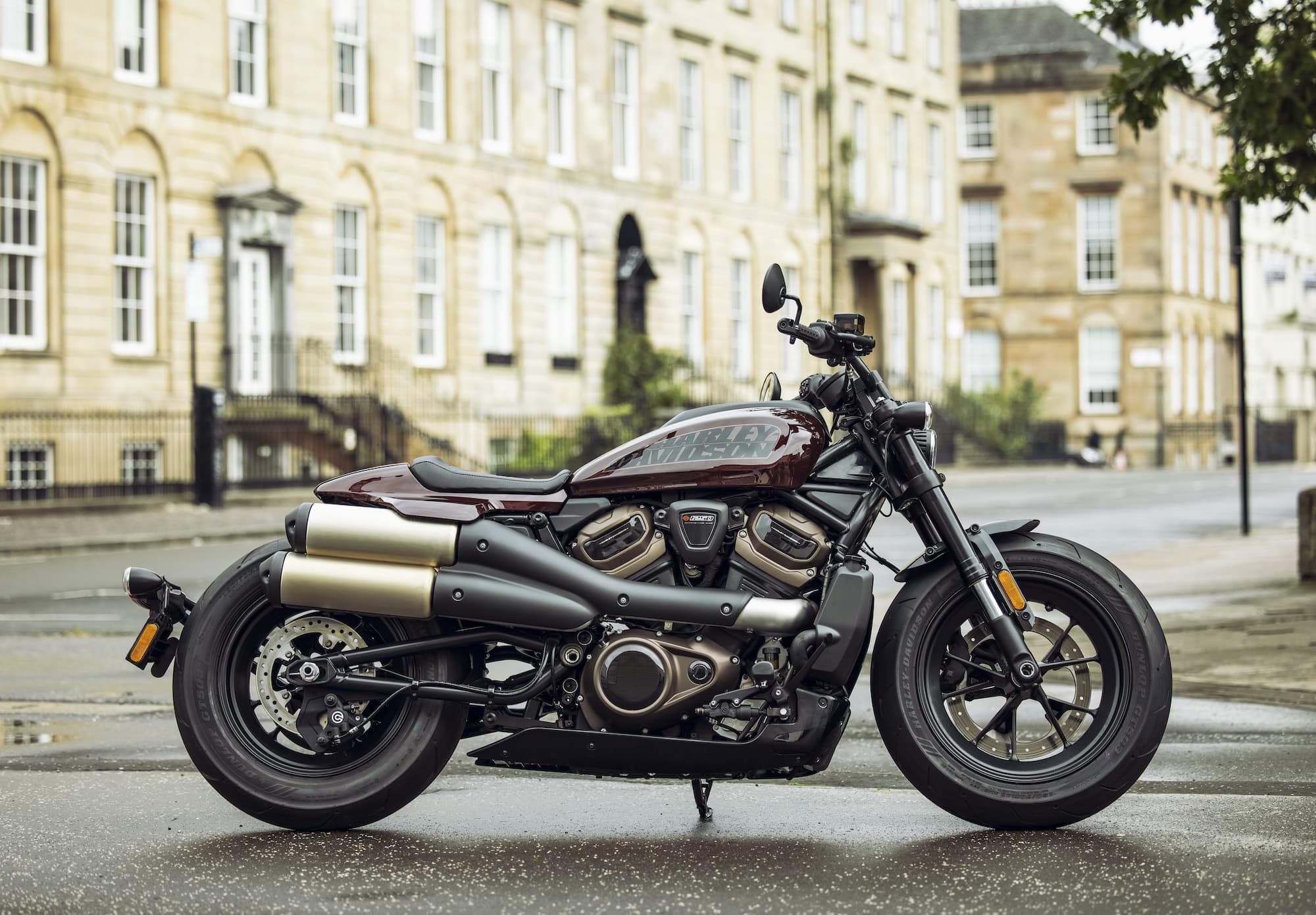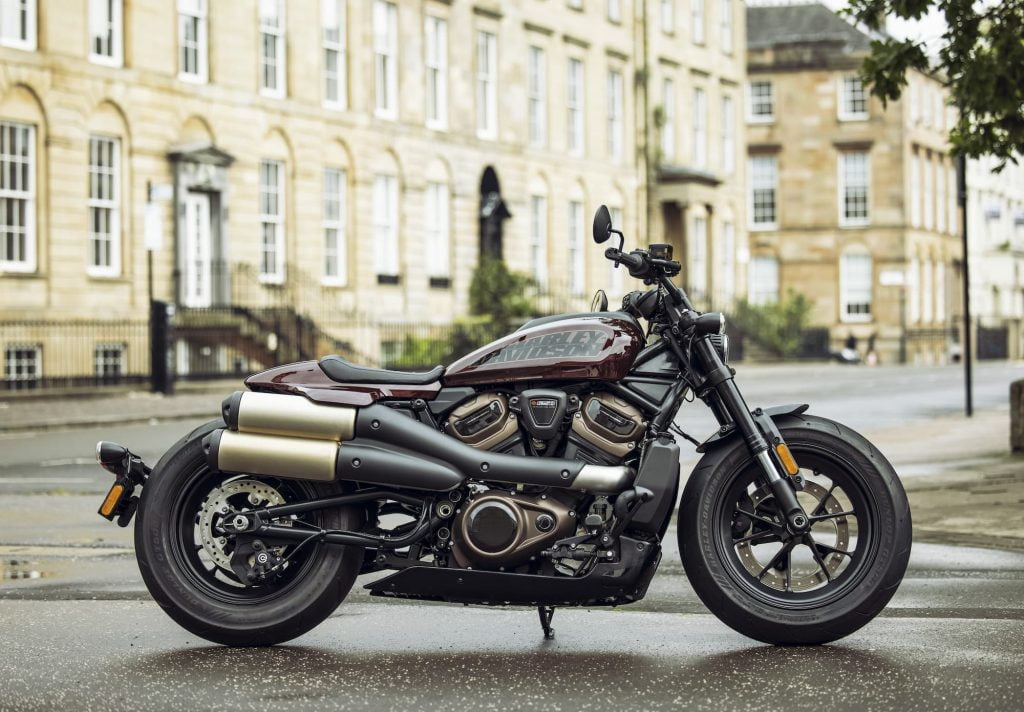 At the time I rode the Scout Bobber, the Harley-Davidson Sportster S hadn't come out yet. I've already written that one up, mostly because it was… well I dunno, I left this review in draft for too long!
See here for my full write-up on the Harley-Davidson Sportster S. I found it surprising, but not in the ways I expected…
I was quite excited to ride the Sportster S. On paper, it's the better bike. It has a more powerful engine (slightly), is much lighter, and has much more advanced rider tech, including cruise control.
But in reality, I don't think most people will choose either ride on specs.
Both the Sportster S and the Scout / Scout Bobber have a similar aesthetic. I think that even though the Sportster S is faster on paper, what really stands out is that the Sportster S feels both lighter AND smaller. It was easier to pilot around, but also I felt much less "in" the bike, which is a feeling I like to have.
Because of the level of tech of the Sportster S, the Indian Scout Bobber is still the "simple" bike of the two: simpler suspension, ride aids, and even display. It's also around 25% cheaper.
And never having to do a major valve service on the Sportster S is a huge drawcard.
In a used market, if the prices were closer, I'm not sure which I'd pick! The sensible choice (if equally priced) would of course be the Sportster S, but the Indian just kind of calls to me more.
If you're more into the smaller Scout Bobber Sixty, then you probably should also consider the Harley-Davidson Nightster as an alternative.
Triumph Bonneville Bobber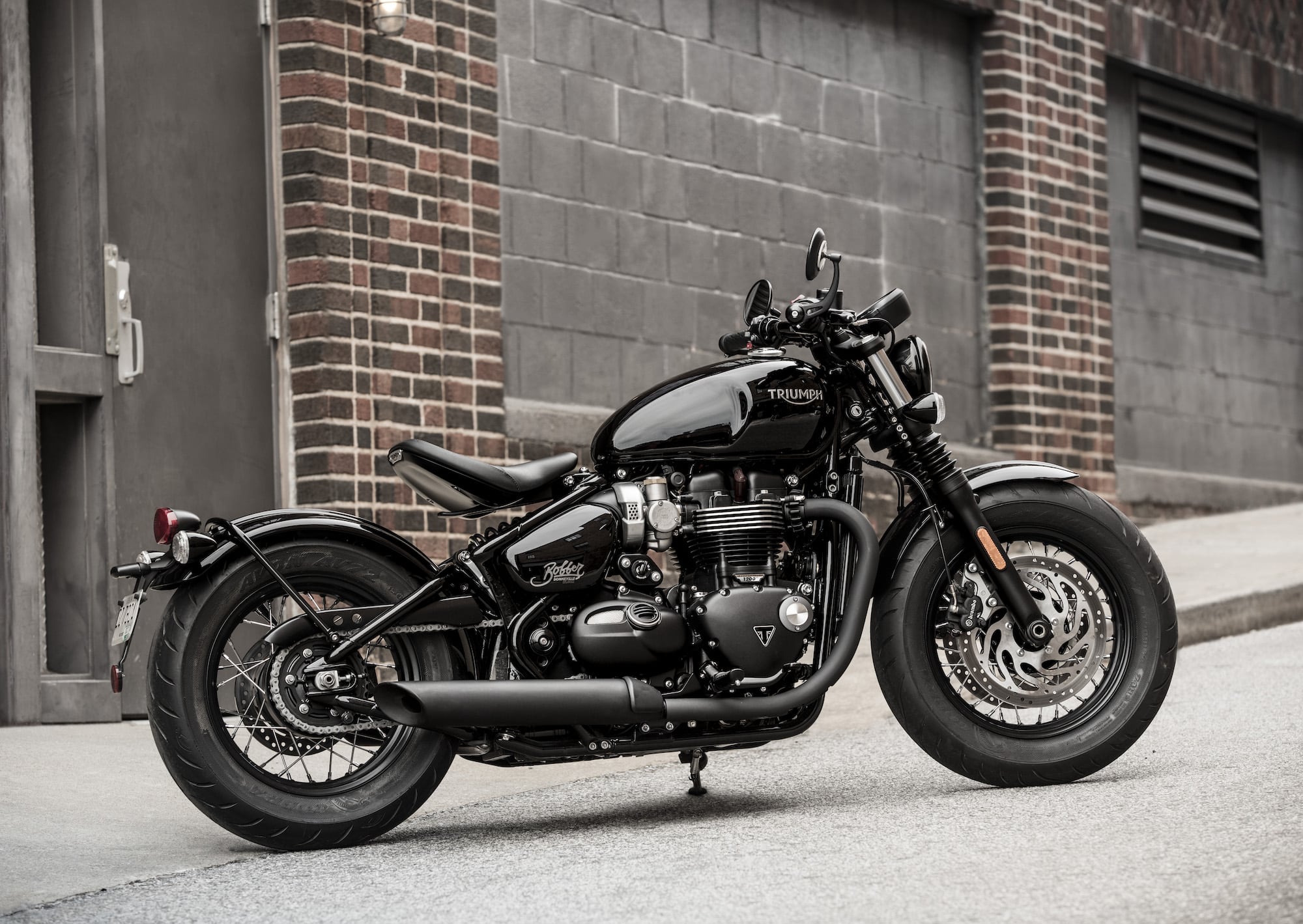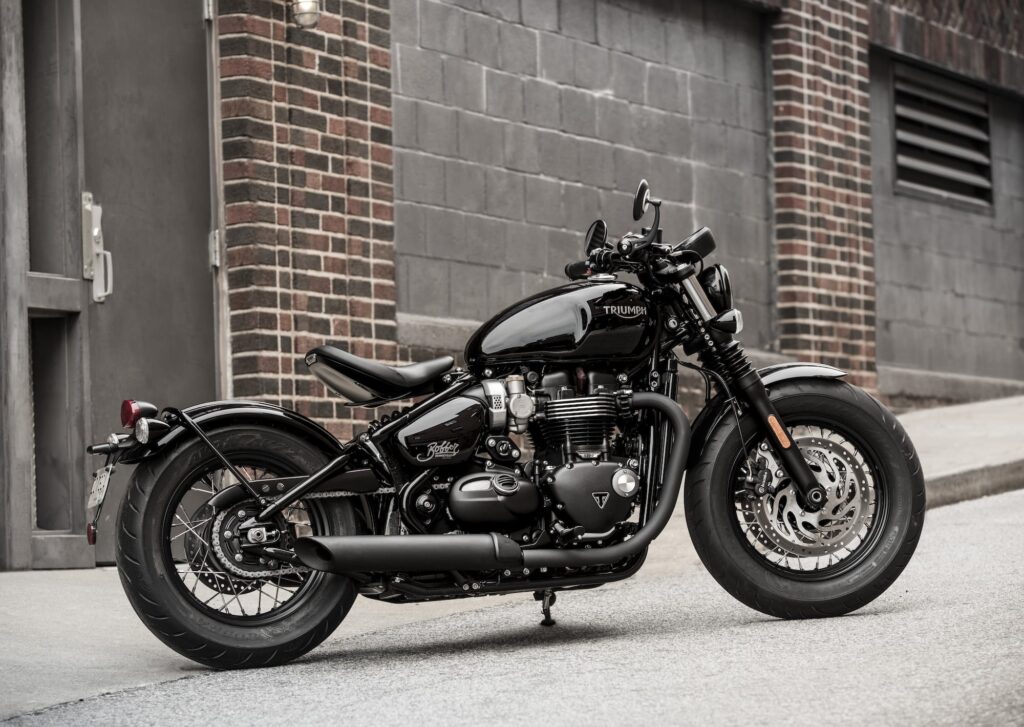 The Triumph Bonneville Bobber has a lot in common with the Scout Bobber — starting with the name!
They both somewhat share the same aesthetic and riding position. The Scout (non-Bobber) I'd equate more to the Bonneville Speedmaster. But the Bonneville Speedmaster and Bonneville Bobber are very similar bikes, too.
Both those Triumphs are based on parallel twin motors rather than a V-twin. Before you scoff at this, consider that the parallel twin in all modern Triumphs have a "270-degree crank", which means they fire like this in a 4-stroke cycle: bang-pause-pause-bang-pause-pause-pause-pause. This is actually very similar to many V-twins.
Every motor has its own feeling, but suffice it to say that the Bonneville Bobber has a satisfying roar and growl, like you'd want from a cruiser.
The Bonneville Bobber is all about low-end torque, and it has a lot of it. It never feels like it can't pull. But it's a little pointless to rev it out, as it likes to be shifted around the 6K rpm point maximum. Triumph distinctly tuned the engine for torque, so even though it's the same fundamental block as in The Triumph Speed Twin, for example, it feels very different.
The Triumph Bonneville Bobber is a cool looking bike and it has a solid fan base, but also some tough competition. I really like the monoshock setup — I think it looks great, and I'd kind of like to see a Thruxton RS with it (purely aesthetically, I don't like the trapezoidal look of the Thruxton RS. What? They're Triumph Modern Classics, I'm allowed to have an opinion on aesthetics!)
Honda Rebel 1100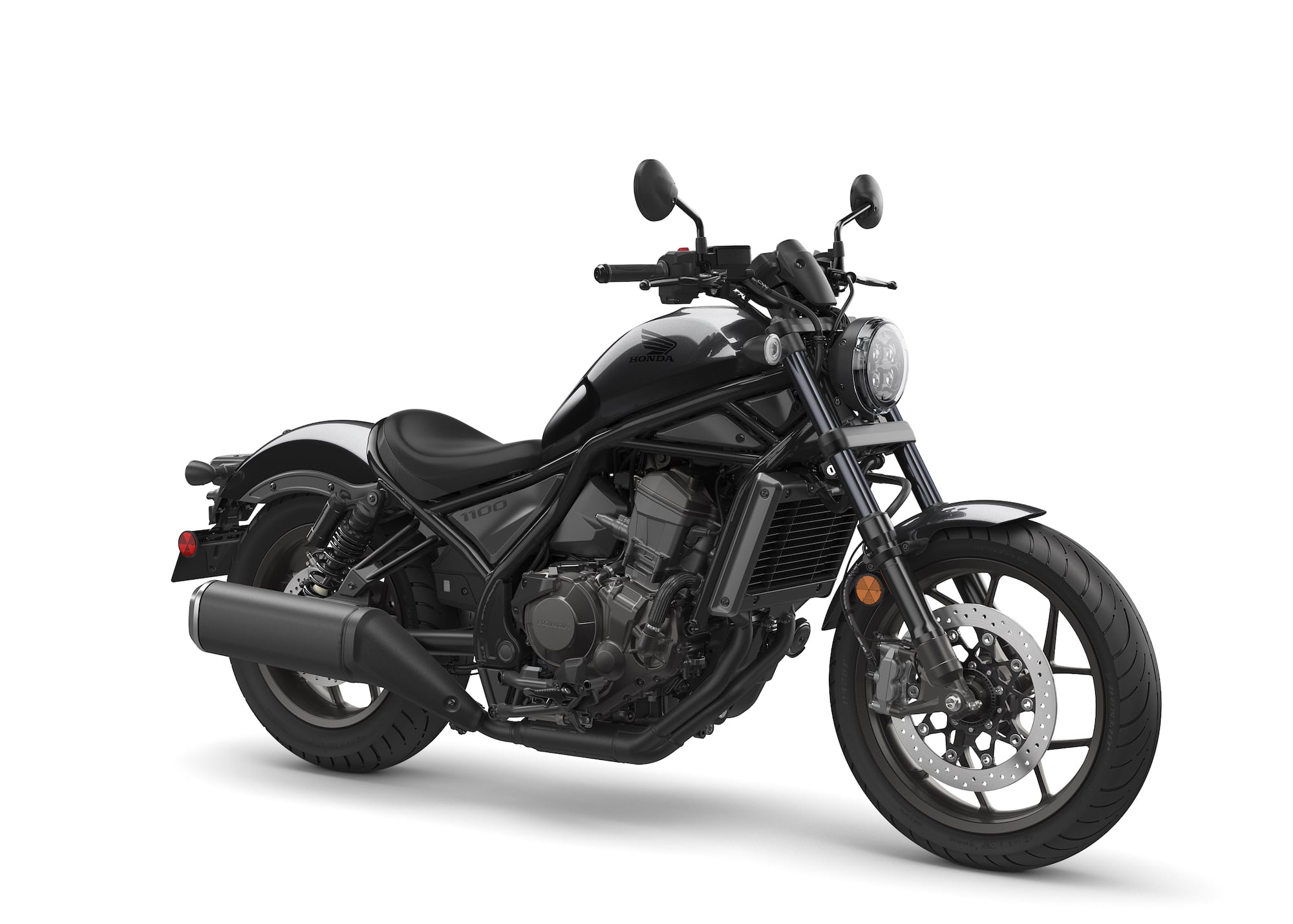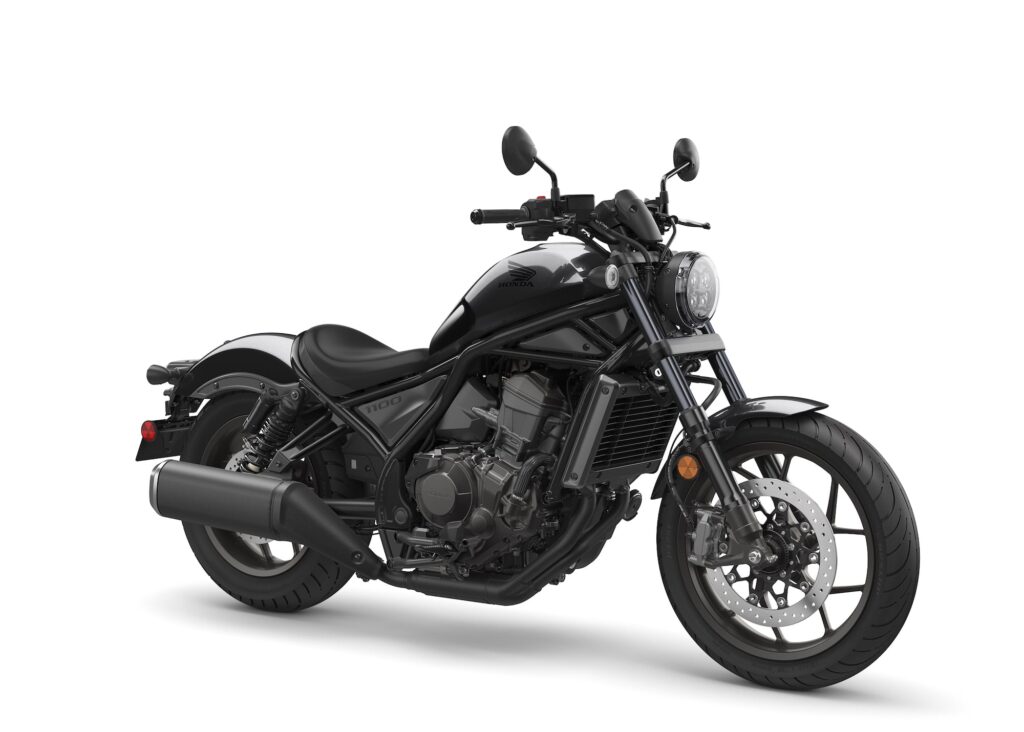 Finally, the Honda Rebel 1100.
The Rebel 1100 is one of Honda's several bikes that use the 1084cc parallel twin that we first saw in the Honda CMX1100 Africa Twin.
In the Rebel 1200 it's detuned to a peak of 64 kW (86 bhp) at 7000 rpm, with peak torque of 98 Nm (73 ft-lb) at a low, low 4750 rpm.
The Rebel 1100 has standard cruise control, and other ride aids, but doesn't have cornering ABS.
The Rebel isn't a bad looking bike, but it isn't by any means as good looking as the others in this line-up.
One unique thing about the Rebel is that it comes with optional DCT — a dual-clutch transmission that means you can shift automatically or via the handlebars.
You might scoff at the fact that the Rebel is own on power next to the Scout. But in testing by Cycle World who had both bikes at the same time (something I've never done myself, as I'm a one-man band), the Rebel 1100 is faster in the 0-60 mph and 60-100 mph. It pulled away from the Scout constantly, all the time. The Rebel beat it in the quarter mile. This is probably due to gearing, but it doesn't matter, as I doubt anyone is accelerating these bikes over 100 mph for any significant stretches.
But the best part is that it's surprisingly cheap — like 30% less than the ABS Scout Bobber. But that's before you opt for DCT.
So the Rebel is cheaper, faster, better equipped with tech, and will be cheaper to maintain with its parallel twin motor and always more affordable and available Honda parts. But it doesn't quite look as cool. So, pick your priorities.
Sum up
As you can probably tell, I didn't buy the Indian Scout Bobber Twenty. I really had a lot of fun, but at the time my bike that was a fifth of the price also was a lot of fun.
I haven't ruled it out for the future. It's just a gorgeous bike to look at. For me, aesthetics of a bike are very important — it's something I'll write about separately, but it's like how I enjoy a meal when it's appetising.
I remember talking to a guy who rode sportbikes all through his youth. He was a sportbike diehard through and through — gixxers, CBRs, you name it. He tracked and even raced locally for a while.
But one day, on a mission for his boss, he brought a cruiser back to a dealer from an auction house. He thought "Wow, this feels so cool." Then he caught a glimpse of a reflection of himself in a shop front window looking as cool as he felt, and the rest was history: another cruiser rider was born.
It's this kind of story that I relate to most when I think about moving to a cruiser like the Indian Scout Bobber as my primary hustler. I've tried a few cruisers, like the Suzuki Boulevard M109R and the Yamaha Bolt, and I haven't quite felt like they've been the one for me yet.
And importantly, the Scout Bobber is a very fun bike to ride. It's possibly one I can more easily ride slowly than my R Nine T.
So is there one in my future? Maybe, but it'd replace a bike I own, so I'll see if I can make that decision.